New Age Islam News Bureau
3 Feb 2015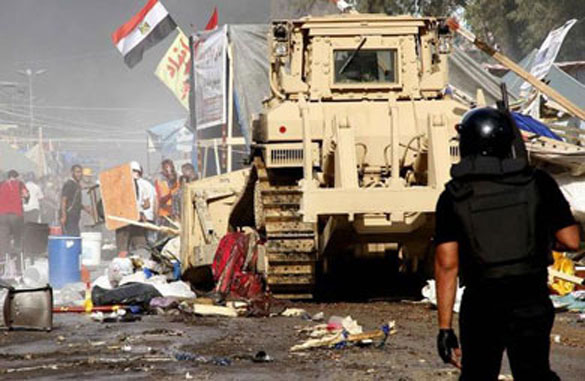 File photo shows security forces dismantling a protest camp built by supporters of ousted Egyptian president Mohamed Morsi on August 14, 2013
------------
Pakistan
• ANP Lawmaker Announces $200,000 Head Money for Charlie Hebdo Owner
• Jamaat-i-Islami Wants Honourable Return Of Internally Displaced Persons
• Sindh approves 57 terrorism cases for military courts
• Grenade attack on road housing schools in Karachi's Gulshan-i-Iqbal
• Two more convicted sectarian killers hanged in Karachi
• Islamabad Police bust gang trading in babies
• Military courts have limited jurisdiction, says PPP
Arab World
• Egypt Confirms Death for 183 Convicted Of Killing 13 Cops
• Hezbollah faces hard choices between fighting Israel, Sunnis
• Iraqi Man Kills 7 ISIL Terrorists Single-Handedly
• Scores reported killed in Syria government air strikes
• Remains of 25 Yazidis found in Iraq mass grave
• Syrian refugees to become business owners in Turkey
• Photos suggest ISIS rebranding U.N. food aid
• Iraqi PM eyes creation of National Guards force
• Foreign policy unchanged under King Salman
• 45% of young Saudis plan their future works, says survey
Europe
• Spain to Pass Measures To Tackle Home-Grown Islamist Militants
• Intolerance, Extremism on the Rise across EU: Official
• Dozens Recruited in Kyrgyzstan for Syria War
• Sweden Charges Syria Militant with War Crimes
• Wahhabism Promotes Rise of ISIS: HRW
• Italian Muslims aggressively monitored
• British Sniper Killed 90 Taliban Insurgents in a Single Day
• Saudi Arabia has helped save British lives: PM Cameron says
• Britain encourages New Zealand to join Islamic State fight
• Head of U.N. Gaza war inquiry quits amid Israeli anger
• Dutch journalist to be tried in Turkey on 'terror propaganda' charges
Mideast
• Afghanistan Needs To Root Out ISIS and Taliban: Iran
• Turkey Frustrated With Little Cooperation on Foreign ISIS Fighters
• Drone kills four Al Qaeda suspects in Yemen
• Houthi rebels demand their militia join army, police
• Syria, Iraq, Palestine, Hezbollah Aided by Iran's Missile Technology
• Turkish President Erdogan slams UNSC, singling out Russia and China
• Seeing diversity as a threat limits freedoms: Top Turkish judge
South Asia
• Taliban Justice Favoured Over Western Law in Afghanistan
• Khaleda Zia Sued For 42 Murders
• China to Register Uighur Muslims Phone and Computers
• 8 soldiers martyred, 31 insurgents killed in past 24 hours
• Seven killed in Bangladesh after petrol bombs thrown at bus
• Hostage killings highlight threat, meager options for Japan
• Villagers Appeal for Release of Jailed, Elderly Uyghur Religious Scholar
• IS fighters enter local houses and break TVs and tape-recorders
India
• Pro-IS Twitter Account Targets Modi
• Xi, Putin Back India on UN Terror Charter against Pak
• India-Pakistan Economic Ties, Victim of Politics: Former FM
• Foreign Scholars More Aware Of Indian History, Remarks Vice President Ansari
• Hi-tech fencing plan led to rise in Pak firing: BSF
Africa
• Libya Parliament Drops Law Barring Gaddafi Officials
• "Terrorist" Belgium Nationals 'May Lose Citizenship'
• Nigeria: Elections in the Time of Boko Haram Violence, Displacement and Religious Tensions
• Darfur militants kidnap 2 Russia pilots: UNAMID
North America
• 'Mujahideen' Talks in Iran Cited In Canada Train Terrorism Trial
• US To Continue Help for Pakistan's Anti-Terror Efforts
• Canada says release of Al-Jazeera journalist is 'imminent'
• 'Honey trap' hackers stole Syria rebel plans: US cyber security firm
• U.S. commander lifts secrecy on aid to Afghan army
Southeast Asia
• Carnival Scenes as Hindus Mark Thaipusam
• Indonesia's Death Penalty Continues to Draw Criticism
Compiled by New Age Islam News Bureau
URL: https://www.newageislam.com/islamic-world-news/new-age-islam-news-bureau/anp-lawmaker-announces-$200,000-head-money-for-charlie-hebdo-owner/d/101350
----------
Pakistan
ANP Lawmaker Announces $200,000 Head Money for Charlie Hebdo Owner
Feb 3, 2015
ISLAMABAD: Awami National Party (ANP) lawmaker Haji Ghulam Ahmed Bilour on Monday announced a $200,000 reward for anyone who kills the owner of controversial French magazine Charlie Hebdo, which printed blasphemous caricatures of Prophet Muhammad (PBUH).
Speaking on the floor of the National Assembly, Bilour declared that he would not tolerate attacks on the person of Prophet Muhammad (PBUH). "Whoever does this blasphemy has to pay the price," Bilour stated while recalling that he had announced $100,000 bounty previously for similar acts by the Western media when he was a federal minister in the last PPP government. "I stand by my previous announcement and will like to give previous bounty to those who attacked Charlie Hebdo office in France," he announced. Bilour also talked about the Sunni-Shia divide in the country and said two countries are fighting a proxy war in Pakistan.
http://www.dailytimes.com.pk/national/03-Feb-2015/bilour-announces-200-000-head-money-for-charlie-hebdo-owner
----------
Jamaat-i-Islami Wants Honourable Return Of Internally Displaced Persons
Feb 3, 2015
PESHAWAR: Jamaat-i-Islami general secretary Liaqat Baloch has urged the government to take practical steps for an honourable return of 2.1 million internally displaced persons to their homes in Fata.
Talking to tribal elders here on Monday, he said that the government should also grant all rights to the tribal people enshrined in the constitution, according to a press release.
He said that the government had been making announcements about the return of the IDPs to their homes, but schedule had not been announced in that regard. He said that tribal people had suffered in the ongoing conflict as successive governments didn't address grievances of the affected population.
Mr Baloch asked the government to announce date for repatriation of the IDPs and concentrate on their rehabilitation. He said that scenario in the region was getting complicated after the withdrawal of Nato troops from Afghanistan.
Commenting over recent visit of US President Barack Obama to India, the JI leader said that US-India nexus could disturb balance of power in South Asia.
He said that JI and other parties would observe Kashmir Day on Feb 5 with zeal and show complete solidarity with the people of occupied valley. He said that the UN should ensure implementation of its resolutions on Kashmir to give Kashmiri people right of self-determination.
The JI leader asked Sindh, Punjab and Khyber Pakhtunkhwa governments to hold local bodies elections as soon as possible. He also criticized "secular elements" for "running propaganda campaign" against seminaries.
http://www.dawn.com/news/1161235/ji-wants-honourable-return-of-idps
----------
Sindh approves 57 terrorism cases for military courts
Feb 3, 2015
KARACHI: Sindh Chief Minister Syed Qaim Ali has approved the creation of anti-terrorism force (ATF), zonal committees for integrated and coordinated action against terrorism and referring 57 terrorism cases to Military Courts within 10 days.
He took these decisions in the Apex Committee meeting presided over jointly by him and Sindh Governor Dr Ishratul Ibad at CM House on Monday.
The meeting was attended by Corps Commander Karachi Lt General Naveed Mukhtar, Minister for Information Sharjeel Inam Memon, Minister for Finance Syed Murad Ali Shah, Minister for Parliamentary Affairs Dr Siknader Mandhro, Chief Secretary Sindh Sajjad Saleem Hotiana, Home Secretary Abdul Rahim Soomro, Director General Rangers Major General Bilal Akbar, IG Sindh Ghulam Hyder Jamali and provincial heads of different agencies.
Brigadier Ahsan Gulrez of 5 Corps giving presentation to the Provincial Apex Committee (PAC) said that in order to ensure execution of Provincial Action Plan (PAP) across the province three zonal committees, Karachi, Hyderabad and Sukkur be constituted.
Giving composition of the committees, he said Karachi Zone would comprise DG Rangers, Commissioner Karachi, Additional IG Police (Karachi) and three sector commanders of Rangers.
The Hyderabad Zonal Committee would have two divisions, Mirpurkhas and Shaheed Benazirabad. The GOC Hyderabad, Commissioners and DIGs of three divisions, and Sector Commander Rangers as its members.
Similarly Sukkur Zone would have Larkana Division also. It would comprise of GOC Pano Aqil, Commissioner and DIGs of Sukkur and Larkana divisions and sector Commander Rangers.
Brigadier Brigadier Ahsan said that the task of the committee would be the execution Provincial Action Plan in their respective zones in the light of decision of PAC. "The directives of Provincial Action Plan are action against proscribed organizations, dealing firmly with sectarian terrorists, action against armed militias, Karachi targeted operation, choking financing for terrorists and their organizations and establishing and deploying a dedicated counter terrorism force," he elaborated.
IGP Ghulam Hyder Jamali told the meeting that 315 cases willo be sent to Military Courts, of them 48 of Karachi, 121 of CID, 95 of Shaheed Benaziarabad, 17 of Hyderabad, 26 of Larkana and eight of Sakrand.
The chief minister directed the IGP to refer terrorism cases to the Military Courts within 10 days and report him. On this the IG said, "57 cases of Karachi, including of some of CID cases are ready to refer them to military courts," he said and added that he was scrutinizing the remaining cases and would refer them as soon as their legal formalities are completed.
Sindh Governor Dr Ishratul Ibad called for creation of a dedicated force for counter terrorism. On this Corps Commander Karachi Lt General Naveed Mukhtar said he was ready to impart them special counter terrorism training if the chair gave his consent for creation of CTF.
The Chief Minister directed the IG police to pick young, dedicated and educated police personnel with less than five years of services to induct them in the CTF. "The selection would be made purely on merit and on volunteer basis. The government would give them special incentives," the chief minister said.
The Corps Commander Karachi, Lt General Naveed Mukhtar said he would arrange special training programme for these 1000 policemen and would divide them in 10 companies and each company would comprise 100 policemen.
Sindh Governor Dr Ishratul Ibad said that necessary arrangements may be made to repatriate the illegal immigrants, particularly the Afghanis. "Those who have managed to get CNIC must be identified and sent back."
The meeting also decided to send the cases of the officials involved in issuing fake computerized identity cards to Military Courts.
Syed Qaim Ali Shah also approved the creation of Counter Terrorism Department. The department would be under DIG. It would have three SSPs, Intelligence, Operation and Investigation.
Finance Minister Syed Murad Ali Shah told the meeting that he would provide necessary funds for CTD. "The government is committed to strengthen the police forces at any cost," he said.
http://www.dailytimes.com.pk/sindh/03-Feb-2015/sindh-approves-57-terrorism-cases-for-military-courts
----------
Grenade attack on road housing schools in Karachi's Gulshan-i-Iqbal
Feb 3, 2015
KARACHI: Unknown motorcyclists hurled a grenade on a road that houses a number of private schools in Karachi's Gulshan-i-Iqbal Block 7 area Tuesday morning causing fear and panic among area residents though no loss of life or property was reported in the incident.
DIG-East Munir Sheikh said that no school was directly targeted in the attack.
He further said that there were no casualties reported as the schools were closed at the time and no students or staff members were present at the premises.
The attackers also left a threat letter before escaping from the scene.
An administrative source associated with a private school situated near the blast site told Dawn that academic activities of all schools in the vicinity had been suspended for the day.
He added that further course of action would be taken by the administration of the 27 schools in the locality after consulting with security agencies.
He said the purpose of the attack was to stoke fear and panic among the schoolchildren's parents.
Full report at:
http://www.dawn.com/news/1161239/grenade-attack-on-road-housing-schools-in-karachis-gulshan-i-iqbal
----------
Two more convicted sectarian killers hanged in Karachi
Feb 3, 2015
KARACHI: Two more convicted terrorists affiliated with Lashkar-i-Jhangvi were hanged on Tuesday morning at the central prison in Karachi.
Attaullah alias Qasim and Mohammad Azam alias Sharif were sentenced to death for killing Dr Ali Raza Peerani in June 2001 in Karachi's Soldier Bazaar area.
Strict security measures were taken inside and around the prison. All roads leading towards the central prison were also blocked and heavy contingents of law enforcement agencies were deployed to avert any untoward incident.
An anti-terrorism court (ATC) had declared both of them guilty of the murder in July 2004.
The convicts' appeals against capital punishment had been turned down by the Sindh High Court and later the Supreme Court of Pakistan. President Mamnoon Hussain had also dismissed their mercy petitions.
Full report at:
http://www.dawn.com/news/1161176/two-more-convicted-sectarian-killers-hanged-in-karachi
----------
Islamabad Police bust gang trading in babies
Feb 3, 2015
ISLAMABAD: Police arrested a couple, over the weekend, for child trafficking and unknowingly busted a gang buying and selling babies under the guise of social work.
The couple confessed to police that they had sold at least 12 babies in the last few months. They had bought babies from a woman running an NGO in Peshawar.
A police officer, requesting anonymity, told Dawn that a television reporter Asif Qureshi spotted a suspicious Facebook page 'Adopt a Baby Islamabad' and showed it to a senior police officer. The reporter said he had been told on the phone that a baby girl could be provided to him for Rs310,000.
Sub-Divisional Police Officer Arsila Saleem and Ramna police SHO raided the associated address in G-10/4 where they found a baby girl with the couple.
A police official told Dawn that the couple had been running an NGO and bought babies for Rs100,000 to Rs170,000 each from the woman in Peshawar. They would then report each baby to the police as an abandoned child found in a crib placed outside their home, where they ran the NGO.
"They gave legal cover to the business by registering the sale of a baby as adoption in the court of a magistrate," said a police officer. He said a profit of up to Rs300,000 was made on each baby.
The baby girl found at the house was prematurely born and is now recovering at a hospital, police said.
http://www.dawn.com/news/1161203/police-bust-gang-trading-in-babies
----------
Military courts have limited jurisdiction, says PPP
Feb 3, 2015
LAHORE: Senior Pakistan Peoples Party (PPP) leader Senator Aitzaz Ahsan on Monday said that military courts formed under the newly-approved National Action Plan (NAP) have limited jurisdiction.
Speaking to media representatives outside the Lahore High Court (LHC), he said the government has the authority to choose cases to be referred to the military courts.
Ahsan said some religious parties, which were earlier praying for the success of the ongoing military offences, are now protesting against the NAP.
"If pending terrorism cases are decided in a month or two under the Protection of Pakistan Act (PPA), then the pressure can be mounted on the government," said the PPP leader.
Barrister Ahsan further said that the establishment of military courts can only be justified if the nation was faced with a war.
http://www.thenews.com.pk/article-173838-Military-courts-have-limited-jurisdiction,-says-Aitzaz
----------
Arab World
Egypt Confirms Death for 183 Convicted Of Killing 13 Cops
Feb 3, 2015
CAIRO: An Egyptian court confirmed death sentences against 183 men convicted of killing 13 policemen. The policemen were killed in an attack on a police station in Kerdasa, a town on the outskirts of Cairo, on Aug. 14, 2013.
The attack took place on the same day that security forces killed hundreds of demonstrators in clashes as they dismantled two massive protest camps in Cairo supporting Mursi.
The court had in December issued a preliminary verdict against 188 defendants in a mass trial, of whom two were acquitted on Monday while one, a minor, was sentenced to 10 years in prison.
Charges against the remaining two were dropped after the court found that they were dead.
Monday's verdict, which can be appealed, came after the initial sentences were sent to the grand mufti, the government's official interpreter of Islamic law, for ratification.
Also on Monday, an appeals court ordered a retrial in a case involving the murder of a police officer during a firefight with radicals in Kerdasa in September 2013 when security forces stormed the town to flush out hard-liners who had taken control of it.
In August 2014, a lower court had confirmed death sentences on 12 of the 23 defendants tried on charges of killing Major General Nabil Faraj.
The court said seven of those sentenced to death, and who are in custody, will be retried along with four of those who were given life. The other convicted men are fugitives.
http://www.arabnews.com/middle-east/news/698781
----------
Hezbollah faces hard choices between fighting Israel, Sunnis
By: Associated Press
February 3, 2015
Hezbollah's ambitions are spreading far beyond its Lebanon home as the militant Shiite movement appears increasingly bent on taking on Sunni foes across the Middle East. It has sent thousands of its fighters into Syria and senior military advisers to Iraq, helped Shiite rebels rise to power in Yemen and threatened Bahrain over its abuse of the Shiite majority.
But the regional aspirations also are taking a heavy toll and threatening to undermine Hezbollah's support at home. The group has suffered significant casualties, there is talk of becoming overstretched, and judging by the events of recent days, even a vague sense that the appetite for fighting the Israelis is waning.
In the recent confrontation, Israel struck first, purportedly destroying a Hezbollah unit near the front line of the Israeli-occupied Golan Heights. Among the seven dead on Jan. 18 were an Iranian general, a top Hezbollah commander and the son of another former commander in chief. A heavy Hezbollah retaliation appeared inevitable.
Yet when it came last Wednesday, Hezbollah's revenge was relatively modest: two Israeli soldiers dead, seven wounded. The choice of location a disputed piece of land excluded from a UN resolution that ended the 2006 war between Hezbollah and Israel suggested to some that Hezbollah's mind remains focused on more distant fronts.
Full report at:
http://english.farsnews.com/newstext.aspx?nn=13931113001456
----------
Iraqi Man Kills 7 ISIL Terrorists Single-Handedly
Feb 3, 2015
A military source said that a young Iraqi man had killed seven ISIL terrorists single-handedly on Monday in Central Tikrit, Salahuddin province.
Reports coming out of the city indicate that the young man targeted a stronghold of the ISIL terrorists in al-Zohour neighborhood, leavign seven of them dead.
The ISIL terrorists chased the man and managed to kill him later.
The ISIL Takfiri terrorists currently control a shrinking part of Syria and Iraq. They have threatened all communities, including Shiites, Sunnis, Kurds, Christians, Ezadi Kurds and others, as they continue their atrocities in Iraq.
Senior Iraqi officials have blamed Saudi Arabia, Qatar, and some Persian Gulf Arab states for the growing terrorism in their country.
The ISIL has links with Saudi intelligence and is believed to be indirectly supported by the Israeli regime.
http://english.farsnews.com/newstext.aspx?nn=13931113001456
----------
Scores reported killed in Syria government air strikes
3 February 201
Syrian government air strikes on opposition-held towns across the country have killed at least 44 people and wounded more than 100, according to activists opposed to the Syrian government.
In Jassem in the southern province of Deraa, 16 civilians were killed in four air strikes on Monday, while 25 were wounded, the London-based Syrian Observatory for Human Rights, which relies on a network of activists on the ground, said.
The strikes came in response to a major rebel offensive that has been under way in southern Syria for months, said the SOHR.
Rebels fighting to oust President Bashar al-Assad have suffered a spate of defeats at the hands of his forces, but they still have the upper hand in Deraa.
Elsewhere, air strikes on Douma, the besieged rebel-held town east of Damascus, killed at least 10 civilians and wounded dozens more.
An AFP photographer in Douma said the strikes hit residential areas and that most of the wounded were children.
Full report at:
http://www.aljazeera.com/news/2015/02/scores-reported-killed-syria-government-air-strikes-150203044036857.html
-----------
Remains of 25 Yazidis found in Iraq mass grave
Feb 3, 2015
Kurdish forces have found the remains of about 25 members of the Yazidi minority killed by the Islamic State of Iraq and the Levant (ISIL) in a mass grave in northwest Iraq, officials said Feb. 2.
"Peshmerga forces discovered a mass grave yesterday [Sunday] containing the remains of about 25 people -- men, children and women -- from the Yazidi [sect] who were killed by" IS jihadists, local official Myaser Haji Saleh told AFP.
A peshmerga lieutenant colonel said the grave was found near Sinuni during a search for explosives that IS often leaves behind, posing a threat to security forces and civilians even after they withdraw.
"Our forces were searching for explosives and mines planted by [ISIL] in the area and found the grave during the search," the officer said.
Full report at:
http://www.hurriyetdailynews.com/remains-of-25-yazidis-found-in-iraq-mass-grave-.aspx?pageID=238&nID=77807&NewsCatID=352
----------
Syrian refugees to become business owners in Turkey
Feb 3, 2015
Syrians who have escaped the civil war in their country and have taken refuge in Gaziantep, one of Turkey's most important industry and trade centers, have also started entering the city's trade life. While there were only 10 Syrian firms registered to the Gaziantep Chamber of Commerce (GTO) before the civil war, this number has now increased to 272 as of the end of 2014. Speaking to Anadolu Agency , the Chairman of GTO Eyüp Bartik said that Turkey was one of the countries that helped and supported Syrians affected by the tragedy in Syria, which started in 2011, with Turkey and Syria having strong historical, cultural and economic bonds. While there are many Syrians who live in refugee camps, some Syrians have also rented houses in the city. In total, there are currently 350,000 Syrians who live in the city, some of which are registered to trade.
Full report at:
http://www.dailysabah.com/money/2015/02/02/syrian-refugees-to-become-business-owners-in-turkey
----------
Photos suggest ISIS rebranding U.N. food aid
2 February 2015
Photographs posted on websites affiliated with the Islamic State of Iraq and Syria (ISIS) show the militant group handing out food from aid packages that seem to bear the United Nation's World Food Program (WFP) logo.
The boxes appear to have been labelled with the ISIS infamous insignia, news website Vocativ reported adding that parts of the WFP logo are still visible.
In posts on channels supportive of the group, the aid is described as "zakat," or almsgiving to the poor.
Full report at:
http://english.alarabiya.net/en/perspective/analysis/2015/02/02/Photos-suggest-ISIS-rebranding-U-N-humanitarian-aid-.html
-----------
Iraqi PM eyes creation of National Guards force
3 February 2015
The Iraqi parliament will vote Tuesday on proposal by Prime Minister Haidar al-Abadi to create a National Guards force, his office has said in a statement.
A spokesman for the premier's office said the National Guards will "offer a strong cover" for the tribesmen and volunteer fighters battling the Islamic State of Iraq and Syria (ISIS) militants.
Saad al-Hudaithi said these guards will prevent "marginal skirmishes after liberation of the land held by ISIS, and allows weapons to remain within the defense ministry's control."
This comes after Sunni politicians and tribal chiefs in the now liberated eastern province of Diyala accused Shiite fighters of killing unarmed civilians who had fled clashes with ISIS.
The former Iraqi National Guard was dissolved following the 2003 invasion of Iraq.
Both U.S. President Barack Obama and Secretary of State John Kerry also called on for the establishment of a new Iraqi national guard as part of reforms to salvage the country's security situation.
http://english.alarabiya.net/en/News/middle-east/2015/02/03/Iraqi-PM-eyes-creation-of-National-Guards-force.html
--------
Foreign policy unchanged under King Salman
Feb 3, 2015
Chairing his first Cabinet meeting as monarch and Custodian of the Two Holy Mosques, King Salman said that Saudi Arabia's foreign policy would remain in place.
Saudi Arabia's policies in relation to Arab, Muslim and international countries "will remain unchanged," the king said during an address to the Cabinet. "We will work hard in the service of Islam, for the betterment of our loyal and noble people and support Arab and Islamic causes," he said.
"We'll also work to promote international peace, security and global economic growth and pray to the Almighty to help us shoulder this responsibility and trust in a way that pleases Him," the king said.
At the outset of the meeting, King Salman said he shared the pain of the Saudi people, and Muslim and Arab nations, over the death of King Abdullah, and prayed for Allah's mercy and forgiveness for the late king. He thanked world leaders for their condolences.
King Salman noted King Abdullah's contributions including the expansion of the two holy mosques, the dissemination of the Holy Qur'an, and his prominent role in supporting justice across the world.
Full report at:
http://www.arabnews.com/featured/news/698796
----------
45% of young Saudis plan their future works, says survey
Feb 3, 2015
Eighteen percent of Saudi youths plan their work for months in advance, while another 24 percent of them plan for just few days or weeks, according to a survey conducted by King Salman Youth Center (KSYC).
The survey, primarily focusing on the trends of young Saudis in volunteerism and planning in 2014, said 30 percent of the employees were able to get a specific job through planning.
About 74 percent of the respondents believe that planning requires reading, education and training while 45 percent of them always planned for their work, the survey said. Seven out of every 10 young men committed to implementing their full plan, which is more than 50 percent of the total. Gender-wise, 20 percent of males are committed to the full implementation of their plan compared to 18 percent for females, according to the survey. The complex reasons behind this were not directly addressed by the survey.
Interestingly, based on the survey, the young men who used paper and pen to write their plan, were more inclined to fully implement their plans.
Full report at:
http://www.arabnews.com/saudi-arabia/news/698691
----------
Europe
Spain to pass measures to tackle home grown Islamist militants
Feb 3, 2015
The Spanish government and the main opposition party have agreed to pass new measures to combat individuals traveling to fight in radical Islamist groups or acting in "lone wolf" attacks on home soil, Prime Minister Mariano Rajoy said on Monday.
The agreement follows last month's attacks by Islamist militants in Paris, which prompted European governments to look at expanding the powers of their security agencies.
New anti-terrorism laws will cover such areas as postings on social media, financing of criminal activity, and travel to war zones, Rajoy said after a signing a deal with Socialist opposition leader Pedro Sanchez.
Judicial and police resources will also be reinforced to tackle all types of terrorism including individuals who act alone.
http://www.jpost.com/Breaking-News/Spain-to-pass-measures-to-tackle-homegrown-Islamist-militants-389777
----------
Intolerance, extremism on the rise across EU: official
Feb 3, 2015
A senior European commissioner warned Feb. 2 about rising levels of extremism and intolerance across the 28-nation bloc, targeting Jews, Muslims, homosexuals and even women.
"There is rising anti-Semitism, there is rising Islamophobia, there is rising homophobia," Frans Timmermans, deputy to European Commission President Jean-Claude Juncker told parliamentarians from EU states meeting in Latvia's capital Riga.
"There are people who are actually challenging the position of women in European society," said Timmermans, who was visiting the Baltic state in connection with its six-month stint as EU president.
"This cannot happen. We need to put the rule of law front and centre in our European discussions because if we don't have that, we have nothing.
"If Jews in this Europe cannot feel at home, Europe is finished. If Jews believe their future is not in Europe, Europe has no future. And this applies to Muslims alike - and to other minorities. If gay people think they have to go back into the closet, we have no future for Europe," he added.
Full report at:
http://www.hurriyetdailynews.com/intolerance-extremism-on-the-rise-across-eu-official-.aspx?pageID=238&nID=77806&NewsCatID=359
----------
Dozens Recruited in Kyrgyzstan for Syria War
Feb 3, 2015
Many people have been recruited in Kyrgyzstan to fight in Syria, reports said.
About 200 people, including 30 women, have been sent through various routes to the Arab country, and 22 Kyrgyz citizens have been killed in fighting in Syria, an official said Monday, Itar-Tass reported.
Rafik Mambetaliyev, the chief of the Kyrgyz Interior Ministry's criminal investigation department, said that police had detected 83 cases of recruitment in Kyrgyzstan since the beginning of the conflict in Syria.
In connection with the developments in Syria, Kyrgyz police has stepped up counteraction against extremism and terrorism and fight against illegal migration, he said.
Each case of sending to Syria or recruitment was investigated, Mambetaliyev said.
http://english.farsnews.com/newstext.aspx?nn=13931113001116
---------
Sweden Charges Syria Militant with War Crimes
Feb 3, 2015
Swedish prosecutors charged a Syrian-born militant with war crimes and violating international law while fighting against the government in Syria.
Prosecutors said Monday that the 28-year-old suspect, who was a member of the so-called Free Syrian Army (FSA), was charged at the district court of Södertörn, South of the capital, Stockholm, with committing war crimes and an aggravated assault on a captured Syrian soldier, press tv reported.
Prosecutor Hanna Lemoine said the decision to press the charges came after police received access to video footage showing the suspect along with other people participating in the vicious assault of the captive and bound soldier. The crimes are believed to have taken place between May and July 2012.
Full report at:
http://english.farsnews.com/newstext.aspx?nn=13931114000433
----------
Wahhabism promotes rise of ISIS: HRW
Feb 3, 2015
Human Rights Watch (HRW) slammed Saudi Arabia for pursuing sectarian policies and for promoting Wahhabism, a strict religious jurisprudence that is rejected by both Shia and mainstream Muslims. "Saudi Wahhabism has been the principle ideology that has led to [radical] groups like the Islamic State of Iraq and al-Sham (ISIS)," Kenneth Roth, executive director of Human Rights Watch (HRW), said in a Thursday interview with Anadolu Agency. "[ISIS] have pushed it beyond what the Saudis want, but it is tinkering with a dangerous ideology that has no role for human rights in the practice of religion," he added. The tendency to ignore human rights in the face of security challenges imposed by the Iraqi and Syrian governments has led to the emergence of radical groups feeling threatened by government-sanctioned rights violations. The abuses of detainees in Abu Ghraib prison situated in Iraq and other detention centers has fueled aggression among radical groups. Additionally, alleged funding of extremist groups by Gulf States due to the regional security threats also played a significant role for the rise of ISIS.
http://www.dailysabah.com/mideast/2015/01/31/wahhabism-promotes-rise-of-isis
----------
Italian Muslims aggressively monitored
World Bulletin / News Desk
3 February 201
Wikileaks cables dated from 2005 reveal that the Muslim population were aggressively monitored with classified documents based on a private lunch at the US ambassadors residence and involved the then Italian Interior Minister Giuseppe Pisanu and Italy's Chief of Police Giovanni De Gennaro.
The documents reveal that in the years prior to 2005, 200 Muslim were expelled from Italy on suspicion of extremism. During the lunch, Pisanu had mentioned that the Italian Muslim population were different from the French Muslims with the majority of them "moderates" and that according to the report only 5% attended the mosque and that many of them were itinerant workers. The government was, however, concerned that at least 3% were deemed "prone to extremism" and were agressively monitored at mosques, school, bakeries, butcher shops, and meeting places, according a report dated Dec.7 2005.
Full report at:
http://www.worldbulletin.net/headlines/154221/italian-muslims-aggressively-monitored
-----------
Saudi Arabia has helped save British lives: PM Cameron says
Feb 3, 2015
Saudi Arabia has given information which helped save British lives, Prime Minister David Cameron said on Monday, saying it was important to maintain a relationship with the kingdom despite accusations it has a poor record on human rights.
The British government's decision to fly the Union flag at half mast on public buildings following the death of Saudi's King Abdullah last month drew criticism human rights campaigners and several prominent British politicians.
Asked about this decision during a question and answer session on Sky news on Monday, Cameron said the countries had a long standing relationship and it was "a mark of respect".
"We have a relationship with Saudi Arabia partly over things like trying to achieve peace in the Middle East but crucially over fighting terrorism ... Since I have been prime minister a piece of information that we have been given by that country has saved potentially hundreds of lives here in Britain," he said.
Full report at:
http://english.ahram.org.eg/NewsContent/2/8/122046/World/Region/Saudi-Arabia-has-helped-save-British-lives-PM-Came.aspx
----------
Britain encourages New Zealand to join Islamic State fight
Feb 3, 2015
Britain is encouraging New Zealand to join the fight against the Islamic State group.
During a visit Tuesday to Wellington, British Foreign Secretary Philip Hammond said Britain would "very much hope" New Zealand would become an active participant in the coalition of nations fighting the militant group in Iraq.
He said New Zealand has capable armed forces that can easily work alongside troops from the UK, the US and Australia. He said Iraq is not asking for other countries to fight its war but rather is seeking help to train troops and give them air cover.
New Zealand in November announced it was sending military planners to evaluate its options in Iraq. Prime Minister John Key says it intends to make a decision this month about what role to play.
http://indianexpress.com/article/world/europe/britain-encourages-new-zealand-to-join-islamic-state-fight/#sthash.Ku88t4om.dpuf
----------
Head of U.N. Gaza war inquiry quits amid Israeli anger
3 February 2015
The head of a U.N. inquiry into last summer's conflict between Israel and Gaza said on Monday he would resign after Israeli allegations of bias due to consultancy work he did for the Palestine Liberation Organization.
Canadian academic William Schabas was appointed last August by the head of the United Nations Human Rights Council to lead a three-member group looking into alleged war crimes during Israel's military offensive in Gaza.
In a letter to the commission, a copy of which was seen by Reuters, Schabas said he would step down immediately to prevent the issue from overshadowing the preparation of the report and its findings, which are due to be published in March.
Schabas' departure highlights the sensitivity of the U.N. investigation just weeks after prosecutors at the International
Full report at:
http://english.alarabiya.net/en/News/middle-east/2015/02/03/Head-of-U-N-inquiry-into-Gaza-conflict-to-quit-over-Israeli-bias-claim.html
-----------
Dutch journalist to be tried in Turkey on 'terror propaganda' charges
Feb 3, 2015
ANKARA - A Turkish court will try Dutch journalist on charges she disseminated "terrorist propaganda", a move that is likely to deepen Western fears over press freedom in the NATO member state.
The indictment accuses freelance journalist Frederike Geerdink of posting messages on Facebook and Twitter in favour of the outlawed Kurdistan Workers Party (PKK), she told Reuters by telephone. She denied the charges.
If found guilty, Geerdink faces up to five years in prison.
"I am constantly thinking about how to do my job as a journalist and ... always make conscientious choices and choose my words carefully," Geerdink said.
While Kurdish and Turkish journalists are often targeted by prosecutors, Geerdink's indictment is a rare instance of a foreign journalist being pursued on criminal charges in Turkey.
http://www.jpost.com/Breaking-News/Dutch-journalist-to-be-tried-in-Turkey-on-terror-propaganda-charges-389782
----------
Mideast
Afghanistan needs to root out ISIS and Taliban: Iran
Feb 3, 2015
Mohammad Afkhami Rashedi, councilor of Iran in Afghanistan's western Herat province says that Afghanistan needs to root out Islamic States of Iraq and the Levant (ISIL) which also goes by ISIS and its Arabic name DAESH.
He has told Voice of America (VOA) that "I am optimistic by the formation of new National Unity Government in Afghanistan, administration and assignment of new officials, the government will eliminate ISIS and Taliban who are trying to find each other"
Rashedi expressed concern over ISIS existence in the provinces of Afghanistan neighboring Iran.
He said that ISIS is a joint threat to Afghanistan and Iran and that his country has preparedness to combat ISIS.
He assured that there is cooperation between the soldiers on the joint border between Afghanistan and Iran, saying that "Soldiers from both sides are meeting each other and have good understanding and cooperation"
He added that ISIS is not that strong but has confused people through its propaganda war in social media.
Iran has joint border with Herat, Faryab and Nimroz provinces of Afghanistan.
DAESH operation has been reported in Nimroz's neighboring Helmand province which apparently is concerning Iran.
http://www.khaama.com/afghanistan-needs-to-root-out-isis-and-taliban-iran-29009
----------
Turkey frustrated with little cooperation on foreign ISIS fighters
Feb 3, 2015
As Turkey continues its efforts to stem the militant flow to ISIS, the countries to which it deports suspected militants, release them after perfunctory interrogation, as evidenced by India's recent conduct
After deporting hundreds of people coming from Western countries to join the Islamic State of Iraq and al-Sham (ISIS) in Syria and Iraq, Turkish security units apprehended nine Indian citizens attempting to cross the Syrian border to join ISIS. Following their deportation, Indian authorities released all nine on Monday. Over the weekend, Interior Minister Efkan Ala said that 10,000 people from 91 countries have been banned from entering Turkey on the grounds of having links to ISIS, adding that 1,085 people from 74 countries were deported for similar reasons. The government also slammed its allies for failing to cooperate on intelligence sharing to prevent those planning to join ISIS from traveling. Police in the southern Indian city of Bangalore said that the nine Indians were released after they admitted during questioning that they had planned to cross over to the territory controlled by ISIS, but denied being members of the organization, which is banned in India. "We set them free as no incriminating material or any evidence was found against them," Bangalore police Chief M. N. Reddi told reporters Monday.
Full report at:
http://www.dailysabah.com/politics/2015/02/02/turkey-frustrated-with-little-cooperation-on-foreign-isis-fighters
----------
Drone kills four Al Qaeda suspects in Yemen
Feb 3, 2015
SANAA: A drone strike killed at least four Al Qaeda suspects in Yemen, tribal sources said, the third attack in a week after Washington vowed to pursue its anti-jihadist campaign there.
The unmanned aircraft, which only the United States operates in the region, targeted a car carrying "at least four" suspects in Baida province, the sources said. They said the bodies inside the car were left charred.
"Loud explosions were heard after the attack," one source said, saying this could mean the car had been "loaded with arms and explosives".
This was the third such strike since US President Barack Obama on January 25 vowed no let-up in Washington's campaign against jihadists in Yemen.
Four suspected militants were killed in a similar strike on Saturday, while another raid left three alleged Al Qaeda militants dead on January 26. Both of those attacks were in the southern province of Shabwa.
Full report at:
http://www.dawn.com/news/1161070/drone-kills-four-al-qaeda-suspects-in-yemen
----------
Houthi rebels demand their militia join army, police
Feb 3, 2015
SANAA: Yemen's Shiite rebels who overran the capital, Sanaa, are demanding their militia becomes part of the country's army and police force as a precondition for talks on releasing the nation's president and Cabinet members from house arrest, a senior politician said Monday.
The demand is the latest in the power grab by the Houthi rebels who last month raided the presidential palace, months after taking over key state institutions and military facilities after descending from their northern stronghold into Sanaa in September.
The demand, along with other conditions put forth by the rebels, could thwart UN efforts to find a negotiated solution to the crisis in Yemen.
The Arabian Peninsula country, which is also home to a formidable Al-Qaeda affiliate, has been leaderless since President Abed Rabbo Mansour Hadi submitted his resignation from the presidency last month after the Houthis pressured him for a greater share of power and besieged his home.
Full report at:
http://www.arabnews.com/middle-east/news/698651
----------
Syria, Iraq, Palestine, Hezbollah Aided by Iran's Missile Technology
Feb 3, 2015
Commander of the Islamic Revolution Guards Corps (IRGC) Aerospace Force Brigadier General Amir Ali Hajizadeh underlined Iran's high missile capabilities, and said Tehran has provided Syria, Iraq, Palestine and the Lebanese Hezbollah resistance group with the needed know-how to produce missiles.
"The IRGC's Aerospace Force has developed to a stage in the field of missile industries that it can mass-produce different types of short- and mid-range missiles," Hajizadeh said in Tehran on Monday.
"The Islamic Republic of Iran has helped Iraq, Syria, Palestine and the Lebanese Hezbollah by exporting the technology that it has for the production of missiles and other equipment, and they can now stand against the Zionist regime, the ISIL and other Takfiri groups and cripple them," he added.
Full report at:
http://english.farsnews.com/newstext.aspx?nn=13931113001541
----------
Turkish President Erdogan slams UNSC, singling out Russia and China
Feb 3, 2015
Turkish President Recep Tayyip Erdogan has repeated his call for reform of the United Nations, saying the U.N., which remains deadlocked over how to respond to the crisis in Syria, is no "longer capable of showing global leadership."
"The world is bigger than five. You cannot reduce 196 states to five countries," Erdogan said in a speech at Turkey's Justice Academy on Feb. 2.
Addressing the crisis in Syria, he said the vetoes wielded by Russia and China showed that "we cannot talk about justice in the world."
"Although we discussed with Russia and China time and again, the problem has not been resolved. Some 350,000 people have died and there is still no intervention [in Syria]," Erdogan said.
Full report at:
http://www.hurriyetdailynews.com/turkish-president-erdogan-slams-un-security-council-singling-out-russia-and-china.aspx?pageID=238&nID=77790&NewsCatID=510
----------
Seeing diversity as a threat limits freedoms: Top Turkish judge
Feb 3, 2015
Regarding differences and diversity as a potential threat to the Turkish state will make expanding freedoms in the country well-nigh impossible, the head of the Constitutional Court Hasim Kiliç has warned.
Additionally, Kiliç underlined the role that the court has played in protecting the rights and freedoms of citizens using the basis of universal standards, particularly citing the court's landmark decisions on lengthy detentions, fair trial, freedom of expression and the right to property.
"There is no doubt that the opportunity to expand freedoms will disappear as long as we define differences and diversity as a potential danger posed against the state," Kiliç said Feb. 2, delivering a speech at an oath-taking ceremony for a newly elected member of the Constitutional Court, Kadir Özkaya.
The ceremony was attended by President Recep Tayyip Erdogan and Prime Minister Ahmet Davutoglu, as well as by Parliamentary Speaker Cemil Çiçek, the chiefs of other supreme courts, deputy prime ministers and several members of the cabinet.
Full report at:
http://www.hurriyetdailynews.com/seeing-diversity-as-a-threat-limits-freedoms-top-turkish-judge.aspx?pageID=238&nID=77770&NewsCatID=338
---------
South Asia
Taliban justice favoured over Western law in Afghanistan
World Bulletin / News Desk
Feb 3, 2015
With ever increasing frustration of Western legal codes and government court systems seen as corrupt and unjust, many Afghans are now seeking justice under the Taliban justice system. Some cases taking months with bureucracy and unsuitable, ineffective codes take only days to be resolved under the Taliban - with no bribes or fees necessary. If anything, the system that is based on Taliban courts are easier, more transparent, and quick, and stand on Islamic law. If a judge was found to be corrupt, he would be beheaded.
Appealing to the wider community the Taliban's justice system has long been rooted in the traditional rural justice codes, which are now being mocked and discredited by everyday Afghans, in particular as the official international military mission has ended in the war torn country.A common saying, even in Kabul, is that to settle a dispute over your farm in court, you must first sell your chickens, your cows and your wife.
Many were discontent with the judiciary - led by President Ashraf Ghani, and the Taliban saw this as a chance to gain the approval of the locals. Setting up mobile courts that reached the remotest villages, they provided an alternative that provided a common solution to the Afghans. Hearings held two days a week, requiring plaintiffs to produced evidence and witnesses. Combined with the providion of militatnt commanders to provide services to locals and the fighters, became a surefire way to win their place amongst the locals.
Full report at:
http://www.worldbulletin.net/world/154209/pakistan-test-fires-missile-days-after-indian-test
----------
Khaleda Zia Sued For 42 Murders
Feb 3, 2015
DHAKA: Bangladesh authorities ordered a probe into allegations of murder against former Bangladesh Prime Minister Khaleda Zia and arrested a media magnate as two more people were shot dead in spiralling political unrest.
Although experts said it was unlikely that the accusations filed in a private lawsuit would result in charges against Zia, they will add to the pressure on the Bangladesh Nationalist Party (BNP) leader who has been struggling to topple the government through a transport blockade.
The order by a magistrate for police to probe the allegations came hours after the owner of a private television channel was arrested after a meeting with Zia in her Dhaka headquarters.
"Metropolitan Magistrate Atiqur Rahman ordered the Gulshan police in Dhaka to investigate the complaint and submit a report by March 1," Ashiqur Rahman, a court official, told AFP.
A lawyer for the plaintiff, pro-government activist A. B. Siddiqi, said Zia was responsible for the death of 42 people killed after opposition activists firebombed buses and trucks in a wave of protests.
Full report at:
http://www.arabnews.com/world/news/698631
----------
China to register Uighur Muslims phone and computers
Feb 3, 2015
World Bulletin Asia Pacific – China is to introduce a cellphone and computer registration scheme in the restive northwestern Xinjiang region, official media reported Friday.
The English-language Shanghai Daily, citing local officials, said the measure was "in response to the spread of terrorist recordings."
Xinjiang has seen a string of attacks over the past year amid tension between the minority Muslim Uighur population and Han Chinese. This has led to a security crackdown in which hundreds of people have been arrested and dozens executed.
Beijing blames the violence on Uighur separatists but activists claim China's policies towards Uighur are repressive and fuel resentment.
Under the new telecommunications rules, vendors are required to upload buyers' personal details to a police-run data system, regional news portal www.iyaxin.com said Thursday.
Local media did not say when the new rules would be introduced.
Some locations, such as electronics malls, will have to have surveillance cameras, the footage from which must be kept for at least 30 days.
Full report at:
http://www.uyghurcongress.org/en/?p=25281%20China%20to%20register%20Uighur%20Muslims%20phone%20and%20computers
----------
8 soldiers martyred, 31 insurgents killed in past 24 hours
Feb 3, 2015
General Zahir Azimi, spokesman for Defense Ministry of Afghanistan says that seven Afghan National Army (ANA) Soldiers have embraced martyrdom in an explosion.
He has not mentioned the exact location or date/time of the incident in the information released Tuesday morning but has stated that the blast took place in past 24 hours.
Without naming the provinces, he has written in his twitter account that 19 insurgents were also killed and 12 others injured in confrontations with the Afghan National Army in past 24 hours in three provinces of the county.
He has further written that 37 Improvised Explosive Devices (IEDs) were discovered and defused by the Army.
Also, Abdul Habib Sayedkhil, Police Chief of eastern Kunar province says that a landmine explosion has killed one soldier of the Afghan National Army and injured another one.
He said the incident took place in Naray District last night where a vehicle of the Army ran over a landmine.
In the meantime, a statement issued by the Ministry of Interior states that 19 insurgents were killed and 21 others wounded in past 24 hours in police operations.
Ministry of Interior statement adds that the operations were assisted by Afghan National Army and personnel from the National Directorate of Security personnel.
The operations were conducted in Faryab, Paktika, Kunar, Kunduz, Sar-e-Pul, Jowzjan, Kandahar, Uruzgan, Logar, Ghazni, Khost, Paktiya and Nimroz provinces where four Improvised Explosive Devices (IEDs) were also defuse by security forces, statement adds.
http://www.khaama.com/7-soldiers-martyred-31-insurgents-killed-in-past-24-hours-29011
----------
Seven killed in Bangladesh after petrol bombs thrown at bus
Feb 3, 2015
DHAKA: Opposition activists in Bangladesh trying to enforce a transport boycott threw petrol bombs at a bus early on Tuesday setting off a fire that engulfed the vehicle killing seven people, a fire department officer said.
The opposition rejected a general election just over a year ago and stepped up its protests last month in a bid to force Prime Minister Sheikh Hasina to step down and hold a new election.
At least 51 people have been killed in political violence over the past month including the seven on the night-bus to Dhaka.
"Seven died on the spot after opposition activists hurled petrol bombs," fire department official Monir Hossain told reporters in the southeastern district of Comilla.
Sixteen people were injured, several of them critically, he said.
Spokesmen for the opposition Bangladesh Nationalist Party (BNP) were not available for comment. They routinely reject accusations that their activists are responsible for violence.
Bangladeshi politics has been mired for years in bitter rivalry between Hasina and BNP leader Begum Khaleda Zia.
Both women are related to former national leaders and they have alternated as prime minister for most of the past two decades.
Analysts say the renewed political turmoil could threaten the country's $24-billion garment export industry, already under pressure after a string of fatal accidents.
http://www.dawn.com/news/1161242/seven-killed-in-bangladesh-after-petrol-bombs-thrown-at-bus
----------
Hostage killings highlight threat, meager options for Japan
Feb 3, 2015
The killing of two Japanese taken hostage by the Islamic State group has savagely driven home the high stakes Japan faces and limited options it can muster in such circumstances.
It also offers a glimpse into how Japan is struggling to handle the rising menace of terrorism.
Until this crisis, Japan had not become directly embroiled in the fight against the militants, who now control about a third of both Syria and neighboring Iraq in a self-declared caliphate. Tokyo's backing for U.S.-led air strikes against the Islamic State group is confined to financial and humanitarian aid for refugees and other non-military support for countries affected by the conflict.
That proved no hindrance for the jihadis, and Japan is re-examining its response to the threat, both abroad and at home, mindful also of Tokyo's preparations for the 2020 Olympic Games.
Full report at:
http://indianexpress.com/article/world/asia/hostage-killings-highlight-threat-meager-options-for-japan/99/#sthash.Ezgt08Qh.dpuf
----------
Villagers Appeal for Release of Jailed, Elderly Uyghur Religious Scholar
Feb 3, 2015
By RFA – Uyghur Service Residents of a county in northwest China's restive Xinjiang region have petitioned local authorities for the release of an elderly religious scholar whose health has declined since he was jailed six years ago for "illegal religious teaching activities" and "murdering a student," sources said.
Ablimit Qari Hajim, 85, the former imam, or Muslim religious leader, of the Yurchi township mosque in Kelpin county (Keping in Chinese), Aksu prefecture (Akesu in Chinese), is serving a 17-year sentence in a prison near the regional capital Urumqi, according to current and former residents of Yoqirisu village, where the scholar resided.
Kelpin county residents, including Hajim's relatives and neighbors, signed a petition for his release and submitted it several times to the local police, county government, and autonomous regional government in Urumqi, requesting that the scholar be released because of poor health, they said.
Full report at:
http://www.uyghurcongress.org/en/?p=25253%20Villagers%20Appeal%20for%20Release%20of%20Jailed,%20Elderly%20Uyghur%20Religious%20Scholar
----------
IS fighters enter local houses and break TVs and tape-recorders
Feb 3, 2015
The administrative chief for Charkh district in central Logar province on Monday said Islamic State (IS) militants had killed a Taliban commander and ordered residents to stop watching TV programmes.
Khalilullah Kamal told Pajhwok Afghan News the Taliban commander was killed in an early morning clash between the two groups in the main district bazaar.
He said the masked gunmen, wearing black clothes, gunned down Abdul Ghani and wounded his three bodyguards. The Taliban have not yet spoken about the incident.
Kamal said the armed men, who called themselves IS soldiers, entered into local houses and broke down television sets, antennas, tape-recorders and other household items.
The official warned IS rebels would gain ground in the district if the government did not take steps for their elimination.
Mohammad Hanif, a shopkeeper in the main Charkh Bazaar, said a group of masked men came opened fired on four Taliban. One of the fighters was killed on the spot and three others were wounded.
http://www.rawa.org/temp/runews/2015/02/02/is-fighters-enter-local-houses-and-break-tvs-tape-recorders.html#ixzz3Qf6thQIn
---------
India
Pro-IS Twitter Account Targets Modi
Feb 3, 2015
The pro-IS Twitter account, which was suspended after it called for a "car bomb" attack during U.S. President Barack Obama's visit to India last month, is back in a new avatar, this time targeting Prime Minister Narendra Modi too.
"Modi Obama the two Enemy of Allah. #26 January#flag hosting#car bomb#chemical," said a tweet through the new account @Magnetgas1 on January 25, adding: "The people of Kufr is one Millah.#Modi#Obama."
The account, suspected to be operated by one of the four alleged IS recruits from Mumbai, shows the location of its owner in Turkey.
In a matter of days, the account has over 500 followers and 220 pro-IS messages. Alarmed at the increasing instances of Indian nationals attempting to enter the war-stricken areas of Iraq and Syria, intelligence agencies have intensified surveillance of pro-IS propaganda activities on the social media.
A 19-year-old girl from Hyderabad had flown from Qatar, where she lived with her parents, to Turkey to join the outfit. In another case, nine persons were deported from Turkey and detained by the Bengaluru police a couple of days ago for allegedly attempting to enter Syria. They were released after they gave an undertaking that they would not indulge in any such activity in future.
"However, the threat of people getting radicalised on the Internet is real, and therefore, there is an urgent need for the agencies to take preventive measures," said an official.
http://www.thehindu.com/news/national/prois-twitter-account-targets-modi/article6850026.ece
----------
Xi, Putin back India on UN terror charter against Pak
Saibal Dasgupta,TNN | Feb 3, 2015
BEIJING: In a significant development, China and Russia on Monday decided to back India for moving a proposal at the United Nations that essentially goes against Pakistan on the issue of terrorism.
In order to corner Pakistan for sheltering and facilitating terrorists involved the 26/11 carnage and other attacks in the country, India seeks to move a resolution in the UN to punish those who shelter and finance terrorism. And on Monday, it enlisted the support of China and Russia for the same. "I see this as a major achievement," Exteral affairs minister Sushma Swaraj told newsmen after a summit of the foreign ministers of Russia, India and China (RIC).
This is a rare occasion when China, a close ally of Pakistan, has taken a stand on an issue that is bound to rattle Islamabad. Beijing's move not only reflects the importance it accords to New Delhi, but is also an acknowledgment of its own problem of terrorism in Xinjiang province. China has often said that 'foreign forces' are helping terrorists in Xinjiang.
After the RIC summit - attended by Chinese foreign minister Wang Yi, his Russian counterpart Sergey Lavrov and Swaraj - a joint communique was issued which "underlined the need to bring to justice perpetrators, organizers, financiers and sponsors of terrorist acts".
The three foreign ministers called for early conclusion of negotiations on the Comprehensive Convention on International Terrorism. India had moved this resolution 19 years back that has since remained inconclusive, Swaraj explained.
Full report at:
http://timesofindia.indiatimes.com/india/Xi-Putin-back-India-on-UN-terror-charter-against-Pak/articleshow/46101817.cms
----------
India-Pakistan Economic Ties, Victim of Politics: Former FM
Feb 3, 2015
Stating India-Pakistan economic ties have been a victim of politics, former Finance Minister Yashwant Sinha said the trade between the two countries can go up to USD 15-12 billion annually if necessary measures are put in place.
"Trade and economic relations between two countries have been victim of politics. Unless we delink it from politics we can't improve trade between India and Pakistan."
"Trade between two countries has gone up from USD 0.6 billion in 2004 to USD 2.7 billion in 2014 and it can go upto USD 15-20 billion if you just put in place the necessary measures," Sinha said at an event in New Delhi.
He recalled that while India gave most favoured nation (MFN) status to Pakistan in 1996, Islamabad had yet to reciprocate the same.
Full report at:
http://indianexpress.com/article/india/india-others/india-pakistan-economic-ties-victim-of-politics-yashwant-sinha/#sthash.vSEKTyOC.dpuf
----------
Foreign scholars more aware of Indian history, remarks vice president Ansari
Feb 3, 2015
MUMBAI: Vice president Hamid Ansari paid a visit to K R Cama Oriental Research Institute in Mumbai Monday and expressed his delight at seeing rare books and ancient manuscripts.
He said, ''India being a seat of ancient civilization is a treasure house of not just manuscripts and books but also ideas and traditions. Yet, as a people we have neglected some of our old treasures. Old manuscripts have not been given the attention they deserve. Ironically the rest of the world is more aware of our heritage; other nations know the wealth that is available here. The fact that the facilities at Cama Institute are used more by foreign scholars than domestic researchers is not a good commentary on our interest in matters related to history.''
The research institute is now 98 years old. It was set up in 1916 in memory of renowned oriental scholar and social reformer Khurshedjee Rustomji Cama. It houses a collection of 26,000 books in various languages and nearly 2,000 manuscripts in Avestan, Pehlavi, Zend and Persian. An ongoing project to preserve its manuscripts is being carried out by INTACH (Indian National Trust for Art and Cultural Heritage).
http://timesofindia.indiatimes.com/india/Foreign-scholars-more-aware-of-Indian-history-remarks-vice-president-Ansari/articleshow/46099673.cms
----------
Hi-tech fencing plan led to rise in Pak firing: BSF
Deeptiman Tiwary,TNN | Feb 3, 2015
NEW DELHI: An internal assessment by BSF of the recent ceasefire violations by Pakistan has concluded that much of the firing towards the close of last year and beginning of this year started after news of India bolstering its border defence with state of the art technology appeared in the media. The aim, say sources, was to disrupt such efforts by India.
In a series of ceasefire violations by Pakistan that began on the eve of New Year, as many as five people from India (four securitymen and one civilian) and 10 people from Pakistan (five soldiers and five civilians) have been killed apart from scores being injured on either side.
BSF maintains that the December 31, 2014 violation was a deliberate attempt by Pakistan to disrupt peace as a regular patrolling party was attacked by Pakistan rangers leading to the death of a BSF jawan. Since then firing from both sides continued intermittently till last week.
Full report at:
http://timesofindia.indiatimes.com/india/Hi-tech-fencing-plan-led-to-rise-in-Pak-firing-BSF/articleshow/46101533.cms
----------
Africa
Libya parliament drops law barring Gaddafi officials
3 February 201
Libya's internationally recognised parliament has voted to suspend a controversial law that barred officials from the era of toppled leader Muammar Gaddafi from holding political posts.
"The House of Representatives voted in favour of suspending the law of political exclusion until the adoption of a permanent constitution," MP Tarek al-Jerushi said on Monday.
He added that the law could now be considered "annulled", the AFP news agency reported.
In May 2013, the General National Congress (GNC) passed the law banning officials who had served under Gaddafi between September 1, 1969 and the fall of his government in October 2011 from holding any political position.
The law also banned them from leadership roles in the country's state firms, like the National Oil Corporation, its universities and judicial bodies.
Its opponents have argued that it was adopted under pressure from armed groups which besieged government buildings in Tripoli for days until it was approved by the then transitional assembly.
Full report at:
http://www.aljazeera.com/news/middleeast/2015/02/libya-parliament-drops-law-barring-gaddafi-era-officials-150203041709439.html
---------
"Terrorist" Belgium nationals 'may lose citizenship'
World Bulletin / News Desk
3 February 201
The Belgian federal government plans to revoke the citizenship of second and third generation citizens convicted of terrorism, Belgium's Deputy Prime Minister Didier Reynders has said.
His comments published on Monday came after Belgium's coalition government announced on Oct. 10, 2014 that the country was planning legislation aimed at depriving people with dual citizenship of their Belgian citizenship and residency if they fought abroad.
But Reynders was quoted by local Belgian media as going further than the original plans, saying that even second and third generation citizens - who became Belgians by birth - should lose their citizenship if convicted of "terror" charges.
"It is our intention to tackle the second and third generations as well, because this is where the main problem lies," Reynders was quoted as saying.
Full report at:
http://www.worldbulletin.net/todays-news/154219/terrorist-belgium-nationals-may-lose-citizenship
-----------
Nigeria: Elections in the Time of Boko Haram Violence, Displacement and Religious Tensions
Feb 3, 2015
As Nigeria prepares to go to the polls to elect its new president on 14 February, in what is seen as the first election contested by two rival parties, millions of Nigerians may not be able to cast their votes after all.
Flaring Boko Haram violence in the northern states has left many towns ravaged, thousands dead and millions displaced.
Over the last weekend, the group launched a heavy attack on Maiduguri, the biggest city in northeast Nigeria, as it seeks to build an Islamist state in the region.
But it is not just the ruthless terror group that has posed a grave threat to the elections; the religious north-south divide, a seemingly ill-prepared election commission and plain logistics could be just as explosive.
Boko Haram
The terror group has already rendered much of the country's north-east inhabitable, and its brutal attack on the town of Baga at the beginning of the year almost 'wiped it off the map', according to Amnesty International, which accessed satellite images to showcase the widespread destruction.
Full report at:
http://www.ibtimes.co.in/nigeria-elections-time-boko-haram-violence-displacement-religious-tensions-622221
----------
Darfur militants kidnap 2 Russia pilots: UNAMID
World Bulletin / News Desk
3 February 201
The UN Mission in Darfur (UNAMID) confirmed Tuesday that two Russian pilots working for a company contracted by the mission had been kidnapped by militants in the restive Sudanese region last week.
"Unidentified militants on Jan. 29 kidnapped two Russian pilots in Zalingei [capital city of Central Darfur state] as they were on board a bus in the city," UNAMID spokesman Ashraf Eissa told The Anadolu Agency.
"The mission is currently working with the Sudanese authorities to secure the two pilots' release," he said, declining to give further details to ensure the pilots' safety.
Darfur has been the scene of a ferocious war between the Sudanese government and three rebel movements since 2003. The conflict has left 300,000 people dead and around 2.5 million others displaced, according to UN figures.
The Sudanese government, however, insists that the death toll does not exceed 10,000 people.
UNAMID has been working in Darfur since early 2008. It is the second largest peacekeeping mission in the world, containing 20,000 troops, policemen and personnel from several countries.
http://www.worldbulletin.net/todays-news/154230/darfur-militants-kidnap-2-russia-pilots-unamid
-----------
North America
'Mujahideen' talks in Iran cited in Canada train terrorism trial
3 February 2015
Two men charged with plotting to derail a train traveling from New York to Toronto had their plans foiled by an undercover police officer who convinced them he could help pull off the attack, jurors heard at the opening of their trial on Monday.
One of the men, Tunisian Chiheb Esseghaier, told the undercover officer that he had met with "mujahideen" in Iran and had a plan in place with a "Palestinian brother," a reference to the second defendant, Raed Jaser, the court heard. Mujahideen are radical Islamist guerilla fighters.
In opening remarks, prosecuting lawyers said the two were motivated by Islamic extremism and wanted to murder people to instill fear, and so that Canada and the United States would remove their troops from Muslim lands.
The pair also spoke of other plans, including the use of a sniper to target political leaders, the undercover officer said.
"We don't want the sheep. We want the wolf," Jaser told the undercover officer and Esseghaier in September 2012, making reference to the Group of 8 summits often held in Canada.
Full report at:
http://english.alarabiya.net/en/News/world/2015/02/03/-Mujahideen-talks-in-Iran-cited-in-Canada-train-terrorism-trial.html
----------
US to continue help for Pakistan's anti-terror efforts
Feb 3, 2015
WASHINGTON: The US budget for the next fiscal year, released on Monday, includes assurance that Washington will continue to assist Pakistan's efforts for countering terrorism.
"For Pakistan, the budget demonstrates our commitment to fostering stability and prosperity, and provides security assistance that promotes counter-terrorism and counter-insurgency capabilities," said a statement issued with the budget.
"The budget continues to support public engagement and partnership programmes in Pakistan and maintains staffing in order to support these critical US priorities," it added.
The statement issued by the US State Department assured Islamabad and Kabul that the budget for the next US fiscal year "reinforces our commitment to Afghanistan and Pakistan".
The US fiscal year begins on Oct 1 of the current year and ends on Sept 30 of the next calendar year.
Full report at:
http://www.dawn.com/news/1161122/us-to-continue-help-for-pakistans-anti-terror-efforts
----------
Canada says release of Al-Jazeera journalist is 'imminent'
Feb 3, 2015
Canada's foreign minister said Monday the release of Al-Jazeera journalist Mohammed Fahmy from a prison in Egypt is "imminent."
Fahmy, a dual Egyptian-Canadian citizen, has relinquished his Egyptian citizenship as prerequisite to his deportation.
Foreign Minister John Baird spoke to the Canadian Broadcasting Corp. a day after Al-Jazeera journalist Peter Greste of Australia was released after more than an year in prison. Baird gave no specific time frame for Fahmy's release, and his spokesman declined further comment.
Greste, Fahmy and Egyptian Baher Mohammed were arrested in December 2013 and later convicted over their coverage of the violent crackdown on Islamist protests that year. Baird spoke with his Egyptian counterpart on Sunday and said he welcomed Greste's release. He said he remained hopeful that Fahmy's case will be resolved in "short order." Fahmy's brother, Adel Fahmy, said authorities gave him a choice: "dropping the nationality or his freedom." "It was a very difficult decision. Mohammed is very proud and comes from a patriotic family of high ranking military and policemen that have defended this country and fought its wars," Adel Fahmy said. He said many of those family members are offended and upset at Mohammed for dropping his nationality and don't want to even say goodbye to him. Adel Fahmy said his brother was devastated but his fiance and his mother told him to do it. He said authorities told his brother he would be allowed to return as a tourist.
http://indianexpress.com/article/world/americas/canada-says-release-of-al-jazeera-journalist-is-imminent/#sthash.OAzLGrRN.dpuf
----------
'Honey trap' hackers stole Syria rebel plans: US cybersecurity firm
Feb 3, 2015
Hackers targeted Syrian opposition members with online "honey traps," posing as female supporters to steal battle plans and the identity of defectors, a security firm said Feb. 2.
A report produced by US cybersecurity firm FireEye describes how the hacking operations in late 2013 and early 2014 targeted Syrian opposition fighters, media activists and humanitarian aid workers.
The group said it was unclear whether the information had been passed onto the Syrian government, and who the hackers were.
But the hacked material included a detailed opposition military plan to recapture the town of Khirbet Ghazaleh, strategically located in southern Daraa province, in 2013.
"The hackers stole a cache of critical documents and Skype conversations revealing the Syrian opposition's strategy, tactical battle plans, supply needs, and troves of personal information and chat sessions," the report said.
The hacking provided "actionable military intelligence for an immediate battlefield advantage" in the case of the planned Khirbet Ghazaleh attack.
It captured "the type of insight that can thwart a vital supply route, reveal a planned ambush and identify and track key individuals."
Despite the high-tech tools used in the attack, the hackers also relied on a well-worn tactic: the "honey trap."
Full report at:
http://www.hurriyetdailynews.com/honey-trap-hackers-stole-syria-rebel-plans-security-firm-.aspx?pageID=238&nID=77777&NewsCatID=352
----------
U.S. commander lifts secrecy on aid to Afghan army
3 February 2015
The U.S. military has performed another U-turn and will publicly release information about its aid for Afghan forces, after coming under criticism for declaring the data top secret, officials said Monday.
The commander of U.S. and NATO troops in Afghanistan, General John Campbell, had classified details of the assistance program for Afghan security forces, saying the data could be exploited by Taliban insurgents.
His move drew complaints from a U.S. government watchdog, the Special Inspector General for Afghanistan Reconstruction (SIGAR), which accused the Pentagon last week of depriving American taxpayers of vital information about the $65 billion program to bolster the Afghan army and police.
But Campbell softened his stance on Monday. His headquarters in Kabul has declassified most of the information that has been withheld, while only keeping secret those details related to the combat readiness of Afghan National Security Forces (ANSF) units, officials said.
The U.S. military mission in Afghanistan "has since gone back and separated data releasable to the public from classified ANSF readiness data based on the SIGAR's request to release more information to the public," a military officer said.
Full report at:
http://english.alarabiya.net/en/News/world/2015/02/03/U-S-commander-lifts-secrecy-on-aid-to-Afghan-Army.html
----------
Southeast Asia
Carnival scenes as Hindus mark Thaipusam
Feb 3, 2015
More than a million Hindus thronged temples throughout Malaysia today to celebrate Thaipusam, a colourful annual religious festival in which many display their devotion by piercing their bodies with hooks and skewers.
Celebrations in the capital Kuala Lumpur centred, as they have for 125 years, on the spectacular Batu Caves complex on the city's outskirts, which many Hindus walked up to ten hours to reach in an annual pilgrimage.
Bearing gifts for the deity Murugan, countless yellow-robed devotees carried milk pots or coconuts – the latter of which are smashed as offerings.
Others took part in the 15-km procession of a silver chariot from a temple in the city centre to the caves – an important religious site for Tamil Hindus – capped by the final 272-step climb to a temple in the limestone outcropping.
Celebrated also in India, Singapore and other areas with significant Hindu Tamil communities, the festival is marked with particular relish in multi-cultural Malaysia.
Many show their fervour by bearing the elaborately decorated frames called "kavadi" that can weigh as much as 100 kg (220 lbs) and are typically affixed to a person's body using sharp metal spikes dug into their flesh in a form of penance.
Full report at:
http://www.themalaysianinsider.com/malaysia/article/carnival-scenes-as-malaysian-hindus-mark-thaipusam#sthash.bA5yzXKY.dpuf
----------
Indonesia's Death Penalty Continues to Draw Criticism
Feb 3, 2015
Jakarta. When they were woken in the middle of the night six death row inmates would surely have known what was in store for them as they took their last walk outside the prison walls.
Six prisoners — five of them foreign nationals — were executed for drug smuggling on Jan. 18, with an additional 14 traffickers anticipated to face the death penalty this year.
Traditionally, execution is carried out at night by a firing squad of 12 soldiers. Only three have live rounds in their weapons, with the rest carrying blanks — so no one can know who delivered the killer shot.
A beam of light lands on a spot marking the inmate's heart to guide the aim of the firing squad.
In cases where bullets miss the vital organ, a commander will fire a point-blank shot to the temple.
This is the fate that awaits all of Indonesia's death row prisoners under President Joko Widodo firm no-clemency stance.
Indonesian migrant worker Satinah Binti Jumadi Ahmad escaped the same fate in Saudi Arabia after the Indonesian government agreed to pay her victim's family "blood money" in exchange for her life.
Satinah, 40, was found guilty of murdering her 70-year-old employer in 2007 and was sentenced to death four years later.
Full report at:
http://thejakartaglobe.beritasatu.com/news/indonesias-death-penalty-continues-draw-criticism/
----------
URL: https://www.newageislam.com/islamic-world-news/new-age-islam-news-bureau/anp-lawmaker-announces-$200,000-head-money-for-charlie-hebdo-owner/d/101350