New Age Islam News Bureau
31 December 2020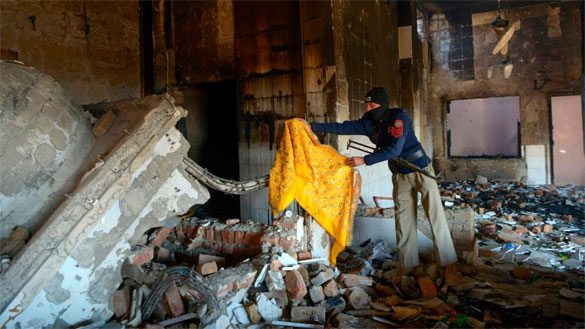 A policeman inspects the burnt Hindu temple a day after a mob attacked the temple in a remote village in Karak district, some 160 km southeast of Peshawar on December 31, 2020. (AFP)
----
• Assam Passes a Repeal Bill, Bringing an End to Madrassas under the Now-Dissolved Madrassa Education Board
• Turkey Dismisses Fears of Muslim Uighur Deportations to China
• Indonesia Disbands Radical Islamic Group over Charges of Violence
• Rohingya Refugees Hope For Better Life as Bangladesh Moves Them to Remote Island
• UN Chief Seeks International Monitors For Libya's Fragile Ceasefire
• Trump's Blackwater Pardons 'An Affront To Justice': UN Experts
• Europe Terror: EU Vows to Tackle Extremism As Attacks Continue In 2020
• Syria Urges UNSC to Take Firm Action against Israeli Acts Of Aggression
Pakistan
• Angry Mob Led By Local Clerics Destroys Hindu Temple in Northwestern Pakistan, Pakistani Police Arrested 14 People in Overnight Raids
• Lahore court remands PML-N's Asif into NAB custody for two weeks
• KP NAB seeks record of Fazl's Multan properties
• Two FC men, 13 civilians injured in grenade attack
--------
India
• Assam Passes a Repeal Bill, Bringing an End to Madrassas under the Now-Dissolved Madrassa Education Board
• VHP Ready to Accept Donations For Ram Temple Construction From Muslims, Says Central Working President Alok Kumar
• Sedition Case against Social Democratic Party of India Activists Shouting Pro-Pak Slogans in Karnataka
• Dr Aijaz Ahmad Lone from Baramulla Bags Fellowship In international Islamic University Malaysia
• Defence Minister Rajnath Singh Asked 'Why Should There Be Conversion', As He Backed the Controversial Anti-Conversion Law Enacted By UP Government
• MP: 24 detained after clashes break out as Hindutva rally shouts slogans outside mosque
• Three terrorists killed in Srinagar, kin of one cries fake encounter
--------
Mideast
• Turkey Dismisses Fears of Muslim Uighur Deportations to China
• Yemen's Houthis: Detained Saudi Pilots Will Only Be Exchanged for Palestinian Inmates
• Yemen airport blasts kill 26 as govt plane arrives
• Iran: All Culprits of General Soleimani's Case to Face Just Trial
• Iran allocates $150,000 for families of each victim of downed Ukraine plane
• Former Israeli spy in US arrives in Tel Aviv, greeted with prayer and passport
• Turkey hands life sentence to 92 people over 2016 coup attempt
• Iran, Turkey, Pakistan plan to revive railway line: Report
--------
Southeast Asia
• Indonesia Disbands Radical Islamic Group over Charges of Violence
• Islamic Religious Council of Singapore, SFA looking Into Allegations over Malaysian Meat Cartel
--------
South Asia
• Rohingya Refugees Hope For Better Life as Bangladesh Moves Them to Remote Island
• Afghan troops and police abandon nearly 200 checkpoints to the Taliban
• Drones become Taliban's latest weapon in Afghan war
• Kabul IED Blast Kills 1, Injures 2
• Azerbaijan to Open Embassy in Afghanistan
--------
Africa
• UN Chief Seeks International Monitors For Libya's Fragile Ceasefire
• Rights groups denounce Ethiopia's arrest of Reuter's journalist
• Boko Haram landmines kill 11 Nigerian security personnel
• Russia warns against call to war by Libya's Haftar
• UN mission in Sudan's Darfur set to end mandate
--------
North America
• Trump's Blackwater Pardons 'An Affront To Justice': UN Experts
• Cuba warns US against redesignating it as a state sponsor of terrorism
• Pompeo sued over US 'rushed' arms sale to UAE
• Turkish-Canadian professor appointed to Order of Canada
• US: Investigation ongoing in Washington state bomb call
--------
Europe
• Europe Terror: EU Vows to Tackle Extremism As Attacks Continue In 2020
• Major's Britain Feared Prospect of New War with Saddam, Latest Papers Show
• Egypt's prosecution wants accusations against police excluded from Regeni case
• Russia warns against escalation of tensions in Libya
• Refugees wait in cold to be bussed from burnt Bosnia camp
• Albanian sentenced for urging removal of Turkish flag
--------
Arab World
• Syria Urges UNSC to Take Firm Action against Israeli Acts Of Aggression
• 25 Syrians killed in attack in Dayr al-Zawr
• Lebanon PM's office backtracks on FBI report on Beirut port blast
• Syria's state media says 28 killed in bus ambush in Deir al-Zor
• GCC Secretary General delivers formal invite to Qatar to attend summit
• UAE's Gargash says Yemen's Aden airport blast is an attack on Riyadh agreement
• US flies two nuclear-capable B-52 bombers over Persian Gulf again in threat to Iran
Compiled by New Age Islam News Bureau
URL: https://www.newageislam.com/islamic-world-news/angry-mob-led-local-clerics/d/123937
----
Angry Mob Led By Local Clerics Destroys Hindu Temple in Northwestern Pakistan, Pakistani Police Arrested 14 People in Overnight Raids
Dec 31, 2020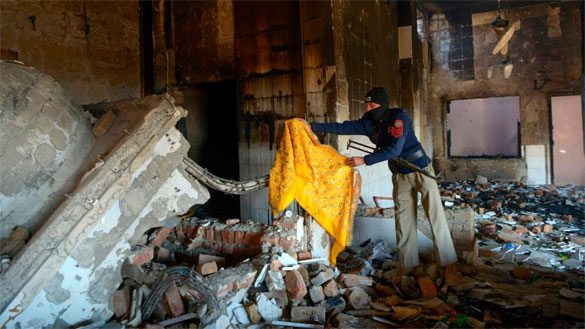 A policeman inspects the burnt Hindu temple a day after a mob attacked the temple in a remote village in Karak district, some 160 km southeast of Peshawar on December 31, 2020. (AFP)
----
PESHAWAR: Pakistani police arrested 14 people in overnight raids after a Hindu temple was set on fire and demolished by a mob led by supporters of a radical Islamist party, officials said Thursday.
The temple's destruction Wednesday in the northwestern town of Karak drew condemnation from human rights activists and the minority Hindu community.
Local police said they detained at least 14 people in overnight raids and more raids were underway to arrest individuals who participated or provoked the mob to demolish the temple.
The attack happened after members of the Hindu community received permission from local authorities to renovate the temple. According to witnesses, the mob was led by a local cleric and supporters of Pakistan's radical Jamiat Ulema-e-Islam party,
Pakistan's minister for religious affairs, Noorul Haq Qadri, called the attack on the temple "a conspiracy against sectarian harmony." He took to Twitter Thursday, saying attacks on places of worship of minority religious groups are not allowed in Islam and "protection of religious freedom of minorities is our religious, constitutional, moral and national responsibility."
The incident comes weeks after the government allowed Hindu residents to build a new temple in Islamabad on the recommendation of a council of clerics.
Although Muslims and Hindus generally live peacefully together in Pakistan, there have been other attacks on Hindu temples in recent years. Most of Pakistan's minority Hindus migrated to India in 1947 when India was divided by Britain's government.
https://timesofindia.indiatimes.com/world/pakistan/pakistan-arrests-14-people-over-demolishing-of-hindu-temple/articleshow/80041879.cms
--------
Assam Passes a Repeal Bill, Bringing an End to Madrassas under the Now-Dissolved Madrassa Education Board
Dec 31, 2020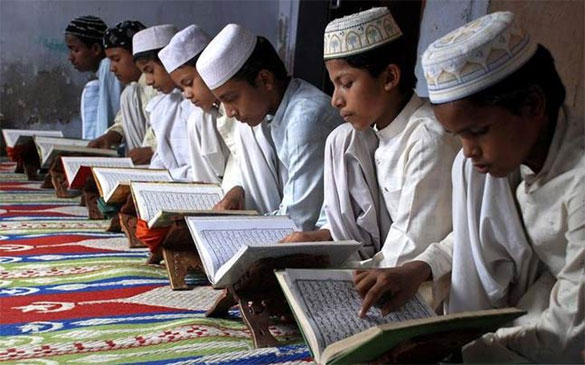 Govt-run madrassas to shut soon in Assam; Govt tables Bill for repeal of provincialisation of madrassas
-----
GUWAHATI: The Assam assembly on Wednesday passed a repeal bill, bringing an end to madrassas under the now-dissolved madrassa education board which were being funded by the state. All these provincialised and non-provincialised madarasas will now be converted into general upper primary, high and higher secondary schools.
Education minister Himanta Biswa Sarma described the passing of the repeal bill as his "gift to Islamic society".
Replying to a debate on repeal of the Assam Madrassa Education (Provincialisation ) Act 1995 and the Assam Madrassa Education (Provincialisation of services of employees and re-organisation of Madrassa Educational Institutions) Act 2018 in the assembly, Sarma said, "After 10 years, when the converted institutions will produce doctors and engineers, those opposing it now will thank the government. It is our duty to uplift the society which is backward. This is my gift to Islamic society."
The All India United Democratic Front (AIUDF) and Congress staged a walkout after their demand to send the bill to the select committee was rejected.
Sarma later tweeted, "Glad that the Bill pertaining to repeal of Provincialisation of Madrassas has been passed, even as@INCAssam and @AIUDFOfficial expectedly staged a walkout in Assembly. All madrassas being run under government stand converted into regular educational institute wef April 1, 2021."
Sarma said, "These madrassas are typical of Assam and West Bengal and were introduced during the days of Warren Hastings. Next time if we get the chance, we plan to introduce 'kalam' (pen) in Hafizia madrassa. Presently, it has only theological teaching."
He added, "It is wrong to say that we are against any community or religion. The Muslim community has hugely benefited from the scholarship scheme of the government and today at least 70% of patients coming to Gauhati Medical College and Hospital are Muslims. These people have hugely benefited from Atal Amrit Abhiyian and Orunodoi Scheme. The Orunodoi Scheme has been rolled out with 17 lakh-odd families as beneficiaries at present as the government would transfer Rs 830 per month to the account of one of the female members of the family under the scheme."
Sarma said, "We are not opposed to Islam. We have not done this for votes. I do not get votes from those areas (Muslim majority). I do not have vested interest either. Researchers have undertaken a survey in the madrassas where 83% students said they want general education. I am giving you a word that after conversion in two years, enrollment in this education institution will increase hugely."
Asserting that the government will appease none, he said, "The Modi government initiated measures to help Muslim women from triple talaq. It was not done for votes. We did not get a single vote because of this measure. We will have to initiate measures of reforms with love and affection. Opposing fundamentalists does not mean opposing Islam."
https://timesofindia.indiatimes.com/city/guwahati/assam-passes-bill-to-abolish-board-controlled-madrassas/articleshow/80038557.cms
--------
Turkey Dismisses Fears of Muslim Uighur Deportations To China
30 December 2020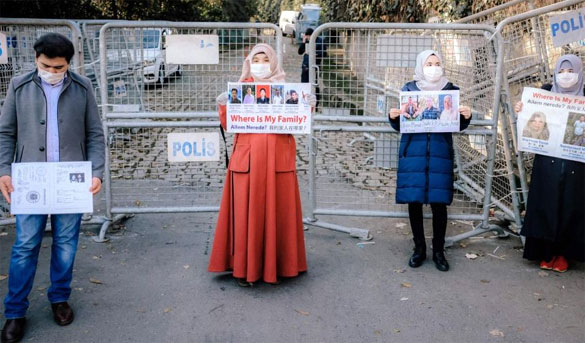 Muslim Uighurs demonstrate in front of the Chinese consulate in Istanbul on Dec 30, 2020.PHOTO: AFP
-----
Turkey on Wednesday brushed aside fears that a new extradition treaty with China would result in Ankara deporting Muslim Uighurs en masse.
About 20 Uighurs with Turkish citizenship picketed China's consulate in Istanbul after the Chinese parliament ratified the 2017 treaty on Saturday.
Ankara has not yet ratified the agreement, but its approval in Beijing has put Turkey's estimated 50,000-strong Uighur community on edge.
Foreign Minister Mevlut Cavusoglu did not say when Turkey's parliament might debate the agreement.
But he said its approval would not mean "Turkey will release Uighurs to China."
"Until now, there have been requests for returns from China related to Uighurs in Turkey. And you know Turkey hasn't taken steps like this," Cavusoglu told reporters in Ankara.
It would be "wrong and unfair to say it's a deal for the extradition of Uighurs. We are more sensitive to such issues than others," he said.
Uighurs speak a Turkic language and have cultural ties with Turkey that make it a favored destination for avoiding persecution in China's northwestern region of Xinjiang.
But news reports have accused Turkey of covertly returning Uighurs to China via third countries.
Rights activists say Xinjiang is home to a vast network of extrajudicial internment camps that have imprisoned at least one million people.
China says these are vocational training centers to counter extremism.
Ethnic Uighurs rallied for the ninth day running Wednesday to express their fears about the extradition treaty.
"God willing, we hope our state will not approve such a thing," said Omer Farah, an Uighur with Turkish citizenship who said his children are detained in China.
"But if it does, we are really worried. Because for China, all 50,000 Uighurs who live here are criminals."
https://english.alarabiya.net/en/News/middle-east/2020/12/30/Turkey-dismisses-fears-of-Muslim-Uighur-deportations-to-China
--------
Indonesia Disbands Radical Islamic Group Over Charges of Violence
By Richard C. Paddock and Dera Menra Sijabat
Dec. 30, 2020
BANGKOK — The hard-line Islamic Defenders Front was outlawed by the Indonesian government on Wednesday and ordered to cease all activities less than two months after its fiery leader, Rizieq Shihab, returned from self-imposed exile and pledged to lead a "moral revolution."
In a statement signed by top officials and the national police chief, the government said that members of the group had engaged in terrorist and criminal acts and that activities organized by the group had disturbed public order.
Mr. Rizieq, 55, a cleric who claims to be descended from the Prophet Muhammad, is accused of violating coronavirus protocols by holding gatherings of thousands of people. He surrendered to the police earlier this month and faces up to six years in prison. Days before his arrest, six of his bodyguards were shot and killed by the police in what the authorities said was self-defense. Mr. Rizieq remains in jail.
The order dissolving the group said that its government registration had lapsed last year and that it was no longer a recognized organization. It is now banned from conducting activities and using its logo, a triangular symbol with a star at the center and its name in Indonesian and Arabic lettering.
The government said that 29 members of the group had been convicted of committing acts of terror, but provided no details or evidence. It said 100 had been convicted of other crimes.
"With this prohibition, it has no legal standing," said Indonesia's minister for political, legal and security affairs, Mohammad Mahfud MD, referring to the group.
A spokesman for the group, Novel Bamukmin, said members would not be deterred by the dissolution of the organization, commonly known by its Indonesian acronym, F.P.I.
"They can disband the F.P.I. but they cannot disband our struggle in defending the country and religion," he said. "If we want to, we can declare a new Islamic mass organization this afternoon. If it's disbanded, we can make a new one continuously. Registered or not, we continue to exist."
The Islamic Defenders Front was founded in the late 1990s as military rule was ending. At the time, top army generals created civilian militia groups like the F.P.I. to help them retain power.
The group soon became known for enforcing its concept of Islamic law by vandalizing bars, persecuting rival sects and attacking gay and lesbian events. Over the years, it expanded its agenda to provide civil rescue services and evolved into a political and social movement, gaining many thousands of followers who were attracted by Mr. Rizieq's anti-establishment message.
"Considering the popularity of the group and the widespread use of its symbols, the order will be difficult to enforce," said Ian Wilson, a senior lecturer at Murdoch University in Perth, Australia, who has followed the group since its early years. "Some will likely abandon it, but it will potentially radicalize others."
Hours after the announcement, soldiers and police officers arrived at the group's Jakarta headquarters and took down a huge banner displaying Mr. Rizieq's photo.
The Saudi-educated Mr. Rizieq, who co-founded the group and remained its most visible leader, has long attracted controversy. In 2017, he left Indonesia while facing a pornography charge and accusations of an extramarital affair and lived in self-imposed exile in Saudi Arabia.
When he returned to Jakarta in November, he was greeted by many thousands of supporters and over the following days hosted several large gatherings. He later apologized for violating coronavirus restrictions, but it was not enough to keep him out of jail.
In returning to Indonesia, which is officially secular, Mr. Rizieq also posed a challenge to President Joko Widodo's government and pledged to push Indonesia toward a more conservative vision of Islam.
In his recent sermons, Mr. Rizieq accused Mr. Joko and his government of leading the country into a crisis because the leaders lacked morals. He contends that being a moral person means following Islamic, or Shariah, law.
He also argues that Indonesia should be united under a single God, and that since Muslims make up the overwhelming majority of Indonesians, they should have the power to enforce Shariah law and set the rules not only for Muslims, but for everyone as well.
Another radical Islamic group, Hizbut Tahrir, was disbanded by the government in 2017 for promoting a state based on Shariah law rather than secular principles.
"The F.P.I. is destructive, disruptive, and fueling intolerance," said Jajang Jahroni, a lecturer at Syarif Hidayatullah Islamic State University in Jakarta. "Maybe disbandment won't be effective. If the members are still on the street making trouble, they should be arrested and taken to court."
Richard C. Paddock reported from Bangkok and Dera Menra Sijabat reported from Jakarta. Muktita Suhartono contributed reporting from Bangkok.
https://www.nytimes.com/2020/12/30/world/asia/indonesia-islamic-defenders-front-banned.html
--------
Rohingya refugees hope for better life as Bangladesh moves them to remote island
December 31, 2020
DHAKA: A second group of Rohingya refugees in Bangladesh were on Tuesday taken to an island in the Bay of Bengal to start new lives, despite UN concerns for their welfare.
The Bangladeshi navy provided transport for 1,804 Rohingya Muslim refugees — members of an ethnic and religious minority group who have fled violence and persecution in Myanmar — to the isolated Bhashan Char island from overcrowded makeshift camps in Cox's Bazar.
They followed a first group of 1,642 relocated to the island, 30 km from the mainland, in early December.
Under the $370 million relocation project, the Bangladeshi government has built housing units and infrastructure on Bhashan Char for 100,000 Rohingyas to take pressure off the main refugee settlement in Cox's Bazar that already hosts more than 1.1 million people.
However, the UN Refugee Agency (UNHCR) said it had not been involved in the relocation operation and expressed concerns over the vulnerability of the island — which only emerged from the sea 20 years ago — to severe weather and flooding.
Mohammed Deen Islam, 35, one of those who arrived on the island on Tuesday, told Arab News: "We are being provided with living room in buildings made of concrete. Here we have far better accommodation facilities compared with the squalid camps at Cox's Bazar. It's a very beautiful place.
"Some of my relatives came here earlier at the first attempt of relocation. Seeing the facilities here, they invited me to come," he said, adding that he had voluntarily applied for relocation with his wife and four children.
Another Rohingya refugee, Nurul Islam, 39, said his relatives who had moved to the island in the first group told him it offered better opportunities to earn a living.
"From my relatives who came here in the first batch, I heard that there were huge livelihood opportunities here on this island. I want to start a new life here and will start fishing as I have previous experience for this job," he added.
Monowara Begum, 27, told Arab News: "We want peace and happiness. I heard that Bhashan Char was a safer place to live and that is why I volunteered to come here.
"In recent months, there were several incidents of clashes among different Rohingya groups at Cox's Bazar and sometimes it became unsafe," she said.
The Bangladeshi government said it was well-prepared to improve the well-being of refugees through relocation and the creation of job opportunities in areas such as cattle rearing, poultry farming, agriculture, and fishing.
"We will start these livelihood activities once the relocation process is completed and the Rohingyas are settled in their new place," said Mohammed Shamsuddoza Noyon, additional refugee relief and repatriation commissioner of the Bangladeshi government.
"We have already handed over the keys to the new houses to the refugees who landed on Tuesday. Initially, they will be provided with cooked food but shortly they will receive gas stoves and food aid to cook their own meals," he told Arab News.
He added that the initiative had been supported by local NGOs and that 20 health workers were on the island to provide medical help.
"So far around 30 local aid agencies have enrolled to work for the wellbeing of the Rohingyas and the number is increasing gradually," Noyon said.
But the relocation program has faced opposition from aid groups, especially the UNHCR, which said it had not been involved in the process and was concerned as to whether those going to the island had made the move through their own free will.
"The UN has not been involved in preparations for the movement or the identification of refugees for relocation. The UN has emphasized that Rohingya refugees must be able to make a free and informed decision about relocating to Bhashan Char based upon relevant, accurate, and updated information," said UNHCR spokesman, Mostofa Mohammed Sazzad Hossain.
He added that the refugee agency had asked Bangladeshi authorities for an assessment of the island's condition.
In 1991, nearly 143,000 people in coastal areas of Bangladesh were killed by a cyclone that produced a tidal wave more than four meters high.
The government, however, claims the island is safe as it had built a two-meter-high embankment to protect the housing area.
"The UN's request to undertake assessments has been under consideration by the government for some time," Hossain said, adding that the agency required the assessment to decide whether it could be engaged in operations on the island.
"The UN would need to carry out this work before being able to decide on its operational engagement on the island. We would look forward to having substantive discussions on this important matter soon," he said.
https://www.arabnews.com/node/1785196/world
--------
UN chief seeks international monitors for Libya's fragile ceasefire
31 December 2020
UN chief Antonio Guterres has proposed international monitors to support Libya's fragile ceasefire amid hopes that foreign fighters will soon leave and the country can turn the page on a decade of war.
In a letter to Security Council members seen by AFP, the secretary-general asked to set up a monitoring group that would include civilians and retired soldiers from regional groups such as the African Union, European Union and Arab League.
The warring sides, which reached a ceasefire on October 23 in Geneva, both want to avoid armed and uniformed foreign troops, Guterres said.
"I call on all national, regional and international stakeholders to respect the provisions of the ceasefire agreement and ensure its implementation without delay," Guterres said in the letter dated Tuesday.
"I encourage member states and regional organizations to support the operationalization of the ceasefire mechanism, including by providing individual monitors under the auspices of the United Nations."
He called in particular for all nations to respect the UN arms embargo on Libya, which has been flagrantly violated.
https://english.alarabiya.net/en/News/world/2020/12/31/UN-chief-seeks-international-monitors-for-Libya-s-fragile-ceasefire
--------
Trump's Blackwater pardons 'an affront to justice': UN experts
30 December 2020
US President Donald Trump's pardons of four Blackwater contractors convicted of killing civilians in a 2007 Baghdad massacre is a violation of US obligations under international law, UN experts said Wednesday.
"The Geneva Conventions oblige states to hold war criminals accountable for their crimes, even when they act as private security contractors," Jelena Aparac, head of the UN working group on the use of mercenaries, said in a statement.
"These pardons violate US obligations under international law and more broadly undermine humanitarian law and human rights at a global level," she said.
Trump granted pardons to the guards on December 22 among a slew of other controversial pardons before he leaves office next month.
The four were convicted of opening fire in Baghdad's crowded Nisur Square on September 16, 2007 in a bloody episode that caused an international scandal and heightened resentment of the American presence.
The shooting left at least 14 Iraqi civilians dead and 17 wounded while perpetuating the image of US security contractors run amok.
The Blackwater guards said they acted in self-defense in response to insurgent fire.
"Pardoning the Blackwater contractors is an affront to justice and to the victims of the Nisour Square massacre and their families," Aparac added.
The working group, consisting of five independent experts who are appointed by the UN but who do not speak on behalf of the body, warned Wednesday that countries have an obligation to hold convicted war criminals to account.
"Pardons, amnesties, or any other forms of exculpation for war crimes open doors to future abuses when states contract private military and security companies for inherent state functions," the statement said.
The working group voiced deep concern at the practice of permitting private security contractors to "operate with impunity in armed conflicts".
This, they warned, could encourage countries to "circumvent their obligations under humanitarian law by increasingly outsourcing core military operations to the private sector."
https://english.alarabiya.net/en/News/middle-east/2020/12/30/Trump-s-Blackwater-pardons-an-affront-to-justice-UN-experts
--------
Europe Terror: EU Vows to Tackle Extremism as Attacks Continue in 2020
By Henry Ridgwell
December 30, 2020
LONDON - Europe has faced a series of terror attacks on its soil during 2020, prompting the European Union to pledge a crackdown on extremism both online and within communities, alongside enhanced security at its borders.
France was once again a target for numerous terror incidents throughout the year.
In September, echoes of past attacks returned to haunt the country as four people were wounded in a knife attack outside the Paris offices of the satirical magazine Charlie Hebdo. The French government said the 18-year-old suspect arrived in the country three years ago and is of Pakistani nationality.
In 2015, gunmen killed 12 people in the same offices, after the magazine had published cartoons of the Prophet Mohammad.
Those cartoons were used earlier this year by teacher Samuel Paty in a class on freedom of speech at a school outside Paris. In October, a Chechen teenager lay in wait outside the school, stabbing and beheading Paty in an attack that shocked France.
Just days later, three people were stabbed to death in a church in Nice. The attacker, an Islamist extremist, had arrived in France as a refugee from Tunisia.
The attacks prompted French President Emmanuel Macron to unveil a new anti-radicalism plan, as he declared that Islam was "a religion in crisis" all over the world.
"Our citizens today must be protected," Macron said following the Nice attack. "Our citizens, those whose religion is Islam, must be protected in our country, against these evils which is radical Islam."
His comments sparked fury and protests across the Muslim world. But the French president was unperturbed. Macron launched a crackdown on radical preachers, closed several mosques and asked Muslim leaders to support a charter of French "republican values."
"This is a challenge for many countries that are trying to deal with extremism and terrorism and security issues," said Julie Norman, a security analyst at University College London who advises the EU's Radicalization Awareness Network (RAN).
"How do you as a state respond in very necessary ways to prevent attacks and to ensure security, but at the same time not alienate citizens, civil liberties or a sense of cultural integration?" she asked.
The attacks were not confined to France. A failed Syrian asylum-seeker fatally stabbed a tourist in the German city of Dresden in October. He was later identified as an Islamic State supporter who had arrived along with millions of other refugees in 2015.
In November, four people were killed and 23 injured when a gunman rampaged through the Austrian capital, Vienna. The attacker was an Islamic State sympathizer known to security services.
European leaders held an emergency meeting following the Vienna attack and pledged greater security checks on the borders of the EU to intercept extremists.
"They are ticking time bombs," said Austrian Chancellor Sebastian Kurz. "If we want to protect all our freedom, we must restrict the freedom of these people."
But terror analysts say the biggest threat comes from so-called homegrown terrorists who have been radicalized in Europe.
"The idea of kind of blaming asylum policies or blaming refugees and immigrants is a little bit misguided. Not only does it increase the chance of scapegoating those communities, but it just simply is not where most of the threat is usually located," analyst Norman told VOA.
The fierce political divisions are playing into the hands of extremists, said Sajjan Gohel, international security director at the Asia-Pacific Foundation.
"We must do our best to build bridges," he told VOA. "When there are separations and divisions, it's exploited by terrorist groups. But Europe must always retain its values that it deems to be important, which are freedom of expression, even if sometimes that can be controversial."
Even as Europe tries to tackle Islamist radicalization, far-right terrorism is a growing problem. Britain's security services said that in 2020, eight of the 27 advanced terror plots it has foiled involved right-wing extremists.
https://www.voanews.com/europe/europe-terror-eu-vows-tackle-extremism-attacks-continue-2020
--------
Syria urges UNSC to take firm action against Israeli acts of aggression
31 December 2020
In the wake of a new Israeli aerial assault, Syria has called on the United Nations Security Council to assume its responsibility and take "firm and immediate" action to end such acts of aggression by the Tel Aviv regime.
In a letter sent to the UN chief and the Security Council president on Wednesday, the Syrian Foreign Ministry urged the world body to make Israel respect Security Council Resolutions 242 (1967),338 (1973),350 (1974) and 497 (1981).
"Syria demands again that Security Council would assume its responsibilities in the framework of the UN Charter, on top of them, preserving the international peace and security, taking firm and immediate actions to stop those Israeli terrorist aggressions on the Syrian lands, and holding Israel responsible for its terrorism and crimes against the Syrian people," the letter read.
It came after an Israeli airstrike targeted a Syrian air defense unit in the al-Nabi Habil area of the Damascus countryside early on Wednesday. The attack killed a Syrian soldier and injured three others and caused material damage to the site.
In a similar air raid on December 25, Israeli warplanes fired a barrage of missiles through Lebanese airspace toward the Masyaf area in the western countryside of Syria's Hama Province.
The Syrian Foreign Ministry warned that Israel's aggressive approach poses a threat to international and regional peace and risks a dangerous escalation in the Middle East.
"While the Syrian Arab Republic condemns the aggression on the Syrian territories in a blatant violation of the Security Council resolution No.350 for the year 1974 related to the disengagement of forces agreement, it underlines that those repeated aggressions represent the hostile nature of Israel and prove once again that the Israeli occupation continues practicing the state terrorism and arrogance, especially after the failure of the terrorist forces … in carrying out their agendas," it added.
The ministry also lashed out at Israel for supporting the armed terrorist groups in Syria and the US for helping the occupying entity escape accountability with immunity.
"The Syrian Arab Republic reiterates again that the dangerous aggressive method adopted by the Israeli occupation authorities comes as a result of the unlimited support offered by the US that provides Israel with immunity from accountability, under support by some other members at the Security Council," it said.
Syria has been gripped by foreign-backed militancy since March 2011. Damascus says the Tel Aviv regime and its Western and regional allies are aiding Takfiri terrorist outfits in the Arab country.
Israel frequently targets military positions inside Syria, especially those of the resistance movement Hezbollah that has played a key role in helping the Syrian army in its counter-terrorism fight.
Israel mostly keeps quiet about its attacks, which many view as knee-jerk reaction to the Syrian government's increasing success on the battleground.
https://www.presstv.com/Detail/2020/12/31/641908/Syria-UNSC-Israel-aggression
--------
Pakistan
Lahore court remands PML-N's Asif into NAB custody for two weeks
Rana Bilal
31 Dec 2020
An accountability in Lahore on Thursday granted the National Accountability Bureau (NAB) 14-day remand of Parliamentary Leader of the PML-N in the National Assembly Khawaja Muhammad Asif.
The NAB prosecutor informed the court that Asif, who had been arrested from Islamabad on Tuesday, was facing charges of accumulating assets beyond known sources of income.
Asif had acquired assets in the names of his wife and children as well, the prosecutor said, adding that initially worth Rs5.1 million, Asif's assets now amounted to Rs812.1m.
The prosecutor told the court that the PML-N leader had not disclosed the means through which he accumulated these assets and requested physical remand of Asif so that the investigation against the PML-N leader could be completed.
However, Asif's counsel objected to the request, maintaining that the case against his client was "baseless" and "false".
Asif alleged he had been shifted to NAB's custody in Lahore because Prime Minister Imran Khan "couldn't get the desired result when an inquiry was launched against him by the watchdog's Rawalpindi chapter".
Asif's counsel told the court that the NAB, Rawalpindi, had summoned his client multiple times and Asif had appeared before the anti-graft watchdog each time. Besides, he appeared before the NAB, Lahore, all five times he was summoned, the counsel added.
He said all records asked for by the NAB too had been provided, objecting to the watchdog's request of a physical remand.
The court, however, sent Asif on a physical remand till Jan 13, directing the NAB to submit a progress report on the investigation at the next hearing. It further directed the watchdog to let Asif meet his relatives, adding that Asif must be presented before the court at the next hearing as well.
A NAB team had moved Asif from Islamabad to Lahore after obtaining his transit remand from an accountability court on Wednesday. Asif was arrested a day earlier from outside the Islamabad residence of another senior PML-N leader, Ahsan Iqbal, where the former had come to attend a party meeting.
The dramatic arrest of the firebrand opposition leader had prompted a strong reaction from his party, with PML-N vice president Maryam Nawaz alleging that NAB had acted like a "terrorist" and "kidnapped" Asif in the darkness of night.
PML-N supreme leader Nawaz Sharif, in a tweet, had condemned the arrest and termed it a result of the "nexus between the selectors and the selected".
"Such belittle acts reflect the government's state of panic, but it is moving even closer to its end through such actions," he wrote.
On Wednesday, speaking to the media outside the court premises in Islamabad, Asif had claimed efforts PM Imran was behind his arrest and that efforts were underway to create a rift within the PML-N for the past two years.
Addressing a press conference later in the day, Foreign Minister Shah Mahmood Qureshi said Asif had been summoned by the NAB several times to come and answer questions to "satisfy" the anti-graft watchdog.
"It seems that he was not able to satisfy [NAB]. He could not give satisfactory answers to allegations against him regarding money laundering and assets beyond means. If he had given the money trail and an explanation, then maybe it would not have come to the point of arrest."
Charges against Asif
According to the NAB, investigations against the PML-N leader were initiated under Clause 4 of the NAB Ordinance 1999 and Section 3 of the Anti-Money Laundering Act 2010.
"Before assuming the public office in 1991, the total worth of Khawaja Asif's assets was Rs5.1 million which increased to Rs221m in 2018 after serving on different posts which do not match with his known sources of income," said a statement issued by the NAB.
"Accused Khawaja Asif claimed to have received Rs130m from a UAE firm M/s IMECO, but during the course of investigation, he failed to present any solid evidence of receiving this amount as a salary," it said, adding: "This clearly shows that the accused tried to prove his income through fake sources."
Moreover, the NAB alleged that Asif was also running a benami firm 'Tariq Mir and Company' which was registered in the name of his employee. It said that an amount of Rs400m was deposited in the account of Tariq Mir and no sources of this huge amount were disclosed.
https://www.dawn.com/news/1598869/lahore-court-remands-pml-ns-asif-into-nab-custody-for-two-weeks
--------
KP NAB seeks record of Fazl's Multan properties
Shakeel Ahmed
31 Dec 2020
MULTAN: The district administration has started seeking details of properties owned by Jamiat Ulema-i-Islam-Fazl (JUI-F) chief Maulana Fazlur Rehman and his family in its jurisdiction on the request of the National Accountability Bureau (NAB), Khyber Pakhtunkhwa chapter, in connection with a probe being conducted by the bureau.
NAB's KP director general office, through a letter (No 1/34/(1079-32-332)IW-I/NAB(KP)/697) written to the Multan deputy commissioner on Dec 22, stated the bureau was conducting an inquiry against former National Assembly member Maulana Fazlur Rehman, his wife, two daughters, three sons, his two brothers and eight others "over the allegations of corruption, corrupt practice and accumulation of assets beyond means" under the National Accountability Ordinance 1999.
"The documents/information useful or relevant to the inquiry are in your control. Therefore, it is requested to provide complete certified and legible copies of details/record of properties (commercial/residential/agriculture) owned, purchased, sold or held by the individuals (list attached) in your jurisdiction as per the format along with part-e-sarkar, part-e-patwar, fards, annual agricultural income (if any) to combined investigation team of this bureau for examination by Dec 28, 2020, at NAB (KP), Peshawar."
The DC has been asked to ensure accuracy of the submitted information, as concealment of facts and misreporting would attract penalties under the provision of NAO, 1999.
The anti-graft watchdog has sought complete information, including name of mauza and tehsil, nature of property, cost of acquisition (purchase) and date of acquisition by each owner.
The DC office sources said the assistant commissioners of all the four tehsils of the district -- l City, Saddar, Jalalpur Pirwala and Shujaabad -- have been ordered to provide the required information, after hecking the revenue record of the respective tehsils.
They said that checking the revenue record of four tehsils was a time-taking exercise, adding that as soon the reports from the ACs were received, the information would be dispatched to the NAB, KP.
MNA Asadur Rehman, a son of the JUI-F chief, resides in a house on Nawabpur Road.
https://www.dawn.com/news/1598778/kp-nab-seeks-record-of-fazls-multan-properties
--------
Two FC men, 13 civilians injured in grenade attack
30 Dec 2020
KHUZDAR: Fifteen people, including two security personnel, were injured on Tuesday in a grenade attack on a vehicle of the Frontier Corps in Surab town of Kalat division.
Police said that two suspects riding a motorcycle hurled a hand grenade at the FC vehicle parked in the city area of Surab and escaped from the scene.
"As result of the explosion, two FC soldiers and 13 civilians suffered injuries," a senior police officer told Dawn, adding that the vehicle was badly damaged in the powerful blast that rocked the city of Surab.
Soon after the blast, police and personnel of Frontier Corps rushed to the site and cordoned off the entire area and took the injured to district hospital, Surab. The seriously injured victims were later referred to Civil Hospital, Quetta.
Security forces launched a search operation in suspec­ted places in Surab after the attack to trace the elements involved in the attack. No one immediately clai­med responsibility for the attack.
https://www.dawn.com/news/1598631/two-fc-men-13-civilians-injured-in-grenade-attack
--------
India
VHP ready to accept donations for Ram temple construction from Muslims, says central working president Alok Kumar
Dec 30, 2020
BHOPAL: The Vishwa Hindu Parishad (VHP) will accept donations for the construction of Ram Temple in Ayodhya from all communities including Muslims, said organisation's central working president, Alok Kumar, on Wednesday. He said the VHP has set a target of fundraising from 13 crore families to reach up to 65 crore individuals all over the country.
"We will accept donations from all. Those who believe that Lord Ram is an avatar (7th incarnation of Lord Vishnu). Those who believe in Imam-e-Hind are also welcome. Muslim brothers willing to contrbute in the name of Ram ji are also welcome," Alok Kumar told reporters on queries over donations from the Muslims.
The VHP top brass who arrived in Bhopal to share the preparations and work plan for the construction of a grand Ram temple in Ayodhya said the fundraising drive will begin from January 15 to continue till February 27 across the country. During the drive, 1.25 crore families of 50,000 villages in Madhya Pradesh will donate to Shri Ram Janmabhoomi Tirth Kshetra Trust for the construction of Ram temple. The volunteers will contact 6.5 crore devotees in the state.
On recent violence in MP, as sporadic incidents of stone pelting were reported from Ujjain, Indore and some other places, he said the VHP will not allow the temple movement to be discredited. "We will keep vigil so that the movement does not get discredited. We will also ask the agencies maintaining law and order to be vigilant. We believe that the people of India are mature. As earlier decided, everybody has accepted the court's verdict. We are determined to maintain peace and harmony. We are not in a phase of conflict but creation. If a temple is being built, then land has also been given for the mosque," he said.
The VHP leader said that Ram temple trust will not accept money for the construction of the temple from governments' kitty. "During the construction of Somnath temple, Mahatma Gandhi had suggested that the government should make a trust for the temple. Shri Ram Janmabhoomi temple will not accept government money for the construction. After discussions with district and regional representatives it was decided that workers will reach 5.25 lakh villages out of total 6 lakh villages in India," he said.
The VHP will contact 13 crore families all over the country. At an average of 5 members in a family, the organisation will ensure participation of 65 crore people in the fundraising drive. Alok Kumar said Swami Akhileshwaranand ji will be the head of Shri Ram Mandir Nirman Nidhi Samarpan Samiti in Madhya Pradesh.
"We are keeping the entire drive transparent. Three banks have been involved under the drive - SBI, PNB and Bank of Baroda. Coupons amounting Rs 10, Rs 20 and Rs 100 will be distributed to collect donations. Receipts will be given for donations over Rs 1000, he said adding, the fund collected will have to be deposited in the banks within 48 hours.
"The campaign would certainly be the biggest ever in the history of the world. This is a campaign of reconstruction of renaissance of reaching out the biggest number of villages, the families and the people for a socio-religious cause for the construction of the Ram Temple and to march towards the Ram Rajya," he said.
Ram temple would have a total area of 2.7 acres. The construction area is 57,400 sq. feet. The length of the Temple would be 360 ft with 235 ft. The Temple would be a three storied structure with 5 Mandaps. The number of columns would be 160 on the ground floor, 132 on the first floor and 74 on the second floor. It is expected that by 2024 Shri Ram Lala shall be established in the sanctum sanctorum of the main Temple. Along with the temple, there will be a library, archives, museum, research centre, Yagyashala, Ved pathshala, Satsangh bhawan, Prasad distribution centre, amphitheatre, Dharamshala, exhibition and other facilities.
https://timesofindia.indiatimes.com/city/bhopal/vhp-ready-to-accept-donations-for-ram-temple-construction-from-muslims-says-central-working-president-alok-kumar/articleshow/80030682.cms
--------
Sedition Case against Social Democratic Party of India Activists Shouting Pro-Pak Slogans in Karnataka
Venkatesha Babu | Edited by Abhinav Sahay
Dec 31, 2020
In a video which has gone viral, activists allegedly belonging to the Social Democratic Party of India (SDPI) were seen shouting pro-Pakistan slogans after victory in gram panchayat elections in Ujire near Mangaluru. SDPI allegedly shouted 'Pakistan Zindabad' slogans. The Belthangady police have decided to take suo moto action against those who raised the slogans.
The slogans in support of Pakistan were heard while the counting centre authorities were making announcements related to counting of votes for Mundaje gram panchayat in Belthangady Taluk.
Belthangady BJP MLA Harish Poonja told the media that he had spoken to the superintendent of police (SP) of the district and asked for strict action against those who raised such slogans. BJP MP from Udupi, Shobha Karandlaje tweeted to say that the incident again revealed SDPI's real character.
'This is neither Peshwarar of Karachi. #PakishtanZindabad slogans raised while celebrating SDPI candidate's GP election victory in Ujire. Yet again proving the loyalty & intentions of SDPI," she tweeted.
Karandlaje appealed to chief minister Yediyurappa for banning SDPI.
"Dear CM @BSYBJP sir, it's now or never. Ban this anti-national organisation."
However J Athaullah, SDPI district president, denied that his party members were involved in the pro-Pak slogan shouting incident.
"None of our party workers will raise such slogans. We will file a case against anybody who is trying to besmirch our name," Athaullah said.
Police officials said that a case had been filed against 15 SDPI activists under sections 143 (unlawful assembly), 124 A (sedition) and 149 (offense committed in prosecution of common object) of the Indian penal code (IPC) and efforts were on to identify those responsible. Police have also sought the help of the public, asking them to send additional videos if any to help identify the culprits.
https://www.hindustantimes.com/india-news/sedition-case-against-sdpi-activists-shouting-pro-pak-slogans-in-karnataka/story-EhDrJvft7iVUMMNRUs3KAP.html
--------
Dr Aijaz Ahmad Lone From Baramulla Bags Fellowship In international Islamic University Malaysia
December 31, 2020
Dr Aijaz Ahmad Lone from Baramulla has been selected for post-doctoral fellowship in international Islamic University of Malaysia.
Aijaz had his early education from Baramulla and later completed his M.phil and PhD from Iqbal Institute of culture and philosophy, University of Kashmir. "The watershed in his academic career took place when I moved to Kashmir University for post graduation in sociology and I completed my research and (CGC-NET)," he said. Ajaz coordinated several research projects related with social policy and societal importance. He is the, Chairman of Iqbal Research lnstitute Lahore, Pakistan (Kashmir Chapter) and active member of lqbal academy India, Pakistan and Iran.
Meanwhile, as per the declaration letter issued by the International Islamic University of Malaysia, Aijaz will work under supervision of Associate Professor Dr. Suhailah Hussain.
"I have perused Dr. Ajaz's resume and his writings (publishod and unpublished) and has found them to be significant in his contributions to the contemporary Muslim world," reads a declaration issued by Prof. Hussain.
The proposed guide has further stated that the farsightedness and high level critical thinking of Dr. Lone was impressive and she was willing to guide and supervise him in his post-doctoral research at the department.
"In relation to the funding and scholarship that he is seeking. I strongly recommend it and hold the view that his infended research will continue to advance the work of Islamization and ideas of great Muslim scholars like Shariati and Iqbal for the developnent of Muslim education," it reads.
She has further stated that working together with Dr. Ajaz in his post- doctoral research will also help to resolve problems and challenges faced by muslim societies.
https://www.greaterkashmir.com/news/kashmir/baramulla-scholar-bags-fellowship-in-iiu-malaysia/
--------
Defence Minister Rajnath Singh Asked 'Why Should There Be Conversion', As He Backed The Controversial Anti-Conversion Law Enacted By UP Government
Rajnath Singh backs 'love jihad' law
31.12.20
Defence minister Rajnath Singh on Wednesday asked "why should there be conversion", as he backed the controversial anti-conversion law enacted by the Yogi Adityanath government in Uttar Pradesh to crack down on interfaith unions that the BJP besmirches as "love jihad".
That Rajnath, known to be a relatively moderate face in the current regime, has backed the anti-conversion law, being embraced by several other BJP-ruled states as well although it is widely considered regressive and discriminatory, shows that it has wide acceptability in the central leadership.
Appearing unmindful of reports of couples being harassed and even jailed under the new law in Uttar Pradesh, Lucknow MP Rajnath told news agency ANI when asked if the "love jihad" law was being misused: "Hamara toh yeh kehna hai ki, conversion hona hi kyon chahiye (I want to ask why should there be conversion)?"
Told that the Constitution allows religious conversions, Rajnath intervened. "Nahi, nahi (No, no). I see reports of mass conversions taking place in the country. This should stop," the minister said.
Rajnath claimed that Muslims are not permitted by their religion to marry someone from another faith.
"So, conversion for marriage, I personally don't approve of it," he said.
Asked if an individual does not have the right to marry outside his or her religion if he or she is willing to, Rajnath interjected once again before the question could be completed.
"You may have seen that in many cases, forcibly, and even allurement is offered for conversion. There is a huge difference between natural marriage and forcible conversion for marriage," he said, defending the state governments enacting the anti-conversion law.
"I think the governments that have made these laws have considered all these things," Rajnath said.
The defence of the law came against the backdrop of 104 retired civil servants writing to chief minister Adityanath on Tuesday, demanded the withdrawal of the anti-conversion ordinance, saying it was being used to "victimise Indian men who are Muslim and women who dare to exercise their freedom of choice".
The signatories to the letter included former foreign secretary Nirupama Rao and ex-national security adviser Shivshankar Menon, among others.
The letter said Uttar Pradesh had become the "epicentre of the politics of hate, division and bigotry" and the institutions of governance were "steeped in communal poison".
The Shivraj Singh Chouhan government in Madhya Pradesh on Tuesday approved an ordinance against what it said were "forcible religious conversions". Some other BJP-ruled states too have started the process of enacting a law similar to what Adityanath has done in Uttar Pradesh.
https://www.telegraphindia.com/india/rajnath-singh-backs-love-jihad-law/cid/1802141
--------
MP: 24 detained after clashes break out as Hindutva rally shouts slogans outside mosque
Dec 31, 2020
The Madhya Pradesh Police have detained 24 people from Chandan Khedi village after clashes erupted when members of Hindutva groups shouted slogans in front of a mosque on Tuesday, The Indian Express reported. The members of the Hindutva groups were conducting a rally in the Muslim-dominated village to collect donations for the construction of a Ram temple in Ayodhya, Uttar Pradesh.
Around 200 people chanted Hanuman Chalisa and "Jai Shri Ram" slogans outside the mosque when prayers were being offered inside, officials said. This led to a heated exchange between Hindus and Muslims, and led to stone pelting, the police said. Some members from the rally hoisted saffron flags and climbed the mosque and tried to damage the minaret, witnesses said. Some videos also showed the Hindutva group members trying to damage nearby houses and vehicles.
"Twenty-four people, mostly from the village, have been rounded up based on video evidence," Indore Inspector General of Police Yogesh Deshmukh said. "There will be more arrests on both sides and people who climbed atop the mosque will be identified and booked under relevant sections."
The clashes went on till late on Tuesday and senior officials such as Collector Manish Singh and Senior Superintendent of Police Harinarayan Chari Mishra were at the spot to control the situation, according to The Indian Express.
The Indore collector imposed prohibitory orders under Section 144 of the Code of Criminal Procedure, ANI reported. The orders were imposed in gram panchayats of Chandan Khedi, Dharmat, Rudrakhya, Sunala, Dudhakhedi and municipal councils of Gautampura and Sanwer.
The clashes in Chandan Khedi came three days after a similar incident was reported in Ujjain's Begum Bagh area. During a rally by Bharatiya Janata Yuva Morcha, similar slogan chanting and stone pelting incidents were reported. The police have arrested 15 people so far but they are all residents of Begum Bagh. No participants of this rally have been arrested so far.
https://scroll.in/latest/982721/mp-24-detained-after-clashes-break-out-as-hindutva-rally-shouts-slogans-outside-mosque
--------
Three terrorists killed in Srinagar, kin of one cries fake encounter
Dec 30, 2020
SRINAGAR: Three terrorists were killed in an anti-terror operation at Lawaypora on Srinagar's outskirts on Wednesday, but the kin of one of the slain men claimed he was a Kashmir University student who had left home to write his exams, only to lose his life in a "fake encounter".
Official sources identified the slain trio as Aijaz Ahmad Ganie and Ather Mushtaq from Pulwama, and Zubair Ahmad Lone from Shopian. "Since the past many days, we had been flooded with intelligence inputs about terrorists' movement on the Srinagar-Baramulla highway. Yesterday (December 29), we learnt that ultras were hiding in a house right opposite Noora hospital in Lawaypora, HMT area," GOC Kilo Force H S Sahi said at a press conference.
On ascertaining the presence of terrorists, a joint team of Army's 2RR, CRPF and J&K Police cordoned the area and asked them to surrender, but the ultras "fired indiscriminately and even lobbed grenades at the security forces, triggering an encounter. The operation was halted as darkness fell but the cordon layers tightened. It resumed with first light on Wednesday, ending around 11.30am with the killing of the three terrorists," GOC Sahi said. Police said an AK-47 rifle, two pistols and some grenades were recovered from the spot.
Aijaz's family from Pulwama's Putrigam area, however, contested the Army's claim stating he had left a day ago to appear in the varsity examination and they were "shocked" to see his body on social media labelled as a "terrorist". The distraught family staged a protest outside Srinagar Police Control Room and raised slogans demanding Aijaz's body. Some youths, meanwhile, pelted stones at security forces near the encounter site after the firefight ended.
The GOC, however, was yet to confirm the identities and affiliation of the slain trio. He lauded the security forces for the "clean operation" without any casualties to the team or civilians, adding that in the past week, five terrorists including one from Pakistan were killed in two gunfights in north Kashmir.
Asked why terrorists are choosing Srinagar's outskirts or highways for terror attacks on security forces, GOC Sahi said, "They do so to get maximum publicity. The nature of ammunition used by terrorists in today's gunfight suggests they were planning a big strike on the highway." Another reason for choosing the area is because it has a congested locality, lanes and bylanes. "They perhaps feel these areas are a safe haven. But our intelligence grid is very strong and we won't allow any terror bid. With Republic Day approaching, they might be planning something sinister but we are alert and will foil all their plans," said the GOC, who was flanked by Commander 10 Sector RR Naresh Mishra and West Srinagar SP Shehzad Saliar besides other top officials of Army and police at the conference.
https://timesofindia.indiatimes.com/india/three-terrorists-killed-in-srinagar-kin-of-one-cries-fake-encounter/articleshow/80032918.cms
--------
Mideast
Yemen's Houthis: Detained Saudi pilots will only be exchanged for Palestinian inmates
31 December 2020
The Houthi Ansarullah movement has conditioned the release of Saudi pilots in Yemeni custody on the freedom of Palestinian inmates held in the kingdom's prisons.
Speaking to al-Masirah TV channel on Wednesday, Abdel Kader Mortaza, the official in charge of prisoner affairs at Yemen's National Salvation Government, said Saudi pilots held in captivity in Sana'a would only be swapped with the Palestinians imprisoned by the Riyadh regime.
Since February 2019, Saudi Arabia has kept 68 Palestinians and Jordanians in detention without any legal reason.
Among the inmates is Mohammed al-Khudari, a high-ranking official from the Gaza-based Hamas resistance movement.
Mortaza said a total of 1,087 prisoners from the Yemeni Army and allied popular forces were released from Saudi detention in 2020, 670 of them under UN supervision and 417 through local mediation.
In exchange, he added, the Houthis freed 150 captives, including 64 child soldiers recruited by the Saudi-led coalition, which has been waging a deadly war on Yemen over the past years.
A UN delegation visited Sana'a prisons 12 times in 2020, but the coalition does not allow such visits, the official noted.
He further said the enemy was preventing more than 30 prisoner exchange operations this year, reporting 900 cases of prisoner torture at the hands of the Saudi-led coalition in 2020.
Mortaza also said 20 Yemeni inmates were killed this year at the coalition-run prisons due to torture or medical negligence.
Saudi Arabia launched a devastating military aggression against Yemen in March 2015 in collaboration with a number of its allied states, and with arms support from the US and several Western countries.
The aim was to return to power a Riyadh-backed regime of former president Abd Rabbuh Mansur Hadi and defeat the Houthi Ansarullah movement that has taken control of state matters.
The war has failed to achieve its goals, but killed tens of thousands of innocent Yemenis and destroyed the impoverished country's infrastructure. The UN refers to the situation in Yemen as the world's worst humanitarian crisis.
Elsewhere in his remarks, Mortaza expressed Sana'a's readiness to engage in talks on a prisoner swap in the coming year.
He also said the Islah party, which is the backbone of the self-proclaimed Hadi government, has not accepted an offer by the UN for prisoner exchange talks in the Jordanian capital, Amman.
The UAE has kept hundreds of prisoners from the Yemeni Army and allied popular forces, he added.
https://www.presstv.com/Detail/2020/12/31/641921/Houthi-Yemen-Saudi-pilots-prisoners-swap-Palestinians
--------
Yemen airport blasts kill 26 as govt plane arrives
31 Dec 2020
ADEN: At least 26 people were killed on Wednesday as explosions rocked Yemen's Aden airport moments after a new unity government flew in, in what some officials charged was a "cowardly" attack by Houthi rebels.
Although all government ministers were reported to be unharmed, more than 50 people were wounded, medical and government sources said in the southern city, with the casualty toll feared likely to rise.
Doctors Without Borders (MSF) said it was preparing a "mass casualty medical response plan".
Pakistan termed the explosions "a senseless act of violence and terrorism" and urged the international community to ensure the territorial integrity of Yemen.
As smoke billowed out of the airport terminal from an initial blast, with debris strewn across the area and people rushing to tend to the wounded, a second explosion took place.
Pakistan describes explosions as 'senseless act of violence, terrorism'
Video footage shot by AFP appears to show missile-like ordnance striking the airport apron — that moments before had been packed with crowds — and exploding into a ball of intense flames.
It was not immediately clear what had caused the explosions.
Sporadic gunfire was heard soon after.
Yemen's internationally recognised government and southern separatists formed a power-sharing cabinet on Dec 18, forging a joint front against the Houthi rebels who have seized Yemen's capital Sanaa and much of the north.
Both Yemeni Information Minister Moammar Al-Eryani and Prime Minister Moeen Abdulmalik Saeed said that all the members of the government were safe.
"We assure our great people that members of the government are fine, and we assure you that the cowardly terrorist attack by the Iran-supported Houthi militia will not deter us from carrying out our patriotic duty," Eryani said on Twitter.
Saeed tweeted that the "terrorist attack... was part of the war waged against Yemen and its people", but stopped short of accusing the Houthi insurgents.
Yemen's government spokesman Rajih Badi called for an international investigation into the "terrorist" attack he said targeted "all members of the cabinet".
"It is too soon to accuse any party before an investigation reveals who executed the attack, including (accusing) the Houthis," he said, adding those injured included civilians, security guards and local officials.
Meanwhile, UN envoy Martin Griffiths condemned the attack on Twitter, calling it an "unacceptable act of violence".
"I wish the cabinet strength in facing the difficult tasks ahead," he said.
"This unacceptable act of violence is a tragic reminder of the importance of bringing Yemen urgently back on the path towards peace." Michael Aron, the British ambassador to Yemen, also condemned the blasts.
"A despicable attempt to cause carnage and chaos and bring suffering when Yemenis had chosen to move forward together," he said.
The cabinet members arrived in Aden days after being sworn in by Yemeni President Abedrabbo Mansour Hadi in Saudi Arabia, which leads a military coalition against the insurgents.
Hadi fled to the Saudi-capital Riyadh after Sanaa fell to the Houthis in 2014.
Tens of thousands, mostly civilians, have been killed and millions displaced in Yemen's grinding five-year war, which has triggered what the United Nations has called the world's worst humanitarian disaster.
The new government includes ministers loyal to Hadi and supporters of the secessionist Southern Transitional Council (STC), as well as other parties.
Pakistan's stance
A statement issued by the Foreign Office's spokesperson in Islamabad said: "Pakistan on Wednesday strongly condemned the terrorist attack at Aden airport in Yemen in which the cabinet members of the newly-formed government were targeted.
"We believe this attack was not just condemnable as an act of senseless violence and terrorism, it was also reprehensible as an attempt to undermine the recent efforts by the Kingdom of Saudi Arabia, and its positive results, aimed at fostering enhanced peace and security in Yemen."
Pakistan urged the international community to ensure respect for territorial integrity of Yemen and to support efforts aimed at promoting peace and security in the country, the statement added.
https://www.dawn.com/news/1598813/yemen-airport-blasts-kill-26-as-govt-plane-arrives
--------
Iran: All Culprits of General Soleimani's Case to Face Just Trial
2020-December-30
"Iran's policy is to bring to justice the culprits involved in the January 2020 terror attack and punish them without any discrimination." Rayeesi said on Tuesday in a phone call with his Iraqi counterpart Faeq Zeidan, and noted that the Iranian and Iraqi national security is intertwined.
He thanked the Iraqi judiciary for its continuous follow-up on the terror attack by the US terrorist army which led to the martyrdom of the former commander of the Quds Force of the Islamic Revolution Guards Corps Qassem Soleimani and Deputy Head of the Iraqi Popular Mobilization Forces Abu Mahdi al-Muhandis.
Rayeesi reiterated that the terrorist act aimed at stopping the march of Iran and Iraq on the path of progress.
"Today, we consider the United States a clear manifestation of state terrorism," the judiciary chief continued and described the US as the common enemy of the Iranian and Iraqi nations.
He said the expulsion of the American troops from Iraq, under the Iraqi parliament's order, will guarantee security goals.
Faeq Zeidan, for his part, emphasized the implementation of justice without discrimination in the case of the assassination of martyrs Soleimani, Al-Muhandis and their companions.
He said, "We are mourning for the two martyrs in Iraq and Iran, and we see that the photos of the two martyrs are put together in these ceremonies. This shows the unity and common fate of the two nations."
Referring to the US terrorist army's expulsion from Iraq, Zeidan said, "There is no need for the presence of foreign forces to ensure security."
In relevant remarks on Monday, Secretary of Iran's Supreme National Security Council Rear Admiral Ali Shamkhani said that regional security can be materialized only through expulsion of foreign forces, adding that the US military activities in the region stem from their fear of past criminal acts.
Shamkhani wrote on his Twitter page that security will be brought to the region only if foreign anti-security forces leave the region, and stressed that the recent activities of the US troops stem from their vicious measures in the past.
He went on to say that such moves further spread insecurity in the region.
https://www.farsnews.ir/en/news/13991010000205/Iran-All-Clpris-f-General-Sleimani%E2%80%99s-Case-Face-Js-Trial
--------
Iran allocates $150,000 for families of each victim of downed Ukraine plane
30 December 2020
Iran's cabinet on Wednesday allocated $150,000 for the families of each of the 176 victims of a Ukrainian plane downed in Iranian airspace in January, the official IRNA news agency reported.
"The cabinet approved the provision of $150,000 or the equivalent in euros as soon as possible to the families and survivors of each of the victims of the Ukrainian plan crash," IRNA quoted a government statement.
Iran's Revolutionary Guards said they accidentally shot down the Ukraine International Airlines plane shortly after take off, mistaking it for a missile when tensions with the United States were high.
Five days earlier, the US had killed Revolutionary Guards commander Qassem Soleimani with a drone strike in Iraq.
Iran's Minister of Roads and Urban Development Mohammad Eslami told state television on Wednesday that the final report on the crash had been sent to the countries participating in the investigation.
Many of the victims were Canadian citizens or permanent residents.
https://english.alarabiya.net/en/News/middle-east/2020/12/30/Iran-allocates-150-000-for-families-of-each-victim-of-downed-Ukraine-plane
--------
Former Israeli spy in US arrives in Tel Aviv, greeted with prayer and passport
30 December 2020
A former US Navy analyst who served 30 years in prison for spying for Israel arrived in the country early on Wednesday after parole restrictions on his travel expired and was welcomed with a prayer and passport by Prime Minister Benjamin Netanyahu.
Jonathan Pollard, 66, had long voiced a desire to emigrate to Israel, which granted him citizenship. The espionage affair strained US-Israel relations for decades.
Sentenced in 1987 to life imprisonment after he pleaded guilty to conspiracy to commit espionage, Pollard was freed on parole in 2015.
A US Justice Department decision last month to let the parole terms' five-year travel ban go unrenewed was seen by some as a parting gift to Israel by the Trump administration.
Netanyahu met Pollard and his wife Esther as they disembarked in Tel Aviv, video distributed by the Israeli prime minister's office showed. The couple, both Orthodox Jews, kissed the tarmac.
After saying a Hebrew prayer of thanksgiving for the liberation of prisoners, Netanyahu presented Pollard with an Israeli passport. "Welcome home," the prime minister said.
Israel Hayom newspaper, which first reported the couple's arrival, said they flew in aboard a private plane due to Esther Pollard's medical condition.
https://english.alarabiya.net/en/News/middle-east/2020/12/30/Former-Israeli-spy-in-US-arrives-in-Tel-Aviv-greeted-with-prayer-and-passport
--------
Turkey hands life sentence to 92 people over 2016 coup attempt
30 December 2020
A court in Turkey has handed life sentences to 92 people, including former high-ranking army officials, for involvement in the 2016 failed coup.
The state-run Anadolu news agency reported that 12 of the defendants received life sentences without parole on Wednesday, including some department heads of the land forces.
During the 2016 botched putsch, a faction of the Turkish military declared that it had seized control of the country and the government of President Recep Tayyip Erdogan was no more in charge.
The attempt was, however, suppressed a few hours later.
Ankara has since accused US-based opposition cleric Fethullah Gulen, Erdogan's ally-turned-foe, of having orchestrated the coup. Gulen denies any involvement.
Since the coup attempt, nearly 100,000 people have been held pending trial and some 150,000 civil servants were sacked or suspended. The defense ministry said 20,833 people were expelled from the military.
Ankara's post-coup mass arrests have drawn criticism from human rights organizations and Turkey's Western allies.
Rejecting that criticism, the Turkish government defends the crackdown as a necessary response to a national security threat.
https://www.presstv.com/Detail/2020/12/30/641880/Turkey-court-life-sentences-coup
--------
Iran, Turkey, Pakistan plan to revive railway line: Report
30 December 2020
Iran, Turkey and Pakistan plan to revive a railway line connecting Istanbul to Tehran and Islamabad and ultimately extend it to China, Tokyo-based newsmagazine Nikkei Asia reports.
The three countries launched a container train service in 2009, but it only got as far as test runs and was never fully operational.
Even so, they always planned to follow up the initial freight trains with passenger services and are now willing to launch the ITI transnational line with the aim of enhancing connectivity with China's Belt and Road Initiative (BRI), the report said.
The railroad service, stretching for 6,540 km, will cut the 21-day journey between Pakistan and Turkey by sea to 10 days. And by extension, it will connect to China's Xinjiang autonomous region which is populated by ethnically Turkic Uighur Muslims, Nikkei said.
According to Lukasz Przybyszewski, a West Asia analyst for the Asia Research Center at Warsaw's War Studies Academy, the ITI railroad would further boost BRI, a trillion-dollar plan to connect the infrastructure and economies of countries across Asia, Africa and Europe.
Przybyszewski believes that Beijing regards Iranian transport infrastructure in particular as part of BRI. The ITI railroad, he says, will help Iran move around US sanctions.
"For Tehran, this is an attractive alternative trade route because the ECO countries trade, in local currencies," Przybyszewski told the publication.
ECO stands for the Economic Cooperation Organization, a 10-member political and economic intergovernmental organization founded in 1985 by Iran, Pakistan and Turkey.
Under President Donald Trump, the United States has been following a policy of "maximum pressure" against Iran in order to isolate the country through severing all modes of international trade with the Islamic Republic.
However, Przybyszewski believes it is "practically impossible to isolate and stop Iran from trading with its neighbors".
According to the expert, infrastructure projects such as the ITI railroad will stimulate the Iranian economy, and new railway connections will offer greater flexibility going forward.
Last year, China took a major step to upset the United States in its efforts to isolate Iran economically by committing to several hundred billions of dollars in investment in the Islamic Republic.
China updated a 25-year deal signed with Iran first in 2016 that foresees $400 billion of Chinese investment in the resource-rich Middle Eastern nation.
According to analysts, the deal represents "a potentially material shift to the global balance of the oil and gas sector" and could mark a "seismic shift in the global hydrocarbons sector" where no US dollars will be involved in commodity transaction payments.
The central pillar of the new deal is that China will invest $280 billion, developing Iran's oil, gas and petrochemicals sectors. There will be another $120 billion investment in upgrading Iran's transport and manufacturing infrastructure.
Officials have said China's close involvement in the build-out of Iran's manufacturing infrastructure would be entirely in line with its mammoth One Belt, One Road initiative.
The Asian giant, they say, intends to utilize the low cost labor available in Iran to build factories, designed and overseen by large Chinese manufacturing companies, with identical specifications and operations to those in China.
The idea is to ship Chinese products to Western markets by using Iran's transport infrastructure.
Beijing's biggest transportation project in Iran is worth $1.5 billion to electrify the rail line from Tehran to Mashhad for a length of 926 kilometers.
There are also plans to establish a Tehran-Qom-Isfahan high-speed train line and to extend this upgraded network up to the northwest through Tabriz.
The railway is part of the 2,300-kilometer New Silk Road that will link Urumqi in China's resource-rich Xinjiang province to Tehran, connecting Kazakhstan, Kyrgyzstan, Uzbekistan and Turkmenistan along the way and extending to Europe via Turkey.
Tabriz, home to a number of key oil, gas and petrochemical and other industrial sites, and the starting point for the Tabriz-Ankara gas pipeline, will be a pivot point in the route.
However, those investment plans have been put on the back burner since the US reimposed sanctions on the Islamic Republic in 2018.
https://www.presstv.com/Detail/2020/12/30/641866/Iran-Turkey-Pakistan-revive-railway-China
--------
Southeast Asia
Islamic Religious Council of Singapore, SFA looking Into Allegations over Malaysian Meat Cartel
Choo Yun Ting
DEC 30, 2020
The Islamic Religious Council of Singapore (Muis) and the Singapore Food Agency (SFA) are looking into allegations about a cartel's packaging and sale of halal-certified meat in Malaysia, to determine if the Singapore market is affected by the purported misconduct.
Recent media reports in Malaysia have alleged that the cartel smuggles, repacks and re-labels non-halal frozen meat items as halal-certified, the two organisations noted in a joint statement yesterday.
Muis and SFA said that only meat and meat products from SFA-accredited overseas establishments can be imported into Singapore, and these imported goods are also subjected to the agency's food safety surveillance programme to ensure that they meet import requirements and regulatory standards.
Meat which is imported for the Muslim market and Muis' certificate holders also need to meet halal requirements.
"Muis assures the public that the halal-certified meat products which are legally imported into Singapore may be consumed with confidence," the statement said, adding that consumers are advised to exercise caution when purchasing meat products overseas.
Noting that messages have circulated on social media expressing concern that the frozen meat products could have been imported into Singapore, and that the alleged improprieties in importing and packaging halal meat could also be taking place in the Republic, Muis and SFA said that they are looking into the matter.
Muis also said it is seeking more information from the relevant authority in Malaysia, and urged people against spreading rumours and to verify that their information is from credible sources.
The cartel is being investigated by Malaysia's Special Investigation Unit.
https://www.straitstimes.com/singapore/muis-sfa-looking-into-allegations-over-malaysian-meat-cartel
--------
South Asia
Afghan troops and police abandon nearly 200 checkpoints to the Taliban
30 December 2020
Afghan security personnel have abandoned nearly 200 checkpoints in restive Kandahar province in recent weeks, officials said Wednesday, in some cases leaving behind their weapons to be seized by the Taliban.
Kandahar provincial governor Hayatullah Hayat and a local lawmaker separately confirmed the situation to AFP, saying commanders would be disciplined for their actions.
The defense ministry in Kabul denied the reports, insisting government forces had been making progress in the region.
Government forces and the Taliban have clashed regularly in Kandahar province since October despite peace talks between the warring sides.
"Afghan security forces have retreated from 193 checkpoints and outposts in Zharai, Maiwand, Arghandab and Panjwai districts," Kandahar provincial governor Hayatullah Hayat told AFP.
"Most of the security chiefs and officers who neglected their duties have been dismissed and referred to the judiciary."
Kandahar lawmaker Hashim Alkhozai and a local police officer confirmed the details to AFP.
"The security forces exited the bases leaving behind their weapons and ammunition," Alkhozai said.
Most of those who left were soldiers, said Jan Mohammad, a policeman from Zharai district.
"They left without firing a bullet," he said.
"The Taliban now have all the weapons seized from the army and are using them against us."
Governor Hayat blamed "poor coordination" for the situation amid a shortage of police and troops.
Kandahar is the birthplace of the Taliban, who went on to rule Afghanistan with a harsh version of sharia law until being overthrown by a US-led invasion in 2001.
Since a US-Taliban deal in February, the insurgents have mostly refrained from carrying out major attacks on cities, but have launched near-daily assaults against Afghan forces in rural areas.
Peace talks between the two sides - which started in September in the Qatari capital of Doha - are currently on a break and are due to resume on January 5.
https://english.alarabiya.net/en/News/middle-east/2020/12/30/Afghan-troops-and-police-abandon-nearly-200-checkpoints-to-the-Taliban
--------
Drones become Taliban's latest weapon in Afghan war
December 30, 2020
KABUL: On a quiet autumn day last month, bodyguards for the governor of the northern Afghani Kunduz province, Abdul Sattar Mirzakawl, played a volleyball match in the yard of the governor's guest house adjacent to his residence.
Suddenly, a blast went off, killing four of the players.
Although Kunduz has long remained the most restive area in northern Afghanistan because of Taliban's heavy presence and routine violence, officials investigating the attack were bewildered by its cause as they could not immediately determine how it had happened.
It took them a day to conclude that it was a device attached to a small drone which was dropped from the sky, part of a new method used by the Taliban in their war of attrition that has lasted nearly 20 years as the US prepares to withdraw troops by next spring.
"Initially, people could not distinguish the source of the blast, but later on it became clear that the Taliban had placed a mine or explosives under a drone that martyred four bodyguards of the governor," Ghulam Rabbani Rabbani, a member of Kunduz's provincial council, told Arab News.
"Without any doubt, it was a new tactic and shows the Taliban adopting special methods in the war."
Despite there having been numerous other drone attacks against military and police bases in Baghlan, Faryab, Logar, Paktia and Helmand provinces for some months, the early November strike was the deadliest, according to officials interviewed by Arab News.
Back in May, a similar attack in Kunduz claimed the life of one official and wounded four others during a farewell ceremony for a former governor, according to Rabbani and two provincial officials who spoke on condition of anonymity.
A week ago, commando forces shot down a "weaponized drone" in Logar province, south of Kabul, according to press reports.
"Weapons and ammunition attached to drones are becoming the latest lethal trend on the Afghan battlefield," wrote Bilal Sarwary, a prominent Afghan journalist.
A senior army general in Kabul requesting to remain anonymous told Arab News how the insurgents first used camera drones in Helmand for filming a vast joint Afghan-US base six years ago.
The footage had helped the militants to plan and conduct a massive commando-style assault on the highly protected base which caused casualties and tens of millions of dollars of material losses.
"I watched the film of the attack which was released by the Taliban later on. The camera had filmed the entire attack as it was going on," he explained.
The insurgents have also used drone cameras in filming other military installations for preparing attacks, the general said, adding that he also had heard that they now place mines or small explosives beneath the commercially available drones for attacks.
Zabihullah Mujahid, a spokesman for the Taliban, confirmed to Arab News the use of a drone, but refused to give other details such as where they get them from and how long they have been using this method.
"Such information is always confidential, we can not talk about this issue."
Spokesmen for the interior and defense ministries refused to comment about the use of "weaponized drones" by the Taliban.
A spokesman for the office of President Ashraf Ghani's national security adviser, Rahmatullah Andar, said the Taliban have used drones since last year, with improvised explosives in a number of attacks in different parts of Afghanistan.
But he said they "do not pose any major threat to the government and large gathering of troops as we have measures in place."
Although Andar downplayed the importance of threat of the low-end drones, a retired general, Javid Kohestani, described it as a worrisome development and a new tactic by the insurgents who have already used some modern technologies, such as night vision and thermal optics in recent years operations.
"It is a threat if they can develop it and use it further. It is cheap and easy to transport and operate," he told Arab News.
"The government does not have the tracing mechanism and air defense and it is difficult to detect them in dark hours and even during daytime as soldiers are not supposed to look to the sky all day.
"These drones can film bases with big numbers of troops and later target them. If the government cannot stop it, it would be very risky," Kohestani added.
https://www.arabnews.com/node/1784741/world
--------
Kabul IED Blast Kills 1, Injures 2
By Mohammad Haroon Alim
31 Dec 2020
According to police, at least one person is killed and two others are wounded in an IED attack in Kabul city on Thursday morning.
Ferdaws Faramarz, a spokesman to Kabul police told the media, the incident occurred at around 8 am in PD7 in the Chehel-Setoon area of Kabul city.
The IED targeted a vehicle believed to be a governmental vehicle because the vehicle is registered with a black colored license plate.
Identities of the victims have not yet been released, but some media reports claim, the attack happened on the vehicle carrying Presidential Palace's administrative office employees.
This is the latest incident amid a string of targeted killings and a spate of IED blasts in the capital of Afghanistan.
So far, no group or individual has claimed responsibility for the attack.
It is not the government officials to face such attacks, in recent months journalists, activists, and public figures also fell victims to such violence.
https://www.khaama.com/kabul-ied-blast-kills-1-injures-2-44556633/
--------
Azerbaijan to Open Embassy in Afghanistan
By Mohammad Haroon Alim
31 Dec 2020
Afghan foreign ministry said in a statement Wednesday, that Azerbaijan will establish an embassy in Afghanistan, following the approval of the Azerbaijan parliament.
The embassy will open due to efforts of the Afghan foreign ministry and its Embassy in Baku, the statement read.
The Azeri parliament session was amended to create an opportunity for the approval of a bill for embassy establishment in Kabul.
The Azerbaijani parliament adopted a law on the establishment of its embassy in Afghanistan, according to the Azertac news agency.
"The Azerbaijani Parliament has adopted a law on the establishment of the country's embassy in Afghanistan, the city of Kabul," Azertac reported.
Lawmakers noted Afghanistan's support to the country and strong relations between the two countries.
This comes as a few weeks ago, Amanullah Jayhoon, the Afghan envoy to Azerbaijan handed over his credentials to the country's Foreign Minister, Jeyhun Bayramov.
Both of the officials emphasized the need to expand bilateral relations, and strengthen political, cultural, and trade relations between the two countries.
https://www.khaama.com/azerbaijan-to-open-embassy-in-afghanistan-445544/
--------
Africa
Rights groups denounce Ethiopia's arrest of Reuter's journalist
31 December 2020
Media rights groups are protesting the Ethiopian government's arrest of journalists, saying it indicates the erosion of press freedom in the country.
Kumerra Gemechu, a video journalist for the Reuters news agency, was arrested on December 24 at his home in Ethiopia's capital, Addis Ababa, and is being detained for 14 days for police investigations, according to the Committee to Protect Journalists.
For the latest headlines, follow our Google News channel online or via the app.
"Kumerra's work demonstrates his professionalism and impartiality, and we are aware of no basis for his detention," Reuters Editor-in-Chief Stephen J. Adler said in a statement Monday.
Kumerra's arrest follows the beating of Reuters photographer Tiksa Negari by two Ethiopian federal police officers on December 16, the statement said.
"This is the latest example of how press freedom is fast eroding under Prime Minister Abiy Ahmed, a Nobel Peace Prize laureate," said Angela Quintal, Africa program coordinator for the Committee to Protect Journalists.
With Kumerra's arrest, eight journalists have been jailed in Ethiopia this year. Authorities in Cameroon also have jailed eight reporters, and Eritrea has imprisoned 16 journalists, according to Quintal.
In 2020, the Committee to Protect Journalists "documented a worrying pattern of holding journalists for weeks without formal charges in Ethiopia. We trust that it will not be repeated with Kumerra and urge the government to ensure that he is freed immediately and without condition," Quintal said.
Award-winning Ethiopian journalist Dawit Kebede, who was arrested on November 30, appeared in court Monday and he will remain in jail until his next court appearance scheduled for January 10, she said.
Quintal urged the Ethiopian government to "stop harassing members of the press and immediately and unconditionally release Kumerra, Dawit and the other journalists who remain in detention in Ethiopia for their work."
The Foreign Correspondents Association of East Africa also voiced its support for Kumerra, in a tweet.
https://english.alarabiya.net/en/News/world/2020/12/31/Rights-groups-denounce-Ethiopia-s-arrest-of-Reuters-journalist
--------
Boko Haram landmines kill 11 Nigerian security personnel
30 December 2020
Landmines planted by Boko Haram militants have killed 11 security personnel, including four soldiers in northeast Nigeria, security sources said Tuesday.
Seven hunters recruited to help the military fight the insurgents were killed on Tuesday when their vehicle hit a landmine in the village of Kayamla, outside Borno State's capital Maiduguri.
"Seven hunters died in the explosion and nine others are badly injured," Babakura Kolo, the head of a local anti-militant militia, told AFP.
"Their vehicle hit a landmine as they were pursuing Boko Haram insurgents," he added.
Another local militiaman confirmed the incident.
Four Nigerian soldiers were killed on Monday when their vehicle hit a landmine planted by Boko Haram fighters in Logomani village near the border with Cameroon, two security sources told AFP.
There has been a sharp increase in attacks in northeast Nigeria since the start of the month.
Last week 40 loggers were kidnapped and three killed near the Cameroonian border.
On Christmas Eve, Boko Haram killed 11 people, burnt a church and seized a priest in a village near Chibok, where it notoriously kidnapped more than 200 schoolgirls six years ago.
Boko Haram and a splinter group known as ISWAP have killed 36,000 people in the northeast and forced roughly two million to flee since 2009, according to the United Nations.
C. Africa opposition coalition demands elections be scrapped
Elsewhere in Africa, a powerful opposition coalition in Central African Republic on Wednesday called for the "cancellation, pure and simple" of the first round of elections last weekend that were troubled by armed groups.
In a statement, the Democratic Opposition Coalition (COD-2020), an alliance of political and other groups, said Sunday's elections "were not fair and inclusive and are in no way the expression of the people's will."
The vote, for the presidency and legislature, has been seen as a key stability test for the CAR, one of the world's poorest and most volatile countries.
https://www.presstv.com/Detail/2020/12/30/641867/Nigeria-Boko-Haram
--------
Russia warns against call to war by Libya's Haftar
Elena Teslova
31.12.2020
Russian Foreign Minister Sergey Lavrov warned on Wednesday against resumption of hostilities in Libya.
Speaking at a news conference in Moscow following a meeting with his Libyan counterpart Mohamed Siala, Lavrov promised to provide "maximum support" to ongoing peace efforts in Libya.
Referring to a recent call by Libyan warlord Khalifa Haftar to continue a civil war that had been halted in October in a truce with the country's internationally recognized government, Lavrov said the Libyan sides should be encouraged to dialogue and stopped from fighting.
He underlined that the current cease-fire in the North African nation was secured thanks to cooperation between Russia and Turkey, both of which also contributed to organizing the Berlin peace conference on Libya, the recommendations of which were later approved by the UN Security Council.
Libya has been torn by a civil war since the ouster of late ruler Muammar Gaddafi in 2011.
The Tripoli-based legitimate government was founded in 2015 under a UN-led agreement, but efforts for a long-term settlement failed due to a military offensive by forces loyal to Haftar. He launched an onslaught on the capital Tripoli in April 2019 but was pushed back.
A cease-fire was agreed on in late October, and negotiations for an interim setup before presidential and parliamentary elections on Dec. 24, 2021 are continuing.
Lavrov slammed what he called "geopolitical experiments of the West" for being responsible for the possibility of conflict in the Middle East and North Africa, as well as for trying to take advantage of the processes of the Arab Spring.
He voiced concern over efforts for a settlement to the Palestinian-Israeli issue, saying "the process of finding a political solution to conflict faces real risks of failure."
"The situation is very serious. Here, as in other cases, a responsible, leading role of the UN is needed in order to restart direct negotiations between the Palestinians and the Israelis, with the support of the quartet of international mediators and Arab States," the minister said.
https://www.aa.com.tr/en/africa/russia-warns-against-call-to-war-by-libyas-haftar/2094136
--------
UN mission in Sudan's Darfur set to end mandate
Mohammed Amin
30.12.2020
The UN peacekeeping mission in Darfur (UNAMID) is set to end its mandate in the troubled Sudanese region on Thursday after 13 years of operation.
In a statement on Wednesday, UNAMID said the Sudanese government will take the responsibility of providing security and services to citizens in the region.
"As of 1 January 2021, UNAMID's troops and police personnel will focus on providing security for the mission's drawdown activities, personnel and assets," the mission said.
"UNAMID will have a period of six months to undertake the drawdown, which will be conducted in a phased manner. This will involve repatriating troops, their vehicles and other equipment, separation of international and national staff as well as a sequential closure of mission's team sites and offices and handing them over to designated entities in line with United Nations rules" it explained.
Last week, the UN Security Council agreed to end the UNAMID mission in Darfur when its mandate ceases on Dec. 31.
The mission was deployed in Darfur in 2007 to end a bitter conflict that erupted in the western region in 2003 between government forces and rebel groups.
https://www.aa.com.tr/en/africa/un-mission-in-sudan-s-darfur-set-to-end-mandate/2093412
--------
North America
Cuba warns US against redesignating it as a state sponsor of terrorism
31 December 2020
Cuba on Wednesday warned the outgoing US administration against redesignating the island as a state sponsor of terrorism, a move reportedly under discussion that could hinder President-elect Joe Biden's diplomacy.
Secretary of State Mike Pompeo is reviewing the possibility before leaving office on January 20 of returning Cuba to the blacklist, which severely impedes foreign investment, a person familiar with the situation said.
CNN, quoting an unnamed senior administration official, said that Pompeo would make the designation "in the coming days."
The New York Times first reported that the State Department had drawn up the proposal but said it was unclear if Pompeo would sign off on it.
"I denounce Sec of State Pompeo maneuvers to include #Cuba in the list of States sponsoring terrorism to please the anti-Cuban minority in Florida," Cuban Foreign Minister Bruno Rodriguez wrote on Twitter.
"#US grants shelter and impunity to terrorist groups acting against Cuba from that territory," he said, in a familiar charge against Cuban-American anti-communist activists who deny any wrongdoing.
The discussion comes ahead of the 60th anniversary on January 3 of the United States severing relations with the nearby island following Fidel Castro's communist revolution.
Tensions finally eased under former president Barack Obama, who declared the policy of isolating the island to be a failure, established diplomatic relations and removed Cuba from the terrorism list in 2015.
Biden, who was Obama's vice president, has given only broad details of his Cuba policy but has indicated he would again relax restrictions on Americans traveling to Cuba and sending money to family on the island, while still raising concerns on human rights.
Biden could again remove Cuba from the blacklist but his State Department would need to undertake a formal review that declares that the country has not been involved in terrorism over the previous six months.
It is unclear on what grounds Pompeo would designate Cuba, but before Obama the United States would point to Havana's support of leftist movements in the Western Hemisphere.
A State Department spokesperson said the agency does not "discuss deliberations or potential deliberations regarding designations."
President Donald Trump's tough stance on Cuba and its ally Venezuela was credited with wooing immigrant communities and helping him win the crucial state of Florida in last month's election.
Only three nations remain on the terrorism blacklist -- US nemeses Iran, North Korea and Syria -- after Trump last month removed Sudan.
The designation comes with broad sanctions that scare away many foreign investors who do not want to risk penalties in the world's largest economy.
https://english.alarabiya.net/en/News/world/2020/12/31/Cuba-warns-US-against-redesignating-it-as-a-state-sponsor-of-terrorism
--------
Pompeo sued over US 'rushed' arms sale to UAE
31 December 2020
A lawsuit has been filed against US Secretary of State Mike Pompeo at a federal court to block his "rushed" arms sale to the United Arab Emirates, at the final weeks of Donald Trump's presidency.
The New York Center for Foreign Policy Affairs seeks to block the Trump administration's $23 billion arms deal with the Persian Gulf country.
Pompeo, who oversees the State Department's authorization of government-to-government arms sales, "rushed" to make the deal, without proper oversight or justification, said the complaint.
"The department failed to provide a reasoned explanation for its rushed sale of sensitive weapons systems to the UAE, nor can one infer that it has one, given the available evidence," according to the complaint.
"Indeed, widespread and publicly available evidence suggests that the weapons being sold will be used in direct contravention of world peace and US security, as well as prior US policy," it added.
The research group seeks a court order forcing Pompeo and the State Department to rescind the transaction.
Pompeo said the weapons would address "UAE's need for advanced defense capabilities," and that the "sale will make the UAE even more capable and interoperable with US partners," according to the complaint.
"More is required under the law," however, said the group.
It said that approval can only be granted if a deal "will strengthen the security of the United States and promote world peace."
Earlier this month, US Senate failed to block the sale of advanced F-35 fighter jets and drones to the UAE.
The White House had earlier threatened to veto the measures — seeking to block the sale — if they passed the Senate and House of Representatives.
The White House had informed Congress in November about the sale to the UAE of the F-35, more than 14,000 bombs and munitions, and the second-largest sale of US drones to a single country.
Democrats said president Trump cut short or sidestepped Congress' typical review of major weapons sales.
US lawmakers also expressed concern about whether the arms sales to the UAE would violate a longstanding US agreement with Israel that any American weapons sold in the Middle East would not impair Tel Aviv's "Qualitative Military Edge" (QME) in the region.
Israel had considered its own F-35 fleet to be vital to its own strategic edge over Arab nations but dropped its opposition to the US sale as it saw the advantage of normalized ties with the UAE.
The sale, which according to experts could take six to eight years to deliver, is expected to be reviewed by the incoming Biden administration.
Over the past four years of Trump's presidency, lawmakers have repeatedly failed to block his plans for arms sales to Washington's allies in the Middle East, including Israel and Saudi Arabia.
Last year, the president vetoed a series of measures that would have blocked the sale of billions of dollars of arms to Riyadh and Abu Dhabi.
The US president claimed back then that blocking the arms sales "would weaken America's global competitiveness and damage the important relationships we share with our allies and partners."
The state department has this week approved the sale of $290 million in bombs to Saudi Arabia, which has waged a longs-year devastating war on Yemen.
The defense security cooperation agency announced the approval of sale of the GBU-39 small diameter bomb munitions and related equipment to the kingdom on Tuesday.
On the same day, it announced approvals for the sale of AH-64E Apache helicopters worth $4 billion to Kuwait.
Saudi Arabia has been Washington's number one weapons buyer.
https://www.presstv.com/Detail/2020/12/31/641919/US-arms-sale-Mike-Pompeo-Donal-Trump-UAE-F-35-jets
--------
Turkish-Canadian professor appointed to Order of Canada
31.12.2020
TRENTON, Canada
A Turkish-Canadian senior public servant, lawyer and university professor was officially appointed Wednesday to the Order of Canada, one of the country's highest civilian honors.
Yaprak Baltacioglu was Canada's first woman deputy minister of agriculture and served as a trusted advisor to four prime ministers before her retirement in 2018.
The 61-year-old was born in Ankara, earned her law degree from Istanbul University and came to Canada decades ago where she began her distinguished career, holding several key senior positions in the federal government.
She was named as one of 61 Canadians to the 2020 Order of Canada by Governor General Julie Payette.
"This is the 40th year of making Canada my home," Baltacioglu tweeted. "I am honoured and humbled to be appointed to the Order of Canada. It is such a privilege to be a citizen of such a glorious country and I cherish having been given an opportunity to serve her."
She was the previously the deputy minister of transport, infrastructure and communities "where she played a key role in administering the government's stimulus package following the 2008 economic crisis," her Munk School, University of Toronto, biography says.
Among her other roles as a senior civil servant, Baltacioglu served as secretary of the treasury board from 2012 to her retirement in 2018.
She was then named as chancellor (head) of Ottawa's Carleton University.
Baltacioglu is the third Turkish-born Canadian to be appointed to the Order of Canada, joining Dr. Faud Sahin and Prof. Izak Benbasat.
https://www.aa.com.tr/en/americas/turkish-canadian-professor-appointed-to-order-of-canada/2094146
--------
US: Investigation ongoing in Washington state bomb call
Övünç Kutlu
30.12.2020
An investigation is underway Wednesday after evacuation and closures in a county in the US state of Washington where officials responded to a bomb call.
Chelan County Sheriff's Office said in a statement it received Tuesday an anonymous 911 call from a blocked number where a male informed there was an explosive device in a garbage can in the 800 block of Front Street, Leavenworth.
As County Deputies and Washington State Patrol immediately responded to the area and started evacuations, Highway 2 was closed and traffic was rerouted, while people were asked to take shelter.
"The investigation is ongoing by the Chelan County Sheriff's Office Detectives unit," said the statement on the Office's Twitter page.
The incident is the latest in a series of events that shocked the US since Christmas Day when a recreational vehicle (RV) exploded in Nashville, Tennessee where it was playing a recorded message -- "If you can hear this message evacuate now."
The Empire State Building in New York City became the target of another bomb call on Sunday morning when the New York Police Department was called that bomb would go off at noon. After an investigation in the historic landmark, the call turned to be a hoax.
https://www.aa.com.tr/en/americas/us-investigation-ongoing-in-washington-state-bomb-call/2093854
--------
Europe
Major's Britain feared prospect of new war with Saddam, latest papers show
30 December 2020
Britain under prime minister John Major feared the prospect of getting drawn into another US-led war with Iraq and was considering abandoning Kurdish allies, according to government papers released on Wednesday.
The confidential message is one of several papers from Major's final years in office from 1995 to 1997 made public for the first time by the National Archives.
Major's private secretary John Holmes warned: "The Americans may well want to react militarily in a big way" if Iraqi president Saddam Hussein's forces took over the Kurdish region in northern Iraq.
Such military action was something "we would simply not be able to support," he wrote in November 1996 before a bilateral meeting with US president Bill Clinton's secretary of state Warren Christopher.
The United States and its allies including Britain had established a safe haven and were enforcing a no-fly zone in Kurdish-controlled northern Iraq.
At the time, the area appeared vulnerable to a takeover by Saddam's forces, as rival Kurdish factions were fighting and Baghdad supported one side against the other.
The Iraqi leader had months earlier staged a massive incursion into northern Iraq, prompting US air strikes.
"This would pose an acute policy dilemma for us," Holmes wrote.
"The reality for both of us and the Americans may be that we have to abandon northern Iraq."
The note reveals the lack of appetite in London at the time for further large-scale military action. Holmes also suggested the US would not be capable of fighting such a war.
While abandoning northern Iraq would be "humiliating," Holmes wrote, "we may have no choice -- neither of us is prepared to put in the real military effort or the resources to stop Saddam in the North and we would probably wreck the Coalition if we tried."
At the same time he advised against telling Clinton's administration this.
"Admitting now our inability to support the US in a hypothetical future situation would be pretty difficult," he wrote.
Major's predecessor Margaret Thatcher was prime minister when the first Gulf War began in response to Iraq's invasion and annexation of Kuwait in August 1990.
He took over as prime minister in November 1990 and led the country during the conflict, which saw British troops fight alongside the US and other coalition partners until February 1991.
Britain's main opposition Labour party under Tony Blair won a landslide election victory against Major's ruling Conservatives in 1997.
Blair later backed US president George W. Bush, whose father George H.W. Bush was president at the time of the first Gulf War, in attacking Iraq in 2003.
Both alleged Iraq possessed weapons of mass destruction but none was found. Saddam was eventually captured, put on trial and executed in 2006.
https://english.alarabiya.net/en/News/world/2020/12/30/Major-s-Britain-feared-prospect-of-new-war-with-Saddam-innorthern-Iraq-Latest-papers
--------
Egypt's prosecution wants accusations against police excluded from Regeni case
31 December 2020
Egypt's public prosecution told investigators on Wednesday to exclude Italian prosecutors' accusations against four Egyptian policemen from case documents on the 2016 killing of an Italian student in Cairo.
The public prosecution's comments appeared intended to signal the officers are no longer considered suspects in Egypt and that Cairo does not want Italy to prosecute them.
Giulio Regeni, a postgraduate student at Britain's Cambridge University, disappeared in the Egyptian capital in January 2016. His body was found almost a week later and a postmortem examination showed he had been tortured before his death.
Egyptian police and Egyptian officials have denied any involvement in Regeni's killing.
But Italian prosecutors said on Dec. 10 they planned to charge four senior members of Egypt's security services whom they suspect of taking part in the "aggravated kidnapping" of Regeni. One of them also faces charges of "conspiracy to commit aggravated murder", they said.
They gave the four men 20 days to respond to the charges after which, they said, they would ask a judge to indict them.
In a statement on Wednesday, Egypt's public prosecution said "there is no point in launching a criminal case (over Regeni's torture and killing) ... due to the lack of knowledge of the perpetrator".
It said investigative authorities should "exclude what was attributed (by Italian prosecutors) to four officers ... from the papers in that incident."
Italy's foreign ministry described the Egyptian public prosecution's position as "unacceptable".
In a statement, it expressed confidence in the work of the Italian judiciary and said Italy would "continue to act in all forums, including the European Union, so that the truth about the barbaric murder of Giulio Regeni can finally emerge."
It urged Egypt's public prosecution to "share this need for truth" and cooperate with Italian prosecutors.
Egypt announced on Nov. 30 that it was temporarily suspending its investigation into the murder, saying it had reservations about the evidence Italy had compiled.
Intelligence and security sources told Reuters in 2016 that police had arrested Regeni outside a Cairo metro station and then transferred him to a compound run by Homeland Security. The police have denied this and Egyptian officials have denied any involvement in Regeni's killing.
Regeni, 28, disappeared on Jan. 25, 2016, the fifth anniversary of the start of the 2011 uprising that ended the 30-year rule of Hosni Mubarak.
Italian and Egyptian investigators had been working together to try to solve the crime. But Italian judicial sources told Reuters last year that Italy was frustrated by the slow pace of developments in Cairo and decided to press ahead with its own line of inquiry to try to move things forward.
https://english.alarabiya.net/en/News/middle-east/2020/12/31/Egypt-s-prosecution-wants-accusations-against-police-excluded-from-Regeni-case
--------
Russia warns against escalation of tensions in Libya
31 December 2020
Russia has warned against the resumption of hostilities in conflict-ridden Libya, after rebel commander Khalifa Haftar called for the continuation of fighting, which has been halted thanks to a United Nations (UN)-brokered truce.
Russian Foreign Minister Sergey Lavrov issued the warning at a news conference in the capital, Moscow, following a meeting with his Libyan counterpart, Mohamed Siala, on Wednesday.
Lavrov promised to provide "maximum support" for the ongoing peace efforts in Libya and said that the warring side in Libya had to be encouraged to engage in dialog.
The top Russian diplomat said the current ceasefire in the North African country was secured following cooperation between Russia and Turkey.
Libya's rival sides agreed to the permanent ceasefire on October 23, bringing an end to months of deadly fighting in the North African country.
Libya, which sits atop the largest oil reserves in Africa, descended into chaos last year after rebel forces and militia groups under Haftar's command moved toward Tripoli to seize the capital city, although they were later repelled by Libyan government forces.
Over the past year, fighting elsewhere in the country escalated into a regional proxy war fueled by foreign powers pouring weapons and mercenaries into Libya.
Haftar's rebels are being backed by the United Arab Emirates, Egypt, Jordan, and France in their attempts to unseat the internationally-recognized government of Libya, which is supported by Turkey.
In late November, the representatives of the warring sides in Libya concluded their latest round of peace talks in Morocco and agreed to end divisions. The two sides indicated "commitment to holding parliamentary elections and ending the transitional phase as soon as possible."
UN seeks monitors for Libya's fragile ceasefire
Meanwhile, UN Secretary General Antonio Guterres has proposed that international monitors observe the implementation of Libya's ceasefire amid hopes that foreign fighters would soon leave the country.
In a letter to Security Council members, the secretary-general called for the establishment of a monitoring group that would include civilians and retired soldiers from regional groups such as the African Union, the European Union, and the Arab League.
"I call on all national, regional, and international stakeholders to respect the provisions of the ceasefire agreement and ensure its implementation without delay," Guterres said in the letter dated Tuesday.
"I encourage member states and regional organizations to support the operationalization of the ceasefire mechanism, including by providing individual monitors under the auspices of the United Nations."
Under the UN-brokered ceasefire, all foreign forces are to leave Libya within three months.
The UN chief also urged all countries on Tuesday to honor the UN arms embargo on Libya, which has been brazenly violated over the past months.
Libya initially plunged into chaos in 2011, when a popular uprising and a NATO intervention led to the ouster of long-time dictator Muammar Gaddafi.
https://www.presstv.com/Detail/2020/12/31/641916/Russia-warns-against-escalation-of-tensions-in-Libya
--------
Refugees wait in cold to be bussed from burnt Bosnia camp
30 December 2020
Hundreds of migrants from Africa, Asia and the Middle East waited in the cold on Tuesday to be bussed out of a burned camp about to be dismantled in western Bosnia, but there was no agreement where they should go.
Fire destroyed the camp in Lipa, housing about 1,200 people, last week. Police and UN officials have said the blaze was probably started by migrants unhappy at the temporary closure of the camp, scheduled for the same day.
On Tuesday, media quoted Bosnia's security minister, Selmo Cikotic, as saying that the migrants would be moved to a military barracks in the town of Bradina, 320 km away. Finance Minister Vjekoslav Bevanda disputed that, saying that there had not been any agreement.
About 10,000 migrants are stuck in Bosnia, hoping to reach wealthier countries in the European Union. The Lipa camp, which was opened last spring as a temporary shelter for the summer months 25 km away from Bihac, was due to shut on Wednesday for winter refurbishing.
The central government wanted the migrants to temporarily return to the Bira camp in Bihac, which was shut down in October, but local authorities disagreed saying that other parts of Bosnia should also share the burden of the migrant crisis.
The European Union, which had supported Bosnia with 60 million euros to manage the crisis and pledged 25 million euros more, has repeatedly asked the authorities to find an alternative to the unsuitable Lipa camp, warning of an unfolding humanitarian crisis.
https://www.presstv.com/Detail/2020/12/30/641853/Refugees-wait-in-cold-to-be-bussed-from-burnt-Bosnia-camp
--------
Albanian sentenced for urging removal of Turkish flag
31.12.2020
BELGRADE, Serbia
A court in Albania sentenced a man to two years in prison Wednesday for inciting protesters to take down a Turkish flag.
In the incident on Dec. 31, 2017, a group opposed the hanging of a Turkish flag at the Qafe Molle roadblock in the town of Mirdita in northeastern Lesh province.
Protesters gathered near the dam where the Turkish flag was hung, demanding that officials of Turkish company Ayen Enerji take it down.
The court in Lesh sentenced Lon Mollaj for "hate or incitement to provocation" according to Article 265 of the country's Criminal Code.
Mollaj has the right to appeal the verdict within 15 days.
He did not attend the hearing, however, as he was not in the country.
https://www.aa.com.tr/en/europe/albanian-sentenced-for-urging-removal-of-turkish-flag/2094155
--------
Arab World
25 Syrians killed in attack in Dayr al-Zawr
30 December 2020
At least 25 people have been killed in a terrorist attack in Syria's eastern province of Dayr al-Zawr.
Syria's official news Agency, SANA, reported that the attack targeted a bus along a main highway in Dayr al-Zawr on Wednesday, killing "25 citizens".
According to the report, 13 people were also wounded in the attack.
No further details were provided.
The so-called Syrian Observatory for Human Rights said the attack was carried out by the Daesh terrorist group.
The pro-opposition group claimed that at least 30 Syrian soldiers were killed in the bus ambush.
Syria has been gripped by foreign-backed militancy since March 2011. The Syrian government says the Israeli regime and its Western and regional allies are aiding Takfiri terrorist groups that are wreaking havoc in the country.
Syrian government forces have taken back many areas once controlled by the terrorist groups.
https://www.presstv.com/Detail/2020/12/30/641887/Syria-Dayr-al-Zawr-terrorist-attack
--------
Lebanon PM's office backtracks on FBI report on Beirut port blast
31 December 2020
The office of Lebanon's caretaker premier backtracked Wednesday a day after citing him as saying an FBI report found 500 tonnes of fertiliser caused the devastating Beirut port blast.
Hassan Diab, who resigned in the wake of the August 4 blast that killed more than 200 people, said last summer that more than 2,700 tonnes of ammonium nitrate fertiliser had been stored haphazardly at a port warehouse for years.
According to his office, the outgoing prime minister on Tuesday told journalists a report by the US domestic intelligence agency showed less than a quarter of that amount had actually exploded.
But it issued a clarification on Wednesday.
"Prime minister Diab was relying on unofficial information attributed to the FBI," his office said.
"Diab has not received an official report on this matter from the FBI."
One of his advisers told AFP he had been referring to press reports.
AFP could not independently verify the contents of the FBI report.
The US agency declined to comment, referring back to its August statement that "further questions should be directed to the Lebanese authorities as the lead investigators".
After the port blast, one of the largest non-nuclear explosions in history, experts rapidly concluded that the quantity of fertiliser that exploded was likely less than the 2,700 tonnes initially stored on the docks.
Lead investigative judge Fadi Sawan this month charged Diab and three former ministers with "negligence and causing death to hundreds and injuries to thousands more" over the explosion in the first set of indictments against politicians.
But the blast probe has since been suspended after two of the charged ministers called on Sawan to be replaced. Lebanon's top Court of Cassation must rule on their request before investigations proceed.
https://english.alarabiya.net/en/News/middle-east/2020/12/31/Lebanon-PM-s-office-backtracks-on-FBI-report-on-Beirut-port-blast
--------
Syria's state media says 28 killed in bus ambush in Deir al-Zor
30 December 2020
Twenty-eight people were killed in an attack on a bus along a main highway in Syria's Deir al-Zor province that borders Iraq, Syrian state media said on Wednesday, an incident that residents and defectors say was an ambush on an army vehicle.
There were no more details of the incident in an area where mostly Syrian army and Iranian-backed militias are based, near the ancient city of Palmyra.
A senior military defector in the area said the vehicle carried soldiers and pro-government militias who had finished their leave and were on their way back to their base in the desolate, sparsely populated area.
Another source said at least thirty soldiers were killed, mostly from the Syrian army's elite Fourth Brigade, which has a strong presence in the rich oil-producing province since Islamic State fighters were ousted at the end of 2017.
Deir al-Zor residents and intelligence sources say there has been a rise in recent months of ambushes and hit-and-run attacks by remnants of ISIS militants who hid in caves in the mainly desert region.
They also say in the last few months, Arab tribes who inhabit the area have been angered by executions by Iranian militias operating in the area of dozens of nomads suspected of affiliation to militants.
https://english.alarabiya.net/en/News/middle-east/2020/12/30/Syria-s-state-media-says-28-killed-in-bus-ambush-in-Deir-al-Zor
--------
GCC Secretary General delivers formal invite to Qatar to attend summit
Reem Krimly
30 December 2020
The secretary general of the Gulf Cooperation Council (GCC) on Wednesday delivered a formal invitation to Qatar's Emir Sheikh Tamim bin Hamad Al Thani to attend the upcoming GCC Summit, according to a press release.
Sheikh Tamim received the Secretary General, Dr. Nayef Falah al-Hajraf, at the Emiri Court in Doha Palace today, the statement added.
"I had the honor to personally deliver [Saudi] King Salman bin Abdulaziz Al Saud's invitation to H.H. Sheikh Tamim bin Hamad Al Thani, the Emir of Qatar to attend the 41st GCC Summit taking place in Saudi Arabia on January 5, 2021," al-Hajraf said.
"The 41st summit marks the beginning of a new chapter for the GCC as it enters its fifth decade," he added.
The secretary general said the GCC will focus on meeting the ambitions of the region's young and digital population and enabling them to compete and lead in a globally-connected post-pandemic world.
Last year, Saudi Arabia's King Salman also invited Qatar's Emir to the Saudi capital Riyadh to attend the 40th GCC Summit.
https://english.alarabiya.net/en/News/gulf/2020/12/30/GCC-Secretary-General-delivers-formal-invite-to-Qatar-to-attend-summit
--------
UAE's Gargash says Yemen's Aden airport blast is an attack on Riyadh agreement
30 December 2020
The attack on Yemen's Aden airport is an attack on the Riyadh Agreement, the United Arab Emirates' Minister of State for Foreign Affairs Anwar Gargash said on Wednesday.
"The Aden airport attack targets the Riyadh Agreement and the prospects of stability and peace it holds for Yemen. The incitement, sabotage, violence and terrorism will fail in the face of the peace project led by Saudi Arabia for the good of Yemen and the region," Gargash said on Twitter.
At least 26 people were killed and dozens wounded in an attack on Aden airport on Wednesday moments after a plane landed carrying a newly formed Saudi-backed cabinet for government-held parts of Yemen.
Hours after the attack, a second explosion was heard around Aden's Maasheq presidential palace where the cabinet members including Prime Minister Maeen Abdulmalik, as well as the Saudi ambassador to Yemen, had been taken to safely, residents and local media said.
In the airport attack, loud blasts and gunfire were heard shortly after the plane arrived from Riyadh, witnesses said. A local security source said three mortar shells had landed on the airport's hall.
Yemen's internationally recognised government and southern separatists formed a new power-sharing cabinet on December 18, and arrived in the southern city of Aden on Wednesday, days after being sworn in Saudi Arabia.
Saudi Arabia had introduced the Riyadh Agreement in November 2019 to try to end the dispute in the country's south that emerged in 2017.
https://english.alarabiya.net/en/News/gulf/2020/12/30/UAE-s-Gargash-says-Yemen-s-Aden-airport-blast-is-an-attack-on-Riyadh-agreement
--------
US flies two nuclear-capable B-52 bombers over Persian Gulf again in threat to Iran
31 December 2020
The Pentagon has deployed a pair of B-52 bombers to the Persian Gulf in yet another provocative military posture against Iran, just weeks before US President Donald Trump is due to leave office.
The nuclear-capable bombers flew nonstop from Minot Air Force Base in North Dakota and headed home after a show of force over the western side of the Persian Gulf on Wednesday, the Associated Press reported.
Announcing the deployment, the head of US Central Command said Wednesday that it was to show that "we are ready and able to respond to any aggression directed at Americans or our interests."
"We do not seek conflict, but no one should underestimate our ability to defend our forces or to act decisively in response to any attack," said General Frank McKenzie, without mentioning Iran by name.
It was the third time in six weeks that American bombers conducted long-range flights off the Iranian coast.
Earlier in December, two B-52 bombers flew nonstop from Barksdale Air Force Base in Louisiana, across Europe and then the Persian Gulf on a short-notice mission.
The US Navy also announced the arrival of a nuclear-powered submarine in the Persian Gulf last week. The USS Georgia passed the Strait of Hormuz accompanied by two American warships, making it the first missile-loaded submarine of its kind to enter the Persian Gulf in eight years.
The Iranian authorities have played down increased US military activities in the region over the past weeks, saying such moves are a mere defensive show, which stems from Washington's fear of its past mistakes.
The latest deployment comes as Iranians and Iraqis are preparing to mark the first anniversary of the martyrdom of their popular commanders, namely Lieutenant General Qassem Soleimani and Abu Mahdi al-Muhandis, who were assassinated in a US drone strike on January 3.
The strike, which was directly ordered by Trump, triggered a strong anti-American backlash across the region, leading to growing calls for the US military to end its presence in the Middle East.
Iran unleashed a barrage of missiles on a US military base in Iraq on January 8 as part of its revenge for the assassination. US positions in Iraq have since been targeted several times.
On December 20, several Katyusha rockets landed in Baghdad's highly fortified Green Zone, which houses the American embassy.
Washington was quick to point the finger at Iran, but the Islamic Republic has strongly denied any involvement.
"Some friendly health advice to Iran: If one American is killed, I will hold Iran responsible. Think it over," Trump warned Iran via Twitter on December 23.
While repeatedly saying that its "harsh revenge" for Soleimani's assassination is not yet over, Iran has also indicated that it views revenge in a broader sense than just military strikes against US forces.
Days ago, Iran's ambassador to Baghdad told Al-Ahed news that Iran reserves the right to avenge the "historic crime," but its revenge is not necessarily a military action.
"Revenge for the assassination of General Soleimani is not necessarily a military action. Rather, the expulsion of American forces from the region can be [our] revenge for General Soleimani's blood," Iraj Masjedi said.
https://www.presstv.com/Detail/2020/12/31/641926/US-flies-two-B-52s-over-Persian-Gulf-again
--------
URL: https://www.newageislam.com/islamic-world-news/angry-mob-led-local-clerics/d/123937
New Age Islam, Islam Online, Islamic Website, African Muslim News, Arab World News, South Asia News, Indian Muslim News, World Muslim News, Women in Islam, Islamic Feminism, Arab Women, Women In Arab, Islamophobia in America, Muslim Women in West, Islam Women and Feminism