New Age Islam News Bureau
17 Jun 2015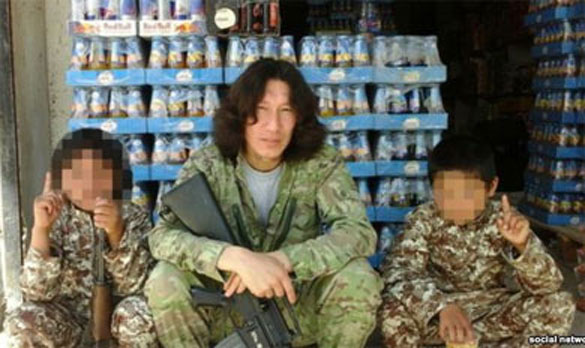 Kazakh IS militant Artyom Avdeyev poses with what he says are two Kyrgyz boys in an image he later deleted from his account
-------------
Europe
• Analyst Reveals Saudi Spy Agency's Role in Recruiting Uzbek Militia for War in Syria
• Kazakh IS Militant Posts Photos of Central Asian 'Caliphate Cubs'
• Britain Must Ban Sharia 'Kangaroo Courts', Say Activists
• Lady Warsi: Ministers Fuelling Muslim Radicalisation
• Austrian court sentences 10 for trying to join Islamists in Syria
• Report: ISIL Joined by over 400 Chechens in 2011
India
• Muslims Should Observe World Yoga Day: Head of Ajmer Sharif Dargah
• PM To Release Pak Fishermen as Ramzan Gift to Neighbour
• Modi, Amit Shah have forgotten Ayodhya: VHP
South Asia
• Seven Soldiers Martyred, 83 Militants Killed In Afghan Military Operations
• China Steps Up Controls in Unruly Xinjiang as Ramadan Approaches
• Afghan Security Forces Ramp up Attacks to Retake Areas in Kajaki, 35 Rebels Killed So Far
• SHUJAN urges govt to immediately tackle human trafficking
Arab World
• Iraqi Aerial Bombardments Kill over 30 ISIL Militants in Salahuddin
• 18 Dead As Syria Army, Rebels' Trade Fire around Damascus
• Victories over ISIS Give Syria Kurds Claim to Bigger Role
• First Syrian refugees return to Tal Abyad after ISIS defeat
• ISIS kills five policemen near Baiji refinery
• Egypt army says it foiled attack, killed 7 terrorist suspects
• Rebels launch offensive in Syrian town of Quneitra
Mideast
• Turkey Sees Signs of 'Ethnic Cleansing' By Kurds in Syria
• Hamas Rejects Unilateral Dissolution of Palestinian Govt
• Turkey Holds Reporters 'For Asking Tough Question' About ISIS
• Yemeni parties agree need for ceasefire
• Hamas, Israel in indirect 'exchange of ideas' over truce
• Iran Hackers Attack 'Israeli' Cyber Targets
• Israel eases restrictions on Palestinians for Ramazan
• Fatah: Palestinian govt to resign within 24 hours
• Arab air strikes hit Yemen as peace talks enter second day
Pakistan
• Justice Cannot Be Put Aside While Dealing with Terrorist Cases, Says SC Judge
• Police Kill Four 'Terrorists' Near Safoora Goth
• Criticism against army is unacceptable: PM Nawaz
• Pakistani troops cross border, rescue Afghan soldier
• Bajaur Agency School targeted in two blasts
• Afghan refugees 'all praise' for Pakistan
• Security situation improving in Balochistan, says CM
North America
• Facing Backlash, US Muslims Counter with New Advertising Campaign
• Muslims Speak to US Jewish Group in Push for Interfaith Dialogue
• Kerry says 'patience wearing thin' on Syria's Assad
• Pentagon: IS 'Cracking' from Kurdish Advance, US Air Power
• US Senate Votes to Ban Torture in War on Terrorism
• Authorities: NYC student planned bomb for Islamic State
Africa
• King Mohammed VI approves requests for Moroccan Tolerant Islam
• Libyans Doubtful About Europe's Plan to Block 'People Smugglers'
• Cameroon Worried Over Spread of Radical Ideology
Southeast Asia
• Civics Bureau Blames G25 for Pluralism, Liberalism Push
• Malaysia to look into Islamic sports attire after furore over gymnast's outfit at games
• In Parliament, irate Bung says 'someone would be dead' if he was home during protest
Compiled by New Age Islam News Bureau
URL: https://www.newageislam.com/islamic-world-news/new-age-islam-news-bureau/analyst-reveals-saudi-spy-agency-s-role-in-recruiting-uzbek-militia-for-war-in-syria/d/103536
--------
Europe
Analyst Reveals Saudi Spy Agency's Role in Recruiting Uzbek Militia for War in Syria
Jun 17, 2015
Victor Mikhaylov, a senior security analyst and head of the Anti-Terror website, disclosed that Saudi Arabia has been recruiting Uzbek militants to join the terrorist groups in Iraq and Syria.
In a memo sent to FNA, Mikhaylov revealed the names of a number of Uzbek warlords and ringleaders of the terrorist groups in the Central Asia and Russia and their tight relationship with the Saudi spy agency, revealing how the Saudi spy agency finds and recruits terrorists for operations across the world, specially in Iraq and Syria.
Mikhaylov said one of such ringleaders is Akmal Jorebayev, nicknamed Haji Yousef, who heads Imam al-Bukhari group and is a key figure in the world of Takfiri-Salafi Jihadism.
According to Mikhaylov, Haji Yousef went to Saudi Arabia to continue his studies in 1993 and could find links among the Uzbek nationals residing in Saudi Arabia, including Mohammad Ibrahim Akous, a local prosecutor, who helped him financially and accommodated him. Then he was linked to the Saudi spy agency to provide services as a recruit.
In late 1998, Jorebayev was entrusted with a serious and important responsibility which was meeting Taher Youldash, the ringleader of Turkistan Islamic Movement terrorist group.
In early 1999 Youldash held a meeting with Jorebayev during Hajj pilgrimage and proposed him cooperation, an offer which was well received by Jorebayev.
During the meeting, Youldash urged Jorebayev to act as the representative of the terrorist group in Saudi Arabia, and this was the sign Riyadh was waiting for to infiltrate the Turkistan Islamic Movement.
The representative of Turkistan Islamic Movement was entrusted with some responsibilities, including collecting financial aids for the terrorist group, recruiting new militia for the terrorist group among the Central Asian youth who come to Saudi Arabia for studies and transferring the militia and collected money to Turkistan Islamic Movement's camps in North Wazirestan, Pakistan.
At the end of 2001 when the US and its allies started war against the Taliban in Afghanistan, the members of Turkistan Islamic Movement also fought against the US and NATO forces.
Actually, Jorebayev was an important agent for the Saudis since he was exactly informed of the money collected for Turkistan Islamic Movement as well as the identity of the Saudi nationals and foreign organizations which aided the terrorist group.
In 2006, Youldash decided to familiarize Jorebayev with warfare skills. Youldash informed the Turkistan Islamic Movement's warlords of his decision and invited Jorebayev for a short stay in Pakistan, but after Jorebayev arrived in Pakistan, Youldash announced that Jorebayev should not leave Pakistan.
Jorebayev went to Pakistan with the passport of a Kyrgyz religious scholar. He was accompanied by his family (two wives, a daughter and four sons).
Then he underwent special training in a military camp of Turkistan Islamic Movement in Pakistan in North Wazirestan.
In September 2009, Taher Youldash and a number of his commanders were killed in US drone attacks in North Wazirestan.
Ossman Adel, who replaced Youldash as the movement's leader after his death in 2009, was also killed in 2010. Adel moved the militants to Miranshah region of North Wazirestan during his one year tenure.
Jorebayev, nicknamed Abu Akef, could shortly establish friendly ties with Osman Adel.
The Turkistan Islamic Movement's leaders decided to establish a school named Abdullah bin Zubeir and Jorebayev was appointed as the head of its military training.
After a while Ossman Qazi became the new leader of Turkistan Islamic Movement. The intelligence officers of the movement informed Qazi of Jorebayev's background. It became known that Jorebayev had been recruited by Saudi intelligence officers in Medina. They also disclosed to Qazi that Jorebayev had met with CIA officers several times in Saudi Arabia.
The documents gathered by Turkistan Islamic Movement's intelligence showed that the Pakistani army's attack on the movement's positions in 2008 had taken place with the help and coordination of Jorebayev.
The Pakistani army's main goal was killing the leader of Turkistan Islamic Movement and those warlords who accompanied him to Pakistan through Tajikistan several years ago. However, Youldash had managed to escape together with a group of his loyal forces.
Youldash was not only considered as the founder of Turkistan Islamic Movement, but he was also regarded as the movement's real leader.
Youldash's refusal to compromise with non-fidels was highly acclaimed by most of the warlords.
In 2011, the Turkistan movement found evidence about Jorebayev's cooperation with the Americans and it decided to try him as a traitor.
The movement also obtained documents that Jorebayev had played a role in the deaths of the former leaders of the movement, Taher Youldash and Ossman Adel.
The leaders and warlords of the Turkistan Islamic Movement came under the US drone attacks at nights, and it seemed that someone had marked the residence of the Turkistan Islamic Movement's leaders for them. Some leaders of Turkistan Islamic Movement believed that Jorebayev had provided the US with relevant intelligence.
http://english.farsnews.com/newstext.aspx?nn=13940326000882
--------
Kazakh IS Militant Posts Photos Of Central Asian 'Caliphate Cubs'
Jun 17, 2015
A social-media account run by an Islamic State (IS) militant who claims to be from Kazakhstan has posted a number of photographs of Central Asian children, some of whom he claims are ethnic Kyrgyz.
The militant, who calls himself Artyom, maintained an account on the Russian-language social network VKontakte until it was blocked on June 13. RFE/RL has obtained screen grabs of several of his posts, including those where he posted photographs of Central Asian children.
Artyom claimed on his VKontakte account that he is from Atyrau, Kazakhstan's main Caspian Sea port. He posted a photograph of himself on June 9 sitting in front of a store with two small boys whom he claimed were Kyrgyz children. The boys, both of whom appear to be under the age of 10, are dressed in military fatigues.
A search of the photos on Artyom's blocked account, however, shows that the militant appears to have deleted the photograph of the Kyrgyz children before his account was banned, perhaps because the picture attracted the attention of reporters and of Kyrgyzstan's State Committee for National Security (GKNB).
On June 13, the pro-Kremlin Russian-language website Sputnik.kg reported that the GKNB said it was examining the photograph. "This information should be checked. There are representatives of several nations there [in IS-controlled territories] who are similar in appearance to us. This situation needs to be clarified," official GKNB spokesman Rahat Sulaymanov was quoted as saying.
Kyrgyz Children, Ethnic Uzbeks In Syria
On May 28, Sulaymanov said that according to official figures there were some 300 Kyrgyz citizens fighting alongside IS militants in Syria. Some of the militants had taken their families with them, including "up to 10 small children," Sulaymanov was quoted as saying.
The Interior Ministry's Antiterrorism 10th Department said that there were 352 Kyrgyz nationals in Syria and Iraq, of whom 49 are women and 22 are minors, the 24.kg website reported on June 15.
The presence of Kyrgyz nationals in Syria and Iraq has been a sensitive topic for Bishkek, which has tried to downplay the presence of its citizens in IS-controlled areas. The GKNB has even blamed the country's ethnic Uzbek population for the Kyrgyz presence in Syria and Iraq, claiming that as many as 80 percent of Kyrgyz citizens fighting alongside IS are ethnic Uzbeks.
The Interior Ministry's 10th Department has made similar claims, stating as many as that 249 of 352 Kyrgyz nationals in Syria and Iraq are ethnic Uzbeks.
The ministry has not provided evidence to back up the claims, however.
Some analysts say that there are probably more than 352 Kyrgyz citizens in IS-controlled territories in Syria and Iraq.
A report published in January by the International Crisis Group (ICG) found that between 2,000 and 4,000 citizens from across the five ex-Soviet Central Asian states -- Kyrgyzstan, Uzbekistan, Turkmenistan, Kazakhstan, and Tajikistan -- have gone to Syria to fight alongside IS and other militant groups.
Some Kyrgyz officials have also begun to admit that the actual number of Kyrgyz citizens fighting in Syria could be a lot higher than the official figures suggest.
Ryspek Abdysatarov, a representative of Kyrgyzstan's Secretariat of the Council of Defense, said at a June 16 roundtable on security in Central Asia that unofficial evidence points to a far larger figure than the official 352 Kyrgyz. "The number who went to Syria may be 1,000 people. People from the southern provinces [of Kyrgyzstan] are mainly going to Syria," Abdysatarov was quoted as saying by RFE/RL's Kyrgyz Service.
And there is evidence to suggest that there are likely more than just 10 or even 22 Kyrgyz children in IS-controlled territory in Iraq and Syria.
ICG's Central Asia Project director, Deirdre Tynan, told RFE/RL on June 15 that IS recruitment to Syria and Iraq was "ongoing in Kyrgyzstan." "When Crisis Group spoke with would-be migrants in southern Kyrgyzstan last year, some of these were women with children, from infants to teenagers, and they intended to bring them to Syria with them," she said.
The would-be migrants told ICG that the teenagers were aware of what going to Syria meant and that they wanted to go. "I also know of at least one birth to a Kyrgyz couple in Syria," Tynan added. "In this case, the young woman's mother left Kyrgyzstan to be with her daughter and grandchild in Syria late last year. All that remains of the family in Kyrgyzstan is the father and a school-age boy."
?Kazakhs In IS
Like their Kyrgyz counterparts, Kazakh militants fighting alongside IS militants in Syria have also claimed to have brought their families with them.
A video posted online in November 2013 showed a group of about 150 Kazakh militants who claimed to have brought their wives and children with them to Syria.
Like neighboring Kyrgyzstan, Kazakhstan has been very sensitive about the issue of ethnic Kazakh children in IS-controlled territories. Last year, the Kazakh government banned an IS propaganda video that claimed to show a group of Kazakh children undergoing military training.
Artyom's social-media account is likely to have upset the Kazakh authorities, because it also showed photographs of at least two ethnic Kazakh children, which the IS militant claimed were his son and daughter.
On his now-deleted VKontakte account, Artyom posted photographs of a boy he identifies as "my son, Abdrakhman." The photo shows a boy who appears to be under 10 and who is sitting in front of a black IS flag.
Other photographs show Artyom with the boy and a girl he refers to as his daughter.
In another photograph, an unidentified boy who appears to be Central Asian is shown holding a gun and raising one finger aloft in the gesture popular among IS militants. The child is dressed in military fatigues.
One photograph shows a small Central Asian boy holding a large hunting knife.
The captions to two of the photographs of Artyom's children stated that they were taken in Istanbul in 2012, suggesting that the Kazakh militant spent some time there before coming to Syria, or that he simply traveled via Turkey to Syria.
Artyom's social-media account offers a glimpse into the thoughts of a Kazakh IS militant.
Although Artyom has brought at least two of his children with him to IS-controlled territory in Syria and Iraq, the Kazakh militant either has not brought the children's mother or is seeking to find a second wife.
In several of his now-deleted posts, Artyom writes that he wants a wife. One image he posted states, "Peace to the world. And to me, a wife, please."
Artyom also expresses grief for IS militants who have died, writing in one post on June 8, "how hard it is to lose close friends in jihad. Abu Hamza was like a brother to me."
In another post, Artyom praises Uzbek "martyrs" -- militants who have died fighting alongside IS.
He has also posted photographs of himself alongside other militants in what he calls an IS "media room."
Threatening Central Asia
In a June 7 post, Artyom threatened that IS militants would come to Central Asia. "Inshallah [God willing] we will reach from Kyrgyzstan to Kazakhstan to Tajikistan," he wrote.
Once there, the militant group would set about releasing imprisoned Central Asians, Artyom promised. "By Allah, brothers we have not forgotten about you, who are imprisoned by the infidels. Soon we will release you," he wrote.
While other Central Asian militants have made threats to return and fight in their home countries, there is no evidence to suggest that IS's leaders are encouraging them to do so.
In fact, it seems that IS has refused permission to some Central Asian militants who asked to return home and wage "jihad" there.
A group of Tajik militants said in January that they were told they had to stay in Syria when they asked IS leader Abu Bakr al-Baghdadi for permission to return to Tajikistan and fight alongside an extremist group there.
http://www.rferl.org/content/islamic-state-militant-posts-photos-of-kids/27075404.html
--------
Britain must ban sharia 'kangaroo courts', say activists
Jun 17, 2015
LONDON (Thomson Reuters Foundation) - Britain's new government must abolish Islamic sharia courts, campaigners said on Monday, describing them as "kangaroo courts" that deliver second-rate justice and trample over the rights of women and children.
They called for the government to stick to pre-election promises to hold an inquiry into sharia courts which first appeared in Britain in the mid-1980s.
"Over the years, we have witnessed with increasing alarm the influence of 'Sharia courts' over the lives of citizens of Muslim heritage," nearly 200 women's rights and secular campaigners said in a statement.
"Though the 'Sharia courts' have been touted as people's right to religion, they are in fact, effective tools of the far-right Islamist movement whose main aim is to restrict and deny rights, particularly those of women and children."
It has been reported that there are 85 such courts in Britain, but the number is unknown. The courts -- called sharia councils -- deal mostly with family matters, in particular divorce.
Campaigners say women in abusive relationships are being forced to return to their husbands while others end up in destitution following divorce under sharia law. Many women also lose custody of their children after divorce.
The courts give a woman's testimony only half the weight of that of a man, campaigners say, and sons inherit twice the share of daughters.
Sharia councils contacted by the Thomson Reuters Foundation were not immediately available for comment. But the Islamic Sharia Council in east London says on its website that it takes a "harsh stance" on domestic violence, never forces a woman to stay with a husband she wants to divorce and always insists that couples refer custody issues to civil courts.
The campaigners' statement called on the government to stop the development of parallel legal systems and to defend the principle of one law for all.
The 197 signatories include women's rights groups and secular organisations along with prominent writers, academics, journalists and lawyers. Many of the signatories are from a Muslim background.
Britain's Home Office said on Monday that a review into sharia courts would be included in a counter extremism strategy to be announced soon.
Some supporters of sharia councils have suggested problems with the system should be addressed through regulation, but opponents say the courts simply should not exist.
"Opposing 'Sharia courts' is not racism or 'Islamophobic'; it is a defense of the rights of all citizens, irrespective of their beliefs and background to be governed by democratic means under the principle of one law for all," the statement added.
The statement also called for the government review to examine the impact of "draconian" legal aid cuts which they said were increasingly forcing abused women from minority backgrounds to go to sharia courts to sort out family legal proceedings.
Sharia law derives from the Koran and the Hadiths, the sayings and customs attributed to the Prophet Mohammad, as well as rulings by Islamic scholars.
But the statement pointed out that sharia laws are contested in many Muslim-majority countries including Iran, Algeria, Tunisia and Pakistan.
http://www.businessinsider.com/r-britain-must-ban-sharia-kangaroo-courts-say-activists-2015-6#ixzz3dIRRTRol
--------
Lady Warsi: ministers fuelling Muslim radicalisation
Jun 17, 2015
Lady Warsi, the first Muslim to serve in cabinet, has warned that radicalisation of British Muslims represents a "generational challenge" that the government is failing to tackle amid fears for three sisters and their nine children who are believed to have travelled from West Yorkshire to Syria.
Speaking on BBC Radio 4's Today programme, the former Conservative minister for faith and communities said her ex-colleagues were fuelling the problem by "disengaging" with Muslim communities.
Warsi, who is from the West Yorkshire town of Dewsbury and knew the family of 17-year-old Talha Asmal, who killed himself in a suicide attack in northern Iraq, according to the extremist group Islamic State.
She said it was important to keep the problem of radicalisation in perspective, but added: "Having spoken to Talha's father, one person is one person too much."
She added: "Let's first of all be very clear about finding the evidence base of what are the drivers to radicalisation. It may make for uncomfortable reading but it is only when we start to have that honest conversation that we unpick what is now becoming a generational challenge."
She urged ministers to reach out to Muslim communities rather than disengage with groups as she said they have been doing for the past seven years.
Warsi said: "We continue to hear these calls for the Muslim community, quite rightly, to do more with dealing with this issue of radicalisation. But the British Muslim communities will be able to do that better with a government stood alongside it and collaborating with the community … Sadly over the last six or seven years there has been a policy of disengagement with British Muslim communities."
She added: "It is incredibly odd and incredibly worrying that over time more and more individuals, more and more organisations are considered by the government to be beyond the pale and therefore not to be engaged with … Unfortunately the coalition government carried on that policy. It is now time to end that policy of disengagement and start speaking to the British Muslim communities, and empowering them to do more."
Her comments follow the launch of an urgent appeal to track down three sisters and their nine children who travelled from Britain to Saudi Arabia for an Islamic pilgrimage and did not return.
The 12 members of the Dawood family from Bradford, West Yorkshire, are aged between three and 34 and had been due to come back to the UK last Thursday, having left for Saudi Arabia on 28 May.
Balaal Khan, a solicitor, said there were serious concerns that they may be heading for Syria and it was possible they had travelled there via Turkey. "The suspicion and main concern is that the women have taken their children to Syria," he said. "One of the possibilities is they travelled to Turkey to travel to Syria." This is understood to be one line of inquiry being pursued by police.
Sadly over the last six or seven years there has been a policy of disengagement with British Muslim communities
Lady Warsi
A spokeswoman for the Foreign Office said: "We are in contact with West Yorkshire police and Turkish authorities and are ready to provide consular assistance."
Naz Shah, the Labour MP for Bradford West, said she had spoken to two of the fathers of the children and said they had had no contact with the women or children. She told BBC Breakfast: "I asked them if there was any indication and they said absolutely not – it was a shock to them, it came out of the blue. The men are very, very distraught. They are confused and did not know what was happening or why it was happening.
"At this time there is no contact, absolutely zero contact with the women or children. The last contact was a few days ago when they were due to leave [Saudi Arabia]."
The group were supposed to fly to Manchester following their pilgrimage but the fathers reported them missing when they did not return, Shah said.
A resident on the street where the Dawood family used to live said they were normal and quiet. The man, who did not want to be named, said: "They were a big family and you never had any trouble from them. They were just nice and normal.
"I'm just so shocked to hear the news. Three women and nine children – it's unbelievable."
http://www.theguardian.com/politics/2015/jun/16/lady-warsi-ministers-fuelling-muslim-radicalisation
--------
Austrian court sentences 10 for trying to join Islamists in Syria
Jun 17, 2015
An Austrian court sentenced 10 people to up to three years in jail on Tuesday for trying to link up with radical Islamists in Syria.
A Turkish man accused of organizing transport for the group of native Chechens got a three-year jail term, while others got prison terms of up to 34 months. One who was a juvenile at the time of the arrests last August got a one-year suspended sentence, a court spokeswoman said.
The sentences are not final until the defendants -- some of whom said they were simply going on a holiday or wanted to live in an Islamic country, according to media reports -- decide whether to appeal.
Full report at:
https://english.alarabiya.net/en/News/world/2015/06/16/Austrian-court-sentences-10-for-trying-to-join-Islamists-in-Syria.html
--------
Report: ISIL Joined by over 400 Chechens in 2011
Jun 17, 2015
TEHRAN (FNA)- More than 400 Chechen militants have joined the ranks of the ISIL Takfiri group since the start of a civil war in Syria in 2011, according to a report by the Russian Interior Ministry.
"A total of 405 people… have left Chechnya to join the fighting in Syria," RIA Novosti quoted a ministry spokesman as saying.
Among those people, "104 have been killed and 44 came back, while the fate of the rest is unknown."
Authorities have opened 88 criminal cases against Chechen residents who fought in Syria.
http://english.farsnews.com/newstext.aspx?nn=13940326000623
--------
India
Muslims Should Observe World Yoga Day: head of Ajmer Sharif Dargah
Jun 17, 2015
The head of Ajmer Sharif Dargah on Tuesday appealed to Muslims to observe World Yoga Day on June 21 and slammed "fundamentalist organisations" for "creating confusion" in the minds of youth of the community about performing the exercise.
"It would be completely wrong to link Yoga with any religion and voice of fundamentalists creating confusion in the minds of Muslim people should be rejected out rightly," Diwan Sayed Zainul Aabedeen Ali Khan said in a statement.
"Yoga is purely a physical exercise, and is not connected with any religious activity or Namaz," he said.
Full report at:
http://indianexpress.com/article/india/india-others/muslims-should-observe-world-yoga-day-ajmer-dargah-official/#sthash.3DYlPCBb.dpuf
--------
PM to release Pak fishermen as Ramzan gift to neighbour
TNN | Jun 17, 2015
NEW DELHI: PM Narendra Modi Tuesday called up his Pakistan counterpart Nawaz Sharif to convey his good wishes to the neighbouring country ahead of the holy month of Ramzan. Modi also spoke to his Bangladesh counterpart Sheikh Hasina and Afghanistan President Ashraf Ghani for the same.
Modi tweeted about his conversation with Sharif saying that he had also conveyed to him India's decision to release detained Pakistani fishermen on this pious occasion. "The fishermen released will be able to be with their families to observe this blessed month,'' Modi said.
According to Pakistani estimates, there are 134 Pakistani fishermen in India.
Most of these fishermen are currently detained in Gujarat. Modi's gesture comes ahead of a possible encounter with Sharif next month at the SCO summit in Ufa in Russia. Both the PMs are likely to be there with India and Pakistan almost certain to be inducted as full members in SCO.
Full report at:
http://timesofindia.indiatimes.com/india/PM-to-release-Pak-fishermen-as-Ramzan-gift-to-neighbour/articleshow/47697440.cms
--------
Modi, Amit Shah have forgotten Ayodhya: VHP
Pankaj Shah & Arshad Afzal Khan,TNN | Jun 17, 2015
AYODHY: The Ramjanambhoomi Nyas, an affiliante of the Vishwa Hindu Parishad, on Tuesday accused Prime Minister Narendra Modi and BJP chief Amit Shah of forgetting the Ayodhya issue after assuming national roles and demanded that the Centre bring a bill in Parliament for the construction of Ram temple.
"He (Modi) went to Varanasi, Mathura and even Nepal and Bangladesh, but did not come to Ayodhya," said Ram Vilas Vedanti, a senior member of the Nyas. "Even Amit Shah came to Ayodhya only during the Lok Sabha elections. But after that, he too forgot," he said. Vedanti added that the government could have brought a bill if it wanted the way it did in case of land acquisition.
Full report at:
http://timesofindia.indiatimes.com/india/Modi-Amit-Shah-have-forgotten-Ayodhya-VHP/articleshow/47697315.cms
--------
South Asia
Seven Soldiers Martyred, 83 Militants Killed In Afghan Military Operations
Jun 17 2015
Seven soldiers have embraced martyrdom and 83 militants killed in newest military operations across the country, Ministry of Defense announced on Wednesday.
According to the statement the seven soldiers embraced martyrdom in landmine explosion and enemy fire in past 24 hours. The statement does not specify the exact locations of the incidents.
The statement adds that 83 insurgents, including six foreign fighters, were killed and 116 others wounded in separate military operations in 12 provinces in past 24 hours.
The operations were conducted in Nijrab District of Kapisa, Urgon of Paktika, Alisher District of Khost, Sorab, Chinarto, Khas Urozgan and Dehrawoud districts of Urozgan, Kijran and Gizab districts of Daikundi, Nish Khakriz and Panjwai districts of Kandahar, Juram, Baharak, Yamgan, Wardouj districts of Badakhshan, Sozma Qala District of Sar-i-Pul, Sangin District of Helmand, Imam Sahib, Chahar Dara District and capital of Kundoz, Qaisar of Faryab and Bagram District of Parwan province.
Security forces have also seized weapons and ammunition but the statement does not specify a solid number of them.
http://www.khaama.com/seven-soldiers-martyred-83-militants-killed-in-newest-military-operations-3506
--------
China Steps Up Controls in Unruly Xinjiang as Ramadan Approaches
Jun 17, 2015
Some local governments in China's unruly far western region of Xinjiang are stepping up controls on the Islamic faith followed by the Uighur people ahead of Ramadan, including making officials swear they will not fast.
The holy month, which begins this week, is a sensitive time in Xinjiang following an uptick in deadly attacks blamed by Beijing on Islamist militants over the past three years in which hundreds have died.
In recent days, state media and government websites in Xinjiang have published stories and official notices demanding that party members, civil servants, students and teachers in particular do not to observe Ramadan, something that happened last year too.
In Jinghe county near the Kazakh border, food safety officials decided last week that they would "guide and encourage" halal restaurants to stay open as normal during Ramadan, the government said on its website.
Full report at:
https://english.alarabiya.net/en/News/asia/2015/06/16/China-steps-up-controls-in-unruly-Xinjiang-as-Ramadan-approaches.html
-------
Afghan Security Forces Ramp up Attacks to Retake Areas in Kajaki, 35 Rebels Killed So Far
Jun 17 2015
Security forces have stepped up attacks to retake areas from Taliban rebels in Kajaki District of southern Helmand province.
Capt. Faizullah Akhundzad, the police chief of Kajzaki District said that security forces and militants were exchanging fire from the past four days, adding that now additional forces have arrived in the area and the assault on rebels has been intensified.
Akhundzada said that 35 rebels have been killed and 45 others wounded so far in the battle with security forces.
According to the official security forces are aggressively moving forward. "We have stepped up fight to recapture the areas fell into Taliban control," he told Pajhwok Afghan News.
Akhundzada said that only three Afghan National Army soldiers have sustained injuries in the militant fire.
Taliban confirm the clashes but reject suffering heavy casualties.
http://www.khaama.com/security-forces-ramp-up-attacks-to-retake-areas-in-kajaki-of-helmand-35-rebels-killed-so-far-3507
--------
SHUJAN urges govt to immediately tackle human trafficking
Jun 17, 2015
Terming human trafficking a regional problem, members of the civil society have urged the government to discuss this issue at the international level with the cooperation of United Nations immediately.
Speakers of Sushashaner Jonno Nagorik (SHUJAN) made this call at a round-table discussion held yesterday morning at the capital's National Press Club.
They demanded exemplary punishment of human traffickers and immediate rescue of those stranded at sea.
Full report at:
http://www.dhakatribune.com/bangladesh/2015/jun/17/shujan-urges-govt-immediately-tackle-human-trafficking#sthash.MNNZSCCE.dpuf
--------
Arab World
Iraqi Aerial Bombardments Kill over 30 ISIL Militants in Salahuddin
Jun 17, 2015
Iraqi warplanes carried out several strikes against the ISIL positions in Salahuddin province and claimed the lives of more than 30 terrorists, a source said.
A senior military source, preferring anonymity, said on Tuesday that at least 30 ISIL terrorists lost their lives after the Iraqi fighter jets pounded the town of al-Shirqat, about 250 kilometers (155 miles) North of the capital, Baghdad.
The source added several high-profile commanders of the Takfiri group were also killed in the strikes.
Full report at:
http://english.farsnews.com/newstext.aspx?nn=13940327000264
--------
18 dead as Syria army, rebels trade fire around Damascus
Jun 17, 2015
BEIRUT: At least 18 people were killed in the Damascus region as the army bombarded a rebel-held town and the rebels fired rockets into the capital, a monitoring group said Wednesday.
Six women were among nine people killed by government air strikes and rocket fire on Douma, a rebel-held suburb some 10 kilometres northeast of the centre of Damascus, the Syrian Observatory for Human Rights said.
An AFP photographer saw wounded children being brought into a makeshift medical centre in the town after the Tuesday afternoon bombardment.
A man tried to comfort a weeping boy lying on a stretcher with gauze on his head.
Nearby, a small girl cried as she waited for treatment, her face spattered with blood.
Later, the rebels fired rockets into the heart of the capital, striking Arnus Garden, a popular evening retreat.
Full report at:
http://tribune.com.pk/story/905084/18-dead-as-syria-army-rebels-trade-fire-around-damascus/
--------
ISIS kills five policemen near Baiji refinery
17 June 2015
The Islamic State of Iraq and Syria group has killed five policemen in a town near Iraq's biggest refinery, in an attack that may help ease pressure on some of its fighters trapped in the strategically important facility, a security official said on Wednesday.
The official in a regional security command center said the insurgents mounted the operation at Tal Albu Jarad village as part of a battle for control of Baiji refinery, which has changed hands several times.
After receiving reinforcements, ISIS militants recaptured three neighborhoods in the town of Baiji near the refinery, but fresh clashes have erupted there, the security official said.
Iraq's U.S.-backed government is focused on two key areas in its bid to loosen the grip of Islamic State, which controls a third of major oil producer Iraq and large parts of neighboring Syria.
As well as in the war of attrition at Baiji in the north, Iraqi government forces are hoping to oust ISIS in Anbar, a vast western province mostly held by the insurgents.
https://english.alarabiya.net/en/News/middle-east/2015/06/17/ISIS-kills-five-policemen-near-Baiji-refinery.html
--------
Victories over ISIS give Syria Kurds claim to bigger role
Jun 17, 2015
With a string of victories over Islamic State of Iraq and Syria (ISIS), Syria's Kurds are proving themselves an ever more dependable ally in the U.S.-led fight against the jihadists and building influence that will make them a force in Middle Eastern politics.
Aided by U.S.-led air strikes, the Kurdish-led YPG militia may have dealt ISIS its worst defeat to date in Syria by seizing the town of Tel Abyad at the Turkish border, cutting a supply route to the jihadists' de facto capital of Raqqa city.
The Kurds in northern Syria now control an uninterrupted 400 km stretch of the Turkish frontier, positioning them to help secure an area where the United States says more needs to be done to stop the flow of fighters joining ISIS.
Full report at:
https://english.alarabiya.net/en/perspective/analysis/2015/06/16/Victories-over-ISIS-give-Syria-Kurds-claim-to-bigger-role.html
--------
First Syrian refugees return to Tal Abyad after ISIS defeat
17 June 2015
The first Syrian refugees returned to the border town of Tal Abyad from Turkey Wednesday after it was liberated from the Islamic State group, an AFP journalist reported.
Kurdish forces took the strategic town after several days of intense fighting that sparked an exodus of more than 23,000 refugees into neighbouring Turkey.
https://english.alarabiya.net/en/News/middle-east/2015/06/17/First-Syrian-refugees-return-to-Tal-Abyad-after-ISIS-defeat.html
--------
Egypt army says it foiled attack, killed 7 terrorist suspects
Jun 17, 2015
Egypt's army says it has killed seven suspected terrorists who were were planning to carry out a major attack, the military spokesman said in a statement Wednesday.
Brigadier General Mohamed Samir said forces had received intelligence information that "terrorists" had "transferred weapons and ammunition" to Al-Moqata'a village near Sheikh Zuweid "in preparation for carrying out a major attack" against security forces in North Sinai.
Samir said on his official Facebook page the army also destroyed two weapons' depots and a vehicle.
Egypt's military has been battling an Islamist insurgency in Sinai which has intensified after the ouster of Islamist president Mohamed Morsi.
Hundreds of police and army forces have been killed in attacks, while the army has repeatedly announced killing and arresting hundreds of suspects.
Egypt has also created a buffer zone on the Rafah-Gaza border to control militant infiltration.
http://english.ahram.org.eg/NewsContent/1/64/133003/Egypt/Politics-/Egypt-army-says-it-foiled-attack,-killed--terroris.aspx
--------
Rebels launch offensive in Syrian town of Quneitra
17 June 2015
Rebels in southern Syria announced a major offensive on Wednesday to capture remaining positions held by the Syrian military in Quneitra province, near to the Israeli-occupied Golan Heights.
Rebel spokesman Issam al-Rayes wrote on Twitter that insurgent groups fighting in the operation had signed a pact, which did not involve Al-Qaeda's Syria wing Al-Nusra Front.
Rayes posted a picture of what he described as an operations room in Quneitra showing a group of men in military fatigues close to a table that appeared to show a map and equipment.
Full report at:
https://english.alarabiya.net/en/News/middle-east/2015/06/17/Syrian-rebels-launch-offensive-in-southern-Syria.html
--------
Mideast
Turkey sees signs of 'ethnic cleansing' by Kurds in Syria
Jun 17, 2015
Turkey accused Kurdish militia in northern Syria of persecuting civilians on Tuesday and said it saw signs of "a kind of ethnic cleansing," drawing a parallel to the actions of Islamic State of Iraq and Syria (ISIS) militants and forces loyal to President Bashar al-Assad.
Syrian Kurdish-led forces captured the town of Tel Abyad on the Turkish border on Monday from ISIS, driving the jihadists away in an advance backed by U.S.-led air strikes.
Turkey is uncomfortable with the gains by Kurdish militia, which now control almost half of the Syrian side of Turkey's 900-km (560-mile) border, fearing it could inflame separatist sentiment among its own Kurdish minority.
Full report at:
https://english.alarabiya.net/en/News/middle-east/2015/06/16/Turkey-sees-signs-of-ethnic-cleansing-by-Kurdish-fighters-in-Syria.html
--------
Hamas rejects unilateral dissolution of Palestinian govt
Jun 17, 2015
Hamas said Wednesday it rejected any unilateral dissolution of the Palestinian unity government after senior officials reported that president Mahmoud Abbas announced it would resign.
"Hamas rejects any one-sided change in the government without the agreement of all parties," Hamas spokesman Sami Abu Zuhri told AFP.
"No one told us anything about any decision to change and no one consulted with us about any change in the unity government. Fatah acted on its own in all regards."
Several senior officials said Tuesday that Abbas told members of his Fatah party that the Palestinian government would resign within 24 hours.
The move would signal a fresh setback in efforts to reconcile Gaza, dominated by Hamas, and the West Bank, where Abbas's Palestinian Authority is based.
It also comes as Israel and Hamas hold separate, indirect talks on ways to cement a long-term truce in Gaza following last year's 50-day Israeli offensive on the strip.
http://english.ahram.org.eg/NewsContent/2/8/132977/World/Region/Hamas-rejects-unilateral-dissolution-of-Palestinia.aspx
--------
Turkey holds reporters 'for asking tough question' about ISIS
Jun 17, 2015
Turkey on Tuesday briefly detained four journalists covering the seizure by Kurdish forces of the Syrian border town of Tal Abyad, reportedly because they asked the local governor a tricky question on the Islamic State of Iraq and Syria (ISIS) militants.
Hasan Akbas of the daily Evrensel, Cumhuriyet reporter Pinar Ogunc, Ozlem Topcu of German weekly Die Zeit and Deniz Yucel of German daily Die Welt were all detained, the reporters announced on Twitter.
Full report at:
https://english.alarabiya.net/en/News/middle-east/2015/06/16/Turkey-holds-reporters-for-asking-tough-question-about-ISIS.html
--------
Yemeni parties agree need for ceasefire
17 June 2015
Yemen's warring parties have agreed at U.N.-sponsored peace talks on the need for a ceasefire but the details remain under discussion, a delegate to the discussions told Reuters on Tuesday.
Al Arabiya's correspondent in Geneva said Houthis requested a humanitarian truce declaration ahead of talks, a condition the Yemeni government has agreed on, only if Houthis and their supporters abide by the U.N. Security Council resolution 2216, passed in April.
The U.N. special envoy to Yemen, Ismail Ould Cheikh Ahmed, began shuttle diplomacy in Geneva trying to bridge differences between various political factions. But they still refused to sit at the same table and spelled out clashing agendas.
Full report at:
https://english.alarabiya.net/en/2015/06/17/Yemeni-parties-agree-need-for-ceasefire.html
--------
Hamas, Israel in indirect 'exchange of ideas' over truce
Jun 17, 2015
Israel and Hamas have been holding indirect contacts about ideas for cementing a long-term truce in the Gaza Strip, sources in the Islamist movement said Tuesday.
The contacts have gone through a number of Arab and European channels in a bid to firm up an informal ceasefire agreement that took hold last August, ending a 50-day Israeli offensive on Gaza.
"There has been indirect contact between Israel and Hamas, messages passed via Arab channels as well as through European and Turkish sources," one of the sources told AFP, describing it as "an indirect exchange of ideas."
Full report at:
http://english.ahram.org.eg/NewsContent/2/8/132957/World/Region/Hamas,-Israel-in-indirect-exchange-of-ideas-over-t.aspx
--------
Iran Hackers Attack 'Israeli' Cyber Targets
Jun 17, 2015
Iranian hackers had compromised computers of "Israeli" security companies and academics with the purpose of getting hold of sensitive data, said a report released in June by "Israeli" cyber security firm ClearSky.
Iran Hackers Attack
According to the report, the cyber-attack started in July 2014 and is still ongoing.
Furthermore, ClearSky believed that an Iranian cyber group known as the Ajax Security Team, operating with the support of the regime in Tehran, is behind the attack.
"Several characteristics of the attacks have led us to the conclusion that an Iranian threat actor is the likely culprit. We assume, though do not have direct evidence, that it is being supported by the Iranian regime, or performed by the regime itself," the report said.
The cyber-attack, the report noted, involved efforts to hack computers of various organizations and individuals not only in the Zionist entity but also in Saudi Arabia, Yemen, Venezuela, the United States and other countries.
Full report at:
http://www.english.alahednews.com.lb/essaydetails.php?eid=29660&cid=391#.VYENq_mqqko
--------
Israel eases restrictions on Palestinians for Ramazan
Jun 17, 2015
JERUSALEM: Israel announced on Tuesday it was relaxing restrictions on the movement of Palestinians to and from the West Bank and Gaza Strip, ahead of the Muslim holy month of Ramazan.
A spokeswoman for COGAT, the defence ministry unit which manages civilian affairs in the West Bank, said that for the first time, Palestinians will be able to travel by bus directly from West Bank cities to the Al-Aqsa mosque compound in east Jerusalem.
Men aged over 40 and women of all ages from the West Bank will be able to pray at the Israeli-controlled holy site, and 800 people from the Gaza Strip will be allowed to attend Friday prayers.
Full report at:
http://tribune.com.pk/story/904755/israel-eases-restrictions-on-palestinians-for-ramazan/
--------
Fatah: Palestinian govt to resign within 24 hours
Jun 17, 2015
Palestinian president Mahmud Abbas announced Tuesday that the Ramallah-based government would resign within the next 24 hours, several senior Fatah officials told AFP.
"Within 24 hours the Palestinian government will resign," Abbas told members of the Revolutionary Council of his Fatah movement in Ramallah, according to several officials who attended the meeting.
Earlier, the Council's secretary general had told AFP that the government would step down within 24 hours over its inability to act in the Gaza Strip.
Full report at:
https://english.alarabiya.net/en/News/middle-east/2015/06/16/Abbas-says-Palestinian-govt-to-resign-within-24-hours-Fatah-.html
--------
Arab air strikes hit Yemen as peace talks enter second day
Jun 17, 2015
Arab air strikes hit military targets throughout Yemen on Wednesday and expanded into one western province for the first time, despite peace talks in Geneva aimed at ending almost three months of fighting.
The bombings hit army bases in the capital, Sanaa, and Houthi militia targets in Yemen's central desert and the mountainous province of Mahweet, one of the last provinces in Yemen not to be bombed since the Arab campaign began on March 26.
A coalition of Sunni Muslim states led by Saudi Arabia has been bombing the Iran-allied Houthis, who hail from a Shia sect, and their allies in Yemen's army since then. Their aim is to restore Yemen's exiled president to power and head off what they see as Shia Iran's expansion in the region.
Full report at:
http://english.ahram.org.eg/NewsContent/2/8/132978/World/Region/Arab-air-strikes-hit-Yemen-as-peace-talks-enter-se.aspx
--------
Pakistan
Justice cannot be put aside while dealing with terrorist cases, says SC judge
Jun 17, 2015
ISLAMABAD: A Supreme Court judge observed on Tuesday that justice ought not to be terrorised by putting it aside when dealing with the cases of terrorists.
The observation was made by Justice Asif Saeed Khosa when senior counsel Hamid Khan, representing the Lahore High Court Bar Association and the Lahore High Court Bar, argued that the functions of military courts established to try hardened criminals were not judicial, but executive, in nature.
Hamid Khan was arguing before a 17-judge full court, headed by Chief Justice Nasir-ul-Mulk, hearing petitions challenging the appointment procedure of superior court judges under the 18th Amendment and the establishment of military courts under the 21st Amendment.
When the counsel said that the military courts were required to meet the minimum standard of fairness like presentation of plea by the accused and to rebut the evidence led against him by producing defence witnesses, the court asked Attorney General Salman Aslam Butt to submit trial record relating to the award of death sentence to six militants by the military courts.
Full report at:
http://www.dawn.com/news/1188667/justice-cannot-be-put-aside-while-dealing-with-terrorist-cases-says-sc-judge
--------
Police kill four 'terrorists' near Safoora Goth
Jun 17, 2015
KARACHI: Police claimed on Tuesday to have killed four `militants' in a 'shootout' near Safoora Goth.
The militants on two motorbikes, according to police, were spotted near Anara Garden, a residential project close to Al Azhar Garden where over 45 members of the Ismaili community were killed in a terrorist attack last month.
"We have already enhanced deployment in this neighbourhood after the last month's incident and our patrolling parties have been quite vigilant during their rounds. Today's encounter was the result of that proactive policing," the area's sub-divisional police officer, DSP Khalid Khan, said.
Full report at:
http://www.dawn.com/news/1188661/police-kill-four-terrorists-near-safoora-goth
--------
Criticism against army is unacceptable: PM Nawaz
Jun 17, 2015
ISLAMABAD: Prime Minister Nawaz Sharif on Wednesday censured former President Asif Ali Zardari for his tirade against the army, saying the PPP co-chairman's speech was unacceptable in times of war.
"Criticising the army will only strengthen elements who want to destabilise Pakistan," said the PM, adding that it was crucial that all parties support the army at a time when it is fighting a war against militants.
"The army and soldiers are fighting Operation Zarb-e-Azb and the entire nation supports them," he said.
Full report at:
http://tribune.com.pk/story/905092/criticism-against-army-is-unacceptable-pm/
--------
Pakistani troops cross border, rescue Afghan soldier
Jun 17, 2015
ISLAMABAD: In an unprecedented cross-border 'rescue' operation, Pakistani troops crossed into Afghanistan on Tuesday to evacuate an Afghan soldier, who had been critically wounded in an exchange with the Taliban.
"This afternoon an Afghan soldier was severely injured in an exchange of fire with terrorists 600 metres inside Afghan territory.
"Afghan authorities sought help for evacuation of the soldier and Pakistani forces stationed at a nearby post responded quickly and brought the wounded soldier to Pakistani side of the border," a military spokesman said.
Full report at:
http://www.dawn.com/news/1188651/pakistani-troops-cross-border-rescue-afghan-soldier
--------
Bajaur Agency school targeted in two blasts
Jun 17, 2015
PESHAWAR: A boys primary school in Bajaur Agency was targeted in a blast early Wednesday morning.
Unknown miscreants planted explosives in the Tangi Gharyal school situated in the Mamund tehsil of Bajaur Agency.
There was no loss of life or injuries reported as the blast occurred at night time.
Another planted explosive went off in the area near the school on Wednesday morning as the tehsildar was on his way to school to examine the situation. The tehsildar was not injured.
According to official sources, 116 schools have been targeted in Bajaur Agency since 2005.
Bajaur, a tribal region in Pakistan's Federally Administered Tribal Areas (Fata), is governed by tribal laws.
Full report at:
http://www.dawn.com/news/1188741/bajaur-agency-school-targeted-in-two-blasts
--------
Afghan refugees 'all praise' for Pakistan
Jun 17, 2015
ISLAMABAD: Rahib Nawabi, 31, an Afghan refugee, says he can never forget the hospitality which he and other refugees received during their stay in Pakistan.
"We wish we can go back to our country but the current security situation back home doesn't allow us to return. As soon as the situation improves, we will go back to our country but the love for the people of Pakistan will always remain in our hearts," he told Dawn at the Shalimar Cricket Ground where the UN High Commissioner for Refugees (UNHCR) and the Ministry of States and Frontier Regions (Safron) marked the World Refugee Day.
The day is observed on June 20 every year as a tribute to the courage and resilience of the millions of people uprooted as a result of ongoing conflicts, wars and natural disasters globally. The Afghan refugees on the occasion presented musical performances and played a cricket match with Pakistani students. Stalls were also set up by Afghan vendors to highlight their culture.
Full report at:
http://www.dawn.com/news/1188674/afghan-refugees-all-praise-for-pakistan
--------
Security situation improving in Balochistan, says CM
Jun 17, 2015
QUETTA: Balochistan Chief Minister Dr Abdul Malik Baloch has stressed the need for good civil-military relationship for restoring peace in the province.
Speaking at a prize distribution ceremony on the conclusion of the 28th All Pakistan Bolan Open Golf Tournament at the Quetta Golf Club, the chief minister said efforts being made by his government and security agencies had proved to be fruitful in improving security situation in the province.
Full report at:
http://www.dawn.com/news/1188662/security-situation-improving-in-balochistan-says-cm
--------
North America
Facing backlash, US Muslims counter with new advertising campaign
Jun 17, 2015
Stark blackboards loomed over highways and faded commercial strips in California's capital city of Sacramento this June, offering solace to the troubled: "Looking for the answers in life?" one asked. "Discover Muhammad."
With messages that are part religious invitation to explore the Muslim faith and part public relations, the billboards anchor a national campaign to showcase Islam as a religion of love and tolerance, aimed at Muslims and non-Muslims alike.
But the campaign by the mainstream Islamic Circle of North America (ICNA), which is sponsoring billboards in other cities to publicize the prophet's message, could also spark a backlash amid a spike in anti-Islamic sentiment marked by protests, advertising campaigns and sometimes vandalism and violence.
Full report at:
http://www.hindustantimes.com/world-news/facing-backlash-us-muslims-counter-with-new-advertising-campaign/article1-1359549.aspx
--------
Muslims Speak to US Jewish Group in Push for Interfaith Dialogue
Jun 17, 2015
A former Islamist radical, a store clerk who hid Jews from a terrorist, and a woman who was taught as a child that Adolf Hitler was "a good man," were among the Muslim speakers at the annual meeting of the AJC, one of America's most influential Jewish groups.
It was part of an initiative during the annual meeting of the AJC, formerly known as the American Jewish Committee, earlier this month to improve Muslim-Jewish relations.
And it comes at a time when anti-Semitism is on the rise in Europe, and demographers predict that within a few decades Muslims will outnumber the approximately five million American Jews .
Full report at:
http://www.voanews.com/content/muslim-speak-to-us-jewish-group-in-push-for-interfaith-dialogue/2824835.html
--------
Kerry says 'patience wearing thin' on Syria's Assad
Jun 17, 2015
WASHINGTON: U.S. Secretary of State John Kerry said on Tuesday he had discussed Syria's use of chemical weapons with Russia and the international community's patience with Syrian President Bashar al-Assad's behaviour was wearing thin.
Speaking to reporters via video conference from Boston, Kerry said he was confident Assad's government was responsible for a "preponderance" of chemical attacks against his own people and that "everyone's patience is wearing thin."
Full report at:
http://www.channelnewsasia.com/news/world/kerry-says-patience-wear/1920710.html
--------
Pentagon: IS 'Cracking' from Kurdish Advance, US Air Power
Jun 17, 2015
Islamic State fighters trying to hold on to a key town along the Syrian border with Turkey may be "cracking" as they try to slow Kurdish fighters and other rebels backed by U.S. air power.
U.S. defense officials Tuesday tried to play down claims by Kurdish YPG officials, who said earlier the town of Tal Abyad had been completely wrested from the grip of the Islamic State group; but, the U.S. officials called the latest push to the outskirts of the town a significant development, which could help alter the course of the fight.
"We are, in this case here, in this location, seeing ISIL forces crack, not interested in fighting, not interested in facing the force that they face," said Pentagon spokesman Col. Steve Warren.
Full report at:
http://www.voanews.com/content/activists-kurds-syrian-rebels-seize-border-town-from-is/2824299.html
--------
US Senate Votes to Ban Torture in War on Terrorism
Jun 17, 2015
CAPITOL HILL— The U.S. Senate has voted 78-21 to ban the use of torture in the interrogation of terror suspects and other detainees held by the United States.
The measure codifies into federal law President Barack Obama's executive order banning the use of what U.S. officials once described as "enhanced interrogation techniques".
"We can recommit ourselves to the fundamental precept that the United States does not torture – without exception and without equivocation – and ensure that the mistakes of our past are never again repeated," said Senator Dianne Feinstein.
Full report at:
http://www.voanews.com/content/us-senate-votes-to-ban-torture-in-war-on-terrorism/2824826.html
--------
Authorities: NYC student planned bomb for Islamic State
Jun 17, 2015
NEW YORK — Federal authorities have arrested a New York college student who plotted to detonate a pressure cooker bomb on behalf of the Islamic State terror group, according to published reports.
Munther Omar Saleh, 20, a student at the Vaughn College of Aeronautics and Technology, told a government informant that he was going to "try to do an op" in New York, the Daily News reports court papers saying. Vaughn is a private college specializing in aviation and engineering near LaGuardia Airport in Queens.
Full report at:
http://www.usatoday.com/story/news/2015/06/17/queens-isis-bomb-arrest/28837987/
--------
Africa
King Mohammed VI approves requests for Moroccan Tolerant Islam
Jun 17, 2015
A considerable number of requests for cooperation on religious matters came from Mali, Tunisia, Guinea Conakry, Gabon, Guinea Bissau, Libya, Côte d'Ivoire, all have been approved by King Mohammed VI. In his capacity as Commander of The Faithful, the King kindly responded favorably to the requests of the High Council of Imams in all those countries regarding the training in Morocco of their imams and preachers. Given its expertise in religious education, the Kingdom will also support the modernization and reform of Medersas in those countries notably regarding programs, training of trainers, and textbooks.
Full report at:
http://www.spyghana.com/king-mohammed-vi-approves-requests-for-moroccan-tolerant-islam/
--------
Libyans Doubtful About Europe's Plan to Block 'People Smugglers'
Jun 17, 2015
TRIPOLI, LIBYA— Libyans say a European Union plan to mount a still-to-be-defined military intervention against the people smugglers behind the immigration crisis roiling Europe will not stop sub-Saharan Africans from trying to cross the Mediterranean. They say only Western economic development assistance in the migrants' source countries will help solve the problem in the long-term.
Italy's Prime Minister, Matteo Renzi, announced this week he will ask the European Union to set up migrant processing camps in Libya to help abate the migration crisis roiling his country and impacting the whole continent.
Full report at:
http://www.voanews.com/content/libyans-doubtful-about-europe-plan-to-block-people-smugglers/2824566.html
--------
Cameroon Worried Over Spread of Radical Ideology
Jun 17, 2015
YAOUNDE— Cameroon has assembled all its Muslim leaders in the capital, Yaounde, to teach them how to identify and denounce promoters of the Islamic State group's radical ideology. The effort comes amid reports supporters of the Nigerian terrorist group Boko Haram have dropped their arms and are now preaching "extremism." Boko Haram earlier this year announced its adherence to the Islamic State group.
Cavaye Yegue Djibril, speaker of Cameroon's national assembly, traditional ruler and Muslim spiritual guide, said Boko Haram fighters have dropped their guns and are now preaching Islamic State ideology.
Full report at:
http://www.voanews.com/content/cameroon-worried-over-spread-of-ideology/2824766.html
--------
Southeast Asia
Civics Bureau Blames G25 for Pluralism, Liberalism Push
Jun 17, 2015
The open letter by the G25 or group of prominent Malays calling for a rational dialogue on the position of Islam and Islamic law in Malaysia has given ground to pluralism and liberalism, the National Civics Bureau said.
In a dossier was available on its website until last night, the bureau listed several characteristics of the G25, including a compilation of facts on each of the group's initial members including that of its spokesperson, former diplomat Datuk Noor Farida Ariffin.
Also in the analysis section of the document, it said the open letter written by the group last December was a reaction to cases that involved Islam, and cited the case of Negri Sembilan trans-women testing their constitutional rights to cross-dress as an example.
"The letter has opened up room for pluralism and liberalism groups to speak up," it said.
"Groups that support them, the majority are from opposition and pro-pluralism and liberalism groups [example: Dyana Sofya (DAP), Dr Farouk Musa (Islamic Renaissance Front), Sisters in Islam (SIS) and Zaid Kamaruddin (Negaraku)".
Full report at:
http://www.themalaysianinsider.com/malaysia/article/civics-bureau-blames-g25-for-pluralism-liberalism-push#sthash.cGTkBd3S.dpuf
--------
Malaysia to look into Islamic sports attire after furore over gymnast's outfit at games
Jun 17, 2015
Malaysia plans to look into "Islamic compliance" of the attires used by sportsmen and women following public criticism over the leotards used by a champion gymnast at the Southeast Asian Games in Singapore.
Gymnast Farah Ann Abdul Hadi, who won six medals at the regional games, was slammed for her outfit while competing in the games.
Jamil Khir Baharom, the minister in charge of Islamic Affairs, said that it was the responsibility of Muslims, regardless of gender, to cover parts of their body which should not be publicly exposed.
Full report at:
http://www.ibtimes.co.uk/malaysia-look-into-islamic-sports-attire-after-furore-over-gymnasts-outfit-games-1506528
--------
In Parliament, irate Bung says 'someone would be dead' if he was home during protest
Jun 17, 2015
KUALA LUMPUR, June 17 — Umno MP Datuk Bung Mokhtar reacted furiously today while attempting to seek a reprimand of a rival lawmaker for leading a protest against him that allegedly trespassed into his home.
Bung was demanding for Ampang MP Zuraida Kamaruddin be referred to Parliament's Privileges Committee over the protest against his allegedly "sexist" remark about her, but became incensed when other lawmakers came to her defence.
"You shut up! Bangsat (bastard)! If you are a man all of you can meet me outside! Come on!" Bung shouted at rival MPs.
Before that, Bung said he had no qualms if Zuraida had organised the protest against him outside Parliament, but said she overstepped bounds by holding the protest at his house.
"If you want to protest, let it end here. But you went to my house and they trespassed. Lucky I was not there, because if I was, someone would be dead!"
Full report at:
http://www.themalaymailonline.com/malaysia/article/in-parliament-irate-bung-says-someone-would-be-dead-if-he-was-home-during-p#sthash.mWX5TgDY.dpuf
-------
URL: https://www.newageislam.com/islamic-world-news/new-age-islam-news-bureau/analyst-reveals-saudi-spy-agency-s-role-in-recruiting-uzbek-militia-for-war-in-syria/d/103536