New Age Islam News Bureau
15 Jan 2018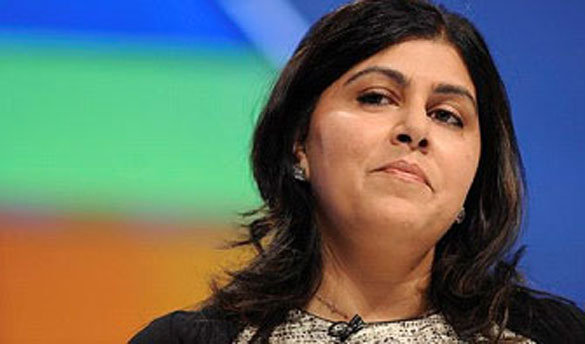 Conservative Party of the United Kingdom Chairman Baroness Sayeeda Warsi
----
• An Islamic Bank for the Poor, Including 4% Hindus, Who Can't and Need Not Pay Interest
• 'Irreligious' Sheikhs Are Damaging Islam in Maldives
• Baghdad: 38 Killed, 90 Injured In Twin Suicide Bombing
• Abbas Calls Oslo Accords Dead and Blasts U.S.: 'Damn Your Money!'
• Muslim Countries Should Give Equal Rights to Minorities: Sayeeda Warsi
India
• An Islamic Bank for the Poor, Including 4% Hindus, Who Can't and Need Not Pay Interest
• Rajsamand 'Hate Crime': Man Linked Muslim Labourer Afrazul's Murder to Love Jihad to Hide Affair
• 50 Per Cent of Muslims Converted From Hinduism, Will Return: BJP MLA From UP
• Right-Wing Men Assault Youth, Brothers in Court for 'Love Jihad'
• West Bengal: Two Muslim Youths Missing Since Basirhat Riots Six Months Ago
• AMU's Proposed DLitt Honour for Mukhtar Abbas Naqvi Sparks Row
• 'D-aide Threatens' Cleric Who Sought Ban on Madrassas
• Security forces foil infiltration bid near LoC, 5 JeM terrorists killed
• The Muslim Caretakers of Historic Indian Synagogue
--------
Southeast Asia
• 'Irreligious' Sheikhs Are Damaging Islam in Maldives
• More Young Malays Can Stand On Own Feet, G25 Tells Ummah
• Constitutional provision not excuse to sideline minorities, MCA says
• 'We have our scars': Chinese army vets slam Ummah for denying minorities' part
--------
Arab World
• Baghdad: 38 Killed, 90 Injured In Twin Suicide Bombing
• US-Led Coalition to Build 30,000-Strong Border Force In Syria
• Several FSA Members Join SDF in Northern Syria
• Syrian Army Lays Siege on Terrorists in Large Region in Southern Aleppo
• US-led coalition intends to create large new border force in Syria: Report
• Iraqi troops purge over 80% of Anbar desert areas of Daesh: Security official
--------
Mideast
• Abbas Calls Oslo Accords Dead and Blasts U.S.: 'Damn Your Money!'
• Israel Destroys Tunnel from Gaza It Says Was Used By Hamas
• Netanyahu In India Warns Islamic Jihad, Hamas Amid Strike On Terror Tunnel
• Salafi mission calls into question Saudi concept of moderation and policy in Yemen
• Erdogan pledges to 'purge terrorism' in Kurdish enclave in northern Syria
• Ankara Continues Heavy Attacks on Kurds in Afrin
• Houthis kidnap Yemeni vice president's son from his home
• Palestinians to get 3G in West Bank after Israel lifts ban
--------
Europe
• Muslim Countries Should Give Equal Rights to Minorities: Sayeeda Warsi
• German Defence Minister Warns Against Is 'Safe Havens'
• Austria's Muslims fear being cast as threat to security
• Moscow against Israel's plan for new illegal settlements
• France's Macron talks about Iran deal with Netanyahu
--------
South Asia
• Afghan General: Haqqani Network, Not IS, Behind Spike in Violence
• Several ISIS militants killed in latest US drone strikes in East of Afghanistan
• Myanmar, Bangladesh meet amid doubts about Rohingya repatriation plan
• Rohingya Insurgents Say 10 Found In Myanmar Grave "Innocent Civilians"
• Afghan govt release details of the meeting with UNSC members in Kabul
• Govt has not accepted Jamiat's offer to keep Noor as Balkh governor
• Two Afghan, one Pakistani refugee killed in container fire in Istanbul
--------
Pakistan
• Tribal Areas Witnessed 16pc Surge in Terror Incidents: Report
• Qadri says won't hold negotiations with anyone regarding Model Town incident
• Politicians to be strong only when they subjected themselves to constitution: JI
• Pakistan Taliban book claims group was behind Benazir Bhutto's assassination
--------
Africa
• Violent Protests Resume in Tunisia after Two Days of Calm
• Nigerian Shia cleric Zakzaky makes first public appearance since detention in 2015
• 4 soldiers killed in attack in central Congo
• Morocco repatriates its last migrants from Libya
--------
North America
• Islamic State Group Offshoot Claims 2017 Niger Attack on US
• Trump Waives Iran Nuclear Sanctions 'For Last Time'
• Anti-jihadist coalition looks to future role after IS defeat
• Ex-US official: Obama squandered 'golden opportunity' to crush Hezbollah
• Crown wants convictions for B.C. pair earlier accused of terror-related crimes
Compiled by New Age Islam News Bureau
URL: https://www.newageislam.com/islamic-world-news/an-islamic-bank-poor-including/d/113940
--------
An Islamic Bank for the Poor, Including 4% Hindus, Who Can't and Need Not Pay Interest
January 15, 2018
New Delhi: Earlier this month, Islamic seminary Darul Uloom Deoband issued a fatwa asking Muslims to avoid families that raise 'haram' (illegitimate) money earned from a banking job. Reason: Taking interest from loans is something that goes against the Sharia law and Islamic banking system.
However, the first thought that an average man has before borrowing money from a conventional bank is the interest rate that the bank would levy. And how does a bank function without charging any interest money on the borrowed amount, except for the minimal organizational charges?
Reserve Bank of India guidelines specifically state that banks are compulsorily required to charge an interest and pay taxes to the central government according to pre-decided rates set by the apex bank and the finance ministry.
However, the Muslim Fund Trust in Deoband headed by Haseeb Siddiqui is a financial institution that works on an interest-free loan module adapted as per the Quranic Shariah model.
Deoband is a small city tucked away in Uttar Pradesh's Saharanpur district and known for its Islamic movement and the Darul Uloom Deoband.
The Darul Uloom, in its latest fatwa said, "Those who are nourished with 'haram' (illegitimate) wealth, are usually not good in respect to instinct and morals. Hence, it should be avoided. One should find out a match in some pious family."
Haseeb Siddiqui explains this ideology that he runs his trust on, "Interest is haram (illegitimate) in Islam. The Quran states that if you cannot provide a 100% assurance that a customer's money is safe in your bank, charging an interest until then is wrong. Conventional banks levy upfront interests and say that your money is safe from everything, however, what if there is an earthquake or a sudden fire or flood? What will the banks do then? So, there is a chance that your money is unsafe even if due to unforeseen circumstances. This is where Islamic rules state that one shouldn't be charging interest."
One wonders how the institution functions, financially, if there is no interest charged.
To overcome the compulsory need for money, the trust has formulated mandatory rules for its potential consumers.
The trust offers loans to only those who have a savings deposit account with them.
"We need to have reserve some cash before we start lending. Therefore, we lend money only to those who have deposited money in our trust before. The entire procedure is very simple. You don't need any identification proof and it takes only two hours. We have 76,000 accounts in our trust, with members coming from Deoband and its surroundings. Four percent of these account holders are Hindus," said Siddiqui.
Conventional banks demand security before issuing loans, which it has the option of falling back upon, in case the consumer defaults. The Muslim Fund Trust accepts only ornaments as security.
"We ask our customers to give us ornaments. There is a valuation officer who calculates the market value of the ornaments and informs us. We issue loans of the same amount to the customer with a time guarantee," said Siddiqui while explaining how security deposits work at the trust.
While the entire procedure seems lucid, there is still a filling necessity for money to pay employees, run the office and take care of other expenses that conventional banks largely use the interest money for. The trust, however, has a different mechanism, much like the government stamp papers where clauses of an agreement are authorized, Deoband's trust sell what they call forms as agreement papers.
"These forms cost 4 percent of the total loan amount that is disbursed. Say, a consumer takes a loan of Rs 10,000, provides the required ornaments of the exact market valuation and pays Rs 250 to get the agreement form. Proceeds from these forms are what go into the funds used to run the office and manage other ventures," said Siddiqui.
Locals across social barriers, who avail the services of the Muslim Fund Trust, identify Siddiqui as a social worker who is vocal about the issues faced by Muslims. Popularly known as Abbaji, Siddiqui has been politically active as a member of BSP.
The trust, along with all its advantages, has inherent downsides too. No account holder can deposit more than Rs 2.5 lakh in his account as that will attract taxation and RBI regulations will come into play. As a response to this, Siddiqui said, "We deal with people who have extreme low income and meagre needs. None of them can produce Rs 2.5 lakh at one go."
The trust neither has debit or credit cards, nor does it have netbanking facilities like other banks.
The whole controversy surrounding the Islamic banking system sparked off after the fatwa. While Haseeb Siddiqui supports the statement, the community stands divided in their opinion. Even the All India Muslim Personal Law Board (AIMPLB) has criticised the Darul Uloom Deoband for issuing the fatwa.
The fatwa was followed by protests by bank employees' associations in Kolkata, who rejected the theory of interest being 'haraam'.
According to the Islamic Supreme Council of America, a fatwa is an Islamic legal pronouncement, issued by an expert in religious law, pertaining to a specific issue, usually at the request of an individual or judge to resolve an issue where Islamic jurisprudence is unclear.
The Muslim Fund Trust also runs an eye-care hospital, driver-training centre and an orphanage from the proceeds after selling the agreement papers. Interestingly, these proceeds are deposited in a conventional bank.
"Yes, we deposit the money required to run our other ventures in a normal bank. Islam has forbidden the use of interest money for one's own self. We spend this money for the organizations that we run and do not use it for our personal consumption."
http://www.news18.com/news/india/an-islamic-bank-for-the-poor-including-4-hindus-who-cant-and-need-not-pay-interest-1631965.html
--------
'Irreligious' sheikhs are damaging Islam in Maldives
14-January-2018
Irreligious sheikhs are the most damaging to Islam in Maldives, says Gan MP Fayyaz Ismail.
The MP said this while on RaajjeTV's Fala Surukhee show on Saturday night.
MP Ismail said these irreligious Islamic scholars had accused former President Mohamed Nasheed of being against religious values during his tenure, even though the Islamic Ministry at the time had complete freedom to spread the faith.
He said that the then ruling Maldivian Democratic Party (MDP) was politically ruined because it had not used the religion as a weapon.
He also accused current so-called leaders of being rapists and thieves.
"When there's inconsistency in what they say and do, it only damages Islam. When children see the so-called leaders, who use the religion as a shield, they will come to think of Islam as something that they use for their personal benefit."
"The most damaging to Islam are now our so-called religious leaders who either support tyranny or remain silent. These irreligious sheikhs are harmful to our children's faith. They have no interest in maintaining the faith. Their only interest is getting political power."
He also said that the punishment for religious scholars who sin should be more severe than for normal people.
https://www.raajje.mv/en/news/24994
--------
Baghdad: 38 Killed, 90 Injured In Twin Suicide Bombing
15 January 2018
A double suicide attack killed 38 people in Baghdad on Monday, a health official said, the second such attack in the Iraqi capital in three days. Dr Abdel Ghani al-Saadi, health chief for east Baghdad, reported "38 dead and 90 wounded".
"Two suicide bombers blew themselves up in al-Tayyaran square in central Baghdad," said General Saad Maan, spokesman for the Joint Operations Command, which includes the army and the police. He said there had been 16 deaths.
According to an AP report, Iraq's interior ministry said back-to-back suicide attacks in central Baghdad kill at least 16 people, wound 65.
Another report by Reuters, quoting Iraqi interior ministry, said that at least 16 people were killed and 65 wounded in the twin suicide bombing in central Baghdad.
The toll could rise as more bodies were being recovered from the site at Aviation Square, the ministry said in a statement. The AP report quoted Maj. Gen. Saad Maan as saying that the rush-hour attack struck at the city's Tayran Square on Monday morning.
He said it was carried out by two suicide bombers and that the explosions also wounded at least 65 people. The area around the square is usually crowded by laborers seeking work.
No group immediately claimed responsibility for the attack but it bore the hallmarks of ISIS, which has claimed such attacks before.
Militant attacks have decreased significantly in Baghdad and other parts of Iraq since the country's security forces retook nearly all territory once held by ISIS. Iraqi and US officials have warned ISIS would continue with insurgent-style attacks.
https://english.alarabiya.net/en/News/middle-east/2018/01/15/Twenty-six-dead-in-central-Baghdad-double-suicide-attack.html
--------
Abbas Calls Oslo Accords Dead and Blasts U.S.: 'Damn Your Money!'
By DAVID M. HALBFINGER
JAN. 14, 2018
RAMALLAH, West Bank — President Mahmoud Abbas of the Palestinian Authority said on Sunday that Israel had killed the Oslo Accords and angrily assailed the Trump administration over its handling of the conflict. He vowed to reject American leadership of any peace talks and urged Palestinians to reconsider their signed agreements with Israel.
"We will not accept for the U.S. to be a mediator, because after what they have done to us — a believer shall not be stung twice in the same place," Mr. Abbas said.
"The deal of the century is the slap of the century," he added, mocking the still-undefined peace initiative that the Trump administration has been working on and promoting in the region. "However, we'll get back at them."
Mr. Abbas, 82, stopped well short of embracing an alternative to a two-state solution, the project around which he has built his career. The number of Israelis and Palestinians who hold out hope that such a solution can be achieved is dwindling, but Mr. Abbas said nothing about abandoning it.
He also shied away from urging the kind of provocative acts, like ending the Palestinian Authority's security cooperation with Israel or disbanding the authority itself, that could raise the costs of occupation for Israel and shake officials in Jerusalem and Washington.
Indeed, Mr. Abbas, who reaffirmed his commitment to nonviolence and stopping terrorism, seemed to hold out hope of a return to negotiations — but with someone other than the United States leading the way.
"Israel has killed Oslo. It has terminated Oslo," Mr. Abbas said. "Now we are an authority without any authority, and an occupation without land, and we will not accept this."
In a two-hour-plus speech opening a two-day gathering of the Palestine Liberation Organization's Central Council, its second-highest-ranking body, Mr. Abbas delivered broadsides against Hamas, other Arab leaders and Britain. But he reserved his most scathing words for President Trump; the United States' ambassador to the United Nations, Nikki R. Haley; and its ambassador to Israel, David M. Friedman.
He attacked Mr. Trump for recognizing Jerusalem as Israel's capital, in defiance of international consensus and longstanding United States policy; for later declaring, in a Twitter post, that the city's status was "off the table"; for threatening to close the P.L.O.'s mission in Washington; and for threatening to cut United States aid to the Palestinians.
"Damn your money!" Mr. Abbas said of Mr. Trump. "He said, 'I will give you a peace deal.' The deal turned out to be a mess. He said, 'We will not pay for the Palestinians because they stopped the negotiations.' Where are the negotiations?"
Mr. Abbas also confirmed a recent New York Times report that the Palestinians had been told they would be offered the East Jerusalem neighborhood of Abu Dis, which they already control, as the capital of a future state.
"We are in a fateful moment of history," Mr. Abbas said, adding scornfully: "If we lose Jerusalem, what do you want to do? Have a state with Abu Dis as its capital? This is what they're offering now: Abu Dis."
Mr. Abbas said that Mr. Friedman, a staunch backer of Israeli settlements on the West Bank before becoming ambassador, had objected to the word occupation out of a conviction that Israel could not occupy its own land, and had asked the State Department to avoid using the word.
"They asked me to meet him," Mr. Abbas said. "I said: 'Him? No, I won't meet him.' Not here, not outside the country, in Amman or Washington. I will not meet this man."
He also called it "shameful" of Ms. Haley to threaten countries that voted in the United Nations General Assembly last month to declare Mr. Trump's recognition of Jerusalem as the Israeli capital "null and void." The measure passed 128-9 with 35 countries abstaining.
"I hope she hears me," Mr. Abbas said, adding, in reference to Ms. Haley's suggestion early last year that she wore heels to kick Israel's enemies: "Our reaction will be worse, but not with high heels."
"These two are a disgrace to any administration who respects itself, if it wanted to respect itself," Mr. Abbas added.
The Palestinian Central Council is expected to make recommendations for a change in strategy, but those will be nonbinding. A similar meeting in 2015 resulted in a call to end security cooperation with Israel, but Mr. Abbas ignored it.
Addressing hundreds of P.L.O. members, Mr. Abbas urged the Council to emphasize unification talks aimed at bringing Hamas, the Islamic militant group that rules the Gaza Strip, into the Palestinian fold. "A state without Gaza is not possible," he said. "A state in Gaza is not possible."
He advocated convening the Palestinian National Council, the P.L.O.'s legislative body, which elects the group's Executive Committee and last met in 2009. "The P.L.O. has to be renovated, has to be refreshed," he said.
And he called on Central Council members to review the group's various pacts with Israel, "because the Israeli government has led us to a stalemate, so these agreements need to be revisited in line with international laws and resolutions, to protect our legitimate rights."
Mr. Abbas spent considerable time early in his speech criticizing Hamas and Islamic Jihad for refusing to send representatives to the gathering in Ramallah. A Hamas spokesman said it should have been held in another country to ensure the participation of representatives from Hamas and other factions.
Testing his audience's attention, Mr. Abbas also gave a lengthy history lecture reaching back to the 17th century, saying that Oliver Cromwell had first proposed shipping European Jews to the Holy Land, before tracing the beginning of Zionism to what he called the 19th-century journalist and activist Theodor Herzl's efforts to "wipe out Palestinians from Palestine."
"This is a colonial enterprise that has nothing to do with Jewishness," Mr. Abbas said. "The Jews were used as a tool under the concept of the promised land — call it whatever you want. Everything has been made up."
Neither Prime Minister Benjamin Netanyahu nor Trump administration officials offered any immediate response.
But Oded Revivi, a spokesman for the Yesha Council, which represents 450,000 Israeli settlers on the West Bank, said, "If the Oslo process is dead, as suggested by Abbas, it would follow that the Palestinian Authority and its leadership are irrelevant."
"It's time," Mr. Revivi said, "to find alternative Palestinian leaders and alternative peace plans that focus on building bridges between real people on the ground instead of making people like Abbas rich and famous."
https://www.nytimes.com/2018/01/14/world/middleeast/abbas-palestinians-trump.html?mtrref=www.google.co.in&gwh=AE814B3A85357C77934921874B433240&gwt=pay
--------
Muslim countries should give equal rights to minorities: Sayeeda Warsi
Jan 15, 2018
LAHORE: Conservative Party of the United Kingdom Chairman Baroness Sayeeda Warsi said Sunday that all Muslim countries should give equal rights to the other communities.
She was speaking on the second and concluding day of the second edition of the event, titled 'Afkar-e-Taza ThinkFest', held under the auspices of the Information Technology University (ITU) in collaboration with the Federal Higher Education Commission (FHEC), Punjab Higher Education Commission (PHEC) and private sector organisations.
Sayeeda Warsi said on the occasion that we should question ourselves first instead of judging others. We need to overcome the fear of love to win, she added. She said that while Pakistan was nearing the general elections, the people should ask tough questions from the representatives they would vote to elect to power.
She further said that five per cent of Britain's population comprised of Muslims, out of which 1.8 million were from Pakistan and Kashmir, adding that we all enjoyed equal rights in accordance with the British law.
Earlier, while opening the concluding day session, PHEC Chairman Nizamuddin urged representatives of 57 universities of Punjab to develop a culture of discussion and debate among citizens belonging to all walks of life. He assured to extend full support in this connection and said that PHEC was planning to hold similar activities in Multan, Bahawalpur and Rawalpindi.
In the absence of Lahore Literary Festival, Afkar-e-Taza ThinkFest's second edition had attracted a large number of participants from all walks of life. We needed to promote the culture of research and dialogue to talk more about history, politics and arts, Nizamuddin said. No research could be completed without academia linkages with the outer world, he added.
In the session, titled 'Rohingya: Inside the Burmese Genocide', speaker Azeem Ibrahim from the United States Army College termed it to be the greatest human crisis since the Rohingya were the largest stateless people. He said the current crisis had displaced 650,000 people who were facing ethnic cleansing, while adding that Myanmar state was redistributing the lands left behind by Rohingyas among local Buddhists.
The topics discussed in other sessions included, Jerusalem: The Future of Middle East, Midnight's Furies: The Partition of British India, Entrepreneurship Meets Media: Redefining Heroes of Pakistan, India Turns East: US China Rivalry, The Rise of Right Wing, Where is the Media Heading?, Shrines Violence and Society in Pakistan, Standing up to the Field Marshal, Inqlab Zindabad, Mr and Mrs Jinnah, The marriage that Shook India, The Enemy Within: A tale of Muslim Britain, The Next Five Months, Artificial Intelligence as the New Electricity and others.
https://www.pakistantoday.com.pk/2018/01/14/muslim-countries-should-give-equal-rights-to-minorities-sayeeda-warsi/
--------
India
Rajsamand 'Hate Crime': Man Linked Muslim Labourer Afrazul's Murder to Love Jihad to Hide Affair
Jan 15, 2018
Rajasthan man Shambhu Lal Regar who was arrested on charges of murdering a Muslim labourer-contractor from West Bengal linked the killing to "love jihad" to hide his "illicit relations" with a woman he called his "Hindu sister", according to the police charge sheet filed in court.
Regar, 36, allegedly hacked to death and burnt 50-year-old Afrazul's body in Rajsamand district on December 6 last year. The accused also allegedly got a 15-year-old relative to film the crime and uploaded it on social media, evoking countrywide horror and outrage.
In a string of videos Regar allegedly circulated after the murder, he claimed he had rescued his "Hindu sister" — a 20-year-old woman — from "love jihad", a term seen to have emerged from fringe Hindutva outfits to allege conspiracy by Muslim men to woo and convert Hindu girls to Islam.
In their charge sheet filed in the court of the Rajsamand chief judicial magistrate on Friday, police stated Regar linked Afarazul's death to love jihad, Article 370, Islamic terrorism, so that his illicit relations with the woman would not be discovered. Police have booked Regar for murder, outraging religious feelings, and criminal conspiracy, among other charges.
"The hearing in the case is slated for January 17," said Manoj Kumar, superintendent of police, Rajsamand.
The woman Regar referred to as his sister allegedly eloped with a man, a labourer, from Afrazul's village. Regar tried to bring her back, but she reportedly turned him down, said police. Later, she returned on her own, police added.
Police suspect Regar targeted Afrazul because he would help people from West Bengal find employment and accommodation in Rajsamand.
http://www.hindustantimes.com/india-news/rajasthan-man-linked-muslim-labourer-afrazul-s-murder-to-love-jihad-to-hide-affair/story-GiV4eaRM6YkDMgV1eItcqO.html
--------
50 per cent of Muslims converted from Hinduism, will return: BJP MLA from UP
January 15, 2018
A day after his controversial speech, in which he claimed "India will become a Hindu rashtra by 2024", Surendra Singh, BJP MLA from Bariya in UP, Sunday claimed he was "misunderstood". He told The Indian Express, "What I meant was that while 50 per cent of the Muslim brothers, who were originally Hindus and converted to Islam, would bring themselves back to the mainstream, all those whose bodies are in India but feelings are with Pakistan should leave and go there."
He said that while this was his opinion and not that of the party, he feels the time has come for the "dream of Hindu rashtra" to become a reality. "RSS ki 100 saal ki tapasya 2024 mein sakar hogi aur Bharat ek Hindu rashtra banega." "Leaders like Rahul Gandhi are 'jersey' politicians, who come from two cultures — Italy and India. How can we expect such leaders to work for the betterment and development of India? Congress believes in the zamindari system and thus leaders like Rahul Gandhi will never be an alternative to BJP leaders like Narendra Modi," he said.
http://indianexpress.com/article/india/50-per-cent-of-muslims-converted-from-hinduism-will-return-bjp-mla-from-up-5024846/
--------
Right-wing men assault youth, brothers in court for 'love jihad'
Jan 15, 2018
MEERUT: A Muslim youth and his two brothers were allegedly beaten up by members of Hindu Yuva Vahini and Vishwa Hindu Parishad on Saturday afternoon at a Baghpat court for carrying out 'love jihad', as the youth was set to marry a Hindu woman from Punjab there.
A video of the physical assault — in which the right-wing men beat up the three brothers while dragging them from the court to the police van, even as the police can be seen watching — went viral on Sunday. While the woman was not beaten, another video showed the attackers abusing her for not being able to "find a better match for herself" even as a woman cop is taking her to the police van.
The couple had met in Punjab, where the man, Kaleem — a resident of Saharanpur — runs a salon near the girl's house. They had started a relationship in 2016 and had been in touch through Facebook and WhatsApp after that. As their families were against the relationship, the couple had fled from Punjab to get married in the Baghpat court.
Baghpat superintendent of police Jai Prakash said, "On Saturday, it was reported that a couple in their late twenties had reached the Baghpat court to meet an advocate to get married. The woman was a Hindu and the man was from the minority community. Even as they were discussing about the procedure to get married, a crowd barged into the advocate's chamber and started a scuffle with the man. Police reached the spot in a few minutes and then brought the couple and the man's two brothers into custody to save them from the mob."
A case has been filed under relevant sections of the India Penal Code (IPC) against unidentified people. Police is in the process of identifying the men seen in the video so as to push the investigation further, the SP added.
While police said that the brothers were thrashed by a "crowd" of people and that they are "unaware" if the assailants were members of Hindu organisations, the men seen in the video are locally-known faces of Hindu Yuva Vahini and Vishwa Hindu Parishad. In fact, members of both organisations told TOI on the record that they were present at the spot, but also claimed that nobody was beaten up.
Both Nitin Chaudhary, Baghpat district president, Hindu Yuva Vahini and Vicky Chaudhary, Baghpat city president, Vishwa Hindu Parishad admitted that they were present at the spot with their supporters, but denied allegations of physical assault. Nitin Chaudhary said, "Not only was the man trying to fool the girl by marrying her as a part of his 'love jihad' scheme, but he also had plans to sell the girl for Rs 50,000." Chaudhary's claim was, however, refuted by police.
Full report at:
https://timesofindia.indiatimes.com/city/meerut/right-wing-men-assault-youth-brothers-in-court-for-love-jihad/articleshow/62498624.cms
--------
West Bengal: Two Muslim youths missing since Basirhat riots six months ago
Jan 14, 2018
Two Muslim youths, aged 21, who went out for Basirhat in West Bengal on July 4 — the day communal violence over a blasphemous social media post reached its peak in the town — have not returned home since then, police and family members said.
The family of one of the missing youths, Alamgir Mondal, a resident of Ankipur village, lodged a complaint with Basirhat police station on July 9, while the family of the other, Arafat Gharami, a resident of Ganrakuli, filed the complaint with neighbouring Hasnabad police station on July 8.
The police took the families to several hospitals in Kolkata, where the injured were admitted, and the jails, where people arrested in connection with violence were kept. However, Mondal and Gharami, or their bodies, were not found anywhere.
Neither the administration nor any rights group or organisations working for the Muslims got in touch with the families since.
Officers at Basirhat and Hasnabad police stations, who are not authorised to speak to the media, on condition of anonymity said that the cases were not pursued because the families stopped following up. Text messages to C. Sudhakar, district superintendent of police, North 24-Parganas, elicited no response.
While Arafat's father Imadul did not admit it, their neighbours, who refused to be identified, alleged that the family stopped pursuing the case with the administration under pressure from some local influential persons.
"We are people with almost no connections. What can we do? We stopped looking for him," he said.
Basirhat Uttar MLA, CPI(M)'s Rafiqul Islam Mondal, said, "I have heard about them, but none came to me for help." Trinamool Congress's Basirhat unit chief, A T M Abdullah, echoed him.
"In August, we contacted the families. They were supposed to come to our office in Kolkata so that we could help them move court. However, possibly under pressure, the families backed out," said Ranjit Sur, vice-president of Bengal's largest rights organisation, Association for Protection of Democratic Rights.
Violence broke out in Basirhat and neighbouring Baduria on July 2 over an offensive Facebook post by a minor Hindu boy and continued till July 6. One person, Kartik Ghosh, succumbed to the wounds sustained in a clash.
"Alamgir left for Basirhat town just like every other morning. Labour contractors gather at the town everyday looking for workers to work at fisheries. Usually these labourers work till 11.30-12.00 and have their lunch at home. Alamgir did not come back for his meal," said Mofazzal Haque, a neighbour, who visited the hospitals and jails in search of him.
Alamgir, a daily labourer, was the sole bread earner for his septuagenarian grandparents, and they are now on the verge of starvation.
"He must have been killed," said Maijuddin Mondal, 75, who struggles to walk even with the help of a stick. His wife, Mairam Bibi, 70, can hardly leave her bed.
A month after Alamgir went missing, the elderly couple sent his 18-year-old wife, Masuma Khatun, back to her paternal home, as they could not afford to feed an extra mouth.
The couple's only son Babar Ali Mondal, who lives separately with his family, irregularly earns Rs 200 a day.
Gharami, a tailor, had gone to Basirhat town, five kilometres from their home, to get spare parts for his father's cycle repairing shop.
"He took an auto-rickshaw ride. By the time he reached Basirhat, heavy rain had started. He left his phone, wrapped in a plastic packet, in the vehicle. Communal violence started around the same time. We were frantically calling his number to ask him to come back but it went on ringing. In the evening, the auto-driver came back with the phone and said that Arafat never came back to his vehicle," said Tarikul Islam, brother-in-law, and a resident of Moilakhola in Basirhat.
When the family first went to the police on July 5, they were sent to Basirhat hospital. From the hospital, they learnt about 26 persons, including two seriously injured unidentified persons, were referred to R G Kar Medical College and Hospital (RGKMCH) in Kolkata.
Full report at:
http://www.hindustantimes.com/india-news/west-bengal-two-muslim-youths-missing-since-basirhat-riots-six-months-ago/story-EbkTnqqn75ADP0Te4k5F8K.html
--------
AMU's Proposed DLitt Honour for Mukhtar Abbas Naqvi Sparks Row
Jan 15, 2018
MUMBAI: A proposal to honour minority affairs minister Mukhtar Abbas Naqvi with the Aligarh Muslim University's DLitt at the varsity's forthcoming convocation has ruffled many feathers at the university and elsewhere.
Aligarh-based writer and former media consultant at AMU Jasim Mohammad's January 11 letter to AMU's VC Dr Tariq Mansoor lobbies for the DLitt honour to Naqvi in "recognition of his secular and nationalistic views and rendering of services to national (sic) and community". "In the past, AMU has awarded DLitt degrees to many moneybags with no scholarly or academic achievements. Mr Naqvi is an educated and popular politician who has taken some very important decisions as minority affairs minister. His services should be acknowledged with DLitt at the next convocation," Mohammad told TOI on phone.
A source said AMU may hold its annual convocation in February-end or March. Though university PRO Umar Peerzada said the proposal to confer DLitt on Naqvi is just one of many and nothing has been decided yet, a member of the AMU executive council said Naqvi's name would be opposed when it comes up for discussion."It will be devaluing DLitt if it is given to a person like Naqvi whose only contribution is that he is loyal to his party. AMU has played a historic role in shaping the destiny of Indian Muslims in modern India and we will oppose it if the proposal is debated in the EC meeting," said an EC member.
https://timesofindia.indiatimes.com/india/amus-proposed-dlitt-honour-for-naqvi-sparks-row/articleshow/62502764.cms
--------
'D-aide threatens' cleric who sought ban on madrassas
Jan 15, 2018
LUCKNOW: UP Shia Waqf Board chairperson, Waseem Rizvi, on Sunday claimed that he got a threat call from a person associated with underworld don Dawood Ibrahim for his "anti-madrassa" statements. Rizvi said he received a call from a Nepal number on Saturday night and the caller claimed to be an aide of Dawood.
He filed a complaint at the Saadatganj police station in Lucknow following which an FIR was registered under Section 507 (Criminal intimidation by an anonymous communication) of IPC.
The Shia board chief had recently sent a letter to PM Modi and UP chief minister Aditya Nath Yogi demanding that madrassas be shut down as they radicalise Muslims and produce terrorists. Muslim clerics had condemned his statements and the Maharashtra unit of Jamiat Ulama-e-Hind had sent a legal notice to Rizvi, claiming Rs 20 crore in damages and seeking written apology.
"I got a call around 10:30pm on Saturday from a Nepal number and the caller said he was carrying some ' bhai's' message for me. When I asked whom was he referring to, he said Dawood Ibrahim. He said I was getting Muslims killed and told me to apologise to clerics. He threatened that my life and my family would be in danger if I did not take back my words in Babri Masjid case and my statements on madrassas," he said.
Full report at:
https://timesofindia.indiatimes.com/city/lucknow/d-aide-threatens-cleric-who-sought-ban-on-madrassas/articleshow/62503082.cms
--------
Security forces foil infiltration bid near LoC, 5 JeM terrorists killed
Jan 15, 2018
SRINAGAR: Security forces on Monday foiled an infiltration bid near the Line of Control in Uri sector of Jammu and Kashmir, killing five Jaish-e-Mohammad terrorists, a senior police official said.
Director General of Police S P Vaid said three JeM terrorists were killed at Dulanja in Uri sector in a joint operation by the Army, police and other security forces.
"Three suicidal JeM terrorists killed in Dulanja Uri while infiltrating in a joint operation by @JmuKmrPolice/Army/ CAPF.Search for the fourth terrorist is still on," Vaid said in a tweet.
Full report at:
https://timesofindia.indiatimes.com/india/security-forces-foil-infiltration-bid-near-loc-5-jem-terrorists-killed/articleshow/62504204.cms
--------
The Muslim Caretakers of Historic Indian Synagogue
January 10, 2018
Muslims have been taking care of Kolkata's historic Beth El Synagogue for much of its 161 years. It's a story of co-existence and co-operation that locals say captures India's spirit, especially at a time when religious tensions grip many parts of the globe.
The current caretaker, a Muslim man named Gurfan, inherited the role from his father, who tended to the house of worship for more than four decades. During that time, he watched the Jewish population in the city dwindle from a high of several thousand strong to just a few dozen. Yet the caretakers remained dedicated to the sacred site.
The synagogue was recently refurbished and celebrated as part of an event attended by the handful of Jews there, as well as many non-Jewish well-wishers, including mostly Muslim students from the Jewish Girls School Kolkata, founded in 1881. Since the 1960s, however, it has been been catering to a mostly non-Jewish student body.
The rabbi of the synagogue, Rabbi Tzvi Rivkin, co-director of Chabad-Lubavitch of Bangalore some 1,200 miles away, told Chabad.org: "It is fitting that the children of Abraham—Jews and Muslims—have found common ground in a holy religious place."
Full report at:
http://www.chabad.org/news/article_cdo/aid/3902576/sc/fb_share/jewish/India-TV-The-Muslim-Caretakers-of-Historic-Indian-Synagogue.htm
--------
Southeast Asia
More young Malays can stand on own feet, G25 tells Ummah
January 15, 2018
KUALA LUMPUR, Jan 15 — A group of former civil servants has chided Malay-Muslim coalition Ummah for insinuating that Malays always expect handouts and preferential treatments, insisting that more and more from the new generation are the Opposite.
In a statement, G25 said many Malay graduates with technical and professional qualifications even prefer to make it on their own by venturing into small businesses, ranging from food stalls to high tech start-ups and taking all the risks, often with non-Malay partners.
"These demands are hurtful not only to other races but us Malays too as we certainly do not like the world to get the impression that by virtue of our race, we do not have to work hard and compete as the government will give us everything from the day we are born to the end of our life.
"The speakers should know that more and more from the new Malay generation are confident they can stand on their own feet," former Treasury secretary-general Tan Sri Mohd Sheriff Mohd Kassim said.
The pro-moderation group said young Malays do not expect government handouts, while stressing that government assistance should prioritise real needs and not ethnicities.
"In fact Malay businessmen themselves often complain about the preferential racial treatment in government economic policies because they tend to benefit those with political connections and exclude those who are genuine entrepreneurs and risk takers," Sheriff said.
"The convention comprised former senior education officers. Of all people, it's shocking that they have the sterile idea that spoon feeding is a virtue. Any expert on culture and civilisation can tell them that this is the worst value that any race can have," he added.
In a Malay-Muslim lobby convention on Saturday, former educator Datuk Raof Husin had demanded that scholarships be only restricted to the Bumiputera, claiming Malays were losing out to their minority counterparts in the race for professional jobs as a result of not getting all the federal scholarships.
http://www.themalaymailonline.com/malaysia/article/more-young-malays-can-stand-on-own-feet-g25-tells-ummah#rdUoZ1HwVGRSkQH4.97
--------
Constitutional provision not excuse to sideline minorities, MCA says
January 15, 2018
KUALA LUMPUR, Jan 15 — MCA has again slammed Malay-Muslim coalition Ummah today, explaining that Article 153 of the Federal Constitution regarding Bumiputera quota is not a blanket provision.
After a call by a former educator to ban non-Malays from receiving scholarships, the Barisan Nasional component's Datuk Ti Lian Ker said the provision should not be used to deprive minorities from being given financial aid and government assistance.
"To deprive or punish the poor of any governmental aid by falling onto Article 153 of the Federal Constitution is wrong and erroneous," Ti said in his statement.
"This is an Article that provides for specific aid to the Malays and the natives of Sabah and Sarawak on education scholarship or reservation of positions in public services, etc but it is to be determined by the Malay Rulers on proportion and needs basis.
"It is not an absolute provision and the assistance rendered are qualified. This Article should not be narrowly interpreted or calculated to deprive minority right to be granted scholarships or other governmental assistance given based on merits or needs," he added.
In a Malay-Muslim lobby convention on Saturday, former educator Datuk Raof Husin had demanded that scholarships be only restricted to the Bumiputera, claiming Malays were losing out to their minority counterparts in the race for professional jobs as a result of not getting all the federal scholarships.
Ti today lambasted Raof, alleging that the latter is "obviously ignorant of the law" and calling him a "danger and a threat" to national unity, progress and harmony.
The party's Religious Harmony Bureau Chairman also explained that Raof's statement that there is still a lack of Bumiputera professionals in critical professions is not true.
"That was back in the 1960s and 1970s when the New Economic Policy was introduced to remedy, restructure and redistribute wealth in the society. Raof's statement seems to show that he is still living in the past.
Full report at:
http://www.themalaymailonline.com/malaysia/article/constitutional-provision-not-excuse-to-sideline-minorities-mca-says#z6R7VSFUEUAdu80B.97
--------
'We have our scars': Chinese army vets slam Ummah for denying minorities' part
BY ANITH ADILAH
January 15, 2018
KUALA LUMPUR, Jan 15 — Ethnic Chinese army veterans have railed against Malay-Muslim coalition Ummah today over the latter's erroneous claim that only Malays had resisted British colonists, Japanese occupiers and Communist insurgents.
At a press conference today, Malaysian Armed Forces Chinese Veterans Association (MACVA) president Major (Rtd) Tan Pau Son said cleric Ismail Mina Ahmad's remarks were not only historically and factually wrong, but had belittled the contributions of the non-Malay veterans including the Ibans, Indians, Sikhs.
"We participated in defending our country and some of us still have scars to show that we were there — risking our lives," Tan told a press conference at Mavca headquarters at Midvalley Boulevard here.
Tan said Mavca, with a membership close to 1,000 veterans since inception on August 31, 2016, and thousands who have passed on before them is a true testimony of a large group of Chinese veterans who had served loyally in military campaigns.
"Needless to say there were also Chinese veterans who sadly lost their lives and limbs in the defence of the nation.
"All Malaysians should rebutt all these inaccurate and irresponsible assertions made by Ismail," he said.
Tan also pointed out that there were six Chinese members of the armed forces who were bestowed with the Panglima Gagah Berani medals for their extreme bravery: Colonel Maurice Lam Shye Choon, Major (Rtd) Lee Ah Pow, Second Lieutenant (Rtd) David Fu Chee Ming, Sergeant (Rtd) Choo Woh Soon, Sergeant Cheng Eng Chin, and Ranger Mat Isa Hassan.
Meanwhile, three others, Lieutenant Colonel Chong Kheng Ley, Lieutenant Colonel Leong Fook Cheong, and Captain Tien Sen An, were awarded Pingat Tentera Udara for their valour.
"We have Chinese veterans who receive gallantry awards and this alone is a testament that the Malays were not the only ones who protected the nation," he said.
On Saturday, Ismail who is the chairman of the Ummah umbrella group for Muslim organisations, also asserted that only the Malays had battled the Communists, which he claimed made the community a target of the predominantly-Chinese Insurgency that lasted for forty years.
One particular war veteran who narrowly escaped death while fighting a battle in Southern Thailand in 1978, said he was hurt and angered by Ismail's remarks in the convention outlining the demands of the Muslim lobby.
Warrant Officer Patrick Lee Kai Tong said Ismail's statement was not only ignorant but hurtful to armed forces who had witnessed countless deaths and suffered various injuries in the name of the country.
Lee, now 71, walks around with a hole in his left arm after being shot by the communists who had zeroed in on the Nuri helicopter he was in while landing to provide ammunition supply to his own troop.
"Does he even know what it is like to be in a warzone? He can say what he want but do not hurt people's feelings," Lee said.
"Maybe this scar from an M-16 is not enough for me to prove that I was there fighting for the country but know that every memory, every death — even the smell of it stays with me."
Tan also chided Ismail for conveniently forgetting that there were many Malay members among the Communist insurgents.
"In Ismail's speech, he failed to mention that the 10th Regiment Malayan Communist Party was predominantly a Malay regiment unit operating in the jungles of Northern Malaysia and Southern Thailand.
Full report at:
http://www.themalaymailonline.com/malaysia/article/we-have-our-scars-chinese-army-vets-slams-ummah-for-denying-minorities-part#GFZQ0IcFGCWABtv3.97
--------
Arab World
US-led coalition to build 30,000-strong border force in Syria
January 15, 2018
BEIRUT - The US-led coalition fighting the Islamic State group said on Sunday it was working to create a 30,000-strong border security force in northern Syria, drawing sharp condemnation from Turkey.
With the offensive against IS winding down, the coalition and its allies in the Syrian Democratic Forces alliance were beginning to shift their focus to border security, coalition spokesman Colonel Ryan Dillon told AFP.
"There is a goal of a final force of approximately 30,000," about half of whom would be retrained SDF fighters, he said. "There are approximately 230 individuals that are training right now in the border security force. That's an inaugural class," Dillon said.
Backed by the US-led coalition's air strikes, special forces advisers, and weapons, the SDF has ousted IS from swathes of northeastern Syria.
Its Kurdish and Arab members now control territory bordering Turkey to the north, Iraq to the east and Syrian government forces to the west. Turkey reacted sharply to news of the border force on Sunday, saying it would "legitimise a terror organisation".
Ankara is fiercely opposed to the SDF, which is dominated by the Kurdish People's Protection Units (YPG) — considered by the Turkish government to be a "terrorist" group.
"Rather than end its support to the PYD-YPG, these steps taken to legitimise a terror organisation and to make it permanent in the region are worrying," said Ibrahim Kalin, spokesman for Turkish President Recep Tayyip Erdogan. "Accepting this state of affairs is absolutely not possible," Kalin added.
Top SDF media official Mustefa Bali confirmed the creation of the border force, and said training had already begun. "We are transitioning to a new phase of coordination between us and the international coalition," Bali told AFP. "The wide areas and cities that were liberated need someone to protect them."
Bali said the new units would be deployed along the Turkish border and adjacent to territory held by Syrian troops, but did not immediately respond to a question on rules of engagement in those areas.
Turkey has often targeted YPG positions in northern Syria and on Sunday, Erdogan threatened to attack the Kurdish-held area of Afrin in northern Syria "in the days ahead". The SDF's relationship with regime forces is less tense. Since last year, a "de-confliction line" cutting diagonally across eastern Syria has largely kept the two forces from clashing. There was no immediate reaction from the Syrian government to the border force announcement.
Syria army seizes dozens of
villages in advance on key base
Syrian troops have recaptured dozens of towns and villages from jihadist fighters, a monitor said Sunday, bringing them closer to a key military airport in the country's northwest.
"In the past 24 hours, regime forces have taken at least 79 villages in the southern parts of Aleppo province, an area near the Abu Duhur military airport," said Rami Abdel Rahman, the head of the Britain-based Syrian Observatory for Human Rights monitor. Russia-backed regime troops are aiming to reach the Abu Duhur base as part of a weeks-long assault against Hayat Tahrir al-Sham (HTS), which is dominated by Al-Qaeda's former Syria affiliate. The offensive has seen Syrian forces seize surrounding territory in the provinces of Aleppo and Hama as they close in on Abu Duhur, which lies just inside the Idlib province.
They briefly broke into the air base this week from the south but were ousted in a ferocious counter-offensive by jihadists and rebels. With the latest push in Aleppo province, Abdel Rahman said, army troops were seeking to open a new front on the airport's northern and eastern flanks.
"Regime troops lost control of those villages in southern Aleppo province in 2012," he said. "They are advancing quickly now because of HTS's collapse, and the withdrawal of its fighters and those of other groups from the area," Abdel Rahman added.
Syrian daily Al-Watan, which is close to the government, also reported that the army was "encircling" the airport. The airport straddles the border between Aleppo and Idlib, the last province in the country outside the government's control.
In addition to the base, the regime hopes to secure a key patch of highway running through Idlib that links the northern city of Aleppo with the capital Damascus further south.
Rebels and jihadists overran Idlib province over the course of several months in 2015, capturing Abu Duhur in September of that year. Since then, the jihadist forces behind HTS have expanded their control in the province, with the influence of mainstream rebels shrinking drastically.
The fighting in Idlib has displaced nearly 100,000 people since early December, the United Nations has said.
The coalition declined to comment on possible military protocol when it came to Turkish or regime troops. Dillon said the force was primarily part of a broader strategy to "prevent the resurgence of IS".
"With the fight against IS, as the remaining pocket continues to go away, we know that doesn't mean the end of Daesh," he told AFP, using the Arabic acronym for IS.
"We'll have to make sure that there is security that can be maintained," he said. Dillon said SDF troops in Syria's east were already coordinating with Iraqi forces across the border to target any "transient movement" by IS fighters between the two countries.
https://nation.com.pk/15-Jan-2018/us-led-coalition-to-build-30-000-strong-border-force-in-syria
--------
Several FSA Members Join SDF in Northern Syria
Jan 14, 2018
The sources in Northern Aleppo said that a sum of 20 FSA members cut relations with the Ankara-backed group and joined the Washington-backed SDF during the last week.
The Kurdish-affiliated sources reported in November that a sum of 150 militants cut relations with FSA and joined the SDF in Northeastern Aleppo, adding that the FSA and Turkish Army men arrested a number of gunmen, who intended to move towards SDF-held regions to join the Kurdish forces.
In the meantime, Jeish al-Shamal of the Free Army arrested two members of Asefah al-Shamal Brigade of the Free Army that intended to plan a bomb on the vehicle of As'ad Danoun, the commander of Jeish al-Shamal in the town of Azaz in Northern Aleppo.
http://en.farsnews.com/newstext.aspx?nn=13961024001075
--------
Syrian Army Lays Siege on Terrorists in Large Region in Southern Aleppo
Jan 14, 2018
The army men, deployed in Jabal al-Arbaeen region in Southern Aleppo, stormed the terrorists' positions and captured the villages of Bardeh, Tal Habatat, Botrana, Ja'afar Mansour, Rajileh, Arjal, Qarifeh and Mantabakh and reached to the town of al-Zaman West of Khanasser.
A field source said that the terrorists groups are now trapped in a circle of the army forces after the country's soldiers managed to advance to al-Zaman.
The source further said that the 45-km-long road of Khanasser-Tal al-Zaman-Jabal Arbaeen is now under the army's control.
In the meantime, the army men are on the verge of imposing a full siege on the terrorists South of Khanasser.
Field sources confirmed on Saturday that the army men in the last round of clashes with Al-Nusra captured the villages of al-Atshanah, al-Salehiyeh, Beit al-Hamadat, al-Jufrah, Wadi al-Hob and Tal al-Sabiyeh near the town of al-Safireh.
The sources said that the army has thus far imposed control over 60 villages and towns following its advances in Southwestern Aleppo in the last four days.
The sources said that the army has started fresh operations South of al-Safireh to access the key Abu al-Dhohour airbase, capturing 26 villages.
Full report at:
http://en.farsnews.com/newstext.aspx?nn=13961024000715
--------
US-led coalition intends to create large new border force in Syria: Report
Jan 14, 2018
The so-called military coalition led by the United States in Syria is reportedly planning to set up a new large border force of up to 30,000 personnel with the aid of its militia allies in war-torn country, a move that will further infuriate Turkey, a NATO ally that is already angry over Washington's strong support for Kurdish-dominated forces in the Arab country.
A top Turkish official, speaking on condition of anonymity, told Reuters on Sunday that the main reason behind summoning Philip Kosnett, the American charge d'affaires in Ankara, last week was in fact Washington's training of the new "Border Security Force" (BSF) within Syria, a move that was denounced by Turkish President Recep Tayyip Erdogan's spokesman, who called it "worrying."
The force, whose inaugural class is presently being trained, would be dispatched to the borders of the area controlled by the US-backed Syrian Democratic Forces (SDF), which is an alliance of militias in northern and eastern Syria largely dominated by the Kurdish People's Protection Units (YPG).
Ankara views the YPG as the Syrian branch of the Kurdistan Workers' Party (PKK), which has been fighting for an autonomous region inside Turkey since 1984.
The United States' military support for the militia first began under the administration of US President Donald Trump's predecessor, Barack Obama, which provided the SDF with weapons and training.
Earlier this week, President Erdogan once again said his country was to continue its military operation in northern Syria to keep Kurdish militants away from Turkish borders.
The Reuters report also said the US-led coalition's Public Affairs Office had sent an email to the news agency, confirming the details of the new force, which had also been reported earlier by The Defense Post. It said, further citing the email, that the SDF veterans would constitute around half of the would-be force and recruitment for the other half was under way.
The force would be deployed along the border with Turkey to the north, the Iraqi border to the southeast, and also along the Euphrates River Valley, which practically serves as the dividing line separating the SDF and the Syrian government, the report added.
The US "is taking worrying steps to legitimize this organization and make it lasting in the region," said Erdogan's spokesman, Ibrahim Kalin, adding, "It is absolutely not possible for this to be accepted."
He also warned that his respective country would "continue its fight against any terrorist organization regardless of its name and shape within and outside its borders."
The US-led coalition also claimed that the BSF would operate under the SDF command and some 230 individuals were currently undertaking training in its inaugural class.
Back in 2014, the US launched a so-called campaign against the Daesh Takfiri terrorist group together with a coalition of its allies. The military alliance has done little in the fight against the terrorists, and has instead been repeatedly accused of targeting and killing civilians and hampering Syrian government operations against Takfiri terrorists.
The Syrian government has in many occasions said the coalition has not gained any approval from Damascus to conduct its operations in the Arab country. Syria calls the coalition "an illegal occupation force" and its SDF allies as "traitors."
Full report at:
http://www.presstv.com/Detail/2018/01/14/548946/Syria-border-force
--------
Iraqi troops purge over 80% of Anbar desert areas of Daesh: Security official
Jan 14, 2018
A high-ranking Iraqi security official says government troops, supported by allied fighters from Popular Mobilization Units, have succeeded to purge more than half of the desert areas in the country's western province of Anbar of Daesh Takfiri terrorists. Speaking in an exclusive interview with Arabic-language al-Sabah al-Jadid daily newspaper on Sunday, Chairman of Anbar Provincial Security Council Naeem al-Kaoud said security forces and volunteer fighters, commonly known by the Arabic name Hashd al-Sha'abi, have cleansed over 80 percent of Anbar desert areas of the extremists following multi-pronged military operations there.
He added, "The troops also destroyed several Daesh hotbeds and remotely detonated four armored vehicles, which were used by the militant group."
Kaoud went on to say that ten more people were also arrested on suspicion of joining Daesh terror group.
"Although the militants hotbeds were built underground, the troops were able to destroy them after receiving intelligence reports on their locations," the senior security official pointed out.
"The military operation, backed by the Iraqi Air Force, comes as part of ongoing efforts to eliminate Daesh militants on the country's borders with Saudi Arabia and Jordan," Kaoud noted.
On December 9, 2017, Iraq's Prime Minister Haider al-Abadi declared the end of military operations against the Daesh terrorist group in the Arab country.
"Our forces are in complete control of the Iraqi-Syrian border and I therefore announce the end of the war against Daesh," Abadi told a conference in Baghdad then.
Abadi visited the town of Qa'im and the nearby Husaybah border crossing in far western Iraq on November 5, and raised the Iraqi flag at the border crossing.
On October 5, Abadi said Iraqi armed forces had liberated Hawijah, driving Daesh Takfiris out of their last bastion in the oil-rich northern province of Kirkuk.
The Iraqi prime minister said on August 31 that the northwestern city of Tal Afar, located 200 kilometers northwest of Kirkuk, and the entire Nineveh Province had been purged of the Daesh Takfiri terrorist group.
The recapture of Tal Afar was made possible with the help of the Iraqi army, Federal Police, Counter-Terrorism Service (CTS) units, Hashd al-Sha'abi fighters and the Interior Ministry's elite rapid response forces, the Iraqi prime minister stated.
On July 10, Abadi formally declared victory over Daesh extremists in Mosul, which served as the terrorists' main urban stronghold in the conflict-ridden Arab country.
In the run-up to Mosul's liberation, Iraqi army soldiers and volunteer Hashd al-Sha'abi fighters had made sweeping gains against Daesh.
The Iraqi forces took control of eastern Mosul in January 2017 after 100 days of fighting, and launched the battle in the west on February 19 last year.
Full report at:
http://www.presstv.com/Detail/2018/01/14/548897/Iraqi-troops-purge-80-Anbar-desert-Daesh
--------
Mideast
Israel Destroys Tunnel From Gaza It Says Was Used By Hamas
January 14, 2018
JERUSALEM: Israel said Sunday it used a combination of air strikes and other means to destroy a tunnel stretching from the Gaza Strip into the country and continuing into Egypt.
Israeli military spokesman Jonathan Conricus said the tunnel belonged to Palestinian Islamist movement Hamas, which runs the Gaza Strip, and was intended for attacks as opposed to smuggling.
Such tunnels have been used to carry out attacks in the past.
He said he was not aware of any casualties from the destruction of the tunnel, which was still being built.
It ran underneath the main goods crossing between Israel and the blockaded Gaza Strip -- known as Kerem Shalom -- as well as gas and fuel pipelines, he said. The crossing was to remain closed until further notice.
According to Conricus, Israeli air strikes late Saturday along with other unspecified means were used to destroy the tunnel.
The strikes occurred within the Gaza Strip, while further means were used in Israeli territory.
The tunnel began east of the city of Rafah in the Gaza Strip, crossed into Israel some 180 metres, then continued into Egypt for an unspecified length, with no exit point detected, he said.
Conricus said Israel had coordinated with Egypt on the operation.
The tunnel stretched a total length of around a kilometre and a half, he said.
Defence Minister Avigdor Lieberman said: "Destroying the network of offensive tunnels is an essential component in our policy of systematically damaging the strategic abilities of Hamas."
"The message to the Gaza leadership and residents is clear -- invest in life and not burial tunnels," Lieberman said in a statement.
Hamas had not commented on the Israeli operation.
Israel says it has been developing a new method to identify and destroy such tunnels, though it does not comment on details.
It is also building an underground wall in the area around the Gaza Strip to stop such tunnels.
The latest tunnel was at least the third destroyed since late October by Israel -- some Israeli media reports say a fourth was also destroyed recently -- but it comes at a particularly sensitive time.
Tensions between Palestinians and Israel have been high since US President Donald Trump's recognition of Jerusalem as Israel's capital on December 6.
Unrest has included rockets being fired from the Gaza Strip into Israel, with Israel's military responding with air strikes.
Rocket fire is often claimed by fringe Islamic radical groups in the Gaza Strip, but Israel holds Hamas responsible for all such acts.
Conricus said Sunday Israel was defending its sovereignty with the destruction of the tunnel and was not seeking an escalation.
On October 30, an Israeli operation to blow up an Islamic Jihad tunnel stretching from the Gaza Strip into its territory left 12 Palestinian militants dead.
Israel is holding the bodies of five of the militants.
Hamas and Israel have fought three wars since 2008, and the last conflict in 2014 was waged in part over tunnels from Gaza that were used to launch attacks.
Egypt has also destroyed smuggling tunnels stretching from the Gaza Strip into its territory.
https://www.ndtv.com/world-news/israel-destroys-tunnel-from-gaza-it-says-was-used-by-hamas-1799949
--------
Netanyahu In India Warns Islamic Jihad, Hamas Amid Strike On Terror Tunnel
By Herb Keinon
JANUARY 15, 2018
NEW DELHI – Hamas and Islamic Jihad should "not mess with us," Prime Minister Benjamin Netanyahu said here on Sunday, before meeting Indian Foreign Minister Sushma Swaraj, in reference to the IDF's destruction of a terrorist tunnel from Gaza.
We are systematically eliminating the tunnel infrastructure of Hamas and Islamic Jihad," the premier said, before warning that the two organizations should not "mess" with Israel.
Before leaving for a five-day trip to India early Sunday morning, and soon after the IDF destroyed the tunnel, Netanyahu said "the IDF attacked a main Hamas terrorist infrastructure in the Gaza Strip. There are some who say that the IDF attacks sand dunes – this is incorrect. We are responding to aggression against the State of Israel and are taking vigorous and systematic action against hostile infrastructures."
Following the meeting with Swaraj, Netanyahu and his wife, Sara, met for a private dinner with Indian Prime Minister Narendra Modi, with whom Netanyahu has developed a warm personal relationship.
This warmth was on display at the very start of the visit, when Modi – breaking with original plans and Indian protocol – personally met Netanyahu at the airport, reciprocating Netanyahu's meeting Modi when the Indian prime minister arrived in Israel for a visit last July. This is a gesture Modi has shown to only two other world leaders: then-US president Barack Obama and Chinese President Xi Jinping.
Modi greeted Netanyahu with a warm hug and then – after the two exchanged some words – hoisted one of Netanyahu's arms into the air for the cameras.
Modi will devote a good part of the next four days with Netanyahu, spending an amount of time with him that Indian sources said was rare for a visiting leader. The only day of the five-day trip on which the two will not be together at some point is on Thursday, when Netanyahu flies to Mumbai.
Diplomatic officials said that Modi's gestures were meant to show the Indian public – including those members of the public and the foreign policy bureaucracy who might not favor the very close ties which have developed between the countries since Modi took over in 2014 – that Israel is a very important country for India.PM Netanyahu Receives Surprise Welcome in Delhi by Indian PM Modi (YouTube/IsraeliPM)
Before leaving for a five-day trip to India early Sunday morning, and soon after the IDF destroyed the tunnel, Netanyahu said "the IDF attacked a main Hamas terrorist infrastructure in the Gaza Strip. There are some who say that the IDF attacks sand dunes – this is incorrect. We are responding to aggression against the State of Israel and are taking vigorous and systematic action against hostile infrastructures."
Following the meeting with Swaraj, Netanyahu and his wife, Sara, met for a private dinner with Indian Prime Minister Narendra Modi, with whom Netanyahu has developed a warm personal relationship.
This warmth was on display at the very start of the visit, when Modi – breaking with original plans and Indian protocol – personally met Netanyahu at the airport, reciprocating Netanyahu's meeting Modi when the Indian prime minister arrived in Israel for a visit last July. This is a gesture Modi has shown to only two other world leaders: then-US president Barack Obama and Chinese President Xi Jinping.
Modi greeted Netanyahu with a warm hug and then – after the two exchanged some words – hoisted one of Netanyahu's arms into the air for the cameras.
Modi will devote a good part of the next four days with Netanyahu, spending an amount of time with him that Indian sources said was rare for a visiting leader. The only day of the five-day trip on which the two will not be together at some point is on Thursday, when Netanyahu flies to Mumbai.
Diplomatic officials said that Modi's gestures were meant to show the Indian public – including those members of the public and the foreign policy bureaucracy who might not favor the very close ties which have developed between the countries since Modi took over in 2014 – that Israel is a very important country for India.PM Netanyahu Receives Surprise Welcome in Delhi by Indian PM Modi (YouTube/IsraeliPM)
The memorial features three bronze statues representing the three cavalry regiments that took part in the fighting.
On September 23, 1918 – a day marked by the Indian Army as Haifa Day to commemorate the Indian soldiers who fell in the battle – elements of the Indian Cavalry Units fought under the command of Gen. Edmund Allenby. The Indian mounted-cavalry units captured Haifa, which was a fortified town, in a daylight cavalry charge.
During his visit to Israel in July, Modi paid a visit to the Indian military cemetery in Haifa.
After greeting Netanyahu at the airport, Modi tweeted the following message in Hebrew: "Welcome to India, my friend Prime Minister Netanyahu. Your visit to India is historic and special. This visit will strengthen the close ties between our countries."
Before boarding the flight for his first visit to India, Netanyahu was asked why his son Yair was not joining him.
"My wife and I stand here as the mother and father of our son Yair," he said. "He is a young man who loves Israel with all his soul."
Referring to the controversy surrounding the tape of his son's conversation with friends after leaving Tel Aviv strip clubs in the summer of 2015, Netanyahu said, "I want you to think how you would feel if they would trample your children with unbridled cruelty, wickedness and hypocrisy. I say this not only to the media, I say it also to public figures who click their tongues in absurd hypocrisy."
Full report at:
http://www.jpost.com/Israel-News/India-Israel/Netanyahu-in-India-warns-Islamic-Jihad-Hamas-amid-strike-on-terror-tunnel-535741
--------
Salafi mission calls into question Saudi concept of moderation and policy in Yemen
14th January 2018
By James M. Dorsey
Plans to open a Salafi missionary centre in the Yemeni province of Al Mahrah on the border with Oman and Saudi Arabia raise questions about Saudi Crown Prince Muhammad bin Salman's concept of a moderate form of Islam.
The questions are prompted by the fact that Prince Muhammad has so far put little, if any, flesh on his skeletal vow last October to return his ultra-conservative kingdom to "moderate Islam".
The crown prince has created expectations of more social liberalism with the lifting of a ban on women's driving, a residual of Bedouin rather than Muslim tradition, as well the granting of female access to male sporting events; the legitimisation of various forms of entertainment, including cinema, theatre and music; and the stripping away of the religious police's right to carry out arrests.
While removing Saudi Arabia as the only Muslim country that didn't permit women to drive or allow various recreational activities, Prince Muhammad has yet to conceptualise what a rollback of Sunni Muslim ultra-conservatism would mean in a nation whose public life remains steeped in a puritan interpretation of the faith. (The lifting on the ban of women entering stadiums leaves Iran as the only country that restricts female access to male sporting events.)
Sectarian crutches
The disclosure of the plan for a Salafi mission suggests Prince Muhammad may only want to curb ultra-conservatism's rough edges. It also calls into question Saudi policy in Yemen that is reminiscent of past failures.
Saudi Arabia's conflict with Iranian-backed Houthi rebels, a Zaydi Shia Muslim sect with roots in a region bordering the kingdom, dates to Saudi employment of Salafism to counter the group in the 1980s.
The plan harks back to the creation of an anti-Shia Salafi mission near the Houthi stronghold of Saada that sparked a military confrontation in 2011 with the Yemeni government, one of several wars in the region. The centre was closed in 2014 as part of an agreement to end the fighting.
Prince Muhammad's use of ultra-conservative Sunni Islam in his confrontation with the Houthis was also evident in the appointment as governor of Saada of Hadi Tirshan al-Wa'ili, a member of a tribe hostile to the Shia sect, and a follower of Saudi-backed Islamic scholar Uthman Mujalli. Mr Mujalli reportedly serves as an advisor to Abd Rabbu Mansour Hadi, the exiled, Saudi-backed Yemeni president.
"Over the past 40 years, the Saudi government has invested heavily in Salafi-Wahhabi-style madrasas and mosques in the northern areas, only to realise that this programme was jeopardised by the Zaydi revival movement. If the Houthis were to be defeated in their home province, it is likely that the Salafi-Wahhabi programme will be revived, and implemented more fiercely than in previous years," said Yemen scholar Gabriele vom Bruck.
The disclosure of the Al-Mahrah plan coincided with a damning 79-page United Nations report that condemned Saudi, Iranian and United Arab Emirates interventions in Yemen. The report concluded that Saudi and UAE proxies threatened peace prospects and that a secession of South Yemen that includes Al-Mahrah had become a distinct possibility.
Questionable "moderation"
The questions about Prince Muhammad's concept of a moderate Islam go beyond Yemen. The arts, including cinema, remain subject to censorship that is informed by the kingdom's long-standing ultra-conservative values. A football player and a singer are among those who face legal proceedings for un-Islamic forms of expressing themselves.
The government last year introduced physical education in girls' schools and legalised women's fitness clubs, but has yet to say whether restrictions on women competing in a variety of Olympic disciplines will be lifted.
Similarly, and perhaps more importantly, it has yet to indicate whether male guardianship, gender segregation, dress codes that force women to fully cover, and the obligatory closure of shops at prayer times will be abolished. Also, the government has still to declare a willingness to lift the ban on the practice of non-Muslim faiths or adherence to strands of Islam considered heretic by the ultra-conservatives.
The example of Yemen suggests that little has changed in Saudi Arabia's four-decade-old, $100 billion global public diplomacy campaign that promoted Sunni Muslim ultra-conservatism as an anti-dote to revolutionary Iranian ideology.
Yemen is but one extreme of the spectrum. The Saudi-funded and operated grand mosque in Brussels is the other. Saudi Arabia, responding to Belgian criticism of the mosque's ultra-conservative management, last year appointed as its imam, Tamer Abou el Saod, a 57-year-old polyglot Luxemburg-based, Swedish consultant with a career in the food industry. Senior Saudi officials have moreover responded positively to a Belgian government initiative to prematurely terminate Saudi Arabia's 99-year lease of the mosque so that it can take control of it.
In contrast to Yemen, where the use of ultra-conservatism is a deliberate choice, Prince Muhammad may feel constrained in his moderation quest in the kingdom by the fact that his ruling Al Saud family derives its legitimacy from its adherence to ultra-conservatism. In addition, the kingdom's ultra-conservative religious establishment has repeatedly signalled that the views of at least some its members have not changed even if it has endorsed the crown prince's policies.
Saudi Arabia last September suspended Saad al-Hijri, a prominent scholar in charge of fatwas, or religious edicts, in the province of Asir, for opposing the lifting of the ban on driving because women allegedly had only half a brain that is reduced to a quarter when they go shopping. Sheikh Saad made his comment after the Council of Senior Scholars, Saudi Arabia's highest religious body, had approved the move.
Ultra-conservative mood music
By the same token, no public action was taken against Sheikh Salih al-Fawzan, a member of the council, who declared on his website that "If women are allowed to drive they will be able to go and come as they please day and night, and will easily have access to temptation, because as we know, women are weak and easily tempted". A video clip of Sheikh Salih's view was posted on YouTube in October. It was not clear when the scholar spoke or whether he had approved the posting.
A main thrust of Prince Muhammad's drive to return to moderate Islam is the fight against extremism, involving among others the creation of a centre to oversee the interpretations of Prophet Muhammad's teachings in a bid ensure that they do not justify violence.
Full report at:
http://www.redressonline.com/2018/01/salafi-mission-calls-into-question-saudi-concept-of-moderation-and-policy-in-yemen/
--------
Erdogan pledges to 'purge terrorism' in Kurdish enclave in northern Syria
14/01/2018
The proposal to move into Afrin will follow Ankara's Operation Euphrates Shield completed in March 2017, which was aimed at eliminating Daesh terrorists in northern Syria as well as Syrian Kurdish militants considered as terror groups by Turkey.
President Recep Tayyip Erdogan said Turkey plans to launch an assault against Peoples' Protection Units (YPG) in northern Syria. Kurdish YPG militias operate in the Afrin enclave which borders Turkey on the south and are considered to be a terrorist group by Ankara.
"In the coming days, God willing, we will continue with Afrin… to purge terrorism from our southern borders," Erdogan said in his speech at the meeting of Ankara's ruling Justice and Development Party (AKP).
The Turkish president also said he is ready to cooperate with the US in the region "despite it all", referring to the fact that the US has been arming Syrian Kurds to fight Daesh in Syria. He also expressed hope that the US will not "take sides with" the YPG militias during the upcoming operation in Afrin.
Senior Turkey official told Reuters that the reason the US charge d'affaires was summoned in Ankara on Wednesday was the US training of the new "Border Security Force". Relations between Washington and Ankara remain strained due to US military support for the YPG units.
Fars news agency reported citing its field sources that the Turkish army under strict security measures sent military equipment to the country's border with Syria including fiver tanks.
The Arabic edition of Sputnik said earlier that Ankara established a field hospital in Qomlo region in Hatay province on the southern border, quoting a security source.
The president's statement comes after Turkish security forces on Saturday fired shells at the Afrin district of Aleppo, targeting the Syrian Kurdish Democratic Union Party (PYD), according to Anadolu news agency. Turkey regards PYD as an affiliate of the Turkish Kurdistan Workers Party (PKK), which is listed as a terrorist organization by Ankara.
Following the operation Erdogan hinted at a possible military operation in the northwestern Syrian regions of Manbij and Afrin controlled by Kurdish militia forces, adding that "if the terrorists in Afrin don't surrender we will tear them down."
The president clarified that the Kurdish YPG militias were trying to establish a "terrorist corridor" on Turkey's southern border and thus connect Syria's Afrin to Kurdish-controlled areas in the east.
Earlier in January, Ankara stated that it is going to continue its Euphrates Shield operation in Syria's Afrin. The Turkish military campaign in northern Syria was launched in 2016 and aimed at eradicating militants in the region. Among terrorist organizations, Erdogan named not only Daesh but also Syrian Kurdish groups. In March 2017, Turkish Prime Minister Binali Yildirim announced the successful completion of Operation Euphrates Shield, however, Ankara has continued its military actions against Syria's armed Kurds.
Full report at:
https://www.almasdarnews.com/article/erdogan-pledges-purge-terrorism-kurdish-enclave-northern-syria/
--------
Ankara Continues Heavy Attacks on Kurds in Afrin
Jan 14, 2018
Turkey's Anadolu news agency reported that the Turkish forces deployed in Hatay province have increased attacks against the Kurds in Afrin.
The forces and militants affiliated to the Turkish army targeted the Kurds' positions in regions near Afrin with 40 artillery attacks.
Also, the Turkish forces stationed in Azaz region in Western Aleppo pounded the villages in Shara region in Afrin.
Field sources reported earlier today that the Turkish Army forwarded a large volume of military hardware to the border with Syrian amid intensifying attacks on the SDF by the Ankara forces and their militant allies in the town of Afrin in Aleppo province. The sources said that the Turkish army has sent a military column, including fiver tanks, to the town of Reihanli in Hatay province at the border with Syria under strict security measures.
Full report at:
http://en.farsnews.com/newstext.aspx?nn=13961024001703
--------
Houthis kidnap Yemeni vice president's son from his home
13 January 2018
Sources in Sanaa said that Houthi militia stormed on Friday the home of the team Ali Mohsen_Al-Ahmar, the Yemeni Vice President in the village of Beit Al-Amr in the province of Sanhan south of the capital., and kidnapped his son, Mohsen Ali Mohsen, along with dozens of house guards.
Sources said that the development which comes after the emergence of Brigadier Tariq Mohammed Abdullah, in a move to tighten the screws on Sanhan.
In his first real appearance since rumors of his death, slain ex-president Ali Abdullah Saleh's nephew and head of security, Brigadier Tariq Saleh, arrived in the city of Ataq on Thursday in the governorate of Shabwa controlled by the legitimate forces.
Full report at:
https://english.alarabiya.net/en/News/gulf/2018/01/13/Houthis-kidnap-Yemeni-vice-president-s-son-from-his-home.html
--------
Palestinians to get 3G in West Bank after Israel lifts ban
15 January 2018
RAMALLAH, West Bank: Palestinians in the West Bank are finally getting high-speed mobile data services, after a yearslong Israeli ban that cost their fragile economy hundreds of millions of dollars, impeded tech start-ups and denied them simple conveniences enjoyed by the rest of the world.
Palestinian cell phone providers Wataniya and Jawwal are expected to launch 3G broadband services in the West Bank by the end of this month, Palestinian officials said, after Israel assigned frequencies and allowed the import of equipment.
"It's about time," Wataniya CEO Durgham Maraee said of the anticipated launch, speaking to The Associated Press at company headquarters in the West Bank last week. "It has taken a very, very long time."
The belated move to 3G comes a decade after Palestinian operators first sought Israeli permits and at a time when faster 4G is increasingly available in the Middle East.
This keeps Palestinian mobile companies at a continued disadvantage, including in competition with Israeli companies that offer 3G and 4G coverage to Palestinian customers in the West Bank through towers installed in Israeli settlements. The World Bank has criticized this state of affairs because the Israeli firms do not pay license fees or taxes to the Palestinian authorities.
The Israeli ban on 3G also remains in place in the Gaza Strip, making that Palestinian territory, dominated by the militant group Hamas, one of the last without such services across the globe. Mobile Internet is available in far-flung places, from the Himalayan kingdom of Bhutan to the Atlantic's volcanic rock island of Ascension.
In blocking 3G for years, Israel has cited security concerns, without going into details. Officials suggest, for example, that high-speed mobile data could make it easier for Palestinian militants to communicate while reducing the risk of Israeli surveillance.
Israel's Shin Bet security agency declined comment Sunday.
COGAT, an Israeli Defense Ministry branch, said it worked on implementing a 2015 memorandum of understanding with the Palestinians on 3G, and that it expects a launch in two to three weeks. Officials did not respond to questions about Israel's yearslong ban on 3G.
Israel has delayed approval for Palestinian economic development projects in the past, leading to efforts by high-level international efforts to try to speed things along. Most recently, President Donald Trump's Mideast team has urged Israel to make economic gestures to the Palestinians.
Palestinian officials have said they suspect such projects are being used as political leverage.
At the same time, Israeli Prime Minister Benjamin Netanyahu has called for so-called "economic peace" with the Palestinians, as he stepped back from offers by predecessors to negotiate the terms of an independent Palestinian state on lands Israel captured in 1967.
At Wataniya headquarters, where employees got 3G as part of pre-launch tests, the mood was upbeat.
The CEO said the 3G launch and the company's recent expansion into Gaza, after Israel lifted restrictions on importing equipment, could translate into profits in 2018 — the first since Wataniya began operations in 2009 as the second Palestinian cellphone provider.
"The future is bright," Maraee said.
But the company's struggles also illustrate the difficulties faced by Palestinian entrepreneurs, large and small, as they operate under Israeli obstacles to trade, movement and access.
Israel has kept a tight grip on the daily lives of Palestinians since its 1967 capture of the West Bank, Gaza and east Jerusalem, areas sought for a Palestinian state.
It annexed east Jerusalem and retains overall control of the West Bank. The Palestinian Authority, a self-rule government, administers 38 percent of the West Bank, while the remaining area, home to 400,000 Israeli settlers, is largely off-limits to Palestinian economic development.
Israel withdrew from Gaza in 2005, but has enforced a border blockade, along with Egypt, since Hamas seized the strip in 2007. The West Bank-based Palestinian Authority of President Mahmoud Abbas is trying to regain a foothold in Gaza in stop-and-go reconciliation talks with Hamas.
The World Bank has repeatedly urged Israel to unshackle the Palestinian economy to allow private sector growth, essential for lowering double-digit Palestinian unemployment.
In 2016, the bank said the Palestinian mobile phone sector lost more than $1 billion in potential earnings over the previous three years, largely due to Israeli restrictions.
It noted that Israeli providers siphoned off as much as 30 percent of the potential Palestinian customer base in the West Bank with offers of 3G and 4G services.
Maraee said Wataniya has stayed afloat in part because of the continued support of its main investors — the Qatar-based telecommunications company Ooredoo and the self-rule government's Palestinian Investment Fund.
Wataniya is now at the break-even point, but that it once suffered losses of as much as $20 million a year, he said.
"If it wasn't for the commitment of the PIF and the Ooredoo Group ... to the Palestinian economy, probably Wataniya would not have survived under these trying circumstances," he said.
Smaller Palestinian entrepreneurs also expect an immediate 3G bump in business.
Ali Taha launched Rocab, an online taxi booking service, last July, but has so far captured only a tiny slice of the market. He expects a significant increase with 3G, since customers would be able to summon a ride from anywhere, instead of having to search for a location with WiFi.
Shadi Atshan, founder of the Palestinian start-up accelerator FastForward, said he expects app development to flourish and generate more Palestinian tech jobs.
For ordinary Palestinians, everyday life will get just a little easier.
Alaa Amouri, 20, a student, said she gets 4G from an Israeli provider that offers only partial coverage in the West Bank.
Mobile data from a Palestinian provider would offer real-time updates on potential trouble on the roads, said Amouri, who commutes between east Jerusalem and her West Bank university, passing through the crowded Israeli-run Qalandiya crossing almost daily.
Full report at:
http://www.arabnews.com/node/1225991/middle-east
--------
Europe
German defence minister warns against IS 'safe havens'
14 January 2018
Germany's Defence Minister Ursula von der Leyen said on Sunday the war against the Islamic State group is not over, even if the jihadists have been "largely defeated militarily".
Von der Leyen was speaking to reporters on her first visit to Jordan where Germany has 280 members of its forces as part of the US-led coalition's battle against IS in Syria and Iraq.
The jihadist group "has been largely defeated militarily", the German minister said, adding however that the ultra-radical Islamist fighters "are not to be underestimated".
The battle must continue and IS must not be allowed "to retreat into safe havens", she said.
In October, Germany redeployed to Jordan military personnel and Tornado surveillance jets after withdrawing them from Turkey amid a dispute with Ankara.
Von der Leyen said Germany was now considering reducing the number of its troops in the region.
The IS self-proclaimed "caliphate" that spanned territory the size of Britain in Syria and Iraq was largely defeated last year.
Iraq announced the end of the three-year war against IS in December, and across the border in Syria the jihadists have been ousted from most of their strongholds, with only isolated pockets left.
Jordan, a key US ally, has used its own air force and allowed US-led coalition forces to use its bases to battle IS in Iraq and Syria.
The German defence minister also met Jordan's King Abdullah II and army chief of staff Mahmud Abdel Halim Freihat, and handed over two training aircraft and other military vehicles worth around 18 million euros.
"Germany and Europe... have a strong interest in Jordan's stability," she said.
The royal court said King Abdullah discussed with von der Leyen the "importance of intensifying cooperation and coordination among all concerned parties, regionally and internationally... to address the threat of terrorism".
Germany spent some 130 million euros on defence aid for Jordan last year. This included weapons, equipment and infrastructure, according to the German news agency DPA.
http://www.dailymail.co.uk/wires/afp/article-5268299/German-defence-minister-warns-against-IS-safe-havens.html
--------
Austria's Muslims fear being cast as threat to security
by Mersiha Gadzo
Jan 15, 2018
Islam was mentioned a total of 21 times in the Austrian coalition's new governmental programme, titled "Together. For our Austria".
In terms of domestic security, the programme focused on "political Islam" and "Islamist extremism".
Yet, despite a dramatic increase in the number of right-wing attacks in recent years in Austria, there was no mention of right-wing activity or fascism in the document published in late December by chancellor-elect Sebastian Kurz's centre-right People's Party (OVP) and the far-right-wing Freedom Party of Austria (FPO).
According to Austria's domestic intelligence service (BVT), authorities pressed charges in about 1,690 cases related to right-wing activity in 2015 - the highest number in a single year and an increase from 1,200 in 2014.
Austria is the only country in Western Europe with a far-right government since Kurz won Austria's national elections last October. The OVP will govern the country for the next five years in coalition with the FPO, a party founded by former Nazis, currently led by Heinz-Christian Strache.
The coalition government's rhetoric has alarmed some Austrian Muslims who fear they have been cast as a threat to society.
Professor Farid Hafez, a fellow at Georgetown University's Bridge Initiative, said the government's focus on Islam in their programme was unprecedented "in the history of the second republic of Austria".
"In itself, it's something very new," Hafez told Al Jazeera. "I think what we'll see in the next five years is something that we have never seen before in Austria."
'Combating political Islam'
Many Austrians were concerned that while "political Islam" was often mentioned, it was not clearly defined and in reality, it was common Austrian Muslims that were being targeted in the government's programme.
Under the heading of "Combating political Islam", the coalition government called for "closer monitoring" of Islamic preschools and Islamic private schools and for their closure "where legal requirements are not met".
One of their aims was to prevent "foreign influence, particularly in the field of education" and to implement a "ban on overseas funding". However, the prohibition applied only to Muslims; no other religious community was mentioned in the report.
"When you bring [political Islam] into the discussion you can mean anything or nothing by it; that's exactly the danger of it. Possibly - and that's my greatest fear - any political opposition and NGOs might be targeted in the future by something called political Islam," Hafez said.
"If you look at the programme in detail, the way they were framing political Islam was very much in a way where you could potentially target many different groups."
Prevention and de-radicalisation measures in the report also focused solely on Muslims; dangers posed by other groups were ignored.
Their manifesto also called for an authorised German translation of the Quran to be used and for Muslims to distance themselves from certain passages of the Quran.
"[Kruz's Freedom Party] has shifted their focus completely and they don't see Muslims any more as partners in Austrian society, but rather as a threat to Austrian society," Hafez explained.
Ibrahim Olgun, president of the Islamic Community in Austria, agreed that Islam was wrongly linked with "political Islam".
"We absolutely disagree with this, since the religion of Islam is not a political tool and should be treated equally with the dominant religions in Austria," Olgun said. "Islam is a religion that propagates peace and is in no way a danger for any state or society."
"Unfortunately, when we look at the government programme, Islam is being put into that very corner."
The Austrian government did not respond to Al Jazeera for comment.
Growing religious intolerance
Verbal and physical abuse of Muslims in Austria has risen, according to Dokustelle, an organisation that documents cases of Islamophobia and anti-Muslim racism. Between 2015 and 2016 - the most recent year that statistics are available - Islamophobic attacks increased by 62 percent to 253 incidents.
In a recent example marking the start of the new year, Asel Tamga, "the first Viennese baby" born in 2018, made international headlines after she was subject to a wave of Islamophobic and racist comments.
The baby was featured on the newspaper Heute's Facebook page, photographed in the arms of her headscarf-wearing mother. The post was quickly bombarded with comments such as: "Deport the scum immediately" and "I'm hoping for a crib death".
The comments escalated to such an extent that Austrian President Alexander Van der Bellen intervened, writing on Facebook: "Confidence and cohesion are greater than hatred and incitement. Welcome, dear Asel!"
Protection of religious minorities are mentioned in the government programme, but only in regards to battling the "persecution of religious minorities - especially Christian minorities" who should be protected against "extremist religious ideologies (e.g. political Islam)".
Meanwhile, educated Austrian Muslim women fear that a ban on the veil, or hijab, might ensue after Austria's newly-appointed Education Minister Heinz Fassman recently told a local paper that "teachers should not wear a headscarf".
"This will also affect other sectors and have a negative impact on the employment situation which is precarious for visible Muslim women already," said Dudu Kucukgol, a PhD student and researcher on sexism, racism and Islamophobia.
"Kurz was welcomed by the Muslim community when he started as state secretary in 2011. He made positive statements and really seemed to bring a shift in paradigm.
"He was against headscarf debates, he strongly insisted that Muslims are a positive part of the Austrian society. However, after a few years his language and politics changed."
Husein Veladzic, an imam of a mosque in the Austrian city of Linz, however, believes that the Islamophobic discourse may produce an opposite effect in some aspects.
He has noticed that as the far right becomes more prevalent, more non-Muslim Austrians have been visiting his mosque to learn about Islam.
Full report at:
http://www.aljazeera.com/news/2018/01/austria-muslims-fear-cast-threat-security-180114064057435.html
--------
Moscow against Israel's plan for new illegal settlements
Jan 13, 2018
Russia has expressed its firm objection to Israel's plan to expand its illegal settlements on the occupied Palestinian territories, including in the occupied East Jerusalem al-Quds.
"Moscow reaffirms Russia's principled position on the illegality of Israel's settlement activities on the Palestinian territories, including in East Jerusalem," said a Russian Foreign Ministry statement on Saturday.
The statement said Israel's announced plan for the construction of over 1,100 housing units in 20 West Bank settlements would further undermine international efforts to bring about a peaceful resolution to the Israeli-Palestinian conflict.
It said the expansion of settlements on lands designated as occupied by the international community would deprive Palestinians of their right to establish an independent state on the territories.
"We believe that Israel's stance is not conducive to the creation of conditions for opening the direct talks between the Israelis and the Palestinians during which all the problems relating to the final status should be settled," said the statement.
Israel captured the West Bank and the East Jerusalem al-Quds in the 1967 War and later occupied them. The regime has defied recurrent international calls for a halt to settlement activity in those areas, saying it does not recognize the Palestinian Authority, which controls the West Bank, as an independent state.
Even the United States, Israel's closest ally, decided in the final days of former President Barack Obama in office to end its long and implicit support for the settlements in occupied territories and an American delegation abstained to vote against a United Nations resolution condemning the activity.
Full report at:
http://www.presstv.com/Detail/2018/01/13/548815/Russia-Israel-Palestine-settlements
--------
France's Macron talks about Iran deal with Netanyahu
14 January 2018
French President Emmanuel Macron spoke with Israeli Prime Minister Benjamin Netanyahu and urged for the maintenance of Iran's nuclear deal, the Elysee said on Saturday.
In a statement, the Elysee Palace said that Macron emphasized the importance of maintaining the nuclear deal struck in 2015 between Iran and world powers, including the U.S. He called on all sides of the agreement "to respect the commitments they made".
The French President had already spoken with the U.S. President Donald Trump and called on him to respect the Iran deal.
On Friday, Trump extended sanctions relief to Iran for what he said would be the final time, calling on European allies to work with Washington to fix "significant flaws" in the nuclear deal.
Trump said in a statement that he is extending relief "only in order to secure our European allies' agreement to fix the terrible flaws of the Iran nuclear deal", keeping the agreement alive, for now.
Full report at:
http://www.worldbulletin.net/europe/197815/fire-kills-eight-wounds-50-in-northern-portugal
--------
South Asia
Afghan General: Haqqani Network, Not IS, Behind Spike in Violence
January 13, 2018
WASHINGTON —
An Afghan defense official told VOA that the recent spike in violence in Afghanistan is not the work of the Islamic State terror group. Rather the Pakistan-based Haqqani network is behind the attacks, he said.
General Mohammad Radmanesh, a spokesperson for the Afghan Ministry of Defense, told VOA the Haqqani network, a U.S.-designated terror group, has been carrying out attacks under the name of the IS terror group.
"Based on our intelligence, they [IS] do not have the ability to carry out such attacks in the capital or its suburbs," Radmanesh said. "Unfortunately, regional intelligence agencies are trying to portray them as a powerful group. And it is very clear that Haqqani terrorist group is carrying out these activities [attacks] under the name of IS."
However, the Afghan general did not rule out the presence of IS in Afghanistan. He said IS does have footprints in the country, but U.S. and Afghan forces have seriously undermined the terror group's abilities through military operations.
"Afghan security forces have cracked down [on] IS in a number of provinces and have caused them massive casualties in Nangarhar province [IS's traditional stronghold]," Radmanesh added.
Without specifically naming countries, General Radmanesh blamed the intelligence agencies of regional countries for trying to portray IS in Afghanistan as a potent and powerful terror group.
The Islamic State group in Afghanistan is not linked with the main Islamic State group in Iraq and Syria, he added.
Experts divided
Experts are divided over who the members of the Islamic State in Afghanistan are and whether the Haqqani network and other terror groups have rebranded themselves as IS in the country.
Some security experts like Atiqullah Amarkhil push back against Radmanesh's claims and argue that shifting blame from IS to Haqqani does not solve the problem nor does it reduce the severity of the security problem Afghanistan faces.
"We should not deceive our people by stating that Haqqani is behind the attacks, not IS. They both are," Amarkhil, a Kabul-based retired general, told VOA.
"IS is more active and trying to spread fear and create a gap between government and citizens," Amarkhil added.
Abdul Wahid Taqat, another security analyst and a former senior intelligence official in the Afghan government, agrees with Radmanesh and maintains that IS in Afghanistan is comprised of members of various banned Pakistani groups.
"The IS in Afghanistan is not linked to the one in Iraq and Levant [Syria]. This IS is composed of illegal Pakistani groups," Taqat told VOA. "They [IS] are the Haqqanis, members of Lashka-e-Taiba, Sepah-e-Sahaba, Lashkar-e-Jhangvi, Jaish-e-Moahmmad, Harakat-ul-Islam and etc. And now Pakistan's Inter-Services Intelligence [ISI] gave them a new name."
Michael Semple, an expert on Afghanistan at the Senator George J. Mitchell Institute for Global Peace, Security and Justice, believes that the Afghan branch of the Islamic State does not have the capacity to carry out the types of sophisticated terror attacks that were carried out in recent months in Kabul.
"Within the Taliban, the Haqqani network have the main responsibility for attacks in Kabul and they have produced plenty of propaganda videos to show their men in training for suicide operations," Semple said.
"Daesh does not have the same capacity as the Taliban to launch attacks in Kabul," Semple added, using an Arabic acronym for Islamic State. "Recent attacks on Shia civilians may well have been the work of Daesh. These unsophisticated attacks were within Daesh's capacity and consistent with Daesh's anti-Shia stance."
There are also fears that by targeting Shiite minority in Afghanistan, IS wants to trigger a sectarian war in the country.
Spike in violence by IS
The Islamic State, however, has claimed responsibility for a number of deadly attacks in different parts of Afghanistan in recent months, including the capital Kabul, sparking fears among Afghans that the terror group might be gaining strength.
The terror group has claimed responsibility for dozens of deadly terror attacks across the country since its emergence in eastern Nangarhar in 2015, including a suicide attack on protesters in Kabul in July 2016 that killed about 90 people and wounded another 400.
In October 2017, a suicide attack on a mosque in Kabul killed at least 56 people and wounded more than 50 others. IS claimed responsibility for that attack as well.
In December 2017, IS claimed responsibility for a suicide attack inside a Shiite cultural center in Kabul, which killed at least 41 people and wounded more than 90 others.
In early January of this year, the terror group claimed responsibility for a suicide attack that struck a convoy of the Afghan security forces in Kabul, killing at least 15 people and wounding dozens more, including security forces.
Pakistan-based madrasas
General Radmanesh said he believes that the increase in violence in Afghanistan has roots in Pakistani-based religious schools.
"The reason that terrorism still exists in Afghanistan, although Afghan forces have killed thousands of them, is the madrasas [religious schools] on the other side of the Durand Line [border line separating the two countries] that produce terrorists," he said.
Radmanesh added there are an estimated 10,000 religious schools operating in Pakistan. Some of which, he claimed, train militants for jihad in Afghanistan.
Afghan officials have long accused Pakistan of turning a blind eye on terror groups that train on its soil to carry out terror attacks across the border in Afghanistan and that the country is selective in its crackdown on terror groups.
Pakistan denies that accusations and maintains that its military operations have targeted militants indiscriminately.
"Military-led counterterrorism operations have targeted terrorists indiscriminately including Haqqanis at a heavy cost of blood and treasure," Pakistan army spokesperson Major-General Asif Ghafoor told VOA following an announcement by the Trump administration that it wanted to suspend hundreds of millions of dollars in military assistance to Pakistan until the country takes "decisive action" against the Afghan Taliban and the Haqqani network.
https://www.voanews.com/a/afghan-general-haqqani-network-islamic-state/4206961.html
--------
Several ISIS militants killed in latest US drone strikes in East of Afghanistan
Jan 14 2018
Several militants affiliated with the Islamic State of Iraq and Syria (ISIS) terrorist group were killed in the latest airstrikes conducted by the US forces in eastern Nangarhar province of Afghanistan.
Officials in Nangarhar police commandment said the US forces carried out airstrikes in two districts using unmanned aerial vehicles, leaving at least 17 IS militants dead.
The officials further added that 14 militants were killed in Haska Mina district while another three were killed in Achin district.
However, the 201st Silab Corps of the Afghan army said at least eight militants were killed in Deh Bala district in a US forces airstrikes and another militant was killed in Achin district.
According to the Silab Corps officials, a compound of the terror group was also eliminated during the airstrikes.
The anti-government armed militant groups including the ISIS insurgents have not commented regarding the reports so far.
Nangarhar is among the relatively calm provinces in East of Afghanistan where fewer incidents have been reported since the fall of the Taliban regime.
However, since the year 2014, reports continue to emerge regarding the growing insurgency activities of the ISIS terrorist groups in some remote parts of the province, including Achin.
Full report at:
https://www.khaama.com/several-isis-militants-killed-in-latest-us-drone-strikes-in-east-of-afghanistan-04265
--------
Myanmar, Bangladesh meet amid doubts about Rohingya repatriation plan
JANUARY 14, 2018
DHAKA/YANGON (Reuters) - Hamid Hussain, a 71-year-old Rohingya Muslim farmer, first fled Myanmar for Bangladesh in 1992. He went home the next year under a repatriation deal between the two neighbors, only to repeat the journey last September when violence flared once more.
Officials from Myanmar and Bangladesh meet on Monday to discuss how to implement another deal, signed on Nov. 23, on the return of more than 650,000 Rohingya who have escaped an army crackdown since late August. Hussain is one of many who say they fear this settlement may be no more permanent than the last.
"Bangladesh authorities had assured us that Myanmar would give us back our rights, that we would be able to live peacefully," said Hussain, who now lives in a makeshift refugee camp in southeast Bangladesh.
"We went back but nothing changed. I will go back again only if our rights and safety are guaranteed - forever."
Buddhist-majority Myanmar has for years denied Rohingya citizenship, freedom of movement and access to many basic services such as healthcare and education. They are considered illegal immigrants from mainly Muslim Bangladesh.
The authorities have said returnees could apply for citizenship if they can show their forebears have lived in Myanmar. But the latest deal - like the one in 1992 - does not guarantee citizenship and it is unclear how many would qualify.
Monday's meeting in Myanmar's capital Naypyitaw will be the first for a joint working group set up to hammer out the details of the November repatriation agreement. The group is made up of civil servants from both countries.
Two senior Bangladesh officials who are involved in the talks acknowledged that much was left to be resolved and it was unclear when the first refugees could actually return. One of the key issues to be worked out was how the process for jointly verifying the identities of returnees would work, they said.
"Any return is chaotic and complex," said Shahidul Haque, Bangladesh's top foreign ministry official who will lead Dhaka's 14-member team in the talks. "The challenge is to create an environment conducive for their return."
Myanmar government spokesman Zaw Htay said returnees would be able to apply for citizenship "after they pass the verification process".
Zaw Htay added that Myanmar had proposed that a group of 500 Hindus who fled to Bangladesh and have already agreed to be repatriated, alongside 500 Muslims, could form the first batch of returnees.
"The first repatriation is important - we can learn from the experiences, good or bad," he said.
MYANMAR SETS UP CAMPS
Bangladesh officials said they would begin the process this month by sharing with Myanmar authorities a list of 100,000 Rohingya, picked at random from among registered refugees.
Haque said Myanmar officials would vet the names against their records of residents before the August exodus, and those approved would then be asked if they wanted to go back.
Refugees without documents would be asked to identify streets, villages and other landmarks near their former homes as proof of their right to return, said Haque.
A Myanmar agency set up to oversee repatriation said in a statement on Thursday that two temporary "repatriation and assessment camps" and one other site to accommodate returnees had been set up.
Myint Kyaing, permanent secretary at Myanmar's Ministry of Labour, Immigration and Population, told Reuters earlier this month Myanmar would be ready to begin processing least 150 people a day through each of the two camps by Jan. 23.
As well as checking their credentials as residents of Myanmar, he said, authorities would check returnees against lists of suspected "terrorists".
Myint Kyaing declined to comment on how long the repatriation would take but conceded the process after the 1992 agreement had taken more than 10 years.
United Nations agencies working in the camps clustered around Cox's Bazar, in southeastern Bangladesh, have voiced scepticism about the resettlement plans.
The U.N. High Commissioner for Refugees (UNHCR) and the International Organization for Migration said their offers to help with the process have not been taken up by the two countries.
"Further measures are needed to ensure safe, voluntary and sustainable repatriation of refugees to their places of origin and to address the underlying root causes of the crisis," said Caroline Gluck, a spokeswoman for the UNHCR in Cox's Bazar.
The UNHCR says refugees it has surveyed want guarantees that international agencies will be involved in overseeing the process and more information about the security situation in their home areas.
WHO WILL GO? WHO WILL PAY?
While many Rohingya say they want to go back to Myanmar, most of the more than a dozen who spoke to Reuters said they were scared to do so now.
"I am not going back. No one's going back," said Hafizulla, a 37-year-old Rohingya man. "We are scared to go back without any U.N. intervention. They can accuse us later, they can arrest us. They may accuse us of helping the militants."
The military offensive the refugees fled, which was prompted by Rohingya insurgent attacks on police and army posts, has been described by the United States and U.N. as ethnic cleansing. Myanmar rejects that, saying troops did not target civilians.
"You can have all the agreements in the world, and set up all the reception centers and everything, but it won't make a difference unless the conditions in Myanmar are such that people feel confident that they can go back and live in peace, and have equal rights," said a Western diplomat in Dhaka.
The second Bangladesh official, Refugee Relief and Rehabilitation Commissioner Mohammed Abul Kalam, said the "Rohingyas' reluctance to go back" was an issue that needed to be addressed.
He said the repatriation process would cost "millions of dollars" but funding details had not yet been agreed and were not expected to be discussed at Monday's meeting.
Full report at:
https://www.reuters.com/article/us-myanmar-rohingya-bangladesh/myanmar-bangladesh-meet-amid-doubts-about-rohingya-repatriation-plan-idUSKBN1F308O
--------
Rohingya insurgents say 10 found in Myanmar grave "innocent civilians"
January 13, 2018
Rohingya Muslim insurgents said on Saturday that ten Rohingya found in a mass grave in Myanmar's troubled Rakhine state last month were "innocent civilians", and not members of their group.
Myanmar's military said earlier this week its soldiers had killed 10 captured Muslim "terrorists" during insurgent attacks at the beginning of September, after Buddhist villagers had forced the captured men into a grave the villagers had dug.
It was a rare acknowledgement of wrongdoing by the Myanmar military during its operations in the western state of Rakhine.
The Arakan Rohingya Salvation Army (ARSA), whose raids against security posts starting last August sparked sweeping military operations in the Muslim-majority northern part of Rakhine, said it "whole-heartedly welcomes the admission" of "war crimes" by the "Burmese terrorist army".
"We hereby declare that these ten innocent Rohingya civilians found in the said mass grave in Inn Din Village Tract were neither ARSA nor had any association with ARSA", the group said in a statement on Twitter.
A Myanmar government spokesman said in response to ARSA's statement that sometimes "terrorists and villagers were allied" in attacks" against security forces.
"We have already said it is very difficult to segregate who is a terrorist and who are innocent villagers," spokesman Zaw Htay said. "There will be an ongoing investigating process whether they are members of ARSA or not."
The Myanmar military did not immediately respond to requests for comment.
'NEW STEP'
Myanmar's civilian leader Aung San Suu Kyi said on Friday it was "positive" that the country's military was taking responsibility for the actions of troops.
"It is a new step for our country," she told a joint news conference with Japanese Foreign Minister Taro Kono in Myanmar's capital of Naypyitaw.
"I see it that way because a country needs to take responsibility for the rule of law in the country, and this is the first step on the road of taking responsibility and it is a positive thing," She said, according to a transcript of the news conference posted on her Facebook page.
On December 18, the military announced a mass grave containing 10 bodies had been found at the coastal village of Inn Din, about 50 km (30 miles) north of the state capital Sittwe. The army appointed a senior officer to investigate.
A statement from the military on Wednesday said its investigation had found that members of the security forces had taken part in the killing and action would be taken against them.
The Rohingya crisis erupted after Rohingya insurgent attacks on security posts on August 25 in Rakhine triggered a fierce military response that the United Nations denounced as ethnic cleansing.
Full report at:
http://www.thedailystar.net/rohingya-crisis/10-found-myanmar-grave-innocent-civilians-rohingya-insurgents-1519252
--------
Afghan govt release details of the meeting with UNSC members in Kabul
Jan 15 2018
The Afghan government on Monday released details of the meeting with the members of the Security Council of the United Nations who arrived to Kabul last week to meet the Afghan officials and review the situation of the country.
The Office of the President, ARG Palace, in a statement said President Mohammad Ashraf Ghani briefed the members of the Security Council regarding the regional situation, menace of terrorism, fight against counter-narcotics, elections, new US strategy and other key issues.
President Ghani said the Afghan government has managed to establish relations with the regional countries but the efforts to improve relations with Pakistan have not yielded positive results so far.
In regards to the menace and threats of terrorism being faced by the country, President Ghani presented some examples and evidences regarding the sanctuaries, training facilities, and financial resources of the terror groups based outside Afghanistan.
He also discussed the future elections and said no one including himself has the right to interfere in the affairs of the election commissions as he admitted that the funds previously provided by the international community were not properly utilized.
President Ghani also called the new US strategy important to bring changes in Afghanistan and the region and said the Afghan forces are effectively taking important to fight narcotics trade including the destruction of heroin factories.
According to President Ghani, the Afghan government is committed to hold peace talks both with Pakistan and intra-Afghan talks among the Afghans to end the violence.
The ARG Palace said the members of the UNSC hailed the Afghan government and recognized the sacrifices of the Afghan security forces in the fight against terrorism.
They also agreed to maintain pressures on Pakistan in a bid to expedite the fight against terrorism and insisted on joint efforts for reconciliation process and peace talks, according to ARG Palace.
Full report at:
https://www.khaama.com/afghan-govt-release-details-of-the-meeting-with-unsc-members-in-kabul-04266
--------
Govt has not accepted Jamiat's offer to keep Noor as Balkh governor
Jan 14 2018
The Government of National Unity has not accepted the offer by Jamiat-e-Islami to keep Ata Mohammad Noor as the governor of Balkh province, it has been reported.
According to the sources privy of the development, keeping Noor as Balkh governor and implementation of the National Unity Government treaty were among the key demands of the Jamiat-e-Islami party in the proposal of the party in a bid to end the ongoing political deadlock.
A member of the leadership council of Jamiat-e-Islami Mohammad Ismail Khan has told RFE's Afghanistan service that the demands of Jamiat-e-Islami have not been accepted by the government.
He said the proposal included seven demands in total but the government has not accepted the offers and therefore talks have halted between the two sides.
This comes as the chief executive of Jamiat-e-Islami and the ousted Balkh governor Ata Mohammad Noor on Saturday once again warned that he and his supporters will launch widespread civil movements if the ongoing talks between Jamiat-e-Islami and the government fail.
According to the ex-governor of Balkh province, no major breakthrough has been achieved during the ongoing talks so far and only little progress has been made.
He called on his supporters that they will be summoned for the civil movements if the talks end without any outcome and in case the two sides did not reach to any agreement.
The Afghan government announced nearly a month ago that the resignation of Ata Mohammad Noor from the Balkh government has been approved by President Mohammad Ashraf Ghani.
Full report at:
https://www.khaama.com/govt-has-not-accepted-jamiats-offer-to-keep-noor-as-balkh-governor-04264
--------
Two Afghan, one Pakistani refugee killed in container fire in Istanbul
January 14 2018
A total of three Afghan and Pakistani refugees were killed in a fire that erupted in a container they had been living in in Istanbul on Jan. 12.
The fire was reportedly ignited from an electric heater. The killed refugees had been living in a container in Istanbul's Beylikdüzü district and earning their living by gathering paper in the streets.
There were refugees of Pakistani and Afghan origin among a total of 22 refugees who live in containers located side by side. In one container, seven refugees had been living in the same container. One of the refugees, Mohammed Islam, 25, had insisted on keeping the electric heater on throughout the night.
Towards morning, the electric heater emblazed a blanket. Three of the refugees who did not manage to escape the container were killed in the fire. Asad Khan, 19, who was of Pakistani origin, Islam and 20-year-old Tosif Khan were killed in the fire.
Following the incident, fire crews were dispatched to the scene immediately. The fire was extinguished before it could spread to other containers. One wounded Pakistani refugee was taken to the Bağcılar Training and Research Hospital for treatment.
Seventeen refugees who were affected by the smoke and who lost their things moved in temporarily with their acquaintances and relatives.
"We collect paper here with our 22 friends. There are seven containers here. Immigrants from Afghanistan and Pakistan come here and try to go to Europe from here. The ones who make enough money try to cross the border again. I was sleeping in the next container when the fire started. We usually light a wood burning stove, we do not turn the electric heaters on at night. Our friends did not turn off their electric heater because they were cold," said Sayeed Iqram, who was of Afghan origin.
Full report at:
http://www.hurriyetdailynews.com/two-afghan-one-pakistani-refugee-killed-in-container-fire-in-istanbul-125686
--------
Pakistan
Tribal areas witnessed 16pc surge in terror incidents: Report
January 15, 2018
BAJAUR AGENCY - Terror incidents have witnessed 16 percent increase in the tribal areas during 2017 as compared to 2016, said the annual report of FATA Research Centre issued here on Sunday.
According to the report, a total of 324 violent incidents including 153 terrorism and 171 counter-terrorism actions were recorded during 2017, which marked a 16 percent increase in the terrorist incidents as compared to 2016.
The report added that out of the total 153 terrorist incidents in 2017, 73 terrorist attacks (48 percent) targeted the security forces while 71 attacks (46 percent) were directed against civilians. Seven terrorist attacks (five percent) targeted members of the civil militia or Amn Lashkar.
Two incident of infighting between terrorist groups also reported during the year 2017.
It noted that the violent incidents both terrorist and counter-terrorism, resulted in a total of 1207 casualties – 539 killed and 668 injured – across FATA, marking an increase of 37 percent in overall casualties of the total casualties, 76O (138 killed and 437 injured) were that of civilians, accounting for 63 percent of the overall casualties. 128 casualties (63 killed and 65 injured) were inflicted upon security forces which makes 11 percent of the overall casualties. Similarly, 29 casualties (11 killed and 18 injured) of the civil militia were also reported during the year 2017.
The report mentioned that the civilian casualties were particularly high in the Kurram Agency, where a total 575 civilian casualties-138 death and 437 injuries were recorded in the region during 2017, which accounted for three-quarters of the overall civilian casualties.
The report said that Bajaur Agency remained second in terms of civilian casualties in which 18 terrorist attacks resulted in 68 civilian casualties (16 killings and 52 injuries), making up nine percent of the overall all civilian casualties.
Similarly, 39 casualties (seven killings and 32 injuries) were reported from Mohmand Agency, while South Waziristan, North Waziristan and Khyber Agencies with around 3 percent each follow the list.
The report stated that Orakzai Agency remained the most peaceful region of the tribal belt with least number of civilian casualties where only 18 civilian casualties (five killings and 13 injuries) were recorded during the year which accounts for two percent of the overall civilian casualties.
The report claimed that Tehreek-e-Taliban Pakistan (TTP), Islamic State of Khorasan (IS-K), Khan Said and Hakeemullah group of Mehsud Taliban, Wazir Taliban, Haqqani Network, Lashkar-e-JhangviAlmi and TTP-Jamat-ul-Ahrar remained the major actor of instability during the year 2017.
The report said that these terrorist groups currently based in Afghanistan by forming new alliances and re-invigorating the old ones were managed to carry out terrorist attacks against security forces, civilians and member of Amn Lashkar from January to December 2017.
According to Irfan Udin, Senior Security Analyst at FATA Research Centre Islamabad, the recent surge in terrorist attacks in FATA illustrates the growing threat of terrorist after re-establishing their networks inside Afghanistan.
"IS-K has already established new bases in Jawzjan, Faryab, Balkh, Kunduz, Takhar, Badakhshan, Nuristan, Kunar, Nangarhar, Paktia, Khost and Paktika provinces of Afghanistan. To further entrench its network, IS-K is offering 1,000 US dollars for fresh recruits and disgruntled Taliban fighters, particularly in areas close to the North Waziristan, Kurram and Khyber Agencies of FATA which has created new threats for FATA region," says Irfan, adding that the new alliance of IS-K with Tehreek-e-Taliban Pakistan (TTP), Lashkar-e-Islam (LI), and Jamat-ul-Ahrar (TTP-JuA), currently stationed inside Afghanistan has further compounded these threats and may trigger a massive wave violence not only FATA but also in other parts of Pakistan.
https://nation.com.pk/15-Jan-2018/tribal-areas-witnessed-16pc-surge-in-terror-incidents-report
--------
Qadri says won't hold negotiations with anyone regarding Model Town incident
Jan 15, 2018
Pakistan Awami Tehreek (PAT) chief Tahir-ul-Qadri has said that he will not hold negotiations with anyone regarding Model Town incident now.
Talking to a private news channel, Qadri said that no one will stage a protest in future if the victims of Model Town tragedy won't get justice. He further assured to only fight a legal war against the Punjab government.
Earlier, Qadri had announced that his party will hold protests from January 17 till they demolish the Pakistan Muslim League-Nawaz (PML-N) government.
PAT chief briefed the media, saying they will stage a sit-in on the Mall Road in Lahore. He told that the opposition parties have decided to protest against the Model Town incident and Kasur tragedy—where an innocent 7-year-old girl was raped and murdered.
He said, "Opposition parties will protest till justice is provided in both these cases."
PAT chief told that both Pakistan Tehrkeek-i-Insaf (PTI) chief Imran Khan and Pakistan People's Party Co-Chairman Asif Zardari will attend the protests, adding that several other leaders from the opposition parties will be there to raise their voices against the brutality of the ruling government.
He stated that he is confident that all leaders of the political parties will come to express solidarity with the martyrs of the Model Town incident.
It is pertinent to mention here that on June 17, 2014, police moved to remove the barriers placed on roads leading to Minhajul Quran institutions and residence of Dr Qadri in Lahore's Model Town.
PAT chief had announced to lead a long march against the alleged corrupt government on June 23, 2014.
Full report at:
https://www.pakistantoday.com.pk/2018/01/14/qadri-says-wont-hold-negotiations-with-anyone-regarding-model-town-incident/
--------
Politicians to be strong only when they subjected themselves to constitution: JI
Jan 15, 2018
SUKKUR: Jamat-e-Islami (JI) Ameer, Senator Sirajul Haq has said that politicians would be strong only when they subject themselves to the constitution and law.
Talking to the media at the Sukkur Press Club on Sunday, Sirajul Haq said that politicians deem it an insult to stop at the red signal or to line up in a queue like others. JI Secretary General Liaqat Baloch, Deputy Secretary General Muhammad Asghar, Sindh JI chief Dr Merajul Huda Siddiqui and other local JI leaders were present at the occasion.
The JI chief supported PAT chief Dr Tahirul Qadri's demand for the arrest and trial of all those responsible for the Model Town killings and said that every aggrieved party had the right to protest over the delay in justice.
He also deplored the police's firing on protesting people against the molestation and murder of Zainab at Kasur which caused three deaths. He said it was unfortunate that our children are not secure while the judicial system seems to be deaf and dumb.
Sirajul Haq demanded publication of the Raja Zafrul Haq committee report on the Khatme Nubuwwat issue and for stringent punishment to those who hatched a conspiracy in this regard.
He said the MMA had been revived as an electoral alliance and that he wanted other corruption free parties to join the alliance so that it delivers effectively.
The JI chief said that the solution of the numerous problems facing the country is in a peaceful Islamic revolution.
Full report at:
https://www.pakistantoday.com.pk/2018/01/14/politicians-to-be-strong-only-when-they-subjected-themselves-to-constitution-ji/
--------
Pakistan Taliban book claims group was behind Benazir Bhutto's assassination
15 January 2018
ISLAMABAD: A recent book by a senior Tehrik-e-Taliban Pakistan (TTP) leader claims that his group was behind the 2007 assassination of Pakistan's first woman Prime Minister Benazir Bhutto.
The new book, 'Inqilab Mehsood South Waziristan: From British Raj to American Imperialism,' was released on Nov 30, 2017, and written by Abu Mansoor Asim Mufti Noor Wali, a senior leader in the Taliban terror group.
Arab News has obtained a copy of the 588-page online book.
Benazir Bhutto was assassinated in the garrison city of Rawalpindi shortly after she addressed an election rally on December 27, 2007.
According to the the book author, two suicide bombers, Bilal alias Saeed and Ikramullah, were assigned to carry out the attack on Benazir Bhutto on December 27.
"Bomber Bilal first fired at Benazir Bhutto from his pistol and the bullet hit her neck. Then he detonated his explosive vest and blew up people in the procession," the book says.
The book adds that the terrorist Taliban group was also involved in the suicide attack on Benazir Bhutto's procession in Karachi October 2007, which had killed nearly 140 people, but Benazir had survived.
"Despite attacks on Benazir Bhutto's procession in Karachi, the government had not taken appropriate security measures that made it possible for the attackers to have easy access to Benazir Bhutto," the book says.
A former Taliban leader confirmed to Arab News that the book has written by the group.
Then President Pervez Musharraf had blamed TTP for the attack on Benazir Bhutto, and the Ministry of Interior, after the incident, released an audio conversation and said it was between the two men who were assigned to kill Benazir Bhutto.
In August 2017 an anti-terrorism court (ATC) in Rawalpindi formally charged Musharraf in the case of Benazir Bhutto assassination and declared him "most wanted" in the case.
But Musharraf denied any involvement and dismissed the charges as politically-motivated.
The five TTP suspects in Benazir's murder case — Rafaqat Hussain, Husnain Gul, Sher Zaman, Aitzaz Shah and Abdul Rashid — were cleared of all charges in the murder trial in August last year.
The book covers the TTP's history, its attacks, military operations in the tribal regions, TTP's activities in Afghanistan, tribal system, Mehsood tribe role in the TTP, TTP operations in Karachi and its campaign against polio vaccination.
Pakistan Peoples Party co-chairman Bilawal Bhutto, and the son of Benazir Bhutto, blamed Musharraf for his mother's assassination on her 10th death anniversary on Dec. 27, last year.
Pakistan Peoples Party's spokesperson Farhatullah Babar said the Taliban claim has strengthened the party's suspicion that the militants had been "used to execute the terrorist act."
"In fact we have been demanding to know who were the masterminds behind the plan to martyr Benazir Bhutto," Babar told Arab News.
Full report at:
http://www.arabnews.com/node/1225801/world
--------
Africa
Violent protests resume in Tunisia after two days of calm
15 January 2018
Violent protests erupted again on Sunday in two areas of the capital Tunis and another town after a relatively calm two days, the latest protests in the country against austerity measures.
After nearly a week of at times violent protests, police used tear gas against dozens of young protesters in the Ettadamen district of Tunis in renewed demonstrations over a tax hike.
A Reuters witness saw youths around 20 years old throwing stones at police cars and setting fire to tires before security forces drove them back with tear gas.
Witnesses told Reuters that violent protests were also taking place in Kram district in the capital.
Protesters in Feriana city near the Algerian border tried to cut off roads and police were chasing protesters in the streets of the city and firing gas bombs.
Protests erupted last Monday in several towns and cities across Tunisia following tax and price hikes imposed on Jan. 1 by a government seeking to reduce a budget deficit to meet an agreement with its international donors.
Earlier on Sunday, hundreds of Tunisians demonstrated peacefully against government austerity measures in the capital, the seventh anniversary of the ousting of former President Zine El Abidine Ben Ali.
Almost 800 people have been arrested for vandalism and acts of violence, including throwing petrol bombs at police stations, according to the interior ministry.
The government late on Saturday pledged extra aid for poor families and those in need in response to the demonstrations but protesters still took to the streets, holding banners with slogans against rising prices and new taxes.
https://english.alarabiya.net/en/News/north-africa/2018/01/15/Violent-protests-resume-in-Tunisia-after-two-days-of-calm.html
--------
Nigerian Shia cleric Zakzaky makes first public appearance since detention in 2015
Jan 13, 2018
Leader of the Islamic Movement in Nigeria Sheikh Ibrahim Zakzaky, rumored to have died in detention, has made his first public appearance since he was illegally detained by security forces in 2015.
Zakzaky, who is in the custody of the Department of State Services (DSS), told reporters in the capital Abuja on Saturday that he was alive and well.
He also thanked Nigerians for their prayers as well as the DSS for allowing him access to his doctors.
"For the first time at least the security (officers) have allowed me to see my own doctors," he said, according to footage of the exchange. "I am getting better."
"So it was my own doctors who examined me. Before I used to be examined by security doctors, this time I did not agree, and my own doctors came to examine me," he said.
It was unclear under what circumstances Zakzaky gave the interview.
Rumors of his death spread on the Nigerian social media this week.
The top Shia cleric lost his left eyesight in a raid which was carried out by the Nigerian army on his residence in the northern town of Zaria in December 2015.
During the raid, Zakzaky's wife sustained serious wounds too and more than 300 of his followers and three of his sons were killed. Zakzaky, his wife, and a large number of the cleric's followers have since been in custody.
Despite the ruling of a Federal High Court, which ordered his unconditional release in 2016, the Nigerian government has refused to set him free.
Earlier this week, a UK-based NGO known as the Islamic Human Rights Commission, voiced concern over the health condition of the detained Muslim cleric.
The clergyman is said to have been charged with "criminal conspiracy and inciting public disturbances."
During the third day of consecutive protests on Tuesday, Nigerian government forces opened fire on demonstrators demanding the release of Zakzaky. One person was severely injured during clashes with Nigerian forces and another 50 people were detained in Abuja.
Full report at:
http://www.presstv.com/Detail/2018/01/13/548827/Zakzaky-Nigeria-cleric-
--------
4 soldiers killed in attack in central Congo
Jan 14, 2018
Suspected militia fighters killed four Congolese soldiers in a hit-and-run attack on a military post in troubled Kasai-Central province's capital, Kananga, UN-funded radio reported on Sunday.
Fighting between the Kamuina Nsapu militia and government forces over the past year and a half has displaced over 1 million people in Democratic Republic of Congo's Kasai provinces. Millions more have been hit by a severe humanitarian crisis.
Citing UN sources, Radio Okapi, which is supported by Congo's peacekeeping mission, MONUSCO, said the assailants attacked a military post near Kananga's airport in the early morning hours before disappearing into the surrounding bush.
Local authorities were not immediately reachable for comment on the attack.
More than a decade after the end of a 1998-2003 war in which millions of people died, mostly from hunger and disease, militia attacks are on the rise across the vast, mineral-rich nation.
Full report at:
http://www.presstv.com/Detail/2018/01/14/548916/Congo-UN-soldiers-Kabila
--------
Morocco repatriates its last migrants from Libya
13 January 2018
Morocco on Saturday said it has started the third and final operation to repatriate its nationals stranded in Libya, a stepping stone to illegal migration to Europe.
The ministry of expatriates and migration said the operation was launched on Friday and aimed at bringing home 338 Moroccan migrants stuck in Libya.
The migrants were to be flown to Casablanca on the Libyan airline Afriqiyah and then transported by bus to their home towns, the ministry said in a statement.
It did not say when the operation was expected to be concluded.
Since the 2011 fall and killing of its longtime dictator Muammar Qaddafi, Libya has become a key launch-pad for migrants making desperate bids to reach Europe, often on unseaworthy vessels.
The plight of migrants in Libya has garnered fresh attention after an outcry over reports of slave auctions in the country, an enormous transit hub for sub-Saharan Africans seeking to reach Europe.
Morocco has already repatriated 435 of its citizens from Libya in two separate operations in August and December.
Full report at:
https://english.alarabiya.net/en/News/north-africa/2018/01/13/Morocco-repatriates-its-last-migrants-from-Libya.html
--------
North America
Islamic State Group Offshoot Claims 2017 Niger Attack on US
Jan. 13, 2018
DAKAR, Senegal (AP) — An Islamic State group offshoot is claiming it carried out the October attack in Niger that killed four U.S. soldiers and four Nigerien troops and sparked questions about U.S. military involvement in West Africa's vast Sahel region.
The Mauritanian Nouakchott News Agency reported Friday that Abu al-Walid al-Sahrawi with the self-professed IS affiliate claimed responsibility for the Oct. 4 ambush about 120 miles (200 kilometers) north of Niger's capital, Niamey. The news agency has carried messages from the affiliate before, according to the SITE Intelligence Group, which monitors jihadist websites.
The U.S. Africa Command has been investigating the attack, which also wounded two U.S. and eight Nigerien troops. A final report is expected to be released this month.
A 12-member Army special forces unit was accompanying 30 Nigerien forces when they were attacked in a densely wooded area by as many as 50 militants traveling by vehicle and carrying small arms and rocket-propelled grenade launchers.
The Pentagon has declined to release details about the commando team's exact mission. U.S. officials have said the joint U.S.-Niger patrol had been asked to assist a second American commando team hunting for a senior Islamic State group member. The team had been asked to go to a location where the insurgent had last been seen.
After completing that mission, the troops stopped in a village to get food and water, then left. The U.S. military believes someone in the village may have tipped off the attackers.
The U.S. has approximately 800 troops in Niger, and U.S. special operations forces have been working with Niger's forces in a growing effort in recent years, helping them to improve their abilities to fight extremists.
Multiple military efforts exist against extremist groups, including Boko Haram and al-Qaida affiliates, that roam the vast Sahel, the sprawling, largely barren zone south of the Sahara desert. The growing fight includes France's largest overseas military operation, a United Nations peacekeeping mission in Mali and a five-nation regional force called the G5 Sahel that launched last year.
Officials have pointed out the danger and difficulty of hunting down an enemy in region the size of Europe.
The Mauritanian news agency also reported that the extremists claimed responsibility for an attack Thursday on a French military convoy, and for a series of attacks in Niger and border areas with Mali and Burkina Faso.
Copyright 2018 The Associated Press. All rights reserved. This material may not be published, broadcast, rewritten or redistributed.
https://www.usnews.com/news/world/articles/2018-01-13/islamic-state-group-offshoot-claims-2017-niger-attack-on-us
--------
Trump waives Iran nuclear sanctions 'for last time'
13 Jan 2018
US President Donald Trump will continue sanctions relief for Iran, keeping the 2015 landmark nuclear deal in place for the time being.
The White House said on Friday that Trump will waive the sanctions against Iran for the "last time", unless an agreement can be reached between the US and Europe within the next 120 days that would strengthen the nuclear deal.
"Despite my strong inclination, I have not yet withdrawn the United States from the Iran nuclear deal," Trump, who has repeatedly threatened to "rip up" the deal, said in a statement on Friday.
"Instead, I have outlined two possible paths forward: either fix the deal's disastrous flaws, or the United States will withdraw," he added.
"This is the last chance. In absence of such an agreement [between the US and European powers], the United States will not again waive sanctions in order to stay in the Iran nuclear deal."
The announcement came as the US Treasury imposed sanctions on 14 Iranian individuals and companies, including the head of Iran's judiciary, over alleged human rights abuses.
'Desperate attempts to undermine agreement'
Iranian Foreign Minister Mohammad Javad Zarif called Trump's decision an attempt to "undermine" the deal.
"Trump's policy and today's announcement amount to desperate attempts to undermine a solid multilateral agreement," Zarif tweeted on Friday.
The nuclear deal "is not renegotiable: rather than repeating tired rhetoric, [the] US must bring itself into full compliance - just like Iran," he added.
The 2015 Iran nuclear deal was struck between the US, under the administration of former President Barack Obama, Iran and five other countries. It prevents Iran from developing nuclear weapons while offering sanctions relief to allow the Islamic Republic to participate in international commerce and banking.
Under US law, the president is required to renew the waiver on sanctions every 120 days. The last time Trump issued a waiver was in September 2017.
In October of last year, Trump refused to recertify that Iran was in compliance with the agreement, saying it was "one of the worst and most one-sided transactions the US has ever entered into".
That decision came despite the UN having certified Iran's compliance with the deal eight times. In November, the body again said Iran was in compliance.
Ahmad Majidyar, the director of the Iran Observed Project, said he wasn't surprised by Trump's decision.
"No, I'm not surprised because this is the same stance that US President Trump took three months ago when he decertified the Iran nuclear deal," Majidyar told Al Jazeera.
'Four critical components'
On Friday, Trump outlined four "critical components" that must be included in US legislation regarding Iran.
"First, it must demand that Iran allow immediate inspections at all sites requested by international inspectors," the US president said in a statement.
He also said that any legislation "must ensure that Iran never even comes close to possessing a nuclear weapon" and that "unlike the nuclear deal, these provisions must have no expiration date". One reason Trump has criticised the nuclear deal is that certain aspects of the agreement expire after 10 or 15 years.
Finally, Trump said that any legislation "must explicitly state in the United States law - for the first time - that long-range missile and nuclear weapons programmes are inseparable, and that Iran's development and testing of missiles should be subject to severe sanctions".
There was no immediate reaction from Europe. According to AFP news agency, a spokeswoman for the German foreign ministry said that Berlin had "taken note" and would discuss the best course of action with its European allies.
Prior to making the announcement, Trump had faced pressure from European leaders who urged "all parties to continue to fully implement this agreement".
Federica Mogherini, the European Union's foreign policy chief, said earlier this week that the "deal is working; it is delivering on its main goal, which means keeping the Iranian nuclear programme in check and under close surveillance".
Full report at:
http://www.aljazeera.com/news/2018/01/trump-waives-iran-nuclear-sanctions-time-180112164307626.html
--------
Anti-jihadist coalition looks to future role after IS defeat
January 15, 2018
WASHINGTON - With the Islamic State group all but vanquished from its self-proclaimed "caliphate" in Iraq and Syria, the US-led coalition that has been fighting the jihadists for more than three years is transforming its mission.
Eager to avoid a repeat of 2011, when America completed its troop withdrawal from Iraq only to watch in horror as IS later overran swathes of the country, the coalition is focusing on what it must do to stop a jihadi re-emergence.
Defense Secretary Jim Mattis recently told reporters the mission now is shifting towards stabilization and making sure an "ISIS 2.0" can't pop up, using an alternate acronym to refer to the jihadist group.
Already, the Pentagon has said it will stay in Syria "as long as we need to."
"The longer term recovery is going to take a lot of effort and a lot of years after what (IS) did, because they forcibly kept innocent people in the midst of the combat zone, and that meant the residential areas took damage, the public areas -- everything took damage," he said, adding that a most pressing need is to clear cities and terrain of innumerable bombs, mines and booby traps.
America hastily convened a coalition in 2014 after IS swept across vast tracts of Iraqi and Syrian territory, terrorizing residents and leaving a trail of murder and atrocity in their wake. The US military began bombing them that summer with the immediate goal of stopping IS from reaching Baghdad after they'd seized a string of major cities including Mosul and Tikrit.
Today, the coalition boasts 70 nations as well as international organizations like NATO and Interpol. Though some alliance members are there in name only, bigger countries like Britain, France, Canada and Australia are helping in the skies and on the ground.
A State Department official said some coalition members can play an increased role now that the main campaign is over, including by countering IS propaganda, sending in police trainers and providing funding.
Nicholas Heras, a fellow at the Center for a New American Security, said that ideally, "you are going to have different partners taking on many different aspects of the stabilizing mission, the part that they do well."
With IS now cleared from 98 percent of the terrain they once held, nations like France and Australia have begun pulling some military assets -- including planes and artillery -- from Iraq and Syria, and the Pentagon has said the tapering off of bombing missions means it has more resources to fight the Taliban in Afghanistan.
But the coalition is keeping an indefinite presence to help Iraqis get the support and training they need, and to protect a Kurdish-Arab alliance who fought against IS in Syria.
"If we were to repeat the mistakes that we made when the Iraq War came to a close then we are very much likely to see a repeat of the tragedies that followed," warned Steve Warren, a retired Army colonel who was top spokesman for the coalition between 2015 and 2016. "They need to morph into a stabilization force, there's no question."
'SKIN IN THE GAME'
America has about 2,000 troops in Syria and more than 5,000 in Iraq, augmented in both countries by coalition members who have provided commandos and military trainers. But where Iraq now has a cohesive military and some degree of political stability, Syria is mired in civil war and President Bashar al-Assad is working with Russia and Iranian militias to maintain control of areas once in the hands of rebels or IS.
That means the US must keep boots on the ground in Syria to protect fighters from the Syrian Democratic Forces who it backed to fight IS. "Unless we want to cede eastern Syria to the Iranians, (the coalition) needs to be there," Warren told AFP. "Not necessarily the US -- it's other partners who have skin in this game, which includes every country in Europe," he added, referring to the refugee crisis that has gripped the continent in part because of Syria.
Additionally, extremist groups the world over are rebranding themselves under the IS banner, meaning the anti-IS coalition will have a role beyond the Middle East, including in African nations.
Last year, four new African nations signed up to the coalition : Djibouti, Niger, Cameroon and Chad. "Pre-existing terrorist organizations like in the Philippines, like in Bangladesh, like in the Sinai and Afghanistan, they have basically rebranded themselves and started flying the ISIS flag in order to gain attraction and resources," the State Department official told AFP.
Full report at:
https://nation.com.pk/15-Jan-2018/anti-jihadist-coalition-looks-to-future-role-after-is-defeat
--------
Ex-US official: Obama squandered 'golden opportunity' to crush Hezbollah
14 January 2018
The retired head of the Drug Enforcement Administration's special-operations division said on Wednesday the Obama administration squandered a chance to dismantle Hezbollah due in part to political motivations to clinch a nuclear deal with Iran, according to a report.
Derek Maltz, who was in charge of a major law enforcement operation targeting Hezbollah's trafficking of cocaine, testified before the House Foreign Affairs Committee. He said "In my personal opinion, having been the guy in charge of the special operations for 10 years, we lost a golden opportunity to crush Hezbollah."
Previously, a Politico investigation has revealed how the administration of former US President Barack Obama attempted to suppress a Drugs Enforcement Agency operation to expose a money-laundering scheme in which "proceeds from Latin American drug-running were being funneled to Hezbollah."
According to the examination released, DEA agents working on an operation codenamed "Project Cassandra" were hoping to prosecute operatives from Hezbollah, the Iranian-backed Lebanese militia, involved in cocaine trafficking and money laundering.
Full report at:
https://english.alarabiya.net/en/News/world/2018/01/14/Ex-US-official-Obama-squandered-golden-opportunity-to-crush-Hezbollah.html
--------
Crown wants convictions for B.C. pair earlier accused of terror-related crimes
Jan 14, 2018
A British Columbia judge was wrong to throw out findings of guilt against a pair of accused terrorist sympathizers who planted what they thought were pressure-cooker bombs on the lawn of the provincial legislature, the Crown says.
In documents filed in B.C.'s Court of Appeal, the Crown says Justice Catherine Bruce of the B.C. Supreme Court had no basis to conclude the RCMP manipulated John Nuttall and Amanda Korody into plotting to kill dozens of innocent people and first responders on Canada Day in 2013.
A months-long jury trial ended in June 2015 when Nuttall and Korody were found guilty of conspiring to commit murder, possessing an explosive substance and placing an explosive in a public place, all on behalf of a terrorist group.
The convictions were put on hold until a year later, when Bruce ruled the pair had been entrapped by police, who she said used trickery, deceit and veiled threats to engineer the bomb plot.
The Crown is appealing the ruling and proceedings are scheduled to begin Monday.
The Crown says in arguments filed with the court that Nuttall and Korody were completely responsible for crafting and carrying out the plan and the undercover RCMP operation did not qualify as either manipulative or an abuse of process.
"Mr. Nuttall and Ms. Korody eagerly conspired to build improvised explosive devices and detonate them in a public space during a national holiday ... as an act of 'jihad,' to 'strike terror' in the hearts of Canadian 'infidels,' " the document says.
"An average person, standing in their shoes, would never have done so."
Lawyers for Nuttall and Korody say in their arguments that there is no reason to reverse the stays of proceedings.
They say in a court document that the couple feared they would be killed by the shadowy terrorist group they believed they were involved with if they didn't follow through with the bomb plot.
The document also says police provided Nuttall, who had converted to Islam alongside his wife, with improper spiritual advice that deflected his qualms about whether terrorism was compatible with his new faith.
"The targets were confused recent converts to Islam, were unemployed, survived on social assistance, and were methadone-dependent, recovering heroin addicts with very few people in their lives, either friends or family," the respondents' argument says.
The Crown's appeal also alleges Bruce inappropriately dismissed two of four criminal charges.
Full report at:
http://www.cbc.ca/news/canada/british-columbia/crown-wants-convictions-for-b-c-pair-earlier-accused-of-terror-related-crimes-1.4487071
--------
URL: https://www.newageislam.com/islamic-world-news/an-islamic-bank-poor-including/d/113940
New Age Islam, Islam Online, Islamic Website, African Muslim News, Arab World News, South Asia News, Indian Muslim News, World Muslim News, Women in Islam, Islamic Feminism, Arab Women, Women In Arab, Islamophobia in America, Muslim Women in West, Islam Women and Feminism