New Age Islam News Bureau
14 Jul 2015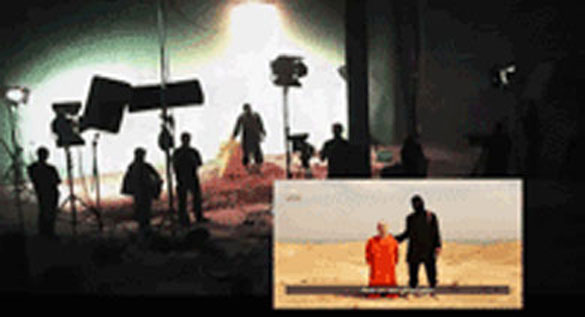 A screen grab from leaked footage showing the filming of ISIL execution videos being taken in a studio
----------
North America
• Conspiracy theory or reality? Footage Obtained from US Senator's Staffer Shows ISIL Executions Shot in Studio
• Florida Billboards Dispel Islam Misconceptions
• Geography gives us distance, but Canada has a responsibility in Syria
• Conspiracy theory or reality? Footage Obtained from US Senator's Staffer Shows ISIL Executions Shot in Studio
---------
South Asia
• Military Operations in Afghanistan Kill 51 Insurgents
• Suicide Attack on Afghan Base Claims 33 Lives
• Taliban shadow governor for Laghman killed with 12 others in NDS special operation
• New ISIS video claims to show beheading of a spy in Nangarhar
• 25 trafficking victims back home from Indonesia
• Bangladesh lynching, of a 13-year-old boy, anger grows as suspect confesses
----------
Arab World
• Dozens of ISIL Terrorists, Top Commander Killed in Iraq's Fallujah
• Iraqi Shiite Volunteers Storm ISIL Positions, Retake Two Areas in North of Fallujah
• Syria: Senior ISIL Commander Killed in Hasaka
• Army, Popular Forces Purge Strategic Region from Terrorists in Hasaka City
• Italy vows to help Egypt fight 'terrorism'
• Two ISIS leaders killed in Syria air strike
• Syrian regime raids kill civilians in ISIS-held town
• ISIS claims Baghdad bombings that killed 23
• First batch of U.S. F-16 jets delivered to Iraq
• Daesh steps up Egypt campaign with Italy consulate bombing
----------
Mideast
• Iran, Major Powers Reach Historic Nuclear Deal in Vienna, Diplomats Confirm
• Saudi Warplanes Target Yemeni Capital Residential Areas, 25 Killed
• U.N. calls on Palestinians for information on missing Israelis
• Arab-led strikes, Houthi clashes continue in Yemen
• Commander: Iran Enjoys Safest Airspace in Region
• President Rouhani Says Nuclear Deal Heralds New Beginning
• Turkey arrests 45 Daesh recruits in southeast
• Saudi Aggression Disrupts Medical Services in 11 Yemeni Provinces
-----------
Africa
• Nigerian Muslim Body Speaks Up Against Banning Hijab
• Boko Haram: Police Confirm Fresh Attack in Monguno, 43 Dead
• Burundi army says killed 31, captured 171 gunmen in north
• Shelling kills five civilians, injures 17 in Libya's Benghazi
• Three leaders of Qaeda-linked Tunisia group killed
• Boko Haram: Soldiers killed TCN staff, injure two colleagues in Borno
• Minimah: Boko Haram Has Been Militarily Degraded, Dislocated
• Nigeria's president sacks all four defence chiefs
-----------
India
• CBSE's Exam Dress Code for AIPMT Puts Muslim Aspirants in a Spot
• Bihar and UP Assembly Polls Could See the Rise of A New Muslim Politics
• Campaign Demanding 12% Quota for Muslims Takes Off
• 'Ufa statement conveyed best sense of what transpired between PM Modi and Nawaz Sharif'
• Modi Kurta Turns Into a Fashion Trend This Eid
• Ramzan Tohfa for 1.96 Lakh Muslim Families in Kurnool
• India, Pakistan to discuss LoC trade
-----------
Pakistan
• Pakistan Advocate of Inter-Religious Dialogue: President
• Army Has Handled Operation Zarb-E-Azb Successfully: Shahid Latif
• Pakistan's Ramadan laws also affect those who are not obliged to fast
• Rangers' bosses discuss Altaf's speech
• Pakistan, India set to revive Track-II dialogue
• Govt to raise Altaf's army bashing with UK
• Pakistanis among 150 migrants detained by Turkey
----------
Southeast Asia
• China's Hard-Line Policies Hurt Minority Businesses in Xinjiang
• Sword Stories: Struggle of Islam
• Iowa businessman convicted of fraud over halal beef exports
• Pekida's action in Low Yat brawl regrettable, says moderate Muslim group
• Indonesia jails 3 Uighur Muslims on 'terrorism' offences
• Indonesia on high alert for attacks during Ramadan celebrations
----------
Europe
• Moroccan NGO Brings Muslims & Jews Together Around a Ramadan Iftar
• Morocco King Launches Mohammed VI Foundation for African Ulema
• Yusuf Islam Music Marks Srebrenica Massacre
• Viral video of French 'Muslim no-go zone' is a fake
Compiled by New Age Islam News Bureau
URL: https://newageislam.com/islamic-world-news/new-age-islam-news-bureau/american-muslims-fight-negative-stereotype-of-islam/d/103900
---------
North America
American Muslims Fight Negative Stereotype of Islam
July 13, 2015
CHINO, CALIFORNIA—
As the Muslim holy month of Ramadan draws to a close later this week, one community east of Los Angeles is trying to reach out to non-Muslims and show them what international news is not saying about their faith.
The month of Ramadan is a time when Muslims fast and focus on God. And in the town of Chino, at the Baitul Hameed Mosque, it is also a time when Muslims and some non-Muslims find themselves in a similar plight, said Chino Police Chief Karen Comstock.
"We, as law enforcement professionals, share in your same plight because every day on the news, you are watching, you are watching the secular media tell you a story about law enforcement and policing that I am telling you is wrong. There are men and women in this profession, which I love so much, that are performing with a high degree of professionalism and accuracy and protecting the community that you live in," said Comstock.
Similar to media coverage of over policing in the United States, many Muslims, including Ahmadiyya Muslim Community Los Angeles East Chapter President Ahsan Mahmood Khan, say news of Islamic extremists in the Middle East and around the world does not reflect who they are.
"You hear a lot in the news about ISIL or ISIS and what is going on in the Middle East. It is just terrible, and we hear this in the news every day. And it is very similar to what happened post-9/11, with what was going on with al-Qaida where you had this juxtaposition. You had those who claim to be Muslim doing the most heinous acts and proclaiming the name of Allah and in the name of the holy prophet and doing such horrible things, and then you have a community like ours," said Khan.
The Ahmadiyya Muslim Community, unlike most Muslims, believes its Messiah arrived in the 19th century. A few years ago, the Ahmadiyya Muslim Community started a campaign in the U.S. called "Muslims for Loyalty." Khan said its message is a devout Muslim can also be a loyal American.
"[It] ss a way for us to reach out to the communities around the world and show that as Muslims we are also loyal to our nation," said Khan.
The imam of the Baitul Hameed Mosque, Mohammed Zafarullah, said Islam is a religion of peace, but that extremists tarnish his faith.
"Those people who are doing these kind of things, they say they are Muslim but according to our religion, they are not a real Muslim because that is ... they have their own agenda, which they are using in the name of the religion," he said.
Some Muslims here say they are concerned some of the younger generation in other parts of the world may be affected by extremism.
"The only way to counter this negative image that may be conveyed to the young people is for our own youth to engage in setting the record straight," said Khan.
http://www.voanews.com/content/american-muslims-fight-negative-stereotype-of-islam/2860648.html
---------
Conspiracy theory or reality? Footage Obtained from US Senator's Staffer Shows ISIL Executions Shot in Studio
Jul 14, 2015
Leaked footage obtained from a staffer of US Senator John McCain shows the making of an ISIL "execution" video similar to the videos portraying the beheading of James Foley and other victims.
In the three-and-a-half minute video, ISIL executioner Jihadi John (aka Mohammed Emwazi) can be seen standing in front of a green screen, beside a kneeling hostage wearing an orange jumpsuit and a green screen hood in a fully equipped studio in the presence of a production crew, the Leaksource website recently reported.
The desert style set and wind machine effects, share similarities to the beheading videos ISIL released of Steven Sotloff, David Haines, and Alan Henning.
The following is an example showing the similarities between the leaked footage and Foley's alleged beheading.
According to the report, the video was obtained in Ukraine from the cellphone of a member of McCain's staff by the Hactivist group, CyberBerkut.
"Dear Senator McCain! We recommend you next time in foreign travel, and especially on the territory of Ukraine, not to take confidential documents.
On one of the devices of your colleagues, we found a lot of interesting things. Something we decided to put: this video should become the property of the international community!" the group is quoted as saying in the report.
MacCain's ironic response to the claims can be seen below.
According to British forensic experts, Foley's execution was probably staged with the use of "camera trickery and slick post-production techniques."
A terrorism expert stated that the videos of Japanese hostages Kenji Goto and Haruna Yukawa were probably taken in an indoor studio.
The ISIL video purporting to show the execution of 21 Egyptian Coptic Christians on a beach in Libya is also fake, said Hollywood horror film director Mary Lambert.
"In the opening shot all the figures might be animated. They never had more than six men on the beach… The close-ups of jihadists on the beach are most likely green screen… The sea turning red is obviously FX," she said.
http://www.presstv.in/Detail/2015/07/14/420140/ISIL-video-leaked-mccain-takfiri-studio
------------
Florida Billboards Dispel Islam Misconceptions
13 July 2015
FLORIDA – Presenting the true message of Islam, a new billboard campaign has been launched in Florida's most populous city of Jacksonville to correct misconception surrounding the faith and offer reliable answers to those seeking more information about Islam.
"Mostly they call about, if they have questions, they want to visit the Islamic center, they want to meet with the Muslims, they want to get a free copy of the Qur'an, or any other Islamic literature. Just to visit the Islamic center," Mohammad Ilyas the regional president of the Islamic Circle of North America (ICNA) told News4Jax on Sunday, July 12.
Launched by ICNA, the national campaign erected three Islamic billboards bearing #Who is Muhammad? throughout Jacksonville to raise awareness about Islam.
Reaching out to more than 500 thousand per week, the campaign aims to answer questions about the faith through its hotline.
According to Ilyas, ICNA volunteers have received thousands of calls since the erection of the billboards last month.
The awareness campaign came in the wake of the latest attacks across the world which were linked to Islamic extremists.
"I don't control my color, I don't control my language, I don't control my ethnicity, but I control myself, my character, my conscious, I control my relationship with the other," Ilyas said.
"I think if we change our criteria on how we judge people that's how we can establish justice."
Similar campaigns were initiated in different US cities where 80 billboards have been erected to dispel myths about the religion.
ICNA is one of the largest, non-profit, grassroots Muslim organizations in North America with many projects, programs, and activities designed to help in reforming society at large.
Since 1968, ICNA has worked to build relations between communities by devoting itself to education, outreach, social services and relief efforts.
Last year, ICNA launched a campaign to educate Americans about Shari`ah and dispel wrong perceptions about it.
Since the 9/11 attacks on the United States, many Muslims have complained of facing discrimination and stereotypes in the society because of their Islamic attires or identities.
A US survey has revealed that the majority of Americans know very little about Muslims and their faith.
A recent survey found that American Muslims are the most moderate around the world.
It also showed that US Muslims generally express strong commitment to their faith and tend not to see an inherent conflict between being devout and living in a modern society.
http://www.onislam.net/english/news/americas/489807-florida-billboards-dispel-islam-misconceptions.html
---------
Geography gives us distance, but Canada has a responsibility in Syria
Jul. 13, 2015
Summertime, and the livin' for most Canadians is easy, though not of course if you live in large chunks of Western Canada, where flames are jumping and the fire is high. But most of us don't.
Geography is destiny in other ways as well. Just check any country in Europe or Africa or the Middle East. Most are surrounded on all sides by other countries, which significantly increases the risk of trouble. We have only the menace of the USA on our border.
Being cossetted by three great oceans, unlike most of the world's 200-odd nations, we are spared direct involvement in the great twin crises of the moment – the emergence of a violently proselytizing Islam and vast migrations of people. Even with Stephen Harper's token contribution to the war against the Islamic State, few Canadians are touched in any way by these devastating challenges. For us, it's a kind of permanent vacation from the world. We're bystanders at best. It feels to me like an abdication of responsibility. Because there's a real role for Canada here.
We should applaud President Barack Obama's sensible reluctance to send many more U.S. troops to take on ISIS directly. He knows perfectly well that foreign boots on Muslim lands over recent decades has been a sure recipe for backlash and increased radicalization. But Stephen Harper's position is inscrutable. Since he insistently warns of the imminent danger to both world peace and the safety of my grandkids, you'd think he'd try to do something more than dispatch a token Canadian force to Iraq and ignore Syria altogether.
You'd think, for example, that he might open Canada's doors to more than 10,000 Syrian refugees and 3,000 Iraqi refugees over the next three years. Like our ISIS contribution, the numbers are derisory compared to the need, though taking more refugees would be infinitely more productive than sending more troops. Worse, the government itself will support only 4,000 of those Syrians (if they're permitted to come at all); the other 6,000 must be supported by private sponsors like refugee advocacy groups or religious organizations. But because many of then have lost all or most of their government funding, few now have the resources to take care of new refugees from Syria. It's Stephen Harper's own sweet little Catch-22.
Still, we should thank our lucky stars that we're not more directly affected by these disasters. No one has a clue how to deal in the long run with the unprecedented movements of millions away from their impoverished or war-wracked homelands, or the implacable war within Islam between Sunnis and Shia which occasionally turns against the Western world.
That's the thing about the migration and ISIS crises. They're huge, they're related, and they seem intractable. We know the countries from which the majority of migrants are fleeing, and they are well worth fleeing from. They're either in turmoil from conflict (caused by ISIS, or us) or they're desperately poor, or both. In either case, we're at a dead end. We've shown we can't defeat ISIS and we can't – or don't have the will – to help poor countries develop quickly.
Nor are Western European countries prepared to be inundated further by many tens of thousands of these refugees and frankly, no one can realistically expect them to do so. For them too, geography is destiny. More precisely, for Italy, Greece, Spain, Turkey, Jordan, geography is tyranny. There's no good reason why they should be taking the brunt of the exodus except for the accident of propinquity: They're physically closer to the sources of migration. That's why Canada needs to do more.
In the meantime, Africans and Middle Easterners will continue to flee their homes in huge numbers while the Western alliance fighting ISIS has largely been unable either to stop its advances or to mitigate its sadistic behaviour. Here's where the position of the West is most mulish. The United States, Canada and the rest of the alliance knew before they took on ISIS militarily that it could not be defeated by air power alone. They all said as much. Yet air power is just about all that's being mobilized. Now that we've been at it for almost a year, it's perfectly clear that the original assessment was correct. Air power alone is not nearly sufficient, as ISIS' continued evolution and military successes demonstrate. So everyone is offering training to local armies. But the West has been training these armies for decades with little perceptible progress, as we saw in Afghanistan and Iraq and still see today.
As for countering ISIS, it's only too obvious there are no quick fixes. But in Canada we're not even having a discussion, let alone a debate. Yet from a flood of new books and articles, I conclude that the Muslim world itself will have to resolve this terrible internecine conflict that has riven it. But it's not at all clear they have the means or will to do so. It's at least plausible that a serious Canadian government could offer its good offices to enable Muslim groups to play this critical role more actively. In any event, it couldn't be much more of a waste of time and resources than our present contribution. But it's one from which Mr. Harper has totally disqualified us.
http://www.theglobeandmail.com/news/politics/geography-gives-us-distance-but-canada-has-a-responsibility-in-syria/article25484579/
---
South Asia
Military operations in Afghanistan kill 51 insurgents
July 13, 2015
KABUL: At least 51 insurgents have been killed in the newest military operations across the country, Ministry of Defense announced today.
A statement issued by the ministry stated that the operations were conducted in Kunar, Nangarhar, Kapisa, Maidan Wardak, Paktia, Paktika, Urozgan, Ghazni, Daikundi, Zabul, Helmand and Kandahar provinces in the past 24 hours.
The statement added that 51 insurgents were killed and 16 others wounded in these operations.
According to the statement, those killed include a foreign fighter and a Taliban commander by the name of Mohammad Wali and those wounded also include a foreigner.
The statement further added that seven soldiers from Afghan National Army have been killed due to landmine explosions and insurgent fire.
The statement does not specify the exact location of the incidents.
Afghan security forces have launched large-scale independent operations against militants across the country. National security forces started conducting independent operations after taking full responsibility from NATO forces at the beginning of this year.
Ministry of Defense claims to have killed thousands of militants during these operations
http://nation.com.pk/national/13-Jul-2015/military-operations-in-afghanistan-kill-51-insurgents
---------
Suicide attack on Afghan base claims 33 lives
Jul 14, 2015
KHOST: The death toll from a suicide attack at a military base in eastern Afghanistan rose to 33 on Monday, as casualties from the Taliban's insurgency continue to mount despite nascent peace talks.
The Sunday evening bombing came at a military roadblock near Camp Chapman in Khost province, where both Afghan and foreign troops are stationed, shortly before Iftar.
Mubarez Zadran, a spokesman for the provincial governor, and a senior police official confirmed the new toll, which included 27 civilians and six Afghan security personnel – up from 18 reported killed earlier.
"Twelve children and three women are among the dead," said Mr Zadran.
There was no immediate claim of responsibility, but the Taliban – who last week held their first face-to-face peace talks with the Afghan government – have often targeted Afghan and foreign troops.
At least 12 civilians were also killed in twin roadside bomb blasts over the weekend, officials said, blaming the attacks on the Taliban.
The militants launched a countrywide offensive in late April, stepping up attacks on government and foreign targets despite the peace talks in what is expected to be the bloodiest fighting season in a decade.
Full report at:
http://www.dawn.com/news/1194320/suicide-attack-on-afghan-base-claims-33-lives
---------
Taliban shadow governor for Laghman killed with 12 others in NDS special operation
By KHAAMA PRESS - Tue Jul 14 2015
The Taliban shadow governor for eastern Laghman province has been killed in a special operation conducted by Afghanistan's spy agency – The National Directorate of Security (NDS).
According to NDS, the operation was carried out in Laghman's neighboring Nangarhar province in which Amin Jan Kochi, the Taliban designated governor for Laghman province, was killed along with 12 of his men last night.
Full report at:
http://www.khaama.com/breaking-news-taliban-shadow-governor-for-laghman-killed-with-12-others-in-nds-special-operation-3642
---------
New ISIS video claims to show beheading of a spy in Nangarhar
By MIRWAIS ADEEL - Tue Jul 14 2015
The affiliates of the Islamic State of Iraq and Syria (ISIS) terrorist group have released a new video which purportedly shows the beheading of an alleged spy in eastern Nangarhar province.
The video was shared by the ISIS supporters in Afghanistan claiming that the man was executed in Ghani Khel district over espionage charges.
The group also claimed that the man was providing information regarding the group's locations by carrying a tracking device for drones.
The authenticity of the video has not been verified so far but ISIS affiliates are active in a number of Nangarhar disticts including Achin district.
This comes as a number of senior ISIS leaders were killed along with the ISIS militants in a series of drone strikes in Nangarhar province during the recent weeks.
The group's Khurasan province chief was killed along with 30 militants in a drone strike in Nangarhar province last4 week.
The Afghan Intelligence – National Directorate of Security (NDS) said Hafiz Syed was killed after the Afghan security forces provided information regarding his location to the coalition security forces.
Full report at:
http://www.khaama.com/new-isis-video-claims-show-beheading-of-a-spy-in-nangarhar-9506
---------
25 trafficking victims back home from Indonesia
July 14, 2015
Twenty five more Bangladeshi human trafficking victims returned home from Indonesia last night, around four months after they were rescued from the Andaman Sea.
A flight of Malaysian Airlines carrying them landed at Hazrat Shahjalal International Airport around 8:00pm, Mohammad Shakil Mansoor of International Organisation for Migration (IOM) told The Daily Star.
With the 25, a total of 217 rescued Bangladeshis returned home from Indonesia since June 12, while around 400 to 500 others are still staying at shelter homes in Indonesia, he said.
The rest will be brought back home gradually after police verification. The Bangladesh foreign ministry in association with the IOM is arranging their repatriation, Shakil added.
IOM officials received the returnees at the airport. They had been at the shelter homes in Indonesia after their rescue.
The returnees hail from Narsingdi, Meherpur, Kishoreganj, Narayanganj and Cox's Bazar.
Over 500 Bangladeshis, who were rescued in the last several months from the Andaman Sea, had been brought back home from Malaysia, Indonesia, Thailand and Myanmar since June.
Full report at:
http://www.thedailystar.net/backpage/25-trafficking-victims-back-home-indonesia-112249
----------
Bangladesh lynching, of a 13-year-old boy, anger grows as suspect confesses
Jul 14, 2015
DHAKA: Outrage over the lynching of a 13-year-old boy mounted in Bangladesh Tuesday, with more protests planned over the murder which was captured on video, as one of the suspects confessed after being arrested in Saudi Arabia.
Bangladeshi police have now arrested five people over the July 8 killing of Samiul Alam Rajon, who was tied to a pole and then subjected to a sickening assault in which he pleaded for his life.
The 28-minute video of Samiul, which went viral after being posted on social media, has sparked an outpouring of anger, with petitions and demonstrations demanding the attackers face the death penalty.
Samiul was accused by his attackers of stealing a bicycle in the north-eastern city of Sylhet although his family insist that the youngster was innocent.
Local police chief Akhter Hossain said his officers had arrested three people overnight, including the wife of one of the suspects and two men who were at the scene.
Police were also hunting for "two others who directly took part" in the beating, Hossain told AFP. "It's a brutal and heinous murder and we won't spare anyone," he added.
The latest arrests bring the number of people in custody to five, including the alleged ringleader Muhit Alam and his main accomplice Kamrul Islam who was arrested in Saudi Arabia, according to Bangladesh's foreign ministry.
Islam fled to Jeddah in the immediate aftermath of the attack but reports said he was arrested by the Saudi authorities after members of the large Bangladeshi expat community in Jeddah reported him to police.
In a video filmed by an expat TV station as he was led away to a waiting police car in handcuffs, Islam said that he had "made a mistake, please forgive me," before bursting into tears.
Full report at:
http://www.dawn.com/news/1194408/bangladesh-lynching-anger-grows-as-suspect-confesses
---------
Arab World
Dozens of ISIL Terrorists, Top Commander Killed in Iraq's Fallujah
Jul 14, 2015
Colonel Mahmoud Morzi al-Jumaili announced on Monday that the warplanes targeted the Takfiri group's hideouts in Hay al-Nazal region in Fallujah, located 69 kilometers (43 miles) West of Baghdad, killing scores of ISIL militants.
Top ISIL commander identified as Mohammad Salem Louh al-Halbousi was also killed in a separate operation in Saqlawiyah, located 8 kilometers (5 miles) Northwest of Fallujah.
The ISIL Takfiri terrorists currently control shrinking swathes of Syria and Iraq. They have threatened all communities, including Shiites, Sunnis, Kurds, Christians, Ezadi Kurds and others, as they continue their atrocities in Iraq.
Full report at:
http://english.farsnews.com/newstext.aspx?nn=13940423000603
---------
Iraqi Shiite Volunteers Storm ISIL Positions, Retake Two Areas in North of Fallujah
Jul 14, 2015
"After engaging in intense battles with the ISIL near the town of Fallujah, our forces retook control of the areas of Albu Khanifer and Khalif Sulaiman in the Northwestern part of Fallujah," a statement by the Shiite forces said.
The statement added that the ISIL top local leader in Fallujah, named Abu Shahab Al-Orduni, was arrested in the Shiite volunteers' operations.
On Monday, the Iraqi army and popular fighters managed to retake two areas from the ISIL terrorists in Anbar as part of a major offensive to fully liberate the province.
"The security forces were able to advance and liberate the areas of Albu Shijil and Shiha near Khaldiyah, between Saqlawiya and Ramadi," an unnamed army lieutenant colonel said.
He added that the latest development came after Iraqi forces laid siege to the ISIL militants in Fallujah.
Full report at:
http://english.farsnews.com/newstext.aspx?nn=13940423000472
---------
Syria: Senior ISIL Commander Killed in Hasaka
Jul 14, 2015
Abu Qattadeh al-Idlibi was killed along with 12 of his men in Syrian warplanes' raid on his convoy in Hasaka-Shadadi road.
Meantime, the local sources disclosed that the rift has widened among the ISIL leadership ranks after death of Abu Qattadeh al-Idlibi.
The ISIL, meantime, executed nine of its members, including a senior commander, as a result of widening rift in the Takfiri terrorist group.
The ISIL Takfiri terrorists currently control shrinking swathes of Syria and Iraq. They have threatened all communities, including Shiites, Sunnis, Kurds, Christians, Ezadi Kurds and others, as they continue their atrocities in Iraq.
Full report at:
http://english.farsnews.com/newstext.aspx?nn=13940423000645
---------
Army, Popular Forces Purge Strategic Region from Terrorists in Hasaka City
Jul 14, 2015
The army and Kurdish People's Protection Units (YPG) forces managed to mop up Al-Layla district in the Northeastern parts of Hasaka from the terrorist groups.
Following the tough resistance shown by the army and popular forces in the past few days, Al-Layla district was taken back and the ISIL terrorists retreated.
The top commander of popular forces in Hasaka announced that his forces and the Syrian army troops are now in control of the Northeastern city.
"All parts of Hasaka city are under the control of our forces, the Syrian army troops and the Kurdish popular committees and at present, no operations are being carried out by the ISIL terrorists in Hasaka," Sheikh Fayez Abdul Rahman Sheikh Namess said on Tuesday.
Noting that the cooperation and coordination among the three forces have driven out the terrorists 20km away from Hasaka, he said that they have freed many districts and villages near Hasaka, including Abdulaziz mountain, and killed tens of ISIL terrorists in the past months.
Also in the past 24 hours, the Syrian army and the Lebanese Hezbollah Resistance Movement continued advancing into the Eastern and Western parts of the town of Zabadani after taking control of Western Harreh district on Monday.
The army units and resistance forces are advancing in Zabadani from the direction of al-Sahalah district.
The Lebanese sources said Hezbollah fighters took full control of al-Zahra district in the early hours of Monday.
Zabadani is a strategic border town located 50 kilometers Northwest of the Syrian capital, Damascus.
The offensive is part of a wider operation launched by Syria and Hezbollah since May 4, which has reportedly driven militants out of more than 90 percent of the territory previously controlled by them in mountainous Qalamoun region.
The highly strategic area, which straddles the Lebanese-Syrian border, was previously used by the al-Nusra Front militants for transferring weapons and ammunition into Syria, where they have been involved in terrorist activities.
Hezbollah fighters and the Syrian national military are engaged in a wide-scale military campaign against the Takfiri groups operating across Syria. Cleansing operations included so far Arsal barrens, Qalamoun region and Zabadani town.
Meantime, infighting intensified among Takfiri terrorist groups in Idlib on Monday, and Ahrar al-Sham captured over a dozen ISIL militants in the Northwestern Syrian province.
At least 15 ISIL terrorists were taken as captive by their rival Ahrar al-Sham in Idlib province.
Also, the Syrian army repelled an attack by Jeish al-Fath terrorist group in the mountainous areas in the Southern parts of Idlib.
Over 60 terrorists of Jeish al-Fath were killed in heavy clashes with the Syrian troops in Idlib province.
Full report at:
http://english.farsnews.com/newstext.aspx?nn=13940423000492
---------
Italy vows to help Egypt fight 'terrorism'
13 July 2015
Italian Foreign Minister Paolo Gentiloni on Monday expressed his country's firm backing for Egypt in fighting "terrorism" after the jihadist Islamic State group said it bombed Rome's consulate in Cairo.
ISIS claimed Saturday's car bombing on the city centre complex in the first such attack on a foreign mission in Egypt since the army ousted Islamist president Mohamed Morsi in July 2013.
"This attempt to strike at Egypt-Italy cooperation will fail. We will continue to work together, whether for counter-terrorism or for peace," Gentiloni said at a joint news conference in Cairo with his Egyptian counterpart Sameh Shoukri.
Gentiloni called the consulate bombing a symbolic attack on Egyptian-Italian relations, "especially in counter-terrorism".
He did not elaborate on the nature of such work the two countries were involved in.
His remarks came a day after Italian Prime Minister Matteo Renzi hailed Egyptian President Abdel Fattah al-Sisi as the only leader who can "save" Egypt, and vowed that Rome would not be intimidated.
Shoukri said investigations were continuing to find those behind the attack, which was claimed by IS.
Full report at:
https://english.alarabiya.net/en/News/middle-east/2015/07/13/Italy-vows-to-help-egypt-fight-terrorism-after-blast-.html
---------
Two ISIS leaders killed in Syria air strike
13 July 2015
Two senior Islamic State of Iraq and Syria group (ISIS) leaders were killed in an air strike in northeastern Syria on Monday, the Syrian Observatory for Human Rights reported.
The Observatory, which gathers its information from an activist network on the ground, identified the leaders as an Iraqi, Abu Osama al-Iraqi, and a Syrian named Amer al-Rafdan.
Rami Abdulrahman, who runs the Observatory, said it was not clear whether the air strike in Hasaka province was carried out by the Syrian army or a U.S.-led coalition that is mounting a separate aerial campaign against ISIS in Syria.
The ultra-hardline ISIS is fighting in Hasaka province against both Syrian government forces and militia and Syrian Kurdish fighters who have received air support from the U.S.-led coalition. Hasaka province borders Turkey to the north and Iraq to the east.
U.S. President Barack Obama said last week the coalition was intensifying its campaign in northern Syria. The Kurdish YPG militia have made a series of advances against ISIS in the north, including the capture of the town of Tel Abyad at the Turkish border.
Abdulrahman said al-Iraqi had the title of "governor" of the province ISIS had declared in northeastern Syria. Rafdan had previously served as Islamic State's governor of Deir al-Zor province, he said.
Full report at:
https://english.alarabiya.net/en/News/middle-east/2015/07/13/Two-ISIS-leaders-killed-in-Syria-air-strike.html
---------
Syrian regime raids kill civilians in ISIS-held town
13 July 2015
At least 13 people were killed on Monday during Syrian government raids on the Islamic State of Iraq and Syria (ISIS), a monitor said, according to Agence France Presse.
The Syrian Observatory for Human Rights said seven women and a child were among those killed in the raids on the ISIS-held town of Al-Bab.
One of the places hit in the town located in northern Aleppo province was a market selling petrol, the Britain-based monitor said.
More than 40 people were wounded and 10 others were still missing after the raids.
The Local Coordination Committees activist network said charred bodies were recovered from the site of one of the strikes.
Full report at:
https://english.alarabiya.net/en/News/middle-east/2015/07/13/Syrian-regime-raids-kill-civilians-in-ISIS-held-town.html
---------
ISIS claims Baghdad bombings that killed 23
13 July 2015
The Islamic State in Iraq and Syria (ISIS) on Monday claimed a string of bomb attacks that killed at least 23 people in the Iraqi capital Baghdad.
In a statement posted on social media, ISIS said Sunday night's operation was dubbed "The Pounce of the Monotheists on the Chests of the Apostates".
The blasts, several of which were caused by suicide bombers, left 23 people dead and 68 wounded in Shiite neighbourhoods of Baghdad, according to police and medical sources.
Full report at:
https://english.alarabiya.net/en/News/middle-east/2015/07/13/ISIS-claims-Baghdad-bombings-that-killed-23.html
---------
First batch of U.S. F-16 jets delivered to Iraq
13 July 2015
Four U.S. F-16 warplanes landed in Iraq on Monday, the first batch of a much-delayed delivery aimed at boosting the ailing Iraqi military's capacity, the defense ministry said.
"Arrival of four F-16s at Balad air base," read a flash on the ministry's website, in an announcement also confirmed to AFP by the prime minister's office.
Brett McGurk, U.S. President Barack Obama's deputy envoy for the international coalition against the Islamic State of Iraq and Syria (ISIS) militant group, also confirmed the jets had arrived.
Full report at:
https://english.alarabiya.net/en/News/middle-east/2015/07/13/First-batch-of-U-S-F-16-jets-delivered-to-Iraq.html
---------
Daesh steps up Egypt campaign with Italy consulate bombing
Jul 14, 2015
Cairo — With the high-profile bombing of Italy's consulate in the heart of the Egyptian capital, the Daesh (the so-called IS) terrorist group has stepped up its deadly campaign against the regime by striking Cairo's Western allies.
A car bomb struck the consulate on Saturday, killing a civilian and wounding nine people in the first attack on a foreign mission in Egypt since terrorists launched an insurgency against the country's security forces two years ago.
Daesh claimed the car bomb attack, following calls by the group's spokesman Abu Mohamed Al-Adnani urging strikes on Western targets wherever possible.
"I don't think it was about Italy specifically, I think it was about a Western country," said H. A. Hellyer, an Arab affairs expert at the Washington-based Brookings Institution.
The bombing was a clear warning to Cairo, he said. "This way terrorists get to say they are able to get the government in the center of Cairo, close to a metro station, underneath a major highway bridge, at a foreign institution, but at the same time, without inflicting (huge) casualties — this time."
The consulate's location in downtown Cairo made it a target, said a Western diplomat on condition of anonymity.
The mission is housed in an historic building between Ramses train station and Tahrir Square, amid a maze of streets filled with people, vehicles and vendors.
"Security there around is kind of difficult to keep if you compare it to security measures at the UK or the American embassy," situated in Cairo's upscale Garden City suburb, the diplomat said.
Full report at:
http://www.saudigazette.com.sa/index.cfm?method=home.regcon&contentid=20150714250301
----------
Iran, major powers reach historic nuclear deal in Vienna, diplomats confirm
Jul 14, 2015
VIENNA: Iran and six major powers have reached a historic nuclear deal, which will grant Tehran sanctions relief in exchange for curbs on its nuclear programme, an Iranian diplomat said on Tuesday.
"All the hard work has paid off and we sealed a deal. God bless our people," the diplomat told Reuters on condition of anonymity. Another Iranian official confirmed the agreement.
A senior Western diplomat also confirmed that the landmark Iran nuclear agreement was reached after clearing final obstacles.
The diplomat, speaking on condition of anonymity, made the comments Tuesday amid non-stop negotiations between Iran and world powers in Vienna.
The diplomat says the deal includes a compromise between Washington and Tehran that would allow UN inspectors to press for visits to Iranian military sites as part of their monitoring duties. Iranian state television earlier rejected such a demand.
But access at will to any site would not necessarily be granted and even if so, could be delayed, a condition that critics of the deal are sure to seize on as possibly giving Tehran time to cover any sign of non-compliance with its commitments.
Under the deal, Tehran would have the right to challenge the UN request and an arbitration board composed of Iran and the six world powers that negotiated with it would have to decide on the issue.
Still, such an arrangement would be a notable departure from assertions by top Iranian officials that their country would never allow the UN's International Atomic Energy Agency into such sites. Iran has argued that such visits by the IAEA would be a cover for spying on its military secrets.
A formal announcement is expected after a final meeting between all negotiators. The foreign ministers of Iran and the six powers (Britain, China, France, Germany, Russia and the United States) will meet at 0830 GMT at the United Nations centre in Vienna and a news conference will follow, a spokeswoman for the European Union said.
Iran's Foreign Minister, Mohammad Javad Zarif, and EU's Foreign Policy Chief Federica Mogherini are expected to read a joint statement, diplomats said
Read more: Iran talks hit final stage, announcement expected
The talks have been aimed at reaching a final deal to limit Iran's nuclear program in exchange for lifting economic sanctions.
Iran long has said its nuclear program is for peaceful purposes. The West fears it could be used to build an atomic bomb.
Movement toward a deal has been marked by years of tough negotiations. The pact is meant to impose long-term, verifiable limits on nuclear programs that Tehran could modify to produce weapons. Iran, in return, would get tens of billions of dollars in sanctions relief.
Read more: Billions up for grabs if nuclear deal opens Iran economy
Diplomats familiar with the talks said most of the nuts and bolts of implementing the deal have been agreed upon. But over the past week, issues that were previously on the back-burner have led to new disputes.
Full report at:
http://www.dawn.com/news/1194411/iran-major-powers-reach-historic-nuclear-deal-in-vienna-diplomats-confirm
---------
Saudi Warplanes Target Yemeni Capital Residential Areas, 25 Killed
Jul 14, 2015
The strike hit the slums of the Sawan neighborhood in the Eastern part of Sana'a on Monday, the sources said.
Smoke billowed from the struck area in Sawan, which is located just hundreds of meters (yards) from a military camp used by the revolutionaries. Hospital officials said there were women and children among the casualties.
Full report at:
http://english.farsnews.com/newstext.aspx?nn=13940423000519
---------
U.N. calls on Palestinians for information on missing Israelis
14 July 2015
Secretary-General Ban Ki-moon on Monday called on Palestinians in Gaza with knowledge of two missing Israeli civilians to provide information about their possible whereabouts and conditions.
U.N. spokesman Stephane Dujarric said the secretary-general also called for prompt action to facilitate their safe return to their families.
Israeli defense officials identified one of the men as Avraham Mengistu, an Israeli of Ethiopian descent in his late 20s who disappeared after he "independently" entered Gaza on Sept. 7, 2014, two weeks after the end of Israel's war with Hamas, the Palestinian faction that controls Gaza.
Full report at:
https://english.alarabiya.net/en/News/middle-east/2015/07/14/U-N-calls-on-Palestinians-for-information-on-missing-Israelis-.html
---------
Arab-led strikes, Houthi clashes continue in Yemen
13 July 2015
Arab-led warplanes bombed Yemeni Houthi militias who clashed with pro-government fighters in the south on Sunday.
The coalition air raids targeted positions of the Iran-backed militias and their allies, forces loyal to deposed President Ali Abdullah Saleh, in Aden and Lahj provinces.
Earlier this week, the Arab-led coalition said it did not receive a request from Hadi's government to halt attacks, amid U.N. calls for a truce to take effect.
The leader of the Houthi militia said he did not expect the truce to take hold.
Air strikes hit rebel positions on the outskirts of the port city of Aden as well as a convoy in the city's neighbourhood of Khor Maksar, a military source told Agence France-Presse.
Meanwhile, clashes intensified in Aden, where rebels have laid siege to many areas that are controlled by southern fighters loyal to Hadi and known as the Popular Resistance.
The southern fighters managed to push back the rebels in the coastal Ras Amran area, west of Aden, according to General Fadhel Hasan, a spokesman for the Popular Resistance.
Full report at:
https://english.alarabiya.net/en/News/middle-east/2015/07/13/Air-strikes-clashes-continue-to-flout-Yemen-truce-.html
---------
Commander: Iran Enjoys Safest Airspace in Region
Jul 14, 2015
"Despite all conflicts in the neighboring countries, our country's sky is the safest one in the region," Esmayeeli said in the Central city of Arak on Tuesday.
Stressing that at present the country's integrated air defense systems are covering 3,600 points, he said the defense systems, whose missiles, artilleries, radars and electronic equipment are all home-made, don't have any message but peace, friendship and stability for other countries.
In relevant remarks in December, Deputy CEO for Aeronautical Operations at Iran Airports Company Ebrahim Shoushtari announced that the number of foreign flights passing through the Iranian airspace increased by nearly 75 percent as compared with 2013's corresponding period.
Full report at:
http://english.farsnews.com/newstext.aspx?nn=13940423000639
---------
President Rouhani Says Nuclear Deal Heralds New Beginning
Jul 14, 2015
The President sent the message as Iran and the Group 5+1 (the US, France, Britain, Russia and China plus Germany) are in the final hours of their marathon talks in Vienna to draft a deal to end the 13-year-long nuclear standoff between Tehran and the West.
President Rouhani said in his tweet that an Iran deal would mean the "victory of diplomacy and mutual respect over outdated paradigm of exclusion and coercion. And this will be good beginning".
Separately, Iranian Foreign Minister Mohammad Javad Zarif also said on his twitter account that "If the Iran Deal reached, the triumph of diplomacy means we all will have won when we all could have lost. Plain and simple; no spin needed".
Iranian Deputy Foreign Minister and senior negotiator Seyed Abbas Araqchi said earlier today that he didn't know if the remaining differences between Tehran and the world powers would be resolved or not.
"The negotiations have reached the last breathtaking moments and there are still certain problems. We cannot say that we have reached an agreement while the problems are still in place," Araqchi told the state-run TV Monday morning.
"Yet, I cannot promise that the problems will be resolved tonight or tomorrow night," he added.
Iran and the Group 5+1 (the US, Russia, China, Britain and France plus Germany) are in the final phase of their last round of talks in Vienna to draft a final deal to end their over-a-decade-long nuclear standoff.
Iranian Foreign Minister Mohammad Javad Zarif complained on Friday that change in the stances of the world powers and their excessive demands have prevented attainment of a nuclear deal, and called on the western powers to make up their minds and choose between striking a final deal and keeping the sanctions.
"We have reached a stage now that the other side should decide if it is seeking an agreement or pressure; we have said many times that agreement and pressure cannot come together and one of them should be chosen," Zarif told reporters in Vienna.
He reiterated that if the other side shows political will and inclination for a balanced and good deal it will be achievable.
Full report at:
http://english.farsnews.com/newstext.aspx?nn=13940422001486
---------
Turkey arrests 45 Daesh recruits in southeast
July 13, 2015
Istanbul — Turkish security forces have over the last three days detained 45 foreign nationals seeking to cross into Syria to join Daesh (the so-called IS) from the southeastern city of Gaziantep, the Dogan news agency reported Sunday.
If confirmed, the detentions would mark a stepping up of pressure on Daesh by the Turkish authorities after the arrest of 21 suspected members of the group in Istanbul and elsewhere on Friday.
Gaziantep has long been seen as a staging post for Daesh recruits who travel to the city by bus after flying from their countries to Istanbul.
They then make the short illegal journey over the border to Syria. Dogan news agency said that on Sunday alone, 25 foreign nationals, mainly citizens of Tajikistan, had been arrested at Gaziantep bus station.
It said that police units had been working intensively at the bus station since Friday and had in total detained 45 people who wanted to cross into Syria to join Daesh.
Many would-be terrorists had also brought their families with them, it added. The suspects have undergone health checks and are being interrogated, after which they will likely be deported.
Full report at:
http://www.saudigazette.com.sa/index.cfm?method=home.regcon&contentid=20150714250302
---------
Saudi Aggression Disrupts Medical Services in 11 Yemeni Provinces
Jul 14, 2015
The Saudi warplanes have targeted infrastructures across Yemeni cities and towns in their nearly four months of air attacks.
The UN-proposed humanitarian truce technically went into effect at 20:59 GMT Friday and is supposed to run until July 17, the last day of the holy Muslim fasting month of Ramadan.
But, the Saudi warplanes bombarded Yemeni cities at dawn Sunday in a blow to the UN-proposed truce in the country where millions are threatened with famine.
Airstrikes hit Sa'ada city in Yemen's North, as well as other places South of the capital Sana'a and in the Southern province of Lahj, residents said.
Full report at:
http://english.farsnews.com/newstext.aspx?nn=13940423000371
-----------
Africa
Nigerian Muslim body speaks up against banning hijab
14 July 2015
Nigeria's highest Muslim body, Jama'atu Nasril Islam (JNI) has declared its opposition to mounting calls to ban the hijab following a spate of suicide bombings in which the perpetrators used the head covering to conceal explosives.
"We are certainly not going to support any ban on the hijab under whatever guise," Khalid Aliyu Abubakar, secretary-general of the JNI.
According to Abubakar, the policy of singling out Muslim women wearing hijab – within the context of government counterterrorism measures – "would amount to profiling" on the basis of religion.
Amid a rising tide of suicide attacks by the Boko Haram militant group in Nigeria's volatile northeast, security agencies have deployed more female agents to stop and search women wearing the Muslim headscarf.
Abubakar, however, said the JNI was also opposed to the frisking of "all Muslim women" by security agencies, "except, of course, where there is strong suspicion."
"In law, everyone is presumed innocent until the contrary is established," he said.
According to Abubakar, such measures aren't only discriminatory, but also fail to resolve the root cause of the problem.
"The hijab is being blamed as if it were the hijab itself that was carrying out these dastardly acts," he said.
Full report at:
http://www.worldbulletin.net/news/162107/nigerian-muslim-body-speaks-up-against-banning-hijab
---------
Boko Haram: Police confirm fresh attack in Monguno, 43 dead
Jul 14, 2015
The Borno state police commissioner, Aderemi Opadokun, on Monday confirmed fresh attacks by the Boko Haram sect on Monguno town.
The attack claimed at least 43 lives weekend, residents and a local security official.
Boko Haram, on Friday, attacked the villages of Kalwa, Misala and Gwollam, all under Monguno local government area of Borno state. They killed 43 of the villagers either by gunshots or slitting their throats.
Although the police did not give specific number of deaths to journalists while confirming the attacks, local security sources from Monguno area said 43 bodies were found in pools of their own blood on Saturday morning.
Responding to a text message asking him to confirm the incident, Mr. Opadokun said, "Information revealed that gunmen suspected to be Boko Haram terrorists invaded Kalwa and Gwollam villages in Monguno Local government area; many persons were reported killed and several houses burnt. But we assure the public that patrol is in progress in the said area."
Haruna Bukar, a senior member of the Vigilante Group of Nigerian, in Monguno local government told PREMIUM TIMES on phone, "Many villages under Monguno local government areas are being attacked almost on daily basis.
"Boko Haram terrorists had on Friday night attacked Misala and Kalwa, which are two neighboring villages. The two villages are located not more than 17km from Monguno town on the way to Marte.
"They operated for hours on that night while setting houses ablaze. At the end of the deadly operation, 43 persons were found dead either killed by gunshots or slaughtered like animals. They did not stop there, they also attacked some other villages around the area, but luckily those villages were long deserted; so they went ahead to set the hours ablaze."
Mr. Bukar, who said he had to relocate to Maiduguri, also informed journalists that the gunmen had attacked Dankyali village on Saturday night, even though he could not ascertain immediately if there were serious casualties.
"One cannot say immediately if there is any dead or injured casualty in the Dankyali attack of Saturday; it is usually very difficult getting to communicate during attacks because of lack of communication networks," he said.
Full report at:
http://www.premiumtimesng.com/news/headlines/186587-boko-haram-police-confirm-fresh-attack-in-monguno-43-dead.html
---------
Burundi army says killed 31, captured 171 gunmen in north
Jul 13, 2015
Burundi's military forces have killed 31 armed men and captured 171 others in clashes north of the East African nation, the army has announced.
According to a Monday announcement by the army's spokesman, Colonel Gaspard Baratuza, the clashes took place late last week in Kayanza province during which six government soldiers were injured. He added that the nation's military is probing the incident to find the identity of the armed men.
The development came as local observers reportedly consider the battle as a precursor to an emerging insurgency in the impoverished nation by a section of the army that backed a failed coup attempt against President Pierre Nkurunziza back in May.
The developments came after Nkurunziza announced on Saturday the postponement of the country's upcoming presidential elections from July 15 to July 21 under apparent international pressure to put them off as long as violent protest rallies against his controversial bid to seek a third term in office persist.
The country has witnessed months of protest rallies during which nearly 80 people have been killed by government forces. This is while the opposition has boycotted the presidential polls, leaving only the ruling National Council for the Defense of Democracy - Forces for the Defense of Democracy (CNDD-FDD) and its affiliated parties to compete for the presidency.
Moreover, opposition leader Agathon Rwasa insists that his supporters have been arrested in northern province of Muyinga and that police forces are accusing them of links with the armed attacks in Kayanza. He has also rejected involvement in any armed efforts.
Full report at:
http://www.presstv.in/Detail/2015/07/13/420133/Burundi-clashes-Kayanza-coup-Pierre-Nkurunziza
---------
Shelling kills five civilians, injures 17 in Libya's Benghazi
Jul 13, 2015
Indiscriminate shelling hits a residential neighborhood in Libya's eastern restive city of Benghazi, killing at least five people and wounding 17 others.
Medical sources said on Monday that the civilians, all elderly, lost their lives due to the "indiscriminate shelling of Beirut Street" in central Benghazi on Sunday evening.
Medical staff at al-Jalaa hospital confirmed on Facebook that it had received the bodies of four men in their 70s and one aged 65.
The medics also noted that seventeen other people were taken to hospital for treatment.
The developments come as heavily-armed militias have been battling for the control of key cities and the country's oil riches since the uprising four years ago.
Forces loyal to Libya's internationally recognized government in the eastern city of Tobruk are countering the forces of a rival government, which is based in the capital, Tripoli. The strategic city of Benghazi is controlled by the Tripoli government.
The elected legislature, which sits in Tobruk, has been engaged in several rounds of talks with the rivals, but militancy is still continuing across the country.
According to the Libya Body Count watchdog, almost 1,800 people have been killed in the ongoing violence and bloodshed across the North African country since early 2014.
The North African nation plunged into chaos following the 2011 uprising against the dictatorship of Muammar Gaddafi. The ouster of Gaddafi gave rise to a patchwork of heavily-armed militias and deep political divisions.
Full report at:
http://www.presstv.in/Detail/2015/07/13/420076/Libya-Benghazi-alJalaa-Beirut-
---------
Three leaders of Qaeda-linked Tunisia group killed
13 July 2015
Three leaders of an Al-Qaeda-linked jihadist group blamed for a spate of violence in Tunisia were among five "terrorists" killed last week in a security raid, the interior minister has said.
Najem Gharsalli said the three jihadists were "heavyweights" from the Okba Ibn Nafaa Brigades, Tunisia's main extremist group which had been blamed for the March attack on the Bardo National Museum.
The assault that killed 21 tourists and a policeman was however claimed by the Islamic State jihadist group.
"The operation carried out on Friday by our security forces in cooperation with the army in the region of Gafsa resulted in the elimination of five dangerous terrorists, including three senior leaders" of the Okba Ibn Nafaa Brigades, Gharsalli said late Sunday.
"They were heavyweights, not ordinary (members)," Gharsalli told a news conference.
The three were named as Tunisians Mourad Gharsalli and Hakim Hazi, and Algerian national Lounis Abou Fath. The other two people killed have not yet been identified.
Gharsalli was one of Tunisia's most wanted jihadists.
The group was plotting to carry out "a wave of operations" and was planning to set up a "camp in the Gafsa (central) region like the one in Chaambi," said the interior minister.
In the past four years, dozens of security forces in Tunisia have been killed in clashes and ambushes attributed to jihadists -- mainly in the western Chaambi Mountains on the border with Algeria.
Full report at:
https://english.alarabiya.net/en/News/middle-east/2015/07/13/Three-leaders-of-Qaeda-linked-Tunisia-group-killed-Minister.html
---------
Boko Haram: Soldiers killed TCN staff, injure two colleagues in Borno
July 13, 2015
A team of the Transmission Company of Nigeria(TCN) accompanied by military escort who were on a mission to repair faulty transmission lines near Benesheikh along Maiduguri/Damaturu road suffers another setback following the killing of one of the TCN staff, while two soldiers and another staff of TCN sustained injury.
The setback came on Sunday when soldiers stationed in Benesheikh to check the activities of Boko Haram who took over the Maiduguri/Damaturu road on Friday and Saturday mistakenly thought that the TCN staff and escort were members of the sect as no communication was put through to the soldiers as regard the faulty transmission line before the TCN staff set out for repair work.
A staff of TCN, Ibrahim Garba told DAILY POST that, the situation could have been averted if the soldiers were informed. " that is the danger of working in a volatile area like Borno. One of our drivers is still missing while one of the injured staff and the two soldiers are receiving treatment at the General Hospital, while two vehicles of the TCN and that of the military were destroyed," He added.
Full report at:
http://dailypost.ng/2015/07/13/boko-haram-soldiers-killed-tcn-staff-injure-two-colleagues-in-borno/
-----------
Minimah: Boko Haram Has Been Militarily Degraded, Dislocated
14 Jul 2015
Senator Iroegbu in Abuja

The immediate past Chief of Army Staff (COAS), Lt-Gen. Kenneth Minimah, has said despite the upsurge in suicide bombings, the desperation and uneasiness over the renewed attacks by the Boko Haram terrorists flows from the fact that they have been militarily "dislocated and degraded".
Minimah, who was oblivious of his imminent sack yesterday, stated this in Abuja, while declaring open the Second Quarter COAS Conference, where he charged the Nigerian Army to seek ways to effectively confront the new tactics adopted by the terrorists wreaking havoc in the North-east.
According to him, the change of tactics by the insurgents is known and would be contained within a short time, saying that the military have "received intelligence report of what the terrorists are up to and we have to heighten up our security operations. "Their fighting mechanism and efficiency no longer exists...they have been degraded and dislocated military speaking. So they have to resort to fighting soft targets and vulnerable individuals and places, attacking markets, places of worship and all gatherings, to ensure that they cause damage unto the civil populace, so as to heighten their propaganda. We are well aware of the change of tactics and we will contain that in a short time".
Speaking further, the immediate past COAS disclosed that the Nigerian Army are already preparing for future events earmarked for the third Quarter COAS Conference.
He said the upcoming conference would afford the Nigerian Army the opportunity to "conduct a post mortem on the last elections with a view to imbibing the useful lessons that would come handy during the upcoming gubernatorial elections in Kogi and Bayelsa States in November and December respectively".
Full report at:
http://www.thisdaylive.com/articles/minimah-boko-haram-has-been-militarily-degraded-dislocated/214533/
---------
Nigeria's president sacks all four defence chiefs
July 14, 2015
ABUJA - Nigeria's President Muhammadu Buhari sacked his army, navy, air force and defence chiefs on Monday, a widely anticipated move as the former general has made crushing Islamist militant group Boko Haram his top priority.
Replacements would be announced later on Monday, the presidency spokesman told Reuters.
Since his inauguration in May, Buhari has moved Nigeria's defence command centre to Maiduguri, the birthplace of the jihadi sect, and is setting up the headquarters for a multi-national joint taskforce in Chad's capital N'Djamena.
In June, Amnesty International accused Nigeria's military of systemic human rights abuses and the deaths of 8,000 prisoners and called for an investigation into many top military officials including the army and air force chiefs.
Former President Goodluck Jonathan was heavily criticised for his inability to deal with the six-year insurgency in the northeast of Africa's biggest oil producer which has killed thousands and displaced 1.
5 million people.
Full report at:
http://nation.com.pk/international/14-Jul-2015/nigeria-s-president-sacks-all-four-defence-chiefs
---------
India
CBSE's Exam Dress Code for AIPMT Puts Muslim Aspirants in a Spot
Zia Haq, Hindustan Times
Jul 14, 2015
Fatema Akhtar started wearing a headscarf to school out of "choice" two years ago and battled her way to keep it. But now, the 17-year-old top scorer from DPS Eldeco in Lucknow may have to choose between an opportunity to be a doctor and keeping her headgear on.
On July 9, school regulator Central Board of Secondary Education (CBSE) issued a set of instructions for students appearing for the All-India Pre-Medical Test (AIPMT) on July 25, which includes a first-time dress code.
Students, boys or girls, can't wear a "scarf". They must not turn up in "full sleeves" either, and "light clothes" are preferable. Shoes aren't allowed, but slippers are fine.
For many of the dozens of Muslim girls appearing for the exam, it's been disquieting. Muslim women who routinely wear the full Hijab or even a simple scarf round their heads say they feel awkward in public places without one.
Read: AIPMT retest: Students barred from wearing full-sleeve shirts, watches, shoes
"My father took special permission so I could wear my scarf to school. Why will I give it up now?" asks Akhtar, who scored 92.6% in her Class XII exams. Defiant, Akhtar says she won't take the test if she is not allowed to wear her scarf and would settle for the Uttar Pradesh state medical exam.
Full report at:
http://www.hindustantimes.com/india-news/dress-code-may-force-muslim-girls-to-sit-out-of-medical-test/article1-1368904.aspx
---------
Bihar and UP Assembly Polls Could See the Rise of A New Muslim Politics
By R Jagannathan
Jul 13, 2015
The elections to the Bihar assembly this year and Uttar Pradesh 18 months later will have major implications for Muslim communal politics in post-independence India. These two elections will decide if there is space for the emergence of a new politics reminiscent of pre-Independence India, when Muhammed Ali Jinnah emerged as the sole voice of Muslims at one point, leading to partition. There is rising competition for Muslim votes, this time spearheaded by Muslim parties, as against the old allure of so-called "secular parties."
Bihar and UP are where the bulk of Indian Muslims live, and their relative poverty skews the entire picture in official statistics of Muslim deprivation relative to Hindus. Muslims outside these two states (and West Bengal and Assam, where Bangladeshi Muslims skew the picture again) are not far behind their Hindu counterparts is education and socio-economic status.
The "secular" parties - Congress, the Communists, and various regional parties in states - have so far walked away with the lion's share of the Muslim vote purely by offering them "protection" against "communalists". Thus while the other castes and communities offered votes for economic benefits, the Muslims got "protection" in lieu votes, but little economic benefits. Despite the failure of this protection from Bhagalpur to Nandigram to Muzaffarnagar to Assam - where anti-Muslim riots happened in "secular" zones run by "secular" parties - the "secular" parties still assume that Muslims should be happy with the leaky umbrella of protection given to them.
Full report at:
http://www.firstpost.com/politics/bihar-and-up-assembly-polls-could-see-the-rise-of-new-mini-jinnahs-2339230.html
---------
Campaign demanding 12% quota for Muslims takes off
Jul 14, 2015
HYDERABAD: Let down by the promised 12% quota for Muslims in education and employment not finding a mention at chief minister K Chandrasekhar Rao's Dawat-e-Iftar held on Sunday, a group of activists launched a campaign on Monday asking for reservation.
Stating that about 1.07 lakh vacancies are expected to be created in the state in the near future, Aariz Mohammed of the Muslim Empowerment Movement (MEM), noted that the Muslim community would stand to lose its 12 per cent share 12,929 jobs across categories unless the Telangana government chalks out firm plans before issuing a notification.
"It was on July 16 last year that the chief minister had promised reservation. However, at the Iftar party at Nizam College grounds on Sunday, the issue was conspicuously absent in the speech," Mohammed told TOI on Monday.
Explaining the process behind creating these reservations, he said that only a Backward Class (BC) Commission could recommend them. "The BC Commission based on data takes a decision on reservations. However, no new commission has been constituted thus far. Further, the 4 per cent reservation issue is still with the Supreme Court. The Telangana government should ensure the implementation of 12 per cent reservations," he said. For this, there is a need to establish beyond doubt the backwardness of Muslims as this is being challenged in courts of law.
Full report at:
http://timesofindia.indiatimes.com/city/hyderabad/Campaign-demanding-12-quota-for-Muslims-takes-off/articleshow/48063085.cms
---------
'Ufa statement conveyed best sense of what transpired between PM Modi and Nawaz Sharif'
Jul 14, 2015
NEW DELHI: India will go by Ufa joint statement made after meeting between Prime Minister Narendra Modi and Pak PM Nawaz Sharif and not by the recent statements from Pakistan, news agency PTI said quoting sources.
The joint statement at Ufa reflected "best sense" of what transpired in talks between the two prime ministers, added the sources.
Meanwhile, India has said that it can't accuse Pakistan of making a U-turn when it has not even made the first turn after the Ufa talks.
Full report at:
http://timesofindia.indiatimes.com/india/Ufa-statement-conveyed-best-sense-of-what-transpired-between-PM-Modi-and-Nawaz-Sharif/articleshow/48066532.cms?
---------
Modi kurta turns into a fashion trend this Eid
Kritika Agrawal
Jul 14, 201
KANPUR: Prime Minister Narendra Modi has set a fashion trend this Eid. Modi kurta is much in vogue. Many youth want to pair 'PM kurta' with western casuals for a fusion.
The Ramzan fasting month is about to end. The markets are abuzz with activity. People are making brisk purchase of new clothes and other items. Modi kurtas have emerged as hot favourite. Till now embroider kurta with chikan work on georgette or cotton fabric used to be the favourite. This year, Modi kurtas, made popular by the Prime Minister, are going off shelves like hot cakes. Shops in Naveen Market, Meston Road, Parade and Gomti Bazaar are flooded with 'halve sleeve' Modi kurtas.
The uniqueness of these short length kurta lies in the fact that they are made of linen. "This year, prime minister Narendra Modi had set a new trend. Many youngsters are opting to buy 'halve sleeve' chikan kurta that have been termed as Modi kurtas," owner of a chikan store in Naveen Market said.
The cost of these kurta ranges between Rs 300 and Rs 2000, depending on the embroidery. Imitating Modi's choice of colour, the kurtas are available in light shades of pink, green, blue and orange.
Full report at:
http://timesofindia.indiatimes.com/india/Modi-kurta-turns-into-a-fashion-trend-this-Eid/articleshow/48065120.cms
---------
Ramzan tohfa for 1.96 lakh Muslim families in Kurnool
July 14, 2015
The State government will supply essential commodities under the Chandranna Ramzan tohfa programme to 1.96 lakh Muslim families below poverty line in Kurnool district from July 15, Civil Supplies Minister Paritala Sunita said on Monday.
Each family holding white ration card will be provided with five kg of wheat flour, two kg of sugar, one kg vermicilli and 100 gram ghee, which cost Rs. 400 in the market, at Rs. 300, in view of the Eid-ul-Fitr to be celebrated on July 18, the Minister said.
The government would distribute the commodities among 11 lakh Muslims in the State, Ms. Sunita said. Ramzan tohfa programme would benefit 9.,84 Muslims in Kurnool district for which the Government had allocated Rs. 5.9 crore for it, she added.
Accompanied by Yemmiganur MLA Jayanageswara Reddy, Banaganapalli MLA B.C. Janardhan Reddy and Joint Collector C. Harikiran, the Minister inspected the commodities in civil supplies godown .
Full report at:
http://www.thehindu.com/news/national/andhra-pradesh/ramzan-tohfa-for-196-lakh-muslim-families-in-kurnool/article7418975.ece
---------
India, Pakistan to discuss LoC trade
Jul 14, 2015
As India and Pakistan agree to resume dialogue, confidence building measures, including enhanced trade through the LoC in Jammu and Kashmir, will be on the agenda of the India-Pakistan joint working group(JWG). The JWG meet is likely to be held in the coming months after both countries engage at various levels. Sources said that a meeting of JWG, which has not been held since March 2014, is the next step forward after the meeting of Narendra Modi and Nawaz Sharif in Russia.
There have been demands from traders of J&K and Pakistan-occupied Kashmir(PoK) to increase the number of items being traded at two cross Line of Control (LOC) trade points — Uri and Poonch-Rawalakote. There have been also demands for opening up of more trade points too.
Full report at:
http://www.asianage.com/india/india-pakistan-discuss-loc-trade-860
---------
Pakistan
Pakistan advocate of inter-religious dialogue: President
July 14, 2015
ISLAMABAD - President Mamnoon Hussain on Monday said that Pakistan has been a leading advocate of inter-religious and inter-cultural dialogue to overcome mistrust and promote understanding and cooperation among various religions and civilisations of the world. "Pakistan will continue to further promote such initiatives," the President emphasized while addressing an Iftar dinner he hosted in the honour of ambassadors and diplomats here at the Aiwan-e-Sadr.
He said that Islam is a religion of peace and "we are strongly committed to peace, both within the country and beyond our borders."
The President highlighted that Pakistan in its quest for peace had lost many dear ones, reiterating that struggle for peace would continue till it was attained.
He said that the month of Ramazan was not an individual experience, adding that it was a time to strengthen and deepen family and communal ties as well as the bonds of association and togetherness. "Ramazan represents sacrifice, patience, tolerance, generosity, and above all peace. These are the values shared by peoples of all faiths," said the President.
The President prayed; "We may get all benefits from the moral and spiritual gifts of Ramazan and derive strength from each other to promote peace, harmony and prosperity in the world."
Ambassadors and diplomats, among others, from Afghanistan, Algeria, Argentina, Australia, Austria, Azerbaijan, Bahrain, Bangladesh, Belarus, Belgium, Bosnia and Herzegovina, Brunei Darussalam, Bulgaria, Canada, China, Cuba, Czechoslovakia, Egypt, France, Germany, Greece, Hungary, India, Indonesia, Iran, Iraq, Italy, Japan, Jordan, Kazakhstan, Kenya, Kyrgyzstan, Lebanon, Libya, Maldives, Morocco, Myanmar, Nepal, Holland, Norway, Oman, Palestine, Philippine, Poland, Portugal, Qatar, Romania, Russia, Saudi Arabia, Spain, Sri Lanka, Sudan, Somalia, Sweden, Switzerland, Syria, Tajikistan, Thailand, Tunis, Turkey, Ukraine, Britain, USA, Uzbekistan, Vietnam and Yemen attended the Iftar Dinner.
A delegation from European Union and representatives from United Nations and Cyprus also attended the Iftar Dinner.
Full report at:
http://nation.com.pk/islamabad/14-Jul-2015/pakistan-advocate-of-inter-religious-dialogue-president
----------
Army has handled Operation Zarb-e-Azb successfully: Shahid Latif
July 14, 2015
R Umaima Ahmed
Lahore: Pakistan is fighting a war against terrorism for a couple of years now. Various operations were launched to counter this menace in different areas of Pakistan. The Operation Zarb e Azb (Op ZeA), which was launched in Waziristan region of FATA after the Karachi airport attack of 2014, is the latest in this series; when in June 2014 the Army went for an offensive in North Waziristan to wipe out terrorists and their hideouts. The operation resulted in a large amount of weapons, explosives, propaganda material and suicide jackets being recovered, and a large number of terrorists killed and a number of soldiers embracing martyrdom.After the APS Peshawar attack on 16 December 2014, the action against terrorists gained momentum and the government arranged an All Parties Conferenceto make a National Action Plan against Terrorism. Although the NAP is still to be fully implemented, the Zarb-e-Azb is being carried out with full dedication and plan.
To find out about the current national political and military scenario, we interviewed Air Marshal (Retired) Shahid Latif a defense and strategy analyst, to solicit his views on this as the first year of Op ZeA has just passed. We also talked of his initial days in the Pakistan Air Force speaks and his career, how he sees ZeA and the future of this region.
We started by asking about his motivation leading to winning the Sword of Honor on graduation. Air Marshal Shahid Latif said that since childhood he was always an individual who would pursue his goals wholeheartedly and aimed for reaching the top. He is aself-made man, and no one from his family was in the armed forces before him. He dedicated himself to the task at hand, kept working hard and ultimately achieved nearly all his goals, which he attributes to hard work, Allah's blessings, and parents prayers. This led to his not only getting the Sword of Honor but also performing outstandingly well in academics, the two areas where cadets are judged. He thus not only got the Gold Medal in BSc in the PAF academy, but also walked away with the Sword of Honor, the two big awards one can achieve at the time of graduation.
Full report at:
http://nation.com.pk/national/14-Jul-2015/army-has-handled-operation-zarb-e-azb-successfully-shahid-latif
---------
Pakistan's Ramadan laws also affect those who are not obliged to fast
13.07.2015
Even non-fasters suffer in Pakistan during the Muslim holy month of Ramadan, which prohibits everyone from eating or drinking in public as a sign of respect for the faithful.
On a hot Ramadan day, Sarfaraz Michael slowly pushes his vegetable cart through a Muslim neighbourhood of Pakistan's garrison city Rawalpindi. Michael, a Christian, is perspiring and feels thirsty, but drinking or eating anything in public during the Muslim holy month is punishable by jail or a fine, or both. "I will wait until I go home or find a fellow non-Muslim household," he says, wiping sweat from his forehead. The problem also affects Muslims who are exempt from the obligation to fast, such as the pregnant, elderly or infirm, who often fear the police and social pressure from conservatives.
The law, introduced by former military dictator Ziaul Haq in 1981, prescribes up to three months in jail and a fine of about five dollars for eating or drinking in public. "No person who, according to the tenets of Islam, is under an obligation to fast shall eat, drink or smoke in a public place during fasting hours in the month of Ramadan," the law says. High court lawyer Shahbaz Rajput said that in practice, the authorities do not take into consideration the exceptions provided in the scriptures to non-Muslims, the elderly and sick Muslims. "Under these laws, all restaurants are closed in the country, creating severe problems for those who want to have regular breakfast or lunch," he said.
Analysts say the blanket implementation not only violates basic rights but also creates health complications. The start of Ramadan last month coincided with a brutal heat wave that killed more than 1,250 people in Pakistan. Most of the people died due to "aggravated dehydration due to fasting in extreme weather," according to an official statement.
Islamabad-based human rights activist Tahira Abdullah said religious practice should be an individual matter, not dictated by government. "There should be no such laws for anyone and no strict enforcement of laws regarding fasting by the government, as fasting in Ramadan is a private and personal matter between a human being and God," she said.
Full report at:
https://en.qantara.de/content/pakistans-ramadan-laws-also-affect-those-who-are-not-obliged-to-fast
---------
Rangers' bosses discuss Altaf's speech
Jul 14, 2015
KARACHI: The Pakistan Rangers, Sindh, reviewed on Monday overall security arrangements during Ramazan and the Karachi operation and discussed MQM chief Altaf Hussain's speech on Sunday in which he had accused the paramilitary force's director general of violating army's code of conduct.
Sources said that a meeting chaired by Rangers DG Maj Gen Bilal Akbar and attended by senior officers took up several matters for discussion, including security arrangements during Ramazan and for Eid congregations in the city.
"The meeting reviewed progress of ongoing operation in Karachi against criminals," said a source, citing proceedings of the meeting. "The meeting agreed to expedite operation against criminals and militant groups under the National Action Plan. It also reviewed the content of MQM chief Altaf Hussain's speech which he delivered while addressing party workers the other day."
Full report at:
http://www.dawn.com/news/1194339/rangers-bosses-discuss-altafs-speech
---------
Pakistan, India set to revive Track-II dialogue
BAQIR SAJJAD SYED
Jul 14, 2015
ISLAMABAD: Pakistan and India are set to revive their Track-II dialogue for discussions on Kashmir and other outstanding issues.
"The two sides have agreed to revive Track-II dialogue to explore ways of resolving issues that have been lingering on for a long time and need to be resolved in order to give peace a chance," Adviser on Foreign Affairs and National Security Sartaj Aziz said at a press conference on Prime Minister Nawaz Sharif's meeting with his Indian counterpart Narendra Modi on July 10 on the sidelines of the Shanghai Cooperation Organisation (SCO) Summit in Ufa, Russia.
Details of the revived Track-II will be worked out by the two countries through diplomatic channels.
This will be a second attempt under the Sharif government. Soon after his election, Prime Minister Sharif had initiated the Track-II by appointing Ambassador Shahryar Khan as his pointman for the purpose. Not much could then be achieved till the change in government in Delhi after last year's elections.
The two sides will now give a fresh start to the informal dialogue.
The Track-II — an unofficial dialogue involving private individual, mostly retired officials, to resolve conflicts — has long been part of the peace process between Pakistan and India and complemented the official dialogue.
Although Mr Aziz insisted that Kashmir would always be part of the formal dialogue, it appeared from his press talk that substantive discussions on Kashmir would be held at the Track-II and this issue would be pushed down the list of priorities at the official track.
Kashmir and other outstanding issues will be taken up for discussion
"The July 10 meeting provided an opportunity to identify some areas where the two countries could promote cooperation right away in order to reduce tensions and hostility," Mr Aziz said and went on to list maintenance of peace and tranquillity along the Line of Control and Working Boundary; and the discussions on each other's concerns over terrorism as the few things that the two sides would seek to immediately deliver.
The meetings agreed in Ufa include a dialogue between the two countries' national security advisers on terrorism and talks at the level of directors general of the Indian Border Security Force and Pakistan Rangers and the military operations on enforcement of ceasefire along the LoC and Working Boundary.
Full report at:
http://www.dawn.com/news/1194326/pakistan-india-set-to-revive-track-ii-dialogue
---------
Govt to raise Altaf's army bashing with UK
July 14, 2015
ISLAMABAD - In his strong reaction to Sunday night's remarks of Altaf Hussain, Interior Minister Chaudhry Nisar Ali Khan Monday said the language used by the MQM chief against the country's security and defence institutions was not acceptable in any case. In his clear and loud message, Nisar said the time had now come that this issue should be taken up with the British authorities as no one would be allowed to use the threatening tone and tenor against the country's security agencies and their heads.
In a statement issued by the Ministry of Interior, Chaudhry Nisar said Altaf Hussain crossed all limits of decency and politeness in his speech.
"Altaf used such a language against the country's security and defence institutions as was not acceptable in any case," Nisar said.
Taking stern notice of Sunday night' speech of the MQM chief, he said their enemy countries, especially India, had been using the same language against Pakistan since long.
Altaf Hussain in his Sunday night address to the convention of workers in Karachi had accused the Sindh Rangers director general and other officials of the paramilitary force of violating code of conduct of the army.
Altaf questioned whether Rangers was a security force or a political party.
He said the MQM was not against the army, but was against the rotten eggs in the institution, urging the chief of army staff to throw out these rotten eggs.
Nisar said in his statement that Altaf Hussain's unethical remarks about Pakistan Army and Rangers and his accusations as well as threats to the respected people were not only incomprehensible but also intolerable.
"We have tolerated too much but now time has come that the issue will have to be raised with the UK," he said.
The interior minister, at the same time, appreciated Pakistani media for showing maturity and responsibility by avoiding live telecast of Altaf Hussain's speech.
"The language Hussain used with reference to the war of 1971 is being used by India," he said.
"Pakistan, its army and Rangers are not responsible for the present situation Altaf Hussain is facing, but this is because of his own misdeeds," he said, adding it looked Hussain was being cornered in the UK, so he was venting anger against Pakistan's security agencies out of frustration, he said, adding Urdu-speaking community was civilised and cultured.
"Is Altaf Hussain insulting his own community by using derogatory and below-morality remarks?" he questioned.
Full report at:
http://nation.com.pk/national/14-Jul-2015/govt-to-raise-altaf-s-army-bashing-with-uk
---------
Pakistanis among 150 migrants detained by Turkey
July 14, 2015
ISTANBUL - Turkey's coastguard on Monday detained around 150 migrants as they attempted to sail from the country's western coast to the Greek island of Lesbos, state media reported.
Acting on a tip-off, the authorities stopped 101 immigrants from Afghanistan, Pakistan and Syria as they were about to set off from the Turkish town of Ayvacik in the western Canakkale province.
They were taken into custody pending deportation, the official Anatolia news agency reported.
Full report at:
http://nation.com.pk/national/14-Jul-2015/pakistanis-among-150-migrants-detained-by-turkey
---------
Southeast Asia
China's Hard-Line Policies Hurt Minority Businesses in Xinjiang
Jul 14, 2015
KASHGAR: The Silk Road trading centre of Kashgar has been Muslim for centuries, but despite hordes of people thronging the main bazaar, Gulnur's headscarf shop had barely any customers.
As violence increased last year in China's far western region of Xinjiang, home to mostly Muslim Uighurs, authorities banned veils and other Islamic coverings — wreaking havoc on her business.
"We're all branded as terrorists because of a few bad people," said Gulnur, who is Uighur. "The Chinese don't understand that we're not all the same.
"Regulations like this will only alienate people," she added.
It is an example of the challenges Beijing faces pacifying the region, where Uighurs accuse the Chinese government of discrimination and restrictions on language, culture and religion.
Read more: China pushes Uighurs to give up fasting in Ramazan
Xinjiang shares a border with Afghanistan and Pakistan and is culturally closer to Central Asia than China's Han heartland.
Authorities blame the violence — which has increased in intensity and spread beyond the region in recent years, with more than 200 people killed in 2014 — on Islamist separatists.
In the past year many forms of Islamic dress have been banned and beards ruled out for young and middle-aged men as Beijing works to root out what it calls "religious extremism".
Posters throughout the region list the prohibited "five abnormal appearances": face veils, burqas, young women in tight headscarves, the beard restrictions, and any clothing with a crescent moon and star logo akin to the Turkish flag.
One propaganda image shows a woman in her 30s with a simple head covering looking in a mirror and seeing a smiling face, while a veiled female is confronted with a skeleton on fire.
Taxis throughout the region are not allowed to pick up customers wearing banned items. The city of Karamay has barred them from public transport, and Turpan has stopped burqa sales.
This photo shows a Uighur woman wearing a lace veil at a market in Kashgar, in China's western Xinjiang region. The Silk Road trading centre of Kashgar has been Muslim for centuries, but despite hordes of people thronging the main bazaar, Gulnur's headscarf shop had barely any customers. — AFP
This photo shows a Uighur woman wearing a lace veil at a market in Kashgar, in China's western Xinjiang region. The Silk Road trading centre of Kashgar has been Muslim for centuries, but despite hordes of people thronging the main bazaar, Gulnur's headscarf shop had barely any customers. — AFP
At a bazaar in Hotan, Patigul showed off what was once her most popular item: a 15 yuan ($2.40) white lace veil covering the bottom half of a woman's face and held in place by surgical mask-style straps.
"The government has been discouraging wearing veils for years, but we never expected a complete ban and it's hurt business," she said. "We weren't prepared, and suddenly couldn't sell about half our inventory."
Full report at:
http://www.dawn.com/news/1194402/behind-the-veil-chinas-hardline-policies-hurt-minority-businesses-in-xinjiang
---------
Sword Stories: Struggle of Islam
Nedi Putra AW, The Jakarta Post, Malang | Feature | Tue, July 14 201
In countless efforts to defend Islam through wars, swords have become among the historical items that one can learn from.
Twenty-three replicas of various swords that belonged to Prophet Muhammad and his Sahabat (companions) were on display recently in an exhibition held at Skodam V Brawijaya Hall in Malang, East Java.
The original swords, which were utilized in many wars as part of the Prophet's struggle on behalf of Islam, are housed in the Topkapi Museum in Istanbul, Turkey.
The seven-day exhibition was aimed at educating people who may still think that Islam rose from violence, said exhibition manager Bagus Dwi Pujilaksono. "The wars that had happened were a last resort in self-defence against people who rejected Islam," he added.
The exhibition, which runs until July 14, also features replicas of some of the Prophet's possessions such as sandals, a bow and a staff.
Bagus said that the Turkish-made replicas were the same size and weight as the originals. Two replicas were of those weapons used by the Prophet, while the remaining belonged to his companions.
He further said that, according to books he had read, a great number of Islamic cultural heritage items, including the sword collection, had been preserved since the Abbasid Caliphate, the third of the Islamic caliphates to succeed Prophet Muhammad, in Baghdad.
However, due to the Mongol invasion that caused the fall of Baghdad in 1258, most of the historical collections were transported to Turkey to avoid destruction and looting.
The two replicas of the Prophet's swords are called al-Ma'thur and al-Qadib.
Al-Ma'thur, also known as "Ma'thur al-Fijar", is the sword that was owned by the Prophet before he received his first revelations in Mecca. The sword was given to him due to the will of his father. When Prophet Muhammad migrated from Mecca to Medina, the sword remained with him until it was transferred to Ali bin Abi Talib, along with other tools of war. The length of the sword's blade is 99 centimeters. The handle is made of gold in the shape of two serpents, and is encrusted with emeralds and turquoise. Near the handle is a Kufic inscription that reads "Abdullah bin Abdul-Muttalib".
Double-bladed: A visitor holds the Zulfiqar double-bladed sword which belonged to Ali bin Abi Thalib. The sword is engraved with calligraphy reading: "There is no youth as tough as Ali bin Abi Thalib, and no sword as sharp as Zulfiqar".
Double-bladed: A visitor holds the Zulfiqar double-bladed sword which belonged to Ali bin Abi Thalib. The sword is engraved with calligraphy reading: "There is no youth as tough as Ali bin Abi Thalib, and no sword as sharp as Zulfiqar".
Al-Qadib is a thin-bladed sword which is said to resemble a rod. It was a sword of defense or companionship for the traveller but not used in battle. Written on the side of the sword in silver is the inscription: "There is no god but God, Muhammad the apostle of God — Muhammad b. Abdallah b. Abd al-Muttalib". There are no indications from any historical sources that this sword was used in battle. It stayed in the house of the Prophet and was only used later by the Fatimid caliphs. The sword is 100 centimeters in length and has a scabbard of dyed animal hide.
Full report at:
http://www.thejakartapost.com/news/2015/07/14/sword-stories-struggle-islam.html
----------
Iowa businessman convicted of fraud over halal beef exports
Jul 14, 2015
CEDAR RAPIDS: A prominent Iowa businessman was found guilty Monday of falsifying documents as part of a scheme to export beef to Malaysia and Indonesia that didn't meet those countries' strict slaughter standards.
A federal jury in Cedar Rapids convicted Bill Aossey Jr. of 15 of 19 charges he faced, including conspiracy, making false statements on export certificates and wire fraud. He was acquitted of four counts of money laundering.
Aossey is the founder of the Midamar Corp., a Cedar Rapids-based company that is considered a pioneer in the sale of halal meat and food products. The 73-year-old is also a longtime leader in the city's relatively large Muslim community.
After the verdict, United States District Judge Linda Reade ordered Aossey held in federal custody. Assistant US Attorney Rich Murphy said Aossey could face a prison term of five or more years at his sentencing, which hasn't been scheduled.
Prosecutors say Aossey oversaw a scheme in which Midamar employees lied about the origin of their products so they could export them to Malaysia and Indonesia from 2007 to 2010.
Both countries restrict imports to slaughterhouses that are certified as meeting their standards for halal, or slaughter practices based on Islamic law.
The products being shipped had come from a Minnesota slaughterhouse, PM Beef, that wasn't approved by Malaysia or Indonesia. Instead, Aossey directed employees to remove PM Beef's establishment number from the packaging and replace them with ones that falsely showed that the products had come from JF O'Neill Packing Co. in Omaha, Nebraska, a slaughterhouse that had certification.
Testifying in his own defense during the weeklong trial, Aossey admitted that he told employees to change the establishment numbers and that the company falsified export documents. But he said he didn't believe those actions were criminal and repeatedly described them as minor administrative infractions ─ an explanation criticized Monday by the judge.
Aossey's attorney, Haytham Faraj, said he respected the jury's verdict but would appeal.
He said Aossey admitted making misrepresentations but argued they were immaterial because the customers were satisfied with the products they received. He said PM Beef's slaughtering methods were accepted as halal.
"The meat was halal and it continued to be halal," he said.
Faraj said the violations were addressed by the US Department of Agriculture, which sanctioned Midamar after discovering them in 2010, and should not have later been charged as crimes.
Full report at:
http://www.dawn.com/news/1194415/iowa-businessman-convicted-of-fraud-over-halal-beef-exports
---------
Pekida's action in Low Yat brawl regrettable, says moderate Muslim group
13 July 2015
group Pekida for taking part in the gathering outside the Low Yat Plaza, saying that the Muslim NGO has failed to uphold the sanctity of Ramadan.
She said Pekida's involvement in the gathering on Sunday in Kuala Lumpur that saw 200 people shouting derogatory and unsavoury remarks, only aggravated the situation and showcased their failure to respect the Muslim fasting month.
"It is sad that this incident has happened during the holy month of Ramadan. The involvement of Pekida, a Muslim NGO, had aggravated this ugly situation further.
"It simply shows their irresponsible attitude and failure to uphold the sanctity of Ramadan," she said in a WhatsApp message to The Malaysian Insider.
Yesterday, authorities asked businesses at the popular mall to close early after the group started gathering outside the building to air their "dissatisfaction" over the Saturday brawl, where some youths and mobile phone salesmen were engaged in a brawl after their friend was nabbed for allegedly stealing a mobile phone from one of the outlets there.
Noor Farida said that the Malay and Chinese communities should condemn those involved in the brawl and apologise to the larger Malaysian community for the wrongs done by the bad elements in their respective communities.
She said the incident should also serve as a lesson to politicians to stop stoking racial sentiments and using race and religion for political gain.
According to her, bloggers from the Chinese and Malay communities were equally responsible for fanning the flames of racial tension and urged the police to investigate and charge them under the Sedition Act.
"It just shows how dangerous social media can be when used by irresponsible people to incite racial and religious hatred.
"The police should investigate these bloggers for offences under the Sedition Act and charge them under this Act."
Full report at:
http://www.themalaysianinsider.com/malaysia/article/pekidas-action-in-low-yat-plaza-brawl-regretful-says-moderate-muslim-group
---------
Indonesia jails 3 Uighur Muslims on 'terrorism' offences
By Mustafa Pazarlı - Jul 13, 2015
Found guilty of entering Indonesia using fake Turkish passports with the intention of joining 'terror' group
By Ainur Romah
JAKARTA – An Indonesian court on Monday sentenced three Uighur Muslims to six years in prison on charges of "terrorism" and immigration violations, according to local media.
The panel of judges in North Jakarta District Court found Ahmet Mahmud, 20, Abdulbasit Tuzer, 24, and Abdullah, 28- who also goes by the name of Altinci Bayyram – guilty of violating Indonesia's anti-terrorism and immigration laws, according to Indonesian website Detik.com.
The court ruled that they were from China's western Xinjiang region, and not Turkish nationals as their "fake passports" stated.
Turkey has linguistic and ethnic ties with the Uighur homeland of Xinjiang.
The men were also ordered to pay fines of Rp100 million ($7,500) per person, or spend an additional six months in prison.
Detik.com. reported the presiding judge, Hotman Lumban Tobing, as saying that the defendants would serve their time in Indonesia jails.
The judges stated that the three defendants entered Indonesia using fake Turkish passports with the intention of joining a group called the Indonesian Mujahidin.
The Mujahidin is reported to be led by Indonesia's most wanted terrorist, Abu Wardah Santoso.
Santoso is reported to have been linked to a number of attacks on police anti-terrorism squad Detachment 88, including the killing of at least six of its members.
"Their mission is to fight against people who are considered infidels in Indonesia with arms raised, including law enforcement officers," said presiding judge Tobing.
The four men were arrested in the village of Marantale, Moutong Parigi, Central Sulawesi, in Sept. 2014.
Full report at:
http://news.videonews.us/indonesia-jails-3-uighur-muslims-on-terrorism-offences-1328060.html
---------
Indonesia on high alert for attacks during Ramadan celebrations
07/13/2015
Jakarta (AsiaNews) - Indonesia is on high alert for possible attacks to coincide with the celebrations - and the simultaneous exodus from major cities –for Eid al Fitri, which marks the end of Ramadan, the holy month of fasting and prayer, on 17 and 18 July.
The authorities have deployed thousands of police to patrol the streets and landmarks, fearing further violence. Meanwhile, experts of Islamic terrorism in the country emphasize a radical change in the jihadists' targets: in the past (see the Bali bombing in 2002) foreigners and places frequented by Western tourists were targeted; Today, however, the battle and its targets are all domestic.
The confirmation follows the July 10 attack, which did not cause victims, on in a shopping center on the outskirts of Jakarta. An improvised explosive device exploded in the Alam Sutera Shopping Mall, located in the district of Tangerang. The center was crowded with people, as often happens in these days before the great exodus, but the bomb caused only minor damage to the structure, without causing deaths or injuries.
However, the terrorist attack has undermined the atmosphere for the upcoming end of Ramadan when people crowd markets and shopping malls.
Gen. Tito Karnavian, chief inspector of police in Jakarta, believes that the attack is the work of local Islamic extremist groups; suspicions converge on small factions, which are inspired by - and publically support - the Islamic state, with active cells in Indonesia. The jihadist movement called for a strike during the holy month of Ramadan and, according to investigators, the explosion at the mall falls within this context.
There is a distinct possibility, added Gen. Karnavian, that the attack is related to the call by the IS spokesman Muhammad Al-Adnani, who urged all the jihad fighters "to carry out missions in the holy month" of fasting and prayer.
Full report at:
http://www.asianews.it/news-en/Indonesia-on-high-alert-for-attacks-during-Ramadan-celebrations-34753.html
---------
Europe
Moroccan NGO Brings Muslims & Jews Together Around a Ramadan Iftar
13 July 2015 -
Oualid El Meriague
Rabat – Celebrating Ramadan, the Mimouna Association in collaboration with Lubavitch Youth-Morocco held a Ramadan iftar and distributed food commodities to some 250 underprivileged families in Rabat and Sale on July 5.
Jewish and Muslim communities were mobilized to work together against vulnerability during the holy month of Ramadan. This charity event aims at reinforcing solidarity and social mutual aid amongst the various components of the Moroccan society.
The choice of July 5 wasn't random. It is a day when both Jewish and Muslim communities fast, thus, showcasing the similarities between the religious practices in Islam and Judaism and hopefully coming forth as a token of fraternity. At the end of the day, both communities broke the fast together at an Iftar.
Full report at:
http://www.moroccoworldnews.com/2015/07/163124/moroccan-ngo-brings-muslims-jews-together-around-a-ramadan-iftar/
---------
Morocco King Launches Mohammed VI Foundation for African Ulemas
13 July 2015
On this occasion, the Royal Palace Spokesman, Historian of the Kingdom, Abdelhak Lamrini delivered an address before HM the King, Commander of the Faithful, in which he stressed that "under high instructions of Your Majesty in your capacity as Commander of the Faithful, the Mohammed VI Foundation for African Ulemas was created under the chairmanship of Your Majesty".
Lamrini stressed that King Mohammed, Commander of the Faithful, kindly appointed Ahmed Toufiq, Minister of Endowments and Islamic Affairs, as Deputy Chairman of the Mohammed VI Foundation for African Ulemas.
Deputy Chairman of the Foundation, Ahmed Toufiq, subsequently, delivered a speech in which he stressed that the decision to create this institution is not related to a particular circumstance or based on a fortuitous idea.
He pointed out that it is the expression of a deep work, backed by a rich capital accumulated by Morocco's relations with about thirty African countries in the past, as it is based on a combination of common interest points related to the present and the future.
The creation of the Foundation, he added, is a project that is part of the continuity and historical accumulation, as well as the renewed commitment in the exercise of the High Responsibility "which is Yours to promote these relations, particularly with regard to the protection of faith and worship that falls within the Commandership of the Faithful".
In a speech on behalf of African Ulemas, Chairman of the Fatwa Committee and the Council of Islamic Affairs in Nigeria, Cheikh Ibrahim Saleh Al-Hussaini, said that "as we live in times of sadness and suffering because of the situation of the Ummah, as result of extremism and religious excess affecting many countries, we receive the call of HM the King, Commander of the Faithful, protector of religion and worship, may God Assist Him, a call to which we responded promptly to create this foundation".
Full report at:
http://www.moroccoworldnews.com/2015/07/163192/morocco-king-launches-mohammed-vi-foundation-for-african-ulemas/
---------
Yusuf Islam Music Marks Srebrenica Massacre
13 July 2015
SREBRENICA – Commemorating Europe's worst atrocity since World War II on his own way, Yusuf Islam, the English artist previously known as Cat Stevens, has composed an instrumental music to mark the 20 anniversary of Srebrenica massacre.
"A haunting melody in my mind seemed to me to call out the name, 'Srebrenica' – though I left it unsaid," Ysusf Islam told Remembering Srebrenica website.
"In my entire recording career I have written only a half dozen insrumentals, but sometimes an instrumental is enough. You don't need words or lyrics, the music paints its own story.
"No one who saw or heard about what happened at Srebrenica could help but be moved," Islam added.
Bosnia fell into civil war in 1992 that left 200,000 people dead and displaced millions as Serb forces launched ethnic cleansing campaign against Bosnian Muslims.
During the 43-month war, which claimed some 200,000 lives, nearly two million people fled their homes, half a million of them are still listed as refugees.
In the final months of the three-year war, Serb forces, led by General Ratko Mladic, overran Srebrenica, killing some 8,000 Muslim men and boys.
The 20th anniversary of the Srebrenica massacre was marked earlier this month with special ceremonies across the world.
Yusuf's Srebrenica music has drawn positive comments on social media.
"Mashallah. Charming. No, we will never forget," a Youtube user wrote.
In 1977, Cat Stevens discovered a new path for his life when he reverted to Islam, took a name of Yusuf Islam.
Years after leaving the stage, Yusuf came back to the musical world mastering Islamic songs/Nasheeds; he renewed some of his old tracks and produced new ones which all speak about peace, reconciliation, and spirituality.
Islam has never stopped making records over the last three decades, releasing three albums of Islam-related songs, The Life of the Last Prophet (1995), Prayers of the Last Prophet (1999) and a record for children, A Is for Allah (2000), most of them have been for humanitarian causes.
Full report at:
http://www.onislam.net/english/news/europe/489815-yusuf-islam-music-marks-srebrenica-massacre.html
---------
Viral video of French 'Muslim no-go zone' is a fake
13/07/2015
Under a torrent of projectiles and verbal abuse, a group of policemen flee a housing project in a notorious French 'banlieue', or suburb, near Paris. At least, that's what a video that's recently made the rounds on social media networks would like you to believe. But the truth is that the clip is taken from a 'mockumentary', or fake documentary.
Full report at:
http://observers.france24.com/content/20150713-debunked-video-no-go-zones-fake
---------
URL: https://newageislam.com/islamic-world-news/new-age-islam-news-bureau/american-muslims-fight-negative-stereotype-of-islam/d/103900