New Age Islam News Bureau
8 Jul 2017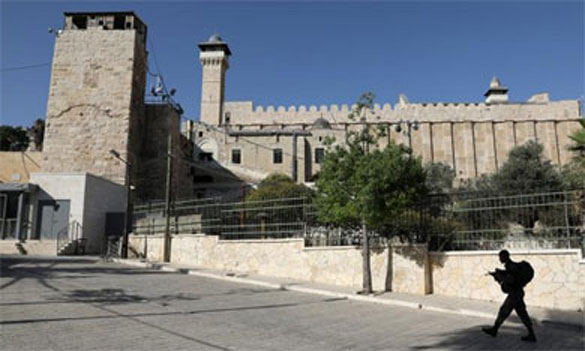 An Israeli soldier walks past Ibrahimi Mosque, which Jews call the Jewish Tomb of the Patriarchs, in the West Bank city of Hebron July 7, 2017. REUTERS/Ammar Awad
-----
• All-India Ulema Board Demands Action against Guna ADM for Embarrassing Islam in His Novel 'Talaq Talaq Talaq'
• In Pakistan, These Schools Are Putting Morality Back Into the Curriculum
• Muslim FM Radio Broadcast 25 Hours of Al Qaeda Speeches Calling For a Holy War 'By Mistake'
• Attacks on Muslims Are Acts of Terrorism and Shouldn't Be Given Excuses, London Mosque Chairman Says
• Saudi-Led Bloc Vows New Measures against Qatar
• UNESCO Declares Hebron Shrine as Palestinian
India
• All-India Ulema Board Demands Action against Guna ADM for Embarrassing Islam in His Novel 'Talaq Talaq Talaq'
• Won't Go To Pakistan, India Our Motherland Too: Pehlu Khan's Son
• Hindu-Muslim Violence In Basirhat: Why Is Bengal Constantly On The Boil?
• My Muslim Faith, Way of Life Reflect Peace, Says India's Oscar-Winning Rahman
• G20 Leaders Pledge Joint Crackdown on Terror, Vow To Eliminate Safe Havens
• At G20 Summit, PM Narendra Modi Slams Pakistan in Strong Message on Terror, Tries To Rally Nations
• I Was Part of the Saxena Family: How My Secular Neighbourhood In UP Split along Communal Lines
--------
Pakistan
• In Pakistan, These Schools Are Putting Morality Back Into the Curriculum
• Pakistan Welcomes UNSC Sanctions on Jamaat ul Ahrar
• Facebook Official Meets Pakistan Interior Minister over Blasphemous Posts
• Raheel Sharif arrives in Lahore with some Saudi citizens
• 98 suspects arrested in Quetta after killing spree claims 5 lives
• JuA operating from Afghanistan against Pakistan
--------
North America
• Muslim FM Radio Broadcast 25 Hours of Al Qaeda Speeches Calling For a Holy War 'By Mistake'
• Muslim Ban: US Appeals Court Rejects Hawaii's Request
• Newest travel ban worries Central Florida Muslims
--------
Europe
• Attacks on Muslims Are Acts of Terrorism and Shouldn't Be Given Excuses, London Mosque Chairman Says
• Cardiff Quran Teacher Jailed For Child Sex Abuse
• Muslims and Jews in Europe Work to Block Bans on Ritual Slaughter, Circumcision
• London remembers 7/7 terror victims
• Algeria Suspicious of Macron's Sahel Counter-Terror Plans
-------
Arab World
• Saudi-Led Bloc Vows New Measures against Qatar
• Qatar Crisis Raises Questions about Defining Terrorism
• Egyptian army: 40 militants involved in Sinai attack killed
• Egypt arrests Chinese Muslim students amid police sweep
• Over 600 Civilians Killed By Coalition Strikes in Iraq, Syria
• Tens of Civilians Killed in US-Led Coalition Airstrikes since Kurdish-Led SDF Entered Raqqa
• Syria: Tens of Terrorists Killed, Wounded in Clashes between Rival Groups in Homs
• Daesh second-in-command killed in clashes with Iraqi govt. forces
• Ten Egyptian soldiers killed in suicide bombing in northern Sinai: security sources
• Syrian Army Intensifies Anti-Terrorism Operation in Eastern Damascus
• Syrian Army Drives Terrorists out of Several Towns in Hama
--------
Mideast
• UNESCO Declares Hebron Shrine as Palestinian
• EU Slams Israel's Plans to Set up New Settlement Units in Al-Quds
• Iran Warns Of New Terrorist Attacks By 'Defeated Daesh' Across World
• UNESCO Adds City Of Hebron, Ibrahimi Mosque to World Heritage List
• • Iran's IAEA envoy hails UN treaty banning nuclear weapons
Palestinian baby dies after inhaling Israeli teargas
• Israeli settler runs over, kills Palestinian man in occupied West Bank
• Noose is tightening around Christians in Turkey
--------
South Asia
• Pakistan claims Jamaat-ul-Ahrar operates from Nangarhar of Afghanistan
• UNHCR Chief Urges Myanmar to Grant Rohingya Citizenship
• Taliban hit civilian car, kill 4 Afghan students
• ISIS and Taliban Suffer Heavy Casualties In Nangarhar Drone Strikes
• Pakistani army and government react at Afghan-US criticisms
--------
Southeast Asia
• Muslims Not Encouraged To Keep Dogs At Home, Perlis Mufti Says
• Philippines Police Push For ID Cards for Muslims as Part of Anti-Terrorism Efforts
• Malaysia close to attaining US visa waiver status
• National scene: NU offers suggestions on five-school day
--------
Africa
• Kenya: Islamic Finance Provides Kenyans with Cushion against Drought
• Nigeria court rejects Shia cleric's lawsuit against army
Compiled by New Age Islam News Bureau
URL: https://www.newageislam.com/islamic-world-news/all-india-ulema-board-demands/d/111817
--------
All-India Ulema Board Demands Action against Guna ADM for Embarrassing Islam in His Novel 'Talaq Talaq Talaq'
Jul 08, 2017
Bhopal: All-India Ulema Board will hand over memorandum to the governor and the chief minister against Niyaz Ahmad Khan, ADM in Guna district, for causing 'embarrassment to Islam by using offensive content' in his novel 'Talaq Talaq Talaq'.
Committee member Nurulah Yusufjai said the ADM had previously also expressed desire to spend time with Mumbai bomb blast accused Abu Salem.
"Now we are demanding the government to ensure stern action against Khan as his actions will also create a negative image of the state government. He has taken things out of context, thereby causing embarrassment to our religion, which has hurt our sentiments," added Nurullah.
"He has mocked the rituals of the religion including marriage and other things and has also termed women as objects in our society which a civilised society can't tolerate," he added.
The novel would not only tarnish the religion but also create rift in society. Hence it should be banned, said another member of the board.
http://www.freepressjournal.in/bhopal/bhopal-ulema-board-demands-action-against-guna-adm-for-embarrassing-islam/1098998
-------
In Pakistan, These Schools Are Putting Morality Back Into The Curriculum
SABA IMTIAZ
Jul 08, 2017
In an upscale neighborhood in Karachi, Pakistan, the gates of a preschool open up to a front lawn with slides and pet cages. Each object in the garden has a piece of white paper affixed to it with its name in bold, large type, presumably so kids can expand their vocabulary at playtimes. But the cards aren't in English or Urdu, Pakistan's official languages. They're in Arabic. And the school's aim isn't just to educate kids—it's to raise them to be good Muslims.
Educational institutions like this preschool, the Hidayah Montessori Preschool, are at the forefront of a new trend among the wealthy in Pakistan: integrating Islamic instruction with private education. In recent years, a slew of schools have opened up that offer a conventional education along with the opportunity to learn Arabic and memorize the Quran. Some schools go beyond just education in scripture, promising an all-encompassing Islamic environment. These schools aim to instill values and morals in their students while delivering an education swathed in religiosity. They are changing the notion of a traditional Islamic education, which is often construed as simply rote learning the Quran. And they're responding to a demand from parents, conservative and rich Muslims who have rediscovered their faith as adults and want a religious education for their children.
But the social anxieties underpinning this trend indicate how faith is increasingly a crucial part of the Pakistani identity, and is manifesting itself in an exclusive, even insular form of education. These schools are based on the premise that the elite will bring moral change in society, that their graduates will shape the future. Religious school entrepreneurs now hold sway over morals and values being instilled in kids, and decide what kind of Muslim child can even gain admission to a private Islamic school. They are, in a sense, cashing in on conservatism in society.
section-break
At first glance, the idea of private Islamic schools seems unnecessary in a country like Pakistan, where the official religion is Islam. Teaching Islamic studies is compulsory at the school, college, and university level, and Islamic practices are an integral part of public, educational, and private life. Despite this, creators of religious schools consider private schools to be secular, because Islam is only one subject of many at these schools, and does not frame the curriculum as a whole.
In Pakistan, primary and secondary education is largely split between public schools, private schools, and seminaries. In the early years of Pakistan's history, children attended either public schools or schools run by religious denominations. Catholic missionary schools, as well as schools run by Zoroastrian educationists, were coveted for their focus on academics, discipline, and morality.
But the decline in the quality of public schools, and the nationalization of missionary schools in the 1970s, as well as the government allowing the establishment of for-profit educational ventures, led to the creation of private schools. These schools offered English-language education to the middle- and upper-middle class. While Catholic and Zoroastrian-run schools are still highly valued, private schools have grown into a veritable industry.
There are several brand-name "chains" of schools. One chain, The City School, is reportedly planning an IPO. There are private schools in every nook and cranny of Pakistan's urban cities. While public schools are badly resourced and teach a state-issued, antiquated curriculum, private schools follow an independent, expansive curriculum at the cost of high fees. They offer the Cambridge education system or teach the government-issued curriculum for students sitting for state-run exams at the ninth- and 10th-grade levels.
But standards at private schools vary wildly, and they're often accused of charging steep fees. Even students at top-tier schools have to take on expensive additional tutoring. The usual indicator of a successful school is exam results, which is why schools focus on academic achievements.
On the other hand, the popular model of Islamic education—madrassahs, seminaries that focus on the memorization of the Quran—are beset with criticism on their rote-learning methods, and allegations ranging from the abuse of children to fostering radicalization. They're also largely shunned by the elite, who prefer to send their kids to private schools over seminaries.
Religious school entrepreneurs believe that they are responding to a crisis in education—in private education as well as in conventional Islamic instruction.
"I really think the madrassahs have failed," says Asif Imam, the founder of Hidayah. "It's just rote learning, they don't really understand the Quran and Sunnah. Their [students] behavior doesn't match what they've been taught."
Enter a new breed of private Islamic schools. They combine elements from existing private schools and Catholic education: exclusivity, high fees, and inculcating ideas of virtue. "In the old Catholic schools, there was moral education, and that went away with secularization," Imam says. They're driven by a desire to recreate a much-vaunted "golden age" of Islam when Islamic scholars and innovators thrived. Private Islamic schools have popped up across major Pakistani cities: In Karachi, there's Reflections, The Intellect School, and Fajr Academy, among others; in Lahore, there's the School for Contemporary and Islamic Learning.
These schools aren't emerging in a vacuum, or solely because private schools are dogged with complaints. They are a manifestation of a social shift taking place in Pakistan as a growing section of upper-middle-class Pakistanis rediscovers their Islamic faith. These are young professionals and homemakers who have adopted a deeply conservative and devout practice of Sunni Islam, and see themselves as trying to revive the Islamic faith. Their idea of Islam is shaped by Quranic instruction and education in how the Prophet Muhammad and his followers lived their lives.
This religious revival of sorts is led by female scholars and influential clerics who have thousands of followers. Adults take religious classes with these scholars at institutes and study the Quran and how religion intersects with their lives. Their values are ultra conservative—even hardline—but without invoking militant rhetoric. They've forged a subculture—they network with people with a similar religious path, background, and social class, they socialize and pray together. They've fostered everything from boutiques catering to the elite to youth clubs, and now schools. They don't have a monastic existence; they believe that Islam can guide every aspect of their modern lives, from how they shop and eat to where they study.
Umair Javed, a columnist for the Dawn newspaper and a sociologist based at the London School of Economics, says these schools capture the anxiety that Pakistan's upper-middle-class has faced in recent years about what it means to be a Muslim in modern society.
"There's an identity crisis. The state-sanctioned version of nationalism is vague and you keep reaching out to Islam to form your identity," Javed says. "The 'Muslim-ness' is by default programmed into the vast majority of the country. Secondly, you don't want to give up on the material comforts you've worked very hard for in the previous generation for. You want to consolidate those gains and resolve this cultural dilemma of being a Muslim in the 21st century. The idea that you can do both in this very convenient package of a school for your children is a very potent idea. Going to a good school where you can get an education and engage with the [Quranic] text is also the marker of being a good Muslim."
For parents who are undertaking a religious journey, education for their children seems like the next logical step—they want their children to also get an Islamic education early in life, and at the same standard as that of any top private school.
These religious schools aim to incorporate Islam at every level of education, from classroom instruction to playtime to homework practices. They offer the Cambridge system of education and teach everything from English to history and mathematics but also offer Quranic education and interpretation as well as Arabic so that students can understand and learn from religious texts. The core of these schools is conservative Islamic education, and that is evident in the curriculum and the student base. Science at Fajr Academy, for example, is taught with Quranic scripture, rooted in creationism.
At Fajr Academy, religion is intertwined in every aspect of the school day. The founder, Asim Ismail, was originally inspired to find out how children were educated at the time of the "best generation" of Islam, which, as he puts it, was the era of the Prophet Muhammad's initial followers. Early on, he enlisted the help of a Tunisian scholar; together they scoured old texts and Ismail toured Islamic schools abroad to see their best practices. As a result, his school is formed on a basis of conservative thought and a mix of teaching methods.
On campus, there's a petting zoo with birds and rabbits, so kids can learn to care for animals. Children sit on the ground in classrooms like scholars in older times. The school takes on creative elements borrowed from foreign cultures: mathematics is taught using an abacus, homework is delivered as computer games. There's even an indoor swimming pool. Class sizes are deliberately kept limited to 15 kids, and boys and girls are segregated midway through primary school. There are exercises on treating domestic cleaners—a fixture of every upper-middle-class household—as equals, and field trips to five-star hotels.
On a weekday at Fajr Academy, kids eat their snacks in their classrooms during morning recess. In an alcove, a kid gets a private lesson from a cleric on Quranic diction. A group of young girls say hello in Arabic. I reply in conversational Arabic, but they look befuddled. I realize its because they're taught formal Arabic. A librarian showing me around the school explains, "They're waiting for you to say 'Alhamdulillah'" (Arabic for "praise be to God").
The goal of these schools is to create pious, practicing Muslims in letter and spirit. Entrepreneurs define their ideal students as being honest, intelligent, and curious, who can disseminate Islam through their knowledge of Arabic and the Quran. Instilling morality is central to this. Reflections, a school in Karachi, publicizes that its core values are that it's not for profit and that it is committed to the Shariah and "highest standard in academics and sports, emphasis on Islamic morals and conduct." The Intellect School, another venture in Karachi founded in 2007, says on its website, "Students must remember that they are expected to behave responsibly in and out of the school and to consider themselves as representatives of Islam and The Intellect School at all times."
At Fajr Academy, the idea of an extended immersive Islamic environment begins at home—with mothers. One of the prerequisites to qualify for admission is that mothers have to be well-versed in Islam—a mandate even Quranic seminaries don't have. "Every mother has to do a full Islamic course from a place of her choosing, at least a one-and-a-half, two-year full-time Islamic course," Ismail explains. There are about a hundred mothers of students at Fajr who are currently undertaking Islamic studies. "If you don't make a commitment to this, and you haven't done this before, then there is no chance."
"THERE'S AN IDENTITY CRISIS. THE STATE-SANCTIONED VERSION OF NATIONALISM IS VAGUE AND YOU KEEP REACHING OUT TO ISLAM TO FORM YOUR IDENTITY."
Islamic education is largely a male-dominated field in Pakistan, but women are central to private Islamic schools in their roles as teachers and homemakers. Hidayah's day-to-day management is led by a woman, and many of the teachers at Fajr and other Islamic schools are female. Javed notes that one of the principals of an Islamic school in Lahore used to head a private school chain's branch.
Fajr makes parents—particularly a mother—responsible for creating an Islamic environment at home. For one, television viewing is monitored and students are expected to report back to the school on their home environments. Parents are hauled in every weekend for workshops. "Otherwise what happens is garbage in, garbage out," Ismail says, crediting the school's Islamic environment with "transforming families."
While the schools have lofty goals of molding young Muslim minds, they are not entirely altruistic ventures. Even though their founders are counting on a trickle-down effect from the elite to society at large, these schools are largely limited to people who can pay hundreds of dollars in school fees. They use the for-profit practices of private schools, and have a competitive fee structure. The total amount required just at the time for of admission at The Intellect School, including school fees, runs up to $1,000. Monthly fees run into hundreds of dollars—Fajr charges nearly $200 each month.
Ismail admits that Fajr is not a "solution for the masses," and he is currently designing a curriculum that he plans to license to other schools and market to Muslim countries. He's also toying with the idea of creating a different school with larger classroom sizes and a lower fee structure, but with the same curriculum.
section-break
But these schools aren't open for all wealthy, conservative Muslims. They have to be a certain kind of conservative—assumedly Muslims who follow specific strains of Sunni Islam. While Pakistan is a majority Sunni state, there are several Sunni sects, as well as the Shia sect and its offshoots. When I ask Ismail if students from other Islamic denominations can be admitted, he says parents are asked about what sect they follow at the time of admission. "We have a space in our heart," he says, "but it's not that big." That space wouldn't extend, he says, to kids whose parents "visit graveyards and shrines"—a hint at adherents of the Sunni Barelvi sect, as well as people who might not hold a rigid interpretation of Islam.
"Would a Shia kid be allowed admission?" I ask.
He asks to go off the record.
This is a marked difference from regular private schools, which do not discriminate against students of different religious minorities or sects. It is instead startlingly similar to how seminaries and mosques in Pakistan are delineated by sect and sub-sect, and a parallel to the deep religious divides in society. This insular approach to education means that students are only exposed to a certain school of religious thought. In a country where religious minorities and adherents of Islamic sects are routinely threatened and targeted by militants, and subject to conspiracies and propaganda, young Pakistanis would benefit from diversity in the classroom, not exclusion.
Not everyone believes in excluding potential students. "Some people say they bring non-Islamic influences, [and] they have a point," says Hidayah's Imam, speaking about children who might not come from ultra religious families. "But then they're left out."
Fajr, for example, wants its students to be creative and free thinkers, and to be at par with their peers at any other private school in Pakistan. And by looking at the resources available—the range of school trips, the abacuses, small classroom sizes, and gleaming lab equipment—that appears to be an attainable goal. But it's an exclusive bubble within a bubble, for a certain kind of rich Pakistani, and a certain kind of Muslim. The definition of who that might be is left to educational entrepreneurs and school principals to decide—and it makes one wonder what these students learn about their peers from other religious backgrounds, and how they'll deal with them once they graduate.
"WE HAVE A SPACE IN OUR HEART, BUT IT'S NOT THAT BIG."
There is no clear direction for Islamic schools. Much like private schools before it, Islamic education also seems to be quickly growing into a mini industry of sorts—and is facing similar challenges. When I first visited Fajr Academy in 2015, the school was based out of a house. It's since moved into a bigger location, with a purpose-built laboratory and swimming pool; the student base has increased from a little over a hundred to 190. The number of schools is on the rise, though no exact data is available given that there's no central authority on private Islamic schools. There's also no set definition of what it means to be an "Islamic school"—is it a school offering Quranic instruction, or classes in memorization of the Quran, or in-depth Islamic education. But since the trend seems to be on the upswing, Ismail laughingly predicts that private school chains will also start offering Quranic instruction soon.
For now, private Islamic schools are decidedly in an experimental stage. Ismail and Imam note that they are open to making changes in their curriculum and approaches, and how they imagine their schools going forward. But these schools aren't just building a new education system, or making money—they're shaping the religious identity and thoughts and morals of the next generation of the elite. That is a powerful, potent proposition.
Saba Imtiaz reported from Pakistan with a fellowship from the International Reporting Project.
https://psmag.com/education/in-pakistan-these-schools-are-putting-morality-back-into-the-curriculum
-------
Muslim FM Radio Broadcast 25 Hours of Al Qaeda Speeches Calling For a Holy War 'By Mistake'
7 July 2017
A Muslim radio station broadcast lectures by an Al Qaeda terror leader calling for holy war.
Iman FM transmitted 25 hours of sermons from Anwar Al-Awlaki, a hate preacher killed by a US drone strike in 2011.
A complaint was made to Ofcom, which has suspended the Sheffield-based station's licence.
The watchdog said the material 'amounted to a direct call to action to members of the Muslim community to prepare for and carry out violent action against non-Muslim people'.
Bosses at Iman FM have 21 days to explain themselves or be closed down. They found the extremist lectures on YouTube and broadcast them during Ramadan.
Ofcom said Al-Awlaki, who was an American Muslim cleric of Yemeni descent, was an Al Qaeda leader, recruiter and trainer.
He is said to have inspired the Charlie Hebdo attack in Paris, an attempt to blow up an American airliner and the massacre of 13 people at Fort Hood in Texas.
The lectures were broadcast in English on June 14. In one, Al-Awlaki said: 'Prepare whatever strength you have for holy war in the cause of Allah. This is a form of worship.'
Under broadcasting rules hate speech must not be included in TV or radio programmes except where justified by context.
Iman FM claimed to be unaware of the preacher's background and said not all the material was checked before being aired.
The Ofcom ruling described this defence as 'not credible'.
Mohammad Mughal, the station's chief executive, said: 'This is very, very sad because none of us had any idea this lecture was preaching hatred.
'We are not just a Muslim radio station – we regularly feature Christian presenters.'
http://www.dailymail.co.uk/news/article-4676424/Muslim-FM-radio-station-broadcast-25-hours-hate-speech.html
-------
Attacks on Muslims are acts of terrorism and shouldn't be given excuses, London mosque chairman says
Jul 08, 2017
Islamophobic attacks should be classed as terror-related and not simply hate crimes, the chairman of Finsbury Park Mosque has said.
Mohammed Kozbar, who is also the vice-President of the Muslim Association of Britain (MAB), said UK authorities must "be consistent" when dealing with terror-style attacks, and voiced support for a change in the law that would see Islamophobic violence included.
Speaking at a local government conference in Birmingham, he accused police and the media of "always finding excuses" for a terror-style crime to be recorded differently when an attacker is non-Muslim, according to HuffPost UK.
It comes weeks after a van crashed into a group near the Finsbury Park mosque in the early hours of 19 June.
Darren Osborne, 47, has been charged with murder and attempted murder.
Mr Kozbar said ministers initially refused to call a national minute's silence to pay respects for the attack, as they had done in the wake of the Manchester and London Bridge attacks.
Asked by an audience member whether the failure to categorise Islamophobic attacks as terror could fuel radicalisation and if it was time for the Government to introduce legislation to categorise Islamophobia as more than just a hate crime, Mr Kozbar said he agreed.
He said: "I think there is a feeling in the Muslim community when the attacker is non-Muslim attacking the Muslim community we always find excuse, we say 'lone attacker' or 'mental health problems' or whatever, 'he's bankrupt', 'he's got issues with his family'. We start putting excuses to him."
He added: "With the other attacks, it is terrorism and nobody argues with that. It is terrorism. We don't give any excuse to these people who do what they did in Manchester or at Southwark or elsewhere but, on the other hand, we have to be consistent on that and deal with all these issues on the same level."
His comments come as police record a spike in Islamophobic attacks in the capital, with Scotland Yard reporting a 40 per cent rise in the weeks following the London Bridge attack.
http://www.independent.co.uk/news/uk/home-news/muslim-attacks-terrorism-lone-attacker-mental-health-problems-excuses-finsbury-park-mosque-chairman-a7828641.html
-------
Saudi-led bloc vows new measures against Qatar
Jul 08, 2017
Riyadh - The four Arab states leading the boycott against Qatar said late on Thursday that Doha's refusal of their demands to resolve a Gulf diplomatic crisis is proof of its links to terror groups and that they would enact new measures against it.
Saudi Arabia, the United Arab Emirates, Egypt, and Bahrain released a joint statement carried by the countries' state media saying their initial list of 13 demands was now void and pledging new political, economic and legal steps against Qatar.
The Qatari government sabotaged diplomatic efforts to solve the rift, the four states said, and its refusal affirmed its continuing sabotage of the region's stability and security.
Any measures taken by the four states would be aimed at the Qatari government but not its people, they said, without elaborating on when the new steps would be announced or what they would entail.
Foreign ministers from the four states convened in Cairo the day before after the expiry of a 10-day deadline for their demands to be met. They condemned the tiny Gulf nation's response as "negative" and lacking in content.
Since last month, the countries have cut diplomatic and transport ties with Qatar, which they accuse of supporting terrorism and allying with regional foe Iran. Doha denies the charges.
Among their demands were orders for Qatar to curtail its support for the Muslim Brotherhood, shut down the pan-Arab al Jazeera TV channel, close a Turkish military base in Doha and downgrade its ties with Iran.
US concerned Arab dispute with Qatar may intensify
The United States is increasingly concerned that a rift between Qatar and other Arab states is at an impasse and could drag on for a long time or intensify, the US State Department said on Thursday.
Underscoring US concerns about a crisis involving key allies in the Middle East, the department said Secretary of State Rex Tillerson plans to visit Kuwait, which is mediating in the dispute, on Monday.
In the latest top-level US contact with officials of the countries involved in the dispute, Defense Secretary Jim Mattis discussed the importance of easing tensions in a phone call with Qatari Minister of State for Defense Affairs Khalid al-Attiyah on Thursday.
Saudi Arabia, the United Arab Emirates, Egypt, and Bahrain broke diplomatic relations with Qatar last month and launched a drive to boycott the gas-producing state, which they accuse of supporting terrorism and allying with regional foe Iran.
Qatar denies the charges and has accused the four countries of "clear aggression."
"We remain very concerned about that ongoing situation between Qatar and GCC (Gulf Cooperation Council) countries," State Department spokeswoman Heather Nauert told a briefing.
"We've become increasingly concerned that dispute is at an impasse at this point. We believe that this could potentially drag on for weeks. It could drag on for months. It could possibly even intensify," she said.
Mattis discussed the state of relations among Gulf Arab states and "the importance of de-escalating tensions" in his call with Attiyah, the Pentagon said in a statement.
The two officials "affirmed the strategic security partnership" of their countries and Mattis emphasized the importance of Qatar's contributions to the US-led coalition fighting Islamic State, it added.
Qatar hosts the largest US Air Force base in the region. Saudi Arabia has been a close US ally for decades, and US President Donald Trump sealed a $110 billion arms deal with the kingdom during a visit in May.
The rift opened days after Trump met Arab leaders in Riyadh in May and called for unity against Iran and hardline militant groups.
Trump discussed the crisis in phone calls with leaders of Saudi Arabia and Qatar, as well as the crown prince of Abu Dhabi, on Sunday, reiterating the importance of "stopping terrorist financing and discrediting extremist ideology," according to the White House.
Mattis affirms
US-Qatar cooperation
US Defense Secretary Jim Mattis reaffirmed America's strategic security partnership with Qatar on Thursday, the Pentagon said, amid a diplomatic crisis in the Gulf.
It was also announced that Secretary of State Rex Tillerson will travel to Kuwait - the key mediator in the crisis - on July 10 to discuss the row.
Mattis, who spoke with his Qatari counterpart Khaled bin Mohammed al-Attiyah by phone, discussed the status of operations against the Islamic State group.
Qatar hosts a vital US-led command center at the Al-Udeid air base, where the anti-IS coalition launches raids against the jihadists.
"Secretary Mattis and Minister al-Attiyah affirmed their commitment to continued US-Qatar cooperation and deepening their strategic partnership," a Pentagon readout of the conversation stated. Saudi Arabia is leading a four-country blockade of Qatar in the region's biggest crisis in years.
Mattis stressed the importance of de-escalating tensions "so all partners in the Gulf region can focus on next steps in meeting common goals," the readout stated.
http://nation.com.pk/international/08-Jul-2017/saudi-led-bloc-vows-new-measures-against-qatar
-------
UNESCO declares Hebron shrine as Palestinian
July 08, 2017
JERUSALEM: The United Nations' cultural organisation declared an ancient shrine in the occupied West Bank, that is revered by Muslims and Jews, a "Palestinian World Heritage Site in Danger" on Friday, angering Israel.
UNESCO took the decision at a meeting in Krakow, Poland to declare Hebron and the two adjoined shrines at its heart - the Jewish Tomb of the Patriarchs and the Muslim Ibrahimi Mosque - as Palestinian. Israeli Prime Minister Benjamin Netanyahu said it was "another delusional UNESCO decision" and said that Israel would "continue to guard the Cave of the Patriarchs, to ensure religious freedom for everybody and ... guard the truth."
Palestinian Foreign Minister, Reyad Al-Maliki, said the vote was proof of the "successful diplomatic battle Palestine has launched on all fronts in the face of Israeli and American pressure on (UNESCO) member countries." Hebron is the largest Palestinian city in the occupied West Bank with a population of some 200,000.–Reuters
About 1,000 Israeli settlers live in the heart of the city and for years it has been a place of religious friction between Muslims and Jews.
Jews believe that the Cave of the Patriarchs is where Abraham, Isaac and Jacob and their wives, are buried. Muslims, who, like Christians, also revere Abraham, built the Ibrahimi mosque, also known as the Sanctuary of Abraham, in the 14th century.
The religious significance of the city has made it a focal point for settlers, who are determined to expand the Jewish presence there. Living in the heart of the city, they require intense security, with some 800 Israeli troops protecting them.
Netanyahu added: "Only where Israel is present, like in Hebron, is freedom of worship assured for everybody. Throughout the Middle East, mosques, churches and synagogues are being blown up - places where Israel is not present."
Internal Security Minister Gilad Erdan, a member of Netanyahu's inner circle of ministers, tweeted: "UNESCO will continue to adopt delusional decisions but history cannot be erased ... we must continue to manifest our right by building immediately in the Cave of the Patriarchs."
Education Minister Naftali Bennett said: "The Jewish connection to Hebron goes back thousands of years (and) Hebron (is) the birthplace of King David's kingdom."
http://nation.com.pk/national/08-Jul-2017/unesco-declares-hebron-shrine-as-palestinian
-------
India
Won't Go To Pakistan, India Our Motherland Too: Pehlu Khan's Son
July 07, 2017
NEW DELHI: Irshad Khan, son of Pehlu Khan, a dairy farmer who was beaten to death by cow vigilantes, says he is not going anywhere. He says he is an Indian, and has no intentions of moving to Pakistan.
"We Muslims will not go and live in Pakistan. India is our motherland too," said Irshad, as he made an impassioned plea today, seeking justice for his father.
The 24-year-old man, who was also attacked by the mob of self-styled 'gau rakshaks' in Alwar on April 1, alleged that "attempts were being made to let the accused go scot-free".
Addressing a public forum -- Agrarian Crisis, Cow Politics and Lynching -- hosted by the Bhumi Adhikar Andolan in New Dellhi, Irshad said, "Lynchings are continuing to take place as the government is not taking a strong stand".
Attempts were being made to divide the people on religion, and Muslims were often asked to leave India for Pakistan, he said. But, he added, Hindu and Muslims had always lived peacefully in the country.
"Some bad elements don't want the two communities to be in harmony, so that vote bank politics can be orchestrated. Lynchings are also happening to divide the people," he said.
A string of similar incidents has been reported in the country, the latest being that of a Muslim man killed by a mob for allegedly carrying beef in a van in Jharkhand late last month.
"Many Muslims have been assaulted or verbally abused and forced to chant a religious slogan by some outfit, who tell us (Muslims) to go to Pakistan. I say, we will not go to Pakistan. I was born here and India is also my motherland," Irshad told a packed hall at the Constitution Club in New Delhi.
55-year-old Pehlu Khan was brutally beaten after being intercepted by the vigilantes in Alwar while he and his two sons, Irshad and Arif, were travelling in a pick-up car, carrying cattle from Jaipur.
"My father had been in dairy farming for a long time. We were transporting the cattle with all the required permits, but the vigilantes threatened us then started assaulting us with belts, sticks, metal knuckle-caps. My father was punched in the eye and hit in stomach. He bled profusely, and, on April 3, he died at a hospital," said 19-year-old Arif, who still trembles recalling the incident.
Pehlu Khan's uncle Hussain Khan, who also attended the event, alleged that "pressure was being exerted" to ensure "bail for the accused".
"We want justice for Pehlu. If these accused are allowed to go scot-free, we, the family, will go to the court in Rajasthan and commit suicide there," said Hussain, as the hall fell silent.
"Our loyalty and allegiance is questioned. We are being called beef-eaters and asked to leave the country and settle in Pakistan. Why are we Muslims being forced to prove our patriotism and nationalism," Hussain asked.
His forefathers, he said, had sacrificed their lives for the country's freedom.
"This (India) is also our country, our homeland. And, we will live here," Hussain asserted.
http://www.ndtv.com/india-news/wont-go-to-pakistan-india-our-motherland-too-pehlu-khans-son-1722057
-------
Hindu-Muslim violence in Basirhat: Why is Bengal constantly on the boil?
Jul 08, 2017
Basirhat of West Bengal is in the news for a continuing communal flare up that has left one person dead, dozens wounded and ties between Hindu-Muslim neighbours in tatters.
The situation is not uncommon though in the eastern state bordering Bangladesh. West Bengal has been rocked by communal violence intermittently, more so in recent months, raising fears that the state is turning into a communal tinderbox.
"Bengal has not witnessed so many communal clashes over such a short span. This is the dark age and it doesn't fit into the image Bengal takes pride in," says Amal Kumar Mukhopadhyay, a former principal of Presidency College. Facts bear out Mukhopadhyay's argument. During the CPI(M)-led Left Front's 34-year rule, the state witnessed communal violence that was few and far between. The past 11 months, however, have witnessed 11 communal clashes.
Hindus in certain pockets have often been at loggerheads with sections of Muslims who constitute about 27% of the state's population. But critics say the situation has worsened in recent times under CM Mamata Banerjee's tenure. "The situation was created after Mamata Banerjee came to power for the second time in 2016 and started appeasing one community. The results are evident," alleges Jishnu Basu, south Bengal secretary of the RSS, the ideological parent of the BJP.
BJP is eyeing inroads into the state where it remains a fringe player at the moment . Commentators say it stands to gain by polarising the state and has therefore ratcheted up its rhetoric against Banerjee for partisanship. "They are out to fish in troubled waters with an eye on votes," said a leader of Banerjee's Trinamool Congress (TMC).
Banerjee has carefully cultivated her Muslim vote bank: she attends iftars and Muslim religious functions covering her head, has announced stipends for clerics, is known to actively promote Madrasas and is often seen sharing the stage at public functions with Muslim leaders.
Her pro-Muslim imagery has reportedly upset many in Bengal who already feel threatened by the influx of undocumented migrants from Bangladesh. Even PM Narendra Modi tapped into the fears when during the 2014 electoral campaign, he accused TMC government of "turning a blind eye" to the infiltration from Bangladesh, endangering the livelihood of the state's people.
Though arch rivals, the CPI(M) is on the same page as Modi on this score.
"Communal violence will not stop in Bengal because the government has gone into denial mode. Or else, the chief minister wouldn't have described the Basirhat violence as a 'minor incident," alleges CPI(M) politburo member and Lok Sabha MP Md Salim.
Banerjee denies being partisan and has asked for peace in the region. "To the government, all religions are equal. We believe in communal harmony and the need of the hour is to maintain it," points out state urban development minister Firhad Hakim.
Full report at:
http://www.hindustantimes.com/analysis/why-is-bengal-constantly-on-the-boil-ht-analysis/story-ceXu8cFHApKmt9YYEykR1O.html
-------
My Muslim faith, way of life reflect peace, says India's Oscar-winning Rahman
Jul 7, 2017
As he celebrates 25 years in the music industry, the Oscar and Grammy-winning Indian musician A R Rahman says his religious beliefs have helped define and shape his career.
Rahman, who converted to Islam in his 20s, is in London with a show called "Yesterday, Today and Tomorrow".
He told Reuters in an interview on Thursday that his interpretation of the Muslim faith meant living a life that was simple and in which humility was key.
"Islam is an ocean, you know, it has different sects. More than 70. So I follow the Sufi kind of philosophy which is about love," Rahman said. "I am what I am because of the philosophy I'm following, my family is following. And of course, many things are happening, and I feel it's mostly political."
Steeped in folklore, poetry and spiritualism, Sufism is a non-violent form of Islam based on hypnotic rituals and reflects the religion's mystical side.
The 50-year-old artist, who has won two Oscars, two Grammys and a Golden Globe, has over 160 film soundtracks to his name, including the Oscar-winning "Slumdog Millionaire" and Bollywood films like "Lagaan" and "Taal".
He sings, writes songs, plays instruments and composes music and has teamed up with other global artists including Mick Jagger, Sarah Brightman and the Pussycat Dolls.
Rahman said his latest tour, which kicks off at Wembley SSE Arena in London on July 8, will take his fans on a journey through his music for the last quarter of a century.
The softly spoken artist, who nevertheless has a powerful stage presence, said he still had more to achieve and hoped music would help bring more people together.
Full report at:
https://www.reuters.com/article/us-people-ar-rahman-idUSKBN19S1NG
-------
G20 leaders pledge joint crackdown on terror, vow to eliminate safe havens
Jul 8, 2017
NEW DELHI: Pledging a joint crackdown on the global scourge of terrorism and to check its funding sources, G20 leaders+ , including Prime Minister Narendra Modi, on Friday said all terror safe havens must be eliminated+ in every part of the world.
"We, the leaders of the G20, strongly condemn all terrorist attacks worldwide and stand united and firm in the fight against terrorism," read a G20 joint statement on countering terrorism.
Heeding PM Modi's call for a united action against terrorism, the G20 leaders pledged greater coordination to counter the menace.
They also agreed to facilitate swift and targeted exchange of information between intelligence, law enforcement and judicial authorities.
"We will ensure terrorists are brought to justice; border agencies enhance cooperation to detect travel for terror purposes," the statement said adding, "We will address in close coordination the evolving threats and potential vulnerabilities in aviation security systems."
The G20 leaders also asked the private sector, including the communication firms, to join the fight against radicalisation by curbing internet misuse for terror propaganda.
"We will ensure that terrorists are brought to justice. We will work to improve the existing international information architecture in the areas of security, travel and migration, including INTERPOL, ensuring the necessary balance between security and data protection aspects," they said in a 21-point declaration.
Click here to read the full statement
The G20 nations said border agencies will strengthen cooperation to detect travel for terrorist purposes, including by identifying priority transit and destination countries of terrorists.
"We will address in close coordination the evolving threats and potential vulnerabilities in aviation security systems and exchange information on risk assessments," the declaration said.
In efforts to choke funding for terror activities, the G20 leaders reiterated their resolve to make the international financial system entirely hostile to terrorist financing and deepen exchange of information, including working with the private sector.
"We call for strengthening measures against the financing of international terrorist organisations in particular ISIL/ ISIS/ Daesh, Al Qaida and their affiliates," the declaration said.
Stressing that there should be no "safe spaces" for terrorist financing anywhere in the world, the G20 nations expressed their commitment to intensify capacity building and technical assistance, especially in relation to terrorist financing hot-spots.
"We will advance the effective implementation of the international standards on transparency and beneficial ownership of legal persons and legal arrangements for the purposes of countering financing terrorism," it added.
According to the declaration, low cost attacks by small cells and individuals funded by small amounts of money transferred through a wide range of payment means are an increasing challenge.
"We call upon countries to address all alternative sources of financing of terrorism, including dismantling connections, where they exist, between terrorism and transnational organised crime," it noted.
Further, the leaders said they highlight the importance of providing appropriate support to the victims of terrorist acts and will enhance cooperation and exchange of best practices to this end.
Full report at:
http://timesofindia.indiatimes.com/india/g20-leaders-pledge-joint-crackdown-on-terror-vow-to-eliminate-safe-havens/articleshow/59495484.cms
-------
At G20 summit, PM Narendra Modi slams Pakistan in strong message on terror, tries to rally nations
Jul 8, 2017
HAMBURG/NEW DELHI: Prime Minister Narendra Modi hit out at Pakistan at the G-20 summit+ on Friday as he named terror groups LeT and JeM along with global scourges IS and Boko Haram to drive home the point that some countries use terrorism as a tool+ and that the outfits are united by a common ideology despite different labels.
Looking to take the lead on terrorism, Modi also presented a 11-point action agenda for fighting the global menace as he made a clear reference to Pakistan when he said "some nations are using terrorism for achieving political goals".
Modi named Lashkar and Jaish in the same vein as IS, al-Qaeda and Boko Haram. "Their only ideology is to spread hatred and commit massacres," he added. He said all these groups had the same basic ideology even if they went by different names. Modi emphasised that nations today are not as well networked as terrorists are.
The G-20 leaders' statement reflected the "safe havens" concern to some extent. "There should be no `safe spaces' for terrorist financing anywhere in the world...In order to eliminate all such `safe spaces', we commit to intensify capacity building and technical assistance, especially in relation to terrorist financing hot spots," it said. The statement stressed the resolve to make the international financial system "entirely hostile" to terror financing.
The statement also paid attention to the Islamic State-inspired attacks that use heavy vehicles and knives to kill civilians. "Low cost attacks by small cells and individuals funded by small amounts of money transferred through a wide range of payment means are an increasing challenge. We call on the private sector to continue to strengthen their efforts to identify and tackle terrorism financing," it said.
In the presence of leaders like US President Donald Trump, Russian President Vladimir Putin and Chinese President Xi Jinping, Modi regretted that the international response to terrorism had been weak and said more cooperation is needed to fight the menace.
Full report at:
http://timesofindia.indiatimes.com/india/at-g20-pm-narendra-modi-slams-pakistan-in-strong-message-on-terror-tries-to-rally-nations/articleshow/59497679.cms
-------
I was part of the Saxena family: How my secular neighbourhood in UP split along communal lines
Danish Raza
Jul 08, 2017
I remember the smell of incense sticks in that room. Attending the morning aarti with folded hands, eating besan laddoo in prasad, getting a kumkum tika and rice on my forehead was my morning ritual. Saxenas used to live next to my naani's house in Bareilly, a small town in Uttar Pradesh. For me and my siblings, summer vacation in Bareilly was a celebration-of-sorts.
During vacations, I was virtually a part of the Saxena household. The pooja room also had a black-and-white Salora television — my earliest memories of watching Mahabharat at Saxenas' over tea, paratha and sweet and sour mango pickle, typical of UP.
Every year, I would ask my mother if holidays were coinciding with navratri. It would mean me becoming part of a group that was to receive goodies and Rs 11 on ashtami.
Cinema was a community activity. Voting would throw up names of three latest films which would then be watched back to back through the night Saxena courtyard on a rented VCR.
Every second day, I would cycle to buy samosa from a shop outside the chunne miyan ka mandir. The temple was named after the Muslim man who got it constructed. His real name was Fazlur Rehman.
Naani was head mistress in a government school, a rare feat those days for a Muslim woman from a conservative joint family. She was known as daadi in the neighbourhood. She passed away in 2002. She was 82.
At her cremation in the nearby cemetery, Hindu men from the neighbourhood, with handkerchiefs tied on their heads, outnumbered our relatives and family members. It was weird—the composition of the participants left me in tears and not naani's demise.
As I graduated to college and got a job, visits to Bareilly became less occasional.
In March 2010, my cousin brother phoned me to ask if I would be visiting his town to cover riots. The route of Julus-e-Mohammadi (a procession taken out to mark the birthday of Prophet Mohammad) triggered tension between Hindus and Muslims. Bareilly remained under curfew for two weeks in what was the first riot for people under 30 years.
My cousin believed that the press was not giving it adequate coverage. He sounded more saddened with what he witnessed during the unrest. One of the close neighbours was involved in arson, he said; the neighbourhood mosque was torched; and it was no more possible to believe 'them'.
When I got a chance to visit my maternal family two years after riots, I was told that which houses had become out of bounds. Good thing was that they were very few. But they were enough for my cousins to decide to relocate. I could see that any persuasion would not change their decision. "We have seen what you have not," I was told.
In subsequent visits, I could see the social fabric changing for worse. Unlike earlier when we would chat about concerns of our mohalla (locality), it became more about us and them.
Following year, they relocated to a Muslim ghetto where they continue to live. That effectively means, Saxenas are no more our neighbours.
Around five years ago, I stopped receiving rakhi from my sisters in that family. In the last two trips to Bareilly, I did not visit them. Not that anyone was keen that I did.
Full report at:
http://www.hindustantimes.com/opinion/i-was-part-of-the-saxena-family-how-my-secular-neighbourhood-in-up-split-along-communal-lines/story-UQrsafqqXKbOzTw2m8fJLP.html
-------
Pakistan
Pakistan Welcomes UNSC Sanctions on Jamaat ul Ahrar
July 07, 2017
The United Nations Security Council (UNSC) slapped sanctions on Tehreek-i-Taliban Pakistan splinter group Jamaatul Ahrar (JuA), in a move welcomed by the Pakistani government on Friday, which had banned the group in November 2016.
The Foreign Office (FO) in a press release praised the inclusion of the JuA on the UNSC sanctions list, saying: "Pakistan welcomes the listing of Jamaatul Ahrar by the UN Security Council."
"The Security Council's 1267 Sanctions Committee yesterday approved the addition of JuA in the list of entities and individuals subject to the assets freeze, travel ban and arms embargo. Pakistan had proposed this listing," the FO said.
The FO statement added that the JuA operates from Afghanistan's Nangarhar province.
The JuA joins the likes of the militant Islamic State group and Al Qaeda who are also on the sanctions list, alongside other groups which are breakaway factions of the terror groups.
The JuA first came to prominence when it claimed responsibility for the 2014 Wagah attack targeting security forces protecting the Shia community. At least 61 people were killed in the attack and over 100 others were injured.
The terror group has claimed responsibility for a number of attacks in Pakistan in recent times, particularly those targeting military and law enforcement personnel, government buildings, politicians, minority groups and lawyers.
In August 2016, the US State Department designated JuA as Specially Designated Global Terrorists (SDGTs).
https://www.dawn.com/news/1343810/pakistan-welcomes-unsc-sanctions-on-jamaatul-ahrar
-------
Facebook official meets Pakistan interior minister over blasphemous posts
Jul 07, 2017
A senior Facebook official met Pakistan's interior minister Chaudhry Nisar Ali Khan on Friday to discuss a demand that the social media platform should remove blasphemous content or be blocked in the country, where it has more than 33 million users.
Khan met Joel Kaplan, Facebook's vice president dealing with global public policy, and discussed various steps and actions being taken to remove blasphemous content, the interior ministry said in a statement.
The meeting came after a Pakistani anti-terror court sentenced a man to death for comments on Facebook that were deemed blasphemous.
The interior ministry quoted Khan as saying that the Muslim 'Ummah' (brotherhood) was "greatly disturbed" and had serious concerns over the misuse of social media platforms to spread blasphemous content. "Nothing is more sacred to us than our religion and our holy personalities," he said.
Khan appreciated the understanding shown by Facebook and the cooperation extended to Pakistan on these issues. Pakistan believes in freedom of expression but that shouldn't include insulting Islam or fomenting religious tensions, he added.
Facebook described the meeting as "constructive" and said it had raised its concerns over recent court cases, according to an email cited by Reuters. Facebook also said it applied a "strict legal process to any government request for data or content restrictions"..
The social media behemoth also expressed its deep commitment to protecting the rights of people who use its service and to enabling them to express themselves freely and safely".
Khan said Pakistan is playing a proactive role in engaging internet service providers and finding solutions to the misuse of social media. A special meeting of ambassadors of Muslim countries had been convened in March with a single point agenda — blasphemous content on social media and how to effectively raise the voice of the Muslim world.
Kaplan told Khan Facebook recently launched a digital literacy campaign, iChamp, that aims to touch secondary schools across Pakistan to educate youngsters on the benefits and safe use of the internet.
This programme will be supported by Facebook's Free Basics project, which provides free access to dozens of websites. Under the venture covering 76 districts across all four provinces, Gilgit-Baltistan and Pakistan-occupied Kashmir, an estimated 600,000 students will be trained by experts with free handbooks and other resources.
Full report at:
http://www.hindustantimes.com/world-news/facebook-vice-president-meets-pak-interior-minister-over-blasphemous-posts/story-DBVpgesPaj2kOpqAwXQORO.html
-------
Raheel Sharif arrives in Lahore with some Saudi citizens
July 08, 2017
LAHORE: Former army chief retired Gen Raheel Sharif, the head of the Saudi-led Islamic Military Alliance to Fight Terrorism (IMAFT), reached here from Saudi Arabia by a special plane on Friday.
According to media reports, some Saudi nationals accompanied Gen Sharif who reportedly left for his residence from Lahore airport's old terminal while the Saudis moved to a local hotel.
Gen Sharif had left Lahore for Riyadh on April 21 to assume the command of the 41-nation IMAFT after the government quietly cleared him to serve the coalition.
"Gen Raheel Sharif has been issued a no objection certificate to join the IMAFT after GHQ's consent and meeting legal formalities," the defence minister had told a TV channel, as a special aircraft sent by the Saudi government had landed in Lahore to take the retired army chief to Riyadh.
https://www.dawn.com/news/1343888/raheel-sharif-arrives-in-lahore-with-some-saudi-citizens
-------
98 suspects arrested in Quetta after killing spree claims 5 lives
Syed Ali Shah
July 07, 2017
Police and security forces on Friday launched a crackdown in Quetta and adjoining areas, arresting 98 suspects after the target-killing spree that claimed five lives over a 24-hour period.
There has been no claim of responsibility for the killings as yet.
"Police and Frontier Corps conducted a search operation in Killi Ismail and adjoining areas and detained 98 suspects in connection with recent targeted killings," Deputy Inspector General (DIG) Razzaq Cheema told DawnNews.
He said that two brothers of a banned militant outfit's commander were among those detained by police for interrogation.
Police and Frontier Corps had launched the joint operation following the targeted killing of a Balochistan Constabulary personnel.
"We will set the innocent people free after interrogation", Cheema assured, adding that security had been tightened in and around Quetta in the aftermath of the targeted killings.
Security challenges
Balochistan has faced a number of security challenges in recent months, with security personnel in the province often being targeted in roadside explosions.
Earlier this month, three security officials were injured after an improvised explosive device (IED) seemingly targeted their vehicle in the Johan area of Kalat.
Days later, two navy sailors were martyred and at least three others were wounded when their vehicle was attacked in the Jiwani area of Gwadar district.
Full report at:
https://www.dawn.com/news/1343827/98-suspects-arrested-in-quetta-after-killing-spree-claims-5-lives
-------
JuA operating from Afghanistan against Pakistan
July 08, 2017
ISLAMABAD - Pakistan on Friday said Taliban splinter group Jamaatul Ahrar (JuA) was orchestrating terror acts in Pakistan - operating from its bases in Afghanistan - as Islamabad welcomed the UN Security Council (UNSC)'s decision to impose sanctions on the outfit.
A foreign ministry statement said the JuA operated from Nangarhar province of Afghanistan and had been involved in a series of terrorist attacks inside Pakistan. Pakistan had proscribed the JuA last year.
"Pakistan welcomes the listing of JuA by the UNSC. The Security Council's 1267 Sanctions Committee approved the addition of JuA in the list of entities and individuals subject to the assets freeze, travel ban and arms embargo. Pakistan had proposed this listing," the statement said.
The JuA has been blamed by Pakistan for many deadliest attacks across the county. This week, Pakistan said militant groups such as Tehreek-e-Taliban Pakistan (TTP), Tehreek-e-Taliban Afghanistan (TTA), Daesh, JuA, remnants of al-Qaeda and a number of other splinter groups were settled in the ungoverned spaces in Afghanistan.
Foreign Office spokesperson Nafees Zakaria said that the Haqqani network was also operating from Afghanistan and the Afghan allegations about its presence in Pakistan was a "mere rhetoric".
He said that the TTP and the TTA had fled to Afghanistan.
"In Pakistan, there is no organised presence of any of those terror outfits," the spokesperson added.
The JuA was launched in 2014 by dissident TTP leaders after internal differences surfaced.
Abdul Wali, known as Omar Khalid Khorasani from the Mohmand tribal agency, leads the group.
This year, Ehsanullah Ehsan, the former spokesperson for the JuA surrendered to the Pakistan security forces and disclosed that militants were operating from the Afghan side of the border.
Pakistan and Afghanistan entered a new phase of tension this year after Afghan forces violated the border, killing and wounding several Pakistanis.
Amid the Afghan attack, Pakistan warned that it reserved the right to respond to "preserve its sovereignty and protect its civilians."
Afghanistan, in turn blamed Pakistan for terror attacks in the country.
To respond to any further aggression by the Afghan forces, Pakistan army was on high alert.
Tanks and heavy artillery were moved forward.
As the tensions flared up, Defence Minister Khawaja Asif warned Pakistan will give a befitting reply to all acts of aggression.
"If our borders are violated and further destruction occurs then those responsible will have to pay the price," he said.
The minister said New Delhi-Kabul nexus was apparent on the Afghan border.
In May, Foreign Secretary Tehmina Janjua said there was an issue of governance in some provinces of Afghanistan.
"Peace in Afghanistan is our priority because it will ensure peace in Pakistan. We know there is no military solution to the Afghanistan issue. We have to deal with it politically," she said. Janjua said that the extremists needed to be brought to the mainstream to ensure long-lasting peace.
She said the focus of regional stakeholders should be on facilitating an inclusive reconciliation process in Afghanistan.
On a number of occasions Pakistan also asked Afghanistan to cut the JuA's lifeline by destroying their sanctuaries and safe havens after the terror group instigated bloodshed in Pakistan.
Adviser to the Prime Minister on Foreign Affairs Sartaj Aziz met and spoke to Afghan National Security Adviser Hanif Atmar several times to lodge protest over the use of Afghan soil against Pakistan, especially by the JuA.
PAKISTAN, CYPRUS SIGN AGREEMENT FOR VISA ABOLITION
Pakistan and Cyprus on Friday signed bilateral Agreement for the Abolition of Visa Requirements for Diplomatic and Service or Official Passports, the foreign ministry said.
The agreement was signed in Nicosia by Aftab Ahmad Khokher, Pakistan's high commissioner to Cyprus on behalf of the government of Pakistan and by Ambassador Minas Hadjimichael, Acting Permanent Secretary of the Ministry of Foreign Affairs, said a statement released by the ministry.
"The Visa Abolition Agreement would enhance interaction and exchanges between Pakistan and Cyprus, and facilitate travel by diplomats and government functionaries," it said.
Full report at:
http://nation.com.pk/national/08-Jul-2017/jua-operating-from-afghanistan-against-pakistan
-------
North America
Muslim ban: US appeals court rejects Hawaii's request
Jul 08, 2017
A US appeals court has rejected Hawaii's request to issue an emergency order blocking parts of President Donald Trump's travel ban while the state sought clarification over what groups of people would be barred from travel.
The US Supreme Court last month let the ban on travel from six Muslim countries go forward with a limited scope, saying it could not apply to anyone with a credible "bona fide relationship" with a US person or entity.
A Honolulu judge this week rejected Hawaii's request to clarify the Supreme Court ruling and narrow the government's implementation of the ban.
Hawaii appealed to the 9th US Circuit Court of Appeals, saying in a filing that the appeals court has the power to narrow the travel ban while it decides how to interpret the Supreme Court's ruling.
On Friday, a three-judge 9th Circuit panel however rejected that argument and said it did not have jurisdiction to hear Hawaii's appeal.
Justice department lawyers have argued that its definition of close family "hews closely" to language found in US immigration law, while Hawaii's attorney general's office said other parts of immigration law include grandparents in that group.
Shortly after the Supreme Court issued its opinion last month, the American Civil Liberties Union (ACLU) said on Twitter it would "head back into court to fight the fundamentally unconstitutional Muslim ban this October".
Omar Jadwat, the director of the ACLU's Immigrants' Rights Project who had argued the case in court, said in a statement that the travel ban "violates the fundamental constitutional principle that government cannot favour or disfavour any one religion".
"Courts have repeatedly blocked this indefensible and discriminatory ban. The Supreme Court now has a chance to permanently strike it down," he said.
Lara Finkbeiner, from the International Refugee Assistance Project, which also sued the administration over the ban, said she was "incredibly disappointed with the decision".
"We are a nation that values acceptance and diversity, and in making this decision and putting this executive order back into effect, the Supreme Court is sending a very clear message and it's putting the executive's discriminatory policy back into effect."
http://www.aljazeera.com/news/2017/07/muslim-ban-appeals-court-rejects-hawaii-request-170708000049733.html
-------
Newest travel ban worries Central Florida Muslims
Jul 08, 2017
Ibtihal Ibrahim was hoping that she had heard the last of President Donald Trump's travel ban singling out Muslim-majority countries when it was struck down in court.
But now that a modified version has gone into effect, Ibrahim said she is sad that her relatives in Sudan — and people in all six countries — may not have the chance she had to come to America.
"I really don't understand the emphasis on the travel ban, a focus on keeping others out when we could work together," said Ibrahim of Orlando, who is from Sudan but has lived in the U.S. for more than four decades.
The current version of the travel ban did not create the airport chaos that ensued during the first ban in January, when people were detained and deported and thousands of visas were canceled before it was struck down in court.
Even so, Central Florida Muslim organizations have been holding emergency sessions where people can talk to immigration lawyers to try to understand the rules and learn their rights.
The 90-day ban covers Iran, Libya, Somalia, Sudan, Syria and Yemen. The Trump administration has said the nations have ties to terrorism and that it needs that time to evaluate security vetting procedures to protect Americans. In addition, refugees from any country are barred for 120 days.
Central Florida Muslims say they feel unfairly judged.
"Going after a single religion and saying to them they are not welcome in the United States and excluding people on the basis of religion is deeply troubling," said Imam Abufarah Helmi Elagha, executive director of the American Muslim Leadership Center near Kissimmee.
Rasha Mubarak, a spokeswoman for the Central Florida chapter of the Council on American-Islamic Relations, said some Muslims are afraid to leave the U.S. even if they're not from the countries that were singled out because they fear other nations could be added.
"We have to prove this is a condemnation of a religion," she said. "This is not a case of extreme vetting. We call on the administration to withdraw these arbitrary guidelines."
An original version of the travel ban, signed by Trump on Jan. 27, included Iraq. The order indefinitely barred Syrian refugees and gave preference to refugees who were religious minorities facing persecution.
The U.S. Supreme Court in June allowed the government to reinstate a limited version of the ban, with an exception for foreigners with a "bona fide relationship" to Americans or American entities. The court is expected to hear a challenge to the ban in the fall.
The Trump administration interpreted the order to allow people with close family in the U.S., including parents, spouses, children, adult children and their spouses, siblings and in-laws. People with employment and university admission also would qualify. People engaged to Americans were added to the list in the hour before the ban took effect.
Grandparents, grandchildren, aunts, uncles, nieces, nephews, cousins, brothers- and sisters-in-law were not included, leading immigration advocates and others to decry the rules.
Dr. Shakil Ahmed, chairman and president of the American Islamic Community Centers in Longwood, said the ban has again created an excuse for Islamophobia that has intimidated some Muslims, including everyone from recent immigrants to established business owners and professionals. Women who wear the hijab, a head covering, are among the most vulnerable, he said.
"We don't just want to be looked upon as someone who is different," said Ahmed, a medical doctor. "We belong to the fabric of society."
The state of Hawaii and immigrant groups that won lower court injunctions against the ban have said the administration is violating the Constitution by targeting Muslim-majority countries. They say the president has focused on them as part of his campaign promise to suspend all Muslim immigration.
U.S. Rep. Darren Soto's office has received only one inquiry from a constituent concerned about the current ban — a University of Central Florida student whose girlfriend is scheduled to return from Iran at the end of July, district director Alex Barrio said.
Most of the people affected by the original ban were on visas, and that portion of the edict has been eliminated, said Barrio, whose boss represents southeast Orange County, all of Osceola and half of Polk.
Nonetheless, "We remain greatly concerned about the ban and are opposed to it," said Soto, a Democrat.
Orlando immigration lawyer Nayef Mubarak, who advised people at forums at the American Muslim Community Centers and the Muslim Academy of Greater Orlando, questions why Trump hasn't revamped security procedures since he's been in office instead of relying on the ban that some say is politically motivated.
"I think the biggest thing we're seeing is confusion," Mubarak said. "I think it's confusion and a little bit of fear."
For Orlando resident Sarah Elbadri, the issue boils down to seeing other people denied the American dream she pursued when her parents brought her to the U.S. when she was 4 years old.
Full report at:
http://www.orlandosentinel.com/features/religion/religion-world/os-trump-travel-ban-muslim-countries-20170707-story.html
-------
Europe
Cardiff Quran Teacher Jailed For Child Sex Abuse
7 July 2017
From the section South East Wales These are external links and will open in a new window Share this with Facebook Share this with Twitter Share this with Messenger Share this with Email Share
An 81-year-old former Quran teacher who was convicted of a string of child sex offences has been jailed for 13 years.
Mohammed Haji Sadiq taught for 30 years at Cardiff's Madina mosque and abused four girls as a form of punishment.
He was found guilty of eight sexual assaults on a child under 13 by touching, and six indecent assaults after a trial at Cardiff Crown Court.
The court heard Sadiq, of Cyncoed, "took advantage of his position".
Media captionBeing abused by paedophile Quran teacher Mohammed Haji Sadiq 'felt normal eventually', says victim
He had denied the charges involving four girls aged between five and 11 and blamed "politics" in the mosque for the accusations.
But sentencing him, Judge Stephen Hopkins QC told Sadiq: "Children called you 'uncle' as a mark of respect. You are a man in my judgement of some cunning."
He added: "Beneath the veneer there is a dark and deviant side."
Sadiq, who was a part-time Imam, sexually assaulted two girls under the age of 13 by touching, and indecently assaulted two other girls over a decade between 1996 and 2006 at the Woodville Road mosque.
He abused them if they made a mistake while reciting the Quran and would use a stick as a form of punishment in class, hitting people over the hand or hard on the back.
Some of his victims said they were afraid to attend the mosque because of his abuse.
One said she had attempted to take her own life because of the abuse.
In victim impact statements read to the court, others said they felt they could not tell anyone about the abuse because of the culture they grew up in.
The court heard one victim feared the consequences of speaking out following Sadiq's conviction.
She said: "Due to my religion it was very difficult, almost impossible to tell anyone what had happened".
She added: "In the Muslim religion we do not talk about personal matters".
'Family honour'
Another victim said it was "not acceptable" in her culture to talk about what was happening at the mosque.
She said: "I remember the relief I felt when I told my mother, and she believed me and went to the police.
"In my family honour is very important, but my family have been very supportive".
Sadiq has had no involvement in the mosque since 2006 when it burnt down and was re-sited elsewhere in the city.
He was cleared of one indecent assault after his trial last month.
In addition to his jail sentence, he was issued with a sexual harm prevention order and will have to register as a sex offender.
Det Ch Insp Rob Cronick of South Wales Police praised the "immense courage" of the victims who came forward.
"As a result of the verdict and today's sentence I believe there may be members of the community who may now feel confident enough to speak to the police or our support agencies," he added.
A spokesman for the children's charity NSPCC said: "This was an appalling breach of trust and Sadiq has rightly received a significant prison sentence for these heinous offences."
A Muslim Council of Wales spokeswoman said: "We applaud the bravery and courage of the young women who now, as adults, pursued the case and pursued justice.
"Mr Sadiq was not an imam but a volunteer teacher at the former Madina Mosque.
"All mosques in Wales now have Child Protection Policies in place, and teachers and volunteers alike are all vetted and closely monitored."
.bbc.com/news/uk-wales-south-east-wales-40531730
------
Muslims and Jews in Europe Work to Block Bans on Ritual Slaughter, Circumcision
July 7, 2017
AMSTERDAM — A spokesman for Europe's major intergovernmental agency assured Jews and Muslims in Amsterdam that attempts to limit religious customs like kosher slaughter and circumcision are forms of "intolerance and discrimination."
Ilan Cohn of the Organization for Security and Co-operation in Europe, or OSCE, made the assertion at the end of a two-day roundtable meeting on nonmedical circumcision of minors, ritual slaughter of animals and other religious customs that it organized in the Dutch capital this week for European Jews, Muslims and anti-racism activists.
Dozens of Jewish and Muslim community leaders, as well as anti-racism activists, attended the event Tuesday and Wednesday — one of the largest Jewish-Muslim joint gatherings ever held on these issues in Europe.
"Diverse communities must join together in the face of intolerance and discrimination," Cohn, a project manager at the OSCE's Office for Democratic Institutions and Human Rights, said in a statement about the meeting.
Among the participants were Rabbi Andrew Baker, the personal representative of the OSCE chairperson-in-office on combating anti-Semitism; Bülent Şenay, his counterpart at the OSCE for combating intolerance and discrimination against Muslims, and Joel Rubinfeld, the president of the Belgian League Against Anti-Semitism, or LBCA.
Cohn's office said the summit provided an "opportunity for Jewish and Muslim community leaders to learn how to build sustainable national advocacy coalitions that promote tolerance and non-discrimination."
The event included work sessions that featured case studies and exchange of information on the status of religious freedoms in European countries and initiatives to limit them.
In recent years, a growing number of European governments and parliaments have introduced legislation and regulations limiting religious customs, and particularly non-medical circumcision and ritual slaughter of animals, which are performed by Muslims and Jews.
In 2012, a court in Germany ruled that non-medical circumcision of boys younger than 18 constituted a violation of their rights, triggering several bans, which were ultimately lifted.
This year, all three regions of Belgium introduced regulations banning various techniques of ritual slaughter of animals performed by Jews and Muslims.
Such bans are supported by liberals who say the practices are cruel, as well as by nationalists who view them as a foreign import to predominantly Christian societies.
In 2011, the Netherlands' lower house banned ritual slaughter of animals without stunning the animal first, but the Dutch upper house reversed the ban the following year. Slaughtering an unconscious animal is contrary to Jewish law.
Earlier this week, leaders of the Dutch Jewish community, represented by the Organization of Jewish Communities in the Netherlands, signed an extension of the community's 2012 agreement on ritual slaughter with the government. The extended deal, signed with the Dutch agriculture minister, states that Jewish communities are free to perform ritual slaughter as per their customs.
http://www.timesofisrael.com/muslims-and-jews-in-europe-work-to-block-bans-on-ritual-slaughter-circumcision/
-------
London remembers 7/7 terror victims
07 July 2017
The 52 victims of a series of terror attacks that rocked London on July 7 twelve years ago were remembered with a ceremony in the British capital on Friday.
Mayor Sadiq Khan laid a wreath at a memorial in Hyde Park together with the victims' family members and representatives of the emergency services.
"Today we remember the innocent victims who lost their lives on 7/7 and the heroic efforts of our emergency services and transport colleagues," Khan tweeted earlier.
Suicide bombers had targeted London's public transport system killing 52 people and injuring hundreds more in explosions on underground trains and a bus.
Gamze Gunoral, a 24-year-old student who died in an explosion on a Piccadilly Line subway train at Russell Square station, was the only Turkish victim of the attack.
Full report at:
http://www.worldbulletin.net/europe/191589/erdogan-chats-with-trump-may-at-g20-summit
-------
Algeria Suspicious of Macron's Sahel Counter-Terror Plans
July 7, 2017
In Mali, one of the countries of the region facing a serious threat from armed groups including the recently formed Al Qaeda-linked Group to Support Islam and Muslims (GSIM), Macron pushed on Sunday for a joint regional force of 5,000 soldiers to help in military operations in the country's north alongside French troops and the forces of the United Nations Multidimensional Integrated Stabilization Mission in Mali (MINUSMA).
The force is going to be set by the so-called "G5 Sahel" countries which include Mali, Mauritania, Chad, Niger, and Burkina Faso.
Macron's visit to the torn-apart Sahel nation is the second since he was elected on May 14. Mali was the first non-European stop for Macron, arriving only five days after his election.The French president went to Gao in northern Mali, the site of France's most important military base abroad hosting 1,600 soldiers.
In Gao, Macron sent the first "negative" signal to Algeria, according to local press.
"I have a strong request forSahel states and Algeria. We can't show any weakness regarding terrorist groups,no matter the political or domestic reasons behind them," he said in a press conference.
Algerian journalist Fayçal Mettaoui described Macron's statement as diplomatically "awkward."
Though not expressed formally, the Algerian state's anger has been reflected in coverage by major local media which generally express similar stances vis-à-vis Algeria's relations with other countries, especially Morocco and France.
Algerian media claimed Macron was insinuating that Algeria is turning a blind on the actions of some terrorist groups in Sahel."This was ill-received in Algiers," wrote news site Tout sur l'Algérie (TSA).
In addition to the perceived accusation, Macron's phone exchanges with Algerian president Abdelaziz Bouteflika suggest that Algerian officials believe the French president wants to use the country to help resume the peace process in Mali, while secretly planning to isolate Algeria.
Algerian media sees the French president as wanting to dictate his own terms on the peace process in Mali. At the same time, his goal seems to corner Algeria despite its strategic importance and long-time influence in the region.
"In less than two months, the French President called the Algeria head of state to talk to him about Mali, more than bilateral relations," wrote TSA.
According to TSA, Macron's plans to isolate Algeria in Sahel were highlighted by a meeting in Sevilla, Spain on Monday where the interior ministers of France, Spain, Portugal and Morocco discussed fighting terrorism, illegal immigration, and organized crime with the help of the G5 Sahel countries.
The news outlet said the joint force of the G5 Sahel countries was "under-equipped" and "under-financed," a clear reference that they are not fit for the job in comparison with Algeria.
Whether Algeria's anger is justified is unclear, as the country holds contradictory positions. On one hand, Algiers maintains that this issue has be dealt with either through inter-African talks in the framework of bilateral relations, or "informally" in the '5+5' dialogue grouping five Mediterranean European countries (France, Spain, ¨Portugal, Malta and Italy) and five African ones (Morocco, Algeria, Mauritania, Tunisia and Libya).
Also, the Algerian military officially does not take part in operations outside its own borders, which means it would have likely turned down any invitation from Macron to join in a regional force like the G5 Sahel.
Still, Algerian officials believe that the French president is trying to marginalize Algeria, to which the country's media outlets have reacted negatively.
"What is the significance of 'fighting against terrorism and organized crime' without Algeria, the country which most has frontiers with Sahel [countries], and which has the most expertise in countering terrorist groups and criminal networks in the region?"said TSA.
"It is obvious that without Algeria, with its diplomatic, military and political influence in Africa, the G5 Sahel is going to do nothing."
Algerian officials showed enthusiasm for Macron during his presidential campaign. Described by former Algerian former minister of foreign affairs Ramtane Lamamra as a "friend of Algeria, the country's high hopes for stronger relations with the former colonizer were partly crushed when Macron chose Morocco as his first destination to North Africa, thus breaking his predecessors' tradition of choosing Algeria as the first country visited after an election win.
Full report at:
https://www.moroccoworldnews.com/2017/07/222251/algeria-suspicious-macrons-sahel-counter-terror-plans/
-------
Arab World
Qatar crisis raises questions about defining terrorism
Jul 08, 2017
DUBAI: A diplomatic standoff between Qatar and four other Arab nations that accuse it of sponsoring terrorism has turned a spotlight on an opaque network of charities and prominent figures freely operating in the tiny Gulf country.
It also raises questions about what constitutes a "terrorist" in the Middle East.
Saudi Arabia, the United Arab Emirates, Egypt and Bahrain have released a list of two dozen groups and nearly 60 individuals that they allege have been involved in financing terrorism and are linked to Qatar.
Qatar insists it condemns terrorism and that it does not support extremist groups.
The crisis began last month when the four Arab countries cut ties to Qatar. They demanded it end the alleged support of terrorism, and also that it cut its relations with Shiite power Iran and stop meddling in their affairs through support of Islamist opposition groups.
The energy rich nation is an important U.S. ally in a volatile region. It hosts about 10,000 U.S. troops at an air base used to launch coalition airstrikes against Islamic State fighters in Syria and Iraq.
The list of the groups and individuals released by Qatar's neighbors reflects longstanding concerns raised by U.S. officials. At the same time, it also includes political dissenters and opposition voices.
"The allegation that Qatar supports terrorism was clearly designed to generate anti-Qatar sentiment in the West," Qatari Foreign Minister Sheikh Mohammed bin Abdulrahman Al Thani said Wednesday in a speech in London.
As he spoke, foreign ministers from the Arab quartet met in Cairo to review Qatar's response to their demands. At the top of those demands is that Qatar end support for the Muslim Brotherhood, which briefly held power in Egypt and whose offshoots are active across the Middle East.
Though Qatar has cracked down on dissent at home, it views the Brotherhood as a legitimate political force. This has put it at odds with Saudi Arabia, the UAE and Egypt, which have branded the Brotherhood a terrorist organization and see it as a threat to political stability and security.
In his speech, Al Thani said there is a danger in "labeling political opponents as terrorists merely to silence them."
"Our neighbors see change — those advocating for it and those reporting on it — as a threat, and they are quick to label anyone who opposes their governments as a 'terrorist,'" he said.
The Brotherhood's spiritual guide, Sheikh Youssef al-Qaradawi, was among those accused by Qatar's neighbors of having ties with terrorism. The 90-year-old Egyptian cleric, who has lived in Qatar for decades, previously was embraced by Gulf leaders and was seen alongside Saudi Arabia's top cleric, Grand Mufti Sheikh Abdelaziz Al Sheikh, and the UAE's rulers.
In 2013, he joined a chorus of preachers in the Gulf urging young men to defend Sunni Muslims in Syria, calls that coincided with official backing of rebels fighting to oust Syrian President Bashar Assad.
Al-Qaradawi differed from other Gulf preachers in that he strongly criticized Egypt's government when it ousted the Brotherhood from power. He also was critical of Gulf countries that backed the lethal crackdown.
Qatar's support of the Brotherhood has made it an outlier, as has its unique role as a mediator in hostage negotiations, helping to free Western captives held by al-Qaida in Syria and Yemen.
Christopher Mellon, a researcher with the New America Foundation who co-authored a report about ransom payments, said these negotiations have often involved paying extremist groups. He said European governments have similarly gone to extreme lengths to keep these transactions private.
"They're very deliberately nontransparent. They don't want anyone to know that they've paid," he said.
Reports emerged earlier this year that Qatar paid hundreds of millions of dollars to release members of its ruling family who were kidnapped in Iraq. Allegations were raised that the complex deal included Qatari payments to an al-Qaida-linked group in Syria, as well as to an Iranian-backed militia in Iraq.
Qatar said reports of ransom payments to these groups are false and that it provided Iraq's government with financial aid to support the release of the Qataris.
The Arab quartet's list names a number of Qatari nationals, including Khalifa al-Subaie, Saad bin Saad al-Kabi, Abdelrahman al-Nuaymi, Ibrahim al-Bakr and Abdel-Latif al-Kuwari. All have been sanctioned by the U.S. Treasury Department as material supporters of al-Qaida. The five appear to be living in Qatar — their assets are frozen, they are under surveillance and are barred from traveling abroad — but they are not imprisoned.
The U.S. Treasury said al-Bakr was detained in Qatar in the early 2000s for his role in a jihadist network but that he was released from prison after promising not to conduct terrorist activity in Qatar. Treasury alleged that in 2006, he played a key role in a terrorist cell plotting to attack U.S. military bases in Qatar, and as of mid-2012 was serving as a link between Gulf-based al-Qaida financiers and Afghanistan.
While some of those sanctioned by the U.S. have faced trial and may have been detained by Qatar at some point, there does not appear to be a single individual jailed in Qatar for terrorism financing, according to David Weinberg, a senior fellow at the Foundation for Defense of Democracies.
Weinberg, who has written extensively about terror financing in the Gulf, said Qatar has been "inexcusably negligent" when it comes to cracking down on such financiers.
"There's been a longstanding debate within the U.S. government about whether Qatar's lax enforcement is related to lack of capability or lack of will. My research leads me to believe it's the latter: lack of will," he said.
The Associated Press asked Qatari officials Wednesday for information on the prosecution of individuals suspected of terrorism financing. The officials said they would look into the request but had not provided details by Thursday evening.
Also on the list is Sheikh Abdullah bin Khalid Al Thani, a senior member of Qatar's royal family and a former interior minister. The quartet accused him of giving shelter to Khalid Sheikh Mohammed in the 1990s as he actively funded al-Qaida operations abroad, but before he became the alleged mastermind of the 9/11 attacks.
The allegations leveled against Qatar cut both ways.
In the U.K. this week, a right wing think tank released a study alleging Saudi Arabia has spent 67 billion pounds (nearly $87 billion) to export its austere Wahhabi interpretation of Islam around the world. The report by the Henry Jackson Foundation has increased pressure on the British government to make public a study on Saudi Arabia's role in inciting extremism in Britain.
The quartet list also names Kuwaiti national Hajjaj al-Ajmi, who is sanctioned by the U.S. for allegedly raising funds that led to the procurement of weapons for al-Qaida-linked fighters in Syria. The UAE and its allies say he raised some of that money through a Qatar-based fundraising campaign, but he appears to be living in Kuwait.
http://nation.com.pk/international/07-Jul-2017/qatar-crisis-raises-questions-about-defining-terrorism
-------
Egyptian army: 40 militants involved in Sinai attack killed
7 July 2017
Egyptian army declared on Friday, that 40 attackers killed, 6 cars destroyed in checkpoint attack in Sinai, Egypt.
Egyptian official sources said that the security forces toll in Sinai attack has risen to 23 dead and 33 injured.
The Egyptian soldiers were targeted on Friday in attacks on several checkpoints in Sinai that included car bombings, the military said in a statement.
The military said it killed the assailants as it clashed with extremists in North Sinai, where the ISIS group is leading a deadly insurgency.
it was earlier reported that a car bomb followed by fierce gunfire was unleashed on a military checkpoint in northeastern Sinai Peninsula on Friday.
The officials said the blitz attack started when a suicide car bomber rammed his vehicle into a checkpoint at a military compound in the southern Rafah village of el-Barth, followed by heavy gunfire from dozens of masked militants on foot.
The dead included a high ranking special forces officer, Col. Ahmed el-Mansi, and 33 others were wounded in the attack.
Sirens of ambulances were heard from a distance as they rushed to the site of the attack.
The officials spoke on condition of anonymity because they weren't authorized to speak to the media.
No group immediately claimed responsibility for the attack. However, Egypt in recent years has been battling a stepped-up insurgency in northern Sinai, mainly by militants from an ISIS group affiliate.
Army spokesman Tamer el-Rifai declined to immediately comment when reached by The Associated Press.
Full report at:
https://english.alarabiya.net/en/News/middle-east/2017/07/07/US-Russia-reach-deal-on-Syria-cease-fire-sources.html
-------
Egypt arrests Chinese Muslim students amid police sweep
Jul 08, 2017
Egyptian police have detained scores of Chinese students from the Uighur ethnic minority on Beijing's request, forcing dozens into hiding or to flee to Turkey, activists have said.
The sweep began on Tuesday when police raided two restaurants frequented by Uighur students in Cairo and detained at least 37 people, Abduweli Ayup, a Uighur activist in Turkey, told Al Jazeera on Friday.
Dozens more have been arrested since, Ayup, said, including 20 from Cairo's Al-Azhar University who were stopped in the city of Alexandria on their way out of the country late on Wednesday.
They were told they would be deported to China, Ayup said.
"Students, especially those who study religion, are being targeted," Ayup said. "The police are searching apartment by apartment ... In Cairo, people are in hiding. They are terrified. They are afraid to go out."
The detentions come amid reports that authorities in the Uighur homeland of Xinjiang in western China are seeking the immediate return of Uighurs studying abroad.
China blames unrest in Xinjiang, which has included bombings and vehicle and knife attacks, on exiled Uighur separatist groups.
A traditionally Muslim group, many Uighurs complain of cultural and religious repression and discrimination by China.
Forced return
Lucia Parrucci, a spokeswoman for the Unrepresented Nations and Peoples Organization advocacy group, said rights groups have moved some 60 Uighur students out of Egypt to safety in Turkey on Thursday alone.
Many of those remaining in Cairo "told us that they are afraid to sleep at home out of fear of their own arrest," she said in an email to Al Jazeera.
Some 80 Uighur students have been arrested since the sweep began, she said.
The Chinese government has forced thousands of Uighur students abroad to return home since January 2017, she said, adding that some 90 percent of the estimated 7,000 - 8,000 Uighurs living in Egypt had returned to China.
"We have learned that many of the students have been arrested directly at the airport upon their return and sent to re-education camps. None of them have been able to see family members and no information was provided to their families about their whereabouts," she said.
Human Rights Watch urged Egypt on Wednesday not to send Uighur detainees back to China, saying they faced "persecution and torture" there.
Sarah Leah Whitson, HRW's Middle East director, also urged authorities to disclose the whereabouts of Uighur detainees and grant them access to lawyers.
Unverified videos shared on Twitter showed more than 70 Uighurs sitting on a floor in a government building and others being driven in a truck in handcuffs.
Ayup said rights groups lost touch with the detainees on Friday.
Abdullah, an Asian student of Islam at Al-Azhar university, told the Associated Press news agency that Uighurs were being detained in the Hay el Sabia area of Cairo's Nasr City district. He gave only his first name for fear of reprisals.
"They're mostly arresting the young men," Sumaya, a Uighur woman living in Cairo, told The Middle East Eye on Thursday. "But I know of women who have been taken too, though we hide when we hear the government knocking on our door."
A Chinese foreign ministry spokesman appeared to acknowledge on Thursday that Chinese citizens had been detained in Egypt, saying at a regular briefing that consular officials would visit them.
Full report at:
http://www.aljazeera.com/news/2017/07/fear-panic-egypt-arrests-chinese-uighur-students-170707051922204.html
-------
Over 600 Civilians Killed By Coalition Strikes In Iraq, Syria
Jul 08, 2017
WASHINGTON/Mosul - A review of past air and artillery strikes has found that another 119 civilians were killed by the US-led coalition in Iraq and Syria, pushing the total number of such deaths to 603.
In a statement Friday, the coalition said that in May it completed an analysis of 141 reports of civilian deaths dating back to when operations to defeat the Islamic State group got underway in late 2014.
"To date, based on information available, (the coalition) assesses that, it is more likely than not, at least 603 civilians have been unintentionally killed by coalition strikes" since the anti-IS campaign began, the statement read.
Aside from probing civilian death reports that came in from coalition pilots and through social media and other channels, military investigators also began wading their way through a huge backlog of hundreds of allegations reported by the website Airwars.org. The London-based collective of journalists and researchers has always had civilian death tolls that are wildly divergent from those acknowledged by the coalition.
According to the most recent Airwars tally, 4,354 civilians have been killed in coalition strikes.
Major Michael Burns, who compiled the coalition statement, told AFP that of the 80 Airwars reports it looked at in May, 10 were "credible" and 70 were "non-credible." Among all the reports the coalition examined in May was an April 17 strike on an IS headquarters building that caused secondary explosions, killing 25 civilians in adjacent structures and wounded 40 more. And on January 21, near Mosul in Iraq, a strike on a suicide car bomb caused secondary explosions that killed 15 civilians.
Observers say the US-led coalition has been taking greater risks with civilian lives since President Donald Trump took office and gave the military greater leeway in how it conducts strikes, but officials insist the rules of engagement are unchanged.
"Although all feasible precautions were taken and the decision to strike complied with the law of armed conflict, unintended civilian casualties unfortunately occurred," the statement read.
Meanwhile, the United States, Russia and regional countries have reached a ceasefire deal in southwestern Syria, one of the combat zones in a six-year civil war, a US official said on Friday.
US Secretary of State Rex Tillerson was expected to provide more details of the deal to reporters in Hamburg later on Friday, the official said.
Russia and Iran are the main international backers of Syrian President Bashar al-Assad while Washington supports some of the rebel groups fighting for his ouster.
"Still a lot of work to be done," the US official said.
Before leaving for Hamburg, Tillerson said the United States was prepared to discuss joint efforts with Russia to stabilize Syria, including no-fly zones, ceasefire observers and coordinated deliveries of humanitarian assistance.
Tillerson was present at a meeting in Hamburg between US President Donald Trump and Russian President Vladimir Putin, along with Russian Foreign Minister Sergei Lavrov.
Moreover, two Iraqi television journalists were killed by the Islamic State group while a third was trapped on Friday in the same village south of Mosul.
IS infiltrated Imam Gharbi this week, seizing territory in the village and kidnapping civilians, prompting Iraqi forces to counterattack to try to oust the militants, officers said.
The attack by IS highlights what is likely to be a growing danger as the group loses more ground and increasingly returns to bombings and hit-and-run attacks that were its hallmark in past years.
"Colleague Harb Hazaa al-Dulaimi, correspondent for the Hona Salaheddin channel, and Sudad al-Duri, the cameraman for the same station, were martyred" in Imam Gharbi, the channel said.
Hona Salaheddin said that Mustafa Wahadi, another of its correspondents, was trapped in the village with the bodies of the two journalists who were killed.
Wahadi posted on his Facebook page - which lists his last name as Ajeeli - calling for security forces to rescue them, saying that none had arrived in the area so far.
"The situation around me is very dangerous" and "Daesh is very close," he wrote, using an Arabic acronym for IS.
"This may be my last post, maybe I will be killed," the journalist wrote.
Interior ministry spokesman Brigadier General Saad Maan confirmed two journalists were killed in the village and said that others were trapped in a house there along with police.
He said security forces were closing in but were slowed by IS snipers.
The deaths come after three journalists were killed and a fourth wounded by an explosion last month in Mosul, where they were covering the battle to retake the city from IS.
"Iraq is among the top three most deadly countries for the fourth year in a row," the Committee to Protect Journalists said of 2016.
And Reporters Without Borders, another media rights watchdog, termed it "one of the world's most dangerous countries for journalists".
Imam Gharbi is more than 60 kilometres (40 miles) south of Mosul, and is located close to the Tigris River, near IS-held territory that was bypassed by Iraqi forces in their push north toward the country's second city.
IS fighters crossed the river and infiltrated Imam Gharbi, an army brigadier general said on condition of anonymity.
"It is confirmed that there are more than 10 families kidnapped by Daesh members, among them women and children, and there are martyrs and wounded among the civilians and journalists and security forces," the officer said.
After the police forces - with whom the journalists were apparently embedded - were surrounded, "military forces supported by army helicopters" were dispatched to Imam Gharbi, the brigadier general said.
"There are two local journalists and four police officers trapped" in Imam Gharbi, said Sheikh Marwan Jbara, the spokesman for tribes in Iraq's Salaheddin, a province that begins south of the village. "They were going with a force from the Salaheddin police yesterday" to attack IS, Jbara said.
The sheikh said that 40 to 50 militants had infiltrated the village and kidnapped 10 families, parading them through an area across the river.
Full report at:
http://nation.com.pk/international/08-Jul-2017/over-600-civilians-killed-by-coalition-strikes-in-iraq-syria
-------
Tens of Civilians Killed in US-Led Coalition Airstrikes since Kurdish-Led SDF Entered Raqqa
Jul 07, 2017
"At least 224 civilians, including 38 children and 28 women, have been killed in airstrikes by the US-led coalition on Raqqa since the SDF entered it," the UK-based Syrian Observatory for Human Rights said.
The US-backed Kurdish forces are launching a full-scale offensive in bid to capture the ISIL's de-facto capital of Raqqa.
Civilians who managed to flee Raqqa reported that besides the ones who have been killed in coalition airstrikes, ISIL snipers have also killed dozens of civilians attempting to escape the raging battles and indiscriminate bombardment.
Field sources reported on Thursday that a large number of civilians were leaving Raqqa city after the SDF managed to prevail over ISIL's defense lines in different parts of the city.
The sources said that civilians were leaving Raqqa city in groups for a refugee camp in the village of al-Karameh East of Raqqa after clashes between the ISIL and the Kurdish fighters intensified in different neighborhoods of the city.
The sources said that a number of fleeing people were suffering from physical injuries and mental problems.
In the meantime, the SDF fighters advanced against ISIL and moved towards Central part of the city.
Full report at:
http://en.farsnews.com/newstext.aspx?nn=13960416000273
-------
Syria: Tens of Terrorists Killed, Wounded in Clashes between Rival Groups in Homs
Jul 07, 2017
The sources said that the infighting, which erupted in the town of Talbiseh between the Liwa al-Tawheed affiliated to the Free Syrian Army and Tahrir al-Sham Hay'at (the Levant Liberation Board), left scores of militants dead, including two senior commanders.
The regions controlled by militants in Northern Homs have recently been included in the de-escalation zones agreement brokered by Russia, Iran and Turkey.
In relevant developments on the province on Thursday, the Syrian Army's artillery and missile unis shelled heavily the positions of the terrorist groups after the latter breached de-escalation zones truce agreement by targeting the pro-government forces' positions in Northwestern Homs.
The terrorist groups' missile units deployed in Northern Homs targeted the villages of Merimin and Qurmus, violating the de-escalation zones truce agreement.
Full report at:
http://en.farsnews.com/newstext.aspx?nn=13960416000259
-------
Daesh second-in-command killed in clashes with Iraqi govt. forces
Jul 7, 2017
The militant commander ranked second in the Takfiri Daesh terrorist group has reportedly been killed during fierce street battles with Iraqi government forces in the Old City of Mosul as Daesh is practically on its last breath in Iraq.
Security sources, speaking on condition of anonymity, told Arabic-language al-Forat news agency that the top-ranked extremist, identified by the nom de guerre Abu Yahya Iraqi, was the deputy of purported Daesh leader Ibrahim al-Samarrai aka Abu Bakr al-Baghdadi.
Meanwhile, a top Daesh commander, known as Abu Nasser al-Shami, has been killed in the cellar district of Mosul's Old City.
Commander of Federal Police Forces Lieutenant General Raed Shaker Jawdat also said in a statement on Friday that security personnel had killed 83 Daesh Takfiris in the Old City of Mosul.
He added that police forces have destroyed three militant hideouts, and discovered a bomb-making factory in addition to an underground tunnel and several munitions.
The Iraqi police chief underlined that government forces had evacuated 30 displaced families from combat zones in Mosul to safe areas.
Iraqi army soldiers and volunteer fighters from the Popular Mobilization Units, commonly known by their Arabic name, Hashd al-Sha'abi, have made sweeping gains against Daesh since launching the Mosul operation on October 17, 2016.
The Iraqi forces took control of eastern Mosul in January after 100 days of fighting, and launched the battle in the west on February 19.
An estimated 862,000 people have been displaced from Mosul ever since the battle to retake the city began nine months ago. A total of 195,000 civilians have also returned, mainly to the liberated areas of eastern Mosul.
Daesh kills two Iraqi TV journalists south of Mosul
Separately, two Iraqi journalists working for the Arabic-language and privately owned Hona Salaheddin television network have been killed by Daesh extremists in a village south of Mosul.
The channel announced in a statement that its correspondent Harb Hazaa al-Dulaimi and cameraman Sudad al-Duri (shown in the picture above) had been killed on the outskirts of the village of Imam al-Gharbi.
It added that another journalist has sustained gunshot wounds and trapped in the village with the bodies of the two slain colleagues.
Full report at:
http://217.218.67.231/Detail/2017/07/07/527727/Iraqi-forces-kill-Daesh-secondincommand-Old-City-Mosul
--------
Ten Egyptian soldiers killed in suicide bombing in northern Sinai: security sources
Jul 08, 2017
Ten Egyptian soldiers including one colonel were killed on Friday in a suicide bomb attack on an army checkpoint in northern Sinai, security sources said.
The sources said two vehicles were detonated while passing a checkpoint in an area between Rafah and Sheikh Zuweid. No group has claimed responsibility for the attack.
Egypt faces an Islamist insurgency led by Islamic State in North Sinai, where hundreds of soldiers and police have been killed since 2013, when the military ousted Islamist president Mohamed Mursi after mass protests.
http://nation.com.pk/international/07-Jul-2017/ten-egyptian-soldiers-killed-in-suicide-bombing-in-northern-sinai-security-sources
-------
Syrian Army Intensifies Anti-Terrorism Operation in Eastern Damascus
Jul 07, 2017
The sources said that the pro-government forces engaged in fresh round of attacks on Al-Nusra Front positions along the road the connects Jobar district to Ein Terma region, killing 20 terrorists and destroying a large volume of military equipment.
The sources further added that rapid advances of the army men in Eastern Damascus proved that terrorists' strongholds in the region are vulnerable and the ground is mainly paved for the government forces to advance to the depth of Jobar.
The Arabic-language al-Ahd news website reported that the army's operation in the region is aimed at separating Ein Terma from Jobar, adding that Al-Nusra Front's military equipment and ammunition in Jobar are declining.
A military source also said that the army has expanded its control over regions near the strategic triangle of Jobar-Ein Terma, driving Al-Nusra out of more positions.
The source added that the terrorist are retreating from the battlefield.
Earlier reports said that the army men engaged in fierce clashes with terrorists and captured several buildings from Zmelka bridge to the backside of Grand Mosque of Ahl al-Safa near Ein Terma.
Full report at:
http://en.farsnews.com/newstext.aspx?nn=13960416000666
-------
Syrian Army Drives Terrorists out of Several Towns in Hama
Jul 07, 2017
The army men engaged in fierce clashes with ISIL South of Ithriya region and took control of Hill 23, while other units of the army stormed ISIL's defense lines and captured the towns of Maksar, Maksar al-Shamali, Rasm al-Tineh and Tal al-Hawaiyat Southeast of Sheikh Hilal region East of the town of al-Salamiyah.
The army soldiers and Palestinian Quds Brigade forces, meantime, pushed terrorists back from the strategic hill of Tabareh al-Deeb in Eastern Hama after hours of non-stop fighting.
Relevant reports said on Thursday that the army aircraft carried out several combat sorties over ISIL's positions in the village of al-Qastal al-Shamali, destroying their military equipment and killing a number of them.
Full report at:
http://en.farsnews.com/newstext.aspx?nn=13960416000360
-------
Mideast
EU slams Israel's plans to set up new settlement units in al-Quds
Jul 8, 2017
The European Union has denounced the Israeli regime's plans to advance the construction of some "1,500 new settlement units" in the occupied East Jerusalem al-Quds, saying the controversial decision will "undermine" the so-called two-state solution.
In a statement released on Friday, the EU further said it expected Tel Aviv "to reconsider these decisions."
It also noted that the EU "expects both sides to engage in a meaningful process towards a negotiated two-state solution, the only way to fulfill the legitimate aspirations of both parties."
The EU statement came a day after French President Emmanuel Macron also strongly criticized the Israeli move, which he said "threatened" the so-called two state solution.
"France has always condemned and continues to condemn the ongoing colonization process, which remains illegal with regards to international law," he added during a joint press conference with Palestinian President Mahmoud Abbas at the Elysee Palace in Paris.
On Monday, Israeli NGO Peace Now said in a report that the Israeli regime was planning to discuss the advancement of some 1,800 settlement units in the area.
After approval, the new units will become the first to be constructed since US President Donald Trump called on Israeli Prime Minister Benjamin Netanyahu to limit settlement activities, and will also hinder the so-called peace talks.
Such construction constitutes a blatant violation of international law. The Geneva Conventions ban construction on occupied land. About 600,000 Israelis live in over 230 illegal settlements built since the 1967 Israeli occupation of the Palestinian territories of the West Bank and East Jerusalem al-Quds.
http://217.218.67.231/Detail/2017/07/08/527762/EU-Israel-Palestine-settlement-units-East-Jerusalem-alQuds-Macron
-------
Iran warns of new terrorist attacks by 'defeated Daesh' across world
Jul 7, 2017
Iran has censured attacks on two security checkpoints in the militancy-riddled Sinai Peninsula in Egypt, warning of a new wave of indiscriminate terrorist attacks by "defeated" Daesh Takfiris in different parts of the world.
"The dispersion and escape of terrorists following their heavy defeats in Iraq and Syria are a serious danger to the entire region and the world," Iranian Foreign Ministry Spokesman Bahram Qassemi said on Friday.
He added that any compromise with terrorists or instrumental use of them would lead to a new wave of indiscriminate acts of terrorism throughout the world.
The Iranian spokesperson expressed sympathy with the bereaved families of the Daesh terrorist attacks in Sinai on Friday.
According to Egyptian security sources, attackers set off their explosive-laden vehicles while driving through the two checkpoints close to each other in the border city of Rafah in northern Sinai.
The two attacks left a total of 23 soldiers dead and at least 26 others injured, security sources said.
The Daesh Takfiri terrorist group claimed responsibility for the attacks in Sinai, which is a stronghold of Daesh-affiliated militants.
Daesh has killed hundreds of Egyptian security forces in Sinai in attacks since 2013, when it emerged after a popular coup in Cairo against then President Mohammed Morsi. There was no claim of responsibility from the group for the attack on Tuesday.
Over the past year, Daesh has expanded its attacks out of Sinai to target civilians, especially members of Egypt's Coptic Christian community. About 100 Copts have been killed in such attacks in mainland Egypt since December.
Full report at:
http://217.218.67.231/Detail/2017/07/07/527715/Iran-Egypt-Sinai-Bahram-Qassemi-Daesh-terrorists
-------
UNESCO adds city of Hebron, Ibrahimi Mosque to world heritage list
7 July 2017
The United Nations' cultural agency UNESCO recognized Hebron's Old City and the Ibrahimi Mosque as endangered Palestinian heritage sites on Friday.
The World Heritage Committee, UNESCO passed the resolution at its 41st session with a secret ballot.
Twelve states backed up the resolution while three others voted against it, while six states abstained during the voting to include the city of Hebron in the occupied West Bank (the burial place of Prophet Ibrahim),
Palestinian Tourism Minister Rila Maayaa announced that Palestine succeeded in registering the city of Hebron and the Ibrahimi Mosque on the World Heritage List of UNESCO after the members of the World Heritage Committee decided to vote on the city's inclusion, at the meeting held in the Polish city of Karakov.
The Old City of Hebron became the fourth Palestinian cultural property on the list of "global heritage" after Jerusalem (the old town and its walls), Bethlehem (the birthplace of Jesus: the Church of the Nativity and the path of pilgrims.)
"The importance of this historic event is that it emphasizes the identity of Hebron and the Ibrahimi Mosque, that it belongs to its heritage and history of the Palestinian people," said the minister of tourism and archeology.
The city of Hebron is one of the oldest cities still inhabited in the world, and extends its history to more than 6,000 years. It is the fourth holiest city of Islam after Mecca, Medina and Jerusalem.
Ibrahimi Mosque is one of the most important cultural icons , which gave the city its distinctive status and made it a religious destination for believers and Arab and foreign travelers.
Israel said it condemned UNESCO's decision to include Hebron on the World Heritage List.
A request to list the site on UNESCO's World Heritage List was filed by the Palestinians six years ago to protect it against violations.
The Old City is home to the Ibrahimi Mosque revered by both Muslims and Jews as the burial place of Prophets Ibrahim, Isaac, Jacob and their wives.
The Palestinians hailed theUNESCO decision to add the heart of the occupied West Bank city of Hebron to the endangered world heritage list, but Israeli leader Benjamin Netanyahu called it "delusional".
"This vote is a success for the diplomatic battle fought by Palestine on all fronts, in the face of Israeli and American pressure on member-states," the Palestinian foreign ministry said.
The heritage status was granted to the Old City in the center of Hebron, where a few hundred Jewish settlers live under heavy Israeli military protection in the midst of more than 200,000 Palestinians.
The YESHA council, which represents settlers across the occupied West Bank, called the resolution anti-Semitic.
Full report at:
https://english.alarabiya.net/en/features/2017/07/08/Listen-to-an-Egyptian-soldier-s-last-words-recorded-in-a-WhatsApp-message.html
-------
Iran's IAEA envoy hails UN treaty banning nuclear weapons
Jul 8, 2017
The Iranian ambassador to the International Atomic Energy Agency (IAEA) says the Islamic Republic, as a major victim of weapons of mass destruction, fully supports the United Nations' recent adoption of a global treaty banning nuclear weapons.
Reza Najafi made the remarks on Saturday hours after 122 countries endorsed the legally binding Treaty on the Prohibition of Nuclear Weapons during a conference at the UN headquarters in New York despite the boycott by the nuclear powers and their allies. "The Islamic Republic of Iran strongly supports the objective of the treaty which bans possessing, using or threatening to use nuclear weapons in the world," Najafi said.
Iran is itself a victim of weapons of mass destruction, he said, highlighting the religious decree (fatwa) issued by Leader of the Islamic Revolution Ayatollah Seyyed Ali Khamenei describing any use of nuclear arms as forbidden.
He also hailed the UN conference negotiating the treaty for making a reference in the document's text to the contribution of religious leaders to efforts towards nuclear disarmament.
The Netherlands opposed the treaty and Singapore abstained from voting.
Elayne Whyte Gomez, president of the UN conference, said the vote was "historic," emphasizing that the treaty was "the first multilateral nuclear disarmament treaty to be concluded in more than 20 years."
"It's been seven decades since the world knew the power of destruction of nuclear weapons and since day one there was a call to prohibit nuclear weapons," she noted.
None of the nine countries possessing nuclear weapons — the United States, Russia, Britain, China, France, India, Pakistan, North Korea and Israel — supported the treaty. Many of their allies also followed suit.
In a joint statement, the UN ambassadors from the US, Britain and France said their countries do not intend to ever become party to the treaty.
The treaty "clearly disregards the realities of the international security environment" and "is incompatible with the policy of nuclear deterrence, which has been essential to keeping the peace in Europe and North Asia for over 70 years," the statement read.
Elsewhere in his remarks, Najafi reminded the threat posed by Israel's nuclear weapons in the Middle East region.
He also pointed out that Iran's proposal for the establishment of a Nuclear-Weapon-Free Zone (NWFZ) in the Middle East is an example of the country's efforts to rid the region of the threat.
The Tel Aviv regime, which pursues a policy of so-called deliberate ambiguity about its nuclear bombs, is estimated to have 200 to 400 nuclear warheads in its arsenal. It has refused to allow inspections of its military nuclear facilities or to sign the nuclear Non-Proliferation Treaty (NPT).
The nuclear ban treaty will be opened for signatures in September and come into force after 50 countries have ratified it.
Full report at:
http://217.218.67.231/Detail/2017/07/08/527771/Iran-UN-Reza-Najafi
-------
Palestinian baby dies after inhaling Israeli teargas
Jul 8, 2017
A Palestinian baby has died of asphyxiation two months after inhaling fatal volumes of teargas fired by Israeli forces at Palestinian protesters.
Abdul-Rahman Mohammad al-Barghouthi, 1.5 years old, died at a hospital in the city of Ramallah in the Israeli-occupied West Bank on Friday, Palestinian Safa news agency reported.
He had been exposed to the toxic substance during confrontations between Israeli forces and Palestinian demonstrators in the village of Aboud, north of Ramallah.
On July 31, 2015, Israeli settlers killed another Palestinian baby, when they threw firebombs and Molotov cocktails into two Palestinian houses in the Duma Village, some 25 kilometers southeast of the city of Nablus in the West Bank, setting them ablaze while their inhabitants were asleep.
The arson attack killed an 18-month-old baby, Ali Dawabsheh, and critically wounded his father and mother, Sa'ad and Riham, who later succumbed to their injuries.
Ali's four-year-old brother, Ahmad, who was also wounded in the assault, remained the sole survivor of the family.
Full report at:
http://217.218.67.231/Detail/2017/07/08/527777/Palestine-baby-AbdulRahman-Mohammad-alBarghouthi-Israeli-tear-gas
-------
Israeli settler runs over, kills Palestinian man in occupied West Bank
Jul 7, 2017
A Palestinian man has reportedly lost his life after an Israeli settler ran him over in the south-central part of the occupied West Bank.
Palestinian security sources said the 37-year-old victim, identified as Omar Ahmad Issa, was struck in the town of al-Khader, located 5 kilometers (3.1 miles) west of Bethlehem, at around 4 a.m. local time (0100 GMT) on Friday, while riding his motorcycle near a checkpoint leading to the occupied East Jerusalem al-Quds.
Israeli police spokeswoman Luba Samri described the incident as a "road accident" between a private vehicle and a Palestinian motorbike in a statement, noting that Issa was critically injured in the crash and later pronounced dead at the hospital.
There have been scores of "hit and run" incidents targeting Palestinians in different parts of the occupied West Bank, with most of them largely going uninvestigated by Israeli authorities. Some of such events have even resulted in fatalities.
On May 3, an Israeli settler deliberately ran over an eight-year-old Palestinian child, identified as Laith Yousif Shatat, as the child was standing outside his school in the eastern part of Yatta city, located approximately 8 kilometers south of Hebron (al-Khalil).
Murad Samir al-Razam, 4, was run over in the center of al-Khalil, situated 30 kilometers south of Jerusalem al-Quds, on April 30. The Israeli driver fled the scene after the incident.
The Palestinian child was taken to the Governmental Hospital in al-Khalil to receive medical treatment.
Full report at:
http://217.218.67.231/Detail/2017/07/07/527711/Israeli-settler-runs-over-kills-Palestinian-man-occupied-West-Bank
-------
Noose is tightening around Christians in Turkey
Jul 07, 2017
By Samuel Lieven
The ancient Syrian Orthodox Monastery of Mor Gabriel has been subjected to constant and unfair legal attacks since 2008. It has now fallen under the control of the all-powerful Diyanet, which governs Islamic Turkey (99.8 per cent of the population).
The Mor Gabriel Monastery was founded in 397 by the ascetic Mor Shmu'el (Samuel) on the Tur Abdin plateau, "the mountain of the servants of God", in southeastern Turkey.
This sacred site of Eastern Christianity is one of the 50 churches and monasteries that have been seized by the Diyanet, according to Kuryakos Ergün, the Chairman of the Mor Gabriel Monastery Foundation.
"We are in the process of identifying the properties that have already been seized," Ergün told the Turkish-Armenian newspaper, Argos. "We have so far filed lawsuits with regard to twenty property titles, and we're going to do the same for thirty more."
This legal struggle goes back to 2008. In that year, an updating of the land registry requalified 250 hectares within the Monastery's boundaries as "forests", on the grounds that they were not "cultivated".
What followed was a long series of lawsuits, each one lost because of false accusations: Christian proselytism, the supposed existence of a mosque under the monastery's foundations — even though it was built well before the advent of Islam.
Now, it's the administrative change of Mardin Province to a "metropolitan municipality" that is serving as the excuse for the seizing of property. The authorities set up a "Committee of Liquidation" in order to redistribute any property that no longer has a legal entity.
Initially transferred to the Treasury, the 50 churches and monasteries are now under the control of the Presidency of Religious Affairs.
Harshness of the Islamic-Conservative authorities
These developments are occurring in the context of an increasing hardening of the policies of the Islamic-Conservative President Erdogan and his AKP party, in power since 2002.
A law passed in 2002 supposedly opened the way for the recovery of about a hundred properties seized from minorities since the creation of modern Turkey by Mustafa Kemal Atatürk in 1923. This should have allowed the restitution of goods and properties confiscated by the State from non-Muslim minority foundations.
Since then, however, this has come to a dead end. Ever-decreasing Christian communities are increasingly oppressed by the State and by a society that is being re-Islamized.
In its 15 years in power, the AKP has thus ground away at the secular principles that were defended tooth and nail by the Kemalists, such as the prohibition of the veil in universities and government offices.
This year, just before Easter, the Turkish President even planned to pray with members of his Party and Islamic clerics at Saint-Sophia. This great Christian Basilica, built in 537, became a mosque under the Ottoman Empire's rule. It was transformed into a museum by Ataturk in 1935.
Now, it is a symbol that is increasingly coveted by Erdogan's Islamist government.
Full report at:
http://www.heraldmalaysia.com/news/noose-is-tightening-around-christians-in-turkey/37170/8
--------
South Asia
Pakistan claims Jamaat-ul-Ahrar operates from Nangarhar of Afghanistan
Jul 08 2017
The Pakistani officials claim that Taliban's offshoot, Jamaat-ul-Ahrar operates from eastern Nangarhar province of Afghanistan.
According to a statement released by the Ministry of Foreign Affairs of Pakistan, the United Nations Security Council has imposed sanctions on the group for the deadly attacks it carried out in the country.
"Pakistan welcomes the listing of Jamaat ul Ahrar by the UN Security Council," the statement said.
Pakistan's foreign ministry further added that the Security Council's 1267 Sanctions Committee yesterday approved the addition of JuA in the list of entities and individuals subject to the assets freeze, travel ban and arms embargo. Pakistan had proposed this listing.
"The JuA operates from Nangarhar Province of Afghanistan and has been involved in a series of terrorist attacks inside Pakistan. Pakistan had proscribed JuA last year," the statement added.
The latest statement by the ministry of foreign affairs of Pakistan comes as both Kabul and Islamabad claim that the terrorist groups are having safe havens and freedom of movements on both sides from where they plan and coordinate attacks.
The Afghan officials are saying that the leadership councils of the Taliban and Haqqani network are based in the key cities of Pakistan, including Peshawar and Quetta, from where they plan and carry out attacks in Afghanistan.
http://www.khaama.com/pakistan-claims-jamaat-ul-ahrar-operates-from-nangarhar-of-afghanistan-03103
--------
UNHCR chief urges Myanmar to grant Rohingya citizenship
Jul 7, 2017
BANGKOK: The head of the UN refugee agency urged Myanmar on Friday to grant citizenship to the Rohingya, a stateless Muslim minority in the Asian country where sectarian violence has displaced tens of thousands since 2012.
On his first official visit to Southeast Asia, UN High Commissioner for Refugees Filippo Grandi this week met communities in the towns of Sittwe and Maungdaw in Myanmar's Rakhine state, home to a large population of Rohingya Muslims.
He also met Aung San Suu Kyi, Myanmar's de facto leader.
Rakhine State in west Myanmar has seen the most serious religious violence in predominantly Buddhist Myanmar since the military began to end its decades of strict rule, with hundreds of Rohingya Muslims killed and more than 140,000 people displaced there in communal unrest in 2012.
Tensions have risen again in recent days after village administrators were murdered and troops killed three people while clearing a Rohingya militant camp.
"It's important to work on granting citizenship to the Muslim community, that has been deprived of citizenship for many years," Grandi told reporters in Bangkok.
Myanmar's government regards the approximately one million Rohingya as illegal migrants from neighbouring Bangladesh and denies them citizenship, even though Rohingya families have lived there for generations.
Grandi also said that more investment was needed in the region.
"It is one of the poorest states in the Union of Myanmar and there's an urgent need for development investments that must be inclusive of the two communities," he said.
Last October, Rohingya insurgents launched deadly attacked on Myanmar guard posts near the Bangladesh border, provoking a military crackdown in which the United Nations says hundreds were killed, more than 1,000 homes burned and some 75,000 Rohingya fled to Bangladesh.
The United Nations has established a fact-finding mission to investigate crimes against humanity allegedly committed by Myanmar's military during the counter-offensive.
Suu Kyi's administration has rejected the allegations and opposes the mission.
In the latest unrest in the region, a Rohingya Muslim man was killed and six wounded when they were attacked by a mob of Rakhine Buddhists this week.
In Thailand, more than 102,000 refugees from Myanmar live in nine camps along the Thai-Myanmar border.
Most are members of the Karen ethnic minority who fled conflict in Myanmar over the past 30 years.
Full report at:
http://timesofindia.indiatimes.com/world/south-asia/unhcr-chief-urges-myanmar-to-grant-rohingya-citizenship/articleshow/59492307.cms
-------
Taliban hit civilian car, kill 4 Afghan students
Jul 08, 2017
KABUL - An Afghan official says the Taliban have fired a rocket at a civilian vehicle, killing four students in the northern province of Faryab.
Abdul Karim Yourish, spokesman for the provincial police chief, says the attack took place in the remote district of Khuwaja Sabz Posh on Thursday night.
Yourish says the police had earlier warned the students not to travel in the volatile area, where the security forces are fighting with the Taliban, but they ignored the warning.
He says a fifth student was wounded in the attack, which he blamed on the Taliban, though the insurgent group has not yet claimed responsibility for the assault.
In other developments, a clash between two militia commanders in northern Kunduz province wounded eight civilians, including five women.
http://nation.com.pk/international/08-Jul-2017/taliban-hit-civilian-car-kill-4-afghan-students
-------
ISIS and Taliban suffer heavy casualties in Nangarhar drone strikes
Jul 08 2017
The Taliban insurgents and militants affiliated with the Islamic State of Iraq and Syria (ISIS) terrorist group suffered heavy casualties in the drone strikes conducted in eastern Nangarhar province of Afghanistan.
The provincial police commandment in a statement said a total of thirty two militants were killed or wounded in the airstrikes.
The statement further added that the first airstrike was carried out in the vicinity of Awghiz area of Haska Mina district, leaving at least fourteen militants dead and eleven more wounded, all belonging to the ISIS terrorist.
The second airstrike was carried out on Friday in the vicinity of Golai area of Ghani Khel district, leaving three militants dead, the police commandment said, adding that the dead militants belong to Afridi group and the militants killed in the airstrike have been identified as Abdullah, Zakir, and Kochi Afridi.
According to the police commandment, the Taliban insurgents also launched coordinated attacks on various check posts in Hesarak district and at least two militants were killed and two others were wounded after the Afghan forces responded to their attack.
Full report at:
http://www.khaama.com/isis-and-taliban-suffer-heavy-casualties-in-nangarhar-drone-strikes-03104
-------
Pakistani army and government react at Afghan-US criticisms
Jul 08 2017
The Pakistani military and government reacted at the criticisms of the Afghan government and United States regarding Islamabad's lack of regional cooperation to bring peace and stability in Afghanistan.
The Pakistani officials made the remarks during a joint meeting of the civilian and military leaders on Friday, according to the local media reports.
A statement by the National Security Committee (NSC) said "Pakistan continues to work for peace and progress in Afghanistan…and will continue to strive for return of normalcy in Afghanistan at the earliest. This, however, requires simultaneous efforts by the Afghan government for restoring effective control on its territory."
The local media outlets in the meantime report that the meeting of the NSC which was the third meeting in the past three months, was organized as the President Donald Trump administration is busy finalizing its policy on Afghanistan and there are fears that the new policy will include more pressures on Pakistan, specifically to target the safe havens of the Afghan militant groups, including the notorious Haqqani terrorist network.
The Afghan officials have long been insisting that the leadership councils of the Taliban group and the notorious Haqqani terrorist network are based in Peshawar, Quetta, and other parts of Pakistan from where they plan and coordinate attacks in Afghanistan.
This comes as the US Department of Defense in its report said last month that "Afghan oriented militant groups, including the Taliban and Haqqani Network, retain freedom of action inside Pakistani territory and benefit from support from elements of the Pakistani Government."
Full report at:
http://www.khaama.com/pakistani-army-and-government-react-at-afghan-us-criticisms-03075
-------
Southeast Asia
Muslims not encouraged to keep dogs at home, Perlis Mufti says
July 8, 2017
KANGAR, July 8 — Muslims are not encouraged to keep dogs in the house, according to Perlis Mufti, Dr Mohd Asri Zainul Abidin.
He said there was a hadith (saying) from Prophet Muhammad that deemed a dog's lick as "najis" (unclean).
"To avoid being licked by a dog which always has its tongue out, with the animal's saliva regarded as unclean from the religious aspect and harmful, according to science, Islam forbids keeping dogs in the house without a valid reason," said Mohd Asri on his Facebook page.
His statement was in reference to the viralled incident of a tudung-clad Muslim woman who kept her pet dog in the house and allowing the dog to lick her, after she posted it onto her Facebook page.
Mohd Asri said the Prophet's hadith as narrated by renowned Islamic scholars Bukhari and Muslim mentioned reduced daily blessings for letting dogs in the house , except keeping the animal (outside the house) for hunting purposes and for guarding livestock.
He said that based on that hadith, keeping dogs for the reasons mentioned was deemed "makruh" (inappropriate but not a sin) although some ulama viewed it as haram (forbidden).
He added that many studies found that a dog's bite, saliva and faeces could be detrimental to health and that was why Islam discouraged Muslims from keeping dogs as pets. — Bernama
http://www.themalaymailonline.com/malaysia/article/muslims-not-encouraged-to-keep-dogs-at-home-perlis-mufti-says
-------
Philippines police push for ID cards for Muslims as part of anti-terrorism efforts
Jul 08, 2017
According to The Gaurdian Police from a region in the majority-Christian Philippines are considering issuing mandatory identification cards to thousands of Muslims living there – a proposal Human Rights Watch condemned as "collective punishment".
Authorities in Central Luzon, a region north of the capital, were quoted in local media as saying the policy was a counter-terrorism measure after Islamist militants took over a city hundreds of kilometres to the south on the island of Mindanao.
The issue was discussed at a meeting between police, military and political figures and about 200 Muslim religious and community leaders at the provincial capitol building, according to news outlet Rappler.
Chief Superintendent Aaron Aquino said the ID cards would allow authorities to identify and weed out undesirable individuals and terrorists, Rappler reported.
He said the system had already been implemented in the town of Paniqui "and we want this to be replicated in all Muslim communities in the whole region for easy and efficient identification of our Muslim brothers and sisters".
Government forces have been hammering the city of Marawi in the south for nearly two months after local militant factions, who claim allegiance to Isis, rampaged through and took control.
President Rodrigo Duterte has imposed martial law across Mindanao and had to apologise after blaming the residents of Marawi by saying they allowed Isis sympathisers to stay.
Human Rights Watch said authorities were threatening to "single out Muslims" with ID cards, violating the rights to equal protection of the law and freedom of movement.
"Requiring Muslim-only IDs in response to a perceived failure of Muslims to prevent Islamist fighters from entering Marawi City is a form of collective punishment," the New York-based advocacy group said in a statement.
Full report at:
http://nation.com.pk/international/07-Jul-2017/philippines-police-push-for-id-cards-for-muslims-as-part-of-anti-terrorism-efforts
-------
Malaysia close to attaining US visa waiver status
July 8, 2017
PETALING JAYA: Malaysia is getting close to attaining visa waiver status to the United States, said US Ambassador to Malaysia Kamala Shirin Lakhdhir.
She said with a 96.7% approval rate for US business (B1) and tourist (B2) visas, Malaysia was almost there in getting the waiver, Star reported.
A country needs to attain an above 97% approval rate for these visas before it can qualify for the US Visa Waiver Programme (VWP).
The VWP enables citizens of specific countries to travel to the US for tourism, business or transit for up to 90 days.
"However, Malaysia has not reached the full 'standard' as border and travel security measures must also be improved," the envoy told participants at the Asian Strategy and Leadership Institute's (Asli) roundtable on "Enhancing Malaysia-US ties in a new era".
She added that the Malaysian government needed to keep working on the list of requirements, which would also improve Malaysia's safety standards.
The approval rate for Malaysians applying for US student visas was now at 99%, said Lakhdhir, who assumed her duties here in January.
Referring to the travel ban imposed on Muslim-majority countries by the Trump administration, she said Malaysia would not be affected.
"US President Donald Trump's executive order to ban the entry of people from six Muslim-majority countries would not affect Malaysia," she was quoted as saying by the daily.
On June 29, the ban came back into effect after being challenged in American courts for over five months and now it applies to visa applicants from Syria, Sudan, Somalia, Libya, Iran and Yemen for the next 90 days.
Lakhdhir said although the Trump administration was re-looking at procedures on travel and border security, it had made no formal statement on the VWP for Malaysia.
Meanwhile, she said that Malaysia was among the top 25 places of origin of international students in the US, with nearly 8,000 students there presently, an 8.3% increase from 2016.
"The US has a goal of increasing the number of Malaysians studying there but there was a misconception that student visas were hard to obtain and that Muslim students were not welcomed," she was quoted as saying by Star.
Full report at:
http://www.freemalaysiatoday.com/category/nation/2017/07/08/malaysia-close-to-attaining-us-visa-waiver-status/
-------
National scene: NU offers suggestions on five-school day
July 8 2017
The Nahdlatul Ulama (NU), Indonesia's largest Muslim organization, broached on Friday its suggestions for the government on its controversial five-day school policy.
The Ma'arif Education Agency, NU's education wing, said NU itself had previously detailed what it called a "holistic-integrative" concept on character education, which will also be the focus of the state's five-day ...
http://www.thejakartapost.com/news/2017/07/08/national-scene-nu-offers-suggestions-five-school-day.html
--------
Africa
Kenya: Islamic Finance Provides Kenyans With Cushion Against Drought
7 JULY 2017
By Zoe Tabary
Wajir — This Muslim-majority county's first private cooperative offers interest-free loans, with no fees for late payment - in accordance with Islamic principles
Hamara Hujale tries to keep an eye on two squirming children and a pot of simmering ugali - a white doughy dish - as she reaches for her buzzing phone.
After speaking a few words, she hangs up and scribbles in a wrinkled notebook.
"My driver has found another customer so won't be back for another 30 minutes," she says with a satisfied smile.
Hujale, who lives in the northeast Kenyan town of Wajir, used to make and sell kitchen utensils, "mostly to pastoralists who would use them as dowry for their daughters' weddings".
"But as they lost their animals to drought, they had no money left to buy my products. So I had to find an alternative," she said.
Last year she secured a loan of 370,000 Kenyan shillings (about $3,560) through Crescent Takaful Sacco, an Islamic finance institution, and used the money to buy a tuk-tuk and set up a taxi business in Wajir.
Access to credit is critical to help communities prepare for and cope with increasingly frequent climate shocks like droughts and floods, experts say.
But in this Kenyan region bordering Somalia, where over 90 percent of the population is Muslim, few banks or institutions offer financial services that comply with Islamic law, which bans gambling and speculation, including interest-bearing loans, said Diyad Hujale, a programme coordinator at Mercy Corps, a charity, and no relation to Hamara.
To remedy this, in 2016 a project helped set up the county's first private cooperative offering financial products in accordance with Islamic principles - such as interest-free loans, with no fees for late payment.
The initiative, which is part of the Building Resilience and Adaptation to Climate Extremes and Disasters (BRACED) programme, is funded by the UK Department for International Development (DFID) and led by Mercy Corps.
Gladys Mutisya, manager of the Wajir sacco, said it targets "the unbanked: pastoralists - who make up half of our clients - farmers, and poorer communities in general."
"We're trying to fill a gap that banks and traditional institutions are not able or willing to fill."
Diyad Hujale explained that while Sharia-compliant financial services already exist in Nairobi, the capital, and elsewhere in the country, they are too far away and expensive for local residents to access - so the BRACED programme supported the sacco to hire and train staff in Wajir.
PREPARING FOR SHOCKS
The toughest challenge in this largely pastoralist county is prolonged drought, which Hamara Hujale said "affects everyone".
In addition to her kitchen utensil business, she used to herd over 100 goats - but drought has claimed many of them.
"I can't even remember how many have died," she said, bending to smell her pot of ugali.
Catherine Simonet of the Overseas Development Institute (ODI), a London-based think tank, said that families with little or no disposable income are most affected when drought hits.
Repeated droughts create "a vicious circle where they not only have no alternative income if they have lost their harvest, for example, (but) they are also made more vulnerable to the next shock", she said.
To avoid this situation, Mutisya said the sacco's clients tend to take out loans in "good times", such as the harvesting season, when they can most easily qualify for loans.
They then hold the cash as easily accessible savings, so that in dry periods they can buy food and fodder for their animals to survive.
BUSINESSES FOR RESILIENCE
While many clients use the sacco as a way to boost their cash on hand, others like Hamara Hujale take out larger loans to set up their own businesses.
That fills a key gap in the market that is not met by other banks or institutions, Diyad Hujale said.
"Wajir is vast and its residents earn very little, so to most investors they don't make 'business sense,'" he said.
Simonet concurred that the potential for pastoralists to launch businesses is often underestimated.
"We tend to only look at pastoralists for example as households, when they're also producers, businesses, and a hugely untapped source of investment," she said.
Key to the sacco's model is trust, said Mutisya. "We don't just blindly give out loans. We assess the viability of our clients' business ideas and we train them on issues like accounting."
To minimise risk, the financial institution often lends money to groups rather than individuals. "The group's cohesion and reputation acts as a guarantee for us," Mutisya said.
Hamara Hujale, who took out a loan on her own, now makes up to 2,000 shillings ($20) per day from her two businesses - nearly twice as much as when she only sold utensils.
"But I need the money to repay over 30,000 shillings per month to the sacco," she said. Her dream, once she has repaid the loan in full, is to "buy a bigger car to serve as a taxi in rural areas".
REACHING REMOTE AREAS
Since the sacco opened, about 500 accounts have been created, Diyad Hujale said.
But "we're only present in a 20km radius around the town, when the entire county needs us," he said.
He hopes mobile phone technology will allow the initiative to expand and reach more people through an online platform, without the need to physically meet with an agent.
"Currently the only way to get a loan outside of Wajir town is for our agents to travel to outside villages, so the operation is currently very costly," he explained.
Simonet said a mobile service would make particular sense for pastoralists.
"Pastoralists not only live in rural areas, they are also constantly on the move. So to them a physical branch or agents don't make sense," she said.
http://allafrica.com/stories/201707080031.html
--------
Nigeria court rejects Shia cleric's lawsuit against army
Jul 8, 2017
A Nigerian court has dismissed a lawsuit filed by Sheikh Ibrahim Zakzaky, the jailed leader of the Islamic Movement in Nigeria (IMN), against the country's military over its human rights violations.
The Federal High Court in the northern Nigerian state of Kaduna on Friday rejected the suit by the prominent Shia cleric, who was seeking 5.6 million dollars in damages over the 2015 attacks by army troopers that led to the killing of some 350 of his followers in the northern city of Zaria, including his three children.
Zakzaky was himself brutally injured, and his house was reportedly destroyed by the Nigerian army in the attack. He has been in custody ever since.
A justice said the lawsuit was rejected for "abuse of court processes" as it had been determined earlier by another court in the capital, Abuja.
Zakzaky's lawyer, Haruna Magashi, however, argued that the two cases were fundamentally different and the latest judgment was being reviewed before deciding whether to appeal.
"The case before the Abuja federal high court pertains to illegal detention without trial of my client by the DSS (Department of State Services)," he said. "This particular one is about enforcement of human rights, which by law can only be filed at a court within whose jurisdiction the crime was committed."
The IMF leader and his wife have spent nearly 18 months in custody since the clashes on December 14, 2015. An Abuja court denounced the detention of Zakzaky and his followers as illegal and unconstitutional, imposing a 45-day deadline for their release. The Nigerian government appealed the judgment.
Last year, nearly 100 other IMN supporters were killed when Nigerian forces fired live rounds and tear gas at mourners during a peaceful march ahead of the Arba'een mourning rituals, which marks 40 days after the martyrdom anniversary of Imam Hussein (PBUH), the third Shia Imam. Authorities also destroyed a number of buildings belonging to the IMN.
In December 2016, Human Rights Watch (HRW) slammed the massacre of the Shias and the Nigerian forces, whom it held responsible for the December 2015 attacks.
Full report at:
http://217.218.67.231/Detail/2017/07/08/527782/Nigeria-Federal-High-Court-lawsuit-Zakzaky
-------
URL: https://www.newageislam.com/islamic-world-news/all-india-ulema-board-demands/d/111817
New Age Islam, Islam Online, Islamic Website, African Muslim News, Arab World News, South Asia News, Indian Muslim News, World Muslim News, Women in Islam, Islamic Feminism, Arab Women, Women In Arab, Islamophobia in America, Muslim Women in West, Islam Women and Feminism