New Age Islam News Bureau
22 November 2021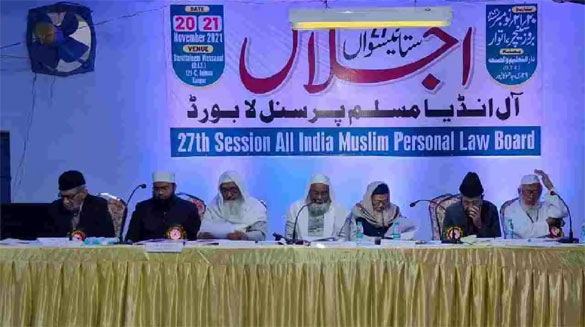 All India Muslim Personal Law Board Opposes Uniform Civil Code, Seeks Enactment of Anti-Blasphemy Law
-----
• Pakistan Government Says 'Not Acceptable' to the banned Tehreek-e-Taliban Pakistan Demand of Political Office in Third Country
• Taliban's "Religious Guideline": Stop Showing Dramas and Soap Operas Featuring Women Actors
• Oyo Muslim Community Threatens Schools against Hijab Use with Legal Action
• "İbrahim" Carlos, Born To a Catholic Family in Honduras Finds Islam and Rumi from Honduras to Turkey to Pakistan
India
• Shankaracharya of Puri Courts Controversy: Ayodhya Mosque Land Will Turn Into Pakistani Hub
• BJP rakes up halal issue in Kerala, calls for practice to be banned across state
--------
Pakistan
• 'Musharraf Institutionalised Enforced Disappearances', says Farhatullah Babar
• Saad Rizvi urges people to vote for TLP in next polls
• Sikh pilgrims throng Gurdwara Punja Sahib in Hassanabdal to pay homage to Guru Nanak
• Protests erupt in Pakistan's Gwadar amid growing backlash against CPEC
• Pakistan, IMF reach staff-level agreement on steps for revival of package
--------
South Asia
• Chabahar sees increase in traffic as Taliban backs trade via port
• Muslim mason sculpts shrines for Bangladesh's Hindu dead
--------
Africa
• Sudan military to reinstate ousted PM Hamdok after agreement reached
• Car bomb blast near Somali Security Ministry kills 1 journalist, wounds another
• Protests block French army convoy in Burkina Faso
• Sudanese protester dies of wounds, death toll rises to 40: Medics
• 23 people submit applications to run in Libya presidential polls
• Jordanian lawmakers slam UK terror label of Hamas
--------
North America
• US encouraged by Sudan deal, warns against excessive force on protesters: Blinken
• Pentagon chief Austin reiterates commitment to security in the Middle East
• Turkish, US presidential aides discuss ties, regional matters in telephone call
--------
Arab World
• Grand Imam of Al Azhar: Prince Charles Is A Wise And Responsible Leader
• Islamic Council elects Sheikh Osama Al-Rifa'i as Syria's Grand Mufti
• Lebanese navy rescues distressed boat carrying migrants
• UAE welcomes signing of agreement to complete transitional phase in Sudan
• In UAE, French finance minister warns of climate action cost
• Saudi defences intercept Houthi drone launched toward Najran airport
--------
Southeast Asia
• Anwar Needs to Bow out Eventually, Says Analyst
• Melaka poll: BN's two wins by MCA candidates meaningful to party, says Wee
• Any 1MDB director who said 'no' to Najib would likely have to quit, ex-director tells court
• Indonesia Muslim council calls for review of loudspeaker use at mosques
• Indonesian Muslim cryptocurrency enthusiasts find a way around Islamic fatwa
--------
Mideast
• IRGC Navy Commander: US Slapped 9 Times by Iran in Persian Gulf
• Palestinian man kills one, wounds three in Jerusalem
• Three more Iran police dead in week of violence: Report
• Gunman kills one in Jerusalem's Old City, shot dead by Israeli police
• Iran's second-largest airline Mahan Air says hit by cyber attack
• Ultraconservative Iran MP's Office Torched After Protest Remarks
--------
Europe
• Egypt Uses French Military Aid To 'Kill Civilians' Over 'Smuggling': Report
• Traditional Turkish archery promoted in Brussels
• Afghanistan banking system at risk of collapse, cost could be 'colossal:' UN report
Compiled by New Age Islam News Bureau
URL: https://www.newageislam.com/islamic-world-news/muslim-personal-board-uniform-civil-code-ucc-blasphemy/d/125819
--------
All India Muslim Personal Law Board Opposes Uniform Civil Code, Seeks Enactment of Anti-Blasphemy Law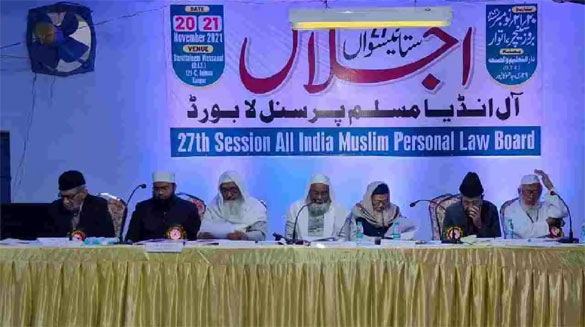 All India Muslim Personal Law Board Opposes Uniform Civil Code, Seeks Enactment of Anti-Blasphemy Law
-----
Nov 22, 2021
NEW DELHI: The All India Muslim Personal Law Board on Sunday demanded the enactment of an anti-blasphemy law to punish those who show disrespect to Prophet Muhammad and "holy religious figures" and urged the government not to attempt imposing the Unform Civil Code, directly or indirectly.
The conservative Muslim body, which exercises a crucial say in the affairs of the community, also sought "curbs against communal and hostile posts on social media and legal action against miscreants". The demands are part of a resolution adopted at the two-day convention attended by around 200 AIMPLB members in Kanpur on Sunday.
It has been highlighted in the resolution that "esteemed Hindu, Sikh and other non-Muslim scholars have consistently acknowledged the greatness of Prophet Muhammad. By the same token, in line with the teachings of Islam, Muslims too have shunned attributing any offensive word about respectable figures of other religions. It is, however, highly deplorable that of late some mischievous persons have openly insulted Prophet Muhammad whereas government has not taken any deterrent step in this regard." The resolution emphasised that "this attitude of communal forces is totally unacceptable."
The AIMPLB demanded the government punish those guilty of showing disrespect to holy religious figures. "The government should enact effective legislation for tackling this issue," said S Q R Ilyas, convener, Committee for Protection of Religious and Cultural Freedom and Personal Laws of AIMPLB. The resolution did not name any religious figure other than Prophet Muhammad.
On the Unform Civil Code, the conservative body said, "UCC is neither suitable nor useful for such a vast multi-religious country as India." The AIMPLB also asserted that in the past few years "poisonous propaganda" has been carried out against Muslims.
Source: Times of India
Please click the following URL to read the text of the original story:
https://timesofindia.indiatimes.com/india/aimplb-opposes-ucc-seeks-anti-blasphemy-law/articleshow/87838651.cms
--------
Pakistan Government Says 'Not Acceptable' to the banned Tehreek-e-Taliban Pakistan Demand of Political Office in Third Country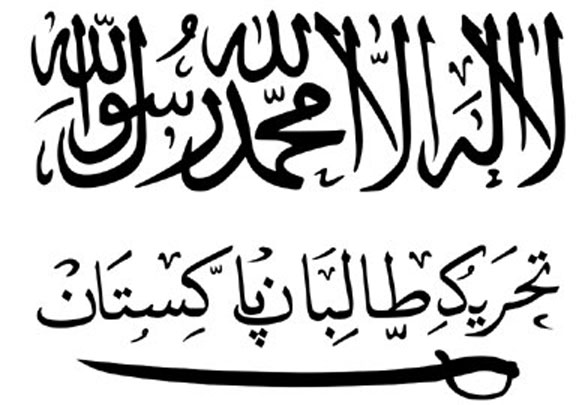 Tehreek-e-Taliban Pakistan
-----
21st November 2021
ISLAMABAD: The banned Tehreek-e-Taliban Pakistan (TTP) has asked the Pakistan government to allow it to open a political office in a third country, a demand rejected by Islamabad as unacceptable, according to a media report.
In a series of meetings with the Pakistani authorities during negotiations for a peace agreement, the TTP made three demands, which include allowing the opening of a political office in a third country, reversal of the Federal Administered Tribal Areas merger with the Khyber-Pakhtunkhwa province and the introduction of Islamic system in Pakistan, the Express Tribune newspaper reported on Saturday.
"But Pakistani authorities told the TTP directly and through Taliban interlocutors that these demands were not acceptable," the paper said.
"The TTP was particularly told in categorical terms that there was no question of introducing an Islamic system based on their interpretation. Also the terrorist group was told that Pakistan is an Islamic republic and the country's Constitution clearly states that all laws in Pakistan have to be in conformity with the teachings of Islam," it added.
The Pakistan authorities, in turn, put forward three demands to the TTP.
These include, accepting the writ of the state, laying down arms and issuing a public apology for the terrorists' acts committed by them.
If these demands are met, the authorities said they would consider granting them amnesty, it said.
Earlier this month, Pakistan's Information Minister Fawad Chaudhry had announced that a complete ceasefire had been reached between the government and the TTP.
At the same time, Chaudhry had said that the interim Afghan government had facilitated the negotiations - a claim reiterated by the TTP itself.
The government is now trying to use the influence of the Afghan Taliban over the TTP to reach a broader peace agreement and end nearly two decades of militancy in the country.
The TTP, commonly known as Pakistani Taliban, is a banned militant group based along the Afghan-Pakistan border.
It has carried out a number of major terror attacks across Pakistan and reportedly been using Afghan soil to plot terrorist attacks in Pakistan.
Last month, Prime Minister Imran Khan disclosed in an interview that his government was in talks with the TTP for "reconciliation" with the help of the Taliban in Afghanistan, drawing criticism from politicians and victims of terrorism.
Interior Minister Sheikh Rashid had defended the government's move, saying the negotiations are for "good Taliban".
The Parliament was told during the national security briefing that a final peace deal with the TTP would be struck only after all the conditions are met and traditional jirgas would be employed to make sure they don't take up arms again, the paper added.
However, opposition parties are not particularly pleased by the outcome of these talks, as the TTP had used similar peace deals in the past to regroup and unleash a wave of attacks across Pakistan.
The Pakistani military had launched a major operation against militants in North Waziristan, the last bastion of the TTP, forcing them to flee into Afghanistan.
But the militants using the sanctuary in the neighbouring country have been launching frequent cross-border attacks, assassinations, fire-raids and bombings in different parts of Pakistan.
When the Afghan Taliban took over Kabul in August, Pakistan handed the new government a list of demands including seeking action against the TTP terrorists operating out of Afghanistan.
The Taliban government, however, instead of taking action against them offered Pakistan its "good offices" to seek a solution through talks.
Pakistan accepted the offer in the hope that the Afghan Taliban would not act as mediators but guarantors of any peace deal with the TTP.
Source: New Indian Express
Please click the following URL to read the text of the original story:
https://www.newindianexpress.com/world/2021/nov/21/ttp-demands-political-office-in-third-country-pakistan-government-says-not-acceptable-2386404.html
--------
Taliban's "Religious Guideline": Stop Showing Dramas And Soap Operas Featuring Women Actors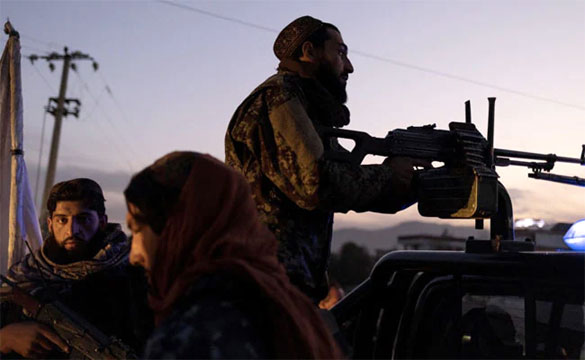 The Ministry called for banning films or programmes that are against Islamic and Afghan values.
-----
Nov 22, 2021
KABUL: Afghanistan's Taliban authorities on Sunday issued a new "religious guideline" that called on the country's television channels to stop showing dramas and soap operas featuring women actors.
In the first such directive to Afghan media issued by the Ministry for the Promotion of Virtue and Prevention of Vice, the Taliban also called on women television journalists to wear Islamic hijabs while presenting their reports.
The ministry also asked the channels not to air films or programmes in which the Prophet Mohammed or other revered figures are shown.
It called for banning films or programmes that were against Islamic and Afghan values.
"These are not rules but a religious guideline," ministry spokesman Hakif Mohajir told AFP.
The new directive was widely circulated late Sunday on social media networks.
Despite insisting they will rule more moderately this time around, the Taliban have already introduced rules for what women can wear at university, and beaten and harassed several Afghan journalists despite promising to uphold press freedoms.
The Taliban's guideline for TV networks comes after two decades of explosive growth for independent Afghan media under the Western-backed governments that ruled the country until August 15, when the Islamists regained power.
Dozens of television channels and radio stations were set up with Western assistance and private investment soon after the Taliban were toppled in 2001.
During the past 20 years, Afghan television channels offered a wide range of programmes- from an "American Idol" style singing competition to music videos, along with several Turkish and Indian soap operas.
When the Islamists previously ruled from 1996 to 2001, there was no Afghan media to speak of- they banned television, movies and most other forms of entertainment, deeming it immoral.
People caught watching television faced punishment, including having their set smashed. Ownership of a video player could lead to a public lashing.
There was only one radio station, Voice of Sharia, that broadcast propaganda and Islamic programming.
Source: Times of India
Please click the following URL to read the text of the original story:
https://timesofindia.indiatimes.com/world/south-asia/taliban-to-afghan-networks-stop-airing-shows-with-women-actors/articleshow/87843023.cms
--------
Oyo Muslim Community Threatens Schools Against Hijab Use With Legal Action
November 21, 2021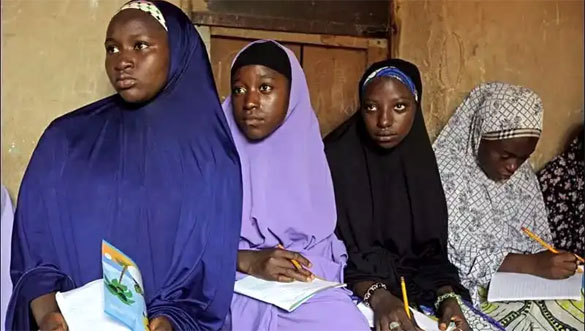 Girls in Hijab [Photo Credit: Republic Reporter
-----
By Musliudeen Adebayo
Muslim Community of Oyo State has threatened public schools that are barring the usage of Hijab by students with legal action.
Chairman of the organisation, Alhaji Kunle Sanni, made this disclosure while speaking at a programme organised by the community "Unity of Muslims in Oyo state: An inevitable option" held at the University of Ibadan Central Mosque on Sunday.
Present at the event included Aare Musulumi of Yorubaland, Edo and Delta states, Alhaji Daud Akinola; Executive Secretary, Muslim Ummah of South West Nigeria (MUSWEN), Professor Muslih Yahya; Chief Imam, University of Ibadan, Professor Abdulrahman Oloyede; and representatives of various Muslim organisations in the state.
Recall that some public primary, secondary and tertiary education institutions have been barring female Muslim students from wearing Hijab.
The latest incident of the Hijab crisis was the one that occurred at Ladoke Akintola University of Technology (LAUTECH), Ogbomoso, where a female Muslim student was reportedly humiliated in public.
The community has however said that it will no longer tolerate the incidents of 'harassment' of female Muslim students by public schools.
The Chairman of the organisation, Alhaji Kunle Sanni, who spoke on behalf of the organisation, said that the organisation will go back to court to seek legal action for the enforcement of the usage of Hijab for Muslim women.
He said, "With this persecution of our children in the so-called Christian schools where they even remove Hijab from their head we are no more comfortable with the situation.
"What section 32:2 of the constitution says "is that a Muslim is entitled not only to freedom of religion but freedom to manifest his religion" The use of the Hijab is a manifestation of Islam.
"No state Muslim communities have lost the case of the use of Hijab because the constitution is clear about it.
"When my friend Christopher Alao Akala was the Governor, some Muslim teachers started using Niqab in Kishi and they were dismissed, they went to court.
"The Christian judge not only adjudicated that the teachers have right to put on their Niqab as their religious right, but she also said their three years backlog of salaries should be paid.
"We would Insha Allah go back to court because we want Hijab for all women in Oyo State".
Source: Daily Post
Please click the following URL to read the text of the original story:
https://dailypost.ng/2021/11/21/oyo-muslim-community-threatens-schools-against-hijab-use-with-legal-action/
--------
"İbrahim" Carlos, Born To a Catholic Family in Honduras Finds Islam and Rumi from Honduras to Turkey to Pakistan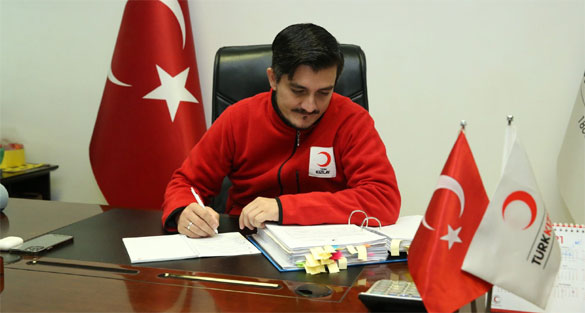 İbrahim Carlos Camilo Clavijoolarte works in his office in Islamabad, Pakistan, Nov. 21, 2021. (AA PHOTO)
------
NOV 21, 2021
Carlos Camilo Clavijoolarte, born to a Catholic family in Honduras, had a chance encounter with a family friend who was a Muslim convert and who introduced him to writings of famed mystic Mevlana Jalaluddin Rumi.
Now known as "İbrahim" Carlos, he recounted his journey towards Islam and how he ended up working at the Turkish Red Crescent as the charity's delegation head in Pakistan, thousands of miles away from Panama, his second home.
Clavijoolarte migrated to Panama when he was 15 with his devoutly Catholic family. He grew more distant to his faith while in Panama. "I was particularly baffled by the confession rituals. I was feeling like I fell into a void in terms of spiritual existence. I stopped attending church and sought God's help to fill the void in my heart," he told Anadolu Agency (AA) in an interview on Sunday.
He was in Spain for work in 2004 and continued to drift from the church. "I was praying to God day and night before I came across signs (for conversion)." A Spanish family friend, Muslim convert Fatih Alvaro Samper, paved the way for Clavijoolarte's gradual conversion to Islam.
"His good behavior, kindness and charitable work impressed me. He gave me a book of poems by Mevlana Jalaluddin Rumi. I have fallen in love with the book. Rumi's words were holding secrets (of faith) for me," he recounted.
Samper introduced him to other Muslims. "I asked him if he had any other Muslim friends. He told me he did not have any; he had Muslim 'brothers and sisters'."
A visit to a restaurant run by a Muslim in Spain's Granada was the final step for his conversion.
"I saw Muslims coming from different cities working there to help him, for free. It was strange. But I wanted to help him too. I was hearing voices in my head, one telling me to stop and ask to get paid, and the other telling me to keep helping others. It was so loud, I thought a disembodied voice was talking to me and I was about to die. The voice told me to come to him and I was feeling blessed," he recalled his experience.
After his conversion to Islam, Clavijoolarte sought a place where he could learn more about the religion. Upon the recommendation of his friends in Spain, he traveled to Turkey.
"This is a country where you can best learn Islam's history and culture. Living in Turkey opened a new window into my life. I was impressed by people's charity here," Clavijoolarte, who first worked at Turkish Diyanet Foundation (TDV), a charity group active across the world, said.
"I have seen the greatness of Turkish civilization. I have seen they helped others regardless of their race and religion," he said. Since 2018 he has served as head of the Turkish Red Crescent's delegation in Islamabad.
As for his religious family, Ibrahim Carlos says he encountered opposition from them.
"I had a fiance who broke up with me when she found out that I converted to Islam. I was very close to my sister and when she found out, she told me that I was now dead to her," he recalled.
For one year, his family did not speak to him, but Clavijoolarte says he now made amends with them.
Source: Daily Sabah
Please click the following URL to read the text of the original story:
https://www.dailysabah.com/turkey/from-honduras-to-turkey-and-pakistan-carlos-finds-islam-and-rumi/news
--------
India
Shankaracharya of Puri Courts Controversy: Ayodhya Mosque Land Will Turn Into Pakistani Hub
Nov 22, 2021
AYODHYA: The Shankaracharya of Puri, Swami Nishchalananda, has courted controversy by saying that land mandated to the Sunni Waqf Board to build a mosque in Ayodhya would soon turn into a 'Pakistani' hub. After paying obeisance to Ram Lalla late Saturday, the Puri seer said, "With construction of another mosque in lieu of Babri masjid, we will be creating a mini-Pakistan.
If similar court judgments come for disputed shrines of Kashi and Mathura, another two Pakistani hubs will come up in the country." The Shankracharya raised objection to handing over 5acre plot to Muslims by the Supreme Court in its Ayodhya judgment. "Muslims will be constructing a grand mosque in Ayodhya, which will be the epicentre of anti-national activity by those nurturing allegiance to Pakistan," he said.
Reacting to Shankracharya's statement, IICF secretary Athar Husain said, "It's unbelievable that a seer can issue such a statement that fuels hatred against a community. If he has said these words, it's very unfortunate. I will not make any comment on a Shankaracharya because Islam teaches us to respect religious heads."
Source: Times of India
Please click the following URL to read the full text of the original story:
https://timesofindia.indiatimes.com/city/lucknow/puri-seer-ayodhya-mosque-land-will-turn-into-pakistani-hub/articleshow/87840320.cms
--------
BJP rakes up halal issue in Kerala, calls for practice to be banned across state
by Shaju Philip
November 22, 2021
The BJP on Sunday demanded that the Kerala government ban halal food and halal boards in eateries across the state.
The BJP demand comes after claims emerged on social media that the Muslim clergy would spit on food to make it halal. Last week, former VHP state president S J R Kumar had moved the High Court, alleging that halal-certified jaggery was used at Sabarimala temple for preparing prasadam.
Upping the ante on Sunday, BJP state general secretary P Sudheer, addressing the media, claimed that halal is a "social evil" like triple talaq. "The BJP does not believe that halal is a religious practice and doesn't think that even Islamic scholars would back it. By giving a religious façade for halal, extremist organisations are trying to implement a communal agenda in Kerala society," he said. Claiming that there is a sudden spurt in halal boards in the state, Sudheer said, "If this is being done on behalf of the religion, scholars should be ready to rectify it."
Backing Sudheer, BJP state president K Surendran said in Kozhikode that the "halal phenomenon" in Kerala is "neither accidental nor innocent".
"Certain religious extremists are behind promoting halal culture. Those forces want to divide people of Kerala and foment tension in society. There is a clear agenda behind spreading halal culture," Surendran said.
P C George, a former leader of regional Christian party Kerala Congress (M), also joined the issue. An ex-legislator, George, who had invited the wrath of Muslim organisations over his anti-community comments in the recent past, on Sunday claimed that halal food is part of religious fundamentalism.
Source: Indian Express
Please click the following URL to read the full text of the original story:
https://indianexpress.com/article/cities/thiruvananthapuram/bjp-halal-kerala-banned-7634656/
--------
Pakistan
'Musharraf Institutionalised Enforced Disappearances', says Farhatullah Babar
Irfan Aslam
November 22, 2021
LAHORE: Former Senator Farhatullah Babar says enforced disappearances and extrajudicial killings have been there since decades but they were institutionalised during the regime of Gen Pervez Musharraf who acknowledged in his book, In the Line of Fire: A Memoir, the people of Pakistan were hunted for the CIA against millions of dollars but no action was taken against Musharraf as the state agencies were involved in it.
"In 2018, we called the chairman of the commission on enforced disappearances to the Senate and he was asked many questions. When he was asked about the prosecution and investigation, he said the missing persons, after their return, would not want to pursue their cases," Mr Babar said in a session "Rights of Detainees and Prisoners" on the second day of Asma Jahangir Conference here at a private hotel.
He said 153 army personnel had been identified and it was said that action was being taken against them but nothing practical was done. He added that in a statement of the ISPR, it was said that not all missing persons were in custody of the forces, in other words, admitting that at least some missing persons were in their custody.
"Akhtar Mengal had threatened not to vote for the budget unless missing persons from Balochistan were released and on his demand, 48 missing persons were set free. The question is who released them and the answer is the state agencies."
Mr Babar lamented that the commission on enforced disappearance had failed because it had not been able to investigate even a single person involved in missing persons cases, let alone prosecute them. It claimed to have secured the release of 3,800 people but not even in one case, it had been able to investigate and prosecute those responsible, the senator added.
"The Senate committee asked the Balochistan government to give a list of the mutilated bodies found in the last two years. It gave the figure of 53 but no FIR was registered because the relatives did not want it, showing the distrust of people in the government."
Mr Babar said more than 7,000 cases of enforced disappearances had been registered but not a single case was investigated because of the elephant in the room, which did not permit it. He suggested that the intelligence agencies should be brought under some legislation as solution to the enforced disappearances.
Advocate Shabbir Hussain Gigyani from Peshawar said since 2006 when the Talibanisation started, the people of tribal areas were deprived of their legal rights. The extrajudicial killing and enforced disappearances started in the areas started in 2008 when the army operation was launched and there was no legislation on it. In 2011, he added, the parliament gave a legal protection to the operation perhaps under the direction of the armed forces.
Mr Gigyani said making law was not a big deal but the enforcement of law was more important, which was an issue.
"The American public had protested against the Guantanamo Bay prison but there are even worse kind of detention centres in Pakistan in the areas of Lakki Marwant, Kohat, Peshawar and Khyber district where 8,000 people were being kept as per the report of the state," he added.
Rights activist Amna Janjua described the ordeal after her husband went missing in 2005. She and her family are still waiting for his return while their questions go unanswered. The session was moderated by Saroop Ejaz.
ANTI-RAPE LAW
Senator Waleed Iqbal says that since he took over as the chairman of the Senate Standing Committee on Human Rights, several laws have been taken up, including those on protection of the senior citizens, domestic violence, domestic workers and corporal punishment.
"Other than legislation, the committee has taken up the Noor Muqaddam case and Minar-i-Pakistan harassment incident. What I have learnt from these cases and the empirical evidence that it's not severity of punishment that actually deters crimes, particularly of violence against women, it's the certainty of the punishment that deters it when a perpetrator is aware is that the law will chase up after him and punish him," said Mr Iqbal during a session on "Anti-Rape Legislation–Barriers to Implementation" at the Asma Jahangir Conference.
He said there was the Section 354-A of PPC addressing that kind of incidents like Minar-i-Pakistan and it prescribes death penalty and life imprisonment for the perpetrator.
"The section has been there since 1984 from the era of Gen Zial Haq but it did not deter crimes of this nature because there was no certainty of punishment."
Mr Iqbal pointed out the victim-blaming, particularly of women, in the subcontinent due to a certain cultural mindset, which could be changed only through training and education.
"The male children in the family should be trained to respect women and the rule of the law." The new anti-rape law would also face the same fate as the earlier legislation if there would be no certainty of punishment and change in the mindset, he added.
Source: Dawn
Please click the following URL to read the full text of the original story:
https://www.dawn.com/news/1659414/musharraf-institutionalised-enforced-disappearances
--------
Saad Rizvi urges people to vote for TLP in next polls
Imran Gabol
November 22, 2021
LAHORE: Chief of the Tehreek-i-Labbaik Pakistan (TLP) Hafiz Saad Rizvi has declared he would lay down his life but would not surrender to any oppressor, and urged the people to vote for his organisation in the next general elections.
He was addressing an event termed the Shuhada-i-Namoos-i-Risalat Conf­e­rence on Sunday. Hundreds of people who had come to attend the concluding ceremony of the three-day Urs of Kha­dim Hussain Rizvi were in attendance.
Hafiz Rizvi was released from Kot Lakhpat jail on Thursday after an agreement with the government. The two sides reached an understanding after many rounds of talks and two weeks of clashes which left seven policemen and an unspecified number of TLP workers dead.
Says his followers are ready to sacrifice more lives if someone challenges them
Speaking on the occasion, the TLP chief said those who were astonished over the turn of events did not know who won the "battle". "Our mothers, dead and injured, have won the ground because they didn't step back while sacrificing their lives and property," he added.
He said his followers had shown the world that they would not step back and their mothers had not given birth to cowards. "Now my followers are asking what they will have to do in the 2023 elections after sacrificing the lives of their loved ones and property," he said.
He said all his comrades and followers stood for the respect and dignity of Prophet Muhammad (Peace be upon him) as the nation trusted them to protect the finality of his prophethood. "Now I demand from the nation that their ballot boxes should not remain empty during the next elections."
Hafiz Rizvi thanked former chairman of the Central Ruet-i-Hilal Commi­ttee Mufti Muneeb-ur-Rehman and all others who played a role in facilitating an agreement with the government.
Source: Dawn
Please click the following URL to read the full text of the original story:
https://www.dawn.com/news/1659486/saad-rizvi-urges-people-to-vote-for-tlp-in-next-polls
--------
Sikh pilgrims throng Gurdwara Punja Sahib in Hassanabdal to pay homage to Guru Nanak
November 22, 2021
TAXILA: Sikh pilgrims from across the world visited Gurdwara Punja Sahib in Hassanabdal on Sunday to perform rituals in connection with the 552nd birth anniversary of Baba Guru Nanak Dev, founder of the Sikh religion.
Around 3,000 pilgrims came from India. Religious slogans including Wahe Guru Ji Ka Khalsa and Wahe Guru Ji Ki Fateh echoed through the gurdwara that was decorated with colourful lights as pilgrims performed rituals including Matha Taki, Ashnan and the exchange of gifts.
Speaking to journalists, pilgrims hailed the government's initiative to open the Kartarpur Corridor to facilitate the Sikh community. They lauded Prime Minister Imran Khan for laying the foundation stone for Baba Guru Nanak University in Nankana Sahib and issuing a commemorative coin on the occasion of the 550th birth anniversary of Guru Nanak Dev.
Group leader of Sikh pilgrims from India Sardar Gurmeet Singh said the pilgrims had come to Pakistan with the message of love, peace, friendship and harmony.
"Pakistan is the land of Sikh Gurus and Sikhs love this land as this is our second homeland. We are always welcomed with love and it is a true example of Sikh-Muslim friendship," he said.
Shiromani Gurdwara Parbandhak Committee (Delhi) party leader Sardar Balvinder Singh lauded steps taken by the Pakistani government for upkeep and restoration of gurdwaras, adding that the latest step of opening the corridor would further cement relations between Pakistan and the Sikh community.
He said the Indian Sikh community was grateful to the government for issuing them the maximum number of visas, adding that, "Pakistan is sacred to us and we love it, and we come here with a message of peace and brotherhood."
Sardar Bishan Singh, a pilgrim from Amritsar, told Dawn that every religion taught love, tolerance and respect for humanity. He appreciated the Pakistani government's efforts for ensuring religious freedom for minorities and safeguarding sacred places and gurdwaras of the Sikh community.
Evacuee Trust Property Board (ETPB) Deputy Secretary Shrines Imran Gondal said the board, in collaboration with the Pakistan Sikh Gurdwara Parbandhak Committee and the district administration, had made security and accommodation arrangements for Indian and local Sikh yatrees.
Security measures were taken in and around the Sikh temple where dozens of officials from security agencies were deployed.
Regional Police officer (Rawalpindi region) Ishfaq Ahmed Khan reviewed arrangements and told journalists that multi-layered security plans were made to ensure that visiting pilgrims's safety.
"The police will provide foolproof security to Sikh yatrees," Mr Khan said, adding that, "around 700 policemen will perform security duties, including four district superintendents, six inspectors, 11 sub-inspectors, 23 assistant sub-inspectors, 33 head constables, 506 constables, 40 female constables and plainclothes officers."
Poetry recital
A Punjabi poetry recital was organised at the Rawalpindi Arts Council (RAC) on the occasion of Baba Guru Nanak's birth anniversary to promote inter-faith harmony on Sunday.
The recital was presided over by renowned poet Prof Dr Arshad Mahmood Nashad while Dr Farhat Abbas and Naseem Sehar participated as guests of honour in the gathering. People belonging to the literary circle participated in the concert.
Source: Dawn
Please click the following URL to read the full text of the original story:
https://www.dawn.com/news/1659422/sikh-pilgrims-throng-gurdwara-punja-sahib-in-hassanabdal-to-pay-homage-to-guru-nanak
--------
Protests erupt in Pakistan's Gwadar amid growing backlash against CPEC
Nov 21, 2021
KARACHI: Massive protests have erupted in Pakistan's port city of Gwadar against unnecessary checkpoints, a severe shortage of water and electricity and threats to livelihoods from illegal fishing, part of a growing backlash in the country against China's multibillion-dollar belt and road projects.
The protests organised by workers of some political parties, civil rights activists, fishermen and concerned citizens have been going on for a week at Y Chowk on Port Road in Gwadar, a coastal town in the restive Southwest Balochistan province of Pakistan.
The protesters demand the removal of unnecessary security check posts, availability of drinking water and electricity, eviction of big fishing trawlers from Makran coast and opening of the border with Iran from Panjgur to Gwadar, Jang newspaper reported on Sunday.
Head of the 'Give rights to Gwadar' rally Maulana Hidayat ur Rehman said the protests would continue until their demands are met, asserting that the government has not been sincere in resolving the problems of the local people living in the region.
Rehman has strongly criticised the government in the past for failing to resolve the basic problems of the people of Gwadar.
"We are demanding the rights of Gwadar, which were usurped by the rulers and the people were even deprived of basic needs. The fishermen were not able to earn their livelihood as big trawlers were allowed for fishing at Makran Coast," he said at a public meeting last month.
Rehman said despite building the Gwadar Deep Sea Port, the people of the city were still jobless and the government has done nothing about it.
"It is an insult for the sons of soil when they are stopped at checkpoints and inquired about their whereabouts," he was quoted as saying by The Express Tribune.
The protests are part of growing discontent with China's presence in Gwadar, whose port is an integral part of the USD 60 billion China-Pakistan Economic Corridor project (CPEC), the flagship project of China's multi-billion-dollar Belt and Road Initiative (BRI).
India has protested to China over the CPEC as it traverses through Pakistan-occupied Kashmir (PoK). The massive infrastructure project connects China's Xinjiang province with Gwadar port in Pakistan's Balochistan province.
Gwadar port has long been portrayed as the jewel in the CPEC crown, but in the process, the city has become the very embodiment of a security state.
The authorities' priorities are geared towards securing the port and its ancillary interests; the welfare of those for whom the area is home counts for little. Far from the port being a harbinger of an economic boom, the opposite has happened, The Dawn newspaper reported on Friday.
Existing privations have deepened; people's mobility is restricted by security forces and there is unwarranted questioning of their activities. Many say they are made to feel like strangers in their own land, it said.
Adding to the miseries of a large number of fishermen among the populace, the government, they complain, has issued licences to Chinese trawlers to fish in the waters off the coast. Their small boats cannot possibly compete, as a result of which their livelihoods are being squeezed. This is the petri dish of discontent from which have sprung the recent protests, it added.
Balochistan is home to a long-running violent insurgency, and China's presence in Gwadar has been the cause of much social unrest and led to anti-Chinese sentiment.
It has also given a fillip to Baloch militant insurgent groups, who have carried out terrorist attacks in protest at CPEC projects.
Source: Times of India
Please click the following URL to read the full text of the original story:
https://timesofindia.indiatimes.com/world/pakistan/protests-erupt-in-pakistans-gwadar-amid-growing-backlash-against-cpec/articleshow/87831449.cms
--------
Pakistan, IMF reach staff-level agreement on steps for revival of package
November 22, 2021
The International Monetary Fund (IMF) and Pakistan reached a staff-level agreement on policies and reforms needed to complete the sixth review under the $6 billion Extended Fund Facility (EFF) which has been 'in recess' since April, the Fund announced in a statement on Monday.
The agreement is subject to approval by the Fund's Executive Board, following the implementation of prior actions, notably on fiscal and institutional reforms, the IMF said. The approval of the agreement will make available 750 million in Special Drawing Rights (SDR), equivalent to $,1059m, it added.
This would bring the total disbursements under the programme to $3,027m and help unlock funding from bilateral and multilateral partners, according to the IMF statement.
The SDR is a basket of mixed currencies made available to member countries of the IMF.
In its statement following discussions with Pakistani officials, the IMF acknowledged the country's progress in implementing the programme "despite a difficult environment".
"All quantitative performance criteria (PCs) for end-June were met with wide margins, except for that on the primary budget deficit," the Fund noted, adding that finalisation of the National Socio-economic Registry (NSER) update, adoption of amendments in the National Electric Power Regulatory Authority (Nepra) Act, notification of all pending quarterly power tariff adjustments, and payment of the first tranche of outstanding arrears to independent power producers (IPPs) were "notable" achievements on the structural front.
The Fund also acknowledged Pakistan's progress in improving its anti-money laundering and combatting the financing of terrorism (AML/CFT) regime. However, additional time was needed to strengthen its effectiveness, according to the statement.
'Strong economic recovery has gained hold'
"Available data suggests that a strong economic recovery has gained hold, benefiting from the authorities' multifaceted policy response to the Covid-19 pandemic that has helped contain its human and macroeconomic ramifications," the IMF said. It noted that the tax revenue collection by the Federal Board of Revenue (FBR) had also been strong.
"At the same time, external pressures have started to emerge: a widening of the current account deficit and depreciation pressures on the exchange rate — mainly reflecting the compound effects of the stronger economic activity, an expansionary macroeconomic policy mix, and higher international commodity prices."
It observed that the government had gradually started to unwind coronavirus-related stimulus measures in response.
The Fund said the State Bank of Pakistan (SBP) had "taken the right steps" by starting to reverse the accommodative monetary policy stance, strengthening some macroprudential measures to contain consumer credit growth, and providing forward guidance.
The SBP had raised its benchmark interest rate by 150 basis points to 8.75 per cent last week as it grappled with surging inflation and uncertainty.
The government's policies would help safeguard the positive near-term outlook, the Fund stated, predicting that Pakistan's economic growth rate would reach or go beyond four per cent in the current fiscal year and 4.5pc in FY23.
It noted that inflation in the country remained high, adding that it "should start to see a declining trend once the pass-through of rupee depreciation is absorbed, and temporary supply-side constraints and demand-side pressures dissipate".
Regarding the current account deficit, the IMF said it was expected to widen in FY22.
Discussions between the IMF and government officials also focused on policies to help Pakistan achieve sustainable and resilient growth, according to the statement.
"On the fiscal policy front, staying on course on achieving small primary surpluses remains critical to reduce high public debt and fiscal vulnerabilities. Continued efforts to broaden the tax base by removing remaining preferential tax treatments and exemptions will help generate much-needed resources to scale up critical social and development spending."
Monetary policy
The IMF emphasised that the monetary policy needs to remain focused on curbing inflation, preserving exchange rate flexibility, and strengthening international reserves.
As economic stability deepens and the SBP Amendments Act is passed by parliament, the central bank should "gradually advance the preparatory work to formally adopt an inflation targeting regime in the medium term, underpinned by a forward-looking and interest-rate-focused operational framework", the Fund said.
It also underscored the importance of reforms in the electricity sector to make it financially viable and tackle its adverse effects on the budget, financial sector and real economy.
"In this regard, steadfast implementation of the Circular Debt Management Plan (CDMP) will help guide the planned management improvements, cost reductions, timely alignment of tariffs with cost recovery levels, and better targeting of subsidies to the most vulnerable," it noted.
Increased focus was needed to strengthen economic productivity, investment and private sector development, including improving the governance, transparency, and efficiency of the state-owned enterprise (SOE) sector, fostering the business environment, governance, and the control of corruption, boosting competitiveness and exports, promoting financial deepening and inclusion and stepping up to climate change, the IMF said.
Commenting on the development, Finance Ministry spokesperson Muzzammil Aslam said the agreement — which was achieved after 45 days of discussions between the IMF and the government — would "remove a lot of uncertainties".
Sources had earlier told Dawn that discussions between the two sides had concluded on Friday. The announcement of policy rate by the SBP was the last administrative and policy action in the domain of the economic team and stood accomplished. "Everything is agreed to, ready and finished, except legislative part," the sources said.
Source: Dawn
Please click the following URL to read the full text of the original story:
https://www.dawn.com/news/1659561/pakistan-imf-reach-staff-level-agreement-on-steps-for-revival-of-package
--------
South Asia
Chabahar sees increase in traffic as Taliban backs trade via port
Nov 20, 2021
NEW DELHI: The Chabahar port in Iran developed by India seems to be resuming normal operations after assurances by the Taliban that they want good diplomatic and trade ties with India and that they were going to support the role of the port in facilitating regional and global trade.
After operations were hit initially by the return of the Taliban in Afghanistan, the port is now seeing an increase in traffic with Russia emerging, after India, as a key contributor to this transit trade surge.
Developed by India to boost regional connectivity, while bypassing Pakistan, the port is seen as a more "economical, stable and secure route" for access to India and to the global market by Afghanistan and landlocked Central Asian countries.
Despite instability in Afghanistan, traffic at Chabahar is increasing, official sources said. While operations were affected by the Taliban takeover of Kabul on August 15, work resumed on September 2 and the Shahid Behesti Terminal since then is said to have handled cargo from Russia, Qatar, Romania and Australia. The cargo has included food products like barley, wheat and corn.
The increase in traffic followed assurances by then head of Taliban political office Sher Abbas Stanekzai in late August that Taliban wanted to have good trade and diplomatic ties with India and his appeal to traders to use the port.
Since September this year, Russia has sent 8 shipments to Chabahar comprising, among other things, 5.3 lakh tons of wheat.
In the past 2 months, the port is also said to have facilitated exports to UAE, Kuwait and, for the first time, to Bangladesh. The Indian government sees it is as a significant achievement. As per latest government data, the port has handled shipments and transshipments from Russia, Brazil, Thailand, Germany, Ukraine, Qatar, Australia, Kuwait, Romania, Bangladesh and UAE. Commodities mostly handled included wheat, maize, barley, corn, sugar and livestock.
Iran is also learnt to have also agreed "in principle" to allow Afghan traders to export fresh and dried fruits to India via the Dogarun-Chabahar route which was shut after the Taliban takeover.
Source: Times of India
Please click the following URL to read the full text of the original story:
https://timesofindia.indiatimes.com/world/south-asia/chabahar-sees-increase-in-traffic-as-taliban-backs-trade-via-port/articleshow/87822483.cms
--------
Muslim mason sculpts shrines for Bangladesh's Hindu dead
22 Nov 2021
A Muslim artisan has devoted his talents to shepherding the dead among Bangladesh's Hindu minority along a peaceful journey to the next life.
Taher Ali Khan has crafted thousands of shrines to departed loved ones around the tranquil grounds of Barisal Mahashashan, the country's largest Hindu crematorium.
The devout mason prays five times a day and adheres to all the precepts of the Islamic faith, but has often found himself fending off criticism from people who question his calling.
"My prophet said to find bread by honest work. And he advised us to refrain from stealing, hurting others or committing any crimes," Khan, 60, told the AFP news agency.
"I work here constructing tombs," he added. "I don't see anything that would jeopardise my religion."
Hindus account for about 10 percent of the majority-Muslim nation's 169 million people and are well represented in politics, business and the civil service.
But their numbers have dwindled from approximately a quarter of the population in 1947, when millions of Hindus and Muslims fled to India and Pakistan respectively after the partition of the subcontinent into two separate nations along religious lines.
Another mass exodus coincided with the nine-month Bangladesh war of independence in 1971.
News of the recent religious violence, in which at least six people including two Hindus were killed, upset Khan, who spent the following days calling on Hindu friends to ask about their safety.
"I consider Hindus to be my brothers and sisters," he says.
"They love me because of my work. I pour my heart out into constructing tombs because everyone wants to build something beautiful for their dead."
Khan spends most of his time at the crematorium, labouring away at ornate samadhi shrines that crisscross the grounds around the funeral pyre.
The more humble monuments are small and unassuming concrete slabs, similar in style to Western tombstones, with ashes from the dead buried underneath.
The largest are elaborate, multitiered edifices with colourful spires that tower over the small man-made pond that greets visitors at the graveyard's entrance, which can sell for up to 250,000 taka ($3,000).
"If I build a beautiful Samadhi for the dead, it gives me enormous satisfaction," he says. "I feel like I have done something to help them feel good and to mourn their dead well."
Khan learned his trade 35 years ago and by his estimation has built more than 10,000 samadhis in the time since – most of those around Barisal crematorium are his handiwork.
"Look at this beautiful one," he says, gesturing at one of the shrines during a tour of the graveyard.
"The family wanted something beautiful for their young boy, who died suddenly. I did it with all my love and care."
His work is in high demand from Hindus living in Barisal and from far-flung farming communities around the southern river port.
"It doesn't matter whether he's a Muslim, he does a solid job," said Gouranga Das, who came to the grounds to cremate his mother and again seek Khan's services.
"He made my grandfather's tomb and it was very nice."
Source: Al Jazeera
Please click the following URL to read the full text of the original story:
https://www.aljazeera.com/news/2021/11/22/muslim-mason-sculpts-shrines-for-bangladeshs-hindu-dead
--------
Africa
Sudan military to reinstate ousted PM Hamdok after agreement reached
21 November ,2021
Sudan's military plans to reinstate ousted Prime Minister Abdalla Hamdok following an agreement reached in the late hours of Saturday, Fadlallah Burma Nasir, the head of the Umma Party, told Reuters.
Hamdok will form an independent cabinet of technocrats and all political detainees will be released under the agreement between the military and civilian political parties, Nasir said on Sunday.
Nasir said he took part in a meeting late on Saturday in which mediators reached a deal.
The Sovereign Council will hold an urgent meeting on Sunday before announcing the agreement, said a source with knowledge of the talks.
Source: Al Arabiya
Please click the following URL to read the full text of the original story:
https://english.alarabiya.net/News/middle-east/2021/11/21/Sudan-military-to-reinstate-ousted-PM-Hamdok-after-agreement-reached
--------
Car bomb blast near Somali Security Ministry kills 1 journalist, wounds another
Mohammed Dhaysane
20.11.2021
MOGADISHU, Somalia
Al-Qaeda-affiliated terror group al-Shabaab through a car bomb blast targeted a vehicle carrying state media journalists in the Somali capital Mogadishu, killing a journalist and wounding another on Saturday, officials said.
A car bomb blast targeted the vehicle near the country's Security Ministry building in Mogadishu, according to police.
Al-Shabaab claimed responsibility for the attack, saying it had carried out a revenge attack targeting Somali government-owned radio's Mogadishu Director Abdiaziz Guled, known as Abdiaziz Afrika.
"We are devastated and shocked as our Radiomuqdisho Director, Abdiasis Afrika was killed and our @sntvnews1 Director Sharmarke was wounded in cowardly terrorist blast," a statement by the Somali national television said.
"The attack was a car bomb blast parked near the Security Ministry building in Mogadishu, targeting a vehicle carrying state media senior journalists, including veteran journalist Abdiaziz Afrika, who was seriously wounded," a police officer earlier told Anadolu Agency over the phone after the attack.
The two journalists -- Abdiaziz Afrika and Sharmarke Warsame -- were traveling in the Shangani district when the explosion hit their vehicle. Police forces and paramedic crews were rushed to the scene, he added.
He said the police sealed the road leading to the headquarter of the country's national security and intelligence agency and the investigation into the attack is underway.
The attack came a day after eight people were killed and over 13 others wounded in a bomb blast in the town of Berdale in Somalia's South West State.
Source: Anadolu Agency
Please click the following URL to read the full text of the original story:
https://www.aa.com.tr/en/africa/car-bomb-blast-near-somali-security-ministry-kills-1-journalist-wounds-another/2426322
--------
Protests block French army convoy in Burkina Faso
Aurore Bonny
20.11.2021
Demonstrators in the town of Kaya, north-central Burkina Faso, have tried to prevent the progress of the military convoy of Barkhane, the French anti-terrorist military force, local sources reported on Saturday.
"The French army was cornered and carried out some warning shots in the middle of the day on Saturday. But demonstrators who had fled, returned on their steps, determined to turn back the French military convoy coming from Ivory Coast to Niger," according to the Burkina Faso News Agency (AIB).
The source said the demonstrators found containers they said belonged to the French army.
They wanted to inspect the French convoy, suspecting that the members of the French anti-terrorist force have weapons and motorcycles in their containers that are used to supply the terrorists, according to the reports.
"Thus, after Bobo-Dioulasso and Ouagadougou, the convoy has been blocked since Thursday morning at the entrance to Kaya at the tollbooth by people gathered from various localities holding up signs saying 'France get out', 'Go back home'," according to the local media.
The AIB also reported that the intervention of local authorities was not enough to calm the demonstrators.
This unprecedented demonstration in Burkina Faso was initiated by members of the Coalition of Patriots of Burkina Faso. One of the leaders told Anadolu Agency that the demonstrators do not know the destination of the convoy and are just determined to prevent any French convoy on Burkinabe territory.
"We are not against the French people. The French people are our friends. We need France to come back so that we can revisit our agreements. We have the feeling that they are interested in our resources and not us," he added, saying the convoy is still blocked at the entrance of Kaya.
Source: Anadolu Agency
Please click the following URL to read the full text of the original story:
https://www.aa.com.tr/en/africa/protests-block-french-army-convoy-in-burkina-faso/2426312
--------
Sudanese protester dies of wounds, death toll rises to 40: Medics
20.11.2021
KHARTOUM, Sudan
A Sudanese protester died of his wounds on Saturday, taking the death toll from protests against last month's military takeover to 40, according to medics.
The independent Central Doctors Committee said Mohamed Adam Hadoun, 16, was shot in the head and leg during protests on Nov. 17 and breathed his last on Saturday.
At least 15 protesters were killed during the Nov. 17 protesters, according to the Sudanese Professionals Association, which spearheaded demonstrations that led to the ouster of long-serving President Omar al-Bashir in 2019.
Sudanese police have denied opening fire on protesters.
On Oct. 25, the head of Sudan's ruling military council, Gen. Abdel Fattah al-Burhan, declared a state of emergency and dissolved the transitional Sovereign Council and government amid rival protests and accusations between the military and politicians in the country.
Source: Anadolu Agency
Please click the following URL to read the full text of the original story:
https://www.aa.com.tr/en/africa/sudanese-protester-dies-of-wounds-death-toll-rises-to-40-medics/2426077
--------
23 people submit applications to run in Libya presidential polls
Walid Abdullah
20.11.2021
TRIPOLI, Libya
Twenty-three people have submitted applications to run in Libya's presidential election, according to the elections commission.
In a statement, the commission said its office in the capital Tripoli received seven applications while one application was submitted in the eastern city of Benghazi.
This brings "the total number of presidential hopefuls (so far) to 23," the statement read.
Libya's presidential and parliamentary elections are set to take place on Dec. 24 under a UN-sponsored agreement reached by Libyan political rivals during meetings in Tunisia on Nov. 15, 2020.
Applications for running in the presidential polls will be accepted until Nov. 22 and Dec. 7 for parliamentary polls.
The electoral commission pointed out that submitting applications for candidacy "is a preliminary acceptance" after which they will be referred to the Attorney General, the Criminal Investigation Agency, and the General Administration of Passports and Nationality to ensure they are in line with the requirements of the electoral laws.
Source: Anadolu Agency
Please click the following URL to read the full text of the original story:
https://www.aa.com.tr/en/africa/23-people-submit-applications-to-run-in-libya-presidential-polls/2426072
--------
Jordanian lawmakers slam UK terror label of Hamas
Laith al-Jounaidi
21.11.2021
AMMAN, Jordan
Jordanian lawmakers on Sunday denounced a British decision to designate Palestinian resistance group Hamas as a "terrorist organization".
In a statement, 75 members of the 130-seat House of Representatives described the British move as "an aggression on the Palestinian people and the Arab nation."
The statement said the UK decision was a "reward to the Zionist (Israeli) occupation which kills the Palestinian people…and besieges the people of Gaza."
The MPs called on the UK Parliament to overturn the government move as "it represents siding with [Israeli] aggression and oppression."
On Friday, UK Home Secretary Priti Patel said she had banned Hamas as a "terrorist" organization.
Source: Anadolu Agency
Please click the following URL to read the full text of the original story:
https://www.aa.com.tr/en/middle-east/jordanian-lawmakers-slam-uk-terror-label-of-hamas/2426817
--------
North America
US encouraged by Sudan deal, warns against excessive force on protesters: Blinken
22 November ,2021
The US is "encouraged" by the Sudan deal reinstating the country's deposed prime minister and reversing the military takeover, Secretary of State Antony Blinken said on Sunday, warning the authorities against the use of excessive force against protesters.
"I am encouraged by reports that talks in Khartoum will lead to the release of all political prisoners, reinstatement of Prime Minister Hamdok, lifting of the state of emergency, and resumption of coordination," Blinken said.
"I also reiterate our call for security forces to refrain from excessive force against peaceful protesters," he added.
Prime Minister Abdalla Hamdok signed on Sunday a deal with General Abdel Fattah al-Burhan that will see Hamdok reinstated and allow him to form an independent cabinet of technocrats, until an election can be held.
Source: Al Arabiya
Please click the following URL to read the full text of the original story:
https://english.alarabiya.net/News/middle-east/2021/11/22/US-encouraged-by-Sudan-deal-warns-against-excessive-force-on-protesters-Blinken
--------
Pentagon chief Austin reiterates commitment to security in the Middle East
20 November ,2021
US Defense Secretary Lloyd Austin sought on Saturday to reassure allies in the Middle East that President Joe Biden's administration was committed to the region despite Washington increasingly turning its attention towards countering China.
It was unclear how much impact Austin's speech would have with Washington's allies in the Middle East, since it was not backed by any announcements of further deployments or new weapon sales in the region.
For the latest headlines, follow our Google News channel online or via the app.
Gulf Arab states, heavily reliant on the US military umbrella, have expressed uncertainty about Biden's focus on the region, especially after the US withdrawal from Afghanistan.
They are now closely watching efforts to revive a global-powers nuclear pact with Iran.
In a speech in Bahrain during a trip to the Gulf, Austin acknowledged concern in the region and globally that the United States was solely focused on China's challenge.
"Let's be clear: America's commitment to security in the Middle East is strong and sure," Austin said.
He said the United States was committed to countering Iran, even as Washington works to revive the 2015 nuclear deal.
"We remain committed to a diplomatic outcome of the nuclear issue. But if Iran isn't willing to engage seriously, then we will look at all the options necessary to keep the United States secure," Austin said.
The Pentagon chief said that Washington would be coming to the indirect negotiations on reviving the deal starting on Nov. 29 in Vienna in good faith.
"But Iran's actions in recent months have not been encouraging -- especially because of the expansion of their nuclear program," he Austin said.
Gulf states have asked for any deal to address what they call Iran's ballistic missile program and destabilizing behavior in the region.
While a number of US administrations have tried to move the focus away from the Middle East and towards the Pacific, Biden in August ended the longest US war, in Afghanistan.
"There's dismay that the United States is on its way out the door. I'm not sure messaging addresses that sense of impending American abandonment," said Jon Alterman of the Washington CSIS think-tank.
Source: Al Arabiya
Please click the following URL to read the full text of the original story:
https://english.alarabiya.net/News/gulf/2021/11/20/Pentagon-chief-Austin-reiterates-commitment-to-security-in-the-Middle-East
--------
Turkish, US presidential aides discuss ties, regional matters in telephone call
Busra Nur Cakmak, Zafer Fatih Beyaz
20.11.2021
Turkish presidential spokesperson Ibrahim Kalin and US National Security Adviser Jake Sullivan exchanged views on bilateral relations and regional issues during a telephone call Friday.
The two officials spoke about political and economic relations, cooperation in defense, global and regional matters, the Turkish Presidency said in a statement.
They also discussed the humanitarian and political situation in Afghanistan, the territorial integrity of Syria and clearing of terrorists, the political process and upcoming elections in Libya, Nagorno-Karabakh, developments on Ukraine's borders, the migrant crisis on the Poland-Belarus border and developments in the Eastern Mediterranean.
Details of a joint strategic mechanism agreed during the meeting between Turkish President Recep Tayyip Erdogan and US President Joe Biden on the sidelines of the G20 Summit in Rome were also discussed.
Source: Anadolu Agency
Please click the following URL to read the full text of the original story:
https://www.aa.com.tr/en/americas/turkish-us-presidential-aides-discuss-ties-regional-matters-in-telephone-call/2425822
--------
Arab World
Grand Imam of Al Azhar: Prince Charles is a wise and responsible leader
Kamal Tabikha
Nov 21, 2021
Dr Ahmed Al Tayeb, the Grand Imam of Al Azhar, Egypt's highest Islamic authority, has called Britain's Prince Charles a "wise and responsible leader" after the pair met in Cairo on Thursday.
Charles arrived in Egypt with his wife Camilla, Duchess of Cornwall, last week for the second leg of his Middle East tour, which started with a visit to Jordan.
It was the first time the pair had been to Egypt since 2006. The Middle East tour was their trip overseas since the start of the Covid-19 pandemic.
They visited some of Egypt's famous landmarks, including the Pyramids at Giza and Al Azhar Mosque, where they met Dr Al Tayeb.
Charles and Dr Al Tayeb discussed interfaith dialogue and climate change.
After being received by Egypt's President Abdel Fattah El Sisi and his wife Entissar El Sisi at the presidential palace, Charles and Camilla visited Al Azhar, where they were greeted by a delegation of Muslim and Coptic Christian representatives.
In a Facebook post, Dr Al Tayeb said he was pleased to hold talks with Prince Charles.
During a speech at a newly constructed restaurant overlooking the Giza plateau, the Prince of Wales emphasised the importance of nature in the Abrahamic faiths and urged Egyptian authorities to prioritise sustainability.
On their second day in Egypt, Charles and Camilla attended a sustainability event at the Greek Campus of the American University in Cairo, before travelling to Alexandria to visit the city's historic library.
Source: The National News
Please click the following URL to read the full text of the original story:
https://www.thenationalnews.com/mena/egypt/2021/11/21/grand-imam-of-al-azhar-prince-charles-is-a-wise-and-responsible-leader/
--------
Islamic Council elects Sheikh Osama Al-Rifa'i as Syria's Grand Mufti
Nov 21, 2021
The Syrian opposition's Islamic Council has elected Sheikh Osama Al-Rifa'i as the Grand Mufti of Syria, following the dismissal of the Grand Mufti position by Bashar al-Assad in a swoop on the Sunni majority stature and a move to enhance Shiism in the war-torn country, scholars said.
The spokesman for the council, Mutee Al-Bateen, in a video statement, said that the council decided to unanimously elect Sheikh Osama Al-Rifai to be the Grand Mufti of the Syrian Arab Republic, calling on the Syrian people to rally around its unified reference.
Al-Assad abolished the position of Mufti of the Republic last Monday.
The president issued legislative decree No. 28 stipulating the abolitionment of Article No. 35 of the law regulating the work of the Ministry of Endowments, according to which the Grand Mufti of the Republic is named.
No reasons were given for the decision, however, in so doing, Al-Assad strengthened the powers of a jurisprudential council within the Ministry of Endowments.
The decision effectively forces Syria's Grand Mufti Ahmad Badr Al-Din Hassoun, the highest Islamic authority in Syria, into retirement. Hassoun had held the position since 2005 and has been known for his support for Al-Assad.
The fatwa is one of the pillars of the Syrian identity, so the scholars had to stand in the face of this attack on the identity of Syria. In order to preserve this historical position from the futility of the criminal gang, to restore matters to their historical record by keeping this position and returning the choice in it to the hands of the senior scholars and jurists of this country as it was before.
Al-Bateen said that no one dared to touch it until this sectarian gang took control of Syria, so it emptied it of its content and made it an appointment after it was an election from Senior scholars who deserve this position.''
Al-Rifai, 77, is the head of the League of Scholars of the Levant , the head of the Syrian Islamic Council, was born in Damascus, and graduated from Damascus schools and high schools. He joined the University of Damascus and studied Arabic language and its sciences at the Faculty of Arts, Department of Arabic Language, from which he graduated in 1971.
Assad's decree assigned the tasks the mufti was entrusted with, which are "setting the dates of the beginnings and endings of the lunar months … and declaring the consequent jurisprudential rulings related to Islamic religious rituals and worship," as well as "issuing fatwas… and laying down the foundations, standards, and mechanisms necessary to organise and control them."
Source: Zamanalwsl
Please click the following URL to read the full text of the original story:
https://en.zamanalwsl.net/news/article/63900/
--------
Lebanese navy rescues distressed boat carrying migrants
20 November ,2021
Lebanon's navy rescued a boat carrying migrants that had left the country heading west across the Mediterranean, but broke down off the coast, the prime minister's office said Saturday.
It was the latest case of desperate people — mostly Lebanese, Syrians and Palestinians — sailing toward European Union member Cyprus, and sometimes Turkey, seeking to escape Lebanon's worsening economic meltdown. Some 75 percent of the country now lives in poverty.
Prime Minister Najib Mikati's office said the migrants had left Lebanon illegally, and that the navy was towing the boat shoreward. It did not say how many migrants were aboard but said some were children.
It added that there would be an investigation into the incident. Smugglers in Lebanon have made a business out of selling passage to Europe for thousands of dollars per person.
On Friday, the Internal Security Forces stormed a beach resort in the northern town of Qalamoun, where they foiled an attempt to smuggle 82 men, women and children to Europe. Police said that passengers had paid $5,000 per person, and that they had detained one of the smugglers.
EU-member Cyprus is approximately 107 miles (172 kilometers) from the northern city of Tripoli, Lebanon's second largest city.
Source: Al Arabiya
Please click the following URL to read the full text of the original story:
https://english.alarabiya.net/News/middle-east/2021/11/20/Lebanese-navy-rescues-distressed-boat-carrying-migrants
--------
UAE welcomes signing of agreement to complete transitional phase in Sudan
22 November ,2021
The United Arab Emirates foreign ministry said on its Twitter account on Monday it welcomes the signing of a political agreement to complete the transitional phase in Sudan.
Sudan's military reinstated Prime Minister Abdalla Hamdok on Sunday and promised to release all political detainees after weeks of deadly unrest that were triggered by a coup, although large crowds took to the streets to reject any deal involving the army.
Source: Al Arabiya
Please click the following URL to read the full text of the original story:
https://english.alarabiya.net/News/gulf/2021/11/22/UAE-welcomes-signing-of-agreement-to-complete-transitional-phase-in-Sudan
--------
In UAE, French finance minister warns of climate action cost
21 November ,2021
Just over a week after some 200 nations struck an agreement aimed at intensifying global efforts to fight climate change, the finance minister of France warned on Sunday that the cost of the energy transition will be "much higher than expected."
"We should never underestimate the price of the climate transition," Bruno Le Maire told reporters in Abu Dhabi, the oil-rich capital of the United Arab Emirates.
Reveling in France's strong economic rebound from the devastation of the pandemic, Le Maire was in the Gulf Arab sheikhdom to discuss joint investments in a wide range of fields, from port infrastructure to hydrogen fuel and renewable energy.
For the latest headlines, follow our Google News channel online or via the app.
The UAE has publicly pledged to have net zero carbon emissions by 2050, among a list of countries that made the long-range, still-vague commitment before the climate summit in Glasgow opened earlier this month. Even as the country with the region's first nuclear power plant tries to position itself as a leader on environmental issues, the hydrocarbon-rich UAE's economy feeds on petrodollars.
Le Maire noted the challenges facing industrialized economies if they shift away from the cheap fuel pumped out of the Persian Gulf toward renewable energy sources.
"We don't want the people with the lowest income to pay for the climate transition," he said, acknowledging lessons learned from the carbon tax aimed at encouraging alternative energy use that sparked France's mass so-called Yellow Vest protest movement in 2018.
To help bridge the energy transition, Le Maire stressed the need to fund new energy technologies, adding that France's "faster cooperation" with the UAE in the field "is of the highest value."
The UAE and France have become increasingly aligned in recent years, sharing a mistrust of political Islam across the Middle East. Major French aviation and defense companies have powered growth in the emirates, home to over 30,000 French citizens. Le Maire on Sunday toured Abu Dhabi's outpost of the Louvre, which draws visitors to artifacts on loan from the Paris museum.
Source: Al Arabiya
Please click the following URL to read the full text of the original story:
https://english.alarabiya.net/News/world/2021/11/21/In-UAE-French-finance-minister-warns-of-climate-action-cost
--------
Saudi defences intercept Houthi drone launched toward Najran airport
November 21, 2021
RIYADH: Saudi Arabia's air defenses intercepted a drone launched by Yemen's Houthi militia toward the Kingdom's southern region, state TV reported on Sunday.
The Arab coalition said the drone was targeting Najran airport, adding that drone fragments and shrapnel landed in Al-Araysah neighborhood in Najran, however no casualties have been reported.
The drone that was intercepted was launched from Sanaa airport to carry out the attack on Najran airport, the coalition said.
Source: Arab News
Please click the following URL to read the full text of the original story:
https://www.arabnews.com/node/1972456/saudi-arabia
--------
Southeast Asia
Anwar needs to bow out eventually, says analyst
November 21, 2021
PETALING JAYA: A political analyst has proposed various ways for Pakatan Harapan (PH) to make a comeback following its poor showing in the Melaka polls yesterday.
For a start, Wong Chin Huat suggested that PKR president Anwar Ibrahim step down and merge his party with Amanah.
He said Anwar's leadership had been called into question again after PKR's wipeout in the polls, losing all 11 seats it contested.
He said the most realistic solution might be a two-step transition, with Anwar bowing out as part of the second step.
"The first step is to form a shadow Cabinet that can offer a collective leadership for PH's 89 MPs."
It could draw up an effective policy to compete with Barisan Nasional (BN) and Perikatan Nasional (PN).
Wong said this would allow PH to offer an agenda that could appeal to its non-Muslim and liberal base while attracting Malay-Muslim middle-ground voters.
Some pro-Dr Mahathir Mohamad leaders would push for the return of the former prime minister or, more appealingly, Warisan president Shafie Apdal as his proxy, but Wong described both as "political gamblers".
He said these two leaders would not be able to fix the fundamental problems in PH.
Wong warned that if PKR and Amanah tried to be more conservative or nationalist, as Parti Melayu Semangat 46 had done in 1995, they would be buried in the next general election.
"The most viable solution may be for PKR and Amanah to merge and impress Malay voters who think 'we should have fewer parties, not more'."
Wong also said PH's "backdoor government" narrative and obsession to "restore the GE14 mandate" was pronounced dead last night.
"PH's state seats in Melaka dropped from 11 to five because of its obsession to restore the GE14 mandate."
Now, PH needs to move forward and build a social coalition that could carry it in GE15 instead of just counting on anti-Umno or anti-PN sentiments.
Despite analysts framing PN's performance as a bad defeat, Wong said PN had done "exceptionally well" in Melaka.
Source: Free Malaysia Today
Please click the following URL to read the full text of the original story:
https://www.freemalaysiatoday.com/category/nation/2021/11/21/anwar-needs-to-bow-out-eventually-says-analyst/?__cf_chl_jschl_tk__=AOxwC4RikVmvBkcXBYpz4CrIRk1mynHDg8X3FMuiSNg-1637565489-0-gaNycGzNDCU
--------
Melaka poll: BN's two wins by MCA candidates meaningful to party, says Wee
20 Nov 2021
BY BEN TAN
MELAKA, Nov 20 ― MCA president Datuk Seri Wee Ka Siong said the party will return the favour to the people in appreciation for being voted into two seats in today's Melaka state election.
He said the relatively small victory was still meaningful to the party.
"Rest assured, we will take care of the people (in the two constituencies) in appreciation of their support," said Wee when met outside the Barisan Nasional (BN) Command Centre in Ayer Keroh here tonight.
Earlier, unofficial results saw MCA's two candidates under the Barisan Nasional banner win in the Kelebang and Machap Jaya state seats.
Wee, who is also the Ayer Hitam MP, said the two wins were good for the party and he was happy with the overall majority that both candidates tallied.
"We (BN) managed to win comfortably this time round," he said.
Later on his official Facebook page, Wee said the two victories were clear evidence that the people have rejected Pakatan Harapan (PH) which failed to govern Melaka well after being given the mandate in the last general election.
He said PH's failure to fulfill its manifesto promises also led to the public rejecting them.
"MCA's success in winning the two seats from PH is a proud achievement.
"Hopefully, this momentum will be maintained and we will continue to redouble our efforts," wrote Wee.
Source: Malay Mail
Please click the following URL to read the full text of the original story:
https://www.malaymail.com/news/malaysia/2021/11/20/melaka-poll-bns-two-wins-by-mca-candidates-meaningful-to-party-says-wee/2022464
--------
Any 1MDB director who said 'no' to Najib would likely have to quit, ex-director tells court
18 Nov 2021
BY IDA LIM
KUALA LUMPUR, Nov 18 — Any directors of the government-owned 1Malaysia Development Berhad (1MDB) would probably have to give up their positions if they had said "no" to what the prime minister Datuk Seri Najib Razak wanted, the High Court heard today.
Tan Sri Ismee Ismail, a former director in 1MDB, today appeared to suggest that 1MDB board members would not be able to disagree with Najib's request.
Ismee was testifying as the 13th prosecution witness in Najib's trial involving money laundering and power abuse charges in relation to more than RM2 billion of funds misappropriated from 1MDB.
Lead prosecutor Datuk Seri Gopal Sri Ram today zoomed in on the 1MDB board's September 26, 2009 meeting, where Low Taek Jho — popularly known as Jho Low and seen by Ismee as Najib's adviser for 1MDB — was present and had handed over his handphone to 1MDB chairman Tan Sri Mohd Bakke Salleh.
Yesterday, Ismee said Bakke had then informed everyone at the meeting that "PM call" and left to take the call, and that Bakke had returned several minutes later and informed the board that he had just spoke to Najib who wanted the board to speed up its decision on a proposed joint venture with PetroSaudi International Ltd (PSI).
Despite having only been shown the proposal paper for the 1MDB-PSI joint venture idea just days earlier in a September 18, 2009 1MDB board meeting, the 1MDB directors had at the September 26 meeting agreed to approve the joint venture despite reservations and despite having wanted more studies to be carried out first, Ismee had said yesterday.
Today, Sri Ram asked Ismee if the 1MDB board members could have said no.
Sri Ram: My question to you is, when Tan Sri Bakke told the meeting that the prime minister wants us to go ahead, were you in a position as a member of the board to say no?
Ismee: I guess at that time, I guess if the board members say no to the wishes of the prime minister, I guess we just have to leave as board members.
Ismee went on to explain how the proposed 1MDB-PetroSaudi deal was seen as a government-to-government deal then between the Malaysian government and the Saudi Arabian government.
"I think if I can recall correctly at the moment of time in 2009, when Datuk Seri Najib had just recently become prime minister, the perspective on my part, the excitement, the expectation was high, and I believed we wanted to do the deal to fulfil the prime minister's wishes.
"So that's why due to the urgency, we tried to put all the conditions to ensure the G2G is really airtight, so that is the position I believed the board took then.
"And personally in 2009, being CEO of Tabung Haji, I'm very sensitive about the relationship to the Saudi government. That time pun, I myself felt excited, we can enhance the relationship between Malaysia and Saudi," he said.
Tabung Haji is a fund for Malaysia's Muslim pilgrims, while holy sites for Muslim pilgrimages are located in Saudi Arabia.
Ismee agreed with Sri Ram however that the conditions that the 1MDB board had set for the joint venture had not been met and had been violated.
As for the funds that were taken out of 1MDB, Ismee confirmed that he did not receive any of these funds and further confirmed that he had not received any money from Low.
Yesterday, Ismee had also said the 1MDB directors might have asked the 1MDB management to postpone the joint venture to enable further studies to be carried out instead of approving it on September 26, 2009, if Najib had not intervened and given instructions to Bakke and the 1MDB board at that meeting.
Ismee had yesterday also said the 1MDB board of directors does have the powers to stop or reject the proposed joint venture with PSI but noted that the chairman of 1MDB's board of advisers — who was Najib as the prime minister then — has the powers under the 1MDB company constitution's Article 117 to override their decision and could also appoint new directors if dissatisfied with any of the directors.
Article 117 of 1MDB's company constitution states that the prior written approval of the prime minister was required for any amendments to the M&A, for the appointment and removal of the company's directors and senior management team.
According to Article 117, the prime minister's prior written approval was also required for any financial commitments by 1MDB, including investments or other matters likely to affect government guarantees, national interests, national security or government policies, with the government to make the "final and conclusive" decision on what amounts to national interests, national security and national policies.
Among other things, Ismee had yesterday also said that the 1MDB board had — after hearing Najib's wishes via Bakke — then tried to find the best way to protect the company's interest while carrying out the joint venture by imposing conditions on the joint venture company.
Based on the September 26, 2009 meeting minutes, the 1MDB board had instructed the 1MDB management to carry out several steps, including to ensure that US$1 billion that 1MDB was pumping into the joint venture be sent to the joint venture company.
But at the next 1MDB board meeting on October 3, 2009, the board found out that its instructions had not been complied with.
The October 3 meeting minutes recorded the 1MDB board as raising multiple concerns, including the board not being consulted of the change of plans such as the US$1 billion not being sent to the joint venture company and with US$700 million of that amount instead already sent to PSI's alleged "affiliate" Good Star Limited.
Ismee yesterday said the 1MDB board disagreed with the US$700 million having been sent to Good Star, and said the board was disappointed with 1MDB management ignoring the board's previous instructions.
Ismee said none of the 1MDB directors knew then that the US$700 million that 1MDB had paid had went into a bank account owned by Low.
Ismee also said yesterday that Bakke had instructed then 1MDB CEO Datuk Shahrol Azral Ibrahim Halmi to go to London to meet PSI and seek to have the money returned.
Ismee yesterday said Bakke was very angry at the meeting as the joint venture was not carried out according to the previous approval by the 1MDB board and as several insertions into the joint venture agreement did not seem right and there seemed to be hidden matters.
"But once again we had to be careful since we wished to take care of the G2G ties told to us," he had said yesterday.
Source: Malay Mail
Please click the following URL to read the full text of the original story:
https://www.malaymail.com/news/malaysia/2021/11/18/any-1mdb-director-who-said-no-to-najib-would-likely-have-to-quit-ex-directo/2021822
--------
Indonesia Muslim council calls for review of loudspeaker use at mosques
November 22, 2021
JAKARTA: Indonesia's highest Muslim clerical council has called for a review of guidelines on the use of loudspeakers at mosques, following concerns and complaints from members of the public in the world's largest Muslim-majority country.
There are nearly 625,000 mosques across the vast Indonesian archipelago, where over 80 percent of the 270 million population professes Islam. Most of the mosques use loudspeakers to play the azan, or call to prayer, and sermons. Many of them have poor acoustics and set the volume high, resulting in complaints over noise pollution.
The country's Religious Affairs Ministry released a decree in 1978, which serves as guidelines on the use of mosque loudspeakers. In the fatwa issued earlier this month, the Indonesian Ulema Council said it was necessary to "refresh" these guidelines for present social dynamics and to prevent discord.
The edict was welcomed by the country's Religious Affairs Minister Yaqut Cholil Qoumas as "very important to provide a greater insight for mosque management to use loudspeakers more wisely."
Masduki Baidlowi, one of the council's leaders and spokesperson for Indonesian Vice President Ma'ruf Amin, told Arab News over the weekend that religious scholars had identified uncontrolled use of mosque loudspeakers as a growing public concern.
"We took note that it has become a problem, especially in heterogenous, urban spaces," Baidlowi said. "The guidelines have been there for long but are not executed properly."
He gave as an example Indonesia's capital, Jakarta, where the population was more homogenous decades ago, but times have changed as the country's biggest city has since become home to new residents of various religious backgrounds.
"Contextually, for example, Jakarta used to have a homogeneous population of Betawi people, but now it has developed into a heterogeneous society," Baidlowi said, referring to the city's native inhabitants, who are predominantly Muslim.
In Jakarta, there are nearly 7,000 mosques in an area of 661.5 square kilometers that is home to some 11 million people — currently, about 20 percent of them are non-Muslim.
"We have to use (the speakers) properly, we can't do it as we please," Miftahul Huda, the council's fatwa commission secretary, told Arab News. "Even though the intention is good, it could be disturbing, and we don't want that to happen."
The issue of mosque loudspeaker volume has also been repeatedly raised by Indonesia's former Vice President Jusuf Kalla, who chairs the Indonesian Mosque Council.
Source: Arab News
Please click the following URL to read the full text of the original story:
https://www.arabnews.com/node/1972601/world
--------
Indonesian Muslim cryptocurrency enthusiasts find a way around Islamic fatwa
By Erwin Renaldi and Hellena Souisa
Trading of cryptocurrencies like Bitcoin has been declared forbidden for Muslims by the national council of Islamic scholars in Indonesia, as the popularity of digital currencies grows in the world's largest Muslim-majority country.
During a recent online forum, Indonesia's quasi-governmental Ulama Council declared a fatwa, or a non-binding religious ruling, that cryptocurrency is haram — forbidden under Islamic law.
An Ulama is a Muslim scholar who is recognised as having specialised knowledge in Islam.
According to Islamic law, a transaction should follow certain requirements, such as having a physical form and definite value.
"Cryptocurrency as currency is forbidden because it has elements of uncertainty, harm and doesn't meet the Islamic requirement according to Shariah [law]," KH Asrorun Niam Sholeh, the council's head of religious decrees, said in the forum.
However, Mr Sholeh added that although cryptocurrencies as a currency is forbidden, it could be traded as a commodity or digital assets if they meet requirements.
The council has served as an authority on Shariah compliance in Indonesia, but they have been criticised for other controversial fatwa.
In 2018, it issued a fatwa raising concerns about a measles-rubella vaccine due to it containing traces of pork and human cells.
The council also issues halal certificates — the opposite of haram — for food and other consumed products in the country.
Nahdlatul Ulama (NU) is one of the world's biggest Islamic organisations with around 90 million members and followers.
In October, its East Java branch also issued a fatwa declaring cryptocurrencies haram.
Deputy Chairman of the East Java NU, Ahmad Fahrur Rozi, known as Gus Fahrur, told the ABC the fatwa was based on the results from a forum discussion of issues on Islamic jurisprudence.
One of the conclusions that came from the discussion, attended by both crypto and Islamic legal experts, was that crypto trading tends to involve "fraudulent practices and gambling".
"Just like it's not allowed for a person to buy indistinct objects, like 'fishes in the sea' or 'birds in the air'," Gus Fahrur told the ABC.
He said cryptocurrencies was also similar to gambling because people speculate about the value without knowing the cause.
Practices such as gambling are not allowed in Islam, since the value and price are indefinite and could financially and physiologically harm those involved.
In comparison, he said stocks had a clear value and the price increased or decreased depending on the company's performance.
Because of the huge elements of speculation over the value of cryptocurrencies, they considered it "inappropriate to be used as an investment instrument", he said.
The booming trend of crypto in Indonesia
According to Indonesia's Ministry of Trade data, the number of crypto investors in the country had grown from 4 million people at the end of 2020, to 6.5 million people by the end of May 2021.
It has exceeded the number of investors in the share market, which is around 2.4 million according to Bank Indonesia — the central bank.
Putri Madarina, a certified financial planner and founder of Halal Vestor, a Shariah financial planner and education service in Jakarta, said the flourishing interest in crypto investing in Indonesia was partly due to social media, especially TikTok.
"It is even booming during the COVID-19 pandemic, we are actually in the second wave of the crypto trend," Ms Madarina told the ABC, referring to the crypto boom three years ago.
Ms Madarina has been investing in crypto since 2017 and said the Islamic decree hadn't deterred her from continuing to invest in crypto.
"What we bought is a digital commodity, like a collection that we consider valuable," she said.
She also considered crypto as a 'mal' — an Islamic term for property — which can take in many forms.
"So, as a medium of exchange, I think it's not a problem," said Ms Madarina, who is also a treasurer of an Islamic fintech association in Indonesia.
"As a property, I don't see any Islamic ruling being violated, unless it was made to be a means of deception, which is also an external factor that we can't control."
'I am a Muslim, I follow the fatwa'
Ainun Najib is an Indonesian NU member based in Singapore who works in IT.
He only started investing in cryptocurrencies in January 2021.
He said he knew about the halal and haram controversy, but there was no official fatwa from any religious organisations at that time.
He considered buying Bitcoin just like buying land or gold, but in a digital form which was protected by "mathematically impenetrable encryption".
"I initially intended [to keep bitcoin] as an asset, as my long-term savings. By long term, I'm talking about 10 to 20 years."
But in less than a year Mr Najib decided to release all his bitcoin assets worth $45,000 in total.
"Because of the fatwa [from NU East Java]," he said, explaining the reasons behind his decision.
He said although he understood the blockchain technology used in cryptocurrencies, for him the fatwa was an "expert recommendation", like how doctors recommend a patient with a high risk of cancer to quit smoking and drinking alcohol.
He feels that given he has no knowledge on religious law, he needs to hand those decisions over to experts in the field, like the Kyai — an expert in Islam — or religious scholars.
"I am a Muslim. In the context of Islam, I follow the fatwa," he said.
"[But] it's our choice whether to follow it or not. But I think the right decision would be to follow it."
Fatwas may change in the future
Cryptocurrency is still being discussed widely among Islamic scholars and institutions around the globe.
In 2018, the Grand Mufti of Egypt banned Bitcoin trading as it was prone to risks for the traders due to the price fluctuations.
Haitham al-Haddad, a British Muslim scholar, also considered cryptocurrencies not halal since it is a virtual currency with "no tangible worth".
Similar views have also shared by individual Muslim scholars in countries such as Turkey, Malaysia, and Saudi Arabia.
But others have taken the opposite view, including South Africa's Darul Uloom Zakariyya, Pakistan-based Shariah Adisory Muhammad Abu Bakar, and other Muslim scholars in Qatar and United Arab Emirates.
Ms Madarina said cryptocurrency was such a "hot topic" in the Muslim world.
Source: ABC News
Please click the following URL to read the full text of the original story:
https://www.abc.net.au/news/2021-11-21/cryptocurrency-is-considered-haram-in-indonesia/100630646'
--------
Mideast
IRGC Navy Commander: US Slapped 9 Times by Iran in Persian Gulf
2021-November-21
Admiral Tangsiri made the remarks at a gathering of Basij students at the former US embassy compound in Tehran while referring to the period since the US assassination of Iran's anti-terror commander Lieutenant General Qassem Soleimani in Baghdad.
The admiral said the IRGC Navy has sustained 9 deaths in confrontations against the US in the Persian Gulf, "and thanks God, we have given them 9 unforgettable slaps, that is one for each of our martyrs that has lost his life in direct battle against the Americans, some of which have not been revealed to the media for certain considerations".
"They have come to realize the Islamic Republic's superiority in the sea," he added.
The IRGC Navy commander also pointed out that six of these defeats have been sustained by the Americans in one and a half years.
He cited the IRGC Navy's intervention last month to prevent US forces from stealing an Iranian oil cargo in the Sea of Oman in a dramatic operation that involved Iranian forces rappelling to the ship's deck, calling it the latest slap.
"The tanker was carrying Iranian oil, but with the support of the Americans, it was refusing to deliver its cargo to our country; of course, this was the second ship we confiscated and the previous one was not reported," the IRGC Navy commander pointed out.
Six Iranian speed boats and two vessels were then dispatched to the scene, warning away a US helicopter which fired chaff as it fled, thinking it might be targeted by Iranian missiles, Admiral Tangsiri said.
In relevant remarks in August, Rear Admiral Tangsiri said that Iran was watchfully monitoring the traffic of all vessels in the Strait of Hormuz, and stressed full security in all water borders of the Persian Gulf.
"There is full security in all water borders of the Persian Gulf and the Strait of Hormuz, and we always stand ready to ensure the security of the Islamic Republic's interests in international waters," Rear Admiral Tangsiri said.
He added that Iran fully monitors the movements of every vessel that enters or exits the strategic Strait of Hormuz.
Source: Fars News Agency
Please click the following URL to read the full text of the original story:
https://www.farsnews.ir/en/news/14000830000366/IRGC-Navy-Cmmander-US-Slapped-9-Times-by-Iran-in-Persian-Glf
--------
Palestinian man kills one, wounds three in Jerusalem
November 22, 2021
JERUSALEM: A member of the Palestinian Islamist Hamas movement opened fire on Sunday in Jerusalem's Old City, killing one person and wounding three before he was shot dead, Israeli officials, police and medics said.
Prime Minister Naftali Bennett ordered security to be boosted and called for people to be on "heightened alert" over the risk of further attacks.
The four wounded, two police officers and two civilians, were rushed to Jerusalem's Hadassah hospital, where one of the civilian victims died.
"This morning there was a serious shooting attack in the Old City of Jerusalem," Bennett said in a statement. "At the moment we have one dead and three wounded.
"Two policewomen and one policeman quickly neutralised the terrorist."
The Western Wall Heritage Foundation identified the victim as Eliyahu Kay, an immigrant from South Africa, who was employed by them as a guide at the Western Wall plaza.
The immigration ministry said he was 25 and had come to Israel in 2019. His funeral was set to take place on Monday morning in Jerusalem.
Police said the attacker had fired a "Carlo-type weapon", a type of submachine gun.
After the shooting, dozens of police officers were deployed to the narrow streets of the historic walled city, as workers hosed pools of blood from the cobblestones, said a reporter.
The Old City is in the Israeli-annexed eastern part of Jerusalem, which Palestinians claim as the capital of their future state.
Israel captured east Jerusalem in the 1967 Six-Day War and later annexed it, in a move not recognised by most of the international community.
Rightwing lawmakers from opposition parties organised a march on Sunday through the site of the attack.
Source: Dawn
Please click the following URL to read the full text of the original story:
https://www.dawn.com/news/1659478/palestinian-man-kills-one-wounds-three-in-jerusalem
--------
Three more Iran police dead in week of violence: Report
20 November ,2021
Three Iranian police have been killed this week, Tasnim news agency said Saturday, bringing to six the number of officers to have lost their lives in reported violence over the same period.
On Friday, a captain was killed in the southwestern province of Khuzestan during a raid on a "base of armed robbers," Tasnim reported.
A day earlier, another policeman died of wounds sustained during clashes with "armed thugs" in the central province of Isfahan, the news agency said.
Another policeman was run over Wednesday by a vehicle transporting smuggled fuel in the southeastern province of Sistan-Baluchistan, according to Tasnim.
The province lies on the border with Pakistan and is a flashpoint of clashes between security forces and armed groups.
Source: Al Arabiya
Please click the following URL to read the full text of the original story:
https://english.alarabiya.net/News/middle-east/2021/11/20/Three-more-Iran-police-dead-in-week-of-violence-Report
--------
Gunman kills one in Jerusalem's Old City, shot dead by Israeli police
21 November ,2021
A gunman killed one person and wounded three others in Jerusalem's Old City on Sunday before being shot dead by Israeli police, a police spokesperson said, describing it as a terrorist attack.
For the latest headlines, follow our Google News channel online or via the app.
The incident, the second attack in Jerusalem in four days, occurred near one of the gates to the flashpoint al-Aqsa Mosque compound, the third-holiest site in Islam. Jewish people revere the site as the remnant of two ancient temples.
A police spokesperson did not identify the gunman but said he was armed with an improvised submachine gun often used by Palestinian militants. Two of those he shot were civilians, and two were police, the spokesperson said.
A Jerusalem hospital said one of the wounded civilians had died.
Source: Al Arabiya
Please click the following URL to read the full text of the original story:
https://english.alarabiya.net/News/middle-east/2021/11/21/Gunman-kills-one-in-Jerusalem-s-Old-City-shot-dead-by-Israeli-police
--------
Iran's second-largest airline Mahan Air says hit by cyber attack
21 November ,2021
Iran's second-largest airline, Mahan Air, said it had been hit by a cyber attack Sunday, the latest in several targeting the company.
"Mahan Air's computer system has suffered a new attack," the company said in a statement.
For the latest headlines, follow our Google News channel online or via the app.
"It has already been the target on several occasions due to its important position in the country's aviation industry."
All of its flights were on schedule, the statement added, but the company's website was down.
"Our internet security team is thwarting the cyber attack," spokesman Amir-Hossein Zolanvari told state television.
Mahan Air is Iran's main private airline and the second biggest after the national carrier Iran Air.
It has been on the blacklist of Iranian companies targeted by US sanctions since 2011.
In addition to a domestic network, it also serves destinations in Europe and Asia.
Iran last month accused Israel and the US of a cyber attack on its petrol distribution system that caused havoc at fuel pumps nationwide.
Israel's internet infrastructure has meanwhile been hit by cyber attacks by the Black Shadow hacking group, including against the largest Israeli LGBTQ dating site and an insurance firm.
Source: Al Arabiya
Please click the following URL to read the full text of the original story:
https://english.alarabiya.net/News/middle-east/2021/11/21/Iran-s-second-largest-airline-Mahan-Air-says-hit-by-cyber-attack-
--------
Ultraconservative Iran MP's office torched after protest remarks
20 November ,2021
Unidentified assailants torched the office front of an ultraconservative Iranian lawmaker whose recent comments on deadly anti-government protests in 2019 caused an outcry, local media reported Saturday.
"The office front of hodjatoleslam (middle-ranking cleric) Hassan Norouzi, representative for the Robat-Karim electorate (in southern Tehran), was set on fire on Friday evening," the conservative Fars news agency said, adding that the assailants were "unknown."
Protesters took to the streets across Iran in November 2019 after a surprise fuel price hike, in Iran's most vocal eruption of public dissent in a decade.
Petrol pumps were torched, police stations attacked and shops looted before security forces stepped in amid a near-total internet blackout.
Iranian authorities acknowledged a death toll of 230 but experts working for the United Nations said 400 were killed in that unrest.
"I was one of those who shot at people. We shot. Who dares put us on trial today?" Norouzi had said in an interview published last week.
His remarks came in response to a symbolic four-day "trial" that activists and opponents of the Iranian regime abroad organized in London this month over the violence.
His comments were strongly criticized in Iran, including by ultraconservative media outlets.
Source: Al Arabiya
Please click the following URL to read the full text of the original story:
https://english.alarabiya.net/News/middle-east/2021/11/20/Ultraconservative-Iran-MP-s-office-torched-after-protest-remarks
--------
Europe
Egypt uses French military aid to 'kill civilians' over 'smuggling': Report
Monday, 22 November 2021
Egyptian security forces have used intelligence supplied by the French military to allegedly target and kill civilians suspected of smuggling, a new report has revealed.
According to a report by investigative website Disclose, based on leaked documents, the French military was implicated in at least 19 airstrikes carried out by the Egyptian army against civilians between 2016 and 2018.
The mission between the two countries was codenamed Operation Sirli, which the report notes was designed to provide intelligence on militants' movements along Egypt's western border with Libya.
The documents, kept confidential under France's "national defence secrecy" regulations ("le secret de la défense nationale"), originate from the services of the presidential office, the Élysée Palace, the French armed forces ministry, and the French military intelligence services, notes the report by Disclose.
The documents, it states, show "how this military cooperation exercise, kept secret from the public, was diverted from its original mission, that of reconnaissance of terrorist activity, in favour of a campaign of arbitrary executions", which involved state crimes about which the French presidential office was informed, but took no action.
@disclosetv has obtained 100s of classified French official documents which reveal massive extrajudicial executions by #Egypt along the Libyan border, perpetrated with the assistance of France through a secret military operation. https://t.co/4gs0zY6mfr @soltan @DAWNmenaorg
— Agnes Callamard (@AgnesCallamard) November 21, 2021
"In principle, the mission...consisted of searching the Western Desert to find possible terrorist threats coming from Libya", using a light aircraft designed for surveillance and reconnaissance," the report said.
"But very quickly, the (French) members of the team understand that the intelligence supplied to the Egyptians are used to kill civilians suspected of contraband," it added.
Operation Sirli began in February 2016 during the government of President Francois Hollande and continued despite the qualms expressed by both French military intelligence (DRM) and the airforce about the way Egypt was using the intelligence, report stated.
In one such instance, a note was addressed to French Defence Minister Florence Parly on January 22, 2019, before French President Emmanuel Macron's official visit to Egypt.
The French military was nevertheless still deployed in Egypt, the Disclose report revealed.
The French opposition has called for a parliamentary committee to be set up to investigate the scandal, while the French Defence Minister Florence Parly has also ordered a probe.
The far-left opposition party France Unbowed, in a statement, has called for foreign minister Jean-Yves Le Drian, who served as defense minister from 2012 to 2017 under Hollande, to appear in the parliament for explanation on the matter.
The defense ministry also issued a statement, confirming that the two countries had an agreement in the field of intelligence gathering and counter-terrorism operations and were working together on it.
France is a main weapons supplier to Egypt. French arms sales to Egypt increased considerably when Abdel Fattah al-Sisi took the helm in Cairo in 2014.
Investigation by Disclose reveals how #France became complicit in strikes by #Egypt military targeting smugglers in the western desert https://t.co/XMSbUpv3x2 #EgyptPapers
— Avner Gidron (@AvnerGidron) November 22, 2021
Since then, Egypt has purchased a vast range of French weapons including Rafale jet fighters, a frigate, four corvettes and two Mistral helicopter-carriers.
Source: Press TV
Please click the following URL to read the full text of the original story:
https://www.presstv.ir/Detail/2021/11/22/671120/Egypt-France-Arms-Sales-surveillance-reconnaissance-Disclose
--------
Traditional Turkish archery promoted in Brussels
Selen Temizer
22.11.2021
BRUSSELS
Turkey's Yunus Emre Institute (YEE) and the Archers Foundation organized an event Sunday to promote traditional Turkish archery in the Belgian capital Brussels.
The Kemankes (Archer) Project was launched jointly by the two organizations to strengthen friendship and cultural relations between the Turkish and European peoples.
Hungarian-born Viktoria Angel, who learned Turkish at the Budapest Yunus Emre Institute, introduced traditional and modern Turkish archery to the participants and provided training.
"I learned traditional Turkish archery three years ago for the Kemankes Project. I am giving traditional archery lessons in Hungary," said Angel, speaking to Anadolu Agency.
The event, where information about the place of archery in Turkish history and culture was given, attracted people of all ages.
At the end of the event, where most of the participants had their first experience of shooting arrows, sets of bows and arrows were presented to those who were successful in the competition.
- Event brings Turkey and EU closer
Laura Batalla Adam, secretary general of the European Parliament's Turkey Forum, said she tried to shoot an arrow while attending the event for her personal interest.
"It was difficult, but I enjoyed it," she said.
Source: Anadolu Agency
Please click the following URL to read the full text of the original story:
https://www.aa.com.tr/en/europe/traditional-turkish-archery-promoted-in-brussels/2426994
--------
Afghanistan banking system at risk of collapse, cost could be 'colossal:' UN report
22 November ,2021
The United Nations on Monday pushed for urgent action to prop up Afghanistan's banks, warning that a spike in people unable to repay loans, lower deposits and a cash liquidity crunch could cause the financial system to collapse within months.
In a three-page report on Afghanistan's banking and financial system seen by Reuters, the U.N. Development Programme (UNDP) said the economic cost of a banking system collapse - and consequent negative social impact – "would be colossal."
An abrupt withdrawal of most foreign development support after the Taliban seized power on Aug. 15 from Afghanistan's Western-backed government has sent the economy into freefall, putting a severe strain on the banking system which set weekly withdrawal limits to stop a run on deposits.
"Afghanistan's financial and bank payment systems are in disarray. The bank-run problem must be resolved quickly to improve Afghanistan's limited production capacity and prevent the banking system from collapsing," the UNDP report said.
Finding a way to avert a collapse is complicated by international and unilateral sanctions on Taliban leaders.
"We need to find a way to make sure that if we support the banking sector, we are not supporting Taliban," Abdallah al Dardari, head of UNDP in Afghanistan, told Reuters.
"We are in such a dire situation that we need to think of all possible options and we have to think outside the box," he said.
"What used to be three months ago unthinkable has to become thinkable now."
Afghanistan's banking system was already vulnerable before the Taliban came to power. But since then development aid has dried up, billions of dollars in Afghan assets have been frozen abroad, and the United Nations and aid groups are now struggling to get enough cash into the country.
'Under the mattress'
The UNDP's proposals to save the banking system include a deposit insurance scheme, measures to ensure adequate liquidity for short- and medium-term needs, as well as credit guarantees and loan repayment delay options.
"Coordination with the International Financial Institutions, with their extensive experience of the Afghan financial system, would be critical to this process," UNDP said in its report, referring to the World Bank and International Monetary Fund.
The United Nations has repeatedly warned since the Taliban took over that Afghanistan's economy is on the brink of a collapse that would likely further fuel a refugee crisis. UNDP said that if the banking system fails, it could take decades to rebuild.
The UNDP report said that with current trends and withdrawal restrictions, about 40 percent of Afghanistan's deposit base will be lost by the end of the year. It said banks have stopped extending new credit, and that non-performing loans had almost doubled to 57 percent in September from the end of 2020.
"If this rate continues of non-performing loans, the banks may not have a chance to survive in the next six months. And I am being optimistic," al Dardari said.
Liquidity has also been a problem. Afghan banks heavily relied on physical shipments of US dollars, which have stopped. When it comes to the local afghani currency, al Dardari said that while there is about $4 billion worth of afghanis in the economy, only about $500,000 worth is in circulation.
"The rest is sitting under the mattress or under the pillow because people are afraid," he said.
Source: Al Arabiya
Please click the following URL to read the full text of the original story:
https://english.alarabiya.net/News/world/2021/11/22/Afghanistan-banking-system-at-risk-of-collapse-cost-could-be-colossal-UN-report
--------
URL: https://www.newageislam.com/islamic-world-news/muslim-personal-board-uniform-civil-code-ucc-blasphemy/d/125819
New Age Islam, Islam Online, Islamic Website, African Muslim News, Arab World News, South Asia News, Indian Muslim News, World Muslim News, Women in Islam, Islamic Feminism, Arab Women, Women In Arab, Islamophobia in America, Muslim Women in West, Islam Women and Feminis