New Age Islam News Bureau
25 Apr 2013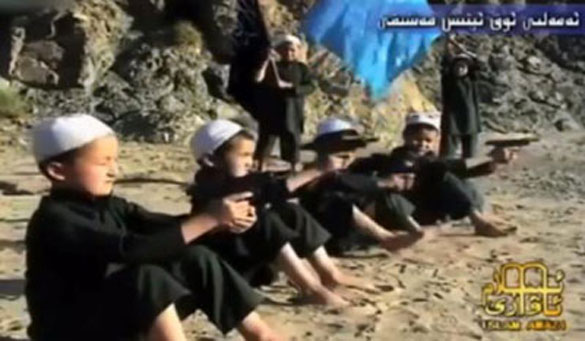 Photo: Boys as young as 5 train to wage terror in lawless tribal region
----------
Pakistan
• Boys as young as 5 train to wage terror in lawless tribal region
• Voters urged to help Jamaat-i-Islami in enforcing Islamic system
• Two policemen killed in Karak attack
• Najam Sethi wants resolution of Pak-India issues
• Sunni Tehreek parts ways with alliance
• Bonded labourer Veeru to make much anticipated political debut from Hyderabad, Pak
• Musharraf wants court to summon his 'collaborators'
• Late Bugti's son wants Musharraf in prison
• Benazir murder case: Court issues Musharraf's arrest order
South Asia
• Tourism will suffer if parliament bans pork and alcohol: Maldives Tourism Minister
• Bangladesh greets Sri Lanka for eradicating terrorism
• China urges US to condemn Xinjiang 'terrorism' after Boston bombings
• Bangladesh Jamaat man held in cop murder case
• Bangladesh PM inaugurates first commuter train between Dhaka-Narayanganj
• Death toll in Bangladesh building collapse at 194, many still trapped
Southeast Asia
• South Tangerang staff to wear Muslim attire once a week: Mayor
• Former Child Singer Accuses Celebrity Guru Subur of Blasphemy
• Crisis-hit Islamic Games moved to Indonesian capital
• Now independent, Kamilia says fighting for women's right, Islam
• Manila Disputes Report of Killings near Malaysia
Arab World
• Kirkuk tribes form armed force to counter Iraqi military
• Iraq Gunmen Storm Small Sunni Town near Baghdad
• Rising Violence in Iraq Spurs Fears of New Sectarian War
• Umayyad mosque, a UNESCO world heritage site, falls amid battles in Syria
• Syria rebels reject Lebanon Salafists' jihad call
• Syria's Christians Threatened By Ideology, Geography
• Bahrain 'dismayed' by US rights assessment report
• Syria Campaigns to Persuade U.S. to Change Sides
• Syrian opposition urges U.S.-Russia talks based on Assad ouster
Mideast Asia
• Iran's unlikely al-Qaeda ties: fluid, murky and deteriorating
• Israel airport security 'allowed to read tourists' email'
• A century on, Turkey's Muslim Armenians come out of hiding
• Palestinian Christians battle Israel barrier route
India
• Legal aid cell planned to assist Indians in Dammam
• Scholarship program for Indian expats in Saudi Arabia
• Ishrat case: Guj top cop PP Pande likely to be arrested
• China backs India stand on Taliban's role after US exit
Europe
• 'Sharia councils must be penalised': British MP
• 3 British Muslim men jailed for terror offenses
• Azerbaijani city Nakhchivan to be capital of Islamic culture in 2018
• U.N. to authorize Mali peacekeeping force
• Brahimi suggests U.N. arms embargo on Syria conflict
• German top court orders changes to 'terror' database
• White Muslim convert faces prison after terrorism charge
Africa
• Mali's Tuareg Rebels Reject Elections, Disarming Before Talks
• Tunisia court reviews jail terms for prophet cartoons
• Tunisians yearn for the good old days of a strongman
North America
• Alienation Draws Some Vulnerable Immigrants to Jihad
• US calls for transparent probe over Xinjiang clashes
• Boston blasts: 'FBI did not find any terrorism activity against Tamerlan'
• No answers yet on Boston bombings: White House
• US-Afghan-Pak talks make progress, more work to do: Kerry
• US slams Hezbollah involvement in Syria
• U.S. Sees No Conclusive Evidence of Chemical Arms Use by Syria
• NATO says war against Afghan's Taliban being won
Compiled by New Age Islam News Bureau
URL: https://newageislam.com/islamic-world-news/new-age-islam-news-bureau/alienation-draws-some-vulnerable-immigrants-to-jihad/d/11295
------------
Alienation Draws Some Vulnerable Immigrants to Jihad
Apr 25, 2013
LONDON — In the United States, two Chechen immigrants are accused of the Boston Marathon bombings. In Canada, a doctoral student at a Montreal University is one of two non-citizens accused this week of plotting to derail a passenger train.
The headlines in North America in the past week echo an issue that authorities have been grappling with for more than a decade: why do a tiny minority of men in immigrant communities in the West appear to be drawn to Islamist violence.
In many cases, the motives need to be sought as much in psychology or sociology as in politics or religion, said Raffaello Pantucci, a counter-terrorism specialist at London's Royal United Services Institute (RUSI) security think tank.
"It's a complicated mix of reasons, usually as much personal as they are transnational or global," he said.
Young men could become vulnerable if they felt they were not advancing in society, or wanted to do something for their community and found a misguided means of doing so.
"The broad conclusions are that they tend to be under a certain age [40s] and are Muslim males, though none of these are hard and fast rules - we have seen women involved and very recent converts. There is usually some kind of outside contact that pushes them along in the process," Pantucci said.
Some may have come into contact with radical Islamists on trips abroad, a possibility investigators are exploring in the case of the elder of the two Chechen brothers - 26-year-old Tamerlan Tsarnaev, killed in a fire fight with police.
Some fit the description given to his younger brother, 19-year-old Dzhokhar Tsarnaev, well-liked and hard for those who knew him to imagine turning to violence.
Tke Omar Sheikh, for example, one of the earlier British men drawn into global jihad. As a schoolboy in north London, he loved to arm-wrestle in smoky pubs - drinking only milk - or play chess with friends. The son of a clothes' merchant who had spent part of his school years in Pakistan, he was obsessed with academic success and dreamed of going to Harvard.
"Omar was very likeable in lots of ways. When he was younger, he had this very roguish charm and was full of adventure," said Daniel Flynn who was in his class at school.
"He wouldn't often fight but when he did, he would fight to stick up for other people. If any of the younger boys were being bullied, he would stand up for them," said Flynn, now a Reuters journalist.
Many years later, Omar Sheikh, now in jail in Pakistan, became infamous after he was convicted of involvement in the kidnapping and murder of Wall Street Journal correspondent Daniel Pearl in Karachi in 2002.
Then there was 23-year-old French-Algerian Mohammed Merah, who shot dead seven people in France last year before being killed by police. He came from a broken home in the poor suburbs and a background of petty crime, and preferred to visit nightclubs than going to the mosque.
He was initially described as a "lone wolf," but French police later said he had travelled to Afghanistan and Pakistan and had been interviewed by intelligence officials after a 2010 complaint for showing a young boy a video of beheadings.
"We don't have the capability to watch all of them," France's top anti-terrorist judge Marc Trevidic told Reuters earlier this year. "We accept that there are 4,000 deaths on the road every year, that there are serial killers... It's really the only form of criminality where 100 percent success, 100 percent prevention, is demanded."
More recently, three men from the English city of Birmingham were convicted in February of plotting attacks which prosecutors said would have been the biggest since the July 7, 2007 London transport bombings which killed 52 people.
Young British Pakistanis, they had been influenced by the American-Yemeni preacher Anwar al-Awlaki, killed by a U.S. drone attack in Yemen in 2011, and by the magazine he created, Inspire. The men were recorded discussing some of the plots mentioned in the magazine, including the idea of driving a harvester machine re-fitted with swords or blades into a crowd.
Like some of the London transport bombers, they had travelled to Pakistan for training. But unlike the four suicide bombers in London, they had little support once they returned home - al-Qaeda, according to Western intelligence officials, has lost its capacity to provide direction from a distance.
And then there are those who seem to have no direction at all, like 25-year-old ethnic Chechen Lors Doukaev, a Belgian citizen, who accidentally blew himself up in a toilet in Copenhagen while preparing a bomb. He was convicted by a Danish court in 2011 of plotting an attack on the daily Jyllands-Posten whose caricatures of the Prophet Mohammed sparked violent protests in the Middle East, Africa and Asia in 2006.
From ethnic conflict to gobal jihad
U.S. and European security agencies have been worrying for years about their citizens from immigrant communities travelling overseas, possibly coming into contact with frontline militant Islamist groups in their ancestral homelands.
Some from the large British Pakistani community were drawn initially to Pakistan-based groups focused on the Kashmir dispute with India, before crossing over into the orbit of al Qaeda with its more global anti-western ideology. To those studying it, the route became known as "the Kashmir escalator."
A flagship U.K. program to counter radicalisation failed to achieve its objectives, so much so that in 2010 British lawmakers said the policy had alienated those it was supposed to be winning over.
The Tsarnaev brothers would have been brought up in the shadow of the two wars their Chechen people fought against Russia in the 1990s, and were exposed to the spread of hard-line Islam in southern Russia since then.
"Early indications suggest a young member of a diaspora, Tamerlan Tsarnaev, disaffected, unable to fit in and unhappy with his life, who sought comfort and an explanation for his perceived troubles in an extreme and extremely over-simplistic ideology," said Stephen Tankel, a scholar at the Carnegie Endowment in the South Asia Program and author of a book on the Pakistan-based Lashkar-e-Taiba militant group.
"That ideology explained not only his unhappiness and perceived failures here in America in a way that gave him someone else to blame, but also connected him to those suffering in what for him was a, probably mythologised, homeland as well as to a wider community. If so we've seen that before."
If Western countries have gained experience in disrupting plots - through intelligence cooperation and domestic surveillance and policing - they have got little better at challenging the narrative which leads young men into jihad.
Big, complicated attacks may be more difficult for militant groups to organise, but al-Qaeda is encouraging like-minded people to conceive their own smaller-scale plots.
"There is no doubt the big sophisticated 9/11 type plot, 7/7 type plots, are much harder to organise," Stuart Osborne, Britain's Senior National Coordinator for Counter Terrorism, said last month. But he added that, "it would be fair to say that some of the al Qaeda leadership have sort of said: 'That's good if you can do it, but if not, any attack, whatever you can, at whatever size is useful.'"
A new generation is growing up, disconnected at home by urbanisation and in the diaspora by immigration, from its familial, ethnic, tribal or linguistic identity, but unable to identify with a westernised, irreligious elite, said Huma Yusuf, a Pakistani columnist for Dawn newspaper who has studied in the United States and lives in London.
"This generation has conservative values, and a deep experience of inequality and lack of identity that has not found political expression except through the narratives of extremist groups," she said.
"Instead of seeing the emergence of a new urban, middle-class political movement that simultaneously acknowledges 'Islamic values' and embraces modernity, globalization, and emphasizes middle-class aspirations, we're seeing new political actors echo the 'clash of civilizations' narratives and isolationist posturing of extremist groups."
The wars in Afghanistan and Iraq may also have accelerated an already existing problem, said Pantucci.
"The post-9/11 wars maybe made it easier to persuade people that the narrative really was not only that the West didn't care about Muslims, but was actively going around the world trying to kill them."
That assessment was borne out talking to activists in city of Birmingham. While they believed al-Qaeda was no longer relevant after U.S. forces killed Osama bin Laden in Pakistan in 2011, and stressed they themselves had no interest in violence, they also saw a need to stand up to a decadent and corrupt West.
"Al-Qaeda has been destroyed," said one young man, talking in a café in the inner-city suburb of Alum Rock. "This is not an Islamic struggle," he said. "It is a global struggle against corruption, imperialism and Zionism."
http://www.voanews.com/content/anaylsis-alienation-draws-some-vulnerable-immigrants-to-jihad/1647237.html
------------
Pakistan
Boys as young as 5 train to wage terror in lawless tribal region between Afghanistan and Pakistan
Little boys handle pistols and Kalashnikov rifles during target practice in a chilling video showing an Al Qaeda terror camp reportedly in the tribal regions between Pakistan and Afghanistan.
NEW YORK DAILY NEWS
APRIL 23, 2013
A chilling video has surfaced showing children as young as five being training to become Al Qaeda fighters.
Filmed at a terror camp in north Waziristan, the video shows the tykes firing pistols, Kalashnikov rifles and larger machine guns as they train to one-day wage Jihad as fully-grown Islamic fanatics, according to the British reports.
Some stand just a few inches taller than the weapons they struggle to wield, and their little bodies flinch from the recoil after every round.
According to The Daily Mail, many of the children are said to be orphans of suicide bombers and others killed in Al Qaeda's campaign of terror.
The clip was initially posted on an Al Qaeda propaganda website.
It was thought to have been produced by the Turkistan Islamic Party, which trains insurgents in the Pakistan/Afghanistan tribal areas to fight with the Taliban, the Mail said.
http://www.nydailynews.com/news/world/video-boys-young-5-train-jihad-al-qaeda-video-article-1.1325047#ixzz2RS03RzbP
------------
Voters urged to help Jamaat-i-Islami in enforcing Islamic system
Apr 25, 2013
PESHAWAR: Jamaat-i-Islami Amir Syed Munawar Hasan has said that former rulers pushed innocent people to the fire of terrorism and now they have no right to complain about the security situation in the country. Addressing a public meeting in the University Town here on Wednesday, he said that thousands of people were killed and displaced during the five years of the PPP-led coalition government."The ANP government failed to restore peace in Khyber Pakhtunkhwa, rather it tried to appease the United States by giving it the licence to kill people," he said. The JI leader said that people could not be deceived again by the former rulers because unprecedented price hike, unemployment and lawlessness had made their lives miserable. The rulers did nothing for people's wellbeing, he added. He said the US war on terror was actually a war on Muslims and urged the nation to distinguish between friends and foes of Zionist forces. He said there was a difference between words and deeds of leaders of the Pakistan People's Party, the Awami National Party, the Muttahida Qaumi Movement and the Pakistan Muslim League-Q because they did not believe in what they declared as their parties' manifestos. He called upon people to vote for JI candidates on May 11 and help his party to enforce Islamic system in the country and overcome the menaces of terrorism, unemployment, poverty, energy crisis and load shedding. He said that over the past 65 years more than 1,000 JI leaders had been elected members of the Senate, National Assembly and provincial assemblies, but none of them was found involved in any kind of corruption. Mr Hasan criticised former president Pervez Musharraf and accused him of having killed innocent students of Jamia Hafsa and Akbar Bugti and subverting the constitution.
http://dawn.com/2013/04/25/voters-urged-to-help-ji-in-enforcing-islamic-system/
------------
Two policemen killed in Karak attack
Apr 25, 2013
KARAK: At least two policemen and two attackers were killed in an encounter in the Barbara area of Khyber Pakhtunkhwa's Karak district on Thursday morning.
Police said militants attacked the police in Barbara's Banda Daud Shah area.
As a result, two police personnel — a sub-inspector and a constable died — while two attackers were also killed.
Full report at:
http://dawn.com/2013/04/25/two-policemen-killed-in-karak-attack/
------------
Najam Sethi wants resolution of Pak-India issues
Apr 25, 2013
LAHORE: Both Pakistan and India should follow the policy of peaceful coexistence and compete only in the field of economy and trade to bring prosperity to their people.
Interim Chief Minister Najam Sethi expressed these views on Wednesday during a meeting with Indian High Commissioner Sharat Sabharwal who called on him at CM's Secretariat, according to a handout.
Full report at:
http://dawn.com/2013/04/25/sethi-wants-resolution-of-pak-india-issues-2/
------------
Sunni Tehreek parts ways with alliance
April 25, 2013
HYDERABAD: Cracks appeared in the 10-party alliance, formed to jointly contest elections against the Pakistan People's Party (PPP), when the Sunni Tehreek (ST) parted ways with it.
Khalid Hassan Attari, ST's provincial leader, accused the allied parties of promoting their personal interests at a press conference on Wednesday. Attari said that his party, however, was open to seat adjustments on individual basis. He also complained about threats to their election campaign while citing the recent armed attack on one of their candidates in Hyderabad.
Full report at:
http://tribune.com.pk/story/540113/sunni-tehreek-parts-ways-with-alliance/
------------
Bonded labourer Veeru to make much anticipated political debut from Hyderabad, Pak
Apr 25, 2013
Pakistan has a total of 2.99 million registered non-Muslim voters out of which 1.40 million are Hindus, followed by 1.23 million Christians, 115,966 Ahmadis, 5,934 Sikhs, 3650 Parsis, 1,452 Buddhists and 809 Jews. Discrimination and persecution of religious minorities is quite prevalent in Pakistan with the attacks on minorities rising in the past two years with the Human Rights Watch describing 2011 as 'disastrous 'for religious minorities in Pakistan adding that they faced 'unprecedented insecurity and persecution'. To view a timeline on the persecution of minorities click here.
Full report at:
http://dawn.com/2013/04/25/veeru-kohli-to-make-much-anticipated-political-debut/
------------
Musharraf wants court to summon his 'collaborators'
Apr 25, 2013
ISLAMABAD: Former president Gen (r) Pervez Musharraf on Wednesday contended before a three-member bench of the Supreme Court that all the individuals who aided, abated or collaborated with him in the proclamation of November 3, 2007 emergency should also be summoned.
"Their presence is necessary before proceeding under the constitutional jurisdiction of the Supreme Court under enforcement of the fundamental rights," argued a counsel representing Gen Musharraf in a reply against one of the petitions filed by Barrister Amjad Malik. The word "treason" against an individual, the reply explained, amounts to a wild and reckless allegation of a "traitor" and proceedings under Article 184(3) of the constitution on such charges would amount to adversely affecting the fundamental rights of Musharraf in terms of articles 4, 8, 10 and 10A of the constitution.
Full report at:
http://www.dailytimes.com.pk/default.asp?page=2013\04\25\story_25-4-2013_pg1_4
------------
Late Bugti's son wants Musharraf in prison
Apr 25, 2013
QUETTA: Expressing his mistrust in courts, Nawabzada Jamil Akbar Bugti on Wednesday said that despite clear directives of the Balochistan High Court, the assassin of his father, General (r) Pervez Musharraf, had not been arrested.
Talking to reporters at a press conference, he said that powers had remained in the hands of the army during the past five years and would continue to remain in their hands, adding that no one should entertain the misconception that the upcoming election would be free and just.
Full report at:
http://www.dailytimes.com.pk/default.asp?page=2013\04\25\story_25-4-2013_pg7_18
------------
Benazir murder case: Court issues Musharraf's arrest order
April 25, 2013
RAWALPINDI: An anti terrorism court (ATC) issued orders for the arrest of former president Pervez Musharraf in the Benazir Bhutto murder case, Express News reported on Thursday.
The court also granted permission to investigate Musharraf in this regard.
A joint investigation team was asked to record statements, after which the court will take a decision for Musharraf's physical remand.
The former president is already imprisoned – in his farmhouse – in the judges' detention case.
Earlier on April 17, the Lahore High Court Rawalpindi bench had granted Musharraf pre-arrest interim bail in the murder case till April 24 against two surety bonds of Rs 5 million each.
http://tribune.com.pk/story/540419/benazir-murder-case-court-issues-musharrafs-arrest-order/
------------
South Asia
Tourism will suffer if parliament bans pork and alcohol: Maldives Tourism Minister
By Ahmed Nazeer | April 25th, 2013
A proposed blanket ban on the import of pork and alcohol would destroy the tourism industry of the Maldives beyond repair, Tourism Minister Ahmed Adeeb has told parliament's National Security Committee.
Local media reports said Adeeb told the committee that vast majority of the Maldives economy relied on tourism, which in turn depended on the sale of alcohol and pork. The whole tourism industry would suffer should these commodities be banned, Adeeb said.
The Tourism Minister said alcohol and pork were not imported for the consumption of Maldivians, and were brought in only under strict laws.
Full report at:
http://minivannews.com/society/tourism-will-suffer-if-parliament-bans-pork-and-alcohol-tourism-minister-56970
------------
Bangladesh greets Sri Lanka for eradicating terrorism
Apr 25, 2013
Bangladesh has congratulated the Sri Lankan leadership for eradicating the threat of terrorism and undertaking infrastructural projects for economic development in Sri Lanka.
Foreign Secretary Md Shahidul Haque, who is on a three-day official visit to Colombo, told this when he called on Sri Lankan President Mahinda Rajapaksa at the President's Office at Temple Trees in Colombo on Tuesday.
Shahidul reiterated Bangladesh's satisfaction at the progress made in resettlement, rehabilitation and reconciliation since the return of peace in the country, said a Foreign Ministry press release.
Full report at:
http://www.thedailystar.net/beta2/news/bangladesh-greets-sri-lanka-for-eradicating-terrorism/
------------
China urges US to condemn Xinjiang 'terrorism' after Boston bombings
Apr 25 2013
Beijing : China urged the United States on Thursday, 10 days after the Boston Marathon bombings, to condemn what Beijing has called terrorist attacks in its western Xinjiang region instead of lecturing the country on human rights.
Nine residents, six police and six ethnic Uighurs were killed on Tuesday in a knife, axe and arson attack, the deadliest violence in the region since July 2009, when Xinjiang's capital, Urumqi, was rocked by clashes between majority Han Chinese and minority Uighurs that killed nearly 200 people.
Chinese authorities called the violence terrorism and Xinjiang spokeswoman Hou Hanmin was quoted on Thursday by the popular Chinese tabloid the Global Times as comparing it to the recent Boston Marathon bombings.
Full report at:
http://www.indianexpress.com/news/china-urges-us-to-condemn-xinjiang--terrorism--after-boston-bombings/1107508/
---------
Bangladesh Jamaat man held in cop murder case
Apr 25, 2013
Police arrested a leader of Pirgachha Sadar union unit of Bangladesh Jamaat-e-Islami in the city yesterday.
The arrestee, Shahjahan Ali, 55, is general secretary of the unit. He is one of the charge sheeted accused in Constable Mojahar Ali murder case.
Mojahar, 48, a constable of Pirgachha Police Station, was injured in an attack by Jamaat-Shibir men at Pirgachha Railway Station Area during Jamaat-enforced hartal in the district on February 28.
He was admitted to Rangpur Medical College Hospital and then shifted to Combined Military Hospital in Dhaka where he succumbed to his injuries on March 5.
http://www.thedailystar.net/beta2/news/jamaat-man-held-in-cop-murder-case-2/
------------
Bangladesh PM inaugurates first commuter train between Dhaka-Narayanganj
Apr 25, 2013
The first-ever commuter train in the country hit the Dhaka-Narayanganj tracks yesterday to ensure faster travel on the 20-kilometre route.
Prime Minister Sheikh Hasina inaugurated the six-coach Diesel Electric Multiple Unit (DEMU) train at Kamalapur Railway Station in the capital.
Railways Minister Mujibul Haq, Home Minister Muhiuddin Khan Alamgir and Bangladesh Railway Director General Abu Taher were also present on the occasion.
Full report at:
http://www.thedailystar.net/beta2/news/pm-inaugurates-first-commuter-train/
------------
Death toll in Bangladesh building collapse at 194, many still trapped
AP | Apr 25, 2013
SAVAR, Bangladesh: With deep cracks visible in the walls, police had ordered a Bangladesh garment building evacuated the day before its deadly collapse, but the factories flouted the order and kept more than 2,000 people working, officials said Thursday. At least 194 people died when a huge section of the eight-story building splintered into a pile of concrete.
The disaster in the Dhaka suburb of Savar came less than five months after a blaze killed 112 people in a garment factory and underscored the unsafe conditions faced by Bangladesh's garment workers, who produce clothes for brands worn around the world. Some of the companies in the building that fell say their customers include retail giants such as Wal-Mart.
Full report at:
http://timesofindia.indiatimes.com/world/south-asia/Death-toll-in-Bangladesh-building-collapse-at-194-many-still-trapped/articleshow/19724710.cms
---------
Southeast Asia
South Tangerang staff to wear Muslim attire once a week: Mayor
Multa Fidrus and Dicky Christanto
April 24 2013
South Tangerang Mayor Airin Rachmi Diany announced on Wednesday the administration's plan for all Muslim staff to wear Muslim attire every Friday while non-Muslims should continue to wear their civil servant uniforms.
Airin said that all male employees would wear long-sleeve collarless shirts —locally known as baju koko — and the traditional black cone-shaped hat — known as peci — while their female counterparts should wear Hijab, a loose dress and a long white skirt or loose pants. She believed this policy could have a positive effect on employees' working performance.
Similarly, Tangerang Mayor Wahidin Halim had earlier said staff must wear Muslim clothes in an effort to build the administration's religious atmosphere.
Full report at:
http://www.thejakartapost.com/news/2013/04/24/s-tangerang-staff-wear-muslim-attire-once-a-week.html
------------
Former Child Singer Accuses Celebrity Guru Subur of Blasphemy
Bayu Marhaenjati | April 25, 2013
Former child singer Adi Bing Slamet on Wednesday night filed a report with the Jakarta Police accusing celebrity spiritual guru Subur of blasphemy.
Adi's lawyer, Fahmi Bachdim, said that Subur — known as Eyang (grandfather) Subur by his followers — has allegedly spread heresy by encouraging his followers not to pray.
"We come to the Jakarta Police to report Eyang Subur for blaspheming Islam," Fahmi said. "The article used against him is article 156A on religious blasphemy [that carries a] sentence of more than five years prison."
Fahmi said that Subur had told his followers — mostly artists and famous figures — that he received a revelation from God. Fahmi accused him of insulting the Prophet Muhammad and telling his followers that praying was not mandatory.
Full report at:
http://www.thejakartaglobe.com/news/former-child-singer-accuses-celebrity-guru-subur-of-blasphemy/587997
------------
Crisis-hit Islamic Games moved to Indonesian capital
Apr 25, 2013
JAKARTA: The Islamic Solidarity Games have been shifted to the Indonesian capital Jakarta after plans to hold the event in a city on Sumatra Island collapsed in disarray, an official said Wednesday. Labourers protesting at not being paid in full have shuttered the main stadium in the city of Pekanbaru, and the local governor has little power to resolve the dispute as he is embroiled in a string of corruption scandals.
Full report at:
http://www.dailytimes.com.pk/default.asp?page=2013\04\25\story_25-4-2013_pg2_16
------------
Now independent, Kamilia says fighting for women's right, Islam
Apr 25, 2013
KUALA LUMPUR, April 25 – Former Wanita Umno No 2 Datuk Kamilia Ibrahim said today her election campaign is based on fighting for women's rights and Islam, in the three-cornered Kuala Kangsar race.
Kamilia quit the party to contest the May 5 general elections as an independent, releasing a series of video clips today to explain her decision and campaign for the Umno stronghold last held by former Wanita Umno leader Tan Sri Rafidah Aziz.
"I want to say that my political mission is to fight for women's rights and secondly to strengthen Islam in this country," she said in a video released to the media today.
Kamilia said she had always fought for women's rights, especially within Islamic family law, since joining Umno 23 years ago and has succeeded in raising much awareness among women.
Full report at:
http://www.themalaysianinsider.com/malaysia/article/now-independent-kamilia-says-fighting-for-womens-right-islam/
------------
Manila Disputes Report of Killings Near Malaysia
Apr 25, 2013
MANILA, Philippines (AP) — The Philippine military on Thursday disputed a newspaper report that its naval and coast guard forces killed 35 gunmen to stop them from entering the Malaysian state of Sabah.
Malaysia's The Star quoted Malaysian Defense Minister Ahmad Zahid Hamidi as saying at a news conference Thursday in Penang that Philippine troops shot the gunmen from southern Sulu province before they could enter Malaysian waters, after the gunmen had refused to turn back.
Full report at:
http://www.nytimes.com/aponline/2013/04/25/world/asia/ap-as-philippines-
---------
Arab World
Kirkuk tribes form armed force to counter Iraqi military
25 April 2013
Kirkuk tribes have formed an armed force to counter attack the Iraqi military, Al Arabiya's correspondent reported on Thursday.
The formation comes after tribesmen were called to arms following a government sponsored military raid on a Sunni Muslim anti-government protest at a camp in Hawija, near Kirkuk, on Tuesday.
Dozens of people were killed and injured in the initial incident. The subsequent violence has led to the deaths of 10 policemen in a fire exchange between Sunni Muslim fighters and Iraqi security forces in the northern city of Mosul, according to Reuters on Thursday.
At least 110 additional people have died in the clashes in Iraq, according to officials on Wednesday.
Full report at:
http://english.alarabiya.net/en/News/middle-east/2013/04/25/Iraqi-official-says-Hawija-incident-harms-army-s-image.html
------------
Iraq Gunmen Storm Small Sunni Town Near Baghdad
Apr 25, 2013
BAGHDAD (AP) — Iraq's Defense Ministry says gunmen have taken over a small Sunni town north of Baghdad after clashes with security forces.
Thursday's statement says the gunmen have taken control of Suleiman Beg police station and deployed in the streets. The mayor of Toz Khormatu city to which Suleiman Beg is administratively annexed, Shalal Abdool, says security forces have laid siege and sporadic clashes occurred.
Full report at:
http://www.nytimes.com/aponline/2013/04/25/world/middleeast/ap-ml-
------------
Rising Violence in Iraq Spurs Fears of New Sectarian War
By TIM ARANGO
Apr 25, 2013
BAGHDAD — In what appeared to be a new phase in an intensifying conflict that has raised fears of greater bloodshed and a wider sectarian war, Iraqi soldiers opened fire from helicopters on Sunni gunmen hiding in a northern village on Wednesday, officials said.
The air attack was among clashes throughout the country between forces of the Shiite-dominated Iraqi government and Sunni gunmen that left at least 27 people dead and dozens wounded. The Sunni tribesmen were continuing a fight that began on Tuesday after the Iraqi Army stormed a Sunni protest encampment in the village of Hawija, leaving dozens dead and injured.
Full report at:
http://www.nytimes.com/2013/04/25/world/middleeast/with-air-attacks-sectarian-strife-intensifies-in-iraq.html?ref=middleeast&gwh=56F6340A5165E58B91ECCBAE5F690DAE
------------
Umayyad mosque, a Unesco world heritage site, falls amid battles in Syria
AP | Apr 25, 2013
BEIRUT: The 11th-century minaret of a famed mosque that towered over the narrow stone alleyways of Aleppo's old quarter collapsed on Wednesday as rebels and government troops fought pitched battles in the streets around it, depriving the ancient Syrian city of one of its most important landmarks.
President Bashar Assad's government and the rebels trying to overthrow him traded blame over the destruction to the Umayyad Mosque, a UNESCO world heritage site and centerpiece of Aleppo's walled Old City.
"This is like blowing up the Taj Mahal or destroying the Acropolis in Athens. This mosque is a living sanctuary," said Helga Seeden, a professor of archaeology at the American University of Beirut. "This is a disaster. In terms of heritage, this is the worst I've seen in Syria. I'm horrified."
Aleppo, Syria's largest city and a commercial hub, emerged as a key battleground in the nation's civil war after rebels launched an offensive there last summer. Since then, the fighting has carved the city into rebel- and regime-held zones, killed thousands of people, forced thousands more to flee their homes and laid waste to entire neighborhoods.
Full report at:
http://timesofindia.indiatimes.com/world/middle-east/Umayyad-mosque-a-Unesco-world-heritage-site-falls-amid-battles-in-Syria/articleshow/19720531.cms
------------
Syria rebels reject Lebanon Salafists' jihad call
April 24, 2013
BEIRUT: Syria's main rebel Free Syrian Army on Wednesday rejected calls for jihad (holy war) by radical Sunni sheikhs from neighbouring Lebanon.
"Our official position as the Supreme Military Command of the Free Syrian Army... is that we thank them but we reject any calls for jihad in Syria," FSA political and media coordinator Louay Muqdad told AFP.
"We reject any presence of foreign fighters, regardless of where they are from. We have said that what we are missing in Syria is weapons, not men," he added.
Thousands of foreign fighters have joined Syrian rebels pitted against the regime of President Bashar al-Assad.
Full report at:
http://dailystar.com.lb/News/Local-News/2013/Apr-24/214912-syria-rebels-reject-lebanon-salafists-jihad-call.ashx#ixzz2RTLtCBtw
------------
Syria's Christians Threatened By Ideology, Geography
By: Jean Aziz
April 23
Throughout the two-year-old Syrian civil war, the world powers as well as the Syrian parties involved have said that the country's minorities, especially its Christians, face an existential threat. Despite warnings and condemnations of attacks by all sides, however, it looks as if what had long been feared is actually happening. Why? Perhaps because the tragedy of Syria's Christians is linked to not only fundamentalist and ideological motives but also to geostrategic calculations.
Full report at:
http://www.al-monitor.com/pulse/originals/2013/04/syria-christians-threatened-ideology-geography.html#ixzz2RRyTtWJf
------------
Bahrain 'dismayed' by US rights assessment report
April 25, 2013
DUBAI: Authorities in Bahrain, which has been hit by Shiite-led protests for two years, have voiced "dismay" over an assessment by the US State Department of the rights situation in the kingdom.
"The report includes texts which are totally far from the truth, adopting a manner that fuels terror and terrorists targeting Bahrain's national security," state news agency BNA late on Wednesday quoted government spokeswoman Samira Rajab as saying.
The strategic tiny kingdom of Bahrain, home to the US Fifth Fleet, has been rocked since February 2011 by a wave of Shiite-led protests calling for the ouster of Prime Minister Sheikh Khalifa bin Salman al-Khalifa, an uncle of King Hamad, in office since 1971.
Full report at:
http://dailystar.com.lb/News/Middle-East/2013/Apr-25/215018-bahrain-dismayed-by-us-rights-assessment-report.ashx#ixzz2RTMJN61O
------------
Syria Campaigns to Persuade U.S. to Change Sides
By ANNE BARNARD
Apr 25, 2013
DAMASCUS, Syria — As Islamists increasingly fill the ranks of Syrian rebels, President Bashar al-Assad is waging an energized campaign to persuade the United States that it is on the wrong side of the civil war. Some government supporters and officials believe they are already coaxing — or at least frightening — the West into holding back stronger support for the opposition.
Confident they can sell their message, government officials have eased their reluctance to allow foreign reporters into Syria, paraded prisoners they described as extremist fighters and relied unofficially on a Syrian-American businessman to help tap into American fears of groups like Al Qaeda.
Full report at:
http://www.nytimes.com/2013/04/25/world/middleeast/syria-campaigns-to-persuade-us-to-change-sides.html?ref=world
------------
Syrian opposition urges U.S.-Russia talks based on Assad ouster
24 April 2013
Syria's main opposition bloc insisted on Wednesday that any talks between U.S. and Russia on ending their country's war be based on President Bashar al-Assad's departure.
"According to news sources at the NATO foreign ministers conference in Brussels, U.S. Secretary of State John Kerry and Foreign Minister of Russia Sergei Lavrov met and seemed to share similar views regarding the Syrian crisis," said the National Coalition.
"Any solutions must take into account the demands of the Syrian people, which include freedom from tyranny, and most importantly, the departure of Assad," it added.
Full report at:
http://english.alarabiya.net/en/News/middle-east/2013/04/24/Syrian-opposition-urges-U-S-Russia-talks-based-on-Assad-ouster.html
------------
Mideast Asia
Iran's unlikely al-Qaeda ties: fluid, murky and deteriorating
25 April 2013
When al Qaeda leader Ayman al-Zawahiri spoke in an audio message broadcast to supporters earlier this month, he had harsh words for Iran. Its true face, he said, had been unmasked by its support for Syrian President Bashar al-Assad against fighters loyal to al Qaeda.
Yet it is symptomatic of the peculiar relationship between Tehran and al Qaeda that in the same month Canadian police would accuse "al Qaeda elements in Iran" of backing a plot to derail a passenger train.
Shi'ite Muslim Iran and strict Sunni militant group al Qaeda are natural enemies on either side of the Muslim world's great sectarian divide.
Yet intelligence veterans say that Iran, in pursuing its own ends, has in the past taken advantage of al Qaeda fighters' need to shelter or pass through its territory. It is a murky relationship that has been fluid and, some say in the intelligence community, has deteriorated in recent years.
Full report at:
http://english.alarabiya.net/en/News/middle-east/2013/04/25/Iran-s-unlikely-al-Qaeda-ties-fluid-murky-and-deteriorating.html
------------
Israel airport security 'allowed to read tourists' email'
AFP | Apr 25, 2013
JERUSALEM: Israeli security officials at Ben Gurion airport are legally allowed to demand access to tourists' email accounts and deny them entry if they refuse, the country's top legal official said on Wednesday.
Details of the policy were laid out by Attorney General Yehuda Weinstein in a written response to the Association for Civil Rights in Israel (ACRI), the group said in a statement.
In June 2012, ACRI's Lila Margalit wrote to the attorney general demanding clarification following media reports about security officials demanding access to tourists' email accounts before allowing them into the country.
Full report at:
http://timesofindia.indiatimes.com/world/middle-east/Israel-airport-security-allowed-to-read-tourists-email/articleshow/19721526.cms
------------
A century on, Turkey's Muslim Armenians come out of hiding
24 April 2013
They dropped their language and religion to survive after the 1915 genocide, but close to 100 years on Turkey's "hidden Armenians" want to take pride in their identity.
Some genocide survivors adopted Islam and blended in with the Kurds in eastern Turkey's Dersim Mountains to avoid further persecution.
Several generations down the road, the town of Tunceli hosted a landmark ceremony Wednesday for Genocide Remembrance Day, something which has only ever happened in Istanbul and the large city of Diyarbakir.
Full report at:
http://english.alarabiya.net/en/life-style/variety/2013/04/24/A-century-on-Turkey-s-Muslim-Armenians-come-out-of-hiding.html
------------
Palestinian Christians battle Israel barrier route
24 April 2013
BEIT JALA, West Bank: Palestinians in this Christian village are hoping the new pope can succeed where others have failed — pressing Israel to drop plans to build a stretch of its West Bank separation barrier through their picturesque valley.
Since Vatican properties are affected, residents have appealed to the Roman Catholic Church to use more of its significant influence in the Holy Land to reroute the barrier, even as local Catholic leaders hold a special protest Mass in threatened orchards each week.
The Vatican has called on Israel not to seize the lands, but local Palestinian Catholics want the new pontiff to lean more heavily on Israel.
Full report at:
http://www.arabnews.com/news/449270
------------
India
Legal aid cell planned to assist Indians in Dammam
24 April 2013
Indian Ambassador Hamid Ali Rao assured the Indian workers in Dammam of all assistance to mitigate their problems.
Rao was visiting the Eastern Province to get first hand information related to their work conditions and problems.
Prominent members of the Indian community were present at the meeting that took place at the Indian school in Dammam. Sibi George, deputy chief of mission, also took part in the discussions.
In one of the memos submitted to the ambassador, members of the Federation of Overseas Indian Organizations urged the embassy to focus on the poor conditions of detainees at the deportation centre regarding food, drinking water, medication, treatment, and washrooms facility.
Full report at:
http://www.arabnews.com/news/449227
------------
Scholarship program for Indian expats in Saudi Arabia
24 April 2013
Nearly 100 scholarships are being offered to children of Indian expatriates for undergraduate courses in several disciplines. These include engineering, architecture, technology, humanities, liberal arts, commerce, management (BBA/BBM), journalism, hotel management, agriculture/animal husbandry, science, law, etc.
Launched in 2006-2007, these schemes are available under the Ministry of Overseas Indian Affairs scheme called the Scholarship Program for Diaspora Children.
Full report at:
http://www.arabnews.com/news/449226
------------
Ishrat case: Guj top cop PP Pande likely to be arrested
April 25, 2013
A top cop of Gujarat police PP Pande is likely to be arrested by the CBI in connection with Mumbra girl Ishrat Jahan and three others fake encounter case. Pande was joint commissioner of Ahmedabad police crime branch which had gunned down four persons including Ishrat, claiming that they were terrorists tasked to kill Gujarat chief minister Narendra Modi in June 2004.
"We issued him a summon which he has not complied so his arrest is imminent in the case," a senior official of the CBI told HT.
Full report at:
http://www.hindustantimes.com/India-news/ahmedabad/Ishrat-case-Guj-top-cop-PP-Pande-likely-to-be-arrested/Article1-1050146.aspx
------------
China backs India stand on Taliban's role after US exit
Shubhajit Roy
Apr 25 2013
New Delhi: Concerned about the adverse impact on its economic activity in Afghanistan, China has told India terrorism poses a threat to all regional countries, and that it is ready to consult with Delhi as the deadline of US-led coalition's troop withdrawal in 2014 comes closer.
Beijing has also backed the Indian position on the Taliban reconciliation process by insisting on the "redlines", which have been seemingly blurred by some western interlocutors in recent negotiations. India has been firm on the "redlines" — that the peace process should be Afghan-led and Afghan-owned, Talibans who want to be re-integrated should follow the Full report at:
http://www.indianexpress.com/news/china-backs-india-stand-on-taliban-s-role-after-us-exit/1107350/
---------
Europe
'Sharia councils must be penalised': British MP
Apr 25, 2013
Sharia councils must be penalised if they do not operate within the law of the land in order to allay fear and distrust among Britons, an MP said today.
Tory MP Kris Hopkins (Keighley and Ilkley) called on the Government to spell out what penalties it would apply to Sharia councils breaking the law.
Islamic Sharia councils need to "operate within the law and should not form a concurrent legal system in the UK", he said.
He asked the Government to confirm that they "only have one law" and the Sharia councils must comply with it, including anti-discrimination, equality and family measures.
Mr Hopkins added that the Government needed to show what steps it has taken to ensure Sharia marriages are legally underpinned by civil marriage, in order to uphold women's rights in divorces.
At a Westminster Hall debate, Mr Hopkins said there was evidence that people were getting married before Sharia councils but not in legally binding ceremonies, leading to "easy" divorces, where women's rights were not taken into account, and men marrying more than one woman.
Full report at:
http://www.asianimage.co.uk/news/10374932._Sharia_councils_must_be_penalised_/
------------
3 British Muslim men jailed for terror offenses
Apr 25, 2013
LONDON — Three British Muslims, including a convert who was featured in a documentary about radical Islam and a former London police support officer, have been jailed for terror offenses.
Richard Dart, Imran Mahmood and Jahangir Alom pleaded guilty last month for traveling to Pakistan for terror training between 2010 and 2012.
Dart was jailed for six years Thursday at London's Old Bailey court.
Alom, a former police support officer who appeared in an online video expounding hardline beliefs, was sentenced to four years and Mahmood to more than nine years.
http://www.saudigazette.com.sa/index.cfm?method=home.regcon&contentid=20130425162973
------------
Azerbaijani city Nakhchivan to be capital of Islamic culture in 2018
24 APRIL 2013
By Nigar Orujova
Nakhchivan, the central city of Azerbaijan's Nakhchivan Autonomous Republic, will become the capital of Islamic culture in 2018, Labor and Social Protection Minister Fizuli Alakbarov said at a meeting of labor ministry representatives of the Organization of Islamic Cooperation (OIC) in Baku on Tuesday.
A ministerial conference of the OIC countries will be held in the Azerbaijani capital on April 25-26.
"Holding of the conference is evidence of active support which the Organization of Islamic Cooperationlends to solve poverty problems in the OIC countries and to provide social stability for conducting an active policy in this sphere," the minister said.
Full report at:
http://www.azernews.az/culture/52749.html
------------
U.N. to authorize Mali peacekeeping force
25 April 2013
The U.N. Security Council is set to adopt a resolution Thursday creating a peacekeeping mission in Mali, to take over from French and African forces in the conflict-torn north.
The force would be deployed July 1, for an initial period of 12 months, pending a Security Council ruling that the conflict has eased enough to allow the deployment.
Over the next 60 days, the council will decide if there has been a "cessation of major combat operations by international military forces" and "a significant reduction in the capacity of terrorist forces to pose a major threat" in order for the U.N. to launch its mission.
If not, the deployment will be delayed.
Full report at:
http://english.alarabiya.net/en/News/africa/2013/04/25/U-N-to-authorize-Mali-peacekeeping-force-.html
------------
Brahimi suggests U.N. arms embargo on Syria conflict
24 April 2013
U.N.-Arab League mediator Lakhdar Brahimi suggested the Security Council consider an arms embargo on both sides of Syria's conflict during a closed-door meeting, a U.N. official said Wednesday.
Brahimi "emphasized the need for a political solution along the lines of the Geneva Communique and warned against the growing militarization and radicalization inside Syria," Under-Secretary-General for Political Affairs Jeffrey Feltman said, describing the address delivered last Friday.
"He reiterated the secretary-general's call to stop the flow of arms to either side in Syria and called on the council to consider an arms embargo."
Full report at:
http://english.alarabiya.net/en/News/middle-east/2013/04/24/Brahimi-suggests-U-N-arms-embargo-on-Syria-conflict-.html
------------
German top court orders changes to 'terror' database
Apr 25, 2013
BERLIN — Germany's top court on Wednesday allowed a central security database aimed at keeping track of violent extremists to stand but said lawmakers must bolster its civil rights protections.
The ruling upheld the so-called "Anti-Terror Database" designed to pool information collected by police and intelligence services to prevent attacks. But it said it must be tweaked by the end of 2014 to include more data privacy provisions.
Full report at:
http://www.saudigazette.com.sa/index.cfm?method=home.regcon&contentid=20130425162879
----------
White Muslim convert faces prison after terrorism charge
25 April 2013
A white British male who converted to Islam was sentenced to jail early Thursday after he pleaded guilty to taking part in planning terror attacks on the heads of MI5 and MI6.
According to The Times newspaper, Thirty-year-old Richard Dart, who is "entirely committed to acts of terrorism," also planned to attack the small town of Royal Wootton Bassett.
He will be sentenced to jail at the Old Bailey after admitting his intention to perpetrate a mass-killing and his intention to travel to Pakistan to receive the necessary training.
Dart is on trial with his two team members, Imran Mahmood, 22, and former Metropolitan Police community support officer, Jahangir Alom, 26.
Full report at:
http://english.alarabiya.net/en/News/world/2013/04/25/White-Muslim-convert-faces-prison-after-terrorism-charge.html
---------
Africa
Mali's Tuareg Rebels Reject Elections, Disarming Before Talks
Apr 25, 2013
PARIS (Reuters) - Mali's Tuareg separatist rebels dismissed French calls to disarm ahead of July elections on Wednesday saying they would fight to the death if Malian troops entered areas under its control, underscoring the challenge of unifying the West African state.
Mahamadou Djeri Maiga, the group's vice-president and chief negotiator, said Paris had a moral obligation to force the interim Malian government to the negotiating table to flesh out a deal that would create a framework for autonomy in the north and provide international guarantees.
"Have you ever seen a group disarm before negotiations take place?" Maiga told Reuters.
The restless Tuaregs have launched successive revolts since Mali gained independence from France in 1960, alleging neglect and mistreatment by the black-led central government in Bamako.
Full report at:
http://www.nytimes.com/reuters/2013/04/24/world/africa/24reuters-mali-
------------
Tunisia court reviews jail terms for prophet cartoons
25 April 2013
Tunisia's Court of Cassation was on Thursday reviewing the jail terms of two young men for posting cartoons of the Prophet Mohammed on the Internet, a case that has angered the secular opposition.
"I am at the court, the hearing is about to begin. After the hearing, I will make known the progress of the case," defence lawyer Ahmed Mselmi told AFP.
Jabbeur Mejri and his co-defendant Ghazi Beji, who fled abroad, were sentenced in a closed hearing in March 2012 to seven and half years in jail for "publishing works likely to disturb public order" and "offence to public decency."
Full report at:
http://english.alarabiya.net/en/News/middle-east/2013/04/25/Tunisia-court-reviews-jail-terms-for-prophet-cartoons-.html
---------
Tunisians yearn for the good old days of a strongman
Apr 25, 2013
Tunisians still revile ousted leader President Zine El Abidine Ben Ali, but admiration is rising for his predecessor, who had strongman tendencies of his own but also helped Tunisia flourish.
The mother led her daughter by the hand to the back of the mausoleum, beyond the sarcophagus, to point out photographs of the mausoleum's occupant meeting other dead dictators.
Full report at:
http://news.yahoo.com/tunisians-yearn-good-old-days-strongman-131650738.html
------------
North America
US calls for transparent probe over Xinjiang clashes
Apr 25, 2013
The US has urged China to conduct a transparent investigation after clashes in the restive Xinjiang region left 21 people dead.
US State Department spokesman Patrick Ventrell also urged that "due process protections" be given to all Chinese citizens, including ethnic Uighurs.
The violence erupted on Tuesday in Bachu county, Kashgar prefecture.
China said it was a planned attack by a "violent terrorist group", but an activist group questioned this.
"We urge the Chinese authorities to conduct a thorough and transparent investigation of this incident," Mr Ventrell said.
Full report at:
http://www.bbc.co.uk/news/world-asia-china-22289821
----------
Boston blasts: 'FBI did not find any terrorism activity against Tamerlan'
April 25, 2013
The White House has strongly defended the FBI for its past investigations against the Boston bombing suspect Tamerlan Tsarnaev and denied the allegations of lawmakers that federal agency dropped the ball when it was informed by the Russians that he was radicalised.
Tamerlan, 29, died last Thursday in a exchange of fire with police in Boston neighbourhood.
He is suspected to be mastermind of the April 15 blasts that killed three people and injured 264 others.
His accomplice and younger brother, Dzhokhar, 19, has been arrested and is being treated in a Boston city hospital.
Full report at:
http://www.hindustantimes.com/worldsectionpage/chunk-ht-ui-worldsectionpage-bostonblast/Boston-blasts-FBI-did-not-find-any-terrorism-activity-against-Tamerlan/Article1-1049996.aspx
------------
No answers yet on Boston bombings: White House
Apr 25, 2013
The United States does not have answers to all the questions related to the Boston terrorist attack, and the complete and comprehensive investigation in this regard is going to take some time, the White House has said.
"As the President Barack Obama said on Friday night, we need to know whether they acted alone or whether they had associations. That's why we need a comprehensive investigation.
"We need to know what inspired them, how they came about possessing or developing the weapons and explosive devices that they used," White House Press Secretary Jay Carney told reporters at his news conference on Wednesday.
Full report at:
http://www.thehindu.com/news/international/no-answers-yet-on-boston-bombings-white-house/article4652952.ece
------------
US-Afghan-Pak talks make progress, more work to do: Kerry
April 25, 2013
BRUSSELS — US Secretary of State John Kerry tried to get Afghanistan and Pakistan on the same page Wednesday, ending their mistrust so they could work together as NATO prepares for its Afghan withdrawal next year.
After more than three hours of talks in Brussels, Kerry said he had made progress with Afghan President Hamid Karzai and Pakistan armed forces chief Ashfaq Kayani.
But all sides still had "some very specific homework to do," he said, declining to give specific details so as not "to raise expectations or make any kind of promises that can not be delivered. As the talks closed Wednesday, neither Karzai or Kayani made any comment.
Full report at:
http://www.saudigazette.com.sa/index.cfm?method=home.regcon&contentid=20130425162884
------------
US slams Hezbollah involvement in Syria
April 25, 2013
BEIRUT: U.S. Permanent Representative to the U.N. Susan Rice criticized Hezbollah for providing Syrian President Bashar Assad with arms, money and fighters in coordination with Iran.
"Hezbollah not only continues to undermine Lebanon from within by violating the government's policy of disassociation, but actively enables Assad to wage war on the Syrian people by providing money, weapons, and expertise to the regime in close coordination with Iran," Rice said in remarks Wednesday at the U.N. Security Council open debate on the Middle East
She warned that the conflict in Syria threatens the stability of its neighbors, particularly Lebanon, citing recent attacks in the Lebanese border towns of Hermel and al-Qasr.
Full report at:
http://dailystar.com.lb/News/Politics/2013/Apr-25/215020-us-slams-hezbollah-involvement-in-syria.ashx#ixzz2RTLoCKgn
------------
U.S. Sees No Conclusive Evidence of Chemical Arms Use by Syria
By MARK LANDLER
Apr 25, 2013
WASHINGTON — The Obama administration shares the suspicions of several of its allies that the Syrian government has used chemical weapons, a senior official said Wednesday, but it lacks the conclusive evidence that President Obama has said would lead to American intervention.
Faced with mounting pressure to act against Syria — including a new assertion by an Israeli military intelligence official on Tuesday that Syria repeatedly used chemical weapons — the United States is waiting for the results of an exhaustive analysis of soil, hair and other material to determine whether chemical warfare agents have been used.
Full report at:
http://www.nytimes.com/2013/04/25/world/middleeast/us-unsure-of-chemical-arms-use-by-syria.html?ref=world&gwh=AB0D030F28A6C8FFDC85C5FA8DEEBCB3
------------
NATO says war against Afghan's Taliban being won
25 April 2013
NATO said Thursday that the war against the Taliban in Afghanistan is being won, despite reports by other agencies of a sharp upsurge in insurgent attacks this year.
"While numerous challenges remain, there are some basic facts that highlight the improved security across the country," said US General Joseph Dunford, head of the NATO-led International Security Assistance Force (ISAF).
Dunford said in a statement that almost eight million children are in school, 40 percent of whom are girls, compared with one million -- almost all boys -- under the Taliban's 1996-2001 rule.
Full report at:
http://english.alarabiya.net/en/News/middle-east/2013/04/25/NATO-says-war-against-Afghan-s-Taliban-being-won-.html
------------
URL: https://newageislam.com/islamic-world-news/new-age-islam-news-bureau/alienation-draws-some-vulnerable-immigrants-to-jihad/d/11295