New Age Islam News Bureau
24 Aug 2013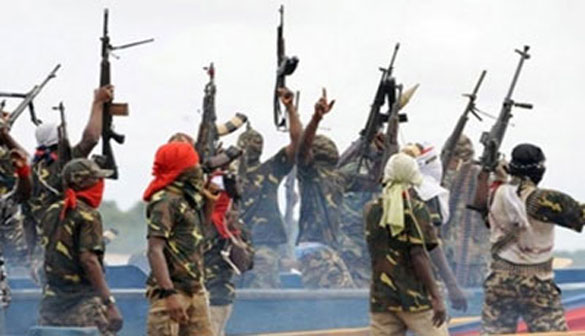 Photo: Extremists slit throats of 44 in northeast Nigeria
--------
Arab World
• Al-Sudais: Don't Use Assad's Savagery to Settle Political Scores
• Suicide bombing in park, attacks kills 36 in Iraq
• Expansion of Prophet's Mosque through the Ages Put on Display
• Deviation behind Muslim Woes, Says Grand Mufti of Saudi Kingdom
• Egypt 'killed 78 militants' in recent operations in Sinai
• Tripoli bombing suspect arrested, death toll rises to 47
• Grand Mufti calls on Sunnis, Shiites to come together
• Egypt court rules against banning porn websites
• Bruised Muslim Brotherhood fails to show street power in Egypt
• Bahrain Shiites protest for political reforms
• Al-Gamaa Al-Islamiya won't return to violence: Leader
• Lebanese Forces ready for dialogue once Hezbollah out of Syria
Africa
• Extremists slit throats of 44 in northeast Nigeria
• Kenya Killed 20 Al-Shabaab Militiamen
• Somalia: Easy Prey - Victims of Sexual Violence in Somalia
• Al Qaeda's branch blamed Lebanese militant group Hezbollah for Lebanon bombings
Pakistan
• HRCP concerned over killing of Baloch men and dumping of mutilated dead bodies
• Curfew clamped in Bhakkar after Sunni – Shia sectarian clashes leave 11 dead
• Peshawar madrasas refutes U.S. charge, says it is not a terror centre
• Talks with TTP with some purpose
• MQM win a reply to propaganda, says Altaf
• JI calls for govt-Taliban contact before talks
• 60 former militants rehabilitated
• Children with unknown parentage to be recognised as citizens
Mideast
• Yemen president says Al-Qaeda wanted to 'change history'
• Hamas official: Palestinian Tamarod group was trained by Egyptian intelligence
• Turkey's squares not destined to become second Tahrir: PM Erdoğan
• End to Anti-Terror Law the ultimate aim of peace process: Turkey's Justice Minister
• Iran warns against Western intervention in Syrian conflict
South Asia
• Justice "still out of reach" for Maldivian women, girls: Avaaz.org
• Iran-Pakistan gas pipeline could be extended to China
• China, Russia call for meet on Syria
• Kansai Airport to become more Muslim-friendly
• Karzai to visit Pakistan to seek more Taliban releases
• Have courage during political instability: Bangladesh Prime minister urges Hindus
India
• IIM Kashipur begins 2-day course on Islamic banking and finance
• We killed soldiers on LoC: Hizbul Mujahideen chief Syed Salahuddin
• Indian in Saudi Arabia talks about poetry expatriates
• Three surrendered militants return to Pakistan from J&K
• Decade after riots, Gujarat adds more areas to 'disturbed' list
• VHP Yatra: 50 held, arrest warrants against 300, Ajodhya on alert
• Sans bidding, India gets back oil block awarded by Saddam
• India wants to broad base oil ties with Iraq, says President
Southeast Asia
• Tweet for money business thrives in Indonesia's capital
• Prosecution not at fault, AG says there was no need for Musa to testify
• Islamic Group Voices Support for FPI's Rizieq as President
• Indonesia seeing 'positive' signs on dual citizenship
North America
• Leftists like Wonkette attack conservatives, coddle Islamists
• Forum on Islam sparks heated debate at Orland Park Library
• US imam gets 25 years prison for Taliban support
• Obama weighs military options against Syria as US forces move closer
• US Navy expanding presence in Mediterranean due to Syria: Official
Europe
• All indications Syria behind chemical attack: French foreign minister
• British PM urged to deport war crimes accused Mueen
• UN condemns Lebanon bombings, calls for unity
Compiled by New Age Islam News Bureau
URL: https://www.newageislam.com/islamic-world-news/new-age-islam-news-bureau/al-sudais--don't-use-assad's-savagery-to-settle-political-scores/d/13187
----------
Arab World
Al-Sudais: Don't Use Assad's Savagery to Settle Political Scores
Aug 24, 2013
Sheikh Abdul Rahman Al-Sudais, imam and Khatib at the Grand Mosque, on Friday urged the international community to jointly come to the rescue of the people of Syria and not use the Assad regime's crimes against humanity to settle political scores at the expense of moral principles.
"The repressive government of Syria has committed the most horrendous and unparalleled terror crimes against our brothers by using chemical and poisonous gas that is banned internationally. This has left 1,400 dead and 6,000 injured," Al-Sudais said in his speech on Friday.
He also appealed to the human conscience to make a swift move to rein in the savagery being committed against innocent children and the elderly in Syria.
Meanwhile, the number of Syrian children forced to flee their devastated homeland reached 1 million on Friday, half of all the refugees driven abroad by a conflict that shows no sign of ending, the UN said.
Another 2 million Syrian minors are uprooted within their country where they are often attacked, recruited as fighters, and deprived of their education, the UN refugee agency UNHCR and UNICEF said. The 1 million mark was a "shameful milestone" in the two-and-a-half year conflict that has cost at least 100,000 lives, the UN agencies said.
There is a huge risk of a "lost generation" of Syrian youth, including adolescents.
Al-Sudais attributed the crises in Muslim countries to false reformers who reduce Islam and its noble ideals to borrowed labels to promote intellectual terrorism and deviance. "That has led to armed terror and distance from the truth and confining the truth on the single idea of terrorism."
Al-Sudais said the world community lauded the stance taken by Saudi Arabia against terror and its support for the International Center to Combat Terror.
http://www.arabnews.com/news/462318
----------
Suicide bombing in park, attacks kill 36 in Iraq
23 August 2013
Associated Press, Baghdad
A suicide bomber attacked a park in northern Baghdad crowded by cafe- and restaurant-goers Friday night, the bloodiest attack in a day of violence that killed at least 36 people across the country, authorities said.
Attacks have been on the rise in Iraq since a deadly security crackdown in April on a Sunni protest camp. More than 3,000 people have been killed in violence during the past few months, raising fears Iraq could see a new round of widespread sectarian bloodshed similar to that which brought the country to the edge of civil war in 2006 and 2007.
The suicide bomber struck a park in the Qahira neighborhood of Baghdad late Friday night, an area popular with locals, police said. The bomber detonated his explosives in a crowd of people, killing at least 26 people and wounding 55.
Violence has stepped up in strikes on so-called soft targets in Iraq - like civilians at coffee shops or those shopping along busy commercial streets.
There was no claim of responsibility for Friday's suicide bombing. Sunni extremists such as al-Qaida's Iraq arm that seek to undermine the Shiite-led government are frequently blamed for attacks targeting civilians.
Later in the night, gunmen in Baghdad's northern Azamiyah neighborhood killed four men walking down a street, an army officer and a medical official said. The motive behind the shooting wasn't immediately clear.
Elsewhere in the country, police said gunmen broke into a house of a Shiite merchant at dawn Friday in the northern town of Dujail, killing him, his wife and elderly mother. Authorities said the motive behind that attack wasn't immediately unclear.
Dujail, about 80 kilometers (50 miles) north of Baghdad, is a Shiite Muslim town surrounded by Sunni areas.
Meanwhile, two police officers said bombs exploded near Sunni mosques in two neighborhoods in Baghdad as worshippers were leaving after Friday's sermon, killing three people and wounding 18.
Police officers and medical officials confirmed the casualty figures from the attacks Friday. All officials spoke on condition of anonymity as they were not authorized to release the information to journalists.
http://english.alarabiya.net/en/News/middle-east/2013/08/24/Suicide-bombing-in-park-attacks-kill-36-in-Iraq.html
-----------
Expansion Of Prophet's Mosque Through The Ages Put On Display
Aug 24, 2013
The General Presidency for the Affairs of the Prophet's Mosque has organized an exhibition on the mosque's history and expansion works as part of the ongoing celebration of Madinah as the Islamic Cultural Capital of 2013.
The items on display give an insight into the kind of expansions that the mosque underwent since its inception in the seventh century to date.
"The items showcased also include manuscript copies and photos of the messages sent by the Prophet Muhammad (peace be upon him) to many kings of his time, inviting them to Islam," Exhibition Director Abdul Hadi Al-Hujaili said in a statement quoted by the Saudi Press Agency on Friday. "His seal is also among them."
The items include 35 photographs, replicas of the mosque, tape recordings in English and Arabic, plaques that describe the expansion and constructions ordered by the Custodian of the Two Holy Mosques King Abdullah. Photos of the razing of old buildings, diggings for new constructions, foundation stone-laying ceremonies and completion of construction, expansion of its squares and construction of car parks and utilities can also be viewed, Al-Hujaili said.
The exhibition venue is at the southern side of the mosque.
Books describing various aspects and history of the mosque and the city of Madinah are also exhibited. One book on display is on the imams of the mosque over the past decade.
Videos on various stages of the expansion and construction of the mosque are being shown at a closed hall. The films include the efforts of King Abdul Aziz and his successors in the development of the mosque.
It also gives a video presentation of the ongoing 30,500-square-meter expansion ordered by King Abdullah in March and the installation of 250 huge umbrellas and cooling and water spraying systems using 436 fans in the mosque squares, he said.
When the expansion works are completed in less than two years, the mosque will have a capacity of 1.6 million worshippers.
"The exhibition will also showcase rare manuscripts and copies of the Holy Qur'an including a copy of the Amma juz, Surah Maryam, Surah Al-Fatihah, beginning of Surah Al-Baqarah, and Surah Ibrahim. It will also give details on the construction of the service buildings, control rooms and the service tunnels besides the standby power stations and air-conditioning system," he said.
School and university students who wish to visit the exhibition should apply for that at the exhibition office, he said, adding that they can visit on weekdays from Sunday through Thursday during the forenoon.
http://www.arabnews.com/news/462299
----------
Deviation behind Muslim Woes, Says Grand Mufti of Saudi Kingdom
Aug 24, 2013
The Grand Mufti Abdulaziz Al-Asheikh has stressed the need to adhere to the teachings of the Qur'an and Sunnah to unify the Ummah and to avoid conflict and division.
He said that deviating from the teachings of the Qur'an, the Prophet (peace be upon him) and his companions is the reason behind current tribulations and calamities, in addition to deviating from moderation and issuing Fatwas without knowledge.
He stressed the role of scholars to warn people against the dangers of sedition and show them the right path by disseminating accurate Shariah knowledge derived from the Qur'an and Sunnah. He also warned against reverting to tribalism, extremism and conflicts over control that will cause the Ummah "great calamity."
Full report at:
http://www.arabnews.com/news/462313
----------
Egypt 'killed 78 militants' in recent operations in Sinai
August 24, 2013
Egyptian security forces have killed 78 suspected militants, including 32 foreigners, in recent operations in the Sinai Peninsula, military spokesperson Ahmed Ali said on Friday.
The operations injured around 116 people, Ali added via his official Facebook page.
Ali confirmed that 203 people, including 48 foreigners, had been arrested for their alleged involvement in attacks on security checkpoints in the peninsula.
He also said that 343 tunnels on the border between Egypt and Gaza at Rafah have been destroyed.
Full report at:
http://english.ahram.org.eg/NewsContent/1/64/79750/Egypt/Politics-/Egypt-killed--militants-in-recent-operations-in-Si.aspx
-----------
Tripoli bombing suspect arrested, death toll rises to 47
August 24, 2013
TRIPOLI, Lebanon: A suspect linked to the twin car bombs in the northern city of Tripoli was arrested Saturday overnight as the death toll from the blasts rose to 47 and politicians grappled with the aftermath of the attack amid worries of more sectarian strife.
Sheikh Ahmad Gharib, 40, was arrested in his residence in Minyeh, north of Tripoli. Arms, explosives and maps of the northern city were seized at his home, judicial sources said.
The sources said that Gharib was an affiliate to the Syrian regime-backed Baath Party and had recently paid several visits to Syria. Gharib was studying Islam in Syria but then quit and became a staunch supporter of the Assad regime.
Full report at:
http://www.dailystar.com.lb/News/Lebanon-News/2013/Aug-24/228538-tripoli-death-toll-rises-to-47-investigation-continues.ashx#ixzz2ctDxPfI9
-----------
Grand Mufti calls on Sunnis, Shiites to come together
August 24, 2013
BEIRUT: Grand Mufti Sheikh Mohammad Rashid Qabbani said the twin bombings targeting two mosques in north Lebanon was an invitation for infighting between Lebanese, asking Sunnis and Shiites to come together and resist the provocation.
"You the Lebanese, the mask of strife has fallen in the southern suburbs and Tripoli, and is inviting you to fight," Qabbani said in a televised message.
"A real invitation to fight was sent to you. Do you recognize this terrorist message and the murderous call behind it?" he asked.
Full report at:
http://www.dailystar.com.lb/News/Lebanon-News/2013/Aug-23/228459-mufti-calls-on-sunnis-shiites-to-come-together.ashx#ixzz2ctF0zLAe
-----------
Egypt court rules against banning porn websites
August 24, 2013
The Administrative Court ruled on Saturday against the banning of pornography websites in Egypt.
A case was filed by lawyer Ibrahim El-Salamony against former President Mohamed Morsi's request to ban pornography websites in Egypt.
El-Salamony filed the case, arguing that marriage burdens and high unemployment in recent years have led many young men to turn to pornographic websites. Banning such sites, the lawyer said, would protect society.
Full report at:
http://english.ahram.org.eg/NewsContent/1/64/79783/Egypt/Politics-/Egypt-court-rules-against-banning-porn-websites--.aspx
---------
Bruised Muslim Brotherhood fails to show street power in Egypt
August 24, 2013
Mass protests called by Egypt's Muslim Brotherhood mostly failed to materialise on Friday as the movement reeled from a bloody army crackdown on followers of ousted President Mohamed Morsi.
Troops and police had taken relatively low-key security measures before the "Friday of Martyrs" processions that were to have begun from 28 mosques in the capital after weekly prayers. But midday prayers were cancelled at some mosques and there were few signs of major demonstrations unfolding in Cairo.
Full report at:
http://www.hindustantimes.com/world-news/africa/Bruised-Muslim-Brotherhood-fails-to-show-street-power-in-Egypt/Article1-1112102.aspx
----------
Bahrain Shiites protest for political reforms
August 24, 2013
Shiite protesters took to the streets in Bahrain Friday demanding political reforms in the Sunni-ruled Gulf kingdom, witnesses said.
Protesters marched along Budaiya highway, which links Shiite villages west of the capital, following a call by Bahrain's main opposition groups.
Brandishing Bahrain's red and white flags and posters of detainees, demonstrators braved high temperatures and chanted anti-government slogans.
"O, Khalifa, step down," chanted protesters addressing Bahrain's veteran prime minister, Prince Khalifa bin Salman, an uncle of King Hamad, who is despised by the Shiite majority.
"Our homeland cannot remain a hostage to a small group that controls power and wealth," said a statement by the opposition led by Al-Wefaq, the main Shiite formation.
Full report at:
http://english.ahram.org.eg/NewsContent/2/8/79758/World/Region/Bahrain-Shiites-protest-for-political-reforms.aspx
-----------
Al-Gamaa Al-Islamiya won't return to violence: Leader
August 24, 2013
Aboud El-Zomor, a leading figure in the ultra-conservative Al-Gamaa Al-Islamiya, says the Islamist group will not return to violence after the Muslim Brotherhood's Mohamed Morsi was toppled from the presidency last month.
Speaking to Time Magazine, El-Zomor, who spent 30 years in Egyptian prisons in connection with the 1981 assassination of former president Anwar Sadat, said: "I gave my orders to Al-Gamaa Al-Islamiya and the Building and Development Party [the group's political wing] that anyone who does not follow the peaceful way of protest, or participates in any attack on a government building or organisation, or army, or police, or church and so on, will be dismissed from Al-Gamaa Al-Islamiya and the party."
Full report at:
http://english.ahram.org.eg/NewsContent/1/64/79765/Egypt/Politics-/AlGamaa-AlIslamiya-won%E2%80%99t-return-to-violence-Leader.aspx
-----------
Lebanese Forces ready for dialogue once Hezbollah out of Syria
August 24, 2013
BEIRUT: The Lebanese Forces will engage in National Dialogue once Hezbollah is out of Syria and ready for a serious talk over the control of its arms, an LF lawmaker said Saturday.
"We are ready to go back to dialogue once Hezbollah is ready for a serious debate over its weapons," MP Antoine Zahra told the voice of Lebanon radio station.
"If Hezbollah takes a decision not to take part in Syria war, everything can be solved," he said.
Full report at:
http://www.dailystar.com.lb/News/Lebanon-News/2013/Aug-24/228539-lf-ready-for-dialogue-once-hezbollah-out-of-syria.ashx#ixzz2ctEDrMSS
-----------
Africa
Extremists slit throats of 44 in northeast Nigeria
August 24, 2013
An official says suspected Islamist extremists killed at least 44 villagers in continuing attacks in an Islamic uprising in northeast Nigeria. The official of the National Emergency Management Agency says the attackers hit Dumba village in Borno state before dawn Tuesday and slit their victims' throats - a new strategy since gunfire attracts security forces.
He said the attackers gouged out the eyes of some victims who survived. The official spoke Saturday on condition of anonymity because he is not allowed to give information to reporters.
Full report at:
http://www.hindustantimes.com/world-news/Africa/Extremists-slit-throats-of-44-in-northeast-Nigeria/Article1-1112268.aspx
----------
Kenya Killed 20 Al-Shabaab Militiamen
23 AUGUST 2013
Kenyan authorities said that their defense forces killed 20 Al-Shabaab militiamen near the border town of Hulugho, Garissa. This is according to MoFA.
There was a four hour exchange of fire between the group and units of the Kenyan Defence Forces which suffered no casualties.
Full report at:
http://allafrica.com/stories/201308221553.html?aa_source=acrdn-f0
----------
Somalia: Easy Prey - Victims of Sexual Violence in Somalia
BY BETTINA RüHL / SH, 23 AUGUST 2013
Civil war raged in Somalia for more than 20 years. Peace is slowly returning but rape is still commonplace, especially in refugee camps in Mogadishu. Aid agencies help women to break their silence.
The walls are lined with fabric, in the center are two couches. The atmosphere is warm and cosy. But when Sharifa Mohamed came here for the first time four months ago, she noticed none of this. The 28-year-old was too wrapped up in her own feelings of desperation. Today, she still finds it hard to talk about what happened to her. Sharifa is again sitting in the comfortable room set up by the Somali aid organization "Save Somali Women and Children." It is only here that Sharifa feels able to talk about what happened one night, four months ago. Full report at:
http://allafrica.com/stories/201308230540.html
----------
Al Qaeda's branch blamed Lebanese militant group Hezbollah for Lebanon bombings
Aug 24 2013
Dubai: Al Qaeda's North African branch blamed Lebanese Shi'ite Muslim militant group Hezbollah for twin bombs that hit the northern city of Tripoli on Friday and threatened retribution, a US-based intelligence monitoring website reported on Saturday.
Although al Qaeda in the Islamic Maghreb, or AQIM, is not operational in Lebanon, its statement shows a growing regional hatred against Hezbollah by radical Sunni Muslim groups and a wider, deepening sectarian divide in the Middle East.
Full report at:
http://www.indianexpress.com/news/al-qaeda-blames-hezbollah-for-lebanon-bombings/1159558/
----------
Pakistan
HRCP concerned over killing of Baloch men and dumping of mutilated dead bodies
24 Aug, 2013
LAHORE: The Human Rights Commission of Pakistan (HRCP) has raised concern on continued dumping of mutilated dead bodies of missing Baloch men in Karachi and demanded that the killers should be brought to justice.
In a statement released on Friday from HRCP headquarter, the Commission noted "with great dismay and strongly condemned the fact that there had been no let up in the discovery of dead bodies of missing persons."
Full report at:
http://www.dailytimes.com.pk/default.asp?page=2013\08\24\story_24-8-2013_pg7_9
----------
Curfew clamped in Bhakkar after Sunni – Shia sectarian clashes leave 11 dead
24 Aug, 2013
A 24-hour curfew was imposed in troubled areas of central Pakistan after 11 people were killed in sectarian violence, authorities said on Saturday.
The fighting between minority Shiites and the Sunni group Ahle Sunnat Wal Jamat started on Friday in Bhakkar district after the killing of a Sunni.
"We placed Darya Khan, Kotal Jam and Panj Garaeen towns of the district under a three-day curfew," district police chief Sarfarz Falki said. The curfew was imposed on Friday night.
"We have also banned rallies and political meetings in Bhakkar city." Six Sunnis and five Shiites were killed in the violence, he added.
Full report at:
http://www.thehindu.com/news/international/south-asia/curfew-clamped-on-pakistan-towns-after-sectarian-clashes-leave-11-dead/article5055532.ece
----------
Peshawar madrassa refutes U.S. charge, says it is not a terror centre
MEENA MENON
24 Aug, 2013
For the first time, the U.S. Department of the Treasury on Tuesday designated a religious school in Peshawar as a terrorist training centre, but the madrassa has denied it. Defending the action which is the first designation of a madrassa that is being abused by terrorist organisations, a U.S. Treasury Department press release said this action did not generally target madrassas, which often play an essential role in improving literacy and providing humanitarian and developmental aid in many areas of the world, including Pakistan.
Full report at:
http://www.thehindu.com/news/international/south-asia/peshawar-madrassa-refutes-us-charge-says-it-is-not-a-terror-centre/article5053163.ece
----------
Talks with TTP with some purpose
M A Butt
August 24, 201
Your editorial" Do more about talks with militants"(Aug 21) has welcomed the initiative by the Prime Minister Muhammad Nawaz Sharif to have dialogue with TTP to save country from further blood shed. To bring peace anywhere in the world, after wars, it is always the path of talks. But unfortunately all our efforts in the past have been counter productive as far as talks with TTP is concerned.
On one hand PM is extending hand of friendship but the spokesperson of TTP has termed the offer of talks as vague; perhaps because when PM talked about talks, he mentioned the force option also. We do agree Talibans are not outsiders but their agenda is totally different. Islam is the religion of peace and harmony which promotes brotherhood and respect for humanity. Full report at:
http://pakobserver.net/detailnews.asp?id=216203
----------
MQM win a reply to propaganda, says Altaf
24 Aug, 2013
KARACHI: Muttahida Qaumi Movement chief Altaf Hussain said on Friday that the victory of MQM candidates in Thursday's by-elections in Karachi and Mirpurkhas had exposed "baseless propaganda against him and his party".
Speaking from London by phone to party workers and supporters at the Lal Qila ground, Mr Hussain said that by-elections had been held in the presence of the army, but the MQM bagged a large number of votes.
Full report at:
http://dawn.com/news/1037944/mqm-win-a-reply-to-propaganda-says-altaf
----------
JI calls for govt-Taliban contact before talks
24 Aug, 2013
KARACHI: Jamaat-i-Islami chief Syed Munawar Hasan has called for a contact between the government and Taliban before initiation of any formal dialogue.
Speaking at a press conference here on Friday, Mr Hasan said that without establishing a contact first the talks could never be successful. He asked the government to unveil details of the operations conducted by the army in Swat, Buner and other areas of Khyber Pakhtunkhwa.
Full report at:
http://dawn.com/news/1037941/ji-calls-for-govt-taliban-contact-before-talks
----------
60 former militants rehabilitated
JAMAL UDDIN
24 Aug, 2013
MINGORA, Aug 23: The army has rehabilitated 60 more former militants after they renounced militancy and underwent a three months training in different trades at the 'Mishal centre for de-radicalisation' in Phetaam area of Swat.
The 17 Division of Pakistan Army organised a ceremony here on Friday to mark the rehabilitation of the militants, where General Officer Commanding of Malakand division Major General Sanaullah Niazi, civil and military officials and local elders were in attendance.
Commissioner of Malakand division Mohammad Akbar Khan was the chief guest on the occasion.
Full report at:
http://dawn.com/news/1037920/60-former-militants-rehabilitated
----------
Children with unknown parentage to be recognised as citizens
24 Aug, 2013
ISLAMABAD: NADRA Chariman Tariq Malik said that now children without known parentage would have the fundamental right to be citizens of Pakistan and get an identity under Section 9 of NADRA Ordinance 2000. Participating in a management committee meeting, Tariq Malik said that previously, the fundamental right was not accorded to children with unknown parentage.
He said that with the completion of the registration process of orphanages, no individual (orphan) could be deprived of his fundamental rights ensured in the constitution of the country.
Full report at:
http://www.dailytimes.com.pk/default.asp?page=2013\08\24\story_24-8-2013_pg11_5
----------
Mideast
Yemen president says Al-Qaeda wanted to 'change history'
Aug 24, 2013
SANAA: Yemen's president said Friday a promise to Al-Qaeda chief Ayman Al-Zawahiri to "change the course of history" had led to the closure of Western embassies in the country this month.
Abdrabuh Mansur Hadi, who was quoted by a source close to him, said the matter came up in a conversation he had with US President Barack Obama at the White House on August 1.
According to the source, US intelligence services had intercepted a conversation between Zawahiri and Nasser Al-Wuhayshi, head of Al-Qaeda in the Arabian Peninsula (AQAP).
In it, Wuhayshi told Zawahiri he would be hearing of something "that will change the course of history," the source quoted Hadi as saying.
Full report at:
http://www.arabnews.com/news/462315
-------
Hamas official: Palestinian Tamarod group was trained by Egyptian intelligence
Aug 24 2013
A Hamas MP claimed on Friday that the Palestinian Tamarod ("Rebellion") movement in the Gaza Strip was trained by the Egyptian intelligence.
"The 'Tamarod against the injustice in Gaza' group, that has bases in the West Bank and the Gaza Strip, is guided by foreign forces, among them the Egyptian security and intelligence forces," Yahya Moussa said.
"These groups were trained and were organized with the aid of the Egyptian intelligence, to act in the Gaza Strip like the Tamarod movement in Egypt [that brought to the ouster of President Mohamed Morsi]," Moussa added, speaking to the Lebanese newspaper Elnashra.
Full report at:
http://www.jpost.com/Middle-East/Hamas-official-Palestinian-Tamarod-group-was-trained-by-Egyptian-intelligence-324054
-----------
Turkey's squares not destined to become second Tahrir: PM Erdoğan
Aug 24 2013
Turkey's squares were not destined to become a "second Tahrir," Prime Minister Recep Tayyip Erdoğan has said on Aug. 23 in reference to Cairo's iconic square, where the latest anti-government protest wave paved the way for a military takeover in early July.
"Hopefully, the squares of our country won't become a second Tahrir. They will be Rabaa al-Adawiya, where democracy is sovereign," Erdoğan told hundreds of supporters at Trabzon's airport. The enthusiastic crowd was gathered to welcome the prime minister ahead of his four-day visit to his hometown Rize.
Full report at:
http://www.hurriyetdailynews.com/turkeys-squares-not-destined-to-become-second-tahrir-pm-erdogan.aspx?pageID=238&nID=53142&NewsCatID=338
-----------
End to Anti-Terror Law the ultimate aim of peace process: Turkey's Justice Minister
Aug 24 2013
The government aims to abrogate Turkey's Anti-Terror Law (TMK) by establishing a peaceful climate after the Kurdish peace process is brought to its conclusion, Justice Minister Sadullah Ergin said during a live interview Aug. 23.
Asked if the new reform package prepared by the government to give more momentum to the process foresaw changes with respect the Anti-Terror Law, Ergin said that their ultimate aim was to eliminate the need for such legislation.
Full report at:
http://www.hurriyetdailynews.com/end-to-anti-terror-law-the-ultimate-aim-of-peace-process-justice-minister.aspx?pageID=238&nID=53150&NewsCatID=338
-----------
Iran warns against Western intervention in Syrian conflict
24 August 2013
Iran on Saturday against any Western military intervention in the Syrian conflict, after the United States suggested it was weighing up such a possibility.
Iran, the chief regional ally of Damascus, said on Saturday there is "proof" Syrian rebels used chemical weapons in their conflict with the regime of President Bashar al-Assad.
"We are very concerned about information regarding the use of chemical weapons in Syria, and we strongly condemn the use of such weapons," foreign ministry spokesman Abbas Araqchi said, quoted by ISNA news agency.
Full report at:
http://english.alarabiya.net/en/News/middle-east/2013/08/24/Iran-s-Rowhani-points-to-chemical-weapons-use-in-Syria-.html
---------
South Asia
Justice "still out of reach" for Maldivian women, girls: Avaaz.org
By Neil Merrett | August 23rd, 2013
Social activism website Avaaz has said it remained concerned at the "appalling state" of women's rights in the Maldives, despite welcoming a decision by the High Court this week to overturn a controversial flogging sentence handed to a 15 year-old girl charged with 'fornication'.
Avaaz, which earlier this year launched an online petition signed by over two million people calling for the minor's sentence to be quashed, has expressed continued concern that justice remains "out of reach" for Maldivian women.
Full report at:
http://minivannews.com/politics/justice-%E2%80%9Cstill-out-of-reach%E2%80%9D-for-maldivian-women-girls-avaaz-org-63175
----------
Iran-Pakistan gas pipeline could be extended to China
PTI | Aug 24, 2013
ISLAMABAD: Notwithstanding US opposition to its gas pipeline project with Iran, Pakistan is looking at the possibility of extending it to China as part of a planned economic corridor.
Pakistani and Chinese officials will discuss the laying of the gas pipeline from Gwadar to western China in a meeting to be held here on August 26.
They will also take up a proposal about constructing an oil pipeline between the two countries.
Full report at:
http://timesofindia.indiatimes.com/world/pakistan/Iran-Pakistan-gas-pipeline-could-be-extended-to-China/articleshow/22024504.cms
----------
China, Russia call for meet on Syria
ATUL ANEJA
24 Aug, 2013
'Let U.N. inspectors who are on the ground in Syria conclude their investigations'
China and Russia have again called for negotiations to resolve the Syrian crisis by convening an international conference in Geneva, amid calls for an independent and objective investigation into the allegations about the use of chemical weapons in the outskirts of Damascus.
On Friday, Chinese Foreign Ministry spokesman Hong Lei said the "current situation once again shows the importance and urgency of advancing a political solution for the Syrian issue".
Mr. Hong stressed that all relevant parties should commence "joint efforts to start the Geneva 2 conference on the Syria issue as soon as possible and launch an inclusive political transitional process".
Full report at:
http://www.thehindu.com/news/international/world/china-russia-call-for-meet-on-syria/article5053143.ece
----------
Kansai Airport to become more Muslim-friendly
August 24, 2013
Jiji Press
OSAKA (Jiji Press)—The operator of Kansai Airport said Friday that it will expand services to meet the dietary and prayer needs of Muslim customers, in response to rises in its number of Muslim visitors from the Southeast Asia.
New Kansai International Airport Co. will open three new prayer rooms of 50-120 square meters at a terminal building by March 2014, while closing the existing one.
Full report at:
http://the-japan-news.com/news/article/0000491292
----------
Karzai to visit Pakistan to seek more Taliban releases
24 Aug, 2013
KABUL: Afghan President Hamid Karzai will visit Pakistan on Monday seeking the release of key Taliban prisoners as he tries to restart peace talks with the militants after they collapsed acrimoniously.
Pakistan is seen as key to ending the 12-year conflict in Afghanistan before presidential elections in April and the withdrawal of most of the 87,000 Nato-led combat troops by the end of next year.
Full report at:
http://dawn.com/news/1037994/karzai-to-visit-pakistan-to-seek-more-taliban-releases
----------
Have courage during political instability: Bangladesh Prime minister urges Hindus
August 24, 2013
Prime Minister Sheikh Hasina yesterday urged the country's Hindus to have courage and bear a strong mentality during periods of political instability.
"You have to live with a strong mentality as a section of political groups always try to swoop on minority people during times of political turmoil…we jointly liberated the country and we have to build the nation together," she said.
Full report at:
http://www.thedailystar.net/beta2/news/have-courage-during-political-instability/
--------
India
IIM Kashipur Begins 2-Day Course On Islamic Banking And Finance
PTI | Aug 24, 2013
NEW DELHI: Indian Institute of Management (IIM) Kashipur on Saturday launched a two-day management development programme on Islamic Banking and Finance.
The programme is the first of such executive course to offer Islamic banking and finance.
"I am sure the choice of the present programme on Islamic Banking and Finance (IBF) is a very relevant exercise to build professional capacity among the interested participants in this area," said Ninong Ering, minister of state for minority affairs, while inaugurating the programme.
Full report at:
http://timesofindia.indiatimes.com/home/education/news/IIM-Kashipur-begins-2-day-course-on-Islamic-banking-and-finance/articleshow/22023933.cms
--------
We killed soldiers on LoC: Hizbul Mujahideen chief Syed Salahuddin
M Saleem Pandit, TNN | Aug 24, 2013
SRINAGAR: Hizbul Mujahideen (HM) chief Syed Salahuddin on Friday claimed his cadres were involved in the killings of five Indian soldiers along the Line of Control (LoC) in Jammu & Kashmir's Poonch district on August 6. The claim is likely at the behest of the Pakistani military establishment, which has denied its role in the killings that fuelled fresh tensions along the LoC.
Full report at:
http://timesofindia.indiatimes.com/india/We-killed-soldiers-on-LoC-Hizbul-Mujahideen-chief-Syed-Salahuddin/articleshow/22014498.cms
----------
Indian in Saudi Arabia talks about poetry, expatriates
23 August 2013
Kazi Hasan Arabi, a longtime Indian expatriate in Saudi Arabia, talks about his experience of the country, its development and what led him to find a home in the kingdom.
"My education started late, because in our family, in those times, we were not allowed to go to school, rather, teachers used to come home and teach us.
"But I had the chance to go to school and for higher education to Aligarh Muslim University. During my sojourn at AMU I saw four different vice chancellors and the activities of the students were influenced by all these vice chancellors and hence there was turmoil during the period I was there.
Full report at:
http://english.alarabiya.net/en/life-style/art-and-culture/2013/08/23/Indian-in-Saudi-Arabia-talks-about-poetry-expatriates.html
----------
Three surrendered militants return to Pakistan from J&K
Mir Ehsan
Aug 24 2013
Srinagar : At least three surrendered militants who returned to the Valley last year via Nepal have gone back to Pakistan by the same route over the past one month.
Sources said that the former militants left for Nepal en route to Pakistan with members of their immediate family without informing the police or other security agencies. The men had returned to Kashmir as part of the Jammu and Kashmir government's rehabilitation policy for surrendered militants.
Full report at:
http://www.indianexpress.com/news/three-surrendered-militants-return-to-pakistan-from-j-k/1159447/
---------
Decade after riots, Gujarat adds more areas to 'disturbed' list
Parimal Dabhi
Aug 24 2013
Ahmedabad : Eleven years after the 2002 riots, the Gujarat government has put out a fresh notification categorizing several Muslim dominated areas in Ahmedabad that were hit by the violence as "disturbed".
Apart from communal tinderboxes such as Shahpur and Dariapur, the government has recently brought even Gulberg Society and Naroda Patiya under the Disturbed Areas Act — a law restricting sale of property because these areas are "communally sensitive".
This government notification has been issued even though Chief Minister Narendra Modi has claimed that after 2002, the state has been totally peaceful.
Full report at:
http://www.indianexpress.com/news/decade-after-riots-gujarat-adds-more-areas-to-disturbed-list/1159486/
---------
VHP yatra: 50 held, arrest warrants against 300, Ayodhya on alert
PTI | Aug 24, 2013
AYODHYA/FAIZABADl Ahead of VHP's yatra from Ayodhya on Sunday, the Faizabad administration on Saturday cracked down on the saffron organisation arresting 50 of its activists and issuing arrest warrants against 300 members of the outfit.
Amid heavy deployment of police force in the twin towns, a team led by the Faizabad DM and SSP also carried out searches at VHP's local headquarter Karsewak Puram, Mani Ram Chawni, the temple of VHP leader and president of Ram Janam Bhumi Trust, Mahant Nritya Gopal Das and about half a dozen suspected hideouts of VHP's activists in and around Ayodhya.
The yatra has been banned by the Uttar Pradesh government over possible communal flare-up.
Full report at:
http://timesofindia.indiatimes.com/india/VHP-yatra-50-held-arrest-warrants-against-300-Ayodhya-on-alert/articleshow/22024868.cms
----------
Sans bidding, India gets back oil block awarded by Saddam
SANDEEP DIKSHIT
24 Aug, 2013
India has managed to stay out of competitive bidding and get back an oil block in Iraq awarded by the Saddam Hussein regime. The Iraqi assurance was sealed with the signing of an MoU during its Prime Minister, Nouri al-Maliki's ongoing visit to the country.
India also discussed project exports, an area where it held sway till the U.S. invasion of 2003. Talks specifically touched on the re-entry of some Indian public sector undertakings such as IRCON that became well known in other developing countries after a good showing in Iraq.
During discussions between Prime Minister Manmohan Singh and Mr. al-Maliki, the two sides discussed joint participation in refineries, fertilizer units and steel projects.
Full report at:
http://www.thehindu.com/news/national/sans-bidding-india-gets-back-oil-block-awarded-by-saddam/article5053215.ece
----------
India wants to broadbase oil ties with Iraq, says Pranab
24 Aug, 2013
India has been a committed partner in Iraq's progress and development and will remain so as the Gulf country undertakes reconstruction and rebuilding, President Pranab Mukherjee said on Friday.
Interacting with the visiting Prime Minister Nouri Kamil al-Maliki at Rashtrapati Bhavan, Mr. Mukherjee said that with the emergence of democracy in Iraq, relations between the two countries were entering a new phase.
Full report at:
http://www.thehindu.com/news/national/india-wants-to-broadbase-oil-ties-with-iraq-says-pranab/article5053092.ece
---------
Southeast Asia
Tweet for money business thrives in Indonesia's capital
23 August 2013
In Indonesia's capital Jakarta, a buzzer is not an alarm or a bell, but someone with a Twitter account and more than 2,000 followers who are paid to tweet.
Jakarta is the world's tweet capital and advertisers eager to reach the under-30 crowd are paying popular Twitter users to spread their word through social media, starting at about $21 per tweet.
While celebrity endorsements via Twitter are common worldwide, Indonesia is unusual because advertisers are paying the Average Joes too.
These Twitter "buzzers" send short messages promoting brands or products to their followers, usually during rush hour, 7 to 10 am and 4 to 8 pm, when Jakarta's notorious traffic jams create a captive audience with time to scan their mobile phones.
Full report at:
http://english.alarabiya.net/en/variety/2013/08/23/In-Indonesia-buzzers-not-heard-but-tweet-for-money.html
---------
Prosecution not at fault, AG says there was no need for Musa to testify
August 24, 2013
Despite the Court of Appeal ruling that the failure of the prosecution to call Deputy Superintendent Musa Safri to the stand had weakened its case, the Attorney-General's stand is still that Musa was of no relevance to it.
Tan Sri Abdul Gani Patail (pic), in disagreeing with the ruling, said there was no need to call Musa, who was the aide-de-camp of Datuk Seri Najib Razak, to unfold the narrative of the prosecution's case.
Full report at:
http://www.themalaysianinsider.com/malaysia/article/prosecution-not-at-fault-ag-says-there-was-no-need-for-musa-to-testify
----------
Islamic Group Voices Support for FPI's Rizieq as President
August 24, 2013
The country's far-right religious authority, Indonesian Ulema Council, is voicing their support for Rizieq Syihab, chief of the Islamic Defenders Front as a possible candidate in the upcoming elections.
In his opening remarks at the FPI's third national conference, chairman of the Indonesian Ulema Council (MUI) Cholil Ridwan was resolute.
"The figure who is most fitting to become Indonesia's president for 2014-2019 is Habib Rizieq," Cholil said, according to Tempo.co.
Full report at:
http://www.thejakartaglobe.com/news/islamic-group-voices-support-for-fpis-rizieq-as-president/
----------
Indonesia seeing 'positive' signs on dual citizenship
August 24, 2013
An official at the Foreign Ministry said the country was experiencing more "positive" developments toward recognition of dual citizenship.
Wahid Supriyadi, head of the foreign ministry's diaspora unit, said Friday that the new government regulation enabling multiple entry for Indonesians of foreign nationalities, which was signed in April, is among the developments.
He was responding to the results of the second Congress of Indonesian Diaspora, held in Jakarta from Aug. 18-20, which among others reiterated demands for state recognition of dual citizenship for foreign nationals of Indonesian descent, voiced earlier in the first Congress last year in Los Angeles.
Full report at:
http://www.thejakartapost.com/news/2013/08/24/indonesia-seeing-positive-signs-dual-citizenship.html
--------
North America
Leftists like Wonkette attack conservatives, coddle Islamists
Aug 24, 2013
LOS ANGELES, August 23, 2013 — When dueling rallies took place at the Westwood federal building in Los Angeles, four astroturfers from the leftist site Wonkette were there to disrupt one of them. They showed up at the conservative "Rage Against The Media" rally with a "NAZI" sign.
They left a rally of Islamists in support of Egyptian President Mohammed Morsi undisturbed.
The Wonkettes responded to criticism of their hypocrisy with profanity, vulgarity and personal attacks.
They also insisted that their behavior was motivated by a dispute with one man, Jim Hoft, known as the Gateway Pundit. Hoft was one of several speakers at the RATM rally.
The hostility toward the conservatives and deferential treatment of the nearby Islamists goes much deeper than the Wonkettes. The biggest flaw of the American left is an inability to distinguish enemies from opponents. This is because as much as the left hates to admit it, far too many of them spend their time obsessing over trivial issues that do not matter. When something does matter, the left is AWOL.
Full report at:
http://communities.washingtontimes.com/neighborhood/tygrrrr-express/2013/aug/22/why-wonkette-and-other-leftists-attack-conservativ/#ixzz2creQZbVl
----------
Forum on Islam sparks heated debate at Orland Park Library
By Michael Holtz, Chicago Tribune reporter
Aug 24, 2013
What a southwest suburban library had promoted as an educational forum this week on Muslim life in America quickly turned into a contentious debate about Islam.
The tone for the Thursday evening event was set while the three panelists at the Orland Park Library were still introducing themselves. In the first of many interruptions, a half-dozen audience members stood up and demanded that everyone recite the Pledge of Allegiance.
Library Director Mary Weimar denied their request. She explained that it wasn't standard practice to recite the pledge at library events and requested that the attendees show more respect for the panelists.
Full report at:
http://www.chicagotribune.com/news/local/suburbs/orland_park_homer_glen/ct-met-orland-library-muslim-20130823,0,4456976.story
----------
US imam gets 25 years prison for Taliban support
AP | Aug 24, 2013
MIAMI: An elderly Muslim cleric in South Florida has been sentenced to 25 years in federal prison for funneling tens of thousands of dollars to the Pakistani Taliban.
US District Judge Robert Scola imposed the sentence today on 78-year-old Hafiz Khan, who was convicted in March of four terror support-related charges. Federal prosecutors recommended a 15-year sentence and Khan faced a maximum of 60 years.
Full report at:
http://timesofindia.indiatimes.com/world/us/US-imam-gets-25-years-prison-for-Taliban-support/articleshow/22015535.cms
----------
Obama weighs military options against Syria as US forces move closer
AP | Aug 24, 2013
WASHINGTON: US naval forces are moving closer to Syria as President Barack Obama considers military options for responding to the alleged use of chemical weapons by the Assad government. The US president emphasized that a quick intervention in the Syrian civil war was problematic, given the international considerations that should precede a military strike.
US defense secretary Chuck Hagel declined to discuss any specific force movements while saying that Obama had asked the Pentagon to prepare military options for Syria. US defense officials told The Associated Press that the Navy had sent a fourth warship armed with ballistic missiles into the eastern Mediterranean Sea but without immediate orders for any missile launch into Syria.
Full report at:
http://timesofindia.indiatimes.com/world/middle-east/Obama-weighs-military-options-against-Syria-as-US-forces-move-closer/articleshow/22023618.cms
----------
US Navy expanding presence in Mediterranean due to Syria: Official
Reuters | Aug 24, 2013
WASHINGTON: The US Navy will expand its presence in the Mediterranean with a fourth cruise-missile armed warship because of the escalating civil war in Syria, a defense official said on Friday.
The USS Mahan had finished its deployment and was due to head back to its home base in Norfolk, Virginia, but the commander of the US Sixth Fleet has decided to keep the ship in the region, the defense official said.
Full report at:
http://timesofindia.indiatimes.com/world/us/US-Navy-expanding-presence-in-Mediterranean-due-to-Syria-Official/articleshow/22019132.cms
----------
Europe
All indications Syria behind chemical attack: French foreign minister
Aug 24 2013
French Foreign Minister Laurent Fabius said on Aug. 24 that all indications show that Syria's government was behind a "chemical massacre" near Damascus that the opposition claims killed hundreds.
"All the information at our disposal converges to indicate that there was a chemical massacre near Damascus and that the Bashar regime is responsible," Fabius said on a visit to Ramallah in the West Bank.
Opponents of Bashar al-Assad said the president's forces killed 1,300 people when they unleased chemical weapons east and southwest of Damascus in the attacks on Aug. 21.
U.N. High Representative for Disarmament Affairs Angela Kane arrived in the Syrian capital on Aug. 24 for talks aimed at establishing the terms of an enquiry into the alleged attacks, an AFP journalist said.
Full report at:
http://www.hurriyetdailynews.com/all-indications-syria-behind-chemical-attack-french-foreign-minister.aspx?pageID=238&nID=53154&NewsCatID=352
---------
British PM urged to deport war crimes accused Mueen
August 24, 2013
The anti-war criminal platform Ekatturer Ghatak Dalal Nirmul Committee has urged British Prime Minister David Cameron to deport war crimes accused Chowdhury Mueen Uddin, who is being tried in absentia by a tribunal in Bangladesh.
In a memorandum submitted by the platform's representative in the UK last week, it asked Cameron's government to increase vigilance over Jamaat-e-Islami's British wing, which it said, was collecting fund for committing militancy in Bangladesh.
Executive President of Ekatturer Ghatak Dalal Nirmul Committee Shahriar Kabir said General Secretary of the committee's British chapter Syed Anas Pasha filed the memorandum with the British Prime Minister's office in London.
Full report at:
http://www.thedailystar.net/beta2/news/british-pm-urged-to-deport-war-crimes-accused-mueen/
----------
UN condemns Lebanon bombings, calls for unity
Aug 24, 2013
UNITED NATIONS: The United Nations condemned the deadly double car bombing in Lebanon on Friday and appealed for restraint in the fractured country split over the war in neighboring Syria.
The attack killed 42 people and wounded hundreds more, making it the deadliest since the end of the country's 1975-1990 civil war.
The UN Security Council "strongly condemned the terrorist attacks" in the northern city of Tripoli, and emphasized "the need to bring the perpetrators to justice."
In a unanimous declaration, the 15-member Council "appealed to all Lebanese people to preserve national unity in the face of attempts to undermine the country's stability."
Full report at:
http://www.arabnews.com/news/462317
----------
URL: https://www.newageislam.com/islamic-world-news/new-age-islam-news-bureau/al-sudais--don't-use-assad's-savagery-to-settle-political-scores/d/13187