New Age Islam News Bureau
6 May 2015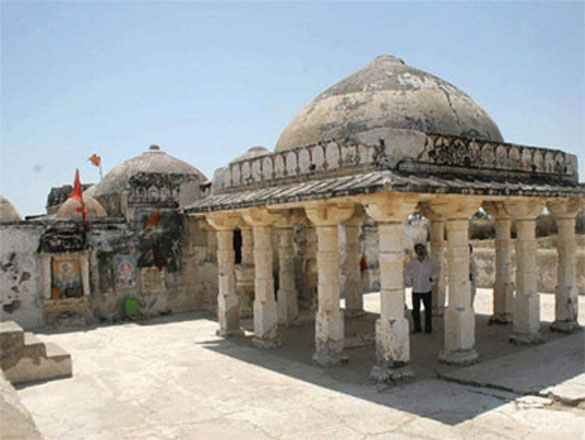 Gori temple in Tharparkar district (Pakistan). PHOTO: ATHAR KHAN/EXPRESS
---------
Mideast
• Al Saud Will Be Slapped in the Face by Yemeni People: Ansarullah
• CHP Head Laments the Use of the Quran as an Instrument for Politics
• Yemeni Tribal Fighters Kill 12 Saudi Soldiers as Shells Target KSA's Najran
• Saudi Attacks Kill 11 Civilians in Yemen's Dhamar
• HDP Co-Chair Says Judiciary Fears Erdogan More Than God
• Hamas launches crackdown on Salafist groups in Gaza Strip
• Iraq Seeking Iran's Help to Confront ISIL's Cultural Crimes
Arab World
• Hezbollah Dy Secy Gen.: Both ISIL & Saudi Kill Arabs, Muslims, Don't Fight Enemies
• Tens of Terrorists Killed in Syrian Army Operations in Dara'a Province
• Iraqi Airstrikes Kill 18 ISIL Terrorists in Anbar
• ISIS attack on Kurdish forces in Syria kills 16
• 10,000 troops from 18 countries suit up for Jordan war games
• External forces sowing sectarian sedition: King
• Syrian Army Storms ISIL Terrorists' Position in Deir Ezzur
• Hezbollah Kills Dozens of Nusra Terrorists in Tofeil, Brital Barrens
• Branching out: ISIL opens a five-star hotel in Iraq
• Houthis Will Pay For Their Crime In Najran: Spokesman Of The Coalition Forces
South Asia
• ISIS Wants Access to Afghanistan's Opium and Drugs: Afghan National Security Advisor
• Two Soldiers Martyred, 44 Militants Killed In Separate Military Operations
• Death sentence or life in jail for killing someone after rape
• Cases over Hefazat anarchy in limbo
India
• First Islamic State 'Module' Busted, 5 Held in MP: Police
• Palestine Backs India's Bid for UNSC
• India-Bangladesh land pact to secure one of India's 3 hazy frontiers
Pakistan
• Religious Harmony: K-P Starts Reconstruction of Hindu Temple, SC Told
• Pakistani Troops Suit Up For International War Games in Jordan
• Pakistan Army charges India with whipping up terror
• President assails Jirga decision against polio drive
• One death row convict hanged in Lahore
• Pakistan seizes Gulf-bound hashish worth $50 million: official
Africa
• C. Africa Armed Groups Vow To Free Thousands Of Child Soldiers: Un
• Two Tanzanian UN peacekeepers killed in Congo ambush
• Morocco Well-placed to Offer Platform for Islamic Banks- Minister
• Security tightened as Tunisia hosts Jewish pilgrimage
• Nigerian troops who fled Boko Haram now have them on the run
• Uganda's capital blazes a trail in cutting child deaths, charity says
• Nigeria's Boko Haram in disarray as government forces advance
Europe
• French Far-Right Mayor Slammed For Counting Muslim Children
• Rights Group Condemns Atrocities in Syrian City of Aleppo
• U.N. envoy heads to France, Saudi Arabia to revive Yemen talks
• France's Hollande in Saudi calls for death penalty ban
• France delivered weapons to Syria rebels, book reveals
• 646 civilians killed in Yemen: UN
• Police Arrest 4 Germans Involved in Plot to Attack Islamic Targets
• Head teachers offered help on preventing radicalisation
• British National Party Candidate Told Pupils Muslims 'Worship Devil'
Southeast Asia
• Muslims Can Protest Muhammad Cartoon Contest in 'Civilized Ways': Indonesian Minister
• Protect the kids, not the kiddie porn convict, DAP lawmaker tells Putrajaya
North America
• U.S. Offers Up To $20 Mln in Rewards for ISIS Leaders
• Texas Muslims on Edge amid Protests, Contest Attack
• US to investigate links between Texas gunmen and Briton fighting with Islamic State
• Muslim Activists Consider New Ways Of Countering Islamophobia, Promote Own 'Draw Muhammad' Contest
Compiled by New Age Islam News Bureau
URL: https://newageislam.com/islamic-world-news/al-saud-be-slapped-face/d/102833
--------
Mideast
Al Saud Will Be Slapped in the Face by Yemeni People: Ansarullah
06 May, 2015
Yemen's revolutionary movement, Ansarullah stressed that Al Saud will be slapped in the face by the Yemeni people who are resisting the brutal aggression by Riyadh.
The head of the movement's politburo, Saleh Al-Sammad, said that 40 days of continuing aggression against Yemenis gave them the religious, humanitarian and moral legitimacy to defend themselves.
"Al Saud will be slapped in the face by the Yemeni people," he said on his Facebook account.
The head of the Yemen's Ansarullah politburo, Saleh Al-Sammad "The historic moment when the rehabilitation of the Yemenis would be restored will definitely come."
He said that the Saudi regime will pay price for its brutality against Yemenis.
Meanwhile, the Ansarullah official dismissed claims on Iran influence in Yemen, stressing that the Yemeni decision is independent.
If these claims were true then "40 days of aggression could be considered a "chance" for Iran to take revenge against Saudi."
However, Sammad stressed that the attack took place after the United States and Saudi Arabia felt that they lost influence in Yemen.
He noted that the majority of Takfiris in Yemen are Saudi, stressing that Riyadh launched the attack because it fears the return of those Takfiris to launch terrorist attacks in their homeland.
The official added that Al Saud considers Yemen a Saudi territory, noting: "We saw them treading the flag of the Yemeni Republic."
http://www.almanar.com.lb/english/adetails.php?fromval=1&cid=23&frid=23&eid=209240
---------
CHP Head Laments the Use of the Quran as an Instrument for Politics
06 May, 2015
Turkey's main opposition leader has said the use of the Quran as an instrument for political purposes was an injustice to the religion of Islam itself, while also expressing deep sorrow over President Recep Tayyip Erdogan's charges against him and his party due to their alleged religious indifference.
"I've been very saddened. The use of people's spiritual values and the Quran, which is holy book for billions of people, as an instrument for scoring political goals has deeply hurt me," said Kemal Kiliçdaroglu, the leader of the main opposition, social democratic Republican People's Party (CHP).
"It [Quran] is not a book which belongs to one person. We call it 'The Kalam of Allah.' Interpreting it as his own property and as a book which nobody, except him, understands is an injustice to Islam," Kiliçdaroglu said on May 5 while speaking with a group of journalists on board a plane en route from Ankara to Izmir where he held a campaign rally for the June 7 parliamentary election.
In his last few public addresses, Erdogan accused both the CHP and the Peoples' Democratic Party (HDP) of "religious indifference."
"The person who heads the main opposition party yesterday used a phrase about me while in Kayseri. He is not worth responding to, but all of my citizens from Siirt to Kayseri know their president very well," Erdogan said on May 4, delivering a speech in Siirt on the occasion of a collective inauguration of public facilities.
Erdogan recalled that Kiliçdaroglu suggested he was "exploiting the Quran like Evren did," referring to Kenan Evren, the leader of the military coup d'état in 1980 and a former president.
"Mr. Kiliçdaroglu, I have grown up with the Quran and I live with the Quran," the president said, holding a copy of the Quran in his hand and showing it to the crowd.
"What place the Quran has in your life is obvious," he added, apparently addressing Kiliçdaroglu.
According to the main opposition leader, the ruling party is losing support.
"Now, they want to use religion in politics. I promise everybody that nobody will interfere with anybody's faith when the CHP comes to power," Kiliçdaroglu said.
http://www.hurriyetdailynews.com/chp-head-laments-the-use-of-the-quran-as-an-instrument-for-politics.aspx?pageID=238&nID=81986&NewsCatID=338
--------
Yemeni Tribal Fighters Kill 12 Saudi Soldiers As Shells Target KSA's Najran
06 May, 2015
Yemeni tribal fighters attacked on Tuesday Saudi border military posts, killing 12 soldiers and destroying their vehicles and equipment.
The corpses were left at the posts as the remaining Saudi soldiers fled the area.
In a different context, the Saudi al-Riyadh newspaper confirmed that 6 shells targeted on Tuesday the city of Najran in KSA, which disrupted the electric power and the aviation movement in the area.
http://www.almanar.com.lb/english/adetails.php?eid=209295&cid=23&fromval=1&frid=23&seccatid=28&s1=1
---------
Saudi Attacks Kill 11 Civilians in Yemen's Dhamar
06 May, 2015
Saudi military aircraft hit residential areas in the Southwestern Yemeni province of Dhamar on Wednesday, killing 9 civilians.
The Saudi warplanes targeted several houses in Dhamar province on Wednesday, leaving 9 people dead and 11 others injured.
Earlier in the day, the monarchy's attacks killed 28 civilians, including women and children, in the Northwestern province of Sa'ada.
Riyadh launched its airstrikes against Yemen on March 26 without a UN's mandate. Saudi Arabia aims to undermine the Ansarullah popular fighters and restore power to fugitive President Mansour Hadi, who is a staunch ally of Riyadh.
Despite Riyadh's claims that it is bombing the positions of the Ansarullah fighters, Saudi warplanes are flattening residential areas and civilian infrastructures.
On April 21, Riyadh announced the end of its military operations, but airstrikes have continued with Saudi bombers targeting different areas across the country in a new phase.
The monarchy's aerial bombardments have so far claimed the lives of at least 3,245 people, mostly women and children.
http://english.farsnews.com/newstext.aspx?nn=13940216000755
---------
HDP Co-Chair Says Judiciary Fears Erdogan More Than God
06 May, 2015
Peoples' Democratic Party (HDP) Co-Chair Selahattin Demirtas has accused Turkish President Recep Tayyip Erdogan of "violating the constitution for months," as he fails to remain neutral during the election campaign and nobody can take action "because they fear Erdogan."
Speaking in an interview on private broadcaster Fox TV on May 4, Demirtas said the president is committing a "constitutional crime" by saying that the parliamentary system has been "destroyed in Turkey."
"Of course, this is a constitution made after the 1980 coup. But still the president of this country has been violating it for many months. No prosecutor is taking action over this. The reason is fear," he said.
"I believe they fear Erdogan more than they fear God. I heard [ruling Justice and Development Party] AKP supporters say that 'God forgives, but he [Erdogan] does not,'" the HDP co-chair added.
http://www.hurriyetdailynews.com/hdp-co-chair-says-judiciary-fears-erdogan-more-than-god.aspx?pageID=238&nID=81995&NewsCatID=338
--------
Hamas launches crackdown on Salafist groups in Gaza Strip
06 May, 2015
The ruling Hamas militant group launched a crackdown Tuesday on radical Salafi groups following a series of unclaimed bombings in the Gaza Strip, arresting dozens of people and setting up military-type checkpoints.
Hamas, an Islamic militant group that has ruled Gaza for the past eight years, considers the more radical Salafists, who identify ideologically with the Islamic State of Iraq and Syria (ISIS) group, a threat. The Salafists, believed to number several hundred, seek the establishment of an Islamic caliphate and accuse Hamas of being too soft on Israel and failing to adequately impose religious law.
On Monday morning, a bomb damaged a wall at a security site run by Hamas' armed wing. There were no casualties, but after a series of similar blasts on Hamas security posts in recent weeks, suspicion fell on the Salafists.
Full report at:
http://english.alarabiya.net/en/News/middle-east/2015/05/05/Hamas-launches-crackdown-on-Salafist-groups-in-Gaza-Strip.html
---------
Iraq Seeking Iran's Help to Confront ISIL's Cultural Crimes
06 May, 2015
Iraqi Culture Minister Firyad Rawanduzi called for further cooperation between Baghdad and Tehran to confront ISIL's cultural crimes and protect Iraq's historical works.
"Iraq and Iran should seriously cooperate against ISIL's cultural crimes, protect Iraq's historical works and retrieve Iraq's cultural heritage," Rawanduzi said in a meeting with Head of the Islamic and Culture Relations Abuzar Ebrahimi-Torkman in Tehran on Tuesday night.
The Iraqi official underlined his country's resolve to broaden cultural cooperation with Iran, and said, "We will try from now on to broaden cooperation in different cultural areas, including publication of books, magazines, theater, music, visual arts, fashion and tribal culture."
In March, Iraqi Deputy Culture Minister Qais Hussein Rashid said that the ISIL Takfiri group was selling stolen artifacts from a museum in Iraq's Mosul city to buyers in Europe.
Rashid said that his ministry had information that the valuable artifacts were being sold in Europe.
According to Rashid, ISIL was allegedly using such sales to generate money for the armed group. He added that Iraqi authorities were taking measures to retrieve the stolen art treasures.
Full report at:
http://english.farsnews.com/newstext.aspx?nn=13940216000771
---------
Arab World
Hezbollah Dy Secy Gen.: Both ISIL & Saudi Kill Arabs, Muslims, Don't Fight Enemies
06 May, 2015
Hezbollah Deputy Secretary General Sheikh Naim Qassem asserted that what is going on in Yemen is an oppressing US-Saudi aggression which has surpassed the humanitarian and the legal limits and identifies with criminality and brutality.
Condemning the regional and the international silence, Sheikh Qassem added that as the UN Security Council rejected to approve a ceasefire in Yemen, it asserted its support to the Saudi-led aggression and displayed its criminal nature.
"What is the difference between Saudi and ISIL?" his eminence wondered, noting that both of them kill the Arabs and the Muslims and do not fight the enemies.
Sheikh Qassem pointed out that Hezbollah has always called on finding a political solution for the Yemeni crisis and that the current measures will exacerbate the situation in Yemen and all the Gulf countries, including mainly Saudi Arabia.
On Syria Sheikh Qassem said, "Unfortunately, the political solution is postponed by the US and the world powers in an attempt to change the battlefield balances.
"The battle in Qalamoun barrens are eminent and proves that the takfirs are unable to expand according to their plots," Sheikh Qassem stressed, "The battle will also protect the Lebanese villages."
Sheikh Qassem considered that Lebanon faces an open political crisis and all the political factions have to seek the solutions.
http://www.almanar.com.lb/english/adetails.php?fromval=2&cid=19&frid=21&seccatid=19&eid=209251
---------
Tens of Terrorists Killed in Syrian Army Operations in Dara'a Province
06 May, 2015
An informed military source in the Southern front said that the Syrian Army has gained more ground against al-Nusra Front terrorists in Dara'a province.
The source said that a group of al-Nusra terrorists was raided by the army men in al-Kark neighborhood in Dara'a, which resulted in the killing of some of the group's fighters.
The terrorists' positions in Kafer Nasej town towards the West of Samlin village were also hit by the country's army, said the source, adding the terrorists suffered heavy losses in this battlefield too.
The source added that the army confronted the terrorists in Daraa camp, al-Sudd road and al-Bahhar in Dara'a al-Balad and killed some of the fighters.
Ibrahim Mohammad al-Salameh and Abdo Jamal al-Hariri were among the killed terrorists in the abovementioned battlefronts.
On Monday, military sources in Syria said the government troops have gained a momentum in striking victories over the militant groups in Dara'a.
The sources said that the Syrian army men raided the rebels' concentration centers in the villages of Um al-Awsaj and Kafr Shams near Dara's, which left tens of militants killed and tens more wounded.
Also Zamrin town in the Northwestern countryside of Dara'a was attacked by the Syrian soldiers who destroyed the militants' strongholds in the near by areas of the villages, and killed dozens of the fighters.
In the meantime, the villages of al-Ghariyeh al-Sharqiyeh, Alma, al-Soura, and al-Hrak in the Northeastern part of Dara'a countryside were the scene of heavy clashes between the Syrian army troops and the terrorists of al-Nusra Front, who left scores of their collogues killed and fled the battlefield.
Syria has been gripped by deadly violence since 2011. Western powers and their regional allies -- especially Qatar, Saudi Arabia and Turkey -- are reportedly supporting the militants operating in Syria.
http://english.farsnews.com/newstext.aspx?nn=13940216000797
---------
Iraqi Airstrikes Kill 18 ISIL Terrorists in Anbar
06 May, 2015
At least 18 ISIL terrorists were killed as Iraqi fighter jets targeted the the terrorist group's positions in the Western Anbar province.
The Iraqi warplanes carried out several attacks against ISIL in the Western city of Fallujah and killed more than 18 terrorists.
The strikes also demolished a small bomb-making facility in the city.
The ISIL Takfiri terrorists currently control shrinking swathes of Syria and Iraq. They have threatened all communities, including Shiites, Sunnis, Kurds, Christians, Ezadi Kurds and others, as they continue their atrocities in Iraq.
Senior Iraqi officials have blamed Saudi Arabia, Qatar, and some Persian Gulf Arab states for the growing terrorism in their country.
The ISIL has links with Saudi intelligence and is believed to be indirectly supported by the Israeli regime.
http://english.farsnews.com/newstext.aspx?nn=13940216000424
---------
ISIS attack on Kurdish forces in Syria kills 16
6 May 2015
At least 16 members of Syrian Kurdish security forces were killed on Wednesday in an Islamic State of Iraq and Syria (ISIS) group attack on a base in the northeastern province of Hasakeh, a monitor said.
The Syrian Observatory for Human Rights group said ISIS members detonated a car bomb and then opened fire on a building housing Kurdish security forces in Hasakeh city, the provincial capital.
http://english.alarabiya.net/en/News/middle-east/2015/05/06/ISIS-attack-on-Kurdish-forces-in-Syria-kills-16.html
----------
10,000 troops from 18 countries suit up for Jordan war games
06 May, 2015
AMMAN: Jordan has kicked off a two-week military exercise with some 10,000 participants from 18 countries, many members of a US-led military coalition against the Islamic State group, which controls much of neighboring Iraq and Syria.
Jordan's fifth "Eager Lion" annual war games highlighting the aerial, ground and naval exercises come as a US-led coalition battles the Islamic State group in neighboring Iraq and Syria.
Several other Arab states have joined a Saudi-led coalition carrying out air strikes on rebels in Yemen.
Full report at:
http://www.arabnews.com/middle-east/news/742506
--------
External forces sowing sectarian sedition: King
06 May, 2015
RIYADH — Custodian of the Two Holy Mosques King Salman on Tuesday called for safeguarding the Arab region from the greed of external forces that strive to expand their influence and hegemony by undermining the region's security and stability.
Presiding over the 15th Consultative Summit of the Gulf Cooperation Council (GCC) at Diriyah Palace here, the King warned that these forces were trying to create sectarian sedition by facilitating extremism and terrorism.
"Our meeting today is taking place at a time when the region is facing stiff challenges which warrant the doubling of our efforts to protect our nations and peoples," he said.
"The efforts to develop and possess weapons of mass destruction, including nuclear weapons, pose an extremely dangerous threat not only to the region's peace and security but also to global peace and security.
Full report at:
http://www.saudigazette.com.sa/index.cfm?method=home.regcon&contentid=20150506242886
---------
Syrian Army Storms ISIL Terrorists' Position in Deir Ezzur
06 May, 2015
The Syrian Army raided the gathering centers of ISIL terrorists in the Eastern province of Deir Ezzur, and killed scores of the militants, including a Saudi national, military sources said.
The sources told FNA that several vehicles were set ablaze due to the Syrian army's offensives against the strongholds of the ISIL terrorists, who suffered also heavy death toll.
The sources went on to say that Saudi terrorist Fahed al-Issa al-Utaiby was among the killed fighters.
Deir Ezzur, bordering Iraq, is one of the main strongholds of the ISIL terrorists in Syria.
Actually the ISIL terrorist group used Deir Ezzur as a large training base for its members and then started to dispatch its fighters to different provinces in Syria and even to the Iraqi provinces of Anbar and Nineveh.
Syria has been the scene of insurgency since 2011 when certain western powers and their regional allies said that Syrian protests have no diplomatic solution and started supplying the country's opposition groups with their arms and funds.
http://english.farsnews.com/newstext.aspx?nn=13940216000602
---------
Hezbollah Kills Dozens of Nusra Terrorists in Tofeil, Brital Barrens
06 May, 2015
Well-informed sources told Al-Manar that Hezbollah Killed or wounded dozens of Nusra terrorists in Tofeil, Brital barrens in Bekaa, eastern Lebanon.
The sources added that Hezbollah mujahidin (fighters) ambushed and fiercely clashed with Nusra terrorists, destroying their vehicles and equipment.
http://www.almanar.com.lb/english/adetails.php?eid=209273&cid=23&fromval=1&frid=23&seccatid=20&s1=1
---------
Branching out: ISIL opens a five-star hotel in Iraq
06 May, 2015
The Islamic State, infamous for its extremist militant tactics, apparently has added a new feather to its cap. It has opened a five-star hotel for its commanders in the Iraqi city of Mosul.
Reports in Arabic media claim that the notorious Islamic State of Iraq and the Levant has taken over the Ninawa Hotel in Iraq's second largest city.
The hotel, that offers 262-rooms, is first of its kind in the so-called 'caliphate.'
It is worth mentioning here that the Isil had previously forcibly closed all hotels in areas under their control in Syria and Iraq.
The group, which has been bombarded by US and an Arab coalition, has manged to route enough resources to get the hotel functioning, offering commanders rooms and even cater to weddings.
Full report at:
http://tribune.com.pk/story/881459/branching-out-isil-opens-a-five-star-hotel-in-iraq/
--------
Houthis Will Pay For Their Crime In Najran: Spokesman Of The Coalition Forces
06 May, 2015
RIYADH — Houthi militias, who shelled on Tuesday some schools and a field hospital in Najran city, will not go unpunished, asserted Brig. Gen. Ahmad Al-Asiri, spokesman of the coalition forces and adviser at the office of the minister of defence.
"Air and ground forces will respond in the right way to these hazardous acts and will not allow them to be repeated," Asiri said.
The Saudi military had already deployed Apache combat helicopters to target the rebels in the border area, he added. There were some injuries in the attack on the hospital, Asiri added.
Full report at:
http://www.saudigazette.com.sa/index.cfm?method=home.regcon&contentid=20150506242887
--------
South Asia
ISIS Wants Access to Afghanistan's Opium and Drugs: Afghan National Security Advisor
06 May, 2015
The Afghan national security advisor Hanif Atmar has said the Islamic State of Iraq and Syria (ISIS) terrorist group is looking to have access to drugs market by starting operations in Afghanistan.
Speaking to lawmakers in the upper house of the parliament – Meshrano Jirga on Tuesday, Atmar, said the terror group wants to finance the group's activities by having access to drugs market.
Atmar also warned that the terror group wants to expand its operations not only in Afghanistan but the whole region and wants infiltrate in Central Asian countries.
According to Atmar, the ISIS group is led by a Pakistani militant and the group recognizes no boundries since they have already declared the regional countries in their map as Khurasan province.
Full report at:
http://www.khaama.com/isis-wants-access-to-afghanistans-opium-and-drugs-says-atmar-1071
--------
Two soldiers martyred, 44 militants killed in separate military operations
May 06 2015,
Two soldiers embraced martyrdom in a landmine explosion and militant fire in past 24 hours, a statement issued Wednesday morning by the Ministry of Defense states.
The statement issued by General Zahir Azimi, spokesman for the Ministry of Defense does not contain the exact location of the incidents.
General Azimi's statement adds that 44 militants were killed and 35 others wounded during separate military operations in past 24 hours.
Four insurgents were apprehended and six Improvised Explosive Devices (IEDs) defused by the military during these operations, the statement state.
Afghan National Security Forces have launched several operations against militants in different parts of the country including Zabul province where 31 passengers were kidnapped about two months before and Kundoz province where hundreds of Taliban launched coordinated attacks parts of the province.
http://www.khaama.com/two-soldiers-martyred-44-militants-killed-in-separate-military-operations-3288
--------
Death sentence or life in jail for killing someone after rape
06 May, 2015
Either death sentence or life imprisonment can be awarded as the highest punishment for the rape and murder of any child or woman, the Supreme Court ruled yesterday.
A four-member Appellate Division bench, led by Chief Justice Surendra Kumar Sinha, passed the judgement while disposing a writ petition.
The apex court upheld a High Court verdict that declared the sections 6 (2), 6 (4) of the Women and Children Repression Prevention (Special) Act 1995 unconstitutional and illegal. It also declared section 34 (2) of Women and Children Repression Prevention (Special) Act 2000 illegal and unconstitutional.
The provisions of section 6 (2) and section 6 (4) said if any individual or more than one person caused the death of any child or woman in or after committing rape, they shall be handed the death sentence.
Full report at:
http://www.dhakatribune.com/crime/2015/may/06/death-sentence-or-life-jail-killing-someone-after-rape#sthash.iK3OLg9n.dpuf
--------
Cases over Hefazat anarchy in limbo
06 May, 2015
No one knows when the investigation into the 42 cases filed by police over the havoc perpetrated by supporters of radical Islamist platform Hefazat-e-Islam on May 5, 2013 in Dhaka, Narayanganj and Chittagong is likely to end.
Talking to the Dhaka Tribune, a number of senior police officials said they were optimistic about completing the investigation soon. However, more than one senior official said they were yet to get specific instructions from the higher authorities on how to work with the cases.
Incidents of killing and attack on law enforcers and journalists, damage of public property and burning Qur'an took place during Hefazat's demonstrations, on the way to Shapla Chattor of Motijheel and nearby areas on that day, enforced to realise their 13-point charter of demands.
Full report at:
http://www.dhakatribune.com/bangladesh/2015/may/06/cases-over-hefazat-anarchy-limbo#sthash.Ic5vmepH.dpuf
---------
India
First Islamic State 'module' busted, 5 held in MP: Police
06 May, 2015
Five Madhya Pradesh men arrested from the town of Ratlam last month were part of an Islamic State-linked jihad cell planning strikes in India, highly placed police and intelligence sources have told The Indian Express.
Although growing numbers of Indians have been fighting with the jihadist group in Iraq and Syria, the cell is the Islamic State's first known affiliate inside the country, sparking fears more could be forming elsewhere.
Imran Khan Muhammad Sharif, the leader of the five men held in Ratlam on April 15, is alleged to have been recruited online by an Indian jihadist he knew as "Yusuf" — code, investigators say, for Karnataka-born Muhammad Shafi Armar, a fugitive Indian Mujahideen operative now leading group of Indians fighting with the Islamic State.
Muhammad Shafi Armar's brother, Muhammad Sultan Armar, was killed in combat near the Syrian town of Kobane in March, fighting with Islamic State forces attempting to take the city from Kurdish control.
Full report at:
http://indianexpress.com/article/india/india-others/first-islamic-state-module-busted-5-held-in-mp-police/
--------
Palestine backs India's bid for UNSC
06 May, 2015
India and Palestine have identified areas of further cooperation and identified mechanisms to better the existing relation
India and Palestine have identified areas of further cooperation and identified mechanisms to better the existing relations.
At the end of the first round of Foreign Office Consultations between India and Palestine in Ramallah, on Monday, New Delhi said it "continued support" the Palestinian cause and is extending assistance to the latest developments in the Middle East Peace Process.
Palestine for its part has reiterated its support to the efforts and aspirations of India to obtain a permanent seat in the United Nations Security Council.
According to a statement issued by the Ministry of External Affairs, both India and Palestine also discussed a gamut of bilateral issues, identified challenges and mechanisms to strategise and take the relationship forward.
The government recently reiterated that there was no change in New Delhi's policy of extending "traditional support'' for the Palestinian cause, despite its good relations with Israel. Union Minister for External Affairs Sushma Swaraj informed Parliament earlier this year that India has reaffirming support for the "just cause of Palestine and solidarity with the Palestinian people for their struggle".
http://www.thehindu.com/news/international/palestine-backs-indias-bid-for-a-permanent-seat-in-the-unsc/article7173695.ece
---------
India-Bangladesh land pact to secure one of India's 3 hazy frontiers
TNN | May 6, 2015
NEW DELHI: The Land Boundary Agreement with Bangladesh, which will change the contours of the Indian map, will have significant foreign policy and national security implications for India.
Signed in 1974, it has been ratified by Bangladesh. Once ratified by India, the agreement will forever delineate and demarcate one of India's three undecided boundaries and will be a very big step in securing the borders. It will grant statehood to almost 53,000 people affected by the complicated system of enclaves and adverse possessions that was a pre-independence legacy. It will allow both India and Bangladesh to develop and secure their border areas.
When cleared by Parliament, it will pave the way for PM Narendra Modi to visit Bangladesh, possibly in June, a key element in his neighbourhood policy. India also owes Bangladeshi PM Sheikh Hasina, who has proved to be a pillar of support on India's security sensitivities. She is currently battling severe internal pressures, and while India has maintained its support for her, the LBA would be a big fillip.
Full report at:
http://timesofindia.indiatimes.com/india/India-Bangladesh-land-pact-to-secure-one-of-Indias-3-hazy-frontiers/articleshow/47168941.cms
--------
Pakistan
Religious harmony: K-P starts reconstruction of Hindu temple, SC told
06 May, 2015
ISLAMABAD: Complying with the Supreme Court's order, the Khyber-Pakhtunkhwa (K-P) government has started reconstructing a Hindu temple in Karak, the apex court was told on Tuesday.
On April 16, the top court had directed the K-P government to ensure restoration and reconstruction of the temple and submit a relevant report in two weeks.
Submitting a report on behalf of Karak's deputy commissioner, K-P Additional Advocate General Waqar Ahmad Khan told the court on Tuesday that a long-standing dispute on rebuilding the Samadhi (shrine) of Hindu saint Shri Paramhans Ji Maharaj in Karak's Teri town had finally been resolved.
The report said that to keep harmony between the two religious communities of the area, reconstruction has started on five conditions agreed upon by both the communities during different meetings.
Full report at:
http://tribune.com.pk/story/881689/religious-harmony-k-p-starts-reconstruction-of-hindu-temple-sc-told/
--------
Pakistani troops suit up for international war games in Jordan
06 May, 2015
AMMAN: Thousands of soldiers from 18 countries, including Pakistan, took part in military drills in Jordan on Tuesday jointly overseen by the US army, officials said.
Around 10,000 troops are participating in Jordan's fifth "Eager Lion" annual war games, which will last for two weeks.
The aerial, ground and naval exercises come as a US-led coalition battles the Islamic State (IS) group in neighbouring Iraq and Syria.
Several other Arab states have joined a Saudi-led coalition carrying out air strikes on rebels in Yemen.
Full report at:
http://tribune.com.pk/story/881495/international-troops-suit-up-for-jordan-war-games/
--------
Pakistan Army charges India with whipping up terror
06 May, 2015
Top Pakistan Army Commanders expressed serious concern at the alleged involvement by India's Research and Analysis Wing (RAW) in "whipping up" terrorism in Pakistan. The issue came up for discussion at the corps commanders conference headed by Army chief General Raheel Sharif in Rawalpindi on Tuesday.
"The conference also took a serious notice of RAW's involvement in whipping up terrorism in Pakistan," a statement by Inter-Services Public Relations said. The statement comes days after the arrest of two Muttahida Qaumi Movement (MQM) workers in Karachi for allegedly inciting violence at the behest of RAW.
http://www.thehindu.com/news/national/pakistan-army-charges-indias-research-and-analysis-wing-with-whipping-up-terror/article7174472.ece
---------
President assails Jirga decision against polio drive
06 May, 2015
ISLAMABAD: President Mamnoon Hussain called on Tuesday for discouraging Jirga system in rural areas and said it could not serve the people of remote areas.
Talking to a delegation of Federal Ombudsman's National Committee on Children against the backdrop of failure to launch polio vaccination campaigns in some parts of Federally Administered Tribal Areas because of the Jirga's decision not to let their children be administered polio drops, the president said that it was quite astonishing that people preferred to follow Jirga decisions instead of obeying the law of the land.
"Acceptance of Jirga's decisions by the people in rural areas is quite deplorable," a president's spokesperson quoted Mr Mamnoon as saying.
The president expressed concern over the refusal by parents in some parts of Fata to get their children vaccinated against polio.
Full report at:
http://www.dawn.com/news/1180236/president-assails-jirga-decision-against-polio-drive
--------
One death row convict hanged in Lahore
06 May, 2015
LAHORE: A murder convict was hanged in the early hours of Wednesday in Lahore's Kot Lakhpat Jail, Express News reported.
At the time of the hanging, security in and around the prison were high, with access to unauthorised persons limited. However, Zulfiqar was granted some time with his family on Tuesday.
Zulfiqar was handed the death sentence following the murder of two persons almost 17 years ago, sources revealed.
A mercy plea was put forward by President Mamnoon Hussain, however, this was dismissed by the court.
Murder convicts and those convicted in cases of terrorism are being executed across the country following the lifting of the moratorium on capital punishment by Prime Minister Nawaz Sharif at the end of last year.
http://tribune.com.pk/story/881779/one-death-row-convict-hanged-in-lahore/
--------
Pakistan seizes Gulf-bound hashish worth $50 million: official
06 May, 2015
KARACHI: Coast Guards said they seized on Tuesday three tonnes of hashish bound for the Middle East where its estimated street value would have been $50 million, in one of their biggest drug hauls.
The naval force carried out the raid in Pasni, Balochistan, a spokesperson said, adding three smugglers were arrested.
They also took custody of two motor vehicles and an oil tanker in which the hashish had been concealed in secret chambers, Coast Guards spokesman Major Zafar Ahmed told AFP.
The raiding party had to cut into the tanker with power tools to retrieve the 3,010 kilogrammes of the drug.
"In the history of the PCG, this is the biggest ever seizure of drugs," Ahmed said, adding that the consignment would have been worth around $50 million in the Middle Eastern countries where it was bound.
Ahmed said one of the men arrested was high on the list of the country's most wanted smugglers, but declined to give the suspects' names.
Pakistan has been a key smuggling route for hashish and heroin, cultivated and processed in the country's tribal regions and neighbouring Afghanistan.
Afghanistan also produces 90 percent of the world's opium supply, an estimated third of which transits through Pakistan.
http://tribune.com.pk/story/881382/pakistan-seizes-three-tonnes-of-gulf-bound-hashish-official/
--------
Africa
C. Africa armed groups vow to free thousands of child soldiers: UN
06 May, 2015
BANGUI, Central African Republic — Leaders of armed groups in strife-ravaged Central African Republic agreed Tuesday to release thousands of child soldiers and to end underage recruitment, UNICEF said.
The United Nations children's agency described the news as a "major step forward" in the country, where it estimates 6,000 to 10,000 children to be held by various armed factions. "The Central African Republic is one of the worst places in the world to be a child, and UNICEF is eager to work with local authorities to help reunite these children with their families," UNICEF representative Mohamed Malick Fall said in a statement.
The children involved includes those serving as combatants, those used for sexual purposes and those working in roles such as cooks and messengers. The agreement to release them was signed this week during a reconciliation forum in the capital Bangui, backed by UNICEF and its partners with the aim of restoring peace to the country, which plunged into violence after a 2013 coup.
More than two years of conflict in the deeply poor and landlocked nation has led to "one of the world's worst -- and least visible -- humanitarian crises," according to the UNICEF statement.
Full report at:
http://www.saudigazette.com.sa/index.cfm?method=home.regcon&contentid=20150506242829
--------
Two Tanzanian UN peacekeepers killed in Congo ambush
06 May, 2015
Two United Nations peacekeepers from Tanzania were killed, 13 wounded and four were missing in eastern Democratic Republic of Congo on Tuesday when their patrol was ambushed by suspected Ugandan Islamist rebels, the United Nations said.
The peacekeepers were attacked in the village of Kikiki, around 50 km (30 miles) north of the town of Beni in North Kivu province, Felix Basse, spokesman for the mission known as MONUSCO, told Reuters
The Congolese army said earlier on Tuesday it had killed 16 Ugandan Allied Democratic Forces (ADF) rebels during fierce fighting in the same zone over the weekend.
U.N. Secretary-General Ban Ki-moon condemned the attack on the peacekeepers, which occurred as the mission was "carrying out its protection of civilians mandate". His spokesman confirmed the number of dead, wounded and missing.
Full report at:
http://english.ahram.org.eg/NewsContent/2/9/129489/World/International/Two-Tanzanian-UN-peacekeepers-killed-in-Congo-ambu.aspx
--------
Morocco Well-placed to Offer Platform for Islamic Banks- Minister
06 May, 2015
Rabat – Thanks to its economic diversity and proximity to Europe, Morocco is well-placed to offer a platform for Islamic banks, Lahcen Daoudi, Minister of Higher Education and Scientific Research said on Monday in Tangier.
Speaking at a conference organized by the national school of commerce and management (ENCG) in Tangier under the theme: "the foundations of Islamic banks" the Minister said that Islamic banks are considered as a source of wealth for Morocco that will contribute by 0.5% to 1% in PIB per year.
Full report at:
http://www.moroccoworldnews.com/2015/05/157707/morocco-well-placed-offer-platform-islamic-banks-minister/
--------
Security tightened as Tunisia hosts Jewish pilgrimage
6 May 2015
The Jewish pilgrimage to Ghriba synagogue on the Tunisian island of Djerba is to take place Wednesday under extra security after the Bardo museum massacre and Israel's warning of terror threats.
Hundreds are expected to take part, unlike the thousands who flocked to Africa's oldest synagogue for the annual pilgrimage in the years before a 2002 suicide bombing claimed by Al-Qaeda that cost 21 lives.
Barriers have been erected on access routes to Djerba in southern Tunisia and police checkpoints around Hara Kbira, the Jewish district of the island, an AFP journalist said.
The extra security follows the March 18 attack on the Bardo Museum in Tunis, claimed by the Islamic State of Iraqi and Syria (ISIS) group, that killed 21 foreign tourists and a Tunisian policeman.
Full report at:
http://english.alarabiya.net/en/News/africa/2015/05/06/Tunisia-hosts-Jewish-pilgrimage-under-tight-security-.html
--------
Nigerian troops who fled Boko Haram now have them on the run
06 May, 2015
A year ago, a dozen Nigerian troops fighting about 200 Boko Haram militants in the town of Chibok exhausted their ammunition and ran, leaving the road open for the abduction of nearly 300 girls.
Today, Nigerian soldiers are rescuing hundreds of kidnapped girls and women from the last forest stronghold of the Islamic insurgents.
The reason for the unimaginably swift shift in fortunes?
In the last three months, military forces from neighbouring Chad, Niger and Cameroon have joined the battle. In addition, Nigerian troops are finally receiving better arms and weapons, as well as hazard pay that they had not received until this year.
As a result, Boko Haram's supply lines are being cut off, creating conditions for the security forces to deliver a potential knockout blow to the extremists who have created havoc in northeastern Nigeria for years.
Full report at:
http://www.thehindu.com/news/international/nigerian-troops-who-fled-boko-haram-now-have-them-on-the-run/article7176211.ece
-----------
Uganda's capital blazes a trail in cutting child deaths, charity says
06 May, 2015
KAMPALA: Inside the second busiest hospital in Uganda, a Somali refugee gingerly paces up and down the maternity ward to ease her labour pains, passing a Congolese woman resting in bed after a Caesarean section.
"I am happy because they welcomed me here. They help everyone, even if you are a refugee," said Esther Kabumo from Democratic Republic of Congo. "If you don't have money, it's not a problem."
On a continent known for poor healthcare and high infant mortality rates, the Ugandan capital is an exception.
Child deaths in Kampala fell faster than in any other African city between 2006 and 2011 - despite a large influx of refugees from war-torn neighbouring states, Save the Children said in a report on Tuesday.
Full report at:
http://www.dailytimes.com.pk/foreign/06-May-2015/uganda-s-capital-blazes-a-trail-in-cutting-child-deaths-charity-says
--------
Nigeria's Boko Haram in disarray as government forces advance
06 May, 2015
MALKOHI: Boko Haram is fracturing as shortages of weapons and fuel foment tensions between its foot soldiers and leaders, women rescued from the Islamist jihadi fighters by Nigerian troops told Reuters.
The group abducted an estimated 2,000 women and girls last year as it sought to carve out an Islamic state in the northeast of Africa's biggest economy. The army has freed nearly 700 in the past week as it advances on Boko Haram's last stronghold in the vast Sambisa forest.
The militants began complaining to their captives about lacking guns and ammunition last month, two of the women said, and many were reduced to carrying sticks while some of their vehicles were either broken down or lacked gasoline.
Full report at:
http://www.dailytimes.com.pk/region/06-May-2015/nigeria-s-boko-haram-in-disarray-as-government-forces-advance
--------
Europe
French far-right mayor slammed for counting Muslim children
06 May, 2015
MONTPELLIER: A French mayor backed by the far-right National Front was accused of racism on Tuesday after using the names of school children in his town to decide how many were Muslim.
Under France's strict secularism laws, the government does not keep statistics on people's religion or ethnicity.
But Robert Menard, mayor of Beziers in the south of the country, said his administration had used lists of pupils' names to decide how many were Muslim, and claimed the figure came to 64.6 per cent.
"Sorry to say this, but the mayor has, class by class, the names of the children," he said on France 2 television on Tuesday night.
"I know I don't have the right to do it. Sorry to say it, but the first names tell us their religion. To say otherwise is to deny the evidence," he added.
His comments brought condemnation from the Socialist government, with Prime Minister Manuel Valls tweeting "shame on the mayor".
Full report at:
http://tribune.com.pk/story/881395/french-far-right-mayor-slammed-for-counting-muslim-children/
--------
Rights group condemns atrocities in Syrian city of Aleppo
06 May, 2015
Syrian government forces and insurgents have both committed abuses in the contested northern city of Aleppo, but some of the government's actions amount to crimes against humanity, an international rights group said May 5.
Aleppo, once Syria's largest city and commercial capital, has been a major battleground in the country's civil war since rebels launched an assault there in mid-2012 that ultimately left the city carved into government- and opposition-held halves. The fighting over the past three years has leveled neighborhoods, touched off a humanitarian crisis and forced hundreds of thousands to flee.
In a new report, Amnesty International sharply condemned the government's reliance on barrel bombs - large canisters packed with explosives and scrap metal - against rebel-held neighborhoods in Aleppo.
Full report at:
http://www.hurriyetdailynews.com/rights-group-condemns-atrocities-in-syrian-city-of-aleppo.aspx?pageID=238&nID=81972&NewsCatID=352
--------
U.N. envoy heads to France, Saudi Arabia to revive Yemen talks
6 May 2015
The UN envoy for Yemen, Ismail Ould Cheikh Ahmed, will travel to Paris later Tuesday on his way to Riyadh to try to re-launch peace talks, UN officials and diplomats said.
It will be the Mauritanian diplomat's first trip to the region since he took up the post as peace envoy for Yemen less than two weeks ago.
The envoy replaced Jamal Benomar, who resigned after losing support from Gulf states when Yemen's Shiite Huthi rebels pushed ahead with an offensive.
Talks collapsed after the Huthis seized the capital Sanaa and advanced on Aden, forcing President Abedrabbo Mansour Hadi to flee into exile to Saudi Arabia.
Ould Cheikh Ahmed will hold talks in Paris on Wednesday and travel to Saudi Arabia the following day, diplomats told AFP.
Full report at:
http://english.alarabiya.net/en/News/middle-east/2015/05/06/U-N-envoy-heads-to-France-Saudi-Arabia-to-revive-Yemen-talks-.html
--------
France's Hollande in Saudi calls for death penalty ban
06 May, 2015
French President Francois Hollande called on Tuesday for abolition of the death penalty, speaking in Saudi Arabia which this year has seen a large rise in the number of executions.
The ultra-conservative Gulf kingdom has executed 78 locals and foreigners, compared with 87 during all of 2014, according to an AFP count.
Hollande, who attended the Gulf Cooperation Council summit in Riyadh on Tuesday, said: "France is campaigning across the world to abolish the death penalty."
"The death penalty should be banned," he told reporters after meeting GCC leaders including Saudi King Salman.
He said Paris's position towards the death penalty is "not because one of our citizens could be a victim of an execution", referring to Frenchman Serge Atlaoui who is on death row in Indonesia.
Full report at:
http://english.ahram.org.eg/NewsContent/2/8/129472/World/Region/Frances-Hollande-in-Saudi-calls-for-death-penalty-.aspx
--------
France delivered weapons to Syria rebels, book reveals
6 May 2015
French President Francois Hollande admitted to delivering weapons to Syrian rebels in 2012 despite an embargo, according to a new book coming out in France this month.
"We began when we were certain they would end up in the right hands. For the lethal weapons it was our services who delivered them," Hollande told author Xavier Panon in an interview in May last year.
The book by the journalist specializing in diplomatic and military issues, is entitled "In the corridors of French diplomacy."
Panon wrote that France delivered canons, machine guns, rocket launchers and anti-tank missiles to the rebels fighting Bashar Al-Assad's regime in an uprising that has turned into all-out civil war and drawn in thousands of foreign jihadists.
The Syrian Observatory for Human Rights says over 200,000 people have been killed in the fighting.
Full report at:
http://english.alarabiya.net/en/News/middle-east/2015/05/06/France-delivered-weapons-to-Syria-rebels-book-reveals.html
-----------
646 civilians killed in Yemen: UN
06 May, 2015
UNITED NATIONS: As appeals for a humanitarian pause in airstrikes go unheeded, the United Nations said on Tuesday the conflict in Yemen has now taken at least 646 civilian lives and injured more than 1,300 others.
In their appeal the UN human rights monitors also drew attention to the desperate plight of disabled persons who are facing increasing difficulties in meeting their basic needs.
"There has also been severe destruction of civilian infrastructure, including houses, in many districts" of Yemen, said spokesperson Ravina Shamdasani for the Office of the UN High Commissioner for Human Rights (OHCHR).
Figures from March 26 up to May 3 from the field show that at least 646 civilians have been killed, including 50 women and 131 children, and more than 1,364 civilians have been injured, Ms Shamdasani told reporters at a press briefing in Geneva.
http://www.dawn.com/news/1180215/646-civilians-killed-in-yemen-un
--------
Police Arrest 4 Germans Involved in Plot to Attack Islamic Targets
06 May, 2015
German authorities have reportedly conducted raids across the country, arresting four German people accused of founding an extremist group to attack mosques and housing for asylum seekers, a report said.
Police arrested three men and a woman accused of leading the group during raids by some 250 investigators on homes in Saxony and four other states, the federal prosecutor's office said in a statement, AP reported.
Prosecutors allege the four helped found the "Old School Society" group and were planning to attack asylum-seeker housing, and mosques in Germany.
The four arrested, identified only as Andreas H., 56, Markus W., 39, Denise Vanessa G., 22, and Olaf O., 47, are being held on terrorism charges and are also accused of having procured explosives.
The statement identified Andreas H. and Markus W. as the group's president and vice president.
"According to current investigations, it was the group's goal to conduct attacks in smaller groups inside Germany on mosques and asylum seeker centers," the statement said.
"For this purpose the four arrested procured explosives for possible terror attacks by the group."
Prosecutors said they are still trying to determine whether the group had concrete attack plans and refused to comment beyond their written statement.
http://english.farsnews.com/newstext.aspx?nn=13940216000821
-----------
Head teachers offered help on preventing radicalisation
06 May, 2015
Head teachers worried about protecting students from being radicalised are being offered seminars by a union.
The seminars will be run by the Association of School and College Leaders (ASCL) in major English cities.
New legislation passed this year places a statutory duty on schools and colleges to counter radicalisation.
The seminars will be led by Kamal Hanif, head of Birmingham's Waverley School and an expert on Islam and citizenship.
Full report at:
http://www.bbc.com/news/education-32591414
--------
British National Party Candidate Told Pupils Muslims 'Worship Devil'
06 May, 2015
A teacher standing as a British National Party (BNP) candidate told pupils "Muslims worship the devil", a disciplinary panel has heard.
Reverend Robert West, 59, who is the party's parliamentary candidate for Boston and Skegness, made the comments during a history lesson.
The National College for Teaching and Leadership (NCTL) said his conduct fell short of the profession's standards.
A BNP spokesman said the party would comment once sanctions are decided.
Mr West, who said the comments had been made in the context of a lesson about the Crusades, was found guilty of unacceptable professional conduct.
'Worshipping the devil'
Full report at:
http://www.bbc.com/news/uk-england-lincolnshire-32597460
---------
Southeast Asia
Muslims Can Protest Muhammad Cartoon Contest in 'Civilized Ways': Indonesian Minister
06 May, 2015
Jakarta. Religious Affairs Minister Lukman Hakim Saifuddin has called on the country's Muslims to keep a cool head over a recent Prophet Muhammad cartoon contest in the United States.
Speaking on Tuesday, three days after two gunmen were shot and killed after they tried to launch an assault on the Texas event, Lukman said Indonesian Muslims should not be provoked.
"All Muslims should not be overly provoked by the activity and conduct violence," he said, as quoted by state-run news agency Antara. "That is not part of Islamic teaching."
Lukman said that Muslims were at liberty to voice their opinions about the offending contest through public dialogue.
Full report at:
http://thejakartaglobe.beritasatu.com/news/religious-affairs-minister-muslims-can-protest-texas-cartoon-contest-in-civilized-ways/
--------
Protect the kids, not the kiddie porn convict, DAP lawmaker tells Putrajaya
06 May, 2015
KUALA LUMPUR, May 6 — Putrajaya should focus on keeping Malaysian children protected from paedophiles like Nur Fitri Azmeer by making sure the 23-year-old is fully rehabilitated before he is granted admission into any learning institutions here, DAP's Yeo Bee Yin said.
The Damansara Utama assemblyman said Nur Fitri should be put under strict surveillance in Malaysia for a period of time after he returns from serving his jail sentence in the UK, where he was caught with child pornography.
"We must make sure that convicts like Nur Fitri are fully rehabilitated upon their release from jail," she said, echoing a similar view raised earlier today by G25 coordinator Datuk Noor Farida Ariffin.
"There must be personnel who are in charge of monitoring their behaviours for an extended period of time beyond their jail terms.
"Former convicts should be prohibited by law from taking jobs that are related to children such as teachers and coaches," Yeo added.
Full report at:
http://www.themalaymailonline.com/malaysia/article/protect-the-kids-not-the-kiddie-porn-convict-dap-lawmaker-tells-putrajaya#sthash.sgfsakTk.dpuf
--------
North America
U.S. offers up to $20 mln in rewards for ISIS leaders
6 May 2015
The Obama administration is offering rewards of up to $20 million for information leading to the whereabouts of four top leaders of ISIS.
Through its Rewards for Justice program, the State Department announced Tuesday that it would pay up to $7 million for information on Abd al-Rahman Mustafa al-Qaduli, up to $5 million each for Abu Mohammed al-Adnani and Tarkhan Tayumurazovich Batirashvili and up to $3 million for Tariq Bin-al-Tahar Bin al Falih al-'Awni al-Harzi.
According to the department, Qaduli is a senior ISIS official who originally joined al-Qaeda's affiliate in Iraq, Adnani is an official ISIS spokesman, Batirashvili is a battlefield commander in northern Syria and Harzi is the group's leader for the border region between Syria and Turkey.
ISIS recently urged those in the United States, Europe and Australia who cannot safely travel to fight in Syria and Iraq to carry out jihad in the countries where they live.
http://english.alarabiya.net/en/News/middle-east/2015/05/06/U-S-offers-up-to-20-mln-in-rewards-for-ISIS-leaders.html
--------
Texas Muslims on edge amid protests, contest attack
06 May, 2015
When an outspoken opponent of radical Islam sought to mock Muhammad in Texas, one of the nation's largest Islamic communities, local Muslims were encouraged to ignore her, and they did.
No one protested when Pamela Geller's cartoon contest attracted about 200 people to suburban Dallas Sunday, even though some Muslims in Texas were already feeling aggrieved and fearful over growing anti-Islamic sentiment in the state.
Then, two men with attack rifles drove in from Arizona and opened fire on officers guarding the conference center in Garland. Both were shot dead, an officer was shot in the leg, and from the other side of the world, the Islamic State group made an unproven claim of responsibility.
"This is the exposure that they wanted and this is the divisiveness that they wanted to bring," said Omar Suleiman, resident scholar at the Valley Ranch Islamic Center in Irving, a Dallas suburb with a sizeable Islamic community.
Full report at:
http://indianexpress.com/article/world/texas-muslims-on-edge-amid-protests-contest-attack/
--------
US to investigate links between Texas gunmen and Briton fighting with Islamic State
06 May, 2015
American officials will investigate social media links between two gunmen who launched an attack in Texas and a British jihadi fighting with Islamic state of Iraq and the Levant (Isil).
As Isil claimed responsibility for its first attack on United States soil, messages posted on Twitter before and after the shooting, targeting a competition to draw the Prophet Mohammed, raised questions over whether the gunmen were in direct contact with Junaid Hussain, who goes by the name Abu Hussain al-Britani.
Hussain, 21, grew up in Birmngham and was jailed for three years in 2012 for stealing Tony Blair's personal details, including his email address and National insurance number, before travelling to Syria.
Full report at:
http://www.telegraph.co.uk/news/worldnews/islamic-state/11584710/US-to-investigate-links-between-Texas-gunmen-and-Briton-fighting-with-Islamic-State.html
--------
Muslim Activists Consider New Ways Of Countering Islamophobia, Promote Own 'Draw Muhammad' Contest
06 May, 2015
Muslim American activists say they are more determined than ever to take on anti-Islamic bigotry in the aftermath of Sunday's violence at a Draw Muhammad contest in Garland, Texas, that left a security guard injured and two armed attackers dead. While the overwhelming response by leaders in the community has been strong condemnation of the violence, some activists have also argued the incident highlights the importance of finding creative ways to counter growing Islamophobia in the U.S., which they say has helped to fuel such violence.
The violence at the event is representative of a "vicious cycle" of bigotry, said Amani Al-Khatahtbeh, the founder and editor-in-chief of Muslimgirl.net, a site dedicated to millennial Muslim women that has launched its own counter campaign to the Draw Muhammad contest. "That's the most visible thing that we can take away from the incident," she said. "It's clear that when we react to bigotry with even more hatred, it just fuels this vicious cycle where we see hatred repeated over and over again. That's why we really have to change our approach on these topics."
Full report at:
http://www.ibtimes.com/texas-attack-muslim-activists-consider-new-ways-countering-islamophobia-promote-own-1909675
--------
URL: https://newageislam.com/islamic-world-news/al-saud-be-slapped-face/d/102833