New Age Islam News Bureau
13 Jan 2014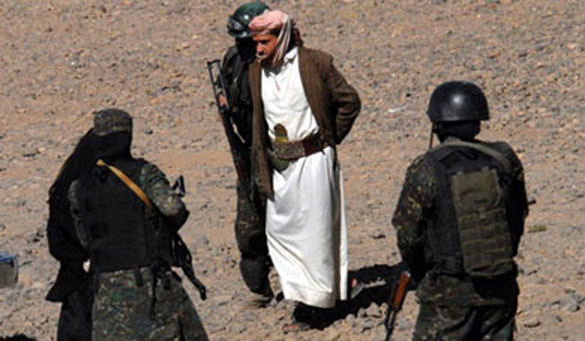 Al Qaeda Syria unit executes dozens of rival Islamists, Photo: EPA
-----------
Arab World
• Al-Qaida Syria unit executes dozens of rivals in Raqqa: Reports
• 19 dead in mortar attack in central Syria
• Muslim scholars urge to end Yarmouk siege
• No light at end of tunnel for Syrian refugees in Europe
• Syrian family of 7 poisoned after eating cat meat
• Saudi sentences Qaeda militant to death over US firm attack
• Lebanon's ex-PM Hariri killing trial to open against bloody backdrop
Africa
• CAR Cannibal Tells BBC: I Ate Man in Revenge Attack
• 31 Killed In Tribal Clashes in Southern Libya
• South Sudan army says advancing on last rebel stronghold
• Hundreds of deserting CAR troops returns to their command
• Leader of Libya's Barqa region survives assassination bid
India
• Indian Activist Launches Anti-Dowry Matrimonial Service
• Disappointment over the cancellation of Dr Tahir-ul-Qadri's visit to India
• Muslims better off than Dalits in Bihar: Survey
• India, U.S. to move WHO resolution on addressing violence against women
Pakistan
• Interior Minister: 'Good Taliban' Welcome, 'Bad Taliban' To Face War
• Separatist literature, maps recovered by FC in Turbat raid
• Karachi operation's focus turns to militant outfits
• Two security men, four civilians shot dead in Balochistan
• Child among four killed by security forces: rights body
• JuD-hosted seminar sees foreign hand behind sectarian strife
• Youth Peace Rally: 'No room for strategic mistakes for Pakistan in peace-building'
• Chaudhry Aslam's assassination: TTP see nomination of its leaders as a 'reward'
Mideast
• Muslim world joins Palestinians in denouncing Sharon
• Soldiers among 28 suspects arrested in prostitution ring in south-eastern Turkey
I• ran's Zarif to visit Syria ahead of peace talks
• Israel to spend billions on initiative to bolster Jewish identity in Diaspora
• Iran nuclear deal to enter into force on 20 January
• North Yemen fighting has killed at least 210 in two months, Salafis say
Europe
• Campaigners ask ICC to investigate alleged UK war crimes in Iraq
• Montenegro Bosniaks wish to see Muslim symbols on flag
• Army imam says British Muslims can be good soldiers
• Iran must be invited to Geneva-2 for sake of cause, not ideology - Lavrov
• Russia may build new nuclear power blocks at Iran's Bushehr
• UN chief in Iraq for talks on Syria war
• Russia: Assad mulling open humanitarian access
Australia
• Thousands 'must go to Syria to join fight'
South Asia
• Talks possible if BNP cuts tie with Jamaat-e-Islami: Bangladesh Minister
• Bicycle bomber kills two Afghan policemen
• 80 militants join peace process in northern Afghanistan
• Hekmatyar calls on party members to take part in Afghan elections
• Maldives President ratifies Right to Information Act
• Sri Lanka monks rally against Muslims
North America
• US: Nigerian Islamic uprising could spread
• Russia, US completely agree that resolving Syrian crisis should be peaceful- Kerry
• Syrian authorities ready to assist humanitarian aid supplies to the country - Kerry
• Iran to implement nuclear deal as Obama repeats Congress sanctions plea
• Kerry says Israeli-Palestinian peace process at 'critical point'
• NSA mass surveillance pretty useless in battle against terrorism – research
Southeast Asia
• 'Jihad' in education crucial to build strong human capital base: Malaysian PM
• For Aceh's religious minorities, little room to pray
• Bad faith if The Heat is suspended indefinitely, says former human rights chief
Compiled by New Age Islam News Bureau
URL: https://www.newageislam.com/islamic-world-news/new-age-islam-news-bureau/al-qaida-syria-unit-executes-dozens-of-rivals-in-raqqa--reports/d/35262
------------
Arab World
Al-Qaida Syria unit executes dozens of rivals in Raqqa: Reports
Reuters | Jan 13, 2014
AMMAN: The al-Qaida-linked Islamist State of Iraq and the Levant executed dozens of rival Islamists over the last two days as the group recaptured most territory it had lost in the northeastern Syrian province of Raqqa, activists said.
One of the activists, who spoke from the province on condition of anonymity, said up to 100 fighters from the Nusra Front, another al-Qaida affiliate, and the Ahrar al-Sham brigade, captured by ISIL in the town of Tel Abyad on the border with Turkey, the nearby area of Qantari and the provincial capital city of Raqqa, were shot dead.
There was no independent confirmation of the report.
"About 70 bodies, most shot in the head, were collected and sent to the Raqqa National hospital," the activist said.
"Many of those executed had been wounded in the fighting. The fact that Nusra Front and Ahrar al-Sham are ideologically similar to the ISIL did not matter," he added.
ISIL's growth has alarmed Western nations, who are pushing the opposition to attend peace talks in Switzerland in 10 days' time, and has helped President Bashar al-Assad to portray himself as the only secular alternative to Islamist extremism.
Fighting between the ISIL and rival Islamists and more moderate rebels have killed hundreds of people over the last 10 days and shaken the hardline militant group led by foreign jihadists.
But the ISIL regrouped and recaptured much of its stronghold in Raqqa city on Sunday, activists said, dealing a blow to rival rebel groups backed by Gulf Arab and Western states.
Among those reportedly executed on the weekend was Abu Saad al-Hadram, Nusra Front's commander for Raqqa province who was captured several months ago as tension mounted between the foreign-led ISIL and the more home-grown Nusra, opposition sources said.
In Raqqa, the only provincial capital under rebel control, activists said ISIL fighters battled remnants of rival Islamist units including the Nusra Front in several neighbourhoods.
To the north, ISIL recaptured the town of Tel Abyad on the border with Turkey over the weekend.
Abdallah Farraj, a member of the opposition Syrian National Coalition from Raqqa, said rebels had been able to expel ISIL from parts of the neighbouring Aleppo province, but it would be hard to shake ISIL's hold on Raqqa and rural areas along key supply lines across the north.
"The rebels lack the organisation and the firepower to win. It will be difficult to defeat ISIL without military strikes from someone like Turkey," he said.
Abu Khaled al-Walid, an activist speaking from the border area, said many fighters from Ahrar al-Sham, one of the most powerful Islamist groups, chose not to confront ISIL because the combatants were local people with little enmity for each other.
"Many did not see a point in fighting their own relatives. ISIL is now in control of 95 percent of Raqqa and its rural environs. Tel Abyad is also back with it," he said.
"NUCLEUS OF THE CALIPHATE"
Raqqa, on the Euphrates River 385 km (240 miles) northeast of Damascus, is the most significant city to have fallen completely to Assad's opponents since the revolt against his family's four-decade rule broke out in March 2011.
An ISIL statement called on Raqqa tribes to pull out their members from anti-ISIL rebel units and said the attacks against the group were designed to "destroy the nucleus of the caliphate" and promote a "heathen" alternative.
ISIL pulled out of Raqqa and other towns in northern Syria this month after an Islamist rebel alliance attacked its strongholds, taking advantage of growing popular resentment of the group's foreign commanders, their killing of other rebels and a drive to impose a strict interpretation of Islamic law.
But ISIL has regrouped in the last few days, using snipers, truck-mounted commando units and suicide bombers.
Opposition sources said the expertise of its foreign commanders, including a senior figure known as Omar al-Shishani, had been crucial to its advance.
In the province of Aleppo west of Raqqa, activists said ISIL had regained several rural towns, including Hreitan and Basraton, where ISIL killed a senior commander in the Nour al-Din Zanki brigades, a key unit in the newly-formed Mujahideen Army, which has been fighting ISIL in Aleppo.
Fighting also raged on Sunday between Western-backed Free Syrian Army units around the town of Retayan near Aleppo and in Urum to the east, as rebel infighting made the city vulnerable to advances by Assad's forces, the sources said.
Abdallah al-Sheikh, an activist in northern Syria, said Assad's forces had began bombarding areas from which ISIL had withdrawn, such as the town of Maarat Misreen and parts of Aleppo city.
"ISIL have been doing Assad a huge favour by killing many of the formidable rebel commanders and the regime has chosen to help it by not touching many of the areas it had taken. As soon as it withdrew, the bombing resumed," he said.
http://timesofindia.indiatimes.com/world/middle-east/Al-Qaida-Syria-unit-executes-dozens-of-rivals-in-Raqqa-Reports/articleshow/28725901.cms
------------
Syria Rebels Turn Against Most Radical Group Tied to Al Qaeda
Jan 13, 2014
BEIRUT, Lebanon — As a government warplane soared over the northern Syrian city of Raqqa recently, a fighter from the Islamic State of Iraq and Syria, the country's most radical group linked to Al Qaeda, watched from behind an antiaircraft gun mounted on a pickup truck. Fighters and activists from rival insurgent factions urged him to fire. He did not.
The others were incredulous, recalled one, who supports the Nusra Front, a rival group that has Al Qaeda's official stamp of approval as its representative in the fight against President Bashar al-Assad. But the man on the truck replied, "We are here to establish the Islamic state, not to fight Assad."
Such disputes helped set off the infighting that has swept insurgent-held northern Syria for the past week, leaving more than 500 dead, as a broad array of factions have turned against the Islamic State of Iraq and Syria, known as ISIS, in a showdown over tactics, power and ideology within a Sunni jihadist movement that has drawn fighters from across the world.
The dispute has reverberated far beyond Syria's borders, analysts say, for instance carving the same divisions in the jihadist movement in Egypt between pragmatists and ideological purists from the austere Salafist movement.
In some places, like Raqqa, the fighting has even pitted the two Qaeda-inspired groups against each other. Nusra's leaders and supporters accuse ISIS of the grave error of focusing too soon on building a radical Islamic state, the ultimate goal for both groups, at the expense of the war against Mr. Assad. In the process, they say, it has alienated potential allies, civilians and militants alike.
While many here see the fighting as a wrestling match over the future character of the rebel opposition, experts say it has many other facets.
"It is a struggle for the heart and soul of jihadism, but it's also a dirty little turf war," said Aron Lund, who studies militant Islam and edits the Carnegie Endowment's Syria In Crisis website.
At stake is power in the insurgency and over daily life in rebel-held northern Syria, where ISIS has sought to impose draconian religious rules and clamp down on public protest. The outcome is unclear, and different factions are fighting for different scenarios, whether to eradicate ISIS or bring it into the fold as more a cooperative participant in the insurgency.
A decisive victory over ISIS could lift the Syrian opposition ahead of planned peace talks in Switzerland on Jan. 22, if disparate factions show a new unity and coordination that they could use to regain momentum against the government. The timing has prompted speculation that the coalition of rebel leaders in exile, which has steadily been losing influence, or its regional and Western backers have encouraged or supported the fighting.
The exile coalition hopes the battles will persuade the West that the insurgents, not Mr. Assad, can best stop Al Qaeda from establishing a base in the country. That security threat has made foreign powers, not to mention many Syrians, more open to accommodation with the government.
Advocates of increased Western aid to the rebels argue that the fighting shows that the Islamic Front, a collection of Islamist Syrian groups now fighting ISIS, is not a Qaeda-like threat. But many of its leaders, and even some in other groups that nominally answer to the exile coalition, say they have no quarrel with the main Qaeda affiliate, the Nusra Front.
Nusra, indeed, could be the main beneficiary of the scuffling. Taking a more pragmatic approach has helped Nusra recruit many Syrian fighters and could now enable it to cement alliances, rid itself of a rival for Qaeda-inspired donations, absorb foreign fighters fleeing ISIS and embed itself more deeply in society. In trying to mediate the dispute, it has also set itself up as peacemaker and power broker.
But Nusra has come in for its own share of criticism for clashes with rebel groups, killing civilians and branding minority Shiites and Alawites as the enemy. For the West and for secular Syrians, said Michael Hanna, an analyst at the Century Foundation, "Nusra, because they are more pragmatic, are a much more intractable problem."
The picture is further complicated by the fluidity of alliances. In the highly localized conflict, ISIS and its rivals remain united even now against Kurdish militias in the northeast. Fighters often switch factions, not always sharing the views of nominal leaders, and sometimes Qaeda trappings signify branding more than chain of command.
Some homegrown rebels say they are fighting ISIS to reclaim the insurgency from extremists and regain trust from supporters who want a pluralistic Syria. Others say they want to salvage an Islamist movement stained by the extreme brutality of ISIS and its zeal for attacking fellow Sunnis.
"They call themselves Qaeda because they know the young fighters love our great sheikh Osama bin Laden," said Abu Ibrahim al-Masri, an Egyptian fighter near the central city of Hama. He spoke in a video announcing that he was defecting from ISIS to Nusra because he had been ordered to kill civilians and members of the rebel Free Syrian Army instead of army soldiers and, as he put it, Alawites.
"We came to kill them, not to kill our brothers from the F.S.A.," he said.
Those sentiments fail to reassure Syria's religious minorities and others opposed to Islamic rule in a country long steeped in secular Arab nationalism. Syrian Muslims who are personally conservative tend to be more traditional than ideological and open to religious coexistence, though more and more are being radicalized during the nearly three-year war.
While the Nusra Front has rejected parliamentary democracy, it has also opposed the autocracy of ISIS in favor of a consultative approach to decision-making and for putting off politics until after the war, said Aymenn Jawad al-Tamimi, a fellow at the Middle East Institute.
The fight mirrors, in some ways, a demand of the original uprisings in 2011 for accountability from the powerful. A broad array of insurgents say they are simply fed up with the arrogance and abuses of a foreign-led faction that came late to the war, took over territory others had wrested from the government and posted street signs declaring Syrian towns part of its Islamic state. It provided some social services, but also arrested and executed hundreds of antigovernment fighters and civilians, and even used suicide bombs against other Islamist militants.
On Friday in the northern city of Aleppo, protesters in a district called Al Bab waved the green, white and black flag of the uprising, often replaced nowadays with the black flag of jihad. In a scene reminiscent of early protests against Mr. Assad, they chanted, "Al Bab is free, ISIS should go. The traitor is the one who kills his own people."
The next evening, people rushed to find food, even scarcer than usual because of roads blocked by new fighting, and get home by sunset. A civilian antigovernment activist, who gave only a first name, Shadi, said he initially welcomed ISIS, thinking they would be fierce fighters, but turned against them after they executed a young boy they accused of insulting the Prophet Muhammad.
"We expected the ISIS fighters to liberate the western part of the city," he said, "not deploy their fighters in the liberated areas and apply their religious rules on people."
But another Aleppo activist, Thaer, worried that without the iron rule of ISIS, chaos would worsen. "It will be like Chicago," he said, in the days of Al Capone.
A Syrian ISIS fighter, Abu Omar, recuperating from an injury in his family home nearby, said that the group would keep attacking its rivals. They were tools of the West, he said. "It is an American order to finish us."
Reporting was contributed by an employee of The New York Times from Aleppo, Syria, Karam Shoumali from Istanbul, and Hwaida Saad and Mohammad Ghannam from Beirut.
http://www.nytimes.com/2014/01/13/world/middleeast/syria-rebels-turn-against-most-radical-group-tied-to-al-qaeda.html?partner=rss&emc=rss
-------------
19 dead in mortar attack in central Syria
13 January 2014
Syrian state media and anti-government activists say a mortar attack has killed at least 19 people in the central city of Homs.
The official SANA news agency said late on Sunday that the mortar rounds slammed into the pro-government Ghouta and Karm al-Shami neighborhoods of Homs.
It blamed 'terrorists' for the attack, employing the term the government uses to describe those trying to topple President Bashar Assad.
The Britain-based Syrian Observatory for Human Rights activist group also reported the mortar attack in Homs.
Syria's civil war has killed more than 120,000 since the crisis began in March 2011.
http://www.thehindu.com/news/international/world/19-dead-in-mortar-attack-in-central-syria/article5573373.ece
------------
Muslim scholars urge to end Yarmouk siege
World Bulletin / News Desk
13 January 2014
International Unions for Muslim Scholars (IUMS) urges Arab and Muslim world to immediately intervene to break a siege by the Syrian regime forces on the Yarmouk Palestinian refugee camp in southern Damascus.
"The situation in Yarmouk camp is a crime against humanity," said the statement signed by head of the IUMS Youssef Al-Qaradawi and Secretary General Ali Al-Qaradaghi.
The statement underlined that Syrian President Bashar Assad is responsible for the siege of the camp and starvation of people is not acceptable for anyone with the slightest bit of mercy in their heart.
According to the Syrian Revolution General Commission (SRGC), around 48 Palestinians starved to death inside the camp besieged by President Bashar al-Assad's forces for 180 days so far.
The group lamented that the United Nations Relief and Works Agency for Palestine (UNRWA) is no longer able to deliver aid to the residents of the camp since last September.
Gaza's kids rally in solidarity with besieged Yarmouk camp in Syria
Scores of children staged a protest in Gaza City on Sunday to draw international attention to the sufferings of thousands of Palestinians in the Yarmouk refugee camp in the Syrian capital Damascus.
"This is a message of solidarity with the children of the Yarmouk camp who starve to death and cannot find a crumb of bread to eat," said Ali al-Turki, one of the protesting children.
The protesting students carried banners on which they wrote phrases calling on the international community to offer help to the camp residents, particularly children.
"They are besieged from all sides and bombs keep falling on them from every direction," al-Turki said in a speech on their behalf.
Around 41 Palestinians have reportedly been starved to death inside the camp, which has been besieged by President Bashar al-Assad's forces and loyal militias since September, according to the Action Group for the Palestinians of Syria.
As many as 20,000 Palestinians are reportedly under siege inside the camp, lacking food and medicines.
The Gaza children presented a play dramatizing the suffering of one family in the camp.
In the play a group of children reel under hunger, while their grandmother keeps trying to solace them before they die before her eyes.
"The screams resonating from the Yarmouk camp will haunt Arabs and Muslims," al-Turki said.
http://www.worldbulletin.net/?aType=haber&ArticleID=126801
------------
No light at end of tunnel for Syrian refugees in Europe
World Bulletin / News Desk
13 January 2014
As the Syrian civil war rages on into its third year, around 2 million Syrians have been forced to leave their country, fleeing from the violence that has killed around 140,000 people.
While most have settled as refugees in neighboring countries Lebanon, Turkey, Jordan and Egypt, many thousands have risked their lives to trek across land and sea to reach Europe.
The places in the Middle-East where they have sought refuge, such as Lebanon and Egypt, have struggled to take care of their Syrian brethren, usually due to political and economic problems of their own. On the other hand, the few who have reached European countries like Bulgaria, Greece and Italy have been locked up in detention camps, deported and left to beg on the streets.
Many have drowned attempting to cross the Mediterranean and Aegean Sea on overcrowded fishing boats. Others have spent everything they have to people smugglers to get into Europe.
NPR news spoke to some Syrian refugees who were staying at the Friedland refugee camp in Germany. One refugee said that he had spent $7,000 in total to get from Turkey to Greece. On arrival in Greece, he and his friends were severely beaten by police.
Although he was able to process his asylum application after arriving in Germany, he expressed his fear that he would be deported, as by European laws asylum seekers are supposed to apply via the country they first arrive in.
The UN has urged EU countries to stop deporting refugees, but with political pressure from anti-immigration far-right parties as well as the woes of the Eurozone, governments are continuing in their harsh treatment of refugees.
Friedland Camp coordinator Heinrich Hoernschemeyer told NPR News that the camp currently hosts 500 refugees from 10 countries, the largest group being Syrian. He felt that more needed to be done to help those who escaped the war in Syria, saying "My parents experienced war, and there were many Germans at the time who were happy to find refuge in other countries… We should remember that."
Currently there are approximately 10,000 Syrian refugees living in Germany. Half of them have passed through the Friedland Camp.
http://www.worldbulletin.net/?aType=haber&ArticleID=126831
-----------
Syrian family of 7 poisoned after eating cat meat
World Bulletin / News Desk
13 January 2014
A family of seven were hospitalized for food poisoning after eating cat meat at Yarmouk refugee camp which is under siege by Syria's Assad regime.
The Yarmouk Refugee Camp located in Damascus has recently witnessed another humanitarian tragedy when a family of seven including children were poisoned after having to eat cat meat so as not to starve to death.
The Syrian Revolution General Commission (SRGC) stated that delivery of food and humanitarian aid is not permitted in the camp under siege, where around 20,000 refugees live under dire conditions. Most of them are Palestinians.
Full report at:
http://www.worldbulletin.net/?aType=haber&ArticleID=126838
-----------
Saudi sentences Qaeda militant to death over US firm attack
13 January 2014
A Saudi court has sentenced to death an Al-Qaeda militant and jailed 10 others over a May 2004 attack that killed six Westerners and a policeman, state media reported.
The defendants, seven of whom are brothers, were convicted of aiding assailants who attacked a US company in the northwestern port town of Yanbu, killing two Americans, two Britons, an Australian and a Canadian, as well as a Saudi, SPA news agency said late Sunday.
The defendant who was sentenced to death was convicted of making explosives used in the attack and receiving training by a member of the group who was killed in the assault, SPA reported.
Full report at:
http://english.ahram.org.eg/NewsContent/2/8/91460/World/Region/Saudi-sentences-Qaeda-militant-to-death-over-US-fi.aspx
------------
Lebanon's ex-PM Hariri killing trial to open against bloody backdrop
13 January 2014
Four Hezbollah members go on trial in absentia this week at a UN-backed tribunal for the 2005 killing of Lebanese former premier Rafiq Hariri in a case increasingly overshadowed by sectarian bloodshed at home.
Nine years after a massive Beirut car bombing killed billionaire Hariri, leading to the exit of Syrian troops from Lebanon, and three years into Syria's own bloody civil war, prosecutors are finally to open their case on Thursday in a suburb of The Hague.
The seafront bombing killed 22 people besides Damascus opponent Hariri and wounded 226, leading to the establishment by the UN Security Council of the Special Tribunal for Lebanon (STL) in 2007.
Full report at:
http://english.ahram.org.eg/NewsContent/2/8/91462/World/Region/Lebanons-exPM-Hariri-killing-trial-to-open-against.aspx
--------
Africa
CAR cannibal tells BBC: I ate man in revenge attack
13 January 2014
A man who ate another man's flesh in the Central African Republic has told the BBC he was seeking "revenge" for the murder of family members.
Ouandja Magloire, who calls himself "Mad Dog", was in a Christian mob who attacked a Muslim in the capital.
He said he had been "angry" because Muslims killed his pregnant wife, his sister-in-law and her baby.
Sectarian violence has been on the rise since rebels installed the country's first Muslim leader in March 2013.
Michel Djotodia stepped down as president on Friday after intense regional pressure.
About 20% of the country's 4.6 million people are said to have fled their homes, leading to warnings of a humanitarian catastrophe.
Full report at:
http://www.bbc.co.uk/news/world-africa-25708570
----------
31 killed in tribal clashes in southern Libya
13 January 2014
Three days of fighting between tribes in a restive city in southern Libya killed 31 people, the country's Health Ministry reported today, as gunmen assassinated the country's deputy minister of electricity in a separate attack.
The fighting pitted the African-origin Tabu tribe against the Arab-origin Awlad Soliman tribe in the city of Sabha, some 650 kilometres south of Tripoli. The ministry said the fighting, which began Friday, also wounded 65 people.
A local leader said yesterday that the fighting was sparked by the killing of a guard of the city's military leader, a member of the Awlad Soliman tribe, in retaliation for 2012 killings of dozens of Tabu men.
Full report at:
http://www.siasat.com/english/news/31-killed-tribal-clashes-southern-libya
----------
South Sudan army says advancing on last rebel stronghold
13 January 2014
Government troops in South Sudan were advancing Monday on the flashpoint town of Bor, the last state capital still in rebel hands, the army spokesman said.
"Bor is still in the hands of the rebels but our forces are still moving towards it," Colonel Philip Aguer said.
Bor, situated some 200 kilometres (125 miles) north of Juba and capital of the restive Jonglei State, has already changed hands three times since fighting broke out in South Sudan one month ago.
The fighting is between forces loyal to President Salva Kiir and a loose coalition of army defectors and ethnic militia nominally headed by Riek Machar, a former vice president and seasoned guerilla fighter.
Full report at:
http://english.ahram.org.eg/NewsContent/2/8/91469/World/Region/South-Sudan-army-says-advancing-on-last-rebel-stro.aspx
----------
Hundreds of deserting CAR troops return to their command
13 January 2014
Hundreds of deserting Central African Republic soldiers and police returned to their commands on Monday as the interim president said "the party is over" following weeks of deadly sectarian violence.
The soldiers and police had deserted for fear of being killed or joined a Christian militia who had opposed Michel Djotodia, the mainly Christian country's first Muslim president who resigned Friday under international pressure.
Soldiers, almost all of them in civilian clothes, were seen by AFP signing up for duty at a building in the capital Bangui after chief of staff General Ferdinand Bomboyeke urged the troops to return to barracks by Monday.
Full report at:
http://voiceofrussia.com/news/2014_01_13/Hundreds-of-deserting-C-Africa-troops-return-to-their-command-9095/
-----------
Leader of Libya's Barqa region survives assassination bid
World Bulletin / News Desk
13 January 2014
The leader of the self-declared administration in Libya's oil-rich eastern Barqa region survived an assassination attempt late Sunday.
An unidentified gunman broke into the home of Abd Rabbu al-Baarasi, head of the so-called Barqa Executive Office, in the eastern city of Al-Bayda, before being overpowered, a close aide of al-Baarasi told Anadolu Agency on Monday.
The gunman is currently being questioned on his motives and those behind the botched assassination plot, added the aide, who asked to remain anonymous.
Full report at:
http://www.worldbulletin.net/?aType=haber&ArticleID=126815
----------
India
Indian activist launches anti-dowry matrimonial service
13 January 2014
Dubai, January 13: A prominent Indian social activist in Saudi Arabia has launched a matrimonial website to help South Asian expatriates, who are against the dowry system, find suitable matches.
Aleem Khan Falki, the founder of the Jeddah-based Socio Reforms Society and who has been actively campaigning against the dowry system for a long time, has launched the unique matrimonial service website, simplenikah.com, for dowry-free marriage seekers, the Arab News reported Monday.
Falki said the main intention behind establishing the website was to provide non-commercial, economical service with the ultimate purpose of eradicating the dowry system.
"This form of blackmail has increased so much that it has taken the shape of a social blackmail," Falki said.
Full report at:
http://www.siasat.com/english/news/indian-activist-launches-anti-dowry-matrimonial-service
----------
Disappointment over the cancellation of Dr Tahir-ul-Qadri's visit to India
13 January 2014
Srinagar: There is disappointment in Kashmir over the cancellation Dr Muhammad Tahir ul-Qadri's visit to India.
The internationally reputedIslamic Scholar, who is often marred in controversies, and the chief of Minhajul Quran International Dr Muhammad Tahir ul-Qadri adjourned his visit to India after some visa issues.
After hearing this news there appears to be is disappointment amongst of his followers in India in general and in Kashmir particular.
Official sources in the Union home Ministry said that Dr Qadri's visa has been held back because of Intelligence Bureau's note. "We have not been told on what ground the IB has not cleared it," sources added.
Full report at:
http://www.muslimawaz.com/disappointment-over-the-cancellation-of-dr-tahir-ul-qadris-visit-to-india/
------------
Muslims better off than dalits in Bihar: Survey
Agencies | Jan 13, 2014
PATNA: The socio-economic condition of Muslims in the state of Bihar is better than that of the state's dalit Hindus in most districts, but worse than the upper-caste Hindus and Other Backward Castes (OBCs), a survey has found.
"Muslims are better placed in comparison to dalits in 31 of 37 districts of Bihar, but Muslims are at the bottom at the national level," Abusaleh Shariff, chairperson of the Delhi-based Centre for Research and Debates in Development Policy, said on the basis of a survey conducted by the Centre in collaboration with the US-India Policy Institute based in Washington DC.
Full report at:
http://timesofindia.indiatimes.com/india/Muslims-better-off-than-dalits-in-Bihar-Survey/articleshow/28721691.cms
-----------
India, U.S. to move WHO resolution on addressing violence against women
Jan 13, 2014
It urges member-states to address the issue in national health plans and reinforce legal framework
India and the United States will jointly move a resolution to address violence, particularly against women and girls, at the Executive Board meeting of the World Health Organisation in Geneva later this month.
The resolution on "The role of health sector in addressing violence, particularly against women and girls" will be supported by Belgium, Mexico, the Netherlands, Norway and Zambia.
Full report at:
http://www.thehindu.com/news/national/india-us-to-move-who-resolution-on-addressing-violence-against-women/article5571913.ece
---------
Pakistan
Interior Minister: 'Good Taliban' Welcome, 'Bad Taliban' To Face War
13 January 2014
ISLAMABAD: Interior Minister Chaudhry Nisar Ali Khan stated on Sunday that negotiations with the Taliban were the government's top priority and serious efforts are being made in this regard, but warned that the militants unwilling to hold talks will be dealt with sternly.
Talking to newsmen in Islamabad on Sunday evening' Nisar said the government was entrusted with holding talks with the Taliban by the political leadership of the country during the all-parties conference. He said that the country was passing through a delicate phase and there was a need to have complete unanimity of views and consensus on the strategy to deal with the challenge of terrorism and violence.
The interior minister called upon the Taliban factions opposing the peace process to grow out of their mindset and respond positively to the gestures of the government. "I urge Taliban groups who are refusing to hold dialogue that the path of Islam is the path of welfare and peace, and not of bullet." Nisar said that both talks and military operation against the Taliban are difficult tasks, as they are not a party or force which is in front of us. He said we are tolerating a lot of unjustified criticism for talks with Tehreek-e-Taliban.
Full report at:
http://www.dailytimes.com.pk/islamabad/13-Jan-2014/ch-nisar-says-sincere-efforts-underway-to-bring-taliban-to-table-good-taliban
------------
Separatist literature, maps recovered by FC in Turbat raid
January 13, 2014
QUETTA: A large quantity of anti-Pakistan literature as well as maps of a separate Balochistan were recovered during a raid of Attashad Degree College in Turbat district of Balochistan, Express News reported on Monday.
A Baloch student had reportedly taken over a hostel in the college and a Frontier Corps (FC) spokesperson claims he was brainwashing students to conduct acts of terrorism in the country.
The recovered material included separatist leaflets, banners and posters. The books include Nehru and Gandhi's biographies as well as books about Baloch separation. The books were printed in Karachi and neighbouring countries.
Full report at:
http://tribune.com.pk/story/658459/separatist-literature-maps-recovered-by-fc-in-turbat-raid/
------------
Karachi operation's focus turns to militant outfits
January 13, 2014
KARACHI: An operation against target killers, extortionists and other anti-state elements by law enforcement agencies has turned its focus to banned militant outfits following the suicide attack that killed SP Chaudhry Aslam Khan and his colleagues on Thursday, The Express Tribune has learnt.
"Right now, we want to nab the killers of Shaheed Chaudhry Aslam. These elements are a serious threat to law and order in the city," said a senior police officer on the condition of anonymity.
On Sunday, evidence collected from the crime scene was sent to Islamabad for forensic examinations while law enforcement agencies have also investigated employees of SP Aslam at his home and office. "We have interrogated his guards as part of an investigation into his death," the officer added.
Full report at:
http://tribune.com.pk/story/658375/widening-the-net-karachi-operations-focus-turns-to-militant-outfits/
------------
Two security men, four civilians shot dead in Balochistan
2014-01-13
QUETTA: Six people, including two security personnel, were gunned down in different parts of Balochistan on Sunday. Official sources said the body of a constable of Balochistan Constabulary was found in a plastic bag in the eastern bypass area of Quetta.
The constable, identified as Sajjad Ali, was kidnapped and tortured before being killed.
A man was shot dead in Kharotabad, a locality on the outskirts of the provincial capital.
Police identified the deceased as Ali Ahmed Alkozai.
Full report at:
http://www.dawn.com/news/1080166/two-security-men-four-civilians-shot-dead-in-balochistan
------------
Child among four killed by security forces: rights body
014-01-13
QUETTA: A human rights organisation has alleged that security forces have recently kidnapped and killed five persons, a 10-year-old boy among them, in Dera Bugti and Turbat.
Addressing a protest rally in Turbat on Sunday, representatives of the Baloch Human Rights Organisation appealed to international human rights bodies to take notice of the killing of four 'innocent' men of Dera Bugti and the child, Chakar Baloch, of Turbat.
Full report at:
http://www.dawn.com/news/1080164/child-among-four-killed-by-security-forces-rights-body
------------
JuD-hosted seminar sees foreign hand behind sectarian strife
2014-01-13
ISLAMABAD: Speakers at a seminar organised by Jamaat-ud-Dawa on Sunday said that sectarian hatred was being fuelled in the country by "foreign forces" to thwart peace talks between the government and Taliban.
"The United States and India do not want to see peace and progress in Pakistan. Therefore, they have created unrest in the country. For this purpose India has established a camp in Afghanistan in connivance with the US," said JuD chief Hafiz Saeed while addressing the seminar on "Challenges being faced by Muslims" held at a local hotel. After 9/11, he said, India joined hands with the US and obtained maximum benefits from the 'war on terror' as Americans ignored human right violations in Kashmir.
Full report at:
http://www.dawn.com/news/1080171/jud-hosted-seminar-sees-foreign-hand-behind-sectarian-strife
------------
Youth Peace Rally: 'No room for strategic mistakes for Pakistan in peace-building'
13 January 2014
LAHORE: The speakers and participants of a 'Youth Peace Rally' on Sunday called upon the government to remember the victims of terrorism while brokering peace accord in the country.
The rally was organised by the National Commission of Justice and Peace (NCJP), however due to security reasons it was concluded just after a seminar at St. Anthony Church.
Director NCJP Peter Jacob, National Director NCJP Emmanuel Yousuf Mani, Deputy Director South Asia Partnership Pakistan (SAP PK) Irfan Mufti, human rights activists, representative of NGOs and a large number of youth were present on occasion.
Speakers said the plight of the victims should rather be given credence in any dialogue with their proper representation in it. Speakers said that youth in Pakistan should prepare themselves to shoulder the responsibility to respond to the situation with understanding and ownership.
Full report at:
http://www.dailytimes.com.pk/national/13-Jan-2014/youth-peace-rally-no-room-for-strategic-mistakes-for-pakistan-in-peace-building
------------
Chaudhry Aslam's assassination: TTP see nomination of its leaders as a 'reward'
January 13, 2014
ISLAMABAD: The Tehreek-e-Taliban Pakistan (TTP) patted itself on the back on Sunday after its chief Mullah Fazalullah and spokesman Shahidullah Shahid were named in the FIR lodged over the killing of police officer Chaudhry Aslam.
"It is a reward for us that Tehreek-e-Taliban Ameer and its central spokesman Shahidullah Shahid have been nominated in the murder case of Chaudhry Aslam. With the grace of Allah Almighty we are not the killers of a weak person but nominated for killing a powerful man," the Taliban said in a statement.
The TTP spokesman for its Mohmand Agency's chapter, Sajjad Mohmand told The Express Tribune that the TTP Mohmand agency chief, Omar Khalid Khurasani had issued special instructions to kill Chaudhry Aslam as he had also killed some of their Taliban in 'fake encounters'.
Full report at:
http://tribune.com.pk/story/658373/chaudhry-aslams-assassination-ttp-see-nomination-of-its-leaders-as-a-reward/
------------
Mideast
Muslim world joins Palestinians in denouncing Sharon
13 January 2014
Middle East reactions to the death of former Israeli prime minister Ariel Sharon followed the lead of the prompt Palestinian expressions of joy and denunciation on Saturday.
However, official Arab sources remained silent on Sharon's death, Turkey's Anadolu Agency tweeted.
Obituaries of the fallen Israeli leader could be found in much of the press of the Middle East, with emphasis often put on his actions against the Palestinians and on the Israeli invasion in Lebanon where the Sabra and Shatila massacre by Lebanese Christian militiamen took place.
A Human Rights Watch statement published on Saturday, saying Sharon "died without facing justice for his role" in the killings, gained widespread attention in the Middle Eastern press and social media.
Full report at:
http://www.jpost.com/Middle-East/Muslim-world-echoes-Palestinian-expressions-of-joy-at-Sharons-passing-337908
------------
Soldiers among 28 suspects arrested in prostitution ring in south-eastern Turkey
13 January 2014
Twenty-eight suspects, including eight soldiers, have been arrested during a police operation against a prostitution ring in the southeastern province of Şırnak.
Security forces organized two separate operations with simultaneous raids in Diyarbakır and Van in the last 20 days, arresting 28 of the 40 suspects taken in the custody, Şırnak Police Department said Jan. 12. Many of the victims exploited by the network were children, according to the prosecutors.
Full report at:
http://www.hurriyetdailynews.com/soldiers-among-28-suspects-arrested-in-raids-against-prostitution-ring-in-southeastern-turkey.aspx?pageID=238&nID=60949&NewsCatID=341
------------
Iran's Zarif to visit Syria ahead of peace talks
13 January 2014
Iranian Foreign Minister Mohammad Javad Zarif is due to travel to Tehran ally Damascus in the next few days, media reported Jan. 12, amid preparations for a Syria peace conference.
Zarif was Jan. 12 in Lebanon, which neighbours war-torn Syria, and said that his country is not seeking an invitation at all costs to the peace conference to be held in Switzerland on January 22.
He is visiting Lebanon as part of a regional tour that will also take him to Iraq, Jordan and Syria, Iran's official Al-Alam Arabic-language television said, without giving further details.
"If we receive an invitation without any preconditions, we will participate in the 'Geneva 2' peace conference, but we won't act in order to receive an invitation," Zarif said in Beirut.
U.N. chief Ban Ki-moon last week sent invitations to 30 countries to attend the conference, but did not include Iran, the main regional backer of Syrian President Bashar al-Assad's regime.
Full report at:
http://www.hurriyetdailynews.com/irans-zarif-to-visit-syria-ahead-of-peace-talks.aspx?pageID=238&nID=60944&NewsCatID=352
------------
Israel to spend billions on initiative to bolster Jewish identity in Diaspora
13 January 2014
Details of the government's plan to invest billions of dollars over the next two decades to bolster the Jewish identity of Diaspora Jews have been revealed to The Jerusalem Post by senior officials.
"In Israel, we typically view the world as a source of aliya [immigration] and a big fat wallet, and that's got to change," Jerusalem and Diaspora Affairs Minister Naftali Bennett said last year when the plan was first unveiled. The effort represents Israel's new approach to the Diaspora.
Full report at:
http://www.jpost.com/Jewish-World/Jewish-News/Israel-to-spend-billions-on-initiative-to-bolster-Jewish-identity-in-Diaspora-337959
------------
Iran nuclear deal to enter into force on 20 January
13 January 2014
An interim agreement to curb Iran's nuclear programme will enter into force on 20 January, it has been announced.
The deal, agreed in talks with world powers in November, envisages easing of some international sanctions on Tehran.
US President Barack Obama welcomed the news but said more work was needed to strike a long-term deal. He threatened new sanctions if there was a breach.
The West accuses Iran of seeking nuclear weapons, but Tehran has consistently denied that.
The EU's foreign policy chief Catherine Ashton said the world powers would now ask the United Nations' nuclear watchdog (IAEA) to verify the deal's implementation.
Baroness Ashton represents the five permanent members of the UN Security Council - US, Russia, China, France and Britain - plus Germany in the talks with Iran.
Full report at:
http://www.bbc.co.uk/news/world-middle-east-25706409
------------
North Yemen fighting has killed at least 210 in two months, Salafis say
13 January 2014
At least 210 people have been killed in two months of fighting between Shi'ite Muslim Houthis and Sunni Salafis in northern Yemen, a Salafi spokesman said on Monday.
The violence erupted on Oct. 30 when the Houthi rebels who control much of the northern Saada province accused Salafis in the town of Damaj of recruiting thousands of foreign fighters to prepare to attack them.
Full report at:
http://english.ahram.org.eg/NewsContent/2/8/91478/World/Region/North-Yemen-fighting-has-killed-at-least-,-Salafis.aspx
----------
Europe
Campaigners ask ICC to investigate alleged UK war crimes in Iraq
Reuters | Jan 12, 2014
LONDON: Human rights lawyers and campaigners have asked the International Criminal Court (ICC) to investigate allegations of torture by British troops in Iraq, a move which the UK government dismissed as unnecessary on Sunday.
A Berlin-based human rights group and a British law firm have submitted what they describe as 250 pages of analysis to the ICC's Office of the Prosecutor requesting action on alleged abuses between 2003 and 2008.
The European Centre for Constitutional and Human Rights (ECCHR) and Public Interest Lawyers (PIL) said in a press release posted on the ECCHR website that there had been "systemic abuse" of Iraqi detainees during the British presence in Iraq which met the threshold of war crimes.
Full report at:
http://timesofindia.indiatimes.com/world/middle-east/Campaigners-ask-International-Criminal-Court-to-investigate-alleged-UK-war-crimes-in-Iraq/articleshow/28709531.cms
------------
Montenegro Bosniaks wish to see Muslim symbols on flag
World Bulletin / News Desk
13 January 2014
Suljo Mustafic, the deputy prime minister of Montenegro and leader of the country's Bosniak Party, has called for Montenegro to include symbols representing its native Bosniak Muslim community in its national flag.
"Adherents of Islam are indigenous inhabitants here, they have been for centuries, and they built Montenegro. They are part of Montenegrin social reality and are seeking to express it through the symbols of our country," he told state broadcaster RTCG.
Full report at:
http://www.worldbulletin.net/?aType=haber&ArticleID=126836
--------
Army imam says British Muslims can be good soldiers
13 January 2014
The British armed forces' first Muslim chaplain says there is no conflict in being a Muslim and fighting for Britain.
Imam Asim Hafiz, an Islamic adviser to the Ministry of Defence, says Islam encourages the defence of life and country.
Muslims in the British military have been criticised by hardliners within the community, who have viewed their involvement in the conflicts in Afghanistan and Iraq as a betrayal of their faith.
Last month two men were convicted of murdering Lee Rigby, a British soldier, outside Woolwich barracks in south-east London.
They are due to be sentenced later this month.
Mr Hafiz, who was appointed by the MoD in 2005 and is one of two Muslim chaplains, says of the Afghanistan conflict: "There is no doubt a misunderstanding among the Muslim community that this is somehow a war against Islam.
Full report at:
http://www.bbc.co.uk/news/uk-25680656
------------
Iran must be invited to Geneva-2 for sake of cause, not ideology - Lavrov
13 January 2014
Russian Foreign Minister Sergei Lavrov has called on United Nations Secretary General Ban Ki-moon not to be guided by "ideological reasoning" in making decisions about sending invitations to the Geneva-2 conference on Syria.
"I hope that the (UN) secretary general will make the right decision. After all, one cannot be under the influence of ideological reasoning so much so that it harms the interests of the cause," Lavrov told a press conference in Paris on Monday, when speaking of the need to invite Iranian and Saudi representatives to the Geneva-2 conference.
http://voiceofrussia.com/news/2014_01_13/Iran-must-be-invited-to-Geneva-2-for-sake-of-cause-not-ideology-Lavrov-4486/
----------
Russia may build new nuclear power blocks at Iran's Bushehr
13 January 2014
Russia is currently in talks to agree construction of new nuclear power units at Iran's Bushehr nuclear power plant, Rosatom chief Sergei Kirienko has said.
"The Iranian government is discussing possible expansion of Bushehr. For that reason, given of course compliance with all international norms and regulations, this [construction] is entirely possible," he said.
Iran is one of the countries that Rosatom views as a potential source of orders to build new power blocks, Kirienko said. Rosatom is currently discussing construction of about 40 nuclear power blocks in countries around the globe, he said.
Full report at:
http://voiceofrussia.com/news/2014_01_13/Russia-may-build-new-nuclear-power-blocks-at-Irans-Bushehr-5568/
----------
UN chief in Iraq for talks on Syria war
13 January 2014
UN Secretary General Ban Ki-moon arrived in Baghdad Monday for talks with senior Iraqi officials on the war in neighbouring Syria, as Iraq grapples with its own deadly crisis.
Ban, whose arrival was confirmed by Iraqi state television and the UN's official Twitter feed, was due to meet Prime Minister Nuri al-Maliki and Foreign Minister Hoshyar Zebari.
The talks were to concentrate on the situation in the Middle East and in particular the bloodshed in Syria, Maliki's office said in a statement.
Ban was also due to give a news conference later on Monday.
His visit comes ahead of peace conference next week on the Syrian crisis in Switzerland dubbed "Geneva 2" which is aimed at engaging regime and opposition members in their first direct talks.
Full report at:
http://english.ahram.org.eg/NewsContent/2/8/91480/World/Region/UN-chief-in-Iraq-for-talks-on-Syria-war.aspx
------------
Russia: Assad mulling open humanitarian access
Jan 13, 2014
PARIS (AP) — Syria's government and the opposition have agreed to consider opening humanitarian access in the run-up to a peace conference that would bring the sides together for the first time, the top diplomats for Russia and the U.S. said Monday.
Speaking in the midst of a two-day series of meetings in Paris, Russian Foreign Minister Sergey Lavrov and U.S. Secretary of State John Kerry also said they were pressing for a cease-fire and prisoner exchange between the warring sides.
But Syria's government derided the meetings in Paris, saying in a statement they were "closer to illusions than reality and taken by people who are detached from reality and extremely far from any acceptable political logic." Russia has been one of Syria's closest allies.
And Lavrov questioned whether the Western-backed opposition — which has not yet agreed to attend peace talks and has limited influence inside Syria — was willing or able to carry out agreements in the face of intense infighting that has pitted al-Qaida-linked militants against more moderate factions. Nearly 700 rebel fighters have died in recent days.
Full report at:
http://news.yahoo.com/russia-assad-mulling-open-humanitarian-access-105545529.html
----------
Australia
Thousands 'must go to Syria to join fight'
13 January 2014
THOUSANDS of Australians should be travelling to Syria to take up arms against President Bashar Al-Assad and provide aid to victims of the conflict, according to the Sydney Islamic Centre boss who helped establish the local Millatu Ibrahim brand.
Wisam Haddad, the owner of former bookstore Al-Risalah in western Sydney, also claimed that the centre's bank accounts that were used to send money for humanitarian aid to Syria and Egypt had been shut down and that ASIO had been on to him as soon as he began using the Millatu Ibrahim name.
http://www.theaustralian.com.au/national-affairs/policy/thousands-must-go-to-syria-to-join-fight/story-fn59nm2j-1226800168377#
-----------
South Asia
Talks possible if BNP cuts tie with Jamaat-e-Islami: Bangladesh Minister
13 January 2014
Dialogue with BNP to end the ongoing political deadlock is possible only if it severs tie with Jamaat-e-Islami, newly inducted Health and Family Welfare Minister Mohammad Nasim said today.
Awami League will take positive steps to create congenial atmosphere for holding talks with BNP, the minister said after joining his office for the first day.
Nasim also thanked BNP Chairperson Khaleda Zia for withdrawal of countrywide blockade from today.
Full report at:
http://www.thedailystar.net/talks-possible-if-bnp-cuts-tie-with-jamaat-nasim-6695
------------
Bicycle bomber kills two Afghan policemen
13 January 2014
TWO policemen have been killed and at least 20 people injured in a suicide bombing of a bus in eastern Kabul for which the Taliban claimed responsibility.
"The bomber was riding a bicycle and blew himself up next to the bus carrying police officers home," said Hashmat Stanikzai, a Kabul police spokesman.
A police trainer and cadet were killed, he said.
Three children were among the injured, but the exact number of civilians injured was not clear.
Full report at:
http://www.theaustralian.com.au/news/latest-news/bicycle-bomber-kills-two-afghan-policemen/story-fn3dxix6-1226800299680
------------
80 militants join peace process in northern Afghanistan
Jan 13 2014
According to local authorities in northern Baghlan province of Afghanistan, at least 80 anti-government armed militant groups joined peace process in this province.
The officials further added that the militants were previously carrying anti-government insurgency activities in Deh Salah district of Baghlan province.
Provincial high peace council chief, Abdul Samad Stanekzai, said the militants joined peace process due to efforts by Afghan intelligence – National Directorate of Security (NDS) officials.
Mr. Stanekzai further added that the surrender of the militants will have a positive impact on security situation of Deh SAlah and other districts of Baghlan province.
Full report at:
http://www.khaama.com/88-militants-join-peace-process-in-northern-afghanistan-2690
------------
Hekmatyar calls on party members to take part in Afghan elections
13 January 2014
The leader of the Hezb-e-Islami Party of Afghanistan, Gulbuddin Hekmatyar, in a surprise move asked his party members to participate in the upcoming presidential elections.
Hekmatyar whose militnt outfit is fighting the US-led coalition forces in Afghanistan, had previously opposed the elections in the presence of foreign forces.
"Convey to Hizb-e-Islami members to take part in the provincial councils' elections and support those candidates who are either related to us or have a positive view about the party," Hekmatyar said in a letter which was obtained by the Pakistani newspaper The Express Tribune.
Full report at:
http://www.khaama.com/hekmatyar-calls-on-party-members-to-take-part-in-afghan-elections-2688
------------
Maldives President ratifies Right to Information Act
By Zaheena Rasheed | January 12th, 2014
President Abdulla Yameen Abdul Gayoom has ratified the landmark Right to Information (RTI) Act today.
Advocacy NGO Transparency Maldives has hailed the ratification of the act as "major step forward for good governance and transparency."
The act (Dhivehi) aims to widen and improve the scope for the citizen's rights to information in order to increase transparency and accountability.
Within six months of ratification, the president is mandated to appoint a Commissioner of Information to enforce the act, while the government is obliged to appoint an Information Officer at every government office to facilitate access to information.
Full report at:
http://minivannews.com/politics/president-ratifies-right-to-information-act-74932
------------
Sri Lanka monks rally against Muslims
World Bulletin / News Desk
13 January 2014
A group of hardline Buddhist monks is rallying Sri Lankans against Muslims.
In just over a year, the saffron-swathed monks of Bodu Bala Sena — or Buddhist Power Force — have amassed a huge following, drawing thousands of fist-pumping followers who rail against the country's Muslim minority.
Buddhists have attacked dozens of mosques and called for boycotts on Muslim-owned businesses and bans on headscarves and halal foods in the past years. At boisterous rallies, monks claim Muslims are out to recruit children, marry Buddhist women and divide the country.
Full report at:
http://www.worldbulletin.net/?aType=haber&ArticleID=126837
--------
North America
US: Nigerian Islamic uprising could spread
13 January 2014
LAGOS, Nigeria (AP) — An alarming U.S. travel advisory warns Nigeria's Islamic uprising could expand out of the north and counsels against travel to 16 of the West African nation's 36 states, saying Americans have suffered violent crimes from kidnappings and rape to home invasions.
The advisory says nine foreign nationals including Americans died last year in kidnappings in southwest Nigeria, three of them killed by their captors during military-led rescue raids.
The advisory posted at the U.S. State Department website and dated Jan. 8 tells citizens to expect little help from law enforcers known for harassing and shaking down foreigners and Nigerians at checkpoints.
Full report at:
http://news.yahoo.com/us-nigerian-islamic-uprising-could-spread-092109373.html
-----------
Russia, US completely agree that resolving Syrian crisis should be peaceful- Kerry
13 January 2014
Russia and the US have completely agreed that resolving Syrian crisis should be peaceful, and that any military interference is inacceptable, US Secretary of State John Kerry said during a press conference after negotiations with Russian Foreign Minister Sergei Lavrov.
The United States is ready to agree to Iran's participation in the international conference on Syria, if Tehran confirms its willingness to comply with the terms of the Geneva communique, US Secretary of State John Kerry said.
Iran must state whether or not it is going to comply with the terms of the Geneva communique, he said.
The United States will approve Iran's participation if Iran confirms that it will participate in the conference strictly within the framework of the goals set for conducting the Geneva conference, he said after talks with Russian Foreign Minister Sergei Lavrov and United Nations Special Envoy to Syria Lakhdar Brahimi.
Full report at:
http://voiceofrussia.com/news/2014_01_13/Russia-US-completely-agree-that-resolving-Syrian-crisis-should-be-peaceful-military-interference-is-inacceptable-Kerry-9876/
----------
Syrian authorities ready to assist humanitarian aid supplies to the country - Kerry
13 January 2014
The Syrian authorities are ready to assist in providing access for humanitarian aid in the country and have informed Russian Foreign Minister Sergei Lavrov of this, US Secretary of State John Kerry said.
Access of humanitarian aid is another important issue and Lavrov has informed the United States of his dialogue on this regard with the Syrian authorities, Kerry said at a news conference in Paris on Monday.
Full report at:
http://voiceofrussia.com/news/2014_01_13/Syrian-authorities-ready-to-assist-humanitarian-aid-supplies-to-the-country-Kerry-5839/
----------
Iran to implement nuclear deal as Obama repeats Congress sanctions plea
13 January 2014
Iran will begin eliminating its stockpile of highly enriched uranium in eight days' time, after negotiators in Geneva reached an agreement on how to implement the interim nuclear deal reached in November.
The six-month deal, under which Iran has agreed to freeze and even curb some nuclear activities in return for an easing of sanctions, will come into force on 20 January.
"As of that day, for the first time in almost a decade, Iran's nuclear programme will not be able to advance, and parts of it will be rolled back, while we start negotiating a comprehensive agreement to address the international community's concerns about Iran's programme," the US secretary of state, John Kerry, said in a statement.
Full report at:
http://www.theguardian.com/world/2014/jan/12/iran-begin-implementation-nuclear-deal
-----------
Kerry says Israeli-Palestinian peace process at 'critical point'
13 January 2014
US Secretary of State John Kerry told Arab League foreign ministers late Sunday that Washington was determined to bring Israel and the Palestinians together in an effort to end the decades-long conflict.
"As I made clear in my discussions with the Arab foreign ministers today, we really are at a critical point, as Palestinians and Israeli leaders grapple with difficult and challenging decisions that lie ahead," Kerry said.
"Through the course of the last five months, President Abbas and Prime Minister Netanyahu have both demonstrated courageous and determined leadership," the secretary said. "They've made tough choices, and they are contemplating even tougher choices in the weeks ahead."
"The Arab foreign ministers made clear to me that they support Israeli and Palestinian leaders' efforts to take the next bold, courageous steps of agreeing to a framework for permanent status negotiations."
Full report at:
http://www.jpost.com/Diplomacy-and-Politics/US-denies-Kerry-pressing-Arab-League-to-recognize-Israel-as-Jewish-state-337969
-----------
NSA mass surveillance pretty useless in battle against terrorism – research
Jan 13, 2014
Mass surveillance of the National Security Agency (NSA) on people and world leaders have been making headlines for half a year throughout the globe, yet these security programs did little in battle against terrorism, concludes the study by the New America Foundation, a Washington-based nonprofit group.
The study of 225 terrorism cases inside the US after 9/11, which is to be released Monday, corroborates the findings of a White House-appointed review group, which said last month that the NSA counterterrorism program "was not essential to preventing attacks" and that much of the evidence it did turn up "could readily have been obtained in a timely manner using conventional [court] orders."
Full report at:
http://voiceofrussia.com/2014_01_13/NSA-mass-surveillance-pretty-useless-in-battle-against-terrorism-research-3669/
-----------
Southeast Asia
'Jihad' in education crucial to build strong human capital base: Malaysian PM
13 January 2014
Prime Minister Datuk Seri Najib Abdul Razak (pix) said 'jihad' in education is crucial to lift the status of Malaysians and to achieve developed nation status.
The premier said Malaysian society has yet to fight tooth and nail to achieve success in education to develop excellent human capital. Countries such as South Korea and Japan strongly emphasised education to produce excellent human capital due to lack of natural resources.
"What are we lacking? Lack of enthusiasm to succeed," he said at the award presentation ceremony for UPSR and PMR excellent students in Pekan parliamentary constituency, here today.
Full report at:
http://www.thesundaily.my/news/927325
------------
For Aceh's religious minorities, little room to pray
13 January 2014
In Aceh Province, Christians are a tiny minority-- just 1.2% of the population, according to 2010 census data.
Only three churches exist in the provincial capital and although Aceh's Christian population is growing, both stringent permit requirements and pressure from the Islamic Defenders Front (FPI) have made it hard for religious minorities to build worship places here, observers say.
In October 2012, the Banda Aceh administration ordered closed nine places of worship belonging to Christians and Buddhists, citing failure to comply with permitting laws. Six closures followed FPI demonstrations demanding the city shut down the venues.
Six months earlier, public pressure from hard-liners led to a similar move by Singkil Regency in southern Aceh, to close 17 Christian worship sites.
Full report at:
http://khabarsoutheastasia.com/en_GB/articles/apwi/articles/features/2014/01/10/feature-04
------------
Bad faith if The Heat is suspended indefinitely, says former human rights chief
13 January 2014
Putrajaya cannot suspend weekly news publication The Heat indefinitely as it will be seen as acting in bad faith, said a former human rights commissioner three weeks after the newspaper was taken off the streets.
Tan Sri Abu Talib Othman , who once headed the Human Rights Commission, said this was unfair to the weekly's licence holder and those employed with the newspaper.
"It will affect the business operation of the publisher and livelihood of those employed in the company," he told The Malaysian Insider in response to the Home Ministry which has yet to announce its decision whether to lift The Heat's suspension or revoke the licence.
Abu Talib said any suspension of a publication must be within a reasonable time frame.
"If not, this can be construed as the ministry acting in bad faith (mala fide)," he said.
However, he noted that what would be considered a reasonable time would depend on the facts of each case.
Full report at:
http://www.themalaysianinsider.com/malaysia/article/bad-faith-if-the-heat-is-suspended-indefinitely-says-former-human-rights-ch
-----------
URL: https://www.newageislam.com/islamic-world-news/new-age-islam-news-bureau/al-qaida-syria-unit-executes-dozens-of-rivals-in-raqqa--reports/d/35262