New Age Islam News Bureau
12 Jun 2014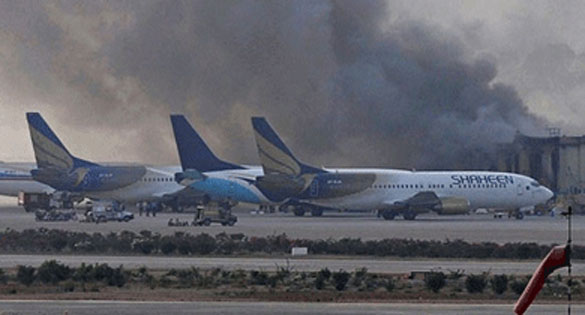 The involvement of IMU in the attack on Karachi airport suggests increased co-operation between militant groups in Pakistan. Photograph: Rizwan Tabassum/AFP/Getty Images
-----------
Arab World
• Al-Qaida Establishes Islamic Caliphate across Syria, Northern Iraq
• Iraq to Allow US Airstrikes against Al Qaeda Militants
• Kurdish Forces in Full Control of Oil City Kirkuk, Sunni Militants Surge toward Baghdad
• Maliki's Sectarian Policy Backfires in Dramatic Style
• Iraqi FM says Baghdad and Arbil to cooperate against ISIL
• Egypt: fighting sexual harassment a religious, national duty
• Car bomb kills at least 4 in Syria's Homs
• Jordan minister calls for better protection of Al-Aqusa Mosque
• Assad says West changing position on Syria war
• ISIL suspects execute, burn alive family in Hama, drawing outrage
• ISIL Blows up Churches in Niniveh, Terrorizes People
• Report: Gulf states to tighten control on social media
Southeast Asia
• Academic: Arabification of Islam behind 'Allah' ban
• Shariah Police Intensify Raids Prior to Ramadan
• Penang Shariah court says Teoh not a Muslim
• Perak Sultan calls for interfaith respect – Bernama
India
• Nawaz Sharif Talks 'Common Economic Destiny' In Letter to Narendra Modi
• "Won't allow special havens for Pandits": radical separatist leader Geelani
• Let Claim Weakens Sharif's Message to Modi
Pakistan
• Pakistan One of Most Dangerous Countries for Minorities: Report
• Karachi airport attack signals alarming tactical shift by Taliban
• Successive drone strikes leave at least 16 dead in N Waziristan
• Drone targeted Haqqani network commander, Afghan Taliban: sources
• Prime Minister and his team will be responsible if targeted: Tahir ul Qadri
• Nawaz, army chief should be on the same page: Achakzai
• Nawaz should support army in eliminating terrorists, says Altaf
• Pak court orders to remove Musharraf's name from ECL
• Pakistan condemns US drone strikes in North Waziristan
• 'Taliban sleeper cells key in preparation of airport attack'
Africa
• Suicide bomber kills four Malian, Chadian troops
• Gunmen kill at least eight in raids on Nigeria villages
• Four UN peacekeepers killed in explosion in Mali
• Tanzania to train 1,000 Somali soldiers amid concerns over terrorism backlash
• Nigerian media chase politics in Boko Haram coverage
Mideast
• Turkey not working on new mandate for military action in Iraq: Minister
• Turkish Consulate destroyed documents as ISIL militants approached
• Iran to combat terrorism in Iraq: Rouhani
• Palestinians seek action against Israel over detainees
Europe
• 'No question' of British forces for Iraq: Hague
• EU, Arab League join forces against Jihadi threat
• UNSC set to impose sanctions on Boko Haram
• Russia concerns about latest developments in Iraq – Lavrov
• France helping Pakistan in combating terrorism
• Britain: Somali Islamists plotting Djibouti attack
South Asia
• Maldives discusses intolerance, Syria, Palestine, and women's rights at the UNHRC
• Xinjiang extremists rejecting Beijing's 'care': Official
• Charge sheet against Mufti Izhar ul, 5 others submitted
• Saudi destroys Buddha statues in Japan and gets arrested: Japan news
North America
• US: Palestinian Authority not liable for Wednesday's Gaza rocket strike on Israel
• Former US Ambassador to Syria: Give Syrian Insurgents Manpads to Shoot Down Iranian Planes
Compiled by New Age Islam News Bureau
URL: https://www.newageislam.com/islamic-world-news/new-age-islam-news-bureau/al-qaida-establishes-islamic-caliphate-across-syria,-northern-iraq/d/87493
-------------
Arab World
Al-Qaida Establishes Islamic Caliphate Across Syria, Northern Iraq
June 12, 2014
Al-Qaida has established a new Islamic Caliphate.
The Obama administration's failure to secure a status-of-forces agreement with the government of Iraq, or to take decisive action in Syria to end that civil war, has provided al-Qaida an opportunity to fulfill its dream of creating an new Islamic Caliphate governed under Sharia law — and it is a direct threat to U.S. national security.
On Tuesday, June 10, 2014, just days shy of the two and a half year anniversary of the departure of the last U.S. combat forces from Iraq, news broke that hundreds of al-Qaida-linked terrorists belonging to Islamic State in Iraq and the Levant (ISIS) had taken Iraq's second-largest city, Mosul, and possibly all of the surrounding Nineveh Province. Iraq security forces abandoned their posts, leaving advanced military equipment and weaponry to al-Qaida. As they advanced, 500,000 civilians out of an estimated two million that live in Mosul fled, and al-Qaida now controls the city — a gateway to Iraq's oil rich north.
Less than 24 hours later, reports indicate that al-Qaida has now taken the city of Tikrit, the birthplace of Saddam Hussein. Al-Qaida militants are said to have driven into the city Wednesday in an organized convoy and taken over the government's provincial headquarters building. The infamous black flag of al-Qaida now flies atop. The rapid destabilization of Northern Iraq is very alarming and dangerous. A very bloody civil war appears to be inevitable, similar to the one being fought in neighboring Syria.
Al-Qaida affiliated terrorists now control an area in Eastern Syria all the way through parts of Western and now Northern Iraq. They have subjected the locals in the areas they control to Sharia law and have engaged in acts of violent barbarism. They have beheaded locals for failing to adhere to their strict interpretation of Sunni Islam and have set up training camps to train additional terrorists to conduct operations and external attacks. This is exactly what al-Qaida has always wanted, and the Obama administration is allowing them to have it.
Tikrit is now the third major Iraqi city to fall into the hands of al-Qaida terrorists, as the city of Fallujah was taken over in January. The United States Marine Corps fought two major battles for control of the city of Fallujah, and many Americans lost their lives or were injured fighting there. At the moment, all of that effort and sacrifice appears to have been made in vain.
Why? Because the Obama administration failed to sign a status-of-forces agreement with the government of Iraq that would have allowed for a stay-behind counterterrorism force to maintain security gains and kill al-Qaida terrorists while Iraq got on her feet.
http://news.yahoo.com/al-qaida-establishes-islamic-caliphate-across-syria-northern-194805081.html
-------------
Iraq to allow US airstrikes against al Qaeda militants
June 12, 2014
Iraq has said it would allow the United States to launch airstrikes against al-Qaeda-linked militants in the north of the country, the Wall Street Journal reported late Wednesday, citing unnamed US officials.
The Obama administration was considering a range of options, including airstrikes carried out by drones or manned aircraft, senior US officials said.
The Iraqi military made the request after rebels of the Islamic State in Iraq and the Levant seized two major cities north of Baghdad this week.
"Kinetic support" remains a possibility, although no decision has yet been made, the US officials were cited as saying.
Iraq has previously requested the loan of US drones for its own forces to deploy against the militants, but Washington has so far refused.
http://www.thehindu.com/news/international/world/iraq-to-allow-us-airstrikes-against-al-qaeda-militants/article6106516.ece
-------------
Kurdish Forces in Full Control of Oil City Kirkuk, Sunni Militants Surge toward Baghdad
June 12, 2014
Iraqi Kurds seized control of the northern oil city of Kirkuk on June 12, while surging Sunni Islamist rebels advanced towards Baghdad, as the central government's army abandoned its posts in a rapid collapse that has lost it control of the north.
Peshmarga fighters, the security forces of Iraq's autonomous Kurdish north, swept into Kirkuk after the army abandoned its posts there, a Peshmarga spokesman said.
"The whole of Kirkuk has fallen into the hands of Peshmarga," said Jabbar Yawar. "No Iraqi army remains in Kirkuk now."
Kurds have long dreamed of taking Kirkuk, a city with huge oil reserves just outside their autonomous region, which they regard as their historical capital. The swift move by their highly organised security forces demonstrates how this week's sudden advance by fighters of the Al Qaeda offshoot Islamic State of Iraq and the Levant (ISIL) has redrawn Iraq's map.
Since June 10, black clad ISIL fighters have seized Iraq's second biggest city Mosul and Tikrit, hometown of former dictator Saddam Hussein, as well as other towns and cities north of Baghdad. They continued their lightning advance on Thursday, moving into towns just an hour's drive from the capital.
The Iraqi army fled in the face of the onslaught, abandoning buildings and weapons to the fighters who aim to create a strict Sunni Caliphate on both sides of the Iraq-Syria frontier.
Security and police sources said militants now controlled parts of the small town of Udhaim, 90 kilometers north of Baghdad, after most of the army troops left their positions and withdrew towards the nearby town of Khalis.
"We are waiting for supporting troops and we are determined not to let them take control. We are afraid that terrorists are seeking to cut the main highway that links Baghdad to the north," said a police officer in Udhaim.
Military councils set up
In Tikrit, militants have set up military councils to run the towns they captured, residents said. "They came in hundreds to my town and said they are not here for blood or revenge but they seek reforms and to impose justice. They picked a retired general to run the town," said a tribal figure from the town of Alam, north of Tikrit.
"'Our final destination will be Baghdad, the decisive battle will be there,' that's what their leader of the militants group kept repeating," the tribal figure said. Security was stepped up in Baghdad to prevent the Sunni militants from reaching the capital, which is itself divided into Sunni and Shiite neighbourhoods and saw ferocious sectarian street fighting in 2006-2007 under U.S. occupation.
The stunning advance of ISIL, effectively seizing northern Iraq's main population centres in a matter of days, is the biggest threat to Iraq since U.S. troops withdrew in 2011. The administration of President Barack Obama has come under fire for failing to do enough to shore up the government in Baghdad before pulling out its troops.
The million-strong Iraqi army, trained by the United States at a cost of nearly $25 billion, suffers from low morale. Its effectiveness is hurt by the view in Sunni areas that it represents the hostile interests of the Shiite-led government.
In Washington, an Obama administration official said the government of Iraqi Prime Minister Nuri al-Maliki had in the past sought U.S. air strikes against ISIL positions. The White House suggested such strikes were not being considered and said Washington's main focus now is on building up government forces.
Iraq's parliament is due to hold an extraordinary session on June 12 to vote on declaring a state of emergency which should expand the powers of Shi'ite Prime Minister Nuri al-Maliki.
About 500,000 Iraqis have fled Mosul, home to 2 million people, and the surrounding province, many seeking safety in autonomous Kurdistan, a region that has prospered while patrolled by the powerful Peshmarga, avoiding the violence that has plagued the rest of Iraq since the U.S. invasion in 2003.
The Kurdish capture of Kirkuk instantly overturns the fragile balance of power that has held Iraq together as a state since Saddam's fall. Iraq's Kurds have done well since 2003, running their own affairs while being given a fixed percentage of the country's overall oil revenue. But with full control of Kirkuk - and the vast oil deposits beneath it - they could earn more on their own, eliminating the incentive to remain part of a failing Iraq.
The surge also potentially leaves the long desert frontier between Iraq and Syria effectively in ISIL hands, advancing its stated goal of erasing the border altogether and creating a single state ruled according to mediaeval Islamic principles.
ISIL, led by Abu Bakr al-Baghdadi, broke with al-Qaeda's international leader, Osama bin Laden's former lieutenant Ayman al-Zawahri, and has clashed with al-Qaeda fighters in Syria.
http://www.hurriyetdailynews.com/kurdish-forces-in-full-control-of-oil-city-kirkuk-sunni-militants-surge-toward-baghdad.aspx?pageID=238&nID=67701&NewsCatID=352
-------------
Maliki's sectarian policy backfires in dramatic style
June 12, 2014
Iraqi Prime Minister Nouri al-Maliki's sectarian-based domestic policies backfired this week in a dramatic fashion when his army – pieced together across sectarian lines – quickly fell apart when confronted with jihadist fighters from the Islamic State of Iraq and Syria (ISIS).
The sudden collapse of military units defending Mosul, Iraq's second largest city, the late Saddam Hussein's hometown of Tikrit and the oil-rich northern city of Kirkuk is reminiscent of the swift disintegration of Saddam's army at the gates of Baghdad in 2003.
But in 2003, Iraq's military was poorly armed, with rusty Soviet-made weaponry, and had only years earlier fought a devastating war with neighboring Iran and another one in Kuwait. In addition, Saddam's army was fighting the most powerful military on the face of the planet and its eventual collapse had come as little surprise to many.
Maliki's army is of a different class than that of Saddam's, enjoying modern and sophisticated weaponry, from U.S-made Apache helicopter gunships and F-16 fighter jets to Abrams tanks and Humvees. U.S. occupation authorities alone spent an estimated $16 billion to build the Iraqi army, which they had envisioned would form the backbone of a modern Iraq.
Despite the investment, Maliki's military has failed to withstand a ragtag of armed jihadists who have seized in very short space of time city after city across Iraq.
On Tuesday morning, soldiers withdrew from the northern city of Mosul, leaving behind their vehicles, weapons and even uniforms. Several army commanders also reportedly fled to Kurdish-controlled areas.
Video footage showed ISIS fighters parading army Humvees left behind in the streets of Mosul.
While Maliki blamed a "conspiracy" for the collapse of army units, which are dominated by his Shiite co-religionists, independent observers said the Iraqi leader himself bore responsibility for the failure, citing the sectarian makeup of the military which suffers from a lack of discipline and solid military doctrine.
"The existing forces of al-Qaeda and ISIS are not enough to face the army and police forces but what has happened? How did this happen? How did some military units collapse? I know the reasons, but today we are not going to hold responsible those who carried out this action," a baffled Maliki said in a televised address on Wednesday.
"The army, police and security forces are much stronger than them but a deception took place and a conspiracy as well. We will deal with it, but after we eliminate their presence, God willing, and by force with the will of the people of the province, and the will of the people of Iraq," the prime minister added.
Failed state
Adnan Hussein Kadhum, a Baghdad-based political analyst, told Al Arabiya News that the military failure was the result of "the lopsided political process since Maliki took office in 2006."
"The division of power across sectarian lines created a struggle between various sects of society, which led to a failed state, and this reflects on the state of the military," Kadhum said.
"The military institution is deeply corrupt and is built on sectarian lines.
Military commanders are given their jobs not on the basis of competency or experience but rather on their sectarian affiliation," he added.
"You cannot expect an institution built this way to be effective," Kadhum said.
Haydar Moussawi, a political analyst close to the movement of Shiite leader Muqtada al-Sadr, said most of the army is made up of Shiites, a perfectly "natural" state of affairs given that the sect is the dominant one in the Arab country.
"The new army was hastily formed under the U.S. occupation and most of its members were not properly trained and equipped," Moussawi said.
He noted that many citizens were drawn into the military for "material reasons" given the harsh economic conditions as a result of the U.S.-led invasion.
In his televised address, Maliki said he will form an army of "volunteers" to support the regular government forces in areas seized by ISIS.
Moussawi explained that Maliki could resort to forming a "parallel army" made up of the more religiously indoctrinated Shiite militias to fight ISIS, an al-Qeada inspired group that is also operating in neighboring Syria.
"If the situation continues like this [for the next couple of days], Shiite religious parties will dispatch their militias to support security services in areas controlled by the [Sunni] extremists," he said.
Civil War?
Ahmad al-Abyad, an Iraqi political observer based in Jordan, warned that any further sectarian mobilization could "drown Iraq in a civil war, God forbid, that may not end for years."
"These areas that are controlled by ISIS may reinforce local forces who won't allow the central government to re-exert its influence in this region," he said, arguing that this was in line with U.S. Vice President Joe Biden's 2007 "soft-partition" plan for Iraq.
The plan was similar to the blueprint splitting Bosnia in 1995 and sought to divide Iraq into three autonomous regions – Kurdish, Sunni and Shiite – held together by a central government in Baghdad.
http://english.alarabiya.net/en/perspective/analysis/2014/06/12/Maliki-s-sectarian-policy-backfires-in-dramatic-style.html
---------
Iraqi FM says Baghdad and Arbil to cooperate against ISIL
12 June 2014
The federal government and the autonomous Kurdish region will cooperate against the offensive of Islamic State of Iraq and Levant (ISIL) militants, Iraqi Foreign Minister Hoshyar Zebari told his Turkish counterpart Ahmet Davutoğlu during a phone call June 12.
Davutoğlu called Zebari on his return to Ankara in the morning of June 12 after cutting a trip to the United States short regarding the latest developments in Iraq. ISIL has taken control of several cities during an offensive in the central and northern parts of Iraq, including Mosul and Tikrit.
Zebari assured Davutoğlu that the Iraqi army is set to cooperate with the Kurdish peshmerga troops, despite tensions last year over the presence of the Iraqi military in Kirkuk.
ISIL took 49 members of Turkey's Mosul consulate hostage after seizing the city late June 9.
http://www.hurriyetdailynews.com/zebari-says-baghdad-and-arbil-to-cooperate-against-isil.aspx?pageID=238&nID=67710&NewsCatID=510
-----------
Egypt: fighting sexual harassment a religious, national duty
12 June 2014
Fighting sexual harassment is a religious and national duty, Egypt's Ministry of Religious Endowments said Thursday, ONA news agency reported.
"Those who don't do anything to prevent sexual assaults will be punished by God for their crimes," said Mohammad Mukhtar Jomaa, the minister of religious affairs.
The statement comes after a series of sexual assaults on women during celebrations marking Abdel Fattah al-Sisi's inauguration as president.
Last week, former interim President Adly Mansour signed a law criminalizing sexual harassment. Those found guilty now face large fines and long jail terms.
More than 99% of Egyptian women have been subjected to some form of sexual harassment, the United Nations said in a study published last year.
http://english.alarabiya.net/en/News/middle-east/2014/06/12/Egypt-fighting-sexual-harassment-a-religious-national-duty.html
----------
Car bomb kills at least 4 in Syria's Homs
Jun 12, 2014
BEIRUT: Syria's state media and an activist group say a car bomb has exploded in the central city of Homs, killing at least four people and wounding others.
The Britain-based Syrian Observatory for Human Rights says the blast occurred in the pro-government neighborhood of Wadi Dahab, killing four.
State TV said the blast killed seven and wounded others.
Homs has been struck by a wave of car bombs in recent weeks that have left dozens killed or wounded.
The city fell under full government control last month when rebels withdrew from parts of the Old City after enduring a nearly two-year government siege.
http://www.arabnews.com/news/585536
-----------
Jordan minister calls for better protection of Al-Aqsa Mosque
June 12, 2014
Jordan's minister of religious endowments and Islamic affairs has called for a comprehensive Arab and Islamic plan to "protect the Al-Aqsa Mosque in Jerusalem from Israeli violations."
Speaking exclusively to Asharq Al-Awsat, Dr. Hayil Abdelhafeez Dawoud said Israeli violations "took a systematic and calculated form, and were no longer mere provocations by extremists."
Dawoud claimed that his ministry "played a major role in preventing countless Israeli violations against the Al-Aqsa Mosque" but that help from Arab and Islamic states was needed to curb Israeli aggression and "constant violations," because "the mosque belonged to all Muslims."
Full report at:
http://www.albawaba.com/news/jordan-al-aqsa-582935
-------------
Assad says West changing position on Syria war
June 12, 2014
Beirut (AFP) - Western countries that back the revolt in Syria have started to shift position on the conflict because of the danger posed to them by jihadists, according to President Bashar al-Assad.
"The United States and the West have started to send signs of change. Terrorism is now on their soil," said Assad, according to remarks published in a Lebanese newspaper that backs the Damascus regime.
Leaders of the Group of Seven industrialised nations have said they will tighten their defences against the risk of terror attacks by jihadists returning from Syria.
And Assad said "current and former US officials are trying to get in touch with us, but they do not dare to because of the powerful lobbies that are pressuring them."
Syria's war began as a peaceful movement demanding political change, but later morphed into an armed rebellion attracting foreign jihadists after the Assad regime unleashed a massive crackdown against dissent.
Full report at:
http://news.yahoo.com/assad-says-west-changing-position-syria-war-153446581.html
-------------
ISIL suspects execute, burn alive family in Hama, drawing outrage
June 12, 2014
Residents of Syria's Hama province are decrying the recent execution and live burning of a family by suspected members of the al-Qaeda-inspired "Islamic State of Iraq and the Levant" (ISIL).
ISIL fighters on June 1st executed five members of an Alawite family comprising a 102-year-old man, his son, grandson, his grandson's wife and his great granddaughter, the Syrian Observatory for Human Rights said in a statement.
ISIL killed the family while attacking Zanuba village in Hama province, a sparsely-inhabited agricultural village located near an area under ISIL control, it said.
"Some members of the family were burned alive while others [including the elderly man] were killed as they slept," the statement said.
Full report at:
http://al-shorfa.com/en_GB/articles/meii/features/2014/06/11/feature-01
-------------
ISIL Blows up Churches in Niniveh, Terrorizes People
Jun 12, 2014
Islamic State of Iraq and the Levant (ISIL) terrorist group is putting Iraq at risk by killing innocent people, attacking sacred buildings, churches and convents.
militantsSant'Egidio community, which promotes dialogue between religions, described in a statement reports of "numerous victims" and attacks on "sacred buildings, churches and convents, which have been set alight."
Sant'Egidio, which said around half of Iraq's 400,000 Christians live in the Niniveh province, said "an explosion of extremist violence is putting at risk a project of religious integration and social development, based on coexistence and collaboration between Christians and Muslims."
Full report at:
http://www.almanar.com.lb/english/adetails.php?eid=156000&cid=23&fromval=1&frid=23&seccatid=24&s1=1
----------
Report: Gulf states to tighten control on social media
12 June 2014
Gulf Arab states have formed a joint team to speed up legal action against websites and social media accounts accused of violating the laws governing the use of cyberspace in the region, the London-based Asharq al-Awsat reported.
Bahraini Telecommunications Minister Sheikh Fawaz al-Khalifa told the newspaper that the team is working toward a united stance among member states of the Gulf Cooperation Council.
The team is headed by Mohamed al-Ghanem, general manager of the Emirati telecommunications regulatory authority, and has completed a study on the scale of problems on social networking websites, Khalifa said.
"In the upcoming phase, it will announce if service providers have begun to close some accounts. There are still some accounts that await judicial measures before rulings are issued," he added.
Full report at:
http://english.alarabiya.net/en/News/middle-east/2014/06/12/Report-Gulf-states-to-tighten-control-on-social-media.html
-----------
Southeast Asia
Academic: Arabification of Islam behind 'Allah' ban
June 12, 2014
ANGI, June 12 — Malaysia's recent adherence to Saudi Arabia's "literal Islam" is the cause of the Muslim-Christian tussle over the Arabic word for God "Allah" here, an academic said today.
Dr Mohd Faizal Musa, research fellow at Universiti Kebangsaan Malaysia's (UKM) Institute of the Malay World and Civilisation, said the dominant religion in Malaysia grew stricter a decade or two ago and focused more on jurisprudence, due to influence from the Arabic country.
"It's historically obvious that the usage of 'Allah' was already here since from the start," Faizal told reporters after presenting a talk titled "An introduction to religious minorities in Malaysia" at UKM.
"The Nyonya Baba also used 'Allah' to refer to God. And how can we deny the usage of 'Allah' among the indigenous in Sabah and Sarawak? Literal Islam came to Malaysia 10, 20 years ago, promoted by Saudi Arabia," he added.
http://www.themalaymailonline.com/malaysia/article/academic-arabification-of-islam-behind-allah-ban#sthash.ZA2JwdMO.dpuf
-------------
Shariah Police Intensify Raids Prior to Ramadan
Jun 12, 2014
Banda Aceh. The morality police in Aceh are on the prowl once again as the Islamic holy month of Ramadan approaches, increasing the frequency of their raids against… crimes of fashion.
The province's shariah police, known as Wilayatul Hisbah, has roped in the police and the military to help in the raids, to be held "day and night to minimize shariah violations" — but which are targeted almost entirely at women wearing clothes deemed too figure-hugging.
"The raids were against motorcyclists, in order to uphold Islamic shariah," Samsudin, the WH's head of enforcement, told the Jakarta Globe on Thursday.
He added that the first series of raids on Wednesday netted 99 people — 94 of them women "wearing tight outfits," and five men wearing "pants that expose the knees."
Both are considered beyond fashion faux pas, actually meriting a place in local statutes and punishable by imprisonment.
Full report at:
http://www.thejakartaglobe.com/news/shariah-police-intensify-raids-prior-ramadan/
-----------
Penang Shariah court says Teoh not a Muslim
Jun 12, 2014
The Shariah High Court has declared that Teoh Cheng Cheng, whose body was taken from her family during her funeral on Monday, is not a Muslim.
Judge Zaim Md Yudin said today her body is to be returned immediately to her family for burial.
He said in his 20-minute judgment that the parties taking care of the body were to hand over the remains.
He also ordered police to give their cooperation on the matter.
Present at the court were lawyer Wan Faridulhadi Mohd Yusoff, who represented Teoh's daughter Medelyn, and members of her family.
Zaim said based on the evidence presented to the court by Penang Islamic Council (Maipp) officers, the council could not prove that Teoh had converted and became a Muslim.
The council had filed an application yesterday to seek a declaration on Teoh's religious status.
Full report at:
http://www.themalaysianinsider.com/malaysia/article/penang-shariah-court-says-teoh-not-a-muslim
-----------
Perak Sultan calls for interfaith respect – Bernama
Jun 12, 2014
The Sultan of Perak, Sultan Nazrin Shah (pic), today urged the people to show mutual respect and not to violate each other's religious boundary.
He said Malaysians were from different races and practised different religions and cultures, hence building harmony in the country was a collective responsibility.
"Muslims and the institutions responsible for Islamic affairs need to be aware of the sensitivities of the followers of other religions and at the same time, non-Muslims must understand and respect Muslims' religious sensitivities.
"They should be sensitive to the feelings of Muslims when they choose to touch on Islam, more so when they openly criticise Islamic rulings and Allah's command as contained in the Quran and life guidance as given in the Sunnah (sayings and practices of Prophet Muhammad)."
The ruler who was appointed as the 35th Sultan of Perak on May 29 following the demise of his father, Almarhum Sultan Azlan Shah, was speaking at the 187th Conference of the Perak Islamic Religion and Malay Custom Council today.
http://www.themalaysianinsider.com/malaysia/article/perak-sultan-calls-for-interfaith-respect-bernama#sthash.zVcdfyGu.dpuf
-----------
India
Nawaz Sharif talks 'common economic destiny' in letter to Narendra Modi
Express News Service | New Delhi | June 12, 2014
In an indication towards improving economic ties, Pakistan PM Nawaz Sharif has written to his Indian counterpart Narendra Modi that the future of the poor in the two nations was integrated with "our common economic destiny".
Sharif in his letter has expressed satisfaction over his recent meeting with Modi and said he was looking forward to working with him in "harmony on all unsettled matters". Sharif had attended Narendra Modi's swearing-in ceremony on May 26.
New Delhi views this as an opportunity to build ties with Islamabad, as the much-awaited Non-discriminatory market access is expected to be granted to India by Pakistan. This was earlier referred to as the Most Favoured Nation status. It was also understood that the next date in the 26/11 attack trial in Pakistan might be at the end of June, and New Delhi would be closely watching to see if there was any progress in the case.
Full report at:
http://indianexpress.com/article/india/politics/sharif-talks-common-economic-destiny-in-letter-to-modi/
-------------
"Won't allow special havens for Pandits": radical separatist leader Geelani
AHMED ALI FAYYAZ
June 12, 2014
Government wants to create special havens in certain parts of J&K: Syed Ali Shah Geelani
Opposing any move to rehabilitate Kashmiri Pandits by creating protected settlements in the Valley, radical separatist leader Syed Ali Shah Geelani on Wednesday claimed certain havens were being sought to be created in certain places in southern, central and northern Kashmir.
"Pandits are a part of the Kashmir society and they will always be welcome in their motherland. But, let it be clear that any plan to settle them exclusively in protected colonies would be completely unacceptable to the separatist leadership and the people here," Mr. Geelani said.
The 86-year-old politician condemned the Narendra Modi government's purported plans to permanently settle the Punjabi and other non-J&K refugees from Pakistan in the State and grant them the status of permanent residents.
http://www.thehindu.com/news/national/other-states/wont-allow-special-havens-for-pandits/article6105303.ece
-----------
Let Claim Weakens Sharif's Message to Modi
June 12, 2014
NEW DELHI: Prime Minister Nawaz Sharif has told his Indian counterpart in a letter released here on Thursday that he wants to work in harmony with him to resolve all unsettled matters. On the other hand, India, says The Hindu in an analysis, is wary of Lashkar-e-Taiba's call to avenge this week's attack on Karachi airport, which the group says was carried out by New Delhi.
While in his letter to Mr Modi, Mr Sharif has sought to put to rest speculation, mainly in opposition ranks in Pakistan, that his visit to Delhi was a failure, the brazen attack in Karachi, which apparently came after the letter to Mr Modi was dispatched, has weakened any basis for optimism the Pakistani leader might have exuded in the well intended missive.
Add to this a wider unfolding scenario of relevance to both countries. At the back of the mind, few strategists in either country can ignore the rumblings in Mosul where the essentially extremist Islamic State of Iraq and Syria (ISIS) has extended its 'Khilafat' close to Iraq's border with Syria, which is already under the sway of the ultras. And though there may have been no apparent coordination in the timing of the Mosul thrust and the effort to paralyse Pakistan's aviation virtually simultaneously, both events do share at least a degree of ideological nexus.
Full report at:
http://www.dawn.com/news/1112123/let-claim-weakens-sharifs-message-to-modi
--------
Pakistan
Pakistan One Of Most Dangerous Countries For Minorities: Report
June 12, 2014
KARACHI: The same day Pakistan's busiest Jinnah International Airport, Karachi, was attacked by militants; a brutal suicide bombing took the lives of 24 Shia pilgrims in a hotel in Taftan, near the Iranian border.
Attacks against Pakistan's Shia community have been on the rise since the 1980s, but targeted killings reached unprecedented levels in 2013, with some 700 Shias murdered.
According to a new report by Minority Rights Group International (MRG), the spike in attacks against its Shia and Hazara communities make Pakistan one of the world's most dangerous countries for religious minorities.
Based on interviews with minority rights activists, MRG's nine-page briefing paper details the disturbing level and nature of violence against the Shia and Hazara community and criticises the "woefully inadequate" response from the Pakistani government.
Full report at:
http://tribune.com.pk/story/720720/pakistan-one-of-most-dangerous-countries-for-minorities-report/
-------------
Karachi airport attack signals alarming tactical shift by Taliban
June 12, 2014
KARACHI: It was the shoes that betrayed Corporal Faiz Mohammad's would-be killers. When 10 Taliban militants attacked Karachi airport on Sunday night, sparking a five-hour gun battle that killed at least 34 people, Mohammad and his fellow officers from the Airports Security Force (ASF) were the first line of defence.
"There was a moment of confusion because the militants had the same ASF uniforms as us," said Mohammad, 30.
"But then we saw their shoes." ASF officers wear black leather shoes, but the men who stormed Jinnah International Airport in Karachi, wore white-soled sneakers.
All 10 militants were dead by dawn, shot down by the security forces or blown up by their own suicide vests.
Full report at:
http://www.dawn.com/news/1112251/karachi-airport-attack-signals-alarming-tactical-shift-by-taliban
-------------
Successive drone strikes leave at least 16 dead in N Waziristan
June 12, 2014
MIRAMSHAH: After a nearly six month halt in the drone campaign, separate US aerial drones fired missiles at militant hideouts in pre-dawn strikes on Thursday just days after the Taliban launched a deadly attack on Karachi airport that killed 37 people.
Two successive US drone strikes killed at least 16 suspected militants in Pakistan's northwest tribal area where pressure was building on Islamabad to react after the brazen attack.
The first attack took place late on Thursday night when the unmanned US plane fired six missiles that hit a vehicle and a compound in Dargah Mandi village in North Waziristan, around 10 kilometres (six miles) west of the main town of Miramshah.
Six suspected militants were killed in the attack in the area considered a stronghold for the al Qaeda-linked Haqqani network.
"Four of them were Uzbeks and two were Punjabi Taliban," said an intelligence official in Miramshah referring to militants from Pakistan's central Punjab province who have taken shelter in North Waziristan.
Full report at:
http://www.dawn.com/news/1112050/successive-drone-strikes-leave-at-least-16-dead-in-n-waziristan
-------------
Drone targeted Haqqani network commander, Afghan Taliban: sources
June 12, 2014
PESHAWAR: A key Haqqani network commander Haji Gul was killed in the early morning US drone strike in Dand-i Darpakhel area of North Waziristan Agency, Dawn News quotes sources as saying on Thursday.
The drone strike also killed other prominent Afghan Taliban commanders identified as Mufti Sofian and Commander Abu Bakar.
Intelligence and local Taliban sources also confirmed that the drone strikes in Dand-i-Darpakhel targeted some explosive laden vehicles which were meant for some mission across the border.
Full report at:
http://www.dawn.com/news/1112253/drone-targeted-haqqani-network-commander-afghan-taliban-sources
-------------
Prime Minister and his team will be responsible if targeted: Tahir ul Qadri
June 12, 2014
Toronto- Controversial cleric and Pakistan Awami Tehrik chief Tahir ul Qadri today nominated Prime Minister Nawaz Sharif and seven others responsible if he would be targeted on his arrival on June 23, 2014.
In video press conference from Canada via video link, Qadri announced that he would land at Islamabad airport on June 23, 2014. He said Prime Minister Nawaz Shaif, his brother Shahbaz Sharif and close aides and key ministers Khawaja Asif, Chaudhry Niar Ali Khan, Saad Rafiq, Pervez Rashid, Abid Sher Ali and Rana Sanaullah would be responsible if he or his party leadership and his family are targeted. He asked the Pakistan Army to take control of airport on June 23, as he believes PML-N government would create hurdles on his arrival and to avoid security threats.
Full report at:
http://www.nation.com.pk/national/11-Jun-2014/prime-minister-and-his-team-will-be-responsible-if-targeted-tahir-ul-qadri
-------------
Nawaz, army chief should be on the same page: Achakzai
June 12, 2014
ISLAMABAD: Pakhtunkhwa Milli Awami Party chief Mehmood Khan Achakzai said on Thursday that democracy in Pakistan is under threat, while urging leaders to join hands and thwart any attempt to derail it.
Addressing a National Assembly session in a rather perturbed tone, Achakzai asked Prime Minister Nawaz Sharif, Leader of Opposition Syed Khursheed Shah and former president Asif Ali Zardari to move democracy forward.
He also advised Pakistan Tehreek-Insaaf (PTI) chief Imran Khan to pay attention to governance instead of holding public rallies.
Achakzai referred to Pakistan Awami Tehreek leader Dr Tahirul Qadri's latest demand asking the army to take control of the airport on the day of his return. "Who are you to make such a demand?" he asked of Qadri.
Full report at:
http://tribune.com.pk/story/720820/nawaz-army-chief-should-be-on-the-same-page-achakzai/
-------------
Nawaz should support army in eliminating terrorists, says Altaf
June 11, 2014
KARACHI: Muttahida Qaumi Movement (MQM) chief Altaf Hussain has asked Prime Minister Nawaz Sharif to support the armed forces in eliminating terrorists, Express News reported on Wednesday.
Altaf had called the Rabta Committee to congratulate the All Pakistan Muttahida Students Organisation (APMSO) on the 36th anniversary of its founding.
While extending his condolences to the families of victims of the Karachi airport attack, Altaf said he is not in favour of peace talks with those responsible for the martyrdom of innocent people and army men. He urged parties in favour of peace talks to reconsider their stance.
Altaf said propaganda against his party had started once again. He protested against what he claims are extra-judicial executions and enforced disappearances of his party workers and claimed he was being falsely accused of involvement in various cases.
Referring to Tahir-ul-Qadri's announcement of returning to Pakistan, the party chief said that if the government creates any hindrances in his protests, MQM workers will stage a protest in Qadri's support.
http://tribune.com.pk/story/720433/nawaz-should-support-army-in-eliminating-terrorists-says-altaf/
-------------
Pak court orders to remove Musharraf's name from ECL
Jun 12, 2014
ISLAMABAD: Pakistan's Sindh high court (SHC) on Thursday ordered that the name of ex-President Pervez Musharraf be removed from the Exit Control List (ECL) after 15 days.
The ruling was issued by a two-judge bench of the SHC in Karachi while hearing Musharraf's petition for removal of his name from the ECL. The two weeks time for implementation of the decision, according to the ruling, was aimed at giving time to the government if it intends to file appeal against the decision in the apex court.
"The order will be enforced in 15 days in case the government fails to make an appeal by then," the verdict said.
The ban on his travel was imposed on April 5, 2013 by the court.
Following his indictment in a treason case on March 31, the former military ruler had requested the government to remove his name from the ECL to visit his ailing mother in UAE and to allow him travel to the US for treatment. After PM Nawaz Sharif's refusal to allow him a safe passage, Musharraf had challenged the decision in SHC. Sharif's tough stance had also drawn strong reaction from the army widening the gulf between the civilian and military leadership.
Full report at:
http://timesofindia.indiatimes.com/world/pakistan/Pak-court-orders-to-remove-Musharrafs-name-from-ECL/articleshow/36437506.cms
-------------
Pakistan condemns US drone strikes in North Waziristan
June 12, 2014
ISLAMABAD: Two hours after her official briefing Foreign office spokesperson Tasneem Aslam confirmed and condemned two pre-dawn US drone strikes near that have struck North Waziristan in the past 24 hours.
"The government of Pakistan condemns the two incidents of US drone strikes that took place near Miranshah in North Waziristan on 11 and 12 June," said a statement from the foreign office.
"These strikes are a violation of Pakistan's sovereignty and territorial integrity and additionally, these strikes have a negative impact on the government's efforts to bring peace and stability in Pakistan and the region," it said.
Full report at:
http://www.dawn.com/news/1112247/pakistan-condemns-us-drone-strikes-in-north-waziristan
-------------
'Taliban sleeper cells key in preparation of airport attack'
June 12, 2014
KARACHI: Despite the success of the operation clean-up at Karachi airport which ended in elimination of all 10 militants, the smooth execution of the brazen attack clearly suggests the role of the Taliban's sleeper cells in the city that must have planned it during the interval when their central leadership was busy talking peace with the government.
Background interviews with current and former intelligence and law enforcement officials revealed that real success against militants was not possible till the elimination of their sleeper cells whose members provided shelter, weapons, explosives, transport and even intelligence to their comrades responsible for carrying out attacks.
They said the attack on the airport was a work of planning that must have begun weeks if not months before its execution and it appeared the TTP leadership was using the time it had bought through a ceasefire to put the finishing touches to the planning of the airport attack.
"It's not that simple that one fine day 10 men find a weak spot in the security and sneak into the airport, fire at security personnel and get killed after a pitched battle while trying to blow an aircraft," said an intelligence official.
Full report at:
http://www.dawn.com/news/1112109/taliban-sleeper-cells-key-in-preparation-of-airport-attack
-------------
Africa
Suicide bomber kills four Malian, Chadian troops
June 12, 2014
BAMAKO: A suicide bomber killed at least four Malian and Chadian soldiers at a military camp in rebel-infested north-eastern Mali on Wednesday, army sources said.
The bomber struck in a car laden with explosives at the entrance to the camp, which houses Mali soldiers as well as international troops from the United Nations' MINUSMA peacekeeping force, they said.
"There has just been an attack using a car bomb. The suicide bomber died and at least four Chadian and Malian soldiers were killed in Aguelhok," a Malian military source said.
An African military source in Aguelhok, a town of 8,000 in the Ifoghas mountain range, said several soldiers had also been wounded.
Full report at:
http://www.dawn.com/news/1112194/suicide-bomber-kills-four-malian-chadian-troops
-------------
Gunmen kill at least eight in raids on Nigeria villages
June 12, 2014
Jos (Nigeria) (AFP) - At least eight people, including three security officers, were killed when gunmen raided three villages in Nigeria's volatile central Plateau state, army and police spokesmen said.
The gunmen launched pre-dawn attacks in Bachit, Rim and Jol villages, they said.
Army Special Task Force (STF) spokesman in the state, Captain Ikedichi Iweha said: "Eight people, including three STF personnel, died in the gun battle. Many houses were burnt including a church.
"But the casualties would have been heavier but for the STF, who went there promptly to repel the unknown attackers. No arrest was made but intensive patrols are going on."
Police spokeman Joseph Dominic Esin said the gunmen arrived in the villages simultaneously and started shooting sporadically, setting homes on fire. Five villagers were also injured, he added.
Full report at:
http://news.yahoo.com/gunmen-kill-least-eight-raids-nigeria-villages-174054837.html
-------------
Four UN peacekeepers killed in explosion in Mali
June 12, 2014
A U.N. police official says a car bomb at a checkpoint in northern Mali has killed four people including Chadian peacekeepers and Malian soldiers.
The official, who spoke on condition of anonymity because he was not authorized to brief the media, said Wednesday's explosion took place at a U.N. camp in the northern Mali town of Aguelhoc in the Kidal region.
U.N. mission spokesman Olivier Salgado confirmed the attack but could not provide details or an official casualty number.
Northern Mali fell under control of ethnic Tuareg separatists and then al-Qaida-linked Islamic extremists following a military coup in 2012. A French-led intervention last year scattered the jihadis, though the Tuaregs maintain a heavy presence in Kidal.
Malian officials have recently warned about the possible return of jihadis to the region.
http://english.alarabiya.net/en/News/africa/2014/06/11/Car-bomb-in-North-Mali-kills-peacekeepers-official.html
-------------
Tanzania to train 1,000 Somali soldiers amid concerns over terrorism backlash
June 12, 2014
Tanzania has agreed to train Somali soldiers as part of its efforts to support peace and security in Somalia, but some Tanzanian officials have expressed concern that further involvement in Somali affairs could invite terrorist attacks from al-Shabaab.
The agreement to train 1,000 Somali soldiers first came about in 2012, when Tanzania accepted a request by former Somali President Sheikh Sharif Sheikh Ahmed, which was then revived by President Hassan Sheikh Mohamud this year.
"We prepared the training camps and as I am speaking everything is ready. We are waiting for them to select 1,000 soldiers to come here for the training," said Salva Rweyemamu, director of communication for the Tanzanian president. "We want to train them to be professional soldiers so that they maintain their country's security to allow citizens to engage in development matters."
Full report at:
http://sabahionline.com/en_GB/articles/hoa/articles/features/2014/06/11/feature-01
-------------
Nigerian media chase politics in Boko Haram coverage
June 12, 2014
LAGOS/ABUJA (Reuters) – A year ago, the daily editorial conference at Nigeria's Guardian newspaper might have paused to consider where on the inside pages to place a story about the latest Boko Haram attack.
These days there is no need to think. Major raids by the Islamist insurgents go front and centre in the paper – and then further, generating comment pieces looking at every angle through the prism of Nigerian politics.
As with the global press, coverage has increased as attacks have increased in recent months. "It is breaking news all the time," said Martins Oloja, the tabloid's editor. "We know that before we go to bed there will almost definitely be a strike."
But Nigerian newspapers differ from the almost exclusively human interest reporting of their global counterparts in the lengths they will go to make links between attacks in the remote northeast and national politics – all against the background of looming elections.
"We thought it (the Boko Haram insurgency) was a flash in the pan … But it has become a very bad ulcer," said Oloja.
Full report at:
http://news.yahoo.com/nigerian-media-chase-politics-boko-haram-coverage-050620321.html
-------------
Mideast
Turkey not working on new mandate for military action in Iraq: Minister
June 12, 2014
The Turkish government is not working on any new mandate to authorize a cross-border military operation into Iraq, where militants are holding 80 Turkish nationals hostage, Justice Minister Bekir Bozdağ said on June 12.
"The issue of whether the existing mandate is sufficient [for a military operation] or a new mandate is required is among the issues being discussed. But right now there is no work being conducted for a new mandate," Bozdağ told reporters in Ankara.
A parliamentary mandate allowing Turkey to conduct cross-border military operations in Iraq expires in October.
The text of the current mandate refers to the PKK, but it also uses a more general term in another clause, defining the target of possible operations as "terrorist attacks and threats against Turkey" from "northern Iraq and its neighboring areas."
The Turkish Parliament authoritized the government on Oct. 10, 2013, giving it a 12-month mandate for foreign mission. However, the government has yet to transfer this authorization to the army.
http://www.hurriyetdailynews.com/turkey-not-working-on-new-mandate-for-military-action-in-iraq-minister.aspx?pageID=238&nID=67700&NewsCatID=510
-------------
Turkish Consulate destroyed documents as ISIL militants approached
June 12, 2014
Turkish Mosul Consulate Öztürk Yılmaz had prepared a discharge plan on June 10 when they realized that the Islamic State in Iraq and the Levant (ISIL) had approached 200 meters from consulate compound, but was unable to fully implement the plan due to security circumstances in nearby area. However, the consulate was able to defuse an encrypted computer and destroy confidential diplomatic documents, sources told the Hürriyet Daily News.
Turkish officials have learned that the Mosul Consulate staff abducted by ISIL militants on June 11 are in a good state of health and the Turkish authorities are in contact with them, Turkish sources told the Daily News.
Full report at:
http://www.hurriyetdailynews.com/turkish-consulate-destroyed-documents-as-isil-militants-approached.aspx?PageID=238&NID=67670&NewsCatID=352
-------------
Iran to combat terrorism in Iraq: Rouhani
June 12, 2014
Iran will combat terrorism by Sunni extremists in neighbouring Iraq, President Hassan Rouhani warned June 12.
Rouhani, speaking live on television, did not say exactly what Iran intended to do to help stop an offensive by fighters from the Islamic State of Iraq and the Levant (ISIL) that is pushing toward Baghdad after seizing several cities and towns to the north.
http://www.hurriyetdailynews.com/iran-to-combat-terrorism-in-iraq-rouhani.aspx?pageID=238&nID=67703&NewsCatID=352
-------------
Palestinians seek action against Israel over detainees
June 12, 2014
RAMALLAH - A senior Palestinian official has called for international action against Israel over the detention without charge of more than 100 Palestinians who have been on a long-term hunger strike.
"I am writing on behalf of the Palestine Liberation Organisation and president Mahmud Abbas to request your immediate intervention on behalf of the approximately 130 Palestinian detainees and prisoners currently on hunger strike in Israeli prisons," Saeb Erakat said in a letter obtained by AFP Wednesday.
"We call on you to call on Israel to annul the policy of administrative detention and to condition deepening your bilateral ties with Israel pending Israel's fulfilment of all its obligations," he wrote in English.
Administrative detention is a procedure dating back to the pre-1948 British mandate under which military courts can hold suspects without charge for periods of up to six months, which can be renewed indefinitely.
Full report at:
http://www.nation.com.pk/international/12-Jun-2014/palestinians-seek-action-against-israel-over-detainees
-------------
Europe
'No question' of British forces for Iraq: Hague
June 12, 2014
London (AFP) - British Foreign Secretary William Hague said Wednesday there was "no question" of British troops being sent back to Iraq to help battle Islamic militants who have seized control of key cities.
Hague said while the situation was of great concern, the government was "not countenancing at this stage any British military involvement"
He said he believed Iraq had sufficient forces to counter the threat.
A US official said the United States "stands ready" to help Iraq, but made no mention of sending troops.
Having overrun Iraq's second city of Mosul in a spectacular assault this week, militants from the Islamic State of Iraq and the Levant (ISIL) seized the city of Tikrit on Wednesday.
Iraqi Prime Minister Nouri al-Maliki has appealed for international assistance.
Hague urged Iraq's political leaders to find a rapid solution to the deadlock over forming a new coalition government, and said the insurgency proved the war in Syria was "infecting" the region.
Full report at:
http://news.yahoo.com/no-british-forces-iraq-hague-182158499.html
-------------
EU, Arab League join forces against Jihadi threat
June 12, 2014
ATHENS, Greece (AP) — European Union and Arab League countries agreed Wednesday to cooperate against the terror threat posed by home-grown radicals who return home from conflicts in the Middle East, following a deadly attack on a Jewish site in Belgium by a suspected Jihadi.
Foreign ministers from the two regional bodies, meeting in Athens, said in a joint statement that their efforts would also address radicalization, recruitment and travel of foreign fighters — and "dealing with" those who return home.
Many European authorities fear that home-grown jihadists who travel to Syria and other conflict zones will come back with skills and the will to carry out terrorism. Belgian Foreign Minister Didier Reynders described returning foreign fighters as a "huge challenge."
"They have become very dangerous for our societies," he told reporters. "There is a risk of terrorist attack in our countries."
Full report at:
http://news.yahoo.com/eu-arab-league-join-forces-against-jihadi-threat-134105956.html
-------------
UNSC set to impose sanctions on Boko Haram
June 12, 2014
UNITED NATIONS: The UN Security Council is set to sanction Abubakar Shekau, leader of Nigeria's Boko Haram, and its faction Ansaru, the first individual and entity to be designated by the world body since the Islamist militant group was blacklisted last month.
Russia has delayed the process by placing a technical hold on the designations, but diplomats say it is simply to give Moscow more time to complete its review of the proposal made by Nigeria to the Security Council Al Qaeda sanctions committee.
"We would expect those listings to be approved and they would be sanctioned perhaps by the end of the week or early next week," said a senior council diplomat, speaking on condition of anonymity.
Once Russia lifts the hold, Shekau and Ansaru would be banned from international travel and have their assets frozen. Last month, the Security Council Al Qaeda sanctions committee blacklisted Boko Haram at the request of Nigeria, following global outrage when the group kidnapped more than 250 girls from a secondary school in remote northeastern Nigeria on April 14.
Full report at:
http://www.dawn.com/news/1112204/unsc-set-to-impose-sanctions-on-boko-haram
-------------
Russia concerns about latest developments in Iraq - Lavrov
June 12, 2014
Russia is concerned about the latest developments in Iraq, where Islamists have lately taken control of a number of cities, Russian Foreign Minister Sergei Lavrov said.
"We are greatly alarmed by what is happening in Iraq. We warned long ago that the affair that the Americans and the Britons stirred up there wouldn't end well," Lavrov told journalists on Thursday.
The US president declared the victory of democracy in Iraq 11 years ago, and since then "the situation has been deteriorating at an exponential rate," he said.
"Iraq's unity has been called into question. Terrorism is rampant there because the occupation forces virtually paid no attention to the internal political processes and didn't facilitate national dialogue but were pursuing exclusively their own interests," he said.
"For internal political reasons, the US withdrew their forces when the Iraqi security forces had been far from being prepared to enforce law and order on the entire territory of the country," he said.
http://voiceofrussia.com/news/2014_06_12/Russia-concerns-about-latest-developments-in-Iraq-Lavrov-3583/
------------
France helping Pakistan in combating terrorism
June 12, 2014
QUETTA: French Ambassador Philippe Thiebaud has said his country is helping Pakistan through the European Union (EU) to counter terrorism.
Speaking to journalists here on Wednesday, he said: "We are aware that Pakistan has been facing the big challenge of terrorism and France, via the EU, has been providing financial assistance to counter terrorism."
He said that France had provided training to police personnel in Islamabad, Khyber Pakhtunkhwa and other parts of the country. "France is providing professional training and equipment to Pakistani security forces," he said.
Pakistan, the diplomat added, adopted sound economic policies which resulted in increasing its exports to 28 countries of the EU.
Full report at:
http://www.dawn.com/news/1112167/france-helping-pakistan-in-combating-terrorism-envoy
----------
Britain: Somali Islamists plotting Djibouti attack
12 June 2014
Somalia's al-Qaeda-linked Shebab insurgents are planning further attacks in the Horn of Africa nation of Djibouti, Britain warned Thursday, after suicide bombers last month attacked a crowded restaurant.
"There are credible reports that Al-Shebab plan, and have the capability, to attack targets in Djibouti, including Western interests," the Foreign Office said, noting "there is a high threat from terrorism" in the port city.
Troops from Djibouti are part of the African Union force in Somalia fighting the Shebab, and Djibouti's port also serves as a key base for ships taking part in international anti-piracy operations off the Somali coast.
Full report at:
http://english.alarabiya.net/en/News/africa/2014/06/12/Britain-Somali-Islamists-plotting-Djibouti-attack.html
-------------
South Asia
Maldives discusses intolerance, Syria, Palestine, and women's rights at the UN Human Rights Council
By Ahmed Rilwan | June 12th, 2014
Maldives' Ambassador to the United Nations Offices in Geneva Iruthisham Adam has told the Human Rights Council of the Maldives concern over rising incidences of racial and religious intolerance around the world.
Speaking at the 26th regular session of the Human Rights Council (HRC) being held in Geneva from June 10 – 27, Iruthisham said that the Maldives believes human rights are for everyone and are indivisible and interdependent.
Her comments came response to the opening statement by the departing High Commissioner for Human Rights, Navi Pillay, whose term ends on 31 August.
In her statement, Pillay noted that effective human rights advocacy must necessarily open a Pandora's box of hidden abuses to allow the work of ensuring better governance and justice.
"Dalit or Brahmin, Peul or Pole, gay or heterosexual, tycoon or pauper, woman, child or man – regardless of our ethnicity, our age, our form of disability, our beliefs, or our economic might, all human beings are equal in dignity," said Pillay.
Full report at:
http://minivannews.com/politics/maldives-discusses-intolerance-syria-palestine-and-womens-rights-at-the-un-human-rights-council-86815
-------------
Xinjiang extremists rejecting Beijing's 'care': Official
June 12, 2014
BEIJING: An extremist minority that rejects the Chinese Communist Party's "care" is to blame for rising violence stemming from China's restive Xinjiang region, an official said Thursday.
Separatists from the autonomous western region have been blamed for a wave of deadly incidents across China in recent months, including a bloody attack in Xinjiang capital Urumqi in May which left 43 dead.
"The big picture of stability in Xinjiang is controllable and good," Shi Dagang, vice-chairperson of the Xinjiang regional government, told a press conference in Beijing.
"The common people side with the party and government because they have felt the party's care and the country's warmth, and that's the reason for the violent forces, extremists and separatists making trouble," he said.
Full report at:
http://tribune.com.pk/story/720806/xinjiang-extremists-rejecting-beijings-care-official/
-------------
Charge sheet against Mufti Izharul, 5 others submitted
June 12, 2014
Excepting Mufti Izharul, all the other accused are behind bars
The charge sheet of a murder case was submitted yesterday accusing five persons, including Hefazat-e-Islam Senior Nayeb-E-Ameer Mufti Izharul Islam Chowdhury.
Sub-InspectorMd Shah Alam of Khulshi police station, who is also the investigating officer of the case, submitted the eight-page charge sheet before the General Registry Office of Chittagong Metropolitan Court in the morning, naming 16 prosecution witnesses' names.
The accused are Mufti Izharul, his son and Hefazat-e-Islam Training Secretary Harun and their accomplices and madrasa staff Junaied, Habibur Rahman and Mohammad Ishak, said Md Rezaul Masud, additional deputy commissioner (prosecution) of Chittagong Metropolitan Police.
Full report at:
http://www.dhakatribune.com/law-rights/2014/jun/12/charge-sheet-against-mufti-izharul-5-others-submitted#sthash.p9ffNOtL.dpuf
-------------
Saudi destroys Buddha statues in Japan and gets arrested: Japan news
Jun 12, 2014
ANN news television network in Japan reported on Wednesday that a Saudi man destroyed three 300 years' old Buddha statues in Senso-Ji temple in Tokyo.
Senso-Ji templeis a Buddhist temple located in Asakusa, Taito, and Tokyo. And the temple is considered Tokyo's oldest temple, and one of its most significant.
The Saudi citizen, who was arrested by Tokyo Police department, is currently being investigated for reasons behind his action.
The incident caught the attention of moderate Muslims, and therefore a hash tag was trending on twitter #saudi-destroyed-statues-in-Japan, Saudis condemned the actions of the Saudi citizen,saying he should respect other's beliefs and religions.
http://english.ahram.org.eg/NewsContent/2/9/103472/World/International/Saudi-destroys-Buddha-statues-in-Japan-and-gets-ar.aspx
-----------
North America
US: Palestinian Authority not liable for Wednesday's Gaza rocket strike on Israel
June 12, 2014
The United States condemned Wednesday morning's Gaza rocket attack against Israel but said it doesn't at this time hold the Palestinian Authority liable for it, even though Hamas has sponsored its new government.
"We condemn all rocket fire from Gaza. It is unprovoked aggression against civilian targets and is totally unacceptable," US State Department spokeswoman Jen Psaki told reporters in Washington.
"We expect the Palestinian Authority will do everything in its power to prevent attacks from Gaza into Israel. But we acknowledge the reality that Hamas currently controls Gaza," Psaki said.
The Kassam rocket narrowly missed a major traffic artery, Highway 232, landing in a nearby dirt field. It is the first rocket from Gaza to hit southern Israel since the new consensus government – jointly sponsored by Fatah and Hamas – was officially sworn into office last week.
Full report at:
http://www.jpost.com/Diplomacy-and-Politics/US-Palestinian-Authority-not-liable-for-Wednesdays-Gaza-rocket-strike-on-Israel-358072
-------------
Former US Ambassador to Syria: Give Syrian Insurgents Manpads to Shoot Down Iranian Planes
June 12, 2014
Last September, Congress said no to plans to bomb Syria, by failing to approve an authorization for the use of military force. Now there is a new push - exemplified by this New York Times op-ed by former Ambassador Robert Ford - for deeper US military intervention in Syria.
Advocates for US military intervention are assuring us that there will be no direct US bombing of Syria. Instead, so-called "moderate rebels" in Syria (whoever they are) will do the bombing on behalf of the United States, with US-supplied weapons.
Ford argues explicitly for supplying Syrian insurgents with surface-to-air missiles, noting approvingly that these missiles could be used against Iran [my emphasis]:
Mr. Assad now depends on Iran and Hezbollah for his survival, and Iran's influence in Syria is likely to remain as long as Mr. Assad does. . . .
To achieve this, the Free Syrian Army must have more military hardware, including mortars and rockets to pound airfields to impede regime air supply operations and, subject to reasonable safeguards, surface-to-air missiles. Giving the armed opposition these new capabilities would jolt the Assad military's confidence.
Full report at:
http://www.truth-out.org/opinion/item/24298-former-us-ambassador-to-syria-give-syrian-insurgents-manpads-to-shoot-down-iranian-planes
-------------
URL: https://www.newageislam.com/islamic-world-news/new-age-islam-news-bureau/al-qaida-establishes-islamic-caliphate-across-syria,-northern-iraq/d/87493