New Age Islam News Bureau
24 Oct 2019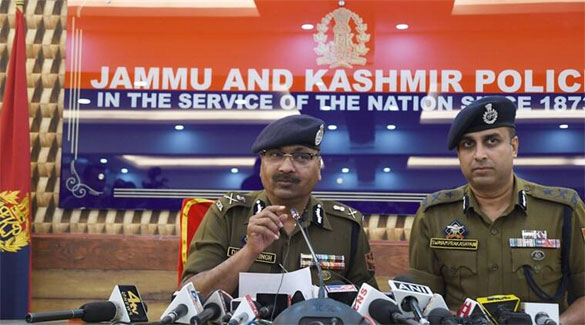 Director General of Jammu and Kashmir Police Dilbagh Singh addressing a press conference in Srinagar. (Express photo by Shuaib Masoodi)
--------
• Palestine 'Dear To the Hearts of Arabs', Saudi Envoy Tells UN
• 'What Is Going to Happen to Us?' Inside ISIS Prison, Children Ask Their Fate
• 700 Terror Financing Cases near Conviction: Pak Govt
• Tragedies Deepen Jewish-Muslim Bonds to Fight Hate Crimes
• London Mayor Sadiq Khan Bans A 'Free Kashmir' Protest outside India's Mission Building On Diwali
• Gantz Receives Official Mandate To Try To Form Israeli Government
• Iranian Beauty Queen Pleads For Asylum in Philippines: 'They Will Kill Me'
• Kais Saied Takes Oath as Tunisia's New President
• Afghan Leaders Urged To Focus On Preparations For Formal Intra-Afghan Talks With Taliban
India
• Al Qaeda's Offshoot wiped out from Kashmir Valley: J&K Police Chief
• Hyderabad: Customer Refuses Food from Muslim Delivery Executive, Complaint Lodged
• Gujarat High Court Asks State Government to Compensate Wife of 26/11 Victim
• Zakir Musa gang wiped out: Jammu and Kashmir police
• Security up for Jammu & Kashmir local body elections
• 'JuD, LeT plan to hit RAW, Army offices'
• Zakir Musa's successor killed in encounter: Jammu and Kashmir DGP
• BJP lawmaker wish: Remove Tipu Sultan from school books
• National anthem was never sung in Pilibhit School, finds inquiry
• Terror funding: Court takes note of charges against Yasin Malik
--------
Arab World
• Palestine 'Dear To the Hearts of Arabs', Saudi Envoy Tells UN
• 'What Is Going to Happen to Us?' Inside ISIS Prison, Children Ask Their Fate
• Saudi Arabia jumps 30 spots in ease of doing business index; Middle East shines
• SDF chief thanks Russia for saving Syria Kurds from 'scourge' of war
• Lebanon debt overhaul 'inevitable' amid stalemate over austerity: Report
• Syrian Kurd sets himself on fire outside UN refugee agency
• Iraqi defense minister: US troops leaving Syria will depart Iraq within 4 weeks
• Saudi Arabia's al-Jubeir: Maximum pressure only way to get Iran to negotiate
• 'I feel deceived': Shia citizens challenging Hezbollah, Amal in Lebanon
• Egypt agrees to Nile dam meeting with Ethiopia, Sudan
• Indonesian military delegation visits Islamic anti-terror coalition in Riyadh
• DiplomaticQuarter: Afghan Embassy hosts reception to mark 100 years of independence
• Saudi Arabia to host OIC event on water
--------
Pakistan
• 700 Terror Financing Cases near Conviction: Pak Govt
• Pakistan To Participate In Four-Party Meeting On Afghan Peace Talks
• Pakistan Govt Allows Opposition Parties Led by Maulana Fazl to Protest in Islamabad
• MQM condemns 'brutal manhandling' of protest in PoK by Pak security forces
• Maryam Nawaz admitted to hospital after she rushes to enquire father's health
• Pakistan PM Imran Khan directs Punjab government to extend best medical care to Nawaz Sharif
• Pakistan, India sign Kartarpur Corridor agreement today
• Shahbaz irked by institutions' decision to 'fully support' Imran
• Maryam sent back to jail despite being unwell: PML-N spokesperson
• Tehreek-i-Insaf, BAP bag two KP Assembly reserved seats
• Tales of economy, nuclear power, democracy and Islamic law
--------
North America
• Tragedies Deepen Jewish-Muslim Bonds to Fight Hate Crimes
• Muslim Institute for Leadership and Empowerment aims to create a community for Muslim students, empower them to be leaders
• Number of Muslim students bullied for the faith declines but rate is still double the average, study finds
• How Bernie Sanders became a favorite among Muslim Americans
• Trump lifts Turkey sanctions, quits 'blood-stained' Syria
• Trump lifts Turkey sanctions as Syria truce turns permanent
• Iran rejects as 'bluff' Trump's threat of war, vows crushing response to slightest mistake
• Trump sends $4.5 million in aid to White Helmets in Syria
• No evidence of ethnic cleansing in Syria: US official
• US did not sign up to defend PKK/YPG: Defense secretary
• U.S. official: 'Dozens' of Islamic State fighters freed in Syria
• US, French, British Armies Continue Withdrawal from Syria
• US says it supports Lebanese people's call for action for economic reform
• Will Continue To Pressurise Pakistan To Act Against Lashkar, Jaish And Hizbul, Says US
--------
Europe
• London Mayor Sadiq Khan Bans A 'Free Kashmir' Protest outside India's Mission Building On Diwali
• UN Expert: Iran Executes Children In Violation Of Rights Law
• UK says Lebanese people expressed their 'legitimate anger,' calls for reforms
• UN expert: World must take firm action to end Israel's occupation
• 'ISIS Bride' Shamima Begum Challenges British Government For Stripping Her Citizenship
• Jewish Museum terrorists ordered to pay nearly €1 million in victim compensation
• Russia lands nuclear bombers in Africa as Putin hosts continent's leaders
• Greece does not let Turkey restore even one fountain'
• Germany welcomes Turkey-Russia deal on northern Syria
--------
Mideast
• Gantz Receives Official Mandate To Try To Form Israeli Government
• Iran Cited by International Body for Failing to Address Terror Financing
• Turkey Halts Syrian Incursion, Hours after Deal With Russia
• Iran FM: Trump administration aiding, abetting Israel to promote expansionist policy
• Seven Saudi soldiers killed in clashes with Yemeni forces in border areas
• Moscow warns Kurds to pull out after Turkey agreement
--------
Southeast Asia
• Iranian Beauty Queen Pleads For Asylum in Philippines: 'They Will Kill Me'
• Delay in return 'boosts ISIL recruitment' in Philippines' Marawi
• Shia expert tells how local Muslim authorities tolerated non-Sunnis in the past
• Malaysia works to resolve spat with India, hopes won't affect 16-nation trade deal
• Wiranto Leaves Hospital to Welcome Successor Mahfud MD
--------
Africa
• Kais Saied Takes Oath as Tunisia's New President
• Two Boko Haram Commanders, 14 Others Captured By Nigerian Army
• Nigerian air force kills Boko Haram militants near Lake Chad: spokesman
• Morocco, U.S. agree to bolster cooperation on fighting terrorism
• Extremist attacks intensify at Mali, Burkina Faso border
• Libya: 2 civilians killed in shelling by Haftar forces
• Burundian army kills 14 gunmen from DR Congo
--------
South Asia
• Afghan Leaders Urged To Focus On Preparations For Formal Intra-Afghan Talks With Taliban
• 8 militants killed in northern Afghan province
• President Undermined National Security: SL Panel Probing Easter Blasts
• US Wants Postponement of Rohingya Relocation To Bhashan Char
• Airstrikes, armed clash leave 9 Taliban militants dead or wounded in Balkh and Faryab
• Salahuddin Rabbani steps down as acting minister of foreign affairs of Afghanistan
• Airstrikes kill 12 Taliban militants; destroy multiple caches of weapons in 5 provinces
Compiled by New Age Islam News Bureau
URL: https://www.newageislam.com/islamic-world-news/al-qaedas-offshoot-wiped-kashmir/d/120081
--------
Al Qaeda's offshoot wiped out from Kashmir Valley: J&K Police chief
October 23, 2019
In a major breakthrough, the Al Qaeda's offshoot in Kashmir, Ansar Ghazwat-ul Hind (AGH), has been eliminated from the Valley with the killing of the group's chief and two other militants, Jammu and Kashmir Director General of Police Dilbag announced on Wednesday.
In a hurriedly-called presser, a day after the three militants were killed in Tral area of south Kashmir's Pulwama district, the police chief said the operation was carried out following a tip-off from the local police.
Hameed Lone, alias Hamid Lelhari, was among the three militants neutralised in Tuesday's encounter. He was the successor of Zakir Musa, the AGH's founder in Kashmir. Musa had vowed allegiance to the Al Qaeda and was killed in an encounter in May this year.
Besides Lone, others killed in Tuesday's encounter are Naveed Ahmed Tak and Junaid Rashid Bhatt.
"All the killed terrorists as per police records were part of the Zakir Musa group and were wanted by police for their complicity in a series of terror crimes, including attacks on security establishments and civilian atrocities," Singh said.
The police chief said the anti-militancy operation had dealt a severe blow to the AGH.
The Pakistan-based Jaish-e-Mohammed, according to Singh, was also trying to coordinate with other terror groups, including the AGH, in Kashmir to carry out attacks.
"The AGH has been wiped out but some elements who are overground workers are there. They suddenly crop up and join militant ranks… But, as of now, the AGH has been wiped out from Kashmir," Singh said.
The police chief also said a "sizeable number" of militants had infiltrated since August 5, when the Centre announced that it was revoking Jammu and Kashmir's special status and bifurcating it into two union territories.
"(It is) difficult to give a number of militants who have come in after August 5. But their number is sizeable that much I can say," he told reporters in response to a question.
https://indianexpress.com/article/india/al-qaedas-offshoot-wiped-out-from-kashmir-valley-jk-police-chief-6084040/
--------
Palestine 'dear to the hearts of Arabs', Saudi envoy tells UN
October 24, 2019
NEW YORK: Palestine and the Golan Heights "occupy a great place in the heart of the Arab nation," Abdallah Al-Mouallimi, Saudi Arabia's permanent representative to the UN, said.
The Saudi government has always supported Palestinian rights under Israeli occupation, the Al-Mouallimi said.
Al-Mouallimi was commenting on a report dealing with Palestinian rights presented to the Economic and Financial Committee as part of the 74th session of the UN General Assembly.
"The international community agrees that sustainable development in the region cannot be achieved unless it is comprehensive and equitable," he said.
Al-Mouallimi said that Israeli authorities continue to violate international conventions and norms in their dealings with the Palestinians under occupation.
"The report recorded many blatant violations by Israel, including the imposition of discriminatory policies in favor of the settlers in Palestine and the occupied Syrian Golan with regards to the exploitation of land and water resources."
Israeli authorities imposed severe restrictions on the movement of Palestinians, which led to the deterioration of the economic, social and humanitarian situation. Up to 95 percent of the population of the Golan Heights had been displaced and 340 Syrian villages demolished, he said.
Violations included use of excessive force against children, women and the elderly, and the killing of Palestinians by Israeli settlers.
"There is no justification for the continuation of these flagrant violations, especially in light of the international consensus on the right of the Palestinian people to self-determination and the establishment of an independent state within the borders of June 1967, with Jerusalem as its capital," he said.
https://www.arabnews.com/node/1573481/saudi-arabia
--------
'What Is Going to Happen to Us?' Inside ISIS Prison, Children Ask Their Fate
Oct. 23, 2019
NORTHEASTERN SYRIA — The prisoners cover the floor like a carpet of human despair. Many are missing eyes or limbs, some are bone-thin from sickness, and most wear orange jumpsuits similar to what the Islamic State, the terrorist group they once belonged to, dressed its own captives in before it killed them.
Upstairs, jammed into two cells with little sunlight, are more than 150 children — ages roughly 9 to 14 — from a range of countries. Their parents brought them to Syria and ended up dead or detained. The children have been here for months and have no idea where their relatives are or what the future holds.
"I have a question," said a boy from Suriname inside his cell. "What is going to happen to us? Are the kids going to come out?"
Rare visits to two prisons for former residents of Islamic State-held territory in northeastern Syria by The New York Times this week laid bare the enormity of a growing legal and humanitarian crisis that the world has largely chosen to ignore.
As the Islamic State's self-declared caliphate collapsed in Syria, tens of thousands of men, women and children who had lived in it ended up in squalid camps and crowded prisons run by the Kurdish-led militia that had partnered with the United States to defeat the jihadists.
But now that a military incursion by Turkey against Kurdish forces has set off a new wave of violence and weakened their control over the area, uncertainty has grown over the fate of the huge population of people who survived the toppling of the Islamic State and have been warehoused since then in prisons and detention camps.
Most of their home countries have refused to take them back, fearing that they harbor extremist thoughts or could carry out attacks. So their governments have instead chosen to leave them in the custody of a Kurdish-led force that lacks the resources to house, feed and protect them, much less to investigate the adults and provide the children with education and rehabilitation.
Little about the minors' conditions in the Kurdish-run prison appeared to meet international standards that, even for suspected criminals, prioritize children's well-being, consider detention a last resort and require specialized physical and emotional care.
One crowded cell held 86 minors — from Syria, Iraq, Mauritius, Russia and elsewhere. Another held 67 adolescents and a boy who said he was 9 and from Russia.
When asked where his parents were, he shrugged and said, "They got killed."
Later, he asked of his captors, "Why don't they bring us fruit?"
The confusion surrounding the detainees has only grown since President Trump started pulling United States forces out of the area, a decision that cleared the way for Turkey to begin its assault on America's pivotal allies in the war against the Islamic State in Syria.
Prison crowding has increased because Kurdish fighters, who are viewed as a threat by Turkey, moved hundreds of prisoners away from the border to facilities farther from the battle zone, Kurdish officials said. And fighters who worked as prison guards have slipped off to the front lines to fight the Turks, leaving the facilities more vulnerable to prisoner uprisings or attacks by the Islamic State to free its comrades.
"We are 100 percent sure that if they have the opportunity to escape from the prison, it will be very dangerous for us," said Can Polat, an assistant warden at a prison with more than 5,000 men. "Holding these people here is not only a danger for Syria, it is a danger for the whole world."
The detention crisis in northeastern Syria is a bleak byproduct of the war against the Islamic State.
As the terrorist group was rolled back, losing its last patch of territory in Syria in March, Kurdish fighters found themselves in charge of about 11,000 men and tens of thousands of women and children. Many of them were foreigners, from Europe, Asia, Africa and the Arab world, and most of their countries refused to take them home, even to put them on trial, much less integrate them into society.
So with help from a United States-led international coalition, the Kurds established camps and a prison system, housing detainees in former government prisons they had taken over and in makeshift lock-ups in schools and other facilities.
Mr. Polat's prison is a converted industrial institute that now holds more than 5,000 people. One-quarter of them are Syrians, the rest hailing from 29 other countries, including Iraq, Libya, Egypt, Afghanistan, the Netherlands and the United States.
The facility opened around the collapse of the Islamic State in Syria, which caused such an influx of prisoners that many were given orange jumpsuits provided by the coalition to replace their old clothes, Mr. Polat said.
Since the Islamic State often dressed its captives in orange before killing them, many of the captives gasped when they saw the new outfits, thinking they were about to be killed, too.
Orange jumpsuits now filled the prison. Most of the 400 men in a vast medical ward wore them. Many of them were sick or wounded. Men with metal braces holding broken bones in place lay on thin mattresses, while others shuffled to the bathroom on crutches or dragged their legs on the ground behind them.
A few were so emaciated that their cheekbones stuck out and their legs were as thin as arms. When one man made the call to prayer, many of the prisoners prayed sitting down because they were too injured or ill to stand.
The Kurdish guards assumed that most of the men had been fighters and still followed the Islamic State's ideology, but the prisoners themselves played down their roles in the world's most fearsome terrorist organization.
A Palestinian man with a broken leg said he had come to Syria because he "wanted to help." A mechanic from Trinidad said he had not fought because he had been too busy fixing cars. A tall, muscular Russian said he had been a cook — in an elementary school.
In dozens of interviews in two prisons, no one admitted to being a fighter.
Most wanted to return to their countries or hoped to get amnesty for renouncing the Islamic State.
"There are some who say, 'I was a fighter and will continue on that path,' and others who say, 'No, I was tricked,'" said Basil Karazoun, who said he had joined the terrorist group for protection after defecting from the Syrian military.
Like most of the prisoners, he feared being handed over to Syria's president, Bashar al-Assad, whose forces have been accused of widespread abuse and killings of detainees. After Mr. Trump announced that he was pulling troops out of Syria, the Kurds — worried about being overrun by Turkey once the Americans abandoned them — announced that they had reached an agreement to allow Syrian government forces into the area.
"It's a fact that if we fall into the regime's hands, there will be mass executions," he said. "That is how the regime thinks."
Another cell in the prison held 99 men, most of whom had lost limbs, including Abdelhamid al-Madioum, who described himself as an American who had lived near Minneapolis.
In an interview, he said he had worked at a Jamba Juice in high school, that his best friends were an atheist and a Christian, and that he had been studying engineering before joining the Islamic State in Syria, where he had hoped to study medicine.
But a few months after he arrived, he said, he was hit by an airstrike that shattered his body and tore off his right arm. Around the time he was captured by Kurdish fighters this year, he said, his wife was shot dead and he lost track of his two young sons, aged 2 and 4.
"I made a mistake," he said. "I'll admit it. I'll admit it 1,000 times."
It was unclear why some minors were put in prison, while most of the children of Islamic State fighters and followers have been taken to detention camps. Their cells were crowded, with no free space between their mattresses and blankets. When a guard swung open a hatch on the cell's door, the children crowded around to peek outside.
Mr. Polat, the deputy warden, later said the authorities had indications that many of the minors had been through ideological training as "cubs of the caliphate," or future fighters. Plans to move the youngest prisoners to rehabilitation centers had been delayed, he said, because of the Turkish incursion and the lack of international support.
Under United Nations standards for juvenile justice, even minors suspected of crimes should be detained only as "a measure of last resort and for the shortest possible period of time," pending trial.
While the Islamic State did train boys for combat, it was unclear if that was true of the boys in the prison. None were awaiting trial, because the Syrian Kurdish authorities do not try foreigners.
The United Nations also says detained juveniles should receive "all necessary individual assistance," including education, medical care and counseling.
The boys in prison said they received almost no services.
"The situation is pretty bad here, so if they could hurry up and decide," said a 16-year-old boy from Mauritius. "Months like this without knowing what is going to happen, people could start going crazy. They could say these guys were terrorists before with ISIS, but they are still human."
Ben Hubbard is the Beirut bureau chief who has spent more than a decade in the Arab world, including Syria, Iraq, Lebanon, Saudi Arabia, Egypt and Yemen. @NYTBen • Facebook
https://www.nytimes.com/2019/10/23/world/middleeast/what-is-going-to-happen-to-us-inside-isis-prison-children-ask-their-fate.html
--------
700 terror financing cases near conviction: Pak govt
Oct 24, 2019
ISLAMABAD: The Pakistan government has disclosed that as part of the Financial Action Task Force's (FATF) action plan, more than 700 under-investigation suspected terror financing cases were near adjudication.
Addressing the media here on Wednesday, Minister for economic affairs Hammad Azhar, who was the chief negotiator on behalf of the country at the Paris-based FATF plenary meeting last week, eulogised the success of his government in dealing with terror financing and money laundering issues.
"We have initiated these terror financing cases in the last six months," he said, claiming that Islamabad's efforts on that account were highly appreciated at the meeting, Dawn news reported.
But the minister did not elaborate the number of cases nearing "conviction".
He set June 2020 as an indicative target for compliance with all 27 actions plan to come out of the grey list.
Pakistan will submit its report to the International Cooperation Review Group (ICRG) of the FATF in January 2020, which will include all actions being taken since September 2019.
On the issue of proscribed outfits, Azhar said that they would be dealt according to the national laws.
But there was a need for strengthening investigation and prosecution, he added. "We are working on improving further inter-agency coordination to improve compliance."
Azhar's remarks come after the FATF, the global watchdog for money laundering and terrorist financing, on October 18 gave Pakistan a four-month lifeline, urging Islamabad to fulfil its commitments by February 2020.
FATF also warned Pakistan that failing to fulfil its commitments to this international monitoring agency could put the country back on a list of jurisdictions branded as uncooperative and tax havens for terror funding.
Popularly known as the blacklist, the placement could lead to a punitive action, including the FATF urging all jurisdictions to watch their business relations and transactions with Pakistan.
In 2012, Pakistan was placed on the grey list of countries considered uncooperative and tax havens for terror funding. It remained on list till 2015.
Pakistan was re-placed on the grey list on June 29, 2018, and given 15 months to implement a 27-point action plan agreed with the FATF.
https://timesofindia.indiatimes.com/world/pakistan/700-terror-financing-cases-near-conviction-pak-govt/articleshow/71733282.cms
--------
Tragedies Deepen Jewish-Muslim Bonds To Fight Hate Crimes
October 23, 2019
NEW YORK (AP) — Muslim groups helped raise hundreds of thousands of dollars to help Pittsburgh's Tree of Life synagogue recover after a gunman killed 11 people there, one year ago this week. The Jewish congregation mounted its own fundraiser for New Zealand's Muslims after a white supremacist shooter killed 51 people at two mosques there in March.
Such outreach between Jews and Muslims often draws widespread attention only in the immediate wake of tragedy. But as both faiths grapple with a rise in reported hate crimes and fears within their communities of being attacked for their beliefs, Jews and Muslims are forging bonds that rely on shared personal values to help combat anti-Semitism and Islamophobia.
For Sheryl Olitzky, 63, the "aha moment" that inspired her focus on Jewish-Muslim connections came almost a decade ago on a trip to Poland, when she asked a guide why she saw no locals in the head-covering garb of devout members of either faith.
Olitzky, who was married at Tree of Life synagogue, recalled being stunned by the exclusionary response she heard and telling herself that "I could not change history, but I could rewrite it by changing the future" and working to prevent further episodes of discrimination against Jews and Muslims.
When the grandmother of seven returned home to New Jersey, however, it took several months for her to realize that, despite living in an area with "a fairly substantial number of Muslims and Jews," she had no Muslim friends.
"I said, 'I believe ignorance is a primary driver of hate, and it's time, if I want to make change that I get to know Muslim women'," Olitzky said.
When Olitzky was introduced to Atiya Aftab, a Muslim attorney and adjunct professor at Rutgers University, their partnership took off as the nonprofit Sisterhood of Salaam Shalom. What began as a meeting of six Muslim and six Jewish women at Atfab's home now counts more than 170 chapters in 32 states and Canada, according to Olitzky.
The Sisterhood devotes much of its attention to education and shared experiences that can deepen ties between its members, with its fourth annual trip this year taking dozens of Muslim and Jewish women and teenage girls to Germany and Poland. But a vow to fight hate crimes that target their respective communities is also woven into the group's foundation, with a "rise and respond" primer for speaking out against anti-Semitism and Islamophobia released this year .
Other members of the two faiths have created formal alliances as well. The Muslim-Jewish Advisory Council was established by the American Jewish Committee and the Islamic Society of North America in the first days after President Donald Trump's 2016 election — following a campaign where Trump repeatedly stoked public fears of Muslims.
MJAC is co-chaired by two business executives, one Jewish and one Muslim. The group opened regional affiliates after a 2017 spike in reported hate crimes that included the death of Heather Heyer, killed while demonstrating against a white supremacist rally in Charlottesville, Virginia.
AJC Director of U.S. Muslim-Jewish Relations Ari Gordon said that some themes common in episodes of anti-Semitism and Islamophobia are "definitely linked." The same man who allegedly attacked a synagogue in Poway, Calif., this spring was also linked to a fire set at a nearby California mosque, Gordon pointed out.
Hate crimes reported to the FBI have risen for three years running, according to official statistics, with Jews and Muslims ranking as the top two targets of religiously motivated incidents. But underreporting is seen as a significant obstacle to effective tracking of the problem. Heyer's death, for example, was not included in the federal database although the man who drove his car into the crowd where she stood pleaded guilty to hate crimes charges.
MJAC has championed bipartisan legislation in Congress designed to improve the tracking of hate crimes — but its work has stayed in that domestic policy lane, steering clear of U.S. policy toward the Israel-Palestine conflict that has been a longtime divider of Jews and Muslims.
"We don't put that issue on the side because it's not important; quite the opposite," Gordon said, adding that MJAC aims to demonstrate that the two faiths "can work together for mutual benefit and build trust despite this disagreement."
Wa'el Alzayat, CEO of the Muslim advocacy group Emgage Action, and Halie Soifer, executive director of the Jewish Democratic Council of America, took a similar approach when they co-authored a column after the New Zealand mosque attacks that described their faiths as battling the "common enemy" of white supremacist violence. The duo first got to know each other as colleagues on the staff of Samantha Power, who served as U.S. ambassador to the United Nations under former President Barack Obama.
"We can work together on issues that unite us, and that doesn't mean we have to agree on every issue," Soifer said. Alzayat, also a member of MJAC, agreed that the alignment to discuss their faiths' struggles against hate crimes does not mean "you let go of your principles."
If the two communities can successfully find that "common ground," Alzayat said, "over time, the really difficult stuff becomes easier to talk about."
The partnerships between Muslim and Jewish groups have extended beyond battling hate crimes. AJC held an event last week to show support for the majority-Muslim Syrian Kurds as they grapple with the fallout from Trump's decision to withdraw troops from the country's northeast and Turkey's subsequent attacks on Kurdish-held territory.
But even when it comes to the unifying issue of preventing hate crimes against their respective faiths, not every Muslim-Jewish partnership agrees on how publicly to discuss Trump's role in the problem. Alzayat and Soifer used their op-ed to label Trump "a symbol of rising Islamophobia, anti-Semitism and other forms of racial and religious intolerance," and Olitzky also said she views Trump's muddled rhetoric about white nationalists as having "given permission for them to come out" further into the open.
MJAC, for its part, takes a more positive approach toward an administration whose support it needs to get further hate crimes legislation passed into law under Trump. The president signed a bipartisan bill strengthening penalties for threats against religiously affiliated institutions into law last fall. Gordon praised the Justice Department's work on anti-Semitism and said that the group would not pull back on "criticism where we think it's due."
__
Associated Press religion coverage receives support from the Lilly Endowment through the Religion News Foundation. The AP is solely responsible for this content.
https://www.yahoo.com/news/tragedies-deepen-jewish-muslim-bonds-180232815.html
--------
London Mayor Sadiq Khan Bans A 'Free Kashmir' Protest Outside India's Mission Building On Diwali
Oct 24, 2019
LONDON: A 'Free Kashmir' protest has been banned from taking place outside India House on Diwali after fears were raised about the safety of the building and ability of the unarmed police to hold back thousands of protestors if it went ahead.
London Mayor Sadiq Khan had on Friday called for those organising the march on 27 October and those taking part in it to cancel their plans "to prevent a repeat of the unacceptable violence, aggression and hostility from some protestors" at the previous protests on 15 August and 3 September. This followed letters being sent to him by British Indian individuals and organisations asking for it to be called off. Gujarat-born Labour councillor and London Assembly Member Navin Shah wrote that the timing of the march was "extremely insensitive and provocative".
The High Commission building was left with £150,000 (Rs 1.4 crore) worth of damage following the last two protests when it was pelted with eggs, stones and other objects by angry pro-Pakistan protestors.
The High Commission of India officials last week formally raised concerns with the Metropolitan Police about the safety and security of the building, as well as the disruption to local businesses, to get the location shifted from its site.
A spokesman at the High Commission told TOI on Wednesday: "We have had verbal confirmation from the police that we have got it cancelled as in they will not be allowed to enter the area around India House. However, the march can still go ahead from Downing Street and end up in Trafalgar Square."
On Wednesday Bob Blackman MP, who represents Harrow East, had asked UK PM Boris Johnson during Prime Minister's Questions what action he was taking to prevent a repeat of the previous two violent protests.
"Just three weeks ago pro-Pakistan organisations held violent protests outside the Indian High Commission. This Sunday 10,000 are threatening to come again on Diwali," he said in the House of Commons.
Johnson replied that home secretary Priti Patel would be speaking to the Metropolitan Police "I deplore demonstrations that end up being intimidating in any way at all. This is a police operational matter. The home secretary will be raising it with the police. We must all be clear that violence and intimidation anywhere are wholly unacceptable in this country," he said.
TOI has seen a notice sent to the groups organising the protest which states that Section 14 of the 1986 Public Order Act has been imposed to prevent serious disruption to the community. "The route of the procession must go from Parliament Street to Whitehall to Trafalgar Square. Failure to adhere to these conditions may lead to arrest and prosecution," the notice states.
"Any static assembly preceding any procession must be located in Parliament Street and following any procession must be located in Trafalgar Square. The procession must not commence before 14.00. The conditions may be subject to change."
Groups taking part, according to the notice, include Pakistan Patriotic Front, World Muslim Federation, Muslim Action Forum, Overseas Pakistan Welfare Council, Jammu Kashmir National Awami Party, the PTI AJK.
PoK-born Lord Nazir Ahmed, Pok 'lawmaker' and former 'head' of Jamaat-e-Islami in PoK Abdul Rashid Turabi, 'Leader Opposition Assembly' in PoK and member of the PPP Ch M Yasin, leader of All Parties Hurriyat Conference Altaf Ahmad Bhat and 'Information Minister of PoK' Muhshaq Minhas, are all expected to join in the demonstration.
Section 14 of the Public Order Act 1986 is legislation used by police to impose conditions on a public assembly where it is believed serious public disorder, serious damage to property or serious disruption to life of the community may result, or it is believed the organisers of that assembly will intimidate or compel others to do unlawful acts.
Under Section 14, a senior officer can specify the location, duration and number of participants of an assembly. Any organiser or person taking part in the protest failing to comply with these conditions or inciting others not to comply with them will be committing an offence and will be liable to arrest.
The conditions have been frequently imposed on the Extinction Rebellion protestors in London who have tried to disrupt roads, bridges and public transport on several occasions to raise awareness of climate change.
https://timesofindia.indiatimes.com/india/kashmir-protest-banned-from-taking-place-outside-indias-mission-building-on-diwali/articleshow/71731969.cms
--------
Gantz receives official mandate to try to form Israeli government
23 October 2019
Former military chief Benny Gantz received an official mandate on Wednesday to try to form Israel's next government after Prime Minister Benjamin Netanyahu failed, with no easy path to breaking a political deadlock.
Assigned the task by President Reuven Rivlin at a televised ceremony, Gantz, head of the centrist Blue and White party, will have 28 days to put together an administration.
Failure could lead to Israel's third ballot within a year after inconclusive elections in April and September.
Netanyahu, a fourth-term conservative whose party tied with Gantz's in September's election, told Rivlin on Monday he was giving up on forming the government after failing to win support from a majority of parliament.
https://english.alarabiya.net/en/News/middle-east/2019/10/23/Netanyahu-rival-Gantz-receives-official-mandate-to-try-to-form-Israeli-government.html
--------
Iranian beauty queen pleads for asylum in Philippines: 'They will kill me'
By Tamar Lapin
October 22, 2019
An Iranian beauty queen is pleading for asylum in the Philippines as she fights extradition to her native country — fearing she'll be executed if she gets sent back.
Bahareh Zare Bahari, who competed in the 2018 Miss Intercontinental pageant in Manila, has been trapped at the Ninoy Aquino airport in the Philippines since Oct. 18 when Iran issued an Interpol red alert for her on assault and battery charges.
But Bahari, 31, told The Telegraph that the charges are a "big lie" and that she's being targeted for her political activism and speaking out in support of women's rights.
If she gets deported to Iran, "they will kill me," she said.
Markk Perete, undersecretary at the Philippine Department of Justice, said the alert issued by Iran for Bahari's extradition stems from a claim that she assaulted a fellow Iranian citizen in the Philippines.
But Perete said Philippines authorities were unaware on the assault, which allegedly took place on their soil.
Bahari, who is currently in her last year of dental school in the Philippines, is confined to the airport's Terminal 3 as the government reviews her asylum claim.
She was stopped at the airport as she returned from a two-week vacation to Dubai.
According to her profile on the pageant website, Bahari left Iran because of how limiting life is there for women.
"My wish is that my country will reach to freedom and equality," her bio states.
https://nypost.com/2019/10/22/iranian-beauty-queen-pleads-for-asylum-in-philippines-they-will-kill-me/
--------
Kais Saied takes oath as Tunisia's new president
Oct 23, 2019
Tunisia has a new president. Kais Saied has been sworn in after winning a landslide victory in this month's election.
The low-profile law professor took the presidential oath of office before the parliament on Wednesday.
Saied's victory delivered a heavy blow to the established political elite, who have failed to improve living standards or end corruption since the 2011 revolution that introduced democracy in the North African country.
Saied, considered a political novice, scooped more than 70% of the vote. Young Tunisians comprised most of his supporters.
About 90 percent of 18-25 age bracket voted for Saied, according to estimates by the Sigma polling institute.
After his victory, the professor-turned-president thanked the country's young people "for turning a new page" and vowed to try to build "a new Tunisia."
Saied's main rival in the presidential election runoff was media magnate Nabil Karoui, who was released from prison just recently.
Saied has been an outspoken critic of Israel and has explicitly said that he considers the establishment of any relations with the regime as "high treason."
During a speech delivered at his swearing-in ceremony on Wednesday, he once again drew attention to the issue of Palestine, and voiced his opposition to the Israeli occupation.
Tunisia has been afflicted by chronic unemployment, high inflation, and budget deficit.
Saied's monotonous voice, the use of Standard Arabic rather than the Tunisian dialect, as well as his focus on law and order issues have earned him the nickname "robocop."
https://www.presstv.com/Detail/2019/10/23/609375/Tunisia-Kais-Saied-President-Oath
--------
Afghan leaders urged to focus on preparations for formal intra-Afghan talks with Taliban
23 Oct 2019
The representatives of the United States, European Union and the United Nations urged the Afghan government to focus on preparations for formal intra-Afghan dialogue with the Taliban group.
"Called on President Ashraf Ghani, Chief Executive Abdullah Abdullah and other prominent Afghan leaders to focus immediately on preparing the Islamic Republic of Afghanistan for formal Intra-Afghan Negotiations with the Taliban, including the naming of an inclusive, national negotiating team," according to a Europe-US Communique on the Afghan peace process.
The representatives and special envoys of the U.S., Europe and UN released the communique after meeting in EU Headquarters in Brussels on 22nd of October.
The communique further stated "Urged all sides to observe a ceasefire for the duration of Intra-Afghan Negotiations to enable participants to reach agreement on a political roadmap for Afghanistan's future."
"Reaffirmed that any peace agreement must protect the rights of all Afghans, including women, youth and minorities, and must respond to the strong desire of Afghans to sustain and build on the economic, social, political and development gains achieved since 2001, including adherence to the rule of law, respect for Afghanistan's international obligations, and improving inclusive and accountable governance," the communique stated, adding that "Highlighted that the Afghan parties inclusion in, and ownership of, intra-Afghan negotiations is important for a successful outcome."
This comes as reports emerged earlier today suggesting that China will host the third round of intra-Afghan dialogue in Beijing.
A spokesman for the political office of Taliban said in a Twitter post that that group's deputy political chief Mullah Abdul Ghani Baradar will lead a delegation of the Taliban leaders to participate in the intra-Afghan talks.
https://www.khaama.com/afghan-leaders-urged-to-focus-on-preparations-for-formal-intra-afghan-talks-with-taliban-04260/
--------
India
Hyderabad: Customer refuses food from Muslim delivery executive, complaint lodged
Oct 24, 2019
HYDERABAD: A food delivery app executive on Wednesday lodged a police complaint against a customer for allegedly refusing to accept the parcel from him as he belonged to a different faith (Muslim). Perhaps, this is second such incident in India in last two months. In Jabalpur, a customer had made a request to Zomato to send a non-Muslim for food delivery, but his request was turned down by Zomato.
Shah Ali Banda police said Swiggy executive Mohammed Mudassir Suleman was directed to deliver food to Ajay Kumar in Aliabad. Ajay had ordered chicken-65 from a restaurant at Falaknuma. As part of the delivery instructions, Ajay told Swiggy "Very less spicy.. And please select Hindu delivery person. All ratings will be based on this." However, the customer's order was assigned to Suleman, who made a call to Ajay to know the delivery location.
Ajay enquired the name of delivery boy and got furious on learning that he was a Muslim. Ajay allegedly used objectionable language against the delivery executive too and refused to take the food, police said. Ajay, while talking to Swiggy customer care representatives, reprimanded them for sending a Muslim delivery boy.
Though incident happened on Monday night, police were initially unwilling to take complaint. On Wednesday, MBT leader Amjadullah Kumar tweeted to police, who called delivery boy to police station and lodged his complaint.
https://timesofindia.indiatimes.com/city/hyderabad/customer-refuses-food-from-muslim-delivery-exec-complaint-lodged/articleshow/71729452.cms
--------
Gujarat High Court asks state government to compensate wife of 26/11 victim
Oct 24, 2019
The Gujarat high court on Wednesday directed the state government to pay Rs 5 lakh compensation to the widow of a crew member of fishing trawler, MV Kuber, which was hijacked by terrorists ahead of the 26/11 Mumbai terror attacks, by October 25.
Justice B N Karia, in his interim order passed on Tuesday, directed the government to pay Rs 5 lakh to Jashiben, whose husband Rameshbhai Bambhania and four other fishermen were killed on MV Kuber in 2008 by Ajmal Kasab and other Pakistani terrorists, who hijacked the trawler in the Arabian Sea and used it to reach Mumbai.
Jashiben had approached the hight court in 2016 seeking compensation for the death of her husband.
Full report at:
https://www.hindustantimes.com/india-news/gujarat-high-court-asks-state-government-to-compensate-wife-of-26-11-victim/story-hmyFHTUrUUuQpfCaS1924H.html
--------
Zakir Musa gang wiped out: Jammu and Kashmir police
Oct 24, 2019
Mir Ehsan
Jammu & Kashmir Police and army troops have killed the chief commander of Ansar Gazwatul Hind, an al-Qaida affiliate, and two of his associates in a gunbattle in south Kashmir's Awantipore area, scoring a major success in the fight against militancy, the police said.
Identified as Hamid Lelhari, the militant commander took over reins of the group after the killing of Zakir Musa on May 23, the police said.
Lelhari, who was carrying a reward on his head, and the two associates were hiding in a house in Rajpora village when the police and army troops launched a joint operation in the area on Tuesday evening, acting on specific information about their presence.
The encounter ended Tuesday night. The other two militants killed in the encounter were identified as Junaid Rashid and Naveed.
Lelhari, according to the police, had been active in south Kashmir since 2016. After the killing of the three militants, Jammu & Kashmir officials claimed that Ansar Gazwatul Hind had been left with no active militants in the Valley.
Director general of police Dilbag Singh said that initially one of the militants was thought to be a local and two were suspected to be foreigners. "Late last night, the slain militants were identified as locals. They all were affiliated with Ansar Gazawatul Hind," Singh said.
Singh said a large quantity of arms and ammunition was recovered from these militants which included three AK 47 rifles.
After Musa was killed in an encounter with security forces, command of the group was handed to Lelhari, Singh said. "He (Lelhari) motivated many people to join this group and got two more militants motivated in joining the group. All three militants belonged to Awantipore-Pulwama belt and were working in coordination with Jaish nowadays."
"For the time being, this group has been wiped out," he said.
DGP Singh said that Lelhari became active in the militant ranks in 2016 and had been involved in many terror activities, including attacks on security forces. "He was also involved in an attack at Kakapora and in the killing of civilian Fayaz Ahmad."
Singh said the group was actively operating in Awantipore and Kakapora.The brother of Lelhari's associate Junaid Rashid, who died in Tuesday's encounter, had also been a militant and killed in a shoot-out with security forces earlier.
Ansar Gazwatul was formed by Zakir Musa after he parted ways with Hizbul Mujahideen. A civil engineering student, Musa left studies and joined the Hizbul in 2013. He was a close associate of Hizb commander Burhan Wani, who was killed in 2016.
This was the second success for security forces in south Kashmir in recent days, after the Centre on August 5 moved to strip Jammu & Kashmir of its special status and decided to divide the state into Union territories — J&K and Ladakh. Last week, three local Lashkar-e-Taiba militants were killed in an encounter at Pazpora Bijbhera in south Kashmir's Anantnag district.
Five operations by security forces have taken place in Kashmir since August 5 in which nine militants have been killed. In comparison, 30 militants were killed in at least 21 encounters with security forces in the months of June and July during which 14 security forces also lost their lives. Four militants and an army man were also killed in the first four days of August.
Jammu & Kashmir Police also said there had been a perceptible decline in the number of young Kashmiri men joining the militants ranks since the Centre in August moved to divest the state of its special status, belying the police's expectations of an increase.
"It's a matter of happiness that the rate of youth joining militant ranks is less as compared to the same time period earlier," Singh, who was flanked by inspector general of Kashmir SP Pani at a press conference, said, without citing any figures.
Singh said only a few youngsters had joined the militancy after August 5. "The youth who have been missing from their homes are only five or six and it can't be said they all have joined militancy. Maybe there will be some other factors for the youths leaving their homes."
He said that Pakistan was concerned with the decline in militancy-related incidents in Kashmir and efforts are being made every day to push more and more militants into the state. "There has been some infiltration but many such attempts were foiled. This time also the ceasefire violations are going in Poonch, Hira Nagar, Samba, Karnah, Uri, Machil, Keran, Gurez; now it's happening every day and whenever there is a ceasefire violation from Pakistan, they try to push militants into J&K," he said.
The DGP said he was not in a position to reveal how many militants had managed to enter Jammu & Kashmir since August 5, but the number was sizeable.
Full report at:
https://www.hindustantimes.com/india-news/zakir-musa-gang-wiped-out-jammu-and-kashmir-police/story-LhR5ckH0pPvUWnffBfkLHI.html
--------
Security up for Jammu & Kashmir local body elections
Oct 24, 2019
Mir Ehsan
High level security arrangements have been made for the Block Development Council (BDC) polls being held for the first time in J&K on Thursday.
Major opposition political parties Congress, National Conference and the Peoples Democratic Party have boycotted these polls as their leaders are currently under detention.
Polling will begin in the morning and conclude at 1 pm. Counting of votes will be done and results declared on the same day.
J&K director general of police Dilbag Singh said, "We have made elaborate arrangements for the BDC polls. I hope these polls are held in a peaceful manner." Three-tier security arrangements have been made at places polling booths.
The elections will be held in 309 blocks across J&K and 1,012 candidates are in the fray. Twenty-seven candidates got elected as BDC chairmen unopposed of whom 15 belong to the BJP while the remaining are Independent. Most of those who got elected were from the Valley.
Full report at:
https://www.hindustantimes.com/india-news/security-up-for-j-k-local-body-elections/story-fL7CK2KfdAtxV5UxKws0EJ.html
--------
'JuD, LeT plan to hit RAW, Army offices'
Oct 24, 2019
NEW DELHI: According to a recent intelligence input, Pakistan-based terrorist organisations — Jamaat-ud-Dawah (JuD) and Lashkar-e-Taiba (LeT) — have planned to carry out attacks on the offices of Research and Analysis Wing (RAW) and the Indian Army in the national capital.
The terrorist groups are headed by Hafiz Saeed, who has been designated as a global terrorist by the United States, the United Nations, and the European Union and was the mastermind behind the 2008 Mumbai terror attacks that claimed 166 lives.
According to the input, the "militant wing of LeT and JuD has planned to conduct unspecified attacks against R&AW and Indian Army during late October-2019."
Sources claim that terrorists are also planning to target residential areas of police personnel as well as the offices of police and paramilitary forces.
Full report at:
https://timesofindia.indiatimes.com/india/jud-let-plan-to-hit-raw-army-offices/articleshow/71730723.cms
--------
Zakir Musa's successor killed in encounter: Jammu and Kashmir DGP
Oct 23, 2019
SRINAGAR: Jammu and Kashmir director general of police (DGP) Dilbagh Singh on Wednesday claimed that al-Qaida-affiliated Ansar Gazwat-ul-Hind (AGH) has been wiped out from Kashmir with the killing of three of its remaining local terrorists.
"The three terrorists — identified as Hamid Lelhari, Naveed and Junaid of AGH — were killed during an encounter with security forces at Awantipora in Pulwama district of south Kashmir on Tuesday evening,'' the DGP said at a press conference here.
Singh said Lelhari, Naveed and Junaid were killed as part of the intensified anti-terror operation in Kashmir following the defanging of Article 370 on August 5.
He admitted that initially there was some confusion about the identities of the slain terrorists, but later it was found that all three were locals and belonged to AGH.
The DGP said after the killing of AGH chief Zakir Musa earlier this year, the command of the outfit was given to Lelhari, who motivated Naveed and Junaid of Pulwama to join his organisation. AGH was working in close coordination with Jaish-e-Muhammad (JeM) and Hizul Mujahideen.
"Lelhari was active since 2016. He was involved in Kakpora attack as well as killing of policeman Fayaz Ahmed and some civilians," the DGP said, adding, "He had also been harassing people in Awantipora."
The police chief said Lelhari, Naveed and Junaid were involved in the killing of truck driver Sharif Khan, a native of Rajasthan, in south Kashmir on October 17. A day later, the trio killed brick-kiln worker S S Sagar from Chhattisgarh and apple trader Charanjit Singh from Punjab in the same area.
Singh said Junaid's brother Yasir was also a terrorist belonging to another outfit. "We feel sorry that two of them belonged to the same family and went on a wrong path,'' the DGP said, adding that the two brothers were involved in the killing of two nomads in Tral earlier this month.
About the present situation, Singh said, "Terrorists are interfering in people's lives and they are not desisting from killing citizens to stop them from doing their routine work."
Claiming that since August 5 lesser number of boys have joined militancy compared to the same timeframe in the previous year, Singh urged youths treading the wrong path to shun violence and return to normal life.
The DGP said the situation in Kupwara and Baramulla was normal and it was really difficult to move on the roads there due to traffic. Same was the scene in Bandipora. "We hope that the winds of normalcy blowing from north reach south Kashmir too,'' he said.
The police chief rejected speculations that cellphones would be blocked again in Kashmir. "There are no such plans. When the situation demanded, cells phones were shut. But after the situation improved, the services were restored."
About infiltration, Singh said a sizable number of terrorists had infiltrated into Kashmir after August 5 and many infiltration attempts were foiled at Keeran, Karana, Machil and Uri among other places.
About the arrests of minors, the DGP said cases of juveniles had been referred to the Juvenile Justice Board.
Full report at:
https://timesofindia.indiatimes.com/india/zakir-musas-successor-killed-in-encounter-jammu-and-kashmir-dgp/articleshow/71728563.cms
--------
BJP lawmaker wish: Remove Tipu Sultan from school books
24.10.19
ABJP lawmaker in Karnataka has written to the party-led state government seeking a revision of school textbooks that have chapters on Tipu Sultan, embarking on a mission to erase all references to the 18th-century ruler of Mysore.
M.P. Appachu Ranjan, MLA from Madikeri constituency in Kodagu district, around 200km from Bangalore, said Tipu was a communal leader who killed or converted Hindus and Christians.
"It is gross injustice to teach children about a historical character who never allowed non-Muslims to peacefully practise their religions," he told The Telegraph on Wednesday.
The lawmaker's bid to erase all chapters on Tipu — a polarising figure in the state — comes around two years after the then Congress government in 2017 had "de-saffronised" school textbooks.
The previous year, chief minister P.C. Siddaramaiah of the Congress had started the Tipu Jayanti celebrations to mark the birth anniversary of the ruler, also known as the Tiger of Mysore. One of the first actions of the current BJP government, formed in July this year, was to scrap the state-funded event.
Ranjan said he has written to S. Suresh Kumar, minister for primary and secondary education, seeking a revision of the textbooks.
"I have written to the minister to get the lessons on Tipu Sultan removed from textbooks since children should not learn about a cruel ruler whose only aim was to loot temples and churches and kill and convert non-Muslims," Ranjan said.
"Everyone in Kodagu knows how Tipu Sultan ruined thousands of families in Kodagu by killing those who didn't convert to Islam. He committed the same crimes on Christian families in Mangalore," Ranjan, who has been at the forefront of the BJP's campaign against Tipu, added.
"I requested the minister to form a committee of scholars who can throw more light on the atrocities committed by Tipu and his army."
Ranjan cited a chapter in a history textbook for Class VI students. "There is a lesson that glorifies Tipu for his valour and contributions in the Class VI history textbook of Kannada medium (schools). I am sure the same book is taught in the English medium," he said.
The MLA, in his letter written in Kannada, said "children need to be taught the truth about this cruel religious fanatic, anti-Kannada Persian ruler". So, "please drop the lesson and get the views of experts to introduce lessons about nationalism and patriotism in the primary and secondary classes".
Ranjan said he planned to meet the education minister and chief minister B.S. Yediyurappa to put forth his suggestions on "cleaning up" school textbooks.
Baragur Ramachandrappa, who headed a 2017 committee appointed by former chief minister Siddaramaiah to clean up textbooks "saffronised" by the earlier BJP government, disagreed with the suggestion to remove any chapters.
"They are free to have any opinion about anyone. But it is wrong to remove only the lesson on Tipu Sultan whose contribution was not limited to any one group of people," Ramachandrappa, a well-known writer, told this newspaper.
"The lesson on Tipu Sultan was already there in the Class VI social studies textbook when our committee reviewed it. We added a few interesting information like how Tipu helped (rebuild) the Sringeri temple (that the Marathas had raided); how he encouraged silk production and how he had struck a chord with French revolutionaries to defeat the British," he said.
"Schoolbooks carry only basic information…. It is up to the students to learn further in universities."
While the BJP loves to hate Tipu, the 18th-century ruler has been hailed as a pioneer in the development and use of Mysore rockets in warfare.
Endorsement has come from no less a person than former President A.P.J. Abdul Kalam, the late rocket scientist considered the father of India's nuclear missile programme, who has written about how he came upon Tipu at the Nasa office in Virginia.
"This place was the base for NASA's sounding rocket programme. Here, I saw a painting prominently displayed in the reception lobby. It depicted a battle scene with a few rockets flying in the background. A painting with this theme should be the most commonplace thing at a Flight Facility, but the painting caught my eye because the soldiers on the side launching the rockets were not white, but dark-skinned, with the racial features of people found in South Asia," Kalam wrote in his autobiography Wings of Fire.
"One day, my curiosity got the better of me, drawing me towards the painting. It turned out to be Tipu Sultan's army fighting the British. The painting depicted a fact forgotten in Tipu's own country but commemorated here on the other side of the planet. I was happy to see an Indian glorified by NASA as a hero of warfare rocketry."
Sardar Qureshi, president of the Tipu United Front, said only total unity among Muslims could help the cause of Tipu.
"A few of us work hard for the upkeep of anything related to Tipu Sultan. But we don't find the same cooperation from others in our own community. Many don't even bother about these things."
Full report at:
https://www.telegraphindia.com/india/bjp-lawmaker-wish-remove-tipu-sultan-from-school-books/cid/1713834
--------
National anthem was never sung in Pilibhit school, finds inquiry
October 24, 2019
Days after the Basic Shiksha Adhikari (BSA) of Pilibhit district temporarily revoked the suspension of Bisalpur primary school headmaster Furqan Ali on "humanitarian grounds", a probe conducted by the district administration has found that the national anthem was never sung in the assembly session at the school.
On directions from district magistrate Vaibhav Srivastava, a probe was conducted by a three-member team, comprising city magistrate Ritu Punia, additional district magistrate (Nagar) Vandana Trivedi and BSA Devendra Swarup, on October 21.
On October 14, the administration had suspended Ali after local VHP members complained that he made students recite a religious prayer at the morning assembly. They had alleged that the particular prayer is recited in madrasas.
But, an inquiry by Bisalpur's Block Education Officer (BEO), Upendra Kumar, had found that Ali made students recite the poem 'lab pe aati hai dua', written in 1902 by the poet Muhammad Iqbal, who also wrote 'sare jahan se accha'.
According to a statement issued by district administration, the report stated that during conversations with children, it was found that the national anthem and the prescribed prayer "woh shakti humein do dayanidhi" was never sung at the school. "The children said that they were never made to sing the national anthem or the prescribed poem after they recited 'lab pe aati hai dua'. The new teachers have been making the children recite the national anthem and the other prayer in the last two or three days," said the statement. It said that on the day the probe was conducted, 53 out of total 267 students were present.
Full report at:
https://indianexpress.com/article/india/national-anthem-was-never-sung-in-pilibhit-school-finds-inquiry-6084902/
--------
Terror funding: Court takes note of charges against Yasin Malik
by Anand Mohan J
October 24, 2019
A Delhi court on Wednesday took cognizance of a supplementary chargesheet filed by NIA against JKLF chief Yasin Malik and others in a 2017 terror funding case.
Additional Sessions Judge Rakesh Syal took cognizance of the final report, which also names separatist leaders Asiya Andrabi, Shabir Shah and Masarat Alam Bhat as accused.
The NIA had submitted before the court that the High Commission of Pakistan "organises functions & meetings in New Delhi, to which Hurriyat leaders from Kashmir are invited and they are given instructions and funds during these occasions".
Full report at:
https://indianexpress.com/article/india/terror-funding-court-takes-note-of-charges-against-yasin-malik-6084851/
--------
Arab World
Saudi Arabia jumps 30 spots in ease of doing business index; Middle East shines
24 October 2019
Saudi Arabia jumped 30 places in the World Bank's Ease of Doing Business 2020 Index and took the 62nd position, making the Kingdom the world's top improver.
The results indicate that widespread social and economic reforms carried out by the country are bearing fruit.
Saudi Arabia established a one-stop shop for company incorporation and removed the requirement for married women to provide additional documentation when applying for a national identity card, the World Bank noted.
"It also made importing and exporting faster by enhancing the electronic trade single window, enabling risk-based inspections, launching an online platform for certification of imported goods, and upgrading infrastructure at Jeddah Port," the bank said.
The latest leap in ranking comes as the world's largest oil exporter looks to raise the levels of private participation and foreign investment in sectors ranging from energy to construction.
After years of depressed oil prices, Saudi Arabia, under the leadership of Crown Prince Mohammad Bin Salman, introduced the Vision 2030 program, a comprehensive plan that seeks to end the Gulf country's dependence on the exports of crude alone.
Other reforms led to improving access to credit, strengthening minority investor protections, and facilitating the resolution of insolvency, the World Bank noted in its latest report.
In the rest of the Middle East, Jordan, ranked 75, Bahrain, at 43, and Kuwait, at 83, also made it to the list of top ten improvers. The United Arab Emirates remained the strongest performer overall in the region, placing 16th on the ease of doing business rankings.
"It is a year of records for economies in the Middle East and North Africa, and we are committed to continuing our support to all countries in the region" World Bank Regional Vice President for Middle East and North Africa Farid Belhaj said in a statement.
"The next generation of reforms should focus on transparency, fair competition and good governance to make MENA open for business and attract investments needed to create jobs for youth and women," he added.
https://english.alarabiya.net/en/business/economy/2019/10/24/Saudi-Arabia-jumps-30-spots-in-ease-of-doing-business-index-Middle-East-shines.html
--------
SDF chief thanks Russia for saving Syria Kurds from 'scourge' of war
24 October 2019
The head of the Kurd-led Syrian Democratic Forces has thanked Moscow for saving his people from the "scourge" of war after Russia struck a deal with Ankara ending its weeks-long Syria offensive.
In a phone call with Russia's defense minister and military chief, Mazloum Abdi "expressed his thanks to President Vladimir Putin and the Russian Federation for their keenness on defusing the war in our region and sparing civilians its scourge," the SDF said in a statement on Wednesday.
"The Commander-in-Chief also expressed reservations about some points of the agreement, which require further discussions and dialogue," it added.
Under the deal signed in Sochi on Tuesday, Turkey will remain fully deployed in an Arab-majority area that was the main target of its two-week offensive in northern Syria.
It also requires Kurdish forces to pull back to a line 30 kilometers (18 miles) from the border along its entire length (440 kilometers), forcing them to surrender some of their main towns and crushing their dreams of autonomy.
Russia and Turkey will then start joint patrols in two zones along the border.
Full report at:
https://english.alarabiya.net/en/News/middle-east/2019/10/24/SDF-chief-thanks-Russia-for-saving-Syria-Kurds-from-scourge-of-war-.html
--------
Lebanon debt overhaul 'inevitable' amid stalemate over austerity: Report
24 October 2019
The recent protests in Lebanon show that it is "politically impossible" to push through fiscal austerity measures needed to stabilize the government's debt, said London-based consultancy Capital Economics, adding that debt restructuring is "inevitable."
"Lebanon's public finances are among the worst in the world. The budget deficit has averaged 11 percent of GDP since the turn of the millennium. Government debt has climbed to more than 150 percent of GDP, the sixth highest ratio in the world," Jason Tuvey, Senior Emerging Markets Economist at Capital Economics said in a new report.
A debt restructuring would allow Lebanon to reduce and renegotiate its delinquent debts to restore liquidity.
The country is set for an eighth day of demonstrations as President Michel Aoun is due to address the nation later Thursday. Protestors have largely ignored a string of reforms announced by Aoun's government earlier this week to revive the country's debt-ridden economy.
The combination of an overvalued currency and widespread holdings of government forex debt in the financial sector means that there's the risk of a messy default accompanied by currency and banking crises, the consultancy said.
In response to the widespread protests that have brought the country to a halt, the government announced reforms, including a 50 percent cut in the salaries of govt officials, $3.3 billion in contributions from banks to achieve a "near zero deficit" and opening Lebanon's telecommunications sector to private investment.
"The recent protests highlight that the government will find it extremely difficult to push through the 5-6 percent of GDP fiscal squeeze that we estimate is needed to stabilize the debt ratio," Tuvey added.
Adding to this, Lebanon's economy is expected to contract this year, which means reduction of debt through faster growth is out of the question.
While foreign governments could once again ride to Lebanon's rescue, but financing may not be as forthcoming as it has been in the past, Capital Economics said.
Before the protests began, foreign donors and investors had pledged $11 billion to help Lebanon finance a capital investment program, conditional on the enactment of reforms.
"There appears to be growing concerns about the increasingly influential role of Iran-backed Hezbollah in the government," said Tuvey in the report.
A restructuring supported by the International Monetary Fund (IMF) is the least "disruptive" option. The fund has opened the door for Lebanon to negotiate a bailout, but in the absence of a deal the resulting uncertainty would lead to a bout of capital flight, he added.
Full report at:
https://english.alarabiya.net/en/business/economy/2019/10/24/Fiscal-austerity-impossible-in-Lebanon-debt-restructuring-inevitable-Report.html
--------
Syrian Kurd sets himself on fire outside UN refugee agency
23 October 2019
A Syrian Kurdish man in his 30s set himself on fire outside the United Nations refugee agency headquarters in Geneva on Wednesday and was quickly airlifted to hospital after the flames were extinguished, police said.
The man, who resides in Germany, was flown by helicopter to the specialized burns unit at the university hospital in Lausanne where he is receiving treatment, Geneva police spokesman Silvain Guillaume-Gentil said.
"Given his state, it was impossible to ask him about his motive, but we imagine that it was the political situation."
Turkish forces launched an offensive into northern Syria on Oct 9 to drive Kurdish militia away from the border region. Russia and Turkey reached an accord on Tuesday calling for the withdrawal of Syrian Kurdish YPG forces from the entire length of Syria's northeastern frontier with Turkey.
"We are saddened and shocked (about) an incident of self-immolation that happened in front of our Geneva headquarters this morning," said Andrej Mahecic, spokesman for the UN High Commissioner for Refugees (UNHCR).
The man had set himself ablaze and then tried to enter the UNHCR building but security officers and medical services intervened and the fire was put out, Mahecic said, adding: "We hope he will recover."
The UNHCR building is located across the street from a collective shelter for asylum-seekers, including Syrian Kurds.
"I saw the flames and the security agents from the building came and then a few minutes after that the police and ambulance. There are Syrians here (at the asylum center), but I can't confirm (the man) was a resident," an employee told Reuters.
Full report at:
https://english.alarabiya.net/en/News/middle-east/2019/10/23/Syrian-Kurd-sets-himself-on-fire-outside-UN-refugee-agency.html
--------
Iraqi defense minister: US troops leaving Syria will depart Iraq within 4 weeks
23 October 2019
American forces withdrawing from Syria to Iraq will leave the country within four weeks, Iraq's defense minister told The Associated Press after meeting US Defense Secretary Mark Esper on Wednesday.
Defense Minister Najah al-Shammari made the remarks following a meeting with Esper, who arrived in Baghdad a day to discuss the troops.
He said that the American troops crossing from Syria are "transiting" in Iraq and will then head either to Kuwait, Qatar or the US.
Iraq's military said Tuesday that American troops leaving northeastern Syria don't have permission to stay in Iraq in a statement that appeared to contradict Esper, who has said that all US troops leaving Syria would continue to conduct operations against ISIS from Iraq to prevent its resurgence in the region.
Full report at:
https://english.alarabiya.net/en/News/middle-east/2019/10/23/Iraqi-defense-minister-US-troops-leaving-Syria-will-depart-Iraq-within-4-weeks.html
--------
Saudi Arabia's al-Jubeir: Maximum pressure only way to get Iran to negotiate
24 October 2019
A senior Saudi Arabian official said on Thursday that a policy of appeasement would not work with Iran and that the only way to get Tehran to the negotiating table was to apply maximum pressure.
Speaking to France's Liberation newspaper, Saudi Minister of State Adel al-Jubeir also said an agreement between the Yemeni government and separatists to end a power struggle in the southern port of Aden agreement was close.
https://english.alarabiya.net/en/News/gulf/2019/10/24/Saudi-minister-Maximum-pressure-only-way-to-get-Iran-to-negotiate.html
--------
'I feel deceived': Shia citizens challenging Hezbollah, Amal in Lebanon
23 October 2019
The narrow lanes of Burj al-Barajneh are bustling again. Shops are open, shisha smoke mingles with the scent of coffee in the autumn air. Residents are calm. But it wasn't like this a few days ago when here, in the Shia suburb of south Beirut, and across the rest of the Lebanese capital, streets heaved with anger and indignation.
Potholed, strewn with rubbish, and usually choked with traffic, Beirut's streets may have seemed an unlikely place for an uprising. But over the past six days people who had long turned a blind eye to the country's failings suddenly found their voice.
The tipping point was the government's response to a severe economic crisis. Facing a domino effect of capital flight, dangerous levels of government debt and an imminent currency devaluation, the government's solution was to introduce a budget which taxed the poor through popular goods and services such as WhatsApp and cigarettes.
In the Shia suburbs of south Beirut, across the Sunni north and in the Druze and Maronite heartlands, a revolt quickly gathered steam.
Lebanese officials, including Hezbollah leader, Hassan Nasrallah, initially appeared supportive of the demands, despite their calls for the government to resign. But by Monday, supporters of the Iranian-linked party and the other main Shia party Amal were taking to the streets denouncing the protests while waving the flags of both parties.
Despite this show of force, Shia citizens appear to be challenging the authority of traditional leaders Nasrallah and Amal head Nabih Berri.
Nasrallah's weekend speech had reportedly already angered many Lebanese, including his own supporters. On Saturday, the veteran leader had started to inch away from the mood of the street, declaring the huge public gatherings "a waste of time" and setting the scene for signs of a subsequent Shia pushback.
"I didn't feel like he stood with us," said Safi, 35, in Burj al-Barajneh, where Hezbollah and Amal maintain an armed presence. "I thought he would tell us to go protest some more; not to remain at home and stick with the status quo. I feel deceived. I can't take to the streets of my neighborhood because I'll surely get harassed."
"Plenty of folks from my area have had enough. We are tired of chasing after bread and pledging loyalty to someone who is hand-in-hand with the elite who are making us struggle," he added.
Analysts have reported this sentiment across the protests, including in Shia areas in Lebanon's south.
"We have seen chants against Nasrallah and Berri. [The criticism of Berri] is the one to keep an eye on more than Hezbollah. Berri has been able to provide people with jobs and services longer than Hezbollah," Beirut-based journalist Joseph Habboush told Al Arabiya English.
"In the South, people have never come out so blatantly and accused [Berri] of corruption … saying we are hungry because of you. We saw in videos people beating [Amal] protesters in the South," he added.
Protesters in Beirut have been heard singing songs declaring solidarity with the southern city of Sour, where protesters have reportedly been cracked down on by men affiliated with Amal and Hezbollah.
Full report at:
https://english.alarabiya.net/en/features/2019/10/23/-I-feel-deceived-Shia-citizens-challenging-Hezbollah-Amal-in-Lebanon.html
--------
Egypt agrees to Nile dam meeting with Ethiopia, Sudan
Oct 23, 2019
Egypt has agreed to meet Ethiopia and Sudan over a disputed Nile dam as the Nobel-winning Ethiopian premier toughened his tone saying his country could not be stopped from building the gigantic project.
Fresh tensions have flared between Cairo and Addis Ababa after the latest rounds of talks this month on Ethiopia's soon-to-finished dam on the Blue Nile failed to reach an agreement.
Egypt has now accepted a US invitation to meet, after calling for international mediation to break the stalemate in the nine-year talks. But Ethiopia has so far rejected the call outside mediation.
Cairo says both countries are at odds over the dam's operation and the filling of its reservoir.
On Tuesday, Ethiopia's Prime Minister Abiy Ahmed told parliament that "no force can stop Ethiopia from building the dam," adding that millions could be mobilized if necessary.
Abiy, who won this year's Nobel Peace Prize for his efforts to heal tensions with neighboring Eritrea, emphasized however that negotiations would be the best way to resolve the issue.
The Egyptian foreign ministry said late Tuesday the Ethiopian premier's remarks were "unacceptable".
But it also said Cairo had accepted an invitation bringing the foreign ministers from the three countries to Washington to try to break the stalemate.
The Egyptian foreign ministry statement did not specify when the meeting would take place.
There was no official word from Addis Ababa nor Khartoum on the US invitation.
- 'Constructive negotiations' -
Analysts fear the three Nile basin countries could be drawn into a conflict if the dispute is not resolved before the dam begins operating late next year.
But others downplayed the possibility of an armed conflict.
"Prime Minister Abiy's remarks indicate the depth of feeling over the Blue Nile in Ethiopia where people feel they have been denied the benefits of their own resource," said William Davison, a senior analyst at the International Crisis Group.
"But ultimately there's very little chance the disagreement will result in conflict and, as Abiy said, cooperation is the best solution for all parties."
Ethiopia says its project is needed to provide much-needed electricity and insists the dam would not harm downstream countries' water shares.
But Egypt is concerned the huge dam would severely reduce the flow of Nile waters and invokes its "historic rights" under decades-old treaties.
Addis Ababa said the $4-billion dam will begin generating power by the end of 2020 and be fully operational by 2022.
The Nile's main tributaries -- the White Nile and the Blue Nile -- converge in Khartoum before flowing north through Egypt to drain into the Mediterranean Sea.
It serves as a crucial artery for water supplies and electricity for the 10 countries it runs through.
Last week, Egypt's President Abdel Fattah al-Sisi announced he would meet the Ethiopian premier in Russia and discuss the issue.
Both leaders are attending a Russia-Africa summit in Sochi which kicked off Wednesday.
"Given the renewed spat between their countries, Sisi and Abiy could help prepare the ground for constructive negotiations during their meeting in Sochi at what is the first Russia-Africa summit," said Davison.
Full report at:
https://www.presstv.com/Detail/2019/10/23/609406/Egypt-Nile-dam-meeting-Ethiopia
--------
Indonesian military delegation visits Islamic anti-terror coalition in Riyadh
October 24, 2019
RIYADH: A delegation of anti-terrorism students from the Indonesian National Armed Forces visited the premises of the Islamic Military Counter Terrorism Coalition (IMCTC) in Riyadh on Wednesday.
The students were received by IMCTC Secretary-General Maj. Gen. Mohammed bin Saeed Al-Moghedi.
The delegation listened to a detailed presentation about IMCTC's attempts to combat terrorism and extremist ideologies through education, media, finance and military initiatives, as well as its role in coordinating and strengthening the efforts of its members.
Full report at:
https://www.arabnews.com/node/1573521/saudi-arabia
--------
DiplomaticQuarter: Afghan Embassy hosts reception to mark 100 years of independence
October 24, 2019
RIYADH: The Afghan Embassy in Riyadh hosted a reception to mark the 100th anniversary of independence from British rule.
Dr. Faisal bin Abdul Aziz Al-Sudairy, undersecretary of Riyadh governorate, attended the reception on behalf of Gov. Prince Faisal bin Bandar.
Other attendees included Azzam bin Abdul-Karim Al-Qain, undersecretary at the Saudi Foreign Ministry for protocol affairs, ambassadors and members of the diplomatic corps accredited to the Kingdom, and Afghan expatriates.
Speaking at the event, Afghan Ambassador Sayed Jalal Karim reviewed his country's history, heritage and struggle against colonialism.
He praised the history of Afghan-Saudi relations, saying his country was the first Islamic one to recognize the rule of King Abdul Aziz in 1932.
Karim expressed pride in the new heights reached in bilateral relations under the leadership of King Salman and Afghan President Mohammed Ashraf Ghani.
The reception included a parade by an Afghan folk band. At the ceremony's conclusion, Karim presented a memorial gift to Al-Sudairy and Al-Qain, and thanked attendees.
Prince Turki Al-Faisal, chairman of the King Faisal Center for Research and Islamic Studies, recently received one of Afghanistan's highest honors, the Ghazi Mir Bacha Khan medal, for his work to strengthen Afghan independence.
Karim and Afghan Finance Minister Mohammad Humayon Qayoumi presented the medal to Prince Turki in Riyadh.
Full report at:
https://www.arabnews.com/node/1573486/saudi-arabia
--------
Saudi Arabia to host OIC event on water
October 23, 2019
CAIRO: The Kingdom is next year hosting the fifth session of the Islamic Conference of Ministers Responsible for Water, the Saudi Press Agency reported.
Minister of Environment, Water and Agriculture AbdulRahman Al-Fadli invited delegates at the second meeting of the Organization of Islamic Cooperation (OIC) Water Council at the ministerial level currently being held in Cairo to attend the meetings.
The minister said that cooperation with OIC member states was of great interest to the Saudi government, and that he looked forward to further collaboration to achieve water security and sustainable development.
He added that the Kingdom had sought to develop and enable the country's water sector to overcome challenges.
The strategy's objectives include ensuring continuous access to adequate quantities of safe water, under normal operations and during emergency situations, according to the ministry's website.
Full report at:
https://www.arabnews.com/node/1573001/saudi-arabia
--------
Pakistan
Pakistan to participate in four-party meeting on Afghan peace talks
Oct 24, 2019
ISLAMABAD: Foreign Office (FO) Spokesperson Dr Mohammad Faisal on Wednesday said Pakistan will take part in the upcoming round of a four-party meeting on the Afghan peace talks which are scheduled to be held in Moscow.
During a weekly press briefing at the Ministry of Foreign Affairs, Dr Faisal said Additional Secretary for Afghanistan and West Asia Muhammad Aejaz will represent Pakistan at the meeting.
"Pakistan has been a part of all efforts and processes so far to discuss and facilitate peace and reconciliation efforts in Afghanistan," he said, adding: "Pakistan's role is particularly noteworthy in crystalising international convergence for a peaceful resolution in Afghanistan."
In July, a round of the four-party meeting on the Afghan peace process was held in Beijing. This had been the third meeting of the trilateral forum, which includes China, Russia, and the United States, but the first to involve Pakistan.
At the time, US reconciliation envoy Zalmay Khalilzad had said the US, Russia, China and Pakistan had endorsed the need for a comprehensive and permanent ceasefire in Afghanistan, which should start simultaneously with the intra-Afghan talks.
Earlier this month, a high-level Afghan Taliban delegation visited Pakistan. The visit had coincided with Khalilzad's trip to Islamabad who had come to Pakistan for the first time after the US President Donald Trump abruptly halted the talks with the Taliban last month.
In response to a question regarding the upcoming talks, Dr Faisal today said: "The next round is being held in Moscow at an opportune moment as it would provide an important opportunity to review the currently stalled peace process."
He added that Pakistan will continue its efforts of "wholehearted support as its part of shared responsibility for making the international peace efforts successful in Afghanistan".
In a separate development, a spokesman for the Afghan Taliban confirmed on Wednesday that China has invited their delegation to attend an "intra-Afghan" conference in Beijing, Outlook reported.
Suhail Shaheen, a Taliban political spokesman, said on Twitter that Mullah Abdul Ghani Baradar, a co-founder of the militant group, had met with Chinese diplomats in Doha, where the organisation has a political office.
"Both sides discussed the upcoming intra-Afghan conference in Beijing and issues related to the solution of Afghan problem," Shaheen wrote.
He was later quoted as saying that the conference would take place on October 29-30.
https://www.pakistantoday.com.pk/2019/10/23/pakistan-to-participate-in-four-party-meeting-on-afghan-peace-talks-fo/
--------
Pakistan Govt Allows Opposition Parties Led by Maulana Fazl to Protest in Islamabad
October 23, 2019
Islamabad: The Pakistan government on Wednesday decided to allow the Opposition parties mega protest, which will be led by Jamiat Ulema-e-Islam's (JUI-F) chief Maulana Fazl in Islamabad on October 31.
In a statement, the Prime Minister's Office said the decision was taken after consultations between Prime Minister Imran Khan and a team deputed to hold talks with the Opposition.
"It was decided that the government, with its firm belief in upholding democratic ideals, would allow the proposed Azadi March, if it takes place within the ambit of the law and the Constitution as interpreted in the decisions of the Supreme Court of Pakistan and Islamabad High Court," read the statement.
It said protesters will be allowed to carry out the march as long as the everyday life of citizens is not adversely affected, in accordance with the past judgements of the Supreme Court and the High Court.
The Azadi March has been announced by Fazlur Rehman JUI-F chief. All major Opposition parties, including PML-N, PPP, ANP and PkMAP have announced their support for the 'Azadi March'.
Fazl has said the election held in July 2018 was rigged to help Khan's party. He has demanded Khan step down. Meanwhile, Khan has told newsmen that he would never step down on the demand of the Opposition.
"Let me be very clear that I will not resign on the Opposition's demand," the premier said. He alleged the Azadi March was backed by foreign elements.
Khan said at first India was against the 'maulanas' but now the Indians were celebrating the idea of Fazl's protest.
"Look at how the Indian media is celebrating Maulana Fazl's protest," he said.
He said the protest will damage the Kashmir cause as attention will be diverted from the Indian lockdown.
"Attention is being diverted from the Kashmir issue because of this march. We must think who will benefit from all of this," he said.
Khan also said that his protest of 2014 was different as he had come with "a purpose and after exhausting all options".
Full report at:
https://www.news18.com/news/world/pakistan-govt-allows-opposition-parties-led-by-maulana-fazl-to-protest-in-islamabad-2360049.html
--------
MQM condemns 'brutal manhandling' of protest in PoK by Pak security forces
Oct 24, 2019
LONDON: Muttahida Qaumi Movement (MQM) has condemned the Pakistani security forces for "brutal manhandling" of the peaceful protest by people of Pakistan-occupied Kashmir (PoK) against oppression and atrocities by the state agencies.
The MQM, in a statement on Wednesday, called out the security forces "for shedding crocodile tears over Jammu and Kashmir" but maltreating people of occupied Kashmir.
On Tuesday, the police raided the press club in PoK's Muzaffarabad during a media briefing by Jammu Kashmir People's National Alliance (JKPNA), which had called for a protest on Thursday outside Pakistan High Commission in London. Several journalists suffered injuries in the raid.
Two civilians were killed and over 80 others sustained injuries after police lathi-charged them during a peaceful pro-freedom rally.
The raid came on the day when people in PoK were observing "Black Day" to protest on the 72nd anniversary of Kashmir's invasion by Pakistani forces in 1947.
The MQM said the security forces unleashed their terror and inflicted injuries on to the protesters on the day of the diplomats visit.
Full report at:
https://timesofindia.indiatimes.com/world/pakistan/mqm-condemns-brutal-manhandling-of-protest-in-pok-by-pak-security-forces/articleshow/71733794.cms
--------
Maryam Nawaz admitted to hospital after she rushes to enquire father's health
Oct 24, 2019
LAHORE: Maryam Nawaz, the daughter of jailed former Pakistan premier Nawaz Sharif, has been admitted to the same hospital where her father is undergoing treatment for low platelet count, according to media reports on Thursday.
The health condition of Sharif, 69, who was admitted to the Services Hospital in Lahore on Monday from the Kot Lakhpat jail, deteriorated with critically low platelet count, The Express Tribune reported.
He is serving a seven-year prison term in the Al-Azizia Steel Mills case since December 24, 2018 in the wake of the Supreme Court's July 28, 2017 verdict in the high-profile Panama Papers case.
Sharif's deteriorating health raised alarms bells on Wednesday as the his blood platelet count fell sharply to a life-threatening level of 7,000.
He received transfusions of mega units of platelets at the hospital on Tuesday but his condition grew worse.
Maryam, 45, whose request to visit her ailing father for an hour was turned down by an accountability court earlier in the day, was rushed to the hospital from Kot Lakhpat Jail after the Punjab Home Department granted her permission on the directives of Prime Minister Khan, the report said.
Maryam was sent to jail on a 14-day judicial remand last month by an accountability court in a money laundering case. Her remand was further extended by two more days on Wednesday.
Pakistan Prime Minister Imran Khan directed the Punjab government to ensure that Sharif gets the best possible medical care in accordance with the wishes of his family.
After meeting Nawaz, Maryam also fell sick and was allowed to stay in a room next to the one where her father has been undergoing treatment, the report said.
According to Geo TV, Maryam has been admitted to VVIP ll, while her father is admitted in VVIP-l.
She is going through various tests at the hospital, the report said.
Punjab Health Minister Yasmin Rashid met the former premier later told reporters that she was satisfied with the treatment.
"We have informed him [Nawaz] about his condition and told him that we can arrange any doctor that he wants to treat him," she was quoted as saying by The Express Tribune.
"Even his personal physician is satisfied by the steps we have taken," Rashid added.
The minister said Sharif's blood pressure was normal and he had tested negative for dengue.
"There was bleeding from the gums when he brushed this morning but there is no cause for alarm. It's under control," she said, referring to the complication of internal bleeding that follows a drop in platelet count.
The minister said the dosage of some medicines to Nawaz had been stopped as a precautionary step.
She added that Nawaz might be administered steroids if needed. "We are being cautious because of his kidney problems."
Full report at:
https://timesofindia.indiatimes.com/world/pakistan/maryam-nawaz-admitted-to-hospital-after-she-rushes-to-enquire-fathers-health/articleshow/71734339.cms
--------
Pakistan PM Imran Khan directs Punjab government to extend best medical care to Nawaz Sharif
Oct 23, 2019
LAHORE: Pakistan Prime Minister Imran Khan has directed the Punjab government to ensure that former premier Nawaz Sharif gets the best possible medical care in accordance with the wishes of his family, media reports said on Wednesday. Sharif, 69, was shifted to the Services Hospital in Lahore on Monday after his condition deteriorated with critically low platelet count.
The three-time former prime minister and supreme leader of the Pakistan Muslim League (N) is serving a seven-year prison term since December 24, 2018 when the accountability court convicted him in the Al-Azizia Steel Mills case - one of the three corruption cases filed following the Supreme Court's 2017 order in the Panama Papers scandal.
In a tweet on Wednesday, the government's chief spokesperson Firdous Ashiq Awan said Prime Minister Khan had sought a detailed report from the Punjab government regarding Sharif's health.
Khan further directed the Punjab government to ensure that Sharif gets the best possible medical care in accordance with the wishes of his family.
Awan said the premier had "prayed for Sharif and wished him a speedy recovery", the Dawn reported.
A medical board headed by Dr Ayaz Mahmood on Tuesday examined Sharif at the hospital and transfused platelets to him.
"Sharif's platelet count has increased to 20,000 from 2,000," PML-N leader Attaullah Tarar said. He said doctors still called Sharif's condition "serious" and he will remain in hospital till it improves.
According to doctors, normal platelet count ranges between 150,000 and 400,000.
Meanwhile, an accountability court here on Wednesday rejected PML-N leader and Sharif's daughter Maryam Nawaz's request to be granted an hour to meet her father in hospital, the Dawn said.
The PML-N vice president made the request during court proceedings in the Chaudhry Sugar Mills case, the Dawn said.
Sharif is already in the custody of the National Accountability Bureau (NAB) on money laundering charges.
During the proceedings on Wednesday, the court asked the NAB investigation officer when a reference would be filed in the case, to which he responded that the reference had entered the final stages of preparation and would be filed after approval from the NAB chairman, the Dawn reported.
Full report at:
https://timesofindia.indiatimes.com/world/pakistan/pakistan-pm-imran-khan-directs-punjab-government-to-extend-best-medical-care-to-nawaz-sharif/articleshow/71725426.cms
--------
Pakistan, India sign Kartarpur Corridor agreement today
Baqir Sajjad Syed
October 24, 2019
ISLAMABAD: Pakistan and India will sign the agreement on Kartarpur Corridor on Thursday (today), paving the way for its inauguration next month ahead of the 550th birth anniversary of the founder of Sikhism Guru Nanak Dev.
"As of now, Pakistan and India would sign the Kartarpur Sahib Corridor tomorrow," Foreign Office spokesman Dr Muhammad Faisal said at the weekly media briefing on Wednesday.
The Indian External Affairs Ministry had on Monday announced that it was ready to sign the agreement on Oct 23. However, it has now been scheduled for Thursday.
The signing ceremony will take place at Kartarpur Zero Line.
The agreement would be made public. "We will share clause by clause details after signing of the agreement," the spokesman said.
The agreement was finalised after three rounds of negotiations. The negotiations got protracted because of deep differences on various provisions of the agreement and at the same time Pulwama stand-off, Indian reservations over the composition of the committee set up to look after the affairs of the Corridor and elections in India also delayed the process.
The last sticking point was the $20 service fee that Pakistan would charge from every pilgrim for a single trip. However, India reluctantly agreed to it.
Pakistan is currently working out the mechanism for charging the $20 fee from the pilgrims.
Prime Minister Imran Khan will inaugurate the Corridor on November 9 after which visa free link between Darbar Sahib in Kartarpur and Dera Baba Nanak shrine in India's Punjab will open for the pilgrims. The exact timings of the opening and closing of the shrine would be announced after the signing of the agreement.
On any day up to 5,000 Sikh pilgrims from India would use the corridor, while on special occasions greater numbers would be accepted depending on capacity.
The signing of the agreement is important because the two countries are doing it despite sharp deterioration in ties over Kashmir dispute.
Dr Faisal, in his briefing, underlined that the real issue was to resolve the Jammu and Kashmir dispute, as per the Resolutions of UNSC and the will of the Kashmiri people. "Until and unless this issue is resolved, the peace and stability in South Asia will remain elusive," he added.
He said the diplomatic corps and members of foreign media during their visit to the Jura Town in Azad Kashmir were given an opportunity to speak to the locals and inquire about the unprovoked firing by Indian forces at Line of Control (LoC) that killed civilians and injured many others, including women and children.
He said that the Indian High Commissioner was requested to join the delegation and also share coordinates of their claim of a surgical strike, however, no response was made from their side so far.
MEDIATION: Responding to a question about Pakistani efforts to mediate between Iran and Saudi Arabia, the spokesman said those were continuing.
He, however, avoided commenting on Saudi Minister of State for Foreign Affairs Adel al-Jubeir's statement in which he had denied any mediation.
Mr Jubeir had said: "We are not having any mediation. People come to us with ideas and we give them our response and our response is what we would like the Iranians to do and that is it, and we would like to see actions rather than words."
APP adds: Dr Faisal said Pakistan would participate in the four-party meeting of China, Russia and the United States on Afghan peace process to be held in the Russian capital Moscow.
He said Pakistan had been part of all efforts and processes so far to discuss and facilitate peace and reconciliation efforts in Afghanistan. "Pakistan's role is particularly noteworthy in crystalising international convergence for a peaceful resolution in Afghanistan," he said.
The spokesman said Pakistan would continue its efforts of "wholehearted support as it's part of shared responsibility for making the international peace efforts successful in Afghanistan".
Asked about Pakistan's role in the intra-Afghan dialogue being held in China as claimed by a Taliban spokesman, he said he did not have an update on the matter.
The FO spokesman said Pakistan regarded the issue of Hong Kong as China's internal matter and supported the 'One China policy'.
About the statement of Malaysian prime minister Dr Mahathir Mohammad for supporting the Kashmir cause despite a ban put by India on import of palm oil, he said Pakistan was proud to have a brotherly Muslim friend like Malaysia.
On Indian threat of diverting inflow of water towards Pakistan, Dr Faisal said that under the Indus Water Treaty, to which the World Bank was a guarantor, India could not stop the water of three rivers.
Full report at:
https://www.dawn.com/news/1512609/pakistan-india-sign-kartarpur-corridor-agreement-today
--------
Shahbaz irked by institutions' decision to 'fully support' Imran
Zulqernain Tahir
October 24, 2019
LAHORE: With a little sign of improvement in former prime minister Nawaz Sharif's health, Pakistan Muslim League (PML-N) president Shahbaz Sharif on Wednesday openly complained to the establishment about its decision to "fully support" Prime Minister Imran Khan.
In a rare articulation of his feeling when it comes to the establishment, Shahbaz Sharif said: "Despite having 100 per cent support of the institutions, the inept government of Imran Khan failed to deliver. We were not even been given 10pc support of the institutions. I am surprised to see the kind of support the Imran Khan government is enjoying from all institutions as there has been no such example in Pakistan's history.
"Without any fear, I would like to tell that had the PML-N governments under Nawaz Sharif been given 10 to 15pc or just a 'push' from the institutions, Pakistan would have progressed by leaps and bounds."
He was addressing the PML-N lawmakers who gathered in Model Town here with regard to the party's preparations for Oct 31 'Azadi March'.
Shahbaz Sharif said: "Imran Khan has come to power through rigging in 2018 elections. Imran Khan Niazi is arrogant and has no vision to address issues the country is facing today. He is only good at ball tampering and a couple of other things and knows nothing else. He never gave respect to anyone and is a selfish man."
He added that the people were cursing Imran Khan for making their lives miserable and wanted the "looters" back who made this country progress on every front.
Addressing senior party leaders and lawmakers from Punjab, the PML-N president said: "If you want to defeat the arrogance and ineptness of Imran Khan, unemployment and poverty, you have to reach Islamabad on Oct 31 where we will give him (Khan) a befitting reply and present our demands." He also asked the participants to mobilise workers for a 'big show' in Islamabad.
Nawaz Sharif, who was admitted to the Services Hospital on Monday, showed no sign of improvement. With dropping of his platelet counts, a six-member medical board, headed by Services Hospital Principal Ayaz Mahmood, is still struggling to diagnose reasons of his declining health. A board member told Dawn that his platelet counts again dropped on Wednesday from 29,000 to 7,000, prompting the medics to opt for "aggressive medication" to improve them, besides transfusion of platelets.
"Since Tuesday seven mega units of the platelets have been transfused to the patient and the medical board is finding it a challenging task to find out the reasons for a sudden fall in the counts," the board member said, adding that on Wednesday evening it (board) called leading haematologists of the city to seek their help in this regard. "However, the medical board remained inconclusive regarding exact diagnosis which led to the deteriorating health of Nawaz Sharif," he said, adding that the board again sent his blood samples to the laboratories of a public hospital and the private one for diagnosis of the main cause of "fast dropping of the platelet counts". He said the former premier was feeling weak due to "instability" in platelet count.
Punjab Health Minister Yasmin Rashid told a presser that Nawaz Sharif's condition was "stable" and the government was providing him best treatment. She said that personally she had no issue if Mr Sharif wanted to go abroad for treatment, but he had not expressed his wish in this regard. Dr Rashid also met Mr Sharif and conveyed concerns of PM Khan and Chief Minister Usman Buzdar about his health.
PML-Q leaders Chaudhry Shujaat Hus­sain and Punjab Assembly Speaker Perv­aiz Elahi telephoned Shahbaz Sharif and inquired after the health of Nawaz Sharif.
In a tweet, Special Assistant to the PM on Information Dr Firdous Ashiq Awan said the prime minister had directed the authorities to provide best medical facilities to Nawaz Sharif. "The prime minister prayed for his recovery and expressed best wishes for him."
PML-N secretary general Ahsan Iqbal said Imran Khan Niazi was responsible for the poor health of Nawaz Sharif. "The hatred of the PTI government is also reflective of its inhumane actions against Maryam Nawaz, Rana Sanaullah Khan and Shahid Khaqan Abbasi."
Maryam meets Nawaz
Incarcerated PML-N vice president Maryam Nawaz met Nawaz Sharif at the Services Hospital after the Punjab government accepted her request in this respect.
"After an hour-long meeting between the father and the daughter, the hospital administration offered her check-up at the hospital because she had not been feeling well for the last few days," a source said. He said Maryam had accepted the administration's offer to be admitted to the hospital. Doctors conducted her blood tests late in the night and her treatment would begin in the light of the test results.
Full report at:
https://www.dawn.com/news/1512617/shahbaz-irked-by-institutions-decision-to-fully-support-imran
--------
Maryam sent back to jail despite being unwell: PML-N spokesperson
Adnan Sheikh | Javed Hussain | Kinza Malik
October 24, 2019
PML-N leader Maryam Nawaz was sent back to Kot Lakhpat jail early on Thursday morning, hours after she was admitted to Services Hospital Lahore, said PML-N leaders.
Condemning the move, PML-N spokesperson Marriyum Aurangzeb said that Maryam was sent back to the jail at 5am, adding that the PML-N vice president was unwell at the time when she was sent to Kot Lakhpat jail.
Read: Maryam admitted to Services Hospital
On Wednesday night, Maryam was admitted to the hospital after a meeting with her ailing father. According to a document, issued by the Services Hospital Lahore Accident and Emergency Services, Maryam was admitted at 10:03pm in VVIP II.
She met her father, former prime minister Nawaz Sharif, at the same hospital after the Punjab government accepted her request in this respect. Nawaz was admitted to the hospital late on Monday night after his personal physician, Dr Adnan Khan, had raised an alarm about his critical condition in the accountability watchdog's custody.
"After an hour-long meeting between the father and the daughter, the hospital administration offered her check-up at the hospital because she had not been feeling well for the last few days," a source had said.
The sources said Maryam had accepted the administration's offer to be admitted to the hospital. Doctors conducted her blood tests late at night and her treatment was to begin in the light of the test results.
Aurangzeb today said, Maryam was experiencing high blood pressure and her heart rate was not normal at the time when she was returned to jail.
She said that doctors had decided to admit the PML-N vice president in the hospital after conducting tests, adding that Maryam has not been feeling well for a few days.
Additionally, Aurangzeb alleged that Maryam's medical reports were not being provided to her children and her personal physician Dr Khan.
She said that taking Maryam to jail in this way was another attempt to bring mental agony to former prime minister Nawaz Sharif.
Additionally, PML-N deputy secretary general Advocate Ata Tarar said Maryam was not well and her treatment was ongoing.
"It is cruelty to send her back to jail without completing [her] treatment," he said, adding that Maryam should be admitted in the hospital till her treatment is completed.
Nawaz's health
Tarar added that a medical board would provide information about progress in Nawaz's health today. He said that he did not have any reports with regards to Nawaz being sent abroad for treatment.
Full report at:
https://www.dawn.com/news/1512659/maryam-sent-back-to-jail-despite-being-unwell-pml-n-spokesperson
--------
Tehreek-i-Insaf, BAP bag two KP Assembly reserved seats
October 24, 2019
PESHAWAR: The Election Commission of Pakistan on Wednesday notified Aisha Bibi of the Pakistan Tehreek-i-Insaf and Baseerat Khan of the Balochistan Awami Party as MPAs-elect on two seats reserved in the Khyber Pakhtunkhwa Assembly for women from the merged tribal districts.
The notification for the purpose was issued in line with Article 106 of the Constitution read with Section 104 of the Elections Act, 2017.
The name of Aisha Bibi was notified following a legal battle between her and another female candidate of the PTI, Mehreen Rauf Afridi, who had claimed that Ms Aisha was not a registered voter anywhere in tribal districts on the day of the filing of nomination papers, so she was not eligible to contest election for the provincial assembly seats reserved for women.
Ms Aisha's nomination papers were accepted by the returning officer but she was later disqualified by an election appellate tribunal on Sept 13.
However, the Peshawar High Court set aside the order of the tribunal on Oct 10 by accepting her petition.
Ms Aisha's name is at Serial No 1 of the priority list of candidates for the reserved seats by the ruling PTI and Mehreen Rauf Afridi's at Serial No 3.
MPA-elect Aisha Bibi belongs to a political family of Mohmand tribal district. Her maternal grandfather, the late Haji Dilawar Khan, remained as a senator as well as an MPA.
As for Baseerat Khan, she belongs to Khyber tribal district but currently lives in Peshawar.
The ECP had notified Naeema Kishwar Khan of Jamiat Ulema-i-Islam-Fazl and Anita Mehsud of the PTI as elected candidates in Aug on two of the four seats reserved for women in the first ever provincial assembly polls in the erstwhile Federally Administered Tribal Areas, now called merged tribal districts.
Under the Constitution, those to fill seats reserved for women and non-Muslims will be elected through proportional representation system of the political parties' lists of candidates on the basis of the total number of general seats won by every party from the province concerned.
In light of that constitutional provision, the commission had allocated two reserved seats to PTI and one each to the JUI-F and the BAP.
However, the two seats remained vacant as the PTI mentioned only Anita Mehsud's name in its priority list, while the BAP didn't produce priority list. The same reasons prompted the ECP to re-issue the schedule for filling the remaining two seats by the nominees of the PTI and the BAP.
Of the provincial assembly's 16 general seats of tribal districts for which polling was held on July 20, the independent candidates had won six, the PTI five, the JUI-F three and Jamaat-i-Islami and Awami National Party one each.
Two of the independent MPAs- elect joined the PTI, whereas three of them, in a surprise move, joined the BAP, which had no presence in the politics of the province until then.
With the joining of the independent candidates, the PTI was entitled to get two seats reserved for women, while the JUI-F and BAP secured one seat each.
Full report at:
https://www.dawn.com/news/1512596/tehreek-i-insaf-bap-bag-two-kp-assembly-reserved-seats
--------
Tales of economy, nuclear power, democracy and Islamic law
OCTOBER 24, 2019
Pakistan-The-Economy-Cover-Final-PAKISTAN: THE ECONOMY OF AN ELITIST STATE BY ISHRAT HUSAIN — this insightful analysis into the prevailing economic situation in Pakistan has three distinguishing features. It is an exhaustive, analytical history of economic development in Pakistan during the last 70 years; it provides an explanation of Pakistan's economic performance in the political context and compares it with other South Asian countries and with East Asia; it outlines for Pakistan an agenda of economic and social reforms based on a model of shared growth to see the country into the 21 Century. The main thrust of the book is that the respective roles of the state and the market have been reversed in the case of Pakistan, with the result that the benefits are reaped by the elite class only. This small minority continues to enjoy the unjust accumulation of wealth in the midst of widespread poverty and squalor. The author establishes that such a situation is socially and economically not sustainable.
NOAK JHOAK BY SHANUL HAQ HAQQEE — this is a collection of Shanul Haq Haqqee's satirical literary essays. He had a fascination for words. Whatever he wrote, whether it was poetry or translation, be it criticism or journalism, it had a tinge of linguistic penchant, for his chief concern was words. These essays are written in Shanul Haq Haqqee's characteristic style. This book can be used as a supplementary reader by the students of Urdu literature as well as by general readers.
Indias-Habituation-with-the-Bomb-INDIA'S HABITUATION WITH THE BOMB: NUCLEAR LEARNING IN SOUTH ASIA BY NAEEM SALIK — this book, a mirror image of a book about Pakistan titled Learning to Live with the Bomb by Naeem Salik, has been jointly authored by Pakistani and Indian scholars and provides an objective and insightful analysis of India's experience of managing its nuclear capability including its doctrinal precepts, command and control, safety and security, export control and regulatory regimes and its development of the ballistic missile defence system.
The-Parliament-of-Pakistan-OPP-THE PARLIAMENT OF PAKISTAN: A HISTORY OF INSTITUTION-BUILDING & (UN)DEMOCRATIC PRACTICES, 1971-1977 BY MAHBOOB HUSSAIN — The book highlights the working of Pakistan's parliament in the 1970s and examines the role of Pakistan's parliament and how it functioned, and evolved over the 1971-1977 period. It focuses on concepts such as autonomy, complexity, differentiation, durability and sovereignty, providing insight on the functioning of political regimes and parliaments in postcolonial states. It lists the strengths and weaknesses of the parliament and initiates a compelling discussion to establish a correlation between its functioning and the emergence of undemocratic practices in Pakistan.
Full report at:
https://dailytimes.com.pk/488453/tales-of-economy-nuclear-power-democracy-and-islamic-law/
--------
North America
Muslim Institute for Leadership and Empowerment aims to create a community for Muslim students, empower them to be leaders
By Carolyn Lane
10/24/2019
Last semester, second-year Engineering student Ayman Ibrahim contemplated pursuing two leadership positions on Grounds. However, he doubted he would receive either one because he was just a first-year applying to be a part of two executive groups. He spent the semester learning about and preparing for leadership roles as a member of the Muslim Institute for Leadership and Empowerment. Ibrahim returned to Grounds this fall as the Muslim Student Association outreach chair and International Residential College's minister of recreation — positions he believes he owes to all that he learned with MILE.
MILE was founded in 2018 by Class of 2018 alumni Al Ahmed and Zaakir Tameez to prepare first-year, second-year and transfer Muslims students for leadership roles and jobs in the University community and beyond. The idea came about after the two noticed the creation of leadership institutes for other minority students on-Grounds, such as the Latinx Leadership Institute and Black Leadership Academy, but none for Muslim students.
"I saw a hole for the Muslim community," Ahmed said. "In my roles through MSA on the executive board … I saw so much promise in the Muslim community, but there wasn't really anything to help the younger generation — the underclassmen — grow and develop and get involved with the University. That's why I thought we should start something like MILE."
Last semester, 34 students participated in the program while nine students held positions on its executive board. Students hoping to get involved must submit an application midway through the fall semester for participation in the program's spring session. While completing an application may seem nerve-wracking, the process is meant as a way to ensure that students are truly interested in joining the program.
"Our application process isn't meant to cut anyone or remove people," said Ibtisaam Amin, fourth-year College student and MILE executive director. "It's really just there to make sure that people who are applying for the program are invested in seeing it through and participating fully and will give an equal amount to the program as Muslim students."
Once applications are in, the executive board conducts interviews with interested students, after which they begin the selection process for the cohort. There is not one type of Muslim student that the board considers the ideal candidate for the program, as they actively seek Muslim students from a broad range of religious, racial and cultural backgrounds.
As the program enters its second year, it is undergoing some structural changes. Last semester, the program consisted of 8 two-hour sessions, but this year, the number of sessions is increasing to 10 to allow MILE to cover more topics.
"[The meetings are] a catch-all for important things that Muslim students should be discussing at U.Va., but also to prepare them for leadership roles at U.Va. and beyond," Amin said. "[Some of the topics are] identity and leadership, exploring careers, race and ethnicity, public speaking and interviews and Muslim examples of leadership."
For Amin, one of the most impactful moments occurred in the wake of the mass shooting in Christchurch, New Zealand when a white nationalist killed 51 Muslim worshippers. MILE's next meeting after the shooting became a place where students could debrief about the attack on members of their faith.
"I think that was a reflective time for us to be together in community sharing these feelings and thinking through what we can do to be supportive of one another … and to make space for ourselves within institutions that don't always create that space for us," Amin said. "Our goal is to provide Muslim students with the tools they need to be successful leaders … but to do that with pride in their Muslim identity and taking strength from it … rather than despite them."
Hibah Berhanu, third-year College student and MILE codirector of programming, also loves how MILE allows them to delve into Muslim issues in the world.
"It's a way for us to have a space and actually unpack all of those things, the things that affect Muslims externally and the things that affect us internally within the Muslim community," Berhanu said. "It's just really exciting that we now have the space that's not specifically religious space but just a place where we can talk about institutions and power and privilege and things like that."
As one of the students who had the opportunity to go through the program, Ibrahim felt the impact of MILE as it related to him growing more confident within himself and in his leadership skills.
"Public speaking was something that I also had a hard time doing because I was highly introverted, and now I'm more extroverted," Ibrahim said. "I'm able to talk more and actually put out my thoughts in meetings, in committees … I have a lot of committee meetings so being able to voice my opinion and have a critical standpoint — MILE taught me all that."
The skills like those mentioned by Ibrahim have helped many MILE cohort members gain leadership positions on Grounds, including those that are well-known for their selectivity. Two MILE participants now have Lawn rooms and there are eight residential advisors from the former cohort.
As a fourth-year now, Amin has been able to see the evolution of Muslim representation on Grounds, which MILE has helped to increase despite the group's creation only a year ago.
"Coming into Grounds as a first year three years ago, there was really only one organization you could be a part of as a Muslim student that catered to that identity," Amin said. "[MILE's created] a space where the students in our cohort can talk about issues that are relevant to them and to their lives and their careers, and they're doing all of that while they're in a community of people who come from a shared faith background."
Applications for MILE's spring 2020 cohort are now available and will close Oct. 31 at 11:59 p.m.
https://www.cavalierdaily.com/article/2019/10/muslim-institute-for-leadership-and-empowerment-aims-to-create-a-community-for-muslim-students-empower-them-to-be-leaders
--------
Number of Muslim students bullied for the faith declines but rate is still double the average, study finds
By CAITLIN YOSHIKO KANDIL
OCT. 23, 2019
Forty percent of Muslim students in California have been bullied at school because of their faith, according to a report released this month by the Anaheim-based Council on American-Islamic Relations California.
Though a sharp decline from the previous year, that's more than twice the national average for school bullying.
The study, which was conducted by the state chapter of the nation's largest Muslim American civil rights and advocacy group , surveyed about 1,500 Muslim students ages 11 to 18 in public and private schools statewide.
Nearly 30% reported teachers and administrators making offensive comments about Islam and Muslims, while 35% said they had seen offensive comments or posts on social media.
"We really can't ignore the fact that right now in the media, and among a lot of our politicians, hate language is being normalized in a way that trickles down to our students," said Patricia Shnell, senior civil rights attorney for CAIR-LA in Anaheim, one of four offices for CAIR-CA. "We really need to continue to push back against this idea that you can talk about an entire group of people in a disrespectful manner and it be acceptable."
Ahlam Elabed, the mother of a special needs high school student in Redlands and a client of CAIR-LA, said her son has been called a terrorist, had "Allahu akbar" — Arabic for "God is great" — shouted at him in a ridiculing way and had his photo taken without his permission, Photoshopped with racist images and distributed to classmates.
"My son was ashamed of the bullying, and worse it happened so often that he became accustomed to it, he began to feel that enduring the bullying was more simple than the risk he would face of retaliation were he to report it," she said in a statement.
Suhein Beck, a resident of Trabuco Canyon and a former board member of New Horizon, an Islamic school in Irvine, said Muslim children are also bullied outside of school. She recalled that after the 2015 mass shooting in San Bernardino, which left 14 dead, a Muslim girl she knew who wears a hijab received physical threats at a mall.
"It always flares up after an incident," she said. "San Bernardino hit us hard."
At the same time, the report shows that faith-based bullying of Muslim students is for the first time on the decline.
Since CAIR-CA started surveying Muslim students about bullying in 2013, the numbers had always trended upward. But this year's 2018-19 study marked a 13% drop in bullying rates since 2016-17, when 53% reported bullying.
"Each year we had seen that number rise, and this year we saw a rather significant drop," Shnell said. "It seems like we're finally seeing a positive turn in the trend."
Fayaz Nawabi, policy and advocacy manager for CAIR-LA, partly attributed the decline in bullying to the work the organization has done in recent years.
CAIR-LA, he said, has worked with school districts in Orange and Los Angeles counties to raise awareness and provide educators cultural competency training.
In addition, he said the organization has pushed for anti-bullying legislation in Sacramento, in particular the 2016 Safe Place to Learn Act, which specifically addresses the bullying of Muslim, Sikh and South Asian students, and the 2018 Bullying bill, which requires school districts to adopt new procedures to prevent bullying and to offer training to teachers, students and families on how to identify and combat bullying.
Now, Nawabi said, CAIR-CA is helping to push for the ethnic studies bill, which was placed on hold earlier this year. Having a more inclusive curriculum is another way to combat bullying, he said, because it will help students — and teachers — understand the contributions diverse communities have made to the state, as well as the impact of slurs.
"It'll mitigate a lot of ignorance," Nawabi said. "Through the ethnic studies bill and a curriculum that includes all people, we're able to curb that 'otherizing,' not only of the Muslim community, but of all historically marginalized groups."
In the meantime, Shnell said there are also steps parents can take, including teaching children the harms of bullying and keeping open lines of communication with children so that if it does occur it can be stopped early.
"I would say to parents who their student is the victim of any kind of bullying, to make sure you're working with your student so they know the bullying is not their fault," she said, "that they should not have to change anything about themselves to not be bullied."
Natalie Morris
23 Oct 2019
18-year-old Khadijah Mellah, from Peckham, made British history and global headlines in August when she became the first British female Muslim jockey to win a major race. She took the historic victory at the Magnolia Cup, and now a new documentary will document her incredible rise to the top. The show, Riding a Dream, will document Khadijah's journey from learning to ride at Ebony Horse Club in Brixton to her victory at Goodwood, including a gruelling four-month training process.
Coming from an area in London with some of the highest concentrations of child poverty in the UK, horse riding was not on Khadijah's radar growing up – but she's delighted to have been given the opportunity to inspire others. 'I love proving people wrong when it comes to what a Muslim girl can or can't do,' Khadijah tells Metro.co.uk. 'For someone like me to have won a horse race and made history for British female Muslims feels very important. I hope that other young women will see my story and be motivated and determined to achieve their goals too.' Khadijah has been riding at Ebony Horse Club in Brixton every week for more than six years. She just loves being around horses and the personal challenge that riding presents. 'After sitting my A Levels I moved to Newmarket to ride out in the mornings and exercise the horses with other jockeys,' she explains. 'To get my race riding and fitness to where it needed to be, I needed to ride as often as possible. 'Riding a racehorse is quite different from riding the horses at Ebony Horse Club, racehorses are athletes so are built differently, they're fitter and stronger than the horses I had been used to riding so I had to learn a new technique.'
On top of this, Khadijah also had to complete rigorous fitness tests to make sure she was up for competing. She had regular assesments and tough training sessions to get her to where she needed to be. But she knows it was worth it. 'Being able to prove that you can achieve your dreams and change perceptions is important to me, so this has been great motivation to continue making a change and inspire other women,' says Khadijah. 'When I'm riding, I feel like I can accomplish anything, and I think all young women and girls should be able to feel like that. 'Riding also gives you this amazing sense of independence because you learn how to care for another being and how to be responsible. Horses are amazing, gentle animals so they can bring a lot of joy to life.' Ahead of the release of the documentary Khadijah had a special meeting with her hero, Egyptian runner and founder of online community Surviving Hijab, Manal Rostom. Like Khadijah, Manal, is using sport to break down social stereotypes and empower young women and hijab wearers to follow their dreams. 18-year-old becomes first female Muslim jockey to win major race Play Video Loaded: 0% 0:00Progress: 0% PlayMute Current Time0:00 / Duration Time4:02 Fullscreen Read more: https://metro.co.uk/2019/10/23/18-year-old-becomes-first-female-muslim-jockey-win-major-race-love-proving-people-wrong-10970790/?ito=cbshare Twitter: https://twitter.com/MetroUK | Facebook: https://www.facebook.com/MetroUK/
The documentary explores the benefits that Ebony Horse Club is providing for young people in Brixton, and culminates at the Qatar Goodwood Festival as Khadijah takes her place among a field of 11 other competitors in the Magnolia Cup.
Full report at:
https://metro.co.uk/2019/10/23/18-year-old-becomes-first-female-muslim-jockey-win-major-race-love-proving-people-wrong-10970790/
--------
How Bernie Sanders became a favorite among Muslim Americans
BY JOSEFIN DOLSTEN
OCTOBER 23, 2019
(JTA) — Bernie Sanders was one of only two Democratic presidential candidates to address the Islamic Society of North America Convention in August, the largest annual gathering of Muslim Americans in the country.
Organizers invited the 10 highest-polling contenders at the time to the Houston event, but the Vermont senator and Julian Castro were the only ones to accept. Sanders received loud applause and a standing ovation for a speech that repeatedly invoked his refugee father's flight from poverty and anti-Semitism in Poland.
Among a crowded field of Democratic hopefuls, the Jewish candidate is one of the few who have made repeated efforts to reach out to Muslim Americans, community leaders told the Jewish Telegraphic Agency.
"Sanders has taken an active role in elevating Muslim communities and Muslim spokespersons in the national presidential debate," said Robert McCaw, director of the government affairs department at the Council on American-Islamic Relations. "He's not shy in going into Muslim spaces publicly and endorsing our issues and making them a part of the campaign."
Sanders was the first presidential candidate to visit a mosque following the March shooting at two mosques in New Zealand. With his appointment of Faiz Shakir as campaign manager, he became the first major presidential candidate to appoint a Muslim in that role. He has picked high profile Muslims as surrogates — including Women's March organizer Linda Sarsour and comedian Amer Zahr, both Palestinian Americans.
Prominent Muslim politicians, in turn, have endorsed Sanders. They include Rep. Ilhan Omar, D-Minn., who came out for Sanders last week. Rep. Rashida Tlaib, D-Mich., is set to join Sanders at a rally in Detroit this weekend and reportedly is going to endorse him as well. Omar and Tlaib, the first Muslim women elected to Congress, have been the repeated target of attacks by President Donald Trump.
It's hardly a given that Muslim Americans would support a left-leaning Democrat.
The Muslim-American community is estimated at 3.45 million and it's diverse, including immigrants from the Middle East, Africa and Asia, as well as a sizable number of African-Americans born in the United States. The community is close to split evenly between self-described liberals and conservatives.
The 2000 election is often seen as a turning point. That year, a political action committee made up of Muslim groups endorsed Republican George W. Bush, who had made efforts to reach out to the Muslim community, over Democrat Al Gore. Polls are inconsistent on how Muslims actually voted in that election. CAIR said 70 percent of Muslim-American voters backed the GOP candidate, while a study by the pollster Zogby International said the number was just 42 percent.
But the Iraq War and the Patriot Act were unpopular among Muslim Americans, and by the next election both Zogby and CAIR were showing overwhelming Muslim support for John Kerry, the Democrat running against Bush.
The situation has scarcely changed. In 2016, CAIR found that only 13 percent of Muslims voted for Trump. A Zogby poll ahead of the election found that only 12 percent of Muslims said they would vote for Trump.
"The Democratic Party has more appealing factors right now than the Islamophobic sentiment that is seen exuding from the Republican Party," McCaw said.
Still, a 78-year-old Jewish socialist from Brooklyn isn't an obvious favorite among Muslim Americans, whose relations with U.S. Jews have often been complicated by differences over the Israeli-Palestinian conflict.
But a number of factors have drawn the communities closer in recent years, according to Suhail Khan, a conservative activist who served as legal counsel and transportation adviser in the George W. Bush administration. These include similar views on domestic issues, better social ties and a shared sense of vulnerability in the face of mounting hate crimes.
"The conversation and the relationship between the American Muslim community and the American Jewish community has done a 180-degree change, and that's reflected in the support for Bernie," said Khan, who doesn't support Sanders but understands his appeal to fellow Muslims.
Sarsour, the Sanders surrogate and former Women's March organizer, did not respond to requests for comment, but she told the Los Angeles Times last month that Sanders "crushes the stereotype that Muslims and Jews are natural enemies." Sarsour also cited Sanders' defense of Tlaib and Omar in the face of Trump's attacks and his being "outspoken on Palestinian rights" as reasons for Muslim support.
Sanders has stood out among Democratic contenders for his willingness to criticize Israel. He was the first serious candidate to suggest that aid to Israel could be contingent on its compliance with U.S. policy, although Sen. Elizabeth Warren has now embraced that view. He has also said that he supports Israel's right to exist in peace and security and called himself "100 percent pro-Israel," but repeatedly has come down hard on the government of Prime Minister Benjamin Netanyahu, including calling it "racist."
"There is a sense that this is a guy who would do with us and respect us in a way that other candidates wouldn't," said James Zogby, a former Democratic National Committee member and director of the Arab-American Institute who has endorsed Sanders.
For some Muslim voters, Sanders' Jewish identity makes them even more likely to support him.
"I think in terms of being a socialist Jewish guy from Brooklyn, it appealed to me because I know a couple of socialist Jews from Brooklyn and my parents grew up around lefty Jewish people," said Hamzah Raza, a 23-year-old graduate student in Islamic studies at the Harvard Divinity School.
Raza, who grew up in Maryland and New Jersey, organized a group of young Muslims to pray for Sanders following news earlier this month that he had suffered a heart attack. Some 40 young Muslims from around the world ended up taking part in a complete recitation of the Quran on behalf of Sanders on the messaging platform WhatsApp, as first reported by the Religion News Service.
"They were really eager," Raza told JTA. "People really wanted to be a part of it."
Raza said the candidate's outreach to the community and his progressive stances on a number of issues appeal to him, including health care, foreign policy and the Israeli-Palestinian conflict.
Full report at:
https://www.jta.org/2019/10/23/politics/how-bernie-sanders-became-a-favorite-among-muslim-americans
--------
Trump lifts Turkey sanctions, quits 'blood-stained' Syria
Oct 24, 2019
WASHINGTON: President Donald Trump ended sanctions against Turkey on Wednesday, drawing a line under American involvement in "blood-stained" Syria, as Turkish and Russian troops seized territory previously held by US troops and their beleaguered Kurdish allies.
"Let someone else fight over this long blood-stained sand," Trump said in a White House speech that formalized the ceding of power in northern Syria to Ankara and increasingly influential Moscow.
Trump said he was lifting the sanctions because a ceasefire was holding in the area, which Turkey invaded to drive Kurdish military groups from their strongholds.
Trump called the ceasefire, which allowed the Turkish takeover to proceed largely unopposed, a "major breakthrough." Rejecting accusations that he betrayed the Syrian Kurds - who suffered thousands of casualties fighting alongside US troops against the Islamic State (IS) jihadist group - Trump said they were happy.
The president said the Kurdish commander in the country, Mazloum Abdi, had just told him he was "extremely thankful." Ankara ordered a cross-border operation into Syria on October 9 because it said it wanted to create a security cordon free of Kurdish armed groups that it considers to be terrorists, linked to Kurdish rebels inside Turkey.
The long-planned operation started after Trump announced the exit of the small, but politically significant US military force which had until then been closely allied with the Kurds.
Trump said he didn't want the US troops caught in the middle of a Turkish-Kurdish war.
Accused both by Republicans and Democrats of abandoning the Kurds, Trump imposed sanctions on Turkey on October 14 and sent a delegation to persuade Turkish President Recep Tayyip Erdogan to order a brief ceasefire.
In a tweet from a spokesman on Wednesday, Abdi thanked Trump "for his tireless efforts that stopped the brutal Turkish attack and jihadist groups on our people." A group of US senators called in a Wednesday letter for US Secretary of State Mike Pompeo to expedite a visa for Abdi so the government could "hear directly... about the situation on the ground and the fight" against IS.
As US soldiers and the Kurds exited areas near Turkey's border, Turkish troops and Russian troops, who have propped up Syrian President Bashar al-Assad through his country's multi-sided civil war, moved in.
The first Russian patrol in northern Syria got underway on Wednesday, the defense ministry in Moscow announced.
Defence minister Sergei Shoigu talked with Abdi and reassured him that civilians would not have to leave their homes, a spokesman said - apparently addressing allegations that Turkey will seek ethnic cleansing in the region.
Critics of Trump say he has caved in to Turkey and been outplayed by Russia. "It is unthinkable that Turkey would not suffer consequences for malevolent behaviour which was contrary to the interests of the United States and our friends," tweeted Republican Senator Mitt Romney.
But Trump insisted that the power shift is a win for Washington, because he is fulfilling a campaign promise to step away from "ancient sectarian and tribal conflicts."
Trump said there was no risk that the turmoil in the area could lead to a reconstitution of the Islamic State, which has lost its once sizeable territories and has thousands of members and their relatives kept in camps controlled by the Kurds.
With concerns that the Kurds may no longer be able to monitor Islamic State prisoners, Trump said he expects Turkey to "abide by its commitment" to act as a "back-up to the Kurds." "Should something happen, Turkey is there to grab them," he said.
He was speaking shortly after a US State Department official, James Jeffrey, testified in Congress that "over 100" Islamic State prisoners had escaped so far and "we do not know where they are." Trump said that a "small number" of US soldiers would remain nearby, but purely to guard oil facilities.
His central message was clear: that the United States has no business in Syria and that there was never any question of trying to stop NATO member Turkey from carrying out its invasion.
"We have spent USD 8 trillion on wars in the Middle East, never really wanting to win those wars," Trump said.
However, the isolationist policy grates on many Republicans, whom he is depending upon to save him from a Democratic push to impeach and remove him from office over allegations that he abused his office.
Immediately after the speech, powerful Republican Senator Lindsey Graham said the United States had to stay engaged.
Full report at:
https://timesofindia.indiatimes.com/world/us/trump-lifts-turkey-sanctions-quits-blood-stained-syria/articleshow/71731827.cms
--------
Trump lifts Turkey sanctions as Syria truce turns permanent
Oct 23, 2019
US President Donald Trump has officially removed economic sanctions imposed on Turkey, after Ankara informed Washington that a ceasefire in its ongoing military incursion into northern Syria will become "permanent."
Trump announced Wednesday that Washington and its allied Kurdish groups have officially ceded control of northern Syria to Turkey and Russia, defending his decision earlier this month to pull forces from the region.
He insisted that Kurdish fighters, who felt "backstabbed" after the US withdrawal, were happy with the latest developments.
Trump said he had just spoken with Mazloum Abdi, the commanding general of the Kurdish-led Syrian Democratic Forces (SDF), and he was "extremely thankful."
In a tweet from a spokesman on Wednesday, Mazloum thanked Trump "for his tireless efforts that stopped the brutal Turkish attack and jihadist groups on our people."
The American head of state stated that he was right to pull American forces out of Syria, saying "let someone else fight" over the "blood-stained" country.
"We have spent $8 trillion on wars in the Middle East, never really wanting to win those wars," Trump said.
"But after all that money was spent and all those lives lost, the young men and women gravely wounded, so many -- the Middle East is less safe, less stable and less secure than before these conflicts began."
In a major U-turn in the US military policy, the White House announced on October 6 that the US would be withdrawing its forces from northeastern Syria, clearing the path for an expected Turkish incursion into the region.
Three days later, Turkey launched the offensive with the aim of purging the northern Syrian regions near its border of US-backed Kurdish militants, whom it views as terrorists linked to local autonomy-seeking militants of the Kurdistan Workers' Party (PKK).
On Thursday, following meetings between Turkish President Recep Tayyip Erdogan and US Vice President Mike Pence, Ankara agreed to pause" the assault for five days allowing Kurdish fighters to withdraw from a determined "safe zone" north of Syria.
Pence told reporters on the same day that Ankara's incursion "will be halted entirely on completion" of the withdrawal of the fighters.
Trump called the ceasefire a "major breakthrough" and said he didn't want the US troops caught in the middle of a Turkish-Kurdish fight.
On October 15, Washington imposed sanctions on Turkey's Ministries of National Defense and Energy and Natural Resources, as well as the heads of the two ministries and the minister of the interior.
The US president insisted that the power shift is a win for Washington and fulfills a campaign promise by taking another step in ending America's involvement in "ancient sectarian and tribal conflicts."
On Tuesday, Russia and Turkey reached a deal to establish a safe zone in northern Syria.
The deal was announced on Tuesday evening following lengthy discussions between Turkish President Recep Tayyip Erdogan and his Russian counterpart, Vladimir Putin, in Sochi.
Russian forces move in
Meanwhile, as US troops and the Kurdish fighter left areas near Turkey's border, Turkish troops and Russian troops moved in.
The first Russian patrol in northern Syria got underway on Wednesday, the defense ministry in Moscow announced.
Russian military police started deploying on Syria's border town of Kobani on Wednesday.
As part of the agreement between Putin and Erdogan, the Russian and Syrian security forces need to push the YPG, a Kurdish militant group that Ankara views as terrorists because of its links to Kurdistan Workers' Party (PKK), at least 30 km (19 miles) into Syria.
Kobani bears special significance for Kurds as the fought to ward off attempts by Daesh terrorists to seize the city in 2014-15 in one of the fiercest battles of the years-long conflict in Syria.
Russian and Turkish forces will begin to jointly patrol a 10 km strip of land in northeast Syria next Tuesday. The area was once home to American troops and their Kurdish allies.
Kremlin spokesman Dmitry Peskov warned Wednesday that Syrian border guards and Russian military police would have to fall back should Kurdish forces refuse to retreat,.
"And remaining Kurdish formations would then fall under the weight of the Turkish army," he said.
Kurdish militia commanders have yet to respond to the deal reached in Russia's Black Sea resort of Sochi.
Trump rules out Daesh resurgence
Elsewhere in his remarks on Wednesday, Trump played down concerns that the turmoil in northern Syria -- which is house to several prisons holding some 12,000 Daesh members -- could lead to a reconstitution of the Takfiri terrorist group.
While the Kurds have warned that they may no longer be able to monitor the prisoners due to the Turkish invasion, Trump said he expected Ankara to "abide by its commitment" to act as a "back-up to the Kurds."
Full report at:
https://www.presstv.com/Detail/2019/10/23/609415/US-Trump-Turkey-sanctions-syria-ceasefire
--------
Iran rejects as 'bluff' Trump's threat of war, vows crushing response to slightest mistake
Oct 23, 2019
Iranian Defense Minister Brigadier General Amir Hatami says US President Donald Trump's recent threat of a military attack against Tehran is only a bluff to cover Washington's mortification for its failures.
"It seems more like a bluff to cover their chagrin" for their failed policies, General Hatami told reporters on the sidelines of a cabinet meeting on Wednesday.
The minister's remarks came in response to Trump who said on Monday that the US may get into new wars, when asked about Washington's foreign policy priorities.
Trump insisted that he is working to bring home American soldiers but warned the US may soon enter into new military conflicts.
"We may have to get into wars. We're better prepared than we've ever been. If Iran does something, they'll be hit like they've never been hit before. I mean, we have things that we're looking at," he said in a cabinet meeting.
The Iranian minister warned the US about a crushing response in case of making the mistake of taking a measure against Iran.
"If they make a mistake, they will receive a response that will make them more ashamed than the previous measures which brought about humiliation to them," Hatami said.
He said that the Iranian Armed Forces stand fully ready to protect the nation and the country's borders and will give a crushing response to any threats or excessive demands.
Chairman of the Chiefs of Staff of the Iranian Armed Forces Major General Mohammad Baqeri also underscored the Islamic Republic's deterrent power on Tuesday, warning that enemies will have to pay heavy costs if they carry out any act of aggression against the country.
Such a confrontation, he added, would merely bring the enemies heavy casualties and humiliation.
The chief commander of Iran's Army also said earlier this month that the country will give a crushing response to any threat posed by enemies at any level.
Full report at:
https://www.presstv.com/Detail/2019/10/23/609390/Iran-US-war-Trump-military-threat
--------
Trump sends $4.5 million in aid to White Helmets in Syria
Oct 23, 2019
US President Donald Trump has authorized $4.5 million in aid to the Western-backed White Helmets operating in Syria, an organization known for staging false-flag chemical attacks in the war-torn country.
Trump ordered the funds for what is formally known as the Syria Civil Defence group "to continue United States support for the organization's important and highly valued work in the country," White House spokeswoman Stephanie Grisham said in a statement on Tuesday.
"Over the course of the 8-year conflict in Syria, the SCD has rescued more than 115,000 people, including many ethnic and religious minorities," the statement added.
The Trump administration also provided $6.8 million in funding to the White Helmets in June.
The White Helmets have operated solely in areas controlled by anti-government groups in Syria.
Russia and Syria say the group is linked to Nusra Front terrorists. They say the White Helmets have contributed to false flag chemical attacks aimed at accusing the Syrian government of targeting its own people.
In December 2018, the Russia-based Foundation for the Study of Democracy presented evidence showing the group to be harvesting organs of the people they pretended to rescue, and looting the bodies of the fallen, among other things.
Trump's aid comes after he ordered the withdrawal of US forces from northeastern Syria on October 6, clearing the path for an expected Turkish incursion into the region.
Three days later, Turkey launched the offensive with the aim of purging the northern Syrian regions near its border of US-backed Kurdish militants, whom it views as terrorists linked to local autonomy-seeking militants of the Kurdistan Workers' Party (PKK).
US Defense Secretary Mark Esper said Saturday that the nearly 1,000 American troops pulling out of northeastern Syria following a military invasion of the area by Turkey would move to western Iraq.
News agencies reported that US troops had in fact crossed into Iraq from Syria through the Sahela border crossing in the northern province of Dohuk on Monday.
Full report at:
https://www.presstv.com/Detail/2019/10/23/609370/US-aid-Trump-Syria-White-Helmets
--------
No evidence of ethnic cleansing in Syria: US official
Servet Günerigök
23.10.2019
WASHINGTON
A senior U.S. official from the White House said Wednesday that Washington has not heard of any evidence of "ethnic cleansing" by Turkey in northeastern Syria.
"As of now, I don't think we've seen any evidence of ethnic cleansing," the official told the reporters via telephone, speaking on the condition of anonymity. "And so, you know -- that would be a very serious thing if it took place."
On Oct. 9, Turkey launched Operation Peace Spring to eliminate terrorists from northern Syria east of the Euphrates River to secure Turkey's borders, aid in the safe return of Syrian refugees and ensure Syria's territorial integrity.
That action drew criticism from naysayers from around the world who claimed the Turkish military is conducting "ethnic cleansing" against the Kurdish population in Syria's northeast.
"I hope that won't happen. We've been told by our Turkish colleagues that there are no such plans. And so it's -- I don't expect it will happen," the official added.
The phone briefing came hours after Washington lifted all sanctions imposed on Ankara over its operation. That included two Turkish ministries and three ministers.
"We are looking forward to good relations with Turkey, which is a NATO member. We also look to continue a good relationship with the Kurds in Syria. We're obviously hoping for the best in Syria," the official said, referring to the PKK/YPG.
Erdogan and his Russian counterpart, Vladimir Putin, held a meeting Tuesday in the Black Sea resort town of Sochi just hours before the pause was set to expire.
Ankara and Moscow reached a deal under which PKK/YPG terrorists will pull back 30 kilometers (19 miles) south of Turkey's border with northern Syria within 150 hours and security forces from Turkey and Russia will conduct joint patrols there.
Full report at:
https://www.aa.com.tr/en/americas/no-evidence-of-ethnic-cleansing-in-syria-us-official/1624344
--------
US did not sign up to defend PKK/YPG: Defense secretary
Servet Gunerigok
23.10.2019
WASHINGTON
The U.S. did not pledge to defend the PKK/YPG terror group against Turkey, the nation's defense chief said Tuesday.
"We didn't sign up to fight a war to defend the Kurds against a longstanding NATO ally and certainly did not sign up to help them establish an autonomous Kurdish state," said Defense Secretary Mark Esper, referring to the YPG, the Syrian offshoot of the PKK terror organization.
Esper was speaking to CNN's Christiane Amanpour in an exclusive interview in the Saudi capital of Riyadh.
He said the U.S. relationship with the YPG in northern Syria goes back to the Obama administration and is continuing with the Trump administration but reaffirmed Washington's commitment to Turkey's security.
"Turkey is a longstanding NATO ally. We're not going to go to war against a NATO ally and certainly not with regard to a border that we didn't sign up to defend in the first place," he added.
Esper said he has been working with his Turkish counterpart Hulusi Akar since taking office to establish a safe zone in northern Syria.
On Oct. 9, Turkey launched Operation Peace Spring to eliminate terrorists from northern Syria east of the Euphrates River in order to secure Turkey's borders, aid in the safe return of Syrian refugees and ensure Syria's territorial integrity.
On Oct. 17, Ankara agreed with Washington to pause its operation to allow the YPG terrorists to withdraw from the planned safe zone.
Full report at:
https://www.aa.com.tr/en/americas/us-did-not-sign-up-to-defend-pkk-ypg-defense-secretary/1623153
--------
U.S. official: 'Dozens' of Islamic State fighters freed in Syria
OCTOBER 23, 2019
WASHINGTON (Reuters) - U.S. President Donald Trump's special representative for Syria, James Jeffrey, said on Tuesday that "dozens" of Islamic State fighters had been freed since Turkey began its incursion in northeastern Syria.
"I would say dozens at this point," Jeffrey told a congressional hearing when Democratic Senator Chris Coons asked if he knew how many "hardened" Islamic State (ISIS) fighters had been released. There have been reports of much larger numbers.
https://www.reuters.com/article/us-syria-security-turkey-fighters/us-official-dozens-of-islamic-state-fighters-freed-in-syria-idUSKBN1X12J0
--------
US, French, British Armies Continue Withdrawal from Syria
Oct 23, 2019
Official news agency SANA reported that 40 US, French and British military servicemen on Tuesday evening pulled out from Rhaibeh Airport in the countryside of al-Malkiya in Hasaka province and headed for Iraq.
Also, a convoy including dozens of American armored vehicles moved from al-Qamishli toward the Iraqi borders.
It comes hours after nearly 30 French and US soldiers retreated from Khirbet Adnan in the countryside of al-Malkiya toward Iraq by an American helicopter.
The deployment comes just days after President Donald Trump argued that it was "time to bring our soldiers back home".
In recent days almost 1,000 American troops have fled Northeast Syria into Iraq, as Washington had declared that up to 1,000 American troops would be withdrawn from Northern part of the war-torn country because of the increasing danger posed by the fighting.
Defense Secretary Mark Esper had stated that US forces withdrawing from Northern Syria will be relocated to Western Iraq.
The US and its allies invaded Syria in 2014 under the pretext of fighting terrorism, without any authorization from the Damascus government or a UN mandate. Damascus has repeatedly accused Washington of carrying out an illegal occupation of its sovereign territory.
Full report at:
https://en.farsnews.com/newstext.aspx?nn=13980801000545
--------
US says it supports Lebanese people's call for action for economic reform
24 October 2019
Lebanese people are "rightfully angered" with their government over its refusal to tackle corruption and the protests reflect their call for action, a senior US State Department official said on Wednesday, adding that Washington supports their right to demonstrate peacefully.
Lebanon has been swept by unprecedented protests which have paralyzed the country for a week, against politicians blamed for corruption and waste in a state mired in debt and economic crisis.
Early on Wednesday, the Lebanese army began a wide-scale operation to open roads blocked by a number of demonstrators in different cities as protesters refused to leave on the seventh day of nationwide protests.
Full report at:
https://english.alarabiya.net/en/News/middle-east/2019/10/24/US-says-it-supports-Lebanese-people-s-call-for-action-for-economic-reform.html
--------
Will continue to pressurise Pakistan to act against Lashkar, Jaish and Hizbul, says US
October 23, 2019
The US has said that it supports Pakistan Prime Minister Imran Khan's statement that terrorists in Pakistan who carry out violence in Kashmir are enemies of both Kashmiris and Pakistanis.
The United States also said that it will continue to put pressure on Pakistan to take action against terror groups such as Lashkar-e-Taiba, Jaish-e-Mohammed and Hizbul Mujahideen that have been using its soil to harbor terrorism.
In a statement, acting Assistant Secretary of State for South and Central Asia Alice G Wells, said, "We continue to press Pakistan to take action against terrorist groups, including LeT, JeM, and Hizbul-Mujahideen. We welcomed PM Imran Khan's recent statement that Pakistani terrorists who carry out violence in Kashmir are enemies of both Kashmiris and Pakistan."
State_SCA
✔
@State_SCA
• Oct 23, 2019
Replying to @State_SCA
We believe in the right of Kashmiris on both sides of the Line of Control to live in dignity & participate fully in society & governance. As he mentioned before, @POTUS is willing to mediate between Pakistan & India if asked.
State_SCA
✔
@State_SCA
We continue to press #Pakistan to take action against terrorist groups, including LeT, JeM, and Hizbul-Mujahideen. We welcomed PM @ImranKhanPTI's recent statement that Pakistani terrorists who carry out violence in Kashmir are enemies of both Kashmiris & Pakistan.
125
1:19 AM - Oct 23, 2019
Twitter Ads info and privacy
196 people are talking about this
Imran Khan had recently acknowledged that terrorists who have been carrying out acts of violence in Kashmir are not just the enemies of India, but also Pakistan and Kashmiris.
Wells had earlier observed that the process of dialogue between India and Pakistan have faced obstacles because of Pakistan's continued support to terrorism.
The US official, while talking about the tension between India and Pakistan, referred to the 1972 Simla Agreement and said that Pakistan's continued support to terrorist groups such as Lashkar-e-Taiba and Jaish-e-Mohammed that engage in cross-border terrorism has been a major hindrance for dialogue to progress.
"Pakistan's harbouring of terrorist groups like Lashkar-e- Taiba and Jaish-e-Muhammed, which seek to foment violence across the Line of Control, is destabilising, and Pakistani authorities remain accountable for their actions," the US official has said in a warning to Pakistan.
Full report at:
https://www.indiatoday.in/india/story/will-pressurise-pakistan-to-act-on-terror-says-us-1612047-2019-10-23
--------
Europe
UN expert: Iran executes children in violation of rights law
24 October 2019
A UN independent human rights expert said on Wednesday that Iran executed seven child offenders last year and two so far this year even though human rights law prohibits the death penalty for anyone under age 18.
Javaid Rehman told the UN General Assembly's human rights committee Wednesday that he has "credible information" there are at least 90 child offenders now on death row in Iran.
Rehman also expressed deep concern at the overall use of the death penalty in the Islamic Republic. He said Iran's execution rate "remains one of the highest in the world" even though the number dropped from 507 in 2017 to 253 last year.
So far in 2019, "conservative estimates indicate that at least 173 executions have been carried out," Rehman added.
https://english.alarabiya.net/en/News/middle-east/2019/10/24/UN-expert-Iran-executes-children-in-violation-of-rights-law.html
--------
UK says Lebanese people expressed their 'legitimate anger,' calls for reforms
24 October 2019
The Lebanese people have "expressed their legitimate anger" and reforms must be implemented in the country, said the British Embassy in Lebanon on Thursday.
"A week after the protests began, the Lebanese people expressed their legitimate anger, which must be met. This is an important moment for Lebanon: urgent reforms must be implemented urgently," tweeted @ukinlebanon, the official account for the British Embassy in Lebanon.
Anti-government protests entered their second week on Thursday as protesters continued to block highways while banks and schools remained closed. The government under Prime Minister Saad Hariri passed reforms on Monday, but they have been largely ignored by protesters.
"The UK will continue to support Lebanon's fundamental pillars of security, stability, sovereignty and prosperity, including a stronger and more equitable economy, quality education opportunities for all, improved services and enhanced security," added the Embassy.
Full report at:
https://english.alarabiya.net/en/News/middle-east/2019/10/24/UK-says-Lebanese-people-expressed-their-legitimate-anger-calls-for-reforms.html
--------
UN expert: World must take firm action to end Israel's occupation
Oct 24, 2019
A United Nations human rights expert calls on the world community to hold the Israeli regime to account for its "illegal" land grab policies in the occupied Palestinian territories and take decisive action to end the "longest occupation in the modern world."
Michael Lynk, UN special rapporteur on human rights in the Palestinian territories, told the General Assembly on Wednesday that "the status quo of Israel's 'occu-annexation' is endlessly sustainable without decisive international intervention."
The UN expert said that "the international community has issued countless resolutions and declarations critical of the never-ending Israeli occupation," but "the time has long past to match these criticisms with effective consequences."
"Accountability is the key to opening the titanium cage that is the permanent occupation," he said.
Lynk lamented that the Israeli occupation has been characterized by "a strong sense of impunity" by the Tel Aviv regime.
UN Special Procedures
✔
@UN_SPExperts
The international community has a responsibility and a legal obligation to compel #Israel to completely end its illegal occupation and remove its barriers to the fulfilment of Palestinian self-determination – UN expert says at #UNGA 👉 http://ow.ly/wqmP50wRYo8
View image on Twitter
14
4:18 PM - Oct 23, 2019
Twitter Ads info and privacy
19 people are talking about this
"This occupation will not die of old age," he stated.
Lynk said that the international community should devise a list of effective countermeasures which would be "appropriate and proportional" to the circumstances.
The world community, he added, "should apply and escalate the range of its targeted countermeasures until compliance had been achieved."
"Palestinians, along with Israelis of conscience, have been asking repeatedly for the international community to act decisively in support of international law to compel Israel to end the occupation and enable Palestinian self-determination. We can't afford to ignore their call," the expert said.
He further called for an international ban on all products made in Israeli settlements built on occupied land, as a step towards ending the regime's 52-year-old "illegal occupation."
The international community should also issue "a clarion call to the United Nations" to complete and release a database "on businesses engaged in activities related to the illegal settlements," he said.
The UN Human Rights Council has repeatedly delayed the release of a report about companies doing business in Israeli settlements, which was originally to be published in 2017.
Full report at:
https://www.presstv.com/Detail/2019/10/24/609440/UN-human-rights-expert-Lynk-Israel-occupation-Palestine
--------
'ISIS bride' Shamima Begum challenges British government for stripping her citizenship
By Yaron Steinbuch
October 22, 2019
"ISIS bride" Shamima Begum has launched a legal challenge to the British government's decision to strip her of her citizenship and prevent her from returning to London, according to reports.
Begum, 20, who was born in the UK, was one of three schoolgirls from Bethnal Green Academby who left the UK to travel to Syria in February 2015 to join the terror group.
Four years later, she was discovered by journalists in the al-Hawl refugee camp guarded by Kurdish militia in Syria following the collapse of the ISIS caliphate.
On Feb. 19, then-Home Secretary Sajid Javid revoked her citizenship because it was claimed she still posed a risk to the public. The decision would only be lawful if it did not leave Begum stateless, according to Sky News.
Her lawyers told a hearing before the Special Immigration Appeals Commission on Tuesday that she had been left stateless, was unable to mount a "fair and effective" legal challenge and was at risk of "death, inhuman or degrading treatment," according to The Guardian.
If she was forced to go to Bangladesh, where her parents are from, she was at risk of being hanged, the court was told.
Shahriar Alam, Bangladesh's minister of state for foreign affairs, claimed that reports that she had Bangladeshi citizenship were false and warned that she would not be allowed into his country, according to Sky News.
Her attorney Tom Hickman said in his written submissions that Begum "is not considered a national of Bangladesh and was therefore rendered stateless by the deprivation decision."
Begum's other lawyer told the Daily Mirror that she will argue that she was a victim of rape by her husband.
"She was married in an ISIS ceremony within two weeks of reaching Syria to a 23-year-old fighter. Her context is as a rape victim, or a statutory rape victim," Tasnime Akunjee said.
Begum said she was married 10 days after arriving in Raqqa to Yago Riedijk, a Dutchman who had converted to Islam and became a jihadist.
During her time in Syria, she gave birth to three children, all of whom have died. She was eventually moved to another camp, al-Roj, amid threats against her.
Conditions in al-Roj were reported to be "squalid" and it was "likely to be unguarded" in the aftermath of this month's Turkish invasion of the northern part of Kurdish-controlled Syria, the court heard, according to the Guardian.
Hickman told the court: "[Begum] intended to return to the UK when the British government, after hearing of that intention, deprived her of her British citizenship with the purpose of preventing her from returning to the UK.
"Those actions were motivated, at least in part, by a desire to prevent the appellant exercising her [human rights] in the UK (such as by resisting deportation to Bangladesh)."
She drew a backlash when she appeared to be unmoved by the horrors the group had perpetrated during her time with them.
"When I saw my first severed head in a bin it didn't faze me at all. It was from a captured fighter seized on the battlefield, an enemy of Islam," she has said in an interview. "I thought only of what he would have done to a Muslim woman if he had the chance."
She told The Times of London that she wanted to bring up her baby in the UK — and her family has begged for her to be shown mercy and to be allowed to return to East London.
Her youngest child died three weeks after she was stripped of her citizenship.
The Special Immigration Appeals Commission court – which rules on decisions to remove UK citizenship on security grounds — will hear some of the more sensitive intelligence-related evidence in the case behind closed doors.
"Our job is to keep our country safe. We cannot have people who would do us harm allowed to enter our country – and that includes this woman," current Home Secretary Priti Patel told the Sun.
Full report at:
https://nypost.com/2019/10/22/isis-bride-shamima-begum-challenges-british-government-for-stripping-her-citizenship/
--------
Jewish Museum terrorists ordered to pay nearly €1 million in victim compensation
22 October 2019
A Brussels court ruled in favour of relatives of the victims of the 2014 terrorist attack on the Brussels Jewish Musem in 2014, handing them a combined compensation nearing €1 million.
On Tuesday, the Brussels criminal court ordered Frenchmen Mehdi Nemmouche and Nacer Bendrer, both jailed, to pay a total of €985,000, without taxes, to the relatives of the four victims killed in the attacks.
The payments will be paid out separately, in amounts ranging from €50,000 to just over €100,000, according to the Belga news agency.
A separate collective complaint filed by the French Association of Victims of Terrorism (AFVT in French), which wanted to receive symbolic compensation, was ruled inadmissible by the court.
Nemmouche was sentenced to life imprisonment on four counts of murder for the armed attack carried inside the Brussels Jewish Museum on May 2014, in which he shot and killed two Israeli tourists and two Belgian nationals working at the museum.
Full report at:
https://www.brusselstimes.com/belgium/75123/belgian-company-to-build-gigantic-hotel-in-dubai-with-100-swimming-pools/
--------
Russia lands nuclear bombers in Africa as Putin hosts continent's leaders
24 October 2019
Russia landed two nuclear-capable bombers in South Africa on a training mission on Wednesday, a flight apparently timed to coincide with President Vladimir Putin's opening of a flagship Russia-Africa summit designed to increase Russian influence.
The two Tupolev Tu-160 strategic bombers touched down at Waterkloof air force base in Tshwane on Wednesday, the South African National Defense Force said. Russia's Ministry of Defense has said the mission is designed to nurture military ties with South Africa.
Speaking before dozens of African heads of state at a two-day summit in the southern Russian city of Sochi, Putin called for trade with African countries to double over the next four to five years and said Moscow had written off African debts to the tune of over $20 billion.
The first Russia-Africa summit is part of a Kremlin drive to win business and restore influence that faded after the 1991 collapse of the Soviet Union, which backed leftist governments and movements across the continent throughout the Cold War.
"Many Russian companies have long and successfully worked with partners from the most different sectors of the African economy and plan to expand their influence in Africa. We of course will provide support at the state level," said Putin.
The prize is greater political clout on a continent with 54 United Nations member states, vast mineral wealth and potentially lucrative markets for Russian-manufactured weapons.
But Russia is starting from a low base. Although it has enjoyed considerable success selling arms to African countries, Moscow lags far behind competitors in trade terms.
Russia says its trade with African countries rose to $20 billion last year, but it did not rank among the continent's top five largest partners for trade in goods, according to Eurostat.
That list was topped by the European Union, followed by China, India, the United States and the United Arab Emirates.
As it noted the arrival of Russia's warplanes, the South African National Defense Force praised what it said were strong diplomatic links between the countries. "Our relations are not solely built on 'struggle politics', but rather on fostering mutually beneficial partnerships based on common interests," it said in a statement.
South African media have been more skeptical about Moscow's return to the continent. "Russia is the clumsy latecomer at Africa's superpower party," ran a Mail & Guardian headline in June.
Russia's reappearance was thrust into the spotlight last year when three Russian journalists were killed in the Central African Republic (CAR) while investigating the alleged presence there of a shady Russian private military contractor known as the Wagner group.
Putin and CAR President Faustin-Archange Touadéra discussed the investigation into the killings at talks on Wednesday, the Kremlin said.
US officials have vowed to counter what they see as Moscow's growing political and economic clout in Africa as well as that of China, which has long had a large economic presence there and began its own series of Africa summits in 2006.
Russia and Niger signed a deal to supply 12 Russian-made Mi-35 attack helicopters to Niger, RIA news agency cited a senior official at Russia's federal military-technical cooperation service as saying on Wednesday.
Russia's largest lender Sberbank and its state financial institutions agreed to support trade finance between Russia and African countries with an agreement worth $5 billion.
Russia's state nuclear company Rosatom is in talks with Ethiopia to build a nuclear power station there, Interfax quoted the Russian company as saying.
Full report at:
https://english.alarabiya.net/en/News/world/2019/10/24/Russia-lands-nuclear-bombers-in-Africa-as-Putin-hosts-continent-s-leaders.html
--------
Greece does not let Turkey restore even one fountain'
Fatih Hafiz Mehmet |24.10.2019
IZMIR, Turkey
There are around 20,000 Ottoman monuments in Greece and the country does not allow Turkey to restore even one of them, an academic said.
Neval Konuk Halacoglu, PhD, from Turkey's Marmara University in Istanbul, said Greece has never allowed Turkey to restore any of the Ottoman monuments in the country.
Greece registered Ottoman monuments as "Muslim monuments," instead of Ottoman or Turkish monuments, which prevents Turkey to have a say over them, Halacoglu told Anadolu Agency at a symposium on the problems of Turkish minority in Dodecanese islands of Greece.
"We [Turkey] cannot restore even a single fountain and I foresee that we will never be allowed," she said.
There are Ottoman monuments in all over the Balkan region, and many of them -- except the ones in Greece -- have been restored by Turkish institutions, mostly by the Turkish Cooperation and Coordination Agency (TIKA).
Full report at:
Greece restores those monuments only if they are in a visible place such as a tourism area, she added.
--------
Germany welcomes Turkey-Russia deal on northern Syria
Ayhan Şimşek
23.10.2019
BERLIN
Germany on Wednesday welcomed the agreement between Turkey and Russia for a terror-free zone in northern Syria.
Speaking at a news conference in Berlin, Chancellor Angela Merkel's spokesman expressed hope that the agreement will contribute to further de-escalation of tensions.
"We welcome that the agreement has extended the ceasefire for another 150 hours," Steffen Seibert said, referring to the deadline given to the terrorist YPG/PKK group to pull back 30 kilometers (19 miles) from the Turkish-Syrian border.
"And it's also very important that Turkish and Russian presidents have reaffirmed their support in the agreement for the Constitutional Committee for Syria, which will gather in Geneva next week," Seibert said, stressing that this will be an important milestone for a political solution to end Syria's 8-years long civil war.
Seibert also said that Germany will have talks with its EU partners, Turkey and Russia on the details of the agreement, to clarify points such as the UNHCR's role in the return of Syrian refugees in a safe and voluntary manner.
Turkish President Recep Tayyip Erdogan and Russian President Vladimir Putin had agreed on a 10-point plan on Tuesday to create a terror-free safe zone in northern Syria and they reiterated their commitment to the political unity and territorial integrity of Syria.
According to the agreement, PKK/YPG terrorists will pull back 30 kilometers (19 miles) from Turkey's border within 150 hours and security forces from Turkey and Russia will conduct joint patrols there.
Earlier this month, Turkey launched Operation Peace Spring to eliminate all terrorist groups from northeastern Syria and to create the conditions for the safe return of Syrian refugees.
After strong opposition by the U.S. administration to the operation, Ankara and Washington reached a deal on Oct. 17 to pause the operation for 120 hours to allow the withdrawal of YPG/PKK terrorists from the planned safe zone.
Turkey has long called on the U.S. to end its support for the YPG/PKK group, stressing that "one cannot rely on a terrorist organization while fighting another terrorist group".
Ankara repeatedly expressed its determination to clear northern Syria of both Daesh and YPG/PKK terrorist groups.
Full report at:
https://www.aa.com.tr/en/europe/germany-welcomes-turkey-russia-deal-on-northern-syria/1624051
--------
Mideast
Iran Cited by International Body for Failing to Address Terror Financing
Adam Kredo
OCTOBER 22, 2019
Iran has again failed to implement international agreements to crack down on money laundering and terror financing, according to the Financial Action Task Force, or FATF, an inter-governmental body that oversees economic reformation.
Iran agreed in 2016 to work with FATF to implement a series of economic improvements meant to eradicate itself from its financial system's widespread instances of money laundering and financing of terrorist groups.
The Islamic Republic has so far failed to implement key portions of the reformation plan, prompting FATF to cite Tehran and threaten to reimpose measures meant to isolate the Islamic Republic's economy starting in 2020.
There are few signs at this point that Tehran is willing to abide by the FATF reformation plan, as it continues to send money and military hardware to numerous terror factions. A significant portion of this funding is being channeled through the country's Islamic Revolutionary Guard Corps (IRGC), the paramilitary fighting force, which was recently subjected to new U.S. sanctions.
"In October 2019, the FATF noted that there are still items not completed and Iran should fully address," the organization said in a statement.
Iran still is not "adequately criminalizing terrorist financing, including by removing the exemption for designated groups 'attempting to end foreign occupation, colonialism and racism,'" according to FATF. Tehran also is not "identifying and freezing terrorist assets in line with the relevant United Nations Security Council resolutions."
Additionally, Iran has failed to ensure "an adequate and enforceable customer due diligence regime," and has failed to demonstrate "how authorities are identifying and sanctioning unlicensed money/value transfer service providers."
Iran will face repercussions if it fails to address these items, FATF warned in its statement on the matter.
"If before February 2020, Iran does not enact the Palermo and Terrorist Financing Conventions in line with the FATF Standards, then the FATF will fully lift the suspension of counter-measures and call on its members and urge all jurisdictions to apply effective counter-measures," the international body said.
Even though Iran has not complied with FATF's orders, it is still being shielded from the full weight of penalties the body can issue.
Toby Dershowitz, senior vice president for government relations and strategy at the Foundation for Defense of Democracies think tank, said FATF's actions prove it is serious about forcing Tehran to reform its permissive terror-financing environment.
"Iran has failed—for the sixth time—to complete its action plan," Dershowitz said. "FATF today took two important actions. It not only reimposed two additional countermeasures—enhanced reporting of financial transactions and increased external audit requirements for financial groups regarding any of their branches and subsidiaries located in Iran—it also said it would reimpose all countermeasures in February if by then Iran has not taken the required action."
The international financial sector should take note of Tehran's failure and agree to stop doing business with Iran until it commits to addressing terror financing and money laundering matters, Dershowitz said.
"This signals to the global banking sector and the wider market that it is not safe to do business with Iran," she said. "It also means that Iran is more interested in continuing its illicit money-laundering and terror financing than integrating into the global financial system. Tehran will have a difficult time convincing its own people that they, not Iran's terrorism, are the government's priority."
https://freebeacon.com/national-security/iran-cited-by-international-body-for-failing-to-address-terror-financing/
--------
Turkey Halts Syrian Incursion, Hours After Deal With Russia
By Carlotta Gall and Patrick Kingsley
Oct. 23, 2019
AKCAKALE, Turkey — The Turkish Army halted its incursion into a Kurdish-run area of northern Syria on Wednesday morning, after a deal between the Turkish and Russian governments promised that Kurdish fighters would retreat from the Turkish-Syrian border.
In a statement, the Turkish defense ministry said it would not advance beyond an area of roughly 900 square miles that Turkish-led forces have seized from Kurdish control since invading the area two weeks ago.
"At this stage, there is no further need to conduct a new operation outside the present operation area," the statement said.
The announcement followed an agreement on Tuesday night between President Recep Tayyip Erdogan of Turkey and his Russian counterpart, Vladimir V. Putin, that significantly redrew the battle lines of the eight-year-old Syrian conflict.
The deal calls for Russian and Turkish troops to fill a military vacuum created by the sudden United States withdrawal from northern Syria this month, which left the Kurds, American allies, exposed to the Turkish offensive.
It allows the Syrian government, backed by Moscow, to re-establish dominance over a swath of the country that the Kurds have controlled.
By Wednesday afternoon, Syrian government forces had begun to deploy to parts of the region for the first time in half a decade, Syrian state media reported. Russian troops were also filmed and photographed on the move in the same area.
Russia's Defense Ministry said in a statement that its chief, Sergei Shoigu, had spoken by video conference with and the commander of the Syrian Democratic Forces, Mazlum Kobani. Mr. Shoigu told Mr. Kobani that Russian patrols would increase in the coming days, and that those and Syrian border guards would guarantee the safety of civilians in the border zone, according to the statement.
Under the terms of the deal, Kurdish fighters must retreat more than 20 miles from the Turkish border by Monday night. Turkish troops will be allowed more than six miles inside Syria to conduct joint patrols with Russian forces along the length of the border region, and Turkey will also be allowed to maintain oversight of a deeper pocket of land it has seized, which extends roughly 20 miles inside Syria.
What Northern Syria Will Look Like Under Turkey and Russia's Deal
The Kurdish authorities were not involved in the talks between Mr. Putin and Mr. Erdogan, and have yet to respond to the deal. But in an earlier phase of the conflict they agreed to allow Russian and Syrian government troops inside their area of control, and on Tuesday completed a withdrawal from a central stretch of the border area, under the terms of an earlier American-brokered cease-fire.
On Wednesday, the Turkish foreign minister, Mevlut Cavusoglu, portrayed the last week as a huge success for Turkish foreign policy, since it had seen both the United States and Russia agree to a buffer zone in northern Syria.
"Within five days, Turkey reached a deal with the world's biggest two powers," said Mr. Cavusoglu. "This deal is really very important for our national security — but also it made history for being a diplomatic and political success.''
The situation has its roots in the early years of the Syrian civil war, when a Kurdish-led militia fighting against the Islamic State established a form of self-rule in northeastern Syria, while the Syrian government was distracted by Arab rebels in other parts of the country.
The militia's rise to prominence alarmed the Turkish government, since it is the Syrian offshoot of a Kurdish guerrilla movement that has waged a decadeslong insurgency against the Turkish state, a longtime American ally.
But there was the little the Turkish government could do, since the Kurdish fighters operated with the protection of the United States military from 2014 onward. The militia, known as the Syrian Democratic Forces, became the main ground force of an American-led international coalition working to force Islamic State extremists out of Syria.
As the Islamic State retreated, the Kurdish fighters became, in effect, the government of roughly a quarter of Syria, including — to Mr. Erdogan's fury — most of the Syrian border with Turkey.
For several years, American troops kept order between its two allies, Turkey and the Syrian Kurds, acting as de facto peacekeepers on the border. But then Mr. Trump ordered American forces to begin a withdrawal from the region this month.
That allowed Turkey to invade, and prompted the Kurdish leadership to turn in desperation to the Syrian government and its Russian backers for protection, in a bid to prevent Turkey from taking over the entire Kurdish-held area.
But as Tuesday's deal showed, it came at the cost of renouncing Kurdish military control over the majority of its populated areas.
Turkish-backed Syrian Arab militias have nevertheless expressed wariness about the deal, fearing that Kurdish fighters will secretly remain near the border under the flag of the Syrian and Russian armies.
"We do not trust Russia," said Hisham al-Skeif, a spokesman for one of the Turkish-backed factions. "The Russians did not comply with any agreement previously."
But Mr. al-Skeif said he was happy that the dream of an autonomous Kurdish region was coming to an end. "This is a great pleasure for us even if we have not achieved everything we want," he said.
In a briefing to reporters on his flight back from the negotiations in Russia, Mr. Erdogan said that Mr. Putin had guaranteed that Kurdish fighters would not be allowed to remain near the Turkish border.
"We asked him: 'What would happen if they stay on the ground wearing the uniform of the regime?'" Mr. Erdogan said. "He replied: 'We will not allow it.' We will be following up."
Carlotta Gall reported from Akcakale, and Patrick Kingsley from Istanbul. Ben Hubbard contributed reporting from Syria.
Carlotta Gall is the Istanbul bureau chief, covering Turkey. She previously covered the aftershocks of the Arab Spring from Tunisia, reported from the Balkans during the war in Kosovo and Serbia, and covered Afghanistan and Pakistan. @carlottagall • Facebook
Full report at:
https://www.nytimes.com/2019/10/23/world/middleeast/turkey-russia-syria.html?action=click&module=Latest&pgtype=Homepage
--------
Iran FM: Trump administration aiding, abetting Israel to promote expansionist policy
Oct 23, 2019
Iranian Foreign Minister Mohammad Javad Zarif has blamed the US for its contempt for international law, saying the administration of Donald Trump is aiding and abetting Israel to promote its expansionist policy.
"The extremist and unilateral policy pursued by the US coupled with its contempt for international law has had a devastating impact on the Palestinian people," Zarif said in an address to the meeting of the Non-Aligned Movement (NAM) Ministerial Committee on Palestine in Baku on Wednesday.
"The Trump administration is aiding and abetting the aggressive Israeli regime in its expansionist behavior, which seeks to undermine the status of the Palestinian issue as the pivotal issue in the Middle East," he added.
He warned that Washington and Tel Aviv pit regional counties against each other to "eclipse the plight" of Palestinians.
The most important reason for the US administration and the Israeli regime to ignite hostilities within and among the countries of the Middle East region is "to eclipse the plight of the Palestinian people and force a regional realignment to its detriment," he noted.
He expressed regret that certain regional countries were siding with the US and Israel, and underlined the need for unity among NAM members in the face of plots to marginalize the Palestinian issue.
"What is indeed extremely regrettable is that some states in our region are buying this trick, thus furthering the agenda of the US and the Zionist regime. It is of great importance that the NAM countries maintain and strengthen their united front and do not allow the Zionist regime and its enablers to succeed in their aim of relegating the Palestinian question to the margin," he said.
He said the US' "vicious moves" about Jerusalem al-Quds are "frustrating and detrimental" to the efforts towards finding a just and lasting solution to the Israeli-Palestinian issue, referring to Washington's relocation of its embassy from Tel Aviv to Jerusalem al-Quds and its recognition of the disputed occupied city as Israel's "capital."
"While none of the US administrations in the past ever intended to help Palestinians create a viable state, this administration has taken off the mask and pursues the same policy in an aggressive and shamelessly transparent way, providing more encouragement to the expansionist Zionist regime," he said.
The top Iranian diplomat also reacted to Israeli Prime Minister Benjamin Netanyahu's declaration to annex the Jordan Valley in the occupied West, saying "this provocative threat followed previous similar cynical declarations about the annexation of other Israeli illegal settlements. It came in the wake of the Israeli attempts to illegally and forcibly alter the demography, character, identity and legal status of the Palestinian territory occupied in the past seven decades."
Zarif called on all countries, including NAM member states, to "stand firm—not just in our declarations, but in our policies and actions—against aggression by the Israeli regime and their American enablers."
"Undoubtedly, any initiative detached from international law and dismissive of Palestinian human and political rights can neither be viable, nor just, and will certainly fail abjectly," he further noted.
Full report at:
https://www.presstv.com/Detail/2019/10/23/609412/Iran-Israel-United-States-NAM-Zarif-Palestine
--------
Seven Saudi soldiers killed in clashes with Yemeni forces in border areas
Oct 23, 2019
Yemeni army soldiers and fighters from allied Popular Committees have killed at least seven Saudi soldiers during separate attacks in the kingdom's southwestern border regions as part of their retaliatory raids against the Riyadh regime's atrocious military campaign against their crisis-hit country.
Saudi Arabia's official Saudi Press Agency reported that Yemeni forces and their allies fatally shot five troopers, identified as First Lieutenant Fallah bin Saeed al-Jarabie', First Lieutenant Abdulrahman bin Tariq Al Khalifah, First Corporal Saad bin Nasser al-Qahtani, Sergeant Abdulali bin Mosaed al-Rashidi and Conscript Ali Saharan Al-Qarni in the southern areas, during different exchanges of fire.
Corporal Ali bin Mohammed Hadi Asiri and First Sergeant Mefrah bin Jaber Ghazwani also lost their lives in clashes with Yemeni forces in Jizan region, located 967 kilometers (601 miles) southwest of Saudi Arabia's capital Riyadh.
Yemen's Houthis, Saudi-backed militiamen exchange prisoners
Meanwhile, Yemen's Houthi Ansarullah movement has announced the completion of separate prisoner swap deals with Saudi-sponsored Yemeni militiamen loyal to Yemen's former president Abd Rabbuh Mansur Hadi in the country's northern province of al-Jawf and southwestern province of Lahij.
The Arabic-language al-Masirah television network, citing head of the Houthi-affiliated National Committee for Prisoners Affairs Abdulqader Al-Mortada, reported on Wednesday that nine members of the Yemeni Army and allied Popular Committees had been released, and that the agreement was through "a local mediation."
Mortada, however, did not provide details about the number of released prisoners in return.
Despite an ongoing failure to reach a comprehensive solution for Yemen's crisis, prisoner swap deals take place now and then between the warring parties.
Houthis, pro-Hadi militiamen set up joint positions in Hudaydah
Separately, Houthi fighters and Saudi-backed militiamen loyal to former Hadi have set up joint observation posts as part of de-escalation moves in the strategic port city of Hudaydah.
United Nations Special Envoy for Yemen Martin Griffiths, in a post published on his Twitter page, described the establishment of the four positions along frontlines in the flashpoint city, located around 230 kilometers west of the capital Sana'a, and the deployment of liason officers as positive moves.
OSE_Yemen
✔
@OSE_Yemen
"I welcome the establishment of four joint observation posts by Yemeni parties and the deployment of liaison officers along the #Hudaydah city frontlines in #Yemen. This step forward will enhance de-escalation in flashpoint areas and save lives"https://www.un.org/sg/en/content/sg/statement/2019-10-22/note-correspondents-statement-the-chair-of-the-redeployment-coordination-committee-lt-gen-%28ret%29-abhijit-guha-scroll-down-for-arabic …
View image on TwitterView image on Twitter
29
12:46 PM - Oct 23, 2019
Twitter Ads info and privacy
24 people are talking about this
"This step forward will enhance de-escalation in flashpoint areas and save lives," he wrote.
Saudi Arabia and a number of its regional allies launched a devastating campaign against Yemen in March 2015, with the goal of bringing the government of Hadi back to power and crushing Ansarullah.
The US-based Armed Conflict Location and Event Data Project (ACLED), a nonprofit conflict-research organization, estimates that the war has claimed more than 91,000 lives over the past four and a half years.
Full report at:
https://www.presstv.com/Detail/2019/10/23/609405/Seven-Saudi-soldiers-killed-in-clashes-with-Yemeni-forces-in-border-areas
--------
Moscow warns Kurds to pull out after Turkey agreement
October 23, 2019
ANKARA: Russia has warned Kurdish forces to withdraw from the Syrian-Turkey border region following a deal between Moscow and Ankara over control of the disputed territory.
The deal was reached in the Black Sea resort town of Sochi late on Tuesday, two weeks after Turkish troops launched a military offensive to push Kurdish-led YPG militia out of northern Syria.
Turkey's operation to establish a buffer zone below its southern border followed a US decision to pull its troops out of territory once held by the Kurds, a move condemned by Kurdish leaders as a "betrayal."
The deal between Turkey and Russian gives Syrian President Bashar Assad power over more territory after Moscow pushed Ankara to recognize the Syrian government's authority in the 30-km-deep security zone.
Turkey's only direct relations with the Assad regime are via its intelligence services.
Moscow and Ankara sealed the deal hours before the expiry of of conditional cease-fire between Turkey and the US. Turkey said that it had no plans to carry out out fresh military operations in northern Syria "at this stage."
Alexey Khlebnikov, a Middle East expert at the Russian International Affairs Council, described the deal as "quite a realistic agreement."
However, Khlebnikov warned that remaining US troops in northeastern Syria could hinder the reintegration of Kurds under Syrian control.
"With the withdrawal of the YPG, this agreement significantly decreases any chance of a new Turkish incursion into the region," he told Arab News. "As for the Syrian army, it will be deterred by Turkish and Russian forces."
Under the deal, Turkish and Russian troops will conduct joint patrols in a 10-km perimeter along the Turkish border. The YPG is also expected to withdraw from the Syrian border town of Qamishli.
Bill Park, a visiting research fellow at King's College London, said that Turkey has been pressured by Moscow to abandon rebels forces it previously backed in Syria.
"I wonder how those rebels will feel about Turkey if that is the case? Some of them are unlikely to forgive Turkey or to be forgiven by Damascus," he said.
Park said that Russia has asked Turkey to enter into a dialogue with Damascus and the Kurds.
"With regards to relations with Damascus, this would be quite a shift for Turkey, and I doubt the Assad regime will be easily persuaded to trust Turkey for some time," he told Arab News.
"However, given the two countries' shared desire for stability in Syria and for an end to the Kurdish experiment, they should logically align with each other," he said.
Iran's absence from the Sochi talks has led to suggestions that Tehran was frozen out of the negotiation process after Turkish President Recep Tayyip Erdogan accused Iran of betrayal over its Syria operation.
A key question is whether the Russian-Turkish deal will mean a lifting of US sanctions on Turkey.
Ali Cinar, a US-based foreign policy expert, said that many Republican senators are reluctant to punish Turkey over its military offensive, and are more comfortable "giving the administration space" on the issue.
Cinar said that Russia's growing strength in Syria and the US departure from the region will "change all the dynamics" in the conflict-stricken country.
Full report at:
https://www.arabnews.com/node/1573286/middle-east
--------
Southeast Asia
Delay in return 'boosts ISIL recruitment' in Philippines' Marawi
by Ted Regencia
23 Oct 2019
On October 23, 2017, the Philippine army declared the end of the bloody five-month-long siege in the southern city of Marawi, punctuating the battle with the killing of 42 suspected armed fighters affiliated with the Islamic State of Iraq and the Levant (ISIL, or ISIS).
The country's most sustained active combat since World War II killed at least 925 fighters from the ISIL-linked Maute and Abu Sayyaf groups, 165 government troops and a conservative estimate of 45 civilians. It also flattened a bustling city, forced hundreds of thousands to evacuate and left the entire island of Mindanao under martial law.
But two years after President Rodrigo Duterte declared the city "liberated from the terrorist influence", opposition politicians and Marawi residents say the promised rehabilitation has failed, and Mindanao experts are warning that these delays are providing "fertile ground" for ongoing recruitment by "extremists", as they try to show that the ISIL ideology is well and alive in the Philippines.
Vice President Leni Robredo, the opposition leader, said "very little has been achieved" since the day the government promised to restore the city to its former glory.
"Two years on and the displaced locals are still lamenting the pace of the rehabilitation, as well as the government's failure to involve them in the planning," Robredo said in a statement to Al Jazeera on Tuesday.
She also pointed out that the delays in the rebuilding and resettlement of residents had been further stalled by the involvement of Chinese-led firms "blacklisted by the World Bank for questionable dealings".
As of October 2019, more than 100,000 people, or half of Marawi's population, were still in temporary government-built shelters unable to return to their homes in "ground zero", where most of the fighting took place. Most of the evacuees are from the Muslim Maranao tribe.
"Two years is already long enough for the administration to polish its rehabilitation plan for the city," Robredo said. "Should we wait for another three years before the Maranaos go back to their normal lives?"
'Winging it'
On Tuesday, Housing Secretary Eduardo del Rosario told reporters in Marawi that the rehabilitation was "on track with our timetable".
Del Rosario, who is in charge of the rehabilitation, said debris clearing operation in the areas, where the fighting and government bombardments took place, will be completed by the end of November.
But he did not set a date when the residents would be allowed to reconstruct their homes, only saying "the reconstruction of all vertical projects, government infrastructures will commence in November or December this year and onward."
According to estimates, the government needs more than a billion dollars to rehabilitate Marawi. As of June 2019, the government has distributed $1,400 cash assistance to 15,000 households, according to rehabilitation field manager, Felix Castro.
Former Senator Antonio Trillanes, a retired military officer and critic of Duterte, said the "human tragedy and disaster" Marawi residents are currently facing continues because the government is "winging it" when it comes to rehabilitation.
"They have totally underestimated the extent of the rehabilitation operation needed to rebuild Marawi," he said.
The GUIDON
✔
@TheGUIDON
As Marawi City commemorates the second year since President Rodrigo Duterte declared its liberation from the extremist group Maute, #TheGlimpses on The GUIDON looks into the residents' various efforts to rebuild their beloved city.https://tgdn.co/33EcOS4 Embedded video
10
5:31 PM - Oct 21, 2019
Twitter Ads info and privacy
See The GUIDON's other Tweets
'Pain and suffering'
Marawi community leader Drieza Abato Lininding told Al Jazeera that the government had already missed several of its promised deadlines, and that not a single family had been allowed back.
Two years after the end of the siege "there is nothing to commemorate, only pain and our suffering continue until today. We do not feel liberated at all."
He said displaced residents were also angry about Marawi City Mayor Majul Gandamra's decision to allow the national government to demolish homes without the consent of their owners.
"This was kept secret until last week when the private contractor was forced to show [the document] after the residents complained," he told Al Jazeera, adding, that many of those who were affected could not do anything, because the demolition had already taken place.
"They are not even following the due process and the law, but then they all want us to follow the law by the letter, no more, no less."
Al Jazeera contacted the office of Mayor Gandamra but had not received a response at the time of publication.
Previously, residents have also expressed anger that Duterte ordered the construction of a new military base at the heart of the city, before the rehabilitation. There were 12,000 troops deployed to the city at the height of the fighting.
Salma Pir Rasul, law professor and director of the Islamic Law Studies at the University of the Philippines in Manila, told Al Jazeera that the government cannot justify keeping the Maranaos from their homes for two years.
"Maranaos are essentially traders. If you remove them from the place, where they sell goods, there is a negative impact on their ability to support their families," Rasul told Al Jazeera.
"If you have been to Marawi before the siege, and you go now, you will be really heartbroken."
Financial enticement
Rasul warned that "anti-government sentiment is high" among the displaced Maranao, and "all of those" interviewed by her organisation confirmed that there was ongoing recruitment by "extremist groups" even inside the refugee camps.
The "narrative" employed by the recruiters to convince young people to fight is as simple as pointing out their current condition, Rasul said.
"They will just say, 'Look what is happening to you. The government is not helping. In fact, they destroyed your homes, they are destroying your livelihood.'"
"The longer that this is not resolved and they are not allowed to go back, the higher the probability that they will believe in this narrative, false as it may be," Rasul added.
Rasul said that some of the young people she interviewed "see no option", and that the financial offer to fight is appealing.
A sign-up bonus could be between 20,000 to 50,000 pesos ($390 to $1,000) plus a monthly allowance - a significant monetary enticement for an impoverished family in Mindanao, Rasul said.
Many of the young Maranaos also said that they had been promised that whatever happens to them, their family would continue to receive compensation.
"For them, that's showing that they are being a good son, proving their self-worth that they are doing something to help the family," Rasul said.
She said some young people at local universities are also being recruited, using the more "sophisticated" political persuasion about the plight and injustice against Maranaos.
Rebekah M Alawi, a professor on cultural studies and literature at Mindanao State University's main campus in Marawi, has also conducted interviews among the Maranaos after the siege.
She told Al Jazeera that recruitment is ongoing, not only in Marawi but also in nearby towns surrounding Lake Lanao.
She appealed to the government to provide help in rehabilitating ISIL-linked child fighters before they could be enticed anew to go into another armed struggle.
"They are among us. They were really child warriors, recruits, whether they fought during the Marawi siege, or just recruited. We still have to save them."
She said that "she has faith" in the administration of President Duterte to deliver on his promise.
As for former Senator Trillanes, he said that while he has not received information about recruitment, he "would not be surprised" if it is happening given the lack of post-conflict planning.
"There is fertile ground for recruitment," he said, while adding that "there is no excuse for the delay" in the government's plan to rebuild Marawi.
https://www.aljazeera.com/news/2019/10/delay-return-boosting-isil-recruitment-philippines-marawi-191022063320387.html
--------
Shia expert tells how local Muslim authorities tolerated non-Sunnis in the past
October 24, 2019
KUALA LUMPUR: A Malaysian academic appointed by Harvard University to research the Shia diaspora has welcomed remarks by a state mufti that a fatwa branding followers of the second largest Islamic branch as deviant should be reviewed in consultation with authoritative Muslim scholars.
Faisal Tehrani, who was recently appointed as an associate for a project on Shiism commissioned by Harvard's Weatherhead Center for International Affairs, said state Islamic authorities in Malaysia had in the past acted with more wisdom in according the rights of minority Muslim groups who do not subscribe to the officially followed Sunni doctrine.
He said this includes a 1983 recognition for the Bohra community by then-director of the Selangor Islamic Religious Department (Jais), Abdul Samad Abdul Rahman.
"He recognised the Bohras as 'non-Sunni Muslims'. And this recognition was renewed in 2000 by Abdul Malek Ramli from Jais," Faisal told FMT.
Bohras refer to followers of a non-mainstream Shia sect, concentrated in the Indian subcontinent.
Shia Islam has a substantial following in Iraq, Iran, Kuwait, Bahrain, Lebanon and several parts of Saudi Arabia, Yemen and Pakistan.
But Islamic authorities in Malaysia have declared its teachings "deviant", with sermons in Selangor frequently condemning its followers as heretics.
On Tuesday, Penang mufti Wan Salim Mohd Noor said the National Fatwa Council's declaration that Shia teachings are deviant is subject to revision, as such pronouncements are not sacrosanct in Islam.
Saying some local Muslim scholars do not have accurate knowledge about Shia Islam, Wan Salim spoke of a need for a study on the differences between Shia and Sunni practices, which should also include references to authoritative Shia scholars.
Faisal, a novelist whose seven books remain banned for their Shia themes, said Malaysian Muslim scholars should emulate their counterparts in Singapore.
He said Muis, the republic's Islamic Religious Council which is in charge of Muslim affairs, had also given similar recognition to non-Sunni Muslims by shunning the "deviant" label.
"What's so great about our Islamic departments and councils compared to Singapore's? The scholars there were also educated at Al Azhar," said Faisal, referring to the centre of Sunni Islamic scholarship in Egypt.
Faisal said as minorities, Shia Muslims, whom he estimates number about 250,000 in Malaysia, should be protected.
"A function of democracy is to protect minorities, including religious minorities. If we consider Shia followers as fools, well, democracy is also for the fools, it's not only for intelligent people.
"If Rahmatan lil Alamin covers animals and aliens, why not fellow humans from among the minorities?" he asked, referring to the government's Islamic slogan pledging mercy for all.
Full report at:
https://www.freemalaysiatoday.com/category/nation/2019/10/24/shia-expert-tells-how-local-muslim-authorities-tolerated-non-sunnis-in-the-past/
--------
Malaysia works to resolve spat with India, hopes won't affect 16-nation trade deal
OCTOBER 24, 2019
Liz Lee
KUALA LUMPUR (Reuters) - Malaysia is working to resolve a spat with India over Prime Minister Mahathir Mohamad's stance on Kashmir, and hoping that a 16-nation trade pact, which includes India, will be signed this year despite the strained ties, its trade minister said.
Ties suffered a downturn after Mahathir told the U.N. General Assembly late last month that India had "invaded and occupied" Kashmir, a disputed Muslim-majority region also claimed by Pakistan.
India revoked the autonomous status of its Jammu and Kashmir state on Aug. 5, and has rejected foreign criticism, largely from Muslim majority countries and China, insisting it is an internal affair.
Indian traders have called for a boycott of Malaysian palm oil - which Mahathir has said amounts to a trade war - and there were concerns in New Delhi that negotiations on the Regional Comprehensive Economic Partnership (RCEP) could be affected too.
The spat between the world's second biggest producer and exporter of palm oil, and its current biggest customer could most likely benefit Indonesia, the biggest producer and exporter.
Speaking to reporters on Thursday, Malaysia's minister of international trade and industry, Darell Leiking, said RCEP talks were on track and a final deal should include all the intended participants: the 10 members of the Association of Southeast Asian Nations (ASEAN) and six Asia-Pacific countries - China, India, Japan, South Korea, Australia and New Zealand.
A RCEP summit will be held in Bangkok on Nov. 4.
Leiking said "anything can happen" before the summit, but all 16 countries were moving toward finalising the free trade agreement.
"We hope that RCEP negotiations can be concluded by year-end so that Malaysian companies could reap the opportunities from this mega FTA in opening up more market access for our products and services," he said.
The China-led RCEP is expected to create an integrated market of 3.4 billion people with combined GDP of $49.5 trillion, or about 39% of the world economy.
Leiking said he met with Indian Trade Minister Piyush Goyal recently and informally discussed New Delhi's concerns on bilateral ties.
"Hope to meet him more and get more details into the issue and what they want to do," Leiking said. "We have yet to hear (formally) from the government. But we will engage with their government more so."
Separately, the Malaysian minister in charge of palm oil said on Thursday the government was considering sending a delegation to meet with India's top vegetables oil trade body, which had called on members to boycott Malaysian palm oil.
Full report at:
https://in.reuters.com/article/india-malaysia-trade/malaysia-in-talks-with-india-other-countries-on-palm-oil-sales-minister-idINKBN1X307Y?il=0
--------
Wiranto Leaves Hospital to Welcome Successor Mahfud MD
BY ANTARA
OCTOBER 23, 2019
Jakarta. Retired Army general Wiranto needed a permit from his doctor to attend a handover ceremony after Mahfud MD officially replaced him as coordinating political, legal and security affairs minister on Wednesday.
Wiranto was admitted to Gatot Soebroto Army Hospital on Oct. 10, after he was stabbed by an Islamic militant during a visit to Pandeglang, Banten.
He said Mahfud was the right man to fill the post he vacated and asked his former subordinates to fully support their new boss, because his office oversees 10 related ministries and five state agencies.
"It's quite a big task," Wiranto said. "You have the experience, so I need your cooperation and willingness to support Mr. Mahfud and reduce the burden of his difficult task."
Mahfud was moved by Wiranto's presence, saying his initial plan was to hold the ceremony in hospital.
"Shortly after my inauguration at the State Palace, my plan was to come here and ask the secretary to rearrange the ceremony, because we know Mr. Wiranto was in hospital," the law professor said.
"But I was told Mr. Wiranto had been waiting for me at the office. I was really touched by this, because I thought we could hold the ceremony at the hospital."
Mahfud, 62, is the first chief security minister without a military background.
He served as defense minister for 11 months and as justice minister for only a few days between August 2000 and July 2001, during the presidency of Abdurrahman Wahid.
He was appointed as Constitutional Court chief justice and remained in the post for nearly five years, until 2013.
Full report at:
https://jakartaglobe.id/news/wiranto-leaves-hospital-to-welcome-successor-mahfud-md
--------
Africa
Two Boko Haram Commanders, 14 Others Captured By Nigerian Army
OCT 22, 2019
The Nigerian Army has said that it has arrested 16 Boko Haram terrorists including two top commanders of the sect during a sting operation.
Nigerian Army Operations Media Coordinator, Col. Aminu Iliyasu, in a statement on Tuesday in Abuja said that the terrorists were arrested at Pulka in Gwoza Local Government Area of Borno State.
Iliyasu disclosed that the arrest was made in collaboration with the Civilian Joint Task Force.
He said preliminary investigation revealed that some of the suspects participated in the attack on Pulka and Gwoza including the killing of some police personnel some time ago.
He said the two Boko Haram commanders arrested are Lawan Garliga and Bayaga Manye, serial 41 and 90 respectively.
Iliyasu said, "Others are Boko Haram logistics supplier which are Umaru, Goni Agwala, Momodu Shetene, Hassan Audu, Usman Manye aka Yega, Ali Lawan and Modu Mallum.
"They also include Modu Abubakar Jugudum, Bulama Ali, Umar Usman, Mustapha Alhaji Mele (Boko Haram rifle man and vulcaniser), Abor Lassan, Mallum Ari and Mala Bala."
http://saharareporters.com/2019/10/22/two-boko-haram-commanders-14-others-captured-nigerian-army
--------
Nigerian air force kills Boko Haram militants near Lake Chad: spokesman
2019-10-22
ABUJA, Oct. 22 (Xinhua) -- Nigeria's air force has killed several Boko Haram militants regrouping at Bukar Meram, a town in Nigeria's northeastern state of Borno bordering Lake Chad, a spokesman said on Tuesday.
In a statement made available to Xinhua in Abuja, Ibikunle Daramola, the spokesman for the air force, confirmed the operation was conducted on Monday but did not give the exact figure of Boko Haram fighters killed.
It was carried out based on credible intelligence reports that indicated a resumption of the use of the location to provide logistics support to the terrorists, using fishing activities as a cover, Daramola said.
The air force then dispatched its attack aircraft to engage designated areas within the settlement, the military spokesman said.
According to him, before the airstrikes, over 35 Boko Haram militants were observed within the area of interest. The attack aircraft subsequently engaged the location in successive passes recording accurate hits on the target area.
This also led to the destruction of some of the structures in the target area, Daramola said.
The Nigerian air force, operating in concert with surface forces, would sustain its operations against the terrorists in the northeast region, he added.
The northeast region has been destabilized for over a decade by Boko Haram, which most notoriously kidnapped hundreds of schoolgirls in 2014.
Full report at:
http://www.xinhuanet.com/english/2019-10/22/c_138493963.htm
--------
Morocco, U.S. agree to bolster cooperation on fighting terrorism
2019-10-23
RABAT, Oct. 22 (Xinhua) -- Morocco and the United States announced on Tuesday that they agreed to "sustain cooperation to defeat terrorist groups."
In a joint statement issued following the 4th U.S.-Morocco Strategic Dialogue held Tuesday in Washington, the two sides said they discussed the joint efforts to combat terrorism in Africa, and in particular to secure the enduring defeat of IS (Islamic State), by enhancing the capacity of security services in the region, including through a joint platform for security cooperation."
Morocco is a "stable security exporting partner," and credible provider of security at the regional level, U.S. Secretary of State Mike Pompeo, who co-chaired the dialogue with Moroccan Foreign Minister Nasser Bourita, was quoted as saying.
Pompeo lauded Morocco for its "ongoing leadership of the Global Counterterrorism Forum and for its sustaining role in the Global Coalition to Defeat IS," the statement said.
Pompeo and Bourita also discussed the "danger posed by Iran and its proxies and discussed cooperative efforts to combat attempts to spread Iranian influence in the region including in North West Africa," it said.
Full report at:
http://www.xinhuanet.com/english/2019-10/23/c_138494579.htm
--------
Extremist attacks intensify at Mali, Burkina Faso border
By Carley Petesch 
October 23, 2019
DAKAR, Senegal — Assaya Ngweba says Islamic extremists transformed his once-peaceful village in Burkina Faso, near the border with Mali, into "a place of misfortune and death."
Now the 78-year-old is among half a million people who have fled the area this year as the extremists linked to al-Qaida and the Islamic State group increase attacks and expand their range in West Africa. Concerted military actions by five regional countries, along with a French operation, have failed to stem the violence.
The border between Burkina Faso and Mali is the latest flashpoint in the vast, arid Sahel region that stretches across Africa south of the Sahara Desert. In the past week at least 19 civilians have been killed by suspected extremists in Burkina Faso's north.
The extremists have launched deadly assaults against the regional G5 Sahel counterterror force set up in 2017 with soldiers from Burkina Faso, Chad, Mali, Mauritania and Niger.
The worst occurred earlier this month when al-Qaida-linked fighters attacked two army bases in central Mali, killing at least 38 soldiers and leaving more than a dozen missing.
The attack in Boulikessi "was devastating for the military in terms of morale and strategic impact because it laid bare the jihadists' strength in that crucial border region which is a bridge to Islamist expansion further south," said Human Rights Watch's West Africa associate director, Corinne Dufka.
Mali's military had been trying to repair relations with Boulikessi's wary population after a 2018 incident in which soldiers opened fire and killed civilians, a common abuse of power in both Mali and Burkina Faso, Dufka said.
Such actions by security forces push disaffected youth into the arms of extremists, experts say. Human Rights Watch has documented at least 200 executions since 2017 by Burkina Faso's forces of civilians suspected of supporting or harboring extremists.
"Stopping atrocities in Mali and Burkina Faso are a key place to start for the international community in rethinking the strategy in the Sahel," Dufka said.
The United Nations Development Program has said 71% of former recruits to extremist groups interviewed across Africa for a 2017 report pointed to the arrest, detention or killing of a family member or friend as a key driver of their path to extremism.
While Burkina Faso's security forces are accused of being heavy-handed, Mali's government might not be taking the increase in attacks seriously enough, said Judd Devermont, Africa program director with the Center for Strategic and International Studies.
Mali's government should better address the drivers of instability, he said, but instead of sending more development and education resources to affected areas it prefers to focus on the more heavily populated south.
ven in the capital, Bamako, protests have emerged as people accuse the government of not doing enough to stop extremist attacks. Families of Malian soldiers protested this month as loved ones demand better equipment and training for the front lines.
Mali's security forces leave many responsibilities in the central and northern regions to international forces including the United Nations peacekeeping mission and France's Operation Barkhane, Devermont said, while turning a blind eye to armed militias. Extremists then exploit inter-communal conflict.
"The instability in the country is an existential threat," he said.
Mali has been in turmoil since a 2012 uprising prompted soldiers to overthrow the country's president and an alliance of Tuareg separatists and Islamic fighters took over large swaths of the north. A French-led intervention pushed the extremists from their strongholds but they remain active and are now moving into Burkina Faso, where some forested areas largely protect them from military air strikes.
The most formidable of the extremist groups is Jama'at Nusrat al-Islam wal Muslimeen, the Mali-based branch of al-Qaida and a multi-ethnic coalition, Devermont said.
Preaching in a variety of languages, the group is "adept at finding the divisions of communities and exploiting them," he said. In Burkina Faso, the group waits to see how communities react to attacks before claiming responsibility.
Once-peaceful Burkina Faso experienced its first major extremist attack in 2015. The country is a gateway south into coastal West Africa, and regional leaders worry the extremists could be moving into Togo and Benin, where two abducted French tourists, an American and a South Korean were freed this year by French forces.
At the time, France's president said the kidnappers were planning to hand over the hostages to "terrorists" in Mali.
A recent regional conference in Burkina Faso sought greater mobilization by West African states to help fight extremism. President Roch March Christian Kabore stressed that both military operations and sustainable economies are needed in the long run.
Full report at:
https://www.washingtonpost.com/world/africa/a-troubled-west-african-border-is-extremists-latest-target/2019/10/23/14bdeae8-f574-11e9-b2d2-1f37c9d82dbb_story.html
--------
Libya: 2 civilians killed in shelling by Haftar forces
Waleed Abdullah
23.10.2019
TRIPOLI
At least two civilians were killed and three others wounded in an airstrike south of the capital Tripoli by the forces loyal to east Libyan strongman Khalifa Haftar, said the UN-recognized government.
According to the media office of the Government of National Accord (GNA) forces, Haftar's warplanes targeted residential areas in al-Swani which caused deaths and injuries among civilians.
The GNA media office also said that they bombarded ammunition belonging to Haftar forces in Wadi Al Rabi, south of Tripoli.
Later on Tuesday, amid intensifying clashes in Tripoli, Amnesty International released a report in which it accused both sides of "utter disregard" for the laws of war and possible war crimes committed.
"Warring parties... have killed and maimed scores of civilians by launching indiscriminate attacks and using a range of inaccurate explosive weapons in populated urban areas," the rights watchdog said.
In April, Haftar's forces launched a military campaign to capture Tripoli from the internationally-recognized GNA. But they have so far failed to make advances.
Full report at:
https://www.aa.com.tr/en/africa/libya-2-civilians-killed-in-shelling-by-haftar-forces/1624150
--------
Burundian army kills 14 gunmen from DR Congo
James Tasamba
23.10.2019
KIGALI, Rwanda
The Burundian army killed 14 gunmen who had entered the country early Tuesday from neighboring Democratic Republic of Congo, said a deputy spokesperson for Burundi's security ministry.
Security forces killed the gunmen and seized their weapons following clashes in Bubanza province, about 112 kilometers (69 miles) from the capital Gitega, Moise Nkurunziza told reporters.
He added that the security forces were alerted by residents who had seen a group of around 18 armed criminals from DR Congo in Kayange village in Musigati district.
Local media said the armed group came from Rukoko forest bordering DR Congo and heavy gunfire was heard in the morning hours between the attackers and police.
The attackers were reported in Mpanda, Gihanga and Mitakataka villages before returning to Kibira National Park via the Musigati area.
The group reportedly abducted some people, most of whom were released later.
A Burundian rebel group that calls itself the Resistance to the Rule of Law in Burundi (RED-Tabara) based in DR Congo claimed responsibility for the attack on Twitter.
Burundian armed groups are said to maintain rear bases in DR Congo's South Kivu area.
Burundi has witnessed deadly violence since 2015 when President Pierre Nkurunziza successfully sought a disputed third term in office.
In June, unidentified gunmen from Rukoko forest attacked Gihanga district in the same province and shot and injured five people, including two police officers.
Full report at:
https://www.aa.com.tr/en/africa/burundian-army-kills-14-gunmen-from-dr-congo/1623269
--------
South Asia
8 militants killed in northern Afghan province
2019-10-23
MAZAR-E-SHARIF, Afghanistan, Oct. 23 (Xinhua) -- At least eight militants have been confirmed dead as a clash erupted in Balkh district of the northern Balkh province on Tuesday, army spokesman in the northern region Mohammad Hanif Rezai said Wednesday.
The fighting, according to the official, flared up after the armed militants attacked security checkpoints in Palaspush area of the relatively restive province on Tuesday afternoon, triggering a gun battle, which lasted for a while, and the militants fled away after leaving eight bodies and two injured behind.
Without providing more details, the official said the security forces would continue to pursue militants elsewhere in the country.
Taliban militants who are active in parts of Balkh province with Mazar-e-Sharif as its capital 305 km north of Kabul have yet to make comments on the situation there.
http://www.xinhuanet.com/english/2019-10/23/c_138496127.htm
--------
President undermined national security: SL panel probing Easter blasts
Oct 24, 2019
COLOMBO: Sri Lankan President Maithripala Sirisena "actively undermined" national security, a parliamentary committee that probed the Easter suicide bombings said on Wednesday as it blamed the spy chief for the intelligence failure that led to the country's deadliest terror attack in April.
Nine suicide bombers carried out a series of devastating blasts that tore through three churches and three luxury hotels on the Easter Sunday, killing 277 people. The Islamic State terror group claimed the attacks, but the government blamed local Islamist extremist group National Tawheed Jamaat for the bombings. President Sirisena suspended police chief Pujith Jayasundara as well as the defence secretary as part of the revamping of the security establishment following the attack.
In its 1,649-page report, the Parliament Select Committee on the Easter attacks said that the director of State Intelligence Service (SIS) is primarily responsible for the intelligence failure that led to the attacks.
"The PSC notes that intelligence information related to the attacks was first received by the director SIS on April 4, 2019 but there were delays from his end to share it with relevant intelligence and security personnel," it said. The report said that the secretary to the ministry of defence, the police chief, the chief of national intelligence and directorate of military intelligence had also failed in their duties.
Full report at:
https://timesofindia.indiatimes.com/world/south-asia/president-undermined-national-security-sl-panel-probing-easter-blasts/articleshow/71731386.cms
--------
US wants postponement of Rohingya relocation to Bhashan Char
October 24, 2019
Appreciating the country for opening its borders to huge Rohingya refugees, the United States has urged Bangladesh to "postpone" its Rohingya relocation plan to Bhashan char until independent experts can determine it a suitable location, though Bangladesh is looking for a voluntary nature of relocation.
"We urge Bangladesh to postpone any refugee relocations to Bhashan Char until independent experts can determine it is a suitable location," said Alice G Wells, US acting assistant secretary at the Bureau of South and Central Asia.
She made the call while delivering her statement at a hearing before the House Foreign Affairs Subcommittee on Asia and the Pacific on Tuesday, chaired by Congressman Brad Sherman.
Earlier on October 21, Bangladesh and the European Union discussed the Bhasan char relocation plan and Bangladesh reassured the "voluntary nature" of such Rohingya relocation.
State Minister for Foreign Affairs M Shahriar Alam also tweeted a couple of days back saying Bhashan Char is ready to welcome Rohingya families.
"Newly-built shelters will offer educational and livelihood options and will decongest the present camps," his tweet reads.
Shahriar mentioned that cluster comes with multistoried buildings, a typical model that is hugely successful in coastal belt.
Bangladesh is currently hosting over 1.1 million of Rohingyas in congested camps in the country's tourist hub - Cox's Bazar district - putting much burden on Bangladesh.
"Given Bangladesh's own development needs, the decision Prime Minister Hasina made to open the country's borders to over 700,000 Rohingya refugees since August 2017 deserves recognition from international partners, including the United States," Wells said.
The hosting of Rohingyas has come with genuine consequences for Bangladesh, which was already one of the most densely populated countries in the world, the US official said.
Wells said the government estimates host communities in Cox's Bazar are outnumbered by Rohingyas two to one, and that these communities have endured economic disruptions, ecological damage, and uncertainty about their own future just as the Rohingya face uncertainty about theirs.
She said the United States is Bangladesh's leading partner in responding to the humanitarian crisis with more than $669 million in assistance provided since August 2017.
"As we have met the immediate emergency response, we maintain that Burma [Myanmar] must create the conditions for the Rohingya's voluntary, safe, dignified and sustainable repatriation and guarantee their rights as recommended by the Annan Commission recommendations," Wells said.
She said Prime Minister Sheikh Hasina has repeatedly reaffirmed Bangladesh's commitment to voluntary repatriation.
Bangladesh remains a "key Indo-Pacific partner" of the United States in regional stability, counterterrorism, two-way trade, development, and poverty reduction, as well as the hosting of 700,000 Rohingyas.
"We have emphasized that fully respecting democratic rights and improving transparency and accountability will contribute directly to Bangladesh's aspirations for economic growth and development" Wells said.
Bangladesh Now Healthier, Wealthier
The United States has recognised that Bangladesh made impressive strides in growing its economy and shrinking poverty.
"As a secular, developing country that prides itself on tolerance and diversity with a female head of state, Bangladesh serves as an example for many Muslim-majority countries around the world," said Wells.
Over the last decade, she said, Bangladesh has grown healthier and wealthier, and is on course to graduate from the Least Developing Country status by 2024.
Wells mentioned that Bangladesh has maintained GDP growth of more than seven percent for over a decade and the government is committed to achieving its Social Development Goals including in areas of gender equality and infrastructure development.
While nearly one in five Bangladeshis live in poverty, that represents a significant reduction from nearly half the population living below the poverty line just two decades ago, she said.
Full report at:
https://www.thedailystar.net/rohingya-crisis/rohingya-relocation-dhaka-bhashan-char-us-wants-postponement-1818118
--------
Airstrikes, armed clash leave 9 Taliban militants dead or wounded in Balkh and Faryab
21 Oct 2019
A series of aristrikes and armed clashes left at least 9 Taliban militants dead or wounded in northern Balkh and Faryab provinces.
The 209th Shaheen Corps said in a statement the security forces conducted airstrikes amid ongoing clashes in Chaqmaq Village of Pashtun Kot district in Faryab.
The statement further added that the airstrikes killed 6 Taliban militants and destroyed one of their vehicles.
The airstrikes and armed clashes did not inflict casualties on local residents and security personnel.
Full report at:
https://www.khaama.com/airstrikes-armed-clash-leave-9-taliban-militants-dead-or-wounded-in-balkh-and-faryab-04248/
--------
Salahuddin Rabbani steps down as acting minister of foreign affairs of Afghanistan
23 Oct 2019
Salahuddin Rabbani stepped down as acting minister of the foreign affairs of Afghanistan, calling the working environment in the Government of National Unity as 'unpleasant' since the beginning.
Rabbani informed regarding his resignation by posting a statement in his official Facebook accounting, criticizing the government for establishing parallel institutions and marginalizing the key institutions with its selective approach.
Furthermore, Rabbani said he tolerated the situation due to the commitments he had made to the people and community and for the sake of preserving the system and prevent the community and country from becoming more fragile.
He also added that the continuation of the situation in which the government institutions are being damaged by those who claim they are the State Builders, is intolerable.
Full report at:
https://www.khaama.com/salahuddin-rabbani-steps-down-as-acting-minister-of-foreign-affairs-of-afghanistan-04262/
--------
Airstrikes kill 12 Taliban militants; destroy multiple caches of weapons in 5 provinces
23 Oct 2019
A series of airstrikes killed 12 Taliban militants and destroyed multiple caches of weapons in five provinces in the past 24 hours.
The military officials said the security forces conducted the airstrikes in Sar-e Pul, Zabul, Helmand, Paktiya and Baghlan provinces.
The officials further added that the airstrikes in Sar-e Pul district of Sar-e Pul province killed 5 Taliban militants and destroyed a cache of weapons.
Another airstrike in Tarnek Wa Jaldak district of Zabul killed 4 Taliban militants and destroyed a small cache of weapons, the officials said.
An airstrike in Marjah district of Helmand killed a Taliban militant and destroyed a cache of weapons, the officials said, adding that a similar airstrike in Zurmat district killed 2 Taliban militants and destroyed a small cache of weapons.
Full report at:
https://www.khaama.com/airstrikes-kill-12-taliban-militants-destroy-multiple-caches-of-weapons-in-5-provinces-04259/
--------
URL: https://www.newageislam.com/islamic-world-news/al-qaedas-offshoot-wiped-kashmir/d/120081
New Age Islam, Islam Online, Islamic Website, African Muslim News, Arab World News, South Asia News, Indian Muslim News, World Muslim News, Women in Islam, Islamic Feminism, Arab Women, Women In Arab, Islamophobia in America, Muslim Women in West, Islam Women and Feminism