New Age Islam News Bureau
7 May 2020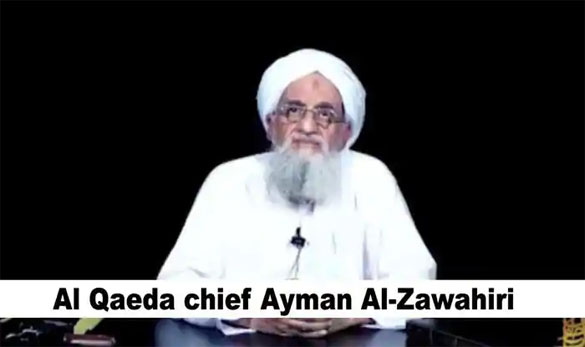 Ayman al-Zawahiri. Photo Courtesy: IANS
-------
• Al Qaeda Urges Indian Muslims to Wage Jihad Against India after the OIC, The Kuwait Government and Many Arab Activists Called India Islamophobic
• Covid-19: Online Prayer Unites Religious Leaders in Kerala
• Like Muslims, Dalit Group to Also Give 'Zakat' To Help Migrants This Ramzan
• European Commission Urged to Crack Down on Pakistan For Killing Pashtun Leader, Exiled Journalist, Silencing Baloch Voices
• Combating Coronavirus: LetPeople of All Faiths Pray on May 14 To Save Humanity From Covid-19 Pandemic
• Mosques across Bangladesh Reopen for All Amid More Infection Fear
• No New Coronavirus Code of Conduct for Last 10 Days of Ramadan: Pakistan Interior Minister
• Chairman of The Caucasus Muslims Office Urges Removal of Sanctions on Iran
• Tensions Erupt in Canadian City Over Broadcast of Muslim Call To Prayer
• Opening of Churches and Mosques/ PM Rama Online Meeting with Senior Representatives of The Albanian Clergy
• Jokowi Calls for Flattened COVID-19 Curve In May 'By Any Means Necessary
-------
India
• Al Qaeda Urges Indian Muslims to Wage Jihad Against India after the OIC, The Kuwait Government and Many Arab Activists Called India Islamophobic
• Covid-19: Online Prayer Unites Religious Leaders in Kerala
• Like Muslims, Dalit Group to Also Give 'Zakat' To Help Migrants This Ramzan
• Delhi Police team returns after facing protest at DMC chairman Zafarul Islam Khan's residence
• Mosques shut, gruel parcels come handy to break Ramzan fast
• Jharkhand: Muslim youth breaks fast to donate blood to ailing Hindu boy
• WATCH: Indian hospital turns away Muslim patient
------
Europe
• European Commission Urged to Crack Down on Pakistan For Killing Pashtun Leader, Exiled Journalist, Silencing Baloch Voices
• County's Muslims Donate 10,000 Face Masks to Life-Saving NHS Staff At The Worcestershire Royal
• Celebrate the holy month of Ramadan with Atlantis, the Palm
• Swedish Journo Сlaims Muslim Brotherhood Gaining Foothold Within Country's Defence
-----
Arab world
• Combating Coronavirus: LetPeople of All Faiths Pray on May 14 To Save Humanity From Covid-19 Pandemic
• Artist Adnan Kardash Killed Because He Smoked A Cigarette In Public Before Iftar
• Presidency Opens Advanced Self-Sterilization Gates at Grand Mosque Entrances
• UAE partnering with Islamic Development Bank on unified global legal, legislative framework for Islamic finance
• Lebanon Reopens Mosques for Friday Prayers, Churches for Sunday Mass
-----
South Asia
• Mosques across Bangladesh Reopen for All Amid More Infection Fear
• Facebook to assist Afghanistan in providing free Wi-Fi in remote parts of the country
• Infamous items used in beheading videos found from ISIS-HQN compound in Kabul: Saleh
• Refugees from Afghanistan and 2 other countries sue Germany for checking their phones
• Covid-19: 706 Test Positive, 130 Recover In 24 HoursIn Bangladesh
• Digital Security Act: 7-day remand sought for Didarul, Minhaz
• VC of Fareast Int University dies from Covid-19
• 5 killed as Special Forces bust major network led by ISIS, Haqqani Network in Kabul
------
Pakistan
• No New Coronavirus Code of Conduct for Last 10 Days of Ramadan: Pakistan Interior Minister
• CPO inspects security arrangements at mosques
• Covid-19: Mosques are following govt's SOPs: minister
• Message by famous Urdu poet, drama writer and lyricist Amjad Islam Amjad to combat coronavirus
------
Mideast
• Chairman of The Caucasus Muslims Office Urges Removal of Sanctions on Iran
• UN agency calls for nearly $60mn to protect health, safety of Yemeni women, girls
• Ramadan Shutdown Spells Disaster for Small Businesses in Israel's Arab Community
• Imam Khamenei: Robust production can fight off sanctions, other economic viruses
• International Quds Day to be observed in pandemic year
• Israel approves thousands of new units in West Bank settlement
• Iran Intelligence Ministry busts two terrorist groups, confiscates their arms cache
• Kurdistan accommodates over 40% of Iran's exports to Iraq: Customs office
-------
North America
• Tensions Erupt in Canadian City Over Broadcast of Muslim Call To Prayer
• 'I'm not a Muslim but I will fast for one day' back despite coronavirus
• Ramadan, Passover and Easter: time for hope in the age of uncertainty
• UTSU donates $100,000 to the Muslim Chaplaincy at U of T
• Positive Tests For Recovered Virus Patients Are Not Reinfections: WHO
------
Africa
• Opening of Churches and Mosques/ PM Rama Online Meeting with Senior Representatives of The Albanian Clergy
• Coronavirus 'takes flavour out of Ramadan' in North Africa
• Ramadan: Senator Goje donates trucks of rice to constituents
• Al-Sunni appeals to members of the UNSC not to call Haftar's forces the "National Army"
• Sudan to hand Muslim Brotherhood members to Egypt
-----
Southeast Asia
• Jokowi Calls for Flattened COVID-19 Curve In May 'By Any Means Necessary
• Indonesia's Ramadan school moves online amid coronavirus epidemic
• Tok Pa: Govt had to reopen economy as number of unemployment could have tripled
• Over 700 asnaf, orphans receive Ramadan contributions
Compiled by New Age Islam News Bureau
URL; https://www.newageislam.com/islamic-world-news/al-qaeda-urges-indian-muslims/d/121784
------
Al Qaeda Urges Indian Muslims to Wage Jihad Against India after the OIC, The Kuwait Government and Many Arab Activists Called India Islamophobic
May 5, 2020
Almost a year after its chief Ayman al-Zawahiri asked militants in Kashmir to step up terror attacks against India, Al Qaeda on Monday urged Indian Muslims to join the Islamist jihad.
Yemen's Al Qaeda in Arab Peninsula (AQAP), the globally banned terrorist group, issued a statement accusing India of being part of a global war on Muslims.
The Al Qaeda statement comes days after the Organisation of Islamic Cooperation (OIC), the Kuwait government and many Arab activists called India Islamophobic. The anti-India statements in the Arab countries were a result of Pakistani propaganda against India over the Citizenship Amendment Act (CAA) and Kashmir and also because of the widespread criticism of Tablighi Jamaat Islamic proselytisers for being a super-spreader of the novel coronavirus infection in India. Also Read - #IStandWithMasratZahra: Outrage on Twitter After Kashmir Journalist Charged for 'Anti-National' FB Posts
Denouncing India's Citizenship Amendment Act (CAA), the AQAP, which perpetrated the September 11 terror attacks in the US, alleged that the Indian government had taken several steps against Muslims.
The terror outfit, whose former chief Osama bin Laden was killed in his hideout at Abbottabad, Pakistan, by the US in a covert operation, urged Indian Muslims to "unite ranks, gather arms and wage jihad."
AQAP, primarily active in Yemen and Saudi Arabia, is considered to be the most active and dangerous Al Qaeda branch by the US government.
One of the most wanted terrorists in the world, Al Qaeda chief Ayman al-Zawahiri in a video message last year had asked jihadists in Kashmir to escalate terror attacks against India.
The Egyptian doctor and successor to Osama bin Laden said at the time that the Mujahideen in Kashmir "should single-mindedly focus on inflicting unrelenting blows on the Indian Army and government, so as to bleed the Indian economy and make India suffer sustained losses in manpower and equipment."
https://www.india.com/news/world/al-qaeda-urges-indian-muslims-to-wage-jihad-against-india-4019871/
------
Covid-19: Online prayer unites religious leaders in Kerala
May 3, 2020
Kochi, May 3, 2020: Sanskrit hymns, Christian prayers and Arabic chants were broadcast one after another through digital media on May 3, as major religious leaders came together for a joint prayer to overcome the Covid-19 pandemic.
Leaders of almost all Christian denominations, Imams, Muftis, Hindu scholars, sadhus and sanyasis were among those who prayed for the world.
Swami Chithanandapuri, head of Advaithasram Kozhikode, Swami Sadbhavanandha, head of Sri Ramakrishna Mutt, Puranattukara, Swami Vishaalananda of Sivagiri Mutt, SreemadhVasudevanandabrahmanandhabhooti, head of ThekkeMutt Thrissur and SreemadhAchyutaBharathikal of Thrissur NaduvilMadom conducted the Hindu prayers.
Representing Islam, Panakkad Syed Hyderali Shihab Thangal, Kanthapuram A P AbubakkarMusaliar, Chief Imam of Kozhikode PalayamJuma Masjid Dr Husain Madavoor and V P SuhaibMaulavi, Imam of PalayamThiruvanathapuram, conducted the prayers.
Mar George Cardinal Alencherry, Major Archbishop of the Syro Malabar Church, Cardinal Baselios Mar Cleemis, Major Archbishop of the Syro Malankara Catholic Church, BaseliusMarthoma II Catholicose, head of the Orthodox Church, Bishop Joseph Kariyil of Latin Catholic Church, Joseph Mar Gregorios, Trustee of the Jacobite Church, Joseph Marthoma Metropolitan, head of the Marthoma Church, Bishop Dharmaraj Rasalam, moderator of CSI Church and Dr. Mar Aprem, Metropolitan of the East Syrian Church, Thrissur were the leaders of the Christian denominations that joined in the prayers.
SreemadhVasudevanandaBrahmanandhabhooti chanted 'LokaSamasthaSukhinoBhavantu' as his prayer. "It is a time when not only Sanyasis but everyone around the world is deep in prayers to overcome this calamity. Through this prayer we plead that good happens to everyone and everyone stay together in peace," said Brahmanandhabhooti in the video telecasted at 3:30 pm.
Chief Imam of Kozhikode PalayamJuma Masjid Dr Husain Madavoor in the video said that prayer was not the only responsibility of the faithful. "Pray well and at the same time search for good treatment. We should understand and follow the directions of the Government and health workers who are involved preventive activities," he said.
Cardinal George Alencherry said a welcome message and thanked the religious leaders for coming together to pray for the world at such a critical juncture.
The 45-minute video was recorded at various locations in the state, edited, compiled and aired through Youtube channels of various religious institutions apart from TV channels. The religious leaders had earlier given out a call to observe this Sunday as a Prayer day.
http://mattersindia.com/2020/05/covid-19-online-prayer-unites-religious-leaders-in-kerala/
------
Like Muslims, Dalit group to also give 'zakat' to help migrants this Ramzan
May 07, 2020
Rajesh Kumar Singh
A group of professionals from the Dalit community have announced to adopt the Islamic way of earmarking 'zakat' (charity) from their earnings and using it for the welfare of the lesser fortunate members of their society.
Under the 'Dalit Zakat' initiative, these professionals, bureaucrats and businessmen, mostly from Uttar Pradesh, will compulsorily donate a small percentage of the income and used the sum for assisting the economically weak members of the community during the nationwide lockdown.
"Our group was launched way back in 2003 and we have been assisting talented youths from our community in pursuing higher education. With Ramzan underway, and lockdown in place, we have decided to mobilize the resources to assist the poor members of the community, particularly the migrants," said J Ram, a retired bureaucrat and the brain behind Bhartiya Dalit Zakat Foundation.
"Before the start of the holy month of Ramzan, the Muslim religious organisations and clerics have called upon the members of their community to assist the poor during the nationwide lockdown with giving a small percentage of their surplus wealth as 'zakat' to the needy. Taking a cue, we have also decided to assist people in raising money, running kitchen and providing medical assistance to the deprived members of our community," he said while claiming that the members of the Dalit Zakat foundation are spread across the state.
"Due to lockdown we cannot hold meetings as majority of the members are following the Covid-19 guideline issued by the government by staying in their respective homes. We are using technology to raise the fund, transfer the money into account, contacting each other on the mobile to locate the needy and to hand over the money," he said.
"With limited resources, we know that it is not possible to assist all but we are zeroing in on the extremely poor, deprived and marginalized people in the rural and urban areas of the state. Large numbers of the Dalit students are facing hardship after their parents' lost job. The Dalit Zakat Foundation has supported the talented students in pursuing the higher education. Several of them are employed they have also joined hand in donating a portion of their earning," he said.
"We have already enrolled 300 Dalit women. They will learn tailoring skill to earn extra money for the family. We are planning to launch more such schemes for women to make them self-reliant. We have urged the members of the community to contribute from their saving to assist in the empowerment of the women," said an office-bearer of the Dalit Zakat Foundation, SP Kureel.
He said that not many are aware of the fact that Gautam Buddha was first to propagate the idea of alms giving. He called upon his followers to donate a part of their earning to the deprived.
During diksha (initiation) to Buddhism at Nagpur on October 15, 1956, Dr Bhim Rao Ambedkar spoke on the uplift of the Dalit community members. "Ambedkar called upon his followers to donate five percent of their earning as done by the Muslims for the social, religious and economic emancipation of the members of the community," Kureel said while insisting that their organisation was apolitical.
A group of students staying in Ambedkar Hostel in Gorakhpur have also adopted the principles of Zakat to run community kitchen for supplying food packets to the poor members of the community stuck in city in lockdown.
"Along with contributing fund from savings, students have called upon the well-off among the community to contribute edible items or money to run the kitchen," said Vinod Gautam, a student.
https://www.hindustantimes.com/lucknow/like-muslims-dalit-group-to-also-give-zakat-to-help-migrants-this-ramzan/story-wEKcoKTE33pIc2gwdq0lrN.html
------
European Commission urged to crack down on Pakistan for killing Pashtun leader, exiled journalist, silencing Baloch voices
May 6, 2020
BRUSSELS: Members of European Parliament (MEPs) have called on European Commission to take "strong action" against Pakistan for brutal killings of Pashtun leader Arif Wazir and journalist Sajid Hussain.
In a letter to European Commission President Ursula Von der Leyen on Tuesday, four MEPs-- Helmut Geuking, Peter Lundgren, Ryszard Czarnecki, Bogdan Rzonca-- accused Pakistan's spy agency, Inter-Services Intelligence, of silencing human rights defenders and journalists.
Wazir, a leader of the Pashtun Tahaffuz Movement (PTM), was attacked by unidentified assailants outside his home in Wana, South Waziristan on May 1. Hussain, who had been living in exile in Sweden, was found dead in a river in Stockholm after disappearing few weeks ago.
"As Members of the European Parliament, we call on the European Commission to take strong action against Pakistan for the brutal murders of these two human rights defenders. Both murders were carried out by the Pakistani Intelligence," read the letter.
The MEPs have also asked the commission to support international human rights advocates, in calling for an independent and effective investigation into the ongoing attacks on Baluch activists and into enforced disappearances.
"It is not coincidental that these murders are taking place whilst the international community is distracted with the Coronavirus pandemic. Pakistan's spy agency, ISI, has continued to silence human rights defenders and journalists both inside Pakistan and externally during this time," the letter read
"Discrimination through the denial of access to Covid-19 testing and medical supplies has also been inflicted on the Baluch people during this period," it added.
https://timesofindia.indiatimes.com/world/europe/european-commission-urged-to-crack-down-on-pakistan-for-killing-pashtun-leader-exiled-journalist-silencing-baloch-voices/articleshowprint/75567142.cms
-----
Combating Coronavirus: Let People of All Faiths Pray On May 14 To Save Humanity From Covid-19 Pandemic
May 4, 2020
An invite has been sent out by the Higher Committee of Human Fraternity to people of all faiths to join a prayer congregation seeking the Almighty to end the Covid-19 pandemic.
The committee added that the world is facing a great danger that threatens the lives of millions of people around the world due to the growing spread of the virus.
The committee invited believers to make May 14 "a day for fasting, prayers, and supplications for the good of all humanity".
"Each one, from wherever they are and according to the teachings of their religion, faith, or sect, should appeal to God to lift this pandemic off us and the entire world, to rescue us all from this adversity," said the committee.
The committee called on people to ask God "to inspire scientists to find a cure that can turn back this disease, and to save the whole world from the health, economic, and human repercussions of this serious pandemic".
It urged "all religious leaders and peoples around the world to respond to this call for humanity. "Let us together beseech God Almighty to safeguard the entire world, to help us overcome this pandemic, to restore security, stability, healthiness, and prosperity, so that, after this pandemic is over, our world will become a better place for humanity and fraternity than ever before."
The committee was established last year as a concrete response to the Document on Human Fraternity signed by Pope Francis, Head of the Catholic Church, and Dr Ahmed El-Tayeb, Grand Imam of Al Azhar. It comprises a diverse set of international religious leaders, educational scholars and cultural leaders who were inspired by the Document on Human Fraternity, and are dedicated to sharing its message of mutual understanding and peace.
https://www.khaleejtimes.com/coronavirus-pandemic/combating-coronavirus-lets-pray-on-may-14-to-save-humanity-from-covid-19-pandemic-
-----
Mosques across Bangladesh Reopen for All Amid More Infection Fear
May 06,2020
Saying prayers in congregation at mosques across Bangladesh will resume from today amid the increasing number of coronavirus infections in the country.
The religious affairs ministry issued a notice informing the decision on Wednesday, a month after limiting prayers at mosques on April 6.
It said that the congregation prayers at mosques can be offered subject to some condition as children, elderly people, sick persons and people attending sick persons would not be allowed to come to mosques.
The state minister for religious affairs Sheikh Md Abdullah told New Age that they decided to resume congregational prayers following requests from Islamic scholars and mosque goers.
He, however, admitted that resumption of congregational prayers posed risks of further escalation of COVID-19 transmission, leading thus to further deterioration of the situation.
The ministry's public relation office Anwar Hossain told New Age that people would be allowed to say prayers in congregation at mosques from zuhr prayers on Thursday maintaining social distancing.
The notice said that all mosque goers must perform ablution at home before arriving at the mosque and there must be at least three feet gaps between each people in rows while saying prayers.
The ministry instructed that all mosque goers must bring prayer rugs with them, there must be soaps, hand washes and sanitisers at the entrances of each mosques and mosque goers must use masks and sanitise their hands before entry.
No iftar and sehri arrangements will be allowed inside mosques and not more than five people will be allowed for itikaf at each mosque during Ramadan, the notice added.
The state minister Abdullah said that they will be monitoring mosques and none would be allowed for saying prayers if they did not follow the instructions.
The administration will look after all mosques to ensure social distancing there and the ministry is hopeful that they there will not be overcrowding there, Abdullah added.
Earlier on Tuesday, 200 Islamic scholars issued a statement demanding immediate resumption of congregation prayers at mosques and the government has met their demands on the following day.
Despite criticism from people and health experts, the government on Monday announced the reopening of shopping malls and markets under some conditions for sales from May 10 amid the spiralling cases of COVID-19 infection and deaths in the country and during the nationwide shutdown.
On April 6, the government asked devotees to say their prayers at home as it barred outsiders at mosques, churches and temples across the country to check the transmission of coronavirus during the first week of April.
Then it said that maximum five devotees would be allowed to say regular prayers each time at a mosque while 10 shall perform weekly jumma prayers to limit public gatherings at mosques.
https://www.newagebd.net/article/105808/mosques-reopen-for-all-amid-more-infection-fear
------
No New Coronavirus Code of Conduct for Last 10 Days of Ramadan: Pakistan Interior Minister
May 6, 2020
ISLAMABAD: No new coronavirus-related code of conduct would be issued for the last 10 days of Ramadan, Interior Minister Ijaz Shah said Tuesday.
The ulema agree that the Eid-ul-Fitr congregational prayers should be offered in open spaces instead of inside mosques, he said, adding that if even one person from a neighbourhood attended the Eid-ul-Fitr prayers, it would be equivalent to the entire locality attending.
The federal home minister further noted that wealthy people wished for an extension in the coronavirus lockdown, while those experiencing hunger and other needs wanted it to be eased.
Last month, before the start of Ramadan, President Dr ArifAlvi had announced a 20-point formula for tarawih prayers after consultation with the ulema, noting that the mosques across the country would remain open but people should practise caution.
"As per the foundations of Islamic society, we as a nation should exhibit discipline, coherence, and national uniformity as we continue our battle against the coronavirus," Alvi had asserted, adding that the virus spread could curbed by staying away from crowds and unnecessary gatherings.
Noting that people wished to see religious scholars and politicians on the same page, he had also appealed to the masses to donate generously since madressas and mosques looked forward to these funds to cover routine expenses.
The president had said Shah was in touch with the provincial governments and that the strategy could only be successful if every single individual heeded it. According to the plan, "carpets will not be laid in mosques" and that people should avoid congregating on the footpaths outside the places of worship.
Alvi had also asked religious leaders to ensure there was a space between people during prayers. "The floors of mosques across the country will be cleaned with chlorine to disinfect them," he had said.
"Markers will also be made on the ground for the people to stand when they pray. Prospering nations do not follow rules and regulations forcefully but with free will; therefore, the administration can help us in enforcing the decided SOPs but it is the job of citizens to ensure that all precautionary measures are fully implemented," he had stated.
https://www.thenews.com.pk/latest/654954-no-new-coronavirus-code-of-conduct-for-last-10-days-of-ramadan-ijaz-shah
-----
Chairman of the Caucasus Muslims Office urges removal of sanctions on Iran
May 6, 2020
TEHRAN - Chairman of the Caucasus Muslims Office has sent a letter to U.S. President Donald Trump, urging him to remove sanctions on Iran.
SheikhulislamAllahshukurPashazade said in his letter that the sanctions have made it difficult for Iran to access medical equipment and called for an immediate end to sanctions when the country is fighting the coronavirus, the Mehr news agency reported on Wednesday.
Renowned American scholar Noam Chomsky has said it is "sheer sadism" that the United States maintains sanctions on Iran during the coronavirus pandemic.
"The sanctions are illegitimate in the first place, and maintaining them during the pandemic is sheer sadism," Chomsky told IRNA in an interview published on Saturday.
Speaking from his office in self-isolation to Croatian philosopher and author Srecko Horvat in April, Chomsky blasted U.S. President Donald Trump for continuing sanctions on Iran.
"When the U.S. imposes devastating sanctions – it's the only country that can do that, everyone has to follow ... the master. Or else they are kicked out the financial system," said Chomsky, according to Aljazeera.
Democratic presidential contender Joe Biden said on April 2 that Trump's administration must ease economic sanctions on Iran as a humanitarian gesture during the global coronavirus pandemic.
The former vice president said the U.S. has a moral obligation to be among the first to offer aid to people in need regardless of where they live when confronting a virus that knows no borders or political affiliations, according to Aljazeera.
Chris Murphy, the U.S. senator from Connecticut, warned on April 13 that the Trump administration could be partially responsible for "the death of innocent people" if it continues its current policies towards Iran amidst the coronavirus epidemic.
"If this epidemic continues to grow and spread in Iran it will…result in the death of innocent people, partially as a result of U.S. policy that does not accrue to the national security benefit of our country," he told reporters on the Monday conference call, The National Interest reported.
"Remember, if we don't beat it there, we don't beat it here. This virus doesn't respect borders," he added. "It's just good public health policy to help even our adversaries beat back this scourge."
The novel coronavirus disease, also known as COVID-19, hit Iran at a time when U.S.-Iranian tensions were at an all-time high. The Trump administration initially relaxed its "super-maximum economic pressure" campaign in order to allow for humanitarian trade but has refused to budge any further, claiming that the current exemptions are enough. Murphy disagreed.
He had penned a March 26 letter, signed by ten other Democratic senators, asking the Trump administration to ensure that Iran and Venezuela can import medical supplies and other humanitarian goods to deal with the coronavirus outbreak.
"Innocent civilians are dying there in part because our sanctions are limiting humanitarian aid during coronavirus," he tweeted.
https://www.tehrantimes.com/news/447589/Chairman-of-the-Caucasus-Muslims-Office-urges-removal-of-sanctions
-----
Tensions erupt in Canadian city over broadcast of Muslim call to prayer
6 May 2020
A decision to allow mosques in a Canadian city to broadcast the Adhan, the Muslim call to prayer, once a day has resulted in threats against the faith group, with far-right activists demanding the decision be reversed.
The City of Mississauga passed a motion last Wednesday to temporarily exempt mosques from a noise bylaw so they can broadcast the Adhan once a day until the end of the Muslim fasting month of Ramadan, which should finish by 23 May.
A condition was that the Adhan did not call on people to congregate in mosques, because places of worship are shut as a part of measures to contain the spread of the coronavirus.
In an attempt to inflame tensions, Faith Goldy, a white nationalist who was barred from Facebook last year, tweeted that the Adhan was a sign of the demographic threat Islam and Muslims pose to Canada.
A letter was also placed in three different online petitions calling for the decision to be reversed, arguing that it was a "violation of human rights".
Another open letter was posted on Facebook by Hani Tawfillis, a pharmacist who ran unsuccessfully as a Conservative Party candidate in the last federal election, said that Canadian soldiers who fought in the Middle East would be hurt by hearing the call to prayer, and equating it with slogans used by the Islamic State group.
"Had we thought about our beloved Canadian veterans who fought in Islamic countries such as Afghanistan or Iraq, after hearing some words used by ISIS, which is part of the Adhan that remind them by announcement in these war zones for a call of an attack to be imminent," he wrote. He also stressed that he was not an Islamophobe.
The petitions, placed on both Change.org and the ultraconservative CitizenGo website, have since been removed. Vice News was the first to report about the campaigns.
Change.org told Vice that the campaign was removed because it was "violating hate speech community guidelines". Still, before being removed the online petition gathered about 20,000 signatures.
The group Canadians United Against Hate called on council members to uphold the original decision and warned against "giving in to hate".
In a letter to the councillors, the group's founder Fareed Khan said the Adhan is an example of "multiculturalism, pluralism and acceptance of diversity in practice. It demonstrates the best of what Canada is about.
"To cave in to pressure from these hateful elements in society is to take a step back and say to all minority communities that hate is stronger than love and acceptance."
https://www.middleeasteye.net/news/canada-muslim-call-prayer-ramadan-once-daily-tensions-far-right
-----
Opening of churches and mosques/ PM Rama online meeting with senior representatives of the Albanian clergy
06/05/2020
TIRANA, May 6/ATA/- The measures foreseen to open religious activities will be modest, but it will be up to the experts, after the second phase of the easing the COVID-19 restrictions will be completed, a process that will end on May 18, the Albania's Prime Minister Edi Rama said during an online conversation with the senior representatives of the Albanian clergy to discuss the opening of cult objects for believers which were closed after the preventive measures put in place in fight against Covid-19.
In his remarks, the premier Rama underlined that, there will be a gradual opening of cult objects followed by modest measures, but the ball is in experts community's court to give the green light.
"Grateful thanks to all the communities, for setting an invaluable example for the whole country in such a difficult situation. You have contributed to better understanding, by making a not-so-small sacrifice at the most important events of your calendar, the major holidays typically celebrated by Christians each year, and the Holy Month of Ramadan, asking believers to stay at home and protect themselves and their families. Thank you for that, "the Prime Minister Rama said.
For their part, senior representatives of the Albanian clergy, appreciating the measures taken by the government and the results achieved so far in the fight against Covid-19, demanded the opening of religious facilities. According to them, they will comply with the safety protocol, respecting the physical distancing between common believers.
http://en.ata.gov.al/2020/05/06/opening-of-churches-and-mosques-pm-rama-online-meeting-with-senior-representatives-of-the-albanian-clergy/
-----
Jokowi calls for flattened COVID-19 curve in May 'by any means necessary
May 7, 2020
President Joko "Jokowi" Widodo has called on the government and the public to flatten the curve of COVID-19 transmission in the country this month "by any means necessary".
"In May, we really need to reach our target of flattening the curve by any means necessary, and we must have a moderate rate [of new cases] by June and a low rate by July," Jokowi said in his opening statement at a virtual Cabinet meeting on Wednesday.
"This is not just up to the COVID-19 task force [and] should involve all elements of the nation, including government officials, nongovernmental organizations, volunteers, political parties, and the private sector. It should be coordinated well," he said.
Also on Monday, national COVID-19 task force head Doni Monardo said that the number of infections in the country was starting to decrease with just 395 new cases.
Only a day later on Tuesday, however, the Health Ministry reported 484 new cases, the highest single-day increase of the official tally since the start of the outbreak.
"I believe [that] if we band together and remain disciplined in obeying the health protocol, all our prepared measures can resolve the COVID-19 outbreak as soon as possible," he said.
https://www.thejakartapost.com/news/2020/05/07/jokowi-calls-for-flattened-covid-19-curve-in-may-by-any-means-necessary.html
------
India
Delhi Police team returns after facing protest at DMC chairman Zafarul Islam Khan's residence
07-05-2020
A team of Delhi Police returned empty-handed after facing protest at the Jamia Nagar residence of Delhi Minorities Commission Chairman Zafarul-Islam Khan against whom an FIR has been lodged for his alleged seditious and hateful acts.
Local sources said that a police team arrived to raid Khan's residence just before Iftar, the time to break fast in Ramadan. However, they were forced to return after a crowd gathered outside his residence.
Earlier, his lawyer told the Delhi police as per the law the police cannot compel him to go to the police station for interrogation as he was above 65 years of age.
"The law as per section 160 Code of Criminal Procedure (CrPC) mandates that the police cannot compel attendance of a person above 65 years age at any place other than their residence for the purpose of investigation and interrogation. You are required as per law to question/interrogate Dr Zafarul-Islam Khan only in his residence and you cannot compel him to go to any police station," said his counsel Vrinda Grover.
"As Dr Zafarul-Islam Khan''s lawyer I am hereby placing on record that as per law you cannot compel him to go to the police station. That would violate the CrPC and amount to illegal police action against the rights of my Client," she said.
In the letter written to Cyber Cell of the Delhi police (Dwarka), Khan said he was a senior citizen of 72 years of age and it is risky for his health to report to the police station during these times of lockdown due to COVID-19.
An FIR under IPC sections 124A (sedition) and 153A (promoting enmity between different groups) have been registered against Khan on a complaint by an individual citing his social media post where he thanked Gulf nations for taking note of the "persecution" of Muslims in India.
https://www.dnaindia.com/delhi/report-delhi-police-team-returns-after-facing-protest-at-dmc-chairman-zafarul-islam-khan-s-residence-2823873
-----
Mosques shut, gruel parcels come handy to break Ramzan fast
07th May 2020
TIRUCHY: With mosques unable to prepare and distribute Nonbu Kanji (rice gruel), many eateries have started selling it in packs to Muslims. Tiruchy has a significant Muslim population and in the days leading up to Ramzan, they collect Nonbu Kanji from the mosques where they pray. Because of the lockdown, only rice is distributed to mosques, which is later distributed to Muslim households.
However, cooking gruel everyday may not be possible for many families. Riyaz of Aazwarthoppu said, "They cannot prepare Nonbu Kanji every day as it requires a lot of effort. Also, they may only have rice but the dish requires other ingredients as well. This is why many families prefer to buy it."
https://www.newindianexpress.com/states/tamil-nadu/2020/may/07/mosques-shut-gruel-parcels-come-handy-to-break-ramzan-fast-2140258.html
------
Jharkhand: Muslim youth breaks fast to donate blood to ailing Hindu boy
06th May 2020
RANCHI: Amid hate messages on social media, a Muslim youth set an example for humanity by breaking his 'Roza' (fasting) to donate blood for an 8-year-old Hindu child who is suffering from Pneumonia in Hazaribagh on Tuesday.
Salim Ansari travelled over 50 km to donate blood after he got to know that the boy of his village needed blood to save his life.
The child Nikhil Kumar, suffering from pneumonia, is undergoing treatment at a nursing home in Hazaribagh and needed blood for his treatment.
When Ansari reached the hospital, doctors advised him to break his fast and eat something to be able to donate blood. Ansari immediately agreed to the doctor's suggestion and donated blood.
"It does not mean that I have done any favour to anybody, Being a human being, it was my duty to save the life of the child," said Ansari. No religion is
Ansari said that the moment he got to know that the child needed blood, he decided to save his life and left for Hazaribagh along with two others.
According to Nikhil's brother Faljeet Kumar, his brother is currently admitted to a private nursing home in Hazaribagh and urgently required A (+Ve) blood but he was not able to arrange it. The local blood bank also expressed its inability for the same due to the lockdown asking him to arrange on his own.
Even Faljeet could donate as he had already donated the blood to his brother last week. Losing all hopes, he called his father BhikhariMahto at his village Kusumraza under the Bagodar Block of Giridih and explained the entire situation. BhikhariMahto, a farmer by profession, further discussed the matter with other villagers and left the matter on the mercy of God.
Later, when Ansari got to know about it, he decided to save the life of the child by donating his blood and left for Hazaribagh. He was even intercepted by police at different places, but somehow he managed to convince them citing the urgency of the situation and reached there to save the life of the child.
https://www.newindianexpress.com/good-news/2020/may/06/jharkhand-muslim-youth-breaks-fast-to-donate-blood-to-ailing-hindu-boy-2139965.html
-----
WATCH: Indian hospital turns away Muslim patient
May 6, 2020
After a string of attacks on Muslims in different parts of India coupled with rising Islamophobia from the notion that the minority is behind the uptick in Covid-19 cases in the country, a video has emerged of an Indian hospital turning away a Muslim patient which has spread like wildifire on social media.
India, which is home to 200 million members of the faith, making it the largest religious minority have been at the receiving end of an alarming degree of abuse under Prime Minister Narendra Modi's Bharata Janata Party (BJP).
In the footage, the outraged Muslim patient confronts a medical staffer saying:"Repeat on camera what you just said…You have received orders from upstairs to only treat Hindu patients and not Muslims".
The Muslim man then tells a doctor who comes out of his office upon hearing the commotion that wife was feeling pain in her entire body and a chest infection making her bring her to the hospital.
The anti-Muslim sentiment was spurred by Indian authorities and media blaming an Islamic missionary group, Tablighi Jamaat, for the spike in coronavirus cases in the country.
An Indian Muslim watches a policeman instructing a family riding on a scooter on social distancing on the first day of the holy month of Ramadan at the old quarters of New Delhi, India, Saturday, April 25, 2020.PHOTO: HUMANS RIGHTS WATCH
An Indian Muslim watches a policeman instructing a family riding on a scooter on social distancing on the first day of the holy month of Ramadan at the old quarters of New Delhi, India, Saturday, April 25, 2020.PHOTO: HUMAN RIGHTS WATCH
Some India observers say linking the virus to the Muslim organization could result in more religious hatred in the country, warning that the effects of Islamophobic conspiracy theories could sow violence even after the pandemic.
"Blaming Muslims for spreading coronavirus all over India is dangerous and discriminatory," said Muqtedar Khan, a professor of Islamic political philosophy at the University of Delaware and an India expert at the Center for Global Policy.
"The lax attitude of the Indian government allowed the Tablighi Jamaat to continue their activities. There are laws in India; the point is that they are using them only against the Tablighis and they are not trying to go after any Hindu group at all," Khan said, adding that the nationalist media have also played a role in spreading accusations that Muslims were responsible for the spread of the virus throughout the country.
India haa recorded more than 13,800 cases of Covid-19, with at least 442 deaths, according to Johns Hopkins University statistics. The country has been on an official lockdown to combat the virus since March 24. However, some officials blame the Tablighi Jamaat for the coronavirus' early spread
https://tribune.com.pk/story/2215616/3-watch-indian-hospital-turns-away-muslim-patient/
------
Europe
County's Muslims donate 10,000 face masks to life-saving NHS staff at the Worcestershire Royal
Rob George
24 mins ago
LIFE-SAVING nurses and staff at the Worcestershire Royal Hospital have been boosted in the fight against Coronavirus with a donation of 10,000 face masks from trustees of the city's Muslim cemetery.
Mayor of Worcester Coun Allah Ditta and fellow trustees were on hand to deliver the vital equipment to hospital chiefs on Tuesday as the fight to tackle COVID-19 continues.
The donation will ensure continued protection for NHS staff on the frontline with medically approved equipment which can be used immediately.
Speaking to the Observer, CounDitta said the masks had cost around £4,500 but lavished praise on NHS for its care both before and during the current crisis.
"We all need the NHS at some point in our lives. Sadly many more of us need its services, care and compassion at the moment," CounDitta said.
Alongside his duties one of three councillors for the Cathedral ward and his current year as Worcester's first citizen, CounDitta is part of the trustees who run the cemetery on John Comyn Drive.
"I've had nothing but excellent support and help from the hospital when I have registered deaths in the community, so I thought it was about time we gave something back to those heroes," he said.
"I hope it might spark into actions other members of the wider Worcester community into making a donation. We all use the NHS and we need to support it at its hour of greatest need."
The donation has been made during Ramadan which sees Muslims in Worcester and across the world observe a month of fasting, prayer, reflection and community.
"It's a month of giving for Muslims – you must give something back to your community. Donating in such a way to our NHS has made this month particularly poignant for me," CounDitta said.
"Coronavirus has been devastating for us all and it's caused so much heartache in Asian communities because we often have extended families living together or close together which means the risk of infection being passed is so much higher.
"But no matter your religion, I hope we can all use these difficult and trying times to come together and ensure we think of everyone around us and come out stronger, healthier and with stronger communities."
The donation is likely to be among CounDitta's last acts as Mayor of Worcester and the long-serving councillor said he was devastated how the lockdown had curtailed the fund-raising for his chosen causes.
https://bromsgrovestandard.co.uk/news/countys-muslims-donate-10000-face-masks-to-life-saving-nhs-staff-at-the-worcestershire-royal-19069/
------
Celebrate the holy month of Ramadan with Atlantis, the Palm
2 hours ago
In line with a decision from the government of Dubai to ease some restrictions around the city, Atlantis, the Palm has announced it will offer special Iftar deals to enjoy in-resort and at home during the holy month of Ramadan.
While the resorts' famed Asateer tent is not open this year, diners can still enjoy Dubai's favourite Iftar in the comfort of their own home.
Starting from just AED145 per person, the Iftar menu includes chef Ali el Bourji's signature dishes including lentil soup, hot and cold mezzeh, a selection of meat dishes such as slow cooked lamb shoulder with oriental rice and braising sauce, mixed grill, or kofta bilsaniyah (meat patties baked in a rich tomato sauce) and baklava, katayef or maamoul mad bilashta (semolina butter cake).
Teaming up to create the best of both worlds – Mediterranean flavours with an Arabic twist – celebrated Asateer and Ayamna chef Ali El Bourji, and White chef Ibrahim Ata, are introducing a unique Iftar menu especially for Ramadan.
Along with an eclectic range of hot and cold mezzeh, guests will enjoy lentil or yayla soup with mint, followed by mains that include shish taouk, lamb kofta, lamb chops, chargrilled baby chicken and Mediterranean ratatouille, rounded off with WHITE's infamous funky monkey bread.
Both restaurants will operate within the guidelines and protocols as advised by the Dubai government and Atlantis, the Palm's standards for hygiene and cleanliness will remain a number one priority at this time.
https://www.breakingtravelnews.com/news/article/celebrate-the-holy-month-of-ramadan-with-atlantis-the-palm/
------
Swedish Journo Сlaims Muslim Brotherhood Gaining Foothold Within Country's Defence
07.05.2020
The pan-Islamic Muslim Brotherhood is estimated to have over a million members in 70 countries and has been classified as a terrorist organisation in many countries, including Russia, Egypt, Saudi Arabia, and the United Arab Emirates.
The Muslim Brotherhood's network has in the shadow of the coronavirus crisis forged collaborations with the Swedish Armed Forces' civil organisations, blogger and journalist Johan Westerholm, the author of "Islamism in Sweden", has claimed.
In his opinion piece on the portal Ledarsidorna, Westerholm cited a recent defence collaboration project featuring, among others, Ibn Rushd, a controversial Swedish educational organisation identified by the country's Civil Contingencies Agency (MSB) as having strong ties with the Muslim Brotherhood.
The project in question is "For your safety", a free digital training course on crisis preparedness provided by the Defence Trainers, a nationwide voluntary defence organisation that carries out training and recruiting and strengthens emergency preparedness, and Huddinge Municipality in Stockholm County. The course includes three 15-minute films subtitled in Arabic, Kurdish, and Turkish. Apart from Ibn Rushd, other collaborations include the Workers' Educational Association (ABF) and the Swedish Church.
According to Westerholm, who previously served as an intelligence officer, this indicates a "high organisational level" of the Muslim Brotherhood*, its "communicative skills" and a "capacity that has been built up over a long period of time".
Westerholm described Ibn Rushd as a "network organisation" of the Muslim Brotherhood. The municipality of Eskilstuna has recently stopped all payments to the student union Ibn Rushd, citing its ties to the Muslim Brotherhood. The organisation denied the allegations as "Islamophopic conspiracy theories".
Westerholm cited several reports that concluded Ibn Rushd from its founding onwards rested on the Brotherhood's ideological and theological interpretation of the Quran, and raised concerns about Ibn Rushd's history of inviting hate preachers, its problematic ties, and adverse public image. Also in late 2019, two senior Swedish researchers and associate professors Magnus Ranstorp and Aje Carlbom sounded the alarm over Islamic parallel societies being indirectly funded through taxpayer money. Among others, they highlighted the example of Ibn Rushd, which received an annual SEK 23 million (roughly $2.3 million) grant from the Adult Education Council (FR). According to researchers, it promotes "insitutionalised segregation" by specifically targeting marginalised Muslims from vulnerable neighbourhoods.
"The fact that the Muslim Brotherhood is now taking the opportunity to strengthen its position in civil society together with the Swedish Church is something that is not surprising. This is partly because the government has now been under pressure to remove the requirements for self-financing of aid projects, but also through the cooperation with the Swedish Church", Westerholm wrote.
According to Westerholm, the corona crisis provides an opportunity for the Muslim Brotherhood to "establish itself in various social functions".
"It can now be considered to have started establishing itself in the Swedish Armed Forces' civil society organisations and thus in the country's total defence", Westerholm concluded.
Ibn Rushd is a Swedish study association formed in 2001 with a focus on the Arabic language and religious studies. Since 2008 the union has been receiving state grants. The organisation derives its name from an Andalusian scholar, whose name is often latinised as Averroes.
Founded in Egypt in 1928, the Muslim Brotherhood has fledged into a pan-Islamic organisation with over a million members in 70 countries. It is regarded as a terrorist organisation in many countries, including Russia, Egypt, Saudi Arabia, and the United Arab Emirates. In Sweden, the MB has been active since the late 1970s.
https://sputniknews.com/military/202005071079225098-swedish-journo-slaims-muslim-brotherhood-gaining-foothold-within-countrys-defence/
-----
Arab world
Artist Adnan Kardash Killed Because He Smoked A Cigarette In Public Before Iftar
May 7th, 2020
by AL-MODON
Idleb-born artist Adnan Kadrash, who used his drawings and paintings to revolt against the Syrian regime, was killed Monday evening during armed clashes involving grenades and medium weapons, resulting in deaths and injuries in the al-Naour neighbourhood of Idleb city—all because he smoked a cigarette in public before Iftar.
Kadrash graduated from the Teacher Training Institute in 1999, after which he taught art at preparatory and secondary schools in Idleb. He also worked in the Visual Arts Center for seven years. When the Syrian revolution started, Kadrash worked with a group of other activists in Idleb to draw paintings held up by demonstrators demanding an end to repression.
He painted murals in the streets of Idleb paying homage to detainees, and referencing the injustice suffered by civilians across Syria.
Throughout his painting career, Kadrash sought to fill a so-called "artistic void" that prevailed in Idleb governorate throughout years of war, driven by his refusal to stop making art despite the fighting.
He worked in child protection, organizing artistic activities to help teach children in the camps. He also had the idea to form a society of artists and intellectuals in Idleb, with the goal of "filling the city's cultural void," as he put it.
In September 2018, Kadrash opened the Dhiaa Cultural Foundation, which included intellectuals, visual artists, poets and experts in cinema and theater. The goal, Kadrash said, was to show the world that Idleb is a city of art, poetry and intellect, and "not a city of terrorists," as some media had reported.
https://syrianobserver.com/EN/news/57848/artist-adnan-kardash-killed-because-of-ramadan-cigarette.html
-----
Presidency opens advanced self-sterilization gates at Grand Mosque entrances
May 7, 2020
MAKKAH — The General Presidency for the Affairs of the Grand Mosque and the Prophet's Mosque has inaugurated Thursday advanced self-sterilization gates in the entrances to the Grand Mosque.
These gates are equipped with the latest technologies and are installed as part of the precautionary measures that have been carried out since the outbreak of Coronavirus Pandemic (COVID-19).
These advanced gates are used for sterilizing people with sanitizer spray and equipped with thermal cameras to test temperatures from 6 meters and a smart screen for speed-reading of temperatures of several people at the same time.
These advanced gates have been set up within the preventive and precautionary measures that were taken by the presidency to confront coronavirus pandemic.
https://saudigazette.com.sa/article/592788/SAUDI-ARABIA/Presidency-opens-advanced-self-sterilization-gates-at-Grand-Mosque-entrances
------
UAE partnering with Islamic Development Bank on unified global legal, legislative framework for Islamic finance
06 MAY 2020
The United Arab Emirates Ministry of Finance, the Islamic Development Bank and the Dubai Islamic Economy Development Centre are partnering to develop a unified global legal and legislative framework for the Islamic finance sector.
DIEDC has signed a memorandum of understanding with industry infrastructure body the Accounting and Auditing Organization for Islamic Financial Institutions to enable it to use AAOIFI's standards as a reference in building the international legal framework with the guidance of the UAE Ministry of Finance and IDB, according to a statement on the government of Dubai media office website on Wednesday (May 6).
"After conducting multiple studies in collaboration with major consultancies, we have concluded that the differences in the legislations and laws governing business practices in Islamic finance continue to slow down the growth of the Islamic economy sector, while expending more time, effort and cost," said UAE minister of economy and chair of DIEDC Sultan bin Saeed Al Mansouri.
"Enabling and standardising legislations provides the guarantees and trust needed to build smoother and stronger business relations. New courts are expected to be established worldwide to settle Islamic financial disputes according to the new unified legislative framework," said the minister.
Islamic Development Bank president Dr. Bandar Hajjar said the initiative comes in response to the growing demand from Islamic financial institutions and dispute settlement centres, including courts and arbitration centres.
The Jeddah-based multilateral whose members are 57 countries of the Organisation of Islamic Cooperation (OIC) will offer technical assistance on the project.
"We will support DIEDC in achieving the project's objectives and present it to member countries so that they can adopt it and make it an integral part of their own legislations with regard to Islamic financial transactions," said the IsDB president.
https://www.salaamgateway.com/story/uae-partnering-with-islamic-development-bank-on-unified-global-legal-legislative-framework-for-islam
-----
Lebanon reopens mosques for Friday prayers, churches for Sunday mass
NAJIA HOUSSARI
May 06, 2020
BEIRUT: Lebanese Interior Minister Mohammed Fahmy has allowed the reopening of mosques for Friday prayers and churches for Sunday mass.
This is provided that the number of worshipers does not exceed 30 percent of the capacity of each mosque or church and adherence to sanitary conditions and preventive measures. Mosques and churches were closed on March 15.
The move is part of mitigating home isolation measures after the containment of the COVID-19 pandemic in Lebanon. This is despite the recording of new cases from people who recently returned to Lebanon, or quarantined people who were in contact with infected persons.
According to the Ministry of Health report, there were nine new COVID-19 cases, seven of them from abroad. The ministry then announced 25 confirmed COVID-19 cases among passengers on board a flight from Nigeria to Beirut, raising the total number of cases to 775.
President Michel Aoun said that "the new coronavirus increased the blockage of the arteries of Lebanon's economy and exacerbated the economic downturn that we are suffering as a result of policies that overlooked the production economy.
"The virus also increased unemployment and poverty rates, and there was a significant increase in commodity prices, a fall in the Lebanese pound exchange rate, a decline in tax revenues and a deterioration in our social security," he said.
The indicators of the crisis are evident: An economic contraction of about 13 percent; an increase in the inflation rate, which reached more than 50 percent; a deterioration in the exchange rate of the Lebanese pound; paralysis in the banking sector; a significant increase in poverty rates, which exceeded 45 percent of citizens; and unemployment exceeding 35 percent, along with high fiscal deficit and high unsustainable debt.
On Wednesday, a national meeting of party leaders and leaders of parliamentary blocs was held at the Presidential Palace, at the invitation of President Aoun, to discuss the government's reform plan. The meeting was boycotted by the Future Movement bloc and the Lebanese Kataeb bloc. The leader of the Progressive Socialist Party, Walid Jumblatt, and the leader of the Marada Movement, Suleiman Frangieh, also did not attend the meeting.
The leader of the Lebanese Forces party, Samir Geagea, joined a meeting that brought together Hezbollah's allies. He stressed that he did not leave "our allies in the opposition, but we each have a (different) approach to things." He said after the meeting that his party's MPs "will not agree to the plan before the government shows its seriousness in filling the waste gutters in the state."
On Wednesday, the Lebanese judiciary interrogated two former ministers of energy, Mohammed Fneish and Nada Boustani, the general director of Electricity of Lebanon (EDL), Kamal Hayek, and engineer, Yahya Mawloud, on a charge of importing adulterated fuel for the benefit of the EDL, which was found through investigations to involve forgery and bribery.
Boustani said after her interrogation that she did not receive the results of the analyzes of adulterated fuel when she was a minister. Fneish said that the problem was not in "the contract signed with the company that imported the fuels, which was extended by six ministers after me, but the problem is with adulterated fuel, and the party that violated the terms of the contract must be pursued."
The judiciary issued four arrest warrants against the representative of the importing company, Sonatrach, the director of the Oil Control Company and employees of the PST company. Others are expected to be interrogated, including the manager of oil installations, and the owner, CEO and tender manager of ZR Energie company. Most of the people involved are affiliated with political forces inside and outside of the authority.
The government plan set five years for Lebanon to recover from its crisis. In his presentation of the plan, Minister of Finance Ghazi Wazni said that "it will adopt the flexible exchange rate policy in the coming stage gradually and deliberately."
He said that the plan "reduces the deficit in the public budget from 11.3 percent of GDP in 2019 to 5.3 percent in 2020 and then to 0.7 percent in 2024 by reducing public expenditure (electricity reform, pension reform, rationalization of current expenditures) and in revenue: Combating waste, improving tax collection, value-added tax and fighting tax evasion."
Prime Minister Hassan Diab briefed Arab and foreign ambassadors about the government's financial plan in a separate meeting. US Ambassador Elizabeth Chia said that "there are other areas within the plan that can be reconsidered." She did not provide more details.
https://www.arabnews.com/node/1670671/middle-east
------
South Asia
Facebook to assist Afghanistan in providing free Wi-Fi in remote parts of the country
06 May 2020
Facebook has vowed to assist Afghanistan in providing free Wi-Fi services in the remote parts of the country, the Ministry of Communications and Information Technology (MCIT) said.
According to a statement released by MCIT, the Facebook Ic. officials made the commitment during an online conversation with MOhammad Fahim Hashimi, the acting minister of communication and inforamtion technology.
The statement further added that the Facebook officials vowed to provide technical support and establishment of infrastructures and free Wi-Fi in remote parts of Afghanistan.
The two sides also held talks on removal of incorrect information related to the novel coronavirus (COVID-19) from Facebook pages.
According to MCIT, the meeting also focused on training of the personnel in the field of proper use of Facebook application for the publication of accurate information and removal of pages from Facebook page which have vague addresses and spread inappropriate inforamtion.
https://www.khaama.com/facebook-to-assist-afghanistan-in-providing-free-wi-fi-in-remote-parts-of-the-country-07785/
-----
Infamous items used in beheading videos found from ISIS-HQN compound in Kabul: Saleh
07 May 2020
The Afghan Vice President and Former Director of the Afghan Intelligence (National Directorate of Security) Amrullah Saleh said the Afghan forces discovered infamous items which the militants in beheading videos, during a raid on a joint compound of ISIS-Haqqani Network in Kabul.
"I congratulate @NDSAfghanistan for conducting a successful raid on IS-K &Haqani network safe house in north Kabul. Caches of weapons including the infamous knife & chair used 4 on camera throat cutting were found. The pile of evidence against terrorist & their sponsors going up," Saleh said in a Twitter post.
The Afghan Special Forces busted a major network of terrorists led by ISIS and Haqqani Network in Kabul, killing at least 5 terrorists during the raid.
The National Directorate of Security (NDS), in a statement said Wednesday that the NDS Special Forces conducted the raid in Shakar Dara district and 11th district of Kabul city, busting a terrorit network led by Sanaullah, a senior ISIS Leader who was also in charge of coordinating Haqqani Network's activitities in urban areas.
The statement further added that the network had carried out multiple attacks including rocket attack on presidential inauguration, attack on Sikh temple, attack on Mazari tomb and rocket attacks on Bagram airfield.
The NDS Special Forces also arrested 8 other militants during the raid, NDS said, adding that several weapons and munitions including 82mm rockets, mortar rounds, Dshk heavy machine gun and 250 kgs of explosives were confiscated.
https://www.khaama.com/infamous-items-used-in-beheading-videos-found-from-isis-hqn-compound-in-kabul-saleh-07787/
-----
Refugees from Afghanistan and 2 other countries sue Germany for checking their phones
07 May 2020
Refugees from Afghanistan, Syria and Cameroon are suing Germany for invasion of privacy after the authorities allegedly checked their phones to prove their identities.
The authorities in Germany have the authority to examine the cell phones of the asylum seekers who do not have valid identity documents such passports, according to Mail Online.
However, Berlin's Society of Civil Rights (GFF) is arguing that this method was used too quickly and is a violation of the refugees' human rights.
The 29-year-old Mohammad, who was granted asylum in 2015 said "I didn't know what exactly was happening, nobody had explained anything. But I was afraid to be deported, so I gave the mobile. It was as if I was handing over my whole life," according to a statement released by the GFF.
A GFF lawyer Lea Beckmann said "The BAMF (Germany's ministry for migration and refugees) is disregarding the strict constitutional rules by which the state must abide when accessing personal data."
Meanwhile, a BAMF spokesperson said "A mobile phone is often the only, or a very important, source to establish the identity and nationality of people entering Germany without a passport or identification documents."
https://www.khaama.com/refugees-from-afghanistan-and-2-other-countries-sue-germany-for-checking-their-phones-07778/
-----
Covid-19: 706 Test Positive, 130 Recover In 24 Hours In Bangladesh
May 07, 2020
Seven hundred and six people have tested positive for Covid-19 in the last 24 hours, the Directorate General of Health Services (DGHS) said today.
With this, the total number of infected has reached 12,425, said Prof Dr Nasima Sultana, additional director general (administration) of DGHS, during a briefing.
Meanwhile, 130 patients of Covid-19 have recovered around the country in the last 24 hours. The total recovery number stands at 1,910 now, the DGHS official said.
https://www.thedailystar.net/coronavirus-deadly-new-threat/news/covid-19-706-test-positive-130-recover-24-hours-1900330
-----
Digital Security Act: 7-day remand sought for Didarul, Minhaz
May 07, 2020
Police want Rashtrachinta activist Didarul Bhuiyan and Dhaka Stock Exchange director Minhaz Mannan Emon in seven day remand in a case filed under the Digital Security Act, allegedly for spreading rumours and carrying out anti-government activities.
"We prayed for a seven-day remand for each," Ramna Police Sub-Inspector JamshedulAlam, also the investigation officer of the case, told The Daily Star.
Of the other accused, Cartoonist Ahmed Kabir Kishore and writer Mushtaq Ahmed landed in jail yesterday after they were produced before a Dhaka court.
Eleven people, including a cartoonist, two journalists and a writer, were charged with "spreading rumours and carrying out anti-government activities" under the Digital Security Act yesterday.
Swedish-Bangladeshi journalist Tasneem Khalil, who runs Netra News, US-based journalist Shahed Alam and blogger Asif Mohiuddin are among those named in the case filed by Rab-3 Assistant Director Abu Bakar Siddique with the Ramna Police Station.
https://www.thedailystar.net/online/news/digital-security-act-7-day-remand-sought-didarul-minhaz-1900324
-----
VC of Fareast Int University dies from Covid-19
May 07, 2020
Prof Nazmul Karim Chowdhury, vice chancellor of Fareast International University, died earlier today at Dhaka Medical College's burn unit, now dedicated for treating Covid-19 patients.
He was infected with Covid-19 and shifted to the burn unit three days ago from a private hospital after he tested positive for the virus there.
He breathed his last around 1:00am at the Intensive Care Unit, said Brig Gen AKM Nasir Uddin, director of the hospital.
Hailing from Lakshmipur, he was a former professor at Department of Tourism and Hospitality Management of Dhaka University. He joined the private Fareast University as the VC after his retirement.
https://www.thedailystar.net/country/fareast-international-university-dies-coronavirus-bangladesh-1900321
-----
5 killed as Special Forces bust major network led by ISIS, Haqqani Network in Kabul
06 May 2020
The Afghan Special Forces busted a major network of terrorists led by ISIS and Haqqani Network in Kabul, killing at least 5 terrorists during the raid.
The Afghan Intelligence, National Directorate of Security (NDS), in a statement said the Special Forces of the directorate conducted the raid in Shakar Dara district and 11th district of Kabul city.
The statement further added that the network was led by Sanaullah, a senior ISIS Leader who was also in charge of coordinating Haqqani Network's activitities in urban areas.
According to NDS, the network had carried out multiple attacks including rocket attack on presidential inauguration, attack on Sikh temple, attack on Mazari tomb and rocket attacks on Bagram airfield.
The NDS Special Forces also arrested 8 other militants during the raid, NDS said, adding that several weapons and munitions including 82mm rockets, mortar rounds, Dshk heavy machine gun and 250 kgs of explosives were confiscated.
https://www.khaama.com/5-killed-as-special-forces-bust-major-network-led-by-isis-haqqani-network-in-kabul-07786/
-----
Pakistan
CPO inspects security arrangements at mosques
May 7, 2020
Rawalpindi : City Police Officer (CPO) Rawalpindi Muhammad Ahsan Younas on Wednesday visited different mosques in the areas of R.A. Bazaar and Race Course to ensure the government''s SOPs during Ramazan.
He appreciated Station House Officers (SHOs) and police personnel of R.A. Bazaar and Racecourse as well over good performance and gave away cash award and appreciation certificates.
According to police, the CPO on Tuesday night visited different mosques of R. A. Bazar and Racecourse areas and inspected security arrangements.
The CPO asked duty officers to adopt precautionary measures against coronavirus and ensure social distancing to stay safe. Police would utilize all available resources to ensure safety of the citizens in accordance of the directives of the government to control coronavirus outbreak, he added.
https://www.thenews.com.pk/print/655043-cpo-inspects-security-arrangements-at-mosques
-----
Covid-19: Mosques are following govt's SOPs: minister
May 7, 2020
Federal Religious Affairs and Interfaith Harmony Minister Noor-ul-HaqQadri has said that to limit the spread of the coronavirus, by and large the mosques in Pakistan are following the government's SOPs and 'namazis' are adopting precautionary measures during their visit to mosques.
He expressed these view during an Aaj TV programme, PurAzaam Pakistan, which was hosted by leading actress Reema Khan here on Wednesday. He was joined by Mufti Raghib Naeemi, a religious scholar, and Syed Ayaz Shah, Director Public Relations and External Affairs at Jamiq-tur-Rasheed. They discussed the positive and supportive role of Ulema in the national crisis.
The Minister further said that both the Federal and provincial governments are monitoring the situation and so far very few complaints relating to SOPs violation have been received.
He said that before the start of the Ramazan, the government feared that large religious congregation in mosques during the holy month might lead to the spread of the virus. "We had two options, either forcefully stop people from going to the mosques and pressurise Ulema to accept the government decision to close the mosques or allow mosques to remain open," he added.
He disclosed that Prime Minister Imran Khan was against the idea of using force on the 'namazis' and forceful closure of mosques. Thus, he said, after consulting with all the stakeholders, including leading Ulema of the country, the government formulated SOPs and precautionary measures for both the mosques managements and namazis to adopt.
"After several meetings with between the leading Ulema and the President and Governors, a 20 point agreement was reached, under which congregational prayers were allowed in mosques with certain conditions. However, the government has the right to take an action if any of the SOPs are violated or fears spread of the virus," he added.
He commended the positive role of the Ulema in the current crisis and said that they are spreading a meaningful message on the virus and urging the people to adopt all precautionary measures in order to limit the spread of the disease.
"Our religion teaches us to seek forgiveness and give charity, but it also teaches us to protect ourselves from any harm, and thus we all should guard ourselves from the virus by maintaining social distancing and staying home as much as possible," he added.
To a question, he said that the government has launched a social welfare programme, Ehsaas Programme, to financially help people facing hardship during the Covid-19 crisis. However, he said, the government is still facing difficulty in reaching all the needy people and thus he urged all section of the society should play their role by helping the people around them.
On the occasion, Mufti Raghib Naeemi said, "Corona is a virus and will infect everyone, irrespective of colour, caste and religion; we all are in danger. Hence, we should not blame anyone for the spread of the disease but ourselves. If we do not adopt precautionary measures then we will be exposing ourselves to the virus, hence, we all should show responsible behaviour by following all the SOPs during a visit to the mosque and old and children should stay home," he added.
He observed that the people were not taking the virus seriously and were not maintaining social distance or taking other measures seriously, which can lead to the wide-scale spread of the coronavirus. He also pointed out that the agreement between the government and Ulema and consequently opening of mosques has also misspelled a strong impression in the people that international powers are conspiring to close down the mosques.
To a question, he said that both the government and Ulema are on the same page and only after reaching a consensus the agreement was finalised.
Syed Ayaz Shah said that the people should not listen to the conspiracy theories related to the spread of the virus. "We should examine the ground reality, which is over 200 countries are infected by the virus and thus it proves that we all are vulnerable to the disease," he added.
https://www.brecorder.com/2020/05/07/595065/covid-19-mosques-are-following-govts-sops-minister/
-----
Message by famous Urdu poet, drama writer and lyricist Amjad Islam Amjad to combat coronoviurs
May 06, 2020
Famous Urdu poet, drama writer and lyricist Amjad Islam Amjad has said 'we must stand together as a nation' to battle coronavirus pandemic.
He said we all should adopt approaches to prevent from this pandemic.
https://www.radio.gov.pk/06-05-2020/message-by-famous-urdu-poet-drama-writer-and-lyricist-amjad-islam-amjad-to-combat-coronoviurs
------
Mideast
UN agency calls for nearly $60mn to protect health, safety of Yemeni women, girls
07 May 2020
The United Nations Population Fund (UNFPA) has called for nearly $60 million to urgently protect the health and safety of women and girls in Yemen, where figures show that every two hours one woman loses her life in labor.
In a statement on Wednesday, the UN agency said that more than 48,000 Yemeni women could lose their lives from complications of pregnancy and childbirth in the impoverished country due to critical funding shortages and the possible shutting down of reproductive health facilities.
It stressed that the dire humanitarian situation for Yemeni women would deteriorate as the COVID-19 pandemic has already entered the war-torn country.
In order to save more lives and protect the Yemeni women, the UNFPA said that it was calling for urgent funding of $59 million provide life-saving reproductive health care and women's protection services until the end of the current year.
It further stressed that an additional $24 million was also needed for the COVID-19 response to protect health workers and help women and girls have access to reproductive health services in Yemen.
A Saudi-led coalition comprised of a number of allies, the most significant of them being the UAE, invaded Yemen in March 2015 to restore power to its former regime and crush the popular Houthi Ansarullah movement, whose fighters have been of significant help to the Yemeni army in defending the country against the invaders.
The ongoing war has also taken a heavy toll on the country's infrastructure, destroying hospitals, schools, and factories. The UN says over 24 million Yemenis are in dire need of humanitarian aid, including 10 million suffering from extreme levels of hunger.
According to UNFPA, nearly half of all health facilities in Yemen are not functioning or only partially functioning, and "only 20 percent of health facilities provide maternal and child health services due to staff shortages, lack of supplies, inability to meet operational costs, or damage due to the conflict."
Moreover, equipment and medical supplies are insufficient or obsolete, the UN agency said, adding that health workers have not been paid, or have only been irregularly paid, in more than two years.
It also warned that if the global pandemic was prolonged, the number of women without having access to family planning, and those facing unintended pregnancies, gender-based violence and other harmful practices could significantly soar by millions of cases in the next couple of months.
The UN agency further warned that a serious funding shortage would force UNFPA to stop the flow of providing life-saving reproductive health services in about 140 health facilities in the impoverished country.
If such facilities shut down, an estimated 320,000 pregnant women would lose services from reproductive health centers and over 48,000 women could lose their lives of emergency obstetric complications in Yemen, it further warned.
Separately on Wednesday, the World Health Organization (WHO) warned that the COVID-19 contagious disease was going to be widespread in war-ravaged Yemen and affected a large number of people there.
Figures from health ministry of Yemen show that as of Thursday, 25 people have tested positive for COVID-19 and five others have died of the disease.
https://www.presstv.com/Detail/2020/05/07/624798/Yemen-women-UN-covid
-------
Ramadan Shutdown Spells Disaster for Small Businesses in Israel's Arab Community
May 07, 2020
Nazareth's merchants had hoped that the second week of Ramadan would be different. But the streets are still empty, the market is still closed, and even the sweets shops, the stars of the month-long holiday, are reporting little business.
"This is our main holiday, but there's no feeling of celebration; the mood is horrible," says Ali Awnallah, who owns the El Janina restaurant, a mainstay in the city.
The restaurant was founded 60 years ago and hadn't closed for a day – until the coronavirus hit. Awnallah had hoped that Ramadan would compensate for the previous month the restaurant was closed, but this was dashed – the city is on lockdown starting 10 minutes after the fast ends every night.
"We feed 300 people every evening during Ramadan," Awnallah says. "Our revenues for that month account for 15% to 20% of our annual revenues."
He says he recently invested 1 million shekels ($285,000) to renovate an events hall that's now standing empty. He has tough words about the government.
"We've had nearly no work for a month and no one is helping us," he says. "It's like the government is saying, 'Manage on your own.'"
Nazareth hasn't stopped charging its businesses municipal property tax, restaurants aren't eligible for the government's crisis loan program, and the banks make it hard for Arab Israelis to take out loans as it is, Awnallah says.
"I know of dozens of businesses that have collapsed. They're small businesses for which a loss of 100,000 or 200,000 is a death knell," Awnallah says.
"After nearly two months, people are coming to us and asking for 500 shekels to buy food for their family. It's tough here, and it's going to get tougher – and we're alone."
Awnallah employs 20 workers and says he's giving them extras at the moment, "because you don't throw out someone who's worked for you for 30 years. We're doing the government's work."
Mahdi Arslan owns Nazareth's Almahdi Sweets. On a typical Ramadan day, his shop would have nine or 10 employees toiling a single shift; at the moment he has only one.
"People typically go out after iftar [the break-the-fast meal], buy sweets and eat them immediately. This year the fast ends at 7:20 P.M. and the curfew starts at 7:30. If it started at 9 P.M. things would be easier."
Most businesses in Israel's food industry have survived the economic lockdown by providing deliveries, but ordering food is hardly a tradition in the Arab community. In addition, Arab Israelis are suffering their share of coronavirus panic.
"People were frightened by the warnings and ran to the grocery stores to stockpile food because they thought they wouldn't be able to go outside for weeks," Awnallah says.
While the coronavirus pandemic took the whole world by surprise, Israel's Arab citizens are in a particularly poor position. A survey by the Israel Democracy Institute found that 43% of Arab citizens reported they could not go a single month without taking out extra loans, breaking into savings or increasing their overdraft, versus 29% of Jewish citizens.
Arab-community businesses are also more fragile. Some 96% of the community's private sector is comprised of small businesses, and around 54% of them have annual turnover of less than 500,000 shekels, says Nasreen Hadad Haj-Yahya of the Israel Democracy Institute.
"A crisis like this one is an impossible blow for businesses like these, particularly when they have no safety net," she says.
https://www.haaretz.com/israel-news/business/.premium-ramadan-shutdown-spells-disaster-for-small-businesses-in-israel-s-arab-community-1.8825678
-----
Imam Khamenei: Robust production can fight off sanctions, other economic viruses
May 6, 2020
Leader of the Islamic Revolution Ayatollah Seyyed Ali Khamenei says an economy made robust through enhanced production can fend for itself and counter various intrusive elements such as sanctions that can harm an economy like a virus can hurt the human body.
Ayatollah Khamenei made the remarks in Tehran on Wednesday during a video call with representatives of several manufacturing conglomerates on the occasion of the national Labor Week.
The Leader felicitated the Iranian workforce on the occasion during the call that was made as a means of overseeing the implementation of the slogan "Jump in Production" that Ayatollah Khamenei has assigned to this solar calendar year.
The Leader drew an analogy between a country's economic apparatus and the human body, noting how both require a healthy defense mechanism to repel incoming viruses.
"This very coronavirus entered people's bodies, but many did not fall ill. How did that happen?" Ayatollah Khamenei explained that a strong immune system was what enabled a successful fight against viruses.
"Should we want to liken the economy to human body, the defense system that provides the economy with security would be production," the Leader pointed out. "In other words, the element that can neutralize invasive viruses and microbes targeting the economy and keep it healthy is production," Ayatollah Khamenei stated.
The Leader categorized the invasive economic factors into "natural viruses" and "manufactured viruses such as sanctions and [the manipulation of] the oil price."
The employees, the Leader said, should act more responsibly and rigorously, while the employers need to assign a bigger share of revenues to the workforce.
Ayatollah Khamenei recalled that labor relations have been underlined in the "Resistive Economy" planning that the Leader has previously pioneered in the face of enemy maneuvers.
https://en.abna24.com/news//imam-khamenei-robust-production-can-fight-off-sanctions-other-economic-viruses_1034196.html
-----
International Quds Day to be observed in pandemic year
07 May 2020
Every year on the last Friday of the Muslim holy month of Ramadan, worldwide rallies are held to commemorate the Palestinian people's resistance against Israel and their struggle to liberate their territories which have been occupied by Israel for decades.
Millions of pro-Palestinian demonstrators, including Muslims and non-Muslims, take to the streets to denounce Israel's atrocities against the people of Palestine. This year's Quds Day rallies will be held across the world on Friday, May 22.
International Quds Day is seen as the legacy of the late founder of the Islamic Republic of Iran, Imam Khomeini, who is revered as a spiritual leader by Muslims across the world. Back in 1979, shortly after leading an Islamic revolution which toppled the US-backed Shah of Iran, Ayatollah Khomeini named the last Friday of the fasting month of Ramadan as Quds Day.
The annual event is seen as an opportunity for freedom-seeking people across the world, regardless of faith, to voice their support for the cause of Palestine and vent their anger against the Apartheid regime of Israel, which has occupied Palestinian territories since 1967.
Millions of people in Iran and other Muslim and non-Muslim countries worldwide hold rallies in solidarity with the Palestinian people. Quds Day is a far cry from a casual Islamic religious event. It is, indeed, a human rights event open to both Muslim and non-Muslims alike.
Anti-Israeli sentiments have been gaining ground on a regular basis following Tel Aviv's onslaughts on the besieged Gaza Strip which have killed thousands of people, many of them women and children, since 2009.
The attacks were launched amid a muted response from the so-called international community which is spearheaded by the US - Israel's staunch ally. However, they raised global awareness of Israeli atrocities against the people of Palestine. Tel Aviv is now facing charges of war crimes over its military strikes against the impoverished enclave which has been under a crippling Israeli siege since 2007.
The Israeli regime has been facing increasing isolation among nations across the world. A global movement called Boycott, Divestment and Sanctions (BDS) is one of the popular campaigns launched against Israel in an effort to force the regime to comply with international law and Palestinian rights.
Initiated by Palestinian non-governmental groups back in 2005, the movement has been gaining momentum in recent years. Many universities, trade unions and organizations as well as human rights groups in Europe and North America have been joining the campaign. The BDS is similar to the earlier boycotts of South Africa during its apartheid era and is aimed at piling up economic pressure on Israel by boycotting Israeli products and companies.
The BDS is estimated to cost Israel's economy $1.4 billion annually. It is expected to cost Israel's economy $47 billion over a decade.
https://www.presstv.com/Detail/2020/05/07/624790/International-Quds-day
-------
Israel approves thousands of new units in West Bank settlement
06 May 2020
The Israeli minister for military affairs, Naftali Bennett, has approved a plan for the construction of thousands of new settler units in the occupied West Bank, ignoring the international outcry against the Tel Aviv regime's illegal settlement expansion activities and land grab policies in Palestinian territories.
On Wednesday, Bennett granted the green light for the expansion of the Efrat settlement, located 12 kilometers (7.5 miles) south of Jerusalem al-Quds, by about 275 acres (1.11 square kilometers), when he endorsed the plan for some 7,000 new housing units in the 11,000-resident municipality, Israeli English-language daily newspaper the Jerusalem Post reported.
"This morning, I approved the construction of thousands of new housing units in Efrat in Gush Etzion. I instructed the defense establishment to continue to strengthen the settlement resolutely. The construction momentum … must not be stopped for even a moment," Bennett announced on his Facebook page earlier in the day.
"Such Israeli decisions constitute an utter disregard for the international law and a flagrant defiance of the international outcry against Israeli settlement construction activities and the potential annexation plan," the ministry said in a statement.
It added, "Such settlement construction approvals also constitute an act of disrespect for international warnings that increased settlement construction activities and possible annexation of parts of the West Bank would gravely threaten regional stability, and would undermine the prospects for the (so-called) two-state solution."
"Israel is clearly exploiting the international preoccupation with the fight against the novel coronavirus pandemic and blatant US bias in favor of its expansionist policies to further expropriate Palestinian lands."
The development took place only three days after the senior Israeli official approved the expropriation of Palestinian-owned land and property in the southern occupied West Bank city of al-Khalil to construct an elevator and a ramp to facilitate the entry of Jewish settlers to the Ibrahimi Mosque, without the agreement of the city hall.
The Arab League on Tuesday condemned the Israeli regime's final green light to create a new route in the vicinity of the mosque.
In a statement, the regional organization's Assistant Secretary General for Palestine and Occupied Arab Territories Saeed Abu Ali, said the plan aims to facilitate the storming and "Judaization" of the Ibrahimi Mosque in the city.
President Abbas says Palestine will nullify all agreements with the US and Israel if Tel Aviv goes ahead with a scheme to steal more Palestinian land.
This decision is "part of Israel's escalation" against the Palestinian religious and historical monuments in Jerusalem al-Quds and al-Khalil, he added.
The top Arab League official then called on the international community and the United Nations to exert pressure on Israel to immediately halt any activities or plans, which could lead to further deterioration of the difficult situation in the occupied Palestinian territories.
https://www.presstv.com/Detail/2020/05/06/624749/Israel-settler-units-West-Bank-
-----
Iran Intelligence Ministry busts two terrorist groups, confiscates their arms cache
06 May 2020
The Iranian Intelligence Ministry says it has dismantled two terrorist groups in the west and northwest of the country and confiscated a cache of arms from them.
The public relations and information department of the ministry said on Wednesday that it managed to monitor and destroy two terrorist outfits affiliated with separatist groups, who had crossed into the country from neighboring areas to carry out acts of terrorism.
According to the ministry, 16 members of the terrorist groups were arrested while two Kalashnikov assault rifles, a pistol, two grenades, seven magazines and 240 cartridges along with explosive devices were confiscated from them.
The ringleader is supported by one of the regional Arab reactionary countries, and is based in Europe, the report added, noting that some of the arrested terrorists were also involved in the assassination of defenseless people and extortion from manufacturers and traders in the west of the country.
A number of terrorists were also killed as forces with Iran's Islamic Revolution Guards Corps (IRGC) carried out a security operation in the western province of Kordestan, which borders Iraq's semi-autonomous Kurdistan region.
A statement by the IRGC's HamzehSeyed al-Shohada Base said several 'counter-revolutionary' terrorists were killed during clashes in Divandarreh County on Tuesday, without providing a specified number.
Iranian security forces have repeatedly disbanded terrorist outfits and killed their members during security operations near the western borders.
https://www.presstv.com/Detail/2020/05/06/624769/Iran-arms-cache-
-----
Kurdistan accommodates over 40% of Iran's exports to Iraq: Customs office
06 May 2020
Iran says a significant portion of its exports to the neighboring Iraq is handled via the borders to the Arab country's semi-autonomous region of Kurdistan.
A spokesman of Iran's customs office said on Wednesday that borders to the Iraqi Kurdistan were responsible for some 42 percent of the value and 31 percent of the volume of Iran's exports to Iraq over the last calendar year.
SeyyedRouhollahLatifi said that the total Iranian exports of goods to the Kurdistan Region amounted to 8.103 million metric tons worth $3.768 billion over the 12-month period ending March 19.
Iraq was only second to China in Iran's list of top export destinations in the last calendar year as the country imported a total 25.688 million ton of Iranian goods and products worth $8.99 billion, according to recent figures published by Iran's customs office.
Exports to Iraq have become a major source of earning hard currency for Iran at a time the country is grappling with a series of American sanctions that have affected its normal oil revenues.
The main gateway for exports to the Iraqi Kurdistan region is the Parvizkhan crossing, located to the north of the city of Qasre Shirin in the Iranian province of Kermanshah, through which some $1.4 billion worth of Iranian export shipments passed over the last calendar year.
Bashmaq and Tamarchin are other major trade gateways between Iran and the Kurdish region while local border markets set up is several locations have helped boost exchanges across the Iran-Iraqi border.
Latifi said border crossings to the Iraqi Kurdistan region had remained open for the past weeks despite a coronavirus pandemic that forced closures in other areas across the borders.
Iranian exports through the crossings from March 19 to April 20, 2020 reached 870,000 tons worth $259 million, he said.
https://www.presstv.com/Detail/2020/05/06/624773/Iran-exports-Iraq-via-Kurdistan-borders
------
North America
'I'm not a Muslim but I will fast for one day' back despite coronavirus
By Alima Nadeem
5 hrs ago
NON-MUSLIM community groups have come together once again despite the coronavirus pandemic to take part in fasting in Ramadan for one day.
Blackburn community charity One Voice invited non-Muslims to fast for a day in the sixth year of the 'I'm not a Muslim but I will fast for one day' challenge, which has seen nearly 1000 people take part since the start.
Ramadan is the holy Islamic month where Muslims forgo food and water between sunrise and sunset, with this year's fasts as long as 17 and a half hours approximately.
Taking part this year so far have included, Lancashire Mind, Active Lancashire, BwD Healthy Living, Child Action North West, Secret Santa and BwD Carers Network.
Sarah Johns of BwD Healthy Living said: "My reason for choosing to fast for one day is because it really makes me appreciate what we take for granted.
"Delivering food parcels every day since the start of the pandemic has really brought home how people are struggling to access healthy nutritious food not only worldwide but also in our borough.
"I also feel that fasting alongside my Muslim colleagues is important, particularly at a time when they would otherwise be spending time with family and friends."
Ronan McMahon of Active Lancashire said: "Now more than ever, it's a time for understanding, empathy, sharing experiences and coming together as one."
Abrar Hussain, Chairman of One Voice said: "Ramadan is the time of year when the Muslim community take time to reflect on their lives and their spirituality.
"This year, despite the restrictions imposed due to Covid-19, a huge number of people are taking part from the safety of their home. This is a testament to the resounding unity in Blackburn and Darwen."
Tommy McIlravey, Chief Executive of Lancashire Mind, said: "I'm fasting to understand what it's like for Muslim friends but to be more mindful of what it's like not to have instant access to food and water."
Phil Boulding from Secret Santa added: "I'm extremely proud to participate. Simply by joining in with various religions and cultures, we can see there are more things that unite us than separate us."
https://www.lancashiretelegraph.co.uk/news/18432546.im-not-muslim-will-fast-one-day-back-despite-coronavirus/
-----
Ramadan, Passover and Easter: time for hope in the age of uncertainty
Abdul Nakua
May 6, 2020
It is rare that important celebrations of the three monotheistic religions occur so closely at around the same time. The last such time was at the dawn of the new millennium. Back then, there was so much hope for the new century despite the preoccupation with a minor hiccup of the now-forgotten Y2K bug. Today, twenty years later, Passover, Ramadan and Easter are being celebrated within a few weeks of each other.
Unfortunately, this comes at a time of great uncertainty as the world is passing through unprecedented times inflicted by the COVID-19 pandemic. The faithful in Canada and around the world are learning how to observe these important communal celebrations in the era of social distancing.
In this difficult time, it gives us great solace to remember that the three monotheistic faiths were born as rays of hope at times when the world was in much despair. They grew to become movements that protested against the tyranny and inequity of the systems of their time, while laboring to establish a more inclusive and equitable order. The story of Prophet Moses is an embodiment of the hope and reliance on the divine for deliverance. A story that is mentioned in the Quran over 125 times exemplified by its resilience, devotion and triumph of human spirit over adversity. This essence of devotion and reverence to the Divine is lived by Muslims through the fasting of the month of Ramadan. Meant to attain an elevated and heightened state of spiritual being, Ramadan is a time of self-renewal as we face the daily grind of our busy lives with a multitude of demands on our time from family, careers and community.
It is also important to remember that pandemics have been part of human existence since time immemorial. Along with the destruction and death they normally leave behind, they also bring clarity to our human condition. COVID-19 is no exception. Globally, it exposes the fundamental flaws in the social and economic order that created huge disparities in wealth distribution and income inequality. Nationally, it has brought sharp focus to the impact of major issues such as poverty, homelessness, youth unemployment, palliative and old age care, mental health, social isolation and climate change on our communities, and how they negatively impact too many people. More disturbingly, those issues are grossly more prevalent among specific demographics and disadvantaged communities. For example, First Nations communities are more susceptible to the ravaging effects of pandemic outbreaks due to inadequate health services and housing.
Therefore, in a time of uncertainty, the adherents of the Abrahamic faiths need to renew the historical bonds that have connected them to each other, and share their traditions and wisdom with each other and those around them. Looking into the future beyond this pandemic, the faithful need to reimagine a new world where spirituality, the public good and care for others become at the new center in our collective consciousness. It is encouraging to see how Canadians across this vast country purposefully acted for the collective good by observing strict social-distancing orders, practicing good hygiene and caring for one another in an effort to protect themselves and save fellow citizens. This spirit was reflected in our political leaders of all levels of government, as well as the health professionals, the first responders, our security agencies, and the frontline workers who sustained a degree of normalcy in our lives. This altruism hopefully can be transformed into a communal ethic that can help us as citizens identify injustices, big and small, and act on them to rebalance the scales of social justice.
As faith communities, our work should focus on building social cohesion by promoting inclusion, sharing wisdom, and building robust coalitions and cross-sectorial collaborations that address the inadequacies of the economic and social structures that produced these inequalities. This might be the best time to offer hope and pray for a better tomorrow.
https://rabble.ca/blogs/bloggers/views-expressed/2020/05/ramadan-passover-and-easter-time-hope-age-uncertainty?utm_source=feedburner&utm_medium=feed&utm_campaign=Feed%3A+rabble-news+%28rabble.ca+-+News+for+the+rest+of+us%29
------
UTSU donates $100,000 to the Muslim Chaplaincy at U of T
6 May 2020
By Mikaela Toone
At its April 7 board meeting, the University of Toronto Students' Union (UTSU) passed a motion to donate $100,000 to the Muslim Chaplaincy at the University of Toronto.
The chaplaincy offers "an inclusive space and sense of community" to "foster a meaningful Muslim identity," and supports students through counselling services offered by its imam. The donation will go toward salaries for a chaplain and managing director. A small portion will also be put aside for fundraising brunches and gala events.
The donation is funded by the UTSU's unrestricted reserve, which has upward of $3 million, according to 2019–2020 UTSU President Joshua Bowman, and has largely been used to support the Student Commons project.
Bowman explained that the process of organizing this donation began when a student approached him to say that the chaplaincy had been there to support her when she was struggling with her mental health.
In the context of U of T's mental health crisis, Bowman believes that the chaplaincy is "doing the work to help students" — and that the UTSU should support it.
Chair of the Board of the Muslim Chaplaincy at U of T, Dr.BanoMurtuja, acknowledged that while the group is definitely a faith-based organization, its services are available to students of every faith.
In addition, Murtuja emphasized that this funding is important to safeguarding the organization against chaplain burnout. "It's really, really important that we ensure that those people who are driven… by a passion to assist… are given the support that is due to them," said Murtuja.
Richard Chambers, the director of the Multi-Faith Centre, also spoke in favour of the motion. Chambers noted that it is common for secular governmental groups to donate to faith-based organizations, providing the example of the Canadian government's recent donation to the Salvation Army as part of its COVID-19 response.
Chambers also pointed out that at U of T, "Christian privilege is alive and well," and that the chaplaincy is filling a gap in services for students who do not feel comfortable attending one of the Christian chapels on campus.
Danial Akif, 2019–2020 Vice-President Internal of the Muslim Students' Association, and Muntaka Ahmed, 2020–21 UTSU President, went into detail about how the chaplaincy has helped them throughout their university careers.
Akif explained that the perspective of U of T's Health & Wellness counsellors is not always enough. After the Christchurch mosque attacks in New Zealand last year, where 51 worshipers were killed, he was afraid for his own safety as he put his head down to pray. The chaplaincy helped him "make sense of what's going on."
Ahmed remarked that the chaplaincy was there to support her when she made the decision to wear the hijab. She noted that the chaplains were always available and "provided me with the tools that I need to just live my life on my own terms as a Muslim woman."
https://thevarsity.ca/2020/05/06/utsu-donates-100000-to-the-muslim-chaplaincy-at-u-of-t/
------
Positive tests for recovered virus patients are not reinfections: WHO
May 7, 2020
Coronavirus patients declared recovered who later test positive for the disease are still expelling dead lung cells rather than getting a new infection, the World Health Organization (WHO) told AFP on Wednesday.
South Korean health officials reported more than 100 such cases in April, raising concerns that patients who had recovered could become reinfected.
"We are aware that some patients test positive after they clinically recover," a WHO spokesperson told AFP, without making specific reference to the South Korean cases.
"From what we currently know -- and this is based on very recent data -- it seems they these patients are expelling left over materials from their lungs, as part of the recovery phase."
People infected with the new coronavirus build up antibodies starting a week or so after infection or the onset of symptoms, research has shown.
But it is still not clear, experts say, whether the body systematically builds up enough immunity to ward off a new attack by the virus or, if it does, how long such immunity lasts.
"We need systematic collection of samples from recovered patients to better understand how long they shed live virus," the spokesperson said.
"We also need to understand if this means they can pass the virus to other people -- having live virus does not necessarily mean it can be passed to another person."
In a recent interview with BBC, infectious disease epidemiologist Maria Van Kerhove, part of the WHO's Health Emergencies Program, explained the "dead cell" scenario.
"As the lungs heal, there are parts of the lung that are dead cells that are coming up. These are fragments of the lungs that are actually testing positive," she said.
"Does that mean they have immunity? Does that mean they have a strong protection against reinfection? We don't know the answer to that yet."
The pandemic has now killed more than 257,000 people globally and officially infected nearly 3.7 million, although with only the most serious cases being tested the number is believed to be far higher.
https://www.thejakartapost.com/life/2020/05/07/positive-tests-for-recovered-virus-patients-are-not-reinfections-who.html
------
Africa
Coronavirus 'takes flavour out of Ramadan' in North Africa
8 HOURS AGO
North Africans say they are missing the taste of Ramadan, as coronavirus restrictions deprive them of traditional mealtime gatherings, evening outings and beloved sweets during the Muslim holy month.
"It's not the usual Ramadan," said one woman shopping in Ariana, near the capital Tunis, looking desperately for the cakes and sweets that normally fill the stalls during the fasting month.
The faithful refrain from consuming food and water during the day, breaking their fast at dusk with family and friends for a meal known as iftar, and often going out afterwards.
Mosques in Algeria, Morocco and Tunisia have been closed to curb the spread of the novel coronavirus, preventing special evening prayers.
There are no long nights of musical gatherings, and in the medina of Tunis, there are no Sufi-inspired "hadra" chants and no "stambali" -- a mystical trance dance ritual.
"Even the meals that bring all the family together around the same table are impossible -- I'm afraid for my parents, who are elderly and sick", said Maissa, a 46-year-old teacher from Algiers.
"But I can't travel to have iftar at my parents' place" due to the night-time curfew, lamented one 35-year-old teacher who lives alone in Marrakesh.
In Algeria, after businesses were allowed to reopen at the start of Ramadan in April, crowding led authorities to reimpose closures in some areas.
Some in the capital Algiers travelled to Boufarik -- around 30 kilometres (18 miles) away in Blida province, the epicentre of the country's virus outbreak in early March -- for a sugary sweet known as zlabia.
One man, Salem, said that in 30 years he had never failed to have zlabia from Boufarik on the table for Ramadan, but this year he came back empty-handed.
Authorities in Algeria have even prohibited community restaurants and soup kitchens where volunteers serve meals to the poor during the holy month.
FekhreddineZerrouki said his charity organisation had planned to serve more than 1,500 meals a day, but was doing deliveries instead.
Samir, a volunteer with the Algerian Red Crescent, said the number of people benefiting from such Ramadan charity initiatives was "very low compared to the number of people in need".
"We are missing the taste of Ramadan because of the lack of zlabia or the lost evenings, but some people don't even have dates for breaking their fast", he said.
http://www.digitaljournal.com/news/world/coronavirus-takes-flavour-out-of-ramadan-in-north-africa/article/571309
-----
Ramadan: Senator Goje donates trucks of rice to constituents
6, 2020
By Nnamdi Ojiego
As part of his annual Ramadan programme as well as to cushion the effect of the current lockdown in the state due to COVID-19 pandemic, the Senator representing Gombe central senatorial district, Danjuma Goje, has donated two trucks of rice to his constituents.
The beneficiaries of the donation are orphans, underprivileged, widows, physically-challenged, traditional rulers as well as religious leaders drawn from his senatorial district.
Speaking during the distribution exercise at the former governor's residence, Personal Assistant to Senator Goje on New Media, Muhammad Yayari, charged the distribution committee at wards level to ensure equitable distribution of the food item.
He also appealed to the Muslims to use the period of Ramadan to offer special prayers for God's intervention in the fight against the COVID-19.
https://www.vanguardngr.com/2020/05/ramadan-senator-goje-donates-trucks-of-rice-to-constituents/
-----
Al-Sunni appeals to members of the UNSC not to call Haftar's forces the "National Army"
May 06, 2020
The Permanent Representative of Libya to the United Nations (UN), Taher Al-Sunni, said in a speech before the United Nations Security Council (UNSC), that the national judiciary is determined to prosecute all those who commit crimes against Libyans on Libyan soil.
Al-Sunni stressed that the Libyan judiciary, monitors all violations and crimes, particularly those committed by Khalifa Haftar over a one-year period, since the beginning of his illegal attack on Tripoli.
He also called on the UNSC to take a firm stance against Haftar, and to confront him by name, exposing his hindrance to the political agreements and to denounce his recent proclamations; asking specifically that Haftar militias, not be called the 'National Army', as his forces do not represent the nation.
https://www.libyaobserver.ly/inbrief/al-sunni-appeals-members-unsc-not-call-haftar%E2%80%99s-forces-%E2%80%9Cnational-army%E2%80%9D
-----
Sudan to hand Muslim Brotherhood members to Egypt
May 7, 2020
Sudanese authorities are planning to hand over members of Egypt's Muslim Brotherhood group to authorities in Cairo, Al-Ittihad newspaper reported citing Egyptian security sources that it did not name.
The Egyptian nationals, who are allegedly members of the Muslim Brotherhood, which was banned by Cairo in 2014, were arrested in Sudan in February as they made their way to Turkey.
The Emirati newspaper added that the Egyptians include five members of the Hasm movement, which was formed by the former Muslim Brotherhood leader Mohamed Kamal. Egypt considers the movement a violent arm of the Brotherhood.
Muslim Brotherhood leading member Mohamed Al-Halwagi, who was delegated by the Brotherhood to deal with the situation in Sudan, used to maintain relations and to coordinate with authorities in Khartoum during President Omar Al-Bashir's rule.
Since his ouster last year, scores of Muslim Brotherhood members have been arrested. Cairo then requested Khartoum hand them over to Egypt.
https://www.middleeastmonitor.com/20200507-sudan-to-hand-muslim-brotherhood-members-to-egypt/
-----
Southeast Asia
Indonesia's Ramadan school moves online amid coronavirus epidemic
May 7, 2020
YuddyCahya
Each year during the fasting month of Ramadan, Indonesian tutor Ahmad Winardi has taught a special course for students in the world's biggest Muslim-majority country to deepen their knowledge of Islam.
But this year, the novel coronavirus has brought a Ramadan like never before, with shuttered mosques and strict physical distancing regulations, and so Winardi has moved his Islamic studies online.
One consequence is that the courses, previously held only in cities on the islands of Java and Sumatra, have this year attracted a wider range of students in the archipelago, including from Kalimantan.
"Due to COVID-19, we're restricted from activities outside our houses so we started the online Islamic course," said GemiaIndria, one of the organizers.
Known as pesantrenkilat, which loosely translates as "intensive Islamic boarding school", the course teaches students about Islam, as well as creative ways to recite the Quran, such as through hand gestures.
The gestures, Winardi explained, can act as fun prompts to help primary school students, most aged from 6 to 12 years old, recall religious verses.
"The chemistry is absolutely different as we don't meet in person," Winardi said of the online lessons. "But we try some ice-breaking activities, such as shouting 'God is greatest'. Hopefully it encourages them to memorize the Quran."
Joining the class from the capital, Jakarta, alongside classmates from South Sumatra and West Java, Muhammad Umar Abdurrahman, 11, said he enjoyed the lesson, although his father saw room for improvement, such as more comprehensive course material.
Most residents of Jakarta have been staying home since March 20 as part of social distancing measures, which have seen schools and businesses close, and gatherings of more than five people banned until May 22.
Indonesia, which has the highest coronavirus death toll in East Asia outside China, has reported more than 12,000 coronavirus cases and 872 deaths, as of on Tuesday.
https://www.thejakartapost.com/news/2020/05/07/indonesias-ramadan-school-moves-online-amid-coronavirus-epidemic.html
------
Tok Pa: Govt had to reopen economy as number of unemployment could have tripled
07 May 2020
PETALING JAYA: The government had to restart the economy as the number of unemployed people was projected to triple, says Datuk Seri Mustapa Mohamed.
The Minister in the Prime Minister's Department (Economy) said there are 520,000 Malaysians who are currently unemployed and this figure was projected to reach 1.8 million.
"At the moment, there are about 520,000 unemployed people, so this means that the number of unemployed people is projected to increase threefold, " he said on TV3's Malaysia Hari Ini programme Thursday (May 7).
The government had allowed almost all economic sectors and business activities to resume business operations, subject to standard operating procedures (SOPs), starting Monday (May 4).
Mustapa added, however, that the government's decision to reopen the economy did not mean every business would operate at full capacity immediately.
"So when they have that direction in mind, they can open up in phases, " he said, adding that he observed that businesses are currently operating at about 30% to 40% of their normal capacity.
Describing the current health and economic crisis as "luarbiasa (out of the ordinary)", Mustapa said the government has to balance between the life and livelihood of its citizens.
Opening up the economy, he said, was not a decision that was made rashly and that the government had consulted many different stakeholders.
"There are some who say it is too soon, but that is their opinion. But the government has already gotten advice from the Health Ministry, and we feel that it is time to look at the economy.
"In the long term, we would definitely have to go back to work, " he said, adding that they have to especially consider daily wage earners.
https://www.thestar.com.my/news/nation/2020/05/07/tok-pa-govt-had-to-reopen-economy-as-unemployment-rate-could-have-tripled
-----
Over 700 asnaf, orphans receive Ramadan contributions
07/05/2020
KUALA LUMPUR, May 7 -- Religious Affairs Minister Datuk Seri Dr Zulkifli Mohamad Al-Bakri today presented contributions in the form of daily necessities and cash to over 700 orphans and asnaf (eligible to receive tithe or zakat) at the Kampung BaruJamek Mosque here today.
He said the assistance amounting to over RM200,000 was donated by various parties including the corporate bodies, non-governmental organisations and members of the public to ease the burden of the asnaf and orphans especially during Ramadan.
"We are in the situation where we are observing the Conditional Movement Control Order (CMCO), and there are people who cannot afford the buy daily necessities for Ramadan and raya celebration and so on, so the efforts taken by the Kampung BaruJamek Mosque is highly commendable.
"I hope that the assistance provided will ease the burden of the Muslim recipients in the Federal Territory and will be able to put smiles on their faces as we are about to celebrate Aidilfitri," he told reporters after launching the Sinar Kasih Ramadan programme here today.
The programme is jointly organised by the Federal Territories Islamic Religious Department (JAWI) and the management of the Kampung BaruJamek Mosque.
Meanwhile, when asked about the reopening of the mosques and suraus which had been shut to curb the spread of COVID-19, he said it was still under discussion and would be presented to a cabinet meeting first.
On May 4, Zulkifli said the reopening of mosques and suraus for religious activities would be implemented if the government was satisfied with the guidelines prepared by the office of Minister in the Prime Minister's Department (JPM) (Religious Affairs).
Meanwhile, Kampung BaruJamek Mosque chairman Datuk Idris Shaari Mat Aris said the distribution of donations to the underprivileged would continue during Ramadan and the upcoming Aidilfitri but it would be carried out in stages according to the funds collected.
"We organise this programme every year and we are very grateful that the donation we received this year has been quite a lot. However, for today's event only 20 asnaf and orphans were present due to the ongoing CMCO," he said, adding that the mosque committee will arrange the distribution of the donation to the remaining recipients.
https://www.bernama.com/en/general/news.php?id=1839410
------
URL: https://www.newageislam.com/islamic-world-news/al-qaeda-urges-indian-muslims/d/121784
New Age Islam, Islam Online, Islamic Website, African Muslim News, Arab World News, South Asia News, Indian Muslim News, World Muslim News, Women in Islam, Islamic Feminism, Arab Women, Women In Arab, Islamophobia in America, Muslim Women in West, Islam Women and Feminism