New Age Islam News Bureau
7 Sept 2014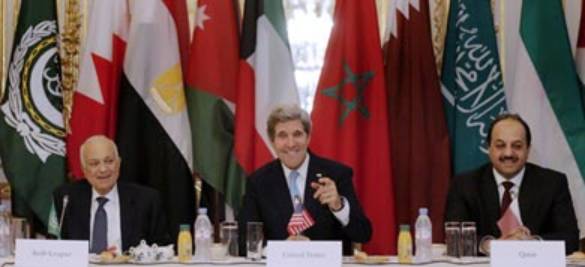 Arab League chief Nabil al-Arabi said ISIS need to be confronted 'militarily and politically' a day after he and U.S. Secretary of State John Kerry discussed taking action against the group. File photo: AFP
------
India
• Al-Qaeda Threat: Expert Warns Against Alienating of Muslims in India
• After Syria and Iraq, Islamic State makes inroads in India and Pakistan
• Supreme Court reiterates Urdu as UP's second official language
• Modi's silence on divisive campaigns cause of concern: Muslim body
Mideast
• Israel proposes international force in Gaza
• US ´not serious´ in fight against IS: Iran
• Abbas warns to end unity with Hamas over Gaza governance
• Thousands of rich Iraqi Kurds take long way to Turkey
• Henry Kissinger: Iran 'A Bigger Problem Than ISIS'
• Enemies use Takfiri ideology to split Muslims: Ayatollah Seyyed Ali Khamenei
Arab World
• Iraqi Forces Begin Huge Operation against ISIL
• Arab League to Adopt Resolution to Confront ISIS
• Lebanese Army Intelligence Arrests 5 Syrians in South over Ties with Takfiris
• Stalemate in Lebanon as Islamists claim to have beheaded a second soldier
• ISIS 'meets' Qatari mission over Lebanon hostages
• Jordan delays terror verdict on radical cleric
• Almost a dozen journalists killed in Egypt since 2011 uprising: Rights watchdog
• IS guides Egyptian militants, expanding its influence
Pakistan
• Elimination of terrorism national responsibility: COAS
• TTP Chief Mullah Fazlullah ousts Commander Umar Khorasani
• March has educated downtrodden people: Qadri
• Two killed, five injured in Khyber Agency clash
• Intelligence officer among three shot dead in Sarogodha firing
• PTI, PAT, govt resume talks after hectic efforts of Jirga: Siraj ul Haq
• PTI asks workers to use social media to sustain sit-in
• Nisar, Aitzaz announce ceasefire, for democracy
• Petition filed against KP chief minister, speaker under Article 6
Europe
• Death threats force Muslim councillor to flee Italy
• British jihadis in Iraq and Syria should be encouraged to come home, says former MI6 chief
• IS militants want to fight Putin
• Bosnia Muslim top cleric urges British hostage release
• HRW: New Mass Execution Sites of Captives Killed by ISIL Found in Iraq
• UK campaigners request Egyptian help to restore ancient statue to public view
South Asia
• Policemen among 33 killed or injured in latest spate of violence in Afghanistan
• Afghan intelligence seize explosive-laden truck in Kabul
• Constitution amendment bill set to be placed in Bangladesh
• 12 Jamaat, Shibir men arrested
North America
• US launches first strikes in Iraq Sunni Arab heartland
• US releases graphic mock propaganda video showing crucifixions, executions and suicide bombing
• Kerry discusses militants with Arab League chief
• Obama to set out plan to go on offensive against Islamic State
• US to push Turkey to keep foreign fighters out of Syria
• 9/11 museum shows SEAL's shirt from bin Laden raid
• 12 Palestinian Journalists in Israeli Jails
Africa
• Clashes west of Libyan capital Tripoli kill 12
• Military Vows 'Everything' to Defend Nigeria against Boko Haram
• Libya accuses Sudan of arming 'terrorists'
• Al-Shabaab vows revenge after US airstrike kills leader
• Somalia: Al-Shabab Confirms Death of Leader, Names Replacement
Southeast Asia
• Don't be fooled by Bar Council's Sedition draft bill, Muhyiddin tells Malaysians
• Najib: PKR fails to understand Sultan's position under constitution
• Islamic authority in bid to clip wings of Kassim Ahmad's lawyer
Compiled by New Age Islam News Bureau
URL: https://www.newageislam.com/islamic-world-news/new-age-islam-news-bureau/al-qaeda-threat--expert-warns-against-alienating-of-muslims-in-india/d/98948
-----------
India
Al-Qaeda Threat: Expert Warns Against Alienating of Muslims in India
Sep 7, 2014
Critical of the "high alert" being issued by the Union Home Ministry in the wake of the Al-Qaeda video, Mr Ajay Sahni, Director of New Delhi-based Institute of Conflict Management said such measures usually translate into harassment of Muslims, often offending and alienating them.
Mr Sahni pointed out that de-radicalisation programmes in many European countries like U.K. and Belgium had failed. "There is no need for a knee-jerk reaction and to blindly ape the West. Our accommodative and pluralistic culture where Muslims and non-Muslims interact at several levels is the best guarantee against radicalisation of the youth towards extremist ideology. This multi-cultural thread has to be reinforced," he said.
"Muslims in India have never supported terrorism. Islam in India has been very organic for the past hundreds of years and Muslims and non-Muslims have co-existed peacefully. It is the strength of Islam in India that fringe elements, despite past 18 years of statements from outfits like Al-Qaeda, have been held back," he said. However, he favoured strong covert measures against subversive elements who were trying to bring alien ideology to India.
"The need of the hour is to drive home the message that all citizens are equal and their rights as citizens are being respected. Despite special schemes for Dalits and Muslims, they have remained poor and deprived. They should get all benefits as Indian citizens as our Constitution guarantees equality and justice to all citizens without any discrimination," he pointed out.
http://www.thehindu.com/news/national/alqaeda-threat-expert-warns-against-alienating-muslims/article6386633.ece
-----------
After Syria and Iraq, Islamic State makes inroads in India and Pakistan
Reuters | Sep 7, 2014
PESHAWAR/DERA ISMAIL KHAN: Islamic State pamphlets and flags have appeared in parts of Pakistan and India, alongside signs that the ultra-radical group is inspiring militants even in the strongholds of the Taliban and al-Qaida.
A splinter group of Pakistan's Taliban insurgents, Jamat-ul Ahrar, has already declared its support for the well-funded and ruthless Islamic State fighters, who have captured large swathes of territory in Iraq and Syria in a drive to set up a self-declared caliphate.
"IS (Islamic State) is an Islamic Jihadi organisation working for the implementation of the Islamic system and creation of the Caliphate," Jamat-ul Ahrar's leader and a prominent Taliban figure, Ehsanullah Ehsan, told Reuters by telephone. "We respect them. If they ask us for help, we will look into it and decide."
Islamist militants of various hues already hold sway across restive and impoverished areas of South Asia, but Islamic State, with its rapid capture of territory, beheadings and mass executions, is starting to draw a measure of support among younger fighters in the region.
Al-Qaida's aging leaders, mostly holed up in the lawless region along the Pakistan-Afghanistan border, are increasingly seen as stale, tired and ineffectual on hardcore jihadi social media forums and Twitter accounts that incubate potential militant recruits.
Security experts say Islamic State's increasing lure may have prompted al-Qaida leader Ayman al-Zawahri to announce the establishment of an Indian franchise to raise the flag of jihad across South Asia, home to more than 400 million Muslims.
Pamphlets, car stickers
Seeking to boost its influence in the Afghanistan-Pakistan region, a local cell with allegiance to Islamic State has been distributing pamphlets in the Pakistani city of Peshawar and eastern Afghanistan in the past few weeks, residents said.
The 12-page booklet called "Fatah" (Victory), published in the Pashto and Dari languages of Afghanistan, was being mainly distributed in Afghan refugee camps on the outskirts of Peshawar.
The pamphlet's logo features an AK-47 assault rifle and calls on local residents to support the militant group. Cars with IS stickers have also been spotted around Peshawar.
Sameeulah Hanifi, a prayer leader in a Peshawar neighbourhood populated mainly by Afghans, said the pamphlets were being distributed by a little-known local group called Islami Khalifat, an outspoken Islamic State supporter.
"I know some people who received copies of this material either from friends or were given at mosques by unidentified IS workers," he told Reuters.
A Pakistani security official said the pamphlets came from Afghanistan's neighbouring Kunar province where a group of Taliban fighters was spotted distributing them.
"We came across them 22 days ago and we are aware of their presence here," said the official. "Pakistani security agencies are working on the Pakistan-Afghan border and have arrested a number of Taliban fighters and recovered CDs, maps, literature in Persian, Pashto and Dari."
"We will not permit them to work in our country and anyone who is involved in this will be crushed by the government."
Recruitment in India
Signs of Islamic State's influence are also being seen in Kashmir, the region claimed by both India and Pakistan and the scene of a decades-long battle by militants against Indian rule. Security officials in Kashmir under Indian control say they have been trying to find out the level of support for the Arab group after IS flags and banners appeared in the summer.
Intelligence and police sources in New Delhi and Kashmir said the flags were first seen on June 27 in a part of the state capital Srinagar, and then in July when India's only Muslim-majority region was marking Islam's most holy day, Eid ul-Fitr.
Some IS graffiti also appeared on walls of buildings in Srinagar. A police officer said youngsters carrying Islamic State flags at anti-India rallies had been identified but no arrests had been made.
Another officer who questions people detained in protests against Indian rule, many of them teenagers, said most were only focused on winning independence from India.
"The majority of them have no religious bent of mind," he said. "Some of them, less than 1 percent, of course are religious and radicalised and end up joining militant ranks. They are influenced by al-Qaida, Taliban, Islamic State."
Islamic State is also trying to lure Muslims in mainland India, who make up the world's third-biggest Islamic population but who have largely stayed away from foreign battlefields despite repeated calls from al-Qaida.
In mid-July, an IS recruitment video surfaced online with subtitles in the Indian languages of Hindi, Tamil and Urdu in which a self-declared Canadian fighter, dressed in war fatigues and flanked by a gun and a black flag, urged Muslims to enlist in global jihad.
That came out just weeks after four families in a Mumbai suburb reported to the police that their sons had gone missing, with one leaving behind a note about fighting to defend Islam. It soon turned out that the men had joined a pilgrimage to Baghdad.
They later broke off from the tour group and never returned. Indian intelligence believe the men ended up in Mosul, the Iraqi city captured by Islamic State in June, and that one of them may have died in a bomb blast.
Last week, TOI said four young men, including two engineering college students, were arrested in the eastern city of Calcutta as they tried to make their way to neighbouring Bangladesh to join a recruiter for Islamic State based there.
"It's not just these four, but our investigations have found that there could be more youngsters who are in touch with IS handlers and this is a bit of a scary proportion," the newspaper quoted a senior officer as saying.
A top official at India's Intelligence Bureau in New Delhi told Reuters: "The problem is we know so little about this network or who is acting on their behalf here.
"We know roughly where the Lashkar-e-Taiba, the Indian Mujahideen (organisations backed by Pakistan) support groups are, where they make contacts. But this is a different challenge. Youth getting radicalised in their homes on the Internet, in chatrooms and through Facebook are not easy to track."
http://timesofindia.indiatimes.com/india/After-Syria-and-Iraq-Islamic-State-makes-inroads-in-India-and-Pakistan/articleshow/41923452.cms
-----------
Supreme Court reiterates Urdu as UP's second official language
Sep 7, 2014
Asserting people's right to linguistic freedom, the Supreme Court held there is no bar against a State Legislature declaring a language used in a State as an official language for the convenience of its citizens.
This means that a widely-used language in a State, once declared as an official language by the State Legislature, would find a place in official communications, on government orders and advertisements and even signposts.
A Constitution Bench led by Chief Justice of India R.M. Lodha, and also comprising Justices Dipak Misra, Madan B. Lokur, Kurian Joseph and S.A. Bobde, was passing judgment on petition by UP Hindi Sahitya Sammelan against the 1989 amendment to the Uttar Pradesh Official Language Act, 1951.
The Legislature introduced Urdu as the second official language of the State, besides Hindi, saying "in the interest of Urdu-speaking people, the language shall be used as second language, in addition to Hindi."
The Bench upheld the 1989 amendment and declared Urdu as the State's "second official language".
The judgment brought cheer among social organisations and intellectuals in the State, who said it is now upon the State government to give Urdu a due place not only officially but also functionally.
The Bench's judgment focused on the question of law as to whether a State Legislature is precluded from adopting another language used in the State if Hindi had already been declared the official language.
Article 345 says "the Legislature of a State may by law adopt any one or more of the languages in use in the State or Hindi as the language or languages to be used for all or any of the official purposes of that State".
Chief Justice Lodha, who authored the unanimous judgment, explained that the separate mention of 'Hindi' in the Article was only meant to promote Hindi among the States.
"This cannot be taken to mean that the particular State Legislature must sacrifice its power in promoting other languages within the State. The purpose of using Hindi separately in Article 345 is to facilitate adoption of Hindi across the States whether or not Hindi is in use in a particular State," the judgment said.
The court cautioned that "any other construction to Article 345 would be unduly interfering with the language compromise adopted by the Constitution".
The judgment said there are many States who have chosen other languages for official purposes despite Hindi being their official language.
"Many State Legislatures have adopted other officially recognised language(s) in addition to Hindi such as Bihar, Haryana, Jharkhand, Madhya Pradesh and Uttarakhand," it said.
The court further held that the State Legislature's power to declare a language in use in the State as official language is not curbed by Article 347 of the Constitution.
Article 347 prescribes that a language can be made official upon the satisfaction of the President.
But the court interpreted that Articles 345 and 347 prescribe two different and independent processes of making a widely-used language official in a State, and both are not limited by the other.
http://www.thehindu.com/news/national/state-legislatures-can-make-a-language-as-official-language-sc/article6388514.ece
-----------
Modi's silence on divisive campaigns cause of concern: Muslim body
Sep 7, 2014
Muslim organisation Jamaat-e-Islami Hind Saturday said while Prime Minister Narendra Modi speaks of development, his silence on the divisive campaign and hate campaigns of party leaders and affiliated outfits is a great cause of concern.
Addressing a press conference here, Jamaat-e-Islami Hind secretary general Nusrat Ali also said that the government has made a few good announcements and austerity moves since it assumed office but still there was concern.
"A period of 100 days is very short to judge a government elected by people for five years. However, the initial trends are not good. It seems the government is working on two fronts - while PM Modi is talking about development, some leaders of his party and Sangh Parivar have opened aggressive hate campaign against Muslims and Modi is silent. It seems there is a silent understanding among them," he said.
"Jamaat is seriously concerned at the rise in hate campaign against minorities, particularly Muslims, since BJP came to power at the centre. There has since been a spate of communal incidents also (Saharanpur, Meerut, Muzaffarnagar, Kanpur etc.).
"At regular interval, leaders of BJP and Sangh Parivar have raked up contentious issues like Article 370 and Uniform Civil Code. RSS chief Mohan Bhagwat, in violation of the ethos of the Constitution, said that India is a Hindu Rashtra and all citizens of this country are Hindus," he said.
Another member Mohammad Salim Engineer claimed that by not mentioning the words like "Muslim" or "minorities" in his speeches, Modi wants to indicate as if minorities do not exist at all in the country.
"In the garb of slogans like 'Sab Ka Saath, Sab Ka Vikas', the PM wants to ignore the existence of the minority communities," he said.
Responding to questions, Jamaat leaders also said groups like Al Qaeda are doing disservice to Islam and Muslims.
Most of their messages and acts do not match with Islam, they said adding that there is strong apprehension that such groups are being used by anti-Islam forces.
However, on the announcement of the banned terror group to open its branch in India, Jamaat leaders expressed apprehensions that this may be used by country's intelligence agencies to target minority youths as has been the trend for past 10 years.
http://www.deccanherald.com/content/429567/modi039s-silence-divisive-campaigns-cause.html
------------
Mideast
Israel proposes international force in Gaza
World Bulletin/News Desk
Israel's Foreign Ministry has submitted a proposal to the security cabinet for the deployment of an international force in the Gaza Strip to monitor the reconstruction of the enclave and prevent the rearming of Palestinian factions, an Israeli paper reported Sunday.
The two-page, classified document, entitled "Principles and Parameters for Deployment of an International Force in Gaza," was given to the ministers two weeks ago but it was yet to be discussed in the security cabinet, Haaretz daily reported.
An unnamed senior Foreign Ministry official was quoted by Haaretz as saying that the document was drawn up in accordance with ideas received by Germany, Britain, France and other European countries during the recent Israeli offensive against Gaza.
"Demilitarized zone"
Meanwhile, Israeli President Reuven Rivlin on Sunday said that any future cease-fire agreement with the Palestinian factions in the Gaza Strip must ensure that the enclave would be demilitarized.
"The Gaza strip must become a demilitarized zone as an integral part of the reconstruction operation," Rivlin said during a meeting with visiting Norwegian Foreign Minister Borge Brende.
The Israeli president also stressed the need to control the transfer of funds into Gaza in order to avoid the possibility of Hamas taking over the money.
Israel's recent offensive on the Gaza Strip ended with the announcement on August 26 of an open-ended cease-fire between Israel and Palestinian resistance factions.
The devastating 51-day offensive on Gaza left some 2,147 people dead and 11,000 injured – the vast majority of them civilians – while leaving thousands of residential structures in ruins.
According to Israeli figures, 67 Israeli soldiers and five civilians were killed over the course of the operation – the highest military death toll suffered by Israel since it lost 119 troops in its 2006 war on Lebanon.
The Palestinians and the Israelis agreed to resume indirect talks within a month on fixing the cease-fire as well as other issues, including the establishment of an airport and a sea port in Gaza, the release of Palestinian prisoners in Israeli jails and the reconstruction of the enclave.
Egypt has not officially invited the Palestinians or the Israelis to resume the indirect cease-fire talks in Cairo yet. It is not clear when these talks will start either.
An international donor conference for the reconstruction of the embattled Gaza Strip is scheduled for next month in Egypt.
http://www.worldbulletin.net/headlines/143884/israel-proposes-international-force-in-gaza-updated
-----------
US ´not serious´ in fight against IS: Iran
Sep 7, 2014
TEHRAN: Iran accused the United States Sunday of not taking the threat from Islamic State militants in Iraq and Syria seriously, and charged that US aid had previously helped the jihadists.
Foreign Minister Mohammad Javad Zarif levelled the accusations despite an expanding US air campaign in Iraq since August 8 that provided key support in relieving a jihadist siege of a Shiite Turkmen town north of Baghdad late last month.
Iran and the United States have a shared opposition to IS, which controls a swathe of both Iraq and neighbouring Syria, but both governments deny cooperating militarily against the jihadists.
"There is still no serious understanding about the threat and they (the United States) have as yet taken no serious action," Zarif was quoted as saying by Iran´s Mehr news agency.
They have helped (IS) in Syria in different ways," he added, alluding to support that the United States has provided to some rebel groups fighting President Bashar al-Assad´s forces.
Iran has been Assad´s main ally since a revolt against his rule erupted in 2011, rapidly spiralling into a civil war in which at least 191,000 people have been killed, according to the United Nations.
Iran has also provided military advisers to government in Baghdad to assist its efforts to win back territory north and west of the capital that it lost to a lightning offensive spearheaded by the jihadists in June.
http://www.thenews.com.pk/article-159041-US-%C2%B4not-serious%C2%B4-in-fight-against-IS:-Iran
-----------
Abbas warns to end unity with Hamas over Gaza governance
Sep 7, 2014
Palestinian president Mahmud Abbas has threatened to break off a unity agreement with Hamas if the Islamist movement does not allow the government to operate properly in the Gaza Strip.
His remarks came on the eve of talks in Cairo with Egyptian President Abdel Fattah al-Sisi and a key address to the Arab League nearly two weeks after a ceasefire ended a major 50-day confrontation with Israel in Gaza.
"We will not accept the situation with Hamas continuing as it is at the moment," Abbas said on arrival in the Egyptian capital late Saturday, in remarks published by official Palestinian news agency WAFA.
"We won't accept a partnership with them if the situation continues like this in Gaza, where there is a shadow government... running the territory," he said.
"The national consensus government cannot do anything on the ground," he charged.
But Hamas denounced his allegations as "baseless."
"Abbas's statements against Hamas and the resistance are unjustified," spokesman Sami Abu Zuhri said in a statement.
Full report at:
http://www.themalaysianinsider.com/world/article/abbas-warns-to-end-unity-with-hamas-over-gaza-governance#sthash.7qnHaKAz.dpuf
-----------
Thousands of rich Iraqi Kurds take long way to Turkey
Sep 7, 2014
A total of 6,000 Iraqis, mostly the rich, are flocking to Turkey every day for a stay in Istanbul, botox, permanent make-up or hair therapy.
Most of the Iraqi Kurds coming to Turkey have at least $10,000 with them, according to İrem Bayram, said a board member of a leading bus company, while she was speaking to Hürriyet during a road trip from Arbil to Turkey last week.
"All of these people are rich Kurds," she said. "They are mostly young people and the numbers of women and men are equal."
The passengers are usually families in all tours when Batumi is excluded, she said, adding that those who go to the Georgian capital also prefer gambling, which is illegal in Turkey.
They rather prefer a $90 bus trip to a plane, as the price goes down to $80 from Dohuk, to avoid a long voyage to the airport. Besides, buses are more effective than planes as they carry more luggage.
The number of people carried to Turkey from the northern Iraq only by two leading companies stands at 900 daily.
Abdul Wahab Barzani, the public order official at the Habur border gate, confirmed the number of daily entries to Turkey at 6,000. The figure is higher between spring and fall, he said.
Full report at:
http://www.hurriyetdailynews.com/thousands-of-rich-iraqi-kurds-take-long-way-to-turkey-.aspx?pageID=238&nID=71394&NewsCatID=349
-----------
Henry Kissinger: Iran 'A Bigger Problem Than ISIS'
Sep 7, 2014
Former Secretary of State Henry Kissinger said that Iran "is a bigger problem than ISIS."
In an interview with NPR that was released on Saturday, Kissinger explained that because Iran has a stronger footing in the Middle East, it has a greater opportunity to create an empire.
"The borders of the settlement of 1919-'20 are essentially collapsing," he said. "That gives Iran a very powerful level from a strategic point of view. I consider Iran a bigger problem than ISIS. ISIS is a group of adventurers with a very aggressive ideology. But they have to conquer more and more territory before they can became a strategic, permanent reality. I think a conflict with ISIS — important as it is — is more manageable than a confrontation with Iran.
The Kissinger interview comes just a day after the BBC reported that Iran's Supreme Leader had ordered his military to cooperate with the U.S. in the fight against ISIS forces. CNN had a similar report.
Kissinger's warning about Iran is unsurprising given his past skepticism about its nuclear program. On Friday, nuclear talks went south after Iran failed to provide key information on its past nuclear work by an agreed-upon deadline.
Earlier this week, ISIS drew international fury when it released a video allegedly showing the beheading of an American journalist. Kissinger told NPR that he would "strongly favor a strong attack on ISIS" in response.
http://www.huffingtonpost.com/2014/09/06/henry-kissinger-iran-isis_n_5777706.html
-----------
Enemies use Takfiri ideology to split Muslims: Ayatollah Seyyed Ali Khamenei
Sep 7, 2014
Leader of the Islamic Revolution Ayatollah Seyyed Ali Khamenei has warned against enemies' plots to use the Takfiri ideology to sow discord among Muslim nations.
Addressing a meeting with Iranian Hajj officials on Sunday, Ayatollah Khamenei said the enemies are using the Takfiri ideology as a means to cause rifts among Muslims in an attempt to divert their attention from the issue of Palestine and serve the Israeli regime's interests.
Ayatollah Khamenei then described the Palestinian issue as the most important concern of the Muslim world, adding, "The issue of Palestine is the top priority of the Muslim world which should be addressed during the Hajj [rituals]."
The Leader emphasized that Muslims have the "upper hand" with regard to issue of Palestine, saying that the defeat of the Israeli regime, as the West's symbol of power in the region, in the 50-day war against the besieged people in the Gaza Strip was an apparent example of this issue.
"The recent victory in Gaza demonstrated that Muslims are powerful and have great capabilities and can challenge any enemy and defend themselves," Ayatollah Khamenei pointed out.
Israel started pounding the Gaza Strip in early July, inflicting heavy losses on the Palestinian land. Almost 2,140 Palestinians, mostly civilians, including women, children and the elderly, were killed in the Israeli onslaught. Around 11,000 others were injured.
The Leader said hegemonic powers are making efforts and hatching plots to drive a wedge among Muslims and described the Hajj pilgrimage as a unique opportunity to strengthen unity and understanding among Muslims and settle their differences.
http://www.presstv.ir/detail/2014/09/07/377967/leader-warns-of-plots-to-split-muslims/
--------
Arab World
Iraqi Forces Begin Huge Operation against ISIL
Sep 7, 2014
Iraqi armed forces have begun a massive operation in the city of Haditha in efforts to purge various regions of the city from ISIL Takfiri terrorists, local authorities announced.
City Mayor Abdul-Hakim al-Jugheifi also emphasized that local al-Jughaiefa tribal forces were participating in the operation with Iraqi government forces, Al-Alam reported.
Al-Jugheifi was further cited as saying in a report by the local al-Sumarriya news network that the major military operation started Sunday morning backed by air support from Iraqi air force in order to flush out the terrorist forces from Barwana, al-Lous and al-khafajiya districts of al-Haditha.
According to al-Jugheifi, Iraqi air force pilots targeted terrorist positions in Barwana resulting in columns of smoke and fire bellowing from their destroyed fortifications.
Other news agencies also reported on Sunday that US warplanes have also engaged in aerial bombing of ISIL positions around the strategic al-Haditha Dam in a bid to assist with the advance of the Iraqi armed forces.
http://english.farsnews.com/newstext.aspx?nn=13930616001098
-----------
Arab League to adopt resolution to confront ISIS
7 September 2014
Arab League chief Nabil al-Arabi on Sunday called for a comprehensive military and political confrontation with Islamic State of Iraq and Syria (ISIS) militants and other jihadists.
"What is needed is a clear decision for a comprehensive confrontation, militarily and politically," Arabi said at a meeting of Arab foreign ministers, a day after he and U.S. Secretary of State John Kerry discussed taking action against the militant group that controls swathes of Iraq and Syria.
An Arab League diplomat told reporters that the ministers were considering adopting a resolution on combating ISIS and "coordinating with the United States to confront this terrorist organization".
Iraq earlier welcomed U.S. President Barack Obama's plan for an international coalition against the militants as a "strong message of support," after repeatedly calling for aid against ISIS.
Obama outlined the plan at a NATO summit Friday for a broad coalition to defeat ISIS, which led an offensive that overran parts of Iraq in June and also holds significant territory in neighboring Syria.
Cairo-Arab league likely to agree resolution supporting U.S. efforts against ISIS -diplomatic sources
http://english.alarabiya.net/en/News/middle-east/2014/09/07/Arab-League-moves-against-ISIS.html
-----------
Lebanese Army Intelligence Arrests 5 Syrians in South over Ties with Takfiris
Sep 7, 2014
The Lebanese army intelligence unit arrested 5 Syrians in the Southern town of Marjeyoun over relations with Takfiri groups.
Al-Manar correspondent in the country's South reported on Sunday that the five Syrians, from Salami family, were contacting Takfiri groups through the social media application, Whatsapp.
The 5 detainees were interrogated before being handed over to competent authorities.
Information Branch of the Internal Security Forces had earlier arrested another Syrian, also in Marjeyoun, over ties with Takfiri militants.
http://english.farsnews.com/newstext.aspx?nn=13930616001066
---------
Stalemate in Lebanon as Islamists claim to have beheaded a second soldier
Sep 7, 2014
The road to the northern city of Tripoli has been blocked for almost a week. A huge portrait of a young man in military fatigues, Ibrahim Moghait, peers down at those trying to make their way north. The barricade was erected by his family in a desperate attempt to pressure the Lebanese government to get their son back. He is one of almost 30 soldiers and policemen kidnapped by militants belonging to Islamic State (IS) and al-Qaeda affiliate Jabhat al-Nusra (JN). "We don't care what it takes. We just want him to come home," said his father Samir Moghait, outside the protest tent.
The security personnel were kidnapped when militants overran the Lebanese-Syrian border town of Arsal early in August. After five days of fighting, and the death of 17 Lebanese soldiers, militants retreated into the mountains above the town. But they took almost 30 hostages with them.
Full report at:
http://www.independent.co.uk/news/world/middle-east/is-fighters-behead-second-lebanese-soldier-9716602.html
-----------
ISIS 'meets' Qatari mission over Lebanon hostages
7 September 2014
A Qatari delegation is engaged in mediation with the Islamic State of Iraq and Syria (ISIS) to end Lebanon's most recent hostage crisis, the militant group has claimed, in what analysts and commentators said was part of Doha's ambitious plans to play a more influential regional role.
"We met today with the Qatari mediator. It appeared to us that the negotiations are being obstructed by other parties," Lebanese newspaper The Daily Star quoted ISIS in the Qalamoun district as saying in a statement on Twitter Friday.
"It was agreed to adopt the Qatari mediator as the only channel of the negotiation process. The Qatari mediator was handed a copy of the Islamic State's demands," it added.
The Daily Star also reported on Friday that a Qatari delegation had met with commanders from both groups as part of the efforts to secure the release of the security personnel.
The newspaper quoted local mediator Sheikh Mustafa Hujeiri as saying the delegation had met with a commander from the Islamist Syria and Lebanon-based al-Nusra Front militant group on Friday after the party drove to the outskirts of the northeastern town of Arsal.
Nineteen Lebanese soldiers and some 20 policemen were kidnapped by Syria-based militants including ISIS and al-Nusra Front in early August when the groups stormed Arsal.
Almost two dozen remain hostages and the Lebanese government has refused to negotiate with them.
Full report at:
http://english.alarabiya.net/en/News/middle-east/2014/09/07/ISIS-meets-Qatari-mission-over-Lebanon-hostages-.html
-----------
Jordan delays terror verdict on radical cleric
7 September 2014
The judge in the trial of a radical Jordanian cleric accused of a 2000 plot to attack Israelis, Americans and other Westerners said Sunday he was delaying his verdict pending further examination of the case.
A decision on the charges against Abu Qatada will now be issued Sept. 24, Judge Ahmed al-Qatarneh said.
Abu Qatada, whose real name is Omar Mahmoud Mohammed Othman, has been described in courts in Britain and Spain as a senior al-Qaeda figure in Europe who had close ties to the late Osama bin Laden.
An Amman court acquitted him in June of charges linked to a foiled 1999 plan to attack an American school in the Jordanian capital, but reserved judgment on a second set of charges related to the alleged 2000 plot.
In both cases, Abu Qatada was convicted in absentia years ago and sentenced to life in prison. But on his extradition from Britain in July 2013, those sentences were suspended, and under Jordanian law, he was ordered to stand a new trial. Following more complaints later by his defence team, the military court brought civilian judges, led by al-Qatarneh, to preside over the case.
Full report at:
http://english.alarabiya.net/en/News/middle-east/2014/09/07/Jordan-delays-terror-verdict-on-radical-cleric.html
-----------
Almost a dozen journalists killed in Egypt since 2011 uprising: Rights watchdog
Sep 7, 2014
Almost a dozen journalists have been killed in Egypt in over three years of political turmoil since the 2011 popular revolt that toppled long-time autocrat Hosni Mubarak, a Cairo-based rights group said Saturday.
The Arabic Network for Human Rights Information (ANHRI) said that eleven journalists, including a Briton and an American, were killed while being at the flashpoint of areas where violence broke out in the period between 28 January 2011 and late March 2014.
Egypt has been rocked by political tumult since Mubarak was ousted in February 2011. Instability worsened when the military deposed Mubarak's successor, Islamist Mohamed Morsi, last summer after millions protested against his turbulent yearlong rule. More than 1,400 have been killed in street clashes and thousands arrested since Morsi was overthrown in July 2013.
A 55-page booklet titled "Journalism Martyrs in Egypt and Impunity" issued on Saturday by ANHRI documents names of the slain journalists and details of their deaths.
The reporters, both amateurs and professional, include two women as well as two men who worked for pro-Muslim Brotherhood news outlets.
Full report at:
http://english.ahram.org.eg/NewsContent/1/64/110146/Egypt/Politics-/Almost-a-dozen-journalists-killed-in-Egypt-since--.aspx
-----------
IS guides Egyptian militants, expanding its influence
Sep 7, 2014
CAIRO – Islamic State, fighting to redraw the map of the Middle East, has been coaching Egypt's most dangerous militant group, complicating efforts to stabilize the biggest Arab nation.
Confirmation that Islamic Sate, currently the most successful of the region's militant groups, is extending its influence to Egypt will sound alarm bells in Cairo, where the authorities are already facing a security challenge from home-grown militants.
A senior commander from the Sinai-based Ansar Bayt Al-Maqdis, which has killed hundreds of members of the Egyptian security forces over the last year, said Islamic State has provided instructions on how to operate more effectively.
"They teach us how to carry out operations. We communicate through the internet," the commander, who asked to remain anonymous, told Reuters.
"They don't give us weapons or fighters. But they teach us how to create secret cells, consisting of five people. Only one person has contact with other cells."
Militant groups and the Egyptian state are old foes.
One Egyptian president after another has crushed militant groups but they have always resurfaced.
Full report at:
http://www.saudigazette.com.sa/index.cfm?method=home.regcon&contentid=20140907217276
-----------
Pakistan
Elimination of terrorism national responsibility: COAS
Sep 7, 2014
RAWALPINDI: Chief of Army Staff (COAS) General Raheel Sharif on Saturday said that elimination of terrorism was a national undertaking.
The COAS visited Mirali in North Waziristan Agency (NWA) and celebrated 48th Defence Day with troops.
On arrival, the operation commander briefed the COAS on progress of Operation Zarb-e-Azb. The COAS expressed his complete satisfaction over achievements and progress of the operation made so far in the agency.
General Raheel acknowledged all fighting soldiers involved in the operation for writing new chapters of valour and sacrifices. He also praised the expertise and efforts of aviation and intelligence for contributing in precise targeting of terrorists and disrupting their command arrangements.
Full report at:
http://www.dailytimes.com.pk/national/07-Sep-2014/elimination-of-terrorism-national-responsibility-coas
-----------
TTP Chief Mullah Fazlullah ousts Commander Umar Khorasani
Sep 7, 2014
PESHAWAR: Tehreek-e-Taliban Pakistan (TTP) chief Mullah Fazlullah ousted its Mohmand Agency chief Umar Khalid Khorasani from the organization on charges of "conspiring against the Emirates of Afghanistan Emir Mullah Muhammad Omar, and having links to shadow militant organizations".
In what appears to be a further disintegration of the Pakistani Taliban structure, well-placed sources within the TTP told Dawn.com that a meeting of the Taliban Shura led by Mullah Fazlullah decided to oust Wali Muhammad alias Khalid Khorasani as Mohmand Agency chief, and also cancelled his TTP membership.
The meeting observed that Khorasani had been conspiring against the Afghan Taliban led by Mullah Muhammad Omar and had formed "dubious" organizations such as Junad-i-Hafza, Ihrarul Hind and now the splinter group Jamatul Ihrar. The Shura determined that this was damaging the TTP cause.
Full report at:
http://www.dawn.com/news/1130446/ttp-chief-mullah-fazlullah-ousts-commander-umar-khorasani
-----------
March has educated downtrodden people: Qadri
Sep 7, 2014
ISLAMABAD: Pakistan Awami Tehreek (PAT) chief Dr Tahirul Qadri on Saturday said the inqilab march has educated the oppressed segment of the society.
Addressing the sit-in participants, he said there was depression and unemployment in the society and young people were compelled to go abroad. Nations could not defend themselves only through forces but its own people could wisely defend it, he claimed. Qadri said, "I produced 10,000 prominent lawyers, who are performing their duties nowadays in Supreme Court and high courts."
"I come here neither for personal gains nor for my children because they are well-educated and they have a lot but I want to serve the neglected segment of the society," he added.
He apprehended that he was seeing black future of the young generation in the hands of corrupt rulers. The rulers have earned names in corruption, nepotism and were least concerned about poor people of the country, he maintained. He said all parliamentarians were united because they have partnership in their business and they passed resolution for their own protection. He questioned that during the last four days in joint parliamentary session, they could not say anything about the poor people.
Full report at:
http://www.dailytimes.com.pk/national/07-Sep-2014/march-has-educated-downtrodden-people-qadri
-----------
Two killed, five injured in Khyber Agency clash
Sep 7, 2014
PESHAWAR: At least two suspected militants were killed and five others injured in a clash between militants and the tribal legion in Khyber Agency.
Official sources said that the militants belonged to the outlawed Lashkar-i-Islam.
The clash took place in the Milwat area of Bara tehsil. It lasted several hours as both sides used heavy weapons against each other.
Khyber is one of Pakistan's seven semi-autonomous regions governed by tribal laws and the belt lies near the Afghan border. The Taliban and other Al Qaeda-linked groups, who stage attacks in both countries, are known to have strongholds in the zone.
http://www.dawn.com/news/1130441/two-killed-five-injured-in-khyber-agency-clash
-----------
Intelligence officer among three shot dead in Sarogodha firing
Sep 7, 2014
SARGODHA: Armed terrorists attacked Astana Fazl near 49 Tail in Sargodha killing three people, including a brigadier of an agency, and severely injuring nine others.
According to police sources six armed terrorists, riding on motorcycles, opened fire at a religious ceremony at the Astana.
Brigadier Fazl Zahoor, younger brother of the shrine caretaker Zahoor Subhani and one Mohammad Ayub were killed.
The injured included Brigadier Fazl Zahoor's gunman Amjad Mahmood, Mohammad Azim, Ahsanul Haq, Qaiser Abbas, Mohammad Zafar and Asghar Ali.
The injured were admitted to DHQ Hospital Sargodha. Three of the injured are stated to be in a precarious condition.
It is said that Brigadier Fazl Zahoor was stationed in Islamabad and used to participate in this ceremony regularly.
No police official was present at the time of the incident.According to the people gathered at the place of the incident, Brigadier Fazl Zahoor was the target of terrorists.
http://www.thenews.com.pk/article-159016-Intelligence-officer-among-three-shot-dead-in-Sarogodha-firing-
-----------
PTI, PAT, govt resume talks after hectic efforts of jirga: Sirajul Haq
Sep 7, 2014
KARACHI: Ameer Jamaat-e-Islami (JI) and head of political jirga Sirajul Haq has said that he held meetings and talks with more than 20 persons including Prime Minister Nawaz Sharif and Imran Khan to end deadlock in dialogue process, Geo News reported.
JI Chief held meeting with Pakistan People's Party (PPP) co-chairman and former president Asif Ali Zardari at Bilawal House on Saturday night and discussed situation emerged due to sit-ins in Islamabad.
Talking to media after meeting with Zardari, Sirajul Haq said Pakistan Tehreek-e-Insaf (PTI), Pakistan Awami Tehreek (PAT) and government resumed dialogues after the end of impasse due to such crucial meetings.
Haq further said he made hectic efforts for five consecutive days to normalize the situation. "We neither want democracy be derailed through long marches nor we want marchers return without achieving anything," he said.
In the meeting Ameer JI Karachi, Bilawal Bhutto Zardari and Rehman Malik were also present.
http://www.thenews.com.pk/article-159014-PTI,-PAT,-govt-resume-talks-after-hectic-efforts-of-jirga:-Sirajul-Haq
----------
PTI asks workers to use social media to sustain sit-in
Sep 7, 2014
RAWALPINDI: The Pakistan Tehreek-i-Insaf (PTI) has asked its active members to use mobile phones and the social media to motivate people to participate in the ongoing sit-in at Islamabad.
A few days ago, PTI chairman Imran Khan had given two days to the party's local leadership to bring at least 200 people from each union council of the Rawalpindi district to the sit-in. However, the local MPAs failed to achieve the target.
On Saturday evening, the party chairman called a meeting in his container to discuss the performance of the district chapter and the local MPAs. "During the last two days, most of the district office-bearers and MPAs remained absent from the sit-in and it annoyed the party leadership," said a senior party leader while talking to Dawn.
He said the party senior members had been provided with the lists of voters and active members of the PTI to invite them to the sit-in.
Full report at:
http://www.dawn.com/news/1130405/pti-asks-workers-to-use-social-media-to-sustain-sit-in
-----------
Nisar, Aitzaz announce ceasefire, for democracy
Sep 7, 2014
ISLAMABAD: Interior Minister Chaudhry Nisar Ali Khan and PPP Senator Aitzaz Ahsan on Saturday announced a ceasefire for the sake of democracy.
Earlier, addressing a press conference at Punjab House in response to Ahsan's Friday speech in parliament, the minister said he would resign from the ministry and quit politics if onepercent of the allegations were proved. Nisar said this would be his shortest press conference and he would not take any questions.
"I'll request that his [Ahsan's] speech should be considered as an FIR. Appoint whichever judge you want. If the tribunal finds evidence of allegations against me, then I will not only resign from ministry but also from politics," he said. He said his party leaders and others advised him not to respond to Ahsan's allegations, as it was not the right time. Nisar said he told the PM during the meeting that either he would step down as the interior minister or would not come to the National Assembly for next three days, but the PM did not allow him. He claimed that preserving democracy in Pakistan was important.
"I have decided to let go of yesterday's event, keeping my self-respect aside," Nisar said, adding that he had always fought for justice and that was why the people elected him several times. He said he wanted to respond in the Parliament House about the allegations but his party leaders, including the PM, did not allow him. "I was requested by party members, my friends, the prime minister not to respond to the allegations made against me," Nisar said. He said in Friday's joint-parliamentary session, the defining topic was put aside, and he was made the subject instead. "What I had earlier said was only to respond to what was said against me," Nisar said, referring to Ahsan's statements. The minister said he went through agony as his late brother (a former army general) was flayed in parliament and allegations were hurled against them. He said he had put his grievances aside for the sake of democracy, but he also proposed the formation of a judicial commission comprising one, two or three retired judges to probe the allegations against him and his late brother. Nisar said that he was ready to accept Justice (r) Wajihuddin and Justice (r) Tariq Mehmood as the proposed commission members. Earlier, the minister met Nawaz Sharif and discussed security situation. Full report at:
http://www.dailytimes.com.pk/islamabad/07-Sep-2014/nisar-aitzaz-announce-ceasefire-for-democracy
-----------
Petition filed against KP chief minister, speaker under Article 6
Sep 7, 2014
PESHAWAR - A petition was filed in the Peshawar High Court (PHC) on Saturday which sought proceedings against Khyber Pakhtunkhwa (KP) Chief Minister Pervez Khattak and KP Assembly Speaker Asad Qaiser under Article 6 of the constitution.
According to details, the petition maintained that the KP chief minister was behaving like the chief minister of Pakistan Tehreek-e-Insaf (PTI). It said that Pervez Khattak has used his powers inappropriately by attending the PTI sit-ins in Islamabad for last many days.
Similarly, the petition said that Asad Qaiser is also attending the sit-ins which have compromised the neutral position of the KP Assembly. The petition said that both the chief minister and speaker have violated the constitution. It prayed the court to start proceedings against the duo under Article 6 of the constitution.
http://www.dailytimes.com.pk/national/06-Sep-2014/petition-filed-against-kp-cm-speaker-under-article-6
-----------
Europe
Death threats force Muslim councillor to flee Italy
World Bulletin / News Desk
An Muslim councillor for the Democratic Party has fled Italy after receiving threats and xenophobic messages, citing concerns for the safety of her children.
Aicha Mesrar, who is of Moroccan origin, complained of threats that have been sent to her over a two-year period, forcing her to leave her home in Rovereto, Trentino.
According to the ANSA news agency, Mesrar handed in her notice to the city council after four years of service before fleeing her home of 23 years.
"I can't always live under escort," Mesrar, 45, was quoted as saying by The Local. "I'm not scared for me but for my children. But I leave with pride, satisfied with what I have done and what I have received."
Trento council president Bruno Dorigatti expressed his "total solidarity" with Mesrar and regret over her departure, who he called an"outstanding example of civic commitment."
Local newspaper La Voce del Trentino quoted Dorigatti saying: "If a female resident [who has lived] in the province for 23 years must give in to intimidation and anonymous threats, and who has been a point of reference for the Islamic community and appointed by the mayor to work on the promotion of an open city, capable of reconciling languages, cultures and different religious faiths, it means that Trentino has not yet defeated all the dangerous germs of intolerance."
http://www.worldbulletin.net/muslim-world/143857/death-threats-force-muslim-councillor-to-flee-italy
-----------
British jihadis in Iraq and Syria should be encouraged to come home, says former MI6 chief
Sep 7, 2014
British jihadis in Iraq and Syria should be encouraged to return home, a counter-terrorism expert said today.
Richard Barrett, a former MI6 global counter-terrorism director, said repentant fighters must know 'there is a place for them back at home'.
His comments come after it was revealed some UK jihadis fighting in Syria want to come home after becoming disillusioned with the conflict.
Mr Barrett, 65, told The Observer: 'Many of the people who have been most successful in undermining the terrorist narrative are themselves ex-extremists.
'It would seem sensible to encourage British and other foreign fighters who have joined the Islamic State or other extremist groups in Syria and Iraq, and now realise this was wrong, to come home.
'These are the people who can expose the true nature of the Islamic State and its leadership.'
Full report at:
http://www.dailymail.co.uk/news/article-2746647/British-jihadis-Iraq-Syria-encouraged-come-home-says-former-MI6-chief.html#ixzz3CdnAxjOj
-----------
IS militants want to fight Putin
Sep 7, 2014
In a new geopolitical wrinkle, the Islamic State is now eyeing a challenge against Russia and its President Vladimir Putin, The Washington Post reported.
The report quotes AFP's transcription of a video released by the Islamic State last week.
The fighters said to have posed on top of Russian military equipment, including a fighter jet captured from the forces of Syrian President Bashar al-Assad throughout the video.
The transcription follows:
"This is a message to you, oh Vladimir Putin, these are the jets that you have sent to Bashar, we will send them to you, God willing, remember that," said one fighter in Arabic, according to Russian-language captions provided in the video.
"And we will liberate Chechnya and the entire Caucasus, God willing," said the militant. "The Islamic State is and will be and it is expanding God willing."
"Your throne has already teetered; it is under threat and will fall when we come to you because Allah is truly on our side."
Full report at:
http://www.thedailystar.net/is-militants-want-to-fight-putin-40599
-----------
Bosnia Muslim top cleric urges British hostage release
September 07, 2014
SARAJEVO(- Bosnia's most senior Muslim leader, Grand Mufti Husein Kavazovic, on Friday urged the Islamic State to liberate a British hostage threatened with beheading by the jihadists.
"Bearing in mind that the human life is sacred for Muslims, I call those who hold in detention David Haines to give up their threats and unconditionally leave this man to return to his family," Kavazovic said in a statement. "Haines is a man who has devoted much of his life to helping disaster victims worldwide, including Muslims in Bosnia-Hercegovina" after the country's 1992-1995 war, he said.
Haines, taken hostage in Syria in March 2013, was threatened with death by IS militants during a video depicting the beheading of US journalist Steven Sotloff.
IS recently posted the gruesome video on the Internet, confirmed as authentic by Washington, sparking international outrage. The militant jihadist group said the journalist's killing, which came on the heels of its beheading last month of another US reporter, James Foley, was in retaliation for expanded US air strikes against its fighters in Iraq.
Full report at:
http://www.nation.com.pk/international/07-Sep-2014/bosnia-muslim-top-cleric-urges-british-hostage-release
-----------
HRW: New Mass Execution Sites of Captives Killed by ISIL Found in Iraq
Sep 7, 2014
Hundreds of captives were gunned down by the Islamic State of Iraq and the Levant (ISIL) terrorists in Iraq, bringing the total number of executed Iraqi soldiers to 770, Human Rights Watch (HRW) said.
According to HRW, testimony from survivors and footage showed that at least three more execution sites have been found in Iraq. New evidence indicates ISIL Takfiri terrorists killed between 560 and 770 men who were captured when they overran Camp Speicher, a military base near the city of Tikrit, Middle East Monitor reported.
In mid-June, ISIL claimed it killed 1,700 soldiers from Camp Speicher, while the army officially listed them as missing.
Iraq's security forces also found a mass grave containing 23 bodies of truck drivers, who were executed by the ISIL terrorists in Tikrit city of Salahuddin province.
Security sources said the victims' bodies were found with gunshots in the heads in Suleiman Bek sub-district, of Tuz Khurmatu district, in Eastern Tikrit.
http://english.farsnews.com/newstext.aspx?nn=13930616000563
-----------
UK campaigners request Egyptian help to restore ancient statue to public view
Sep 7, 2014
A campaign group in the UK has asked the Egyptian authorities for help in its fight to have an ancient Egyptian statue returned to public view after it was sold by Northampton Borough Council to a private collector.
Despite an international outcry, the 4,500-year-old Sekhemka statute was sold two months ago to an unknown collector for £15.76 million.
The statue, which dates from the Fifth Dynasty and is believed to show Sekhemka the scribe with his wife Sitmerit, was given by the Marquis of Northampton to Northampton Museum as gift in around 1870.
The Save Sekhemka Action Group told Ahram Online it was conducting enquiries into how the statue was acquired by the Marquis.
"We are seeking to check if the statute was legally exported out of Egypt," said Gunilla Loe, chair of the action group.
Full report at:
http://english.ahram.org.eg/NewsContentP/9/110130/Heritage/UK-campaigners-request-Egyptian-help-to-restore-an.aspx
----------
South Asia
Policemen among 33 killed or injured in latest spate of violence in Afghanistan
Sep 07 2014
At least 33 people including policemen were killed or injured in latest spate of violence across the country, officials said Sunday.
Provincial governor spokesman for Ghazni, Shafiq Nang said at least two policemen were killed along with 7 militants following an attack on a police check post in Ghazni city on Sunday morning.
Local officials in western Herat province said at least one policeman was killed and four others were injured in separate incidents in this province.
Security officials in Herat said a policeman was injured after gunmen riding motorcycle opened fire on a police check post late Saturday.
Another policeman was killed and three others were injured following improvised explosive device (IED) explosions in Chesht district, officials said.
In the meantime, officials in Logar province said at least two policemen were injured and 17 militants were killed following clashes between Afghan Local Police (ALP) forces and Taliban militants in Baraki Barak district.
Provincial governor spokesman, Din Mohammad Darwish said the incident took place late Saturday evening.
The Taliban militants group has not commented regarding the report so far.
http://www.khaama.com/policemen-among-33-killed-or-injured-in-latest-spate-of-violence-8603
-----------
Afghan intelligence seize explosive-laden truck in Kabul
Sep 07 2014
Afghan intelligence operatives seized a vehicle packed with explosives in capital Kabul on Saturday night.
Haseeb Sediqi, spokesman for the National Directorate of Security (NDS) said Sunday that the truck was seized following an operation by intelligence operatives.
Sediqi further added that two suspects were also arrested by intelligence operatives in connection to the discovery of explosives.
According to NDS officials, Afghan intelligence operatives are thwarting at least ten attack plots by Taliban militants daily on average basis.
Sediqi said the anti-gopvernment armed militant groups in cooperation with the regional spy agencies have increased their efforts and are looking to destabilize the country since the start of presidential elections.
However, Sediqi said Afghan intelligence operatives remains on high alert to foil terrorist attack plots across the country.
http://www.khaama.com/afghan-intelligence-seize-explosive-laden-truck-in-kabul-8602
-----------
Constitution amendment bill set to be placed in Bangladesh
Sep 7, 2014
The 16th constitution amendment bill that will empower the legislature to impeach the judges of the Supreme Court for misconduct and incapability, is set to be tabled on Sunday.
Law Minister Anisul Haq will place the bill before the parliament, according to the daily schedule of the parliament posted on its website.
The House is set to start at 5pm on Sunday.
If passed, not only the judges, parliament can also remove the chief election commissioner and commissioners of the Election Commission, the chairman and the members of the Public Service Commission, chairmen and the commissioners of the Anti-Corruption Commission, and the Comptroller and Auditor General on similar grounds.
The articles establishing the Election Commission, Public Service Commission, the Anti-Corruption Commission, and the office of the Comptroller and Auditor General stipulate that the holders of constitutional posts would be removed according to the procedures applicable for the removal of the Supreme Court judges.
Full report at:
http://www.dhakatribune.com/bangladesh/2014/sep/07/16th-amendment-bill-set-be-passed-sunday#sthash.sKtPNBPJ.dpuf
-----------
12 Jamaat, Shibir men arrested
Sep 7, 2014
Police arrested six members of Bangladesh Jamaat-e-Islami and six activist of its student wing Islami Chhatra Shibir in Mithapukur and Pirgachha upazilas early morning yesterday and on Friday night.
In Mithapukur, police arrested Jamaat activists Morshed Alam, 45, Sirajul Islam, 45, Iddris Ali, 53, Afzal Hossain, 40, and Tofazzal Hossain, 50 and Shibir activists Ashiqur Rahman, 25, Mizanur Rahman, 24, Tuhin Mian, 24, and Minajul Islam, 27.
In Pirgachha, police arrested Jamaat activist Hafizur Rahman, 32, and Shibir activists Mosharraf Hossain, 23 and Morshed Ali, 30.
Abdur Razzak, SP in Rangpur, said the arrestees were absconding accused in different cases filed including for attacking and killing police, resisting police from performing duties, attacking and torching polling centres and snatching away ballots.
http://www.thedailystar.net/country/12-jamaat-shibir-men-arrested-40501
----------
North America
US launches first strikes in Iraq Sunni Arab heartland
Sep 7, 2014
The United States launched its first air strikes in Iraq's Sunni Arab heartland, bombing jihadists near a key dam on the Euphrates River, the US military said on Sunday.
"At the request of the government of Iraq, US military forces attacked Isis (Islamic State) terrorists near Haditha in Anbar province in support of Iraqi security forces and Sunni tribes protecting the Haditha dam," the US Central Command said in a statement.
"We conducted these strikes to prevent terrorists from further threatening the security of the dam, which remains under control of Iraqi Security Forces, with support from Sunni tribes," Pentagon spokesman Rear Admiral John Kirby said in a statement.
"The potential loss of control of the dam or a catastrophic failure of the dam – and the flooding that might result – would have threatened US personnel and facilities in and around Baghdad, as well as thousands of Iraqi citizens," he added.
It was the first time that Washington had carried out air strikes in support of Sunni Arab tribal militia since it launched its air campaign in Iraq on August 8.
Previous strikes had been mainly in support of Kurdish forces in the north, although late last month it gave limited air support to the army and Shiite militia further south in breaking an Isis siege of the Shiite Turkmen town of Amerli.
Dams have been a key target for the jihadists. There has been major fighting around Iraq's largest dam on the Tigris River north of militant-held second city Mosul which has been a major focus of the US air campaign.
There have been repeated attempts by Isis to take Haditha Dam.
http://www.themalaysianinsider.com/world/article/us-launches-first-strikes-in-iraq-sunni-arab-heartland1#sthash.yzslSRlN.dpuf
-----------
US releases graphic mock propaganda video showing crucifixions, executions and suicide bombing
Sep 7, 2014
The US Government has released a graphic mock Islamic State (Isis) recruitment video showing executions and crucifixions to discourage Americans from joining the group.
More than 100 Americans are believed to have joined the Islamist group in Iraq and Syria, where it is fighting a bloody campaign to establish a caliphate.
Hundreds of foreign fighters, including up to 500 from Britain, are bolstering the militants' ranks and the US and other countries are trying to stop more fanatics going.
The video, which is part of the "Think Again, Turn Away" anti-radicalisation project, uses gruesome images of executions, suicide bombings, floggings and corpses to make its point.
A parody of Isis' own propaganda videos, it is called "Welcome to the 'Islamic State' land".
In one scene, men lying on the ground and surrounded by onlookers are shot dead at point-blank range and another uses footage of a suicide bomb in a mosque.
Dead bodies are shown nailed to crosses in mock crucifixions that Isis has used to terrorise civilians in areas it controls and images of mass graves and headless corpses are shown.
Messages displayed between footage read: "You can learn useful new skills for the Ummah...blowing up mosques, crucifying and executing Muslims, plundering national resources, suicide bombings inside mosques."
Full report at:
http://www.independent.co.uk/news/world/middle-east/islamic-state-us-government-releases-graphic-mock-propaganda-video-showing-crucifixions-executions-and-suicide-bombing-9716914.html
-----------
Kerry discusses militants with Arab League chief
7 September 2014
Secretary of State John Kerry discussed Saturday the Islamic State in Iraq and Syria (ISIS) threat with the head of the Arab League, ahead of the group's next round of discussions.
The Arab League is due to hold a ministerial meeting in Cairo on Sunday to address fast-moving changes in the region.
Kerry and Arab League chief Nabil al-Arabi "discussed the need for the Arab League and its members to take a strong position in the coalition that is developing against ISIL," a senior State Department official said, using one of the acronyms by which ISIS is known.
They also spoke of "the importance of decisive action to stop the flow of foreign fighters, counter ISIL's financing and combat its incitement," the official added.
Both men agreed that Iraq is on the frontline in the struggle against ISIS "and that Iraq, the United States, the region, and the international community must stand together to assist Iraq in facing this threat," the official said.
Full report at:
http://english.alarabiya.net/en/News/middle-east/2014/09/07/Kerry-discusses-ISIS-with-Arab-League-chief-.html
-----------
Obama to set out plan to go on offensive against Islamic State
Sep 7, 2014
WASHINGTON — President Barack Obama said he will explain to Americans and congressional leaders this week his plan to "start going on some offense" against Islamic State militants, who he said could eventually become a threat to the United States.
Obama will make a speech on Wednesday to "describe what our game plan's going to be," and meet congressional leaders on Tuesday to seek their support for his strategy to halt the militant Islamist group, which controls parts of Syria and Iraq.
The president, who campaigned on getting US troops out of Iraq, has struggled to articulate how he wants to address Islamic State, telling reporters last month that "we don't have a strategy yet" to tackle the group.
"I just want the American people to understand the nature of the threat and how we're going to deal with it and to have confidence that we'll be able to deal with it," Obama said in an interview with NBC's "Meet the Press" that aired on Sunday. The interview was conducted in Washington on Saturday.
Full report at:
http://www.saudigazette.com.sa/index.cfm?method=home.regcon&contentid=20140907217335
-----------
US to push Turkey to keep foreign fighters out of Syria
Sep 7, 2014
Turkey may find it hard to play a public role in the coalition the United States is building to strike at Islamic State of Iraq and the Levant (ISIL) targets in Iraq and possibly Syria for fear the militant group might retaliate against dozens of Turks held hostage.
President Barack Obama has said he hopes to devise a regional strategy to try to counter IS, which has seized swathes of territory in Iraq and Syria, but current and former U.S. officials say they expect Turkey to avoid any major public role.
An ally in the U.S.-led NATO military alliance, Turkey is the only Muslim nation in a "core coalition" of 10 countries committed to battle ISIL militants in Iraq that the United States announced on Friday at the NATO summit in Newport, Wales.
It is unclear to what extent the coalition may target ISIL in Syria, where the Islamist militants enjoy safe haven.
The bulwark of NATO's southeastern flank, Turkey has sensitive relations with seven sometimes unstable neighbors, bordering not only Syria, the origin of the ISIL threat, but Iraq, where the Islamist group took dozens of Turks hostage.
Full report at:
http://www.hurriyetdailynews.com/us-to-push-turkey-to-keep-foreign-fighters-out-of-syria.aspx?pageID=238&nID=71379&NewsCatID=510
-----------
9/11 museum shows SEAL's shirt from bin Laden raid
7 September 2014
The shirt a Navy SEAL wore in the raid that killed Osama bin Laden and a special coin given to a CIA officer who played a key role in finding him are being displayed at the Sept. 11 museum, adding potent symbols of the terrorist attacks' aftermath days before their anniversary.
The items are going on view Sunday at the ground zero museum, where leaders see them as an important and moving addition to a collection that often uses personal artifacts to explore the events and impact of 9/11.
"The death of Osama bin Laden is a huge part of the history, and we have an absolute obligation to tell it," National Sept. 11 Memorial Museum President Joe Daniels said Saturday. The display, he said, "allows millions of visitors the chance to recognize the extraordinary bravery of the men and women who sacrifice so much for this country at home and abroad."
The shirt and coin will join an existing display with a brick from the compound in Abbottabad, Pakistan, where the terrorist at the helm of the attacks was captured and killed.
The uniform shirt, tan with camouflage sleeves and an American flag patch - facing backward to invoke the historical role of a flag-bearer leading a charge into battle - belonged to a now-retired member of SEAL Team Six, which put an end to the long manhunt for the world's most wanted terrorist. The garment "connects us in a powerful and immediate way to that operation," Museum Director Alice Greenwald said.
Full report at:
http://english.alarabiya.net/en/perspective/features/2014/09/07/9-11-museum-shows-SEAL-s-shirt-from-bin-Laden-raid.html
-----------
12 Palestinian Journalists in Israeli Jails
Sep 7, 2014
A Palestinian rights group revealed that 12 Palestinian journalists are imprisoned in Israeli jails.
The independent Palestinian Prisoners' Center for Studies described the imprisonment of Palestinian journalists as an attempt by Israel to cover up its "crimes" and keep the media away from its practices against the Palestinian people, Anadolu news agency reported.
It called on media institutions and press unions to take action to guarantee the release of the imprisoned journalists.
Around 7,000 Palestinians are imprisoned in Israeli jails, according to the Palestinian Ministry of Prisoners.
"84.8 percent of these prisoners are from the occupied West Bank," the ministry said.
http://english.farsnews.com/newstext.aspx?nn=13930616000927
---------
Africa
Clashes West Of Libyan Capital Tripoli Kill 12
Sep 7, 2014
BENGHAZI: Around twelve people have been killed and ten wounded in a flare-up of clashes between rival armed groups near the Libyan capital Tripoli, a doctor said Sunday.
The North African country is in turmoil as former rebels who helped oust Moammar Gadhafi in a NATO-backed uprising three years ago have turned their guns on each other in a bid to dominate politics and get a share of the country's oil reserves.
An alliance of armed groups called Operation Dawn, mainly from the western city of Misrata, seized the capital Tripoli last month after expelling a rival group from Zintan.
Tripoli has been largely quiet since then but fighters from the Operation Dawn have been trying to capture the tribal Warshefana area southwest of the city, residents said.
The Warshefana are allied to the Zintani forces.
Full report at:
http://www.dailystar.com.lb/News/Middle-East/2014/Sep-07/269844-clashes-west-of-libyan-capital-tripoli-kill-12.ashx#axzz3Cdlsr5Py
------------
Libya accuses Sudan of arming 'terrorists'
Sep 7, 2014
Libya has expelled Sudan's military attaché on Saturday over Khartoum's alleged support of "terrorist" groups in the country, a government statement said.
The statement also said that a Sudanese military transport plane bound for a Tripoli airport under control of a militant group had entered its airspace.
"This work from the Sudanese state violates [the sovereignty] of the state of Libya and interferes into its affairs," Reuters quoted the statement as saying.
Libya said the Sudanese plane had been bound for Tripoli-Matiga airport and made a refuelling stop in the Libyan desert oasis Kufra near the border to Sudan. Ammunition had been found loaded on that plane during an inspection at Kufra airport, it added.
"We, the Libyan government, firmly denounce that a Sudanese military plane has penetrated the Libyan airspace without an official permit from the Libyan government. The plane was carrying ammunition which had not been officially approved by the Libyan government," the statement said.
Full report at:
http://english.alarabiya.net/en/News/africa/2014/09/06/Former-general-s-forces-and-Islamists-clash-in-Libya-s-Benghazi.html
-----------
Military Vows 'Everything' to Defend Nigeria Against Boko Haram
Sep 7, 2014
The Nigerian military has vowed to do everything possible to defend the country against Boko Haram in the face of rapid territorial gains by the sect in the last two weeks.
"In the light of the current challenges in the counter-terrorism efforts in the north east which has understandably elicited a sense of apprehension among citizens and even foreign allies, the DHQ wishes to reiterate ... .that everything will be done to reverse the situation and defeat the rampaging terrorists," said defence spokesperson, Chris Olukolade.
Boko Haram is reportedly in control of Gwosa, Borno State, and has fought to take over Bama, another strategic town in the state, displacing thousands of residents as soldiers also retreat from the area.
Under intense fighting more than a week ago, at least 480 Nigerian troops crossed the border into Cameroon. The military said the move was a "tactical manoeuvre".
Boko Haram has threatened an attack to capture Maiduguri, the Borno State capital, stirring concerns among Nigerians and foreign allies about the capacity of the military to wade off any significant attack.
Full report at:
http://allafrica.com/stories/201409060216.html?aa_source=sptlgt-grid
-----------
Al-Shabaab vows revenge after US airstrike kills leader
Sep 7, 2014
The militant group al-Shabaab has vowed revenge for the killing of its leader in a US airstrike on Somalia and named a successor, Al Jazeera reported.
In a message given to the broadcaster, the group declared that it would never give up or forget its solemn obligation to avenge the death of Ahmed Godane, the co-founder of al-Shabaab.
It said that Godane's successor, Ahmed Umar, had been named in a unanimous decision, according to BBC.
Godane was killed on Monday in the US strike, but his death was not certain until the Pentagon and Somali government confirmed it on Friday.
"Removing Godane from the battlefield is a major symbolic and operational loss to al-Shabaab," said Rear Admiral John Kirby, the Pentagon spokesman.
"His death is great news for the Somali people, because he was responsible for the killing of thousands of innocent people in his so-called holy war," Somali National Security Ministry spokesman Mohamed Yusuf said.
Full report at:
http://www.thehindu.com/news/international/world/alshabaab-vows-revenge-after-us-airstrike-kills-its-cofounder-ahmed-godane/article6388095.ece
-----------
Somalia: Al-Shabab Confirms Death of Leader, Names Replacement
Sep 7, 2014
The militant group al-Shabab has confirmed the death of Ahmed Abdi Godane in a US air attack earlier this week, naming a new leader in his place. The Somalian government has warned it expects a wave of revenge attacks.
A commander of the Somali-based militant Islamist group al-Shabab confirmed that its leader Ahmed Abdi Godane had died in a US airstrike this week.
In a statement, Abu Mohammed also said militants had unanimously chosen Abu Ubeid Ahmed Omar as their new leader. Omar is believed to be an assumed name and little is known of the new chief.
"Avenging the death of our scholars and leaders is a binding obligation on our shoulders that we will never relinquish nor forget no matter how long it takes," the Shabab statement said.
"By the permission of Allah, you will surely taste the bitter consequences of your actions," it added. In the statement, renewing a pledge of allegiance to al Qaeda chief Ayman al-Zawahiri, Osama bin Laden's successor.
Full report at:
http://allafrica.com/stories/201409070001.html?aa_source=mf-hdlns
-----------
Southeast Asia
Don't be fooled by Bar Council's Sedition draft bill, Muhyiddin tells Malaysians
Sep 7, 2014
KUALA LUMPUR, Sept 7 — A bill drafted by the Bar Council to replace the Sedition Act 1948 is not a draft endorsed by the government, said Deputy Prime Minister Tan Sri Muhyiddin Yassin.
Muhyiddin said people should not be confused or influenced by the draft because such a draft was not endorsed by the cabinet or the government.
"A draft on the laws of the government will only be prepared by the Attorney General's office based on views of the cabinet after considering views and recommendations from all parties involved.
"The government has not made any decision yet to abolish the Act, replace it with a new Act or amend the current Act," said Muhyiddin, who is also Umno's deputy president, when met after opening the Batu Umno Division delegates' meeting here today.
The meeting was also attended by Umno secretary-general and Federal Territories Minister Datuk Seri Tengku Adnan Mansor.
The issue came to light when reports emerged that the Bar Council had completed a draft bill to replace the Sedition Act and had handed it to Minister in the Prime Minister's Department Nancy Shukri.
Full report at:
http://www.themalaymailonline.com/malaysia/article/dont-be-fooled-by-bar-councils-draft-bill-muhyiddin-tells-malaysians#sthash.LVgPdCAI.dpuf
---------
Najib: PKR fails to understand Sultan's position under constitution
Sep 7, 2014
PEKAN, September 7 — Parti Keadilan Rakyat (PKR) failed to understand the Selangor state constitution when it disputed the power of the Sultan, Sultan Sharafuddin Idris Shah over the appointment of the menteri besar.
Prime Minister Datuk Seri Najib Razak said the party is also willing to be in cahoots with DAP just to fulfil its aim of getting Datuk Seri Dr Wan Azizah Wan Ismail appointed as the new Selangor menteri besar.
"Just look at the antics of PKR in Selangor...they don't understand the constitution and the position of the royal rulers.
"The obvious is one thing, they don't understand the implicit too but I understand. That is why they are in cahoots with DAP, as though giving an ultimatum to the Sultan."
Najib said this in his winding-up speech of the debate at the Pekan Umno division delegates' meeting at the Convention Hall, here, today.
Full report at:
http://www.themalaymailonline.com/malaysia/article/najib-pkr-fails-to-understand-sultans-position-under-constitution#sthash.LPRf93bc.dpuf
-----------
Islamic authority in bid to clip wings of Kassim Ahmad's lawyer
Sep 7, 2014
KUALA LUMPUR, Sept 7 — The Federal Territory Islamic Affairs Department (JAWI) has filed a disciplinary complaint against Syarie lawyer Rosli Dahlan for allegedly interfering in its prosecution of Muslim intellectual Kassim Ahmad, a move he claims is meant to "intimidate" him.
JAWI, which is charging Kassim for insulting Islam, recently complained to the Federal Territory Syarie Lawyer Committee (JPSWP) over Rosli's conduct in defending his client.
In the July 8 complaint letter sighted by Malay Mail Online, JAWI accused Rosli of breaching 10 rules in the Arahan Amalan No 4 Tahun 2002 (Practice Directions No 4 of 2002), titled Ethics of Shariah Lawyers.
These include the rule against delaying court proceedings and the directions to respect the court, act fairly and respectfully when defending his client as well as declining instructions from the client if his professional conduct may be called into question.
But a perceived conflict has arisen as the complaint against Rosli was lodged by JAWI's Chief Syarie Prosecutor — who is also a member of the JPSWP that is tasked with probing and hearing all disciplinary complaints against lawyers practising in the federal territories' Shariah courts.
Full report at:
http://www.themalaymailonline.com/malaysia/article/islamic-authority-in-bid-to-clip-wings-of-kassim-ahmads-lawyer#sthash.uiJ6NzLk.dpuf
-----------
URL: https://www.newageislam.com/islamic-world-news/new-age-islam-news-bureau/al-qaeda-threat--expert-warns-against-alienating-of-muslims-in-india/d/98948