New Age Islam News Bureau
7 May 2015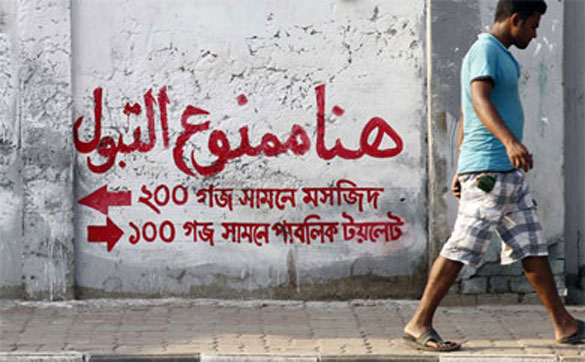 A Bangladeshi pedestrian walks past a message written on a wall in Arabic saying "Do not urinate here!" in Dhaka.(AFP Photo / STR)
--------
South Asia
• Al-Qaeda Proxy in Bangladesh: Ansarullah Bangla May Be Linked With Al-Qaeda
• Six Soldiers Martyred, 102 Militants Killed In Fresh Military Operations in Afghanistan
• Bangladesh Uses 'Sacred Arabic' To Stop Peeing In Public
• Maldives Judiciary Hammered In UN Human Rights Review
Arab World
• Islamic State Claims Terror Cells in 15 American States: Report
• Bombing Kills Dozens, Helps Hezbollah Fighters Reclaim Syrian Territory
• Takfiris Killed in Syria's Hama
• Saudi Aircraft Drop Weapons to Al-Qaeda Terrorists in Yemen
• Independent Kurdistan Is Coming, President of KRG Says
• 2.2 million Iraqis displaced by Islamic State group
• Islamic State reopening captured five-star hotel in Mosul for commanders
• Restrictions on Iraq's displaced people worsen Shiite-Sunni divide
• Syrian rebels want US support for safe zone
• Banned in Syria, Muslim Brotherhood members trickle home
• Two Egyptian policemen killed in Sinai shooting
• Egyptian Coptic Bishop says government behind persecution of Christians
India
• 5 Held in Ratlam Were Tasked To Carry Out Terror Strikes
• How Lakhvi got bail, who stood for surety bond? India to ask Pakistan
• Akshardham case: Forced to copy a letter that was used as evidence against me, says Mufti Abdul Qaiyum
Pakistan
• Pakistan Activist, Mama Qadeer Baloch, Faces Military's Wrath
• Senate Assails Sabeen's Murder, Exhibition Of Controversial Cartoons
• Disaster averted in Kurram Agency as forces gun down suicide attacker
• IED blast kills peace committee volunteer in Mohmand
• Pakistan inks four MoUs with Maldives
• PTI submits resolution against Altaf Hussain in NA
• Do not interfere in our internal affairs, Pakistan warns India
• Lakhvi exemption case: FIA submits arguments
Mideast
• ISIL's Antidote Is Istanbul's 'Refined' Islam, Turkish PM Says
• Saudi Fighter Jets Bombing Yemen's Sa'ada
• Houthi shells kill five in Saudi border town
• Khamenei says US military threats against Iran endanger nuclear talks
• Turkey to enter Syria in a day or two, CHP official claims
• Turkey orders arrest of 'Syria arms interception' prosecutors
• Yemeni Forces Capture 4 More Saudi Military Posts
North America
• Obama Hosts Anxious Gulf Leaders as Sands Shift in Mideast
• Canada's Anti-Terror Bill C-51 Targets Muslims, Rights Group Says
• Mosque Installed at Venice Biennale Tests City's Tolerance
• Police look at threat on Islamic State-related website against cartoon contest organizer
• Texas incident fuels concern about lone-wolf terror attacks inspired by Islamic State group
• U.S. Military Worries Key Iraqi Refinery Could Fall to Islamic State
• Social Media Mock Bizarre Islamic State Reports
• Islamic Centre event shows 'same goals' among faiths
• U.S. says 'difficult' to contemplate Syria safe zone
Southeast Asia
• Find Your Future Spouse with Halal Speed Dating
• A shifting international perception of Indonesia
Europe
• Bosnian Police Launch Raids against Islamic Extremism
• In Spain, Proposed 'Kebab Law' Angers Muslim Business Owners
• UK election: Top five myths about the 'Muslim vote'
• UN: Germany, Denmark not doing enough to fight discrimination
• HRW: Yemen rebels committed 'possible war crimes'
• Time has come for woman to lead UN: Ban
• Charlie Hebdo receives PEN award at literary gala in NYC
Africa
• 'Today, Nigerian Troops Have Boko Haram Terrorists on the Run'
• Morocco Battles Islamic State Cells
• 75 die in fighting after cattle raids in Kenya
• Nigerian troops rescue 25 kids, women from Boko Haram, destroy more camps in forest stronghold
Compiled by New Age Islam News Bureau
URL: https://www.newageislam.com/islamic-world-news/ahmet-davutoğlu,-turkish-pm/al-qaeda-proxy-in-bangladesh--ansarullah-bangla-may-be-linked-with-al-qaeda/d/102851
----------
South Asia
Al-Qaeda Proxy in Bangladesh: Ansarullah Bangla May Be Linked With Al-Qaeda
May 7, 2015
New video strengthens suspicion of Ansarullah's terror links
Detectives suspect that local militants Ansarullah Bangla Team may be linked with the international Al-Qaeda and has been working as a proxy of "Al-Qaeda in the Indian Sub-Continent" – AQIS, in Bangladesh and Myanmar.
According to the investigators, the plan to set up Al-Qaeda in the sub-continent to establish an Islamic state was first exposed in September last year.
Inspired by a video of Al-Qaeda chief Ayman Al-Zawahiri, Bangladesh-born British Samiun Rahman alias Ibne Hadan, 28, admitted after his arrest on September 29 last year that they were indeed working for the international terrorist group.
Detectives earlier said top leaders of banned local militant groups and Ansarullah had decided to work together since they had the same goal of establishing an Islamic state in Bangladesh including parts of bordering areas of Myanmar and India.
The link between local militants and Al-Qaeda and Taliban surfaced again after a recent video message from Al-Qaeda claimed the responsibility of killing Bangladesh-born American Avijit Roy.
A Twitter account of Ansar Bangla 7 commended the murder on Dhaka University campus. Later detectives claimed that sleeper cells of Ansarullah, run by Mufti Jasim Uddin Rahmani, had planned and executed the murder. Rapid Action Battalion personnel soon arrested Shafiur Rahman Farabi, leader of banned Hizb ut-Tahrir, for instigating the murder as he had on several occasions threatened to kill Avijit.
Detectives first traced the activities of Ansarullah after the killing of secular blogger Ahmed Rajeeb Haider on February 15, 2013, although Rahmani had started operations five years before in 2008.
Police arrested Rahmani from a militant training centre of Barguna on August 12, 2013 with 31 followers. Now in jail, Rahmani is facing trial for Rajeeb murder.
After the recent bank heist at Ashulia, police found the involvement of Ansarullah members in the incident.
During interrogation, Rahmani claimed that he had formed Ansarullah with Al-Qaeda help.
"Ansarullah is one of Al-Qaeda's closest militant outfits and its members follow Al-Qaeda's operational style. We have found involvement of the group with some recent killings," Monirul Islam, joint commissioner of Detective Branch of Police, told the Dhaka Tribune.
"We are not certain, though, whether it is a front for Al-Qaeda," said Monirul, also chief of DB police, who are investigating the Avijit murder case with assistance from the Federal Bureau of Investigation.
Regarding the recent video posted reportedly by the AQIS, Monirul said they were analysing the source.
According to detectives, Rahmani claimed that he had visited Afghanistan in 2004 to meet Taliban chief Mullah Omar and Al-Qaeda chief Osama bin Laden. But he failed to meet Laden for security reasons.
Rahmani returned to Bangladesh after getting important instructions from Mullah Omar. He also went to Pakistan. In March 2010, Yousuf Mehzabin and Mohammad Ishaq Mollah, two Pakistani citizens who are involved with al-Qaeda, visited Bangladesh and met with Rahmani.
In absence of Rahmani, the outfit is believed to be run by Redwanul Azad Rana, a former North South University student. Rana is also named in Rajeeb murder case as a planner and police are after him for alleged involvement in Avijit's murder.
But detectives recently said Rana had fled the country after Avijit murder.
Sources in the intelligence agencies say the spiritual leader of Ansarullah is Anwar al-Awlaki, a Yemen-based al-Qaeda cleric.
Several other banned militant outfits including Harkat-ul-Jihad-al Islami (Huji) and Islamist parties have links with Al-Qaeda and Taliban, according to law enforcers.
Ansarullah members, estimated to be around 400, are active on Facebook, Twitter and blogs to inspire youths towards armed struggle to establish Islam by spreading the sermons of Rahmani.
DB chief Monirul claimed that they were keeping an eye on the social media sites and hoped to arrest the militants by tracing their location.
http://www.dhakatribune.com/bangladesh/2015/may/07/al-qaeda-proxy-bangladesh#sthash.wuoMAIie.dpuf
----------
Six Soldiers Martyred, 102 Militants Killed In Fresh Military Operations in Afghanistan
May 07 2015
Six soldiers have embraced martyrdom whereas 102 militants were killed in separate military operations across the country in past 24 hours, a statement issued Thursday by the Ministry of Defence states.
According to the statement six soldiers embraced martyrdom due to a landmine explosion and militant heavy weapon fire. The statement does not contain information about the exact location of the insurgent attacks.
Ministry of Defence (MoD) press release further states that the 102 militants killed included 10 local commanders of the group and 11 foreign insurgents.
Below is break down of the militant casualties during these operations.
21 militants were killed were killed during Operation Badar in Nawa District of Ghazni province. They included militant commanders Mullah Masoum, Hikmat, Khalil, Mullah Jawid, Juma Gul and four foreigners. Seven militants were wounded and 11 IEDs defused.
Eight militants were killed, six wounded and five IEDs defused in southern Zabul province.
Three militants were killed and seven others wounded in Maidan Wardak and Paktika provinces.
36 militants including were killed, six wounded and 19 suspects arrested in Imam Sahib District and Gor Tapa area of Kundoz province. Those killed included four commanders of the group by the name of Karim Mukhlis, Shehzadad, Khan and Ewaz. Seven foreigners were also among the ones killed.
43 militants were killed in Bala Baluk District of Farah province in an airstrike by Afghan forces.
http://www.khaama.com/six-soldiers-martyred-102-militants-killed-in-fresh-military-operations-3295
----------
Bangladesh Uses 'Sacred Arabic' To Stop Peeing In Public
May 7, 2015
DHAKA: For years authorities in Bangladesh have battled to stop men urinating in public, with signs in the local Bengali language failing to halt the seemingly endless number of offenders.
But the Bangladesh religious affairs ministry's recent decision to erect new signs in Arabic has had a marked effect, despite most Bangladeshis being unable to read the language.
For most in the mainly-Muslim country, Arabic is sacred because it is the language their holy book, the Quran, was revealed in.
"This campaign has received a great positive response so far," Anwar Hossain, a ministry spokesman, told AFP. "Bangladeshi people respect Arabic and we've just utilised that."
A two-minute video against public urination that promotes the new Arabic signs has gone viral in Bangladesh since it was uploaded onto social media earlier this week.
A group of people are shown approaching a public wall, but then jump back for fear of committing a sin when they see the Arabic sign against peeing in public.
"I don't understand why people urinate by the roadsides. Especially when every mosque provides public toilet facilities," Matior Rahman, the country's religious affairs minister, says in the video.
The campaign however has sparked a strong rebuke from influential cleric Fariduddin Masud, who said it tarnished the prestige of the Arabic language.
"Nobody has the right to use the language of the Quran for such a campaign," the cleric said, according to online news portal Natunbarta.com. "The people of the country respect Arabic but that does not mean that we'll tolerate the use of Arabic to stop people from urinating (at street corners)."
http://www.dawn.com/news/1180516/bangladesh-uses-sacred-arabic-to-stop-peeing-in-public
----------
Maldives judiciary hammered in UN human rights review
May 7, 2015
Countries across the world have blasted the Maldives for it's politicized judiciary and expressed alarm over threats to journalists and human rights defenders at a UN periodic review of human rights in Geneva today.
The imprisonment of former president Mohamed Nasheed on terrorism charges was also noted with concern by Norway, Germany, the United Kingdom, Denmark, the United States, Canada and Australia.
But many countries welcomed new anti-torture laws and laws protecting migrant worker and women's rights in the Maldives, and applauded progress in healthcare and education.
The UN's Universal Periodic Review (UPR) comes amidst heightened international scrutiny of the Maldives over political turbulence triggered by Nasheed's arrest in February. Hundreds were arrested this weekend in a 20,000 strong anti-government protest.
Foreign Minister Dunya Maumoon said the Maldives is training and building capacity of judges, and said criticism of Nasheed's trial had "mainly focused on the process and not the merits."
Many countries also slammed the Maldives for the Supreme Court's decision to try members of the Human Rights Commission of the Maldives (HRCM) for treason over a submission to the UPR.
Despite the strong criticism, the foreign ministry in a statement tonight said the human rights council had "praised Maldives for the tremendous progress it has achieved in the promotion and protection of human rights."
Judicial reform
Expressing concern over a "lack of respect for the most basic principals of fair trial and due process" during Nasheed's trial, Norway called on the Maldives to release the opposition leader immediately.
Germany noted a climate of growing fear in the Maldives due to increasing gang related violence, religious intolerance, and attacks and death threats faced by journalists, politicians and civil society groups.
The UK meanwhile called on the Maldives to ensure administration of justice is "fully consistent with international human rights standards" and take urgent action to protect journalists, NGOs and to investigate and prosecute individuals behind the threats.
The UK also expressed concern over arrests of opposition leaders during the mass antigovernment protest on May 1, and called for dialogue between the government and opposition parties.
Denmark noted irregularities and rushed processes in Nasheed's trial, and recommended the "Maldives restore confidence in its legal system by ensuring the clear and unambiguous division of powers, including the indisputable independence of its judicial processes and judges."
The United States urged the Maldives to end politically motivated prosecutions, including the Supreme Court's prosecution of members of the human rights watchdog.
The US said it was concerned about fair trial guarantees and said Maldives must strengthen the independence of the judiciary by reforming the process by which the judicial watchdog – the Judicial Services Commission – selects and appoints judges.
Adding its voice to calls for Nasheed's release, Canada said Maldives must reaffirm its commitment to democracy and rule of law, and institute an independent bar association.
Meanwhile, India said the judiciary must adhere to due process to maintain public trust and said the space for legitimate political dissent must be safeguarded.
Botswana, Brazil, Argentina, Slovenia, New Zealand, Ghana, Switzerland, Italy, Ireland, South Korea, Bangladesh, Liechtenstein, Netherlands, Trinidad and Tobago, Kenya and France also spoke on the need for judicial reform.
International spotlight
Responding to criticism of Nasheed's trial, foreign minister Dunya said the case "has highlighted the profound need to work together and strengthen oversight institutions, including the judiciary and the need to bring urgent reforms to the judiciary."
She censured Nasheed for his decision not to seek an appeal, stating appellate courts were set in place to address shortcomings by the lower courts.
Nasheed's lawyers had decided not to appeal after the criminal court failed to provide the necessary documentation within a shortened ten-day appeal period. The opposition leader has instead appealed to president Abdulla Yameen to reduce his sentence and release him through special procedures in the Clemency Act.
On the Supreme Court's prosecution of the human rights commission, the Maldives representative in Geneva, Geela Ali, declined to comment, stating: "as the matter is yet to be decided, we deem it inappropriate to comment on the matter just yet."
The charges were brought in September last year under new suo moto regulations that allow the Supreme Court to prosecute and pass judgment. The case is still pending.
Dunya said the Maldives had formulated a judicial sector strategic action plan with new benchmarks for increasing efficiency, effectiveness and public confidence in the judiciary.
"Almost everyone seems to have something to say, about what they think is good for the Maldives. As a result, every baby step that the Maldives takes is fiercely debated all over the world, including in the corridors of power in key capitals," she said.
"It is easy to criticize, but we urge you to not only do that: invest in us, bring about meaningful change."
She insisted Maldives' institutions must have the space to grow organically, and said meaningful democratic change cannot be imposed. Change "can only be sustained if the change is locally owned, locally driven and locally shaped," she said.
http://minivannews.com/politics/maldives-judiciary-hammered-in-un-human-rights-review-97792#sthash.lnY22kFW.dpuf
---------
Arab World
Islamic State Claims Terror Cells in 15 American States: Report
May 7, 2015
The Islamic State group purportedly claims to have "trained soldiers" in 15 states.
"Out of the 71 trained soldiers, 23 have signed up for missions like Sunday, we are increasing in number. […] Of the 15 states, 5 we will name… Virginia, Maryland, Illinois, California and Michigan," an American terrorist known as Abu Ibrahim Al Ameriki said on a file-sharing website, Fox News reported Wednesday. The authenticity of the claims could not be verified.
The announcement of terror cells within the U.S. came in conjunction with calls of praise for the men who died while trying to attack a "Draw the Prophet" contest in Garland, Texas, on Sunday.
Elton Simpson, 31, and Nadir Soofi, 34, died in a shootout with security before reaching attendees at the American Freedom Defence Initiative event. The winning drawing of the Islamic prophet won $10,000.
"The attack by the Islamic State in America is only the beginning of our efforts to establish a wiliyah [province] in the heart of our enemy," a statement by the Islamic State group said, Fox reported.
http://www.washingtontimes.com/news/2015/may/6/islamic-state-claims-terror-cells-15-states-report/
----------
Bombing kills dozens, helps Hezbollah fighters reclaim Syrian territory
May 7, 2015
Syrian army bombing in the mountainous area along the border with Lebanon killed dozens of insurgents and helped Hezbollah fighters reclaim territory there known as the Qarna Heights, the Shia Muslim group's Manar television said on Thursday.
The al Qaeda-linked rebels, encamped in the Qalamoun mountains, have been attacking the Syrian army and fighters from Hezbollah, a staunch ally of Syrian President Bashar al Assad, which has sent hundreds to fight alongside his forces.
Hezbollah's leader Sayyed Hassan Nasrallah vowed on Tuesday that his forces and Syrian allies would clear the rebels out of the strategic border region north of the capital Damascus that insurgents use as a main supply route for arms and fighters.
Although Nasrallah did not disclose when his fighters would start a major assault in the Qalamoun area, his group announced on Wednesday its fighters had hit a gathering of militants on the Syrian side of the border, inflicting heavy casualties.
Hezbollah also said on Wednesday its fighters had seized part of a strategic hilltop in Lebanon's eastern border area known as Kherbat al Nahla that overlooks Syrian side of the Qalamoun region.
http://www.themalaysianinsider.com/world/article/bombing-kills-dozens-helps-hezbollah-fighters-reclaim-syrian-territory#sthash.OlTzYqzL.dpuf
----------
Takfiris Killed in Syria's Hama
May 7, 2015
Scores of Takfiri militants were killed in military operations in the Northwestern countryside of Hama province in Syria on Wednesday.
The army targeted terrorists' hideouts in the vicinity of al-Sarmaniya and Ghaniya towns in the Northwestern countryside of Hama, killing scores of Takfiri militants.
Meanwhile, the army killed and injured a number of terrorists in Abu al-Salasel, Talat al-Bado, Mazra'at al-Hilalyeh, al-Farhanyeh al-Gharbyeh and Umm Sharshouh to the East of Homs.
The army also targeted terrorists' concentrations centers in a number of areas in al-Houla in Homs province, killing and injuring a number of terrorists.
http://english.farsnews.com/newstext.aspx?nn=13940216001308
----------
Saudi Aircraft Drop Weapons to Al-Qaeda Terrorists in Yemen
May 7, 2015
Saudi airplanes once again airdropped arms to al-Qaeda terrorists in Yemen's Southwestern province of Taiz on Thursday.
The planes airdropped the arms on Habashi mountain in Taiz in the early hours of Thursday.
In a similar event, Saudi helicopters airdropped a large consignment of weapons to al-Qaeda terrorists and pro-Hadi militias operating in the Yemeni province of Ma'rib on Monday.
According to FNA dispatches, the arms cargo was parachuted to the militants by two Saudi choppers in the Western district of Wadi in Ma'rib flashpoint city on Monday.
The move by the Saudi monarchy came after the al-Qaeda terrorists and pro-Hadi militias suffered major military setbacks in the areas of Wadi Nakhla and Wadi al-Meel after the popular Ansarullah forces along with Yemeni troops intensified their offensive on them.
Reports coming out of Yemen on Tuesday said that heavy fighting was still underway between the Yemeni popular forces and the Saudi-backed militias in Western Ma'rib.
The Ansarullah fighters and army troops have made major advances in their fight against the al-Qaeda terrorists and forces loyal to fugitive President Mansour Hadi across Yemen in recent weeks.
Full repost at:
http://english.farsnews.com/newstext.aspx?nn=13940217000160
----------
2.2 million Iraqis displaced by Islamic State group
May 7, 2015
BEIRUT (AP) — Conflicts and violence worldwide displaced a record 38 million people in 2014, with 2.2 million Iraqis alone forced to flee the Islamic State group, a Norwegian humanitarian group report released Wednesday revealed.
The findings of the study carried out by the Norwegian Refugee Council's Internal Displacement Monitoring Center are endorsed by the United Nations refugee agency.
In a joint statement, they said 11 million were newly displaced last year — mostly because of conflicts in Syria, Iraq, South Sudan, Nigeria and the Democratic Republic of Congo. That's the equivalent of 30,000 people each day.
"These are the worst figures for forced displacement in a generation, signaling our complete failure to protect innocent civilians" said Jan Egeland, secretary-general of the Norwegian Refugee Council.
The 4.7 million increase compared to 2013 comes mostly from the Middle East and Africa.
Iraqi civilians were the most displaced in 2014, with at least 2.2 million people fleeing the Islamic State group starting in June last year. Intense fighting followed between the Sunni militants and Iraqi troops, Kurdish fighters and Shiite militiamen.
http://news.yahoo.com/report-2-2-million-iraqis-displaced-islamic-state-092938933.html
----------
Islamic State reopening captured five-star hotel in Mosul for commanders
May 7, 2015
A former five-star hotel in Mosul is opening under new management: the Islamic State group.
Arabic language media outlets are reporting that visiting commanders are invited to stay in the 262-room Ninawa Hotel in Iraq's second-largest city, The Telegraph reported Tuesday.
Previous reviews on TripAdvisor rated the hotel as "Excellent" with a "nice wedding room." Other reviews said it was "very suitable" for families, the newspaper reported.
CNN Arabic reported on the hotel's opening, which included the Sunni radical terrorist group's black flag flying on the property.
http://www.washingtontimes.com/news/2015/may/6/islamic-state-reopening-captured-five-star-hotel-m/
----------
Restrictions on Iraq's displaced people worsen Shiite-Sunni divide
May 7, 2015
BAGHDAD — Shiite Turkmen who fled Islamic State (IS) beheadings in northwestern cities have traveled several hundred kilometers to places of pilgrimage and camps in southern and central Iraq.
Sunni Arabs relatively close to the capital are instead being refused entry to Baghdad and go north, conditions allowing, though many are subsequently barred from the larger cities in the Kurdistan Regional Government (KRG).
In the Laylan camp for internally displaced persons (IDP), just southeast of Kirkuk in one of Iraq's disputed territories, one Sunni family from Muqdadiyah recounts being shelled by government forces and having relatives "disappeared" by Shiite militias. Four of the children were killed by Iraqi government airstrikes in the fall of 2014, their father told Al-Monitor, and shrapnel is still embedded in his remaining three sons' bodies. They have not been able to get past checkpoints to reach health care facilities in Sulaymaniyah and Kirkuk, despite referrals from other facilities.
Full repost at:
http://www.al-monitor.com/pulse/originals/2015/05/iraq-sunni-shiite-isis-krg-idp-pmu-laylan.html#ixzz3ZRA3PRnI
----------
Syrian rebels want US support for safe zone
May 7, 2015
Emboldened by recent advances thanks to a more "coordinated" military assistance from regional allies, Syrian rebels have asked for the support of the United States to set up safe zones before the Bashar al-Assad regime collapses.
"Damascus should be besieged. Then it could fall suddenly. Before it falls, safe zones should be established to prevent extremists from abusing any subsequent void of power," said Khaled Khoja, the president of the Syrian National Coalition (SNC), in an interview with daily Hürriyet.
The Syrian opposition envisages safe zones as areas where it can set up a transitional government to serve people under land protection from the Free Syrian Army (FSA) and air protection from international forces.
Full repost at:
http://www.hurriyetdailynews.com/syrian-rebels-want-us-support-for-safe-zone.aspx?pageID=238&nID=82047&NewsCatID=352
----------
Independent Kurdistan Is Coming, President of KRG Says
May 7, 2015
The unity of Iraq "is voluntary and not compulsory," the head of the country's semi-autonomous Kurdish region said on May 6, while stressing the Kurds had no immediate plans to break away from the central government in Baghdad.
Masoud Barzani, president of the Kurdistan Regional Government (KRG), was speaking in Washington after holding talks earlier with U.S. President Barack Obama and Vice President Joe Biden on issues that included the campaign to battle Islamic State of Iraq and the Levant (ISIL).
The White House said that in those talks, Obama and Biden stressed that Washington supports "a united, federal and democratic Iraq."
Full repost at:
http://www.hurriyetdailynews.com/independent-kurdistan-is-coming-barzani-says.aspx?pageID=238&nID=82069&NewsCatID=352
----------
Banned in Syria, Muslim Brotherhood members trickle home
May 7, 2015
Hundreds of members of the Syrian Muslim Brotherhood have returned from exile, hoping to rebuild a movement which was crushed decades ago at home and is deemed a terrorist organisation by leading Arab states.
Membership of the Brotherhood remains punishable by death in Syria more than 30 years after President Bashar al-Assad's father outlawed the group, but the exiles are filtering back mainly into opposition-held areas.
There they are trying to re-establish the influence and credibility of the movement which has no official military wing and plays down suggestions that it is covertly supporting armed groups fighting in the Syrian civil war.
"We are encouraging people to go back to Syria... I would say hundreds," Mohammed Walid, who heads the Syrian Brotherhood, told Reuters.
Walid said in an interview that these "nuclei" members had to explain the aims of his group, which is an offshoot of the Egyptian Muslim Brotherhood. "We've been absent from the scene for so long now - many people in Syria don't know us much," he said in Istanbul, where he lives.
Full repost at:
http://www.hurriyetdailynews.com/banned-in-syria-muslim-brotherhood-members-trickle-home.aspx?pageID=238&nID=82077&NewsCatID=352
----------
Two Egyptian policemen killed in Sinai shooting
7 May 2015
Two Egyptian police recruits were killed on Thursday when unidentified gunmen shot them outside the gate of a security forces camp in the volatile Northern Sinai region, security sources said.
Last month, Egypt extended by three months a state of emergency imposed on Northern Sinai in October after Islamist militants stepped up attacks in the remote but strategic peninsula bordering Israel, Gaza and the Suez Canal.
On Thursday, gunmen in a car shot dead the two policemen who were guarding the gate of a police camp in the city of Rafah, the sources said.
Security forces responded with gunfire but the attackers fled the scene, they added.
Insurgents have killed hundreds of soldiers and policemen in Sinai since mid-2013, lashing out after then-army chief Abdel Fattah al-Sisi ousted Islamist President Mohammed Mursi following protests. Sisi went on to be elected president last year.
No one has yet claimed responsibility for Thursday's attack.
Sinai Province, an affiliate of Islamic State, which earlier changed its name from Ansar Bayt al-Maqdis, is the most active militant group in the Sinai and aims to topple the government in Cairo.
http://english.alarabiya.net/en/News/middle-east/2015/05/07/Two-Egyptian-policemen-killed-in-Sinai-shooting-security-sources.html
----------
Egyptian Coptic Bishop says government behind persecution of Christians
May 7, 2015
An Egyptian Coptic bishop has accused local authorities of being behind the persecution and harassment of Christians in his diocese of Minya, the home province of the 21 Christians murdered by Islamic State in Libya.
Bishop Agathon in an interview for Arabic satellite TV station AlKarma TV by Dr Mona Roman, reported by Coptic Solidarity, instanced a meeting between Copts and government officials about the possibility of building a church, during which one of the officials contacted the Muslim leaders of the village instructing them to send people to protest against the plans.
According to Christian Today, he also said that state security forces were complicit in attacks on Christians.
Full repost at:
http://pulse.ng/religion/in-egypt-coptic-bishop-says-government-behind-persecution-of-christians-id3730542.html
----------
India
5 held in Ratlam were tasked to carry out terror strikes
May 7, 2015
The five Madhya Pradesh men arrested from Ratlam for allegedly being part of Islamic State (IS) group, were reportedly guided by a former Indian Mujahiden (IM) member through cyber chat from his base near the Afghanistan-Pakistan border. The five men had also been tasked to carry out terrorist strikes by targetting police officers and also senior leaders of BJP and RSS, a senior official said.
As reported by The Indian Express on Wednesday, Imran Khan Muhammad Sharif, the leader of the five men held in Ratlam on April 15, is alleged to have been recruited online by an Indian jihadist he knew as "Yusouf" a code, investigators say, for Karnataka-born Muhammad Shafi Armar, a fugitive Indian Mujahideen operative now leading group of Indians fighting along the Islamic State. Officials said the recruitment was done by Armar when he was present on the Afghanistan-Pakistan border, and now he has shifted base to Syria.
As per details available with the security agencies, Imran Khan had travelled to Dubai on five occasions during 2003-08 and he also travelled to Saudi Arabia once last year. Khan said he had joined Ahl al-Suffah, an Islamic proselytising and charity group, in 2012 after the Muzaffarnagar riots in UP.
Full repost at:
http://indianexpress.com/article/india/india-others/5-held-in-ratlam-were-tasked-to-carry-out-terror-strikes/
--------
How Lakhvi got bail, who stood for surety bond? India to ask Pakistan
May 7, 2015
India is likely to ask Pakistan as to how Mumbai terror attacks accused Zaki-ur Rehman Lakhvi was released from jail on bail in violation of the United Nations norms as his outfit Lashkar-e-Taiba was a designated terrorist group.
New Delhi is expected to send a diplomatic note to Islamabad seeking reply on how Lakhvi submitted two bail bonds worth Rs 1 million each for his release and who stood for the surety.
Official sources said Indian security establishment suspects that ISI might have arranged the surety bonds to ensure Lakhvi's release.
Full repost at:
http://indianexpress.com/article/india/india-others/how-lakhvi-got-bail-who-stood-for-surety-bond-india-to-ask-pakistan/
--------
Akshardham case: Forced to copy a letter that was used as evidence against me, says Mufti Abdul Qaiyum
May 7, 2015
Six men in Ahmedabad this month will be celebrating their first year of freedom after spending years in jail. One of them is coming out with a book about his 11 years in a Gujarat jail as a convicted terrorist sentenced to death for his "role" in the 2002 Akshardham attack case, fending off police conspiracies and fabricated evidence.
Gyarah Saal Salakhon Ke Peeche (11 years behind the bars) by Mufti Abdul Qaiyum is scheduled to be launched on May 8.
He and five others were acquitted by the Supreme Court in the Akshardham case on May 16 last year — coincidentally on the same day the BJP won the Lok Sabha elections under the leadership of Narendra Modi, who was the Gujarat chief minister when they were arrested by the police for their alleged role in the terror attack.
The apex court, while acquitting the six, had pulled up the Gujarat Police for framing them and rebuked the state home minister for "non-application" of mind. The men had been convicted by a lower court and the conviction under the POTA (and the IPC) had been upheld by the Gujarat High Court.
Full repost at:
http://indianexpress.com/article/india/india-others/akshardham-case-forced-to-copy-a-letter-that-was-used-as-evidence-against-me-says-mufti-abdul-qaiyum/
-------
Pakistan
Pakistan Activist, Mama Qadeer Baloch, Faces Military's Wrath
May 7, 2015
KARACHI, Pakistan—Playing host to Mama Qadeer Baloch is a dangerous act in Pakistan.
The 73-year-old human-rights campaigner routinely receives death threats; his hosts at public appearances have been targeted for assassination; and on Wednesday, the administration of Karachi University shut a planned lecture to avoid the wrath of the country's powerful military establishment.
Since 2009, Mr. Baloch, a retired bank worker, has kept a solitary vigil on a sidewalk outside the press club in this southern megacity, surrounded by pictures of people he alleges the military abducted from his native Balochistan province, a sparsely populated western province that is rich in minerals.
Although Pakistan is better known for fighting a militant Islamist movement, the country's 600,000-strong armed forces, equipped with modern weaponry and nuclear arms, since 2006 have battled a secular separatist insurgency in the province, which the military claims is supported by archenemy India.
Full repost at:
http://www.wsj.com/articles/pakistan-separatist-faces-militarys-wrath-1430931582
----------
Senate assails Sabeen's murder, exhibition of controversial cartoons
May 7, 2015
ISLAMABAD: The Senate unanimously passed on Wednesday two resolutions, one condemning the recent targeted killing of a human rights activist in Karachi and the other criticising the exhibition of controversial caricatures in the US.
The resolution on the killing of civil society activist Sabeen Mehmud, who was shot dead in Karachi on April 24, was moved by Nasreen Jalil of the Muttahida Qaumi Movement (MQM) after a brief debate on a call-attention notice by PPP's Farhatullah Babar.
The house paid rich tribute to Ms Mehmud for her services for human rights and urged the government to arrest her murderers.
Speaking on his notice, Mr Babar said Ms Mehmud had been assassinated after she made available the platform of her NGO for discussion on missing persons in Balochistan.
He reiterated his call for legislation to bring the intelligence agencies under the ambit of law in order to protect them from unsubstantiated allegations of involvement in extra-judicial killings, enforced disappearances and grave human rights violations.
Full repost at:
http://www.dawn.com/news/1180467/senate-assails-sabeens-murder-exhibition-of-controversial-cartoons
----------
Disaster averted in Kurram Agency as forces gun down suicide attacker
May 7, 2015
PESHAWAR: Two suicide attackers were killed, while three people sustained injuries when an exchange of fire was followed by a suicide blast outside a high-school football ground in Alizai area of Lower Kurram Agency, DawnNews reported.
According to details, two suicide attackers tried to enter the Alizai High School premises— where a football match was being played— when they were intercepted by security officials, after which, an exchange of fire took place between the two sides.
Earlier there were reports that one attacker was shot dead by security officials, while the other had managed to blow himself up.
Full repost at:
http://www.dawn.com/news/1180348/disaster-averted-in-kurram-agency-as-forces-gun-down-suicide-attacker
----------
IED blast kills peace committee volunteer in Mohmand
May 7, 2015
GHALLANAI: A peace committee volunteer was killed on Thursday when an improvised explosive device (IED) blast took off in Alingar area of Safi Tehsil, Mohmand Agency.
According to a political administrative official, the IED was planted along the roadside when it went off, killing peace committee leader Zawar Hussain.
Read: Security forces kill 10 terrorists in Mohmand Agency
The political administration cordoned off the area and the search operation is under way. No group has claimed responsibility for the attack as yet.
On May 6, one person was killed and three others injured when two suicide bombers were stopped by Levies from entering packed school ground in Alizai area of Lower Kurram where a football match was underway.
Officials confirmed that two attackers, wearing explosives, tried to storm the school playground. But Levies officials guarding the ground opened fire at them.
Read: Disaster averted: One killed as officials foil terror attack on football match in Kurram
Following the incident, Chief of Army Staff General Raheel Sharif commended those attending the football match and those posted for security for their vigilance and prompt action.
http://tribune.com.pk/story/882381/ied-blast-kills-peace-committee-volunteer-in-mohmand/
----------
Pakistan inks four MoUs with Maldives
May 7, 2015
ISLAMABAD: Pakistan and Maldives inked on Thursday four Memorandums of Understanding (MoUs) as Prime Minister Nawaz Sharif met Maldives President Abdullah Yamin Abdul Qayyum
The four MoUs included cooperation on sports, health, education, and narcotics, and are said to help in further consolidating bilateral relations between the two countries.
Speaking to the media after his meeting with the Prime Minister Maldives President Abdullah Yamin Abdul Qayyum said Pakistan has always proven to a be a loyal friend to Maldives.
"Time and time again Pakistan has proven itself to a be a loyal friend to Maldives," Qayyum said.
http://tribune.com.pk/story/882395/pakistan-inks-four-mous-with-maldives/
----------
PTI submits resolution against Altaf Hussain in NA
May 7, 2015
ISLAMABAD: The Pakistan Tehreek-e-Insaf (PTI) on Wednesday submitted a resolution in the National Assembly's secretariat against Muttahida Qaumi Movement (MQM) chief Altaf Hussain for his remarks against the armed forces.
If approved by speaker Ayaz Sadiq, the resolution would be taken up on the agenda in the next session of the house.
The resolution, which bears signatures of PTI MNAs Shah Mahmood Qureshi, Dr Shireen Mazari, Arif Alvi, Munaza Hassan and Shafqat Mahmood, demands legal action against Altaf.
It condemned comments made by the MQM chief against the army and his alleged incitement for his workers to take up arms and "his invitation to Indian secret service 'RAW', that has a long history of anti-Pakistan activities including its role in the dismemberment of Pakistan, to intervene in Pakistan."
Full repost at:
http://tribune.com.pk/story/882032/pti-submits-resolution-against-altaf-hussain-in-na/
----------
Do not interfere in our internal affairs, Pakistan warns India
May 7, 2015
A day after the military's top brass accused Indian intelligence agency RAW of supporting terrorism in Pakistan, the Foreign Office has echoed similar concerns asking India to refrain from interfering in its internal matters.
"Pakistan has provided proof of Indian involvement in Pakistani affairs at many occasions, including the recent secretary level talks," Foreign Office spokesperson Khalilullah Qazi said, during his weekly briefing media in Islamabad on Thursday.
"We have availed all possible opportunities to remind India to avoid interfering in the internal affairs of Pakistan," he added.
Full repost at:
http://tribune.com.pk/story/882414/do-not-interfere-in-our-internal-affairs-pakistan-warns-india/
----------
Lakhvi exemption case: FIA submits arguments
May 7, 2015
ISLAMABAD: The Federal Investigation Agency submitted partial arguments before an anti-terrorism court (ATC) on Wednesday over an application filed by Zakiur Rehman Lakhvi, the alleged mastermind of the Mumbai attacks, seeking exemption from personal appearance before the court owing to security concerns.
Lakhvi's counsel, Raja Rizwan Abbasi, told The Express Tribune that the FIA prosecutor presented partial arguments before the ATC. Details of the arguments cannot be shared as the proceedings were conducted in an in-camera session, said Abbasi.
During the previous hearing, ATC judge Sohail Ikram had issued notice to the FIA for presenting their arguments on the exemption plea.
The special prosecutor, Chaudhry Azhar, could not be reached despite several attempts.
In the application, Abbasi has maintained that his client was being threatened and therefore he should be exempted from personal appearance in the court.
Lakhvi is said to be an operational commander of banned militant outfit Lashkar-e-Taiba and an alleged mastermind of the Mumbai terror attacks of November 26, 2008, in which over a 160 people were killed. An ATC had granted post-arrest bail to Lakhvi against surety bonds worth Rs1 million on December 18, 2014.
The case will be taken up on May 13.
http://tribune.com.pk/story/882169/lakhvi-exemption-case-fia-submits-arguments/
----------
Mideast
ISIL's antidote is Istanbul's 'refined' Islam, Turkish PM says
May 7, 2015
Turkish Prime Minister Ahmet Davutoğlu has said the "refined" interpretation of Islam in Istanbul is the "antidote" to Islamic State of Iraq and the Levant (ISIL) extremism.
"I never break up Islam into parts, but ultimately the refined Islam of Istanbul and the attraction of the city, which everyone sees as a reference point, are an antidote to ISIL," Davutoğlu said during a live television interview broadcast on Kanal 7 and Ülke TV late on May 6.
He also said he assigned a "mission" to Turkey's Directorate of Religious Affairs (Diyanet) to work in regional centers like Damascus, Baghdad, Jerusalem and Mecca against "the sectarian conflict that have arisen in the Middle East."
The Turkish prime minister criticized main opposition Republican People's Party (CHP) head Kemal Kılıçdaroğlu and Peoples' Democratic Party (HDP) Co-Chair Selahattin Demirtaş for their recent criticism of the Diyanet.
Davutoğlu said the "reasonable voice" of Turkey's moderate Islam had come under attack at a crucial time in the region.
http://www.hurriyetdailynews.com/isils-antidote-is-istanbuls-refined-islam-turkish-pm-says.aspx?pageID=238&nID=82082&NewsCatID=352
----------
Saudi Fighter Jets Bombing Yemen's Sa'ada
May 7, 2015
The Saudi-led coalition resumed its air strikes on the Yemeni province of Sa'ada on Thursday after Wednesday reports revealed that around 400 civilians were killed in overnight raids.
Civilian casualties were reported as the Saudi warplanes continued to conduct intensive air strikes on Sa'ada on Thursday.
In shocking reports, provincial sources revealed on Wednesday that the Saudi-led coalition air strikes had claimed the lives of 400 civilians in Sa'ada in less than 24 hours.
Saudi Arabia has been striking Yemen for 43 days now to restore power to fugitive president Mansour Hadi, a close ally of Riyadh. The Saudi-led aggression has so far killed at least 3,572 Yemenis, including hundreds of women and children.
Hadi stepped down in January and refused to reconsider the decision despite calls by Ansarullah revolutionaries of the Houthi movement.
Despite Riyadh's claims that it is bombing the positions of the Ansarullah fighters, Saudi warplanes are flattening residential areas and civilian infrastructures.
On April 21, Saudi Arabia declared end to Yemen airstrikes after weeks of bombings, but airstrikes are still underway.
http://english.farsnews.com/newstext.aspx?nn=13940217000461
----------
Houthi shells kill five in Saudi border town
May 7, 2015
RIYADH: Bombs fired from territory held by Yemen's Houthi militia into a Saudi Arabian border town killed five people on Wednesday, Saudi officials said, as the rebel group stepped up an apparent retaliation for weeks of air strikes by a Saudi-led coalition.
Mortar shells and rockets fired into the town of Najran and a village in Jizan province on Tuesday claimed the first Saudi civilian casualties of the conflict, and prompted coalition jets to hit targets in northern Yemeni towns.
The coalition is considering all options, including ground operations, to prevent more such attacks, its spokesman Brigadier General Ahmed Asseri said in a televised interview on al-Arabiya channel. Asseri has said since the start of the campaign that land operations were a possibility.
Full repost at:
http://www.dawn.com/news/1180367/houthi-shells-kill-five-in-saudi-border-town
----------
Khamenei says US military threats against Iran endanger nuclear talks
May 7, 2015
ANKARA: Iran's Supreme Leader Ayatollah Ali Khamenei said on Wednesday US military threats made in the last few days may scupper nuclear talks as Tehran and six major world powers try to meet a June 30 deadline for a final deal. Khamenei, who has the final say on all state matters, said two US officials have threatened Iran with military action if the talks fail. He gave no further details on the threats. "Holding nuclear talks (with major powers) under shadow of threat is unacceptable for Iran ... Our nation will not accept it ... Military threats will not help the talks," he said in a speech to a gathering of teachers broadcast live on state TV. "In the past days, two US officials have threatened to take military action against Iran if Iran refuses to accept this or that nuclear condition. What does negotiation mean under the shadow of threat," he said to chants from the crowd of "Death to America" and "Death to Israel". "I am against holding (nuclear) talks under the shadow of threat." Khamenei repeated his cautious support for the nuclear talks but said that the country's "red lines" should be respected by the Iranian negotiators. "Our negotiators should continue the talks with respect to our red lines... But they should not accept any imposition, humiliation and threat," he said. Iran says its nuclear programme is entirely peaceful and rejects allegations from Western countries and their allies that it wants the capability to produce atomic weapons. It says all sanctions are illegal.
http://www.dailytimes.com.pk/national/07-May-2015/khamenei-says-us-military-threats-against-iran-endanger-nuclear-talks
-----------
Turkey to enter Syria in a day or two, CHP official claims
May 7, 2015
A top official from Turkey's main opposition Republican People's Party (CHP) has claimed Turkey plans to launch a military intervention in Syria within a day or two, in an interview with daily Taraf published May 7.
CHP Secretary General Gürsel Tekin defined his source as "credible" and urged Prime Minister Ahmet Davutoğlu to deny the allegations.
"I am asking either the minister of foreign affairs or Mr. Davutoğlu to provide an explanation. A statement rejecting these claims will cause nationwide relief prior to the elections," Tekin said.
Tekin pointed out he was first to share information on the military operation at Süleyman Şah Tomb in Syria.
Full repost at:
http://www.hurriyetdailynews.com/turkey-to-enter-syria-in-a-day-or-two-chp-official-claims.aspx?pageID=238&nID=82075&NewsCatID=509
----------
Turkey orders arrest of 'Syria arms interception' prosecutors
7 May 2015
A Turkish court has issued arrest warrants for four prosecutors and one military officer in a controversial case over the interception last year of trucks that allegedly contained arms bound for neighboring Syria, reports said Thursday.
The four prosecutors had been reassigned and then suspended after they ordered the search of several trucks and buses in the southern provinces of Hatay and Adana near the Syrian border in January 2014 on suspicions of smuggling "ammunition and arms" into Syria.
A series of documents had circulated on the Internet indicating that the seized trucks were actually National Intelligence Agency (MIT) vehicles delivering weapons to Syrian Islamist rebels fighting President Bashar al-Assad.
Turkey has vehemently denied aiding Islamist rebels in Syria, such as the Islamic State of Iraq and Syria (ISIS) group, although it wants to see Assad toppled.
The government has imposed an all-out media blackout, including on Facebook and Twitter, prohibiting publication of the allegations.
Full repost at:
http://english.alarabiya.net/en/News/middle-east/2015/05/07/Turkey-orders-arrest-of-Syria-arms-interception-prosecutors-.html
-------
Yemeni Forces Capture 4 More Saudi Military Posts
May 7, 2015
Yemeni tribal forces gained control of 4 more Saudi military posts in retaliation for the Saudi army's blind artillery pounding of their regions.
Reports said the Yemeni tribal forces have gained control of 4 military posts in the Saudi border area of Jazan on Thursday. Several Saudi soldiers were also killed in the raid.
On Wednesday, the tribal forces captured 8 military posts in the Saudi border area of Najran.
5 Saudi soldiers were killed and 11 others injured in tribal forces' mortar attack on Najran.
Earlier reports said the Yemeni tribal fighters had won control over 5 military posts in Jazan and Najran.
Full repost at:
http://english.farsnews.com/newstext.aspx?nn=13940217000658
----------
North America
Obama hosts anxious Gulf leaders as sands shift in Mideast
May 7, 2015
With Iran emboldened and the United States seen in retreat, President Barack Obama faces the vexed task of restoring lost trust and influence when he hosts Gulf leaders at Camp David next week.
It is a meeting that Gulf officials privately describe as "a welcome gesture," "thrown together" and "long overdue."
Six Gulf Cooperation Council leaders — including Saudi Arabia's freshly crowned and hawkish King Salman — visit the White House on May 13, followed the next day by a trip to the bucolic presidential retreat near Washington.
The prestigious invite comes amid deep unease over Washington's nuclear talks with arch-foe Tehran and perceived US disengagement in the region under Obama's administration.
In public, Gulf nations have been broadly supportive of the pending nuclear deal, but in private they fear Washington is making a Faustian bargain.
Full repost at:
http://tribune.com.pk/story/882413/obama-hosts-anxious-gulf-leaders-as-sands-shift-in-mideast/
----------
Canada's anti-terror bill C-51 targets Muslims, rights group says
May 7, 2015
The Parliament is set to pass the controversial anti-terror Bill C-51 on Tuesday with many Muslims worried about the possible repercussions to their communities.
The bill gives sweeping powers to Canada's national security agencies.
Prime Minister Stephen Harper, who introduced the bill in January, says it will give police and security forces "the required tools and flexibility" needed to put an end to threats before they happen.
But critics fear the bill gives too much power to authorities and too little oversight to ensure that power is not abused.
The National Council of Canadian Muslims, or NCCM, an independent, non-partisan, non-profit grassroots organization, says it is supportive of measures that enhance security but it also fears the bill does not protect human rights.
"(Bill C-51) expands the national security agencies' powers without any meaningful and concomitant increase in oversight, review and redress mechanisms" the NCCM says in a 10-page summary of the bill. The NCCM document was submitted in March to the House of Commons Committee on Public Safety and National Security, which gathered views on Bill C-51.
Full repost at:
http://www.dailysabah.com/americas/2015/05/06/canadas-antiterror-bill-c51-targets-muslims-rights-group-says
----------
Mosque Installed at Venice Biennale Tests City's Tolerance
May 7, 2015
VENICE — The 18th-century novelist William Beckford wrote that he couldn't help thinking of this city's most beloved sight, St. Mark's Basilica, as a mosque, with its "pinnacles and semicircular arches" all "so oriental in appearance." But despite the profound stamp that Islamic culture has left on Venice's art and architecture over centuries, it remains one of the few prominent European cities without a mosque near its historic center, leaving Islamic residents who work there to pray in storerooms and shops amid the tourist crush.
For the next seven months, however, Venice will find itself in the middle of the roiling debate about Islam's place in Europe. On Friday, as part of the Venice Biennale, a former Catholic church in the Cannaregio neighborhood will open its doors as a functioning mosque, its Baroque walls adorned with Arabic script, its floor covered with a prayer rug angled toward Mecca and its crucifix mosaics hidden behind a towering mihrab, or prayer niche.
The transformation is the work of a Swiss-Icelandic artist, Christoph Büchel, who has become known for politically barbed provocations. But the mosque, which will serve as Iceland's national pavilion during the Biennale, is a cultural symbol and a kind of ready-made sculpture conceived with the active involvement of leaders of the area's Islamic population, which has been growing for many years.
Full repost at:
http://www.nytimes.com/2015/05/07/arts/design/mosque-installed-at-venice-biennale-tests-citys-tolerance.html
----------
Police look at threat on Islamic State-related website against cartoon contest organizer
May 7, 2015
NEW YORK – The New York Police Department says it's assessing a threat posted on a website related to the Islamic State group against the organizer of a cartoon contest about the Prophet Muhammad.
Blogger Pamela Geller organized the contest over the weekend in Texas, where two men started shooting before they were killed by police.
NYPD spokesman Stephen Davis says the threat names Geller. He says investigators from counterterrorism and intelligence bureaus met with her on Wednesday and will do a "comprehensive threat assessment" to decide whether it's credible enough to require security for her.
He hasn't commented on the specific nature of the threat or what any security measures would look like.
http://www.foxnews.com/us/2015/05/06/police-look-at-threat-on-islamic-state-related-website-against-cartoon-contest/
----------
Texas incident fuels concern about lone-wolf terror attacks inspired by Islamic State group
May 7, 2015
The attempted attack on a provocative cartoon contest in Texas appears to reflect a scenario that has long troubled national security officials: A do-it-yourself terror plot, inspired by the Islamic State extremist group and facilitated through social media. Trying to gauge which individuals in the United States pose such threats — and how vigorously they should be monitored — is a daunting challenge.
Michael McCaul, chairman of the House Homeland Security Committee, said federal authorities are aware of "thousands" of potential extremists in the U.S., only a small portion of them under active surveillance.
Concerns have been intensifying since the rise of the Islamic State group and were heightened this week after two gunmen were killed while trying to attack the cartoon contest that featured images of the Prophet Muhammad.
http://www.foxnews.com/us/2015/05/06/texas-incident-fuels-concern-about-lone-wolf-terror-attacks-inspired-by-islamic/
----------
U.S. Military Worries Key Iraqi Refinery Could Fall to Islamic State
May 7, 2015
Pentagon officials said they are worried that a key Iraqi oil refinery held by Iraqi commandos could fall to Islamic State control in the coming days.
For weeks, U.S. military officials have said that control of the refinery outside the northern city of Beiji has been bitterly contested between Iraqi forces and Islamic State militants, who have long held nearby towns.
But Islamic State fighters have made inroads in recent days, reinforcing their positions around the refinery following their loss of Tikrit to an Iraqi force backed by U.S. airstrikes, according to U.S. and Iraqi officials.
"The Beiji refinery is threatened," said Col. Steve Warren, the chief Pentagon spokesman. "Enemy forces have put a tremendous amount of pressure on friendly forces in Beiji."
Col. Warren said militant forces control some sections of the refinery, but not all. Other Pentagon officials offered a more pessimistic assessment. One senior official said Iraqi security forces have been outmaneuvered in Beiji and that Islamic State is on the verge of taking over the entire facility.
Full repost at:
http://www.wsj.com/articles/u-s-military-worries-key-iraqi-refinery-could-fall-to-islamic-state-1430930353
----------
Social Media Mock Bizarre Islamic State Reports
May 7, 2015
CAIRO— In an online "Isis Bloopers" video, a "terrorist" bungles his lines until his "victim"- dressed in orange prison gear - helps him get his speech to U.S. President Barack Obama just right.
"If you want the killing to stop, you give us $10 million, change your name to Mohammad and kill Justin Bieber," the actor playing the terrorist says.
The video may be offensive to some, making light of recent brutal public murders; but, for others, taunting the self-proclaimed Islamic State is a direct attack on the militant group. And as reports from the "inside" grow increasingly bizarre, some analysts say mockery is now a powerful weapon of war.
Full repost at:
http://www.voanews.com/content/social-media-mock-bizarre-islamic-state-reports/2752626.html
----------
Islamic Center event shows 'same goals' among faiths
May 7, 2015
WEST SPRINGFIELD -- Zahra Chaudhry doesn't known Sister of St. Joseph Jane Morrissey, but she liked the poem Morrissey recited during a recent interfaith gathering at the Islamic Center here.
Morrissey recited by heart George Herbert's 17th century poem "Love" that begins, "LOVE bade me welcome; yet my soul drew back/Guilty of dust and sin," but ends with the reluctant guest seated at table.
Chaudhry, a graduate student at Bay Path College in Longmeadow, said she "loved how the poem ended."
"It shows how you have to have an open mind," said Chaudhry, whose family came from Pakistan.
Full repost at:
http://www.masslive.com/news/index.ssf/2015/05/islamic_center_event_shows_same_goals_among_faiths.html
----------
U.S. says 'difficult' to contemplate Syria safe zone
7 May 2015
Creating a humanitarian safe zone in Syria would entail a "major combat mission" requiring U.S. troops to fight Islamist jihadists and the Damascus regime, Defense Secretary Ashton Carter told lawmakers on Wednesday.
Turkey has long called for a safe area to be set up along the Syrian-Turkish border to protect civilians but President Barack Obama's administration has yet to endorse the idea.
Carter emphasized the challenges involved in establishing a buffer zone, and warned that other regional governments might not be ready to contribute to the effort.
"We would need to fight to create such a space and then fight to keep such a space and that's why it's a difficult thing to contemplate," Carter told members of the Senate Appropriations defense subcommittee.
Full repost at:
http://english.alarabiya.net/en/News/middle-east/2015/05/07/U-S-says-difficult-to-contemplate-Syria-safe-zone.html
----------
Southeast Asia
Find your future spouse with halal speed dating
May 7, 2015
Finding it hard to find your dream girl or guy? Fret not as help is at hand with halal speed dating, a matchmaking platform based on the sunnah (traditions and sayings of the Prophet Muhammad) in Islam, The Star reported today.
Three friends – Norhayati Ismail, Zuhri Yuhyi and Syed Azmi Alhabshi – came up with the idea to help friends find potential spouses.
Norhayati, 40, found her spouse online and married him two months later. Zuhri, 34, found his wife through matchmaking while Syed Azmi, who is 38 and still single, was supportive of the idea.
"We thought if it could work for us, it will also work for others," The Star quoted Norhayati as saying.
For an RM45 fee, interested participants can meet like-minded people with the intention of finding their future spouses.
Full repost at:
http://www.themalaysianinsider.com/citynews/greater-kl/article/find-your-future-spouse-with-halal-speed-dating#sthash.Hs7sFuSL.dpuf
----------
A shifting international perception of Indonesia
May 7, 2015
Seven months into the era of President Joko "Jokowi" Widodo, international perceptions of Indonesia are slowly evolving. These perceptions may or may not be accurate, but they do exist and need to be seriously considered by Jakarta. Perception, after all, determines reputation and, in politics, economics and diplomacy, reputation is everything.
What are these emerging perceptions?
The first is the perception that Indonesia is becoming inward-looking and self-absorbed.
Every government in the world, of course, conducts international relations on the basis of national interests, but excessive questions of "What's in it for us?" run the risk of creating a "me, me, me" foreign policy that does not measure up to a country that has built a credible reputation as a regional leader with global responsibility.
Imagine if the Finnish had asked, "How does this benefit us?" before deciding to help Indonesia resolve the Aceh conflict.
Full repost at:
http://www.thejakartapost.com/news/2015/05/06/a-shifting-international-perception-indonesia.html
----------
Europe
Bosnian Police Launch Raids against Islamic Extremism
May 7, 2015
Bosnian Serb authorities say they detained several people linked to radical Islamic movements and suspected of recruiting potential fighters for the Islamic State group.
Police have been raiding locations throughout the Bosnian Serb part of the country on Wednesday, also confiscating weapons, and ammunition and propaganda material aimed to encourage Bosnian citizens to join fighters in Syria.
Some of the raided homes belong to people who are already fighting there, police said. They didn't give a number of how many people have been detained so far.
The operation comes after a Muslim gunman killed one policeman and wounded two others as he stormed into a police station in northeast Bosnia yelling "Allahu akbar" last week. He was killed during the shootout. Investigators believe the 24-year-old gunman was linked to Islamic extremists.
http://www.nytimes.com/aponline/2015/05/06/world/europe/ap-eu-bosnia-islamic-extremism.html
----------
In Spain, Proposed 'Kebab Law' Angers Muslim Business Owners
May 7, 2015
Nouari Benzawi is trying to figure out how to make his kebab shop more Spanish.
Benzawi, 52, immigrated to Spain from Algeria two decades ago. He's married to a Spaniard and holds dual nationality. Seven years ago, he and his wife opened the kebab shop and Halal grocery store in this breezy, palm tree-lined provincial capital of 135,000 on Spain's Mediterranean coast.
"My tomatoes are Spanish, and so are the potatoes I sell," Benzawi said one recent evening, yanking a corrugated metal curtain down over his storefront to close up for the night. "Please explain this to me!" he implored. "Do I need to sell pork to be a 'traditional Spanish business'? Do I need to sell wine?"
Benzawi, a Muslim, stocks neither pork nor wine. But he worries that those choices could eventually cause him problems if proposed zoning laws take effect this summer. Ruling conservatives, who are seeking re-election in a May 24 municipal vote, hope to limit the number of kebab shops and other traditionally immigrant-owned businesses in Tarragona's historic quarter.
Full repost at:
http://www.latimes.com/world/europe/la-fg-spain-muslims-20150505-story.html
----------
UK election: Top five myths about the 'Muslim vote'
May 7, 2015
Muslims will single-handedly dictate the outcome of the UK elections… or so you might think reading press reports following a study by one neoconservative think tank.
According to the Henry Jackson Society (HJS), the UK's Muslim community could hold sway in a quarter of seats in Britain - suggesting, say some, that this one religious group will swing the overall result in Thursday's closely fought election.
Muslim groups have reacted angrily to the HJS analysis, with the London-based Islamic Human Rights Commission telling Al Arabiya News it is "insulting and scaremongering". Some argue that the HJS overplays Muslims' influence in the poll, given that they make up less than 5 percent of the population.
With that in mind, here are our five top myths about the so-called 'Muslim vote' in the upcoming polls.
1. Muslims hold sway over the election
The Henry Jackson Society (HJS) analysis found that, in 159 of 632 seats, the number of Muslims is greater than the margin of victory in the 2010 election. That prompted headlines such as "Muslim vote could decide 25% of seats" in the right-wing Daily Mail newspaper. But such a scenario would assume that Muslims tend to vote the same way. Massoud Shadjareh, chair of the Islamic Human Rights Commission, said it is far from the case that Muslims will by the "kingmakers" in the election. And Miqdaad Versi, assistant general secretary of the Muslims Council of Britain, said the HJS is "intentionally scaremongering" by overplaying Muslims' influence. "It's trying to make out that Muslims are a big threat to the UK," he said. Versi added that the HJS analysis uses "poor methodology", and said his own estimate is that Muslims will have an impact in 22 to 40 seats.
Full repost at:
http://english.alarabiya.net/en/perspective/analysis/2015/05/06/UK-election-Top-five-myths-about-the-Muslim-vote-.html
----------
Charlie Hebdo receives PEN award at literary gala in NYC
May 7, 2015
The French satirical magazine Charlie Hebdo, under armed security and a cloud of conflicted opinions and emotions, was presented a freedom of expression award from the PEN American Center.
Editor-in-chief Gerard Biard and critic-essayist Jean-Baptiste Thoret accepted the Freedom of Expression Courage Award on Tuesday night to a standing ovation following a weeklong debate alternately thoughtful and divisive over whether the honor was deserved.
Salman Rushdie and Neil Gaiman were among hundreds of writers, editors and others from the publishing world cheering for Hebdo at the literary and human rights organization's gala at the American Museum of Natural History, where awards also were given to playwright Tom Stoppard, Azerbaijani investigative journalist Khadija Ismayilova and Penguin Random House CEO Markus Dohle.
Full repost at:
http://www.thehindu.com/news/international/charlie-hebdo-receives-pen-award-at-literary-gala-in-nyc/article7177436.ece
---------
Time has come for woman to lead UN: Ban
May 7, 2015
UN Secretary General Ban Ki-moon, whose term as the world body's chief will end next year, has said it is "high time" for a woman to lead the organisation.
The Secretary General has said at several public venues that "he thinks it's high time for a Secretary-General to be a woman," Mr. Ban's Deputy spokesman Farhan Haq told reporters here on Wednesday when asked if the UN Chief has weighed in on the debate over a woman leading the 70-year old organisation.
Mr. Haq said while it was not in Mr. Ban's hands to determine who his successor will be, "He's not going to offer any opinions about who should be selected, but certainly, the time for a female Secretary General has come."
He added that Mr. Ban meets several women in very prominent positions in national and international politics and in the UN but it is not up to him to see whether he can help them become the next Secretary-General.
Mr. Ban took office in January 2007 and was unanimously re-elected for a second term by the General Assembly in June 2011.
He would continue to serve as the UN Chief till December 2016.
Momentum is building up to make the selection process of the UN Chief more transparent amid growing frustration over the dominance of the five permanent members of the UN Security Council in the appointing the Secretary General.
India too has voiced support for giving due consideration to women candidates and regional representation while deciding on the new Secretary General.
India's Ambassador to the UN Asoke Mukerji had said last month that the new Secretary-General should reflect the aspirations of the broader United Nations membership and due regard must be being given to "regional rotation and gender equality."
http://www.thehindu.com/news/international/time-has-come-for-woman-to-lead-un-ban/article7179759.ece
-----------
UN: Germany, Denmark not doing enough to fight discrimination
May 7, 2015
Germany and Denmark came under fire from the U.N. over growing discrimination of Muslims. Reviewing various reports from civil society organizations in both Germany and Denmark, discrimination and xenophobia is a growing trend in both countries as the two countries are not doing enough to eliminate discriminatory elements from both state institutions and society.
"Racism in Germany is not only found in extreme right-wing circles, but in all parts of society," the German government admitted to the U.N. Committee on the Elimination of Racial Discrimination in Geneva on Tuesday. "Many politicians and parties fail to consistently disassociate themselves from racist resentments, stereotypes and prejudices," added Selmin Çaliskan, secretary-general of Amnesty International in Germany. The German Institute for Human Rights warned against growing racism in the country and urged the government to take an active stance in combating it.
Full repost at:
http://www.dailysabah.com/europe/2015/05/06/un-germany-denmark-not-doing-enough-to-fight-discrimination
----------
HRW: Yemen rebels committed 'possible war crimes'
7 May 2015
Human Rights Watch on Thursday accused Yemeni rebels of committing "possible war crimes" and urged all parties in the conflict to protect civilians.
The New York-based watchdog said rebel forces shot and killed two women in the main southern city of Aden last month and also unlawfully detained 10 local aid workers for up to two weeks.
"The incidents, possible war crimes, exemplify the grave threats to civilians in the embattled southern seaport," said HRW.
Its deputy Middle East and North Africa director Joe Stork warned that "the difficulty of investigating the fighting in Yemen may mean abuses like these in Aden are just the tip of the iceberg".
Full repost at:
http://english.alarabiya.net/en/News/middle-east/2015/05/07/HRW-Yemen-rebels-committed-possible-war-crimes-.html
--------
Africa
'Today, Nigerian troops have Boko Haram terrorists on the run'
May 7, 2015
A year ago, a dozen Nigerian troops fighting about 200 Boko Haram militants in the town of Chibok exhausted their ammunition and ran, leaving the road open for the abduction of nearly 300 girls.
Today, Nigerian soldiers are rescuing hundreds of kidnapped girls and women from the last forest stronghold of the Islamic insurgents.
The reason for the unimaginably swift shift in fortunes?
In the last three months, military forces from neighbouring Chad, Niger and Cameroon have joined the battle. In addition, Nigerian troops are finally receiving better arms and weapons, as well as hazard pay that they had not received until this year.
As a result, Boko Haram's supply lines are being cut off, creating conditions for the security forces to deliver a potential knockout blow to the extremists who have created havoc in Northeastern Nigeria for years.
Nigeria's military has announced that it had recaptured all major towns seized by the insurgents and that Boko Haram's main fighting force is hemmed into the Sambisa Forest, where it is being pounded by air raids and attack helicopters. While the government forces are stronger, Boko Haram is growing weaker by the day.
Full repost at:
http://www.ngrguardiannews.com/2015/05/today-nigerian-troops-have-boko-haram-terrorists-on-the-run/
----------
Morocco battles Islamic State cells
May 7, 2015
RABAT, Morocco — Hardly a week goes by without Moroccan security services announcing the arrest of members allegedly linked to the terrorist Islamic State (IS) organization. Since the official announcement of the establishment of the Central Bureau of Judicial Investigation (BCIJ) on March 20, the dismantlement of a number of jihadist cells that are ideologically linked to IS was also announced. This means that the Moroccan authorities have become certain that the terrorist threat has reached their territory, particularly following the Bardo Museum attack in neighboring Tunisia on March 18.
On March 22, it was disclosed that the most dangerous among those cells — whose plans were thwarted — was dismantled. Moroccan security services said that their investigation confirmed that the arrested 13-member group — which is active in nine Moroccan cities — was planning to assassinate civil, political and military figures, had pledged allegiance to IS leader Abu Bakr al-Baghdadi, and had called itself "IS Wilaya in the Far Maghreb — the grandsons of Yusuf ibn Tashfin [a commander who helped found Marrakech nearly 1,000 years ago]."
The arrests are considered to be the most significant achievement in thwarting IS sympathizers' activity in Morocco to date. Moreover, in April, the BCIJ said a number of plans by IS-affiliated cells — such as the four-member cell of the Laayoune city in the disputed desert region — had been averted. This was preceded by the dismantlement of the Fes city cell April 1. The cell was recruiting volunteers to join the fighting fronts. In addition, on April 13, the dismantlement of the Nador city cell in the eastern part of the country was announced by BCIJ. The investigation confirmed that there is communication among most of these cells at the fighting fronts.
Full repost at:
http://www.al-monitor.com/pulse/originals/2015/05/morocco-isis-cells-dismantled-bcij-onerdh-mahdali.html#ixzz3ZRB3EKys
--------
75 die in fighting after cattle raids in Kenya
May 7, 2015
NAIROBI: Some 75 people have been killed in four days of cattle raids and revenge attacks in northern Kenya, the Red Cross said on Wednesday.
"Over the last four days close to 75 Kenyans have died. Is it worth it, and what for?" Kenya Red Cross chief Abbas Gullet said.
"In the 21st century, we can't have Kenyans killing one another — especially these pastoralist communities who come from a very marginalised environment," he said.
The violence started in northern Kenya's Turkana and East Pokot districts, and clashes have also been reported in the nearby districts of Marsabit, Samburu and Baringo.
In the worst fighting, gunmen from the ethnic Turkana people are suspected of launching an attack on Monday against an ethnic Pokot village along the Turkana-East Pokot district border, an area where there are frequent deadly conflicts between the two communities.
"There were 54 people who have lost their lives from these two communities of Pokot and Turkana... it is very sad", Gullet said, adding that the dead included five women and four children.
According to a county official, the violence started after an attack by Pokot warriors on a Turkana village in which 100 goats were stolen.
Red Cross teams are supporting some 350 families who have fled days of clashes.
http://www.dawn.com/news/1180451/75-die-in-fighting-after-cattle-raids-in-kenya
----------
Nigerian troops rescue 25 kids, women from Boko Haram, destroy more camps in forest stronghold
May 7, 2015
LAGOS, Nigeria — Nigerian troops rescued 25 more children and women from Boko Haram early Wednesday as the soldiers destroyed seven more of the extremists' camps in a northeastern forest stronghold, the army spokesman said.
Many militants were killed in "a fierce encounter" that cost the life of one soldier and wounded five, Col. Sani Usman said in a statement.
The military has reported saving about 700 children and women in recent days as soldiers supported by air raids have advanced further into the last hideouts of Nigeria's home-grown Islamic extremists.
It is unclear if those rescued include the schoolgirls kidnapped a year ago from a boarding school in Chibok town. Dozens escaped but 219 remain missing.
A 3-month-old multinational offensive has driven Boko Haram from towns where it had declared an Islamic caliphate. The militants have retreated into the vast Sambisa Forest, where they have planted land mines to impede attacks.
Full repost at:
http://www.dailyjournal.net/view/story/0cfb431b46494dc2af17d27c58c00e00/AF--Nigeria-Kidnapped-Girls/
----------
URL: https://www.newageislam.com/islamic-world-news/ahmet-davutoğlu,-turkish-pm/al-qaeda-proxy-in-bangladesh--ansarullah-bangla-may-be-linked-with-al-qaeda/d/102851