New Age Islam News Bureau
30 March 2019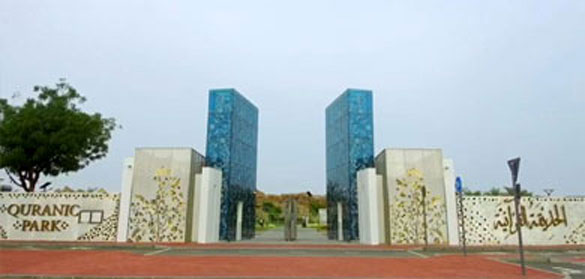 Dubai opens 'Al Quran Park' featuring miracles of Islam
------
• Al Qaeda Official Calls For Algeria to Become Islamic State Governed By Sharia Law
• Quranic Park Opens in Al Khawaneej in Dubai Aims to Bridge Cultural Differences in This Year of Tolerance
• Ahead Of Morocco Trip, Scholar Looks At Religious Freedom In Islam
• Race, Religion and Rhetoric Ramp Up In 'New Malaysia'
• Balakot Proof Is 'Blown In the Wind', Pakistan Doesn't Want To See It, Says IAF Chief BS Dhanoa
• Zakir Naik Diverted Rs 193cr Islamic Funds for Buying Flats, Mutual Funds: ED Probe
• US Report Urges Reintegration of Taliban Fighters into Afghan Society
• Lasting Peace Establishment Possible Only Through End of Palestine's Occupation: Iran
• Former US Soldier Planning To Kill Muslims Converts to Islam
• Pakistan, China Warn Against Politicising UN Anti-Terrorism Regime
Africa
• Al Qaeda Official Calls For Algeria to Become Islamic State Governed By Sharia Law
• Shocking Revelation of Boko Haram Insurgents' 'Wives': 'We Saw Hell in Sambisa Forest'
• Tunisia nabs UN official on suspicion of 'spying'
• Tunisia Says To Coordinate Arab Response to US Move on Golan Heights
• UN document shows Kenya seeking to close Somali refugee camp
--------
Arab World
• Quranic Park Opens in Al Khawaneej in Dubai Aims to Bridge Cultural Differences in This Year of Tolerance
• Syrian Army Pounds Tahrir Al-Sham Positions in Hama, Idlib
• Security Expert: US Plots to Revive ISIL in Western Iraq
• Corpses of Hundreds of ISIL, US Victims Found in Raqqa
• Saudi Arabia rejects Trump decision on Golan Heights, Jerusalem
• Saudi role in countering extremist narratives highlighted at Riyadh forum
• France, Belgium planning false flag Syria chemical attack: Russia
• Iraqi leader says there's 'consensus' on US troops presence
--------
Europe
• Ahead Of Morocco Trip, Scholar Looks At Religious Freedom In Islam
• Yemen Says UK Complicit In Saudi War Crimes, Can't Be Peace-Broker
• Senior Tories Concerned about Gove's Views on Muslims: Lady Warsi
• Germany extends ban on Saudi arms sale by 6 months despite France, UK criticism
• Turkey welcomes Romania's position on its EU ties
• France repatriated children from Syria after legal pressure
--------
Southeast Asia
• Race, Religion and Rhetoric Ramp Up In 'New Malaysia'
• Upcoming Election Is A 'Clash Between Pluralism And Fundamentalist Islam'
• Malaysia, Pakistan Reaffirm Commitment to Work Closely On Islamic Issues
• Indonesia's Muslim youth find new heroes in Instagram preachers
• Malaysia urged to abolish death penalty by inmates' families
--------
India
• Balakot Proof Is 'Blown In the Wind', Pakistan Doesn't Want To See It, Says IAF Chief BS Dhanoa
• Zakir Naik Diverted Rs 193cr Islamic Funds for Buying Flats, Mutual Funds: ED Probe
• Peace and Tolerance Missive In Namaz In Assam Before Polls
• Inter-agency terror monitor for Jammu and Kashmir
• 'Terror Apologists': At UN, India Blasts Pakistan Inaction
• India defers Kartarpur meet over Khalistan row
• ED Attaches Assets of Shabir Shah, Fines Three More in Terror Funding Case
--------
South Asia
• US Report Urges Reintegration of Taliban Fighters into Afghan Society
• Bangladesh wants UK's leading role in UN to end Rohingya crisis
• 217 Corps of the Afghan military to be inaugurated in coming weeks: Khalid
• Airstrike kills ISIS-K commander Sardar Wali in Nangarhar province
• 12 Taliban militants killed, wounded in Helmand and Paktika operations
• US-Taliban talks and the fate of TAPI pipeline
--------
Mideast
• Lasting Peace Establishment Possible Only Through End of Palestine's Occupation: Iran
• Over 90 Saudi Mercenaries Killed In Sa'ada: Yemen Military
• Hamas backs Egypt proposal for calm on Israel border
• Israel deploys reinforcements near Gaza ahead of 'Great March of Return' anniversary
• Iran's envoy to UN: Israel, terrorists 'evolving into coalition'
--------
North America
• Former US Soldier Planning To Kill Muslims Converts to Islam
• Trump's belief that Golan Heights belongs to Israel is 'delusion': Scholar
• US Mideast strategy includes expelling Iran from Syria, Pompeo says
--------
Pakistan
• Pakistan, China Warn Against Politicising UN Anti-Terrorism Regime
• China asks US to act carefully on issue of blacklisting Masood Azhar at UN
• Pakistan warns UN against using FATF as political tool
Compiled by New Age Islam News Bureau
URL: https://www.newageislam.com/islamic-world-news/al-qaeda-official-calls-algeria/d/118179
-------
Al Qaeda official calls for Algeria to become Islamic state governed by sharia law
26 March 2019
A leading official of Al Qaeda in the Islamic Maghreb (AQIM) has called on Muslims to "unite" to ensure Algeria is ruled according to Islam "alone" in a speech designed to take advantage of continuing street protests against the 20-year rule of President Abelaziz Bouteflika.
The speech by Abu Ubaydah Yusuf al-Anabi, widely reported on social media on 9 and 10 March, describes the conditions that would lead to the formation of an Islamic emirate governed according to sharia law.
He called Algerian Muslims to reject any regional or tribal identities and said that people are all the "sons of Islam". He added that there is no difference between Arabs and foreigners as long as they share the same faith.
Designated a "terrorist" by the US State Department in 2015, Al-Anabi encouraged the Algerian people to take up his religious demands and employ "Islamic morals and sharia ethics" in their street demonstrations.
Al-Anabi's speech was delivered days before 82-year-old Bouteflika announced on 11 March that that the general election due to be held on 18 April would be postponed indefinitely, at the same time stating that he would not stand for a fifth term as president. The president suffered a stroke in 2013 and is rarely seen in public.
Since 22 February, hundreds of thousands of Algerians across the country have been staging weekly protests, taking up the chant "leave means leave".
Bouteflika has been president since 1999 when he became a "unity" candidate after the civil war between the government and Islamists. In 2006 the country's constitution declared Islam the state religion (Article 2) but also declared that "freedom of creed and opinion is inviolable" (Article 36).
Non-Muslim religious groups in Algeria are required to be registered to conduct services and are restricted to approved locations. In practice, authorities have typically allowed churches registered with official religious organisations, and even non-registered Christian groups, to meet without needing specific permission. However, a number of churches have been shut down since the start of 2018, either for alleged breaches of health and safety, or because authorities claim they are not properly registered.
The fast growing Algerian Church is comprised mainly of first generation converts from Islam, many of whom are Berbers. There have been ups and downs in their experience of freedom or harassment over the last 30 years. Al-Anabi's call to unity in Islam, rejecting "tribal identities", refers to the deep divide between the Arab community (about 70%) and Berber community (about 30%) in Algeria.
The Berber are descendants of the original peoples of the Maghreb region of North Africa. The Arabs are descendants of the invading Muslim conquerors in the seventh century, under whom the original Algerian Church was wiped out. It was not until the nineteenth century that a small Algerian Christian presence was re-established. The Berbers' resentment of Arabs has been cited by some as a factor in the dramatic Church growth amongst Algerian Berbers in the last few decades, as they turn from Islam, the religion of the Arab majority, to follow Christ.
https://barnabasfund.org/en/news/al-qaeda-official-calls-for-algeria-to-become-islamic-state-governed-by-sharia-law
--------
Quranic Park Opens In Al Khawaneej in Dubai Aims To Bridge Cultural Differences In This Year Of Tolerance
March 29, 2019
Dubai: Al Quran Park was officially opened in Al Khawaneej in Dubai on Friday.
The 60-hectare park, which is free to enter, aims to bridge cultural differences in this Year of Tolerance and educate visitors about Islam and the Holy Quran.
As well as areas that detail the miracles of the Quran (the Cave of Miracles) and an Umrah corner, there is also an outdoor theatre and Glass House, along with facilities akin to most parks, like children's play areas, a lake, running and cycling tracks.
Another notable features however are the 12 Islamic gardens, which house 54 plants mentioned in the Holy Quran, such as figs, pomegranate and olives.
The park has solar panels, wifi and phone charging stations, as well as shaded seating areas.
There are also kiosks to display information about the plants and their use in food and medicine as mentioned in verses of the Quran. Although the park is free to enter the Caves of Miracles and Glass House cost Dh10 to enter.
https://gulfnews.com/uae/quranic-park-opens-in-khawaneej-1.62997072
--------
Ahead of Morocco trip, scholar looks at religious freedom in Islam
March 29, 2019
In his new book, Religious Freedom in Islam: The Fate of a Universal Human Right in the Muslim World Today, Notre Dame scholar Daniel Philpott considers the status of religious freedom in the world's 47 Muslim majority countries.
Ahead of Pope Francis's trip to Morocco this weekend, Crux spoke with Philpott about the status of religious freedom in that country, his expectations of the trip, and why "the Muslim landscape is also diverse and contains grounds for hope."
Crux: For starters, why do you believe it necessary to consider if religious freedom is compatible with Islam?
Philpott: Much hinges on the question of religious freedom and Islam. Here in the West, a culture war has raged over Islam at least as far back as the attacks of September 11, 2001, pitting "Islamoskeptics," who say that Islam is hard-wired for violence and that the West must gird up for a long civilizational struggle, against "Islamopluralists," who say that Islam is as peaceful as any religion and that westerners ought to avoid provoking extremists. The culture war takes place on talk radio, the internet, and cable news, but also in higher brow venues like The New Republic and the National Review. Much is at stake.
Donald Trump and Hillary Clinton fought out this culture war in the election of 2016, and, once Trump took office, he undertook both policies and rhetoric that demeaned Muslims and almost certainly encouraged hate crimes against Muslims. There are other reasons why religious freedom matters, too. It is correlated inversely with religious terrorism and civil war and positively with democracy, peace, economic development and the advancement of women, goods that are disproportionately lacking in the Muslim world.
Finally, religious freedom is a matter of justice, plain and simple. When Bahais, Jews, or Christians suffer repression in Muslim-majority countries, just as when Muslims are mistreated in western countries (think only of the recent atrocities in New Zealand), human dignity and human rights are diminished.
If the majority of countries in the world with low levels of religious freedom are "Islamist," what are we to make of that?
That finding supports the Islamoskeptics. Countries like Iran, Saudi Arabia, Pakistan, and Sudan are religiously repressive on account of "Islamism," an ideology that calls for the state to promote a conservative form of Islam in all walks of society. Islamoskeptics are also strengthened by the finding that Muslim-majority states are in the aggregate considerably less religiously free than the global average or than Christian majority states. Other findings in my new book, though, bear out the Islamopluralist perspective.
Forty percent of the Muslim-majority countries that have low levels of religious freedom are "secular repressive," which are governed by a western-inspired ideology that calls for privatizing religion in the name of achieving a modern, economically developed nation-state. Religious freedom falls victim to the French Revolution nearly as often as it does to the Iranian Revolution. Finally, my profile of the Muslim world was filled out by the discovery of eleven (out of 47) Muslim-majority countries that are in fact religiously free, most importantly the "West Africa Seven." These are not outliers and demonstrate the possibility of genuine religious freedom in Islam. So, yes, there are Islamist states, but the Muslim landscape is also diverse and contains grounds for hope.
Pope Francis has dedicated significant time traveling to Muslim majority countries. What motivates this and what do you believe has been the effect to date?
Popes have engaged the Muslim world since the Second Vatican Council called for interreligious dialogue in the great document of 1965, Nostra Aetate. Pope Francis has taken up this call with particular vigor. He has been a bridge builder and a reconciler, which goes with his stress on mercy and peace. His trip to the UAE last month was significant in being the first visit of a pope to the land where Islam was founded. The visit was a success, building trust and friendship between the two religions and raising the profile of Christian minorities who inhabit the Arabian Peninsula. He also raised the issue of religious freedom, much to his credit.
As my last answer indicated, this human right is widely compromised in the Muslim-majority world and is one in which the Church has a great interest and stake, and it would be remiss to see the Holy Father simply having his picture taken with Muslim leaders and failing to raise this critical issue. He did raise it, though, and we can be thankful for that.
What, then, do you believe we can expect to hear from Pope Francis in Morocco?
Pope Francis will speak of friendship between Catholics and Muslims; the Moroccans will speak similarly; pictures will be taken. Pope Francis will encourage the tiny Catholic community in this country whose population is 99 percent Muslim. I hope and expect that he will bring up religious freedom, too. In my categories above, Morocco is in the "secular repressive" category, though it is not an extreme version of it, as are Egypt and Syria, whose repression of traditional Muslims makes them among the worst practitioners of torture in the world.
Still, there are problems in Morocco. Tiny communities of Christians, Shia Muslims and Bahais are harassed by the government and fellow citizens and often cannot worship without fear. The Muslim community can favor a harsh Islamism. In 2017, Morocco's Supreme Ulema Council put out a fatwa declaring that leaving Islam no longer merited the death penalty - this was progress, but also draws attention to the kinds of harsh measures that prevailed heretofore.
My hope is that Pope Francis will not only speak about religious freedom but also will demand some real concessions that will set an example for other Muslim countries-perhaps by way of increased protections for minorities. Pope Francis is holding the cards. Diplomatically, the Government of Morocco stands to gain far more in international prestige from Pope Francis's visit than does Pope Francis, who is already renowned for his foreign travels.
In instances such as the brutal killing of Father Jacques Hamel - the French priest who was slain while celebrating Mass - or on other occasions, Pope Francis has denounced such tragedies by labeling it as "absurd violence" and denouncing hatred, yet he always steers clear of identifying it with Islam. What's his strategy here?
I suspect that Pope Francis is trying to avoid repeating a scenario like that following Pope Benedict XVI's Regensburg Speech of September 2006, when Muslims took to the streets around the world and in many places carried out violence, even killing a Catholic nun in Somalia. Given the emotions typically surrounding violence, he probably wanted to let things cool down rather than risking to appear linking Islam wholesale to the killing of Hamel. If my interpretation is correct, Pope Francis's reaction may have been wise.
Still, the Church's commitment to justice and to religious freedom, stemming from its landmark declaration of 1965, Dignitatis Humanae, call for raising the issue of religious freedom in the Muslim world. To be silent about religious freedom is to fail to keep solidarity with the vulnerable - religious minorities as well as Muslims who suffer at the hands of both Islamist governments and secular repressive governments that are often propped up by Western powers.
https://angelusnews.com/news/christopher-white/ahead-of-morocco-trip-scholar-looks-at-religious-freedom-in-islam
--------
Race, religion and rhetoric ramp up in 'New Malaysia'
30 March 2019
After recouping the Semenyih state legislative assembly seat, it comes as little surprise that the United Malays National Organisation (UMNO) and the Pan-Malaysian Islamic Party (PAS) are finally formalising their cooperation. The implication of this is that political discourse will only regress further to the right. The hardening of racial and religious divides on the back of perceived Malay-Muslim victimhood is another consequence.
Any legislation the Pakatan Harapan (PH) government introduces will be scrutinised through racially-tinted lenses. Policies perceived as affecting the interests of Malay-Muslims can expect stronger challenges from now on. At best this would come at the cost of significantly increased political effort to pass much-needed reforms — at worst, it could see an increase in the wielding of vetoes.
In this new political landscape, UMNO are no longer shackled by the Barisan Nasional consociational model of power-sharing and PAS are free to up the stakes rhetorically. This collaboration will demand even more exclusivist policies when it comes to the Malay-Muslim agenda.
For UMNO and PAS this formalised collaboration also lends credence to its preferred narrative. They can argue that Malay privilege and the special position of Islam are only upheld through mutual cooperation of the Malay-Muslim political parties on one hand and the broad unwavering support of the Malay-Muslim electorate on the other.
By presenting an image of Malay-Muslim interests being under siege by the other parties, UMNO and PAS can expediently position themselves as defenders of everything 'Malay and Islam' in an attempt to consolidate votes on racial and religious grounds.
Not novel in Malaysian politics, they mirror the same sense of impending victimhood as the Democratic Action Party (DAP), a largely ethnically Chinese political party now part of the PH coalition. The DAP pushed the appointments of non-Malay-Muslims to the key positions of Attorney-General, Chief Justice, Law Minister and Finance Minister.
The political calculations for this are obvious.
Malay-Muslims constitute the largest voting bloc in Malaysia but no one political party has a significant majority over another. The Malay electorate in the 2018 election were split 25–30 per cent in favour of PH, 35–40 per cent towards UMNO–Barisan and 30–33 per cent to PAS.
Also as Article 113(2) of the Constitution states, any re-delineation of constituencies is only permissible after 8 years. The constituencies allegedly delineated along racial lines just before the 2018 election will remain so until the next election. Up for grabs then will be 134 out of the total 222 federal constituencies in Malaysia that have Malay majorities.
Coupled with the reality that the non-Malay electorate had almost completely repudiated UMNO and Barisan Nasional (BN) in the previous general election, this cements the case for UMNO to collaborate with PAS and jointly attempt to capture the Malay-Muslim vote.
In contrast, PH is constrained by its positioning as a multiracial coalition and by DAP supremo Lim Kit Siang warning that his party will leave the newfound coalition if the ideals of 'New Malaysia' are abandoned. The DAP commands 42 out of 125 of PH's seats in the Dewan Rakyat, making up almost a third of their strength.
There is also the risk that even slight flirtation with any Malay-Muslim political exclusivism could come at the expense of PH's non-Malay vote base. This stood at 95 per cent of Chinese voters and 70–75 per cent of Indian voters in the 2018 election.
Temptations to flirt with Malay political exclusivism will only rise further as UMNO and PAS increase the stakes and rhetoric. PH ought to refrain from knee-jerk reactions to appease the Malay electorate that play into the hands of UMNO–PAS. Instead, PH should understand that Cameron Highlands and Semenyih have always been traditional BN strongholds and not read too much into the results.
As of now it remains uncertain how successful the UMNO–PAS collaboration will be, and whether it poses a genuine threat to PH. In the meantime, PH should view the current racial and religious groundswell as a manifestation of the Malays' insecurities, and perhaps, how things have not changed for the better since the 2018 election.
The unfortunate fact is that while GDP and foreign direct investment numbers matter to some in urban bubbles, it means little to many at the grassroots if it does not improve more direct 'bread and butter' issues such as high living costs, stagnant wages and low employment opportunities.
Without meaningfully addressing this, the sense of victimhood felt by the Malay-Muslims will only amplify, making it no wild stretch of imagination for the Malay swing electorate to revert to the familiarity of UMNO and PAS in the next elections.
There lies the foundation of any counter-narrative PH can offer to the electorate. This counter-narrative also needs to be coupled with nation-building initiatives to undermine the racial and religious bravado propped up by UMNO and PAS that seeks to appeal to the baser instincts of race and religion.
It would be unrealistic to expect PH to turn the tide around overnight. But with the elation of the May 2018 election victory quickly fading, PH would be wise to ignore the cacophony. It should focus on its mandate, remembering that there can be no legitimate government in Malaysia if it merely represents one ethnic group.
https://www.eastasiaforum.org/2019/03/30/race-religion-and-rhetoric-ramp-up-in-new-malaysia/
--------
Balakot Proof Is 'Blown In The Wind', Pakistan Doesn't Want To See It, Says IAF Chief BS Dhanoa
Mar 30, 2019
Rahul Singh
Pakistan is refusing to acknowledge the damage caused by the Indian Air Force's unprecedented, peace-time, cross-border strike against a terror camp in Balakot on February 26 although the proof exists in front of its eyes in the form of the bombed-out structures, IAF chief BS Dhanoa said on Friday.
He asserted that Indian fighter planes had struck their intended targets with precision.
Air Chief Marshal Dhanoa quoted lines from an iconic Bob Dylan track in response to a question on Pakistan downplaying the pre-dawn raid by the IAF's Mirage 2000 fighters and also denying that any damage was caused by the precision bombing.
"It is there in front of you (Pakistan), but you don't want to see it...I can only recall Dylan, 'And how many times can a man turn his head, and pretend that he just doesn't see; the answer, my friend, is blowin' in the wind..," Dhanoa said, referring to the song, which was part of Dylan's 1963 album, The Freewheeling Bob Dylan.
The air strikes against the Jaish-e-Mohammed terror base were India's response for the Pulwama suicide car bomb attack in which 40 Central Reserve Police Force (CRPF) men were killed on February 14.
The IAF's Mirages hit three targets in Balakot with five Israeli-origin Spice 2000 bombs with penetrator warheads that allowed them to pierce through the rooftops before exploding inside to cause maximum damage, two air force officers said on condition of anonymity.
Each bomb was carrying around 80 kgs of explosives in a 900-kg steel casing, with the explosion caused by time-delay fuses sending a lethal quantity of shrapnel that would have instantly killed the occupants of the buildings, said one of the officials cited above.
The bombs hit their targets in a vertical attack angle, leaving holes measuring 80 to 90 cm in diameter on the rooftops of the structures, the second official said. "Points of impact are visible to people who know where to look," Dhanoa said.
On Friday, Prime Minister Narendra Modi, at an election rally in Odisha's Koraput, slammed Opposition parties for raising questions over the IAF strike.
"It has been one month, Pakistan is still counting the dead bodies and our rivals are seeking proof for Balakot strike," he said, adding, "When India takes action against terrorists, enters their home and kills them, then some here ask for proof."
On February 28, the IAF said it had credible proof that the Mirage 2000 strikes met their objective and the evidence — consisting of satellite and radar imagery — has been handed over to the government.
Hindustan Times has seen satellite images of the targets before and after the February 26 strike, and the holes created by the penetrator warheads are hard to miss.
More than a month after the Balakot strikes, the air force is still in its highest state of alert and prepared to scramble fighter jets from its forward bases within minutes, officials said. Military tensions between India and Pakistan escalated following the Balakot strikes, with Pakistan Air Force fighters, including F-16s, making a failed attempt to bomb Indian military installations on February 27.
Both air forces lost one fighter plane each in the ensuing aerial engagement, with IAF's Wing Commander Abhinandan Varthaman ending up in Pakistani custody after his MiG-21 Bison crashed in Pakistan-occupied Kashmir. He was returned to India on March 1.
On March 12 , defence minister Nirmala Sitharaman said the IAF shot down a Pakistan Air Force F-16 on February 27, but Islamabad would never admit it as it had always been in "denial" about the losses suffered by it.
The Indian Navy cut short a major exercise in the Indian Ocean region after the Pulwama attack and swiftly redeployed its frontline assets to the north Arabian Sea for operations. In a rare announcement on March 17, the navy said the buildup, consisting of an aircraft carrier, nuclear-powered attack submarines and scores of warships and maritime aircraft, put the Pakistan Navy on the back foot.
The combat units are still deployed in the region and the navy is in the highest state of preparedness, a navy official said on condition of anonymity.
https://www.hindustantimes.com/india-news/balakot-proof-is-blowin-in-the-wind-pakistan-doesn-twant-to-see-it-says-iaf-chief-bs-dhanoa/story-fgcmIaIxGdGsEk9sooTi8M.html
--------
Zakir Naik diverted Rs 193cr Islamic funds for buying flats, mutual funds: ED probe
Pradeep Thakur
Mar 22, 2019
NEW DELHI: Islamist preacher to real estate dealer, the Enforcement Directorate's money laundering probe against absconding Zakir Naik has revealed his undisclosed assets worth over Rs 193 crore — including investments in 20 flats in Mumbai and Pune besides bank deposits — by diverting funds and donations received from Islamic countries meant for "welfare of Muslims".
The ED on Friday arrested his close aide Najmudin Sathak, a jeweller, who assisted Naik in money laundering and organising funds of "dubious origins" from Dubai to the tune of Rs 79 crore for production and broadcasting incriminating videos allegedly spreading "hatred and radicalization".
The agency, which is likely to file a chargesheet in the case soon, has already attached assets worth Rs 51 crore, including multiple properties and mutual funds worth Rs 9.41 crore. Another close associate Aamir Gazdar was earlier arrested in the case for aiding Naik in money laundering.
The ED, in a status report prepared on Naik, said that the preacher had used his Islamic Research Foundation, meant for social welfare of the Muslim community, to organise dubious donations and diverted the proceeds in purchasing properties.
The accused raised donations of about Rs 65 crore from UAE, Saudi Arabia, Bahrain, Kuwait, Oman, besides India between 2004 and 2017. The agency has tracked Rs 49 crore received from unexplained sources in Dubai which he further used to book at least 20 flats in Mumbai and Pune.
The ED probe revealed that nine flats were booked in Fatima Heights and Aafiyah Heights in Mumbai worth over Rs 13 crore in the name of his wife and son and 11 flats booked in Engracia at Pune. "The booking amounts were paid by routing of unexplained fund received by Naik through the bank accounts of his wife, son and niece," a source said.
The transaction trail also revealed Naik's investment of Rs 13 crore in three properties located at Belvedere Road, Mazgaon, Mumbai. The money in this case was routed through the bank accounts of his mother, father and sister. The source of funds remained unexplained, according to ED.
Najmudin Sathak, who is now in ED custody, assisted Naik in organising funds of 'dubious origins' from Dubai to fund production and broadcasting of incriminating videos allegedly intended to spread communal hatred and radicalisation of the Indian society, the ED probe says.
Sathak is also a director in the Global Broadcasting Corporation which was owned by the Peace TV channel run by Naik. Peace TV was broadcasting Naik's speeches from UAE for Middle East and Africa. The funds were routed through Global Broadcasting Corporation (GBC), Dubai. "An amount of Rs 79 crore was received from GBC to Harmony Media Pvt Ltd which was responsible for production of all contents for the Peace TV. Naik's sister and another close aide Aamir Gazdar were directors in Harmony Media," according to ED probe.
"The source of funds remitted by GBC to Harmony Media is suspicious as there were no advertisements run on this channel and Sathak has also not submitted any details of the same," a senior ED official said. Both GBC and the Harmony Media were controlled by Naik through his aides.
"It was also learnt during investigation that these videos were also exported to UK by Sathak for uploading the same on Peace TV channel from UK. There was no monetary transaction in respect of videos exported to UK, which further raises suspicion," sources said.
https://timesofindia.indiatimes.com/india/zakir-naik-diverted-rs-193cr-islamic-funds-for-buying-flats-mutual-funds-ed-probe/articleshow/68526448.cms
--------
US report urges reintegration of Taliban fighters into Afghan society
March 30, 2019
WASHINGTON: A failure to reintegrate Taliban fighters and their families into Afghan society could undermine any peace agreement that the United States and the militants might conclude, warns an official US report to Congress.
In its annual report to Congress, office of the Special Inspector General for Afghanistan Reconstruction (SIGAR) identifies three risks that might persist after a peace settlement between the Taliban and the Afghan government or arise out of such a deal.
"A failure to successfully reintegrate Taliban fighters and their families into Afghan society, a failure to improve civil policing, and a failure to ensure effective oversight of continuing foreign financial assistance could each undermine the sustainability of any peace agreement that might be reached," SIGAR chief John Sopko warned in the annual report.
Since 2014, SIGAR has developed a "high-risk list" for each new Congress outlining the threats to US investment in Afghanistan, such as widespread insecurity, corruption and the illegal drug trade.
The 2019 report focuses on the risks that might persist or arise in the event of a peace settlement between the Taliban and the Afghan government. The US and Taliban are holding talks in Doha, Qatar.
The report identifies eight high-risk areas capable of hampering US-funded efforts for Afghanistan's reconstruction, which was delivered to Congress and the secretaries of state and defence this week.
"Peace would be welcome news," the report said. "But a peace settlement could also bring its own set of challenges to sustaining what has been achieved since 2001 in one of the world's most isolated, impoverished, and conflict-plagued countries."
The report warns that reintegrating anti-government fighters into Afghan society and a continuing sluggish economy are two other challenges that could undermine US reconstruction efforts after Taliban reconciliation with Kabul.
https://www.dawn.com/news/1472761/us-report-urges-reintegration-of-taliban-fighters-into-afghan-society
--------
Lasting peace establishment possible only through end of Palestine's occupation: Iran
Mar 29, 2019
Iran has censured Israel's "criminal" actions and the illogical and unlawful US support for the regime, saying the continuation of resistance until full liberation of Palestine would play a leading role in the establishment of "lasting" peace in the Middle East.
Iran's Foreign Ministry issued a statement on Friday on the occasion of the Palestinian Land Day, an annual event to mark the killing of six Palestinians by Israeli forces during mass protests against Israel's seizure of their land in 1976.
In late March 1976, Israeli troops killed six Palestinians, wounded 100 others and detained hundreds more who had held peaceful demonstrations against Israel's confiscation of 21,000 dunams (5,189 acres) of their land. Palestinians, both at home and overseas, have been marking the event known as the Land Day with rallies and remembrance ever since.
"The Islamic Republic of Iran believes that the establishment of sustainable and fair peace in the region will only be possible through the continuation of resistance until complete end of Palestine's occupation, the return of all [Palestinian] refugees to their homeland, determination of Palestine's next system based on [holding] a referendum in the presence of all its main residents and finally the formation of a united Palestinian government with East Jerusalem al-Quds as its capital," the statement said.
It added that the US government's moves in violation of the United Nations Security Council and its support for the Israeli regime, which was against international law, prove "futility of efforts by some Arab countries in the region to normalize ties" with the Tel Aviv regime.
The US measures also show that "overt and covert efforts to establish relations with this regime cannot help restore the Palestinians' rights and end the occupation of Arab-Islamic lands," it said.
The Iranian Foreign Ministry further said US President Donald Trump's decision to declare Jerusalem al-Quds as Israel's "capital," relocate its embassy to the disputed city and his recognition of Israel's "sovereignty" over the occupied Golan Heights have all proved that Palestinians' anti-Israel resistance is a "correct path and the Land Day is one of its symbols."
The statement also described the Land Day as a "turning point" in the history, culture and resistance of Palestinians, saying it has played and would play an important role in boosting the Palestinian people's resistance against the Israeli regime's occupation.
A new report said Israel has so far occupied more than 85 percent or some 27,000 square kilometers of historical territories of Palestine in an expropriation process which still continues unabated.
Ola Awad, the president of the Palestinian Central Bureau of Statistics (PCBS), announced the grim news in a report carried by the Palestinian Ma'an news agency on Thursday, the eve of the 43rd anniversary of the Land Day.
https://www.presstv.com/Detail/2019/03/29/592141/Land-Day-Iran-Palestine-Trump-East-Jerusalem-alQuds-Golan-Heights-Israel
--------
Former US Soldier Planning To Kill Muslims Converts to Islam
March 26, 2019
As New Zealand attempts to recover from a brutal attack on two mosques that killed over 50 Muslims, it has been revealed that a U.S. veteran who was planning to murder and injure over 200 people at an Islamic centre has become Muslim after learning about Islam.
Before becoming the President of the Muslim Student's Association at Ball State University in Indiana, and the Vice-President of the Islamic Centre of Muncie, Richard McKinney was a decorated veteran who had joined the Marine corps for his love of the "Rambo" action films and served for years in the Middle East, which he said has contributed to his eventual hatred of Islam and Muslims.
"I didn't hate Islam then, but many of the things I saw were a reason why I felt the way I did later on," said McKinney.
After he returned home, McKinney came extremely close to conducting a terror attack after planning to make his own improvised explosive device (IED) and blow-up a mosque with the intent of "killing and injuring hundreds of Muslims" as he watches from a nearby parking lot.
Luckily, his wife stumbled across his plans, paving the way for the FBI to investigate his actions, but that failed to quell his hatred for Muslims, until one day his daughter was disgusted by comments he made about the veiled mother of one of his granddaughter's classmates.
"My hatred of Islam. It was the only thing that was keeping me alive," he said.
The incident pushed him to seek answers from a local mosque that provided him with a Quran, and eight weeks later he embraced Islam.
"I started spending hours and hours in there, and things just made sense to me. I knew I wanted to take my Shahāda – I wanted to become a Muslim."
Since then, he has grown in strength in the community, and has become an inspirational and integral part of people's lives. Three years after his conversion, he became the president of the Islamic Center of Muncie.
He now continues to work on promoting Islam and the Muslim community, correcting any misinformed thoughts and feelings that many have.
https://www.yenisafak.com/en/news/former-us-soldier-planning-to-kill-muslims-converts-to-islam-3477471
--------
Pakistan, China warn against politicising UN anti-terrorism regime
Anwar Iqbal
March 30, 2019
WASHINGTON: Pakistan has warned that politicising the UN counterterrorism machinery would only compromise the integrity of the regime, as China also warned against "forcefully moving" a resolution in the UN Security Council.
Speaking in a Security Council debate on "Preventing and Combating the Financing of Terrorism" on Thursday afternoon, Pakistan's Ambassador Maleeha Lodhi said that current structures like FATF and the 1267 Sanctions regimes should not be used as political tools by some to advance their geopolitical goals.
"There is also a need to make these institutions more inclusive of the wider membership in their decision-making processes," she added.
On Thursday, Chinese Foreign Ministry spokesman Geng Shuang told a media briefing in Beijing that "forcefully moving" a resolution directly in the UNSC undermined the authority of the UN anti-terrorism committee.
"This is not in line with resolution of the issue through dialogue and negotiations. This has reduced the authority of the Committee as a main anti-terrorism body of the UNSC and this is not conducive to the solidarity and only complicates the issue," he said.
On Wednesday, the United States directly moved a resolution in the UNSC, seeking to list Jaish-e-Mohammad chief Masood Azhar as a UN-designated global terrorist.
On March 13, the US, Britain and France had moved a similar resolution in a forum known as the 1267 or the Islamic State and Al Qaeda Sanctions Committee. Since members of this committee are the same as those of the UN Security Council, China used its discretionary powers to put a technical hold on the resolution. China also promised to review the situation, including Indian allegations against Masood Azhar, and reconsider its position on the resolution.
But instead of waiting for the final Chinese decision, the United States moved the resolution in the Security Council. China, as one of the Permanent Five, can veto the resolution but this will put Beijing in a direct confrontation with the other four. Both Washington and New Delhi hope that China will avoid a direct confrontation and let the resolution pass.
Speaking in the general debate, Ambassador Lodhi pointed to the several gaps that existed in the international community's counterterrorism strategy.
She identified the lack of international attention given to foreign intervention and foreign occupation, denial of the right to self-determination to peoples living under foreign occupation and continued violations of international law and the UN Charter as examples of such gaps.
She pointed out that continued and persistent violations of human rights contributed to violent extremism. Yet killings continue in India-held Kashmir and Palestine.
Ambassador Lodhi said that brutalisation and oppression of people struggling for their legitimate right to self-determination constituted state terrorism, which should also be the focus of international attention.
"Pakistan has been the principal victim of terrorism, including that supported, sponsored and financed from abroad," she said. "But this has not diminished my country's resolve to eliminate this scourge."
Ambassador Lodhi also told the Security Council that Pakistan had criminalised terrorist financing in accordance with the Terrorism Financing Convention and had enacted laws to eliminate terrorism financing risks and implement its international obligations, including those arising from FATF recommendations and 1267 Sanction Regime.
In Beijing, Chinese Foreign Ministry spokesman Geng said China put a technical hold on the US move because it wanted to conduct an in-depth assessment and was "in communication with all parties to seek a settlement through dialogue. We hope this will be a common goal of all the members of the UNSC."
Asked about Pakistan rejecting the evidence put forward by India on the Pulwama terrorist attack, he said, the 1267 committee had detailed and clear stipulation and requirements on the listing issue.
"What China has done is in line with the requirement of the UNSC and rules and procedures of the committee. We are always working in a constructive manner and stay in communication with the relevant parties and seek a proper solution," he said.
Mr Geng said that moving a resolution directly in the UNSC undermined the authority of the UN's anti-terrorism committee.
"This has reduced the authority of the Committee as a main anti-terrorism body of the UNSC and this is not conducive to the solidarity and only complicates the issue," he said. "We urge the US to act cautiously and avoid forcefully moving forward this draft resolution."
ttps://www.dawn.com/news/1472766/pakistan-china-warn-against-politicising-un-anti-terrorism-regime
--------
Africa
Shocking revelation of Boko Haram insurgents' 'wives': 'We saw hell in Sambisa forest'
March 30, 2019
'Wives' of Boko Haram commanders who returned from Sambisa Forest after their escape have continued to be stigmatised by their community members who have lost trust in them. OLUFEMI ATOYEBI and HINDI LIVINUS write
United by grief, 'wives' of Boko Haram commanders had different tales to tell, even though they were held in the same confinement by their abductors for years. Their stories are about human suffering, agonies, survival and ultimately, triumph. Although they could be inspiring, they are stories of assault on humanity.
At some point, many of the captives had to eat grass to survive the grueling starvation so they could see another day. There were those, who in an attempt to flee and escape the harrowing experience of starvation and malnutrition suffered by their children, set out at dawn to escape but they did not reach their destinations as they found death on the way. Some were felled in their tracks by search parties of Boko Haram fighters who were saddled with the task of ensuring that anyone who attempted to escape never lived to enjoy freedom. But for many of them, despite their escape, life remains harrowing.
For Hauwa Babajo, who gave birth to a daughter after her union with a Boko Haram commander, anyone that had a plan to escape risked betrayal if they confided in any of the fellow captives or even their 'partner'. She escaped from Sabilu Huda, a settlement within the forest. She said women who returned from the forest were also stigmatised by people in the communities who do not seem to trust them.
"You don't expect any of the wives of the Boko Haram fighters to confide in their husbands that they plan to flee. In the forest, there were commercial activities going on. There were tailors, butchers and so on. Most of the trading was done by Boko Haram commanders who had partners in Michika, Madagali, Gwoza and Damboa. Living in Sambisa Forest was hellish.
"We face all manner of abuses from members of our community who call us Boko Haram. Our children are also not spared; they are called children of vipers. They say after being chased away from Sambisa, we returned with snakes from our Boko Haram husbands," she said.
Sometimes, she wished she had never returned to Madagali because of the stigmatisation she and her daughter, Zara, have had to endure since their return six months ago. Her Boko Haram husband was allegedly killed by the Nigerian military in a raid.
Married off to one of the Boko Haram fighters in Sambisa, Mary Palam, similarly fled the forest after almost three years in captivity because of the difficult life she was subjected to. She said many of them begged to survive.
"There was acute food shortage at the camp and finding clothes to wear was also one of the biggest challenges of living in Sambisa. Our experience can be described as living in hell while on earth. It was tough. There were people who lived on begging in order to survive. Only few families, especially those belonging to commanders, were able to feed their families," she said.
Mariam Ajuji, who was married off to Umaru Abdullahi, following her abduction in April 2014, said she also escaped from the enclave of Sambisa because of hardship, adding that she had two children for Abdulahi in the forest.
"I had known him to be fighting for the group ever since I was taken into captivity by the sect. When the insurgents stormed our house in Madagali, Abdullahi indicated interest in taking me and my sister with them. My family members were initially resistant but the sect threatened to kill our father. They took us and other ladies to Limankara and later Jaji.
"It was hell on earth. There were days when we were locked up without food or water. Those were days that the men would say they were going to do god's work, meaning they had gone to either attack a town or wage a war against the Nigerian Army. My sister was separated from me but we ended up re-uniting in Sambisa again," she said.
Her eldest brother and father had died during the time she was away. She said her brother had fled to Cameroon with his wife and two kids but was killed by Cameroonian gendarme, who took him for a member of the sect. He was killed in front of his wife and children. Mariam said her days in Boko Haram captivity came to an end in November 2018 when she escaped from Sambisa Forest. After failing in her earlier attempts, her husband divorced her and threatened to execute her but took her back as wife before her fourth and final escape plan succeeded. With a search party launched to find her, a woman came to her rescue, hiding her in her home until the search was called off.
For Bilkisu, her husband, Buba Yusuf, also known as Bubarisko, had no option but to agree to join the Boko Haram sect as a leader after threats that their two sons would be killed if he disagreed to abide by the sect's doctrine. She said one of the leading figures of Boko Haram, Mamman Nur, visited her husband in Madagali and took him away. He was only returned after he agreed to do their bidding.
After the Nigerian soldiers invaded Madagali to liberate it, her husband fled to Sambisa while one of her sons was killed with 29 other males after they were identified as Boko Haram fighters. He lost another son in an air raid. After her return, she was handed over to the Nigerian Army by people who identified her as the wife of a Boko Haram commandant still in Sambisa.
"It has never been my husband's will to join the sect. There was a slim chance we could get out of their web; we considered the fate of our four middle-aged boys and what would happen to them if we went against the instructions of the sect members. My husband was given a leadership role in Madagali and referred to as Amir. When I survived military onslaught with my two daughters, we returned to our community but members of the community handed us to the military over allegations that we had come to spy for my husband.
"I was put in chains and taken to the military camp in Chibok where I was interrogated and asked to reveal the identities of other members of the group. But after a month, they issued me a clearance with documents (which she proudly brandished)," she said.
One of the 'wives' of Boko Haram insurgents who escaped
However, Amina Mohammed, 42, was not married off to a Boko Haram insurgent; she and her husband were kidnapped by the group. She made her escape from Sambisa Forest while she was three months pregnant, but she was delivered of her baby during her journey to freedom.
"I gave birth while I was fleeing. I saw a Nigerian fighter helicopter hovering over us during the journey. The soldiers took us to Gwoza which was nearby, but I told them I could not find my three-year-old son. I left my newborn child with one of the women with me when the soldiers rescued us and I informed them I was going in search of my son whom I had left behind in Sambisa.
"I found the boy playing with the children of my neighbours in one of the Sambisa settlements. I took him and found my way back to Gwoza. This was after spending three days inside Sambisa Forest. I made my escape under the cover of darkness," she said.
Amina said she was held with her husband, a teacher. According to her, the escape was not a smooth one because she was twice betrayed by neighbours who told one of the Boko Haram commanders about her intention to flee. Afterwards, she was locked in a cell and threatened to be killed if she attempted to escape.
YOU MAY ALSO LIKE: Party's decision to settle for Lawan shocked, surprised me –Ali-Ndume
"Wives of Boko Haram fighters literally live from hand to mouth and those who have difficulties coping with the deprivation and starvation choose to escape the suffering by fleeing the forest once the opportunity of escape presents itself," Amina added.
For Aishatu Usman, her sadness is that even though her daughter, Zainab, was rescued by the military from Sambisa, she (Zainab) lost her sanity while in captivity. Zainab was in junior secondary school three when she was kidnapped with other young girls and married off in the forest to a Boko Haram fighter.
She said, "I have spent all I have to see that she regains herself. Right now she doesn't like the company of people. She doesn't also like her hair plaited; at night she awakens every one with cries of what seem like Quoranic citations. I have been suffering with her since she returned. My girl was fine before her abduction. All of her hallucinations started after her return from captivity."
The District Head of Duhu, Mohammed Sanusi, has been a source of succour to many of the women upon their return to the town. Many of them said that they would have made their way back to Sambisa Forest but for the love shown to them by Sanusi.
A few years ago, Sanusi set up a reconciliation committee named Kabara Committee, as part of a post-insurgency recovery plan. The committee, which draws its membership from the headship of the six villages under Duhu District and representation from Christian and Muslim communities, identifies returnees, especially women, who were either rescued or had fled Sambisa, for resettlement.
Speaking on his effort, Sanusi said that nearly 60 per cent of the youth from the area joined the Boko Haram sect, stressing that the community must come up with a system so that those who joined the sect would have reasons to abandon it and return home without fear of stigmatisation.
He stressed that if the community could be more accommodating; those who felt they had done any wrong could be encouraged to return.
He said, "We have to treat these women well and get them re-integrated into the communities because we have learnt that many of them have a communication channel with their husbands and we believe that they will convince them with time to come out of hiding and stop fighting on the side of the insurgents.
"We seek partnership with local and international non-governmental organisations which we relay their needs to and many of them have obliged us with assistance for the women. It is still work in progress, many of them are trained to acquire skills that they want and given financial assistance that will enable them to start their own businesses."
A member of the Kabara Committee, Shinapi Pakka, said returnees were given tests to ascertain the veracity of their stories.
"If someone returns from Sambisa Forest, the committee will sit with the person and find out from them if they were truly from Sambisa. We have links with NGOs which offer assistance, including livelihood support and some money to start a trade after proper checks have been carried out to ascertain that the returnee poses no threat to the peace of the community," he said.
https://punchng.com/we-went-through-hell-on-earth-in-sambisa-forest-escaped-wives-of-boko-haram-insurgents/
--------
Tunisia nabs UN official on suspicion of 'spying'
Mar 29, 2019
Tunisia has arrested a United Nations (UN) official charged with monitoring alleged violations of an international arms embargo on Libya on suspicion of "spying."
Tunisian authorities arrested Moncef Kartas, a member of the panel of experts of the UN's Libya Sanctions Committee, after he arrived in the capital, Tunis, on Tuesday, a UN spokesman told AFP on Friday.
"We are in contact with the Tunisian authorities to know why he (Kartas) has been held for questioning," a UN statement said, noting that Kartas enjoys diplomatic immunity.
According to Tunisia website universnews, Kartas has dual Tunisian and German nationality.
The Tunisian Interior Ministry said in a statement on Friday that two Tunisian citizens, including Kartas, had been detained on suspicion of "spying for foreign parties."
Full report at:
It added that investigations were ongoing.
https://www.presstv.com/Detail/2019/03/29/592148/Tunisia-arrest-UN-official-spying
--------
Tunisia says to coordinate Arab response to US move on Golan Heights
Mar 29, 2019
Tunisia says it will coordinate with its fellow Arab countries to "contain" any fallout from US President Donald Trump's provocative decision to recognize "Israeli sovereignty" over Syria's Golan Heights.
"We will work with fellow Arab countries and the international community to contain the expected repercussions of this decision in the various regional and international forums," Tunisian Foreign Minister Khemaies Jhinaoui said without elaborating during a meeting of Arab foreign ministers in the capital Tunis on Friday evening, two days before the annual Arab League summit.
In 1967, Israel waged a full-scale war against Arab territories, during which it occupied some two-thirds of Syria's Golan Heights and annexed the region four years later, a move never recognized by the international community.
On Monday, however, Trump took a markedly controversial move by proclaiming the Israeli-occupied part of the Golan Heights as Israeli territory, triggering an international outcry particularly among the Arab nations.
Although Arab League spokesman Mahmoud Afifi has said the bloc would seek to issue a proclamation on Trump's Golan declaration on Sunday, experts expect little more than a condemnation statement.
"It will be just a very strong, theatrical, nice, maybe strong statement," said Ahmed Abd Rabou, a visiting professor of international affairs at the University of Denver, expressing doubt that any Arab League statement "will have a true political effect."
Arab leaders responded similarly to the US president's other contentious decision last year to recognize Jerusalem al-Quds as Israel's "capital" — with nothing more than statements condemning the move.
Many, including Iran, Russia, Lebanon and Palestinian factions, have unanimously denounced Washington's move. The European Union has also said it will continue to view the territory as occupied.
Furthermore, a Wednesday meeting of the UN Security Council turned into another stage for the isolation of the US, as other countries on the council opposed Trump's move on the occupied Golan Heights.
Full report at:
https://www.presstv.com/Detail/2019/03/29/592156/Tunisia-US-Trump-Israel-Syria-Golan-Heights-Palestine
--------
UN document shows Kenya seeking to close Somali refugee camp
By Tom Odula 
March 29
NAIROBI, Kenya — An internal United Nations document says Kenya again seeks to close the Dadaab camp that hosts more than 200,000 refugees from neighboring Somalia and is one of the largest such camps in the world.
The U.N. refugee agency document obtained by The Associated Press says it "appreciates" Kenya's suggestion, made on Feb. 12, to close the camp within six months. But it notes that security remains "precarious" in Somalia, where the al-Qaida-linked al-Shabab extremist group is based, and says returns must be voluntary.
Kenya calls the refugee camp near the Somalia border a source of insecurity. Some officials have argued that it has been used as a recruiting ground for al-Shabab and a base for launching attacks inside Kenya, but the officials have not provided conclusive proof.
A Kenyan court in 2017 blocked the closure of Dadaab, however, saying it was not safe for refugees to return home.
A senior government official, speaking on condition of anonymity because he was not authorized to discuss the issue, confirmed Kenya's latest plan to close the camp.
The decision followed the deadly al-Shabab attack on a luxury hotel complex in Kenya's capital, Nairobi, in January, he said.
The senior official said plans for the Nairobi attack were made at the Dadaab camp. In the government's previous attempt to close the camp, it said plans for the 2013 attack on the Westgate mall in Nairobi that left 67 people dead had been made in Dadaab, but it offered no proof.
The internal U.N. document says Kenya suggested alternatives including moving the camp to Kakuma, away from the Kenya-Somalia border. The document also notes Kenya's national security concerns.
The first settlement in Dadaab was established in 1991, when refugees fleeing conflict in Somalia started to cross the border into Kenya, according to the U.N. refugee agency.
Full report at:
https://www.washingtonpost.com/world/africa/un-document-shows-kenya-seeking-to-close-somali-refugee-camp/2019/03/29/38a99c40-5240-11e9-bdb7-44f948cc0605_story.html?noredirect=on
--------
Arab World
Syrian Army Pounds Tahrir Al-Sham Positions in Hama, Idlib
Mar 29, 2019
The Syrian army forces launched heavy artillery strikes against the positions and moves of Tahrir al-Sham in the towns of al-Sharia'h and Tal al-Sakhar on Friday in response to the terrorists' attacks against military areas.
During the attacks, the Syrian army smashed several hideouts, military vehicles, weapons and equipment of the militants, leaving a bunch of the terrorists dead and wounded.
Meantime, the artillery units of the Syrian army targeted the terrorists' positions in Khan Sheikhoun and al-Khuwain, killing a number of the terrorists and destroying their military equipment.
In a relevant development on Thursday, the Syrian army fended off attacks by Tahrir al-Sham from the demilitarized zone against the military points in Northern Hama and Southern Idlib.
The Syrian army units targeted Tahrir al-Sham's moves from Halfaya, al-Latamineh, al-Sakhar and al-Sarmaniyeh regions towards the military points in Northern and Northwestern Hama, leaving several militants dead and wounded and forcing others to withdraw. Meantime, a military source reported that the Syrian army forces destroyed the terrorists' hideouts near the towns of al-Latamineh and Kafr Zita with bomber drones.
Also, in Southern Idlib, the Syrian army forces targeted the terrorists' positions near Khan Sheikoun, Jisr al-Shaqour, Tahtaya and Basileh in response to their offensives, killing a number of terrorists and destroying their military equipment.
http://en.farsnews.com/newstext.aspx?nn=13980109000079
--------
Security Expert: US Plots to Revive ISIL in Western Iraq
Mar 29, 2019
Hossein al-Kanani was quoted by the Arabic-language al-Ma'aloumeh news website as saying on Thursday that the US does not intend to withdraw from Eastern Euphrates or Western Iraq.
He added that the ISIL terrorists have been stationed in US bases in Western Iraq near the borders with Syria, noting that Washington's presence is aimed at controlling the region and cutting the Tehran-Baghdad-Beirut road to protect Israel's security.
Al-Kanani had also earlier revealed that a large number of ISIL terrorists in Eastern Euphrates entered Iraq after an agreement with the Syrian Democratic Forces (SDF) via corridors prepared for them by the US forces.
Another senior Iraqi expert had also in January warned of Washington's attempts to increase its influence in Iraq, saying that Israeli spies and ISIL terrorists were present at the US bases in Iraq.
Hafez Al-e Basharah told al-Ma'aloumeh news website that the US was attempting to boost its presence in Iraq and the American forces have been stationed in the Southern parts of Baghdad, specially al-Suwaireh and al-Aziziyeh regions.
He added that the Iraqi government's assessments that the foreign military advisors are stationed in the country are outdated, noting that the information obtained by the resistance forces indicate that combat forces are deployed in the US bases and their numbers is on rise each day.
Full report at:
http://en.farsnews.com/newstext.aspx?nn=13980109000167
--------
Corpses of Hundreds of ISIL, US Victims Found in Raqqa
Mar 29, 2019
The Kurdish-language Hawar News quoted Head of Raqqa's Rescue Team Yasser al-Khamis as saying on Thursday that the corpses of 304 people have been unearthed from a mass-grave in Fakhikheh region in Southern Raqqa since early January.
He added that most of the bodies belong to the civilians, including women and children, noting that some of the victims had been executed.
Meantime, media activists reported that bodies of several civilians, most of them women and children, were pulled out of the debris in al-Adkhar and al-Ta'aminat districts of Raqqa in the past few days.
They said the corpses belong to the people killed by the ISIL terrorists or in the US coalition airstrikes on Raqqa.
Also, earlier this month, the Syrian army discovered around 30 dead bodies from the debris of the buildings destroyed in the US-led air raids on Raqqa city and mass graves of ISIL's victims.
"The dead bodies of at least 21 civilians, including children and women, massacred by the ISIL were retrieved from Fakhikheh mass grave South of Raqqa City," media activists said.
Full report at:
http://en.farsnews.com/newstext.aspx?nn=13980109000144
--------
Saudi Arabia rejects Trump decision on Golan Heights, Jerusalem
29 March 2019
In his opening speech during the ministerial session ahead of the Arab League Summit due to convene on Sunday in Tunisia, Saudi Minister of Foreign Affairs Dr. Ibrahim al-Assaf rejected US recognizing sovereignty of Israel over the Golan Heights.
"The Kingdom rejects any measures that affect the historical status of Jerusalem," he added.
"We [Saudi Arabia] support the territorial integrity of Syria and the political solution based on dialogue between the opposition and the regime."
He further noted that the Kingdom wants to unify the Syrian opposition ahead of talks with the Syrian regime.
As for the ongoing war in Yemen, the minister said: "we hold Iran fully responsible for what is happening in Yemen."
He also reaffirmed his country's support for UN efforts and UN envoys in Yemen, Syria and Libya.
"We reject the interference of Iran and its militias in a number of Arab countries," he added.
Iran's ballistic missiles pose a threat to regional and international security, according to al-Assaf.
During the preparatory ministerial session, the Secretary-General of the Arab League Ahmed Aboul Gheit called for a political solution to the conflicts in Syria, Libya, and Yemen.
Additionally, Aboul Gheit said that the "Golan is Syrian land," rejecting the US decision to recognize Israel sovereignty over Golan Heights.
For his part, the Tunisian Minister of Foreign Affairs Khemaies Jhinaoui said "the Trump decision on the occupied Golan is null and void and has no legal effect."
"We will work with other Arab countries to contain the impact of US decision to recognize Israeli sovereignty over the Golan Heights," he added.
Full report at:
https://english.alarabiya.net/en/News/north-africa/2019/03/29/Saudi-Arabia-rejects-Trump-decision-on-Golan-Heights-Jerusalem.html
--------
Saudi role in countering extremist narratives highlighted at Riyadh forum
29 March 2019
Saudi Arabia's counter-terrorism efforts include countering hate speech and violence by educating people about extremist groups, according to a Saudi official who spoke at a panel discussion held in Riyadh on Thursday.
The country's efforts include "spreading sermons and lectures to educate the people about the tactics used by extremist groups whether they are ISIS or the terrorist Muslim Brotherhood group," said Dr. Ali al-Shehri, a representative from the Ministry of Islamic Affairs.
Titled "Integration in Countering Terrorist Networks Narrative: ISIS as a Model," the panel discussion was organized by the Saudi Presidency of State Security and the Global Coalition Against Daesh.
Saudi Arabia is one of the 79 members of the Global Coalition, committed to degrading, defeating, and dismantling ISIS.
Nancy Jamal, the official representative of the Global Coalition, said it was important to discuss violent video games. "There are a lot of studies which looked into the psyches of the players and how content from these video games affect them, how it markets terrorist ideas and instills in them violent tendencies."
This is important to discuss, Nancy said. "A lot of countries are looking into this now," she added.
Jamal said the forum was important because it included experts from several fields including defense, media and policymakers.
The panel discussions also saw the participation of Etidal, an international center to combat extremism based in Riyadh.
"Our long-term strategic goal is to build a model which we can spread thoughts of moderation, not hate. We at Etidal aim to highlight the importance of tolerance not just on the person or family but as a culture in which the people will accept that extremism and hatred should no longer be accepted in society," said Sultan al-Khuzam, director of global collaboration at Etidal.
Full report at:
https://english.alarabiya.net/en/News/gulf/2019/03/29/Saudi-role-in-countering-extremist-narratives-highlighted-at-Riyadh-forum.html
--------
France, Belgium planning false flag Syria chemical attack: Russia
Mar 30, 2019
Russia has warned that the intelligence agencies of France and Belgium - in cooperation with terrorists and "pseudo-humanitarian" volunteers - are preparing to conduct a false flag chemical attack in Syria.
Major General Viktor Kupchishin, the head of the Russian Defense Ministry's Center for Syrian Reconciliation, said on Friday that the "provocation" would be staged in Syria's terrorist-held Idlib Province to pin the blame on Moscow and Damascus.
"To organize provocations, representatives of the French and Belgian secret services arrived in Idlib. Under their supervision, a meeting was held with the field commanders of the terrorist groups of Hayat Tahrir al-Sham and Hurras al-Din, as well as with the representatives of the pseudo-humanitarian organization 'White helmets'," he said.
A batch of poisonous gas, believed to be chlorine-based, has already been delivered to a number of Idlib villages, Kupchishin said, adding that the toxic is packed in canisters disguised as oxygen and natural gas tank.
The plotters, he noted, have discussed filming the chemical attack and re-purposing footage of Russia's recent airstrikes on terrorists' arms depots in Idlib.
"From 14 March to 27 March 2019, the representatives of the Belgian secret services recorded strikes on video, which the Russian Aerospace Forces targeted at terror groups' arms depots and footholds of drones on the territory of the Idlib de-escalation zone, in order to subsequently present them as an 'evidence' of the use of chemical weapons," the Russian general said.
He further stressed that the "actors" of the false flag attack have been offered some $100 for playing the roles of chemical victims, warning that the militants may even poison people for real in order to make their video more "lifelike."
Syrian refugees and families held by terrorists could have been forced to take part in the staged attack, he added.
Russia has on several occasions warned about false flag chemical weapons attacks in Syria in a bid to justify an ensuing foreign military aggression in the Arab country.
On April 7, 2018, an alleged chemical weapons attack hit the Damascus suburb town of Douma, just as the Syrian army was about to win the battle against the militants there.
Western states blamed the Syrian government for the incident, but Damascus firmly rejected the accusation.
One week after the suspected gas attack, the US, Britain and France launched a coordinated missile strike against sites and research facilities near Damascus and Homs with the purported goal of paralyzing the Syrian government's capability to produce chemicals.
Full report at:
https://www.presstv.com/Detail/2019/03/30/592166/Russia-Syria-chemical-attack
--------
Iraqi leader says there's 'consensus' on US troops presence
March 30, 2019
Iraq's president On Friday said he does not see any "serious" opposition when it comes to the presence of American forces in Iraq, provided they continue to be there specifically to assist Iraqi forces in the fight against the Islamic State group.
Barham Salih said there is "general consensus" that Iraq needs continued collaboration with the forces, which he said can go on "as long as it is necessary." He also warned that the threat from IS extremists is far from over, despite the announcement of the group's territorial defeat in Syria last week.
Salih spoke to The Associated Press in an exclusive interview in Baghdad on Friday, a day before traveling to Tunis to attend an annual Arab summit meeting. Some 5,200 troops are stationed in Iraq as part of a security agreement with the Iraqi government to advise, assist and support the country's troops in the fight against the Islamic State.
IS overran large parts of Iraq in 2014 after Iraqi forces collapsed, and it proceeded to declare a self-styled caliphate over territory straddling Iraq and Syria.
US forces, which had left Iraq in 2011 after invading in 2003, were invited back to assist the fight against the group, and Iraq declared victory over IS in late 2017 after a ruinous and bloody war.
"They are here for the specific mission of empowering and enabling Iraqi forces in the fight against ISIS. Nothing else. That is the specific exclusive mission, and in that context, I do not see serious opposition to the presence of these forces in Iraq today," Salih said.
Salih's comments stand in stark contrast with that of mostly Iran-backed deputies in the Iraqi Parliament, who say they are preparing draft laws calling for a full withdrawal of US troops now that the war against IS is over.
An unannounced visit to Iraq by Trump in December, during which he failed to meet with the prime minister, as well as recent comments in which Trump said he wanted US troops to remain in Iraq to "watch Iran," have also provoked outrage in Baghdad and fueled the debate.
Salih said any mission beyond what has been agreed to by the Iraqi government "is a subject that many political leaders of the country would take objection to." He said he recently led a conversation among all the major political groupings of the country, and there is "general consensus that Iraq needs that collaboration." A debate or vote is not scheduled in Parliament for the time being, he said.
While he said the territorial defeat of IS was hugely significant, Salih said remnants of the group were still operating and moving around in both Syria and Iraq.
"This threat is far from over. We really need — we in Iraq, Syria and the entire international community — to be vigilant and to make sure that we deal definitely with this threat of extremism," he said.
Salih also said the international community should shoulder its responsibility in dealing with the thousands of IS detainees and their families currently being held in Syria and Iraq.
"There has to be a framework that will bring the international community together, both legally as well as in terms of the logistics and security ramifications of dealing with the numbers of ISIS detainees," he said.
Iraqi detention centers and courts are already overwhelmed with IS suspects, and the country has recently begun repatriating IS militants detained in Syria. They include 13 French nationals who will be put on trial for crimes committed inside Iraq. Salih said that although he is personally opposed to capital punishment, he would abide by the Iraqi laws and the constitution if the French nationals were to be handed the death sentence.
In the interview, Salih added that Iraq is advocating the readmittance of Syria back into the Arab League, and he said he hoped that the remaining Arab countries would work together toward that goal.
Syria's membership was suspended in 2011 in the early days of the uprising against President Bashar Assad.
While some Arab leaders think Syria — a founding member — should be readmitted, others like Saudi Arabia and Qatar have spent years supporting the insurgency.
"We better embrace Syria, and hope Syria overcomes the difficulties it has been facing. Simply isolating Syria is not the way to move forward," Salih said.
Full report at:
https://indianexpress.com/article/world/iraqi-leader-says-theres-consensus-on-us-troops-presence-5649620/
--------
Europe
Yemen says UK complicit in Saudi war crimes, can't be peace-broker
Mar 30, 2019
A senior Houthi Ansarullah official has lashed out at British Foreign Secretary Jeremy Hunt for supporting continued exports of lethal weapons to Saudi Arabia, saying that London cannot be a peace-broker in Yemen while it is still arming the invaders.
The remarks were made by Mohammed Ali al-Houthi, the Chairman of the Supreme Revolutionary Committee of Yemen, in an interview with The Guardian published on Friday.
"Britain sending aid does not change the tragic reality of its arms sales. Jeremy Hunt cannot promote peace while at the same time acting as an arms salesman," al-Houthi said, slamming Hunt for pressing Germany to relax its arms sales ban on Saudi Arabia. "Mr. Hunt has gone beyond defending British arms sales, by attempting to pressure other European countries, such as Germany, to sell arms," he added.
Earlier this month, Germany extended a ban on arms exports to Saudi Arabia imposed over the kingdom's deadly campaign against Yemen and the murder of dissident journalist Jamal Khashoggi.
The decision drew criticism of European partners, including France and Britain, due to the fact that the move has impacted joint defense projects.
Both Hunt and the French government have been lobbying the German coalition to allow the arms sales, but there has been an impasse between the Social Democrats, who oppose the sales, and the Christian Democrats, who back them.
In his Friday interview, al-Houthi blamed the joint British, US, Saudi, and UAE naval forces for the currently "critical" level of famine and the "tragic humanitarian situation" in Yemen.
"The Saudi-led coalition, backed by Britain, commits war crimes and does not abide by, as Britain claims, 'the most stringent guidelines for the export of weapons in the world'," the Yemeni official said.
"The principles mentioned are solely for political speech and to avoid the legal and moral responsibility concerning the war crimes and humanitarian situation that the British government faces as part of such alliance," he added.
Back on March 1, Hunt held a rare meeting with chief negotiator for Yemen's popular Houthi Ansarullah movement Mohammed Abdul-Salam in the Omani capital of Muscat to discuss ongoing peace negotiations related to the Yemeni port city of Hudaydah.
Speaking to Hunt, Abdul-Salam expressed concern about what he described as the Saudi-led coalition's attempts to introduce new conditions to a follow-up deal to the Stockholm agreement, a deal reached in December between the Ansarullah and the Saudi-backed former regime on a ceasefire in Hudaydah.
Later on March 3, the British top diplomat paid a rare visit to Yemen, where he claimed that Hudaydah "was supposed to be cleared of militia and left under neutral control by the beginning of January."
The remarks were widely condemned by the Ansarullah movement, whose spokesman said Hunt is distorting the terms of the UN-mediated ceasefire deal reached in Sweden.
Hudaydah, the entry point for most of Yemen's commercial goods and vital aid, has seen some of the heaviest fighting in the four-year Saudi war.
Saudi Arabia and the UAE launched an offensive against Hudaydah in June 2018, but they have faced strong resistance put up by Yemeni armed forces – led by the Houthis -- and the city's residents.
The Saudi-led coalition claims that the Houthis are using the port for weapons delivery, an allegation rejected by the fighters.
The UK has licensed over £4.7 billion worth of arms exports, including missiles and fighter jets, to Riyadh since the Saudi regime and its allies launched the war on Yemen in early 2015.
https://www.presstv.com/Detail/2019/03/30/592167/Yemen-Houthi-ansarullah-jeremy-hunt-peace
--------
Senior Tories concerned about Gove's views on Muslims: Lady Warsi
Mar 29, 2019
Sayeeda Hussain Warsi, the former co-chair of the Conservative Party and Britain's first Muslim to serve in cabinet, has said she is fearful of the idea of Michael Gove becoming prime minister. Some view Gove as an "Islamophobe" due to his anti-Muslim views.
In an interview with The Guardian on Friday, Warsi, a member of the House of Lords, said she and other senior members of the Conservative Party are concerned about Gove's views on British Muslims.
On Wednesday, British Prime Minister Theresa May announced she was prepared to step down before the next phase of Brexit negotiations. Gove, the secretary of environment, is among the leading candidates to replace May.
Lady Warsi said any party that elected Gove as a leader "has got major problems."
Asked what she thought about the idea of Gove replacing the current prime minister, she said, "I just don't even want to imagine it. I've sat in too many meetings, I've done everything from rolling my eyes, to thinking, gosh, thank God he's not prime minister."
Warsi said there were other senior Conservative politicians who also had serious concerns about him. "I'm not the only one to raise concerns about Michael. Ken Clarke has spoken about it, even his friends close to him. Even David Cameron has spoken about concerns about the way he views the world and the way he views certain communities."
Following the 2005 London tube and bus bombings, Gove wrote a highly controversial book, Celsius 7/7, in which he railed against Muslims. He stated that "a sizeable minority" of Britain's 1.8 million Muslims held "rejectionist Islamist views."
In the book, he argued that Islamism is akin to fascism and communism.
Full report at:
https://www.presstv.com/Detail/2019/03/29/592159/Senior-Tories-fear-Islamophobe-becoming-British-PM
--------
Germany extends ban on Saudi arms sale by 6 months despite France, UK criticism
Mar 29, 2019
Germany has extended its ban on all arms exports to Saudi Arabia for a further six months, in a move which drew criticism from fellow European arms exporters, including France and Britain.
The government of Chancellor Angela Merkel imposed a temporary halt on arms sales to Riyadh back in October 2018, citing circumstances surrounding the gruesome murder of dissident Saudi journalist Jamal Khashoggi at the Saudi consulate in Istanbul.
"The ban will be extended for a further six months to September 30," government spokesman Steffen Seibert said in an emailed statement on Thursday. "Over this period no new export applications will be approved."
The ban restricts not only deliveries of fully assembled products, but also of components used by weapons companies in other European nations.
This has prompted outrage mostly in France and Britain, which have heavily relied on German high-tech components for producing and assembling fighter jets and warships for Saudi Arabia.
In an attempt to alleviate its partners' concerns, Berlin also agreed to extend for nine months export licenses that had already been granted, provided the companies undertook not to deliver any finished weapon systems until the end of the year.
The German government also called on France and Britain to ensure that its weapons systems deliveries to Saudi Arabia or the United Arab Emirates would not be used in the Yemen conflict.
The two Arab regimes and their regional allies in the Middle East have been leading a deadly military aggression against the people of Yemen since March 2015, using weapons and intelligence supplied by Western countries, most notably the United States, France, Britain and Canada.
Merkel's government has come under pressure from many conservatives at home to end the ban, who argue that a continued ban could jeopardize projects such as the development of a Franco-German combat jet and other arms deals.
The arms ban, however, has been praised by human rights advocates, who said it had more effect than expected.
Despite international outrage over both the Khashoggi murder and the war in Yemen, however, most countries have decided to maintain profitable arms deals with Riyadh.
Saudis started the Yemen war with the aim of bringing a former government to power and crushing the Houthi Ansarullah movement. Riyadh has failed to fulfill its objectives.
The United States, the world's main arms supplier, has already made it clear that it would not stop lucrative arms deals with Riyadh, its biggest customer.
US President Donald Trump has even brushed off criticism over the Khashoggi murder and the Saudis' role in the war on Yemen, defending the kingdom's de facto ruler Crown Prince Mohammad bin Salman, who has been leading the war.
It was recently reported that the Trump administration had even gone further by approving several authorizations that allow American companies to provide Riyadh with nuclear technology or technical assistance.
Trump's energy secretary does not 'recall' nuclear approvals date
A number of lawmakers, who have already accused the Trump administration of complicity in covering up Khashoggi's murder, raised a question over the date of the approvals.
During a hearing at the Senate Armed Services Committee, Democratic senator Tim Kaine asked Trump's Energy Secretary Rick Perry if any of his approvals were made before Khashoggi's murder in Istanbul.
Perry, however, said he cannot "recall" the date he made the approvals.
"We sign a lot of papers." said Perry. "I've got a pretty good memory, but to remember every date that I sign a piece of paper might be above my ability to recall."
"I don't want to give you a date specific," the energy secretary added.
On Thursday, the US Department of Energy issued a statement clarifying that it had issued seven approvals for American companies to "secretly" provide the kingdom with nuclear technology.
The move has raised concern among both parties, who say providing the technology, without non-proliferation safeguards, could eventually lead to development of nuclear weapons in the kingdom.
Last year, bin Salman said that the kingdom would be quick to develop nuclear weapons if Iran — which Riyadh views as its arch rival in the region — did so.
Iran does not pursue nuclear weapons, and under a 2015 international deal, it has placed its entire nuclear program under enhanced 24/7 monitoring by the UN nuclear agency.
Full report at:
https://www.presstv.com/Detail/2019/03/29/592115/Saudi-Arabia-Germany-arms-sale-ban-nuclear-US-Yemen
--------
Turkey welcomes Romania's position on its EU ties
Nilay Kar
30.03.2019
Turkey's vice president hailed Romania on Friday for supporting Ankara's efforts to establish "constructive" relations with the European Union.
"We welcome Romania's principled stance and its efforts, which contribute toward a constructive understanding in EU-Turkey relations," said Fuat Oktay, speaking at a joint press conference in Bucharest with Romanian Prime Minister Viorica Dancila.
"We hope Romania's stance will set an example for other European countries," Oktay added.
His remarks came after bilateral and inter-delegation meetings with Dancila.
"We've had a fruitful meeting with Prime Minister Dancila…We broadly exchanged views on bilateral relations as well as regional and international developments.
"Within the framework of the EU presidency of Romania, we've shared our approach and expectations to advance the negotiation process of our country's accession to the EU," Oktay said, calling Romania a "close ally".
Romania holds the EU's rotating presidency until June 30.
"During our meeting, we confirmed that we are on the same page on further developing our cooperation in every field and on Turkey-EU relations," he added.
Turkey applied for EU membership in 1987 and accession talks began in 2005.
But negotiations stalled in 2007 due to the objections of the Greek Cypriot administration on the divided island of Cyprus as well as opposition from Germany and France.
Regarding the Fetullah Terrorist Organization (FETO), the group behind the 2016 coup attempt, Oktay said: "We place great importance on the continuation of mutual cooperation in the fight against the structuring of this terror organization, which also poses a threat to Romania's security."
FETO and its U.S.-based leader Fetullah Gulen orchestrated the defeated coup of July 15, 2016, which left 251 people martyred and nearly 2,200 injured.
Ankara also accuses FETO of being behind a long-running campaign to overthrow the state through the infiltration of Turkish institutions, particularly the military, police and judiciary.
Dancila voiced her support for Turkey's EU membership, calling Turkey a "key partner" of the EU.
She also praised Turkey's efforts to deter irregular migration by hosting over 3.5 million migrants.
Stating that Turkey and Romania have very "strong" relations, Dancila said the bilateral trade potential of the two countries was very high.
Full report at:
https://www.aa.com.tr/en/europe/turkey-welcomes-romania-s-position-on-its-eu-ties/1435150
--------
France repatriated children from Syria after legal pressure
Federica Marsi
March 30, 2019
For months, Fatima did not receive any response from the French government as she pleaded for her 5-year-old granddaughter to be repatriated from a Kurdish-controlled camp in north-eastern Syria.
The response came earlier this month, when France – unlike other western countries – unexpectedly took the decision to repatriate five orphaned children of ISIS supporters.
Fatima, who withheld her last name, welcomed the news with a sigh of relief. "I was always terrified that they would one day tell me that she was gone, as they did with my son," she said in an interview with French newspaper Le Monde.
Her son Sofiane was 20 years old when he left Paris to join the extremist group in Syria back in 2012. After French authorities reported his death, together with his wife, Fatima contacted Samia Maktouf, a lawyer specialised in helping victims of terrorism, to seek the repatriation of her granddaughter.
"We thought it would be evident to the French government that the girl would have to be brought back," Mrs Maktouf told The National. "Instead it took over a year."
The French government has long avoided bring back children of extremist fighters for both legal reasons and for fear of infuriating the public, according to experts. The return of the five French children on March 15, therefore, surprised many, including their families.
Human rights groups estimate that at least 100 French children are stranded in Iraq and Syria, where ISIS had established a "caliphate" spanning parts of both countries. Determining their eligibility for repatriation, however, is a painstaking job.
Those born under the so-called Islamic State lack legally valid birth certificates or identity documents and their whereabouts may be difficult to ascertain. The combination of evidence Mrs Maktouf had to collect in order to obtain repatriation included photographs of the child received on her phone, information collected by the Red Cross on the child's whereabouts and, ultimately, conformation from the intelligence services of the identity of the child.
The information was brought to court together with a written request addressed to Foreign Affairs Minister Jean-Yves Le Drian, asking for the child to be allowed back.
The request was followed by a long silence. As the months went by, the last sliver of land held by ISIS came under attack and a stream of dishevelled women and children poured out in search for safety.
Since December, nearly 60,000 have arrived at Al Hawl refugee camp in north-eastern Syria, stretching its capacity to breaking point. At least 29 children have died, mainly from hypothermia, according to the World Health Organisation.
Mrs Maktouf, who represents Fatima as well as another family whose two-year-old boy is trapped in Syria, said the situation meant she could wait no longer. "We decided to take action."
In December, she sued the French government to force it to comply with international law.
Lawyers Marie Dosé and Henri Leclerc, who also represent families with orphaned children in Syria, referred the case to the United Nations to demand that France upholds its obligations under international law.
Nine countries, including Russia, Egypt and Indonesia, have taken back about 200 children. With the exception of France, western governments have so far demurred.
The Belgian state won an appeal in late February against a ruling ordering it to repatriate six children who are with their mothers in Al Hawl.
Britain also refused to repatriate the children of ISIS militants, until the death of Shamima Begum's 3-week-old son forced it to start looking into ways of doing this.
The French foreign ministry has not indicated how many children will be repatriated, but said its decision would apply only to "orphan and isolated minors, all aged 5 and less".
ISIS supporters have been returning to Europe since at least 2015, at times bringing children with them. In February last year the French government sent out a ministerial circular to clarify the rules on the protection and custody of those children.
Like others before her, Fatima's granddaughter has been placed in a foster family as a court assesses her well-being and Fatima's suitability as a grandmother. Ultimately, the goal is to reunite her with her biological family, Mrs Maktouf said.
"Many steps must be taken and Fatima is aware of that, she will wait," the lawyer added.
Full report at:
https://www.thenational.ae/world/europe/france-repatriated-children-from-syria-after-legal-pressure-1.842843
--------
Southeast Asia
Upcoming election is a 'clash between pluralism and fundamentalist Islam'
by Mathias Hariyadi
03/29/2019
Jakarta (AsiaNews) – Indonesia's upcoming general elections will be "a political clash between two opposing ideologies: pluralism and fundamentalist Islam," this according to General (Ret) Abdullah Mahmud Hendropriyono (pictured), who was the first chief of Indonesia's State Intelligence Agency (Badan Intelijen Negara, BIN).
For the first time in Indonesian history, 190 million eligible voters will elect on the same day (17 April) their President and Vice-President as well as the Members of the House of Representatives (Dewan Perwakilan Rakyat, DPR) and House of Regions (Dewan Perwakilan Daerah, DPD).
For many observers, the election will be a "critical day" for the future of the country's young democracy, which is threatened by Islamism.
General Hendropriyono is the latest prominent figure to appeal to voters not to shy away from voting or spoiling their ballot (golongan putih or golput).
Speaking yesterday in Kalibata (South Jakarta), the retired military officer explained that the election is "not a political duel between President Joko 'Jokowi' Widodo and his rival Prabowo Subianto at the polls, but a battle between [Indonesia's state ideology of] Pancasila and fundamentalist Islam."
As a proud supporter of Widodo's Indonesian Democratic Party of Struggle (Partai Demokrasi Indonesia Perjuangan, PDIP), Hendropriyono calls on voters to "go to the polls and make the right choice, to save the nation and themselves."
For the former BIN chief, the Pancasila pluralist doctrine is what has held together so far a country so varied in ethnic groups, languages, cultures and social values, which is now threatened by radical Islamic movements, who are responsible for the growing support for the establishment of a caliphate in Indonesia, especially among young people and students.
"It makes no sense for Indonesians today to be attracted to this ideology," Hendropriyono said looking at the tragic example of such a political regime in Syria and Iraq. "It is not just a concern. We must choose and vote for the good of the country."
http://www.asianews.it/news-en/Upcoming-election-is-a-clash-between-pluralism-and-fundamentalist-Islam-46639.html
--------
Malaysia, Pakistan reaffirm commitment to work closely on Islamic issues
23 March 2019
ISLAMABAD, March 23 — Malaysia and Pakistan have reaffirmed their commitment to collaborate more closely on issues affecting the Muslim world, including taking joint efforts in underscoring Muslims' sensitivities on holy personalities and religious beliefs.
In a joint statement in conjunction with the three-day official visit of Malaysian Prime Minister Tun Dr Mahathir Mohamad to Pakistan since Thursday, as the leaders of two peace-loving Islamic nations, Dr Mahathir and his Pakistan counterpart Imran Khan agreed to increase their collaborative efforts to uphold the true values of Islam in international fora while strengthening the solidarity of the Muslim Ummah (community).
In the statement, both leaders also stressed that terrorism cannot be associated with any religion or belief.
" Both leaders exchanged views on the situation in Palestine and in Rakhine State, Myanmar involving Rohingya Muslims. On the Palestinian issue, both countries agreed to contribute positively in other forums, especially in the Organisation of Islamic Cooperation (OIC) Committee of Six on Palestine, of which Malaysia and Pakistan are members," the statement said.
The statement added that Malaysia took note of the massive counter-terrorism efforts that Pakistan has successfully undertaken in an effort to eliminate terrorism.
It said Malaysia also invited Pakistan to participate in the upcoming Langkawi International Maritime and Aerospace Exhibition (LIMA) from March 26-30, 2019.
The statement said the two leaders also took note that the 1st Bilateral Consultations between the Foreign Secretary of the Ministry of Foreign Affairs of Pakistan and the Secretary-General of the Ministry of Foreign Affairs of Malaysia, as a mechanism to intensify the engagements between both sides, was successfully held on Feb 25, 2019 here.
" The 1st Bilateral Consultations between both countries had covered various issues of mutual concerns such as debt management and anti-corruption, defence cooperation, labour matters, consular matters, as well as, regional and international dynamics," it said.
Both Leaders also acknowledged the successful convening of the 13th Joint Committee on Defence Cooperation (JCDC) which was held from Feb 26— 27, 2019 in Kuala Lumpur.
Dr Mahathir undertook the official visit at the invitation of Imran, whereby Dr Mahathir was the guest-of— honour at the Pakistan Day Parade on Saturday.
During the visit, Dr Mahathir was accorded a ceremonial welcome at the Prime Minister's House and both leaders held a restricted meeting as well as fruitful and in-depth discussions, which took place in a warm and cordial atmosphere, and covered a wide range of bilateral, regional and international issues of mutual interest.
Full report at:
https://www.malaymail.com/news/malaysia/2019/03/23/malaysia-pakistan-reaffirm-commitment-to-work-closely-on-islamic-issues/1735636
--------
Indonesia's Muslim youth find new heroes in Instagram preachers
March 29, 2019
By Juke Carolina
In Indonesia, the rise of rock star clerics on social media has fueled a movement known as hijrah, capturing the attention of Muslim youth seeking new ways to express their faith on social media.
Hijrah means "migration" in Arabic and refers to the Prophet Muhammad's journey from Mecca to Medinah as one of the five pillars of Islam. But in Indonesia, some are embracing the word to illustrate a new wave of piety.
Indonesian celebrity Shireen Sungkar, who promotes the hijrah lifestyle as a "happy mom and wife," has 14.9 million Instagram followers. Alyssa Soebandono, with 12.7 million followers, also models a modest hijrah-inspired life.
Indonesia is the world's largest Muslim-majority nation with six different religions recognized with equal rights. Most Muslims practice Islam Nusantara, a form of moderate Sunni Islam mixed with local customs. But as a more conservative Islam spreads through massive social media networks, some wonder if a strict interpretation of Islam could shatter Indonesia's pluralistic society.
Nearly 150 million of 268 million Indonesians actively use social media platforms and spend more than eight hours per day online, with more than three hours spent daily on social media alone, according to the 2019 Digital Report by We Are Social and Hootsuite. Facebook is also extremely popular, but Indonesian users now tap Instagram and YouTube.
HijrahFest, a three-day festival in Jakarta, has grown in popularity since its launch in 2018, primarily through social media. The festival is managed by the event company of Arie Untung, a former MTV VJ turned entrepreneur who decided that he's done with worldly achievements and wants to focus on preparing for the afterlife through good deeds.
"After comparing different faiths, [I concluded that] the Quran is the absolute answer," Untung said. According to him, social media plays an important role in today's preaching and Quranic learning for the masses. Untung himself has 1.6 million Instagram followers.
Untung's HijrahFest is like a pious version of the US' SXSW where, instead of music, 12,000 festivalgoers network, explore a Muslim-themed trade show featuring modest fashion and halal cosmetics; get free tattoo removal services; and attend Quranic studies guided by the hijrah community's top preachers. Appearances by the Hijab Squad, Indonesian female celebrities who promote a Sharia (Islamic law) lifestyle, alongside the Hijrah Squad, the male version, are also a highlight.
The movement became popular nearly 10 years ago among Indonesia's urban youth underground — punks and skaters — who began to identify with radical, straight-edge Islam. Instagram accounts like Punk Hijrah and Pemuda Hijrah have emerged, featuring hijab-clad women riding skateboards and memes quoting Quranic verses. Cleric Hanan Attaki started Pemuda Hijrah and its media brand, Shift, with the motto "play hard, be useful, be plentifully rewarded, less sinning." Attaki himself is an "Insta-preacher" with 6.9 million followers of his own, adored by the alternative scene in Bandung, Indonesia's second-largest city.
"Mass Quranic learning gatherings today can be equated to concerts. All Indonesian bands combined couldn't attract the mass as well as UAS and UAH," Untung said. He's referring to two young clerics with foreign education credentials and charisma who have reached rock star status among Indonesian youth.
First, there's Ustadhz (cleric) Abdul Somad, popularly known as UAS, an Indonesian cleric famous for incorporating comedy into his sermons and Quranic studies. UAS tours like a rock star and his 8.3 million followers on Instagram can track his travels.
A couple of years ago, UAS was accused of supporting Hizbut Tahrir Indonesia, a hard-line Muslim organization that was disbanded by the government in 2018. That's because of claims that HTI supports the re-establishment of an Islamic caliphate. It's unclear how many supporters remain today. Rejecting the anti-nationalist accusation, UAS posted a selfie of himself on Instagram saluting the nation's flag.
Then there's Ustadhz Adi Hidayat, or UAH, with 1.5 million followers on Instagram. Amid a recent debate in Indonesia questioning the use of the word kafir (meaning infidel in Arabic) to define non-Muslims, UAH encouraged his followers on Youtube never to doubt the Quran, calling those who do "people with questionable faith." The word is deemed problematic because hard-line groups use it to call out Muslim minorities such as Shiite, Baha'i, and Ahmadi, threatening to disturb Indonesia's peaceful coexistence.
UAH was born in Pandeglang in Banten province, known as a "hotbed" for Islamic extremism, and during his formative years in Pandeglang, West Java, he attended both public elementary schools and a now-defunct Quranic school. In 2010, UAH attended graduate school at Al-Dawa Islamiya in Tripoli, Libya, when the Arab Spring was brewing. By 2016, UAH launched his own TV channel, AkhyarTV, to broadcast his sermons.
While Muslim clerics have embraced Instagram with hijrah-inspired messaging, mobile apps and messaging apps also help the piously inclined to thrive.
Nina Fitria, 31, a mother of three and follower of UAH, says she became more committed to Islam during the last semesters of her university studies, after she met a "big sister" — a senior student who taught her about tawhid (the concept of monotheism central to Islam) and helped her improve her Quranic recitation and knowledge. Eventually, Fitria and her friends founded a Quranic WhatsApp group called Madrassa Khairunnisa for women only.
"We routinely meet online for Quranic recital, meeting once or twice a month on WhatsApp. It's a moderated gathering. We invite a lecturer or ustadzah [a female cleric] to prepare a topic to reflect and discuss … upload some reading materials, followed by a Q-and-A session," Fitria said.
The group currently has 178 members. Fitria's husband made an Android app that compiles Quranic study schedules in the Greater Jakarta area. According to Fitria, Instagram and Youtube are effective platforms for online religious studies, and she and her friends enjoy following various popular clerics on social media.
As parents, Fitria and her husband prohibit TV, opting instead for Youtube channels broadcasted through ChromeCast.
"There are less and less quality things to watch on TV nowadays, even the ads have bad influence on kids. To young kids, the best examples are their parents' deeds. … My eldest often ask to watch the tales of the friends of the Prophet Muhammad … " Fitria said.
Iqbal Dharmaputra, who grew up in a moderate Muslim family, said that he began pursuing a more pious lifestyle in 2014, shortly after becoming a father.
Dharmaputra works for the postal service as a geographer but also started a small catering business with his wife in 2017 specializing in nasi kebuli, a rice dish similar to the Yemeni kabsa or South Asian biryani.
To ensure that his catering business is sharia-compliant, Dharmaputra attended Madrasah Al-Filaha, an Islamic agricultural school in Jonggol, West Java, where he learned to apply Islamic morals and ethics for farming and agriculture purposes. Lessons included how to slaughter his own goats — one of the main ingredients in nasi kebuli — the halal way.
"To me, hijrah means 'back to default.' It's a continuous process to learn the ultimate truth until the day we die. It's an obligation to all Muslims. It's crucial to commit and be guided properly through this process and not merely following a trend," he said, adding that his hijrah is a personal journey and the internet facilitated his journey to be a better Muslim.
"I watched a lot of sermons on YouTube. One of the first sermons I watched was about the meaning of life: how to be a good child for my parents, on family life."
Among Islamic clerics, social media has been a catalyst to spread messages of peace as well as potentially harmful propaganda like amaliyah (sacrifice or suicide) and qital (physical war). In 2016, a woman named Dian Yulia Novi, a would-be suicide bomber who planned to bomb the presidential palace, said in an interview that she was inspired by the powerful status of clerics she encountered on Facebook.
Dharmaputra strongly objects to violence in the name of religion, however, and sees Islamic preaching online as part of one's journey to pursue the truth.
"Our duty as Muslims even our Prophet Muhammad — peace be upon him — is to tell the truth. Faith is entirely Allah's prerogative rights. It's pointless to use violence to convert people. Too bad lately there are plenty of people who influenced others to perform qital in return of instant glory. Learning, understanding and applying Islam in life is way harder than earning glory through the use of violence."
Most see hijrah as a benign, positive religious movement. However, a rising trend toward Islamic conservatism over the last 10 years is a concern for those tracking domestic terrorism tied to Islamic fundamentalism in Indonesia. While clerics like UAS and UAH have no known affiliations with extremists like ISIS or al-Qaeda, experts like Siti Musdah Mulia, a professor of Islamic studies at Syarif Hidayatullah State Islamic University Jakarta, note a fine line between conservatism and extremism when it comes to the power of social media.
"[Conservative Muslims] are [a] minority in comparison, but they're vocal. They're well organized, highly political and work professionally on concepts and messages that are appealing to the public, through channels including on social media. They have clear targets [audiences], preaching to celebrities and children of VIPs."
Musdah cautions against using the word hijrah because it's been politicized to grab the attention of Indonesia's youth. On many occasions, Indonesian President Joko Widodo has used the term to illustrate positive changes such as economic improvement and competitiveness, conflating development with the rise of conservative Islam.
Full report at:
https://www.pri.org/stories/2019-03-29/indonesia-s-muslim-youth-find-new-heroes-instagram-preachers
--------
Malaysia urged to abolish death penalty by inmates' families
March 30, 2019
KUALA LUMPUR: Families and friends of death row inmates petitioned the Malaysian government to repeal its mandatory death penalty on Friday. Earlier this month, the government backtracked on its decision to scrap capital punishment in the country.
Friends and kin of more than 20 death row inmates gathered in Putrajaya and sent a memorandum to the Malaysian Home Ministry, calling on the government to repeal mandatory capital punishment, and to pardon the inmates, some of whom have been in jail for decades.
"They are feeling very sad," one friend of a death row inmate told Arab News. "Every family member was expressing their feelings about living without a child or a husband (to the government)."
The man, who asked to remain anonymous, is a friend of Mainthan, a death row inmate convicted of murder who has served 14 years in jail. Mainthan has maintained his innocence throughout his sentence and exhausted multiple avenues of appeal. "I've known him for the past two years," his friend said. "I was really heartbroken — nobody should live like that. We are in 2019, not the 1990s."
"The family is getting worse day by day," he continued.
"It's a family without a father. Even though the father is alive, he is not there to guide the family. It's like there's food in front of you, but you are not allowed to taste it. The kids are there (at the prison), but they are not able to hug … their father."
In October last year, the Malaysian government announced it would abolish the mandatory death penalty for 33 offenses. However, in early March, Mohamed Hanipa Maidin, deputy minister in the Prime Minister's Department, told Parliament that the government would instead push for the abolishment of the mandatory death penalty for 11 offenses.
Those offenses include nine that fall under the Penal Code involving terrorism and serious crimes, including murder, hostage-taking, organized crime, offenses against the constitutional monarch, and the use of firearms.
Hanipa Maidin said that courts would be authorized to decide whether a person who had committed a serious crime should face capital punishment.
The March announcement met with criticism from human rights groups. The Malaysian Coalition Against the Death Penalty released a statement acknowledging the progress made by the government in abolishing the death penalty for 11 offenses, but expressing its concern over Malaysia's justice system.
"We are concerned that, at the moment, there is still no developed jurisprudence, protection for the vulnerable, and no sentencing guidelines for the court to consider in exercising its discretion over whether to hand down a death sentence," the group said.
Kasthuri Patto, a politician from the Democratic Action Party who attended last month's World Congress Against the Death Penalty in Brussels is an advocate for the abolition of the death penalty, but emphasized the need for awareness and education on the matter.
"It is important to remember that … the death penalty cannot simply be (phrased) as a yes or no question," Patto told Arab News. "There must be a series of questions that empower the person answering them with knowledge about the death penalty."
She added: "We need to away from a retributive approach and move toward forgiveness and providing a second chance to death row convicts."
The government has told Patto, she said, that the moratorium on executions would remain indefinitely, but that the final decision over prisoners' fates lies with the Pardons Board.
"While no government should discount the emotional argument, as a government, we must also do what is right as per Article 5 of the Federal Constitution, the supreme law of the land, that the right to life must reign paramount to the act of extinguishing lives," she said.
Mainthan's anonymous friend told Arab News that he wants justice for his friend and for other long-suffering family members awaiting the fate of their loved ones on death row.
"Abolishing the mandatory death penalty is a secondary thing," he said.
"What they are going to do with death row inmates should be the priority."
Full report at:
http://www.arabnews.com/node/1474736/world
--------
India
Peace and Tolerance Missive In Namaz In Assam Before Polls
By Manoj Kumar Ojha
30.03.19
It is noon. The surroundings of Sadarpatty mosque is filled with the fragrance of ittar, Jannat-ul Firdoush (aroma). Hundreds of Muslim youths bow down and offer namaz of jumma (special prayers on Friday) for the peaceful conduct of polls and the Assam's all-round development.
This is a message of Aman Aur Tarraki (peace and development) from the mosques of the state ahead of the Lok Sabha elections.
Haffijur Rahman, imam (priest) of the mosque, told The Telegraph, "Insha Allah (God willing), we offered prayer for the peaceful conduct of polls. We should vote for a candidate who will ensure peace, prosperity, safety and security and all-round development of Assam and its people irrespective of gender, caste, creed or religion. More prayers will be held in all other mosques across the state over the peaceful conduct of polls.
Muslims play an important role in the electoral process of Assam, comprising a significant 34.22 per cent of the total population. A majority of the population in nine of 33 districts follow Islam.
Assam has 14 parliamentary seats and will witness polls in three phases.
Parvej Hussain, a first-time voter, said: "Assam is the land of Ajan Fakir and Vaishnav saint Srimanta Xankardeb. We have been living together here with peace and brotherhood for centuries. We want a government that works honestly for the nation's happiness and development."
Miraj Hussain, another first-time voter, said, "Islam teaches tolerance and peace." Firdaush Ahmed, another young voter, said, "Where there is peace, there is prosperity and we all want to contribute to Assam's development."
"Terrorists are not following Islam. Killing people and dropping bombs are against Islam. But people have realised that all Muslims are not terrorists," he added.
Muhammad Ali, a teacher here in Dibrugarh madarsa, said, "The Muslim youths of Assam are wise. They want to develop themselves economically and socially. So they pray for aman aur bhaichara (peace and brotherhood)."
According to the 2011 census, the population of Assam is 3.11 crore, of which 1.06 crore are Muslims.
Muslims first came to Assam in the early 13th century when Muhammad Bin Bakhtiyar Khilji led an army to eastern India in 1205.
https://www.telegraphindia.com/states/north-east/peace-and-tolerance-missive-in-namaz/cid/1687775
--------
Inter-agency terror monitor for Jammu and Kashmir
Mar 30, 2019
The Centre has constituted a multi-disciplinary terror monitoring group (TMG) to probe and "ensure synergised and concentrated against terror financing", especially in Jammu and Kashmir, according to a government order issued on Friday.
It will also take action against hardcore sympathisers among government employees, including teachers, who are providing covert or overt support to terror activities. The Union home ministry, however, did not clarify why government employees will be monitored. "Several members of the now banned Jamaat-e-Islami are suspected to be government employees," a senior J&K government official said, explaining why the order has especially mentioned government employees and school teachers.
A top official from J&K Police will lead the TMG that will comprise members from the Intelligence Bureau (IB), the National Investigative Agency, the Central Board of Direct Taxes and Central Board of Indirect Taxes, among others. The Enforcement Directorate that enforces the Prevention of Money Laundering Act 2002 is not part of the TMG.
The TMG has been tasked with coordinating efforts to investigate cases related to "terror and terror financing" and ensure speedy investigation. It will also identify organisations and people "who are involved in supporting terrorism in any form" and "investigate networks and channels used to fund terror," the government order, accessed by HT, said. The group has also been asked to coordinate attempts against "hardcore sympathizers amongst government employees including teachers who are providing covert and overt support to terror activities."
Full report at:
https://www.hindustantimes.com/india-news/inter-agency-terror-monitor-for-jammu-and-kashmir/story-vIW3WEjFrdSI7wdrMpKFhM.html
--------
'Terror apologists': At UN, India blasts Pakistan inaction
Mar 30, 2019
Yashwant Raj
India has called on the UN Security Council to ensure the implementation of counter-terror sanctions, saying "apologists for terrorists" or member-states that support them will continue to make excuses for their inaction.
No countries were named when India's permanent representative Syed Akbaruddin made the appeal during an open debate at the Security Council on preventing the financing of terror, but he called out a "serial offender" for its support to terrorism – a thinly veiled reference to Pakistan.
"Terrorists are going to be ever more creative in finding ways to violate the rulebook," he said. "Also the unfortunate reality is that states who are apologists for terrorists will continue to provide alibis to justify their actions and inaction too, as was done by a serial offender earlier today."
Earlier, Pakistan's envoy Maleeha Lodhi had said UN sanctions and other instruments and institutions for combating terror, such as the Financial Action Task Force (FATF), which has grey-listed Pakistan, shouldn't be politicised.
She also brought up the Kashmir issue, as Pakistan always does at the UN.
India's appeal for more robust enforcement of sanctions regimes came against the backdrop of a push by the US in the Security Council to blacklist Pakistan-based Jaish-e-Mohammed chief Masood Azhar, whose group claimed responsibility for the February 14 suicide car bombing in Pulwama that killed 40 Central Reserve Police Force troopers.
JeM was designated a terrorist group by UN's Islamic State and al-Qaeda Sanctions Committee in 2001 and Lashkar-e-Toiba in 2005.
Azhar's listing by the Sanctions Committee was blocked by China, which put a technical hold on the latest and fourth attempt two weeks ago. The US, along with France and the UK, then decided to take the proposal to the Security Council and circulated a draft resolution on Wednesday, setting off informal discussions that can lead to an open debate and vote by the full council.
On Friday, China, defending its attempts to block Azhar's listing, rebutted the US allegation that this action amounted to protecting terrorists from sanctions. US secretary of state Mike Pompeo has denounced China's "shameful hypocrisy" toward Muslims, saying Beijing abuses more than a million Muslims at home but protects violent Islamic terror groups from UN sanctions.
Chinese foreign ministry spokesman Geng Shuang said the practice of placing a hold was in line with the rules of the Sanctions Committee. "If a certain country accuses China of sheltering terrorists by putting technical hold, does that mean all the countries that put such holds are sheltering terrorists," he asked.
China's hold, he reiterated, is meant to allow an assessment and to make time for dialogue and consultations.
Meanwhile, the UN Security Council on Thursday unanimously adopted a French-drafted resolution that was the first stand-alone measure dedicated to countering terror financing. The resolution urged all states to ensure "their domestic laws and regulations establish serious criminal offenses" to prosecute those who collect funds or provide economic resources to terror groups or terrorists.
The binding resolution was drafted under chapter 7 of the UN Charter, which means it can be enforced with sanctions. UN counter-terror chief Vladimir Voronkov said the measure "comes at a critical time" as recent attacks had shown terror groups have access to financial flows through legal and illegal means.
The resolution urged countries to establish financial intelligence units to strengthen efforts to track terror financing and to share information. FATF president Marshall Billingslea said less than a fifth of countries are applying laws that prosecute suspected terror financiers. The resolution will also help FATF increase pressure on more than 50 countries to pass new legislation on terror financing.
India argued during Thursday's debate that while the resolution on terror financing was a "milestone", efforts must be made to ensure its implementation. "As the saying goes, the proof of the pudding is in its eating, the utility of any council resolution will, therefore, be in its implementation," Akbaruddin said.
Full report at:
https://www.hindustantimes.com/india-news/terror-apologists-at-un-india-blasts-pakistan-inaction/story-hlglDac3Kzl7oyLRrwb7cL.html
--------
India defers Kartarpur meet over Khalistan row
Mar 30, 2019
Sudhi Ranjan Sen
India has postponed the second meeting with Pakistan to discuss modalities for the Kartarpur Corridor, scheduled for April 2, over concerns about the inclusion of pro-Khalistan activists in a Pakistani committee to facilitate Sikh pilgrims, officials with knowledge of the matter said on Friday.
The external affairs ministry summoned Pakistan's deputy high commissioner Syed Haider Shah to convey concerns after the formation of the 10-member Pakistan Sikh Gurdwara Prabandhak Committee (PSGPC) and to seek clarifications, they said.
One of the officials, who asked not to be named, said the meeting, to be held at Wagah in Pakistan, had been "rescheduled". A ministry statement said the next meeting on modalities "can be scheduled at an appropriate time after receiving Pakistan's response".
According to the officials, even if Pakistan responds to India's request for clarifications before April 2, a decision on the meeting will be made only after examining the response. Pakistan's Foreign Office spokesman Mohammad Faisal expressed regret at India's decision and said in a tweet the "last minute postponement...is incomprehensible".
The corridor will connect Gurdwara Darbar Sahib in Pakistan's Kartarpur with Dera Baba Nanak in India's Gurdaspur district. New Delhi was irked after Islamabad announced on Wednesday the formation of the PSGPC, which includes pro-Khalistan activists such as Gopal Chawla, Bisan Singh and Kuljeet Singh. Pakistan said the panel will facilitate Sikh pilgrims.
Officials said Chawla is associated with internationally designated terrorist Hafiz Saeed, the founder of Lashkar-e-Taiba. They said there will be no compromise on "security concerns" and India is open to taking forward discussions once the concerns are satisfactorily addressed by Pakistan.
Full report at:
https://www.hindustantimes.com/india-news/india-defers-kartarpur-meet-over-khalistan-row/story-DgzAjv0OWflbRj9FmgJgpK.html
--------
ED attaches assets of Shabir Shah, fines three more in terror funding case
Mar 29, 2019
The Enforcement Directorate (ED) has attached Kashmiri separatist leader Shabir Ahmad Shah's Srinagar property in a terror financing case and imposed penalty on three people, allegedly involved in funding the banned outfit Lashkar-e-Toiba (LeT), the agency said on Friday.
The ED attached a property located in Effandi Bagh, Rawalpora, Srinagar, it said in a statement. The property was held in the name of Shah's wife and daughters. "He has been involved in carrying out illicit activities along with his accomplice Mohd Aslam Wani, who is an activist of banned militant organisation JeM (Jaish-e-Mohammad). He was using Aslam Wani as a carrier for collecting hawala money sent by his Pakistan-based sympathisers through hawala operators to deliver the same in Srinagar," the agency said in the statement.
Shah has admitted to ED that he does not have any source of income and failed to explain any legitimate source of money for his expenses, the ED said.
"Investigation also revealed that he was in touch with the global terrorist Hafeez Sayeed, chief of banned outfit 'Jamat-ud-Dawa' based in Pakistan. Investigation has revealed that Shabir Ahmad Shah had been receiving money for carrying out separatist activities in J&K [Jammu and Kashmir] and has acquired various properties through a maze of dubious transactions," it said. Wani and Shah were arrested by ED in 2017 for the offence of money laundering.
Full report at:
https://www.hindustantimes.com/india-news/ed-attaches-assets-of-shabir-shah-fines-three-more-in-terror-funding-case/story-B5i3yd9xwXhKBsYUfc8V7H.html
--------
South Asia
Bangladesh wants UK's leading role in UN to end Rohingya crisis
30 March, 2019
Bangladesh has sought UK's strong and unremitting support to ensure the Rohingyas' safe return to their homeland.
"We would like to see UK's sustained diplomatic leadership in the UN, Geneva and the Security Council for the safe and sustainable return of Rohingyas to Myanmar," State Minister for Foreign Affairs Shahriar Alam said at the 49th Bangladesh Independence and National Day Reception in London on Wednesday, UNB reports.
More than 700,000 Rohingyas fled to Bangladesh since late August 2017 after the Myanmar military launched a brutal offensive against the mainly-Muslim ethnic minority. The UN described the crackdown as "textbook example of ethnic cleansing".
The sheer speed and scale of the influx made it the world's fastest-growing refugee crisis. Bangladesh is currently hosting more than a million Rohingyas, many of them came here over the years to flee persecution in Myanmar.
State-sponsored discrimination against Rohingyas stretches back decades in Myanmar which calls them 'Bangalis' to imply that they are illegal immigrants from Bangladesh. Many Rohingyas are forced to live in squalid camps in apartheid-like condition.
Alam thanked the British MPs, the people and the media for raising their voices for Rohingyas and urged them to keep it up until they return to Myanmar in dignity and rights, said a press release on Friday.
Bangladesh and Myanmar have signed a repatriation deal but no apparent progress has been made yet.
'Bangladesh looking to re-energise ties with UK'
The Bangladesh High Commission organised the reception at the International Maritime Organisation (IOM).
Deputy Leader of the House of Lords and Minister of State for Defence Earl Howe, Commonwealth Secretary-General Patricia Scotland, IMO Secretary-General Kitack Lim and a good number of members of House of Lords and baronesses attended the event, among others.
They praised Bangladesh's progress, particularly in economic and social sectors, under Prime Minister Sheikh Hasina's leadership.
State Minister Alam was in London for a 12-hour transit to Canada via the US. He met senior British MPs, held meetings with his counterpart Mark Field and participated in a discussion meeting at the House of Commons on Bangladesh Independence and National Day.
He thanked the UK government, its people and Bangladeshi-British people for their "unforgettable contribution" to the Liberation War. "The UK continues to assume a special place in the foreign policy priority of the government of Prime Minister Sheikh Hasina," he said.
The two countries are looking forward to jointly celebrate 50 years of diplomatic ties.
"Bangladesh will especially look towards re-energising its important strategic, trade, investment and security cooperation with the United Kingdom," Alam said.
High Commissioner Saida Muna Tasneem said the government has been championing development to attain double-digit economic growth and making Bangladesh a developed progressive and secular country.
She hoped that the bilateral relations between Bangladesh and the UK would reach a new height in the days ahead.
http://www.theindependentbd.com/post/193545
--------
217 Corps of the Afghan military to be inaugurated in coming weeks: Khalid
29 Mar 2019
The acting minister of defense Asadullah Khalid has said that the 217th Corps of the army will be established in coming weeks.
Speaking during a security conference in RS compound in northern Balkh province, Khalid said considering the vast swathes of territory in the north and large population living in northern provinces, the leadership of the government and defense institutions have reached to a conclusion that the existing forces are not enough to provide proper security to people.
Khalid further added that the 217th Corps of the Afghan military will be inaugurated as per President Ashraf Ghani's order in coming weeks.
He also added that the leadership of the ministry of defense considers segregation of duties and changes should be incorporated in leadership and opinion to lead the war in the North.
In other parts of his speech, Khalid reiterated that the enemies have plans and programs for war and preparing to further intensify conflict to gain more privileges in peace talks.
Full report at:
https://www.khaama.com/217-corps-of-the-afghan-military-to-be-inaugurated-in-coming-weeks-khalid-03600/
--------
Airstrike kills ISIS-K commander Sardar Wali in Nangarhar province
30 Mar 2019
A commander of the Islamic State of Iraq and Syria Khurasan (ISIS-K) Sardar Wali was killed in an airstrike in eastern Nangarhar province of Afghanistan.
According to informed military sources "An ISIS-K commander, Sadar Wali was killed along with three other high-profile militants in an airstrike in Achin district, Nangarhar province March 27, 2019."
The sources further added that another commander, Lal Mohammad was also killed in the same strike.
The anti-government armed militants including ISIS sympathizers have not commented regarding the killing of Sardar Wali and other ISIS militants so far.
Full report at:
https://www.khaama.com/airstrike-kills-isis-k-commander-sardar-wali-in-nangarhar-province-03602/
--------
12 Taliban militants killed, wounded in Helmand and Paktika operations
29 Mar 2019
At least 12 Taliban militants were killed or wounded during the operations of Afghan Special Forces and airstrikes in southern Helmand and southeastern Paktika provinces.
According to informed military sources, an airstrike in Bermal district of Paktika province left 2 Taliban fighters dead.
The sources further added that the Afghan Special Forces conducted a raid in Nahr-e Saraj districtof Helmand province killing 8 Taliban fighters.
An airstrike in Musa Qal'ah district of Helmand province killed 1 Taliban fighter while another militant was wounded, the sources added.
Full report at:
https://www.khaama.com/12-taliban-militants-killed-wounded-in-helmand-and-paktika-operations-03601/
--------
US-Taliban talks and the fate of TAPI pipeline
SANKET SUDHIR KULKARNI
MAR 29 2019
Negotiations between the United States and the Taliban have now reached an advanced stage. As reported, representatives from the US and the Taliban are slated to engage in discussions with their respective stakeholders and leaderships before proceeding to the next stage of negotiations. The next phase, as reported, would witness discussions among different stakeholders within Afghanistan and also for a "comprehensive ceasefire". Although the specific modalities of the proposed agreement are not clear yet, within the power corridors of South Asian capitals, the news of possible US withdrawal has caused a great deal of concern over the unfolding situation and its ramifications on South Asian security.
In addition to influencing the security situation in Afghanistan and the neighborhood, the possible US withdrawal is bound to have its own set of consequences on several proposed and ongoing development and economic projects in the region. One such project whose outcome would possibly get affected as a result of the evolving power equations in Afghanistan is the Turkmenistan-Afghanistan-Pakistan-India gas pipeline project (TAPI). The project is designed to bring natural gas from Turkmenistan via Afghanistan and Pakistan into India. When implemented, the project is expected to bring 38 mmscmd (million metric standard cubic meter per day) of gas to India. However, as a result of several commercial and security factors, the proposed project has not fructified yet.
In the current context, progress of TAPI project would largely depend on the outcome of negotiations between the US and the Taliban and the ability of different parties within Afghanistan to honour their side of the agreement.
In its intent to carve out a larger political space within Afghanistan, one possibility to consider is the fact that Taliban may continue to jostle with Afghan forces post-US withdrawal. Thus, given the uncertain security conditions, which are likely to continue to prevail in Afghanistan post-US withdrawal, it wouldn't be wrong to assume that international financial promoters would be reluctant to support such a project.
On the other hand, construction of the TAPI project may become possible only in the scenario that the Taliban – which enjoys support from Pakistan's security establishment – shows political maturity and expresses its support to the project.
Given the pressing energy shortages as a result of inadequate supply of gas in Pakistan, it won't be surprising to see Pakistan urging and even pressurising Taliban to support TAPI gas pipeline's construction. At this juncture, Pakistan is undergoing a major energy crisis. The situation is acute particularly in Sindh province, with the power crisis increasing the possibility of industries to shut down their operations, also leading to possible unemployment. As of now, to meet its near-term natural gas requirements, Pakistan has sought import of Liquefied Natural Gas (LNG) from Qatar. Reports in the past have also indicated about Saudi Arabia's offer to supply LNG to Pakistan.
In light of these developments in Afghanistan's politics, it would be interesting to see what position India adopts vis-à-vis TAPI gas pipeline and whether India would be ready to continue its participation in the project. The presence of a non-Taliban government in Afghanistan gave India some level of comfort in agreeing to become a stakeholder in the TAPI pipeline by signing the Gas Sales and Purchase agreement back in the year 2012.
With Taliban slated to now become a recognised stakeholder in Afghan politics, a whole new set of political and security challenges have arisen for India to further pursue its participation in the TAPI project.
India and the rest of South Asia is yet to witness politically "evolved" conduct from Taliban, which is immune from any influence of Pakistan's security establishment.
In 2015, Prime Minister Narendra Modi during his visit to Ashgabat had reportedly proposed to import gas from Turkmenistan via a land and sea route via Iran. This route for energy exports from Turkmenistan to Iran, which finds its mention in Ahmed Rashid's book Taliban: The Power of Militant Islam in Afghanistan and Beyond, must, in the present context, be once again explored seriously by India. This strategy will enable India to avoid a politically volatile Af-Pak region and help leverage Chabahar's potential as a future "energy transit hub". It would be a good idea for India to firm up to the idea of this land-sea option and actively pursue consultations with Turkmenistan and Iran to initiate some concrete work on this project. Depending on the evolving political developments, provision can also be made for Afghanistan to source gas from this land-sea pipeline at a later stage.
Full report at:
https://www.orfonline.org/expert-speak/us-taliban-talks-and-the-fate-of-tapi-pipeline-49354/
--------
Mideast
Over 90 Saudi mercenaries killed in Sa'ada: Yemen military
Mar 29, 2019
At least 190 Saudi mercenaries have been killed or injured in the Yemeni city of Sa'ada, where a massive attack by the kingdom was foiled, the spokesman for Yemen's armed forces says.
According to Brigadier General Yahya Saree, Yemeni forces foiled the Saudi-led attack on Baqim District, killing 90 mercenaries and injuring at least 100 others.
He said the Yemeni forces also cleansed Naseh heights from Saudi mercenaries.
On Sunday, Saree said Yemeni fighters had killed at least 20 Saudi soldiers in a retaliatory attack as the Riyadh regime's deadly war against the impoverished southern neighbor entered the fifth year.
The attack by the Yemeni army and Popular Committees targeted two military bases in the southern Saudi town of Jizan, he said.
Later on Monday in Najran region located 844 kilometers south of the Saudi capital Riyadh, several Saudi-paid militiamen were killed in a Yemeni attack on their positions.
Yemeni soldiers and their soldiers infiltrated militia-controlled areas on the outskirts of al-Sadis military base, setting off several bombs.
Separately, Yemeni forces launched a barrage of artillery rounds at the gathering of Saudi forces in the kingdom's Asir region.
Saudi Arabia and a number of its regional allies launched a devastating campaign against Yemen on March 26, 2015, with the goal of bringing the government of former Yemeni president Mansur Hadi back to power and crushing Ansarullah.
On the fourth anniversary of the war, millions of Yemenis took to the streets of the capital, Sana'a, and other major cities on Monday to mark the anniversary of the Saudi aggression.
The demonstrators carried placards and Yemeni national flags, chanting slogans against Saudi Arabia, Israel and the US, which have been providing military support to the invasion.
The offensive initially consisted of a bombing campaign, but was later coupled with a naval blockade and the deployment of ground forces into Yemen.
According to a report by the Armed Conflict Location and Event Data Project (ACLED), a nonprofit conflict-research organization, the Saudi-led war has so far claimed the lives of around 56,000 Yemenis.
https://www.presstv.com/Detail/2019/03/29/592132/Yemen-Saudi-coalition-aggression-Saada-mercenaries
--------
Hamas backs Egypt proposal for calm on Israel border
29 March 2019
The Gaza Strip's Islamist rulers Hamas have backed an Egyptian proposal to foster calm on the Israel border ahead of major expected protests, two Hamas officials said Friday.
There was no immediate comment from the Israeli side on the potential agreement.
Tens of thousands of Palestinians are expected to gather Saturday for the first anniversary of the often violent protests along the border, which Hamas has strongly backed.
Egypt, the United Nations and others have been trying to mediate an agreement to limit the level of violence.
An Egyptian delegation held talks with Hamas and other factions in Gaza in meetings that stretched into the early hours of Friday, the officials said.
A Hamas official who took part in the meetings told AFP on condition of anonymity they had backed an Egyptian proposal that will see protesters stay several hundred meters from the border.
Hamas-backed attacks in the Israeli-occupied West Bank would also cease, the official said.
In exchange, the official said, "the Egyptians informed us that the (Israelis) promised to ease their measures."
In particular the Israelis will not fire on protesters unless they approach the border fence.
His remarks were confirmed by a second Hamas official, according to AFP.
At least 258 Palestinians have been killed by Israeli fire since the protests began on March 30 last year, most during the border clashes. Two Israeli soldiers have been killed.
UN urges Israel, Hamas to avoid violence on Gaza anniversary
Meanwhile, a UN official is urging Israel and Gaza's Hamas rulers to avoid a violent escalation on the eve of the first anniversary of the start of weekly border protests.
Jamie McGoldrick, the UN humanitarian official for the Palestinian territories, issued a statement on Friday outlining the "staggering" human costs a year of demonstrations has inflicted, especially on Gaza's children, according to the Associated Press.
Full report at:
https://english.alarabiya.net/en/News/middle-east/2019/03/29/Hamas-backs-Egypt-proposal-for-calm-on-Israel-border.html
--------
Israel deploys reinforcements near Gaza ahead of 'Great March of Return' anniversary
Mar 29, 2019
On the eve of the first anniversary of the "Great March of Return" protests, Israeli soldiers and tanks have been deployed near the fence separating the occupied territories from the besieged Gaza Strip.
The reinforcements were deployed on Friday morning as Gazans planned to stage a massive protest on Saturday to commemorate the first anniversary of the demonstrations, in the course of which Israeli soldiers have killed over 260 Palestinians.
Gaza medical officials said later in the day that Israeli troops shot and wounded 10 Palestinians on the Gaza border on Friday.
Israeli Prime Minister Benjamin Netanyahu threatened on Thursday that Tel Aviv would wage a broad military campaign on Gaza if needed, after a two-day flare-up of cross-border fighting that has left several people injured on both sides.
The "Great March of Return" protests demand the right to return for those driven out of their homeland by Israeli aggression. They started on March 30 last year. Tensions have since been running high on the edge of Gaza. At least 26,000 Palestinians have also been wounded in the protests, according to the Gaza Health Ministry.
A United Nations (UN) fact-finding mission found that Israeli forces committed rights violations during their crackdown against the Palestinian protesters in Gaza that may amount to war crimes.
Egypt, the UN, and others have been trying to broker a deal to limit the level of violence.
'Hamas agrees to Egyptian-brokered de-escalation deal'
Meanwhile, the Palestinian resistance movement of Hamas has reportedly backed an Egyptian proposal to foster calm along the border ahead of the planned protests, two Hamas officials said Friday.
The officials said that a delegation of Egyptian officials had held talks with Hamas and other factions in Gaza in meetings that continued until the early hours of Friday. One Hamas official who attended the meetings said the resistance movement had supported an Egyptian proposal that would see demonstrators stay several hundred meters from the fence.
In return, he said, "the Egyptians informed us that the (Israelis) promised to ease their [restrictive] measures." Israel has reportedly vowed not to fire on the protesters unless they approached the fence and to allow Qatar to increase the amount of its aid to Gaza, among other measures. A second Hamas official confirmed the report.
Full report at:
https://www.presstv.com/Detail/2019/03/29/592139/Israel-reinforcements-Gaza-Great-March-of-Return-anniversary
--------
Iran's envoy to UN: Israel, terrorists 'evolving into coalition'
Mar 29, 2019
Iran has warned that Israeli occupiers, who are already providing support for terrorists in Syria, may build a coalition with militants if their threat is not dealt with in a proper way.
The warning by Iran's chargé d'affaires to the UN Es'haq Al-e Habib came in his address to a Security Council meeting on "threats to international peace and security caused by terrorist acts: combating the financing of terrorism."
"If unchecked, terrorists and occupiers will evolve into a coalition. In fact, it has already happened. Israel supports terrorists in Syria in different ways, including healing the wounds of their terrorist sisters and brothers," he went on to say.
British newspapers have reported on Takfiri terrorists being transferred to Israeli hospitals for treatment since the beginning of war in Syria. According to documents from Israeli hospitals, Israel's army has paid millions of dollars for the treatment of terrorists injured in Syria.
Back in January, the Israeli military confirmed long-running reports of its collaboration with militant groups operating against the Syrian government, admitting that it had provided weapons to them.
In an interview with the British daily The Sunday Times, Lieutenant General Gadi Eizenkot, the army's outgoing chief of staff, said the Israeli regime had supplied "light" weapons to militant groups operating in Syria's Golan Heights for "self-defense."
It was the first time Tel Aviv acknowledged supplying arms to militants fighting in Syria, after numerous reports emerged of the discovery of Israeli-made weapons, military equipment, and medicine during clean-up operations by the Syrian army.
In September, the Jerusalem Post removed an "explosive report," which revealed the Israeli military had supplied weapons and ammunition to militants in the Golan Heights. The paper later told Russia's RT that the report had been taken down at the request of the Israeli army's "military censor."
The Israeli regime is reportedly arming at least seven different terror groups in Syria's Golan Heights, including the Fursan al-Joulan militant outfit.
Full report at:
https://www.presstv.com/Detail/2019/03/29/592123/Iran-Israel-occupation-Golan-terrorist
--------
North America
Trump's belief that Golan Heights belongs to Israel is 'delusion': Scholar
Mar 29, 2019
US President Donald Trump's belief that the occupied Golan Heights belongs to Israel is a "delusion" and underscores the US leader's mental instability, an American scholar and political commentator says.
Trump signed a proclamation on Monday recognizing Israeli "sovereignty" over the Syrian territory of Golan Heights, triggering a global outcry.
Trump signed the decree at the start of a meeting with Israeli Prime Minister Benjamin Netanyahu at the White House.
"Trump's belief that the Golan Heights belongs to Israel is very much a delusion, sort of like [Venezuelan opposition leader] Juan Guaido's belief that he is the president of Venezula," said Kevin Barrett, an author, journalist and radio host in Madison, Wisconsin.
"Trump seems to think that he can just sign a proclamation and change reality," Barrett told Press TV during a phone interview on Thursday.
"Trump is completely psychotic as he goes around like a bull in a china shop destroying international agreements like the Iran [nuclear] agreement…but this one is a very serious one," he added.
Trump's illegal move on the occupied Golan Heights has assured that Israel will be in a perpetual state of war with its Arab and Muslim neighbors for many decades, according to experts.
For many Arabs, the decision destroyed any hope that there will one day be a negotiated peace deal between Israel and the Palestinians and increased doubts that Washington is an impartial mediator, analyst say.
Trump's decision, following US recognition of Jerusalem al-Quds as Israel's capital in December 2017, could also tempt other regimes to annex land, undermine Washington's so-called peace plan between Israelis and Palestinians and tilt Israel back into conflict with its Muslim neighbors, Middle East analysts say.
Iran, Turkey, Lebanon, Russia, and some European Union (EU) states were quick to reject Trump's move, which is an obvious violation of international law.
In 1967, Israel waged a full-scale war against Arab territories, during which it occupied a large swathe of Golan and annexed it in 1981, a move never recognized by the international community.
Jerusalem al-Quds was also occupied by Israel in 1967 and then annexed in a move that is legally repudiated internationally.
https://www.presstv.com/Detail/2019/03/29/592125/US-Trump-Israel-Golan-Heights-Kevin-Barrett
--------
US Mideast strategy includes expelling Iran from Syria, Pompeo says
29 March 2019
US Secretary of State Mike Pompeo confirmed that part of Washington's overall strategy in the Middle East is aimed at expelling Iran and its forces and militias from Syria.
"Our strategy is designed to prevent that from happening," Pompeo said during his testimony at a congressional hearing on the State Department's budget review on Wednesday in which several congressmen spoke on their concerns about the US troop withdrawal from Syria and the possibility of Iranian influence strengthening there.
"We are working with all the allies so that things in Syria will not lead to strengthening Iran and Russia there. This is a comprehensive strategy," Pompeo said.
During his testimony, Pompeo defended President Donald Trump's foreign policy towards Moscow, adding that the Obama administration is responsible for the challenges faced by the current one, as the former "invited the Russians to enter Syria and that is the truth."
During the hearing, Republican Representative Adam Daniel Kinzinger from Illinois, commented that there was "a perception out there that it is the US and Saudi Arabia that are creating the humanitarian crisis in Yemen."
Kinzinger requested Pompeo to clear the air over the situation in Yemen.
"What is often neglected is that there is an active presence of al-Qaeda in Yemen. The United States is engaged in trying to crush it there," Pompeo said.
Full report at:
https://english.alarabiya.net/en/News/world/2019/03/29/US-Mideast-strategy-include-expelling-Iran-from-Syria-Pompeo-says.html
--------
Pakistan
China asks US to act carefully on issue of blacklisting Masood Azhar at UN
Mar 30, 2019
BEIJING: China has urged the United States (US) to act watchfully on blacklisting of Masood Azhar issue and avoid bypassing the relevant committee of the UN Security Council.
Chinese Foreign Ministry spokesperson Geng Shuang during his regular briefing on Friday said that issue of blacklisting chief of Jaish-e-Mohammad Masood Azhar involved a series of complex factors and China has also been working to seek a proper solution through dialogue and consensus.
He said that US action has reduced the authority of the committee as a main anti-terrorism body of the UN Security Council.
The spokesperson urged the US to act cautiously and avoid forcefully moving forward this draft resolution.
Geng Shuang said the Security Council should act in a prudential way to play a constructive role and create necessary time and space for the relevant parties to conduct dialogue and negotiations.
Earlier this month, China had vetoed a resolution tabled by United States, Britain and France to add Jaish-e-Mohammad leader Maulana Masood Azhar on United Nations's blacklist.
It is the third time China had vetoed such an effort by world powers, which underlines China's strong commitment to side with Pakistan in a time when India is using every international forum against Pakistan.
https://www.pakistantoday.com.pk/2019/03/29/china-warns-us-against-bypassing-sanctions-body-on-masood-azhar-issue/
--------
Pakistan warns UN against using FATF as political tool
Mar 30, 2019
NEW YORK: Pakistan has warned against politicisation of the United Nations' counter-terrorism machinery, saying such a course would only compromise the integrity of the system.
"It is important that current structures like FATF (Financial Action Task Force) and the 1267 Sanctions regimes are not used as political tools by some to advance their geopolitical goals," Ambassador Dr Maleeha Lodhi told the UN Security Council on Thursday.
"There is also a need to make these institutions more inclusive of the wider membership in their decision-making processes," she added.
The Pakistani envoy was speaking in a debate on "Preventing and Combating the Financing of Terrorism," a day after the United States bypassed the Security Council's 1267 Sanctions Committee and circulated to the Council's 15 members a draft resolution seeking to put the Jaish-e-Mohammed chief, Masood Azhar, on the UN sanctions blacklist.
In her remarks, Ambassador Lodhi underscored the need for a holistic approach to combat and defeat terrorism and the need for international collaboration to achieve the shared objective.
She pointed out several gaps that existed in the international community's counter-terrorism strategy, one being the lack of attention given to issues of foreign intervention, foreign occupation, the continued denial of the right to self-determination to people living under foreign occupation and violations of international law and the UN Charter.
The envoy asserted that despite being obvious causative factors, these are ignored or cast aside.
She said that the international community agrees that continued and persistent violations of human rights contribute to violent extremism.
"Yet killings continue in occupied Jammu and Kashmir and Palestine," Dr Lodhi said, adding, "Brutalization and oppression of people struggling for their legitimate right to self-determination constitutes state terrorism. This too should be the focus of international attention."
She also warned against Islamophobia fanned by extremist groups in some western countries.
"Action must be taken against this deliberate hate mongering which often leads to violence."
She said Pakistan has been the victim of terrorism sponsored by external stakeholders but this only reinforced its will to fight against the menace.
Pakistan has adopted a multifaceted national counter-terrorism strategy, a 20-point plan, including prevention and countering of terrorist financing, she said.
As a result of various measures, terrorist incidents are at a record low in the country, the ambassador stressed.
Full report at:
https://www.pakistantoday.com.pk/2019/03/29/pakistan-warns-against-politicisation-of-uns-counter-terrorism-regime/
-------
URL: https://www.newageislam.com/islamic-world-news/al-qaeda-official-calls-algeria/d/118179
New Age Islam, Islam Online, Islamic Website, African Muslim News, Arab World News, South Asia News, Indian Muslim News, World Muslim News, Women in Islam, Islamic Feminism, Arab Women, Women In Arab, Islamophobia in America, Muslim Women in West, Islam Women and Feminism