New Age Islam News Bureau
24 Jul 2013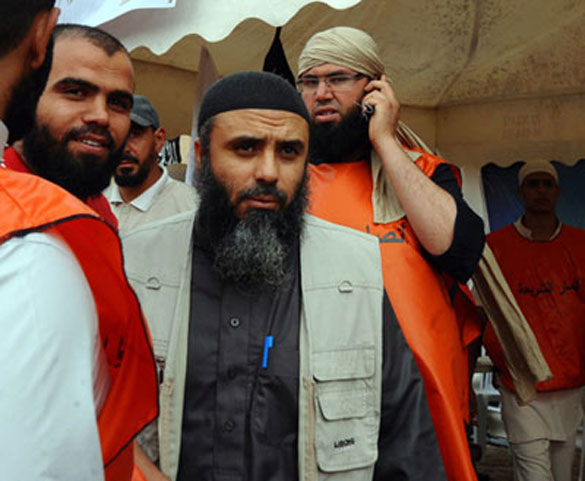 Salafist cleric Abou Iyadh is generating another firestorm with his new Ramadan message
[AFP/Fethi Belaid]
-------------
India
• Al Qaeda leader's poem in Calicut varsity syllabus
• Srinagar's Cleric's family attacked, two children dead
• Cong leader dubs BJP as 'symbol of terrorism'
• 9/11, US Presidency changed Barack Obama's attitude to terror, says L K Advani
Africa
• Ansar Al-Sharia Leader Sparks Ramadan Row in Tunisia
• Somalia: Puntland Executes Two Convicted of Islamic Mufti's Assassination
• South Sudanese president dismisses vice-president, 29 ministers
• Three Al-Shabaab Militants Killed in Mogadishu Explosion
• Somali Govt Drafts Bill to Protect Women's Rights
Australia
• Australia helps 'Madrasas' get national accreditation
Arab World
• Depleted Uranium Used By US Forces Blamed For Birth Defects and Cancer in Najaf, Iraq
• Bombs against Iraq Sunni mosques kill 12: officials
• Militants kill nine police in Iraq's north: officials
• 3 killed, dozens injured in attack on Morsy supporters
• Youngster arrested for stealing in Prophet's Mosque
• Muslim lifestyle magazine to guide youth
• Syria opposition wants Hezbollah leaders put on trial
• Defence Minister El-Sisi calls on citizens to rally against 'terrorism'
• The Jihadist Threat in Egypt's Sinai
• Mentally challenged Iraq man can read Quran in reverse
• Hajjar: Hi-tech monitoring systems reduced number of Umrah defaulters
South Asia
• In China, rare remembrance of fallen Uighur soldiers of 1962
• 'Zero option' not in US-Afghan interest
• MDP questions legitimacy of leaked security force reform proposals
• Bangladeshi worker deported from Malaysia
• Afghan refugees complain of police high-handedness
• For Bangladeshis amnesty came as a double blessing
North America
• US becomes battleground for Hindu-Muslim political feud
• US Expands Global Drone Warfare
• Cleveland Muslims to Host "Sharing Ramadan" Interfaith Iftar
• U.S. court: No 'Israel' on passports of Americans born in Jerusalem
• Mauritania court frees Canadian jailed for 'terror ties'
Pakistan
• Pakistan wants arms supply to Syrian sides stopped
• Drones to patrol Pakistan's tribal belt post-Afghanistan withdrawal: Report
• Pakistan media watchdog bans 'immoral' condom commercial
• Nawaz Sharif's party nominates India-born Mamnoon Hussain for presidential polls
• Leaked Pakistani Report Confirms High Civilian Death Toll In CIA Drone Strikes
• Gilani says ready for arrest
• First child convicted in KP of pornography
• Militants torch NATO container in Balochistan
• LeJ 'death squad' chief admits to planning attack on Justice Baqar
• 8 years on, Bugti grandsons leave for home
• Truck laden with weapons, ammunition seized in Karachi
Mideast
• Al-Qaeda seeks to derail Yemen's national dialogue: scholars
• Palestinian, Israeli envoys differ on peace roadmap at U.N. talks
• Netanyahu wants West Bank included in referendum
• Khamenei tempers hopes in U.S. for a fresh start
• Turkey: 72 Journalists Forced Out for Covering Protests, Union Says
Europe
• U.N. chemical arms investigator arrives in Syria to seek access
• UN Agency Appoints First Lady of Nigeria to Champion Child Online Protection
• Russia's Putin to visit Tehran for nuclear talks - media reports
• More Chechens Fleeing Chechnya 'at Peace' than Had Fled Chechnya 'at War'
• Rights groups: Egypt must protect Christians from turmoil
• Dutch court blocks Qaeda suspect's US extradition
Southeast Asia
• Sexual Crimes by Children in Indonesia Increasing: HR Minister
• Jawi wants a closer look at Muslim beauty contestants
• South Sumatra ready to host Islamic Solidarity Games
• Bali to hold first Miss Internet Indonesia
• Sungai Buloh school was wrong, say Muslim scholars
Compiled by New Age Islam News Bureau
URL: https://www.newageislam.com/islamic-world-news/new-age-islam-news-bureau/al-qaeda-leader's-poem-in-calicut-varsity-syllabus/d/12741
----------
India
Al Qaeda Leader's Poem in Calicut Varsity Syllabus
July 24, 2013
A poem written by an al Qaeda leader -- while serving sentence at the famous Guantanamo Bay prison – has found its way to the syllabus for third semester degree students of Calicut University in one of the worst educational howlers in the country, triggering a storm of protests in Kerala.
A section of teachers and students have demanded immediate withdrawal of the poem and sought an inquiry into it while the firebrand Akhil Bharatiya Vidyarthi Parishad (ABVP) has threatened agitation over the issue.
The poem, 'Ode to the Sea', written by Ibrahim al-Rubaish, a former detainee of the Guantanamo Bay, is part of the text 'Literature and Contemporary Issue Studies' for third semester BA/BSc students. The anthology of poems includes works of such celebrated poets like Kamala Das, Pablo Neruda, Sylvia Path and others.
But what really angered teachers and students was the fact that in the introduction given in the text all details were given about the poet except his detention in Guantanamo Bay and his alleged links to the dreaded terrorist outfit.
The introductory text merely says he is a Saudi national and acquired his post-graduate degree in Shariat laws from the prestigious Imam Muhammed Bin Saud University in Riyadh.
Al-Rubaish was captured by US forces from the Afghan-Pak border and detained in Guantanamo Bay for some time before he was extradited to Saudi Arabia in 2006. He managed a dramatic escape while lodged in a Saudi jail and is now reported to be a senior functionary of al Qaeda. While in detention in Guantanamo, he wrote his poems on the walls of the prison using charcoal and toothpaste.
One of the attorneys of Amnesty International, who visited the detainees, had collected the poems of al-Rubaish and others and compiled a book titled "Poems of Guantanamo.'
The Guantanamo Bay detention camp facility of the United States military is located at the Guantanamo Bay naval base in Cuba. Established in January 2002 by the then Bush Administration to hold terror detainees, the prison has been the subject of numerous controversies, specially over the use of "unorthodox" methods allegedly used to interrogate the detainees. President Barack Obama has pledged to close down the facility and transfer the detainees elsewhere.
Though critics did not find any fault with the content of the poem they fear that glorifying a poem by a terrorist leader would tantamount to glorifying him and the outfit itself, besides sending the wrong signals to the world community. There are also murmurs that the al Qaeda leader's personal details were "knowingly" omitted by some who really wanted the poem to be in the syllabus.
However, the university's board of studies chairman Dr K Rajagopalan, denied that the controversy was intentional and said they were searching for hard-hitting poems on right issues when one of the committee members suggested the poem by Al-Rubaish. He said that there was no way they could check the antecedents of all authors.
However, not all are impressed and many student outfits including the ABVP have threatened an agitation if the varsity failed to withdraw the poem immediately.
http://www.hindustantimes.com/India-news/Thiruvananthapuram/Al-Qaeda-leader-s-poem-in-Calicut-varsity-syllabus/Article1-1097576.aspx
----------
Srinagar's Cleric's family attacked, two children dead
PTI | Jul 24, 2013
SRINAGAR: Tension gripped Bemina area of the city in the wee hours on Wednesday following a murderous assault by unidentified assailants on the family of a local cleric, which left his two minor children dead.
The assailants barged into the house of Iftikhar Ahmad at Iqbalabad in Bemina while he was away in the local mosque to lead the pre-dawn prayers, police said.
The assailants slit open the throat of Ahmad's wife, Naseema, and two children with a sharp edged weapon, the police said.
The trio, lying in a pool of blood, were rushed to hospital when the cleric, who hails from Gurez area in Bandipora district, returned home from the mosque, they said.
While the children, Mohammad Hasim (two years) and Aalia (three years) were declared dead on arrival, Naseema was battling for life, police said.
http://timesofindia.indiatimes.com/india/Clerics-family-attacked-two-children-dead/articleshow/21298646.cms
----------
Cong leader dubs BJP as 'symbol of terrorism'
PTI New Delhi, July 23, 2013
In remarks that could fuel fresh controversy, Congress spokesperson Meem Afzal on Tuesday termed BJP as a "symbol of terrorism" even as the ruling party grappled with a political storm over Shakeel Ahmed's linking of terror outfit Indian Mujahideen's birth with the 2002 Gujarat riots.
"BJP is a symbol of terrorism...whatever they have done in Gujarat in 2002 is not less than terrorism," Afzal told reporters on the sidelines of the party's media workshop in New Delhi.
He was replying to questions about BJP's strong criticism of Ahmed's remarks blaming 2002 Gujarat riots for the creation of IM.
Afzal said, "What does terrorism mean other than killing the innocents and harming them. I am not saying any new thing about what the BJP did. Media has also been saying it".
He also termed the riots in Gujarat as "state-sponsored terrorism".
Asked about Ahmed's comments, he said the party general secretary has himself said that they were personal remarks.
Downplaying the controversy triggered by Ahmed's remarks, he said, "If there are different opinions in the party, that should be taken as the democracy of strength. Better ask him (Ahmed) about it if it was his personal opinion."
In the wake of the controversy, Ahmed on Tuesday met party chief Sonia Gandhi.
Party leaders remained tight-lipped over the meeting and on whether he was summoned by Gandhi following the controversy.
Ahmed's remarks have not gone down well in the party which had distanced itself from them. Party spokesperson Renuka Choudhary had said yesterday, "It is not the party line as of now".
BJP had launched a blistering attack on the Congress over his remarks that this was the ruling party's "desperate strategy" to communalise the electorate ahead of the 2014 elections.
http://www.hindustantimes.com/India-news/newdelhi/Cong-leader-dubs-BJP-as-symbol-of-terrorism/Article1-1097079.aspx
----------
9/11, US Presidency changed Barack Obama's attitude to terror, says L K Advani
Jul 23 2013
New Delhi : BJP senior leader L K Advani, who claimed recently that he is more of a blogger than a political activist, has dedicated his latest blog post published today to US President Barack Obama. The blog post is interestingly titled, 'How 9/11 and Presidency brought about a sea change in Obama's attitude to Jihadi terror'.
Advani has noted how Obama underwent a change of heart since 9/11 bombings which he witnessed as Illinois state senator and the Abottabad mission to eliminate Osama Bin Laden which took place under his presidency.
Advani's last blog post also dealt with the Abottabad raids and subsequent Pak Judicial commission formed by Supreme Court of Pakistan.
Advani has quoted from a book, 'The Finish' by Mark Bowden to drive the point how Obama before becoming President of the United States thought about terrorism as a problem whose roots lay in poverty. Advani has quoted Obama's response to Hyde Park Herald newspaper on 9/11 bombings , "It (terrorism) grows from a climate of poverty and ignorance, helplessness and despair," Advani goes on to note how Obama's thinking changed with the course of events and his response to terrorism became harsher finally culminating into SEAL team's secret operation in Pakistan to conduct raid on Osama's hideout in Abbotabad.
Advani has attributed this change in Obama to his possible realization that those who attacked the US during 9/11 were neither poor nor ignorant. To quote from his blog, "Most were well-to-do young Saudis whose families had shipped them overseas for expensive college education. They were religious fanatics, led by a man who had inherited a fortune. Their grievances were not economic - they were political and religious".
http://www.indianexpress.com/news/911-us-presidency-changed-barack-obama-s-attitude-to-terror-says-l-k-advani/1145624/
----------
Africa
Ansar Al-Sharia Leader Sparks Ramadan Row in Tunisia
July 24, 2013
Tunis — On the first night of Ramadan, the leader of Ansar al-Sharia in Tunisia issued a statement filled with threats rather than good wishes.
Saif Allah bin Hussein (alias Abou Iyadh) urged those whom he described as Tunisia's secularists "to come back to their senses, true identity and origins", adding that "those who fight Islam will be signing their own political and existential suicide note".
Abou Iyadh, who is wanted in connection with the September 14th attack on the US Embassy in Tunis, also used the July 9th statement to call on "the government to release Salafist prisoners, especially since fighting them would definitely be a loss".
Although no official response was issued by the government, many observers considered the message to be an incitement to violence, particularly against secularists.
"This statement is an express call to kill," cultural studies professor Mokhtar Khalfaoui told Magharebia. "Abou Iyadh, who, to say the least, is a fugitive from justice, is waiting for the right opportunities to come out with such terrorist positions."
"Contrary to the cleansing Sunnah, he receives the holy month of Ramadan with all the evils of the world and a sick hatred threat to shed the blood of those who oppose him," the professor said.
Full report at:
http://allafrica.com/stories/201307221404.html?viewall=1
----------
Somalia: Puntland Executes Two Convicted of Islamic Mufti's Assassination
July 24, 2013
Garowe — Two men accused and convincted in court for the assassination of Sheikh Abdulkadir Nur Farah, the Mufti of Puntland, were executed by Puntland military court Tuesday in the capital Garowe, Garowe Online reports.
The two men - Abdirahman Hussein Jama Bile and Abdullahi Osman Ahmed (Aynte) were executed by a Puntland firing squad, with Puntland officials including members of the judiciary, security chiefs and relatives of the late Sheikh Abdulkadir present for the execution.
Full report at:
http://allafrica.com/stories/201307240251.html
----------
South Sudanese president dismisses vice-president, 29 ministers
AP | Jul 24, 2013
JUBA: South Sudanese President SalvaKiir has dismissed his first vice-president and 29 government ministers.
In a decree read on national television on Tuesday evening, Kiir also suspended Pagan Amum, the secretary general of the ruling political party, the SPLM.
Kiir also reduced the number of ministries in his government from 29 to 18, though it wasn't clear which ministries had been cut. No reasons were given for the shake-up.
Full report at:
http://timesofindia.indiatimes.com/world/rest-of-world/South-Sudanese-president-dismisses-vice-president-29-ministers/articleshow/21286284.cms
----------
Three Al-Shabaab Militants Killed in Mogadishu Explosion
23 JULY 2013
Three suspected al-Shabaab militants died after an improvised explosive device they were planting exploded in Mogadishu's Wadajir district Tuesday morning (July 23rd), UN-funded Radio Bar-Kulan reported.
The explosion shook a nearby building and one woman was injured, although it was not clear whether she was inside the building when the bomb went off.
Somali security forces immediately cordoned off the area and began investigations.
http://allafrica.com/stories/201307240319.html
----------
Australia
Australia helps 'Madrasas' get national accreditation
Jul 24, 2013
The Australian government, through Australian Aid (AusAID), has handed over aid totaling A$500 million for 1,500 Islamic schools to attain national accreditation.
"We understand that around 20 percent of students in Indonesia attend Islamic schools, locally known as 'Madrasas', which makes them an important part of Indonesian education. There are things in 'Madrasas' that need to be supported to get national accreditation," Deputy Australian Ambassador to Indonesia David Engel said in Jakarta on Tuesday night, as quoted by Antara news agency.
Full report at:
http://www.thejakartapost.com/news/2013/07/24/australia-helps-madrasahs-get-national-accreditation.html
----------
Arab World
Depleted Uranium Used By US Forces Blamed For Birth Defects And Cancer In Najaf, Iraq
23 July, 2013
The US military's use of depleted uranium in Iraq has led to a sharp increase in Leukemia and birth defects in the city of Najaf – and panicked residents are fearing for their health. Cancer is now more common than the flu, said a report by Russia Today.
It should be mentioned that the city of Najaf saw one of the most severe military actions during the 2003 invasion.
RT's Lucy Kafanov traveled to the area, quickly learning that every residential street in several neighborhoods has seen multiple cases of families whose children are ill, as well as families who have lost children, and families who have many relatives suffering from cancer.
The report said:
Speaking on the rooftop of her house instead of her laboratory, Dr. Sundus Nsaif says the city has seen a "dramatic rise" in cancer and birth defects since the 2003 US-led invasion of Iraq . Nsaif said the alternative location was chosen because there is an active push by the government not to talk about the issue, perhaps in an effort not to embarrass coalition forces.
Full report at:
http://www.countercurrents.org/cc230713B.htm
----------
Bombs against Iraq Sunni mosques kill 12: officials
Jul 24, 2013
KIRKUK: Bombs targeting worshippers gathered for evening prayers at four Sunni mosques in Iraq killed 12 people on Tuesday, officials said.
A bomb exploded in the Omar bin Abdulaziz Mosqe in the northern city of Kiruk, while another blast struck near Al-Salihin Mosque close by, killing a total of seven people and wounding 31.
Two bombs exploded near Ahmed al-Mukhtar Mosque in the Dura area of south Baghdad, killing at least three people and wounding at least nine.
Full report at:
http://dawn.com/news/1031417/bombs-against-iraq-sunni-mosques-kill-12-officials
----------
Militants kill nine police in Iraq's north: officials
Jul 24, 2013
BAGHDAD: Militants have killed nine policemen in an attack in the Iraq's north, police said.
A police officer said an unspecified number of militants attacked a police headquarters outside the northern city of Mosul early on Wednesday.
He said the attack triggered a shootout that left nine policemen dead and two wounded.
There were apparently no casualties among the attackers, the police officer said.
Full report at:
http://dawn.com/news/1031580/militants-kill-nine-police-in-iraqs-north-officials
----------
3 killed, dozens injured in attack on Morsy supporters
Jul 24, 2013
Three people were killed and more than 30 injured in Egypt on Wednesday, according to a senior health official, in the latest acts of violence since the army deposed elected Islamist president Mohammed Morsy.
Two people were killed and three were injured when unidentified people attacked a pro-Morsy march in Cairo, said Mohammed Sultan, the head of the government ambulance service.
According to Gehad El-Haddad, a spokesman for Mr. Morsy's Muslim Brotherhood, police in plain clothes attacked the demonstrators using live ammunition.
Elsewhere, one policeman died and 28 other people were wounded, when two bomb blasts hit a security building in the Nile Delta town of Mansura, Mr. Sultan told the independent newspaper al-Youm al-Saba.
Full report at:
http://www.thehindu.com/news/international/world/3-killed-dozens-injured-in-attack-on-morsy-supporters/article4947997.ece
----------
Youngster arrested for stealing in Prophet's Mosque
24 July 2013
A youth was arrested in the Prophet's Mosque recently for stealing a mobile phone. He was taken to the Central Police Station and the mobile returned to its owner.
The young man was part of a group of three youngsters between the ages of 15 and 17 who was stopped by detectives in the Prophet's Mosque for misconduct.
Detectives also caught a 15-year-old trying to snatch a mobile from a person sleeping inside the mosque.
Full report at:
http://arabnews.com/news/458997
----------
Muslim lifestyle magazine to guide youth
24 July 2013
The English language magazine "Muallim," which was launched about a year ago in India, is making steady progress, having reached 10,000 subscriptions, according to Maulana Obaidur Rahman Qasmi, an Islamic scholar who studied at Darul Uloom Deoband and who is editor in chief of the magazine.
Speaking at an iftar party organized by Jeddah's Maulana Hifzur Rahman Seoharvi Academy recently, Qasmi said the aim of the magazine is to "pull out Muslim youth from an abyss of inferiority complex."
Full report at:
http://arabnews.com/news/458996
----------
Syria opposition wants Hezbollah leaders put on trial
Jul 24, 2013
BEIRUT – The Syrian opposition on Tuesday welcomed the EU decision to blacklist Hezbollah's military wing and said that leaders of the Lebanese Shiite movement should be put on trial for their role in the Syrian war.
The "National Coalition believes this is a step in the right direction and highlights the need for the European Union to take measures to stop (Hezbollah's) militia from intervening in Syria," the opposition group said.
Full report at:
http://www.saudigazette.com.sa/index.cfm?method=home.regcon&contentid=20130724174630
----------
Defence Minister El-Sisi calls on citizens to rally against 'terrorism'
24 Jul 2013
General Abdel Fattah El-Sisi, Egypt's defence minister, has called for nationwide rallies on Friday, 26 July to mandate the army to confront "terrorism and violence."
El-Sisi made his remarks during his speech on Wednesday afternoon at graduation ceremony for the air defence and navy in the coastal city of Alexandria.
http://english.ahram.org.eg/NewsContentP/1/77235/Egypt/BREAKING-Defence-Minister-ElSisi-calls-on-citizens.aspx
----------
The Jihadist Threat in Egypt's Sinai
By: Mohamed Fadel Fahmy
July 24, 2013
Since the ouster of Egyptian President Mohammed Morsi on July 3, the violence staged by Islamist militants in the strategic Sinai Peninsula has taken a vicious course. Millions of Egyptians embraced the success of the June 30 revolution, which brought the nation an interim government and a new sense of hope. The Muslim Brotherhood became the opposition overnight, blaming Minister of Defense General Abdel Fattah al-Sisi for what it called a "coup" against Morsi's legitimacy.
Full report at:
http://www.al-monitor.com/pulse/originals/2013/07/jihad-threat-egypt-sinai.html#ixzz2ZzR1u9fL
----------
Mentally challenged Iraq man can read Quran in reverse
By Shafaat Shahbandari
July 23, 2013
Dubai: He is a man with a mental age of a three-year-old, he can't count properly from one to ten, can't write, has only limited reading ability and can't locate his house if he is lost in the street.
Basically, he is a man who has limited ability when it comes to everyday life. In other words he could well be termed a mentally challenged or disabled individual. But when it comes to the Quran, he is just differently-abled.
Meet Hussain Adnan Sabri, 29, from Iraq, whose remarkable knowledge of the Quran, every chapter, word and verse, is miraculous, to say the least.
Full report at:
http://gulfnews.com/news/gulf/uae/leisure/mentally-challenged-iraq-man-can-read-quran-in-reverse-1.1212207
----------
Hajjar: Hi-tech monitoring systems reduced number of Umrah defaulters
25 July 2013
The Haj Ministry has introduced high-tech monitoring systems to track down and punish violators, said Haj Minister Bandar Hajjar. "We have installed advanced systems at pilgrim locations to monitor services in order to make them feel they are taken care of properly," the minister said.
Speaking to reporters after inspecting Umrah services in Makkah, he said special committees have been set up to supervise housing facilities for pilgrims in Makkah and Madinah as well as to monitor services being extended by Umrah service companies.
"Our officials have guided nearly 25,000 stranded pilgrims in Makkah and Madinah and handed them over to Umrah service companies," he said.
Full report at:
http://arabnews.com/news/458999
----------
South Asia
In China, rare remembrance of fallen Uighur soldiers of 1962
ANANTH KRISHNAN
Jul 24, 2013
More attention being paid to a group long ignored because of historical sensitivities
The 1962 India-China war rarely finds mention in the Chinese media, with the much-forgotten event still seen here as a sensitive chapter in bilateral ties.
Unlike the decorated Chinese veterans of the Korean War — an event that has received much space in the Communist Party's propaganda narratives over the decades — relatively little attention has been paid to soldiers who fought in the Himalayas a decade later, in a war that China has, as the aggressor, long sought to bury.
If the Chinese veterans of 1962 are a forgotten lot, even less due has been paid to the minority Tibetans and Uighurs from Xinjiang who were conscripted into the People's Liberation Army (PLA) ahead of the war.
Full report at:
http://www.thehindu.com/news/international/world/in-china-rare-remembrance-of-fallen-uighur-soldiers-of-1962/article4946400.ece
--------
'Zero option' not in US-Afghan interest
Jul 24, 2013
KABUL: The US ambassador in Kabul said Tuesday that withdrawing from Afghanistan after 2014 and leaving behind no American troops was not in the interests of either country.
"The zero choice would not be a choice that we would want," a statement released by the embassy late Tuesday quoted ambassador James Cunningham as saying during a meeting with a number of Afghan leaders and officials.
Full report at:
http://www.dailytimes.com.pk/default.asp?page=2013\07\24\story_24-7-2013_pg7_6
----------
MDP questions legitimacy of leaked security force reform proposals
By Neil Merrett | July 23rd, 2013
The Maldivian Democratic Party (MDP) has questioned the legitimacy of a paper leaked on social media allegedly detailing plans to transfer and reform police and military powers should it win the upcoming presidential election.
MDP Spokesperson Hamid Abdul Ghafoor said the party was not aware of having produced any document outlining police reforms as mentioned in local media, despite pledging a "transitional arrangement" to reform security services in line with recommendations in the Commonwealth-backed Commission of National Inquiry (CoNI) report.
Full report at:
http://minivannews.com/politics/mdp-questions-legitimacy-of-leaked-security-force-reform-proposals-61412
----------
Bangladeshi worker deported from Malaysia
Jul 24, 2013
A Bangladeshi worker, who had migrated with 197 others to Malaysia to work in the plantation sector in last April, was deported home after two months yesterday.
Mohammad Abdul Kader, 30, a resident of Singair upazila in Manikganj, was back home as Malaysian company Sam Darby sacked him.
"An official of the company informed me yesterday that I was unfit in medical and I have to return to Bangladesh tomorrow," Kader told The Daily Star yesterday over the phone. He reached Dhaka yesterday.
Bangladesh High Commission in Kula Lumpur, Counsellor Mantu Kumar Biswas said, "We will get the details about him (Kader) soon."
http://www.thedailystar.net/beta2/news/bangladeshi-worker-deported-from-malaysia/
----------
Afghan refugees complain of police high-handedness
By Kiyya Qadir Baloch
Jul 24, 2013
ISLAMABAD: The capital police is mistreating and torturing Afghan refugees, especially youngsters, women and children, living in a refugee camp in the limits of the Sabzi Mandi Police Station, it has been learnt
According to details, Afghan refugees have complained of widespread discrimination from the police and common people.
Talking to Daily Times, refugees complained that capital police personnel, Capital Development Authority (CDA) officials and even ordinary citizens treated them with a demeaning attitude.
Full report at:
http://www.dailytimes.com.pk/default.asp?page=2013\07\24\story_24-7-2013_pg11_6
----------
For Bangladeshis amnesty came as a double blessing
Jul 24, 2013
JEDDAH — The amnesty and its extension is a double blessing at least in the case of Bangladeshi community living in the Kingdom.
All their efforts to lift a five-year ban on sponsorship transfer have been crowned with success when the amnesty announced by the Custodian of the Two Holy Mosques King Abdullah contained a provision to lift the ban on sponsorship transfer of Bangladeshis.
"It is not simply an amnesty but also a sort of blessing for us because we could not transfer residence permits (Iqamas) since 2008," says Md Nazmul Islam, Consul General of Bangladesh.
"Our people are now seizing this golden opportunity to transfer sponsorship, and of course, we will be among the toppers in the list of those who secure sponsorship transfer by taking advantage of the royal reprieve," he told Saudi Gazette.
Full report at:
http://www.saudigazette.com.sa/index.cfm?method=home.regcon&contentid=20130724174594
----------
North America
US becomes battleground for Hindu-Muslim political feud
Chidanand Rajghatta, TNN | Jul 24, 2013
WASHINGTON: As if politics in Washington and the United States isn't divisive enough, Hindus and Muslims from the subcontinent have brought their decades-old partisan feud to America.
A tactically leaked letter by 65 Indian lawmakers, many of them Muslims, to US President Barack Obama, pressing him not to revoke the ban on Gujarat chief minister Narendra Modi from visiting US because of his alleged role or inaction in the 2002 communal riots is just the latest jab in the ongoing skirmish between the two sides. In a separate development, 27 US lawmakers have written to Secretary of State John Kerry expressing ''profound concern over the escalating violence and intolerance towards religious minorities in Pakistan, including Hindus, Christians, Ahmadis, and Shia Muslims.''
Full report at:
http://timesofindia.indiatimes.com/world/us/US-becomes-battleground-for-Hindu-Muslim-political-feud/articleshow/21294257.cms
----------
US Expands Global Drone Warfare
By Thomas Gaist
23 July, 2013
In what the Washington Post describes as the "next phase of drone warfare," the Obama administration is set to "extend the Pentagon's robust surveillance networks far beyond traditional, declared combat zones." According to the Post, Washington is set to deploy the drone fleet to new areas across the globe, where it will be used to monitor drug runners, pirates and "other targets that worry US officials."
A Defense Department spokeswoman said the military is "committed to increasing" drone activities throughout Asia and the Pacific. The Post also cites Colombia as a war theater that will likely see increased use of American drones, although US drones have already been engaged in operations against "narco-terrorists" in collaboration with the Colombian military.
"Surveillance drones could really help us out and really take the heat and wear and tear off of some of our manned aviation assets," Marine Gen. John F. Kelly, head of the US Southern Command, said in March.
Full report at:
http://www.countercurrents.org/gaist230713.htm
----------
Cleveland Muslims to Host "Sharing Ramadan" Interfaith Iftar
July 24, 2013
(CLEVELAND, OH) - On Sunday, July 28, the Cleveland chapter of the Council on American-Islamic Relations (CAIR-OHIO) will host its 10th Annual "Sharing Ramadan" Iftar Banquet with members of the interfaith community. More than 500 guests are expected. ("Iftar" is the meal eaten after sunset each day during Ramadan, the Islamic month of fasting.)
The keynote speaker is Dr. Deepa Kumar, a professor from Rutgers University, who will speak on her acclaimed book Islamophobia and the Politics of Empire.
The evening will include a Middle Eastern dinner and will showcase Cleveland as an international city. The event is free and open to the public. Reservations are required and can be made by calling 216-830-2247.
Full report at:
https://www.facebook.com/CAIRNational/posts/10151580125227695
----------
U.S. court: No 'Israel' on passports of Americans born in Jerusalem
24 July 2013
A federal appeals court on Tuesday invalidated a U.S. law that was designed to allow American citizens born in Jerusalem to have Israel listed as their birthplace on passports.
The unanimous ruling by the three-judge panel of the U.S. Court of Appeals for the District of Columbia Circuit upholds a long-standing U.S. foreign policy that the president - and not lawmakers - has sole authority to say who controls the historic holy city claimed by Israelis and Palestinians.
Full report at:
http://english.alarabiya.net/en/News/world/2013/07/24/U-S-court-invalidates-passport-law-on-status-of-Jerusalem.html
----------
Mauritania court frees Canadian jailed for 'terror ties'
Jul 24, 2013
A 24-year-old Canadian man sentenced to 18 months in prison in Mauritania for alleged ties to terrorist activity has been freed, officials say.
Aaron Yoon was held over links to two other Canadian men apparently involved in a deadly siege at an Algerian gas plant in January.
The attack, which killed 37 hostages, has been blamed on Islamist militant leader Mokhtar Belmokhtar.
Mr Yoon has denied any links to terrorism.
'Dangerous'
He claimed he had gone to Mauritania to study Arabic and Islam, according to the Associated Press.
Full report at:
http://www.bbc.co.uk/news/world-africa-23428626
---------
Pakistan
Pakistan wants arms supply to Syrian sides stopped
MASOOD HAIDER
Jul 24, 2013
UNITED NATIONS: Pakistan strongly criticised on Tuesday the continued infusion of arms in Syria and asked the Security Council and the big powers to take steps to halt arms supplies to all sides in the country.
"As we meet in this chamber, Syria is burning. Bloodshed continues.
Guns are not going to win the war – arms will not make peace," Pakistan's Ambassador to the United Nations Masood Khan said at the Security Council meeting on Middle East. He observed that the dates for the Geneva Conference had been slipping from June to July and now to September, and even beyond, "because each side wants to demonstrate military superiority before moving to the negotiating table".
Full report at:
http://dawn.com/news/1031523/pakistan-wants-arms-supply-to-syrian-sides-stopped
----------
Drones to patrol Pakistan's tribal belt post-Afghanistan withdrawal: Report
July 24, 2013
As the world awaits the proposed withdrawal of troops from Afghanistan, US officials stressed that the CIA will maintain significant presence in Kabul and armed drones will continue to patrol Pakistan's tribal belt, The Washington Post reported on Wednesday.
The process of closing down furtive bases in Afghanistan has already begun, though a footprint will remain even after the process is complete. The station in Kabul will remain among CIA's largest in the world, and a fleet of armed drones are expected to continue to patrol Pakistan's tribal belt.
Full report at:
http://tribune.com.pk/story/581308/drones-to-patrol-pakistans-tribal-belt-post-afghanistan-withdrawal-report/
----------
Pakistan media watchdog bans 'immoral' condom commercial
Jul 24 2013
ISLAMABAD: Pakistan's media regulator on Tuesday barred television channels from airing a racy condom commercial featuring actress Mathira, saying such "immoral" content should not be beamed during the holy month of Ramzan.
The Pakistan Electronic Media Regulatory Authority banned the 50-second advertisement after receiving several complaints that it was "indecent", said its spokesman Fakhar Mughal.
"Airing of such immoral advertisements on Pakistani channels and that too in Ramzan warrants serious action," he told the media.
Full report at:
http://timesofindia.indiatimes.com/world/pakistan/Pakistan-media-watchdog-bans-immoral-condom-commercial/articleshow/21277928.cms
----------
Nawaz Sharif's party nominates India-born Mamnoon Hussain for presidential polls
PTI | Jul 24, 2013
ISLAMABAD: The ruling PML-N today nominated India-born Mamnoon Hussain, a close aide of Prime Minister Nawaz Sharif, as its candidate for the presidential elections to be held on July 30.
Hussain, a leading businessman from the port city of Karachi, is an old party hand.
Born in 1940 in the historic city of Agra, he belongs to Urdu-speaking ethnic group that migrated from India after partition in 1947.
Full report at:
http://timesofindia.indiatimes.com/world/pakistan/Nawaz-Sharifs-party-nominates-India-born-Mamnoon-Hussain-for-presidential-polls/articleshow/21304083.cms
----------
Leaked Pakistani Report Confirms High Civilian Death Toll In CIA Drone Strikes
By Chris Woods
23 July ,2013
A secret document obtained by the Bureau reveals for the first time the Pakistan government's internal assessment of dozens of drone strikes, and shows scores of civilian casualties.
The United States has consistently claimed only a tiny number of non-combatants have been killed in drone attacks in Pakistan – despite research by the Bureau and others suggesting that over 400 civilians may have died in the nine-year campaign.
The internal document shows Pakistani officials too found that CIA drone strikes were killing a significant number of civilians – and have been aware of those deaths for many years.
Full report at:
http://www.countercurrents.org/woods230713.htm
----------
Gilani says ready for arrest
SYED IRFAN RAZA
Jul 24, 2013
ISLAMABAD: Former prime minister Yousuf Raza Gilani has said he is ready to get arrested and sent to jail if he has done anything illegal.
Talking to reporters outside the Parliament House on Tuesday, Mr Gilani said a perception was being created that he was being protected by the Punjab police. "Today I have come to Islamabad and ready for the arrest if anyone wants to do so," he said.
Mr Gilani said there was nothing wrong in appointing Tauqir Sadiq as chairman of the Oil and Gas Regulatory Authority (Ogra), adding that decisions taken by him as prime minister were legal and constitutional and he was not afraid of consequences.
Full report at:
http://dawn.com/news/1031458/gilani-says-ready-for-arrest
----------
First child convicted in KP of pornography
Jul 24, 2013
PESHAWAR, July 23: In the first-ever conviction for child pornography in the province, a local child protection court on Tuesday sentenced a juvenile offender to four years imprisonment on two counts with a fine of Rs330,000.
The convict, a resident of Urmer village on the outskirts of Peshawar, was charged along with an absconding accused with making porn video of a minor girl and disseminating it through internet and CDs and cellphones.
Full report at:
http://dawn.com/news/1031509/first-child-convicted-in-kp-of-pornography
----------
Militants torch Nato container in Balochistan
SYED ALI SHAH
Jul 24, 2013
QUETTA: Gunmen torched a container in the Bolan district of Balochistan on Tuesday.
Fateh Muhammad, a police officer said two armed militants opened fire at the container in the Dhadar area of Bolan district.
He said the container was on its way back from Afghanistan after supplying equipment to Nato troops when it was attacked by militants.
The container was stopped and the driver managed to escape. Militants came close and set the container on fire by using petrol.
The militants fled the scene after the strike. There was no immediate claim of responsibility. Police and levies men reached the spot as an investigation into the incident is now underway.
http://dawn.com/news/1031367/militants-torch-nato-container-in-balochistan
----------
LeJ 'death squad' chief admits to planning attack on Justice Baqar
July 24, 2013
KARACHI: Lashkar-e-Jhangvi (LeJ) "death squad" chief Masoom Billah admitted to planning the bomb attack on Sindh High Court Justice Maqbool Baqar, Express News reported on Wednesday.
Billah – who is in police custody – was brought to the city court today.
The arrested accused claimed that the planning of the attack took place at accomplice Bashir Leghari's house.
Full report at:
http://tribune.com.pk/story/581303/lej-death-squad-chief-admits-to-planning-attack-on-justice-baqar/
----------
8 years on, Bugti grandsons leave for home
July 24, 2013
ISLAMABAD: As the grandsons of late Nawab Akbar Bugti left for their hometown in Balochistan, the security forces vacated the Bugti fort on Wednesday.
The claim was made by Nawab's grandsons Gohram Bugti and Shahzain Bugti while speaking to The Express Tribune at the Benazir Bhutto International Airport.
The Bugti family will be visiting their family fort after eight years."We are very happy today as we are going home," they said.
Full report at:
http://tribune.com.pk/story/581314/8-years-on-bugti-grandsons-leave-for-home/
----------
Truck laden with weapons, ammunition seized in Karachi
Jul 24, 20133
KARACHI: Police intercepted and apprehended a truck laden with weapons and ammunition on the Super Highway, that was allegedly intended for terrorist activities at Yaum-e-Ali, reported Express News.
SSP South Nasir Aftab said that the police had been tipped off that a truck was bringing arms and ammunition from Mardan to Karachi.
Subsequently, his team conducted a search operation on Super Highway to catch suspected truck and recovered a large amount of ammunition, including six sub-machine guns, one light machine gun and thousands of bullets, belts, butts, daggers and other arms.
Full report at:
http://tribune.com.pk/story/580944/busted-truck-laden-with-weapons-ammunition-seized-in-karachi/
--------
Mideast
Al-Qaeda seeks to derail Yemen's national dialogue: scholars
July 24, 2013
By Faisal Darem in Sanaa
Yemeni security services last week thwarted an assassination attempt on Mohammed Ali Ahmed, a leader in the Southern Movement (SM) who heads the group dedicated to the issue of southern Yemen at the country's National Dialogue Conference, Akhbar al-Youm newspaper reported.
"Security authorities in Sanaa broke up an al-Qaeda cell that planned to assassinate a prominent SM leader participating in the national dialogue," the newspaper said, adding that cell members were found in possession of more than two kilogrammes of TNT.
Ahmed confirmed published reports of the planned attempt on his life to Al-Shorfa, adding that what the security services said was true.
The dialogue's success and the return of security and stability to Yemen would deal a blow to al-Qaeda, said Issam al-Qaisi, a researcher specialising in Islamist groups and a dialogue conference participant.
Full report at:
http://al-shorfa.com/en_GB/articles/meii/features/2013/07/23/feature-01
----------
Palestinian, Israeli envoys differ on peace roadmap at U.N. talks
24 July 2013
The Palestinian U.N. envoy said Israelis and Palestinians are at "a turning point" in resolving their decades-long conflict. Israel's U.N. Ambassador said his country is willing to take risks for peace.
But the two diplomats, speaking at a U.N. Security Council meeting Tuesday, laid out very different visions of what a peace deal would look like. Their contrasting versions signaled a tough road ahead following U.S. Secretary of State John Kerry's announcement Friday night that progress has been made toward a resumption of long-stalled Israeli-Palestinian negotiations.
Full report at:
http://english.alarabiya.net/en/News/middle-east/2013/07/24/Palestinians-Israelis-differ-on-peace-roadmap-at-U-N-talks-.html
----------
Netanyahu wants West Bank included in referendum
Jul 24, 2013
An Israeli official says Prime Minister Benjamin Netanyahu wants the fate of the West Bank included in a referendum on any land-for-peace deal with the Palestinians.
Current law only requires a referendum if Israel gives up east Jerusalem or the Golan Heights, war-won lands it annexed.
It's unclear if adding the West Bank would make it harder for a deal to get approved or if Mr. Netanyahu wants a wider political cover for negotiations.
An official in Mr. Netanyahu's office, on condition of anonymity, said on Wednesday that the prime minister asked for an amended referendum bill to include the West Bank.
http://www.thehindu.com/news/international/netanyahu-wants-west-bank-included-in-referendum/article4948539.ece
----------
Khamenei tempers hopes in U.S. for a fresh start
ATUL ANEJA
Jul 24, 2013
Supreme Leader says Americans not 'trustworthy'
U.S. congressmen, hoping that their recent letter to President Barack Obama advocating a fresh diplomatic start with Iran would be cheered in Tehran, are being forced to take a reality check.
At an Iftar banquet on Sunday — with newly-elected President Hasan Rouhani and his predecessor Mahmoud Ahmadinejad within audible distance — Iran's Supreme Leader, Ayatollah Ali Khamenei spoke his mind. He repeated what he has often said before: The United States is simply "not trustworthy" enough to become a partner in negotiations.
Full report at:
http://www.thehindu.com/news/international/world/khamenei-tempers-hopes-in-us-for-a-fresh-start/article4946150.ece
--------
Turkey: 72 Journalists Forced Out for Covering Protests, Union Says
Jul 24, 2013
The main opposition leader accused Prime Minister Recep Tayyip Erdogan on Tuesday of cowing local news media into self-censorship after a journalists' group said dozens of reporters had been fired for their coverage of antigovernment protests. The Turkish Journalists Union said at least 72 journalists had been fired or forced to take leave or had resigned in the past six weeks since the start of the unrest. "We are now facing a new period where the media is controlled by the government and the police and where most media bosses take orders from political authorities," said Kemal Kilicdaroglu, head of the CHP party. According to a report by his party, 64 journalists have been imprisoned. The government says most of them have been detained for serious crimes, like membership in an armed terrorist group, that are not related to journalism.
http://www.nytimes.com/2013/07/24/world/europe/turkey-72-journalists-forced-out-for-covering-protests-union-says.html
-------
Europe
U.N. chemical arms investigator arrives in Syria to seek access
24 July 2013
The head of a U.N. chemical weapons investigation team arrived in Syria on Wednesday to discuss his inquiry into allegations that chemical arms have been used in Syria's civil war.
Ake Sellstrom's full team has not been allowed into Syria due to diplomatic wrangling over access. His mission this week aims to reach an agreement for it to start work in Syria.
Sellstrom, a Swede, is accompanied by the head of the UN Office of Disarmament Affairs, Angela Kane, who said on her arrival in Damascus that their mission was to prepare the ground for an investigation into chemical weapons use.
Full report at:
http://english.alarabiya.net/en/News/2013/07/24/UN-chemical-weapons-inspectors-arrive-in-Damascus.html
----------
UN Agency Appoints First Lady of Nigeria to Champion Child Online Protection
July 24, 2013
The First Lady of Nigeria, Dame Patience Jonathan, was today formally appointed as the UN International Telecommunication Union's (ITU) Child Online Protection Champion.
"Dame Patience Jonathan has demonstrated deep interest in activities of children and young people," said ITU Secretary-General Hamadoun Touré speaking at a ceremony earlier today.
"Under her guidance, the Government of Nigeria is now taking extensive steps to ensure a safer online environment for children. ITU is looking forward to collaborating even more closely with Nigeria to build a better future for our children."
Full report at:
http://allafrica.com/stories/201307231023.html
--------
Russia's Putin to visit Tehran for nuclear talks - media reports
Jul 24, 2013
(Reuters) - Russian leader Vladimir Putin will meet Iran's newly elected president in Tehran next month to discuss restarting talks on the Islamic Republic's nuclear programme, Russian and Iranian media reports said on Wednesday.
The Russian newspaper Kommersant quoted a source close to the Iranian Foreign Ministry as saying President Putin would visit on August 12, days after Hassan Rouhani is inaugurated.
Iran's Mehr news agency said Putin would travel to Iran on August 16, without citing a source.
Kremlin spokesman Dmitry Peskov declined comment on the reports. Putin last visited Iran in 2007 to attend a summit of states bordering the Caspian Sea.
Full report at:
http://in.reuters.com/article/2013/07/24/russia-iran-nuclear-putin-idINDEE96N07420130724
-------
More Chechens Fleeing Chechnya 'at Peace' than Had Fled Chechnya 'at War'
Paul Goble
July 24, 2013
Nearly 10,000 Chechens have sought political asylum in Germany since the start of 2013, an unprecedented number that is nearly six times as great as the flow a year earlier—and greater than the number of Afghans and Syrians doing so in the course of the same six months. Not only does this represent a stinging indictment of Ramzan Kadyrov's increasingly repressive regime, but it also reflects a growing sense among Chechens that they have no future in an ever more authoritarian and xenophobic Russian Federation.
Full report at:
Jamestown Foundation
----------
Rights groups: Egypt must protect Christians from turmoil
23 July 2013
Security forces must do more to protect Egypt's Christian minority in the turmoil following the military overthrow of Islamist president Mohammed Mursi, rights groups said on Tuesday, citing the mob killing of four near the southern city of Luxor.
Coptic Christians account for about a tenth of Egypt's 84 million people. They have suffered discrimination for decades, but communal tensions and attacks rose sharply under Mursi, who was elected president a year ago following the fall of strongman Hosni Mubarak in 2011.
The army deposed Mursi on July 3, unleashing violent street clashes and exposing deep fissures in the Arab world's most populous nation.
Full report at:
http://english.alarabiya.net/en/News/middle-east/2013/07/23/Rights-groups-Egypt-must-protect-Christians-from-turmoil.html
----------
Dutch court blocks Qaeda suspect's US extradition
Jul 24, 2013
THE HAGUE: A Dutch court on Tuesday blocked the extradition of a Dutch-Pakistani al Qaeda suspect to the US, saying there were unanswered questions about the US role in his alleged torture in Pakistan.
The man, identified as Sabir K, is accused in the US of planning to commit acts of terror including a suicide attack on a US military base in Afghanistan's Kunar province in 2010.
"The court decided on appeal that suspect Sabir K. cannot be extradited to the United States," the appeals court said in a statement. The 26-year-old Sabir K said that the US played a role in what he said was his torture in Pakistan following his arrest almost three years ago.
Full report at:
http://www.dailytimes.com.pk/default.asp?page=2013\07\24\story_24-7-2013_pg7_23
----------
Southeast Asia
Sexual Crimes by Children in Indonesia Increasing: HR Minister
Jul 24, 2013
Jakarta/Malang. As people across the country marked National Children's Day on Tuesday, a minister said sexual harassment has become the second highest crime committed by Indonesian children, after robbery.
Justice and Human Rights Minister Amir Syamsuddin said the increase had occurred in several provinces in the country since 2011.
"Over the past two years, cases of sexual harassment, both committed by street children and students, has become a trend and this has occurred in several provinces and districts," he said in Jakarta on Tuesday.
Data at the ministry's Directorate General of Corrections in June showed that 1,182 children had committed sexual crimes, with only one of them a teenage girl.
Amir attributed such behavior to, among other things, technological advancement and weak supervision from both parents and society.
Aside from sexual harassment, Indonesian children have also become the victims of violence committed by their teachers.
Full report at:
http://www.thejakartaglobe.com/news/sexual-crimes-by-children-increasing/
----------
Jawi wants a closer look at Muslim beauty contestants
JULY 24, 2013
The four Muslim Miss Malaysia-World finalists are being investigated by The Federal Territory Islamic Affairs Department (Jawi) as they are deemed to have insulted Islam.
Jawi director Datuk Che Mat Che Ali said its enforcement unit would look into the matter following a Malay daily's report that the girls were bent on taking part in the beauty pageant despite an edict by the National Fatwa Council prohibiting it.
"If we find sufficient evidence for further investigation, they will be charged in the Syariah Court," he said, according to The Star.
Full report at:
http://www.themalaysianinsider.com/malaysia/article/headline-jawi-want-a-closer-look-at-muslim-beauty-contestants
--------
South Sumatra ready to host Islamic Solidarity Games
July 24 2013
South Sumatra is ready to host the Islamic Solidarity Games from Sept. 22 to Oct. 1, an officer of Palembang Immigration Office has said.
"Based on information from the organizing committee, the games will be attended by 1,759 athletes and 624 officials from 25 Islamic countries, including Indonesia," Palembang Immigration Office spokesman Sarwono T Indrijanto said in Palembang on Wednesday, as quoted by the Antara news agency.
Full report at:
http://www.thejakartapost.com/news/2013/07/24/s-sumatra-ready-host-islamic-solidarity-games.html
----------
Bali to hold first Miss Internet Indonesia
BY LUH DE SURIYANI
2013-07-24
The Association of Indonesian Internet Providers (APJII) Bali branch is organizing a Miss Internet 2013 competition, calling for young women to participate in the event.
Wahid Juniarto, chairman of the organizing committee, told journalists in a press conference yesterday that the competition was aimed at increasing Internet usage among girls and women.
"We encourage women to use Internet services to enhance their knowledge, information and skills. It is an appreciation of any woman who uses the Internet for good purposes," Juniarto said.
Full report at:
http://www.thejakartapost.com/bali-daily/2013-07-24/bali-hold-first-miss-internet-indonesia.html
----------
Sungai Buloh School was wrong, say Muslim scholars
BY AMIN ISKANDAR AND V. ANBALAGAN
JULY 24, 2013
Muslim scholars have frowned on measures taken by a school in Sungai Buloh in protecting the sanctity of the fasting month by ordering its non-Muslim students to have their meals in a shower room.
They said this was not the right way for the school to educate its non-Muslim pupils on how to respect those who are fasting.
Former Perlis mufti Datuk Dr Mohd Asri Zainul Abidin said: "Obviously what the school in Sungai Buloh had done was wrong."
Full report at:
http://www.themalaysianinsider.com/malaysia/article/sungai-buloh-school-was-wrong-say-muslim-scholars
----------
URL: https://www.newageislam.com/islamic-world-news/new-age-islam-news-bureau/al-qaeda-leader's-poem-in-calicut-varsity-syllabus/d/12741