New Age Islam News Bureau
20 Dec 2013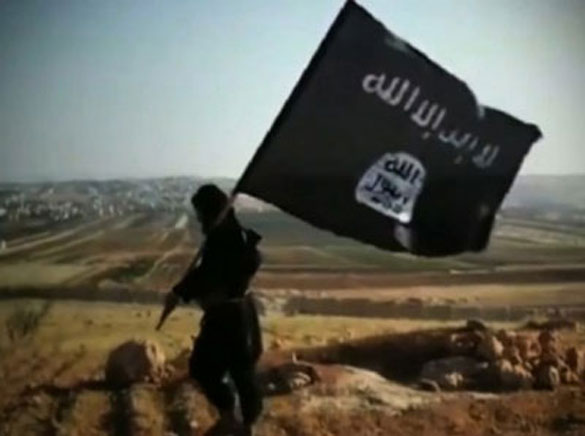 Al Qaeda group: A man holding the flag of Islamic State in Iraq and al-Sham (ISIS) walks across a hill in a propaganda video for the organization
-----------
Arab World
• Al Qaeda Establishing Islamic Law amidst the Fighting In Syria
• Bombs in Iraq livestock market kill eight people
• Indo-Arab chamber to stage 'Love Islam' exhibitions
• Islamists in Syria earn their daily bread selling Christian trophies
• Sharpening Sunni-Shia schism bodes ill for Middle East
• Speaker: Terrorists want Lebanon an arena for Jihad
• Syria's al-Nusra leader says end of war is near
• Prince Sultan: Islam brought security to Arabia
Pakistan
• Raids, shells kill 36 in North Waziristan
• Pakistanis continue to condemn resolution on Molla
• Trouble Brews in Sufi Sindh
• Taking credit: 'Taliban are our people gone astray'
• All-out efforts to fight terrorism, says Hamza
• Militants not interested in peace talks: Zardari
• Uproar on social media: Pakistanis in UAE miffed at newspaper editorial
• Pervez Musharraf seeks forgiveness, says will not flee country
Southeast Asia
• 'Reign Of Terror' For M'sia as Najib & Wife Rosmah Consolidate Their Hold On Power
• Malaysia lobbying for UN Security Council seat in 2015
• Govt Confident of Undermining Terrorists
Africa
• Terrorism and the Threat Radical Islam Poses to Cameroon
• 9 Muslims killed in Bangui attack
• Ugandan MPs pass life in jail anti-homosexual law
• Central African Republic: Christian Militias in CAR Attacked With 'Shocking Brutality'
India
• Cleric of Dar ul Uloom Ifta issues fatwa against homosexuality, live-in relationships
• Sever ties with pro-Indian organisations; warn 'LeT posters' in J&K
• 3 Indians peacemakers killed in attack on UN base in South Sudan
• Instability, violence in Bangladesh cause NE ripple effect worry
South Asia
• Resolution proves Molla war criminal, says attorney general
• Hasina joins outcry against Pakistan
• 47 BNP-Jamaat members held in 2 districts
• Bangladesh mission under Taliban threat
• US Ambassador unhappy with Jamaat-e-Islami, says foreign minister
North America
• Muslim students subject to bullying in California - survey
• Majority of Americans: Invading Afghanistan Was 'Wrong Thing to Do'
• US appeals court restores 9/11 victims' case against Saudi Arabia
• White House warns against new sanctions against Iran
• South Sudan at 'precipice' amid growing violence: Obama
• American gets 25 years in NY Taliban case
• US further presses Turkey over Chinese missile bid
Europe
• France to use unarmed US-made drones to hunt al Qaeda in Mali
• Russia blocks UN action against Syrian air attacks
• British imam denies Woolwich murder links
• Russian, U.S and UN officials meet in Geneva ahead of int'l conference on Syria
• Study finds religious fundamentalism unexpectedly common in Europe
• South Sudan soldiers carrying out ethnic killings: HRW
• Syria 'abducting civilians to spread terror', UN says
Mideast
• Senior UN official describes 'Palestinian holocaust'
• 'Iran has nuclear fuel reserve to last four years'
• As Yemen rebuilds, policy paralysis drags on economy
Compiled by New Age Islam News Bureau
URL: https://www.newageislam.com/islamic-world-news/new-age-islam-news-bureau/al-qaeda-establishing-islamic-law-amidst-the-fighting-in-syria/d/34932
------------
Arab World
Al Qaeda Establishing Islamic Law amidst the Fighting In Syria
20 December 2013
An armed Islamist organisation fighting on the rebel side has established Sharia law in northern Syria, which has seen children whipped and adults executed in public, Amnesty International reports today.
The Islamic State in Iraq and al-Sham (ISIS) control a large part of northern Syria, including the country's biggest city, Aleppo.
ISIS are in charge of at least seven 'detention centers' in the area where children as young as eight have been detained, young teens have been flogged, and adults executed after 'trials' lasting just minutes.
ISIS, previously known as Al Qaeda in Iraq (AIQ), practice several forms of torture, including electric shocks and stress positions, and regular floggings with rubber generator belts or cables, in secret prisons in al-Raqqa and Aleppo
Several children were among detainees who received severe floggings, according to testimonies obtained by Amnesty International.
On one occasion, a father had to endure the screams of pain from his 13-year-old son who was being tormented by his captors in a nearby room.
Two other detainees related how they witnessed a child of about 14 receive a flogging of around 100 lashes during an interrogation at Sadd al-Ba'ath, an ISIS prison in al-Raqqa governorate.
Meanwhile, another child of who ISIS had accused of stealing a motorbike was flogged 30 or 40 times a day for several days.
Some of those held by ISIS have been suspected of theft or other crimes, while others have been accused of 'crimes against Islam', which can include everything from smoking to sex outside marriage.
Others were seized for challenging ISIS's rule or because they belonged to other armed groups fighting on the rebel side.
ISIS is also suspected of abducting and detaining foreign nationals, including journalists covering the fighting in Syria.
The news of ISIS's practices comes just days after a British man died in a Syrian prison, allegedly by his own hand.
Syrian officials claim Dr Abbas Khan, a 32-year-old surgeon from South London who had travelled to Aleppo to volunteer at a hospital, hanged himself just days before he was due to be freed on the order of President Bashar al-Assad.
The family of Dr Khan, a married father-of-two refutes the claim that he would kill himself, and said he had been looking forward to coming home for Christmas.
Dr Khan was jailed by Syrian government forces in November last year, accused of entering the country without a visa, and spoke of months of torture at the hands of his captors.
'After years in which they were prey to the brutality of the al-Assad regime, the people of al-Raqqa and Aleppo are now suffering under a new form of tyranny imposed on them by ISIS, in which arbitrary detention, torture and executions have become the order of the day,' Amnesty International Middle East and North Africa Director Philip Luther said.
'Those abducted and detained by ISIS include children as young as eight who are held together with adults in the same cruel and inhuman conditions.
'Flogging anyone, let alone children, is cruel and inhuman, and a gross abuse of human rights. ISIS should cease its use of flogging and other cruel punishments.'
ISIS also practice public executions following Sharia 'trials' at the organisations seven identified detention centres, five in al-Raqqa and two in Aleppo.
A witness told Amnesty International workers how four men accused of fighting against ISIS were sentenced to death after trials that lasted barely a minute.
Executions are held in public places in towns in al-Raqqa governorate or near Aleppo.
At the Sadd al-Ba'ath prison, located near al-Mansura, he local Sharia court judge has instituted a reign of terror, presiding over trials wearing an explosive belt.
Former detainees accuse him of presiding over grotesquely unfair 'trials', lasting no more than a few minutes, where he frequently hands down death sentences.
At his direction, detainees have been mercilessly flogged; on at least one occasion, he is said to have personally joined in the torture.
Mr Luther added: 'Gulf states that have voiced support for the armed groups fighting against the Syrian government should take action to prevent arms flows, equipment or other support reaching ISIS in view of its appalling human rights record.
'The Turkish government, in particular, should prevent its territory being used by ISIS to bring in arms and recruits to Syria.'
http://www.dailymail.co.uk/news/article-2526263/Al-Qaeda-establishing-Islamic-law-amidst-fighting-Syria-children-whipped-secret-prisons-adults-executed-order-sharia-court-judges.html#ixzz2p11gVj6W
---------
Bombs in Iraq livestock market kill eight people
2013-12-20
KIRKUK: Two bombings in a livestock market in northern Iraq on Friday killed eight people, police and a doctor said.
The blasts in Tuz Khurmatu, 175 kilometres north of Baghdad, also wounded 25 people.
Militants in Iraq often target places where crowds of people gather, including markets, cafes and mosques, in an effort to cause maximum casualties.
Friday's attacks came a day after three suicide bombers targeted Shiite pilgrims in Baghdad and south of the capital, killing at least 36 people, as militants shot dead a family of five west of the city.
Violence in Iraq has surged this year to levels not seen since 2008, when it was just emerging from a brutal sectarian conflict.
More people were killed in the first eight days of this month than in all of December last year.
And more than 6,600 people have been killed since the beginning of 2013, according to AFP figures based on security and medical sources.
http://www.dawn.com/news/1075289/bombs-in-iraq-livestock-market-kill-eight-people
------------
Indo-Arab chamber to stage 'Love Islam' exhibitions
Dec 20, 2013
The Indo-Arab Chamber of Commerce and Industries plans to hold a series of cultural exhibitions titled "Love Islam" in Dubai, Jeddah, Riyadh, Dammam, London, New York and New Delhi.
"This is an exhibition where we project the beauty of Islam, spread knowledge about the religion, and highlight its culture," said Sunanda Rajendran, the chamber's executive director.
"This is a unique show and nobody has done it before. We want to stage it in Saudi Arabia for a month during September and October 2014. The show will visit Riyadh, Jeddah and Dammam where it will be held for 10 days each," she told Arab News.
The interactive show with laser displays will be held first in Dubai in May. "We are seeking approval and support from various departments and organizations and we have got an encouraging response from Saudi businessmen," Rajendran said.
"The show will provide a unique experience for both Muslims and non-Muslims and will enhance their knowledge of Islam," she said.
It will have five pavilions showcasing the beauty and magnificence of Islam and its culture, the chamber executive said. "It aims at creating a better understanding of Islam." The first pavilion will focus on the Journey of Islam, second on art and culture, third on architecture like the Taj Mahal, fourth on creativity and fifth on Islamic cuisines from Moroccan to Lebanese, Iranian to Arab and Middle Eastern eateries.
"The show includes a high resolution laser display and will create a unique experience for youngsters," Rajendran said. "Our chamber decided to organize this exhibition to promote cultural ties and interaction between Muslims and non-Muslims and remove misunderstandings about their religions," she explained.
She said that the show will open at the beginning of the school academic year in Saudi Arabia to attract more parents and children.
http://www.arabnews.com/news/495051
------------
Islamists in Syria earn their daily bread selling Christian trophies
Dec 20, 2013
In Syria, Islamists have again captured the Christian town of Maaloula. They took prisoner 12 nuns two weeks ago and have since held them in the neighbouring town of Yabroud. Meanwhile, Internet antique shops have featured offers to sell Maaloula relics. That's the way the Jabhat al-Nusra fighters are earning their daily bread.
But clerics in the ancient Christian town of Maaloula continue ringing their church bells despite the ongoing fighting, blasts and the abduction of nuns.
This is actually the only reminder of the once quiet life in the small town. The Islamists, - the Jabhat al-Nusra movement fighters, again occupied the town early this month. They broke their pledge not to harm anyone or damage the town's sacred sites and took 12 nuns prisoner. The nuns have since been held in the neighbouring town of Yabroud.
It is now clear that the promised respect for the holy Christian places was a lie. Lebanon's Al Akhbar newspaper reported several days ago that several early Christian crosses, holy vessels and statues from Maaloula have been put up for sale on the Internet. The mediators acting on behalf of An-Nusra and the Islamic State of Iraq and the Levant are looking for rich customers. Syrian relics have been stolen for more than two years now, with major museums across the world having already drawn up the "red list" of Syrian artifacts that may "accidentally" surface on the market. According to Sheila Canby, the Head of the New York-based Metropolitan Museum's Department of Islamic Art, the artifacts that can be taken out of Syria are running into danger, namely such small things as vessels and paraments, above all the enamel and glass works.
UNESCO, too, is perfectly aware of the ravaging of Maaloula, as well as Syria's ancient oasis city of Palmyra and dozens of museums in Syrian cities. In September, the UNESCO Director-General, Irina Bokova, met the UN special envoy to Syria, Lakhdar Brahimi, to take up the issue. Bokova said the world must react today to save the Syrian heritage, since tomorrow may be too late. According to her, UNESCO does not need to decide whether it should deal with the humanitarian crisis and protect the Syrian heritage or not. The protection of historical heritage is part of the solution for the humanitarian disaster in Syria.
But while UN high-ranking officials and culture ministers have been discussing Syria's alarming situation, invaluable icons, ancient statues and crosses continue to be taken out of Maaloula. Islamic militants go on shelling the Convent of St. Thekla and the Monastery of Saints Sergius and Bacchus. It is not possible to estimate the damage done to Syria's historical heritage before the guns fall silent.
http://voiceofrussia.com/2013_12_20/Relic-hunters-Islamists-in-Syria-earn-their-daily-bread-selling-Christian-trophies-3105/
------------
Sharpening Sunni-Shia schism bodes ill for Middle East
Dec 20, 2013
A fault-line runs from Lebanon on the Mediterranean, down through Syria and Iraq, to Saudi Arabia, the Gulf and beyond.
It divides Shia and Sunni Muslims, the two sides of Islam. It is the oldest division in the Middle East, but just like the schism in Christianity between Protestants and Catholics, it is as much about power and identity as religion.
Leaders have tried to use sectarianism as a tool to protect and strengthen their own legitimacy, just as European governments still sometimes use nationalism.
But the forces that are being unleashed in the Middle East are at best a blunt instrument, at worst beyond anyone's control.
Syria spill-over
At one end of the fault-line is Tripoli, Lebanon's second city - unquiet, divided and often dangerous.
The increasingly sectarian war in Syria, just across the mountains from Tripoli, has turbo-charged a longstanding local conflict between Sunni Muslims, the majority in the city, and Alawites, who are from the same Shia sect as President Bashar al-Assad.
In every city in Lebanon there are posters of men who have been killed fighting in Syria.
Hezbollah, the Shia political party and militia, has sent forces to fight for the Assad regime. Young Sunni men are commemorated in the heart of Tripoli.
One prominent local Sunni looked at the posters of the fresh-faced young men: "All they did was travel there and stay long enough to get killed. They were too young and untrained to have made much difference."
In a shed in his garden, on the Sunni side of Tripoli's front line, Abu Firas and his friends still idolise Saddam Hussein, the Sunni strongman who fought Shia Iran.
The 22-year-old son of Abu Firas died when two Sunni mosques were bombed in August. Abu Firas, like all Tripoli's Sunnis, blames the Shia.
"Of course God almighty will kill them," he said. "But we ask God almighty for permission and help to eradicate them all."
The local Sunni militia commander said grief and anger had pushed Abu Firas to extremes. But every sectarian killing in the Middle East deepens and spreads hatred.
Resurgent sectarianism
The split in Islam goes back to a dispute about who should succeed the Prophet Muhammad after he died in 632. Those who wanted his position to be inherited by his closest associates became Sunnis. Those who thought his descendants should succeed him became Shia.
In modern times the American-led invasion of Iraq in 2003 started a new upheaval in Islam's sectarian divide.
The removal of Saddam Hussein, Shia Iran's most bitter enemy, was a blow to the traditional Sunni ascendancy in the Middle East. Thousands of Iraqis have been killed in sectarian violence since then.
At the other end of the Gulf, in Bahrain, a longstanding political conflict between the poor Shia majority and the mainly Sunni ruling class has become more overtly sectarian. A member of the Bahraini ruling family told me he could feel the impact of sectarian clashes in Syria on Bahrain's streets.
In Syria itself, the uprising that called for freedom and justice has become an increasingly sectarian war. Sunni extremist groups, generally al-Qaeda followers, now dominate the armed opposition to President Assad.
The jihadists, who are using the Syrian war to increase their power in the heart of the Middle East, have a brutally sectarian vision of the world.
They repel many Syrian Sunnis, and are pushing Syria's minorities, Christians as well as Shia, even more firmly into the Assad camp.
In Beirut in November, suicide bombers attacked the embassy of Iran.
Many assumed it was the latest escalation in a proxy war between Shia Iran, the Syrian regime's backers, and Sunni Saudi Arabia, which supports the rebels.
The two regional rivals, either side of the Gulf, both blame each other for the rise of sectarianism.
Members of the Saudis' own Shia minority, mainly in the east of the country, complain that they are treated as potential fifth columnists for Iran.
Both Iran and Saudi Arabia have helped stoke the fire, but divisions between Shia and Sunni have also been used and abused by leaders in other Arab countries who have no intention of sharing power with fellow members of their own sects, let alone anyone else.
I discussed Shia-Sunni tension with Iran's Foreign Minister Javad Zarif last month during the talks in Geneva that led to the first stage of a deal on the future of Iran's nuclear programme.
He told me that whatever the differences over Syria, the countries concerned should co-operate to control the widening Shia-Sunni split. Mr Zarif said it was the biggest threat not just to peace in the Middle East, but to the peace of the world.
If there is a chance to manage and perhaps reverse the tide of sectarianism, then it might have to come from Iran and Saudi Arabia. But the two countries are regional powers, divided by history as well as a 21st Century rivalry.
At a recent funeral for Shia fighters in Damascus who had died fighting for the regime, the mourners wasted little breath chanting praise for President Assad in whose army the men died. Instead the slogans were sectarian, exalting the Shia tradition.
Even where sectarianism is less acute than Syria, there's economic crisis, political failure and renewed repression.
But the most dangerous force, which threatens to define the next decade in the Middle East, is the tension between Shia and Sunni.
Three years after the Arab uprisings started, the weight of a millennium and a half of sectarian rivalry is crushing hopes of a better future.
http://www.bbc.co.uk/news/world-middle-east-25458755
------------
Speaker: Terrorists want Lebanon an arena for Jihad
20 December 2013
BEIRUT: Speaker Nabih Berri warned Wednesday that terror groups in Lebanon were seeking to the turn the country into an "arena for Jihad" and President Michel Sleiman vowed to counter the growing number of security incidents.
Referring to recent attacks against the Lebanese Army, Berri was quoted as telling MPs during a weekly meeting at his residence in Ain al-Tineh that the terror groups behind the attacks "seek to turn Lebanon into an arena for jihad."
The Army has come under attack in recent days. On Sunday, a soldier was killed and three others were wounded in two separate attacks by gunmen on Army checkpoints in south Lebanon. On Tuesday, rockets fired from Syria into the northeastern city of Hermel wounded two soldiers.
Full report at:
http://www.dailystar.com.lb/News/Lebanon-News/2013/Dec-18/241550-attacks-on-army-threaten-lebanon-stability-berri.ashx#ixzz2p12dAbsh
---------
Syria's al-Nusra leader says end of war is near
Dec 20, 2013
Syria's civil war is nearing an end, the leader of Syria's al-Qaeda-linked al-Nusra Front, one of the key players in the Arab republic's conflict, has said, noting that his group's fighters hold the upper hand, even though they have no intention of ruling the country alone after the war.
"The battle is almost over, we have covered about 70 percent of it, and what's left is small. We will achieve victory soon. We pray to God to culminate these efforts with victory. It's only a matter of days," Abu Mohammed al-Joulani, the leader of Jabhat al-Nusra, told Al-Jazeera.
The al-Nusra leader has never appeared in any public forum until the recent interview with Al-Jazeera, where his face was kept away from the camera due to his own wishes.
"Al-Nusra does not seek to rule society on its own when we reach the stage of the liberation of Sham [Syria]," al-Joulani said, adding that the group was willing to work on a new roadmap for the country with a council made up of Muslim clerics and thinkers who have been supporting the uprising.
Full report at:
http://www.hurriyetdailynews.com/syrias-al-nusra-leader-says-end-of-war-is-near.aspx?pageID=238&nID=59869&NewsCatID=352
------------
Prince Sultan: Islam brought security to Arabia
Dec 20, 2013
Prince Sultan bin Salman, president of the Saudi Commission for Tourism and Antiquities (SCTA), opened a major heritage show at the Museum of Fine arts in Houston on Wednesday and highlighted the significant role played by Islam in bolstering security and stability in Arabia.
"Islam also enriched the Arab culture and civilization," the SCTA chief said in his speech at a dinner banquet after the opening, which included several US officials, academics and former Secretary of State James Baker.
Houston is the third US city to host the popular exhibition entitled "Saudi Archeological Masterpieces Exhibition through the Ages." It showcases 250 artifacts, covering a period from the Paleolithic era (one million years BC) up to the emergence of the modern Saudi state. It will continue in Houston until March 9.
Full report at:
http://www.arabnews.com/news/495651
------------
Pakistan
Raids, shells kill 36 in North Waziristan
Dec 20, 2013
MIRANSHAH: Troops on Thursday mounted helicopter and mortar attacks on militants in the tribal areas, where officials said 33 insurgents and three civilians have been killed.
The violence in North Waziristan Agency came a day after a suicide bombing at a military checkpoint killed five soldiers and wounded 34 others. Ansarul Mujahideen, a little-known militant group linked to the Tehreek-e-Taliban Pakistan (TTP), claimed responsibility for Wednesday's suicide attack. A senior military official said 23 militants were killed overnight in fighting with security forces in North Waziristan.
Full report at:
http://www.dailytimes.com.pk/national/20-Dec-2013/raids-shells-kill-36-in-north-waziristan
------------
Pakistanis continue to condemn resolution on Molla
Dec 20, 2013
More Pakistani politicians, former diplomats and journalists yesterday condemned through Twitter their National Assembly since it passed a resolution on Monday expressing concern over the execution of war criminal Abdur Quader Molla. Pakistani people from different strata have been criticising passage of the resolution and Imran Khan's remark in their comments on online news items regarding the issue. The former Pakistan ambassador to the US, Sherry Rehman, also chair of Jinnah Institute, tweeted yesterday: "We really do need a Truth and Reconciliation Commission. And to apologise to Bangladesh…" Politician Afrasiab Khattak, chairperson of Human Rights Commission of Pakistan since 1999, said in Twitter: "We don't put those on trail who were accused of war crimes by HR Commission and if Bangladesh tries the accused persons we have objection?" Re-tweeting a status that states "Bangladesh still awaits official Pakistan apology for 1971," renowned rights activist of Pakistan Marvi Sirmed satirically said: "Let them. We're busy mourning Mullah." Nadeem F Paracha, a journalist and columnist of the Dawn, twitted: "Shameful resolution in the Parliament by PMLN [Pakistan Muslim League – Nawaz], PTI [Pakistan Tehreek-e-Insaf] and JI [Jamaat-e-Islami] condemning the hanging of a murderous bigot is an insult to democracy." Another well-known politician of Pakistan People's Party Nafisa Shah said in her twitter: "NA's (National Assembly) irresponsible and uncalled for resolution courtesy JI, PTI, PMLN, JUI [Jamiat Ulema-e-Islam] has provoked flag burning and demos against our country in Bangladesh." Progressive Youth Forum, a group of youths in Pakistan, officially condemned the resolution and PTI chief Imran Khan for terming Quader Molla "innocent." The atrocities committed in Bangladesh during 1971 should have been a lesson in history that all political parties should learn from. "If we have any hope of furthering democratic federalism in Pakistan, it is important that we own up to our history, including our past mistakes and aggression, and learn from it." The forum's spokesperson, Khadija Ali, told the Dhaka Tribune: "I almost had a stroke when I read this news. People should always remember which side of history they were on."
http://www.dhakatribune.com/politics/2013/dec/20/pakistanis-continue-condemn-resolution-molla#sthash.4dK4bLqi.dpuf
-----------
Trouble Brews In Sufi Sindh
QASIM A. MOINI
2013-12-20
THERE is nothing unusual about Urs (death anniversary) celebrations of Sufi masters in Pakistan. Across the country, such events take place every year, round the year, mixing religion and folk culture.
But at a time when the country is faced with a grave internal threat in the shape of extremist Islamist militancy, there is greater focus on Urs celebrations, especially as major Sufi Dargahs, including Abdullah Shah Ghazi in Karachi and Data Darbar in Lahore, have come under attack.
Full report at:
http://www.dawn.com/news/1075221/trouble-brews-in-sufi-sindh
------------
Taking credit: 'Taliban are our people gone astray'
December 20, 2013
Former military ruler General (retd) Pervez Musharraf on Thursday said Taliban were 'our own people', who had gone a little astray.
He supported the idea of having dialogue with militants. But he cautioned that all such overtures should be made with dignity, adding that peace could not be begged for.
"You cannot plead like an orphan – 'please do not beat me'. I do not believe in it," Musharraf added.
In his first interview after being released on bail, Musharraf said he had no intention of leaving the country as he wanted to face all the cases against him in the courts of law and hoped to prove his innocence.
Full report at:
http://tribune.com.pk/story/648063/taking-credit-taliban-are-our-people-gone-astray/
------------
All-out efforts to fight terrorism, says Hamza
December 20, 2013
LAHORE - PML-N Central leader Hamza Shahbaz Sharif MNA has said that sectarianism is erasing foundations of the country but the government determined to not let the nation become hostage to the will a handful of terrorists.
He said we ourselves have to fight terrorism as nobody from outside will come to help us. He said Islam teaches the lesson of accommodation, tolerance and mutual respect. Hamza expressed these views while addressing a prize distribution ceremony among position holders of photography competition held at Alhamra Hall and later talking to media, on Thursday. Hamza said that PML-N leadership is making efforts to put the country on the road to progress.
Full report at:
http://www.nation.com.pk/lahore/20-Dec-2013/all-out-efforts-to-fight-terrorism-says-hamza
------------
Militants not interested in peace talks: Zardari
December 19, 2013
ISLAMABAD - Former President Asif Ali Zardari has condemned the suicide attack in Rawalpindi on Tuesday night, hours after the government reiterated its policy to give priority to dialogue and negotiations with the militants.
The former President said that while the PPP has been supporting the government in holding talks with the militants it also wishes to remind that the militants are not interested in peace talks and their sole agenda is to capture state power and institutions through force. The suicide attack in Rawalpindi Tuesday night within hours of the reiteration of peace talks offer should serve to dispel the doubts about the real intentions of the militants, he said.
Zardari also expressed profound grief over the deaths in the suicide bomb attack. The former President offered sincere condolences to the members of bereaved families and prayed for eternal peace for those killed in the attack and for the early recovery of the injured.
Full report at:
http://www.nation.com.pk/islamabad/19-Dec-2013/militants-not-interested-in-peace-talks-zardari
-----------
Uproar on social media: Pakistanis in UAE miffed at newspaper editorial
December 20, 2013
KARACHI: Nizam, a Pakistani resident in the UAE, recently cancelled his 10-year-old subscription of the Gulf News. Saad Suliman, too, unsubscribed to the newspaper as well as the daily email alerts, and deleted the Gulf News smartphone application.
Similarly, many Pakistanis in the UAE are following suit and are actively participating in a social-media campaign against the Dubai-based newspaper after it published an editorial on Sunday titled "Pakistan and Afghanistan betrayed a friend".
The editorial, published on the newspaper's front page on December 15, accuses its close allies – Pakistan and Afghanistan – of refusing to vote for Dubai in the bidding held in Paris last month for the Expo 2020. The newspaper said that according to their sources, the two countries turned their backs on Dubai.
Full report at:
http://tribune.com.pk/story/648068/uproar-on-social-media-pakistanis-in-uae-miffed-at-newspaper-editorial/
------------
Pervez Musharraf seeks forgiveness, says will not flee country
Dec 20 2013
Islamabad : Former Pakistani dictator Pervez Musharraf has sought "forgiveness" for any wrongs he may have committed during his nine-year regime, saying he will face all cases against him and not flee the country like a coward.
"Whatever I did, I did it for the country. It could be wrong but there was no bad intention in it. Even then, if someone thinks that I have committed a mistake, I seek forgiveness," Musharraf said in an interview to ARY News, his first since he was placed under house arrest at his palatial farm house on the outskirts of the capital eight months ago.
Full report at:
http://www.indianexpress.com/news/pervez-musharraf-seeks-forgiveness-says-will-not-flee-country/1209913/
------------
Southeast Asia
'Reign Of Terror' For M'sia as Najib & Wife Rosmah Consolidate Their Hold On Power
DECEMBER 20, 2013
KUALA LUMPUR - News that the Malaysian government has suspended a publication for inadvertently casting a spotlight on the super-lavish lifestyle of Prime Minister Najib Razak and his notorious spouse Rosmah Mansor has set off shock reverberations.
Critics say a tsunami has been triggered that will travel far and wide with negative implications for Najib's ruling Umno party, and for Malaysia as its image of being a moderate, stable and investor-friendly nation shatters.
The Najib-Rosmah move comes at a time when all eyes are on Asia, where many nations are expected to suffer severe economic backlash from the US decision to reduce economic stimulus effective January 2014.
Full report at:
http://www.malaysia-chronicle.com/index.php?option=com_k2&view=item&id=202842:reign-of-terror-black-days-for-msia-as-pm-najib-wife-rosmah-consolidate-their-hold-on-power&Itemid=2#ixzz2p17ekubK
----------
Malaysia lobbying for UN Security Council seat in 2015
DECEMBER 20, 2013
Continuing its past lobbying efforts, Malaysia has intensified its campaign to be elected for a non-permanent seat in the United Nations' Security Council in 2015.
Datuk Hussein Haniff, Malaysia's permanent representative to the UN, said aside from the work related to global issues, such as sustainable development, which had been a key issue at the UN, Malaysia has been calling for UN reforms.
"We have also been lobbying for a non-permanent seat for Malaysia in Security Council in 2015. We need to get two-thirds of the votes in the general assembly for a non-permanent membership of the SC," Hussein said.
Full report at:
http://www.themalaysianinsider.com/malaysia/article/malaysia-lobbying-for-un-security-council-seat-in-2015
----------
Govt Confident of Undermining Terrorists
DECEMBER 20, 2013
The government has credited its continuing anti-terrorism campaign for a drop in the number of terrorist attacks this year, but warns that threats still abound, judging by the high number of suspects arrested so far this year.
Ansyad Mbai, the head of the National Counterterrorism Agency (BNPT), said at his office in Jakarta on Thursday that 2013 was "a relatively safe year" compared to 2012, despite the fact that there were nearly as many terror suspects arrested so far this year as last year.
"In 2012 there were 89 terror suspects arrested, and so far this year there have been 87 suspects caught," he said.
Full report at:
http://www.thejakartaglobe.com/news/govt-confident-of-undermining-terrorists/
-----------
Africa
Terrorism and the Threat Radical Islam Poses to Cameroon
Dec 20, 2013
The kidnapping of a French priest, Reverend Georges Vandenbeusch, in northern Cameroon on 14 November 2013, barely seven months after the negotiated release of a French family who had been kidnapped by Boko Haram and Ansaru in the same region, demonstrates Cameroon's vulnerability to the threat of global jihad.
Recent actions by France seem to confirm this vulnerability. Fearing the Islamists' growing influence, France has for the first time since Cameroon's independence, issued a red alert travel warning, declaring certain parts of the country no-go zones (see map).
This reaction has led many analysts to ask whether Cameroon, once lauded as an oasis of peace and stability in a turbulent region, is in danger of becoming another African country where terrorism has degenerated into a chronic social problem. If France's paranoia is anything to go by, Islamists' recent activities in Cameroon should be taken as a serious symptom of the growing insecurity in the country.
Full report at:
http://allafrica.com/stories/201312180728.html?viewall=1
----------
9 Muslims killed in Bangui attack
World Bulletin / News Desk
DECEMBER 20, 2013
At least nine Muslims were killed on Friday when the self-styled Christian militia known as anti-balaka attacked a predominantly Muslim neighborhood of Bangui, the capital of the Central African Republic (CAR).
An AA reporter in the scene counted nine dead bodies inside the local mosque.
http://www.worldbulletin.net/?aType=haber&ArticleID=125352
----------
Ugandan MPs pass life in jail anti-homosexual law
Dec 20, 2013
Uganda's parliament has passed a bill to toughen the punishment for homosexual acts to include life imprisonment for repeat offenders.
The anti-homosexuality bill also makes it a crime punishable by a prison sentence not to report gay people.
The prime minister opposed the vote, saying not enough MPs were present.
The bill has been condemned by world leaders since it was mooted in 2009 - US President Barack Obama called it "odious".
The BBC's Catherine Byaruhanga in Kampala says the government knows there will be an international outcry, which could see some countries suspend aid to the country.
She says that Prime Minister Amama Mbabazi might follow up on his complaints about a lack of quorum, while it remains to be seen whether President Yoweri Museveni will sign the bill into law.
Full report at:
http://www.bbc.co.uk/news/world-africa-25463942
------------
Central African Republic: Christian Militias in CAR Attacked With 'Shocking Brutality'
Dec 20, 2013
Human Rights Watch reported that Christian militia fighters in the Central African Republic have committed atrocities against Muslims in a cycle of violence that "threatens to spin out of control."
The group issued a new report Thursday highlighting what it says are abuses by the militias, known as anti-balaka, in the past few months in the country's Ouham province.
It says residents described attacks involving "shocking brutality," including fighters slitting the throats of women and children.
The Central African Republic descended into chaos in March after mostly Muslim rebels, known as Seleka, overthrew president Francois Bozize. Months of looting and killing have brought retaliation by Bozize allies and the Christian militias.
Full report at:
http://allafrica.com/stories/201312190963.html?aa_source=acrdn-f0
------------
India
Cleric of Dar ul Uloom Ifta issues fatwa against homosexuality, live-in relationships
Shailvee Sharda,TNN | Dec 20, 2013
LUCKNOW: A Bareilly-based cleric has issued a fatwa against homosexuality and live-in relationships calling them anti-Islam and said Shariyat has provisions to punish those indulging in such acts.
The fatwa was issued by Mohammad Afzaal Rizwi, the mufti of Dar ul Uloom Ifta at Dargah Aala Hazrat, Bareilly in response to a query by Akhlaq Ahmed Siddiqui Noori on the issue.
The mufti has cited two Hadis (teachings of the Prophet Mohammed) from the Quran as a premise for his fatwa. As per Hadis Dur-re-Mukhtar, such acts could attract severe punishment, he said. "A person may be burnt alive, pushed from a high wall or be beaten publically with stones if he indulges into either of the two behaviours," the fatwa states.
The other Hadis is a story that explains why Islam is against homosexuality. The story relates to a tribe, Qaum-e-Looth, which existed in the pre-Islamic era. The tribe is said to have perished because it indulged in homosexuality.
Full report at:
http://timesofindia.indiatimes.com/india/Bareilly-cleric-issues-fatwa-against-homosexuality-live-in-relationships/articleshow/27666252.cms
------------
Sever ties with pro-Indian organizations; warn 'LeT posters' in J&K
AHMED ALI FAYYAZ
Dec 20, 2013
The Jammu and Kashmir Police on Thursday registered a criminal case against unnamed persons who pasted "Lashkar-e-Taiba posters" on walls and lampposts in several parts of Srinagar.
The posters, written in Urdu allegedly on the LeT letterheads, "appealed" to all people "who have been supporting this tyrant regime or have been voting for, or are affiliated in any other manner to the NC [the National Conference] the PDP [the People's Democratic Party], the Congress, the BJP [the Bhartiya Janata Party] or any such outfit" to sever their ties with the pro-Indian organisations at once. The text warned defaulters of "extremely horrible death." It asked the Sarpanches and office-bearers of these organisations to announce their resignation through newspapers and local mosques within a week or be prepared for dire consequences for themselves and their families.
Full report at:
http://www.thehindu.com/news/national/other-states/sever-ties-with-proindian-organisations-warn-let-posters/article5480197.ece
-------
3 Indians peacemakers killed in attack on UN base in South Sudan
PTI | Dec 20, 2013
UNITED NATIONS: Three Indian peacekeepers were killed when attackers stormed a United Nations base in South Sudan where civilians had taken refuge, as violence and unrest continued unabated in the the world's newest country.
"Unfortunately, just this very morning such militia groups have targeted and killed three soldiers from India in South Sudan," India's ambassador to the UN Asoke Mukerji told a UN meeting on peacekeeping on Thursday evening.
Rebels from the second-largest ethnic group, the Nuer, stormed the base in Akobo in Jonglei state, targeting civilians of the majority Dinka ethnic community.
Full report at:
http://timesofindia.indiatimes.com/india/3-Indians-peacemakers-killed-in-attack-on-UN-base-in-South-Sudan/articleshow/27671843.cms
------------
Instability, violence in Bangladesh cause NE ripple effect worry
Deeptiman Tiwary,TNN | Dec 20, 2013
NEW DELHI: India's internal security establishment is worried over the political uncertainty and incessant violence in Bangladesh. It is being suspected that the unabated violence may have a spillover effect in the north-east as there are reports of religious minorities in Bangladesh being targeted. This, sources say, could see retaliation on minorities in troubled states of north-east like Assam and revive a situation similar to May-June 2012 when it saw raging riots. In an electoral year, this could further spill over to the rest of the country, say sources.
Full report at:
http://timesofindia.indiatimes.com/india/Instability-violence-in-Bangladesh-cause-NE-ripple-effect-worry/articleshow/27668578.cms
------------
South Asia
Resolution proves Molla war criminal, says attorney general
Dec 20, 2013
Attorney General Mahbubey Alam yesterday said the resolution adopted by the Pakistan National Assembly proved once again that Abdul Quader Molla was really a war criminal and collaborator of the country. He also urged the young generation of Pakistan to resist the fundamentalists in their country knowing the history of Bangladesh's Liberation War in 1971. He made the comments at a press conference held at the Attorney General's Office in the capital where additional attorney generals MK Rahman, Murad Reza and Mumtaz Uddin Fakir were also present. The country's top law officer termed the resolution an audacity. "Whereas parliament of that country cannot discuss its own judiciary, passing a resolution on another country's judicial matter is nothing but an audacity," he said. "It is not fair [for the Pakistan parliament] to comment on the trial procedures without knowledge on the domestic laws under which the trial is taking place," he said. "This is breach of international norms." Full report at:
http://www.dhakatribune.com/law-amp-rights/2013/dec/20/resolution-proves-molla-war-criminal-says-attorney-general#sthash.ZZGFV7g1.dpuf
------------
Hasina joins outcry against Pakistan
HAROON HABIB
Dec 20, 2013
As nationwide protests in Bangladesh continued against Pakistan's criticism of the hanging of Jamaat leader Quader Mollah, Prime Minister Sheikh Hasina has joined the outcry, denouncing Islamabad for "meddling" in the country's internal affairs.
The Pakistan National Assembly resolution and a senior Pakistani Minister's assertion that Mollah's execution was "judicial murder," has incensed public opinion in the country.
The Prime Minister said: "Pakistan has proved that it never accepted the victory of Bangladesh in the Liberation War in 1971, and it still has allies in Bangladesh."
People of all ages and political faiths have held rallies, organised processions and burnt the Pakistani flag in all major city centres including Dhaka, and even in villages.
In the capital, thousands of slogan-chanting people marched towards the Pakistan High Commission for the second day on Thursday demanding cancellation of diplomatic ties with Pakistan.
Full report at:
http://www.thehindu.com/news/international/south-asia/hasina-joins-outcry-against-pakistan/article5479601.ece
------------
47 BNP-Jamaat members held in 2 districts
Dec 20, 2013
Joint Forces have arrested 47 members of the main opposition BNP and its key ally Jamaat-e-Islami from Bogra and Lalminirhat districts in an overnight drive on Friday. In Bogra, police arrested 25 people, including 13 members of Jamaat-Shibir from different areas under the Sadar police station on Thursday night. Assistant police Super Mohammad Gaziur Rahman of Bogra police Media Cell said they were arrested for their involvement with subversive activities and arson attack on ruling party Lawmaker Abdul Mannan's house. In Lalmonirhat, 22 members of BNP and Jamaat-e-Islami were arrested from Burimari and Bawra areas of Patgram upazila in an overnight drive. Patgram police station Officer-in-Charge Sohrab Hossain said: "A special team of joint forces have arrested them conducting a drive from 12:30am to 4:30am.
Full report at:
http://www.dhakatribune.com/politics/2013/dec/20/22-18-party-members-held-lalmonirhat#sthash.HEPQJxgy.dpuf
------------
Bangladesh mission under Taliban threat
Dec 20, 2013
Taliban in Pakistan have threatened to attack the Bangladesh High Commission in Islamabad in retaliation for the execution of war criminal Abdul Quader Molla, a senior Jamaat-e-Islami leader. "We came to know about the [possible] terrorist attack…[yesterday] morning through a Pakistani newspaper," Mohammad Ishtaque Hossain, press wing officer of the Bangladesh mission in Islamabad, told the Dhaka Tribune yesterday. "We contacted the Pakistan authorities and they have deployed additional police around the high commission complex," he said. The Nation newspaper reports that the banned Tehrik-e-Taliban Pakistan (TTP) threatened to attack the Bangladesh High Commission in Islamabad. "Law enforcement agencies have submitted a report to interior ministry, quoting a security agency that Taliban have expressed annoyance with the Bangladesh government over the killing of Abdul Quader Mulla [sic] and could attack the Bangladesh embassy [sic]," the Nation report said. Ishtaque said they had not received any threat letter or phone calls from anybody. Pakistan Jamaat activists in the guise of a civil society group had demonstrated in front of the Bangladesh mission on December 17, after which more police had been deployed, he said. "They threatened to demonstrate yesterday [Wednesday] but did not turn up because of the police deployment." The TTP, an umbrella organisation grouping numerous militant factions, has killed tens of thousands of soldiers, police and civilians in its campaign against the Pakistani state since its formation in 2007.
Full report at:
http://www.dhakatribune.com/bangladesh/2013/dec/20/bangladesh-mission-under-taliban-threat#sthash.VnecU7wA.dpuf
------------
US Ambassador unhappy with Jamaat-e-Islami, says foreign minister
Dec 20, 2013
US Ambassador in Dhaka Dan W Mozena said BNP should leave the company of Jamaat-e-Islami, reports an Indian newspaper quoting Foreign Minister Abul Hasan Mahmood Ali.
The ambassador made the statement when the issue of violence was discussed in a meeting with Mahmud Ali yesterday, Anandabazar Patrika reported today.
The report added that Information Minister Hasanul Haq Inu wants to show the US that Jamaat has ties with the Taliban and Pakistani extremists.
"Around seven thousand Jamaat leaders and extremists were sent to Afghanistan several times by ISI (Inter-Services Intelligence, the premier intelligence agency of Pakistan) to take training from Taliban ever since the 80s," the daily reported quoting Inu.
The US has long termed Jamaat as a moderate Islamist group which should be allowed to retain political space in Bangladesh. Awami League has complained that the US administration, which supported Pakistan in 1971, is closer to the BNP.
Full report at:
http://www.thedailystar.net/beta2/news/mozena-unhappy-with-jamaat-says-foreign-minister/
-----------
North America
Muslim students subject to bullying in California - survey
Dec 20, 2013
At least half of all Muslim students who participated in a recent survey were found to be bullied or were subject to bias at school according to the Council on American-Islamic Relations California branch. The survey was handed out at mosques in the state to try and see which incidents were bias-based bullying like teasing about terrorism, clothes, or religious rituals.
Close to 500 Muslim public school students between the ages of 11 and 18 participated in the short survey. The results pointed out that overall Muslim-American students have an optimistic experience in schools, but some exceptions were discovered.
Salma Hassane, a junior at La Jolla High School, said she has seen bullying from a teacher. "It really touches me a lot because it's not the student who does it. It is the teacher. Which makes it even worse, because when the teacher makes the classroom an okay environment to be bullied, to talk about religion in an inappropriate way, that makes it even worse because now students are free to do it," Hassane explained.
Full report at:
http://voiceofrussia.com/2013_12_20/Muslim-students-subject-to-bullying-in-California-survey-9799/
----------
Majority of Americans: Invading Afghanistan Was 'Wrong Thing to Do'
Dec 20, 2013
More than twelve years after the initial invasion, U.S. public opinion of the so-called Good War in Afghanistan appears to be souring.
A clear majority of people in the U.S. say the 2001 decision to attack Afghanistan as a response to the events of September 11th was a mistake and that the current withdrawal of U.S. troops is not moving fast enough, according to an Associated Press-Gesellschaft für Konsumforschung poll (pdf) released Wednesday.
"I'm glad to know the majority of Americans now acknowledge what we've been saying all along," said Suraia Sahar of Afghans United for Justice in an interview with Common Dreams. "This war continues to have disastrous consequences. I can only hope this time a lesson has been learned."
Full report at:
http://www.commondreams.org/headline/2013/12/19-1
------------
US appeals court restores 9/11 victims case against Saudi Arabia
Dec 20, 2013
A US appeals court on Thursday revived claims by families of victims of the September 11, 2001, attacks who alleged that Saudi Arabia provided material support to al Qaeda. Relatives of people killed when hijacked airplanes crashed into the World Trade Center, Pentagon and a Pennsylvania field can now resume lawsuit against the Arabian kingdom.
The lawsuit, filed by Center City's Cozen O'Connor, has been wending its way through courts since it was filed in 2003. The US Court of Appeals for the Second Circuit in Manhattan ruled in 2008 that Saudi Arabia could not be sued under US law. But in a highly unusual move, the court effectively acknowledged Thursday that its earlier decision was mistaken.
It restored not only Saudi Arabia, but also a government charity called the Saudi High Commission for Relief of Bosnia and Herzegovina, which plaintiffs attorneys charge provided cash and logistical support to al-Qaeda units in the Balkans during the armed conflicts there in the 1990s.
Full report at:
http://voiceofrussia.com/news/2013_12_20/US-appeals-court-restores-9-11-victims-case-against-Saudi-Arabia-7779/
------------
White House warns against new sanctions against Iran
Reuters | Dec 20, 2013
WASHINGTON: The White House on Thursday said a new sanctions bill against Iran would disrupt diplomacy aimed at preventing Teheran from building a nuclear weapon, and added that sanctions could quickly be imposed if efforts to reach a deal fail.
"We do not believe now is the time to pass any additional new sanctions through Congress," he said. "It is very important to refrain from taking an action that would potentially disrupt the opportunity for a diplomatic resolution."
http://timesofindia.indiatimes.com/world/middle-east/White-House-warns-against-new-sanctions-against-Iran/articleshow/27666669.cms
------------
South Sudan at 'precipice' amid growing violence: Obama
AFP | Dec 20, 2013
JUBA: US President Barack Obama warned that South Sudan stands at the "precipice" of civil war amid spiralling violence, with the UN launching a rescue mission after three Indian peacekeepers were killed.
The United Nations Security Council readied emergency consultations on the rapidly fledgling nation on Friday, amid growing fears the country was sliding towards all-out civil war.
The UN in South Sudan reported on Friday 14 separate sites of fighting or civil unrest, many in the troubled eastern state of Jonglei, with 34,000 civilians sheltering in or around UN bases.
Obama, who announced he had deployed 45 troops to the violence-wracked country, called for an immediate end to the strife.
Full report at:
http://timesofindia.indiatimes.com/world/rest-of-world/South-Sudan-at-precipice-amid-growing-violence-Obama/articleshow/27677260.cms
------------
American gets 25 years in NY Taliban case
Dec 20, 2013
NEW YORK — A man convicted earlier this year of conspiring to provide material support to the Taliban has been sentenced in New York to 25 years in prison. US Attorney Preet Bharara announced the sentence for 55-year-old Oded Orbach on Wednesday. He was arrested along with another US citizen in Romania last February. Prosecutors said the two agreed during meetings in Ghana, Ukraine and Romania to arrange the sale of weapons to a confidential source for the Taliban's use against US military forces in Afghanistan. Prosecutors say a two-year investigation by the Drug Enforcement Administration caught the men agreeing to provide heat-seeking surface-to-air missiles and other weapons worth more than $25 million. A lawyer for Orbach didn't immediately return a message seeking comment.
http://www.saudigazette.com.sa/index.cfm?method=home.regcon&contentid=20131220190091
------------
US further presses Turkey over Chinese missile bid
Dec 20, 2013
Washington has increased the intensity of its warnings against Turkish companies intent on working with a Chinese firm that was selected to construct a missile defense system, noting that the companies could risk business with their U.S. counterparts due to sanctions against the Chinese outfit.
The message was recently conveyed to Murad Bayar, the head of the Undersecreteriat for Defense Industries (SSM), by a senior U.S. military official who paid an announced visit to the Turkish capital, the Hürriyet Daily News learned from well-placed sources.
As a defense industry expert, the U.S. official discussed a wide range of issues regarding the Turkish-U.S. defense industry cooperation and sales, in the latest chain of frequent conversations between the two allies since Turkey announced Sept. 26 its decision to negotiate with China's Precision Machinery Import and Export Corp. (CPMIEC) to co-produce anti-ballistic missile system.
Full report at:
http://www.hurriyetdailynews.com/us-further-presses-turkey-over-chinese-missile-bid.aspx?pageID=238&nID=59868&NewsCatID=359
------------
Europe
France to use unarmed US-made drones to hunt al Qaeda in Mali
Dec 20, 2013
France will deploy its first US-made unarmed surveillance drones to West Africa by the end of the year, Defence Minister Jean-Yves Le Drian said on Thursday, as it seeks to "eliminate all traces of al Qaeda".
France's military intervention in Mali in January exposed its shortage of surveillance drones suitable for modern warfare, forcing it to rely on the United States to provide French commanders with intelligence from drones based in neighbouring Niger.
Paris said in June it would buy 12 Reaper reconnaissance drones built by privately owned US firm General Atomics to eventually replace its EADS-made Harfang drones.
"Two drones that we have bought will be operational by the end of the year in Africa, in the Sahel. That is their main mission," Le Drian told Europe 1 radio.
Full report at:
http://english.ahram.org.eg/NewsContent/2/9/89570/World/International/France-to-use-unarmed-USmade-drones-to-hunt-al-Qae.aspx
------------
Russia blocks UN action against Syrian air attacks
AP | Dec 20, 2013
UNITED NATIONS: Diplomats say Russia has objected to a proposed UN security council statement expressing outrage at Syrian government airstrikes, especially this week's indiscriminate use of heavy weapons in Aleppo that have killed more than 100 people.
The proposed council statement required approval from all 15 members.
Diplomats said Russia, the Syrian government's most important ally, wanted all references to the regime stripped from the statement, so the US decided to drop it.
Russia and China have vetoed three Western-backed resolutions that would have pressured President Bashar Assad to end the violence.
Full report at:
http://timesofindia.indiatimes.com/world/middle-east/Russia-blocks-UN-action-against-Syrian-air-attacks/articleshow/27666632.cms
------------
British imam denies Woolwich murder links
Dec 20, 2013
London, United Kingdom - A Muslim preacher identified in the British media as a "key influence" on the two men convicted of killing a British soldier on a London street has denied any involvement with the pair and says he is a victim of press harassment.
Newspapers including the Sunday Times and the Guardian alleged that both Michael Adebolajo and Michael Adebowale attended a prayer group in Woolwich run by Usman Ali, who the Daily Mail described as forming part of a "powerful web of Islamic radicals and terror convicts".
The Daily Mail also speculated that the contact with Lee Rigby's murderers had with Ali and others "may have inspired them to attempt to plot a terror attack."
Full report at:
http://www.aljazeera.com/indepth/features/2013/12/british-imam-denies-woolwich-murder-links-201312198958180792.html
------------
Russian, US and UN officials meet in Geneva ahead of int'l conference on Syria
Dec 20, 2013
A Russia-US-UN meeting began in Geneva on Friday as part of preparations for the Geneva-2 international conference on Syria. The three delegations arrived at the UN Palace of Nations. Deputy Foreign Ministers Gennady Gatilov and Mikhail Bogdanov head Russia's delegation to the event.
The preparation for an international conference on Syria in Geneva has been discussed by Russian president's epical envoy for the Middle East, Deputy Foreign Minister Mikhail Bogdanov and Secretary General of the National Coalition for Syrian Revolutionary Opposition and Forces Badr Jamous, the Russian Foreign Ministry reported on Friday.
"Within the framework of substantial exchange of views the sides placed the main emphasis on issues related to the preparation of an international conference on Syria that is scheduled for January 22, 2014," the ministry said.
Full report at:
http://voiceofrussia.com/news/2013_12_20/Russian-US-and-UN-officials-meet-in-Geneva-ahead-of-intl-conference-on-Syria-6267/
------------
Study finds religious fundamentalism unexpectedly common in Europe
20 December 2013
Religious fundamentalism is not a marginal phenomenon in Western Europe, nor is it restricted to Islam. This conclusion is drawn in a large-scale study published by Ruud Koopmans from the WZB Berlin Social Science Center.
The author analysed data from a representative survey among immigrants and natives in six European countries – Austria, Belgium, France, Germany, the Netherlands and Sweden. The Six Country Immigrant Integration Comparative Survey collected data in more than 9,000 telephone interviews.
The study is the first that allows analysis on an empirical base of the extent and impact of religious fundamentalism.
Two thirds of Muslims interviewed said that religious rules are more important to them than the laws of the country in which they live. Three quarters of the respondents held the opinion that there is only one legitimate interpretation of the Koran.
Full report at:
http://www.secularism.org.uk/news/2013/12/study-finds-religious-fundamentalism-unexpectedly-common-in-europe
---------
South Sudan soldiers carrying out ethnic killings: HRW
Dec 20, 2013
South Sudanese soldiers and rebels have executed people based on their ethnicity, Human Rights Watch said Thursday, as fears mount that days of heavy fighting could spiral into civil war.
Hundreds of people have been killed and thousands more terrified civilians have fled their homes to seek protection at UN bases since the fighting broke out on Sunday in the capital Juba.
"Soldiers in Juba sometimes asked individuals about their ethnicity before killing or releasing them, or identified them from facial scarification," HRW said quoting witnesses.
Many South Sudanese traditionally wear tribal scarring on their faces and bodies.
"We are deeply concerned that ethnically-based attacks on all sides will lead to revenge attacks and more violence," HRW's Africa director Daniel Bekele said in a statement.
President Salva Kiir has blamed the bloodshed on an attempted coup bid by his arch-rival and former deputy Riek Machar, who is now on the run, with troops loyal to him seizing the key town of Bor.
Full report at:
http://english.ahram.org.eg/NewsContent/2/8/89541/World/Region/South-Sudan-soldiers-carrying-out-ethnic-killings-.aspx
------------
Syria 'abducting civilians to spread terror', UN says
Dec 20, 2013
UN human rights investigators say the Syrian government is using what they call "enforced disappearances" as part of a widespread campaign of terror against civilians.
Thousands of people have been taken away, with most never seen again, their report says.
Disappearances on such a scale could be a crime against humanity, it adds.
It notes that some opposition groups have begun taking hostages - which also constitutes a human rights violation.
Rebel groups such as the al-Qaida-linked Islamic State in Iraq and the Levant have begun seizing people and running secret prisons.
Full report at:
http://www.bbc.co.uk/news/world-middle-east-25445355
------------
Mideast
Senior UN official describes 'Palestinian holocaust'
World Bulletin / News Desk
DECEMBER 20, 2013
UN Special Rapporteur Richard Falk has accused Israel of working towards a "Palestinian genocide", claiming that "Israel is slouching towards nothing less than a Palestinian holocaust".
According to the Maariv newspaper, Falk told Russia Today, "When you target a group, an ethnic group and inflict this kind of punishment upon them, you are in effect nurturing a kind of criminal intention that is genocidal".
In recent weeks, Israel has stepped up its pressure on the Palestinians, both within the West Bank and its own claimed territories. Native Arab Bedouin villages are being cleared and destroyed in the Negev Desert to make way for Jewish settlements, while constant raids on the Al-Aqsa Mosque compound by Israeli police and setler groups, who are demanding that the compound is split to make way for a Jewish temple.
Full report at:
http://www.worldbulletin.net/?aType=haber&ArticleID=125354
----------
'Iran has nuclear fuel reserve to last four years'
Dec 20, 2013
Iran has a reserve of nuclear fuel that would last four years, the head of the country's Atom Energy Organization said, as technical talks continued in Vienna Friday on the implementation of a deal meant to freeze the Islamic Republic's nuclear program for six months.
Ali Akbar Salehi stressed on Thursday that Tehran will not be losing anything in the November 24 interim deal, meant to allow a window to negotiate a permanent agreement in the nuclear dispute between Iran and world powers.
"Iran is the winner of Geneva deal because even if the western powers do not keep their promises Iran has proven its good-will for the world public opinion," he said, according to IRNA.
Full report at:
http://www.jpost.com/Iranian-Threat/News/Iran-has-nuclear-fuel-reserve-to-last-four-years-335653
------------
As Yemen rebuilds, policy paralysis drags on economy
Dec 20, 2013
SANA'A — Abdulkhaleq, a 28-year-old Yemeni who worked illegally in Saudi Arabia for five years, returned to his country last month because of a crackdown by Saudi visa authorities. He aims to leave Yemen again as soon as possible.
"Here in Yemen it is worse than ever," Abdulkhaleq said in the old quarter of the capital Sana'a. "People have no jobs, there is no security. There is nothing for me here. I would rather go to China, or Somalia even."
Yemen's economy is recovering from the political turmoil which surrounded the overthrow of Ali Abdullah Saleh in 2011. The currency has stabilized, inflation has dropped and some businessmen have resumed investing.
Full report at:
http://www.saudigazette.com.sa/index.cfm?method=home.regcon&contentid=20131220190086
----------
URL: https://www.newageislam.com/islamic-world-news/new-age-islam-news-bureau/al-qaeda-establishing-islamic-law-amidst-the-fighting-in-syria/d/34932