New Age Islam News Bureau
03 October 2020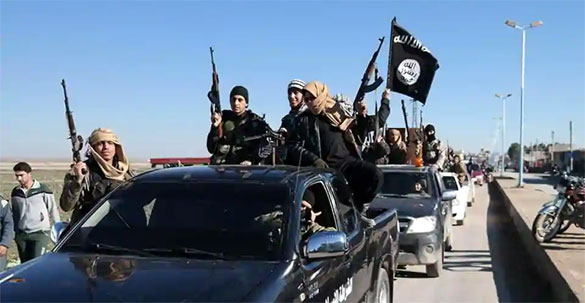 Islamic State's India module Al-Hind made preparations to build a province in jungles of southern Indian states of Karnataka, Tamil Nadu, Andhra Pradesh and Kerala. In this AP file photo from 2015, Islamic State militants pass by a convoy in Tel Abyad, northeast Syria.(AP Photo)
-----
• Emmanuel Macron Unveils Plan to Fight 'Radical Islam' To Defend France's Secular Values
• New Kuwaiti Ruler Says No Change in Israel Policy, Vows Support For Palestinian Cause
• Two Years On, Turkey Urges Riyadh to Hand over 'Henchmen' In Khashoggi Case
• LHC Rejects Bail of Three Ahmadiyya Citizens Accused Of Using Islamic Symbols
• Sudan and Major Rebel Groups to Formalize Peace Deal
India
• Al-Hind Module Planned To Establish ISIS Daish Province- Wilayah- Inside the Jungles of Karnataka, Tamil Nadu, Andhra Pradesh and Kerala: NIA Charge Sheet
• Home Secy Had Warned That UP Govt Won't Keep Promise: Pawar on Babri Case
• Separatists helped terror recruits travel to Pakistan with valid papers: NIA
• Acquittal of RSS, BJP Leaders in Babri Mosque Demolition Is a Travesty of Justice Say Indian American Muslim Council
• US did not share Osama bin Laden's location with Pakistan due to lack of trust: Ex-CIA chief Panetta
--------
Europe
• Emmanuel Macron Unveils Plan to Fight 'Radical Islam' To Defend France's Secular Values
• Photo of Twin Towers Cake Used To Prosecute Returned Foreign Fighters
• France's Macron demands Turkey explain 'jihadists' in Azerbaijan
• Swiss probe leads to arrest of four suspected of ties to ISIS, al-Qaida
• Russia, Turkey talk Azeri-Armenian conflict, agree coordination
• Turkey's Erdogan says Armenians' withdrawal from Karabakh key to truce
• German state suspects intelligence staff of far-right activity
• Poland: German far-right terror suspect arrested with explosives
--------
Arab world
• New Kuwaiti Ruler Says No Change in Israel Policy, Vows Support For Palestinian Cause
• Syria Rejects Any Deal with Israel That Will Cause Harm To Palestinian Cause
• Amnesty Urges Egypt to Release Detained Protesters
• Saudi Arabia to Reopen Holy Sites for Umra after 7-Month Pause
• ISIS Fighters Penchant for Fast Cars and Chocolate Spread Revealed
• China's envoy describes Syria as important partner, hopes for enhanced cooperation
• Rocket Attack Targets Coalition Base in Iraqi Kurdistan
--------
Mideast
• Two Years On, Turkey Urges Riyadh to Hand over 'Henchmen' In Khashoggi Case
• Hamas Rejects UAE Claim of Israeli Halt to Annexation Plan
• Israeli minister steps down over protest limits in blow to Netanyahu's shaky cabinet
• Defying Muslims' outcry, Bahrain hosts Israel's spy chief to discuss intelligence cooperation
• Official: Israel Plotting for KSA Disintegration
• Turkey's Halkbank must face US indictment over Iran sanctions violations, judge rules
• 20 years on, cameraman recalls Israeli killing of 11-year-old Palestinian
• Iranian terror in Bahrain to rise to stop deal with Israel – intel center
--------
Pakistan
• LHC Rejects Bail of Three Ahmadiyya Citizens Accused Of Using Islamic Symbols
• Gilgit-Baltistan: A hostile opposition makes Imran's job difficult
• Pakistan government unilaterally 'opens' Kartapur pilgrimage
• I would have sacked army chief if Kargil war was conducted without informing me: Imran Khan
• Pemra stops TV channels from airing motorway rape news
--------
Africa
• Sudan and Major Rebel Groups to Formalize Peace Deal
• Hundreds of Sudanese troops enter Saudi Arabia en route to Yemen: Report
• Amnesty reveals life-threatening conditions for Ethiopian migrants in Saudi detention centers
• Nigeria: Boko Haram Kills 11 Soldiers in Fresh Ambush
--------
North America
• Canada Probes Alleged Use of Its Tech in Armenia-Azerbaijan Clash
• How will Trump's COVID-19 diagnosis impact race, presidency?
--------
South Asia
• Afghan Government, Taliban 'Near Compromise' In Peace Talks
• Truck bomber kills 11 in Afghanistan despite talks on peace
• Taliban Damages Kandahar-Uruzgan Highway: MoD
• Taliban 'Not Allow' Interference in 'Internal Affairs': Intra-Afghan Negotiations
• Taliban Ambush Claim 2 Policemen in Kapisa Province
--------
Southeast Asia
• PAS-linked Don Says on Party's Portal That A Muslim Must Contest Batu Sapi Poll
• Despite objections, PAS leader insist party's right to get nominated rep spot in Sabah
• Postpone regional elections: LIPI, Muslim groups urge government
Compiled by New Age Islam News Bureau
URL: https://www.newageislam.com/islamic-world-news/al-hind-module-planned-establish/d/123030
--------
Al-Hind Module Planned To Establish ISIS Daish Province- Wilayah- Inside the Jungles of Karnataka, Tamil Nadu, Andhra Pradesh and Kerala: NIA Charge Sheet
Neeraj Chauhan
Oct 03, 2020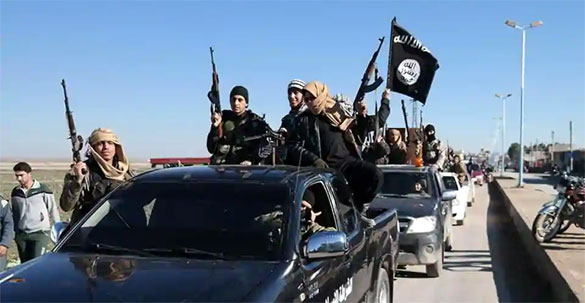 Islamic State's India module Al-Hind made preparations to build a province in jungles of southern Indian states of Karnataka, Tamil Nadu, Andhra Pradesh and Kerala. In this AP file photo from 2015, Islamic State militants pass by a convoy in Tel Abyad, northeast Syria.(AP Photo)
-----
An offshoot of IS operating in south India, known as the Al-Hind module planned to establish ISIS Daish wilayah (province) inside the jungles of Karnataka, Tamil Nadu, Andhra Pradesh and Kerala as recently as in late 2019 according to a July charge sheet by the National Investigation Agency (NIA) against 17 members of the module.
This is the first time NIA or any investigative agency has unearthed an ISIS plot of this nature in India, although the terror group's playbook has always revolved around creating Islamic states in areas it controls.
The arrests were made between December, 2019, and January this year.
To understand how to survive inside the deep forest, the 20-member module, led by Bengaluru-based Mehboob Pasha and Cuddalore (Tamil Nadu)-based Khaja Moideen even bought books on famous sandalwood smuggler Veerappan who successfully dodged the police of several states.
Significantly, in November 2019, Pasha, along with four others from this highly radicalised module of IS, even visited the Shivanasamudra area in Karnataka to identify an area in the jungle where they could train, create a suitable hideout for all Al-Hind members and establish the first IS Daishwilayah (province) in the country.
In its charge sheet, reviewed by HT, NIA has further stated that on the directions of Khaja Moideen, module members procured tents, rain coats, sleeping bags, ropes, ladders, pulleys, bows and arrows, jungle boots, knives, arms and ammunitions, as well as large quantity of firecrackers and sparklers with an intention to extract explosive content from them for making powerful IEDs.
The outfit even identified hideouts in Kolar, Kodagu, and other places in Karnataka; Jambusar in Gujarat; Ratnagiri in Mahatrashtra; Chittoor in Andhra Pradesh; and Burdwan and Siliguri in West Bengal where they could hide, according to the NIA chargesheet.
Their plan was to target/murder Hindu religious and political leaders, police officers, government officials and other high profile individuals all over India and then retreat to the forest, the charge sheet added.
Pasha was receiving instructions from an unknown foreign handler called "bhai", NIA said.
"At its prime in 2014-15, the Abu Bakr al-Baghdadi led global terror outfit Islamic State of Iraq and Syria (IS) managed to control a significant territory in Iraq, Syria and even Afghanistan. The outfit influenced hundreds of Indian youngsters – some of whom travelled to the held territories, while many stayed here to carry out attacks in different cities. However, never in last six years, have we heard that there was a plan to create a physical territory here in India by the outfit," said a senior counter-insurgency official who didn't want to be identified.
The Al-Hind module, which operated from the Al-Hind Trust office of Pasha in Guruppanpalya, Bengaluru, was unearthed by agencies in January this year with multiple raids in Delhi, Karnataka, Tamil Nadu and Kerala.
The NIA charge sheet adds that Khaja Moideen even sold his inherited land in Cuddalore (Tamil Nadu) and gave an amount of ₹5 lakh to buy jungle survival and training items. The outfit members practiced Taekwondo and Kung Fu at the Al-Hind Trust's premises. On the directions of Pasha, the module members also participated in anti-Citizenship Amendment Act (CAA) and National Register of Citizens (NRC) protests in different cities.
Moideen was arrested in the murder of a Hindu leader KP Suresh Kumar in Tamil Nadu in 2014 but was released on bail in July 2019. Since then, he was in touch with Pasha to create a new module, NIA said.
NIA officials familiar with the case said some members of the module are still absconding.
https://www.hindustantimes.com/india-news/is-group-planned-province-in-south-india-nia-charge-sheet/story-PqPdkxdOdt7ormlxfD95hO.html
--------
Emmanuel Macron Unveils Plan to Fight 'Radical Islam' To Defend France's Secular Values
03 Oct 2020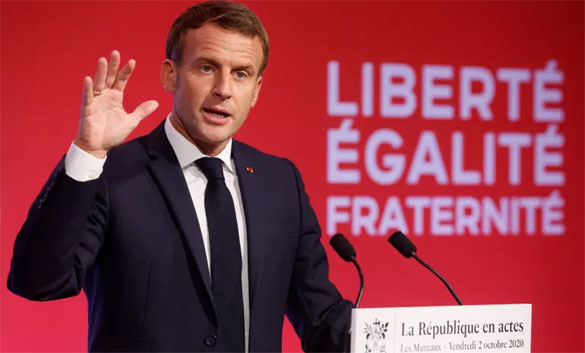 French President Emmanuel Macron delivers a speech to present his strategy to fight 'radicalisation' on October 2, 2020 in Les Mureaux outside Paris [Ludovic Marin/AFP]
------
LES MUREAUX: President Emmanuel Macron unveiled a plan on Friday to "defend" France's secular values against "radical Islam", announcing stricter oversight of schooling and better control over foreign funding of mosques.
Describing Islam as "a religion in crisis" worldwide, Macron insisted that "no concessions" would be made in a new drive to eradicate "extremist religious teaching in schools and mosques".
At the same time, he said France must do more to offer economic and social mobility to immigrant communities, adding radicals had often filled the vacuum.
His long-awaited address came 18 months before presidential elections where Macron is set to face a challenge from the right, as public concern grows over security in France.
"Islam is a religion that is in crisis all over the world today, we are not just seeing this in our country," Macron said in Les Mureaux, a town outside Paris with a historically large immigrant population.
Says the problem is partly a product of the 'ghettoisation' of French cities and towns
He said extremists were seeking to indoctrinate new converts across the country, which has one of the largest Muslim populations in Europe.
He denounced a trend of "Islamist separatism" that flouts French rules and seeks to create a "counter-society" holding its own laws above all others.
This form of sectarianism "often translates into children being kept out of school, and the use of sporting, cultural and other community activities as a pretext to teach principles that do not conform to the laws of the republic", Macron said.
He said the government would present a bill in December that would strengthen the country's bedrock 1905 law that officially separated church and state.
Among the new law's provisions, there will be closer scrutiny of the curriculum at private schools and stricter limits on home-schooling for reasons other than a child's health problems.
Community associations that receive state subsidies will have to sign a contract avowing their commitment to secularism and the values of France.
There will be closer scrutiny of such organisations, and the law will make it easier to shutter those breaking anti-indoctrination rules. The new measures will include a ban on the wearing of religious symbols for employees of subcontractors providing public services, such as transport operators.
The rule already applies to public servants.
Macron said there had been increased reports of abuses by sub-contracting staff, including bus drivers refusing women entry for wearing clothing considered too revealing.
He emphasised that it was necessary to "liberate Islam in France from foreign influences", naming countries such as Saudi Arabia, Qatar and Turkey.
To this end, the government will step up checks on foreign financing of mosques and clamp down on letting imams go abroad for training, or on hosting foreign preachers on French soil.
Macron stressed that the measures did not seek to stigmatise or alienate France's Muslims but to bolster "our ability to live together". He urged better understanding of Islam and said the problem of radicalisation was partly a product of the "ghettoisation" of French cities and towns where "we constructed our own separatism".
"We have concentrated populations based on their origins, we have not sufficiently created diversity, or ensured economic and social mobility" in segregated areas, he said.
Radical Islamists have swooped in, taking advantage of "our withdrawal, our cowardice", he added.
Macron was speaking one week after a man wounded two people with a meat cleaver outside the former Paris offices of the Charlie Hebdo satirical weekly, which the government denounced as "Islamist terrorism".
Staff at Charlie Hebdo were massacred in January 2015 by Islamist gunmen seeking to avenge its publication of sketches of Prophet Muhammad (PBUH).
https://www.dawn.com/news/1582937/macron-unveils-plan-to-fight-radical-islam-in-france
--------
New Kuwaiti Ruler Says No Change in Israel Policy, Vows Support for Palestinian Cause
01 October 2020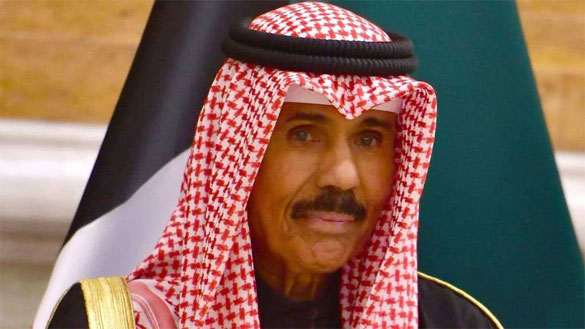 Kuwait's new Emir Sheikh Nawaf al-Ahmad al-Jaber Ale Sabah says the kingdom will not alter its policies toward Palestinians and will remain committed to the Palestinian cause.
------
Kuwait's new Emir Sheikh Nawaf al-Ahmad al-Jaber Al Sabah says the kingdom will not alter its policies toward Palestinians and will remain committed to the Palestinian cause.
Speaking in a telephone conversation with the head of the political bureau of the Palestinian Hamas resistance movement, Ismail Haniyeh, Sheikh Nawaf stressed that he "will continue the legacy of late Emir Sheikh Sabah al-Ahmad al-Jaber Al Sabah and follow in his footsteps to support the Palestinian cause."
Haniyeh, for his part, extended his condolences over Sheikh Sabah's death, praising the unwavering positions of Kuwait and its late monarch in supporting the Palestinian cause and nation.
Last month, a number of Kuwaiti political parties roundly condemned US President Donald Trump's claim that the Persian Gulf kingdom may soon normalize relations with Israel after the United Arab Emirates and Bahrain signed normalization agreements with the Tel Aviv regime at the White House.
The factions, in a joint statement released on September 20, called upon the Kuwaiti government to issue an official statement in rejection of Trump's allegation.
"Kuwait will not forget the blood of the martyrs, the sufferings of mothers, children, prisoners and the wounded, and the sacrifices of generations throughout the decades of Zionist oppression and aggression against Palestine and al-Quds al-Sharif," the statement added..
They also urged the parliament to expedite the passing of a law, which would criminalize any normalization with the Israeli regime and demanded that the lawmakers protect the Arab country against any potential bullying and pressure by Washington.
Trump said at a White House press briefing on September 18 that Kuwait will likely normalize relations with Israel in the near future.
Israeli Prime Minister Benjamin Netanyahu signed agreements with Emirati Foreign Minister Sheikh Abdullah bin Zayed Al Nahyan and Bahrain's Foreign Minister Abdullatif Al Zayani in a US-brokered event hosted by Trump at the White House on September 15.
Palestinians, who seek an independent state in the occupied West Bank and Gaza, with East Jerusalem al-Quds as its capital view the deals as a betrayal of their cause.
Anti-Israel sentiment runs high in Kuwait.
A poll conducted last year by the Washington Institute for Near East Policy, an American think tank, showed that 85 percent of Kuwaitis oppose normalizing ties with Israel.
https://www.presstv.com/Detail/2020/10/01/635434/New-Kuwaiti-ruler-pledges-to-remain-loyal-to-Palestinian-cause
--------
Two years on, Turkey urges Riyadh to hand over 'henchmen' in Khashoggi case
02 October 2020
Two years from the grisly assassination of Saudi dissident journalist Jamal Khashoggi in the kingdom's Istanbul consulate, Turkey renews the call for the Riyadh regime to hand its "henchmen" involved in the crime over to Ankara for an internationally-observed investigation aimed at bringing the mysterious case to light.
Marking the second anniversary of Khoshoggi's death, Turkey's Communications Director Fahrettin Altun recalled the circumstances around the journalist's murder and brutal slaying by a Saudi hit team at Riyadh's mission in Istanbul on October 2, 2018.
Khashoggi walked into an ambush at Saudi Arabia's consulate in Istanbul, said Altun, adding, "Unbeknownst to him, someone in Riyadh had dispatched a death squad, including a forensic expert and a body double — with a bone saw."
The then-59-year-old Washington Post columnist — an outspoken critic of Saudi Crown Prince Mohammed bin Salman — had entered the consulate to obtain documents for a marriage license when he was killed.
The details of his murder emerged over a period of several months, but his body was never recovered. Riyadh claims the murder was a "rogue" operation, but the United Nations, the CIA and other intelligence services have directly linked bin Salman to the killing.
'We all know the killers'
"We all know Jamal's killers. Let's make them pay: Send the Saudi henchmen to Turkey. Let them appear in a public court with international observers. Cooperate with the criminal investigation in Turkey," Altun further said in the statement.
The Turkish official criticized the Saudi regime for "ex-filtrating" and "harboring" the criminals and staging, subsequently, a sham trial for those Riyadh attempted to portray as the real culprits.
"Jamal's killers have since been ex-filtrated. Harbored. Brought to a show trial. Allowed to walk free. Turkish prosecutors, police officers and communication experts continue to work, day and night, to bring Mr. Khashoggi's killers to justice. We serve the cause of justice and truth," Altun said.
Last month, a Saudi court overturned five death penalties and handed lengthy prison terms to eight unnamed defendants over the killing, in a "final ruling" that was rejected as a "parody of justice" by Agnes Callamard, UN special rapporteur on extrajudicial, summary or arbitrary executions.
Callamard: It's imperative to pressure Riyadh
On Khashoggi's murder anniversary, Callamard said that it was clear from the start that it would be very hard to get justice for the journalist as the Saudi justice system was prone to political manipulation.
"I think we need to ensure we do not get ourselves held hostage by the inadequacies of the Saudi justice system," she told Al Jazeera. "It is incumbent upon other actors outside Saudi Arabia to put pressure and do all they can to make sure the accountabilities are delivered."
In her 2019 investigative report on the case, Callamard had said she found "credible evidence" that the Saudi crown prince and other high-ranking Saudi officials were liable.
With all the fingers of blame pointed at him, bin Salman has been working hard to distance himself from the murder.
The prince's attempts to escape the opprobrium got a special boost from US President Donald Trump when the latter brushed aside all the intelligence on bin Salman's complicity and turned a deaf eye to calls by US Congressmen to hold the Saudi regime to account not only for Khashoggi's murder but also for the disastrous repercussions of the Saudi-led war on Yemen as well as his campaign of suppression against dissidents at home.
US lawmakers vow to push for justice
On the eve of the murder's anniversary, a group of American lawmakers called for justice for the slain journalist and blasted Trump for shielding Saudi rulers from accountability. They vowed to press for accountability and human rights in Saudi Arabia
Democratic Senator Tim Caine denounced Trump for his close ties to the Saudi leadership and said, "President Trump has not only dismissed evidence of Crown Prince Mohammed bin Salman's responsibility for the assassination; he has cozied up even closer to the immoral regime, selling it weapons for its disastrous war in Yemen and putting our country's nuclear know-how in its hands."
In turn, Congressman Ro Khanna said it is "appalling" that the G20 summit, which will host the leaders of powerful countries across the world, is taking place in Saudi Arabia next month.
Meanwhile, Congressman Jim McGovern, who co-chairs the Tom Lantos Human Rights Commission, also slammed the hosting of the G20 summit in the kingdom while "true accountability" for the Khashoggi murder remains out of reach.
"It is time to say 'enough, no more business as usual with the Saudi government.' And that means no G20 summit until they tell the truth about Jamal's murder; free the human rights and women's rights advocates they've thrown in prison; allow independent media and journalists to report freely; respect freedom of religion, belief and conscience; and end the war in Yemen," McGovern said.
Bin Salman — Saudi Arabia's de facto ruler — has been hoping to use the G-20 presidency as a way to repair his image on the world stage, which was badly tarnished by the murder.
'World leaders must shun G20 summit'
In an article published by The Washington Post on Thursday, Hatice Cengiz, Khashoggi's fiancée, called on world leaders not to participate in this year's G20 summit.
"The most logical thing for world leaders to do today — the best punishment for the Saudi crown prince right now, even if it comes too late — is not to attend this virtual summit," said Cengiz in her piece, titled "We have been deprived of Jamal Khashoggi's voice. But his silence says it all."
"This would be a way to avoid giving any additional legitimacy to the current Saudi administration that bears the responsibility for this murder and is still managing to escape its consequences," she added.
https://www.presstv.com/Detail/2020/10/02/635501/Turkey-Khashoggi-anniversary-Saudi-Arabia
--------
LHC rejects bail of three Ahmadiyya citizens accused of using Islamic symbols
03 Oct 2020
The Lahore High Court (LHC) dismissed the bail before arrest of the Ahmadiyya community members who were accused of using Islamic symbols and practices at their place of worship.
The petitioners' sought a plea to register a First Information Report (FIR) against the complainant and those who witnessed the registration of the FIR for entering their place of worship without a warrant on Friday.
The accused, Mangatanwala district Nankana Sahib, had an FIR registered by complainant Hafiz Farman Ali, on May 3, 2020, under sections 298-B and 298-C Pakistan Penal Code (PPC).
Petitioners Tahir Nakkash, Akbar Ali and Sharafat Ahmad maintained in the LHC that they had been implicated in a false FIR and said that they have nothing to do with this case, further applied for pre-arrest bails.
The petitioners stated that no offense had been committed, and that they had instead been dragged into the case with malafide intentions.
Speaking on their previous bail application for in sessions court of Nankana Sahib on August 7, 2020 – which dismissed due to their absence from court – the petitioners claimed the court's grim atmosphere was the reason they did not show up in court.
There were serious security concerns for the petitioners after an alleged Ahmadi was killed in the courtroom as police produced him before the court, the petitioners' stated.
They further argued the fundamental rights of the petitioners as guaranteed under Articles 9 and 10-A of the constitution had been violated by the police's arrest.
However, advocate Muhammad Tayyab Qureshi of the complainant counsel stated the accused had committed a terrible offence by using Islamic symbols in their place of worship.
The counsel stated that the evidence has been presented and is on record, further alleging that the accused have modelled their place of worship akin to a mosque to deceive and hurt Muslims.
Concerning the aforementioned evidence, the counsel said that people have seen Quran's verses painted on walls of the worship place and copies of the Quran within the establishment.
According to the judgment of the country's top court, those (Ahmaddiya community members) who will use the first Kalma would be considered blasphemers.
https://www.pakistantoday.com.pk/2020/10/02/lhc-rejects-bail-of-three-ahmadiyya-citizens-accused-of-using-islamic-symbols/
--------
Sudan and major rebel groups to formalize peace deal
03 October 2020
Sudan's power-sharing government and several rebel groups are due to formalize a peace agreement on Saturday aimed at resolving decades of regional conflicts which left millions displaced and hundreds of thousands dead.
Three major groups signed a preliminary deal in August - two factions from the western region of Darfur and one from the southern region - after months of peace talks hosted by neighbouring South Sudan.
For all the latest headlines follow our Google News channel online or via the app.
Another powerful rebel group, the Sudan People's Liberation Movement-North led by Abdelaziz al-Hilu, which had not participated in initial peace negotiations, agreed last month to hold new talks hosted by South Sudan.
Tut Gatluak, the South Sudanese chief mediator, told Reuters ahead of Saturday's ceremony in Juba that the goal is to sign deals with all armed groups.
"The parties will sign their final agreement ... and from there, we shall continue engaging with the other holdout groups of general Al-Hilu and Al-Noor," he told Reuters on Friday.
Leaders from Kenya, Ethiopia, Chad, Egypt as well as the foreign minister of Saudi Arabia will also attend the event, he added.
Sudan has been wracked by simmering conflicts for decades. After the oil-rich south seceded in 2011, an economic crisis fueled protests that led to the overthrow of veteran president Omar Hassan al-Bashir in 2019.
Sudan's new civilian and military leaders, who have shared power since then, say ending conflicts is a top priority to help bring democracy and peace to a country in crisis.
The deal sets out terms to integrate rebels into the security forces, be politically represented and have economic and land rights. A new fund will pay $750 million a year for 10 years to the impoverished southern and western regions and the chance of return for displaced people is also guaranteed.
Analysts have welcomed the agreement but questioned its inclusiveness and comprehensiveness because of how prominent the role of armed groups and the military is.
Jack Mohamoud Jack, the spokesman of the al-Hilu faction, said his group will not participate in the ceremony, but is ready to start separate negotiations with the Sudanese government.
https://english.alarabiya.net/en/News/middle-east/2020/10/03/Sudan-and-major-rebel-groups-to-formalize-peace-deal
--------
India
Home secy had warned that UP govt won't keep promise: Pawar on Babri case
Oct 2, 2020
PUNE: NCP chief Shard Pawar said on Friday that the then Union home secretary had warned before the demolition of the Babri mosque that the Uttar Pradesh government would not keep its promise to protect it.
Pawar, who was in prime minister P V Narasimha Rao's cabinet when the mosque at Ayodhya was demolished by Kar Sevaks in December 1992, was speaking to reporters here.
A CBI court earlier this week acquitted 32 people including senior BJP leader L K Advani in the Babri Masjid demolition case.
Asked about the verdict, Pawar said then Union home secretary Madhav Godbole had informed that Kalyan Singh-led UP government would not keep its promise of protecting the disputed structure.
"But prime minister P V Narasimha Rao was of the opinion that the Centre should trust the chief of the state. Unfortunately, Godbole's opinion was not considered and what he anticipated took place," Pawar claimed.
He also said that demands for construction of temples at similarly disputed sites in Kashi and Mathura were worrisome from the viewpoint of social harmony.
https://timesofindia.indiatimes.com/india/home-secy-had-warned-that-up-govt-wont-keep-promise-pawar-on-babri-case/articleshow/78451411.cms
--------
Separatists helped terror recruits travel to Pakistan with valid papers: NIA
Oct 2, 2020
SRINAGAR: Some prominent Kashmir-based separatists are under the scanner for arranging identity and travel documents for local recruits of terrorist outfits to legally enter Pakistan by road and get arms training there for a couple of weeks, a spokesperson for the National Investigation Agency (NIA) said on Friday.
The revelation came a day after a charge sheet was filed in the special NIA court in Jammu against two slain Lashkar-e-Taiba handlers and an arrested recruit who had travelled to Pakistan with "valid Indian documents" issued on the recommendation of well-connected functionaries of separatist groups.
"Muneeb Hameed Bhat is just one among scores of Kashmiri terrorist recruits legally sent across the border between 2016 and 2018. After training stints lasting 5 to 15 days, they would return without raising any suspicion and join sleeper cells as a stepping stone to actively participate in terror activities," the spokesperson said.
During the course of its probe that started in September 2018, the NIA found out that Muneeb had been groomed to join Lashkar by Junaid Ahmad Mattoo, a terrorist from his native district of Kulgam in south Kashmir. Another arrested terrorist, Umer Rashid Wani, provided funds to meet his expenses during the Pakistan trip.
"Muneeb was in Pakistan from July to August 2017 on valid travel documents arranged with the help of a separatist organisation. Besides weapons training, he was trained in the use of chat and messaging platforms on the dark web," the NIA spokesperson said. "After returning from Pakistan, he remained in touch with his Lashkar handlers in Pakistan through clandestine messaging platforms set up to plan and execute subversive activities in the Valley."
Junaid and Umer were killed in separate encounters in J&K in 2017 and 2018 respectively.
https://timesofindia.indiatimes.com/india/separatists-helped-terror-recruits-travel-to-pakistan-with-valid-papers-nia/articleshow/78451857.cms
--------
Acquittal of RSS, BJP Leaders in Babri Mosque Demolition Is a Travesty of Justice Say Indian American Muslim Council
03 Oct 2020
Illinois (October 1, 2020): The Indian American Muslim Council (IAMC), an advocacy group dedicated to safeguarding India's pluralist and tolerant ethos today expressed its dismay over the acquittal of the leaders of the RSS and the BJP in the case of the demolition of the historic Babri mosque in 1992.
A special court in India on Wednesday declared the demolition of the mosque as a "spontaneous act" while acquitting 32 accused including senior RSS and BJP leaders like former Union ministers Lal Krishna Advani, Murli Manohar Joshi and Uma Bharti of criminal conspiracy. The acquittal comes at the end of a torturous legal process spanning three decades at the end of which the Court held no one responsible or punishable for the demolition, despite every evidence fort it.
IAMC has expressed its shock at the way justice was delayed and denied in the demolition of the historic mosque, done in full view of the national and international audiences and television and print journalists. Thousands of Muslims were killed during the communal violence which followed the demolition.
"Indian Americans and all people of conscience feel let down by the CBI court. The acquittal of RSS and BJP leaders suggests that under the current dispensation, the majority and the mobs have the right of way," said Ahsan Khan, president of the Indian American Muslim Council. "This grave injustice is yet another assault on India's 200 million Muslims," added Mr. Khan.
There are two orders of the Supreme Court of India which point to the charge of criminal conspiracy against the accused. In an acknowledgment of the gravity of the crime, the Constitution Bench of Supreme Court of India on November 9, 2019, termed the demolition of the Babri mosque a "calculated act" and "an egregious violation of the rule of law."
"During the pendency of the suits, the entire structure of the mosque was brought down in a calculated act of destroying a place of public worship. The Muslims have been wrongly deprived of a mosque which has been constructed well over 450 years ago," said the order of then chief justice of India Ranjan Gogoi, justices S A Bobde, D Y Chandrachud, Ashok Bhushan and S A Nazeer.
"On 6 December 1992, the structure of the mosque was brought down and the mosque was destroyed. The destruction of the mosque took place in breach of the order of status quo and an assurance given to this Court. The destruction of the mosque and the obliteration of the Islamic structure was an egregious violation of the rule of law," the bench had further added.
It was the Supreme Court which, more than two years ago, revived the charges of criminal conspiracy against the accused. "In the present case, crimes which shake the secular fabric of the Constitution of India have allegedly been committed almost 25 years ago. The accused persons have not been brought to book largely because of the conduct of the CBI in not pursuing the prosecution of the aforesaid alleged offenders in a joint trial, and because of technical defects which were easily curable, but which were not cured by the State Government," the bench of justices Pinaki Chandra Ghose and Rohinton F Nariman had said on April 19, 2017.
While acquitting the RSS and BJP leaders, the CBI court has not only ignored the Supreme Court orders, but also the findings of the Liberhan Commission which was set up by the government of India in 1992 to probe the demolition of the mosque. The findings of the Commission make it very clear that the preparation and conspiracy to execute the demolition was underway months before the actual demolition took place.
The Liberhan Commission had concluded that the demolition of the Babri mosque was meticulously planned. The Commission had said the mobilization of the cadres of RSS, Bajrang Dal, BJP and Shiv Sena in Ayodhya was neither "spontaneous or voluntary" but "orchestrated and planned."
The Commission in its report named over 60 people – including senior BJP leaders Advani, Joshi, Bharti and A B Vajpayee, RSS and VHP leaders, bureaucrats – as "culpable" for "leading the country to the brink of communal discord."
Among many instances the Commission mentioned in its report to substantiate its finding, includes the one about Champat Rai, now general secretary of the Ram Janmabhoomi Trust that is in charge of the construction of the temple at Ayodhya. The Commission said Mr. Rai had "declared that guerrilla shaily (strategy) would be adopted on 6th of December 1992. This declaration was published and not contradicted or countered by any leader of the movement or political party."
"Prognosis of the evidence leads to the conclusion that the mobilization of the kar sevaks (volunteers) was neither spontaneous nor voluntary. It was orchestrated and planned," it said.
Mohammed Jawad, national general secretary of the IAMC condemned the CBI which reports to the Narendra Modi government for "deliberately botching up the investigation" during the investigation stage.
"The judgement delivered by the court on Wednesday, highlights among many other things, that CBI did not present crucial evidence before the court including the photos and videos recording the planning and conspiracy of the demolition by the RSS and BJP leaders. It seems India's federal investigating agency wanted to ensure that the accused from the RSS and BJP, go scot free," said Mr. Jawad while demanding an appeal against the acquittal in higher courts.
For a factual account of what took place in December 1992 and how the Babri mosque was demolished, here is the link to the Liberhan Commission Report: https://iamc.com/files/Liberhan_Report_Chapter_01_of_16.pdf
IAMC is dedicated to promoting the common values of pluralism, tolerance, and respect for human rights that form the basis of the world's two largest secular democracies – the United States and India.
https://www.milligazette.com/news/14-babri-masjid-issue/33700-acquittal-rss-bjp-leaders-babri-mosque-demolition-travesty-justice-say-indian-americans/
--------
US did not share Osama bin Laden's location with Pakistan due to lack of trust: Ex-CIA chief Panetta
03 Oct 2020
NEW DELHI: The US did not inform Pakistan about Osama bin Laden's location due to lack of trust and past experiences of terrorists being tipped off after information was shared with Islamabad, former American defence secretary and ex-CIA chief Leon Panetta has said.
Panetta, in an interview to WION TV, also said he finds it "difficult to believe" that there wasn't somebody in Pakistan who was aware of Osama bin Laden's Abbottabad compound.
Osama bin Laden, the world's most wanted terrorist and the then al-Qaeda chief, was killed in a covert raid by a US Navy SEAL team at his Abbottabad compound in Pakistan on May 2, 2011.
"When we discovered the location of this compound in Pakistan, it was located in a place called Abbottabad. Abbottabad is a centre for their intelligence services and the Pakistani West Point is located there as well," Panetta said. The US military academy is located in West Point in New York.
This compound was three times the size of other compounds, it had 18-foot walls on one side and 12-foot walls on the other side with barbed wire around it, said Panetta, who was the Central Intelligence Agency (CIA) director when the raid was carried out.
"I find it very difficult to believe that there wasn't somebody in Pakistan who was aware of this compound," he said.
Once the US found the compound, it had to make a decision whether it would share that information with Pakistan and President Barack Obama made the decision on the basis that when information was shared with Pakistan about the location of terrorists, they were tipped off and suddenly were able to disappear, Panetta said.
"Because of that concern and that lack of trust, very frankly, we decided not to inform the Pakistanis about the location of bin Laden and we did not inform them about the operation that we conducted because we were concerned that if we did that it was likely bin Laden would be advised to move," he said.
"So, because of what we did I think we were able to be successful in the mission to go after bin Laden," Panetta said.
https://www.newindianexpress.com/nation/2020/oct/02/us-did-not-share-osama-bin-ladens-location-with-pakistan-due-to-lack-of-trust-ex-cia-chief-panetta-2204854.html
--------
Europe
Photo of Twin Towers Cake Used To Prosecute Returned Foreign Fighters
Nicky Harley
Oct 1, 2020
Photos of a woman celebrating Osama Bin Laden's birthday with a Twin Towers cake are among a cache of battlefield evidence being used in European courts to prosecute returned foreign fighters.
Wedding invitations and marriage and death certificates found in conflict zones by coalition forces are helping to convict ISIS and Al Qaeda militants, as evidence is being shared in a global push to combat terrorism.
Recent cases have seen the recovery of a phone showing a woman and her children with guns, and emails sent to high-ranking Al Qaeda operatives containing terror plot information.
Many fighters arrived in Syria from Europe in high-performance cars and continued their western lifestyles, however, their failure to abandon home comforts has helped in the cache of evidence being collected against them, such as high-end mobile phones.
Earlier this year, Interpol trained more than 30 Iraqi military personnel in crime scene preservation, including collection and management of evidence.
A report published by crime agency Eurojust this week, entitled 2020 Memorandum on Battlefield Evidence, shows the practice is being used by at least 10 EU member states.
Medley of items recovered
Items recovered included photos depicting crimes against civilians, fingerprints on explosive devices and emails describing terrorist plots, while the discovery of wedding invitations, marriage certificates and wills also helped seal convictions.
In Germany, a phone found in Syria has led to the prosecution of the widow of an ISIS gangster rapper.
The woman, referred to as Omaima A, is due to stand trial for the slavery of a Yazidi child and being a member of ISIS.
The phone allegedly shows photos of her celebrating Osama Bin Laden's birthday with a cake of the Twin Towers and of her and her three children with rifles.
Earlier this year, a Belgium widow was sentenced to five years in prison in absentia and had her citizenship revoked after coalition forces discovered her marriage certificate in Raqqa, Syria, which showed she had been married to an ISIS recruiter.
The woman, known only as Saeeda, travelled to Syria in 2013 with her young son to join her husband, Rashid, where they became members of the Mujahideen Shura Council, and later ISIS.
Rashid was sentenced in absentia to eight years in prison in 2015 for his involvement in the Sharia4Belgium group, which radicalised and sent 70 fighters to Syria.
However, when Saeeda remarried in 2017 her marriage certificate confirmed the death of Rashid and that the pair had been married, aiding her prosecution by Belgian authorities.
In Britain, Anis Abid Sardar was jailed for 38 years for the murder of 34-year-old US soldier Randy Johnson. The father-of-two had been killed by a roadside bomb in Iraq in 2007.
Sardar was caught years later while working as a cab driver in London. He had been part of a bomb-making cell in Iraq and battlefield evidence recovered saw the FBI match his fingerprints to components of two bombs, including the device which had killed Sergeant Johnson.
"While there are many challenges in obtaining such data and making sure it meets the criteria for admissible evidence, it has paved the way for bringing terrorist suspects to trial," the report said.
"Since 2018, co-operation with the US authorities has also been developing in this area."
Last year, Interpol's Secretary General, Jürgen Stock, underlined the need for enhanced sharing of information, particularly biometrics, to combat the terrorism threat to the G5 Sahel ministers of security, calling for it to be "effectively streamlined".
Interpol's databases currently hold details of more than 50,000 foreign terrorist fighters, 3,500 bomb-makers and more than 400,000 items of terrorist-related information.
More than 20 ISIS terrorist cases are currently going through EU courts for war crimes offences, with more than 3,000 under investigation.
https://www.thenational.ae/world/photo-of-twin-towers-cake-used-to-prosecute-terrorists-1.1086820?utm_source=iterable&utm_medium=email&utm_campaign=1578455_
--------
France's Macron demands Turkey explain 'jihadists' in Azerbaijan
02 October 2020
French President Emmanuel Macron on Friday demanded that Turkey explain what he said was the arrival of jihadist fighters in Azerbaijan – and urged NATO to face up to its ally's actions.
"A red line has been crossed, which is unacceptable," Macron said. "I urge all NATO partners to face up to the behavior of a NATO member.
For all the latest headlines follow our Google News channel online or via the app.
"France's response is to ask Turkey for an explanation on this point," he said.
Macron was speaking after a summit in Brussels at which EU leaders agreed to threaten Turkey with sanctions over its gas drilling in Cypriot waters.
But the French leader was also infuriated by events in disputed Nagorny Karabakh, where there has been heavy fighting between Armenian and Azerbaijani forces.
He alleged that intelligence reports had established that 300 Syrian fighters drawn from "jihadist groups" from the Syrian city of Aleppo had passed through the Turkish city of Gaziantep en route for Azerbaijan.
"These fighters are known, tracked and identified," he alleged, adding that he would call Turkey's President Recep Tayyip Erdogan "in the coming days."
Armenia has accused Turkey of sending mercenaries to back its ally Azerbaijan and on Monday the Britain-based Syrian Observatory for Human Rights said Ankara had dispatched at least 300 proxies from northern Syria.
Macron this week condemned what he called Turkey's "reckless and dangerous" statements backing Azerbaijan.
Nagorny Karabakh, a majority ethnic Armenian breakaway region inside Azerbaijan, declared independence after the fall of the Iron Curtain, sparking a war in the early 1990s that claimed 30,000 lives.
It is not recognized as independent by any country, including Armenia, and talks to resolve the conflict have largely stalled since a 1994 ceasefire agreement.
https://english.alarabiya.net/en/News/world/2020/10/02/France-s-Macron-demands-Turkey-explain-jihadists-in-Azerbaijan
--------
Swiss probe leads to arrest of four suspected of ties to ISIS, al-Qaida
02 October 2020
Authorities in Switzerland say they have arrested four people on suspicion of having ties to the ISIS group and al-Qaida
The federal prosecutor's office said police searched three houses in the western canton (state) of Fribourg early Friday as part of two criminal investigations into alleged extremist activity.
For all the latest headlines follow our Google News channel online or via the app
The suspects are alleged to have violated Swiss law banning involvement with al-Qaida, ISIS and related organizations.
Prosecutors said the four people detained are also suspected of having "supported or participated in a criminal organization."
They identified the four suspects only as a 28-year-old Kosovar woman, a 29-year-old Macedonian, a 26-year-old Kosovar man and a 34-year-old Swiss-Kosovar dual national.
"As they had been in contact with each other, the house searches and arrests were all carried out at the same time," prosecutors said.
Further information, including which of the suspects had ties to which group, wasn't immediately available.
https://english.alarabiya.net/en/News/world/2020/10/02/Swiss-probe-leads-to-arrest-of-four-suspected-of-ties-to-ISIS-al-Qaida
--------
Russia, Turkey talk Azeri-Armenian conflict, agree coordination
01 October 2020
Russia says its foreign minister and his Turkish counterpart have addressed the ongoing flare-up between Azerbaijan and Armenia in Nagorno-Karabakh, agreeing coordination of their efforts towards stabilization of the situation in the region.
The Russian Foreign Ministry reported that the discussion had taken place on Thursday during a telephone conversation between Sergei Lavrov and Mevlut Cavusoglu.
It said both the officials confirmed "readiness for close coordination of the actions of Russia and Turkey to stabilize the situation with the aim of returning the settlement of the Nagorno-Karabakh conflict to the channel of peaceful talks."
The region is internationally recognized as part of Azerbaijan, but it has an Armenian population because ethnic Azeris fled the territory in 1992 when separatists seized it in a move supported by Yerevan after the collapse of the Soviet Union.
Firefight began between the two sides on Sunday after Armenian separatists began waging battle against Azerbaijani forces. More than 100 have reportedly died amid the situation that is the worst one to afflict the region since the separatist invasion.
Also on Thursday, Moscow's UN Ambassador Vasily Nebenzya denied that Russia and Turkey backed different sides in the conflict.
Russia is part of the Organization for Security and Cooperation in Europe (OSCE) Minsk Group -- a body also incorporating France and the US -- that has been trying unsuccessfully to resolve the conflict since the war.
The trio has released a statement, calling for "an immediate cessation of hostilities between the relevant military forces."
Earlier in the day, however, Turkey claimed that the trio could not come up with such a demand for truce in light of the failure of their previous joint efforts.
"Because America, Russia, and France, called the Minsk Group, have neglected this problem for nearly 30 years, their quest now for a ceasefire is not acceptable," Turkish President Recep Tayyip Erdogan said.
Ankara is also yet to release an official statement on the contents of the phone call between Lavrov and Cavusoglu.
Erdogan, whose country has vowed to do all in its power in support of Azerbaijan, also said ceasefire in the flare-up would only materialize if Armenia took its forces out of the region. "The way for a lasting ceasefire in this region depends on Armenians' withdrawal from every span of Azerbaijani territory," he said in a televised address.
Armenia back to 'genocide'-tainted rhetoric
Meanwhile, Armenian Prime Minister Nikol Pashinyan claimed that Turkey was "once again advancing on a genocidal path," alleging that the Turkish military was directly leading an offensive by Azeri forces against ethnic Armenian forces around Nagorno-Karabakh.
"The situation is much more serious (than previous clashes in 2016). It would be more appropriate to compare it with what happened in 1915," Pashinyan alleged in remarks to Le Figaro that the newspaper published late on Thursday.
Armenia says 1.5 million people were massacred, imprisoned, or faced forced deportation by the Ottoman Empire during the WWI.
Ankara denies that "genocide" took place at the time, arguing that 300,000 to 500,000 Armenians and at least as many Turks were killed in a civil strife when Armenians rose up against their Ottoman rulers of the time.
"The Turkish state, which continues to deny the past, is once again venturing down a genocidal path," the Armenian official, however, said.
https://www.presstv.com/Detail/2020/10/01/635466/Russia-Turkey-talks-Nagorno-Karabakh-Azerbaijan-Armenia
--------
Turkey's Erdogan says Armenians' withdrawal from Karabakh key to truce
01 October 2020
Turkey says ceasefire in the ongoing dangerous flare-up between Azerbaijan and Armenia in the Nagorno-Karabakh region would only materialize if Armenia takes its forces out of there.
Turkish President Recep Tayyip Erdogan made the remarks on Thursday, saying not only did the Armenians have to leave the territory, but they also had to withdraw from every other part of Azerbaijan.
"The way for a lasting ceasefire in this region depends on Armenians' withdrawal from every span of Azerbaijani territory," he said in a televised address.
Karabakh is internationally recognized as part of Azerbaijan, but it has an Armenian population because ethnic Azeris fled the territory in 1992 when separatists seized it in a move supported by Yerevan after the collapse of the Soviet Union.
Firefight began between the two sides on Sunday after Armenian separatists began waging battles against Azerbaijani forces. More than 100 have reportedly died amid the situation that is the worst one to afflict the region since war in early 1990s.
Although diplomatic negotiations within the framework of the Organization for Security and Cooperation in Europe (OSCE) Minsk Group -- a body led by France, the US and Russia -- have ever since failed to remedy the situation, the three powers still called for an immediate ceasefire and resumption of talks.
"We call for an immediate cessation of hostilities between the relevant military forces," a joint French, Russian and US statement said on Thursday.
They urged Azerbaijan and Armenia to "commit without delay to resuming substantive negotiations, in good faith and without preconditions."
But Erdogan claimed that the trio could not come up with such a demand for truce in light of the failure of their previous joint efforts.
"Because America, Russia, and France, called the Minsk Group, have neglected this problem for nearly 30 years, their quest now for a ceasefire is not acceptable," he said.
Turkey, one of Azerbaijan's strongest regional allies, has, meanwhile, warned it would do all in its power to shore up the country, and is reported to have dispatched the militants that it supports in Syria and Libya there to back up Baku. Ankara denies taking such action.
The Kremlin, nevertheless, warned that there was no alternative to using "political and diplomatic methods" to resolve the crisis, and warned against deployment of foreign forces to the region, according to Russia's TASS news agency.
Russia's Security Council said it sees any deployment of fighters from Syria and Libya to the Armenia-Azerbaijan conflict region as an extremely dangerous development.
French President Emmanuel Macron, whose country is home to about 600,000 people of Armenian origin, has also accused Turkey of adopting a "warlike" rhetoric amid the situation.
Armenia recalls ambassador from Israel over arms sales to Azerbaijan
Later on Thursday, Armenian Foreign Ministry's spokeswoman, Anna Naghdalyan, said Yerevan has recalled its ambassador from Israel for consultations over arms sales by Israel to Azerbaijan.
"Israel's workstyle is unacceptable. The ministry has to call back its ambassador in Israel," she said.
https://www.presstv.com/Detail/2020/10/01/635437/Turkey-Azerbaijan-Armenia-withdrawal-Nagorno-Karabakh-Russia-France-United-States
--------
German state suspects intelligence staff of far-right activity
01.10.2020
Four domestic intelligence staff in Germany's western state of North Rhine-Westphalia (NRW) are suspected of being involved in far-right activity online, according to a local media report on Thursday.
It comes just two weeks after the state discovered five right-wing extremist chat groups among its police, leading to the suspension of 29 officers.
What are the accusations?
Three of the four suspected cases worked for an intelligence observation team, local newspaper Rheinische Post reported, citing the NRW Interior Ministry.
Another was an administrative clerk in the police department.
They were flagged in social networks and chats for sending videos with "anti-Islam or xenophobic connotations."
The suspected staff were part of an observation team that was involved in all areas of investigation, including monitoring right-wing extremism, according to the ministry.
"The intelligence team concerned was disbanded and leadership changes were made," a ministry spokesperson told the Rheinische Post.
The police department employee was connected to people from the right-wing extremist scene on Facebook, the ministry said.
The Interior Ministry took immediate disciplinary action, according to the spokesperson.
Is this part of a larger right-wing problem?
Last week NRW Interior Minister Herbert Reul said 100 police staff have been suspected of racism or right-wing extremism since 2017.
NRW is the most populous of Germany's 16 federal states.
Later on Thursday, German public television ARD is set to broadcast an investigation into a chat group with racist content among the ranks of the Berlin police.
Authorities in the German capital said they had launched a probe into the allegations.
https://www.dw.com/en/german-intelligence-far-right-extremism/a-55114091?utm_source=iterable&utm_medium=email&utm_campaign=1578455_
--------
Poland: German far-right terror suspect arrested with explosives
01.10.2020
A German man suspected of belonging to a far-right terror group was arrested in Poland with explosives and ammunition in his possession, Poland's PAP news agency reported on Thursday.
The suspect, referred to as "Jürgen K," was arrested last week in northern Poland and had published extremist views on social media, Poland's Internal Security Agency said.
Stanislaw Zaryn, a spokesman for the agency, said the man is accused of belonging to "an organized criminal group of a terrorist nature."
Found with ammo and explosives
The man also publicly supported "radical, anti-system views and right-wing extremist organizations," according to PAP.
A search of Jürgen K's place of work found two cubes of TNT weighing 1.2 kilograms (2.6 pounds) as well as ammunition, firearms, a teargas canister and a grenade, according to prosecutors.
Authorities charged him with possession of arms and explosives without a permit and he was placed in preventive detention for three months. The suspect faces up to eight years in prison.
His arrest is part of an ongoing investigation by the National Prosecutor's Office into the "activities of an organized terrorist group" operating in Poland and other countries, Zaryn told PAP.
Prosecutors said that the case was still developing and that further detentions in the case were possible.
https://www.dw.com/en/poland-german-far-right-terror-suspect-arrested-with-explosives/a-55124821?utm_source=iterable&utm_medium=email&utm_campaign=1578455_
--------
Arab world
Syria rejects any deal with Israel that will cause harm to Palestinian cause
01 October 2020
A Syrian diplomat says his country will never clinch an agreement with the Israeli regime that will undermine the interests of the Arab world, particularly the Palestinian cause.
The unnamed official at the Syrian Ministry of Foreign Affairs and Expatriates said on Thursday that Damascus has pursued a principled and coherent policy throughout the decades-long Israeli-Palestinian conflict, slamming any attempts to forfeit Palestinians' rights and expropriate their land.
"Syria stands up for its own rights and strongly opposes any concession or individual agreement, irrespective of its form and content, in this regard. Syria reiterates that it has always rejected any deal or treaty with the Israeli enemy, which harms Arabs in general, and the Palestinian cause in particular," Syria's official news agency SANA quoted the official as saying.
He added that previous experiences have well shown that normalization and agreements have only added to the arrogance and obstinacy of the Israeli regime, and weakened and divided Arabs in return.
"Syria's campaign against terrorism and the fallout it has endured up until now has only cemented the country's commitment to its principles as regards rejection of normalization and establishment of a just and comprehensive peace in accordance with the international law and UN resolutions," the official pointed out.
The remarks come as the United Arab Emirates and Bahrain signed normalization agreements with the Tel Aviv regime last month.
Israeli Prime Minister Benjamin Netanyahu signed agreements with Emirati Foreign Minister Sheikh Abdullah bin Zayed Al Nahyan and Bahrain's Foreign Minister Abdullatif Al Zayani in a US-brokered event hosted by US President Donald Trump at the White House on September 15.
Palestinians, who seek an independent state in the occupied West Bank and Gaza, with East Jerusalem al-Quds as its capital view the deals as a betrayal of their cause.
Palestinian President Mahmoud Abbas protested the normalization deals with Israel, saying they will be fruitless as long as the United States and the Israeli regime do not recognize the rights of the Palestinian nation and refuse to resolve the issue of Palestinian refugees.
He reiterated that there will be no peace, security or stability for anyone in the region unless the Israeli regime ended its occupation of Palestinian land, and Palestinians could restore their full rights as stipulated in international resolutions.
https://www.presstv.com/Detail/2020/10/01/635440/No-agreement-with-Israel-that-represents-harm-to-Palestinian-cause--Syria
--------
Amnesty urges Egypt to release detained protesters
02 October 2020
Amnesty International has called on Egypt to release hundreds of people who were detained last month during anti-government protests.
"Egyptian security forces have used tear gas, batons, birdshot, and on at least one occasion live ammunition, and arrested hundreds of protesters and bystanders to disperse rare scattered demonstrations over several days," the UK-based rights group said in a statement Friday.
"We call on the authorities to immediately and unconditionally release all those detained solely for exercising their rights to freedom of expression and peaceful assembly," Philip Luther, Amnesty's Middle East and North Africa research and advocacy director, said in the statement.
According to videos circulated on social media, Egyptians, including sympathizers of the now-outlawed Muslim Brotherhood, staged demonstrations in several villages across the country from mid-September.
The protests came amid outrage, especially in rural and low-income areas, against government campaigns to demolish illegal construction nationwide, which require people to pay fines to legalize home ownership.
The demonstrations also took place after an online call by exiled Egyptian businessman Mohamed Ali, who originally called for anti-regime protests in September last year, accusing Egyptian President Abdel Fattah el-Sisi of corruption.
Luther said, "The fact that these protesters took to the streets while knowing the very high risk to their lives and safety… shows how desperate they were to demand their economic and social rights."
"The authorities have yet again resorted to their usual tactics of violence and mass arrests to send a clear message that no form of protest will be tolerated," he added.
Amnesty said that two men had been killed by security forces during the recent protests, calling for an investigation.
Family and medical sources told AFP on Saturday that one of the men had been killed in clashes between police and protesters in a village in Giza. Amnesty said the second man had been shot dead during a police raid on September 30.
Sisi has been facing international criticism for cracking down on civil society groups since he took power in 2014, a year after a military coup spearheaded by him toppled the country's first ever democratically-elected president, Mohamed Morsi.
Morsi was affiliated with the Muslim Brotherhood.
Since the coup, Egyptian authorities have been engaged in a crackdown on dissent, killing hundreds and arresting thousands, particularly from the Brotherhood.
https://www.presstv.com/Detail/2020/10/02/635512/Amnesty-urges-Egypt-to-release-detained-protesters
--------
Saudi Arabia to reopen holy sites for Umra after 7-month pause
03 Oct 2020
RIYADH: Saudi Arabia will reopen the holy places for the year-round Umra pilgrimage on Sunday, scaled back and with extensive health precautions, seven months after coronavirus prompted its suspension.
Umra usually attracts millions of Muslims from across the globe each year.
It will be revived in three stages, with the initial phase seeing just 6,000 citizens and residents already within the kingdom allowed to take part each day.
"In the first stage, the Umra will be performed meticulously and within a specified period of time," Haj Minister Mohammad Benten told state television last week.
He said pilgrims will be divided into groups to ensure social distancing within the Grand Mosque in Makkah.
Visitors from abroad to be permitted from Nov 1
Worshippers will on Sunday be able to perform the ritual of circling the sacred Kaaba along socially distanced paths.
On October 18, the number of pilgrims will be increased to 15,000 per day, with a maximum of 40,000 people allowed to perform prayers at the mosque.
Visitors from abroad will be permitted from November 1, when capacity will be raised to 20,000 pilgrims, with 60,000 people allowed into the mosque.
The decision to resume the pilgrimage was in response to the "aspirations of Muslims at home and abroad" to perform the ritual and visit the holy sites, the interior ministry said last month.
It added that Umra will be allowed to return to full capacity once the threat of the pandemic has abated.
Until then, the health ministry will vet countries from which pilgrims are allowed to enter based on the health risks.
Those wishing to perform Umra must apply through two mobile applications: one to register they are free from the virus, and another from which they can obtain a permit.
Saudi Arabia suspended Umra in March and scaled back the annual Haj over fears that the coronavirus could spread to Islam's holiest cities.
Haj went ahead in late July, on the smallest scale in modern history, with only up to 10,000 Muslims allowed to take part — a far cry from the 2.5 million who participated last year.
State media have said that a raft of precautions have been adopted to ward off any outbreaks during Umra.
The revered Black Stone in the eastern corner of the holy Kaaba will be out of reach, while the Grand Mosque will be regularly sterilised before each group of worshippers leaves the place.
Each group will be accompanied by a health worker and medical teams will be on the ground in case of an emergency.
The pilgrimages are a massive logistical challenge, with colossal crowds cramming into relatively small holy sites, making them vulnerable to contagion.
https://www.dawn.com/news/1582940/saudi-arabia-to-reopen-holy-sites-for-umra-after-7-month-pause
--------
ISIS fighters penchant for fast cars and chocolate spread revealed
Nicky Harley
Oct 1, 2020
ISIS fighters have taken luxury cars and home comforts, including chocolate spread Nutella, to Syria often at the expense of European taxpayers.
The lifestyles of the foreign fighters have come to light in social media posts by the group in its bid to woo more recruits.
Radicalisation experts say many hired BMWs to drive across Europe to join the terror group taking with them luxuries such as Nutella.
Terrorism expert Pieter van Ostaeyen said recruits travelling from France and Belgium would hire high-performance cars and arrive in style to war zones.
In one case, evidence was found of one recruit being charged import tax in Syria for his luxury car.
Mr van Ostaeyen said these individuals would target impressionable youngsters back in their home nations, for recruitment.
"We have seen a photo of a bunch of women standing in front of a white BMW, they went from France and basically drove all the way to Syria," he said.
"One of the attackers in the Paris attack drove his car all the way from France to Syria and got fined for importing the car, and we know of a Belgium foreign fighter who rented a BMW and drove all the way through Europe, the Balkans to Turkey to reach Syria.
"As soon as these guys arrived in Syria they began recruiting people via social media. They were recruiting young girls and boys using jars of Nutella and kittens."
Describing the recruitment tactics as "really successful", Mr van Ostaeyen added: "We do not have any figures confirming how many people were recruited via social media but it must have been a very big deal and many people ended up in Syria as a result."
A built-up cache of battlefield evidence is increasingly helping authorities to bring them such materialistic terrorists to justice.
Mobile phones containing wedding invites and emails left by the terrorists are being used for prosecutions in European courts.
Mr van Ostaeyen said the foreign fighters' lifestyles were often financed by social security benefit payments from their home nations, and revealed many Belgian fighters received thousands of pounds of taxpayers' money, while based in Syria.
"As soon as they started leaving for Syria their journeys were paid for by friends and family members and they got donations from bitcoin," he said.
"Some of the Belgium fighters kept on receiving allowances even though they were not living in Belgium and even though they had registered as terrorist fighters they kept on receiving money from the government."
In a webinar, hosted by the Counter Extremism Project, experts explained that key recruiters also helped facilitate their journeys, weapons and training.
It highlighted the role of hate preachers like Britain's Anjem Choudary in recruiting youngsters.
The London-based Islamist has been linked to 15 terrorist plots dating back almost 20 years and has been connected to hundreds of Britons who fled to Syria to fight.
He is believed to have influenced the Sharia4Belgium group, which played a significant role in the growth of extremism in Belgium, and took inspiration from Islam4UK - a group once led by Choudary.
Mr van Ostaeyen highlighted the role of Sharia4Belgium's now-deceased former leader Houssien Elouassaki in being "very successful" in recruiting people via social media from the battlefield.
He said there are still 155 Belgian ISIS fighters unaccounted for.
"We do not know where they are, if they got killed or if they merged with local cells," he added. "Of course there is a big risk of them returning uncontrolled."
In July, the UN Security Council's Counter-Terrorism Committee Executive Directorate warned European governments of the "urgent" need to adopt a uniform plan for the repatriation of ISIS fighters, as thousands are set to return home.
https://www.thenational.ae/world/isis-fighters-penchant-for-fast-cars-and-chocolate-spread-revealed-1.1086824?utm_source=iterable&utm_medium=email&utm_campaign=1578455_
--------
China's envoy describes Syria as important partner, hopes for enhanced cooperation
02 October 2020
The Chinese ambassador to Damascus has described Syria as a strategic and important partner for his country, saying that Beijing is interested in further development of political, economic and trade ties with the Arab nation.
Speaking in an exclusive interview with Syria's official news agency SANA on the occasion of the 71st anniversary of the founding of the People's Republic of China on Thursday, Feng Biao underlined that China will continue to extend aid to Syria and will play a constructive and positive role to work out a solution to the Syrian conflict and is resolute to enhance cooperation with Syria within China's massive global economic effort, dubbed the Belt and Road Initiative (BRI).
The Chinese envoy later pointed to the areas of mutual concern between Beijing and Damascus, stressing the need for further promotion of bilateral relations in the face of international challenges.
Feng noted that China supports a just settlement of the Syrian crisis, and has frequently underscored that the sovereignty, independence and territorial integrity of Syria must be respected.
He said China categorically rejects any foreign interference in Syria's internal affairs, and considers a comprehensive intra-Syrian political process as the sole solution to the ongoing foreign-backed conflict in the Arab country.
Feng also said China views Syria as an important partner in international relations, stating that the volume of commercial exchanges between the two countries stood at $1.31 billion last year, marking an increase of 3%.
The diplomat noted that his country backs Syria's efforts to confront the novel coronavirus pandemic, emphasizing that Beijing has put public safety and healthcare at the top of its priorities.
US drone crashes in Syria's Hasakah
Separately, an unmanned aerial vehicle belonging to US military forces has crashed in Syria's northeastern province of Hasakah.
Local sources, speaking on condition of anonymity, told SANA that the drone went down for unknown reasons as it was on a surveillance mission in the skies over al-Dirdara village near the town of Tall Tamr.
The sources added that American forces immediately cordoned off the site of the crash, collected the wreckage of the aircraft and transported it to one of their bases.
Back on August 18, the US lost two drones over Syria's northwestern province of Idlib after a midair collision.
Images and videos of burning aircraft crashing to the ground were posted online at the time. There was speculation that the aircraft were MQ-9 Reapers — a remotely controlled unmanned aerial vehicle used for both surveillance and armed missions.
An unnamed US official told Military Times back then that he could not confirm the type of drone involved.
Since late October 2019, the United States has been redeploying troops to the oil fields controlled by Kurdish forces in eastern Syria, in a reversal of President Donald Trump's earlier order to withdraw all troops from the Arab country.
The Pentagon claims the move aims to "protect" the fields and facilities from possible attacks by Daesh. That claim came although Trump had earlier suggested that Washington sought economic interests in controlling the oil fields.
The presence of US forces in eastern Syria has particularly irked the civilians, and local residents have on several occasions stopped American military convoys entering the region.
Syria, which has not authorized the presence of the US military in its territory, says Washington is "plundering" the country's oil.
https://www.presstv.com/Detail/2020/10/02/635473/Ambassador-describes-Syria-as-China%E2%80%99s-important-partner,-hopes-for-enhanced-cooperation
--------
Rocket Attack Targets Coalition Base in Iraqi Kurdistan
By Edward Yeranian
October 01, 2020
CAIRO, EGYPT - Rockets struck an Iraqi base used by U.S. and coalition forces near the airport in the Kurdistan capital of Erbil late Wednesday, hours after Iraqi Prime Minister Mustafa al-Kadhimi told foreign diplomats that the country would put a stop to such attacks. Iraq's foreign minister also said that reported U.S. warnings that Washington may close its embassy in Baghdad would be a mistake.
Amateur video showed a string of fires burning in an empty field not far from a U.S.-led coalition base near Erbil Airport in Iraqi Kurdistan. Kurdish security officials accused Shi'ite militias of firing the rockets used in the overnight attack.
Shi'ite Hushd militia forces denied responsibility. However, Iraqi state media reported that intelligence officials had arrived at the Shi'ite Hushd militia's 33rd Brigade outside of Mosul to determine if they fired the rockets used in the attack.
Kurdish media indicated that security investigators had recovered and were examining the rockets.
The attack came a day after Iraqi Prime Minister Mustafa al-Kadhimi told diplomats from 25 countries that his government would protect their facilities from militia attacks.
He said that the (recent attacks) are meant to embarrass the government and prevent it from maintaining order against unruly militias, as well as to isolate Iraq from the international community by pushing embassies and international organizations to leave the country. This, he said, would allow the militias to usurp power. But he vowed to protect foreign targets from militia attack.
Iraqi Foreign Minister Fuad Hussein told journalists Wednesday that U.S. warnings that Washington may evacuate its embassy in Baghdad were what he called a "mistake" and come at a bad time. Iraqi media warned that Shi'ite militias may try to storm the Green Zone in central Baghdad, where the U.S. Embassy compound is located, as they did in October 2019.
Protesters gathered in Baghdad's central Tahrir Square on Thursday to mark the first anniversary of large-scale demonstrations against the pro-Iranian militias.
Paul Sullivan, who is a professor at the U.S. National Defense University, says "Iraq is far from settled down," and that "Iran, which has significant influence in Iraq, is still looking for revenge" for the death of Gen. Qassem Suleimani, a top Iranian military commander, killed by a U.S. drone strike last January.
"Iran," he points out, "has proxy groups in Iraq that it can exploit for its revenge," and says that Westerners are often caught off guard because that revenge does not necessarily come quickly.
Iraqi analyst Bassem Hussein told Arab media that "Iran is sending a message to Iraqi Prime Minister Kadhimi that he cannot protect foreign embassies or security targets without (Tehran's) help and is also warning foreign governments that their embassies can be hit in Kurdistan, as well, if they move there from Baghdad."
Iraqi Shi'ite militia commander Hadi al-Ameri warned recently that his forces are planning to storm the U.S. embassy compound in Baghdad. Other pro-Iranian Shi'ite leaders have threatened to take hostages at the embassy, an operation that would be similar to the takeover of the U.S. embassy in Tehran in 1979.
https://www.voanews.com/middle-east/rocket-attack-targets-coalition-base-iraqi-kurdistan?utm_source=iterable&utm_medium=email&utm_campaign=1578455_
--------
Mideast
Hamas rejects UAE claim of Israeli halt to annexation plan
01 October 2020
The Palestinian Islamic Resistance Movement, Hamas, has strongly rejected a senior UAE official's claim that Israel had stopped settlement annexation following a full normalization of diplomatic relations between Tel Aviv and two Arab sides.
Hamas spokesman Hazem Qasem, in a statement, said the constant expansion of the Israeli settlements in the occupied West Bank has exposed the false claims of the Arab states.
These [UAE] claims [that normalization with Israel has stopped settlement construction] are meant to mislead the Arab public opinion and to cover up the normalization crime, he said.
UAE Minister of Foreign Affairs and International Cooperation Sheikh Abdullah bin Zayed bin Sultan Al Nahyan had claimed his country's deal with Israel forced Tel Aviv to scrap its annexation plan.
Pinpointing to recent reports by the UN Office for the Coordination of Humanitarian Affairs (OCHA), the Hamas spokesman said Israel has demolished more than 506 Palestinian buildings in the occupied West Bank and Jerusalem al-Quds since the beginning of this year.
The OCHA has said there has been a sharp increase in the number of Palestinian houses being demolished by Israel in the occupied West Bank during the coronavirus pandemic.
Israel approved the construction of hundreds of settler units in the occupied West Bank after Israeli prime minister Benjamin Netanyahu returned from Washington following the signing of normalization agreements.
Last month, the United Arab Emirates and Bahrain signed deals with the US mediation to normalize relations with Israel.
Palestinians, who seek an independent state in the occupied West Bank and Gaza with East Jerusalem al-Quds as its capital, view the deals as betrayal of their cause.
Palestinian President Mahmoud Abbas has also protested the normalization deals with Israel, saying they will be fruitless as long as the United States and the Israeli regime do not recognize the rights of the Palestinian nation and refuse to resolve the issue of Palestinian refugees.
More than 600,000 Israelis live in over 230 settlements built since the 1967 Israeli occupation of the Palestinian territories of the West Bank and East Jerusalem al-Quds.
Emboldened by Trump, Israel has stepped up its settlement construction activities in defiance of United Nations Security Council Resolution 2334, which pronounced settlements in the West Bank and East Jerusalem al-Quds "a flagrant violation under international law."
Palestinian leaders, who severed all ties with Washington in late 2017 after US President Donald Trump controversially recognized Jerusalem al-Quds as the "capital" of the Israeli regime, immediately rejected the plan, with President Abbas saying it "belongs to the dustbin of history."
Israeli forces shoot Palestinian teenager
Israeli forces on Wednesday critically injured a 16-year-old Palestinian when they opened fire at a group of local residents in the town of Surif, northwest of al-Khalil (Hebron).
The child was rushed to Ahli Hospital in the area and was being treated for gunshot wounds.
Separately, Israeli troops stormed an area in Beit Ummar town near the settlement of Karmei Tzur and clashed with Palestinian youths.
The Israeli forces fired tear gas canisters during the clashes, leaving dozens of citizens exposed to fumes and suffocation inside their homes.
Opening fatal fire on Palestinians is not uncommon among Israeli forces. The shooting takes place on accusation that the targets attempt stabbing attacks.
Human rights groups have repeatedly criticized Tel Aviv for its shoot-to-kill policy as a large number of the Palestinians killed at the scene of the alleged attacks did not pose serious threats to Israelis.
Israeli troops have on numerous occasions been caught on camera brutally killing Palestinians, with the videos going viral online and sparking international condemnation.
https://www.presstv.com/Detail/2020/10/01/635439/Israel-Palestine-UAE-Bahrain-US-Trump
--------
Israeli minister steps down over protest limits in blow to Netanyahu's shaky cabinet
02 October 2020
Israel's tourism minister has resigned in protest at a contentious law that effectively stifles mass rallies against Prime Minister Benjamin Netanyahu under the guise of containing the coronavirus, prompting a new war of words between rival parties in the premier's already shaky administration.
Asaf Zamir of the Blue and White party said Friday that he was stepping down from the coalition administration, citing the adoption of legislation in the Knesset to restrict protests during the coronavirus lockdown in the occupied territories.
In a lengthy Facebook post, he said he would no longer serve an administration "in whose leader I haven't an iota of faith," referring to Netanyahu.
Zamir said the cabinet's drafting of the regulations banning large demonstrations and their subsequent approval on Tuesday at the Knesset — where Netanyahu's Likud party retains a majority — were the "final straw" for him.
The law bans Israelis from holding demonstrations more than one kilometer (0.6 miles) from their homes during the second lockdown, which went into effect across the Israeli-occupied territories on September 18 for an indefinite period of time.
Critics, however, says the measure is actually intended to block mass protests against Netanyahu amid anger over the prime minister's graft charges as well as his handling of the coronavirus outbreak, which has taken a heavy toll on Israeli businesses and sent unemployment rates soaring in the occupied territories.
Tel Aviv and the streets near Netanyahu's residence in Jerusalem (al-Quds) have, in recent months, been the scene of thousands-strong demonstrations against the premier, with the participants calling for him to step down.
Echoing other opponents, Zamir said Netanyahu — who is on trial for three corruption cases — was putting his legal troubles before the fight against the outbreak.
Several Blue and White ministers in Netanyahu's cabinet have threatened to step down in recent weeks, but Zamir has so far been the only one who has acted on his threat.
Blue & White, Likud trade barbs
Reacting to the resignation, Gantz, Israel's minister for military affairs, took an aggressive stance against Netanyahu, warning the prime minister of a new election.
Gantz, Israel's alternate prime minister, issued a sternly-worded statement and said his Blue and White party agreed to join the coalition administration to fight the coronavirus, not "democracy" and "the rule of law."
"If that is inconvenient to some, they are free to set a date for elections," Gantz said.
Israel "is facing a deep and severe crisis: a health crisis, but alongside it, and no less significant, a crisis of trust between the leadership and the citizenry," Gantz said. "A focus on political interests is taking precedence over maintaining public health and the livelihood of millions of families who rightly fear for their fate and jobs."
Gantz also said he had instructed Justice Minister Avi Nissenkorn to begin the process of appointing a new "state prosecutor," a post that has been manned by temporary appointments since last December.
Under the coalition agreement with Likud, Blue and White cannot appoint a new "state prosecutor" without Likud's agreement. Further tension would thus hit Netanyahu's troubled administration in case Gantz moves to do so.
Likud was quick to hit back at the Blue and White leader, saying in a Twitter post that the party was playing political games and breaking coalition agreements "in a desperate attempt to cobble up some left-wing votes and to prevent their collapse in the polls."
"Blue and White are in the government while acting against the government. It's time they decided whether they're fighting the pandemic or fighting the government," it added.
https://www.presstv.com/Detail/2020/10/02/635510/Israel-tourism-minister-resigns-Netanyahu-Gantz-coronavirus
--------
Defying Muslims' outcry, Bahrain hosts Israel's spy chief to discuss intelligence cooperation
01 October 2020
Following its recent step to normalize relations with Israel through a US-brokered deal, the ruling regime in Bahrain has defied calls from the Muslim world to correct its mistake, hosting the head of Israel's spy agency Mossad to discuss intelligence "cooperation."
According to Bahrain's state media on Thursday, the meeting between Yossi Cohen and Bahraini officials took place on Wednesday.
His stay featured talks over "topics of mutual interest" as well as "cooperation between" the two sides, the official Bahrain News Agency (BNA) reported.
"They stressed the importance...of the role the [normalization deal] will play in significantly contributing to promoting stability and peace in the region," the BNA added.
During the summer, the United States mediated normalization of relations between Israel and the Persian Gulf states of Bahrain and the United Arab Emirates. On September 15, the Arab states' foreign ministers and Israeli Prime Minister Benjamin Netanyahu attended a White House ceremony to officially sign deals enabling full normalization of their relations in the presence of US President Donald Trump, who also signed his blessing into the agreements.
Trump has also announced the prospect of more such agreements between Israel and regional Arab states, apparently including Saudi Arabia, without whose approval -- as Manama and Abu Dhabi's stronger ally -- the recent two deals would not have seen the light of day.
All Palestinian factions have, however, unanimously denounced the agreements as sheer betrayal of their cause of liberation from Israeli occupation and aggression.
Elsewhere throughout the region and the world, the Arab community has risen in vociferous protest, warning that the non-elected Arab rulers did not represent the world's millions-strong Arab population.
Yemen's Houthi Ansarullah movement, which is defending its nation against an ongoing Saudi-led invasion that is also partaken by Bahrain and the UAE, and Lebanon's Hezbollah resistance movement that has defended its country against several Israeli wars, have been leading the outcry of protest against the Arab détente in chorus with the Palestinians.
https://www.presstv.com/Detail/2020/10/01/635452/Bahrain-Israel-Mossad-spy-chief-intelligence-cooperation-normalization
--------
Official: Israel Plotting for KSA Disintegration
Oct 02, 2020
Amir-Abdollahian wrote on a Twitter page in Farsi on Friday that the Bahraini and Saudi regimes are just lackeys of Tel Aviv and the latter is just trying to hatch plots to break down Saudi Arabia.
Elsewhere on Twitter he noted that it was only Abu Dhabi which committed the recent normalization of ties with Israel and other emirates of the UAE are not included in the treason.
US President Donald Trump tweeted the news of the Israel-Bahrain normalization deal in September after he spoke by phone to Bahrain's King Hamad bin Isa Al Khalifa and Israeli Prime Minister Benjamin Netanyahu.
Following the announcement at the White House, Palestinian officials condemned the Israel-Bahrain normalization deal announced by US President Donald Trump as another "stab in the back" by an Arab state.
Friday's accord normalizing diplomatic ties between Israel and Bahrain comes one month after the United Arab Emirates (UAE) agreed to normalize ties with Israel under a US-brokered deal.
On August 13, President Trump announced a deal brokered by his government between Israel and the UAE which he said would lead to full normalization of ties between the two.
Critics see the deal as the latest attempt by Trump to save his presidential campaign against the Democrat Joe Biden.
In relevant remarks in mid-September, Iranian Supreme Leader's top advisor for international affairs Ali Akbar Velayati blasted the UAE and Bahrain for normalization of relations with Israel, saying that they are building a house of cards.
Addressing the 13th meeting of the World Assembly of Islamic Awakening held via video conference on Wednesday September 16, to discuss the recent normalization of ties between Israel and the two Arab states which was attended by participants from some 50 Muslim countries, Velayati condemned the normalization of relations between certain Arab countries and the Zionist regime as "a malicious scheme" and "a prelude to the full implementation of the 'deal of the century' and a publicity stunt."
"Instead of relying on divine promises, the unity of word, the will of the people and the unparalleled capacities of the Islamic world, some Persian Gulf vassal states have pinned their hopes on nothing and built a house of cards so that they should pay the price for and suffer the consequences of this humiliating compromise and normalization from their countries' national and spiritual assets," he added.
Velayati described the Palestinian issue as the top priority of the Muslim world over the past seven decades, and said
"The [so-called] deal of the century, as a complementary measure to compromise moves, removed the mask of hypocrisy from the arrogant face of those seeking and advocating compromise] with the Israeli regime, he added.
He said that enemies of the Islamic resistance in the region and on the international scene have, in recent decades, planned and implemented various scenarios in order to shield their arrogant and exploitative interests.
Velayati added that the enemies have been making efforts over the last 70 years to gradually wipe out Palestine from the map of the region and to replace it with the fake occupying regime of Israel, stressing that the global arrogance hatches various conspiracies and plots in a bid to remove this pivotal issue off top priorities of the Islamic world.
He pointed to several rounds of so-called peace talks to resolve the Palestinian issue and said not only the negotiations failed to achieve anything for the oppressed people of Palestine, but they also resulted in excessive demands by Israel, its continued settlement construction activities, and more concessions in favor of the Tel Aviv regime.
Velayati described unity, coherence and resistance of the Islamic Ummah in the face of the excessive demands and malicious plans by the enemies and the reinforcement of the Islamic resistance front as the sole way to realize the Palestinian cause.
https://en.farsnews.ir/newstext.aspx?nn=13990711000286
--------
Turkey's Halkbank must face US indictment over Iran sanctions violations, judge rules
02 October 2020
A US judge on Thursday refused to dismiss an indictment accusing state-owned Turkish lender Halkbank of helping Iran evade American sanctions.
US District Judge Richard Berman in Manhattan rejected Halkbank's claim that the Foreign Sovereign Immunities Act shielded it from prosecution, saying that law did not appear to grant immunity in criminal proceedings.
For all the latest headlines follow our Google News channel online or via the app.
He also said an exception for commercial activity "would clearly apply and support the Halkbank prosecution," citing the bank's interactions with US Treasury Department officials and its alleged laundering of more than $1 billion through the US financial system.
US-based lawyers for Halkbank did not immediately respond to requests for comment. The Department of Justice did not immediately respond to similar requests.
Halkbank has pleaded not guilty to bank fraud, money laundering and conspiracy charges brought last October.
US prosecutors accused Halkbank of using money servicers and front companies in Iran, Turkey and the United Arab Emirates to evade sanctions, enabling oil and gas revenue to be spent on gold and facilitating sham food and medicine purchases.
They also accused Halkbank of helping Iran secretly transfer $20 billion of otherwise restricted funds, including the $1 billion through US accounts.
A trial is scheduled for March 1, 2021.
Halkbank has separately asked the federal appeals court in Manhattan to replace Berman with a different judge because of his alleged bias, an accusation Berman has denied.
Berman has overseen several related cases, including the 2018 conviction of former Halkbank executive Mehmet Hakan Atilla and a guilty plea by Reza Zarrab, a wealthy Turkish-Iranian gold trader who testified against Atilla.
Halkbank's case has added tension to US-Turkish relations, and gained renewed attention in former US national security adviser John Bolton's recent memoir.
Bolton wrote that Turkish President Tayyip Erdogan in 2018 gave US President Donald Trump a memo saying Halkbank was innocent, and Trump said the problem would be "fixed" once prosecutors were replaced.
The case is US v Halkbank, US District Court, Southern District of New York, No. 15-cr-00867.
https://english.alarabiya.net/en/business/banking-and-finance/2020/10/02/Turkey-s-Halkbank-must-face-US-indictment-over-Iran-sanctions-violations-judge-rules
--------
20 years on, cameraman recalls Israeli killing of 11-year-old Palestinian
01 October 2020
Wednesday marked the 20th anniversary of the brutal shooting death of an 11-year-old Palestinian boy Muhammad al-Durrah by Israeli regime soldiers in the Gaza Strip despite desperate efforts by his father -- Jamal, who was injured in the incident -- to shield him from a hail of bullets.
Muhammad was killed on September 30, 2000 following a protest rally by local Palestinians in reaction to the provocative visit to the Noble Sanctuary of the Al-Aqsa Mosque by hawkish Israeli general and politician Ariel Sharon (1928-2014). The child's killers have never been brought to justice by the Israeli regime or any international authority.
The images of the vicious police response to the demonstration caused widespread outrage among Palestinians and led to the Aqsa Intifada. The uprising lasted until February 2005 and left nearly 5,000 Palestinians killed, including almost 1,000 children.
The atrocity by the Israeli regime forces came after Sharon – who had also led the massacre of hundreds of Palestinians years earlier in the Sabra and Shatila refugee camp in Lebanon – marched into the holy Islamic site with a number of right-wing Israeli officials two days earlier on September 28 while protected by some 2,000 military police officers.
The move sparked an angry protest by Palestinian Muslims worshiping inside the Al-Aqsa Mosque at the time.
On the day that Muhammad al-Durrah was killed, a group of angry Palestinians approached the illegal Israeli settlement of Netzarim in the middle of the Gaza Strip -- which was still occupied by the regime forces at the time – and started throwing stones at the Israeli occupation troops who had set up a military checkpoint at its eastern gate.
As the child and his father sought shelter behind a small concrete structure, Jamal al-Durrah shouted out at the Israeli soldiers to stop shooting at the child. His cries, however, were totally ignored and Muhammd was struck by bullets several times and died on his father's lap.
The images of the brutal shooting flashed around the globe. However, not a single international institution has ever demanded the trial of the murderers. This is while the atrocities of the Israeli regime against the Palestinian population and their killing of civilians, including children, continue unabated and with impunity.
Palestinian cameraman recalls taping the atrocity
Palestinian cameraman from Gaza, Talal Abu Rahma, who was working for France 2 News Channel at the time, shot a video of the entire incident that was then aired by the broadcaster. It became one of the most powerful images of what became known as the Second Intifada in the occupied Palestine.
According to Al-Jazeera, the Israeli regime tried to challenge the veracity of the footage taken by Abu Rahma, with the Israeli military denying that its soldiers had been responsible.
It took until 2013, it noted, for a French court to vindicate France 2 and Abu Rahma, ultimately upholding their defamation case against Philippe Karsenty, a French media commentator who had accused them of staging the video, and fining him 7,000 euros.
Abu Rahma, who has won numerous awards for his work, is now based in Greece, where he, his wife and son are residents. He works between there and Amman, Jordan. He has been banned from returning to Gaza since 2017.
The following is how he partially remembers events surrounding Muhammad's brutal killing 20 years ago in a Wednesday article published by Al-Jazeera:
I could not hear anybody over the sound of the bullets. It just kept getting worse. There was a lot of shooting, many injured. I was really scared. There was blood on the ground. People were running, falling down; they didn't know where the bullets were coming from, they were just trying to hide. I was confused about what to do too – whether to continue filming or to run away. But I'm a stubborn journalist.
Then one of the children who was hiding beside me said: They are shooting at them. I asked: Shooting at who(m)?
That was when I saw the man and the boy against the wall. They were hiding and the man was moving his hand and saying something. The bullets were coming right at them. But I couldn't tell where they were coming from.
When the shooting stopped, the boys near me started running, left and right. I stayed by myself and then decided to walk away. I walked for about five to seven minutes towards my car. I was trying to call the office in Jerusalem – it took a while to get a signal back then when mobile phones were still quite new. As I was walking, I saw a colleague from another news agency.
I asked him, How many injured, how many killed? He told me about three. I said, Look, if you are talking about the three dead, add another two. I think there are another two, they were killed against the wall. I showed him what I had filmed and he started screaming, Oh no! Oh no! This is Jamal, this is his son, Muhammad, they were in the market. Oh my God, oh my God!
I asked him, Do you know them? He replied, Yes, I am married to his sister.
https://www.presstv.com/Detail/2020/10/01/635438/Palestine-Gaza-child-Killing-Israeli-forces-Muhammad-al-Durrah
--------
Iranian terror in Bahrain to rise to stop deal with Israel – intel center
By YONAH JEREMY BOB
OCTOBER 1, 2020
Iranian-sponsored terrorism in Bahrain is expected to increase to capsize the normalization trend with Israel, a new intelligence report obtained first by The Jerusalem Post said Thursday.
"Our estimate is that the deal could increase the motivation of Iran and of terror organizations in Bahrain, which it sponsors, to try to increase the public threat level, including to attack Bahrain's rulers and to thwart implementation of the deal," the Meir Amit Intelligence and Terrorism Information Center report said.
The process of normalization with Israel could effectively spell the end of a relatively quiet three-year hiatus from problems between Bahrain's Sunni minority rulers and the disempowered Shi'ite majority, it said.
Noting Bahrain's September 20 announcement of busting a major terrorist cell, the Meir Amit Center said the spike in threats from Iran-affiliated terrorist groups may already be here.
Only days after Bahrain signed a declaration with Israel on September 15, signaling its intent to move toward full normalization, Manama said the terrorist cell had planned to attack Bahraini officials, security installations and economic centers.
Iran and its proxies were said to be carrying out these attacks to avenge the US's January assassination of its Islamic Revolutionary Guard Corps Quds Force commander Qasem Soleimani.
Though Bahrain's statement did not mention the US, significant American military forces stationed in Bahrain are one of many Iranian complaints with the country's Sunni monarchy.
The terrorist groups arrested by the Bahraini government likely had been tracked for an extended period of time, the report said.
Though the timing of announcing the arrests likely was connected to the September 15 signing ceremony with Israel, the terrorist plots, tracking them and maybe even the arrests themselves might have occurred significantly earlier, it said.
If so, the timing of the announcement would be a sign from Bahrain's rulers to try to show they have control of the country and to deter Iran and its proxies, the report said.
The first round of conflict between Bahrain and Iran and its proxies was in 1981, after Iran's Islamic Revolution in 1979.
The Islamic Republic has always wanted to "flip" Bahrain into being another Shi'ite-dominated country, hoping to use the Shi'ite majority to its benefit.
From 2011-2017, there was extended conflict within Bahrain, with Shi'ite terrorist groups working with Iran and Hezbollah to carry out a large number of attacks.
By 2018, Bahrain, with the help of the Saudis, had crushed most of the violent opposition, using both force and cracking down on aspects of political opposition in the country.
Another major turning point, the report noted, was April 2019, when 139 anti-regime activists were given extended prison sentences.
Unlike the United Arab Emirates, where the public and social media have been supportive of the new deal with Israel, there have been significant public protests and social-media criticism within Bahrain of the move to normalize ties.
https://www.jpost.com/middle-east/iranian-terror-in-bahrain-to-rise-to-stop-deal-with-israel-intel-center-644167?utm_source=iterable&utm_medium=email&utm_campaign=1578455_
--------
Pakistan
Gilgit-Baltistan: A hostile opposition makes Imran's job difficult
Oct 3, 2020
ISLAMABAD: Faced with an unfriendly opposition and having a thin majority in the National Assembly, the turning of Gilgit-Baltistan into Pakistan's fifth province seems to be an uphill task for the Imran Khan-led government.
To elevate Gilgit-Baltistan (GB) to a full-fledged province with all constitutional rights, including representation in the National Assembly and Senate, will require an amendment in Pakistan's constitution that can only be achieved with a two-thirds majority in parliament.
In an attempt to convince the opposition, army chief Gen Qamar Javed Bajwa and ISI chief Lt Gen Faiz Hameed last month met 15 senior opposition leaders, including incarcerated PML-N president Shahbaz Sharif and PPP chairman Bilawal Bhutto Zardari, to convince them to support the government on the merger of GB, a disputed region between India and Pakistan, which was formerly a part of Jammu & Kashmir.
Initial information about the meeting revealed that the opposition had assured the military authorities it would take up the issue for discussion after the election for GB's "legislative assembly", which Pakistan has scheduled for November 15.
Minister Sheikh Rasheed Ahmed said the opposition used the opportunity to flag its concerns about other matters, especially the military's interference in politics and allegations of persecution of its leaders on the pretext of accountability.
The government's move, apparently with the military's approval, pushed the opposition parties into offensive mode. The opposition PML-N warned its members against meeting with military authorities in future while Jamiat-e-Ulema Islam-F (JUI-F) chief Maulana Fazlur Rehman took a firm position against making GB a province.
According to Rehman, turning GB into a province would not only validate India's move to turn J&K into two UTs but would also deprive the people of the Himalayan region of their autonomy.
https://timesofindia.indiatimes.com/world/pakistan/gilgit-baltistan-a-hostile-opposition-makes-imrans-job-difficult/articleshow/78456270.cms
--------
Pakistan government unilaterally 'opens' Kartapur pilgrimage
Oct 2, 2020
AMRITSAR: Pakistan government has unilaterally decided to open the Kartapur Sahib pilgrimage for the Indian devotees from October 2 even as India has sealed its borders with Pakistan to prevent the spread of coronavirus.
Evacuee Trust Property Board (ETPB) spokespersons Amir Hashmi told TOI on Friday that the ministry of religious affairs and interfaith harmony, through a notification issued on October 2 ,decided to allow the Indian visitors to Gurdwara Darbar Sahib, Kartarpur Sahib from dawn to dusk as par the bilateral agreement 2019 on Gurdwara Kartarpur Sahib corridor .
However the Indian yatree's have been advised to adhere to the covid 19 Standard Operating Procedure.
Hashmi further informed that the ministry had also allowed the local visitors to visit Gurdwara Darbar Sahib, Kartarpur Sahib from dawn to dusk.
Following the ministry's orders, the ETPB had deployed all of its staff including security and liaison staff at the corridor, said the spokesperson.
Notably India had temporarily suspended Kartapur Sahib pilgrimage as well as its registration from March 16, 2020 as a precautionary measure to contain and control spread of the disease
In the recent past Pakistan's foreign minister Shah Mahmood Qureshi had offered to open the Kartapur pilgrimage on the occasion of the death anniversary of Maharaja Ranjit singh in June.
https://timesofindia.indiatimes.com/world/pakistan/pakistan-government-unilaterally-opens-kartapur-pilgrimage/articleshow/78451865.cms
--------
I would have sacked army chief if Kargil war was conducted without informing me: Imran Khan
Oct 2, 2020
ISLAMABAD: Pakistan Prime Minister Imran Khan has said that he would have sacked the army chief had the Kargil war with India been started without informing him.
Nawaz Sharif, who was the Prime Minister during the Kargil war, has long maintained that he was not aware of what was happening when the conflict broke out in 1999. He says the then army chief General Pervez Musharraf had attacked Kargil without informing him.
"I would have sacked the army chief if Kargil operation was conducted without informing me," Khan said in an interview to private news channel Samaa TV on Thursday.
Khan also said that he would sack the Inter-Services Intelligence (ISI) chief if the latter asked him to resign. The comment was made in the context of three-time Prime Minister Sharif's claim that the ISI chief asked him to step down in 2014 when Khan had unleashed a big protest sit-in the national capital.
He said the army was keeping the country united and slammed Sharif for targeting the military establishment.
"Look at Libya, Syria, Iraq, Afghanistan, Yemen; the entire Muslim world is ablaze [so] why are we safe? If it weren't for our army, our country would've been in three pieces", Khan said.
Sharif recently made two speeches from London, where he has been staying since November 2019 on medical grounds, directly attacking the army for interference in politics and claimed that Khan came to power through its support.
The powerful army, which has ruled Pakistan for more than half of its 70 plus years of existence, has hitherto wielded considerable power in the matters of security and foreign policy.
Khan also said that it was not the army's job to run the government and failure of a democratically elected government should not be used to impose a martial law.
"If a judge gives a wrong decision it means the judiciary has to evolve. The army has evolved as well. Contemporary civil-military relations are the best in history because they are all working in their spheres," he said.
He also claimed that the army was standing by the government in all matters including relations with India, opening of the Kartarpur Corridor and the coronavirus pandemic.
https://timesofindia.indiatimes.com/world/pakistan/i-would-have-sacked-army-chief-if-kargil-war-was-conducted-without-informing-me-imran-khan/articleshow/78447378.cms
--------
Pemra stops TV channels from airing motorway rape news
Wajih Ahmad Sheikh
03 Oct 2020
LAHORE: The Pakistan Electronic Media Regulatory Authority (Pemra) on Friday restrained all television channels from airing news about the Sialkot motorway gang-rape incident in the light of an order passed by the trial court on the request of the police.
"All satellite TV channels (news & current affairs) are therefore directed to comply with the orders of the honorable Anti-Terrorism Court, Lahore, regarding Sialkot motorway incident in letter and spirit and refrain from airing any content with regard to the instant case, in future," said a directive issued by Pemra's General Manager (Operations-Broadcast Media) Muhammad Tahir.
Investigating Officer Zulfiqar Cheema had filed an application before the ATC seeking a ban on media coverage of the incident. The IO pleaded that the incident was a heinous offence and the media was indulged in reckless coverage of the instant case. He claimed that the media reporting would damage and diminish the evidence so far collected by the police.
Cheema further told the court that the media coverage of the incident had been creating hindrance in the arrest of the prime suspect.
Deputy Prosecutor General Waqar Abid Bhatti supported the stance of the IO and relied upon section 13(2) of Punjab Witness Protection Act 2018.
The section reads, "The reporting of the identity of a person connected with an offence of terrorism or a sexual offence or the identity of the members of his family shall be prohibited in print, electronic or other media, if the court is satisfied that the quality or voluntariness of the evidence of the person concerned will diminish thereby."
In his decision, Presiding Judge Arshad Hussain Bhutta admitted the contention of the IO and observed that it was an offence relating to sex and certainly due to media coverage the victim and his family will also be disgraced.
The judge also noted that one of suspects had been shifted to jail for identification parade and if media coverage of the case was not stopped, it would certainly diminish the evidentiary worth of the material collected by the prosecution.
"So chairman Pemra is hereby directed to stop the coverage of case FIR No.1369/2020 of Sept 9, 2020, offence under section 392, 376 (II), 427, 34 of PPC and 7 Anti-terrorism Act 1997, police station Gujjarpura, Lahore immediately on electronic media, print and social media," wrote the judge in his verdict.
https://www.dawn.com/news/1582930/pemra-stops-tv-channels-from-airing-motorway-rape-news
--------
Africa
Hundreds of Sudanese troops enter Saudi Arabia en route to Yemen: Report
03 October 2020
Hundreds of Sudanese forces have reportedly entered Saudi Arabia en route to Yemen contrary to an earlier announcement by the North African country about a drawdown of its personnel in the bloody Saudi war on the poorest Arabian Peninsula nation.
Citing private Saudi sources, the Middle East Eye news portal (MEE) reported on Friday that 1,018 Sudanese army officers and soldiers arrived in Saudi Arabia by boat on September 22 after passing through passport control in the southwestern city of Jizan.
Two Sudanese planes also carried Sudanese military personnel from Khartoum to Saudi Arabia's Najran airport the day before, according to one of the sources, who was speaking on condition of anonymity.
The first plane held 123 passengers and the second 128, the source said, adding that both planes later departed for Khartoum.
"The planes brought Sudanese officers and soldiers to take part in Operation Restoring Hope," the source said, using the name that Saudi Arabia gave to its devastating military aggression against Yemen.
The fresh deployment came despite an announcement by the Sudanese military in January that it was winding down its presence in Yemen from around 5,000 mercenaries to a "minor" group of some 650.
Brigadier General Jamal Adam, a spokesman for the Rapid Support Forces (RSF) paramilitary, told Turkey's Anadolu news agency that the Sudanese forces present in Yemen "were operating within two sections, the [United Arab] Emirates sector inside Aden, and the Saudi sector that extends on the Saudi-Yemeni border."
In December 2019, Sudanese Prime Minister Abdalla Hamdok said the number of the Sudanese mercenaries had been reduced to 5,000 from 15,000.
He said his government had "inherited" the deployment in Yemen from Sudan's former president, Omar Hassan al-Bashir, who was ousted following a popular uprising against his rule in April 2019.
Earlier reports said child soldiers from Sudan's Darfur have been fighting on behalf of Saudi Arabia and its allies in the frontline of the Yemen war, with money being their only motive.
Sudanese media reported last week that the RSF had sent 28 civilians from West Darfur to fight in Yemen.
Saudi Arabia launched the devastating war, led by Crown Prince Mohammed bin Salman, against its southern neighbor in March 2015 in collaboration with a number of its allied states, including the UAE, and with arms support from the US and a number of other Western countries.
The aim was to return to power the Riyadh-backed former regime and defeat the popular Houthi Ansarullah movement that has taken control of state matters since the resignation of the then president and his government.
The Saudi war failed to achieve its goals, but killed tens of thousands of Yemenis and took a heavy toll on the country's infrastructure, destroying hospitals, schools, and factories.
The UN refers to the situation in Yemen as the world's worst humanitarian crisis.
We need Israel: Sudan official
Separately on Friday, Sudan's deputy head of state General Mohammad Hamdan Daglo, known as Hemedti, said his country would likely soon establish ties with the Tel Aviv regime.
"The entire world works with Israel," he claimed, adding, "For development, for agriculture — we need Israel."
Speaking to Sudan24 TV, Daglo, however, said the ties would fall short of full normalization.
"We're not scared of anyone. But these will be relations, not normalization. Relations, not normalization. Okay? We're following this line," he explained.
The remarks came at a time, when Washington is pressing Khartoum into normalizing ties with Israel in exchange for a commitment of financial aid and its removal from a US blacklist of state sponsors of terror.
In mid-September, the UAE and Bahrain signed US-brokered normalization agreements with the occupying Israeli regime.
Elsewhere in his remarks, Daglo said that it was clear to the Sudanese leadership that exiting the US terror list was conditional on forging relations with Israel.
"It's true, the Palestinian cause is important, and we ought to stand with the Palestinian people," he underlined.
But, he suggested, Sudan would ultimately have to think of its own "pockets," given the difficult economic situation in the country.
"Whatever the interest of Sudan is, we shall pursue it," Daglo said.
https://www.presstv.com/Detail/2020/10/03/635530/Sudan-troops-Saudi-Arabia-Yemen
--------
Amnesty reveals life-threatening conditions for Ethiopian migrants in Saudi detention centers
02 October 2020
Amnesty International has warned against life-threatening conditions at Saudi Arabia's squalid detention centers, where thousands of Ethiopian migrants are languishing, stating that the African detainees are enduring "unimaginable cruelty" during the coronavirus pandemic and some of them have lost their lives.
The New York-based rights group, in a report published on Friday, stated that it had interviewed detainees who described a catalogue of cruelties at the hands of Saudi authorities, including being chained together in pairs, forced to use their cell floors as toilets, and confined 24 hours a day in unbearably crowded cells.
Amnesty International, based on consistent eyewitness testimonies, documented the deaths of three people – an Ethiopian man, a Yemeni man and a Somali man – at al-Dayer detention center in Saudi Arabia's southern Jizan province.
Other detainees reported at least four more deaths. Even though the organization could not independently corroborate the claims, the prevalence of disease and the lack of food, water and healthcare indicate the true number of deaths could be much higher.
Freweyni, 25, described the death of a 15-year-old boy at al-Dayer center.
"He was sleeping on the ground, covered with clothes. He was very weak. He urinated while sleeping. A boy was taking care of him. […] We shouted and the guards came in to take him….Four days later, I saw this boy lying on the ground outside. He was dead. I saw another body next to him," he said.
Two people told Amnesty International they had prevented cellmates from committing suicide in Jizan central prison as well as Jeddah detention center. They cited the uncertainty of the situation, heat and insufficient food as key factors in driving detainees to take their own lives.
Abeba, 24, described the acute mental distress of some of those she was detained with at al-Dayer.
"Some women speak to themselves, some don't dress up, some can't control [themselves] when they urinate," she said.
Amnesty noted that several women have given birth during their detention, and that they are returned to the same unsanitary conditions after a short stay at a medical facility.
Three women reported that two babies and three toddlers had died in al-Dayer, Jeddah and Mecca prisons.
"The children became sick in al-Dayer because we were sleeping in a dirty place, it was too hot and we didn't receive enough food. They had diarrhea and they were very thin. Children were taken to the hospital, where they died," Abeba told Amnesty International.
Two detainees reported that prison guards had administered electric shocks to them and other detainees as punishment after they complained about conditions.
"They used this electric device… It made a small hole on my clothes. I saw a man whose nose and mouth were bleeding after that. Since then, we don't complain anymore because we're afraid they'll do again the electric thing on our back." Solomon, 28, told Amnesty International.
Eight detainees said they had experienced and seen beatings by prison guards, and shootings during escape attempts.
One man said he had seen the body of a man who had been shot after trying to escape.
Amnesty called on Saudi Arabia to release the migrants and work with Ethiopian authorities to facilitate their repatriation.
"Thousands of Ethiopian migrants, who left their homes in search of a better life, have instead faced unimaginable cruelty at every turn," Amnesty researcher Marie Forestier said in a statement.
"We are urging the Saudi authorities to immediately release all arbitrarily detained migrants, and significantly improve detention conditions before more lives are lost," Forestier said.
Up to half a million Ethiopians were in Saudi Arabia when officials there launched a crackdown on illegal migrants in 2017, according to the UN's International Organization for Migration (IOM).
Around 10,000 Ethiopians were on average deported monthly until Ethiopia requested a moratorium earlier this year, because of the coronavirus pandemic.
Ethiopia appears careful not to antagonize Saudi Arabia, which is a key source of foreign remittances.
Three migrants told AFP news agency last month that visiting Ethiopian diplomats had warned migrants to stop speaking out about detention conditions.
Tsion Teklu, a state minister at Ethiopia's foreign ministry, said in September that the total number of Ethiopian migrants in Saudi detention facilities was 16,000 earlier this year, but that it had since gone down.
https://www.presstv.com/Detail/2020/10/02/635486/Amnesty-reveals-life-threatening-conditions-for-Ethiopians-in-Saudi-detention-centers
--------
Nigeria: Boko Haram Kills 11 Soldiers in Fresh Ambush
1 OCTOBER 2020
By Olatunji Omirin
Maiduguri — At least 11 soldiers including two officers have been killed and an unconfirmed number injured after their convoy ran into an ambush along Dikwa highway on Tuesday, security sources said.
The incident reportedly occurred along Marte to Dikwa highway on Tuesday morning when the convoy step on a landmine and thereafter the insurgents opened fire on the troops.
"It occurred yesterday (Tuesday).
"The troops while on their way to Dikwa; at about 7km from Dikwa, in the process of trying to scan the road, they mistakenly step on landmines planted by suspected Boko Haram insurgents.
"The troops came under heavy gunfire of the enemies.
"We lost 11 persons who paid the supreme prize for their fatherland; two officers, a captain and lieutenant and nine soldiers all killed", one of the security sources said.
It would be recalled that less than a week ago insurgents laid an ambush against the state official convoy killing soldiers, policemen, members of the Civilian Joint Task Force and some civilian along Monguno/Baga axis of the state.
https://allafrica.com/stories/202010010450.html?utm_source=iterable&utm_medium=email&utm_campaign=1578455_
--------
North America
Canada probes alleged use of its tech in Armenia-Azerbaijan clash
02 October 2020
Prime Minister Justin Trudeau said Friday an investigation has been launched into the alleged use of Canadian military technologies in the Armenia-Azerbaijan conflict.
Local media reported that Canadian imaging and targeting systems on unmanned drones are being used by Azerbaijan in clashes with Armenia.
For all the latest headlines follow our Google News channel online or via the app.
Arms-control advocates have documented the sale of the Wescam gear to Turkey, a close ally of Azerbaijan.
"In regards to the Canadian military equipment that may have been used in this situation, the minister of foreign affairs (Francois-Philippe Champagne) has launched an investigation into what exactly happened," Trudeau told a news conference.
"It is extremely important that the terms of Canada's expectations of non-violation of human rights is always respected and we will have more to say as more becomes clear."
Ottawa announced in October 2019 a freeze on the issuing of export permits for military shipments to Turkey, after its incursions against Kurds in northern Syria. But it was lifted in May.
A government official said if it is now determined that the military technologies have been misused, Ottawa will cancel export permits for related shipments.
Ankara is backing its longtime ally Baku in the fighting over Nagorno-Karabakh, an ethnic Armenian province that broke away from Azerbaijan in a bitterly fought war in the 1990s.
Armenia and Azerbaijan have been locked in a simmering conflict for decades over the region and new fighting that erupted on Sunday has been the heaviest in decades, with nearly 200 people confirmed killed.
Trudeau said his government is "extremely concerned about the situation in Nagorno-Karabakh," calling for a "de-escalation of hostilities."
"There is no question, there is not a military solution to this conflict," he said. "It can only be resolved through proper dialogue and engagement."
https://english.alarabiya.net/en/News/world/2020/10/03/Canada-probes-alleged-use-of-its-tech-in-Armenia-Azerbaijan-clash
--------
How will Trump's COVID-19 diagnosis impact race, presidency?
03 October 2020
US President Donald Trump's diagnosis with COVID-19 threatens to seriously imperil his already stumbling reelection campaign, forcing the president – who is down in national polls-- to cancel his public schedule in the crucial final month of the race.
Trump is being treated at Walter Reed National Military Medical Center for COVID-19 and has begun receiving an anti-viral drug, his doctor said Friday night, less than 24 hours after the president announced that he and his wife, Melania Trump, had tested positive for the coronavirus.
The news of Trump's infection has thrown the race into turmoil.
The president's path to reelection was already fraught with difficulty and required a fundamental shift in strategy and direction.
Trump had been scheduled to tour the country, hold rallies, highlight a perceived economic recovery, and argue that he had successfully contained the coronavirus.
The president, who is medically vulnerable due to his age and being obese, has now promised to quarantine, a dramatic shift after months of mocking his Democratic challenger Joe Biden for wearing a mask on the campaign trail.
Trump had spent months defying science and downplaying the threat of the virus that has killed more than 207,000 people. Instead, the president had been pushing a message of economic optimism and reopening of the country.
As recently as Tuesday, Trump dismissed the risk of holding large, crowded campaign events where most of his supporters do not wear masks. "We've had no negative effect, and we've had 35 to 40,000 people at some of these rallies."
The COVID-19 diagnosis may have an impact on voter's perceptions -- especially those who already had misgivings about Trump's handling of the pandemic -- in the final month of the campaign when candidates make their final appeals to the American people.
In particular, the president's inability to safely campaign in key battleground states will put his reelection in danger.
Trump trails Biden by about 8 percentage points nationwide and is behind in several key swing states, including Pennsylvania, Ohio, Arizona, North Carolina, Michigan and Wisconsin.
How will Trump's illness affect presidency?
The virus can take several days to manifest fully and the impact that Trump's infection will have on the presidency will much depend on the severity of his illness.
Vice President Mike Pence can step in to temporarily take over should Trump be incapacitated or die in office. Pence, 61, tested negative for the coronavirus on Friday.
Under the 25th Amendment of the Constitution, presidents can voluntarily designate powers to their vice presidents if they become seriously ill or are unable to discharge their duties.
If Trump became gravely ill, he could notify the House and the Senate that he was unable to perform the duties of his office and transfer his authorities to Vice President Pence, who would become acting president, until the president is fully recovered.
Other likely scenarios will be far more complicated and shrouded in legal uncertainty, including one in which Trump cannot exercise his duties but refuses to relinquish the office, or wins reelection but cannot effectively serve.
On Friday afternoon, as the president was expected to leave for hospital, a White House spokesman said Trump would remain in power. "No transfer," he said. "The president is in charge."
House Speaker Nancy Pelosi, 80, said on Friday that the right plans were in place should they become necessary.
"Continuity of government is always in place," she said on MSNBC. "I always say it's a relic of the past, but nonetheless, they say we have our job we have to do, and this is what we'll do."
For months, Trump has refused to commit to peaceful transition of power should he lose the November 3 election. He has raised doubts about the integrity of the electoral process, insisting that the only way for him to lose would be if the election was rigged.
National security implications?
The uncertainty surrounding Trump's health has also raised fears of a potentially looming threat to national security.
The Pentagon along with a number of current and former national security officials rushed to reassure the public that there are mechanisms in place to deal with instability in situations like this.
"There's no change to the readiness or capability of our armed forces. Our national command and control structure is in no way affected by this announcement," Jonathan Hoffman, assistant to the secretary of defense for public affairs, said in a statement on Friday.
"The US military stands ready to defend our country and interests," he added.
While defense officials attempted to alleviate concerns of a national security crisis, Trump's illness presents a challenge for those charged with protecting the US from foreign and domestic threats.
"[It] only makes that already chaotic system more chaotic," John Gans, a former Pentagon speechwriter told the CNN, adding that that Trump's leadership style may increase the risks of a "total breakdown in decision making in government."
https://www.presstv.com/Detail/2020/10/03/635526/Trump-COVID-19-affect-campaign-
--------
South Asia
Afghan government, Taliban 'near compromise' in peace talks
01 October 2020
Afghanistan's top negotiator says the government in Kabul and the Taliban militant group are nearing a compromise on major issues in peace talks.
Abdullah Abdullah, the head of Afghanistan's High Council for National Reconciliation (HCNR), who is heading the government's negotiating team, made the remark in the Pakistani capital, Islamabad, on Wednesday as he finished a three-day visit to the country.
He said that after several small-group meetings in the Qatari capital, Doha, the issue of the Hanafi school of thought had been resolved "to a large extent."
Both sides have provisionally agreed "to recognize the principal issue of Hanafi's role without any discrimination to Shia communities or minorities, so… the compromise is around that," Abdullah said.
The Taliban had insisted on strict adherence to the Hanafi school of Sunni Islamic jurisprudence, but the Afghan government's negotiating team worried that could be used to discriminate against the Shia community and other religious minorities.
Among other obstacles in the negotiations is the extent to which the Taliban recognize the legitimacy of the Kabul government under a future deal.
Abdullah said the two sides appeared to have made progress on the issue, without providing details. He said that after a slow start, the negotiating teams were now "getting along quite well and this latest impasse… hopefully we will overcome it soon."
Peace talks between the two sides kicked off in Doha — where the Taliban have a representative office — on September 12.
The talks were expected to tackle thorny issues, including a permanent ceasefire, the rights of women and minorities, and the disarming of tens of thousands of Taliban militants and militias loyal to warlords.
Constitutional changes and power sharing are expected to be on the agenda as well.
However, reports of ongoing violent clashes back in Afghanistan marred an optimistic beginning and were stark reminders of the obstacles ahead.
The peace talks were held one day after the 19th anniversary of the September 11 terrorist attacks in the United States that were used as a pretext for the US to invade Afghanistan in 2001.
The intra-Afghan talks were set to take place in March but were repeatedly delayed over a prisoner exchange under a deal between the US and the Taliban, which was signed in February.
Under the deal with the US, the Taliban agreed to stop their attacks on US-led foreign forces in return for the US's withdrawal from Afghanistan.
The Afghan government was a party neither to the negotiations that led to that deal nor to the agreement itself but acted in accordance with its terms.
But official data shows that bombings and other assaults by the Taliban have surged 70 percent since the militant group signed the deal with the United States.
In the US-led invasion and occupation of Afghanistan, about 2,400 US soldiers have been killed, along with unknown numbers of Afghan troops and Taliban militants. More than 100,000 Afghans have been killed or injured since 2009, when the UN Assistance Mission in Afghanistan began documenting casualties.
https://www.presstv.com/Detail/2020/10/01/635427/Afghan-government-Taliban-near-compromise-in-peace-talks
--------
Truck bomber kills 11 in Afghanistan despite talks on peace
OCTOBER 1, 2020
KABUL (Reuters) - A suicide bomber drove an explosive-laden truck into a checkpoint in Afghanistan late on Wednesday killing 11 people, as peace talks between the government and Taliban militants in Qatar seemed to have no bearing on the violence at home.
No group claimed responsibility for the attack in the southern province of Helmand though officials blamed the Taliban, who have a heavy presence in the area.
The bomber rammed the truck into a post manned by pro-government militia members, said Omar Zwak, spokesman for the provincial governor. Seven soldiers and four civilians were killed, he said.
In another attack late on Wednesday, a suicide bomber was killed and six civilians were wounded in a blast in the southeastern province of Khost, police said. There was no claim of responsibility.
The talks between the government and the Taliban began in mid-September in Doha, the capital of Qatar, following a February deal between the militants and the United States that has cleared the way for U.S. forces to withdraw from their longest war.
But the talks between the Afghans have become bogged down on processes and procedures, diplomatic sources say.
The Taliban political spokesman, Mohammad Naeem, told Reuters negotiators had not met for the last two days. He did not say why.
U.S. Special Envoy Zalmay Khalilzad, the architect of the February agreement who has been trying to encourage the power-sharing talks between the Afghans, said on Wednesday he was heading to Doha to meet the negotiators.
"The Afghan people and international community are watching closely and expect the negotiations to make progress toward producing a roadmap for Afghanistan's political future and a permanent and comprehensive ceasefire," he said on Twitter.
https://www.reuters.com/article/us-afghanistan-attack/truck-bomber-kills-11-in-afghanistan-despite-talks-on-peace-idUSKBN26M57L?utm_source=iterable&utm_medium=email&utm_campaign=1578455_
--------
Taliban Damages Kandahar-Uruzgan Highway: MoD
By Mohammad Arif Sheva
01 Oct 2020
KANDAHAR, Afghanistan – The Afghan Ministry of Defense said Thursday in a statement the Taliban insurgents destroyed major parts of the Kandahar-Uruzgan highway.
According to the statement, the Taliban Wednesday night damaged most part of the road in Andlan area of Shah Wali Kot district in Kandahar-Uruzgan highway, which is the main road for citizens traveling to any of the provinces.
The Taliban have previously committed such an act, damaging thousands kilometer of roads in different parts of the country, the statement added.
But the Taliban did not immediately comment on the claim.
https://www.khaama.com/taliban-damages-kandahar-uruzgan-highway-mod-87655/
--------
Taliban 'Not Allow' Interference in 'Internal Affairs': Intra-Afghan Negotiations
By Mohammad Arif Sheva
02 Oct 2020
DOHA, Qatar – Addressing an apparent deadlock to the ongoing peace talks between the negotiators in Qatari capital Doha, Taliban spokesman Mohammad Naeem says they do not feel the need for a mediator, rather needs patience to push through the process.
Naeem's remarks came at a time the United States Special Representative for Afghanistan Reconciliation Zalmay Khalilzad arrived in Doha to "meet with partners on Afghan-owned, Afghan-led peace negotiations."
Amid struggles for Afghan representatives and the Taliban delegation on procedural rules, both sides seem to not welcome mediator, prolonging the official face-to-face talks between Afghans.
"If we hurry and expect to resolve all the issues in 20 days or a month, I think this will not bring us to our objectives," said Naeem, as TOLOnews quoted. "We will not allow anyone to interfere in our internal affairs."
Meanwhile, US embassy in Kabul said neither the US nor its allies are willing to impose their solutions on Afghans.
"This is up to the parties to decide, we and others stand ready to help, we are not interested in imposing a solution or imposing ourselves in the process, but supporting what the parties at the negotiating table feel they need," said Ross Wilson, the US embassy's chargé d'affaires.
Since the official launch of intra-Afghan talks on September 12 in Doha, the contact groups have discussed the ground rules for talks in a series of meetings, but failed to finalize.
https://www.khaama.com/taliban-not-allow-interference-in-internal-affairs-intra-afghan-negotiations-9876/
--------
Taliban Ambush Claim 2 Policemen in Kapisa Province
By Mohammad Haroon Alim
03 Oct 2020
Security officials in Kapisa province say, two policemen have been killed and two others wounded in an ambush by Taliban insurgents in the Kohband district of the province.
Abdul Shayeq Shoresh, a spokesman for the Kapisa police command told Khaama Press, that the incident took place around 10:30 a.m. Today while security forces were patrolling the Togh area of Kohband district.
Shayeq added, that a Taliban fighter has also been killed in the clash.
This comes at a time, when the European Union, United States, United Nations most known humanitarian organizations called upon the Taliban to reduce violence.
Last week General Scot Miller, RS Commander, Nato Forces commander, in a visit to northern Faryab province said, that "We're trying to understand, make sure we understand the violence and really this is about the Afghan security forces protecting the Afghan people. But we all acknowledge that violence is too high, and the Taliban must lower their violence."
https://www.khaama.com/taliban-ambush-claim-2-policemen-kapisa-province-88987/
--------
Southeast Asia
PAS-linked don says on party's portal that a Muslim must contest Batu Sapi poll
03 Oct 2020
BY RADZI RAZAK
KUALA LUMPUR, Oct 3 ― A PAS-linked academic said on the party's Harakahdaily mouthpiece that a Muslim candidate must contest the Batu Sapi by-election triggered by former minister Datuk Liew Vui Keong's death.
Senior lecturer Prof Kamarul Zaman Yusoff wrote an article titled "Letak Calon Islam di Batu Sapi (Field a Muslim candidate in Batu Sapi)" on the website, in which he concluded that the seat had been a Barisan Nasional stronghold since 2003.
He said that if BN and Perikatan Nasional did not squabble over the seat, they could wrest it back from Warisan.
The academic said this was because the constituency was primarily Bumiputera-Muslim (65.1 per cent), followed by the Chinese (30.0 per cent), mon-Muslim Bumiputera (4.1 per cent) and others (0.8 per cent).
"I understand and share the hope of many parties that the distribution of seats and the selection of election candidates between the component parties of any coalition will take into account the composition of voters in those seats with candidates should be taken from the dominant voters," he said.
Liew died yesterday after he lost consciousness due to a collapsed lung at the Gleneagles Hospital in Kota Kinabalu where he had initially been admitted for a slipped disc.
Liew was a former Liberal Democratic Party president who joined Warisan in 2018 and was Pakatan Harapan's minister in charge of legal affairs.
Kamarul Zaman, who is with the Universiti Utara Malaysia's College of Law, Government and International Studies, has courted previous controversies including being banned by the varsity from making political posts on his social media platforms.
In April, he was listed as the special functions officer for Plantations and Commodities Minister Datuk Khairuddin Aman Razali of PAS, but after criticism of this emerged, he claimed to have rejected this.
Sections of Sabah have already expressed misgivings over the involvement of PAS in the state's politics.
Yesterday, Parti Bersatu Sabah that was nominally allied with PAS via the ruling Gabungan Rakyat Sabah coalition disagreed with the proposal for the Islamist party to be given one of the six openings for nominated assemblymen in the state assembly.
https://www.malaymail.com/news/malaysia/2020/10/03/pas-linked-don-says-on-partys-portal-that-a-muslim-must-contest-batu-sapi-p/1909058
--------
Despite objections, PAS leader insist party's right to get nominated rep spot in Sabah
02 Oct 2020 T
BY JUSTIN ONG
KUALA LUMPUR, Oct 2 — PAS is qualified to receive a nomination to the Sabah state assembly as it is in the victorious Perikatan Nasional coalition, said Roslan Shahir Mohd Shahir.
The Selangor PAS leader wrote in Harakah Daily that this made his party a vicarious member of the Gabungan Rakyat Sabah that won the 16th state election.
PAS did not contest any seat in the September 26 poll and has never won an election in the state.
"Like it or not, that is the reality and Sabahans are entitled to accept a PAS representative in the government to be assessed and for familiarity," he said.
Roslan added that history would be made through the nomination, pointing out that this would be the first time the Islamist party would join a Sabah government.
He rejected rivals' claim that allowing PAS into the state assembly and government would harm the multicultural fabric of the state, calling these "gutter politics" intended to frighten Sabahans.
The PAS leader insisted that the party's rule of Kelantan and Terengganu has not sidelined non-Muslim residents, holding up the existince of the "Wat Buddha" in Kelantan as evidence that the Islamist party accepted other religions.
"Let the people of Sabah see and judge for themselves the ability and performance of PAS in their state. DAP, please sit as a constructive Opposition, do not become peddlers of slander and instigators," he said.
Yesterday, Barisan Nasional secretary-general Tan Sri Annuar Musa said he expected PAS to receive at least one of the six nominated assemblymen spots available to the state government.
Former Sabah assistant minister of law and native affairs Jannie Lasimbang objected to this, arguing that bringing the Islamist party into the state legislature or, "worse still", the state government would do irreparable harm to Sabah's multiculturalism.
The Sabah DAP Wanita chief argued that PAS was not known for its acceptance of multiculturalism, which would put it at odds with the diverse natives of the state.
Among others, she cited PAS MP Nik Muhammad Zawawi Salleh's claim in Parliament that the Bible has been "distorted" from its original meaning, as evidence that the Islamist party's presence would harm Sabah.
Sabah has a large Christian population, which the 2010 Census placed at 26 per cent of the state. In Malaysia, this was second only to Sarawak's 42 per cent and significantly higher than Kelantan and Terengganu's 0.28 per cent and 0.22 per cent, respectively.
https://www.malaymail.com/news/malaysia/2020/10/02/despite-objections-pas-leader-insist-partys-right-to-get-nominated-rep-spot/1908703
--------
Postpone regional elections: LIPI, Muslim groups urge government
October 2, 2020
The Indonesian Institute of Sciences (LIPI) and prominent Muslim groups have urged the government to delay simultaneous regional elections scheduled for December over COVID-19 concerns. LIPI political research center head Firman Noor said the decision to go ahead with the elections during a public health crisis showed the government's imprudence. "This is not a wise attitude of a democratic government formed based on the will of the people," Firman said on Thursday. Holding regional elections in the middle of a pandemic would lead to humanitarian violations as a result of neglect of human safety, he argued. Citing data from the national COVID-19 task force, Firman said the number of COVID-19 cases in September was almost four times the average figure in July and August. "And this figure basically does not reflect the real condition because of a relatively small number of rapid and swab tests," he said, adding that the situation was worsened by poor public adherence to health protocols.
The 2020 Regional Elections Vulnerability Index issued by the Elections Supervisory Agency (Bawaslu) shows that 50 districts and cities set to hold elections in December are in the highly vulnerable category, so are nine provinces, Firman said. Meanwhile, 126 districts and cities are in the medium-prone category and 85 districts and cities in the low-prone category. At least 63 candidate pairs have also been exposed to COVID-19, showing the election had the potential to create new clusters, Firman said. "On the one hand, the government has restricted community activities," he said as quoted by kompas.com. "On the other hand, it provides an opportunity for mass [gatherings] during the process of regional elections, from pre-campaigning and the campaign season to voting day." The argument that regional elections must go ahead to avoid a leadership vacuum was unfounded because local administrations can still be led by acting heads, he said.
"The nuances of political participation of this kind will substantially reduce the essence of regional elections as a manifestation of channeling the interests of the people." Even if the government proceeds with the elections this year, many voters would be hesitant to go out to the polls, he added. Indonesia's two largest Islamic organizations, the Nahdlatul Ulama (NU) and Muhammadiyah, have voiced similar concerns over the issue. "We request that the General Elections Commission[(KPU], the government and the House of Representatives postpone the 2020 regional elections until [Indonesia] passes the health emergency," NU Executive Board (PBNU) chairman Said Aqil Siradj said recently. In a press conference held on Sept. 2, Muhammadiyah general secretary Abdul Mu'ti said: "We recommend that [the government] carefully consider postponing the elections." The government and House Commission II overseeing home affairs have decided to go ahead with the elections on Dec. 9, though the House has asked the KPU to revise KPU Regulation No. 10/2020 on the 2020 regional elections to specifically include provisions prohibiting mass gatherings and to promote online campaigns instead. (syk)
https://www.thejakartapost.com/news/2020/10/02/postpone-regional-elections-lipi-muslim-groups-urge-government.html
--------
URL: https://www.newageislam.com/islamic-world-news/al-hind-module-planned-establish/d/123030
New Age Islam, Islam Online, Islamic Website, African Muslim News, Arab World News, South Asia News, Indian Muslim News, World Muslim News, Women in Islam, Islamic Feminism, Arab Women, Women In Arab, Islamophobia in America, Muslim Women in West, Islam Women and Feminism