New Age Islam News Bureau
01 October 2020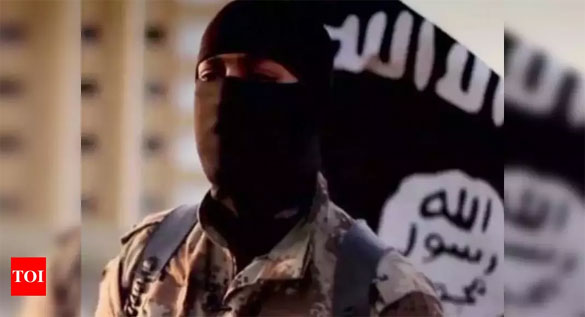 File Photo used for representation
----
• No Other Mosque Will Be Touched in Future: Bajrang Dal Leader Vinay Katiyar
• Kare Bluitgen, the Man behind the Danish Muhammad Cartoons Refuses to Give In and Is Publishing a New Illustrated Quran
• Biden's Debate with Trump Use of Arabic Phrase 'Insha'Allah' Sparks Conversation Among Muslims
• Afghan Team Told to Be Flexible in Negotiating With Taliban
• Annuar Musa: Can't Appoint Chinese Ministers in Sabah as None Won in State Election
• Iraq Says 'Not Happy' With 'Dangerous' Threat by Washington to Pull out Troops
• Iran Raps UAE's Repeated Territorial Claims
Pakistan
• After The Fall of the Caliphate in Syria and Iraq, the Islamic State Is Fast Spreading Its Network in South Asia under Pakistan's Patronage, Say Experts
• Pakistani Ulema D Issued a Combined Decree That Suicide Attacks Are Un-Islamic, Forbidden
• Pak PM tasks authorities to ensure Nawaz Sharif's deportation from UK at earliest: Report
• ECP panel to hear foreign funding cases against PML-N, PPP today
• Let bygones be bygones, PM tells Kabul
• Mengal meets Bilawal in Dubai ahead of PDM's Quetta rally
• Firdous tenders resignation as opposition leader in PA after criticising PM
--------
India
• No Other Mosque Will Be Touched in Future: Bajrang Dal Leader Vinay Katiyar
• AIMPLB Said, Muslims Will Challenge the Acquittal of 32 People in the Babri Masjid Demolition Case
• Babri Mosque Demolition Case: Ex-PM P V Narasimha Rao Would Have Felt Vindicated By Verdict
• Singhal tried to stop miscreants from demolishing structure, Ram Lalla idols saved by priest: Defence in Babri mosque case
--------
Europe
• Kare Bluitgen, the Man behind the Danish Muhammad Cartoons Refuses to Give In and Is Publishing a New Illustrated Quran
• Swedish Court Rules Swedish Employers Must Not Prevent Their Employees From Praying During Working Hours
• Qatar plays major role in funding European Muslim Brotherhood groups: Report
• Azerbaijan does not need mercenaries in conflict with Armenia: Presidential aide
• Azerbaijan says one person killed, three wounded in Armenian attack
• Italy repatriates female Islamic fighter and her 4 children
• Poland Deports Five Tajiks Suspected Of Terrorism
--------
North America
• Biden's Debate with Trump Use of Arabic Phrase 'Insha'Allah' Sparks Conversation Among Muslims
• US imposes Syria-related sanctions on six individuals, 13 entities
• Twitter ties 130 accounts trying to disrupt first Trump-Biden debate to Iran
• Pompeo Threatens to Close U.S. Embassy in Iraq Unless Militias Halt Attacks
--------
South Asia
• Afghan Team Told to Be Flexible in Negotiating With Taliban
• Roadside bomb kills 14 civilians in Afghanistan
• 'Bangladesh, S. Arabia to help stranded workers return'
• Bangladesh to observe mourning day on Thursday honouring Sheikh Sabah
• Car Bomb Explosion Kills 9 in Helmand
• 1 Child Killed, 2 Injured In Ghor Blast While Playing
--------
Southeast Asia
• Annuar Musa: Can't Appoint Chinese Ministers in Sabah as None Won in State Election
• Johor Police Chief: 17 Reports Lodged Against Hardline Islamist Movement Hizbut Tahrir
• Beijing's Crackdown on Religious Minorities Takes Aim at 10,000 Muslim Utsuls
• Annuar Musa denies Umno-PAS meeting called to discuss Anwar's claim of formidable parliamentary support
• Dr Mahathir says no forgiveness ever for Najib for destroying his Umno
--------
Arab world
• Iraq Says 'Not Happy' With 'Dangerous' Threat by Washington to Pull out Troops
• Protesters storm bank in downtown Beirut, demand money back amid economic crisis
• Hezbollah lashes out at France's Macron after French Initiative for Lebanon Fails
• Kuwait's New Emir Sheikh Nawaf Al-Sabah Takes Oath at the National Assembly
• Prisoners threaten suicide to pressure Lebanese parliament over amnesty law
• Israeli PM to UN: Hezbollah storing missiles in Beirut
--------
Mideast
• Iran Raps UAE's Repeated Territorial Claims
• Iran: Israel to Continue Child-Killing with Arabs' Concessions
• Iran: Europe's Partnership with US in Sanctions Crime against A Nation
• UN nuclear watchdog gains access to a second Iran site
• Turkish Claims of PKK Fighters in Armenia Absolute Nonsense: Armen Sarkissian
• Turkey detains Kurdish opposition members over terrorism links
--------
Africa
• Nigeria: Investors Scramble for Nigeria's Islamic Bond, Defy Religious Criticism and Bid $2b
• Efforts to unify soldiers in South Sudan 'stuck': UN envoy
• Libya's warring sides agree to further military talks, says UN
• Militants kill 10 Nigerian soldiers in ambush near Lake Chad town
• Somalia: Officials Say Army Killed 7 Militants in Raid On Al-Shabaab
• Zimbabwe Asked by U.S. to Help Fight Militants in Mozambique
Compiled by New Age Islam News Bureau
URL: https://www.newageislam.com/islamic-world-news/after-fall-caliphate-syria-iraq/d/123008
--------
After The Fall of the Caliphate in Syria and Iraq, the Islamic State Is Fast Spreading Its Network in South Asia under Pakistan's Patronage, Say Experts
Sep 30, 2020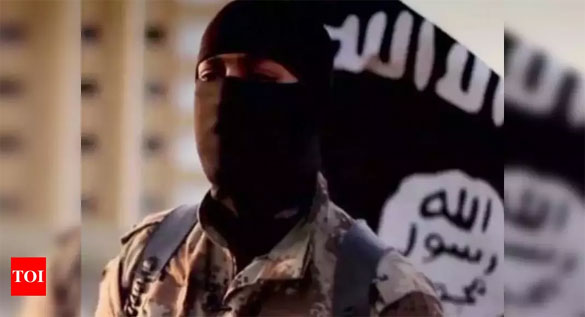 File Photo used for representation
----
GENEVA: After the fall of the caliphate in Syria and Iraq, the Islamic State is fast spreading its network in South Asia, the region which already has a large number of terrorist and extremist groups.
ISIS sympathisers, some of them former Taliban commanders, have begun active recruitment drives to widen the presence of the group in the region.
To discuss the emerging threat of the Islamic State in South Asia, Amsterdam-based think tank, European Foundation for South Asian Studies (EFSAS) hosted a webinar on Monday titled — 'Rise of ISIS in South Asia' — on the sidelines of the 45th Session of the United Nations Human Rights Council.
The event was moderated by Junaid Qureshi, Director EFSAS, and human rights activists, NGO representatives and scholars in the field of terrorism and South Asian politics. They deliberated upon the origins of the Islamic State of Khorasan province, its main areas of operation and assessed its number of fighters mostly belonging to Pakistani origin.
Timothy Foxley, an independent political and military researcher, current EFSAS Research Fellow and former Senior Analyst for the British Ministry of Defence, the Swedish Ministry of Defence and the Stockholm International Peace Research Institute (SIPRI), discussed in-depth the future of the Islamic State-Khorasan Province (ISKP), in the backdrop of the US-Taliban 'Peace Talks' and the US troops withdrawal from Afghanistan.
He said that earlier this year, the United Nations assessed that there might be around 2,000 ISKP fighters.
"So there is some kind of consensus in the number of forces available. They are a mix of nationalities fighting within ISKP, many came originally from the Tehrik-i-Taliban Pakistan, TTP - the Pakistani Taliban. Some of these have been in Nangarhar province for several years from around 2010. According to US military sources, as many as 70 per cent of the ISKP fighters are Pakistanis," he said..
Dr Paul Stott, EFSAS Research Fellow, writer, academic and researcher on terrorism and radicalisation, British Jihadism, Islamism and International security, discussed the jihadist triangle of Islamic State, Britain and South Asia.
He argued that ISIS aims to appeal to Sunni Muslims globally, invoking senses of perceived injustice and local grievances in various contexts, including the region of South Asia, which has resulted in the development of a non-contiguous Islamic State, at least in thought.
Stott further stated that an estimated number of 800-1000 Britons have travelled to join ISIS.
The Islamic State of Khorasan province has been accused of carrying out attacks on behalf of the Haqqani network and the Lashkar-e-Taiba in Afghanistan and India.
Various reports suggest that the Pakistani deep state is pushing the Haqqani Network to increase its stake in ISKP to retain its leverage on Afghanistan.
Researchers in the EFSAS webinar drew similarities between the modus operandi of ISIS in Pakistan and the Haqqani Network, arguing that the two groups often acquired weapons and ammunitions from similar sources, which implies that the ISI keeps ISIS as an open option to be utilised for strategic depth in the future.
Malaiz Daud, former Chief of Staff of Afghanistan's President Ashraf Ghani, Research Fellow at the Barcelona Center for International Affairs and Research Fellow at EFSAS, deliberated upon the presence of ISIS in Pakistan and the region of Jammu and Kashmir.
He claimed that in the context of Pakistan, the number of ISIS affiliates is unknown, yet most of them are former TTP, Jama'at-ud-Da'wah (JuD) and Al-Qaeda members, while lone wolves without any affiliation to other terror groups also constitute part of their ranks.
"The problem is if you talk to the Afghan security officers, they will all point to the hallmarks of the attacks of ISIS, and say it is very similar to the attacks by Haqqani Network. They say that ISIS is totally a different face now. When Taliban or the Pakistan ISI would like to conduct an attack, just blaming it on ISIS, they say that they are not supporting but actually they are the ones doing it. We have not seen any evidence. But again, the insurgency, the landscape is so fluid, material, people, and resources are shared widely and extensively," said Daud.
The whole discussion in Afghanistan is that the ground for all this has been made by the Pakistani ISI and they are keeping ISIS as an option against the Taliban.
Over the years, Pakistan has gained the reputation of being a terror- breeder and perpetrator and is now counted among the dreaded few for spreading mayhem across South Asia and the globe.
It not only provides resources and funds for terror proliferation but also political patronage to allow them to unleash their devious strategies in their own style.
https://timesofindia.indiatimes.com/world/pakistan/islamic-state-expanding-its-presence-in-south-asia-under-pakistans-patronage-say-experts/articleshow/78408854.cms
--------
No Other Mosque Will Be Touched in Future: Bajrang Dal leader Vinay Katiyar
Oct 1, 2020
AYODHYA: A day ahead of the Babri Masjid demolition, the dinner at 10pm attended by former deputy prime minister L K Advani and other Sangh leaders at the Ayodhya residence of Bajrang Dal leader and then MP, Vinay Katiyar, was cited as evidence of conspiracy by the CBI counsel in court. However, with evidence falling flat, Katiyar told TOI that "no plot was hatched to demolish the mosque at my house on December 5, 1992, only a symbolic kar sewa was planned".
"Advani ji reached Ayodhya that night and was staying at Janki Mahal. As he was my leader, I invited him to dinner at my house and we discussed the possibility of 'saanketik kar sewa (symbolic kar sewa)' the following day. We also decided that no kar sewak will be allowed near the Babri Masjid," he said.
Katiyar said the structure was demolished by Congress to topple the BJP government in UP. "No other mosque would be touched in future. Let peace prevail," he told TOI. "Babri Masjid was demolished by Congress And we were accused. It was the conspiracy of Congress to topple our governments in the states through the demolition. We never wanted the structure to be demolished," said Katiyar.
"Our kar sewaks were disciplined and there was a big conspiracy to infiltrate their ranks with unknown criminal elements who had provoked and launched the demolition. We had asked kar sevaks to bring sand from Saryu banks for a symbolic kar sewa and we were unable to understand how they suddenly veered out of control," he said.
Katiyar demanded an inquiry into the role of Congress in the demolition of Babri Masjid that led to toppling of the Kalyan Singh government in Uttar Pradesh.
Speaking about the dispute at Kashi and Mathura, Katiyar said, "We have not planned any movement for Kashi and Mathura shrines. We will discuss with seers, but we will not talk of dismantling mosques in the country. Let peace be established."
https://timesofindia.indiatimes.com/india/cong-demolished-babri-no-other-mosque-will-be-touched-katiyar/articleshow/78418261.cms
--------
Kare Bluitgen, the Man behind the Danish Muhammad Cartoons Refuses to Give In and Is Publishing a New Illustrated Quran
September 30, 2020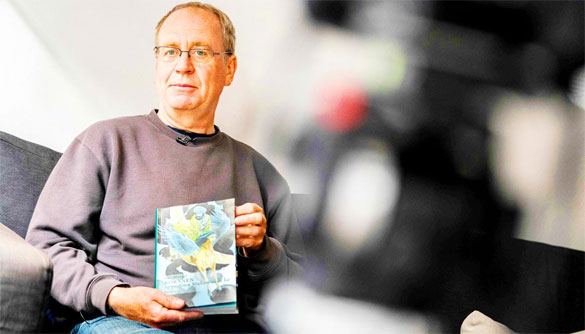 Author Kare Bluitgen holds his new book at his home in Copenhagen on Tuesday last week.
Photo: AFP
-----
COPENHAGEN: Author Kare Bluitgen, the man behind the Danish Muhammad cartoons that set off a firestorm when they were published 15 years ago Wednesday, refuses to give in and is publishing a new illustrated Quran.
"I started this book to teach Danish young people about the second-biggest religion in Denmark, and it ended up killing more than 200 people," Bluitgen tells AFP.
In the summer of 2005, the far-left writer published an advertisement saying he was having a hard time finding an illustrator to draw the Prophet Muhammad – whose depiction is banned by Sunni Muslims – for a youth book he was writing on Islam's founder.
It was the first flutter of the proverbial butterfly's wings.
Flemming Rose, at the time the cultural editor of Denmark's big conservative daily Jyllands-Posten, took him at his word and invited Danish illustrators to draw Muhammad however they wanted.
"The newspaper wanted to see if I was lying or not when I said it was difficult for me to find an illustrator. They didn't believe me," Bluitgen recalls.
Twelve cartoonists heeded the newspaper's call, and their caricatures were published on September 30, 2005, under the heading "The Face of Muhammad".
Most of them were harmless or mocked the task itself.
The most controversial ones depicted a sword-wielding bearded man in a white turban flanked by two women in niqabs, and a prophet with a bomb in his turban with a lit fuse.
"I knew there would be a few extremists, Al-Qaeda especially, that would be angry. But I had no idea it would be a worldwide crisis," says Bluitgen.
He ended up not using any of the drawings for his book but did finally find an illustrator who chose to remain anonymous.
The cartoons in Jyllands-Posten went almost unnoticed initially.
After two weeks, a demonstration against them was held in Copenhagen, and then ambassadors from Muslim countries in Denmark lodged a protest.
The anger then escalated into anti-Danish violence across the Muslim world in February 2006.
It culminated in a 2015 massacre that left 12 people dead at the Charlie Hebdo satirical weekly in Paris, which had reprinted the cartoons in 2012.
Last week, the suspect behind a knife attack in Paris said he also wanted to avenge Charlie Hebdo's decision to again republish the cartoons in September.
'No regrets'
A number of Danes associated with the cartoons still live under police protection, like Flemming Rose who needs an escort to "be able to live the way I want".
For him, the decision to publish the cartoons was a journalistic exercise intended to illustrate the extent of self-censorship when it comes to drawing the prophet.
"Today that decision makes sense to me … I have no regrets," Rose tells AFP.
The first country in the world to abolish censorship in 1770, Denmark today tops global rankings when it comes to freedom of expression.
Anders Fogh Rasmussen, prime minister at the time the cartoons were published, refused to apologise for them even when faced with an unprecedented boycott of Danish products.
But some of the 12 cartoonists – most of whom no longer speak publicly – admit their attitude has changed.
"I always give it a second thought in terms of not provoking too much and being a little more subtle about my ideas," explains Bob Katzenelson, one of the few who still gives interviews.
"The cartoons affair has not been forgotten in Islamist militant circles," Denmark's intelligence agency PET wrote in a report in March.
Police have foiled several attacks against Jyllands-Posten, which ultimately apologised for offending Muslims.
And Kurt Westergaard, who drew the ticking bomb turban, saved himself from an axe-wielding attacker in 2010 by hiding out in his bathroom-turned-panic room.
As for Bluitgen, he's publishing a new illustrated Quran on the 15th anniversary.
"It's a tradition in Europe that when we have big, complicated books for children we use illustrations. We cannot give up on that," he says.
Lars Refn meanwhile continues to draw cartoons. Through the association "Cartooning for Peace" he uses humour to fight for the respect of cultures and freedoms.
"A cartoon is a nice way of keeping democracy alive," he says.
https://www.freemalaysiatoday.com/category/world/2020/09/30/how-an-illustrated-quran-project-led-to-charlie-hebdo-attack/
--------
Biden's Debate with Trump Use of Arabic Phrase 'Insha'Allah' Sparks Conversation Among Muslims
October 1, 2020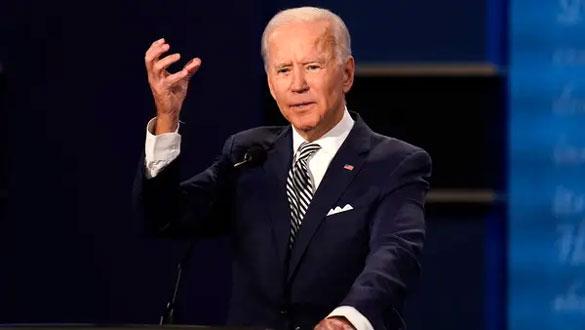 Democratic presidential candidate former Vice President Joe Biden gestures while speaking during the first presidential debate Tuesday, Sept. 29, 2020, at Case Western University and Cleveland Clinic, in Cleveland, Ohio. (AP)
------
Former Vice President Joe Biden on Tuesday used a bit of Arabic slang that piqued the interest of Muslims on Twitter.
Biden, during cross-talk with President Trump about his taxes, said the word "inshallah," which means "God willing." But the word more commonly is used as a sarcastic remark to indicate a lack of faith in something will happen or not so you refer it to god, in this case, Trump releasing his tax returns. [(The phrase of Inshaallah is commonly used by Muslims, Arab Christians, and Arabic-speakers of other religions to refer to events that one hopes will happen in the future. It expresses the belief that nothing happens unless God wills it and that his will supersedes all human will)].
Because it was difficult to discern exactly what Biden was saying, many people at first wondered if the former vice president had said something else. The Biden campaign, however, confirmed to NPR that he had said "inshallah." Biden has used the word at least once before, during a February event.
Wajahat Ali, a contributing op-ed writer at the New York Times, who, in 2016, wrote about the word for his publication, tweeted, "Saying inshallah doesn't make you Muslim," in reference to Biden's use on the debate stage.
Tamar El-Ghobashy, a former Middle East correspondent at the Washington Post, said that it was "kinda colonial and derogatory if you ask me."
Other observers were more upbeat.
Hamed Aleaziz, an immigration reporter at BuzzFeed, dubbed the moment "historic" in a viral tweet. Waleed Shahid, a spokesperson for the Justice Democrats, also referred positively to the reference on Twitter.
The word also went viral in 2016, when a student was kicked off a plane after using it in a phone call.
https://en.abna24.com/news//bidens-debate-with-trumo-use-of-arabic-phrase-inshaallah-sparks-conversation-among-muslims-video_1074868.html
--------
Afghan Team Told to Be Flexible in Negotiating With Taliban
By Ayesha Tanzeem
September 29, 2020
ISLAMABAD - Afghanistan's senior leadership has told its team in Doha to be flexible in negotiating with the Taliban in order to seize the opportunity to end the country's conflict, according to Abdullah Abdullah, the chairman of the High Council for National Reconciliation.
"We've asked our own delegation, President (Ashraf) Ghani and myself, to be patient, to be ready to make compromise, and not to miss any other opportunity, not to lose any opportunity, or waste time," he said during his address at the Institute of Strategic Studies Islamabad, a foreign policy research group.
Abdullah, who is in Pakistan on a three-day visit to discuss the peace process and bilateral relations, seemed hopeful about the future.
"I'm visiting Pakistan at a time when a new future, indeed a peaceful future, is on the horizon," he told the audience.
The visit reflects a shift in bilateral relations between the two countries that have been rocky for several years. Both sides have accused each other of harboring groups that carry out attacks on each other's soil.
Both Afghanistan and the United States have long said that the Taliban leadership lives in Pakistan and demanded the South Asian country pressure them to come to the negotiating table.
As talks with the Taliban progressed, first with the United States, culminating in a deal signed on February 29 of this year, and then between the Taliban and other Afghans, relations between Afghanistan and Pakistan also improved.
Abdullah thanked Pakistan for facilitating the talks and said Prime Minster Imran Khan's call last Friday to Ghani calling for a "significant reduction in violence leading to a comprehensive cease-fire" was important in creating the kind of environment that will help the "spirit of negotiations back in Doha."
Pakistani Foreign Minister Shah Mahmood Qureshi said his country had gone through a paradigm shift and now wanted to be "friends, not masters" of Afghanistan.
"My message is, we do not have favorites (in this conflict)," Qureshi said, addressing the Afghan delegation and the Afghan public. He said Pakistan wanted to "respect your sovereignty, your independence and your territorial integrity."
Both Qureshi and Abdullah highlighted the untapped potential in terms of regional trade and development that could be mutually beneficial if Afghanistan had peace and friendly relations with Pakistan.
Abdullah also gave a glimpse of the kind of future he wanted at the conclusion of negotiations with the Taliban:
"A sovereign, independent, democratic country, with people with diverse ideas, maintaining their ideas and competing for, and contesting for the implementation of their ideas but only peacefully, and without using violence."
Abdullah, however, said his country had changed and it was not the same Afghanistan of the 1990s when the Taliban ruled.
Today's Afghanistan, he said, was a "young, diverse, connected nation, eager to freely decide its own future form of government corresponding to its unity and diversity."
https://www.voanews.com/south-central-asia/afghan-team-told-be-flexible-negotiating-taliban?utm_source=iterable&utm_medium=email&utm_campaign=1570526_
--------
Annuar Musa: Can't appoint Chinese ministers in Sabah as none won in state election
01 Oct 2020
BY KENNETH TEE
PUTRAJAYA, Oct 1 ― The new Gabungan Rakyat Sabah (GRS) state government could not have a Chinese minister as all candidates from the minority lost in the state election, Tan Sri Annuar Musa said today.
He asserted that this meant there were no Chinese assemblymen who could be made a state minister.
"I spoke to our partners, Bersatu, on the night when the state government was formed and we realised there was no Chinese elected representative on our side.
"Actually if you follow Sabah's tradition, from the three deputy chief minister posts, one will be from a Muslim Bumiputera background, another from a non-Muslim Bumiputera and the last a Chinese.
"But it's difficult (to do so) because not a single Chinese elected representative we fielded won. The people had a choice and they made their decision so we have to respect it," he told reporters during a press conference here.
Annuar also said coincidentally, most of the Chinese background elected representatives were from the Opposition bloc, further cementing the absence of Chinese elected representatives in the government's side.
However, according to Article 14 of the Sabah state constitution, the Yang di-Pertua Negri may appoint up to six nominated members to the legislative assembly on the recommendation of the state government.
Earlier, Annuar also commented on Sabah's unique system of nominated assemblymen, and said he expected political ally PAS to receive one of six openings for nominated assemblymen in Sabah, further suggesting that his own party Umno could get two.
PAS did not contest any seat in the Sabah election.
Annuar also said the remaining three could go to Gabungan Rakyat Sabah (GRS) allies Parti Bersatu Sabah (PBS), Parti Solidariti Tanah Airku (STAR), and Parti Pribumi Bersatu Malaysia (PPBM).
The United Association of Private Chinese Secondary School Committees, Sabah (Sabah Dong Zong) previously called for the appointment of Chinese ministers in the newly-formed state Cabinet.
Its chairman Datuk Jimmy Yong Kyok Ming said the Chinese community would not have any channel to convey issues faced by Chinese schools and the community to the state government if the state Cabinet has no Chinese representative.
Although none of the candidates fielded by the Chinese parties in GRS was elected in the Sabah polls, he said the chief minister has the prerogative to appoint six nominated assemblymen.
https://www.malaymail.com/news/malaysia/2020/10/01/annuar-musa-cant-appoint-chinese-ministers-in-sabah-as-none-won-in-state-el/1908417
--------
Iraq says 'not happy' with 'dangerous' threat by Washington to pull out troops
30 September 2020
Baghdad is "not happy" with a "dangerous" threat by Washington to pull its troops and diplomats out of Iraq, Foreign Minister Fuad Hussein said Wednesday.
Several political and diplomatic sources have told AFP that US Secretary of State Mike Pompeo issued an ultimatum last week that all US personnel would leave Iraq unless the government puts a stop to a rash of attacks against them.
"A US withdrawal could lead to further pullouts" by members of the US-led coalition fighting holdout extremists, which would be "dangerous, because ISIS group threatens not only Iraq but the whole region," the minister said.
For all the latest headlines follow our Google News channel online or via the app.
"We hope that the United States will rethink its decision," which at the moment is only "preliminary," Hussein added.
"Some people in Washington make parallels with Benghazi but it's a faulty analysis, just as this is a faulty decision," he said, referring to Libya's second city.
Four US personnel, including the ambassador to Libya, were killed in Benghazi in 2012, when extremist militants among a crowd of protesters stormed the US consulate.
Between October 2019 and July this year in Iraq, around 40 rocket attacks have targeted the US embassy or bases housing US troops.
Since Prime Minister Mustafa al-Kadhimi was received in the White House amid great fanfare in August, the frequency of such attacks has increased significantly.
In the space of just two months, another 40 attacks have taken place, targeting not only the embassy and military bases, but also the supply convoys of Iraqi contractors for Washington and its allies.
"Attacks on foreign embassies are attacks on the government, which has responsibility for protecting them," the Iraqi minister said.
Recent attacks have mostly been claimed by little known factions among the array of Shia armed groups equipped and trained by neighboring Iran during the war against the Sunni extremists of ISIS.
The armed groups have been locked in a tug-of-war with Kadhimi, who is seen as more pro-American than some of his predecessors.
Underlining the risks, a rocket attack targeting Baghdad airport hit a nearby home on Monday evening, killing five children and two women from the same family.
The US still has hundreds of diplomats in its mission in the high-security Green Zone in Baghdad and around 3,000 troops based in three bases across the country.
https://english.alarabiya.net/en/News/middle-east/2020/09/30/Iraq-says-not-happy-with-dangerous-threat-by-Washington-to-pullout-troops
--------
Iran Raps UAE's Repeated Territorial Claims
Sep 30, 2020
"Iran's sovereignty right over the Iranian islands of Abu Musa, the Greater Tunb and the Lesser Tunb is ultimate and unquestionable, and all of Iran's actions have been carried out within the framework of implementing its sovereignty and territorial integrity, and are obviously not related to any foreign government," Foreign Ministry Spokesman Saeed Khatibzadeh said on Wednesday.
His remarks came after UAE Foreign Minister Sheikh Abdullah bin Zayed in his address to the United Nations General Assembly on Tuesday repeated the country's baseless claims on the three Iranian islands.
Khatibzadeh said that such statements and repetition of baseless claims will not affect the sovereignty right of our country as they lack legal value.
He also blasted the UAE for its destructive interference in a number of countries and active collaboration in war against the regional states, and said that the normalization pact with Israel has actually turned the UAE into a part of the crisis in the West Asia region.
Iran has repeatedly rejected claims by the United Arab Emirates about the three Iranian islands, saying that they are "inseparable" part of Iran.
International documents clearly show that the three islands of the Greater Tunb, the Lesser Tunb and Abu Musa which were historically owned by Iran, temporarily fell to British control in 1903. The islands were returned to Iran based on an agreement in 1971 before the UAE was born.
Iran has also repeatedly declared that its ownership of the three islands is unquestionable.
Under international law, no state can defy any agreement, which came into being before its establishment.
Yet, the UAE continues to make territorial claims against the Islamic Republic despite historical evidence and international regulations.
https://en.farsnews.ir/newstext.aspx?nn=13990709000920
--------
Pakistan
Pakistani Ulema D Issued a Combined Decree That Suicide Attacks Are Un-Islamic, Forbidden
October 1, 2020
A large number of religious scholars issued a combined decree, declaring the suicide bombing un-Islamic and 'Haram' at a convention of Punjab leadership of religious parties here on Wednesday.
The clerics said suicide attacks were haram/un-Islamic as Islam protects lives and properties of all fellow human beings. They rejected extremism in the name of religion. They recommended inclusion of Paigham-e-Pakistan in curriculum of schools and colleges and legislations based on Qur'an and Sunnah.
Minister for Auqaf Saeedul Hasan Shah said Paigham-e-Pakistan promotes peace, interfaith harmony and national integration while addressing the convention of provincial religious leaders in collaboration with Sustainable Social Development Organisation (SSDO) and Paigham.
The minister was the special guest at the convention.
Prof Dr Zia-ul-Haq, Head Department of Research and Message, Pakistan, International Islamic University, Syed Kausar Abbas, Executive Director SSDO, Maulana Abdul Khabir Azad, Chairman, Ulema Council and Khatib of Badshahi Mosque, Ijaz Alam Augustine, Dr Emad Lakhvi attended the convention. Delivering a welcome address, Syed Kausar Abbas, Executive Director, SSDO, said the SSDO, in consultation with all stakeholders, had organised activities at the national level on National Action Plan, police reforms and other areas. He said, "Our suggestions and research were used by members of parliamentarians for guidance in legislation."
He said Paigham –e-Pakistan and the National Action Plan is a comprehensive document. He said all stakeholders of the country have agrees with the document. Minister for Auqaf Saeed Al Hassan Shah said, "Peace, brotherhood, religious practice is one of our basic needs. Enemies of the country want to destabilise the country while we have resolved to promote brotherhood and peace. We look at the situation in Afghanistan, Yemen, Libya and Iraq, we can understand that peace and unity is one of the great blessings. The government, military establishment and society agreed that the nefarious intentions of the enemy should be thwarted." It was the national duty of all of us to strengthen the intellectual movement in the name Paigham-e-Pakistan.
Religious scholars should be a part of this Paigham-e-Pakistan movement and promote national harmony in their respective spheres, he said and warned that the negative use of social media posed a serious threat to national unity and caution was needed. Prof Dr Zia-ul-Haq, Director General, Department of Research, International Islamic University, said the message for peace and tranquility in society is Pakistan's national manifesto. Maulana Abdul Khabir Azad said there is a dire for religious harmony in Pakistan.
https://en.abna24.com/news//pakistani-ulema-declare-suicide-attacks-un-islamic-forbidden_1074874.html
--------
Pak PM tasks authorities to ensure Nawaz Sharif's deportation from UK at earliest: Report
Sep 30, 2020
ISLAMABAD: Pakistan has fast-tracked the process to bring back Pakistan Muslim League-N (PML-N) leader Nawaz Sharif from London, where he had been staying since November 2019 on medical grounds.
Prime Minister Imran Khan on Tuesday tasked relevant authorities with bringing back Sharif at the earliest. The decision was taken during a cabinet meeting where the prime minister also issued the directive to pursue the matter vigorously.
A cabinet member told Dawn the government had already sent a request to the British government for the PML-N leader's repatriation but it would now send a fresh application.
He said besides a normal application, a formal request for his extradition would also be made. "Although we have no extradition treaty with the United Kingdom, wanted people can be repatriated under special arrangements as we had also handed over some people to the UK," the cabinet member said.
Last week, the IHC Tuesday came down heavily on the Imran Khan-led government that it allowed former Sharif to go abroad without informing the court and it was up to the dispensation to take steps for ensuring the latter's return to the country.
Sharif left Pakistan for the United Kingdom for medical treatment in November last year.
Additional attorney general Tariq Mehmood Khokhar told a bench comprising Justices Aamer Farooq and Mohsin Akhtar Kayani that Pakistan's Foreign Office implemented the court-issued non-bailable arrest warrants without delay through the Pakistan High Commission in the UK on September 17, Geo News reported.
Meanwhile, PML-N president Shahbaz Sharif was arrested in a money laundering case on Monday from the Lahore High Court. The National Accountability Bureau (NAB) officials took him into custody from the premises after his bail plea was rejected on account of alleged money-laundering and maintaining assets beyond known sources of income, according to Gulf News.
https://timesofindia.indiatimes.com/world/pakistan/pak-pm-tasks-authorities-to-ensure-nawaz-sharifs-deportation-from-uk-at-earliest-report/articleshow/78404437.cms
--------
ECP panel to hear foreign funding cases against PML-N, PPP today
Iftikhar A. Khan
01 Oct 2020
ISLAMABAD: The scrutiny committee of the Election Commission of Pakistan (ECP) will take up the foreign funding cases against two major opposition parties — the PML-N and the PPP — on Thursday (today).
Informed sources told Dawn that notices had been issued to the parties on Monday on the orders of the commission.
The scrutiny committee has issued notices to the PML-N and the PPP at a time when it is left with less than two weeks to complete a fresh audit of the ruling PTI's bank accounts and submit a report to the ECP.
After questioning for about three years the jurisdiction of the ECP to scrutinise its accounts, the Pakistan Tehreek-i-Insaf (PTI) had approached the commission in October 2017 to seek scrutiny of funding record of the Pakistan Muslim League-Nawaz (PML-N) and the Pakistan Peoples Party (PPP) for years 2013-2015.
In two separate 'complaints', the PTI accused the PML-N and the PPP of concealing their sources of funds and companies registered by them in the United Kingdom and the United States, respectively, and sought cancellation of election symbols allocated to them "for their failure to meet legal requirements for eligibility to obtain the symbols".
Scrutiny has been initiated on complaints of PTI which too is facing similar process
The complaint against the PML-N says that the party in its accounts has relied on audit by non-quality control review-rated firms, which have adopted a wrong reporting format. No sources of funds have been declared, the accounts are contradictory, do not comply with the mandatory requirements of the Political Parties Order (PPO) or the Political Parties Rules (PPR) and exhibit violation of articles 6 and 13 of the PPO read with rules 4 and 6 of the PPR, it alleges.
"The respondent political party may be generating money from prohibited sources but since they have consciously failed to provide any information it is clear that the respondent political party is attempting to conceal where the money is being generated from," the complaint says.
It says the PML-N received funds from "other revenue" but fails to disclose what these other revenues were and how these could raise such an exorbitant fund. "This revenue could be coming from a foreign company or foreign government or from a multinational but no disclosure is being made clearly in order to conceal this information so that nobody can question the person or organisation which is sending these funds".
The complaint stresses that the reason and rationale behind the declaration of sources of party funds is to ensure that no funds are being collected from any prohibited source. It gives the government an opportunity to scrutinise whether a party is being operated as a foreign-aided political party as defined under Article 2(c) of the PPO.
Referring to reports that Rs1.3 billion was spent by the PML-N on its election campaign in 2013, the complaint says: "None of this amount or even part of this amount is explained as to how it was generated and what the source of funds was".
It alleges that the PML-N ran a private limited company in the UK, which was not disclosed in the documents submitted to the ECP. "This is a foreign incorporated company which is registered under the Registrar of Companies for England and Wales. What is more alarming is that under the Objective Clause, this company has power to carry on any trade or business and to enter into any arrangement with any government or authority that it may seem conducive to the attainment of the company object(ive) or any of them and to obtain from any such government or authority any charter, decrees, rights, privileges or concessions which the company may think desirable and to carry out exercise and comply with any such charter, decrees, rights, privileges and concessions," it reads.
The complainant says information regarding the company funds should also be sought by the ECP to scrutinise whether the company is providing or collecting any money, which is prohibited under the PPO. The UK-based company is a sheer violation of the PPO and has been formed for ulterior motives and its non-disclosure exhibits mala fide concealment, it alleges.
A true copy of the Certificate of Incorporation of the PML-N (UK) and the Memorandum and the Articles of the Association of the PML-N (UK) have been attached with the complaint.
It alleges that the PML-N has been used for money laundering as the party in 2013 received Rs100 million donation from erstwhile prime minister Nawaz Sharif and later Rs45m was remitted back in the personal account of Mr Sharif. It points out that the transaction was not disclosed to the ECP.
The complaint against the PPP says the account statements of the party between 2009 and 2012 are not available either due to non-filing or for reasons best known to the party. The accounts of 2013 started with an opening balance of Rs41.47m from the previous years. However, where the amount of the opening balance was generated from was not disclosed.
The complaint says the PPP has a company registered under US laws namely the PPP LLC, which has been created to collect funds for the party. As per details of the PPP LLC, funds have been collected from foreign nationals and the government of Pakistan in large amounts. "This is against the spirit of the PPO as contributions from foreigners or the Government of Pakistan, are prohibited under the PPO. Furthermore, the PPP has failed to disclose the existence of this LLC established in USA".
https://www.dawn.com/news/1582549/ecp-panel-to-hear-foreign-funding-cases-against-pml-n-ppp-today
--------
Let bygones be bygones, PM tells Kabul
Baqir Sajjad Syed
01 Oct 2020
ISLAMABAD: Prime Minister Imran Khan on Wednesday called for impr­oving Pak-Afghan relations by adopting a forward-looking approach rather than remaining stuck in the past.
"Enjoyed meeting Dr Abdullah Abdullah, Chair­man HCNR of Afghanistan. We had a very interesting conversation: theme being the past is an invaluable teacher to learn from but not to live in. We must look forward towards the future. I wish him all the success in his mission," Mr Khan tweeted just ahead of the top Afghan peace official's departure from Islamabad after a three-day visit.
Mr Khan and Mr Abdullah met on Tuesday. The visit is believed to have helped improve coordination bet­ween Pakistan and Afghanistan on peace efforts.
Both sides during the Afghan official's visit expressed their desire to move beyond their acrimonious past and build cooperative relations.
Mr Abdullah, while participating at a round table discussion hosted by Center for Research and Security Studies said: "I am leaving Islamabad with a good sense, a good impression and a lot of friendly messages."
On the last day of his visit, Dr Abdullah met President Arif Alvi.
"I had a friendly & constructive meeting with HE Dr @ArifAlvi, President of the I. R. of Pakistan. We discussed the #AfghanPeaceProcess & bilateral relations between #AFG&PAK. President @ArifAlvi expressed his full support for the peace efforts & strengthening of relations," the Afghan peace official tweeted after the meeting.
PM Khan is expected to visit Afghanistan soon.
https://www.dawn.com/news/1582597/let-bygones-be-bygones-pm-tells-kabul
--------
Mengal meets Bilawal in Dubai ahead of PDM's Quetta rally
Amir Wasim
01 Oct 2020
ISLAMABAD: A day after the opposition parties announced launching their anti-government campaign with the holding of its first public meeting from the platform of the newly formed Pakistan Demo­cratic Movement in Quetta on Oct 11, chief of his own faction of the Balochistan National Party (BNP) Sardar Akhtar Mengal met Pakistan Peoples Party chairman Bilawal Bhutto-Zardari at the latter's residence in Dubai on Wednesday.
According to a brief statement issued by the PPP Media Office here, both the leaders discussed "overall political situation of the country and cooperation among the political parties for strengthening democracy and supremacy of the Constitution".
The PPP chairman's spokesman Senator Mustafa Nawaz Khokhar told Dawn that the two leaders discussed future strategy for running the anti-government campaign in line with the decisions taken at the Sept 20 multiparty conference (MPC) of the opposition parties.
Besides, Mr Khokhar said, UAE Minister for Culture, Youth and Social Development Sheikh Nahyan bin Mubarak Al Nahyan also called on the PPP chairman to discuss the prospects of future cooperation.
BNP-M chief Akhtar Mengal had withdrawn his party's support to the ruling alliance at the centre under the Pakistan Tehreek-i-Insaf (PTI) during the budget session of the National Assembly in June over the PTI's failure to implement an accord with the BNP-M.
Announcing his decision, Mr Mengal had declared that his party had decided to sit on the opposition benches, but it would maintain its independent status.
However, the party later participated in the opposition's MPC in Islamabad in which leaders of 11 parties had announced that they would launch a three-phased anti-government movement under an "action plan" starting from October with countrywide public meetings, protest demonstrations and rallies in December and a "decisive long march" towards Islamabad in January 2021.
https://www.dawn.com/news/1582598/mengal-meets-bilawal-in-dubai-ahead-of-pdms-quetta-rally
--------
Firdous tenders resignation as opposition leader in PA after criticising PM
01 Oct 2020
KARACHI: Senior Pakistan Tehreek-i-Insaf leader Firdous Shamim Naqvi on Wednesday claimed to have stepped down as the leader of the opposition in the Sindh Assembly, days after criticising Prime Minister Imran Khan and his team for playing no role in resolving the city's ongoing electricity and gas crises.
In a video statement, Mr Naqvi announced his resignation from the coveted office but said he had sent it on moral grounds to the party chairman the same day when he came up with a strongly-worded statement against the federal government. However, it was not accepted as yet, he added.
"Today, [Wednesday] I received several phone calls during my visit to Sukkur with Governor Imran Ismail inquiring about my resignation [as leader of the opposition in the Sindh Assembly]," he said. "So I want to clarify that I tendered the resignation when I issued the statement about Sui Southern Gas Company [criticising PM and his team]. I had made up my mind the same day, tendered an apology to all party workers and offered my resignation on moral grounds. Now it's up to the party chairman whether to accept it or not."
Lashing out at his own party's federal government, Mr Naqvi had earlier this month criticised the party chief for the ongoing electricity crisis in Karachi. During his interaction with reporters, he expressed his anger and held the federal government responsible for electricity and gas crises in Karachi.
"I will make this noise. PM sahib will hear it, Omar Ayub sahib [federal energy minister] will hear it, Nadeem Babar sahib [special assistant to PM] will hear it. I will make them ashamed," he said, adding: "And I will say to them, have some shame. Two years have passed, solve the problem."
But later the same evening, he took a U-turn, posting an apology via his Twitter account. "I would like to apologise to all INSAFIANS. My intention was to say I am going to complain about the energy minister and SSGC to the PM. On hearing the recording words are not exactly conveying that. My apologies to my leader. Who is the most committed & upright man I have met."
Despite the resignation, Mr Naqvi in the fresh statement repeated his stance for Karachi without criticising anyone and reiterated that the PTI should deliver for the mandate it had been enjoying for the last two years.
"I believe that the people of Karachi had voted for the PTI and it has to deliver to them. The issues of gas and electricity should be resolved in the city," he added.
Although he did not mention any pressure or demand from the party leadership for his resignation in his statement, the Pakistan Peoples Party (PPP) found an opportunity to target the PTI and its leaders in the wake of the fresh political development, calling leaders of the ruling party at the centre "intolerant and undemocratic".
"There are reports that Firdous Shamim Naqvi has resigned," tweeted Sindh Information Minister Syed Nasir Hussain Shah. "The stalwart of PTI has shown the door only for showing mirror to the PM. It's only PPP which welcomes criticism openheartedly both from its supporters and opponents. This government on the other hand puts its critics behind bars under false cases."
https://www.dawn.com/news/1582520/firdous-tenders-resignation-as-opposition-leader-in-pa-after-criticising-pm
--------
India
AIMPLB Said, Muslims Will Challenge the Acquittal of 32 People in the Babri Masjid Demolition Case
Oct 01, 2020
The All India Muslim Personal Law Board (AIMPLB) said on Wednesday that the acquittal of 32 people in the Babri Masjid demolition case was "far from justice" and a key member of the body assured that the verdict will be challenged in high court.
In a statement, the body urged the Central Bureau of Investigation to appeal the judgment in the high court.
"It is neither based on evidence and not in accordance with the law," said an AIMPLB statement issued soon after the special CBI court's verdict around noon.
"Whatever may be the reason for acquittal but this is also a fact that many of us have seen the videos and photos of demolition. Who all was part of this conspiracy is an open secret," said Maulana Mohammed Wali Rahmani, general secretary, AIMPLB.
A key member of the board, senior lawyer Zafaryab Jilani, also said that the verdict will be challenged in high court. "The special CBI court has given its verdict ignoring the evidence and so Muslims will challenge it in high court," he added.
"There were hundreds of statements by the witnesses and in criminal cases these are very important, Jilani said, adding that among those who gave their statements were IPS officers and journalists who had said that the accused persons were sitting on the dias and inflammatory speeches were being given.
In the statement, the body said said that a 500-year-old-structure that was defenceless and whose safety was in the hands of the state government was demolished.
"And its demolition was followed by the wave of communal violence in the country and now in the verdict no accountability for demolition has been fixed," it added.
"In 1994, a five judges' bench of the Supreme Court had stated that the demolition was a 'national shame' and it shook the faith in the rule of law and the constitutional process."
Shia cleric Maulana Kalbe Jawad Naqvi registered his disagreement towards the Special CBI Court's judgment acquitting all 32 accused.
"Though the Supreme Court had considered Babri Masjid demolition as a criminal act and a violation of law to which government officials and police remained a mute spectator, I wonder why proper evidences and witnesses were not produced before the court to prove the guilt," said Jawad.
"Now since all the accused in the Babri Masjid demolition case have been acquitted, the question that who demolished Babri Masjid remains unanswered," he added while advising Muslims to file an appeal.
https://www.hindustantimes.com/india-news/muslims-will-challenge-babri-order-jilani/story-2Zbd8uV6S2hkcL2A3NVDHP.html
--------
Babri mosque demolition case: Ex-PM P V Narasimha Rao would have felt vindicated by verdict
Oct 1, 2020
NEW DELHI: Had he been alive, the Babri case verdict that the demolition was not "pre-planned" would have brought a wry smile to the face of P V Narasimha Rao who faced severe criticism for the December 6,1992 event, with some alleging that he was complicit in the mosque's destruction.
Rao felt the charge keenly and was at pains to argue that he had gone by the assurances of VHP and the UP government which were also given to the Supreme Court. In his book— "Ayodha 6 December 1992"— Rao marshalled lengthy official communication and records of discussions with VHP leaders and said he had acted in good faith.
In political terms, he and Congress paid a heavy price for the Babri demolition. Both BJP and Congress's "secular" competitors gained. The allegation that he did "nothing" was seen to be substantiated by the Centre not sending para military forces once kar sewaks mounted the domes. The question remains moot, but there was a strong view that use of force would trigger unprecedented violence, not just at Ayodhya but across the country.
Senior political figures who met Rao on the day attest to his being shell-shocked. "He looked as if he had been hit by a bus," said a leader. There were people milling around in his office, but Rao remained tight-lipped. In a televised address, Rao said the mosque will be rebuilt. Later he said he had not specified where.
Some like former home secretary Madhav Godbole take a less charitable view of events and argue that the demolition could have been prevented. In retrospect, it does seem the decision to allow lakhs of people to gather in proximity of the Masjid was a huge risk. But Rao probably felt the situation could be managed and the saffron brigade will not violate a pledge to the SC. He perhaps failed to see people taking the law into their hands.
Later, his doctor, well known cardiologist K Srinath Reddy, said he gave medication to bring Rao's racing pulse and BP under control. This is the closest that anyone got to subjecting Rao to a polygraph.
https://timesofindia.indiatimes.com/india/ex-pm-rao-would-have-felt-vindicated-by-verdict/articleshow/78418504.cms
--------
Singhal tried to stop miscreants from demolishing structure, Ram Lalla idols saved by priest: Defence in Babri mosque case
Sep 30, 2020
LUCKNOW: The idols of Ram Lalla and others were present in the 'garbagriha' when miscreants started demolishing the disputed structure in Ayodhya and were saved by the priest which showed that the act was not pre-planned, the defence counsel had argued in the Babri mosque case.
During the course of the trial, the counsel had submitted that the structure was demolished by miscreants who defied the directions for symbolic 'karseva' given from Ramakatha Kunj.
The leaders of the VHP and others had gathered at a podium at Ramakatha Kunj, about 200 metres from the site, from where they addressed the crowd.
In fact, late VHP leader Ashok Singhal tried his best to prevent the demolition, but miscreants disobeyed him, the defence lawyer claimed.
The court accepted these submissions made by defence lawyer Vimal Kumar Srivastava in his 400-page written and oral arguments.
He had also pleaded that the Ram Lalla idols were not removed from 'garbagriha' (sanctum) and these idols were saved by Satyendra Das, the priest of the temple. It showed that the accused had not planned to demolish the structure.
He had also pleaded that no malicious intent was found in any statement of CBI witnesses and that the accused were trying to maintain peace in the area.
The lawyer contended that video and audio cassettes were not kept under seal and were not sent to the laboratory. They were tampered with and therefore no reliance can be placed on them.
He also pleaded that the original script of the newspapers produced as evidence by the CBI was not given to the court.
It was also argued by him that the symbolic 'karseva' was being performed with a positive and religious mindset, but miscreants, as reported by the Local Intelligence Unit (LIU), were active with their sinister design to disturb the symbolic 'karseva'.
He had stressed that the accused had been falsely implicated due to political reasons by the then Congress government at the Centre.
All the 32 accused in the Babri mosque demolition case, including BJP veterans LK Advani and MM Joshi, were on Wednesday acquitted by a special CBI court here which said there was no conclusive proof against them.
Delivering the much-awaited verdict in the 28-year-old case, CBI judge S K Yadav did not accept newspapers and video cassettes as evidence.
The court also observed that late Vishwa Hindu Parishad leader Ashok Singhal wanted to save the structure because Ram idols were inside.
https://timesofindia.indiatimes.com/india/singhal-tried-to-stop-miscreants-from-demolishing-structure-ram-lalla-idols-saved-by-priest-defence-in-babri-mosque-case/articleshow/78408083.cms
--------
Europe
Swedish Court Rules Swedish Employers Must Not Prevent Their Employees From Praying During Working Hours
October 1, 2020
Swedish employers must not prevent their employees from praying during working hours, a Swedish administrative court in Malmö has ruled.
The ruling requires employers to allow Muslims rituals in the workplace, such as pulling out their prayer rug, bowing to Mecca, and praying to Allah.
The Malmö court thus overturned a decision by Bromöll City Council in the south of the country, which explicitly banned prayers during work last year. The ban was aimed at all religions, but practically restricted Muslims, who pray on the rug up to five times a day. Other believers traditionally go to temples outside of work. The decision was enforced by councilors from the Swedish Democrats, but also the Christian Democrats.
Last year, a city resident reported the case to a discriminatory ombudsman, who then sent him to the administrative court for review. According to the court's ruling, the city council decided restricting Muslim prayer in the workplace was a violation of the Swedish constitution and religious freedoms guaranteed by the European Union.
The councilors argued that the decision could not be seen as a total ban on all prayers. It is still said that there is the possibility of consultation and the granting of individual exemptions. However, the court rejected the argument because the original decision did not provide for any such possibility.
It is not yet clear whether the council intends to appeal against the verdict. The work of the Böromel Council may also be complicated by the fact that it is currently without a chairman, as the last one, Eric Berntsson, resigned in August for personal reasons.
https://en.abna24.com/news//swedish-court-rules-muslims-allowed-to-pray-during-working-hours_1074862.html
--------
Qatar plays major role in funding European Muslim Brotherhood groups: Report
30 September 2020
Qatar plays a major role in financing Islamist groups in Europe, mainly through its Qatar Charity NGO, according to a latest report by the International Centre for the Study of Radicalisation (ICSR).
At least 138 projects across Europe, many related to Muslim Brotherhood associated organizations, were being bankrolled by Qatar Charity (QC), according to the 104-page report released on Monday.
For all the latest headlines follow our Google News channel online or via the app.
Citing a 2019 report by French journalists Christian Chesnot and Georges Malbrunot, ICSR built its report profiling the Muslim Brotherhood groups that receive funding and support directly from Qatar.
"An entire system to help build mosques and Islamic centers," Chesnot and Malbrunot write in their book "The Qatar Papers – How the Emirate Finances Islam in France and Europe."
"Qatar Charity's mission statement refers to a system of values 'that is centered around integration and inclusiveness'. But its goal in Europe, argue Chesnot and Malbrunot, is 'to strengthen Islamic identity and help spread and entrench political Islam in Muslim communities throughout Europe'," the ICSR cited the French writers.
Qatar Charity is a controversial organization funded by the Qatari ruling family and listed as a terrorist body by the Anti-Terrorist Quartet which includes the UAE, Saudi Arabia, Bahrain, and Egypt.
According to Qatar Papers, between 2011 and 2014 Qatar Charity funded five projects related to Muslim organizations in Switzerland. They include the Museum of Islamic Civilizations in La Chaux-de-Fonds, the Muslim Cultural Complex of Lausanne, and the Salah-Eddine mosque in Bienne.
Among Qatar's network members in Switzerland, Mohamed Karamous and his wife Nadia received €1.2 between 2011 and 2013 through seven bank transfers from Qatar Charity, according to the book.
It reveals that Nadia Karamous was directly recommended by Yusuf al-Qaradawi, the Qatar-based spiritual leader of the Muslim Brotherhood. The book also reveals that Muslim scholar Tariq Ramadan is receiving €35,000 per month from the Qatar Foundation as a "consultant."
A document from the French financial watchdog Tracfin says he also received €19,000 from the Swiss Muslim League in early 2018 at the time of his arrest on rape allegations.
Also, bank documents show that before his arrest he withdrew €590,000 from Qatari bank accounts, according to the book. Ramadan and his wife bought two apartments in Paris during the same period.
According to ICSR's report, over the previous 22 years, QC has signed 77 cooperation agreements with UN and international organizations worth $76 million. In 2014, QC cooperated with the American government's aid agency, USAID, during the floods in Malaysia; USAID distributed tents provided by QC.
"However, QC has been suspected of supporting terrorist and extremist groups for some years. In a federal terrorism case in 2002, American prosecutors alleged that QC served as a major financial conduit for funding Al‑Qaeda's attacks against the American embassies in Kenya and Tanzania in 1998," read a part of ICSR's report.
ICSR's report also cited footage from December 2012, in which the logo of Qatar Charity can be seen on boxes of aid in a video announcing the creation of the Syrian Islamic Front, described by two counterterrorism experts as "an umbrella group of six organizations that is considered one of the key jihadi elements within the Syrian opposition."
https://english.alarabiya.net/en/features/2020/09/30/Qatar-plays-major-role-in-funding-European-Muslim-Brotherhood-groups-Report
--------
Azerbaijan does not need mercenaries in conflict with Armenia: Presidential aide
Ismaeel Naar
01 October 2020
Azerbaijan said it does not need any mercenaries and that it has enough personnel and reserved forces in its conflict against Armenia, according to Hikmet Hajiyev, an aide to Azerbaijani President Ilkham Aliyev.
"Therefore, we don't need any personnel or any mercenaries from any other countries. Azerbaijan is defending its sovereign territory. Azerbaijan's territory is under occupation by Armenia," Hajiyev told Al Arabiya during an interview on Tuesday.
For all the latest headlines, follow our Google News channel online or via the app.
Russia's foreign ministry said on Tuesday that Syrian and Libyan fighters from illegal armed groups were being sent to the Nagorno-Karabakh region and urged countries involved to prevent the use of "foreign terrorists and mercenaries" in the conflict.
Two Syrian rebel sources have told Reuters that Turkey is sending rebels from areas of northern Syria it controls to support Azerbaijan. Turkey and Azerbaijan denied this.
"I have replied to international media. By the way, I would like to make a correction Russian Foreign Ministry doesn't accuse Azerbaijan. Russian Foreign Minister expressed generic concern that some terrorists are being deployed to Nagorno-Karabakh region. And I also shared Azerbaijan's concern about this exact fact that Azerbaijan is speaking about but Armenian side are deploying mercenaries and also terrorists from Middle Eastern countries to Nagorno-Karabakh region of Azerbaijan to fighting against Azerbaijan," Aliyev added.
NATO allies France and Turkey traded angry recriminations on Wednesday as international tensions mounted over the fiercest clashes between Azerbaijan and ethnic Armenian forces since the mid-1990s.
On the fourth day of fighting, Azerbaijan and the ethnic Armenian enclave of Nagorno-Karabakh accused each other of shelling along the line of contact that divides them in the volatile, mountainous South Caucasus.
Nagorno-Karabakh is a breakaway region inside Azerbaijan but run by ethnic Armenians and backed by Armenia. It broke away from Azerbaijan in a 1990s war but is not recognized by any country as an independent republic.
https://english.alarabiya.net/en/features/2020/10/01/Azerbaijan-does-not-need-mercenaries-in-conflict-with-Armenia-Presidential-aide
--------
Azerbaijan says one person killed, three wounded in Armenian attack
30 September 2020
One person was killed and three wounded by Armenian fire on the town of Horadiz in southern Azerbaijan, the Azeri Prosecutor's office said on Wednesday, as fighting continued over the breakaway territory of Nagorno-Karabakh.
NATO allies France and Turkey traded angry recriminations on Wednesday as international tensions mounted over the fiercest clashes between Azerbaijan and ethnic Armenian forces since the mid-1990s.
Armenian Prime Minister Nikol Pashinyan on Wednesday said peace talks with Azerbaijan under Russian mediation would be inappropriate, as fighting over the breakaway Nagorno- Karabakh region entered a fourth day.
Fierce fighting broke out on Sunday between Armenian and Azeri forces over Nagorno-Karabakh, a breakaway region inside Azerbaijan but run by ethnic Armenians. Turkey is an ally of Azerbaijian, with which it shares ethnic and cultural ties.
https://english.alarabiya.net/en/News/world/2020/09/30/Azerbaijan-says-one-person-killed-three-wounded-in-Armenian-attack
--------
Italy repatriates female Islamic fighter and her 4 children
By COLLEEN BARRY
September 29, 2020
MILAN (AP) — Italian carabinieri arrested a female foreign fighter on Tuesday after returning her and her four young children to Italy from a displaced person's camp in Kurdish-controlled territory.
The woman, Alice Brignoli, traveled in 2015 with her Moroccan-born husband, Mohamed Koraichi, and their three young children by car from their home north of Milan to Islamic State-controlled territory. Another child was born in Syria.
The children, now 11, 8, 6 and 4, were in foster care pending a decision by an Italian juvenile court. Authorities say Brignoli will face trial on terror-related charges.
Brignoli contributed to the radicalization of the children, turning them against the West and ''thereby embracing the cause of global jihadism," Italian Carabinieri said in a statement.
Authorities say the children have family members in Italy and that their experience with other children returning from Islamic State territory -- notably an 11-year-old Albanian boy Alvin Berisha who was brought back to Italy last November -- has showed that indoctrinations can be reversed.
''There was a minimal amount of indoctrination -- but no military training -- enough to make them understand and agree with the choices that the parents had made. But as we have experienced with Alvin, they are small children and they can easily turn back," Carabinieri Lt. Col. Andrea Leo told The Associated Press.
Brignoli came back to Italy willingly, "convinced it was the best choice after the conditions she had lived in over the last 5 years," Leo said.
Authorities are hoping she will help them locate other Italian families they believe are still in former Islamic State territory.
Full Coverage: Italy
After Islamic State lost its territorial foothold, Brignoli and her children were captured by Kurdish forces and brought to a camp for displaced people in Al-Hol. Koraichi was also in the camp as a prisoner. Authorities said he died this month from an intestinal infection.
After the family's arrival in Syria, Korachi had received training, participated in fighting and was prepared to carry out suicide attacks, authorities said. Koraichi, who also held Italian citizenship, helped others receive authorization to travel to Islamic State territory, aiding in the recruitment and radicalization of at least two suspects who were arrested in April 2016 before they could leave Italy.
https://apnews.com/article/arrests-milan-italy-archive-syria-23674fc6d9ac7ef19296576999f84265?utm_source=iterable&utm_medium=email&utm_campaign=1570526_
--------
Poland Deports Five Tajiks Suspected Of Terrorism
September 29, 2020
The Polish authorities have deported five Tajik nationals suspected of having links to the Islamic State group and recruiting Poles and Ukrainian citizens for terrorist acts in Poland.
Radio Poland reported on September 28 that four of the Tajik citizens were detained in May, while the fifth suspect, who fled Poland in December 2019, was arrested later with the assistance of international counterterrorism entities.
According to Poland's Agency for Domestic Security, the fifth suspect was going to travel to Syria, where he planned to join Islamic extremists and develop close contact with a member of a terrorist organization linked to Al-Qaeda.
The five Tajik citizens have been banned from entering Poland and other Schengen zone member-states.
In April, four Tajik men were arrested in neighboring Germany on suspicion of preparing terrorist attacks in the country.
https://www.rferl.org/a/poland-deports-five-tajiks-suspected-of-terrorism/30863940.html?utm_source=iterable&utm_medium=email&utm_campaign=1570526_
--------
North America
US imposes Syria-related sanctions on six individuals, 13 entities
30 September 2020
The United States on Wednesday blacklisted 13 entities and six individuals, including the governor of the Central Bank of Syria, in a fresh round of sanctions aimed at cutting off revenue for Syrian President Bashar al-Assad's government.
The US Treasury Department said in a statement that the sanctions targeted "key enablers" of Assad's government, as Washington tries to push the Syrian government back to United Nations-led negotiations and broker an end to the country's nearly decade-long civil war.
The move targeted the head of the Syrian General Intelligence Directorate and the governor of the Central Bank of Syria, as well as a Syrian businessman the Treasury said was connected to the Assad government.
"Those who continue to stand with the brutal regime of Bashar al-Assad further enable its corruption and human rights abuses," Treasury Secretary Steven Mnuchin said in the statement.
"The United States will continue to employ all of its tools and authorities to target the finances of anyone who profits from or facilitates the Assad regime's abuse of the Syrian people," Mnuchin added.
A crackdown by Assad on protesters in 2011 led to the civil war, with Iran and Russia backing the government and the United States supporting the opposition.
Millions of people have fled Syria and millions more have been internally displaced.
https://english.alarabiya.net/en/News/world/2020/09/30/US-imposes-Syria-related-sanctions-on-six-individuals-13-entities-
--------
Twitter ties 130 accounts trying to disrupt first Trump-Biden debate to Iran
October 01, 2020
RIYADH: Twitter on Thursday said it has expunged more than a hundred accounts that tried to interfere with the public debate between US President Donald Trump and his Democratic challenger Joe Biden on Tuesday night.
"Based on intel provided by the @FBI, last night we removed approximately 130 accounts that appeared to originate in Iran. They were attempting to disrupt the public conversation during the first 2020 US Presidential Debate," the American social networking service said in a statement.
"We identified these accounts quickly, removed them from Twitter, and shared full details with our peers, as standard. They had very low engagement and did not make an impact on the public conversation. Our capacity and speed continue to grow, and we'll remain vigilant," it said.
"As standard, the accounts and their content will be published in full once our investigation is complete. We're providing this notice to keep people updated in real time about our actions. We wish to thank the @FBI for their assistance," Twitter said.
Iran and China are suspected of trying to interfere in the forthcoming US election to help Biden win, while Russia is said to have continued supporting Trump.
Weighing in, Twitter users took sides, with some slamming Iran and others blaming the social networking site for favoring the US president.
"Those activities against the American people were directed by (Iranian supreme leader) Ali Khamenei who has multiple accounts on Twitter. Perhaps Khamenei shouldn't have Twitter accounts to promote his malicious activities," tweeted Sam Kermani. @CTGR8
"Iran must be a lot worse then China, Russia, lots of other country's and even a ton of organizations in the United States with not getting caught doing that sort of stuff," added @mike10dude.
Alfredo Montanez (@Deadpool650) said Twitter should also "remove Trump's tweets when he posts fake information about voting information and Covid19 instead of just putting a label on it."
"Thank you. Would you mind banning the account of our biggest threat to democracy, Donald Trump?" chimed in Helen Armstrong (@HelenArmstrong5).
https://www.arabnews.com/node/1742626/media
--------
Pompeo Threatens to Close U.S. Embassy in Iraq Unless Militias Halt Attacks
By Edward Wong, Lara Jakes and Eric Schmitt
Sept. 29, 2020
WASHINGTON — Secretary of State Mike Pompeo has threatened to close the American Embassy in Baghdad within weeks if Iraqi leaders fail to prevent Iranian-backed militias from firing rockets at the compound, three U.S. officials said.
The move would place U.S. diplomats out of harm's way but could jeopardize years of efforts to both stabilize the Iraqi government and keep it from becoming too dependent on neighboring Iran.
It could also undercut international missions to train Iraqi security forces, and prompt diplomats from other nations to consider withdrawing from Baghdad as militias continue low-level but potentially deadly rocket and mortar attacks.
A shutdown of the U.S. embassy, one of the largest American diplomatic missions in the world, would also send a signal that Washington is abandoning the new Iraqi prime minister, Mustafa al-Kadhimi, a former intelligence chief whom U.S. diplomats had praised in the spring as a "patriot" capable of limiting Iranian influence and guiding a nation wracked by political turmoil, a coronavirus outbreak and violence.
Just last month, Mr. al-Kadhimi met with President Trump in Washington to press for keeping American troops in Iraq. Weeks later, the Trump administration announced it would nearly halve its forces there, to 3,000, by the end of October.
Nevertheless, the meeting in August signaled strong support from the White House for Mr. al-Kadhimi, which is why Mr. Pompeo's threats have perplexed Iraqi officials.
On Tuesday, Mr. al-Kadhimi told officials in his cabinet that European diplomats were also now considering pulling back from Baghdad, given what he described as continuous rocket attacks.
However, Mr. al-Kadhimi expressed frustration with the international warnings, which he said were "not directed against the Iraqi government, but against the conditions of the country."
"The closure of embassies means not cooperating with states in the economic, cultural and military aspects, in light of the great challenges facing Iraq," Mr. al-Kadhimi said.
The foreign minister of Iraq, Fuad Hussein, traveled to Iran on Saturday to speak with Iranian leaders, including President Hassan Rouhani. He discussed Mr. Pompeo's demands, one official said.
On Monday, two rockets killed two Iraqi women and three children at a home near the Baghdad airport, where some U.S. troops are stationed, Iraqi military officials said. Rocket attacks aimed at sites with Americans have occurred regularly since 2018.
Mr. Pompeo's threat could be partly bluster aimed at galvanizing Iraqi political and military leaders and forcing the government to choose between the United States or Iran, with which Shiite officials in Iraq share a religious and cultural history.
But the State Department has begun a review process to close the embassy, U.S. officials said, with a decision expected before the Nov. 3 election.
Barbara A. Leaf, who was a senior diplomat in Iraq in 2010 and 2011 and later served as ambassador to the United Arab Emirates until 2018, said shutting down the embassy could hand Iran and Iraqi militias "a propaganda victory of epic proportions." And issuing the threat in the first place was also "very risky and potentially counterproductive," she said.
"This has stimulated an already raging appetite on the part of the Iranian-affiliated militias to push harder for what they and Iran want — the U.S. out altogether," said Ms. Leaf, who is now at the Washington Institute for Near East Policy. "And that would significantly impair our own national security interests, as well as potentially destabilize Iraq further down the road."
The plan would relocate the American ambassador to Iraq, Matthew H. Tueller, to either the U.S. Consulate in Erbil, a city in Iraq's northern, semiautonomous Kurdish region, or to the sprawling Al Asad Air Base in western Anbar province, where American troops are stationed and which Mr. Trump visited in December 2018.
Embassy staff levels are already low: Mr. Pompeo ordered most employees to leave in May 2019, during a tense period with Iran. The fortified embassy is in the Green Zone, on a bank of the Tigris River.
American intelligence officials have determined that Iran does not want to take bold actions against the United States in the coming weeks, for fear of swaying the U.S. election toward Trump or prompting a military retaliation.
Officials said Mr. Pompeo discussed his plans in telephone calls with Mr. al-Kadhimi on Saturday and with Iraq's president, Barham Salih, on Sept. 20. Mr. Tueller also spoke with Mr. Hussein. The State Department did not provide summaries of Mr. Pompeo's calls with the Iraqi leaders, as it usually does with high-level diplomatic exchanges. A department spokesman would not confirm the conversations or the shutdown proposal.
"The Iran-backed groups launching rockets at our embassy are a danger not only to us but to the government of Iraq, neighboring diplomatic missions, and residents of the former International Zone and surrounding areas," the State Department said in a statement.
In one of the calls, Mr. Pompeo said American troops would "kill every Kata'ib Hezbollah" member as American diplomats depart Baghdad, according to one U.S. official. The Iranian-backed militia is one of several that have attacked U.S. forces and diplomatic posts in Iraq, going back to before the Obama administration declared an end to the Iraq war in 2011 and withdrew 50,000 troops. U.S. forces returned after the Islamic State seized parts of Iraq and Syria in 2014.
Mr. Pompeo appears unwilling to shoulder the risk of having any American diplomat killed or injured in Iraq in the next few weeks, as Mr. Trump enters the final stretch of a contest for the presidency against Joseph R. Biden Jr., the Democratic candidate and former vice president. American casualties would almost certainly become an issue in the election and could endanger Mr. Pompeo's own ambitions to run for president later.
Iraqi news organizations and The Washington Post reported earlier on Mr. Pompeo's efforts to pressure Iraqi leaders.
Mr. Trump has made hard-line actions against Iran one of his signature foreign policy issues, though that campaign has failed to achieve its main goals: getting Iran to end its nuclear activity and reduce its military presence and support of Arab militias in the Middle East.
In Iraq, American officials are most concerned over Kata'ib Hezbollah and Asa'ib Ahl al-Haq, which the State Department designated as a terrorist organization in January. The agency made the same designation of Kata'ib Hezbollah in 2009.
However, Iranian-backed militias are a powerful political force in Iraq: They were critical in supporting the Shiite-led government against the Islamic State, a Sunni group, and have been placed in the government's security structure under an umbrella organization, the Popular Mobilization Forces. They also have seats in the parliament.
Some Pentagon officials and American commanders were taken aback by Mr. Pompeo's warnings to Iraqi leaders. American officials said they had no immediate plans to make deeper U.S. troop reductions.
"This reduced footprint allows us to continue advising and assisting our Iraqi partners in rooting out the final remnants of ISIS in Iraq," Gen. Kenneth F. McKenzie Jr., the commander of the military's Central Command, said in Iraq in early September.
U.S. military officials expressed concerns this week that any additional drawdown would damage Mr. al-Kadhimi's government and Iraqi military morale, and bewilder Western allies who help train Iraqi security forces.
"Iran has an objective of ejecting the United States from the theater, from the region. And they see Iraq as a principal battleground for that," General McKenzie said in an interview this month.
Other American officials voiced concerns that closing the Baghdad embassy could signal, wittingly or not, that American military action was imminent against Iranian-backed militias or even Iran itself, raising the specter of a larger clash in the Middle East just weeks before the U.S. presidential election.
Militias supported by Iran have fired rockets at the U.S. Embassy in Baghdad and other sites with Americans since Mr. Trump withdrew from a nuclear agreement with Iran in May 2018 that had been negotiated by President Barack Obama and other world leaders. During the negotiations, and after the agreement was reached in 2015, Iranian-backed militias refrained from attacking Americans.
In September 2018, a rocket attack that injured no one contributed to Mr. Pompeo's decision to order a withdrawal from the U.S. Consulate in Basra, a southern city.
In December, a rocket attack on an Iraqi base near Kirkuk killed an American civilian interpreter. U.S. officials blamed Kata'ib Hezbollah and carried out airstrikes on five sites in Iraq and Syria, which Iraqi leaders criticized.
Members of the militia and other Iraqis then held protests at the U.S. Embassy in Baghdad. Days later, the U.S. military killed one of Iran's top commanders, Maj. Gen. Qassim Suleimani, and the Iraqi leader of the Popular Mobilization Forces, Abu Mahdi al-Muhandis, with a drone strike as the two drove from the Baghdad airport.
Mr. Pompeo said the killings were to deter Iran and the Iraqi militias.
In March, rockets killed three service members, two of them American and one of them British, and wounded 12 others at Camp Taji. Militias had been firing rockets at various sites, sometimes up to 36 at once from launchers that Iraqi and American officials said represented an innovation. However, there have been fewer rocket barrages recently.
Mr. Pompeo has told U.S. officials he does not want any "Benghazis" — a reference to the deaths of four Americans, including the U.S. ambassador, at a diplomatic compound in Benghazi, Libya, in a 2012 attack. It was Mr. Pompeo, as a Republican congressman from Kansas, who led partisan criticism against Secretary of State Hillary Clinton during a House inquiry two years later.
Falih Hassan contributed reporting from Baghdad.
https://www.nytimes.com/2020/09/29/us/politics/pompeo-embassy-baghdad-iraq.html?utm_source=iterable&utm_medium=email&utm_campaign=1570526_
--------
South Asia
Roadside bomb kills 14 civilians in Afghanistan
September 29, 2020
KABUL: At least 14 civilians, including women and children, were killed Tuesday by a roadside bomb in central Afghanistan, officials said, as violence continues despite peace talks between the Taliban and Afghan government.
Seven women, five children and two men died when their vehicle detonated an explosive device in Daikundi province, interior ministry spokesman Tareq Arian said in a statement.
Three children were also wounded, he added, blaming the Taliban for the blast.
Nasrullah Ghori – the spokesman for the governor of Daikundi – said the victims were traveling to a shrine when their minibus struck the bomb.
No group has claimed responsibility for the blast, but roadside bombs have been a weapon of choice for the Taliban.
"Deliberate attacks" targeting civilians killed or wounded more than 800 civilians in Afghanistan during the first half of 2020, according to a UN report released in July.
The violence comes as Taliban and Afghan government negotiators are meeting in Doha, where they are trying to find a way to end 19 years of war.
Despite calls for a cease-fire, the Taliban have refused to halt their violence, seeing it as key to leverage at the negotiating table.
The blast came as the head of the Afghan peace process, Abdullah Abdullah, kicked off the second day of a three-day visit to neighboring Pakistan.
Speaking at an event in Islamabad, he proclaimed that the "ice has been broken" at peace talks, which started September 12.
Afghanistan has long accused Islamabad of providing vital support and safe havens to the Taliban.
Islamabad denies it supports the Taliban, but its influence with the militants is seen as pivotal to paving the way for any potential deal.
https://www.arabnews.com/node/1741741/world
--------
'Bangladesh, S. Arabia to help stranded workers return'
Md. Kamruzzaman
30.09.2020
Dhaka and Riyadh will operate 20 flights starting Thursday to take back Bangladeshi migrant workers to Middle Eastern countries, Bangladesh's top diplomat announced on Wednesday.
Some 137,000 expatriates who returned to Bangladesh since last November were unable to go back to the countries where they were employed.
"We expect that the crisis will be resolved now and the migrant workers will be able to restart their jobs," Bangladesh's Foreign Minister AK Abdul Momen told reporters after a meeting with diplomats of six countries – Saudi Arabia, UAE, Qatar, Oman, Iraq, and Malaysia.
More than 3 million Bangladeshi expatriates work in Middle Eastern countries, with nearly 2 million just in Saudi Arabia.
Most of the workers currently stranded in Bangladesh due to the coronavirus pandemic are also seeking to return to Saudi Arabia.
With their work permits expiring, the workers have been protesting outside the Bangladeshi Foreign Ministry and Saudi Embassy in Dhaka for the past few days.
Momen advised the expatriate workers to contact their employers in Saudi Arabia for extension of work permits.
"We cannot do anything if their Saudi recruiters choose not to extend their work permits," he said, adding that only 56 such cases have been reported so far.
According to the foreign minister, the government has allocated some $83 million to generate employment opportunities for expatriate workers who may not be able to secure visa extensions.
"There is no reason for people to worry. Despite the coronavirus lockdown, we have already managed to send nearly 6,000 workers back to Saudi Arabia and the rest will go soon," said Momen.
The number of flights to the UAE – currently at 17 per week – will also soon be increased, the minister added.
Rohingya repatriation
Bangladesh and India have called for the safe, speedy, and sustainable return of Rohingya refugees to their home country of Myanmar.
The call came in a joint statement issued after Tuesday's virtual meeting of the Joint Consultative Commission.
"Unless the problem is resolved quickly, there are possibilities of pockets of radicalism disrupting economic growth, peace and stability in the region," Bangladesh's foreign minister was quoted as saying.
Bangladesh is host to more than 1.2 million Rohingya refugees since August 2017, when more than 750,000 Rohingya, mostly women and children, fled Myanmar's brutal crackdown on the minority Muslim community, according to Amnesty International.
Since Aug. 25, 2017, nearly 24,000 Rohingya Muslims have been killed by Myanmar's state forces, according to a report by the Ontario International Development Agency (OIDA).
More than 34,000 Rohingya were also thrown into fires while over 114,000 others were beaten, said the OIDA report, entitled Forced Migration of Rohingya: The Untold Experience.
https://www.aa.com.tr/en/politics/bangladesh-sarabia-to-help-stranded-workers-return/1990944
--------
Bangladesh to observe mourning day on Thursday honouring Sheikh Sabah
September 30th, 2020
The Cabinet Division issued a notification in this regard on Wednesday
Bangladesh will observe National Mourning Day on Thursday in respect to the memory of Kuwait's emir Sheikh Sabah al-Ahmad Al Jaber Al-Sabah, who breathed his last on Tuesday at the age of 91.
The Cabinet Division issued a notification in this regard on Wednesday.
"One-day state mourning will be observed in the country on Thursday=at the death of Bangladesh's true friend Kuwait's emir Sheikh Sabah al-Ahmad Al Jaber Al-Sabah," said the notification signed by Cabinet Division Secretary Khandker Anwarul Islam.
Marking the day, the national flag will be hoisted half-mast at all government, semi-government and autonomous offices, educational institutions and all government and non-government buildings and at all missions abroad.
Special doa will be held at all mosques across the country while prayers will also be offered at places of worships for other religions, seeking eternal peace for the departed soul of Kuwait emir.
PM mourns Kuwaiti Emir's death
Prime Minister Sheikh Hasina on Wednesday expressed profound shock and sorrow at the death of the Kuwait emir.
In a condolence message, the premier said: "On behalf of the people and the government of Bangladesh and my behalf, I am deeply shocked to learn the sad demise of His Highness Sheikh Sabah Al-Ahmad Al-Jaber Al-Sabah, the emir of the State of Kuwait".
Sheikh Hasina also extended her deep condolences to the brotherly people of Kuwait and expressed her heartfelt sympathy for the bereaved members of the Royal family.
The prime minister also said that despite seizing in the emotion and grief, she remembers with absolute admiration, the relation based on the trust and brotherhood between the late emir, who was the then Foreign Minister of Kuwait, and Father of the Nation, Bangabandhu Sheikh Mujibur Rahman on the early days of newly independent Bangladesh.
She continued that counting on his excellent negotiating skill and universal acceptance, Bangabandhu was able to earn recognition on Bangladesh's behalf as a sovereign independent state particularly by the Muslim Ummah.
"I recall with profound gratitude his contributions to the welfare of the Bangladeshi diaspora in Kuwait," Sheikh Hasina said.
The premier went on saying that the people of Bangladesh deeply value his leadership and contribution to the formation of the Gulf Cooperation Council and promotion of peace and stability in the region and beyond, which will be remembered in the history from generation to generation.
"We also recall his dedicated services to the State of Kuwait and its people," she said.
The prime minister prayed to Allah for the eternal peace of the late emir's departed soul and his highest place in heaven.
She said that may Allah bestow with courage and fortitude to the bereaved members of the esteemed royal family and the brotherly people of Kuwait to bear this irreparable loss.
https://www.dhakatribune.com/bangladesh/2020/09/30/bangladesh-to-observe-mourning-day-on-thursday-honouring-sheikh-sabah
--------
Car Bomb Explosion Kills 9 in Helmand
By Mohammad Arif Sheva
01 Oct 2020
HELMAND, Afghanistan – At least nine security officers, including civilians, killed after a vehicle embedded with explosive devices went off near a security post in Nahr Saraj District of Helmand province, local authorities confirmed.
Omar Zawak, spokesman for the Helmand Governor, said in a statement to Khaama Press the incident occurred on Wednesday evening at a time the Taliban blew a vehicle fully loaded with explosives near security post.
Five officers, four civilians, including two women and two men, killed during the blast, he said.
According to sources, the incident killed at least three forces and one wounded one child.
The Taliban did not immediately comment on the claim.
Meanwhile, in a roadside mine explosion, five civilians were injured in Khost.
https://www.khaama.com/car-bomb-explosion-kills-9-in-helmand-87656/
--------
1 Child Killed, 2 Injured In Ghor Blast While Playing
By Mohammad Haroon Alim
30 Sep 2020
A child was killed and two others were injured in a roadside bomb blast in Dolina district of Ghor Province.
Mohammad Tahir Afzali, the district governor of Dolina district in Ghor province, said the incident took place when children were playing on the side of the road when a Taliban mine exploded.
He added that one child was killed and two others were injured in the incident.
The Taliban have not yet commented on the incident.
https://www.khaama.com/1-child-killed-2-injured-in-ghor-blast-while-playing-98786/
--------
Southeast Asia
Johor police chief: 17 reports lodged against hardline Islamist movement Hizbut Tahrir
01 Oct 2020
BY BEN TAN
JOHOR BARU, Oct 1 — The Johor police have initiated investigations against hardline Islamic movement Hizbut Tahrir Malaysia (HTM) after receiving 17 reports on claims that its ideology was in conflict with the Sunni denomination that is practiced in the country.
Johor police chief Datuk Ayob Khan Mydin Pitchay said investigation papers have been opened and a detailed probe will be carried out against the group that has allegedly labeled the government as infidels.
He said police are currently investigating HTM under Section 298 and Section 505 of the Penal Code, as well as Section 233 of the Communications and Multimedia Act 1998.
Ayob Khan also reminded HTM followers that police are monitoring their activities.
"So far, the Hizbut Tahrir members in the country have not been arrested for causing any problems yet.
"But if they cross the line of security, we will take immediate action and arrest them under the Security Offences (Special Measures) Act 2012 (Sosma)," Ayob Khan said during a press conference at Johor police headquarters here today.
He was responding to questions on the status HTM in Johor and its claim of being maligned by the state's Islamic religious authorities over a religious edict (fatwa) as the movement is seen to be deviant and extremist.
Ayob Khan, who was the former Bukit Aman Special Branch Counter-Terrorism Division (E8) principal assistant director, explained that Hizbut Tahrir has been in Malaysia for some time and is a worldwide movement with international chapters.
He said five states, namely Johor, the Federal Territories, Selangor, Negri Sembilan and Sabah have declared HTM's ideology to be in conflict with the teachings of the Sunni denomination.
"Hizbut Tahrir is also banned in Turkey, Saudi Arabia, Pakistan, Indonesia, Syria and Jordan," said Ayob Khan.
He revealed that HTM members in the country were made out of academics, lecturers and also businessmen.
"In Johor, our investigations found that the movement now has 80 active members throughout the state.
"HTM started to operate in Johor since September 2005 with their operational base at a house in Skudai," said Ayob Khan.
The house in question is believed to be a meeting place for Johor HTM members called the Khalifah Centre.
Yesterday, Johor Islamic Religious Affairs Committee chairman Tosrin Jarvanthi said the state government would not tolerate HTM's ideology as it had been declared to be in conflict with the practiced Sunni denomination since October 10 last year.
Hizbut Tahrir is a global Islamic group seeking to recreate a caliphate worldwide.
Despite the fatwas and strong sentiment against it by Malaysia's religious authorities, the movement is still holding out for a peaceful resolution.
https://www.malaymail.com/news/malaysia/2020/10/01/johor-police-chief-17-reports-lodged-against-hardline-islamist-movement-hiz/1908468
--------
Beijing's crackdown on religious minorities takes aim at 10,000 Muslim Utsuls
30/09/2020
While China's oppressive measures against Uighur Muslims in the Xinjiang region has garnered international attention, Beijing has begun expanding its surveillance of another Muslim minority: the Utsuls of Hainan Island. But efforts to crack down on the peaceful religious minority could backfire and push it to radicalisation, experts warn.
Uighurs are no longer the only Muslim minority falling under Beijing's watchful eye. Even as the international community continues to condemn human rights violations in the western region of Xinjiang province, Chinese authorities are now launching a similar crackdown on another Muslim community, according to a report in the Hong Kong-based daily South China Morning Post (SCMP).
Expanded surveillance, bans on Arabic scripts and limits on the size of mosques are now being applied also to a little-known minority of around 10,000 Utsuls living on the southernmost island of Hainan.
The United Nations has said it has credible information indicating that a million ethnic Uighurs are being held in China, a policy on Muslim groups in Xinjiang the Chinese government has justified by citing terrorist attacks.
Earlier this month a ban was announced on the Islamic veil, or hijab, in schools and government offices, sparking fierce protests from pupils and their families at schools and in Utsul neighbourhoods, a community worker told the SCMP.
In addition to the hijab ban, mosques must now have a member of the Chinese Communist Party sitting on their management committees. Any use of Arabic words, such as "Halal" signs at food stalls, are also banned.
Expanded surveillance for 'social order'
According to official documents obtained by the SCMP, Beijing has deemed the surveillance of Utsul residents a key priority, in the interests of maintaining "social order". Even local members of the Communist Party will now be subject to investigations to ensure they are not practicing Muslims, and could face punishment in case of religious observance.
But the restrictive measures affect the Utsul community specifically, sparing other Muslim minorities living on Hainan Island such as the Hui, China's most populous Muslim ethnic minority. According to the four-page report obtained by the SCMP, the measures target two specific neighbourhoods in Sanya, Hainan's regional capital, where most residents are Utsuls.
Beijing's decision to target the Utsuls in Sanya is an astonishing one, experts say. The community never made any claims of independence and never presented any security threat, and their religious practices are similar to those of the Hui: primarily peaceful.
Dru Gladney, an anthropologist who has studied the Utsuls and is president of the Pacific Basin Institute for research in California, told FRANCE 24 that the Sunni Muslim Utsuls have never exhibited any signs of having been influenced by stricter branches of Islam such as Salafism.
According to Gladney, the Utsuls' main difference from the Hui community is their language, Tsat, which is close to Malay and is not spoken anywhere else in China.
They are also the oldest active Muslim community in the country. "Utsul cemeteries are probably the most ancient Muslim burial sites in China and date back to the 12th century," Gladney noted.
'General suspicion' of religion
The authorities did not cite security reasons for this crackdown, as they had for the Uighurs, who were behind sporadic attacks over the years.
No reason was offered for the latest ban on traditional dress for Sanya's Utsuls. Gladney noted that the veil was not really a religious symbol for the community members as much as a cultural one.
For some, Beijing's adopted stance on the Utsul community is part of a larger pattern. "This is a textbook case of the evolution of the Chinese Communist Party's policies towards minorities under Xi Jinping," Katja Drinhausen, an expert on governance issues at the Berlin-based Mercator Institute for China Studies, told FRANCE 24.
According to Drinhausen, President Xi Jinping has cultivated a climate of "general suspicion" regarding religious beliefs – even when it comes to peaceful, tiny and centuries-old communities such as the Utsuls. Other minorities, which were relatively safe from the Communist Party's scrutiny until now, are also being targeted by this mistrust, including Catholics.
The situation in Hainan "proves how mentalities have changed", Drinhausen said. These measures are actually "similar to other ones imposed at a national level for every religious minority, like in Inner Mongolia or in Gansu province or in Tibet, where many Muslims live," she added.
Under Xi's leadership, Beijing wants to bring every religious belief into the party's control and achieve a "unified national identity" which he feels is the basis for social stability, Drinhausen said.
Backfiring into unrest and diplomatic incidents
But Beijing's efforts to curb religious and ethnic differences for the sake of "national unity" is not without its own risks. Introducing re-education camps and extreme surveillance, and outlawing cultural heritage could backfire, "pushing communities to radicalisation since they would feel they do not belong in Chinese society any longer", Drinhausen said, adding that this could lead to rising social strife in the long term.
Beijing's moves could also create diplomatic tensions with Southeast Asian countries that have been building closer ties with the Utsul minority in recent years. Malaysia's former prime minister, Abdullah Ahmad Badawi, had an Utsul grandmother and visited Hainan Island many times, Gladney noted. Indonesia, the world's most populous Muslim country, has also built close relationships throughout the region.
And in its attempt to place a 10,000-strong Muslim minority more firmly under Beijing's control, China could end up alienating its neighbours and undermining its own objectives of regional hegemony, Gladney warned. China has been trying for several years to increase its influence in Southeast Asia, but the pursuit of discriminatory policies could prompt a rise in anti-Chinese sentiment, he said.
https://www.france24.com/en/20200930-beijing-s-crackdown-on-religious-minorities-takes-aim-at-10-000-muslim-utsuls
--------
Annuar Musa denies Umno-PAS meeting called to discuss Anwar's claim of formidable parliamentary support
01 Oct 2020
BY KENNETH TEE
PUTRAJAYA, Oct 1 — Umno has no need to discuss PKR president Datuk Seri Anwar Ibrahim's claims to have "formidable" support among lawmakers including those from the government's side, Tan Sri Annuar Musa said today.
Annuar, who is also Barisan Nasional secretary-general, revealed that Umno and PAS will convene their regular bi-weekly meeting next week but insisted this was not expressly held for Anwar's claim.
"We have our regular meeting which is every two weeks between Umno and PAS organised by the Muafakat Nasional (MN) secretariat of which I am joint secretary-general.
"We are going to have our next meeting on October 7 to have some discussion but not specifically on the issue of Anwar's claim.
"So far, Anwar's claim has never been brought up. It has never been discussed in Umno, at the party level we don't know anything," he told reporters during a press conference here.
Today, Annuar also denied rumours that several Umno MPs were defecting, saying he confirmed this after personally calling each one of them.
"I have got some list of Mr. so-and-so is going to support Anwar but when I called them, everybody denied.
"So I'm still quite puzzled with the claim. I even spoke to the (party) president, maybe very much on an individual level but certainly not on a party level," he said, stressing that Umno has no intention to discuss the issue as it has nothing to do with the party's decision.
He also called for an end to "excessive politicking", saying this was an unneeded distraction to the country that was in a pandemic.
"As far as national politics is concerned, it is important to continue our focus on combating Covid-19 but at the same time pay attention in making sure our economy continue growing to recover the impact of the prolonged movement control order.
"We must work towards national unity, in that cooperation between political parties within government and outside where national interest comes first," he said.
It was previously reported that the three main Malay parties — Umno, PAS and Parti Pribumi Bersatu Malaysia — will meet this week to discuss on Anwar's claim that was made before the Sabah election that he had secured a "formidable" majority with which to form a new government and declared Prime Minister Tan Sri Muhyiddin Yassin's Perikatan Nasional (PN) federal administration as having effectively collapsed.
However, Anwar did not state the number of MPs he claimed were supporting him, saying he would only do so after an audience with the Yang di-Pertuan Agong.
Though initially seen as a ploy on Anwar's part, Barisan Nasional chairman and Umno president Datuk Seri Ahmad Zahid Hamidi issued a cryptic statement acknowledging support for Anwar from within his coalition and party on the same day as the announcement.
This prompted MN ally PAS to publicly demand that Umno and BN explain the matter.
https://www.malaymail.com/news/malaysia/2020/10/01/annuar-musa-denies-umno-pas-meeting-called-to-discuss-anwars-claim-of-formi/1908397
--------
Dr Mahathir says no forgiveness ever for Najib for destroying his Umno
01 Oct 2020
BY DEBRA CHONG
KUALA LUMPUR, Oct 1 — Tun Dr Mahathir Mohamad may have started a new party to champion Malay rights, but it appears he still has very strong feelings for the first — Umno.
After claiming today's Umno to be beset with factionalism and no clear stewardship under its incumbent president Datuk Seri Ahmad Zahid Hamidi, Dr Mahathir blamed its previous head Datuk Seri Najib Razak for wrecking the Malay party he once led.
The 95-year-old also indicated that the differences between him and Najib, of whom he had once held such high hopes, were irreconcilable.
"I cannot forgive someone who destroyed my party," he said in an interview with news website Malaysia Gazette on its Owh! MG programme aired on Facebook last night.
"That's what he really did, until people came to really hate Umno," he added.
Dr Mahathir had been asked if he would be willing to forgive Najib just like how he had made peace with PKR president Datuk Seri Anwar Ibrahim.
Both men were once seen as Dr Mahathir's proteges and whom the former Umno president and two-time prime minister had banked on to lead Umno and Malaysia into glory, but with whom he eventually grew estranged.
Dr Mahathir told Malaysia Gazette that there was a difference between Najib and Anwar, but did not delve into the details.
In the 30-minute long interview, Dr Mahathir recalled urging his successor Tun Abdullah Ahmad Badawi to make Najib deputy prime minister as well as being glad when Najib eventually became the sixth prime minister.
However, Dr Mahathir said his expectations were dashed by persistent rumours of Najib's purportedly poor leadership of the party and of the government and that the latter was easily swayed by his wife Datin Seri Rosmah Mansor in public decisions.
Dr Mahathir said that Najib's defence of Rosmah and leadership styled on the "cash is king" maxim was what led to the 1Malaysia Development financial scandal that destroyed Umno.
"I will never ever forgive someone who destroyed Umno," the Langkawi MP said emphatically.
Today's Umno was actually started by Dr Mahathir in February 1988 under the Malay name Pertubuhan Kebangsaan Melayu Bersatu, or Umno Baru after the United Malay National Organisation was deregistered in a high-profile political and legal court tussle. The "Baru" eventually was discarded and the party reverted to its English acronym.
The majority of today's Malay parties have their roots in Umno, including Islamist PAS which broke off from the original Umno; Anwar's PKR; Parti Pribumi Bersatu Malaysia (Bersatu) which Dr Mahathir co-founded with current Prime Minister Tan Sri Muhyiddin Yassin in 2016; and Dr Mahathir's latest, Pejuang following his expulsion from Bersatu in March.
Dr Mahathir has consistently insisted on the necessity of a Malay-centric party to protect Malay interests, even when he came under fire from the same community which portrayed him as a sell-out for joining the Pakatan Harapan (PH) Opposition coalition after leaving Umno to form Bersatu.
In the interview, Dr Mahathir emphasised that he only worked with the Opposition parties in the 2018 general election so that they could win and form a new government.
He said his PH Cabinet was dominated by Malay members, contrary to the depiction projected by his critics that he was being made a tool by the non-Malay parties, namely the DAP, although he never referred to it by name.
https://www.malaymail.com/news/malaysia/2020/10/01/dr-m-says-no-forgiveness-ever-for-najib-for-destroying-his-umno/1908268
--------
Arab world
Protesters storm bank in downtown Beirut, demand money back amid economic crisis
Bassam Zaazaa
30 September 2020
Protesters stormed a bank on Wednesday in downtown Beirut to demand that their money, which has been holed up for months, be given back to them, Lebanon's National News Agency reports.
Bank clients and depositors have not been able to access money in their accounts, and the ongoing economic crisis continues to deepen after the October 17 Revolution broke out last year.
Some of the protesters were Bank Audi customers who joined the group of demonstrators to demand that their accounts and deposits be released.
For all the latest headlines, follow our Google News channel online or via the app.
One of the protesters, shown on a live broadcast on Lebanese network MTV, denied that the demonstrators invaded or stormed into the bank.
He said that he and his co-demonstrators entered the general headquarters of Bank Audi with a message to deliver.
"We've come here to deliver a message to managerial boards of all banks … Bank Audi is not the target [itself] but rather we are addressing the whole corrupt banking system [in Lebanon] that hasn't responded to enquiries of clients and depositors or explained to them the fate of their deposits and savings since February 2020," the unnamed demonstrator told MTV's anchor.
He said that banks have failed to attend to clients' enquiries, alleging that they've been waiting for the Lebanese central bank's clarification about the fate of their deposits and savings.
Protestors have come here to complain and explain that they cannot wait for clarifications from this "corrupt and ineffective" banking system that demonstrators have been fighting against, he said.
Since late 2019, Lebanon's economy, which is heavily reliant on dollars to pay for imports, has deteriorated as dollars in the country have dried up. In an attempt to keep greenbacks in the country, the banks have applied a series of informal, and illegal, capital controls that prevent Lebanese from accessing the money in their accounts.
In previous months, protestors have torched banks and carried out Molotov attacks on banks across the country as they have become a symbol of the country's strife.
Another demonstrator, who presented his Bank Audi card to the presenter, was quoted as saying that they haven't been tucked or pushed by anyone to demonstrate.
"Audi and other banks have been alleging that there is no money and that the [banking system] has lent money to the Lebanese state … why don't you [banks] give us properties, lands or cars against our deposits and savings! Those who had $10,000, why don't you grant them a car for instance against their lost deposits," he said.
Lebanon's economic situation has only become direr in the aftermath of the Beirut port explosion that left at least 190 dead, some 6,000 injured, and destroyed entire sections of the capital city.
Al Arabiya English contact one of the bank's administrators who confirmed the incident and said: "The incident happened sometime around noon. Those protestors came in surprisingly and they had a message to the board. They demanded that their deposits be released or be allowed to access their savings."
The administrator preferred not to be named due to the sensitivity and fact that he could lose his job.
A third demonstrator criticized banks' failure to abide by the law and implement several court rulings, in which banks were ordered to release clients' money at the official exchange rate of around 1,500 Lebanese lira to the dollar. Today, the rate on the parallel market can be seen above 7,000.
"Even when it comes to enforcing justice, they've been robbing us. When a parent of an overseas student comes to withdraw money the bank gives them only $200 at the black market's rate and when they want to deposit cash, the bank deals with them based on the [official] rate," said the third protestor.
https://english.alarabiya.net/en/News/middle-east/2020/09/30/Protesters-storm-bank-in-downtown-Beirut-demand-money-back-amid-economic-crisis
--------
Hezbollah lashes out at France's Macron after French initiative for Lebanon fails
Joseph Haboush
30 September 2020
The leader of Iran-backed Hezbollah blasted French President Emmanuel Macron Tuesday, saying the latter had acted as a "general prosecutor" and "ruler of Lebanon."
"We were welcoming of President Macron and the French initiative, but not on the basis of him acting as a general prosecutor, a judge … and the ruler of Lebanon," Hassan Nasrallah said in a televised speech, days after the French president accused the entire ruling elite in Beirut of corruption and betrayal.
For all the latest headlines, follow our Google News channel online or via the app.
Following the Aug. 4 Beirut blasts, Lebanon was plunged further into an economic, financial and social catastrophe. The country already possessed one of the world's highest debt-to-GDP ratios and was suffering from decades of corruption, clientelism and sectarianism.
The Lebanese people took to the streets last October in the biggest anti-government protests since 2005 when over 1 million protesters headed to Beirut to demand the withdrawal of Syrian troops from the country.
Macron and France spearheaded efforts to help right the ship in Lebanon after the Aug. 4 explosions, but this was dealt a severe blow after Prime Minister-designate Mustapha Adib stepped down last weekend.
Read more: Who is Lebanon's new prime minister-designate, Mustapha Adib?
Adib, who has now returned to his post as Lebanon's ambassador to Germany, was unable to form a government of independent specialists, which he said was his condition for heading a new cabinet.
Hezbollah and its Shia ally, Amal Movement, refused to budge when the rest of the political parties agreed to rotate so-called sovereign ministries. The Shia duo was adamant about retaining the Finance Ministry, whose minister must sign off on almost all important decisions.
Although the Lebanese constitution calls for abolishing sectarianism, government shares are divided among religious sects.
Nasrallah hit out at Macron for "generalizing" the entire political class and said Hezbollah refuses to be associated with corruption.
The group has long been accused of smuggling weapons and goods through the Port of Beirut, Beirut's airport and its border with Syria. The US recently sanctioned two former Lebanese ministers for providing support to Hezbollah, including granting companies associated with Hezbollah government contracts.
"We still welcome the French initiative and are ready for dialogue, but the same approach used last month will not yield results," Nasrallah said, accusing Macron of being arrogant in his Sunday press conference.
https://english.alarabiya.net/en/News/middle-east/2020/09/29/Hezbollah-lashes-out-at-France-s-Macron-after-French-initiative-for-Lebanon-fails
--------
Kuwait's new Emir Sheikh Nawaf al-Sabah takes oath at the National Assembly
30 September 2020
Kuwait's Sheikh Nawaf al-Ahmad al-Sabah officially became the new emir of the country after taking the constitutional oath before the Kuwaiti National Assembly on Wednesday.
"I swear to the almighty God to respect the constitution and the laws of the state, and to defend the people's freedoms, interests, and funds, and safeguard the nation's independence and territorial integrity," the new Emir said.
Kuwait's former Emir Sheikh Sabah al-Ahmad al-Jaber al-Sabah died on Tuesday in the United States, where he had traveled to in July to receive medical treatment after undergoing a surgery in Kuwait.
He was succeeded on Wednesday by Sheikh Nawaf, the country's former crown prince.
Sheikh Nawaf also pledged to work to ensure the prosperity, stability and security of Kuwait, adding that his predecessor's policies will remain the guiding principles for the country.
"We affirm our pride in our constitution and our democratic approach," the new Emir said.
The Kuwaiti National Assembly is confident that Sheikh Nawaf will lead Kuwait to prosperity, Parliament Speaker Marzouq al-Ghanim said.
Sheikh Nawaf has been Kuwait's crown prince since 2006, when he was appointed by the late Sheikh Sabah.
Under Kuwait's constitution, each new crown prince must be approved by a majority in the country's National Assembly.
The succession of the emir and crown prince positions are traditionally limited to only the descendants of Mubarak al-Sabah.
Sheikh Nawaf had previously served Kuwait for over 50 years under various positions.
From 1994 until 2003, the new emir was deputy chief of the Kuwaiti National Guard. That year, he was appointed the post of Minister of Interior and as the first Deputy Prime Minister of Kuwait.
https://english.alarabiya.net/en/News/gulf/2020/09/30/Kuwait-s-new-Emir-Sheikh-Nawaf-al-Sabah-is-sworn-in-by-parliament
--------
Prisoners threaten suicide to pressure Lebanese parliament over amnesty law
NAJIA HOUSSARI
September 30, 2020
BEIRUT: Inmates at Lebanon's Roumieh Central Prison threatened to kill themselves on Wednesday in a bid to pressure parliament over an amnesty law.
Video footage from inside the prison showed them threatening to hang themselves if the law was not passed.
"Yes, we have stolen, but that was due to hunger and poverty," said one inmate. "The big thieves are untouchable, and only those who steal an egg get prosecuted. The one who killed former PM Rafic Hariri has been acquitted."
Another inmate wrapped cloth around his neck, preparing a noose. "If they do not approve the general amnesty, our lives do not concern us," he said. "May I rest in peace." Others were quick to stop him from taking his own life.
The families of detainees demanded amnesty for their loved ones and held a sit-in near where parliamentarians were meeting to discuss the law.
But disagreements among parliamentary blocs meant the proposed law was referred to a committee.
Another point of difference during the session was the Illicit Enrichment Act. Parliament Speaker Nabih Berri said the matter required a session to amend the constitution in order to waive immunity for everyone.
He told Parliament: "As long as there is sectarianism and sects, progress cannot be made in Lebanon. Ministers have been arrested, and I was the one who turned them in, and no one bid on it."
The Free Patriotic Movement (FPM) said the bill's wording affected everyone including ministers and MPs, while the Future Movement believed it did not because they enjoyed immunity.
The bill was approved with an amendment upon request from the Future bloc, which demanded the removal of the phrase "waiving the immunity of the prime minister and the ministers" and replacing it with: "The offense of illicit enrichment is subject to the jurisdiction of the judicial judiciary."
The act has been a demand of the civil movement for about a year and one of the reform terms required of Lebanon.
FPM head Gebran Bassil, who is in quarantine due to having coronavirus, hailed the passing of the bill as an achievement for his parliamentary bloc "on the path of holding every public service accountable."
But Future bloc MP Hadi Hobeich said the act did not include parliamentarians, ministers, and presidents, and that this matter required a constitutional amendment.
"The immunity of an MP is constitutional, and illicit enrichment is a criminal offense," he said. "The current text did not extend to the prime minister and ministers, and we want an amendment to extend this act to the president, the prime minister, speaker of parliament, and the employees."
The fate of Lebanon's government - or rather the formation of a new one - still hangs in the balance and was further complicated by a speech from Hezbollah leader Hassan Nasrallah on Tuesday night.
"Hezbollah wants to participate in the government, and we want to choose those who represent the Shiites in it," Nasrallah said. "The goal is not that the Shiites are represented and that they take this portfolio or that. Rather, what is required is to know who controls the decision of these Shiites."
He also declared that the party's presence in government was about having access to the conditions that the IMF would impose in exchange for financial aid to Lebanon.
Prime Minister-designate Mustapha Adib, who was tasked with forming the government, resigned after Hezbollah and the Amal Movement insisted on taking the finance portfolio and naming all the Shiite ministers in the government.
Their demands undermine an initiative from France, which has called for a mini-government comprising specialized ministers who have nothing to do with the political parties in power.
Former MP Fadi Karam, the secretary of the Strong Republic Parliamentary bloc, criticized Nasrallah.
"The rescue initiatives of Lebanon's friends have their conditions and steps, and they will not be according to your demands and instructions," he said. "The initiatives basically emerged to rescue Lebanon from the disasters caused by your policies, your axes, and the corruption of your authorities. You want it to rescue you, and that is why you held the people of Lebanon hostage, but these initiatives are here to rescue the people from you."
MP Nadim Gemayel reminded Nasrallah of his refusal to declare Hassan Diab's government, which resigned in August after a massive explosion in Beirut, as Hezbollah's.
"Here is Hezbollah today telling the whole world that it wants to participate in the government to protect the resistance and rescue the country," he said. Hezbollah's weapons were "illegal" and the cause of the country's "destruction and devastation."
"Your words are proof of your determination to eliminate what is left of Lebanon," he added.
https://www.arabnews.com/node/1742461/middle-east
--------
Israeli PM to UN: Hezbollah storing missiles in Beirut
By JOSEPH KRAUSS and HASSAN AMMAR
September 30, 2020
JERUSALEM (AP) — Israeli Prime Minister Benjamin Netanyahu on Tuesday accused the Lebanese militant group Hezbollah of maintaining a "secret arms depot" in a residential neighborhood of Beirut, warning it could cause another tragic explosion in the Lebanese capital.
Hezbollah denied the allegations and invited international and local media to immediately visit the site, where they found a small factory housing heavy machinery but no weapons.
In an address to the U.N. General Assembly, Netanyahu pointed to maps purportedly showing the missile depot's location next to a gas company and residential housing, not far from Beirut's international airport. He also showed what he said was a picture of the entrance to the depot.
"Here's where the next explosion will take place, right here," he said.
"You've got to act now, you've got to protest this, because if this thing explodes, it's another tragedy," Netanyahu said, addressing the Lebanese people. "You should tell them, 'Tear these depots down.'"
Last month, a warehouse filled with nearly 3,000 tons of ammonium nitrate exploded in Beirut's port, killing nearly 200 people, wounding thousands and causing widespread destruction in the capital.
The ammonium nitrate had been stored there for several years after being removed from an impounded cargo ship. No one has yet been held accountable for the blast, which appears to have been triggered by an accidental fire.
Israel has long accused Hezbollah of storing weapons and maintaining military posts in civilian areas, especially in the southern suburbs of Beirut and southern Lebanon, both strongholds of support for the Iran-backed militant group.
Hezbollah leader Hassan Nasrallah denied Netanyahu's allegations, insisting the group does not store missiles in civilian facilities.
"Whoever wants to go can go now. If Hezbollah is storing missiles in this facility, then there is not enough time to remove them," Nasrallah said in a televised address. "We don't store missiles at the port or near gas facilities. We know where to store missiles."
"We will allow media outlets to enter the facility so that the world knows that Netanyahu is lying," he added.
Dozens of reporters, including an Associated Press photographer, toured the small factory in the southern neighborhood of Jnah late Tuesday, where they saw large pieces of iron and steel, heavy machinery and oxygen canisters — but no missiles or weapons of any kind.
Hezbollah spokesman Mohammed Afif, who led the tour, said the facility did not belong to the militant group.
"You can see the missile and the missile factory behind you," he said sarcastically. "We want to confirm again that all charges by the enemy are mere lies."
After Netanyahu's address, the Israeli military released detailed maps showing the site in Jnah and two other alleged missile depots it said were under residential apartment blocks.
It described all three as precision-guided missile manufacturing sites. The military provided precise locations of what it called weapons sites but gave no other evidence and did not say how advanced the manufacturing program is.
Israel has long warned that Hezbollah is seeking to manufacture precision-guided missiles or add guidance systems to its existing projectiles, something Israel insists is a red line that may require military action.
Hezbollah is believed to have massively expanded its arsenal in the years since it fought Israel to a monthlong stalemate in 2006. Israel believes Hezbollah has tens of thousands of rockets and missiles capable of hitting virtually anywhere in Israel, but precision guidance would make them far more lethal.
Netanyahu said another depot had exploded just a few days ago in the southern Lebanese village of Ain Qana, near the port city of Sidon. It is not clear what caused that explosion, which sent smoke billowing into the sky but did not cause any casualties.
The Israeli prime minister usually uses his annual address to the United Nations to highlight Israel's concerns about archenemy Iran and its nuclear program.
And he does it in a distinctive manner. In contrast to most leaders, who typically sit behind desks or stand at podiums, he often uses visual aids such as maps and diagrams to make his points. This year, talking about potential explosions, he delivered his speech against the backdrop of a Jerusalem street scene filled with intense oranges and yellows.
This year, Netanyahu said the recent decision by the United Arab Emirates and Bahrain to normalize relations with Israel showed that Israel and Arab countries "stand together in confronting the greatest enemy of peace in the Middle East — Iran."
Netanyahu claimed that Iran would have "enough enriched uranium in a few months for two nuclear bombs" after it recently began exceeding limits set by the 2015 nuclear deal with world powers.
Iran began publicly exceeding those limits after President Donald Trump withdrew the U.S. from the agreement and reimposed crippling sanctions on Tehran. Iran insists it has never sought nuclear weapons and that its atomic program is for civilian purposes.
Netanyahu, a staunch opponent of the nuclear deal, praised Trump's decision to withdraw from it and called on the world to follow the U.S. in snapping back sanctions.
He also reiterated his willingness to negotiate peace with the Palestinians on the basis of Trump's proposal to end the conflict, which overwhelmingly favors Israel and has been rejected by the Palestinians.
https://apnews.com/article/israel-jerusalem-lebanon-benjamin-netanyahu-united-nations-general-assembly-b4614d10e4f2589e35a9f26f177e3a2c?utm_source=iterable&utm_medium=email&utm_campaign=1570526_
--------
Mideast
Iran: Israel to Continue Child-Killing with Arabs' Concessions
Sep 30, 2020
"How the rulers who have made concession to the child-killer Zionist regime can respond to the Islamic world and the oppressed Palestinian people on the 20th anniversary of the martyrdom of the Palestinian child, Muhammad Al-Durrah," Shamkhani asked on his twitter page on Wednesday.
"The concession emboldens the regime more to continue child-killing; the blood of the resistance martyrs invalidates this humiliating concession," he added.
A French court in 2011 ruled in favor of Jamal Al-Dorra, whose son Muhammad's death by the Israeli army in 2000 was captured by photographers as he died in his father's arms.
The ruling rejected Israeli claims that Jamal was wounded prior to the incident on 20 September 2000.
"The verdict refuted Israeli claims that my injury preceded the year 2000 in an attempt to deny their crimes when they shot at me and my son continuously for over 45 minutes," Al-Dorrah said at the time.
Al-Dorra sued Israel in a French court for multiple gunshot wounds after Israel spread pictures of him and his slain son in Israeli attire, seemingly to fool the world into thinking that they were attacked by Palestinians.
"Israel tore down the wall we were seeking cover behind, but a Fatah leader saved the bullets that had pierced the wall," Al-Dorra said.
He called on those of "Arab conscience" to stand by him as he sought the conviction of Israel in the killing of his son.
US President Donald Trump tweeted the news of the Israel-Bahrain normalization deal earlier this month after he spoke by phone to Bahrain's King Hamad bin Isa Al Khalifa and Israeli Prime Minister Benjamin Netanyahu.
Following the announcement at the White House, Palestinian officials condemned the Israel-Bahrain normalization deal announced by US President Donald Trump as another "stab in the back" by an Arab state.
The accord of normalizing diplomatic ties between Israel and Bahrain came one month after the United Arab Emirates (UAE) agreed to normalize ties with Israel under a US-brokered deal.
On August 13, President Trump announced a deal brokered by his government between Israel and the UAE which he said would lead to full normalization of ties between the two.
Critics see the deal as the latest attempt by Trump to save his presidential campaign against the Democrat Joe Biden.
https://en.farsnews.ir/newstext.aspx?nn=13990709000539
--------
Iran: Europe's Partnership with US in Sanctions Crime against A Nation
Sep 30, 2020
"Human rights is an instrument in the hands of the western media. When the Iranian nation's rights are trampled, the UN human rights special rapporteur and the UN keep mum. The Europeans are the US serious partner in sanctioning the Iranian nation and they are mass-punishing a nation by these sanctions and this can be considered as crime against a nation," Baqeri said on Wednesday.
Elsewhere, he noted that US President Donald Trump regrets his country's fruitless spending in West Asia but he does not say it clearly that the US interference in the region has killed, wounded and displaced millions of people in Yemen, Iraq, Palestine, Syria, Lebanon, Afghanistan, Pakistan and Iran.
Baqeri also said that racism in the western states has become institutionalized and systematic, adding that former US President Barack Obama had emphasized the issue in his remarks but no serious measure was adopted to correct the system.
In relevant remarks on Saturday, Baqeri had blasted the cruel West-backed sanctions imposed on the country, saying that the western states were trampling on the rights of the Iranian people.
"The biggest violator of the Iranian nation's rights are the western governments who have trampled on the rights of all Iranian people by imposition and implementation of cruel sanctions, while they claim support for the rights of one or a number of suspects or culprits with impudence and lies," Baqeri said.
He added that the western governments are no advocates of the Iranian nation's rights, and should rather stand as a criminal to account for the crimes and harms inflicted on the Iranian people by their cruel sanctions.
Also last Saturday, Iranian President Hassan Rouhani said that the current US administration presided by Donald Trump has shown so much enmity and "barbarism" against the people in Iran which is unprecedented among other American governments.
"The Americans recently said that they have harmed tens of billions of dollars to Iran. They have inflicted a damage of $150bln to Iran in the past 3 years. We have never seen the White House with such a level of barbarism. They are honored for hostility towards the Iranian nation," President Rouhani said, addressing a meeting of the national coronavirus campaign headquarters in Tehran.
He reminded that the US even prevented the International Monetary Fund (IMF) from supplying Iran with $5bln to fight against coronavirus.
Rouhani noted that 185 world states support Iran, saying, "I have no doubt that the US will one day succumb to the Iranian nation."
https://en.farsnews.ir/newstext.aspx?nn=13990709000748
--------
UN nuclear watchdog gains access to a second Iran site
30 September 2020
The UN's nuclear watchdog said Wednesday it had gained access to a second site in Iran where undeclared nuclear activity may have taken place in the early 2000s.
"As part of an agreement with Iran to resolve safeguards implementation issues specified by the IAEA, the agency this week conducted a complementary access at the second location in the country and took environmental samples," the International Atomic Energy Agency said in a statement.
Late last month Iran announced it would allow the IAEA access to two sites – their exact locations have not been made public – following a visit to Tehran by IAEA Director General Rafael Grossi.
The first site was visited by inspectors in early September.
Iran had denied the agency access to the locations earlier this year, prompting the IAEA's board of governors to pass a resolution in June urging Iran to comply with its requests.
The row had threatened to put yet more strain on the 2015 landmark Iran nuclear deal, which has hung by a thread since the US pulled out of it in 2018.
At a press conference on September 14, Grossi said analyzing environmental samples collected at the first site would take "not less than a couple of months, two or three months maybe."
https://english.alarabiya.net/en/News/middle-east/2020/09/30/UN-nuclear-watchdog-gains-access-to-a-second-Iran-site
--------
Turkish claims of PKK fighters in Armenia absolute nonsense: Armen Sarkissian
Ismaeel Naar
30 September 2020
Turkish claims that there are Kurdish PKK fighters present in Armenia are absolute nonsense, according to Armenian President Armen Sarkissian.
Turkey can invent or pretend that there are issues with Armenia. This is absolute nonsense that there are PKK fighters in Armenia. Absolute nonsense. They are also saying that Armenians are targeting the international oil and gas pipelines in Azerbaijan. Again, a nonsense," Sarkissian told Al Arabiya during an exclusive interview.
For all the latest headlines follow our Google News channel online or via the app.
Armenia and Azerbaijan accused one another on Tuesday of firing directly into each other's territory and rejected pressure to hold peace talks as their conflict over the enclave of Nagorno-Karabakh threatened to mushroom into all-out war.
Nagorno-Karabakh is a breakaway region inside Azerbaijan but run by ethnic Armenians and backed by Armenia. It broke away from Azerbaijan in a 1990s war but is not recognized by any country as an independent republic.
"First of all, when Azerbaijan is speaking about occupied territories, they are speaking about republic of Nagorno-Karabakh. This is an area of historic Armenia that Armenians were living for centuries and thousands of years," Sarkissian said.
|It is only for less than 70 years, Joseph Stalin, the Soviet leader gave that land to Azerbaijan, it became a part of Soviet Azerbaijan. Then with the end of Soviet Union, people of Nagorno-Karabakh in that Soviet Republic, there were more than 85 percent, 90 percent Armenians living always," the Armenian president added.
Dozens of people have been reported killed and hundreds wounded since clashes between Azerbaijan and ethnic Armenian forces broke out on Sunday, threatening to draw in neighbors including Azerbaijan's close ally Turkey.
Armenian President Sarkissian further accused Turkey on Tuesday of sending mercenaries and generals to Azerbaijan, adding that all Turkish claims were mere excuses.
"Turkey can pretend or declare there are PKK fighters, Armenians who want to hit the pipeline. These are all excuses to have their strong presence in Azerbaijan and I think that strong presence of Turkish military in Azerbaijan is another increasing threat to Armenia," Sarkissian said.
https://english.alarabiya.net/en/features/2020/09/30/Turkish-claims-of-PKK-fighters-in-Armenia-absolute-nonsense-Armen-Sarkissian
--------
Turkey detains Kurdish opposition members over terrorism links
October 01, 2020
ISTANBUL: Turkish authorities detained 19 people including two Kurdish deputy mayors in the northeastern province of Kars as part of a terrorism related operation, state-owned Anadolu news agency said on Thursday.
The detainees included local party heads from the pro-Kurdish Peoples' Democratic Party (HDP) and municipality council members in the province, Anadolu said.
The authorities detained suspects as they were determined to have aided Kurdistan Workers Party (PKK) members, attended meetings and operated under their orders, Anadolu said.
Last week, the HDP mayor of Kars along with dozens others were detained over violent protests in 2014 against an attack on the Syrian Kurdish town of Kobani.
President Tayyip Erdogan's government accuses the HDP of having links to the PKK militant group, leading to prosecutions of thousands of its members and some leaders. The HDP denies such links.
Since March 2019 local elections, mayors have been replaced by trustees in more than half of the roughly 65 municipalities won by the HDP. Ankara has appointed governors and other local authorities as trustees in those districts.
The former co-leaders of the HDP have both been jailed since 2016 on terrorism charges, with several other prominent party members accused of supporting terrorism over what the government says are links to the PKK.
https://www.arabnews.com/node/1742676/middle-east
--------
Africa
Nigeria: Investors Scramble for Nigeria's Islamic Bond, Defy Religious Criticism and Bid $2b
30 SEPTEMBER 2020
By Mohammed Momoh
Nigeria's third Sukuk bond has fetched $2.1 billion, an oversubscription of the targeted $533 million offered to investors, despite the paper eliciting religious controversy.
The oversubscription of 446 per cent may reflect the high prospects the Islamic bonds present to Africa's most populous country.
The sovereign Sukuk is meant to finance 44 critical road projects in the six geopolitical zones of Nigeria. Its launching earlier this year attracted various investors, including ethical funds, insurance companies, fund managers and retail investors.
But it came with religious intonations. Sukuks are different types of bonds that don't earn interest, which is not permissible under Islamic law. Instead, they present financial certificates to investors who give out the money to be a part of some asset ownership. The government, in this case the issuer, then promises to buy back the assets at a later date based on an agreed value.
In Nigeria, the arrangement incensed Christian groups who argue that it is an Islamic financial instrument to raise fund to "Islamise".
The Christian Association of Nigeria (CAN), an umbrella body of all denominations, has alleged Nigeria wants to turn into an Islamic state.
The General Secretary of CAN, Rev Musa Asake, demanded the abrogation of the framework behind the bond and threatened to seek legal redress if that was not done.
"It is disappointing to note that the government is pursuing what is an outright confirmation of an Islamisation agenda."
The floating of Sukuk is not only sectional but illegal and a violation of the constitution, he argued.
Nigeria's 200 million people are split between the world's two biggest religions, however.
The federal government says it resorted to Sukuk to fund construction and development of key economic infrastructure projects and to diversify the sources of funding. Sukuk it says offers ethical investors an opportunity to invest in government's issued securities and to achieve a higher level of financial inclusion.
It sees Sukuk as the more convenient way to bridge financial deficits and address infrastructure challenges in the nation that will turn 60 by October 1.
The first Sukuk bonds in Nigeria was issued by Osun State in South West Nigeria in 2013. It realised $45.9 million through 42 investors in the Nigeria Stock Exchange to finance projects.
The success of the maiden issue attracted the cash-strapped federal government to float its first Sukuk bond that fetched $325 million in 2017.
The bond, which is due in 2025, was used to fund 25 road projects in South East, South South, South West, North West, North Central and North East.
The federal government's second issuance of another $327 million was in December 2018.
Rev Samson Ayokunle, President of CAN, said: "Our worry as a body is that Nigeria started getting active in international Islamic alliances and organisations in total violation of the constitution."
But the Muslim Rights Concern and Nigeria Supreme Council for Islamic Affairs, have accused CAN, of playing up sentiments.
They explained that "Sukuk" is purely for business purposes".
Islamic agenda
Nigeria's Vice President Yemi Osinbajo, one of the pastors in the Redeem Christian Church, denied the Islamisation agenda, saying: "We focus our minds on something we call the Islamic agenda. We look for it everywhere as if we are looking for demons."
The Sukuk, he said, was essentially like a bond. The US, UK, China, South Africa have all used the Sukuk.
Dr Mamoud Kamara, regional head of Islamic Development Bank in Nigeria, said on September 16, at a strategic meeting with the chairman of Nidcom, Abike Dabiri-Erewa.
Dr Kamara said Sukuk that would involving the World Bank and African Development Bank, would help assuage the sufferings of Nigerians, particularly those who have lost their means of livelihood and were struggling for any means of survival.
The President, Chartered Institute of Stockbrokers, Olatunde Amolegbe, has urged Nigerians to support the government by subscribing to Sukuk, describing the instrument as a profitable.
He urged the public to partner to take advantage of Sukuk to boost their cash flow and assist government's efforts to invest in infrastructure.
"Sukuk Ijarah is a fixed income security backed by the Federal Government and as an investment without risk as repayment of investors is guaranteed by the full faith and credit of the Federal Government of Nigeria, he explained.
https://allafrica.com/stories/202010010103.html
--------
Libya's warring sides agree to further military talks, says UN
30 September 2020
Libya's warring sides have agreed to resume military talks next week after meeting in Egypt, the United Nations mission said, adding it hoped the step would pave the way towards a lasting ceasefire.
The Tripoli-based Government of National Accord (GNA) in June turned back a 14-month assault on the capital Tripoli by the eastern-based Libyan National Army (LNA) and the two are now dug in along a front line near Sirte.
The UN mission said the Egypt talks addressed confidence-building measures, security arrangements and the role of the Petroleum Facilities Guard, which is supposed to protect energy infrastructure but is often made up of local groups with their own agendas.
It said recommendations including prisoner swaps and releases, and expediting the reopening of air and land transport links, would be presented to military delegations.
https://english.alarabiya.net/en/News/north-africa/2020/09/30/Libya-s-warring-sides-agree-to-further-military-talks-says-UN
--------
Militants kill 10 Nigerian soldiers in ambush near Lake Chad town
30 September 2020
Extremists have killed 10 Nigerian soldiers in an ambush near the town of Marte in the Lake Chad region, two security sources said on Wednesday.
Fighters from the ISIS West Africa Province (ISWAP) carrying machine guns and rocket-propelled grenades on Tuesday opened fire on a military convoy on a "logistics supply mission," they said.
For all the latest headlines follow our Google News channel online or via the app
"The terrorists killed 10 soldiers, including two officers, in the ambush," one of the sources, told AFP.
Eight soldiers were injured, said a second source who gave the same death toll.
The convoy was on its way to deliver food and other supplies to troops in the region when it was attacked, said the sources who asked not to be identified.
The insurgents looted the supplies and set two trucks ablaze before retreating into the bush, they said.
They said the attack could be a reprisal for recent aerial bombings on the group's camps in the Marte region in which several members, including three commanders, were killed.
ISWAP split from main Boko Haram faction in 2016.
It has camps in islands on Lake Chad and the marshy area is known to be the group's bastion.
ISWAP has recently stepped up attacks on military and civilian targets.
On Friday, the militants killed 30 people, including security personnel, when they ambushed the convoy of regional governor Babagana Umara Zulum near Baga, a town on the lake's shore.
At least 36,000 people have been killed and around two million displaced in the decade-long jihadist conflict in Nigeria's northeast.
The violence has spilled into neighboring Niger, Chad and Cameroon, prompting a regional military coalition to be formed to fight the insurgents.
https://english.alarabiya.net/en/News/world/2020/09/30/Militants-kill-10-Nigerian-soldiers-in-ambush-near-Lake-Chad-town
--------
Somalia: Officials Say Army Killed 7 Militants in Raid On Al-Shabaab
28 SEPTEMBER 2020
The commander-in-chief of the Somali armed forces, General Odowa Yusuf Rage said Monday that the SNA soldiers have neutralized seven Al-Shabaab during an operation.
The state media, citing Rage reported that the latest crackdown saw the recapture of key areas in Lower Shabelle, a contested region that witnessed rising US military airstrikes.
Somali troops with the support of AU and US personnel are making gains against the Al-Qaeda-linked militants in several fronts in the southern region as the nation heads to polls.
Despite this, Al-Shabaab still a potent threat to the security and staging car bombs in the country, mainly in the seaside capital, Mogadishu, where the government is based.
https://allafrica.com/stories/202009290279.html?utm_source=iterable&utm_medium=email&utm_campaign=1570526_
--------
Zimbabwe Asked by U.S. to Help Fight Militants in Mozambique
By Brian Latham
September 29, 2020
The U.S. asked Zimbabwe to help put down an Islamist insurgency in neighboring Mozambique that's destabilizing a region rich in natural gas, people familiar with the matter said.
The request came in a phone call between U.S. Assistant Secretary for African Affairs Tibor Nagy and Zimbabwe Foreign Minister Sibusiso Moyo last week, the people said, asking not to be identified because the content of the talks hasn't been made public. The foreign minister asked that the U.S. first drop targeted sanctions against Zimbabwean officials, the people said.
Mozambique has been struggling to suppress the Islamic State-affiliated group that's destabilizing a region where nearly $60 billion in investment in natural gas facilities are planned by companies including Total SE and Exxon Mobil Corp.
While Zimbabwe is in a state of economic collapse, its army is battle-hardened with its troops having fought in the Democratic Republic of Congo as well as having supported U.S. operations in Angola and Somalia.
Zimbabwe has a long history of involvement in neighboring Mozambique. The guerrilla army affiliated to its ruling party used Mozambique as a base from which to launch attacks on then White-ruled Rhodesia in a 1970s liberation war. Zimbabwean troops intervened to quell a rebellion by militants affiliated to Mozambique's opposition Renamo party in the 1980s and 1990s.
The Mozambican port of Beira is key for landlocked Zimbabwe's imports.
300,000 Displaced
Mozambique estimates that the insurgency in northeastern Cabo Delgado province has forced about 300,000 people to flee their homes. The militants have repeatedly taken control of the Mocimboa da Praia port this year and a number of villagers have been killed.
Moyo, an army general who played a key part in a coup in which Robert Mugabe was ousted as Zimbabwe's president in 2017, can't be seen to be cooperating with the U.S. unless the sanctions are scrapped, the people said.
Moyo told Nagy that Zimbabwean President Emmerson Mnangagwa shares the U.S.'s concerns about the militants and that the two nations share strategic interests elsewhere, but sanctions remain an obstacle, the people said.
"The assistant secretary and the Zimbabwean foreign minister discussed how implementing promised economic and political reforms will restore Zimbabwe's international reputation, rebuild its economy, and give voice to all Zimbabweans," a state department spokesman said. "They did not discuss alleviating sanctions in response to counter-terror assistance."
In Zimbabwe's state-controlled Herald newspaper, Moyo was quoted as telling Nagy that, "this is the time for the U.S. and Zimbabwe to start looking at the bigger strategic issues" so that the two countries can normalize relations.
https://www.bloomberg.com/news/articles/2020-09-29/zimbabwe-asked-by-u-s-to-help-combat-militants-in-mozambique?utm_source=iterable&utm_medium=email&utm_campaign=1570526_
--------
URL: https://www.newageislam.com/islamic-world-news/after-fall-caliphate-syria-iraq/d/123008
New Age Islam, Islam Online, Islamic Website, African Muslim News, Arab World News, South Asia News, Indian Muslim News, World Muslim News, Women in Islam, Islamic Feminism, Arab Women, Women In Arab, Islamophobia in America, Muslim Women in West, Islam Women and Feminism