New Age Islam News Bureau
10 Jul 2018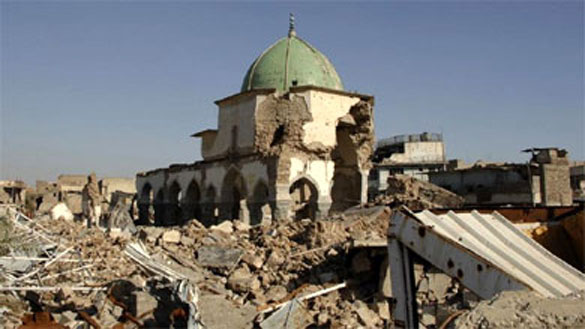 A view of the destroyed al Nuri mosque in the old city of Mosul is seen on April 23, 2018. (AFP)
-----
• After Backlash, Shariah Lawyer Clarifies Minimum Age for Marriage
• UAE Backs Restoration of 'Symbolic' Mosul Mosque after Destruction by Daesh
• NACTA Names Six Politicians under Threat from Terrorists
• SC Dismisses Plea against Order Barring Non-Agra Residents at Taj Mosque
• Declining Terror Attacks: Why Bangladesh Can't Afford To Be Complacent
Southeast Asia
• After Backlash, Shariah Lawyer Clarifies Minimum Age for Marriage
• Radical Teachings Enter Mosques of Gov't Institutions
• 'Being Muslim' Lifestyle Sweeps Indonesia
• Modernise Tahfiz School, Not Shut Them Down: PPBM
• With no proper minister, can racial harmony stay on Pakatan's agenda?
• Manila lauds swift rescue of Filipinos kidnapped in Iraq
--------
Arab World
• UAE Backs Restoration of 'Symbolic' Mosul Mosque after Destruction by Daesh
• UAE Ranked '10' Among Most Powerful Passports
• Iraq Rapidly Executing Islamic State Members
• Rebuilding and fight against terrorism top priority for Assad
• Syrian Army Aborts Israel's Logistical Back up for Tahrir Al-Sham
• More Militant-Held Regions in Southern Syria Join Peace Agreement
• Several Terrorist Commanders Flee Southern Syria to Jordan
• Terrorists Fail in Offensive against Syrian Army in Idlib
• Syrian Army Tightens Noose on Terrorists in Dara'a
• Saudi, French defence chiefs sign agreement on protecting classified data
--------
Pakistan
• NACTA Names Six Politicians under Threat from Terrorists
• Saad Rafique calls Imran Khan the 'Bal Thackeray of Pakistan'
• Imran unveils party manifesto, vows to make Pakistan an Islamic welfare state
• Ideology can't be wiped out by killing followers: Bilawal
• Ashan Iqbal accuses rivals of peddling religious hatred for electoral gains
• Rifts taint MMA as JUI-F, JI field separate candidates in FATA
--------
India
• SC Dismisses Plea against Order Barring Non-Agra Residents at Taj Mosque
• BJP Slams AIMPLB Plan to Open Sharia Courts across Country
• Knife Attack on Tral Student: J&K Police Questioning Three Suspects
• Muslim Law Board Plans to Open Sharia Courts in All Districts of India; Waqf Board Says 'Illegal'
• AIMPLB Plans Shariat Courts in All Districts of Country, BJP Says India Isn't Islamic Republic
• Two Rohingya Muslims arrested for illegally procuring Indian passport, Aadhaar card
--------
South Asia
• Declining Terror Attacks: Why Bangladesh Can't Afford To Be Complacent
• Taliban Commander and Civilians among 11 Dead, Wounded In Nangarhar Blasts
• 7 Taliban militants killed during the ongoing operations in Bati Kot
• Harmony Bangladesh to promote secular ideals
• Mysterious murders rattle Rohingya refugees
--------
Mideast
• Israel Closes Gaza's Main Crossing, Hamas Calls It Crime against Humanity
• Turkish Troops, Jets Kill 25 Kurdish PKK Militants in One Week
• Hezbollah accused of training, providing equipment to Houthi militia in Yemen
• Israel warns Iran, Hezbollah over forces in Syria
• Israel announces Gaza trade crackdown in anti-Hamas move
• Turkish Army Launches Airstrikes against Kurds in Afrin
• Coalition: Evidence confirms presence of foreign military experts in Yemen
• UNRWA: Cuts to be imposed on key humanitarian plans soon if US funding freeze persists
--------
North America
• 'They Cannot Wait Us Out', Pompeo Tells Taliban
• What Was M-103 Really About; Islamophobia or a Money Grab for Radical Islamic Groups?
--------
Africa
• Muslim-Christian Meet in Taizé Helps Young People Dialogue
• Nigeria's Army Releases Children Suspected Of Boko Haram Ties
• Boko Haram: Troops Kill 15 Terrorists in Borno
• How Civil Initiatives Will Help To Defeat Al-Shabaab
• Tunisia launches hunt for terrorists involved in National Guard attack
• South Sudan rebels reject peace deal reinstating opposition leader Machar
• Ethiopia, Eritrea to reopen embassies, borders after two decades of hostility
--------
Europe
• Germany, China Reaffirm Their Support for Iran Nuclear Deal
• Germany studying request to return €300mn to Iran
• Trial begins for man accused of setting fire to Texas mosque
Compiled by New Age Islam News Bureau
URL: https://www.newageislam.com/islamic-world-news/after-backlash-shariah-lawyer-clarifies/d/115788
--------
After backlash, Shariah lawyer clarifies minimum age for marriage
Durie Rainer Fong
July 9, 2018
KOTA KINABALU: A shariah lawyer has clarified his earlier statement over lowering the minimum age limit for Muslim girls to marry in Sabah following criticism on social media.
Hamid Ismail said the minimum age to marry for a Muslim girl should be maintained at 16 years old.
However, if a marriage is allowed for someone younger, the girl should be at least 15 years old.
"That is the amendment to the age limit I'm proposing to be made to Section 8 of the Islamic Family Enactment 2004 in Sabah because presently there is no age limit at all," he told FMT today.
"My point is there must be an age limit for girls under 16 to marry, just like in the civil law. And permission from a shariah judge is required. Hence, girls below 15 cannot be married, this is what I meant by 15 as the minimum age limit."
Hamid was heavily criticised on social media yesterday when he said the age limit for Muslim women to marry in the state should be amended and fixed at 15.
He said in civil law, the minimum age limit for a man and woman to get married was 18, and a woman aged below 18 but not lower than 16 could be married, provided she had written consent from the chief minister.
However, for Muslim men under 18 and women under 16, they were required to obtain the Shariah Court's permission before they could marry, he said.
He stood by his earlier call for a strict guideline to be followed by the shariah judge in assessing the application for a girl under 16 but above 15 to get married.
"To marry a girl under 16 but above 15, written guidelines must be strictly followed by shariah judges.
"The guidelines would assess or evaluate whether the girl is fit to marry. For example, whether that girl understands the effect and consequences of a marriage and responsibilities of a wife," he said.
http://www.freemalaysiatoday.com/category/nation/2018/07/09/after-backlash-shariah-lawyer-clarifies-minimum-age-for-marriage/
--------
UAE backs restoration of 'symbolic' Mosul mosque after destruction by Daesh
July 10, 2018
LONDON: Mosul's citizens will need to take part in reconstruction efforts, experts have said.
Back in July 2014, the leader of the Daesh, Abu Bakr Al-Baghdadi, made his infamous appearance in the Great Mosque of Al-Nuri in Mosul to proclaim the creation of the new "caliphate" after his forces had taken over the Iraqi city.
The mosque — which dates back to the 12th century — was later destroyed during fighting between extremist forces and government troops, along with the iconic "leaning" Al-Hadba minaret.
With Mosul now liberated from Daesh forces, efforts are being led by Iraq's Gulf neighbor, the UAE, along with UNESCO, to rebuild the mosque and tower following a deal agreed on April 23, 2018.
There are plans to restore the site of the mosque, details of which were outlined in an event in London on Monday. Preliminary plans include creating a memorial and a museum on the site of the mosque to document both the history of its recent destruction and its role in Iraqi history over the centuries.
A replica of the minaret is also planned — and after much debate, the tower's famous "lean" will be recreated. The project will take five years to complete.
It is hoped that the restoration of Mosul's well-known and revered landmarks will act as a new symbol of unity for a city that continues to be divided by sectarian violence.
"Culture (in Mosul) was directly targeted by Daesh. It was very much part of the warfare strategy of Daesh and how to fragment Iraq," said Louise Haxthausen, director, UNESCO office for Iraq, on the sidelines of an event in London on Monday.
"Therefore, we believe that cultural heritage, rehabilitation, reconstruction, has to be a key element of building peace and social cohesion and has to be seen as something that unites people," she told Arab News.
"It is because it is seen as something that unites people that it was destroyed (in the first place) as that is precisely what Daesh didn't want," she said.
Noura bin Mohammed Al-Kaabi, Minister of Culture and Knowledge Development in the UAE said during the London event that Daesh had "tainted" the image of Islam, and she emphasized that the rebuilding of the mosque would be a uniting force for Mosul's people.
"Islam is about coexistence, it is about tolerance," she said, noting how in the aerial footage of Mosul shown during the talk mosques were situated alongside the city's churches and synagogues.
"We speak the same language, we share the same culture. There is more to share and there is more in common between us," she said, explaining why the UAE is stepping in to help with the reconstruction of Iraq.
Yet it is not only the famous sites of Mosul that lie in ruins. People's homes, shops and restaurants have been reduced to rubble, particularly in the west of the city.
Libraries and other cultural centers were systematically targeted by Daesh, with thousands of books and ancient manuscripts destroyed.
Renad Mansour, research fellow, Middle East and North Africa Program at Chatham House in London, said at the event that given the extent of the destruction of Mosul, together with the increasingly difficult daily lives of its citizens, reconstruction efforts would be tough.
Corruption would continue to hinder attempts to rebuild the city, he told the event attendees.
"We have had a military victory over Daesh – but we have yet to see a political, economic or structural solution that makes Iraqis convinced that the state represents them or serves their needs. The only way to do that is to bridge that gap between elites and citizens," Mansour said.
"Putting money and investing through these projects doesn't seem to work when the structure isn't sufficient, (when) the cash doesn't trickle down to the citizens," he added.
Both Al-Kaabi and Haxthausen said the rebuilding of the mosque and minaret would go beyond just providing "symbolic" hope. It would also provide the city's young people with much-needed jobs and education.
Both the UAE and UNESCO added that they would work closely with both the locals and Mosul authorities to ensure they have a say in the process.
"We are not going to impose on them how the reconstruction will happen. We are going to be there to help strengthen their capacity to do the reconstruction," said Haxthausen.
"It is not for UNESCO to decide. This is about Iraq – it is for the Iraqis to take the decision."
http://www.arabnews.com/node/1336131/middle-east
--------
NACTA Names Six Politicians under Threat from Terrorists
Ikram Junaidi
July 10, 2018
ISLAMABAD: The Natio­nal Counter Terrorism Authority (NACTA) on Monday revealed the names of six personalities, including Imran Khan and Hafiz Saeed's son, who could be targeted by terrorists during the ongoing election campaign.
"Six people include Pak­istan Tehreek-i-Insaf chairman Imran Khan, Awami National Party leaders Asfandyar Wali and Ameer Haider Hoti, Qaumi Watan Party head Aftab Sherpao, Jamiat Ulema-i-Islam-Fazl leader Akram Khan Dur­rani and Hafiz Saeed's son Talha Saeed. Moreover, there are threats to senior leadership of the Pakistan Peoples Party and Pakistan Muslim League-Nawaz," Nacta director Obaid Farooq said while briefing the Senate Standing Committee on Interior.
He said Nacta had forwarded 12 threat alerts to the federal interior and provincial home ministries as well as law enforcement agencies.
Committee chairman Senator Rehman Malik, while expressing grave concern over the threats, directed the interior ministry to provide foolproof security to the heads of parties and those for whom threat alerts were issued.
He said Election Commission of Pakistan Secretary Babar Yaqoob had already informed the committee that there was a possibility of violence during the general elections scheduled for July 25, and directed that such alerts be taken seriously.
Mr Malik suggested to the provincial governments and law enforcement agencies to nominate focal persons to ensure security.
"The incident of pelting PPP chairman Bilawal Bhutto-Zardari's rally [in Karachi's Lyari area] with stones shows that there were serious security lapses which cannot be ignored in the prevailing situation. We will hold an in-camera meeting to get briefing on measures and plans for the security of heads of political parties, voters, candidates, polling vicinities and for foolproof protection of those politicians for whom security threat alerts have been issued," he said.
Threat to NAB headquarters
Deputy Inspector General of Islamabad police Waqar Ahmed Chohan informed the Senate committee that the National Accountability Bureau chairman had received a threatening letter that the NAB headquarters would be attacked with an explosives-laden vehicle.
"After that we thoroughly checked the building and it was observed that a building of the Islamabad High Court is being built at the rear side of NAB building, due to which there is frequent movement of heavy vehicles. Moreover, boundary wall of the building is not constructed on uniform pattern and is weak at different parts. So we have enhanced the security," he said.
The DIG added that NAB had also deputed 48 security guards and there were 40 CCTV cameras. Moreover, he said, the NAB building was also being monitored through cameras of the safe city project. "We have also enhanced security for other buildings of NAB in the city and are removing deficiencies," he added.
Mr Malik said that since NAB was currently in the limelight, there should be arrangements for its foolproof security.
The committee also took serious notice of an incident in Cholistan where three little sisters aged six, eight and 11 were found dead in a desert after being disappeared.
The parents of the children attended the meeting and briefed the committee on the incident that had occurred on June 13.
A representative of the Punjab police failed to brief the committee as he lacked information about the incident and knew nothing about the cause of death mentioned in the post-mortem report.
The committee chairman expressed annoyance over the ignorance of the Punjab police and asked the provincial police chief to ensure his presence at the next meeting.
http://www.dawn.com/news/1419042/nacta-names-six-politicians-under-threat-from-terrorists?preview
--------
SC dismisses plea against order barring non-Agra residents at Taj mosque
July 10, 2018
The Supreme Court on Monday declined to interfere with an order of the Agra Additional District Magistrate (City), barring people who are not residents of the city from offering Friday prayers at the mosque located in the Taj Mahal.
A bench of Justices A K Sikri and Ashok Bhushan observed that there were other mosques in Agra, and non-residents could offer prayers there. "This monument is the seventh wonder of the world and we do not want this to decimate," the court said, dismissing a PIL filed by president of the Taj Mahal Masjid Management Committee, Syed Ibrahim Hussain Zaidi, challenging the January 24 order which cited security reasons.
The court asked the petitioner, "why for such prayers, should they go to the Taj Mahal…There are other mosques also. They can offer their prayers there". The court also said such issues should not be raised under Article 32, which deals with fundamental rights.
The petitioner's counsel argued that the ADM's order discriminated between residents and non-residents.
https://indianexpress.com/article/india/sc-dismisses-plea-against-order-barring-non-agra-residents-at-taj-mosque-5252795/
--------
Declining terror attacks: Why Bangladesh can't afford to be complacent
09.07.2018
M Abul Kalam Azad
Bangladesh remains susceptible to religious extremism even though terrorist attacks appear to have declined in the past two years.
Experts say that the government's main focus has been on a quick-fix strategy to curb terrorism whereas it has not paid attention to the need for a holistic de-radicalization program.
Following a surge in terror attacks in 2013, the government adopted the strategy of using brute force to snuff out attacks. Since the July 2016 terrorist assault at Dhaka's Holey Artisan Bakery, at least 79 suspected radicals have been killed and over 150 others arrested in an aggressive anti-militancy crackdown.
A lull in terror attacks in the past two years has given Prime Minister Sheikh Hasina's government a false sense of calm, say analysts.
"The government is largely relying on the use of force, but it cannot tackle religious extremism with this strategy," A N M Muniruzzaman, a retired military official and security analyst, told DW.
Counterterrorism experts say a resurgence of militancy is almost a certainty if the government doesn't take measures to tackle growing Islamist radicalization in the country.
Politics and radicalization
Al Qaeda-linked Ansar al-Islam and "Islamic State"-linked Jamaatul Mujahideen Bangladesh (JMB) have carried out most terrorist attacks in Bangladesh since February 2013. The recent activities of these jihadist groups signal their resurgence, a police official in Dhaka told DW on condition of anonymity. The official cited a failed attack on a liberal writer in March and the murder of a secular publisher in June as proof of his claims.
"The government is seeking short-term solutions and is avoiding a long-term strategy, ignoring the radicalization processes, thus allowing these organizations to regroup," Muniruzzaman said.
"We can't win the battle against religious extremism without addressing the factors that breed radicalism," he added.
Ali Riaz, an expert on South Asian politics and political Islam, shares this view: "Bangladesh is still vulnerable to militancy because of the presence of both the drivers [of radicalism] and an enabling environment," he told DW.
Riaz said that social alienation, sympathy for transnational extremist groups, a sense of victimhood as a part of the global Muslim community, are some of the driving factors behind Islamist radicalization in Bangladesh. The use of extremist rhetoric in mainstream politics and society, impunity to jihadists and an absence of democratic space are the enabling factors, the expert added.
Security analyst Muniruzzaman is of the view that the use of religious narrativesby political parties, particularly the ruling Awami League, is one of the major reasons behind a sustained radical thought in the South Asian country. He said that the government's "unwritten alliance" with the radical Hefazat-e-Islam group is an example of a "nexus between the government and radicals."
"The government's actions are aimed at short-term electoral benefits," said Muniruzzaman, adding that they will have a long-term impact on society, something the state will not be able to undo in the future.
Observers also point to "digital radicalization" as another menace facing Bangladesh.
"The key message these extremist groups spread through the internet is the importance of establishing a caliphate in Bangladesh," Tanvir Hasan Joha, who monitors radicalism on the internet, told DW.
Run up to elections
Bangladesh is just months away from parliamentary elections. Experts fear the militant groups could unleash terror in the run-up to the vote, scheduled to be held between October 31 and December 31.
Monirul Islam, the head of Bangladesh Police's counterterrorism unit, believes that "complacency" at this time could be dangerous.
"If radical groups are not launching major terrorist attacks, it does not mean they're not operating," Islam told DW.
Islam says that security forces alone cannot defeat the menace of radicalization.
"We were successful in dealing with it on a tactical level. But the strategic part, which is countering extremism on all fronts by involving all stakeholders, needs more efforts," he added.
https://www.dw.com/en/declining-terror-attacks-why-bangladesh-cant-afford-to-be-complacent/a-44586518
--------
Southeast Asia
Radical Teachings Enter Mosques of Gov't Institutions
July 09, 2018
Jakarta. Dozens of mosques belonging to state-owned enterprises, ministries and government institutions have strong radical inclinations; a study has shown, revealing a new urgency for the government to step up preventive efforts on its own turf.
The study by the Association of Islamic Boarding Schools and Society Development (P3M) and social organization Rumah Kebangsaan in 2017 listed 41 out of 100 mosques surveyed in Jakarta as radical.
P3M and Rumah Kebangsaan conducted the survey between Sept. 29 and Oct. 21 by analyzing hundreds of video and audio recordings taken by volunteers at 35 mosques in ministries, 28 in government institutions and 37 in state-owned enterprises.
Released on Sunday (08/07), the study found that radical narratives were spread especially during Friday sermons, and included hate speech, calls for the establishment of a caliphate, and a negative portrayal of other faiths.
Mosques at state-owned enterprises are especially vulnerable. According to the study, 21 of them have been infiltrated by radical groups.
"The high indication of radicalism at these mosques shows a lack of attention from the government, as they are structurally under its management," it said and advised that the Indonesian Mosques Council (DMI) should look into the findings to take appropriate measures.
P3M chairman Agus Muhammad said moderate Islamic preachers should deliver sermons at government mosques.
"If moderate Islamic preachers are not active, these mosques will be overwhelmed by hardliners," Agus said, as quoted by NU Online.
He added that preventive measures can also be undertaken by ordinary citizens, who should report indications of radicalism to relevant authorities.
http://jakartaglobe.id/news/radical-teachings-enter-mosques-govt-institutions/
--------
'Being Muslim' Lifestyle Sweeps Indonesia
July 10, 2018
Japanese electronics manufacturer Sharp is claiming a first in Indonesia — halal refrigerators — after the Indonesian Ulema Council (MUI) granted the manufacturer halal status.
It's the latest indication that Islam is being commoditized in the world's most populous Muslim nation.
From language to fashion, the Muslim public is striving to be visibly Muslim. Critical minds are protesting that little spirituality is involved and that people who refuse to follow the fashion trend are being terrorized by being told they are not faithful to their religion.
Central to this social transformation is the concept of hijrah, a term from the earliest years of Islam when the Prophet Muhammad and his followers migrated to avoid conflict and persecution.
Lailatul Fitriyah, a doctoral candidate in theology at Notre Dame University, recently told feminist online magazine Magdalene that the current pursuit of the interpretation of hijrah is potentially highly destructive.
She states that one historical interpretation of the concept is that Muslims should migrate from areas that are ruled by fellow Muslims (Darul Islam) and not accept living under the rule of non-Muslims. This was one of the basic beliefs of the Islamic State movement, or Daesh.
Some Indonesians believe that they have to create their own spaces within the country, ruled as it is by a secular government.
"This is becoming a process of social segregation. It is not a process of expanding our universe and working together with different people but it is restricting our lives," states Fitriyah.
People must wear the right clothes and are being told they have to live in Muslim housing developments in a process she believes is extremely dangerous.
While people claim this is religious, in fact it is more a matter of lifestyle. The movement is forcing people to buy and consume certain goods — even halal refrigerators.
Fitriyah argues that the hijrah movement tends to ignore spiritual development and promises "instant perfection" for those who adopt all the right lifestyle symbols.
The movement is strongest among the educated urban middle class, where traditional community links are weakest, she says.
Other commentators equate the sense of having to defend and strongly identify with the Islamic religion as a legacy of the sense of persecution among the Muslim community that developed under the Suharto regime.
Within the diverse Indonesian community, such a movement is potentially highly divisive and, as shown by its shared attitudes with radical groups such as Daesh, could lead to radicalism.
The trend is also often dangerous for those who adopt it, said Achmad Munjid, a lecturer at the department of intercultural studies at Gadjah Mada University in Yogyakarta, in an op-ed article in The Jakarta Post.
He points to a desire on the part of the public to adopt the symbols of Islam to support their self-confidence. But, he says, when the demand for "religious providers" outstrips the supply, "the essence and quality of religious practice become secondary." "This thirst for religious symbols eventually invites new actors, many without proper training, some even with dark motives."
This thirst, he states, "has helped created the Islamic black market, a free space for quasi religiosity, pseudo-Muslim preachers, fake Islamic business and religious fraud … as well as teaching hoaxes, including radicalism and terrorism."
Among the abuses that have been committed are a number of cases in which fraudsters have traded on the high demand for short pilgrimages — umroh — to the Islamic holy land.
Companies offering cut-price pilgrimages that are never provided have cheated thousands of people out of many millions of dollars.
At the same time, says Munjid, there is a troubling discrepancy between the public craving for Islamic symbolism and the high level of corruption in society.
Fitriyah says there are better ways to become a better Muslim. "What's more important is humanitarian hijrah," she says.
"There is no need for any sense that Islam is a religion under pressure in Indonesia. Get out and meet different people. It's a process of dealing with our internal issues. That's actually more difficult than going out and buying a halal refrigerator."
Some Muslims are reacting in a different way.
Jakarta housewife Yani — not her real name — says terrorist bombings and the social pressure to conform to an Islamic lifestyle have made her doubt her religion. She now feels oppressed by her fellow Muslims because she refuses to conform.
"People give me dirty looks in the street if I walk up to local shop in a pair of shorts. The other mothers at my children's school all ask why I don't cover my hair. It never used to be like this," she complains.
"I refuse to be pushed into conforming with something I don't believe in. I was brought up to believe that my religion is a matter between the individual and the Almighty. It is not a matter of what you look like or what you wear. Most of these people are hypocrites. They are no more holy than they ever were in the past. The pressure has made me wonder about what we have learned from Islam. We were told as children that we had to believe all of this. Now, I have my doubts."
Not having a religion is not an option in Indonesia, but it is possible that while on one side the majority accepts conformity, a minority will reject it and turn to questioning their faith.
The hijrah movement sits at the heart of very deep cultural change in Indonesia. Since the decision of the late president, Suharto, to become more overtly Muslim in the early 1990s, there has been a marked shift toward Islamic conformity and conservatism. To a degree, the search for identity in modern Indonesia may represent dissatisfaction with democracy and what it has achieved in the 20 years since Suharto stepped down.
Full report at:
https://www.ucanews.com/news/being-muslim-lifestyle-sweeps-indonesia/82753
--------
Modernise tahfiz school, not shut them down: PPBM
July 9, 2018
GEORGE TOWN: Penang Parti Pribumi Bersatu Malaysia (PPBM) has called for tahfiz schools in the country to be modernised, rather than shut down.
Youth chief Muhammad Shameer Mohamed Sulaiman said the religious schools have proven to be able to produce civilised, responsible and virtuous people due to its teachings, and hence it should be preserved at all cost.
He however suggested for more systematic modern tahfiz schools to be operated, in line with the current advanced technology, so that it will be perceived as more relevant.
"The perception that such schools will produce a backward Muslim society in future is untrue. Nowadays, the students even sit for Sijil Pelajaran Malaysia (SPM) examination and further their studies at the tertiary level.
"There should be improvements in terms of infrastructure and safety, with comfortable surroundings for the students besides changing in its syllabus to give it a fresh look. Closing them down is not an option," he said today.
He was responding to former Information Minister Tan Sri Zainuddin Maidin, who recently proposed that tahfiz schools be closed due to several issues surrounding the religious institution, claiming that such schools do not give hope for the new generation of Muslims.
Zainuddin was subsequently slammed for his controversial statement.
Minister in the Prime Minister's Department in charge of religious affairs Datuk Mujahid Yusof Rawa had said that the move to shut down the institution had no basis or rationale.
Elaborating, Muhammad Shameer said instead of closing down the tahfiz schools, the authorities should instead clamp down on entertainment outlets, gambling and vice centres.
"These outlets have mushroomed and they have negative impact on youths.
"As such, they should be closed to prevent our future generation from being involved in unhealthy activities," he said.
In Kuala Lumpur, non-governmental organisation Persatuan Permata Al-Quran Malaysia said that Zainuddin went overboard when he made the call to close tahfiz schools.
Its president Manolito Mohd Dahlan said the former information minister's statement was ignorant toward realities of the institution of tahfiz schools, religious scholars and preachers.
He said Zainuddin's opinion was not constructive, and it reeked of his personal hatred towards the subject matter. He said that Zainuddin's personal opinion had insulted this revered institution of Islamic education and caused uneasiness among Muslims.
"Islam teaches its followers to respect the Al-Quran. The Prophet has taught us that the most honourable among us are those who learn and teach the Al-Quran.
"We ask for Datuk Dr Mujahid Yusof Rawa (Minister in the Prime Minister's Department in charge of Islamic Affairs) to not take notice of Zainuddin's statement.
Manolito said Mujahid should be advising Zainuddin against interfering in the administration of Islamic affairs in the new government.
"We ask that any quarter who is prejudice towards the institution of tahfiz schools to be fair and to be more careful in issuing statements. Do not play with sentiments of hatred," said Manolito in a statement today.
He said that if Zainuddin or any other person instigated and insulted the institution of tahfiz schools further, the association will not hesitate to lodge a police report.
He said this was to avoid angering people and disunity, hostility and negative perception towards Islamic institutions.
"We hope that the new government would strengthen the tahfiz institution, 'sekolah pondok' (religious schools) and other religious institutions by providing more funding.
Full report at:
https://www.nst.com.my/news/nation/2018/07/389129/modernise-tahfiz-school-not-shut-them-down-ppbm
--------
With no proper minister, can racial harmony stay on Pakatan's agenda?
10 July 2018
By Syed Jaymal Zahiid
KUALA LUMPUR, July 10 — Analysts believe that Tun Dr Mahathir Mohamad's exclusion of a full minister to overlook racial and religious harmony could stall ongoing efforts to foster national unity.
The four-party coalition in its election manifesto had proposed to establish a Majlis Perundingan Keharmonian Rakyat (Consultative Council for People's Harmony), which had raised hopes that the new administration would revive the campaign to foster genuine integration after decades under Barisan Nasional (BN) left the nation divided along communal lines.
It is stated that the Council would, among other things, "research and suggest policies and programmes that will enhance unity and integration and eliminate discrimination from our culture."
But observers have been left baffled after Prime Minister Dr Mahathir designated the national unity and social wellbeing portfolio to a mere deputy minister instead of a full minister, which they said have made some question if his government was taking national reconciliation seriously.
"National unity is most critical especially inter-religious and ethnic harmony, including integration with Sabah and Sarawak," said Universiti Kebangsaan Malaysia's (UKM) Datuk Denison Jayasooria.
"Not announcing a minister is not too good. There must be a strong one at the centre... there is a definite need for minister. Now only a deputy? Who does he report too?"
Dr Mahathir unveiled his remaining full Cabinet lineup last Monday, naming Parti Pribumi Bersatu Malaysia's Md Farid Md Rafik as Deputy Minister in the Prime Minister's Department in charge of national unity and social wellbeing.
Amanah's Datuk Mujahid Yusof Rawa was named Minister in the Prime Minister Department in charge of religious affairs, but it is unclear if his scope of job would include matters related to racial unity or integration with Sabah and Sarawak, as noted by Jayasooria.
Some also believe the lack of clarity around Mujahid's designation could limit the interpretation of his job scope to just Islamic affairs, although the Amanah vice-president did say in an interview with Malay Mail last week that he aims to use his position to push for inter-faith dialogue.
Sarawak-based political analyst Faisal Hazis said PH's failure to name a full minister to oversee integration may frustrate some segments in East Malaysia, where anti-peninsula sentiment has grown strong in recent years.
Unity a stillborn
But the Universiti Malaysia lecturer also believes the new administration could salvage the shortcoming and turn it around to its advantage if Mujahid's job scope goes beyond Islamic affairs and if the minister puts national reconciliation high on his agenda.
The former PAS leader already has a sterling track record on interfaith initiatives, Faisal noted further.
"We thought that this government is building a new Malaysia and if you want to do so, need to look at all religion and not only focusing on Islam. But having said that, Mujahid Yusof Rawa is a good inclusion because he is very inclusive and has been actively involved in inter-religious dialogue," Faisal told Malay Mail.
"I thought he could have been made in charge of religious affairs and unity...but let's give this government room to prove itself and hopefully the portfolio is not only tasked to look at Islamic affairs alone, it could be seen in relation to other religion as well."
Regardless, critics say they have valid reasons to worry or doubt PH's seriousness about national integration.
The forerunner of Pakatan, the four-party Opposition coalition called Barisan Alternatif, had proposed a similar entity on April 2, 2001 called Majlis Perundingan Perpaduan Nasional (MPPN), public intellectual Chandra Muzaffar noted in a letter penned on the subject and published by the press just last month.
Yet the MPPN, which would have formulated ideas on unity and was envisaged as an independent body that would be directly answerable to Parliament, was a stillborn.
Chandra also noted that two of the four parties that endorsed the MPPN are now part of PH. Yet three out of the four parties from the coalition appeal to ethnic constituencies, downplayed ethnic issues during the election campaign, and instead highlighted the alleged kleptocracy of then Prime Minister Datuk Seri Najib Razak, especially in relation to the 1Malaysia Development Berhad (1MDB) scandal.
"Exposing elite corruption and espousing integrity are political postures which have a huge impact upon the electorate regardless of ethnicity and religion," Chandra, also among detractors critical about the absence of a unity minister, said in the letter.
"But good governance alone is not enough to create a harmonious society. Issues of identity are at the core of most multi-ethnic and multi-religious societies. Malaysian identity, for instance, can be a divisive issue."
Conservative backlash
But others have argued that Dr Mahathir may have had political considerations to make, and that putting less emphasis on religious or racial reconciliation — which would entail addressing thorny issues like dismantling Bumiputera privileges — could allay fear among conservative Malays that the new government is abandoning their interests.
Only a third of the country's ethnic majority, the Malays, voted for PH in the 14th general election, with the rest going to conservative pro-Bumiputera and pro-Islam parties Umno and PAS.
"This government is grappling with reform with the old system but they also have to balance the fear of the conservative Malay voters as well," Faisal said.
Full report at:
https://www.malaymail.com/s/1650522/with-no-proper-minister-can-racial-harmony-stay-on-pakatans-agenda
--------
Manila lauds swift rescue of Filipinos kidnapped in Iraq
July 09, 2018
MANILA: The Philippines confirmed on Monday that the two Filipino women abducted in Iraq last week have been rescued and some of their captors arrested.
Foreign Affairs Secretary Allan Peter Cayetano expressed gratitude to authorities in Iraq for the swift and successful rescue of the two Filipinos who were reportedly seized by armed men last Friday.
In a statement, the Department of Foreign Affairs (DFA) said the Iraqi authorities informed the Philippine Embassy in Baghdad on Sunday that the two were under police custody after they were rescued in Diyala Province, north of the capital, on Saturday.
"We thank God for the successful rescue of our two kababayan (countrymen)," Cayetano said after he was informed of the development.
"Their safe recovery would not have been possible without the swift response of our Iraqi friends and for that we are very grateful."
Citing a report from Chargé d'Affaires Julius Torres, the DFA said the Philippine Embassy in Baghdad was informed by authorities in Diyala province that the two were rescued from members of a criminal group who forcibly took them.
Torres said Iraqi authorities told the embassy that several members of the group had been arrested during the police rescue operation and that charges were being prepared against them.
Torres said the embassy has requested Iraqi authorities access to the two rescued women and the two other Filipinos who were earlier reported to have been taken into custody after escaping from the same armed men.
Earlier reports indicate that the four Filipinos came from Irbil in the northern Kurdistan region and were on their way to Baghdad when their vehicle broke down along the highway in Uzem District between Kirkuk and Diyala where they encountered armed men in a yellow car.
The women were then forcibly taken by the armed men after their driver abandoned their vehicle. However, two of the four women were reportedly able to escape.
Torres said the Embassy would request custody of the four women as soon as the police investigation is concluded so that they can immediately be repatriated.
A DFA official said they could not release the names of the four women without consent of their next of kin.
The Embassy estimated that there are 4,000 Filipinos working in Iraq, with around 3,000 based in the Kurdistan region.
Reports note that there has been a surge in violence and abduction incidents by remnants of Daesh since Iraq declared victory over the terror group last year.
Meanwhile, the DFA continues to work to secure the release of three Filipino technicians abducted in Libya during the weekend. The Philippine Embassy in Tripoli said the three Filipinos were among four foreign nationals taken by armed men from a waterworks project site Friday.
Chargé d'Affaires Mardomel Melicor said armed men entered the construction site located 500 kilometers from Tripoli early morning Friday and took five foreigners and four Libyans from their quarters.
Melicor said the armed men later released one of the foreign workers and all the Libyans.
Earlier reports indicate that apart from the three Filipinos, a South Korean national was also abducted by the armed men during the raid at the water plant south of the capital of Tripoli.
Reports further state that kidnapping has become a lucrative trade in Libya amid the breakdown of authority.
Full report at:
http://www.arabnews.com/node/1336046/world
--------
Arab World
UAE ranked '10' among most powerful passports
July 09, 2018
LONDON: The UAE passport has become one of the world's most powerful travel documents.
The Emirates passport joins the US, Germany and Singapore with a top ten ranking, according to Passport Index, which ranks the documents based on how easy it is to travel when carrying one.
The UAE's rise up the ranks comes after the Emirates signed a visa waiver agreement with Russia earlier this week.
The list ranks countries on a "visa-free score," which assigns passports a point for each country their holders can visit.
The deal with Russia boosted the UAE's visa free score to 155. Singapore, the top country, has a score of 166 while Saudi Arabia has a score of 77.
Russia, which has a score of 115, will not see a change in its ranking as the UAE already issued a visa-on-arrival for Russian passport holders.
More than 750,000 Russians visited the UAE last year, contributing a total of $2.3 billion to the UAE economy.
In 2017, the UAE said it wanted to position the country's passport on the list of the five most powerful in the world by 2021.
At the time of the announcement, the UAE passport was scored at 132 - the most powerful in the GCC.
Emirati citizens do not need a visa to visit Canada for up to six months.
In addition to Canada, the UAE has visa waivers coming in to force from Brazil and Guyana.
http://www.arabnews.com/node/1336001/middle-east
--------
Iraq rapidly executing Islamic State members
July 9, 2018
Baghdad – More than a decade ago, Ismail Saleh says, a neighbor wanted to marry one of Saleh's cousins. Following the custom of their clan in northern Iraq, she was meant to wed Saleh, so the family refused. And thus, he says, a feud was born.
Saleh now sits on death row in Baghdad, sentenced to hang after being accused of fighting for the Islamic State group, a charge he steadfastly denies. The chief evidence against him: the word of that neighbor.
"Sometimes I wake up and for a moment I feel that this death sentence and me being here is just a bad dream," the 29-year-old told The Associated Press in an interview in a Baghdad prison.
Death sentences are being issued at a dizzying rate in Iraq's rush to prosecute and punish suspected members of the Islamic State group, with more than 3,000 handed out over just the past few years. About 250 people condemned for alleged IS ties have been hanged since 2014, including 101 only last year.
Any allegation of having taken up arms for the militant group can bring the ultimate penalty, even while the evidence is thin and cursory.
The heavy reliance on informants is particularly glaring, given the potential that some are motivated by personal grudges. Informants never appear in court; their claims are passed to the judges in dry, written reports from intelligence officials with no hint of their possible motivation.
Thousands of defendants are pushed through the courts at a rapid clip, with individual trials as short as 10 or 15 minutes and a third of the cases ending in the death penalty. Witnesses are very rarely called and no forensic evidence presented, raising the likelihood of innocent people going to the gallows.
The cases are so flimsy that President Fuad Masum has refrained from ratifying many executions, which is required by law before they can be carried out, a senior official in the president's office told the AP.
"We have doubts," said the official, who spoke on condition of anonymity because he was not authorized to discuss the issue.
"We didn't find solid proof in some of the cases we've studied," he said. "We attended some hearings and found the cases are ruled on quickly in one hearing."
Still, the pressure is rising for executions to be carried out even more rapidly, including from Prime Minister Haider al-Abadi. Last month, 13 people accused of IS ties were hanged within three hours of the president ratifying the death documents – an unusually quick turnaround.
The AP spoke to Ismail Saleh and two other Iraqis accused of being Islamic State group fighters who were sentenced to death, as well as to their families in and around the northern city of Mosul.
Like nearly all the other defendants, all three denied ties to IS. Not all the details of their accounts could be independently confirmed, but their stories – which raise reasonable doubts over their guilt – were not closely examined in court before they were condemned to die, underscoring the system's weakness.
That judicial haste was readily apparent when the AP attended three consecutive days of court sessions in Baghdad in late May.
The court heard an average of a dozen cases a day, most involving accused IS members. During those three days, the presiding judge, Suhail Abdullah Sahar, imposed at least 10 death sentences.
"We do everything we can to get to the truth and we don't want to be unfair to anyone," Sahar told the AP. "These defendants are here on the strength of testimony given by a secret informer, neighbors or their own families."
The judge acknowledged he knew some informers offered incriminating testimony to settle old scores, but gave no indication how he could differentiate true testimony from false.
Saleh told the AP that the feud with the family of his neighbor festered for years after the dispute over his cousin – even though Saleh ultimately didn't marry her either.
In May 2017, shortly after his neighborhood was freed from IS militants, security forces arrested Saleh and sent him to a local prison, where he said he was tortured and beaten for four days. The neighbor, he was told, had turned him in, telling authorities he had been temporarily detained by IS because Saleh told the militants the neighbor had been a member of the police force.
During his brief trial in December, Saleh said the judge asked if he had informed on his neighbor.
"I said no," Saleh recounted. "Then he asked me to leave during consultations. When I came back, I was sentenced to death."
His crimes, according to a copy of the verdict obtained by the AP, were joining IS, fighting against security forces and informing on the neighbor. The ruling said it was based on the neighbor's testimony and a confession by Saleh. Saleh says he indeed confessed – but only to stop the torture.
In Mosul, his family said Saleh had his own troubles with IS during its rule. Like his neighbor, he was detained when the militants learned he had applied for a policeman's job in 2007, according to his mother, sister and wife.
After IS was driven out of Mosul, government-linked Shiite militiamen detained Saleh twice on suspicion of belonging to IS, each time holding him overnight, said his wife, Hind Zaki.
Zaki said she was two months pregnant with their sixth child when the army arrested Saleh for the final time. For the next three days, she said she received calls from his mobile phone and could hear him screaming in the background, as the caller told her that her husband had confessed to being an IS member and that she, too, was a member.
When she was five months pregnant, she said, an army officer and three soldiers kicked in the door of her home. The officer beat her, stuck a pistol in her mouth and threatened to rape her, Zaki said.
"At one point, I was barely conscious," she said. "The soldiers kept telling him, 'Let's go before she dies.' "
She finally saw her husband again after he was convicted, visiting him in prison with three of their children.
"I don't even know if any of my children know that I have been sentenced to death," Saleh said.
Full report at:
That appears to have sealed his fate.
https://www.detroitnews.com/story/news/world/2018/07/09/iraq-death-penalties-islamic-state/36743457/
--------
Rebuilding and fight against terrorism top priority for Assad
July 10, 2018
DAMASCUS: Syrian President Bashar Assad said on Monday that his top priority was the reconstruction of his country, battered by more than seven years of fierce fighting.
He spoke during a gathering with his Foreign Affairs Minister Walid Muallem and other Syrian diplomats in Damascus, according to the presidency.
"Reconstruction is the top priority in Syria, backed up by the continued fight against terrorism," Assad said.
Syria's war began in 2011 with protests against Assad's rule that turned into a full-fledged conflict.
Violence has gutted the country's infrastructure, including electricity and water systems, schools and hospitals, and other institutions needed for daily civilian life.
In 2017, the World Bank estimated the cost of war-related losses in Syria at $226 billion, the equivalent of four times the country's pre-war gross domestic product.
Top officials in the West publicly insist their countries will provide no reconstruction funds without a credible political transition away from Assad.
And the Syrian head of state, who has estimated rebuilding would cost $200 billion at the very least, has insisted he would refuse Western contributions.
In an interview in June with Russia's NTV network, Assad said the West "won't be part of reconstruction in Syria, because very simply we won't allow them to be part of it, whether they come with money or not."
On Monday, Assad said his government would also focus on amending legislation, the return of refugees who fled because of "terrorism" and reactivating the stalled political process.
More than 6 million Syrians have been internally displaced by the conflict, and another five million have fled to neighboring countries.
Full report at:
http://www.arabnews.com/node/1336141/middle-east
--------
Syrian Army Aborts Israel's Logistical Back up for Tahrir Al-Sham
Jul 09, 2018
The Syrian army's artillery and missile units staged heavy fire on Tahrir al-Sham's positions and moves in al-Alam square, Rawihineh and the road linking Naba'a al-Sakhrah to Southwestern Quneitra and the nearby areas on Monday.
Several positions and military vehicles of terrorists were smashed and a number of militants were killed and wounded.
Field sources said that Tahrir al-Sham was moving towards the de-escalation zone with Israel to receive military aid from the Israeli army when it came under attack by the Syrian army.
In a relevant development on Saturday, the Israeli troops targeted a position of the Syrian Army troops in the Southwestern province of Quneitra to assist Tahrir al-Sham Hay'at terrorists that have suffered a heavy defeat in battle with the government forces, a media outlet reported.
Al-Mayadeen news network reported that the Israeli troops opened heavy fire at one of the positons of Tahrir al-Sham in Khan Arnaba region in Northern Quneitra after the government forces repelled a heavy offensive of Tahrir al-Sham in the region.
Al-Mayadeen further said that the Israeli attack did not leave any human casualties.
It went on to say that the terrorist groups in Quneitra had attacked the army stronghold in al-Ba'ath, Jaba and Tal Koroum regions before the Israeli troops launched their attack.
Al-Mayadeen further said that over 30 terrorists were killed or wounded in the militants' failed attack on the army positions in three flanks near al-Ba'ath.
Meanwhile, field sources reported that Israeli troops launched artillery attack on Syrian army in Quneitra, adding that the Tel Aviv army forces transferred the wounded members of the terrorist groups from the Quneitra battlefield to occupied territories in Bariqa border region in Israel to treat them in their hospitals.
Full report at:
http://en.farsnews.com/newstext.aspx?nn=13970418000409
--------
More Militant-Held Regions in Southern Syria Join Peace Agreement
Jul 09, 2018
The Center reported that 15 towns in Dara'a and a town in Sweida province have joined the peace plan in the past 24 hours.
It added that totally 75 regions in Dara'a province have joined the peace plan, increasing the number of such regions in Southwestern Syria to 90.
Meantime, nearly 1,000 terrorists and their family members are due to be transferred from Southern Syria to other regions.
The Russian Defense Ministry said on Sunday that a majority of militant commanders have endorsed the reconciliation plan in the Southern province of Dara'a, adding that the peace plan will probably be put into action in five regions in Western Dara'a.
The ministry said that most terrorist commanders have joined peace agreement with the Syrian army only a few hours after the start the reconciliation plan in Dara'a.
It further said that a major number of terrorist commanders have decided to end battle and join the peace process with the army following talks with government troops.
In the meantime, the terrorist groups in the townships of Jidrou region in Western Dara'a, including Ankhal, Nawa, Jasem, Nemr and al-Harrah formed a joint delegation to enter talks with the Russian-Syrian delegation.
Terrorists formed a joint delegation after militants in Eastern Dara'a laid down arms and signed the peace agreement with the army.
Full report at:
http://en.farsnews.com/newstext.aspx?nn=13970418000308
--------
Several Terrorist Commanders Flee Southern Syria to Jordan
Jul 09, 2018
Field sources reported on Monday that the Syrian army has seized control of Kharab al-Shaham region in Western Dara'a after peace agreement with the militants, adding that residents of the region have hoisted the Syrian government flags.
Also reports said that the terrorist groups in the town of Tafas in Northwestern Dara'a have reached an agreement with the Russian and Syrian sides to deliver control of the region to the army.
A Syrian army's field commander said that the army has taken control of the air defense battalion in Western Dara'a, adding that the terrorists' supply lines have been cut off between Western and Eastern Dara'a.
Meantime, media activists reported that at least 11 senior terrorist commanders in Dara'a have fled to Jordan amid the army's extensive advance.
They added that Ayad Qadour, the commander of Mohajerin and Ansar brigade (affiliated to the so-called Free Syrian Army), Mohammed al-Mahamid nom de guerre Abu Omar al-Zaqloul, the commander of Aswad al-Senah (affiliated to the FSA) and Imad Abu al-Zariq, one of the military commanders of Jeish al-Yarmouk, are among those who have fled to Jordan.
Relevant reports said on Sunday that a majority of militant commanders have endorsed the reconciliation plan in the Southern province of Dara'a, the Russian Defense Ministry said, adding that the peace plan will probably be put into action in five regions in Western Dara'a.
The ministry said that most terrorist commanders have joined peace agreement with the Syrian army only a few hours after the start the reconciliation plan in Dara'a.
It further said that a major number of terrorist commanders have decided to end battle and join the peace process with the army following talks with government troops.
In the meantime, the terrorist groups in the townships of Jidrou region in Western Dara'a, including Ankhal, Nawa, Jasem, Nemr and al-Harrah formed a joint delegation to enter talks with the Russian-Syrian delegation.
Terrorists formed a joint delegation after militants in Eastern Dara'a laid down arms and signed the peace agreement with the army.
Full report at:
http://en.farsnews.com/newstext.aspx?nn=13970418000259
--------
Terrorists Fail in Offensive against Syrian Army in Idlib
Jul 09, 2018
A group of Horas al-Din terrorists who sought to launch an offensive against the army positions in the village of al-Wabideh in Southeastern Idlib were caught in the army's booby-traps on Sunday, the sources said, adding that at least ten militants, including a number of their commanders, were killed.
They said that several foreign terrorists, including Abuzar Libyayi and Abu Hamzeh Misri were among the killed militants.
Meantime, the army's artillery units targeted the terrorists' positions and moves West of the town of al-Latamineh and the village of Hasraya in Northern Hama, killing a number of terrorists and destroying their military equipment.
A number of Jordanian commanders of Tahrir al-Sham Hay'at (the Levant Liberation Board or the Al-Nusra Front) had in March declared formation of Horas al-Din terrorist group to replace al-Nusra.
In a relevant development last Tuesday, the Arabic-language website of Sputnik reported on Tuesday that the Russian and Syrian warplanes staged a heavy bombing on terrorists' movements amid a heavy offensive of Tahrir al-Sham Hay'at and the terrorists of Horas al-Din against the government forces' positions in Souran township in Northern Hama.
It said that the warplanes further struck terrorists' positions in the villages and towns of Skeik, al-Tamanna, Ma'arkaba and Lahaya in Northern Hama and Southern Idlib, weakening the combat and supplying capacities of the terrorists in al-Latamina region.
The report went on to say that the army later dispatched more troops to the battlefield and gained back lost lands from terrorists in Souran region.
At least 35 terrorists were killed or wounded in the failed attack of the terrorists and in the bombardments.
Full report at:
http://en.farsnews.com/newstext.aspx?nn=13970418000289
--------
Syrian Army Tightens Noose on Terrorists in Dara'a
Jul 09, 2018
The army forces engaged in clashes with the terrorists in Southeastern Dara'a after the Russian-Syrian talks with the terrorists failed, and imosed control over the village of al-Tayebah West of the town of Um al-Mayazeen.
Meantime, a field source said that a number of terrorists were killed and their weapons and military equipment were destroyed, adding that other terrorists fled towards the Syrian-Jordanian borders.
Also, the Syrian army units stationed in Southwestern Dara'a attacked the air defense battalion region from their positions in the strategic al-Zamitiyeh hill, liberating the region after fierce clashes.
The army forces then continued advances in the region, and gained control of five border checkpoints in West of al-Nasib passageway.
The Syrian army drove a wedge between Western and Northern Dara'a from the lands regained from the terrorists in Dara'a city and Qaraz region in South-East of the city after the recent advance.
Meantime, a field sources said that the Syrian army has established security along the international road stretching from al-Nasib passageway to Kharbat Qazalah bridge in Northern Dara'a after three years.
The Syrian army dispatched more soldiers and military hardware to battlefields in and around the city of Dara'a on Sunday, preparing for a major assault to drive terrorists out of the Southern city.
The army forwarded a large number of forces and equipment to Dara'a city after its advances in Eastern Dara'a and liberation of Nasib border-crossing.
Field sources reported that the army is preparing for an imminent operation to liberate Dara'a city.
The sources further said that only a few villages in Eastern Dara'a are still under terrorists' control and the region has militarily fallen into the army that controls almost 95 percent of Eastern Dara'a.
Full report at:
http://en.farsnews.com/newstext.aspx?nn=13970418000162
--------
Saudi, French defence chiefs sign agreement on protecting classified data
Jul 10, 2018
Riyadh and Paris have signed a military agreement on protecting classified information amid criticisms of France's support for the Saudi regime's bloody war against impoverished Yemen.
The agreement was signed by Saudi Crown Prince Mohammed bin Salman and French Defense Minister Florence Parly in the Red Sea coastal city of Jeddah, the official Saudi Press Agency (SPA) reported on Monday.
Bin Salman, who also serves as the Saudi defense minister, and Parly reviewed areas of bilateral cooperation, especially military ties, as well as regional developments.
The meeting and the signing ceremony were attended by senior officials from both countries, including Saudi military chief of staff General Fayyad bin Hamed al-Ruwaili and Francois Gouyette, the French ambassador to Riyadh.
The French defense chief's visit to Saudi Arabia follows a trip in April by bin Salman to Paris, where the two countries signed 20 major economic deals worth $18 billion.
Growing Paris-Riyadh military ties come amid international outcry over the Saudi-led deadly military aggression against Yemen, which has killed or injured over 600,000 civilians since its onset in March 2015, according to the figures released by the Yemeni Ministry of Human Rights.
French President Emmanuel Macron has come under pressure from rights groups to scale back ties with the Saudi-led coalition over its brutal war against the people of Yemen.
According to a recent YouGov poll, 75 percent of French people want Macron to suspend arms exports to countries involved in the war on Yemen, including Saudi Arabia and the United Arab Emirates (UAE).
France, the world's third-biggest arms exporter, counts Saudi Arabia and the UAE among its major purchasers. France's biggest military firms, including Dassault and Thales, have major contracts in the Persian Gulf.
Export licensing procedures have no parliamentary checks in France and are just approved through a committee headed by the prime minister that includes the foreign, defense and economy ministers.
Earlier in May, two human rights groups campaigning for a halt to French arms sales to Saudi Arabia and the UAE said they were taking their case to France's highest legal authority.
Legal non-governmental organization Droit Solidarite and Aser, which specializes in armament issues, had given Prime Minister Edouard Philippe a two-month ultimatum in March to suspend licenses for arms sales to the Persian Gulf states.
The two rights bodies argue that France is breaking international law by providing weapons for the Saudi-led aggression against war-ravaged Yemen and subsequently committing war crimes there.
Full report at:
https://www.presstv.com/Detail/2018/07/10/567632/Saudi-Arabia-France-security-agreement-Saudi-Crown-Prince-bin-Salman-French-Defense-Minister-Parly
--------
Pakistan
Saad Rafique calls Imran Khan the 'Bal Thackeray of Pakistan'
July 10, 2018
LAHORE: Former minister for Railways and Pakistan Muslim League-Nawaz (PML-N) leader Khawaja Saad Rafique on Monday said that Pakistan Tehreek-e-Insaf (PTI) chief Imran Khan was Pakistan's very own Bal Thackeray, who "provoked his supporters to resort to violence and attack PML-N supreme leader Nawaz Sharif's residence in London".
Reacting to a video of the attack making rounds over the internet, Saad took to Twitter and said that attacking Nawaz's house was a shameful act of "PTI's crooks".
He said that there was no room for such violent acts in politics and the incident was regrettable.
It merits mention that the PML-N leader drew a comparison between the PTI chief and Bal Thackeray – founder of Shiv Sena, a Hindu right-wing ethnocentric party – after a protest by London-based Pakistanis outside the Avenfield flats owned by Nawaz Sharif. On Sunday night, an angry mob, allegedly led by supporters of the Imran Khan-led PTI, attempted to attack the Avenfield properties of the Sharif family.
However, the British chapter of the PTI condemned the incident and said there was no truth in the accusation that the party's workers were behind the incident.
https://www.pakistantoday.com.pk/2018/07/09/saad-rafique-calls-imran-khan-bal-thackeray/
--------
Imran unveils party manifesto, vows to make Pakistan an Islamic welfare state
JULY 9, 2018
ISLAMABAD: Pakistan Tahreek-e-Insaf Chairman Imran Khan unveiled party manifesto for general election 2018 on Monday.
While addressing a ceremony in Islamabad, PTI chairman said that the next government will face acute economic challenges.
He said in his speech that PTI's mission is to make Pakistan an Islamic welfare state following the principles that made the foundation of madina where prompt justice will be served to the people.
Stressing the main issues of the country, he said that unemployment is the foremost challenge to Pakistan. PTI will focus on creating jobs and how the agriculture be used for revenue, he said.
' If PTI given chance to form government , it will offer business incentives to create jobs to lead the country on the track of prosperity 'he said ,adding that PTI government will create one crore jobs and five million homes during our tenure in government.
"Letting you know of main points of our manifesto. First is low-cost housing schemes. We will build 50,00,000 houses for the poor. This is going to be like our Billion Tree Tsunami," the PTI chief told the media. Imran said that his party had held meetings with builders and was well aware of how the project will help the party in creating jobs.
"Small and medium enterprises (SME) are like the backbone of the country. We will facilitate young entrepreneurs by reducing the cost of doing business, which is currently the reason of red-tapism by Pakistani government sector," noted Imran.
While discussing the policy for agriculture sector, he stressed that the poor farmers will be facilitated.Special warehouses will be introduced to replace 'mandi'.Imran said
Full report at:
https://dailytimes.com.pk/265007/imran-unveils-party-manifesto-vows-to-make-pakistan-an-islamic-welfare-state/
--------
Ideology can't be wiped out by killing followers: Bilawal
Shakeel Ahmad
July 10, 2018
MULTAN: PPP Chairman Bilawal Bhutto-Zardari says that an ideology cannot be wiped out by killing the individuals following it.
Addressing a public gathering at Bahawalpur bypass here on Monday, Bilawal said people who thought that an ideology could be eliminated by killing individuals had been proved wrong as the PPP was still standing and will continue to do so.
He further denounced the district administration for stopping his procession despite granting permission earlier.
"The way we have been welcomed from Karachi to Multan is proof that no one can stop us. From pelting stones in Karachi to creating obstacles on our way to Uch Sharif and Multan, we cannot be stopped from moving forward," he added.
The PPP leader said he was running his first election campaign and not doing politics of abuses, instead his party had come up with a people-friendly manifesto, which was geared towards the welfare of farmers, labourers and people in general.
"The issues of the masses have been addressed in our manifesto as, if any party wants to move forward, it should highlight these issues. We have to fight unemployment and deprivation besides providing free medical treatment and education," he went on to explain.
He also said that the late PPP founder chairman Zulfikar Ali Bhutto distributed land of feudals among landless farmers as the party believed that progress of a country lay in the progress of its farmers.
"We will introduce Benazir Kisan Cards and enrol them for provision of loans and subsidy besides insuring their crops," he said.
Bilawal claimed that 60 per cent of the country's population was suffering from malnutrition that his party will target by initiating 'Bhook Mitao Programme' under which food stores will be opened across the country that will be run by women. The PPP always built houses for the homeless and after coming to power more would be constructed particularly for the youth, he further claimed.
He said that poverty was a major issue the country was facing and the PPP had always focused on it. "We initiated Benazir Income Support Programme and will double its scope after coming to power. Besides this, we launched a poverty-reduction programme in Sindh under which we extended loans to women and over 0.8 million families are reaping its benefits."
He also promised to create a separate ministry with the objective of generating jobs for the youth. "I am out to complete the unfinished mission of Benazir Bhutto and save the country. The mission of Benazir was to solve the problems of the masses, which is my mission too," he added.
The PPP chairman said if the party could give recognition to Khyber Pakhtunkhwa, get the 18th amendment passed and approve NFC Award, it could also accord recognition to the Seraiki belt [and create a separate province out of it] and solve its issues.
"Multan gave us a PPP loyalist like Yousaf Raza Gilani, who being the prime minister initiated a number of development projects in the city," he further said. Bilawal asked the people to vote for the PPP candidates in Multan.
Full report at:
https://www.dawn.com/news/1419081/ideology-cant-be-wiped-out-by-killing-followers-bilawal
--------
Ashan Iqbal accuses rivals of peddling religious hatred for electoral gains
Nasir Jamal
July 10, 2018
It is 10.30pm and Ahsan Iqbal is winding up his election campaign for the day in a rural neighbourhood of this border district. Towards the end of his speech he talks about accusations that his party and leaders have gone soft on the issue of Namoos-i-Risalat, a refrain his main rival, Pakistan Tehreek-i-Insaf's (PTI) Abrarul Haq, is also using to take the National Assembly seat (NA-78) from him.
"Namoos-i-Risalat is our faith," thundered Mr Iqbal, who survived an attempt on his life during a rally in early May. The gunman who shot and wounded him is alleged to have links with an ultra-religious group.
The amendment to a law related to the Khatm-i-Nubuwat had led to countrywide violent protests and lockdown in Islamabad last winter. The change was later retracted and law minister Zahid Hamid was forced to resign his job as a result of the government's deal with the protesting group brokered by the military.
"No one in the world has a right to issue a certificate of faith against his fellow Muslims. It is for Allah to decide who is a good Muslim and who is not," he argued before reminding the crowd that his mother Nisar Fatima was one of the key movers of the blasphemy law.
The Tehreek-i-Labbaik Pakistan (TLP), which was leading the attack on the government and the PML-N in the wake of the amendment, as well as Tehreek-i-Labbaik Islam, are taking part in the election.
The TLP alone has fielded more than 250 candidates across the country for the July 25 elections, pledging to stop the PML-N from returning to power. The group, which had fought two by-elections in Punjab against the PML-N, the first for a Lahore seat that fell vacant after former prime minister Nawaz Sharif lost his job for a third time when the Supreme Court disqualified him in a corruption case a year ago and the second in Chakwal, is believed by many to have been created to play the role of a 'spoiler' in the elections. Many contend that it could hurt PML-N's chances in many places across Punjab.
"TLP is created to break away our religious voter... but the results of both by-polls in Lahore and Chakwal last year show that it failed to do so," Mr Iqbal told Dawn later at his election office in Narowal. "It cannot hurt our chances... our voter has matured over the years and will not be trapped by such tactics.
"Today we are being forced to prove our credentials as Muslims. This whole thing has created hatred in our society. I'm carrying the bullet of hatred inside me. We need to fight and win this war against religious hatred if we want to make progress."
He lamented that Bangladesh and India had left Pakistan far behind in economic field. "Even neighbouring Afghanistan is moving fast forward. That country looks politically more stable than Pakistan today."
His supporters say Mr Iqbal is forced to talk about the issue of Namoos-i-Risalat because his Pakistan Tehreek-i-Insaf rival Abrarul Haq is using it against him.
"The PTI candidate is facing a lot of resistance from the constituents because he lost touch with voters after his defeat in 2013 unlike Ahsan Iqbal who was available to them on weekends despite being busy as minister. Ever since Abrarul Haq has come back to Narowal for election, he is using religion to discredit his opponent," a local trader said to this reporter.
But religion isn't the only issue Mr Iqbal's challenger is using to thwart his plan to win the seat for the fifth term. He is also banking on large Jatt vote from the constituency besides his social work. PTI's growing popularity and the perception that the establishment doesn't want PML-N to win back power will also go in his favour, according to his supporters.
Back at the election rally, Mr Iqbal rounded off his speech with a promise of development of the area in next five years.
"The new delimitation scheme has not only reduced Narowal's seats from three to two, it has also added many new areas to his constituency which means Ahsan Iqbal has to spend more time in these areas to charm his new voters," a local journalist said.
Like other fellow PML-N candidates, Mr Iqbal also feels that a combination of the development the PML-N governments at the centre and Punjab have done over the last five years and the party's struggle for ensuring the sanctity of the vote after disqualification of Nawaz Sharif would help the party win re-election. So when he reminds his voters how their government had ended power shortage and brought peace to the country, he also asks them to avenge the injustice done to the former premier by turning up in a bigger number on polling day.
Full report at:
http://www.dawn.com/news/1419040/between-a-wall-and-a-narrow-path?preview
--------
Rifts taint MMA as JUI-F, JI field separate candidates in FATA
BY SHAMIM SHAHID
July 10, 2018
PESHAWAR: Rifts and divisions have tainted the Muttahida Majlis-e-Amal (MMA) as the Jamiat Ulema-e-Islam (JUI-F) and Jamat-e-Islami (JI), the two major components of MMA, have placed different candidates in erstwhile FATA for the upcoming polls.
The leaders of MMA, however, have claimed of winning a majority in Khyber Pakhtunkhwa (KP) in the upcoming elections.
The JUI-F has fielded its own workers on all 12 National Assembly seats from former FATA who are going to contest on its symbol 'book'. The JI, on the other hand, has placed four candidates as independents from Bajaur, Mohmand and Khyber Agencies.
According to the MMA formula, the JUI-F has received a lion's share in allotting tickets as it has fielded candidates on 28 out of 39 National Assembly seats and 63 provincial assembly seats. For the remaining 11 national and 37 provincial assembly seats, the remaining four parties of the MMA have fielded their candidates.
Amongst these remaining components of MMA, JI has placed candidates on 99 per cent of the remaining seats.
Serious rifts have emerged between the JUI-F and the JI as the latter has entered into an alliance with the Pakistan Muslim League-Nawaz (PML-N) against JUI-F in Buner. The JI will support PML-N candidate for National Assembly seat whereas the PML-N will back the JI candidates on three provincial assembly seats.
Similarly, in Swat, the JI candidate on provincial assembly seat is supporting a JUI-F dissident.
Moreover, in both Dir districts and several other parts of Khyber Pakhtunkhwa (KP), a majority of JUI-F workers are reluctant to support the JI candidates for the upcoming elections.
Like Dir, Bannu is also considered a stronghold of JUI-F and the MMA ignored the JI in awarding of all national and provincial assembly tickets in this area. Former chief minister Akram Khan Durrani is contesting this time on MMA ticket with 'book' as the election symbol against PTI chief Imran Khan.
JI remains a coalition partner of PTI, therefore, there are apprehensions that JI might support Imran Khan against Akram Khan Durrani. JI's senior leader Professor Muhammad Ibrahim Khan belongs to Bannu but was ignored while allotting tickets.
Tehrik-e-Islami, a Shia component of MMA in Dera Ismail Khan, has entered into a seat adjustment with PTI. But the JUI-F is supporting a former PTI MPA against Tehrik-e-Islami in Dera Ismail Khan.
In Swabi, on one national and two provincial assembly seats, the MMA has entered into a seat adjustment with PML-N. In both Abbottabad and Mansehra districts, workers and stalwarts of JUI-F and JI are unhappy with the distribution of tickets, and have, therefore, assured support to other parties like PML-N and PTI.
When contacted, JI's KP Secretary Maulana Abdul Wase and JUI-F's KP Information Secretary Abdul Jalil Jan showed satisfaction over what they called an understanding amongst the ranks of candidates and workers of both the parties. They claimed that the MMA will emerge as a majority party in coming general elections in the province.
Full report at:
https://www.pakistantoday.com.pk/2018/07/09/rifts-taint-mma-as-jui-f-ji-field-separate-candidates-in-fata/
--------
India
BJP slams AIMPLB plan to open Sharia courts across country
Jul 9, 2018
The BJP has slammed All India Muslim Personal Law Board's (AIMPLB) plans to open Sharia courts in all districts of the country. Though BJP leaders said any such move would be "unconstitutional", Muslim representatives termed "feasible and practical" the plan to open such religious courts, provided they are influenced by any 'siyasi jamat'-political fraternity or politics that is.
The proposal by the highest decision-making body on Muslim affairs will be placed for discussion at a meeting of the AIMPLB, here, on July 15.
Sensing a Congress hand behind the move for "evading the Supreme Court order on instant Triple Talaq", BJP's Rajya Sabha MP GVL Narasimha Rao told The Tribune that the measure was aimed at "denying gender justice for Muslim women".
"The so-called Sharia courts have no legal sanctity. This is a desperate and devious attempt to evade the Supreme Court judgement holding instant Triple Talaq unconstitutional. There is a hidden Congress party's hand behind this measure aimed at denying gender justice for Muslim women," he said.
To a question on BJP's plans now, Rao said "they have no legal sanctity. This is undue interference in personal matters of the community".
However, given its place of importance in the saffron strategy for 2019 Lok Sabha elections, Muslim representatives, who did not wish to be identified, said whatever the BJP may say such religious courts were not just "feasible" but would also be "acceptable" to Muslims, including women, whose rights the BJP was trying to project and protect through legislation on issue like instant Triple Talaq.
"They (Sharia courts) are permissible by Islam. All personal issues, including those related to divorce, can be resolved at the level of a 'maulvi' saving the trouble of going to courts or engaging expensive lawyers. Their verdict will be acceptable to all, including woman, who will see it a direction from the religious order. The man may also prefer an intervention by a religious representative over a litigation in the court and a possible jail term," they said.
No wonder then that for the BJP, which is all set to make its empowerment of Muslim women a big political issue in 2019, is worried. "If this happens, it will be a cause for worry while also affecting its stance on a Uniform Civil Code in the country. In courts you need lawyers whereas here all issues, including related to divorce, will be resolved by a 'maulvi', leaving a huge population of the country out of the ambit of its established legal system," Muslim representatives say.
"They are not parallel courts but Darul Qaza 'arbitration councils'. They are not unconstitutional and have been functioning in the country for years," said Asaduddin Owaisi, president of the All India Majlis-e-Ittehadul Muslimeen, supporting the AIMPLB pitch for Sharia courts in every district of the country.
Meanwhile, Rajya Sabha MP Subramanian Swamy also urged the Centre to act against people demanding Sharia courts terming it "de-facto way of dividing the country and creating secession".
"There is only one court and one law. The constitution is a guiding force and anything outside it will not be acceptable. Any attempt made, should be acted upon strongly by the government and these people should be arrested under the National Security Act," he said.
http://www.tribuneindia.com/news/nation/bjp-slams-aimplb-plan-to-open-sharia-courts-across-country/617763.html
--------
Knife attack on Tral student: J&K Police questioning three suspects
July 10, 2018
The Jammu and Kashmir Police are questioning three suspects in the case of an alleged knife attack on a student of Islamic University of Science and Technology (IUST) in South Kashmir's Tral.
Mandeep Kour, a polytechnic student, has alleged that some of her classmates had harassed her on communal lines and attacked her after she had approached the university authorities. An FIR under IPC section 307 (attempt to murder) and Arms Act section 3/25 has been lodged in the case, police said.
SP Awantipora Mohammad Zahid told The Indian Express that the victim has named three of her classmates who were being questioned.
"The victim has alleged that while she was standing at a bus stop outside her home, at 8.15 am on July 2, two masked men on a bike approached her and attacked her with a knife injuring her arm," Tral SHO said.
The complainant's father said, "During Ramzan, her classmates kept asking her to cover her head and asked her to convert to Islam. They kept telling her, 'Islam qubool karo'. One of the boys even held her by the throat and threatened her. She refused to go to class after that. When we asked her why she was not attending classes, she broke down and told us about the whole issue."
IUST Vice-Chancellor Mushtaq Siddiqui confirmed that the student and her father had approached his office on June 26 over the matter. Siddiqui said the victim told him that some of her classmates "were asking her to cover her head and fast during Ramzan". "We assured her of all support and security at the university. We even offered to her space at the university hostel, where she could live with a guardian," he said. IUST has also constituted a proctorial committee to investigate into the incident
Meanwhile, protests broke out at IUST on Monday, with students seeking "justice for those picked up for questioning," a university staffer said.
Staff at the university also told The Indian Express that the incident had begun as a "joke" and the classmates who "teased her" have been named as perpetrators by the student.
Full report at:
https://indianexpress.com/article/india/jammu-and-kashmir-knife-attack-on-tral-student-police-questioning-three-suspects-5252993/
--------
Muslim Law Board Plans to Open Sharia Courts in All Districts of India; Waqf Board Says 'Illegal'
July 9, 2018
Lucknow: The All India Muslim Personal Law Board or (AIMPLB), the highest decision making body on Muslim affairs, has decided to open Darul Qaza (Sharia courts) in all districts of the country to address issues in line with Islamic laws.
The AIMPLB will discuss the arrangement of funds and resources to implement this decision in its meeting on July 15.
The board is of the view that anomalies in interpretation of Sharia law can be removed by having proper Sharia courts in each district, so that proper counselling can be given to people of Muslim community with the help of these courts.
"At present there are 40 such courts in Uttar Pradesh. We plan to open one such court in every districts of the country. The objective of Darul-Qaza is to resolve matters in light of Shariat laws instead of going to other courts," said senior member AIMPLB, Zafaryab Zilani.
The board is also of the view that the increased number of these Sharia courts will encourage people to approach them for disputes arising out of family, including Nikah, Talaq and property matters.
The idea of Sharia Courts is nothing new for India but this move of increasing the number of Sharia courts becomes important in the wake of government's move to do away with Triple Talaq and Nikah Halala issues.
Speaking to News18 on the issue, Chairman of Shia Waqf Board, Syed Waseem Rizvi said, "You can go for mediation centers but you cannot open 'Courts', this is illegal. You cannot appoint Qazis (Judges), the moment you name it court and appoint a Qazi it becomes illegal. Mediation is welcome but running own courts is definitely not."
Meanwhile, senior advocate Zafaryab Jilani has said that Sharia Courts is totally legal and upheld by the Supreme Court.
"People who are saying that it's illegal should know about Supreme Court's judgment. Darul Qaza or Sharia Courts are legal and upheld by the Supreme Court. Also the proposal for strengthening and rise in the number of Sharia Courts is nothing new. This proposal comes up in every meeting of the AIMPLB," Jilani said.
Full report at:
https://www.news18.com/news/india/all-india-muslim-personal-law-board-plans-to-open-sharia-courts-in-all-districts-of-india-1805893.html
--------
AIMPLB plans Shariat courts in all districts of country, BJP says India isn't Islamic Republic
July 09, 2018
The All India Muslim Personal Law Board (AIMPLB), the highest decision-making body on Muslim affairs, plans to open Darul-Qaza (Shariat courts) in all districts of the country to resolves issues in line with Islamic laws.
The proposal will come up for discussion at a meeting of the AIMPLB in New Delhi on July 15.
Criticising the move, the Bharatiya Janta Party (BJP) spokesperson Meenakshi Lekhi on Monday said there was no place for Shariat Court, be it district or village or city. This isn't Islamic Republic of India, she added.
Catch all the latest news about Lok Sabha elections 2019 HERE
"Debate is unnecessary. It's against Constitution. AIMPLB has no power to set up courts. Those supporting it know it's legally untenable. There's nothing but politics behind it," said Union Minister PP Choudhary.
"At present, there are 40 such courts in Uttar Pradesh. We plan to open one such court in all districts of the country. The objective of Darul-Qaza is to resolve matters in light of Shariat laws instead of going to other courts," said senior member AIMPLB, Zafaryab Zilani.
Noting that about Rs 50,000 is spent on running a Darul-Qaza, he said, "They will be discussing ways to generate resources for this during a meeting of AIMPLB in New Delhi on July 15".
Catch all the latest news about Indian politics HERE
With a view of making lawyers, judges and common man aware about Shariat laws, AIMPLB will also be activating its Tafheem-e-Shariyat (TeS) committee.
"We will be activating Tafheem-e-Shariyat committee to make lawyers, judges and common man aware about Shariat laws. We will be discussing this at the AIMPLB meet," Jilani said.
He said the TeS committee is 15 years old and is entrusted with the task of making lawyers and judges, if possible, aware of arguments related to Shariat laws.
"The committee used to organised conferences and workshops all over the country with Islamic experts trying to delve in details about Shariat laws and address queries of participants. It is felt that the committee should be activated and more such programs should be held," he said.
Full report at:
https://www.indiatvnews.com/politics/national-aimplb-plans-shariat-courts-in-all-districts-of-country-bjp-says-india-isn-t-islamic-republic-451881
--------
Two Rohingya Muslims arrested for illegally procuring Indian passport, Aadhaar card
09th July 2018
HYDERABAD: Two Rohingya Muslims were arrested from Balapur area here today for allegedly illegally procuring an Indian passport and Aadhaar card by falsely representing they are Indian nationals and submitting fabricated documents.
Police said Abdul Khair (34) and Mohammad Ayub (32) illegally entered India via Bangladesh from Myanmar in 2013.
They then moved to Hyderabad, enrolled with the United Nations High Commissioner for Refugees and started eking out a living as labourers.
The duo made false representations that they were Indian nationals, police said.
Abdul obtained a passport in November 2017, while Ayub got an Aadhaar card recently, they said.
Full report at:
http://www.newindianexpress.com/nation/2018/jul/09/two-rohingya-muslims-arrested-for-illegally-procuring-indian-passport-aadhaar-card-1840683.html
--------
South Asia
Taliban commander and civilians among 11 dead, wounded in Nangarhar blasts
Jul 09 2018
At least eleven people including a local commander of the Taliban group and civilians were killed or wounded in two separate explosions in eastern Nangarhar province of Afghanistan.
The provincial government media office in a statement said an explosion took place in Khogyani district at around 9 am local time, leaving two people dead, including a commander of the Taliban group and a civilian.
The statement further added that the Taliban commander killed in the explosion has been identified as Zabit Khan who was also famous as Zarqawi.
The civilian killed in the explosion has been identified as Hewad, the provincial government added in its statement.
In the meantime, an explosion ripped through a gathering of people in a picnic area in Chaparhar district, leaving at least nine civilians wounded.
According to the provincial government, the wounded civilians have been shifted to the hospital for the treatment.
The incident took place at around 10 am local time and at least two children are among those wounded with one of them in critical condition.
The anti-government armed militant groups including Taliban militants have not commented regarding the incidents so far.
https://www.khaama.com/taliban-commander-and-civilians-among-11-dead-wounded-in-nangarhar-blasts-05543/
--------
7 Taliban militants killed during the ongoing operations in Bati Kot
Jul 09 2018
At least seven Taliban militants were killed during the operations in Bati Kot district of eastern Nangarhar province, the local officials said Monday.
The provincial government media office in a statement said the militants were killed during the operations in the past 24 hours.
The statement further added that the dead bodies of at least three militants were left in the area and some weapons and munitions were also captured.
In the meantime, another Taliban militant belonging to Qari Sajid group was arrested during a separate operation in Surkh Rod district.
According to the provincial government, the detained militant has been identified as Bashir Ahmad and two Pakistani sim cards, two mobile phones, a refugee card were also confiscated.
At least three more suspects identified as Ashraf, Anwar, and Samandar were arrested during a separate operation in Momand Dara district, the provincial government said, adding that the individuals were arrested on charges of having links with the Taliban group.
Full report at:
https://www.khaama.com/7-taliban-militants-killed-during-the-ongoing-operations-in-bati-kot-05540/
--------
Harmony Bangladesh to promote secular ideals
July 9, 2018
Dhaka (AsiaNews) – Sampriti Bangladesh (Harmony Bangladesh) is a new organisation that was launched at the National Museum in Dhaka on Saturday to promote secular ideals in the country. It is the brainchild of a number of interfaith groups.
"We want to return to the Liberation War ideal of secularism," said the organisation's convener, Pijush Bandyopadhyay, a Hindu.
"By returning to that ideal, we will be able to build a secular Bangladesh – one where everyone is equal and where no one faces persecution." The Liberation War took place in1971 when the country was still known as East Pakistan.
He is aware that Sampriti Bangladesh's development could encounter obstacles, from radical Islamic factions for example.
In fact, in recent years there have been various episodes of violence and intolerance towards free thinkers, bloggers and intellectuals whose murder was justified because of their alleged atheism.
"We know that most people in our country are against sectarianism and in favour of equality'" said Pijush. "Now we must remain united. If we all stay together, we will eventually win."
The event, titled 'Sing song of equality', brought together about 400 people. Some 20 leading Christian figures, including one priest and eight nuns, were present, including Nirmol Rozario, president of the Bangladesh Christian Association (BCA),
"It has taken its first step with noble purpose," Rozario said. "In this country, most Muslims are moderate, whilst radicals are really a small fringe. If the majority worked in harmony, we can hope to build a harmonious country."
The organisation plans to sponsor activities to disseminate secular ideas and organise protests in case of persecution.
Shameem Mohammad Afzal, director general of the Islamic Foundation, maintains that the Constitution approved in 1972 reflects the Medina Charter, which Mohammed drafted in 622 AD to overcome the divisions among the tribes and create social rights and duties of the Ummah, the new Islamic community.
For this reason, "I appreciate the new association and condemn people like Zakir Naik, Jamaat-e-Islami founder Syed Abul A'la Maududi and Egypt's Muslim Brotherhood for misinterpreting the dictates of Islam." Zakir Naik is an Indian Salafist preacher who influenced those who carried out a terror attack against a café in Dhaka in 2016.
"We live in a country where we are all the same," said Prof Muhammed Zafar Iqbal, a well-known writer. "There are only small differences in religion and tribal affiliation. Yet harmony is lacking."
"We Muslims, who are the majority, fail to provide protection to minorities," he noted. "All development projects such as the Metro Rail, the Padma bridge (a mega project that began inn 2014), satellites, big construction, will be in vain."
At the same time, "it is so easy to make life joyful. Just do something for others, and you can be happier. If we do not ensure a joyful life for minorities, we cannot say that we have done our duty. I think that people with different faith or colour can live in joy in the same society."
"Bangladesh is a nation in which communal harmony exists," said Prof Anisuzzaman in a video message shown at the meeting. "People of different ethnic and religious background have been living in peace for thousands of years.
Full report at:
http://www.asianews.it/news-en/Harmony-Bangladesh-to-promote-secular-ideals-44386.html
--------
Mysterious murders rattle Rohingya refugees
July 9, 2018
A series of killings in the refugee camps of southeastern Bangladesh has sparked fear among members of the displaced ethnic-Muslim minority as well as aid workers.
The unsolved murders of 19 people in Cox's Bazar area camps, along with a spate of robberies and myriad violent crimes, have prompted a decision to deploy 1,000 additional police.
The murders have occurred since August 2017 when a military crackdown in neighboring Myanmar's Rakhine state caused a new wave of hundreds of thousands of Rohingya to flee.
The international Reuters news agency reported on July 4 that most of the refugee camp murders happened in attacks at night, when there were less security personnel, by men variously armed with pistols, knives and sticks.
"We have been investigating 19 murder cases but have not reached conclusions yet," police superintendent Chailaw Marma told ucanews.com.
There were 2,500 police already guarding the camps, as well as some soldiers and border guards, but this was insufficient, he added.
About 300 Rohingya had been arrested for alleged involvement in crimes.
Cox's Bazar is home to about one million Rohingya Muslims who fled to Bangladesh to escape periodic bouts of deadly persecution in Rakhine, just across the border.
Abdul Kalam, 36, a leader in Balukhali camp, said he went into hiding for several weeks after being threatened anonymously by telephone callers claiming he received more humanitarian aid than they had.
Nurul Amin, 40, a Rohingya community leader in Kutupalong camp, argues the announcement that more police would be provided came too late. "If the decision came earlier, those lives wouldn't have been lost," Amin said.
He believed additional police would significantly improve security, but for now many people living in the camps or helping to run them were still afraid.
The spate of murders and killings had frightened the aid community, said Mazharul Islam, Cox's Bazar-based disaster management officer for the Catholic welfare agency Caritas Chittagong.
"Every day we go to the camps with fear and without adequate safety. We have instructed our female staff to go in a group, not alone," he told ucanews.com.
Full report at:
https://www.ucanews.com/news/mysterious-murders-rattle-rohingya-refugees/82750
--------
Mideast
Israel closes Gaza's main crossing, Hamas calls it crime against humanity
Jul 9, 2018
Israeli Prime Minister Benjamin Netanyahu has announced the closure of the Gaza Strip's main commercial crossing, in what he describes as a crackdown against the Palestinian Hamas resistance movement.
"We will crack down immediately on the Hamas regime in the Gaza Strip. In a significant move, we will today shut down the Kerem Shalom (border) crossing," Netanyahu said in a speech to his party members at the Israeli Knesset on Monday.
"We will double our efforts against Hamas," he said, adding that Israel would "deal with Hamas with a heavier hand," but did not give any details.
The Palestinian Resistance Movement, Hamas, says Israel's closure of Gaza's main trade terminal amounts to a crime against humanity, and called on the international community for immediate intervention.
The Israeli prime minister stressed that the Kerem Shalom closure will be coupled with "other measures that I won't go into."
The Kerem Shalom crossing between the southern Gaza Strip and the occupied territories is Gaza's main entry point for goods and trade.
The Israeli military also confirmed in a statement that the crossing would be closed later on Monday.
Israeli minister for military affairs Avigdor Lieberman linked the new measures to fires from incendiary kites and helium balloons that have been flown by the Palestinians on the occupied territories since "Great March of Return" protests began on March 30.
Protests along the Gaza fence since March 30 have led to clashes with Israeli forces, where at least 135 Palestinians, including 14 children, have been killed. Palestinian protesters demand their right to return to their homeland. Over 15,000 Palestinians have also sustained injuries.
On May 14, Israeli troops opened fire on Palestinians who had gathered near the fence in protest against the inauguration of the US embassy in Jerusalem al-Quds. Over 60 Palestinians were shot dead and more than 2,700 wounded by Israeli snipers who had been positioned along the fence.
The death toll drew international criticism, but the US, which has angered Muslims with its embassy move, continues to support Israel.
Every year on May 15, Palestinians all over the world hold demonstrations to commemorate the day, which marks the anniversary of the forcible Israeli eviction of hundreds of thousands of Palestinians from their homeland in 1948.
The United Nations Children's Fund (UNICEF) has said children in the Gaza Strip are the main victims of the Israeli atrocities, where some 1.8 million people are living under a crippling blockade.
Gaza has been under the Israeli siege since June 2007, causing a decline in living standards as well as unprecedented unemployment and poverty.
Israel has also launched several wars on the Palestinian sliver, the last of which began in early July 2014 and ended in late August the same year. The Israeli military aggression killed nearly 2,200 Palestinians and injured over 11,100 others.
https://www.presstv.com/Detail/2018/07/09/567591/Benjamin-Netanyahu-Gaza-Strip-Kerem-Shalom-crossing
--------
Turkish troops, jets kill 25 Kurdish PKK militants in one week
Jul 9, 2018
Turkish ground forces and military aircraft have killed more than two dozen members of the Kurdistan Workers' Party (PKK) militant group when they carried out a string of counter-terrorism operations in the country's southeastern province near the border with Iraq's northern semi-autonomous Kurdistan region in the past week.
The Interior Ministry, in a statement released on Monday, said some 1,985 operations were conducted between July 2 and 6, during which a total of 25 PKK terrorists were killed. Two Kurdish militants were captured alive, while 13 others surrendered as well.
The statement further noted that several militant hideouts were destroyed in the eastern and southeastern provinces of Tunceli and Hakkari, while 28 heavy- and long-barrel weapons, 23 improvised explosive devices (IEDs) and a considerable amount of munitions were recovered from the terrorists.
Police squads, gendarmerie units, and the Turkish Armed Forces (TSK) also detained 88 suspected PKK members.
The Turkish General Staff, in a message published on its official Twitter page on July 4, said fighter jets had conducted airstrikes on northern Iraq's Qandil, Zap-Avashin Basyan and Gara regions in addition to the rural areas of Turkey's southeastern provinces of Sirnak, killing 11 PKK militants.
The statement added that militant hideouts and weapons caches were also destroyed in the airstrikes.
PKK militants regularly clash with Turkish forces in the Kurdish-dominated southeast of Turkey attached to northern Iraq.
Turkey, along with the European Union and the United States, has declared the PKK a terrorist group and banned it. The militant group has been seeking an autonomous Kurdish region since 1984.
A shaky ceasefire between the PKK and the Turkish government collapsed in July 2015. Attacks on Turkish security forces have soared ever since.
Over the past few months, Turkish ground and air forces have been carrying out operations against PKK positions in the country as well as in northern Iraq and neighboring Syria.
Full report at:
https://www.presstv.com/Detail/2018/07/09/567580/Turkish-troops-jets-kill-25-Kurdish-PKK-militants-in-one-week
--------
Hezbollah accused of training, providing equipment to Houthi militia in Yemen
July 09, 2018
RIYADH: Arab Coalition spokesman Colonel Turki Al-Maliki said in a press conference on Monday that the coalition recently destroyed a Houthi communications system that had been provided to them by Hezbollah.
Al-Maliki said coalition forces destroyed targets in five locations, in the mountains of Musbah, Maran, Razah, Al-Maqal and Al-Noa.
Al-Maliki said the coalition also had evidence to suggest "foreign experts" had been carrying out training operations in caves with the Iranian-backed Houthis. He also said the coalition had evidence suggesting Hezbollah had been training elements of the Houthi militia.
Al-Maliki reiterated the fact that relief efforts inside Yemen continue after continued efforts by Houthis to prevent humanitarian aid reaching different cities and governorates of Yemen.
The Saudi press agency also reported on Monday Yemen's National Army took control of a vital road in western province of Taiz, south-west of Yemen.
"Units of the brigade took control of the road leading to the area of Waza'iyah west of Taiz across the Wadi Al-Aqah area after a successful military operation," Field commander of Bab Al-Mandab Abu Osama Al-Salhi said, adding that Houthis militias suffered heavy losses.
He said in a statement, quoted by the official Yemeni news agency, that the army forces on the fronts launched an attack on militias positions on the road and were able to liberate the sites in which they were stationed.
Full report at:
http://www.arabnews.com/node/1335821/middle-east
--------
Israel warns Iran, Hezbollah over forces in Syria
July 09, 2018
JEDDAH: Israel will not allow Iranian forces to become entrenched in Syria, its defense minister warned on Monday, after Israeli jets carried out another raid on an Islamic Revolutionary Guard Corps air base in Homs province.
Avigdor Lieberman spoke as Assad regime forces advanced toward the Golan Heights frontier zone that was demilitarised under a 44-year-old UN-monitored truce between Syria and Israel.
Regime troops backed by Russia have launched an offensive in the southern Daraa province and are widely expected to move on opposition-held Quneitra, which is within a part of the Syrian Golan covered by the armistice.
Israel fears Syrian President Bashar Assad could allow Iran and Hezbollah to move forces into the area, giving them a foothold near its border.
"We will sanctify the 1974 disengagement agreement, and ... any violation will meet a harsh response," Lieberman said.
"We will not allow Iran's entrenchment in Syria and we will not allow Syrian soil to be turned into a vanguard against Israel."
Israel launched air raids on Sunday night against the T4 air base in Homs, where seven Iranian Revolutionary Guard personnel died in an Israeli attack on April 9.
Meanwhile, Assad regime forces laid siege on Monday to an opposition-held enclave in Daraa and were poised to gain complete control of the city where the uprising against Assad's rule began.
The army was also consolidating its grip over the border area with Jordan to the east of Daraa city. Free Syrian Army fighters have mostly handed over the area along with their heavy weapons after a surrender agreement last Friday.
The Syrian army and its militias won a strategic victory in a 20-day offensive after they captured Nassib crossing, a vital trade route that insurgents held for three years.
Abu Shaima, a spokesman for the opposition in Daraa, said several thousand people were now encircled after the army pushed into a base west of the city without a fight.
"The army and its militias have besieged Daraa completely," he said.
Full report at:
http://www.arabnews.com/node/1336091/middle-east
--------
Israel announces Gaza trade crackdown in anti-Hamas move
July 10, 2018
JERUSALEM - Israel said on Monday it was closing the Gaza Strip's main commercial crossing and limiting the Palestinian coastal enclave's fishing zone in a crackdown targeting Hamas Islamists whom it blames for border protests now in their fourth month.
"We will crack down immediately on the Hamas regime in the Gaza Strip. In a significant move, we will today shut down the Kerem Shalom (border) crossing," Prime Minister Benjamin Netanyahu said in broadcast remarks to his parliament faction.
An Israeli military statement said Kerem Shalom would remain open for the transfer of specially approved humanitarian goods. It also said Gaza's fishing zone would revert to 11 km (6 miles) after it was temporarily expanded to 17 km (9 miles).
The military statement, and separate remarks by Israeli Defence Minister Avigdor Lieberman, linked the new measures to fires from incendiary kites and helium balloons that have been flown over the border since the protests began on March 30.
The Israeli army has killed 136 Palestinians during the confrontations. Facing international censure, Israel says its lethal force has been needed to prevent armed infiltrations.
Hamas officials could not immediately be reached for comment about Monday's announcement by Israel.
Organisers say the demonstrations are expressions of popular frustration that aim to press demands such as for Palestinians' right to lands lost to Israel in the 1948 war of its foundation and for an Israeli-Egyptian blockade on Gaza to ease.
There have been no serious Israeli casualties in the Gaza border confrontations. Israel says it has lost 7,000 acres of forests and farmland to the kite- or balloon-set fires.
"We do not intend to continue absorbing and continuing with this situation," Lieberman said in separate comments to his own parliamentary faction.
Israel, which last fought a Gaza war with Hamas in 2014, does not seek a new military flare-up, he said, "but the way Hamas is conducting itself - it is simply liable to spiral out of control, and it is liable to pay the whole price, a much, much heavier price than in Operation Protective Edge (2014 war)".
Israel briefly shut Kerem Shalom in May after dozens of Palestinian torched some of the terminal's facilities on the Gaza side of the border.
On July 5, a U.S. special envoy to the Middle East, Jason Greenblatt, tweeted a picture of repair work at Kerem Shalom and accused Hamas in the "deplorable attack" on the terminal.
Full report at:
https://nation.com.pk/10-Jul-2018/israel-announces-gaza-trade-crackdown-in-anti-hamas-move
--------
Turkish Army Launches Airstrikes against Kurds in Afrin
Jul 09, 2018
Field sources in Afrin reported that the Turkish fighter jets launched airstrikes on several mountainous areas in Rajou region in Afrin on Sunday afternoon.
They added that the Turkish warplanes have targeted several regions in the main road between Jandariseh and Afrin near the villages of Khaletah and Maski.
Also reports said that during the attacks, a number of Kurdish forces were killed and wounded.
Clashes between the Turkish army and its affiliated militants and the Kurds in Afrin still continue after 4 months of occupation of the town by Ankara.
Meantime, local sources in Afrin reported that the Turkish army and Ankara-backed militants have set fire to 3,000 trees on the road linking to Rajou in the past two days in addition to killing civilian people in the region and looting their properties.
In a relevant development, a media outlet had reported on Sunday that a number of Turkish troops and their allied militants were killed or wounded in the Kurdish militias' attacks and also in an unknown drone attack in Afrin region in Northwestern Aleppo. The Kurdish-language Hawar news reported that the Kurdish militias targeted a convoy of the Turkish troops in the village of Kafr Jenah in Shera region, killing two Turkish soldiers identified as Mohammad Kara and Urhan Damir.
In the meantime, Hawar news said that three Ankara-backed militants were killed in a heavy fighting between the Kurdish militias and Turkey-backed Ahrar al-Sharqiyah in the village of Shadiyeh in Rajou region.
Hawar news further said that a base of Ankara-backed Firqa al-Hamzah in the village of Satiya in Jandaris region came under attack by an unidentified drone.
The Ankara-backed militants engaged in another round of infighting on Tuesday over their share of the assets looted from civilians' houses and shops in Afrin which came under occupation by the Turkish troops almost four months ago.
Two militant groups, affiliated to the Turkish army, exchanged heavy fire in Saleh al-Ali School in al-Asharfiyeh neighborhood in the town of Afrin over their share of the civilians' assets and properties they had previously plundered.
In the meantime, the Turkish army and allied militant placed their forces on alert after a hand-made bomb went of near Afrin Hospital in Afrin.
Full report at:
http://en.farsnews.com/newstext.aspx?nn=13970418000379
--------
Coalition: Evidence confirms presence of foreign military experts in Yemen
9 July 2018
The official spokesman of the coalition forces backing Yemen's government, Turki Al-Maliki, confirmed that they have found evidence of the presence of foreign military experts training the Iran-military-backed Houthi militias in Yemen.
The spokesman also said during a press conference held in Riyadh that such experts have been providing the Houthis with an integrated military communication system, noting the involvement of Hezbollah in this matter and citing its contribution to operations at different sites of command and control in the Saada province of Yemen.
Five of those sies, located on Mashtab, Maran, Razeh, Al-Maglag and the Al-Noua'a mountains, were destroyed by the Coalition Forces in recent days.
Full report at:
https://english.alarabiya.net/en/News/gulf/2018/07/09/Coalition-Evidence-confirms-presence-of-foreign-military-experts-in-Yemen.html
--------
UNRWA: Cuts to be imposed on key humanitarian plans soon if US funding freeze persists
Jul 9, 2018
The United Nations agency for Palestinians has warned that a number of inevitable cuts are planned to be imposed on its key humanitarian programs in the besieged Gaza strip and the occupied West Bank if a US funding freeze cannot be overcome.
Head of the United Nations Relief and Works Agency (UNRWA), Pierre Krahenbuhl, sent out the warning in a letter to his staff on Monday, saying the areas subjected to potential cuts included employment programs, housing assistance and mental health support, among others.
According to the letter, the agency would work to maintain vital food assistance programs, particularly for the impoverished Gaza Strip.
An unnamed source, familiar with the plans, also told AFP that most of the cuts were expected in the West Bank, adding that some programs were due to run out of funds by the end of this month.
The UNRWA head also noted that he had called on donors that had already assisted with pledges to help further so the agency could "overcome the rest of the shortfall," currently over $200 million.
"I said to them and I say to you now with great honesty: A shortfall of $217 million is still far higher than any UNRWA has ever faced in its history," Krahenbuhl said in the letter, adding, "As the agency's commissioner-general, I cannot hide the dramatic risks that we face to our services if we do not receive additional funding very rapidly."
In December 2017, Abbas formally declared that the Palestinians would no longer accept the US as a mediator to resolve their decades-long row with Israel because Washington was "completely biased" towards Tel Aviv.
The announcement came after Trump recognized Jerusalem al-Quds as the "capital" of Israel and announced plans to transfer the US embassy from Tel Aviv to Jerusalem al-Quds.
On January 16, the US State Department announced that Washington would hold back 65 million dollars to UNRWA - more than half its planned contribution this year - and demanded that the agency make unspecified reforms.
In a tweet on January 2, US President Donald Trump had said Washington gave the Palestinians hundreds of millions of dollars a year, but got "no appreciation or respect."
Elsewhere in his letter, Krahenbuhl said that the UNRWA would decide in the first half of August whether it would open the schools it operates on time following the summer holidays.
Over 500,000 Palestinian children, at home or abroad, study at the agency's schools and 54 percent of its budget goes to education.
Full report at:
https://www.presstv.com/Detail/2018/07/09/567602/Palestine-Israel-UNRWA-US-UN-humanitarian-programs-Gaza-West-Bank
--------
North America
'They cannot wait us out', Pompeo tells Taliban
Jul 10 2018
The US Secretary of State Mike Pompeo has said that the Taliban cannot wait the US out of Afghanistan as he reaffirmed Washington's full support to Afghanistan, particularly to Afghan-led peace process.
Speaking during a press conference with President Mohammad Ashraf Ghani, Pompeo said "The strategy has sent a clear message too to the Taliban – they cannot wait us out – and we are beginning to see the results both on the battlefield where the Taliban's momentum is slowing and in the prospects for peace with them."
Pompeo further added "Now, more than ever, the United States stands as an enduring partner for Afghanistan. It's been almost one year since President Trump announced the new South Asia strategy. It features a conditions-based approach and the removal of artificial timelines and arbitrary troop ceilings."
"We're working with the Afghan Government and security forces to set the conditions to produce a safer, more secure Afghanistan which is Afghan-led and Afghan-owned," he added.
The Secretary of State further added "You should know that the peace process is the same. The United States will support, facilitate, and participate in these peace discussions, but peace must be decided by the Afghans and settled among them."
"We expect that these peace talks will include a discussion of the role of international actors and forces," he said, adding that "I came here today to learn the progress that we'd made in each of the dimensions. My conclusion from this visit is that the President's strategy is indeed working. Our South Asia strategy has sent a clear message to the Afghan peoples and its security services that we will support them as they continue to fight to defend their country and their people."
https://www.khaama.com/they-cannot-wait-us-out-pompeo-tells-taliban-05545/
--------
What Was M-103 Really About; Islamophobia or a Money Grab for Radical Islamic Groups?
Jul 10, 2018
This week Canadians were stunned to hear that after the near unanimous passing of Motion 103 on Islamophobia in the Canadian parliament last March, the government has decided to use this "non-binding motion" as a reason to give 23 million dollars of hard-earned Canadian Tax payer's money, to organizations that sympathize with the Muslim Brotherhood, an organization that supports radical Islam and which has been linked to known terrorist groups in the Middle East.
"This money will go to NCCM (National Council of Canadian Muslims) & Islamic Relief " said MP Iqra Khalid, the Muslim Brotherhood-associated Liberal MP who was the "godmother" of M-103.
By the way, this a charity that once lost its charitable status but seems to be back in action under the Liberals.
Simply put, Khalid, with the full backing of Prime Minister Trudeau, just got 23 million dollars for potentially radical Islamic groups in Canada. So much for being "non-binding."
It is therefore important for Canadian taxpayers to understand the ideological background for this almost predictable disaster.
The US media, preoccupied as it is with the ongoing attack on the Trump presidency has not reported that the Canadian Parliament spent much time in a debate about Motion 103.
On March 23, 2018, the motion passed by a vote of 201–91. It is a "non-binding" piece of legislation if that is the right word to use. And so, for the moment, there is no way of enforcing it.
We can be sure, that it will not stop there.
If we look toward Europe and similar legislative trends there, we may expect to see upcoming draft legislation that substantially reduces the rights of Canadians, whether they be Muslim or not, to criticize regimes or organizations that define themselves as Islamic.
We can be sure that the soon to be better funded NCCM will be at the forefront of such initiatives. We must bear in mind that Canada has no equivalent to the first amendment and undefined "hate speech" is one way to erode freedom of speech in this democracy just north of the US border.
23 million dollars can fund a lot of legal action against believers in free speech. So, the government has now decided to fund the declared enemies of freedom of speech.
Let us remember that the Muslim Brotherhood whose semi-clandestine existence in Canada is dedicated to "hollowing out" our English common law and replacing it with Shariah, especially when it comes to the rights of women and adult daughters.
That rogue regime, the Islamic Republic of Iran, whose goal is Jihad, regional domination and both the economic and political infiltration of Europe and North America with its anti-democratic agenda is no doubt encouraged. Surely, the Iranians must be reassured with this funding announcement after their temporary setback by the near bogus liberal support for a recent anti-Iranian statement in parliament a few short weeks ago.
As supporters of free, democratic debate, one must put forward five public questions to our MPs on both sides of the aisle who have now publicly supported this motion and allowed for its weaponization through government funding.
The concern, plainly stated, is this motion when examined closely is most hurtful to freedom-loving Muslims here in Canada and clearly funds their anti-democratic enemies through a massive government hand out. That money will be used to silence them and their organizations.
First Question-What is Islamophobia?
The non-binding Motion 103 introduced by Iqra Khalid, Liberal MP for Mississauga-Erindale, declares the government should "condemn Islamophobia and all forms of systemic racism". Canadians readily approve "all forms of systemic racism" should be condemned, and reasonable effort made to eliminate them within Canada.
But what is Islamophobia?
The term is not defined.
Iqra Khalid, we assume, cannot on any reasonable ground suggest that Canadians are or might be afflicted by an "irrational fear" of Islam as a world religion. And if this is what she is suggesting, then it begs the question why an "irrational fear" of Islam only, and not of any other of the world religions practiced within Canada.
People inventing the term Islamophobia are not physicians or psychologists. They are Islamist ideologues insisting Islam is not simply a religion but also a political ideology for a theocracy based on Islamic code of law or the Shariah. This is the worldview of the Muslim Brotherhood in the Arab world, and of the Jamaat-i-Islami in South Asia and what follows from this ideology is terrorist acts, here and abroad.
Islamists believe those who disagree with their political ideology, or reject and oppose it, need to be fought and defeated. This is what is occurring across the Muslim world – a war waged by Islamists, both Sunni and Shia against Muslims who reject Islam as a political ideology.
In Canada, and elsewhere in the West, Islamists have been openly demanding official recognition of Shariah by the state. This would mean agreeing with Islamists they are the only true Muslims and representatives of Islam, making allowance for a parallel legal system contrary to the values of secular law.
Proponents of Islamophobia have adopted psychiatric jargon to put anti-Islamist Muslims and Muslim reformers on the defensive, and make non-Muslims feel guilty of what the left calls "unconscious bias." This ironically can only be detected, if at all, by a psychiatrist working confidentially with full client disclosure. Unfair dislike of someone because of religion is usually called "religious prejudice" and that is never in short supply.
Islamophobia is, therefore, an epithet largely used to silence Muslim reformers in the West, while within the Muslim world they are victims of violence as heretics, apostates and infidels.
Our parliament has been duped by the Brotherhood. Let me explain.
2) How do the Inventors of the Word Islamophobia Usually Use It?
Muslim Brotherhood activists use the word Islamophobia to shut down any critical discussion of Islam.
As "thought police" they act consistent with the 13th-century worldview of men who codified the Shariah, and for them, Islamophobia signifies racism as synonymous with blasphemy.
Those familiar with the history of Christianity in the West may recall the time when any criticism of Christianity was considered blasphemy. Even philosopher Baruch Spinoza was excommunicated by his own Jewish community in Amsterdam for his "free thinking" about the Bible.
The making of the modern secular West was bitterly contested, and it came about through the rational criticism of religious beliefs and related practices and customs. This is not yet the situation across the world of Islam where Shariah is the basis of public law.
In Saudi Arabia, for example, it is still forbidden for a Muslim to convert to Christianity. A Muslim convert is condemned for execution. For unlawful acts – drinking alcohol, theft, rape, sodomy, adultery, etc. – Shariah prescription is harsh from public lashing and delimbing to beheading.
According to Shariah provisions, a woman's testimony is not equal to that of a man's, polygamy is lawful, inheritance law favours male over female offsprings, apostasy is a capital crime, and homosexuals are condemned to death.
Jews and Christians do not have equal rights in these Shariah dominated societies. And non-Muslim minorities, such as the Yazidis in Iraq, and now by the Turks in Syria, have been targeted for genocide based on the religious rulings (fatwas) of the ulema or religious scholars who advise or sympathize with the Islamic State.
A vague and undefined notion of Islamophobia, and which could then easily be used as a term for censure by public officials, would silence Canadians discussing these matters freely in public.
3) Who are the Statistical Victims?
Although attacks against Muslims have risen, attacks against Jews in Canada have risen even more. Yet we do not hear of any new government funding to fight anti-Semitism.
Nor would this have been necessary if the government had maintained that the basic principle of our system is the equality of all citizens regardless of race, religion, creed, colour or language, and the equal protection of all.
Demand for legislation based on collective grievance and identity politics can be endless, and instead of making for social harmony such demand breeds disharmony.
4) Can Islam be criticized?
Comedy clubs in Canada, or in the West generally, are where the young gather and banter about their various religious backgrounds.
Those few Muslim comedians who similarly banter with their own religious upbringing are now, more than ever, risking the hostility of their co-religionists, since proponents of Islamophobia as racism are often the same people calling for Shariah law and silencing any criticism of Islam.
Will they now be sued with money from this 23 million dollar windfall?
Surely the atheists amongst us should be able to criticize Judaism, Christianity, Islam or any other faith tradition. Surely, they should be protected under the Canadian Charter of Rights and Freedoms to opine publicly that religions are products of the human imagination. There are numerous writings of Canadians available on the falsity of religion. Hence, we should hold either all religions are open to criticism, or they are not; but it is unacceptable we privilege one religion over others and prohibit criticism of it.
5) Is Federal Member of Parliament Iqra Khalid Trustworthy?
The TSEC (Terrorism and Security Experts of Canada) network has provided Canadians with background on Member of Parliament Iqra Khalid, the member responsible for introducing the Islamophobia motion in the Parliament. This TSEC disclosure is alarming.
'Iqra Khalid was President of the Muslim Student Association when she was a student at York University (early 2000s). The Muslim Student Association was founded by adherents of the Muslim Brotherhood in 1963. The Muslim Student Association has a series of alumni who have become suicide bombers, ISIS fighters and ISIS propagandists. The Muslim Student Association at York University handed out a book at Islam Awareness Week with the title "Women in Islam & Refutation of some Common Misconceptions."
The chapter on WIFE DISCIPLINING (page 99 of the online version) makes the following observation: Submissive or subdued women. These women may even enjoy being beaten at times as a sign of love and concern.'
6) Last Question-Which Muslims Speak with Authority?
What makes democracies different is that citizens may speak freely according to their conscience and without fear of persecution.
There are many Canadian Muslims who wish to be protected by the same laws that all other Canadians live under. Some are Canadian secular critics of Islamic fundamentalism such as Tarek Fatah, some are believers such as Raheel Raza and Farzana Hassan who reject Sharia and embrace universal human rights and freedom of speech.
Given what we discover about Iqra Khaled's ties with the Muslim Brotherhood-related Muslim Students Association, and support for her politics among members of the Islamic Society of North America connected with Jamaat-i-Islami and other radical Muslim fundamentalist organizations in Pakistan, there is every reason to view M-103 as part of the "stealth jihad" waged by these organizations in Canada and other Western democracies.
The history of these Islamist organizations is riddled with the culture of bigotry, violence, misogyny, terrorism and genocide. Their political ideology has brought ruin across the Middle East, North Africa, and South Asia. And over the past many years they have imported their illiberal culture into Canada.
Canadian journalist Tarek Fatah has questioned publicly Iqra Khalid. Fatah has written,
'If systemic racism was an issue for Khalid and other MPs, I asked her why she did not, to my knowledge, react when it was reported by cijnews.com that an Islamic cleric in Montreal, uttered the following words to a congregation: "O Allah, give victory to our brothers who engage in Jihad…O Allah, give them victory over their enemy…O Allah, destroy the accursed Jews…O Allah, make their children orphans and their women widows." If this prayer was in fact spoken to a congregation, then perhaps MP Khalid will have the courage to amend her motion and include a denunciation of this prayer, variations of which are read at most mosques every Friday… Will she label such hateful statements as an example of systemic racism that is anti-Semitic, anti-Christian, anti-Hindu and anti-atheist?'
This motion, M-103, driven largely by Iqra Khalid should be rescinded by Parliament and the 23 million dollar hand out should not be implemented. But that may only happen when and if there is a change in government after a national election. In the meantime, Prime Minister Trudeau's advisors may ultimately climb down from their recent criticism of Iran to reopen the Canadian embassy in Teheran. M-103 opens the door to this kind of more serious change in Canadian foreign policy.
Will public criticism of this move now be considered, "Islamophobic?" At the same time, M-103 does nothing to protect the human rights of Canadian Muslims, nor of any other citizens. It will take away rights precious to all, including freedom-loving Muslims.
Lastly, anything that comes in the garb of parliamentary decisions, binding or not, can be used to set precedents. Now that 23 million dollars will be going to support radical Islamic groups what will the Liberal government and their radical Islamic supporters do next?
We would not be surprised if Islamophobia may soon be used against those who criticize the totalitarian nature of states such as Iran. Our government just gave Iran 100 million dollars to sweeten a potential trade deal with Canada.
Would Iqra Khalid have the gall to accuse anyone opposing such a deal "an Islamophobic critic of the Islamic Republic of Iran?"
Full report at:
https://www.thepostmillennial.com/what-was-m-103-really-about-islamophobia-or-a-money-grab-for-radical-islamic-groups/
--------
Africa
Muslim-Christian meet in Taizé helps young people dialogue
July 10, 2018
Young Muslims and Christians discuss their respective beliefs as they share a meal together at Taize. (Photo by Guillaume Poli/Ciric)Young Christians and Muslims from across France who participated in the Taizé community-hosted three day event say they not only experienced dialogue for common good but also became aware of fundamental faith questions.Filling three rows under a church marquee, participants addressed a series of tough questions from the organizers, including: Do you admire anything in each other's religion? Has this diminished your commitment to your own religion?Among them were Samia, a Muslim Syrian, Eglantine, Sylvain and Anne-Sophie, all French Catholics, Lydia, a German raised in a "strict" Protestant family, Marvin, a Muslim from Guinea and Bart, a Pole living in the United Kingdom.
https://international.la-croix.com/news/muslim-christian-meet-in-taize-helps-young-people-dialogue/8015
--------
Nigeria's army releases children suspected of Boko Haram ties
2018-07-09
The Nigerian army on Monday released 183 children after clearing them of any ties to Boko Haram, Unicef said in a statement.
The children, aged between seven and 18, were released in Maiduguri, the capital of northeast Borno state, after being detained and investigated for any links with the jihadists.
"These 8 girls and 175 boys are first and foremost victims of the ongoing conflict and their release is an important step on their long road to recovery," said Mohamed Fall, Unicef's representative in Nigeria.
The statement did not say how long the children had been detained.
Boko Haram's nine-year-old fight to establish a hardline Islamic state has claimed at least 20 000 lives and displaced more than two million people.
Children have been targeted by the Islamists, who recruit boys and girls and indoctrinate them in order to replenish their ranks. In April, Unicef said over 1 000 minors had been abducted since 2013.
The military has been criticised by human rights organisations for conducting mass arrests of people suspected of ties with the group.
Amnesty International said in a 2018 report that the military had held "thousands of young men, women and children" in detention centres across the country.
Full report at:
https://www.news24.com/Africa/News/nigerias-army-releases-children-suspected-of-boko-haram-ties-20180709-2
--------
Boko Haram: Troops kill 15 terrorists in Borno
July 9, 2018
By Maina Maina
Troops of 7 Brigade, Sector 3 of Multinational Joint Task Force (MNJTF) encountered several Boko Haram terrorists at Arege, Borno State, weekend, killing 15 of them.
A statement by the Director, Army Public Relations, Brigadier General Texas Chukwu said aside the 15 persons neutralized during the encounter, many others fled into the bush with gunshot wounds.
"Efforts are being intensified by the troops to arrest the fleeing members of the Boko Haram suspects," Chukwu said.
He listed items recovered to include, "one Anti-Aircraft Gun, 5 AK 47 rifles and one Light Machine Gun."
"Unfortunately, one soldier was injured and is currently receiving attention at the military medical facility," he said.
Full report at:
http://dailypost.ng/2018/07/09/boko-haram-troops-kill-15-terrorists-borno/
--------
How civil initiatives will help to defeat al-Shabaab
July 9, 2018
On Saturday, militants of the terror group al-Shabaab set off two bombs and attacked a government building in Mogadishu, the capital of Somalia, with at least five people killed and 21 injured. This is another incident challenging the capacity of the Somali government and its allies to resolve the problem.
A number of African countries have been fighting al-Shabaab for more than a decade, but now Western nations are leading this campaign. Late last year, US-led air strikes against al-Shabaab increased, with the civilian death toll rising, The Guardian reported early this year. This was due to a new directive, signed by US President Donald Trump, which relaxed the rules aimed at preventing civilian casualties. And here is the other side of the coin – civilian casualties actually give legitimacy to the terror group as a resistance movement.
International assistance is important, but when it comes to combating terrorism, relying on military force seems to be a questionable practice. This is especially true for terror groups entrenched in the region and counting on support from a certain portion of the local population. This is where a "soft power" approach proves to be effective.
Al-Shabaab, one of the most lethal terror groups in Africa, clearly illustrates the complexity of the problem. This jihadist fundamentalist group has a largely domestic focus, taking advantage of people's discontent with the Somali authorities. Although al-Shabaab's capabilities are now limited and the group has suffered military losses, it still controls a significant portion of the territory.
International assistance is important, but when it comes to combating terrorism, relying on military force seems to be a questionable practice. This is especially true for terror groups entrenched in the region and counting on support from a certain portion of the local population
In this context, supporting and developing civil initiatives will be an invaluable contribution to conflict settlement. The Hiraal Institute, a research organization focused on security problems facing East Africa, particularly Somalia, was established for this reason.
I contacted Richard Barrett, a former British diplomat and intelligence officer, who is one of the world's top experts in counterterrorism. He sits on advisory boards of a number of institutions, including that of Hiraal Institute. Barrett has pointed out that these problems are complex and all too often the people explaining them are not themselves Somali.
"The Hiraal Institute, which is staffed entirely by Somalis based in Mogadishu, is able to add the cultural dimension that is often missing from other analysis," Barrett said. "The institute relies on local networks throughout the country as a research base to get at the facts on the ground. It also aims to help the federal government of Somalia and its international partners make better policy decisions based on both factual evidence and clear analysis."
According to the think-tank, at present, al-Shabaab controls territory in 11 of the 18 Somali regions as well as parts of Kenya's Coast and North Eastern provinces. As for attacks, since the beginning of the year, more than 200 security incidents have been recorded in Somalia, with the bulk of them carried out by al-Shabaab.
Promoting itself as an alternative to the government, al-Shabaab offers security to populations in the areas under its control, operates courts and settles disputes. When it comes to local conflicts, such mediation becomes a good way to avoid violence. And people are appreciating this.
In addition, the group offers protection to marginalized clans, something that provides it with support from the locals as well. All this helps al-Shabaab integrate into communities and survive a sustained crackdown from the government. And this is not to mention its ideological influence extending far beyond its territories.
The group is remarkably adaptive. After withdrawing in 2011 from Mogadishu, al-Shabaab has been restructured with an emphasis on organizational security and reducing risks to the fighters. Primarily, this is about the group's intelligence unit – the Amniyat, described as a "secret service structured along the lines of a clandestine organization within the organization."
As Michael Horton, a senior analyst at the Jamestown Foundation, wrote, "Amniyat operatives remained behind in the cities, towns, and villages from which al-Shabaab had retreated." So a network of Amniyat informants was set up throughout Somalia, including government ministries.
As Barrett has noted, the threat from al-Shabaab is seen as steady. "But its rise and fall depend more on the efficiency and effectiveness of the Federal Government of Somalia than on its own efforts. Al-Shabaab faces many internal and external difficulties, and although it remains a lethal organization, it is not likely to capture major areas that are currently under government control. It does threaten Kenya as well as Somalia," the expert stressed.
A painful blow was delivered to the group with the death in 2014 of its leader Ahmed Godane, a charismatic orator and effective manager. That same year, Ahmed Dirie, popularly known as Abu Ubaidah, was named as the new al-Shabaab emir, but he is no match for the previous leader in all respects. In June, news media announced that Abu Ubaidah had died from a kidney disease, but a pro-al-Shabaab website has denied these reports.
"Godane was indeed charismatic, but the present leader, who is, in any case, ill, is more inclined to rule through a tight clique of supporters who are suspicious of others and prefer to rule through fear than through the projection of visionary or inspiring leadership," Barrett said.
Now, what have we learned from all this? Al-Shabaab is very resilient, sophisticated, adaptive and creative. In June, the group took quite an innovative approach. It banned single-use plastic bags, calling them a "serious" threat to humans, livestock and the environment. As Hussein Sheikh-Ali, chairman of the Hiraal Institute, noted in a tweet, that move would make al-Shabaab "the first environmentally conscious terror group and the first authority in Somalia to ban materials harmful to the environment."
Let's face it: In order to defeat al-Shabaab, first and foremost, it is necessary to be twice as creative, twice as sophisticated and as close as possible to people and their needs.
Full report at:
http://www.atimes.com/how-civil-initiatives-will-help-to-defeat-al-shabaab/
--------
Tunisia launches hunt for terrorists involved in national guard attack
9 July 2018
Tunisian Interior Minister Ghazi Jribi has said that the country is determined to locate the terrorists in their positions, as the first official response to the attack on Sunday which targeted and killed six security force members in western Tunisia.
Jribi said in a statement in the Regional Security Council, "We are determined to track [the terrorists] and we will go to their burrows. This terrorist operation will increase the security forces' insistence on locating terrorism and eradicating it from the country."
On Sunday, six members of the Tunisian National Guard were killed in a terrorist attack in Jendouba when they were ambushed during a regular patrol.
The attack had the highest death toll since 2015, when dozens of police officers, soldiers, and tourists were killed in Le Bardo in Tunisia's bloodiest attack in its history.
Full report at:
https://english.alarabiya.net/en/News/north-africa/2018/07/09/Tunisia-determined-to-find-terrorists-involved-in-deadly-attack.html
--------
South Sudan rebels reject peace deal reinstating opposition leader Machar
Jul 9, 2018
Rebels in Africa's youngest nation, South Sudan, have rejected a peace agreement announced on Sunday, saying it lacks enough authority to fulfill their main demands for diluting President Salva Kiir's base of power.
An official of SPLM-IO rebel group said on Monday that the deal announced by Kiir's office, which reinstated opposition leader Riek Machar as vice president, was not acceptable.
"We will not fall only for the position of the First Vice President in this negotiation. We are focusing more on structural and institutional issues to constrain Kiir's regime both in the executive and legislature," said Puok Both Baluang, SPLM-IO deputy spokesman.
Baluang said rebels should have the power to appoint two of Kiir's deputies under the deal reached in Uganda's Entebbe in talks attended by both Machar and Kiir.
The talks, mediated by Uganda's President Yoweri Museveni and closely monitored by other regional leaders, were part of diplomatic efforts to put an end to a war that broke out in 2013, after Machar left office as vice president.
Machar, who now serves as SPLM-IO leader, was not immediately available to comment on the new deal.
Machar was re-appointed as first deputy to Kiir in 2015 as part of a power-sharing deal. However, fighting reignited after he returned to the capital Juba.
The war in South Sudan, which has killed tens of thousands, is believed to be rooted in ethnic disputes between Kiir's Dinka and Machar's Nuer groups.
There are other militant groups that are Machar's allies against Kiir, and some of them control areas close to Juba.
Full report at:
https://www.presstv.com/Detail/2018/07/09/567559/South-Sudan-peace-deal-rebels-objection
--------
Ethiopia, Eritrea to reopen embassies, borders after two decades of hostility
Jul 9, 2018
Ethiopia and Eritrea have agreed to resume their diplomatic and commercial relations, signaling an end to almost two decades of hostility.
The agreement was reached on Sunday during a historic meeting between Prime Minister Abiy Ahmed of Ethiopia and Eritrean President Isaias Afwerki in Asmara.
Ties between the two African neighbors were severed following a border dispute which claimed nearly 80,000 lives in the late 1990s.
The announcement capped weeks of diplomatic efforts, driven by Abiy, resulting in his visit to the Eritrean capital for face-to-face talks with Isaias.
"We agreed that the airlines will start operating, the ports will be accessible, people can move between the two countries and the embassies will be opened," Abiy said at a dinner hosted by his Eritrean counterpart.
"We will demolish the wall and, with love, build a bridge between the two countries," Abiy continued.
The two countries will also resume flights as well as direct phone connections.
During the landmark meeting, the two leaders personally symbolized the breakthrough and embraced warmly.
The Horn of Africa nations had been at loggerheads since Ethiopia rejected a United Nations ruling and refused to cede to Eritrea land along the countries' border following the 1998-2000 war.
However, in June 2018, Abiy announced that his country would abide by the 2002 ruling requiring it to cede territory, including Badme, and withdraw its forces.
Full report at:
https://www.presstv.com/Detail/2018/07/09/567515/Africa-Ethiopia-Eritrea
--------
Europe
Germany, China reaffirm their support for Iran nuclear deal
Jul 9, 2018
Germany and China have reiterated that they are committed to the 2015 nuclear deal between Iran and the P5+1 group of countries following the United States' withdrawal.
Speaking alongside visiting China's Premier Li Keqiang on Monday, Chancellor Angela Merkel said the nuclear accord, officially known as the Joint Comprehensive Plan of Action (JCPOA), was well-negotiated. The Chinese premier also warned against the unforeseeable consequences if the deal falls apart.
"We remain committed to the nuclear agreement. We think it was well negotiated," Merkel said. "There is more that needs to be negotiated with Iran, but we think it is better to stay in the agreement."
However, Merkel implied that Berlin could do little to protect international companies against punitive US measures, adding that it is up to individual firms to decide if they want to invest in Iran.
Earlier in the day, a spokeswoman for the Chinese Ministry of Foreign Affairs, Hua Chunying, expressed Beijing's resolve to continue efforts to safeguard the achievements of a 2015 nuclear agreement, putting forward a five-point proposal.
"Facing the complicated and stern situation at present, China clearly put up a five-point proposal emphasizing in particular that international rules should be observed, major countries should show their due integrity and sense of responsibility, unilateral sanctions can only run counter to one's desire and should be abandoned, and dialogs and consultations should adhered to a constructive approach in discussions about issues of common concerns," Hua said.
US President Donald Trump announced on May 8 that Washington was walking away from the nuclear agreement and that he plans to reinstate US nuclear sanctions on Iran and impose "the highest level" of economic bans on the Islamic Republic, jeopardizing the survival of the landmark accord.
Under the JCPOA, Iran undertook to put limits on its nuclear program in exchange for the removal of nuclear-related sanctions imposed against Tehran.
Since the US president pulled Washington out of the historic nuclear deal, European countries have been scrambling to ensure that Iran gets enough economic benefits to persuade it to stay in the deal. The remaining parties have vowed to stay in the accord.
Tehran has conditioned its stay in the deal to practical European strides to make sure Iran's dividends from the deal would not be affected when US sanctions "snap back" in August.
The first group of sanctions on Iran's automotive sector, gold trade, and other industries will "snap back" on August 4. Further sanctions on oil and transactions with the central bank of Iran will come into effect November 6.
Zarif, one of the architect's of the nuclear pact, further said Iran received an economic package from the European countries two days ago but Iranian "President [Hassan] Rouhani said it is not enough." He added that Europe must translate its commitment and measures into action before the re-imposition of the US sanctions on Tehran.
https://www.presstv.com/Detail/2018/07/09/567612/Germany-China-support-Iran-nuclear-deal-JCPOA
--------
Germany studying request to return €300mn to Iran
Jul 9, 2018
The German government is reportedly studying a request by Iran to withdraw €300 million from bank accounts held in Germany and transfer the cash to the Islamic Republic.
Unnamed officials in Berlin were quoted by Bild newspaper as saying that Tehran was seeking withdraw the funds from the Europaeisch-Iranische Handelsbank AG (eihbank) in order to satisfy part of its foreign currency needs when fresh US sanctions against its financial sector take effect.
The report added that Iran had told the German Financial Supervisory Authority (BaFin) that it needed the cash from the accounts "to pass on to Iranian citizens who require cash while travelling abroad, given their inability to access recognized credit cards".
BaFin was now reviewing the request, which had been briefed to senior officials in the chancellery, foreign ministry and finance ministry, the newspaper added in its report as quoted by Reuters.
It further highlighted allegations by the US and Israel that Iran would try to use the cash for purposes other than satisfying its domestic needs. However, it cited unnamed German officials as saying that they had no indications of such plans.
In May, US President Donald Trump announced that he would pull America out of a 2015 nuclear agreement with Iran and re-impose the sanctions that the deal had envisaged to be lifted.
He has already emphasized that the sanctions which would be imposed on Iran would be "at the highest level".
Full report at:
https://www.presstv.com/Detail/2018/07/09/567571/Germany-studying-request-to-return-300mn-to-Iran
--------
Trial begins for man accused of setting fire to Texas mosque
July 10, 2018
VICTORIA, Texas: A federal prosecutor says a "rabid hatred" of Muslims led a 26-year-old man to set fire to a Southeast Texas mosque.
Prosecutor Sharad Khandelwal made the claim Monday during opening statements in the trial of Marq Vincent Perez.
Perez is charged with a hate crime and also with use of a fire to commit a federal felony in the January 2017 fire that destroyed an Islamic center in Victoria.
A federal law enforcement officer testified earlier that an informant said Perez believed the center's worshippers were terrorists.
Authorities last year also charged Perez with possession of an unregistered destructive device in an indictment unrelated to the mosque fire.
Full report at:
http://www.arabnews.com/node/1336256/world
--------
URL: https://www.newageislam.com/islamic-world-news/after-backlash-shariah-lawyer-clarifies/d/115788
New Age Islam, Islam Online, Islamic Website, African Muslim News, Arab World News, South Asia News, Indian Muslim News, World Muslim News, Women in Islam, Islamic Feminism, Arab Women, Women In Arab, Islamophobia in America, Muslim Women in West, Islam Women and Feminism