New Age Islam News Bureau
13 Oct 2013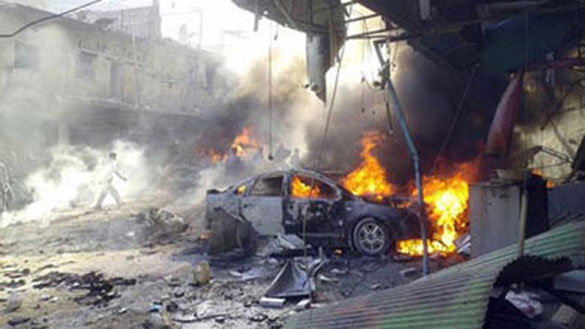 The site of a car bomb explosion on Saturday in Samarra, Iraq
-----------
Africa
• African Leaders to Demonstrate Continental Unity against Extremists
• Bashir's relatives protest for free expression in Sudan
Arab World
• 14 Are Killed by Car Bomb Outside Shops in Iraqi City
• Jihadist-rebel clashes kill 50 in Syria's Aleppo: NGO
• Al-Qaeda leader urges rival Syria groups to unite
• Iraqi Kurdistan's chief ready to strike militants in Syria, Iraq
• Mortar shells hit near inspectors' hotel in Syria
• Saudi and French ministers say more support needed for Syrian opposition
Pakistan
• Hides donation to terror groups is 'Haram': Sunni Ittehad Council Ulema Board
• Maulana Fazl ur Rehman assures Karzai of bringing Taliban to talks
• Rulers pushing masses towards civil disobedience: Jamaat-e-Islami
• FIA directed to expedite probe into treason case against Musharraf
• Police have links with terrorists, says interior minister
• Karachi operation: 15 suspects arrested
• Force to be used as last resort, says Kayani
• Government to end terrorism, power outages: Hamza
• Dar invites US entrepreneurs to invest in Pakistan
• Youm-e-Difa-e-Masjid-e-Aqsa observed
• Pakistani man walks 6,387 km to reach Mecca for Hajj
Mideast
• NGO warns of threat to Turkey posed by jihadists in Syria
• Iran rejects demand to ship out uranium stockpiles
• Israel finds tunnel dug under Israel-Gaza border
• Secessionists in Yemen rally to reject dialogue
• World powers, Iran under Rouhani revive nuclear talks
South Asia
• US, Afghanistan agree on draft security pact
• Ghulam Azam discusses appeal with counsels
• Pro-BNP professionals plan rallies after Eid
North America
• US quietly observes coup law on Egypt aid, but shuns term
• UN OK's joint mission to destroy Syrian chemical arms
• CAIR: American Muslims to Mark End of Hajj with Prayers
Europe
• France charges Al Qaeda suspect deported from Pakistan
• Russian photographer abducted by Syrian rebels
• Arafat poisoning claim backed by journal
India
• 'Business Forum should help in India-Pakistan economic ties': Pak High Commissioner
• Game of cricket will be poorer without Sachin: Pakistan media
• India to raise killing of Indian fisherman with Pakistan
• Indian Embassy in Saudia launches registration drive to help Overstaying Indians
Southeast Asia
• President, PKS leaders exchange accusations over Bunda Putri
• 70 passengers offloaded from Malaysia-bound flight in Lahore
• Indonesia keen on India's Food Security law
Compiled by New Age Islam News Bureau
URL: https://www.newageislam.com/islamic-world-news/new-age-islam-news-bureau/african-leaders-to-demonstrate-continental-unity-against-extremists/d/13975
------------
Africa
African Leaders to Demonstrate Continental Unity against Extremists
How to win the war against al-Shabab
October 13, 2013
Hassan Sheikh Mohamud - When I meet my fellow African leaders in Addis Ababa this weekend, we will be sending a powerful message to the world; we will be demonstrating continental unity against extremists. It will be the latest victory for Somalia in an information war against an enemy that is firmly on the back foot.
Much of the commentary in the aftermath of the Westgate atrocity has suggested the attack emboldened al-Shabab. Allow me to argue that it demonstrated precisely the opposite. It is often said that the media has a short attention span, but one does not need a great memory to recall how, before 2011, al-Shabab controlled a great majority of Mogadishu, in addition to the strategic port cities of Merka and Kismayo, which served as their financial and logistical hub, and whole swathes of Somalia. Most of my country was then victim to their perverted form of "governance" - beatings, beheadings, amputations, extortion, and a complete betrayal of Islamic practice. There is no such thing as a legitimate al-Shabab government. Their rule was human rights abuse plain and simple.
Those who do not know Somalia may have been fooled into thinking, both by al-Shabab's bombastic propaganda, and the terrible events at Westgate, that the extremist group is more powerful than ever. Yet even a cursory glance across the country will tell you that we have driven them out of Mogadishu, expelled them from Kismayo and degraded their capabilities so extensively that they have only dwindling supplies of men, materiel and funding. They have been forced underground.
Are they down? Certainly. They are on their last knees. Have we eradicated them completely? Not yet. We now need the tools to finish the job and we must strike while the momentum is with us, as our American partners did at Barawe on October 4. As the UN's Special Representative of the Secretary General has argued powerfully in recent weeks, paying a small price now to increase the capacity of Somali and African Union forces will save us all paying a much higher price later. The fact, for example, that neither the African Union Mission in Somalia (AMISOM) nor the Somali National Army has a single helicopter in a country the size of Afghanistan is simply not good enough. We must continue to ruthlessly deny our enemies territory.
Military action is essential in this fight. But let no one think we believe for a minute there can be a military solution. We know we have to go right back to the start of the terrorist production line to halt the supply of innocent young men into the arms of unscrupulous militants for whom are used as nothing more than cannon fodder. We have not backed up our military success with sufficient progress in the information war. We must now do much better in the battle of ideas.
Considering we are facing an enemy whose ideology is considered completely redundant by 99 percent of the population, we begin with an important advantage. When I read one comment from the Shabaab leadership that the Westgate slaughter of innocent and unarmed men, women and children was one of the "epic battles" in the history of Islam, it reminded me how badly educated they are, how divorced from reality they have become and how utterly irrelevant they are to Somali aspirations for a better future. We must highlight these problems vigorously and remorselessly.
The struggle against extremism needs to take place on the broadest possible front, from the parched Somali desert to flourishing American cities, from mosques to internet chat forums. It must be prosecuted on digital and social media, on the airwaves and in the newspapers, in schools and universities. Just as poison requires an antidote, extremist ideology must meet with innovative strategies, cutting-edge technologies, comprehensive education and vigorous communications.
Now that the military campaign is almost over, education must become the new frontline. Two decades of fighting have denied a generation of Somalis from even the most basic education. The education of our people must be a national priority. We must fight al-Shabab in the classroom, defeating them with books as well as with bullets on the battlefield. The government's recently announced "back to school" campaign aims to get one million young girls and boys into the classroom, where they will enjoy the most fundamental human right and learn the skills needed to build productive careers and fulfilled lives. That will be another blow to the extremists' ability to recruit vulnerable youth.
Extremism is like a cancer that needs treatment. International cooperation is essential, especially considering we have Somalis living all over the world. As US Congressman Keith Ellison, whom I had the pleasure of welcoming to Mogadishu earlier this year, wrote recently, the best way to neutralise al-Shabab is to support Somalia. We need the US and UK governments, for example, to work directly with our government, take advantage of our pool of highly educated diaspora Somalis, and collaborate on deradicalisation and countering violent extremism programmes.
We must send Somalia's most distinguished religious leaders to educate young Somalis abroad, to ensure they are protected intellectually against any attempts of brainwashing. Last month, more than 160 distinguished clerics in Mogadishu issued a landmark fatwa against al-Shabab, forcefully declaring they had strayed from Islam. The scholars stated it was a religious obligation to turn the terrorists into the authorities and offering them sanctuary was prohibited.
This was a body blow to our enemies - Islamic authorities publicly rejecting Shabab's perversion of our faith - and we must provide many more.
Economic recovery will be another nail in the coffin of extremism. Only a few days ago, many Somalis and Eritreans lost their lives after the boat they were travelling on to Europe sank off the Italian coast. The tragedy demonstrated the great scale of the development challenge that faces us as we seek to build a country from the ashes of devastating conflict. We are driving Somalia from emergency to recovery and from recovery to development and reconstruction. We are making progress every day - through improved security, judicial and public financial management reform. Tax collection will, in time, allow us to stand on our own feet and wean ourselves off international support.
How often we hear those two words regarding Somalia: international support. We are grateful to our partners for enabling it. We are also only too aware of the difficulty in maintaining it. Take the recent decision to close money transfer accounts, a move that affects remittances, which are worth double the amount of aid flows coming into Somalia. At a stroke a single decision undermined the international community's support for Somalia. We must do better than that.
Let me assure our partners, as I remind Somalis that we are on the right path. Security is improving, new political institutions are taking root, a new constitution and democratic elections are on the horizon, and our enemies are on the decline. We must give them their just deserts - and make them totally irrelevant. The triumph of the many Somalis will be the defeat of the few. Our success will be their failure.–Aljazeera
http://www.nation.com.pk/pakistan-news-newspaper-daily-english-online/international/13-Oct-2013/how-to-win-the-war-against-al-shabab
------------
Bashir's relatives protest for free expression in Sudan
12 October 2013
KHARTOUM: Two relatives of Sudanese President Omar Bashir led an anti-government protest on Friday calling for freedom of expression and a transitional administration, an AFP reporter said.
Al-Tayeb Mustafa, Bashir's uncle, and Amien Banani who is related to Bashir's family by marriage, joined about 150 other people in the rally at the gates of a central Khartoum mosque.
"We want freedom of expression... and freedom of peaceful demonstration," said a memorandum to the president read out by Banani, a former minister in Bashir's government.
Banani now heads a small faction of the opposition Justice Party.
Mustafa is chief of the extremist Just Peace Forum party and runs Al-Intibaha, Sudan's most popular newspaper.
After the newspaper criticized a government decision to slash fuel subsidies, state security agents in late September ordered Al-Intibaha to stop publishing. The government's Sept. 23 cut in subsidies sent thousands of people, many of them Khartoum-area poor, onto the streets to protest as petrol prices rose more than 60 percent.
The demonstrations and their Arab Spring-inspired calls for the downfall of the regime were the worst urban unrest of Bashir's 24-year rule. Amnesty International said security forces are believed to have killed more than 200 protesters, many of whom were shot in the head or chest.
Authorities have reported 60 to 70 deaths, and say they had to intervene when crowds turned violent, attacking petrol stations and police.
"We call for a government representing all Sudanese," said a sign carried by the protesters outside the mosque. Police surrounded the group, preventing it from marching, but they later dispersed without incident.
Their memorandum called for the dissolution of the government which took power in a 1989 coup It proposed that the country be run by a "national presidential council" of prominent figures for 18 months until elections are held, and said all political parties should participate in drafting a new constitution for Sudan.
The memo was signed by 15 small opposition parties.
http://www.arabnews.com/news/467520
------------
Arab World
14 Are Killed by Car Bomb outside Shops in Iraqi City
By REUTERS
October 12, 2013
SAMARRA, Iraq — A car bomb exploded in a street lined with shops in the Iraqi city of Samarra on Saturday, killing at least 14 people, the police and medics said.
There was no claim of responsibility for the attack northwest of Baghdad, but Sunni Islamist militants and other insurgents, including members of the Qaeda affiliate in Iraq, have been regaining ground this year, reversing a decline in sectarian bloodshed that reached a peak in 2006 and 2007.
More than 6,000 people have been killed in acts of violence across the country this year, as Iraq's sectarian balance comes under acute strain from the civil war in neighboring Syria.
"I stopped my car to buy sweets for my kids from a nearby shop when suddenly a huge blast shook the area," said a teacher, Kamal Mahmoud, 45.
"I felt the heat of the blast on my face and the bodies of two women thrown in the middle of the street covered in blood, one of them without legs," Mr. Mahmoud said.
At least 31 people were wounded in the blast in the predominantly Sunni Muslim Al Shurta district of Samarra.
Having been forced underground in 2007, Al Qaeda's insurgents are staging a comeback, invigorated by the war in Syria and growing resentment of the Shiite-led government that came to power in Iraq after the invasion led by the United States in 2003.
Samarra has been a focal point for Sunni militants who began taking to the streets in December in protests against the government of Prime Minister Nuri Kamal al-Maliki, a Shiite, whom they accuse of marginalizing their minority sect since the ouster of Saddam Hussein.
A raid by government security forces on a Sunni protest camp in April touched off a campaign of violence by militants that has continued relentlessly since then.
http://www.nytimes.com/2013/10/13/world/middleeast/car-bomb-in-iraqi-city.html?ref=world&_r=0
----------
Jihadist-rebel clashes kill 50 in Syria's Aleppo: NGO
13 Oct 2013
Nearly 50 fighters have been killed in three days of clashes between jihadists and mainstream rebels in Aleppo, the Syrian Observatory for Human Rights said on Saturday.
It said the fighting erupted on Thursday between militants of the Al-Qaeda-linked Islamic State of Iraq and the Levant (ISIL) and a battalion linked to the Arab- and Western-backed Free Syrian Army (FSA), both of which are fighting to topple President Bashar al-Assad.
"At least 30 fighters from the Ababil Brigade and 14 from ISIL have been killed in combat, and that toll could rise further," the Observatory's Rami Abdel Rahman told AFP.
He said the clashes occurred in several districts of Syria's second city and former commercial hub, and that ISIL, which expounds an extreme form of Islam, made gains in three sectors.
The ISIL militants have now consolidated their presence in Aleppo, which has been basically split into the rebel-held east and pro-regime west since July last year.
Although both claim the ouster of Assad as a common aim, jihadists and the mainstream rebels have come to blows many times in recent months.
http://english.ahram.org.eg/NewsContent/2/8/83874/World/Region/Jihadistrebel-clashes-kill--in-Syrias-Aleppo-NGO.aspx
------------
Al-Qaeda leader urges rival Syria groups to unite
October 13, 2013
BEIRUT: The leader of al-Qaida has urged jihadis in Syria to unite, an appeal likely aimed at rival affiliates of his terror network fighting there to oust President Bashar Assad.
Ayman al-Zawahri says fighters must "rise above organizational loyalties and party partisanship" and unite behind the goal of setting up an Islamic state.
However, he suggests he will not impose unity, saying in an audio message Friday that "what you agree upon will also be our choice."
Two al-Qaida-linked groups have emerged in Syria's civil war - Jabhat al-Nusra and the Islamic State of Iraq and al-Sham. The first is commanded by a Syrian, the second by an Iraqi, but both are loyal to al-Zawahri.
Al-Zawahri also urged Syrian regime opponents not cut deals with Westerns and secular groups.
http://www.dailystar.com.lb/News/Middle-East/2013/Oct-13/234480-al-qaeda-leader-urges-rival-syria-groups-to-unite.ashx#axzz2hb2sIGr9
------------
Iraqi Kurdistan's chief ready to strike militants in Syria, Iraq
13 October 2013
Iraqi Kurdistan is prepared to strike militants anywhere, including in neighboring Syria, but must avoid being drawn into its civil war, the autonomous region's president Massud Barzani told AFP.
Barzani's remarks came after militants carried out a late-September attack on a security service headquarters in the Kurdish region's capital Irbil, killing seven people -- a rare occurrence in an area usually spared the violence plaguing other parts of Iraq.
"We will not hesitate in directing strikes (against) the terrorist criminals in any place," Barzani said in an exclusive interview with AFP, when asked about the possibility of Kurdish action against militants in Iraq or Syria.
"Our duty is to protect the Kurds if we are able," he said.
But the long-time Kurdish leader made a distinction between that and being drawn into Syria's bloody civil war, which he said the Kurds must try to avoid.
"Our opinion is that the Kurds must stand at the same distance" from all parties in the conflict, so "the Kurdish people are not forced into a war" from which they will gain nothing, Barzani said.
But Syrian Kurdish forces have already been drawn into the fighting, clashing with jihadist groups fighting President Bashar al-Assad's troops who want to secure a land corridor connecting them to Iraq.
Full report at:
http://english.alarabiya.net/en/News/middle-east/2013/10/13/Iraq-Kurd-chief-ready-to-strike-militants-in-Syria-Iraq.html
------------
Mortar shells hit near inspectors' hotel in Syria
2013-10-13
BEIRUT: Two mortar shells hit Syria's capital Saturday near a hotel where international chemical weapons inspectors and United Nations staff are staying, state media and a hotel guest said.
In the north, clashes between rival rebel factions left nearly 50 gunmen dead in three days of fighting for control of neighborhoods in the city of Aleppo, an activist group said.
An 8-year-old girl was killed and 11 people were hurt in the blasts in the upscale Abu Roumaneh area of Damascus, the SANA news agency said. One shell fell near a school and the other on the roof of a building. The girl was in her family car near the school when she was killed, said the Syrian Observatory for Human Rights, a Britain-based activist group monitoring the fighting. The blasts damaged several cars and shattered nearby windows. One resident was seen sweeping debris on a sidewalk, near where twisted metal pieces from the wreckage had been heaped in a small pile.
The blasts struck some 300 meters (1,000 feet) away from the Four Seasons Hotel where the chemical weapons inspectors and U.N. staff are staying. A UN employee staying there said it did not appear that the hotel was affected by the twin explosions. The hotel remained open after the blasts, he said, speaking on condition of anonymity because he was not authorized to speak to reporters.
He said he heard the first explosion at about 11:15 a.m., followed by a second. Thick smoke rose from the area and ambulance sirens sounded shortly afterward. Syrian rebels routinely fire mortar shells from the outskirts of Damascus at city neighborhoods controlled by forces loyal to President Bashar Assad. Last week, a similar attack reportedly killed eight people.
Inspectors from the Organization for the Prohibition of Chemical Weapons and U.N. staff have been in Syria for the past two weeks to destroy the country's chemical weapons stockpile. The watchdog agency working to eliminate chemical weapons around the world won the Nobel Peace Prize on Friday in a powerful endorsement of its Syria mission.
The OPCW inspectors have so far visited three sites linked to Syria's chemical weapons program, though the agency has not provided details. On Saturday, before the mortar attack, a convoy of U.N. cars left the Four Seasons, but its destination was not known.
The inspectors' mission in Syria is unprecedented because of a tight timetable — they are to get the job done by mid-2014 — and because they are operating in the midst of a civil war.
They are to inspect more than 20 sites, some close to front lines crisscrossing the country. Earlier this week, Syrian warplanes twice bombed the rebel-held town of Safira, just a few kilometers (miles) from a large military complex believed to house an underground chemical weapons production facility. Another mortar attack Saturday in the regime-held Damascus suburb of Jaramana left two people dead and several others wounded, according to the Observatory.
Full report at:
http://www.dawn.com/news/1049424/mortar-shells-hit-near-inspectors-hotel-in-syria
------------
Saudi and French ministers say more support needed for Syrian opposition
13 October 2013
Saudi Foreign Minister Prince Saud al-Faisal agreed with his French counterpart Lauren Fabius on Saturday that a political resolution is the best means to end the ongoing Syrian crisis.
In a statement released by the French Foreign Ministry, the ministers called for strengthening the Syrian opposition in its fight against President Bashar al-Assad's forces.
The ministers also discussed the situation in Egypt, stressing that the current Egyptian leaders should take swift steps to implement the country's roadmap to restore democracy.
On relations with Iran, Faisal and Fabius said that they expect Iran to show more cooperation on the subject of its nuclear program.
The ministers also outlined the significance of cooperation between France and Saudi Arabia in the fields of defense, security and energy.
http://english.alarabiya.net/en/News/middle-east/2013/10/13/Saudi-and-French-ministers-say-more-support-needed-for-Syrian-opposition.html
Pilgrims gather in Makkah for Haj
October 11, 2013
Makkah: Hundreds of thousands of Muslims have poured into the holy city of Makkah for the annual Haj pilgrimage as Saudi Arabia issued a stern warning against politicising the world's largest annual gathering.
People dressed in ihram, a two-piece seamless garment of white cloth, filled the area around the Grand Mosque, Islam's holiest place of worship, which houses the cube-shaped Kaaba and is witnessing massive construction work.
Just two days before the official start of the Haj, around one million faithful performed Friday prayers at the Grand Mosque as the cleric who officiated called for a peaceful and quiet Haj. Shaikh Saleh Bin Mohammad Al Taleb also called on Muslims to unite and end disputes.
Authorities stepped up preparations as police closed most entrances to the Grand Mosque to vehicles, turning traffic in the area around the site into a menacing experience.
The Haj is one of the five pillars of Islam and is mandatory once in a lifetime for all Muslims provided they are physically fit and financially capable.
"I am very excited and extremely happy," said Hamza Sulaiman, a 56-year-old civil servant from Malaysia. "I feel I am a very lucky person that I am performing the Haj.
"I registered for the Haj 10 years ago and my turn came this year. I really want to come here every year."
Egyptian businessman Ahmad Al Bahrawi, who is performing the Haj for the sixth time, accompanied by his wife, said: "it's an entirely different feeling that cannot be described when I enter the Grand Mosque and look at the Kaaba."
Due to the scare from the Mers coronavirus, which has already killed 58 in Saudi Arabia, and high pollution from vehicles emissions, some pilgrims and security men wore face masks and also covered their heads to protect themselves from the scorching heat. Saudi Health Minister Abdullah Al Rabie was quoted in the local media on Thursday as saying that no Mers case has been discovered among pilgrims.
An unexpected heavy downpour accompanied by lightning at the holy sites around Makkah on Wednesday slightly delayed a planned parade by Haj security forces. Local media said seven people were slightly hurt.
Officials said around 1.4 million pilgrims have already arrived from abroad, with expectations of around two million pilgrims this year. That is sharply down from last year's 3.2 million, due to forced cuts as a result of expansion work and the scare from Mers, short for Middle East Respiratory Syndrome.
Road blocks were set up on all roads leading to Makkah and people who did not carry official permits were turned back. This year, security patrols are deployed in remote and deserted roads to block illegals.
Full report at:
http://gulfnews.com/news/gulf/saudi-arabia/pilgrims-gather-in-makkah-for-haj-1.1242162
------------
Pakistan
Hides donation to terror groups is 'Haram': Sunni Ittehad Council Ulema Board
October 13, 2013
LAHORE - The Sunni Ittehad Council (SIC) Ulema Board declared on Saturday that donating hides of sacrificial animals to the outfits involved in terrorism is forbidden (Haram).
According to a press release, 25 religious scholars of SIC issued the decree a decree.
They said: "The organizations involved in terrorist activity don't deserve hides of sacrificial animals." They added: "It is the responsibility of government to take action against those elements who harass the masses and snatch hides from them."
http://www.nation.com.pk/pakistan-news-newspaper-daily-english-online/lahore/13-Oct-2013/hides-donation-to-terror-groups-is-haram
------------
Maulana Fazl ur Rehman assures Karzai of bringing Taliban to talks
By Tahir Khan
October 13, 2013
ISLAMABAD:
The Afghan government-backed peace council said on Saturday it has requested Jamiat Ulema-e-Islam-Fazl (JUI-F) Chief Maulana Fazl ur Rehman to help bring the Taliban to the negotiation table.
"Maulana Fazlur Rehman has assured of his cooperation in the peace process and political dialogue," spokesman for the council, Maulvi Shehzada Shehzad told The Express Tribune from Kabul by the phone.
Fazl started his three-day visit to Afghanistan on the invitation of President Hamid Karzai and both leaders underscored the need for cooperation of the two countries against terrorism, Karzai's office said.
The Afghan president had missed meeting with the JUI-F chief during his recent visit to Pakistan and later invited him to visit Kabul.
Afghan Taliban have expressed resentment over Fazl's visit on Karzai's invitation. A Taliban leader in a telephonic call described JUI-F chief's tour as a futile exercise.
Requesting not to be identified, the Taliban leader said such visits are used by the US-backed regime for political gains and create doubts in Taliban ranks.
Fazl meets peace council
Fazl received a delegation of the Afghan High Peace Council at his hotel in Kabul and both sides discussed the role of the JUI-F leader and the religious leaders.
The peace council delegation, led by Abdul Hakim Mujahid, deputy of the peace council, consisted of several senior members including Asadullah Wafa, Attaullah Ludin and Masoom Stanakzai.
The council chief's Salahuddin Rabbani was in Turkey and could not attend the meeting, the council's spokesman said.
Members of the Afghan scholars' council, headed by Maulvi Qayyamuddin Kaashaf, also met the JUI-F chief and discussed the role of religious scholars in the elusive peace.
Karzai hosts luncheon
President Karzai hosted a sumptuous luncheon in honour of the JUI-F's five-member delegation at Presidential palace. The luncheon was attended by senior Afghan government officials, members of the peace council, ministers and lawmakers.
Some Pakistani government officials are also accompanying Fazl whose visit, the first in past 12 years, has raised questions as to why he accepted the invitation of Karzai who has just a few more months to rule and the Taliban were adamant not to talk to the Kabul administration.
Full report at:
http://tribune.com.pk/story/617391/peace-process-fazl-assures-karzai-of-bringing-taliban-to-talks/
------------
Rulers pushing masses towards civil disobedience: Jamaat-e-Islami
October 13, 2013
LAHORE - Jamaat-e-Islami chief Syed Munawwar Hassan has condemned the power tariff hike imposed through the NEPRA after its withdrawal on the Supreme Court orders, and said the government is driving the masses towards civil disobedience.
In a statement on Saturday, he said that sharp raise in electricity tariff on IMF dictation was one of the most anti-people steps. He said the rulers, who were slaughtering the people with the blunt weapon of price spiral, are not ready to cut down their lavish spending or bring their ill-gotten billions in foreign banks back to the country. However, he said that the nation had offered huge sacrifices by now and this was the time for the elite and the privileged people to make sacrifices.
Full report at:
http://www.nation.com.pk/pakistan-news-newspaper-daily-english-online/lahore/13-Oct-2013/rulers-pushing-masses-towards-civil-disobedience-ji
------------
FIA directed to expedite probe into treason case against Musharraf
APP and DAWN.COM
2013-10-13
ISLAMABAD: Minister for Interior Chaudhry Nisar Ali Khan Saturday said the FIA has been directed to accelerate investigation into treason case against former military ruler General (retd) Pervez Musharraf and present the report at the earliest.
He said Musharraf's name was on Exit Control List (ECL) and it would not be removed till the court's decision.
The former president is currently seeking a bail in Lal Masjid operation case after being granted bail in three other cases and his lawyer said on Wednesday he was cleared to leave the country.
Assassination of former prime minister Benazir Bhutto, death of Baloch nationalist leader Nawab Akbar Bugti and detention of deposed Supreme Court judges were the other three major cases registered against the former military ruler.
The statement has come on the anniversary of a Musharraf-led military coup d'état that overthrew an elected government of Nawaz Sharif on October 12, 1999.
The Supreme Court on July 3 had disposed of petitions calling for registration of a treason case against the former military strongman and directed the government to continue approaching the matter in light of its official statement presented to the court.
The government had in its statement said that it would proceed in accordance with the law and prosecute Musharraf for treason under Article 6 of the Constitution — after taking the political forces into confidence.
Interior Minister Nisar was briefing reporters after chairing a meeting, which was attended by Full report at:
http://www.dawn.com/news/1049224/fia-directed-to-expedite-probe-into-treason-case-against-musharraf
------------
Police have links with terrorists, says interior minister
MUNAWER AZEEM
2013-10-13
ISLAMABAD, Oct 12: The federal interior minister, Chaudhry Nisar Ali Khan, on Saturday, said some officials of the capital police had links with terrorists and car-lifters.
Addressing a press conference at the interior ministry, Chaudhry Nisar disclosed the links and asked the inspector general of police (IGP) and the chief commissioner to rid the force of these corrupt elements.
"I have tasked the IGP and the chief commissioner to cleanse the police department of such officials within two weeks," he said.
Furthermore, the minister said he had directed the police to seek assistance from the intelligence agencies in identifying the corrupt elements within police ranks.
When contacted, IGP Sikandar Hayat said the interior minister had issued these directions in a meeting which was held after receiving information that a few police officials had links with criminal gangs.
He said the association between some police officials and car-lifters or criminal gangs had already been established.
"However, links of policemen with terrorists are yet to be established," he added.
The IGP said over 90 corrupt officials, including deputy superintendents of police (DSPs), inspectors and sub-inspectors had already been sidelined and action had been initiated against them.
According to Mr Hayat, policemen who had links with auto-thieves and criminals gangs had been identified and criminal cases would be registered against them.
He added that the connections had been established with the help of the officials' mobile records.
Furthermore, he said an accountability cell, under the supervision of the assistant inspector general of police, was working on identifying the corrupt elements.
Sources in the police department said surveillance was carried out in September during which a number of personnel were found involved in criminal activities.
Majority of the policemen, ranging from the ranks of constables to SPs, was transferred from their posts.
Full report at:
http://www.dawn.com/news/1049351/police-have-links-with-terrorists-says-nisar
------------
Karachi operation: 15 suspects arrested
2013-10-13
KARACHI: Rangers and police forces arrested a total of 15 suspects on Sunday during targeted operations in different parts of the city, DawnNews reported.
Rangers forces conducted door-to-door searches during a targeted operation in Manghopir, and arrested two members of an outlawed organization, along with eleven other suspects. They also confiscated twenty different types of weapons.
Full report at:
http://www.dawn.com/news/1049446/karachi-operation-15-suspects-arrested
------------
Force to be used as last resort, says Kayani
2013-10-12
KAKUL: Pakistan's army chief said Saturday that although the military supports peace talks, it is capable of effectively using force against anti-state Taliban militants as "a last resort."
"The national leadership has decided to give dialogue a chance to deal with the issue of terrorism and Pakistan army fully supports this process," Chief of Army Staff General Ashfaq Parvez Kayani said while addressing a passing out parade of cadets at the Pakistan Military Academy in Kakul.
"The nation and the political leadership have to determine the parameters for holding such a dialogue... this process should bring unity among the nation instead of leading to a division," he said.
For this, the army chief stressed, it was imperative that the process of negotiation is pursued under and in accordance with the Constitution of Pakistan.
"The military will be more than happy if a solution to the problem is found through dialogue," he said, adding that the use of force would be the last option.
Kayani, who is retiring from his post next month at the end of a second tenure as army chief, dismissed speculations that the failure of counter-insurgency operations forced the military to go for dialogue.
Full report at:
http://www.dawn.com/news/1049195/force-to-be-used-as-last-resort-says-kayani
------------
Government to end terrorism, power outages: Hamza
October 13, 2013
LAHORE: PML-N MNA Hamza Shahbaz Sharif has said the PML-N government was paying attention to get rid of terrorism, power crisis and economic problems.
Future of Pakistan is linked with continuity of democracy and stability of the institutions, he added.
Addressing a ceremony held in connection with White Cane Day at Alhamra Cultural Complex here on Saturday, he said the PML-N leadership wanted to provide cheap electricity and peace to people at the earliest.
He said the government believed in practical steps instead of making hollow slogans.
"Prime Minister Nawaz Sharif is working round-the-clock for overcoming energy crisis," he added. He said Pakistan was a country of 190 million people and an atomic power, therefore, no one could impose decision on us. He said dictatorship had given nothing to the country except terrorism and darkness.
He said the future of the country will be brightened through stability of democracy.
Hamza Shahbaz said there was no change in the stance of the PML-N about Pervaiz Musharaf.
He said Musharaf put judges under a house-arrest, suspended the Constitution, adding the nation would never pardon his crimes.
Full report at:
http://www.dailytimes.com.pk/default.asp?page=2013\10\13\story_13-10-2013_pg13_2
------------
Dar invites US entrepreneurs to invest in Pakistan
October 13, 2013
WASHINGTON: Finance Minister Ishaq Dar on Friday invited American entrepreneurs to make the most of lucrative investment opportunities existing in a host of areas in Pakistan as he held out Islamabad's commitment to good governance and transparency as part of efforts to facilitate business and economic activities in the country.
Speaking to the members of US-Pakistan Business Council, Senator Dar underlined the vast investment potential the county offers in the fields of energy, gas and oil exploration.
"Transparency, merit, due process, good governance are going to be hallmarks of the government," he stated.
Dar also pledged security for foreign investors in Pakistan. "We are implementing reforms and policies —- we mean business, and Pakistan will be a good host," he told the gathering of prominent business leaders.
The new government, he said, is focused on addressing three inter-related problems including energy, economy and extremism.
On steps towards meeting Pakistan's exponential energy requirements, the minister spoke of the Dasu and Diamber Bhasha dams and added completion of these projects would help ensure smooth flow of energy.
In the immediate context, he said, the government has paid off the circular debt of around Rs 500 billion to spur the supply of power.
He said the investors could avail a lot of opportunities in the energy sector as Pakistan has proven reserves of coal and gas and a number of hydropower projects are under way as well.
He apprised the business and corporate leaders of the reforms and measures the government has taken to check inflation, curb fiscal deficit, attract foreign investment, bolster revenues, step up tax collection, and said as a result of the new government's steps, the international business and financial institutions' confidence in the country's economic development potential has increased tremendously.
Full report at:
http://www.dailytimes.com.pk/default.asp?page=2013\10\13\story_13-10-2013_pg5_1
------------
Youm-e-Difa-e-Masjid-e-Aqsa observed
October 12, 2013
KARACHI: The Jamaat-e-Islami (JI) and Palestine Foundation staged a demonstration in Gulshan-e-Iqbal to observed Youm-e-Difa-e-Masjid Aqsa on Friday.
The protesters, carryning banners and placards, shouted slogans to show support to Palestinians. They demanded the world wake up to the issue. JI leaders Naseem Siddiqui and Muzaffar Ahmed Hashmi, Palestine Foundation's Sabir Karbalai, JUP's Allama Qazi Ahmed Noorani and Majlis-e-Wahdat-e-Muslimeen's Maulana Sadiq Raza were among the noted participants. Addressing the protesters, the speakers stressed the need for unity among Ummah to cope with such challenges. Similar protests were staged in other parts of the county.–Staff Reporter
http://www.nation.com.pk/pakistan-news-newspaper-daily-english-online/karachi/12-Oct-2013/youm-e-difa-e-masjid-e-aqsa-observed
------------
Pakistani man walks 6,387 km to reach Mecca for Hajj
Oct 13 2013,
A Pakistani Muslim, hoping to deliver the message of peace, has walked 6,387 kilometres to reach the holy city of Mecca to perform Hajj. Kharlzada Kasrat Rai, 37, began his trip from Karachi on June 7, travelling through Iran, Iraq and Jordan on foot.
He arrived in Mecca on October 1 to a hero's welcome. Kasrat Rai was received by Saudi government officials and a representative of the holy Kaaba's imam in addition to members of Mecca's Pakistani community and supporters from various Muslim countries.
The two-time holder of the World Record for Peace Walks told Al Arabiya News that the aim behind his almost three-month journey was to deliver a "message of peace" to the world and to "condemn terrorism at all levels".
Full report at:
http://www.indianexpress.com/news/pakistani-man-walks-6387-km-to-reach-mecca-for-hajj/1182081/
------------
Mideast
NGO warns of threat to Turkey posed by jihadists in Syria
October/12/2013
A leading human rights group in Turkey has urged the government to improve new policies since there is "a clear and present danger" posed by jihadists groups capturing cities in the neighboring country Syria, devastated by civil war.
The Human Rights Association (İHD), in a report released on Oct. 11, called for immediate action by both the police department and the intelligence authorities against those who facilitate recruitment for al-Qaeda-based groups in Syria from Turkey. Public prosecutors should launch effective investigations about this situation, said the report, drafted by a seven-member İHD delegation upon their examinations at the Turkish border gates near the border with Syria on Oct. 5-6-7.
"The clear and present danger directed against the people of Turkey with the capture of cities in Syria by jihadist organizations such as al-Qaeda and al-Nusra should be taken into consideration and a new policy should be developed on this issue," the report said.
The report also proposed a humanitarian aid corridor be opened in order to send urgent humanitarian assistance to Afrin and that the wall being built in Nasaybin should immediately be demolished while sending either windmills or other materials to make flour for the region.
"There is a camp problem for those different ethnic and religious groups attempting to find refuge in Turkey. For example; there are no camps for Kurds or Arab Alawites. There have been serious allegations of mistreatment and torture for those who simply walk across the border looking for refuge and nothing has been done about that. There have been reports of acts of prejudice and impropriety against women who have attempted to seek sanctuary in Turkey. All directives for the refugees and their camps released by the Prime Ministry and other ministries have been kept secret. No human rights groups are allowed into the camps. This shows that the government has not been transparent in their dealings during this period."
Full report at:
http://www.hurriyetdailynews.com/ngo-warns-of-threat-to-turkey-posed-by-jihadists-in-syria.aspx?pageID=238&nID=56121&NewsCatID=338
------------
Iran rejects demand to ship out uranium stockpiles
Reuters | Oct 13, 2013
DUBAI: Iran will not ship enriched uranium stockpiles out of the country, the Iranian deputy foreign minister said on Sunday, rejecting one key demand of world powers due to resume nuclear negotiations with Tehran this week.
Abbas Araqchi's comment may disappoint western officials, who want Iran to ship out its stockpile of uranium enriched to a fissile concentration of 20 per cent, a short technical step away from weapons-grade material.
However, he signalled flexibility on other aspects of Iran's uranium enrichment.
"Of course we will negotiate regarding the form, amount, and various levels of (uranium) enrichment, but the shipping of materials out of the country is our red line," Araqchi was quoted as saying on Sunday on state television's website.
Araqchi will be part of the Iranian delegation at nuclear talks with six world powers that are due to start in Geneva on Tuesday.
Full report at:
http://timesofindia.indiatimes.com/world/middle-east/Iran-rejects-demand-to-ship-out-uranium-stockpiles/articleshow/24091111.cms
------
Israel finds tunnel dug under Israel-Gaza border
13 Oct 2013
The Israeli military says it has discovered an underground tunnel dug from the Hamas-controlled Gaza Strip into Israel.
The military says it believes the Islamist group, which governs the Palestinian territory, dug the tunnel to carry out an attack or to kidnap Israelis.
The army said Sunday it discovered the tunnel a week ago, after finding an opening near a kibbutz along the Israel-Gaza border.
Full report at:
http://english.ahram.org.eg/NewsContent/2/8/83870/World/Region/Israel-finds-tunnel-dug-under-IsraelGaza-border.aspx
------------
Secessionists in Yemen rally to reject dialogue
13 October 2013
ADEN: Thousands of separatists demanding secession took to the streets of Aden on Saturday to mark the anniversary in 1967 of the independence of former South Yemen.
The demonstrators came from across the south and gathered on Parade Square in the center of Aden, waving flags of the former South Yemen and carrying banners with pro-independence slogans.
Security forces watched the crowds from a distance, particularly around public buildings and police and army posts.
Some protesters chanted slogans denouncing the national dialogue, talks aimed at drawing up a new constitution and preparing for elections, and which have faltered partly because of the southern issue.
Secessionists at the rally chanted "No to dialogue, yes to independence and liberation," and "Our demand is independence," responding to calls from hard-liners in the Southern Movement.
Majed Al-Shuwaibi, a member of the Movement at the rally, said the choice of date was significant.
"The southerners are celebrating the anniversary of the October revolution ... which will continue for the re-establishment of the state," he said.
Hassan Baoum, head of the Southern Movement's supreme council, arrived from the neighboring Hadramawt province on Friday evening and was due to address crowds in Aden, activists said.
After the former North and South Yemen united in 1990, the south broke away in 1994, triggering a brief civil war that ended with the region being overrun by northern troops. The southern question is still contentious and has been a stumbling block for Yemen's national dialogue, in which moderate members of the Southern Movement had been taking part demanding greater autonomy.
Full report at:
http://www.arabnews.com/news/467623
------------
World powers, Iran under Rouhani revive nuclear talks
2013-10-13
TEHRAN: World powers will hold fresh talks with Iran on its nuclear programme on Tuesday, amid raised hopes of a less hardline approach from the Islamic republic's new president.
The two-day meeting in Geneva will be the first such negotiations since President Hassan Rouhani, a reputed moderate, took office in August.
He has pledged to engage the world constructively and to resolve the decade-long showdown on Iran's controversial atomic ambitions.
Western powers and Israel suspect Tehran is developing a nuclear military capability, a claim repeatedly denied by the Iranian leadership.
Foreign Minister Mohammad Javad Zarif has taken over as Iran's top negotiator with the so-called P5+1 group of the United States, Britain, China, France and Russia plus Germany.
But so far he has been tight-lipped on what Iran is prepared to offer in exchange for relief from harsh sanctions which have damaged its ailing economy, hampering the bulk of its oil exports and its vital access to global banking.
"We will present our views, as agreed, in Geneva, not before," Zarif said in a tweet on Friday.
The government-run "Iran" newspaper, quoting sources close to Iranian negotiators, said Saturday without elaborating that Tehran's proposals would be based on "realistic approaches and acceptable logic". It also said they would "address some Western concerns".
Tehran has insisted that it will not back down from what it considers its "right" to operate a uranium enrichment programme on its soil -- which could provide fuel for both civilian and military objectives -- while not ruling out that other aspects of its drive might be up for discussion.
Unnamed Iranian diplomats said "the recognition of the right to enrichment on Iranian soil" would be the end game in Iran's plan, whereas in the past it was more of a non-negotiable precondition to any negotiating framework, ISNA news agency reported.
But there has been no word of possible concessions that Iran might put forward to ease suspicions in the West and Israel.
William Luers, a veteran former US diplomat and director of The Iran Project, an independent initiative to promote dialogue, argues that if Tehran makes a substantive offer at Geneva it could pose a dilemma for Washington, particularly amid Congressional pressure for even stiffer sanctions.
"If at Geneva they outline an interesting plan that might go a long way towards satisfying even over the short term our concerns, then we're going to decide whether simultaneously we do something that will make this deal happen,"Luers told reporters on Friday.
"Then over the next year or two you can reach a more comprehensive deal," he said.
Behind-the-scenes actors
Accompanied by political directors from the P5+1 group, European Union foreign policy chief Catherine Ashton will represent the world powers at Geneva, with both sides under pressure from behind-the-scenes players.
Israel is urging the West to increase sanctions against Tehran, while also threatening unilateral military action against its atomic programme.
And Rouhani is brushing off criticism from regime hardliners opposed to his recent overtures to the West, including a historic phone call with US President Barack Obama in late September, or possible concessions on the nuclear front.
For now, he appears to have the qualified support of supreme leader Ayatollah Ali Khamenei, who has the final say on all matters of state.
Khamenei has branded nuclear proliferation and possession of the bomb a "sin" against Islam, in a religious decree acknowledged by Obama.
Full report at:
http://www.dawn.com/news/1049400/world-powers-iran-under-rouhani-revive-nuclear-talks
------------
South Asia
US, Afghanistan agree on draft security pact
2013-10-13
KABUL: US Secretary of State John Kerry and Afghan President Hamid Karzai on Saturday reached a preliminary agreement on a bilateral security pact that now depends on approval by Afghanistan's tribal leaders.
The pact, announced jointly by Kerry and Karzai after two days of talks in the capital, Kabul, would keep some US forces in Afghanistan after 2014.
It includes a key U.S. demand to retain legal jurisdiction over the troops that will remain in Afghanistan, which would give them immunity from Afghan law.
It will be up to the country's Loya Jirga, an assembly of elders, leaders and other influential people, to decide whether to accept it.
"Tonight we reached some sort of agreements," Karzai told a news conference, speaking through an interpreter.
US officials said they wanted the pact finalized by the end of October and Kerry's visit was seen as a last-ditch effort to push the deal through before the deadline.
The United States is insisting it cannot agree to a deal unless it is granted the right to try US citizens who break the law in Afghanistan at home in the United States.
A senior US administration official said the sides had agreed on language in the draft deal that covers the issue of immunity and "that can be put to his Loya Jirga for their consideration."
"We need to say that if the issue of jurisdiction cannot be resolved, then unfortunately there cannot be a bilateral security agreement," Kerry told a news conference.
Karzai said the talks had focused on protecting Afghan sovereignty and that major differences had been resolved, including a US request to run independent counter-terrorism missions on Afghan territory.
Such operations carried out by the United States have long infuriated the Afghan president, who had been demanding Washington agree to share intelligence instead.
Karzai said the US snatching of a senior Pakistani Taliban commander was an example of the kind of action that Afghanistan wanted to avoid.
"This is an issue that we have raised in earnest with the United States in the past few days as we have all previous occasions of such arrests in which the Afghan laws were disregarded," Karzai said, referring to the capture of commander Latif Mehsud.
"Therefore our discussion today in particular has been focused on making sure that through the bilateral security agreement such violations are not repeated."
Kerry attributed the complaint to a misunderstanding.
"We followed the normal procedures that the United States follows ... we did what we are supposed to do," he said.
Zero Option
The Afghan government rejected an initial US proposal on immunity at the start of the year and it has been a sticking point ever since. The failure to reach a deal could prompt the U.S. to pull all its troops out after 2014, in an outcome known as the "zero option".
It was considered almost unthinkable a few months ago, but US officials have since raised the possibility, with an implicit warning that Afghan security forces are not ready to fight the Taliban-led insurgency without their help.
The collapse of similar talks between the United States and Iraq in 2011 - partly over the issue of immunity - led to the United States completely ending its forces' mission there rather than maintaining a significant presence.
US officials had said earlier that Kerry did not intend to close a deal on the Bilateral Security Agreement (BSA) during the visit, but Washington is concerned that as Afghan election campaigning intensifies, it will be harder to broker a deal.
Karzai's brothers this week began their campaign to take power and plan to offer the outgoing president, constitutionally barred from running again, a position in their government.
The April election is seen as the most crucial since the U.S.-led overthrow of the Taliban in 2001, which brought Karzai to power.
International aid donors, who provide Afghanistan with the bulk of its income, hope a transfer of power will enable the country to move beyond years of damaging allegations of corruption Full report at:
http://www.dawn.com/news/1049218/us-afghanistan-agree-on-draft-security-pact
------------
Ghulam Azam discusses appeal with counsels
October 13, 2013
War criminal Ghulam Azam's defence counsels yesterday morning visited him at the prison cell of Bangabandhu Sheikh Mujib Medical University to discuss the appeal against the sentence given to him by the International Crimes Tribunal.
Coming out of the prison cell around noon after the half-an-hour visit, Barrister Abdur Razzaq, Ghulam's chief counsel, told The Daily Star, "We informed him of the hearing and discussed other legal matters."
Former Jamaat-e-Islami ameer Ghulam filed the appeal with the Supreme Court on August 5 seeking an overturn of his conviction and the 90-year jail sentence he received on July 15 from the ICT-1 for masterminding crimes against humanity, genocide, and other offences during the Liberation War.
The government also filed another appeal with the SC on August 12 seeking death penalty for the convicted war criminal.
Razzaq, accompanied by another defence counsel Barrister Shishir Monir, visited his client after nine months at the prison cell, where Ghulam has been staying since his arrest on January 11, 2012.
Full report at:
http://www.thedailystar.net/beta2/news/ghulam-azam-discusses-appeal-with-counsel/
------------
Pro-BNP professionals plan rallies after Eid
October 13, 2013
Three pro-BNP platforms of professionals will join the final stage of the opposition's anti-government agitation by holding rallies in the capital shortly after Eid-ul-Azha.
They have also planned to observe strike at workplaces and stage sit-ins to reinforce BNP's demand for restoration of the caretaker government system, said leaders of the organisations.
Bangladesh Sammilito Peshajibi Parishad, Shikkhak Karmachari Oikya Jote, and Jatiyatabadi Ainjibi Forum will hold the rallies respectively on October 20, October 24 and October 26 where BNP chief Khaleda Zia will speak as chief guest, they told The Daily Star.
In the last month, Khaleda held several meetings with the professionals' bodies of different sectors to ensure their participation in the agitation.
BNP insiders said they believed that if the pro-BNP professionals joined the movement, it would help them win the public support.
A tension was created among the people with ruling Awami League leaders now saying parliament will continue to function after October 24 when it should be dissolved as an earlier decision.
Full report at:
http://www.thedailystar.net/beta2/news/pro-bnp-professionals-plan-rallies-after-eid/
------------
North America
US quietly observes coup law on Egypt aid, but shuns term
13 October 2013
WASHINGTON: Despite withholding most military aid to Egypt until it makes progress on democracy and human rights, the US government is still tying itself in knots over whether to describe July's army overthrow of President Muhammad Mursi as a "coup."
The officials told congressional aides they had quietly decided to respect a law that bars aid to the Egyptian government in the event of a military coup — even though the administration decided over the summer it was under no obligation to decide whether or not a coup had taken place and so did not have to apply the law.
Congressional aides said officials from the State Department, Pentagon and Agency for International Development who discussed Egypt on Capitol Hill still refused to use what they wryly termed "the C word" to describe the ouster of Mursi, Egypt's first freely elected president. "They made very clear that they were not calling it a coup," one House of Representatives aide said after a briefing.
The language issue illustrates what some analysts see as a tortured US policy toward Egypt, where the desire to be seen as supporting human rights and democracy has clashed with a hope of retaining influence in a strategically vital country and not upsetting the Egyptian Army.
Full report at:
http://www.arabnews.com/news/467624
------------
UN OK's joint mission to destroy Syrian chemical arms
October 13, 2013
UNITED NATIONS - The UN Security Council has approved the joint UN mission with the global chemical weapons watchdog to oversee the destruction of Syria's stockpiles and production facilities.
Accordingly, up to 100 experts from UN and Organization for the Prohibition of Chemical Weapons (OPCW) will be deployed in a multi-phase operation to carry out last month's Council resolution on eliminating Syria's chemical weapons, scheduled for completion by 30 June, 2014. "We have a very tight deadline, but the United Nations is committed to work closely with the OPCW to get the job done. And I am just as committed and determined to make progress in the political and humanitarian tracks for the sake of the Syrian people," said UN Secretary General Ban Ki-moon.
The Council passed a resolution after Syria agreed to join the Chemical Weapons Convention following a chemical weapons attack in August that killed hundreds of people in Ghouta, a Damascus suburb. An advance team of experts and support staff from the OPCW and the UN have been in Syria since earlier in the month and already begun inspecting the destruction of Syria's chemical stockpiles.
Prior to the Council's open meeting, Pakistan U.N. Ambassador Masood Khan said during consultations that The United Nations was the best organization to support coordination and liaison with the Syrian Government and opposition groups for security, logistics and communication.
"This activity being undertaken by the UN and OPCW is not abstract diplomacy," the Pakistan envoy said, pointing out that it was prompted by killings of 1400 innocent civilians in Ghouta on August 21.
"The images of children who became inert and silent instantly on that fateful day are still fresh in our minds," he said, adding that Pakistan condemns the use of chemical weapons by "whosoever, whenever and wherever under any circumstances".
Ambassador Masood Khan said he was glad that the Syrian Government had provided information and type of chemical weapons, their location and storage, production, and mixing facilities, noting that destruction of chemical weapons had already begun under the supervision of the UN and OPCW.
Full report at:
http://www.nation.com.pk/pakistan-news-newspaper-daily-english-online/international/13-Oct-2013/un-ok-s-joint-mission-to-destroy-syrian-chemical-arms
------------
CAIR: American Muslims to Mark End of Hajj with Prayers
Oct12, 2013
American Muslims will mark the end of the yearly pilgrimage to Mecca, or Hajj, with communal prayers and celebrations at locations around the country.
The prayers and the holiday that follows are called Eid ul-Adha (EED-al-ODD-ha), or "festival of the sacrifice."
Eid ul-Adha also commemorates the Prophet Abraham's willingness to sacrifice his son Ishmael at God's command. The holiday is celebrated with the prayers, small gifts for children, distribution of meat to the needy, and social gatherings. During this holiday, Muslims exchange the greeting "Eid Mubarak" or "blessed Eid." Each year, some two million Muslims, including thousands of American Muslims, go on Hajj.
[NOTE: For actual pilgrims, the rites of Hajj continue for some time after the Eid prayers.]
WHEN: Tuesday, October 15 - The prayers are held in the morning. Many communities also hold day-long Eid festivals for families.
WHERE: The Eid prayers and festivals are held either in local mosques or in public facilities designed to accommodate large gatherings. Call local CAIR chapters or other Muslim organizations for details about Eid celebrations.
CAIR chapters can be found here:
http://cair.com/cair-chapters.html
Local Muslim institutions can be found here:
http://islamicfinder.org/
PHOTO OPPORTUNITY: Each year, Muslims from America and many different countries come to the prayers in colorful dress. The prayers themselves are quite visual, with worshipers arranged in neat rows and bowing in prayer in unison. Participants exchange embraces at the conclusion of the prayers.
NOTE: Because this is a religious service, reporters and photographers of both sexes should dress modestly. Photographers should arrive early to get into position for the best shots. Photographers are also advised not to step directly in front of worshipers and to seek permission for close-up shots.
HAJJ BACKGROUNDER:
In the Quran, Islam's revealed text, God says: "Thus We settled Abraham at the site of the House (the Ka'aba) (saying): 'Do not associate anything with Me, and purify My house for those who walk around it, and those who stand there (praying), and those who bow down on their knees in worship. Proclaim the pilgrimage among mankind: they will come to you on foot and on every lean (beast of burden); Let them come from every deep ravine, to bear witness to the advantages they have, and to mention God's name on appointed days." Chapter 22, Verses 26-28
Hajj is one of the "five pillars" of the Islamic faith. (The other pillars include a declaration of faith, daily prayers, offering regular charity, and fasting during the month of Ramadan.) Pilgrimage is a once-in-a-lifetime obligation for those who have the physical and financial ability to undertake the journey.
When the main portion of the pilgrimage is completed, Muslims worldwide gather for communal prayers on the first day (October 15) of Eid ul-Adha (EED-al-ODD-ha), the second of the two major Muslim holidays.
The obligatory and optional activities of Hajj include:
* Entrance into a state of self-control called "ihram," during which pilgrims are forbidden to harm living creatures, even insects or plants, or raise the voice in anger. The state of ihram is signified (for men) by the wearing of two pieces of unsown white cloth. This clothing signifies the equality of all before God. No specific clothing is prescribed for female pilgrims.
* Circling ("Tawaf") of the "Ka'aba," the stone building Muslims believe was originally built by Abraham and his son Ishmael. The Ka'aba is viewed as the first sanctuary on earth dedicated to the worship of the One God. It is a symbol of unity for Muslims because all prayers, wherever they are performed, are oriented in the direction of the Ka'aba.
* The "Sa'i," or "hastening" between two small hills near the Ka'aba, to commemorate Hagar's search for water to offer her son Ishmael.
Full report at:
http://news.yahoo.com/cair-american-muslims-mark-end-hajj-prayers-202800510.html
------------
Europe
France charges Al Qaeda suspect deported from Pakistan
2013-10-12
PARIS: A French-Algerian man suspected of Al Qaeda ties and deported from Pakistan this week has been charged with terror offences, French judicial officials said on Saturday.
Intelligence officials believe Naamen Meziche was once connected to Al Qaeda's so-called "Hamburg cell", which planned the 9/11 attacks on the United States.
Deported on Tuesday, he was charged and remanded in custody in Paris on Friday for criminal conspiracy in relation with a terrorist enterprise, with a view to carrying out criminal acts, the source said.
Meziche had been in Pakistani custody since being arrested in May 2012 in the southwest of the country along with three other suspected French jihadis, who were sent back to France in April and charged on the same count.
Pakistani authorities had arrested Meziche in an operation near the Pakistan-Iran border.
Born in Paris in 1970, Meziche left France in the early 1990s for Afghanistan, then Germany where he is alleged to have come into close contact with the "Hamburg Cell".
He has been known to intelligence officials for more than a decade, though he has no criminal record in Europe.
Full report at:
http://www.dawn.com/news/1049204/france-charges-al-qaeda-suspect-deported-from-pakistan
------------
Russian photographer abducted by Syrian rebels
12 October 2013
A Russian photographer has been abducted by a group of Syrian rebels who accuse him of being a spy, the Russian foreign ministry said Saturday.
Konstantin Zhuravlev is being held by the Islamist group Liwa al-Tawhid, said foreign ministry spokesman Alexander Lukashevich, adding that he was seized in Syria's second city Aleppo.
The 32-year-old had hitchhiked from Siberia and entered Syria via Turkey. He was thought to be travelling through Syria en route to the Sahara desert.
"The Russian embassy is in close contact with the Syrian authorities to urgently establish all the circumstances of this incident and to free the Russian citizen," Lukashevich told Echo of Moscow radio station.
Full report at:
http://english.alarabiya.net/en/media/television-and-radio/2013/10/12/Russian-photographer-abducted-by-Syrian-rebels-.html
------------
Arafat poisoning claim backed by journal
12 Oct 2013
One of the world's leading medical journals has supported the possibility that Yasser Arafat, the longtime Palestinian leader, was poisoned with the radioactive element polonium 210.
The British The Lancet journal has published a peer review of last year's research by Swiss scientists on Arafat's personal effects.
It endorsed their work, which found high levels of the highly radioactive element in blood, urine, and saliva stains on the Palestinian leader's clothes and toothbrush.
The work of the experts at Lausanne University, Switzerland, was triggered by an Al Jazeera investigation, and also led to Arafat's body being exhumed in November 2012 for further testing.
In October 2004, Arafat fell ill, suffering from a number of symptoms, including nausea and abdominal pain.
Within a few short weeks, his health became significantly worse, and he was transferred from his base in Ramallah in the occupied West Bank, to Percy Hospital in France.
His situation continued to worsen, and he suffered from acute renal failure, and entered into a neurological coma.
By November 4, 2004, he died of a cerebral haemorrhage, at the age of 75.
Despite several scientific tests, there was no evidence of poison, and the cause of his illness remained unidentified.
Full report at:
http://www.aljazeera.com/news/europe/2013/10/arafat-poisoning-claim-backed-journal-2013101215735508974.html
------------
India
'Business Forum should help in India-Pakistan economic ties': Pak High Commissioner
October 13, 2013
High Commissioner Salman Bashir calls for breakthrough
Stating that Islamabad is committed to improvement of relations with New Delhi, Pakistan High Commissioner Salman Bashir has urged the India-Pakistan Joint Business Forum to work for a "breakthrough" in economic and trade relations.
Addressing the Forum at the end of the two-day meeting here on Friday, Mr. Bashir said the newly elected Nawaz Sharif government was fully committed to improving ties with India.
The Forum should identify opportunities for better economic ties, help remove impediments and prescribe solutions. "Economic and trade cooperation has to be mutually beneficial and on equitable terms. The private sector should also play its role in positively influencing political and public opinion and in suggesting a pragmatic course for unlocking the collective potential for development," he told delegates from both sides.
Mr. Bashir also emphasised the importance of resumption of dialogue.
The Forum pitched for peace and an end to hostilities. The common sentiment was that business and trade should not be held hostage to political developments and that both nations should not be deprived of economic prosperity due to wrongdoings of a few miscreants.
Full report at:
http://www.thehindu.com/news/national/business-forum-should-help-inindiapakistan-economic-ties/article5229457.ece
------------
Game of cricket will be poorer without Sachin: Pakistan media
PTI | Oct 13, 2013
LAHORE: The Pakistani press has showered heap of praise on legendary Indian batsman Sachin Tendulkar in their editorials, saying "the game of cricket will surely be poorer without him".
Although nothing much has been written in the Urdu press but the English dailies has taken exception to Tendulkar's decision to retire from international cricket next month after playing his 200th Test match and described him "the greatest postwar batsman to have played the game".
Dawn wrote Tendulkar's retirement marks the end of a truly memorable career that spanned nearly a quarter of a century.
"Rated by critics and contemporaries as arguably the greatest postwar batsman to have played the game, Tendulkar continued to rewrite the record books with his brilliant batting skills since making his debut against Pakistan in Karachi way back in 1989," an article in the newspaper said.
"His 100 international centuries and over 15,000 Test runs are records that are unlikely to be surpassed for many years. Tendulkar, now 40, enjoys the status of a demigod in India. It is to his credit that he never allowed success to go to his head at any point during his illustrious career, staying away from needless controversies. His image remains impeccable, both on and off the field, a rare feat in an age when the game of cricket has been dogged by scandals.
"Tendulkar's success has inspired a generation of talented players including Rahul Dravid, Virender Sehwag, Sourav Ganguly, Virat Kohli and Shikhar Dhawan. It is true that his cricketing skills did not quite translate into leadership qualities and that he enjoyed only moderate success as team captain of India.
"Moreover, he struggled for form in recent years, which led to calls for his retirement so that new players could be inducted. These shortcomings notwithstanding, Tendulkar has always attempted to give his best to the Indian team each time he walked onto the field -- this fact alone speaks volumes for both his playing skills and his integrity. His best moments have included his contribution to India's 2011 World Cup triumph. The game of cricket will surely be the poorer without Sachin Tendulkar," the article added.
The Express Tribune and Daily Times wrote Tendulkar is rightly considered the most complete batsman of his age, possessing every shot in the book and having the ability to both, tear apart bowling attacks and to control his natural aggression to suit the needs of his team.
The Tribune further said a quick glance at the statistics Tendulkar compiled over his career make for mind-boggling reading: over 34,000 international runs, the only player to score 100 international centuries, as well as being the leading Test and ODI run-scorer.
"Adversity seemed to bring out the best in the Little Master, with some of his most memorable Full report at:
http://timesofindia.indiatimes.com/sports/cricket/series-tournament/sachin-tendulkar-to-hang-his-boots/top-stories/Game-of-cricket-will-be-poorer-without-Sachin-Pakistan-media/articleshow/24096811.cms
------------
India to raise killing of Indian fisherman with Pakistan
October 13, 2013
New Delhi,13 oct 2013: India would strongly take up the "shoot-and-scoot killing" of an Indian fisherman by Pakistan coastal security personnel, official sources said here Sunday.
"India would strongly take up the shoot-and-scoot killing of a fisherman by the Pakistan Maritime Security Agency," an official source said.
Indian fisherman Naran Bhai Sosa was killed in the incident. While fishermen and boats have been previously detained and boats apprehended, "the killing of unarmed fishermen is unusual", the source added.
Gujarati fisherman Sosa was killed and 30 others were allegedly kidnapped by the Pakistan Maritime Security Agency Saturday off Jakhau coast in Gujarat. The fishermen were allegedly taken away in five boats, a member of the fishermen's boat association said Saturday.
Gujarat Chief Minister Narendra Modi said he has taken up the issue with the central government.
Full report at:
http://muslimmirror.com/eng/india-to-raise-killing-of-indian-fisherman-with-pakistan/
------------
Indian Embassy in Saudia launches registration drive to help Overstaying Indians
13 October 2013
The Indian Embassy launched a special registration drive on Saturday to assist its overstaying nationals in Saudi Arabia.
The registration counter is open from 9:30 a.m. until 1 p.m.
"The Embassy of India has launched a special registration drive as part of its efforts to assist overstaying Indians in the Kingdom.
Around 150 Indian expatriates who have not yet obtained their final exit from the Deportation Center or are facing difficulty in rectifying their status approached the embassy and registered themselves," said Surinder Bhagat, the embassy's spokesperson.
"The Indian mission is firm in its resolve to ensure that not a single Indian illegal expatriate remains in the Kingdom after the expiry of the grace period on Nov. 3," he added.
"The embassy intends to create a database of such Indians and bring it to the notice of Saudi authorities during the three-day registration drive," he explained.
The embassy has urged all overstaying Indian expatriates to rectify their legal status and approach the embassy or volunteers registered with the embassy immediately in case of
difficulty.
Full report at:
http://www.arabnews.com/news/467628
------------
Southeast Asia
President, PKS leaders exchange accusations over Bunda Putri
October 12 2013
A leading member of the Prosperous Justice Party (PKS) has accused President Susilo Bambang Yudhoyono of lying with regard to Bunda Putri, a hitherto little-known woman said to have played a role in the beef import graft case.
The President claimed late on Thursday that no State Palace officials or member of his family knew Bunda Putri. "[My] family does not know Bunda Putri," he said. To further emphasize his point, he said that he had spent more than 30 minutes contacting his family members one by one to confirm the matter.
Yudhoyono also said that there was no phone call, mail, text message or meeting between Bunda Putri and his family. "If someone wants to meet, send a letter or call the President, he must go through a system," he said. "My personal assistant would have known [if Bunda Putri ever contacted me]. But 100 percent, nobody knows," he said.
The President made the statement only hours after former PKS leader and graft suspect Luthfi Hasan Ishaaq told the Jakarta Corruption Court that Bunda was no stranger to Yudhoyono.
"Bunda Putri is very close to SBY and she knows about the [Cabinet] reshuffle," he told the panel of judges at the Jakarta Corruption Court in Kuningan, South Jakarta.
PKS deputy secretary general Fahri Hamzah, meanwhile, said on Friday that Yudhoyono was pretending not to know Bunda Putri. "He knows her. Yudhoyono is just playing dumb. Anyone who met Luthfi using Yudhoyono's name would have been checked out [first by Luthfi]," he said.
The President has been involved in a series of squabbles over various issues with the Islamic-based party, which has three of its top politicians in Yudhoyono's Cabinet. The President has opted not to fire them despite the PKS' animosity.
Bunda Putri is reportedly an alias for Non Saputri, the wife of the Agriculture Ministry's horticulture director general, Hasanuddin Ibrahim. She reportedly has close ties to high-ranking officials and able to pull strings in the government.
When asked whether Bunda Putri was Non Saputri, Luthfi told the judges that he did not know.
Bunda Putri was first mentioned by PKS chief patron Hilmi Aminuddin's son, Ridwan Hakim, who claimed that he only knew her as a businesswoman and that she acted as his mentor.
Agriculture Minister Suswono, a senior PKS member, then revealed that he once met Bunda Putri during an event in 2010 or 2011 in West Kalimantan that was also attended by Yudhoyono, further fueling speculation that she was a close friend of the President. Presidential spokesman Julian Aldrin Pasha said that the President needed to respond to Luthfi's allegation because he claimed that Bunda Putri had a say in a planned Cabinet reshuffle, which the President strongly denied.
Full report at:
http://www.thejakartapost.com/news/2013/10/12/president-pks-leaders-exchange-accusations-over-bunda-putri.html
------------
70 passengers offloaded from Malaysia-bound flight in Lahore
October 13, 2013
LAHORE: At least 70 passengers were offloaded from a Malaysia-bound flight on Saturday for having incomplete travelling documents. According to reports, the airport staff – during checking of travelling documents of passengers – found the papers of 70 passengers incomplete. The passengers were offloaded from the flight and taken into custody for interrogation. However, they were later allowed to go home, and advised to complete their travelling documents prior to going abroad. inp
http://www.dailytimes.com.pk/default.asp?page=2013\10\13\story_13-10-2013_pg7_2
------------
Indonesia keen on India's Food Security law
October 12, 2013
Indonesia has evinced a keen interest in India's Food Security legislation and wants to step up coordination with New Delhi in the WTO on the contentious issue of stockpiling food reserves.
Food security appeared to be a priority for Indonesian President Susilo Bambang Yodhoyono during his one-on-one meeting with Prime Minister Manmohan Singh and the delegation-level talks between the two countries here on Friday. More than once in his media statement after the talks, the President brought up the issue of food security.
According to External Affairs Ministry officials, both sides acknowledged that neither can import food and agreed that the issue of food security should be met bilaterally. Mr. Yodhoyono stressed the need to maintain stability of food prices and safeguard the food market from price distortions.
Also, there is an intent to work together further in the WTO to make it more just to protect food security requirements. Both are already part of the G-33 coalition of developing countries within WTO for flexibility to undertake limited market opening in agriculture.
Stockpiling
Acknowledging the urgency shown by Mr. Yodhoyono in his talks on this front, Dr. Singh said officials had been asked to work towards drawing up concrete proposals to further this agenda. Briefing mediapersons on board the Prime Minister's special aircraft en route home on Saturday, External Affairs Minister Salman Khurshid said: "As two populous countries, we have an enormous responsibility towards ensuring food security."
Full report at:
http://www.thehindu.com/news/international/world/indonesia-keen-on-indias-food-security-law/article5229331.ece
------------
URL: https://www.newageislam.com/islamic-world-news/new-age-islam-news-bureau/african-leaders-to-demonstrate-continental-unity-against-extremists/d/13975