New Age Islam News Bureau
11 Jun 2012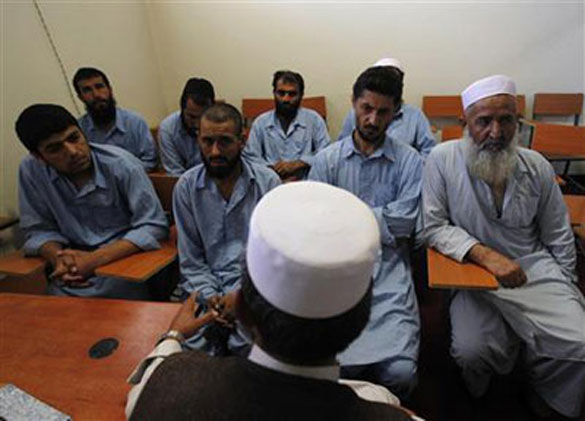 South Asia
• Afghans Aim to Defuse Failed Suicide Bombers with Quran
• 45 militants killed in Afghanistan
• Afghan arsonists seek to enforce truancy from school
• Buddhist-Muslim clash: Emergency declared in Western Myanmar
• War May Be Ending, but Fight Isn't Over for Soldiers in Remote Afghanistan
• Pregnant Afghan woman among 5 dead
• China says G-20 summit wrong place for Syria talk
• UN decides to relocate staff from Burma's Rakhine state
India
• India announces scholarships for NRI students in Saudi
• Normal life disrupted in Kashmir due to strike called by hard-line Hurriyat Conference
Pakistan
• Almost entire Tirah valley of Pakistan fall to militants
• No great breakthrough expected as India, Pak talk Siachen
• US, Pakistan beginning to look more like enemies
• Pakistani community leader faces wrath of Right-wing Islamophobic media in Britain
• Arsalan Iftikhar files petition for case against Malik Riaz
• Karachi violence continues
• Martial law era has ended: Gilani
• Al Qaeda down, but not out in Pakistan
• Kayani refuses to meet US defence official
• Contempt petition filed against Asif Ali Zardari in Lahore high court
• Six killed, dozens injured in Balochistan blast
• Pak justice on trial in a tale of morality & corruption
• Terrorist attack kills 10 in Pak's South Waziristan
• Not the first case of a tainted VIP scion in Pakistan
Southeast Asia
• Indonesian city seeks gay ban in local Sharia laws
• It's not about unity, but Malay-Muslim integrity
• Malaysian policeman gets 3 years over man's death
• Malaysia/Islam: Sarawakians not split by religion
Mideast Asia
• Iran publicly hangs five drug smugglers
• Turkish Islamist zeal worries Europe
• Turkey Continues Its Irrevocable Slide to Becoming an Islamic Theocracy
• Syria Chemical Stocks Threaten Israel
• Iran feels sanctions pinch as oil income plummets
• New Generation of Ethiopians March toward Dream of Acceptance in Israel
• Turkey tweaks cult of national founder
Arab World
• Syrian troops attack Homs, 38 killed
• Presidential elections in Egypt and human rights of Coptic Christians
• Syria opposition elects Kurd activist as leader
• Oldest pearl aged 7,500 years found in the UAE
• Assad on 'last legs' as Syrian death toll tops 14,000
• 'Kuwaiti jihadists' join different nationalities to enlist in Free Syrian Army
• Hosni Mubarak slipping in and out of consciousness in prison hospital
• Assad's Response to Syria Unrest Leaves His Own Sect Divided
• Iraq President: PM's Critics Didn't Get Majority
• Syrian Forces Shell Cities as Opposition Picks Leader
• Syria's Assads Turned to West for Glossy P.R.
• Militant website says to reveal video of al Qaeda figure
• 12 dead in Egypt tribal fighting: Police official
• At least 6 killed, 38 wounded in Iraq mortar attack
North America
• US threatens sanctions on Somalis who block peace plan
• Court allows jihad fundraiser to remain seated when judge enters courtroom
• Ottawa cabbie cleared of sex assault; complainant 'deeply sorry'
Africa
• Qaeda chief urges Tunisians to rise up for Sharia
• Nigeria violence: Seven dead after Boko Haram attacks Churches
• Mali Rebels Meet with ECOWAS Mediator
• Ivory Coast mercenaries train child soldiers for attacks across Liberia border
• At least 16 killed in two days of Libya clashes
• Libya Postpones National Election until July
Europe
• Exclude Russia from arms show: Human Rights Watch to France over supply of arms to Syria
Compiled by New Age Islam News Bureau
Photo: Afghans Aim to Defuse Failed Suicide Bombers with Quran
URL: https://newageislam.com/islamic-world-news/afghans-aim-defuse-failed-suicide/d/7589
----------
South Asia
Afghans Aim to Defuse Failed Suicide Bombers with Quran
Jun 11 2012
Kabul: In a room full of would-be suicide bombers at a high security detention centre in the Afghan capital, an elderly cleric quietly reads out verses from the Quran, telling the young men the act of killing oneself is itself a crime in Islam.
"You won't go to paradise. Killing yourself and killing others is forbidden in Islam," he tells the men sitting on chairs arranged in rows in the brightly lit room, and points to pages in the holy book.
Some of them nod, others stare vacantly.
Afghanistan's National Directorate Security, long reviled for abuse and torture of detainees, says it is trying to draw the poison out of the young minds by teaching them the Koran, taking the men to mosques in Kabul to show people praying peacefully and proving their instigators were wrong.
Suicide attacks, unknown in Afghanistan until 2004, have become particularly worrying as newly minted government forces take control of security ahead of the withdrawal of most foreign combat troops in 2014. They account for the highest number of deaths of civilians and military forces after roadside bombings.
The attacks have prompted authorities to fortify government buildings and foreign offices with rows upon rows of blast walls to stop the bombers.
They are also to fight the brainwashing.
"We work with them psychologically, we show them movies and films of atrocities of the Taliban and we also take them to mosques to see thousands of worshippers," said Lutfullah Mashal, chief spokesman of the NDS, which last week gave Reuters rare access to the prisoners under supervision.
"During our interviews with them, we found that most of them do not know what they are doing. They are told false stories about Afghanistan."
Most of the men in the room, some with just the beginnings of a moustache, were Afghans but they had spent their lives in Pakistan. Several million Afghans have moved to Pakistan over decades of Afghan turmoil.
Some of the bombers said they been sent across to Afghanistan after being told Islam was in danger because of the foreign military presence and that women were being raped.
"As a Muslim I wanted to do my part and I agreed to do the mission," said Abdul Wahab. He said he made four unsuccessful attempts to detonate his explosive-laden car on foreign military convoys in northern Afghanistan before he was caught last month.
PROMISE OF PARADISE
Wahab, 18, originally from Kunduz in the Afghan north, but who grew up in Pakistan's garrison city of Rawalpindi where he worked as a porter in a fruit market, said he was approached by a man identified as Sarfraz several months ago.
"I was told stories about Afghanistan, about atrocities by foreigners and the absence of Islamic practices," Wahab said as two NDS agents sat nearby. He was given 15 days of training at a camp for Afghan refugees near the north-western Pakistani city of Peshawar on how to set off a car bomb.
"I was sent to Mazar-e-Sharif to target the foreigners and despite attempting four times, my car did not explode," he said, speaking slowly in Pashto.
Afghanistan says thousands of Islamic fighters routinely cross over from Pakistan's lawless, ethnic Pashtun tribal lands to carry out acts of violence. It has repeatedly urged its neighbour to act against the militants.
Pakistan says it is doing all it can to fight militancy in its rugged north-western border region and that Afghanistan is shifting the blame for its inability to tackle chronic instability at home.
Last week, at least 20 Afghan civilians were killed when a pair of suicide bombers detonated explosives within minutes of each other in a crowded part of the southern city of Kandahar, in one of the bloodiest days in weeks.
On Saturday, four French soldiers were killed when a burqa-clad bomber detonated his explosives in a bazaar in the east.
Some of the boys recruited to carry out bombings were told no harm would come to them.
Zahedullah, 17, from eastern Kunar province said he fell in with Taliban fighters at a mosque and they pumped him up to become a suicide bomber to attack foreigners.
"The Taliban told me I won't be harmed, only the Americans would be killed and I would go to paradise," he said.
"I don't want to go to paradise, I want to go home," he said.
Not everyone has had a change of heart. Ahmad Zubair, 18, was caught two weeks ago with a suicide-bomb vest in the eastern city of Jalalabad, near the Pakistani border, where he planned to attack U.S. Soldiers.
"I wanted to blow them up. They have desecrated our holy book and made cartoons of our Prophet. As long as Americans are in Afghanistan, there will be suicide bombers," he said quietly, before the NDS agents led him away.
http://www.indianexpress.com/news/afghans-aim-to-defuse-failed-suicide-bombers-with-koran/960573/
----------
45 militants killed in Afghanistan
June 10, 2012
At least 45 Taliban militants have been killed in operations carried out by Afghan and NATO-led troops, the interior ministry said on Sunday. The forces launched 10 "clean-up" operations in Kabul, Laghman, Parwan, Helmand, Uruzgan and Farah provinces, in which 33 militants were killed,
Xinhua reported citing a ministry statement.
Six militants were injured and nine were captured during the raids.
The statement, however, did not say if there were any casualties among the security forces.
Eight Taliban militants were killed in a special forces operation in Bati Kot district of eastern Nangarhar province Saturday night, said Ahmad Zia Abdulzai, a spokesman for the provincial government.
Four militants were killed when an anti-tank mine blew up prematurely in Jani Khil district of Pakitka province, the ministry said.
According to figures released by the interior ministry, around 430 militants have been killed, 130 wounded and over 450 others detained since May 1.
http://www.hindustantimes.com/world-news/Afghanistan/45-militants-killed-in-Afghanistan/Article1-868870.aspx
----------
Afghan arsonists seek to enforce truancy from school
Jun 11 2012
Kabul : Standing at a narrow half-open school gate, two boys in school uniform conduct body searches on fellow pupils and visitors. Another two sit at a table to take down details of comings and goings in a register.
Arson and poison attacks on schools across Afghanistan, mostly against those teaching girls, have forced students to defend themselves, an extra-curricular activity imposed by the government which blames the Taliban for the violence.
Abdul Fatah, 16, takes it in turn every few weeks to stand guard all day at the entrance to Habibia High School, one of the best in Kabul.
His parents worry that if there is an attack, he will be the first to get hurt. But the only other choice is to stay at home and join tens of thousands of Afghans who have left school early and struggle to earn a living in menial jobs.
There is a police checkpoint on the road outside and each day a group of six students and a teacher patrol the grounds.
"We are on the front line," Abdul said. "If there is an attack, it will be us who get hurt. But somebody has to do the searches."
Schools have been burnt across the country, hundreds of children hospitalized after drinking contaminated water and teachers attacked, whipping up a climate of fear reminiscent of Taliban rule from 1996 to 2001. The Taliban banned education for women and girls and only allowed strict Islamic instruction.
Unidentified men threw acid on a group of 15 girls as they walked to their school in the southern city of Kandahar in November 2008 when the Taliban insurgency was rising, triggering alarm across the country. There haven't been reports of big attacks since then, but women have been wounded with acid over other issues.
Girls have been returning to school, especially in the capital, Kabul, since the overthrow of the Taliban, in one of few hard-fought gains in civil liberties.
Afghanistan's intelligence agency, the National Directorate of Security, says the Taliban are bent on closing schools ahead of the withdrawal of foreign forces in 2014. Some of the attacks are carried out by Taliban members and in some cases, it says, the Taliban have used children to poison fellow pupils.
SCHOOLGIRLS ACCUSED
On Wednesday the agency said it had arrested 15 people for a spate of attacks in northern Takhar province, most of them Taliban, but also two girls who it said had been given 50,000 afghanis ($1,000) each to smuggle in toxic powder and slip it into the water tank.
One of the girls, Sima Gul, a grade 12 student, said in a video released by the agency that she had also been forced to spray poison in her classroom by a relative in the Taliban who had repeatedly followed her to school.
"He threatened to kidnap me and kill me if I didn't do this," she said, her voice breaking. "I am ashamed."
But the Taliban have denied involvement, saying the attacks, arrests and confessions are part of a propaganda campaign to blacken their reputation.
"We are not opposed to education. Why should we oppose it? Our children attend these schools. We are only against schools that propagate anti-Islamic teachings, that are opposed to Afghanistan's national sovereignty," said Taliban spokesman Zabihullah Mujahid.
He said militia groups set up by the government were behind the violence. Others hint at external forces trying to whip up trouble as Afghanistan prepares to take responsibility for its security after nearly 11 years of international support.
Some 550 schools in 11 provinces had been closed because the state could not provide enough security, Amanullah Iman, a spokesman for the Education Ministry, said.
In the southern province of Helmand, more than half the 336 schools are shut. Last week, anonymous letters delivered at night in the southeast insurgent stronghold of Paktika warned children and teachers of punishment if they attended school.
The closures have left about 200,000 children, mostly girls, without any access to education, and strengthened fears that Afghanistan's fledgling national forces may be unable to preserve women's rights once international forces leave.
"Over the last two years, the Taliban have moved away from large set-piece combat maneuvers and focused more on intimidation and social and political control," said Joshua Foust, an expert on Afghanistan and Central Asia at the Washington-based American Security Project.
"Shutting down schools is one way of establishing control."
LATE FOR SCHOOL
Alarmed by four poison attacks over the last two months on girls' schools, authorities in northern Takhar province last week ordered headmasters to remain in school until late in the evening and staff to scour the grounds for suspicious objects and test the water before opening the school gates.
Girls go to school in groups of five to ten seeking safety in numbers. Some don't dare to take in food or water in case someone poisons it, said Hamida, who is 19 but still in high school because of so many stops and starts to her education.
"To be honest, we are very scared each day. If you see someone staring at you on the way to school, you know there can be trouble," she said.
Sometimes the children simply turn back for home, fearing an attack.
Takhar was transferred to Afghan government control in April as part of a gradual transition. NATO said security had improved and Afghan forces were capable of shouldering responsibility.
But renewed violence across the nation as part of the Taliban's spring offensive has stoked fear that the poorly equipped Afghan forces may struggle to establish control.
Takhar has been a hotbed of militancy and criminal activity since 2009. It's not just the Taliban but also small ethnic insurgent groups such as the Islamic Movement of Uzbekistan that are active.
Even in the best of times, NATO barely managed to keep the lid on the tension within the province, officials say. The risks have risen even more now that the reins have been handed to the Afghan army.
"Now that it's under Afghan control, we're seeing what I expect we'll see in a lot of places: all the many armed groups vying for control," Foust said.
"Someone will eventually come out on top if they're left to their own devices ... it just might not be someone we'd prefer."
http://www.indianexpress.com/story-print/960506/
---------
Buddhist-Muslim clash: Emergency declared in Western Myanmar
Jun 11 2012
Yangon : Myanmar's president has declared a state of emergency in a western state where sectarian tensions between Buddhists and Muslims have unleashed deadly violence.
He warned that if the situation spun out of control, it could jeopardize the democratic reforms he has been instituting since taking office last year.
It is the first time Thein Sein has invoked the measure since becoming president. A state of emergency effectively allows the military to take over administrative functions for Rakhine State, a coastal region that borders Bangladesh.
The move follows rioting on Friday in two Rakhine areas that state media say left at least seven people dead and 17 wounded, and saw hundreds of houses burned down.
The unrest spread on Saturday and yesterday, though order was said to have been restored in the areas shaken by Friday's violence.
In a nine-minute speech televised nationally last night, Thein Sein said that the violence in Rakhine State was fanned by dissatisfaction harbored by different religious and ethnic groups, hatred and the desire for vengeance.
"If this endless anarchic vengeance and deadly acts continue, there is the danger of them spreading to other parts and being overwhelmed by subversive influences," he said.
"If that happens, it can severely affect peace and tranquility and our nascent democratic reforms and the development of the country."
The accounts in state media blamed Friday's rioting in Maungdaw and Buthidaung townships on 1,000 "terrorists," but residents' accounts made clear they were Muslims. The unrest seemed to be a reaction to the June 3 lynching of 10 Muslims
by a crowd of 300 Buddhists.
The lynch mob was apparently provoked by leaflets discussing the rape and murder last month of a Buddhist girl, allegedly by three Muslim men.
The violence reflects long-standing tensions in Rakhine state between Buddhist residents and Muslims, many of whom are considered to be illegal settlers from neighboring Bangladesh.
Myanmar's government does not recognize the Muslims in the area, who term themselves Rohingyas, as one of the country's national minorities. Although the basic problem is a local one, there is fear that the trouble could spread elsewhere because the split also runs along religious lines.
"I would like to call upon the people, political parties, religious leaders and the media to join hands with the government with a sense of duty, to help restore peace and stability and to prevent further escalation of violence," Thein Sein said.
http://www.indianexpress.com/story-print/960543/
----------
War May Be Ending, but Fight Isn't Over for Soldiers in Remote Afghanistan
By GRAHAM BOWLEY
Jun 11 2012
COMBAT OUTPOST RAHMAN KHEL, Afghanistan — Lt. Col. Shawn Daniel, standing in the middle of this dusty little outpost beneath the Afghan mountains, reassured the 70 soldiers gathered close around him that they would be going home soon.
In 2014, "we are getting out of this," he told the circle of expectant, upturned faces he had beckoned near.
The United States is withdrawing all of its combat troops by 2014, but the soldiers at this base are scheduled to leave before the end of the year.
Some of the soldiers stood stiff. Others knelt. All intently watched their 43-year-old commander, a sturdy man with silvery hair from Little Rock, Ark., who had driven in especially from the battalion headquarters to bolster their spirits and their courage.
Until they leave, Colonel Daniel warned them sternly, they have a difficult job to do.
"Afghanistan will have the best chance possible to stand on its own feet," he said. "Until then we have to look after ourselves."
America is preparing to end its longest war. It is already getting ready to draw down its troops so that in two and a half years nearly all will be gone from this country. Back home, the attention of most Americans has long since shifted elsewhere.
Full report at:
http://www.nytimes.com/2012/06/10/world/asia/fight-isnt-over-for-soldiers-in-remote-afghanistan.html?ref=world&gwh=A63E79688BF8031CFADB0DA30F0054A4
----------
Pregnant Afghan woman among 5 dead
June 11, 2012
A roadside bomb in northern Afghanistan has struck an ambulance, killing five civilians, including a pregnant woman, officials say.
The incident took place on Sunday in the city of Sar-e-Pul, the capital of the province of the same name.
"A roadside mine which was placed by enemies of peace and stability hit an ambulance in the Qosh Tipa, killing five members of a family including a pregnant woman and injuring two others," the Interior Ministry said in a statement on Monday.
Advertisement: Story continues below
The ambulance was carrying the pregnant woman to a nearby hospital when it hit the bomb, killing two women, two children and a man, a local official said.
A total of 579 Afghan civilians were killed during the first four months of 2012, according to a United Nations report in May.
http://news.smh.com.au/breaking-news-world/pregnant-afghan-woman-among-5-dead-20120611-205v9.html
----------
China says G-20 summit wrong place for Syria talk
Jun 11 2012
A top Chinese diplomat said the situation in Syria shouldn't be on the agenda at the upcoming G-20 summit in Mexico because the meeting needs to stay focused on global economic issues, including the European debt crisis.
Vice-Foreign Minister Cui Tiankai told reporters at a briefing on Monday that although there is intense global concern over the situation in Syria, the summit isn't the appropriate place to discuss it. He said political and security issues have not been on the G-20 agenda before and shouldn't be now.
"The situation in Syria is of concern to everyone globally, however the G-20 is a platform for global economic governance and so far we haven't seen political and security issues on the agenda of the G-20," said Mr. Cui. "I think that is the proper arrangement."
Mr. Cui said Beijing will press the interests of developing countries but acknowledged American and European financial problems inevitably dominate discussions at G-20 meetings because of the size and influence of their economies.
http://www.thehindu.com/news/international/article3514456.ece
----------
UN decides to relocate staff from Burma's Rakhine state
11 June 2012
The UN has decided to temporarily relocate non-essential staff in Burma's Rakhine state, where tensions remain high after deadly unrest.
It said "serious disturbances" and the imposition of a state of emergency prompted the move, which is being implemented on a voluntary basis.
Recent violence in troubled Rakhine state has left seven dead.
Tensions flared after the murder of a Buddhist woman last month, followed by an attack on a bus carrying Muslims.
The UN released a statement saying it had decided "to temporarily relocate, on a voluntary basis, non-essential international and national" UN staff, affiliated organisations and their families.
It said it had requested "full government support for the safety and security of all UN and INGO staff and their families in Maungdaw, Buthidaung and Sittwe", while they are relocated to the capital, Rangoon.
State media said the state of emergency, imposed late Sunday night, was in response to increasing unrest and attacks and "intended to restore security and stability to the people immediately".
Full report at:
http://www.bbc.co.uk/news/world-asia-18392262
------------
India
India announces scholarships for NRI students in Saudi
Jun 11 2012
Dubai : India has announced a scholarship programme of as many as 100 grants for students of Indian origin in Saudi Arabia who are willing to pursue under graduate courses in several disciplines in their home country.
The Indian Consulate in Jeddah, Saudi Arabia, has announced the details of a scholarship scheme offering 100 scholarships to assists children of Persons of Indian Origin (PIOs) and Non-Resident Indians (NRIs) in pursuing under graduate courses in several disciplines ranging from science, economics, law, architecture, humanities, media studies, management, hospitality, and Agriculture/ animal husbandry.
The scheme "Scholarship Programme for Diaspora Children" (SPDC) was launched by the Ministry of Overseas Indian Affairs in 2006-07.
The eligibility of candidates applying for the scholarship would be judged on the basis of their performance in an qualifying examination (equivalent to plus 2 stage in India).
The programme is open only to PIOs /NRIs from the specified 40 countries, including Saudi Arabia, having a larger concentration of Indian Diaspora.
The amount of scholarship admissible would be 75 per cent of the total Institutional Economic Cost (IEC) or USD 4,000 per annum, whichever is less. IEC includes Tuition fee, Hostel fee and other institutional charges.
According to a Consulate statement, NRI candidates would be eligible for the grant of the scholarship only if their total family income per month does not exceed an amount equivalent to USD 2,250.
"Children of NRIs should have pursued at least three years of education, inclusive of 11th and 12th or equivalent (not beyond), in a foreign country during the last six years, and should have passed the qualifying examination abroad.
The last date for receipt of duly filled-in application forms in the prescribed format by Ed.CIL is 18th June," it said.
http://www.indianexpress.com/story-print/960549/
----------
Normal life disrupted in Kashmir due to strike called by hard-line Hurriyat Conference
Jun 11, 2012
SRINAGAR: Normal life in Kashmir was disrupted today due to a strike called by hard-line Hurriyat Conference to commemorate those killed in the summer agitation of 2010.
Shops and business establishments in the commercial hub of Lal Chowk and adjoining areas remained closed while schools across the valley remained shut on account of the strike, official sources said.
The sources said work in courts and government offices was affected as employees could not make it to their offices due to lack of adequate transport facilities.
However, many shops in civil lines area and suburbs of the city were open, ignoring the strike call given by the separatists, they added.
Hardline Hurriyat leader Syed Ali Shah Geelani has asked people to observe the second death anniversary of Tufail Ahmad Mattoo.
17-year-old Mattoo was killed in police action on this day in 2010 triggering the summer agitation that year.
http://timesofindia.indiatimes.com/india/Normal-life-disrupted-in-Kashmir-due-to-strike/articleshow/14017699.cms
--------
Pakistan
Almost entire Tirah valley of Pakistan fall to militants
Ibrahim Shinwari
Jun 11 2012
LANDI KOTAL: Taliban took full control of Kukikhel-dominated areas of Tirah as more families left their homes and moved to Jamrud.
Sources said that besides fortifying their positions in the newly-occupied localities, Taliban had also torched houses of some Kukikhel elders in Bagh and Sra Vela. They said Taliban in announcements made on loudspeakers from local mosques had asked residents to hoist white flags atop their houses and volunteer one person from each family to join the Taliban.
"The entire Tirah valley, except Bazaar Zakhakhel, is now under effective control of three militant groups, Tehrik-i-Taliban
Pakistan (Tariq Afridi group), Mangal Bagh-led Lashkar-i-Islam and Ansaarul Islam," confirmed Bakhtiar Mohmand, assistant political agent of Jamrud.
He said that while Taliban entrenched themselves in Kukikhel areas, Mangal Bagh was holding the fort in Sipah and Malikdinkhel areas, but the Zakhakhel tribe was in control of Bazaar Zakhakhel.
The official said that his administration had made arrangements to shift Kukikhel families to Jalozai camp, established for internally displaced families of Bara, but so far no-one had approached them.
"Most of the displaced families have opted to live with their relatives in different parts of Jamrud and only a few were without any abode but they too were reluctant to go to Jalozai and preferred rented houses," he said.
Muhammad Irfan, a resident of Jamrud, told Dawn that except for Puk Darra and Daman-i-Koh, all areas, including Sra Vela, Bagh, Pathai, Ghakhai, Baarhi Saporhi and Maniyakhel, had fallen to Taliban and residents had moved to Ali Masjid and Ghundi in Jamrud. He however, denied that any offer had been made by the political administration to any of the displaced families and said they had not received any assistance from local authorities.
He said residents of Puk Darra and Daman-i-Koh were also eager to leave their homes for fear of Taliban, but all routes leading to Jamrud and Bazaar Zakhakhel were either occupied by Taliban or activists of Lashkar-i-Islam. Muhammad Irfan conceded that the Kukikhel lashkar which was no match for the Taliban had to succumb to the Taliban pressure.
He said that except for two Kukikhel elders in Tirah, Malik Zabita Khan and Malik Zaboor, all other notables were against the formation of a lashkar or peace committee against Taliban in Tirah. "We were short of arms and ammunition and financial resources whereas Taliban were well-equipped and well-trained and, therefore, we would not be able to hold our ground for long against them," he acknowledged. He also said that while Malik Zabita Khan and his family had come to Jamrud, Malik Zaboor fled to Afghanistan.
Both the Kukikhel elders had in February this year convened a jirga of their tribe and ordered all militant groups including Taliban to leave their area or face resistance.
In 2010, Taliban of the Tariq Afridi group established some hideouts in Dwa Thoe and Mehraban Kali after they had been forced to flee from Darra Adam Khel by security forces. Clashes have been taking place since then with Taliban carrying out at least two suicide attacks against Kukikhels in 2010 and 2011, killing more than a hundred tribesmen.
Khaistha Gul, another Kukikhel tribesman, said they had lost their homes and agricultural land to Taliban. The Kukikhels were also forced to surrender their arms at the Nakai checkpost near Nari Bara established by Lashkar-i-Islam.
He thanked the Al Khidmat Foundation which, he said, had set up a relief camp at Ali Masjid where displaced families were getting food and water. It was also providing transport to those who wanted to move to other places.
http://dawn.com/2012/06/11/kukikhel-areas-of-tirah-fall-to-militants/
----------
No great breakthrough expected as India, Pak talk Siachen
Jun 11, 2012
ISLAMABAD: The defence secretaries of India and Pakistan on Monday began talks on the military standoff on Siachen against the backdrop of calls from Islamabad to demilitarise the Himalayan glacier in the wake of an avalanche that killed 139 people at a Pakistan Army camp.
The two-day talks on the Siachen issue, part of the resumed dialogue process between India and Pakistan, are being held at the defence ministry in the garrison city of Rawalpindi.
The Indian delegation is led by defence secretary Shashikant Sharma while the Pakistani side is headed by defence secretary Nargis Sethi, a close confidant of Prime Minister Yousuf Raza Gilani.
Despite Pakistan Army chief Gen Ashfaq Parvez Kayani's call for the resolution of the Siachen issue after an avalanche buried 139 people at the high-altitude army camp on April 7, analysts believe the two sides are unlikely to make progress in the talks on ending the standoff that began in 1984.
Ahead of the talks, Indian defence minister A K Antony cautioned against expecting any breakthrough at the meeting of the defence secretaries.
"Do not expect any dramatic announcement or decision on an issue which is very important for us, especially in the context of national security," he told reporters in New Delhi last week.
India has a "clear-cut position" on the Siachen issue which the defence secretary will explain to the Pakistani side during the talks, Antony said.
India's Cabinet Committee on Security discussed the Siachen issue at a meeting on last Thursday.
http://timesofindia.indiatimes.com/india/No-great-breakthrough-expected-as-India-Pak-talk-Siachen/articleshow/14018104.cms
----------
US, Pakistan beginning to look more like enemies
June 10, 2012
You know a friendship has gone sour when you start making mean jokes about your friend in front of his most bitter nemesis.
So it was a bad sign this week when the US defense secretary joshed in front of an audience of Indians about how Washington kept Pakistan in the dark about the
raid that killed al Qaeda leader Osama bin Laden a year ago.
"They didn't know about our operation. That was the whole idea," Leon Panetta said with a chuckle at a Q&A session after a speech in New Delhi, raising laughs from the audience.
The Bin Laden raid by US commandos in a Pakistani town infuriated Islamabad because it had no advance notice, and it was seen by Pakistan's powerful military as a humiliation.
The US and Pakistan are starting to look more like enemies than allies, threatening the US fight against Taliban and al Qaeda militants based in the country and efforts to stabilize neighboring Afghanistan before American troops withdraw.
Long plagued by frustration and mistrust, the relationship has plunged to its lowest level since the 9/11 attacks forced the countries into a tight but awkward embrace over a decade ago. The US has lost its patience with Pakistan and taken the gloves off to make its anger clear.
"It has taken on attributes and characteristics now of a near adversarial relationship, even though neither side wants it to be that way," said Maleeha Lodhi, who was serving as Pakistan's ambassador to the US at the time of the Sept 11, 2001 terror attacks and was key in hurriedly putting together the two countries' alliance.
The latest irritant is Pakistan's refusal to end its six-month blockade of Nato troop supplies meant for Afghanistan. Even if that issue is resolved, however, the relationship may be on an irreversible downward slide.
The main source of US anger is Pakistan's unwillingness to go after militants using its territory to launch attacks against American troops in Afghanistan.
On the Pakistani side, officials are fed up with Washington's constant demands for more without addressing Islamabad's concerns or sufficiently appreciating the country's sacrifice.
Pakistan has lost thousands of troops fighting a domestic Taliban insurgency fueled partly by resentment of the alliance with the US.
Panetta's comments about the bin Laden raid may have been unscripted, but others he made while in India and Afghanistan seemed calculated to step up pressure on Pakistan. He stressed Washington's strong relationship with India — which Islamabad considers its main, historic enemy — and defended unpopular American drone attacks in Pakistan.
He also said in unusually sharp terms that the US was running out of patience with Islamabad's failure to go after the Pakistan-based Haqqani network, considered the most dangerous militant group fighting in Afghanistan.
Many analysts believe Pakistan is reluctant to target the Haqqanis and other Afghan militants based on its soil because they could be useful allies in Afghanistan after foreign forces withdraw, especially in countering the influence of India.
Pakistan lashed out at Panetta on Saturday and denied the country was providing safe havens for militants.
Full report at:
http://www.hindustantimes.com/world-news/Pakistan/US-Pakistan-beginning-to-look-more-like-enemies/Article1-868953.aspx
-----------
Pakistani community leader faces wrath of Right-wing Islamophobic media in Britain
Murtaza Ali Shah
June 10, 2012
LONDON: Right-wing Islamophobic media in Britain has put a key Pakistani community leader under sustained attack, bringing into question Sharif brothers and Pakistan Muslim League-N, as part of the wider agenda to oust Britain's first female Muslim cabinet Minister and Conservative Chairman, Baroness Sayeeda Warsi.
Abid Hussain – commonly known as Barrister Abid – has been in the eye of the storm since the media campaign against Baroness Warsi started almost two weeks ago but after having failed to find anything egregious on Sayeeda Warsi, it's Abid Hussain who is being targeted to beat Warsi in an unprecedented malicious and frantic campaign.
Right-wing newspapers have published stories exaggerating links of Abid Hussain with Baroness Warsi, who happen to be relatives, but its Abid Hussain's strong connections with Pakistani politicians and the British Muslim youth groups which is also being scrutinized, to portray the both as radical fundamentalist Muslims. He has been instrumental in organizing many community gatherings for Punjab Chief Minister Shahbaz Sharif but has also worked closely with Pakistan High Commission.
Questions have been asked about Mirpur-origin Abid Hussain's meeting with Shahbaz Sharif, Azad Kashmir leaders, Lord Nazir and Pakistan People's Party ministers but the right-wing press is doing everything it can to prove that Hussain has been associated with Islamic group Hizb-ut-Tahrir (HT), which operates in Britain legitimately but was banned in Pakistan by Pervez Musharraf.
Full report at:
http://www.thenews.com.pk/Todays-News-2-113571-Pakistani-community-leader-faces-wrath-of-Islamophobic-media
----------
Arsalan Iftikhar files petition for case against Malik Riaz
Jun 11 2012
ISLAMABAD: Arsalan Iftikhar, son of Chief Justice Iftikhar, on Monday filed a petition in the Supreme Court for the registration of a case against property tycoon Malik Riaz, DawnNews reported.
The petition requested the court to direct authorities to register an FIR against Riaz for carrying out a propaganda campaign against him.
The petition stated that Riaz had in the past shunned from fulfilling his legal responsibilities.
It said despite being summoned, Riaz had failed to appear in court and had willfully flouted the orders of the apex court.
Full report at:
http://dawn.com/2012/06/11/arsalan-iftikhar-files-petition-for-case-against-malik-riaz/
----------
Karachi violence continues
Jun 11 2012
KARACHI: Unknown persons entered a house in Baldia Town's Mawach Goth area in Karachi and opened indiscriminate gunfire Sunday, killing one person and injuring two others, DawnNews reported.
The incident took place as a result of personal enmity, according to police sources.
According to police, five people were killed and another wounded in an exchange of gunfire between two criminal groups in the city's Musharraf Colony area near Hawk's Bay. SSP Police West Amir Farooq said that a man named Shahzad aka 'Charlie', who was also killed in the incident, was wanted by the police for over three years.
Police further claimed that both groups were involved in local gang wars.
Earlier, two bodies were found dumped at Liaquatabad No 2. Both victims, identified as residents of Liaquatabad's B-1 area, were reported to have been kidnapped and later shot dead. The situation in the area turned tense after the recovery of the bodies.
Another body was recovered near Safoorah Goth, Gulistan-e Jauhar area of Karachi whereas another body was found in Lyari near Dua Hotel. The victim, identified as a police officer's nephew, was also kidnapped and shot dead.
Police lead by SSP South Asif Ejaz Shaikhalso conducted a flag march in Lyari area.
Police also claimed to have arrested two suspects identified as Razaq Commando and Saeed Kajal, who are allegedly associated with the Lyari gangwar.
The city's South zone has been divided into three divisions namely Clifton, Saddar and City.
http://dawn.com/2012/06/11/karachi-violence-continues/
----------
Martial law era has ended: Gilani
Zulqernain Tahir
Jun 11 2012
LAHORE: Prime Minister Yousuf Raza Gilani has said neither the Pakistan People's Party nor the army has anything to gain from the Arsalan case and urged Chief Justice Iftikhar Muhammad Chaudhry to hear the case of his son, Ali Musa Gilani.
"Neither we nor the army is the beneficiary of this case. And how can we be. The masses have elected us not the judiciary and the army is an institution and it has no role in it," he said while answering a question during a meeting with newsmen at the State Guest House here on Sunday.
He said his son Abdul Qadir Gilani faced allegations in the Haj scam which could not be proved and the chief justice ordered legal action against those who had levelled false allegations against him (Qadir).
"As the chief justice cannot hear the case of his own son (Arsalan), he should consider my son (Ali Musa) his own son and hear his case because he is only facing an allegation of having made a phone call in the ephedrine case," Mr Gilani asked.
On a question that Malik Riaz, the real estate tycoon, was a friend of adviser to the prime minister on interior affairs Rehman Malik, the prime minister said: "Riaz Malik is a friend of all politicians, including Nawaz Sharif."
Full report at:
http://dawn.com/2012/06/11/martial-law-era-has-ended-gilani/
----------
Al Qaeda down, but not out in Pakistan
Jun 11 2012
ISLAMABAD/DERA ISMAIL KHAN: When al Qaeda leader Abu Yahya al Libi arrived in northwest Pakistan several years ago, he commanded so much respect that even some of the world's most dangerous terrorists held him in awe.
Already a legend in the shadowy world of jihad for breaking out of a high security US prison in neighbouring Afghanistan in 2005, he seemed to promise endless funds, training and inspiration for men who dreamed of unleashing carnage in New York or London.
By the time he was killed in a US drone strike last week, he was the latest victim of a series of the unmanned aerial attacks that has crushed al Qaeda's network along Pakistan's border with Afghanistan, Pakistani intelligence officials and commanders of terrorist groups said.
Its finances have dried up, and those who once idolised the group wonder whether it can survive. "Imagine. They used to travel in Land Cruisers and double-cabin pickup trucks a few years ago," said a commander from the Pakistani Taliban, which is close to al Qaeda. "Now, they are riding motorcycles due to lack of resources."
Full report at:
http://www.dailytimes.com.pk/default.asp?page=2012\06\11\story_11-6-2012_pg1_6
----------
Kayani refuses to meet US defence official
Jun 11, 2012
ISLAMABAD: Pakistan Army chief Gen Ashfaq Parvez Kayani's office turned down a request for a meeting by visiting US deputy assistant secretary of defense Peter Lavoy, reflecting the strains that have hit ties between the two countries since last year.
A meeting was requested by the Americans but the General Headquarters declined it, unnamed Pakistani officials were quoted as saying by The News daily on Monday.
The officials said they were not aware if Lavoy was given any reasons for the decision.
US officials in Washington too confirmed the development, the daily reported.
One unnamed Pakistani official indicated the request was turned down because of allegations by US officials that Pakistan was not doing enough to rein in militants operating along the border with Afghanistan.
Full report at:
http://timesofindia.indiatimes.com/world/pakistan/Kayani-refuses-to-meet-US-defence-official/articleshow/14020303.cms
----------
Contempt petition filed against Asif Ali Zardari in Lahore high court
Jun 10, 2012
LAHORE: A contempt petition has been filed against Pakistan President Asif Ali Zardari for continuing to hold the political office of head of the ruling PPP in violation of a court's order.
Lawyer Muhammad Azhar Siddique said in his petition filed in the Lahore High Court yesterday that Zardari had not disassociated himself from the political office as soon as possible, as expected in a decision given by the High Court on the President's dual offices in May last year.
Siddique said the directions issued by the High Court had not been obeyed and the President had not stopped "misusing" the premises of the presidency for the purpose of his party.
He alleged the President had called National Assembly Speaker Fehmida Mirza and greeted her for giving a ruling in favour of Prime Minister Yousuf Raza Gilani after the Premier was convicted for contempt by the Supreme Court.
He claimed this action said a lot and confirmed the bias of the leader of a political party.
The PPP is adamant about not obeying the orders of the courts of Pakistan and this could be gathered from the public statements of the Prime Minister, Siddique claimed.
He pleaded that the use of the presidency for partisan political activity by Zardari was not only illegal but amounted to contempt of the order of the High Court dated May 12, 2011.
Siddique asked the court to issue the President a show cause notice and charge him for contempt of court.
http://timesofindia.indiatimes.com/world/pakistan/Contempt-petition-filed-against-Asif-Ali-Zardari-in-Lahore-high-court/articleshow/13992842.cms
----------
Six killed, dozens injured in Balochistan blast
Jun 11, 2012
ISLAMABAD: Six persons were killed and dozens injured when a bomb went off near a bus in the restive Balochistan province of southwest Pakistan on Monday, officials said.
The bomb, hidden in a motorcycle, was detonated by remote control as the bus was passing through Mastung district, 50 km south of the provincial capital of Quetta.
Officials confirmed the death of six persons. Over two dozen people were injured.
Nearly 50 people, including women and children, were in the bus.
The condition of three of the wounded was critical, officials said.
The injured were taken to a nearby hospital and those in a critical condition were later shifted to Quetta.
Footage on television showed that the bus was extensively damaged by the blast.
Police officials said the intended target of the bombing might have been a bus with Shia pilgrims that passed the area minutes before the explosion.
No group claimed responsibility for the attack. Balochistan has witnessed a string of sectarian attacks that targeted the minority Shia community.
Scores have died in these attacks.
http://timesofindia.indiatimes.com/world/pakistan/Six-killed-dozens-injured-in-Balochistan-blast/articleshow/14020509.cms
----------
Pak justice on trial in a tale of morality & corruption
By Badar Alam
Jun 11 2012
SHOPPING at London's expensive Harrods store, staying at apartments costing £ 40,000 ( nearly ` 34 lakh) in monthly rent, luxury vehicles for travel in England, three annual trips to European destinations including Monte Carlo... Sounds like another corruption scandal from Pakistan.
The only difference is that this time it does not involve a politician.
The man at the centre of these accusations is Arsalan Iftikhar, the son of Pakistan Chief Justice Iftikhar Mohammed Chaudhry who, over the past three years, has initiated and vigorously pursued a number of graft cases against federal ministers and members of the ruling coalition.
The allegations came to the fore in the past week after Malik Riaz Husain, a multi- billionaire property developer based in Islamabad, told journalists how his Bahria Town housing company had paid 300- 400 million Pakistani rupees for the foreign trips of Arsalan Iftikhar. The businessman alleged that he had been paying the expenses expecting that Justice Iftikhar would get him relief in multiple court cases involving his company.
The reports also suggested that Husain had been trying to make his story public earlier too, but almost everyone in the Pakistani media refused to publish anything.
Justice Chaudhry is portrayed by a very- supportive media as the last line of defence against the " incorrigibly corrupt" ruling coalition headed by President Asif Ali Zardari and Prime Minister Yousaf Raza Gilani.
Full report at: Mail Today
----------
Terrorist attack kills 10 in Pak's South Waziristan
Jun 11, 2012
At least 10 people were killed, including one soldier, and 10 others were injured when terrorists fired rockets at a security checkpost in South Waziristan
According to the Daily Times, unidentified terrorists fired eight rockets on the security forces' checkpost in Wana at midnight, with the firing continuing until morning.
After the incident, security forces started an operation against terrorists in Wana Bazaar by blocking all the roads leading towards the area, in which nine people were killed and seven injured. However, it was not known if any civilian was killed.
http://www.dnaindia.com/world/report_terrorist-attack-kills-10-in-pak-s-south-waziristan_1700850
----------
Not the first case of a tainted VIP scion in Pakistan
Badar Alam
Jun 11 2012
ARSALAN IFTIKHAR is neither the only scion of a VIP facing corruption charges, nor is he at the centre of a controversy for the first time.
Pakistan Prime Minister Yousaf Raza Gilani's son Abdul Qadir Gilani was accused in 2010 of having received a luxury vehicle in return for facilitating the appointment of a senior government official, who is now in jail for allegedly making millions of rupees through shoddy arrangements for Pakistani pilgrims in Saudi Arabia.
Gilani's second son Ali Musa is facing investigations over allegations that he helped two drug manufacturers receive more than their permitted quota of ephedrine, a substance used in medicines as well as in the manufacturing of heroine.
Moonis Elahi, the son of former Punjab chief minister Pervez Elahi, is being tried for his alleged involvement in the purchase of land at inflated rates for a government company from the son of a former minister.
Full report at: Mail Today
----------
Southeast Asia
Indonesian city seeks gay ban in local Sharia laws
09 JUNE 2012
Municipality seeks to ban homosexuality along with prostitution and the consumption of alcohol
The Indonesian city of Tasikmalaya in West Java is seeking to implement controversial Sharia based laws which would make it compulsory for all Muslim women in the city to wear headscarfs and criminalise homosexuality.
Homosexuality is not an offence under Indonesia's national laws. However many local government areas within the country have sought to ban it by including it in local public morality laws.
The Tasikmalaya law was originally passed by councillors from Islamic parties in 2009 but city officials have taken until now to develop the regulations needed to implement it.
The law also outlaws adultery, pornography and the consumption of alcohol within the municipality's borders.
Tasikmalaya city secretary Tio Indra Setiadi told OnIslam.net that the city would set up a squad of Sharia police to enforce the law like those already operating in Indonesia's autonomous province of Aceh.
"This bylaw is intended mainly to educate people to live in accordance with Islamic teachings," Setiadi said.
"[But] people intending to report violations of the bylaw will face difficulties if we don't have an apparatus to enforce it."
The Indonesian President Susilo Bambang Yudhoyono has the power to throw out the law within 30 days if he believes it conflicts with constitutional human rights protections, or it can be challenged in the Supreme Court of Indonesia.
However recent reports suggest Indonesia's Home Affairs Minister Gamawan Fauzi may be prepared to act to block the law or require the watering down of some components of it.
The news comes less than two weeks after American pop star Lady Gaga cancelled her Jakarta concert after Islamic groups protested against her performing in the country.
http://www.gaystarnews.com/article/indonesian-city-seeks-gay-ban-local-sharia-laws090612-
----------
It's not about unity, but Malay-Muslim integrity
Jun 10, 2012
YOURSAY 'The nation's future rests not on Malay-Muslim unity. The nation's future rests on Malay-Muslim integrity and competence.'
Bender: When reading the subsection of this news report about western ideas challenging Islamic teachings, I was sure that DPM Muhyiddin Yassin would mention something about the K-pop phenomenon being a good example of that.
But surprisingly, Muhyiddin didn't even mention it. Instead, he gave the example of the struggle for freedom and human rights as western ideas.
The last time I checked, Islam is never against struggle for freedom and human rights, but Islam does have a clear definition of what is considered permissible as far as such outrageous entertainment like the K-pop event sponsored by the Malaysian government a few weeks ago in Putrajaya is concerned.
And what's with this unity talk being raised again? Doesn't he realise that Umno is in no position to talk about Muslim unity?
And even if it is desirable for Muslims to be united, why had Umno shied away from PAS and used whatever means to discredit the Islamic party all this while? Shouldn't Umno disband itself and join PAS already, for the sake of Malay-Muslim unity?
Whatsup: DPM, let the rakyat decide. Say what you may, Umno's Islam is definitely an embarrassment and a thorn to our country's side.
How can you harp on your race and religion as a DPM? May as well let PAS take over then, I'm sure they are better at upholding Islam and fairer in its interpretation than you bunch of thieves.
I always find BN leaders so hypocritical - proclaiming openly their goody two shoes attitude but practising the complete opposite - they are corrupt and rotten to the core, extreme in their greed, brutal, liars of the highest order and uncivilised in behaviour.
And when caught red-handed, they abuse the laws to absolve themselves so that they can continue their rotten and evil ways. Malaysia is better off with a change.
Louis: What are true Islamic teaching? Love for fellow citizens, free of corruption, no abuse of power, justice and be fair to all, and lots more.
Do you and fellow Umno members follow just a few of these Islamic virtues?
Anonymous #55961902: We all know Malay unity is intact and as solid like rock. Umno is losing power to the progressive PAS, PKR and DAP Malays. It is losing the grip, therefore they are trying to salvage their strength in calling all Malays to unite.
The non-corrupt and the right-thinking Malays are shying away from Umno and that was the reason why the DPM is calling for the Malays to be united.
Swipenter: This Malay-first Muhyiddin is again uttering dangerous nonsense laced with undertones of racism and religious intolerance.
The future of our country depends on the unity and harmony of Malaysians, irrespective of race and religion. What are the Malay-Muslims united against?
Telestai: I am afraid you are wrong, Mr Malay-first DPM. The future of Malaysia rests on the masses being enlightened to see things with an uncluttered and logical mind.
For 55 years, Umno has muddied the minds of Malaysians with race and religion to the extent they cannot view issues without the racial lens.
The day when Malaysia is truly liberated is when the rakyat accept one another as comrades-in-arms fighting a common cause to promote a just and caring society and install a responsible, transparent and progressive government.
Until then, your Malay unity and 1Malaysia propaganda is nothing but hogwash.
20121221Disaster: Umno's only hope is that the true Malays and the genuine Muslims are still ignorant and can support their hold on power. When they talk about the so-called non-Malays, they normally only refer to the Chinese.
Odin: One (if there are more, I don't know who they are) of us here is a Malay, Muslim and university professor. If he gets to read this, I'm sure he'll agree with me that you're talking rot.
Your real problem is the existence of the non-Malays. To you, they're like a boil that has erupted right on your butt. Lance or cauterise it to get rid of it.
So, deport all the non-Malays; but, first, compensate them for their assets at market value. I'm sure Russia, US and Canada would be willing to accommodate them in the Tundra and Siberia, and I'm confident that they'll be able not only to survive but to do well, too. Do that.
Yours will then be the only race from the northernmost tip right down to the southernmost tip of the Malay peninsula. Perfect bliss, no?
Oscar Kilo: The nation's future rests not on Malay-Muslim unity. The nation's future rests on Malay-Muslim integrity and competence.
Jean Pierre: DPM - My future depends on Malaysian disunity.
http://www.malaysiakini.com/news/200432
------------
Malaysian policeman gets 3 years over man's death
Jun. 11, 2012
KUALA LUMPUR, Malaysia -- A Malaysian court has sentenced a policeman to three years in prison for assaulting a detainee who died in a high-profile brutality case.
The death of 22-year-old Ananthan Kugan in 2009 sparked protests by ethnic Indian Malaysians who accused police of often unfairly targeting their minority community.
Malaysia's High Court convicted police constable Vivekanandan Navindran on Monday of causing grievous hurt to Kugan. The court had earlier overturned Navindran's acquittal by a lower court.
Witnesses claimed Navindran beat Kugan with a rubber hose while he was detained for suspected car theft. Kugan died four days later.
Rights activists have repeatedly accused Malaysia's police of using excessive force that resulted in numerous deaths in custody. But few officers have been convicted of brutality.
Read more here: http://www.sacbee.com/2012/06/11/4552644/malaysian-policeman-gets-3-years.html#storylink=cpy
http://www.sacbee.com/2012/06/11/4552644/malaysian-policeman-gets-3-years.html
----------
Malaysia/Islam: Sarawakians not split by religion
Jun 11 2012
KUCHING (Sarawak,Malaysia)- 20 Rajab/10 June (IINA) – At a gathering of Sarawakian Muslim leaders here, a renewed call was made to promote a multi-religious society above all else.
"Extremist actions, which we saw happened elsewhere —Malaysiaincluded in the 1970s — broke the bonds between not just Muslims and non-Muslims, but also fractured the Muslim community itself," Chief Minister Tan Sri Abdul Taib Mahmud said.
Speaking at the opening of the Harakah Islamiah's (Hikmah) triennial delegates conference yesterday, Taib said non-Muslim Sarawakians did not see Islam as a threat.
This, he said, was because Muslims here did not force their belief on others.
Sarawakians should not see themselves divided by religion, he said, and called for more interaction among the multi-faith people.
"In this multi-cultural, multi-religious state, Islam is actually practised by a minority. Here, we've always maintained good relations with one another. Muslims are friends with Buddhists, Christians, Hinduism and adherents of other ancient religions."
Taib added that Islam "or any religion for that matter" should not be feared, but "something that brings good news to people".
Full report at:
http://iina.me/wp_en/?p=1008910
----------
Mideast Asia
Iran publicly hangs five drug smugglers
Jun 11 2012
TEHRAN: Iran has publicly hanged five men convicted of drug trafficking in the southern city of Shiraz, the governmental newspaper Iran reported on Saturday.
The report said the men sent to the gallows on Thursday were convicted of smuggling different amounts of narcotics and identified them as Abbas Z, Aref A, Abolqasem A, Farhang N, Ali Akbar M
Iran is one of the world's main practitioners of capital punishment, along with China, Saudi Arabia and the United States.
London-based Amnesty International said in its annual review of death sentences and executions worldwide published in March that Iran executed at least 360 people in 2011, three-quarters of them for drugs offences, up from at least 252 in 2010.
Adultery, murder, rape, drug trafficking, apostasy and armed robbery are all punishable by death under the Iran's Islamic sharia law since the country's 1979 Islamic revolution.
Iran says the death penalty is essential to maintain law and order, and that it is applied only after exhaustive judicial proceedings.
http://www.dailytimes.com.pk/default.asp?page=2012%5C06%5C10%5Cstory_10-6-2012_pg14_6
----------
Turkish Islamist zeal worries Europe
10 June, 2012
European Union diplomats are expressing growing concern at what they see as the increasingly militant stance taken by Turkey's ruling Islamists.
They accuse Ankara of using probes into alleged plots against the government as a tool to jail and silence opponents and compromise the country's secular credentials by introducing Koran studies in public schools.
Other measures include lowering the age at which parents can send their children to Islamic religious schools, increasing pressure on those criticising Islam and restricting abortion.
Turkish authorities accuse the so-called Ergenekon network of being behind several plots to overthrow the government of Prime Minister Recep Tayyip Erdogan.
Dozens of retired or serving senior military figures, intellectuals, lawyers and journalists been put behind bars.
On Thursday Stefan Fuele, European commissioner for enlargement, cited this and other obstacles in the way of Turkey's membership bid while in Istanbul for talks.
"I have used this meeting to convey our concerns about the increasing detention of lawmakers, academics and students and the freedom of press and journalists," he said.
Changes due to take effect when the new academic year starts this autumn also have also ruffled feathers. The Islamist-rooted ruling Justice and Development Party (AKP) government is introducing Koran lessons.
And from the end of primary school, more parents will be able to opt out of the secular education system and send their children to Islamic religious schools. Previously these schools could not recruit children under the age of 15: now children as young as 11 will be allowed to attend.
There is concern too over plans by state broadcaster TRT to launch a religious channel and proposals for prayer rooms in newly built public buildings such as creches, theatres and even opera houses.
"A series of recent moves show that the conservative tendency has the upper hand and faces no opposition," said Marc Pierini, a former head of the EU diplomatic team in Turkey.
"Civil society exists, but it is hardly audible," said one Ankara-based diplomat.
"The media are for the most part directly or indirectly controlled by the AKP and the opposition is powerless," the diplomat added.
Plans to restrict the abortion laws and other moves that critics say will would make Islam a more visible part of daily life are added areas of concern.
Comments last month by Prime Minister Recep Tayyip Erdogan, in which he compared abortion to a botched attack by the military that killed 34 civilians last December, brought a sharp response from a senior EU diplomat.
Erdogan had said of abortion: "You either kill a baby in the mother's womb or you kill it after birth. There's no difference."
Full report at:
http://www.timeslive.co.za/world/2012/06/10/turkish-islamist-zeal-worries-europe
----------
Turkey Continues Its Irrevocable Slide to Becoming an Islamic Theocracy
JUNE 10, 2012
Lakkana Nanayakkara
Modern Turkey bears little resemblance to the secular republic created by Mustafa Kemal Ataturk in 1923. Over the past decade, Prime Minister Recep Tayyip Erdogan's Justice and Development Party (AKP) has been transforming Turkey into an Islamic state. The most recent example of this has been the arrest of an internationally acclaimed Turkish classical pianist for insulting Islam. Fazil Say said "the Koran says there are rivers of drinks in heaven, that makes it sound like a pub, while the beautiful women available there make it sound like a brothel." He could receive a jail sentence of up to 18 months.
Full report at:
http://www.algemeiner.com/2012/06/10/turkey-continues-its-irrevocable-slide-to-an-islamic-theocracy/
----------
Syria Chemical Stocks Threaten Israel
Jun 11 2012
JERUSALEM (AP) — Israel's deputy military chief is warning that Syria has the biggest chemical weapons stocks in the world and missiles and rockets that can reach any point in Israel.
Maj. Gen. Yair Naveh also said if Syria had the chance, it would "treat us the same way it treats its own people."
Israel radio stations carried Naveh's remarks on Monday. He made them the night before at a ceremony in Jerusalem commemorating fallen soldiers.
Syrian activists estimate more than 13,000 people have died since the uprising in Syria erupted 15 months ago.
Israel has been watching the carnage in neighboring Syria with increasing concern.
The two countries have fought major wars and Syria backs violent anti-Israel groups. Multiple attempts to reach a peace deal have failed.
http://www.nytimes.com/aponline/2012/06/11/world/middleeast/ap-ml-israel-syria.html?ref=world&gwh=FAD69F2E712F4040B43E7556C079B9F7
----------
New Generation of Ethiopians March Toward Dream of Acceptance in Israel
By ISABEL KERSHNER
Jun 11 2012
JERUSALEM — Yetmwork Makurya, 35, had tears in her eyes as she spoke of her attachment to Israel. When she arrived as a teenager in 1991 on a secret overnight airlift from Ethiopia, she said, "Jerusalem and the land of Israel was my dream."
Yet over the past three months Ms. Makurya has spent much of her time with an angry new generation of Ethiopian-Israeli activists on the sidewalk near the prime minister's residence in central Jerusalem, protesting against unofficial but hurtful racism and discrimination.
"Here," said Ms. Makurya, a mother of three, "everything is determined by the color of my skin."
For many Israelis, the idea that Jews could be racist toward other Jews is anathema. The 1991 airlift, known as Operation Solomon, brought 14,000 Ethiopian Jews to Israel within 36 hours and was greeted at the time with great celebration.
Natan Sharansky, the human rights activist who spent years in Soviet prisons before arriving in Israel, joined one of the flights.
Full report at:
http://www.nytimes.com/2012/06/10/world/middleeast/second-generation-ethiopian-
----------
Turkey tweaks cult of national founder
June 10, 2012
ISTANBUL – On a trip to Rio de Janeiro, a Turkish notary public gazed at the Christ the Redeemer statue that looms over the Brazilian city and was inspired to build a monumental likeness of his idol: Mustafa Kemal Ataturk, Turkey's independence war hero and national founder.
"I said to myself: 'Jesus Christ is a great man, but my Ataturk is as great as him,'" said 78-year-old Sitki Kahvecioglu, who fulfilled his dream 15 years later.
A 22-meter (72-foot) high copper statue of Ataturk — the country's biggest of the iconic figure — was inaugurated on May 19 in northeastern Turkey, a tribute to the near-mystical hold that Ataturk exerts over his fervent believers, whose admiration is rooted in his success in imposing secular values on a largely Muslim nation.
Yet the cult of Ataturk, once a staple of Turkish state ideology, is slowly, sometimes imperceptibly, being diluted, replaced in part by the Ottoman imperial era as inspiration for an Islamist-rooted government with its own set of ideas about modernity, morality and regional stature.
To be sure, Ataturk, whose surname means "father of the Turks," is still seemingly everywhere more than 70 years after his death.
His face is on banknotes. His piercing eyes and widow's peak adorn framed portraits in public offices, and many shops and homes. His sarcophagus lies in a giant mausoleum in the capital, Ankara. Istanbul's main international airport is named after him. Turkish law says it is a crime to insult his name, though prosecutions have eased up in recent years.
But Turkey is a nation in the grip of an astonishing transformation, and such official reverence appears increasingly out of sync with the times.
Full report at:
http://www.foxnews.com/world/2012/06/10/turkey-tweaks-cult-national-founder/#ixzz1xT6v2H00
----------
Iran feels sanctions pinch as oil income plummets
Jun 10, 2012
LONDON: Iran's state finances have come under unprecedented pressure and the resilience of ordinary people is being tested by soaring inflation as oil income plummets due to tightening Western sanctions and sharply falling oil prices.
Tough financial measures imposed by Washington and Brussels have made it ever more difficult to pay for and ship oil from Iran. Its oil output has sunk to the lowest in 20 years, cutting revenue that is vital to fund a sprawling state apparatus.
Already down by more than a quarter, or about 600,000 barrels per day, from rates of 2.2 million bpd last year, shipments of crude oil from Iran are expected to drop further when a European Union oil embargo takes effect on July 1.
Tehran is already estimated to have lost more than $10 billion in oil revenues this year.
Causing even more pain, oil prices fell below $100 a barrel last week to a 16-month low amid a darkening outlook for economies in Europe, the United States and China.
"This is an act of economic warfare. The sanctions are having a big effect in cumulative terms: Iran is being locked out of the global financial system," said Mehdi Varzi, a former official at the National Iranian Oil Co.
Full report at:
http://timesofindia.indiatimes.com/world/middle-east/Iran-feels-sanctions-pinch-as-oil-income-plummets/articleshow/14001015.cms
---------
Arab World
Syrian troops attack Homs, 38 killed
Jun 11 2012
Beirut : Syrian government forces pounded areas in the central province of Homs on Sunday in a renewed push to regain control of rebel-held territories, and activists said at least 38 people were killed in shelling there.
The assault focused on the town of Qusair, near the border with Lebanon, according to the Britain-based Syrian Observatory for Human Rights.
"The mortars came down on Qusair by the dozens,'' said Abu al-Hoda, a Qusair-based activist. He said women and children have been huddled for days in basements of apartment buildings, too fearful to come out.
Also Sunday, Syrian forces unleashed a new round of heavy shelling and sent reinforcements to a mountainous area near the coastal city of Latakia where hundreds of rebels have set up base.
The fighting between government troops backed by helicopter gunships and armed groups in the area of Haffa began on Tuesday. Rami Abdul-Rahman, the director of the Observatory said at least 58 soldiers have been killed and more than 200 wounded in the operation there since.
He said the heavy losses indicate the seriousness of the challenge in the mountainous area where "hundreds'' of rebels are entrenched. State-run news agency SANA said "terrorist groups'' in Haffa attacked public and private institutions on Saturday and committed "heinous'' crimes against civilians, setting fire to the national hospital and forcing people to leave their homes.
Meanwhile, Syria's main opposition group in exile, the Syrian National Council, elected a Kurdish dissident as its new leader at a meeting in Turkey, a council statement said. Abdulbaset Sieda, a 56-year-old activist who has been living for many years in exile in Sweden, replaced liberal opposition leader Burhan Ghalioun for the three-month presidency.
British Foreign Secretary William Hague said Sunday he couldn't rule out a military intervention in Syria, saying the situation there was beginning to resemble the violence that gripped Bosnia in the 1990s.
http://www.indianexpress.com/story-print/960312/
----------
Presidential elections in Egypt and human rights of Coptic Christians
June 10, 2012
Beatriz Schiava
On June 8, 2012 Bishop Passanty, of the Coptic Orthodox Church in Egypt, stated during the Al Arabiya's show Noqtat Nezam, that his Church welcomes an Islamic president, if he respects the rights of Christians and the civil liberties of the population. Bishop Passanty courageously called for new legislation to protect religious liberties. The comments of Bishop Passanty are a symbol of Christian love, good will, and tolerance, despite the constant discrimination, persecution, and killing of Christians by the Muslim Brotherhood, radical Islamists, and Salafists.
The Coptic Church desires change, openness to democracy, and religious freedom. Regardless of the Islamic beliefs of the two presidential candidates, the Muslim Brotherhood candidate, Mr. Mohammed Morsi, of the Freedom and Justice Party (FJP) the most popular candidate, and Ahmed Shafiq, former prime minister during the Hosni Mubarak dictatorship.
Both candidates are Islamists, who may not fulfill their campaign promises of a democratic government, human rights for women, and religious freedom. Both candidates have run a moderate campaign, offering rights to Christians and women, while stressing their democratic leanings. Still, people are not happy with the candidates. They feel disappointed with the results of the revolution, and they do not view these presidential candidates as a forward step to democracy. On one hand, they see Shafiq as a continuation of the old Mubarak regime, a dictatorship with a different pharaoh. With Shafiq, Egypt will continue its course as a secular, pseudo-democratic country, ruled by the iron hand of the military, and with few, if any religious freedoms. On the other hand, with Mr. Morsi, Egyptians see a future Islamic regime, intolerant of women's rights and hazardous to religious minorities.
Full report at:
http://www.examiner.com/article/presidential-elections-egypt-and-human-rights-of-coptic-christians-1
----------
Syria opposition elects Kurd activist as leader
Jun 10, 2012
BEIRUT: The opposition Syrian National Council said on Sunday that it had elected Kurdish activist Abdel Basset Sayda as its new leader at a meeting in Istanbul.
"Abdel Basset Sayda has been elected president of the Syrian National Council as successor to Dr. Burhan Ghalioun," a brief statement said.
He takes over from Paris-based academic Ghalioun, the exiled bloc's first leader who stepped down last month in the face of mounting splits that were undermining the group's credibility.
Activists accused Ghalioun of ignoring the Local Coordination Committees, which spearhead anti-government protests on the ground in Syria, and of giving the Muslim Brotherhood too big a role.
Sayda, who has lived in exile in Sweden for two decades, is seen as a consensus candidate capable of reconciling the rival factions within the SNC and of broadening its appeal among Syria's myriad of ethnic and confessional groups.
http://timesofindia.indiatimes.com/world/middle-east/Syria-opposition-elects-Kurd-activist-as-leader/articleshow/13991210.cms
----------
'Dozens of Kuwaiti jihadists' join different nationalities to enlist in Free Syrian Army
10 June 2012
Dozens of Kuwaitis "jihadists" have crossed the Turkish border into Syria to support the Free Syrian Army's (FSA) fight against the regime of Syrian President Bashar al-Assad, a Kuwaiti news report stated on Sunday.
The FSA, the country's main armed resistance force, are reportedly welcoming the Kuwaiti fighters for "jihad operations," relatives of the Kuwaiti fighters told the Gulf nation's al-Qabas newspaper.
Fighters of other nationalities, including "large groups of Algerians, Saudis and Pakistanis," have also joined the dozens of Kuwaitis in Syria, the report stated.
Upon their arrival, the Kuwaiti fighters were given a Syrian identification card, "in case it is needed for any emergency," the relatives said.
They were then armed and sent to different provinces across Syria. The fighters' relatives also said that many had been refused from enlisting in the FSA because they were under the age of 18.
The report also noted that there are a "large amount of weapons" on the Turkish-Syrian border.
Full report at:
http://english.alarabiya.net/articles/2012/06/10/219734.html
----------
Hosni Mubarak slipping in and out of consciousness in prison hospital
10 June 2012
Wife and daughters-in-law granted special permission to visit former president, who is consuming only liquids and yoghurt
Egypt's former president Hosni Mubarak is slipping in and out of consciousness eight days after he was transferred to a prison hospital to serve his life sentence, a security official said.
Mubarak's wife, Suzanne, and her two daughters-in-law were granted special permission to visit him early on Sunday to quash rumours of his death, the official said at Cairo's Torah prison.
Since then Mubarak has had an irregular heartbeat and required assistance in breathing. The official said Mubarak was consuming only liquids and yoghurt.
Mubarak's health is reported to have collapsed since his conviction on 2 June for failing to stop the killing of protesters during last year's uprising.
Officials have turned down several requests by Mubarak's family to transfer him back to a military facility, where he had been held before his conviction.
On Saturday Mubarak's wife was denied access to the prison hospital's intensive care unit, as family visits are limited to one a month.
Full report at:
http://www.guardian.co.uk/world/2012/jun/10/hosni-mubarak-in-out-consciousness
----------
Assad's Response to Syria Unrest Leaves His Own Sect Divided
By NEIL MacFARQUHAR
Jun 11 2012
BEIRUT, Lebanon — After Jaber Abboud, a baker from Baniyas, Syria, first lashed out publicly at President Bashar al-Assad for failing to promote real change, his neighbors ignored it.
But Mr. Abboud and most of his community are Alawites, the same religious sect as the president. When the popular uprising broke out, many believed that if the Assad family fell, they were doomed. They closed ranks and turned on Mr. Abboud, boycotting his pastry shop and ultimately forcing him to leave town.
"The neighborhood is split — half are dejected and subservient, the rest are beasts," he said in a telephone interview from nearby Latakia. "It is depressing to go there, it's like a town full of ghosts, divided, security everywhere."
As the Syrian conflict escalates to new levels of sectarian strife, Mr. Assad is leaning ever more heavily on his religious base for support. The Alawite core of the elite security forces is still with him, as are many Syrians from minority groups.
Full report at:
http://www.nytimes.com/2012/06/10/world/middleeast/syrian-alawites-divided-by-assads-response-to-unrest.html?ref=middleeast&gwh=46C0A4B45B5F2742E0917800422AB4DC
----------
Iraq President: PM's Critics Didn't Get Majority
Jun 11 2012
BAGHDAD (AP) — Opponents of Prime Minister Nouri al-Maliki have failed to muster enough support to bring him down in a vote of no confidence, Iraq's president said in a statement posted on his website Sunday.
Al-Maliki, a Shiite, faces a growing challenge from Sunni and Kurdish parties as well as other Shiites within his unity government who accuse him of monopolizing power.
But al-Maliki also has allies such as President Jalal Talabani, a Kurd, whose office must affirm that a petition for a no-confidence vote has enough signatures. Talabani's refusal to ratify the no-confidence campaign's letter is a setback for al-Maliki's opponents, although the constitution gives them other ways of trying for the vote.
Coalition rebels said in a statement they would keep trying to unseat al-Maliki and to "put an end to the monopoly (on power) and domination" by the prime minister.
Talabani has close ties to Iran, which has been using its leverage in Iraq to keep al-Maliki in place. Divisions among the prime minister's opponents may also be undercutting the no confidence push.
Full report at:
http://www.nytimes.com/aponline/2012/06/10/world/middleeast/ap-ml-iraq-
----------
Syrian Forces Shell Cities as Opposition Picks Leader
By NEIL MacFARQUHAR
Jun 11 2012
ISTANBUL — Syrian government forces shelled rebel strongholds across the country on Sunday, opponents of the government said, while the main opposition group in exile, the Syrian National Council, chose a new leader.
The shelling struck at targets in and around Homs in central Syria and near al-Heffa, just east of the port of Latakia, as well as other locations, opposition groups said. The violence continues despite a United Nations-brokered cease-fire, which has so far had little effect on the conflict, and the presence of international monitors.
The new leader of the council, announced on Sunday in Istanbul, is Abdelbaset Sieda, a Kurdish professor of Arabic and philosophy who promised the organization would be overhauled.
Full report at:
http://www.nytimes.com/2012/06/11/world/middleeast/syrian-forces-shell-cities-as-opposition-picks-leader.html?ref=world&gwh=F06F45CC387386B4CAD9E23FAACCBB1A
----------
Syria's Assads Turned to West for Glossy P.R.
By BILL CARTER and AMY CHOZICK
Jun 11 2012
For some journalists, Syria has been one of the least hospitable countries in the Middle East, a place where reporters — if they can get in — are routinely harassed and threatened as they try to uncover the repression that has propped up the Assad government for decades.
For other journalists, Syria has until recently been a country led by the cultivated, English-speaking President Bashar al-Assad who, along with his beautiful British-born wife, Asma, was helping usher in a new era of openness and prosperity.
That second impression is no accident. With the help of high-priced public relations advisers who had worked in the Clinton, Bush and Thatcher administrations, the president and his family have sought over the past five years to portray themselves in the Western media as accessible, progressive and even glamorous.
Magazines and online outlets have published complimentary features about the family, often focusing on fashion and celebrity. In March 2011, just as Mr. Assad and his security forces initiated a brutal crackdown on political opponents that has led to the death of an estimated 10,000 Syrians, Vogue magazine ran a flattering profile of the first lady, describing her as walking "a determined swath cut through space with a flash of red soles," a reference to her Christian Louboutin heels.
Full report at:
http://www.nytimes.com/2012/06/11/world/middleeast/syrian-conflict-cracks-carefully-
----------
Militant website says to reveal video of al Qaeda figure
Jun 11 2012
DUBAI: A website that posts messages from militant groups said on Sunday that it would reveal a video message from Abu Yahya al-Libi, the al Qaeda no 2 who Washington says was killed in a drone strike in Pakistan last week.
"Soon, God willing: a visual message from the virtuous Sheikh Abu Yahya al-Libi, may God preserve him," a notice posted on a forum said, without elaborating on when the message was recorded.
The US government called the killing of Abu Yahya al-Libi, who had survived previous attacks, a serious blow to a group in which it said he played a key role forging links with young potential recruits.
Libi, a cleric whose real name was Mohamed Hassan Qaid, escaped from US custody in Afghanistan in 2005 and on at least one previous occasion was prematurely reported to have been killed in a US drone strike.
http://dawn.com/2012/06/11/militant-website-says-to-reveal-video-of-al-qaeda-figure/
----------
Assad on ' last legs' as Syrian death toll tops 14,000
Jun 11 2012
SYRIAN government forces pounded areas in the central province of Homs on Sunday in a renewed push to regain control of rebel- held territories, and activists said at least 38 people were killed in shelling there over the past 24 hours.
The assault focused on the town of Qusair, near the border with Lebanon, where activists reported at least six people died on Sunday alone.
Three others died in shelling of the town of Talbiseh, north of Homs city, according to the Britain- based Syrian Observatory for Human Rights.
The deaths brought the toll since the start of the uprising against President Bashar al- Assad's regime to more than 14,100, the monitoring group said. Those killed since March last year comprised 9,862 civilians, 3,470 soldiers and 783 army deserters, the Observatory said.
On Saturday, at least 111 people — 83 civilians and 28 soldiers — were killed, according to revised figures from the Observatory, representing one of the heaviest single- day death tolls since the nominal start of the ceasefire.
" The mortars came down on Qusair by the dozens," Abu al- Hoda, a Qusair- based activist, said. He said women and children have been huddled for days in basements of apartment buildings, too fearful to come out. On Saturday, 29 people died in violence across Homs, according to activists.
Full report at: Mail Today
----------
12 dead in Egypt tribal fighting: Police official
Jun 10, 2012
CAIRO: A gunfight during the night between two feuding tribes in Egypt's south has killed 12 people, a police official said on Sunday.
The official said the battle in the southern Aswan province, in which automatic weapons were used, left three wounded. The gunfight erupted as a dispute over land, he said.
Police and soldiers moved in with armoured vehicles to end the fighting, he said.
Family feuds in the impoverished south may go on for months or even years, and often end in government sponsored reconciliations.
http://timesofindia.indiatimes.com/world/middle-east/12-dead-in-Egypt-tribal-fighting-Police-official/articleshow/13998833.cms
----------
At least 6 killed, 38 wounded in Iraq mortar attack
Jun 11, 2012
BAGHDAD: At least six people were killed and 38 others wounded when two mortar rounds struck a square filled with Shi'ite pilgrims in Iraq's capital on Sunday, police and hospital sources said.
The pilgrims were gathering ahead of a religious festival to mark the death anniversary of the Shia Imam Moussa al-Kadhim.
http://timesofindia.indiatimes.com/world/middle-east/At-least-6-killed-38-wounded-in-Iraq-mortar-attack/articleshow/14010898.cms
----------
Oldest pearl aged 7,500 years found in the UAE
Jun 11 2012
Dubai : The oldest pearl in the history of human kind, that goes back to over 7,500 years right up to the Neolithic Age, was found in the UAE recently.
The report, quoting a French National Centre for Scientific Research statement, said gem specialists believed that the oldest pearl hitherto known goes back to 3000 BC and was found at an antiquity site in Japan.
The centre added that the pearl, which was discovered lately in the Umm Al Quwain emirate of the UAE, was found to be of 5500 BC time after it was tested by Carbon 14.
According to the Center, the pearl is the oldest known in the Arabian Peninsula and across the world.
This newly discovered pearl along with other pearls found along the south western shores of the Arabian Peninsula indicates that this region witnessed the oldest clan hunting activity in the world for the value of pearls aesthetically and for special rituals, the Gulf News report said.
Researchers at the centre clarified that natural pearls were important in funeral rituals where un-pierced pearls used to be delivered at the Umm Al Quwain cemetery and others where they were placed over the deceased's face, especially over the upper lip, said the report.
This new discovery shows the importance of pearls in old societies of the Arab Gulf and the northern part of the Indian Ocean, and made up an important element of its cultural identity.
http://www.indianexpress.com/story-print/960530/
-------
North America
US threatens sanctions on Somalis who block peace plan
11 June 2012
The United States has threatened to impose sanctions on Somalis who stand in the way of a UN-supervised roadmap for peace in Somalia.
Assistant Secretary of State for African Affairs Johnnie Carson was speaking after making the first visit by a top US official in two decades.
He said his trip to Mogadishu was to acknowledge "significant progress" made against al-Shabab militants.
However, the al-Qaeda group still controls much of the country.
The BBC's Gabriel Gatehouse, in Mogadishu, says the US envoy was in and out of the Somali capital in a matter of hours on Sunday, but during his key visit met the Somali president, prime minister and other members of the Transitional Federal Government.
Mr Carson said the US would impose sanctions on anyone standing in the way of the political process now under way.
"The kind of action we must take against spoilers range from visa sanctions to travel sanctions to asset freezes," Mr Carson said.
"There is a level of vulnerability for all of those who might be spoilers."
Mr Carson said the US would consider stationing officials in the capital permanently "when we believe that it is both appropriate and safe".
'Innovative'
Full report at:
http://www.bbc.co.uk/news/world-africa-18391683
----------
Court allows jihad fundraiser to remain seated when judge enters courtroom
Jun 11 2012
Whenever Islamic law and American law conflict, it is American law that must give way. That's the Islamic supremacist imperative. Does it matter that this means that Amina Farah Ali rejects the authority of the Infidel court? Not in the least.
"Somali terror group fundraiser has contempt citations overturned," by David Hanners for the Pioneer Press, June 4 (thanks to Pamela Geller):
A Rochester, Minn., woman who refused to stand when a judge entered the courtroom during her trial last year may have had a religious right to keep her seat, a federal appeals court has ruled.
The 8th U.S. Circuit Court of Appeals, in a ruling Monday, June 4, threw out 19 of 20 contempt citations that Chief U.S. District Judge Michael Davis had levied against Amina Farah Ali because she wouldn't rise when court was called to order.
On the first day of her trial on charges of raising money for the terrorist group al-Shabaab, Ali ignored Davis' order to rise, telling him she interpreted Islamic teachings to mean she didn't have to stand for anybody.
Full report at:
http://www.jihadwatch.org/2012/06/court-allows-jihad-fundraiser-to-remain-seated-when-judge-enters-courtroom.html
----------
Ottawa cabbie cleared of sex assault; complainant 'deeply sorry' for accusation
By Andrew Seymour
June 7, 2012
OTTAWA — An Ottawa taxi driver who lost his job and spent nearly two years living under a cloud of suspicion had a sexual assault charge against him dismissed Wednesday after his accuser admitted she might have made up her allegations against him.
Gazban Abdalrahman, 40, had his taxi license suspended and was forced to work odd jobs after the woman, who has Down syndrome, came forward to police in November 2010 claiming the Capital Taxi driver tried to kiss her before rubbing her thigh, buttocks and breast.
At the time, Abdalrahman was driving the cab as a subcontractor for ParaTranspo.
A series of still images taken from the cab's surveillance camera didn't show the attempted kiss or the touching the woman described.
The camera took a photograph each second when the cab was stopped and every 30 seconds when it was moving.
The woman claimed the sexual assault occured over six minutes , although the jury heard she struggles with the concept of time.
Full report at:
--------
Africa
Qaeda chief urges Tunisians to rise up for sharia
Jun 11 2012
DUBAI: Al Qaeda's chief has urged Tunisians to rise up to demand the rule of Islamic law, slamming the ruling Ennahda Islamist party for "violating" sharia law, in a message posted online on Sunday.
"O, honest and free Tunisians. The masks have dropped. Rise up to support your sharia," said Ayman al-Zawahiri in an audio message entitled "People of Tunisia, support your sharia," posted on various websites.
"Call for a popular campaign advocating support for sharia and Islam and the rule of the Quran," the Muslim holy book, he said.
"Don't settle for any alternative to sharia," he added.
Zawahiri criticised the ruling moderate Ennahda party for not calling for Islamic rule in the North African nation where demonstrations led to the flight of its long-serving president Zine El-Abidine bin Ali in December 2010, triggering Arab Spring uprisings across the Arab world.
"It is astonishing to find a leadership claiming to belong to Islam saying that it does not want to rule with it," he said, denouncing what he called Ennahda's wish to have a "consensual constitution."He accused the Ennahda of ignoring Islamic rules in order to appease the West and Gulf states.
"They are inventing an Islam that pleases the US State Department, the EU, and the sheikhdoms of the Gulf. It is an Islam upon request, that permits gambling clubs, nudist beaches, usury and secular laws," he said.
The moderate Ennahda party, legalised in March 2011, has refused to adopt fundamental sharia law, but some have voiced fears Islamist movements within the country, emboldened by the Ennahda victory, may try to restrict free expression and secular values.
Zawahiri became al-Qaeda's chief after its founder Osama bin Laden, who was the world's most wanted man, was killed in a US raid on a Pakistan hideout in May last year.
http://dawn.com/2012/06/11/qaeda-chief-urges-tunisians-to-rise-up-for-sharia/
----------
Nigeria violence: Seven dead after Boko Haram attacks Churches
10 June 2012
Boko Haram militants have attacked two churches during Sunday services, triggering deadly reprisal attacks.
In the central city of Jos, a suicide bomber blew himself up outside a church, wounding at least 50 people.
In a separate attack, gunmen opened fire during a service in Biu in northeastern Borno state, leaving at least one person dead.
Six people were then killed in Jos in reprisals when angry demonstrators took to the streets in protest.
Radical Islamist sect Boko Haram said it carried out the attacks. The group has carried out a number of attacks on churches in recent years, killing hundreds of people.
One witness at the church in Biu, Hamidu Wakawa, said that "gunmen came to the premises of the church and started firing at people outside the church before going into the main building to carry on their killings", Reuters reported.
Officials said one woman had been killed and at least three wounded.
In Jos, police said the attacker had driven as close to the church as he could before detonating himself.
"The suicide bomber did not drive into the church before the explosion. He was in front of it," police spokesman Abuh Emmanuel told Reuters.
"The church building collapsed entirely due to the intensity of the bombing."
Moments after the bombing, Christian youths set up roadblocks and had to be dispersed by police, according to one witness.
"Angry youths have gone wild, even attempting to prevent the security personnel from getting to the scene of the incident. They had to force their way out by shooting in the air to disperse them," Emmanuel Davou was quoted as saying.
The Red Cross later said demonstrators killed six people.
The Anglican archbishop of Jos, Ben Kwashi, condemned the church attacks, but said reprisals were "futile" and only served to aggravate the situation.
"We've been working with Muslim leaders, Roman Catholic bishops, and myself and many other church leaders, and we have worked so very hard - and this kind of terrorism just takes us back again," he said.
Boko Haram has carried out numerous attacks on churches, schools, police stations and government buildings in northern Nigeria, and is said to be continually widening its targets.
The group - whose name means "No to Western education" - wants to impose Sharia law across Nigeria.
The group has said it was behind the suicide bombing of a church last weekend which left at least 12 people dead in Bauchi City.
The state of Borno has been Boko Haram's base. The group's mosque and headquarters had been located in Maiduguri, the state capital, until a military assault in 2009 destroyed them and left hundreds dead.
http://www.bbc.co.uk/news/world-africa-18386156
----------
Ivory Coast mercenaries train child soldiers for attacks across Liberia border
Monica Mark
10 June 2012 1
'Small boys units' loyal to the former president Laurent Gbagbo reportedly formed for fighting in western Ivory Coast
Militias loyal to the former Ivory Coast president Laurent Gbagbo are recruiting child soldiers in Liberia to launch attacks similar to that which caused the death last week of 15 people, including seven UN peacekeepers.
Child soldiers as young as 14 are being groomed in training camps and used as scouts in increasingly deadly attacks in the volatile west of Ivory Coast, witnesses said. Human Rights Watch said that youths aged between 14 and 17 were being trained.
"They call us 'small boys unit,' and we are always safe when we go to the war zones in Ivory Coast. I don't know the total that we have killed," a child soldier told the campaigning group.
Ivory Coast's rugged western region is a stronghold of Gbagbo, whose refusal to leave power landed him in the international criminal court last May after five months of post-electoral conflict dislodged him.
But neighbouring Liberia has been reluctant to clamp down on mercenaries notorious for recruiting child soldiers, while high-profile members of the regime's inner circle live unhindered in upmarket villas in Ghana despite international arrest warrants.
"There are training camps in Liberia, you can walk there in 20 minutes. They send boys over several hours before attacks, then they join in later," said Traore Adama, an Ivorian soldier who fled to Abidjan after attacks in recent months. "Youths can make up to a third of the attacking groups. Some of them are older teenagers but others are waifs you'd never imagine carrying guns."
Full report at:
http://www.guardian.co.uk/world/2012/jun/10/ivory-coast-child-soldiers
----------
At least 16 killed in two days of Libya clashes
10 June 2012
Fighting between government forces and tribal fighters in the southern Libyan town of Kufra has continued for a second day, officials said.
At least 16 people have died since the clashes began on Saturday, with women and children among the dead.
Libya's government has been struggling to maintain security since the ousting of Muammar Gaddafi last year.
Meanwhile, officials said an election planned for later this month has been postponed to 7 July.
Earlier, a delegation from the International Criminal Court (ICC) has arrived in Libya to try to secure the release of a four-person team detained after visiting Saif al-Gaddafi, the jailed son of the former leader.
A Libyan official said Australian lawyer Melinda Taylor, who was part of the team, is being investigated on suspicion of spying.
Shaky truce
The government said the fighting in Kufra began after members of the Toubou tribe attacked a checkpoint and tried to gain access to a security building nearby and steal their vehicles.
But representatives of the Toubou tribe say they were attacked by security forces - the Deraa brigade - and they have accused the brigade there of trying to "exterminate" them.
Dozens of others were injured in the clashes, while correspondents say the real death toll could be considerably higher.
Full report at:
http://www.bbc.co.uk/news/world-africa-18386836
----------
Mali Rebels Meet with ECOWAS Mediator
Nancy Palus
June 09, 2012
Mali's Tuareg separatist rebels are eager to negotiate with regional and international leaders on a way forward in northern Mali, one of the group's leaders said on Saturday. The rebels, who sent a delegation to meet with ECOWAS mediators, looked to distance themselves from Islamic extremist groups with whom they currently share power in the region.
A National Movement for the Liberation of Azawad (MNLA) delegation met with Burkina Faso President and ECOWAS mediator Blaise Compaoré on Saturday.
The international community is wrestling with the chaotic status of Mali's vast desert north, where fighters with Islamic extremist groups, including al-Qaida in the Islamic Maghreb, swept in with MNLA to chase out the Malian army and government just over two months ago. With the more radical groups dominating in the region since, MNLA has found itself in a difficult position, with its aim of an independent Tuareg state getting lost in a wider problem.
MNLA's Ibrahim Ag Mohamed Assaleh talked to reporters just after the meeting in the Burkina capital Ouagadougou.
He said MNLA sets itself apart from all groups in the region of Islamic or terrorist orientation. Assaleh acknowledged that the Tuareg separatists had tried to create an alliance with the Tuareg Islamist group Ansar Dine, but saw that it would not stand.
MNLA, which has long maintained that it is committed to fighting terrorism, raised eyebrows in late May when it announced a pact with Ansar Dine, a group said to have close ties with al-Qaida in the Islamic Maghreb and which seeks to enforce a strict interpretation of Islamic law in Mali.
Full report at:
http://www.voanews.com/content/mali-rebels-meet-with-ecowas-mediator/1205487.html
----------
Libya Postpones National Election Until July
By DAVID D. KIRKPATRICK
Jun 11 2012
CAIRO — Libya's transitional government on Sunday postponed the first national election since the ouster of Col. Muammar el-Qaddafi, changing it to July 7 from the previous date of June 19.
The announcement is official confirmation of an open secret: Libya's transitional authorities have not yet completed the list of candidates or other arrangements for the election, voter registration is behind schedule and officials of the interim government have hinted for weeks that they could not fulfill their promise of a vote by June 19.
Voters will choose a national assembly, whose members will govern while drafting a new constitution. Libyans are hoping an elected government will have the legitimacy to control the rival militias that have established competing fiefs around the country and in the capital, Tripoli, sometimes battling one another, hunting down suspected Qaddafi loyalists to exact vengeance or even kidnapping foreign journalists and government officials.
It is unclear whether the interim authorities can enforce the stability required to hold a free and fair vote by the new deadline. Disputes over the distribution of delegates have aggravated deep-seated regional tensions. Some districts, including the city of Bani Walid and certain neighborhoods of the capital, remain hostile to the new authorities, if not loyal to Colonel Qaddafi, and militias that helped oust him may impede the vote in those areas. Militias have already displaced members of tribal and ethnic groups considered loyal to Colonel Qaddafi, forcing them into refugee camps and raising questions about their voting rights as well.
Full report at:
http://www.nytimes.com/2012/06/11/world/africa/libya-to-delay-national-
-----------
Europe
Exclude Russia from arms show: Human Rights Watch to France over supply of arms to Syria
Jun 10, 2012
PARIS: International rights organisation Human Rights Watch (HRW) has asked France to reconsider allowing Russia's state-owned arms exporter Rosoboronexport to take part in an upcoming arms exhibition in Paris over supply of arms to Syria.
The EUROSATORY 2012 defence expo will take place at the Parc d'Expositions, north of Paris, June 11-15. It will host over 400 defence companies from 47 countries, including 14 companies from Russia.
"France shouldn't have it both ways. It can't be a leading voice calling for an end to grave violations in Syria and imposing an arms embargo, while allowing Syria's main arms dealer to come to Paris to promote its weapons and land new deals," said Jean-Marie Fardeau, France director at HRW.
HRW has already urged governments and companies around the world to stop signing new contracts with arms exporters such as Rosoboronexport, which supplies weapons to Syria.
Rosoboronexport is planning to showcase a number of models of armoured vehicles, including the fully upgraded T-90S main battle tank, BMPT tank support fighting vehicle, Kornet-EM anti-tank missile system mounted on a Tigr armoured vehicle and a new Ural armoured truck at the Paris show.
"Our hope is that if there is a Rosoboronexport booth at EUROSATORY, it is a very lonely place. Rosoboronexport's potential clients should shun any new business with the company until it stops selling arms to Syria while such grave crimes are being committed," said Fardeau.
Syria, the largest importer of Russian weapons in the Middle East, recently signed contracts with Rosoboronexport for the supply of 24 MiG-29M/M2 fighter jets and eight Buk-M2E air defence systems.
A contract for the supply of Bastion anti-ship missile systems armed with SS-N-26 Yakhont supersonic cruise missiles is currently being implemented.
According to latest UN estimates, up to 12,000 people have been killed in clashes between the government and opposition forces in Syria since the start of the uprising against President Bashar al-Assad last year.
Moscow has repeatedly said Russian-made weaponry supplied to Syria could not be used against protesters, but Russia will continue selling weapons to Syria under existing contracts observing both international law and bilateral obligations.
http://timesofindia.indiatimes.com/world/europe/Exclude-Russia-from-arms-show-Human-Rights-Watch-to-France/articleshow/13993477.cms
----------
URL: https://newageislam.com/islamic-world-news/afghans-aim-defuse-failed-suicide/d/7589