New Age Islam News Bureau
10 Jun 2013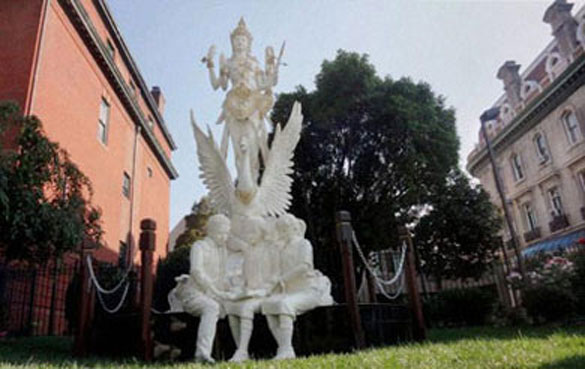 Photo: A 16-foot statue of godess Saraswati was installed in Washington DC. It was recently gifted by Indonesia to the U.S. government
---------
Arab World
• Sheikh Qaradawi makes U-turn, says Hezbollah is 'party of Satan'
• Car bombs hit markets in central Iraq, killing 22
• First 'Made in Saudi Arabia' drone aircraft launched
• Extremist group 'executes' 15-year-old Syrian boy for heresy
• Syrian army kills 100 people fleeing captured town: Activists
• 76 Egyptians in Israeli prisons: Egyptian foreign ministry
• Al-Qaida chief strikes down merger of Iraq, Syria wings
• Beggars can be choosers ... when Umrah visas are being sold
• Syria sectarian strife may take 'decades to remedy,' OIC chief says
• Syria troops 'preparing for Aleppo assault'
• Sunni-Shiite rift on Syria risks regional chaos: Analysts
• Mubarak's retrial on murder charges adjourned to 6 July; court orders sons' release
Africa
• Benghazi clash claims 31 lives, Libyan army chief resigns
• 'SRF Kill 14 Sudan Govt Troops in Blitz - Rebels
• Nigerian Cleric Tasks Muslim Corps Members on Tolerance
• Extremists Setting Up Shop in Libya
• Somali warlord strengthens control of port after clashes
• In Libya Anarchy Reigns and International Engagement Is Sorely Needed
• 'Bashir will fall within 100 days'
• South Sudan says Sudan troops enter Upper Nile state
Southeast Asia
• Indonesia gifts U.S. a Saraswati statue
• Ahmadi Lawsuit against Mayor Crucial to All Religious Minorities: HRW
• Kit Siang blames Dr M, BN for Malaysia's growing racial chasms
• Jamil Khir demands action against duo over slur on Prophet
• Malaysia set to be developed nation before 2020, says Najib
North America
• Since 9/11, Surveillance Made Easier
• Afghan, Pakistan delegate spar at US-Islamic forum
• Iran, Jordan, Pakistan and Egypt most subject to US surveillance
• Exposed US spy programme for better world, former CIA worker says
• US Zionist Lobby Reels from Resistance al-Qusayr Victory
• WikiLeaks trial shifting to Afghan war video
• US close to deciding on arming Syrian rebels: Report
Pakistan
• Minority Legislator raises fears of Hindu exodus from Sindh
• Taliban wants govt to distance itself from drone attacks
• Four dead, 18 injured as Lyari becomes a battlefield again
• Karachi violence claims 5 lives
• Militants attack NATO containers in Khyber; six killed
• Peace dialogue: Atmosphere being created for Taliban talks, says minister
• Akbar Bugti case: Arrest warrants issued for Shaukat Aziz, Pervez Musharraf
• PTI submits anti-drone resolution in Punjab Assembly
• KP may seek army pullout from Swat: JI leader
• Troops take over strategic heights in Tirah
• 'Live and let live': Balochistan CM
• Gilani 'claims immunity' against NAB arrest orders
India
• India offers support in training of Maldivian judiciary
• Lawyers violate SC order at Babri Masjid site
• Vanzara, Pandey were at Ishrat shootout site: CBI
• Population growth in J&K declines 6 per cent; literacy rate improves
Mideast
• Seven killed in clashes between Shiite protesters and security forces in Sanaa
• Netanyahu, colleague poles apart on two-state solution
• Israel bars Fatah official from conference
• Israeli figures show spike in new settler homes
• Turkish troubles highlight cultural divide
• Turkey PM patience 'has limit' as protest violence flares
Europe
• Mali militants remain a threat to West Africa, UN chief says
• Britain may be an Islamic nation within 20 years
• Ban, Karzai repose confidence in Nawaz
• UK mosques urged to install panic alarms and safe rooms
• Prince Harry saved soldier from homophobic attack
• English Defence League rally bomb plotters jailed
South Asia
• Afghan Taliban 'Behead Two Boys in Kandahar' For Spying
• All seven militants in Taliban strike killed: Kabul Police
• Attacker in Afghanistan Hid Bomb in His Body
• Army leaders walk fine line as Afghan advisers
• Karzai: did 'war on terror' encourage radical Islam?
• Maldivian President launches his campaign for September polls
• President Waheed ignored advice on GMR termination, PPM alleges
• Jamaat-e-Islami's Hamidur Rahman Azad to lose JS seat: Qamrul
• Twin blasts rock Shahbagh in Bangladesh
Compiled by New Age Islam News Bureau
URL: https://newageislam.com/islamic-world-news/new-age-islam-news-bureau/afghan-taliban--behead-two-boys-in-kandahar--for-spying/d/11999
-------------
Afghan Taliban 'Behead Two Boys in Kandahar' For Spying
Jun 10 2013
The Taliban have beheaded two boys for spying in the southern Afghan province of Kandahar, officials say.
One of the boys, a 10-year-old, is reported to have regularly accepted food handouts from police in the Zhari district to feed his family.
Kandahar's governor condemned the beheading as inhumane and un-Islamic. The Taliban denied killing him and condemned it as well.
Little is known about the other boy, who was 16 years old.
In 2012 the Taliban were accused of beheading a 12-year-old boy and a seven-year-old girl in south and east Afghanistan - the group denied responsibility in both those cases.
Taliban denial
The 10-year-old boy was very poor and was known to take food going spare from the police to take home to his family, says the BBC's Mahfouz Zubaide in Kabul.
His killing is said to have taken place on Sunday but news only emerged on Monday as the provincial government condemned it and asked the public to report suspicious behaviour and people.
Later on Monday Kandahar's provincial government posted an update saying that a 16-year-old had also been beheaded by the Taliban.
Correspondents say that the Taliban are known to attack those they suspect of colluding with police and that the Taliban regularly deny such atrocities.
But Taliban spokesman Qari Yousef Ahmadi insisted to the BBC that the group had not beheaded any children in the area.
Taliban fighters in Afghanistan have been known to behead targets in the past, but have always denied attacking children in this way.
http://www.bbc.co.uk/news/22842512
-----------
Arab World
Sheikh Qaradawi Makes U-Turn, Says Hezbollah Is 'Party of Satan'
9 June 2013
In an interview with Al Arabiya aired on Sunday, Sheikh Yusuf al-Qaradawi, president of the International Union of Muslim Scholars, slammed Lebanese Hezbollah group as "party of Satan" that seeks to "sow discord" among Muslims.
Sheikh Qaradawi lamented his previous defence of Hezbollah and Iran at a time when major Muslim scholars, notably in Saudi Arabia, had voiced scepticism over the militia group's plotting in the region.
"When Hezbollah was fighting against Israel, I defended it. I stood against the Muslim scholars in Saudi Arabia, the most renowned scholars who warned us against Hezbollah," Sheikh Qaradawi said.
"They warned us against Hezbollah's plans to sow discord. They warned us against their ideology and intentions. I stood up and defended them [Hezbollah]," he added.
He described the group, whose name means in Arabic the Party of God, as a "party of Satan" that seeks to sow discord in the Muslim land.
"Those who are fighting against the Syrian people and call themselves Hezbollah (Party of God) in Arabic are the Party of Satan," he said.
The prominent Muslim scholar declared that Saudi religious scholars were "more mature and knowledgeable" about his Hezbollah and Iran than him.
"I believed things were as they seemed to be. I wanted to unite all Muslims; Muslims fighting against Israel, how can I support Israel? But it seems that the scholars –may they rest in peace if they died, and may God bless them if they are still alive – they were smarter than me," he said.
"Those, whom I defended, went and killed their brothers in Syria. We thought that they were our brothers, but apparently they are not," he added.
http://english.alarabiya.net/en/News/middle-east/2013/06/09/Sheikh-Qaradawi-renews-call-for-holy-war-against-Hezbollah.html
-------------
Car bombs hit markets in central Iraq, killing 22
By QASSIM ABDUL-ZAHRA | Associated Press
Jun 10, 2013
BAGHDAD (AP) — Militants detonated explosives-laden cars around two busy markets in central Iraq on Monday, killing 22 people and wounding dozens, the latest in a wave of violence ravaging the country.
Attacks in Iraq have spiked to levels not seen since 2008. The surge in bloodshed, which follows months of protests by the country's Sunni Arab minority against the Shiite-led government, is raising fears that Iraq is heading for another bout of sectarian violence.
Monday's deadliest attack occurred in Diyala province when three parked car bombs exploded virtually simultaneously around a wholesale fruit and vegetable market at the height of business in the town of Jidaidat al-Shatt. The town is just outside the provincial capital of Baqouba, about 60 kilometers (35 miles) northeast of Baghdad.
The blasts killed 15 people and wounded 46. Soon after the explosions, security forces sealed the roads linking Baqouba to Baghdad in an apparent effort to prevent further attacks.
Shortly after midday, another car bomb went off near a fish market in the northern Baghdad suburb of Taji, killing seven shoppers and wounding 25, police said.
Baqouba and the surrounding Diyala province was once the site of some of the fiercest fighting between U.S. forces and insurgents in Iraq, and it remains a hotbed for terrorist attacks. The area is religiously mixed, and witnessed some of the worst atrocities as Shiite militias battled Sunni insurgents for control in the years after the 2003 U.S.-led invasion.
The three car bombs used in the attack near Baqouba were deployed in different locations in and around the market in order to inflict most damage and casualties, police officials said. One of the vehicles was a pickup truck loaded with produce that was parked inside the market itself.
Last Friday, Diyala was the site of another deadly bombing. A suicide attacker drove an explosives-laden car into a bus carrying Iranian Shiite pilgrims visiting holy shrines in Iraq, killing 11 and wounding more than two dozen. The attack took place in the town of Muqdadiyah, about 90 kilometers (60 miles) north of Baghdad.
Provincial councilman Sadiq al-Husseini blamed that attack and Monday's bombing in the produce market on al-Qaida-linked groups.
"When the grip is tightened on these groups, they resort to random attacks on residents and foreign pilgrims in order to show to the people that they are still active," he said. "Our security forces still lack intelligence and bomb detecting equipment" to stop such attacks, he added.
Medics in nearby hospitals confirmed the casualty figures for both of Monday's attacks. All officials spoke on condition of anonymity because they were not authorized to talk to the media.
There was no immediate claim of responsibility for the attacks — as has been the case for much of the violence in recent weeks — but coordinated car bombings in civilian areas are frequently the work of al-Qaida's front group in Iraq, known as the Islamic State of Iraq.
According to the United Nations, at least 1,045 Iraqi civilians and security personnel were killed in May. The tally surpassed April's 712 killed.
___
Associated Press writers Adam Schreck and Sameer N. Yacoub contributed to this report.
http://news.yahoo.com/car-bombs-hit-markets-central-iraq-killing-22-125040304.html
-----------
First 'Made in Saudi Arabia' drone aircraft launched
10 June 2013
King Abdulaziz University has conducted a successful experiment with a solar-powered unmanned aircraft.
The project was initiated last year as a cooperative research project with Tokai University to design and build a drone aircraft powered by solar power to be used for civil defence and other peaceful purposes during the holy rituals.
The aircraft can also be used to conduct research and experiments in aviation and solar energy, train national staff and establish a laboratory for the scientific field of engineering.
The team includes 14 members of the two university faculties and 32 students from the engineering department.
The project is to produce an operational model.
The experiment was implemented at the campus in the presence of Osama bin Sadiq Tayeb, the rector of the university, Adnan bin Hamza Mohammed Zahid, vice president of Graduate Studies and Research, Abdullah bin Omar Pavel, the agent responsible for projects at the university, and a research team at the university, headed by Wael bin Ismail Hrsana.
Tokai University team leader Hiroka and his scientific team attended the event as well, local media reported.
http://www.arabnews.com/news/454588
-------------
Extremist group 'executes' 15-year-old Syrian boy for heresy
10 June 2013
Members of an Al-Qaeda-linked Islamist group in the northern Syrian city of Aleppo executed a 15-year-old boy in front of his parents on Sunday as punishment for what the group regarded as a heretical comment, the Syrian Observatory for Human Rights said.
Mohammad Qataa was shot in the face and neck a day after being seized, said the pro-opposition monitoring group, which is based in Britain and uses a network of observers across Syria.
Full report at:
http://english.alarabiya.net/en/News/middle-east/2013/06/10/Al-Qaeda-linked-group-executes-15-year-old-Syrian-boy-for-heresy.html
----------
Syrian army kills 100 people fleeing captured town: Activists
Reuters, 10 Jun 2013
Forces loyal to Syrian President Bashar Al-Assad have killed at least 100 people who fled the town of Qusair after it was captured by army troops and fighters from the Lebanese Shi'ite group Hezbollah last week, opposition activists said on Sunday.
Most of the dead were hit by machinegun fire and a sustained bombardment over the past three days as they tried to cross a highway east of Qusair to areas beyond the reach of Assad's forces, the activists said.
Full report at:
http://english.ahram.org.eg/NewsContent/2/8/73597/World/Region/Syrian-army-kills--people-fleeing-captured-town-Ac.aspx
-----------
76 Egyptians in Israeli prisons: Egyptian foreign ministry
10 Jun 2013
An Egyptian foreign ministry official announced on Monday that 76 Egyptians are currently detained in Israeli prisons, citing statistics that were compiled in May 2012.
Ali El-Esheery, assistant minister of foreign affairs for consulate matters, said that since May last year, eight detainees have been finalised for deportation back to Egypt.
Full report at:
http://english.ahram.org.eg/NewsContent/1/64/73631/Egypt/Politics-/-Egyptians-in-Israeli-prisons-Egyptian-foreign-min.aspx
-----------
Al-Qaida chief strikes down merger of Iraq, Syria wings
AFP | Jun 10, 2013
DUBAI: Al-Qaida chief Ayman al-Zawahiri has ruled that the Islamic State of Iraq and Al-Nusra Front in Syria should operate as separate entities, according to a letter posted on Al-Jazeera television's website.
ISI leader Sheikh Abu Bakr al-Baghdadi had "made a mistake" by announcing a merger between the two radical Islamist groups in the neighbouring Arab states"without consulting us," he said.
The merger plan has been "damaging to all jihadists", Zahawari said, adding that "Al-Nusra Front is an independent branch of al-Qaida".
Zawahiri ordered ISI and Al-Nusra to "cease all hostilities towards each other" and to help each other "in terms of men, money and weapons".
Full report at:
http://timesofindia.indiatimes.com/world/middle-east/Al-Qaida-chief-strikes-down-merger-of-Iraq-Syria-wings/articleshow/20522902.cms
---------
Beggars can be choosers ... when Umrah visas are being sold
10 June 2013
A number of Umrah companies have been accused of selling Umrah visas through their agents who work outside the Kingdom.
Many Umrah performers plan to overstay in the Kingdom after their visas have expired eyeing odd jobs. However, Umrah companies, responsible for the return of all Umrah performers under their care, do not seem to care about Saudi visa laws.
"External agents of Umrah companies sell visas to brokers for SR 800 to SR 1,000 each. Brokers then sell visas to Umrah performers for around SR 25,000 each," said Farooq Al-Khateeb, professor of economy at King Abdulaziz University.
Full report at:
http://www.arabnews.com/news/454583
-------------
Syria sectarian strife may take 'decades to remedy,' OIC chief says
10 June 2013
The rise in Islamist militancy and sectarian infighting in Syria could force regional consequences that could take "decades to remedy," the head of the Organization of Islamic Countries (OIC) warned on Monday.
In an interview with Al Arabiya English, OIC Secretary-General Ekmeleddin Ihsanoglu issued stark warnings over the violence in the crisis-torn country, adding that the Syrian regime had never responded positively to the Islamic bloc's efforts to resolve the conflict.
"The OIC has cautioned, on many occasions, of the danger of sectarian violence in Syria, as such a conflict once it takes on a sectarian dimension is bound to destabilize the entire region.
Full report at:
http://english.alarabiya.net/en/News/middle-east/2013/06/10/Syria-sectarian-strife-may-take-decades-to-remedy-OIC-chief-says.html
----------
Syria troops 'preparing for Aleppo assault'
Jun 10 2013
Syrian government forces are reported to be preparing for a major offensive on rebel-held parts of the northern city of Aleppo and its surroundings.
A security source said it would start "in the coming hours or days", echoing a pro-government newspaper article saying troops were "deploying heavily".
Activists said there were no signs yet of a renewed push on Aleppo.
The development comes only days after government forces backed by Hezbollah fighters recaptured the town of Qusair.
On Sunday, they retook the last remaining rebel-held villages in the strategically important area, which lies between the Lebanese border and the central city of Homs.
'On the offensive'
Full report at:
http://www.bbc.co.uk/news/world-middle-east-22840728
-----------
Sunni-Shiite rift on Syria risks regional chaos: Analysts
AFP ,10 Jun 2013
The foray into Syria's civil war by Lebanon's Hezbollah has fuelled a Sunni-Shiite polarisation that threatens to feed extremism on both sides and export the conflict to the wider region, analysts warn.
The Iran-backed Shiite movement has openly said it is fighting alongside President Bashar Al-Assad's forces, while Shiite Iraqi fighters are also reported to be in Syria, supporting the regime against the mostly-Sunni rebels.
These interventions have prompted calls for a united Sunni stance against the Shiite groups involved, particularly Hezbollah.
Full report at:
http://english.ahram.org.eg/NewsContent/2/8/73636/World/Region/SunniShiite-rift-on-Syria-risks-regional-chaos-Ana.aspx
-----------
Mubarak's retrial on murder charges adjourned to 6 July; court orders sons' release
10 Jun 2013
A Cairo criminal court has ordered the release of Alaa and Gamal Mubarak, the sons of former president Hosni Mubarak.
The two men are being re-tried on charges related to corruption and illicit gains.
The president's sons have been detained pending investigations since May 2011.
However, both sons will remain in custody as they are facing other corruption charges.
The court ruled that both Alaa and Gamal Mubarak have been detained in prison beyond the maximum period of provisional detention mandated by the law.
Full report at:
http://english.ahram.org.eg/NewsContent/1/64/73623/Egypt/Politics-/Mubaraks-retrial-on-murder-charges-adjourned-to--J.aspx
-----------
Africa
Benghazi clash claims 31 lives, Libyan army chief resigns
10 June 2013
TRIPOLI: Libya's army chief of staff resigned on Sunday as an elite military unit took control of a base of pro-government militias after clashes killed 31 people in the eastern city of Benghazi.
The developments underlined the security chaos in Libya more than a year and a half after long-time dictator Muammar Qaddafi was deposed in a civil war.
The violence broke out Saturday when protesters stormed a base belonging to Libya Shield, a grouping of militias aligned with the military that were tasked with helping to maintain security. The protesters were demanding that the militias leave their camp and submit to the full authority of Libya's security forces.
Full report at:
http://www.arabnews.com/news/454504
-------------
'SRF Kill 14 Sudan Govt Troops in Blitz - Rebels
June 10, 2013
Abu Karshola — The Sudan Revolutionary Front (SRF) claims to have killed 14 government soldiers and captured five more, including an Officer.
Rebel spokesman Colonel Al Gadi Rumboy told Radio Dabanga from the field that the casualties fell and prisoners were taken in a blitz offensive on the town of Abu Karshola in South Kordofan on Sunday.
Full report at:
http://allafrica.com/stories/201306100019.html
-------------
Nigerian Cleric Tasks Muslim Corps Members on Tolerance
BY EMMA ELEKWA
June 10, 2013
Muslim youth corps members have been urged to eschew acts of violence capable of causing disunity and overheating the polity, but to exhibit high level of tolerance at the face of provocation.
The Chief Imam Masjidis-Sahabah, Kundila, Kano State, made the call at Kubwa while delivering a lecture at the 31st Annual National Convention of the Muslim Corpers' Association of Nigeria with the theme 'Self-Rebranding: Muslim Leaders on call'. He said Islam is known for tolerance, accommodation and patience, but expressed worry over the negative vices displayed by some Muslims which he attributed to what he called Islamophobia and ignorance.
Full report at:
http://allafrica.com/stories/201306060949.html
-------------
Extremists Setting Up Shop in Libya
June 10, 2013
Growing lawlessness in southern Libya and an influx of Islamist militants from Mali are stoking worries that Libya's security weaknesses are fast becoming a destabilizing factor in the region.
A former Libyan intelligence source has told VOA that al-Qaida-linked jihadists driven out of Mali by a French-led offensive earlier this year have set up at least three jihadist camps in southern Libya in recent months.
As a consequence, the source said, Libya has now become the headquarters for al-Qaida in the Islamic Maghreb.
Full report at:
http://allafrica.com/stories/201306090086.html?viewall=1
-------------
Somali warlord strengthens control of port after clashes
June 10, 2013
MOGADISHU - Fighters loyal to Somali warlord Ahmed Madobe strengthened control of the key southern port of Kismayo, residents said Monday, after days of clashes between rival militia forces for control of the city.
Heavy fighting broke out Friday when the Ras Kamboni militia of Madobe — recently self-appointed "president" of the southern Jubaland region — battled against forces loyal to Iftin Hassan Basto, another leader claiming to be president.
"The situation is quiet now and most parts of the town are controlled Madobe's men," said resident Abdulahi Mire, adding that rival forces had been forced outside town, but "are not far away".
Full report at:
http://www.saudigazette.com.sa/index.cfm?method=home.regcon&contentid=20130610169317
-------------
In Libya Anarchy Reigns and International Engagement Is Sorely Needed
BY JASON PACK
June 10, 2013
May 2013 was just another humdrum month in Libya.
It witnessed more deadly explosions, a prolonged siege of government ministries, the disappearance of a popular militia leader, the closure of the Sebha airport by militiamen as retaliation, a declaration of Cyrenaica's semi-autonomy by self-styled provincial leaders, the resignation of Libya's president, and the start of the witch hunt to cleanse the public sphere from those who served the Qadhafi regime in any capacity.
After the hospital in Benghazi on May 12 and on the French Embassy on April 29, foreigners may assume that the security situation in Libya is atrocious and must be the country's primary problem.
Full report at:
http://allafrica.com/stories/201306061383.html?viewall=1
-------------
'Bashir will fall within 100 days'
June 10, 2013
KHARTOUM: Sudan's opposition alliance announced yesterday a 100-day plan for the peaceful overthrow of President Omar Bashir, who has been in power for more than two decades.
"I expect the regime will fall before the 100 days finish," said Farouk Abu Issa, who represents more than 20 opposition parties.
Full report at:
http://www.arabnews.com/news/454405
----------
South Sudan says Sudan troops enter Upper Nile state
Jun 10 2013
South Sudan has accused Sudanese troops of crossing into its territory, as tension between the two states rises.
The troops moved about 10km (six miles) into Upper Nile state, Information Minister Barnaba Marial Benjamin said.
On Saturday, Sudan said it would block oil exports from the South after accusing it of backing rebels fighting President Omar al-Bashir's government.
But Sudanese officials now say the ban will take effect in 60 days. Oil is vital to the economies of both states.
Full report at:
http://www.bbc.co.uk/news/world-africa-22840154
-----------
Southeast Asia
Indonesia gifts U.S. a Saraswati statue
Jun 10, 2013
"The statue symbolises values that parallel key principles of Indonesia-U.S. relations"
Indonesia, the country with the largest Muslim population in the world, has gifted an imposing 16-foot-high statue of Saraswati, the Hindu goddess of education and wisdom, to Washington DC.
The goddess' statue, on top of a lotus, stands tall a block away from the Indian Embassy in front of a statue of Mahatma Gandhi.
Hindus constitute just three per cent of the Indonesian population. A little over a mile from the White House, the statue is yet to be formally inaugurated, but has already become an attraction for city residents and large number of tourists who visit the city every day.
"Devi Saraswati is one of the Goddesses in Hinduism; the primarily practised religion among Balinese people in Indonesia, which itself is the world's biggest Muslim-majority country. Yet, her representation at the Indonesian Embassy was not decided out only of any religious grounds, but more on its symbolised values that parallel with several key principles of Indonesia-U.S. relations under comprehensive partnership, in particular education and people-to-people contact," a spokesperson at the Indonesian Embassy told PTI.
Full report at:
http://www.thehindu.com/news/international/world/indonesia-gifts-us-a-saraswati-statue/article4798380.ece?homepage=true
----------
Ahmadi Lawsuit against Mayor Crucial to All Religious Minorities: HRW
June 10, 2013
An Indonesian legal expert has described a lawsuit filed by the Ahmadiyah against the mayor of Bekasi over the shuttering of their mosque as a "very interesting development" that could serve as a channel for other religious minorities in the country to seek similar redress.
"If [the Ahmadiyah] lose it will be a long period of time before another [lawsuit]," said Andreas Harsono, Indonesia researcher at Human Rights Watch, "but if they win it will be important for all minorities in Indonesia."
The Indonesian Ahmadiyah Congregation announced last week it was taking mayor of Bekasi Rachmat Effendi to the State Administrative Court in Bandung over the latter's March 8 decision to seal the Al-Misbah mosque in Pondok Gede.
Full report at:
http://www.thejakartaglobe.com/news/ahmadi-lawsuit-against-bekasi-mayor-crucial-to-all-religious-minorities-hrw/
-------------
Kit Siang blames Dr M, BN for Malaysia's growing racial chasms
Jun 10, 2013
KUALA LUMPUR, June 10 ? DAP's Lim Kit Siang today blamed the increasing racial polarisation in the country on the ruling Barisan Nasional (BN) coalition and former prime minister Tun Dr Mahathir Mohamad.
Lim appeared to be responding in a tit-for-tat manner to Dr Mahathir's blog posting last Thursday, in which the former Umno president had accused DAP of causing the country's races to be driven even further apart.
"Dr Mahathir should instead point the finger at himself, at Umno and at the BN coalition for being the true culprits behind increasing racial polarization," the DAP parliamentary leader said in a statement today.
Full report at:
http://www.themalaysianinsider.com/malaysia/article/kit-siang-blames-dr-m-bn-for-malaysias-growing-racial-chasms/
-------------
Jamil Khir demands action against duo over slur on Prophet
Jun 10, 2013
KUALA LUMPUR, June 10 — Minister in the Prime Minister's Department Datuk Seri Jamil Khir Baharom today called for "appropriate action" to be taken against the two individuals who had allegedly insulted Prophet Muhammad on their Facebook accounts.
He said their alleged action was rude and unless such action was checked, it could spark anger in Muslims and lead to inter-religious disharmony.
Full report at:
http://www.themalaysianinsider.com/malaysia/article/jamil-khir-demands-action-against-duo-over-slur-on-prophet/
-------------
Malaysia set to be developed nation before 2020, says Najib
Jun 10, 2013
KUALA LUMPUR, June 10 — Malaysia will achieve its goal of becoming a developed nation ahead of the 2020 schedule based on current projections, Datuk Seri Najib Razak said today.
The prime minister pointed out that the economy grew by 5.6 per cent last year, while Malaysia was touted as the 12th best country in the world to do business and the 15th most competitive economy internationally, according to the World Bank's recent Doing Business Report and the Institute for Management Development business school, based in Switzerland, respectively.
Full report at:
http://www.themalaysianinsider.com/malaysia/article/malaysia-set-to-be-developed-nation-before-2020-says-najib/
-------------
North America
Since 9/11, Surveillance Made Easier
June 10, 2013
Americans' expectations of privacy have diminished remarkably since Sept. 10, 2001 — and only partly because of the terror attacks that happened the next day.
Here are seven ways in which our world has become a less private place:
• In the wake of the terror attacks on New York City and Washington, D.C., the USA PATRIOT Act of 2001 gave the federal government unprecedented access to telephone and computer exchanges and expanded the government's right to wiretap. But it also dictated financial, library, travel, video rental, and phone, medical, church; synagogue or mosque records held by third parties can be searched without your knowledge or consent, as long as the government says it is acting against terrorism.
Full report at:
http://www.saudigazette.com.sa/index.cfm?method=home.regcon&contentid=20130610169209
-------------
Afghan, Pakistan delegate spar at US-Islamic forum
By Salman Siddiqui
June 10, 2013
After decades of war in Afghanistan and its spillover into Pakistan, the level of mistrust between the two countries today is at an all-time high.
This became evident even during the high voltage plenary session 'Transitions in Afghanistan and Pakistan' that was held yesterday at the 10th US-Islamic World Forum 'A Decade of Dialogue'.
Numerous tongue in cheek yet delightful exchanges occurred between Pakistan's Hussain Haqqani and Afghanistan's Amrullah Saleh. Eventually, the forum proved that it was only through dialogue that one could bridge the gap between the two countries.
Full report at:
http://www.gulf-times.com/qatar/178/details/355735/afghan%2c-pakistan-delegate-spar-at-us-islamic-forum
-------------
Iran, Jordan, Pakistan and Egypt most subject to US surveillance
9 June 2013
Iran, Jordan, Pakistan and Egypt were the countries most subjected to U.S. intelligence surveillance, The Guardian reported on Sunday, quoting what it said were top secret documents.
The documents, according to the paper, showed a NSA data-mining tool recording and analyzing intelligence. The tool has been referred to as 'Boundless Informant,' which collects and gathers data from both computers and telephone networks.
Full report at:
http://english.alarabiya.net/en/News/world/2013/06/09/Report-Iran-Jordan-Pakistan-and-Egypt-most-subject-to-US-surveillance.html
----------
Exposed US spy programme for better world, former CIA worker Edward Snowden says
Reuters | Jun 10, 2013
LONDON: A former CIA employee working as a contractor at the US National Security Agency said he was the man who had leaked details of a top secret US surveillance programme, acting out of conscience to protect "basic liberties for people around the world."
Holed up in a hotel room in Hong Kong, Edward Snowden, 29, said he had thought long and hard before publicising details of an NSA programme code named PRISM, saying he had done so because he felt his country was building an unaccountable and secret espionage machine that spied on every American.
Full report at:
http://timesofindia.indiatimes.com/world/us/Exposed-US-spy-programme-for-better-world-former-CIA-worker-Edward-Snowden-says/articleshow/20514137.cms
-------------
US Zionist Lobby Reels From Resistance al-Qusayr Victory
By Franklin Lamb
09 June, 2013
Beirut: Although al-Qusayr may not be the decisive battle for Syria, it is irrefutably an important turning point in the crisis which has given the regime much sought military momentum. Plenty of adjectives and some clichés are being bandied about from Washington to Beirut to describe the al-Qusayr battle results and significance. Among them are game-changer, mother of all battles, a new regime approach to fighting, altered balance of power, critical turning point in the civil war, and so on.
Full report at:
http://www.countercurrents.org/lamb090613.htm
-------------
WikiLeaks trial shifting to Afghan war video
June 10, 2013
FORT MEADE, Md. (AP) — The court-martial of a U.S. Army private who gave troves of classified material to the website WikiLeaks is shifting in its second week to specific items he sent.
The trial of Pfc. Bradley Manning resumes Monday at Fort Meade, near Baltimore.
The prosecution lineup includes two witnesses familiar with video of a 2009 U.S. airstrike in Afghanistan that killed at least 26 civilians.
Full report at:
http://www.guardian.co.uk/world/feedarticle/10831380
-------------
US close to deciding on arming Syrian rebels: Report
AP | Jun 10, 2013
WASHINGTON: The Obama administration could decide this week to approve lethal aid for Syrian rebels and will weigh the merits of a less likely move to send in U.S. airpower to enforce a no-fly zone over the nation wracked by two years of civil war, officials said Sunday.
White House meetings are planned over the coming days as Syrian President Bashar Assad's government forces are apparently poised for an attack on the key city of Homs, which could cut off Syria's armed opposition from the south of the country and clear a path for the regime from Damascus to the Mediterranean coast. As many as 5,000 Hezbollah fighters are now in Syria, officials believe, helping the regime press on with its campaign after capturing the town of Qusair near the Lebanese border last week.
Full report at:
http://timesofindia.indiatimes.com/world/us/US-close-to-deciding-on-arming-Syrian-rebels-Report/articleshow/20515248.cms
-------------
Pakistan
Minority Legislator raises fears of Hindu exodus from Sindh
June 10, 2013
ISLAMABAD: A Hindu legislator has cautioned the new administration against a possible exodus of his community members from the country. At the same time, he called for quick and effective legislation to safeguard the rights of minority communities in Pakistan.
Dr Mahesh Malani, the only non-Muslim politician who was elected to the Sindh Assembly from PS-61 (Tharparkar), claimed that discrimination against Hindus, the country's largest minority group, was forcing his community members to migrate to 'safer places'.
"The increasing sense of insecurity, caused by issues like forced conversion of Hindu girls to Islam, is compelling the community members to migrate to other places [like India]," said Dr Malani, who contested the May 11 elections on the PPPP ticket.
The Hindu legislator, who has been pushing for a proposed law seeking registration of Hindu marriages since 2008, said the government should form committees at the district level to deal with such cases immediately.
Full report at:
http://tribune.com.pk/story/561224/legislator-raises-fears-of-hindu-exodus-from-sindh/
-------------
Taliban wants govt to distance itself from drone attacks
UMER FAROOQ
Jun 10, 2013
ISLAMABAD: Apparently, the chances of direct talks between the newly elected government and Tehrik-i-Taliban Pakistan (TTP) have just vanished after the Taliban withdrew their offer of talks in the wake of the killing of one of their leaders in a recent drone attack.
Political insiders say that Prime Minister Nawaz Sharif is seriously trying to woo the Taliban leadership back into the negotiation process which could ultimately lead the two sides onto the arbitration table.
The strong condemnation of latest drone attack on last Friday by the Sharif government was just intended to convey this message to the Taliban leadership that his government was neither party, nor complacent in the continued campaign of drone attacks in the Pakistani tribal areas.
Full report at:
http://beta.dawn.com/news/1017274/taliban-wants-govt-to-distance-itself-from-drone-attacks/?commentPage=1&storyPage=2
-------------
Four dead, 18 injured as Lyari becomes a battlefield again
June 10, 2013
KARACHI: After a lull of a couple of weeks, yet another wave of violence swept over Lyari on Sunday, leaving four dead and 18 injured in its wake.
After the bout of violence in the area about three weeks ago, the IGP and chief secretary had formed a peace committee under the supervision of deputy commissioner South Mustafa Jamal Qazi. The 10-member committee — which had law enforcers and members of the Kutchi Rabita Committee (KRC) as well as the outlawed Peoples Amn Committee — was to restore peace in the area.
Full report at:
http://tribune.com.pk/story/561160/four-dead-18-injured-as-lyari-becomes-a-battlefield-again/
-------------
Karachi violence claims 5 lives
June 10, 2013
KARACHI: Following a violent Sunday, Karachi saw five people die in different parts of the city due to the deteriorating law and order situation, Express News reported on Monday.
Two bodies were recovered from the Bin Qasim area, while unidentified armed men attacked a car in Nazimabad, leaving one dead.
The ongoing violence in the restive Lyari also claimed two lives.
Lyari unrest
As the wave of violence in parts of Lyari continues for the third day, armed rival groups in the area hurled 10 hand grenades on Monday.
Full report at:
http://tribune.com.pk/story/561308/five-injured-as-rival-groups-hurl-10-hand-grenades-in-lyari/
-------------
Militants attack Nato containers in Khyber; six killed
ZAHIR SHAH SHERAZI
Jun 10, 2013
PESHAWAR: Six people were killed when militants attacked three Nato containers in Shagai area of Jamrud tehsil of the Khyber tribal region on Monday.
Security forces were engaged in a firefight with the militants who attacked the containers and set them on fire.
Full report at:
http://beta.dawn.com/news/1017271/militants-attack-nato-containers-in-khyber-three-killed
-------------
Peace dialogue: Atmosphere being created for Taliban talks, says minister
June 10, 2013
ISLAMABAD: The government has started creating a conducive environment to pave way for initiating peace talks with the Taliban which had come to a halt after the Taliban leadership withdrew their peace offer after the assassination of one of their top leaders in a drone attack last month.
This was stated by newly-appointed Minister of Information Senator Pervaiz Rashid while exclusively talking to The Express Tribune here on Sunday.
"The atmosphere has become tense with the Taliban leadership ever since a drone attack killed Taliban deputy chief Waliur Rehman last month. The new government is making efforts to create a favourable environment so that peace talks could be initiated," the information minister added.
Full report at:
http://tribune.com.pk/story/561222/peace-dialogue-atmosphere-being-created-for-taliban-talks-says-minister/
-------------
Akbar Bugti case: Arrest warrants issued for Shaukat Aziz, Pervez Musharraf
June 10, 2013
QUETTA: An Anti-Terrorism Court (ATC) issued non-bailable arrest warrants against former dictator Pervez Musharraf and former prime minister Shaukat Aziz in connection with the Akbar Bugti murder case on Monday, reported Express News.
The arrest warrants were issued due to repeated absence from the court. The former governor of Balochistan, Owais Ghani and former deputy commissioner of Dera Bugti, Samad Lasi were also included in the list of issued arrest warrants.
Full report at:
http://tribune.com.pk/story/561337/akbar-bugti-case-arrest-warrants-issued-for-shaukat-aziz-pervez-musharraf/
-------------
PTI submits anti-drone resolution in Punjab Assembly
Jun 10, 2013
LAHORE: The Pakistan Tehrik-i-Insaaf (PTI) on Monday submitted a resolution in the Punjab Assembly calling for the stopping of drone attacks.
The resolution, submitted in the assembly secretariat by PTI leader Mian Aslam Iqbal, said US drone attacks were a violation of Pakistan's sovereignty and territorial integrity.
The resolution added that innocent civilians were dying in these attacks and demanded the federal government to abolish all agreements pertaining to drone attacks with the United States.
Full report at:
http://beta.dawn.com/news/1017288/pti-submits-anti-drone-resolution-in-punjab-assembly
-------------
KP may seek army pullout from Swat: JI leader
AMIR WASIM
Jun 10, 2013
ISLAMABAD: The PTI-led coalition government in Khyber Pakhtunkhwa is about to formally demand that the centre should withdraw army from Swat and Malakand in a phased manner because it believes it to be an important step for establishing peace in the province and adjacent tribal areas.
The Amir of the KP chapter of Jamaat-i-Islami (JI), Prof Mohammad Ibrahim, disclosed on Sunday that Chief Minister Pervez Khattak had already raised the issue during a recent meeting with Peshawar's Corps Commander Lt-Gen Khalid Rabbani.
Full report at:
http://beta.dawn.com/news/1017224/kp-may-seek-army-pullout-from-swat-ji-leader
-------------
Troops take over strategic heights in Tirah
Jun 10, 2013
LANDI KOTAL: Security forces regained control of some strategic heights in Tirah valley after a fresh offensive in which 35 militants were killed, said a statement issued by the ISPR on Sunday.mi
One soldier lost his life and five others suffered injuries during the operation which started on June 6 and continued till Saturday.
The ISPR said that security forces had taken control of the centrally located Dary Stana ridge overlooking most areas of Maidan and Kukikhel. "Security forces have successfully flushed out Taliban from their stronghold of Darwazgai Kandao," it said. Fighting was more intense in Karna Khel, Barani and Zarkanai areas.
Full report at:
http://beta.dawn.com/news/1017213/troops-take-over-strategic-heights-in-tirah
-------------
'Live and let live': Balochistan CM
Jun 10, 2013
QUETTA: Dr Abdul Malik Baloch, who sworn in as the chief minister of Balochistan at an impressive ceremony at the Governor's House on Sunday, vowed to restore peace in the troubled province.
Governor Zulfiqar Magsi administered the oath to the chief minister. In his first speech to the 65-member assembly as the CM, Abdul Malik said that bringing peace and prosperity to the province would be the first priority of his government.
He said that to bring peace in the troubled province, his government would give books to Baloch youth instead of guns, and negotiate with rebel groups living in the mountains.
Full report at:
http://www.dailytimes.com.pk/default.asp?page=2013\06\10\story_10-6-2013_pg1_7
-------------
Gilani 'claims immunity' against NAB arrest orders
Jun 10, 2013
ISLAMABAD: Former prime minister Yousaf Raza Gilani has warned against NAB's efforts to arrest him, harping on the old familiar "immunity" theme. Talking to journalists on Sunday, Gilani reportedly cautioned against his arrest, arguing that since he is a former prime minister he is immune from such action. "Since I defended President Zardari with all my efforts, I would employ the same efforts for my immunity as well," he announced. NAB has summoned Gilani along with former prime minister and his successor Raja Pervez Ashraf today (Monday) in connection with the appointment of former OGRA chief Tauqeer Sadiq. NAB would be deciding about putting the names of these two former premiers on the ECL (Exit Control List) after being served with notices. online
http://www.dailytimes.com.pk/default.asp?page=2013\06\10\story_10-6-2013_pg7_18
---------
India
India offers support in training of Maldivian judiciary
By Mohamed Naahee | June 10th, 2013
The Indian government has offered to assist in training judicial officers and judges in the formation of rules and regulations, reports the Times of India.
According to the report, the offer was conveyed to Chief Justice Ahmed Faiz Hussain on Monday by the Indian External Affairs Minister Salman Khurshid.
Chief Justice Ahmed Faiz Hussain is on a five day official visit to India at the invitation of the Chief Justice of India, Altmas Kabir.
According to Indian media reports, Faiz Hussain is set to take part with the Chief Justice of India and other Supreme Court Judges which will also be attended by Indian Law Minister Kapil Sibal and External Affairs Minister Khurshid.
Full report at:
http://minivannews.com/politics/india-offers-support-in-training-of-maldivian-judiciary-59271
-------------
Lawyers violate SC order at Babri Masjid site
Arshad Afzal Khan, TNN | Jun 10, 2013
AYODHYA: The Supreme Court order restricting presence of people in the sanctum sanctorum during prayers at the disputed Ram Janmabhoomi was violated on Sunday by three different parties involved in the case. Three lawyers entered the temple at the time of aarti and had to be removed forcibly by officials. However, both the violators and the administration tried to play down the incident saying it was a minor issue.
The SC through its various orders has restrained religious activities on the acquired land of Babri Masjid and Ram Janmabhoomi. Only the chief priest Acharya Satyender Das, appointed by the court, is authorised to perform the daily puja at the disputed shrine. Till the time puja is performed, the court has barred entry of all others.
Full report at:
http://timesofindia.indiatimes.com/india/Lawyers-violate-SC-order-at-Babri-Masjid-site/articleshow/20514414.cms
-------------
Vanzara, Pandey were at Ishrat shootout site: CBI
Prashant Dayal, TNN | Jun 10, 2013
AHMEDABAD: The order to fire on unarmed Ishrat Jahan and three others may well have been given by none other than top IPS officers P P Pandey and D G Vanzara. The presence of two commandos - their bodyguards - at the scene of offense in June 2004 has led the CBI to probe into this possibility.
CBI officials claim to have gathered evidence that suggests that Pandey and Vanzara were present at the Kotarpur waterworks on the outskirts of the city on June 14, 2004, when the four alleged terrorists were gunned down. Vanzara has already been arrested by the CBI, while Pandey continues to dodge the probe agency.
Full report at:
http://timesofindia.indiatimes.com/india/Vanzara-Pandey-were-at-Ishrat-shootout-site-CBI/articleshow/20513461.cms
-------------
Population growth in J&K declines 6 per cent; literacy rate improves
10 June 2013
Jammu and Kashmir has contained its population growth by around six per cent in the decade from 2001 to 2011, according to figures released by state Directorate of Census Operations here on Monday.
From 29.43 per cent in 2001, the population growth has declined to 23.64 per cent in 2011 in the State.
However, the overall child sex ratio in Jammu and Kashmir has decreased from 941 in 2001 to 862 in 2011.
Full report at:
http://www.thehindu.com/news/national/other-states/population-growth-in-jk-declines-6-per-cent-literacy-rate-improves/article4800504.ece
------------
Mideast
Seven killed in clashes between Shiite protesters and security forces in Sanaa
AP | Jun 10, 2013
SANAA: Clashes between Shiite protesters and security forces in Yemen's capital on Sunday killed seven people and wounded more than 80, a Yemeni security official said.
In another part of the country, a military official said an airstrike, believed to be a US drone attack, killed six suspected al-Qaida militants in the eastern province of al-Jawf, bordering Saudi Arabia.
The violent protest and al-Qaida's presence throughout parts of Yemen revealed how nearly a year and a half after a new government took office, the impoverished Arab country is still struggling for stability.
Full report at:
http://timesofindia.indiatimes.com/world/middle-east/Seven-killed-in-clashes-in-Yemen-capital-Sanaa/articleshow/20515988.cms
-------------
Netanyahu, colleague poles apart on two-state solution
June 10, 2013
OCCUPIED JERUSALEM – Israeli Prime Minister Benjamin Netanyahu on Sunday reiterated his commitment to a Palestinian state, after his deputy defense minister said the government would not support a two-state solution.
Speaking at the opening of the weekly Cabinet meeting, Netanyahu – who in 2009 declared his support of a two-state solution – said he and US Secretary of State John Kerry will "try to make progress to find the opening for negotiations with the Palestinians, with the goal of reaching an agreement".
Full report at:
http://www.saudigazette.com.sa/index.cfm?method=home.regcon&contentid=20130610169196
-------------
Israel bars Fatah official from conference
Mohammed Mar'i
June 10, 2013
RAMALLAH – Israeli Defense Minister Moshe Ya'alon decided to block a senior Palestinian official entry to Israel to attend a conference, an Israel lawmaker said on Sunday.
Zahava Gal-On, chairwoman of the leftist Meretz party, told the Israeli radio that Ya'alon refused to allow Jibril al-Rajoub, a member of President Mahmoud Abbas Fatah's Central Committee, into Israel in order to take part in the party's conference later on the day.
Full report at:
http://www.saudigazette.com.sa/index.cfm?method=home.regcon&contentid=20130610169204
-------------
Israeli figures show spike in new settler homes
Jun 10 2013
Palestinians have criticised Israel after official statistics showed a rise in new house building in West Bank settlements.
A report by Israeli settlement watchdog, Peace Now, says they have reached a seven-year high.
Building began in 865 settler homes in the first quarter of this year compared to 313 in the same period of 2012.
The data has been published as US Secretary of State John Kerry tries to revive Israel-Palestinian peace talks.
Full report at:
http://www.bbc.co.uk/news/world-middle-east-22839429
-----------
Turkish troubles highlight cultural divide
10 June 2013
Prime Minister Tayyip Erdogan stands before a sea of cheering faithful waving Turkish flags and, to shouts of "Allahu Akbar," (God is Greatest), summons the spirit of pious Ottoman poets in denouncing protesters who challenge his power.
Across Istanbul, the same flags, white crescent moon and star on a red background, are raised; but they proclaim what some Erdogan critics see as a different kind of Turkey.
Riots and protests have highlighted an underlying schism in Turkish society reaching back to the 1920s when Mustafa Kemal Ataturk forged a secular republic from the ruins of an Ottoman theocracy. He banished Islam from public life, replaced Arabic with Latin script and promoted Western dress and women's rights.
Full report at:
http://english.alarabiya.net/en/life-style/2013/06/10/Turkish-troubles-highlight-cultural-divide.html
-----------
Turkey PM patience 'has limit' as protest violence flares
Jun 10, 2013
ANKARA: Turkey's defiant Prime Minister Recep Tayyip Erdogan told supporters his patience "has a limit" as police fired tear gas and jets of water at demonstrators in unrelenting protests against his government's decade-long rule.
As tens of thousands held noisy demos on Sunday in Istanbul, the capital Ankara and the western city of Izmir, Erdogan went on the offensive, firing up loyalists of his ruling Justice and Development Party (AKP) with rallies of his own across three cities.
"We remained patient, we are still patient but there's a limit to our patience," Erdogan told thousands of cheering AKP supporters in Ankara on a 10th day of unrest.
Full report at:
http://beta.dawn.com/news/1017239/turkey-pm-patience-has-limit-as-protest-violence-flares
----------
Europe
Mali militants remain a threat to West Africa, UN chief says
June 10, 2013
UNITED NATIONS — Al Qaeda-linked militants in Mali remain a threat to all West Africa, UN leader Ban Ki-moon said in a report Sunday in which he also raised concerns about a planned election next month.
But Ban raised no objections to a UN peacekeeping force starting to deploy on July 1, even though he said it was poorly equipped and trained.
The UN force is to take over security duties from French forces who entered Mali in January to halt an Islamist advance and help the government re-establish its authority over the vast country.
Full report at:
http://www.saudigazette.com.sa/index.cfm?method=home.regcon&contentid=20130610169215
-------------
Britain may be an Islamic nation within 20 years
June 10, 2013
CHARLOTTE – Way back in 2003 an article in a British newspaper warned about a growing fear that the U.K. was on a fast track to becoming an Islamic nation. That was just ten years ago, and it seemed farfetched at the time. Now the British government has published a study with data that shows Islam will become the dominant religion within the next generation.
The concern in the 2003 article focused on the fact that Britain, and continental Europe for that matter, are becoming increasing secular while immigrant populations of devoted Muslims are growing.
Full report at:
http://c.washingtontimes.com/neighborhood/what-world/2013/jun/7/britain-may-be-islamic-nation-within-20-years/
-------------
Ban, Karzai repose confidence in Nawaz
June 10, 2013
UNITED NATIONS / KABUL: UN Secretary General Ban Ki-moon and Afghan President Hamid Karzai have expressed confidence in the leadership of new Pakistani Prime Minister Nawaz Sharif.
In a congratulatory message, the UN chief said he was confident that under Nawaz's leadership, Pakistan would build on its democratic achievements and strengthen its existing partnership with the world body.
Full report at:
http://tribune.com.pk/story/561189/felicitation-ban-karzai-repose-confidence-in-nawaz/
-------------
UK mosques urged to install panic alarms and safe rooms
US Islamic group says British centres at greater risk than in other western country since the murder of Drummer Lee Rigby
Mark Townsend
June 10, 2013
An American Islamic group has been advising British mosques on security measures, including the installation of safe rooms and panic alarms, warning that they are at greater risk than in any other western country.
The Council on American-Islamic Relations (CAIR) has discussed its revamped security regulations with the Muslim Council of Britain (MCB) in light of the murder of Drummer Lee Rigby, 25, in Woolwich, south-east London, which it said had even provoked attacks in the United States.
Full report at:
http://www.guardian.co.uk/world/2013/jun/08/uk-mosques-panic-alarms-safe-rooms
-------------
Prince Harry saved soldier from homophobic attack
Press Trust of India
Jun 10 2013
London: Britain's Prince Harry intervened to prevent a soldier under his command being beaten up in a homophobic attack, according to a new book.
Trooper James Wharton, who is openly gay, writes that he was confronted by "six extremely angry infantry sergeants" who accused him of spreading rumours about one of their soldiers.
According to a report in the Sunday Times, Wharton was serving as a gunner in the Household Cavalry during a training exercise in Canada when he told the prince he was "about to be murdered".
Full report at:
http://www.indianexpress.com/story-print/1127073/
-----------
English Defence League rally bomb plotters jailed
Jun 10 2013
Six men from the West Midlands have been jailed for up to 19-and-a-half years each for planning to bomb an English Defence League rally.
Omar Khan, Jewel Uddin, Mohammed Hasseen, Mohammed Saud, Zohaib Ahmed and Anzal Hussain had all admitted terrorism offences in April.
Five of them had taken a bomb, knives and sawn-off shotguns to last June's rally in Dewsbury, West Yorkshire.
But the plotters arrived two hours after the EDL event had ended.
The men, who all lived in or near Birmingham, were caught by chance after a car being used by two of them, and carrying weapons, was stopped by police on the M1 after the rally and found to have no insurance.
Full report at:
http://www.bbc.co.uk/news/uk-22841573
----------
South Asia
All seven militants in Taliban strike killed: Kabul Police
AFP | Jun 10, 2013
KABUL: Taliban militants on Monday launched a grenade and gun attack on Kabul airport, seizing two nearby buildings and firing on military facilities before being overwhelmed by Afghan security forces.
Two suicide bombers blew themselves up and all five other attackers were killed in fighting as elite Afghan troops stormed the half-built properties where the militants had holed up.
Loud explosions and sporadic bursts of small-arms fire erupted for at least four hours after the attack woke up residents of the Afghan capital at about 4:30am (1200 GMT).
"There were seven assailants -- two (suicide bombers) died detonating themselves and five others were killed in fighting," Kabul police chief Mohammad Ayoub Salangi told reporters.
Full report at:
http://timesofindia.indiatimes.com/world/south-asia/All-seven-militants-in-Taliban-strike-killed-Kabul-Police/articleshow/20516863.cms
-------------
Attacker in Afghanistan Hid Bomb in His Body
By ROD NORDLAND
June 10, 2013
KABUL, Afghanistan — Afghanistan's spy chief, Asadullah Khalid, was taking no chances.
A man had crossed into Afghanistan from Pakistan with important information he said he would only deliver personally to Mr. Khalid, who had just taken over as the head of the National Directorate of Security.
Mr. Khalid's aides took the visitor to an armored room in the basement of a safe house in Taimani, an upscale neighborhood in the capital city, for a security screening. They were no doubt mindful of what happened in September 2011 when a Taliban peace emissary was allowed to meet with a prominent Afghan peace envoy and then killed him with a bomb hidden in his turban.
Full report at:
http://www.nytimes.com/2013/06/09/world/asia/attacker-in-afghanistan-hid-bomb-in-his-body.html?_r=3&&pagewanted=print
-------------
Army leaders walk fine line as Afghan advisers
June 10 2013
Associated Press
Afghanistan (AP) — — In previous years, the U.S. Army would have helped the Afghan National Army if their troops had run out of fuel or money or run into some other logistical problem, but with the U.S. getting ready for a significant withdrawal, the Americans are teaching the Afghans to rely on themselves.
The U.S. military's new role of trying to train and mentor a young Afghan army comes after nearly 12 years of war. U.S. troops have borne most of the fighting over the past decade, but now the Afghan military is taking the brunt of a resilient insurgency while the U.S. takes on more of an advisory role.
Full report at:
http://www.guardian.co.uk/world/feedarticle/10831379
-------------
Karzai: did 'war on terror' encourage radical Islam?
10 June 2013
Afghan President Hamid Karzai said on Sunday the Muslim world was "in turmoil" and wondered whether the "war on terror" led by the United States since 2001 was to blame for the radicalization.
Addressing a forum on relations between the US and the Muslim world in Doha, Karzai declared: "The war on terror as it began in 2001 and moved forward until today has not been a happy one."
Full report at:
http://english.alarabiya.net/en/News/2013/06/10/Karzai-did-war-on-terror-encourage-radical-Islam-.html
-------------
Maldivian President launches his campaign for September polls
10 June 2013
Maldivian President Mohamed Waheed on Monday formally announced his candidature for the September Presidential elections and has chosen civil servant-turned politician Ahmed Thasmeen Ali as his running mate.
Mr. Thasmeen heads the Dhivehi Rayyithunge Party (DRP). He had visited India last year and had met with the top leadership, including Prime Minister Mamohan Singh.
Mr. Waheed on Monday officially began his campaign under the theme of 'Going Forward with the Nation', at the ceremony here.
Full report at:
http://www.thehindu.com/news/international/south-asia/maldivian-president-launches-his-campaign-for-september-polls/article4800511.ece
-----------
President Waheed ignored advice on GMR termination, PPM alleges
By Neil Merrett | June 9th, 2013
The Progressive Party of Maldives (PPM) has accused President Dr Mohamed Waheed of ignoring the advice of his coalition government by abruptly terminating the US$511 million airport development contract with Indian infrastructure group GMR last year.
PPM MP Ahmed Nihan said that while the PPM believed terminating the GMR contract had been the right decision, President Waheed had nonetheless personally taken an executive decision to cancel the agreement without listening to the party's advice in seeking a compromise with the company and the Indian government.
Full report at:
http://minivannews.com/politics/president-waheed-ignored-advice-on-gmr-termination-ppm-alleges-59260
-------------
Jamaat-e-Islami's Hamidur Rahman Azad to lose JS seat: Qamrul
Jun 10, 2013
Jamaat-e-Islami's Hamidur Rahman Azad will lose his parliamentary membership following his conviction for contempt of court, State Minister for Law Qamrul Islam on Monday.
The statement came a day after International Crimes Tribunal-2 jailed Azad and Jamaat acting secretary general Rafiqul Islam Khan for three months for his derogatory and provocative comments about the tribunals and its trial proceedings.
Full report at:
http://www.thedailystar.net/beta2/news/azad-to-lose-js-membership-qamrul/
-------------
Twin blasts rock Shahbagh
Jun 10, 2013
Unidentified miscreants blasted two cocktails in front of the Shahbagh Police Station in the capital on Monday immediately after a procession of Gonojagoron Mancha protesting the Jamaat-e-Islami-enforced daylong shutdown passed the place.
No-one was injured as very few people were out there on the street during the blasts, said police.
Two people riding a motorcycle threw the cocktails and sped away, Shirajul Islam, officer-in-charge of Shahbagh Police Station, told The Daily Star.
As Jamaat-e-Islami is observing a countrywide daylong shutdown since 6:00am, a few hundred people under the banner of Gonojagoron Mancha brought out an anti-hartal procession from Projonmo Chattor around noon.
Full report at:
http://www.thedailystar.net/beta2/news/capital-sees-slack-hartal/
-------------
URL: https://newageislam.com/islamic-world-news/new-age-islam-news-bureau/afghan-taliban--behead-two-boys-in-kandahar--for-spying/d/11999