New Age Islam News Bureau
3 March 2014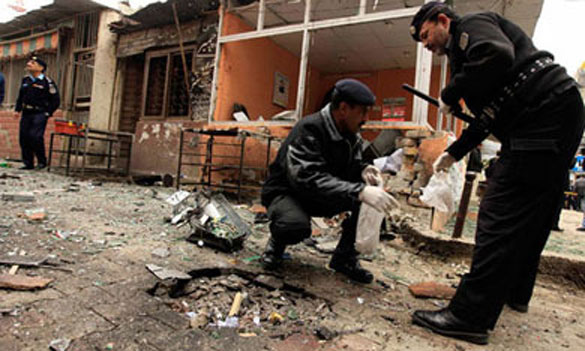 Policemen collect evidence from the site of a bomb attack at the district court in Islamabad, March 3. — Photo by Reuters
-------------
South Asia
• Action If National Anthem, Flag Ignored At Madrasas in Bangladesh
• 27 Taliban militants killed or injured in Afghan military operations
• Betrayed by US Karzai loses trust in West, says Al Qaeda 'a myth'
• Beijing blames Uighur terrorists for knife rampage
• Terrorists operate inside jail, says Bangladesh minister
• Militants abduct 40 residents of Nangarhar province
Arab World
• Syrian Militants Turn to Well-Paid Spies for Israeli Intelligence
• Christians Given Protected 'Second Class Citizen' Status in Syrian City by Rebels
• Egypt: Army Kills Six Takfiris in North Sinai
• Syria: Hizbollah recruitment surge as sectarian conflict spreads
• Western media focus on jihadism sidelines the fight for democracy in Syria
• Starving rebels turn over weapons for food in Syria
• Military Operations carried out against Militants in Several Syrian Areas
• Egypt presidential hopeful won't seek Islamist votes
• Muslim World League Conference looks for solutions to Muslim world's problems
Pakistan
• Judge, 10 Others Killed, 25Injured in Islamabad Court Blasts, Firing
• Anti-talks Taliban 'to face armed Imran'
• Pakistan halts air strikes against Taliban
• 'Surrender, leave or live in peace': government committee member to foreign terrorists
• If Taliban want peace talks, PPP supports it too
• Two security men killed, seven injured in Khyber explosion
• Full-scale North Waziristan operation not in Pakistan's favour: Imran
Africa
• 90 Dead in Boko Haram Terrorist Attacks in Nigeria
• Sudan negotiator blames rebels for failure of Addis Ababa talks
• Libya MPs shot and wounded as congress stormed
• Central African Muslims form new 'self-defence' group
Europe
• UKIP Attempts To Veil Debate on Sharia Law, but Journalists Refuse To Leave
• US-Linked 'Bin Laden of Russia' Called to Fight in Ukraine
• Ukraine mobilizes army after Putin's 'declaration of war'
• Fighting in Damascus district halt aid to Palestinians: United Nations
Mideast
• Israel aims to 'silence' sound of prayer calls in Al-Quds
• Turkish PM calls on Islamic scholar Gülen to stop interfering with the country
• Assad Considers Iran Only Reliable Supporter of Syria: Iranian MP
• Iran's President Blasts World Powers' Monopoly of Science
• Al-Qaeda fighter killed in Yemen drone attack
• Orthodox Jews protest against Israeli draft law
India
• Islamic Banking System under consideration in India – Union Minister
• Genie of terrorism is out of bottle in Pakistan: Indian journalist
• Hyderabad twin blasts accused says al Qaeda associated with IM
• Jamaat-e-Islami Hind Releases Public Manifesto For General Elections 2014
• Top Western Universities seek academic tie-ups with Jamia Millia Islamia
North America
• St. Paul police now allow employees to wear Hijab
• No change in policy against communal riots in Gujarat: US
• Obama warns Israel's Netanyahu over peace talks failure
• Man who 'conspired with Jihad Jane' loses second extradition case
Southeast Asia
• As anti-Shia campaign hits the pocket, minister seeks PAS's help to restore Iran ties
• YIRMI In Collaboration With Indonesian Islamic Universities To Produce More Islamic Books
• Vincent Tan is at it again, this time he calls British media a 'little racist'
Compiled by New Age Islam News Bureau
URL: https://www.newageislam.com/islamic-world-news/new-age-islam-news-bureau/action-if-national-anthem,-flag-ignored-at-madrasas-in-bangladesh/d/55964
------------
South Asia
Action If National Anthem, Flag Ignored At Madrasas in Bangladesh
Mar 3, 2014
Education Minister Nurul Islam Nahid yesterday told parliament that the allegation that madrasas were not showing respect to the two symbols of nationality was partly true
The government will take action against madrasas if they do not perform the national anthem and hoist the national flag.
Education Minister Nurul Islam Nahid yesterday told parliament that the allegation that madrasas were not showing respect to the two symbols of nationality was partly true.
"If proved, necessary action will be taken against such madrasas," he said in response to a question raised by Awami League MP Kamal Ahmed Majumdar.
Kamal also alleged that many madrasas usually taught their students to stand against the Awami League and the spirit of the Liberation War.
"The Awami League is a party established by Bangabandhu Sheikh Mujibur Rahman and led the Liberation War of the county. If any madrasa teaches something against the Awami League, action will be taken, if proved," Nahid said.
Refuting allegations of question paper leak in public examinations, the minister claimed that a vested interest group was trying to spread rumour.
"No specific allegation of leak was found regarding SSC and HSC examinations. We will take action based on specific allegations," Nahid said answering Awami League MP Habibur Rahman Mollah.
In response to another question from AKM Jahangir Hossain, the minister said there were 1,519 Ebtedayee madrasas which get allowance from the government.
http://www.dhakatribune.com/law-amp-rights/2014/mar/03/action-if-national-anthem-flag-ignored-madrasas#sthash.3GZy9J7x.dpuf
------------
27 Taliban militants killed or injured in Afghan military operations
Mar 03 2014
At least 27 Taliban militants were killed or injured following military operations conducted by Afghan national security forces in the past 24 hours.
The operations were jointly conducted by Afghan national police, Afghan national army and Afghan Intelligence – National Directorate of Security (NDS) operatives.
The operations were conducted in Kabul, Kunar, Nangarhar, Laghman, Kandahar, Paktika and Helmand provinces of Afghanistan.
Interior ministry of Afghanistan following a statement confirmed 24 Taliban militants were killed and 3 others were injured during the operations.
The statement further added that 11 Taliban militants were also arrested during the military operations.
Afghan security forces discovered and seized weapons, ammunition and explosives during the operations, interior ministry said in its statement.
In separate operations, Afghan national police forces discovered and seized six improvised explosive device (IEDs) from Kabul, Uruzgan and Khost provinces.
According to interior ministry, the IEDs were recently planted by Taliban militants to carry out terrorist attacks in these provinces.
http://www.khaama.com/27-taliban-militants-killed-or-injured-in-afghan-military-operations-2855
-----------
Betrayed by US Karzai loses trust in West, says Al Qaeda 'a myth'
Mar 3, 2014
In an emotional interviewthe departing Afghan president tried to explain why he has been such a harsh critic of the 12-year-old US war effort in his country. He said he's deeply troubled by all the casualties Afghanistan has seen. Karzai feels betrayed by what he calls an insufficient American focus on targeting Taliban sanctuaries in Pakistan. He is sure public criticism was the only way to guarantee any response from the US side.
Karzai assumes that America was indifferent to Afghan interests when waging the war.
"Afghans died in a war that's not ours," he said in an interview, the first in two years.
In Karzai's opinion, al Qaeda is "more a myth than a reality"and the majority of the United States' prisoners here were innocent. He's certain that the war was for the US security only and for the Western interest.
Some Americans call Karzai a delusional leader, an ally who became an adversary during the 12 years of his presidency.
In the latest blowup, he has refused for months to sign a security agreement that his government had negotiated with the United States that would permit a residual U.S. force to remain here beyond 2014. He has added several new demands in exchange for signing the deal.
But in a phone call with Karzai last week, President Obama said he will accept having the winner of Afghanistan's April presidential elections sign the pact. Karzai indicated that he views that as a best-case scenario. He won't have to submit to U.S. demands — such as the continuation of counter­terrorism operations — but the popular security agreement will probably still be finalized.
"It's good for them to sign it with my successor," the Afghan leader said.
On the security agreement, as with several other issues, Karzai's antagonistic approach seems to have succeeded, in the sense that he has forced U.S. officials to move deadlines — and even to reshape policy.
The main question is: was the war worth it, after all?
"I am of two hearts here. When I see good, I am in approval. When I see the losses of Afghan people, our children, maimed and killed, I'm in disapproval,' he said. "Maybe I can give you an answer of yes or no two, three or five years from now, when my emotions have subsided. Right now, I'm full of emotions."
Karzai has also said that US forces should have done more to target the Taliban in Pakistan, rather than bomb Afghan villages.
But before he resigns, Karzai has a few more words to address his American partners with: "To the American people, give them my best wishes and my gratitude. To the US government, give them my anger, my extreme anger," Karzai added.
Voice of Russia, the Washington Post
http://voiceofrussia.com/2014_03_03/Betrayed-by-US-Karzai-loses-trust-in-West-says-Al-Qaeda-a-myth-8452/
------------
Beijing blames Uighur terrorists for knife rampage
Saibal Dasgupta,TNN | Mar 3, 2014
BEIJING: China has blamed Muslim Uighur separatists from Xinjiang region for the knife attack that killed 33 people and left over 130 injured at a railway station in the southwestern Chinese city of Kunming late on Saturday.
The attackers included at least two women, one of whom was shot dead and another nabbed by the police. Two other male assailants were shot dead by the police, state news agency Xinhua reported . The police are hunting for at least five more assailants who escaped from the scene after the bloody frenzy that forced passengers to run for their lives leaving behind bags and luggage. A massive manhunt has been launched in Xinjiang, which neighbours Pakistan and has been the hot spot for recurrent incidents of violence.
State media said the knifings were "an organized, premeditated violent terrorist attack" . There was evidence at the railway station that showed separatists were responsible , cited the Kunming government. It took place days ahead of high-profile political meetings in Beijing. Information from Kunming suggested some of the attackers wore black clothing, and used long daggers to hack people in rapid succession.
http://timesofindia.indiatimes.com/world/china/Beijing-blames-Uighur-terrorists-for-knife-rampage/articleshow/31313248.cms
------------
Terrorists operate inside jail, says Bangladesh minister
Mohosinul Karim
Mar 3, 2014
Many people are in prison without any reason, says Asaduzzaman
State Minister for Home Affairs Asaduzzaman Khan has said the detained terrorists of the country are operating their misdeeds inside jail.
The junior minister made the remarks at his office on Monday afternoon.
"Terrorists do not want to walk out from jail as they can carry on their criminal activities inside jail.
The government is trying to dispose of the cases against such criminals. If they are found guilty, they will be punished. Otherwise they will be released."
He said the ministry has received the probe report on JMB snatching incident on Sunday evening.
Full report at:
http://www.dhakatribune.com/bangladesh/2014/mar/03/terrorists-operate-misdeeds-inside-jail-says-minister#sthash.9ti0fb5f.dpuf
------------
Militants abduct 40 residents of Nangarhar province
Mar 3, 2014
Anti-government armed militants abducted nearly 40 residents of Goshta and Lalpur districts in eastern Nangarhar province of Afghanistan.
According to local government officials, the residents were charged for supporting the government of Afghanistan by the anti-government armed militants.
Provincial governor spokesman, Ahmad Zia Abdulzai, confirmed militants abducted nearly 40 residents of Goshta and Lalpur districts.
Abdulzai further added that 15 abducted residents of Goshta and Lalpur districts were released.
Full report at:
http://www.khaama.com/militants-abduct-40-residents-of-nangarhar-province-2853
------------
Arab World
Syrian Militants Turn to Well-Paid Spies for Israeli Intelligence
Mar 3, 2014
The Israeli intelligence authorities maintain well-paid links with Syria militants, giving them considerable amounts of money in return for information, a report said.
Abu Dhabi-based newspaper The National reported on Sunday that at least three different militant groups have been in regular contact with Israeli intelligence officials, Al-Alam reported.
The daily quoted a source from one of the militant groups in Southern Syria as saying that all groups have received more than one tranche of funding worth hundreds of thousands of dollars from Israel.
Full report at:
http://english.farsnews.com/newstext.aspx?nn=13921212000272
-----------
Christians Given Protected 'Second Class Citizen' Status In Syrian City By Rebels
March 03, 2014
The Islamic State in Iraq and the Levant (ISIL), an extemist rebel group trying to impose sharia law in Syria, has reportedly forced Christians in a Syrian city this week to begin paying a protection tax, limit their practice of Christianity for protection by the rebels.
The Christians signed a document outlining the conditions of their "second class" citizenship, called "dhimmi" in Islam.
Reuters reported that the Islamist militants said that Christians would no longer be allowed to renovate churches, display religious symbols outside churches, pray in public, ring church bells, sell wine to Muslims or drink wine in public. Christians would now also be prohibited from owning weapons.
"The document, dated Sunday and disseminated through Islamist Twitter accounts, states that the Christian community in the province of Raqqa, captured last March by the Islamic State of Iraq and the Levant (ISIS), was recently given three options: to convert to Islam; to remain Christian but pledge submission to Islam; or to 'face the sword. They opted for the second of those choices, known as dhimmitude," the Times of Israel reported Thursday.
Every Christian man was now to "pay a tax of up to 17 grams of gold, a levy that was common in Muslim states centuries ago,"
Full report at:
http://www.theglobaldispatch.com/christians-given-protected-second-class-citizen-status-in-syrian-city-by-rebels-28510/
------------
Egypt: Army Kills Six Takfiris in North Sinai
Mar 3, 2014
Second Field Army forces killed six takfiri elements, one of whom is affiliated to the terrorist Ansar Beit al-Maqdes group, and arrested 14 others during security operations in North Sinai.
During the campaign, 43 suspects were also rounded up and 101 hideouts used by takfiris were torched. Also 19 cars and five motorbikes that do not carry any license plates were destroyed by army forces.
Two automated rifles and bombs were also seized in the crackdown. A fully-equipped field hospital used by takfiri elements was also destroyed.
Full report at:
http://allafrica.com/stories/201403031105.html
-----------
Syria: Hizbollah recruitment surge as sectarian conflict spreads
Mar 3, 2014
Hizbollah, the militant Lebanese Shia group, is seeing a surge in recruitment as sectarian conflict spreads from the Syrian civil war, members of the group have told the Telegraph.
A spate of car bomb attacks against Shia towns and villages in Lebanon has caused a spike in the number of young men volunteering to fight for the group in Syria as the minority sect increasingly sees its own survival as tied to that of President Bashar al-Assad.
"All the men from this area are getting guns and asking to fight in Syria, whether they are already members of Hizbollah or not," said one supporter of the militia, who asked not to be named. "We are in a critical situation and we have to fight for the sake of the Shia."
He spoke sitting in a cafe in Hermel, a town of mainly Shia inhabitants in Lebanon's eastern Bekaa valley, that has long been a bastion for the secretive paramilitary group.
Full report at:
http://www.telegraph.co.uk/news/worldnews/middleeast/syria/10671167/Syria-Hizbollah-recruitment-surge-as-sectarian-conflict-spreads.html
-----------
Western media focus on jihadism sidelines the fight for democracy in Syria
Arabic News Digest
Mar 3, 2014
Three years have passed since the Syrian people took to the streets to clamour for their stolen freedoms and democratic rights, said the columnist Walid Abi Murshed in the London-based daily Asharq Al Awsat.
And yet, Bashar Al Assad's regime continues to hold onto ­autocratic power despite the deaths of more than 130,000 people and with millions more displaced internally or in refugee camps in neighbouring countries.
Syria's infrastructure has been devastated and its economy has collapsed but the overriding issue in the western media coverage of developments in the crisis is the ongoing senseless struggle between extremist Islamist groups and their "emirs" on Syrian soil.
Full report at:
http://www.thenational.ae/thenationalconversation/comment/western-media-focus-on-jihadism-sidelines-the-fight-for-democracy-in-syria#ixzz2uxaavFNy
-----------
Starving rebels turn over weapons for food in Syria
World Bulletin/News Desk
Mar 3, 2014
Rebels in beseiged neighborhoods of Syria's capital, Damascus, have started turning over weapons to government forces in exchange for food and medical supplies, Allvoices writer Nathan Salant said in a report.
Local cease-fire agreements have been reached in at least four neighborhoods in a program the government calls "national reconciliation" to end the country's 3-year-old civil war.
But antigovernment activists say the regime of Syrian President Bashar al-Assad is trying to put a positive face on efforts to starve Syrian residents into submission, according to the Associated Press.
Full report at:
http://www.worldbulletin.net/headlines/130035/starving-rebels-turn-over-weapons-for-food-in-syria
------------
Military Operations Carried out against Militants in Several Syrian Areas
Mar 3, 2014
Army units continued Monday operations against militants' dens and gatherings in several areas around Syria.
Stability restored to town of Hweijet al-Mreiyia in Deir-Ezzor
Army units restored stability and security to the town of Hweijet al-Mreiyia in Deir-Ezzor after killing big numbers of militants and confiscating their weapons.
Army units destroy militants' hideouts in Aleppo
Army units foiled militant groups' attempts to infiltrate into Khsrufieh Mosque in the old city of Aleppo and al-Sayyid Ali area, killing and injuring a number of militants.
Full report at:
http://english.farsnews.com/newstext.aspx?nn=13921212001147
-----------
Egypt presidential hopeful won't seek Islamist votes
March 03, 2014
Egypt's leftist politician Hamdeen Sabahi, the first politician to declare his participation in the upcoming presidential election, told Al Arabiya News Channel on Sunday that he is not seeking votes from Muslim Brotherhood members and described his chances to win the presidential race as "high."
"I do not seek votes from people who see January 25 as a setback and July 30 as a coup," Sabahi, head of the socialist Popular Current, said. "I am not seeking Brotherhood votes…I think that is obvious and absolute."
Expressing his optimism for his chances of success, Sabahi said "In the last elections everyone thought I would have weak chances, but everyone was surprised when I got 5 million votes that God blessed me with."
Full report at:
http://english.alarabiya.net/en/News/middle-east/2014/03/02/Egypt-presidential-hopeful-doesn-t-seek-Brotherhood-votes.html
------------
Muslim World League Conference looks for solutions to Muslim world's problems
March 03, 2014
Makkah Gov. Prince Mishaal bin Abdullah launched Sunday a conference organized by the Muslim World League at its headquarter in Makkah highlighting the problems faced by the Islamic world and possible solutions.
The conference is sponsored by Custodian of the Two Holy Mosque King Abdullah.
"Saudi Arabia aims to instil a sense of solidarity in Muslims through their adhering to the teachings of the Qur'an and the tradition of the Prophet (peace be upon him)," Prince Mishaal said in his opening address. "Unity requires working to resolve our problems while adhering to our religion."
Full report at:
http://www.arabnews.com/news/534031
------------
Pakistan
Judge, 10 Others Killed, 25Injured in Islamabad Court Blasts, Firing
2014-03-03
ISLAMABAD: At least 11 people, including additional sessions judge Rafaqat Awan, were killed on Monday when unidentified assailants opened fire and threw crackers in a court in the capital city's F-8 area, DawnNews reported.
Twenty-five people were reportedly injured in the attack.
Moreover, lawyers fled from their chambers seeking shelter from bullets as fear and panic gripped the premises.
According to police, two blasts took place inside the court's premises, one near the chambers of a judge and the other outside another office.
Officers at the scene told AFP the incident began when a defendant was brought before the court and his associates tried to break him free.
Another senior-ranking police official said the incident could be a terror attack but nothing could be said with certainty as yet.
Full report at:
https://www.dawn.com/news/1090737/judge-10-others-killed-in-islamabad-blasts-firing
------------
Anti-talks Taliban 'to face armed Imran'
2014-03-03
LAHORE: The extremist groups not ready to come to the negotiations table would be facing Imran Khan in a gunfight if one goes by the Pakistan Tehreek-i-Insaf chairman's statement given at a party function here on Sunday.
"If the Taliban groups not in favour of talks continue their terror hits to derail the peace process, they'll find me armed standing by the armed forces," he told the maiden meeting of the PTI Punjab Council here.
Reiterating his opposition to army operation in North Waziristan, he said it would badly hurt 700,000 innocent tribesmen, expressing fear that the victims would also take up arms and become Taliban.
Full report at:
https://www.dawn.com/news/1090651/anti-talks-taliban-to-face-armed-imran
------------
Pakistan halts air strikes against Taliban
AFP | Mar 2, 2014
ISLAMABAD: Pakistan on Sunday said it was halting air strikes against Taliban militants in response to a month-long ceasefire announced by the insurgents a day earlier, paving the way for the resumption of peace talks.
The government entered into peace talks with the Taliban last month aimed at ending the militants' seven-year insurgency, but the dialogue broke down after militants killed 23 kidnapped soldiers.
The military responded with a series of air strikes in the volatile northwestern tribal areas that left more than 100 insurgents dead, and on Saturday the Taliban announced a month-long ceasefire aimed at resuming the stalled talks.
Full report at:
http://timesofindia.indiatimes.com/world/pakistan/Pakistan-halts-air-strikes-against-Taliban/articleshow/31294128.cms
---------
'Surrender, leave or live in peace': government committee member to foreign terrorists
March 03, 2014
PESHAWAR: Rustam Shah Mohmand on Sunday said foreign terrorists hiding in tribal areas have three options: surrender, leave the area or live in peace.
Talking to reporters, the government committee member said the government needed to assimilate foreign terrorists in the mainstream who could not go back to their countries.
Prayers were answered as Pakistan won cricket match against archrival India in Dhaka's Sher-e-Bungla stadium. Earlier, Mohmand had urged the Taliban to pray for Pakistan's victory in the Asia Cup against India.
Full report at:
http://www.pakistantoday.com.pk/2014/03/02/national/surrender-leave-or-live-in-peace/
------------
If Taliban want peace talks, PPP supports it too
March 03, 2014
Opposition leader in the National Assembly and Pakistan People's Party (PPP) senior member Khurshid Shah has taken a u-turn on his statement against military operation against Taliban.
While talking to media on Sunday morning, he said that if Taliban are supporting dialogue with the government than his party also supports it.
Khurshid Shah who has been very vocal about action against militants has said that during PPP government also held talks with Taliban in Swat but they bore no fruit.
Full report at:
http://www.pakistantoday.com.pk/2014/03/02/city/karachi/if-taliban-want-peace-talks-ppp-supports-it-too/
------------
Two security men killed, seven injured in Khyber explosion
2014-03-03
KHYBER: A remote-controlled explosion, targeting a security forces' vehicle in Khyber Agency's Landi Kotal tehsil Monday, killed two security personnel and injured seven others, DawnNews reported.
According to sources, a convoy of Frontier Corps (FC) personnel was travelling from Landi Kotal tehsil to Jamrud. As the vehicle reached Sadukhel, it struck a roadside Improvised Explosive Device (IED) that went off with a loud explosion. Subsequently, two security personnel were killed whereas seven others sustained injuries.
Full report at:
http://timesofindia.indiatimes.com/home/opinion/edit-page/Americas-reputation-is-at-stake/articleshow/23990639.cms
------------
Full-scale North Waziristan operation not in Pakistan's favour: Imran
March 3, 2014
ISLAMABAD: A full-scale military operation in North Waziristan was not in Pakistan's favour, Pakistan Tehreek-e-Insaf chairperson Imran Khan said on Monday.
Imran was speaking to the media in Islamabad.
The PTI chief emphasised that the country was saved from destruction after the Tehreek-e-Taliban Pakistan (TTP) and the government decided to halt armed attacks and continue with peace talks.
"God has given us another chance to solve the issue peacefully and move in the right direction," Imran said.
Full report at:
http://tribune.com.pk/story/678334/full-scale-north-waziristan-operation-not-in-pakistans-favour-imran/
------------
Africa
90 Dead in Boko Haram Terrorist Attacks in Nigeria
March 03, 2014
At least 90 people are thought to have died in a series of attacks in Nigeria believed to have been carried out by the Islamist sect Boko Haram.
In the first attack, in the town of Maiduguri, a bomb hidden in a car carrying wood is thought to have caused relatively little damage, but as people rushed to the scene another bomb exploded in a nearby car, killing many people including children dancing at a wedding and others watching a football match. Some were buried beneath the rubble as buildings collapsed.
At the same time in the town of Mainok 30 miles to the west, armed men fired weapons as people gathered to pray. Resident Yahaya Umar described the carnage: "They came in around 7pm and opened fire indiscriminately with RPGs, explosives and AK-47 rifles. They killed 39 people, who were buried this morning, and destroyed the whole town."
Full report at:
http://www.ibtimes.co.uk/90-dead-boko-haram-terrorist-attacks-nigeria-1438578
------------
Sudan negotiator blames rebels for failure of Addis Ababa talks
World Bulletin / News Desk
Mar 3, 2014
The Sudanese government top negotiator on Sunday blamed the Sudan People's Liberation Movement-North (SPLM-N) for the failure of a new round of talks between the two sides in the Ethiopian capital.
"They [SPLM-N] have been deliberately dragging their feet since 2012 when talks began under the auspices of the Troika [The United States, Norway, and the UK]," Ibrahim Gandour told a press briefing in Addis Ababa.
"They have been doing the same thing ever since," he said.
Gandour said the rebel group had proposed to include issues not part of the agenda of the negotiations such as democracy, humanitarian assistance, election and justice.
Full report at:
http://www.worldbulletin.net/todays-news/130054/sudan-negotiator-blames-rebels-for-failure-of-addis-ababa-talks
-----------
Libya MPs shot and wounded as congress stormed
Mar 3, 2014
Two members of Libya's parliament were shot and wounded when protesters stormed the General National Congress (GNC) in the capital, Tripoli.
Witnesses said the two were hit as they tried to drive away from the scene.
The protesters, who rampaged through the building, were demanding that the GNC be dissolved and a date set for early elections.
There have been demonstrations across the country since congress extended its mandate until later in the year.
Those who entered parliament on Sunday said they were also angry about the "kidnapping" overnight of demonstrators from a sit-in outside congress.
They said those responsible belonged to a former rebel group that operates under the GNC's command.
Full report at:
http://www.bbc.com/news/world-africa-26411967
-----------
Central African Muslims form new 'self-defense' group
World Bulletin / News Desk
Mar 3, 2014
A group of Muslims in the troubled Central African Republic (CAR) have formed a new group with the stated aim of defending their co-religionists from attacks by Christian anti-balaka militias, a former minister has said.
The so-called "Organization of the Islamic Resistance" (ORMC) includes some 5000 people brought together to defend the Muslim population from the anti-balaka, former tourism minister Abakar Sabone told Anadolu Agency.
According to the ex-minister, the new militias have been built on the "ruins" of the former seleka rebels – said to be mostly Muslim – who ousted president Francois Bozize, a Christian, in 2013.
Full report at:
http://www.worldbulletin.net/headlines/130084/central-african-muslims-form-new-self-defense-group-updated
------------
Europe
UKIP Attempts To Veil Debate on Sharia Law, but Journalists Refuse To Leave
March 03, 2014
Nigel Farage's pledge that he was proud UKIP politicians could "say what they like" lasted all of around 30 minutes at the party's spring conference, with panicked organisers apparently attempting to remove six journalists from a party debate on Sharia law.
Journalists from the Financial Times, Bloomberg and the Telegraph were among those told they could not stay in the half-full conference room in Torquay for the party debate on the use of Islamic law in Britain.
Jim Pickard, the Financial Times' political correspondent, said he and his fellow journalists had refused to leave when asked to by party staff.
Bloomberg's Robert Hutton, who had recently been asked to leave Beijing for stories that provoked the Chinese government, took a picture of the Telegraph's Christopher Hope standing up to the UKIP security guards who had asked the journalists to leave.
Full report at:
http://www.huffingtonpost.co.uk/2014/02/28/ukip-sharia-law_n_4873318.html?ir=UK+Politics
------------
US-Linked 'Bin Laden of Russia' Called to Fight in Ukraine
Mar 3, 2014
Ukraine's Right Sector, the ultra-nationalist street fighting group that targeted police prior to the coup in Ukraine, called for Doku Umarov to fight in a war against Russia.
Umarov, known as the "Bin Laden of Russia" is a Chechen extremist who has claimed responsibility for attacks on Russian civilians, Al-Alam reported.
According to media reports, his most recent threat was against the Olympics in Sochi, Russia. No terrorist attacks, however, occurred during the games.
Russian media reports the appeal to recruit Umarov was issued by Dmitry Yarosh, the leader of the ultra-nationalist and fascist Right Sector.
Full report at:
http://english.farsnews.com/newstext.aspx?nn=13921212001175
------------
Ukraine mobilizes army after Putin's 'declaration of war'
Reuters | Mar 3, 2014
KIEV/BALACLAVA, UKRAINE: Ukraine mobilized for war on Sunday and Washington threatened to isolate Russia economically after President Vladimir Putin declared he had the right to invade his neighbour in Moscow's biggest confrontation with the West since the Cold War.
"This is not a threat: this is actually the declaration of war to my country," Ukrainian Prime Minister Arseny Yatseniuk said in English. Yatseniuk heads a pro-Western government that took power in the former Soviet republic when its Moscow-backed president, Viktor Yanukovich, was ousted last week.
Putin secured permission from his parliament on Saturday to use military force to protect Russian citizens in Ukraine and told US President Barack Obama he had the right to defend Russian interests and nationals, spurning Western pleas not to intervene.
Full report at:
http://timesofindia.indiatimes.com/world/europe/Ukraine-mobilizes-army-after-Putins-declaration-of-war/articleshow/31324256.cms
-----------
Fighting in Damascus district halt aid to Palestinians: United Nations
World Bulletin/News Desk
Mar 3, 2014
Fighting in the Damascus district of Yarmouk have interrupted aid distribution to thousands of besieged Palestinian refugees, the United Nations said on Monday.
The clashes broke out on Sunday in Yarmouk, where 20,000 people have been trapped for months by Syria's civil war and are dependent on humanitarian supplies delivered by UNRWA, the U.N. agency which supports Palestinian refugees.
The Syrian Observatory for Human Rights, a Britain-based monitoring group, said an ambulance driver was killed in mortar fire on Sunday and residents reported several explosions.
Full report at:
http://www.worldbulletin.net/headlines/130075/fighting-in-damascus-district-halt-aid-to-palestinians
-----------
Mideast
Israel aims to 'silence' sound of prayer calls in Al-Quds
World Bulletin/News Desk
Mar 3, 2014
The Israeli authorities are trying to silence prayer calls (Azan) emanating from the mosques of Al-Quds (occupied East Jerusalem) under the pretext that the calls are "nuisance," Al-Aqsa Foundation for Endowment and Heritage warned Sunday.
"The Azan will always come out from the minarets of Al-Quds, and particularly the Al-Aqsa Mosque," the foundation, which seeks to safeguard the iconic mosque from Israeli violations, said in its statement.
Israeli media reported that the Israeli Jerusalem municipality seeks to lower down the sound of the Azan in the mosques of the holy city with the stated aim of reducing the noise around the city.
Full report at:
http://www.worldbulletin.net/headlines/130031/israel-aims-to-silence-sound-of-prayer-calls-in-al-quds
------------
Turkish PM calls on Islamic scholar Gülen to stop interfering with the country
Mar 3, 2014
Prime Minister Recep Tayyip Erdoğan has harshly criticized Islamic scholar Fethullan Gülen during a rally in the Anatolian province of Isparta, calling on him to stop causing a ruckus Turkey and return to his homeland.
"If you are honest and true, stop discombobulating the country. If this is your country, come back." Erdoğan said March 2, adding he was pure in heart when he once believed Gülen was an honest man.
"There are pure people who gave their money, land and potential [to the movement]. They built schools and dormitories," he said. "I was pure at heart. I did what I could do, too yani. I thought he was genuine when I read his books. He sent me rosary, but no pineapples."
Erdoğan also accused Gülen of supporting the main opposition Republican People's Party (CHP).
Full report at:
http://www.hurriyetdailynews.com/turkish-pm-calls-on-gulen-to-stop-interfering-with-the-country-.aspx?pageID=238&nID=63112&NewsCatID=338
----------
Assad Considers Iran Only Reliable Supporter of Syria: Iranian MP
March 03, 2014
TEHRAN (Tasnim) – Syrian President Bashar al-Assad regards Iran as the only trustful supporter of Syria, an Iranian lawmaker said Sunday.
Ataollah Soltani, member of Iran's parliamentary delegation that visited Syria earlier this week, told the Tasnim News Agency that in his meeting with the Iranian delegation, President Assad regarded the Islamic Republic as the only trustworthy backer of Syria.
"Assad thanked the Iranian nation for its broad spiritual support for the axis of resistance," Soltani said, adding that the Syrian president also sought the development of bilateral relations in all areas.
Full report at:
http://www.tasnimnews.com/English/Home/Single/300474
------------
Iran's President Blasts World Powers' Monopoly of Science
March 03, 2014
TEHRAN (Tasnim) - Iranian President Hassan Rouhani lashed out at the industrial countries for monopolizing science and technology with the aim of retaining hegemony and power, saying that the West has even resorted to acts of terror in Iran to hinder the country's scientific progress.
"The industrial countries considered the science and technology as their exclusive unwritten right in order to preserve hegemony and power, to the extent that their espionage and intelligence organizations allow themselves to assassinate our scientists and pundits, so that development and progress would not materialize in this country (Iran)," President Hassan Rouhani said on Sunday in an address to a scientific ceremony in Tehran.
Full report at:
http://www.tasnimnews.com/English/Home/Single/300352
------------
Al-Qaeda fighter killed in Yemen drone attack
World Bulletin / News Desk
Mar 3, 2014
A Yemeni suspected of being an Al-Qaeda fighter was killed in the early hours of Monday in a drone strike in the eastern province of Marib, local residents said.
"A U.S. drone raided Al-Arq Al-Awsat area in Al-Wadi directorate, killing a man suspected to belong to Al-Qaeda," a resident told Anadolu Agency.
"Mujahed al-Shabwani was sleeping near his car in an open area, when his vehicle was targeted by the drone attack, killing him instantly," another resident said.
Anadolu Agency could not obtain an immediate comment from Yemeni officials on the reported drone strike.
Full report at:
http://www.worldbulletin.net/todays-news/130056/al-qaeda-fighter-killed-in-yemen-drone-attack
------------
Orthodox Jews protest against Israeli draft law
World Bulletin/News Desk
Mar 3, 2014
Hundreds of thousands of ultra-Orthodox Jews held a mass prayer in Jerusalem on Sunday in protest at a bill that would cut their community's military exemptions and end a tradition upheld since Israel's foundation.
Ultra-Orthodox leaders had called on their men, women and children to attend the protest against new legislation ending the wholesale army exemptions granted to seminary students, which is expected to pass in the coming weeks,
The issue is at the heart of an emotional national debate. Most Israeli Jewish men and women are called up for military service when they turn 18, but most ultra-Orthodox Jews, or "Haredim", a Hebrew term meaning 'those who tremble before God', are excused from army service.
Full report at:
http://www.worldbulletin.net/headlines/130048/orthodox-jews-protest-against-israeli-draft-law
------------
India
Islamic Banking System under consideration in India – Union Minister
March 03, 2014
Attempts are being made to introduce Islamic Banking System in India. For this purpose a Central Organization is proposed to be established.
Mr. Rahman Khan, Union Minister of Minority Affairs told that we have to formulate by-laws for the establishment of Islamic banks. He informed that a scheme on the model of "Haji Scheme" of Malaysia is under consideration. Employees can invest their money in this scheme. He told this to the reporter of Arab News while addressing an international seminar in Kwalampur. Mr. Rahman Khan told that this scheme will benefit Hajj pilgrims. In Malaysia, People deposit money in Haji scheme gradually which increases over a period of time. When sufficient amount is accrued, the pilgrims proceed Saudi Arabia to Hajj.
Full report at:
http://www.siasat.com/english/news/islamic-banking-system-under-consideration-india-%E2%80%93-rahman-khan
------------
Genie of terrorism is out of bottle in Pakistan: Indian journalist
March 03, 2014
LAHORE: Renowned Indian journalist Kuldeep Nayyar said on Sunday that the terrorism genie is out of the bottle in Pakistan.
Nayyer and Senator Aitzaz Ahsan were speaking to Pakistan Today Editor Arif Nizami on Samaa TV's programme Zer-e-Bahas.
Talking about his new book named Beyond the Line (English) and Aik Zindagi Kafi Nahi (Urdu), Nayyer said the book was translated in 10 languages in India and all carry title Aik Zindagi Kafi Nahi, barring English version. He said he had taken the title from Allama Iqbal's poetry.
"The book is about people getting hiccups while struggling on the way to success in life. In this book I tried to make my point clear that man should be given another life," he said.
Pak-India relations:
Full report at:
http://www.pakistantoday.com.pk/2014/03/02/national/genie-of-terrorism-is-out-of-bottle-nayyer/
------------
Hyderabad twin blasts accused says al Qaeda associated with IM
March 03, 2014
Alleged Indian Mujahideen (IM) operative Asadullah Akhtar alias Haddi has revealed that a member of global terror outfit al Qaeda is working with IM for operations in India.
In a statement before magistrate under section 164 of the Criminal Procedure Code (CrPC), which makes it admissible as evidence before a court during trial, Haddi has stated that one of his associates Waqas is from al Qaeda.
Haddi and another alleged IM operative Yasin Bhatkal, who were picked up from Nepal in August last year and arrested at the Indo-Nepal border in connection with the 2013 Dilsukhnagar blast in Hyderabad, had earlier revealed that the IM was in the process of a tie-up with al Qaeda.
Full report at:
http://www.hindustantimes.com/india-news/al-qaeda-working-with-im-confirms-hyd-blasts-accused/article1-1190071.aspx
------------
Jamaat-e-Islami Hind Releases Public Manifesto For General Elections 2014
March 03, 2014
Jamaat-e-Islami Hind has released a 15-point Public Manifesto for the Lok Sabha Elections 2014. President of JIH, Maulana Syed Jalaluddin Umari said that they will approach all parties with their demands and support extends their support based on their committeemen.
A gist of the manifesto is given here:
1. "Right to Livelihood" should be recognised as a Fundamental Right through constitutional amendment to ensure food, housing, clothing, education and healthcare to all citizens of the country.
2. Justice Ranganath Mishra Commission Report should be accepted and implemented.
3. The concept of Diversity Index as envisaged in Sachar Committee Report should be implemented in both government and private sectors. All government aids and grants should be based on the Diversity Index.
4. The Mahatma Gandhi National Rural Employment Guarantee Act (MGNREGA) should be amended to guarantee employment for whole 365 days of a year and to cover the urban poor also under the scheme.
Full report at:
http://www.siasat.com/english/news/jamaat-e-islami-hind-releases-public-manifesto-general-elections-2014
------------
Top Western Universities seek academic tie-ups with Jamia
Mar 3, 2014
The University of Heidelberg from Germany and Ecole Normale Superieure (ENS) from France have sought to enter into academic collaborations with Jamia Millia Islamia. Two separate academic delegations called on the Vice-Chancellor Prof. S.M. Sajid to explore possibilities of tie-ups aimed at mutual strengthening of premiere institutions through MoUs. of. Axel Michaels, a noted scholar of Indology and Religious Studies, led the delegation from the University of Heidelberg to discuss Faculty Exchange Programme, short-term Student Exchange opportunities at the Ph.D level, joint workshops/conferences/events/research cooperation in the ensuing academic year and organization of joint Winter School in 2014.
Full report at:
http://www.newstrackindia.com/newsdetails/2014/3/2/89-Top-Western-Universities-seek-academic-tie-ups-with-Jamia.html
------------
North America
St. Paul police now allow employees to wear hijab
March 03, 2014
ST. PAUL, Minn. (AP) — The St. Paul Police Department is now allowing employees to wear a police-issued hijab headscarf, according to an announcement Saturday.
St. Paul Police Chief Thomas Smith said he knows of only one other department in Washington, D.C., that allows the hijab in the United States, according to the St. Paul Pioneer Press (http://bit.ly/1gJtpFc).
Cities in Canada and Great Britain allow Muslim officers to wear police-issued hijabs while in uniform.
The St. Paul announcement comes in tandem with the recent hiring of their first Somali woman, Kadra Mohamed. She serves as a Community Liaison Officer.
Although the Twin Cities has the nation's largest Somali-American population, Garaad Sahal was St. Paul's first and remains the only sworn Somali-American police officer, joining in late 2012.
Full report at:
http://www.sfgate.com/news/article/St-Paul-police-now-allow-employees-to-wear-hijab-5280971.php
------------
No change in policy against communal riots in Gujarat: US
Mar 3, 2014
Washington: The United States continues to express concern about communal violence in India, the Obama Administration has said, strongly refuting reports that it has gone soft on the Gujarat communal riots in 2002 and the alleged role of its Chief Minister Narendra Modi.
"I wouldn't characterise our assessment that way. I think you'll find if you review the text that we're very clear about our concerns about several episodes of communal violence across India," US State Department Spokesperson Jen Psaki told reporters on Thursday. Psaki was responding to a question on the latest annual Country Reports on Human Rights Practices released by Secretary of State John Kerry. "If Modi was mentioned in previous human rights reports for India by name, and (why) he is not mentioned in this one," she was asked. Paski said that there is no change in the US policy on communal riots in Gujarat about a decade ago. Both the annual reports of the 2011 and 2012 mentions Modi in its report but it no way refers to his role in the communal riots.
Full report at:
http://www.firstpost.com/india/no-change-in-policy-against-communal-riots-in-gujarat-us-1412017.html?utm_source=ref_article
------------
Obama warns Israel's Netanyahu over peace talks failure
Mar 3, 2014
President Barack Obama has warned Israel of "international fallout" if it does not endorse a US framework for a peace deal with the Palestinians.
Ahead of talks at the White House, Mr Obama told the Bloomberg news agency that Prime Minister Benjamin Netanyahu needed to "seize the moment".
But Mr Netanyahu reacted defiantly, vowing: "I won't give in to pressure."
There has been little sign of progress from the direct talks that resumed in July after a three-year hiatus.
At the time, Washington said it sought to achieve a deal on a solution to the decades-old conflict by 29 April, but officials say a framework accord on core issues would enable negotiations to continue beyond that date.
Full report at:
http://www.bbc.com/news/world-middle-east-26416958
------------
Man who 'conspired with Jihad Jane' loses second extradition case
March 03, 2014
A man facing extradition to the United States on international terrorism charges has been refused leave by the High Court, for a second time, to seek judicial review of the DPP's decision not to prosecute him in Ireland.
Mr Justice John Edwards said today that no new grounds had been advanced by Ali Charaf Damache since he refused the forty-eight year old's first application for judicial review earlier this year. The judge said Damache had not met the threshold required for the court to grant him leave.
Full report at:
http://www.independent.ie/irish-news/courts/man-who-conspired-with-jihad-jane-loses-second-extradition-case-30050761.html
------------
Southeast Asia
As anti-Shia campaign hits the pocket, minister seeks PAS's help to restore Iran ties
Mar 3, 2014
An aggressive anti-Shia campaign launched by the Malaysian government last year has taken its toll on the country's economy, leaving the government millions of ringgit in losses after a backlash from predominantly Shia Iran, forcing a minister to seek help from PAS to restore ties, said a source.
Dr Syed Azman Ahmad Nawawi, who heads PAS's international bureau, confirmed this, but declined to name the minister.
"It is true the minister contacted me for help," Syed Azman told The Malaysian Insider.
The Batu Burok state assemblyman said Iran's reaction to the anti-Shia campaign spearheaded by Umno has cost Malaysia dearly.
Full report at:
http://www.themalaysianinsider.com/malaysia/article/as-anti-shia-campaign-hits-the-pocket-minister-seeks-pas-help-to-restore-ir
------------
YIRMI In Collaboration With Indonesian Islamic Universities To Produce More Islamic Books
March 03, 2014
(Bernama) -- Yayasan Ikatan Rakyat Malaysia-Indonesia (YIRMI) in collaboration with Islamic universities in the archipelago will encourage more publication of Islamic books in an effort to strengthen Islamic solidarity and regional culture.
Government adviser on Social and Cultural Affairs, Tan Sri Dr Rais Yatim said 12 Islamic universities in Malaysia and Indonesia have been identified to ensure the success of the pilot program in producing Islamic books of intellectual, spiritual and research.
"For a start, this book will be sent to all 12 universities and we will expand it to Brunei and southern Thailand.
Full report at:
http://www.bernama.com.my/bernama/v7/ge/newsgeneral.php?id=1018380
------------
Vincent Tan is at it again, this time he calls British media a 'little racist'
Mar 3, 2014
Malaysian tycoon Tan Sri Vincent Tan is in the spotlight yet again, this time for accusing British media of being a "little racist."
The Cardiff City owner told BBC Sport that the British media had been unfair in their portrayal of him, making him look like a "Bond villain" as he often wore dark glasses and gloves when watching home games.
"I wear sunglasses because of the glare of the spotlights," he said. "I wear gloves because it is very cold in the UK. Frankly, sometimes I think they are nuts making all these comments.
"The British press is unfair... maybe because we didn't tell our side of the story that well. When the time is right, I will tell my story. Sometimes, the British press is maybe a little bit racist."
Full report at:
http://www.themalaysianinsider.com/malaysia/article/vincent-tan-is-at-it-again-this-time-he-calls-british-media-a-little-racist
------------
URL: https://www.newageislam.com/islamic-world-news/new-age-islam-news-bureau/action-if-national-anthem,-flag-ignored-at-madrasas-in-bangladesh/d/55964