New Age Islam News Bureau
13 May 2013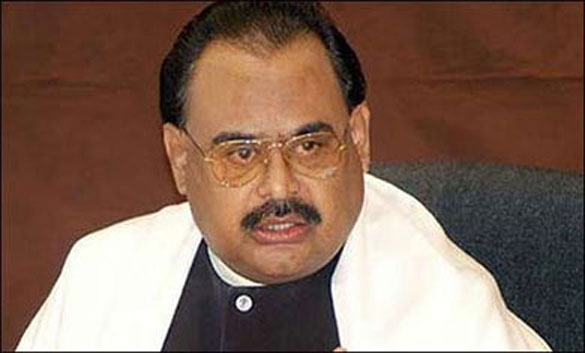 MQM chief Altaf Hussain – File photo
--------------
Pakistan
• Accept MQM Mandate or Detach Karachi: MQM Chief
• COAS, CJP take notice of Altaf's statement: Jamat-e-Islami
• Sharif promises to resume Kashmir talks
• Quetta suicide attack: Death toll rises to seven
• Taliban threats: 'Difficult to say fair polls in KP, FATA, Balochistan'
• Shahbaz set to become CM again
• PPP leadership to meet over post-election scenario
• PPP can form govt in Sindh without support
• HRCP finds flaws in polls, offers solutions
• Nationalists take the lead in Balochistan
• PML-N in a hurry to take up challenges
• Shahbaz asks workers to start serving masses
• 101st Anniversary: Play on Manto's life in Lahore begins on 15th
• Musharraf's party wins two seats despite boycott
------------
India
• Will invite Manmohan Singh to my oath-taking ceremony: Nawaz
• Return of stronger Sharif bodes well for India
• Omar Abdullah hopes Sharif will help get India-Pak ties back on track
• Indian Embassy given 15,000 runaways' passports
------------
Mideast
• Iran border guards kill 10 Afghan migrants: Kabul
• Taliban Says Remaining Turkish Hostages to Be Freed Soon
• Yemen army jet crashes in Sanaa, pilot killed
• Turkey says it won't be drawn into Syria conflict
• Israel opposition urges Abbas to get back to talks
• Iran's Ahmadinejad may face charges over election appearance with aide
------------
South Asia
• Karzai calls for Pak new govt to back peace talks
• Taliban free four Turkish hostages in Afghanistan
• Bangladesh Plans to Raise Pay for Garment Workers
• Top Bangladeshi Islamist leader arrested for war crimes
• Roadside bomb kills 10 civilians on Afghan bus
------------
Southeast Asia
• Police conduct DNA test on slain terrorists in Java
• Indonesian Media watchdog to file judicial review
• Malaysian Vote Was 'Mother Of All Frauds': Anwar
• Megawati Lashes Out at Bali Governor
------------
Arab world
• Egypt foils an al Qaeda-linked cell attack on foreign embassy
• Prince Saud discusses bilateral relations with Iran's foreign minister
• Syrian opposition to discuss US-Russia plan on 23 May
• Saudis see end to discrimination in jobs
• Constitutional Court adjourns key lawsuit on status of Shura Council
• No decision on Saudi tourists, says Jakarta
------------
Africa
• 800 Tunisian Islamists fighting in Syrian rebel ranks
• Sudan says South Sudan helped rebels attacking major town
• Tanzania frees 3 Emiratis held after bombing: Report
------------
North America
• Obama commends democratic transition in Pakistan
• Boston Imam Struggles for Islam Image
• Islamophobes add to their "ideal Muslim leaders" pool
• US military involvement in Syria a 'mistake': Gates
• UN peacekeepers kidnapped in Golan released
Compiled by New Age Islam News Bureau
URL: https://newageislam.com/islamic-world-news/new-age-islam-news-bureau/accept-mqm-mandate-or-detach-karachi--mqm-chief/d/11555
------------
Pakistan
Accept MQM mandate or detach Karachi: MQM Chief
May 13, 2013
KARACHI: Chief of Muttahida Qaumi Movement (MQM) Altaf Hussain on Sunday said Karachi should be separated from the country if anybody was willing to accept MQM's mandate.
He said that establishment should quit the policy of targeting and pushing MQM to the wall.
Altaf was addressing a gathering of party workers, including women and children, to celebrate the victory of party in elections 2013, at MQM`s Headquarter Nine-Zero Azizabad on Sunday night.
Criticising the PTI, MQM chief advised the party to stay away of accusing MQM of rigging. MQM chief said he did not believe in giving threats, saying political workers, staging sit-in at the Teen Talwar in Clifton, could face response from his workers.
Hussain said his party believed in peace and tolerance and advised the PTI to avoid accusing and abusing the other through staging protests and alleging of rigging in the elections.
MQM chief blamed the PTI for rigging in the elections in urban centers in the province, adding that those, who making noise and protests, were themselves involved in rigging.
Hussain questioned that where had gone the PTI tsunami during elections, who claimed to produce unexpected results in the polls.
He called upon the citizens of Karachi to be ready for call for future strategy and counter the false allegations of opponents.
He said MQM was struggling since last thirty five years and fielded its candidates across the country. The party was not allowed to carry out its election campaign with free hand as threats of extremists were mounting on them.
http://www.dailytimes.com.pk/default.asp?page=2013\05\13\story_13-5-2013_pg12_7
------------
COAS, CJP take notice of Altaf's statement: Jamat-e-Islami
May 13, 2013
KARACHI: Jamat-e-Islami leader (JI), Dr Mairajul Huda, Sunday night urged the Chief of the Army Staff, Ashfaq Parvez Kayani and Chief Justice of Pakistan, Iftikhar Mohammad Chaudhry to take immediate notice of Muttahida Qaumi Movement (MQM) leader, Altaf Hussain's daring the establishment to separate Karachi from the rest of Pakistan, Geo News reported.
"I appeal to both the chiefs to strictly react to the MQM leader's separatist statement and his threats of fanning the politics of violence in particular and his whole speech in general", said JI (Sindh) Ameer.
He said that Altaf's warmongering oratory could have terribly detrimental consequences, adding God forbid, if a catastrophe befell Karachi down the line only he alone would be to blame.
http://www.thenews.com.pk/article-100723-Army,-judiciary-chiefs-urged-to-take-notice-of-Altaf-statement
------------
Sharif promises to resume Kashmir talks
May 13, 2013
ISLAMABAD: Nawaz Sharif, who was on Sunday poised to return to power in Pakistan after a 14-year hiatus, said a new round of talks will be resumed with India on the Kashmir issue, a media report here said.
Speaking to reporters after his Pakistan Muslim League-Nawaz (PML-N) emerged as the single-largest party in the general election, the two-time PM said he will also hold talks with the United States on a number of issues, including drone attacks in Pakistan's northwestern tribal region, Dunya News reported.
Sharif said that talks on the Kashmir issue will be resumed with India, and that ties with other neighbouring countries will also be strengthened. The last meetings at the top leadership level were held between Pakistani President Zardari and Indian PM Singh at Tehran in August 2012.
http://timesofindia.indiatimes.com/india/Sharif-promises-to-resume-Kashmir-talks/articleshow/20020494.cms
------------
Quetta suicide attack: Death toll rises to seven
May 13, 2013
ISLAMABAD: The death toll in a devastating suicide attack targeting the provincial police chief in Quetta city of southwestern Pakistan rose to seven on Monday with several injured persons dying in hospital.
The bomber detonated his explosives-laden pick-up truck near the official residence of Balochistan Police chief Mushtaq Sukhera in a high-security area of Quetta on Sunday night.
Sukhera, who was returning home from work, escaped unhurt. Four policemen were among the dead. About 70 people, including 27 policemen, were injured by the powerful blast that created a crater 12 feet deep and seven feet wide.
Buildings within a radius of 1.5 km, including the governor house, chief minister's house, Quetta Press Club, and dozens of shops on Jinnah Road, were damaged by the blast.
The provincial police chief's residence was extensively damaged and several cars were destroyed by the blast.
The windows of offices of several media organisations were blown out. The blast also hit members of a political party who were returning from a protest.
Police officials said an estimated 2,000 kg of explosives were used in the attack, for which no group claimed responsibility.
The police officials said the bomber had followed the police chief's motorcade when he returned home from work.
Some reports said the suicide attack was followed by intense firing. It could not be ascertained who had opened fire.
TV news channels reported that several rockets were fired at different parts of Quetta before the suicide attack. The attack came a day after Pakistan's general elections.
A string of gun and bomb attacks during and after the polling claimed nearly 50 lives.
http://timesofindia.indiatimes.com/world/pakistan/Quetta-suicide-attack-Death-toll-rises-to-seven/articleshow/20025933.cms
------------
Taliban threats: 'Difficult to say fair polls in KP, FATA, Balochistan'
May 13, 2013
ISLAMABAD: A preliminary statement on the latest general election shows that in Balochistan, Khyber Pakhtunkhwa, and the Federally Administered Tribal Areas (FATA), it is more difficult to say whether the election was fair because of a wave of terror unleashed by the Tehreek-e-Taliban Pakistan against candidates and supporters of targeted political parties.
The targeted political parties that were part of the previous coalition government are the Pakistan People's Party Parliamentarians (PPPP), the Awami National Party (ANP) and the Muttahida Quami Movement (MQM). Meanwhile, in Balochistan, armed insurgents of the Balochistan Liberation Army (BLA) used terror tactics aimed at curtailing election activities in the Baloch-majority districts. Free and Fair Election Network (FAFEN), a coalition of 42 leading civil society organisations established in 2006, offers these observations on the general election.
Fears of terrorism and targeted violence did not deter Pakistanis in most parts of the country from going to almost 70,000 polling stations on May 11 to exercise their democratic right in an historic election that will pave the way for the country's first democratic transition from one civilian government to another. FAFEN congratulated and commended the people of Pakistan for their resilience and resolve in the face of direct threats to the country's commitment to democracy.
The general election was notable for colourful and competitive campaigning in Punjab, contrasted by lacklustre canvassing and targeted terrorism in southern Sindh, Balochistan and Khyber Pakhtunkhwa (KP). Citizens expressed a renewed interest in taking control of the state, which has seen civilian governments repeatedly coming to power through low-turnout elections, interspersed with periods of controversial military rule. The relatively high voter turnout and public enthusiasm for this election augurs well for democratic consolidation, bringing potential for more sustained citizen engagement and improved public accountability and governance.
However, the keen interest of the electorate across Pakistan should not overshadow the incidents of irregularities, fraud and lax enforcement of election law and regulations before and on Election Day. "These persistent problems demand serious renewed efforts towards electoral reform, including a unified and consistent body of electoral laws, which FAFEN has been pursuing in earnest since 2008," the group said in a statement.
"The Election Commission of Pakistan deserves significant credit for administering this election, including implementation of several positive reforms and innovations that were improvements, as compared to the past."
In Punjab and some parts of Sindh, preliminary evidence from more than 41,000 FAFEN observers and robust media reports indicated that the election did reflect the free will of the electorate through a relatively fair process.
The pre-election violence claimed more than 400 lives and injured at least 1,000 additional people, according to FAFEN violence monitoring, making General Election 2013 one of the deadliest elections in the country's history.
The wave of terror, however, was not met with an effective counter-attack by the state security forces, raising concerns of patronage of certain political interests.
In addition, preliminary reports indicated that, as in past elections, women in some areas of KP and FATA were barred from voting, such that the free will of the full electorate was not expressed on Election Day. FAFEN has advocated since 2008 that the ECP should not validate election results in any National or provincial assembly constituency where women were barred from voting in any single electoral area.
In Karachi, it is impossible to conclude whether the will of the electorate has been expressed. The reasons include a combination of pervasive pre-election violence, last-minute electoral boycotts, frequent obstruction of neutral election observers by MQM workers, tangible evidence of fraud and irregularities, and significant administrative failures that are likely to have disenfranchised some voters.
Examples of problems reported from around the country by FAFEN observers include 74 cases in which observers were barred from polling stations, 13 cases of violence against observers and 78 other violent incidents. Observers also reported at least 62 unauthorised changes in the polling scheme, including women's polling booths not being set up.
The group said that the general election was a mixture of forward and backward steps in terms of electoral transparency and accountability. For the most part, the caretaker governments at the centre and the four provinces were impartial and played a positive role. The contributions of the judiciary to the election also must be acknowledged, but FAFEN believed that steps were needed to restrain or reduce the involvement of the judiciary in future elections.
"Returning officers' inconsistent and arbitrary handling of the candidate scrutiny process had the potential to undermine the credibility of the election altogether. In addition, the intrusiveness of the senior judiciary in electoral matters is deeply problematic. The ECP and its decisions should be insulated from both executive and judicial authorities in order to protect its independence, as enshrined in the constitution," FAFEN said.
It said that most ECP measures gained political acceptance, including the bold decision to use new nomination papers without a presidential approval. However, other ECP steps such as delimitation of three National Assembly and seven provincial assembly constituencies in Karachi were compelled by a Supreme Court decision just before the announcement of the election schedule, which created suspicion, it said.
Full report at:
http://www.dailytimes.com.pk/default.asp?page=2013\05\13\story_13-5-2013_pg7_25
------------
Shahbaz set to become CM again
Amjad Mahmood
May 13, 2013
LAHORE: The stage is set for Shahbaz Sharif to become chief minister of Punjab for the fourth time as the PML-N does not seem inclined to try a new face for the top post in its citadel.
Leaders of the party discussed plans for forming governments at the centre and in the provinces at an informal consultative meeting at the Raiwind residence of its chief Nawaz Sharif on Sunday.
A PML-N leader told Dawn that there was a consensus in the meeting that Shahbaz Sharif was the best choice for managing the affairs of Punjab, the party's stronghold.
He claimed that the party had earlier considered Chaudhry Nisar Ali for the post that was the reason the Leader of Opposition in the last National Assembly had contested for a provincial assembly seat.
But the rising challenge from the Pakistan Tehreek-i-Insaf (PTI) had forced the PML-N to change its plan and decide to continue with Shahbaz Sharif as chief minister to fortify its position in the province, he said.
Shahbaz Sharif himself dropped a hint to the effect by calling himself Nokar (servant) of the people in his victory speech on Saturday evening. He had adopted the title of Khadim-i-Ala (chief servant) in his previous stint as chief minister.
The PML-N leader said that they were contacting other parties to explore the possibility of forming governments in other provinces, particularly Khyber Pakhtunkhwa where the PTI had emerged as the single largest party. But the PML-N appears to be in a position to form a coalition government there if it manages to rope in the Jamiat Ulema-i-Islam-Fazl (JUI-F), Jamaat-i-Islami (JI) and independents.
JUI-F chief Maulana Fazlur Rehman called Nawaz Sharif on Sunday and discussed with him the possibility of a coalition in KP. Later the Maulana contacted JI chief Munawwar Hasan, Aftab Sherpao of the Qaumi Watan Party and other likely allies.
Full report at:
http://dawn.com/2013/05/13/shahbaz-set-to-become-cm-again/
------------
PPP leadership to meet over post-election scenario
May 13, 2013
KARACHI: A meeting has been summoned of the leadership of the Pakistan Peoples Party (PPP) for Monday to discuss the country's political scenario as it is emerging in the wake of the May 11 polls, DawnNews reported.
PPP leaders are travelling to Karachi for the meeting at Bilawal House which is to be chaired by Asif Ali Zardari.
The meeting is scheduled to deliberate on the defeat faced by the party in the national polls and transfer of power.
Former prime ministers Yousuf Raza Gilani and Raja Pervez Ashraf were also scheduled to be present at the meeting.
Rigging allegations in Punjab
Earlier on Sunday, the PPP said results of the May 11 polls in Punjab were 'manipulated' and vowed to come up with evidence to prove its allegation.
Full report at:
http://dawn.com/2013/05/13/ppp-leadership-to-meet-over-post-election-scenario/
------------
PPP can form govt in Sindh without support
Habib Khan Ghori
May 13, 2013
KARACHI: The Pakistan People's Party (PPP) has again emerged as the majority party in Sindh is capable of forming government in the province without support of any party.
According to unofficial results, the party has bagged 70 of the 130 general seats and will share with other parties 38 seats reserved for women and minorities.
Contrary to the 2002 elections in which the PPP had won almost the same number of seats in the Sindh Assembly on the crest of martyrdom of its leader Benazir Bhutto, the May 11 results had belied the claims of its opponents by maintaining its strength.
The 11-party alliance in the province led by the PML-F failed to make any dent in the Pakistan People's Party fort.
The Sindh PPP leadership is likely to converge in Karachi on Tuesday for consultation on probable candidates for the posts of the leader of the house and speaker and deputy speaker.
Because of its past experience, the PPP this time is likely to obtain support of independents or likeminded smaller groups for effective governance in the province.
According to sources in the PPP, there were reservations among leaders over forming another coalition with its previous major partner MQM because of sharp differences with it over the issue of local government system.
The PPP leaders, according to the sources, are of the opinion that during its last tenure it had suffered because of problems with the MQM which despite sharing power continued to play the role of opposition on many sensitive issues.
Besides, on the issue of posting and transfer of officials, it remained under tremendous pressure which contributed to bad governance.
When asked about forming the government with smaller groups and independents, PPP (Parliamentarians) President Makhdoom Amin Faheem said a decision in this regard would be taken by the party high command which would meet soon. It would be premature to say something now, he added.
PPP's Sindh Secretary General Taj Haider said the party would take a decision on the matter after the seat position became clear. "But let me assure you that it will be in the best interest of the province and its people."
Full report at:
http://dawn.com/2013/05/13/ppp-can-form-govt-in-sindh-without-support/
------------
HRCP finds flaws in polls, offers solutions
May 13, 2013
LAHORE: The Human Rights Commission of Pakistan (HRCP) has recommended a serious initiative to revamp the Election Commission of Pakistan (ECP), redefine its priorities and reduce bureaucrats' meddling in political affairs.
The recommendations have been made in the HRCP's preliminary report on Elections 2013 based on its monitoring of the electoral process before and on the polling day. The commission's observers visited 57 National Assembly constituencies — eight in Balochistan, 13 in Khyber Pakhtunkhwa, 19 in Punjab and 17 in Sindh. A detailed report on its election observation project is under preparation.
In the preliminary report, the HRCP expressed satisfaction that doubts about the holding of elections proved wrong. It said that by marginalising enemies of the electoral process the people had again affirmed their faith in democracy.
It said the gap between male and female voters was too large to be accepted as right. Besides, the pattern of dividing votes on the basis of Block Code and Silsila was not properly understood by the polling staff and voters. It recommended that the legal obligation to review voters' lists every year should be honoured and election staff and political parties should be imparted training in the use of new lists before elections.
The report deplored that fresh delimitation of constituencies was not carried out for the 2013 elections and urged the government to give priority to national census and delimit the constituencies before the next elections.
Criticising scrutiny of nomination papers of candidates on the basis of articles 62 and 63 of the constitution, it said the criteria should be discarded for being liable to subjective interpretation. It proposed that the articles be restored to their original shape.
The pre-poll environment was seriously marred by large-scale violence that denied a significant number of candidates and voters of a tension-free environment for campaigning, it observed. The authorities did not succeed in ensuring a level playing field to all parties and their voters.
It criticised the failure of the authorities to enrol members of the Ahmadiya community on the common voters' list and called for their inclusion in the list. The HRCP noted that there were a number of complaints of voters facing coercion, particularly in several
constituencies in Karachi. Referring to clashes between workers of political parties across the country, it advised the parties to seriously examine the issue.
It observed that the 2013 elections were the costliest in the country's history and the expenses incurred by parties and candidates on publicity through electronic and print media crossed the limits of decency. Besides, candidates' campaign speeches were often marred by personal attacks on their rivals and the use of intemperate language.
It recommended a serious effort to control election expenditures and adopt enforceable limits to campaign contents.
It noted that women were again denied their right to vote at numerous places, such as Lower Dir, although at a few places they did cast votes for the first time. It criticised the ECP's failure to effectively respond to reports that parties or candidates had entered into an agreement to keep women out of the electoral process.
The report suggested expeditious adoption of legislative and policy measures to ensure that women were not stopped from voting.
It said the HRCP could not comprehend the reason for the unduly prolonged delay in announcing the results in several constituencies in Balochistan where candidates of nationalist parties were believed to be in a strong position. It asked the ECP to explain why it had taken so long to make the results public.
It said the May 11 elections had been rated by most of the HRCP observers as the most poorly managed affair. It seemed that returning officers selected polling stations without inspection of sites.
Full report at:
http://dawn.com/2013/05/13/hrcp-finds-flaws-in-polls-offers-solutions/
------------
Nationalists take the lead in Balochistan
Syed Ali Shah
May 13, 2013
QUETTA: Most parts of Pakistan saw major shakeups in political parties' positions, and Balochistan was no exception.
In the troubled province, nationalist parties seem to have emerged as the strongest political players according to the unofficial results of the 2013 elections.
The Baloch nationalist group, National Party (NP), got eight provincial assembly seats and two national assembly seats. Similarly, the Pakhtunkhwa Milli Awami Party (PkMAP) secured 10 provincial assembly and three national assembly seats while emerging as the largest parliamentary group in the province.
PkMAP won four provincial assembly seats in Quetta city, while PML-N and Majlas Wahdat ul Muslimeen (MWM) each won one seat. However, the Balochistan National Party led by Baloch nationalist leader Sardar Akhtar Mengal refused to accept PkMAP's victory and termed it a conspiracy to keep BNP away from parliament.
BNP chief Mengal said that his party would not accept the election results and that his party`s victory was 'turned into' a defeat deliberately, on two provincial assembly seats, by returning officers.
PkMAP chief Mehmood Achakzai won two national assembly seats from Quetta and his hometown Chaman. Achakzai`s victory in Quetta seems to be the result of his party's stance and criticism of targeted killings of Punjabis and Hazaras. It was mostly settlers who voted for Achakzai on NA-259.
Full report at:
http://dawn.com/2013/05/12/nationalists-take-the-lead-in-balochistan/
------------
PML-N in a hurry to take up challenges
Khawar Ghumman |
ISLAMABAD: Although the constitution provides a window of 21 days after the election date to summon the session of the new National Assembly, the PML-N which has emerged as the single largest party plans to get into action as soon as the Election Commission of Pakistan (ECP) officially announces the results.
Senator Mushahidullah Khan, information secretary of the PML-N, told Dawn that his party wanted to form the government soon in order to take up the manifold problems the country was facing.
He said the PML-N was hoping to secure a majority of 172 members in the house of 342 and it would definitely like early convening of the NA session so the new government could be formed without delay. Mr Khan said the National Assembly would have to adopt the federal budget by June 30 which also required early convening of its session.
Answering a question, he said after election results were officially announced, the caretaker government could be asked to immediately summon the National Assembly session.
Talking to Dawn, Minister for Law and Parliamentary Affairs Ahmar Bilal Sufi said: "We are just waiting for the finalisation of election results which will be done in a day or two and after that we will decide when the National Assembly session can be called under the constitutional procedures."
He said there would not be any delay because the caretaker government was aware of the constitutional requirement.
Full report at:
http://dawn.com/2013/05/13/plea-for-early-convening-of-na-session-pml-n-in-a-hurry-to-take-up-challenges/
------------
Shahbaz asks workers to start serving masses
May 13, 2013
LAHORE -
Former Chief Minister Shahbaz Sharif has asked the party workers to start serving the people in their respective areas. While talking to the party workers Sunday, Shahbaz Sharif, who is also sure to be the next Chief Minister of Punjab, said the enthusiasm exhibited by the people in favour of the PML-N was a proof of their potential to accept any challenge.
He also lauded the workers for keeping cool before provocative remarks of the PTI leaders and asked them to start serving the people in their respective areas.
Full report at:
http://www.nation.com.pk/pakistan-news-newspaper-daily-english-online/lahore/13-May-2013/shahbaz-asks-workers-to-start-serving-masses
------------
101st Anniversary: Play on Manto's life in Lahore begins on 15th
By Hassan Naqvi
May 13, 2013
LAHORE: The Ajoka theatre group will stage a play, Kaun Hai Yeh Gustakh, at Alhamra from May 15 to celebrate the 101st birth anniversary of visionary writer Saadat Hassan Manto.
The play will focus on Manto's life in Lahore after he migrated to the new country of Pakistan in 1948 up to his death at the age of 42 in 1955. He was born on May 11, 1912.
"The play will highlight Manto's struggle with his detractors and an increasingly conservative and intolerant Pakistan which he foresees in his writings with amazing prescience," said playwright Shahid Nadeem.
"What Pakistan has become today Manto predicted with great vision in his short stories and essays. It is about his internal struggle as he himself used to say (Saadat Hassan and Manto)."
The play will begin with readings of Manto by Intezar Hussain, Asghar Nadeem Syed, Naveed Shahzad and Shujaat Hashmi.
The audience at a rehearsal for the play on Sunday suggested that it be included in the schools' syllabus in Pakistan. First, it would educate children about perhaps the country's finest writer. Second, they said, Pakistan was currently dealing with extremism and intolerance and Manto's writings would help combat these.
Madeeha Gauhar, the play's director, said, "Manto was a mild-mannered person but he was indeed an impudent (gustakh) writer. He never minced words when it came to calling a spade a spade.
"At a time when eminent writers were hiding behind ideologies and flowery language, Manto broke taboos, tore through barriers and exposed the nakedness of the king and the society. The kings and the invisible political and religious establishment have never forgiven him for his gustakhi," she said.
Full report at:
http://tribune.com.pk/story/548472/gustakh-visionary-play-on-mantos-life-in-lahore-begins-on-15th/
------------
Musharraf's party wins two seats despite boycott
May 13, 2013
ISLAMABAD: Former president Pervez Musharraf's party on Sunday managed to win a seat each in the National and provincial constituency despite announcing a boycott of the 2013 general elections.
Musharraf's All Pakistan Muslim League (APML) won one seat each for National Assembly and Khyber Pakhtunkhwa's provincial assembly from Chitral's NA-32 and PK-90 constituency.
The APML had announced a boycott of the general elections 2013 after the rejection of Musharraf's nomination papers from all provinces and the imposition of a lifetime ban.
However, some of the party candidates had decided to stay in the field despite the boycott.
Iftikhar ud Din won the NA-32 seat with 19,938 votes, defeating his nearest rival from the Tehrik-i-Insaf Pakistan led by Imran Khan.
Ghulam Mohammad, APML candidate from PK-90, won his seat securing 10,646 against Pakistan Peoples Party candidate who had received 10,524 votes.
In PK-89 constituency, the Pakistan People's Party's Saleem Khan with 11,285 votes defeated APML's Shehzada Khalid.
Full report at:
http://www.thenews.com.pk/article-100744-Musharrafs-party-wins-two-seats-despite-boycott
------------
India
Will invite Manmohan Singh to my oath-taking ceremony: Nawaz
May 13, 2013
LAHORE: PML-N chief Nawaz Sharif on Monday said he will invite Prime Minister Manmohan Singh to Pakistan for his oath-taking ceremony as the new prime minister.
Sharif invited Singh to Pakistan on Monday; Express News reported adding that he said he would also invite Singh to his oath-taking ceremony.
Nawaz has already indicated his desire to normalize "rollercoaster" ties with India.
Prime Minister Singh had lost no time on Sunday in congratulating Sharif on his election victory, which will give him his third term as prime minister of Pakistan, and invited him to visit India at a mutually convenient time.
In an unusually quick response even as counting of votes was underway in Pakistan, Singh conveyed India's desire to work with him to chart a new course in India-Pak relations.
In a letter to Sharif, Prime Minister Singh said, "I look forward to working with you and your government to chart a new course and pursue a new destiny in the relations between our countries. I would also like to extend an invitation to you to visit India at a mutually convenient time."
During the campaign, 63-year-old Sharif had vowed to revive the India-Pak peace process which was interrupted in 1999 by the then military ruler Parvez Musharraf who ousted him in a bloodless coup. Sharif had started the peace process with then Prime Minister Atal Bihari Vajpayee.
http://timesofindia.indiatimes.com/india/Will-invite-Manmohan-Singh-to-my-oath-taking-ceremony-Nawaz/articleshow/20029813.cms
-------------
Return of stronger Sharif bodes well for India
Indrani Bagchi
May 13, 2013
NEW DELHI: It was October 12, 1999 when Nawaz Sharif relinquished his government to a coup by General Pervez Musharraf, who swooped down in a PIA aircraft from Colombo to take over the reins of power. The people of Pakistan had, by and large, welcomed Sharif's exit even if they did not approve of the manner of it.
May 12, 2013 and Sharif is the comeback kid of Pakistan. With a convincing electoral win in the first democratic transition in Pakistan's history, Sharif is set to annihilate his political rival, PPP, outplay the new kid on the block, Imran Khan, and perhaps form a government all by himself. Musharraf, topping all ironies, was not only disallowed from contesting elections but has been under house arrest since he landed back from the UK in a ridiculous show of hubris.
Looking over at Islamabad from across the border, a few things stand out.
First, the elections have shown that Pakistan has turned decisively right. All leftist, or left-leaning parties like PPP or ANP fell by the wayside, even MQM performing poorly. Sharif has close ties with Lashkar-e-Jhangvi and Ahle Sunnat wal Jamaat which has been behind the attacks on Shias and other minorities. Imran Khan, essentially the new leader of opposition, has openly espoused support for Islamist forces. When the Tehreek-e-Taliban declared war on "secular" parties, Sharif's PML (N) was not on their mind.
Rana Banerji, former special secretary, RAW, said, "For arch-hardliners within the die-hard establishment, who can never forgive India for the dismemberment of the state in 1971, this electoral mandate, with right of centre parties poised to share power at the centre and in Khyber Pakhtunkhwa, with the PPP almost decimated except in Sindh, is the best thing that could have happened."
However, Sharif's almost absolute victory is very significant and will make both legislation and governance much easier in Pakistan. A tricky coalition was the last thing Pakistan needed. In fact, given the showing by both PTI and PPP, Sharif even has a fractured opposition, which cannot gang up against him.
For India, a known leader like Sharif has its advantages. "Our best bet in Pakistan is a strong civilian government that can change the India narrative to something we can work with," top level officials said. PM Manmohan Singh in his message to Sharif congratulated him on his "emphatic" victory and invited him to visit India.
In the run-up to the elections, Sharif touched all the India buttons he could find - from economy and trade to probing ISI's role in 26/11, shutting up Hafiz Saeed, not letting Pakistani territory be used for terrorism against India. But a note of caution is in order.
In February 1999, when former PM Atal Bihari Vajpayee bused it to Lahore, the atmosphere was similarly euphoric. Kargil happened in May. In 2008, India was celebrating a civilian government in Pakistan. On November 26, India suffered one of the biggest terror attacks planned and executed from Pakistan. And this after Musharraf himself promised to end terrorism from Pakistan into India in a statement in January 2004.
Sharif's victory this time is also the resounding dominance of Punjab in Pakistani politics. Both LeT and LeJ are Punjab dominated, and both groups have long links with the Sharifs. Indian officials believe Sharif will stick to lip service about investigating ISI, he wants them on his side now, not working against him.
India's best bet would be for the new Pakistan government to focus on opening up trade and the economy. Sharif is a businessman, and understands that his victory is also a thumbs up for governance and an improved economy. Pakistan has to return to the IMF soon for another tranche, it will need a strong government to negotiate the terms. An MFN status for India is also overdue. India can expect that to be one of the first deliverables. Most Pakistan analysts in the Indian government are willing to give Sharif time to settle down and feel the pulse of the government.
Is Sharif a different person? Many in Pakistan say that his years under arrest and in exile and then as a patient opposition leader have served him well, he is more mature, less impulsive, more thoughtful. It may make him a better leader for this new Pakistan. It might make him a more responsible interlocutor for India.
Sharif will want to be careful about pushing the foreign policy front, because that is traditionally held by the army/ISI complex. Banerji reckons that if he pushes too soon, there might be a pushback from the army that could be counter-productive. Sharif has a bittersweet relationship with the Pakistan army and India will be watching carefully to see who the next army chief becomes after Ashfaque Kayani retires for the final time in November. But all accounts suggest that Sharif will disturb that power centre too early in his tenure.
While Asif Zardari will swear Sharif in, it's unlikely he will be staying in Pakistan beyond September. Sharif will want to bring in someone he is comfortable with as the next president. Already the name of Mehmood Khan Achakzai is doing the rounds. The third important appointment will be of the chief justice of Pakistan, when Iftikhar Chaudhry also hangs up his boots.
Full report at:
http://timesofindia.indiatimes.com/india/Return-of-stronger-Sharif-bodes-well-for-India/articleshow/20022276.cms
------------
Omar Abdullah hopes Sharif will help get India-Pak ties back on track
M Saleem Pandit
May 13, 2013
SRINAGAR: With 2014 assembly elections in mind, chief minister Omar Abdullah on Sunday said he hoped Nawaz Sharif's clear victory in Pakistan's general elections would help restore friendship with India and resolve the Kashmir issue. He said he hoped Prime Minister Manmohan Singh would pick up the thread from where it was left by Sharif and then prime minister Atal Bihari Vajpayee in 1999 before Sharif was deposed in a coup by then General Pervez Musharraf.
"Today is an important day for the people of Jammu & Kashmir as the elections were held in Pakistan and Nawaz Sharif emerged victorious," said Omar, addressing a public meeting at Trikulbal Pattan in Baramulla on Sunday.
"From this stage at Trikulbal Pattan, I congratulate Mian Sahib on behalf of the people of Jammu & Kashmir. My government hopes he would carry forward the process of restoring peace and friendship with India and work for resolving the Kashmir issue."
In the same breath, Omar advised the PM to extend a hand of friendship to Sharif to resolve all outstanding issues including those pertaining to J&K in the same manner as Vajpayee had, first with Sharif, and then with Musharraf. Friendship and peace between the two countries is in the larger interest of the people of Jammu & Kashmir, he said.
The main opposition, PDP's patron Mufti Mohammad Sayeed said he hoped a stable government in Pakistan would help kick-start the peace process again. "A democratically elected stable government in Pakistan was a critical element in carrying forward the peace process and Jammu and Kashmir had the highest stake in its revival," the Mufti said.
Complimenting the people of Pakistan for giving democracy a boost by voting in large numbers in an atmosphere marred by threat of violence, Mufti said it augured well not just for the interests of that country but could as well impact India-Pakistan relations in a positive manner. He said Sharif was one of the architects of composite dialogue between the two neighbours and his return to power has raised hopes of an earnest and sincere follow up to the initial progress made on it.
Full report at:
http://timesofindia.indiatimes.com/india/Omar-Abdullah-hopes-Sharif-will-help-get-India-Pak-ties-back-on-track/articleshow/20020548.cms
------------
Indian Embassy given 15,000 runaways' passports
13 May 2013
The Ministry of Foreign Affairs has handed over about 15,000 passports of Indian workers, facing "Huroob" cases or other violations, to the Indian Embassy. "Most passports, surrendered by sponsors to the Saudi authorities, belong to stranded Indian workers, including those languishing in jails on Huroob charges or on charges of violation of Saudi residency laws," said Sibi George, deputy chief at the Indian mission.
"The move will help to repatriate all those workers currently facing Huroob (absconding) charges, provided they have no civil or criminal case against them," said George.
In fact, all Huroob cases against expats are expected to be dropped through the new mechanism announced by the Labor Ministry.
About 80 percent of Indian workers applying for emergency travel documents are runaway workers, including those facing Huroob charges.
The move will also help resolve the issue of "fraudulent Huroob (unjust accusation of running away from a sponsor) that has landed many Indians in jails or prevented them from returning to India," said George. The embassy has uploaded a list of the passports on its website at www.indianembassy.org.sa.
Full report at:
http://www.arabnews.com/news/451456
------------
Mideast
Iran border guards kill 10 Afghan migrants: Kabul
May 13, 2013
KABUL: Iranian guards shot dead 10 Afghan migrants illegally trying to cross the border from the western province of Herat, officials in Kabul said Sunday.
Thousands of Afghans cross illegally into Iran every year to seek work as Afghanistan's economy struggles to grow amid an Islamist insurgency that erupted after the 2001 fall of the Taliban.
"There was a big group, maybe around 200 people, who were trying to cross the border into Iran," Sediq Sediqqi, spokesman for the interior ministry, told AFP about the incident on Friday night.
"They were shot at by Iranian border guards. Ten people were killed and 12 others were wounded," he added, confirming they were illegal immigrants.
An Iranian embassy spokesman in Kabul was not immediately available to comment.
About 2.4 million Afghans — refugees and illegal immigrants — live in Iran, many of whom moved after the 1979 Soviet invasion of Afghanistan.
Full report at:
http://dawn.com/2013/05/12/iran-border-guards-kill-10-afghan-migrants-kabul/
------------
Taliban Says Remaining Turkish Hostages To Be Freed Soon
May 13, 2013
Taliban insurgents in Afghanistan say they will soon release the remaining four of eight Turks they captured last month.
The eight Turkish engineers were seized when bad weather forced their helicopter to make an emergency landing in Afghanistan's Logar Province on April 21.
An Afghan translator and two pilots -- one from Russia and one from Kyrgyzstan -- were seized along with the Turks.
Turkish Prime Minister Recep Tayyip Erdogan said on May 12 that four Turks had been freed and handed over following efforts by Turkey's intelligence service.
Full report at:
http://www.rferl.org/content/afghanistan-taliban-soon-free-turkish-hostages/24984363.html
------------
Yemen army jet crashes in Sanaa, pilot killed
May 13, 2013
SANAA: A Russian-made Yemeni military jet crashed into a residential district of the capital Sanaa on Monday killing the pilot, an army official saaid.
The Sukhoi crashed into "Al-Asbahi residential district in southern Sanaa," the official said.
The official did not provide further details. The accident is the second of its kind in the capital this year after 12 people died in February when another military aircraft ploughed into a building in a residential area.
That plane had also been identified as a Sukhoi SU-22 attack aircraft, and had been on a training mission.
An air base is located near the Sanaa international airport, just 15 kilometres north of the capital.
Such air accidents are common in the impoverished Arabian Peninsula country.
In November, a Yemeni air force Antonov M26 crashed during a training mission in a northern district of Sanaa, killing all 10 on board.
A fighter jet crashed on takeoff on a routine training mission in the south in October, killing the pilot and injuring another crew member, after what the defence ministry described as a "technical failure."
And in October 2011, four people were killed when an Antonov crashed on landing at Al-Anad air base in southern Yemen.
http://timesofindia.indiatimes.com/world/middle-east/Yemen-army-jet-crashes-in-Sanaa-pilot-killed/articleshow/20028751.cms
----------
Turkey says it won't be drawn into Syria conflict
May 13, 2013
BEIRUT/ANKARA: Turkey's prime minister vowed Sunday his country would not be drawn into Syria's civil war, despite twin car bombings the government believes were carried out by a group of Turks with close ties to pro-regime groups in Syria.
The bombings left 46 people dead and marked the biggest incident of violence across the border since the start of Syria's civil war, raising fears of Turkey being pulled deeper into a conflict that threatens to destabilize the region.
Syria has rejected allegations it was behind the attacks. But Turkish authorities said Sunday they had detained nine Turkish citizens with links to the Syrian intelligence agency in connection with the bombings in the border town of Reyhanli, a hub for Syrian refugees and rebels just across from Syria's Idlib province.
Harsh accusations have flown between Turkey and Syria, signaling a sharp escalation of already high tensions between the two former allies.
But Prime Minister Recep Tayyip Erdogan suggested that Turkey would not be drawn militarily in retaliation. He insisted Turkey would "maintain our extreme coolheadedness in the face of efforts and provocations to drag us into the bloody quagmire."
"Those who target Turkey will be held to account sooner or later," he said. "Great states retaliate more powerfully, but when the time is right ... We are taking our steps in a coolheaded manner."
Turkish Foreign Minister Ahmet Davutoglu said those detained were linked to a Marxist terrorist group.
Sabah, a Turkish newspaper close to the government, reported Sunday that authorities suspect the leader of a former Marxist group, Mirhac Ural, now believed to be based in Syria, may have revived his group and ordered the attack.
The group, Acilciler, was one of many Marxist groups active in Turkey through the 1970s and 1980s, and was long-rumored to have been formed by the Syrian intelligence agency. Many of its militants allegedly included ethnic Arab Turks belonging to a sect close to Syria's Alawites. Davutoglu said the Reyhanli bombers were believed to be from the same group that carried out an attack on the Syrian coastal town of Banias a week ago in which at least 62 people were killed.
"Some believe that now that relations [with Turkey] have deteriorated again, Syria may have reactivated the group to cause turmoil in Turkey," said Nihat Ali Ozcan, a terrorism expert at the Ankara-based Economic Policy Research Foundation of Turkey.
Saturday's twin bombings, 15 minutes apart, damaged some 735 businesses and 120 apartments, leaving smoking hulks of buildings and charred cars. It also wounded dozens of people, including 50 who remained hospitalized Sunday.
Syria and Turkey became adversaries early on during the uprising against Syrian President Bashar Assad that erupted in March 2011.
Deputy Prime Minister Besir Atalay said the aim of the attack was to stoke tensions between Turks and Syrian refugees. The town is home to members of Turkey's Arab Alevi community, an offshoot of Shiite Islam, while many of the refugees who have fled Syria are Sunni.
On Sunday, hundreds of people marched in the city of Antakya, near Reyhanli, protesting against the government for its Syria policies and support for the rebels – which some believe has exacerbated the conflict in Syria. Turks in Hatay, the southern province where the town is located, complain that the rebels roam freely, disrupting calm in Turkey's border regions.
Witnesses said they saw Turks attacking Syrian registered cars in Reyhanli soon after Saturday's attack and some Syrians avoided going out in the streets. Erdogan asked citizens in Reyhanli to remain calm and not "fall for the provocations."
Authorities had so far identified 35 of the dead, three of them as Syrians. Families began burying their loved ones.
Earlier in Damascus, Syrian Information Minister Omran al-Zoubi rejected Turkey's charges, saying that "Syria didn't and will never undertake such acts because our values don't allow us to do this."
Full report at:
http://www.dailystar.com.lb/News/Middle-East/2013/May-13/216872-turkey-says-it-wont-be-drawn-into-syria-conflict.ashx#axzz2T7v41XzC
------------
Israel opposition urges Abbas to get back to talks
13 May 2013
JERUSALEM: Israeli opposition leader Shelly Yachimovich yesterday urged Palestinian leader Mahmoud Abbas to seize the chance of resuming peace negotiations as the two met for talks at his West Bank office.
The two discussed "the situation in the Middle East and the chances of making progress between Israel and the Palestinians".
Full report at:
http://www.arabnews.com/news/451433
------------
Iran's Ahmadinejad may face charges over election appearance with aide
May 13, 2013
DUBAI: Iranian President Mahmoud Ahmadinejad may face charges for accompanying his former chief of staff to register for June's presidential vote, the country's electoral watchdog said.
Iran's electoral law forbids the use of state resources on behalf of or against any candidate, and bans individuals from supporting candidates in an official capacity.
Abbas Ali Kadkhodai, a spokesman for the Guardian Council, said the council's supervisory board unanimously agreed "the... actions of the president in introducing an individual as an election candidate constituted a violation and were criminal," according to Khabaronline, an Iranian news site.
"We reported the facts to the judiciary," Kadkhodai said. The Guardian Council, a body of clerics and jurists, vets all candidates for elections.
Ahmadinejad is banned on constitutional grounds from running in the June 14 presidential poll, the first since 2009, when protests erupted over his disputed win against reformist rivals.
Full report at:
http://timesofindia.indiatimes.com/world/middle-east/Irans-Ahmadinejad-may-face-charges-over-election-appearance-with-aide/articleshow/20026450.cms
------------
South Asia
Karzai calls for Pak new govt to back peace talks
May 13, 2013
Kabul: Afghan President Hamid Karzai on Sunday called on Pakistan's incoming government to help negotiate an end to the Taliban insurgency that has ravaged his country for nearly 12 years.
Taliban militants use Pakistan's border areas as a refuge to launch attacks across Afghanistan's south and east, and elements of the Pakistani state are accused of providing tacit support for the Islamist extremists.
Pakistan is suffering from its own domestic Taliban insurgency and has accused Afghanistan of providing shelter to some wanted commanders.
"We hope that the government paves the way for peace and brotherhood with Afghanistan and cooperates in fighting terrorism and sincerely rooting out terrorist sanctuaries," Karzai said.
The two countries need to work together to be "saved from the menace of terrorism", he said in a statement, welcoming Saturday's high voter turnout as a sign that people wanted democracy despite threats from militants.
The West sees Pakistan's involvement as crucial to securing a peace settlement in Afghanistan, where the Taliban have fought against US-led troops since 2001.
But Afghanistan has accused Pakistan of imposing impossible conditions on peace talks, and small-scale border clashes have erupted in the latest sign of frayed tensions.
Full report at:
http://dawn.com/2013/05/12/karzai-calls-for-new-govt-to-back-peace-talks-2/
------------
Taliban free four Turkish hostages in Afghanistan
May 13, 2013
KABUL - The Taliban Sunday freed four of eight Turkish engineers taken hostage last month after their helicopter crashed in Afghanistan, Turkey's Prime Minister Recep Tayyip Erdogan and Afghan officials announced.
The engineers were in good health and the other captives would also be released soon, according to the district governor in the area where the hostages were taken.
"Eight Turkish engineers were kidnapped recently in Afghanistan when their helicopter crash-landed. Thanks to the efforts of MIT (Turkish intelligence), four of them were handed over to us and are safe," Erdogan told a rally in Istanbul.
A Russian, a Kyrgyz and an Afghan were kidnapped along with the eight Turks on April 21 after the crash-landing of their helicopter in Logar, a Taliban stronghold south of the capital Kabul.
"Four Turkish nationals were freed in a remote area of Nangarhar province this afternoon. They were handed over to a Turkish delegation," Hamidullah Hamid, the district governor of Hazra in the eastern province of Nangarhar, told AFP.
"They were freed after the efforts and mediation of tribal leaders. The Taliban told the tribal leaders that they would free the rest of them in the near future. They are all in good health."
The Taliban were not immediately reachable for comment.
Full report at:
http://www.nation.com.pk/pakistan-news-newspaper-daily-english-online/international/13-May-2013/taliban-free-four-turkish-hostages-in-afghanistan
------------
Bangladesh Plans to Raise Pay for Garment Workers
May 12, 2013
DHAKA, Bangladesh (AP) — Bangladesh's government plans to raise the minimum wage for garment workers after the deaths of more than 1,100 people in the collapse of a factory building focused attention on the textile industry's dismal pay and hazardous working conditions.
A new minimum wage board will issue recommendations for pay raises within three months, Textiles Minister Abdul Latif Siddiky said Sunday. The Cabinet will then decide whether to accept those proposals.
The wage board will include representatives of factory owners, workers and the government, he said.
The April 24 building collapse was one of the world's worst industrial disasters and has raised alarm about conditions in Bangladesh's powerful textile industry that supplies retailers globally.
Working conditions in the $20 billion industry are grim, a result of government corruption, desperation for jobs, and industry indifference. Minimum wages for garment workers were last raised by 80 percent to 3,000 takas ($38) a month in 2010 following protests by workers.
Rescue workers said 1,125 bodies had been recovered by late Sunday from the ruins of the fallen Rana Plaza building, which housed five garment factories employing thousands of workers. Teams were using hydraulic cranes, bulldozers, shovels and iron cutters to uncover bodies more than two weeks after the eight-story building collapsed.
"We are still removing the rubble very carefully as dead bodies are still coming up," said Maj. Moazzem Hossain, a rescue team leader.
Hossain said they are trying to identify badly decomposed bodies by their identity cards. "If we get the ID cards with the bodies then we are lucky," he said.
On Friday, the search teams received a much-needed morale boost when they found a seamstress who survived under the rubble for 17 days on dried food and bottled and rain water.
Full report at:
http://www.nytimes.com/aponline/2013/05/12/world/asia/ap-as-bangladesh-building-collapse.html?ref=asia&gwh=B572BD2B5A990F64DAE0E44286993B77
------------
Top Bangladeshi Islamist leader arrested for war crimes
May 12, 2013
DHAKA: A top leader of Bangladesh's fundamentalist Jamaat-e-Islami was arrested on Sunday for war crimes he committed during the 1971 Liberation War against Pakistan.
Rapid Action Battalion arrested Jamaat-e-Islami leader AKM Yusuf, known as the founder of the Razakar force, shortly after a tribunal issued arrest warrant against him in connection with wartime offences.
Razakar was an auxiliary group of then Pakistan army. Yusuf is facing 15 war crimes charges, which include genocide, killing, looting, arson, religious conversion and deportation of people during the 1971 Liberation War.
Later, Yusuf was handed over to Dhanmondi police, said Sheikh Maruf Hasan, deputy commissioner of Dhaka Metropolitan Police (Ramna Division) was quoted as saying by Daily Star.
Full report at:
http://timesofindia.indiatimes.com/world/south-asia/Top-Bangladeshi-Islamist-leader-arrested-for-war-crimes/articleshow/20016379.cms
------------
Roadside bomb kills 10 civilians on Afghan bus
May 13, 2013
KABUL: A roadside bomb hit a bus in southern Afghanistan on Monday and killed 10 civilians, mostly women and children, officials said.
Kandahar province's police chief Gen. Abdul Raziq said the blast wounded another 12 people in Maroof district, roughly 60 kilometers (36 miles) northeast of Kandahar city.
Insurgents plant landmines and roadside bombs in the south and the east of the country to target Afghan and international troops, but civilians often are killed or injured as a result.
Also, Monday a Taliban spokesman said the four remaining Turkish nationals among a group of 11 people abducted last month by the militant group would be released shortly.
An email statement from Taliban spokesman Zabiullah Mujahed said the earlier release of another four Turks was intended as a "goodwill gesture" and "soon" the remaining four Turks still in their possession would also be freed.
Full report at:
http://www.dailystar.com.lb/News/International/2013/May-13/216917-roadside-bomb-kills-10-civilians-on-afghan-bus.ashx#axzz2T7v41XzC
------------
Southeast Asia
Police conduct DNA test on slain terrorists in Java
May 13 2013
The National Police has begun conducting DNA tests on seven terror suspects killed in a series of raids last week across Java.
National Police spokesperson Brig. Gen. Boy Rafli Amar said on Sunday that the police were expected to perform the tests after obtaining DNA samples from the suspects' families in order to confirm their identities.
"The remains have not been identified. We have not obtained DNA samples from their families for comparison," Boy said, as quoted by kompas.com.
Boy estimated that the police's forensic team would complete the tests within a week.
The police's Densus 88 counterterrorism unit gunned down seven terror suspects and arrested 13 others in a series of night operations on Wednesday and Thursday.
The Densus squad killed Budi alias Angga, Junet alias Encek and Sarame after an eight hour gunfight in Bandung, West Java.
Full report at:
http://www.thejakartapost.com/news/2013/05/13/police-conduct-dna-test-slain-terrorists.html
------------
Indonesian Media watchdog to file judicial review
Yuliasri Perdani
May 13 2013,
The Press Legal Aid Institute (LBH Pers) is planning to take legal action if the General Elections Commission (KPU) fails to amend its 2013 regulation, which the media watchdog deems as contravening press freedom.
LBH Pers executive director Nawawi Bahrudin called on the KPU to quickly amend its regulation, which gives the commission the authority to revoke media outlet licenses.
Article 46 (1) of the KPU regulation stipulates that any media outlet failing to provide equal coverage to each legislative hopeful will be sanctioned, with punishments ranging from a reprimand to the revocation of a publishing or broadcasting license.
A number of press organizations have called the regulation a setback for press freedom in the country.
"The KPU must complete the amendment by Wednesday or we will file a judicial review with the Constitutional Court and report the KPU to the Election Organizers Ethics Council (DKPP)," Nawawi said on Sunday.
LBH Pers is concerned that the regulation is a throwback to Soeharto's New Order era, when the government could arbitrarily revoke the licenses of critical media outlets.
The KPU itself has admitted that it made a mistake, Nawawi said.
"Last month, one of the KPU's commissioners, Ferry Kurnia Rizkiyansyah, admitted that the regulation contained some errors and promised to amend them," he said.
LBH Pers said the KPU should only have the authority to monitor the mass media during the campaign period.
If the KPU found a media outlet giving unbalanced reporting about a political party or legislative candidate, the commission could file a report with the Press Council (DKP) or the Indonesian Broadcasting Commission (KPI), the media watchdog said.
KPU commissioner Hadar Navis Gumay said the commission would not be able to meet the deadline set by LBH Pers.
Full report at:
http://www.thejakartapost.com/news/2013/05/13/media-watchdog-file-judicial-review.html
------------
Malaysian Vote Was 'Mother Of All Frauds': Anwar
May 12, 2013
Batu Kawan, Malaysia. Opposition leader Anwar Ibrahim Saturday called Malaysia's recent elections "the mother of all frauds" as he kept up the pressure over polls he says were stolen by the 56-year-old regime.
Anwar addressed tens of thousands in the opposition-governed northern state of Penang three days after a massive rally in the capital Kuala Lumpur kicked off a series of protest gatherings.
Anwar has branded the May 5 elections — won by the Barisan Nasional (National Front) ruling coalition — a heist by Prime Minister Najib Razak and accused the Election Commission (EC) of bias.
"The EC were cheats. The last [election] … is the mother of all frauds," he told the crowd.
"In these elections, we demand answers, and we demand the answers now."
Anwar called the rallies to pressure Najib over the elections, the worst performance ever by the regime, which has ruled Malaysia since independence in 1957. He has said he will soon produce evidence of fraud.
Najib's government insists the elections were free and fair.
Any move to overturn the result looks doomed to fail, with the three-party opposition accusing the EC and courts of being in the government's pocket.
Anwar indicated Saturday the opposition would focus less on challenging the result and more on exposing pro-government biases in the electoral system.
The charismatic Anwar, 65, has battled Barisan ever since he was ousted from its top ranks in a 1998 power struggle and jailed for six years on sex and corruption charges widely seen as trumped-up.
The vote was touted as the first in which the opposition had a chance to unseat Barisan.
But the coalition retained a solid majority in parliament despite winning a minority of the popular vote, a factor blamed on pro-Barisan parliamentary redistricting.
Police have said speakers at the larger initial rally in the capital Wednesday could face sedition charges, but no action has yet been taken.
On Saturday authorities in neighbouring Singapore, where several hundred thousand Malaysians live and work, said they arrested 21 Malaysians for staging an illegal protest, apparently in support of the Penang rally.
A police spokesman told AFP the Malaysians were held under the Public Order Act, under which organizers of illegal protests can be jailed for up to six months or fined Sg$10,000 ($8,100).
Full report at:
http://www.thejakartaglobe.com/international/malaysian-vote-was-mother-of-all-frauds-anwar/
------------
Megawati Lashes Out at Bali Governor
May 10, 2013
Denpasar. Megawati Sukarnoputri, the former president, has accused Bali Governor Made Mangku Pastika of being drunk with power following his decision to break ties with her party for next week's gubernatorial election.
"He was fine before. But he became drunk when he got the power," said Megawati, campaigning for Indonesian Democratic Party of Struggle (PDI-P) candidates Anak Agung Ngurah Puspayoga and Dewa Nyoman Sukrawan in a fishing village in Buleleng district on Thursday.
Megawati accused Pastika of using his power to prevent a fair campaign for the PDI-P when he asked the Bali Elections Supervisory Committee (Panwaslu) to ban Buleleng district head Putu Agus Suradnyana from stumping for the PDI-P ticket.
"Why ban them now and not from before? This [campaign period] has started. I am not happy with that," Megawati said.
She also lashed out at the ministers who campaigned for Pastika and his running mate, Ketut Sudikerta, including Jero Wacik, the energy minister, Sharif Cicip Sutarjo, the fisheries minister, and Agung Laksono, the coordinating minister for people's welfare.
"I just want justice. Don't be like that. The power will be gone one day," she said.
Megawati also questioned the source of Sudikerta's wealth, which soared after he became the deputy Badung district chief.
"People should think critically about where the money came from," she said.
Megawati claimed that Pastika only became governor in 2008 because the PDI-P had given him its backing.
Full report at:
http://www.thejakartaglobe.com/news/megawati-lashes-out-at-bali-governor/
------------
Arab world
Egypt foils an al Qaeda-linked cell attack on foreign embassy
May 13, 2013
Cairo - Egyptian security forces have thwarted a plan by an al Qaeda-linked cell to carry out a suicide attack on a foreign embassy, capturing three militants, the interior minister said on Saturday.
Mohamed Ibrahim said the men, who he accused of having links to militants in the Middle East and Pakistan, were found in possession of 10 kg of aluminum nitrate, which is used to make bombs.
He declined to say which embassy had been targeted.
"The Interior Ministry was able to direct a qualitative blow to a terrorist cell that was planning suicide operations against vital, important and foreign facilities in the country," he said in a televised news conference.
Egypt has long been an incubator for Islamist militancy. Al Qaeda's leader, Ayman al-Zawahiri, is Egyptian.
Security has deteriorated since a 2011 uprising that ousted President Hosni Mubarak, whose 30 years in power were marked by militant violence including an armed Islamist insurrection.
Armed Islamist groups expanded in the Sinai Peninsula after revolt, but militancy has been less apparent in the Nile Delta, where the majority of the population is concentrated.
Two of the suspects were from Alexandria on Egypt's Mediterranean coast, the state news agency reported. It did not say where the third was from.
It was the second time since President Mohamed Mursi, a Muslim Brotherhood politician, came to power that the authorities have said they had uncovered a militant Islamist group in the Nile Valley.
Twenty-six alleged Islamist militants including two former military officers went on trial last month for planning attacks against the state. Ibrahim said that group - known as the Nasr City cell - was connected to the militants whose arrest was announced on Saturday.
He said the militants had been in contact with a militant leader identified as Kurdi Dawud al-Assadi, whom he described as the head of al Qaeda in some countries in west Asia.
Assadi had instructed them to get in touch with members of the Nasr City cell and another militant group based in Sinai - where militants killed 16 Egyptian border guards in an attack last August, he said.
The state security prosecutor's office ordered two of the men detained for 15 days pending investigations. The third was ordered not to leave his house, state news agency MENA reported.
Full report at:
http://www.nation.com.pk/pakistan-news-newspaper-daily-english-online/international/13-May-2013/egypt-foils-attack-on-foreign-embassy
------------
Prince Saud discusses bilateral relations with Iran's foreign minister
13 May 2013
JEDDAH: Foreign Minister Prince Saud Al-Faisal and Iranian Foreign Minister Ali Akbar Salehi discussed bilateral relations between the two countries and developments in the region.
The Iranian minster arrived in Jeddah Sunday evening.
Full report at:
http://www.arabnews.com/news/451401
------------
Syrian opposition to discuss US-Russia plan on 23 May
13 May 2013
Syria's key National Coalition opposition group will meet May 23 to discuss a US-Russian proposal for an international conference on a political solution to the Syrian conflict.
"The meeting will take place in Istanbul and last three days... to take a decision on the Kerry-Lavrov proposal and our participation," Coalition spokesman Sonir Ahmed told AFP, referring to US Secretary of State John Kerry and his Russian counterpart Sergei Lavrov.
The US-Russian proposal, announced in Moscow last week, calls for an international conference to build on a deal agreed last year in Geneva for a political resolution of the Syrian conflict.
The Geneva deal called for a cessation of violence and the establishment of a transitional government.
But it was criticised by the opposition for failing to call for the departure of Syrian President Bashar al-Assad, and was never implemented.
The Coalition has already responded to the US-Russian overture by insisting that Assad's departure must be part of any deal to end the conflict.
But it has also insisted that it welcomes the initiative.
It "appreciates all efforts towards political solutions that meet the demands of the Syrian people, stop the bloodshed, bring about the release of political prisoners, and ensure the departure of the tyrannical dictatorship," the group said in a statement on Sunday.
Ahmed also said the May 23-25 meeting would be a chance for the Coalition to elect a new president to replace Ahmed Moaz al-Khatib, who stepped down in April.
Full report at:
http://english.ahram.org.eg/NewsContent/2/8/71315/World/Region/Syrian-opposition-to-discuss-USRussia-plan-on--May.aspx
------------
Saudis see end to discrimination in jobs
JEDDAH: RIMA AL-MUKHTAR
13 May 2013
Saudis say they are finding more jobs and less discrimination as expatriate workers grapple with the three-month grace period and business owners are suddenly more eager to hire citizens.
"I do feel bad for those who had to leave their jobs because they are working illegally, but I have to say that because of this decision I am now employed in a job that I have been seeking for years," said Sarah Muhsin, high school teacher. "I have been applying to private schools for the job of English teachers but my applications have been rejected by many because I am Saudi and I don't have an American or British accent."
Muhsin said that her bachelor's degree in English literature made no impression on human resources officers charged with hiring, but after the royal decree, her phone started ringing from school officials offering her a job.
Muhsin is among thousands of young Saudis who say they were passed over for jobs in favor of expatriates. They say they were stereotyped as lazy and unreliable, and ultimately too expensive to hire.
Discrimination is a fact of life for Saudi job candidates. Good looks and presentable clothing is essential for salesmen working in known shops.
"I have been seeking to work at well-known clothing stores in Jeddah, but one of the employers was clear when he said that they are only looking for good looking Syrians or Lebanese," said Rakan Shawli. "The Labor Ministry's decision will help me get over this problem and find me a job in these shops I want to work for."
Nawaf Baghdadi, a 22-year-old mechanical engineering student, said he wanted to work in car workshops part-time but was rejected. "It is known that certain nationalities work in workshops and I wanted to learn and work at the same time in the same field but that was impossible because the employer said he will not jeopardize his company's work for a Saudi who wants to play around," he said.
Abdulmalek Saleh, 19, wanted to work as a waiter at one of the coffee shops in Jeddah.
"It is deeply disturbing to know you cannot find a simple job as a waiter in your own country because of stereotyping," Saleh said. "Many think Saudis are hot heads and cannot control their temper in front of diners and this was one of the reasons why I was denied a job at a café here."
Full report at:
http://www.arabnews.com/news/451454
------------
Constitutional Court adjourns key lawsuit on status of Shura Council
12 May 2013
Egypt's High Constitutional Court (HCC) adjourned three politically significant lawsuit: the constitutionality of the Shura Council (the upper house parliament that currently holds legislative power) and the legality of the second Constituent Assembly which drafted the country's current constitution, and two appeals against the emergency law, to 2 June, 2013.
The first case on the Shura Council challenges the legality of the law that governed elections to the body. Notably, in June 2012, the HCC declared the People's Assembly (the lower house of parliament) unconstitutional on the basis of the same electoral law. The People's Assembly was then dissolved.
The second case is a complaint challenging the legality of Egypt's second Constituent Assembly, which formulated the current constitution. The lawsuit challenges the criteria used to appoint members of the body by the People's Assembly.
The first Constituent Assembly, appointed by the People's Assembly dominated by Islamists making up approximately 70 percent of its number, was dissolved by an administrative court in April 2012.
During Sunday's hearing, one of the lawyers who filed the complaint against the Constituent Assembly, Khaled Fouad decided Sunday to withdraw from the case, "to maintain stability and security in the Egyptian legislature", Ahram Arabic news website reported. His decision initiated some scuffles between other lawyers who had also taken part in lodging the complaint.
Full report at:
http://english.ahram.org.eg/NewsContent/1/64/71262/Egypt/Politics-/Constitutional-Court-adjourns-key-lawsuit-on-statu.aspx
------------
No decision on Saudi tourists, says Jakarta
JEDDAH: NAWAL KSAR
13 May 2013
An official at the passports and consular section at the Indonesian Embassy said that the embassy has not yet received direction concerning travel arrangements for Saudi tourists to Jakarta.
The new arrangements stipulate that any Saudi tourist wishing to travel to Indonesia should obtain a visa ahead of their trip.
"The embassy addressed authorities in Indonesia to offer clarification," said Khair Al-Aalem Yousuf. He stressed that entry visa is still being granted to a Saudi tourist at the airport on arrival.
Full report at:
http://www.arabnews.com/news/451448
------------
Africa
800 Tunisian Islamists fighting in Syrian rebel ranks
May 12, 2013
Tunis: Tunisian Foreign Minister Othman Jarandi told AFP on Saturday that some 800 Tunisians are fighting in Islamist rebel ranks in Syria and said the country would work to repatriate its citizens taken prisoner there.
"We don't have exact numbers, since several people left the country illegally, but the most accurate estimate is a maximum of 800," fighting in Syria, he said.
Tunis has been criticised by non-government organisations and the opposition since diplomatic relations with Damascus were severed in February 2011, and has been accused of abandoning Tunisians in Syria to their fate.
"The repatriation of Tunisians can be facilitated by the embassy in Lebanon after the government makes contact with the Syrian authorities about imprisoned Tunisian citizens," Jarandi said.
In March, an inquiry was begun into Islamist networks in Tunisia that channel fighters into the ranks of Islamist groups battling forces loyal to the regime of Syrian President Bashar Al Assad.
Full report at:
http://gulfnews.com/in-focus/syria/800-tunisian-islamists-fighting-in-rebel-ranks-1.1182276
------------
Sudan says South Sudan helped rebels attacking major town
May 13, 2013
KHARTOUM: Sudan accused South Sudan of having supported rebels who launched a major assault two weeks ago, warning this could derail recent oil and security agreements between the African neighbours, state media said on Saturday.
The two countries agreed in March to resume cross-border oil flows and end tension that has plagued them since South Sudan's secession in 2011.
Since then ties have improved with Sudan receiving last week the first oil exports from the landlocked South, which had shut down its production in January 2012 in a dispute over pipeline fees.
But in a new setback, Sudan's National Intelligence and Security Services (NISS) said South Sudan had helped rebels who two weeks ago attacked the central city of Um Rawaba. It was the worst assault since a raid on Khartoum in 2008.
"The support for the (rebel) forces ... included fuel supplies and the opening of military hospitals in the South to receive wounded Sudanese rebels," SUNA said, quoting NISS.
South Sudan also had recently supported rebels from the western region of Darfur and two border states with vehicles, SUNA said, adding South Sudan also has provided weapons, ammunition and training at several camps in its Unity state to form a "another force" to send into Sudan.
"NISS has confirmed that Juba has supported rebels against Khartoum since the cooperation agreement (to resume oil flows)," SUNA said.
South Sudan also had issued emergency travel documents for wounded rebels to receive medical treatment in some African countries and hosted some of their leaders in the capital Juba, SUNA said.
The security services "urged the South's government to stop any involvement in support of Sudanese rebels which threatens the implementation of all cooperation deals between Khartoum and Juba," SUNA said.
There was no immediate comment from Juba, which has long denied it was supporting rebels on Sudanese territory.
Khartoum had since the March deal stopped accusing Juba of backing any rebels but mistrust runs deep between the two sides, which fought one of Africa's longest civil wars before a 2005 peace deal.
Full report at:
http://www.dailytimes.com.pk/default.asp?page=2013\05\13\story_13-5-2013_pg4_6
------------
Tanzania frees 3 Emiratis held after bombing: Report
13 May 2013
Three Emiratis arrested in Tanzania after a deadly attack on a church there a week ago have been freed and are back home, the Al-Khaleej daily reported on Monday.
Tanzanian authorities had arrested them "because they happened, by chance, to be at the site of the attack," the paper said, citing tweets of the United Arab Emirates foreign ministry.
The trio were released with the foreign ministry's help following "coordination between the UAE embassy and Tanzania," it said.
The report quoted "informed sources" as saying that the three Emiratis had returned home.
Saudi Arabia's foreign ministry announced Sunday that a Saudi citizen who had been arrested at the same time as the UAE nationals had been freed without charge.
The Saudi and the three Emiratis were arrested along with five Tanzanians after last Sunday's bombing, described by Tanzanian President Jakaya Kikwete as "an act of terrorism".
Full report at:
http://english.ahram.org.eg/NewsContent/2/8/71324/World/Region/Tanzania-frees--Emiratis-held-after-bombing-Report.aspx
------------
Obama commends democratic transition in Pakistan
May 13, 2013
WASHINGTON: US President Barack Obama congratulated Pakistan Sunday on its parliamentary elections and said Washington was ready to work "as equal partners" with the government that emerges.
Nawaz Sharif, the apparent winner of Saturday's election, was in talks to form a new government in a stunning comeback for a former prime minister who was deposed in a 1999 coup and spent years in jail and exile.
Sharif has been less vocal against US drone strikes than his main rival Imran Khan, and is considered a pragmatist with whom Washington can work.
"My administration looks forward to continuing our cooperation with the Pakistani government that emerges from this election as equal partners in supporting a more stable, secure, and prosperous future for the people of Pakistan," Obama said in a statement.
He congratulated "the people of Pakistan on the successful completion of yesterday's parliamentary elections."
Full report at:
http://dawn.com/2013/05/12/obama-commends-democratic-transition-in-pakistan/
------------
Boston Imam Struggles for Islam Image
12 May 2013
CAIRO – Facing new challenges to present the true image of Islam after deadly bombings, Imam Suhaib Webb, the leader of the largest mosque in Boston, is struggling to offer comfort and advice to Muslim worshippers and promote religious harmony in the town.
"I'm just exhausted," Webb told The Boston Globe on Sunday, May 12.
"I don't have days anymore. I just have . . . smears."
Embracing Islam in the early 1990s, Webb has been working to promote the true teachings of Islam among his congregation.
Aspiring to better fulfil this task, the Boston imam flew to the Middle East to know more about his new faith.
Studying Islam at Azhar University, the highest seat of learning in the Sunni Muslim world, Webb became an advanced legal scholar and one of the most famous imams in the US.
Eighteen months ago, he was appointed as the imam of the Islamic Society of Boston Cultural Center in Roxbury.
From the first days of his appointment, Webb tried to connect with immigrants from all over the world, as well as their US-born children and converts from other faiths.
He also worked to bridge the city's faith communities, extending hands of friendship to other faith communities, especially among some Jewish leaders.
In a short period after his appointment, Webb became a trusted source for the Muslim community, offering them comfort and advice.
He worked to nurture a new generation of American imams and Muslim women scholars, planning to establish the Ella Collins Institute, one of the first Muslim seminaries in the US named after Malcolm X's older half-sister.
For him, Muslims can live faithful lives in contemporary America, and that they also have an obligation to participate — civically, culturally, and politically.
"It doesn't become this abstract philosophical discussion," Kamran Ahmed, a 24-year-old medical student, said, pointing out that Webb drew him to the mosque.
"It becomes this discussion of when this thing happened at work, or this thing happened at school, this is how the Prophet, peace be upon him, would have responded."
Moderate Voices
But last month's bombings in Boston have put Webb's mission into a crucible, giving room for Islamophobes to fuel allegations that mosques are breeding grounds for hatred.
"I don't have any private classes . . . where we meet in some bat cave and we lay out blueprints of how to conquer America," Webb said.
One of these allegations was expressed by Charles Jacobs in a USA Today article in which he accused mosques of becoming breeding grounds for hatred and extremism in the US.
Webb described Jacobs' allegation as "ridiculous".
Many observers were also critical of the allegations.
"The problem isn't Suhaib Webb. The problem is there aren't more imams like Suhaib Webb," Todd Helmus, a senior behavioral scientist with the RAND Corporation who has worked extensively on counterterrorism, said.
For Helmus, Webb's mosque was one of the more active and influential Muslim voices against radicalism in the country.
Diana Eck, a Harvard professor who teaches a case study of the saga of Jacobs and Boston's mosques, agrees.
"For years, they were asking, 'Where are the moderate Muslim voices?' " she said of Jacobs and his allies.
"Now, we have a lot of moderate Muslim voices, and they are saying that these are the most dangerous people because they are involved in civic society."
The United States is home to a Muslim minority of between six to eight million.
US Muslims were among the first to condemn the Boston attacks, without even waiting for the suspects to be identified.
Full report at:
http://www.onislam.net/english/news/americas/462615-boston-imam-struggles-for-islam-image.html
------------
Islamophobes add to their "ideal Muslim leaders" pool
Sheila Musaji
May 12, 2013
The American Islamic Congress (AIC) has been around for awhile, and its leaders are invited to attend international conferences. However, within the American Muslim community it has a very low profile.
After the Boston Marathon Bombings, when Nasser Weddady of the AIC was brought in at the last minute to replace Imam Suhaib Webb as the representative of the Muslim community at a national interfaith service, there were many asking "who is Nasser Weddady" and why was Imam Suhaib replaced with him? Imam Suhaib is very well known in the American Muslim community, and is an Imam and religious scholar - Weddady was none of these. The Jewish News Service among others reported that Imam Suhaib's invitation to participate in the interfaith service was rescinded by Massachusetts Governor Deval Patrick's office. They further make claims about issues with his current mosque's "Muslim broherhood founded" mosque which is managed by the Muslim American Society.
Max Blumenthal was the first to do an in-depth investigation into the AIC, its founder Zainab Al-Suwaij, and Nasser Weddady. Weddady's Free Arabs, American Islamic Congress and the pro-Israel funders who helped them rise. He turned up a great deal of information about their financing and supporters. Blumenthal turned up connections to Steven Emerson's Investigative Project on Terrorism, Charles Jacobs of the David Project, Daniel Pipes' Middle East Forum, and a veritable who's who of Islamophobes. Read his full article for in-depth information on AIC, Zainab Al-Suwaij, and Nasser Weddady.
Blumenthal also reported that the funding for AIC comes from some very troublesome sources. Some of these are Donors Capital Fund (identified in the Center for American Progress's 2011 report Fear Inc. as "the lifeblood of the Islamophobia network in America."), the Lynde and Harry Bradley Foundation, Sheldon Adelson's Adelson Family Foundation, the Klarman Family Foundation (which funds the Israel Project).
Blumenthal notes that:
The AIC is not the only putatively Muslim group funded by Klarman. In 2011, Klarman made his first donation to the American Islamic Forum for Democracy, the shell organization that serves as the personal platform for Zuhdi Jasser. The previously unknown Jasser, a physician from Arizona with no academic or theological credentials, is one of the country's most outspoken Muslim proponents of law enforcement surveillance of Muslim communities. Two years earlier, Jasser was welcomed onto AIC's board of directors, joining a host of like-minded neoconservatives.
This struck me as particularly ominous, as I have noted previously in the article Zuhdi Jasser-AIFD/AILC - Identified by Rep. King as Ideal American Muslim Leadership that there seemed to be an organized effort to elevate "chosen" Muslim individuals and organizations to the status of "official representatives" of the American Muslim community, without any input from the community. The article has a great deal of information on Jasser and AIFD/AILC. A few key points from that article:
... Jasser has been positioning himself as THE moderate Muslim for many years, and his testimony was almost an appeal to consider AIFD as the new organizational face of American Muslims and to help them financially (that sounds like using our tax dollars) - which Jasser thinks wouldn't be in conflict with the first amendment. The champion of freedom wants to tear down the wall of separation between church and state and have the government support and encourage particular Muslim voices.
... During the hearing, Jasser made a remarkable statement that encouraging Muslims to have an attorney present when they speak to law enforcement is enabling "political Islam". This showed the level of his expertise. Fortunately Rep. Sanchez corrected him about this important right of all citizens.
... Summing up:
— A GOP backer has pumped a great deal of money into Jasser's organization.
— Jasser has a seal of approval from Glenn Beck, Frank Gaffney, David Horowitz, Brigitte Gabriel, Daniel Pipes and lots of other Islamophobes.
— Newt Gingrich (who may run for President of the U.S.) included Jasser in his anti-Muslim film and identified Jasser as a "courageous, moderate Muslim".
— Rep. Peter King thinks that AIFD (Jasser's organization) would be an ideal organization to "better" represent the American Muslim Community.
It seems that the Islamophobes are expanding their pool of "suitable" Muslim leaders and organizations to also include the AIC. And, as Max Blumenthal reports, such groups are actually not just wishing for but receiving U.S. government financing:
Despite having participated in a dubious mission that was widely criticized as right-wing political patronage, the AIC has maintained a steady stream of government funding since Barack Obama entered the White House. In 2009, the AIC received more than $433,000 from the State Department to conduct conflict resolution programs in Iraq, claiming to have "diffused 60 conflicts" in the country. Two years later, it reaped $1.28 million in government funding for Iraqi conflict resolution and to train "social entrepreneurs" in Tunisia; over $170,000 of the government money was earmarked for democracy promotion. Today, the AIC maintains offices in Tunis and Cairo, both apparently supported by State Department grants.
After Max Blumenthal's expose came out, Ali Abunimah reported in the article Anti-Muslim group leaps to defense of American Islamic Congress after EI exposé that There have been some very interesting reactions to Max Blumenthal's investigation that revealed the virulently anti-Muslim and pro-Israel donors behind the American Islamic Congress (AIC). One of the most curious of these defenses of AIC that he reports on came from Ryan Mauro of the Clarion Project.
Full report at:
http://theamericanmuslim.org/tam.php/features/articles/islamophobes-add-to-their-ideal-muslim-leaders-pool/0019785
------------
US military involvement in Syria a 'mistake': Gates
13 May 2013
WASHINGTON: Former US Defense Secretary Robert Gates warned yesterday that deepening US military involvement in Syria's civil war would be a "mistake," warning the outcome would be unpredictable and messy.
In an interview with CBS's "Face the Nation," Gates also said he saw "no good outcomes" in dealing with Iran's nuclear program and warned that a full US withdrawal from Afghanistan would be "a disastrous mistake."
Gates' comments on Syria come amid debate in Washington over whether to step up military support for rebels fighting the regime of President Bashar Assad, even as the administration attempts a new peace initiative with Russia.
"I thought it was a mistake in Libya, and I think it is a mistake in Syria, even if we had intervened more significantly in Syria a year ago or six months ago. We overestimate our ability to determine outcomes.
"Caution, particularly in terms of arming these groups and in terms of US military involvement, is in order," he said.
"Anybody who says, 'It's going to be clean. It's going to be neat. You can establish safe zones, and it'll be just swell,' well, most wars aren't that way," he said.
Gates, who served under both George W Bush and President Barack Obama, was US defense secretary in 2011 when the United States joined a NATO-led air operation in Libya that helped rebels topple Libyan leader Moammar Qaddafi.
On Iran, Gates said the best the United States can hope for is that sanctions bite deep enough that the regime decides to change course.
"If there is no military attack, and they don't change their policies, you will probably see a nuclear-armed Iran igniting a nuclear arms race in the most volatile part of the world, emboldened to be even more aggressive and with missiles that can reach Israel now and Europe soon.
"But if you do hit them, then I think the consequences of their retaliation could spin out of control," he said.
Gates, a former intelligence officer who helped oversee US support for Afghan insurgents fighting the Soviet Union in the 1980s, said a residual US force should remain in the country after 2014, when US troops are scheduled to come home.
"I will tell you this: For us to leave lock, stock, and barrel at the end of 2014, and abandon Afghanistan as we did after the Soviets left, would be a disastrous mistake."
Full report at:
http://www.arabnews.com/news/451361
------------
UN peacekeepers kidnapped in Golan released
12 May 2013
Syrian rebels on Sunday freed four Filipino UN peacekeepers whom they had captured on the ceasefire line between Syria and the Israeli-occupied Golan Heights last week.
The rebels from the Yarmouk Martyrs' Brigade had said they were holding the soldiers for their own safety after clashes with Syrian government forces had put them in danger.
A rebel spokesperson said the four were handed over on Sunday morning at a border checkpoint called Beit Ara, in an area where the Jordanian and Israeli borders join with the Golan Heights.
"They have been handed over in a spot in the Yarmouk Valley," Abu Iyas al-Horani told the Reuters news agency.
Albert del Rosario, Philippine foreign minister, confirmed in Manila that the four had been released.
They were seized on Tuesday as they patrolled close to an area where the same rebel group held 21 Filipino observers for three days in March.
Horani said his information was they were probably handed over to the Jordanian authorities.
Qatar praised
Brigadier-General Domingo Tutaan, a spokesperson for the Philippine armed forces, said the four had already been taken back to their battalion in the UN peacekeeping force on the Golan Heights.
They would have medical checks and be debriefed, but appear to have suffered no harm, Tutaan said in a statement.
In New York, Ban Ki-moon, UN secretary-general, said that Qatar - which has close ties to some of the rebel groups fighting to topple President Bashar al-Assad - had helped in securing their safe release.
Full report at:
http://www.aljazeera.com/news/middleeast/2013/05/20135126131439795.html
------------
URL: https://newageislam.com/islamic-world-news/new-age-islam-news-bureau/accept-mqm-mandate-or-detach-karachi--mqm-chief/d/11555