New Age Islam News Bureau
9 May 2020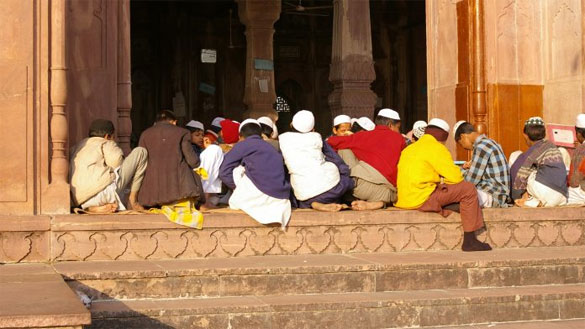 Representational image | Commons
---------
• About 250 Members Of 40 Muslim Families in Haryana's Hisar District Embraced Hinduism On Friday
• First Arab World, Now Canada Saying Enough Is Enough to Muslim-Hating Overseas Indians
• India: 3,000 Tablighi Jamaat Members, Now Tested Negative, Forced To Quarantine After 40 Days
• Shia Clerics Insist on Bringing Out Processions to Commemorate the Martyrdom of Hazrat Ali
• Iran Urges US to End Its 'Abject Unilateralism'
• OIC Expresses 'Deep' Concerns Over Hate Speech and Hostility Towards Muslims In Sri Lanka
• Kelantan Islamic Affairs Council Distributes RM21.9m Zakat to Eligible Zakat Recipients
• Friday Prayer Performed in Sana Mosques Again, After Being Suspended Due Coronavirus
• Arizona: Muslim Students Threaten to Kill Prof for Suggesting Islam Is Violent
• From Christians And Muslims Positive Responses to The High Committee For Human Fraternity
• Al-Falah Movement President Hails Custodian of Two Holy Mosques Stances in Supporting Needy Families in Senegal
----------
India
• About 250 Members Of 40 Muslim Families in Haryana's Hisar District Embraced Hinduism On Friday
• First Arab World, Now Canada Saying Enough Is Enough to Muslim-Hating Overseas Indians
• India: 3,000 Tablighi Jamaat Members, Now Tested Negative, Forced To Quarantine After 40 Days
• Bengal Clerics Demands Easing Restrictions from Places of Worship
• FIR Against Sudhir Chaudhary No Badge Of Honour, 'Jihad Chart' Lifted From Dubious Page
• ManSneaks Into Mosque, Gives Untimely Prayer Call
------
Pakistan
• Shia Clerics Insist on Bringing Out Processions to Commemorate the Martyrdom of Hazrat Ali
• KP govt eases lockdown, allows shops to open four days a week
• Minorities body violation of SC verdict, says Rabbani
• Sindh entering second phase of lockdown with 'some extra restrictions', says Murad
• Corona patients occupy 54pc beds in hospitals across Punjab
• 115 policemen infected with Covid-19 in Sindh
-----
Mideast
• Iran Urges US to End Its 'Abject Unilateralism'
• Birth Anniversary of Imam Hassan (PBUH) To Be Celebrated On 15th Of Holy Month of Ramadan
• Turkey: 'UNESCO Locksmith' Gets Motivation in Ramadan
• Turkey distributes Ramadan aid, hygiene kits in Tunisia
• Hamas slams US envoy to Israel for recognizing Israeli 'right' to annex West Bank
• Iran daily coronavirus death toll hits lowest level in over 11 weeks: Health Ministry
------
South Asia
• OIC Expresses 'Deep' Concerns Over Hate Speech and Hostility Towards Muslims In Sri Lanka
• As Lockdown Curbs Ease, Muslim Across Bangladesh Offer JummahPrayers At Mosques
• Myanmar Muslims Jailed For COVID-19 Rules Breach
• Afghans face dire condition in Ramadan amid coronavirus lockdown
• Afghanistan records 253 new cases of coronavirus in past 24 hours
• Pakistani military releases details of the meeting between Gen. Bajwa and Khalilzad
• Khost Police Chief killed in a roadside bomb explosion
-----
Southeast Asia
• Kelantan Islamic Affairs Council Distributes RM21.9m Zakat to Eligible Zakat Recipients
• Shell Malaysia Offers Ramadan Delights Made By SMEs At Its Stations
• CMCO: Perlis Allows Conditional Friday Prayers for Mosque Officials In The State
• In Padang Jawa's 'Ramadan bazaar', Covid-19 awareness present, but compliance leaves much to be desired
• CMCO: Muslims to observe Nuzul Quran amid new normal
• Muslim fashion books 90 percent fall in revenue despite Ramadan
• Indonesia's Garuda to seek restructuring of $500-mln Islamic bonds
• A Different Kind Of Ramadan: Hong Kong Muslims Observe Fasting Month At Home, As • Pandemic Measures Halt Mosque Gatherings
-------
Arab world
• Friday Prayer Performed in Sana Mosques Again, After Being Suspended Due Coronavirus
• Friday prayers at Imam Muhammad ibn Abd Al Wahhab Mosque
• I Try My Best to Live Up to The Spirit: Dubai Expat on Ramadan Amid Pandemic
• Saudi Ambassador to South Africa Hands Over Ramadan Food Baskets to Islamic Centres
• Ramadan 2020: UAE Sends 50,000 Tonnes of Food to Support Cancer Patients in Yemen
• Custodian of the Two Holy Mosques Makes Telephone Call to U.S. President
------
North America
• Arizona: Muslim Students Threaten to Kill Prof for Suggesting Islam Is Violent
• New York Muslims raise concerns about substandard Ramadan meals
• Metro Detroit's Halal Restaurants Adjust to Ramadan Service in a Pandemic
• Fort Mcmurray Rallies To Support Muslim Community During Ramadan
• Brazil reports new daily record for Covid-19 deaths as country's cases exceed 145,000
-----
Europe
• From Christians And Muslims Positive Responses to The High Committee For Human Fraternity
• Barcelona police arrest suspected Islamic State terrorist planning lockdown attack
• Fuad Nahdi legacy fund set up to continue work of pioneer of Muslim-focused journalism in London
• Zagreb Declaration reveals Europe's ambiguity on Muslim-majority Albania
• Drive-thru iftars and coronavirus task forces: How Muslims are observing obligations to the poor this Ramadan
• Germany: Muslims ready to go back to mosques
-----
Africa
• Al-Falah Movement President Hails Custodian of Two Holy Mosques Stances in Supporting Needy Families in Senegal
• Lekki Muslims to feed 3,000
• Police cleared of 'blasphemous remarks' during mosque lockdown arrests
• Zim Security Forces On High Alert Amid Threats Of Infiltration By Islamic Groups
• Muslim leaders urged to support battle against COVID-19
• Faithful undeterred at Ramadan, even as virus spreads in Somalia
• 253 Nigerians evacuated from UK arrive Lagos
Compiled by New Age Islam News Bureau
URL; https://www.newageislam.com/islamic-world-news/about-250-members-40-muslim/d/121805
------
About 250 Members Of 40 Muslim Families In Haryana's Hisar District Embraced Hinduism On Friday
May 9, 2020
HISAR: About 250 members of 40 Muslim families from Bidhmira village in Haryana's Hisar district embraced Hinduism on Friday and performed the last rites of a 80-yearold woman according to Hindu customs. Earlier, about 35 members of six Muslim families also embraced Hinduism at Jind'sDanoda Kalan village on April 18.
Satbir, the new convert, said his mother Phooli Devi died a natural death on Friday and the Muslim families of the village decided that since they lead the Hindu way of life, they should declare themselves to be Hindus and decided to do the cremation as per Hindu rituals. Earlier, the dead were cremated according to Muslim customs, he said.
Satbir claimed that he was from Doom caste and has heard of his Hindu ancestors embracing Muslim under pressure during the time Mughal ruler Aurangzeb. Their entire village celebrates Hindu festivals but the last rites of the dead are done according to Muslim religion, he said. Asked whether there was pressure on them to convert, he denied it, saying no villager had misbehaved with anyone.
Attempts to reach the village sarpanch remained futile as his phone was switched off. However, a village youth, Majid claimed that as earlier the people of his society were not educated, they did not know the old things. "Now many people are educated and they have convinced everyone to do this (change religion)," he said. "It is only when we bury our dead, that the villagers looked at us differently. Therefore, looking at the future of children, we decided to convert," he said.
Muslim Welfare Organization state president Harfool Khan Bhatti said he knew about the Danoda Kalan incident village but did not have much information about Bithmara village. "The conversion of Danoda Kalan village happened to avail the benefit of the scheduled caste category as they belong to the Doom caste," he said.
Doom caste has been kept in SC category, but according to a 1951 notification, Muslims and Christians citizens of Doom caste cannot avail the reservation benefit, he said.
When the case of Mohammad Saddiq, who became an MLA on Congress ticket from a reserved seat in Ludhiana, went to Supreme Court, he won the case by saying that he was Mazhabi Sikh and not a Muslim, Bhatti pointed out.
https://timesofindia.indiatimes.com/city/gurgaon/haryana-40-muslim-families-convert-to-hinduism/articleshowprint/75639892.cms
https://timesofindia.indiatimes.com/city/gurgaon/haryana-40-muslim-families-convert-to-hinduism/articleshowprint/75639892.cms
------
First Arab World, Now Canada Saying Enough Is Enough To Muslim-Hating Overseas Indians
SAIF ULLAH KHAN
8 May, 2020
For the past few years, Islamophobia and hate against Muslims have grown at an unprecedented rate in India without any consequences. And like most things Indian, this bigotry has also gone international. But while bigots in India have enjoyed a free run with direct and indirect support of members in the ruling Bharatiya Janata Party and even Narendra Modi government, the situation for bigoted Indians living abroad, such as in the Gulf and now Canada, has taken a different turn.
After several incidents of Indian expatriates in the Gulf countries being called out for their Islamophobic tirade on social media and getting sacked by their employers, it was Canada's turn to take down such hate.
Ravi Hooda, a real estate agent based in Ontario, was angered by Brampton mayor Patrick Brown's tweet over exemptions given in the city's noise bylaws to allow azaan (call to prayer).
Our noise by law originally passed in 1984 only included an exemption for Church bells. It will now include all faiths within the permitted hours & decibel levels. The Muslim community can proceed with the sunset azan because it's 2020 & we treat all faiths equally. #Ramadan pic.twitter.com/WGPmf8fA5b
"What's next? Separate lanes for camel & goat riders, allowing the slaughter of animals at home in the name of sacrifice, bylaw requiring all women to cover themselves from head to toe in tents to appease the piece fools for votes," he tweeted in reply.
It was lost on the Islamophobe that the exemption was earlier limited to church bells and was now being extended to all faiths. Perhaps, he also forgot that he was in Canada, and not in India, where such remarks draw thousands of likes and retweets. But he soon learnt his lesson.
Hooda, who later deleted his tweet, was called out by several Twitter users, including Canada's Anti-Hate Network, for his vile comments. The real estate company he was associated with terminated his services. He has also been removed as the School Council Chair by the Macville Public School.
We do not share nor support the views of Mr. Hooda. We can confirm he has been terminated and is no longer affiliated with RE/MAX. Multiculturalism & diversity are some of the best qualities in our communities, and we are committed to upholding these values in all that we do.
The Principal has begun an investigation. The individual is being removed from their role as School Council Chair and won't be able to participate on council in any other capacity. Islamophobia is not acceptable and a clear violation of our Safe and Accepting Schools Policy.
This follows the recent trend seen in the Gulf countries where several Indian expatriates have been fired for their Islamophobic posts targeting Muslims for the spread of Covid-19.
While Canada has won praise for its swift action against Islamophobia, things back home are not that great with hate mongers having a field day — despite several Gulf nations being vocal about it and asking the Modi government to take action.
Over the past few years, hate and communal polarisation, specifically targeted at the Muslim community, has emerged as a low-cost election winning formula for India's political class. With already existing deep chasms of insecurity and communal divide, it takes no more than a dog whistle to act as communal kindling.
Indian social media, especially since the run-up to the 2014 Lok Sabha election, has seen a steady rise in hate targeted at Muslims, blaming them for almost every evil besetting the country.
The factual accuracy, and history, of hate mongers may be as bad as their logic, but they all manage to achieve the intended result – violence against Muslims.
If it passes muster in the homeland, if there are no repercussions here, why not replicate it elsewhere — or so goes the belief. This bigotry is so normalised that many Indians working and living in the Gulf countries, a predominantly Muslim majority region, see no problem in spreading this vitriol.
But unlike previous occasions when the Gulf countries had taken a customary stand on targeting of Muslims in India, the Arab world is more vocal and proactive this time. The fact that this hate is being spewed by the Indian diaspora working in these countries has also hit home. It may not bode well for the Indian economy, because expatriates from the region send a significant amount of remittances back home. India has held the top position as recipient of international remittances for a few years now, with the Gulf nations alone contributing more than 50 per cent of the total.
Majority Indians' unadulterated hate against Muslims risks undoing not only the social fabric that keeps the country together in a deeply polarised world, but also the economic benefits that help a large section of the country's migrant citizens. But if the past months have shown anything, even a national health emergency is ineffective in curtailing Islamophobia; on the contrary, it can be a major tool in flaming it.
Between 28 March and 3 April, the hashtag 'CoronaJihad' appeared three lakh times on Twitter and close to 30 crore people were reportedly exposed to the hate.
The Tablighi Jamaat congregation in Delhi and the subsequent demonisation of the Muslim community as the villain was just another chapter out of India's Right and the IT cell handbook on how to target minorities.
Probably not wanting to rock the relationship boat with the Arab world, which recently bestowed several awards on him, PM Modi paid a delayed lip service and called for unity in the fight against the coronavirus pandemic.
Overall, though, no one in his government batted an eyelid when Muslims were violently attacked or when incidents of their social and economic boycott by Hindus began to be reported from all over India.
But the international community showed it's not blind to the hate, even if it's beset with its own problem of fighting the pandemic.
In an annual report, the US Commission on International Religious Freedom (USCIRF) listed India among "countries of particular concern" that would be subject to sanctions if they do not improve their records.
"In 2019, religious freedom conditions in India experienced a drastic turn downward, with religious minorities under increasing assault," the report said.
With Canada now joining the league, there's hope that the action of other countries will shake-up our conscience.
https://theprint.in/opinion/pov/arab-world-canada-muslim-hating-overseas-indians-islamophobia/416758/
------
India: 3,000 Tablighi Jamaat Members, Now Tested Negative, Forced To Quarantine After 40 Days
Cheena Kapoor
08.05.2020
A total of 3,013 members of a Muslim religious group still remain detained at various quarantine facilities in Delhi after over 40 days.
The Tablighi Jamaat members, who have tested negative and their 14-day quarantine period is long over, have not been released despite requests.
Dr. Mohammad Shoaib, Delhi Health Department's COVID-19 coordinator, confirmed to Anadolu Agency all members are ready to be released.
"All members have now tested negative and await their release. We have approached the officials a few times but got the same answer that paperwork is underway. The Delhi localities have not been released either," said Dr. Shoaib.
He also said 250 of the quarantined Tablighi members even came forward to donate their plasmas, and confirmed the plasmas have been received.
Delhi Health Department has written to the Union Ministry of Home Affairs, twice on April 17 and May 3, for protocols on the release, but have not heard anything.
In its letter, the department also mentioned that "[the members] have not only tested negative but also completed more than 28 days of stay in hospitals/quarantine facilities."
In a press conference on Thursday, the Delhi Health Minister Satyendra Jain said they have repeatedly sought "directions and protocols" from the ministry, adding that the members could not be sent earlier due to complete lockdown till May 3.
"If the police have to act against anyone, it is free to do so. Otherwise, those still in quarantine despite testing negative now should be released," Jain said.
In a five-day operation late-March, Tablighi attendees had been evacuated from the global Tablighi Jamaat headquarters in Delhi, turning it into Delhi's first hotspot for virus. A total of 1,080 had tested positive, but all have been under quarantine since then.
The Tablighi Jamaat India head- Maulana Muhammad Saad Kandhlawi- is facing serious criminal charges for organizing the event, and has been under self-quarantine since the news broke out. He has tested negative for coronavirus.
The virus officially known as COVID-19 emerged in Wuhan, China last December, and has spread to at least 187 countries and territories. Europe and the US are currently the worst-hit regions.
The global death toll from the pandemic nears 270,000, with total infections over 3.85 million, while recoveries have passed 1.28 million, according to figures compiled by the US' Johns Hopkins University.
https://www.aa.com.tr/en/asia-pacific/india-3-000-muslims-forced-to-quarantine-after-40-days/1833654
-----
Shia Clerics Insist on Bringing Out Processions to Commemorate the Martyrdom of Hazrat Ali
Kalbe Ali
May 09, 2020
ISLAMABAD: Several Shia groups have conveyed to the government that they will bring out processions to commemorate the martyrdom of Hazrat Ali and it cannot ban them.
The resolve was expressed by top Shia clerics belonging to different religio-political groups during a meeting with Minister for Religious Affairs Pir Noor-ul-HaqQadri here on Friday. The Shia clerics belonging to Sindh and Punjab participated in the meeting through video link.
The minister said the current situation required the protection of people from coronavirus and it should be the top priority. He said that permission for the processions would be granted after consultation with the provinces.
The meeting was called to discuss the mourning processions and gatherings related to the martyrdom of Hazrat Ali falling on May 13 to 15 (19th to 21st Ramazan).
While the Sindh government took the decision to ban the processions on April 28, the leaders of Shia groups expressed their defiance only two days ago.
"This created a conflict-like situation. The government should have controlled the social media activism by sectarian groups," said a senior Shia cleric. He said some proscribed groups had issued provocative and derogatory statements on social media following the Sindh government's decision.
During the meeting, Mr Qadri lauded the clerics' role and said religious circles had largely implemented the 20-point action plan agreed between the government and ulema. He praised the managements of Shia mosques for abiding by the directives.
The meeting was attended by Majlis Wahdatul Muslimeen head Allama Nasir Abbas, Shia Ulema Council secretary general AllamaArifWahidi and Tehreek Nifaz-i-FiqahJafaria (TNFJ) senior leaders Allama Basharat Imami and Allama Qamar Zaidi.
Allama Nasir Abbas and AllamaArifWahidi pointed out that President ArifAlvi had announced that the processions commemorating the martyrdom of Hazrat Ali too would be allowed following the SOPs agreed under the 20-point action plan.
However, Allama Qamar Zaidi told the religious affairs minister that the TNFJ would not accept any obstruction or binding to restrict the processions.
https://www.dawn.com/news/1555716/shia-clerics-insist-on-bringing-out-processions
-----
Iran urges US to end its 'abject unilateralism'
08 May 2020
Iran says the United States must stop seeking to secure its short-term interests at the cost of other nations' long-term prosperity.
"JCPOA is neither the first nor the last of the multilateral achievements Trump withdrew from," said Iran's Foreign Ministry spokesman Abbas Mousavi in a tweet on Friday, referring by acronym to the Joint Comprehensive Plan of Action, the 2015 nuclear deal between Tehran and world powers, from which US President Donald Trump withdrew in 2018.
As part of the JCPOA, the UN arms embargo on Iran — in place since 2006/2007- are to be lifted in October 2020 — five years after the JCPOA took effect.
With the date looming, the US has shared with some members of the Security Council a draft resolution to prolong the arms embargo indefinitely.
To circumvent China and Russia's veto of the resolution, which are both parties to the JCPOA, the US will argue that it legally remains a "participant state" in the deal only to invoke a "snapback" that would restore the UN sanctions, which had been in place against Iran prior to the JCPOA's inking.
However, both Iran and the three European signatories to the 2015 nuclear deal– Britain, France and Germany –agree that the US is no longer a party to the accord and thus not entitled to push for the extension of a UN arms embargo on Tehran.
Meanwhile, a former Iranian diplomat believes the US bid to "return" to the JCPOA is part of a wider plot to extend its pressure on the Islamic Republic after the failure of its "maximum pressure" policy.
AbolfazlZohrehvand, a former Iranian ambassador to Italy and Afghanistan, says the US' withdrawal from the nuclear deal caused troubles for them despite their earlier assumption.
"Now the Americans seek to re-enter the JCPOA to create a fresh round of pressure, and are in fact seeking to use the JCPOA capacities to further arms sanctions on the Islamic Republic," he said in a Friday radio interview.
https://www.presstv.com/Detail/2020/05/08/624896/Iran-US
-----
OIC expresses 'deep' concerns over hate speech and hostility towards Muslims in Sri Lanka
May 9, 2020
May 09, Colombo: The General Secretariat of the Organization of Islamic Cooperation (OIC) has expressed its deep concern over reports on escalating hate speech and hostility towards Muslims in Sri Lanka and the promotion of biased and rejected allegations holding members of the Muslim community responsible for the spread of the novel Coronavirus pandemic (COVID-19) in the country.
The Jeddah, Saudi Arabia -based international organization in a statement also noted that the reports that authorities cremated bodies of the Muslim victims of the pandemic and arrested community members who rejected these practices.
"In this regard, the OIC reaffirmed its firm position rejecting all policies and practices targeting the rights of Muslims anywhere. Furthermore, it called on the authorities in Sri Lanka to ensure the safety, security and rights of the Muslim community, as well as commitment to respect their religious practices and rituals, safeguard their dignity and to stand firmly against all parties behind the promotion of hatred, Islamophobia, and anti- Muslim sentiment in Sri Lanka," the statement said.
The OIC also stressed that the current global juncture requires the involvement of all actors in strengthening the bonds of cooperation and the values of solidarity among states and consolidating cohesion and synergy among constituents of each state to collectively and effectively respond to COVID-19 pandemic and its repercussions on all societies.
http://www.colombopage.com/archive_20A/May09_1589002589CH.php
-----
Kelantan Islamic Affairs Council Distributes RM21.9m Zakat to Eligible Zakat Recipients
09 May 2020
KOTA BARU, May 9 — The Kelantan Islamic Affairs and Malay Customs Council (Maik) has allocated RM21.9 million in zakat (tithe) for asnaf (eligible tithe recipients) in the state through the Maik Concern Programme during the movement control order (MCO) period.
Maik president Tengku Tan Sri Mohamad Rizam Tengku Abdul Aziz said RM4.7 million had been distributed in the first phase, RM7.9 million in the second phase and the third phase would involve RM9.3 million.
The programme, among others, aimed at helping the asnaf prepare for the Ramadan fasting month and Aidilfitri, he said in a statement last night.
Tengku Mohamad Rizam, who is also Tengku Temenggong of Kelantan, said RM2 million special Ramadan aid would be distributed to 10,000 asnaf.
"During the month of Ramadan, Maik also opens its zakat counters as usual by following the guidelines set by the Ministry of Health as well as providing an online platform for the convenience of all zakat payers," he said.
https://www.malaymail.com/news/malaysia/2020/05/09/kelantan-islamic-affairs-council-distributes-rm21.9m-zakat-to-asnaf/1864578
-----
Friday Prayer Performed In Sana Mosques Again, After Being Suspended Due Coronavirus
8 May، 2020
Damascus, SANA- Mosques reopened to perform Friday Prayer, perceiving all health procedures to address the Coronavirus.
The Ministry of Awqaf (Religious Endowments) announced last Monday that mosques would be reopen for prayer only on Fridays to perform only Friday prayer while the Mass prayers will continue to be suspended on 8 May 2020.
Friday Prayer today, was performed under strict health procedures that impose on the prayers during the 10 minutes' ceremony, to put on masks and commit to the distance measures etc.
https://sana.sy/en/?p=191207
----
Arizona: Muslim Students Threaten to Kill Prof for Suggesting Islam Is Violent
BY ROBERT SPENCER
MAY 08, 2020
This will teach those Islamophobes that Islam is a religion of peace: a professor is facing death threats for suggesting otherwise. Nicholas Damask, Ph.D., has taught political science at Scottsdale Community College in Arizona for 24 years. But now he is facing a barrage of threats, and his family, including his 9-year-old grandson and 85-year-old parents, is in hiding, while College officials are demanding that he apologize – all for the crime of speaking the truth about the motivating ideology behind the threat of Islamic jihad worldwide.
Damask, who has an MA in International Relations from American University in Washington, D.C., and a Ph.D. in Political Science from the University of Cincinnati, says he is "to my knowledge, the only tenured political science faculty currently teaching in Arizona to write a doctoral dissertation on terrorism." He has taught Scottsdale Community College's World Politics for each of the 24 years he has worked at the school.
Professor Damask's troubles began during the current Spring semester, when a student took exception to three quiz questions. The questions were:
Damask explained: "All quiz questions on each of my quizzes, including the ones in question here, are carefully sourced to the reading material. On this quiz, questions were sourced to the Qur'an, the hadiths, and the sira (biography) of Mohammed, and other reputable source material." And indeed, the three questions reflect basic facts that are readily established by reference to Islamic texts and teachings and numerous statements of terrorists themselves.
Despite this, the student emailed Damask to complain that he was "offended" by these questions, as they were "in distaste of Islam." Damask recounted: "Until this point, notably, the student had expressed no reservations about the course material and indeed he said he enjoyed the course."
Damask sent two lengthy emails to the student responding to his complaints, but to no avail. A social media campaign began against Damask on the College's Instagram account. Damask notes: "An unrelated school post about a school contest was hijacked, with supporters of the student posting angry, threatening, inflammatory and derogatory messages about the quiz, the school, and myself."
At this point, College officials should have defended Professor Damask and the principle of free inquiry, but that would require a sane academic environment. Scottsdale Community College officials, Damask said, "stepped in to assert on a new Instagram post that the student was correct and that I was wrong – with no due process and actually no complaint even being filed – and that he would receive full credit for all the quiz questions related to Islam and terrorism."
On May 1, Damask had a conference call with Kathleen Iudicello, Scottsdale Community College's Dean of Instruction, and Eric Sells, the College's Public Relations Marketing Manager. Damask recalls: "I was not offered to write any part of the school's response, and there was no discussion of academic freedom or whether the College was even supportive of me to teach about Islamic terrorism. The very first point I made with them on the call (and virtually the only input I had) is that I insisted that the College's release was to have no mention of any actions to be required to be taken by me personally, I was very clear about that."
Predictably, Iudicello and Sells ignored that. They issued an apology to the student and to the "Islamic community," and stated on the College's Instagram page that Damask would be "required" to apologize to the student for the quiz questions, as the questions were "inappropriate" and "inaccurate," and would be permanently removed from Damask's exams.
Damask also had three phone calls with Iudicello, who gave him a bracing introduction into today's academic funhouse world, where if someone is offended by the truth, it's the truth that has to be deep-sixed. "During one call with Iudicello," Damask recounts, "she stated that my quiz questions were 'Islamophobic,' that before continuing to have any further class content on Islamic terrorism I would likely need to meet with an Islamic religious leader to go over the content, and that I would likely need to take a class (perhaps at Arizona State) taught by a Muslim before teaching about Islamic terrorism."
"The irony here," says Damask, "is that literally during this phone call, I and my wife were tossing socks and jammies and our nine-year-old grandson's toys into a suitcase to get the hell out of the house because of the death threats made by Islamic commenters on the College's Instagram page."
College officials took no public notice of the fact, but the posts on its Instagram page discussing the incident had begun to fill up with threats against Damask, including these statements: "if he is still around I suggest the students take action to make sure he isn't"; "drop the professor's address I just wanna talk"; "what's the instructor's name and address, I just want to say 'hi'"; "I wish everything bad on these kuffar" [unbelievers]; "I hope he suffers."
According to Damask, "there are literally hundreds of posts like this. There have been death threats, at least one call for a school shooting, and at least one call to burn down the school. Again, all of these threats are still on the College's Instagram page." When he asked school police to shut down the social media posts in light of these threats, they told him the posts were being monitored. Yet the threats were not taken down.
On Sunday night, the school sent Damask the apology that he was to make to the offended student. It is full of the expected embarrassing groveling: "I know," Damask is supposed to inform the student, "a simple apology may not be enough to address the harm that I caused but I want to try to make amends." He promises the student: "I will be reviewing all of my material to ensure there's no additional insensitivities." (Apparently politically correct academics cannot be bothered to internalize basic rules of grammar.)
"It goes without saying," says Damask, "that I will not apologize for anything, that it is perfectly appropriate to discuss Islam, Muhammad, the Quran, the hadiths and any other matter related to Islamic terrorism. Incidentally: there has been no official complaint, no due process for me, just a mad scramble by the school to appease Islam."
Damask's introduction to the new Leftist academic world in which identity trumps truth has been bitter. "The College," he says, "has displayed an appalling lack of respect toward my rights; it has essentially engaged in defamation by terming my course material inaccurate, insensitive and that I have violated the College's values; has denied my civil rights through waiving any and all due process procedures; violated my First Amendment rights by demanding I make an apology to the student; and violated my First Amendment and civil rights by demanding I alter my course material. Further and perhaps worse, I believe the school has effectively encouraged and permitted these threats to be made against me when the school could have immediately put a stop to them, which is tantamount to allowing mob threats against me."
https://pjmedia.com/culture/robert-spencer/2020/05/08/arizona-muslim-students-threaten-to-kill-prof-for-suggesting-islam-is-violent-n389324
------
From Christians and Muslims positive responses to the High Committee for Human Fraternity
05/08/2020
Beirut (AsiaNews) - Seventeen Christian and Muslim organizations, movements and religious associations responded positively to the appeal launched yesterday by the High Committee for Human Fraternity and accepted by the Imam of al-Azhar, Ahmad al-Tayyeb and Pope Francis, in in favor of a Day of Prayer, May 14, for God to remove the coronavirus pandemic from the planet and inspire scientists to find a cure.
Earlier this week, the Head of State welcomed this initiative, which the Nuncio had told him about, while also referring to "the Pope's closeness" in these decisive times for Lebanon and the Lebanese.
The membership of seventeen Muslim and Christian institutions is a real victory. This is especially true when we see in the list the Makassed, central institutions of the Sunni community, the "Religions and Cultures Forum for Development and Dialogue" of Sheikh Ali Fadlallah and the "Imam Sadr Foundation", two central institutions of the Shiite community, distinct from the movement Hezbollah politicians. Their presence side by side, at a critical moment in the political relations of power between the two communities, is of the utmost importance, as it pours into a dynamic of peace.
However, the official representative bodies of the Eastern Churches in Lebanon and Muslim communities have not yet responded to the call. An appeal from the National Committee for Islamic-Christian Dialogue chaired by Mohammad Sammak and Harès Chehab is expected in the coming days, according to informed sources.
Created after the meeting on February 4, 2019, in Abu Dhabi, between Pope Francis and Imam Ahmad el-Tayyeb (pictured), the High Committee for Human Fraternity states that this initiative is intended as a plea to God "so that saves humanity and helps end this pandemic and restore security, stability, health and prosperity in order to make our world more humane and more fraternal than before after the end of this pandemic."
Here is the joint press release published yesterday by the 17 institutions: "In response to the initiative of the High Committee for Human Fraternity launched under the auspices of Pope Francis and the Imam of Al-Azhar, Ahmad al-Tayyeb, who invited all people around the world to individually turn to God in prayer, fasting, supplication and good works, Thursday 14 May 2020, each according to their religious faith, creed and rituals, so that God will remove the life-threatening coronavirus epidemic of millions of people, help us fight this scourge and inspire scientists to find a cure, and that save the world from the disastrous health, economic and human consequences of this dangerous epidemic."
"And as an expression of our national unity, of our social and religious responsibility and as a sign of our universal fraternal human solidarity, especially in these difficult circumstances that Lebanon is going through, having lost many of the means of a dignified daily subsistence, the population suffered from economic and financial difficulties and hunger".
"Firstly: the fast on Thursday 14 May, as an expression of our trans-community spiritual solidarity, knowing that it takes on special meaning since we are still in the blessed month of Ramadan.
"Second: prayer and supplication, each in his own way and according to his or her own rite, so that God will preserve humanity and help us overcome this pandemic, and help our fellow citizens and those who live on this earth to show solidarity and share their goods, so that no one loses his dignity or his life, for pure material need and that our world is more human and more fraternal. In Our Lady, the Virgin Mary, we have, in this Marian month of May, an unsurpassed model of supplication to God and trust in His providence.
"Third: the multiplication of our individual and institutional efforts to help the needy and assure them of what is necessary, starting to give everyone the value of what has been deprived of us, to the people close to him who are in greatest need and inviting everyone - according to their possibilities - to support humanitarian initiatives without discrimination, because our sense of human brotherhood prevents us from remaining indifferent when, among us, hungry people live or I'm in need. "
"This appeal will be followed, until May 14, by initiatives that will be announced in due course and by media campaigns to encourage participation in this activity and strengthen the sense of solidarity and brotherhood among all. We also ask all media to collaborate in dissemination of this information before the indicated date and to highlight its human and spiritual meanings by dedicating specific programs to it on May 14, 2020.
"The institutions participating in this invitation are: the Council of Churches of the Middle East; the Forum of Religions and Cultures for Dialogue and Development; the Islamic Association Al-Makassed; the institutions of Imam Moussa Sadr; the Druze Al-Ourfan Foundation; the Islamic-Christian meeting around Notre-Dame Marie; the Adyan Foundation; Forum pour le développement, la culture et le dialogue; Darb Mariam; Filet de sécurité pour la paix civil association; the Institutd'études du Moyen-Orient ".
http://www.asianews.it/news-en/From-Christians-and-Muslims-positive-responses-to-the-High-Committee-for-Human-Fraternity-50026.html
-----
Al-Falah Movement President Hails Custodian of Two Holy Mosques Stances in Supporting Needy Families in Senegal
2020/05/08
Dakar, May 8, 2020, SPA -- President of the Al-Falah Movement for Culture and Islamic Education in the Republic of Senegal Sheikh Othman Qalajukah hailed the stances of Custodian of the Two Holy Mosques King Salman bin Abdulaziz Al Saud, and His Royal Highness the Crown Prince, in supporting needy families in Senegal.
Sheikh Othman noted the Custodian of the Two Holy Mosques Program for Ramadan Iftar (Breakfast), implemented by the Ministry of Islamic Affairs, Call and Guidance, represented by the Attaché of Religious Affairs in the Saudi Embassy in Senegal, pointing out that this aid reaches 1,200 needy families in many Senegal's cities, which confirms the keenness of the Custodian of the Two Holy Mosques to support Muslims everywhere.
https://www.spa.gov.sa/viewfullstory.php?lang=en&newsid=2084084
------
India
Bengal Clerics Demands Easing Restrictions From Places Of Worship
New Age Islam News Bureau
09 May 2020
SajjadaNashin of Furfura Sharif in Bengal, Taha Siddiquee has demanded that the ban on religious gatherings in mosques, temples, churches and gurudwaras be lifted as the government has permitted opening of liquir shops amid lockdown. He said the huge gathering at liquor shops was a violation of lockdown rules. He further said that the police did not weild lathis on people violating lockdown rules at liqour shops but beats people for gathering for namaz at mosques. This was a conspiracy, he observed. He blamed a coterie of ulama for bowing before the government and locking down mosques completely though the government had only said that a limited number of people could attend namaz. But ulema of slave mentality locked down mosques completely to please the rulers. He further said that the sale of liqour could never benefit society because liquor ruins families. It was unfortunate that the government has allowed sale of liquor in times of a deadly disease like Corona, he said.
-----
FIR against Sudhir Chaudhary no badge of honour, 'jihad chart' lifted from dubious page
Sam Jawed
8th May 2020
Zee News editor-in-chief Sudhir Chaudhary tweeted on May 7, "Here's my Pulitzer Prize for reporting the truth", and shared a copy of an FIR filed against him. The FIR states that Chaudhary has been booked for "maligning the Muslim community in a programme called DNA broadcast on 11.03.2020 on Zee News". In another tweet, Chaudhary wrote that the FIR is the "prize for daring to speak against #ZameenJihad in Jammu, #LoveJihad in Kerala…"
I have all the respect for the law but these tactics won't stop me. Bring it on! https://twitter.com/sudhirchaudhary/status/1258316748844969984 …
Here's my Pulitzer Prize for reporting the truth.Sharing the citation— an FIR filed against me by the Kerala police under nonbailable sections.The award for exposing inconvenient facts.A clear msg for media.If u don't toe the decades old pseudo-secular line you'll be behind bars.
The FIR concerns Chaudhary's Match 11 broadcast where he indulged in a five-minute discourse on "different types of jihad" during his DNA show. "Today we have a diagram about jihad which I want read out to you so that you can understand what the conspiracy is." Chaudhary then went on to describe 'hard' and 'soft' Jihad in detail. With the help of the diagram, he explained history jihad, media jihad, love jihad, movie jihad, population jihad, land jihad, etc.
The FIR was registered at Kasaba police station on April 24 by advocate P Gavas, AIYF state joint secretary, Kozhikode. Chaudhary has been booked under Section 295A of the Indian Penal Code (Deliberate and malicious acts, intended to outrage reli­gious feelings of any class by insulting its religion or reli­gious beliefs).
Gavas shared his complaint with Alt News which states, "Sudhir Chaudhary, the head and editor-in-chief of Zee News covered the different types of jihad organized by Muslims in India. He used a diagram to target the Muslims of India…He made comments during the show that can create religious hate amongst people and lead to communal riots. " The complaint also carries the Malayalam translation of the March 11 show on the "different types of jihad".
Ironically, Zee News had plagiarized the chart from a dodgy Facebook page. The image was traced by Newslaundry to a five-year-old post by the page 'Boycott Halal in India'. The Facebook page goes on to a detailed explanation of how 'Halal' is an example of economic jihad.
Alt News found that the image was even older than August 1, 2015, when it was posted on the 'Boycott Halal' page. It carried the watermark of a now-deleted Facebook page called 'Secularism kitopi'. The chart also features on a 2015 post of blog called sickular.com which is dedicated to propaganda against minorities. The image has been in circulation since 2014 and has been shared by many Facebook and Twitter users with the same Islamophobic narrative for which it was created. Below is a tweet by BJP supporter Payal Rohatgi from September 2019.
Why did Mughals come to Bharatvarsh from Middle-east? They wanted to CONQUER, do #FORCEDCONVERSION 🙏 Simple but jokers like #ZainabSikander who are jobless, have NO logic in their brain want money to run their house so spread misinformation in disguise of #HistoryJihad🙏
Interestingly, in the DNA show, before presenting the 'jihad' poster, Sudhir Chaudhary also featured the views of Pakistani-Canadian author Tarek Fatah, who is known for his frequent targeting of Indian Muslims with false information. Fatah was presented by Zee News as "Islam kejaankaar", which can be translated as 'one knowledgeable about Islam'.
Following the outrage about the jihad chart, Chaudhary went on to defend his show and indulged in name-calling his critics as 'designer patrakar' and 'tukde-tukde gang'.
To defend his jihad chart, he tried to explain a concept he called 'Gajwa-e-Hind', quoting from the book of the controversial American anti-Muslim author and blogger, Robert Spencer. All through his explanation, Chaudhary repeated several times that he was not targeting any particular religion but rather those who hold unholy ideas of dividing the country.
Incidentally, Chaudhary, who blatantly plagiarized the jihad chart from a dubious Facebook page had once made a plagiarism charge against TMC MP Mahua Moitra. Not only was the charge false but the man who he accused Moitra of plagiarizing, came to her defence and slammed Chaudhary's allegations.
I'm internet famous in India because a politician is being falsely accused of plagiarizing me. It's kind of funny, but right-wing assholes seem to be similar in every country.
At a time when the country witnessed deadly communal riots in the capital which caused close to 50 deaths, Zee News dedicated an entire show to different types of 'jihad' – a derogatory word coined to fan anti-Muslim sentiments. This wasn't just irresponsible journalism but a blatant misuse of public emotion which was at an all-time high. The show was nothing more than sectarian propaganda to drive views. Now that a police complaint has been filed against Sudhir Chaudhary, the anchor is playing the victim by portraying that the FIR is a "prize" for speaking the truth.
https://www.altnews.in/fir-against-sudhir-chaudhary-no-badge-of-honour-jihad-chart-lifted-from-dubious-page/
-------
Man Sneaks Into Mosque, Gives Untimely Prayer Call
May 8, 2020
A 40-year-old man, apparently mentally unsound, has been arrested in Bhuj town in Gujarat's Kutch district for allegedly `creating enmity between different communities.
Maamad Abdulla Luhar sneaked into a mosque on Thursday midnight, gave untimely Azaan (call for prayer) through the mosque's loudspeaker and allegedly asked the community members to come out with weapons, police said.
He was arrested under IPC section 153 (A) (creating enmity between different groups), said sub-inspector KM Agravat of Bhuj A Division police station.
He was also slapped with sections 269 and 270 of the IPC for indulging in a negligent and malicious act which was "likely to spread infection" for breach of lockdown, the police officer said.
As per the preliminary probe, Luhar, who appeared to be mentally unsound, did not have any objective in mind when he made inflammatory remarks from the mosque's loudspeaker, he added.
"Luhar does not appear to be mentally sound. He found the keys from a shelf near the main gate of the mosque and entered. Around 2.20 am he gave Azaan using loudspeaker despite knowing it is not the time for prayer. He also announced he was the `king of Kutch' and asked community members to wake up and come out of their houses with weapons," said Agravat.
https://www.indiatoday.in/india/story/man-sneaks-into-mosque-gives-untimely-prayer-call-1675957-2020-05-08
------
Pakistan
KP govt eases lockdown, allows shops to open four days a week
May 09, 2020
PESHAWAR: The Khyber Pakhtunkhwa government on Friday announced the easing of lockdown enforced across the province on March 21 to check the spread of novel coronavirus (Covid-19).
A notification of the relief, rehabilitation and settlement department said all businesses would remain closed across the province on Fridays, Saturdays and Sundays.
"The decision regarding easing the lockdown has been taken on the advice of the federal government," said adviser to the chief minister on information Ajmal Wazir.
He said the National Coordination Committee, which met under the chairmanship of Prime Minister Imran Khan in Islamabad on Thursday, had announced the lifting of lockdown in phases.
The adviser said the lockdown was announced across the province on March 21 to contain the virus and that the closure of businesses except those of essential services was extended from time to time.
The RRS department's notification said all shops were allowed to remain open four days a week but not later than 4pm in the day subject to adaptation of the standard operating procedures.
It, however, said the businesses except the already identified essential ones would remain closed on Fridays, Saturdays and Sundays. The government has yet to decide about the resumption of public transport service.
The notification said meetings of the representatives of transporters at provincial and divisional levels would be convened to discuss preparation of proper SOPs for transport service.
The government exempted construction activities, businesses of steel, PVC pipes, electric appliances, manufacturers of steel, aluminum equipment, ceramics, paints industries, sanitary, paints, steel, aluminum works and hardware stores from the closure.
The notification said permission for the opening of those businesses would be subject to the adaptation of SOPs as guidelines had already issued for industrial units and sale points.
Another notification said low-risk industrial units, including marble mining, cutting/polishing and gemstones processing, were also exempted from closure.
In a notification issued on Mar 21, the provincial government had announced the closure of all markets, shops, and businesses except some essential shops and services until Mar 24. However, different notifications were issued from time to time for extending the lockdown.
On Apr 15, a notification was issued by the RRS department regarding extension in the closure of educational institutions, suspension of public transport and closure of shops.
The Traders Alliance said in a statement that EidulFitr was 15 days away, so the announcement of the closure of small markets and small shops two days a week should be reviewed.
https://www.dawn.com/news/1555686/kp-govt-eases-lockdown-allows-shops-to-open-four-days-a-week
-----
Minorities body violation of SC verdict, says Rabbani
May 09, 2020
ISLAMABAD: Former Senate chairman Mian Raza Rabbani on Friday said that the National Council for Minorities nominated through a notification after a considerable delay was illegal because it had been formed in violation of a judgement announced by the then Chief Justice of Pakistan Tasaduq Hussain Jilani on June 19, 2014.
Mr Rabbani said that the Supreme Court's judgement had come in the wake of a bomb blast in a Peshawar church in 2013 which left over a hundred members of the Christian community dead.
In a suo motu case, the then Chief Justice of Pakistan, in paragraph 37(iv) of the judgement, had ordered the setting up of the National Council for Minorities to monitor practical realisation of the rights and safeguards of members of minority communities provided in the 1973 Constitution.
The council was supposed to be mandated to frame policy recommendations for safeguarding and protecting minorities' rights by the federal and provincial governments.
The judgement clearly mentioned eight steps that the governments were to take, including (i) reservation of quota in services, (ii) a special police force to protect places of worship, (iii) steps to discourage hate speeches, and (iv) revision of school curriculum to promote cultural and religious tolerance.
He said that the federal government had, after the approval of the cabinet, constituted the council through a notification and the body had become controversial even before its birth and as a result the religious affairs ministry had to amend its summary.
Mr Rabbani said that the importance given to safeguarding the rights of the minorities in the country was evident from the fact that the white colour portion of the national flag represented minorities and in over 20 Articles of the Constitution, 1973, the rights of minorities had been guaranteed.
https://www.dawn.com/news/1555718/minorities-body-violation-of-sc-verdict-says-rabbani
------
Sindh entering second phase of lockdown with 'some extra restrictions', says Murad
May 09, 2020
Tahir Siddiqui
KARACHI: Chief Minister Syed Murad Ali Shah on Friday said that the Sindh government had implemented almost all decisions the federal government had taken regarding its nationwide lockdown imposed to slow down the spread of coronavirus in the county.
Speaking at a press conference at the Sindh Assembly Building and in a statement issued from the CM House later in the evening, he brushed aside the impression of imposing lockdown in the province just to show a difference of opinion with the federal government and categorically said that Sindh was not ending the lockdown on Monday.
In a statement issued from the CM House, the chief minister said that some media channels were giving the impression that the lockdown was ending on Monday, which was totally wrong.
At the press conference, he said: "The Sindh government has implemented 99.9 per cent decisions the federal government has taken in consultation with the provinces."
Accompanied by ministers Azra Pechuho, Saeed Ghani, Nasir Shah, Imtiaz Sheikh, Adviser Murtaza Wahab and MNA Qadir Patel, he said that the federal government indeed gave flexibility to the provinces to take decisions regarding further tightening the lockdown keeping in view their ground realities.
The chief minister said a day before the meeting of the National Command and Operation Centre (NCOC) draft recommendations for post-May 9 measures were shared with all the provinces so that a meaningful discussion could be held.
Narrating the recommendations, the CM said that it include opening of phase-II of construction industries and community markets/retail outlets, shops in rural areas, neighbourhood shops situated in residential localities/stand-alone shops, excluding malls, large marketplaces, mega departmental stores.
Shops/markets, other than pharmacies' opening time to be limited till 5pm, Saturday and Sunday to be declared as a 'safe day' with all sectors/retail closed other than essential sectors or those with a continuous process.
Selective OPDs would also be allowed to operate. However, timing of shops opening was recommended after Fajr till 5pm as per discretion of the provinces and there would be a total closure at night.
The chief minister said that the sectors that would continue to remain closed include all industries/business not cleared for opening till May 9, shopping malls, plazas, educational institutions, offices not cleared for opening till May 9, restaurants, hotels, marquees, marriage halls, cinemas, etc.
He said all places of large gatherings, public processions, gatherings, congregations of all nature and organised sports events and concerts would also be not allowed after Saturday.
To a question about Yaum-i-Ali processions, the CM said that under the SOPs as announced by the federal government in consultation with the provinces, all kinds of majalis, processions and congregations were banned.
"I would request the federal govt to give them loans on easy instalments so that they could revive their businesses," he said, adding that his government was in close contact with traders' community and the decision about closure was a collective decision taken at the national level.
He said he had constituted a committee comprising ministers Saeed Ghani, Imtiaz Sheikh, Murtaza Wahab and Karachi Mayor Wasim Akhtar and it would meet with small traders and listen to them and compile their recommendations for revival of their business.
To a question, he said that the provincial and federal governments would have jointly supported the daily wage earners instead of allowing them to start their work and put their and their family members' lives at risk.
"This constitutes 10.8 per cent of the cases diagnosed against 5,532 tests," he said and added: "This is the highest ratio since ... first case was detected."
Giving details of the 7,575 patients under treatment, the chief minister said that 6,421 were in home isolation, 627 at isolation centres and 527 at different hospitals.
Talking about the death of Dr Furqan, the chief minister expressed his deep sorrow and grief and said that such incidents should not happen.
The MQM delegation comprised senior leaders Kanwar Naveed Jameel, KhwajaIzharul Hasan and Karachi Mayor Akhtar while the CM was assisted by Saeed Ghani, Nasir Shah, Murtaza Wahab and SohailSiyal.
The MQM-P asked the CM to hold a meeting with traders to address their grievances and to take a final decision with regard to resumption of business activities.
It also demanded that strict action be taken against police for humiliating the people of Karachi and traders. It was also demanded that the government "activate" the Karachi Water and Sewerage Board to solve people's complaints.
"The CM accepted the MQM demands and decided to meet with traders and representatives today [Saturday]," said the MQM-P statement.
Mr Shah also assured the MQM delegation that the issue of payment of salaries to employees of the Karachi Metropolitan Corporation and Karachi Development Authority would also be solved soon.
https://www.dawn.com/news/1555630/sindh-entering-second-phase-of-lockdown-with-some-extra-restrictions-says-murad
-----
Corona patients occupy 54pc beds in hospitals across Punjab
May 09, 2020
Asif Chaudhry
LAHORE: A sharp increase in confirmed Covid-19 cases across Punjab has further burdened state-run health facilities, taking their bed occupancy ratio to 54 per cent.
Official figures reported by the health department portray a grim picture as 3,693 people contracted the virus during the last seven days in the province.
Punjab had reported around 3,686 positive cases for the virus during a period of one month starting from March 15, when the first Covid-19 case was spotted.
Most of the confirmed patients were taken care of in Lahore where the 1,000-bed Expo Centre Field Hospital is housing 450 patients, with 45pc bed occupancy.
Similarly, the Mayo Hospital houses 420 patients (70pc bed occupancy) while the Pakistan Kidney and Liver Institution 100 patients (100pc bed occupancy).
The health authorities believe that this percentage is likely to reach 80pc in coming two weeks if cases continue to grow at the same rate.
The Pakistan Medical Association (PMA) is very much concerned over the increasing number of coronavirus patients and rising death toll.
"We are extremely disturbed that how our hospitals would mange the load of corona patients in future because of the scale of transmission of the virus," said PMA Secretary Dr Qaisar Sajjad.
He said the government would have to revisit the current health system in order to remove flaws and create more space for coronavirus patients, keeping in view the future requirements.
While sharing the fresh report, a spokesperson for the Primary and Secondary Healthcare Department said Punjab reported a record 961 confirmed cases of the virus on Friday and it was the highest figure in a single day so far since the pandemic surfaced in the province.
"The government has allocated 7,753 beds for the corona patients at all the teaching, district and other field hospitals across the province," he said. Of them, 4,239 had been occupied by the patients.
"We have 6,744 beds for corona patients at all the teaching and field hospitals that fall under the specialised healthcare and medical education department in Punjab," SH&MED Additional Secretary (development) Nadir Chattha said.
He said 3,370 of them were allocated in teaching hospitals and 3,374 at field hospitals. Of the 6,744 beds, he said 2,261 (34pc) had been occupied by the patients.
Of the total admitted patients, Mr Chattha said 40 were in a critical condition, with 34 of them on ventilators. He said so far 186 corona patients had died in Punjab.
On the other hand, of the total 961 confirmed cases on Friday, 488 were reported from Lahore which was also another record number (of people testing positive) in the provincial capital in just a day. Of them, 87 were reported from Gujrat, 77 from Rawalpindi, 60 Faisalabad, 45 Multan and 67 from Muzaffargarrh besides some other cities.
Surprisingly, the health department said only one patient died (in Muzaffargarh) of coronavirus in Punjab during the last 24 hours.
https://www.dawn.com/news/1555659/corona-patients-occupy-54pc-beds-in-hospitals-across-punjab
-----
115 policemen infected with Covid-19 in Sindh
May 09, 2020
KARACHI: The number of coronavirus-infected policemen has gone up to 115, a police spokesperson said on Friday.
"So far, 115 policemen and officers have been infected with the contagion." Out of them, five new cases emerged on Friday. The majority of the policemen belonged to Karachi.
As many as 97 police personnel were under treatment at different hospitals while 15 policemen have been discharged after treatment. The condition of one sub-inspector was stated to be critical.
"Covid-19 infected policemen were being looked after properly and steps were being taken to this effect on daily basis," added the spokesperson.
The police on Friday also issued a video message, highlighting ordeals of the families of the policemen and commitment of the law enforcers to serve humanity in these testing times.
https://www.dawn.com/news/1555620/115-policemen-infected-with-covid-19-in-sindh
-----
Mideast
Birth Anniversary Of Imam Hassan (PBUH) To Be Celebrated On 15th Of Holy Month Of Ramadan
May 9, 2020
TEHRAN, May 09 (MNA) – Heartiest congratulations to you on a very special occasion in this blessed month of fasting. Today is 15th of Ramadan, the day Prophet Mohammad (S) became grandfather for the first time.
On this blessed occasion when in the year 3 AH, his daughter Hazrat Fatemeh Zahra and her husband Imam Ali (Peace Be Upon Them) became proud parents of a radiant son, we present you an exclusive feature on the person, who was the Prophet's 2nd Infallible Heir, and whose relinquishing of the caliphate through a masterstroke of peace ripped the veil of hypocrisy from the face of his avowed enemy.
Imam Hassan (PBUH) the Leader of the youth in Heaven was born in the holy city of Medina on 15th Ramadhan in third year after Hijrah. He was one of the two persons in whom the progeny of the Holy Prophet of Islam (S) was limited. He was one of the four persons through whom the Holy Prophet of Islam (S) made the contest of prayer (Mubahila) with the Christians of Najran.
He was one of the five persons whom the Holy Prophet of Islam (S) covered with his cloak. He was one of the twelve Imams whose obedience Allah made incumbent on people. He was among those who were purified from sins as the Qur'an says. He was among those whose love Allah made reward for the divine mission of Islam. He was among those whom the Apostle of Allah made one of the two valuable things (Thaqalayn). Thus, whoever cleaves to them does not go astray. The Holy Prophet of Islam (S) loved him and asked Allah to love those who love him.
Imam Hasan (PBUH) the Second Holy Imam of the Shi'ites in the world was Divinely gifted with all great qualities to such an extent that he was outstanding in knowledge, tolerance, intelligence, bounty and velour.
On the Joyous, Happy and Auspicious Occasion of the Birthday Anniversary of Imam Hasan (PBUH), we extend our Heartiest Greetings and Warm Felicitations to the 1800 million-strong Muslim Ummah.
The Prophet on the commandment of God Almighty name his grandson "Hasan" which means "Excellent" and is Arabic for Shabar, who was the firstborn of Aaron, the brother of Prophet Moses (PBUH). As he grew up he greatly resembled the Prophet and along with his younger brother, Imam Hussain (PBUH), was hailed by the grandfather as Leaders of the Youth of Paradise. Another famous statement from the Prophet says: "These (grand)sons of mine are Imams (that is, Leaders), whether they rise or (decide to) sit."
Not for no reason did the "Seal of Prophets" hail his two grandsons as Imams or "Leaders", because leaders ought to have exceptional qualities, and as is clear till this day, none from amongst the Muslim Ummah have ever matched the virtues of Imam Hassan (PBUH) and Imam Husain (AS), who along with their parents and grandfather, were granted the aura of spotless purity by God Almighty Himself, as is evident by ayah 33 of Surah al-Ahzab, which says:
The Prophet, who had foretold the tragedy of Karbala and how Imam Husain (AS), would rise against an openly Godless tyrant in order to save Islam by giving his lifeblood, had also said that his elder grandson, Imam Hasan (AS), would unmask the hypocrisy of an ungodly charlatan, by giving away political rule of a vast realm, in order to save the Ummah from unwarranted bloodshed and discord. Today the 15th of Ramadhan, the birth anniversary of Imam Hasan (AS), makes us recall his "Great Sacrifice" in relinquishing the reins of the caliphate for the acquisition of which his archenemy Mu'awiyah ibn Abu Sufyan had resorted to every lie and deceit, including shedding of Muslim blood and spreading of sins in society. Imam Hasan (AS), whose spiritual authority was God-given and far above any election, selection, nomination and defection of masses, thus showed the worthlessness of the dubious institution of caliphate that had its beginnings in the scandalous gathering of Saqifa Bani Sa'da in Medina where his father's divine-right of political leadership was usurped, and for which in the coming generations every vicious power-hungry ruler would stake claim, plunging Muslims into wars, bloodshed, and misery. This masterstroke of peace by Imam Hassan (PBUH) not only saved Islam and its ethereal teachings from any defilement, but ensured till the end of the world the prime position of the Prophet's Ahl al-Bayt as the barometers of faith.
Imam Hassan Mojtaba (PBUH) was a picture of piety, worship, humbleness, bravery, and magnanimity. His most prominent characteristic was generosity. It is said that he never rejected a requester. When asked why he did not excuse himself from giving to others, Imam Hassan (PBUH) answered, "I myself am a beseecher in the Divine Court, so how can I turn down the request of those who approach me. The renowned Sunni Muslim scholar and exegete of the holy Qur'an, Zamakhshari, in his book "Rabi-al Abrar" has narrated from the Prophet's servant Anas ibn Malek, who says: I was in the service of Hasan ibn Ali (AS) when a slave came and gifted a flower to him, and got the reply: You are free in the path of God. Anas says I asked him the reason for such generosity, and he replied by reciting ayah 86 of Surah Nisa' where God Almighty has said:
Imam Hassan (PBUH) then told Anas that granting freedom was better than the mere greeting of the slave, and that is the reason I emancipated him. In Munificence and forgiveness, Imam Hassan (PBUH) was the master of his time and the hope of the desperate. Like the Prophet and Imam Ali (PBUH), he was a model of simplicity, sincerity, piety, generosity, knowledge, compassion, bravery and truth. His virtues are beyond description. His table was always spread out for the poor sections of the society and on more than two occasions, he distributed his possessions among the needy.
One day, the caliph Othman ibn Affan, who was an extremely rich person, was approached by a poor man for financial help, and gave him 5 dirhams. When the poor person asked Othman to guide him to someone who can provide more help, he was asked to go to the Prophet's two grandsons, Imam Hassan and Imam Hussain (peace upon them). Imam Hassan (PBUH) told the poor man that it is not permitted to beseech others unless in three cases, that is, if one owes blood money and cannot pay it; has a heavy debt and is not capable of repayment, or is in dire need but has nothing. He then said: Which of these three cases has brought you to me? The poor man merely said without specifying that it is one of these three cases. Imam Hassan (PBUH), without asking gave him 50 dinars, while Imam Hussain (PBUH) gave him 49 dinars to him. Note that the dinar is greater in value than the dirham given by Othman. The poor man then passed by Othman, who asked him what he received from the Prophet's two grandsons. The man said you gave me some money but did not enlighten me regarding the rules for request, while Imam Hassan (PBUH) explained the finer points and gave me much more than what I received from you.
In 40 AH, following the martyrdom of his father, Imam Ali (PBUH) while engrossed in prayer in the mosque of Kufa in this blessed month of Ramadhan, Imam Hassan (PBUH) became caliph of a realm that extended from Central Asia to North Africa and which now includes over twenty countries. It was a critical period in Islamic history, as Mu'awiyah the rebellious governor of Syria was deceiving the people of Iraq with bribes. Imam Hassan (PBUH) aware of the flimsy faith of the Kufans, who could not be counted to rally to his defense if the need for military confrontation arose, decided to unmask hypocrisy by relinquishing the caliphate. He did not want unnecessary bloodshed and loss of life. On taking this decision, he entered the Mosque of Kufa and said:
"O people! Surely the pious is the cleverest of the clever, while the sinful is the most foolish of the foolish. By Allah, if you search for a man whose grandfather is Allah's Messenger, may Allah bless him and his family, between the east and the west, you would not find him other than me and other than my brother Husain. You have come to know that Allah has guided you through my grandfather (Prophet) Mohammad, may Allah bless him and his family. So He has saved you from misguidance through him, raised you from ignorance through him, strengthened you after the abasement through him… Mu'awiya has disputed with me about a right that belongs to me, with the exclusion of him. So I have considered that which sets right the community and puts an end to the discord. You had pledged allegiance to me provided that you should make peace with whom I make peace with and fight him whom I fight. So I think I have to make peace with Mu'awiya and to put an end to the war between him and me… I think that sparing blood is better than shedding it. Through that I do not want anything except setting you right and your survival. I know that that may be a trial for you and a provision for a time."
This is how Imam Hassan (PBUH) addressed the Kufans in a speech that has been preserved till this day as a testament of his right and truthful nature, while exposing at the same time the falsehood of Mu'awiya and all those imposters who styled themselves as caliphs in history. No doubt, Islam will forever remain indebted to the Infallible Progeny of Prophet Mohammad (S), whom God describes as Repositories of Divine Knowledge in the holy Qur'an, and whose mission was to safeguard Islam and humanitarian values, as per needs of the times, whether through foregoing their rights, or foregoing their life as well – as Imam Husain (AS) did at Karbala. Moreover, Imam Hassan (PBUH), as the divinely decreed heir of the Prophet and Imam Ali (PBUH), was aware that civil war would provide the Byzantine or Eastern Roman Empire, with a chance to attack Palestine and occupy Bayt al-Moqaddas. In view of these undeniable facts, Imam Hassan (PBUH) indeed made a uniquely wise move to save Islam and Muslims.
The 28th day of the month of Safar (the second month in the lunar Hijri calendar) marks the passing away of Prophet Muhammad (PBUH) as well as the martyrdom of Imam Hassan (PBUH), the second Shia Imam.
https://en.mehrnews.com/news/158445/Birth-anniversary-of-Imam-Hassan-PBUH-on-15th-of-holy-month
------
Turkey: 'UNESCO locksmith' gets motivation in Ramadan
Orhan Kuzu
09.05.2020
A master locksmith continues his artistic work in a Turkish UNESCO World Heritage city during the Muslim holy month of Ramadan.
The Safranbolu district of Karabuk is a typical Ottoman city in northern Turkey that has protected historic Turkish architectural character.
Houses in the district are built of stone, in contrast to wooden houses. And all the houses have a historic and characteristic door lock.
HuseyinSahinOzdemir, 58, is a locksmith in the city and he produces historic and characteristic door locks to protect the architectural character of the district.
"Although there were no opportunities in history like today, people living in past periods made fantastic works that would survive for at least two centuries. I try to protect and keep their works alive in order to show my respect to them," he said.
"The forging and annealing of iron are between 800°C (1472°F) and 900°C (1652°F). This temperature affects the air of the workshop and increases the ambient temperature. Normally, generally, we would have difficulties to work in this condition," he said.
But Ozdemir said he does not have difficulties in Ramadan because the holy fasting month provides spiritual support and motivation.
https://www.aa.com.tr/en/culture/turkey-unesco-locksmith-gets-motivation-in-ramadan/1834469
------
Turkey distributes Ramadan aid, hygiene kits in Tunisia
09.05.2020
Turkey's state-run aid agency on Friday distributed food packages and hygiene kits among 180 refugee families in Tunisia.
The aid was distributed by the Turkish Cooperation and Coordination Agency (TIKA) in cooperation with the Tunisian Union of Social Solidarity (UTSS).
Each Ramadan package contained cooking oil, semolina, wheat flour, sugar, rice, pasta, noodle, tomato paste, and milk, TIKA said in a written statement.
Besides food aid, a bag containing hygiene kits -- including bleach, sanitary pads and diapers -- were also distributed.
Meanwhile, TIKA also organized an iftar or fast-breaking dinner for children living in orphanages in Afghanistan.
https://www.aa.com.tr/en/turkey/turkey-distributes-ramadan-aid-hygiene-kits-in-tunisia/1834394
-----
Hamas slams US envoy to Israel for recognizing Israeli 'right' to annex West Bank
09 May 2020
The Palestinian resistance movement Hamas has lambasted recent pro-occupation statements by the US ambassador to Israel, who reaffirmed Washington's full support for the annexation of the West Bank and said the Tel Aviv regime had a "right" to do so.
Earlier this week, David Friedman said Washington was ready to recognize Israel's so-called "sovereignty" in parts of the occupied West Bank, including the Jordan Valley, as enshrined in the much-condemned US President Donald Trump's proposed scheme for the Israeli-Palestinian conflict.
On Friday, Hamas spokesman Hazen Qasem strongly slammed Freidman's remarks, describing them as a "violation of the Palestinian people's legitimate rights", stressing that they were in line with the White House's policy of falsifying facts to further serve Tel Aviv's agenda.
The Hamas spokesman, whose remarks were carried by the Palestinian Information Center, also stressed that Palestinians are the real owners of the Palestinian territories and they will continue their legitimate struggle until the end of the occupation and will establish their independent state with Jerusalem al-Quds as its capital.
In an open defiance of the international outcry, Trump officially unveiled his proposal for the Israeli-Palestinian conflict in January at the White House with Netanyahu on his side, while Palestinian representatives were not invited.
The American president's scheme largely meets Israel's demands while creating a Palestinian state with limited control over its own security and borders, enshrining the occupied Jerusalem al-Quds as "Israel's undivided capital" and allowing the regime to annex settlements in the West Bank and the Jordan Valley.
The UN chief says Israel's annexation plan in the West Bank will shut the door on the so-called peace negotiations with the Palestinians.
Palestinian leaders – who cut all ties with Washington in late 2017 after Trump's recognition of Jerusalem al-Quds as the "capital" of Israel – immediately rejected the Trump 'deal,' with President Mahmoud Abbas saying it "belongs to the dustbin of history."
They regard the so-called peace proposal as Washington's seal of approval for Israel's long-desired annexation of territories it has been illegally occupying for decades.
Israeli Prime Minister Benjamin Netanyahu, who is facing a number of criminal indictments, has repeatedly stressed that he would start plans for annexing more areas in the West Bank on July 1, in accordance with Trump's scheme.
https://www.presstv.com/Detail/2020/05/09/624932/Palestine-Israel-Hamas-US-Freidman-annexation-West-Bank
-----
Iran daily coronavirus death toll hits lowest level in over 11 weeks: Health Ministry
08 May 2020
Iran's Health Ministry says the coronavirus pandemic has claimed the lives of 55 people in the country over the past 24 hours with the death toll standing at 6,541, the lowest daily increase since the outbreak of the disease over 11 weeks ago.
KianoushJahanpour, the head of the public relations and information center at the Iranian Ministry of Health, said on Friday that the fatalities from the coronavirus pandemic reflect a relative downward trajectory.
He added that 1,556 new cases have also been confirmed in the country over the past day, raising the overall tally to 104,691 people.
"Fortunately, 83,837 patients have recovered and been discharged from hospitals so far, while 2,711 patients infected with COVID-19 are still in critical conditions," the official said.
Jahanpour added that Iran's detection of those afflicted with the respiratory disease is growing on a daily basis and said it is now possible for those without any symptoms to be tested.
Iran, one of the Middle Eastern countries hardest hit by the pandemic, has managed to contain the rate of COVID-19 infection mainly relying on home-grown efforts for producing treatment and diagnostics as the country continues to suffer from a series of US sanctions that hampered its access to imports of medicine and vital medical equipment.
Washington has even attempted to block a request by Iran to the International Monetary Fund for an emergency loan that the country needs to contain the pandemic.
Iran's Health Ministry said on April 27 that the country has recorded a two-digit rise in the number of new coronavirus cases for the first time in more than a month, which indicates the declining curve of the COVID-19 disease in the country.
https://www.presstv.com/Detail/2020/05/08/624911/coronavirus-Iran-Health-Ministry-
-----
South Asia
As lockdown curbs ease, Muslim across Bangladesh offer Jummah prayers at mosques
08 May 2020
But even with a mask draped across his face, Rashedul's elation was unbridled when he eventually set foot outside his house.
A month after the novel coronavirus outbreak turned his life upside down, a semblance of normality had returned as he strode down to his neighbourhood mosque to attend the Jummah prayers.
With the government gradually easing some of the lockdown curbs, Muslims across the country congregated at their local mosques on Friday for the Jummah prayers.
All the while, both the mosque authorities and fellow devotees remained mindful of the physical distancing and hygiene norms, according to Rashedul.
Despite a worsening coronavirus outbreak in Bangladesh, Rashedul believes people can still practise their religious rights without exposing themselves to the pathogen with greater awareness of the disease.
Bangladesh reported its first cases of COVID-19 on Mar 8 and within two months, the death count from the disease has crossed 200 while more than 13,000 have been infected.
The rampant outbreak prompted the government to enforce a nationwide lockdown from Mar 26 alongside strict stay-at-home orders for citizens in a bid to slow the spread of the disease.
The government also placed curbs on congregations at mosques, restricting daily prayer congregations to five people, including mosque officials while Jummah congregations were capped to just 10 devotees.
But on May 6, the religious affairs ministry scaled back the restrictions on attending prayer congregations while handing down a set of safety protocols for mosque authorities and worshippers to observe.
The guidelines include cleaning mosques with disinfectants before every prayer session and installing hand-washing facilities equipped with soaps or hand sanitizer at the entrances. Devotees were directed to perform their ablutions at home and wash their hands with for at least 20 seconds while wearing a mask and carrying individual prayer mats from home.
Worshippers are also required to maintain a gap of at least three feet between each other when they line up for the prayers as part of the physical distancing rules. Failure to abide by the guidelines would have legal consequences, the government warned.
By and large, devotees and mosques alike followed the government's guidelines, including the social distancing rules, during the Jummah prayers on Friday, according to law enforcement.
Before the prayers, the police held a meeting with the imams of seven mosques in the neighbourhood, including Baitul Mukarram National Mosque regarding the sanitization requirements which they all followed, Paltan Police Station chief Abu Bakar Siddique told bdnews24.com.
Anis Mahmud, director general of Islamic Foundation, attended the Jummah prayer congregation at Baitul Mukarram Mosque and found that almost everyone following the safety rules.
Nevertheless, the presence of several elderly people at the mosque caught Anis' attention, particularly as children, the ageing, the sick and those tending to the sick were barred from attending congregations.
Around 268,000 mosques across the country held the Jummah congregation in compliance with the government's health and safety guidelines, according to the Islamic Foundation.
https://bdnews24.com/bangladesh/2020/05/08/as-lockdown-curbs-ease-muslim-across-bangladesh-offer-jummah-prayers-at-mosques
-----
Myanmar Muslims Jailed For COVID-19 Rules Breach
8 May 2020
By ZARNI MANN
Mandalay – Chanmyatharzi Township Court in Mandalay has sentenced 12 Muslim men to three months' imprisonment for defying the ban on gatherings amid COVID-19 preventive measures.
U Kyaw Zwa Lin, the spokesman for the court, said the men were gathered at a house in Aung Pin Lae, Chanmyatharzi Township, in April for prayers.
"Twelve adults were sentenced to three months' imprisonment under the Natural Disaster Management Law's Article 30(a). They were sent to Obo prison," said U Kyaw Zwa Lin.
In Tanintharyi Region, the authorities are seeking legal advice from the courts to charge the organizers of a funeral of a 83-year-old Buddhist monk of Sinphyu village in Yebyu Township.
As of Friday morning, Myanmar has had 176 coronavirus cases with six deaths. The government has been encouraging people to stay at home where possible and urging the use of face masks and social distancing when they go out. The government has banned gatherings of more than five people until May 15 to curb the spread of coronavirus.
In Yangon, the two Christian pastors and their followers who held a religious gathering are facing the same charges since April 14.
At the service organized by the pastors, at least 80 people, including Pastor Saw David Lah, tested positive for coronavirus and there have been two deaths.
https://www.irrawaddy.com/news/burma/myanmar-muslims-jailed-covid-19-rules-breach.html
------
Afghans face dire condition in Ramadan amid coronavirus lockdown
by Agnieszka Pikulicka-Wilczewska
21 hours ago
Sunrays shine through colourful pieces of cloth, illuminating the face of Miya Gul with a palette of shades of red and yellow. He sits on the floor of a tent in a settlement for internally displaced people in Kabul.
Miya Gul has been observing the fast from sunrise to sunset since Ramadan, the Muslim holy month, began on April 24. This year, however, the fast has lost its usual meaning.
Since the beginning of the coronavirus outbreak, Afghanistan has been on a brink of economic collapse. The lockdown and state-imposed quarantine have forced many businesses to close.
According to data by the Biruni Institute, a local economic think-tank, as a result of the pandemic, six million people have already lost their jobs in a country, where 80 percent of people live below the poverty line.
The prospects are grim. With the main donors focusing on battling the virus at home, low resource economies like Afghanistan have been left with little outside support.
Last month, the United States reduced funding for Afghanistan by $1bn after the country's top leaders publicly feuded over government formation following contested presidential elections in September 2019.
The crisis hit poor families, like Miya Gul's, the most. For those who rely on daily work for survival, the lockdown has meant no income.
"Last year, my income was around 300 afghani [$3.70] a day. Now there is no work, and if there is, I earn around 50 afghani [$0.66]," says Miya Gul.
"We have to send our children to work in the streets. We buy food for whatever money they make. Our daughter Nodira sometimes gets a potato or a tomato at the bazaar. She is seven years old."
Over the past weeks, the prices of food and other necessities have increased, too. Before Ramadan, a canister of water, Miya Gul said, used to cost five afghani ($0.07).
Now the price has increased twofold. As water in the camp is scarce, Miya Gul and his family cannot keep the level of hygiene needed to prevent the spread of COVID-19.
Behind a wall surrounding the camp, waste is piling up. The authorities usually remove it after two or three days. The residents do not know why this time it has been there for a month.
"This year because of the coronavirus everything has changed, Ramadan too," says Dr AminuddinMuzafary, deputy minister of Hajj and religious affairs sitting in his office in central Kabul.
"We have asked imams to send a message to people during Friday prayers that those who are rich should help the poor. Mosques are not only places of worship but also community spaces. 10,000 tons of wheat have already been distributed to people through mosques."
Those more fortunate and local aid groups rushed to support those in need, too, organising food handouts to ease the pressure on the starving nation.
In Kabul, the local government distributed wheat to impoverished families and have coordinated efforts with the private sector to give away packs of rice, flour and oil.
"During the month of Ramadan, we are working with Kabul municipality to establish local Shura committees which would help to identify people in need. We are planning to work with bakeries so that the families identified by the Shuras receive free bread," NabiullahPeerkhail, chief of staff of the Kabul province, told Al Jazeera.
The initiatives, however, while widespread, are not enough. Poverty and unemployment coupled with the rapidly spreading coronavirus is more than the country can take at once.
Despite lockdown, many people have returned to the streets - this time to beg. With the dire economic situation, many say, if the coronavirus does not kill them, poverty will.
In another settlement for internally displaced people, Inzar Gul Safi, recalls that for the past five years, his community has received no food assistance during Ramadan. This year, the situation in his camp has been worse than ever.
"We have no oil, no bread and so far no coronavirus. The government recommends that we should take Vitamin C, eat oranges, to protect ourselves. But how can we afford it?"
-------
Afghanistan records 253 new cases of coronavirus in past 24 hours
09 May 2020
Microscopic illustration of the spreading 2019 corona virus that was discovered in Wuhan, China. The image is an artisic but scientific interpretation, with all relevant surface details of this particular virus in place, including Spike Glycoproteins, Hemagglutinin-esterase, E- and M-Proteins and Envelope.
The public health authorities recorded 253 new positive cases of the novel coronavirus (COVID-19) in the past 24 hours, the officials said.
Wahid Majroh, the deputy minister of public health, told reporters in Kabul that the authorities recorded the new cases in various provinces in the past 24 hours.
Meanwhile, Majroh said the Minister of Public Health Dr.FerozuddinFeroz's health condition has been reported as 'stable' as he is undergoing treatment.
The Ministry of Public Health announced Thursday that Dr.Feroz has tested positive for the novel coronavirus (COVID-19), the officials confirmed.
WaheedullahMayar, a spokesperson for the Ministry of Public Health, confirmed that the test results of Mr. Feroz returned as positive.
Mayar further added that the public health minister is currently self-isolating in his residence.
https://www.khaama.com/afghanistan-records-253-new-cases-of-coronavirus-in-past-24-hours-07787/
-----
Pakistani military releases details of the meeting between Gen. Bajwa and Khalilzad
09 May 2020
The Pakistan military released the details of the meeting between Gen. Qamar JavedBajwa, the Chief of the Staff of the Pakistani military and Zalmay Khalilzad, the U.S. envoy for Afghan peace.
"Mr Zalmay Khalilzad, US Special Representative for Afghan Reconciliation called on General Qamar JavedBajwa, Chief of Army Staff (COAS), today," the Inter Services Public Relations, the media wing of the Pakistani military said in a statement.
The statement further added "During the meeting, issues of mutual interest and overall regional security situation including Afghan reconciliation process were discussed."
"COAS reiterated that our support towards peace process is a manifestation of our goodwill towards the cause," the statement said, adding that "The visiting dignitary appreciated Pakistan's continuous efforts for peace and stability in the region."
Khalilzad visited India and Qatar ahead of his visit to Pakistan where he met with the Taliban leaders in Doha and Indian officials in Delhi to discuss the ongoing efforts regarding Afghan reconciliation.
https://www.khaama.com/pakistani-military-releases-details-of-the-meeting-between-gen-bajwa-and-khalilzad-07786/
-----
Khost Police Chief killed in a roadside bomb explosion
12:06
A roadside bomb explosion killed the police chief of South-eastern Khost province of Afghanistan, the security officials confirmed.
Tariq Arian, a spokesperson for Ministry of Interior, confirmed that a roadside bomb went off in Nader Shah Kot district of Khost late on Thursday, killing General Ahmad Babazai, the Police Chief of Khost province.
Arian further added that Gen. Babazai was leading a counter-terrorism in Zeni Khel area of the district when the incident took place.
The anti-government armed militants including Taliban have not commented regarding the incident so far.
Taliban militants and terrorists belonging to other groups often use improvised explosive devices to target the security forces and government officials.
https://www.khaama.com/khost-police-chief-killed-in-a-roadside-bomb-explosion-07785/
----
Southeast Asia
Shell Malaysia offers Ramadan delights made by SMEs at its stations
08/05/2020
KUALA LUMPUR, May 8 -- Shell Malaysia has launched a nationwide initiative to support local and small-time food vendors by providing them an avenue to market their goods during this difficult time and to bring Ramadan local delicacies to customers.
Through the #RamadanWithShell initiative, these small and medium enterprises are selling their delicacies at Shell stations, the oil company said in a statement today.
From May 4 to 23, 2020, customers will be able to purchase a variety of Ramadan local delights such as nasi campur, nasi beriani, asam laksa, various selections of local kuih, murtabak, buburlambuk, drinks and many other local delicacies at 950 Shell stations nationwide for takeaway.
Shell Malaysia Trading SdnBhd and Shell Timur SdnBhd managing director ShairanHuzani Husain said apart from these prepacked Ramadan delicacies, customers are also able to make it a combo along with Shell SELECT and deli2go favourite snacks and beverages at promotional prices, starting from as low as RM6.
"At Shell, our customers are at the heart of everything we do, now more so than ever. With the uncertainties and unpredictability brought about by the COVID-19, we need to hold steadfast to the values that define us as an organisation and this enables us to contribute back to Malaysians.
In addition, 100 Shell stations are collaborating with foodpanda to deliver selected Ramadan combos to customers' doorsteps, du the promotion period, Shell SELECT customers who order through foodpanda with the promo code 'SHELLRAMADAN' will enjoy 30 per cent off for all Shell SELECT items in Pandamart, with a minimum purchase of RM15.
"We want to offer our customers local delicacies and Ramadan combos for the breaking of fast which can be bought from our stations or via delivery through foodpanda. We believe in doing things that matter and at the same time we try to make a difference in the lives of those we serve," he added.
https://www.bernama.com/en/business/news.php?id=1839882
-----
CMCO: Muslims to observe Nuzul Quran amid new normal
May 8,2020
KUALA LUMPUR, -- This Sunday (May 10) Muslims will commemorate the auspicious religious occasion of Nuzul Quran which falls on the 17th day of the holy month of Ramadan each year and under normal circumstances, the day would normally be enlivened with religious gathering and Quran recital.
However, this year marks different kind of commemoration of the Nuzul Quran as the country, as well as the rest of the world, are still in the continuous fight against COVID-19 pandemic.
Certainly it is not be advisable to hold religious gathering this Sunday as the country is currently placed under the Conditional Movement Control Order (CMCO) to curb the spread of the deadly pandemic.
However, the limitations should not be used as an excuse for the Muslims in the country as the day still can still be celebrated in the new normal such as reciting Quran on our own, or online or with family members at home.
Several states have issued a statement that there will be no Nuzul al-Quran celebration, with Muslims in Johor have been encouraged to commemorate the day by reciting the Quran individually or with their family members in the comfort of their homes.
Johor Mufti Datuk Yahya Ahmad said the decision was in line with decree issued by Sultan of Johor Sultan Ibrahim Sultan Iskandar, that any religious activities in mosques and suraus statewide were postponed to prevent the spread of COVID-19.
However, in effort to enliven the Ramadan, the Johor Islamic Religious Department (JAINJ) produced daily 'Ihya Ramadan' talks for the public to watch via the department's Facebook page, he said.
A similar decision was also implemented in Penang when the state Islamic Religious Affairs Department (JHEAIPP) director Zulkifli Long urged the Muslims to practice religious worship with family members at home to further deepen their faith and devotion in conjunction with Nuzul Quran.
Meanwhile, Kedah Health, Rural Development and Religious Affairs Committee chairman Datuk Dr Ismail Salleh said the day could still be observed and it would be more meaningful when parents could recite the Quran with their children and thus strengthen the family ties.
In Pahang, the Nuzul Quran celebration will be broadcast live via the Pahang FM radio station and the Pahang Islamic Religious Department (JAIP) social media accounts.
State Religious Affairs, Education and Health Committee chairman Datuk Seri Syed Ibrahim Syed Ahmad said various programmes have been lined up throughout the day including talks and religious questions-and answer sessions and Quran recitations by individuals selected by JAIP.
https://www.bernama.com/en/general/news.php?id=1839876
-----
In Padang Jawa's 'Ramadan bazaar', Covid-19 awareness present, but compliance leaves much to be desired
08 May 2020
SHAH ALAM, May 8 — The scene at Jalan Mat Raji in Padang Jawa here today is one that is synonymous with that at any Ramadan bazaar, save for the reduced number of people, owing to the Covid-19 pandemic.
While many of the stalls selling a wide variety of famous dishes, beverages, snacks, fruit and even seafood had displayed clear signs calling for social distancing, face masks and other requirements linked to personal hygiene, patrons were not necessarily fully conforming.
A check by Malay Mail both yesterday and today found that customers forming long queues for at least four stalls in the area failed to observe social distancing.
Some stall owners were also not wearing face masks and gloves, seeing how such items are a necessity when handling food for the masses.
At about 5pm, more people began pouring into the area, as evident from the snaking lines and the huge number of motorcycles parked near the stalls, with some choosing to wait while their partners queued for food.
On Tuesday, Harian Metro reported that as of 3pm, almost 500 people were going in and out of Jalan Mat Raji to purchase their breaking of fast or bukapuasa meals.
During a media trip with the Selangor State Police Contingent (IPK) on the first day of the conditional movement control order (CMCO), the Malay daily reported the scene as "shocking", as the narrow road was congested with cars, with some even bringing along their children on motorcycles without helmets.
The government does not permit the operation of Ramadan bazaars this year, in a bid to bring the Covid-19 infection rate in Malaysia under control, and prevent a further outbreak. However, the stalls here, were operating from restaurant-like premises.
Under the new requirements' Regulation 4, Malaysians may now move fairly freely about within any "infected local area" — otherwise known as states or federal territories, or in other words without crossing state borders — with only one restriction mentioned.
The only restriction named under Regulation 4 is that no one can enter or exit a place where an enhanced movement control order (EMCO) is in place, except for anyone providing healthcare and medical services, or anyone given permission to do so by an authorised officer.
This is markedly more relaxed than MCO 4's regulations, which had carried a long list of specific conditions if anyone wants to move about within a state or federal territory, including only to get food, medicine, daily necessities, healthcare, medical services, essential services, or to perform official duty or essential services-related duty, or for necessary and essential infrastructure works.
Unlike the CMCO regulations, the MCO 4 regulations had also said such movements were limited to only within 10km of a person's house when purchasing food, medicine, dietary supplements, daily necessities or other goods from essential services providers or to seek healthcare or medical services, with movements allowed beyond 10km to the nearest place if such items or services were not available within 10km of their home.
For those driving a private vehicle, the new regulations allow a maximum of four people in each — namely the driver and three passengers — provided that all four of them stay in the same house. The regulations do not state that they are required to be family members.
In explaining how the CMCO regulations differ from previous regulations, Senior Minister Datuk Seri Mohamed Azmin Ali yesterday said only prohibited activities would amount to an offence, while any activity not listed as a prohibited activity would be allowed during the CMCO period.
https://www.malaymail.com/news/malaysia/2020/05/08/in-padang-jawas-ramadan-bazaar-covid-19-awareness-present-but-compliance-le/1864453
-----
CMCO: Muslims to observe Nuzul Quran amid new normal
08 May 2020
KUALA LUMPUR, May 8 — This Sunday (May 10) Muslims will commemorate the auspicious religious occasion of Nuzul Quran which falls on the 17th day of the holy month of Ramadan each year and under normal circumstances, the day would normally be enlivened with religious gathering and Quran recital.
However, this year marks different kind of commemoration of the Nuzul Quran as the country, as well as the rest of the world, are still in the continuous fight against Covid-19 pandemic.
Certainly it is not be advisable to hold religious gathering this Sunday as the country is currently placed under the conditional movement control order (CMCO) to curb the spread of the deadly pandemic.
However, the limitations should not be used as an excuse for the Muslims in the country as the day still can still be celebrated in the new normal such as reciting Quran on our own, or online or with family members at home.
Several states have issued a statement that there will be no Nuzul al-Quran celebration, with Muslims in Johor have been encouraged to commemorate the day by reciting the Quran individually or with their family members in the comfort of their homes.
Johor Mufti Datuk Yahya Ahmad said the decision was in line with decree issued by Sultan of Johor Sultan Ibrahim Sultan Iskandar, that any religious activities in mosques and suraus statewide were postponed to prevent the spread of Covid-19.
However, in effort to enliven the Ramadan, the Johor Islamic Religious Department (JAINJ) produced daily 'Ihya Ramadan' talks for the public to watch via the department's Facebook page, he said.
A similar decision was also implemented in Penang when the state Islamic Religious Affairs Department (JHEAIPP) director Zulkifli Long urged the Muslims to practice religious worship with family members at home to further deepen their faith and devotion in conjunction with Nuzul Quran.
Meanwhile, Kedah Health, Rural Development and Religious Affairs Committee chairman Datuk Dr Ismail Salleh said the day could still be observed and it would be more meaningful when parents could recite the Quran with their children and thus strengthen the family ties.
In Pahang, the Nuzul Quran celebration will be broadcast live via the Pahang FM radio station and the Pahang Islamic Religious Department (JAIP) social media accounts.
State Religious Affairs, Education and Health Committee chairman Datuk Seri Syed Ibrahim Syed Ahmad said various programmes have been lined up throughout the day including talks and religious questions-and answer sessions and Quran recitations by individuals selected by JAIP
https://www.malaymail.com/news/malaysia/2020/05/08/cmco-muslims-to-observe-nuzul-quran-amid-new-normal/1864450
-----
Muslim fashion books 90 percent fall in revenue despite Ramadan
DzulfiqarFathur Rahman
May 8, 2020
The Muslim fashion industry is experiencing a sharp decline in revenue at a time when the Ramadan festivities would normally lead to peak sales, as COVID-19 impacts the economy.
The sales has dropped by up to 90 percent in April compared to March this year, according to Industry Ministry data. In response, the Muslim fashion industry had to lower its output due to growing stockpiles.
"It impacts the stockpiling of [products] and also causes their revenue to drop," the ministry's small and medium enterprises (SME) director general, GatiWibawaningsih, said in a virtual press briefing on Friday.
In response, some enterprises have shifted their production from Muslim clothing to protective personal equipment (PPE) or face masks to survive the economic downturn, according to the ministry.
The social restrictions enforced to contain the spread of the virus, which has infected more than 12,700 people nationwide as of Thursday, is deemed to cause dwindling sales.
With lower budgets and more worries, the middle-income population in Greater Jakarta was projected to reduce their Ramadan spending in general by 36 percent, according to a survey released in April by Mobile Marketing Association (MMA) and SurveySensum.
To minimize the financial woes, the government is partnering with e-commerce company Shopee Indonesia in promoting local Muslim fashion.
Shopee Indonesia has seen the number of visitors to the website surge by 25 times compared to normal days since the start of Ramadan, the company's head of public policy and government relations, RadityoTriatmojo, says.
The e-commerce platform has pledged to provide three times more products than usual to promote an online shopping festival between May 12 and 20.
"We understand that in this situation, many rely on the online marketplace," Radityo said at the same briefing. "This opens the chance to seize the online business opportunity."
Elzatta, a local Muslim clothing retailer operating 200 stores across the country, is adapting to the coronavirus-induced economic downturn by participating in Shopee Indonesia's online shopping festival, according to the company's vice president, Tika LatifaniMulya.
"We usually install a billboard and publish flyers during IdulFitri, but not this year," Tika said at the same briefing. "We are using social media as much as we can, because we cannot bear too much cost either."
Industry Minister AgusGumiwangKartasasmita said the Muslim fashion industry should not miss the opportunity from the booming global market for Muslim clothing.
Global spending on Muslim clothing was recorded at US$283 billion last year and projected to grow by 6 percent on average annually, according to the State of the Global Islamic Economy report released last year.
"There is an opportunity for our Muslim fashion industry to become the number one and center of the world's Muslim fashion in the not-so-distant future," Agus, a Golkar Party politician, said in the same briefing.
https://www.thejakartapost.com/news/2020/05/08/muslim-fashion-books-90-percent-fall-in-revenue-despite-ramadan.html
------
Indonesia's Garuda to seek restructuring of $500-mln Islamic bonds
MAY 8, 2020
JAKARTA (Reuters) - National flag carrier Garuda Indonesia (GIAA.JK) will seek to restructure $500 million of Islamic bonds due to mature next month, the deputy of the state-owned enterprises ministry said on Friday.
This week, Garuda said in a statement to the Indonesia stock exchange that it was starting "a process of open and constructive dialogue" with its bondholders via an agent.
Garuda also said the coronavirus pandemic, which has disrupted global travel, had "created an extremely challenging business environment" and the airline had been taking measures to protect its staff, continue to serve customers and manage liquidity.
Wirjoatmodjo said the government had not discussed any capital injection for the airline, which is more than 60%-owned by the state.
Garuda's chief executive, Irfan Setiaputra, confirmed restructuring of the sukuk was being discussed without elaborating.
https://www.reuters.com/article/us-garuda-indonesia-bonds/indonesias-garuda-to-seek-restructuring-of-500-mln-islamic-bonds-idUSKBN22K0ZB
------
A different kind of Ramadan: Hong Kong Muslims observe fasting month at home, as pandemic measures halt mosque gatherings
9 May, 2020
It is about 7pm when Muslim community leader Raheel Ahmed, 57, gathers with his wife, two sons and daughter for a home-made meal of dates, rice and spicy curried chicken, salad, fresh fruit and juice.
For this Hong Kong family of Pakistani origin, it is their first meal after fasting for more than 12 hours, as this is the Islamic holy month of Ramadan.
The world's 1.8 billion Muslims mark the month by abstaining from food or drink from sunrise to sunset, and gathering as a community in mosques to break fast and pray. It is also a time to think about the less fortunate, and perform acts of charity.
This year however, the Covid-19 pandemic has disrupted the rituals and traditions of the fasting month, which began in the evening of April 23 and ends with the Eid al-Fitr festival on May 24.
The chairman of the United Muslim Association of Hong Kong, a non-profit organisation with about 400 members of diverse nationalities, Ahmed says this is the first time in his life that he is spending the holy month praying, fasting, and breaking fast at home, instead of being in the thick of the bustle at a mosque, organising activities and gathering in fellowship with numerous other believers for the important evening meal and night prayers.
The closure of the city's six mosques since late March, and social-distancing rules intended to curb the spread of Covid-19 mean that Hong Kong's Muslims who number about 300,000 – including 150,000 Indonesians, 50,000 Chinese, 30,000 Pakistanis, and others from elsewhere – have to observe Ramadan on their own, in their homes.
Although most mosques opened partially from May 8 as Hong Kong began easing its pandemic measures, restrictions remain on the number who can enter the mosques to pray, and food and drink are not allowed on the premises.
The coronavirus has killed more than 270,000 people and infected more than 3.8 million worldwide. Hong Kong has recorded more than 1,000 cases, four of whom have died.
Ahmed has been home during most of the pandemic, as the secondary school where he is a part-time consultant for ethnic minority students has asked staff to work from home.
He misses going to the small Islamic centre in his Tuen Mun neighbourhood, to join more than 100 others for prayer. The 300 sq ft place would always be crowded, with latecomers spilling out of the room, but it gave him a deep sense of being connected with fellow Muslims.
Mufti Muhammad Arshad, 50, who has been chief imam of Hong Kong for 20 years, recalls past Ramadans and says this year's fasting month is like nothing he has ever experienced.
The Kowloon Masjid and Islamic Centre, the city's largest mosque located in Tsim Sha Tsui, usually attracts about 2,000 Muslims every day during Ramadan. Now, he is there with only two or three staff members.
With the easing of pandemic restrictions in Hong Kong, the Kowloon Mosque, Jamia Mosque, Chai Wan Mosque and Stanley Mosque reopened partially from May 8.
They now let in a limited number of people for about half an hour during each of the five daily prayers, and all must wear masks, have their temperatures taken, and keep their distance from one another while inside the premises. No food or drinks are allowed.
Ammar Mosque in Wan Chai is conducting cleaning and disinfection, and is likely to reopen with similar restrictions on May 11, while Ibrahim Mosque in Yau Ma Tei reopened partially on May 1.
Hong Kong-born Adeel Malik, 35, a Muslim of Pakistani origin, says the closure of mosques has been the most difficult aspect of this fasting month, because Ramadan is when the places of worship are packed.
Muslims gather there not only to pray, but also to read the Koran, the Islamic holy book, or just relax and get immersed in the prayerful, festive atmosphere.
"We regard mosques as our second home," he says. "It is like when you cannot go home for whatever reason. There is a natural sadness that comes from the heart, and some people feel frustrated or anxious."
But Malik, who is chairman of the Muslim Council of Hong Kong, which he founded in 2015 to help raise public awareness about Islam, encourages Muslims to make the best of the situation in this year.
"The mosques are closed, but let's make our homes our mosques. We cannot go out to meet people, but let's improve our relationships with our families," he says. "That's what this Ramadan has come to mean."
Arshad and Malik also said the pandemic restrictions have affected the community's ability to carry out charitable activities during Ramadan.
"Muslims pay their obligatory donations, or tithes, and general donations to mosques, and this is used to support the needy in the community," says Arshad. With the mosques closed, however, the donations have not been coming in as usual.
Malik says his organisation has been raising funds to help needy Muslims in other countries, including sending food packs to 150 families in Uganda.
But he expects to raise less funds because of the city's battered economy, and the pandemic has made it harder for donations to reach the needy who are under lockdown.
Chinese Muslim Kasim Ma Fung-wai, 76, chairman of the Da'wah committee of the Islamic Union of Hong Kong, which has about 1,300 members, mostly from Southeast Asia, agrees that this Ramadan is proving to be a totally different experience.
Ma and many other Chinese Muslims usually go to Ammar Mosque in Wan Chai, home to a community of Chinese Muslims since the early days.
The mosque drew more than 1,000 followers daily during Ramadan last year. They came to pray and share the iftar meal to break their fast.
For Chinese Muslims, the iftar meal usually includes Chinese-style fried beef rice and corn rice. Ma himself likes a cup of Hong Kong-style milk tea or chrysanthemum tea with his meal.
Apart from the closure of mosques, Ma says the pandemic also led to the cancellation of Islamic classes he used to teach at the mosque. The weekly classes, attended mainly by Chinese, will hopefully resume in June, he says.
Hong Kong-born consultant engineer OmaruNimaga, 25, used to attend religious classes once or twice a week until they were cancelled in January.
He has been spending Ramadan at home with his family. His father is Malian, his mother is Chinese, and he has two older sisters. At work, he prays with three Muslim colleagues.
He misses gathering with hundreds of others for the iftar evening meal to break the fast, and recalls mosque feasts that always included chicken and mutton dishes, fried rice, samosas and fruit.
About 150,000 Indonesian Muslims make up the majority of Hong Kong's Islamic community, accounting for about half the total, and many work as domestic helpers.
Eni Lestari, an Indonesian domestic helper of 20 years and chairwoman of the International Migrants Alliance, recalls that Ramadan used to find thousands of women spending their Sundays in Victoria Park, in Causeway Bay, praying, reading the Koran and breaking the fast together.
Fewer women turn up there on their day off now, she says. They split into small groups and no longer share food. "That is part of our culture, but we have to take measures and respect social distancing," she says.
Indonesian Consul General Ricky Suhendar says the consulate broadcasts a one-hour special religious talk show on its Facebook every Friday evening, to keep the community connected. It attracts about 300 live viewers, and reaches more than 20,000 others later.
He thinks Muslims can take this year's changes in their stride. "Ramadan can also mean sacrificing for the greater good, which in this case is the public health and our own health," he says.
https://www.scmp.com/print/news/hong-kong/health-environment/article/3083594/different-kind-ramadan-hong-kong-muslims-observe
-----
Arab world
Friday prayers at Imam Muhammad ibn Abd Al Wahhab Mosque
09 May 2020
Sheikh Dr Mohamad Hasan Al Muraikhi is delivering Friday sermon at Imam Muhammad ibn Abd Al Wahhab Mosque in the presence of 40 people including imams, muazins and employees of the mosque. The Ministry of Awqaf and Islamic Affairs allowed Friday sermon only at Imam Muhammad ibn Abd Al Wahhab Mosque under certain rules and regulations as per the preventive and precautionary measures to curb the spread of COVID-19.
https://thepeninsulaqatar.com/article/09/05/2020/Friday-prayers-at-Imam-Muhammad-ibn-Abd-Al-Wahhab-Mosque
------
I try my best to live up to the spirit: Dubai expat on Ramadan amid pandemic
May 9, 2020
Jordanian expat Sanad Al Asiri has been observing this Ramadan alone in the UAE due to the Covid-19 pandemic situation.
He had worked as an architect for about two years in Dubai before shifting his career to media. "I have always braced myself to take life positively however it may come," he told Khaleej Times.
"Covid-19 has affected the lives of people and their businesses but it is just temporary. The most important thing now is to stay healthy and safe and take care of our loved ones, our family, friends and each other.
"The holy month is better spent with the family; it is about praying, fasting and then breaking fast together. Meals taste better when shared," he added.
Social distancing and travel restrictions do not keep Sanad from staying connected. "I am always in touch with family and friends via social media. Even though we are not physically present with each other, we remain morally supportive."
He has been keeping himself busy, enhancing one of his favourite hobbies - cooking. "Because I am alone now, I have found myself indulging in trying and cooking new recipes from different cultures. I am trying to balance between my work and cooking. I am living the family Ramadan gatherings with myself," said Sanad jokingly, adding that he has also been reading.
"I set up the Ramadan special ambience at home with lighting, décor and adornments to live up the spirit. It goes without saying that we all miss praying, especially Taraweeh, in mosques. But the faith remains in our heart and I pray at home," he affirmed.
"Everyone has to give and help the needy in the holy month. It is the gesture that counts and everyone should consider the others as much as he can. No act of kindness is too small. Maybe an amount of money to buy a meal would mean a lot to someone who just can't afford it. I have a habit to do that and it does not have to be Ramadan to stick by each other. Such small acts and details spread a beautiful spirit of kindness and love among people," he said.
https://www.khaleejtimes.com/ramadan-2020/i-try-my-best-to-live-up-to-the-spirit-dubai-expat-on-ramadan-amid-pandemic
------
Saudi Ambassador to South Africa Hands Over Ramadan Food Baskets to Islamic Centers
2020/05/08
Cape Town, May 8, 2020, SPA -- Saudi Ambassador to the Republic of South Africa Sultan Al-Luaihan Al-Anqer, inaugurated here today the program of the Custodian of the Two Holy Mosques for Ramadan Iftar (Breakfast) with the distribution of food baskets for Islamic centers and preachers accredited by the religious attaché in Pretoria to distribute them to the needy families during the holy month of Ramadan.
On this occasion, Ambassador Al-Anqar said that the Custodian of the Two Holy Mosques Program for Ramadan Iftar comes as an extension of the interest of Custodian of the Two Holy Mosques King Salman bin Abdulaziz Al Saud in what enhances fraternal relations with Muslims in various countries of the world.
https://www.spa.gov.sa/viewfullstory.php?lang=en&newsid=2084065
------
Ramadan 2020: UAE sends 50,000 tonnes of food to support cancer patients in Yemen
HaneenDajani
May 8, 2020
The UAE has sent more than 50,000 tonnes of food to be distributed to families of cancer patients in Yemen.
As part of the humanitarian campaign, the Emirates Red Crescent (ERC) delivered 1,220 food parcels on Wednesday.
The parcels contain what is known as Ramadan ration – a bag of essential food items to last a family throughout the holy month.
"The food parcels were distributed not just to the families of cancer patients but also to workers in cancer treatment centres in 13 districts of Hadramaut, Yemen, coinciding with the holy month of Ramadan," reported the UAE news agency, Wam.
"The distribution of the parcels aims to support needy families," said Humaid Rashid Al Shamsi, ERC representative in Hadramaut.
Since the beginning of the year, 13,030 food parcels weighing more than 839 tonnes were distributed to 65,150 people in Hadramaut.
"The foundation aims to distribute dates during Ramadan, so the healthy fruit can help meet the nutritional needs of people in need," said Mohammed Haji Al Khouri, director-general of the foundation.
The 30 countries included five Arab nations, with Bahrain receiving 40 tonnes of dates, Egypt receiving 20 tonnes, Morocco 20 tonnes, Syria 30 tonnes and Lebanon 30 tonnes.
https://www.thenational.ae/uae/government/ramadan-2020-uae-sends-50-000-tonnes-of-food-to-support-cancer-patients-in-yemen-1.1016619
-----
Custodian of the Two Holy Mosques Makes Telephone Call to U.S. President
2020/05/08
Riyadh, May 08, 2020, SPA -- The Custodian of the Two Holy Mosques King Salman bin Abdualziz Al Saud made a telephone call here today to President Donald Trump of the United States of America.
During the call, they affirmed historic and strategic relations between the two countries and the achievements of such a distinct relation, at all levels.
The two sides reasserted keenness on continuation of their joint endeavors to consolidate regional security and stability.
The Custodian of the Two Holy Mosques pointed to the Kingdom's exerted efforts to reach a comprehensive political solution in Yemen and the Coalition initiative for ceasefire to back up the UN envoy efforts in this regard.
For his part, the U.S. President stressed the U.S. commitment to protect its interests as well as the security of its allies, in the region, and its determination to confront any act that may destabilize the region and re-emphasized U.S. support for all efforts exerted to reach a political solution for the Yemeni crisis..
https://www.spa.gov.sa/viewfullstory.php?lang=en&newsid=2084101
-----
North America
New York Muslims raise concerns about substandard Ramadan meals
By Umar A Farooq
8 May 2020
Earlier this month, New York City Mayor Bill de Blasio announced the city would be delivering 500,000 free meals to Muslims during the month of Ramadan.
Still, when Rima Begum opened the iftar meal she received from the city, she recoiled in disgust. Oozing from a sealed silver bag was a mush of corn, chicken and potatoes.
"It reminded me of how when I was a kid you would learn about astronaut food," Begum told Middle East Eye. "I wouldn't eat this; I wouldn't give this to my family," she said.
This is so disrespectful to our communities that are fasting during Ramadan. The @NYCMayor needs to answer for this total waste of tax payer money.
De Blasio had said that 400,000 halal meals would be distributed at 32 Department of Education buildings and another 100,000 served through various community organisations during the holy month.
The meals being distributed directly from the city are available at 32 grab-and-go sites, and for those that cannot pick up the meals in-person, they are delivered through the NYC Food Delivery Assistance programme.
"We'd like transparency on how the city government procures food for both their Get Food NYC program and NYC Food Assistance," Thahitun Mariam, a community organiser in Bronx, New York, told Middle East Eye.
Linda Sarsour, a community activist and former executive director at the Arab American Association of New York, said that the meals distributed through AAANY came directly from the city and were of good quality.
The food received by Begum and others from one of the city's distribution centers, and not from a community organisation, originated from J&M Halal Foods, a company based in Illinois.
The meal shown in a social media post by Begum is identical to J&M's Meals Ready to Eat (MRE) kits, which are foil pouches containing 227 grams of preserved food.
"As a vital defence contractor, J&M shipped more than thirty (30) million MREs throughout the world in support of military operations," the company's website says.
The New York City Department of Sanitation told Middle East Eye that J&M is not a vendor for its Emergency Food Home Delivery programme, and that it was investigating the matter.
"I can tell you that we take these kinds of concerns very seriously," Joshua Goodman, the department's assistant commissioner for public affairs, said in an email.
"We have strict requirements about nutrition and food quality, and if a vendor is supplying food that is not up to our standards, their contract will be terminated."
Ahmed, who is running for district leader for New York's Assembly District 24, said that some of the meals were "disrespectful" and a waste of taxpayer money.
Jamaica, Queens, the community where Ahmed is seeking office, has a large South Asian population - mostly of Bangladeshi origin. Still, the community has yet to elect a leader from this background.
She pointed out that the money spent on these meals could have gone to local restaurants that have been providing meals for Muslims during Ramadan for years.
"We are the richest country and the richest state on the planet. We have the ability to provide quality meals to our Muslim families who are observing Ramadan," she added.
middleeasteye.net/news/new-york-muslim-community-raises-concerns-substandard-meals-distributed-during-ramadan
-----
Metro Detroit's Halal Restaurants Adjust to Ramadan Service in a Pandemic
May 8, 2020
by Nargis Rahman
MetroMetro Detroit halal restaurants are scrambling to figure out how to stay afloat during Ramadan — for many, the busiest time of the year. All is up in the air this year due to social distancing restrictions, following Gov. Gretchen Whitmer's March 16 executive order closing restaurants for dine-in service.
This year the month of Ramadan, a holiday coinciding with the ninth month on the Islamic calendar, began April 24 and lasts until May 23. During this time, Muslims around the world observe the holiday by fasting from dawn until dusk, when they break fast, traditionally with dates and a meal shared with friends and family. Local metro Detroit restaurants are usually packed with people picking up takeout or treats prior to the evening iftar meal. Some restaurants also extend hours into the early morning to accommodate the crowds leaving late-night prayers for a pre-dawn meal called sehri or suhoor. But these big gatherings, buffets, and after-hours food festivals simply aren't possible this year due to the novel coronavirus, and more Muslim families are electing to stay home.
Still, businesses are hoping that the season will bring a much-need boost to bottom lines that have been hurt by the widespread economic downturn. At Bismillah Kabob in Warren, owner Afzal Chowdhury says he recently reopened the restaurant for an anticipated Ramadan pick-me-up. When Michigan restaurants were closed for all but carryout and delivery service, Chowdhury closed his restaurant for a month and had to let go of five employees. Thus far, he hasn't tried to apply for any small business loan assistance to help Bismillah bounce back.
Now reopened, the restaurant will serve its iftar boxes as it does every year, packed by the restaurant's employees. These boxes are prepared exclusively during Ramadan at many Bangladeshi restaurants across metro Detroit and typically feature with biryani, chana (fried chickpeas), fyazi (lentil fritters), and deep fried eggplants, potatoes, and peppers, usually for less than $7 per meal. This year, only one person will be allowed into the restaurant at a time to retrieve the iftar box.
Chowdhury, who normally takes the holy month off to lead prayers during the night in New Jersey, instead will be praying at home this year with his family, while helping revamp the business. He says that sales have plummeted by 50 percent since the novel coronavirus crisis began, and he's adjusted his hours to noon to 8:30 p.m.
In Dearborn Heights, the Ramadan Suhoor Festival, a food festival that attracts thousands to get a "taste of Ramadan," is canceled this year. Instead smaller shops are figuring out how to switch to carryout options to serve people looking for meals and treats.
The Sobh brothers attempted to apply for the first round of federal small business loans and missed out. "Today I received a call from Wayne County, and they ran out," Hussein said during an interview in late April. As of Thursday, May 8, he has yet to apply for the second round of loan funding, but says that business has picked up by around 20 percent due to the holy month, bringing revenue to around 40 percent of normal levels.
On Greenfield Road in Dearborn, Kings Bakery (4618 Greenfield Rd.) changed its format entirely to carryout in response to the pandemic. The bakery is known as the "home of the manouwich," a Middle Eastern cheese pie made into a rolled sandwich that was recently featured in an episode of Ugly Delicious on Netflix. Unfortunately, any boost from being featured on the popular program was devoured by the decline in business from coronavirus.
During a typical Ramadan season, the restaurant is open from 8 a.m. to 6 p.m. and reopens midnight to 4 a.m. for suhoor. There are long lines for the manouwich, which comes in 17 varieties; the traditional maneesh comes in 44 options. The 55-seat bakery, which opened in 2013, is undoubtedly busiest during Ramadan. "We always have a line," chef and co-owner Hassan Houssaiky says.
Since the coronavirus pandemic spread throughout Michigan, Kings Bakery has taken a hit, losing between 60 and 70 percent of its business. The restaurant has had to lay off some employees, but Houssaiky says the restaurant has continued to receive a lot of support from their customers.
This year, the bakery will remain closed off to customers during the day throughout the month of Ramadan. In April, the bakery switched to creating frozen ready-to-bake frozen pies and pie dough for customers to pre-order. At night, the bakery is open with hot meals for carryout only from midnight to 4:30 a.m. daily, except for Mondays. Outside, Kings set up tents with 20 numbered stations, each six feet apart, marked with Xs to indicate where customers should stand. When a customer's order is called, they come to their assigned station to pick up their bagged meal from a basket.
Bonoful reopened on April 22 in order to prepare for Ramadan, but the owners have had to cut back on staff hours due to low demand for their iftar food. Michelle and Chris Gerard
Bonoful Sweets & Cafe, a Bangladeshi restaurant in Hamtramck, fully closed on March 23, a week after restaurant dining rooms were closed by the state. Owner Oyez Ahmed says the restaurant reopened on April 22 to prepare for Ramadan. "By this time last year, we already had everything prepared for the whole month," Ahmed told Eater on a recent Friday. "Everything is up in the air." Ramadan can either break or make the business, co-owner Mustak Ahmed says.
The owners hope the jalebi, a deep fried dough recooked in an aromatic simple syrup, will drive — and maybe save — the business. It is the star of Ramadan iftar foods at Bangladeshi restaurants. "Everyone likes [jalebi]," Mustak Ahmed says. "Some people come and get in line two hours beforehand in the past." Jalebi chefs are hired especially during Ramadan to make up to 500 pounds of jalebi daily through the month. The jalebi at Bonoful is $5 per pound, and Bonoful usually has two jalebi chefs on hand at all times during Ramadan. However, with business down 50 percent, the restaurant must break up their shifts during the day so they're each receiving fewer hours, only bringing both chefs in during the slightly busier afternoons.
Bonoful is doing its best to make things safe. It's open for carryout-only and limiting the number of customers inside, but the owners aren't expecting the usual long lines. "We anticipate that we can serve and keep the customers happy," Oyez says. "We have been requested to open for jalebi."
https://detroit.eater.com/2020/5/8/21251908/halal-restaurants-ramadan-iftar-food-metro-detroit-dearborn-hamtramck-business-coronavirus-covid-19
-----
Fort McMurray rallies to support Muslim community during Ramadan
May 08, 2020
People and businesses are rallying to support the Muslim community in Fort McMurray recover after widespread flooding that damaged many neighbourhoods.
During Ramadan, Muslims fast from sunrise to sunset. Before the fast begins, they have an early morning meal known as suhoor. The fast is broken with a shared meal known as iftar.
Mohammed Al-Zabidi, president of the Markaz-Ul-Islam, said the Islamic centre is delivering between 300 and 400 meals a day to evacuees.
"With people fasting from dawn until dusk, that's about 18 hours," he said. "They need to have a nice meal, a little bit different than what they're offering at hotels and restaurants."
Al-Zabidi said organizations such as Islamic Relief Canada, Penny Appeal Canada and Human Concern International have made donations to the Islamic Centre. They've received about $50,000 to help pay for the iftar, and have received other kinds of donations as well.
On Saturday the Islamic centre will hand out 15,000 bottles of water. It has also given away care bags with bread, water and hygiene products.
Abdurrahmann Murad is Fort McMurray's imam. He lives in a downtown apartment with his family. They were forced to leave their home last week. He hasn't been able to return.
"In my mind, it was impossible that our building would be closed," he said. "The toughest part is not knowing what will happen with your stuff."
"We knew it's going to be a challenge for a lot of people not having anything for suhoor and iftar, because we have certain times we can eat," said Akhtar. "There were a lot of people that were actually struggling at that time."
Akhtar said they were already seeing lower sales because of COVID-19. The small grocery store is only allowed to have two customers inside at a time.
They've given out more than 200 meals, but have had to slow down as a result of the boil water advisory. She said they haven't just been donating to the Muslim community but to volunteers as well.
"People have been fasting and going through this drastic change and all this stress in their lives and they're still keeping up with their Ramadan and their fasting."
cbc.ca/news/canada/edmonton/fort-mcmurray-ramadan-evacuation-1.5560625?cmp=rss
-----
Brazil reports new daily record for Covid-19 deaths as country's cases exceed 145,000
09/05/2020
Brazil, the country in Latin America that has been hardest hit by the coronavirus crisis, said Friday it had reached a new daily record for COVID-19 fatalities with 751 deaths.
The announcement by the health ministry puts Brazil's total death count at nearly 10,000.
More than 145,000 cases of the novel coronavirus have been reported so far, with 10,222 added in the last 24 hours.
Sao Paulo -- which has a population of 45.9 million, or about the same size as Spain -- has registered more than 41,000 of Brazil's cases, and 3,416 deaths.
The state is Brazil's top industrial hub. It closed schools and non-essential businesses on March 24, and has extended its stay-at-home order through the end of May.
Brazilian President Jair Bolsonaro has criticized such measures, saying business closures are unnecessarily damaging the country's economy.
https://www.france24.com/en/20200509-brazil-reports-new-daily-record-for-covid-19-deaths-as-cases-exceed-145-000
-----
Europe
Barcelona police arrest suspected Islamic State terrorist planning lockdown attack
8 May 2020
Spanish police arrested a Moroccan man in Barcelona with suspected links to Islamic State who they believed was planning a militant attack, police said on Friday.
The man, described as deeply radicalised, was arrested after a joint investigation with security forces in Morocco and the United States, police said.
The arrested man's links to Islamic State date back at least four years, police said, though he had not displayed any outward signs of radicalisation until recently.
A group of militant Islamists used a van to hit pedestrians in Barcelona's La Rambla boulevard in August 2017 and carried out a follow-up attack in another Catalan municipality, killing 16 people in total.
Officers wearing full-body suits and goggles checked several laptops inside the apartment, a police video showed. The arrested man was later escorted out of the building by masked policemen as armed officers surrounded the area.
After Spain imposed a coronavirus lockdown on March 14, the man's interest in the jihadist movement increased, police said, and he made public pledges of allegiance to Islamic State while declaring his hatred of the West on social media.
Police said he was likely to have been responding to calls from Islamic State for followers in the West to carry out attacks in the countries where they live.
Investigators feared he was planning an attack, perhaps using a knife or with a vehicle, in Barcelona after observing him breaking virus confinement rules to move around the city, possibly searching for a target.
Spain's Civil Guard said that the arrest carried out in Barcelona was aided by the US Federal Bureau of Investigation and Morocco's state security forces.
In April, security forces in the southern city of Almeria captured arrested a British rapper who was on the run after fighting for the jihadist movement in Iraq and Syria.
https://www.telegraph.co.uk/news/2020/05/08/barcelona-police-arrest-suspected-islamic-state-terrorist-planning/
------
Fuad Nahdi legacy fund set up to continue work of pioneer of Muslim-focused journalism in London
Jacqueline Fuller
May 8, 2020
When the coronavirus struck down Fuad Nahdi six weeks ago, the loss of the prominent elder was a grievous blow to the British Muslim community and the many proteges he inspired.
Not only would his charismatic presence be missed, but his death from Covid-19 threatened to put an end to a lifetime of work that shaped the dialogue within and around modern Islam in Britain.
Now, however, his pioneering "vision of community, creativity and culture will live beyond the man" if a legacy fund set up in his name achieves its aims.
The online crowdfunding page for Dr Nahdi, a journalist, activist and interfaith leader, affectionately describes his life spent mentoring young people to become leaders, innovators, creators and visionaries.
He founded the MuslimWise magazine and then Q-News in the 1990s, and set up the Radical Middle Way organisation after the July 7 bombings in 2005 to bring a back-to-basics theology to Islam and counter-extremist ideology.
Since his death, his son, Nadir, 30, says that the family had been working endlessly to come up with an appropriate commemoration to extend this influence to future generations.
"A pang of guilt fills my heart that not enough was done to celebrate him in life, and I won't let that happen in his passing," he wrote in a Facebook post.
Nadir told The National that there were times when he would become frustrated with his father for putting everyone else before his own health, but that the outpouring of adoration and memories shared in recent weeks had been a comfort.
"The results of a lifetime of self-sacrifice for the community came back to us all at once," he said. "An explosion of love. It was so moving.
"We lost him in unprecedented times. We always imagined his funeral to be full of people, a festival to celebrate his life. It would have been filled to the rafters. Yet Covid-19 and isolation stripped us of that luxury, and we had to think of alternative means to celebrate him.
"This was where technology helped connect us to a bigger crowd than we ever imagined. We livestreamed the whole funeral, and over 10,000 people from around the world were able to join us in prayers, celebration and remembrance of him all at once."
He described as overwhelming the reception to the fundraising campaign, set up on May 2 with Dr Nahdi's long-time friend Abdul-Rehman Malik, the British Muslim commentator and educator.
In days, two-thirds of the £25,000 target has been reached. Nadir said that the money would be used to set up a Convergence Trust to invest in grassroots education programmes, to guide the next generation of influencers and thinkers, and to create an archive of his father's many works and projects.
Born in Tanzania with a mixed Yemeni-Indonesian ancestry, Dr Nahdi grew up in Kenya before moving to study journalism at City University, London, in 1983.
He believed that religions should take an approach of convergence not conversion, and was awarded the Interfaith Gold Medallion in 2012 for his work in bringing together people of all faiths or none. Two years later, he became the first Muslim to address the Church of England's General Synod. Rowan Williams, the former head of the Church, was a close friend.
At the time, Dr Nahdi said: "I will enter the synod the way I would have entered the house of Jesus of Nazareth - in awe and wonderment seeking brotherhood and understanding. My lips, however, will be repeating the prayer of Moses: 'My Lord, I ask you to expand my breast, make my task easy, undo the knot in my tongue so that my speech will become comprehensible.'"
His wife of 31 years, the activist Humera Khan, used a long and moving tribute on Medium, to particularly highlight his conscientiousness in defending the rights of women. Ms Khan said that Dr Nahdi had a unique ability to see beyond the dominant understanding that prevailed in Muslim cultures throughout his lifetime.
One of her greatest desires, she said, was for Dr Nahdi's example to be emulated, even just a little, by "our menfolk". "Since Fuad's passing, I have spoken to so many of the men who loved Fuad sincerely, who cried unashamedly and I know miss him dearly," she said. "Dear brothers, my wish for you is to channel this love into your own personal transformation and to be the torchbearers for a different kind of society."
Pondering what she wished Dr Nahdi's real legacy to be, Ms Khan said that undoubtedly the public aspects of his life would be recorded.
"What is actually most important for me is Fuad's private legacy, the things he did instinctively and deliberately to challenge the status quo and to bring about change, the listening he did to people's troubles, the shoulders he gave to people to lean on, the intimidation of his presence when the need arose, and most importantly his infectious humour (often at my expense!) and his forgiving nature."
If people honoured and consolidated Dr Nahdi's attributes and achievements, the legacy fund would become an established charity to ensure that his many gifts to the community kept on giving.
https://www.thenational.ae/world/europe/fuad-nahdi-legacy-fund-set-up-to-continue-work-of-pioneer-of-muslim-focused-journalism-in-london-1.1016699
------
Zagreb Declaration reveals Europe's ambiguity on Muslim-majority Albania
May 8, 2020
The countries of the Western Balkans "belong in the European Union", Commission president Ursula von der Leyen said on 6 May. However, she offered no indication of when they might become member states, which is to say, really "belong" in the bloc.
On Albania, as with Turkey, Europe faces another defining moment. In March, the EU was able to overcome a veto from France and some Nordic countries on opening accession talks with Albania and North Macedonia.
However, the 6 May Zagreb Declaration – the result of a virtual EU summit with Western Balkans leaders – doesn't mention EU enlargement. The EU, including Ms von der Leyen, thereby avoids a clear message it will accept Albania and other Western Balkans countries as members one day.
The six Balkan countries – Albania, Bosnia and Herzegovina, Kosovo, Montenegro, North Macedonia and Serbia – are at different stages of a real or aspirational path to EU membership. However, the case of Albania will be more closely watched than the other five.
A couple of months ago European leaders tried to show they were welcoming of majority-Muslim Albania's membership aspirations. In early February, European Parliament president David Sassoli was in Albanian capital Tirana declaring: "There is no Plan B for Albania."
After more than half a century of aspiring to EU membership, Turkey has drifted out of Europe's sphere of influence and blames Brussels for misleading it.
Now, on issues such as Syria, Libya, migration and refugees, Ankara arguably exerts considerable control over Europe's destiny. Mostly, it is impervious to pleas from European leaders for considerate treatment, perhaps because it feels aggrieved the EU never warned it of the futility of a Muslim country trying to become European.
This is precisely the outcome the EU would want to avoid with Albania. It doesn't want the perception to grow that yet another majority-Muslim state is unwelcome in the European family of nations.
Albania, like Turkey, belongs to the 57-member Organisation of Islamic Cooperation. The EU will tread with care – it has to – but its strategy remains unclear.
https://www.thefocus.news/politics/zagreb-declaration-reveals-europes-ambiguity-on-muslim-majority-albania/
-----
Drive-thru iftars and coronavirus task forces: How Muslims are observing obligations to the poor this Ramadan
May 8, 2020
Many of the world's 1.8 billion Muslims are experiencing the holy month of Ramadan differently this year – disrupted by social distancing amid the COVID-19 pandemic.
Ramadan, which began on April 24, is the ninth month on the Islamic lunar calendar during which Muslims are required to fast from food, drink and sexual activity from dawn to dusk.
It is also a time for Muslims to renew their faith and remind themselves of the best that they can be by performing acts of compassion. For many Muslims, Ramadan is centered around helping the poor.
As a scholar of Muslim philanthropy, I have watched as people and institutions have adapted practices to accommodate social distancing rules. I have also observed how the crisis has exposed the vulnerability of Muslim nonprofits.
Muslims tend to give their "zakat" – obligatory annual charitable payments – during Ramadan. In the U.S., this has traditionally meant fundraising "iftars" – the evening meal to break daily Ramadan fasts – or congregational fundraising at community prayers or volunteering.
According to a 2018 survey of Muslim philanthropic practices by the Institute of Social Policy and Understanding, U.S. Muslims make efforts to alleviate poverty in America a high priority when giving to Muslim charities. In fact, the poll found it was the second-most important focus of philanthropy after supporting their places of worship. Education and international relief rounded out their top four priorities.
When it comes to giving to non-Muslim charities, Muslims likewise spent more on groups that deal with poverty within the United States than other countries.
Civil rights organizations ranked below foreign and domestic anti-poverty efforts even as Muslims face a rising tide of Islamophobia. At a time when many Muslims in the U.S. are feeling marginalized or at risk of hostility, they are still prioritizing the needs of others. In fact, they are just as likely to give to causes outside their faith as those within, and of all faiths are the most likely to give to poverty causes outside their religion.
Similarly, a recent survey of British Muslims found that younger U.K. Muslims are passionate about reducing domestic inequality and poverty and that they are focusing on efforts within their own borders rather than Muslims in other countries.
The economic downturn caused by the coronavirus will have inevitably pushed many families – Muslim and non-Muslim alike – into poverty. Even before the crisis, more than a third of Muslim Americans were below the poverty line – a higher proportion than that of the general population.
Despite the challenges brought about by social distancing, Muslims organizations have still found ways to channel money to those in need. In the United States, the Islamic Society of North America has, for example, helped establish a National Muslim COVID-19 Taskforce.
Local community organizations have come together to develop their own Muslim COVID-19 task forces in places like Indianapolis and Chicago.
Some congregations are providing iftar food for those in need through drive-thru services because the traditional community meals are all canceled. Some congregations and organizations like ICNA Relief are dropping off at homes and apartment buildings.
The Community Collaboration Initiative, established by the Muslim Philanthropy Initiative at the Lilly Family School of Philanthropy, where I am employed," has brought together 26 Muslim American nonprofits to find ways to collaborate.
Meanwhile guidance from religious bodies like the Association of Muslim Jurists of America and the Fiqh Council of North America has meant that struggling Muslim families and businesses can apply for federal funds. They ruled that it was permissible to apply for loans under the government's CARES Act despite the funds being subject to interest – which is forbidden under Islamic law.
I've already heard from a number of Muslim nonprofits that they are facing deep financial challenges as a result of the coronavirus crisis.
Muslim Americans represent around 1% of the U.S. population and trend younger and poorer. This may explain why Muslim American nonprofits are vulnerable during times of economic hardship and may benefit from greater support from outside foundations and philanthropists.
Muslims in the U.S. have shown their resourcefulness in finding new ways of giving during the coronavirus-hit Ramadan. Many of the faith's nonprofits may need to do likewise to keep afloat during the hard economic times to come.
https://theconversation.com/drive-thru-iftars-and-coronavirus-task-forces-how-muslims-are-observing-obligations-to-the-poor-this-ramadan-137365
-----
Germany: Muslims ready to go back to mosques
Erbil Basay
08.05.2020
Mosques in Germany will reopen their doors to worshippers this weekend, following a government decision to ease coronavirus restrictions in the country.
The mosques around the country will gradually reopen according to some guidelines set out by Germany's Muslim Coordination Council (KRM).
"We will take our guests into mosque through only one door. Everyone will wear masks as well as disinfect their hands. Contact information of those who come to the mosque will be listed," Ayar told Anadolu Agency about the strict guidelines.
Local authorities have limited the mass worship to 50 people, Ayar added, which means people will be admitted inside based on who comes first.
Ramazan Saglam, vice president of the Mevlana Mosque Association, said that Tarawih and Friday prayers will continue to remain suspended.
The German government decided last week to lift a number of coronavirus lockdown measures, and allowed prayer services at mosques, churches and synagogues provided that they comply with hygiene and social distancing requirements.
https://www.aa.com.tr/en/europe/germany-muslims-ready-to-go-back-to-mosques/1833637
-----
Africa
Lekki Muslims to feed 3,000
May 9, 2020
Lekki Muslim Ummah (LEMU) will tomorrow distribute relief materials to over 3,000 people.
Its Publicity Secretary, Alhaji AbdulFattah Olajide said the palliative materials which would be distributed in ten rural communities including Oniru waterside, Itedo, Ajah, Ogombo and Shangotedo.
LEMU Welfare Secretary Alhaji BayoShonibare said the items would be distributed to the beneficiaries irrespective of their religious or ethnic background.
Omotosho said apart from the planned distribution of the relief items on Sunday, LEMU has also joined and contributed to the Muslim Coalition Against Covid-19 which is also distributing relief materials across the country.
https://thenationonlineng.net/lekki-muslims-to-feed-3000/
-----
Police cleared of 'blasphemous remarks' during mosque lockdown arrests
15h ago
By MayibongweMaqhina
Police Minister Bheki Cele on Friday said no action has been taken against any officer for the "blasphemous remarks" allegedly made when they arrested about 24 Muslim worshippers in Masibekela in the Mbuzini area in Mpumalanga.
In a video that recently went viral, a group of armed police officers could be heard screaming at the congregants in what appears to be a mosque.
Among other utterances, a police officer shouts to the congregants "Are you bigger than the president? Or is Mohammed bigger than the president?"
Responding to a question on action taken against the members at a joint meeting of parliamentary committees, Cele said he and the SAPS management regretted the unfortunate conduct displayed by the officers in the incident.
He said when the officers rushed to the mosque, they were told that the congregants were called to the service by a man named Mohammed.
Cele also said the" blasphemous remarks" came from questioning the three men who were named as Mohammed at the time of the incident not Prophet Mohammed.
"The member has been cleared because he did not refer to Prophet Mohammed. He referred to (the person named as) Mohammed that was there," he added.
Cele insisted that the affected officer was asking a namesake that was an organiser of that illegal gathering who was arrested.
Responding to a question about heavy handedness of the officers, the minister said there were such instances.
"Many members will be there to make sure that they do their job, sometimes, under heavy provocation," he added.
The minister said SAPS members had been cautioned about their conduct when they were deployed for the lockdown.
"We reminded them that 'you police under the culture of human rights and constitutionality so behave as such and use all laws to police'."
https://www.iol.co.za/news/south-africa/mpumalanga/police-cleared-of-blasphemous-remarks-during-mosque-lockdown-arrests-47743400
-----
Zim Security Forces On High Alert Amid Threats Of Infiltration By Islamic Groups
MAY 8, 2020
The Zimbabwe Independent has reported that Zimbabwe's security forces are on high alert amid threats of infiltration along the Zimbabwe-Mozambique border.
These reports come when RENAMO, an opposition party in Mozambique and Islamist fighters have escalated their revolt against that country's government along the border.
The insurgency was reportedly triggered by the "disputed" 2019 elections which were monitored and endorsed by the Southern African Development Community (SADC) Electoral Observer Mission that was being chaired by Zimbabwe.
The Zimbabwe Independent also reports that President Emmerson Mnangagwa has approached SADC in a bid to persuade the regional grouping leaders to consider a joint military operation to assist Mozambique in its battle to contain the twin rebellions which have gathered momentum in the past three years.
The publication also claims that the Zimbabwean government has deployed elite troops to assist the Mozambican government with strategies on how to track down the insurgents.
The Zimbabwean Minister of Defence, Oppah Muchinguri-Kashiri, however, dismissed reports which suggest that the country deployed troops to Mozambique.
The alleged deployment of soldiers had reminded some of the deployment of troops to the Democratic Republic of Congo which had far-reaching economic and humanitarian consequences.
https://news.pindula.co.zw/2020/05/08/zim-security-forces-on-high-alert-amid-threats-of-infiltration-by-islamic-groups/
-----
Muslim leaders urged to support battle against COVID-19
May 08 , 2020
The Deputy Chief Executive Officer of the Zongo Development Fund, (ZoDF) in Charge of Operations, Alhaji Baba Sadiq Yakubu has appealed to the Muslim ulama to offer special prayers seeking help from Allah in the nation's unprecedented battle against the coronavirus pandemic.
He said the Muslim community must use this period of Ramadan to offer individual prayers to protect the country and other nations us from this pandemic.
Alhaji Yakubu was speaking to Graphic Online in Ashaiman when the ZoDF in collaboration with the Qatar Charity donated some food items to the Muslim community to support families during the Ramadan period and also to assist vulnerable persons hit by the coronavirus
The contents of food basket donated to the zongo communities in the Ashaiman municipality included rice, tomato paste, sugar, tea, and cooking oil.
The Deputy CEO of ZoDF appealed to the Muslim community in Ghana to cooperate with the government in the fight against the deadly virus.
"In the past, we use to gather in the mosque to listen to Tafsir, and Taraweeh prayers during Ramadan. However, this time around we cannot congregate in the mosques because of the pandemic. This is where we have to completely support to the government in its fight against coronavirus. Life is irreplaceable so if we are able to take care of our lives, then it is part of our act of worship," he said.
He advised leaders in the various zongo communities to observe the COVID-19 protocols, especially, social distancing for their own safety
The Ghana Country Director at Qatar Charity, Mr Izzeddin Yousif Daifallah, said the gesture forms part of the Ramadan campaign projects of his organisation where over 4, 500 food baskets have been allocated to families across the country especially affected by the pandemic.
Mr Daifallah said Qatar Charity, through the partnership with local organization such as the Coalition of Muslim Organisations, Ghana, (COMOG), the Islamic Council for Development and Humanitarian Services,( ICODEHS), the Ministry of Inner City and Zongo Development (MICZD), the ZoDF was reaching out to needy groups in 13 distribution centers including Ashaiman, Nsawam, Kasoa, Tamale, Yendi, Kumbungu, Tamale to stand by those affected by the pandemic and provide them with relief and assistance, especially in this holy month.
https://www.graphic.com.gh/news/general-news/muslim-leaders-urged-to-support-battle-against-covid-19.html
------
Faithful undeterred at Ramadan, even as virus spreads in Somalia
2020-05-08
Adan Abdullahi knows that visiting the mosque for evening prayers is forbidden. There is a curfew in place in the Somali capital, and authorities have pleaded with worshippers to stay home as coronavirus infections rise.
But it is the holy month of Ramadan - one coinciding with a deadly outbreak that has officially claimed 39 lives but likely hundreds more in under-resourced Somalia - and Abdullahi can think of no better time for faith, so refuses to follow the rule.
"When disaster strikes, you go to the mosque and pray so that Allah solves your predicament," the 42-year-old father-of three told AFP in Mogadishu.
But elsewhere in the city, as containment measures are ignored or half-heartedly enforced, graves are furiously being dug to accommodate a spike in unexplained deaths.
Somalia receives a boost in fight against COVID-19 in the form of home-made mechanised respirators, created by 21-year-old Mogadishu-based mechanical engineer A 21-year-old mechanical engineer came up with the device in response to a national sh...
Known cases of coronavirus have jumped 14-fold since mid April to 873 but government officials suspect the true toll is vastly higher due to a lack of testing.
"We lack sufficient testing capabilities for people who are sick" and the doctors, nurses and medical personnel to man the hospitals and labs, said Mogadishu mayor Omar Mohamud.
Humanitarian agencies fear the fragile state, already confronting an armed insurgency, a record locust invasion and heavy flooding, will not cope should the virus spiral further.
"We are seeing widespread community transmission in a country that will not be able to handle a multitude of severely ill patients at once," said Richard Crothers, country director for the International Rescue Committee.
People with Covid-19 symptoms were being told to stay home to free up what scant hospital resources are available for the seriously ill, further suggesting the official count was off, Crothers added.
The World Health Organisation warned on 23 April that unless the rate of transmission slowed rapidly, Somalia's parlous health care system would quickly be swamped.
Instead, the caseload has ballooned as the government has struggled to convince people of the seriousness of the disease sweeping the globe, and the need to stay home and avoid large gatherings.
Police on patrol use megaphones to urge bystanders to keep their distance, and posters in the streets carry government advice about the disease, but few pay attention.
"Nothing's changed here. We can still visit others, and go anywhere we want," said Ali Moallim Nur, shrugging off the health advice on a Mogadishu street.
A curfew has proved fruitless in the capital - especially so during Ramadan, a time when Somalis visit each other's homes in the evening to break their fast together, and pray even more than usual.
Some idling at restaurants and cafes have been told to move on but police in the Muslim-majority country are reluctant to target the devout, or punish mosques that remain open for evening prayers, despite the blatant breach of curfew.
"Ramadan is all about devotion to Allah and going to his house for prayer. I still perform the prayers, and I understand there is Covid-19, but we pray God will save us from this disease."
But in Barakat, a Mogadishu suburb, cemetery worker Ali Maow said the number of burials doubled in April, with sometimes 25 bodies arriving on a single day.
"Before this coronavirus, it was maybe 10 or 12 a day - you can see the increase. I can't say if they died because of the virus, but most are elderly," he said.
Mayor Mohamud said as many as 500 unexplained deaths occurred between 19 April and 29 April in Mogadishu, an anomaly city authorities suspect, but cannot prove, is linked to coronavirus.
Authorities must also contend with a stigma rife in Somalia that views those wearing face masks in public with suspicion and hostility.
"Hardly anyone is wearing face masks. Those that do are harassed, and called 'Mr Coronavirus', said Abdirahman Mohamed Jimale, a 22-year-old Mogadishu resident.
Mohamed Sharif, a chauffeur for an international agency, said he had to wear a face mask at work, but found people outright avoided him or even ran away in his presence.
https://www.news24.com/Africa/News/watch-faithful-undeterred-at-ramadan-even-as-virus-spreads-in-somalia-20200508
------
253 Nigerians evacuated from UK arrive Lagos
By Wole Oyebade
09 May 2020
No fewer than 253 Nigerians evacuated from the United Kingdom (UK) by the Federal Government arrived the Murtala Muhammed International Airport (MMIA), Lagos, aboard a British Airways flight, yesterday.
The Guardian learnt that the evacuees were kept onboard the aircraft for over 30 minutes and later disembarked through a motorised gangway rather than the avio-bridge.
The travellers, after the usual temperature screening by officials of the Port Health Services, were led into luxurious buses onward to a designated special isolation centre.
Officials of the Lagos State government, the Nigeria Centre for Disease Control (NCDC) and other partners in the evacuation process were on ground to ensure a seamless facilitation of the evacuees.
The same aircraft that brought in the Nigerian evacuees also repatriated 215 British nationals from the airport about three hours later.
The first batch of 262 Nigerian evacuees were flown into the country last Wednesday from Dubai, the United Arab Emirates (UAE) through the Lagos Airport.
There are about 4000 Nigerians awaiting evacuation from 67 countries. A schedule released by the Foreign Affairs Ministry showed that another batch would arrive on Sunday, May 10, from the UK, while on Monday, May 11, Ethiopian Airline would airlift those coming from United States of America.
https://guardian.ng/news/253-nigerians-evacuated-from-uk-arrive-lagos/
------
URL: https://www.newageislam.com/islamic-world-news/about-250-members-40-muslim/d/121805
New Age Islam, Islam Online, Islamic Website, African Muslim News, Arab World News, South Asia News, Indian Muslim News, World Muslim News, Women in Islam, Islamic Feminism, Arab Women, Women In Arab, Islamophobia in America, Muslim Women in West, Islam Women and Feminism