New Age Islam News Bureau
1 Jul 2020
• 'Fatwa' Issued Over Temple in Islamabad by Jamia Ashrafia
• Qatar Leak: Kuwaiti Ex-MPs, Libya's Gaddafi Plot to Undermine Saudi Arabia
• UN: Conditions Still Not in Place For "Safe, Dignified" Return Of Rohingya
• Hamas Leader Asks for Umno's Support and Solidarity Against Israel's Annexation Plan
• Muslim Cop Plans to Sue NYPD for $5M After Alleged Discrimination
• Council Members Unhappy Over Pakistan Blaming India For Karachi Attack, China-Pushed UNSC Statement Delayed
• Iranian Spokesman Describes US as Most Notorious Terrorist in World
Pakistan
• A Town in Balochistan Province Safeguards Hindu-Muslim Brotherhood, Pashtun Hindu Properties Lying in Wait for Their Rightful Owners to Return
• 'Fatwa' Issued Over Temple in Islamabad by Jamia Ashrafia
• International Muslim group condemns attack in Pakistan
• PM Imran Khan blames India for Karachi stock exchange attack
• Pakistan approaches United Nations on domicile policy
• Five more killed as clashes in Kurram continue
--------
Arab world
• Qatar Leak: Kuwaiti Ex-MPs, Libya's Gaddafi Plot to Undermine Saudi Arabia
• Lebanese PM Diab calls for protection for Lebanon from Caesar Act sanctions on Syria
• Saudi Arabia: UN Aramco attacks report 'leaves no doubt' over Iran's hostile intentions
• Lebanon extends COVID-19 measures until August amid infection surge
• Saudi Arabia stands with Egypt, Sudan on Nile water rights
• Lebanon protests increase possibility of Hezbollah attack against Israel
--------
South Asia
• UN: Conditions Still Not in Place For "Safe, Dignified" Return Of Rohingya
• Myanmar martial court finds mere 3 troopers guilty in Rohingya massacre
• U.S., Taliban say Afghan peace effort discussed in video talks
• Afghan peace talks likely to start soon, reduced violence needed: Pakistan ambassador
• Rohingya find sanctuary in NW Indonesia
• 3 Taliban leaders among 5 killed, wounded in Faryab
• Pompeo tweets about his conversation with Taliban chief negotiator in Qatar
• UN rights chief says 'as many as 10,000' flee Myanmar army operations
• Mortar Strikes Kill at Least 20 at Livestock Auction in Afghanistan
--------
Southeast Asia
• Hamas Leader Asks for Umno's Support and Solidarity Against Israel's Annexation Plan
• Rohingya refugee claims child barred from attending PAS kindergarten due to Covid-19
• Study by Malaysian experts, Mundipharma shows mouthwash containing PVP-I capable of curbing Covid-19 spread
• Indonesia's annual inflation edges down to lowest in 20 years in June
--------
North America
• Muslim Cop Plans to Sue NYPD for $5M After Alleged Discrimination
• Muslims In Chicago Say That Trump's Statements Have Painted A Target on Their Backs
• Pompeo warns Taliban against attacking Americans
• Taliban reaffirm commitment to US deal in Pompeo call
• Trump Got Written Briefing in February on Possible Russian Bounties, Officials Say
• US Justice Department appeals early release of Hezbollah financier
• US announces $696 mln in additional humanitarian aid for Syria at Brussels meet
• Pompeo to UN: Ending Iran arms ban would mean 'sword of Damocles' over region
--------
India
• Council Members Unhappy Over Pakistan Blaming India For Karachi Attack, China-Pushed UNSC Statement Delayed
• Jama Masjid, Delhi, To Reopen for Namaz From July 4, Says Shahi Imam
• Pakistani terrorist killed as Army foils infiltration bid in Rajouri
• Killer of 4-yr boy among two terrorists killed in Anantnag
• CRPF trooper, civilian killed in terrorist attack in Jammu and Kashmir's Sopore
• Babri Mosque demolition case: Court shut for two days after lawyer tests COVID positive
• 'India and Bangladesh should now look at trade in services instead of just trade in goods'
--------
Mideast
• Iranian Spokesman Describes US as Most Notorious Terrorist in World
• Detained Kata'ib Hezbollah fighters burn US, Israeli flags upon release
• Iran Asks S. Arabia, Bahrain to Stop Blind Obedience to US
• Major West Bank annexation move not imminent: Israeli Minister
• Minister: Iran's Coronavirus Vaccine Tested on Animals Successfully
• Head of France-Based Anti-Iran Media Sentenced to Death
• MP: No Toll in Terrorist Attack on IRGC Vehicles in Southeastern Iran
• Erdogan shuts down university in Istanbul linked to rival, ex-PM Davutoglu
• Turkey slams France's 'destructive' approach to Libya conflict: AFP
• Russia's Putin, Turkey's Erdogan and Iran's Rouhani to discuss Syria: Kremlin
• Cornered at UNSC, US faces historic rebuke from world powers over Iran
--------
Africa
• Protesters Back on Sudan Streets, To Pressure Transitional Authorities for Reforms
• Tunisia fragile coalition under pressure over PM conflict of interest claims
• Over 1 million displaced by violence in eastern DR Congo: UN
• Battle looms over Libya's strategic city of Sirte
• Four Aid Workers Say Islamist Militants Abducted Them in Northeast Nigeria
• Jihadists in NE Nigeria Kill 11, Others Missing: Security Sources
--------
Europe
• 'France isolated after Haftar's defeat in Libya'
• EU agency suspends Pakistan International Airlines European authorization
• France supports a 'pirate' in Libya: Turkey
• Sahel allies have 'shifted the dynamic' in fight with extremists: Macron
• France playing dangerous game in Libya: Turkey
• Spain calls for end to oil production blockade in Libya
• Libyan suspect in court over UK's deadly knife attack in Reading
• France and Sahel leaders mull state of anti-jihad campaign
Compiled by New Age Islam News Bureau
URL: https://www.newageislam.com/islamic-world-news/a-town-balochistan-province-safeguards/d/122262
--------
A Town in Balochistan Province Safeguards Hindu-Muslim Brotherhood, Pashtun Hindu Properties Lying in Wait for Their Rightful Owners to Return
July 01, 2020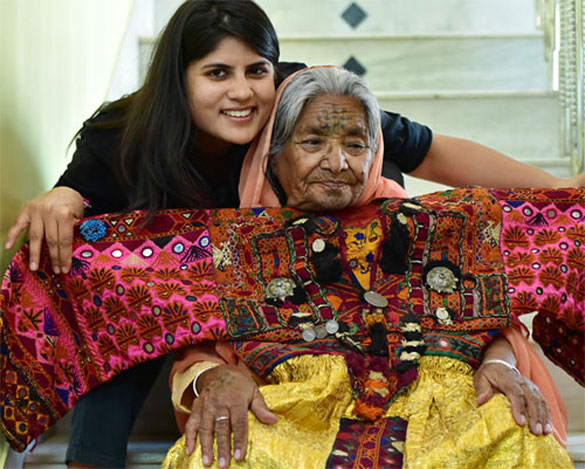 Indian filmmaker Shilpi Batra Adwani with a Hindu Pashtun migrant woman. Both are wearing traditional Pashtun clothes. (Supplied)
------
KARACHI: For more than 70 years, locked-up mud shops lining a street in Pakistan's southwest Balochistan province have stood the test of time as monuments to one small town's extraordinary Hindu-Muslim brotherhood.
The Pashtun community of Mekhtar, where a little over a thousand families reside off a main national highway, was once a tight-knit small town where people of the two faiths lived side by side.
During the violent partition of the Indian subcontinent in 1947, the Hindu families of Mekhtar were forced to migrate to Jaipur across the border, where they formed a tiny community of 400 Pashtun Hindus with a very distinct culture.
But in all these years, the dozens of shops they left behind have never been opened again — preserved exactly as they were left by their owners seven decades ago.
"When our Hindu friends were leaving us [after partition] they handed the keys of their shops to us," Malik Haji Paio Khan Kakar, a 95-year-old resident of Mekhtar told Arab News.
The keys were never used, he said, and the properties sit as though lying in wait for their rightful owners to return.
The town's integrity is an anomaly in the history of the partition, where land grabbings of abandoned property were common in the absence of formal registrars after the two new countries were carved out and millions were forced to flee their homes.
Just before the Hindus of Mekhtar migrated to Jaipur, Kakar said they stayed as guests in the homes of their Muslim friends for several nights before finding safe passage across the border.
"It was like one's brother was leaving," Kakar reminisced.
The meat-eating Pashtun Hindus are a little known tribe in India even today, with a distinct culture carried forward from Afghanistan and Balochistan which includes blue tattoos on the faces of the women, traditional Pashtun dancing and clothes heavily adorned with coins and embroidery.
"It was lovely to hear that the people of Mekhtar still remember us and have taken care of the shops as a token of love," said Shilpi Batra Adwani, a documentary filmmaker from a Pashtun Hindu family in Jaipur.
Her grandmother, who she calls Babai, migrated from the town during the partition.
Shilpi said that elderly members of Jaipur's Pashtun Hindu community still sat together and spoke about the "golden period" of harmony and love they had left behind in Mekhtar.
They still speak Pashto, she said and remained fiercely proud of the culture they had brought with them to Jaipur — though acceptance had not always come easy.
"Because the women had tattoos, people in India used to be curious about looking at them. Some found them exotic, and some found them questionable," Shilpi said.
"They would spend most of their time at their homes, remembering their lovely past times."
Shilpi, who made a documentary about the roots of India's Hindu Pashtuns last year, interviewed several women in her community about the days of the partition.
From them, she discovered that the Muslims of Mekhtar had come to the railway station to bid them farewell on the day they had left, with ghee and gifts of food for their long journey.
"Together, they would do embroidery, together eat their meals and together do the Attan (Pashtun folk dance). No one would feel like they belonged to a different faith," Shilpi said, recounting stories from her grandmother.
The film-maker told many other stories — of one Pashtun Hindu who fell in love with a Muslim woman from Mekhtar and stayed behind, and of old trunks of Pashtun clothes lovingly restored and worn tearfully by the last remaining generation of the partition.
Even 73 years on, Shilpi said, Mekhtar still lived on in the memories of those who had left behind their ancestral homes and shops.
Across the border in Mekhtar, Kakar too reminisced about meeting his old friends one more time.
"My health and finances don't allow me to travel, but if they could come here... that would be great," he smiled.
"Then maybe once more, we could sit here. All together."
https://www.arabnews.com/node/1697986/world
--------
'Fatwa' Issued Over Temple in Islamabad by Jamia Ashrafia
Jun 30, 2020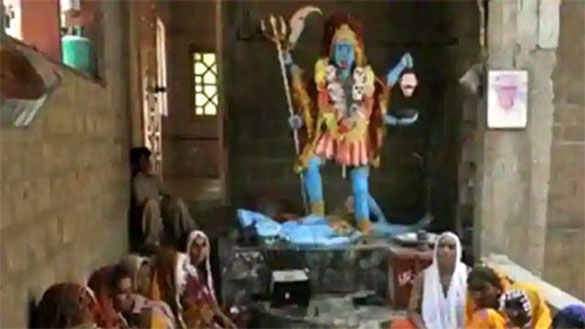 A file photo of Pakistani Hindus at The Shang Bhavan Temple in Maklei, in Thatta district, Pakistan. (File photo)
----
A leading religious school in Pakistan has issued a "fatwa", or religious edict, against the construction of a Hindu temple in Islamabad.
Last week, Prime Minister Imran Khan had approved a grant of 100 million rupees for building the first Hindu temple in the capital. The fatwa from Jamia Ashrafia said that while it is permitted to spend government funds on the upkeep and repair of prevailing houses of worship of minority communities, this did not allow for building new houses of worship for non-Muslims.
It questioned the decision of the government to spend tax-payer money on houses of worship of minority communities. Minorty MP Lal Malhi has said that the construction would go ahead regardless. He noted that the Hindu population in Islamabad had reached to around 3,000.
https://www.hindustantimes.com/world-news/fatwa-issued-over-temple-in-islamabad/story-zUO0zgCyZNBMZ0FKeURUUK.html
--------
Qatar leak: Kuwaiti ex-MPs, Libya's Gaddafi plot to undermine Saudi Arabia
30 June 2020
A new leaked audio recording captures two Kuwaiti former MPs and former Libyan dictator Muammar Gaddafi discussing the fall of Saudi Arabia's ruling family and praising Saudi opposition critic Sa'ad al-Faqih.
The audio, leaked by Qatari opposition activist Khalid al-Hail, reportedly captures former Kuwaiti MP Mubarak al-Duwailah, who has links to the Muslim Brotherhood, and another former Kuwaiti MP Fayez Hamed al-Baghili al-Rashidi, discussing the fall of Saudi Arabia with the Libyan dictator.
"The reform movement lead by Sa'ad al-Faqih has caused a big earthquake in Saudi [Arabia]," Gaddafi is heard saying.
Al-Faqih is a London-based Saudi Arabian dissident who the US Treasury accused of having links to al-Qaeda in 2004. He has repeatedly criticized Saudi Arabia and called for the fall of the ruling Al Saud family.
"He started many visual channels that curse the Al Saud and their regime and incite people to rebellion and disobedience. I have seen people from Riyadh, and we did not dream that one day we will stage a protest in Riyadh. It was impossible, they said. No, it's easy for us to protest and they cannot quell us. Now the world is open and everything is under the microscope, they arrest one and hell will break loose, the human rights organizations and others. The Al Saud family has surrendered to everything, it just wants to remain in power as long as possible," says Gaddafi.
Kuwait's al-Duwailah, a leader of the Muslim Brotherhood-aligned Islamic Constitutional Movement, is heard agreeing on the status of Saudi Arabian rule.
"We hear from the guys there that their situation is not good, even amongst themselves they have many issues," he says.
Kuwait government denies al-Duwailah's claims
Al-Duwailah acknowledged the leak and claimed on Twitter that he had notified the government that he was speaking with Gaddafi, a foreign leader.
According to al-Duwailah, he and the other Kuwaiti, al-Baghili, had been in Libya to negotiate a peace deal between the Sudanese government and Rashaida Free Lions an armed group based in eastern Sudan.
In the recording, al-Baghili does refer to the Rashaida people and praises Gaddafi, describing him as "brother leader" and praising his apparent peacekeeping efforts in Sudan.
This would place the recording after 2006, when the Free Lions signed a peace treaty with the Khartoum government.
However, Kuwait's government rejected al-Duwailah's claims that he had notified the government this week.
"Kuwait's Amiri Diwan Sunday termed as 'totally untrue and fabrications' the remarks made Mubarak Al-Duwailah that he briefed His Highness the Amir about details of his meeting with ex-president Muammar Gaddafi," read a statement posted on Kuwait News Agency (KUNA) on Monday.
Qatar-Gaddafi audio leaks
The leak is the latest of audio clips to be shared by Qatari opposition figure Khalid al-Hail on Twitter; many of the recordings feature Gaddafi in discussions with prominent Qatari politicians.
On June 6, al-Hail released a recording that reportedly captured Qatar's former Emir Sheikh Hamad bin Khalifa al-Thani expressing Doha's support for the Libyan and the Syrian regimes in a conversation with Gaddafi and Qatar's former Prime Minister Sheikh Hamad bin Jassim.
The recording is one of several released by al-Hail in recent weeks, including one in which the former emir can be heard calling former US president Barack Obama a "slave" during a conversation with Gaddafi.
A similar recording between former emir of Qatar and Gaddafi was released in 2017, in which the two leaders attacked Saudi Arabia and the ruling family.
In another recording leaked from the same year, Gaddafi and the former prime minister can reportedly be heard discussing plans to carve up Saudi Arabia.
Sheikh Hamad bin Jassim did not deny the recording and said that the issue was discussed to appease Gaddafi.
In 2013, Sheikh Hamad handed over power to his son, current Emir Sheikh Tamim al-Thani. Hamad bin Jassim stepped down from his positions in government at the time and reportedly has strained relations with the current emir.
The recording is the latest conversation involving Gaddafi and politicians with links to the Muslim Brotherhood to be leaked by opposition activist al-Hail.
The recordings include conversations between Qatar's former Emir Sheikh Hamad bin Khalifa al-Thani, former Prime Minister Sheikh Hamad bin Jassim, and Gaddafi, in which they discuss Al Jazeera coverage and plot to undermine neighboring governments.
https://english.alarabiya.net/en/News/gulf/2020/06/30/Qatar-leak-Kuwaiti-ex-MPs-Libya-s-Gaddafi-plot-to-undermine-Saudi-Arabia.html
--------
UN: Conditions still not in place for "safe, dignified" return of Rohingya
JUN 30, 2020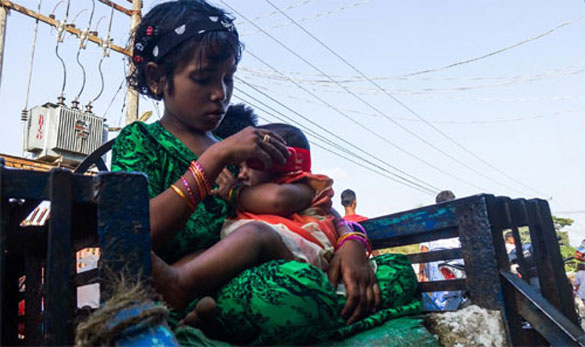 A girl holds a baby at the Aung Mingalar segregation quarter for Rohingya Muslims, Indonesia, May 24, 2020, (AFP Photo)
-----
The U.N. human rights chief on Tuesday expressed regret that the human rights situation for the Rohingya had not improved and that conditions for their safe, dignified and sustainable return to Myanmar were still not in place.
U.N. High Commissioner for Human Rights Michelle Bachelet was speaking at the 44th Session of the Human Rights Council when referring to the human rights situation of Myanmar's persecuted Muslim minority.
"Regrettably, I must once again report that the human rights situation for Rohingyas in Rakhine State has not improved and that conditions for their safe, dignified and sustainable return from Bangladesh are still not in place," she said.
Bachelet said restrictions on humanitarian access and freedom of movement linked to the novel coronavirus pandemic had further worsened this situation.
"While I commend Myanmar for containing the virus to date, I appeal to the government to respect the secretary-general's (Antonio Guterres) call for a global cease-fire, end the intensifying armed conflict in Rakhine State and address root causes that have prevented Rohingya returns since 2017," said Bachelet.
She said that in the states of Rakhine and Chin, the civilian population, including several minority communities, continued to bear the brunt of an intensifying armed conflict between the military, known as the Tatmadaw, and the Arakan Army insurgent group. She said that at the weekend, the Tatmadaw launched a so-called "clearance operation" in the Kyauktan area of Rathedaung township in Rakhine.
Residents were told to leave their homes as "anyone left behind would be considered (Arakan Army)."
She called on the Tatmadaw to extend the cease-fire in place elsewhere in the country to Rakhine and Chin states and immediately put an end to these "clearance operations."
In response, an envoy from Myanmar said: "Many obstacles are hindering the commitments of the repatriation, but we continue to engage with Bangladesh to implement the agreement for repatriation, even in this time of global pandemic."
https://www.dailysabah.com/world/asia-pacific/un-conditions-still-not-in-place-for-safe-dignified-return-of-rohingya?gallery_image=undefined#big
--------
Hamas leader asks for Umno's support and solidarity against Israel's annexation plan
30 Jun 2020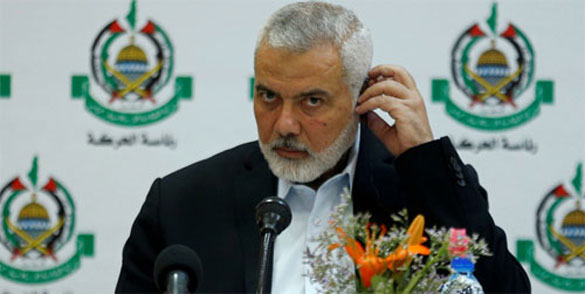 Hamas Chief Ismail Haniyeh attends a meeting with members of international media at his office in Gaza City June 20, 2019. — Reuters pic
-----
KUALA LUMPUR, June 30 — Hamas leader Ismail Haniyeh last night delivered a letter to Umno President Datuk Seri Dr Ahmad Zahid Hamidi as part of the movement's political efforts to gain international support in protesting Israel's planned annexation of parts of the West Bank.
Palestinian Cultural Organisation Malaysia (PCOM) Chairman, Muslim Imran, who delivered the letter on behalf of Haniyeh, said the content of the letter among others asked for solidarity from the Muslim world in this trying time for the Palestinians.
"Since Hamas and Palestinians have had very good relations with Malaysia and all components of the Malaysian political system, now Palestinians are asking Malaysian political groups to express their solidarity with Palestinians and mobilise whatever efforts they can to pressure the US and Israel to end the annexation plan," he told Bernama today.
Muslim said letters will also be delivered to other political parties in Malaysia.
Last week, Haniyeh delivered several letters to leaders in the Muslim world.
Israel's unity government, formed in May between Prime Minister Benjamin Netanyahu and his political rival Benny Gantz, agreed to initiate legislation to annex large parts of the occupied West Bank starting July 1, in line with US President Donald Trump's so-called "Deal of The Century".
West Bank, including East Jerusalem, has been under Israeli occupation since the 1967 Six-Day War, making all Jewish settlements there as well as the planned annexation illegal.
Meanwhile, Ahmad Zahid, in his Facebook post, said the letter by Haniyeh stated among others the hope that all political parties in the Arab and Muslim world would stop the normalisation of ties with Israel following the annexation plan.
"Hamas wants to emphasise on human rights abuses against Palestine. The plan seems to give Tel Aviv a 'licence' to continue its atrocities with the support of the United States and several other countries," Ahmad Zahid's Facebook posting reads.
He said the Hamas leader also wants all governments, political parties and organisations in the Muslim world to work together for the Palestinian cause through various ways including conferences. — Bernama
https://www.malaymail.com/news/malaysia/2020/06/30/hamas-leader-asks-for-umnos-support-and-solidarity-against-israels-annexati/1880323
--------
Muslim cop plans to sue NYPD for $5M after alleged discrimination
By Craig McCarthy
June 30, 2020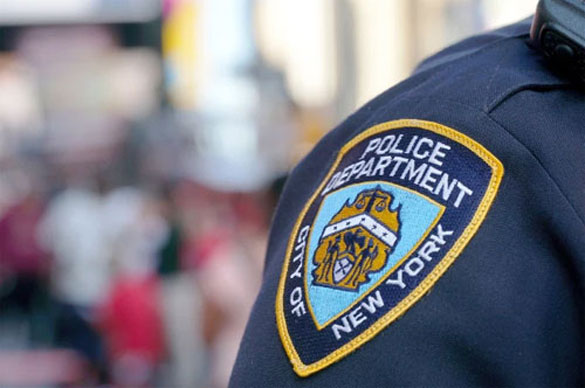 Shutterstock
----
A Muslim cop plans to sue the NYPD for $5 million after years of alleged discrimination over his religion — including being forced to pray in a dirty cell — and retribution for reporting cops cooking the books on crime stats, The Post has learned.
Umer Alam says in the notice of claim filed with the city Monday that retaliation had led to changed shifts and "highway therapy" — and that the discrimination went as far as forcing the Pakistani-American officer to pray in a cell with a feces-filled toilet last year.
Alam alleges while assigned to supervising inmates on Jan. 31, 2019, his supervisor cut his lunch break short after 20 minutes.
When he asked Lt. Micheal Urena if he could have 10 minutes to pray, the supervisor responded, "go inside the cell area and you can pray while you're in there," according to the claim.
Alam says others were "shocked of the statement" — and he then prayed in a cell, where the toilet was broken but had been recently used.
"Not only did he cut my lunch break short, he disrespected my religion," Alam told The Post Tuesday. "I was mad, but I calmed myself down and continued to do my job."
But five months later, the internal investigation came up unfounded after he claims his co-worker was told to keep his mouth shut, the officer claimed.
In another instance of alleged discrimination, Alam says his interview for a post at the World Trade Center in 2011 was abruptly ended after the inspector remarked "oh you are one of those people" after asking about his beard, according to the documents.
The officer, who joined the force in 2008, also claims cops in the 28th Precinct ignored a grand larceny and never even put the crime into the system.
After the victim, who had $900 stolen from his bank via debit card, asked Alam about the status of the case, the officer inquired only to find the report had not been filed, leading him to believe cops "purposefully ignored the Grand Larceny complaint to not take the statistic," the notice alleges.
Grand larceny is one of the seven crimes whose statistics are used to measure a precinct's success.
After the cop reported the incident to Internal Affairs, his supervisor allegedly told him, "if ever anything happens again, you should approach him or one of your sergeant's, not any outside unit" and was transferred to the night shift in housing precinct 5.
"I was told [by IAB] 'you are even stupid to even report this,'" the officer told The Post.
Alam, who has also filed a complaint with the Office of Equal Employment, said he requested numerous promotions or transfers out of PSA 5 but has been declined.
"I was a really good cop … but it's all about nepotism in this job," he said.
The NYPD did not immediately respond for comment. Urena could not be reached for comment.
"My client, through repeated denials of transfers into specialized units within the NYPD, was denied opportunities for upward mobility and promotion simply because he is Muslim," the cop's attorney, John Scola, told The Post.
https://nypost.com/2020/06/30/muslim-cop-plans-to-sue-nypd-for-5m-after-alleged-discrimination/
--------
Council Members Unhappy Over Pakistan Blaming India For Karachi Attack, China-Pushed UNSC Statement Delayed
Shishir Gupta
Jul 01, 2020
China-backed UN Security Council (UNSC) statement on June 29 Karachi Stock Exchange terror attack has been delayed much to the chagrin of the proposer after fellow council members expressed unhappiness over Pakistan trying to blame India for the strike. As many as 19 people died in the attack, apart from four terrorists of the Balochistan Liberation Army.
According to diplomats based in New York, China on Tuesday proposed a UNSC statement on the attack and put it under silence till 4 pm (US East Coast Time). While such statements are routinely issued by the UNSC after a terror attack, fellow UNSC members intervened at the last moment expressing reservations on uncalled statements by Pakistan. Politically beleaguered Prime Minister Imran Khan followed rising star foreign minister Makdoom Shah Mehmood Qureshi in blaming India for the attack without even a shred of evidence. India on its part has totally rejected the outlandish charge.
It is understood that fellow UNSC members said the matter should not be dealt by the security council after Qureshi's statement had vitiated the atmosphere by blaming an elect non-permanent member of the council.
While the UNSC statement is expected to be issued later in the day today, the Chinese diplomats expressed their frustration on the issue to other members by saying that it is the obligation of the UNSC to lend its voice "in time." One Chinese diplomat in UN said that taking action "slowly will send a bad signal to others and the victims." It is another matter that China blocked designation of Jaish-e-Mohammed chief Masood Azhar as global terrorist under 1267 resolution at the behest of Pakistan.
An internal communication from the Chinese diplomat recorded that they had to extend the silence process after a member asked for extension at the last minute. The procedure is now stands extended till 10 am (East Time) on July 1, 2020.
Also read: 2 Taj hotels in Mumbai get threat calls from 'LeT operative in Pak', cops step up vigil
While the Chinese UN diplomats have asked the Council members to act seriously and follow the rules, fact is that the Karachi Stock Exchange attack has been condemned by UN Secretary General, members of the Security Council and India, which is outside the council.
https://www.hindustantimes.com/india-news/members-unhappy-over-pakistan-blaming-india-for-karachi-blast-unsc-statement-delayed/story-TC5uhWGps57eHidSGEii4M.html
--------
Iranian Spokesman Describes US As Most Notorious Terrorist in World
Jun 30, 2020
"The US government is neither in a legal nor in a moral position to decide who is a terrorist or not, and no world body has entitled it to such a position; rather they themselves are terrorists and their most notorious act of terrorism was assassination of Lieutenant General Qassem Soleimani," Rabiyee told reporters in Tehran on Tuesday.
He described Iran as the biggest enemy of terrorist groups, and said, "We have made much expense in war on terrorism and General Soleimani was a person who had helped the establishment of security in the region more than anyone else."
Iran announced on Monday that it has issued arrest warrants for 36 officials of the US and other countries who have been involved in the assassination of the martyred General Soleimani.
"36 individuals who have been involved or ordered the assassination of Hajj Qassem, including the political and military officials of the US and other governments, have been identified and arrest warrants have been issued for them by the judiciary officials and red alerts have also been issued for them via the Interpol," Prosecutor-General of Tehran Ali Alqasi Mehr said.
He said that the prosecuted individuals are accused of murder and terrorist action, adding that US President Donald Trump stands at the top of the list and will be prosecuted as soon as he stands down presidency after his term ends.
Lieutenant General Soleimani was assassinated in a US drone strike on Baghdad International Airport in Iraq on January 3.
The airstrike also martyred Deputy Commander of Iraq's Popular Mobilization Forces (PMF) Abu Mahdi al-Muhandis. The two were martyred in an American airstrike that targeted their vehicle on the road to the airport.
Five Iranian and five Iraqi military men were martyred by the missiles fired by the US drone at Baghdad International Airport.
https://en.farsnews.ir/newstext.aspx?nn=13990410000841
--------
Pakistan
International Muslim group condemns attack in Pakistan
Zehra Nur Duz
30.06.2020
The Organization of Islamic Cooperation (OIC) "vehemently" slammed Tuesday a terror attack on the Pakistani stock exchange building in the southern port city of Karachi.
Secretary-General Yousef A. Al-Othaimeen reiterated the organization's "firm position in rejecting terrorism, extremism and violence in all forms and manifestations," in a statement that highlighted the OIC's support for Pakistan in fight against terrorism.
At least seven people were killed, including all four attackers, two Pakistan Stock Exchange security guards and a policeman, Karachi police chief Ghulam Nabi Memon and Maj. Gen. Omer Bukhari, head of the Rangers paramilitary force, said at a news conference Monday.
Seven others were injured in the attack, two critically.
The outlawed Balochistan Liberation Army (BLA) claimed responsibility for the attack which was the latest in a series targeting security forces and government installations.
The BLA along with other militant outfits have long been fighting for secession of the southwestern Balochistan province, which they claim was forcibly incorporated into Pakistan when it was founded in 1947.
https://www.aa.com.tr/en/asia-pacific/international-muslim-group-condemns-attack-in-pakistan-/1894924
--------
PM Imran Khan blames India for Karachi stock exchange attack
Jul 1, 2020
ISLAMABAD: Pakistan Prime Minister Imran Khan said on Tuesday that he had "no doubt" that India was behind the terror attack on the stock exchange building in the southern port city of Karachi, an allegation that has been denied by New Delhi.
The attack, Khan said on the floor of the National Assembly, was an attempt to destabilise Pakistan. "What happened in Mumbai, they wanted to do the same in Karachi; they wanted to spread uncertainty. We have no doubt that this was done by India," he said while referring to the 2008 Mumbai attacks.
Praising the four security personnel, including a police sub-inspector, who lost their lives in the exchange of fire with the attackers, Khan said, "They are heroes of Pakistan."
"They gave sacrifices and thwarted a major terror attack, which was planned by India to destabilise us," he said, adding that the attackers had a lot of ammunition and had prepared for a long siege.
"Me and my cabinet members know that all our law enforcement agencies are on high alert. They anticipated at least four major attempts of terrorism, and two of them were around Islamabad," Khan said. "We foiled a terror bid because we were fully prepared. This was a huge win for us," he said.
The Pakistan Stock Exchange was stormed by four heavily armed attackers of the Balochistan Liberation Army (BLA), a separatist ethnic Baloch insurgent group, on Monday. All assailants were killed in a firefight.
https://timesofindia.indiatimes.com/world/pakistan/pm-imran-khan-blames-india-for-karachi-stock-exchange-attack/articleshow/76720176.cms
--------
Pakistan approaches United Nations on domicile policy
June 30, 2020
Pakistan has approached the United Nations with its objections to the new domicile policy in Jammu and Kashmir and is mobilising support of world leaders to what it called "unacceptable path that further usurps "rights of the people of Kashmir.
Islamabad has further upped the ante over domicile policy of Jammu and Kashmir that entitles all Indians who fulfil the criteria of having at least seven to 15 years of having stayed put in J&K to claim domicile certificate mandatory for jobs and other privileges in J&K. It amounts to bringing the citizens of Jammu and Kashmir at a par with the rest of the countrymen with certain privileges and rights reserved for them.
Pakistan Prime Minister Imran Khan tweeted on Tuesday saying that he has "approached UN Secretary General and am reaching out to other world leaders." He added, "India must be stopped from this unacceptable path that further usurps the legal and internationally guaranteed rights of the Kashmiri people and seriously imperils peace and security in South Asia."
The latest move by Pakistan to approach the UN Secretary General and other world leaders is aimed at embarrassing India as Imran Khan has charged India with effecting a demographic change in Jammu and Kashmir.
Jammu and Kashmir, before it was split into two Union Territories, was the only Muslim-majority state in the country. The Kashmir valley has Muslim majority even now.
The trigger for Imran Khan's act was a recent media report that 25,000 people, including a senior IAS officer of the J&K cadre from Bihar, were given domicile certificate that enables them to compete for jobs in J&K.
https://www.tribuneindia.com/news/j-k/pakistan-approaches-united-nations-on-domicile-policy-106697
--------
Five more killed as clashes in Kurram continue
July 01, 2020
KURRAM: Clashes between rival groups over the ownership of land continued in Kurram tribal district on the third consecutive day on Tuesday, leaving five more people including a soldier dead as authorities failed to stop the fighting.
A paramilitary soldier was killed when he was hit by bullets near Balishkhel. An official said that the soldier was identified as Wajid Yousafzai. He said that a wing of the paramilitary force was deployed in the troubled area.
Officials said that death toll reached 10 in the fighting while 35 were wounded.
Thall-Parachinar Road, the only land route connecting Kurram with the rest of country, has been closed for movement.
The residents of the area said that security forces increased mobility on the highway and night movement on the road was restricted.
Heavy clashes continued in the area on Monday night and Tuesday. Both the groups were using heavy weapons against each other. Several wounded people were shifted to hospitals in Parachinar and Sadda.
Sources said that a high level jirga met in Sadda, tehsil headquarters of Lower Kurram, but failed to negotiate ceasefire between the rival groups — Balishkhel and Para Chamkani.
General Officer Commanding Maj Gen Assad Nawaz Janjua, Kohat Commissioner Syed Jabbar Shah, senior officials of administration and local elders met in Sadda to broker ceasefire, but the jirga remained inconclusive.
MNA Sajid Turi, who also participated in the meeting, told Dawn that the jirga failed to enforce ceasefire after elders of Balishkhel demanded release of 10 people, who were arrested by security forces on Monday night.
He said that elders linked release of 10 people with the ceasefire.
Clashes between the residents of Balishkhel and Para Chamkani in lower subdivision of Kurram broke out over ownership of Shamilat or community land on Sunday.
Adviser to Chief Minister on Information Ajmal Wazir told Dawn in Peshawar that Chief Minister Mahmood Khan directed the district administration and senior officers of the law enforcement agencies to take action against law breakers. He said that situation in Kurram district was being monitored and efforts were underway to stop fighting.
Meanwhile, Awami National Party (ANP) called for immediate ceasefire between tribes in Kurram and asked the government to utilise its resources to stop hostilities.
In a statement issued here on Tuesday, ANP provincial president Aimal Wali Khan expressed concerns over the loss of lives in continuous clashes and alleged that the administration and government adopted criminal silence over the situation in Kurram.
He said that government should fulfil its responsibilities, enforce ceasefire and bring the warring tribes to negotiation table. He said that ANP was ready to play its role to stop clashes.
https://www.dawn.com/news/1566223/five-more-killed-as-clashes-in-kurram-continue
--------
Arab world
Lebanese PM Diab calls for protection for Lebanon from Caesar Act sanctions on Syria
30 June 2020
Lebanese Prime Minister Hassan Diab used the platform of an international donor conference on the Syrian crisis in Brussels Tuesday to appeal for protection for Lebanon from sanctions targeting the Syrian regime, particularly those newly implemented by the United States under the Caesar Act.
Speaking by video at the fourth annual Supporting Syria and the Region conference organized by the European Union and United Nations in Brussels, Diab appealed for international assistance to Lebanese people and Syrian refugees in Lebanon battered by the country's economic crisis and measures imposed to slow the spread of COVID-19. An estimated 30 percent of Lebanese and 55 percent of refugees live in extreme poverty, Diab said.
"We're fully aware that the primary responsibility for recovery rests on the Lebanese themselves," Diab said.
"Nevertheless, preserving international peace and security against the backdrop of ongoing turmoil in the region…is a shared global responsibility."
Read more: Caught in between: Syrians seeking to return from Lebanon stuck in buffer zone
He added, "Therefore, I call on the United Nations, the European Union, and friendly nations to shield Lebanon from the negative repercussions of any sanctions that may be imposed on Syrians, particularly in the context of the Caesar Act, and to ensure that the repercussions do not disrupt our foreign commercial and economic actions, thus jeopardizing out ongoing efforts to get out of the present crisis that the country is in."
The Caesar Act, which came into effect June 17, threatens sanctions against those who "provide significant support or engage in a significant transaction with the Syrian government or those acting on behalf of Syria, Russia, or Iran." Some observers have raised concerns that Lebanese industries, including the banking and power sector, could be swept up in the sanctions, further harming Lebanon's already fragile economy.
US Special Representative for Syria Engagement James Jeffrey did not directly address the question of sanctions in his own speech, but he urged the international community to stand firm against normalizing relations with the Syrian regime, citing "innumerable atrocities, some of which rise to the level of war crimes and crimes against humanity."
"We are at a critical juncture," Jeffrey said. "Together the international community must stand firm that there will be no diplomatic or economic normalization of the Assad regime until there is a political solution to the crisis."
Ibrahim Olabi, a lawyer at the London-based Guernica 37 Chambers and founder of the Syrian Legal Development Programme, which works on sanctions, wrote that the Caesar sanctions "should not be a problem (for Lebanon) if Lebanese banks are not used to circumvent sanctions on human rights abusers in Syria, or a safe haven for any of them."
Lebanon is hosting the largest number of refugees per capita in the world, with more than 900,000 registered Syrian refuges and potentially hundreds of thousands more unregistered. Over the past few years, there have been increasing calls by Lebanese politicians for the refugees to go back. Some Syrians have been deported, while larger numbers have gone back on government-organized "voluntary return trips."
During his speech at the conference Diab also reiterated the Lebanese government position that the return of refugees should not be contingent on a political solution in Syria, a stance that runs contrary to that of the EU and a number of other international actors.
Diab told the conference attendees that the "durable solution" for Syrian refugees lies in a "safe, dignified and non-coercive return to Syria," and added that "the right of return should not wait for a political settlement of the Syrian conflict."
EU and UN Refugee Agency officials have maintained that the conditions are not yet safe enough for returns to Syria, particularly since international organizations have not been granted access to all areas of the country to monitor the conditions of returnees.
Yasmin Kayali, co-founder of the Lebanon-based NGO Basmeh & Zeitooneh, which works with refugees, urged the international community during the conference to "reaffirm and maintain the position that Syria is currently not a safe place for return" and to put a halt to deportations of Syrians from Lebanon without a judicial order and due process.
Kayali also called for Lebanon to reverse its stance of preventing Syrian refugees from officially registering with the UN Refugee Agency – a policy that has been in place since 2015 – and to consider offering measures including flexible work permits and a reduction in fees to allow the many Syrians currently living in Lebanon without legal documentation to regularize their status.
https://english.alarabiya.net/en/News/middle-east/2020/06/30/Lebanese-PM-Diab-calls-for-protection-for-Lebanon-from-Caesar-Act-sanctions-on-Syria.html
--------
Saudi Arabia: UN Aramco attacks report 'leaves no doubt' over Iran's hostile intentions
June 30, 2020
LONDON: Saudi Arabia's Ministry of Foreign Affairs welcomed Tuesday a UN report confirming Iranian involvement in attacks on Saudi Aramco facilities in September 2019.
A foreign ministry statement said the findings of UN Secretary General Antonio Guterres' report "leaves no doubt for the international community about Iran's hostile intentions towards the Kingdom in particular, the Arab region and the wider world in general."
The report was also welcomed by the Kingdom's Permanent Representative to the UN.
One of the first steps in the fight against Iranian expansion in the region is recognizing the problem, Abdullah Al-Mouallimi said.
Iran has created a web of support in the region through the years and it requires international cooperation to stop its activities, Al-Mouallimi added.
Guterres presented his report to a virtual gathering of the Security Council on Tuesday, implicating the Iranian regime in attacks last year on oil installations in Abqaiq and Khurais in the east of the Kingdom.
The ministry's statement also echoed calls made during the virtual meeting by US Secretary of State Mike Pompeo for an extension of an arms embargo on Iran.
It said the report's findings also highlighted Iran's continuous aggressive approach to destabilizing the region's security, and the regime's logistical, military and financial support for armed terrorist militias in Yemen, Iraq, Syria and Lebanon — something it did with "no regard for international laws and treaties or the principles of good-neighborliness."
Foreign minister Prince Faisal bin Farhan said the security council meeting was a "reminder for the international community to take a firm stance against the Iranian regime's aggression and terror."
The details and facts laid out in the UN report "reinforce our support for a continued ban on arming the Iranian regime, and confronting its developing nuclear and ballistic programs," he said on Twitter.
The ministry added that the Kingdom would not allow transgression of its borders and threats to its national security — or threats to the safety of international waterways — posed by the "hostile behavior of Iran."
https://www.arabnews.com/node/1697886/saudi-arabia
--------
Lebanon extends COVID-19 measures until August amid infection surge
July 01, 2020
The Lebanese cabinet announced on Tuesday the extension of general mobilization until August amid a surge in coronavirus infections, local paper the Daily Star reported.
The decision came as Prime Minister Hassan Diab said he expected a new wave of the coronavirus in October.
"The repercussions of this wave could be effective in the spread of the virus. Therefore, there is a need to extend the mobilization," he said.
This will be the seventh time extension of restrictions on general mobilization is enforced since March 15 to contain the spread of the coronavirus.
The Health Ministry announced 33 new COVID-19 cases Tuesday, bringing the total number of infected people to 1,778 and the death toll to 34.
https://www.arabnews.com/node/1698131/middle-east
--------
Saudi Arabia stands with Egypt, Sudan on Nile water rights
June 30, 2020
RIYADH: Saudi Arabia said Tuesday that the water security of Egypt and Sudan is "inseparable" from Arab national security.
The comments come as Ethiopia is threatening to start filling a reservoir on the Blue Nile that many claim will cut vital water supplies to the two countries downstream.
The Saudi Cabinet said during a meeting that the Kingdom stands with Egypt and Sudan to preserve their rights to the Nile and ensure their water security.
The meeting reviewed the Arab foreign ministers' discussion on the Ethiopian dam last week.
The cabinet rejected any measure that would affect the rights of all parties along the Nile waters, stressing the need to resume negotiations to reach a fair agreement that takes into account the interests of everyone concerned.
Egypt is seeking to prevent Ethiopia from starting to fill its massive, newly built hydroelectric dam on the Blue Nile next month without an agreement governing how the dam will be filled and operated.
https://www.arabnews.com/node/1697821/saudi-arabia
--------
Lebanon protests increase possibility of Hezbollah attack against Israel
JUNE 29, 2020
Over the past few weeks, protests in Lebanon have regained strength, mainly in response to economic distress and the deterioration in the value of the Lebanese currency, the pound. As the protests were not convenient for Hezbollah when they broke out in October 2019, they are still not convenient with their renewed strength now. (Hezbollah is accused by the protesters as being the major factor of the deterioration of the Lebanese economy due to its activities that prevent foreign aid and economic investments.)
Alongside the protests within the internal Lebanese arena, Hezbollah suffers from various additional international pressures.
First, there are the international sanctions targeting Hezbollah, both from the United States and Europe, where more and more countries have recognized Hezbollah's civilian wing as a terrorist organization.
Second, there are the Lebanese government's negotiations with the International Monetary Fund (IMF), alongside the conditions it put in place against Hezbollah (implementation of Security Council resolutions 1559 and 1680, regarding dismantling of its weapons and the placing of a border control between Syria and Lebanon).
The third is the American attempt to change the UNIFIL forces' mandate in southern Lebanon and to extend its jurisdiction until the end of August.
Fourth is the Caesar Act, which came into effect on June 17, allowing the imposing of sanctions on anyone doing business with Syria, threatening the Lebanese banks that are having difficulty providing services to Hezbollah.
For many of us in Israel, the pressure that Hezbollah is now experiencing reminds us of the events that preceded the abduction of Israeli soldiers in 2006, and the events that led to the war between Israel and Hezbollah. Back then, there were also internal and international pressures on Hezbollah demanding its disarmament. The question that arises is: Will Hezbollah choose to attack Israel again in order to divert attention and change the rules of the game?
In our estimation, Hezbollah has a number of options. The first is simply to continue its routine without taking special action, settling only on distributing warnings and threats (during Hassan Nasrallah's last three speeches, the last on June 16, in which the Hezbollah secretary-general issued quite a few warnings and threats, all of which were directed against Israel and the United States).
The second option is to drag the Lebanese domestic arena into a blaze and start another wide or limited civil war, similar to the actions taken by Hezbollah in May 2008. At that time, Hezbollah took control of the airport and centers of power affiliated with the camp of former Lebanese prime minister Saad Hariri.
THESE DAYS, Hezbollah can perform similar but wider and more aggressive activities, thus conveying a warning to the protesters on one hand, and to international bodies on the other. Then again, today, Hezbollah has more political power than before with complete control over the government, so it is not certain that such an action would serve its purpose.
The third option is to drag the regional arena (together with the Lebanese interior arena), into a flare-up and confrontation against Israel, which is Lebanon's "true enemy," establishing the narrative of the "unity of siege and conflict" (this narrative was published in the headlines of the Hezbollah affiliated Al-Akhbar newspaper last week).
This option has the potential to create new regional conditions that may be more convenient for Hezbollah.
To eliminate any doubts, Hezbollah will not operate independently before receiving approval from its Iranian patron. Iran will ensure that the chosen course of action will first and foremost serve its purposes and the goals of the Shia axis, which is entirely with its back against the wall, and which is also influenced by the above factors.
In his June 16 speech, Nasrallah warned that the Americans are wrong if they believe that Hezbollah will allow itself or Lebanon to starve (referring to international sanctions and the Caesar Act). Nasrallah stated, "To those who believe that we will turn submissive and humiliated by hunger and give you our state and security to live under the mercy of the Israelis, I tell you that our weapons will remain in our hands, we will not starve and we will kill you."
It should be emphasized that the internal and external pressure on Hezbollah did not, and does not, hurt or impair its operational capabilities. Israeli security experts have estimated in recent years that Hezbollah has no interest in risking war with Israel. Nonetheless, the considerable pressure it is subjected to, alongside high operational capability as expressed on the border several times in recent years, strengthens the likelihood that Hezbollah will choose to heat up Israel's northern border.
At this stage, it is unclear whether Hezbollah will settle on intimidating threats or deterrent actions – similar the breaches in the fence made by Hezbollah activists two months ago – or carry out offensive actions against Israel under Iranian directives, which would also serve the conflict between Iran and the United States.
https://www.jpost.com/opinion/lebanon-protests-increase-possibility-of-hezbollah-attack-against-israel-633236?utm_source=iterable&utm_medium=email&utm_campaign=1325663_
--------
South Asia
Myanmar martial court finds mere 3 troopers guilty in Rohingya massacre
30 June 2020
A court martial probing atrocities against persecuted Rohingya Muslims in Myanmar has found a mere three military officers guilty, even though the Southeast Asian country faces genocide charges at the United Nations (UN) court over a 2016-2017 crackdown.
The Myanmarese army chief's office said on Tuesday that the court had confirmed the guilty verdict against three officers.
It provided no details on the perpetrators, their crimes, or sentences.
Reacting to the verdict, the UK-based rights group Amnesty International called the lack of transparency on the court martial "alarming."
"Closed door trials shrouded in secrecy, and marred by a lack of independence in the military judiciary system, are not the way to end military impunity in Myanmar," Ming Yu Hah, with Amnesty's South East Asia & Pacific Regional Office, said.
After initially denying the allegations, the military started court martial proceedings last year, admitting there had been "weakness in following instructions" in Gu Dar Pyin, where at least five shallow mass graves had been found.
In 2018, the military sentenced a number of security forces to a decade in prison for massacring 10 Rohingya in Inn Din Village, but they were released after serving less than a year. Two journalists, who exposed the massacre, were arrested and held for over 16 months before they were "pardoned" following global outrage.
International rights groups and organizations have accused the government forces of committing atrocities in various villages. UN investigators found evidence of extrajudicial killings in other villages in Rakhine, Maung Nu, and Chut Pyin.
Myanmar's government faces accusations of involvement in genocide regarding the persecuted Rohingya Muslims in a lawsuit at the International Court of Justice (ICJ).
More than 730,000 Rohingya Muslims fled Rakhine to neighboring Bangladesh following a military-led crackdown in 2016 that the United Nations (UN) concluded was perpetrated with "genocidal intent."
Thousands of Rohingya people were killed, injured, arbitrarily arrested, or raped by Myanmarese soldiers and Buddhist mobs mainly between November 2016 and August 2017.
The Rohingya have inhabited Rakhine for centuries, but the state denies them citizenship. Bangladesh refuses to grant them citizenship, too.
https://www.presstv.com/Detail/2020/06/30/628607/Myanmar-Rohingya-Muslims-massacre-3-troopers
--------
U.S., Taliban say Afghan peace effort discussed in video talks
Abdul Qadir Sediqi
JUNE 30, 2020
KABUL (Reuters) - The head of the Taliban's political office in Doha and U.S. Secretary of State Mike Pompeo held a video conference to discuss the Afghan peace process, the Islamist group and the U.S. State Department said on Tuesday, in a bid to remove hurdles in the path to peace talks.
Increasing violence and a contentious prisoner swap between the Afghan government and the Taliban have delayed talks that were to have begun in March between the insurgent group and a team mandated by Kabul.
On Twitter, Taliban spokesman Suhail Shaheen said Monday's talks between the official, Mullah Baradar, and Pompeo discussed full implementation of the Doha accord and the withdrawal of foreign troops, as well as the release of prisoners, intra-Afghan talks and a reduction in fighting.
The Doha agreement, signed between the United States and Taliban in February, drew up plans for a withdrawal of foreign forces from the war-torn country in exchange for security guarantees from the insurgent group.
"Baradar once again reiterated that the Taliban are committed not to let anyone use Afghan soil (to launch attacks) against any country," Shaheen said.
Pompeo acknowledged the insurgent group had "lowered the war graph by not attacking cities and major military bases" but said more needed to be done by all parties, the spokesman added.
"The Secretary made clear the expectation for the Taliban to live up to their commitments, which include not attacking Americans," State Department spokeswoman Morgan Ortagus said in a statement.
The Baradar-Pompeo conference came amidst U.S. media reports that American intelligence had briefed President Donald Trump about Taliban-linked fighters collecting bounties from Russia to attack foreign troops in Afghanistan.
The White House has said Trump did not receive a personal briefing on the issue but has yet to squarely address whether he had received a written briefing, whether he had read it, and why he had not responded more aggressively if he had.
Shaheen said Baradar told Pompeo the delay in talks was because the Afghan government did not release the agreed number of prisoners.
Kabul and some foreign countries have raised concerns about the release of about 200 prisoners they say are involved in major attacks in Afghanistan.
Since the Doha pact, Taliban fighters have launched 44 attacks and killed or wounded an average of 24 civilians each day, Javid Faisal, the spokesman for the Afghan national security adviser, said on Tuesday.
Baradar told Pompeo the increased attacks were because of provocation by the government in areas under Taliban control, Shaheen added.
https://www.reuters.com/article/us-afghanistan-taliban-usa/taliban-say-afghan-peace-effort-figured-in-video-talks-with-uss-pompeo-idUSKBN24112P?utm_source=iterable&utm_medium=email&utm_campaign=1325663_
--------
Afghan peace talks likely to start soon, reduced violence needed: Pakistan ambassador
JUNE 29, 2020
ISLAMABAD (Reuters) - Pakistan's ambassador to Afghanistan said on Monday that negotiations between the Afghan government and the insurgent Taliban were expected to begin soon but that the release of 5,000 prisoners and a reduction of violence were the final hurdles.
Pakistan is Afghanistan's top trading partner and is seen as a key regional player in helping facilitate a February troop withdrawal deal between the United States and the Taliban to begin the process of ending 18 years of war.
The agreement was intended to quickly lead to talks between the militant group and the Afghan government, but became mired in delays.
Pakistan's ambassador to Kabul, Zahid Nasrullah Khan, told Reuters in an interview he was "cautiously optimistic" and that talks could begin next month, so long as the final issues were overcome.
"The two important things are the level of violence – that it should be kept low to have an enabling environment – and to reach that magic figure of 5,000 prisoners (released)," he said.
Reuters reported on Friday that progress was being made over the release of a few hundred controversial Taliban prisoners and that the issue would likely be resolved soon.
However, Khan raised concerns at growing violence. Attacks have picked up around the county in recent months. On Monday at least 23 civilians were killed in Afghanistan's southern Helmand province when rockets hit a cattle market.
"The rising violence is a concern for Pakistan as it is for other countries who want to see the U.S.-Taliban agreement implemented in letter and spirit and to reach the first milestone of the (intra-Afghan negotiations)," he said. "We have been persuading the Taliban to show that the violence level remains down; it's very important."
Khan said negotiations need to begin as soon as possible so a ceasefire agreement could be struck, which the Taliban have so far refused.
https://www.reuters.com/article/us-afghanistan-taliban-pakistan/afghan-peace-talks-likely-to-start-soon-reduced-violence-needed-pakistan-ambassador-idUSKBN2402NT?utm_source=iterable&utm_medium=email&utm_campaign=1325663_
--------
Rohingya find sanctuary in NW Indonesia
Pizaro Gozali Idrus
30.06.2020
After being adrift in the sea for months, Zaiburrahman, 34, said he was so grateful when he finally landed on the northwestern Indonesian coast.
Zaiburrahman, a Rohingya refugee, said he and 113 others on board had to survive for four months at sea with limited food stocks before making it to Aceh.
"We didn't have a lot of food," Zaiburrahman told Anadolu Agency, recounting that they had left Rakhine State for Bangladesh to pick up other refugees and sailed to Malaysia, but were not welcomed by locals.
"When we reached Malaysian waters, we were pushed back," he said.
Since then, he added, their ship sailed aimlessly, until finally becoming stranded in the waters of northern Aceh and rescued by Indonesian authorities and residents.
Zaiburrahman said 15 refugees had died on the journey due to illness and lack food, and had to be thrown into the sea.
Fishermen had rescued 99 refugees, including 49 women, 32 children, a baby and 17 men.
"We thank the people of Aceh for accepting us," he added.
https://www.aa.com.tr/en/asia-pacific/rohingya-find-sanctuary-in-nw-indonesia/1894466
--------
3 Taliban leaders among 5 killed, wounded in Faryab
01 Jul 2020
The security forces inflicted casualties on five Taliban militants including three local leaders of the group in northern Faryab province.
The 209th Shaheen Corps in a statement said the Taliban militants attacked the security posts of the Afghan forces in Ozlik Village of Qaisar district.
The statement further added that the security forces killed two local leaders of Taliban during the clash, including Qari Abdullah and Mullah Abid.
The security forces also wouded three other Taliban militants including Mawlavi Ismail, one of the local leaders of the group, the statement added.
Meanwhile, another Taliban militant was killed while he was planting an improvised explosive device in Garziwan district of Faryab, the 209th Shaheen Corps said.
The Taliban group has not commented regarding the two incidents so far.
https://www.khaama.com/3-taliban-leaders-among-5-killed-wounded-in-faryab-08935/
--------
Pompeo tweets about his conversation with Taliban chief negotiator in Qatar
01 Jul 2020
The Secretary of State Mike Pompeo tweeted about his conversation with the the chief negotiator of Taliban based in Qatari capital of Doha.
"Spoke yesterday with the Taliban chief negotiator to press the Taliban to live up to their commitments under the U.S.-Taliban Agreement, including not to attack Americans," Pompeo tweeted.
This comes as the U.S. envoy for Afghan peace Zalmay Khalilzad is on an official tour visiting Doha, Islamabad and Tashkent as part of Washington's ongoing efforts to help the Afghan peace talks.
"U.S. Special Representative for Afghanistan Reconciliation Ambassador Zalmay Khalilzad departed on June 28 for travel to Doha, Islamabad, and Tashkent. At all three locations, Ambassador Khalilzad will urge support for all Afghans to meet their remaining commitments ahead of intra-Afghan negotiations, specifically reduced violence and timely prisoner releases," the State Department said in a statement.
The statement further added "Ambassador Khalilzad is joined by U.S. International Development Finance Corporation (DFC) CEO Adam Boehler and his team. Afghan peace, economic growth, and regional connectivity are closely linked and mutually supportive. The delegation will explore investment opportunities and partnerships in a range of sectors to advance the economic recovery of Afghanistan and support sustained peace and stability in the region."
"Due to the challenges of travel during the COVID-19 pandemic, Ambassador Khalilzad, CEO Boehler, and their delegation will also conduct meetings with Afghan officials throughout the trip remotely via video," the State Department added.
https://www.khaama.com/pompro-tweets-about-his-conversation-with-taliban-chief-negotiator-in-qatar-08933/
--------
UN rights chief says 'as many as 10,000' flee Myanmar army operations
July 1, 2020
The United Nations human rights chief said on Tuesday that up to 10,000 people had fled their homes in Myanmar's Rakhine state after what she described as heavy fighting in the past week between government troops and ethnic insurgents.
The UN Refugee Agency (UNCHR) and the UN Office for the Coordination of Humanitarian Affairs (OCHA) later said at least 2,800 people had fled according to early estimates but the true number could be "significantly higher" as the "scope and impact" of the reported clashes was not yet fully known.
Government and military spokesmen did not answer phone calls by Reuters seeking comment on the number of people who had fled or the reported fighting between the army, known as the Tatmadaw, and Arakan Army insurgents.
"Estimates indicate as many as 10,000 residents have already fled as the Tatmadaw advanced and heavy fighting commenced," Michelle Bachelet, the U.N High Commissioner for Human Rights, told the Human Rights Council, a Geneva-based forum, during a debate on Myanmar.
UN agencies cited "reports by local partners and public sources" for the estimates of numbers of displaced people.
It was not possible for Reuters to independently verify the reports of fighting and displacement. Access for humanitarian workers is tightly limited in Rakhine. Journalists are banned, making it hard to verify reports from the region.
Letter about "clearance operations"
The reported flight of civilians came after a local administrator, in a letter seen by Reuters, last week warned dozens of village leaders in Rathedaung township that the army planned "clearance operations" against insurgents and urged them to go.
A government spokesman later said in a Facebook post that an evacuation order had been sent to local administrators by border-affairs officials but had later been revoked.
The spokesman did not specify why, but said that the government had instructed the military not to use the term "clearance operation". Myanmar's border affairs ministry acknowledged to Reuters that it had issued the evacuation order, but said that it affected only a few villages.
"Clearance operations" is the term the Myanmar authorities used in 2017 to describe operations against insurgents from Rakhine's Muslim-minority Rohingya people.
During those operations, hundreds of thousands of people fled from their homes. Refugees said at the time that the army had carried out mass killings and arson, accusations the army has denied, saying troops were responding to attacks.
Shelling followed evacuation order, un says
Citing "local reports", UNHCR and OCHA said in a joint statement on Tuesday the order to evacuate had been followed by shooting and shelling. But the two agencies added that information was hard to verify in part because of government-imposed restrictions on humanitarian access.
Since late 2018, the Myanmar army has been fighting the AA, a group from the largely Buddhist Rakhine ethnic group that is seeking greater autonomy for the western region, also known as Arakan.
Dozens had died and more than 77,000 people displaced before the latest fighting, according to UN figures.
After fleeing the reported bout of Tatmadaw-AA fighting, hundreds of displaced villagers are sheltering in Buddhist monasteries in Rakhine's state capital Sittwe, two lawmakers in the city said.
"Now it is rainy season but people are fleeing with only one set of clothes," Khin Saw Wai, an MP for Rathedaung township, told Reuters by phone. "They don't have blankets, pillows, and mosquito nets to sleep at night."
Khin Aye Win, a 23-year-old woman who said she fled with her mother and sister, told Reuters by phone that there had been shelling near her village. She said many elderly people, including her grandmother, stayed behind.
"Now the soldiers are near my village... so I cannot go back," she said.
https://www.thejakartapost.com/seasia/2020/07/01/un-rights-chief-says-as-many-as-10000-flee-myanmar-army-operations.html
--------
Mortar Strikes Kill at Least 20 at Livestock Auction in Afghanistan
By Taimoor Shah and Fahim Abed
June 29, 2020
KANDAHAR, Afghanistan — At least 20 civilians were killed and dozens of others wounded when mortar rounds struck a crowded livestock market in southern Afghanistan on Monday, with the government and the Taliban pointing blame at each other.
Residents in the district of Sangin, in Helmand Province, where the livestock market is held in a Taliban-controlled area, said that three mortar rounds struck just as the bazaar was buzzing with a crowd of nearly 500 people and hundreds of animals. Several local elders said that the mortars had been fired by the Second Brigade of the Afghan Army, which has a base in the southwest of the district.
"Human and animal flesh was mixed," said Saifullah Khan, who was at the market. "Twenty-five people were killed on the spot, 10 others died of their wounds later."
Mr. Khan said that although the Taliban had fired rockets at the army base the day before, Monday morning had been quiet and there had been no fighting before the bazaar had started.
Video from the small district clinic showed a large crowd carrying victims, the floors of the compound covered in blood. Children could be heard crying. At the bazaar, bodies of dead animals appeared to be still lying around among hats and shoes.
Emergency, a medical charity that runs a first aid post in Sangin, said part of their facility was also damaged by the mortar shelling, but they continued to treat the wounded.
"We have received thirty patients at our Sangin First Aid Post so far, seven of whom were unfortunately already dead on arrival," said Marco Puntin, a program coordinator for the charity.
The Afghan government denied that its forces were behind the attack. The provincial governor's office in Helmand, which put the number of dead at 23, said the Taliban had been trying to target military bases with mortars but that the projectiles had landed on civilians.
"Our military did not fire any artillery," said Omar Zwak, a spokesman for the governor.
A statement from President Ashraf Ghani's office, condemning the strike, called it a "terrorist attack." His spokesman, Sediq Sediqqi, said it was the work of the Taliban.
Even as the violence intensifies across Afghanistan, there is often little accountability for the death of civilians. Many attacks are unclaimed, while in other bloody incidents, both sides blame the other and move on to more violence.
Investigations into reports of airstrikes or stray mortars rarely result in public answers. Assassinations and targeted killings have increasingly shrunk the space for activists and human rights workers who try to follow up on cases of civilian harm.
A Taliban spokesman, Zabiullah Mujahid, blamed the Afghan forces for Monday's attack and said the Afghan government "threw dust in people's eyes" by describing the mortar-shelling as a car-bomb so they could attribute the violence to the Taliban.
A United States deal with the Taliban in February has started the withdrawal of American troops in Afghanistan. About a third of the 12,000 troops have already departed, but it has done little to abate the bloodshed.
Helmand Province has seen some of the worst fighting of the near two-decade war, with civilians caught between Taliban attacks and clearance operations by Afghan and coalition forces. They have been victims of roadside bombs laid by insurgents and airstrikes carried out by Afghan and American forces. The Taliban control at least five districts in the province, and they contest large stretches in the other eight.
On Sunday, a van carrying civilians was struck by a Taliban roadside bomb in the district of Washir, in Helmand, killing six people including a woman and three children.
Taimoor Shah reported from Kandahar, and Fahim Abed from Kabul, Afghanistan. Mujib Mashal contributed reporting from Kabul.
https://www.nytimes.com/2020/06/29/world/asia/afghanistan-market-mortar-attack.html?utm_source=iterable&utm_medium=email&utm_campaign=1325663_
--------
Southeast Asia
Rohingya refugee claims child barred from attending PAS kindergarten due to Covid-19
01 Jul 2020
BY YISWAREE PALANSAMY
KUALA LUMPUR, July 1 — A Rohingya father has claimed today that his six-year-old child has been barred from attending a kindergarten which reopened today, allegedly due to an internal policy against foreigners who are deemed at high risk of contracting Covid-19.
The father said he was informed of the ban by one of the teachers in the PASTI Islamic kindergarten that is managed by the Youth wing of Islamist party PAS, after he enquired about its reopening.
"I just want to say something about this. I am a refugee for 27 years. So I am disappointed that I am not the only one suffering from this, but even my child has to go through the same situation I faced in Bangladesh and Malaysia.
"So my child is now witnessing discrimination. Even though this school is not government, but a madrasah, unfortunately, all the other kids are Malaysians except my daughter," the man told Malay Mail, using the Arabic term for an Islamic education institution.
The man requested anonymity due to the renewed hostility against the Rohingya community during the movement control order (MCO) period.
A copy of the WhatsApp conversation between the man and the teacher was shared with Malay Mail, with the teacher saying the procedure is the same as Malaysia's ban on foreigners in mosques.
Last month, Senior Minister Datuk Seri Ismail Sabri Yaakob said only Malaysians are allowed to attend congregational prayers including Friday prayers in local mosques, even as the MCO enters the recovery phase.
The conversation was also shared by Shafiur Rahman, a London-based documentary film maker focusing on Rohingya issues, who said on Twitter that the move showed that "Malaysians have lost their moral compass".
Malay Mail is withholding the location of the kindergarten due to the sensitive nature of the issue.
When contacted, PAS Youth's Education Sector chief Muhtar Suhaili, who heads the PASTI committee, said he was unaware of the policy.
"I will check whether it is genuine or not, and I will investigate further," Muhtar told Malay Mail.
Malay Mail is also seeking Education Minister Radzi Md Jidin's comments.
Last week, Prime Minister Tan Sri Muhyiddin Yassin said Malaysia can no longer take in Rohingya Muslim refugees from Myanmar, citing a struggling economy and dwindling resources as a result of the Covid-19 pandemic.
Muslim-majority Malaysia has long been a favoured destination for Rohingya seeking a better life after fleeing a military-led crackdown in Myanmar and refugee camps in Bangladesh.
https://www.malaymail.com/news/malaysia/2020/07/01/rohingya-refugee-claims-child-barred-from-attending-pas-kindergarten-due-to/1880498
--------
Study by Malaysian experts, Mundipharma shows mouthwash containing PVP-I capable of curbing Covid-19 spread
30 Jun 2020
KUALA LUMPUR, June 30 — A study conducted by a group of experts from Malaysia in collaboration with pharmaceutical company Mundipharma recently, found the efficacy of povidone iodine (PVP-I) mouthwash products in curbing Covid-19 spread.
Apart from its effectiveness in destroying SARS-COV-2 virus (Covid-19 source) up to 99.99 per cent, the study also found that the virus could be eliminated within 15 to 30 seconds due to the PVP-I content.
One of the experts involved in the study, Assoc Prof Dr Nurul Azmawati Mohamed from Universiti Sains Islam Malaysia Medical Faculty, when contacted by Bernama said, earlier, various articles published in international journals which touched on the efficacy of PVP-I and hydrogen peroxide had recommended that health professionals use the gargle before seeing patients.
"Patients too should rinse their mouth before treatment (especially in dental clinics) and the Health Ministry (MOH) too had started providing PVP-I or hydrogen peroxide to patients in need of dental treatment.
"The use of mouthwash products with PVP-I, such as Betadine Gargle and Mouth Wash is more for prevention because the SARS-COV-2 virus enters through the mouth and nose. Gargling the antiseptic fluid will kill the virus found in the throat area. As such the spread of the virus can be reduced because we are aware that the virus is spread through respiratory fluid from the throat and nose," she said.
Meanwhile Dr Nurul Azmawati said, oral hygiene routine with the use of PVP-I mouthwash should not be limited to health personnel only as the public could also practice it as a precautionary measure.
Based on the research findings, she hopes to collaborate with MOH by testing the products on Covid-19 patients.
Another expert involved in the research Dr Pouya Hassandarvish said products containing PVP-I are available in both liquid and spray form.
According to Hassandarvish, so far the World Health Organisation and other governments have been advising society to use alcohol-based solution like hand sanitisers, which were effective.
"But as you know Covid-19 infects through the mouth and nose, the gargle and mouthwash can be a good solution if you use them to disinfect your mouth as our findings show this product can kill the virus within 15 seconds," he said in a Skype interview with Bernama TV earlier today.
When asked how far away the world is from a vaccine for Covid-19, he said right now scientists and researchers have been working hard to come out with a vaccine to end the pandemic.
"To develop a vaccine, it will take time, because anytime you find something, you have to go through the trial period, and it takes time whether you will receive positive result or no result. If there is no result, you have to try it again from the beginning," said the Iranian post-doctoral fellow researcher at University Malaya's Tropical Infectious Diseases Research and Education Centre. — Bernama
https://www.malaymail.com/news/malaysia/2020/06/30/study-by-malaysian-experts-mundipharma-shows-mouthwash-containing-pvp-i-cap/1880258
--------
Indonesia's annual inflation edges down to lowest in 20 years in June
2020-07-01
JAKARTA, July 1 (Xinhua) -- The consumer price index in June logged the lowest level since May 2000 as the novel coronavirus pandemic stretched deep the country's economy and depressed demands.
The National Agency of Statistics on Wednesday announced that the inflation steeply dropped by 1.96 percent in June on the yearly basis compared with 2.19 percent in May.
The core inflation, exempting administered prices and volatile prices, slipped 2.26 percent in June on the yearly basis from 2.65 percent in May, the agency's head Kecuk Suhariyanto noted.
However, on the monthly basis, the inflation ticked up 0.18 percent in June from 0.07 percent in May, Suhariyanto added.
The official pointed out that the virus pandemic had changed the pattern of the monthly inflation in June following the Islamic festivity which fell in May.
"In the previous years, the peak of the inflation took place during the Islamic fasting month which was ended with the festivity. But the pattern did not happen this year," said Suhariyanto.
Demands of goods and fashion products usually leap when the world's largest Muslim country, Indonesia, celebrates the Eid al-Fitr festivity.
Indonesia first reported the COVID-19 cases in March, followed by the implementation of partial lockdowns along with physical distancing policy, halting public mobility and household spending.
In April the annual inflation slowed to 2.67 percent from 2.96 percent in March, according to data from the agency.
Due to the low inflation, the central bank, Bank Indonesia, was expected to make a further loosening stride.
Heading to a new normal scenario, Indonesia has gradually reopened the economy and restored activities in the tourism sector under tight health protocols. Enditem
http://www.xinhuanet.com/english/2020-07/01/c_139180362.htm
--------
North America
Muslims In Chicago Say That Trump's Statements Have Painted A Target On Their Backs
June 30, 2020
As Dilara Sayeed, a 51-year old Muslim in Chicago, entered an office building for a meeting, she had an experience which she had thought almost unthinkable a few years ago.
Besides her office attire, Sayeed was also wearing a colorful hijab, a symbol of her faith. Sayeed is a social activist, an educator and a Harvard alumna. She also ran for election in the Illinois House of Representatives to represent District 5 in 2018. As such, her work and achievements, rather than her religion, had been at the forefront of most interactions.
As Sayeed got into the elevator, however she was confronted by an elderly white woman, a complete stranger, who said she would go to hell for wearing the hijab.
Sayeed said she hadn't experienced this kind of negativity since she was growing up. "People used to yell things like 'Go back to your country'," she said. "I even got bullied constantly at school because of my religion."
The situation had improved over the years as the Muslim community in Chicago grew, and people became more understanding towards Muslims. However, everything changed again when Donald Trump became president three years ago.
Even before he became president, Trump had made anti-Muslim statements. In 2015, Trump falsely claimed to have watched Muslims in New Jersey celebrate after the 9/11 attacks. In the same year, Trump repeatedly called for surveillance of American Muslims and mosques, indicating his support for a Muslim registry.
In January 2017, Trump passed an executive order which indefinitely suspended the issuance of immigrant and non-immigrant visas to applicants from Muslim-majority countries such as Libya, Iran, Somalia, Syria and Yemen.
Muslims were horrified to find that the head of the nation repeatedly singled them out for condemnation in his speeches.
Sayeed also heard about numerous reports of Muslim students being bullied in schools for wearing the hijab. Yet, many of the victims were too afraid to file official complaints due to backlash within the student community.
That prompted Sayeed to co-found the Illinois Muslim Civic Coalition, a Muslim rights advocacy group in Chicago, in October 2018. The goal of the organization was to educate people about issues plaguing the Muslim community, as well as to make sure that more Muslims voted, ran for electoral seats and participated in the census.
"We realized that it was no longer enough to just focus on our personal lives," she said, "We have to stand up for ourselves, and we have to stand up for others publicly."
Sayeed is not alone in experiencing increased racism and prejudice. With Donald Trump in his fourth year of presidency, Muslims nationwide have experienced greater discrimination.
According to the American Civil Liberties Union, multiple mosques in the Chicago area received threats in June 2016 following the mass shooting in Orlando, Florida.
Hira Khan, a Chicago resident, said that her dentist husband, who wished to remain anonymous, often received derogatory remarks from his patients. "They will say things like 'Just so you know, I voted Trump into office,' or 'These Muslims are wrong,'" she said. "It is so sad to have these experiences in a professional space."
Sayeed said that Trump's rhetoric had also given rise to the brash attitude of a certain people who believed they had the right to make others feel they don't belong in the U.S. "People now feel like they don't belong in the country if they don't fit the narrow description of a white and Christian American," she said.
According to a poll by the Institute for Social Policy and Understanding, a think tank focusing on American Muslim issues, 60% of American Muslims said they experienced some level of religious discrimination in 2017, compared to 38% of Jews and 11% of Catholics who said they experienced discrimination. That figure increased to 62% in 2019.
Erum Ikramullah, the research project manager at ISPU, said that the actual number might be even higher. "There likely are many cases where victims are afraid to come forward," she said.
Some people said that they have become more afraid for their own safety over the last few years. Hira Khan, who returned to Chicago after living in Canada for 15 years, said that she was surprised to see that more mosques in Chicago had tightened their security measures.
"Now many mosques are using digital locks on their front doors, and only people with a pin number could get in," she said, adding that there were also police cars and security guards often stationed in front on the mosques.
Tariq El-Amin, an African American imam at Al-Taqwa mosque in South Chicago, said the anti-Muslim environment has also created a schism between the Christians and Muslims in the community. He added that the conflict usually took the form of religious segregation and vocal condemnation of each other's faith.
"Trump's rhetoric has made Americans suspicious of people who are visibly Muslim," El-Amin said, adding that some people have acted wary of him or completely avoided him just for wearing a kufi hat.
However, he said that this was not a common case and that there were more instances of cooperation within the African American community than discrimination.
Still El-Amin said he tries to resolve such conflicts by educating people about Islam and seeking common ground.
"The oppression of the black community is woven into the American culture, and that is a very easy point to start with," El-Amin said. "From that common ground, we can talk about how the end result we all are looking for is peace and equality."
Fatima Siddiqua, a student trustee at Northeastern Illinois University, said she preferred to focus on the positives that have come out of challenging times — one example being that minority communities had grown closer. She said that more and more advocacy groups from different communities were actively collaborating with each other every day to deal with issues beyond that of their individual communities.
"Trump's actions have mobilized entire groups of people from different communities to unite and work towards overcoming this hate," she said.
Muslims in Chicago also said most people in the city were supportive and welcoming.
Junaid Ahmed, the president of Chicago's Indian American Muslim Council, a Muslim rights organization, said that when Trump implemented a travel ban against Muslims in 2017 or when Indian Muslims protested India's anti-Muslim citizenship bill, many American organizations came forward to support them.
"Even individuals who weren't part of the organization were really sympathetic to and supportive of our cause," he said.
Still, the fact that the president has singled Muslims out in many of his attacks has made many anxious about their future in the country.
Aesha Siddiqua, a mother of four living in Chicago, said that she was concerned about the safety of her children.
"I teach them to be proud of their identity," she said, "But how do I explain to them that there are people out there who will vilify them or even attack them just because they are Muslims?"
https://news.medill.northwestern.edu/chicago/muslims-in-chicago-say-that-trumps-statements-have-painted-a-target-on-their-backs/
--------
Pompeo warns Taliban against attacking Americans
Jul 1, 2020
WASHINGTON: US Secretary of State Mike Pompeo has warned the Taliban against attacks on Americans, the State Department said Tuesday, amid outrage over alleged Russian bounties to target US troops.
In a telephone call Monday with Taliban negotiator Mullah Baradar, Pompeo "made clear the expectation for the Taliban to live up to their commitments, which include not attacking Americans," a State Department statement said.
Pompeo was speaking about the implementation of a February 29 agreement between the Taliban and the United States, which has started withdrawing troops as part of President Donald Trump's bid to end America's longest war.
US officials say that the Taliban has abided by terms not to attack the US-led coalition.
But it has kept up violence against Afghan government forces, casting a cloud over attempts to start talks between the two sides on a peace settlement.
Washington has been rattled by reports, initially in The New York Times, that Trump was briefed over US intelligence that a Russian spy unit had offered rewards to Taliban-linked militants to kill US troops.
Trump has insisted that he was not briefed but lawmakers of the rival Democratic Party and even some Republicans have demanded further explanations.
The Taliban earlier provided an account of the call, saying that Baradar told Pompeo that the guerrillas "do not allow anyone to use Afghan soil against the US and other countries."
https://timesofindia.indiatimes.com/world/us/pompeo-warns-taliban-against-attacking-americans/articleshow/76722162.cms
--------
Taliban reaffirm commitment to US deal in Pompeo call
June 30, 2020
KABUL: The Taliban reaffirmed their commitment to a February deal to draw down the war in Afghanistan during a call with US Secretary of State Mike Pompeo, the group's spokesman has said.
The discussion came as US President Donald Trump faces mounting pressure to explain why he did nothing after being reportedly told that Russian spies had offered and paid cash to Taliban-linked militants for killing American soldiers.
The Taliban have denied that their fighters received any Russian bounties, and the group's Qatar-based chief negotiator Mullah Abdul Ghani Baradar reiterated their pledge not to strike against the US.
Baradar told Pompeo that "according to the agreement, we do not allow anyone to use Afghan soil against the US and other countries", Taliban spokesman Suhail Shaheen said Monday in a statement on Twitter.
The New York Times, citing anonymous officials, had reported last week that Trump had been told about the alleged Russian bounties but he did nothing in response.
Trump denied being informed of the assessment while the White House said the claim had been kept from him because the intelligence underpinning it was unverified.
But another report from the Times on Monday said the president had received a report about the alleged Russian bounties as early as February.
That month, the United States had pledged to withdraw all its troops from Afghanistan by mid-2021 in return for security guarantees in a bid to pave the way for negotiations between warring sides.
Under the landmark agreement, which excluded the Afghan government, Washington and the militants said they would refrain from attacking each other.
The Taliban spokesman said Baradar and Pompeo discussed concerns about the deal, including intra-Afghan talks and the release of 5,000 imprisoned insurgents.
"We are committed to starting intra-Afghan talks," Baradar told Pompeo, blaming the hold-up on the delayed release of prisoners, according to Shaheen.
The Afghan government in Kabul has said it has freed nearly 4,000 Taliban prisoners so far in a bid to kickstart the negotiations.
Pompeo acknowledged the Taliban had refrained from attacking urban centres and military bases under the deal, but called on them to do more to reduce overall violence, according to Shaheen.
Violence had dropped across much of the country after the Taliban offered a brief ceasefire to mark the Islamic Eid al-Fitr festival last month, but officials say the insurgents have stepped up attacks in recent weeks.
Most attacks by the Taliban have targeted Afghan security forces, although there are regular police reports that civilians have been killed in roadside bomb blasts.
https://www.arabnews.com/node/1697596/world
--------
Trump Got Written Briefing in February on Possible Russian Bounties, Officials Say
By Charlie Savage, Eric Schmitt, Nicholas Fandos and Adam Goldman
June 30, 2020
American officials provided a written briefing in late February to President Trump laying out their conclusion that a Russian military intelligence unit offered and paid bounties to Taliban-linked militants to kill U.S. and coalition troops in Afghanistan, two officials familiar with the matter said.
The investigation into the suspected Russian covert operation to incentivize such killings has focused in part on an April 2019 car bombing that killed three Marines as one such potential attack, according to multiple officials familiar with the matter.
The new information emerged as the White House tried on Monday to play down the intelligence assessment that Russia sought to encourage and reward killings — including reiterating a claim that Mr. Trump was never briefed about the matter and portraying the conclusion as disputed and dubious.
But that stance clashed with the disclosure by two officials that the intelligence was included months ago in Mr. Trump's President's Daily Brief document — a compilation of the government's latest secrets and best insights about foreign policy and national security that is prepared for him to read. One of the officials said the item appeared in Mr. Trump's brief in late February; the other cited Feb. 27, specifically.
Moreover, a description of the intelligence assessment that the Russian unit had carried out the bounties plot was also seen as serious and solid enough to disseminate more broadly across the intelligence community in a May 4 article in the C.I.A.'s World Intelligence Review, a classified compendium commonly referred to as The Wire, two officials said.
A National Security Council spokesman declined to comment on any connection between the Marines' deaths and the suspected Russian plot. The White House press secretary, Kayleigh McEnany, did not answer when pressed by reporters on Monday whether the intelligence was included in the written President's Daily Brief, and the National Security Council spokesman pointed to her comments when asked later about the February written briefing.
Late Monday, John Ratcliffe, the recently confirmed director of national intelligence, issued a statement warning that leaks about the matter were a crime.
"We are still investigating the alleged intelligence referenced in recent media reporting, and we will brief the president and congressional leaders at the appropriate time," he said. "This is the analytic process working the way it should. Unfortunately, unauthorized disclosures now jeopardize our ability to ever find out the full story with respect to these allegations."
The disclosures came amid a growing furor in Washington over the revelations in recent days that the Trump administration had known for months about the intelligence conclusion but the White House had authorized no response to Russia.
Top Democrats in the House and Senate demanded that all members of Congress be briefed, and the White House summoned a small group of House Republicans friendly to the president to begin explaining its position.
The lawmakers emerged saying that they were told the administration was reviewing reporting about the suspected Russian plot to assess its credibility. They also said the underlying intelligence was conflicting, echoing comments from Ms. McEnany that the information in the assessment had not been "verified" because, she said without detail, there were "dissenting opinions" among analysts or agencies.
"There was not a consensus among the intelligence community," Ms. McEnany said. "And, in fact, there were dissenting opinions within the intelligence community, and it would not be elevated to the president until it was verified."
Later Monday, Robert C. O'Brien, Mr. Trump's national security adviser, echoed her insistence that the reports were unsubstantiated.
But in denying that Mr. Trump was briefed, administration officials have been coy about how it is defining that concept and whether it includes both oral briefings and the President's Daily Brief. "He was not personally briefed on the matter," Ms. McEnany told reporters when asked specifically about the written briefing. "That is all I can share with you today."
Mr. Trump is said to often neglect reading that document, preferring instead to receive an oral briefing summarizing highlights every few days. Even in those face-to-face meetings, he is particularly difficult to brief on national security matters. He often relies instead on conservative media and friends for information, current and former intelligence officials have said.
American intelligence officers and Special Operations forces in Afghanistan began raising alarms as early as January, and the National Security Council convened an interagency meeting to discuss the problem and what to do about it in late March, The New York Times has previously reported. But despite being presented with options, including a diplomatic protest and sanctions, the White House authorized no response.
The administration's explanations on Monday, in public and in private, appeared to be an attempt to placate lawmakers, particularly Mr. Trump's fellow Republicans, alarmed by news reports in recent days revealing the existence of the intelligence assessment and Mr. Trump's insistence he had not been warned of the suspected Russian plot.
The assessments pointing to a Russian scheme to offer bounties to Taliban-linked militants and criminals were based on information collected in raids and interrogations on the ground in Afghanistan, where American military commanders came to believe Russia was behind the plot, as well as more sensitive and unspecified intelligence that came in over time, an American official said.
Officials said there was disagreement among intelligence officials about the strength of the evidence about the suspected Russian plot and the evidence linking the attack on the Marines to the suspected Russian plot, but they did not detail those disputes.
Notably, the National Security Agency, which specializes in hacking and electronic surveillance, has been more skeptical about interrogations and other human intelligence, officials said.
Typically, the president is formally briefed when the information has been vetted and seen as sufficiently credible and important by the intelligence professionals. Such information would most likely be included in the President's Daily Brief.
Former officials said that in previous administrations, accusations of such profound importance — even if the evidence was not fully established — were conveyed to the president. "We had two threshold questions: 'Does the president need to know this?' and 'Why does he need to know it now?'" said Robert Cardillo, a former senior intelligence official who briefed President Barack Obama from 2010 to 2014.
David Priess, a former C.I.A. daily intelligence briefer and the author of "The President's Book of Secrets: The Untold Story of Intelligence Briefings to America's Presidents," said: "Many intelligence judgments in history have not had the consensus of every analyst who worked on it. That's the nature of intelligence. It's inherently dealing with uncertainty."
Both Mr. Cardillo and Mr. Priess said previous presidents received assessments on issues of potentially vital importance even if they had dissents from some analysts or agencies. The dissents, they said, were highlighted for the president to help them understand uncertainties and the analytic process.
Lawmakers demanded to see the underlying material for themselves.
"This is a time to focus on the two things Congress should be asking and looking at: No. 1, who knew what, when, and did the commander in chief know? And if not, how the hell not?" said Senator Ben Sasse, Republican of Nebraska and a member of the Senate Intelligence Committee.
Speaker Nancy Pelosi and Senator Chuck Schumer of New York, the Democratic leaders of the House and Senate, each requested that all lawmakers be briefed on the matter and for C.I.A. and other intelligence officials to explain how Mr. Trump was informed of intelligence collected about the plot.
The White House began explaining its position directly to lawmakers in a carefully controlled setting. Mark Meadows, the White House chief of staff; Mr. Ratcliffe, the director of national intelligence; and Mr. O'Brien briefed a handful of invited House Republicans. A group of House Democrats was scheduled to go to the White House on Tuesday morning to receive a similar briefing.
There was no indication after the session with Republicans whether they had been told that the information was included in Mr. Trump's written briefing four months ago. But afterward, two of the Republicans — Representatives Liz Cheney of Wyoming and Mac Thornberry of Texas — said that they "remain concerned about Russian activity in Afghanistan, including reports that they have targeted U.S. forces" and would need additional briefings.
"It has been clear for some time that Russia does not wish us well in Afghanistan," they said in a joint statement. "We believe it is important to vigorously pursue any information related to Russia or any other country targeting our forces."
Other Republicans who attended the briefing were more sanguine. In an interview, Representative Chris Stewart of Utah said he saw nothing unusual about the purported decision not to orally inform Mr. Trump, particularly when the situation did not require the president to take immediate action.
"It just didn't reach the level of credibility to bring it to the president's attention," he said, adding that military and intelligence agencies should continue to scrutinize Russia's activities.
The Associated Press first reported that the intelligence community was examining the deaths of the three Marine reservists: Staff Sgt. Christopher Slutman, 43, of Newark, Del.; Cpl. Robert A. Hendriks, 25, of Locust Valley, N.Y.; and Sgt. Benjamin S. Hines, 31, of York, Pa.
They were killed near Bagram Air Base when a vehicle laden with explosives hit their truck, wounding an Afghan contractor as well. The huge blast set fire to the truck, engulfing those inside in flames, while their fellow Marines tried to extricate them, a defense official said. A brief firefight ensued.
Gen. Zaman Mamozai, the former police chief of Parwan Province, where Bagram Airfield is, said that the Taliban there hire freelancers from local criminal networks, often blurring the lines of who carried out what attacks. He said the Taliban's commanders were only based in two districts of the province, Seyagird and Shinwari, and from there they coordinate a more extensive network that largely commissions the services of criminals.
The Taliban have denied involvement. And a spokesman for President Vladimir V. Putin of Russia, Dmitry Peskov, told NBC News on Monday that reports of the Russian scheme were incorrect. He said that "none of the American representatives have ever raised this question" with their Russian counterparts through government or diplomatic channels.
The Pentagon's chief spokesman, Jonathan Hoffman, declined to comment on any connection between the Marines' deaths and the suspected Russian plot. He also declined to say whether or when Defense Secretary Mark T. Esper was briefed on the intelligence assessment and whether the deaths of American troops in Afghanistan resulted from the Russian bounties. But later Monday, Mr. Hoffman issued a statement saying that the Defense Department was monitoring intelligence on the matter and that it "has no corroborating evidence to validate the recent allegations found in open-source reports."
Col. DeDe Halfhill, a spokeswoman for Gen. Mark A. Milley, the chairman of the Joint Chiefs of Staff, also declined to comment on the same questions.
Reporting was contributed by Thomas Gibbons-Neff, Fahim Abed, Annie Karni and Emily Cochrane.
https://www.nytimes.com/2020/06/29/us/politics/russian-bounty-trump.html?utm_source=iterable&utm_medium=email&utm_campaign=1325663_
--------
US Justice Department appeals early release of Hezbollah financier
JUNE 29, 2020
The United States' Department of Justice have appealed the early release on compassionate grounds of a Hezbollah financier, arguing that his sentence was imposed to reflect the seriousness of his crime, and should be upheld.
Kassim Tajideen, 65, is due to be repatriated to Lebanon in July, after Washington Federal District Court Judge Reggie Walton granted compassionate release, ruling that Tajideen's age and "serious health conditions" left him at particular risk of contracting coronavirus within the prison system.
Tajideen was sentenced in 2019 to serve a five-year sentence and forfeited $50 million after he pled guilty to money-laundering. A wealthy businessman before his incarceration, Tajideen is said to have handed tens of millions of dollars to Hezbollah, in addition to giving the group other support. In 2009, the United States deemed him a "specially designated global terrorist."
The Justice Department has therefore filed an appeal against his release, arguing that his health has not deteriorated, and that there was no immediate risk to Tajideen of contracting COVID-19 within the medium-security prison in which he was being held.
"The need for the sentence imposed to reflect the seriousness of the offense and to promote deterrence by others and respect for U.S. laws around the world remains," the Justice Department said in its brief to the court, according to NBC News.
Of 1,214 inmates in the facility in Cumberland, Maryland in which Tajideen was serving his sentence, six tested positive, as did two members of staff. However, all have since recovered and there have been no new cases at the prison, court documents testified.
The appeal has drawn support from counter-terrorism experts, who said the seriousness of Tajideen's crimes ought to be reflected in the time served.
The court had committed "a miscarriage of justice in letting a prominent financier of the premier global terror group, which has American blood on its hands, out of jail before serving out his sentence," Tony Badran of the Foundation for Defense of Democracies told NBC.
And Josh Lipowsky, a senior research analyst at the Counter Extremism Project, warned of the consequences for other cases if Tajideen is released early.
"This release risks setting a precedent for the early release of designated terrorists. And we have to fully consider the risks that such early releases pose and be concerned what happens to these people after their release," Lipowsky said.
Tajideen's initial request for early release, filed with the prison, was turned down by the warden, prompting Tajideen to file the request with the federal district court in Washington, DC. Justice Department arguments at the May hearing, that Tajideen was of reasonable health for a man of his age, and that there was no coronavirus in the prison he was held in, were rejected by Walton.
Tajideen suffers from hypertension but his condition has not worsened.
Following the ruling that he may be released, Tajideen was removed from the prison following a two-week quarantine for coronavirus, and moved to a county detention center where he is currently still being held, awaiting deportation.
There has been speculation that his release has been granted in response to the release by Lebanon of US citizen Amer al-Farkoury, a naturalized US citizen who was accused of torturing prisoners while serving in the South Lebanon Army. But one of Tajideen's lawyers, William Taylor, has denied that his client was part of a prisoner exchange deal.
"There absolutely no truth to rumors that US nationals abroad are to be released in connection with Mr. Tajideen's release," he told NBC in an email.
https://www.jpost.com/international/us-justice-department-appeals-early-release-of-hezbollah-financier-633201?utm_source=iterable&utm_medium=email&utm_campaign=1325663_
--------
US announces $696 mln in additional humanitarian aid for Syria at Brussels meet
30 June 2020
The United States has announced additional humanitarian assistance for the Syrian people, said US Secretary of State Mike Pompeo in a statement on Tuesday at the fourth Brussels Conference on "Supporting the Future of Syria and the Region," hosted by the EU.
"At today's fourth Brussels Conference on "Supporting the Future of Syria and the Region, hosted by the EU," Pompeo said that the Special Representative for Syria Engagement Ambassador James Jeffrey has "announced more than $696 million in additional humanitarian assistance for the people of Syria in response to the ongoing crisis caused by the Assad regime, Russian, and Iranian forces."
"This brings the total US humanitarian response to more than $11.3 billion since the start of the Syria crisis," he said.
At the virtual conference, the United Nations pushed governments for nearly $10 billion in aid for Syria, where nine years of war has displaced millions in a humanitarian crisis exacerbated by soaring food prices and the coronavirus crisis.
The now annual fund-raising round for Syria brought together60 governments and non-official agencies via video in an event
hosted by the European Union (EU) and due to end at 1600 GMT.
"Syrian men, women and children have experienced injury,displacement, destruction, terror ... on a massive scale," said
UN Special Envoy for Syria Geir Pedersen.
"The danger of COVID-19 remains acute."
According to a tally by Johns Hopkins University, there haveonly been 269 confirmed cases, but the World Health Organization
(WHO) has warned the real situation is probably far worse andthe number of infections likely to accelerate.
In his statement, Pompeo said: "From December to March, in response to bombing by the Assad regime, Russian, and Iranian forces, nearly one million people in northwest Syria –- more than 80 percent of whom were women and children –- fled in fear for their lives. Following an early March ceasefire, over 270,000 people returned to areas of origin in northwest Syria, but approximately 700,000 remain forcibly displaced.
"The US strongly supports UN Secretary General Guterres' recommendation to restore cross-border access between northeast Syria and Iraq to deliver aid and medicine."
Pompeo accused Russia and China of cynically conspiring to hamper the international community's ability to deliver humanitarian aid to vulnerable areas in Syria through UN Security Council Resolution 2504, which reduced humanitarian border crossings into Syria from four to two, decreased the authorization process for six months, and stopped 40 percent of the medical aid to northeast Syria, thereby increasing an already significant gap in meeting humanitarian needs at a time of a global pandemic.
"The US supports freedom of movement for all, including forcibly displaced persons and conflict-affected Syrians, as well as the safe, voluntary, and dignified return or resettlement and reintegration of refugees and internally displaced persons in a process that is free from coercion. We reaffirm our commitment to a credible and inclusive Syrian-led, UN-facilitated political solution pursuant to UN Security Council Resolution 2254," Pompeo said.
'Must end suffering'
The UN, which last year raised $7 billion, said this year it needs $3.8 billion for aid inside Syria where 11 million people require help and protection, with more than 9.3 million of them lacking adequate food.
Another $6.04 billion is sought to help the 6.6 million Syrians who have fled in the world' biggest refugee crisis.
Adding to Syrians' hardship, an economic slump and COVID-19 lockdown have pushed food prices more than 200 percent higher in less than a year, according to the World Food Programme (WFP).
However, rebuilding destroyed cities will take billions of dollars more and cannot start until powers involved back a peaceful transition away from the rule of President Bashar al-Assad, the EU says.
"We must do more to end the suffering of the Syrian people. First and foremost, we need a political solution to the crisis," EU foreign policy chief Josep Borell told the conference.
https://english.alarabiya.net/en/News/middle-east/2020/06/30/US-announces-696-mln-in-additional-humanitarian-aid-for-Syria-at-Brussels-meet.html
--------
Pompeo to UN: Ending Iran arms ban would mean 'sword of Damocles' over region
June 30, 2020
NEW YORK: US Secretary of State Mike Pompeo pushed the UN Security Council on Tuesday to indefinitely extend an arms embargo on Iran before it expires in October.
Speaking at the virtual briefing, Pompeo warned that its expiration would risk the stability of the region.
"Iran will hold a sword of Damocles over the economic stability of the Middle East, endangering nations like Russia and China that rely on stable energy prices," Pompeo told the virtual session, referencing two opponents of prolonging the embargo.
"Don't just take it from the United States, listen to countries in the region. From Israel to the Gulf, countries in the Middle East – who are most exposed to Iran's predations – are speaking with one voice: Extend the arms embargo," Pompeo said. "This council has a responsibility to listen to them."
He also argued that the country was not a "responsible democracy like Australia or India," and must be held accountable.
Jonathan Allen, the UK representative, echoed calls for the embargo to be extended, citing the Iranian origin of missiles used on attacks on Saudi Aramco facilities in 2019, which he called "unacceptable."
Earlier this month, the US circulated a draft resolution on the measure to the 15-member council, but council veto-powers Russia and China have already signaled their opposition to the move.
The Security Council was meeting on Tuesday to discuss the latest report by UN Secretary-General Antonio Guterres on implementation of the arms embargo and other restrictions still in place under the nuclear deal.
https://www.arabnews.com/node/1697786/middle-east
--------
India
Jama Masjid, Delhi, To Reopen for Namaz From July 4, Says Shahi Imam
June 30, 2020
The historic Jama Masjid, which had closed earlier this month due to a surge in COVID-19 cases in the city, will reopen for congregational prayers (Namaz) from July 4, Shahi Imam of the mosque Syed Ahmed Bukhari said on Tuesday. The mosque was closed on June 11 in view of the "critical" conditions in the city due to a surge in COVID-19 cases, till June 30.
Earlier, the mosque had reopened on June 8 after a gap of over two months with the government allowing further relaxations as part of unlock 1.0, the first phase of a calibrated exit from the coronavirus lockdown. Bukhari said that the decision to reopen the mosque was taken after consulting people and experts. "Under unlock 1.0, almost everything has opened and normal activities have resumed. We took this decision to open the mosque for people to offer Namaz as the scare of the virus has lessened and awareness about safeguards against it has increased," Bukhari told PTI.
He said that safety precautions like maintaining social distancing, wearing protective gear and sanitisation will be followed to prevent people from catching infection. A private secretary of the Shahi Imam, Amanullah had died due to coronavirus earlier this month. During the closure, people were asked to offer Namaz at home, and only a few staff members offered the prayers five times a day at the mosque.
https://www.businesstoday.in/current/economy-politics/coronavirus-in-delhi-jama-masjid-to-reopen-for-namaz-from-june-4-says-shahi-imam/story/408469.html
--------
Pakistani terrorist killed as Army foils infiltration bid in Rajouri
Jul 1, 2020
JAMMU: A Pakistani terrorist was killed on Wednesday as the Army foiled an infiltration bid by a group of terrorists along the Line of Control (LoC) in Rajouri district of Jammu and Kashmir, an Army officer said. Troops intercepted the group when it entered 400 metres into this side from across the LoC in Keri sector of Rajouri around 0555 hours, triggering a gunfight, the officer said.
He said one terrorist was killed and an AK 47 rifle along with two magazines was recovered from his possession.
The search operation to track down other members of the group was on when last reports came in, the officer said, adding further details are awaited.
https://timesofindia.indiatimes.com/india/pakistani-terrorist-killed-as-army-foils-infiltration-bid-in-rajouri/articleshow/76723749.cms
https://timesofindia.indiatimes.com/india/indian-woman-29-wins-5000-commonwealth-short-story-prize-for-hindu-muslim-love-story/articleshow/76720186.cms
--------
Killer of 4-yr boy among two terrorists killed in Anantnag
Jul 1, 2020
SRINAGAR: Two terrorists belonging to the Jammu Kashmir Islamic State (JKIS), who had killed a four year old boy and a CRPF jawan four days ago, were shot dead in an encounter in the Waghama area of Bijbehera town in South Kashmir's Anantnag district on Tuesday.
Director general of J&K Police, Dilbagh Singh confirmed that the slain terrorists were responsible for the June 26 attack on a CRPF patrol team in Bijbehera in which the boy and the jawan were killed. Police have identified one of the JKIS men as Zahid Dass, who had opened fire on the CRPF men.
A joint team of J&K Police and the Army's 03 RR battalion launched a cordon-and-search-operation on Tuesday in Waghama to hunt down the hiding terrorists. As the team encircled the suspected spot, the terrorists started firing upon the security personnel. It was retaliated by the forces, triggering off an encounter.
In another incident, terrorists hurled a hand grenade on para-military troopers in South Kashmir's Pulwama district. The grenade, targeted at the CRPF Deployment 183 Battalion posted near Pulwama post office, failed to explode.
As many as 128 militants have been killed in the Valley so far this year.
https://timesofindia.indiatimes.com/india/killer-of-4-yr-boy-among-two-terrorists-killed-in-anantnag/articleshow/76719208.cms
--------
CRPF trooper, civilian killed in terrorist attack in Jammu and Kashmir's Sopore
Jul 01, 2020
A Central Reserve Police Force (CRPF) trooper and a civilian succumbed to their injuries after terrorists attacked a road opening party in Sopore area of Jammu and Kashmir's Baramulla district, officials said on Wednesday.
Three other CRPF troopers have also been injured in the attack.
The terrorists had attacked CRPF's road opening party when they were placing a check post along with personnel of Jammu and Kashmir police on the Sopore by-pass highway in Model Town of Sopore.
The area has been sealed and a search operation has been launched. Officials of the Indian Army and police have also reached the spot.
https://www.hindustantimes.com/india-news/4-crpf-troopers-1-civilian-injured-in-terrorist-attack-in-j-k-s-sopore/story-6dsMqDTgPVZkszTsB9TiDI.html
--------
Babri Mosque demolition case: Court shut for two days after lawyer tests COVID positive
June 30, 2020
The district court campus on Monday shut for the next two days after a lawyer tested positive for coronavirus, disrupting also the schedule of the special court hearing the Babri Masjid demolition case. Earlier, senior BJP leader L K Advani was to depose through video conferencing on Tuesday and former Union minister Murli Manohar Joshi on Wednesday, the two days the court will now not sit.
Apart from the disruption in the schedule due to the COVID-19 case, the National Informatics Centre (NIC) is yet to set up a video link at the CBI court. Durga Vahini founder Sadhvi Rithambara appeared in the special CBI court on Monday, denying her involvement in the demolition of the mosque and claiming that she was framed.
District judge Anil Kumar Ojha directed that the entire campus should be closed for the next two days after being informed that a bar association office bearer had tested positive and is in hospital. The Old High Court building, Roshan-ud-Daula building and the family court will also be closed for two days for their sanitisation.
The special CBI court where the Babri Masjid trial is on is situated in the Old High Court building. Special judge S K Yadav observed that the video conferencing facility was still not functional in the court and fixed July 2 for recording the evidence of the other witnesses.
He did not pass any directions about the two accused, Advani and Joshi, whose statements were to be recorded through video conferencing on Tuesday and Wednesday.
The court is currently recording the statements of 32 accused under section 313 of the CrPC, a stage in the trial that follows the examination of prosecution witnesses. Responding to questions put before her in court, Sadhvi Rithambara rejected the charge that she conspired to demolish the disputed structure.
Rithambara claimed that she was framed in the case due to political reasons. She was the 18th accused to depose before the court. Fourteen accused are still left to be examined at this stage.
The case pertains to the demolition of the Babri Masjid on December 6, 1992, after which two FIRs were lodged. One FIR was filed against the kar sevaks who allegedly demolished the mosque; another FIR named Advani, Joshi, Bharti, Singh, BJP Rajya Sabha MP Vinay Katiyar, Vishwa Hindu Parishad leaders Ashok Singhal, Giriraj Kishore, Vishnu Hari Dalmiya and Sadhvi Rithambara, and others for "making provocative speeches" that instigated the kar sevaks.
Framed by a special CBI court in 2017, the investigation agency has charged BJP leaders Advani, Joshi, Bharti, Kalyan Singh and others of criminal conspiracy in the demolition case. The charges are based on the charge sheet filed by the CBI on October 8, 1993.
https://www.thestatesman.com/india/babri-mosque-demolition-case-court-shut-for-two-days-after-lawyer-tests-covid-positive-1502904804.html
--------
'India and Bangladesh should now look at trade in services instead of just trade in goods'
Jul 01, 2020
Wishing Bangladesh on Mujib Barsho, Minister of State for External Affairs V Muraleedharan on Monday said that India and Bangladesh should look now at the trade in the services instead of just trade in goods.
"As we celebrate Mujib Barsho this year and the 50th year of liberation of Bangladesh as well as the establishment of diplomatic relations next year, we must do all that it takes to ensure that values that we fought and stood for remain cherished," Muraleedharan said during a digital conference on 'Doing Business with Bangladesh'.
He said that India and Bangladesh have scripted a 'Shonali Adhyaya' -- a golden chapter -- in their partnership, under the visionary leadership of Prime Minister Narendra Modi and Prime Minister Sheikh Hasina.
"As we are also looking at creating a new economic partnership for the future, there are opportunities to go beyond trade in goods and look at the trade in services," he said.
He further said, "As India and Bangladesh share the largest border, we need to focus on the socio-economic development of bordering districts on both sides. Sometimes for want of opportunities available, we have criminal elements committing crimes, attacking security forces and disturbing the peace and harmony that exists between our two countries. There is an urgent need to focus on the development of these areas and therefore haats spread along the border is a welcome development. In the same spirit, we should cooperate on developmental works that get undertaken on either side of the border."
Speaking on India's role in Bangladesh's "Made in Bangladesh" brand, he said, "We see Bangladesh as a partner in the value chain. India will continue to be a reliable and efficient supplier of raw material to Bangladesh. I recommend that we explore more cooperation in this important sector like facilitating exchanges between our premier textile design institutes, capacity building, textile machinery etc."
The Minister of State said that both India and Bangladesh have been able to maintain a low mortality rate amid the coronavirus pandemic despite having a dense population.
"India has conducted an online programme for medical professionals exclusively in Bangla language at the request of Bangladeshi participants and we stand prepared to further assist Bangladesh in mitigating the health and economic impact of the pandemic."
https://www.hindustantimes.com/india-news/india-and-bangladesh-should-now-look-at-trade-in-services-instead-of-just-trade-in-goods/story-AeZb4wnbDAAqW31hvsUUqJ.html
--------
Mideast
Detained Kata'ib Hezbollah fighters burn US, Israeli flags upon release
29 June 2020
The Kata'ib Hezbollah fighters detained during a counterterrorism raid in south Baghdad have been released and photos circulated of the Iran-backed fighters lighting the American and Israeli flags on fire upon their release.
Iraq's Joint Operations Command announced last Friday that 14 people were arrested. The arrests came after members from Iraq's Counter-Terrorism Service (CTS) moved in overnight Thursday on a headquarters of Kata'ib Hezbollah in southern Baghdad.
For all the latest headlines follow our Google News channel online or via the app.
Baghdad's Green Zone was put under lockdown after armed men from pro-Iranian militias took to the streets to demand the release of the detained men.
AFP reported that an Iraqi judge ordered the case dropped Monday, quoting Kata'ib Hezbollah's spokesman Jaafar al-Husseini. "The judge ordered their release due to a lack of evidence. The arrests shouldn't have happened," he said.
Kata'ib Hezbollah's security spokesperson then threatened Prime Minister Mustafa al-Kadhimi with punishment, or "torture" after the raid, meant to send a strong message to militias, warning against attacking Iraqi facilities.
But on Monday, Husseini said that his group would be filing a claim against the premier. "The state of law must prevail, not the state of personal whims," Husseini told AFP. A separate spokesman said that a lawsuit would be filed against al-Kadhimi for abduction.
After the fighters were released Monday due to a lack of evidence for their participation in attacks against foreign embassies in Baghdad's fortified Green Zone and its international airport, the men were pictured burning the US and Israeli flags.
Kadhimi's fate going forward
Kadhimi, appointed to head the Iraqi government in May, is the former head of the Iraqi National Intelligence Service and journalist.
One of the main challenges for political sides in Iraq to agree on a new prime minister was the backing of pro-Iran parties as well as Washington's green light.
Kadhimi has previously said that he would not allow the country to become a battefield for Washington and Tehran. In recent weeks, the US-Iraq Strategic Dialogue kicked off as well.
It remains to be seen how much of an impact last week's operation will have on Kadhimi's support from pro-Iran factions.
Randa Slim, director of the Initiative for Track II Dialogues at the Middle East Institute, said the recent raid on Kata'ib Hezbollah was a small effort in the right direction. "It sends a message to the unwieldy parts of the Iraqi Popular Mobilization Forces (PMF), like Kata'ib Hezbollah, that there is a new sheriff in town," Slim told Al Arabiya English.
Yet, she noted the aftermath of the raid and how the standoff with the militia was resolved, showed "the limits al-Kadhimi faces in enforcing the rule of law and control over the PMF."
Ahead of an anticipated visit by the Iraqi premier to Washington, Slim said that the recent raid improved his chances of receiving a warm welcome.
Meanwhile, Sajad Jiyad, a political analyst based in Baghdad, said al-Kadhimi's fate depended on if the prime minister continues with such actions. "If he faces off against these groups, does he have enough strength from the security forces to ensure victory? That's debatable after [the raid]," Jiyad told Al Arabiya English.
https://english.alarabiya.net/en/News/middle-east/2020/06/29/Detained-Kata-ib-Hezbollah-fighters-burn-US-flag-upon-release.html
--------
Iran Asks S. Arabia, Bahrain to Stop Blind Obedience to US
Jun 30, 2020
"It is very surprising that countries like Saudi Arabia which is a source of terrorism and extremism in the region and has destabilized the region for years through its support for the terrorist groups, including al-Qaeda and the ISIL, raises baseless allegations against the Islamic Republic of Iran which has helped the regional states to get rid of the terrorist groups due to its responsible behavior," Foreign Ministry Spokesman Seyed Abbas Mousavi said.
He said it is a bitter joke to see that certain Persian Gulf Arab littoral states support the US attempts to extend arms embargos against Iran while they have killed and wounded thousands of Yemeni people, including women and children, with the US weapons.
Mousavi said time is ripe for these countries to stop unwise comments and blind obedience to the US and understand that regional security will not be established through obedience to the US.
"The only way to establish stability and security in the region is changing hostile behaviors and through (launching) regional cooperation," he underlined.
His comments came after Saudi Arabia, Bahrain and the United States called for the extension of arms embargos against Iran as the US Special Representative for Iran Brian Hook held talks with the two countries' officials.
Hook, who was in Saudi Arabia on Monday, flew to Manama later in the day and met with Bahrain's Crown Prince Salman Bin Hamad Al Khalifa and Foreign Minister Abdullatif Al-Zayyani.
Mousavi had said on Monday that the US would not be able to win a consensus at the UN Security Council to extend the arms embargoes against Iran.
"As we have stated, the Americans are neither entitled nor able to take such a measure. They are not in a position to raise any claim and cannot refer to Resolution 2231 to annihilate the nuclear deal's achievements and contents after all their disloyalties and destructive measures against the nuclear deal and the resolution," Mousavi told reporters in a press conference in Tehran.
He said that other members of the UNSC are opposed to the US move and have denounced its measures.
"We foresee another failure for the US in this arena. We advise them not to test what they have tested before and not to pave a way which leads to a deadend," Mousavi said.
The arms embargo on Iran restricts Iran's ability to obtain and transfer weapons and expires in October. The expiration is part of the 2015 Iran nuclear deal that the United States walked away from in 2018.
Last Wednesday, US Ambassador to the United Nations Kelly Craft and the US envoy for Iran, Brian Hook, briefed the UN Security Council on a proposal to extend the embargo.
https://en.farsnews.ir/newstext.aspx?nn=13990410000387
--------
Major West Bank annexation move not imminent: Israeli Minister
30 June 2020
An Israeli minister played down on Tuesday the likelihood of major moves to annex Jewish settlements in the occupied West Bank on July 1, the planned start date for cabinet debate on the issue.
Zeev Elkin, a member of Prime Minister Benjamin Netanyahu's Likud party, said Israel still did not have the green light it seeks from Washington to begin extending its sovereignty to parts of the West Bank, territory Palestinians seek for a state.
Netanyahu said in a speech he had met US Ambassador David Friedman and White House adviser Avi Berkowitz to discuss "the sovereignty question," adding: "We are working on it in these very days and will continue working on it in the coming days."
Palestinian leaders, the United Nations, European powers and Arab countries have all denounced any annexation of land that Israeli forces captured in a 1967 war.
"Whoever painted a picture of everything happening in one day on July 1, did so at their own risk," Elkin, minister of higher education, told Army Radio when asked what would happen on Wednesday. "From tomorrow, the clock will start ticking."
No cabinet session for Wednesday has been announced.
Friedman and Berkowitz are in Israel as part of the White House's efforts to win consensus within its government for annexation as envisioned in an Israeli-Palestinian peace plan announced by US President Donald Trump in January.
The proposal calls for Israeli sovereignty over about 30 percent of the West Bank - land on which Israel has built settlements for decades - as well as creation of a Palestinian state under strict conditions.
Palestinians say the blueprint would make the state they seek in the West Bank, Gaza and East Jerusalem unviable. Most world powers view Israel's settlements as illegal. Netanyahu says the Jewish people have a legal, historic and moral claim to the West Bank, the biblical Judea and Samaria.
Netanyahu and his main coalition government partner, Defense Minister Benny Gantz, are at odds over annexation, which the right-wing prime minister has promoted.
https://english.alarabiya.net/en/News/middle-east/2020/06/30/Major-West-Bank-annexation-move-not-imminent-Israeli-Minister.html
--------
Minister: Iran's Coronavirus Vaccine Tested on Animals Successfully
Jun 30, 2020
"We have taken effective steps in producing vaccine and many Iranian scientists have taken rapid steps in developing COVID-19 vaccine and the Iranian coronavirus vaccine test samples on animals have proved successful," Namaki said on Tuesday.
He, meantime, underlined the need for global unity and cooperation in the production of vaccines and medicine in campaign against the novel coronavirus.
In relevant remarks on Monday, Iran's health ministry announced that it is seeking to produce homemade vaccine for the deadly coronavirus disease before the end of the current Iranian year (will end on March 20, 2021).
"A number of knowledge-based Iranian companies are trying to produce coronavirus vaccine and one of these companies will offer its achievements by the yearend," Director-General of Research and Technology Development Office of the Ministry of Health and Medical Education Hosein Vatanpour said.
He further pointed out that Iranian HPV and seasonal influenza vaccines will be produced and hit the market by the end of the current year.
The environment of producing vaccine and ensuring its effectiveness are of the two important issues, Vatanpour said, adding, "The vaccine production environment should be isolated which is underway for producing coronavirus vaccine."
He pointed out that Iran is moving forward in tandem with other advanced countries equally in a way that salient achievements taken in the country can compete with international achievements.
"Three knowledge-based firms are active in producing HPV (Human Papillomavirus Vaccine) in the country," Vatanpour added.
https://en.farsnews.ir/newstext.aspx?nn=13990410000762
--------
Head of France-Based Anti-Iran Media Sentenced to Death
Jun 30, 2020
"Since Rouhullah Zam has been found guilty of numerous accusations, he has been given a death sentence for corruption on earth," Esmayeeli told reporters in a press conference in Tehran.
He explained that the initial court ruling issued for Zam is subject to a plea and review at the Supreme Court.
Asked about the latest situation of Fariba Adelkhah, an Iranian-French academic who has been arrested and imprisoned on espionage charges, Esmayeeli said that she has been sentenced to 5 years in prison for security crimes based on the initial court ruling.
He added that she has also been sentenced to another 1.5-year imprisonment too but she will be kept behind bars for a 5-year term, taking into account the time she has served under detention.
60-year-old Adelkhah was arrested in Iran in June 2019 on espionage charges.
Zam was captured in October 2019.
The IRGC declared at the time that its intelligence organization could capature him, using new and professional intelligence methods and innovative tricks, deceived the foreign (spy) services and arrested Rouhollah Zam.
It added that Zam who is accused of propaganda and attempts to foment insecurity and chaos and violent and terrorist acts in Iran was fooled to visit Iran and arrested.
The statement said that Zam who was guided by the French intelligence service and was supported by the US, Israeli and other spy agencies and was permanently protected with several layers of secret service coverage, including overt and covert protection, was detained by the IRGC intelligence organization.
A senior intelligence official at the IRGC top commander's office revealed that Zam was monitored by the intelligence forces for two years.
"The intelligence forces had for a long time monitored Rouhollah Zam and his moves and he was in the IRGC's intelligence web since nearly two years ago," Brigadier General Mohammad Toulayee said.
In March, Channel 2 of the Islamic Republic of Iran's Broadcasting (IRIB) aired a documentary on Zam ,revealing how the country's intelligence forces had extensive surveillance over him and played him for a long span of time.
Amad News, a website and a Telegram-based news outlet with over one million subscribers, was a glimmer of hope for anti-Iran groups and their financial supporters who are mostly based in Western countries, with its self-proclaimed leaked pieces of information allegedly disclosing "much less known realities" about Iran.
https://en.farsnews.ir/newstext.aspx?nn=13990410000556
--------
MP: No Toll in Terrorist Attack on IRGC Vehicles in Southeastern Iran
Jun 30, 2020
"The terrorist attack on the IRGC vehicles has left no casualties," Maleki told FNA on Tuesday.
He added that the attack was carried out by Jeish al-Zolm (the corps of cruelty as Jeish Al-Adl is called in Iran) while two vehicles of the IRGC forces were going through Korin region, near Zahedan, in Sistan and Balouchestan province in Southeastern Iran.
Maleki said that two roadside bombs were planted in the region and one of them was detonated as two IRGC vehicles were on the move in the same the region, adding that the IRGC's regional commander has been wounded in the attack.
He also dismissed rumors that a number of IRGC forces were taken captive by the terrorists after the attack.
Jeish al-Adl terrorist group has claimed responsibility for the attack.
Jeish Al-Adl, a Pakistan-based radical Wahhabi terrorist group staging cross border attacks into Southeastern Iran from South-West Pakistan, had also claimed responsibility for the February 2019 attack which killed and wounded dozens of IRGC members after their bus came under a terrorist attack in the province.
The group has bases in Southwestern Pakistan and started operations after recruiting the remnants of Jundullah notorious terrorist group and reorganizing them. Iran had captured leaders of Jundullah notorious Wahhabi terrorist group and dismantled the terrorist organization years earlier.
In mid-October 2018, the group abducted 14 Iranian Basijis (volunteer forces) and border guards at Mirjaveh border in Southeastern Sistan-Balouchestan province. Five were released a month later on November 15.
The IRGC Ground Force then blamed foreign intelligence services for supporting and assisting the terrorist group.
Jeish al-Adl also abducted five Iranian border guards in Jakigour region of Sistan and Baluchistan Province and took them to Pakistan in 2014. After two months of abduction, four of them were released and the fifth one was killed. His body was returned to Iran months later.
Then early in March, 2015, Pakistani sources told the country's media that authorities in Southwestern Pakistan had arrested the ringleader of Jeish al-Adl terrorist group as he was traveling on a bus from the lawless border area.
Salam Rigi, cousin of the Jundollah terrorist group's ringleader Abdolmalek Rigi, was seized by Pakistani authorities who were tipped off to his movements and intercepted the bus some 50 km from Quetta, the capital of Pakistan's Baluchistan, a security official said on the condition of anonymity.
Salam Rigi was accused of involvement in suicide bombings in Iran and Pakistan, as well as sending terrorists to the conflicts in Iraq and Syria.
Other sources said the terrorist arrested was Abdo-Sattar Rigi (Abdolmalek's brother), explaining that he was carrying his cousin's ID card at the time of arrest, but further investigations revealed his true identity.
Later reports proved that the captured terrorist was Abdo-Sattar Rigi.
Abdo-Sattar (the third of the notorious Rigi brothers) headed the Jeish al-Nasr terrorist group, but his cousin Salam leads Jeish al-Adl.
Abdo-Sattar's two older brothers, Abdolmalek and Abdolhamid Rigi, who led the more powerful terrorist group, Jundollah, were both captured and condemned to death by Iran earlier.
In early 2009, Abdolhamid Rigi, the Jundullah terrorist group's number two man and brother of its ringleader Abdolmalek Rigi, was arrested by Iranian security forces.
Abdolhamid had conducted a number of bombing operations and other violent attacks in Iran resulting in many casualties and was sentenced to death by the court in 2009, but his execution was delayed on several occasions. Officials did not mention any specific reason for the delayed execution of Abdolhamid at the time.
Iran arrested Abdolmalek Rigi, the number one man of the Jundollah terrorist group in late February 2011. Abdolmalek was executed in June 2011.
Iranian military and police officials voice concern over the presence of terrorist groups in Pakistan's territories, criticizing the Pakistani army and border police's lax control over shared borders.
https://en.farsnews.ir/newstext.aspx?nn=13990410000298
--------
Erdogan shuts down university in Istanbul linked to rival, ex-PM Davutoglu
30 June 2020
Turkish President Recep Tayyip Erdogan has ordered the closure of a university linked to a rival and former prime minister, according to a decree published on Tuesday.
The private Istanbul Sehir University was established in 2008 by a foundation partly set up by ex-premier Ahmet Davutoglu, who quit Erdogan's ruling party in September and established his own party.
The university had its assets frozen late last year when an Istanbul court ruled against it in a dispute with Halkbank -- Erdogan accused the university of trying to "defraud" the bank.
The university was then taken out of the control of Davutoglu's Foundation for Sciences and Arts (BISAV), which was itself then taken over by the state.
A presidential decree signed by Erdogan on Monday but published overnight said the "university's permission to conduct any activities has been withdrawn."
For all the latest headlines follow our Google News channel online or via the app
Davutoglu hit out at Erdogan on Tuesday "for making claims against the university he knows full well aren't true."
He described the order as an act of "political revenge" that would affect thousands of students.
"This is a blow to one of Turkey's finest quality education institutions, or more precisely to Turkey's future, to young people's dreams and Turkey's education system as a whole," Davutoglu said.
Davutoglu was once close to Erdogan and served as foreign minister but the two men fell out and he was forced to resign as premier in May 2016.
https://english.alarabiya.net/en/News/middle-east/2020/07/01/Erdogan-shuts-down-university-in-Istanbul-linked-to-rival-ex-PM-Davutoglu.html
--------
Turkey slams France's 'destructive' approach to Libya conflict: AFP
30 June 2020
Turkey on Tuesday blasted France's "destructive" approach to the conflict in Libya and accused it of seeking to increase Russian presence there, in an escalating tension between the two NATO allies.
For all the latest headlines follow our Google News channel online or via the app.
It was the latest in a string of increasingly testy exchanges between the two countries over the issue.
"France, which Macron governs or rather which he can't manage to govern at the moment, has been in Libya only for its own interests and ambitions with a destructive approach just like it pushed Africa to instability in the past with a colonialist approach, and like it bombed and quit Libya in 2011," Foreign Minister Mevlut Cavusoglu told reporters in Ankara.
One day prior, French President Emmanuel Macron accused fellow NATO member Turkey of "criminal responsibility" over its involvement in the Libyan conflict, in an escalating row with Ankara.
Turkey has increased its military presence "and massively re-imported jihadist fighters from Syria" even after foreign powers agreed earlier this year to end their meddling and respect a UN arms embargo, Macron told reporters.
"I think this is a historic and criminal responsibility for someone who claims to be a member of NATO," Macron said after holding talks with German Chancellor Angela Merkel at Meseberg castle near Berlin.
Turkey's conduct in Libya is "unacceptable to us," Macron said, adding that the moment had come for Ankara to "urgently clarify" its stance.
Ankara supports Libya's Turkish-backed Government of National Accord (GNA) in the conflict against eastern-based commander Khalifa Haftar.
https://english.alarabiya.net/en/News/north-africa/2020/06/30/Turkey-slams-France-s-destructive-approach-to-Libya-conflict-AFP.html
--------
Russia's Putin, Turkey's Erdogan and Iran's Rouhani to discuss Syria: Kremlin
30 June 2020
Russian President Vladimir Putin, Turkey's Tayyip Erdogan and Iran's Hassan Rouhani will hold a video conference on Wednesday to discuss the conflict in Syria, the Kremlin said on Tuesday.
The three countries held talks in the Kazakh capital Astana in 2018, aimed at reducing tensions in Syria.
Spokesman Dmitry Peskov said told the video conference will see Putin, Turkish President Recep Tayyip Erdogan and Iran's President Hassan Rouhani make "three statements" before discussing Syria in private.
The call will take place around 11:00 a.m. GMT, Peskov said.
The talks will be the first since September in the so-called Astana format, in which the three powers discuss developments in Syria, where the conflict has entered its 10th year.
Iran and Russia have been staunch supporters of Syrian President Bashar al-Assad, while Turkey has called for his ouster and backed opposition fighters.
https://english.alarabiya.net/en/News/world/2020/06/30/Russia-s-Putin-Turkey-s-Erdogan-and-Iran-s-Rouhani-to-discuss-Syria-Kremlin.html
--------
Cornered at UNSC, US faces historic rebuke from world powers over Iran
01 July 2020
At the UN Security Council (UNSC), the US has faced a sharp reprimand from world powers, including its own allies, over its hostile pressure campaign to secure an extension of the anti-Iran arms embargo, which is slated to expire in October under a UNSC-endorsed nuclear deal that Washington ditched two years ago.
Speaking at a videoconference meeting of the Security Council on Tuesday, US Secretary of State Mike Pompeo urged the 15-nation UN body to block the planned lifting of the UN arms embargo on Iran in October.
Washington had earlier circulated a much-criticized draft resolution to achieve that goal.
Attempting to justify the illegal push, Pompeo claimed that if the UN failed to renew the ban, it would pave the way for Iran to procure advanced military hardware from Russia and China, which would potentially threaten capitals in Europe and even South Asia.
Tehran would also be "free to become a rogue weapons dealer, supplying arms to fuel conflicts from Venezuela, to Syria, to the far reaches of Afghanistan," he further claimed.
"Don't just take it from the United States; listen to countries in the region. From Israel to the Persian Gulf, countries in the Middle East—who are most exposed to Iran's predations—are speaking with one voice: Extend the arms embargo."
The top US diplomat also alleged that Iran is "already violating the arms embargo before its expiration date," adding, "Imagine Iranian activity if restrictions are lifted."
Pompeo's appeal, however, fell flat, with other Security Council members hitting back at him and reminding the US that it was no longer a party to the Iran nuclear deal and cannot thus resort to Resolution 2231, which endorsed the accord, to seek an extension of the UN ban.
The US pulled out of the Joint Comprehensive Plan of Action (JCPOA) in May 2018 in violation of Resolution 2231 and reinstated the anti-Iran sanctions it had lifted under the nuclear deal. Washington has also been pressing the other signatories to withdraw.
Russia: US putting knee to Iran's neck
At the opening of Tuesday's UNSC session, Rosemary DiCarlo, a former US State Department official who serves as UN undersecretary-general for political affairs, praised the JCPOA as a "significant achievement of multilateral diplomacy and dialogue" and voiced "regret" over the US withdrawal.
Also addressing Tuesday's meeting, Russia's Ambassador to the UN Vasily Nebenzya compared imposing sanctions on Iran to the May 25 killing of George Floyd, a handcuffed unarmed African-American man who died after a white Minneapolis police officer knelt on his neck despite cries that he could not breathe.
"The task is to achieve regime change or create a situation where Iran literally wouldn't be able to breathe. This is like putting a knee to one's neck," he said
Nebenzya further described the move as "a maximum suffocation policy" and stressed that Washington's goal was to make Tehran the scapegoat for an uncontrollable escalation in the Middle East.
The Russian envoy also criticized Pompeo for signing out of the Security Council meeting after his remarks, saying, "I understand he has a very busy schedule, but we regret that he didn't choose to listen to Council members, at least some of them."
Pompeo left before Foreign Minister Mohammad Javad Zarif of Iran joined the meeting to defend Iran's position.
China: US has no right to trigger 'snapback'
Similarly, China's representative to the UN urged the US to "stop its illegal, unilateral sanctions and long arm jurisdiction, and return to the right track of observing the JCPOA and the resolution 2231."
"China opposes the US moves for extending the arms embargo on Iran," Zhang Jun said. "Having quit the JCPOA, the US is no longer a participant and has no right to trigger snapback at the Security Council."
Following the session, the Chinese mission to the UN posted a tweet, outlining the main points in remarks of Beijing's envoy at the UNSC.
Russia and China — both veto-wielding permanent members of the UNSC — had earlier signaled their opposition to the US draft resolution.
To circumvent the veto, the US plans to argue that it legally remains a "participant state" in the nuclear pact only to invoke the snapback that would restore the UN sanctions, which had been in place against Iran prior to the JCPOA's inking.
Europeans criticize US
Representatives of Germany, Britain and France also expressed unease at the American approach, particularly the snapback, which they flatly opposed.
Separately, Germany's UN Ambassador Christoph Heusgen noted that Washington had no standing to invoke UN sanctions on Iran.
"It is very unfortunate that the United States left the JCPOA, and by doing this actually violated international law," he said.
The European trio, however, voiced concern over the upcoming expiration of the arms ban, expressing hope to find a way to limit Iranian access to arms through a compromise, not through the Security Council.
Analysts say the resistance to the US call — even by its key allies — is sign of America's growing isolation and declining influence on the world stage.
"The council's chilly reception of Pompeo added to a portrait of an increasingly isolated United States and underscored how little deference other countries pay the [US President Donald] Trump administration as it faces a grim reelection contest," The Foreign Policy reported.
Henry Rome, senior Iran analyst for Eurasia Group, said the Security Council meeting was "another vivid illustration of Washington's isolation on the Iran issue — as well as its failure over the past three years to persuade any other signatory of the deal to back its approach."
'US was so isolated that Pompeo had to leave early'
In a post on his Twitter account, Iran's Ambassador to the UN Majid Takht-e Ravanchi called on the US to immediately withdraw its "ill-fated" draft resolution on the extension of the arms ban.
"Today, #UNSC members reiterated, again, their support for #JCPOA and UNSCR 2231. Their speeches proved that they do NOT support the US' move to extend arms embargo on Iran as it violates 2231. US should withdraw its ill-fated draft immediately; before it is rebuffed yet again," he wrote.
Moreover, Iran's Ambassador to the UK Hamid Baeidinejad tweeted, "The UN Security Council session proved to be a manifestation of unity among all members — except US — in its unwavering support for the Iran's nuclear deal and its condemnation of US policy. US was so isolated even among its allies that Pompeo had to leave the meeting so early."
https://www.presstv.com/Detail/2020/07/01/628638/Iran-arms-ban-UN-Security-Council-
--------
Africa
Protesters back on Sudan streets, to pressure transitional authorities for reforms
30 June 2020
Sudanese protesters returned to the streets on Tuesday to pressure transitional authorities, demanding justice for those killed in the uprising last year that led to the military's ouster of longtime dictator Omar al-Bashir.
The "million-man march" was called by the Sudanese Professionals' Association, and the so-called Resistance Committees, which were incremental in the protests against al-Bashir and the generals who took over power for months after his removal.
Security forces closed off major roads and streets leading to government and military headquarters in the capital, Khartoum, ahead of the protests which fall on the anniversary of the Islamist-backed coup that brought al-Bashir to power in 1989, toppling Sudan's last elected government.
The protests are also the first major demonstrations since rallies last year — three months after al-Bashir ouster — when hundreds of thousands of protesters took to the streets in Sudan's capital and elsewhere in the country to pressure then-ruling military council to hand over power to a civilian government.
Prime Minister Abdalla Hamdok on Monday sought to reassure the protesters, saying that their demands are "legitimate" and "necessary to correct the revolution's track."
He said the military-civilian alliance that rules Sudan during this transitional period was "sensitive and critical," adding that there are many "difficulties" that threaten its stability. He did not elaborate.
Hamdok promised his transitional government would work to carry out the protesters' demands in the next two weeks.
"In the coming days, a number of decisive decisions ... will follow," he said.
"Some of them may have a significant impact — politically, economically and socially — and some parties will try to use them to fuel and create instability."
Earlier in June, security forces arrested at least nine leaders of al-Bashir's now dissolved National Congress Party and Islamists for plotting "hostilities" against the government, Information Minister Faisal Saleh said on Monday.
They were arrested in a raid on a house in Khartoum on June 18, and brought to prosecutors for further investigations, Saleh said.
Sudan's former foreign minister, Ibrahim Ghandour, who also headed al-Bashir's party, was arrested on Monday from his Khartoum home, the party said in a statement. The party's leaders were holding a "normal societal activity" when he was arrested, the statement said.
Al-Bashir had fired Ghandour in February last year, after he told reporters that the government was behind seven months on paying diplomats' salaries. The former top diplomat was appointed the party chairman after al-Bashir's removal in April last year.
Last August, the protests, along with international pressure, forced the generals to sign a power-sharing deal with the protesters, creating a joint civilian-military "sovereign council." However, the civilian part of the government has struggled to assert authority in the face of the military's power.
The protest organizers also called for the appointment of civilian governors for Sudan's provinces and making peace with the country's rebels who were part of the power-sharing deal.
They also called for swift, public trials for al-Bashir and top officials in his government. Al-Bashir, who has been in prison in Khartoum since his removal, faces an array of accusations related to the 1989 coup and the crackdown against the uprising against his rule.
The crowds gathered in Khartoum and its twin city, Omdurman, as well as in several other cities. Footage circulated online showed protesters marching peacefully, waving Sudanese flags. Some were seen wearing face masks but few observed social distancing requirements to avoid contracting the coronavirus.
Meanwhile, in central Darfur province, hundreds of people, mostly displaced and refugees, were camping for the second day outside government buildings in the town of Nitrite.
The protesters call for the resignation of the provincial government, and a halt to attacks by government-sanctioned armed groups, said Adam Regal, a spokesman for a local organization that helps run refugee camps in the area.
Regal shared footage showing hundreds of people, mostly women, holding signs that read: "Freedom, Peace and Justice," the slogan of the uprising against al-Bashir.
https://english.alarabiya.net/en/News/middle-east/2020/06/30/Protesters-back-on-Sudan-streets-to-pressure-transitional-authorities-for-more-refor.html
--------
Tunisia fragile coalition under pressure over PM conflict of interest claims
30 June 2020
Tunisian Prime Minister Elyes Fakhfakh faces opposition party demands to resign over an alleged conflict of interest, potentially unravelling the fragile governing coalition.
The anti-corruption minister said on Tuesday that he had assigned a public watchdog to look into the issue and report back within three weeks, and that Fakhfakh had promised to step down if investigators found wrongdoing.
The row comes as Tunisia tries to put state finances on a sounder footing after years of deficit spending and mounting public debt - issues the coronavirus crisis has turbo-charged.
For all the latest headlines follow our Google News channel online or via the app.
Fakhfakh became prime minister only in February after September's election produced a fractured parliament in which no party took more than a quarter of the seats, leading to months of wrangling to form a coalition.
"The prime minister said that if the error is proven he will resign - and this means the whole government will resign," said the anti-corruption minister, Mohamed Abbou.
Last week an independent member of parliament published documents indicating that companies Fakhfakh owns shares in had won deals worth 44 million dinars ($15 million) from the state.
Fakhfakh told parliament he was ready to resign if any violation was proved, but added that he had sold his shares in the companies and rejected accusations of corruption.
The state anti-corruption commission has said Fakhfakh did not inform it that companies where he has shares had commercial deals with the state. Its head, Chawki Tbib, told parliament the firms' contracts with the state should be cancelled.
Abd Karim Harouni, a senior official in Ennahda, a moderate Islamist party that is in the coalition and commands the most seats in parliament, said Ennahda was awaiting the results of investigations.
The coalition has previously been troubled by disputes among its members, which include parties with opposing political ideologies and views on key issues such as economic reform.
https://english.alarabiya.net/en/News/north-africa/2020/06/30/Tunisia-fragile-coalition-under-pressure-over-PM-conflict-of-interest-claims.html
--------
Over 1 million displaced by violence in eastern DR Congo: UN
30 June 2020
More than one million people have been forced to flee their homes in the violence-ravaged eastern Democratic Republic of the Congo (DRC) since the start of the year, the UN said Tuesday.
The UNHCR, the United Nations' refugee agency, voiced alarm at an increasing number of attacks by armed groups on displaced civilians, saying it was "appalled" by the surging violence.
"In the last eight weeks, UNHCR and its partners have recorded multiple attacks by armed groups on displacement sites and villages," it said in a statement.
It said the attacks were mainly in Djugu Territory in Ituri Province; in Fizi and Mwenga Territories in South Kivu Province; and Masisi and Rutshuru Territories in North Kivu Province.
"Violence has displaced more than one million people in the last six months in these areas," the refugee agency said.
The UNHCR urged the authorities in the DRC to strengthen the police and military presence in the east "to improve the security situation and hold the perpetrators accountable."
Killings, mutilation
"UNHCR is receiving accounts of the way armed groups are unleashing terror on people as they flee, in displacement sites and hosting areas, and when they attempt to return, including reports of killings and mutilation, sexual violence and looting," the agency said.
"The displaced population is also subject to reprisal attacks for their perceived support for the army by returning armed groups, once the army completes operations to clear areas and is no longer present."
The agency said the attacks were worsening an already complex displacement situation in the eastern DRC and were piling pressure on the areas hosting internal migrants, which were lacking food, water, and healthcare services.
It also said health centers had been attacked, with medicines to treat people potentially exposed to HIV being looted.
The DRC has one of the highest rates of internal displacement in the world, according to the UN.
Over five million people within the country's borders have been uprooted by insecurity, while nearly a million more have sought safety in neighboring countries as refugees.
Funding shortfall
The UNHCR said those uprooted were overwhelmingly women and children, and it was providing shelter, relief items, and cash.
The agency appealed for further funding, saying it had only received 21 percent of the $168 million (149.59 million euros) it needed for its DRC operations this year.
Some 2,000 kilometers (1,200 miles) from the capital, Kinshasa, the eastern DRC is one of Africa's flashpoints.
It was the theater of two major wars, which ran from 1996 to 1997 and from 1998 to 2003, the second of which eventually involved nine countries and two dozen armed groups.
Millions died from the fighting, disease, or malnutrition, and violence and volatility remain acute today.
https://www.presstv.com/Detail/2020/06/30/628579/DR-Congo-violence-displacement-UN
--------
Battle looms over Libya's strategic city of Sirte
30 June 2020
Libyan government forces are preparing to retake the strategic city of Sirte, and the rebels occupying the city are also reinforcing their ranks by deploying thousands of foreign mercenaries ahead of the battle.
Yasin Aktay, a senior official from Turkey, the Libyan government's main ally, said on Monday that government forces were making preparations to recapture Sirte.
Qatar's Al Jazeera TV network also quoted local sources from Libya's southeastern city of Kufra as saying that numerous convoys carrying foreign militants, including Sudanese and Chadian nationals, were on their way to Sirte.
The rebels released a video showing military reinforcements being deployed from Benghazi, their eastern stronghold, toward the Central Region in Sirte.
Aktay said the leadership in Egypt, which supports the rebels, lacked "the power or guts" to attempt to stop the recapture of the city.
Sirte fell into the rebel's hands in January. The Libyan government has vowed to retake control.
Turkey has extended significant help to the government — which was once threatened by a rebel offensive against the capital, Tripoli — helping it push the rebels as far back as Sirte, which lies in an oil-rich region on the Mediterranean coastline.
Russian private contractors deploying to Libya to support rebels: WSJ
Meanwhile, The Wall Street Journal said on Monday that Russian reinforcements were being dispatched to Libya to help the rebels, who have been losing ground in the country.
Citing European and Libyan officials, the Journal claimed that private military contractors from Russia helped forces loyal to rebel commander Khalifa Haftar seize Libya's largest oil field last week.
It said Russia had also dispatched MiG-29 fighter jets and an advanced radar system.
Moscow has said in the past that the military contractors do not represent the Russian government.
Since 2014, two rival seats of power have emerged in Libya: the internationally-recognized government of Prime Minister Fayez al-Sarraj in Tripoli, and another group based in the eastern city of Tobruk, supported militarily by Haftar's rebels.
The rebels are backed by the UAE and France, besides Russia and Egypt.
'Turkey pushing for Sirte battle, eyeing Libyan oil'
Ahmida Homa, an official from the Tobruk-based camp, has accused Turkey of seeking to get its hands on Libya's oil resources.
Speaking in an interview with Russia's Sputnik, Homa said Turkey was exerting massive pressure on the Libyan government to launch the offensive on Sirte with the aim of taking control of the oil crescent region and the city of al-Jufra, "the gateway to southern Libya and its oil fields."
Macron denounces Turkey's intervention in Libya
French President Emmanuel Macron on Monday accused Turkey of also deploying militants to Libya and said Turkish intervention in the North African country was "criminal."
"I think it's a historic and criminal responsibility for a country which claims to be a NATO member," Macron said.
Without providing any evidence, Macron said Turkey was "massively importing" militants from Syria.
Commenting on a United Nations (UN) report that Russian private military contractor Wagner Group had up to 1,200 fighters in Libya, Macron said Putin had told him that private contractors did not represent Russia.
"I told [Russian President Vladimir Putin] of my very clear condemnation of the actions which are carried out by the Wagner force... he plays on this ambivalence [over representation]," Macron said of his Friday talks with Putin.
NOC announces international talks on resuming oil production
Libya's National Oil Corporation (NOC) announced on Monday that there had been negotiations in recent weeks among the company, the Libyan government, and regional countries, overseen by the UN and the United States, on ending the oil blockade on the country and thus paving the way for a ceasefire.
"We are hopeful that those regional countries will lift the blockade and allow us to resume our work," a spokesman for the NOC said.
Libyan rebels shut down the country's oil production in January to cripple the government's main source of income.
Reuters cited a person familiar with the issue as saying that a possible deal to allow production to resume would involve a new agreement on distributing oil revenue, as well as guarantees on field security.
Libya has been in chaos since 2011, when a popular uprising and a NATO intervention led to the ouster of long-time dictator Muammar Gaddafi.
https://www.presstv.com/Detail/2020/06/30/628564/Libya-Sirte-battle-Haftar-rebels
--------
Four Aid Workers Say Islamist Militants Abducted Them in Northeast Nigeria
June 29, 2020
MAIDUGURI — Islamist militants have abducted four aid workers and a private security worker in northeast Nigeria, the hostages said in a video seen by Reuters on Monday.
The hostages identified themselves and said they each worked for different organizations. With just their heads and shoulders showing against leafy plants outdoors, they named large aid groups Action Against Hunger, the International Rescue Committee (IRC) and REACH.
"I am appealing to the International Rescue Committee to come and rescue me," said one of the hostages, who gave his name as Luka Filibus.
The incident underscores the increasing risk for aid workers in northeast Nigeria, where a decade-long conflict with Boko Haram and Islamic State's regional ally has fuelled one of the world's worst humanitarian crises.
The abduction is also a sign of how dangerous the region has become since Nigeria's military withdrew into garrison towns they call "super camps", leaving previously safe major roads, much of the countryside and smaller towns unprotected.
Nigeria's army has this year touted major victories against the insurgents, but recent attacks and the abductions undermine the claims.
While the hostages did not name Islamic State or Boko Haram, they referred to their captors as soldiers of the "khalifa". Previously, captives have used the term to refer to Islamic State West Africa Province, rather than Boko Haram.
The IRC and Action Against Hunger said in separate statements they were working to secure the release of their colleagues.
https://www.nytimes.com/reuters/2020/06/29/world/africa/29reuters-nigeria-security-insurgency.html?utm_source=iterable&utm_medium=email&utm_campaign=1325663_
--------
Jihadists in NE Nigeria Kill 11, Others Missing: Security Sources
JUNE 29, 2020
At least nine Nigerian soldiers and two members of a civil defense militia were killed in a jihadist attack on a civilian convoy in northeast Borno state, security sources told AFP Sunday. Several civilians were said to be missing after the ambush.
The jihadist fighters opened fire with heavy guns and rocket-propelled grenades on the convoy of more than a hundred vehicles Saturday afternoon outside Komala village near the town of Damboa, 90 kilometers (55 miles) from the regional capital Maiduguri.
Damboa lies on the fringes of Boko Haram's Sambisa forest enclave from where the group launches attacks on villages and against troops.
"Nine soldiers and two (anti-jihadist) militia were killed in the attack, " a military officer said. "It was an ambush on a civilian convoy escorted by troops and the militia," said the military officer who asked not to be identified.
The convoy was heading from Maiduguri to Damboa when it was attacked, according to militia leader Ibrahim Liman who confirmed the death toll. "The bodies of nine soldiers and two vigilantes were recovered from the attack along with others who sustained injuries," Liman said.
The jihadist militants seized several vehicles and looted supplies before withdrawing to their Sambisa enclave, he added. Several civilians were still missing and were presumed killed or abducted by the assailants, the militia leader said.
Boko Haram and its splinter Islamic State West Africa Province (ISWAP) are notorious for ambushing military and civilian convoys on highways outside Maiduguri in addition to abducting travelers at bogus checkpoints.
Civilians traveling north of Maiduguri move in convoys under military escort due to the incessant attacks by the jihadists, which have intensified in recent weeks.
The decade-long jihadist conflict has cost the lives of 36,000 people and displaced around two million from their homes in the northeast.
The violence has also spread to neighboring Niger, Chad, and Cameroon, prompting a regional military coalition to fight the militants.
https://www.thedefensepost.com/2020/06/29/jihadists-ne-nigeria-kill-11/?utm_source=iterable&utm_medium=email&utm_campaign=1325663_
--------
Europe
'France isolated after Haftar's defeat in Libya'
Faruk Zorlu
30.06.2020
France, which has played a critical role in the rise of warlord Khalifa Haftar in Libya, now finds itself isolated and in a difficult position after his defeat, The Independent reported on Monday.
"Swallowing France's line that Paris was fighting 'terrorism' by supporting strongman Haftar against the 'Islamists' in Tripoli, some within the French foreign ministry and security apparatuses are reportedly beginning to push back" following his defeat in Libya, said an article written by international correspondent Borzou Daragahi.
Libya has been torn by civil war since the ouster of late ruler Muammar Gaddafi in 2011. The country's new government was founded in 2015 under a UN-led agreement, but efforts for a long-term political settlement failed due to a military offensive by Haftar's forces.
The story also quoted a ranking official familiar with France's Libya policy who spoke on condition of anonymity as saying that France's backing of Haftar was provided for "the sake of anti-terrorism, a tactical choice to eliminate some of the [extremist] groups."
Its tactical choice turned into a strategy based on the belief that "tough guys are the right protection against terrorism, which they never are," the official said.
Also, by relying on the United Arab Emirates, France played a "vital role in the rise of warlord Khalifa Haftar by providing him with a veneer of respectability as well as diplomatic cover," it said.
The story went on to say that Paris now finds itself isolated and has not benefited from its political and diplomatic moves after Haftar's defeat in western Libya.
Recalling French President Emmanuel Macron's remarks in which he referred to Turkey's support for the Libyan government as a "dangerous game," it said "French officials now sound comical to their colleagues in London and Berlin when they try to defend their Libya policy, blaming all of the country's problems on Turkey."
Meanwhile, "They've been backing Haftar for so many years that they don't know how to back out. Instead of acknowledging mistakes, it's easier to say Turkey is the country causing all these problems," a risk management consultant specializing in Libya said in the article.
The UN recognizes the Libyan government headed by Fayez al-Sarraj as the country's legitimate authority as Tripoli battles Haftar's militias.
The government launched Operation Peace Storm against Haftar in March to counter Haftar's attacks on the capital, Tripoli, and recently liberated strategic locations, including Tarhuna, Haftar's final stronghold in western Libya.
https://www.aa.com.tr/en/africa/france-isolated-after-haftars-defeat-in-libya/1894164
--------
EU agency suspends Pakistan International Airlines European authorization
30 June 2020
The European Union Air Safety Agency (EASA) has suspended the authorization for Pakistan's national airline to operate in Europe for six months, the airline's spokesman said on Tuesday.
The move follows the grounding of 262 Pakistani pilots whose licenses the country's aviation minister termed "dubious".
"EASA has temporarily suspended PIA's authorization to operate to the EU member states for a period of 6 months effective July 1, 2020 with the right to appeal against this decision," a Pakistan International Airlines' statement said.
It added that PIA would discontinue all its flights to Europe temporarily.
https://english.alarabiya.net/en/News/world/2020/06/30/EU-agency-suspends-Pakistan-International-Airlines-European-authorization.html
--------
France supports a 'pirate' in Libya: Turkey
30 June 2020
Turkish Foreign Minister Mevlut Cavusoglu says France is supporting a "pirate" in Libya, a reference to Libyan rebel commander Khalifa Haftar, who has been fighting the internationally-recognized government in the North African country.
"France supports a pirate, a putschist," Cavusoglu said in a joint news conference with his Hungarian counterpart, Peter Szijjarto, in Ankara on Tuesday.
Denouncing France's "destructive" approach to the conflict in Libya, the top Turkish diplomat said Paris was acting against the decisions of the United Nations (UN), which supports Libya's internationally-recognized government based in the Libyan capital, Tripoli.
"France, which [President Emmanuel] Macron governs, or, rather, which he can't manage to govern at the moment, has been in Libya only for its own interests and ambitions with a destructive approach, just like it pushed Africa to instability in the past with a colonialist approach," Cavusoglu told reporters at the presser.
The Turkish foreign minister said all bilateral relations between Turkey and Libya were "within the framework of transparent agreements," but warned that the presence of France posed a "risk" to the North African country.
He accused France of seeking to increase Russian presence in Libya, saying, "On the one side, NATO sees Russia as a threat, but on the other side, NATO ally France is working to increase Russia's presence there."
Macron had a day earlier accused Turkey of "criminal responsibility" over its involvement in the Libyan conflict.
Under a military pact with Libya signed last November, Turkey sent military advisers to assist the Libyan government forces in their battle against Haftar's rebels.
The UN and international rights groups have expressed concern over possible war crimes after the discovery of mass graves in areas left behind by retreating militias under Haftar's command.
Libya has been in chaos since 2011, when a popular uprising and a NATO intervention led to the ouster of long-time dictator Muammar Gaddafi.
Since 2014, two rival seats of power have emerged, namely the internationally-recognized Libyan government headed by Prime Minister Fayez al-Sarraj in Tripoli, and another group, based in the eastern city of Tobruk, supported militarily by rebels under the command of Haftar.
Turkey has extended significant help to the Libyan government, helping it push the rebels as far back as Sirte, which lies in an oil-rich region on the Mediterranean coastline.
https://www.presstv.com/Detail/2020/06/30/628613/Turkey-Libya-France-pirate-Khalifa-Haftar
--------
Sahel allies have 'shifted the dynamic' in fight with extremists: Macron
June 30, 2020
NOUAKCHOTT, Mauritania: Sahel countries and their ally France have "shifted the dynamic" in the fight against an eight-year-old extremist insurgency in the region, French President Emmanuel Macron said after a summit to review a six-month-old strategy.
Speaking at an end-of-meeting press conference, Macron said the change in tactics had yielded "spectacular results."
"We are convinced that victory is possible in the Sahel, and that it is decisive for stability in Africa and Europe," he said.
"We are in the process of finding the right path thanks to the efforts that have been made over this last six months."
The one-day summit in Nouakchott, the Mauritanian capital, gathered the presidents of Burkina Faso, Chad, Mali, Mauritania and Niger, as well as France.
It was called to take stock of a more aggressive strategy in the Sahel, decided in January after a string of setbacks crowned by the loss of 13 French soldiers in a helicopter crash.
Under the change, France deployed an extra 500 troops to its Barkhane anti-extremist force in the Sahel, bringing its complement to 5,100.
Since then, the extremists have continued to carry out attacks almost daily, but they also lost a key leader to a French raid and are fighting internally, according to security sources.
Coalition forces have focussed on extremists in the "three-border region," a hotspot of extremism where the frontiers of Burkina, Niger and Mali converge.
"Areas have been taken back from the terrorist groups (and) the armies have redeployed," said Macron, adding that the tactics "have shifted the dynamic."
"We now have to consolidate this dynamic and strengthen it... The ground that we have recovered will not be given back," he warned.
https://www.arabnews.com/node/1697866/world
--------
France playing dangerous game in Libya: Turkey
Burak Bir and Havva Kara Aydin
30.06.2020
France is the country that is committing crimes and playing a dangerous game in Libya, Turkey's ruling party spokesman said Tuesday.
Slamming French President Emmanuel Macron's comments on Turkey's role in Libya, Omer Celik, spokesman for the Justice and Development (AK) Party, said after a party board meeting that France is repeating the mistakes that it made in Rwanda over a quarter-century ago.
He added that France is the "perpetrator in Libya" and playing "a dangerous game" there, citing the existence of mass graves found in Libya's Tarhuna city after it was recently liberated from militias aligned with renegade general Khalifa Haftar, who France supports.
"The strange thing here is that France, which supported Haftar's coup and those mass graves, is blaming Turkey," he said.
Libya has been torn by civil war since the ouster of late ruler Muammar Gaddafi in 2011. The country's new government was founded in 2015 under a UN-led agreement, but efforts for a long-term political settlement failed due to a military offensive by Haftar's forces.
The UN recognizes the Libyan government headed by Fayez al-Sarraj as the country's legitimate authority, as Tripoli has battled Haftar's militias since April 2019, a conflict that has taken over 1,000 lives.
After the discovery of mass graves in areas left behind by retreating Haftar militias, the UN and international jurists have expressed concern over possible war crimes.
While Turkey continues to support Libya's internationally recognized government, Haftar has been supported internationally by Russia, France, Egypt, and the UAE.
Turning to terrorist groups in Europe, Celik said Europol's annual terrorism report confirmed concerns long voiced by Turkey.
The PKK terror group continues using European Union territory for propaganda, recruitment, fundraising and logistical support activities, according to a report by the EU's law enforcement agency released on Tuesday.
In its more than 30-year terror campaign against Turkey, the PKK -- listed as a terrorist organization by Turkey, the US and EU -- has been responsible for the deaths of nearly 40,000 people, including women, children, and infants.
Commenting on plans espoused by Israel to annex roughly 30% of the occupied West Bank, Celik cited a joint declaration by nearly 1,000 lawmakers from 25 European countries expressing their concerns on the move.
"If the world does not take a stand against this, Israel will gradually destroy the legitimacy of the entire international order," he warned.
The West Bank, including East Jerusalem, is seen as occupied territory under international law, thus making all Jewish settlements there -- as well as the planned annexation -- illegal.
https://www.aa.com.tr/en/europe/france-playing-dangerous-game-in-libya-turkey/1895098
--------
Spain calls for end to oil production blockade in Libya
Alyssa McMurtry
30.06.2020
OVIEDO, Spain
Spain's Foreign Affairs Ministry released a statement on Tuesday calling for the end to the blockade on oil production in Libya.
"The Spanish government expresses its grave concern over the deterioration of the economic situation in Libya," read the statement. "To end it, we urgently call for an end to the blockade on oil production, a resource that belongs to all of the Libyan people."
International talks are currently ongoing to end the blockade of the country's oilfields by forces loyal to the Libyan warlord Khalifa Haftar.
Losses from the closure of Libya's oil wells and the current blockades imposed by Haftar's militias have added up to nearly $6 billion over the last five months, the country's National Oil Corporation (NOC) said in a statement on June 22.
"It is necessary to guarantee the correct operation of the oil installations and the management unit controlled by the National Oil Company (NOC) under the authority of the Government of National Accord (GNA)," read Spain's statement.
Libya has the largest proven crude oil reserves in Africa at 48.4 billion barrels. Natural gas and oil revenues represent approximately 90% of the government's revenue.
Since 2014, Haftar's militias have been targeting oil fields.
Libya has been torn by a civil war since the ousting of late ruler Muammar Gaddafi in 2011. The new government was founded in 2015 under a UN-led agreement, but efforts for a long-term political settlement failed due to a military offensive by Haftar's forces.
The UN recognizes the Libyan government, headed by Fayez al-Sarraj, as the country's legitimate authority. Turkey has also been a key supporter of this government.
Yet, Egypt, the United Arab Emirates, Russia, and France have been supporting Haftar and his so-called Libyan National Army.
In March, the Libyan government launched Operation Peace Storm to counter attacks on Tripoli. The operation was viewed as a major blow to Haftar's forces, which lost strategic locations including the Al-Watiya airbase and the city of Tarhuna.
https://www.aa.com.tr/en/economy/spain-calls-for-end-to-oil-production-blockade-in-libya/1894989
--------
Libyan suspect in court over UK's deadly knife attack in Reading
29 Jun 2020
A 25-year-old Libyan asylum seeker has made his first appearance before a court after being accused of stabbing three men to death with a kitchen knife in the town of Reading in the United Kingdom.
Wearing a gray prison-issue tracksuit and a blue face mask, Khairi Saadallah on Monday spoke only to confirm his name, birth date and address before London's Westminster Magistrates' Court by video link from a courtroom in Coventry, central England.
No plea was entered and he was remanded in custody until a further hearing on Wednesday.
Saadallah faces three counts of murder and three of attempted murder over the June 20 attack in Reading, 64km (40 miles) west of London.
Friends James Furlong, 36, David Wails, 49, and Joseph Ritchie-Bennett, 39, were enjoying a warm Saturday evening in the town's Forbury Gardens park when they were stabbed.
Each died from a single stab wound. Three other men were injured. Police have declared the stabbings a "terrorist attack".
Prosecutor Jan Newbold said Saadallah stabbed his victims "without warning or provocation" while shouting "words to the effect of 'Allahu akbar'" - the Arabic phrase for God is great.
The case came after two previous high-profile knife attacks near London Bridge, central London, in November last year, and another in Streatham, in the south of the capital, in February.
Two people were killed in the first and three people injured in the second. Armed police shot dead the perpetrators in both attacks.
https://www.aljazeera.com/news/2020/06/libyan-suspect-court-uk-deadly-knife-attack-reading-200629132833660.html?utm_source=iterable&utm_medium=email&utm_campaign=1325663_
--------
France and Sahel leaders mull state of anti-jihad campaign
30/06/2020
Leaders from five West African countries and their ally France meet Tuesday to confer over their troubled efforts to stem a jihadist offensive unfolding in the Sahel.
Meeting in the Mauritanian capital Nouakchott, presidents will take stock nearly six months after rebooting their campaign in Pau, southwestern France.
Since then, the jihadists have continued to carry out almost daily attacks, although they have also lost a key leader and two rebel groups are said to be at odds.
French President Emmanuel Macron hosted the summit in January to secure a public commitment from Burkina Faso, Chad, Mali, Mauritania and Niger at a time of deepening concern in France after it lost 13 troops in a helicopter crash.
The insurgency kicked off in northern Mali in 2012, during a rebellion by Touareg separatists that was later overtaken by the jihadists.
Despite thousands of UN and French troops, the conflict spread to central Mali, neighbouring Burkina Faso and Niger, stirring feuds between ethnic groups and triggering fears for states farther south.
Thousands of soldiers and civilians have been killed, hundreds of thousands of people have fled their homes and the economies of the three countries, already among the poorest in the world, have been grievously damaged.
- 'Three-border' region -
Macron will make a one-day round trip to Mauritania for the summit.
The talks are expected to last only a few hours, but they will also mark the first time that Sahel allies have gathered since the coronavirus pandemic crimped meetings in person.
One priority will be to assess affairs in the "three-border region," a hotspot of jihadism where the frontiers of Burkina, Niger and Mali converge.
France, which added 500 troops to its Sahel mission after Pau, is co-leading the campaign in this region, targeting an Islamic State-affiliated group led by Abou Walid al-Sahraoui.
Earlier this month, French forces in northern Mali, helped by a US drone, killed Abdelmalek Droukdel, the head of al-Qaeda in the Islamic Maghreb (AQIM).
And in a new development, jihadists respectively linked to al-Qaeda and Islamic State have clashed several times since the start of the year in Mali and Burkina, after long steering clear of one another, according to security experts.
Despite this, problems in the Sahel run deep.
Local armies are poorly equipped and under-funded, rights groups say troops are to blame for hundreds of killings and other abuses of civilians, and in some areas the presence of government has evaporated.
Staunch French ally Chad has yet to fulfil a promise to send troops to the three-border region, and a much-trumpeted initiative to create a joint 5,000-man G5 Sahel force is making poor progress.
In Mali, meanwhile, anger at insecurity has fuelled discontent over coronavirus restrictions and the outcome of elections, creating a political crisis for President Ibrahim Boubacar Keita.
Both Burkina and Niger are due to hold presidential elections by year's end, fuelling concerns about the outcome.
https://www.france24.com/en/20200630-france-and-sahel-leaders-mull-state-of-anti-jihad-campaign?utm_source=iterable&utm_medium=email&utm_campaign=1325663_
--------
URL: https://www.newageislam.com/islamic-world-news/a-town-balochistan-province-safeguards/d/122262
New Age Islam, Islam Online, Islamic Website, African Muslim News, Arab World News, South Asia News, Indian Muslim News, World Muslim News, Women in Islam, Islamic Feminism, Arab Women, Women In Arab, Islamophobia in America, Muslim Women in West, Islam Women and Feminism