New Age Islam News Bureau
10 October 2020
© Provided by The Indian Express
-----
• Indian Muslims Most Content In World, Accept the Superiority Of Hindus To Stay Here: RSS Chief Bhagwat
• Emmanuel Macron Welcomes Freed Muslim French Humanitarian who was in Jail for Four Years in Mali
• Islamabad Asks Delhi to Adopt Model of Peace, Development
• Afghanistan and Turkmenistan Inks Strategic Partnership Agreement
• Indonesian Defense Minister to Visit US after 20-Year Ban over Human Rights Abuses
• Lebanon's Sunni Leader Hariri Urges Revival of French Plan to End Crisis
India
• A PhD, a Journalist, a Civil Services Aspirant and a Driver, all Muslims with No Criminal Record Booked for Terror near Hathras
• Indian Muslims Most Content In World, Accept the Superiority Of Hindus To Stay Here: RSS Chief Bhagwat
• 2 terrorists killed in encounter in Jammu and Kashmir's Kulgam district
• Full support for peace in Afghanistan, Jaishankar to Abdullah Abdullah
• Pakistan targets civilian areas along LoC, IB in unprovoked ceasefire violation
• 'ISI approached Navlakha in US, sought help to find spies'
• Bihar elections: Muslim forum to appeal people to vote for 'right candidates'
--------
Europe
• Emmanuel Macron Welcomes Freed Muslim French Humanitarian who was in Jail for Four Years in Mali
• UK terrorist watched Daesh videos in jail before trying to kill guard
• Dutch court convicts six men of plotting massive jihadi attack
• EP seeks sanctions on Saudis over Khashoggi murder
• Germany reports 188 Islamophobic crimes in 3 months
--------
Pakistan
• Islamabad Asks Delhi to Adopt Model of Peace, Development
• Pakistan to block social media app TikTok for 'immoral' content: Sources
• Imran Khan's defiance against opposition parties, sedition charges against so-called PM of PoK
• Ministry disapproves of two-finger test, seeks its discontinuation
• PHC orders police to ensure repatriation of 10 Afghan children 'smuggled by Taliban' into Pakistan
--------
South Asia
• Afghanistan and Turkmenistan Inks Strategic Partnership Agreement
• Six Afghan security force members killed in Taliban attack, 15 taken captive
• Bangladesh Clergy Sex Abuse: The Price of Negligence, Ignorance and Cover-Ups
• ASF Repulse Taliban Attack in Faryab
• Maidan Wardak: Key Taliban Commander Killed in a 'Joint Security' Operation
• World Food Programme Wins 2020 Noble Peace Prize
--------
Southeast Asia
• Indonesian Defense Minister to Visit US after 20-Year Ban over Human Rights Abuses
• Philippines Captures Suspected Indonesian Would-Be Bomber
• Indonesian Muslim and union groups to fight new jobs law in court
--------
Arab world
• Lebanon's Sunni Leader Hariri Urges Revival of French Plan to End Crisis
• Arab Coalition intercepts, destroys Houthi drone targeting southern Saudi Arabia
• Saudi air defenses shoot down Houthi drone
--------
Mideast
• Rouhani Calls for Human Rights Advocates to Condemn US Sanctions On Iran
• Crackdown on Turkey's pro-Kurdish party raises concerns among opposition
• In Yemen, children begin classes in the ruins of war
--------
Africa
• Sudan Peace Deal with Rebel Groups Will Cost $7.5 Bln, Says Minister
• Libyan delegations meet in Malta for peace talks
• Nigeria: Police chief condemns attack on personnel
--------
North America
• US Military Blindsided By Trump's New Afghan Troop Withdrawal
• Trump says will resume campaign rallies on Saturday despite COVID-19 infection
Compiled by New Age Islam News Bureau
URL: https://www.newageislam.com/islamic-world-news/a-phd-journalist-civil-services/d/123104
--------
A PhD, a Journalist, a Civil Services Aspirant and a Driver, all Muslims with No Criminal Record Booked for Terror near Hathras
Oct 10, 2020
© Provided by The Indian Express
-----
AGRA: Siddique Kappan has been a journalist for nine years, covering north India for a Malayalam-language news site. Masood Ahmed was preparing for his civil services exam; Atikur Rehman for his PhD. On Monday, the three of them, along with an embroiderer-turned-driver, Mohammad Alam, were on their way to Hathras to meet the gang-rape victim's family when they were detained at Mathura. Their families, away in Malappuram, Bahraich, Rampur and Muzaffarnagar, told on Friday they cannot understand how they were locked away as terror threats.
"He had never even been involved in a brawl. No criminal record. Suddenly, he gets booked for terror," said Atikur's brother Mateen Ahmed, a farmer from Muzaffarnagar. Mateen said Atikur had a congenital heart ailment and needed constant medical attention. "On October 1, he had gone to Delhi for treatment at AIIMS ... Four days after that, I got a call. He had been arrested." Back home, his wife worries, helplessly, about his heart problem.
A similar concern is "killing" Kappan's wife. "I am worried about his diabetes. Stress will make it worse," Rehanath told TOI through a translator. For an entire day, she had not known her husband had been arrested. "It was only on Tuesday that some friends told me." She could not make sense of what had happened. "Neither he nor anyone in our family has any political ties." For now, she is keeping it together for his 90-year-old mother and three children. "He is a journalist. If he was going to Hathras, it was to report," she said.
Masood's brother, Monis Khan, said he would have stopped them had he known they were travelling to Hathras. Monis lives in Noida, a younger brother is still studying, a sister is married and their father Shakil Ahmad runs a small lock and key repair shop in Bahraich. "We are simple people. He has never done anything illegal. We never saw him misbehave with anyone," he said. Masood cleared NET after a diploma in mass communication in 2016 and Masters in public administration from Jamia Millia Islamia last year. He was preparing for his PhD.
Driver Alam's mother, Naeem Jahan, 50, said she came to know about the arrests when some people came to her house in Rampur on Monday evening, asking about her son. "The next day, his photo was all over TV. Neighbours started asking." She and her husband, Laiyak Pehalwan, roll beedis for a living. Their son, she said, had moved to Delhi 10 years ago after trying his hand at embroidery. He got married in 2018 and lived in Delhi with his wife. "He was just taking passengers ... I don't even know where he is, how he is."
All four are now in a temporary prison, awaiting Covid-19 test results, after which they will be moved to the district jail in Mathura, a senior police official said. They have been charged with sedition and under the stringent UAPA, among other sections related to funds diversion, disturbing peace and tampering of evidence.
In Delhi, Campus Front of India, the student wing of Popular Front of India, said members Atikur and Masood, along with Kappan and Aalam, were arrested illegally. "The police's lies on 'sectarian violence', 'fundraising' and 'carrying dangerous literature' are baseless and nonsensical."
https://timesofindia.indiatimes.com/india/no-criminal-record-but-booked-for-terror-kin-of-man-held-near-hathras/articleshow/78583686.cms
--------
Indian Muslims Most Content In World, Accept the Superiority of Hindus to Stay Here: RSS Chief Bhagwat
October 10, 2020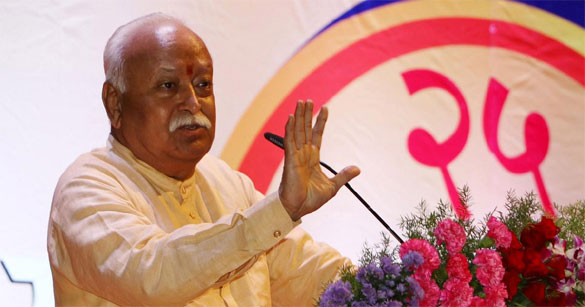 File photo of RSS chief Mohan Bhagwat. | IANS
-----
Asserting that people from all faiths have stood together whenever it has been about the essence of India, RSS chief Mohan Bhagwat said that Indian Muslims are the most content in the world.
"Most content Muslims are only in India," Bhagwat said and wondered if there is any example world over wherein a foreign religion that ruled over the people of a country still exists there.
"Nowhere. It is only in India," he said in an interview to 'Vivek', a Hindi magazine based in Maharashtra.
Unlike India, Pakistan did not give rights to followers of other religions and it was created as a separate country for Muslims.
"Our Constitution did not say that only Hindus can stay here; hereafter only Hindus will be heard here; if you want to stay here, then you have to accept the superiority of Hindus. We created a space for them. This is the nature of our nation, and that inherent nature is called Hindu," he said.
He also said any kind of bigotry and separatism are spread only by those whose self-interest gets affected.
Citing that many Muslims fought in Mewar king Maharana Pratap's army against Mughal emperor Akbar, Bhagwat suggested that in India's history people from all faiths stood together whenever there was an attack on the country's culture.
Elaborating his views, the head of the Rashtriya Swayamsevak Sangh (RSS), the ideological mentor of the ruling BJP, said Hindu has nothing to do with whom does one worship. Religion should be connecting, uplifting, uniting everyone in one single thread.
"Whenever the devotion for India and its culture awakens and feeling of pride arises for the ancestors, the distinctions between all religions disappear and people from all faiths stand together," Bhagwat said.
Talking about the Ram temple in Ayodhya, Bhagwat said it is not meant for mere ritualistic purpose, the temple is a symbol of national values and character.
"The reality is that temples were destructed to crush the morale and values of the people of this country. That is why Hindu society from a long wished to reconstruct the temples. Our life was corrupted, and we were humiliated by destructing the temple of our ideal Shri Ram. We want to rebuild it, enhance it and therefore, this grand temple is being constructed," he said.
The 'bhoomi pujan' ceremony for the Ram temple in Ayodhya was performed in August, after the Supreme Court's verdict in the Ram Janmabhoomi-Babri Masjid title suit paved the way for its construction.
https://www.indiatoday.in/india/story/indian-muslims-most-content-in-world-accept-the-superiority-of-hindus-to-stay-here-rss-chief-bhagwat-1730197-2020-10-10
--------
Emmanuel Macron Welcomes Freed Muslim French Humanitarian who was in Jail for Four Years in Mali
Felix Tih
09.10.2020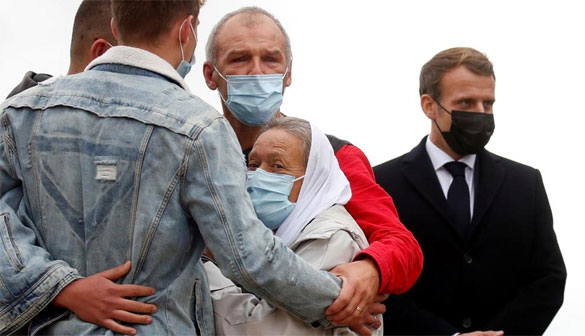 France President Emmanuel Macron, right, stands as Sophie Petronin, center, a French aid worker held hostages for four years by Islamic extremists in Mali, is greeted by relatives upon her arrival at the Villacoublay military airport near Paris, Friday Oct. 9, 2020. Sophie Petronin was released with three other hostages from Mali and Italy this week. Before leaving Mali's capital, she said she was doing well and wanted to return to Mali to resume her humanitarian work with malnourished children and orphans.(Gonzalo Fuentes, Pool Photo via AP) THE ASSOCIATED PRESS
-----
A French humanitarian worker who was freed this week in Mali after four years in captivity has revealed she is a Muslim, French media reported on Friday.
Sophie Petronin arrived at Villacoublay airport, southwest of Paris on Friday, where she was welcomed by President Emmanuel Macron.
In a Twitter post, Macron said he and the French people were delighted to see Petronin. ''Welcome home!" he said.
"My greatest joy today is knowing that my assistant was able to continue working without me. For Mali, I will pray, implore Allah's blessings and mercy, because I am a Muslim. You say Sophie, but you have Mariam in front of you,'' Petronin was quoted by French daily Le Point as saying.
The 75-year-old humanitarian worker was kidnapped by an armed group in northern Mali's Gao region in December 2016. Seven months later she appeared in a video published by the group calling itself Al-Qaeda in the Islamic Maghreb.
Before her abduction, since 2004 Petronin had run the Swiss charity Association Aid in Gao.
The former hostage said she intends to return to Mali to ensure the humanitarian group she was working for and which takes care of young children on site continues its mission.
She was freed on Thursday alongside Malian opposition leader Soumaila Cisse and two Italian nationals, Father Pierluigi Maccalli and Nicola Chiacchio.
According to the Malian press, more than 100 terrorists have been freed in exchange for the hostages.
Her release came after a military junta ousted President Ibrahim Boubacar Keita and promised to win the war against terrorism in Mali.
Despite the presence of French and UN peacekeeping forces in Mali, armed groups are still very active in the West African country.
Al-Qaeda in the Islamic Maghreb has claimed responsibility for recent attacks and kidnappings in West Africa.
https://www.aa.com.tr/en/africa/freed-french-humanitarian-reveals-she-is-muslim/2001631
--------
Islamabad asks Delhi to adopt model of peace, development
10 Oct 2020
ISLAMABAD: Pakistan has asked India to abandon its outmoded 'Chanakya doctrine' and adopt the 21st century model of regional peace and development.
Responding to the Indian Air Force chief's recent statement about India's readiness for a "two-front war" with China and Pakistan, Foreign Office spokesman Zahid Hafeez said at a press briefing here on Friday that such provocative statements were a true reflection of the RSS-BJP mindset, a dangerous mix of extremist ideology and hegemonic designs.
"It is ironic that certain senior Indian political and military leaders continue to make a career out of issuing provocative statements against Pakistan at the cost of putting regional peace and security as well as India's own security at risk," he remarked.
The spokesman said that while making such braggadocio, the Indian Air Force chief must not forget India's defence limitations, so embarrassingly exposed to the world, first during its misadventure in Balakot and more recently in Ladakh.
"India must not underestimate the resolve of Pakistani nation and the preparedness of our armed forces against any ill-conceived misadventure by India," he added.
About the China-India tension, Mr Hafeez said India's belligerent posture and expansionist policies were imperiling regional peace and stability. "We have closely observed border face-off between China and India. We believe disputes in the region should be resolved through peaceful means and through agreed mechanisms rather than resorting to unilateral, illegal and coercive measures," he noted.
Answering a question about an article published in an independent US-based Foreign Policy Magazine endorsing Pakistan's position that India is a state sponsor of terrorism, he said Pakistan had been consistently sensitising the international community regarding India's involvement in terrorism to destabilise Pakistan and the region.
"Recently, we have seen many international endorsements, which vindicate Pakistan's consistent position that India is a state sponsor of terrorism," he said, adding that the US magazine's report further exposed the true face of India — the so-called largest democracy in the world.
"India's belligerent posture and expansionist policies are imperiling regional peace and stability," he said, adding that Pakistan had already shared with the international community incriminating evidence regarding Indian intelligence agency RAW's involvement in terrorist activities in Pakistan.
"The international community must take immediate cognisance of India's use of state-terrorism as a tool to destabilise the region," he stressed.
In reply to a question about Kulbhushan Jadhav case, the FO spokesman said it was utterly surprising that India continued to repeat the questions that had already been answered. He pointed out that Pakistan had already provided two unimpeded and uninterrupted consular accesses to India and offered a third one.
He said it had also been clarified to India that only those lawyers could appear before courts in Pakistan who had the licence to practice law in this country, adding that this was in line with legal practice in different jurisdictions, including India.
"As for the demand for provision of relevant papers, it has been conveyed to the Indian side that a duly appointed lawyer can collect the relevant papers from the office of the Attorney General for Pakistan. It appears that India is actually afraid of the difficult questions which it will need to answer during the review and reconsideration process.
"Rather than trying to abuse the legal process, India would be well advised to act as a responsible state and cooperate with the Pakistani courts to give effect to the ICJ (International Court of Justice) judgement," the FO spokesman said.
https://www.dawn.com/news/1584236/islamabad-asks-delhi-to-adopt-model-of-peace-development
--------
Afghanistan And Turkmenistan Inks Strategic Partnership Agreement
By Mohammad Haroon Alim
10 Oct 2020
Acting foreign minister Mohammad Hanif Atmar and Turkmen Ambassador to Kabul Ovezov Hoja signed the ratification documents regarding the strategic partnership between the two countries.
Atmar defined Turkmenistan as a "good, friendly and brotherly neighbor", according to the released statement on Friday, October 9.
"Expansion of political, economic and security relations with the region and neighboring countries, including Turkmenistan, is one of the priorities of the foreign policy of the Islamic Republic of Afghanistan", the statement quoted Atmar.
Turkmen Ambassador, Ovezov, reiterated on the importance of cooperation, strengthening regional ties, economic cooperation, and regional trade and transit.
This comes as earlier, a trilateral meeting of Afghanistan, Turkmenistan, and the United States was held in the participation of representatives of the governments of the United States of America, the Islamic Republic of Afghanistan, and Turkmenistan on October 8th, 2020.
Through the video teleconference, the parties discussed mutual issues of concern including political, economic, and security matters.
According to the statement, the three nations intended to the following issues:
Commit to engage in greater joint cooperation in support of regional security, economic growth, and development, call on other nations to support Afghan peace.
Preserve and build upon the gains in democratization and human rights made by Afghans over the past 19 years.
Improve security cooperation and intensify joint efforts to combat cross-border threats.
Identify and support opportunities to increase people-to-people ties between Afghanistan, Turkmenistan, and the United States of America.
Promote women's meaningful inclusion, participation, and protection across all of the work they do to advance peace, security, and economic growth in the region.
Promote trade between Afghanistan, Turkmenistan, and the United States of America by reviewing legal restrictions on trades and increasing efficiency of customs procedures under the existing Central Asia TIFA.
Coordination on Transport extension, TAPI, TAP projects, and their implementations.
Increase humanitarian engagement between the people.
Promote women's equality and economic empowerment, and engagement in dialogues to explore new opportunities, renew support for shared goals and projects.
https://www.khaama.com/afghanistan-and-turkmenistan-inks-strategic-partnership-agreement-98876/
--------
Indonesian defense minister to visit US after 20-year ban over human rights abuses
October 09, 2020
JAKARTA: Indonesia's Minister of Defense Prabowo Subianto has been invited to visit the US next week, in what would mark the end of a travel ban imposed on him by the US two decades ago.
Subianto, a former commander of the Indonesian Army's special forces, was invited to the US by Secretary of Defense Mark Esper for talks on bilateral defense cooperation, following their phone conversation in August. His visit is scheduled for Oct. 15-19, the minister's spokesman confirmed.
"Defense Minister Prabowo Subianto will accept the US government's formal invitation conveyed by the US defense secretary, Mark Esper," the spokesman, Dahnil Anzar Simanjuntak, told Arab News in a written statement on Thursday.
"In accordance with the nonaligned, active foreign policy and without being involved in a military alliance with any country, Defense Minister of Indonesia, Prabowo Subianto, has been actively engaging in defense diplomacy to various countries including the United States," he said.
According to a readout from the US Department of Defense, issued by the US Embassy in Jakarta on Aug. 4, the Subianto-Esper phone discussion covered military cooperation in the wake of the coronavirus disease (COVID-19) pandemic, maritime security, defense acquisitions, and military exercises, and said that both Esper and Subianto "conveyed their desire to meet in person soon."
Subianto and Esper had met in person earlier on the sidelines of an Association of Southeast Asian Nations defense ministers' meeting in Bangkok in November 2019.
Experts see the invitation as Washington's inclination to overlook allegations of past human rights abuses by leading figures in the Indo-Pacific region.
"It is a way for Trump's administration to show the countries they are engaging with that the US will not be meddling much in those countries' domestic affairs," Suzie Sudarman, an American studies lecturer at the University of Indonesia, told Arab News.
"Subianto is now a public official, representing a country that has the possibility to procure US defense products. If the visit results in a deal, Trump will have something to say about securing a deal to enhance his 'America First' and 'Make America Great Again' slogans," she said. She added that it is unlikely that Subianto would experience the same treatment as former Indonesian military chief Gen. Gatot Nurmantyo, who was barred from boarding a US-bound plane in October 2017 despite an official invitation from his US counterpart.
According to Sudarman, with his family background, Subianto has always been inclined to the US, which makes him somewhat "acceptable" there, despite rights abuse allegations. His visit is also considered "less risky" for Trump's image ahead of the US presidential election.
Along with other members of the Indonesian special forces (Kopassus), Subianto had been barred from the US over the disappearances of political activists and deadly riots amid protests in Jakarta, which in 1998 led to the fall of his then-father-in-law, former President Suharto, who ruled Indonesia for over three decades.
Subianto was forced to retire early from the military following regime change and went into self-exile in Jordan, with whose King Abdullah he is friends.
The US ban to engage with Kopassus was lifted in 2010.
An executive of Subianto's Gerindra Party, Sufmi Dasco Ahmad, said in October last year that the three-star general was no longer barred from visiting the US upon his appointment as defense minister.
Subianto, whose Gerindra Party was Indonesia's main opposition party in last year's elections, was appointed defense minister in October 2019. In 2014 and 2019, he was President Joko Widodo's competitor for the country's top office.
Since he took the post, Subianto has been on state visits to numerous countries, including China, France, Turkey, Japan, Russia and the UAE.
Riefqi Muna, a foreign policy researcher at the Indonesian Institute of Sciences, told Arab News that Subianto's US visit as minister was just "a matter of time" as Indonesia and the US have always had good defense cooperation.
"I hope he brings home some good news that Indonesia can have better access to modern military equipment and opens the door for our military officers to train in the US," Muna said, adding that it is likely that Indonesia's planned purchase of the US-made F-35 fighter jets would be among the issues discussed by Subianto and Esper.
https://www.arabnews.com/node/1746586/world
--------
Lebanon's Sunni leader Hariri urges revival of French plan to end crisis
NAJIA HOUSSARI
October 09, 2020
BEIRUT: Lebanon's leading Sunni Muslim politician, former Prime Minister Saad Hariri, has called for the restoration of a French plan to lift the nation out of its worst financial crisis since the 1975-1990 civil war.
France, which has led foreign aid efforts, has tried to rally Lebanese leaders to launch reforms to tackle the crisis. But they have failed to agree on a new government — the first step in the French roadmap — and drawn a rebuke from French President Emmanuel Macron.
Lebanon urgently needs foreign cash to get out of a financial crisis that has slashed the value of the currency since last year.
Talks on a new cabinet hit a logjam as politicians wrangled over ministerial posts, with Iran-backed Hezbollah and its ally Amal demanding that they name the finance minister.
Hariri said that he would only return as prime minister — a post he has held three times — if there was agreement by Lebanon's fractious parties on securing an International Monetary Fund deal.
His coalition government was toppled a year ago by huge protests by Lebanese furious at an entrenched ruling elite that has overseen a state riddled with graft and drowning in debt.
"I call on political parties to think well so as not to waste this chance. French President Macron's initiative still stands and we can still enact it," Hariri said in a TV interview late on Thursday. "If we let it fail, it would be a crime."
Hariri said: "There are currently two or three projects in the country. The project undertaken by Hezbollah and the Amal Movement is linked to abroad. There is a project that wants to get the country out of this crisis and to free itself from the parties and it is based on the fact that Lebanon comes first."
He added: "How do you watch your back if three quarters of the Lebanese people are hungry? There is an economic collapse, and the conspiracy is against the people. No one is conspiring against Hezbollah. Everyone in Lebanon and the international community knows that Hezbollah's weapons exist, and these weapons have regional repercussions. In order to solve this issue, you have to solve the regional problem."
Hariri warned that he feared civil strife as the crisis spirals. It has fueled unrest in a country where divisions have run deep since the war, which was fought along sectarian lines by factions still dominating Lebanese politics.
"What is happening in terms of carrying arms and what we are seeing in terms of weapons' displays in the street means the collapse of the state," he said.
Hariri warned: "If a government supported by Hezbollah is formed, absolutely no one abroad will give Lebanon a single penny. We will be repeating the same problem."
President Michel Aoun will hold consultations with lawmakers next week to pick a new prime minister, in a bid to reach a breakthrough on naming a new government.
Presidential spokesman, Rafik Shalala, told Arab News: "There is no comment, neither negative nor positive, on what Hariri has proposed."
Sources close to the presidency said: "President Aoun considers that Hariri's proposal has stirred the pot."
Hariri's media adviser, Hussein Al-Wajh, told Arab News: "Hariri said he is a natural candidate for premiership. His main message is to revive the French initiative for it is the sole opportunity available to stop the collapse."
Foreign donors have made it clear that there will be no fresh aid unless Lebanese leaders launch reforms to tackle graft and improve governance, and engage in IMF negotiations.
IMF talks stalled this year over a row among Lebanese government officials, bankers and political parties about the vast scale of financial losses.
https://www.arabnews.com/node/1746456/middle-east
--------
India
2 terrorists killed in encounter in Jammu and Kashmir's Kulgam district
Edited by Prashasti Singh
Oct 10, 2020
Two terrorists were killed in an encounter with security forces in Jammu and Kashmir's Kulgam district, police said.
"Kulgam Encounter Update: 2 unidentified terrorists killed. Operation in progress," Kashmir Zone Police tweeted. .
Based on inputs about the presence of terrorists in the area, security forces launched a cordon and search operation on Friday night. The operation is now over, a police official said, adding that the search operation turned into an encounter after militants fired upon a security forces party, who retaliated.
The identity and group affiliation of the terrorists is being ascertained, he added. One M4 Rifle and one Pistol were recovered.
On October 7, three terrorists were killed by the security forces in an encounter in the Sugan Zainapora area of Shopian district.In a similar incident, two terrorists were killed in the Samboora area of Awantipora district on September 27.
https://www.hindustantimes.com/india-news/2-terrorists-killed-in-encounter-in-jammu-kashmir-s-kulgam-district/story-ks8mAw9gzZboTOmomCRUoI.html
--------
Full support for peace in Afghanistan, Jaishankar to Abdullah Abdullah
Oct 09, 2020
Afghan negotiator Abdullah Abdullah rounded off his talks with the Indian leadership on the Afghan peace process with a meeting on Friday with external affairs minister S Jaishankar, who said India remains committed to peace and stability in Afghanistan.
Since he arrived in New Delhi on Tuesday, the chairman of Afghanistan's High Council for National Reconciliation has met Prime Minister Narendra Modi, National Security Adviser Ajit Doval, Chief of Defence Staff Gen Bipin Rawat and army chief Gen MM Naravane and briefed them on the peace process and the talks between the Afghan government and the Taliban in Doha.
After the meeting on Friday afternoon, Jaishankar tweeted that he and Abdullah had a "good discussion on our bilateral cooperation and regional issues". Jaishankar added: "Welcomed his insights and perspectives on recent developments. As a neighbour, India remains committed to peace, prosperity and stability in Afghanistan."
Abdullah said in a tweet that he and Jaishankar had "exchanged views on the #AfghanPeaceProcess, bilateral relations, & regional support for peace efforts. He assured me of India's full support for peace in Afghanistan."
Abdullah's visit is part of an outreach to key countries in the region to seek support for the negotiations in Doha. Before travelling to India, he visited Pakistan last week for talks with the civil and military leadership. Abdullah told the Pakistani leaders that a message about reducing violence and showing greater flexibility in negotiations should be communicated to the Taliban.
At their meeting on Thursday, PM Modi assured Abdullah of India's continued backing for the Afghan peace process. Abdullah also said Modi had assured him that India will back any settlement acceptable to the Afghan people.
However, Abdullah said at an event organised by a think tank on Thursday that a premature withdrawal of US troops from Afghanistan will have consequences, especially if the Taliban don't deliver on commitments to prevent the use of Afghan soil by groups such as al-Qaeda and Islamic State.
He made the remarks shortly after US President Donald Trump tweeted that he planned to pull out all American troops from Afghanistan by Christmas, months ahead of the earlier deadline of May 2021.
https://www.hindustantimes.com/india-news/full-support-for-peace-in-afghanistan-jaishankar-to-abdullah-abdullah/story-GVuBoC3UO6vrBrGG4bAUYM.html
--------
Pakistan targets civilian areas along LoC, IB in unprovoked ceasefire violation
Oct 10, 2020
JAMMU: Pakistani troops violated ceasefire overnight by unprovoked firing and mortar shelling on civilian areas along the Line of Control and International Border in two sectors of Jammu and Kashmir, officials said on Saturday.
Indian troops retaliated befittingly to silence the Pakistani guns, they said, adding there was no immediate report of any casualty.
"At about 1:30 am, Pakistan initiated unprovoked ceasefire violation by firing with small arms and intense shelling with mortars, targeting civilian areas along the LoC in Makote sector of Poonch. The Indian Army retaliated befittingly," a defence spokesman said Saturday morning.
A police official said the heavy shelling caused fear and panic among the border residents.
The shelling stopped around 4.30 am, the official said.
The official also said Pakistani rangers targeted forward areas along the IB in Hiranagar sector of Kathua district and they kept firing intermittently for five hours.
The firing from Pakistani side of the IB started around 11.45 pm Friday and continued till 4.40 am Saturday, the official said, adding the Border Security Force (BSF) retaliated strongly.
Meanwhile, a 40-year-old woman, Hamida Bi, was injured in Pakistani shelling on civilian areas in Qasba sector of Poonch on Friday, the official said, adding her condition was stated to be "stable".
https://timesofindia.indiatimes.com/india/pakistan-targets-civilian-areas-along-loc-ib-in-unprovoked-ceasefire-violation/articleshow/78585608.cms
--------
'ISI approached Navlakha in US, sought help to find spies'
Oct 10, 2020
NEW DELHI: Lawyer-activist Gautam Navlakha, one of the eight accused chargesheeted in the Koregaon Bhima-Elgar Parishad case, was allegedly approached by senior officers of Pakistan's spy agency ISI during one of his trips to the United States, seeking his help to recruit agents in India, NIA sources told on Friday. However, there were no details of Navlakha's response.
Though the official statement put out by the NIA on Friday mentioned that Navlakha's "links with Inter-Services Intelligence (ISI) also came to the fore" during investigation, it did not give further details.
NIA sources said ISI officers had allegedly met Navlakha in the US and purportedly sought his assistance. "NIA has material evidence in this regard," an officer claimed.
The NIA did not reveal the timing of the US visit when this alleged approach was made by "senior ISI officers". There were also no details of Navlakha's response to the approach.
An officer said the "material evidence" regarding Navlakha's meeting has been submitted to the court. "The chargesheeted accused will have the opportunity to contest the same during the trial," the officer added.
It is normal practice for investigating agencies to confront the accused with evidence before submitting it in court. The NIA, in its statement on Friday, said Navlakha's role and involvement in an alleged CPI (Maoist) conspiracy had come up in secret communications with the outfit's cadres.
"He was assigned the task to unite intellectuals against the government. He was part of some fact-finding committees and was assigned the task to recruit cadres for guerilla activities of CPI (Maoist). His links with Inter-Services Intelligence (ISI) also came to the fore," it said.
https://timesofindia.indiatimes.com/india/isi-approached-navlakha-in-us-sought-help-to-find-spies/articleshow/78584023.cms
--------
Bihar elections: Muslim forum to appeal people to vote for 'right candidates'
October 10, 2020
Former JD(U) MP Ali Anwar, now the president of All India Pasmanda Muslim Mehaz, an apolitical forum for OBC Muslims, said the forum would appeal to people to vote for the "right candidates" from non-NDA parties.
The forum has convened a meeting of its functionaries from across the state in Patna Saturday. A pamphlet of the forum begins with "Kahin Bihar UP ki tarah na ho jaaye", cautioning people against letting Bihar "go the UP way", and appeals to them to "vote not with closed eyes, but with open eyes".
Anwar told The Indian Express, "We have been raising voice for Pasmanda (backward) Muslims for several years under the forum, which attracted attention of Lalu Prasad and Nitish Kumar in past."
Anwar had fallen out with JD (U) months before the expiry of his Rajya Sabha term two years ago and joined ranks with former MP Sharad Yadav, who had fallen out with Nitish. "Our people can neither vote for BJP nor for JD (U). Though we are not specifying any non-NDA party, we would tell our supporters to vote for right candidates, who have shown promise to work for development."
https://indianexpress.com/elections/bihar-assembly-election-2020-schedule/bihar-elections-muslim-forum-to-appeal-people-to-vote-for-right-candidates/
--------
Europe
UK terrorist watched Daesh videos in jail before trying to kill guard
October 09, 2020
LONDON: A convicted terrorist in the UK who tried to hack a prison guard to death watched and transcribed smuggled extremist propaganda videos in the months leading up to the attack.
Brusthom Ziamani, 25, wore a fake suicide vest and used a makeshift knife during the attack on a prison guard in January this year.
He admitted to obtaining a memory card while in prison that had Daesh propaganda videos on it.
Ziamani was already serving a 19-year sentence for plotting to behead a soldier in 2015, and was on Thursday sentenced to life with a minimum of 21 years for the January attack and for obtaining extremist material.
Investigators found a four-page "martyrdom note" in his pocket, which featured comments from Daesh propaganda videos, after he was restrained following the attack.
He had used his cell's DVD player to watch smuggled propaganda videos, and had transcribed at least one lecture by an Al-Qaeda preacher while in jail.
The Times newspaper reported that Ziamani had previously plotted to kill non-Muslims while in jail.
He is said to have converted to Islam after a youth spent as a practicing Jehovah's Witness, and was radicalized following a stint committing violent robberies as part of a London gang.
According to The Times, a former inmate that encountered Ziamani in jail said he "knew everybody. They all loved him. He was like a hero to everybody: the drug-dealers, the murderers, the gang-members, the robbers, the thieves. He had charm."
Ziamani is said to have presided over "Shariah courts" within the prison, and at one point ruled that two young Muslim inmates should be punished with beating for drinking alcohol.
His case is likely to further fuel concern that the UK's prisons serve as a hotbed of radicalization and extremism.
https://www.arabnews.com/node/1746556/world
--------
Dutch court convicts six men of plotting massive jihadi attack
October 8, 2020
THE HAGUE, Netherlands — A Dutch court convicted six men Thursday of plotting a large-scale jihadi attack on a public event and sentenced them to prison terms ranging from 10 to 17 years.
Rotterdam District Court said in a statement that the men were planning to open fire with AK-47 assault rifles at a festival and to detonate a car bomb in late 2018. They also wanted to wear explosive vests and detonate them when police arrived.
However, intelligence agencies tipped off police and an undercover operative was able to infiltrate the gang and ultimately thwart their preparations before any attack took place. The suspects were arrested by heavily armed police in September 2018.
The ring leader, a man of Iraqi descent, was sentenced to 17 years. The names of the defendants weren't released in line with Dutch privacy rules.
The gang "wanted to hit the civilian population and the police in the Netherlands with a bloody attack with a large number of innocent victims," the court statement said. "Thanks to the timely intervention of Dutch government services, they were not able to carry out their plans."
https://www.stripes.com/news/europe/dutch-court-convicts-six-men-of-plotting-massive-jihadi-attack-1.647879?utm_source=iterable&utm_medium=email&utm_campaign=1598032_
--------
EP seeks sanctions on Saudis over Khashoggi murder
Omer Tugrul Cam
09.10.2020
BRUSSELS
The European Parliament (EP) urged the European Council on Thursday to impose sanctions on Saudi Arabians responsible for the murder of Saudi journalist Jamal Khashoggi.
The EP resolution of Oct. 8, 2020 on the situation of Ethiopian migrants in detention centers in Saudi Arabia passed with 413 votes in favor against 49 opposing. 233 MEPS abstained.
The resolution asked the European Council "once again to adopt the EU human rights sanctions mechanism […] and to ensure that, swiftly upon its adoption, EU-wide targeted sanctions are applied to those responsible for the murder of journalist Jamal Khashoggi."
The EP also "reiterated its call for an end to exports to Saudi Arabia of surveillance technology and other equipment that can facilitate internal repression."
The MEPs demanded that European Council, European Commission and member states downgrade EU institutional and diplomatic representation at the upcoming G20 Leaders Summit in Riyadh to "avoid legitimising impunity for human rights violations and ongoing illegal and arbitrary detentions in Saudi Arabia."
Khashoggi, 59, a columnist for The Washington Post and a US resident, was killed and dismembered by a group of Saudi operatives shortly after he entered the country's consulate in Istanbul, Turkey on Oct. 2, 2018.
Riyadh offered conflicting narratives to explain his disappearance before acknowledging he was murdered in the diplomatic building in a "rogue operation".
Earlier September, the Riyadh Criminal Court commuted death sentences handed down last year to the accused into prison terms of up to 20 years. The Saudi trial process was widely criticized.
The parliament also urged the immediate release of political prisoners, human and women's rights activists, calling on the Saudi authorities to conduct an independent investigation into allegations of human rights violations.
Meanwhile, the resolution emphasized that it rejects the "inhuman and degrading treatment" of Ethiopian migrants in Saudi Arabia and condemned the violation of their human rights.
It urged that migrants, including many children, must be released immediately after receiving medical care and called on the Saudi authorities to ensure that every person entering Saudi Arabia from Yemen is "transferred to an appropriate reception centre that meets international standards" regarding food, medical and health services.
https://www.aa.com.tr/en/europe/ep-seeks-sanctions-on-saudis-over-khashoggi-murder/2000981
--------
Germany reports 188 Islamophobic crimes in 3 months
Ayhan Simsek
08.10.2020
BERLIN
German police recorded 188 Islamophobic crimes in the second quarter of this year, the country's Interior Ministry has said.
At least 15 mosques were attacked between April and June, and dozens of Muslims were physically assaulted or verbally harassed on the street or in a public place. Nine of them were injured in these attacks.
The ministry released the latest figures in response to a parliamentary question by the opposition Left Party.
While criminal investigations were opened against several suspects, no arrests were made so far, the ministry confirmed.
Nearly 40 of the Islamophobic crimes were recorded in Germany's capital Berlin.
Germany has witnessed growing racism and Islamophobia in recent years, fueled by propaganda of neo-Nazi groups and the far-right opposition Alternative for Germany (AfD) party.
A country of over 80 million people, Germany has the second-largest Muslim population in Western Europe after France. Among the country's nearly 4.7 million Muslims, 3 million are of Turkish origin.
https://www.aa.com.tr/en/europe/germany-reports-188-islamophobic-crimes-in-3-months/2000327
--------
Pakistan
Pakistan to block social media app TikTok for 'immoral' content: Sources
Oct 9, 2020
ISLAMABAD: Pakistan has decided to block social media App TikTok for failing to filter out "immoral" content, three top government officials said on Friday.
A formal announcement to this effect will be made in a few hours, the officials said.
"We have been asking them repeatedly to put in place an effective mechanism for blocking immoral and indecent content," one of the top officials directly involved in the decision told Reuters.
"The platform, however, hasn't been able to fully satisfy Pakistani authorities. The decision has been taken to block TikTok for accessing in Pakistan," he said.
In July, Pakistan's telecommunications regulator issued a "final warning" to the short-form video app over explicit content posted on the platform.
TikTok, owned by China-based ByteDance, has been caught in a firestorm globally due to security and privacy concerns. It has already been blocked in India and it faces scrutiny in countries from Australia to the United States.
TikTok was not immediately reachable for comment on the matter.
The decision was taken after Prime Minister Imran Khan took a keen interest in the issue, said a second official in Pakistan, adding that Khan has directed the telecom authorities to make all efforts to block vulgar content in the conservative Islamic republic.
https://timesofindia.indiatimes.com/world/pakistan/pakistan-to-block-social-media-app-tiktok-for-immoral-content-sources/articleshow/78574415.cms
--------
Imran Khan's defiance against opposition parties, sedition charges against so-called PM of PoK
09th October 2020
ISLAMABAD: Ahead of a major opposition rally, the Pakistan government has slapped sedition charges against Raja Farooq Haider, so-called Prime Minister of Pakistan-occupied Kashmir (PoK), former Khan's predecessor Nawaz Sharif and daughter Maryam Nawaz.
On October 5, the Lahore police registered sedition charges along with several other serious charges against Sharif, his daughter Maryam Nawaz and 41 other leaders of the Pakistan Muslim League (PML-N) on the complaint of a citizen, Badar Rasheed, a resident of Khursheed Park of Shahdara.
The complainant had alleged Sharif of giving "hateful speeches" while addressing the All Parties Conference (APC), and his party's Central Working Committee (CWC) and Central Executive Committee (CEC) on September 20 and October 1, against the state, its institutions and the nation as well.
He further alleged that the party's senior leaders who attended the meeting supported the hateful speeches.
Citing the FIR, Dawn reported that the complainant has alleged that the purpose of calling these meetings and the speeches of the former PM and PML-N leaders was to endorse the policy of India aimed to get Pakistan declared 'a rouge state' and to keep its name on the grey list of the Financial Action Task Force (FATF).
Following the filing of the sedition charges, a Pakistani journalist Hamid Mir slammed Imran Khan and said, "PM @ImranKhanPTI always claimed to be an ambassador of Kashmiris but look at this FIR registered by Punjab police they booked elected PM of AJK @farooq_pm under treason charges along with @NawazSharifMNS and three retired Lt Generals of Pak Army."
Later, Raja Farooq Haider's name was removed from the FIR.
"We will strike off the name of Raja Farooq Haider from the FIR at the investigation stage. However, the investigation against others nominated in the case will proceed as per law," Punjab Information Minister Fayyazul Hasan Chohan told Dawn.
On the role of registration of sedition charges on Haider, the Minister said, "No...we have no role in its registration as police registered it on a complaint of a citizen."
https://www.newindianexpress.com/world/2020/oct/09/imran-khans-defiance-against-opposition-parties-sedition-charges-against-so-called-pm-of-pok-2208098.html
--------
Ministry disapproves of two-finger test, seeks its discontinuation
Nasir Iqbal
10 Oct 2020
ISLAMABAD: The federal government has disapproved of the two-finger test (TFT) — an old method of examining sexual assault survivors — and recommended that it should not be part of any medico-legal examination report in rape/sexual assault cases.
The Ministry of Law and Justice has intimated the Additional Attorney General at Lahore, Chaudhry Ishtiaq Ahmed Khan, about the recommendation. He will now inform the Lahore High Court about the federal government's stance.
The court is seized with two public interest litigation petitions which have challenged the TFT. One petition was filed by Shaista Pervez Malik, a PML-N member of the National Assembly, while the other by a group of women's rights activists, academics, journalists and advocates. They are Sadaf Aziz, Farida Shaheed, Farieha Aziz, Farah Zia, Sarah Zaman, Maliha Zia Lari, Dr Aisha Babar and Zainab Husain.
The petitioners contended that the TFT was disrespectful, inhumane and violated women's fundamental rights.
At a previous hearing last month, the Punjab Specialised Healthcare and Medical Education Department and the Primary and Secondary Healthcare Department had observed in their submissions to the court that the TFT had limited evidentiary value vis-à-vis determination of virginity and, therefore, should be struck off the protocol of medico-legal certificate (MLC).
The Lahore High Court is expected to resume the hearing in the first week of next month, but in the meantime, the law ministry has come out with its response on the issue. It will be placed before the court during the next hearing.
The court sought the ministry's response after going through a statement by the World Health Organisation.
In a statement, the law ministry observed that the TFT was an inconclusive test. In addition, the manner in which the test was conducted violated Article 14 of the Constitution which lays down that human dignity and the privacy of home must be respected under all circumstances and that the right to privacy would take precedence over any other inconsistent provisions of the law.
The law ministry recalled how Article 151(4) of the Qanoon-i-Shahadat Order of 1984 allowed an accused to challenge the character of a rape victim in his defence. But through Section 16 of Act No XLIV of 2016, Article 151(4) was omitted and a logical conclusion of this action was that the two-finger test and the manner in which it was carried out amounted to challenging a victim's character. This cannot be permitted, the ministry added.
Through their petitions, the movers had sought a declaration that these practices constituted a violation of women's fundamental rights, including the rights to life, privacy, dignity, bodily integrity, access to justice, protection from cruel, inhumane and degrading treatment, and freedom from discrimination.
The petitioners further contended that this test nurtures myths and inaccuracies about female anatomy by ignoring the prevalence of different forms of sexual violence against women and children.
The petition regretted that the test was still rife in the country despite calls for its revocation by healthcare professionals and human rights organisations the world over.
"The continued use of TFT and hymen tests does not lead to any evidence that should be considered relevant to a trial and is aimed solely at drawing conclusions about the character, morality, chastity, social standing, past sexual activity and credibility of women who have been victims of these crimes," it said.
The petition pointed out that the Human Rights Watch, UN Human Rights Organisation and the World Health Organisation have called for the elimination of the TFT. The WHO has declared virginity testing "is unscientific, medically unnecessary and unreliable".
The petitioners called upon governments to take measures to ensure physical and mental health of all women undergoing medico-legal examination and to adopt scientific methods of investigating claims of rape and sexual assault.
https://www.dawn.com/news/1584231/ministry-disapproves-of-two-finger-test-seeks-its-discontinuation
--------
PHC orders police to ensure repatriation of 10 Afghan children 'smuggled by Taliban' into Pakistan
Sirajuddin
09 Oct 2020
The Peshawar High Court (PHC) on Friday directed authorities to give the custody of 10 Afghan children, who were smuggled into Pakistan, to the Afghan consulate and ensure they are reunited with their parents.
The bench also told authorities to gather information about the children and submit it in the court.
The case, which was heard by PHC Chief Justice Waqar Ahmed Seth, was regarding 10 children who, according to police, were brought to Pakistan illegally and were enrolled in a seminary in the Akora Khattak town in Nowshera.
The court was hearing an application filed by an Afghan refugee cardholder, who said that he had brought the children, who are his relatives, to Akora Khattak's refugee camp. According to the applicant, the children had been taken away by a seminary and the administration had refused to let him see the kids.
Police told the court that the children had been brought to Pakistan illegally and had no valid documents. The applicant, too, could not explain how he brought the children to Pakistan after which the court ordered police to arrest him and investigate the matter thoroughly.
When asked why they were brought to Pakistan, the children — all of whom are aged 10 or under — said they were in the country to get religious education.
The bench was told that the children could not speak Pashto or Urdu and a translator was brought in the courtroom. The translator told the court that "it seemed as if the children have been brainwashed. They answer each question together."
The chief justice asked authorities how the children were smuggled into the country without agencies being alerted.
"Children were brought here from Afghanistan and no one knows about this. What are the agencies doing?" Justice Seth asked. He told police to investigate how and why the children were brought to Pakistan.
The court also told authorities to take the representatives of the seminary into custody and probe the matter further. The chief justice also ordered authorities to find out if there are more Afghan children enrolled in seminaries in Pakistan and whether they have valid documents.
The Afghan consulate's office bearer Abdul Hameed Jalili, who was in court today, told DawnNewsTV that the children hailed from Afghanistan's Badakhshan province, which is under Taliban control. He said that the children had been sent to Akora Khattak by the Taliban illegally to be enrolled in a seminary for religious education.
https://www.dawn.com/news/1584134/phc-orders-police-to-ensure-repatriation-of-10-afghan-children-smuggled-by-taliban-into-pakistan
--------
South Asia
Six Afghan security force members killed in Taliban attack, 15 taken captive
9 October 2020
Kabul [Afghanistan], October 9 (ANI): At least six Afghan security forces were killed, six others were wounded, and 15 others were taken captive by the Taliban after the group attacked a security checkpoint in northern Kunduz province on Wednesday night, a security source said, TOLOnews reported.
The incident took place at 8 pm (local time) in the Imam Sahib district, the source said.
"The Taliban also stole a humvee vehicle of the security forces and some weapons after the attack," he said, as quoted by TOLOnews.
The Taliban has claimed responsibility for the attack. (ANI)
https://in.news.yahoo.com/6-afghan-security-force-members-002259414.html?utm_source=iterable&utm_medium=email&utm_campaign=1598032_
--------
Bangladesh Clergy Sex Abuse: The Price of Negligence, Ignorance and Cover-Ups
Rock Ronald Rozario
October 10, 2020
Church leaders in Bangladesh are perhaps relieved that a series of brutal gang rapes in the country have overshadowed and shifted public and media attention from the arrest of a priest on allegations of raping a minor girl.
Father Prodip Gregory, 41, a parish priest in Rajshahi Diocese, was arrested by police on Sept. 29, a day after the elder brother of the girl sued him.
He is the first Catholic priest from the minority Christian community to be arrested for rape. If found guilty, he will be the first priest to serve a jail term for rape.
Bangladesh's rape law defines sexual intercourse with anyone under 16, even if consensual, as rape, with a maximum punishment of life imprisonment.
The case garnered heavy media coverage in Muslim-majority Bangladesh, where people hear cases and punishment of Muslim clerics for rape now and then, but never about Christian clergy.
This shocking spotlight on the Church over alleged rape is a result of negligence, ignorance and cover-ups and public outbursts from many latent cases of sinfulness by clergy for decades.
Cover-ups and shooting the messenger
The Bangladesh Church has many dedicated, honest and holy clergy and religious serving people selflessly as models in their respective communities.
But there are also clergy (also religious) in various places who are clericalist, careerist and immoral. They are no less sinful than pedophile and fake celibate clergies in Europe, the Americas, Australia and various parts of Asia who caused irreparable damage to the Church.
However, the global fallout over sexual and child abuse, and even a number of cases against priests and a bishop in neighboring India, didn't bear lessons.
In Bangladesh, every region inhabited by Catholics has such problems. There were cases of priests being confronted and assaulted by people for alleged immoral acts with women and girls.
Yet very few people have the guts to speak up or seek redress, fearing a backlash from church officials. In most cases, the priests are quickly transferred to other places with little to no reprimanding. Save for a few cases, church officials have been highly successful in covering up immoral and even criminal acts of the clergy.
For example, Father Gregory was accused of sexually abusing a minor girl at a church-run hostel in Sacred Heart of Jesus Parish in Naogaon district about a decade ago.
He was suspended from the priesthood and sent to another diocese for "sanitization" before reinstatement. On the other hand, the family of the victim was somehow managed and the issue was hushed up.
This time he has been suspended from priestly ministries. Local media reported that church officials sought to silence the victim's family with promises of compensation through an out-of-court settlement or arbitration. The family rejected the deal, sought legal justice and the beans were spilled.
Arbitration is a popular dispute resolution method but not legally permitted for serious crimes like rape and physical attack. A good number of church leaders and clergy are in the dark about the legal perimeters of such issues, and many take for granted that by the virtue of clericalism they are above the law.
Victim blaming, shaming and intimidation are rife in most cases and vilification of the media for reporting the messy affairs is common.
In 2011, Father Bernard Tudu, a Catholic priest in Rajshahi, was arrested and sent to jail for allegedly brokering an out-of-court settlement over the rape of 14-year-old Serafina Mardi by nine men. The Santal girl committed suicide following social ostracism by her alleged rapists.
In 2015, UCA News reported that Father Patras Hembrom, a priest from Dinajpur Diocese, faced a court case from a woman for allegedly having an affair for years with the promise of marriage. Later the priest managed to flee to India to avoid legal action and the diocese suspended his priesthood.
In 2018, UCA News reported that Father Walter William Rozario, who went missing before Pope Francis' visit in 2017, had been accused by police of having illicit relations with women and girls and embezzling church funds.
In each case, church officials accused journalists of being anti-Church and non-credible. In fact, the media has only intended to bring to light the hidden truth for a better Church.
Those cases were warnings for church leaders, but they were only ignored and forgotten.
An image crisis
Despite being a tiny minority forming less than half a percent of Bangladesh's population of more than 160 million, Christians are held in high regard for their significant contributions to education, healthcare and social development thanks to great work by Christian missionaries in past centuries.
That long-held good image of Christians has taken a hit over Father Gregory's case. Bangladeshi Christians at home and abroad reacted angrily, online and offline. On Christian Facebook groups, people demanded exemplary punishment for the priest and even for his alleged backers.
Church leaders have been harshly accused of covering up many cases of immoral activities by clergy and criticized for not clarifying the Church's position officially through press statements or conferences. Some Muslims accused the entire Church of being hypocritical with no moral credibility.
If church leaders could visit those groups, they should have felt disgusted and ashamed of what people think and say about them.
It is unclear why church officials didn't adopt a crucial "regret and reform" policy to restore public image. If Pope Francis can apologize to people for clergy sex abuse, why not local bishops?
This loss of control and mishandling of the situation reveals the Church has yet to adopt an effective crisis management and communication mechanism for such crisis.
Code of conduct
Pope Francis has made significant attempts to restore the global Church's image after it was tainted by clergy sex abuse, including the formation of the Pontifical Council for Protection of Minors, strong guidelines for zero tolerance of child abuse and urging local churches to have a code of conduct for clergy.
The Catholic Bishops' Conference of Bangladesh promulgated a code of conduct for clergy in 2014, created a child protection desk and adopted a child protection policy.
Among other things, the code of conduct notes: "They [priests] do not engage in sexual harassment or in physical, sexual or emotional abuse of anybody. Any charges against a priest regarding sexual abuse of minors will be taken seriously. If the fact is proved true, compassion will be shown to the victims and help will be sought for the priest. Victims will be aided in any way necessary. The priest will not be allowed in situations where such behavior could be repeated."
Father Gregory's alleged immorality and unreported similar cases bring forth the question whether those efforts have really made any difference.
The latest case needs to serve as a great lesson for the Church in Bangladesh. Church leaders in their dioceses should enforce the code of conduct for clergy and form a commission headed by the bishop in each diocese to figure out and act promptly against any unruly and immoral clergy who could cause a similar crisis in the near future.
In the case of Father Gregory, the Church must not try to influence the legal justice system by any means. Since it has become a media hot cake, any such attempt would backfire and destroy whatever credibility the Church has today.
The Catholic Church has made many great achievements over the centuries. Church leaders should make every effort to clean up any dirt to keep up this hard-earned pride and image.
https://www.ucanews.com/news/clergy-sex-abuse-the-price-of-negligence-ignorance-and-cover-ups/89822
--------
ASF Repulse Taliban Attack in Faryab
By Mohammad Arif Sheva
09 Oct 2020
FARYAB, Afghanistan – Afghan Security Forces repulsed Taliban attack Thursday night in Qesar district of Faryab province, local authorities confirmed.
Abdul Karim Yourish, spokesman for the local police, said at least 23 Taliban insurgents have been killed and further 17 wounded.
Meanwhile, four Afghan forces were killed and further one injured during clashes with Taliban in the area, Yourish added.
The attack that lasted until midnight Thursday was warded off by Peoples Uprising and Afghan Security Forces, according to the spokesman.
Taliban did not immediately comment on the incident.
https://www.khaama.com/asf-repulse-taliban-attack-in-faryab-987655/
--------
Maidan Wardak: Key Taliban Commander Killed in a 'Joint Security' Operation
By Mohammad Haroon Alim
10 Oct 2020
The Ministry of Interior (MoI) has announced that a prominent Taliban commander has been killed in Maidan Wardak province.
Interior Ministry spokesman Tariq Arian said, that on Friday night, a senior Taliban commander, including two of his associates were killed by joint security forces on their way to another province.
According to Arian, the Taliban commander was named "Awal Khan", who intended to travel to Paghman district of Kabul city from Maidan Wardak province to carry out terrorist acts.
The Taliban have not yet commented on the incident.
https://www.khaama.com/maidan-wardak-key-taliban-commander-killed-in-a-joint-security-operation-986766/
--------
World Food Programme Wins 2020 Noble Peace Prize
By Mohammad Arif Sheva
09 Oct 2020
The Norwegian Nobel Committee has decided to award the Nobel Peace Prize for 2020 to the World Food Programme (WFP) for its efforts to combat hunger and its contribution to bettering conditions for peace in conflict-affected areas.
Chairwoman of the Norwegian Nobel Committee Berit Reiss-Andersen revealed the 2020 laureate at the Nobel Institute in Oslo Friday.
"The world is in danger of experiencing a hunger crisis of inconceivable proportions if the World Food Programme and other food assistance organisations do not receive the financial support they have requested," the Committee said in a press release Friday.
According to the release, the committee emphasized that providing assistance to increase food security not only prevents hunger but can also help to "improve prospects for stability and peace".
"With this year's award, the Norwegian Nobel Committee wishes to turn the eyes of the world towards the millions of people who suffer from or face the threat of hunger," the statement read. "The World Food Programme plays a key role in multilateral cooperation on making food security an instrument of peace, and has made a strong contribution towards mobilising UN Member States to combat the use of hunger as a weapon of war and conflict."
Meanwhile, the World Food Programme conveyed its "deepest thanks" to the Nobel Prize committee for such an honor, saying peace and zero hunger go hand-in-hand.
"Deepest thanks @NobelPrize for honouring the World Food Programme with the 2020 #NobelPeacePrize," said WFP in a tweet. "This is a powerful reminder to the world that peace and #ZeroHunger go hand-in-hand."
The World Food Programme is the world's largest humanitarian organization addressing hunger and promoting food security. In 2019, the WFP provided assistance to close to 100 million people in 88 countries who are victims of acute food insecurity and hunger.
https://www.khaama.com/world-food-programme-wins-2020-noble-peace-prize-87654/
--------
Southeast Asia
Philippines Captures Suspected Indonesian Would-be Bomber
10th October, 2020
Philippine forces on Saturday captured a suspected Indonesian would-be suicide bomber who the army believes was involved in a "very imminent" plot to attack a southern town, officials said. Army troops and police arrested Rezky Fantasya Rullie with two Filipino women, who were suspected to be the wives of Abu Sayyaf militants, in a house in southern Jolo town in Sulu province where they found an explosive vest and bomb components, the military's Western Mindanao Command said.
The military also announced that Rullie's husband Andi Baso, who is wanted in the Philippines and Indonesia for his alleged involvement in bomb attacks, had been killed in an Aug. 29 clash near Sulu's Patikul town.
Philippine troops have intensified a manhunt for would-be bombers in the restive south following nearly simultaneous suicide attacks by two women militants that killed 15 people and wounded 75 others in August in Jolo town in the country's worst extremist attack this year. The two women who carried out the Aug. 24 suicide attacks In Jolo were the wives of Abu Sayyaf militants who had died, reflecting how extremism has involved families in some cases.
At least eight other foreign militants in Sulu and southern Maguindanao province were being hunted by government forces. They include militants from Indonesia and Egypt, Sobejana said. Rullie was involved in a "very imminent" plot to carry out a suicide attack in Jolo before her arrest, Sobejana said without elaborating, adding that Indonesian authorities were aware of Philippine efforts to locate and capture Indonesian militants in the southern Philippines.
Rullie's parents were a militant couple who Philippine authorities said staged a suicide attack that killed more than 20 people and wounded more than 100 others during Sunday Mass in the Jolo cathedral in the predominantly Muslim province of Sulu, the military said.
Her partner Andi Baso had been blamed for a 2016 explosion that killed a child and wounded three others in a church in the Indonesian province of East Kalimantan. Sobejana said he was killed in a gunbattle with troops in Sulu in August and a DNA test was being done to confirm if a body recovered by troops was that of the Indonesian militant.
Rullie was arrested with two other women, including Inda Nurhaina, who the military said is the wife of Abu Sayyaf commander Ben Yadah. Yadah, who is known by his nom de guerre Ben Tatoo, is one of the main suspects in the 2016 beheadings in Sulu of two Canadian tourists who were taken hostage by ransom-seeking Abu Sayyaf gunmen. Yadah remains at large and has been linked to recent kidnappings in Sulu.
The United States and the Philippines have separately blacklisted the Abu Sayyaf as a terrorist organization for bombings, kidnappings for ransom and beheadings. It has been weakened by battle setbacks, surrenders and factionalism but remains a national security threat along with a number of smaller armed groups associated with the Islamic State group.
https://www.republicworld.com/world-news/rest-of-the-world-news/philippines-captures-suspected-indonesian-would-be-bomber.html
--------
Indonesian Muslim and union groups to fight new jobs law in court
9th October 2020
JAKARTA, October 9 (Reuters): Indonesian President Joko Widodo came under increasing pressure to repeal his new controversial jobs law on Friday, with union and Muslim groups preparing to challenge it in court and some regional leaders publicly opposing the legislation.
The president, widely known by his popular name Jokowi, defended the law, saying demonstrations that have seen thousands of people across the world's fourth-most populous nation take to the streets in sometimes violent protests this week were fuelled by disinformation in social media.
Jokowi says the "omnibus" jobs creation bill, passed into law on Monday, will boost Indonesia's ailing economy by cutting red tape and attracting more foreign direct investment. Protesters say the law undermines labour rights and weakens environmental protections.
The KSPI labour group, among the organisers of three-day protests and national strikes that ended on Thursday, is preparing to lodge a case against the law in the Constitutional Court, the group's president Said Iqbal said in a statement.
Nahdlatul Ulama, Indonesia's biggest Muslim group with millions of followers, would also challenge the law in the court, it said in its official Twitter account.
Clashes erupted in some cities on Thursday, including in the capital Jakarta where protesters burnt public transport facilities and damaged police posts.
At least six provincial governors have said they would pass on protesters' demands to the president or publicly opposed the law.
Repealing the law would prevent further clashes "that could create prolonged instability amid a pandemic and an economic recession", West Kalimantan Governor Sutarmidji said in a statement.
In a televised address, the president said Indonesia urgently needed to create more jobs for its young population, adding that the law would also help those laid off during the coronavirus pandemic.
"I've emphasized we need the Job Creation Law ... because every year there are 2.9 million young people entering the labour market," Jokowi said.
Police detained more than 3,800 people nationwide during rallies that have at times turned violent this week, including students, workers and unemployed people, spokesman Argo Yuwono said in a news conference.
There were smaller protests on Friday in several cities on Java and Sumatra islands, according to local media.
Trade union KSBSI called on its members to launch another wave of protests from Oct. 12 to 16, while some other labour groups are set to consolidate their next move over the weekend, union leaders said.
https://morungexpress.com/indonesian-muslim-and-union-groups-to-fight-new-jobs-law-in-court
--------
Arab world
Arab Coalition intercepts, destroys Houthi drone targeting southern Saudi Arabia
Ismaeel Naar
10 October 2020
The Arab Coalition has intercepted and destroyed a drone launched by the Iran-backed Houthi militia targeting the southern regions of Saudi Arabia early on Saturday, according to a spokesperson.
The spokesman for the Arab Coalition forces Col. Turki al-Maliki said that the joint coalition forces managed Saturday morning to intercept and destroy a booby-trapped drone launched by the Houthi militia in a systematic and deliberate manner to target civilians in the southern region.
An exact location of where the drone was destroyed had not been made available yet in the statement released on the Saudi Press Agency.
https://english.alarabiya.net/en/News/gulf/2020/10/10/Arab-Coalition-intercepts-destroys-Houthi-drone-targeting-southern-Saudi-Arabia
--------
Saudi air defenses shoot down Houthi drone
October 10, 2020
RIYADH: Saudi air defenses intercepted and destroyed a armed drone launched from Yemen toward the southern part of the Kingdom, a spokesman for the Arab coalition supporting Yemen's legitimate government said on Saturday.
In a statement carried by the Saudi Press Agency (SPA), Col. Turki Al-Maliki said the drone was shot down early Saturday, but gave no further details.
Yemen's Iran-backed Houthi "terrorists" have been launching missile, drone and rocket strikes targeting civilian centers in Saudi Arabia for the past few years.
https://www.arabnews.com/node/1746741/saudi-arabia
--------
Mideast
Rouhani calls for human rights advocates to condemn US sanctions on Iran
09 October 2020
Iran's President Hassan Rouhani on Friday dismissed new US sanctions as unable to break the Islamic republic's "resistance" and said Washington has already done all it can to pressure Tehran.
US President Donald Trump's administration imposed sweeping sanctions on Iran's banking sector on Thursday by designating 18 major Iranian banks to "stop illicit access to US dollars."
For all the latest headlines, follow our Google News channel online or via the app.
"The Americans have so far done all they could against the great nation of Iran," Rouhani said, according to his official website.
"They cannot break the resistance of the Iranian nation with these inhumane" actions, he added.
According to Rouhani, the US administration is following "domestic aims" by such "political-propaganda attempts."
The sanctions are part of Washington's policy of "maximum pressure" against Tehran aimed at reining in the Islamic republic.
They were reimposed after Trump in 2018 unilaterally withdrew the US from a landmark accord with world powers and Iran, which limited the Islamic republic's nuclear program in exchange for international sanctions relief.
The US says that transactions involving humanitarian goods such as food and medicine are exempt and that sanctions are "directed at the regime."
Rouhani said the sanctions are "attempts to create serious obstacles in fund transfers for medicine and food" and called them "cruel, terrorist and inhumane".
He also called on the world's "human rights advocates" to condemn the move.
"All countries witness that America's attempts are completely against international laws and regulations, and in the time of the coronavirus are against human rights," Rouhani said.
Iran has been struggling to contain the Middle East's worst Covid-19 outbreak since February, with the virus so far killing more than 28,000 and infecting over 492,000 in the country.
https://english.alarabiya.net/en/News/middle-east/2020/10/09/Rouhani-calls-for-human-rights-advocates-to-condemn-US-sanctions-on-Iran
--------
Crackdown on Turkey's pro-Kurdish party raises concerns among opposition
October 09, 2020
ANKARA: The latest crackdown on Turkey's pro-Kurdish Peoples' Democratic Party (HDP) has raised concerns about the government's underlying motives and the risk posed to opposition parties.
Four members of the HDP — including Sevin Alaca, the co-mayor of the eastern province of Kars — were arrested on Oct. 8 in relation to protests in 2014, bringing the number of recent arrests over the incident to 16.
Those arrested are accused of encouraging anti-government protests in southeastern provinces in October 2014 in reaction to the Daesh siege of Syria's mainly Kurdish border town of Kobane. Demonstrators allegedly claimed that the Turkish government failed to protect Kobane against Daesh.
Some view the recent arrests as an attempt by Turkey's ruling Justice and Development Party (AKP) to weaken the HDP, which gained 13 percent of the votes in the last general elections.
Talking to Halk TV on Oct. 7, HDP's co-chairman Mithat Sancar claimed that the political cost to the government of shutting down the HDP would be too great, but that it is trying to ensure the party cannot function properly.
"The Constitutional Court has been under more and more pressure in recent days and it is being threatened," he said. "Thus, we would not be surprised by the closure of the HDP. But the government does not want to take this path for now because this would have a political cost and would trigger reactions from both global and domestic spheres. That is why the government can adopt a less costly method by making the party a de facto ineffective one."
Berk Esen, a political analyst from Sabanci University in Istanbul, told Arab News there are several reasons why the government would not simply close down the HDP, the main one being that it does not want to create a precedent for party bans, which have hurt the Islamist movement in the past. In 2008, the AKP was on trial and threatened with closure, and its leaders have always promised to oppose banning political parties.
Banning a party would likely incur a severe backlash against the Turkish government from the European Union, Esen added. A committee from Sweden's Left Party, including its chairman, paid a visit to the HDP headquarters in Ankara on Oct. 6 and expressed concerns about the silencing of the HDP, which they considered "a big loss" for the country.
"Keeping the HDP open but severely weakened allows the government to retain the image of a democratic regime in Turkey, even though the political system no longer satisfies even the minimal democratic requirements," Esen said.
Esen added that the HDP also serves as a rallying point for the alliance of the ruling party and its partner, the far-right Nationalist Movement Party (MHP) and helps to keep ultra-nationalist voters behind President Recep Tayyip Erdogan's administration.
"Moreover, the government does not need to close down the party to limit its operations. It has already appointed caretaker administrators to most HDP-controlled municipalities and arrested hundreds of party officials, including its former leader," he said.
In the 2019 local elections, the HDP — Turkey's third-largest party — won 65 municipalities throughout the country, but only six of its 65 mayors remain in office, with the rest removed under terror-related charges and their positions taken up by government-appointed bureaucrats.
"The HDP has taken a huge hit from the government's crackdown and faces enormous organizational challenges in the months ahead. At this point, its resistance remains primarily at the ballot box, where its loyal voters continue to support it," Esen said.
For Sinem Adar, an associate at the Center for Applied Turkey Studies (CATS) in the German Institute for International and Security Affairs, the latest crackdown on the HDP matches a general trend that has been apparent since Turkey's June 2015 elections: A systematic attack on Kurdish political representation by Erdogan's party and the MHP.
"This trend has included a variety of methods, such as the removal of parliamentary immunity from Kurdish MPs, their criminalization and systematic exclusion from political processes, and — last but not least — the replacement of elected mayors by government-appointed trustees," she told Arab News.
"Nationalist factions within the security apparatus became a part of this trend after the failed coup attempt in 2016. In light of the developments in Northern Syria, with Turkish military interventions, the ruling class is determined to suppress Kurdish political representation and participation," she continued.
There are widespread concerns among other opposition parties, too, that what happened to the HDP might also happen to them.
"We need to stand up against all injustices, regardless of which party, who is experiencing them," Hasan Subasi, a lawmaker from IYI (Good) Party said on Oct. 6 during a televised speech, adding that a Turkish parliament without the HDP would not represent Turkey and would be "anti-democratic."
According to Adar, violating the political rights of the members of the HDP is a tactic that the government has been using to drive a wedge between the HDP and the opposition parties, particularly the main opposition party, the Republican People's Party (CHP). "After all, the March 2019 elections have clearly shown that the Kurds have become king-makers," she said.
Adar said the crackdown could also be part of the government's divide-and-conquer tactics when it comes to the CHP itself.
"The CHP is known to include various factions that might not necessarily agree with one another on how the Kurdish question should be addressed. The systematic suppression of the HDP can also be a means to (stoke) existing differences within the CHP," she said.
https://www.arabnews.com/node/1746631/middle-east
--------
In Yemen, children begin classes in the ruins of war
October 10, 2020
TAIZ: With its walls pounded by artillery, roofs torn open and concrete beams in shreds, Al-Wehdah school lies in ruins as students return for the first day of Yemen's school year.
At the school near Taiz, the third-biggest city in a country shattered by years of war between the government and Iran-backed Houthi rebels, there are no doors or windows, let alone desks.
Instead the students use old exercise books to jot down their lessons, as they sit in makeshift classrooms with a handful of teachers brave enough to join them under crumbling ceilings.
Yet in a country where nearly a third of children don't go to school at all, these are the lucky ones.
Al-Wehdah school was hit in a 2016 airstrike.
Ali Sultan, a parent of one of the students, points out to AFP a warning sign in red letters written on a perimeter wall.
"Beware of Mines," it reads.
The school is located in the middle of a minefield, that was partially cleared to allow the students to return.
"We were faced with a difficult choice, either leave them at home or face the risk of bringing them here to study in this rubble," Sultan said.
Children first returned to the school the year after the strike.
"We have been through very difficult times," Sultan said, referring to the fighting in the southwest city, which is held by government forces but besieged by Houthi fighters.
In Taiz city alone, 47 schools were "totally destroyed in the fighting," said Abdel Wassae Chaddad, provincial director of education.
"As far as destruction is concerned, we got the lion's share," he said.
Chaddad said he was forced to close those schools and tell students to go to any other that could accommodate them — even if they were also in poor shape.
Some children have to walk long distances to get there.
In Jamila Al-Wafi's classroom, instead of a blackboard, she writes out the day's lessons in pencil on a supporting beam.
The students, seated on the floor, follow her attentively. They make notes carefully in their exercise books.
Once the lesson is over, they slide down a collapsed roof that serves as a staircase from the classroom down to the ground floor.
"We have 500 students," said Wafi, dressed in black and with her face covered, pointing to the neatly presented boys and girls, who study in separate classrooms.
"We call on the whole world and the business community to save the school," she said. "It could collapse at any moment."
In the courtyard, the children do some light exercises to start the day, and then queue up quietly waiting for classes to begin.
Two million of Yemen's 7 million school-age children do not get to go to school at all, according to the UN.
More than 2,500 schools have been put out of commission.
Two-thirds have been damaged in attacks, while others are used by the army, as shelters for people forced from their home by the fighting, or simply closed in a country with few resources.
The conflict pits the Houthi rebels, who control the capital Sanaa, against a government which is backed by an Arab coalition.
The war has killed tens of thousands of people, mostly civilians, and resulted in what the UN has described as the world's worst humanitarian crisis.
Some 3.3 million people have been displaced from their homes and 24 million, or more than 80 percent of the population, are in need of aid, according to the UN.
For the teachers and students of Al-Wehdah School, the alternatives are very limited, Wafi said.
"We will continue the work, despite the great danger, if we can prevent a lost generation of students who lack education," she said.
https://www.arabnews.com/node/1746701/middle-east
--------
Africa
Sudan peace deal with rebel groups will cost $7.5 bln, says minister
09 October 2020
Sudan's landmark peace deal with rebels that seeks to end decades of war will cost $7.5 billion, the finance minister has said -- a vast sum for the poverty-stricken nation.
Under the October 3 deal between Khartoum and a coalition of rebel groups, the government pledged to fund major development projects in areas ruined by years of war, including in the western Darfur region.
For all the latest headlines follow our Google News channel online or via the app
"The implementation of the peace plan requires at least $7.5 billion over 10 years," Heba Mohamed Ali Ahmed said, according to Sudanese media reports on Friday.
Ahmed made the announcement a day earlier during a discussion with governors and local officials.
Sudan's economy is in crisis, laid low by long years of civil war under Bashir's rule, US sanctions and the 2011 secession of the oil-rich south.
Last month, the government declared a state of emergency to avert a further downturn.
The peace deal covers a number of tricky issues, from land ownership, reparations and compensation to wealth and power sharing and the return of refugees and internally displaced people.
Under the agreement, the government is set to pay $300 million immediately for reconstruction in Darfur, Ahmed said, followed by payments over the next decade totaling $1.3 billion.
"The finance ministry must create an environment favorable to investment in order to encourage the domestic and international private sector to invest in less-developed regions," she added.
Sudan's rebels are largely drawn from minority groups that fought marginalization under the regime of toppled president Omar al-Bashir.
Economic hardship, which triggered the protests that led to the ouster of Bashir in 2019, remains a huge challenge.
"The success of a peace plan depends entirely on how to solve the basic problems that have caused war and conflict," Ahmed said.
https://english.alarabiya.net/en/News/middle-east/2020/10/09/Sudan-peace-deal-with-rebel-groups-will-cost-7-5-bln-says-minister
--------
Libyan delegations meet in Malta for peace talks
Zehra Nur Düz
10.10.2020
Delegations from the Libyan Supreme Council of State and the Tobruk-based House of Representatives met Friday in Malta as part of ongoing Libyan talks, according to Maltese media.
Libyan politicians said a solution is "close" following the talks, according to the Times of Malta.
Libyan Supreme Council of State member Abdulaziz Taher Hariba told the newspaper that there was nothing better than having Libyans meeting to find solutions for their problems.
"Interference from other parties can make the problem more complicated," he said.
Underlining that there is hope from the meeting, Musab al-Abid, a member of the Tripoli parliament said: "Foreign interference is the main issue of Libyan conflicts".
Foreign Minister Evarist Bartolo said his wish is to see peace and stability in Libya.
"Libyan politicians need to work together to plan how to build Libya afresh," said Bartolo.
The delegations signed a draft agreement Tuesday on criteria for appointments for positions of sovereignty.
The ceremony took place after the second round of talks in Morocco wrapped up.
Due to the division in the country between the East and West, most sovereign institutions, if not all, have become divided, with two heads.
On Aug. 21, the Libyan government announced a truce and ordered the military to stop operations against warlord Khalifa Haftar's militias.
The army, however, has since reported several breaches of the cease-fire by militias.
Diplomatic efforts have been underway in recent weeks to resolve the conflict following victories by the army against Haftar's militias.
Libya has been torn by civil war since the ouster of late ruler Muammar Gaddafi in 2011.
The Government of National Accord was founded in 2015 under a UN-led agreement, but efforts for a long-term political settlement have failed due to a military offensive by forces loyal to Haftar.
The UN recognizes Fayez al-Sarraj's government as the country's legitimate authority as Tripoli has battled Haftar's militias since April 2019 in a conflict that has claimed thousands of lives.
https://www.aa.com.tr/en/africa/libyan-delegations-meet-in-malta-for-peace-talks/2001766
--------
Nigeria: Police chief condemns attack on personnel
Felix Tih
09.10.2020
Nigeria's police chief on Friday condemned protesters for attacking police personnel and damaging police operational vehicles, according to a statement.
Mohammed Abubakar Adamu said the incidents in Delta state have led to the death of one policeman, while another sustained a serious gunshot injury.
He said the protesters carted away one service AK-47 rifle with 25 rounds of live ammunition that was with the deceased at the time of the incident.
Adamu also warned that the "force will no longer tolerate any attack on its personnel or any member of the law enforcement community by any individual or group protesting under any guise."
Protesters in Nigeria have been demonstrating for several days against the country's controversial Special Anti-Robbery Squad (SARS) police unit and besieged its headquarters.
Protested chanted "EndSARS" and poured red paint on the street in front of the building – a symbolic reference to the alleged killings by SARS officers.
In a report on Tuesday, Amnesty International said that authorities have failed to tackle the impunity enjoyed by SARS, whose brutality and corruption are "becoming increasingly brazen."
"Last weekend, the Nigerian police announced yet another ban on routine patrols by SARS and other tactical squads of the Nigerian police, the fourth such ban in four years, amid growing anger over harassment and abuse by officers," said the rights group.
https://www.aa.com.tr/en/africa/nigeria-police-chief-condemns-attack-on-personnel/2001012
--------
North America
US military blindsided by Trump's new Afghan troop withdrawal
Oct 9, 2020
WASHINGTON: The US military was blindsided Thursday by President Donald Trump's assertion that all US troops will be out of Afghanistan by the end of the year, with US officials saying they are not aware of such a plan and have gotten no actual order to accelerate the more gradual pullout they've been executing.
Trump's comments, laid out in a confusing progression of comments and a tweet, alarmed Pentagon and State officials who fear that putting a definitive date on troop withdrawal could undercut negotiations to finalize a peace deal between the Taliban and the Afghan government. They also fear a hasty withdrawal could force the US to leave behind sensitive military equipment. And they continue to stress that the Taliban has still not met requirements to reduce violence against the Afghans, a key element of the US withdrawal plan.
The Taliban welcomed Trump's announcements, which started with a tweet Wednesday saying "we should have the small remaining number of our BRAVE Men and Women serving in Afghanistan home by Christmas.'' He reinforced early withdrawal plans Thursday morning, in a Fox Business Channel interview that understated the number of troops currently in Afghanistan.
"We're down to 4,000 troops in Afghanistan. I'll have them home by the end of the year. They're coming home, you know, as we speak. Nineteen years is enough. They're acting as policemen, OK? They're not acting as troops," Trump said.
Multiple US officials, speaking on condition of anonymity to discuss sensitive troop details, said they know of no plan for either new deadline. Instead, they pointed to comments Wednesday by National Security Adviser Robert O'Brien, who told an audience in Las Vegas that "as of today, there are under 5,000 and that will go to 2,500 by early next year.''
US officials said troop numbers have not yet been reduced to 4,500, but will hit that goal in November as planned. The military has also consistently said that counterterrorism troops would remain in Afghanistan for some time to deal with al-Qaida and Islamic State threats.
A senior Trump administration official said Trump, with his tweet, laid down a marker Wednesday on US troop withdrawals from Afghanistan and since he is the commander in chief, the rest of the administration will follow his lead. The official also spoke on condition of anonymity because of the sensitivity of troop withdrawals.
This is not the first time, however, that Trump has upended military policies or troop withdrawal plans with an abrupt tweet, only to be persuaded to adjust his thinking or give the military more time to execute a more deliberate approach. Trump's demand to pull all troops out of Syria, for example, was eventually changed, and there are still less than 1,000 forces there.
Even before Trump's latest pronouncement, the White House has refused to allow US negotiators to base troop withdrawals on the signing of a peace deal between the Afghan government and the Taliban. Instead, American diplomats and military officials were able to say only that withdrawals would be based on conditions on the ground, meaning a measurable reduction in Taliban attacks, rather than any resolution to the country's long-running internal conflicts.
"What we need to see is that they're not going to allow al-Qaida to base there,'' said Gen. Frank McKenzie, head of US Central Command, in a September interview with NBC News. "And that has just not yet been demonstrated to my satisfaction."
McKenzie and other military officials have also said that the drawdown must be done responsibly, and that moving faster will make it more difficult to get sensitive and critical American military equipment out of Afghanistan.
"We're not going to leave anything behind that somebody could use against us in another time and another place. So that's actually a huge logistics effort and it is continuing now,'' McKenzie said last month.
NATO Secretary-General Jens Stoltenberg, asked about Trump's comments Thursday, did not say whether he had been alerted to the new deadlines. Instead, he said NATO and all allies will coordinate their efforts and "make decisions based on the conditions on the ground, because we think it is extremely important to continue to be committed to the future of Afghanistan."
America's exit from Afghanistan after 19 years was laid out in a February agreement Washington reached with the Taliban. That agreement said US troops would be out of Afghanistan in 18 months, provided the Taliban honored a commitment to fight terrorist groups, with most attention seemingly focused on the Islamic State group's affiliate in the country.
Taliban spokesman Zabihullah Mujahed welcomed Trump's tweet as a positive step for the implementation of the US-Taliban agreement. The Taliban, he said, are "committed to the contents of the agreement and hope for good and positive relations with all countries, including the US, in the future.''
The Taliban and the Afghan government-appointed negotiating team are holding peace talks in Doha, Qatar, but progress has been painfully slow.
Washington's peace envoy Zalmay Khalilzad met Thursday in Pakistan with Gen. Austin Miller, commander of US forces in Afghanistan, and Pakistan's Army Chief of Staff Gen. Qamar Jaaved Bajwa. Pakistan has helped shepherd the Taliban to the negotiating table and its role is seen as critical for lasting peace in Afghanistan.
Khalilzad has been keen to get both sides _ particularly the Taliban _ to sign on to a reduction in violence at least while the Qatar negotiations are underway and until a permanent cease-fire can be negotiated.
It's likely Miller and Khalilzad were seeking the help of Pakistan's powerful military to press the Taliban, who have insisted on fighting Afghan security forces even as talks are taking place. The insurgents have kept a promise from February not to attack US and NATO troops.
https://timesofindia.indiatimes.com/world/south-asia/us-military-blindsided-by-trumps-new-afghan-troop-withdrawal/articleshow/78569319.cms
--------
Trump says will resume campaign rallies on Saturday despite COVID-19 infection
09 October 2020
US President Donald Trump has announced plans to return to the campaign trail on Saturday even though he has not fully recovered from COVID-19.
"I think I'm going to try doing a rally on Saturday night if we have enough time to put it together," Trump told Fox News on Thursday.
The president, who was diagnosed with COVID-19 last week, said he was considering holding a rally in Florida on Saturday and then another in Pennsylvania the following day. Both are key battleground states that Trump carried in 2016.
However,recent polls show the Republican incumbent is trailing Democratic nominee Joe Biden narrowly in Florida and more substantially in Pennsylvania.
The New York Times reported that Trump was "angry at the state of the race" and has been imploring his aides to allow him to resume campaign events as soon as this weekend.
The Trump campaign is worried that there is little time and few if any opportunities left to change the trajectory of the race, especially now that the president has canceled next week's virtual debate.
"It's incredible what's going on. I feel so good," Trump said of his recovery.
However, the president conceded he had not taken a second COVID-19 test since being diagnosed a week ago, meaning he could still be positive. During the interview with FOX News, Trump paused multiple times to clear his throats.
Violation of CDC guidelines
In a memo released Thursday evening, White House physician Sean Conley said he anticipated "the president's safe return to public engagements" on Saturday.
That timeline is a shift from earlier in the week, when Conley said he would not stop worrying about Trump's health until he made it to next Monday without complication.
By resuming campaign rallies, Trump will be flouting Centers for Disease Control and Prevention (CDC) guidelines that individuals should quarantine for at least 10 days after they first become symptomatic.
White House officials have dismissed concerns that Trump returning to the campaign trail will risk further spreading the virus, arguing the president will be at a safe distance from the crowd.
However, Trump could put Secret Service agents and other staff accompanying him at risk if he is still contagious. Several senior White House aides have already tested positive in the wake of the president's diagnosis.
'Worst pandemic response ever'
Trump has been widely criticized for his handling of the novel coronavirus which has killed more than 215,000 Americans, by far the largest death toll of any country in the world.
"I think we've got about the worst response to this pandemic that you could possibly have," said Dr. William Foege, who served as CDC director from 1977 to 1983, in an interview with NPR.
He faulted the White House for not allowing the nation's public health agency to apply its vast knowledge to the pandemic response. "It felt to me like President Trump had his knee on the neck of the public health community holding them down so that they could not actually do their work."
Foege made the remarks in the wake of a scathing letter he penned to Robert Redfield, in which he urged the current CDC director to stand up to President Trump's abuses.
The letter, which was sent on September 23 and published by USA Today this week, warned Redfield that former and current CDC officials were starting to lose confidence in his leadership.
"At the moment, they feel you accepted the White House orders without sufficient resistance," Foege wrote.
The former CDC director said he was frustrated that the Trump administration's erratic response to the pandemic has led to many unnecessary deaths.
The situation in the US "is a slaughter and not just a political dispute," he wrote.
"We have 75 years of experience at CDC on how to handle outbreaks," he warned. "And we've learned a lot of lessons. And it appears to me that every one of those lessons has been violated."
https://www.presstv.com/Detail/2020/10/09/635973/US-Donald-Trump-campaign-COVID-infection--
--------
URL: https://www.newageislam.com/islamic-world-news/a-phd-journalist-civil-services/d/123104
New Age Islam, Islam Online, Islamic Website, African Muslim News, Arab World News, South Asia News, Indian Muslim News, World Muslim News, Women in Islam, Islamic Feminism, Arab Women, Women In Arab, Islamophobia in America, Muslim Women in West, Islam Women and Feminism