New Age Islam News Bureau
15 Aug 2019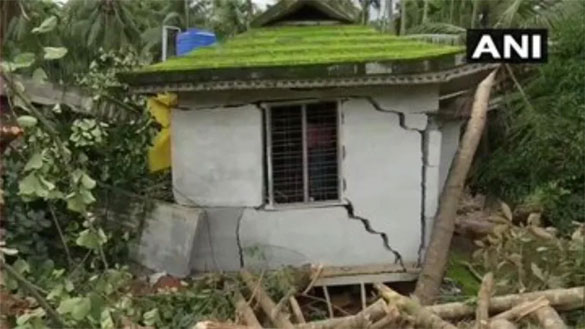 One of the houses that was damaged in the Kavalappara landslide in Kerala. Nearly 60 people were reportedly buried alive in it. (Photo: ANI)
---------
•
A Mosque in Flood-Ravaged Kerala, Offers Prayer Hall To Be Used As Mortuary
• Indian Prime Minister Trumpets Kashmir, Muslim Marriage Moves In Independence Day Speech
• Those Killing, Shouting 'Allah Akbar' Are Against God – President Buhari
• Outrage in Malaysia As Zakir Naik Suggests Chinese Expulsion
• Recovering Drug Addicts Perform Hajj
• Pakistani PM Warns Of 'Srebrenica-Type' Massacre against Muslims In Kashmir
• East Lancashire Mosque, Masjid e Gausia, Donates £964 To Hospice
• Modi Reaches Out To Afghanistan, Launches Veiled Attack on Pakistan In His I-Day Speech
• As the PA and Jordan Help Foment Riots, Israeli Arab Imams Preach Peace
------
India
• Muslims Happy With Abrogation of Article 370: BJP MLA Slams Owaisi's Remark
• VCK MP Seeks Enumeration of Dalit Christians, Muslims
• Indian Court Acquits Six Of Killing Muslim Dairy Farmer In Cow Vigilante Case
--------
Africa
• Shabaab's Jihad Against The 'Leaders Of Disbelief'
• Fear After Imam And Elder Killed
--------
Southeast Asia
• Report: Ummah's Malay Unity Convention To Address 'Threats' To Islam
• Embattled Naik Family To Feature In 3-Day Govt-Backed 'Islamic Camp' In Perlis
• Chinese Light Rail Delivers 2.4 Mln Trips in Mecca For Hajj Pilgrims
--------
Arab World
• Saudi Project Clears 1,000 Houthi Mines in A Single Week
• 50 Families Flee Town In Iraqi Kurdistan Fearing Islamic State Threat
• US Ambassador Praises Saudi Arabia for Hajj Hospitality
• KhalifaSat captures image of Grand Mosque of Makkah during Eid Al Adha
--------
Pakistan
• Indian barbarism has accelerated spirit of jihad: Pervaiz Elahi
--------
Europe
• Russia Says WTO Would Likely Cease To Exist If United States Quits Trade Body
--------
South Asia
• UK announces significant financial contribution to Afghanistan's Presidential Elections
• Afghan Special Forces destroy large depot of Taliban munitions in Logar
• Special Forces arrest 3 Taliban sympathizers in Kabul
• Key Taliban commanders among 15 killed in joint air, ground operations in Faryab
--------
Mideast
• Iran's Islamic Revolutionary Guard Corps Are Some of the Toughest Fighters in the World
• Lebanese Islamic resistance front proved it is possible to defeat Israel: Zarif
• Syrian Army One Step Closer to Khan Sheikoun in Idlib
• US Seeks to Seize Iranian Oil Tanker in Gibraltar
• Envoy: Iran, Russia Pursuing Expansion of Banking Ties, Ditching Dollar
• Training Plane Crashes in Iran, Killing 2
• Speaker's Advisor: Change of US Behaviour Criteria for Iran's Decision
--------
North America
• Muslim Causes vs. National Interests: Nations Make Risky Bets on China's Treatment of Muslims
• Muslim-American Journalist Says Twitter Shadow-Banned Her After Asking Ilhan Omar For An Interview
• Norwegian Man Allegedly Kills Chinese Stepsister before He's Stopped by Hero at Mosque
• Bin Laden's chilling words to Kiwi journalist
--------
• Compiled by New Age Islam News Bureau
Compiled By New Age Islam News Bureau
URL: https://www.newageislam.com/islamic-world-news/a-mosque-flood-ravaged-kerala/d/119472
-----------
A Mosque In Flood-Ravaged Kerala, Offers Prayer Hall To Be Used As Mortuary
August 15, 2019
A mosque in flood-ravaged Kerala has come to the help of local medical authorities by offering its prayer hall to be used as a mortuary. The Mujahid Mosque in Pothukallu area of Malappuram district has offered its premises so that doctors can carry out quick autopsy of bodies being recovered from the landslide in Kavalapara.
More than 60 people are reportedly feared to have been buried alive in this tragedy.
Kerala has been reeling under heavy rains, floods and landslides for the past couple of weeks. More than 100 people have died in rain-related tragedies in the state so far.
The nearest government hospital which is equipped to conduct an autopsy is over 40 km Kavalapara. Due to the distance and heavy rains, it was becoming very difficult for medical officials to transport bodies to the hospital for autopsy. Doctors needed a large hall where they could conduct autopsies of the bodies that were recovered.
Taking note of the emergency and the extent of damage in the area, local mosque offered help and allowed the medical teams to set up an autopsy room inside the prayer hall.
This humble gesture came to light only after Parameshwaran, a staffer at the Manjeri Medical College, shared a video of the mosque's prayer hall being converted into an autopsy hall.
https://www.indiatoday.in/india/story/kerala-floods-mosque-offers-prayer-hall-to-be-used-as-mortuary-1581086-2019-08-15
--------
Indian Prime Minister Trumpets Kashmir, Muslim Marriage Moves In Independence Day Speech
MUMBAI (Reuters) - Indian Prime Minister Narendra Modi delivered an Independence Day speech on Thursday that spotlighted a decision to remove the special rights of the disputed Himalayan region of Kashmir among the bold moves of his second term.
Indian Prime Minister Narendra Modi addresses the nation during Independence Day celebrations at the historic Red Fort in Delhi, India, August 15, 2019. REUTERS/Adnan Abidi
Modi talked about his aim to turn India into a $5-trillion economy within five years, by spurring wealth creation, boosting exports and tourism, and spending 100 trillion rupees ($1.4 trillion) on infrastructure.
But he did not touch on sagging demand that has hit parts of the economy in recent months, especially the auto sector.
Modi said special constitutional status for the state of Jammu and Kashmir had encouraged corruption and nepotism, while creating injustice for women, children and minority communities in India's only majority-Muslim region.
"Today every Indian can proudly say 'One Nation, One Constitution'," Modi, speaking from the ramparts of the historic Red Fort in New Delhi, said of the decision.
Critics of the policy say it will bring a backlash from Kashmiri Muslims who had valued the previous ban on non-residents buying property in the state, part of which is claimed by Pakistan, and benefited from the reservation of state government jobs for residents.
Since the Aug. 2 decision, the region has been under a clampdown, with internet and phone links cut off by authorities, movement restricted by police roadblocks, and more than 500 local leaders and activists detained.
Wearing a flowing bright saffron-coloured turban, Modi, who won a landslide election victory in May, also highlighted his government's ban on some Muslim communities' practice of allowing a husband to instantly divorce his wife.
Perhaps the most controversial announcement in Modi's speech was the creation of a new post of chief of defence staff, to ensure better coordination between India's army, navy and air force, along the lines of Western military forces.
Defence experts have long called for such a post, recommended by a government panel in 1999, after India came close to war with Pakistan over Kashmir.
"Our forces are India's pride," Modi said. "To further sharpen coordination between the forces, I want to announce a major decision ... India will have a chief of defence staff."
However, he did not address the weakening economy and calls by industry for a swift package of government measures to stimulate demand.
India's growth rate has fallen to 5.8% for the three months ended March 2019, its lowest in 17 quarters, while research group CMIE estimates the jobless rate rose to 7.51 percent in July from 5.66 percent a year earlier.
Modi said he would invest 100 trillion rupees in infrastructure over the next five years and a further 3.6 trillion to improve water infrastructure and pipe clean water to every home.
https://in.reuters.com/article/india-independenceday/modi-trumpets-kashmir-muslim-marriage-moves-in-independence-day-speech-idINKCN1V50KE?rpc=401&
-------
Those Killing, Shouting 'Allah Akbar' Are Against God – President Buhari
Published on August 14, 2019 By Seun Opejobi
President Muhammadu Buhari has said that those killing and calling God's name will soon be dealt with as the act is ungodly, promising to use the Nigerian Army and police to end the menace of banditry bedevilling the country.
This, was as he vowed to ensure that perpetrators of banditry and kidnapping attacks are brought to justice, stressing that those killing and shouting "Allah Akbar" are lying because God is not wicked.
Speaking during his visit to Batsari, Katsina State, on Wednesday, where he sympathized with 1,050 internally displaced persons, IDP, selected from the affected eight frontline local government areas bordering the Ruga Forest in the state, Buhari vowed to fight insecurity and other security challenges to a standstill.
Buhari said those kidnapping, maiming lives and calling God are not true faithful because ''it is either they don't know God or disagree with Him''
He said, "What brought me here is to condole you over the recent bandit's attacks affecting not only you but all of us. I have nothing to add on what the Emir had already spoken extensively about, but all that leaders should do right from home is ensure justice.
''I assure you that we sleep and wake-up with the sad moment of banditry and kidnapping activities in the state and country. By the Grace of God, we will use soldiers, police and other public servants to end banditry'.
''All those whose activities is to kill people and saying "Allahu Akbar" are lying because God is not wicked. You can't carry bomb or gun, sword or knife to go and kill innocent somebody and say "Allahu Akbar". This implies that you either don't believe in God or you don't know what you are saying.
''There is popular Hausa adage that says" it's the rat in the house that tells the rat outside that there is fish in the house, so within yourselves, your neighbours and even your relatives there are informants.''
''So in this case, both you and I don't know them, it's only God that knows them, we can't do anything here rather intensity prayers for God's intervention by exposing them''.
https://dailypost.ng/2019/08/14/killing-shouting-allah-akbar-god-president-buhari/
--------
Outrage in Malaysia as Zakir Naik suggests Chinese expulsion
Kuala Lumpur, Malaysia - Indian Muslim preacher Zakir Naik has ignited outrage in Malaysia after suggesting the expulsion of its ethnic Chinese minorities, even as the country's cabinet mulls the possibility of cancelling his permanent residency.
On Wednesday, two ministers told Malaysian Prime Minister Mahathir Mohamad at a cabinet meeting that Naik needs to be deported as his speeches were "inflammatory in nature".
At least four cabinet ministers have called for Naik's deportation along with other senior politicians.
"We have expressed our position which is that action must be taken and that Zakir Naik should no longer be allowed to remain in Malaysia," said Communications and Multimedia Minister Gobind Singh Deo and Human Resources Minister M Kulasegaran in a joint statement.
"The Prime Minister has taken note of our concerns. We leave it to him to consider the position and to decide soonest possible what will be done to deal with the problem," the statement said.
Sources with knowledge of the cabinet meeting told Al Jazeera that Mahathir said he "will solve the problem".
"But he gave no details," the source added.
It was unclear when the cabinet will make a decision on Naik.
Naik, who was granted permanent residency in Malaysia by the previous government, has been living in the country for the last three years.
He drew a huge public outcry for his recent comment that Hindus in the Southeast Asian country had "100 times more rights" than the Muslim minority in India, and that they support the "prime minister of India and not the prime minister of Malaysia".
'Enough is enough'
Naik also took aim at the country's Chinese community, when addressing calls for him to leave the country, saying the ethnic minority should leave first as they were "guests" of Malaysia.
"You know, someone called me a guest. So I said, before me, the Chinese were the guests. If you want the new guest to go first, ask the old guest to go back," said Naik.
"The Chinese aren't born here, most of them. Maybe the new generations, yes," said Naik during a dialogue on August 8 in Kelantan state.
The hashtag #ZakirNaik trended to the third spot on Malaysia Twitter on Wednesday as his latest statement started to spread on social media.
Discussions on race and religion, which are sensitive issues in Malaysia, have come to the fore in recent weeks.
Muslims make up about 60 percent of its 32 million people. The rest are mostly ethnic Chinese and Indians, most of whom are Hindus.
In response, Naik accused the media of twisting his words and misquoting him.
"My praise of the Malaysian government for its Islamic and fair treatment of Hindu minorities is being twisted and misquoted to suit political gains and create communal rifts," Naik said in a statement to reporters on Wednesday.
But video recordings of his speech uploaded by news portal Malaysiakini shows him making the reported remarks against Malaysian Hindus and ethnic Chinese.
Malaysia's youngest minister, Syed Saddiq Abdul Rahman, backed calls to deport Naik, saying "enough is enough".
"I know many Chinese and Indians who are willing to die for this country that they love. It is ridiculous to even think that my fellow Malaysians are my guests," said Syed Saddiq, who is the minister for youth and sports.
Asked by reporters whether he backed the calls by three other ministers asking for Naik's deportation, the minister was quoted as saying, "Yes."
"An attack against our Chinese and Indian brothers and sisters is an attack against all Malaysians," he added in a media WhatsApp group.
"They are my family for God's sake. Enough is enough," he said.
Minister of Water, Land and Natural Resources Xavier Jayakumar said if Malaysia were to ignore Naik's statements and allow him to continue his ways in Malaysia, it would lead to "potential racial and religious division".
"We do not need such individuals to issue seditious statements with the intent to drive the wedge between Muslims and non-Muslims in Malaysia," said Minister Jayakumar.
But Malaysian state news agency Bernama also quoted Prime Minister Mahathir as saying late on Tuesday that Naik cannot be sent back to India for "fear of being killed" there.
"If any [other] country wants to have him, they are welcome," he said, according to Bernama.
In 2016, India banned Naik's foundation after allegations of promoting religious division in the country, allegations that the preacher has denied.
https://www.aljazeera.com/news/2019/08/outrage-malaysia-zakir-naik-suggests-chinese-expulsion-190814230715236.html
--------
Recovering drug addicts perform Hajj
ARAB NEWS
August 14, 2019
JEDDAH: Twenty recovering addicts performed Hajj this year as part of an awareness program aimed at fighting drug addiction.
The program was organized by the Kafa (enough) Society to enlighten people against the hazards of drugs and smoking in Al-Lith city in Makkah province.
The Saudi Press Agency said the group had completed the stages of their pilgrimage.
The society's director, Wissam Al-Mahdawi, said the pilgrimage shall "be the best motivation for them after God to remain straight, and avoid a set back."
http://www.arabnews.com/node/1540126/saudi-arabia
--------
Pakistani PM warns of 'Srebrenica-type' massacre against Muslims in Kashmir
August 15, 2019
India could commit a "Srebrenica-type" massacre and ethnic cleansing against Muslims in Jammu and Kashmir, warned Pakistani Prime Minister Imran Khan on Thursday.
More than 8,000 Bosnian Muslim men and boys were killed after Bosnian Serb forces attacked Srebrenica in July 1995, despite the presence of Dutch troops tasked with acting as international peacekeepers.
Srebrenica was besieged by Serb forces who were trying to wrest territory from Bosnian Muslims and Croats to form their own state.
In a Twitter post with a black display picture following his government's announcement to observe India's Independence Day as Black Day, Khan accused India's Prime Minister Narendra Modi of repeating the example of deadly 2002 Gujarat riots in the picturesque valley.
"In IOK [Indian Occupied Kashmir] 12 days of curfew, presence of extra troops in an already heavily militarized occupied territory, sending in of RSS goons, complete communication blackout; with the example of Modi's earlier ethnic cleansing of Muslims in Gujarat," he said, referring to the killing of more than 1,000 people, most of them Muslims, in Gujarat when Modi was the state chief minister.
The cricketer-turned politician also warned that the ongoing situation in the valley could potentially set off radicalization of Muslim youths.
"Will world silently witness another Srebrenica-type massacre ethnic cleansing of Muslims in IOK? I want to warn international community if it allows this to happen, it will have severe repercussions and reactions in the Muslim world setting off radicalisation cycles violence", he went on to say.
Tensions between the two nuclear rivals have ratcheted up after India's controversial move stripping the limited autonomy of the breathtakingly beautiful valley.
Kashmiris fear that the move is aimed at changing the demography of the Muslim-majority region and it's cultural identity. India for its part contends that the special status earned Kashmiris nothing but terrorism and isolation.
New Delhi also defended cut off of communication links, arrests and deployment of heavy troops as precautions to prevent violence in the disputed region, which has been under curfew and a massive security crackdown for last 12 days.
The Himalayan region of Kashmir is held by India and Pakistan in parts and claimed by both in full.
Since they were partitioned in 1947, the two countries have fought three wars -- in 1948, 1965 and 1971 -- two of them over Kashmir.
According to several human rights groups, thousands of people have been killed in the conflict in the region since 1989.
https://www.yenisafak.com/en/world/pakistani-pm-warns-of-srebrenica-type-massacre-against-muslims-in-kashmir-3498071
--------
East Lancashire Mosque, Masjid E Gausia, Donates £964 To Hospice
Gill Leacy and hospice supporter Suleman Khonat receive a cheque for the hospice from representatives of Masjid e Gausia
A mosque has donated £964 to their local Hospice.
East Lancashire Hospice Trustee Gill Leacy and hospice volunteer, Suleman Khonat were received the cheque on behalf of East Lancashire Hospice for £964.47 from representatives of Masjid e Gausia, Chester Street, Blackburn.
The money donated will go towards helping local people and their families who are coping with a life limiting illness at a time when they need it.
Hospice Income Generation Manager Sharon Crymble said, "We are so grateful for the collection that took place at Masjid e Gausia and raised such a huge amount of money.
"This will help us to provide care not only in the hospice, but also in the patient's own home, providing support alongside the family.
"I would encourage those who do not know the difference hospice care can make to get in touch on 01254 287010 and Suleman and I would be more than happy to show around the hospice and have a chat."
https://www.asianimage.co.uk/news/17837133.mosque-donates-964-hospice/
--------
Modi reaches out to Afghanistan, launches veiled attack on Pakistan in his I-Day speech
Thursday, 15 Aug 2019
The Indian Prime Minister Narendra Modi reached out to Afghanistan in his Independence Day speech, calling the country a 'good neighbor of India'.
Addressing the Indian nation on the occasion of 73rd Independence Day of India, Modi said "From the ramparts of the Red Fort, I give my greetings to the people of Afghanistan who are marking 100 years of freedom."
He also launched a veiled attack on Pakistan a day after the Pakistani Prime Minister Imran Khan threatened war against India amid Kashmir tensions.
Accusing Pakistan for promoting terror in the region including in Afghanistan, Sri Lanka and Bangladesh, Modi said "Those who give protection to terrorism and support it must be completely exposed."
The Indian Prime Minister also added that "Bangladesh, Afghanistan, Sri Lanka are also affected by terrorism. All countries in the world need to come together to fight this menace."
This comes as tensions remain high between India and Pakistan after New Delhi scrapped the Article 370 revoking the special status granted to Jammu and Kashmir.
https://www.khaama.com/modi-reaches-out-afghanistan-launches-veiled-attack-on-pakistan-in-his-i-day-speech-03636/
--------
As the PA and Jordan Help Foment Riots, Israeli Arab Imams Preach Peace
AUGUST 15, 2019
At first glance, Sunday's Arab riots on the Temple Mount fit nicely into the media storyline that Israel's "extremist right-wing nationalist" government is undermining relations between the Jewish majority and the Arab minority.
But the most notable element of those riots was how many Israeli Arab religious leaders rejected the Jerusalem Waqf's all-out effort to foment them. In mosque after mosque throughout Israel, imams preferred to send a message of peace, thereby underscoring the true story of the past few years — not a breakdown of Jewish-Arab relations, but growing Arab integration.
GET THE BEST OF THE ALGEMEINER STRAIGHT TO YOUR INBOX!
The Jerusalem Waqf, which runs the Al-Aqsa Mosque compound, isn't Israeli at all. It's jointly controlled by Jordan and the Palestinian Authority (PA), and diligently disseminates anti-Israel incitement. Hence it's no surprise that anti-Israel riots periodically erupt there.
On Sunday, the Waqf sought to exploit a calendrical anomaly: The Jewish fast of Tisha B'Av coincided with the Muslim holiday of Eid al-Adha (Feast of the Sacrifice). Since both holidays commemorate events that occurred on the Mount (Abraham's sacrifice of Ishmael, in Muslim tradition; the destruction of the First and Second Temples, in Jewish tradition), some members of both faiths like visiting the mount on that day.
JNS.org - The war in Syria is nearing its end. All the Damascus regime must do is seize control of...
The Waqf therefore called a mass prayer rally at Al-Aqsa to prevent Jews from "defiling" it with their "filthy feet," as Palestinian Authority leader Mahmoud Abbas once famously said.
To ensure mass attendance, the Waqf took two unusual steps. First, it ordered all other Jerusalem mosques closed on Sunday, so that Jerusalem Muslims who wanted to attend services on one of the holiest days of the Muslim year would have nowhere else to go. Second, it asked imams throughout Israel to spread the message to their congregants.
So Haaretz decided to ask some imams what they thought of this. Here are some of the responses:
"Gathering in a religious space is not meant to cause escalation, much the opposite, we stress that we all must live in peace," said Sheikh Mohammad al-Quran, imam of Kseifa's mosque, adding that sermons and prayers at his mosque would focus on alms to the needy and the growing problem of violence within the Arab community.
Ahmad Abdullah, imam of Ein Naqquba's mosque, said that Friday's prayers were mainly spiritual preparation for Saturday's fast, which precedes Sunday's holiday. "The topics brought up in the mosque are at the discretion of the imam," he added.
Sheikh Amar Walid, imam of Kafr Qassem's mosque, said Eid al-Adha is meant to foster unity among peoples and deter violence, and that violence within the Arab community would top his agenda that Friday, as it does every Friday. Then, referring to last week's murder of a 19-year-old Jewish yeshivah student by Palestinians, he added, "We are tired of the conflict, we need to end it already, the idea behind slaughtering an animal for the Feast of the Sacrifice is that it is upon us to avoid bloodshed among people."
Nor are these imams unusual. Most Israeli Arabs shun violence. Indeed, just last month, defense officials reported that terrorist activity among Israeli Arabs — never high to begin with — has dropped sharply (with the worrying exception of the Bedouin community, where it's on the rise). In 2015, Israel arrested 120 Israeli Arabs suspected of terrorist activity. By 2018, that number had halved to just 60 arrests.
No less significant, Israeli Arabs increasingly identify as Israeli. In one survey conducted shortly before Israel's April election — nine months after the passage of the controversial nation-state law, which critics wrongly claimed made Arabs second-class citizens — 46 percent of respondents self-identified as "Israeli Arab," 22 percent as "Arab," 19 percent as "Israeli Palestinian," and 14 percent as "Palestinian." Thus 65 percent included "Israeli" in their self-definition, almost double the 33 percent who included "Palestinian." And the most integrationist option, "Israeli Arab," was chosen by more than twice as many people as the second-place contender. This is a sharp contrast to how Israeli Arabs self-identified a decade ago.
The same survey found that 76 percent of Israeli Arabs termed Jewish-Arab relations in daily life "mostly positive," while just 18 percent termed them negative. Moreover, fully 94 percent recognized the existence of a Jewish people, unlike the Palestinian Authority, which vehemently denies Jewish peoplehood. And in a separate poll, a majority of Arab respondents said they were "proud to be Israeli."
Equally notable is the recent change in Arab voting patterns. In April's election, 30 percent of Arab voters cast ballots for Jewish parties, almost double the 17 percent who did so in 2015. Granted, this was partly to protest the petty bickering that led Arab parties to dismantle their joint ticket. Now that the Joint List has reconstituted itself, many Arab voters may return to it in September's do-over election. But some experts think the movement towards Jewish parties could actually intensify, and so do the parties themselves: Left-leaning parties are courting Arab voters in a manner that Thabet Abu Rass, co-director of the Abraham Initiatives coexistence organization, termed "unprecedented."
"The center-left Zionist parties are basically going over the heads of the Arab parties to appeal directly to Arab voters in a very genuine manner," he said, "and that is because they have identified the growing frustration of Arab voters with the parties that are meant to represent them."
Even more surprising, some center-rightists have urged their parties to do the same. Former Benjamin Netanyahu aide Nathan Eshel and Israel Hayom columnist professor Eyal Zisser both recently published columns arguing that the time is ripe for this, since repeated polls have shown that Arab voters overwhelmingly prioritize domestic issues — jobs, crime, education, and housing — over the Palestinian conflict. And successive Netanyahu governments have worked hard to address such issues in the Arab community.
None of this means there aren't real problems in Arab-Jewish relations, including unconscionable anti-Arab broadsides by too many rightist politicians and vicious anti-Israel incitement by Arab Knesset members and Islamist clerics. But overall, the story of the past decade — under Israel's "most right-wing government ever" — has been one of increasing Arab integration. Whatever government is formed after September's election must continue that trend.
Evelyn Gordon is a journalist and commentator living in Israel.
https://www.algemeiner.com/2019/08/15/as-the-pa-and-jordan-help-foment-riots-israeli-arab-imams-preach-peace/
--------
India
Muslims happy with abrogation of Article 370: BJP MLA slams Owaisi's remark
Aug 15, 2019
Hyderabad: BJP Telangana lawmaker Thakur Raja Singh on Wednesday launched a scathing attack on AIMIM chief Asaduddin Owaisi for his remarks over the abrogation of the special status accorded to Jammu and Kashmir.
"Muslims have no issues and are happy with the revocation of the special status. Owaisi cannot comprehend how much development will take place there," said Singh.
Singh's comments came after Owaisi called the centre's decision a "historic blunder".
"Prime Minister Modi does not have the political wisdom. He loves Kashmir but not its people," Owaisi had said.
Continuing his tirade against Owaisi, Singh said that the former must think about the Muslims of Andhra Pradesh and Telangana first.
"The Muslims are facing many problems in Andhra Pradesh and Telangana. The Waqf board land is being grabbed by his party members. He must think about the Muslims being trafficked to Middle East countries before he thinks of Kashmir," he remarked.
The central government had, on August 5, announced withdrawing of the special status under Article 370 of the Constitution to Jammu and Kashmir and bifurcating it into two Union Territories – Jammu and Kashmir and Ladakh.
https://www.deccanchronicle.com/nation/politics/150819/muslims-happy-with-revocation-of-special-status-bj-mla-slams-owaisis.html
--------
VCK MP seeks enumeration of Dalit Christians, Muslims
Aug 15, 2019
Chennai: With pre-testing for Census 2021 currently underway, VCK MP D. Ravikumar has called for the enumeration of Dalit Christians and Dalit Muslims in the SC list. His Viduthalai Chiruthaigal Katchi (VCK) has reiterated its demand that Dalit persons belonging to Christian or Muslim faiths be extended reservation in government institutions for education and employment. Not extending reservation to Dalits of all faiths is tantamount to denying their Constitutional rights to practice a religion of their choice, the party said.
"The caste structure of this religion, which discriminates on the basis of birth, has touched all religions and ruined them. Thus, whichever religion one practices, the oppressed are subject to discrimination. Despite people in power being aware of this, they display inequality by not including Dalit Christians in the Scheduled Caste list. This has to change," said VCK chief and Chidambaram MP Thol Thirumavalavan, in a statement.
Party's general secretary and Villupuram MP D. Ravikumar said the case regarding this demand has been languishing in the Supreme Court for nearly two decades. "The Ranganath Mishra Commission, the Human Rights Commission, the National Minority Commission have all given a favourable recommendation in this regard. But the UPA didn't implement it," he pointed out.
Explaining further, he said, "Article 25 of the Constitution gives citizens the right to practice any religion. In doing so, no one should be denied their rights. Just on account of someone converting to another faith, reservation right being taken away is denying their choice of faith. Moreover, even those who converted generations and centuries ago are known as Dalit Christians. Faith may change but the caste discrimination continues. They don't have the social protection, they can't get justice under the Scheduled Caste and Scheduled Tribe (Prevention of Atrocities) Act."
https://www.deccanchronicle.com/nation/current-affairs/150819/vck-mp-seeks-enumeration-of-dalit-christians-muslims.html
--------
Indian court acquits six of killing Muslim dairy farmer in cow vigilante case
Mayank Bhardwaj
NEW DELHI (Reuters) - An Indian court on Wednesday acquitted six men of the killing of a 55-year-old Muslim dairy farmer, citing lack of evidence, raising questions over the prosecution's failure to make its case despite videos of a crowd beating him in the street.
The 2017 attack on Pehlu Khan and his two sons in the western state of Rajasthan by a suspected mob of cow vigilantes caused public outrage and demands for swift action.
Videos shot on mobile phones showed Khan begging for mercy as the crowd set upon him after stopping his truck with cows in the back. He died but his sons survived.
In Hindu-majority India, many consider cows sacred and killing the animal is outlawed in most states.
Since 2014 when Prime Minister Narendra Modi's Hindu nationalist Bharatiya Janata Party (BJP) came to power, Muslim organizations have complained about Muslims coming under attack amid a resurgence in right-wing Hindu activism.
Hukum Singh Sharma, a defense lawyer, said the court in the town of Alwar had freed the six accused because the prosecution could not link them to the attack on Khan.
"Police had picked up innocent people and all the six accused were framed because of political reasons," Singh said.
The court did not accept the video evidence, Yogendra Singh, the prosecution lawyer, told NDTV news channel.
The court heard the testimonies of more than 40 witnesses, including Khan's two sons.
Khan had told the crowd he was bringing the cows from a cattle fair, but they had screamed that he was planning to slaughter the cattle for beef.
Some prominent Indians took to Twitter to vent their anger over the acquittal.
"Utterly Shameful! This is a lynching that was caught on camera!!! We live in a state of utter anarchy it seems.. the law, the constitution, even evidence it seems are meaningless. Dark dark times!! #PehluKhan," said Swara Bhasker, an activist and a film actor.
Shama Mohamed, a spokeswoman for India's opposition Congress party, branded the court decision "a gross travesty of justice".
India's Muslim minority engages in the trade of cattle for slaughter and consumption, chiefly of buffalo meat, as well as dairy purposes.
https://www.reuters.com/article/us-india-lynching/indian-court-acquits-six-of-killing-muslim-dairy-farmer-in-cow-vigilante-case-idUSKCN1V41K5?feedType=RSS&feedName=worldNews&utm_source=feedburner&utm_medium=feed&utm_campaign=Feed%3A+Reuters%2FworldNews+%28Reuters+World+News%29&&rpc=401
--------
Africa
Shabaab's jihad against the 'leaders of disbelief'
August 14, 2019
Shabaab, al Qaeda's branch in East Africa, has released a lengthy video that is intended to justify its jihad against the Somali government and opposition to allegedly illegitimate rulers elsewhere. The production is the third installment in Shabaab's "Then Fight the Leaders of Disbelief" series. It was produced by Al-Kataib Media, a propaganda shop that is part of al Qaeda's international media network.
Al-Kataib's video editors want their audience to view Shabaab's war through the lens of al Qaeda's global jihadist ideology. Comments from Ayman al-Zawahiri and Osama bin Laden are included in "Then Fight the Leaders of Disbelief," as are clips of various other al Qaeda and associated jihadis. For instance, snippets of lectures from deceased figures such as Sheikh Omar Abdel Rahman (an influential cleric who died in an American prison in 2017), Abu Musab al-Zarqawi (the founder of al Qaeda in Iraq), Sheikh Abu Zubeir 'Adil al'Abab (a senior Al Qaeda in the Arabian Peninsula sharia official who was killed in 2012) and Abu Yahya al-Libi (an ideologue killed in 2012) are all spliced together with other footage to explain Shabaab's ideology and strategy.
The production opens with a clip of Egyptian President Abdel Fattah el-Sisi explaining his approach to religious tolerance. "We in Egypt do not intervene in religious affairs," Sisi says. "We do not distinguish between a Muslim and a Christian. There is no difference between a man and a woman, or between religion and another religion. Everyone is equal!"
Sisi adds that the Egyptian state, which has cracked down on its political opposition, will build churches for Christians and synagogues for Jews, if that is what the populace demands, because "this is the right of the citizen." The "citizen has the right to worship as he pleases, in the same way he has a right not to worship at all," Sisi says.
In a separate clip, Beji Caid Essebsi, the deceased Tunisian president, explains that his country is a "secular state" and the government does "not have any affiliation with religious laws, or the Qur'an and its verses."
Sisi and Essebsi are the prototypical rulers that Shabaab finds objectionable, as they stand in the way of the jihadists' dream of imposing sharia (Islamic law) in Muslim-majority countries. But they are hardly the only two leaders Shabaab criticizes. The video includes footage of Pakistan's Imran Khan, Turkey's Recep Tayyip Erdoğan, Saudi Arabia's Mohammad Bin Salman (MBS), Syria's Bashar al-Assad and Jordan's King Abdullah, among others. All of them are the "leaders of disbelief," according to Shabaab. These same leaders are pictured alongside Americans such as President Trump and Secretary of State Mike Pompeo.
All of these men and their nations are part of an enemy alliance, according to Shabaab.
"The Muslim Ummah (worldwide community) has never had an enemy more dangerous and more damaging to its religious and worldly affairs than the arrogant tyrants of our era who have forcefully suppressed the Muslims, supported the enemies of Allah, fought against the believers and allied themselves with Satan and his offspring," a Shabaab narrator says.
A common misconception about al Qaeda is that the group is myopically focused on attacking the West and is less concerned with fighting the so-called near enemy. But this isn't the case. Although, at times, al Qaeda has given much weight to terrorist attacks in the West, much of the group's activities are focused on deposing regimes throughout the Muslim-majority world. And Ayman al-Zawahiri has emphasized that al Qaeda and its branches see all of their enemies as part of a united front.
Shabaab includes a clip of Zawahiri to stress this broad jihad. "It is apparent to every noble freeman who has insight that the crimes of these corrupt regimes, who subjugate our Ummah, wage war against their religious beliefs and the hijab of their daughters, squander their resources and encourage hedonism, immorality and social decadence, are part and parcel of the global war against Islam and the Muslims that is spearheaded by America," Zawahiri says, as footage of Secretary Pompeo with various Muslim rulers plays on screen.
"As such," Zawahiri continues, "these regimes are proxies and allies of the global powers and they are the ones who are responsible for implementing their policies of waging war against Islam and the Hijab, changing the educational curriculum, normalizing ties with Israel, preventing the rule of Islamic Shari'ah and the plunder of Muslim resources."
Zawahiri concludes: "It is for this reason that the global powers support these local regimes and stand by them, whilst turning blind eye to their crimes, oppression, subjugation, lies and theft, and substitute them with another if they are unable to fulfill their interests."
In a separate segment, deceased al Qaeda ideologue Abu Yahya al-Libi explores the same theme. "We have come to know that these authoritarian regimes which are controlling the masses with the power of fire and iron and who are dependent on their armies in order to fulfill their whims and implement their policies, that it is impossible to oust them from power and depose them except through force which deters them and sacrifices that know no clemency and humiliation," al-Libi says. "If not, however, then the price of remaining under such regimes is many folds more than attempting to over throw and change them."
In other words, according to Zawahiri and al-Libi, the jihadists are obligated to use force to depose various rulers.
A Shabaab speaker echoes these arguments, saying that the "tyrannial regimes in the Muslim world" have "invalidated their claim to Islam" by governing according to laws other than the "Law of Allah" and by "allying themselves with the crusaders." Thus, Shabaab's man says, these same rulers have "justified" their own "deposal," because "the kafir [infidel] has no authority over a Muslim."
Al-Kataib Media reminds viewers that Osama bin Laden made the same argument by drawing on the teachings of other Islamic thinkers. "The Scholars are in unanimous agreement that leadership cannot be assigned to a disbeliever and in case that he becomes a disbeliever, he is to be removed from post," bin Laden says.
Shabaab justifies attacks on Somalia's hotels
Shabaab has carried out a series of high-profile attacks on hotels in Mogadishu and civilian-filled sites elsewhere. The group knows that this can be controversial, as these operations lead to the spilling of Muslim blood. Indeed, Ayman al-Zawahiri has issued guidelines prohibiting or limiting attacks in areas frequented by Muslim civilians.
But Shabaab lays out its rationale for targeting locales such as Sahafi Hotel, Hotel Jazeera, Syl Hotel and the Ambassador Hotel.
The jihadists argue that these hotels are really "heavily fortified buildings" for the Somali government's politicians, as well as military and intelligence officials. Moreover, foreign operatives are stationed in these hotels as well. Al-Kataib Media includes footage of Somali officials and journalists identifying the figures inside the hotels during attacks to illustrate this point. The victims of Shabaab's attacks include generals, intelligence officials and politicians. The jihadists also show how the hotels are protected by high walls and barriers inconsistent with purely civilian uses.
All of this takes place within the context of Shabaab's critique of the Somali government, which the jihadists say is illegitimate, just like regimes elsewhere.
"As for the apostate Somali tyrants, their condition is similar to that of the other treacherous rulers," Shabaab says. "Clear disbelief and apostasy has become manifest in their speeches, actions and policies, taking them out of the fold of Islam and into disbelief, and thereby warranting the ruling of apostasy to be applied to them."
"In accordance with this religious obligation," Al-Kataib Media's team explains, "one of Harakat Al-Shabaab Al-Mujahideen's main objectives is to topple the apostate Somali regime and destroy its foundations in order to liberate the country and its people and cleanse the land from the filth of crusaders and apostates so that the Muslims of East Africa can once again regain their freedom and dignity under the shade of Islamic Shari'ah. " The video's editor's emphasize: "And in that regard it has made great strides and all thanks is due to Allah."
Shabaab's Abu 'Abdurahman Mahad Warsame makes the case that hotels used by the Somali government and its foreign allies are legitimate targets. Warsame has been one of the principal defenders of Shabaab's terrorist tactics, including those leading to civilian casualties, so it is unsurprising that he speaks at length in the new video. Some of the excerpts are taken from his previous audio lecture titled, "The Ruling of Targeting Combatant Disbelievers Even If There Are Muslims Among Them."
Warsame argues that the government of Somalia should be deposed, just like the allegedly infidel regimes found elsewhere. Al-Kataib includes footage of various Somali political figures rejecting the implementation of sharia, thereby portraying the government as religiously illegitimate.
"They named their military bases [as] hotels and fortified them with barriers," Warsame claims. "They blocked the vital roads and restricted access to the people. However, this has not prevented any attacks."
Warsame warns Somalis should stay away from these "so-called hotels"
"Such hotels are legitimate targets for the Mujahideen's military operations at all times and since you are our people, we do not wish any harm to befall you," Warsame says. But he justifies operations that kill Muslims, repeating an old argument that disbelievers could stymie jihad by imprisoning Muslims in vital locations.
A clip of Abu Musab al-Zarqawi defending operations that cause Muslim casualties, as long as the focus is on killing disbelievers, is included to buttress Warsame's arguments.
Shabaab's operations will increase "until Mogadishu and the rest of the occupied cities are once again brought under the rule of Islamic Shari'ah and are liberated from the fifth of the crusaders and their apostate allies," according to Warsame.
Even so, Shabaab is clearly sensitive to the charge that its bombings and complex assaults result in Muslim deaths. After glorifying a series of previous attacks, Al-Kataib's Media team includes language that is meant to be exculpatory.
"In addition to the aforementioned operations, there were also many other operations on the verge of execution but were cancelled after it became apparent to the Mujahideen that there was a greater risk of harm to the Muslims in the vicinity, and in order to safeguard the lives of Muslims and their property as much as possible," Shabaab's propagandists claim.
Another Shabaab official, Sultan bin Muhammad Aal-Muhammad, swears that great caution is taken to avoid civilian deaths and injuries. "All praise is due to Allah that it has become a common fact among Muslims and even the enemies of Allah, that the Mujahideen do not intentionally target innocent Muslims in their military operations, nor do they transgress against their wealth and property," Aal-Muhammad says. "Both Muslims and the disbelievers attest to this fact and everyone is now aware of this reality."
Al-Kataib Media playing a leading role in al Qaeda's propaganda
There are other noteworthy aspects of "Then Fight the Leaders of Disbelief." Shabaab explains that some of the operations targeting hotels were inghimasi attacks, which involve well-trained jihadists immersing themselves in battle at a location before possibly blowing themselves up. Inghimasi operations have become a key part of jihadi operations around the globe. And Shabaab says that these plots, as well as others, are planned by its "Martyrdom Brigade and intelligence teams who are working behind enemy lines."
Shabaab emphasizes that the terrorists recruited for such attacks come from tribes throughout Somalia. This is an attempt to illustrate Shabaab's appeal throughout Somali society.
But this localized theme is seamlessly integrated with al Qaeda's program. For example, Shabaab shows footage from a training camp it has named after Abu Dujanah al-Khurasani, an infamous al Qaeda triple agent who blew himself up at Forward Operating Base Chapman in Afghanistan in late 2009. Al-Khurasani (a Jordanian doctor whose real name was Humam Khalil Abu-Mulal al-Balawi) killed seven CIA officers and a member of Jordanian intelligence in the blast. It is telling that Shabaab would name one of its training facilities after al-Khurasani, a jihadi who is considered a hero by al Qaeda.
Shabaab's video also ends with a clip of al-Khurasani praising martyrdom seekers.
https://www.longwarjournal.org/archives/2019/08/shabaabs-jihad-against-the-leaders-of-disbelief.php
--------
Fear after imam and elder killed
Weldon Kipkemoi
15th Aug 2019
Family members of two elders killed by unknown gunmen in Kwale on Saturday now fear for their lives following the incident.
Omar Shuwe Fuvwe, the imam of Mbokoni Mosque, and Bakari Dondo, 50, were taken from Dondo's home and later found murdered.
Yesterday, Dondo's son Saidi Madondo told The Standard the attackers stormed their home and demanded to see their father.
"About 10 of them forced their way in. We had not locked the door because it was still early in the night and took mzee and Fuvwe away," said Madondo.
SEE ALSO :Kwale, Dagoretti and Nyakach shine in regional games
The family said they found Dondo's beheaded body not far from his home the next day. Fuvwe's body was also recovered.
Msambweni police boss Nehemiah Bittok said they are investigating the matter.
https://www.standardmedia.co.ke/article/2001338160/fear-after-imam-and-elder-killed
--------
Southeast Asia
Report: Ummah's Malay unity convention to address 'threats' to Islam
The upcoming Gerakan Pembela Ummah (Ummah) Malay unity convention will address "threats" to Islam, The Malaysian Insight reports.
Ummah chairperson Aminuddin Yahaya was quoted as saying that the topics of liberalism, Christianity and apparent efforts to destroy race relations will be discussed at the convention, which is slated to take place on Aug 25.
Aminuddin added that the meet is also aimed at uniting Muslims in the country.
"The theme is unity, as we feel there are threats against the Malay race and religion, and we are divided," he said.
According to Aminuddin, the divisions between Muslims have left them powerless to defend their race and religion, which has led to other groups taking advantage and fighting for their own issues.
"The issues raised by groups like Dong Zong on the teaching of khat lessons are small compared to the other fundamental issues.
"We need to address issues of liberalism, Christianity, as well as attempts to amend laws. These are the threats now," he said.
Aminuddin was referring to the Education Ministry's contentious move to introduce Jawi calligraphy lessons in the Standard Four Bahasa Malaysia syllabus.
The Ummah convention, which will be held at a hotel in Kuala Lumpur, will also involve leaders of political parties.
https://www.malaysiakini.com/news/488015
--------
Embattled Naik family to feature in 3-day govt-backed 'Islamic camp' in Perlis
August 15, 2019
KUALA LUMPUR: Fresh from his controversial speeches in the east coast and despite growing calls for his deportation, embattled preacher Dr Zakir Naik and his family are set to feature in events spanning three days in Perlis this week, with special sessions for male and female participants.
Naik, his wife Farhat, and their children Fariq, Rushda and Zikra will feature in a series of sessions designed for Muslim converts, with government agencies as well as state broadcaster Radio Televisyen Malaysia (RTM) listed as co-partners.
The sessions, which begin tomorrow, are part of what is called "Malaysia Reverts Camp" organised by Perlis-based Islamic propagation group One Centre Malaysia and the Perlis Malay Customs and Islamic Religious Council.
"Revert" is a term used by some Muslim missionaries who believe that non-Muslims who embrace Islam are returning to the religion of their birth.
The camp will be held at the scenic Al Hussain Mosque, also known as the "Floating Mosque".
The list of key speakers at the event includes Perlis mufti Mohd Asri Zainul Abidin, who has openly defended Naik, and Islamic motivation speakers Zamri Vinoth and Ridhuan Tee Abdullah.
Among the topics listed are "Da'wah or Destruction", "Religion in the Right Perspective", "Flee to Allah", "Who Are Your True Friends", "Purpose of Life" and "Women's Movement for Creating Noble Generations".
There will also be question-and-answer sessions.
Organisers have touted the event as the largest congregation of Muslim converts in Malaysia.
"Insha Allah, this programme will get recognition from the Malaysia Book of Records," organisers said last month.
Calls for Naik to be sent back to India grew following a recent series of lectures he gave in Kelantan, one of which touched on the loyalty of Malaysian Hindus to Prime Minister Dr Mahathir Mohamad.
He claimed that Malaysian Hindus are more loyal to Indian Prime Minister Narendra Modi than to Mahathir despite receiving "100 times" more rights than Muslims in India.
He later accused his critics of quoting him out of context.
A subsequent media report quoted him as snubbing calls for him to leave the country and saying that most Chinese in Malaysia were not born here.
This sparked a response from many, including members of the opposition, ministers and Mahathir's daughter Marina Mahathir.
Naik, who has permanent resident status, is wanted by authorities in India in relation to money laundering investigations.
However, Mahathir has questioned the likelihood of the preacher receiving a fair trial if he is sent back to his home country.
https://www.freemalaysiatoday.com/category/nation/2019/08/15/embattled-naik-family-to-feature-in-3-day-govt-backed-islamic-camp-in-perlis/
--------
Chinese light rail delivers 2.4 mln trips in Mecca for Hajj pilgrims
August 15, 2019
The pilgrims from all over the world wait on the platform to board the light rail trains in Mecca, Saudi Arabia, Aug. 11, 2019. [Photo/Xinhua]
China Railway Construction Corporation Limited (CRCC), operator of the Mecca light rail in the Hajj season in Mecca, Saudi Arabia, completed this year's pilgrimage transport service on Wednesday.
During the seven-day operation, the total operation time of Mecca light rail was 156 hours, and more than 2.4 million trips were delivered safely and accurately.
Li Chongyang, the vice general manager of CRCC, told Xinhua that the light rail system originally planned to run 1,718 trains and actually ran 2,214 trains.
The pilgrims from all over the world were transported safely and smoothly in the Hajj season that lasted five days from Aug. 9 according to the Islamic calendar.
The CRCC won the bidding of the Mecca light rail project in 2009, and provided service for over 15 million trips in 2010-2014. In 2018, CRCC won the light rail operation contract again, and successfully completed the pilgrimage operation task.
This year, the Saudi government gave the operating contract worth 103 million U.S. dollars to the CRCC, and signed a memorandum of cooperation for the next five years with the CRCC.
http://www.china.org.cn/world/2019-08/15/content_75101586.htm
--------
Arab World
Saudi project clears 1,000 Houthi mines in a single week
ARAB NEWS
August 14, 2019
Expert teams have cleared more than 80,000 mines since the project began in July 2018
RIYADH: Saudi-led mine clearance teams have de-activated nearly 1,000 Houthi explosive devices in Yemen in a single week.
MASAM, the Saudi project for landmine clearance, disabled 15 anti-personnel mines, 458 anti-vehicle mines, two explosive devices and 490 unexploded bombs — a total of 965 devices — during the second week of August.
Expert teams have cleared more than 80,000 mines since the project began in July 2018.
However, Iran-backed Houthi militias in Yemen are thought to have planted more than a million mines in the past three years. The Houthis are also developing anti-vehicle mines and converting them into anti-personnel devices.
"The vast number of land mines continues to pose a threat to the lives of Yemeni people," a MASAMspokesman said. "The Houthi militias lay internationally banned devices randomly near residential areas, on roads and farmland in liberated regions, threatening civilians who are outside the battlefield."
In July, the King Salman Humanitarian Aid and Relief Center (KSRelief) extended the contract for the MASAM initiative for a further year, with an investment of $31 million to ensure that Saudi and international experts can continue to clear mines, especially in the governorates of Marib, Aden, Sanaa and Taiz.
The initiative is aimed at delivering security for the Yemeni people, and is one of several launched by the Kingdom.
KSRelief chief Dr. Abdullah Al-Rabeeah said the Kingdom had conducted more than 1,000 humanitarian aid programs worth $3.5 billion in 44 countries since 2014.
http://www.arabnews.com/node/1540156/saudi-arabia
-----
50 families flee town in Iraqi Kurdistan fearing Islamic State threat
by Mohamed Mostafa
Aug 15, 2019
Kirkuk (IraqiNews.com) Dozens of families have fled a town in Iraqi Kurdistan Region feeling threatened by Islamic State militants' activity in the region, Kurdish media said Thursday.
Kurdish Rudaw network said 50 families have fled the town of Daqouq, Kirkuk province, for fear of falling targets to the extremist group as 15 people, including two police officers, have been recently killed in attacks by the militants.
The network quoted Wasta Rasoul, a senior leader in the Peshmerga forces, saying that Islamic State militants are making use of the security void between locations of Peshmerga and Iraqi government forces. He recommended the formation of a joint force from the federal government and the region's government to resolve the security issue in those locations.
The suggestion of a combined force was discussed by defense officials from Baghdad and Erbil but to no avail.
Iraq declared late 2017 it retook all territories under IS extremists' control, but remnant cells continue to pose a security threat at some regions.
https://www.iraqinews.com/iraq-war/50-families-flee-town-in-iraqi-kurdistan-fearing-islamic-state-threat/
--------
US ambassador praises Saudi Arabia for Hajj hospitality
RASHID HASSAN
August 15, 2019
RIYADH: The US Ambassador to Saudi Arabia John Abizaid has praised the Kingdom's hospitality during this year's Hajj season, saying the nation's generosity was "truly on display for the world to see."
Abizaid expressed his thanks and appreciation to the country's leadership for their dedication in providing care and services to pilgrims.
"On behalf of the United States Mission to Saudi Arabia I would like to extend our best wishes to all Muslims in Saudi Arabia and around the world who are celebrating Eid-Al-Adha," he said in a statement posted on Twitter.
"I would also like to express our thanks to King Salman, Crown Prince Mohammed bin Salman, Minister of Hajj and Umrah Dr. Mohammed Salih Bentin and Minister of Islamic Affairs, Call and Guidance Sheikh Dr. Abdullatif Al-Asheikh for welcoming the thousands of American Muslims participating in this year's pilgrimage."
Abizaid also thanked locals for their hospitality toward Muslims from the US and around the world. "Saudi generosity is truly on display for the world to see during this special time of year," he added.
The ambassador signed off with an Eid greeting.
He was nominated to the post last November and the US Senate confirmed his appointment in April, arriving in Saudi Arabia a month later.Abizaid retired from the United States Army in 2007. He had a 34-year military career, rising from infantry platoon leader to four-star general, and became the longest-serving commander of United States Central Command.rd3322f
http://www.arabnews.com/node/1540206/saudi-arabia
------
KhalifaSat captures image of Grand Mosque of Makkah during Eid Al Adha
August 14, 2019
Dubai: An image of the Grand Mosque of Makkah was taken by KhalifaSat on the first day of Eid Al Adha during the Hajj pilgrimage of this year has been released.
KhalifaSat was fully developed at the Mohammed bin Rashid Space Centre's facilities by Emirati engineers and was launched into space in October 2018.
It has five patents and seven space innovations making it the most advanced satellite of its category in the world.
KhalifaSat provides images with specifications that meet the highest international standards in space images.
These high-resolution detailed images help organisations in government and private sectors get accurate data allowing them to monitor environmental changes, detect the effects of global warming, ensure responsible urban planning and management, and aid relief efforts at times of natural disasters.
https://gulfnews.com/uae/khalifasat-captures-image-of-grand-mosque-of-makkah-during-eid-al-adha-1.1565791161393
--------
Pakistan
Indian barbarism has accelerated spirit of jihad: Pervaiz Elahi
AUGUST 15, 2019
Chaudhry-Pervaiz-ElahiSpeaker Punjab Assembly Ch Pervaiz Elahi, while talking to the media along with MNA Moonis Elahi, has said that the barbarism of Modi government and recent steps accelerated the spirit of jihad among Kashmiris, and their destination (freedom) is near.
Elahi said that the Kashmiri youth while reciting Kalma Tayyaba raise the slogan of "Kashmir baney ga Pakistan" and they are receiving bullets in their chests while carrying Pakistani flags. He said the great sacrifices which our elders had offered during Pakistan Movement and afterwards the way our armed forces, security institutions and civilians have offered their lives for the defence and safeguarding the motherland are ample proof of we know the price and worth of freedom and can offer any sacrifice for it, this is the reason that over the life line of Pakistan Kashmir issue today Prime Minister Imran Khan, armed forces and people of Pakistan are on one page.
Elahi said that Imran Khan and Army Chief are highlighting Kashmir issue at the international level and delegations are also being sent abroad. Entire international community particularly heads of Islamic countries, leaders, OIC and Muslim Ummah should not only condemn Indian barbarism but there is also need for practically coming in the front. Elahi said that the blood of Kashmiri youth who receive bullets in their chests carrying Pakistani flags is calling us that we should unite in the national spirit instead of personal and political interests and move forward to rid oppressed Kashmiris from the Indian shackles forever. He said that the international community is duty bound to secure the right of self-determination for the Kashmiris, United Nations should get its assurances and promises implemented by India.
https://dailytimes.com.pk/447644/indian-barbarism-has-accelerated-spirit-of-jihad-pervaiz-elahi/
--------
Europe
Russia says WTO would likely cease to exist if United States quits trade body
15 Aug, 2019
"The existence of […] the backbone global economic organization after the world's largest economy leaves it will be a big question, it's obvious," the Russian president's spokesman Dmitry Peskov said on Wednesday, as cited by Interfax. However, according to him, whatever the decision, it is a "US internal affair." At the same time, the Kremlin official emphasized that Russia remains a devoted member of the WTO "with all the ensuing consequences."
Trump blasts China & India for 'taking advantage' of WTO's developing nations tag
Addressing a gathering in Pennsylvania on Tuesday, Trump said he was considering his country's exit from the WTO if conditions within the organization are not improved.
"We will leave [the WTO] if we have to. We know that they have been screwing us for years and it's not going to happen again," Trump told an audience of workers at a Shell chemical plant in Pennsylvania.
He called the current mechanism of the organization's work ineffective and unfair, blasting it for helping some countries profit at the expense of the United States. He was especially critical about the terms granted to states like China and India, considered developing economies while Trump believes they are way too advanced for this status.
Trump's threats could be just a ploy Washington is using in trade talks to pressure its allies, according to Russian Economic Development Minister Maksim Oreshkin. He noted that there is no global alternative to the WTO which can boast the same efficiency, so there is no point in the US refusing participating in it.
"Loss of one major player is not fatal for the organization," the minister added. He explained that the US' withdrawal could actually trigger reforms of "multilateral rules in areas, where negotiations have been in a deadlock for a long time."
WTO grants developing countries the right to operate under different rules than advanced economies in certain areas, for instance regarding tariff cuts, transition periods and dispute settlements.
Despite his criticism of the organization, Trump himself stated more than once that after he became president the United States began to win the majority of trade disputes and court cases under the WTO, while before his presidency things were different.
Russia has been a member of the WTO since 2012.
https://www.rt.com/business/466539-trump-wto-kremlin-commentary/
--------
South Asia
UK announces significant financial contribution to Afghanistan's Presidential Elections
Thursday, 15 Aug 2019
The government of the United Kingdom on Thursday announced a significant financial contribution to support the delivery of Afghanistan's Presidential Election.
The British Embassy in Kabul said in a statement that UK's Department for International Development (DFID) will make available up to £8 million to the UN Electoral Support Programme, which provides technical support to Afghanistan's Independent Electoral Bodies.
The statement further added that this includes a planned contribution of £4 million to support preparations for the Presidential election.
Meanwhile, British Ambassador, Alison Blake said "I am pleased that through this contribution the UK can continue to support Afghanistan's democratic process. The UK strongly supports elections in Afghanistan in order that the Afghan people can have their rightful say in the future of their country."
Ambassador Blake further added that UK reiterates the importance of credible Presidential elections taking place. Timely elections are another step towards a more stable and democratic future for Afghanistan.
"I welcome the Afghan Government's own financial commitments to the electoral process, which is key to long term sustainability, as well as the contributions from the international community," Ambassador Blake said.
Furthermore, the British Embassy said the UK, along with others in the international community, supports the Afghan Independent Electoral Bodies' call for all Presidential candidates to adhere to the Election law and the Code of Conduct.
The statement also added "It is critical that the election is conducted in a fair manner, without interference of government officials or the use of state resources to benefit particular candidates. The UK continues to support the independence of Afghanistan's Electoral Bodies in managing the process."
https://www.khaama.com/uk-announces-significant-financial-contribution-to-afghanistans-presidential-elections-03637/
--------
Afghan Special Forces destroy large depot of Taliban munitions in Logar
Thursday, 15 Aug 2019
The Afghan Special Forces destroyed a large depot of the munitions of Taliban group during an operation in Logar province.
The Special Operations Corps said in a statement that the Special Forces discovered the depot in Charkh district.
The Taliban group has not commented regarding the operation so far.
The security situation in some districts of Logar province has deteriorated during the recent months.
Taliban militants are active in some districts of the province and often conduct terrorist related activities.
Meanwhile, the Afghan forces routinely conduct counter-terrorism operations against the anti-government armed groups in this province.
The U.S. forces also conduct regular airstrikes in restive parts of the country to suppress Taliban and other anti-government militants.
https://www.khaama.com/afghan-special-forces-destroy-large-depot-of-taliban-munitions-in-logar-03635/
--------
Special Forces arrest 3 Taliban sympathizers in Kabul
Thursday, 15 Aug 2019
The Afghan Special Forces arrested three Taliban sympathizers during an operation in Kabul, the Kabul Police said.
According to a statement released by Kabul Police Headquarters, the Special Forces arrested the operation in Bagrami district of Kabul.
The statement further added that the detained suspects were cooperating with the Taliban group.
Furthermore, the Kabul Police said the Special Forces also confiscated an Ak-47 assault rifle, a shotgun and some munition during the operation.
The Taliban group has not commented in this regard so far.
https://www.khaama.com/special-forces-arrest-3-taliban-sympathizers-in-kabul-03634/
--------
Key Taliban commanders among 15 killed in joint air, ground operations in Faryab
Wednesday, 14 Aug 2019
The security forces have killed two key Taliban commanders during a joint operation which they conducted in Faryab province.
The Special Operations Corps said in a statement that the Special Forces conducted a joint operation with the Air Forces in Aliabad Village of Gurziwan district in Faryab.
The statement further added that the security forces killed Esmatullah and Mahboobullah, two key commanders of Taliban during the operation.
Furthermore, the Special Operations Corps said the security forces also killed 13 other militants and wounded 8 more during the same operation.
https://www.khaama.com/key-taliban-commanders-among-15-killed-in-joint-air-ground-operations-in-faryab-03633/
--------
Iran's Islamic Revolutionary Guard Corps Are Some of the Toughest Fighters in the World
by Mark Episkopos
The IRGC was founded in the aftermath of the 1979 Iranian revolution.
No other branch of the Iranian military can claim the notoriety that the Islamic Revolutionary Guard Corps (IRGC) has earned for itself over the last several decades.
Earlier this year, the White House took the unprecedented step of designating the IRGC as an organization that "actively participates in, finances, and promotes terrorism as a tool of statecraft." It was an IRGC fast attack craft that almost sparked open military conflict between the U.S. and Iran in June by staging an unprovoked attack against two oil tankers in the Gulf of Oman.
The IRGC continues to comprise a substantial part of the Iranian armed forces, but their influence—both within Iran and across the Middle-East region—extends far beyond raw combat capabilities. To understand the full extent of IRGC's current role within the Iranian military, we must go back to back to the birth of the Iranian Islamic Republic.
(This first appeared earlier in July 2019.)
The IRGC was founded in the aftermath of the 1979 Iranian revolution. Skeptical of the intentions of the inherited government and wary of a counter-coup, Supreme Leader Ruhollah Khomeini founded the IRGC as a counterweight to the existing Iranian security apparatus.
Whereas the Iranian Army is sworn to defend the Iranian government, the IRGC was conceived as a "people's army" meant to safeguard the ideals of the revolution against internal opposition. That opposition was swiftly crushed by Khomeini and his allies, who had successfully consolidated power by the early 1980's. With its original purpose fulfilled, IRGC seized on the ongoing Iran-Iraq war as an opportunity to rebrand itself as a major regional player. As Syracuse University Professor Mehrzad Boroujerdi put it, "Before the war the IRGC militiamen were nothing more than bodyguards to the clerics. Their performance in the war gave them a seat at the proverbial power table." Their ranks swelled with new recruits, reaching 125,000 troops over the coming years, and the IRGC was formally integrated into the Iranian Armed Forces. Now a quasi-independent organization working within the Iranian military, the IRGC's operations expanded to include naval, air force, paramilitary, special forces, and cyberwarfare roles.
Belying the IRGC's broad mandate is a generally well-defined division of labor between the Guards and Iran's conventional military forces. For instance: the Iranian Air Force (IRIAF) operates all of Iran's jet fighters, while the IRGC's own air force branch controls most of the ballistic missiles. The IRGC wields what is arguably the most destructive weapon in Iran's power projection arsenal: the Quds Force, an elite unconventional warfare unit that spearheads Iranian military and intelligence operations across the Middle East.
The Quds Force has been a constant thorn in the side of American interests in the Middle East, providing military aid and direct combat support to anti-US militants in such hotspots as Iraq and Afghanistan. From arming the Taliban against the pro-US Karzai government in Afghanistan to an alleged assassination attempt against the Saudi Arabian ambassador to the US, the Quds Force has been no less proactive in military operations against American allies. Most recently, Quds agents were deployed in Syria to stage ground offensives against anti-Assad rebels as the Russian Air Force conducted airpower campaigns against rebel-held outposts.
Iran is no slouch in raw military power, boasting the world's 14th strongest army by the GlobalFirepower ranking system. It is, however, still grossly outmatched by the US military in every relevant category (with one notable caveat, discussed here).
But the IRGC, with its aptitude for asymmetric and unconventional warfare across the Middle-East, emerged from the chaos of the 1979 revolution to challenge the US in ways that Iran's conventional military forces never could.
Mark Episkopos is a frequent contributor to The National Interest and serves as research assistant at the Center for the National Interest. Mark is also a PhD student in History at American University.
https://nationalinterest.org/blog/buzz/irans-islamic-revolutionary-guard-corps-are-some-toughest-fighters-world-73581
--------
Lebanese Islamic resistance front proved it is possible to defeat Israel: Zarif
August 14, 2019
TEHRAN – Iranian Foreign Minister Mohammad Javad Zarif has said that the Lebanese Islamic resistance movement has proved that it is possible to defeat the Zionist regime of Israel.
"The Lebanese people and the Islamic resistance have proved to the world the truth that the Zionist entity can be defeated. No matter how much this entity wants to wage wars, set fires and shed the blood of the people in this region, it cannot," he told in a joint interview with Al-Ahed and Al-Nour Radio published on Tuesday.
He made the remarks on the occasion of anniversary of Lebanon's victory in 33-day war.
"This victory was a victory for the entire region, international rights and proper international relations," Zarif added.
"The people of the region and the world owe it to the resistance of the Lebanese people, the Islamic resistance and Hezbollah who confronted the arrogance of the Zionist entity. They also confronted the terrorism of the Takfiri group Daesh. They resisted this terrorist and Takfiri threat which was a scourge for the world," he said.
The 2006 Lebanon War, also called the 2006 Israel–Hezbollah War, was a 33-day military conflict between Hezbollah and the Israel Defense Forces in Lebanon, Northern Israel and the Golan Heights.
The Hezbollah victory shattered the myth of the invincibility of the Israeli army. It caused a political earthquake in Israel. Israel lost more than 100 soldiers in the war.
A five-member Winograd Committee, appointed to examine Israel's performance in the 2006 war, concluded in January 2008 that the war "was a big and serious failure" for Israel.
https://www.tehrantimes.com/news/439249/Lebanese-Islamic-resistance-front-proved-it-is-possible-to-defeat
--------
Syrian Army One Step Closer to Khan Sheikoun in Idlib
Thu Aug 15, 2019
TEHRAN (FNA)- The Syrian army continued military operations in Southern Idlib, regaining control of new regions at the entrance of the town of Khan Sheikhoun.
The army forces continued clashes with Tahrir al-Sham al-Hay'at (the Levant Liberation Front or the Al-Nusra Front) terrorists in the Western parts of Khan Sheikhoun in Southern Idlib on Thursday, retaking control of the towns of Horsh al-Abedin and Kharbat al-Abedin in the Northern parts of the town of al-Habit, Zaitouneh farm and the village of Madaya in the North of the town of Kafar Ain.
Meantime, a military source said that the Syrian army's special forces in clashes with Tahrir al-Sham took back control of regions from Zarae'i farms in the West of Khan Sheikhoun to al-Salam checkpoint in the Western gate of the town and deployed in the area.
He added that the Syrian army troops also resumed advance in the Eastern parts of Khan Sheikhoun near the town of al-Tamane'ah in Southern Idlib.
Also, the Arabic-language service of SANA news agency quoted a military source as saying that a fighter jet of the Syrian army crashed in al-Tamane'ah region after the terrorists' attack by anti-aircraft missiles. No reports have yet been released about the fate of the pilot(s).
The Syrian Army had kept up the momentum of its offensive advances in the Northern province of Idlib on Wednesday, and expanded its rule to the regions only 3 kilometers away from the strategic city of Khan Sheikhoun.
The Syrian Army troops, backed by artillery and missile fire, continued their clashes with Tahrir al-Sham terrorists on al-Hobait Road to the West of Khan Sheikhoun in Southern Idlib and captured the towns of Um Zeitouneh, Kharbeh Morshed and al-Mantar.
Army officers said government troops have expanded their presence to areas only three kilometers to Khan Sheikhoun from the West, and said are advancing towards al-Salam Station at the gates of the strategic city.
They pointed to the strategic importance of Khan Sheikhoun, and reminded that the city that links Eastern Idlib to the Western and Northern parts of the province is seen as the gate to the capture of Idlib city.
"Once, Khan Sheikhoun is captured, the grounds will be paved for the Syrian army to reopen the crucial Aleppo-Damascus road and further advance towards other strategic regions, including al-Tah, Kafar Sajneh and Ma'aret al-Numan," they stated.
https://en.farsnews.com/newstext.aspx?nn=13980524000222
--------
US Seeks to Seize Iranian Oil Tanker in Gibraltar
Thu Aug 15, 2019
TEHRAN (FNA)- The United States has applied to seize the Iranian Grace 1 oil tanker in Gibraltar commandeered by British Royal Marines in the Mediterranean last month, The Gibraltar Chronicle reported.
"The US Department of Justice has applied to seize the Iranian supertanker Grace 1 in Gibraltar, just hours before the Gibraltar Government was poised to release it," the newspaper said.
The application means that a decision on the fate of Grace 1 will not be made until later on Thursday, the daily added.
The grounds for the US application are not clear, but the court was told it was a request from the Department of Justice for mutual legal assistance.
The case has now been postponed to 4 pm local time (14:00 GMT), while Gibraltar's authorities consider the US application.
Commenting on the issue, a source in the Gibraltar government told the paper that a captain and three crew members of the Iranian tanker have already been released.
The developments come after The Sun newspaper reported on Wednesday that Gibraltar's Chief Minister Fabian Picardo will not apply to renew the order to detain the Grace 1 and that the tanker was due to be released on Thursday.
On Tuesday, Gibraltar announced it plans to de-escalate tensions with Iran over the seizure of Grace 1 supertanker, reinvigorating hopeful speculations that it might release the large vessel soon.
Gibraltar stated it was seeking to de-escalate issues arising with Iran since the detention of the Grace 1 tanker 40 days ago.
In early July, British marines and Gibraltar police seized the Iranian tanker off the Southern coast of the Iberian Peninsula. Picardo had claimed that the ship was transporting crude oil to Syria "in violation" of the EU sanctions placed on Damascus. Washington has applauded the move, hailing it as a sign that Europe is on board with the US' unilateral sanctions against Iran.
Iran condemned the "illegal move" of London and described it as "tantamount to piracy". Tehran accused the UK of doing Washington's bidding and helping the US attempt to stifle the Islamic Republic's oil exports, rejecting London's claim that the supertanker was carrying crude for Syria.
The recent moves by foreign powers in the Middle East such as US sanctions on Tehran's oil, UK seizure of Iranian supertanker, as well as, "sabotage operations" on oil ships have intensified the turmoil in the region and the turmoil in the international energy market, affecting global crude prices in recent months.
https://en.farsnews.com/newstext.aspx?nn=13980524000465
--------
Envoy: Iran, Russia Pursuing Expansion of Banking Ties, Ditching Dollar
Thu Aug 15, 2019
TEHRAN (FNA)- Russian Ambassador to Iran Levan Dzhagaryan underlined that Tehran and Moscow are making efforts to further broaden economic and banking ties and omit dollar from their trade amid the US sanctions.
"Increasing banking transactions will result in increasing of trade between the two countries," Dzhagaryan said, addressing the "Khazar (Caspian Sea) National Day" conference in Babolsar in Northern Iran on Thursday.
"I hope that increasing in banking transactions will pave the way for further elimination of dollar from the two countries' trade," he added.
Dzhagaryan said that the level cooperation between Iran and Russia is high due to political will of the two sides.
"A Russia economic delegation will visit Iran's northern provinces in near future in order to increase economic and trade cooperation between two countries," he added.
In relevant remarks in July, Dzhagaryan had said that the US sanctions did not have any impact on Moscow-Tehran relations, adding that the two countries were resolved to further expand their mutual cooperation.
"The two countries (Iran and Russia) are cooperating in many fields, and the bilateral ties can be expanded through better planning," the Russian envoy said.
He also announced a joint summit of major Iranian and Russian universities in one of the cities in his country in the near future.
Iran and Russia are cooperating in different fields of culture, tourism, economics, transport and agriculture.
https://en.farsnews.com/newstext.aspx?nn=13980524000376
--------
Training Plane Crashes in Iran, Killing 2
Thu Aug 15, 2019
TEHRAN (FNA)- A light training aircraft crashed in Semnan province in Northern Iran on Thursday, killing two people onboard.
The aircraft crashed in Eyvaneky region, West of Tehran, on Thursday morning.
The two people on board are definitely killed, said Ali Yahyayee, a provincial Red Crescent Society official, adding that Eyvaneky Airport is privately run.
He said that a rescue-and-relief operation team was sent to the area.
Deputy Governor-General of the province, Ali Hemmati, said the aircraft was a training one and the instructor and his female trainee were killed in the crash.
He said that most probably the cause of the crash has been technical, though, further investigations will get underway.
The plane crashed at about 9:00 a.m. on landing gear 200 meters away from runway of the airport.
https://en.farsnews.com/newstext.aspx?nn=13980524000341
--------
Speaker's Advisor: Change of US Behavior Criteria for Iran's Decision
Thu Aug 15, 2019
TEHRAN (FNA)- Senior Advisor to the Iranian Parliament Speaker Hossein Amir Abdollahian said that his country will make any new decision about the policy towards the US based on Washington's behavior.
The Americans are not sincere about their offer of talks with Iran, Amir Abdollahian said in a meeting with South African Ambassador to Tehran Vika Mazwi Khumalo on Wednesday.
He stressed that they must change their behavior towards Iran in practice.
Amir Abdollahian said that Iran has negotiated with both Democrat and the Republican administrations in the US but the Americans proved to be dishonest in their talks.
The Iranian parliamentary official added that Iran held talks with the US on security situation in Iraq while the Bush administration was in power followed by talks over the nuclear deal during Obama era, both of which showed that the Americans broke their promises.
He further noted that the Americans must change their behavior towards Iranian nation in practice as a pre-condition for any new decision by the Islamic Republic.
Elsewhere, Amir Abdollahian said that the Iranian people praise late Nelson Mandela as the symbol of struggle against Apartheid. He also praised South Africa's stances on regional and international issues and its insistence on political solutions.
Khumalo, for his part, said that his country attaches great importance to relations with Iran in various fields, expressing regret over the US withdrawal from Iran nuclear deal and re-imposition of sanctions.
The diplomat welcomed exchange of visits between the Iranian and South African officials to expand and deepen bilateral relations.
In relevant remarks in June, Supreme Leader of the Islamic Revolution Ayatollah Seyed Ali Khamenei rejected the US proposal for negotiations as a "deception", warning that Washington aimed to disarm the Iranian nation.
"The US proposal for talks is a deception and when the enemy has not been able to attain its goal, it proposes talks imagining that the Iranian nation is naïve, and says that the Iranian nation should make progress. Of course, this nation will certainly make progress but without you (the US) and on the condition that you do not approach this nation," Ayatollah Khamenei said, addressing the judiciary officials in Tehran.
He said that the main goal pursued by the US proposal for talks was disarming the Iranian nation and destroying its power components, and added, "If you accept their words in negotiations, the (Iranian) nation will heavily suffer and if you do not accept them, the current political hues and cries, propaganda and pressures will continue."
Ayatollah Khamenei also referred to the US instrumental use of human rights to attain its goals, and said Washington cannot speak about human rights as it has killed nearly 300 innocent Iranian passengers on board Flight 655 in 1988 and is collaborating with the Saudis in their crimes against the Yemeni people.
He also blasted the Trump administration as the most hated and villainous government in the world for insulting and raising allegations against the Iranian nation, and said the people in Iran were not taken aback by such behavior by the US and did not withdraw from their goal and causes.
https://en.farsnews.com/newstext.aspx?nn=13980524000324
--------
North America
Muslim Causes vs. National Interests: Nations Make Risky Bets on China's Treatment of Muslims
avatar by James M. Dorsey
Rohingya refugees shout slogans as they take part in a protest at the Kutupalong refugee camp to mark the one year anniversary of their exodus in Cox's Bazar, Bangladesh August 25, 2018. Photo: REUTERS/Mohammad Ponir Hossain.
For more than half a year, Saudi Arabia has been deporting large numbers of Rohingya who arrived in the kingdom either on pilgrimage visas or using false travel documents — often the only way they were able to leave either Myanmar or Bangladesh.
The expulsions of Rohingya as well as hundreds of thousands of other foreign workers, coupled with the introduction of fees on their dependents and restrictions on the sectors in which they can be employed, are part of Crown Prince Mohammed bin Salman (MBS)'s efforts to reform the kingdom's oil-dependent economy and increase job opportunities.
The success of MBS's reforms rests to a large extent on his ability to reduce an overall 12.7 percent unemployment rate that jumps to 25.8 percent among its youth, who account for more than half the population.
Threatening up to 250,000 Rohingya believed to be residing in Saudi Arabia, the expulsions contrast starkly with condemnations by the kingdom as well as the Jeddah-based Organization of Islamic Cooperation (OIC) of Myanmar's persecution of the Rohingya.
JNS.org - The war in Syria is nearing its end. All the Damascus regime must do is seize control of...
The OIC last month called for filing a case against Myanmar at the International Court of Justice for its alleged violations of the Rohingyas' human rights. Some 750,000 Rohingya have fled to Bangladesh in recent years, where they are housed in refugee camps.
Saudi Arabia has donated millions of dollars in aid for the refugees, and has said it is "gravely concerned and condemns the policy of repression and forced displacement carried out by the government of Myanmar against the Rohingya minority."
The deportations, together with Saudi endorsement of the clampdown in Xinjiang — which has put an estimated one million Uyghurs in reeducation camps, where they are indoctrinated to prioritize Communist Party ideology and reverence for Chinese President Xi Jinping above their Islamic faith — suggests that the kingdom is not willing to compromise its economic interests even if they call into question its moral claim to leadership of the Islamic world.
The Saudi approach is a double-edged sword. On the one hand, its leadership role is bolstered. A majority of Muslim countries reluctant to criticize China take heart from the fact that the custodian of Islam's two holiest cities, Mecca and Medina, has taken the lead in shielding China from Muslim criticism.
On the other hand, Saudi Arabia, like other Muslim nations, is making a risky bet. It could end up on the wrong side of history.
While there are no signs that hopelessness is fueling widespread radicalization among the Rohingya, analysts suggest that in the Bangladeshi camps "almost every factor identified by radicalization experts can be found, to a greater or lesser degree. … It would only take a very small percentage of them (the refugees) to be radicalized for there to be a major security problem."
The emergence of Rohingya militancy in the face of Saudi treatment of members of the group could make the kingdom a target.
Similarly, Saudi Arabia and other Muslim countries are betting against the odds that China will succeed in Sini-cizing Turkic Muslims and ensure that growing anti-Chinese sentiment in Central Asian nations that have close cultural and ethnic links to Xinjiang is kept in check.
This bet counters the historical record. Adrian Zenz, a leading scholar on Chinese policy towards religion and minorities, notes that similar attempts in the past to Sini-cize minorities have failed.
Zenz's research among Sini-cized Tibetans shows that even assimilated Tibetans could become champions of the very ethnic identity they had supposedly renounced.
Mihrigul Tursun, an Uyghur activist released from a reeducation camp, told the US Congress that "my experience in this state program actually made me more conscious of my ethnic identity."
Describing the Chinese clampdown in Xinjiang as an "upgraded version of the Cultural Revolution," Zenz recently noted that Tibetan nomads and Christian villagers were being forced to replace their altars and depictions of Jesus with images of Chinese leaders, including Xi.
Zenz's reference to Tibetans and Christians highlights the fact that non-Muslim countries have been equally reluctant to put their money where their mouth is in condemnations of China's assault on religion that goes beyond Islam and is part of a larger attempt to replace religion with adherence to the country's Communist Party and reverence of its party and political leaders.
Nonetheless, Saudi Arabia is walking a tightrope in balancing its national interests with expectations of its role as a leader of the Muslim world.
While needy Rohingya and other illegal Muslim workers were detained and deported to an uncertain future that was likely to fuel despair and hopelessness, Saudi Islamic affairs minister Abdullatif bin Abdulaziz al-Sheikh announced that King Salman would, for this year's pilgrimage to Mecca, host 200 relatives of the victims of the attacks by a white supremacist on two mosques in New Zealand's Christchurch.
Clearly designed to project the kingdom as a generous supporter of Muslim causes and improve its image, which was tarnished by the war in Yemen and last year's killing of Saudi journalist Jamal Khashoggi, Al-Sheikh said the invitation was part of Saudi Arabia's counter-terrorism effort.
While public sentiment toward the clampdown in Xinjiang remains unclear despite vocal Saudi support for the plight of the Rohingya in Myanmar and Bangladesh, indications are that a significant segment of the kingdom's population remain wedded to its ultra-conservative interpretation of Islam. A recent poll on Twitter showed that a majority of Saudis were opposed to the proposed halt to forcing stores to close during prayers, a key part of the kingdom's tradition of enforced public religiosity.
Adherence to ultra-conservative norms raises the question whether those segments of the Saudi population may be more empathetic to the plight of the Uyghurs.
As part of its effort to co-opt the Chinese Diaspora and counter criticism, China has sought to woo Saudi Arabia's ethnic Chinese community. To do so, China's consulate in the Red Sea port of Jeddah hosts events not only in Mandarin and Arabic but also Uyghur, according to Muhammad Sudairi, a Saudi China scholar.
Sudairi attributed China's focus on Saudi Uyghurs, one of the largest and wealthiest Chinese Turkic diaspora communities, "to the role of this community as a stronghold for anti-Chinese and anti-CPC (Communist Party of China) sentiment in Saudi Arabia, and one that has had some influence in shaping Saudi elite and popular perceptions toward the PRC (People's Republic of China) and CPC."
That focus suggests that public sentiment toward the plight of Muslims in places like Myanmar and Xinjiang may be more layered than positions put forward by Muslim leaders.
Dr. James M. Dorsey, a non-resident Senior Associate at the BESA Center, is a senior fellow at the S. Rajaratnam School of International Studies at Singapore's Nanyang Technological University and co-director of the University of Würzburg's Institute for Fan Culture.
https://www.algemeiner.com/2019/08/15/muslim-causes-vs-national-interests-nations-make-risky-bets-on-chinas-treatment-of-muslims/
--------
Muslim-American Journalist Says Twitter Shadow-Banned Her After Asking Ilhan Omar For An Interview
CAIR, a Muslim activist group, followed her just hours after her remarks, and she was banned soon after. CAIR previously got Laura Loomer kicked off Twitter, but said that was unusual.
Al-Aqidi said she feels like a "child in a detention center" and that she can't understand why Twitter didn't tell her if it contends she did something wrong, rather than making her account appear normal to her, but secretly silencing her to others.
A Muslim-American female journalist and refugee was shadow-banned from Twitter after criticizing Democratic Minnesota Rep. Ilhan Omar.
Dalia Al-Aqidi said Omar has largely refused to grant sit-down interviews to U.S. media outlets, while doing so with Al Jazeera, which is owned by the government of Qatar.
Al-Aqidi is a longtime journalist who has covered the White House and the Iraq war for Alhurra TV, a U.S.-based Arabic network, where the Chicago Tribune lauded her as the "most-watched TV reporter no one in America has seen." She has also contributed stories to the U.S. government-run Voice of America and the Saudi-government-run Alarabiya in the past. She previously fled Hussein's Iraq.
"I dared her to give me a 30 minute 1-on-1 interview. I believe we have things in common we can discuss — we're both immigrants, women, and Muslims. And from what I've seen from her she only gives interviews to Al Jazeera," Al-Aqidi told the Daily Caller News Foundation.
"Two hours later, CAIR started following me" on Twitter, she said, referring to the Council on American-Islamic Relations. "So I pointed out CAIR's connection to the Muslim Brotherhood."
Soon after, it was as if Al-Aqidi didn't exist on Twitter. From her side, everything looked normal. She never received communications from Twitter notifying her of violating its terms of service, and she could log in and send tweets.
But no one could see them. When a user searches her name on Twitter, it never comes up in the autocomplete. If you type in her screen name "@dalia30," it does not come up, with Twitter instead suggesting @dalia30900915. When you search for key words that she has tweeted, her own missives are missing from the search results.
"I was tweeting and didn't know anything was wrong until my friend texted me and said what's wrong with your twitter. Because from my side, everything looked perfect. I can put my name on twitter and it comes up, but for everyone else it doesn't. Nobody could see my tweets unless I replied. I asked twitter customer service and was ignored," she said.
Known as a "shadow-ban," the practice of Twitter secretly preventing others from seeing someone's tweets, while misleading the user that this is not happening, is so common that a website, shadowban.eu, tests for it. It confirms that Al-Aqidi is shadow-banned.
"I feel like a kid in a detention center. And I'm very upset," she said.
Katie Rosborough, a spokeswoman for Twitter, replied "we're looking into this" to questions from the DCNF including what policies Al-Aqidi allegedly violated and why Twitter implements "shadow bans" that silence people without letting them realize that they've been silenced.
Two spokespeople for Omar did not return a request for comment.
Al-Aqidi said Omar's refusal to engage with the U.S. media is what led to her demanding an interview over Twitter. "We can't reach her, so I did it this way," she said.
In July, emails to Omar's spokesman, Jeremy Slevin, were greeted with an unusual automatic bounceback saying that reporters who want comment from Omar on an issue should not expect a response. "Thank you for your interest in covering Rep. Omar. Due to the high volume of requests right now, our office is unable to respond to each of them individually. If we are able to accommodate yours, we will be sure to get back to you. Thank you for understanding!"
"She's been unwilling to address any of these questions" about ethical issues, Kevin Diaz, the editor of the local paper in Omar's district, the Star Tribune, told PolitiFact. (RELATED: Ethics Complaint Against Ilhan Omar For Possible Perjury, Immigration Fraud)
"I feel like I'm suffocated. The only time I've felt that way was when I fled Iraq 31 years ago, and if that's what Ilhan Omar is trying to implement here, then Americans should know. I'm supposed to be protected by the Constitution, but apparently Twitter doesn't believe that," Al-Aqidi said.
Twitter previously banned Laura Loomer after CAIR complained that she had accused Ilhan Omar of anti-Semitism. CAIR told the Wall Street Journal it was rare for the group to ask Twitter to sanction users, and only did it because it believed Loomer was Islamophobic.
"The council doesn't often step in to advocate against other users, says Executive Director Zahra Billoo, but did so in the case of Ms. Loomer based on her previous comments about Muslims," the Journal wrote.
Al-Aqidi said Omar has become accustomed to hiding behind all criticism by calling people Islamophobic, and that she is hiding from an interview with her because that would not work.
"I came to the land of the free 31 years ago, and I believe some are scared of me because I'm an Arab, a woman, I'm not white. They can't call me racist, they can't call me bigot. She can't call me anything," Al-Aqidi said.
In 2018, a Vice News investigation revealed that Twitter was shadow-banning several prominent Republicans. One of them, Rep. Matt Gaetz of Florida, filed a Federal Election Commission (FEC) complaint against Twitter, accusing the company of making an illegal in-kind donation to his opponents by suppressing his account.
https://dailycaller.com/2019/08/14/muslim-journalist-shadow-ban-omar-twitter/
--------
Norwegian Man Allegedly Kills Chinese Stepsister Before He's Stopped By Hero at Mosque
A Norwegian man named Philip Manshaus was arrested on Saturday after waving a weapon and firing several shots inside a mosque in Baerum, Oslo.
Believed to have been inspired by white supremacists in the U.S. and New Zealand, the 21-year-old also became the main suspect in the killing of his stepsister, who was found dead in their home.
The victim, later identified as 17-year-old Johanne Zhangjia Ihle-Hansen, was adopted from China at the age of 2, reports KTLA.
According to security experts, Manshaus is an extremist who was radicalized by far-right conspiracy theories on the internet. One popular theory among supremacists is the "great replacement," which believes that a "genocide" where white people are being replaced by immigrants and Muslims is taking place.
Experts say Manshaus emulated attacks when he entered the mosque, where three men were preparing for Sunday's Eid al-Adha Muslim celebrations. After firing several shots, he was wrestled by a 65-year-old retired Pakistani Air Force officer who managed to take away his guns. Along with the others inside the Al-Noor Islamic Center, the elderly man reportedly held the suspect down until police arrived, preventing anyone from getting shot.
A subsequent raid in Manshaus' nearby house led to the discovery of the dead body of his stepsister, police records revealed. Certain details such as the type of weapon used or other information about the alleged killing have not been revealed to the public.
Hans Sverre Sjoevold, head of Norway's domestic security agency PST, revealed that while authorities already received a "vague" tip a year ago about the suspect, it was not acted upon due to the lack of information on any "concrete plans" of an attack.
Sjoevold explained that having a violent mindset does not necessarily mean the person would act on such inclinations. He further pointed out that capturing and preventing those who "have the ability and will to carry out attacks" will be a "demanding mission."
However, local media reported that two recent high-profile shootings most likely inspired Manshaus to act. Norwegian newspaper Dagbladet pointed out that Manshaus was emboldened by the Christchurch mosque shootings in New Zealand in March that left 51 people dead, and the recent attack on El Paso, Texas, where an assailant left at least 22 dead.
15-Year-Old Schoolgirl in Japan Arrested for Using Marijuana to Deal With Family Stress
On the day of the Oslo attack, Manshaus allegedly wrote online that he had been "chosen" by "Saint (Brenton) Tarrant," the Christchurch mosque shootings gunman.
During a hearing on Monday, Manshaus entered a court in Oslo with a smirk on his face which noticeably still bore dark bruises under both eyes and scratches on his face and neck.
Manshaus' lawyer, Unni Fries, told the Associated Press that the suspect did not admit guilt during the closed-door meeting and asked to be set free.
Under the court's orders, Manshaus is to be held in pre-trial detention for four weeks, two of which will be spent in solitary confinement.
https://nextshark.com/philip-manshaus-chinese-step-sister/
--------
Bin Laden's chilling words to Kiwi journalist
Aug 15 2019
The new season of Sunday Theatre on TVNZ 1 begins with A War Story, a drama about journalist Peter Arnett's interview with Osama bin Laden.
When New Zealand journalist Peter Arnett interviewed Osama bin Laden in 1997 on his plans, the terrorist leader responded, "You'll see them and hear about them in the media, God willing."
And the world did when, four years later on September 11, 2001, two hijacked planes flew into New York's Twin Towers.
A War Story documents how a Kiwi, who started his working life at the Southland Times, ended up interviewing the world's most wanted man in a cave in Afghanistan.
"I think (Arnett) is one of the most driven people I've ever come across," says actor John Leigh, who plays the Pulitzer Prize-winning war correspondent in the telemovie about that historic interview.
"When he did that 1997 CNN interview with Osama bin Laden, he was in his 60s. That trip (into the remote mountains of Afghanistan) is not for everyone. Even the mountain troops found it tough going, so a journalist in his mid-60s must have found it fairly arduous."
John Leigh as Peter Arnett with George Kanaan as Osama bin Laden and Tim Carlsen as Peter Bergen.
The role is a ground-breaking one for the actor who became a household name playing mild-mannered Lionel Skeggins in Shortland Street before going on to create other memorable characters including Outrageous Fortune's pyromaniac Sparky and 800 Words' Constable Tom.
"It is probably the first and last time I'll be number one on the call sheet but I enjoyed it while I had it," he says, adding it was also the first time he has played a real person.
Leigh has never met Arnett and while there is plenty of information about the Los Angeles-based veteran journalist's work, finding out about the man himself was much harder.
"The producer, James Heywood, stayed with him for a couple of days and he interviewed him so he was able to play me a couple of tapes but you never really understand someone else's life so I suppose you just have to make some assumptions," he says, adding he is aware Arnett is likely to watch A War Story.
"I would imagine I would if it was me. In a way I wish I'd talked to him but in another way they say never meet your heroes."
Arnett, his producer Peter Bergen (played by Westside's Tim Carlsen) and cameraman Peter Jouvenal (Ben Van Lier) were chosen from several media groups angling for an interview with the then little-known
al Qaeda leader bin Laden.
Once in Afghanistan, the trio were blindfolded and driven to a remote mountain area where hours later bin Laden (played in the movie by Australian actor George Kanaan) and a group of armed militia arrived.
Arnett had prepared 32 questions and the terrorist leader's responses were a window into the future as he outlined his vision of changing the Arab world, explaining his determination to expel American troops and rid Muslim lands of foreign cultural influences.
"He was a pretty serious dude. He was well financed and from a phenomenally wealthy family. He had some really good computer guys, explosives experts and so on, but I don't think the West took it too seriously. I think they just thought they were playing war games," Leigh says. "I don't think anyone outside of intelligence services really knew who he was."
Leigh says Kanaan's performance as bin Laden is riveting.
"When we did the scene for the interview, when he walked in, we all got up," Leigh says. "You knew you were in the presence of someone.
"He was in the role. He was that guy. It was really weird because (in real life) he's a lovely man and quite a gentle guy."
When bin Laden made good on his promise to Arnett with the 9/11 attacks, the journalist was in New York visiting his daughter so saw the destruction firsthand.
However, Leigh, like most people, saw the attack play out on television – initially without realising what was happening.
"At the time Cliff Curtis was doing a movie called Collateral which was about an attack on the Twin Towers and, because I was watching it out of the corner of my eye while doing other things, I thought it was a promotion for that," he says.
"Then I went away and read a book and came back and realised it was still on and I thought, 'That's weird', so I turned it up.
"And then I rang my dad for some reason, even though there was no likelihood of him being hit by any planes in Wellington. It was a bit like after the Christchurch quake or the (mosque) shootings. People just wanted to reach out and reassure people that they loved them."
https://www.stuff.co.nz/entertainment/tv-radio/tv-guide/114967718/bin-ladens-chilling-words-to-kiwi-journalist
--------
URL: https://www.newageislam.com/islamic-world-news/a-mosque-flood-ravaged-kerala/d/119472
New Age Islam, Islam Online, Islamic Website, African Muslim News, Arab World News, South Asia News, Indian Muslim News, World Muslim News, Women in Islam, Islamic Feminism, Arab Women, Women In Arab, Islamophobia in America, Muslim Women in West, Islam Women and Feminism