New Age Islam News Bureau
11 March 2022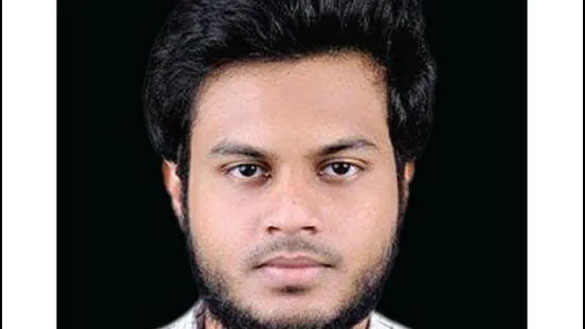 ISKP member Najeeb Al Hindi. (HT Photo)
-----
• Pakistan Police Storm Parliament Lodges, Arrest 19 People Including Jamiat Ulema-E-Islam-Fazl Members of National Assembly
• Islamic State Names Abu Hassan Al-Hashimi Al-Qurayshi New Leader, Confirming US Raid in North-Western Syria Killed Predecessor
• Moderate Sunni Arab States See Nuke Deal as US Bowing To Iran
• Dy. PM Islamic Emirate of Afghanistan: Over One Million Afghan Women, Children Addicted To Narcotics
India
• Voters Send 36 Muslim Candidates to 18th UP Assembly, 2 More Than Earlier
• Appointments in govt depts, Muslim youth must take advantage: Mohammed Saleem
• UP election results: Owaisi's AIMIM fails to open account in state
-------
Pakistan
• Minorities in Pakistan Fear Mob Lynching over Blasphemy Accusations
• Why Have We Become Targets of Hatred, Asks Pakistan's Shia Community
• Loyalists desert, Pakistan PM Imran Khan faces most serious challenge to his rule
• Pakistan PM lashes out at opposition for no-confidence motion, calls Zardari his first target
• JUI-F calls off plans to block roads across the country after lawmakers, party workers released
• 'India to explain what happened in Mian Channu,' says DG ISPR after Indian projectile falls in Pakistan
• Peshawar mosque bombing death toll rises to 65
--------
Arab World
• Lebanese prosecutor bans five bank board chiefs from travel
• Saudi Arabia's first World Defense Show in Riyadh ends with $7.9 billion in deals
• Israel, Bahrain hold talks on regional stability
• Deep Security Council divisions over Syrian chemical weapons again laid bare
--------
Mideast
• Has Erdoğan given up on the Muslim Brotherhood?
• Supreme Leader: Iran Not to Give Up N. Program, Regional Power
• IRGC Warns of "Decisive" Response to Israeli Crimes
• Iran Dismisses "Unfounded" Allegations of Arab League
• Iran: Israel Should Wait for Punishment
• Iran's Assembly of Experts Asks for End to Russia-Ukraine Conflict
--------
South Asia
• Islamic Emirate: Afghanistan Soil is Not Threat to Anyone, Yet America is Still Worry Escalating Rumours
• Work on TAPI Project Will Continue: Islamic Emirate
• Mullah Yaqoob visits southern provinces to assess security
• Karzai confirms travel restrictions on him, & Abdullah Abdullah
• Ukraine's issue hasn't affected Afghanistan-based Russians: Russia's ambassador to Kabul
--------
North America
• US: Justice Department Urged To Probe Anti-Muslim Group's Alleged Spying
• US lawmakers seek sanctions against Pakistan
• White House: Iran nuclear deal "close," end of negotiations challenging
• US seized Iran oil cargo as Biden considers easing sanctions
• Erdogan tells Biden it's time to lift 'unjust' sanctions on Turkey's defence industry
• US, Saudi free two US citizens from Houthi captivity in Yemen: State Department
• US officially designates Qatar as major non-NATO ally
-------
Europe
• Anti-Colonial Calendar Celebrates Muslims Who Fought For Freedom
• French far-right politicians change their tune on immigration
• Iran nuclear talks stumble over unresolved Russia demands
• Queen Elizabeth receives special Turkish song for Platinum Jubilee
--------
Africa
• Envoys Warn Of 'Grave Danger' In Sudan As Two More Protesters Killed
• Jordan's King Abdullah, Israeli FM Lapid discuss Jerusalem tensions
• UAE's Bukhatir group revives $5 billion real estate project in Tunisia
• Military plane crashes in central Sudan
--------
Southeast Asia
• Empowerment Programme At ITE For Malay-Muslims Helps Student Excel
• Protests Grow Over Indonesia's Plan To Carve Up Papua
Compiled by New Age Islam News Bureau
URL: https://www.newageislam.com/islamic-world-news/keralite-islamic-state-khorasan-afghanistan/d/126551
--------
A Keralite Member of Islamic State-Khorasan Province Killed In Afghanistan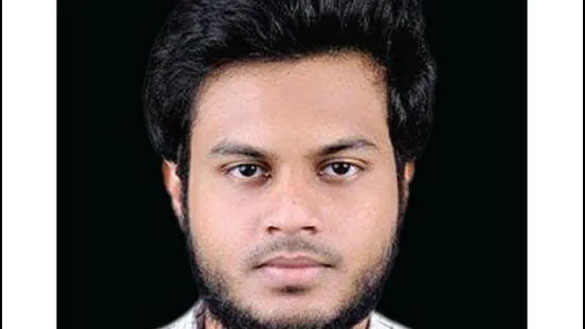 ISKP member Najeeb Al Hindi. (HT Photo)
-----
By Rezaul H Laskar
Mar 11, 2022
NEW DELHI: An Indian member of the Islamic State-Khorasan Province (ISKP) has died fighting in Afghanistan, apparently in a suicide attack, according to the latest issue of a publication of the group.
Voice of Khurasan, the ISKP's publication, identified the Indian fighter only by his nom de guerre, Najeeb Al Hindi, and described him as 23-year-old "engineering (M. Tech) student from Kerala" in an article about his death.
The article didn't give further details about Najeeb or state exactly when he was killed, or the specific circumstances of his death.
The article compared Najeeb to Hanzala Ibn Abi Amir, one of the companions of Prophet Mohammed, because he was killed hours after getting married to a Pakistani woman. Hanzala died in the Battle of Uhud at the age of 24 after leaving for the battlefield on his wedding night.
The article stated Najeeb had come to Khorasan – the area of Afghanistan where ISKP is based – "all the way from India" on his own. "It was very difficult to make hijra on (sic) those days," the article said. He also met other fighters "who came from his own place" and lived as a bachelor in a guest room.
"He was very quiet and spoke when needed, with always a smile on his face," the article said. "Never complaining about the difficult life of mountains, the only thing going on in his mind was Shahadah."
After several months, Najeeb's friends forced him to get married and there was a proposal from a Pakistani family on behalf of a young woman who was within the ISKP fold.
On the date set for Najeeb's wedding, the article states, the "kuffar" (non-believers) "began to advance in our area and bombardment started". The article does not identify exactly who had attacked the ISKP. However, there have been numerous clashes between the Islamic State and the Taliban since the latter assumed power in Kabul in mid-August 2021.
Najeeb initially declined to get married and said he wanted to go for "inghimasi" (a suicide attack). Following pressure from the bride's father, the marriage went ahead, but soon after, an ISKP member came and sought suicide attackers for an assault. Najeeb volunteered to go to the battlefield and died fighting, the article said.
Several dozen men and women from Kerala are believed to have joined the ISKP in recent years. A few have died in fighting or by US drone strikes. During an operation against the group by Afghan forces in Nangarhar province in later 2019, at least 25 Indian nationals – 13 fighters and the rest women and children – were captured.
Scores of ISKP cadres held in prisons in Kabul and other cities were freed during the Taliban takeover of Afghanistan and the fighters returned to the group. The ISKP has claimed some of the most brazen attacks in Afghanistan in recent months, including the suicide attack on Kabul airport on August 26 last year that killed more than 180 people.
Source: Hindustan Times
Please click the following URL to read the text of the original story:
https://www.hindustantimes.com/india-news/islamic-state-member-from-kerala-killed-in-afghanistan-101646970411115.html
--------
Pakistan Police Storm Parliament Lodges, Arrest 19 People Including Jamiat Ulema-E-Islam-Fazl Members of National Assembly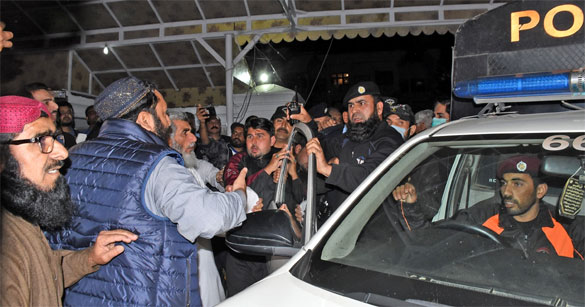 Photo: The Tribune, Pakistan
-----
11 March, 2022
Islamabad [Pakistan], March 11 (ANI): Ahead of a no-confidence motion against Pakistan Prime Minister Imran Khan by Opposition parties, Islamabad Police on Thursday night stormed Parliament Lodges and made 19 arrests including key opposition members of the National Assembly, the highest legislative body of the country.
Heavy contingents of police commandos and other law enforcement agencies gathered around the Parliament Lodges under the command of DIG (Operations), The News International reported.
"We tried to convince them that they could not enter the lodges, but the police personnel remained adamant and entered by force," PMLN leader Khawaja Saad Rafique who was injured in the scuffle was quoted as saying.
The police action came after members of Ansarul Islam, a uniformed volunteer force set up to protect the leadership of the Jamiat Ulema-i-Islam (JUI-F), entered the Parliament Lodges in large numbers, reported Dawn.
JUI leader and Member of the National Assembly (MNA) Salahuddin Ayubi refused to accept the police's demand saying that the Ansarul activists were their guests and legally staying with them.
Shortly afterward, clashes between Ayubi's staff and police personnel erupted. Several Pakistan People's Party (PPP) and Pakistan Muslim League-Nawaz (PMLN) parliamentarians were also present in the lodges at the time, while JUI's Maulana Fazlur Rehman also reached the venue, The News International said citing sources.
The DIG at the spot also instructed the officials to evacuate media personnel from the building as they made their way towards the lodge of MNA, Salahuddin Ayubi.
The police commandos broke into the suite of Salahuddin Ayubi and arrested activists of Ansarul Islam, dragged them out of the room, shifted them to the police prisoner vans and took them to an unknown place.
PPP Chairman Bilawal Bhutto-Zardari said the police operation in Parliament Lodges is "proof of Imran Khan's nervousness." "Violence against members of the Parliament and their arrests is unbearable, this is enough," he said, adding that consequences of such dictatorial acts will not be good for the Pakistan Tehreek-e-Insaf (PTI) government.
Taking notice of the issue, PMLN Vice President Maryam Nawaz said that Islamabad police should refrain from acting like the prime minister's "stooges".
"You (Imran Khan) are responsible for this; your filthy language, arrogance, pride and disrespect for other leaders have led you to this position," she said, adding that it's too late now as his (Khan's) threats are useless now, the report said.
The development comes amid growing discontent against the Imran Khan government, with Pakistan's main opposition parties filing a no-confidence motion against the Pakistan PM on Tuesday in the National Assembly. (ANI)
Source: The Print
Please click the following URL to read the text of the original story:
https://theprint.in/world/pakistan-police-storm-parliament-lodges-make-arrests-despite-appeals-from-opposition-legislators/868477/
--------
Islamic State Names Abu Hassan Al-Hashimi Al-Qurayshi New Leader, Confirming US Raid in North-Western Syria Killed Predecessor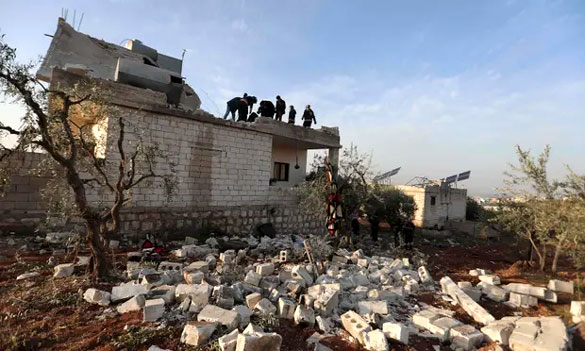 The ruins of Islamic State leader Abu Ibrahim al-Hashimi al-Qurayshi's hideout in Syria's Idlib province after he blew himself up during a US raid in February. Photograph: Aaref Watad/AFP/Getty Images
-----
11 Mar 2022
Islamic State has named a new leader after confirming that its previous head was killed by the US in north-western Syria over a month ago.
In an audio message released on Thursday, an IS spokesman, Abu Omar al-Muhajer, confirmed the death of the group's leader, Abu Ibrahim al-Hashimi al-Qurayshi, as well as that of its former spokesman, Abu Hamza al-Qurayshi, in the US raid.
Muhajer said IS had named a successor, identifying him as Abu Hassan al-Hashimi al-Qurayshi and saying the late IS chief had chosen him.
"He has accepted the leadership," Muhajer said of the new chief, without providing his real name.
There was no immediate information about the new leader and it wasn't known whether he was Iraqi like his two predecessors, both killed in rebel-held parts of Syria.
None of the Qurayshis are believed to be related. "Al-Qurayshi" comes from Quraish, the name of the tribe that Islam's Prophet Muhammad belonged to, and which serves as part of an IS leader's nom de guerre.
Abu Ibrahim al-Hashimi al-Qurayshi was killed during an overnight raid by US special forces on 3 February.
US officials said he blew himself up along with members of his family as American forces raided his hideout in the north-western Syrian town of Atme, near the Turkish border.
About 50 US special operations forces landed in helicopters and attacked the house in the rebel-held corner of Syria, clashing for two hours with gunmen. In all, 13 people were killed, including six children and four women.
In a televised address, the US president, Joe Biden, said "this horrible terrorist leader" was accused of the genocide of the Yazidis in northern Iraq and last month's spectacular assault on a prison holding IS inmates in the east of Syria.
Qurayshi, an Iraqi born in the northern town of Tel Afar, was a veteran of the post-Saddam Hussein Sunni-led insurgency.
He is the fourth senior Isis leader to have been tracked down, captured or killed in Idlib province in the past two years. Qurayshi's predecessor Abu Bakr al-Baghdadi was killed in October 2019 in a village nine miles (14.5km) south of Atme.
The prevalence of the IS leadership in the area raises the likelihood that the heartland of the group – western Iraq – is no longer the centre of its operations, and that a new generation of leaders is opting for sanctuary on the battlefields of Syria.
Source: The Guardian
Please click the following URL to read the text of the original story:
https://www.theguardian.com/world/2022/mar/11/islamic-state-names-new-leader-confirming-us-raid-killed-predecessor
--------
Moderate Sunni Arab States See Nuke Deal as US Bowing To Iran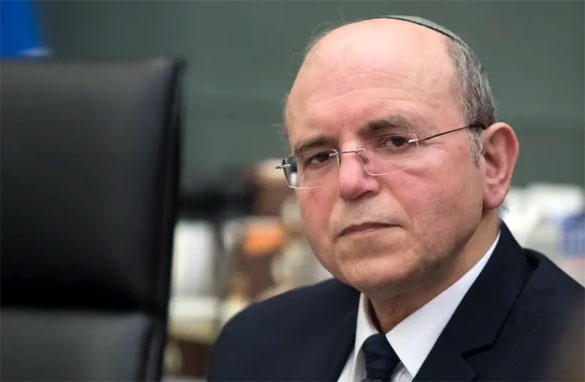 National Security Council head Meir Ben-Shabbat attends a state audit committee meeting at the Knesset in 2018
(Photo credit: Hadas Parush/Flash90)
-----
MARCH 10, 2022
The moderate Sunni Arab states see the emerging potential nuclear deal as the US bowing to Iran, former national Security Council chief Meir Ben Shabbat told The Jerusalem Post.
Currently a senior research fellow at the Institute for National Security Studies of Tel Aviv University, Ben Shabbat served as NSC chief from 2017 until August, during former prime minister Benjamin Netanyahu's term and the first two months of Prime Minister Naftali Bennett's term.
He discussed a number of issues in a wide-ranging interview by email, from Iran to Ukraine to Hezbollah to the Abraham Accords, though he declined to answer questions about operational issues.
Q: Recently, those experts and former officials who said that the JCPOA nuclear deal was bad to have said that the US exiting the deal was also a bad move – because there was no Plan B of what to do without the deal – and that this freed up Iran to progress further with its nuclear program. Do you agree? And now that there is a high probability of a new agreement, how should Israel act?
BS: An agreement is not the end, an agreement is the means! The goal is to stop Iran from obtaining nuclear weapons or from becoming a "threshold state" with nuclear weapons. Any agreement that does not ensure this is a means that is not serving the ends, and is, therefore, not a good one.
It is only when the Ayatollah regime is faced with a choice – to lose power or renounce their nuclear plans – will it give up its nuclear program.
There is no precedent for a country renouncing its nuclear program freely and without pressure. It didn't happen in Iraq, Libya, Syria or in North Korea. Sanctions against Iran could have achieved this goal if they had continued to operate with greater intensity, together with a credible military threat.
In fact, the Trump administration left the Biden administration with important leverage to exert pressure on Iran. They should have continued to use it. That would have broken the spirit and the hope of the Iranians, who had expected that the change of administration in the USA would bring some relief for them. As we can see in another arena [alluding to the current sanctioning of Russia], the USA still believes in the power of severe economic sanctions.
As for the USA, it is also important to say that the agreement presently emerging weakens its status in the Middle East. Its allies will not say this explicitly, but clearly, they see the agreement with Iran as bowing to the Iranians and allowing them to grow stronger in a way that also threatens them. We cannot rule out the possibility that other countries will strive to obtain nuclear weapons, to create a balance against Iran. None of this will bring more stability to the Middle East.
In the event that a new nuclear deal is signed and Iran follows its provisions as it did during the years 2015-2019, when would we need to worry more and become more active: only in October 2025 when there will be fewer nuclear limits on the volume of centrifuges which Iran can operate? One year earlier? Or only in October 2030 when all of the nuclear limits are removed?
The new-old agreement that the USA is currently advancing will certainly pave the way for Iran to achieve nuclear weapons, once the restrictions expire. The emerging agreement has no levers to force Iran to engage in discussions on a "longer and stronger" agreement, and there is no reason to think that it will volunteer to do so.
The Iranian regime will increase its efforts to achieve nuclear weapons, also as a lesson learned from the war in Ukraine. It will see nuclear weapons as an essential guarantee to secure its survival, and will do everything in its power to achieve them quickly.
It will, therefore, maximize what it can obtain within the agreement, and will do whatever it can – even counter to the agreement. Anyone who is not blind must assume that this is how the Iranian regime is expected to think and also to act!
Will the internal instability and problems within Lebanon, combined with the possibility of a new nuclear deal weakening US involvement in the Middle East, cause Hezbollah to attack Israel in the coming year, despite the deterrence Israel has maintained since the 2006 Second Lebanon War?
The agreement with Iran and the resources it will probably be able to obtain will put wind into the sails of the "Shiite axis," including Hezbollah. At the same time, Hezbollah understands well the significance of a conflict with Israel and the price that Lebanon may pay in such an event.
Regarding Israel's position on Ukraine issues: should it have stood more clearly and unequivocally with the US and the West? Should Israel continue with its current policy of ambiguity regarding its relations with Ukraine and Russia, or should it become even more silent on the issue?
Israel does not have to prove what world view, what ideological outlook, and what values it is close to. That is very clear to everyone. And everyone is also aware that Israel and the USA have a relationship that is not called a "special relationship" by chance. Taken as a whole, Israel has other interests that it must also consider. Israel's conduct must take into account both ethical considerations and its overall interests.
At first, the Abraham Accords were very impressive. But after 16 months, the Biden administration has not invested in them the same way as did the previous administration, and the Palestinians have not changed their positions despite the strategic change to the landscape. Has Israel obtained most of the good that it can from the accords, and will now be stuck again with the Palestinians and with other countries that have not joined? Alternatively, some say that Oman and Indonesia could be the next to join. Who might be next?
We can see that the Abraham Accords with the United Arab Emirates, Bahrain and Morocco are developing nicely. They have been extended to cover a very wide range of subjects, and they are creating deep contacts between citizens and companies, not just governments. All of this is proceeding at a good pace, which shows that the Abraham Accords came at just the right time.
There is still potential for further agreements. The positive fruits of the accords so far will influence other countries to be more eager to hop on the peace train. Of course, that is not the only issue, but it has an impact.
The Middle East is currently undergoing a process of re-organization, in which the traditional boundaries between the various camps are becoming blurred.
The pragmatic Sunni camp, which includes Saudi Arabia and the Gulf States, is setting up partnerships with Turkey and Qatar – the mainstay of political Islam, courtesy of the Muslim Brotherhood. Turkey and Israel are becoming closer.
This process is happening as a result of the cumulative effect of four elements: American policy in the Middle East, Iran, the defeat of Salafi terrorism and the economy.
Unlike in the past, the current process is occurring when there is a platform for relations with Israel – the Abraham Accords – and that of course can provide opportunities.
What is the right approach to move forward with normalization with Sudan? Should the process move through Sudanese de facto head of state and military chief Abdel Fattah al-Burhan, or through Sudanese General Mohamed Hamdan Dagalo "Hemetti?" Have, or should, the changes in the Sudanese government (following al-Burhan's coup to topple his civilian authority partners) blocked forward progress, and does Israel need to be careful getting closer to Sudan as long as the West views al-Burhan as illegitimate?
The most important thing is momentum. We must continually ensure that positive momentum continues. There must be a forward trend of progress, even if the pace is slow. As for the method and the people – I am convinced that my replacements and the others involved are carefully considering all the options.
Source: J Post
Please click the following URL to read the text of the original story:
https://www.jpost.com/middle-east/article-700945
--------
Dy. PM Islamic Emirate of Afghanistan: Over One Million Afghan Women, Children Addicted To Narcotics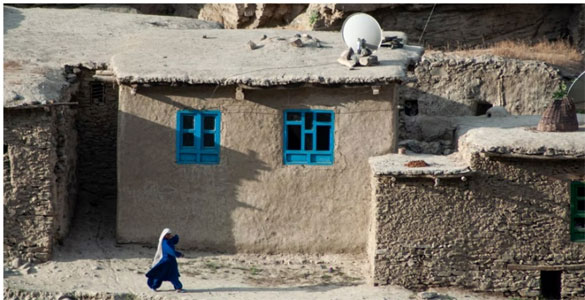 Image credit: Unsplash
------
10 Mar 2022
Deputy Prime Minister of the Islamic Emirate of Afghanistan Abdul Salaam Hanafi said that there are five million Afghan drug addicts among them over one million Afghan minors and women.
In his meeting with a delegation from International Rescue Committee (IRC) on Wednesday, March 9 Hanafi asked the Committee to closely assess the situation of Afghan women affected by war.
The meeting was conducted in the office of the Prime Minister (ARG).
A spokesperson of the IEA Inamullah Samangani in a press release said, if the International Community assists the Afghan farmers in providing their alternative, the IEA is committed to making efforts in uprooting narcotics across Afghanistan.
Meanwhile, the head of IRC in Afghanistan Vicki Aken said that delivering health services to deprived areas is a priority of the IRC and a suggestion has been made to the de facto authorities in this regard.
Further, Deputy Director of the committee Zahra Wardak said, the committee is interested in not only working for Afghan women and children but also for the financial self-sufficiency of Afghan women.
Source: Khaama Press
Please click the following URL to read the text of the original story:
https://www.khaama.com/taliban-over-one-million-afghan-women-children-addicted-to-narcotics-6547655/
--------
India
Voters send 36 Muslim candidates to 18th UP Assembly, 2 more than earlier
March 11, 2022
In a seemingly polarised electoral atmosphere that saw a straight contest between the ruling BJP and Samajwadi Party (SP), voters have sent 36 Muslim candidates to the 18th Uttar Pradesh Assembly, two more than the previous Assembly.
The newly elected MLAs account for 8.93 per cent of the total 403 legislators in a state that has an over 20 per cent Muslim population.
Among the prominent Muslim MLAs who have been elected are Mohd Azam Khan, his son Abdullah Azam Khan, jailed-gangster-turned-politician Mukhtar Ansari's son Abbas, and nephew Mannu.
In Rampur, jailed SP leader Azam Khan won the seat after securing 1,21,755 votes, while BJP's Akash Saxena was a distant second with 56,368 votes.
In the Suar Assembly segment, Azam's son Abdullah Azam received 1,26,162 votes against 65,059 votes of Haidar Ali Khan a.k.a. Hamza Mian, who contested on Apna Dal's ticket.
In Mau, Mukhtar Ansari's son Abbas Ansari, fighting on an SBSP ticket, defeated BJP's Ashok Kumar Singh by 38,227 votes.
In Mohammadabad (Ghazipur), former MLA Sibgatullah Ansari's son and Mukhtar's nephew Suhaib Ansari a.k.a. Mannu emerged victorious with a margin of 18,199 votes defeating BJP's sitting MLA Alka Rai.
In Kairana seat, SP's Nahid Hasan secured a win after polling 1, 31,035 votes against BJP candidate Mriganka Singh's 1, 05,148.
In Nizamabad (Azamgarh), SP's 85-year-old veteran, Alam Badi, was re-elected defeating BJP's Manoj by a margin of 34,187 votes.
Kithore Assembly seat in Meerut saw a close contest between SP's Shahid Mazoor and BJP's Satvir Singh. Mazoor won the seat by a slender margin of 2,180 votes.
In Kundarki (Moradabad), SP MP Shafiqur Rahman Barq's son Zia-ur-Rehman trounced BJP's Kamal Kumar by 43,162 votes.
This time, while the SP fielded much smaller number of Muslim candidates -- 64 -- primarily in an attempt to shed the tag of its MY (Muslim - Yadav) combination being its core constituency, the BSP fielded 88 Muslims while the Congress fielded another 75.
Source: Business Standard
Please click the following URL to read the full text of the original story:
https://www.business-standard.com/article/elections/voters-send-36-muslim-candidates-to-18th-up-assembly-2-more-than-earlier-122031100174_1.html
--------
Appointments in govt depts, Muslim youth must take advantage: Mohammed Saleem
Mohammed Hussain Ahmed
10th March 2022
Hyderabad: The ex-Chairman of Telangana Waqf Board Mohammed Saleem congratulated Chief Minister K Chandrasekhar Rao on his recent announcement for filling 91000 government jobs in the state.
Mohammed Saleem met the chief minister in his chamber to congratulate him for providing an opportunity for the fulfilment of the long-cherished dream of unemployed youth in getting a government job.
He welcomed the identification of 1825 jobs in the Department of Minority Welfare. "Other minority departments are also facing staff shortage and immediate appointments are also required there to better its performance."
The former Waqf Board chairman commended the State Government's decision to regularize the services of contract employees. "The minority youth, especially the Muslims must take full advantage of this opportunity," he said.
Source: Siasat Daily
Please click the following URL to read the full text of the original story:
https://www.siasat.com/appointments-in-govt-depts-muslim-youth-must-take-advantage-mohammed-saleem-2288577/
--------
UP election results: Owaisi's AIMIM fails to open account in state
10th March 2022
Lucknow: Hyderabad headquartered All India Majlis-e-Ittehadul Muslimeen (AIMIM), which had announced to field candidates on 100 seats in UP polls, has failed to open an account in the state.
AIMIM supremo and Hyderabad Lok Sabha MP Asaduddin Owaisi had launched a new front, the Bhagidari Parivartan Morcha, comprising parties with a support base among Muslims, Other Backward Classes (OBCs), and Dalits for the upcoming Assembly polls in Uttar Pradesh.
Owaisi had also said that if the Bhagidari Parivartan Morcha wins the elections, it will have two Chief Ministers – a Dalit and an OBC leader, besides three deputy Chief Ministers, one of whom will be Muslim.
The Jan Adhikari Party led by Babu Singh Kushwaha, the Bharat Mukti Morcha led by Vaman Meshram, Janata Kranti Party led by Anil Singh Chauhan and Bhartiya Vanchit Samaj Party led by Ram Prasad Kashyap were part of the front.
Owaisi's campaign in UP
During the campaign in UP, Owaisi tried to highlight many issues that are being faced by the people of the state. It had even brought the 'hijab' row to the state assembly elections.
Commenting on the hijab row, he had said, "The BJP government is not allowing our daughters to wear a hijab and study but Prime Minister Narendra Modi talks about empowering Muslim women with the triple talaq law. Is this his 'Beti Bachao, Beti Padhao' campaign pitch?".
Source: Siasat Daily
Please click the following URL to read the full text of the original story:
https://www.siasat.com/aimim-fails-to-open-account-in-up-2288554/
--------
Pakistan
Minorities in Pakistan fear mob lynching over blasphemy accusations
10 March, 2022
Islamabad [Pakistan], March 10 (ANI): Regular episodes of attacks on the minorities' properties and their religious places on fake or inadvertent blasphemy charges in Pakistan have been occurring on daily basis.
A violent mob in Pakistan's Punjab province stoned to death a "mentally challenged" man accused of committing blasphemy over allegedly desecrating the Holy Quran on February 12, reported European Times.
This is not the first incident of mob justice in Pakistan. In November 2021, a mob had vandalised a police station in Khyber Pakhtunkhwa's Charsadda district and set it on fire after the local authorities refused to hand over a man arrested for allegedly desecrating the Holy Quran.
Moreover, the memories of the lynching of a Sri Lankan factory manager, Priyantha Kumara, in Punjab's Sialkot city in December are still fresh.
Such killings in Pakistan over blasphemy accusations are not just about extrajudicial vigilantism. They have an all-encompassing reason ranging from religious and political to petty and personal disputes, and international connections, reported European Times.
According to the US Commission on International Religious Freedom Report (2016), Pakistan has the world's second-strictest blasphemy laws after Iran.
But what is more concerning is that, in most blasphemy cases, culprits are either eulogised as the 'saviour' of Islam, in case they get a judicial sentence, or are released under the pressure from religious extremists.
These religious extremists support the severest implementation of draconian blasphemy laws to subjugate the lower-strata of society, Ahmadiyyas and Shias, and other religious minorities such as Christians, Hindus, and Sikhs.
This is the legacy of the Islamic military dictator General Ziaul Haq, who used the laws to appease the hard-line Islamist forces in Pakistan.
However, the menace of blasphemy killings in Pakistan has currently reached an unprecedented level under the Imran Khan government, which has provided space to extremist Islamist outfits such as Tehreek-e-Labbaik Pakistan (TLP), a Sunni Barelvi group, reported European Times.
In a recent study on the blasphemy issue in Pakistan, a local Think Tank, Centre for Research and Security Studies had revealed that from 1947 to 2021, as many as 89 people were extra-judicially killed over blasphemy accusations in the country.
It further stated that a total of 1,287 citizens were accused of committing blasphemy from 2011-21, the period in which TLP remained most active and expanded its support base across the country, reported European Times.
The Khan government's failure to control incidents of blasphemy and an apparent soft- corner for the extremist Islamist groups, for political purposes, will have far-wider consequences for Pakistan in the coming months.
Source: The Print
Please click the following URL to read the full text of the original story:
https://theprint.in/world/minorities-in-pakistan-fear-mob-lynching-over-blasphemy-accusations/867505/
--------
Why Have We Become Targets of Hatred, Asks Pakistan's Shia Community
Veengas
Mar 11, 2022
Karachi: The Shia community of Pakistan believes that the March 4 suicide attack by a bomber from the Islamic State – Khorasan Province on a pre-partition era Shia mosque at Kocha Risaldar, Peshawar, in which 64 people were killed and more than 200 people seriously injured, was the latest in series of attacks on their community since the Taliban came to power in Afghanistan in 2021, supported by the Pakistan government.
"Shias in Afghanistan have been attacked four times since the Taliban takeover in 2021 and we sense that the situation for us will get worse in the future," said Sayed Shabeer Shah, who was a victim of the 2015 attack on a Shia mosque in Peshawar in which 19 people had been killed.
Shah wondered how the attacker had managed to enter the mosque on March 4, considering that it is well-known for its strict security measures and the distance between the main gate and the mosque itself is about 400 meters, which takes three to four minutes to cross.
No guards had been available at the main gate, said Shah. But there had been eight policemen posted at the mosque who had failed to be alert enough to thwart the lone suicide bomber from entering the building, he added.
"The attack on the Shia mosque in Peshawar was the result of the insecure security state's suicidal policies," said Bushra Gohar, a senior member of the National Democratic Movement and a former member of the National Assembly of Pakistan. "The sponsorship and nurture of religious extremism remains an integral part of the state's policy."
A history of intolerance
Every government that comes to power in Pakistan claims that religious minorities will be safe. But there is a vast and deep distance between this claim and reality. For example, it is said that militant groups that follow the Deobandi school of Islam, such as the Afghan Taliban, Lashkar-e-Jhangvi and the Ahle Sunnat Wal Jamaat, are banned in Pakistan. But these groups continue to work under different names and have promoted sectarian violence against the Shia community since the 1990s.
"They seem to think that those who do not match them in their beliefs and ideology deserve to be killed," said Mohsin Dawar, a Pashtun nationalist who is chairman of the National Democratic Movement and a member of the National Assembly of Pakistan.
Attacks on members of the Shia community are not restricted to shootings and bombs. For example, said activist Abid Rizvi, nearly a thousand first information reports (FIRs) were registered against members of the Shia community between August and October 2021.
"Even if we quote Yazid in order to condemn him, we have FIRs lodged against us because we quoted Yazid," says activist Abid Rizvi. "Now we cannot even criticise Yazid."
Yazid was the second caliph of the Umayyad and the first person in Islamic history to inherit the caliphate. When Hussain, the grandson of Prophet Muhammad, was martyred in the battle of Karbala by the forces led by Yazid, it led to the beginning of a schism in Islam that divided the faith into Sunnis, the majority, and Shias, a large minority.
Also read: India Doesn't Understand Afghan Society or Politics. We Must Stop Pretending Otherwise.
Mohsin Dawar believes that the military establishment of Pakistan is responsible for what happened in Peshawar on March 4 due to its policies on Afghanistan.
After the Soviet invasion of Afghanistan in December 1979, Pakistan supported the Mujahideen, which were groups of Afghan guerrilla fighters who fought the Soviets as a jihad. When the various groups of Mujahideen began to war with each other instead, a group of Islamic teachers and students emerged, calling themselves the Taliban and fighting the Mujahideen to take over the country. Pakistan then began to support the Taliban, an anti-democratic force, but now the Daesh (the Islamic State – Khorasan Province) is working against the Taliban and also attacking minorities, Dawar explained.
"Pakistan facilitated and celebrated the terrorists' takeover of Afghanistan without thinking through the dire consequences for the country and the region," said Gohar. "Political leaders and parliament have surrendered their roles and responsibilities in the formation of foreign and security policies to the unelected military and civilian bureaucracy in return for petty power interests."
She added: "We have repeatedly warned the people of Pakistan about the regrouping of Taliban terrorists of all shades in Khyber Pakhtunkhwa under the state's watchful eyes. It is an indication that a new cycle of proxy war has begun since the Taliban occupation of Afghanistan last year."
Dawar believes that there is something dubious about the fact that Arman Lodhi Shaheed, a member of the Pashtun Tahaffuz Movement, was arrested for distributing pamphlets in Karachi, while those who circulate Daesh literature in Khyber Pakhtunkhwa are never booked by the police. "Political movements are scrutinised," he pointed out.
Beginning of genocide?
Politics aside, the Shia community in Pakistan is overcome with grief. "Why are we being killed?" asked Muzafar Akhunzada, deputy secretary of the Shia Ulema Council of Pakistan. "We are against injustice and we spread the message of peace. But our girls are orphaned and our daughters are made widows. Someone must answer: who killed us?"
Akhunzada insisted that the security agencies must know who was behind the attack on the Shia mosque and why the attack was carried out. "If the security agencies knew how he came to the mosque and what he wore, then the security agencies must know who encouraged him to kill Shias," he said.
The state could use the excuse that attacks like this are carried out in Pakistan due to opposition to the China-Pakistan Economic Corridor, Akhunzada said. "But if that is the case, why does it happen only to the Shia community?" he asked.
While the police have traced the suicide bomber and the people who assisted him, they will not share further details until the investigation has been completed.
Akhunzada will not place the blame for the attack directly on the Pakistani state for fear that fatwas will be made against him. After the attack on the mosque, very few people even called the Shia community by its name: members of the government in Islamabad and many members of opposition parties called the suicide bombing "an attack on humanity" rather than "an attack on Shias". Just a day after the attack, a video went viral on social media in which Shias were referred to as kafirs: infidels.
"How can people change the identities of communities?" asked Dawar. "When a Pashtun is killed, the state does not say a Pashtun was killed. It says a Pakistani was killed. The fact is that more Pashtuns and Balochs are killed in Pakistan than members of other communities. You cannot erase someone's identity."
Any person who identifies herself or himself as part of a certain community should be recognised as part of that community, said Dawar. "If Shias say that they are being killed because they are Shia, then we should accept it," he said.
Qazi Khizer, president of the Sindh chapter of the Human Rights Commission of Pakistan, explained: "Muslims do not kill Muslims. That is the mindset of the Deobandi and Salafi groups that are supported by the state of Pakistan. These groups believe that Shias are not Muslims."
According to a research study carried out by the Human Rights Commission, 39 Shia doctors were killed in 2004 because they belonged to the Shia sect. "Shias are killed for their beliefs," said Khizer.
Source: The Wire
Please click the following URL to read the full text of the original story:
https://thewire.in/south-asia/why-have-we-become-targets-of-hatred-asks-pakistans-shia-community
--------
Loyalists desert, Pakistan PM Imran Khan faces most serious challenge to his rule
Mar 11, 2022
ISLAMABAD: Pakistan's Prime Minister Imran Khan is facing the most serious challenge to his rule as senior party leaders desert him amid a renewed opposition push to box him in with street protests and demands he faces a no-confidence vote.
A senior member of Khan's government, Aleem Khan, joined a breakaway group of the ruling Tehreek-e-Insaf party on Monday citing disappointment with the premier's governance since he came to power in August 2018. Over the weekend, the prime minister's former special assistant Nadeem Afzal Chan also defected to the opposition Pakistan Peoples Party.
The PPP is converging on capital Islamabad Tuesday with thousands of its supporters and demanding that Khan either resign or face a vote of confidence. The opposition, which formally asked for a vote of no-confidence against Khan on Tuesday, needs the approval of 172 members in the 342-seat National Assembly or parliament's lower house.
"It's quite a threatening, difficult situation for Khan," said Ahmed Bilal Mehboob, president of the Pakistan Institute of Legislative Development and Transparency in Islamabad. "He is trying to win back the support of his disgruntled leaders but its cost will be high. If he survives, he won't be as strong as he was."
The opposition has asked the speaker of the National Assembly to call a vote of no-confidence against Khan, Pakistan Peoples party lawmaker Shazia Marri said. It's not immediately clear when the speaker will ask for the vote.
However, Khan has the backing of Pakistan's powerful military that has ruled the nation for almost half its history. He has survived previous demands for his resignation by the opposition.
The latest pressure on the former cricket-star-turned-politician comes as he faces allegations of mismanaging the economy and foreign policy by the opposition. Plagued by the second-fastest growing inflation in Asia, Khan last week cut domestic energy prices to pacify public anger, despite agreeing with the International Monetary Fund to do the opposite.
In November, to help resume a $6 billion bailout plan, the nation had agreed with the IMF to increase a tax on fuel by 4 rupees a liter every month until it reaches 30 rupees.
Source: Times Of India
Please click the following URL to read the full text of the original story:
https://timesofindia.indiatimes.com/world/pakistan/loyalists-desert-pakistan-pm-imran-khan-faces-most-serious-challenge-to-his-rule/articleshow/90140857.cms
--------
Pakistan PM lashes out at opposition for no-confidence motion, calls Zardari his first target
11 March, 2022
Lahore [Pakistan], March 11 (ANI): Pakistan Prime Minister Imran Khan on Wednesday lashed out at the opposition parties for their 'no-confidence motion' and said that his first target would be Pakistan People's Party co-chairperson, Asif Ali Zardari for his involvement in corruption and money laundering.
He made these remarks during a public rally of Pakistan Tehreek-e-Insaf (PTI) workers at Governor House during his day-long visit to the metropolis.
Pakistan PM said that the no-confidence motion against him would turn out to be the 'political demise' of the opposition, Pakistani newspaper Business Recorder reported on Thursday.
He said that he was waiting for this moment when the opposition would submit the no-confidence motion and he could launch his war against the corruption that he was pursuing for the last 25 years.
Imran said that Zardari was focused on buying loyalties of the members of PTI, adding that a PTI Member National Assembly (MNA) told him that he was offered Pakistani Rupees (PKR) 200 million.
Imran Khan also lashed out at Pakistan Muslim League-Nawaz President, Shahbaz Sharif and Jamiat Ulema-e-Islam's chief Fazlur Rehman for joining Zardari in a bid to save one another.
He also accused Shahbaz Sharif of laundering billions of rupees to his son and son-in-law abroad, and Fazal-ur-Rehman for possessing wealth worth billions even without owning any business.
Imran said the gang of dacoits had got united against him, adding that the corrupt were not making the move to save the country, but themselves, according to Business Recorder.
Citing the letter penned by the EU urging Pakistan to vote against Russia during the UNGA session, Imran said that he had not given any statement against the European Union, but reminded it that Pakistan was its ally in the war against terrorism which cost the country over 80,000 casualties.
Source: The Print
Please click the following URL to read the full text of the original story:
https://theprint.in/world/pakistan-pm-lashes-out-at-opposition-for-no-confidence-motion-calls-zardari-his-first-target/868327/
--------
JUI-F calls off plans to block roads across the country after lawmakers, party workers released
March 11, 2022
Jamiat Ulema-i-Islam-Fazl (JUI-F) chief Maulana Fazlur Rehman on Friday called off plans to block highways across the country after parliamentarians and workers, who were arrested last night during a raid at Parliament Lodges, were released by Islamabad police.
In an audio message shared on Twitter, Maulana Fazl said there was "no need" to block the roads now since all parliamentarians and workers have been released.
On Thursday, a heavy contingent of police raided the Parliament Lodges to expel members of the Ansarul Islam — the volunteer force of the JUI-F — who were invited to provide security to opposition lawmakers.
At least four legislators, along with two dozen Ansarul Islam volunteers, were arrested during the operation, police officials told Dawn.
A couple of legislators also courted arrest in protest over the police action at the parliamentarians' lodgings, they said, adding that all the arrested persons were shifted to a police installation for further action.
The opposition held a joint meeting following the operation after which Maulana Fazl directed party workers to open the highways they had earlier blocked in protest against the police operation and set a deadline of 9am for the government to release arrested parliamentarians and party workers.
The maulana said he was announcing the end of the protest keeping in view the hardships faced by the commuters, including women and children, warning however, that he would again give a call to his workers to block the highways if those arrested were not released.
In his message today, the JUI-F chief again condemned the police's actions on Thursday, claiming that they "discarded all laws and ethics at Parliament Lodges, baselessly tortured workers and dragged and arrested elected representatives of the public, detained their guests and presented a wrong picture and false narrative to the public".
He thanked his party workers, members of other opposition parties and the people of the country for "taking immediate action and jamming the entire country in less than an hour" and congratulated them for their "success".
On the other hand, Special Assistant to the Prime Minister (SAPM) on Political Communication Shahbaz Gill said that Maulana Fazl had been "making calls all night and asking for forgiveness and for his workers to be released so he could have some honour left".
Gill claimed the maulana also asked his workers to apologise. "In principle, they (the workers) should not have been released but we did not want to let them flee the political arena on this excuse," he tweeted.
Police action
A day earlier, JUI-F lawmaker Maulana Salahuddin Ayyubi reached the Parliament Lodges — where nearly all members of parliament are allotted accommodation — alongside a few dozen motorcycle-riding volunteers. Some of the volunteers entered the lodges with the lawmaker, while others gathered outside the main gate.
Images of their presence outside the lodges aired on news channels caught the attention of authorities, who asked the capital police chief to remove them from the premises, police officials said.
In response, a large force, consisting of an anti-riot unit, police commandoes, the Counter Terrorism Department and Anti-Terrorism Force along with prison vans reached the Parliament Lodges — located opposite Parliament House — under the supervision of the DIG and SSP Operations. According to police sources, all volunteers then moved to MNA Ayyubi's Lodge (A-401) and locked the door.
Senior police officers asked them to surrender, but they refused, police said.
Around 8pm, the police party broke down the door of the MNA's flat, which led to a physical confrontation between police, legislators and the Ansarul Islam volunteers, officers said, adding that during the confrontation a number of MNAs and volunteers sustained injuries.
Police succeeded in arresting around two dozen volunteers, and at least four legislators (including a senator and three MNAs), who were then dragged and bundled into police vehicles.
After the police party left, an incensed Maulana Fazl arrived at the scene with a large number of party workers and activists in tow, announcing his intention to court arrest and issuing a call to all his supporters across the country to come out onto the streets to protest the state's high-handedness.
Source: Dawn
Please click the following URL to read the full text of the original story:
https://www.dawn.com/news/1679421/jui-f-calls-off-plans-to-block-roads-across-the-country-after-lawmakers-party-workers-released
--------
'India to explain what happened in Mian Channu,' says DG ISPR after Indian projectile falls in Pakistan
March 10, 2022
Inter-Services Public Relations (ISPR) Director General Maj Gen Babar Iftikhar on Thursday briefed the media on an Indian "high speed flying object" that fell in Mian Channu, Khanewal district on Wednesday night.
"It was a supersonic flying object, most probably a missile, but it was certainly unarmed," he said.
Earlier reports had suggested that a private aircraft had crashed in the area.
"On March 9, at 6:43pm, a high speed flying object was picked up inside the Indian territory by Air Defence Operations Centre of the Pakistan Air Force (PAF)," he began. "From its initial course, the object suddenly manoeuvred towards Pakistani territory and violated Pakistan's air space, ultimately falling near Mian Channu at 6:50pm."
"When it fell, it damaged civilian properties," he said, adding no loss of life was reported.
"PAF continuously monitored the complete flying path of the object, from its point of origin near Sirsa in India to its point of impact, near Mian Channu.
"It initiated requisite tactical actions," he said.
"It is important to highlight that the flight path of this object endangered many international and domestic passenger flights — both in Indian and Pakistani air space — as well as human life and property on ground.
"Whatever caused this incident to happen, it is for the Indians to explain. It, nevertheless, shows their disregard for aviation safety and reflects very poorly on their technological prowess and procedural efficiency," he said, adding that this could have resulted in a major aviation disaster.
'Flagrant violation'
"Pakistan strongly protests this flagrant violation and cautions against recurrence of any such incident in the future," he warned.
Air Vice Marshall Tariq Zia told the media that at the time this projectile was picked up, there were two airway routes active and several commercial airlines in the area. "If you look at the speed and height of the projectile, it was 40,000 feet high, and the airlines were between 35,000 to 42,000 feet. This could have been very detrimental to the safety of passengers."
The projectile travelled 124 kilometres inside Pakistani territory in three minutes and 44 seconds, he added.
The DG also made it clear that there was no sensitive installation in Mian Channu where the projectile fell.
In response to a question, he said "testing and trial of such weapon systems do take place". "But what this was, India has to explain."
"This incident reflects the questionable capabilities of the human resources working on these programmes in India as well as this technology."
Asked for more details about the object, he said "we are not claiming anything right now". "As a responsible nation, we will wait for India to respond. We have given details of whatever we know right now. But it is for the Indians to explain what happened in Mian Channu."
"All our forces are alert to the threat and challenges that we face."
'Army has nothing to do with politics'
During the Q&A session, the DG ISPR was also asked whether the army was standing with Prime Minister Imran Khan, in relation to the current political situation and his impending no-confidence vote.
Source: Dawn
Please click the following URL to read the full text of the original story:
https://www.dawn.com/news/1679289/india-to-explain-what-happened-in-mian-channu-says-dg-ispr-after-indian-projectile-falls-in-pakistan
--------
Peshawar mosque bombing death toll rises to 65
March 10, 2022
PESHAWAR: Another victim of the suicide bombing at a mosque during prayers last Friday in Peshawar died of injuries on Thursday, increasing the death toll to 65.
The deceased, later identified as Asif, was under treatment at a local hospital.
It is to be noted here that almost 60 people were martyred in a suicide attack inside the Imambargah in Kucha Risaldar, Peshawar. The remaining breathed their last in hospitals.
Islamic State claimed responsibility for the bombing in a statement, which would make it one of the biggest attacks carried out by the group inside Pakistan.
An armed man who arrived near the mosque on a motorcycle opened fire when he was stopped by police, before forcing his way into a crowded hall and detonating his suicide vest, senior police official Haroon Rasheed said.
Source: Pakistan Today
Please click the following URL to read the full text of the original story:
https://www.pakistantoday.com.pk/2022/03/10/peshawar-mosque-bombing-death-toll-rises-to-65/
--------
Arab World
Lebanese prosecutor bans five bank board chiefs from travel
10 March ,2022
A Lebanese prosecutor on Thursday issued travel bans against the heads of the boards of five Lebanese banks as a precautionary measure as she investigates transactions by their banks, the prosecutor told Reuters.
Judge Ghada Aoun issued the bans against Salim Sfeir of Bank of Beirut, Samir Hanna of Bank Audi, Antoun Sehnaoui of SGBL, Saad Azhari of Blom Bank, and Raya Hassan of Bankmed.
She has not charged any of them with a crime.
When contacted, Hassan told Reuters she was "speechless" and noted she had joined the bank after the transactions took place.
Source: Al Arabiya
Please click the following URL to read the full text of the original story:
https://english.alarabiya.net/News/middle-east/2022/03/10/Lebanese-prosecutor-bans-five-bank-board-chiefs-from-travel
--------
Saudi Arabia's first World Defense Show in Riyadh ends with $7.9 billion in deals
10 March ,2022
Saudi Arabia concluded its first World Defense Show in Riyadh with a record $7.9 billion (SAR 29.7 billion) in deals, the organizers announced in a media statement on Wednesday.
The four-day-long event saw 600 exhibitors in the defense and security sectors from 42 countries.
The next edition of the show has been planned for March 2024, according to the same statement.
Suliman Almazrous, CEO of the National Industrial Development And Logistics Program (NIDLP) told Al Arabiya English that the event has "successfully achieved an ideal equation – quantity and quality of exhibitors" which showcases the Kingdom's marked efforts to promote the local opportunities it has to offer.
One of Saudi Arabia's Vision 2030 goals is to have 50 percent of defense spending localized.
In light of these goals, the World Defense Show was organized by the General Authority for Military Industries (GAMI) to realize the future of Saudi's defense requirements.
Ahmad al-Ohali, Governor of GAMI in a media statement said, "the networking, knowledge sharing, and commercial relationships established through the World Defense Show platform will spur a new era of investment and growth for Saudi Arabia's defense and security industry bringing us closer to achieving our target of localizing more than 50 percent of the Kingdom's military expenditure by 2030."
Saudi Arabia's Crown Prince Mohammed bin Salman inaugurated the event on Sunday and toured the purpose-built site north of capital several times.
Interoperability was a big theme of event and exhibitors displayed technology from air, land, sea, and space defense systems to support it.
Daily panel discussions explored the various current and future technology available in defense, while a Control and Command center simulated handling security threats.
On International Women's Day, the event dedicated the March 8 commemoration to promote and highlight women in defense. Notable dignitaries including Princess Reema bint Bandar, Saudi Arabia's Ambassador to the US, Phebe Novakovic, CEO of General Dynamics; and Marion Blakely, former President of Rolls-Royce North America who all delivered keynotes at the event.
Source: Al Arabiya
Please click the following URL to read the full text of the original story:
https://english.alarabiya.net/News/gulf/2022/03/10/Saudi-Arabia-s-first-World-Defense-Show-in-Riyadh-ends-with-7-9-billion-in-deals
--------
Israel, Bahrain hold talks on regional stability
Ibrahim al-Khazen
10.03.2022
Israeli army Chief of Staff Aviv Kochavi on Thursday met in Manama with Bahraini Defense Minister Khalifa bin Ahmed Al-Khalifa for talks on stability in the region.
Discussions between the two officials dwelt on topics pertaining to enhancing regional stability, in addition to issues of mutual concern, the Bahraini state news agency reported.
Kochavi arrived in Bahrain on Wednesday for an unscheduled visit. He will meet with Brad Cooper, commander of the US Naval Forces Central Command and 5th Fleet, during his visit.
Several Israeli officials visited Bahrain in recent months, including Prime Minister Naftali Bennett, Foreign Minister Yair Lapid and Defense Minister Benny Gantz.
Source: Anadolu Agency
Please click the following URL to read the full text of the original story:
https://www.aa.com.tr/en/middle-east/israel-bahrain-hold-talks-on-regional-stability/2530834
--------
Deep Security Council divisions over Syrian chemical weapons again laid bare
March 11, 2022
NEW YORK: Gaps and inconsistencies remain in the Syrian government's declaration about its chemical weapons, the UN's disarmament chief told members of the Security Council on Thursday.
Izumi Nakamitsu, the under-secretary-general and high representative for disarmament affairs, highlighted the need for clarification of two incidents in which apparent evidence of nerve agents was found at a facility Syrian authorities said has never been used to produce chemical weapons, and also the government's "unauthorized movement" of two destroyed chlorine cylinders found at the scene of a chemical weapon attack in the city of Douma in April 2018.
She called on the Syrian government to respond to requests by the Organization for the Prohibition of Chemical Weapons to disclose the types and quantities of chemical agents produced or weaponized at the facility in question and the whereabouts of the two cylinders "with the necessary urgency."
The Security Council was meeting for the 101st time to discuss the issue of chemical weapons in Syria. Nakamitsu briefed members on the implementation of Resolution 2118, which was unanimously adopted in September 2013 after a UN investigation that confirmed the use of chemical weapons against civilians in a Damascus suburb the previous month. Images of victims, including children, suffocating after breathing in the nerve agent caused outrage worldwide.
The resolution called on the Syrian regime to destroy its stockpiles of chemical weapons by mid-2014 and set out punitive measures in the event of non-compliance. It banned Syrian authorities from using, developing, producing, acquiring, stockpiling or retaining chemical weapons, or transferring them to other states or non-state actors.
In October 2013, Syria submitted to the OPCW a formal initial declaration about its chemical weapons program, including a plan for the destruction of stockpiles.
Nakamitsu told the Security Council on Thursday that, more than nine years later, the declaration still cannot be considered accurate and complete in accordance with the Chemical Weapons Convention.
"Gaps, inconsistencies and discrepancies" have been identified that cast doubt on the true extent of the elimination of chemical weapons by the regime during the civil car, she said.
The OPCW has been trying for almost 10 months to schedule talks in Damascus about the issue but its efforts continue to be blocked by the "continued refusal" of Syrian authorities to issue an entry visa for one member of the Declaration Assessment Team, Nakamitsu said.
She repeated her call to the Syrian government to facilitate arrangements for the deployment of the team as soon as possible, adding that only through complete cooperation can the issue of the initial declaration be closed.
Russia's deputy permanent representative to the UN, Dmitry Polyanskiy, condemned what he described as the "exaggerated attention our (Western colleagues) are paying to Syria." He dismissed meetings about the Syrian regime's use of chemical weapons as "completely artificial" and accused Western nations of holding them "for the sake of holding meetings."
"The delegations have nothing to discuss and we are repeating the same thing over again," Polyanskiy said.
Russia has been lobbying to reduce the number of regular Security Council meetings on Syria from three each month to only one, as part of its campaign to portray the regime of President Bashar Assad as the winner of the war and push for a reconstruction phase. Other council members have repeatedly stated that they will take no part in reconstruction efforts as long as war crimes remain unpunished.
Polyanskiy also repeated his accusations that the OPCW is politicizing the issue of chemical weapons in Syria, breaching its own methodologies, and conducting "direct forgery" in Douma. He described the investigation team as "illegitimate" and said it is issuing "biased conclusions of Damascus's culpability, ignoring the fact that chemical weapons were used by terrorists."
Richard Mills, the US deputy ambassador to the UN, said: "Unfortunately, the Assad regime has help on this council. The Russian federation has repeatedly spread disinformation regarding Syria's repeated use of chemical weapons.
Source: Arab News
Please click the following URL to read the full text of the original story:
https://www.arabnews.com/node/2040296/middle-east
--------
Mideast
Has Erdoğan given up on the Muslim Brotherhood?
Nicholas Morgan
Mar 10 2022
As Turkey's efforts to reconcile its relationships across the Middle East have steamed forward, President Recep Tayyip Erdoğan appears determined to convince his former rivals that his bellicose ways are in the past. With a normalisation agenda at work with Egypt and Saudi Arabia as well as a surprising turn-around in his relationship with the United Arab Emirates (UAE), Erdoğan is making progress.
But as Erdoğan's neighbours begin to warm to his overtures, does that mean he is turning a new page with the Muslim Brotherhood?
After the Arab Spring began in 2011, Erdoğan readily embraced political Islamist groups tied to the Brotherhood as a means to bolster Turkey's role as a leader in the Middle East and the wider Islamic world. He readily backed the government of Mohammed Morsi, a member of the Muslim Brotherhood (MB) elected President of Egypt after former President Hosni Mubarak relinquished power in 2011. Together with Qatar, another supporter of the group, Turkey-backed MB-aligned figures across the region with diplomatic and financial support.
This rankled the Gulf monarchs in Saudi Arabia and the UAE, who perceive the MB as a threat to their own stability, a view seemingly validated as they watched the Middle East implode with instability after the Arab Spring. This contributed to the emergence of a mini-Cold War between Turkey and Qatar on one end and Saudi Arabia, the UAE and Egypt after Morsi's ouster by now President Abdel Fatah al-Sisi on the other. The two sides clashed heavily in Libya's civil war and over the blockade of Qatar by its Gulf neighbours from May 2017 to December 2020.
But the Middle East has changed significantly from the early days of the Arab Spring and Turkey has changed along with it.
For one, Erdoğan appears less formidable than he was a decade ago. Mustafa Gurbuz, who teaches at the American University's Arab World Studies program in Washington D.C, said that Erdoğan's embrace of the MB came at a time when he was stronger at home in his political standing and that allowed him to wield support for the Brotherhood more effectively in the region.
"Erdoğan used the Muslim Brotherhood support as a card to rally support around his regime, but such rhetoric does not offer the same value anymore," Gurbuz told Ahval News.
Indeed, just before the Arab Spring Erdoğan was in many ways at the peak of his power. The military and judicial "deep state" that previously undid Islamist-leaning governments in Turkish history were neutered by purges and trials that allowed Erdoğan room for manoeuvre. The Turkish economy continued to be strong and despite resistance from more secular Turks, Erdoğan secured a parliamentary majority that remained intact until losing ground to his opposition in 2015.
That was then but today Erdoğan is saddled with sagging approval ratings and a Turkish economy wracked with high inflation, high unemployment and a diminished Turkish lira. With his political position insecure, Erdoğan has been forced to seek ways to break out of his geopolitical isolation and that included making amends with powers hostile to his embrace of the MB.
The Brotherhood too has been battered in the aftermath of the Arab Spring. Across the region, MB-aligned governments have fallen one by one from Tunisia to Sudan, pushed out by strongmen or military juntas with ties to the Gulf monarchies.
The Brotherhood itself has also been wracked by internal feuds between older members who continue to adhere to its rigidly hierarchical form of decision-making and excess secrecy, and a younger cadre of members who are disillusioned with their leaders. Many of its leaders remain in exile across Turkey, Europe and Qatar, thus remain distant from the on-the-ground reality experienced by its newer generations.
With its decline in the last decade, the threat emanating from the MB that galvanised Erdoğan's rivals against him has waned. Through this, Turkey and its regional counterparts like Egypt and the UAE have found room for negotiation to melt some of the ice that surrounds their relationship.
For Erdoğan, as much a pragmatist as he is a politician cut from the political Islamist cloth, continuing to support the MB in its diminished state may be losing the value he once saw in it. Already, his government has shown that it is willing to at least limit the MB if it means taking advantage of opportunities for rapprochement that can benefit it geopolitically.
When Turkey began advancing in its diplomacy to normalise ties with Egypt, Turkish officials ordered media channels affiliated with the Egyptian arm of the MB to tone down their criticisms of Sisi, a move welcomed in Cairo. Another example of this is the warming of Turkey-UAE ties, a development made possible in part by the MB's deterioration as a political force in the region.
Giorgio Cafiero, CEO of Gulf State Analytics in Washington D.C., says that this has been an important factor contributing to the UAE's willingness to look at its relationship with Turkey differently.
"The Tunisian autogolpe, events in Sudan, Syria, Egypt and elsewhere have left the leadership in Abu Dhabi viewing the Muslim Brotherhood as much less of an influential movement compared to the earlier stages of the Arab Spring," Cafiero told Ahval.
It remains to be seen whether Erdoğan's reintegration into the Middle East means an end to its patronage of the Muslim Brotherhood entirely.
Source: Ahval News
Please click the following URL to read the full text of the original story:
https://ahvalnews.com/muslim-brotherhood/has-erdogan-given-muslim-brotherhood
--------
Supreme Leader: Iran Not to Give Up N. Program, Regional Power
2022-March-10
"It is vital for any country to have national power," Ayatollah Khamenei said, addressing a meeting with Iran's Assembly of Experts on Thursday.
He said any nation seeking independence and resistance against the will of others needs to "stand strong, otherwise it will be fearful, weak, humiliated and constantly worried about the foreigners' greedy eyes".
Ayatollah Khamenei described national power as a "compound issue" and an "intertwined network" comprised of multiple factors.
The Leader said among the "pillars of national power" are "security and defense power", "economy, public welfare and easy livelihood", "the power of politicking and bargaining to fulfill national interests at the regional and global front" and "culture and lifestyle", among other things.
"None of these arms of national power should be cut off in favor of one pillar and the other," Ayatollah Khamenei said.
"Regional presence gives us more strategic depth and national strength. Why should we give it up? Scientific nuclear advance has to do with the country's needs in the near future and, if we do away with [the nuclear program], who will we have to ask for [nuclear knowhow to meet our demands]? the Leader asked.
It is a big mistake to retreat in the face of America or any other power for securing protection against sanctions, which will deal a blow to the nation's political power, Ayatollah Khamenei said.
Using the media as a tool, the devils have constantly been spreading lies to undermine the public trust and faith and frustrate the nation, he added.
In relevant remarks on Sunday, Ayatollah Khamenei stressed the importance of development of clean energy.
Source: Fars News Agency
Please click the following URL to read the full text of the original story:
https://www.farsnews.ir/en/news/14001219000572/Spreme-Leader-Iran-N-Give-Up-N-Prgram-Reginal-Pwer
--------
IRGC Warns of "Decisive" Response to Israeli Crimes
2022-March-10
"The Zionist enemy knows that it will not benefit from such crimes and will receive decisive responses," General Sharif said on Wednesday.
He said the blood of the innocent martyrs will "bolster the morale" of the Muslim Ummah.
Elsewhere in his remarks, General Sharif also pointed to the successful launch of the IRGC's homegrown satellite Nour-2 into orbit, saying experience shows that the elite forces are vilified by ill-wishers whenever they act powerfully and defend the interests of the Iranian nation and the Islamic Revolution.
Irrespective of the enemy's psychological warfare, the IRGC "will continue its ideal movement with more strength and determination and will keep the enemies in isolation as a result of humiliation and despair", the IRGC spokesman added.
A day earlier, the IRGC named the two martyrs as Colonel Ehsan Karbalayipour and Colonel Morteza Saeednejad, saying they were killed in a missile attack by the Israeli regime on the outskirts of the Syrian capital on Monday.
"Undoubtedly, the Zionist regime will pay the price of this atrocity," the IRGC's statement read.
In a statement on Wednesday, Iranian Foreign Ministry spokesman Saeed Khatibzadeh said the occupying regime's crime "will not go unpunished."
Iran maintains an advisory mission in Syria at the request of the Arab country with the aim of helping it get rid of the foreign-backed militants who have been fighting the Syrian government since 2011. Back in 2017, Iran's advisory assistance helped Syria defeat the ISIL terrorist group.
Source: Fars News Agency
Please click the following URL to read the full text of the original story:
https://www.farsnews.ir/en/news/14001219000275/IRGC-Warns-f-Decisive-Respnse-Israeli-Crimes
--------
Iran Dismisses "Unfounded" Allegations of Arab League
2022-March-10
Khatibzadeh in a statement on Thursday strongly blasted a meeting of Arab League foreign ministers and the so called Arab Quartet Committee for their latest absurd anti-Iran allegations.
He expressed deep regret that a "vicious cycle of making anti-Iran allegations" continues, adding that such futile actions are contrary to the other side's moves to interact and engage in regional diplomacy with the Islamic Republic in the recent months.
Khatibzadeh dismissed the "repeated and unfounded" allegations of Iranian interference in the internal affairs of other countries, brought by states that "have a long history of creating tensions and warmongering", specially in Yemen and other parts of West Asia and North Africa.
He also described such "hackneyed statements" as an obstacle in the way of growing ties between Iran and its neighbors, and once again stated Iran's longstanding stance that misunderstandings among neighbors must be cleared through diplomatic channels.
The spokesman invited the neighboring countries to dialogue in this regard.
Khatibzadeh also dismissed the territorial claims on three Southern Iranian islands made in the Arab League's statement, saying Iran has always acted in the framework of its sovereignty and territorial integrity and that Tehran condemns any foreign interference in this regard.
He called the preservation of nuclear achievements and defense capabilities of the Islamic Republic of Iran among the strategic policies of the country, and stressed that such statements will never leave an impact on the development of Iran's nuclear energy program.
The meeting of the foreign ministers of the Arab League was held in Cairo on Wednesday and approved a statement issued by the so called Arab Quartet Committee, comprising of Saudi Arabia, the United Arab Emirates, Bahrain and Egypt.
International documents clearly show that the three islands of the Greater Tunb, the Lesser Tunb and Abu Musa which were historically owned by Iran, temporarily fell to British control in 1903. The islands were returned to Iran based on an agreement in 1971 before the UAE was born.
Source: Fars News Agency
Please click the following URL to read the full text of the original story:
https://www.farsnews.ir/en/news/14001219000641/Iran-Dismisses-Unfnded-Allegains-f-Arab-Leage
--------
Iran: Israel Should Wait for Punishment
2022-March-10
Israel's missiles hit positions in South of Damascus on Monday, killing two people and leaving some material damage.
Iran's Islamic Revolution Guards Corps (IRGC) named the victims as Colonel Ehsan Karbalayipour and Colonel Morteza Saeednejad.
Khatibzadeh in a statement on Wednesday offered condolences to the families and friends of the martyrs.
He also strongly condemned "the criminal act that stems from the Zionist regime's aggressive nature, occupation and terrorism".
"The infanticide Zionist regime's insolence and operations via its terror machine will definitely not go unpunished," Khatibzadeh added, noting that one of the goals of the resistance front in the region is to hold the apartheid regime accountable for its inhumane crimes.
Iran maintains an advisory mission in Syria at the request of the Arab country with the aim of helping it get rid of the foreign-backed militants who have been fighting the Syrian government since 2011. Back in 2017, Iran's advisory assistance helped Syria defeat the ISIL terrorist group.
Source: Fars News Agency
Please click the following URL to read the full text of the original story:
https://www.farsnews.ir/en/news/14001219000367/Iran-Israel-Shld-Wai-fr-Pnishmen
--------
Iran's Assembly of Experts Asks for End to Russia-Ukraine Conflict
2022-March-10
Members of the Assembly of Experts called for an end to the Russo-Ukrainian crisis which has been ongoing for some two weeks now.
The Assembly of Experts, which includes 9 members, do not convene frequently. They hold such sessions twice a year to review the latest domestic and global issues. This time, they touched on the Russo-Ukrainian conflict, demanding an immediate end to the crisis.
The Assembly of Experts was established in 1983, almost four years after the victory of the Islamic Revolution.
Its main task is to monitor the performance of the Leader of Iran's Islamic Revolution. The experts should also elect a new leader in the event of the demise, resignation or dismissal of the current leader.
The Assembly of Experts is currently a body of 88 Islamic jurists. The entity consists of a leadership council and six committees. Members are elected by direct public vote for an eight-year term.
On February 24, Russian President Vladimir Putin ordered a military campaign in Ukraine over concerns about destabilizing activities close to Russia's borders by NATO, an intergovernmental military alliance comprised of 28 European countries plus Canada and the US.
Source: Fars News Agency
Please click the following URL to read the full text of the original story:
https://www.farsnews.ir/en/news/14001219000231/Iran's-Assembly-f-Expers-Asks-fr-End-Rssia-Ukraine-Cnflic
--------
South Asia
Islamic Emirate: Afghanistan Soil is Not Threat to Anyone, Yet America is Still Worry Escalating Rumours
2022-03-10
KABUL (BNA) US officials say they will not allow Afghanistan to become safe haven for terrorists. But the Islamic Emirate insists that Afghanistan is not safe haven for anyone "terrorists" or al Qaeda.
US Secretary of State Anthony Blinken said in a meeting with Uzbek Foreign Minister Abdulaziz Kamilov that he would not allow any terrorist hideout to be established in Afghanistan.
According to Nada Press, the US Secretary of State met with the Uzbek Foreign Minister yesterday to discuss Afghanistan and Ukraine.
Blimken said in a statement that the United States does not allow terrorists or al Qaeda to use Afghan territory as a safe haven.
Despite the fact that the United States and the rest of the world believe that if Afghanistan is not taken care of, it could become safe haven for terrorists.
Source: Bakhtar News
Please click the following URL to read the full text of the original story:
https://bakhtarnews.af/islamic-emirate-afghanistan-soil-is-not-threat-to-anyone-yet-america-is-still-worry-escalating-rumors/
--------
Work on TAPI Project Will Continue: Islamic Emirate
Mar 11, 2022
The Islamic Emirate said it would soon resume the TAPI pipeline project, saying that the suspension of the Asian Development Bank's (ADB) activities will not halt the project.
Earlier, a Pakistan news agency quoted a top Pakistani official of the Energy Ministry saying that the Asian Development Bank (ADB) has paused all due diligence and processing activities of TAPI pending the official recognition of the Islamic Emirate by the United Nations and major global economies.
The Ministry of Finance denied the report, saying that the ADB was active in a consultative capacity, and that the project is mainly being supported by Turkmenistan.
"The project is mainly owned by Turkmenistan and the ADB was (or is still?) playing a role as a financial advisor," said Ahmad Wali Haqmal, a spokesman for the Ministry of Finance.
The Turkmenistan-Afghanistan-Pakistan and India (TAPI) gas pipeline is planned to span 1,680km and connect Herat and Kandahar in Afghanistan with Pakistan and India.
Afghanistan will pay five percent of the project's expenses.
"This idea of the (ADB) is important for the implementation of the project but this project belongs to Turkmenistan," said Abdul Rahman Habib, a spokesman for the Ministry of Economy.
Earlier the Islamic Emirate announced that it will resume the TAPI pipeline project in the coming spring.
Economists believe that political contests between India and Pakistan are the main reason for the suspension of the project.
Source: Tolo News
Please click the following URL to read the full text of the original story:
https://tolonews.com/index.php/afghanistan-177052
--------
Mullah Yaqoob visits southern provinces to assess security
March 11, 2022
The acting Minister of Defense Mullah Mohammad Yaqoob began a tour of southern provinces to assess the security situation, and also challenges related to the Durand Line.
The acting Defense Minister visited the southwestern province of Nimroz three days after the forces of the Islamic Emirate and Iranian border forces engaged in an armed dispute in the Kung district of the province.
However, the Islamic Emirate said the clashes were caused by a misunderstanding.
Mullah Yaqoob visited the Kamal Khan water dam and the crossings between Afghanistan and Iran as well as Afghanistan and Pakistan.
"In some areas small clashes happen on a local level—that is due to a misunderstanding which will be resolved by the two sides," said Bilal Karimi, deputy spokesman for the Islamic Emirate. The forces of the Islamic Emirate have engaged in armed disputes with the border forces of several neighboring countries.
"If it is a small issue, there will be no impact on diplomatic and foreign affairs. If the government supported the attack, it will obviously affect the diplomatic relations," said Sayed Bilal Fatimi, an international relations analyst.
"If our borders with Pakistan and Iran have serious tensions… the only way to solve this is a good government," said Shaheer Nisari, an international relations analyst.
This comes as the Islamic Emirate has repeatedly stated it wants good relations with world countries, particularly neighbors, and has pledged that the Afghan soil will not be used against any country.
Meanwhile, the acting Minister of Defense Mullah Mohammad Yaqoob Mujahid threatened to suppress those who are "creating unrest" in the country.
The acting minister and chief of army staff recently visited the northern provinces of Balkh, Faryab and Jawzjan. The visit aimed to assess the security situation.
A video circulated by the Ministry of Defense (MoD) press department on WhatsApp shows the acting minister talking to several separated large gatherings in these provinces.
"If an individual in the east or west, anyone, anywhere… anyone belonging to any (ethnic group) stands against the government, he is our opponent and we will consider him our opponent," he said.
There are some groups trying to create insecurity in the country, Mullah Yaqoob said, without naming them.
"If anyone, who belongs to any ethnic group, or any zone or any province, seeks to divide the country, he is our enemy, he is the enemy of our country," he said.
The chief of army staff, Qari Fasihuddin Fitrat, said they will not allow anyone to create disunity among the forces of the Islamic Emirate.
Source: Pak Observer
Please click the following URL to read the full text of the original story:
https://pakobserver.net/mullah-yaqoob-visits-southern-provinces-to-assess-security/
--------
Karzai confirms travel restrictions on him, & Abdullah Abdullah
10 Mar 2022
Former Afghan president Hamid Karzai said that he himself and former head of Afghan reconciliation council Abdullah Abdullah have troubles in traveling out of Afghanistan.
Speaking in an interview with Iran's Alalam TV on Wednesday, March 9 Hamid Karzai said, there is no problem in going around Kabul city but he and Abdullah cannot fly out of the country.
Neither Hamid Karzai nor Abdullah Abdullah has been out of the country in the past nearly seven months.
"Abdullah Abdullah and I can go around Kabul city, many people come to visit us both every day but there are issues in traveling abroad." Said, Karzai.
Earlier, there were reports about Karzai and Abdullah being home prisoned but the imprisonment is not confirmed officially yet.
Source: Khaama Press
Please click the following URL to read the full text of the original story:
https://www.khaama.com/karzai-confirms-travel-restrictions-on-him-abdullah-abdullah-7576567/
--------
Ukraine's issue hasn't affected Afghanistan-based Russians: Russia's ambassador to Kabul
10 Mar 2022
Russia's ambassador to Kabul Dmitry Zhirnov said that the ongoing situation between Russia and Ukraine has not affected Russian citizens based in Afghanistan and that the embassy is committed to protecting and defending the rights and interests of these people.
Speaking to the media, the Russian ambassador said that there is a limited number of Russian citizens living in Afghanistan and added that they are in constant contact with them and they have no issue.
Zhirnov further added that Ukraine's issue has not impacted his citizen in Afghanistan at all.
"We are closely watching the situation in Afghanistan and will urgently act in case we see any prejudiced act towards Russian citizens because these are our policies. We are committed to strictly defending and protecting from the rights of Russians." Ambassador said.
The ambassador also said that up to 600 Russian citizens were evacuated in the last three months of the past year after political and economic turmoil in Afghanistan but the situation is now better in the country.
Source: Khaama Press
Please click the following URL to read the full text of the original story:
https://www.khaama.com/ukraines-issue-hasnt-affected-afghanistan-based-russians-russias-ambassador-to-kabul-54786576/
--------
North America
US: Justice Department urged to probe anti-Muslim group's alleged spying
By Umar A Farooq
1 February 2022
More than 80 Muslim organisations, including rights groups, mosques and charities, have sent a letter to the US Department of Justice, calling on the administration to launch an investigation into whether an anti-Muslim group violated federal laws by allegedly spying on several Muslim groups in the US.
The groups, including the Council on American-Islamic Relations (Cair), Muslim Advocates, and the Islamic Society of North America said that the "conspiracy to spy on American mosques and Muslim organisations was not surprising.
"Civil rights advocates have been targeted by infiltrators and saboteurs for decades. It is long past time for this behaviour to come to an end.
"To protect the civil rights of American Muslims, we ask the Department of Justice to launch an investigation to determine whether Steve Emerson or IPT broke any federal civil rights statutes or criminal laws."
The Investigative Project on Terrorism (IPT) has been labelled an anti-Muslim group by the Islamophobia Network, a project of the Center for American Progress that tracks anti-Muslim groups and donors. The IPT was founded by Steve Emerson, who has a "history of promoting falsified information and conspiracy theories about Islam and Muslims", according to Georgetown University's Bridge Initiative.
In December, Cair claimed its organisation's chapter in the state of Ohio had a spy in its ranks.
Following an internal investigation, the group alleged that the chapter's executive director Romin Iqbal had been recording meetings and conversations and then sending those materials to the IPT.
IPT denied that it was spying on Muslim communities but has previously told Middle East Eye it would not hesitate to report on groups it claims are conducting "radical Islamist activity".
Cair subsequently claimed that there was a second spy. However, this person had been a member of Dar al-Hijrah, a prominent mosque in the suburbs of northern Virginia.
The individual, Tariq Nelson, allegedly confessed and claimed he was paid $3,000 a month by IPT over four years for a total of $100,000 to spy on the mosque and "record prominent Muslim leaders".
'An Israel lobbying organisation'
The news of the alleged espionage, which Cair claimed had infiltrated nearly every major Muslim organisation in the United States, came as a shock to the faith community even though for two decades it faced a barrage of surveillance in the aftermath of the 9/11 attacks.
The Muslim rights group also claimed that one of IPT's goals was "protecting the Israeli government by undermining Muslims engaged in political and human rights activism".
Cair released a series of emails it claimed were exchanged between Israeli officials and the IPT. In one, an official asked the group whether it had information regarding Students for Justice in Palestine, a student advocacy group with chapters in universities across the country.
"I came to realise that IPT's main concern was not protecting our nation from legitimate threats, but protecting a foreign government - Israel - from legitimate criticism. We were essentially being used as an Israel lobbying organisation," an IPT whistleblower told Cair.
The IPT told MEE it was an organisation that "supports Israel's right to exist", but that it was fully independent and did not receive foreign funding.
The groups' letter called on the Department of Justice to investigate whether the IPT had provided information, obtained through alleged spying on Muslim groups, to the Israeli government or any other foreign entities, and whether this violated US law.
It also asked the administration to probe whether the group or its founder Emerson were in communication with US law enforcement during the period of alleged espionage.
Source: Middle East Eye
Please click the following URL to read the full text of the original story:
https://www.middleeasteye.net/news/us-muslim-groups-urge-justice-department-probe-anti-muslim-alleged-spying
--------
US lawmakers seek sanctions against Pakistan
Anwar Iqbal
March 11, 2022
WASHINGTON: A US lawmaker has called for the designation of Pakistan as a state sponsor of terrorism while two others sought a probe into Ambassador Masood Khan's alleged links with Kashmiri and Pakistani groups.
The initiator of the move is Scott Perry, a Republican Congressman from Pennsylvania.
The bill moved by him seeks to "provide for the designation of the Islamic Republic of Pakistan as a state sponsor of terrorism, and for other purposes". The bill has now been referred to the US House committee on foreign affairs.
The proposed sanctions include restrictions on foreign assistance; a ban on defence exports and sales; certain controls over export of dual use items; and miscellaneous financial and other restrictions.
Others call for penalising persons and countries engaging in trade with a state declared a sponsor of terrorism.
Only four countries have been designated sponsors of terrorism so far: Cuba, North Korea, Iran, and Syria.
On March 9, three lawmakers — Scott Perry, Gregory Steube and Mary E. Miller — sent a letter to US Attorney General Merrick Garland, claiming that Ambassador Masood Khan's close relationship "with domestic actors linked with the Pakistani regime remains a critical concern".
Masood Khan, Pakistan's new ambassador to the US, is a senior diplomat who once served in New York as Islamabad's permanent representative to the United Nations. He was also Azad Kashmir's president till August last year.
Source: Dawn
Please click the following URL to read the full text of the original story:
https://www.dawn.com/news/1679357/us-lawmakers-seek-sanctions-against-pakistan
--------
White House: Iran nuclear deal "close," end of negotiations challenging
March 10, 2022
WASHINGTON: The White House said on Thursday the United States would continue to have diplomatic talks with Iran about a nuclear deal.
"Our view is that we are close. We have been close for some time now," White House spokesperson Jen Psaki said. "The end of negotiations is always when the difficult and challenging parts of the conversation typically take place."
Source: Arab News
Please click the following URL to read the full text of the original story:
https://www.arabnews.com/node/2040216/world
-------
US seized Iran oil cargo as Biden considers easing sanctions
11 March ,2022
The US has quietly seized the cargo of two tankers suspected of transporting Iranian oil as part of an elaborate sanctions-busting scheme involving forged documents and the repainting of a ship's deck to cloak illegal shipments.
Details of the seizure, which has not been previously reported, were contained in a federal civil case unsealed last month after the Greek-managed vessels discharged their valuable cargo, worth upward of $38 million, in Houston and the Bahamas at the direction of US law enforcement.
The seizure comes as the Biden administration seeks to revive a 2015 nuclear deal with Iran that would likely entail the US lifting punishing sanctions. That task has been made more urgent by Vladimir Putin's invasion of Ukraine and the US decision to retaliate by banning all Russian oil imports, which potentially removes from Western markets more than 10 million barrels per day of oil.
Some of that lost supply could be made up by Iran, which pumped an average 2.4 million barrels per day in 2021 though due to sanctions has been able to sell less than half of what it produces.
Opponents of Iran warn that even as Ukraine scrambles geopolitical calculations and the US turns its attention to Russia, the Biden administration shouldn't take pressure off the Islamic Republic. The country is considered by the US a state sponsor of terrorism and the Islamic Revolutionary Guard Corps, an elite military unit that plays a key role in the oil industry, a supporter of Hezbollah and other militant groups active throughout the Middle East.
"This seizure serves as a perfect example of why the US should not lift sanctions," said Claire Jungman, the chief of staff at the New York-based group United Against Nuclear Iran, which closely tracks Iran's crude shipments. "We should continue to work to ensure that the IRGC cannot use profits from its sale of Iranian oil to fund terrorism and other activities that threaten the safety and security of all Americans."
The long odyssey that led to the US' seizure began in the fall of 2020 when the M/T Stark I, an Iranian-owned vessel under US sanctions since 2018, repainted its deck in an apparent attempt to disguise the vessel and avoid detection by satellite imagery. On Oct. 31, 2020 it pulled into a terminal at Iran's Kharg Island and loaded full of oil.
Four days later, on Nov. 3, 2020, 733,876 barrels of oil were transferred at sea to another tanker, the M/T Arina. During the dangerous ship-to-ship transfer, both ships turned off their transponders — a mandatory safety device on all large ships — to avoid being picked up on ship tracking databases, satellite imagery and data shared by Jungman show.
Despite US sanctions, Iran has seen a windfall of revenue as oil prices have risen over the past year. Key to the smuggling operation are dozens of privately owned, foreign-flagged tankers — dubbed a "ghost armada" by Jungman's group — that deploy a variety of sophisticated techniques to hide their movements.
Even US-owned tankers, such as one belonging to a subsidiary of private equity giant Oaktree Capital Management, have been implicated in the brisk, black market trade.In a cat and mouse world, ship tracking technology has given a boost to efforts to detect sanctions-evading behavior by Iran as well as Venezuela, whose oil industry is also under US export restrictions. But seizing oil shipments is rare: prior to this latest action it had been done only twice before.
Proceeds from the sale of forfeited cargoes partly go to compensate American victims of terrorism.
The Panama-flagged Arina, whose last listed manager is Athens-based Saint James Shipping Ltd., had previously been known to ship illegal Iranian crude, US attorneys allege in a civil complaint filed in Washington federal court. Earlier in 2020 and again on its latest suspect voyage false documents were created to show crude transported by the ship originated in Oman, prosecutors allege.
It was not possible to contact Saint James Shipping and a website believed to belong to the company was not working.
From there, the Arina set course for the Suez Canal but experienced numerous delays along the voyage. Eventually, it proceeded to Istanbul, Turkey, where it underwent repair work, and then Romania, according to ship tracking data analyzed by Jungman.
Throughout the voyage the ship's managers failed to find a buyer for the Iranian oil. Then on Aug. 26, 2021 it transferred part of its cargo — approximately 220,793 barrels — to another ship, the M/T Nostos, off the coast of Cyprus, prosecutors allege in their complaint. Piraeus-based Eurotankers, the last listed manager of the Liberia-flagged Nostos, did not immediately reply to an email nor did it answer a phone call seeking comment.
Both vessels — the Arina and Nostos — then tried to discharge the oil at a storage facility in Turkey, according to Jungman.
Instead, they were detected by US authorities and ordered to unload their cargo, which the Nostos did in Houston around Thanksgiving last year and Arina more recently, in January, in Bahamas, according to Jungman.
Source: Al Arabiya
Please click the following URL to read the full text of the original story:
https://english.alarabiya.net/News/middle-east/2022/03/11/US-seized-Iran-oil-cargo-as-Biden-considers-easing-sanctions
--------
Erdogan tells Biden it's time to lift 'unjust' sanctions on Turkey's defence industry
10 March ,2022
Turkish President Recep Tayyip Erdogan told US President Joe Biden in a phone call on Thursday that it was past time to lift all "unjust" sanctions on Turkey's defense industry.
According to a statement from Erdogan's office, he also told Biden that Turkey expected its request to purchase 40 new F-16 fighter jets and modernize its existing fleet to be finalized as soon as possible.
Ankara had initially ordered more than 100 F-35 jets, made by Lockheed Martin Corp, but the US removed Turkey from the program in 2019 after it acquired Russian S-400 missile defense systems.
Turkey has called the move unjust and demanded reimbursement for its $1.4 billion payment.
Reuters reported last year that Ankara had made a request to Washington to buy 40 Lockheed Martin-made F-16s and nearly 80 modernization kits for its existing warplanes.
Ankara's purchase of the S-400s has also triggered US sanctions. In December 2020, Washington blacklisted Turkey's Defense Industry Directorate, its chief, Ismail Demir, and three other employees.
The decades-old partnership between the NATO allies has gone through unprecedented tumult in recent years over disagreements on Syria policy, Ankara's closer ties with Moscow, US charges against a state-owned Turkish bank and erosion of rights and freedoms in Turkey.
Washington has repeatedly warned Turkey against buying further Russian weaponry. Ankara has said it intends to go through with the purchase of a second batch of S-400s from Russia, a move that could worsen the diplomatic rift with the United States.
The request for the jets will likely have a difficult time getting approval from the US Congress, where sentiment towards Turkey has soured deeply over recent years.
Source: Al Arabiya
Please click the following URL to read the full text of the original story:
https://english.alarabiya.net/News/middle-east/2022/03/10/Erdogan-tells-Biden-it-s-time-to-lift-unjust-sanctions-on-Turkey-s-defense-industry
--------
US, Saudi free two US citizens from Houthi captivity in Yemen: State Department
11 March ,2022
The US and Saudi Arabia worked together in recent months to free two US citizens detained by the Iran-backed Houthis in Yemen, a State Department official said Thursday.
"We assisted with the safe departure of two US citizens from an area of Yemen currently under Houthi control," the official told Al Arabiya English. "We express our appreciation to our Saudi and Yemeni government partners for their assistance in facilitating their safe departure."
Reuters was first to report about the operation, which sources said was carried out in January.
A source familiar with the matter told Reuters that the two Americans were Yemen-born women, 19 and 20. They were reportedly flown from Sanaa to Aden, before heading to Saudi Arabia.
They are now back in the US, according to the report.
The State Department official did not provide further details "due to privacy considerations."
Source: Al Arabiya
Please click the following URL to read the full text of the original story:
https://english.alarabiya.net/News/gulf/2022/03/11/Two-young-American-women-rescued-from-Yemen-s-Houthis-in-US-Saudi-operation
--------
US officially designates Qatar as major non-NATO ally
11 March ,2022
The US designated Qatar as a major non-NATO ally on Thursday, months after President Joe Biden promised to do so.
During a visit to the White House, Biden told Qatar's Emir Tamim bin Hamad al-Thani that he would add Qatar to the group of countries that are provided with certain defense, trade and security benefits with the US.
But there are no security commitments to these non-NATO allies.
Washington has been looking to Qatar to secure alternative energy supplies for Europe after tensions with Russia increased and Biden banned Russian oil imports.
Qatar also represents US diplomatic interests in Afghanistan, following the chaotic withdrawal ordered by the US president last summer.
"This past year our partnership with Qatar has been central to many of our most vital interests: relocating tens of thousands of Afghans, maintaining stability in Gaza and providing life-saving assistance to the Palestinians, keeping pressure on ISIS and deterring threats across the Middle East," Biden said during his meeting with the Qatari emir in January.
Source: Al Arabiya
Please click the following URL to read the full text of the original story:
https://english.alarabiya.net/News/gulf/2022/03/11/US-officially-designates-Qatar-as-major-non-NATO-ally
--------
Europe
Anti-colonial calendar celebrates Muslims who fought for freedom
10 March ,2022
In a bid to resist historical amnesia, each month displays a prominent anti-colonial Muslim figure from across the globe.
A novel calendar hopes to battle anti-Muslim bias and recentre the historic roles played by Muslims who fought for their people's freedom amid the scourge of imperialism.
Launched by Strive UK, an advocacy group established by members from the Indian Muslim diasporic community, the calendar introduces 12 Muslim figures that sacrificed their lives fighting European colonialists from the 15th to 20th century.
"This calendar is resistance to historical amnesia, increasing Islamophobia across the globe and a fight against the attempt to ostracise Muslims from history and public sphere," Sageer Mohammed, president of Strive UK, told TRT World.
Students associated with Strive UK, primarily girls aged 10 to 22, were behind its genesis.
"The idea behind this calendar and the stories that are interwoven between these months make it so special," Zara Muhammed, Secretary-General of Muslim Council of Britain told TRT World.
"We understand the platform we provided for the young researchers will help in the fight against [Islamophobia]," Muhammed said.
The month of January can be seen juxtaposed with the image of Variamkunnathu Kunjahammed Haji. He was the most prominent anti-colonial fighter against the British and established his own kingdom for several months in the Malabar region in the south Indian state of Kerala in 1921. At the end of the war, he was caught and killed by the British.
The current Hindu nationalist BJP government in India recently decided to remove the names of 387 martyrs of the 1921 Malabar Rebellion including Kunjahammed Haji from the fifth volume of the Dictionary of Martyrs of India's Freedom Struggle published by the Indian Council for Historical Research, an autonomous body under the Indian Ministry of Education.
"We know Islamophobia is expeditiously increasing in India. Remembering Variamkunnathu Kunjahammed Haji itself is a fight against it," 22-year-old researcher Nida Fazili told TRT World.
Three more Indian anti-colonial figures were also listed in the calendar.
One of them is Tipu Sultan, who was the ruler of the Kingdom of Mysore. Although he was martyred in 1799 in the Anglo-Mysore War, he has been subjected to a Hindutva-led vilification campaign after the decision was made to celebrate his birth anniversary by the previous Congress-led government in Karnataka.
Aman Mohammed, an 11-year-old student, prepared the description of Tipu Sultan.
Ghaziya, a 14-year-old student prepared a note on Zainuddin Makhdoom I & II. Both hailed from Kerala and stood against the Portuguese invasion in 1498. Tahrir Ahlil Iman and Tuhfathul Mujahideen, two prominent anti-colonial works of literature, were written by Zainuddin Makhdoom I & II, respectively.
Tahrir Ahlil Iman is considered to be among the earliest Muslim works of anti-colonial literature.
Izzudin Qasam, a towering figure in Palestine in the fight against British and Israeli occupations, is another important figure. He played a leading role in the 1921 Syrian revolt against French colonial authorities.
"He travelled across Palestine speaking to and encouraging the people to resist British colonialism and Zionism. He raised a guerilla army called the Al Kaff Al Aswad (Black Hand) and had early success in fighting them," the calendar explained.
"The question that I asked myself was, that he had a decent job and reputation in society, so why would he go and fight for the causes of the oppressed rather than just having a very peaceful life. Izzudin was not a person who would just speak, but he really walked the talk," Ibrahim Sageer, an 11-year-old student who prepared the note on Qasam, told TRT World.
Hiba Faisal and Hana Faisal, siblings aged 11 and 12, prepared the write-up on Ahmed Urabi, who was the first political and military leader in Egypt to rise from the peasant class. He is now considered a national hero in Egypt for resisting European interests in the region.
Africa also witnessed rampant invasions from Britain, Germany, Spain, France, and Italy in the 18th and 19th centuries — to which Muslims and their leaders played a huge role in resisting.
Prepared by 11-year-old Rehaan Shejin, the calendar then introduces Omar Al Mukhtar, the Libyan leader who spent his entire life fighting the British, French, Spanish, and Italians in numerous battles. Successful in many of those battles, he was popularly called "The Lion of the Desert" and inspired anti-colonial struggles not only in Libya but across the world.
Another African anti-colonial figure included in the calendar was Abdelkader El Djezairi from Algeria.
Djezairi was an Islamic scholar who fought against the French invasion of Algeria in the 19th century. He would resist the French for around 15 years until he was captured in 1847. An inspiring description of his life was written by a 12-year-old student Ryan Sanooj.
During the same period in the 19th century, Somali religious and military head of the Dervish movement, Mohammed Abdulla Hassan, led a two-decade-long confrontation against British and Italian armies in Somalia.
"The Ottoman Empire named him the 'Emir of the Somali'," the description on Abdulla Hassan in the calendar, prepared by 11-year-old Hasanul Banna, said.
Next is Muhammed Ibn Abd Al Karim Al Khattabi, the leader of the large-scale Berber resistance movement in Morocco against Spanish and French colonial forces.
The Spanish army, which comprised 60,000 soldiers, had suffered "one of their worst military defeats in June 1921 when they fought in a battle with the army of Mohammed Ibn Abd Al Karim," 13-year-old Eshan Shajin narrated in the calendar.
Turning the page to the month of June sees the entry of Chechnyan fighter Imam Shamil, who led a campaign of armed resistance against oppressive imperialist Russian rule in mid-19th century Chechnya.
By bringing together various Muslim tribes and clans across the Caucasus, Shamil created an army that "battled the Imperial Russian Army for 25 years, inflicting many defeats on their mighty enemy without outside help," 14-year-old Zoony Aloof notes.
Source: Trt World
Please click the following URL to read the full text of the original story:
https://www.trtworld.com/magazine/anti-colonial-calendar-celebrates-muslims-who-fought-for-freedom-55423
--------
French far-right politicians change their tune on immigration
Shweta Desai
11.03.2022
PARIS
Far-right politicians who had vowed to stop irregular immigration into France have changed their position and declared that it is natural to "welcome" refugees fleeing Russia's war in Ukraine because they are Christians and Europeans, who are different from the Muslim refugees from Syria and Afghanistan.
"We are closer to Christian Europeans… Arab or Muslim immigrants are too unlike us, and it is more and more difficult to acculturate and assimilate them," Eric Zemmour, a former journalist turned politician and aspiring presidential candidate, said on BFMTV news Tuesday.
A week before, Marine Le Pen, leader of the far-right National Rally party, also shared similar words on the same news channel.
"Ukraine is a European country, and I think it is natural in terms of regional solidarity to welcome war refugees from European countries."
Until last month before the Russia-Ukraine war broke out, both Le Pen and Zemmour had popularly based their campaigns for the 2022 presidential elections on the issues of immigration, Islam, and French identity.
Ukraine is not Syria, Afghanistan
Far-right political parties have claimed to be the gatekeepers of immigration specifically emerging from Muslim-dominated countries. At the time of the severe migration crisis in 2015, they exploited the rising anti-immigrant sentiment by denying that Syrian refugees were fleeing the war and accused them of arriving in Europe for economic gains.
Zemmour, who announced his presidential bid by harping on the themes of invasion by Islamic immigrants and restoring France's glorious past, had claimed that France was destabilized and overwhelmed by immigration.
Referring to 3-year-old Syrian refugee Aylan Kurdi, whose body washed up on the shore of the Mediterranean Sea, a photo of which became the defining image of the 2015 refugee crisis, he warned the government against taking decisions on the Ukrainian refugees based on the "emotional tsunami." He said he would rather prefer the Ukrainian refugees to be in Poland, as they can return home easily when the war is over.
Defending her past stand, Le Pen said "the bombed Syrians were Islamists." She indicated that the Syrians posed a security threat as they were mainly men arriving in Europe, unlike the Ukrainians, where you see women, children, and the elderly crossing the border.
"We knew that the Islamists were slipping into the convoys. We knew it fully well, and I think the situation is fundamentally different (now with Ukraine)," she said.
Change of tune: Eye on presidential elections
But amid the outpouring of sympathy and the growing tide of Ukrainian refugees, several far-right politicians including Zemmour and Le Pen have been forced to change their tune on receiving immigrants in France.
For the far-right candidates vying for the highest office of government, the issue has become particularly sticky, as they now find themselves in a bind with their existing views on refugees and immigrants.
With the first round of voting due on April 10, the views of prospective candidates on the resolution of the Ukraine war, responses to the looming energy crisis, and the refugees have suddenly gained more prominence among voters.
The predicament of the far-right parties has become direr in the face of incumbent President Emmanuel Macron, who is also running for a second mandate and has proclaimed unwavering support for the Ukrainian people.
The Macron government has relaxed stringent policies targeting undocumented refugees to facilitate Ukrainians, even those without a passport, find safe passage, temporary accommodation, and transportation.
More than 2.3 million Ukrainians are estimated to have fled the fighting. France has so far welcomed over 7,000 Ukrainians and has launched a sponsorship program for French families to host Ukrainian nationals.
The disparity has prompted several nonprofit organizations working with asylum seekers to denounce French authorities for racially discriminating against refugees from African, Asian, and Middle Eastern countries in recent days.
Change of positions
Zemmour and Le Pen have been indicted in the past for hate speech against Muslims, and refugees have signaled a different approach to provide asylum to mainly Christian and White Ukrainians. Considering the high stakes both candidates have, the forthcoming presidential elections appear to have weighed on their changing positions.
While campaigning on March 5, Le Pen was confronted by a French woman who questioned what she was doing about the war in Ukraine: "What we can do is welcome refugees, keep hope (alive,) and work for peace," she said.
Her response has been starkly different from the time when her National Rally party launched a petition urging the French to oppose the "massive reception of Afghan refugees" after the Taliban returned to power last August.
The following month, Le Pen unveiled a bill titled "Citizenship, Identity, and Immigration," which would prohibit the regularization of illegal immigrants and allow for the expulsion of lawbreakers.
She assured that the bill would be put to vote in parliament once she is elected as a president. "Demography controls everything, we know that. It will decide the balance of our world and the survival of our nations, and will be at the center of the next presidential term."
Ukraine war causing a change of heart
But not every far-right politician is letting the elections dictate their politics.
Robert Menard, the mayor of Beziers in the south of France who had infamously threatened to expel Syrian refugees and children, swears that he has had a change of heart seeing the plight of Ukrainians fleeing for safety. "The bombs are no different when they fall on my friends in Kyiv than when they fall on my friends in Aleppo," he told LCI news on Wednesday.
Source: Anadolu Agency
Please click the following URL to read the full text of the original story:
https://www.aa.com.tr/en/europe/french-far-right-politicians-change-their-tune-on-immigration/2531428
--------
Iran nuclear talks stumble over unresolved Russia demands
10 March ,2022
Parties trying to revive the Iran nuclear deal scrambled on Wednesday to resolve last-minute Russian demands that threaten to scupper negotiations, diplomats said, with the United States appearing unwilling to engage with Russia on the matter.
Western powers on Tuesday warned Russia against wrecking an almost completed deal on bringing the United States and Iran back into compliance with the 2015 nuclear accord. Iran's top negotiator returned to Vienna on Wednesday from consultations in Tehran.
For the latest headlines, follow our Google News channel online or via the app.
Eleven months of talks to restore the deal which lifted sanctions on Iran in return for curbs on its nuclear program have reached their final stages with several diplomats saying the nuclear deal was now broadly agreed.
But just as the final issues were being resolved, Russia presented a new obstacle by demanding written guarantees from the United States that Western sanctions targeting Moscow over its invasion of Ukraine would not affect its trade with Iran.
"The negotiations on the 'nuclear deal' with Iran should take into account the legitimate interests of Russia in the implementation of comprehensive cooperation with Iran," the Russian embassy in Iran said on Twitter, summarizing a news conference held in Tehran by its ambassador, Levan Dzhagaryan.
Russia's chief envoy to the talks, Mikhail Ulyanov, retweeted that comment. He met the talks' coordinator, Enrique Mora of the European Union, on Tuesday evening and again on Wednesday.
"Yet another meeting with EU Coordinator at the ViennaTalks Mr. Enrique Mora at the very last stage of diplomatic marathon towards restoration of JCPOA," Ulyanov said on Twitter, referring to the Joint Comprehensive Plan of Action.
US Under Secretary of State for Political Affairs Victoria Nuland on Tuesday accused Russia of seeking to reap extra benefits from its participation in the effort to restore the nuclear agreement, but she said Washington would not be playing "Let's Make a Deal."
The Western diplomat said it was still not clear what the exact nature of Moscow's demands were, but they appeared broader than its nuclear commitments to revive the deal.
A European diplomat said Russia was demanding sweeping guarantees on trade between Moscow and Tehran.
They said the talks were now not likely to end this week.
Mora broke off informal meetings on Monday saying the time had come for political decisions to be taken to end the negotiations.
European negotiators from France, Britain, and Germany had already temporarily left the talks as they believed they had gone as far as they could go and it was now up to the United States and Iran to agree on outstanding issues.
Source: Al Arabiya
Please click the following URL to read the full text of the original story:
https://english.alarabiya.net/News/middle-east/2022/03/10/Iran-nuclear-talks-stumble-over-unresolved-Russia-demands
--------
Queen Elizabeth receives special Turkish song for Platinum Jubilee
Ahmet Gurhan Kartal
10.03.2022
LONDON
A London-based composer has sent a very special gift to Queen Elizabeth II on her 70th anniversary of succession to the British throne.
Turkish composer Suat Sancar's present to the world's longest-serving monarch is a song he composed.
"This is the second time I am sending my composition to Her Majesty," Sancar told Anadolu Agency.
"The first time was on her Diamond Jubilee when she celebrated the 60th accession anniversary and Queen Elizabeth II's letter of appreciation plays a huge part in my professional career," Sancar said.
The musician said he previously sent to the Queen letters including details and information for my support to the English and Turkish cultures "along with two of my music albums covering my own compositions which were signed to Her Majesty."
Spiritual gift for Platinum Jubilee
Alongside a congratulatory letter for the Diamond Jubilee -- 70th accession anniversary, Sancar sent this week to the Queen a song he especially wrote and composed about Hodja Ahmet Yesevi, who was a great 12th-century poet and Sufi.
Sancar said UNESCO celebrated 2021 as the Year of Yunus Emre -- a 13th-century Turkish folk poet and dervish, who came from the Yesevi order of Sufism.
"I wish my gift will bring much joy, inspiration, and strength to Her Majesty during these unprecedented times.
"I once again congratulate Her Majesty on the 70th year of succession to the throne and the Platinum Jubilee and wish Her Majesty lifelong health, happiness and peace," he said in a letter addressed to the Queen.
The 95-year-old monarch was born on April 21, 1926, and she ascended to the throne with the death of her father King George VI on Feb. 6, 1952.
Source: Al Arabiya
Please click the following URL to read the full text of the original story:
https://www.aa.com.tr/en/europe/queen-elizabeth-receives-special-turkish-song-for-platinum-jubilee/2530103
--------
Africa
Envoys warn of 'grave danger' in Sudan as two more protesters killed
10 March ,2022
Sudan needs to reach a new political agreement by June, United Nations and African Union envoys warned on Thursday, as medics said two protesters had been killed in the latest round of anti-military demonstrations since a coup in October.
Political deadlock in Sudan following the coup has contributed to new pressure on a crippled economy and a stand-off between protesters and security forces.
"All indications show the country is in grave danger," African Union envoy Mohamed Hassan Lebatt told reporters, as he announced a joint effort to push for talks in partnership with the United Nations.
On Thursday protesters turned out once more in the capital Khartoum and medics aligned with the protest movement said two civilians had been shot by security forces, bringing the total of those killed since the coup to 87.
There was no immediate comment from the police or the military. Military leaders have said peaceful protests are allowed and that protest casualties will be investigated.
The Sudanese pound was trading at some banks at more than 600 pounds to the dollar on Thursday, having lost about a third of its value in recent weeks.
"We don't have much time, and we've seen in the last four months the deterioration of the security, political and economic situation," said UN Special Representative Volker Perthes.
Perthes said a deal needed to happen by June, in order for Sudan not to risk losing international economic assistance suspended after the coup.
The UN mission in Sudan has conducted consultations with some political groups since January which Perthes said produced many points of consensus. But some factions declined to take part, and leading civilian groups say they refuse to negotiate with the military.
Source: Al Arabiya
Please click the following URL to read the full text of the original story:
https://english.alarabiya.net/News/middle-east/2022/03/10/Envoys-warn-of-grave-danger-in-Sudan-as-two-more-protesters-killed
--------
Jordan's King Abdullah, Israeli FM Lapid discuss Jerusalem tensions
10 March ,2022
Jordan's King Abdullah hosted Israeli Foreign Minister Yair Lapid for talks on Thursday about coordinating ways of securing calm in Jerusalem, a frequent flashpoint of Palestinian protests, Israel's Foreign Ministry said.
The visit came "ahead of the (Muslim fast month) of Ramadan and in light of reports of growing tension in Jerusalem," the ministry said in a statement.
Israeli police confrontations with Palestinians during Ramadan last year helped stoke a May war in Gaza. Ramadan next month coincides with Judaism's Passover festival and Christian Easter. Jerusalem is holy to all three faiths. Jordan is the custodian of al Aqsa, a major mosque in Jerusalem's Old City.
Source: Al Arabiya
Please click the following URL to read the full text of the original story:
https://english.alarabiya.net/News/middle-east/2022/03/10/Jordan-s-King-Abdullah-Israeli-FM-Lapid-discuss-Jerusalem-tensions
--------
UAE's Bukhatir group revives $5 billion real estate project in Tunisia
10 March ,2022
UAE-based Bukhatir Group said on Thursday it was reviving a $5 billion real estate project in Tunis and would start work immediately on an initial phase, the first big project in the North African country since a 2011 revolution.
Tunisia has been seeking foreign investment to boost its economy which has been hit hard by the pandemic after years of stagnation, compounded by political turmoil.
Tunisian sources told Reuters last Friday that Bukhatir would re-commit to the project, which was halted after the revolution that ended the rule of former president Zine El Abidine Ben Ali.
Bukhatir Chairman Salah Bukhatir confirmed at a press conference the project was being revived, and that the first phase would involve building luxury villas and a golf course.
"This project will change the face of the capital Tunis," he said.
Source: Al Arabiya
Please click the following URL to read the full text of the original story:
https://english.alarabiya.net/business/economy/2022/03/10/UAE-s-Bukhatir-group-revives-5-billion-real-estate-project-in-Tunisia
--------
Military plane crashes in central Sudan
Bahram Abdel Moneim
10.03.2022
KHARTOUM, Sudan
A Sudanese military plane crashed in the central city of al-Obeid on Thursday, according to the military.
Military spokesman Nabil Abdullah said the aircraft was on a training mission when it crashed at the city's airport.
He cited a "technical failure" for the crash.
Source: Anadolu Agency
Please click the following URL to read the full text of the original story:
https://www.aa.com.tr/en/africa/military-plane-crashes-in-central-sudan/2530608
--------
Southeast Asia
Empowerment programme at ITE for Malay-Muslims helps student excel
Syarafana Shafeeq
MAR 10, 2022
SINGAPORE - When he saw how his father's earnings took a hit during the Covid-19 pandemic, Muhammad Roth Isaac Rothman knew he had to step up to ease the burden of the sole breadwinner.
The 18-year-old started delivering food alongside his dad, while waiting for his studies to commence at the Institute of Technical Education (ITE) College West. Now as a second year student, he still helps with deliveries after school and on the weekends.
Although it was stressful, Isaac said he never felt that it was too tough or tiring to endure. "I am young and motivated to help my family, and I also wanted to spend time with my dad while working," the second year automotive technology student said.
As a mentee of the Empowerment Programme @ ITE, Isaac was assigned a mentor to check on him and offer support. The programme was started in 2019, aimed at supporting students undergoing Nitec courses.
On Thursday (March 10), Senior Minister of State for Manpower and Defence, and Mendaki deputy chairman Zaqy Mohamad announced that the programme will be refreshed to #amPowered@ITE to be better tailored to the unique needs of mentees.
Isaac said that although his mentoring was done through messages or calls due to Covid-19 restrictions, he appreciated the support.
"It was really nice to have someone checking in on me and asking how my day was. It made me feel that my existence mattered in this world," Isaac added.
Isaac holds many leadership roles on top of being a student, such as being the class chairman, president for his co-curricular activity Boys Brigade Primers, and vice-president of the school's programme for outstanding students, Ace.
He said: "Some challenges I face are sacrificing my family time, and having to juggle my studies and all my responsibilities taking the leadership roles."
"Despite having these challenges, I have friends, teammates and teachers looking out for and assisting me," he added.
Source: Straits Times
Please click the following URL to read the full text of the original story:
https://www.straitstimes.com/singapore/empowerment-programme-at-ite-for-malay-muslims-help-student-excel
--------
Protests grow over Indonesia's plan to carve up Papua
By Konradus Epa
March 11, 2022
Indigenous people have stepped up their opposition to an Indonesian government proposal to break up the country's predominantly Christian easternmost Papua region into six provinces.
Thousands took to the streets of Wamena in Papua province's Jayawijaya district on March 10, a day after similar rallies were held in Jakarta and the Papuan capital Jayapura, against a plan by the Ministry of Home Affairs to set up six new provinces in place of the current two — Papua and West Papua.
If the government gets its way, provinces called Northwest Papua, West Papua, Central Papua, Central Highlands, South Papua and Papua Tabi Saireri would be established.
However, opponents believe the move will enable Jakarta to tighten government control over the restive region and further marginalize its indigenous people.
"We need to resolve human rights violations and security issues and not create new provinces. This will only stoke more conflict and make Papuans suffer more," rally organizer Dano Tabuni told the Wamena protesters.
He said the aim of the protest was to get members of the regional legislative council in Wamena to reject the plan.
"New provinces aren't what Papuans want. It only serves the interests of the political elite in Papua and Jakarta," Tabuni said.
"Indigenous Papuans have not been consulted on this matter. Any such move should be transparent and honest in a democratic country."
Father John Bunay, coordinator of the Papua Peace Network, said the people were right to oppose new provinces.
"There seems to be an ulterior political motive here as it won't develop Papua. The population in the region isn't big enough to justify six provinces," he told UCA News.
The current population in West Papua and Papua provinces stands at about 4.3 million, according to government figures.
Markus Haluk, director of the pro-independence United Liberation Movement for West Papua, said new provinces would likely result in mass migration from other regions to Papua.
"It would be detrimental to the people of Papua's development and will marginalize them further. It isn't a solution to problems in the region," he said.
Late last month, Father Alexandro Rangga from the Franciscans' Secretariat for Justice, Peace and Integrity of Creation in Papua said the proposal's motive was likely an attempt to gain control over Papua's natural resources, which would attract many outsiders.
"The birth of a new autonomous region causes indigenous Papuans to be increasingly marginalized due to massive transmigration of residents from outside the region," he said.
Source: UCA News
Please click the following URL to read the full text of the original story:
https://www.ucanews.com/news/protests-grow-over-indonesias-plan-to-carve-up-papua/96464
--------
URL: https://www.newageislam.com/islamic-world-news/keralite-islamic-state-khorasan-afghanistan/d/126551
New Age Islam, Islam Online, Islamic Website, African Muslim News, Arab World News, South Asia News, Indian Muslim News, World Muslim News, Women in Islam, Islamic Feminism, Arab Women, Women In Arab, Islamophobia in America, Muslim Women in West, Islam Women and Feminism