New Age Islam News Bureau
19 Apr 2015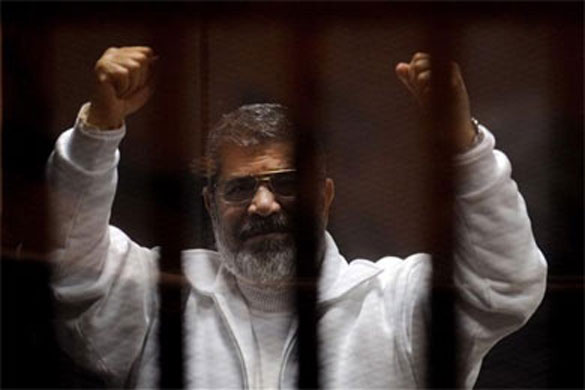 Egypt's Morsi Faces Possible Death Penalty in First Verdict
--------------
Arab World
• A 70-Page Islamic State Terror Manual Found Online
• Egypt's Morsi Faces Possible Death Penalty in First Verdict
• Iraqi Forces Kill over 20 ISIL Terrorist
• Report: Foreign Terrorists in Idlib Fleeing Syria to Turkey
• Senior ISIL Commander, Aide Killed in Iraq's Salahuddin
• 11 death sentences referred to Grand Mufti over Port Said Stadium violence
• Ban cease-fire call 'upsets Gulf states'
• Hezbollah 'distorting facts like Khamenei'
South Asia
• 10 Soldiers Martyred, 18 Militants Killed In Military Operations
• Shocking Photos Shows Taliban Executing 3 Prisoners In Ghazni
• Minister: Freedom fighter's allowance to be doubled
• Two held with arms, ammo in Bangladesh
• Non-state actors pose grave threat, says Afghan general
Mideast
• Source: Ansarullah Seizes Al-Qaeda Bomb-Making Facility in Sana'a
• Saudi Strikes Kill Dozens at Border Area
• Rouhani: Iran ready to join Afghanistan in fight against terrorism
• Yemen crisis: Meet the child soldiers who have forsaken books for Kalashnikovs
• Khamenei says Iran nuclear weapons are a 'myth'
• Spanish couple suspected of joining ISIL detained in Istanbul
• US military option 'old habit that dies hard': Iran FM
• Turkish Airlines head urges single pilots to marry
• Rebels obstructing flow of aid: Coalition
Pakistan
• Altaf Calls PTI, JI 'Branches Of Taliban, Al Qaeda'
• No Linguistic, Ethnic Issue in Pakistan: Jamaat-e-Islami Chief
• 5 Suspected Militants Killed In Tirah Valley
• Faris Shafi: The uncensored voice from Pakistan
• Sartaj urges India to resume foreign-secretary level talks
• Pakistani militant groups condemn suicide attack in Afghanistan
• Sufi Muhammad acquitted in 16 terrorism cases
• Supreme Court to hear Mumtaz Qadri's appeal on April 20
India
• Terrorists Plan To Avenge SIMI Men Killings: Intelligence Agencies
• Hafiz Saeed at It Again, Supports Pakistan's 'Efforts' To Help Kashmiris
• AMU, IIT Alumni's Website for Muslims Hunting Homes Gets 1 Lakh Visitors
Africa
• At Least 23 Killed In Central Nigeria Communal Clashes: Police
• Shabaab Militants Kill Regional Somali Lawmaker in Capital
• ISIS 'executes' Ethiopia Christians in Libya
• U.N. envoy reveals extent of latest Libya violence
Europe
• France Provides First Weapons to Lebanon for Islamic State Fight
• Red Crescent: Tens of Yemeni Children Killed by Saudi Poison Gas
• UK Muslims Slam 'Don't Vote' Flyers
• Islamophobia in France Soars to Record Heights
• Antiquities market on alert for looted Syrian spoils: European authorities
• UN report finds Afghan women failed by justice system
• HRW slams 'draconian sentences' in Egypt
• More than 90,000 people flee violence in Iraq's Anbar province: UN
North America
• American Muslims Should Fight Islamophobia in 2016 Elections
• Motive unsettled in slayings of Muslim students in North Carolina
• Arabs, Malians 'among first to discover Americas'
Southeast Asia
• Malaysia: Locals Protest Outside Church Building, Say Cross 'Challenging Islam'
• Jakim waging war to stamp out Isis influence, says report
• Dr M not alone in speaking the truth, says Muhyiddin
Compiled by New Age Islam News Bureau
URL: https://www.newageislam.com/islamic-world-news/new-age-islam-news-bureau/a-70-page-islamic-state-terror-manual-found-online/d/102545
------------
Arab World
A 70-page Islamic State terror manual found online
April 19, 2015
An Islamic State (IS) manual for preparing, funding and carrying out terror attacks in the West is being shared on jihadist forums on the internet, asking extremists to raise funds through online scams and fraud.
The 70-page guide aims to create sleeper cells of one or two people and advises would-be terrorists to change their name, alter their appearance and westernise their ways, according to a report in 'The Times'.
Written in fluent English, the guide asks jihadists to raise funds through online scams and fraud, and tells readers: "If the [shedding of] non-Muslim blood is permitted by scholars, then no doubt their wealth is."
As of November 2014, Scotland Yard's counter-terrorism internet unit had targeted 55,000 sites and forums hosting jihadist material.
The elements in the guide that will most concern security services relate to the making and handling of crude weapons, and references to designing homemade bombs and mobile-phone detonators.
One section instructs its sympathisers to eschew Islamic clothing, to wear coloured contact lenses that give you a distinctive look to confuse witnesses giving your description and adopt a westernised pseudonym.
A section titled "secret white converts" gives advice on converting sympathetic westerners in order to develop a cover story and gain influence and access to people in positions of power.
The manual reads: "Befriend good decent white people who are dissatisfied with their governments, be close to them and offer them support and guidance in life.
"If these people open up to you, you can decide if you want to tell them about Islam. You will tell them enough information to satisfy what service you require off them, but not more than that."
In its section on improvised explosives, the guide celebrates Dzhokhar Tsarnaev and his elder brother Tamerlan, who killed three people and injured more than 200 others in the Boston Marathon bombing in 2013.
The 10-page section shows how to build and secrete bombs made from jars full of nails, pressure cookers, gas canisters and microwave ovens.
There are even instructions for a crude car bomb.
http://indianexpress.com/article/world/world-others/a-70-page-islamic-state-terror-manual-found-online/
------------
Egypt's Morsi faces possible death penalty in first verdict
April 19, 2015
Egypt's ex-president Mohamed Morsi faces being sentenced to death April 21 on charges of inciting the killing of protestors in the first verdict against him nearly two years after his fall from power.
He also faces the death penalty in two other trials, including one in which he is accused of spying for foreign powers, and escaping from prison during the 2011 anti-Mubarak revolt.
Separate verdicts in those two cases are due on May 16.
A death sentence on April 21 against Egypt's first freely elected president cannot be ruled out, experts say, especially since judges have already passed harsh verdicts against leaders of his blacklisted Muslim Brotherhood.
Morsi was toppled by the then army chief -- and now president -- Abdel Fattah al-Sisi on July 3, 2013 after mass street protests against his year-long rule.
The new authorities then launched a sweeping crackdown on his supporters in which more than 1,400 people were killed and thousands jailed.
Full report at:
http://www.hurriyetdailynews.com/egypts-morsi-faces-possible-death-penalty-in-first-verdict.aspx?pageID=238&nID=81250&NewsCatID=352
------------
Iraqi Forces Kill over 20 ISIL Terrorist
April 19, 2015
Iraqi government forces conducted military operations against the Islamic State of Iraq and the Levant (ISIL) terrorists in many areas across the country, and killed 21 of them.
The Iraqi forces killed 8 ISIL terrorists, and destroyed 3 of their vehicles in Ein al-Faras area in Salahuddin province.
The forces also managed to purge al-Qadisiyah and al-Tin neighborhoods.
Meanwhile, the forces also killed 13 terrorists in al-Sufia area in Anbar province.
http://english.farsnews.com/newstext.aspx?nn=13940130000563
--------
Report: Foreign Terrorists in Idlib Fleeing Syria to Turkey
April 19, 2015
The foreign terrorists who have come to Syria for a war of militancy are fleeing to neighboring Turkey after the Syrian army started massive operations to regain control over the city of Idlib in Northwestern parts of the country.
"A large number of non-Syrian terrorists have fled to Turkey through Atmeh border crossing," the Arabic-language Al-Watan newspaper reported.
Meantime, military sources announced that the Syrian air force has increased airstrikes on the positions of Takfiri terrorists to pave the way for the ground operations in Idlib.
On Friday, President Assad accused neighboring Turkey of torpedoing a UN plan for a ceasefire with rebels in the second city of Aleppo.
Assad told the Swedish newspaper Expressen that Ankara had used its influence with rebel factions to persuade them to reject the proposals put forward by UN envoy Staffan de Mistura for a ceasefire in the former commercial hub.
"The Turks told the factions -- the terrorists that they support and they supervise -- to refuse to cooperate with De Mistura," the Syrian president said.
The main western-backed rebel alliance is based in Turkey.
Assad also accused Ankara of supporting jihadists with Al-Qaeda and the ISIL group since a peaceful uprising in 2011 escalated into armed conflict.
Since 2011, Syria has been faced massive insurgency created by the certain Western countries and their regional allies that staged a propagandistic war against Damascus.
At the beginning of crisis, certain western powers and their regional allies voiced loudly that Syrian protests have no diplomatic solution, and then they started supplying the country's opposition groups with their arms and funds.
But in 2014, specially after victory of President Bashar al-Assad in the country's presidential election in summer, the army has gained upper hand in its anti-terrorism campaign, and has been partly successful in sealing borders with Turkey and Jordan.
http://english.farsnews.com/newstext.aspx?nn=13940130000935
------------
Senior ISIL Commander, Aide Killed in Iraq's Salahuddin
April 19, 2015
Iraqi volunteer forces killed a senior commander of the Islamic State of Iraq and the Levant (ISIL) terrorist group and his aide in Samarra city in Salahuddin province on Sunday.
The Iraqi volunteer forces killed a senior ISIL commander and his aide in al-Hawish area in Samarra city in Salahuddin province.
The Iraqi defense ministry also earlier said that 97 terrorists were killed in Samarra and Anbar province.
http://english.farsnews.com/newstext.aspx?nn=13940130000909
------------
11 death sentences referred to Grand Mufti over Port Said Stadium violence
April 19, 2015
Death sentences handed to 11 defendants convicted of participating in the Port Said Stadium disaster of 2012 were referred to the Grand Mufti for approval on Sunday.
Referral to the Grand Mufti is a necessary procedure before issuing a death sentence, according to Egyptian law, though the religious opinion of the Mufti is non-binding.
The court has set 30 May for the date of the final verdict and placed a gag order on the case. Defendants hold the right to appeal against the verdict.
Seventy-three defendants stood retrial on charges of killing of over 70 Ahly fans after a match with Masry football club on 1 February 2012.
Nine police officials were tried in the case but none of them were among the 11 who received the death sentence.
Full report at:
http://english.ahram.org.eg/NewsContent/1/64/128039/Egypt/Politics-/-death-sentences-referred-to-Grand-Mufti-over-Port.aspx
------------
Ban cease-fire call 'upsets Gulf states'
April 19, 2015
NEW YORK: Several Gulf Arab states are unhappy about UN chief Ban Ki-moon's call for an immediate cease-fire by all sides in Yemen and are expected to raise the issue in a meeting with him soon, UN diplomatic sources have said.
Ban has called for an immediate halt to the fighting, the first time he has made such an appeal since Saudi-led airstrikes against Houthi rebels began three weeks ago.
The main topic of the meeting will be the replacement for the outgoing UN envoy to Yemen Jamal Benomar, who announced his resignation on Wednesday. But, the sources said, they are also expected to raise their concerns about the appeal Ban made in a speech at the National Press Club.
Full report at:
http://www.arabnews.com/featured/news/734666
------------
Hezbollah 'distorting facts like Khamenei'
April 19, 2015
Former Lebanese Prime Minister Saad Hariri has slammed Hezbollah leader Hassan Nasrallah for maintaining a blistering tirade against Saudi intervention in Yemen.
On his Twitter account, Hariri accused the Hezbollah chief of following in the footsteps of Iran's supreme leader Ayatollah Ali Khamenei in fabricating stories, distorting facts, misleading the public and putting on shows of strength and sectarian incitement."
Hariri made the accusations after Nasrallah attacked Saudi Arabia in a speech during a rally, vowing to maintain Hezbollah's support for the Iranian-backed Houthi rebels. "What we heard was coordinated slander and an act of digging up the graves of hatred," Hariri said, adding: "It has exposed the hatred in Nasrallah's heart against Saudi Arabia, its founder and its leadership."
Full report at:
http://www.arabnews.com/featured/news/734651
------------
South Asia
10 soldiers martyred, 18 militants killed in military operations
Apr 19 2015
10 soldiers embraced martyrdom and 18 militants were killed during separate military operations in past 24 hours across the country, officials said Sunday.
A statement issued Sunday by General Zahir Azimi the spokesman for the Ministry of Defense states that nine soldiers from Afghan National Army embraced martyrdom in bomb blast and enemy fire in past 24 hours. The statement does not contain information about the exact location of the explosion.
Also, a soldier from Afghan National Police embraced martyrdom in a roadside bomb explosion in Ghazni province last night.
The bomb was placed close to a check point in third police district of Ghazni city.
The statement issued by the Ministry of Defense further states that 18 militants were killed and seven others wounded in separate military operations in past 24.
The operations were conducted in five provinces where 27 Improvised Explosive Devices (IEDs) were also discovered and defused by military, the statement adds.
http://www.khaama.com/10-soldiers-martyred-18-militants-killed-in-military-operations-3201
------------
Shocking photos shows Taliban executing 3 prisoners in Ghazni
April 19, 2015
A set of photographs have emerged online which purportedly shows the public execution of three men by the Taliban militants in southeastern Ghazni province of Afghanistan.
According to local government officials, the men were executed over murder charges of two doctors few months earlier in Andar district.
The provincial governor spokesman Shafiqullah Nang Sapai said the convicts were members of the Taliban group who were executed in the presence of hundreds of local residents of Andar.
The photographs shows the blindfolded men are sat with their backs turned away from the gunmen and their hands clasped behind their backs before they are shot dead by the insurgents.
A huge crowd, including children gathered at the execution site to witness the public killings. The Taliban militants group said the men had been tried and found guilty by an Islamic court.
Ghazni is among the volatile provinces in southeastern Afghanistan where anti-government armed militant groups are actively operating and frequently carry out insurgency activities.
This comes as the anti-government armed militants beheaded four abducted civilians in the same province on Friday.
Full report at:
https://www.khaama.com/shocking-photos-shows-taliban-executing-3-prisoners-in-ghazni-1009
------------
Minister: Freedom fighter's allowance to be doubled
April 19, 2015
The government has been considering to increase allowances for the freedom fighters, Liberation War Affairs Minister AKM Mozammel Haque said.
Prime Minster Sheikh Hasina had committed to double the allowance of the freedom fighters in a short time, the minister said.
The minister made the comment while addressing the inauguration ceremony of the Muktijoddha Complex in Jhenaidah as chief guest on Friday.
The minister also said no freedom fighters would die without proper treatment, as all the freedom fighters will be provided treatment facilities in all upazila and district level hospitals for free.
Presided over by District unit president of Bangladesh Muktijoddha Sangsad Makbul Hossain, deputy commissioner Mohammad Safiqul Islam, Administrator of Jhenaidah district council Abdul Wahed Joarder, Additional police super Pratyush Kumar, ASP Gopinath Kanzilal, among others spoke at the event.
http://www.dhakatribune.com/bangladesh/2015/apr/18/minister-freedom-fighters-allowance-be-doubled#sthash.AbxU3aZg.dpuf
------------
Two held with arms, ammo in Bangladesh
April 19, 2015
Police have arrested two people with arms and ammunition in Sreenagar upazila of Munshiganj.
The arrestees are Rafiqul Bepari,40, and Sajeeb Bepari,22.
Md Mojibur Rahman, officer-in-charge of Srinagar police station, said a team of police on a secret information intercepted the motorcycle of the duo in Barimarkhola area.
The law enforcers recovered a foreign made pistol, a magazine, and one bullet from their possession, he said.
A case was filed with the police station in this connection.
http://www.dhakatribune.com/crime/2015/apr/18/two-held-arms-ammo-munshiganj#sthash.k857mtiv.dpuf
------------
Non-state actors pose grave threat, says Afghan general
April 19, 2015
ISLAMABAD: Afghan military chief Gen Sher Mohammad Karimi called on Saturday for "sincere" counter-terrorism cooperation between his country and Pakistan and cautioned against missing the "historic opportunity" of defeating terrorists.
"Countering and ultimately defeating this menace and threat [of terrorism] effectively, therefore, requires sincere, close, result-oriented cooperation and coordination...based on the accepted principles and norms of equality, non-interference in each other's affairs and mutual respect," the Afghan chief of general staff said at a passing out parade at the Pakistan Military Academy (PMA), Kakul.
The Afghan commander became the first foreign dignitary to preside over the commissioning ceremony of officers who completed their training at the country's premier military school. Six Afghan cadets are also undergoing training at the school.
His participation in the ceremony as the chief guest denotes an improvement in relations between the two countries.
Full report at:
http://www.dawn.com/news/1176860/non-state-actors-pose-grave-threat-says-afghan-general
----------
Mideast
Source: Ansarullah Seizes Al-Qaeda Bomb-Making Facility in Sana'a
April 19, 2015
Yemen's Ansarullah fighters seized a bomb-manufacturing facility of the Al-Qaeda in a major military operation against the Saudi backed terrorist group in Southern Sana'a, a military source said Sunday.
According to the source, the Ansarullah popular forces managed to seize a bomb-making factory belonging to the al-Qaeda terrorists in South of the capital Sana'a after staging an intelligence operation.
The Yemeni troops discovered a huge quantity of explosive material inside the building.
The Ansarullah fighters and the army troops have made major advances in their fight against the al-Qaeda terrorists and pro-Hadi militias across Yemen in recent weeks.
The clashes between the Ansarullah fighters and the Saudi-backed al-Qaeda terrorists as well as the pro-Hadi militias continue in the Southern parts of the country as Saudi Arabia has been striking Yemen for 25 days now to restore power to fugitive president Mansour Hadi, a close ally of Riyadh. The Saudi-led aggression has so far killed at least 2,655 Yemenis, including hundreds of women and children.
Full report at:
http://english.farsnews.com/newstext.aspx?nn=13940130001030
------------
Saudi Strikes Kill Dozens at Border Area
April 19, 2015
Saudi military aircraft bombed an area near the Yemeni border on Sunday, leaving scores of civilians dead.
Reports coming out of Yemen indicate that the Saudi fighter jets pounded al-Mabkhara district near the Yemeni border, killing and injuring dozens of people.
Saudi Arabia has deployed its armored units and military vehicles near its border land with Yemen. The monarchy has repeatedly shelled different Yemeni regions in recent weeks.
Saudi Arabia has been striking Yemen for 25 days now to restore power to fugitive president Mansour Hadi, a close ally of Riyadh. The Saudi-led aggression has so far killed over 2,655 Yemenis, including hundreds of women and children. The attacks have also left thousands of people injured.
Hadi stepped down in January and refused to reconsider the decision despite calls by Ansarullah revolutionaries of the Houthi movement.
Despite Riyadh's claims that it is bombing the positions of the Ansarullah fighters, Saudi warplanes are flattening residential areas and civilian infrastructures.
Five Persian Gulf States -- Saudi Arabia, the United Arab Emirates (UAE), Bahrain, Qatar and Kuwait -- and Egypt that are also assisted by Israel and backed by the US declared war on Yemen in a joint statement issued on March 26.
http://english.farsnews.com/newstext.aspx?nn=13940130000820
------------
Rouhani: Iran ready to join Afghanistan in fight against terrorism
April 19, 2015
Iran has shown readiness to join Afghanistan in fight against terrorism in the region.
Iran's President Hassan Rouhani while talking to a joint press conference with President Mohammad Ghani in Tehran said that both countries need put joint efforts in place to defeat Daesh or other terrorist groups threatening the security in the region.
Rouhani suggested that both countries should share intelligence information in order to better coordinate the fight against terrorism.
The announcement of Iran's readiness to join Afghanistan in the fight against Daesh comes on the eve of President Mohammad Ashraf Ghani's visit to Tehran on Sunday.
President Mohammad Ghani in the joint press conference with his Iranian counterpart said that eliminating terrorism in the region is impossible without regional cooperation.
He said that both countries need to come up with a plane and time frame to overcome the challenges lying in front of both nations.
Full report at:
http://www.khaama.com/rouhani-iran-ready-to-join-afghanistan-in-fight-against-terrorism-3202
------------
Khamenei says Iran nuclear weapons are a 'myth'
April 19, 2015
Iran's Supreme Leader Ayatollah Ali Khamenei said today the United States had created the "myth" of nuclear weapons to portray Iran as a threat, hardening his rhetoric before nuclear negotiations resume this week.
Khamenei has supported the talks but has continued to express deep mistrust of the United States. As the highest authority in Iran, the withdrawal of his support could cause the negotiations to collapse.
"They created the myth of nuclear weapons so they could say the Islamic Republic is a source of threat. No, the source of threat is America itself," Khamenei said in comments cited by the semi-official Fars news agency.
Full report at:
http://www.themalaysianinsider.com/world/article/khamenei-says-iran-nuclear-weapons-are-a-myth
------------
Spanish couple suspected of joining ISIL detained in Istanbul
April 19, 2015
A Spanish couple allegedly trying to cross into Syria to join the Islamic State of Iraq and the Levant (ISIL) was taken into custody in Istanbul on April 18, according to police officials.
Spain had issued a "red notice" for Ahmad Debza, 33, and his wife, Nadia Fernandez Ataich, 27, both of Moroccan origin, Istanbul police officials said.
The couple arrived at Istanbul's Ataturk Airport on Oct. 11, 2014, and was accused of preparing to go to Syria to join ISIL. Upon completing their legal procedures, the suspects will be deported soon, police have said.
Thousands of foreign fighters from all over the world are believed to have joined groups such as ISIL in Syria and Iraq.
Full report at:
http://www.hurriyetdailynews.com/spanish-couple-suspected-of-joining-isil-detained-in-istanbul-.aspx?pageID=238&nID=81262&NewsCatID=359
------------
US military option 'old habit that dies hard': Iran FM
April 19, 2015
Iran's foreign minister dismissed Saturday the threat of a US military strike against Tehran's nuclear sites, describing such warnings as an "old habit that dies hard" given ongoing diplomacy.
Mohammad Javad Zarif, who leads the Iranian side in talks with six world powers that aim to end the dispute over the Islamic republic's nuclear programme, said threats of conflict should be off the table.
He was responding to General Martin Dempsey, chairman of the US Joint Chiefs of Staff, who Thursday said "the military option... to ensure that Iran does not achieve a nuclear weapon is intact".
The United States has long said targeted bombing of Iran's nuclear sites and other key facilities may be needed if Tehran -- which denies seeking the bomb -- does not rein in its atomic activities.
Full report at:
http://english.ahram.org.eg/NewsContent/2/8/127984/World/Region/US-military-option-old-habit-that-dies-hard-Iran-F.aspx
------------
Turkish Airlines head urges single pilots to marry
April 19, 2015
Turkish Airlines' CEO has one possible solution to avoid another case like last month's Germanwings crash- have pilots get married. Germanwings co-pilot Andreas Lubitz had suffered from depression before he deliberately flew the Airbus A320 into a French mountainside on March 24. At an event on Thursday, Temel Kotil told new Turkish Airlines pilots that the incident showed how critical their roles are. "Our pilot friends, whether they are men or women, their lifestyles are very important," he said.
Mr. Kotil cited media reports claiming Lubitz may have been set off by a falling-out with his girlfriend. "Therefore, I am guiding those who are single toward marriage from this podium," he said, with a smile.
http://www.thehindu.com/news/international/turkish-airlines-head-urges-single-pilots-to-marry/article7114220.ece
------------
Rebels obstructing flow of aid: Coalition
April 19, 2015
Houthis are obstructing the flow of aid to the needy in Yemen, said Brig. Gen. Ahmad Al-Assiri, a consultant in the office of the defense minister, on Saturday.
The coalition spokesman said a Red Cross plane was forced to land on Friday in Jazan, as it was not allowed to enter Yemeni skies by the Houthis and their allies who were making "false air clearances."
Despite the challenges, Al-Assiri said relief operations were continuing with two planes carrying out relief operations.
He said Djibouti has opened its air space for the coalition's operations, adding that the procedure in bringing medical aid to hospitals will be made more efficient.
Full report at:
http://www.arabnews.com/featured/news/734656
--------
Pakistan
Altaf calls PTI, JI 'branches of Taliban, Al Qaeda'
April 19, 2015
KARACHI: Muttahida Qaumi Movement chief Altaf Hussain has called the Pakistan Tehreek-i-Insaf and Jamaat-i-Islami 'bran­ches of the Taliban and Al Qaeda' and predicted a massive defeat for his party's rivals in the NA-246 by-election on April 23.
Addressing a huge rally on Liaquatabad flyover on Saturday, the MQM chief said the people of Karachi had already rejected the pro-Taliban forces and they would vote for his 'progressive, liberal, peace-loving and democratic' party.
He asked the 'establishment' to 'treat us as Pakistanis'.
"I appeal to the establishment to consider us Pakistanis as well. Don't doubt our patriotism as our hearts are already wounded. We are true Pakistanis and want to serve this country for its prosperity and long-lasting peace. If we have committed any mistake, forgive us and we forgive you for yours'."
Full report at:
http://www.dawn.com/news/1176862/altaf-calls-pti-ji-branches-of-taliban-al-qaeda
------------
No linguistic, ethnic issue in Pakistan: Jamaat-e-Islami chief
April 19, 2015
KARACHI: Jamaat-e-Islami (JI) chief Sirajul Haq has said there is no ethnic or linguistic issue in the country, and the real issue is of oppressors and the oppressed.
"There is no place for the people in the prevailing democracy in Pakistan. There is no linguistic or ethnic issue in Pakistan, but the real issue is of oppressors and the oppressed in the country," he said while addressing a reception at the Karachi Bar Council on Saturday.
He said that Pakistan is not the name of nationalities but it is the name of a philosophy. "Today we are living the life of slaves. Our nation is still under the occupation of the elite. All the institutions of the country are in the possession of capitalists and feudal class," he added.
Earlier, the institution of media was independent but now it has been taken hostage by the ruling elite, he remarked. "It now works to the dictates of the ruling elite," he said, adding that the ruling elite was so powerful that it makes anyone 'hero' or 'zero' any time on its sweet will.
Full report at:
http://www.dailytimes.com.pk/national/19-Apr-2015/no-linguistic-ethnic-issue-in-pakistan-siraj
------------
5 suspected militants killed in Tirah Valley
April 19, 2015
KHYBER AGENCY: At least five suspected militants were killed while three security officials were injured in clashes between security forces and militants in Tirah Valley of Khyber Agency.
The injured were immediately shifted to Combine Military Hospital (CMH) Peshawar, Radio Pakistan reported.
On April 16, militant group Islamic State's commander-designate for Pakista, Hafiz Muhammad Saeed was killed along with two others in an explosion in the Toor Dara area of the valley.
Khyber Agency officials said the militants were planting or manufacturing an improvised explosive device (IED) when it went off, killing the three men on the spot.
http://tribune.com.pk/story/872438/5-suspected-militants-killed-in-tirah-valley/
------------
Faris Shafi: The uncensored voice from Pakistan
Siddarth Banerjee,TNN | Apr 19, 2015
Lyrics by Lahore-based rapper Faris Shafi bluntly shame Lahore's 'famous' mujras and bearded 'holy men' bent on waging a modern-day Jihad
Meet Faris Shafi. You might have listened to this Punjabi from the other side of the border on YouTube, singing rap songs in which he fearlessly challenges religious exploitation in a Pakistan torn between its pre-Independence moderate roots and Islamist terrorism.
Born and raised in Lahore, this 27-year-old - whose songs are an in-your-face criticism of all political, religious and societal ills afflicting Pakistan - is unapologetic about the explicit content of his lyrics. "I am talking about murder, exploitation and corruption in my society; things that affect me severely, and I do not advocate sugar-coating that stuff," Shafi strikes a no-nonsense tone in an e-mailed interview with The Times of India.
Full report at:
http://timesofindia.indiatimes.com/india/Faris-Shafi-The-uncensored-voice-from-Pakistan/articleshow/46974206.cms
------------
Sartaj urges India to resume foreign-secretary level talks
April 19, 2015
LAHORE: Prime Minister's Adviser on Foreign Affairs Sartaj Aziz has expressed wonder at the inordinate delay by India in resuming foreign secretaries-level talks between the two countries and urged New Delhi to start the dialogue for resolving various issues amid at creating peace in the region.
"Prime Minister Nawaz Sharif after 2013 general elections had announced an economic and social development road map for the country through developing good relations with the neighbours, including India. Under this policy, the premier went to India and took part in the oath-taking ceremony of the India PM Narendra Modi. During their meeting on May 27 last year both premiers agreed to resume talks at foreign-secretaries level. And on Aug 25, India conveyed us about sending its foreign secretary to Islamabad in this regard," Mr Sartaj said at seminar titled
Full report at:
http://www.dawn.com/news/1176911/sartaj-urges-india-to-resume-foreign-secretary-level-talks
------------
Pakistani militant groups condemn suicide attack in Afghanistan
April 19, 2015
PESHAWAR: In sharp contrast to their past practice of owning up to terrorist attacks in Pakistan, two local militant groups now operating from their sanctuaries in Afghanistan have denounced a suicide bombing in the eastern Afghan province of Nangarhar, which killed at least 33 people and injured about 100 others.
Jamaat-ul-Ahrar, an offshoot of banned Tehreek-i-Taliban Pakistan, and banned Lashkar-i-Islam have distanced themselves from the attack.
Ihsanullah Ihsan, the spokesman for Jamaat-ul-Ahrar, said in a statement: "People who carried out this act have nothing to do with Islam and Muslims. Bombing at public places is a conspiracy to defame the mujahideen. We consider bleeding of any Muslim unjustified."
In a statement, the spokesman for Lashkar-i-Islam, a Khyber Agency-based militant faction led by Mangal Bagh, said his group did not support such attacks.
Full report at:
http://www.dawn.com/news/1176884/pakistani-militant-groups-condemn-suicide-attack-in-afghanistan
------------
Sufi Muhammad acquitted in 16 terrorism cases
April 19, 2015
PESHAWAR: A local anti-terrorism court on Saturday cleared the chief of the banned Tehreek-e-Nifaz-e-Shariat Muhammadi (TNSM), Sufi Muhammad, in 16 more terrorism cases.
Sufi Muhammad was acquitted due to lack of evidence against him in the cases, all of which were registered under the anti-terrorism act.
Judge Abdul Rauf of the ATC, who conducted proceedings inside the Peshawar Central Jail, also issued orders to transfer the remaining three cases against the TNSM chief to courts in Swat. The trial of Sufi Mohammad in different terrorism cases has been conducted inside the maximum-security Peshawar Central Jail for security reasons.
Sufi Muhammad, who is the father-in-law of Tehreek-e-Taliban Pakistan (TTP) chief Mullah Fazlullah, was arrested in 2009 during the final phase of the military operation against militants led by his son-in-law in Malakand region.
He has been in prison since his 2009 arrest.
http://www.dailytimes.com.pk/national/19-Apr-2015/sufi-muhammad-acquitted-in-16-terrorism-cases
------------
Supreme Court to hear Mumtaz Qadri's appeal on April 20
April 19, 2015
ISLAMABAD: The Supreme Court has fixed the hearing date for Mumtaz Qadri's appeal against the Islamabad High Court's (IHC) death penalty verdict.
The two judge bench of the apex court, comprising of Justice Dost Muhammad Khan and Justice Umar Ata Bandial, will take up Qadri's appeal on April 20.
On March 9, the IHC had dismissed Qadri's appeal against his two capital punishments awarded by an anti-terrorism court (ATC) in October 2011.
In an eight-page part of the ruling, the court said that intentions are an important factor before labeling someone a blasphemer.
Full report at:
http://tribune.com.pk/story/872012/mumtaz-qadris-appeal-to-be-heard-by-sc-on-april-20/
-------
India
Terrorists plan to avenge SIMI men killings: Intelligence agencies
Neeraj Chauhan,TNN | Apr 19, 2015
NEW DELHI: The encounter of two SIMI men on April 4 in Telangana has led to a threat to the lives of police officers as Pak-based outfits now plan to attack cops and carry out serial explosions to avenge the deaths of the terrorists.
Central intelligence agencies have intercepted phone calls from Pakistan in which leaders of terror outfits Lashkar-e-Toiba and Indian Mujahideen are heard 'vowing' to avenge the encounter killing of Aijajuddeen and Mohammad Aslam by Telangana police.
The two SIMI members were part of five-member Abu Faisal module which fled from Khandwa jail in Madhya Pradesh in October 2013. The SIMI members were also suspected to have carried out last year's low intensity explosions in Chennai, Pune and Bengaluru. Three members of the module Amjad Khan, Zakir Hussain Sadiq and Mehboob Guddu are still on the run.
Full report at:
http://timesofindia.indiatimes.com/india/Terrorists-plan-to-avenge-SIMI-men-killings-Intelligence-agencies/articleshow/46974025.cms
------------
Hafiz Saeed at it again, supports Pakistan's 'efforts' to help Kashmiris
April 19, 2015
ISLAMABAD: The Jamaat-ud-Dawa chief and founder of Lashkar-e-Tayyaba, Hafiz Muhammad Saeed, has said that he supports the efforts of Pakistan army and government to help the people of Kashmir, as every such move in the region of Jammu and Kashmir is understood by his organization as similar to Jihad.
Saeed, accused by New Delhi for 2008 Mumbai terror attacks, made the comments during an interview with a local TV station on Friday.
"Jihad is compulsory in Islam. Pakistan has always supported the right of Kashmiris to get independence from India. I believe the effort of Pakistan army and government to help the Kashmiris in their struggle for freedom is jihad. ....We extend help to Kashmiris alongside the army and government and this is jihad," Saeed said.
He claimed India has killed thousands Kashmiris in a bid to deprive them of their rights. "The only answer to Indian bullets is jihad," he remarked and added that Pakistan had always taken the stand that Kashmiris have the right to get independence from India.
While urging India to give up Kashmir, Saeed warned that the freedom movement in Kashmir will intensify in the coming days.
Full report at:
http://timesofindia.indiatimes.com/india/Hafiz-Saeed-at-it-again-supports-Pakistans-efforts-to-help-Kashmiris/articleshow/46971800.cms
------------
AMU, IIT alumni's website for Muslims hunting homes gets 1 lakh visitors
April 19, 2015
They say once you have a hot niche, you don't wonder what to do. And the founders of Aligproperties.com, who call themselves "a group of techies from AMU and IITs", realised what they had to do when they discussed the problems faced by Muslims in buying, selling property or renting it.
They have come a long way since the launch of the website on January 1, 2014. Last Wednesday, they reached the milestone of 1 lakh visits.
The website, marketed as 'India's first Muslim housing portal', underlines that "our key customer base belongs to Muslim community as we realise that the problems faced by the community in buying and renting of properties are unique and still unresolved".
The founders list the parameters "that are unique to Muslims while buying or renting a property" such as "inclination to reside in a Muslim dominated area", "proximity to a mosque", "availability of only high-end deals", and "lesser availability of bank credit".
Mohammad Junaid Siddiqui, one of the founders of the website, said: "Be it the middle class or the elite, the Muslim population finds house-hunting a cumbersome task. Be it the National Capital Region or Mumbai, it is difficult for a Muslim to find a house outside a Muslim ghetto."
He said as Old Boys of Aligarh Muslim University (AMU), he and others would discussed this issue at their meets and decided to create such a website.
Full report at:
http://indianexpress.com/article/india/india-others/amu-iit-alumnis-website-for-muslims-hunting-homes-gets-1-lakh-visitors/99/
--------
Africa
At least 23 killed in central Nigeria communal clashes: Police
April 19, 2015
At least 23 villagers have died in bloody clashes between two mainly fishing and farming comunities in central Nigeria's Benue state, a police spokesman said Sunday.
"Some 23 corpses have been recovered following the fighting between Ologba and Egba communities in Agatu local government area of the state," state police spokesman Austin Ezeani told AFP.
He said several villagers were also injured. The latest clashes in the region centered on a dispute over fishing rights in the area.
http://english.ahram.org.eg/NewsContent/2/9/128058/World/International/At-least--killed-in-central-Nigeria-communal-clash.aspx
------------
Shabaab militants kill regional Somali lawmaker in capital
April 19, 2015
Gunmen from Somali Islamist group Shabaab killed a regional lawmaker on April 18 after he had taken his wife to hospital in the capital Mogadishu, the group and officials said.
Aden Haji Hussein, a legislator from the semi-autonomous Puntland region, was sprayed with bullets when he returned to his parked car outside the hospital, witnesses said. The gunmen were in a minibus that blocked his way.
Shabaab, which wants to impose its strict interpretation of Islamic law, often targets officials and politicians.
On April 14 Shabaab militants stormed a government building housing two ministries in the heart of Mogadishu, killing at least 10 people.
Full report at:
http://www.hurriyetdailynews.com/shabaab-militants-kill-regional-somali-lawmaker-in-capital.aspx?pageID=238&nID=81260&NewsCatID=357
------------
ISIS 'executes' Ethiopia Christians in Libya
April 19, 2015
ISIS group on Sunday released a video purporting to show the executions of some 30 Ethiopian Christians captured in Libya.
In the footage released online, one group of about 12 men are seen being beheaded by militants on a beach and another group of at least 16 being shot in the head in a desert area.
Text on the screen identifies the men as "followers of the cross from the enemy Ethiopian Church".
In February, ISIS militants released a video of the murders of 21 Egyptian Coptic Christians also in Libya.
The kidnapped migrant workers were seen allegedly beheaded by ISIS in the propaganda video.
ISIS had claimed that the men had been captured to avenge what they say is the kidnapping of Muslim women by the Egyptian Coptic Church.
http://english.alarabiya.net/en/News/middle-east/2015/04/19/ISIS-executes-Ethiopia-Christians-in-Libya-.html
---------
U.N. envoy reveals extent of latest Libya violence
19 April 2015
The U.N. envoy trying to broker a peace agreement in Libya on Saturday condemned another outbreak of violence and repeated calls for an immediate end to hostilities.
A U.N. Support Mission in Libya (UNSMIL) statement said Bernardino Leon "strongly condemned the renewed outbreak of violence in different neighborhoods of the Libyan capital that caused many casualties and endangered the lives of civilians".
It said "initial reports indicate that three civilians were killed, including a young girl", since fighting broke out Friday in Fashloum, a central district of Tripoli.
"There have also been reports of abductions of civilians and burning of houses," the statement added.
Leon stressed that, as Libyan political factions are gathered in Morocco in a bid to find a mediated settlement to the crisis in the North African country, there can be "no justification whatsoever" for clashes.
Full report at:
http://english.alarabiya.net/en/News/middle-east/2015/04/19/U-N-Libya-envoy-condemns-latest-deadly-violence-.html
------------
Europe
France provides first weapons to Lebanon for Islamic State fight
April 19, 2015
The first French weapons from a $3 billion Saudi-funded programme will arrive in Lebanon on Monday as allies seek to bolster the country's defences against the Islamic State group and other jihadists pressing along its Syrian border.
Anti-tank guided missiles are set to arrive at an air force base in Beirut, overseen by French Defence Minister Jean-Yves Le Drian and his Lebanese counterpart, Samir Mokbel.
France is expected to deliver 250 combat and transport vehicles, seven Cougar helicopters, three small corvette warships and a range of surveillance and communications equipment over four years as part of the $3 billion (2.8 billion-euro) modernisation programme.
It is being entirely funded by Saudi Arabia, which is keen to see Lebanon's army defend its borders against jihadist groups, particularly the Islamic State group and Al-Qaeda-linked Al-Nusra, instead of leaving the job to Hezbollah militants, who are backed by its regional rival, Iran.
Full report at:
http://english.ahram.org.eg/NewsContent/2/8/128024/World/Region/France-provides-first-weapons-to-Lebanon-for-Islam.aspx
------------
Red Crescent: Tens of Yemeni Children Killed by Saudi Poison Gas
April 19, 2015
Yemen's Red Crescent Society disclosed that tens of children have died as a result of inhaling the poisonous gases of the Saudi bombs thrown on the people in Sana'a.
"We will display a video on the death of tens of children who died after inhaling poisonous gases," an official of Yemen's Red Crescent Society, Abdollah Maboud Al-Shokri, told FNA on Sunday.
He noted that the bomb explosions in the Saudi airstrikes not only destroy a large number of homes, but also create a thick cloud of poisonous and fatal gases.
Yemeni officials had already warned that the bombs that the Saudi regime has used in Sana'a were different from those used in other parts of Yemen.
They said that the bombs were of the very rare and dangerous type that resulted in the suffocation of the residents of the affected regions.
Full report at:
http://english.farsnews.com/newstext.aspx?nn=13940130000727
------------
UK Muslims Slam 'Don't Vote' Flyers
April 19, 2015
lyers that urge Wales Muslims to boycott next month's elections have been vehemently rejected by the country's Muslims as misguided, seeing them an attempt to mislead the peaceful religious community, a report said.
"It is not representing the views of Muslims. I think the majority of Muslims want to vote and will," Akmal Hanuk, a trustee at the Muslim Council of Wales, said, On Islam reported.
"From a Muslim Council of Wales perspective, we encourage them to vote and to have a say in the democratic system," he added.
Hanuk's comments followed confrontations that broke out outside an Islamic center in Cardiff on Friday after men started handing out leaflets saying "no Muslim person should vote".
Flyers bearing "democracy violates the right of Allah" were put up on lampposts and bus stops on Friday morning in Grangetown, an area with a significant Muslim population, according to eyewitnesses.
Full report at:
http://english.farsnews.com/newstext.aspx?nn=13940130001277
------------
Islamophobia in France Soars to Record Heights
April 19, 2015
Anti-Muslims acts have hit a record high in the first trimester of 2015, the head of the French National Observatory against Islamophobia announced.
Abdallah Zekri, the head of the Observatory said in a statement that anti-Muslim acts rose by 500 percent, compared to the same period in 2011, the World Bulletin reported.
"Never since the establishment of the Observatory in 2011 have Islamophobic acts known such an implosion of actions or threats, especially on social networks," Zekri said.
Zekri stated there were 222 anti-Muslims acts during the 1st quarter of 2015, (56 attacks and 166 threats) against a total of 37 acts in 2014 - " An increase of 500 percent," said Zekri.
Zekri added that the number of anti-Muslims acts in January 2015 reached 178.
He explained that the "burst" was mainly due to the deadly attack on the offices of the French satirical magazine Charlie Hebdo on Jan. 7, followed by a hostage situation in a kosher supermarket two days later, leaving a total 17 people dead.
Full report at:
http://english.farsnews.com/newstext.aspx?nn=13940130001060
------------
Antiquities market on alert for looted Syrian spoils: European authorities
April 19, 2015
As armed groups in Syria and Iraq destroy priceless archaeological sites, European authorities and dealers are on high alert for smaller, looted artefacts put on sale to help finance the jihadists' war.
Stolen-art expert Chris Marinello, director of Art Recovery International, said he has been shown photographs of items being offered from Syria that were "clearly looted right out of the ground".
"You could still see dirt on some of these objects," he told AFP.
They included cylinder seals, Roman bottles and vases, although Marinello said it was unclear whether the items were still in Syria, were in transit or had arrived in the key markets of Europe and the United States.
Full report at:
.aspx?pageID=238&nID=81180&NewsCatID=375
---------
UN report finds Afghan women failed by justice system
April 19, 2015
Afghanistan's women are being failed by the country's justice system as most complaints of domestic violence are dealt with through mediation rather than prosecution, according to the United Nations.
A report released Sunday concluded that only 5 percent of surveyed domestic violence cases were resolved through the judicial system, resulting in criminal prosecution and punishment for perpetrators.
The UN's assistant secretary general for human rights, Ivan Simonovic, said women often choose mediation to resolve complaints of violence, partly because they lack faith in the justice system.
Full report at:
http://www.thehindu.com/news/international/un-report-finds-afghan-women-failed-by-justice-system/article7119224.ece
------------
HRW slams 'draconian sentences' in Egypt
19 April 2015
New York-based Human Rights Watch (HRW) has issued a statement criticizing the trial of 51 alleged supporters of Egypt's Muslim Brotherhood (MB), claiming that the government has presented no evidence of criminal behavior besides the testimony of one police officer.
On April 11, 2015, an Egyptian judge convicted and sentenced 37 people to life in prison and confirmed the death penalties of 14 others for their alleged roles in organizing opposition to the military's removal (which was backed by mass protests opposing the Muslim Brotherhood rule) of former MB-backed President Mohammad Morsi in July 2013.
The charges ranged from publishing false news to conspiring to overthrow the interim government installed by the military following the removal of Mursi. But a review of the case file by Human Rights Watch shows that the state presented little evidence that the defendants did anything but spread news about a mass sit-in opposing the coup or organize and publicize peaceful opposition to Mursi's removal.
Full report at:
http://english.alarabiya.net/en/perspective/features/2015/04/19/HRW-slams-draconian-sentences-in-Egypt-.html
------------
More than 90,000 people flee violence in Iraq's Anbar province: UN
April 19, 2015
More than 90,000 people have fled their homes in Iraq's western province of Anbar where Islamic State of Iraq and the Levant (ISIL) militants have been gaining ground over the past week, the United Nations said on April 19.
ISIL militants have encroached on the provincial capital Ramadi, displacing thousands of families.
Our top priority is delivering life-saving assistance to people who are fleeing -- food, water and shelter are highest on the list of priorities," Lise Grande, humanitarian coordinator for the United Nations in Iraq, said in a statement.
Iraqi forces are preparing to mount a counter-offensive to reverse ISIL advances on the eastern edge of Ramadi after military reinforcements were sent from Baghdad, officials said. Provincial officials warned earlier this week Ramadi was in danger of falling to the militants.
At least 2.7 million Iraqis have been displaced across the country since January 2014, including 400,000 from Anbar.
http://www.hurriyetdailynews.com/more-than-90000-people-flee-violence-in-iraqs-anbar-province-un.aspx?pageID=238&nID=81258&NewsCatID=352
------------
North America
American Muslims should fight Islamophobia in 2016 elections
April 19, 2015
The American Muslim condition is paradoxical. Muslims in the U.S. live in the best of circumstances and the worst of times. Most tend to be mainstream, moderate and middle class. They are educated and are well integrated into American society. In fact, they are seen as a model for European countries to emulate. But American Muslims also live in a sociopolitical climate in which Islamophobia is steadily on the rise.
Many talk show hosts play on their audiences' fears by attacking Islam and Islamic values. The U.S. government continues to profile Muslims, spy on them and keep them at arm's length. And anti-Muslim discourse has become a mainstream phenomenon.
In 2012, presidential candidate Newt Gingrich compared Islam to Nazism. Fellow Republican contender Herman Cain swore not to appoint a Muslim to his Cabinet if he was elected. Prominent social commentators such as Bill Maher often blame Islam for much of the violence in the world. More than half the states are considering anti-Islam legislation under the guise of barring consideration of foreign laws and court rulings. The FBI and municipal police departments such as New York's routinely spy on Muslims and their institutions.
Full report at:
http://america.aljazeera.com/opinions/2015/4/american-muslims-should-fight-islamophobia-in-2016-elections.html
----------
Arabs, Malians 'among first to discover Americas'
April 19, 2015
Andalusian Arabs and Africans from Mali were among the first travelers to discover the Americas, some 180 years before Columbus arrived there, according to a new documentary film.
Madinah's Taibah University screened the film at the Sixth International Exhibition and Conference on Higher Education on Wednesday. The conference and exhibition is sponsored by Custodian of the Two Holy Mosques King Salman, and was launched by Minister of Education Azzam Al-Dakhil.
Khaled Abul Khair, a university member, said the material for the film was collected over two-and-a-half years from various specialized research centers such as the Andalus Center for Studies in Morocco, Sao Paulo University, Federal University of Bahia, the Duchess Luisa Isabel Alvarez Archive in Spain, and research institute in Mali.
Full report at:
http://www.arabnews.com/saudi-arabia/news/734586
----------
Motive unsettled in slayings of Muslim students in North Carolina
April 19, 2015
In early January, Amira Abu-Salha drove to her daughter Yusor's apartment to return her wedding dress. Yusor had just moved in with her husband shortly after their Dec. 27 wedding.
Minutes after she parked, Abu-Salha said, she was accosted by an irate next-door neighbor who demanded she move her van. As a family friend, Imad Ahmad, later recalled, Yusor asked the man what her mother had done to so infuriate him.
"Yusor told me he said, 'I don't like the way you look,'" Ahmad said.
After the encounter, Ahmad recalled, Yusor asked her husband: "Would he have done this if we were white?"
Yusor later sent her husband a text, reminding him to tell friends and family not to park near the spots claimed by "that crazy neighbor," Ahmad said.
Full report at:
http://www.latimes.com/nation/la-na-muslim-student-killings-20150419-story.html#page=1
---------
Southeast Asia
Malaysia: Locals Protest Outside Church Building, Say Cross 'Challenging Islam'
April 19, 2015
About 50 residents gathered outside a new church in Taman Medan, Petaling Jaya today to demand that the cross affixed to the house of worship be removed as it was "challenging Islam", The Star Online reported today.
According to the news portal, the locals demonstrated peacefully during the church service at 10am for the cross to be taken down.
The protesters said the presence of a cross in a Muslim-majority area posed a challenge to the religion and could sway the faith of the youth, The Star Online reported.
The news portal reported a village leader later pacified the group and spoke with the church's priest on their behalf.
"After meeting with the priest, the church agreed to take down the cross by next Sunday. If they have the authority to run, we cannot stop it," the group's leader, Datuk Abdullah Abu Bakar, was quoted as saying.
Full report at:
http://www.themalaysianinsider.com/malaysia/article/locals-protest-outside-church-building-say-cross-challenging-islam
------------
Jakim waging war to stamp out Isis influence, says report
April 19, 2015
The Malaysian Islamic Development Department (Jakim) is waging war against militant group Islamic State of Iraq and Syria (Isis) in schools, universities and the Internet, The Star reported today.
The English-language daily reported that Jakim has set up a new agency called the Jihad Concept Explanation Action Committee to combat Isis influence and to address misconceptions surrounding the concept of "jihad" (holy war).
Isis militants are promising divine rewards to potential recruits if they joined the Isis "jihad" against the "enemies of Islam".
"Having free access to information and following their emotions are some of the reasons students are vulnerable to the militant doctrine, so we are working to clarify the true meaning of 'jihad' to them," Jakim director-general Datuk Othman Mustapha told The Star in an interview.
Full report at:
http://www.themalaysianinsider.com/malaysia/article/jakim-waging-war-to-stamp-out-isis-influence-says-report
------------
Dr M not alone in speaking the truth, says Muhyiddin
April 19, 2015
Tun Dr Mahathir Mohamad is not alone in speaking the truth, Deputy Prime Minister Tan Sri Muhyiddin Yassin said today, even as the former prime minister continues to court flak from Umno for criticising Prime Minister Datuk Seri Najib Razak.
Speaking at an anti-war forum in Kuala Lumpur, Muhyiddin said Dr Mahathir had always stood up for what he believed in, even if it meant going against the world's superpowers.
"Telling the truth and standing up... This is your trademark since you were a young doctor and Umno member.
"You are not alone in telling the truth," said Muhyiddin in his speech at the forum "Engaging the young to criminalise war and energise peace".
Full report at:
http://www.themalaysianinsider.com/malaysia/article/dr-m-not-alone-in-speaking-the-truth-says-muhyiddin
------------
URL: https://www.newageislam.com/islamic-world-news/new-age-islam-news-bureau/a-70-page-islamic-state-terror-manual-found-online/d/102545