New Age Islam News Bureau
31 March 2018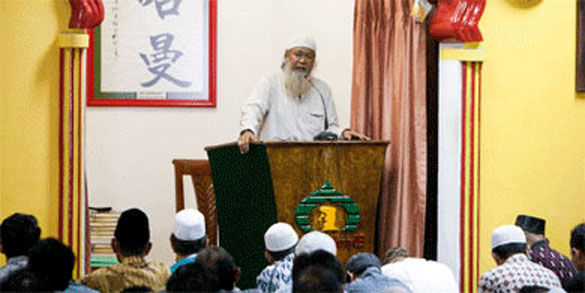 A Chinese-Muslim preacher delivers a sermon during Friday prayer at Lautze Mosque in Pasar Baru. —
Jakarta Globe
----
• 8 Iranian Sufis on Hunger Strike, Claim Torture — Amnesty
• 16 Palestinian Protesters Killed, 500 Hurt As Thousands March Along Border
• Amanah MP under Fire after 'If I Were God' Remark
• Jewish Candidate for Muslim Party Breaks Barriers in Tunisia
• 2 British IS Members Say Hostage Beheadings Were a 'Mistake'
• Why Asansol Is Still On Edge: Hindus Terrified To Return Home, Muslims Scared To Step Out
• BJP Suffers From Perception It Is Anti-Muslim And Lower-Caste People, Says Union Minister
Mideast
• 8 Iranian Sufis on Hunger Strike, Claim Torture — Amnesty
• 16 Palestinian Protesters Killed, 500 Hurt As Thousands March Along Border
• Israel Uses Saudi Fatwas, Shelling To Stop Mass Protests In Gaza
• UNSC holds urgent meeting on Israel's massacre in Gaza, Guterres urges probe
• After Gaza Clashes, Hamas and Islamic Jihad Say They Foiled Trump
• Yemen's army controls strategic heights in Saada
• White House: Houthis disrupt peace in Yemen
--------
Southeast Asia
• Amanah MP under Fire after 'If I Were God' Remark
• A Chinese Mosque in Jakarta
• What to Make of Recurring Fears of Jihadism in Southern Thailand?
• In Bid to Get Maldives Government Return to Democracy, Europe May Halt Flights
• Najib's Last Hope to Beat Dr Mahathir: A 'Malay Malaysia'
• Najib aspires to continue Tun Abdul Razak's legacy to help rural community
• Father, son, jailed 1 year for not reporting terrorist
--------
Africa
• Jewish Candidate for Muslim Party Breaks Barriers in Tunisia
• Nigeria: Sultan Urges Muslims to Uphold Truth
• Burkina Faso: Spreading Religious Tolerance in Burkina Faso
• Daesh says behind car bombing in Libya's Ajdabiya city
--------
Europe
• 2 British IS Members Say Hostage Beheadings Were a 'Mistake'
• Can Foreign 'Islamic State' Fighters' Kids Return To Europe?
• Most French Want Macron Crackdown on Radical Islamists: Polls
--------
India
• Why Asansol Is Still On Edge: Hindus Terrified To Return Home, Muslims Scared To Step Out
• BJP Suffers From Perception It Is Anti-Muslim And Lower-Caste People, Says Union Minister
• 'Halala Not Islamic, Polygamy Not Compulsion': AIMPLB
• Extradite Zakir Naik, India tells Malaysia
• Modi Ji! Is The Muslim Not Indian Citizen? Asks Shahi Imam
• India, Pakistan Turn to Code Of 1992 To Put A Lid On Envoys' Harassment
• Life Limps Back to Normal in Bengal's Raniganj amid 'Hindu-Muslim Bhai Bhai' Slogans
• In spite of Mosul, Punjab workers make beeline for Iraq
--------
Pakistan
• Unity of Muslim Ummah Real Objective of MMA: Sirajul Haq
• Reimagine Pakistan as territorial, not ideological, state: Haqqani unveils new book
• Karachi's Muslim Sweepers Getting Paid for Jobs They're Not Doing
• Pakistan: Terrorists kill 3 police officers in bomb attack
• Int'l Counter Terrorism Forum to start from Tuesday
• Letter of credit not sent with legal aid request to UAE, admits JIT chief
• CTD foil major terror bid in Lahore
--------
North America
• Trump Orders State Dept. to Suspend Funds for Syria Recovery
• Quebec Mosque Shooter's Guilty Plea Gives Muslims Chance to 'Slowly Heal'
• Quebec man paralyzed in 2017 mosque shooting to receive $400,000 for new home
--------
South Asia
• UN In Talks with Bangladesh about Stalled Rohingya Deal
• Myanmar's New President Vows to Amend Army Drafted Charter
• Afghan Officials: Daesh Has No Strong Roots In Afghanistan; Can't Pose Threat
• Amal Clooney to represent Reuters reporters held in Myanmar
• Chhatra League attack spoils Ayman Sadiq's event, 20 hurt
• Taliban sought money not weapons from Russia, claims Kabulov
• Provincial Council member killed in Kunar suicide attack
• US airstrike kills 6 IS terrorists in Afghanistan
--------
Arab World
• Mohammed Bin Salman: 'The Muslim Brotherhood' Is an Incubator for Terrorists
• Syrian Army Neutralizes Dozens of Suicide Bombers in Eastern Ghouta
• The Latest: Blast in Syria Kills Member of UK Armed Forces
• Syria bomb kills 2 coalition troops from US and UK
• Blast Kills, Injures Several Members of US-Led Coalition in Syria
• Syria: Over 143,000 People Exit Eastern Ghouta via Safe Corridors
• Two US-led coalition personnel killed in Syria
• Council of Iranian Democrats condemns Houthi attacks on Saudi Arabia
• Saudi crown prince wants US military to maintain presence in Syria
• At volatile Syrian front line, US, Turkey on opposing sides
Compiled by New Age Islam News Bureau
URL: https://www.newageislam.com/islamic-world-news/8-iranian-sufis-hunger-strike/d/114782
--------
8 Iranian Sufis on hunger strike, claim torture — Amnesty
Mar 31, 2018
NICOSIA, Cyprus — Eight members of Iran's Gonabadi Sufi minority are on hunger strike, Amnesty International said Friday, protesting alleged torture in prison after protests in which security forces members were killed.
"One of the men, Abbas Dehghan, has allegedly been threatened with his wife being raped in front of him if he does not 'confess,'" the rights group said in a statement.
Amnesty said the eight hunger strikers require medical care for injuries sustained during their arrest in the violent clashes with security forces on 19 February.
The violence erupted during a demonstration by members of the Gonabadi order, known as dervishes, who were protesting the arrest of members of the sect, as well as rumours that their leader would soon be arrested.
One member of the sect has been sentenced to death for driving a bus into a group of police officers during the protests, killing three.
Two members of the Basij, an Islamic militia tasked with a number of policing duties, were also killed in the clashes.
The men on hunger strike are being held in Shapour detention centre in Tehran, Amnesty said, describing it as "notorious for extracting 'confessions' through torture".
"Commonly reported methods of torture include kicking and punching; beatings with plastic pipes, cables or whips; prolonged binding; and various forms of suspension including one known as the 'chicken kebab', in which the person is suspended from a pole with their arms bent back and tied to their ankles and then flogged," the group said.
More than 300 people were arrested in the February clashes.
Amnesty said some families were not informed of their whereabouts and the authorities have been denied access to lawyers until their interrogations are complete.
At least 20 members of the sect have been charged so far, Amnesty said, with more charges expected.
It said one protester had died from injuries to his head, which police say were received during the clashes. The family told Amnesty it took two weeks for them to be informed of his death.
A mystic branch of Islam, Sufism is tolerated in Iran but perceived as a "deviation" by many conservative members of the Shiite clergy.
Emerging in the nineteenth century, the Gonabadi order is one of the most important Sufi branches in Iran.
Its followers regularly complain of being harassed by authorities and discriminated against by the Islamic Republic.
https://www.timesofisrael.com/8-iranian-sufis-on-hunger-strike-claim-torture-amnesty/
--------
16 Palestinian protesters killed, 500 hurt as thousands march along border
30 March 2018
At least 16 Palestinians were killed and hundreds injured by Israeli security forces confronting one of the largest Palestinian demonstrations along the Israel-Gaza border in recent years, Gaza medical officials said.
Tens of thousands of Palestinians, pressing for a right of return for refugees to what is now Israel, gathered at five locations along the fenced 65-km frontier where tents were erected for a planned six-week protest, local officials said. The Israeli military estimate was 30,000.
The United Nations Security Council will meet on Friday to discuss the situation in Gaza at the request of Kuwait, diplomats said.
Palestinian President Mahmoud Abbas said in a statement that Israel was responsible for the violence and declared Saturday a national day of mourning.
Families brought their children to the encampments just a few hundred meters from the Israeli security barrier with the Hamas-run enclave, and football fields were marked in the sand and scout bands played.
But as the day wore on, hundreds of Palestinian youths ignored calls from the organizers and the Israeli military to stay away from the frontier, where Israeli soldiers across the border kept watch from dirt mound embankments.
The military said its troops had used "riot dispersal means and firing towards main instigators." Some of the demonstrators were "rolling burning tires and hurling stones" at the border fence and at soldiers.
Live fire was used only against people trying to sabotage the border security fence and at least two of the dead were Hamas operatives, an Israeli military official said.
Palestinian health officials said Israeli forces used mostly gunfire against the protesters, in addition to tear gas and rubber bullets. Two people were killed by tank fire, the Gaza Health Ministry said. Witnesses said the military had deployed a drone over at least one location to drop tear gas.
Gaza health officials said one of the 12 dead was aged 16 and at least 400 people were wounded by live gunfire, while others were struck by rubber bullets or treated for tear gas inhalation.
The Palestinian protest was launched on "Land Day," an annual commemoration of the deaths of six Arab citizens of Israel killed by Israeli security forces during demonstrations over government land confiscations in northern Israel in 1976.
Right of return
But its main focus was a demand that Palestinian refugees be allowed the right of return to towns and villages which their families fled from, or were driven out of, when the state of Israel was created in 1948.
A Palestinian farmer was killed by an Israeli tank shell in the Gaza Strip early on Friday, hours before Palestinians were to stage mass sit-ins along the border with Israel, a health official and a witness said.
Ahead of the protests, called for by Gaza's militant Hamas rulers, Israel's military said it doubled its standard troop level along the border, deploying snipers, special forces and paramilitary border police units, which specialize in riot control.
Meanwhile, thousands of Palestinians are marching near the Gaza-Israel border on Friday.
Hamas has said that Friday's activities would be peaceful and the chief Israeli military spokesman, Brig. Gen. Ronen Manelis, said Israel wants to avoid violence.
However, previous protests near the border fence have turned deadly, with Israeli soldiers firing live bullets at Palestinians burning tires, throwing stones or hurling firebombs. Manelis said the military will not allow the crowds to breach the fence on Friday or damage military infrastructure.
The sit-ins are seen as a new attempt by Hamas to break a crippling, decade-old Gaza border blockade by Israel and Egypt that has made it increasingly difficult for the Islamic militant group to govern.
Other tactics over the years, including cross-border wars with Israel and attempts to reconcile with political rival Mahmoud Abbas, the West Bank-based Palestinian president, have failed to end Gaza's isolation.
In the planned protest, Palestinians are setting up tent camps along the border, the first of a series of actions planned in Gaza in the coming weeks.
The activities are to culminate on May 15, the 70th anniversary of Israel's creation, with a march through the border fence.
Palestinians commemorate the date as the anniversary of their mass displacement and uprooting during the 1948 Mideast war over Israel's creation. The vast majority of Gaza residents are descendants of Palestinians who fled or were driven from communities in what is now Israel.
The Palestinian killed Friday was identified as 27-year-old Amr Samour. The Palestinian Health Ministry said he was struck by an Israeli tank shell in the southeastern corner of Gaza.
Yasser Samour, a relative and fellow farmer, said Amr Samour was harvesting parsley before dawn, in hopes of selling it fresh in the market later in the day.
"I was working on the next field," Samour said. "We heard shelling landing on the field where Amr works. We ran there and found him hit directly with a shell. We were more than kilometer away from the border."
Another farmer was wounded in the leg by shrapnel, Samour said.
The Israeli military said troops directed tank fire toward two suspects who approached the fence along the southern Gaza Strip and acted suspiciously. It said it is aware of reports of a killed Palestinian.
https://english.alarabiya.net/en/News/middle-east/2018/03/30/Gaza-farmer-killed-by-Israeli-tank-shell.html
--------
Amanah MP under Fire after 'If I Were God' Remark
March 30, 2018
KUALA LUMPUR, March 30 ― Muslims must refrain from likening themselves to God as it degrades the latter, Perlis mufti Datuk Mohd Asri Zainul Abidin warned today, following a controversial remark by an MP in Parliament yesterday.
Asri said any Muslim who likens him or herself to God "was indirectly debasing Him and denying His creation", adding that the act could be dangerous to the person's faith.
"If you say 'if I were God, I wouldn't have done this or that'... then you may have indirectly denied His creation and debased its significance," Asri wrote on his Facebook page.
"This is dangerous to the faith of the person who uttered those words if the person was fully aware of his or her own assertion. "
Parti Amanah Negara's Sepang MP Mohamed Hanipa Maidin had caused furore yesterday for rhetorically saying "If I were God I wouldn't have created you" when he criticised a Barisan Nasional counterpart during a heated debate on the newly tabled Anti-Fake News Bill.
"If I were God I would not have created you, you're a nuisance," Hanipa reportedly said towards Baling MP, Datuk Seri Azeez Abdul Rahim.
Asri did not directly name Hanipa in his statement.
However, the president for Sunni Organisation Malaysia (Aswaja), Zamihan Mat Zain had called Hanipa "rude" for refusing to retract his statement despite strong demand from BN backbenchers.
Zamihan echoed Asri's criticism and said the assertion was "deviant" and degrading God.
"The Sepang MP is but a mortal full of sin and to liken himself to God is to prejudice Allah," the cleric said in a statement.
"His obsession and lust for politicking had made him felt as omnipotent as Allah… he may have said it unknowingly but as a leader he should not be too arrogant and egoistic to retract his statement and apologise."
Both Asri and Zamihan had urged Hanipa to repent.
http://www.themalaymailonline.com/malaysia/article/amanah-mp-under-fire-after-if-i-were-god-remark
--------
Jewish candidate for Muslim party breaks barriers in Tunisia
Mar 31, 2018
TUNIS, Tunisia — Simon Slama and his family are the only Jews left in the Tunisian city of Monastir, once home to a thriving Jewish community. But instead of joining the exodus, he is running for office — as a candidate of Tunisia's Islamist party.
Slama's candidacy with the Ennahdha party in May municipal elections is causing a sensation in this overwhelmingly Muslim country, and some controversy.
Critics see it as a calculated tactic by Ennahdha to regain power and to restore its reputation among Western allies like the United States. Others however see it as an example of Tunisia's long-standing traditions of tolerance.
A sewing machine salesman and repairman, 56-year-old Slama says he just wants to serve his country and the city where he was born, suffering from economic difficulties and social tensions.
"I chose Ennahdha because I found that because of the crisis the country is going through, everyone is turning toward this party," he told The Associated Press in his workshop.
"I see no difference between the Islamic and Judaic religions. We are all one family and we are all Tunisian citizens and we should go hand in hand to build the Tunisia of tomorrow," he said.
Slama returned to Monastir, on the Mediterranean coast about 170 kilometers (105 miles) south of the capital, Tunis, after studying in the French city of Strasbourg even as other Jewish families left because "we love the city and it has the spirit of my ancestors."
Tunisia is home to an estimated 1,500 Jews nationwide. Monastir "used to have 520 Jewish families. Today mine is the only one left," Slama said.
Tunisia once had a Jewish community that numbered around 100,000 in the late 1940s and 1950s. Most of the community has moved to France or Israel, where Jews are entitled to automatic citizenship. Many felt compelled to leave as the result of an increasingly hostile climate toward Jews that began with a surge in Arab nationalism following Tunisia's independence from France. The exodus continued and has nearly brought an end to one of the last Jewish societies in the Arab world.
Slama said he wants to enter public service because he sees towns and cities "as essential in the evolution of society."
Tunisia is holding its first municipal elections since the 2011 revolution that overthrew a long-time autocrat and unleashed uprisings across the Arab world. Tunisia is the only country to emerge with a new and carefully constructed democracy, though the going has been rough.
Ennahdha, banned under the old regime, was victorious in the first post-revolution elections but had to abandon power in 2013 amid a political crisis after the assassination of two opposition politicians and a rise in Islamic fundamentalism.
The party leadership wants it to come out on top in the municipal vote, considered a springboard for legislative and presidential elections next year.
It's the only party with candidates in all 350 municipalities, and also drew attention for putting a woman at the head of its party list in the capital, positioning Souad Abderrahim to become the city's first female mayor if it wins.
The party's Monastir leader, Adel Messaoud, insisted that they accepted Slama's candidacy because it "conforms with the positions of Ennahdha, which is a civilian party that opted during its last congress to separate its political action from ideological action." — (AP)
While acknowledging that the candidacy could seem "a bit bizarre," he insisted that the controversy around it is unfounded.
"I know him well, he's a neighbor who is appreciated by his compatriots for his human qualities and good reputation," he told the AP, noting that Tunisia had a Jewish federal government minister after winning independence from France and other Jews have served as local officials.
"We are really an open party. It is not about trying to please anyone. We took into account the country's general interest, which is going through a unique democratic experience in the Arab world, which we want to succeed with the participation of all Tunisians regardless of their ethnic or religious affiliation," he said.
Borhene Bsais, head of political affairs for the ruling Nida Tounes party, doesn't buy that argument. He called the candidacy "a propaganda operation by Ennahdha to seem like an open and tolerant party."
While Nida Tounes and Ennahdha are currently in a government coalition together, they are the main rivals in the municipal vote, which will determine the political contours of the country for years to come.
"We fear the exploitation for electoral reasons of non-Muslim citizens, who we consider as equal ... and not second class citizens," Bsais said.
He said the candidacy is Ennahdha's effort to distinguish itself from the Muslim Brotherhood and other Islamist movements to keep alliances with the United States.
One of Slama's Muslim clients, Moez Dali, praised his community spirit.
"Everyone knows Slama," he said. His family "loves everyone here. And they come to our weddings and we go to their weddings. There is no difference between us. He is in the end a Tunisian from the city of Monastir." — (AP)
http://www.phillytrib.com/news/jewish-candidate-for-muslim-party-breaks-barriers-in-tunisia/article_4636a53c-9c01-5b37-bf17-30a4f9ba4e46.html
--------
2 British IS members say hostage beheadings were a 'mistake'
March 30, 2018
KOBANI, Syria — Two British militants believed to have been part of an Islamic State group cell notorious for beheading hostages in Syria were unapologetic in their first interview since their capture, denouncing the U.S. and Britain as "hypocrites" who will not give them a fair trial.
The men, along with two other British jihadis, allegedly made up the IS cell nicknamed "The Beatles" by surviving captives because of their English accents.
The nickname belied the cell's brutality. In 2014 and 2015, it held more than 20 Western hostages in Syria and tortured many of them. It beheaded seven American, British and Japanese journalists and aid workers and a group of Syrian soldiers, boasting of the butchery in videos released to the world.
Speaking to The Associated Press at a Kurdish security center, the two men, El Shafee Elsheikh and Alexanda Amon Kotey, repeatedly refused to address allegations they were part of the cell — clearly having a future trial in mind. They complained that they could "disappear" after Britain reportedly revoked their citizenship.
They were captured in January in eastern Syria by the Kurdish-led, U.S.-backed Syrian Democratic Forces amid the collapse of IS. Their detention has set off a debate in the U.S. and Europe over how to prosecute their citizens who joined IS — as the Kurds pressure the West to take them back to relieve overcrowding in prisons.
The two said the killings of the captives were a mistake — but for tactical reasons.
Many in IS "would have disagreed" with the killings "on the grounds that there is probably more benefit in them being political prisoners," Kotey said.
"I didn't see any benefit (in killing them). It was something that was regrettable." He also blamed Western governments for failing to negotiate, noting that some hostages were released for ransoms.
Elsheikh said the killings were a "mistake" and might not have been justified. But, he said, they were in retaliation for killings of civilians by the U.S.-led coalition fighting IS. He said the militants shouldn't have initially threatened to kill the hostages because then they had to go ahead with it or else "your credibility may go."
The beheadings, often carried out on camera, horrified the world soon after IS took over much of Iraq and Syria in 2014. The group also committed widescale atrocities including massacring thousands of Iraqi troops and civilians and taking sex slaves.
The first victim was American journalist James Foley, followed by fellow Americans Steven Sotloff and Peter Kassig, British aid workers David Haines and Alan Henning and Japanese journalists Haruna Yukawa and Kenji Goto.
Speaking to the AP on Friday, Foley's mother, Diane Foley, called on the international community and U.S. government "to have the courage to hold these men accountable in an open trial where we can face them and they can hear all the pain and suffering they've inflicted on the world. And so that the rest of the world can understand the atrocity of their crimes."
She said she opposes the death penalty for them since it feeds jihadi "desire for martyrdom and heroic afterlife."
"These men do not deserve that. They deserve to be held in solitary confinement for the rest of their lives."
The leader of the cell, Mohammed Emwazi, was dubbed "Jihadi John" in the British media after he appeared, masked, in the videos, sometimes performing the butchery. He was killed in a U.S.-led coalition drone strike in 2015 in the Syrian city of Raqqa, the de facto IS capital. Another member, Aine Lesley Davis, was arrested in Turkey and convicted there in 2017, sentenced to seven years in prison.
Elsheikh, whose family came to Britain from Sudan when he was a child, was a mechanic from White City in west London.
He traveled to Syria in 2012, initially joining al-Qaida's branch before moving on to IS, according to the U.S. State Department's listing of the two men for terrorism sanctions. It said he "earned a reputation for waterboarding, mock executions and crucifixions while serving as an (IS) jailer."
Kotey, who is of Ghanaian and Greek-Cypriot descent and converted to Islam in his 20s, is from London's Paddington neighborhood.
Serving in the IS cell as a guard, he "likely engaged in the group's executions and exceptionally cruel torture methods," the State Department said. It also said he was an IS recruiter who brought other Britons into the group.
Elsheikh and Kotey spoke to the AP at a Kurdish security building in the town of Kobani, where they were brought, initially in handcuffs and face covers that were removed. They appeared to speak openly with no signs of duress and were friendly with SDF security who came in and out of the room.
They were both initially confrontational but over the interview became more conversational. Kotey often cracked jokes — when asked whether IS leader Abu Bakr al-Baghdadi was alive, he joked that some people thought Elvis never died and Tupac Shakur is still alive. Elsheikh was straightlaced and reserved, referring more often to Islamic texts.
They were unrepentant about belonging to IS — though they said they did not agree with everything it did. Kotey said he did not think suicide bombings were permissible in Islam. Elsheikh said IS's killing of a captured Jordanian pilot by burning him alive in a cage was "atrocious."
But they seemed dismissive of the idea that IS was egregious in brutality.
"I am not here to justify or shun every act IS did," Elsheikh said, arguing that nationals of a country can't be held responsible for crimes by the state.
They scoffed at the idea that that they were a cell and refused to comment whether they had worked as jailors, had ever seen any hostages or knew Emwazi.
They depicted the allegations as created by media and foreign intelligence — "so the world can say this is the bad guy and kill the bad guy," Elsheikh said.
"No fair trial, when I am 'the Beatle' in the media. No fair trial," he added.
They said they had been questioned repeatedly by U.S. military officials and the FBI — daily interrogations for a month, then frequent ones for weeks after.
The U.S. has been pressing for the home countries of foreign jihadis in Iraq and Syria to take their nationals for trial. Britain's defense secretary has said they should not be allowed back into the country. Former captives of the cell and families of its victims have called on Elsheikh and Kotey to be given a fair trial, whether in the United States or Britain, arguing that locking them away in a a facility like Guantanamo Bay would only fuel further radicalism.
Kurdish officials complain they are being left to deal with the IS legacy, including overburdened prisons full of militants, including foreign fighters whose home countries don't want to take them back.
Elsheikh and Kotey are held in an undisclosed location. Kotey said he shares a cell with 70 others, all but four of them Syrians, and that they are sleeping like "sardines, literally head to toe, head to toe." Despite the overcrowding, he said, they get fresh air, play games and have classes.
Kotey said the U.S. and Britain were not upholding their own laws of due process. "Where are they now or are they just applicable when they suit you?" he said. "It just looks very hypocritical, double standards."
The two denounced as "illegal" the British government's reported decision in February to strip them of citizenship. The decision was widely reported in British media, though officials have not confirmed or denied it, citing privacy rules.
The revocation exposes them to "rendition and torture," Elsheikh said.
"When you have these two guys who don't even have any citizenship ...if we just disappear one day, where is my mom going to go and say where is my son," he said.
"I found it strange that they could actually do that, revoke the citizenship of a person," Kotey said.
"I was born in the UK," he said. "My mother was born in the UK. I have a daughter there in the UK. ... I probably never left the UK more than 3 months" before coming to Syria.
Kotey said the fairest venue for a trial may be the International Criminal Court in The Hague in the Netherlands. "That would be the logical solution."
https://www.washingtonpost.com/world/europe/2-notorious-is-members-say-revoking-uk-citizenship-unfair/2018/03/30/901cc1c2-3438-11e8-b6bd-0084a1666987_story.html?utm_term=.b5f7e6d301b4
--------
Why Asansol Is Still On Edge: Hindus Terrified To Return Home, Muslims Scared To Step Out
by Ravik Bhattacharya
March 31, 2018
Standing alone outside his home in the Railway Colony at Chandmari, Akhilanand Singh points towards his neighbour's house, which has been broken into and looted? His own son, he says, is in police custody. And, he doesn't know what to do.
Singh, a Railway guard with two years left to retire, is just one face among the hundreds struggling to pick up the pieces in Asansol, where two people died and hundreds fled their homes after the violence that followed the Ram Navami celebrations.
Here, the pain cut across the religious divide. Those who left, mainly Hindus, were too scared to return. Those who stayed back, mostly Muslims, were too scared to step out.
"I dialled 100 and any number I could find to call police. No one answered. Then I called my friend who came with some Hindu youths to our help. On Sunday afternoon, I took my wife, son, daughter-in-law and grandchild to my friend's house in Burnpur about 6 km away. Today, I returned with my son to check on my home, and police arrested him," said Singh, his house standing amidst ransacked houses and a burnt vehicle.
A 10-minute drive away, 50-year-old Sumitra Devi and her family say they have "lost everything", from money to jewellery to important documents such as ration cards, after their home in Ram Krishna Dangalpara was set on fire by a mob.
Another 15 minutes down the road, 16-year-old Nadim Reza stands near Noorani mosque with a blank look on his face. He is convinced that he will lose a year in school after failing to turn up for the ongoing higher secondary examinations — at least 200 youths from the area failed to appear for the exams. "I am too scared to even step out of this neighbourhood," said Reza.
On Friday, with police conducting patrols, no further incidents of violence were reported from Asansol, which has a large Hindi-speaking population of mostly migrants from Bihar and UP who have settled here for generations. According to the 2011 Census, this town in West Burdwan district has a population of 5,63,917, with 75.18% Hindus and 21.26% Muslims.
"The situation is under control. We are using loudspeakers to spread awareness against rumours. In sensitive areas, there is a heavy deployment of police personnel. Over 60 people have been arrested," said L N Meena, Police Commissioner.
At the heart of this town, some shops opened shutters but the areas most affected by the violence — Rail Par, OK Road, Chandmari, Ram Krishna Dangalpara, Shreenagar — wore a deserted look.
"The day after the Ram Navami rally, at around 10 am, some youths with their faces covered barged into our neighbourhood with lathis and rods. I locked my house from inside but could hear gunshots outside. I covered the mouth of my one-year-old grandchild, so he would not cry out and give away our location. They broke open the doors of my neighbours and looted everything. They set fire to some shops, too," said Singh, who hails from Bhojpur in Bihar.
Another resident, Joy Debnath, was out on his motorbike, returning to "safety" after providing food to his 70-year-old grandmother. "My brother, mother and father are all at Burnpur, at my aunt's place. But my grandmother is sick, and can't sit on my motorbike. So everyday, I sneak back home and give her food. I don't know how long I can continue," said Debnath who owns a cellphone recharge shop in Chandmari market.
At Noorani mosque in Chetladanga Nadi Par, Imam Imdadulla Rashidi, who lost his 16-year-old son in the clashes, warned followers against falling for rumours. On Thursday, the Imam had warmed hearts across the country by warning that he would leave the mosque if there was any attempt to "avenge" his son.
But the anger was palpable. "The MP (BJP's Union Minister Babul Supriyo) comes to see only a particular community. He makes inflammatory statements against us, which is shown live on TV channels. Is he not our MP? We cannot leave our houses," said Mohammed Imran, a local resident.
"Police just stood there for a while and then vanished as we were attacked. Our house was completely burnt down. We lost everything from beds to our TV and our Scooty. I lost whatever little jewellery I had. Our ration cards, birth certificates, all have been reduced to ashes. What did we do to anyone?" said Pinky Devi, daughter-in-law of Sumitra Devi, in Ram Krishna Dangalpara.
"One of my daughters-in-law is pregnant. On that day, while fleeing, she fell down," said Sumitra Devi, the wife of a furniture maker. The political fallout, meanwhile, continued to play out in a war of words.
"The BJP is trying to fuel tension by bringing in leaders and MPs from outside. Everything is getting back to normal slowly. But it will take some time," said Jitendra Tiwari, the Mayor of Asansol and Trinamool Congress leader.
On Friday morning, refugee camps set up by the BJP were abandoned as some tried to return home and others left to take shelter with friends and relatives elsewhere, some in Jharkhand. "A majority is scared and has left Asansol. We are trying our best to help them. Since police are conducting raids on us and our followers are being arrested, many prefer to hide. There is no help from the administration," claimed Laksman Gorui, BJP state president.
In Delhi, the BJP formed a four-member team to visit Asansol, look into the circumstances that led to the violence and submit their report to party president Amit Shah. The team comprises national vice-president Om Mathur, national spokesperson Shahnawaz Hussain, and MPs Rupa Ganguly and B D Ram.
http://indianexpress.com/article/india/why-asansol-is-still-on-edge-hindus-terrified-to-return-home-muslims-scared-to-step-out-5117893/
--------
BJP Suffers From Perception It Is Anti-Muslim And Lower-Caste People, Says Union Minister
March 30, 2018
Prime Minister Narendra Modi's ruling party is struggling to change a "perception" that it is against minority Muslims and lower-caste people, which could cost it votes in a general election due next year, said union minister Ram Vilas Paswan on Friday. BJP trounced the opposition at the last election in 2014, but it has lost a handful of recent by-elections after opposition groups banded together.
Paswan, a federal minister and the chief of the Lok Jan Shakti (People's Power) Party, which is allied with the BJP says it represents India's socially backward classes, and predicted another term for Modi. But he said the BJP would have to work towards changing its image as a group that caters mainly to upper-caste Hindus.
"Whatever the government is doing it is doing for everyone; even for the minority community it has done a lot," Paswan said in an interview in his bungalow, seated on a couch under a huge oil painting of himself.
"But despite everything, the perception is not changing among the minorities and the scheduled castes (socially backward classes) irrespective of the work being done."
India's 1.3 billion people are about 80 percent Hindu and 14 percent Muslim, according to the latest census data. Backward classes make up about three-quarters of the Hindu population.
Critics say the BJP's Hindu nationalist agenda has polarised the population. Since Modi came to power in 2014, hardline Hindu groups and cow protection vigilantes have carried out numerous attacks on Muslims accused of eating beef or killing cows. Many Hindus believe cows are sacred and killing them is banned in most states.
'WELL-MEANING'
A crackdown on abattoirs, tanneries and leather factories, mostly run by Muslims, has also hit a large number of lower-caste Hindus who transport cattle and work in tanneries. Paswan said the opposition could take advantage of the BJP's pro-upper class Hindu image and it needed to be countered aggressively.
The BJP said Paswan's comment was a "well-meaning observation from an ally" but that the party has "foiled repeated attempts of the opposition Congress party to create an impression that the BJP is losing the perception battle".
"We need to be cognizant of the fact that opposition parties have been raising a bogey of non-issues, but so far they've failed," said BJP spokesman G.V.L. Narasimha Rao.
When Modi won office in 2014, his party or its partners ruled only seven of India's 29 states. Today, it is in power in 21 of them and has replaced Congress as the party with strongest nationwide presence.
But in by-elections for 10 parliamentary seats since last year, the BJP has lost all of them and two small regional parties have walked out of the ruling coalition.
Paswan, whose party enjoys considerable support from the Muslim community in his home state of Bihar in the east, said ending ties with the BJP-led National Democratic Alliance (NDA) was "unthinkable". "This is essentially a government of the BJP, they have an absolute majority. Still Modi has given space to allies like us," said Paswan, a 10-time member of parliament who began his political career in 1969. "Can't even think of leaving the NDA. No one has approached me and I am happy where I am."
http://indianexpress.com/article/india/bjp-suffers-from-perception-it-is-anti-muslim-ram-vilas-paswan-5117286/
--------
Mideast
Israel uses Saudi fatwas, shelling to stop mass protests in Gaza
Mar 30, 2018
Wary of massive Land Day demonstrations in the Gaza Strip, the Israeli military has resorted to fatwas by Saudi clerics, which are based on Takfiri Wahhabi ideology, in a bid to discourage Palestinian protesters.
Hundreds of people had pitched tents along the coastal enclave's borders-- from Beit Hanoun in the north to Rafah near the Egyptian border-- ahead of the six-week protests, dubbed the Great March of Return, which kicked off on Friday morning.
The Israeli army had been put on high alert ahead of the protest, which is began on March 30, known as the Land Day, to mark the 42nd anniversary of Israel's murdering of six protesters during rallies against land confiscation in 1976.
The event was organized by the Palestinian resistance movement Hamas and would continue until the Nakba Day (Day of Catastrophe), which is marked every year on May 15, one day after the Israeli regime came into existence in 1948.
On Friday, Avichay Adraee, an Israeli army spokesman, cited a decree by Saudi cleric Sheikh Saleh al-Fawzan to argue that partaking in public protests turns Muslim into "infidels."
"The Saudi scholar, Sheikh Saleh al-Fawzan, has decreed for banning demonstrations and sit-ins, saying that this behavior has nothing to do with the Muslims' ethics, and that it is a characteristic of infidels," Adraee said in a video recording.
The 2011 fatwa by Fawzan, who views demonstration as a form of commotion and disorder, paved the way for the kingdom's forces to crack down on widespread protests against mistreatment of Shia Muslims across the country.
Fawzan grabbed media attention in 2016, when he placed a ban on taking selfies with cats. The cleric had also said in 2014 that the Sun resolves around the Earth, and that the "modern theories" must not be adopted by his followers.
Adraee also cited a fatwa by Sheikh Ibn Uthaymeen that stated sit-ins and violent demonstrations were "evil, because they lead to chaos."
Wahhabism, the radical ideology dominating Saudi Arabia, is freely preached by clerics in the Arab country.
It inspires Takfiri terror outfits such as Daesh and al-Qaeda.
Intensified shelling to scatter protesters
In another attempt to scare the protesters off, the Israeli military has stepped up its operations near the border, firing tanks shells into Gazan territories.
The constant shelling killed a Palestinian farmer hours before the mass protests.
Some 750,000 Palestinians were expelled from their lands in 1948 and were scattered across refugee camps in the occupied West Bank, the Gaza Strip, and Palestine's neighboring countries.
Now, over five million Palestinian refugees are estimated to be still displaced.
Of Gaza's over 1.8 million residents, more than a million are descended from Palestinians originally expelled from the country in 1948.
Since 2007, Gaza has been under a crippling Israeli blockade. The coastal enclave has also witnessed three bloody Israeli wars over the past decade.
http://www.presstv.com/Detail/2018/03/30/556894/Palestine-Israeli-March-of-Return-demonstration-Gaza
--------
UNSC holds urgent meeting on Israel's massacre in Gaza, Guterres urges probe
Mar 31, 2018
The United Nations Security Council has held an emergency meeting over the Israeli military's massacre of over a dozen Palestinians during an anti-occupation mass rally in Gaza, with the UN chief calling for an investigation into the bloodshed.
The 15-member Security Council met on Friday at Kuwait's request, with its UN representative Mansour al-Otaibi describing the situation in the Israeli-besieged Gaza Strip as "very dangerous."
According to the figures provided by the Gaza Health Ministry, 16 Palestinians were killed and over 1,400 others wounded on Friday after Israeli forces fired live ammunition at Palestinian protesters marking Land Day and used tear gas to push them back from a heavily fortified border fence.
Ahead of the protest, the Israeli military had deployed tanks and 100 snipers with the authority to use live rounds on the Gaza border.
Palestinian Ambassador to the UN Riyad Mansour said he expected "the Security Council to shoulder its responsibility" regarding a "heinous massacre" of peaceful Gaza demonstrators by Israeli forces and "defuse this volatile situation, which clearly constitutes a threat to international peace and security."
Meanwhile, assistant UN secretary general for political affairs, Taye-Brook Zerihoun, urged maximum restraint amid "fear that the situation might deteriorate in the coming days."
"Israel must uphold its responsibilities under international human rights and humanitarian law. Lethal force should only be used as a last resort with any resulting fatalities properly investigated by the authorities," he added.
Additionally on Friday, UN Secretary General Antonio Guterres urged "an independent and transparent investigation" into the Gaza clashes and reaffirmed the world body's "readiness" to support the so-called peace process.
Farhan Haq, a deputy spokesperson for Guterres, quoted the UN chief as saying that the Gaza "tragedy underlines the urgency of revitalizing the peace process aiming at creating the conditions for a return to meaningful negotiations for a peaceful solution" to the Israeli-Palestinian conflict.
Israeli representative at the UN, however, did not take part in Friday's Security Council meeting.
Muslim world reacts
Meanwhile, Muslim nations voiced their outrage over the Israeli military's response to the mass demonstration in Gaza.
In a statement on Friday, the Turkish Foreign Ministry accused Israel of using "disproportionate force" against the Palestinians and expressed "concerns" over the casualties of Friday's clashes.
It also called on Tel Aviv to "rapidly" stop resorting to force and "give up on its hostile attitude."
Additionally, the Qatari Foreign Ministry said the Israeli escalation was a violation of international laws and conventions.
It further called on the international community and the Security Council to assume their responsibility in containing the Israeli war machine against the Palestinian people.
Doha also stressed its support for Palestinian rights, including the right to return to their homeland.
Moreover, Arab League Secretary General Ahmed Aboul Gheit condemned in the strongest terms the Israeli attacks and warned that regime's persistence in violence drags the whole region to the abyss.
He said in a press release that the Israeli occupation shoulders the legal, political and moral responsibility for such violations.
Palestinians mourn
Palestinian President Mahmoud Abbas has announced Saturday a national day of mourning in honor of the victims.
On Friday, thousands of people attended the funeral of one of the Palestinian victims, identified as Sari Walid Abu Odeh, in the city of Beit Hanoun on the northeast edge of the Gaza Strip.
Dubbed "The Great March of Return," Friday's rallies in Gaza coincided with the 42nd anniversary of Land Day, which commemorates the murder of six Palestinians by Israeli forces in 1976.
The Return rallies will culminate on 15 May, which marks Nakba Day (Day of Catastrophe) on which Israel was created.
The Gaza Strip has been under an Israeli siege since June 2007. The blockade has caused a decline in living standards as well as unprecedented unemployment and poverty.
Full report at:
http://www.presstv.com/Detail/2018/03/31/556963/Gaza-Palestine-Israel-Antonio-Guterres
--------
After Gaza clashes, Hamas and Islamic Jihad say they foiled Trump
By KHALED ABU TOAMEH
30 March 2018
Hamas and Islamic Jihad crowed that mass protests along the Gaza border Friday that Palestinian officials said left 16 dead and over 1,400 more injured in clashes with IDF troops had managed to thwart US President Donald Trump's "deal of the century."
The two terror groups, who had played a major role in the organization of Friday's mass protests, urged Palestinians to continue the large demonstrations, which are expected to last six weeks and culminate in mid-May, when the US is slated to move its embassy to Jerusalem.
Khaled al Batsh, a senior Islamic Jihad official who heads the committee responsible for organizing the mass protests, announced on Friday night the end of day one of the "March of Return."
He said that the Palestinian protests have "buried forever Trump's suspicious deal," a reference to Trump's yet-to-be-announced plan for an Israeli-Palestinian peace deal.
Batsh said the Palestinians "are determined to thwart all plans aimed at liquidating" the Palestinian cause.
Hamas, an Islamist terror group that seeks to destroy Israel, said in a statement late Friday that the Palestinians have "practically foiled the deal of the century and dealt a severe blow to Trump and his administration."
Hamas spokesperson Fawzi Barhoum said that Friday's events showed that Israel's attempts to "change the reality" have failed.
Batsh said that Saturday will be dedicated to "showing support for the families of the martyrs and visiting those who were injured" during Friday's protests.
"Today was just the beginning," Batsh said during a press conference in Gaza City. "We will continue to stage sit-in strikes and demonstrations."
Urging Palestinians to continue the protests, Batsh called on the United Nations, the Arab League and international parties to launch an inquiry into Israeli "crimes" against Palestinians who were demonstrating "peacefully" on Friday.
The protests had been billed as peaceful, but quickly devolved into deadly clashes, with Israeli troops firing on Palestinians who hurled stones and firebombs at them or tried to breach the border fence. Some 30,000 protesters took part, according to the IDF.
The IDF spokesman Ronen Manelis said the IDF faced "a violent, terrorist demonstration at six points" along the fence. He said the IDF used "pinpoint fire" wherever there were attempts to breach or damage the security fence. "All the fatalities were aged 18-30, several of the fatalities were known to us, and at least two of them were members of Hamas commando forces," he said in a late afternoon statement.
Full report at:
https://www.timesofisrael.com/after-gaza-clashes-hamas-islamic-jihad-say-they-foiled-trump/
--------
Yemen's army controls strategic heights in Saada
31 March 2018
Yemen's national army has made progress on the ground in the front 'Alab north of the province of Saada, close to Saudi Arabia's border after seizing back strategic heights in the Directorate of Baqm following battles with the Houthi militias.
Brigadier General Saleh Qaroush, the commander of the fifth brigade of the border guards in Yemen's army, said in a statement to Al Arabiya that a special unit was able to carry out a successful infiltration into the positions of the militias stationed in Taba al-Hamra and Janah Al Saqr.
Qaroush pointed out that the areas that have been controlled will cut the supply line to the militias as it overlooks the areas of Khashan and Abwab Al Hadid, pointing out that about five elements of the Iran-backed Houthis were killed, including a sniper, while the rest fled.
An aircraft belonging to the coalition forces supported the yemeni forces to hit two military vehicles of the militia and eliminating those on board and other reinforcements in Abwab Al Hadid area.
Full report at:
https://english.alarabiya.net/en/News/gulf/2018/03/31/Yemeni-army-controls-strategic-heights-in-Saada.html
--------
White House: Houthis disrupt peace in Yemen
31 March 2018
The White House issued a strongly worded statement, on Saturday, accusing the Houthis of disrupting the peace process in Yemen.
The White House said in the statement that the Houthis had responded to UN efforts to restore the political process in Yemen by threatening to launch more rocket attacks.
The statement highlighted that the actions of the Houthis refute their commitment to the peace process stressing that the missile attacks confirm that the Iranian's Revolutionary Guard continues to disrupt the political process in Yemen and destabilize the region.
https://english.alarabiya.net/en/News/gulf/2018/03/31/White-House-Houthis-disrupt-peace-in-Yemen.html
--------
Southeast Asia
A Chinese mosque in Jakarta
March 30, 2018
JAKARTA, March 30 — Red, yellow and green walls, Chinese-style tiled roof, bright yellow boxed windows, Chinese calligraphies hanging everywhere — you'd be forgiven for thinking that this building, nestled in a corner of busy Pasar Baru in Jakarta's Chinatown, is a klenteng, a Chinese-Buddhist temple.
But no, alongside the Chinese calligraphies also hang Arabic ones, quotations from the Koran done in an illustrative style.
Yes, the three-story building is actually a mosque, called Lautze after the street where it's stood since 1991.
The Jakarta Globe visited the mosque last Friday to talk with the imam of the mosque and its regular visitors.
Iwan Tan, a 45-year-old Chinese-Indonesian man who converted to Islam 12 years ago, said he has been visiting Lautze Mosque every week to do his Friday prayer since 2009.
"I knew about the mosque from my wife. She saw it on the news," Iwan, a former Buddhist, said.
The cargo company owner said he likes going to the mosque because here he can meet up with other Chinese-Indonesian Muslims.
Iwan said Lautze Mosque is very welcoming to Chinese-Indonesians like him who want to find out more and learn about Islam. Many of them end up converting to the religion.
"I feel welcomed here. It's small, but the brotherhood is very strong. The people here are very open," Iwan, a graduate from an Australian university, said.
Nationalist beginnings
The Lautze Mosque was established in 1991 by the Haji Karim Oei Foundation, which was named after the prominent nationalist and Chinese-Indonesian Muslim Abdul Karim Oei (1905-1988), whose Chinese name was Oie Tjeng Hien.
The foundation's main aim is to promote Islamic teachings to Chinese-Indonesians, a minority group in the archipelago.
"The mosque's location, in a predominantly Chinese community, was intentional. We want to spread the teachings of Islam, especially the moderate views of Indonesian Muslims," Mohamad Ali Karim Oei, the current head of the foundation, said.
Ali, the son of the late Abdul Karim Oei, said they rented a three-story shophouse and turned it into a mosque in 1991.
The original building stood for two years before it was expanded to the shophouse next door in 1994 after receiving a grant from former president Suharto.
Despite its relatively young age, the Lautze Mosque has become a symbol of the assimilation between Chinese and Islamic cultures and traditions in Indonesia.
Karim Oei Foundation has established a second mosque in Bandung after realising a Chinese-Indonesian Muslim community is growing rapidly in the West Java capital.
Unlike regular Indonesian mosques, the Lautze Mosque is open only from 9am to 5pm, except during the fasting month in Ramadhan when it is open 24 hours.
62-year-old Ali, whose Chinese name is Oei Tek Lie, said the foundation took a lot of its inspirations from his father's strong character.
"My father was a unique figure. He was Chinese, but was vehemently against the Japanese occupation during the Second World War and threw his support behind Indonesian independence fighters," the father of three said.
Ali said now some of the original founders of the mosque have died. He hopes the next generation will continue the mosque's aim to promote moderate views of Islam to the public. — Jakarta Globe
http://www.themalaymailonline.com/features/article/a-chinese-mosque-in-jakarta
--------
What to Make of Recurring Fears of Jihadism in Southern Thailand?
By Eugene Mark
March 30, 2018
There are recurring fears of a jihadist threat in Southern Thailand. Although Thailand suffers from a long-running insurgency in the deep south, the issue has often been branded as a ethno-nationalist struggle rather than as part of global jihad. However, with a series of ISIS-linked activities in Southeast Asia, compounded by returning ISIS fighters from the Middle East, there are renewed concerns about jihadist elements taking advantage of the existing vulnerability in Southern Thailand.
The jihadist elements might not be focusing on fighting the Thai state, but could be concentrating on neighboring Malaysia. There is a historical precedent from back in the Cold War when the Communist Party of Malaya (CPM) took refuge in Southern Thailand but planned for attacks targeting Malaysia. There are fears that returning ISIS fighters could take the same approach. Nevertheless, these fears remain unfounded as the ethno-nationalist character of the conflict is strong enough to withstand jihadist influence.
Background
Enjoying this article? Click here to subscribe for full access. Just $5 a month.
The insurgency in Southern Thailand remains a localized conflict over territory and identity, rather than one staged as part of the global jihad. The narrative of the Southern Thailand insurgents conjures up historical memories of the Sultanate of Patani in mythical proportions. The Sultanate of Patani was claimed to be a trading hub and a center for excellence in Islamic studies before the painful subversion by Siamese colonization. By incorporating the Malay Sultanate into Siam, it meant not only the end of national sovereignty but also the Malay identity.
As it can be seen, the narrative bears a strong ethno-nationalist character and there is no mention of a fight in the name of global jihad. The role of Islam in the narrative pertains only to an image of Patani as a sacred Islamic land that has fallen under the rule of the "non-believer." The struggle is to free Patani from Thai rule rather than defending the worldwide Muslim community and liberating all Muslim lands.
Religious leaders in Southern Thailand also rejects the Salafi-jihadist ideology espoused by groups such as ISIS and al-Qaeda. Rather, Malay Muslims there adhere to traditional forms of Sunni Islam of the Shafi'i school. Therefore, this misalignment in the religious interpretation between the transnational terrorist groups and the Malay Muslims there serves as an obstacle to jihadist influence.
The insurgent leaders are also not prepared to work with these transnational jihadists. Jemaah Islamiyah had previously tried to work with the Southern Thailand insurgents but failed to gain traction. More recently, the main insurgent group, Barisan Revolusi Nasional (BRN), has made it clear that ISIS is not welcome in the deep south.
At this moment, the insurgents' priority is to gain legitimacy, particularly from the international community, for their separatist cause. By working with jihadist groups, any form of legitimacy the insurgents had would be gone. As such, it is not conceivable that the insurgents would take that risk.
Future Trajectory
That said, there are some factors that might have a significant impact on the current status quo of non-jihadist influence. First, there is still a possibility that young Malay Muslims could fall prey to jihadist ideology via social media, although there is no concrete evidence yet to prove such a trend in the deep south. But in the information age, it is hard to have a monopoly over the information consumed by the Malay Muslims there.
In other words, self-radicalization can likely happen among the youth, particularly when Malay Muslims in the deep south lack sufficient knowledge about ISIS. This is a result of local intellectuals and academics failing to discuss ISIS publicly, out of fear and reluctance. They fear that authorities might associate them with ISIS if they talked about it openly. Some imams also tend to minimize any discussion of jihadism.
The Malay Muslim populace's ignorance about ISIS and its ideology should be a concern for the authorities. Representatives of BRN's Information Department have already voiced concerns that it is possible for young Malay Muslims to be influenced by online jihadist propaganda in part because of this lack of knowledge. Hence, this is an area which can change the status quo very quickly.
Second, it is also plausible that splinter groups could emerge and these groups may find advantages in aligning with the jihadists. Stalemate in the current peace dialogue could result in some disgruntled followers of the BRN splintering off to join forces with the jihadists.
To date, that prospect is still highly unlikely. Even if terrorist tactics are adopted, the aims of the Malay Muslim insurgents remain narrowly focused on Patani-nationalist goals rather than global jihadist ones. But since nothing has been achieved in alleviating the current plight, there is still a small possibility of the jihadist ideology gaining greater traction among younger Malay Muslim insurgents.
Overall, the deep south of Thailand has been able to withstand jihadist influence, but the current status quo can change. The only way to manage possible jihadist influence is to work on the current peace dialogue in Southern Thailand.
Full report at:
https://thediplomat.com/2018/03/what-to-make-of-recurring-fears-of-jihadism-in-southern-thailand/
--------
In bid to get Maldives government return to democracy, Europe may halt flights
Indrani Bagchi
Mar 31, 2018
NEW DELHI: In what might be a strong punitive measure against the government of Abdulla Yameen, large European airlines may suspend flights to Maldives this summer as the international community piles on pressure for the restoration of democratic functioning in the archipelago.
German ambassador to Sri Lanka Joern Rohde, concurrently accredited to Maldives, tweeted on Friday, "We hear big airline carriers from Europe will suspend their Maldives flight for the summer season." The reason for this, he continued, was that despite the apparent lifting of emergency by the Yameen government, "democratic rights remain curtailed as MPs remain jailed on politically motivated prosecutions. The economy and thus the people suffer since tourists continue to stay away."
India has also demanded that jailed opposition leaders and judges of the Supreme Court be released and expects Yameen to pave the way for the normal functioning of Parliament and eventually fair elections. So far, Yameen has not paid much heed to calls to mend his ways, flaunting a growing proximity with China to deter efforts to pressure him. The demonstrations against him in Male, though infrequent, indicate continued opposition to his regime.
Cautioning the Yameen government, Rohde concluded his tweet by saying "Solution: Only a return to democracy will bring back stability and the positive image of the wonderful Maldives now tarnished by the ongoing undermining of democratic rights."
Europe remains the biggest source of tourism to the island nation, although the Chinese now account for almost 20% of Maldives' tourists. Indian tourists have been rising steadily and are more than 6%.
After Yameen announced the emergency in early February, tour and resort operators reported that China and India recorded the highest number of cancellations. However, the normalcy on the surface has led to visitors continuing to visit the Maldives. Measures that will hurt tourism are a difficult choice as they will almost certainly impact the livelihoods of people in a direct manner.
Maldives' tourism industry accounts for over 30% of the country's GDP, touching $3.5 billion in 2017. Almost 1.4 million tourists from across the world visited the Maldives in 2017, according to government statistics.
A fortnight ago, Yameen trotted out his senior ministers in a press conference to spell out his plans. The tourism minister admitted at the press conference that the economy had been impacted. At this point though, Yameen is intent on going ahead with elections, where he will effectively be the only candidate.
Full report at:
https://timesofindia.indiatimes.com/world/south-asia/major-european-airlines-may-suspend-flights-to-maldives-this-summer/articleshow/63550613.cms
--------
Najib's Last Hope To Beat Dr Mahathir: A 'Malay Malaysia'
March 31, 2018
The Najib government needs to win new legitimacy at GE-14 if it's to juggle Malay, Islamic, and royal claims, amid a restive East Malaysia.
The government's determination to focus on the Malay community is shrewd politics, but it also plays into a major transformation taking place in Malaysia, the consolidation of a specifically Malay Malaysia.
What exactly this Malaysia will look like is not certain, but there is a demand for a stronger Islamic role. The Malayisation process has been underway for decades, and is partly a matter of demographic change. At the time of independence (1957), Malays were only about half of the country's population; today they are a clear majority in Peninsular Malaysia, and together with other indigenous peoples (the bumiputra, "sons of the soil") make up over 68 per cent of the Malaysian total. Building a Malay Malaysia will entail reconsideration of the nation's founding document.
The Future of an inclusive, secular and liberal Malaysian Malaysia is bleak.
At a glance, the constitution of 1957 displays the strong influence of the English-speaking world, with its Westminster parliamentary system and Australian/United States federal structure, and has been said to imply a "liberal-democratic order". But the constitution also includes local formulations that over time have influenced Malaysia's identity as a nation, and they all bear on the process of building a more Malay nation.
First, the "sovereignty, prerogatives, powers and jurisdiction" of the nine monarchs of Malaysia are stressed, and in a manner conveying (in the words of one prominent legal scholar) that the role of the monarch "far exceeds" specific "constitutional provisions" [fn1]. Second, "the Malays" are declared to have a "special position" in the country, and are assured a particular share of appointments in public service and educational opportunities. Moreover, the constitution names Malay as the "national language". Third, although the constitution is sometimes seen as inaugurating a secular polity, and declares itself to be "the supreme law of the Federation", it contains the potent but confusing statement that Islam is "the religion of the Federation". Multiple monarchy, Malay pre-eminence, and Islamic priority: these features together help make Malaysia internationally distinctive. The meaning and significance of each element, however, continue to be debated.
UMNO's Jamal Yunos and his Red Shirts are endorsed by Prime Minister Najib Razak
Following race riots between non-Malay (Chinese and Indian) and Malay Malaysians in 1969, the Malay character of the country was sharpened, with a greater stress on the Malay language and culture, as well as promoting Malay economic opportunities. In the 1980s the concept of "ketuanan Melayu", often translated as "Malay dominance", was enunciated. Besides UMNO, other organisations such as Perkasa (formed in 2008) and more recently the Red Shirts have played an activist role in promoting Malay rights. With respect to religious identity, Pas has long urged a greater role for Islamic doctrine in the legal system and Malay society generally. Particularly during the Mahathir administration (1981–2003), the government itself instituted policies to enhance the role of Islam, for instance through the creation of an Islamic bank and an Islamic university, and the strengthening of the role of Islamic courts.
Alongside the Najib administration's emphasis on moderation internationally, something welcomed especially in Western countries, the domestic focus on gaining Malay support has encouraged less-moderate initiatives. In August a minister in the Prime Minister's Department said atheists should be "hunted down" and returned "to their faith". The government also appeared to assist the attempt by Pas to strengthen the Islamic criminal code (hudud) by empowering shariah courts to impose heavier punishments. A further move was the change in leadership of PM Najib's Global Movement of Moderates, established to further the government's moderation objectives. The new CEO (appointed in 2015), Nasharudin Mat Isa, formerly a PAS Deputy President, soon focused on how best to implement and explain hudud law in the country. "Malaysia being a Muslim state," he said, "we can be a model of how that kind of law is implemented in a modern society." Consistent with this appointment, the Prime Minister explained that moderation would now be pursued on the basis of shariah principles and insisted that "humanism and secularism as well as liberalism" were a "threat to Islam".
The July 2017 banning of the book Breaking the Silence: Voices of Moderation, produced by a group of prominent moderate Muslims called the G25, also illustrated the changing religious climate. In Malaysia's "constitutional democracy," the book insists, the federal constitution is the "supreme law of the country," and "any law enacted, including Islamic laws," must not "violate the Constitution," with its stress on such "fundamental liberties" as the "rights to freedom of expression and worship". Among those opposing the ban, the Human Rights Commission of Malaysia (Suhakam) argued that the book's contents were in line with PM Najib's advocacy of moderation (wasatiyyah) in Islam.
There have been protests from the non-Malay partners in the ruling coalition about the government's support for religious conservatism. "Malaysia is a secular country," an officer of the Malaysian Chinese Association declared in March 2017, insisting that the federal constitution requires "defending all religions." Faced with such views, in March the government backed away from actually sponsoring the hudud bill introduced by PAS. Despite such reversals, however, the momentum toward Islamisation is strong. In 2017, for instance, public whipping was introduced in Kelantan state; and Pahang state adopted the Islamic concept of diyat, which allows a victim's family to influence sentencing involving the death penalty. Considering these initiatives, it is important to take note of polling that suggests strong support in the Malay community for religious conservatism. Furthermore, in the view of some Islamic activists, current religious initiatives merely follow a long history of burgeoning Islamisation, reaching back before British intervention in the 19th century.
The Constitution's reference to Islam as "the religion of the Federation" is also increasingly highlighted—placed above the claim that the Constitution itself is "the supreme law"—and seen as a basis for arguing (as a former chief justice did this year) that "anything which is in contradiction to Islam is unconstitutional". One matter clear in the Constitution is that the nine rulers are "the Head of the religion of Islam" in their respective states. The Conference of Rulers—which in late 2015, in the context of the 1MDB investigation, had questioned the "government's credibility and integrity in administrating the country"—took an assertive stand on religious matters in October 2017. The Johor sultan had condemned a launderette for adopting a Muslim-only policy. Johor, he said, "belongs to all races and faiths" and is "not a Taliban state." In response, a religious teacher who supported the ban on non-Muslims insisted that "we are a Muslim country," and that in taking a stand he was "carrying out my responsibility to spread Islamic teachings." The Conference of Rulers then stated its concern to protect "the harmony that currently exists within our multi-religious and multi-ethnic society."
Ibrahim Suffian, Terence Gomez, Fadiah Nadwa Fikri and Amrita Malhi talk with Kean Wong about what's at stake in Malaysia's 2018 elections.New Mandala 20 March, 2018
The Rulers were conveying that, despite being "heads" of Islam, and despite the King's constitutional duty to "safeguard the special position of the Malays," they consider themselves to be reigning over all their subjects, irrespective of ethnicity. The Constitution, in fact, refers to "rulers," not "Malay rulers," and there is a long record of Malaysian rulers speaking in an ethnically inclusive manner. Just what role the rulers might play in shaping a Malay Malaysia, however, will depend not only on their ability to attract non-Malay support but also on their skill in handling the increase in both Islamic and Malay nationalist demands.
If the Najib government fails to achieve a comfortable victory in the coming election, the task of accommodating and juggling Malay, Islamic, and royal claims—and also the growing demand of the East Malaysian states for greater autonomy—will be all the more formidable.–Milner
Malaysia is a society in transition. Malay ethnic demands, far-reaching Islamic aspirations, and royal assertiveness—each in its particular way challenges the liberal, secular structure that many saw being ushered in with the 1957 constitution. These concepts are all, however, embedded in that document—waiting, as it were, for future opportunity. If the Najib government fails to achieve a comfortable victory in the coming election, the task of accommodating and juggling Malay, Islamic, and royal claims—and also the growing demand of the East Malaysian states for greater autonomy—will be all the more formidable.
Full report at:
http://www.malaysia-chronicle.com/najibs-last-hope-to-beat-dr-mahathir-a-malay-malaysia/
--------
Najib aspires to continue Tun Abdul Razak's legacy to help rural community
March 31, 2018
PEKAN, March 31 ― Datuk Seri Najib Razak aspires to turn the legacy of the late Tun Abdul Razak as the foundation of his struggles to govern the country by continuing to fight for the causes of the rural communities, including settlers.
The Prime Minister said he wanted to continue the legacy as a whole because the Federal Land Development Authority (Felda) and the Federal Agricultural Marketing Authority (Fama) were very close to the heart of his late father, the country's second prime minister.
"There is no other leader in this country who has the model of a settler's house in front of his own house at Seri Taman, and even before he (Tun Razak) passed away, he had asked that the model of the house be maintained as a reminder to all parties, including myself that Felda and rural development were the basis of the struggles of Tun Abdul Razak.
"Hence as the next generation, we are obliged to continue his struggles, I know not only should we pray for his soul, but he also wanted these struggles to remain and not be buried.
"On the contrary, these (struggles) should continue to be carried out today and in future and, for this, we must plan additional programmes as the world has changed, the world of the 60s and 70s is no longer the same today.
"The situation many change but the spirit and value of our struggles do not change at all,,,instead we make it our goal to continue with these struggles," he said when launching the national level Reducing Grocery Bills (Jimat Belanja Dapur) programme in Bandar Dara Chini here today.
Also present at the event were Fama chairman Tan Sri Badruddin Amiruldin, State Rural Development, Agriculture and Agro-based Industry Committee chairman Datuk Seri Shafik Fauzan Sharif and State Felda Affairs Committee chairman Datuk Seri Abu Bakar Harun.
To continue improving the fate of the Felda community, he said the government forged good ties with the governments of China and India to market the country's palm oil products.
"If China buys RM1.3 billion worth of palm oil, India RM1 billion, the price of palm oil will continue to rise and who are happy ... certainly the Felda community for having more income.
"But if we hear what the Opposition say, we are going to cancel the contract with China and if that is done, then that country will not buy palm oil from Malaysia again.
"If that happens, then the price of palm oil will drop and affect the settlers but, under my leadership, the government will continue this struggle and, as such, we must continue to support the BN (Barisan Nasional) government," he said.
Najib, who is also Pekan MP, said the situation was far different from that of an "expired" leader who administered the country previously and had never thought about the fate of the rural community.
"I have been working long under him, so I know his behaviour..I can read it one by one, he never intended to help the rural people, not that I want to say but what I am doing now is far better than that leader.
Based on the records, he said the current government had provided more incentives to the settlers and the Muda Agricultural Development Authority had also been allocated RM2.7 billion for the period, 2011 to 2020 to develop irrigation systems.
Full report at:
http://www.themalaymailonline.com/malaysia/article/najib-aspires-to-continue-tun-abdul-razaks-legacy-to-help-rural-community
--------
Father, son, jailed 1 year for not reporting terrorist
March 31, 2018
KUALA LUMPUR: An Indonesian man and his son were sentenced to 12 months' jail by the High Court here yesterday for intentionally omitting to give information relating to terrorism by withholding the identity of a terrorist who used to work with them.
Judge Azman Abdullah handed down the sentence on Ahmad Omar, 53, and his son, Jaffar Ahmad, 27, also an Indonesian national, after they changed their plea to guilty when the case came up for mention yesterday.
Before handing down the sentence, Azman advised the two men, both construction workers, to not repeat their mistake, telling them that their action in withholding the identity of a terrorist was unreasonable.
"The person you are protecting is a terrorist. If you cooperate by reporting (to the authorities), certainly terrorism can be eliminated. If you are not willing to report to the police, don't bring them to work with us (in Malaysia)," he said.
Azman ordered Ahmad and Jaffar to serve their sentence from the date of their arrest on Aug 30, 2017.
The two men were charged with committing the offence by withholding information on a member of the Abu Sayyaf militant group, Hajar Abdul Mubin, also known as Abu Asri, at MAG-03 Persiaran Pangsa Baiduri, Taman Desa Baiduri, Hulu Langat, here between March 1, and Aug 30 last year.
They were charged under Section 130M of the Penal Code which provides an imprisonment for up to seven years, or fine, or both, upon conviction.
In mitigation, Ahmad, who has been residing in Malaysia for 28 years, said he was the sole breadwinner for his family and had six children.
Full report at:
http://www.freemalaysiatoday.com/category/nation/2018/03/31/father-son-jailed-1-year-for-not-reporting-terrorist/
--------
Africa
Nigeria: Sultan Urges Muslims to Uphold Truth
31 MARCH 2018
By Bashir Liman
Jos — The Sultan of Sokoto, Alhaji Muhammadu Sa'ad Abubakar III, has urged Muslim Ummah to continue upholding the truth and pursue legitimate means of livelihood.
The Sultan, who is also the National Chairman of Jama'atu Nasril Islam (JNI), made the call at the Jos Central Mosque yesterday while presenting a new tricycle, refrigerator, grinding machine and N70, 000 to a Keke-NAPEP driver and his wife who had returned N500, 000 left by a passenger.
The Sultan, represented by the Emir of Wase and Plateau State Chairman of JNI, Dr Sambo Haruna, said JNI felt the need to celebrate and appreciate Bashir because of what he did in order to encourage him and others to be good Samaritans.
Bashir had on November 20, 2017 returned N582, 450 to a passenger, Mama Ejima, who forgot the money in his tricycle.
http://allafrica.com/stories/201803310077.html
--------
Burkina Faso: Spreading Religious Tolerance in Burkina Faso
29 MARCH 2018
By Bram Posthumus
Burkino Faso in West Africa is well known for its religious and cultural tolerance. But several large-scale extremist attacks in the region are putting this to the test. One man is using theater to fight back.
In early March, for a third time, the capital Ouagadougou was the scene of a large-scale attack — this time against the army's headquarters and the French embassy. At first it wasn't immediately clear who was behind it, until the Malian militant group, Jama Nusrat Ul-Islam wa al-Muslimin (JNIM), sent out a message claiming it carried out the attack.
As religion once again took center stage of the public debate surrounding terrorism, this got storyteller Francois Moise Bamba thinking about religious tolerance in the region.
Bamba grew up listening to the stories his father told him. Their home was in Bobo-Dioulasso, the second largest city in Burkino Faso and a place which is known for its tolerance. The name reflects two of the major ethnic groups found in the population: the Bobo and the Dioula.
When Bamba was young, it was normal for children to visit each others' place of worship. On religious festive days, Catholic children would visit the local mosque and Muslim children would go to church. This inspired the title of his latest theater production: No One has a Monopoly on God.
"It's a title which provokes questions," Bamba told DW, "Because there are those who monopolize God, and those who want to impose their view as if it were the only truth. Here in Burkina Faso, we still have the intelligence to allow different religious groups to co-exist. You can find people of different faiths in the same family, for instance."
Testing the limits of tolerance
But with the attack on the army base -- as well as the ones which preceded it -- the limits of religious tolerance in Burkina Faso are being tested. In the sparsely populated and neglected northern and eastern regions of the country, the intensity and frequency of the attacks are increasing. However, Bamba does not think religious extremists are winning this battle -- but it is a sign of a deeper issue of intolerance.
"No, I don't think that they are gaining territory, but I do believe that we are being deliberately targeted," he told DW, "They no longer fear death, which is why they do what they do. Our weakness is that we want to live. But we also must be prepared to die if we want to preserve what we have."
A performance with a message
Religious tolerance and the will to live are the core messages of Bamba's production, combined with humor and music played on traditional musical instruments like the kora or the balafon. Despite the show's theme, Bamba doesn't seem too concerned that he may become a target himself.
"Someone recently asked me whether I was afraid that they would target me because of the show," he told DW, "I said 'No'. I cannot be afraid because I know I'm already a target. We all are. They kill people in restaurants, in churches, in mosques and in theaters."
Full report at:
http://allafrica.com/stories/201803310068.html
--------
Daesh says behind car bombing in Libya's Ajdabiya city
Mar 30, 2018
Daesh Takfiri group has claimed responsibility for a terrorist car bombing in the northeastern Libyan city of Ajdabiya that killed nine people, including civilians.
According to reports, the explosion occurred on Thursday when an attacker detonated his explosives-laden vehicle at a barricade manned by forces loyal to powerful Libyan military commander General Khalifa Haftar at the eastern exit of Ajdabiya.
Six other people were injured in the bombing which was the second such attack in less than a month.
In a statement issued on Friday, the Daesh-affiliated Amaq news agency said 14 troops of General Haftar had been killed or wounded.
A top officer in the local security forces, General Fawzi al-Mansouri, said civilians were among those killed and wounded in the attack, 840 kilometers from the Libyan capital of Tripoli.
Daesh terrorist group also in October claimed responsibility for an attack on a military checkpoint that killed two Libyan soldiers and injured three others in Ajdabiya.
A witness said the assailants attacked a checkpoint run by the eastern-based Libyan National Army (LNA), located about 60 kilometers (37 miles), south of the city of Ajdabiya, at dawn Wednesday using about ten armed vehicles.
Libyan forces removed Daesh from its stronghold in the city of Sirte in December 2016, leaving the terrorist group in control of no urban territory in the North African country.
The terrorists reportedly have been trying to regroup from desert bases since losing Sirte, nearly 390 kilometers west of Ajdabiya.
The oil-rich North African country has faced crisis since a US-led military intervention resulted in the downfall of long-time dictator Muammar Gaddafi in 2011. Libya has been grappling with chaos and the emergence of numerous militant groups, including Daesh.
Haftar declared in December that the country's internationally-recognized government based in Tripoli is no longer legitimate as its mandate has already expired.
The LNA commander said the Government of National Accord (GNA), which resulted out of an agreement in Morocco on December 17, 2015, and was backed by the United Nations, was no longer tenable to rule.
Haftar, who enjoys support from Egypt and certain Arab states of the Persian Gulf region, is believed to be vying for ultimate power in Libya although countries to the west of the North African country, including Algeria, see his rise as a threat.
In July, Haftar said his forces have "liberated" the city of Benghazi after pushing out rivaling militia from its eastern parts.
The announcement came shortly after the LNA was able to break the final pockets of resistance in Libya's second city and overtake the seafront district of Sabri using heavy artillery fire.
Full report at:
http://www.presstv.com/Detail/2018/03/30/556924/Ajdabiya-Libya-Khalifa-Haftar-Daesh-bombing
--------
Europe
Can foreign 'Islamic State' fighters' kids return to Europe?
30.03.2018
Thousands of children left behind by Western 'Islamic State' (IS) fighters are currently stuck in limbo, locked up with their mothers in Iraqi or Syrian prisons, as politicians in their countries of origin debate whether they have an obligation to bring them home.
While grandparents in the Netherlands and Belgium are demanding the return of the kids as their citizens, governments are dragging their feet. The authorities say they may be dangerous and that allowing the children to reunite with their grandparents might encourage their IS parents to return home.
Both the German and the Dutch security agencies have issued warnings concerning the perceived danger posed by these children. The head of Germany's domestic intelligence agency (BfV), Hans-Georg Maassen, told the German press agency DPA that they have been brainwashed and radicalized in IS "schools," and could be very dangerous. The Dutch security agency AIVD warned that minors have been taught "that anyone who doesn't abide by the correct interpretation of Islam must be killed."
Some 5,000 Europeans are thought to have traveled to Syria and Iraq to join IS. How many children are currently affected is not clear, but it's assumed the largest group was born in the IS's self-described caliphate. Boys over nine, the group who received training, are thought to make up only 10 percent of IS children with western ties.
Governments refuse to play ball
Grandparents of children born to European IS women point out that they mostly hold their nationality and should be considered citizens of that state, and not be punished for their parents' decisions. But most countries are refusing to play an active role in securing the return of the children.
The fears concerning the IS children are mainly focused on the boys, the so-called lion cubs of the caliphate whom IS forces trained in special camps to become their future generation of fighters. IS propaganda videos showed them training and executing unbelievers and enemies.
Seven-year-old Ayhem featured in one of those propaganda videos, along with his best friend Yousef. The Yazidi boy was kidnapped by IS in August 2014 and was taken in by Yousef's mother, an American IS woman called Sam, and her Moroccan husband. Oum Yousef, as she was called inside the Caliphate, taught him Arabic and English and he forgot his mother tongue. That's why Ayhem, now liberated and reunited with his uncle Tahsin in Iraqi Kurdistan, refuses to speak anything but English and yearns to go to America.
He obviously misses the American woman who cared from him for three years in Raqqa and made sure he forgot neither his Yazidi mother's names nor his birth place.
When the Syrian Kurds captured Raqqa, Oum Yousef was taken to a prison camp for IS women and children. There, she made sure Ayhem was identified as Yazidi, so he could be reunited with his family.
Indoctrinated by IS
The experience of being kidnapped and the loss of his American mother have left the boy in a state of confusion. Rather than re-learn Kurdish, he wants to go to a place where he can speak English. He seems lonely as a result and still suffers from the nightmares which began with the coalition strikes near his home in Raqqa.
Like all IS children, he was indoctrinated to believe that Islam is the only faith and that unbelievers — first and foremost his own people, the Yazidis — should be killed. But when asked whether he wants that, he shrugs and says: "No, of course not."
His uncle shows compassion for the boy and does not consider him to be a danger in any way. Other Yazidi boys saved from IS captivity had problems adapting and some continued their daily Muslim prayers for quite some time. When foreign journalists encountered a boy who kept repeating IS propaganda, they informed aid workers that he needed help.
One of the organizations offering support and working on a de-radicalization program for the older boys is the SEED Foundation, which is based in Irbil, the capital of Kurdistan. The children they are helping include boys who were in IS training camps. When asked if they pose a danger to society as Western governments seem to believe, Case Management leader Zaid Abdullah says that's not the case. "The most violent case I have seen so far was a boy who punched through windows with his fist." He does not know of a single case of children attacking others or calling them unbelievers.
"The kids we see have already cast off the ideas IS forced on them," Abdulla says, adding that children are like sponges. "They can pick up new ideas and adapt to new situations."
Children need support
Yet the experiences have not left them unscathed. Ayhem's symptoms are familiar to therapists like SEED's clinical psychologist Yusra al-Kailani, who adds flashbacks, anger attacks, bed wetting and challenging behavior to the list. "Every child is different," she stresses.
Therapists say they also need the help of the care-givers — the grandparents, uncles or aunts. "They have to be ready to receive the child and know how to react," says Abdulla. It is important, says al-Kailani, to remove the stigma — the belief that the kids were with IS and are therefore dangerous. Otherwise, they might become isolated and revert to what IS taught them, and that could lead to more extremism and violence in the long term.
Full report at:
http://www.dw.com/en/can-foreign-islamic-state-fighters-kids-return-to-europe/a-43149963
--------
Most French Want Macron Crackdown on Radical Islamists: Polls
March 30, 2018
BY BRIAN LOVE
PARIS (Reuters) - Most French people want Muslims suspected of harboring extremist views detained if they appear on spy agency watchlists and would back a ban on ultra-conservative Salafist Islam, two polls showed after the latest deadly attack in France. Right-wing opponents of Emmanuel Macron have demanded the president get tough on security and suggest there would be widespread public support for steps targeting mosques and imams preaching hate, as well as foreigners deemed a threat.
An Odoxa poll published on Friday showed 87 percent wanted people suspected of religious radicalization to be put in detention, and 88 percent favored banning Salafist Islam.
An Elabe survey showed 80 percent backed the expulsion of radicalized foreigners, while more than half of its respondents said Macron was not doing enough to counter terrorism.
The president wants to redraw the relationship between France's Muslims and the secular French state. He is not the first.
Since the late 1980s, successive Paris governments have tried but failed to nurture a liberal "Islam of France" that would help integrate the faith into a mostly secular society.
The issue is back in focus after a Moroccan-born French national killed four people in southwestern France on March 23, proclaiming allegiance to Islamic State. About 240 people have now been killed in France since early 2015 by militants or inspired by the ultra-hardline Islamic State group.
Salafist Islam, the puritan literalist interpretation of the faith that is the basis for Islamic State's violent ideology, says Muslims must return to the practices of early Islam in the seventh century and shun many aspects of modern Western life.
Opposition politicians including center-right leader Laurent Wauquiez and far-right chief Marine Le Pen have demanded the expulsion of all foreigners on the so-called Fiche S watchlists of the intelligence services. They contain about 20,000 people, of which about 10,000 for reasons of religious radicalization or connections.
Former Socialist Prime Minister Manuel Valls urged the government to consider internment in cases where a real risk of militant activity is perceived.
Valls has also pressed for a ban on Salafism, a step current Prime Minister Edouard Philippe has so far dismissed.
"You cannot ban an idea but you can punish its consequences if they undermine public order, the laws or the republic or the basic rules of society," Philippe told lawmakers this week.
Full report at:
https://www.usnews.com/news/world/articles/2018-03-30/most-french-want-macron-crackdown-on-radical-islamists-polls
--------
India
'Halala Not Islamic, Polygamy Not Compulsion': AIMPLB
Yusra Husain
Mar 30, 2018
LUCKNOW: "There is no such thing as Nikah-e-Halala in Islam and polygamy is a provision in Islamic Shariah, not a compulsion for men to follow," the All India Muslim Personal Law Board (AIMPLB) has clarified.
This comes after the Supreme Court (SC) recently decided to examine the validity of polygamy and certain forms of Nikah followed within the Muslim community. The board has also urged the Central government to present the clarity in the SC on the two subjects in the context of personal law as a right provided to all under the Indian constitution.
AIMPLB general secretary and spokesperson, Maulana Khalid Saifullah Rahmani, while clearing the Islamic stand on the two subjects, also said that board would legally defend personal law in court, as it has been doing in the issue of allowed forms of divorces in Islam. He also said that the writ petitions filed in SC to look at the two subjects are highly misleading intrusions in personal law which is "unacceptable to Muslims".
"Nikah-e-Halala has no existence in Islam, nor does Shariah even mention any form of Nikah done on that concept or in that name," said Maulana Rahmani in a press statement. He also added: "After divorce, Nikah ends and the man and woman become illegitimate for one another. If then the wife marries another man, and under some reasons, the second marriage also gets dissolved, she can remarry the former husband and become legitimate for one another again. All this is co-incidental and cannot be done, nor is done, under any intention, which some sections of media are portraying."
Maulana Rahmani also clarified that it is a misconception that polygamy is a compulsory notion in Islam. "It is only a provision. It so happens that the rate of death in men is more, so to safeguard the woman morally and support her, more than one marriages can be done. But not as compulsion." He said if needed, AIMPLB will do court interventions and defend the issue legally.
https://timesofindia.indiatimes.com/city/lucknow/halala-not-islamic-polygamy-not-compulsion/articleshow/63544549.cms
--------
Extradite Zakir Naik, India tells Malaysia
Neeraj Chauhan
Mar 31, 2018
NEW DELHI: The Indian government has sought extradition of controversial Islamic preacher Zakir Naik, accused of inciting youth to take up jihad, from Malyasia. The external affairs ministry has sent a request for Naik's extradition to the Malaysian authorities after the NIA completed all formalities including collection of evidence, filing of charge-sheet, sources told TOI.
A court in Kuala Lumpur is likely to hear India's request. The development comes at a time when Malaysia, where Naik has taken refuge, has already said it is ready to extradite him. Malaysian deputy PM Ahmad Zahid Hamidi had said in November 2017 that Naik will be extradited if a request is sent by the Indian government under the mutual legal assistance treaty.
In a chargesheet filed on October 26, 2017, NIA had claimed the preacher deliberately insulted religious beliefs of Hindus, Christians and Islamic sects like Shia, Sufi and Barelvi, and his speeches influenced recruits to join Islamic State. A special NIA court has already taken cognizance of the chargesheet, in which Naik has been charged under the stringent Unlawful Activities (Prevention) Act, criminal conspiracy and promoting enmity among different religious groups.
Full report at:
https://timesofindia.indiatimes.com/india/extradite-zakir-naik-india-tells-malaysia/articleshow/63551541.cms
--------
Modi Ji! Is The Muslim Not Indian Citizen? Asks Shahi Imam
March 30, 2018
New Delhi: On the completion of 4 years of BJP led NDA government, Shahi Imam Syed Ahmed Bukhari asked Prime Minister Narendra Modi, is Muslim of India not the citizen of the country? Then why is he oppressed and why sab ka saath sab ka vikas slogan is not put into practice.
Shahi Imam hailed the efforts for grand alliance but categorically said it would be possible only when all parties shun opportunism and come into the field with concrete strategy.
He alleged that when Prime Minister Narendra Modi visits Muslim countries he tries to give the impression that he is Muslim-friendly and sympathizer of Muslims but when he returns to the country he removes his Muslim-friendly mask. He said while Modi tried to create good relations with Afghanistan, Iran, Saudi Arabia, United Arab Emirates, Palestine and Jordon, he didn't try to maintain relations with 25 Cr Muslims of India. As a result Muslim of the country distanced himself from Modi.
Imam Bukhari said PM's sab ka saath sab ka vikas slogan has been proved a hollow claim as he didn't nominate a single Muslim in Rajya Sabha election. Similarly not a single Muslim was given ticket in 2017 UP assembly elections and Gujarat elections. He asked is Muslim not a citizen of India.
Full report at:
https://www.siasat.com/news/modi-ji-muslim-not-indian-citizen-asks-shahi-imam-1335892/
--------
India, Pakistan turn to code of 1992 to put a lid on envoys' harassment
Sachin Parashar
Mar 31, 2018
NEW DELHI: In a significant move to ease tensions, India and Pakistan are looking to put a lid on recent incidents of harassment of diplomats by reiterating a code of conduct arrived at in 1992 to ensure diplomatic staff are not subject to rough treatment that has accelerated a downturn in relations.
The understanding under the code of conduct (CoC) for treatment of diplomatic/consular personnel signed in 1992 after a spate of incidents of harassment indicates that India and Pakistan seem to have decided they should not sink any further in diplomatic quicksand over instances of intimidation.
The two sides have taken steps to minimise such cases in the past 5-6 days and called on each other to abide by the August 1992 CoC in dealing with diplomats in talks held here and in Islamabad. Interestingly, the announcement comes even as Indian high commissioner to Pakistan Ajay Bisaria assured businessmen at the Lahore Chamber of Commerce and Industry that he would try to maximise visas issued for trade.
"Traders on both sides of the Indo-Pak border face visa issues which is among the reasons why the two sides have failed to actualise the potential $30 billion trade mark estimated by the World Bank," Bisaria said. "I will try that maximum number of Indian visas are issued to traders," he said.
In Delhi, the MEA said, "India and Pakistan have mutually agreed to resolve matters related to the treatment of diplomats and diplomatic premises, in line with the 1992 code of conduct."
There have been instances of aggressive tailing of Indian diplomats in Islamabad and Pakistani diplomats have reported similar incidents in Delhi.
Talking about the significance of the CoC, former Indian HC to Pakistan TCA Raghavan said it was signed at a tense period in India-Pakistan relations and was a pragmatic attempt to ring fence diplomats from frequent turbulence in ties. "Though frequently infringed through tit-for-tat responses, it remains a standard to be invoked to reset things at more stable levels," he said.
Both sides agreed there was at least a hint of de-escalation in the past week or so. The last incident of harassment reported by Pakistan was on March 22. India though did issue a note verbale to Pakistan earlier this week and sources here said there were still "minor'' cases of tailing of Indian staff taking place in Islamabad. According to Indian authorities, Pakistan has often claimed harassment of its personnel in India in a bid to establish equivalence.
The two countries have again sought to bring humanitarian issues to the fore with India, as reported by TOI on March 26, seeking visas for a team of doctors that will visit Pakistan soon to examine mentally unsound Indian prisoners.
The CoC clearly lays down that the dignity and personal inviolability of diplomatic/ consular personnel of the Sending State and their families shall be guaranteed and fully respected by the Receiving State.
It also states that intrusive and aggressive surveillance and actions such as verbal and physical harassment, disconnecting of telephone lines, threatening telephone calls, pursuit in cars and unauthorised entry into residences shall not be resorted to.
Full report at:
https://timesofindia.indiatimes.com/world/pakistan/india-pakistan-turn-to-code-of-1992-to-put-a-lid-on-envoys-harassment/articleshow/63551296.cms
--------
Life Limps Back to Normal in Bengal's Raniganj Amid 'Hindu-Muslim Bhai Bhai' Slogans
March 30, 2018
Kolkata: Prohibitory orders remained in force and internet services suspended for the third day on Friday even as life was limping back to normal in Raniganj, the coal-belt extension of Bengal's industrial town Asansol, which witnessed violent communal clashes during the last few days over Ram Navami processions on March 25.
On Friday evening, political leaders across the board, Imams, priests, police officers, and representatives of other religions attended a peace meeting at Niyamatpur in Burdwan district. The meeting ended with a pledge to maintain peace and harmony in the area. It was also decided that stern action would be taken against anyone found spreading communal rumors.
A peace prayer was also conducted for Maulana Imdadul Rashidi's son, 16-year old Sibtulla Rashidi, who was found dead on Wednesday after he went missing following a clash in Asansol's Rail Par area.
Setting an example of communal harmony, Rashidi appealed for peace and asked people not to indulge in violence in the name of religion. "I lost my son and I don't want other parents to lose their loved ones," the Maulana of Noorani Mosque said.
After the prayer meet, those present raised slogans like 'Hindu-Muslim Bhai Bhai….Cholo Egiye Jai' (Hindu-Muslims are brothers….let's bury the hatchet and move forward).
Trinamool Congress leader and Mayor-in-Council (Minority Development), Mir Hashim, said, "I attended the peace meeting and it ended successfully. Whatever happened at Raniganj was unfortunate and we have decided to ignore instigating rumors in future. People across religions were present in the meeting and we all promised each other to live with peace and dignity."
Asked about the scheduled visit of the BJP central team, Hashim said, "It is better they should not visit the area now. We feel that their visit could further flare up the situation. They should act sensibly."
A four-member team of BJP's parliamentary committee, comprising Om Mathur, Syed Shahnawaz Hussain, Roopa Ganguly and BD Ram, will visit Raniganj and submit a report to party president Amit Shah.
BJP leader Pintu Verma, who was also present at the meeting, blamed a section of anti-socials for the clashes. The party's district president Lakhsman Ghorai said, "It was a peaceful procession on Ram Navami. But suddenly a section of Trinamool Congress leaders instigated the crowd which led to the clash. I welcome today's peace meeting and we will try our best to maintain peace."
Shops, markets, banks, ATMs and schools were reopened in the area. Senior police officers led route marches in trouble-torn areas and appealed to the civilians to maintain peace and not pay heed to rumors.
Anuj Sharma, Additional Director General of Police (Law and Order), said, "The situation is peaceful and public life is returning to normal."
On Thursday, an FIR was registered against junior union minister and Asansol MP Babul Supriyo for violating Section 144 in the Asansol-Raniganj area when he tried to force his way into the region and allegedly manhandled a police officer after he was stopped.
Full report at:
https://www.news18.com/news/india/life-limps-back-to-normal-in-bengals-raniganj-amid-hindu-muslim-bhai-bhai-slogans-1703969.html
--------
In spite of Mosul, Punjab workers make beeline for Iraq
March 31, 2018
When Kuldeep Singh was on his way to Baghdad airport from Badra to fly back to India in December last year, his employer gave him an escort of three bulletproof Land Cruisers and nine security guards for the 180 km trip.
As Baghdad neared, the heavy traffic and frenetic activity all around were in stark contrast to July 2016 when Kuldeep (34), from Chaudharpur village in Gurdaspur, Punjab, first landed there to work in an Oil Field Project in Badra as a welder. "There was an uneasy calm when I reached Baghdad in July 2016. The roads were empty. When I returned in December 2017, the roads were full of vehicles and there was so much activity going around," he said.
Kuldeep initially went to Iraq on a one-year work visa to work for Samsung Engineering Company Limited, which he even extended before returning home in December last year.
He is not alone. Kuldeep was only one among scores of men from Punjab for whom the kidnapping of 40 Indians in Mosul in June 2014 was no deterrent. With others, he headed for Iraq despite suspicions at that time that all the Indians, including 27 from Punjab, were murdered by IS militants.
In May 2015, The Indian Express had reported that despite uncertainty over the fate of 39 abducted Indians — Harjit Masih from Kala Afghana village in Gurdaspur had managed to escape — at least 20 men from Punjab who had returned from Iraq went back to the war-torn country for work. This was within a year of the abduction by IS militants.
That pattern continues today and more and more men head to Iraq from Punjab. Some even choose agents to find work in Iraq and reach project sites there through Dubai or Iran.
"The site where we worked was very safe. It had very high walls on all sides. I stayed there for 17 months and 16 days and did not go elsewhere even for a day. Just from the camp to work site and back. The work site was located in an Iraqi-Kurdish region, right at the border with Iran," said Singh.
"The project was nearing completion in a few months time and I decided to come back. Leave of 15 days would have meant an expense of about $1,000 and it was not viable to go back and work for just two months," he said. For this work in Iraq, Kuldeep was paid $3.1 (or Rs 200) per hour.
He had earlier worked as a welder in another Gulf country in 2008 and said at one point at least 150 men from Punjab worked in the Badra project.
Daljit Singh, from Nathpura village also in Gurdaspur district, returned to India this week. Speaking to The Indian Express, Daljit, a trained welder, said he initially went as a painter as there was no requirement for a welder at the time. But he subsequently took up the job of welder after fulfilling all requisite formalities.
As work at the Badra Oil Project comes to a close, there are reports that men are needed for another project in the Karbala region. "In fact, a friend from Punjab recently went back after working in Karbala. I have heard that there is fresh recruitment going on for the project in Karbala," said Daljit. "These places are safe with stringent security measures."
"Even I was asked why I was going to Iraq when the government was yet to trace the 39 abducted Indians. They told me that I may add to the problems of the government which was already making efforts to determine what happened to the 39 abducted Indians," said Kuldeep.
He also said that he had boarded the flight despite the advisory since two of his friends were already working on the project and had assured him that there was no danger. Kuldeep said one of his friends went back to work in the Badra Oil Field Project about five months ago after coming to Punjab for a vacation. Kuldeep said Punjabi men worked as foreman, welder and even in quality control wing in Iraq.
While skilled and experienced men like Kuldeep and Daljit reach Iraq directly, after getting a work visa from the Iraqi consulate, others use "agents" to reach Iraq "via Dubai and Iran".
"In many cases, Indian workers who are already working in Iraq – primarily in construction, steel, fabrication and allied sectors – call people they know back home with the promise of a job. After the work permit is received in India, two common ways of getting to Iraq are via Dubai or Iran," said one worker from Punjab working in Iraq.
"The route through Dubai costs about Rs 40,000 and the one via Iran costs about Rs. 60,000. The cheaper option is preferred by many," said a Delhi-based agent.
"Though going to Iraq from India on a work permit is not barred, given the uncertain situation out there, Indian authorities discourage the youth, albeit unofficially," the agent said. "They get a visa for Dubai first and after staying in Dubai for some time, they show their work permit to the authorities and easily board flight for Iraq."
According to another agent, every month "60-100 youth from Punjab have been going to Iraq even after the Mosul episode because of the good salaries offered. They earn $500 to $1,000 (Rs 65,000) per month depending on the kind of job they get."
Speaking to The Indian Express over the phone, a youth speaking said he had to resort to agents after immigration authorities at the airport in India discouraged him when he secured a work visa the first time. "Then I obtained a tourist visa for Dubai and at Dubai, I showed them the work permit of the Basra-based company and they let me board the flight for Baghdad," he said.
Full report at:
http://indianexpress.com/article/india/in-spite-of-mosul-punjab-workers-make-beeline-for-iraq-5117731/
--------
Pakistan
Unity of Muslim Ummah real objective of MMA: Sirajul Haq
Mar 31, 2018
LAHORE : Ameer Jamaat-e-Islami (JI) Pakistan, Senator Sirajul Haq has said that the real objective of the Muttahida Majlis e Amal (MMA) is the unity of the Muslim Ummah.
Addressing a large Friday congregation at Mansoora mosque, Sirajul Haq said that the anti-Islam forces were ruling the Muslims after dividing the Ummah on numerous grounds. He said the US was striving to enforce educational courses and syllabi of its choice in the Muslim countries in order to bury the Jehadic spirit of the Muslims. He noted that during Pervez Musharraf's rule, several Quranic Surahs were dropped from the syllabi of schools.
The JI chief said that Islamic history was witness that wherever the enemy captured Muslims territories, the first thing they did was to kill the Ulema and to set libraries and books on fire. After the 9/11, he said, the US declared the Muslims as its enemy No. One and got control over their economy and education.
Sirajul Haq said that in 1897, the Zionists had prepared a plan to rule the entire world and they were working on the plan. Unfortunately, he said, instead of countering the enemy plan, the Muslim rulers were busy in pursuing their personal goals. He said the MMA wanted to awaken the nation and to forge unity in its ranks to be able to counter the plans of the Hindus and Zionists under the US patronage. He said the JI would give its line of action to the country's youth at its meeting at Minar e Pakistan on April 08, 2018.
The JI chief said that during the last seventy years, the agents of the colonial powers and the international establishment had looted the nation with both hands but now they were trying to prove themselves innocent. "If the rulers have earned through legal means, why they are trying to hide their sources of earning from the nation, he asked.
He said that the criticism of the judiciary or any attempt to pressurize the courts would not succeed now.
Sirajul Haq reiterated that as long as the agenda of the Prime Minister's call on the Chief Justice was not disclosed, rumours would continue. He said, "the plea of the "Faryadi must be heard, but who would listen to the Faryads of the nation for justice and lawful rights, he asked.
The Ameer JI said that the real force of a Muslim was his faith and the Holy Quran. "We want to associate our youth with the Quran so that they are imbued with the force of faith and become a source of national unity and serve the country and the nation, he said.
He said the enemy wanted to destroy our family system through promotion of immorality and nudity and it was essential to prepare the youth to counter the enemy designs. He said the enemy wanted to obstruct the advance of the Islam through the media. He said the recent march of the westernized women in Islamabad was not something accidental. It was preplanned to achieve the US designs to promote vulgarity and obscenity.
Sirajul Haq said that the globalization was actually Americanization. By patronizing India and Israel, the US was giving a message to the Muslim countries that all of Islam's enemies had united. But unfortunately, he said, the incompetent and selfish leadership of the Muslim world was acting as a tool of the enemy.
https://pakobserver.net/unity-of-muslim-ummah-real-objective-of-mma-sirajul-haq/
--------
Reimagine Pakistan as territorial, not ideological, state: Haqqani unveils new book
MARCH 31, 2018
Princeton: The gap between how Pakistanis want Pakistan to be viewed and how the rest of the world views the country is widening and Pakistan's intelligentsia must seriously consider why the country is deemed dangerous or on the brink of failure by others, according to former Pakistani ambassador to the United States Husain Haqqani.
Haqqani, who is currently Director South and central Asia at the Washington-based think tank Hudson Institute, said it is not enough to reject others' perceptions as unfounded and biased.
He noted that Pakistan has the world's sixth largest population and army but lags behind in most international rankings that measure a nation's success, including education, economic productivity, and opportunities for citizens.
He predicted that unless Pakistan drastically alters course, the country will come under greater pressure from the rest of the world while also having to deal with internal pressures from a growing population divided by sectarianism and ethnicity and without economic prospects for most people.
"It is true that Pakistan's direction can best be changed by Pakistanis," he told an audience at the prestigious Princeton University while introducing his new book 'Reimagining Pakistan – Transforming a dysfunctional nuclear state. "But genuine debate inside Pakistan remains impossible as long as the nation is mired in a national narrative of hyper-nationalism, grievance and conspiracy theories."
Pakistan has the world's highest infant mortality rate according to a recent UNICEF report, Haqqani stated, while lamenting that this troubling news got little attention in the country's vast media. The Pakistani media discusses politics and corruption but ignores human development, he said.
"Pakistanis are told about imaginary American, Israeli or Indian conspiracies and there is an outrage industry that keeps Pakistanis angry about perceived threats to Islam and their homeland," Haqqani said, adding, "The real threats -of inadequate economic performance, low human capital development, poor health and education statistics, and rising extremism -are being ignored."
Haqqani said that Pakistan had developed a national ideology to survive after being carved out of British India but now, seventy years later when more than 94 percent of Pakistan's population has known no other citizenship except Pakistan's, that ideology has become a huge burden.
He listed what he described as "many factual inaccuracies" in accounts of history that are taught to Pakistanis in schools and discussed on mainstream and social media. Haqqani also offered what he described as "practical, step by step remedial measures." "The world sees Pakistan as fragile and that hurts and annoys Pakistanis but they must analyze how the country's embrace of jihadists has influenced the world's view of Pakistan," he stressed. "Pakistan needs a national purpose other than negative sentiments towards India, religious fundamentalism, or the elusive pursuit of Kashmir."
Haqqani recalled that Henry Kissinger had once said that Iran must decide whether it is a country or a cause. "The same applies to Pakistan. After seventy years as a country, which lost half its population and territory when East Pakistan became Bangladesh, it is time to think of Pakistan as a territorial state rather than an all-embracing religious cause."
Explaining the genesis of his new book, Haqqani said that "author Salman Rushdie had once commented that 'if nations are imagined communities, Pakistan is poorly imagined.' I decided that Pakistan would be best helped by trying to imagine a future that is drastically different from the past and the present. I have now published a book comprising 336 pages of research and reflection, with hundreds of footnotes and references.
Full report at:
https://dailytimes.com.pk/221798/reimagine-pakistan-as-territorial-not-ideological-state-haqqani-unveils-new-book/
--------
Karachi's Muslim Sweepers Getting Paid for Jobs They're Not Doing
MARCH 31, 2018
KARACHI: The Supreme Court-appointed judicial commission on water quality and drainage in Sindh on Friday ordered municipal authorities in Karachi to dismiss all Muslim sanitation workers from service after it was told that these employees were receiving salaries but not performing their duties including cleaning of sewers.
During the hearing, Justice (retd) Amir Hani Muslim, who heads the one-member commission, expressed annoyance at the presence of garbage heaps all across the city's central district. When Central District Municipal Corporation (DMC) chairman Rehan Hashmi told him that Muslim workers were not performing duties, he asked him about the exact number of such workers. To this, Hashmi said that at least 200 of the district's 1,200 sweepers were Muslims. The judge directed that any employee not performing his tasks should immediately be fired and be replaced with others who should be made to earn their salaries.
The DMC chairman informed the commission that Muslim workers had been hired in the past but they refused to clean sewers, and was still drawing their salaries.
Similar directives were issued for Korangi district administration and the Sindh Solid Waste Management Board that is responsible for management of solid waste in the remaining jurisdictions across the city, except for the Cantonment Boards. Justice Muslim remarked that municipal matters of the city would suffer if appointments were made on political basis. Hashmi also told the court that his office lacked resources and machinery to rid the city of garbage completely.
In the hearing, Local Government secretary Ramzan Awan informed the commission that as many as 50 per cent of DMC employees were habitually absent from their service. "White-collar sweepers have been hired all over Sindh while political appointments are common in Karachi," he said, adding that around 1,380 DMC workers out of a total of 13,000 were found to be ghost employees.
Before adjourning the hearing until April 5, the commission also ordered the SSWMB and the Cantonment Boards to ensure through their contractors and employees that 'all the solid municipal waste is removed from the city'.
The deputy commissioners were ordered to supervise the removal of waste from their districts. "The heaps of garbage all over in Karachi shall be cleaned," the commission observed. Earlier this month, Chief Justice Mian Saqib Nisar had expressed his displeasure over presence of heaps of garbage littering Karachi's cityscape and ordered the authorities to ensure that all trash is removed within the week. "I want a neat and clean Karachi within a week," CJ Nisar had observed while hearing a petition regarding Sindh's water and sewerage problems at the Supreme Court's Karachi registry.
Full report at:
https://dailytimes.com.pk/221966/karachis-muslim-sweepers-getting-paid-for-jobs-theyre-not-doing/
--------
Pakistan: Terrorists kill 3 police officers in bomb attack
Mar 30, 2018
DERA ISMAIL KHAN: Pakistani police say terrorists that struck a police convoy with a bomb attack have killed three officers in the country's northwest.
Police official Mohammad Khan says Friday's attack was aimed at the newly appointed district police chief, Zahid Ullah, who escaped unhurt.
Mohammad Khurasani, a spokesman for the Pakistani Taliban, claimed responsibility for the attack and warned of more in the future.
Dera Ismail Khan is a central town in the country's northeast and a gateway to the North and South Waziristan tribal regions, which have were a base for local Taliban until recently when the army in series of operations killed or captured militants.
Full report at:
https://timesofindia.indiatimes.com/world/pakistan/pakistan-terrorists-kill-3-police-officers-in-bomb-attack/articleshow/63550611.cms
--------
Int'l Counter Terrorism Forum to start from Tuesday
Mar 31, 2018
Pakistan's first three-day International Counter Terrorism Forum will start from Tuesday.
National Counter Terrorism Authority (NACTA) Coordinator Ihsan Ghani during a news briefing in Islamabad on Friday, said conference was aimed at highlighting Pakistan's endeavours and achievements in countering menace of terrorism and extremism before the international community.
He said the valiant armed forces and nation have rendered unmatched sacrifices in war on terror and registered mega successes against it.
Full report at:
https://www.pakistantoday.com.pk/2018/03/30/intl-counter-terrorism-forum-to-start-from-tuesday/
--------
Letter of credit not sent with legal aid request to UAE, admits JIT chief
Malik Asad
March 31, 2018
ISLAMABAD: Joint Investigation Team chief Wajid Zia during his cross-examination in the Avenfield properties reference against the ousted prime minister Nawaz Sharif and his family members admitted before an accountability court on Friday that the JIT had not sent a letter of credit along with the request for mutual legal assistance (MLA) to the Ministry of Justice, the United Arab Emirates.
Mr Zia, who headed the six-member Panamagate probe team constituted on an order of the Supreme Court last year, tried to justify the content of the JIT report citing that Sharjah and Dubai were both states of the UAE when the counsel for Mr Sharif, Khawja Haris Ahmed, said the JIT had sent a 'flawed' request for MLA to the UAE government regarding transportation of scrap to Jeddah.
According to the JIT report, the Sharif family misstated about the transportation of scrap machinery of erstwhile Gulf Steel to Jeddah, because the Ministry of Justice of the UAE in response to the MLA request stated that no scrap machinery had been transported "from Dubai to Jeddah".
Advocate Haris when asked Mr Zia if the JIT had sent letter of credit (LC) to the UAE's Justice Ministry along with the request for MLA, he replied in the negative. The counsel then read out the LC according to which the machinery was transported from Sharjah to Jeddah and it was not scrapped but was second hand rolling machine in dismantled form. As Mr Zia tried to justify that Sharjah and Dubai were both part of the UAE, the counsel responded that it was not the same thing and insisted that the JIT did not provide proper detail to the UAE authorities.
Mr Zia, who had testified before the court on Thursday that the JIT had taken a decision in principle of not sending a questionnaire to any witness, admitted before the accountability court on Friday that the JIT with a unanimous decision had forwarded a 'questionnaire' to Jeremy Freeman through Quist solicitors seeking his opinion about the veracity of the two trust deeds related to Coomber, Nescol and Nelson Enterprises.
He testified that Jeremy Freeman of Freeman Box law firm of the UK, who had signed the two trust deeds as witness on Feb 4, 2006, had been sent the 'questionnaire' in advance to know about the veracity of the trust deeds.
Gulf Steel Mills
When the counsel for Mr Sharif asked the JIT head if he believed that the Gulf Steel Mills was ever established, Mr Zia said papers indicated that it had been established.
About shares sale agreement of the steel mills between Mr Sharif's cousin, Tariq Shafi, and Mohammad Abdullah Kayed Ahli in 1978; he testified that the JIT did not verify the agreement's authenticity 'assuming' that its content was correct. In response to another question, Mr Zia said the JIT had never contacted Mr Ahli to record his statement on this matter and to verify Mr Shafi's version about cash payment by Mr Ahli for 25 per cent shares of the steel mills.
Another sale agreement of shares between the two persons was witnessed by Mohammad Abdul Wahab Guladari on April 14, 1980, but the JIT did not approach the witness to record his statement, Mr Zia said, adding that the JIT did try to find another witness to the agreement, Mohammad Akram, but couldn't locate him. The JIT head admitted that his team did not contact the UAE foreign affairs ministry and a Pakistani consul, Munawar Hussain Mughal, who had attested the agreement, for verification.
When Advocate Haris pointed out that a total of 33 million dirham was paid against the sale of the Gulf Steel Mills according to an affidavit of Mr Ahli's son Abdur Rehman, the JIT head said there were contradictions in the documents and the JIT never asked Abdur Rehman to record his statement to verify the contents of his affidavit.
Protocol for Wajid Zia
Meanwhile, the security staff inside the courtroom restricted the movement of journalists until the JIT head left. They even did not allow journalists to stand near the witness box where Mr Zia testified, contrary to the routine practice, despite the absence of sound system which made it difficult for them to properly hear the star witness.
A senior female journalist standing a few steps away from the witness box was asked to move to the opposite side, where the former prime minister Nawaz Sharif was sitting with his daughter, Maryam Nawaz.
Also, a guard of Mr Zia forcibly pushed a senior journalist, Saghir Chaudhry, telling him to move to the other corner when he came little closer to the witness box to take notes during the cross-examination.
Full report at:
https://www.dawn.com/news/1398644/letter-of-credit-not-sent-with-legal-aid-request-to-uae-admits-jit-chief
--------
CTD foil major terror bid in Lahore
MARCH 30, 2018
LAHORE: The Counter-Terrorism Department (CTD) on Friday arrested six terrorists including a potential suicide bomber from Lahore's Gajju Mata area.
According to source, the CTD conducted combined operations with intelligence agencies and arrested 6 terrorists, including a potential suicide bomber, from a seminary in Gajju Matta.
The arrested were identified as Islamul Haq, Jahangir Shah, Imran, Waqarul Ameen, Aleem and Luqman.
CTD sources said that the terrorists had planned to carry out attacks during the Pakistan Super League (PSL) fixtures in Lahore, but could not execute their plans due to stern security measures.
Full report at:
All six arrested have been transferred to an unknown location for further investigation.
https://dailytimes.com.pk/221655/ctd-foil-major-terror-bid-in-lahore/
--------
North America
Trump Orders State Dept. to Suspend Funds for Syria Recovery
By ERIC SCHMITT, HELENE COOPER and ALISSA J. RUBIN
MARCH 30, 2018
WASHINGTON — President Trump, having this week signaled a possible withdrawal of American troops from Syria, has ordered the State Department to suspend more than $200 million in funds for recovery efforts there while the administration reassesses its role in the conflict, administration officials said Friday.
The freeze on stabilization and humanitarian aid came as two members of the United States-led coalition fighting in Syria were killed — one American soldier and one British — and five others were wounded by a bomb in a late-night attack, the military said on Friday.
The attack took place near Manbij in northern Syria, and is believed to have been carried out by remnants of the Islamic State fighting force, a senior American military official said.
A statement posted by the United States Central Command, which directs American forces in the region, said "an improvised explosive device" detonated about 11 p.m. local time on Thursday.
The statement did not reveal the identities of the service members involved, how seriously the survivors were hurt or where in Syria the attack occurred. The American-led coalition includes about 30 countries, but only a few have forces on the ground.
"The names of the deceased will be released at the discretion of the pertinent national authorities," the statement said. "Details pertaining to the incident are being withheld pending further investigation."
A statement released on Friday by the Ministry of Defense in London confirmed that the second soldier killed in the blast was British, and that the mission was to counter fighters with the Islamic State.
Coalition forces have been deployed to Syria to fight, alongside Kurdish militia allies, against the Islamic State. But with that group largely routed, the seven-year civil war in Syria has entered a dangerous new phase.
Two American allies, Turkey and the Kurds, who control parts of northern Syria, are fighting each other. And the Kurds and coalition forces are engaged in a tense standoff with the Syrian government, along with its allies — Russia, Iran and Iranian-backed militias.
On Thursday, President Trump suggested that the United States could pull its approximately 2,000 troops out of Syria "very soon." The comments surprised Defense Department officials who have maintained that some kind of American presence in parts of Syria may be necessary to avoid recreating the conditions that led to the rise of the Islamic State — and also to avoid ceding influence in the country to Russia.
"Very soon, we're coming out," Mr. Trump said during a rally in Ohio. "We're going to have 100 percent of the caliphate, as they call it — sometimes referred to as 'land' — taking it all back quickly, quickly."
The suspension of funds for recovery efforts in Syria comes as the administration reassesses its role in the conflict there, a State Department official said on Friday. The freeze on funding was first reported by The Wall Street Journal.
"There will be meetings on this next week," said the official, who spoke on the condition of anonymity because a policy review was continuing. "Obviously, we, State, hope that this decision is reversed."
A National Security Council official explained the White House's position: "In line with the president's guidance, the Department of State continually re-evaluates appropriate assistance levels and how best they might be utilized, which they do on an ongoing basis."
Secretary of State Rex W. Tillerson had committed the aid in February in Kuwait at a meeting of countries who have joined together to defeat the Islamic State.
Pentagon officials in the past few months have said repeatedly that a complete withdrawal of American troops could leave a void. On Tuesday, Defense Secretary Jim Mattis said that while American forces were no longer in "an offensive effort on the ground," they continued to play a role. "We continue the operations in Syria," he said.
It was unclear how the death of the American service member in the newest attack would influence Mr. Trump's thinking on a possible American withdrawal. Beyond that, the Islamic State remains in the eastern half of Syria, and Defense Department officials caution that suggestions the group has been completely routed understates the Islamic State presence in Syria.
As if to demonstrate the complexity of the situation in Syria, President Emmanuel Macron of France sought on Thursday to position his country as a bridge between the Kurdish fighters and Turkey by serving as a mediator in talks — an effort that was rejected by President Recep Tayyip Erdogan of Turkey.
Mr. Macron told a delegation of that included a number of Syrian Kurds that France "honored the sacrifices and the determining role" played by Kurdish fighters in the battle against the Islamic State, which has largely been driven out of Syria, and he expressed concern about Afrin, the northern enclave where Turkey recently pushed out the Kurds.
He stopped short, however, at least in his public statements, from offering to back the Kurds militarily. It was a similar balancing act as the one taken in February by Foreign Minister Jean-Yves Le Drian, who when asked about Turkey's incursion in northern Syria said that France had already warned that it was "not acceptable to add war to war" in Syria.
Mr. Erdogan ridiculed his French counterpart on Friday, saying that he met with Mr. Macron last week and that the French leader was saying "weird things" that required Mr. Erdogan to say, "tough."
"We don't need a negotiator," Mr. Erdogan said. "Since when has Turkey had an issue of sitting down at a table with terror groups? Where did you get this? You can sit down with terror groups, but Turkey fights against terror as it did in Afrin. You keep going on like this. Who do you think you are that you can utter the word negotiating between Turkey and terror groups?"
Eric Schmitt and Helene Cooper reported from Washington and Alissa J. Rubin from Paris. Richard Pérez-Peña and Michael Wolgelenter contributed reporting from London.
https://www.nytimes.com/2018/03/30/world/middleeast/syria-us-coalition-deaths.html?mtrref=www.google.co.in&gwh=2AA27F9AF9200042E08D58F876875E97&gwt=pay
--------
Quebec mosque shooter's guilty plea gives Muslims chance to 'slowly heal'
30 March 2018
MONTREAL, Canada – Muslim communities in Canada have welcomed a guilty plea filed earlier this week by a Canadian man who shot and killed six worshippers at a mosque in Quebec City last year.
"Our communities were just relieved in knowing that we wouldn't have to have this long, drawn-out trial," said Leila Nasr of the National Council of Canadian Muslims (NCCM), a Muslim advocacy group.
"Ultimately that spares them from having to relieve the pain and the anguish of the attack all over again."
But a day after Alexandre Bissonnette pleaded guilty in court in front of the families of his victims, Nasr told Middle East Eye that more still needs to be done in Canada to address the deeper issue behind the tragedy.
"It's only by beginning to call these acts and these underlying sentiments by name that we can hope to seriously combat Islamophobia," Nasr said.
Six counts of murder
Bissonnette, 28, pleaded guilty to six counts of first-degree murder and six counts of attempted murder in a Quebec court on Wednesday.
He admitted to opening fire on Muslim worshippers at the Islamic Cultural Centre in Quebec City on 29 January 2017.
He killed six men who were praying at the mosque on the night of the attack: Aboubaker Thabti, Abdelkrim Hassane, Khaled Belkacemi, Mamadou Tanou Barry, Ibrahima Barry and Azzedine Soufiane.
Five others were critically injured amid a total of 19 people hurt in the shooting, one of the deadliest instances of gun violence in recent Canadian history.
Bissonnette admitting his guilt is "a step" on the road to healing, Boufeldja Benamdallah, the co-founder and head of the mosque, told Radio-Canada earlier this week.
Benamdallah said he trusted the judge to do his work, but the sentence handed down to Bissonnette must "be at the level of the wrong that he committed" and act as a deterrent to others.
Amir Belkacemi, the son of one of the victims, also told reporters he was relieved the case will not head to trial.
"It's a good thing for us, it's a good thing for everyone in the community," said Belkacemi, as reported by the Canadian Press.
"No one really wants to live those traumatic days again, and today what happened in the courtroom kind of puts it to an end."
'Neither a terrorist, nor an Islamophobe'
Bissonnette told a judge on Monday that he wanted to reverse an earlier not-guilty plea.
But the court proceedings were put under a publication ban until early Wednesday, after the judge ordered him to undergo a psychological assessment.
In a statement he read to the court after his guilty plea was accepted, Bissonnette said he was "neither a terrorist, nor an Islamophobe", despite what has been said about him, Canadian media reported.
"Rather, I am someone who was overcome by fear, by negative thoughts and a sort of horrible kind of despair," he said.
Bissonnette was never charged with terrorism or terrorism-related offences, despite the proclamations of Canadian politicians after the attack.
Hassan Guillet, an imam in Saint-Jean-sur-Richelieu, a town about 40km from Montreal, told Middle East Eye that Bissonnette's actions clearly show that Islamophobia played a role in the attack.
"We know what type of tree it is by seeing its fruit," Guillet said, by way of analogy.
"If you see apples on the branches, you're going to say it's an apple tree. If you see pears, you're going to say it's a pear tree.
"But you, Alexandre Bissonnette, you entered a mosque, shooting at people that you didn't know, simply because they were Muslims? One plus one equals two; you are Islamophobic."
Despite Bissonnette's attempt to disavow the label, Guillet said the discourse in Quebec around issues of Islamophobia has changed for the better since the attack.
"We recognise the existence of the malaise," he said, "which is an enormous step in the right direction."
Beginning to heal
Shaheen Ashraf, a Montreal-based member of the Canadian Council of Muslim Women, said Bissonnette's crimes were no doubt fuelled by Islamophobia, "but he is young and he was radicalised".
She felt Bissonnette "did the right thing" by pleading guilty, and said she hoped this week's events would help Muslims in Quebec begin to heal.
"I feel that since he has accepted his crime, it's time to heal and move on. Because those people, those six people that died, are not coming back," she said.
She added that she expects Muslim communities in Canada to "show some compassion" to Bissonnette despite what he did.
Indeed, Guillet, the imam, said "the first victim[s] of violence and hatred are those who pull the trigger" and Bissonnette and his parents are also victims.
But several questions remain about why Bissonnette carried out the attack, Guillet said, and the path that led him here must be understood "to make sure there aren't any other young people who fall into the same trap that he fell into himself".
Still, "whatever Alexandre Bissonnettee does, or what he says about it, it doesn't bring an orphan his father back, or a widow her husband," Guillet said.
Full report at:
http://www.middleeasteye.net/news/quebec-mosque-shooter-guilty-plea-gives-muslims-chance-slowly-heal-islamophobia-1053803689
--------
Quebec man paralyzed in 2017 mosque shooting to receive $400,000 for new home
March 30, 2018
MONTREAL—A man who lost the use of his legs in last year's Quebec City mosque shooting is set to receive the $400,000 that was raised to buy him a wheelchair-accessible home.
The Muslim-Canadian non-profit DawaNet says it will deliver the funds to Aymen Derbali on Saturday.
Derbali, a father of three, was paralyzed from the waist down when a shooter opened fire in the mosque on Jan. 29, 2017, killing six.
DawaNet says it received donations from more than 4,800 donors in 40 countries after it launched an online fundraiser in December.
Derbali is currently living in a rehabilitation centre but has said he hopes to move out by this summer.
Full report at:
https://www.thestar.com/news/canada/2018/03/30/quebec-man-paralyzed-in-2017-mosque-shooting-to-receive-400000-for-new-home.html
--------
South Asia
UN in talks with Bangladesh about stalled Rohingya deal
Mar 31, 2018
Tens of thousands of Rohingya refugees who fled to camps in Bangladesh from Myanmar must be relocated to avoid floods and other dangers from the monsoon, U.N. Secretary-General Antonio Guterres said Thursday.
About 150,000 Rohingya are living in flood-prone areas in the crowded camps of Cox's Bazar and could be exposed to health risks such as cholera during the rainy season, expected to start in June, according to the U.N."The monsoon is the biggest concern," Guterres told reporters at U.N. headquarters in New York, adding that the Rohingya were "extremely vulnerable to the monsoon," according to Agence France-Presse (AFP).Guterres said he had discussed the relocation with Bangladesh's government and stressed, "Higher ground is the best place for this kind of relocation." The government in Dhaka is continuing talks with U.N. agencies on where to move the Rohingyas, he said. There have been reports that authorities had proposed moving them to a remote island. Myanmar and Bangladesh were supposed to start repatriating Rohingya refugees in late January, but many are reluctant to return to a place without guarantees of basic rights and safety.
The U.N. has described the systematic violence by Myanmar against Rohingya Muslims in Rakhine state as possible genocide and ethnic cleansing but has stopped short of outright accusing the army of war crimes.Myanmar's de-facto leader Aung San Suu Kyi, a Nobel peace prize laureate, has lost her democratic credentials on the world stage for failing to speak out in favor of the Rohingya.The U.N. Security Council is hoping to travel to Myanmar to get a first-hand look at the refugee crisis, but has not yet been given the green light for the trip by Myanmar authorities.For months, Guterres has been weighing the appointment of a special envoy for Myanmar that would keep the plight of the Rohingya in the international spotlight.
An estimated 700,000 Rohingya have fled over the border to Bangladesh since an army crackdown was launched in Rakhine in August. Myanmar blames Rohingya militants for an Aug. 25 strike on security posts in Rakhine state that triggered a fierce army crackdown.
At least 9,000 Rohingya were killed in Rakhine state from Aug. 25 to Sept. 24, according to Doctors without Borders. In a report last December, the global humanitarian group said the deaths of 71.7 percent, or 6,700 Rohingya, were caused by violence. The death toll includes 730 children below the age of 5.
The stateless Rohingya have been the target of communal violence and vicious anti-Muslim sentiment in mainly Buddhist Myanmar for years. Myanmar has denied citizenship to Rohingya since 1982 and excludes them from the 135 ethnic groups it officially recognizes, which effectively renders them stateless. The Rohingya trace their presence in Rakhine back centuries. But most people in majority-Buddhist Myanmar consider them to be unwanted Muslim immigrants from Bangladesh.
https://www.dailysabah.com/asia/2018/03/31/un-in-talks-with-bangladesh-about-stalled-rohingya-deal
--------
Myanmar's new president vows to amend army drafted charter
March 31, 2018
Myanmar's new president promised to amend the country's army-written constitution in an inaugural speech yesterday, challenging a charter that bans Aung San Suu Kyi from top office and gives the military major powers.
Win Myint, a 66-year-old former political prisoner and staunch ally of Suu Kyi, was elected president on Wednesday after his predecessor suddenly resigned.
Suu Kyi, the Nobel laureate who championed Myanmar's emergence from junta rule by sweeping 2015 elections, is constitutionally barred from the presidency because she was married to a foreigner.
To circumvent that snag, her party created a new position for her called state counsellor -- allowing Suu Kyi to rule "above" the president.
That makes it vital for her to have a reliable proxy in office, especially as she manages the delicate power-sharing arrangement with the military, which ruled the country for almost half a century and remains enormously influential.
In his first address to parliament, the famously straight-talking Win Myint said he would focus on the rule of law, national reconciliation and "amending the constitution to build a democratic federal union".
The three issues are touchstones of Suu Kyi's National League for Democracy (NLD) party.
But talk of amendments to Myanmar's 2008 constitution is likely to rise heckles among Myanmar's still-powerful generals.
The army has ceded some power to the civilian administration, but retains 25 percent of parliamentary seats and total control of security affairs under the charter.
Win Myint also said he would work to "protect human rights", a thorny subject in a country accused of ethnic cleansing by the UN against its Rohingya Muslim population.
A violent military crackdown has forced some 700,000 Rohingya -- a long-persecuted stateless minority -- over the border into Bangladesh since August.
The army insists the campaign was a legitimate response to Rohingya militant attacks against border-guard police posts.
Win Myint is part of Suu Kyi's inner circle -- the pair campaigned together during the 1988 democracy protests against the then-junta, a movement that was violently suppressed.
For his role Win Myint, alongside many others, was taken political prisoner.
Full report at:
http://www.thedailystar.net/frontpage/myanmars-new-president-vows-amend-army-drafted-charter-1555951
--------
Afghan officials: Daesh has no strong roots in Afghanistan; can't pose threat
SAYED SALAHUDDIN
30 March 2018
KABUL: Afghan officials on Friday rejected regional concerns that Daesh has a strong presence in Afghanistan, adding the network could in no way be a threat to the country and the region.
The emergence of Daesh in late 2014 in Afghanistan, despite the large and long presence of US-led troops fighting Taliban militants in the country raised speculations among some of its neighbors, particularly Russia, who accused Washington on many occasions of using Daesh as a tool to export militancy led by the group onto their soil.
On Thursday, Zamir Kabulov, the Russian special presidential representative for Afghanistan and director of the Russian Foreign Ministry's Second Asia Department, said that there were at least 7,000 active Daesh militants in Afghanistan.
Recalling figures given by President Ashraf Ghani in a conference in Tashkent about Afghanistan this week, Afghan officials speaking to Arab News said the total number of Daesh sympathizers and foreign combatants were fewer than 2,000.
"They operate in small groups in some districts of only three provinces, such as Nangarhar, Kunar and Jowjzan. We are pursuing them wherever they go," said Gen. Mohammad Radmenesh, acting head of the Defense Ministry's Public Affairs Department.
He said between 3,000 and 4,000 fighters of the group had been killed in offensives conducted by Afghan and US-led troops in the past few years.
"They are not in a position to cause a threat to Afghanistan and the region. Countries in the region have the right to express their fears (about Daesh), but we know for sure that the group is not as active and strong as it is rumored to be," he said.
President Ashraf Ghani's chief spokesman, Shah Hussain Murtazawi, told Arab News that the majority of Daesh elements in Afghanistan are Pakistani nationals, but he admitted among them the presence of some fighters from Central Asia and militants from other parts of the world.
Formerly the other foreign fighters fought alongside the Taliban, but deserted the movement and joined Daesh when the latter first emerged in the Middle East.
Radmenesh said Arab fighters were also among Daesh, adding some may have recently travelled to Afghanistan via Pakistan after the nearly total defeat of the network in Syria and Iraq.
"But we totally reject reports that they have been transported by planes from the Middle East to Afghanistan."
The security source said some members of factions in the north had also joined Daesh for the sake of monetary concessions and due to factional rivalries.
"The number (of Daesh fighters in Afghanistan) that the Russians give is not correct. Some have magnified Daesh's presence and are supporting the Taliban. That is a mistake because wherever the Taliban are, Daesh resurfaces too," Murtazawi said.
Waheed Mozhdah, an analyst who has been following the insurgency in Afghanistan for decades, also said the size, presence, and threat from Daesh was overestimated.
He said it was difficult to provide arms and food for small groups of Afghan warriors during the Soviet occupation of Afghanistan in the 1980s despite the flow of vast resources and cash then, and that it is far more difficult to do so now since many people are impoverished and hate Daesh.
"I think it is impossible to feed, provide arms, and move thousands of fighers around in Afghanistan given the current situation here," he told Arab News.
"The Russians portray the presence of Daesh as a threat here because it wants the further failure of America in Afghanistan; they say that America not only has not been able to defeat the Taliban, but that because of its presence, Daesh has become a risk for us and for Central Asia."
Full report at:
http://www.arabnews.com/node/1276401/world
--------
Amal Clooney to represent Reuters reporters held in Myanmar
March 30, 2018
A court in Yangon has been holding preliminary hearings since January to decide whether Wa Lone, 31, and Kyaw Soe Oo, 28, will be charged under the colonial-era Officials Secrets Act
Prominent human rights lawyer Amal Clooney has joined the legal team representing two Reuters reporters jailed in Myanmar, who are accused of possessing secret government papers.
The announcement was made in a press release by the lawyer's office said on Thursday.
A court in Yangon has been holding preliminary hearings since January to decide whether Wa Lone, 31, and Kyaw Soe Oo, 28, will be charged under the colonial-era Officials Secrets Act, which carries a maximum penalty of 14 years in prison.
The journalists had been working on a Reuters investigation into the killing of 10 Rohingya Muslim men in western Myanmar's Rakhine state during an army crackdown that began in August, which has sent nearly 700,000 people fleeing to Bangladesh.
Lawyers for the two reporters on Wednesday asked the court to throw out the case, saying there was insufficient evidence to support charges against the pair.
"Wa Lone and Kyaw Soe Oo are being prosecuted simply because they reported the news. I have reviewed the case file and it is clear beyond doubt that the two journalists are innocent and should be released immediately," Amal Clooney was quoted as saying in the statement.
"The outcome of this case will tell us a lot about Myanmar's commitment to the rule of law and freedom of speech," said Amal Clooney, who is married to actor George Clooney.
Zaw Htay, spokesman for Myanmar's civilian government, declined to comment.
Myanmar government officials have previously denied the arrests represent an attack on press freedom, which rights advocates say is under growing threat in the Southeast Asian country.
Myanmar's ambassador to the United Nations, Hau Do Suan, said last month that the Reuters journalists were not arrested for reporting a story, but were accused of "illegally possessing confidential government documents."
Gail Gove, chief counsel of Reuters, said retaining Amal Clooney would strengthen the company's international legal expertise and broaden efforts to secure the release of the reporters.
Wa Lone and Kyaw Soe Oo have been in custody since their arrest on December 12.
The pair have told relatives they were arrested almost immediately after being handed some rolled up papers at a restaurant in northern Yangon by two policemen they had not met before, having been invited to meet the officers for dinner.
Full report at:
https://www.dhakatribune.com/world/south-asia/2018/03/30/amal-clooney-represent-reuters-reporters-held-myanmar/
--------
Chhatra League attack spoils Ayman Sadiq's event, 20 hurt
March 30, 2018
The Rajshahi city chapter of Bangladesh Chhatra Maitree condemned the attack and demanded punitive measures be taken against those involved.
At least 20 people were injured on Friday in a brawl between Bangladesh Chhatra League (BCL) activists and students of New Government Degree College in Rahjshahi.
Among the injured were a teacher of the college and a female student of the Rajshahi University of Science and Technology.
The brawl reportedly broke out as Ayman Sadiq, the founder and chief executive officer of Youtube channel "10 Minute School", was addressing a prize-giving ceremony for the college's annual debate competition.
He had also organized a workshop at the college attended by around 4,000 students from different educational institutions in the district.
According to eyewitnesses, some 20 to 25 activists of the college unit of BCL, the student wing of Awami League, began chanting slogans demanding punishment of Abu Sayeed, a philosophy teacher at the college who they alleged routed the Chhatra League men out of the program venue.
At one point of the program, the Chhatra League activists – led allegedly by the unit's general secretary, Baitul Hossain Tarun – resorted to attacking the program's participants.
They also vandalized furniture, flowerpots and rubbish bins in a corridor in front of the principal's office, and tore down two banners with photos of Bangabandhu Sheikh Mujibur Rahman.
Afterwards, the agitated Chhatra League men started searching for Ayman, who had taken shelter in Principal Jarjis Kadir's office to escape the brawl. Witnesses said Kadir tried his utmost to dissuade the attackers, but they did not heed his calls.
They also threatened to carry out further vandalism unless Sayeed was not brought to book within their stipulated time.
After bringing the situation under control, police rescued Ayman – who along with another Bangladeshi youth, recently made this year's Forbes 30 under 30 list for Asia – and escorted him to Rajshahi University.
The BCL unit's president, Mainul Islam Bappi, said some "overzealous activists of the organization" were involved in the incident, for which he held Sayeed responsible.
Officer-in-Charge of Rajpara police station, Hafizur Rahman, said he would look into the incident upon receipt of a complaint from the college authorities.
Full report at:
http://www.dhakatribune.com/bangladesh/nation/2018/03/30/chhatra-league-ttack-ayman-sadiq/
--------
Taliban sought money not weapons from Russia, claims Kabulov
Mar 31 2018
The Russian Special Envoy for Afghanistan Zamir Kabulov has rejected the allegations that Moscow was arming the Taliban group as he admitted contacts with the group was solely aimed at ensuring security of the Russian citizens and encouraging the group to participate in peace talks.
Speaking to reporters in Moscow, Kabulov said the Taliban group has sought financial support from Russia and not weapons but Kabulov said Moscow has rejected the demands of the Taliban.
"They [Taliban] say they wouldn't mind if we gave them weapons, but they don't need weapons. They say 'give us money, we're buying weapons from the stocks of the Afghan army and police'," Kabulov was quoted as saying by The Associated Press news agency.
Kabul further added "They laughed at the rumours that they receive ammunition from Pakistan. It was in the Soviet times – as they say – the Mujahideen was delivered weapons, and now they buy everything they need in Afghanistan."
In the meantime, Kabulov said Washington is attempting to blame Moscow for its failures in Afghanistan by making such claims and allegations.
Full report at:
https://www.khaama.com/taliban-sought-money-not-weapons-from-russia-claims-kabulov-04756/
--------
Provincial Council member killed in Kunar suicide attack
Mar 30 2018
A provincial council member was killed in a suicide attack in eastern Kunar province of Afghanistan, the local government official said.
The incident took place at around 1:30 pm local time in the vicinity of Watapur district, the officials added.
The provincial governor's spokesman Abdul Ghani Musamim confirmed the incident and said at least two people were killed and another one was wounded in the attack.
He said the provincial council member of Kunar Shahwali Hemat was killed along with a religious scholar and a security guard of Mr. Hemat was wounded.
No individual or group including the Taliban insurgents has so far claimed responsibility behind the incident.
Kunar is among the relatively volatile province in East of Afghanistan which borders the tribal regions of Pakistan along the Durand Line.
The province is home to several militant and terrorist groups including Taliban, Al-Qaeda, and the loyalists of the Islamic State of Iraq and Syria (ISIS) terrorist group.
Today's incident takes place amid ongoing operations to eliminate the militants and terrorists from the province.
Full report at:
https://www.khaama.com/provincial-council-member-killed-in-kunar-suicide-attack-04754/
--------
US airstrike kills 6 IS terrorists in Afghanistan
March 30, 2018
As many as six Islamic State (IS) militants were killed in a US drone strike in Kunar province in northeastern Afghanistan, local officials said on Friday.
The officials said that the latest airstrike was carried out in Chapa Dara district in the province.
The spokesperson of Kunar provincial governor Faridullah Dehqan, was quoted by the Khaama Press as saying that two top IS commanders were among those killed in the airstrike.
He said that the airstrike was necessitated to clear out the terror hideouts of the dreaded militant group in Kunar province.
The IS group has not commented on the incident so far.
This comes as at least five militants affiliated with the terror group were killed in a similar airstrike conducted in the same district last week.
The US forces, along with the Afghan forces frequently carries out airstrikes on IS targets in Kunar province and elsewhere in Afghanistan, in a bid to eliminate the presence of the militant group in the country.
Full report at:
http://www.business-standard.com/article/news-ani/us-airstrike-kills-6-is-terrorists-in-afghanistan-118033000452_1.html
--------
Arab World
Mohammed bin Salman: 'The Muslim Brotherhood' is an incubator for terrorists
30 March 2018
Saudi Crown Prince Mohammed bin Salman said that the Muslim Brotherhood group is an incubator for terrorists.
Speaking to The Wall Street Journal, on the sidelines of his visit to the United States, the Saudi Crown Prince addressed several topics, including the Iranian threat to the region, the war in Yemen and the recent reform steps in Saudi Arabia.
"We must get rid of extremism," said Prince Mohammed bin Salman. "When extremism seizes to exist, there wouldn't be a single terrorist," he added.
As for the recent social reforms in Saudi Arabia, including allowing women to drive and opening cinemas, the Crown Prince said that the Saudi people cannot live in a "non-competitive" environment.
"The atmosphere in Saudi Arabia had pushed Saudis to leave the kingdom, and this is one of the reasons for which we launched social reforms," added the Crown Prince.
https://english.alarabiya.net/en/News/gulf/2018/03/30/Mohammed-bin-Salman-The-Muslim-Brotherhood-is-an-incubator-for-terrorists.html
--------
Syrian Army Neutralizes Dozens of Suicide Bombers in Eastern Ghouta
Mar 30, 2018
A military source told SANA news agency they had detained 30 men and six women carrying explosive belts.
The source said they planned to target the buses and shelters of the militants and their families in false flag operations to blame the government for the attacks.
On Thursday, Russian Defense Minister Sergei Shoigu said that the Russian servicemen prevented suicide bombings on buses carrying refugees from Damascus suburb of Eastern Ghouta. In total 48 explosive belts were defused.
"Every day we receive information from (Syrian) citizens. Four days ago we received reports about the provocations being prepared by suicide bombers wearing explosive belts, who were supposed to be placed in buses with refugees," Shoigu said at a meeting with the UN Special Envoy for Syria Staffan de Mistura in Moscow.
The Russian military managed to seize seven explosive belts on Monday, 32 — on Tuesday, and nine on Wednesday, the minister added.
Full report at:
http://en.farsnews.com/newstext.aspx?nn=13970110000207
--------
The Latest: Blast in Syria Kills Member of UK Armed Forces
Mar 31, 2018
BEIRUT (AP) — THE Latest on developments in Syria (all times local):
7:55 p.m.
A member of the British armed forces has been killed in a bomb blast in Syria during an operation against the Islamic State group.
A U.K. defense ministry spokesman said Friday that an improvised explosive device in Syria killed the service member who was embedded with U.S. forces on Thursday.
No details on the casualty's service branch, unit or gender were immediately provided.
The spokesman said "the family has been notified and our thoughts are with them at this difficult time."
___
4 p.m.
A U.S. defense official says one of the two troops with the U.S.-led coalition who were killed in a roadside bomb attack in Syria was an American.
The official, who spoke on condition of anonymity because details had not yet been publicly released, did not give the nationality of the second military member.
Earlier on Friday, the U.S. military said two coalition personnel were killed and five others wounded by a roadside bomb in Syria without specifying where exactly the attack occurred.
The U.S. official said no additional information about the American would be immediately available.
___
12:50 p.m.
A Syrian rebel group based near the capital Damascus is denying reports that an agreement has been reached with the Russians to evacuate the area and move somewhere else.
Army of Islam military spokesman Hamza Bayraqdar tells The Associated Press that the reports are false, adding that his group's stance is to reject displacement and demographic change in the area known as eastern Ghouta.
Earlier on Friday, Col. Gen. Sergei Rudskoi of the Russian military's General Staff said in a briefing that the agreement was that the rebels and their families leave the Syrian town of Douma in eastern Ghouta.
The announcement came after the Syrian government on Wednesday issued a three-day ultimatum to the Army of Islam group to leave Douma or face an all-out offensive.
___
12:30 p.m.
The Russian military says a deal has been reached for the largest rebel group in the enclave of eastern Ghouta to leave the area.
Col. Gen. Sergei Rudskoi of the Russian military's General Staff told Friday's briefing that the agreement envisages that the rebels and their families leave the Syrian town of Douma, just outside of Damascus.
The announcement came after the Syrian government on Wednesday issued a three-day ultimatum to the Army of Islam group to leave Douma or face an all-out offensive.
The Syrian government and the Russian military backing it have demanded that Army of Islam members leave the area for northern Syria, following other rebels who left eastern Ghouta.
Rudskoi said over 143,000 people, including 13,793 and 23,544 members of their families have left eastern Ghouta.
___
11:55 a.m.
Turkish President Recep Tayyip Erdogan has responded angrily at France for suggesting that it could help establish a dialogue between Turkey and a Syrian group that is dominated by Kurdish fighters that Ankara considers to be terrorists.
Erdogan on Friday accused French President Emmanuel Macron of overstepping "his limits" and going "over his head," adding that Turkey would never negotiate with "terrorists."
He was speaking after Macron met with members of the Syrian Democratic Forces, pledged French support to the group, and suggested that Turkey could establish dialogue with the group with Paris' help.
In his address in Ankara, the Turkish leader also said he held a telephone conversation with Macron last week during which the French leader made "bizarre" comments that forced Erdogan to raise his voice and respond with a "high frequency."
___
11:15 a.m.
The U.S. military says two coalition personnel have been killed and five were wounded by an improvised explosive device in Syria.
A U.S. military statement says the incident occurred on Thursday night and that the wounded personnel were being evacuated for further medical treatment.
Friday's statement did not say where the explosion occurred and did not state the casualties are Americans.
A Syrian official had told The Associated Press earlier that a roadside bomb exploded in the mixed Arab-Kurdish town of Manbij. Mohammed Abu Adel, the head of the Manbij Military Council, an Arab-Kurdish US.-backed group in the town, says the bomb went off hundreds of meters away from a security headquarters that houses the council just before midnight on Thursday.
The coalition statement said details pertaining to the incident are being withheld pending further investigation.
___
8:35 a.m.
A Syrian official says a roadside bomb has gone off in a tense, mixed Arab-Kurdish town not far from the border with Turkey.
Mohammed Abu Adel, the head of the Manbij Military Council, an Arab-Kurdish US.-backed group in the town, says the bomb went off hundreds of meters away from a security headquarters that houses the council just before midnight on Thursday.
A U.S. military official said on Friday an incident involving coalition forces was reported in Manbij but said no more information was available.
Col. Ryan Dillon said the coalition was still gathering information about the incident.
Full report at:
https://www.usnews.com/news/world/articles/2018-03-30/the-latest-us-military-2-troops-killed-5-wounded-in-syria
--------
Syria bomb kills 2 coalition troops from US and UK
March 31, 2018
Kobani(Syria), Mar 30 (AP) A roadside bomb in northern Syria killed two coalition personnel, an American and a Briton, and wounded five others in a rare attack since the US-led coalition sent troops into the war-torn country, the US and British militaries and a US defense official said today.
The military did not say where the attack took place or give the nationalities of the other casualties but it came hours after a local Syrian official said that a roadside bomb exploded in the tense, mixed Arab-Kurdish town of Manbij that is not far from the border with Turkey.
Manbij is under threat of a Turkish military operation.
Ankara says Syrian Kurdish militiamen it views as "terrorists" and an extension of Kurdish insurgents inside Turkey are in control of the town.
The US military statement said the attack happened last night and that the wounded were being evacuated for further medical treatment. The statement said details were being withheld pending further investigation.
A Department of Defense official in Washington said one of the two killed was an American service member and the other was of another nationality.
No other information about the deceased American was immediately available. The official spoke on condition of anonymity because details had not yet been publicly released.
A UK defense ministry spokesman said the British armed forces member was killed during an operation against the Islamic State group.
The spokesman added that an improvised explosive device killed the service member who was embedded with US forces yesterday.
No details on the casualty's service branch, unit or gender were immediately provided.
The US military member killed was the fourth American who has died in Syria since the US began attacking Islamic State militants there in September 2014, according to the Pentagon's Defense Casualty Analysis System.
Of the three previous deaths, Air Force Staff Sgt. Austin Bieren was specifically labeled by the Pentagon as a non-combat death. Another, Navy Senior Chief Petty Officer Scott C Dayton, was killed by an improved explosive device. The third, Army Spc. Etienne J. Murphy, died in a vehicle rollover.
Earlier today, US military spokesman Col Ryan Dillon couldn't immediately say who was behind the attack.
"There is an investigation under way to identify who they could possibly be. We have our initial assessment and thoughts on that but we won't provide until the investigation is complete," he said.
Dillon declined to give the nationalities of the dead and wounded as well as the location of the attack until next of kin notification.
Dillon said the coalition has had fatalities in Syria before. "Perhaps by different means but there have been coalition deaths in Syria over the course of three years." Mohammed Abu Adel, head of the Manbij Military Council, an Arab-Kurdish group in the town backed by the US, said the bomb went off hundreds of metres from a security headquarters that houses the council just before midnight yesterday.
Earlier today, Dillon said an incident involving coalition forces was reported in Manbij but said no more information was available.
The town has seen a number of small explosions, protests and an assassination attempt on a member of the Manbij military council in recent weeks. Local officials blame Turkey and other adversaries for seeking to sow chaos in the town that was controlled by Islamic State group militants until the summer of 2016.
The military council has since been in control and US troops patrol the town and area with troops based nearby.
Meanwhile, near the capital Damascus, there were conflicting reports on whether a main rebel group will evacuate the largest and last rebel-held town in the area, known as eastern Ghouta.
Col Gen Sergei Rudskoi of the Russian military's General Staff said at a Friday briefing that the agreement envisages Army of Islam rebels and their families leaving the Syrian town of Douma, just outside of Damascus.
The announcement came after the Syrian government on Wednesday issued a three-day ultimatum to the Army of Islam group to leave Douma or face an all-out offensive.
Syrian state TV said an agreement is about to be reached for an Army of Islam evacuation but the group denied the reports.
Army of Islam military spokesman Hamza Bayraqdar told The Associated Press that the reports are false, adding that his group's stance is to reject displacement and demographic change in eastern Ghouta.
The Syrian government and the Russian military backing it have demanded that Army of Islam members leave the area for northern Syria, following other rebels who left eastern Ghouta.
The Syrian Arab Red Crescent said Friday one of its convoys entered three towns in eastern Ghouta bringing badly needed food supplies to residents after opposition fighters left the area.
SARC said it entered the towns of Saqba, Kafr Batna and Ein Tarma in eastern Ghouta with mobile water tank, mobile clinic and relief aid convoy of 16 trucks loaded with 8,500 bread bags, 5,000 food parcels, water bottles and nutrition items. It said the supplies were provided by International Committee of the Red Cross and the World Food Program.
Full report at:
http://www.india.com/news/agencies/syria-bomb-kills-2-coalition-troops-from-us-and-uk-2973118/
--------
Blast Kills, Injures Several Members of US-Led Coalition in Syria
Mar 30, 2018
"Two Coalition personnel were killed and five were wounded by an improvised explosive device in Syria at approximately 9 p.m. GMT March 29. Wounded personnel received immediate care and are being evacuated for further medical treatment. The names of the deceased will be released at the discretion of the pertinent national authorities. Details pertaining to the incident are being withheld pending further investigation," the coalition said in a statement.
On Thursday, the US-led coalition admitted to killing at least 855 civilians in airstrikes in Iraq and Syria in the past four years.
"To date, based on information available, CJTF-OIR assesses at least 855 civilians have been unintentionally killed by coalition strikes since the start of Operation Inherent Resolve," the US Central Command said in its monthly civilian casualty report.
The coalition conducted a total of 29,225 strikes between August 2014 and the end of February 2018, and during this period the total number of reports of possible civilian casualties was 2,135.
Full report at:
http://en.farsnews.com/newstext.aspx?nn=13970110000469
--------
Syria: Over 143,000 People Exit Eastern Ghouta via Safe Corridors
Mar 30, 2018
The source said that the army has opened 4 safe corridors in Jisreen, Hammouriyeh, al-Wafedeen Camp and Harasta to secure the exit of civilians besieged by the terrorist groups in the Eastern Ghouta area.
The sources further said that another corridor was opened in Arbin on Saturday to evacuate terrorists and their families from Ein Terma, Zmelka, Arbin and Jobar and transport them to Idlib province.
Six groups of militants and their families have already left for Idlib.
A sum of 128 buses carrying 7,003 people, including 1,243 terrorists from Jobar, Zmelka, Arbin and Ein Terma in Eastern Ghouta, headed for Idlib under the supervision of the Syrian Arab Red Crescent (SARC).
The source went on to say that over 143,000 people left Eastern Ghouta for safe regions that are under the army's control via safe corridors till Thursday night.
Military sources reported on Thursday that militants of Jeish Al-Islam and the Syrian government were close to concluding an agreement on the town of Douma.
The sources said that Damascus and Jeish al-Islam worked out a major part of the deal, however, there were small issues that need to be agreed upon.
The sources added that the deal could be sealed within the next 48 hours, as long as Jeish al-Islam continues to comply with the demands of the Syrian government and the Russian Reconciliation Center.
Full report at:
http://en.farsnews.com/newstext.aspx?nn=13970110000402
--------
Two US-led coalition personnel killed in Syria
30 March 2018
Two members of the US-led coalition against the ISIS group were killed in the northern Syrian city of Manbij, the US military and a monitor said on Friday.
The attack in Manbij, a city where US personnel is stationed, was carried out late Thursday, the day US President Donald Trump said he would pull out forces "very soon".
"Two Coalition personnel were killed and five were wounded by an improvised explosive device in Syria" at around midnight (2100 GMT), the US-led coalition said in a statement.
It did not provide the nationalities of the pair nor did any group immediately claim responsibility for the attack.
The US-led coalition said it was withholding details on the circumstances of the attack pending further investigation.
The Syrian Observatory for Human Rights, a Britain-based monitor which relies on a nationwide network of sources on the ground, said the attack hit a convoy in Manbij.
The monitor said four members of the local council were also wounded in the explosion, which struck in the heart of the city.
Manbij used to be a key hub for the militants when their self-styled "caliphate" was at its peak. It was retaken by Kurdish-led forces backed by the coalition.
It is located between the northern city of Aleppo and the western bank of the Euphrates, less than 30 kilometers (south of the border with Turkey.
Manbij lies where several international influence zones meet and risks becoming a new flashpoint in the post-IS scramble for Syria.
Full report at:
https://english.alarabiya.net/en/News/middle-east/2018/03/30/Two-US-led-coalition-personnel-killed-in-Syria-.html
--------
Council of Iranian Democrats condemns Houthi attacks on Saudi Arabia
30 March 2018
A coalition of various Iranian political groups called the Iranian Democrats Council condemned the Houthi militia's ballistic missiles attack targeting major cities in Saudi Arabia, including Riyadh.
The council said that this is a blatant act to destabilize the region, and held authorities in Tehran accountable for it.
The council, which includes several Iranian opposition parties, released a statement saying that, "the Iranian regime supplying the Houthis with ballistic missiles raises tensions and destabilizes the security of the region."
"For years, the Islamic republic's government in Iran has blamed others with conspiring to wage war against them, while at the same time being directly involved with provoking wars in the region through various agents in Syria, Iraq, Lebanon and Yemen," the statement added.
The council said that the Iranian government's support of the Houthi militia by providing them with weaponry to attack other nations opposes the benefit of the Iranian people. They stressed that the militia should not be solely to blame for the attacks, as Iran has been their main supporter and supplier of weapons.
The Iranian Democrats Council, which is the umbrella coalition of the Iranian opposition that includes organizations and parties from different regions inside and outside Iran, called on all concerned countries top "take caution" from Iran's pro-war policies.
Full report at:
https://english.alarabiya.net/en/News/gulf/2018/03/30/Council-of-Iranian-Democrats-condemns-Houthi-attacks-on-Saudi-Arabia.html
--------
Saudi crown prince wants US military to maintain presence in Syria
Mar 31, 2018
Saudi Crown Prince Mohammed bin Salman says he wants the US military to extend its presence in Syria, despite American President Donald Trump's declaration that US forces will withdraw from the war-torn Arab country in the near future.
"We believe American troops should stay for at least the mid-term, if not the long-term," bin Salman said in a wide-ranging interview with the Time on Thursday, a few hours after Trump told a cheering crowd in Richfield, Ohio, that the American troops would soon be pulled out from Syria.
The US and its allies have been bombarding what they call positions held by the Daesh Takfiri terrorist group inside Syria since September 2014 without any authorization from the Damascus government or a UN mandate.
The military alliance has repeatedly been accused of targeting and killing civilians. It has also been largely incapable of fulfilling its declared aim of destroying Daesh.
"We're coming out of Syria very soon. Let the other people take care of it (Daesh) now, very soon. Very soon, we're coming out."
The US currently has some 2,000 ground troops inside Syria in a declared aim of crushing the terror group, which is no longer in control of any urban center and is considered to be totally defeated in the Arab country.
Washington also maintains a military base in Syria's eastern Dayr al-Zawr province, serving as a checkpoint through which it coordinates with anti-Damascus militia to launch purported attacks against the remaining Daesh terrorists holed up in a series of localities along the Euphrates River and a stretch of desert straddling the Iraq-Syria border.
"If you take those troops out from east Syria, you will lose that checkpoint," bin Salman further said in the interview, which was published on Friday, adding, "And this corridor could create a lot of things in the region."
The Syrian government and Russia, which has been engaged in an anti-terror campaign in the Arab country since September 2015 upon an official request from Damascus, have time and again called on the US to pull out its troops from the Arab country as Daesh is no longer considered a significant threat.
Syria has repeatedly blamed Riyadh of supporting anti-Damascus militants and of destabilizing the Arab country.
Full report at:
http://www.presstv.com/Detail/2018/03/31/556957/Saudi-Arabia-Syria-bin-Salman-US-Daesh-military
--------
At volatile Syrian front line, US, Turkey on opposing sides
31 March 2018
HALAWANJI, Syria: Perched on a green hilltop, Kurdish and Arab fighters face a tense front line separating them from Turkish-backed forces in this part of northern Syria. Behind them, American troops drive up and down the roads. Their aim: Make their presence known to prevent bursts of gunfire from spiraling into a battle.
Down the hill and across a stream are the rival forces: Syrian opposition fighters. They have taken positions on a crossroads in the village of Halawanji and on rooftops with views up to the hill. Beyond them, on another hill, Turkish troops have a base, ready to back up their allies if needed.
This front line threatens to ignite at any time, with the militaries of two NATO members on opposing sides. The crowded terrain has become more combustible as Turkey ever more loudly threatens to push through these lines to attack the nearby Kurdish-Arab town of Manbij and other Kurdish-run towns further east. The presence of the Americans is a main obstacle preventing them from doing so.
Further hiking tensions, a roadside bomb in Manbij late Thursday killed two coalition personnel, an American and a Briton. Kurdish officials accuse Turkey and its allies of carrying out acts of violence in the town to sow instability, including several recent smaller bombings, protests and an attempted assassination attempt on a Kurdish official — although there is also the possibility Daesh group militants are behind the violence.
Manbij is highly strategic: the main town on westernmost edge of the stretch of Syrian territory held by the US-backed Syrian Kurds, running along the border with Turkey. Mixed Kurdish-Arab Syrian forces liberated Manbij from the rule of the Daesh group in 2016 with help from the US-led coalition. But Kurdish control of the town infuriated Turkey, which views the main US Kurdish ally, the YPG militia, as "terrorists" linked to Kurdish insurgents on its own soil.
US troops first deployed in the area about 16 months ago, after Turkish-backed Syrian forces advanced on areas near Manbij, in a race for control of territories as IS militants collapsed. The deployment prevented repeated clashes between the two rival forces.
The U.S-backed Syrian fighters at Halwanji say their Turkish-backed rivals downhill increasingly open fire on them, trying to provoke a fight and create a pretext for an incursion. One commander said it happens as often as three times a week. Another said the "provocations" increased after Turkish troops and their allies successfully captured another town further west, Afrin, from the YPG. The commanders say their forces do not respond to the fire.
On Thursday, one commander, Abu Ali Nejm, said US troops have increased their presence "in a noticeable way" in the area in recent days to prevent an eruption of violence, following the capture of Afrin, Turkey's threats and a recent build-up of Turkish troops and their allies.
"They have become part of the front line to reassure the people in Manbij and the military forces and to raise morale," said Abu Ali, who uses his nom de guerre and is a leading member of the Manbij Military Council, the joint Kurdish-Arab body leading the US-allied forces here.
US Col. Ryan Dillon, of the U.S-led coalition, said there were no new US bases in the area. "Our patrols move around. They are not static," he said. "The purpose of our forces is to prevent the reemergence of (IS militants)" and prevent "any type of incursion from any other group in the area."
Turkey and the United States have held talks aimed at defusing the standoff, with a round set for Friday in Washington. But a solution remains unclear: Turkey says the YPG power across northern Syria is a threat, and President Recep Tayyip Erdogan has vowed to roll back the Kurdish fighters, starting from Manbij all the way to the Iraqi border. On Friday, Erdogan angrily lashed out at French President Emmanuel Macron for meeting with Kurdish officials and offering to mediate. Erdogan said he would not negotiate with "terrorists" and brusquely said Macron was "over his head."
Meanwhile, at Halwanji, Abu Ali said the Turkish-backed fighters fired on his forces Thursday, using heavy machine guns and small arms. His troops did not respond, in accordance with orders, and instead reported the incident to US troops nearby, he said.
"We inform, and they come to the front and see for themselves. They have their own contacts or coordination with the Turkish forces, something they don't have to tell us about," he said, adding that when the rival side sees the Americans they don't fire.
Full report at:
http://www.arabnews.com/node/1276621/middle-east
--------
URL: https://www.newageislam.com/islamic-world-news/8-iranian-sufis-hunger-strike/d/114782
New Age Islam, Islam Online, Islamic Website, African Muslim News, Arab World News, South Asia News, Indian Muslim News, World Muslim News, Women in Islam, Islamic Feminism, Arab Women, Women In Arab, Islamophobia in America, Muslim Women in West, Islam Women and Feminism