New Age Islam News Bureau
20 Oct 2018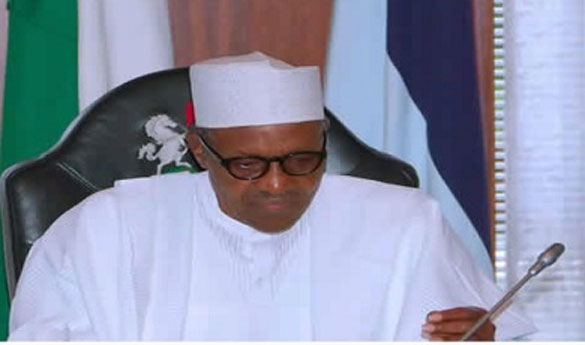 Photo: Muhammadu Buhari, President of Nigeria. Twitter image
------
• We'll destroy Boko Haram, Buhari boasts
• ISIS 'releases six' of 27 Druze hostages in exchange for prisoner swap, ransom
• Aligarh Muslim University (AMU) Celebrates Sir Syed Day
South Asia
• 70,000 Afghan forces assigned to ensure security of parliamentary elections
• Polling in Kandahar pushed back by a week after attack
• Afghans set to vote despite Taliban threats, corruption
• Brazen Taliban attack threatens Afghan peace talks, stability
• Fire in refugee camp kills 6 Rohingya in Myanmar
• Bangladesh hunts suspected militants after deadly police raids
• Atrocities on Rohingya: UNSC to meet on Myanmar inquiry report on Oct 24
• Afghan, Pakistani foreign ministers discuss deadly Kandahar attack
--------
Africa
• We'll destroy Boko Haram, Buhari boasts
• Kenya Defence Forces fighter jets have bombed Somalia southern region
• Boko Haram does not represent Islam, NSCIA insists
--------
Arab World
• ISIS 'releases six' of 27 Druze hostages in exchange for prisoner swap, ransom
• Fahad al-Thani: Qatar relies on Qaradawi, Brotherhood to instigate crisis
• Two weeks after his disappearance, Saudi Arabia admits Khashoggi was killed inside Istanbul consulate
• Imam-e-Ka'aba slams 'fabrications'
• Saudi joint forces successfully shoot down Houthi spy plane
• Canada working to resettle group of White Helmets evacuated from Syria
• Saudi Arabia admits Khashoggi murdered in Turkey, sacks bin Salman's top aide
• More than 30 civilians killed in new US-led strikes on Dayr al-Zawr
• Daesh still present in Raqqah a year after US campaign
--------
India
• Aligarh Muslim University (AMU) Celebrates Sir Syed Day
• At Asia-Europe meet, Naidu pushes for global pact against terrorism
• Jammu & Kashmir: 5 militants killed in 24 hours in Valley
• UP's effigy-maker Muslim family setting example of communal harmony in Punjab since 1997
• Rajasthan Muslim Forum demands more seats
--------
Pakistan
• Amid outrage over journalist's killing, Pakistani clerics express solidarity with Saudis
• Kabul pushes Afghan Taliban for peace talks
• Politicians have done more for country than military: Nehal
• Investigators find held 'IS men' sent funds to Afghanistan
• 'No U-turn, Mr Prime Minister!' Afghan immigrants demand PM Khan to fulfil citizenship promise
• FATF wants Pakistan to impose financial sanctions on designated terrorists
--------
Southeast Asia
• Wan Azizah's Brussels visit boosts Malaysia-EU ties
• See you in court, Perkasa says, if Batu Kawan MP not probed for sedition
• Master Chinese language without sidelining BM, Anwar advises
• Free Speech and Democracy Under Threat in Indonesia
• Police foil JAD plot to attack Buddhist temples in Tanjung Balai
--------
Mideast
• Israeli rights group criticises 'oppression' of Palestinians
• Khashoggi the pawn in a Mideast showdown over the Sunni Muslim world
• 130 Palestinians, including 25 children, injured by Israel amid Amnesty condemnation
• Thousands protest on Gaza-Israel border
• US envoy to UN condemns Iran's use of child soldiers
• Turkey to host four-nation summit on Syria crisis
• Palestinian-American student wins appeal to enter Israel
• Yemen's Vice President: Iran sponsors terrorism project in region
• Israeli rights group roasts Tel Aviv at UN, hails Palestinians are 'heroes'
• Erdogan to host Putin, Macron, Merkel to discuss Syria
• Yemeni army recover large cache of Houthi militia armament
--------
North America
• Trump on Khashoggi death: Saudi arrests is a 'good first step'
• White House: US 'saddened' by confirmed Khashoggi death
• US needs Saudi as counterbalance to Iran: Trump
--------
Europe
• Islamic preacher who encouraged support for ISIS released from UK prison
• West complicit in Saudi crimes, outrage just for show: Analyst
• Why Is Anjem Choudary Google's Top Result For 'Muslim Spokesman'?
Compiled by New Age Islam News Bureau
URL: https://www.newageislam.com/islamic-world-news/70000-afghan-forces-assigned-ensure/d/116677
--------
70,000 Afghan forces assigned to ensure security of parliamentary elections
Oct 20 2018
The Afghan security and defense officials are saying that 70 thousand security and defense forces have been assigned to ensure security of the parliamentary elections.
Najib Danesh, Spokesperson of MoI said that 4900 polling centers with more than 20,000 polling stations in 32 provinces of the country is open now with the exception of Kandahar and Ghazni, and 70,000 Afghan forces are assigned to ensure the security of Elections.
Meanwhile, Ministry of Defense spokesperson Said Ghafoor Ahmad Jawid assured security of elections and said the sensitive material of the election was handed over across the country.
This morning the President of the Islamic Republic of Afghanistan casted his vote and started this national process.
In provinces, the governors and deputy governors have visited the polling centers in the early hours of the morning and have called on voters to cast their votes, according to Government Media and Information Center.
Said Shah Saqim, IDLG spokesman said that currently voting is ongoing in 32 provinces of the country, and no problems have been reported yet.
The spokespersons from the Ministry of Women's Affairs and Ministry of Education also called on citizens, especially women, to use their voting rights at the polls.
Elections in Kandahar province have been delayed for a week, and soon the election date will be announced in Ghazni province.
https://www.khaama.com/70000-afghan-forces-assigned-to-ensure-security-of-parliamentary-elections-06191/
--------
We'll destroy Boko Haram, Buhari boasts
October 19, 2018
President Muhammadu Buhari has boasted that his administration will destroy members of the Boko Haram sect.
He said it was wrong for any individual or group to be killing innocent people and destroying properties under the guise of doing it for God.
Buhari spoke while hosting some entertainers of the Northern Nigerian extraction, Kannywood, to a dinner at the Presidential Villa, Abuja on Thursday evening.
The President who spoke in the Hausa language said the Federal Government would not allow any group hiding under religion to unleash terror on innocent citizens.
He said those who are killing in the name of God were either ignorant or they don't believe in God.
He said, "It is totally wrong for any believer in God to kill innocent people either in the mosque, church or the marketplace.
"You cannot be shouting Allahu Akbar (Allah is Great), Allahu Akbar, and be killing innocent citizens and destroying properties all in the name of God.
"It is either you don't know what you are saying or you don't even believe in the existence of God Almighty.
"God has nothing to do with injustice.
"So, now we are confronting them and by the grace of God we will destroy them."
https://punchng.com/well-destroy-boko-haram-buhari-boasts/
--------
ISIS 'releases six' of 27 Druze hostages in exchange for prisoner swap, ransom
20 October 2018
ISIS has released six of 27 Druze hostages it seized during a deadly July attack in Syria's Sweida province in exchange for a prisoner swap and ransom, a monitor said Saturday.
"Two women and four children from the province of Sweida were released last night," Rami Abdel Rahman, director of the Syrian Observatory for Human Rights, a monitor group, told AFP.
He added that the releases were the "first wave" and part of an agreement sealed with the Syrian government to exchange all the hostages for "60 ISIS prisoners held by the regime and a ransom of $27 million."
ISIS abducted around 30 people -- mostly women and children -- from Sweida in late July during the deadliest attack on Syria's Druze community of the seven-year civil war.
During the coordinated assaults on July 25, ISIS waged a series of suicide bombings, shootings and stabbings that left more than 250 people dead across the southwestern province, most of them civilians.
Sweida province is the heartland of the country's Druze minority, which made up around three percent of Syria's pre-war population -- or around 700,000 people.
ISIS executed a 19-year-old male student among the captives in August and then a 25-year-old female captive in early October. The group said a 65-year-old female captive also died from illness.
Families of those kidnapped held protests to demand action by the Syrian government to free them.
Negotiations between the government's Russian ally and the jihadists for the release of the captives had stalled.
Government forces have battled ISIS in the volcanic plateau of Tulul al-Safa in the east of the province since the July attack.
https://english.alarabiya.net/en/News/middle-east/2018/10/20/ISIS-releases-six-of-27-Druze-hostages-in-exchange-for-prisoner-swap-ransom.html
--------
Aligarh Muslim University (AMU) Celebrates Sir Syed Day
October 19, 2018
ALIGARH: Aligarh Muslim University (AMU) celebrated Sir Syed Day, the birth anniversary of its founder, Sir Syed Ahmad Khan on October 17. Former Chief Election Commissioner of India, Dr S Y Quraishi on Wednesday delivered the commemoration address as the chief guest on the 201st birth anniversary of Sir Syed Ahmad Khan at the University's Athletics Ground. "Sir Syed initiated English education and scientific temper among Indians, which made us world citizens. Sir Syed's message was not anti-Islam and among his admires were equal number of non-Muslims and Muslims," said Dr S Y Quraishi.
Speaking on the importance of Sir Syed, he said that "no doubt, Sir Syed had achieved an impossible goal in a short span of time and besides education, Sir Syed's ideals in other fields also hold significant position. Sir Syed undertook rational social reforms and was die-hard secularist not only in letters but in spirit".
In the welcome address, AMU Vice Chancellor, Prof Tariq Mansoor said that Sir Syed changed the destiny of the nation by devoting his entire life for education, plurality and secularism through his versatile writing and farsightedness.
Prof Mansoor pointed out that the supreme interest of Sir Syed's life was education in its widest sense as he wanted to create a scientific temperament among the common Indians.
"There are positive changes and developments in AMU with active cooperation of all concerned," said the Vice Chancellor adding that Times Higher Education has ranked AMU as the fifth best Indian University, while National Institute Ranking Framework (NIRF) has ranked AMU as the 10th best Indian university.
"AMU is also among five central universities, who have been granted graded autonomy," pointed out Prof Mansoor.
"AMU has started new courses such as Masters in Architecture, B Voc (Hons) and M Voc. We are in the process of starting a MBA course in Hospital Management," he said adding that the University has also increased courses running through the distance learning mode which includes a Bachelor in Computer Sciences.
https://www.ndtv.com/education/aligarh-muslim-university-amu-celebrates-sir-syed-day-1934607
--------
South Asia
Polling in Kandahar pushed back by a week after attack
October 20, 2018
KABUL: Afghanistan postponed legislative elections in Kandahar province on Friday, after a Taliban-claimed attack on a US-Afghan security meeting killed a powerful police chief and threatened stability across the south.
Saturday's parliamentary ballot would be delayed by one week, a spokesman for President Ashraf Ghani said in a statement, following an extraordinary meeting of the National Security Council.
The Independent Election Commission would announce the new date, he added.
Preparations for the vote in Kandahar, the Taliban's birthplace, were thrown into turmoil on Thursday when a gunman wearing a security forces uniform opened fire on a gathering of US and Afghan officials.
General Scott Miller, the top US and Nato commander in Afghanistan, escaped unhurt, but Kandahar police chief General Abdul Raziq was killed along with the head of the provincial intelligence unit and an Afghan journalist. Raziq was laid to rest with military honours.
Another 13 people were wounded in the assault inside the heavily fortified provincial governor's compound, including the governor and two Americans. The shooter was killed.
The interior ministry said on Friday that three suspects have been detained over the incident, which the Taliban said had targeted Miller and Raziq.
US officials have dismissed the claim that Miller was a target.
Miller made a public appearance in Kabul on Friday, visiting an Afghan security checkpoint where he described the attack as a "tragic event".
"My assessment is that I was not the target. It was a very close confined space. But I don't assess that I was a target," Miller told Afghan broadcaster Tolo News.
Voter turnout for the election — which is more than three years late already — was expected to be far lower than the 8.9 million people officially registered, following the Taliban's pledge to attack the ballot.
Raziq's death is likely to deter even more voters from showing up at the more than 5,000 polling centres around the country, which Afghanistan's overstretched security forces have been tasked with protecting.
More than 2,500 candidates are competing for 249 seats in the lower house, which is responsible for making laws and supervising the government.
Hundreds of people have been killed or wounded in poll-related violence so far. At least 10 candidates have been killed.
Despite the threat of violence, the United Nations Assistance Mission in Afghanistan on Friday urged eligible voters to "exercise their constitutional right to vote".
The poll is seen as a crucial test for next year's presidential election and an important milestone ahead of a UN meeting in Geneva in November where Afghanistan is under pressure to show progress on "democratic processes".
https://www.dawn.com/news/1440160/polling-in-kandahar-pushed-back-by-a-week-after-attack
--------
Afghans set to vote despite Taliban threats, corruption
OCTOBER 20, 2018
Most Afghans will return to the polls for parliamentary elections on Saturday, hoping to bring change to a corrupt government that has lost nearly half the country to the Taliban.
Voters in Kandahar, however, will have to wait a week after the province's police chief was assassinated, resulting in the vote there being postponed.
In the eight years since Afghanistan last held parliamentary elections, a resurgent Taliban have carried out near-daily attacks on security forces, seizing large swathes of the countryside and threatening major cities. An even more radical Islamic State affiliate has launched a wave of bombings targeting the country's Shiite minority, killing hundreds. Both groups have threatened to attack anyone taking part in the vote.
In areas where the government still provides relative security, Afghans face a different array of challenges. Widespread corruption forces people to pay bribes for shabby public services, and increasingly influential ultraconservative clerics blame the country's many ills on years of Western influence, threatening to roll back the limited gains made by women and civil society since the 2001 US-led invasion.
Many of those Afghans brave enough to defy the death threats hope to vote in a new generation of younger and better-educated leaders. But they fear that former warlords and the corrupt political elite will cling to power by lavishing entertainment and cash handouts on impoverished voters.
"I am still not hopeful it will be fair," said Saeed Matin, a fruit seller in a mostly Shiite neighborhood of Kabul who was bundled up against the chilly autumn evening. He waved off the threats from the Taliban and said he hoped for new leadership, pointing to campaign posters showing younger candidates.
"They are young and educated and I wish they could do something, but 100 percent I am worried the warlords and the corrupt people will not give them a chance," he said. "These corrupt people are paying 3,000 Afghanis (nearly $50) for each vote. They are not interested in the country, only in what they can put in their pocket."
Afghanistan is ranked among the most corrupt countries in the world by Transparency International, which last year called efforts by President Ashraf Ghani's government to stem runaway corruption "insufficient." Poor governance has also confounded Washington's efforts to find a peaceful exit from the 17-year war – the longest in American history – which has cost the United States more than 2,400 lives and over $900 billion.
The Taliban point to the government's dysfunction as proof of its illegitimacy, and have rejected international demands to hold peace talks with the authorities in Kabul, who they view as Western puppets. They say they will only negotiate directly with the United States, which they view as an occupying power. Religious conservatives, even those who have not taken up arms, are increasingly echoing the Taliban's rhetoric, saying years of Western influence have eroded the country's values – a mix of Islamic teachings and tribal traditions – causing a breakdown of society.
Abdul Wadood Pedram, who heads the Human Rights and Eradication of Violence Organization, said religious clerics use their weekly sermons in mosques throughout the capital to rail against Western influence.
"Our society is growing very radical, day by day, because the government has no control of the mosques and the madrassas (religious schools)," he said. He said clerics routinely inveigh against women's participation in the workforce – a rare bright spot in Afghanistan's recent history – as well as independent media and human rights activists.
Despite the widespread pessimism, analysts and activists say the elections – which were delayed for three years because of insecurity – send an important message to the Taliban that no matter how unpopular the current government is, the political system is here to stay.
"It is very important to indicate to the Taliban that the government is functioning, the institutions in Afghanistan are functioning and that the political process … is also functioning," said Kabul-based analyst Haroun Mir. "It will be a clear message to the insurgents and to the Taliban that they have to deal with the political process that is accepted by the majority of the Afghan people."
In the heavily fortified offices of the Independent Election Commission, Wasima Badghisy is working on final preparations for the vote.
Full report at:
https://dailytimes.com.pk/312300/afghans-set-to-vote-despite-taliban-threats-corruption/
--------
Brazen Taliban attack threatens Afghan peace talks, stability
October 20, 2018
A Taliban attack on top US and Afghan security chiefs inside a highly secure compound inAfghanistan is a major coup for the insurgents that threatens to torpedo peace talks and destabilise the country's south, analysts say.
A gunman wearing an Afghan security forces uniform opened fire on a group including General Scott Miller - the top US and NATO commander in Afghanistan - and powerful Afghan police chief General Abdul Raziq on Thursday as they ended a meeting in the southern city of Kandahar. Within seconds Raziq, an anti-Taliban strongman and key US ally who was credited with keeping a lid on the insurgency in the south, was dead along with Kandahar's provincial intelligence chief and an Afghan journalist.
Miller escaped unhurt in the bold attack the militants said had targeted the US general and Raziq, whom they had previously accused of killing thousands of Taliban detainees and had attempted to assassinate dozens of times.
The interior ministry said Friday three suspects have been detained over the shooting, which also wounded 13. That the Taliban could mount a deadly insider assault on top US and Afghan security chiefs in such a secure location has rattled a country long used to high-profile targeted killings and violence. It signalled the Taliban could "strike whenever and wherever it wants" and would embolden the insurgents, said Michael Kugelman of the Wilson Center. "This attack is a huge blow to stability," he added.
Increased attacks
The Taliban, which controls or contests swathes of the war-torn country, has made significant territorial gains and threatened provincial capitals in recent months as it steps up attacks.
The increased aggression had been seen as an attempt by the Taliban to strengthen its negotiating position in talks with the United States to end the 17-year war.
Taliban representatives have met with US officials at least twice in Qatar in recent months, most recently on October 12 with newly appointed US envoy Zalmay Khalilzad, raising hopes for peace. But analysts said the latest attack may have jeopardised those tentative efforts.
"There will be questions asked whether the Taliban are really serious about peace talks," said Rahimullah Yusufzai, an expert on the group.
Afghanistan Analysts Network said the Taliban's claim that the shooter, who officials said was a member of the wounded provincial governor's security team, had targeted Miller - something the United States disputes - would complicate the US position. "It is difficult to imagine how the US government will be able to defend holding talks with an organisation that claims it attempted to kill the US supreme commander in Afghanistan," AAN said in a report.
'Expect a meltdown'
Raziq, whose power extended beyond Kandahar to neighbouring provinces in southern Afghanistan, was either "respected or feared" by Afghans, said military analyst Atiqullah Amarkhail. His death would be demoralising for beleaguered security forces and leave a dangerous power vacuum that would be difficult to fill. "It will be hard for the government to find someone who could replace him as a powerful force against the Taliban," Amarkhail said.
Yusufzai said killing Raziq was "one of the Taliban's biggest achievements in this war". "Expect a meltdown in Kandahar," a foreign diplomat told AFP. "He was the one guaranteeing security in Kandahar." But US Defence Secretary Jim Mattis said Friday that Raziq's death would not fundamentally change the security situation in the province. "It's a tragic loss of a patriot for Afghanistan. But I don't see it having a long term effect on our area," Mattis told reporters on the sidelines of a security summit in Singapore.
Miller made a public appearance in Kabul on Friday, visiting an Afghan security checkpoint where he expressed condolences over the "tragic event".
"My assessment is that I was not the target. It was a very close confined space. But I don't assess that I was a target," Miller told Afghan broadcaster Tolo News. The government is now scrambling to secure the south on the eve of parliamentary elections that the Taliban has vowed to attack.
A spokesman for President Ashraf Ghani said elections in Kandahar would be postponed for a week following the attack.
Preparations for the ballot, already more than three years late, have been marred by bloody violence and there are concerns that Raziq's death will deter even more voters from turning up at polling centres around the country.
Almost nine million people have registered to vote for the poll, which is seen as a crucial test for next year's presidential election.
Full report at:
https://nation.com.pk/20-Oct-2018/brazen-taliban-attack-threatens-afghan-peace-talks-stability
--------
Fire in refugee camp kills 6 Rohingya in Myanmar
October 20, 2018
MOSCOW - A fire in a camp for internally displaced persons has claimed the lives of six representatives of the Rohingya ethnic minority in Myanmar's western state of Rakhine, U Thaw Dar, the head of the state's Fire Services Department, said on Friday.
READ MORE: Qatari FM calls on COAS Bajwa, discuss regional security
The incident occurred in the camp, located in the vicinity of Rakhine's capital of Sittwe, at around 11:00 p.m. local time on Thursday [16:00 GMT], as a bamboo matting caught fire. "Fifteen buildings burned down and six people died," Dar told the Irrawaddy media outlet. Over 880 people have been left without shelter, they are now temporarily accommodated at their relatives' houses. Each of the destroyed one-storey buildings had eight rooms. Following the 2012 clashes between Rohingya Muslims and the Buddhist Rakhine population, the Rakhine state government opened several camps for internally displaced persons, which were mostly populated by Rohingyas.
Since 2014, the government has been seeking to close the camps against the backdrop of tense relations with Rohingya.
Full report at:
https://nation.com.pk/20-Oct-2018/fire-in-refugee-camp-kills-6-rohingya-in-myanmar
--------
Bangladesh hunts suspected militants after deadly police raids
October 19, 2018
Bangladeshi authorities are on the hunt for suspected Islamic militants in the wake of police raids on suspected militant hideouts where two people were killed.
Alleged militants — a male and a female — were killed when police counterterrorism units raided two suspected militant hideouts in Narsingdi district of central Bangladesh on Oct. 16.
Police officials also detained two suspected female militants the following day.
Police are now hunting for 17 suspected militants believed to have links with those killed or detained, said Abdul Mannan, additional deputy commissioner of Dhaka Metropolitan Police, the Daily Star reported Oct. 19.
The raid is part of an ongoing anti-militancy crackdown in Bangladesh, a moderate Muslim-majority South Asian country that has seen a sharp rise in Islamic militancy in recent years.
Father Albert T. Rozario, former secretary of Catholic bishops' Justice and Peace Commission, said the latest crackdown signals that weakened militant networks are trying to regroup.
"Militancy is a global phenomenon and it is far from over yet," Father Rozario told ucanews.com. "Militants are hiding, trying to revive and are changing their tactics to evade security agencies."
Global terror outfits
Islamic militants, pledging allegiance to global terror outfits — the so-called Islamic State and Al-Qaeda — have since 2013 murdered about 50 people including atheist writers, liberal academics, gay activists, religious minorities and foreigners in Bangladesh.
In the worst terror attack, five militants murdered 20 people, most of them foreigners, at the Holey Artisan Bakery café in an upmarket diplomatic area of Dhaka on July 1, 2016.
In response, law enforcers launched a massive anti-militancy campaign that resulted in more than 50 militants including top leaders being killed and hundreds of suspects being arrested.
Father Rozario said that despite such efforts in fighting militancy, Bangladesh has failed to promote a 'counter ideology', nor reach a political consensus denouncing it.
"We have a long tradition of religious harmony, yet there are small groups that back militancy," said Father Rozario.
"Sadly, ruling and opposition parties are yet to reach a consensus that says a strong 'no' to militancy," the priest added.
Broader population rejects militancy
Dhaka-based security analyst retired Major General Abdur Rashid told ucanews.com that the latest crackdown has multiple revelations, both positive and negative.
Rashid noted that since the café attack, security forces have enhanced their skills in combating militancy.
"Now, security officials are able to intercept 'militancy indicators' before militants can make any move. That's why we see now and then militant dens being busted, which was rare before the Holey Artisan attack," he said.
The recent events also show that militancy remains a threat, he said.
Full report at:
https://www.ucanews.com/news/bangladesh-hunts-suspected-militants-after-deadly-police-raids/83676
--------
Atrocities on Rohingya: UNSC to meet on Myanmar inquiry report on Oct 24
October 20, 2018
The UN Security Council is scheduled to hear a briefing next week from the head of a UN fact-finding mission that has accused Myanmar's military of atrocities against Muslim Rohingya, diplomats said Thursday.
Nine countries including the United States, Britain and France requested the briefing that is likely to be opposed by China, which has friendly ties with Myanmar's military.
The meeting was scheduled for October 24 despite objections from Myanmar, which has rejected the findings of the UN inquiry.
The fact-finding mission released an explosive report last month that called on the council to refer the Myanmar situation to the International Criminal Court in The Hague, or to create an ad hoc international criminal tribunal, as was done with the former Yugoslavia.
The report said that Myanmar's top generals, including Commander-in-Chief Min Aung Hlaing, must be investigated and prosecuted for genocide in Rakhine State.
Myanmar has rejected accusations that its military committed atrocities in the crackdown last year that forced more than 700,000 Rohingya to flee over the border to Bangladesh.
Myanmar's Ambassador Hau Do Suan said in a letter to the Security Council this week that his government "strongly objects" to the request to hear the chairman of the mission.
Britain, France, Peru, Sweden, Ivory Coast, the Netherlands, Poland, Kuwait and the United States requested the meeting that could still be blocked by a procedural vote.
If there is no move to block the meeting, the council will hear from Marzuki Darusman, an Indonesian lawyer who was appointed last year by the UN Human Rights Council to chair the mission.
In its report, the mission said there were reasonable grounds to believe that the atrocities were committed with the intention of destroying the Rohingya, warranting the charges of "genocide."
Full report at:
https://www.thedailystar.net/backpage/news/atrocities-rohingya-unsc-meet-myanmar-inquiry-report-oct-24-1649353
--------
Afghan, Pakistani foreign ministers discuss deadly Kandahar attack
Oct 19 2018
The Afghan foreign minister Salahuddin Rabbani discussed the deadly Kandahar attack with his Pakistani counterpart Shah Mehmood Qureshi during a telephone conversation today.
The Ministry of Foreign Affairs in a statement said the foreign minister of Pakistan Shah Mehmood Qureshi called the Afghan foreign minister Salahuddin Rabbani to express condolences regarding the deadly attack in Kandahar.
The statement further added that Mr. Qureshi condemned the attack and conveyed the Pakistani Prime Minister and Chief of Army Staff's message of condemnation regarding the incident.
In his turn, Mr. Rabbani said the attack in Kandahar province has been carried out at a time when Afghanistan is preparing for the parliamentary elections.
Rabbani further added that the attack indicates that the terror groups are attempting to jeopardize the elections, however he emphasized that Afghan nation would not allow the terrorists to do so.
He also added that the assassination of Gen. Abdul Raziq and his comrades has raised some questions and therefore the Afghan government has launched an investigation in this regard.
Full report at:
https://www.khaama.com/afghan-pakistani-foreign-ministers-discuss-deadly-kandahar-attack-06189/
--------
Africa
Kenya Defence Forces fighter jets have bombed Somalia southern region
October 19th 2018
Kenya Defence Forces (KDF) fighter jets on Friday bombed a town in Somalia's southern region, Gedo, officials quoted by Somali online news Halbeeg News have said.
Information contained in the latest edition of Amisom Media Monitoring bulletin stated that the incident reportedly took place in Geriley town, which is near Somalia's border with Kenya. It was not clear when the alleged bombing took place, damage inflicted and where the planes were operating from.
Jubaland officials who spoke to the local media said the warplanes targeted Al-Shabaab bases. The bomb comes hours after Somali forces clashed with Al-Shabaab fighters. Neither Somali military nor Al-Shabaab fighters have commented on the casualties of the fighting.
Early this week, Kenyan security agencies warned against imminent Al-Shabaab attacks on areas near Kenya's border with Somalia.
The Intelligence reports noted that Al-Shabaab fighters plan to attack KDF and police camps in Mandera County. Kenyan Police spokesman Charles Owino said the agencies operating at the border were put on standby following reports the terrorists were gathering in El-Adde, in Somalia's southern region, Gedo. "Security agencies are also on alert for any possible attack by Al-Shabaab fighters targeting security installations and any other soft targets along the border between Mandera and Elwak," he said.
President Uhuru Kenyatta, while presiding over this year's KDF Day at the Kenyatta Barracks, Gilgil, said Kenyan troops serving in Somalia will not leave the war-ravaged nation. He said the KDF troops will continue fighting emerging terror threats and ensure long-lasting peace.
https://www.standardmedia.co.ke/article/2001299662/kenya-defence-forces-fighter-jets-have-bombed-somalia-southern-region
--------
Boko Haram does not represent Islam, NSCIA insists
October 19, 2018
By Adeola Yusuf
The apex group for Muslims in Nigeria, the Nigerian Supreme Council for Islamic Affairs (NSCIA), has reiterated its stand that the terrorists group, Boko Haram, does not in any way represent Islam. The group also mounted pressure on the Federal Government to do all in his powers to save the lives of abducted all girls abducted by Boko Haram including Leah Sharibu.
The terrorists' group had earlier given an October 15 deadline to the Federal Government to meet its demand, threatening to execute Miss Sharibu if the demands are not met. The NSCIA reiterated its criticism of Boko Haram's activities, according to a document, during the Interfaith Initiative for Peace Conference in Abuja. The Chief Imam of Apo Legislative Quarters, Sheikh Mohammed Khalid, who made the pleas on behaklf of the Council, called on the government "to do whatever it can within its powers to ensure Miss Sharibu is safely released and reunited with her family." Addressing the issue, the Chief Imam of Apo Legislative Quarters, Sheikh Khalid said Miss Sharibu's abductors were on their own and that they did not represent Islam.
"We are here to speak on behalf of the bodies of the two main religions, Islam and Christianity. We want the world to understand that these people that are holding our children and other people in captivity are not representing anything, they are on their own. Islam is not asking them to abduct anybody and we the Muslims are going to join hands with anybody to do anything possible to secure Nigerians from their agony.
Full report at:
https://newtelegraphonline.com/2018/10/boko-haram-does-not-represent-islam-nscia-insists/
--------
Arab World
Fahad al-Thani: Qatar relies on Qaradawi, Brotherhood to instigate crisis
19 October 2018
Sheikh Fahad bin Abdullah al-Thani, a member of the Qatari ruling family, addressed questions on his Twitter account about the domestic situation in his country, including its foreign policy and the harassment the ruling family is facing.
When asked if there was any sign of an imminent end to the Gulf crisis with Qatar, he said "First, I am not talking about the beloved state of Qatar here or its people. We must differentiate between the Qatari regime and the country itself. If the crisis continues, no one from Hamad's bloodline would deserve to govern the people of Qatar."
Sheikh Fahad was also asked about the Qatari people's opinion on recent Iran-Qatar relations, to which he answered "Everyone knows the authenticity of Qataris and how they will not accept [Iran] as their ally."
The "unbearable" situation in Qatar
Al-Thani stated that the internal situation in Qatar is "unbearable." The problem, he said, is not only the rising prices but also "the complete isolation the regime has imposed on its people."
He added: "the people of Qatar have no voice and the regime is responsible for the ongoing problems."
He also spoke about the validity of rumors that a large number of the ruling family were prevented from traveling. He said: "The al-Thani family cannot travel without prior permission. Anyone who did not approve of the regime was not allowed to travel especially after opposition within the family increased as they tried to save their country from this dark crisis."
Discords with al-Jazeera and the "collapse of Saudi Arabia"
Sheikh Fahad said that ever since Al-Jazeera started broadcasting in 1996, many Qataris "have opposed its position and involvement in the affairs of other countries. However, Hamad bin Khalifah supports the channel entirely."
He also tweeted "Hamad bin Khalifah's goal is the collapse of Saudi Arabia." To meet his goal, al-Thani said, bin Khalifah is willing to take up Iran and Turkey as allies.
He added that Saudi Arabia continues to be the "pillar of Arab stability" and has always been "Qatar's biggest guardian."
Sheikh al-Thani said that the regime tried to tempt him with "excessive bribes" like they did by buying mercinaries, adding: "But I stand by my principles and I am not looking for personal gains. If I wanted money or power I would have got it a long time ago."
Qatar has a hand in any crisis in the world
Speaking on Qatari intelligence's involvement in Jamal Khashoggi's disappearance, al-Thani said "It is certain the Qatari regime is involved in crises that occur anywhere in the world, especially if [Saudi Arabia] is affected," noting that "all the tragedies that happened to Qatar is because Hamad bin Khalifa relies on Youssef al-Qaradawi and the Muslim Brotherhood, although the people of Qatar has no links with this terrorist group."
He added that many Qataris oppose the Hamad regime and want to "remove it."
Sheikh al-Thani concluded his series of tweets by thanking the people of Qatar and its supporters for sending in their questions, and hoped for "the return of its people's rights."
https://english.alarabiya.net/en/News/middle-east/2018/10/19/Fahad-al-Thani-The-situation-in-Qatar-is-unbearable-.html
--------
Two weeks after his disappearance, Saudi Arabia admits Khashoggi was killed inside Istanbul consulate
October 20, 2018
Saudi Arabia on Saturday admitted that dissident journalist Jamal Khashoggi was killed inside its consulate in Istanbul in a "fist fight", state media said, two weeks after his disappearance sparked a global furore.
"The discussions between Jamal Khashoggi and those he met at the kingdom's consulate in Istanbul... devolved into a fistfight, leading to his death," the Saudi Press Agency said, citing the public prosecutor.
The kingdom also announced the sacking of a top intelligence official Ahmad al-Assiri and royal court media adviser Saud al-Qahtani, both top aides to Crown Prince Mohammed bin Salman who has faced mounting pressure over the Khashoggi affair.
Saudi journalist Khashoggi, a critic of the kingdom's leadership and a Washington Post contributor, was last seen on October 2 entering his country's consulate in Istanbul.
His disappearance had been shrouded in mystery and triggered an international crisis, with Turkish officials accusing Saudi Arabia of a state-sponsored killing.
The kingdom announced that 18 people had been arrested in the ongoing probe.
The Saudi king also ordered the setting up of a ministerial committee under the chairmanship of the crown prince to restructure the kingdom's intelligence agency and "define its powers accurately", state media said.
Shortly before Riyadh confirmed that Khashoggi had been killed, Turkey's President Recep Tayyip Erdogan and Saudi King Salman agreed in telephone talks to continue cooperation in the investigation into the Khashoggi affair.
Erdogan and Salman "emphasised the importance of continuing to work together with complete cooperation", said a Turkish presidential source, who asked not to be named.
The United States warned on Friday of a "wide range" of responses should it determine that Saudi Arabia is behind the death of journalist Jamal Khashoggi, as Turkey widened its investigation into the scandal.
President Donald Trump said the United States, which is Saudi Arabia's biggest backer, could impose sanctions over the feared murder of Khashoggi.
His top diplomat Mike Pompeo told Voice of America Radio: "We'll certainly consider a wide range of potential responses."
The Trump administration has been notably slow to criticise Saudi Arabia, despite mounting evidence that Khashoggi, a critic of the petro-state's powerful crown prince, vanished after entering the Saudi consulate in Istanbul.
The Khashoggi case has presented Trump with one of the most acute foreign policy crises of his nearly two-year-old presidency.
Pro-government Turkish media have repeatedly claimed that Khashoggi was tortured and decapitated by a Saudi hit squad inside the diplomatic mission, although Turkey has yet to divulge details about the investigation.
Full report at:
https://www.dawn.com/news/1440201/two-weeks-after-his-disappearance-saudi-arabia-admits-khashoggi-was-killed-inside-istanbul-consulate
--------
Imam-e-Ka'aba slams 'fabrications'
October 20, 2018
RIYADH - The prayer leader at Makkah's Grand Mosque (Imam-e-Ka'aba) called Friday for "unity" in the face of "fabrications" against Saudi Arabia, over two weeks after a dissident journalist's disappearance sparked a diplomatic crisis.
"Repeated accusations, allegations and biased media campaigns will not discourage (Saudi Arabia) from holding to its principles," Sheikh Abderrahman al-Sadis said during a sermon accompanying Friday prayers at the mosque in Makkah, the holiest site in Islam. The kingdom "depends on God alone, then on the wisdom of its leadership and the unity of its sons to fight false allegations", he added.
He urged Saudis to "depend on the facts and avoid jumping into speculation and basing positions on... fabrications", adding that a "campaign" against the kingdom was "a provocation against the feelings of more than a billion Muslims" around the world.
Sermons accompanying Friday prayers at the Grand Mosque are seen as reflecting the Saudi leadership's take on world events.
Full report at:
https://nation.com.pk/20-Oct-2018/imam-e-ka-aba-slams-fabrications
--------
Saudi joint forces successfully shoot down Houthi spy plane
19 October 2018
Saudi joint forces carried out a military ambush against Houthi militias in Yemen off of the Saudi Arabian border of the Jizan region.
Military sources confirmed that the troops composed of on the ground forces and marines successfully completed the operation against the Houthi militias.
The forces targeted the Houthis with mortars and artillery, supported by Apache attack helicopters and Yemeni legitimate forces, and destroyed the Houthis' resources and supplies as well as killing 20 militiamen.
In another operation, the Saudi forces shot down 35 Houthi military tanks and a spy plane in the Taiz region in southwestern Yemen.
Full report at:
https://english.alarabiya.net/en/News/middle-east/2018/10/19/Saudi-forces-successfully-shoot-down-Houthi-spy-plane-military-tanks-.html
--------
Canada working to resettle group of White Helmets evacuated from Syria
Oct 20, 2018
Canadian officials say the country is preparing to resettle a group of White Helmets, a Western-backed volunteer organization which stands accused of working with Takfiri terrorists and staging false-flag chemical weapons attacks in Syria.
In a joint statement released on Friday, Canada's Foreign Minister Chrystia Freeland and Ahmed Hussen, the country's minister of immigration, refugees and citizenship, claimed that the White Helmets had been targeted by the Syrian government and its ally, Russia.
"Together with a core group of international allies, Canada is working to resettle a group of White Helmets and their families," the statement read. "Canada has supported the work of the White Helmets by helping them to expand, train more volunteers, train more women and save more lives."
The statement also stressed Ottawa's "moral obligation to assist" the so-called aid group.
Freeland told The Globe and Mail newspaper that she had been personally engaged in the resettlement process of the White Helmets.
The top Canadian diplomat further noted that for the safety of the so-called volunteers she could not disclose where they were and when they were coming to the North American country.
The White Helmets was founded in Turkey in 2013 by former British MI5 officer James Le Mesurier.
Since its establishment, the group has received at least $55 million from the British Foreign Office, $23 million or more from the US Office of Transition Initiatives and untold millions from Qatar.
The White Helmets claims to be a humanitarian NGO, but both Damascus and Moscow have accused the group of having staged the suspected gas attack in the Syrian town of Douma on April 7.
Syrian President Bashar al-Assad described the White Helmets as "a branch of al-Qaeda and al-Nusra" militant outfits and a "PR stunt" by the US, the UK and France.
Back in July, more than 400 White Helmets volunteers were evacuated from Syria to Israel and then to Jordan, to be resettled later in the UK, Canada, and Germany.
At that time, Canada expressed its readiness to accommodate 50 of them and their families, for a potential total of 250 people.
Earlier this week, Jordan announced that 279 White Helmets had left the kingdom for resettlement in Western countries.
Full report at:
https://www.presstv.com/Detail/2018/10/20/577519/Canada-Syria-White-Helmets
--------
Saudi Arabia admits Khashoggi murdered in Turkey, sacks bin Salman's top aide
Oct 19, 2018
Saudi Arabia has sacked a top general and arrested several people after confessing that dissident journalist Jamal Khashoggi was murdered in the Turkish city of Istanbul.
In a Friday announcement, Saudi Arabia said that the preliminary results of its investigation indicate Khashoggi had been killed in a "fight with people who met him in the Saudi consulate in Istanbul."
According to Saudi state TV, the Kingdom has relieved Ahmad al-Assiri, a top general and close aide to Saudi Crown Prince Mohammed bin Salman, from his duties in the General Intelligence.
Saudi King Salman has also ordered the formation of a ministerial committee with the Saudi crown prince as head to restructure the General Intelligence Agency.
Reuters quoted a person familiar with the Saudi investigation of Khashoggi's death as saying that no orders had been issued to kill or kidnap him, but there is standing order from the General Intelligence Presidency to bring critics back to the kingdom.
The source said orders were "aggressively interpreted" and subsequent instructions were "more and more unspecific" resulting in death and attempt to "cover it".
It also noted that the Saudi consulate driver was among those who handed over the body of the dissident journalist to a "local cooperator"; however, it is not clear what has happened to the body.
The person familiar with the investigation also claimed bin Salman "had no knowledge of this specific operation".
'Faithful servant'
In addition to al-Assiri, Saudi Arabia also dismissed four other senior officials, including Saud al-Qahtani, a top adviser to the royal court.
Shortly after news of his arrest, users on Twitter found and reposted a 2017 tweet by al-Qahtani, in which he said, "You think I'm acting on my own? I'm just an employee and a faithful servant to my King and his royal highness the crown prince."
US 'saddened' by news of Khashoggi's death
Meanwhile, the White House has acknowledged the Saudi announcement, saying the US is "saddened" by the confirmation of the journalist's death.
It also said Washington will be closely following the international probe into the incident, and will advocate for justice that is timely, transparent, and in accordance with all due process.
UN chief 'deeply troubled'
UN Secretary General Antonio Guterres also reacted to the Saudi announcement, saying he was "deeply troubled" by the confirmation of Khashoggi's death, a UN spokesman said.
Full report at:
https://www.presstv.com/Detail/2018/10/19/577503/Saudi-admits-Khashoggi-death-Turkey
--------
More than 30 civilians killed in new US-led strikes on Dayr al-Zawr
Oct 19, 2018
At least 32 civilians have lost their lives when warplanes of the US-led coalition purportedly fighting the Daesh Takfiri terrorist group carried out a series of airstrikes in Syria's oil-rich eastern province of Dayr al-Zawr in less than 24 hours, a monitoring group says.
The so-called Syrian Observatory for Human Rights (SOHR) reported that strikes on the village of Sousa killed 18 civilians including seven children late Thursday and 14 more civilians on Friday. Dozens were wounded and many remained under the rubble in the village.
The monitoring group said nine Daesh terrorists also lost their lives in the raids.
Since 2014, the US-led coalition has acknowledged direct responsibility for more than 1,100 civilian deaths in Syria and Iraq, but rights groups put the number killed much higher.
SOHR says coalition strikes in Syria alone have killed more than 3,300 civilians.
Daesh terrorists had been purged from most regions in Syria only through counterterrorism operations conducted by government troops and allied fighters from popular defense groups.
The US-led coalition has been conducting airstrikes against what are said to be Daesh targets inside Syria since September 2014 without any authorization from the Damascus government or a UN mandate.
The military alliance has repeatedly been accused of targeting and killing civilians. It has also been largely incapable of achieving its declared goal of destroying Daesh.
Full report at:
https://www.presstv.com/Detail/2018/10/19/577493/Syria-DayrZawr
--------
Daesh still present in Raqqah a year after US campaign
Oct 19, 2018
Syria's northern city of Raqqah is still grappling with the fear of the return of Daesh terrorists who were forced out as a result of a US-led campaign last year with reports now emerging that a certain number of terrorist elements are already present in the city.
Reports said the US-backed Syrian Democratic Forces (SDF) - mostly comprised of Kurdish fighters - were struggling to stem infiltration by Daesh sleeper cells on a daily basis amid criticisms that the SDF lacked the expertise to cope.
"We are exhausted. Every day we don't know if we will die in a bomb explosion or if we will go home safe and sound," Abu Younes told AFP.
He said the US-backed forces tasked with securing the city were ill-prepared and there was plenty of room for the terrorists to sneak in. "There are faults that enable Daesh to infiltrate the city easily and carry out attacks," he said.
"We're scared because of the presence of Daesh members in the city," said another resident who identified himself as Ahmad al-Mohammad. "The security forces need to tighten their grip."
"Every day, we wake up to the sound of an explosion," said Khaled al-Darwish, another resident. "We're scared to send our children to school ... there's no security," he added.
"If there wasn't fear about a return of Daesh, there wouldn't be this increased military presence," Darwish, a father of two, said of the city's current situation.
The terrorist group had once declared Raqqah as the de facto capital of a caliphate it started to build in Iraq and later in Syria in 2014 through a campaign of violence, invasion and extreme brutality against residents. The United States and its SDF allies claimed victory over Daesh after carrying out a notoriously ruinous campaign in the city last year.
'War destroyed our future'
Najla al-Ahmad, a female local, said, "The war has worn us out. Us and our children. It has destroyed our future."
After the city's so-called liberation by the US-led forces, Syria and Russia strictly criticized the cost-benefit nature of the campaign, which had featured carpet bombings.
Syria said "more than 90%" of the city had been razed to the ground due to "the deliberate and barbaric bombardment," adding that it considered Raqqah to still be occupied unless it was entered by the Syrian Arab Army. "Raqqah has inherited the fate of Dresden in 1945, wiped off the face of the Earth by Anglo-American bombardments," Russian Defense Ministry spokesman Major General Igor Konashenko also said at the time.
Daesh started attacking Syria in 2014. Washington led scores of its allies in a so-called campaign against the terrorist group later that year without seeking any permission to that effect from Damascus.
The coalition would chronically fail to make any meaningful gains against the outfit, prompting Russia to question the nature and efficiency of its work.
As Daesh was making significant advances despite the unlawful intervention of the coalition, Damascus asked Russia and Iran, another Syria ally, to join it in confronting the group.
Full report at:
https://www.presstv.com/Detail/2018/10/19/577426/Syria-Daesh-Raqqah
--------
India
At Asia-Europe meet, Naidu pushes for global pact against terrorism
Oct 20, 2018
NEW DELHI: At the 12th Asia-Europe Meeting (ASEM) summit, India called for an early conclusion of the Comprehensive Convention on International Terrorism, stressing peace was a prerequisite for progress and peace and could not be achieved without combating terrorism.
The government also reiterated that connectivity initiatives must meet universally recognised international norms like respect for sovereignty and territorial integrity.
During his interventions, Vice-President Venkaiah Naidu stated that India valued ASEM as a platform that brought together leadership of Asia and Europe to exchange views and address global challenges.
He added that terrorism was a major threat to peace and stability. "He drew attention of the leaders to the challenge that criminal misappropriation of public assets by economic offenders, was posing threats to the integrity of financial systems. He expressed the need for international cooperation to deny shelter to the economic offenders including by enhancing mechanisms for automatic exchange of information," said a government statement.
The ASEM summit was inaugurated in Brussels on Thursday.
https://timesofindia.indiatimes.com/india/at-asia-europe-meet-naidu-pushes-for-global-pact-against-terrorism/articleshow/66289183.cms
--------
Jammu & Kashmir: 5 militants killed in 24 hours in Valley
by Adil Akhzer
October 20, 2018
Five militants have been killed and 10 security personnel injured in three separate incidents, including an encounter, in the Valley in the past 24 hours. In another incident on Friday evening, police said militants lobbed two grenades towards an army camp at Shadimarg area in Pulwama, leading to a gunfight. A local woman identified as Firdousa was killed in "cross firing", said police.
Army officers said they foiled an infiltration bid along the Line of Control by killing three militants in north Kashmir's Uri area. They said soldiers guarding the Line of Control intercepted a group of militants in Boniyar forest at Uri on Thursday morning and the militants were killed in the ensuing gunfight.
A senior Army officer in Srinagar told The Indian Express Friday that the operation continued till Thursday evening. "In the search operation after the gunfight, we recovered three bodies," the officer said
The Army said four AK-47 rifles and four haversacks have been recovered from the area. "Three #terrorist killed. 04 AK-47 & 04 Haversacks recovered. Operation in progress," Srinagar based XV (Chinar) Corps said on Twitter. The militants have not been identified so far, said the officers.
In another incident, J&K police officers said two militants were killed in a brief shootout with police and CRPF personnel at Kralhar area of north Kashmir's Baramulla district on Friday afternoon.
According to a J&K police spokesperson, the shootout took place after a passenger vehicle was stopped at a checkpoint near Kralhar. On being told to show identity cards, one of the two militants in the car opened fire, said the spokesperson. "In the brief exchange of fire, both the terrorists were killed."
One policeman was injured in the incident, said police.
SSP, Baramulla, Imtiyaz Hussain, told The Indian Express that the militants were foreigners and were affiliated to the Jaish-e-Mohammed. "Nine people were travelling in the car. The driver told us the two men (militants) boarded from Sopore town. We have detained the driver for questioning," he said.
In another incident, nine Armymen were injured in an IED blast in south Kashmir's Pulwama district Thursday night.
Local residents alleged that soon after the IED blast, armymen barged into the nearby homes and beat people up.
"After the blast, around 11.30 pm, Army personnel knocked on our gate. They then entered the house and started beating my family members," a local resident told The Indian Express over phone. "They even beat up the women."
The local residents said even though district administration and police were informed about Armymen barging into homes, no help was provided.
Early on Friday morning, the injured were taken to district hospital, Pulwama. Dr Abdul Rashid Parra, Medical Superintendent of the hospital, told The Indian Express that the injured include teenagers and women. Parra further said the woman killed during the gunfight in Shadimarg was five months pregnant.
Full report at:
https://indianexpress.com/article/india/jammu-kashmir-5-militants-killed-in-24-hours-in-valley-5409952/
--------
UP's effigy-maker Muslim family setting example of communal harmony in Punjab since 1997
Oct 19, 2018
A Muslim family of artistes from Saharanpur (Uttar Pradesh), who is in the business of making effigies, has been setting a perfect example of communal harmony every year since 1997.
The family was spotted at Veer Hakikat groundin in Patiala, making effigies of Ravana, Kumbhkarna and Meghnad on Monday. They have also prepared a separate effigy against drug-addiction to be fired up on the occasion of Dussehra on Friday.
Imran Khan, along with his wife and children have been coming to Patiala and making effigies of Ravana, Kumbhkarna and Meghnad. He said that even his forefathers prepared effigies on the occasion of Dussehra for the royal city residents.
"Our family has established a special relationship with the people of Patiala over the past three generations. I have learnt this art from my father, who was groomed by his grandfather," said Khan.
He said it was a pleasure to be associated and be a part of another religion for so many years.
Not only in Patiala, these artistes and their teams prepare effigies in Chandigarh, Panchkula, Dera Bassi, and Raipur Rani as well.
The effigy of Ravana that has been built is 85 metres tall, Kumbhkarna and Meghnad are 60 metres tall each while the effigy against drug-addiction is 40 metres tall.
Intazeer Khan, another artiste said that he has never faced any discrimination due to his religion. "People give great respect when they see me and my work. Since last two days, we are sleeping here only near the effigies fearing stray animals as they could damage the effigies," he said.
Full report at:
https://www.hindustantimes.com/punjab/up-s-effigy-maker-muslim-family-setting-example-of-communal-harmony-in-punjab-since-1997/story-0TOApYBScl7B0L028447mI.html
--------
Rajasthan Muslim Forum demands more seats
Mohammed Iqbal
OCTOBER 19, 2018
Muslims in Rajasthan have demanded ticket from political parties for the Assembly election in proportion to their percentage in the population. The community's representation in the Assembly at present is at a historic low, with only two MLAs elected on BJP ticket in 2013.
The Congress had fielded 15 Muslim candidates in the 2013 Assembly election, but none of them won. These included sitting MLAs, Cabinet Ministers and popular community leaders such as Aimaduddin Ahmed Khan, Mahir Azad, Zahida Khan, Amin Kagzi and Nasim Akhtar Insaaf.
Two seats
The two BJP members in the Assembly at present are Transport Minister Yunus Khan, elected from Didwana, and Habib-ur-Rahman, elected from Nagaur. The BJP had fielded four Muslim candidates in 2013.
Amid indications that the Congress would field fewer Muslim candidates this time, the community leaders have warned that the decreasing representation of Muslims would be lethal to democratic governance. "A strong and prosperous Rajasthan cannot be built if the State's largest minority community is ignored in the electoral exercise," the Rajasthan Muslim Forum said. Muslim Forum's convenor Qari Moinuddin said political parties should do away with their practice of nominating the candidates only on the basis of their "so-called winning potential," ignoring their criminal antecedents.
Full report at:
https://www.thehindu.com/elections/rajasthan-assembly-elections-2018/rajasthan-muslim-forum-demands-more-seats/article25265717.ece
--------
Pakistan
Amid outrage over journalist's killing, Pakistani clerics express solidarity with Saudis
OCTOBER 20, 2018
As the press across the globe condemned the Saudi state for its alleged role in journalist Jamal Khashoggi's brutal murder, in Pakistan, a Youm e Tahafuz-e-Harmain Al-Sharifain was observed on Friday on the call of Pakistan Ulema Council and Wafaq ul Masajid Pakistan.
The purpose was to express solidarity with Kingdom of Saudi Arabia.
A press statement issued on the occasion read, "Clerics and religious scholars while addressing the Tahafuz-e-Harmain Al-Sharifain Conference urged the leadership of Muslim Ummah to get united to contain conspiracies being carried out against Islamic world and Saudi Arabia.
Saudi Arabia is center of Muslims' unity and loyalty and any attack on Saudi Arabia will be termed as an attack on entire Muslim World."
It continued, "Addressing Tahafuz-e-Harmain Al-Sharifain Conference at Jamia Masjid Marhaba, Rawalpindi, Hafiz Tahir Mehmood Ashrafi stated that a baseless propaganda is being carried out by US administration on alleged killing of a Saudi journalist adding that elements who aim at imposing sanctions on Kingdom of Saudi Arabia live in fool's paradise. He stated that that enemies of Islam and Muslims after playing havoc in Syria, Libya, Iraq and Yemen are hatching conspiracies to target Kingdom of Saudi Arabia."
Ironically, Ashrafi completely ignored atrocities committed by the Kingdom in Yemen, and proceeded to say, "Some conspiring elements are designing conspiracies to make differences between Saudi Arabia and Turkey [sic]."
The statement cited him as issuing a warning that the entire Muslim world stood united with the Kingdom and that any aggression against it will be retaliated.
It continued, "Saudi Arabia is centre of Muslims' unity and faith. Muslim world will not tolerate any threatening conduct and aggression towards Saudi Arabia. The entire Muslim Ummah lauds services of Khadim e Harmain Al Sharifain and Crown Prince Amir Muhammad bin Salman for the Muslim world. Saudi Arabia in every thick and thin has always stand united with Pakistan and facilitated Pakistan with every possible assistance. Pakistan and Saudi Arabia are tied to each other like body and soul. All the religious schools of thought in Pakistan are ready to lay any sacrifice for defense, security and stability of Kingdom of Saudi Arabia. He also lauded decision of the government of Pakistan for constituting an Investigative committee to streamline coordination between Pakistan and Kingdom of Saudi Arabia."
The statement proceeded to say that in Friday congregations, ulemas and clerics expose conspiracies being carried out by enemies of Islam and Muslims against Saudi Arabia and Muslim world.
Maulana Abdul Karim Nadeem addressed a congregation in Rahim Yar khan, Allama Abdul Haq Mujahid in Multan, Maulana Abdul Hameed Watto in Qila Dedar Singh, Qazi Matiullah Saeedi in Gujrat, Maulana Asad Ullah Farooq in Lahore, Maulana Saad Zikriya in Karachi, Maulana Idrees Qasmi in Faisalabad, Maulana Abdul Hameed Sabri in Islamabad, Maulana Asghar Khosa in DG Khan, Maulana Khurshid Naumani in Bhawalnagar, Maulana Faheem ul Hassan Farooqi in Sheikhupura, Saad Ullah Ludhyanvi in Toba Tek Singh, Sahibzada Tahirul Hasan in Faisalabad, Maulana Shakil Qasmi in Okara, Maulana Abdul Ghaffar Hijazi in Lodhran, Maulana Aziz Akbar Qasmi in Rajanpur. The clerics in Friday congregations with public consent also adopted resolutions to support Kingdom of Saudi Arabia in face of any challenge.
https://dailytimes.com.pk/312278/amid-outrage-over-journalists-killing-pakistani-clerics-express-solidarity-with-saudis/
--------
Kabul pushes Afghan Taliban for peace talks
Sadia Qasim Shah
October 20, 2018
PESHAWAR: Afghan consul general in Peshawar Mohammad Hashim Niazi on Friday declared talks the only way forward for peace in his country and asked the Afghan Taliban to try to come to power by contesting election and not by using force.
He was speaking to the reporters after attending the funeral prayers held by the ANP at its Bacha Khan Markaz here in absentia for the victims of the attack at the Governor's House in Kandahar.
The attack, whose responsibility was claimed by the Afghan Taliban, had killed provincial police chief Abdul Razik, intelligence chief Abdul Mohmin and governor Zalmay Wesa.
"We condemn the tragic killing of our top officials. We call on the (Afghan) Taliban for peace talks. The Afghan problem can be resolved by talks and not by force," the Afghan consul general told Dawn.
The envoy, who assumed the office recently, said the Afghan government had appealed to the Taliban militants time and again to come forward for talks strongly feeling that the use of force won't resolve problems and rather, it deteriorated the situation in Afghanistan.
He said there was always 'give and take', so Kabul appealed to the Afghan Taliban to join politics.
"Through political activities and election, they (Afghan Taliban) should come to power and serve the people if they want to," he said.
Mr Niazi thanked the ANP for sharing the Afghan peoples' grief over the Kandahar attack and for holding funeral prayers for its victims.
ANP general secretary Mian Iftikhar Hussain and other leaders, including Aimal Wali Khan, Sardar Hussain Babak and Ilyas Bilour, attended the funeral prayers and offered condolences to the Afghan officials over the deaths.
Mr Mian Iftikhar, who was vocal in his criticism of terrorism and the Taliban militants, said the Bacha Khan Markaz was a home for all Pakhtuns, so it held prayers for Kandahar attack victims to share the grief of Afghan brothers.
"We want the misunderstanding between Pakistan and Afghanistan to end and restoration of peace in the region. The people of both countries want peace for which true talks are the only way forward," he said praising the Afghans taking part in elections and standing their ground regardless of the Taliban attacks.
The ANP leader said politics was the only way to fight militancy and that the recent militant attacks were only an attempt to sabotage Afghan elections.
ANP young leader Aimal Wali Khan wondered why other political parties didn't respond to the killings in Afghanistan the way his party did.
He said the ANP firmly believed that peace in Pakistan and Afghanistan was a 'mutual thing'.
"People on both sides of the border want peace and those wanting to destroy peace are their common enemy," said Aimal, who is the great grandson of Bacha Khan, a proponent of non-violence.
Full report at:
https://www.dawn.com/news/1440131/kabul-pushes-afghan-taliban-for-peace-talks
--------
Politicians have done more for country than military: Nehal
October 20, 2018
KARACHI: Former PML-N Senator Syed Nehal Hashmi, who previously faced imprisonment for his controversial remarks against the judiciary, on Friday criticised the armed forces while defending the role of politicians in the development of the country.
The politician, addressing a function at the Karachi Medical and Dental College, alleged that the armed forces had "done nothing for the defence and betterment of the country" and that the weapons acquired for the defence were "merely showpieces".
Soon after television channels had broadcast news reports about Mr Hashmi's hard-hitting speech, the PML-N launched a damage control exercise and dissociated from what the former senator had said about the military.
Senior PML-N leader Rana Sanaullah said that Mr Hashmi's statement had nothing to do with the party and reflected his personal views.
Full report at:
https://www.dawn.com/news/1440144/politicians-have-done-more-for-country-than-military-nehal
--------
Investigators find held 'IS men' sent funds to Afghanistan
October 20, 2018
KARACHI: Investigators grilling three men held for their alleged connection with the militant Islamic State group found that they had generated funds for the global militant outfit by committing crimes and sent the money to Afghanistan through normal as well as informal banking channels.
Informed sources told Dawn on Friday that the law enforcers recently arrested Naeem, Mukhtiar and Roohullah in the city for their alleged involvement in kidnapping a resident of Gulistan-i-Jauhar.
The resident was released by kidnappers after getting a ransom of over Rs10 million. When he safely reached home, the law enforcers started working on some leads and finally arrested the three suspects.
During investigations, the held suspects had confessed to their involvement in several cases of kidnapping for ransom.
Officials said they had kidnapped and murdered Abid Sohail in September 2017 and buried his body in Manghopir.
In January 2017, the same group had also kidnapped a member of the Ismailia community from Karachi. They shifted him to Hub, Balochistan, in the trunk of their vehicle. However, he managed to escape from their custody. Later, the police had raided their hideout in Hub area and recovered a suicide jacket and explosives.
Police sources said that this group was involved in at least five to six kidnapping-for-ransom cases in the city. They generated funds through this criminal activity and sent the money to the IS head in Afghanistan.
Suspects Roohullah and Mukhtiar were involved in sending money abroad through hundi and hawala. The third suspect, Naeem, was said to be the IS chief in Karachi.
During their interrogation, it transpired that several bank accounts had been opened through which they transferred funds to Afghanistan to carry out acts of terrorism in Pakistan. The sources said that members of this outfit had been involved in terror financing in the metropolis for the past many months.
Full report at:
https://www.dawn.com/news/1440056/investigators-find-held-is-men-sent-funds-to-afghanistan
--------
'No U-turn, Mr Prime Minister!' Afghan immigrants demand PM Khan to fulfil citizenship promise
Naseer Ahmad
October 16, 2018
KARACHI: On a recent Sunday Afghans living in the city held a big demonstration at the Karachi Press Club to echo their demand for the issuance of Pakistani national identity cards. Holding Pakistani flags and banners bearing pictures of Prime Minister Imran Khan, who had earlier revived their hopes of getting recognition of their nationality, they chanted slogans in favour of the Pakistan Tehreek-i-Insaf government and demanded that immediate measures be taken to get them out of the desperate situation of neither being here nor there.
The announcement made by the prime minister that Afghans and Bengali-speaking people living in Pakistan would be granted Pakistan's citizenship has kindled a ray of hope in members of the two communities. Since then their activists have been holding demos to draw the attention of the government towards their plight.
The unexpected announcement made at a fundraising dinner in Karachi has also provoked various political parties to issue statements, callously decrying the idea. Although the Muttahida Qaumi Movement-Pakistan has also shown its opposition to the move, Pakistan Peoples Party leaders have been more vocal on the issue, airing their views at every available forum. Lawyers in Larkana have also held a demonstration against permanent settlement of 'aliens' on Sindh's soil. The smaller, 'nationalist', groups have also found an opportunity to get their share of the limelight by taking to the streets or issuing statements.
Pak Sarzameen Party leader Syed Mustafa Kamal favours the grant of citizenship but apparently only to the Bengalis, most of who have settled in this part of the country even before the creation of Bangladesh in 1971. Neither they have any intention to go to Bangladesh, nor is that country keen to accept them as its citizens. Naturally, Bengalis and Burmese, fused together, consider this country their homeland.
Similarly, Afghans, accepted by Sindh as refugees after the invasion of their country by the Soviet Union in 1979, have taken firm roots here. Many of them have established their own businesses and built plazas in parts of Pakistan over the decades and do not fancy going back to the country of their origin, where the security situation is also unfavourable for such a consideration. Various international agencies have been helping repatriate them. The Japanese government has also announced $2.7 million aid for their repatriation. In fact, thousands have already been sent back to their country whether they liked it or not. Some of them are compelled by circumstances there to return to Pakistan and live here as illegal aliens.
The Jamaat-i-Islami, led by its chief Senator Sirajul Haq, has welcomed the prime minister's statement. The JI has consistently demanded grant of citizenship to both Afghans and Bengalis living in Pakistan.
The Awami National Party, whose supreme leader Khan Abdul Ghaffar Khan, reverently called Bacha (King) Khan, is buried in Afghanistan's city of Jalalabad, supports the idea of recognising the aliens as Pakistani. Backing the prime minister's statement, ANP chief Asfandyar Wali said at a press conference: "It is a normal practice all over the world that a child born in a country is given its citizenship. Pakistan should also grant citizenship to Afghans born here. This is a humanitarian issue and not a political one."
Imran Khan was reported having said: "The first thing I will do going back [to Islamabad], God willing, is that we will get those people from Bangladesh, who are perhaps living here for more than 40 years and their children have grown older, issued passports and national identity cards.
"And those Afghans whose children have grown older here, who were born in Pakistan, they would also be issued passports and ID cards," he continued. "When you are born in America, you get the American passport. It is the practice in every country in the world, so why not here? How cruel it is for them."
Unfortunately for the hapless communities, under obvious pressure from both allies and opponents, Mr Khan later said on the floor of the National Assembly that the final decision to grant citizenship to Afghans and Bengalis would be made only after taking all parties and "stakeholders" into confidence — a phenomenon unlikely to happen. Their dream seems be shattered on the cusp of realisation.
Parliament debate
The prime minister's statement on granting citizenship to the people of Bengali and Afghan origin in Pakistan sparked a debate in an assembly session.
The issue was raised jointly by the PPP and the Balochistan National Party-Mengal (BNP-M), one of the government allies, through a calling attention notice.
PPP's Nafisa Shah described the PM's statement as "insensitive" and said that he had "failed to take the feelings of the locals" of Karachi into consideration.
She said that the prime minister made the statement without realising the "sensitivities" of the metropolis, which she said had fought "civil wars" over resources. She also demanded that the government prepare data on refugees and immigrants living in the country before taking any major decision.
Former foreign minister Hina Rabbani Khar also lashed out at the premier over the statement, calling it "irresponsible".
"Prime Minister Khan must realise that after becoming premier, he does not represent only his party, but the entire country," she said. "He can take U-turns as his party's head, but not as the prime minister — on such important issues."
BNP-M chief Sardar Akhtar Mengal also opposed the proposal and called for a thorough debate on the issue. He lamented that the government was considering granting citizenship to Bengali and Afghan refugees on humanitarian grounds but the Baloch people were not even treated as humans in their own country.
He sarcastically remarked that illegal immigrants could continue to live in the country "simply by paying a Rs500 fine" and go on to accumulate property worth millions. In a previous session, Mr Mengal had walked out of the assembly during a debate on the same issue in the presence of the PM.
Responding to the arguments made by the PPP and BNP-M, Human Rights Minister Shireen Mazari said the government was ready to debate the issue before taking any decision. She said the PM had met Mr Mengal and assured him that the ruling PTI would consult all parties before arriving at a decision.
Dr Mazari also criticised the PPP, saying that the party had never bothered to collect data about the people living in Karachi despite being in power for more than a decade.
She further said that the Citizenship Act of 1951 granted citizenship status to people born in Pakistan.
"Whether you like it or not, it is the law that those born in Pakistan are Pakistani nationals," she said.
The issue was also debated in the Senate, where state minister for interior Sheheryar Khan Afridi stated that no decision would be "imposed without national consensus and the matter regarding granting nationality will be debated in parliament".
State minister for parliamentary affairs Ali Mohammad Khan's statement was more sugar-coated. He said: "This is our responsibility to help Muslim brothers in trouble." He recalled the sacrifices of the Bengalis in Karachi when they refused to migrate to Bangladesh after the fall of Dhaka in 1971 and opted to stay on in what was then West Pakistan. However, he also insisted that there should be a national consensus on the issue.
Is a national consensus possible on any disputed issue?
An appeal
Dear Khan Sahib, you are most people's last hope. They fear that if you fail, it will be gloom all around. Don't disappoint all of them, including those desperately trying to seek an identity. You have rightly said that it is "cruel" to deny them what is their right under our own Constitution. Condemned to live in slums with little amenities, these people face problems at every step. Without an identity card they cannot get a regular job. They cannot buy a train or plane ticket. They cannot have their children admitted to proper schools. I don't know how they solemnise their marriages without proper documents as the nikahnama needs ID card numbers.
Full report at:
https://www.dawn.com/news/1439229/no-u-turn-mr-prime-minister
--------
FATF wants Pakistan to impose financial sanctions on designated terrorists
Oct 20, 2018
The Financial Action Task Force (FATF) on Friday demanded Pakistan impose "financial sanctions" on the designated terrorists as well as entities, in addition to other measures against money laundering and financial assistance to terrorists.
Pakistan and FATF's Asia Pacific Group (AGP) delegation recently held talks for a week and half in the capital. In the last meeting on Friday, the FATF delegation held talks with Pakistani officials and presented them an initial report.
"In June 2018, Pakistan made a high-level political commitment to work with the FATF and APG to strengthen its AML/CFT regime and to address its strategic counter-terrorist financing-related deficiencies," the task force said in its press statement.
RECOMMENDATIONS:
The FATF stressed upon Pakistan to implement its action plan to accomplish the following objectives:
(1) demonstrating that TF risks are properly identified, assessed, and that supervision is applied on a risk-sensitive basis; (2) demonstrating that remedial actions and sanctions are applied in cases of AML/CFT violations, and that these actions have an effect on AML/CFT compliance by financial institutions; (3) demonstrating that competent authorities are cooperating and taking action to identify and take enforcement action against illegal money or value transfer services (MVTS); (4) demonstrating that authorities are identifying cash couriers and enforcing controls on illicit movement of currency and understanding the risk of cash couriers being used for TF; (5) improving inter-agency coordination including between provincial and federal authorities on combating TF risks; (6) demonstrating that law enforcement agencies (LEAs) are identifying and investigating the widest range of TF activity and that TF investigations and prosecutions target designated persons and entities, and persons and entities acting on behalf or at the direction of the designated persons or entities; (7) demonstrating that TF prosecutions result in effective, proportionate and dissuasive sanctions and enhancing the capacity and support for prosecutors and the judiciary; and (8) demonstrating effective implementation of targeted financial sanctions (supported by a comprehensive legal obligation) against all 1267 and 1373 designated terrorists and those acting for or on their behalf, including preventing the raising and moving of funds, identifying and freezing assets (movable and immovable), and prohibiting access to funds and financial services; (9) demonstrating enforcement against TFS violations including administrative and criminal penalties and provincial and federal authorities cooperating on enforcement cases; (10) demonstrating that facilities and services owned or controlled by designated person are deprived of their resources and the usage of the resources.
The task force has also asked Pakistan to provide the first report until November 19. Its team will visit Pakistan next in March or April of 2019. The FATF said it will closely monitor the implementation of the action plan.
The FATF Asia Pacific Group will make the report related to Pakistan public in July 2019, thus Pakistan has six more months to be de-list from the grey list, according to reports.
It is pertinent to mention that in July, the FATF had included Pakistan in its 'grey list' upon failure to stop financial aid to terrorists.
THURSDAY'S MEETING:
A nine-member team of the Asia-Pacific Group (APG) on Thursday recommended various actions to help Pakistan get delisted from Financial Action Task Force's (FATF) grey list of countries from September 2018.
The APG delegation which is on an 11-day visit to Pakistan has proposed measures in its report after on-site evaluation of existing legal and institutional framework to control terror-financing and money laundering in Pakistan, a local media house reported.
In the report presented to the Pakistani government on Friday, it was deliberated upon all leading government departments and agencies, mainly the Financial Monitoring Unit (FMU), Federal Board of Revenue (FBR), Federal Investigation Agency (FIA) and Anti-Narcotics force, to answer queries raised in the exit report.
The 'exit report' from the APG includes 40 suggestions which have been separated into 11 outcomes performance benchmarks.
The report further stated that Pakistan is in conformity with over 50% of the recommendations. But it wasn't clear whether it would be enough for Pakistan to come out of the greylist.
In the present meetings held during the APG delegations visit, officials from the assessment team and agency officials exhaustively deliberated with Pakistani officials regarding Islamabad's compliance with international AML/CFT measures, draft of the technical compliance annexure forward on October 5th, Pakistan's answers to these measures and commitment on how it intends to meet the core issue of the immediate outcomes.
Moreover, the report said it had been underlined in the previous meetings that Pakistan was mostly in conformity in regard to legislation of various laws for AML/CFT, but most issues were linked to its enactment.
The report also added the laws were in existence but there were problems related to structural arrangements for the effective enactment of these laws.
'FATF ACKNOWLEDGED PAKISTAN'S STEPS':
On Thursday, Finance Minister Asad Umer said that the FATF had acknowledged Pakistan's steps to curb money laundering.
The finance minister said that Pakistan was determined to adopt modern ways to stop money laundering and terror financing.
Umar went on to say that the Pakistani government will continue to cooperate with the body and take steps in accordance with the directions given by the FATF.
In August, the APG as part of the pre-site mutual evaluation identified a series of deficiencies in Pakistan s anti-money laundering or counter-terror financing (AML/CFT) laws and mechanisms. The report was sent to Pakistan with recommendations.
In response, Pakistan has provided details of measures taken in compliance with the recommendations. On October 5, Pakistan received another technical compliance annexure from the APG which further highlighted deficiencies in the AML/CFT measures that Islamabad needs to take.
Full report at:
https://www.pakistantoday.com.pk/2018/10/19/experts-recommend-ways-to-remove-pakistan-from-fatf-greylist-report/
--------
Southeast Asia
Wan Azizah's Brussels visit boosts Malaysia-EU ties
20 Oct 2018
BRUSSELS (Bernama): Deputy Prime Minister Datuk Seri Dr Wan Azizah Wan Ismail says her official visit to Brussels to attend the Asia-Europe Meeting (Asem) summit has been fruitful in boosting bilateral ties between Malaysia and the European Union (EU).
Dr Wan Azizah arrived here Wednesday leading the Malaysian delegation to the 12th ASEM summit on Oct 18 and 19.
This is her first visit to Europe since her appointment as Malaysia's Deputy Prime Minister on May 21 after Pakatan Harapan took over power from Barisan Nasional in the 14th general election in May.
Speaking to the media before returning to Malaysia at the conclusion of her visit, Dr Wan Azizah said she had fruitful meetings with three heads of government and a deputy prime minister from the EU as well as highlighted and intervened on several important issues at the summit.
Dr Wan Azizah held bilateral meetings with Netherlands Prime Minister Mark Rutte; Ireland Prime Minister Leo Varadkar; Norway Prime Minister Erna Solberg and her Belgian counterpart, Deputy Prime Minister Jan Jambon.
"I brought up the issue of palm oil with all the four leaders and reiterated the fact that Malaysia still retains 55 percent of its forest cover.
"Our palm oil conforms to international standards and it is mandatory for all Malaysian palm oil players to be certified sustainable through the Malaysian Sustainable Palm Oil (MSPO) certification scheme," she told Bernama and RTM at the end of the summit Friday (Oct 19).
"With Belgium, I also talked about anti-terrorism cooperation and collaboration in cybersecurity. Jambon said there should be a level playing field for countries producing edible oils and that there should not be any discrimination in that respect.
"Norway, meanwhile, expressed interest in working towards enhancing business ties between both countries and both of us want a more coherent agenda internationally to build an alliance on the sustainable use of the ocean," she said.
With Ireland, she said, a discussion took place on how Malaysia can be a gateway for the country to the other Asean states.
"Mr Varadkar mentioned future plans of expanding their global footprint, including having more Irish agencies in Malaysia," she said, adding that Malaysia also supports Ireland and Norway's bid for a seat at the United Nations Security Council.
As Malaysia remains resolute in seeking justice for the victims of Malaysia Airlines Flight MH17 that was shot down in 2014, Dr Wan Azizah said she did touch on the subject with Rutte.
The Dutch-led Joint Investigation Team (JIT) is still investigating the disaster. MH17 was flying from Amsterdam to Kuala Lumpur when it was brought down.
"On MH17, Malaysia and the Netherlands want a closure for the families and loved ones involved in the tragedy as soon as possible and we want investigations to be concluded swiftly. We agreed to cooperate in this matter," said Dr Wan Azizah.
She said the Netherlands and Malaysia agreed that it is even more vital to staying connected because of this issue and want more cooperation and intelligence sharing.
The two-day Asem summit had gathered the heads of state/government of 51 Asian and European countries, EU representatives and the Asean secretary-general.
"With all the heads of government, I mentioned that I see Malaysia as a country of Muslim democrats, with a Muslim-majority population changing the government in a peaceful plus stable manner, taking into account the rights of other races as well," she said.
With her national statement at the second plenary session of the Asem summit on the topic 'Reinforcing the Multilateral System: Advancing the Asem Partnership on Global Challenges', Dr Wan Azizah extolled women empowerment, countered the prevailing anti-palm oil sentiments and showcased what the New Malaysia is all about.
In a bilateral meeting with Federica Maria Mogherini, High Representative of the EU for Foreign Affairs and Security Policy, on the sidelines of the summit, Dr Wan Azizah secured January 2019 as the month for Malaysia and the EU to sign a partnership cooperation agreement (PCA). Individual Asean members will first need to sign a PCA with the EU to qualify for the free-trade agreement (FTA).
Dr Wan Azizah had also highlighted and intervened on several important issues, such as on countering terrorism as well as on refugees and migration, at the Asem summit.
On counter-terrorism, she said Malaysia strongly condemns all acts, methods and practices of terrorism which have caused the loss of many innocent lives, injury to countless innocent civilians and damage to public property and infrastructure.
"We remain committed to tackling the threat of terrorism by addressing its root causes, and strengthening policies, legal frameworks and enforcement against such activities," she said.
On refugees and migration, she said Malaysia believed that the benefits of globalisation have to be equally shouldered between governments of countries from where the refugees and migrants originate and the receiving countries.
"We are concerned over the influx of irregular migrants into Malaysia which has resulted in the population of persons of concern numbering 161,146 as of Aug 1, 2018. Such a large number is of concern to us as most of them are likely to be in the country for a long period of time owing to the slow resettlement process. And there is also a sizeable number of UN High Commissioner for Refugees (UNHCR) cardholders in Malaysia with no prospects of resettlement," she said.
Asem member nations represent 60 percent of the world's population, contribute 55 percent of global trade, 65 per cent of the global gross domestic product and 75 percent of global tourism.
Malaysia's total trade with the EU grew by 17.5 percent to RM175.08bil (US$40.81bil) in 2017 versus 2016, based on Ministry of International Trade and Industry data. - Bernama
https://www.thestar.com.my/news/nation/2018/10/20/wan-azizah-s-brussels-visit-boosts-malaysia-eu-ties/
--------
See you in court, Perkasa says, if Batu Kawan MP not probed for sedition
20 October 2018
KUALA LUMPUR, Oct 20 — Malay rights group Perkasa will lodge a police report against Batu Kawan MP Kasthuri Patto for sedition, and will take the matter to court if no action is taken.
Its president Datuk Paduka Ibrahim Ali said the NGO will make the report by Monday, on the grounds that Kasthuri's push for the government to recognise the United Nations Declaration on the Elimination of All Forms of Intolerance and of Discrimination Based on Religion or Belief would allow Muslims in Malaysia to leave the faith.
"We will bring it to court if nothing is done to investigate her under the Sedition Act, as we want to see if the decision to place a moratorium on the Act is in line with the Federal Constitution," he said during Perkasa's forum on the Act's repeal.
On Monday, Ismaweb, the online portal for conservative Muslim group Isma, ran a story titled "DAP MP pushes for freedom for apostasy, deviant teachings", which also alleged that in Parliament, Kasthuri had referred to recommendations by the United States Commission on International Religious Freedom to cease detaining followers of Shi'ite or Ahmadiyyah teachings, which Malaysian Islamic authorities have declared to be deviant.
On Thursday, it was reported that Kasthuri planned to lodge a police report against Isma and is mulling legal action against the group if it does not apologise within 48 hours for the allegedly defamatory article.
She strongly denied Isma's claims, adding that she has never spoken against Islam, and accused Isma of propagating hatred.
Earlier today, Ismaweb released a statement, saying it refused to retract the article and that it would stand by its contents, claiming that it had found the references and facts contained within to be accurate.
Full report at:
https://www.malaymail.com/s/1684908/see-you-in-court-perkasa-says-if-batu-kawan-mp-not-probed-for-sedition
--------
Master Chinese language without sidelining BM, Anwar advises
Minderjeet Kaur
October 20, 2018
NILAI: PKR president-elect Anwar Ibrahim today urged Malaysians to master the Chinese language as it is the economic language of the region but without sidelining the Malay language.
He said Bahasa Malaysia remained the official language of the country but Malaysians needed to empower themselves with other languages.
"Our challenge is to have more knowledge, a better attitude and being inclusive to raise our standards, " he said at a seminar organised by the Islamic Youth Movement (Abim) titled "Visions of Islam in New Malaysia".
The former Abim leader also said there should be no discrimination between different races or classes and that Muslims should speak up when the rich discriminated against the poor.
Anwar made his name as a firebrand student leader in the seventies, when he wielded influence among the youths, mobilising thousands of university students in large-scale anti-government protests.
That was until he was roped in by Prime Minister Dr Mahathir Mohamad, who was then into his first stint as the nation's leader to join the ruling Umno in 1981, quickly rising to become Mahathir's deputy, before the two fell out in 1998.
Following Anwar's entry into the government, Abim had largely remained apolitical, and concentrated on educational and socio-religious activities, including building Islamic schools and welfare centres.
DAP veteran Lim Kit Siang was also present at the event.
Anwar added that previously he had spoken against certain aspects of the New Economic Policy (NEP) not because he wanted the support of the Chinese and DAP but to improve on the implementation.
"The truth is I had spoken up against NEP since 1979 as it was sidelining the poor and benefiting the rich. Read my speech made at Abim."
Full report at:
https://www.freemalaysiatoday.com/category/nation/2018/10/20/master-chinese-language-without-sidelining-bm-anwar-advises/
--------
Free Speech and Democracy Under Threat in Indonesia
By Tom Sullivan
October 20, 2018
Since the fall of Suharto, Indonesia has made significant steps toward becoming a more open and free country. It is now seen as something of a beacon of peaceful and pluralistic democracy in a region that still remains a stranger to liberal government. Its multiple free and fair elections since the return of democracy in 1998 have been lauded by many, the establishment of a true separation of powers between three independent branches of government is rightfully praised, and its ripe environment for foreign direct investment is seen as a clear symbol of a politically stable country. At the same time, Indonesia still struggles to ensure some basic tenets of a strong and prosperous democracy. Nowhere is this point illustrated more forcefully than on the issue of free speech.
Indonesia is a country where, since independence in 1945, the right to free speech has been subject to attack from both the political system itself and conservative Islamic groups. Contrastingly, moderate Islam in Indonesia must be given the credit it deserves for its role in recent Indonesian history. It was the two major Islamic organizations, Nahdlatul Ulama and Muhammadiyah, that challenged the one-man dictatorship of Suharto, sufficiently weakening the roots of his control enough for the students and business elites of the country to topple him from power after a 32-year reign.
That was 20 years ago. Twenty years of democracy has allowed for a flourishing of new ideas, movements and change. Groups that had previously been sidelined by the bureaucratic state for over a generation have now contributed to Indonesia's civil society organizations' high ranking in both values and participation. While this has certainly been good for Indonesian democracy and has contributed to the country's open international image, it has also allowed extreme views to crowd into the mainstream. For example, Indonesia's intelligence agency states that at least 1,300 members of the Islamist hardline group Hizb ut-Tahrir Indonesia are in "senior posts in the civil service, universities, the military and police." To add to this, there are already signs of the political class seeking to return to the Suharto days of impunity from public criticism and judicial prosecution.
Enjoying this article? Click here to subscribe for full access. Just $5 a month.
Today, moderate and democracy-supporting Islamic groups such as Nahdlatul Ulama and Muhammadiyah are having their moral authority challenged by more conservative Islamic platforms such as the Indonesian Ulema Council (MUI). Politicians are also increasingly trying to silence those who seek to criticize them; one example is the MD3 law passed in February, which weakened anti-corruption authorities.
The most notorious legal instrument of repression in the country has long been the draconian blasphemy law. This law, dating back to 1965, has been used to silence criticism of Islam, and the MUI now more than ever has attempted to employ it as a political weapon. The most recent and high profile case was the 2016 conviction of then-Jakarta Governor Basuki "Ahok" Purnama. He sentenced to two years imprisonment for blaspheming Islam. Even more recently, in 2018, a Buddhist woman was sentenced to 18 months in prison for stating that the loudspeaker of a nearby mosque was too loud. In both cases, the MUI was a strong and powerful public voice demanding the full application of the law. The culmination of this new political assertiveness came when President Joko Widodo, a leader once criticized by the MUI for supporting "liberal secularism," recently chose the head of the MUI, Ma'ruf Amin, to be his vice presidential candidate in the upcoming 2019 election. Their ticket is expected to win.
In a country where major Islamic organizations have for the most part stayed out of politics, the MUI's decision to enter politics, and Widodo's decision to pander to the most extreme conservative Muslims by electing a man who has called female genital mutilation an "honor for women," is a step backward toward greater political and Islamic control over the rights of Indonesian people to say and do what they so choose.
There may not be any major organization advocating for the abolition of democracy and establishment of an Islamic state in Indonesia, but that does not mean that organized conservative Islam in Indonesia does not pose a serious threat to the country. Religious, ethnic, and other minorities still face great persecution at the hands of the MUI. Vice presidential candidate Amin himself has drafted fatwas against Shia groups, the Ahmadiyah religious minority, as well as the LGBT community, whose activities he has called for the criminalization of. Along with the MUI, Amin has played a key role in the legitimization of intolerance toward norms of democratic freedoms; such dangerous rhetoric has at times resulted in violence. Perhaps even more worrying, Amin has created an atmosphere for politicians to adopt a similar rhetorical tone, often in support of their own political interests.
In February, the People's Representative Council (DPR) passed a law that gave the House Ethics Council the capacity to take legal action against those who "degrade the honor of the DPR or DPR members." The term "degrade" was left purposely ambiguous. Critics point out that the new law will work to take impetus away from the Corruption Eradication Commission (KPK), an institution that enjoys record amounts of public confidence and trust and retains a near 100 percent conviction rate. Accordingly, any new investigation of a member of parliament would need prior approval by the House Ethics Council. While Widodo refused to sign the law, it nonetheless came into effect after the 30-day grace period due to a lack of veto power. The Constitutional Court in June was, however, able to declare invalid the most controversial articles of the law, which would have allowed the "House (of Representatives) to criminalize critics."
Full report at:
https://thediplomat.com/2018/10/free-speech-and-democracy-under-threat-in-indonesia/
--------
Police foil JAD plot to attack Buddhist temples in Tanjung Balai
October 19, 2018
Apriadi Gunawan
The North Sumatra Police have claimed that two suspected terrorists killed in a raid in Tanjung Balai on Thursday had planned to attack Buddhist temples and police stations in the racially and religiously diverse municipality.
The National Police's Densus 88 counterterrorism squad found seven makeshift bombs containing nails, improvised firearms, ammunition and seven containers of explosive powder from the two suspects.
"They planned to attack temples, police stations and other vital installations in Tanjung Balai," North Sumatra Police chief Insp. Gen. Agus Andrianto told reporters on Friday.
Tanjung Balai has seen rising sectarian tension in recent years following a 2016 incident in which a Buddhist woman of Chinese descent was accused of defaming Islam for complaining about the loudspeaker of a local mosque.
The incident triggered a riot that led to the burning of several Buddhist temples. The woman, Meiliana, was convicted of blasphemy and sentenced to 18 months in prison in August this year.
Agus said that the two suspects, identified only as AN, 26, RI, 23, were shot dead after a shootout on Jl. Jumpul in Teluk Nibung district on Thursday afternoon. "They attacked the officers by firing shots."
The police believed that both suspects were members of Jemaah Ansharud Daulah (JAD), the country's largest pro-Islamic State group, which is responsible for a number of terror attacks, including the Surabaya bombings that killed dozens of people.
"We have investigated this terror cell after one of its members was killed [in Tanjung Balai] in May," Tanjung Balai Police chief Adj. Sr. Comr. Irfan Rifa said.
Full report at:
http://www.thejakartapost.com/news/2018/10/19/police-foil-jad-plot-to-attack-buddhist-temples-in-tanjung-balai.html
--------
Mideast
Israeli rights group criticises 'oppression' of Palestinians
October 19, 2018
The head of Israel's leading human rights group strongly criticised Prime Minister Benjamin Netanyahu's government during a contentious UN Security Council meeting on Thursday for what he called its "supremacy and oppression" of the Palestinians.
Israel's UN Ambassador Danny Danon responded, accusing Hagai El-Ad, director of B'Tselem, of staging "a circus" in the council and then in Hebrew telling him: "Shame on you! You are a collaborator!"
That drew a rebuke from Britain's UN Ambassador Karen Pierce who complained that council members could not understand Danon's remarks in Hebrew, which is not one of the UN's official languages. AP obtained a translation after the council meeting.
B'Tselem opposes Israeli settlements in the West Bank and has documented abuses committed by Israeli soldiers, sparking accusations of treason by Israeli hardliners. The rights group has also angered Israeli leaders because it accepts funding from foreign donors including the European Commission and because it airs its criticism in international venues like the United Nations.
Netanyahu told a recent meeting with Christian media outlets that he defined B'Tselem as "a disgrace."
El-Ad was invited to address the UN's most powerful body by Bolivia, which holds the Security Council presidency this month, and he used his speech to decry "the indignity, the outrage, the pain of the people denied human rights for more than 50 years."
He described how Israel is fragmenting Palestinian land, separating Gaza from the West Bank, walling off east Jerusalem which the Palestinians want as their future capital, and how Israeli courts legalize demolitions of Palestinian homes and the relocation of people.
The Israeli government is "quite expert at constructing this facade of legality which has been very successful at allowing us not to have to deal with any international consequences," El-Ad said. And this has enabled Israel to continue "oppressing millions while it somehow is still being considered a democracy."
He said ongoing efforts to legislate against Israeli human rights organizations "now go hand-in-hand with the routine in which opposition to the occupation is being equated with treason."
"So to president Netanyahu I say this: You will never silence us, nor the hundreds of thousands of Israelis who reject a present founded on supremacy and oppression and stand for a future built on equality, freedom and human rights," El-Ad said.
El-Ad urged the world to "let Israel know that it will no longer stand idly by, that it will take action against the continued dismantling of the Palestinian people."
Israel's Danon said B'Tselem was invited by Bolivia, "a country with a terrible human rights record to defame our strong democracy _ but it actually had the opposite effect" and proved "the strength of Israel's vibrant democracy."
"I challenge you all, all of you, to find a Palestinian or a Bolivian who could dare defame his government at the Security Council," Danon said. "At best he might be thrown in jail but he would more likely end up dead."
Danon then accused Palestinian President Mahmoud Abbas of inspiring a "rampant culture of hate" during his 13 years in office and "enabling an imminent war" between Hamas, which controls Gaza, and Israel.
"Far from a peace partner, Mahmoud Abbas is the obstacle for peace," he said.
Bolivia's deputy UN Ambassador Veronica Cordova Soria, who presided over the meeting, had a message for El-Ad when she spoke.
"On behalf of this council I want to apologize for the way he was mistreated today," she told members. "We're not here to discuss Bolivia's human rights."
https://indianexpress.com/article/world/israeli-rights-group-criticises-oppression-of-palestinians-5408584/
--------
Khashoggi the pawn in a Mideast showdown over the Sunni Muslim world
OCTOBER 19, 2018
The fallout over journalist Jamal Khashoggi's death has shed a rare light not only on a deep political divide in Saudi Arabia but on a quiet, long-running contest between Turkey and Saudi Arabia over which country – and which ideology – should lead the Sunni Muslim world.
The rivalry has its roots in the Arab Spring revolutions of 2011, which split Sunni Muslims in the Middle East into two broad camps. The first – which cheered the uprisings and the subsequent election of leaders affiliated with an Islamist political movement known as the Muslim Brotherhood – is led by Turkish President Recep Tayyip Erdogan, whose Justice and Development Party has links to the movement. Turkey provided financial and diplomatic support to the Brotherhood-affiliated governments that emerged after the revolutions that year in Tunisia and Egypt.
The second grouping of Middle Eastern states – comprised of those terrified of the changes rippling across the region – is centred on the ultraconservative Saudi royal family, which declared the Brotherhood a "terrorist" organization. Saudi Arabia and its allies backed the 2013 coup that ousted Brotherhood member Mohamed Morsi's post-Arab Spring government in Egypt, effectively imposing military rule in the country.
In his first column for The Washington Post last year, after he left Saudi Arabia for self-imposed exile in Virginia, Mr. Khashoggi wrote that Saudi Crown Prince Mohammed bin Salman "despises the Muslim Brotherhood."
Mr. Khashoggi joined the Brotherhood in his youth and used his column at the Post to argue that Western leaders needed to deal with the group if they wanted to see democracy in the Middle East. Many of the thousands of other Arab journalists and dissidents who took refuge in Turkey after the coup in Egypt and the collapse of the Arab Spring elsewhere are also tied to the Brotherhood.
In Mr. Erdogan's Istanbul – which Mr. Khashoggi was visiting ahead of his planned marriage to a Turkish doctoral student – Arab dissidents can criticize their governments and continue their political activities in a way that would be impossible at home.
Now a message has been sent: They are not safe – even here, under Mr. Erdogan's protection.
"There are two competing visions for the Middle East that have come head to head over Khashoggi," said Suat Kiniklioglu, a former Turkish parliamentarian who is now a visiting academic at Oxford University's Middle East Centre. "There is a polarization between the monarchies, who want the status quo, and the Brotherhood, who want change. Jamal Khashoggi was the personification of that in the Saudi case."
Turkish police believe Mr. Khashoggi was murdered and dismembered shortly after he entered the Saudi consulate in Istanbul on Oct. 2. Turkish media have reported that a 15-man "hit team" – headed by an intelligence agent frequently photographed in the entourage of the Crown Prince – was sent from Riyadh specifically for the assignment.
On Saturday, Saudi Arabia's public prosecutor said Mr. Khashoggi died in a fight at the consulate, adding that 18 Saudi nationals were arrested and two senior officials were fired over the incident. The statement marked the first time since Mr. Khashoggi's disappearance that the Saudis admitted to his death.
Turkey's fury over Mr. Khashoggi's alleged murder has been apparent from the outset. Mr. Erdogan's government has kept up the pressure on Riyadh, and on Crown Prince Mohammed in particular, by leaking grisly new details about the investigation on a near-daily basis. The jarring headlines about what the Saudis allegedly did to Mr. Khashoggi – and the clear insinuation from Turkish officials that they believe the Crown Prince was behind it – have snarled U.S.-Saudi efforts to find a diplomatic way out of the crisis.
Analysts say the regional power struggle explains why Turkey – not often regarded as a bastion of media freedom – has made such a big deal out of what happened to Mr. Khashoggi.
"Over the past two decades, I have monitored many cases of journalists who were murdered in Turkey," said Erol Onderoglu, a Turkey representative of Reporters Without Borders. "I can easily say that this is the first case where Mr. Erdogan is so vocal in bringing light to the case and giving support to the investigation."
Banu Guven, a Turkish journalist who has been repeatedly pushed out of work because of her refusal to self-censor, said Mr. Erdogan's behaviour in the crisis has been driven not by freedom-of-speech concerns but by anger that Mr. Khashoggi, a journalist who had interviewed the President multiple times, appears to have been killed under his nose in Istanbul.
"Turkey is not just any country. Turkey has Erdogan as its President, and his style of politics, and [the Saudis] still sent their men and did this," she said. "It was very embarrassing."
Mr. Khashoggi cheered the Arab Spring revolts in his writing and was scathingly critical of the coup in Egypt, which the House of Saud stood behind. "It would be a mistake to defy the power of history with the illusion that the powerful can forge deals and plan the future away from the peoples," he wrote in the newspaper Al-Hayat shortly after the coup. "The one-man era is over."
Not in Saudi Arabia, where Crown Prince Mohammed would emerge in 2017 as the kingdom's de facto ruler – an iron-fisted one. In one of his first acts after being appointed King Salman's heir, the Prince initiated the shocking blockade of Saudi Arabia's tiny neighbour Qatar, which hosts and funds the Al Jazeera television network, an outlet blamed by Saudi royals for helping foment the Arab Spring.
Qatar remains in near-complete isolation today, with Saudi Arabia and its neighbours closing its airspace and blocking overland trade from reaching the emirate of 2.6 million people. Qatar's most steadfast ally in the standoff has been Turkey, which sped up a deployment of troops to a military base it had built on the peninsula amid rumours that Saudi Arabia might invade to depose Emir Tamim bin Hamad Al Thani.
The showdown over Qatar is just one arena in which Ankara is jousting with Riyadh. The battle for influence stretches from the Western Balkans to Central Asia and has seen the two countries go on rival mosque-building sprees in countries such as Bosnia-Herzegovina and Kyrgyzstan in an effort to spread their influence – as well as their differing interpretations of Islam: Turkish-built mosques generally preach a more moderate, mainstream form of the religion, while Saudi-trained imams promote the ultraconservative Wahhabi strain.
Turkey and Saudi Arabia are also at odds over the U.S.-Saudi-Israeli desire to confront Iran – a country to which Turkey has strong economic ties – as well as the Trump administration's murky peace plan for the Israeli-Palestinian conflict. Saudi Arabia has quietly gone along with steps such as the U.S. embassy's move to Jerusalem, which Mr. Erdogan's government loudly opposed.
Even where Mr. Erdogan and the Saudi royals agree – as in Syria's civil war, where they share an interest in removing President Bashar al-Assad, an aim that now appears out of reach – their proxy armies on the ground have often fought each when they weren't battling government forces.
Shortly after his move against Qatar, Crown Prince Mohammed carried out another power play at home, ordering the roundup of some 200 Saudi princes and businessmen and holding them for two weeks inside the Ritz-Carlton hotel in Riyadh until they paid billions of dollars they had allegedly attained through corruption. Among the detainees was Prince Alwaleed bin Talal, who had appointed Mr. Khashoggi the editor of a 24-hour news channel he had founded.
Mr. Khashoggi's own political space also began to close. He was barred by the 33-year-old Crown Prince from writing about politics, even on his Twitter account. Eventually, he went into self-imposed exile in the United States, where he fully embraced his status as a dissident and contributed regular opinion columns to The Washington Post that were frequently critical of the Prince's authoritarianism.
But Istanbul – and Mr. Erdogan's alternative model of Islamist politics – still drew him back east. Some reports have suggested that Mr. Khashoggi was considering splitting his time between the United States and Turkey after getting married. His fiancée, Hatice Cengiz, has said Mr. Khashoggi, who would have turned 60 last week, felt safe in Turkey.
It's now clear he wasn't. In the wake of his disappearance, other Arab dissidents are feeling less comfortable about their own situations in Turkey.
Raed Saleh, the leader of the Syrian Civil Defense – the rescue group better known as the White Helmets – said his own organization, which is fiercely opposed to the Assad regime, has "good relations" with the Turkish government. But many of the 3.5 million Syrians living in Turkey were already rattled, Mr. Saleh said, by last year's murder of Orouba Barakat, an opposition journalist who was stabbed to death, along with her daughter, in their Istanbul apartment by another Syrian.
Now there's fresh concern in the wake of Mr. Khashoggi's apparent death.
Full report at:
https://www.theglobeandmail.com/world/article-khashoggi-vanishes-and-a-fierce-feud-re-emerges-between-erdogans/
--------
130 Palestinians, including 25 children, injured by Israel amid Amnesty condemnation
Oct 19, 2018
Some 130 Palestinian protesters, including 25 children, have been injured by Israeli fire during anti-occupation protests at the Gaza border, according to the Gaza Health Ministry, amid Amnesty International's condemnation of Israel's newly proclaimed "zero tolerance" towards protesters.
Health Ministry spokesman Ashraf al-Qidra announced that four medics and journalists have also been wounded, one critically, as a result of the Israeli violence on Friday. Earlier today, Amnesty published a statement warning of the proclaimed Israeli "zero tolerance" policy against the border demonstration, fearing that it may "lead to more Palestinian deaths."
"There are serious fears that this policy will further sanction the use of deadly force against unarmed protesters during today's demonstrations, and that Israeli forces will be given carte blanche authorization to carry out large-scale, unlawful killings escalating the bloodshed. Israel has repeatedly used lethal force unnecessarily and excessively against unarmed protesters in shameless violation of international law," said Amnesty's Middle East and North Africa Deputy Director Saleh Higazi.
Following the Israeli announcement of an intensified crackdown, witnesses at the Friday protests reported the deployment of many armored vehicles.
Tensions have been running high near the border fence since March 30, which marked the start of a series of protests dubbed "The Great March of Return." Protesters have assembled along the fence every Friday ever-since, demanding the right of return for those driven out of their homeland at the hands of the Zionist regime.
The clashes in Gaza reached their peak on May 14, the eve of the 70th anniversary of Nakba Day, or the Day of Catastrophe, which coincided this year with Washington's relocation of the US embassy from Tel Aviv to occupied Jerusalem al-Quds.
More than 190 Palestinians have so far been killed and over 20,000 others wounded in the renewed Gaza clashes, according to the latest figures released by the Gaza Health Ministry.
Full report at:
https://www.presstv.com/Detail/2018/10/19/577494/Gaza-Israel-Protest
--------
Thousands protest on Gaza-Israel border
19 October 2018
Dozens of Palestinians were hit by Israeli gunfire Friday as thousands protested near Gaza's border with Israel, the health ministry in the enclave said.
Following calls to avoid an escalation in violence, the demonstrators largely kept their distance from the fortified frontier fence.
But at least 115 Palestinians were injured -- 77 by live fire -- in clashes with Israeli soldiers, the health ministry in Gaza City said.
Rockets fired from Gaza on Wednesday had brought the territory's Hamas rulers and Israel closer to a wide scale confrontation.
Since March, Palestinians have moved right up to the border fence every Friday and occasionally breached it, leading to clashes in which more than 200 Palestinians and one Israeli have been killed.
While thousands again gathered for the latest protests in northern Gaza, the demonstrators largely remained at least 100 meters from the border.
An AFP correspondent said Hamas security officials in at least one location were seen discouraging protesters from nearing the fence.
Kites and balloons equipped with incendiary devices were launched across the border into southern Israel, and the Israeli army said one of its aircraft targeted a group of men launching balloons.
An Egyptian security delegation visited the Gaza Strip on Thursday and encouraged Hamas leader Ismail Haniya to calm the protests, an Egyptian official said.
United Nations envoy Nickolay Mladenov, in a tweet, also urged all sides "to exercise restraint, to proceed in a peaceful manner, and to avoid escalation".
On Wednesday, two rockets were fired from the Palestinian enclave at Israel, with one destroying a house in the southern city of Beersheba.
Full report at:
https://english.alarabiya.net/en/News/middle-east/2018/10/19/Thousands-protest-on-Gaza-Israel-border.html
--------
US envoy to UN condemns Iran's use of child soldiers
19 October 2018
US Ambassador to the United Nations Nikki Haley condemned the Iranian Revolutionary Guards and the Basij Resistance Force's use of child soldiers to fight along with the regime's forces in the region.
In a speech to the Security Council at a meeting held to discuss the situation in the Middle East, Haley said Iran was recruiting and training children as young as 12 "to fight and die in Iranian aggression abroad."
The Basij Resistance Force is a trained military wing of the Iranian Revolutionary Guard.
Haley added that since 2015, the Iranian regime has used the Basij to recruit and train Iranian children to fight in Syria to support the Assad regime.
Her comments came two days after the US announced new sanctions on the Basij and 20 other firms.
"This vast network provides financial infrastructure to the Basij's efforts to recruit, train, and indoctrinate child soldiers who are coerced into combat under the IRGC's direction," said Treasury Secretary Steven Mnuchin.
Full report at:
https://english.alarabiya.net/en/News/middle-east/2018/10/19/US-envoy-to-UN-condemns-Iran-s-use-of-child-soldiers-.html
--------
Turkey to host four-nation summit on Syria crisis
19 October 2018
A Turkish official says a summit between the leaders of Turkey, France, Germany and Russia will be held in Istanbul this month to discuss the conflict in Syria.
Presidential spokesman Ibrahim Kalin, in a written statement Friday said a summit will take place on October, 27.
Russia and Turkey reached an agreement last month to set up a demilitarized zone around the northwestern Syrian province of Idlib preventing a government offensive.
Kalin says all aspects of the Syrian conflict are expected to be discussed, including the situation on the ground, the Idlib agreement as well as efforts for a lasting solution to the conflict.
https://english.alarabiya.net/en/News/middle-east/2018/10/19/Turkey-to-host-four-nation-summit-on-Syria-crisis.html
--------
Palestinian-American student wins appeal to enter Israel
19 October 2018
A Palestinian-American student who was barred from entering Israel under a law against foreign activists who support boycotts of the state over its Palestinian policies was given permission to stay in the country by the Supreme Court on Thursday.
In its ruling, the court criticized Israeli authorities for denying entry to Lara Alqasem, 22, saying their decision gave "the unavoidable impression" that she was barred for her political opinions.
Alqasem was refused entry when she flew to Israel on a study visa earlier this month. Security officials cited her role as president of a small local chapter of Students for Justice in Palestine at the University of Florida.
The decision to prevent her entry into Israel is supported by a 2017 law that bars the entry of foreigners who publicly support boycotts over Israel's policies towards the Palestinians.
Thursday's ruling, seen by Reuters, overturned a lower court decision that had backed the decision by Israeli authorities.
Alqasem said she was relieved by the court's decision. Her lawyers called the ruling "a victory for free speech, academic freedom, and the rule of law."
Public Security Minister Gilad Erdan, who had denied Alqasem entry, said the government would look into the implications of the ruling.
Full report at:
https://english.alarabiya.net/en/News/middle-east/2018/10/19/Palestinian-American-student-wins-appeal-to-enter-Israel.html
--------
Yemen's Vice President: Iran sponsors terrorism project in region
19 October 2018
Yemeni Vice President General Ali Mohsen Saleh said that Iran is supporting and sponsoring terrorism and sabotaging projects in the region through the Houthi militias, which caused suffering for the Yemenis and targeted neighboring countries.
During his meeting with the Governor of Saada province Hadi Tarshan, the Yemeni Vice President asserted that the political leadership and the Arab coalition supporting the legitimacy in Yemen, will continue efforts to eliminate the Houthi coup militias.
He praised the military progress made by the Yemeni National Army backed by the Arab coalition in many fronts in Saada, according to Yemeni news agency.
Full report at:
https://english.alarabiya.net/en/News/gulf/2018/10/19/Yemen-s-Vice-President-Iran-sponsors-terrorism-project-in-region.html
--------
Israeli rights group roasts Tel Aviv at UN, hails Palestinians are 'heroes'
Oct 20, 2018
A leading Israeli human rights group blasted Tel Aviv in a meeting of the UN Security Council for its "supremacy and oppression" of the Palestinians, whom it described as "heroes".
The group B'Tselem's director Hagai El-Ad delivered a scathing speech against the regime after being invited to the podium by Bolivia, which holds the Council's presidency this month, during a Council meeting.
"You will never silence us, nor the hundreds of thousands of Israelis who reject a present founded on supremacy and oppression and stand for a future built on equality, freedom, and human rights," he said, addressing Israeli Prime Minister Benjamin Netanyahu, the Associated Press reported.
El-Ad decried "the indignity, the outrage, the pain of the people denied human rights for more than 50 years," referring to Palestinians' mistreatment at the hands of Israel since 1948, when the regime proclaimed existence.
He said the regime was fragmenting Palestinian land, separating the Gaza Strip from Tel Aviv-occupied West Bank, walling off East Jerusalem al-Quds, which the Palestinians want as their future capital, while its courts were legalizing demolitions of Palestinian homes and the relocation of people.
'Israel's façade of legality'
The Israeli regime is "quite expert at constructing this façade of legality, which has been very successful at allowing us not to have to deal with any international consequences," El-Ad said.
And this has enabled Israel to continue "oppressing millions while it somehow is still being considered a democracy," the group's leader said.
El-Ad finally urged the world to "let Israel know that it will no longer stand idly by, that it will take action against the continued dismantling of the Palestinian people."
The group opposes the settlement construction, which Israel has been undertaking in the West Bank since 1967, when it occupied the territory. It has also documented abuses committed by Israeli forces against the Palestinians, rubbing Israeli officials up the wrong way.
Israel's UN envoy Danny Danon responded, accusing the group's leader of setting up "a circus" at the Council.
He then told him in Hebrew, you "serve our enemies. They use you against us. The IDF (Israeli military) soldiers are guarding you and you are coming here to defame them. Shame on you, you lousy collaborator." Britain's UN Ambassador Karen Pierce objected, saying Council members could not understand Hebrew, which was not the world body's official language.
The outgoing US Ambassador to the UN Nikki Haley called El-Ad's speech "distorted" and "one sided."
Full report at:
https://www.presstv.com/Detail/2018/10/20/577524/Israel-United-Nations-Security-Council-BTselem-Hagai-ElAd-Palestinians-oppression-supremacy
--------
Erdogan to host Putin, Macron, Merkel to discuss Syria
Oct 19, 2018
Turkish President Recep Tayyip Erdogan is to host Russian President Vladimir Putin as well as his French peer Emmanuel Macron and German Chancellor Angela Merkel for talks over Syria later this month.
The summit would be held in Istanbul on October 27, Turkish presidential spokesman Ibrahim Kalin was cited by state-run Anadolu news agency as saying on Friday.
The event would seek efforts to find a "long-lasting solution" to the crisis in Syria as well as the situation in the northwestern Syrian Idlib province, he added.
Erdogan had previously planned to host the international summit in September.
Idlib is the last stronghold of Takfiri terrorists and militants in Syria which has successfully ended their dominance in other provinces.
In September, the Syrian government was about to stage a wholesale counter-terrorism operation in the province. Russia, an ally of the Syrian government, and Turkey, which sides with anti-Damascus militants, however, announced a plan to create a de-militarized zone in the province, where the outfits would be disarmed and ultimately ordered to withdraw.
The plan prevented the Syrian operation.
The Istanbul summit is to go underway as al-Qaeda-lined Takfiris and even Turkish-backed militants in Idlib have said they would refuse to either hand over their weapons or leave the area.
Recently, the groups started targeting neighboring Syrian provinces of Aleppo and Hama with heavy mortar fire, killing several Syrian soldiers.
Full report at:
https://www.presstv.com/Detail/2018/10/19/577456/Syria-Turkey-summit-France-Germany-Russia-Istanbul-Erdogan-Idlib
--------
Yemeni army recover large cache of Houthi militia armament
October 19, 2018
DUBAI: Yemen's national army has announced several combing operations in sites where Houthi militias have been defeated, one of which was in the Hali directorate east of Hodeidah.
A statement from the Giants Brigades in the Yemeni army, said that forces affiliated to their brigades carried out combing operations in a large number of farms adjacent to the area of Al-Hali, where Houthi militia was located.
The statement added that during the operation, army forces found of a large cache of 120-caliber mortar shells and other shells that the Houthis had hidden in sewage pipes of several military sites where they were positioned.
Full report at:
http://www.arabnews.com/node/1390436/middle-east
--------
North America
Trump on Khashoggi death: Saudi arrests is a 'good first step'
October 20, 2018
President Donald Trump on Friday called Saudi Arabia's announcement that suspects are in custody in the death of journalist Jamal Khashoggi a "good first step" and said he would work with Congress on a US response.
The president spoke to the media at a defense roundtable in Arizona hours after Saudi Arabia claimed that Khashoggi, a Washington Post contributor last seen on Oct. 2, was killed in a "fistfight" at the Saudi consulate in Istanbul. The kingdom also said that 18 suspects were in custody and that intelligence officials had been fired.
Asked by a reporter whether he thought Saudi Arabia's explanation for Khashoggi's death was credible, Trump said, "I do. I do." But he said before he decided what to do next, he wanted to talk to Saudi Crown Prince Mohammed bin Salman.
"Saudi Arabia has been a great ally, but what happened is unacceptable," Trump said. Regarding the Saudi arrests, he said, "It's a big first step. It's only a first step, but it's a big first step."
On Capitol Hill, lawmakers including Trump ally Sen. Lindsey Graham expressed skepticism of the Saudi account, which was vastly different than that given by Turkish officials, who had said an "assassination squad" sent by the kingdom had killed and dismembered Khashoggi.
"First we were told Mr. Khashoggi supposedly left the consulate and there was blanket denial of any Saudi involvement," Graham, R-S.C., tweeted Friday. "Now, a fight breaks out and he's killed in the consulate, all without knowledge of Crown Prince."
Khashoggi, a prominent journalist and royal court insider for decades in Saudi Arabia, had written columns critical of Crown Prince Mohammed bin Salman and the kingdom's direction while living in self-imposed exile in the US. He went to the Saudi consulate to obtain paperwork for his upcoming marriage.
"The Saudi `explanation' for murdering journalist and Virginia resident Jamal Khashoggi in a consulate_a fistfight gone wrong_is insulting," tweeted Sen. Tim Kaine, the 2016 Democratic vice presidential nominee. "Since the Trump Administration won't stand up against atrocity, Congress must."
Democratic Rep. Adam Schiff of California said Saudi Arabia's claim that Khashoggi died in a brawl wasn't credible.
"If Khashoggi was fighting inside the Saudi consulate in Istanbul, he was fighting for his life with people sent to capture or kill him," said Schiff, the ranking member of the House intelligence committee.
"The Kingdom and all involved in this brutal murder must be held accountable, and if the Trump Administration will not take the lead, Congress must," Schiff said.
In a statement Friday night, White House press secretary Sarah Huckabee Sanders said the US will closely follow international investigations into Khashoggi's death and will advocate for justice that is "timely, transparent and in accordance with all due process."
Earlier Friday, Sanders said Secretary of State Mike Pompeo had spoken to the crown prince and briefed the president and John Bolton, Trump's national security adviser. Trump dispatched Pompeo earlier in the week to Saudi Arabia and Turkey to speak to officials about the case.
https://indianexpress.com/article/world/trump-on-khashoggi-death-saudi-arrests-is-a-good-first-step-5410141/
--------
White House: US 'saddened' by confirmed Khashoggi death
20 October 2018
The White House said Friday it was "saddened" after confirmation that journalist Jamal Khashoggi was killed inside a Saudi consulate.
In the first US response to Saudi Arabia's admission, White House spokeswoman Sarah Sanders said merely that Washington "acknowledges the announcement."
"We will continue to closely follow the international investigations into this tragic incident and advocate for justice that is timely, transparent and in accordance with all due process," she said.
"We are saddened to hear confirmation of Mr. Khashoggi's death, and we offer our deepest condolences to his family, fiancee and friends."
The US president Donald Trump had reiterated on Friday night the importance of the Saudi-US relations.
Trump said that Saudi Arabia is a great ally and that the importance of Saudi-US ties need to be taken into account.
Full report at:
https://english.alarabiya.net/en/News/gulf/2018/10/20/White-House-US-saddened-by-confirmed-Khashoggi-death.html
--------
US needs Saudi as counterbalance to Iran: Trump
Oct 20, 2018
US President Donald Trump says Saudi Arabia functions as a counterbalance to Iran in the Middle East region and this has put Washington in a "complex" situation with regards to Riyadh's explanation about dissident journalist Jamal Khashoggi's death.
"They [Saudis] have been a great ally in the Middle East. We need them as a counter-balance to Iran. So it's not the simplest solution. It's not the simplest situation to be in," Trump said Friday.
The remarks came after Riyadh admitted that Khashoggi, who had gone missing after entering the Saudi consulate in Istanbul on October 2, was killed in a "fight with people who met him" inside the building.
Trump told reporters that he found the account "credible" although he had to talk to Saudi Crown Prince Mohammed bin Salman to clear up a few more things.
Asked whether he would stay true to his pledges of punishing the perpetrators of the apparent murder, Trump said the situation needed to be handled with care because billions of dollars in arms sales were at stake.
"Saudi Arabia has been a great ally but what happened is unacceptable," Trump said.
"I would prefer if there is going to be some form of sanction, or what we may determine to do if anything," the president said. "But I would prefer that we don't use as retribution, canceling the $110 billion-worth of work, which means 600,000 jobs."
Various reports citing Turkish officials state that the anti-Riaydh journalist was ambushed, tortured, killed and dismembered under direct orders from bin Salman.
The incident has grown into a public relations nightmare for the kingdom and the crown prince in particular.
In an attempt to contain the damage, Riyadh said it had sacked several officials, including Ahmad al-Assiri, a top general in the General Intelligence Agency (GIA) and a close aide to bin Salman.
Full report at:
https://www.presstv.com/Detail/2018/10/20/577512/US-Saudi-Trump-Iran-counterbalance-Khashoggi
--------
Europe
Islamic preacher who encouraged support for ISIS released from UK prison
October 19, 2018
LONDON — An Islamic preacher was released Friday from a British prison after serving less than half of a 5-1/2-year prison sentence for encouraging support for the Islamic State group.
Anjem Choudary, 51, left the high security Belmarsh prison in southeast London but will be subject to strict supervision. Prime Minister Theresa May says authorities are equipped to supervise Choudary.
Choudary, from Ilford in east London, is expected to wear an electronic tag, face a nighttime curfew and be barred from contacting anyone who has been charged with extremist-related offences unless he receives prior approval from authorities. He qualified for early release because of time served before his conviction.
In addition, Choudary's name has been added to a U.N. sanctions list, which means the government can freeze his assets and bar him from travelling.
Choudary has been one of the most high-profile faces of radical Islam in Britain for years, leading groups under names including al-Muhajiroun, Islam4UK and Muslims Against Crusades.
Several people who attended Choudary's rallies and events have been convicted of violent attacks, including the two al-Qaida-inspired killers who ran over British soldier Lee Rigby and stabbed him to death in 2013.
Until he was charged under the Terrorism Act, the firebrand preacher gained attention for headline-grabbing activities that provoked outrage but stayed on the right side of the law. They included protesting outside the U.S. Embassy on the anniversary of the Sept. 11 attacks and burning memorial poppies on Britain's annual Remembrance Day honoring slain service members.
But he ran into trouble in 2014 after his name appeared on an oath circulating online that declared the legitimacy of the "proclaimed Islamic Caliphate State." Choudary said the oath was made without his knowledge.
A former head of counter-terror policing, Mark Rowley, told the BBC that while Choudary was a "significant arrest," it would be prudent not to overstate his significance.
"At the end of the day, he is a pathetic groomer of others," Rowley said. "That is what he has done in the past. He is not some sort of evil genius we all need to be afraid of."
https://www.stripes.com/news/europe/islamic-preacher-who-encouraged-support-for-isis-released-from-uk-prison-1.552654
--------
West complicit in Saudi crimes, outrage just for show: Analyst
Oct 19, 2018
The West is complicit in Saudi crimes and its outrage is just for show, says Daniel Patrick Welch, an American writer and political analyst.
Maybe a minor reshuffling of some heads will take place in Saudi Arabia over the killing of dissident Saudi journalist Jamal Khashoggi, but no heads would roll, Welch told Press TV in an interview on Friday.
British Foreign Minister Jeremy Hunt on Friday warned there would be "consequences" if Saudi authorities were found to have been involved in the assassination of Khashoggi.
On Thursday, US President Donald Trump said he believes dissident Khashoggi is dead, and that the consequences should be severe for those who carried out the assassination.
"Well, this is really turning out to be the story that wouldn't die, right? The idea that the Brits are going to have consequences for the Saudis if it turned out to be true which everyone now knows that it's true that they killed Khashoggi," Welch said.
"You know, on the one hand, of course, it's true that you can't imagine if a New York Times journalist was killed in Venezuela in the Russian consulate or something that there would be instant drone bombing everywhere," he added.
"But the outrage is completely fake because of the refusal to look at this completely cynical engagement with these head-chopping lunatics—both those in the kingdom and those in Washington and London—these cabals have been in cahoots for a very long time and that's not going to change," the analyst said," he noted.
"I mean the US will throw anybody under the bus if it's gets too costly or if they need to change like Henry Kissinger said: 'no permanent alliances, only permanent interests.' But I don't see this as being counter to US needs. It's a minor flap in the scheme of things," the commentator said.
"The fake opposition domestically wants to make a case of this ridiculous outrage having said nothing for years about the US helping to destroy Yemen, you know, about the famine. This is one journalist. It is sad. There are millions of people under famine now because of the regime links between the US and the kingdom of Saudi Arabia. And this goes back decades. It's completely bipartisan," he observed.
"And there is no reason to expect that there would be any serious consequences because of it…maybe a minor reshuffling of some heads but no heads would roll literally," Welch concluded.
Khashoggi, who was also a US green card holder, entered the Saudi mission on October 2 in order to obtain the necessary paperwork for marrying his fiancée. That was the last time he was seen.
According to The Washington Post, to which Khashoggi was a contributor, US intelligence intercepts already prove that he was killed and dismembered by Saudi agents in a hit job directly ordered by Saudi Crown Prince Mohammed bin Salman.
The Saudi rulers are weighing blaming a top intelligence official close to the crown prince for the assassination, three people with knowledge of the Saudi plan said Thursday, according to The New York Times.
The blame will be assigned to General Ahmed al-Assiri, a high-ranking adviser to the crown prince, but American intelligence agencies are increasingly convinced that bin Salman was behind Khashoggi's murder.
Turkish officials say they are in possession of audio and video recordings that prove the murder and incriminate Saudi diplomats.
Full report at:
https://www.presstv.com/Detail/2018/10/19/577498/West-complicit-in-Saudi-crimes-outrage-just-for-show
--------
Why Is Anjem Choudary Google's Top Result For 'Muslim Spokesman'?
19/10/2018
Google has listed hate preacher Anjem Choudary at the top of its search results for 'British Muslim spokesperson', it has emerged.
Former anti-terror police chief Sir Mark Rowley pointed out the issue on BBC Radio 4's Today programme on Friday and a Google search by HuffPost later confirmed Choudary remained top of the search engine's listings.
The cleric was released from prison earlier today after receiving a five-and-a-half-year sentence in 2016, for leading an extremist network linked to violent jihadists – including one of the killers of soldier Lee Rigby.
Of Choudary's incarceration, Sir Rowley, who retired earlier this year, said: "It was a significant arrest and it was good to put him in prison.
"But I think we have to be careful not to overstate his significance.
"At the end of the day, he is a pathetic groomer of others."
The Google results add to ongoing concern Choudary receives unwarranted attention from the media and is wrongfully dubbed a 'spokesperson' when he is not widely considered as such, with many arguing his divisive rhetoric is not an accurate reflection of Islam.
This concern has long been held by campaigners, with criticism both online and offline spanning years.
Dr H.A Hellyer, senior non-resident fellow at the Atlantic Council and the Royal United Studies Institute in London, told HuffPost the Google ranking was "abysmally misleading".
"It plays directly into the worst possible ways of misrepresenting extremists," he added.
"The search engine's power is tremendous, and this is reckless in the extreme – as well as just plain wrong. Choudary has been out of the public eye for a while now – and pretty much every British Muslim didn't miss him."
Sabah Ahmedi, a 24-year-old British Imam at the Ahmadiyya Muslim Community in Morden, slammed the idea that Choudary should be regarded as a representative of Islam.
"Anjem Choudary is no credible spokesperson for the teachings of Islam. He totally misrepresents the peaceful teachings of Islam," he told HuffPost.
"It was always shocking to see how one like Anjem Choudary freely preached hatred on main stream media for a very long time before being imprisoned. The media continually gave him wide-scale opportunity to spew hatred and a completely false understanding of Islam.
"This created unwarranted fear of Muslims and Islam and many non-Muslims, who hold a negative view of Islam, have since expressed that their understanding of Islam came from people like Anjem Choudary, after having seen them on TV talking about Islam."
Ahmedi added: "The authorities, media, and society at large should take this opportunity to once again reflect upon the role it has played in this and continues to play. Sadly the media has given far-right extremists opportunity in the recent past to broadcast their hateful views.
"It must be realised that the more we spread hatred and hateful views within society, the further hatred will spread, and the more we spread peace and talk about kindness and cohesion, the more society will be adorned with these values. We all have a major responsibility in suffocating extremist thought by denying them publicity."
On Twitter back in 2011, Tim Easton wrote: "Rent a quote Anjem Choudary is spouting complete bollocks yet the media still portray him as some kind of spokesperson."
In 2015, Paddy_stani wrote: "Anjem Choudary is as much a spokesperson for ordinary Muslims as the leader of the KKK is for Christians .. Which is not at all!"
And earlier this year William Baldet, Consultant for the Office for Security and Cooperation in Europe, tweeted: "Important point by @NewDayStarts on #newsnight, if the media present ppl like Anjem Choudhury as a spokesperson for Muslims then this will inevitably fuel anti-Muslim bigotry."
Choudary was due for automatic release after reaching the halfway point of a five-and-a-half-year sentence, when time spent on remand is taken into account.
Once a leading figure in the now-banned group al-Muhajiroun (ALM), the former solicitor had previously stayed on the right side of the law for years.
For the rest of the sentence period, he will be subject to a strict supervision regime.
Police and MI5 are expected to be among a host of agencies involved in monitoring him in the community.
Following his release, Choudary was photographed arriving at an address in north London.
It is thought he will initially be placed in a probation hostel and will have to comply with more than 20 licence conditions.
There are a number of standard requirements, including maintaining good behaviour, receiving visits from and keeping in contact with his supervising probation officer, and not travelling outside the UK without prior permission.
In addition, Choudary will be subject to a bespoke package of further measures while on licence.
Full report at:
https://www.huffingtonpost.ie/entry/why-does-googles-top-search-result-for-muslim-spokesman-return-a-link-to-anjem-choudary_uk_5bc99941e4b0a8f17eeb174b
--------
URL: https://www.newageislam.com/islamic-world-news/70000-afghan-forces-assigned-ensure/d/116677
New Age Islam, Islam Online, Islamic Website, African Muslim News, Arab World News, South Asia News, Indian Muslim News, World Muslim News, Women in Islam, Islamic Feminism, Arab Women, Women In Arab, Islamophobia in America, Muslim Women in West, Islam Women and Feminism