New Age Islam News Bureau
16 Feb 2015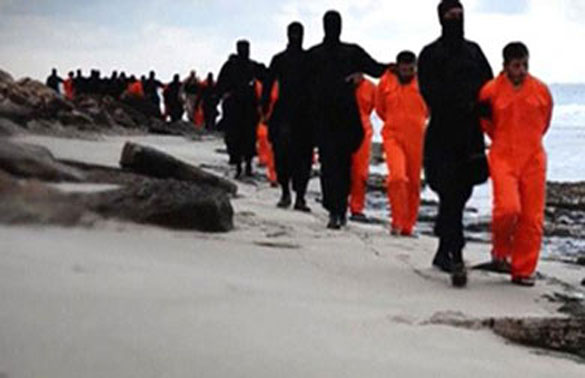 Photo: Egypt bombs Isis targets in response to mass beheading video
------------
South Asia
• 6 ANA Martyred, 64 Insurgents Killed In ANSF Operations
• Mullah Mohammad Omar "expired medicine", says Ex-Jehadi leader
• Probe ordered for publishing Hizb ut-Tahrir poster
• Bangladesh remains top troops-sender to UN: Sheikh Hasina
Arab World
• Egypt Bombs Islamic State Targets in Libya After Militants Behead 21 Egyptians
• Syrian Army Gains Ground Against Militants in Hama, Deir Ezzur
• ISIL Fight to Be Discussed At Key Meeting In S Arabia
• OIC announces package of urgent measures to counter terrorism
• Anti-ISIS coalition hits key targets in Iraq, Syria
• Egypt's Sisi 'reserves right of retaliation' after mass killing of Copts in Libya
• 35 ISIL Terrorists Killed in Clashes with Syria Kurds
• Iraqi PM Abadi hails 'acceleration of support' against ISIS
• KSA, Qatar protest 'terrorist' killings of US Muslims
• Two Saudis beheaded for murder
Africa
• Sudan Seizes Print Runs of 13 Newspapers: Watchdog
• Sudan: Bombings Exceed 3,000 in the Nuba Mountains
• Algeria army kills heavily armed Islamist
Europe
• Westerners Join Iraqi Christian Militia to Kick Out Islamic State
• Blair Warns Of 'Further Catastrophe' In Gaza
• ISIS Escapee Says Irish Fighters Are Used As Snipers
• Islamic State claims beheading of Christians, says will conquer Rome
• UN Security Council adopts resolution against Yemen rebels
• Two men charged with aiding Copenhagen gunman: lawyer
• French PM urges Jews to stay after tombs defaced
• Copenhagen gunman had 'history of violent crime'
India
• Ministry Of Minority Affairs Questions Basis of Post-Sachar Report
• RSS would strive to 'unite' Hindu society, must expand: Bhagwat
Pakistan
• Amn Mela: United Left Front Sought To Defeat Extremism
• Failure in Fight against Militancy Is Not an Option: Nawaz
• Zarb-i-Azb to be completed by year-end: minister
• Gen Sharif supports Karachi operation to ensure peace
• Two killed as gunmen storm hotel in Quetta
• Over 600 'hardcore terrorists' arrested in seven weeks
• Wanted LeJ commander killed in Quetta raid
Southeast Asia
• Malaysian Non-Muslim Interfaith Group to Speak To Minister Over Free Quran Handout
• 'ISIS' video likely a hoax, Pakatan reps say
• Jokowi Wants to Stop Sending Indonesian Maids Abroad
Mideast
• Last Yemen Jews Eye Exodus after Shiite Militia's Takeover
• Iran Weekly Banned For Criticizing Nuclear Talks
• Four killed in south Yemen clashes: Medics
• Official: Yemenis to Unite in Face of Al-Qaeda Terrorists
• Palestinian band fumes at Netanyahu's ad
North America
• Islamic State 'Barbarity Knows No Bounds': White House
• US Brigade of 4,000 Soldiers Headed To Kuwait
• McCain: US Training Syrians to Fight against Assad
• Female lawmaker unafraid to slam 'Islamic savages'
• As the US mission winds down, Afghan insurgency grows more complex
Compiled by New Age Islam News Bureau
URL: https://www.newageislam.com/islamic-world-news/new-age-islam-news-bureau/6-ana-martyred,-64-insurgents-killed-in-ansf-operations/d/101549
-----------
South Asia
6 ANA martyred, 64 insurgents killed in ANSF operations
Feb 16 2015
Six Afghan National Army soldiers have embraced martyrdom in a road side landmine explosion while 64 insurgents have been killed in Afghan National Security Forces operations.
A statement issued by the Defense Ministry Monday morning does not contain information about the exact location of the explosion where the soldiers were martyred but states that it happened in past 48 hours.
Statement further states that 63 insurgents were killed and 31 others injured during confrontation with the military in past 48 hours.
158 Improvised Explosive Devices (EIDs) were also discovered and defused by the military during the past 48 hours, the statement adds.
In the mean time, Interior Ministry in a statement issued Monday morning states that one insurgent was killed, another injured and five arrested in police operations in past 24 hours.
As per the statement, the operations were conducted in Nangarhar, Uruzgan, Paktika, Ghazni, Kandahar, Helmand, Zabul, Kunduz, Takhar and Sar-e-Pul provinces with the assistance from the Afghan National Army and personnel of the National Directorate of Security (NDS).
Four IEDs were also defused by ANSF in Kunar and Khost provinces, the statement adds.
http://www.khaama.com/6-ana-martyred-64-insurgents-killed-in-ansf-operations-29073
-----------
Mullah Mohammad Omar "expired medicine", says Ex-Jehadi leader
Feb 16 2015
Ex-Jehadi leader Abdul Rab Rasoul Sayaf has called Taliban leader Mullah Mohammad Omar " expired medicine".
Sayaf while talking to a gathering of Ex-Mujahedeen in Kabul said "Mullah Mohammad Omar's time is over. Mullah Omar is now expired medicine. Doctor has changed the prescription"
He did not put more light on his words.
The gathering was organized by Ex-Mujahedeen to celebrate the 26th anniversary of the withdrawal of the Soviet forces from Afghanistan.
Abdul Rab Rasoul Sayaf also talked about Islamic State, the hot topic these days.
He used IS's Arabic name DAESH and said "DAESH is not a miracle", adding that "We will stop DAESH."
Sayaf said that if DAESH arrives at the doors of Kabul, then doors for Mujahedeen will be knocked.
Abdul Rab Rasoul Sayaf in the celebratory gathering also criticized foreign policy of the government.
He said that bringing changes to the foreign policy towards neighbors without consultation with nation is disloyal.
About the involvement of Mujahedeen in the politics, Sayaf said that excluding Mujahedeen from the politics is not fair. He added that pretty soon Mujahedeen will come under one roof and their stance will go from one address.
http://www.khaama.com/mullah-mohammad-omar-expired-medicine-says-sayaf-29071
-----------
Probe ordered for publishing Hizb ut-Tahrir poster
Feb 16 2015
A Dhaka court asked police to launch an inquiry against The Daily Star Editor Mahfuz Anam and two of his colleagues for publishing the photograph of a poster on February 11, released by banned Islamist outfit Hizb ut-Tahrir, calling upon the armed forces to topple the ruling government.
Metropolitan Magistrate Muhammad Anwar Sadat passed the order in response to a complaint filed yesterday by lawyer Shahjalal Kibria.
The plaintiff alleged that the photograph of the "provocative statement" published by the newspaper had hampered the peaceful situation in Bangladesh.
Hizb ut-Tahrir, which has chapters in many countries around the globe, started its activities in Bangladesh in 2000. The Awami League-led government banned the Islamist outfit on October 22, 2009.
The complainant brought charge under sections 505 and 34 of the Penal Code against the newspaper's Editor and Publisher Mahfuz Anam, Chief News Editor Syed Ashfaqul Haque and Chief Photographer Sheikh Enamul Haque for "statements conducing to public mischief."
Section 505 carries highest seven years' imprisonment with nominal fine.
The magistrate asked the officer-in-charge of Kotwali police to launch the inquiry after taking the case into cognisance.
The English daily published the photograph on page 3 with the caption stating: "Taking advantage of the current political crisis in the country accompanied by wanton violence, banned extremist Islamist organisation Hizb ut-Tahrir published and pasted posters in the capital in an attempt to foment unrest within the armed forces. This poster was found pasted on a wall in an alleyway near Bangla Motor intersection yesterday."
Kazi Najib Ullah Hiru, who took part in the hearing on behalf of the plaintiff, said this type of news carried anti-government sentiment and could deteriorate law and order.
Section 505 states: "Whoever makes, publishes or circulates any statement, rumour or report, (a) with intent to cause, or which is likely to cause, any officer, soldier, sailor or airman in the Army, Navy or Air Force of Bangladesh to mutiny or otherwise disregard or fail in his duty as such; or (b) with intent to cause, or which is likely to cause, fear or alarm to the public or to any section of the public whereby any person may be induced to commit an offence against the state or against the public tranquility; or (c) with intent to incite, or which is likely to incite, any class or community of persons to commit any offence against any other class or community; or (d) with intent to create or promote, or which is likely to create or promote, feelings of enmity, hatred or ill-will between different communities, classes or sections of people shall be punished with imprisonment which may extend to seven years, or with fine, or with both."
http://www.dhakatribune.com/bangladesh/2015/feb/16/probe-ordered-publishing-hizb-ut-tahrir-poster#sthash.rIUDiSXx.dpuf
-----------
Bangladesh remains top troops-sender to UN: Sheikh Hasina
Feb 16 2015
Prime Minister Sheikh Hasina said Bangladesh has been able to retain its pride as the highest contributor of troops to UN peacekeeping missions.
"It has become possible thanks to the deployment of soldiers in new UN peacekeeping missions," she said in reply to a question from treasury bench member AKM Rahmatullah in the House, during her question-answer session, state-run news agency BSS reported.
The Leader of the House said a total of 8,145 troops from Bangladesh have been deployed now in different trouble-torn regions of the world. "The number is the highest from a single country," she added.
The prime minister also informed the House that a total of 116,428 troops from Bangladesh have thus far participated in UN peacekeeping missions.
Sheikh Hasina said the 'Forces Goal 2030'" has been framed in the light of Defence Policy 1974, enacted by the Father of the Nation Bangabandhu Sheikh Mujibur Rahman.
She said the present government has undertaken various measures to build the armed forces as modern, aptly efficient, and time-befitting, adding that the measures are being implemented speedily.
In this connection, the Leader of the House highlighted various initiatives of her government to further strengthen the Bangladesh Army, Navy, and Air Force to achieve the "Forces Goal 2030."
http://www.dhakatribune.com/bangladesh/2015/feb/15/bangladesh-remains-top-troops-sender-un#sthash.Iv9xAz0n.dpuf
------
Arab World
Egypt bombs Islamic State targets in Libya after militants behead 21 Egyptians
16 February 2015
Egypt's air force bombed Islamic State targets inside Libya on Monday, a day after the group released a video showed the beheading of 21 Egyptians there, marking an escalation in Cairo's battle against militants.
It was the first time Egypt confirmed launching air strikes against the group in neighbouring Libya, showing President Abdel Fattah al-Sisi is ready to expand his fight against Islamist militancy beyond Egypt's borders.
Egypt said the dawn strike, in which Libya's air force also participated, hit Islamic State camps, training sites and weapons storage areas in Libya, where civil conflict has plunged the country into near anarchy and created havens for militia.
A Libyan air force commander said between 40 to 50 militants were killed in the attack. "There are casualties among individuals, ammunition and the (Islamic State) communication centres," Saqer al-Joroushi told Egyptian state television.
"More air strikes will be carried out today and tomorrow in coordination with Egypt," he said.
The 21 Egyptian Coptic Christians, who had gone to Libya in search of work, were marched to a beach, forced to kneel and then beheaded on video, which was broadcast via a website that supports Islamic State.
Full report at:
http://indianexpress.com/article/world/middle-east-africa/egypt-bombs-islamic-state-targets-in-libya-after-militants-behead-21-egyptians/99/
-----------
Syrian Army Gains Ground against Militants in Hama, Deir Ezzur
Feb 16 2015
The Syrian military pressed an offensive against the armed groups in the countryside of Hama and Deir Ezzur provinces, leaving a large number of Takfiri militants dead and injured.
The army troops stormed the hideouts of the rebels in the town of al-Latamina in Hama province, killing and injuring scores of them.
Also, the insurgents suffered major losses in the areas of al-Muray'a and al-Jafra in Deir Ezzur province, as the army continued to make more gains in the area.
Syria has been the scene of insurgency since 2011 when certain western powers and their regional allies voiced loudly that Syrian protests have no diplomatic solution and they started supplying the country's opposition groups with their arms and funds.
In 2014, specially after victory of President Bashar al-Assad in the country's presidential election, the army has gained upper hand in its anti-terrorism campaign, and has been partly successful in sealing borders with Turkey and Jordan.
http://english.farsnews.com/newstext.aspx?nn=13931127000580
-----------
ISIL Fight to Be Discussed At Key Meeting In S Arabia
Feb 16 2015
A series of critical issues in relation to the fight against Islamic State of Iraq and the Levant (ISIL) militants and the training of moderate opponents in Syria will be on the table during a military meeting in Saudi Arabia this week.
Turkish diplomatic and military sources confirmed that Lt. Gen. Erdal Öztürk, the head of the Chief of Staff's Operation Division, will represent the Turkish side at the meeting, scheduled for Feb. 18-19. It is also possible that the Chief of the General Staff, Gen. Necdet Özel, will join Öztürk if other countries send their top military officials.
Diplomatic sources said the Saudi Arabia meeting would be of importance for Turkey as "the training and deployment of Syrian moderate opposition forces" will be on the table. Coalition members could decide to use force against ISIL, albeit with limits on U.S. combat troops' involvement.
A U.S.-led coalition battling ISIL extremists in Iraq and Syria is "on the offensive" and will prevail, President Barack Obama said Feb. 11 after asking Congress to back the war effort.
Obama also said the United States "should not get dragged back into another prolonged ground war in the Middle East," but noted that he would be ready to deploy special forces in specific situations.
Full report at:
http://timesofindia.indiatimes.com/world/middle-east/Al-Azhar-slams-Egyptian-Copts-barbaric-killing/articleshow/46258198.cms
----------
OIC announces package of urgent measures to counter terrorism
16 Feb, 2015
The Organization of Islamic Cooperation (OIC) announced a package of urgent measures to prevent the rapid spread of terrorism, which has hit a number of OIC member states, and halt a surge pf violence in the Muslim world.
The executive committee of OIC, at its meeting in Jeddah in Sunday, called for the development of an appropriate mechanism to face new trends of terrorism in member states.
The meeting comes in response to a call by OIC Secretary-General Iyad Madani to tackle terrorist attacks in the region. The meeting was chaired by Saudi Arabia. It discussed a number of mechanisms and strategies to fight terrorism and extremism.
The meeting called for holding conferences, seminars and workshops with the participation of political leaders, clerics, community leaders, scholars and experts to discuss the best possible ways of responding to terrorist threat to electronic security and to work with OIC member states to develop a new approach and treatment of sectarian violence.
Undersecretary of the Ministry of Foreign Affairs for Multilateral Relations Prince Turki bin Mohammed bin Saud stressed the importance of the meeting as one of a series of international and regional ones to discuss the phenomenon of terrorism and its roots and causes. He confirmed the need to find a unified vision to combat this threat.
Prince Turki reviewed a series of Saudi efforts, which have been taken with all regional and international levels in order to end this phenomenon, including the convening of the first international conference to combat terrorism.
Full report at:
http://www.arabnews.com/saudi-arabia/news/705201
-------
Anti-ISIS coalition hits key targets in Iraq, Syria
16 February 2015
The United States and its allies have destroyed key targets of the Islamic State of Iraq and Syria (ISIS) in their latest series of airstrikes against the militant group, the U.S. military said Sunday, according to Reuters news agency.
Three airstrikes "struck an ISIL large tactical unit and destroyed an ISIL building and two ISIL vehicles," the Combined Joint Task Force leading the air operations said in a statement using another acronym to design ISIS.
In Iraq, air strikes near Tal Afar, Mosul, Bayji, Hit and Sinjar struck strategic units including buildings and a checkpoint, the task force said.
It added that vehicles and a bulldozer were also hit.
On Saturday, the Combined Joint Task Force reported nine strikes in both Syria and Iraq since Friday.
Strikes began in Iraq on Aug. 8 and Syria on Sept. 23.
[With Reuters]
http://english.alarabiya.net/en/News/middle-east/2015/02/16/Anti-ISIS-coalition-destroys-key-targets-in-Iraq-Syria-.html
----------
Egypt's Sisi 'reserves right of retaliation' after mass killing of Copts in Libya
16 February 2015
President Abdel-Fattah El-Sisi said Egypt reserves its right to retaliate against the killing of 21 Egyptian Copts by the Islamic State (IS) group in Libya at the suitable time and place.
The president added that the National Defence Council has met on Sunday night to decide the course of action to be taken in response.
IS published a graphic video on the internet Sunday purportedly showing the beheading of Coptic Christians it said it had kidnapped recently, and vowed to fight "crusaders."
In a televised speech on Sunday night, El-Sisi said he ordered the Egyptian government to provide full support to the families of the victims, and tighten a ban Egyptians' travel to its western neighbor.
He also said he ussued directives to the government to take necessary steps in order to secure and facilitate the return of Egyptians trying to leave Libya.
El-Sisi added he commissioned Egypt's Foreign Minister Sameh Shoukri to travel to New York in order to hold talks with senior United Nations officials and members of the Security Council.
The minister, El-Sisi said, would "demand the international community live up to its responsibilities by taking necessary actions in line with the UN convention, and to declare that what is happening in Libya threatens international peace and security."
http://english.ahram.org.eg/NewsContent/1/64/123131/Egypt/Politics-/Egypts-Sisi-reserves-right-of-retaliation-after-ma.aspx
-----------
35 ISIL Terrorists Killed in Clashes with Syria Kurds
Feb 16 2015
At least 35 terrorists of the Islamic State of Iraq and the Levant (ISIL) group were killed in clashes with Syrian Kurdish fighters around the flashpoint town of Kobani, a monitor said.
The so-called Syrian Observatory for Human Rights said the deaths came in three separate clashes around the town in Aleppo province of Northern Syria, AFP reported Sunday.
At least 22 of the terrorists were killed in fighting on the border between Aleppo and Raqa province.
That battle marked the first time in months that fighters from the Kurdish People's Protection Units (YPG) have expanded their attacks to the edge of Raqa province.
Four YPG fighters were killed in those clashes, with the Kurdish forces capturing the strategic Tal Baghdaq hilltop, the Observatory said.
The other terrorist deaths came in clashes to the West and South of Kobani, the key border town that Kurdish forces recaptured on January 26.
ISIL fighters began advancing on the town last September, and at one point looked poised to overrun it, cementing their grip on a long stretch of the Syria-Turkey border.
But YPG ground forces were able to repel the ISIL terrorists.
Since the town's recapture, YPG forces have been expanding their control from Kobani into the surrounding countryside, where they have largely encountered little resistance from the terrorists.
But the Observatory said the fighting around Tel Baghdaq on the Aleppo-Raqa border was some of the heaviest in the region since Kobani fell.
http://english.farsnews.com/newstext.aspx?nn=13931127000308
-----------
Iraqi PM Abadi hails 'acceleration of support' against ISIS
16 February 2015
Iraqi Prime Minister Haidar al-Abadi said Monday there had been a recent "acceleration of support" from the U.S.-led coalition in the fight against the Islamic State of Iraq and Syria (ISIS) group.
In an interview with the BBC, Abadi said there were enough fighters on the ground but they needed arms and equipment to defeat the militants.
"I was a bit frustrated in my first three months of being a prime minister because of the slowness of this support but I've seen in the last probably four weeks, five weeks, there is an acceleration of the support," Abadi added.
"I think the air bombing and the air campaign has increased in its intensity and its quality."
ISIS, has seized swathes of territory in Syria and Iraq and imposed an extreme interpretation of Islam in the areas under its control.
The international air campaign against ISIS was launched in Iraq in August and expanded to Syria the following month.
There have been over 2,000 air strikes on the militants so far.
http://english.alarabiya.net/en/News/middle-east/2015/02/16/Iraqi-PM-Abadi-hails-acceleration-of-support-against-ISIS-.html
-----------
KSA, Qatar protest 'terrorist' killings of US Muslims
16 Feb, 2015
RIYADH/DOHA: Saudi Arabia denounced the killing in North Carolina of three American Muslim college students as a "heinous terrorist" act, while thousands took to the streets in Qatar in protest.
A statement carried by the official Saudi Press Agency (SPA) called for an end to incitement against Muslims.
It also condemned as a "terrorist" act the recent attacks that killed two people in Denmark, one at a panel discussion that included an artist who caricatured the Prophet Muhammad (peace be upon him) and the other outside a synagogue.
In Doha, Qatar, several thousand people marched in solidarity with the families of the North Carolina victims. The marchers appealed for protection against hate crimes for the tens of thousands of young Arabs studying in the United States on scholarships funded by governments of the Gulf.
Full report at:
http://www.arabnews.com/featured/news/704791
-----------
Africa
Sudan seizes print runs of 13 newspapers: watchdog
16 February 2015
Sudanese security officers seized the print runs of 13 newspapers on Monday in one of the most sweeping crackdowns on the press in recent years, a media watchdog said.
The National Intelligence and Security Service seized copies of the dailies -- which included pro-government as well as independent titles -- "without giving any reasons," Journalists for Human Rights said.
NISS often confiscates print runs of newspapers over stories it deems unsuitable but it rarely seizes so many publications at one time.
Journalists for Human Rights said that the "rise" in newspaper seizures "represents an unprecedented escalation by the authorities against freedom of the press and expression."
The editor of Al-Tayar, Osman Mirghani, confirmed to AFP his newspaper's print run had been seized.
Full report at:
http://english.alarabiya.net/en/media/print/2015/02/16/Sudan-seizes-print-runs-of-13-newspapers-watchdog.html
-----------
Sudan: Bombings Exceed 3,000 in the Nuba Mountains
16 Feb, 2015
The video accompanying this article shows a child in South Kordofan almost immediately after being hit by a missile launched by a Sukhoi fighter jet. His body has been shredded by pieces shrapnel and he is in considerable pain. Others struggle in vain to save his life but he dies not long after the camera stops rolling. For more on our newsroom's choice to publish the video, please read our link on War Is Boring.
On January 7, seven-year-old Albanin Butrus died from shrapnel that ripped through his body after a fighter jet launched seven rockets on the village of Abu Layla in South Kordofan.
The featured video documents the last moments of his young life. He struggles to breathe and shifts, keeping his body weight off the foot that is shorn nearly in half. He tries to find a comfortable position that might relieve some of his agony on the dusty ground.
Between December of 2014 and February of 2015, 970 bombs have been dropped on civilian targets*, a drastic increase from the 230 that were dropped over the same period last year. Of these 970 bombs, more than 500 of them were dropped in January alone.
This massive surge is a part of President Omar Bashir's "Decisive Summer II" campaign. Launched with much pomp and circumstance this fall, the aim of the movement is to crush the rebel forces before the national election in April. This push, Bashir explained, would force a conclusive end to conflicts plaguing the country. Though the battle lines have changed little from the beginning of the conflict through the launch of this year's campaign, the past few months have seen the most aggressive attacks from the air in years.
Now, more than 3000 bombs have been dropped on civilian targets in rebel-held territory of South Kordofan since Nuba Reports began tracking the bombs.
Nuba Reports journalist Abdu Ibrahim was nearby when the bomb hit Albanin. A group of people tried to help the boy - applying palm leaves as tourniquets to stem the bleeding while Albanin lay limp and labored to breathe. He was driven by motorbike to a clinic where he died shortly after.
Full report at:
http://allafrica.com/stories/201502161088.html
------
Algeria army kills heavily armed Islamist
16 February 2015
Algerian soldiers have shot dead a heavily armed Islamist in the Tebessa region on the northeastern border with Tunisia, the defense ministry said Sunday.
"As part of the fight against terrorism, an army detachment in Tebessa shot down... a terrorist" near the area of Ain Mdila on Saturday, the ministry said in a statement carried by the national news agency APS.
A Kalashnikov assault rifle and a large quantity of ammunition and explosives were seized during the operation, it added.
Violence involving armed Islamists in Algeria has fallen considerably since the civil war of the 1990s, but groups linked to Al-Qaeda in the Islamic Maghreb still carry out attacks in the northeast, mostly on security forces.
The Algerian army says more than 100 armed Islamists were killed in 2014.
http://english.alarabiya.net/en/News/africa/2015/02/15/Algeria-army-kills-heavily-armed-Islamist-.html
-----------
Europe
Westerners join Iraqi Christian militia to kick out Islamic State
16 Feb, 2015
DUHOK: Saint Michael, the archangel of battle, is tattooed across the back of a US army veteran who recently returned to Iraq and joined a Christian militia fighting Islamic State.
Brett, 28, carries the same thumb-worn pocket Bible he did whilst deployed to Iraq in 2006 .
"It's very different," he said, asked how the experiences compared. "Here I'm fighting for a people and for a faith, and the enemy is much bigger and more brutal."
Thousands of foreigners have flocked to Iraq and Syria in the past two years, mostly to join Islamic State, but a handful of idealistic Westerners are enlisting as well, citing frustration their governments are not doing more to combat the radicals or prevent the suffering of innocents.
The militia they joined is called Dwekh Nawsha .
A map on the wall in the office of the Assyrian political party affiliated with Dwekh Nawsha marks the Christian towns in northern Iraq, fanning out around the city of Mosul.
The majority are now under control of Islamic State, which overran Mosul last summer and issued an ultimatum to Christians: Pay a tax, convert to Islam, or die by the sword. Most fled. Dwekh Nawsha operates alongside Kurdish peshmerga forces to protect Christian villages on the frontline in Nineveh province.
Full report at:
http://www.arabnews.com/middle-east/news/705116
-----------
Blair warns of 'further catastrophe' in Gaza
Feb 16 2015
GAZA CITY: Middle East Quartet envoy Tony Blair warned during a visit to the Gaza Strip of "another eruption" in the Palestinian enclave devastated from last summer's conflict with Israel.
"I'm extremely concerned that if you leave Gaza in the state it's currently in, you'll have another eruption, and violence, and then we're back in a further catastrophe, so we've got to stop that," he said.
Blair was making his first trip to Gaza since the July-August war between Israel and the territory's Islamist rulers Hamas.
The conflict killed about 2,200 Palestinians and 73 on the Israeli side, and left 100,000 Gazans homeless.
The United Nations has been taking efforts to speed up the delivery of material to rebuild damaged homes, with officials saying the pace has picked up after a slow start.
Britain's former premier also called for a rethink on how peace could be reached, two decades after the historic accord which was to have paved the way for a final agreement.
"So 20 years after Oslo we need a new approach to Gaza and a new approach to peace," Blair said.
Full report at:
http://www.dawn.com/news/1163844/blair-warns-of-further-catastrophe-in-gaza
-----------
ISIS escapee says Irish fighters are used as snipers
16 Feb, 2015
The terrorist group known as the Islamic State of Iraq and Syria (ISIS) or IS uses Irish recruits as snipers, says an escaped Syrian fighter who spoke with the Irish Independent.
"It was either fight with ISIS or they will kill me," Abu Omer, who claims he was captured and forced to fight for the terror group.
"All of the countries of the world have fighters inside Syria fighting with ISIS," he says. "The most European fighters were from France, there were some from the UK, and there were Irish, but the most was French.
"There was Chechen, Libyan, Moroccan, Tunisian, Egyptian, and Saudi Arabian, some also from America.
"ISIS depends on Chechens the most," for their military expertise and violent nature, "If ISIS wants to take over any area, they send the Chechens in.
Full report at:
http://www.irishcentral.com/news/ISIS-escapee-says-Irish-fighters-are-used-as-snipers.html
-----------
Islamic State claims beheading of Christians, says will conquer Rome
16 Feb, 2015
A video purporting to show the mass beheading of Coptic Christian hostages was released Sunday by militants in Libya affiliated with the Islamic State group.
The killings raise the possibility that the Islamic militant group--which controls about a third of Syria and Iraq in a self-declared caliphate--has established a direct affiliate less than 800 km from the southern tip of Italy. One of the militants in the video makes direct reference to that possibility, saying the group now plans to "conquer Rome."
The militants had been holding 21 Egyptian Coptic Christians hostage for weeks, all laborers rounded up from the city of Sirte in December and January. It was not clear from the video whether all 21 hostages were killed. It was one of the first such beheading videos from an Islamic State group affiliate to come from outside the group's core territory in Syria and Iraq.
The Associated Press could not immediately independently verify the video. But the Egyptian government and the Coptic Church, which is based in Egypt, both declared it authentic.
The Egyptian government declared a seven-day mourning period and President Abdel Fattah el-Sissi addressed the nation late Sunday night, pledging resilience in the fight against terrorism.
Full report at:
http://www.hindustantimes.com/world-news/new-islamic-state-video-shows-mass-beheading-of-hostages/article1-1317214.aspx
-----------
UN Security Council adopts resolution against Yemen rebels
16 February 2015
The United Nations Security Council has unanimously adopted a resolution demanding that Shiite rebels immediately relinquish control of Yemen's government in a crisis that has pushed the Arab world's poorest country near collapse.
Arab countries have been pressing for the use of military force against what they call the rebel group's "illegitimate seizure of power."
But the resolution approved by all 15 council members at an emergency meeting does not act under Chapter 7 of the UN Charter, which would allow it to be militarily enforced.
The resolution, co-sponsored by 10 countries including the United States, demands that the Houthi rebels "immediately and unconditionally" withdraw forces from government institutions.
Full report at:
http://www.thehindu.com/news/international/world/un-security-council-adopts-resolution-against-yemen-rebels/article6901653.ece
-----------
Two men charged with aiding Copenhagen gunman: lawyer
Feb 16 2015
Two men were charged on Monday with helping the gunman who killed two people in twin attacks in Copenhagen at the weekend, a lawyer said.
"They are not charged with terrorism but they are charged with having helped the perpetrator get rid of a weapon and giving him a hiding place," the lawyer of one of the men, Michael Juul Eriksen, told AFP.
The two suspects, who appeared in court on Monday following their arrest on Sunday, cannot be named for legal reasons.
There was no immediate confirmation of the charges from police who had earlier announced the arrest of two men "suspected of aiding and abetting the perpetrator" of the deadly shootings at the Krudttoenden cultural centre and the synagogue in Krystalgade.
Both suspects are from an immigrant background, tabloid Ekstra Bladet reported.
The gunman himself, who was killed in a pre-dawn shootout with police on Sunday, has been identified in the media as Omar El-Hussein, a 22-year-old with a history of violent crime.
Ekstra-Bladet said he had been released from prison two weeks ago after serving a term for aggravated assault -- raising fears he may have become radicalised behind bars.
Danish police said Feb. 15 the gunman may have been inspired by last month's Islamist attacks in Paris.
Full report at:
http://www.hurriyetdailynews.com/two-men-charged-with-aiding-copenhagen-gunman-lawyer-.aspx?pageID=238&nID=78400&NewsCatID=351
-----------
French PM urges Jews to stay after tombs defaced
Feb 16 2015
Prime Minister Manuel Valls on Feb. 16 urged France's Jews to stay in the country after a fresh call by the Israeli premier for European Jews to emigrate to Israel.
"My message to French Jews is the following: France is wounded with you and France does not want you to leave," Valls said.
His comments came after two people were killed in shootings in Copenhagen at the weekend that targeted a cultural centre and a synagogue, in a strike that may have been inspired by last month's Paris attacks.
Those attacks left 17 people dead, including four men who were taken hostage by an Islamist gunman at a kosher supermarket.
Full report at:
http://www.hurriyetdailynews.com/french-pm-urges-jews-to-stay-after-tombs-defaced-.aspx?pageID=238&nID=78396&NewsCatID=359
-----------
Copenhagen gunman had 'history of violent crime'
16 Feb, 2015
The suspected gunman behind double shootings in Copenhagen was identified by Danish media as a 22-year-old with a history of violent crime who had only been freed from jail two weeks ago.
With Europe fearful of a new wave of jihadist violence, police said the man who killed two people at a cultural centre and a synagogue before being shot dead by police may have been inspired by last month's Paris attacks.
Expressions of sympathy and horror poured in from across the world after the weekend shootings described by Danish Prime Minister Helle Thorning-Schmidt as a "cynical act of terror".
At the synagogue in the centre of Copenhagen, tearful Danes laid flowers and lit candles for the victims of the worst such attack in the normally peaceful Scandinavian nation. Several media identified the suspected lone gunman as Omar El-Hussein, a 22-year-old who was said by the Ekstra-Bladet tabloid to have been released from prison two weeks ago after serving a term for aggravated assault.
Full report at:
http://www.hindustantimes.com/chunk-ht-ui-worldsectionpage-topstories/copenhagen-gunman-had-history-of-violent-crime/article1-1317233.aspx
-----------
India
Ministry Of Minority Affairs Questions Basis of Post-Sachar Report
16 February 2015
The Ministry of Minority affairs has questioned the very basis of the Post Sachar Evaluation Committee headed by Amitabh Kundu, that had been set up by the UPA government and which submitted a report five months ago.
The ministry says the committee analysed the condition of merely Muslims rather than minorities. Even in that, says the ministry, the Kundu committee did an "incomplete" analysis, using "outdated" data to evaluate effectiveness of the ministry's programmes.
In an internal document, the Ministry of Minority Affairs has said that most of the data used by the committee was from the formative stages of the ministry and some even predated it, and hence the evaluation could hardly be reflective of its functioning. It has also raised questions about the sample size, the lack of state inputs and the methodology adopted for the compilation of the report.
Full report at:
http://indianexpress.com/article/india/india-others/ministry-questions-basis-of-post-sachar-report/99/
-------
RSS would strive to 'unite' Hindu society, must expand: Bhagwat
16 February 2015
KANPUR: RSS chief Mohan Bhagwat on Sunday said his organization would strive to "unite" the Hindu society and that it must "expand" to meet the expectations of people.
Bhagwat also said that RSS moves ahead on the basis of its "own strength".
"RSS' work is to unite Hindu society, to make it fearless, self-reliant, selfless and the one which is ready to live and die for the country.
"Time has come when the entire society wants RSS and has expectations from it. To fulfill those expectations the organization must expand. No matter what caste, language or sect a person belongs to in the Sangh we should all stand together," Bhagwat said at a 'Rashtra Raksha Sangam' here.
Full report at:
http://timesofindia.indiatimes.com/india/RSS-would-strive-to-unite-Hindu-society-must-expand-Bhagwat/articleshow/46255158.cms
-----------
Pakistan
Amn Mela: United left front sought to defeat extremism
Feb 16 2015
LAHORE: Awami Workers' Party general secretary Farooq Tariq on Sunday called for a united front of working people to fight religious extremism.
He was speaking at the concluding day of the Faiz Amn Mela at an open air theatre in Lawrence Gardens.
Tariq referred to the victory of leftist political parties in Europe and said that the recent defeat of the conservative Bhartiya Janata Party at the hands of a new middle-class political outfit in Delhi elections was a good omen. He hoped that a similar feat would soon be performed by leftist parties in Pakistan.
Earlier, a 500-strong audience watched the performance of Waris Shah's Heer. It included dance and live singing. The crowd cheered the performers with a round of applause when Heer rejected Qazi's directive that Ranjha belonged to a low-caste and therefore was not a good match for her. "God did not divide humans in castes. Men created these divisions for of their own interests," she had said.
In her introduction to the play, director Huma Safdar said Waris Shah advocated freedom of expression in his works. "He did not preach a particular ideology or way of life. Instead, he would usually present various sides of an argument and leave it up to the readers to interpret the message on their own," she said.
Full report at:
http://tribune.com.pk/story/839018/amn-mela-united-left-front-sought-to-defeat-extremism/
-----------
Failure in fight against militancy is not an option: Nawaz
Feb 16 2015
KARACHI: Prime Minister Nawaz Sharif on Monday presided over a meeting of the provincial apex committee which is responsible for implementation of the anti-terror National Action Plan (NAP) in Sindh at the Governor's House. The premier said that failing in the operation against terrorists is not an option.
The meeting was attended by Chief of Army Staff General Raheel Sharif, Corps Commander Karachi Lt Gen Naveed Mukhtar, DG Rangers Bilal Akber, security agencies officials, Governor Sindh Dr Ishratul Ibad, Chief Minister Sindh Syed Qaim Ali Shah, former president Asif Ali Zardari and members of the provincial cabinet.
Participants of the meeting were briefed over the implementation of NAP in Sindh.
During the meeting, Prime Minister Nawaz Sharif said that the nation desired results of the NAP and the country needs to get rid of the menace of terrorism once and for all, and that failure was not an option in the fight against militancy.
Full report at:
http://www.dawn.com/news/1163964/failure-in-fight-against-militancy-is-not-an-option-nawaz
-----------
Zarb-i-Azb to be completed by year-end: minister
Feb 16 2015
ISLAMABAD: The government believes that the Zarb-i-Azb operation will be completed by the end of the year and after that a 'mini-Marshall plan' will be launched for socio-economic progress of the people of the Federally Administered Tribal Areas (Fata)
"The era of the Taliban or terrorists will end in Fata and there will be complete peace in the entire tribal areas by the end of this year," Minister for Safron and Frontier Regions retired Lt-Gen Abdul Qadir Baloch told Dawn on Sunday.
Mr Baloch said he could say this only about cleansing Fata of terrorists and not about other parts of the country.
The president approves summary under which economic zones will be established in tribal region
He said Fata was no more a stronghold of the Taliban where they committed acts of terrorism, produced and smuggled narcotic drugs and indulged in gun-running and kidnapping for ransom. The government would launch a comprehensive plan for development activities after restoration of peace in Fata. "The plan is so big that we call it a mini-Marshall Plan," he added.
Full report at:
http://www.dawn.com/news/1163869/zarb-i-azb-to-be-completed-by-year-end-minister
-----------
Gen Sharif supports Karachi operation to ensure peace
Feb 16 2015
RAWALPINDI - Chief of Army Staff General Raheel Sharif on Monday said that he would go to any extent in support of Karachi operation to ensure peace.
During his visit to Rangers' Headquarters in Karachi, he appreciated gains of operation by Rangers, police and intelligence agencies, Inter-Services Public Relations (ISPR) Director General Major General Asim Saleem Bajwa tweeted on social media. The army chief was briefed by the Rangers director general on Karachi security situation, ongoing across the board operations along with other Law Enforcement Agencies (LEAs).
http://www.dailytimes.com.pk/national/16-Feb-2015/gen-sharif-supports-karachi-operation-to-ensure-peace
-----------
Two killed as gunmen storm hotel in Quetta
Feb 16 2015
QUETTA: At least two people were killed when unidentified gunmen opened fire at a hotel on Sunday, a news channel reported.
As per details, the unidentified gunmen opened fire at a hotel on Mastung Road. As a result of the attack, one person died on the spot while another sustained bullet wounds. Rescuers reached the scene and rushed the injured to the hospital, but he succumbed to his injuries on way. According to local police, one of the deceased has been identified as Ghulam Sarwar, while the identity of the other one is yet to be ascertained.
Meanwhile, two towers of the main transmission line between Guddu and Quetta were blown up by unidentified people at the Tottal area of Naseerabad.
According to Levies sources, power supply to more than twenty districts of Balochistan, including Quetta, was suspended following the attack. Sources also revealed that Quetta's electricity was restored through the Khuzdar transmission line. However, several of the remaining districts were without electricity until the filing of this report.
It may be mentioned here that two days ago, two other towers of the electricity transmission line between Uch and Quetta were damaged in a bomb attack. The damaged towers are yet to be completely repaired.
http://www.dailytimes.com.pk/national/16-Feb-2015/two-killed-as-gunmen-storm-hotel-in-quetta
-----------
Over 600 'hardcore terrorists' arrested in seven weeks
Feb 16 2015
ISLAMABAD: Amid escalating pressure from opposition parties for speeding up action against proscribed religious groups, government officials revealed on Sunday that over 600 hardcore terrorists have been arrested since the approval of the National Action Plan (NAP) against terrorism.
These terrorists were apprehended in an ongoing countrywide crackdown over the past seven weeks, officials monitoring the NAP execution said on Sunday. They have been categorised by military and civilian agencies as 'jet-black terrorists' and their cases are to be sent to the interior ministry with a recommendation for trials in military courts, the officials added.
Officials said earlier this month that security agencies have launched a targeted operation against 'supporters and abettors' of terror outfits as part of the NAP. They added that supporters and abettors of terrorists, including banned outfits, had been under surveillance in South Punjab and parts of interior Sindh which have been identified as the strongholds of groups and individuals supporting several militant outfits.
Of these 600-plus terrorists, 320 belong to the banned Tehreek-e-Taliban Pakistan (TTP), while 311 have links with Lashkar-e-Taiba, Jaish-e-Muhammad and Hizb-ut-Tahrir "Cases of these terrorists who carry an aggregate bounty of Rs271 million would be sent to the military courts," a senior official of the National Counter-Terrorism Authority told The Express Tribune.
Full report at:
http://tribune.com.pk/story/839021/over-600-hardcore-terrorists-arrested-in-seven-weeks/
-----------
Wanted LeJ commander killed in Quetta raid
Feb 16 2015
QUETTA: A key commander of the banned Lashkar-e-Jhangvi (LeJ) and his companion were killed in a raid by security forces in Saryab area of Quetta on Sunday, a senior official of Balochistan told The Express Tribune.
Usman Saifullah Kurd had been convicted by an anti-terror court in 2003 for masterminding two sectarian attacks in Quetta. He had escaped from the high security Quetta cantonment jail in 2008, following which the government imposed a Rs2.5 million bounty on him.
"The Frontier Corps (FC), on a tip-off, launched a massive search operation in Saryab against the banned Lashkar-e-Jhangvi," a spokesperson for the FC told The Express Tribune. He added that in an exchange of fire with LeJ men, two FC officials were injured.
Two LeJ men were also wounded in the raid, while a third was arrested unhurt. However, a senior official of Balochistan government said that the two men later succumbed to their injuries.
"The key commander or head of Lashkar-e-Jhangvi Balochistan Usman Saifullah Kurd was killed during the security forces' raid in Saryab," he told The Express Tribune. "Kurd was killed along with his companion."
The FC spokesperson added that their injured men have been shifted to Combined Military Hospital for treatment.
http://tribune.com.pk/story/838966/wanted-lej-commander-killed-in-quetta-raid/
----------
Southeast Asia
Malaysian Non-Muslim Interfaith Group to Speak To Minister Over Free Quran Handout
BY MAYURI MEI LIN
FEBRUARY 16, 2015
KUALA LUMPUR, Feb 16 — A minister has called for a discussion with the Malaysian Consultative Council of Buddhism, Christianity, Hinduism, Sikhism and Taoism (MCCBCHST) group for alleging that the distribution of free Qurans is intended to persuade non-Muslims to abandon their faith, its secretary-general said today.
Prematilaka KD Serisena did not disclose the name or department of the minister who initiated the meeting, but said that they will meet with the minister before releasing additional information.
"The minister has called us and at the moment, we don't want to announce anything. He wants to understand from us what is happening," Prematilaka said today in a phone interview with Malay Mail Online.
Last week, Malaysia's largest non-Muslim interfaith council accused the Islamic Information and Services Foundation (IIS), the group charged with distributing one million copies of the Quran, of being a concerted effort to persuade non-Muslims to abandon their faith, and urged non-Muslims not to accept the translation of the Islamic holy text.
On Saturday, IIS defended its project as an attempt to help non-Muslims understand Islam, and demanded MCCBCHST issue a public apology.
Full report at:
http://www.themalaymailonline.com/malaysia/article/as-storm-rages-non-muslim-interfaith-group-to-speak-to-minister-over-free-q#sthash.aZf2wXND.dpuf
-----------
'ISIS' video likely a hoax, Pakatan reps say
Feb 16 2015
KUALA LUMPUR, Feb 16 — Pakatan Rakyat (PR) leaders distanced themselves today from a video threat to attack Malaysian courthouses by a group claiming to be Islamic State (IS) members, saying the four masked men in the clip were likely pranksters.
PKR vice-president N. Surendran pointed out that the men calling themselves "ISIS Malaysia 69" had mentioned "mercun" or firecrackers when they threatened to set off explosives at courthouses this Wednesday.
"They look like a bunch of pranksters to me," said the Padang Serai MP, who added that he was not worried by the threat of violence from the men in the video.
"There, they seemed like they were building up to something, but in the end, all they said was that they were going to set off some fireworks."
"It's just a silly act by a bunch of silly boys," he told Malay Mail Online over the phone.
His sentiments were echoed by another PKR vice-president, Chua Tian Chang.
"I think it's a hoax," Chua said, before adding, "I don't take this seriously. I'm not worried about it at all."
Full report at:
http://www.themalaymailonline.com/malaysia/article/isis-video-likely-a-hoax-pakatan-reps-say#sthash.keHkSci8.dpuf
-----------
Jokowi Wants to Stop Sending Indonesian Maids Abroad
Feb 16 2015
Jakarta. President Joko Widodo is planning to prevent any more Indonesians from traveling abroad to make a living as domestic workers, asking the Manpower and Transmigration Ministry draw up a roadmap for the plan.
Nusron Wahid, the head Agency for the Placement and Protection of Indonesian Migrant Workers (BNP2TKI), has said that his agency would support the plan.
"We are ready to follow the president's order," Nurson said on Sunday. "As a big nation, we have to protect our dignity."
Boosting education would be key for would-be maids to gain access to higher-skilled jobs and better protection abroad, Nusron added.
"We should upgrade the quality of vocational and skills training centers," the BNP2TKI chief said.
There are currently vocational and skills training centers in each province in the country but none are specifically designed to cater to prospective migrant workers.
Indonesian workers, especially women working in people's homes, often face abuse. A recent example is the case of Erwiana Sulistyaningsih, who was tortured by her boss in Hong Kong.
http://thejakartaglobe.beritasatu.com/news/jokowi-wants-stop-sending-indonesian-maids-abroad/
-----------
Mideast
Last Yemen Jews eye exodus after Shiite militia's takeover
16 Feb, 2015
SANAA: A few worried families are all that remain of Yemen's ancient Jewish community, and they too may soon flee after a Shiite militia seized power in the strife-torn country this month.
Harassment by the Houthi movement — whose motto is "Death to America, death to Israel, curse the Jews, victory to Islam" — caused Jews in recent years to largely quit the northern highlands they shared with Yemen's Shiites for millennia.
But political feuds in which the Jews played no part escalated last September into an armed Houthi plunge into the capital Sanaa, the community's main refuge from which some now contemplate a final exodus.
Around six Yemeni Jews from the same family arrived in Israel on Friday, members of the community told Reuters.
"Since last September, our movements have become very limited for fear of the security situation, and there are some members of the community who preferred to leave Yemen," sighed chief rabbi Yahya Youssef, sitting in his apartment within a walled compound next to ministry of defense.
Dressed in the traditional Yemeni flowing robe, blazer and headwrap, Rabbi Yahya's lined face is framed by two long curls on each side. Along with Hebrew he and his coreligionists speak Arabic, value local customs and are wary of life beyond home.
"We don't want to leave. If we wanted to, we would have done so a long time ago," Yahya said as his infirm old father rested in the sun outside their home.
Jews evacuated from the Houthi stronghold of Saada province in 2009 to the government-guarded compound have dwindled from 76 to 45. A group of 26 others live in a city north of the capital.
Full report at:
http://www.arabnews.com/middle-east/news/705111
-----------
Iran weekly banned for criticizing nuclear talks
16 February 2015
Iran's ultra-conservative weekly "9-Day" was banned on Monday for criticising the government over its negotiations with world powers on the country's controversial nuclear programme, the ISNA news agency reported.
The state body charged with monitoring the media ruled that the paper had published articles "insulting towards the Imam (Islamic republic founder Ayatollah Ruhollah) Khomeini and against the regime's nuclear policy", the agency said.
"Each step (Foreign Minister Mohammad Javad) Zarif took destroyed 100 kilos of reserves of enriched uranium," the weekly wrote.
ISNA said the comment came after Zarif and his U.S. counterpart Secretary of State John Kerry took a walk in the lakeside Swiss city of Geneva on the sidelines of nuclear talks there last month.
Full report at:
http://english.alarabiya.net/en/media/print/2015/02/16/Iran-weekly-banned-for-criticizing-nuclear-talks-.html
-------
Four killed in south Yemen clashes: Medics
16 February 2015
Four people were killed when pro-president paramilitaries in Yemen's main southern city of Aden seized the state broadcaster from police allegedly controlled by Shia Houthi militiamen, medics said on Monday.
Members of the so-called Popular Resistance Committees of pro-army tribesmen attacked special police guarding the complex, sparking fighting that lasted until dawn, PRC chief Hussain al-Wuhayshi said.
Medics at the city's Al-Jumhuriyah Hospital said two people on each side were killed.
On January 12, President Abdel Rabbu Mansour Hadi appointed General Abdulrazaq al-Merwani, a Shia known for his close ties to the Houthi militia that has seized power in Sanaa, as chief of the police special forces.
Full report at:
http://english.ahram.org.eg/NewsContent/2/8/123171/World/Region/Four-killed-in-south-Yemen-clashes-Medics.aspx
-----------
Official: Yemenis to Unite in Face of Al-Qaeda Terrorists
Feb 16 2015
A Yemeni official said that Yemen's Southern tribes will discuss the formation of a unified command against the al-Qaeda terrorists operating in the Arab country.
Speaking to Asharq Al-Awsat, the leader of Hadhramaut tribal alliance Omar Ben Habrish said tribes will meet on Monday to discuss ways to form a unified command to run oil infrastructure and maintain security in the strategic area.
Habrish said that the Yemenis will do everything to safeguard the natural resources of the region.
The Southern provinces are home to almost 70 percent of Yemen's oil and gas infrastructure.
Al-Qaeda militants have stepped up their attacks on Yemen's security forces. The militants have been engaged in battles with the Ansarullah revolutionaries of the Houthi movement.
http://english.farsnews.com/newstext.aspx?nn=13931127000341
-----------
Palestinian band fumes at Netanyahu's ad
16 February 2015
A Palestinian rap band has threatened to take legal action against Prime Minister Benjamin Netanyahu's right-wing Likud party for releasing a campaign ad in which their song is associated with the Islamic State of Iraq and Syria (ISIS).
"In the last propaganda video released by the Israeli Likud Party which is headed by the criminal Benjamin Netanyahu (Zionist right-wing), the song called 'Ghorbah' by Torabyeh has been used," the Amman-based group called Torabyeh wrote on its Facebook page.
We reject "all forms of cooperation with the Zionist enemy", and pledge to "take all necessary legal action against those responsible."
Full report at:
http://english.alarabiya.net/en/life-style/entertainment/2015/02/16/Palestinian-band-fumes-at-Netanyahu-s-ISIS-themed-campaign-ad.html
-----------
North America
Islamic State 'barbarity knows no bounds': White House
16 February 2015
The United States is condemning the purported killing of 21 Egyptians by militants in Libya affiliated with the Islamic State group as "despicable" and "cowardly."
White House press secretary Josh Earnest adds in a statement Sunday that the group's barbarity "knows no bounds." Earnest says the killings underscore the need for a political resolution to the conflict in Libya. He says the situation in Libya only benefits terrorist groups, and he called on the Libyan people to unite in opposition to terrorism.
lso Sunday, Secretary of State John Kerry called Egyptian Foreign Minister Sameh Shoukry. He offered his condolences on behalf of the American people and strongly condemned the killings. Kerry and the foreign minister agreed to keep in close touch as Egyptians deliberated on a response, according to a release from the State Department.
READ: Egypt President Sisi vows to avenge IS killings
Video purporting to show the mass beheading of Coptic Christian hostages was released Sunday by IS. The Associated Press could not independently verify the video. But the Egyptian government and the Coptic Church, which is based in Egypt, have said the video is authentic.
http://indianexpress.com/article/world/middle-east-africa/islamic-state-barbarity-knows-no-bounds-white-house/
-----------
US brigade of 4,000 soldiers headed to Kuwait
16 February 2015
FORT CARSON, Colorado: More than 4,000 US soldiers based at Fort Carson, Colorado, are heading to Kuwait, where they will take over as one of America's largest ground forces in the region after President Barack Obama asked Congress to authorize military action against Islamic State militants.
Obama ruled out large-scale US ground combat operations similar to those in Iraq and Afghanistan, but he asked for the option to use military force against Islamic State fighters for three years. The fight could be extended to any "closely related successor entity" to the Islamic State group that has overrun parts of Iraq and Syria, imposed an extreme form of Sharia law and killed hostages it has taken, including several Americans.
The US Army has kept a brigade in Kuwait since the end of the Iraq war in 2011. Those soldiers, including two units from Fort Carson, have worked to train local troops from throughout the Middle East. In its most recent deployment to Kuwait, a combat team from Fort Carson conducted training missions with allies including Jordan and the United Arab Emirates, which have joined the coalition against Islamic State fighters.
The unit headed to Kuwait is Fort Carson's heaviest force, armed with tanks and Bradley Fighting Vehicles. Many of its soldiers are veterans of one or more of the brigade's previous combat tours in Iraq.
Full report at:
http://timesofindia.indiatimes.com/world/us/US-brigade-of-4000-soldiers-headed-to-Kuwait/articleshow/46253646.cms
----------
McCain: US Training Syrians to Fight against Assad
Feb 16 2015
US Senate Armed Services Chairman John McCain said that the United States has been training young Syrians in order to topple President Bashar al-Assad.
Criticizing President Barack Obama's war strategy against the ISIL terrorist group in Iraq and Syria, Republican Senator McCain said Obama's request for a war powers authorization is convoluted, press tv reported.
"In his proposal, he left out Bashar Assad, which is really amazing in that we are training young Syrians to go in and fight against Bashar Assad," McCain said in an interview with NBC news channel on Sunday.
"It's really kind of convoluted and I'd say call it an uncertain trumpet," he added.
The chairman of the Senate Armed Services also noted that Obama "hasn't come forward with a plan or a strategy for us to have success."
In a draft resolution to Congress on Wednesday, Obama formally asked Congress to authorize a three-year war against ISIL in Iraq and Syria.
Full report at:
http://english.farsnews.com/newstext.aspx?nn=13931127000335
-----------
Female lawmaker unafraid to slam 'Islamic savages'
16 Feb, 2015
A California assemblywoman is refusing to back down after fellow lawmakers and the Council for American Islamic Relations, or CAIR, have demanded she apologize for what they're calling a "hateful" message she posted on Twitter.
On Feb. 10, after confirmation that American humanitarian aid worker Kayla Mueller was killed by the Islamic State, Republican Assemblywoman Melissa Melendez of Lake Elsinore sent out a tweet calling the murder "gut wrenching":
Her use of the hashtag "#standupagainstIslam," however, has some people up in arms.
Basim Elkarra, executive director of CAIR in Sacramento, characterized the hashtag as "hateful" and called on Melendez to apologize.
"It's one thing to stand against terrorists," he told the Sacramento Bee, "but to stand against Islam, the faith of 1.6 billion people worldwide, is another."
CAIR representative Haroon Manjlai used almost the same talking points in an interview with KABC-TV in Los Angeles: "Hate rhetoric such as this can and does lead to hate crimes and dehumanizes a whole population, and we feel it's extremely insensitive to say something like this about the faith of 1.6 billion people."
A jaw-dropping expose on the six-month undercover operation that revealed the true terror-supporting nature of CAIR: "Muslim Mafia: Inside the Secret Underworld That's Conspiring to Islamize America."
Full report at:
http://www.wnd.com/2015/02/lawmaker-defiant-in-stand-against-islam-flap/#4vQJMl3kWc8aQd7Q.99
-----------
As the US mission winds down, Afghan insurgency grows more complex
The Washington Post
16 Feb, 2015
FAIZABAD, Afghanistan — The Taliban in this northern province allows girls to attend school. It doesn't execute soldiers or police. Its fighters are not Pashtun, the main ethnic group that bred and fueled the insurgency. Some members are even former mujahedeen, or freedom fighters, who once despised the Taliban and fought against its uprising.
"The Taliban here are against the ideology of the Taliban in the south," explained Maizuddin Ahmedi, 20, a former Taliban member who reflects the local faction's atypical nature: He has a Facebook page, tweets regularly and wears a beanie emblazoned with the letters "NY." "They don't behead soldiers."
Full report at:
http://www.stripes.com/as-the-us-mission-winds-down-afghan-insurgency-grows-more-complex-1.329272
-------
URL: https://www.newageislam.com/islamic-world-news/new-age-islam-news-bureau/6-ana-martyred,-64-insurgents-killed-in-ansf-operations/d/101549