New Age Islam News Bureau
18 May 2015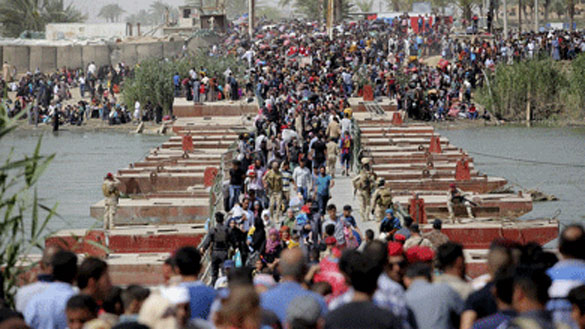 Displaced Sunni people, who fled the violence in the city of Ramadi, arrive at the outskirts of Baghdad. (Reuters)
----------
Arab World
• 500 Killed, 8,000 Fled, Over the Past Few Days, As Ramadi Fell to ISIS
• Army Kills 5 ISIL Commanders in Eastern Syria
• After Morsi Sentence, Mass Executions Begin
• Saudi labour sponsorship system violates human rights, says group
• Shia militias prepare to deploy en masse to Iraq's Anbar: Spokesman
• Nearly 300 dead in battle for Syria's Palmyra: Monitor
• E-terrorism targeting 17 million in Saudi Arabia, says expert
• Saudi school replaces textbooks with iPads
• Egypt's justice minister blames Muslim Brotherhood for killing three judges
Europe
• Isis Announces Caliphate Plans for Italy by Posting Chilling Images on Social Media
• Morsi's sentence 'not in line with Egypt's international obligations': EU
• UN Security Council Slams Renewed Violence in South Sudan
• French mayor expelled for claiming Islam will be banned from France by 2027
• Halal Pork Enrages UK Muslims
Pakistan
• Religious Scholars Have Issued a Decree: Suicide Attacks Un-Islamic
• For Displaced Pakistanis to Return Home: Fight the Taliban
• Pak army 'caught India by throat' during Kargil war: Musharraf
• Pakistan wants durable peace with India: Asif
• Deputy Chairman Senate: Action against seminaries will harm education
• 'Taliban, BLA Joined Dacoits against Police'
• Drone strikes in North Waziristan a clear violation of Pakistan's sovereignty: FO
South Asia
• Over 100 Migrants from Myanmar and Bangladesh 'Died In Fight for Food' On Boat
• Two Soldiers Martyred, Six Militants Killed In Separate Military Operations
• Taliban Attack on District in Southern Afghanistan Kills 7
• Reports: Afghanistan issuing political passports to Taliban leaders
• 8 Jamaat men sent to jail in Natore
India
• Home Minister Says If Akbar Is 'Great', So Is Rana Pratap, Wants History Corrected
• Fled From War-Torn Iraq, Indians Move Back To the Country for Jobs
• RSS Calls for Sealing of India-Bangladesh Border
Africa
• Tunisia says 172 nationals held by Libya militia
• Sahara Islamist Leader Belmokhtar Dismisses ISIS Pledge: Report
• Nigerian Military Destroyed 10 Boko Haram Camps
• Burundi president warns against Al-Shabab threat
• Burundi Refugees Exceed 105,000 - Over 70,000 in Tanzania Alone
• Kenya: Alleged Shabaab Recruiter Arrested in Mombasa
Southeast Asia
• Putrajaya Can Offer Rohingyas Food And Oil… But Not Entry, Parliament Told
• PKS Calls for Immediate Response to Growing Rohingya Refugee Crisis
• Malaysia, Asean complicit in refugee crisis unless Myanmar accepts Rohingya, say NGOs
North America
• Kerry: Houthi Actions Make Ceasefire 'Difficult'
• Kerry Confident Islamic State Takeover of Ramadi Will Be Reversed
• Tsarnaev could be first terrorist executed in US since 9/11
• Obama 'red line' erased as Bashar Assad's chemical weapons use goes unchecked by U.S. military
• Pentagon struggles to counter success of Islamic State social media, info war
Mideast
• Fresh Coalition Strikes on South Yemen As Truce Expires
• Zarif: Iran's Support for Syria Prevents Fall of Damascus to IS
• Turkish government condemns bombing, HDP urges it to 'be silent'
• Hamas says Egypt verdict against its members a 'massacre'
• Houthi violations ended truce: Yemen foreign minister
• Turkey wants EU sanctions on Egypt after Morsi verdict
Compiled by New Age Islam News Bureau
URL: https://www.newageislam.com/islamic-world-news/new-age-islam-news-bureau/500-killed,-8,000-fled,-over-the-past-few-days,-as-ramadi-fell-to-isis/d/103019
---------
Arab World
500 Killed, 8,000 Fled, Over the Past Few Days, As Ramadi Fell to ISIS
18 May 2015
A spokesman for the governor of Iraq's Anbar province said Monday that about 500 people - both civilians and Iraqi soldiers - are estimated to have been killed over the past few days as the city of Ramadi fell to ISIS.
The estimates follow a shocking defeat as ISIS seized control of the Anbar provincial capital on Sunday, sending Iraqi forces fleeing in a major loss despite the support of U.S.-led airstrikes targeting the extremists.
Bodies, some burned, littered the streets as local officials reported the militants carried out mass killings of Iraqi security forces and civilians. Online video showed Humvees, trucks and other equipment speeding out of Ramadi, with soldiers gripping onto their sides.
"We do not have an accurate count yet," said the spokesman, Muhannad Haimour. "We estimate that 500 people have been killed, both civilians and military, and approximately 8,000 have fled the city."
The estimates are for the past three days, since Friday, when the battle for the city reached its final stages. The 8,000 figure is in addition to the enormous exodus in April, Haimour said, when the U.N. said as many as 114,000 residents fled from Ramadi and surrounding villages at the height of the violence.
Local officials have said that ISIS carried out mass killings of Iraqi security forces and civilians.
With defeat looming, Prime Minister Haider al-Abadi had ordered security forces not to abandon their posts across Anbar province, apparently fearing the extremists could capture the entire desert region that saw intense fighting after the 2003 U.S.-led invasion to topple dictator Saddam Hussein.
Earlier Sunday, al-Abadi ordered Shiite militias to prepare to go into the Sunni-dominated province, ignoring U.S. concerns their presence could spark sectarian bloodshed. By late Sunday, a large number of Shiite militiamen had arrived at a military base near Ramadi, apparently to participate in a possible counter-offensive, said the head of the Anbar provincial council, Sabah Karhout.
U.S. Secretary of State John Kerry said he remained confident about the fight against ISIS, despite the setbacks like the loss of Ramadi. Kerry, traveling through South Korea, said that he's long said the fight against the militant group would be a long one, and that it would be tough in the Anbar province of western Iraq where Iraqi security forces are not built up.
Sunday's retreat recalled the collapse of Iraqi security forces last summer in the face of ISIS's blitz into Iraq that saw it capture a third of the country, where it has declared a caliphate, or ISIS. It also calls into question the Obama administration's hopes of relying solely on airstrikes to support the Iraqi forces in expelling the extremists.
"We welcome any group, including Shiite militias, to come and help us in liberating the city from the militants. What happened today is a big loss caused by lack of good planning by the military," a Sunni tribal leader, Naeem al-Gauoud, told The Associated Press.
He said many tribal fighters died trying to defend the city, and bodies, some charred, were strewn in the streets, while others had been thrown in the Euphrates River.
The final ISIS push to take Ramadi began early Sunday with four nearly simultaneous bombings that targeted police officers defending the Malaab district in southern Ramadi, a pocket of the city still under Iraqi government control, killing at least 10 police and wounding 15, officials said. Among the dead was Col. Muthana al-Jabri, the chief of the Malaab police station. Later, three suicide bombers drove their explosive-laden cars into the gate of the Anbar Operation Command, the military headquarters for the province, killing at least five soldiers and wounding 12, the officials said.
The extremists later seized Malaab after government forces withdrew, with the militants saying they controlled the military headquarters. A police officer who was stationed at the headquarters said retreating Iraqi forces left behind about 30 army vehicles and weapons that included artillery and assault rifles. He said some two dozen police officers went missing during the fighting. The officer and the other officials spoke on condition of anonymity as they were not authorized to talk to reporters.
On a militant website frequented by ISIS members, a message from the group claimed its fighters held the 8th Brigade army base, as well as tanks and missile launchers left behind by fleeing soldiers. The message could not be independently verified by the AP, but it was similar to others released by the group and was spread online by known supporters of the extremists.
Last week, the militants swept through Ramadi, seizing the main government headquarters and other key parts of the city. It marked a major setback for the Iraqi government's efforts to drive ISIS out of areas the group seized last year. Previous estimates suggested ISIS held at least 65 percent of the vast Anbar province.
Backed by U.S.-led airstrikes, Iraqi forces and Kurdish fighters have made gains against ISIS, including capturing the northern city of Tikrit.
But progress has been slow in Anbar, a Sunni province where anger at the Shiite-led government runs deep and where U.S. forces struggled for years to beat back a potent insurgency. American soldiers fought some of their bloodiest battles since Vietnam on the streets of Ramadi and Fallujah.
http://english.alarabiya.net/en/News/middle-east/2015/05/18/500-killed-8-000-fled-as-Ramadi-fell-to-ISIS.html
---------
Army Kills 5 ISIL Commanders in Eastern Syria
18 May 2015
The Syrian army troops killed five senior commanders of the Islamic State of Iraq and the Levant (ISIL) group in an attack in Eastern Syria.
The Syrian army killed 5 ISIL commanders in the Eastern province of Deir Ezzur on Sunday. The slain ISIL ringleaders were identified as Saudi, Turkish, Chechen, Jordanian and Iraqi nationals.
The ISIL Takfiri terrorists currently control shrinking swathes of Syria and Iraq. They have threatened all communities, including Shiites, Sunnis, Kurds, Christians, Ezadi Kurds and others, as they continue their atrocities in Iraq.
Senior Iraqi officials have blamed Saudi Arabia, Qatar, and some Persian Gulf Arab states for the growing terrorism in their country.
The ISIL has links with Saudi intelligence and is believed to be indirectly supported by the Israeli regime.
http://english.farsnews.com/newstext.aspx?nn=13940227001347
---------
After Morsi Sentence, Mass Executions Begin
World Bulletin / News Desk
18 May 2015
Following the death sentence penalty for ex President Mohamed, Morsi, Egypt has begun mass executions with starting with the handing death of six young men with links to ISIL for allegedly carrying out an attack on soldiers near Cairo last year, their lawyer said on Sunday.
The group, Sinai Province, has killed hundreds of policemen and soldiers since the army toppled President Mohamed Mursi in 2013 after mass protests against his rule.
Formerly known as Ansar Bayt al-Maqdis, it has carried out bombings and shootings against police and soldiers mostly in North Sinai.
The men were convicted on charges which included apparently carrying out an attack in which two army officers were killed during a shootout in Arab Sharkas village north of Cairo.
Egypt rejects allegations by critics that its judiciary is politicized.
In April, New York-based Human Rights Watch said three of the men who were facing execution could not have taken part in any attacks because authorities had arrested them three months earlier and were still holding them in detention at the time, citing comments from their relatives and lawyer.
Sisi has identified the Brotherhood as a threat to national security, an allegation it denies.
On Saturday, an Egyptian court sought the death penalty for Mursi and 106 supporters of the Brotherhood in connection with a mass jail break in 2011.
While Mursi's Muslim Brotherhood has largely been neutralized with thousands of arrests, Sinai Province remains resilient despite continuing military operations.
http://www.worldbulletin.net/headlines/159301/after-morsi-sentence-mass-executions-begin
---------
Saudi labor sponsorship system violates human rights, says group
18 May 2015
The kafala (sponsorship) system that the Labor Ministry is using for the recruitment and employment of expatriates is replete with human rights violations, the National Society for Human Rights (NSHR) has said in a report.
"There are 13 loopholes in the system that were behind the complaints the society has been receiving since its establishment in 2004," the society told Makkah newspaper.
According to the report, about 67.8 percent of labor issues the society had dealt with were complaints by expatriates against their Saudi kafeels (sponsors).
The society said the various labor issues it was notified about during 2014 constituted about 6 percent of all the cases it had considered.
The society listed the following violations as a result of the kafala system:
•Kafeels keeping workers' passports until they are about to go out on exit/re-entry visa. In this case, the kafeel will exchange the passport with the residence (iqama) card. This is an illegal measure that the kafeel is using to prevent the worker from traveling or escaping, said the NSHR.
•Kafeels making workers do jobs other than the ones they were originally recruited to carry out.
•Physical and verbal violence by some kafeels against their workers in addition to maltreatment.
•Asking the expatriates to pay monthly or annual fees to the kafeels without any justification.
•Preventing workers from exercising some of their civil rights such as marriage or visiting relatives or friends without the approval of the kafeels. Some kafeels have misused this power given to them under the system.
•Some clauses in the system are violating the regulations preventing human trafficking.
•A number of kafeels are wasting the time of some government departments with routine inquiries related to visa issuance, document authentication, approvals and informing them about huroob (runaway workers) cases.
•The spread of the phenomenon of work visa traders. Some Saudis recruit foreign manpower only to trade in them and make more money because they have no jobs for them.
•Non-payment or delaying of salaries, which is a gross violation of labor laws.
•Not giving the workers copies of their work contracts so they know their rights and duties. This is also against labor laws.
•The system gives the kafeels expanded rights and privileges that they may abuse. This is against Islamic teachings that prevent injustices to others and their persecution, said the society.
•Labor offices are delaying consideration of complaints, causing harm to workers and their dependents. Subsequently, expatriates will remain without any source of income and will be illegally staying in the country because they have no renewed iqamas. "This will subject them to punishment by the Interior Ministry.
•Some kafeels go around the system by releasing their workers to work for other employers.
The report also said some kafeels and employers are complaining without justification about the behavior of their sponsored expatriates including unethical conduct, theft, huroob attempts and slackness in performing their duties.
http://english.alarabiya.net/en/perspective/features/2015/05/18/Saudi-labor-sponsorship-system-violates-human-rights-says-group-.html
---------
Shia militias prepare to deploy en masse to Iraq's Anbar: Spokesman
18 May 2015
Twin explosions on Monday hit the regional headquarters of Turkey's main pro-Kurdish party in two cities amid escalating tensions in the run up to June 7 legislative elections, a party official said.
Six people were injured in the blast at the office of the People's Democratic Party (HDP) in the southern city of Adana, three of them seriously, the official told AFP.
The official said the frontal facade of the building sustained damage.
Another blast occurred in nearby Mersin in southern Turkey when a flower sent to the party office exploded, the party official said. There were no casualties.
The motives and causes of the blasts were not immediately clear. The HDP's co-chairman Selahattin Demirtas was due to address a rally in Mersin later in the day.
In April, unidentified assailants opened fire on the HDP headquarters in the capital Ankara, with no casualties. The government condemned that attack as a blow to Turkey's democracy and stability.
Tensions are mounting ahead of Turkey's key elections next month in which the HDP is seeking to clear the 10 percent quota to take seats in the parliament.
The HDP's success could dent the ruling AKP party's plans to reach a thumping majority in the 550-seat parliament in order to change the constitution and create a presidential system.
President Recep Tayyip Erdogan, who steered Turkey as prime minister for 11 years, has appealed to his supporters to help elect 400 AKP lawmakers in June's vote, giving him the backing to rewrite the constitution -- and assume full executive powers himself.
http://english.ahram.org.eg/NewsContent/2/8/130542/World/Region/Shia-militias-prepare-to-deploy-en-masse-to-Iraqs-.aspx
---------
Nearly 300 dead in battle for Syria's Palmyra: Monitor
18 May 2015
Nearly 300 people have been killed in several days of fighting since the Islamic State group launched an attack against Syria's ancient city of Palmyra, a monitor said Sunday.
The Britain-based Syrian Observatory for Human Rights, which relies on a network of sources on the ground, said the toll comprised 123 soldiers and loyalist militiamen, 115 IS fighters and 57 civilians.
http://english.ahram.org.eg/NewsContent/2/8/130486/World/Region/Nearly--dead-in-battle-for-Syrias-Palmyra-Monitor.aspx
---------
E-terrorism targeting 17 million in Saudi Arabia, says expert
18 May 2015
Around 17 million Saudis are at risk of falling victim to electronic terrorism, according to an expert in security affairs and social media issues.
Hassan Al-Daajah was quoted by Al-Watan as saying that there are more than 46,000 websites supporting ISIS.
"When we find that about 17 million Saudi men and women are using the Internet, we will realize the magnitude of the electronic danger threatening our society," he said. He warned that if the concerned authorities in the Kingdom do not move fast, the possibility of ISIS influencing society would become greater.
"Websites are good propaganda tools for Daesh because they are away from physical control, supervision or restrictions." Al-Daajah added, referring to ISIS as "Daesh", an Arabic term for the militant group.
Full report at:
http://english.alarabiya.net/en/media/print/2015/05/18/E-terrorism-targeting-17-million-Saudis-says-expert-.html
---------
Saudi school replaces textbooks with iPads
18 May 2015
Sultan Bin Salman Elementary School has told students to come into school with only their iPads after digitizing all their textbooks and making them available as soft copies, Al-Hayat reported.
Yousef Al-Hazmi, a teacher at the school, said he proposed the idea to the school management and they agreed to implement it after obtaining permission from Jeddah Education Directorate and parents of the students.
Full report at:
http://english.alarabiya.net/en/variety/2015/05/18/Saudi-school-replaces-textbooks-with-iPads-.html
---------
Egypt's justice minister blames Muslim Brotherhood for killing three judges
18 May 2015
Egypt's Minister of Parliamentary Affairs Ibrahim Al-Heneidy, who has also become the interim Minister of Justice, fiercely attacked the Muslim Brotherhood, blaming it for the assassination of three judges in North Sinai Saturday.
The assassinations took place few hours after a Cairo court sought a death sentence against Egypt's former president Mohamed Morsi and other leading Muslim Brotherhood officials on espionage and jailbreak charges.
Al-Heneidy said he, as minister of justice, endorsed relocating the North Sinai court to the nearby Ismailia governorate as a measure aimed at safeguarding judges against terrorism.
"This measure was taken upon the ministry's new vision for justice, which means that the enforcement of justice should not lead to the death of any judge," Al-Heneidy told reporters on Sunday.
Full report at:
http://english.ahram.org.eg/NewsContent/1/64/130509/Egypt/Politics-/Egypts-justice-minister-blames-Muslim-Brotherhood-.aspx
------------
Europe
Isis Announces Caliphate Plans for Italy by Posting Chilling Images on Social Media
18 May 2015
The Islamic State (Isis) supporters have posted several pictures from inside major Italian cities, 'announcing' the arrival of the Caliphate in Europe.
With landmarks in cities like Rome and Milan in the backdrop, the scripts over the images warn that Isis fighters are making their way to Italy to extend their reign of terror in the Middle East and Africa.
A series of images posted by Isis supporters on Twitter show the militant group threatening to carry out a terror attack inside Italy. One of the photos warns in Arabic: "#Islamic State in Rome. Now is observing and locating for the target. Waiting for the zero hour". Rome's Colosseum can be seen in the background of the photo.
Full report at:
http://www.ibtimes.co.in/rome-love-isis-announces-caliphate-plans-italy-by-posting-chilling-images-social-media-632818
-----------
Morsi's sentence 'not in line with Egypt's international obligations': EU
18 May 2015
The death sentences against former president Mohamed Morsi and more than 100 others is "not in line with the Egyptian's obligations under the international law," the European Union said on Sunday.
"The Egyptian judicial authorities have to ensure, in line with international standards, the defendants' rights to a fair trial and proper and independent investigations," EU foreign police chief Federica Mogherini said in a statement.
On Saturday, Cairo Criminal Court handed a preliminary death sentence to Morsi and 105 other defendants on charges related to breaking out of jail during the 2011 unrest.
The court also issued the same ruling to Muslim Brotherhood leaders Mohamed El-Beltagy and Khairat El-Shater, along with 14 others, in another case on charges of conspiring with foreign powers to destabilise Egypt.
Full report at:
http://english.ahram.org.eg/NewsContent/1/64/130519/Egypt/Politics-/Morsis-sentence-not-in-line-with-Egypts-internatio.aspx
---------
UN Security Council Slams Renewed Violence in South Sudan
18 May 2015
The UN Security Council condemned renewed violence in Unity State, South Sudan, which resulted in the displacement of more than 100,000 people and the suspension of aid delivery.
Thousands more fled the war zones in the Southern part of the oil-rich Unity State as a result of recent clashes between government troops and rebels, Xinhua reported.
Due to the fighting, humanitarian agencies and organizations suspended the delivery of relief aid in the war zones, affecting more than 300,000 people. International aid bodies announced that they have pulled their staff out of the Northern Unity State.
"The members of the Security Council condemned in the strongest terms the repeated violations of the Cessation of Hostilities Agreement ... and underscored that there is no military solution to this conflict," the 15-nation UN body said in a statement.
The members of the council also condemned Friday's large-scale attack by rebels on the town of Malakal in Upper Nile State, the statement said.
Full report at:
http://english.farsnews.com/newstext.aspx?nn=13940228000441
----------
French mayor expelled for claiming Islam will be banned from France by 2027
18 May 2015
(ANI): A French mayor, who claimed on Twitter that Islam will be banned in France by 2027, is facing expulsion from the country's main opposition conservative party after rightists termed his statement "unacceptable."
The party's vice president Nathalie Kosciusko-Morizet said that he had called for the expulsion procedure to be started for these "absurd statements" which in no way reflected the ideals of the Union for a Popular Movement (UMP), reported The Guardian.
The row erupted after Robert Chardon, mayor of the southern town of Venelles, tweeted several times on Thursday, May 14, that "the religion of Islam will be banned in France on Oct. 18, 2027." He added that anyone practicing the religion should be immediately escorted to the border. He also said that France should abolish its law on secularism and amend the constitution to stipulate that "the republic favors the practice of the Christian faith."
The offensive tweets elicited widespread condemnation from conservatives, including former president Nicolas Sarkozy.
While criticising the statement, a spokesman for the center-right UMP confirmed that the party had already begun procedures to remove the mayor from the party.
France is home to Europe's largest Muslim population of seven million.
https://in.news.yahoo.com/french-mayor-expelled-claiming-islam-banned-france-2027-074810875.html
-----------
Halal Pork Enrages UK Muslims
18 May 2015
CAIRO – Facing Muslim fury, a UK supermarket chain has been forced to apologize to Muslims after it labelled black pudding, which contained traces of pork, as Halal.
"This is absolutely outrageous and I am deeply offended by this," Manahil Khan, one of Aldi's customers, told the Daily Mail on May 16.
"I am pretty sure many others of the Muslim community are also very offended by this.
"It is demoralizing and goes against one's religious morals and scripture... and I speak on behalf of every Muslim and human that does not deserve to be misled by any sort of false claim of Halal food or lies about what we consume."
Full report at:
http://www.onislam.net/english/news/europe/486109-halal-pork-enrages-uk-muslims.html
-----------
Pakistan
Religious Scholars Have Issued a Decree: Suicide Attacks Un-Islamic
May 18 2015
LAHORE: Some 200 religious scholars have issued a decree against suicide attacks and termed them unlawful under Islamic law.
The decree issued at a conference of Ulema here on Sunday said the philosophy behind the self-styled Islamic State (IS), banned Tehreek-i-Taliban Pakistan, Al Qaeda, Boko Haram and other so-called Jihadi outfits was misleading.
Such groups operated in an un-Islamic manner and their thinking was flawed because it was based on poor knowledge and ignorance, said the decree released to the media by Maulana Zia ul Haq Naqshbandi.
The so-called Jihadi outfits were unmindful of the conditions that must be met before declaration of jihad. Furthermore, the elements involved in sectarian killings were guilty of 'Fasad', as Islam did not allow killings in the name of sect.
Full report at:
http://www.dawn.com/news/1182631/suicide-attacks-un-islamic-say-ulema
---------
For displaced Pakistanis to return home: fight the Taliban
May 18 2015
PESHAWAR: Hundreds of thousands of Pakistanis displaced by anti-Taliban military operations in tribal areas wish only to return home – but first they have to agree to fight the militants themselves.
It s "social engineering" unheard of in the recent war on terror: displace an entire population, fight the insurgents who remain, then bring back those uprooted and charge them with keeping the militants at bay.
And this time, North Waziristan's displaced have little choice but to accept.
June marks one year since the army launched an offensive in this region of northwest Pakistan, which became a refuge for militants after the Afghan Taliban was driven from power across the border.
Full report at:
http://tribune.com.pk/story/888172/for-displaced-pakistanis-to-return-home-fight-the-taliban/
---------
Pak army 'caught India by throat' during Kargil war: Musharraf
PTI | May 18, 2015
KARACHI: Recalling the Kargil conflict, Pakistan's former military dictator General Pervez Musharraf on Sunday said the Pakistani army "caught India by throat" and that India will never forget the war.
"There was a second line force, too, which caught India by throat and that was later given the status of army," Musharraf said, addressing a ceremony of his All Pakistan Muslim League (APML).
Full report at:
http://timesofindia.indiatimes.com/world/pakistan/Pak-army-caught-India-by-throat-during-Kargil-war-Musharraf/articleshow/47325081.cms
------------
Pakistan wants durable peace with India: Asif
May 18 2015
SIALKOT: Minister for Defence and Water and Power Khawaja Mohammad Asif said on Sunday that the government wanted durable peace with all its neighbours, including India, despite the fact that the latter was supporting terrorism in Pakistan.
Addressing a public meeting in Kingra-Pasrur village along the Sialkot Working Boundary, he said the government was aware of the situation and was committed to eradicating terrorism from the country. He praised the armed forces for their role in curbing militancy, insurgency and terrorism in the country and said the Zarb-i-Azb operation was achieving its objectives and progressing successfully.
Full report at:
http://www.dawn.com/news/1182620/pakistan-wants-durable-peace-with-india-asif
---------
Deputy Chairman Senate: Action against seminaries will harm education
May 18 2015
KHUZDAR: Deputy Chairman Senate Maulana Abdul Ghafoor Haideri said on Sunday that seminaries were providing free education to about five million male and female students across the country. He said any action against madressahs would have a negative impact on the country's already poor educational structure.
Speaking at the 'Protection of Religious Seminaries Conference', Maulana Haideri said six million children were deprived of education across the country.
Those who were talking about taking action against madressahs did not understand the fallout such an action on the educational structure of the country, he added.
Full report at:
http://www.dawn.com/news/1182683/haideri-says-action-against-seminaries-will-harm-education
---------
'Taliban, BLA joined dacoits against police'
May 18 2015
SUKKUR: Sindh Chief Minister Syed Qaim Ali Shah has said that banned organisations, including the Tehreek-i-Taliban and the Balochistan Liberation Army, are fighting along with dacoits in the katcha area of Ghotki with the police who have launched an operation against criminals.
He said this while speaking at a press conference here on Sunday after presiding over a meeting regarding law and order in the Sukkur region with the commandant of Rangers, the deputy inspector general of police, deputy commissioners and senior superintendents of police.
The CM said that in the Ghotki operation, criminals were equipped with modern weapons while the police were using old weapons. He said he had spoken to the army chief in that regard and the army chief had sought a list of required weapons and on receipt of such weapons and equipment, they would be provided to the police.
He said that the Rangers and the police were carrying out the operation against criminals and the government needed the army's help only for weapons.
Full report at:
http://www.dawn.com/news/1182612/taliban-bla-joined-dacoits-against-police
---------
Drone strikes in North Waziristan a clear violation of Pakistan's sovereignty: FO
May 18 2015
ISLAMABAD: A statement by The Ministry of Foreign Affairs Pakistan on Monday, condemned the May 16 US drone strike in North Waziristan, terming it a "clear violation of Pakistan's sovereignty and territorial integrity."
The statement added that all such strikes were condemned and should be brought to a halt.
A US drone strike in the Shawal Valley of North Waziristan Agency on May 16 killed six suspected militants and injured several others, causing security concerns in the area at a time when operation Zarb-e -Azb is being carried out successfully with the aim to eradicate terrorism from the country.
Full report at:
http://tribune.com.pk/story/888188/drone-strikes-in-north-waziristan-area-a-clear-violation-of-pakistans-sovereignty-fo/
---------
South Asia
Over 100 Migrants from Myanmar and Bangladesh 'Died In Fight for Food' On Boat
May 18 2015
Migrants rescued from a sinking boat off Indonesia have told the BBC that about 100 people died after a fight broke out over the last remaining food.
Survivors told of horrific conditions. Three men separately said people were stabbed, hanged or thrown overboard.
The 700 rescued migrants from Myanmar and Bangladesh are being processed by the Indonesian authorities.
Thousands of migrants are estimated to be adriftin South East Asian waters, denied permission to land.
The BBC's Martin Patience spoke to some of the survivors in the Indonesian port of Langsa, on the island of Aceh. He cautions that their accounts cannot be verified.
However, three migrants made similar statements in separate conversations.
If true, the claims will add to the growing international pressure on Asian countries to find a solution to this crisis, our correspondent says.
Full report at:
http://www.dhakatribune.com/world/2015/may/18/over-100-migrants-died-fight-food-boat#sthash.um6MhAe0.dpuf
---------
Two soldiers martyred, six militants killed in separate military operations
May 18 2015
Two soldiers have embraced martyrdom while six militants killed during separate military operations across the country, officials announced on Monday.
A statement issued by General Zahir Azimi, spokesman for the Ministry of Defense states that two soldiers embraced martyrdom in past 24 hours. He has not given further details.
In the meantime, a statement issued by the Ministry of Interior states that six militants were killed and two others wounded in separate military operations in parts of the country in past 24 hours.
Two Improvised Explosive Devices (IEDs) were also discovered and defused by the security forces during these operations, the statement adds.
Afghan National Security Forces have underway several security operations against insurgents in different parts of the country. Heavy clashes are also ongoing between the two sides in some parts.
http://www.khaama.com/two-soldiers-martyred-six-militants-killed-in-separate-military-operations-3375
---------
Taliban attack on district in southern Afghanistan kills 7
May 18 2015
KANDAHAR: A Taliban attack on a district headquarter in Afghanistan's southern Uruzgan province has killed at least seven people, says an Afghan official.
Chief Administrative Official Abdul Kareem Karimi in Khas Uruzgan district, says that five police officers, a former district chief and a school principal were among those killed in the pre-dawn attack there on Monday.
He says that even with the limited number of policemen they have in the district, they are still in control ─ but that they may lose it unless reinforcements arrive soon.
The insurgents have stepped up attacks on Afghan soldiers and police in recent months, after United States and Nato forces formally ended their combat mission in Afghanistan at the end of last year.
Full report at:
http://www.dawn.com/news/1182721/taliban-attack-on-district-in-southern-afghanistan-kills-7
---------
Reports: Afghanistan issuing political passports to Taliban leaders
May 18 2015
Reports suggest that Afghan government is issuing political passports to Taliban.
Hasht-e-Subh newspaper, a reliable Afghan media outlet reports that the government is issuing 210 political passports to Taliban leaders.
The media outlet quoting a source states that during the recent visit of Pakistan's Prime Minister Mohammad Nawaz Sharif to Kabul it was agreed that some of the Taliban leaders need to be removed from the blacklist of the United Nations and reopening their political office.
Source is saying that currently 180 Taliban leaders are using Pakistani passports but government will change their Pakistani passports to Afghan passports.
He is further saying that 210 Taliban leaders are scheduled to receive Afghan political passports.
Representatives of Taliban and peacemakers from the country recently had face-to-face talks in Qatar in which considerable improvement for initiating peace talks were being reported.
Taliban staged an insurgency in Afghanistan after their government was toppled in 2001.
Tens of thousands of people have been killed since then in Afghan war.
http://www.khaama.com/reports-afghanistan-issuing-political-passports-to-taliban-leaders-3374
---------
8 Jamaat men sent to jail in Natore
May 18 2015
A Natore court has sent eight Jamaat activists to jail on Sunday.
Senior Judicial Magistrate Nadira Sultana passed the order after rejecting their bail pleas.
Earlier in the day, they surrendered before the Natore chief judicial magistrate court-3 and pleaded for bail.
The Jamaat activists were accused in a case following a clash between Awami League and Jamaat-e-Islami activists at Malonchi bazar area in April 7, 2013.
Later, Upazila Awami League secretary Sekendar Rahman lodged a case against 81 Jamaat-Shibir activists.
Detective Branch (DB) Sub-Inspector Bidyut submitted the final charge sheet.
The accused Jamaat activists kept hiding after the incident.
http://www.dhakatribune.com/politics/2015/may/17/8-jamaat-men-sent-jail-natore#sthash.QWCDroHd.dpuf
---------
India
Home Minister Says If Akbar Is 'Great', So Is Rana Pratap, Wants History Corrected
Akhilesh Kumar Singh,TNN | May 18, 2015
PRATAPGARH: In line with the Sangh Parivaar's push for Hindu icons, Union home minister Rajnath Singh on Sunday asked historians to revisit history by giving Mewar ruler Maharana Pratap more credit.
"I have no objections to historians writing Akbar The Great. But why not Pratap The Great? The valour and sacrifice that the Maharana demonstrated in the Mewar region was equally impressive and he should be accorded more respect and dignity," he said while unveiling a statue of Pratap at the Collectorate campus in Rajasthan's Pratapgarh district on Sunday.
"I personally consider Maharana Pratap as great," he said eulogizing the Mewar king who was defeated by Akbar in the historic Battle of Haldighati. "History should be presented in correct light. Pratap must be introduced as great for the next generations," Singh said.
http://timesofindia.indiatimes.com/india/Rajnath-says-if-Akbar-is-Great-so-is-Rana-Pratap-wants-history-corrected/articleshow/47322513.cms
----------
Fled From War-Torn Iraq, Indians Move Back To the Country for Jobs
May 18, 2015
After the Islamic State abducted 39 Indian workers and, separately, a group of nurses last June, thousands of Indians flew back home on special planes sent by New Delhi. However, less than a year later, undeterred by the disappearance of the 39 men and the possibility that the IS may have killed them, some of those who returned home have begun going back to work in Iraq.
The Indian Express found that over the last four or five months, at least 20 men from Punjab have returned to Iraq and several others are making determined efforts to find jobs there through agents or friends already employed in that country.
Gaurav Bawa of Vijay Nagar area in Hoshiarpur is one of them. He went back to Al Hillah in central Iraq in March.
"He came here when there was a war but he returned to Iraq in March, along with four other boys, to work for the same company that he left in July last year," said his father, Jugal Kishore Sharma.
Full report at:
http://indianexpress.com/article/india/india-others/no-jobs-move-back-to-iraq-begins/99/
----------
RSS calls for sealing of India-Bangladesh border
TNN | May 18, 2015
NEW DELHI: With Parliament approving the historic Land Boundary Agreement with Bangladesh, the RSS has demanded that it should be followed up by sealing of borders to check illegal immigration from the eastern neighbour.
While welcoming the India-Bangladesh deal as "landmark," RSS warned the government of a "Jammu & Kashmir-like imbroglio on India's eastern border" if illegal immigration from Bangladesh is not checked.
"This landmark deal should be followed up with the illegal migration issue. Otherwise, in future, we will have to deal with another Jammu & Kashmir-like imbroglio on the eastern border... Now with borders marked, it is time to address the issues pertaining to illegal immigration," an editorial in the latest edition of RSS mouthpiece 'Organiser' said.
It made a case to stop "illegal immigration" on the grounds that it had altered the demography of the county and compromised national security.
Full report at:
http://timesofindia.indiatimes.com/india/RSS-calls-for-sealing-of-India-Bangladesh-border/articleshow/47323047.cms
---------
Africa
Tunisia says 172 nationals held by Libya militia
18 May 2015
Tunisia said Monday that it was negotiating for the release of 172 nationals being held by a Libyan militia as bargaining chips for one of its commanders detained in Tunis.
The foreign ministry's Arab and African affairs chief Touhami Abdouli said the Tunisians had been detained in western Libya by a militia that is part of the Libya Dawn alliance which controls the capital Tripoli and third city Misrata.
"We are going to try to make the effort to resolve this at the political level," Abdouli told Shems-FM radio. "I am optimistic."
http://english.alarabiya.net/en/News/middle-east/2015/05/18/Tunisia-says-172-nationals-held-by-Libya-militia-.html
------------
Sahara Islamist leader Belmokhtar dismisses ISIS pledge: report
18 May 2015
Veteran Algerian jihadist Mokhtar Belmokhtar has rejected a pledge of allegiance to Islamic State of Iraq and Syria (ISIS) by the co-founder of his al-Mourabitoun Islamist group, revealing a rift in one of the Sahara's most dangerous militant groups.
Last week, Mauritania's Alakhbar news website posted a recording of a speaker calling himself Adnan Abu Waleed al-Sahrawi claiming to speak on behalf of al-Mourabitoun and urging all jihadi groups to follow ISIS's
self-proclaimed caliph, Abu Bakr al-Baghdadi.
Al-Mourabitoun was established in 2013 by uniting fighters loyal to Belmokhtar, one of the Sahara's best known jihadists, and MUJWA, an Islamist group operating in West Africa that was headed by Al-Sahrawi.
Full report at:
http://english.alarabiya.net/en/News/africa/2015/05/17/Sahara-Islamist-leader-Belmokhtar-dismisses-ISIS-pledge-report.html
---------
Nigerian military destroyed 10 Boko Haram camps
World Bulletin / News Desk
18 May 2015
Nigeria's armed forces destroyed 10 Boko Haram camps on Sunday in the remote Sambisa forest, group's final hideout in the northeast of Africa's most populous nation, the military said.
In a statement, the military said many Boko Haram militants had been killed in the offensive, which also captured a number of armoured vehicles and anti-aircraft guns.
http://www.worldbulletin.net/todays-news/159304/nigerian-military-destroyed-10-boko-haram-camps
---------
Burundi president warns against Al-Shabab threat
May 18 2015
BUJUMBURA: Burundi's President Pierre Nkurunziza on Sunday made his first official appearance since an attempted coup, looking relaxed and appearing confident that he was in full control of the central African nation.
Nkurunziza pointedly ignored the coup attempt and spoke only about reported threats from Somalia's Al-Qaeda-linked Shabab militants, who have warned of mounting attacks against Burundi and other states that contribute troops to the African Union force in Somalia.
"We have taken measures against Al-Shabab. We take this threat seriously," the president said.
Full report at:
http://www.arabnews.com/world/news/748086
---------
Burundi Refugees Exceed 105,000 - Over 70,000 in Tanzania Alone
18 May 2015
The number of refugees arriving in Tanzania has risen exponentially over the past week as people pour over Burundi's borders, with new arrivals citing fear of violence and intimidation as primary reasons for leaving. Tens of thousands are in urgent need of clean water, health care, food and shelter. Without these basic needs being met, the risk of disease spreading among new arrivals is dangerously high.
Over 70,000 refugees, mostly women and children, are estimated to have arrived at Kagunga beach, a rugged beach shore on the border between Burundi and Tanzania on Lake Tanganyika. They are being moved by boat to Kigoma, where they are registered before being bussed to Nyarugusu camp. Risk of disease outbreak is dangerously high due to lack of clean water and adequate sanitation.
Full report at:
http://allafrica.com/stories/201505180325.html
---------
Kenya: Alleged Shabaab Recruiter Arrested in Mombasa
18 May 2015
Detectives from the Anti-Terrorism Police Unit (ATPU) have arrested a suspected Al-Shabaab recruiter in Mombasa.
The 45-year-old man was detained for allegedly being one of the people funding and recruiting youths to join the Al-Qaeda linked terror group.
He was picked up for questioning from a restaurant near Likoni and driven to his house on Saturday evening where a search was conducted for vital clues.
Mombasa County Commander Robert Kitur confirmed the arrest but could not divulge more information.
Full report at:
http://allafrica.com/stories/201505180319.html
-------------
Southeast Asia
Putrajaya can offer Rohingyas food and oil… but not entry, Parliament told
May 18 2015
KUALA LUMPUR, May 18 — Putrajaya cannot arbitrarily allow foreigners into the country as it is bound by restrictions in local immigration laws, a minister explained today amid criticisms over Malaysia's refusal to rescue the thousands of Rohingya refugees stranded at sea.
Minister in the Prime Minister's Department Datuk Seri Shahidan Kassim, who was urged to explain the issue during Question Time in Parliament this morning, pointed out that foreigners without valid travel documents cannot be permitted entry into Malaysia.
"We insist that we will not accept those without proper documentations and passports into the country," the minister said when asked why Putrajaya has been turning back boatfuls of refugees when the country has often been used as a transit point for refugees escaping persecution in their countries.
Full report at:
http://www.themalaymailonline.com/malaysia/article/putrajaya-can-offer-rohingyas-food-and-oil...-but-not-entry-parliament-told#sthash.s7Lv6yZH.dpuf
-----------
PKS Calls for Immediate Response to Growing Rohingya Refugee Crisis
May 18 2015
Jakarta. Legislators from an Indonesian Islamic party have urged the government to address the Rohingya boatpeople crisis by issuing a regulation allowing Jakarta to assist the migrants, including by providing temporary shelter for them.
Fahri Hamzah, a deputy speaker of the House of Representatives, said in Jakarta on Sunday that he was concerned with media reports that Indonesian officials had prohibited boats carrying hundreds of Rohingya migrants from reaching Indonesian shores.
He said he understood that officials were turning the boats back because of a lack of legal grounds to assist the refugees, but added this should not be the case.
"[Lack of regulation] should not be an excuse to turn a blind eye to the suffering of people from other nations," said Fahri, also a deputy secretary general of the Islamic-based Prosperous Justice Party, or PKS.
Full report at:
http://thejakartaglobe.beritasatu.com/news/pks-calls-immediate-response-growing-rohingya-refugee-crisis/
---------
Malaysia, Asean complicit in refugee crisis unless Myanmar accepts Rohingya, say NGOs
May 18 2015
KUALA LUMPUR, May 18 — The failure to push Myanmar into recognising the Rohingya will make Malaysia and other Asean countries complicit in the refugee crisis, several local non-governmental organisations (NGOs) said today.
The Coalition on Plan of Action for Malaysia (GBM) also urged Malaysia, which is Asean chair, to allow the Rohingya refugees to land here, with thousands remaining adrift at sea after Malaysia, Thailand and Indonesia refused to allow them ashore.
"Unless Malaysia and her Asean partners pressure the Myanmar government to enfranchise the Rohingya, promise them a safe return and ensure their safety, it is complicit in this humanitarian crisis," GBM said in a statement.
"Make Malaysia proud. Allow them to land in this fair country. The alternative is to leave them adrift and certain death," they added.
Full report at:
http://www.themalaymailonline.com/malaysia/article/malaysia-asean-complicit-in-refugee-crisis-unless-myanmar-accepts-rohingya#sthash.Zqdktvox.dpuf
---------
North America
Kerry: Houthi actions make ceasefire 'difficult'
18 May 2015
U.S. Secretary of State John Kerry said on Monday Washington supported extending a "humanitarian pause" in the fighting in Yemen, but that maneuvers by Houthi militias made that difficult.
A Saudi-led coalition resumed air strikes against the Houthi in Aden overnight, hours after the expiry of a truce meant to facilitate badly needed humanitarian aid, a Reuters witness said.
Explosions could be heard near the southern city's airport and the districts of Khor Maksar and Crater shortly after the five-day ceasefire expired on Sunday.
"We know that the Houthis were engaged in moving some missile-launching capacity to the border and under the rules of engagement, it was always understood that if there were proactive moves by one side or another, then that would be in violation of the ceasefire agreement," Kerry told reporters in the South Korean capital.
Full report at:
http://english.alarabiya.net/en/News/middle-east/2015/05/18/Kerry-Houthi-actions-make-ceasefire-difficult-.html
---------
Kerry confident Islamic State takeover of Ramadi will be reversed
18 May 2015
U.S. Secretary of State John Kerry said on Monday he was confident the Islamic State takeover of the western Iraqi city of Ramadi would be reversed in coming weeks.
Kerry told a news conference in Seoul that Ramadi had been a target of opportunity for the Islamist militants.
"I am convinced that as the forces are redeployed and as the days flow in the weeks ahead that's going to change, as overall (they) have been driven back ... I am absolutely confident in the days ahead that will be reversed."
Islamic State militants said they had taken full control of Ramadi on Sunday, in the biggest defeat for the Baghdad government since last summer.
On Saturday, U.S. officials said special forces had carried out a raid inside Syria that killed a man identified as a senior Islamic State leader, Abu Sayyaf.
Kerry said the strike had eliminated a "major leader" and resulted in "a significant intelligence gain".
"In addition, their communications have been reduced and their funding and financial mechanisms have been reduced and their movements by and large have been reduced."
http://english.ahram.org.eg/NewsContent/2/8/130533/World/Region/Kerry-confident-Islamic-State-takeover-of-Ramadi-w.aspx
---------
Tsarnaev could be first terrorist executed in US since 9/11
May 18, 2015
The death sentence jurors gave Boston Marathon bomber Dzhokhar Tsarnaev sets the stage for what could be the United States' first execution of a terrorist in the post-9/11 era, though the case is likely to go through years of legal appeals.
In weighing the arguments for and against death, the jurors decided among other things that Tsarnaev showed a lack of remorse. And they emphatically rejected the defence's central argument that he was led down the path to terrorism by his big brother.
The Friday decision which came just over two years after the April 15, 2013, bombing that killed three people and wounded more than 260 brought some relief in Boston.
"We can breathe again," said Karen Brassard, who suffered shrapnel wounds on her legs.
A sombre-looking Tsarnaev stood with his hands folded, his head slightly bowed, as he learned his fate, sealed after 14 hours of deliberations over three days. His lawyers left court without comment.
Full report at:
http://www.thehindu.com/news/international/boston-marathon-bomber-dzhokhar-tsarnaev-could-be-first-terrorist-executed-in-us-since-september-11/article7213958.ece
---------
Obama 'red line' erased as Bashar Assad's chemical weapons use goes unchecked by U.S. military
May 18, 2015
President Obama's infamous "red line" in Syria seems to have been fully erased.
Amid recent reports Syrian President Bashar Assad again used chemical weapons in his nation's ongoing civil war, Mr. Obama is taking a much different approach than he did in 2012 and 2013, when the U.S. declared itself on the verge of military intervention after Mr. Assad unleashed sarin gas and other chemical agents despite clear warnings from the White House.
The most explicit of those warnings came in the form of the president's "red line" declaration, in which he said the use of chemical weapons was a step too far and would bring dire consequences for Mr. Assad and his forces.
The incident was a pivotal foreign policy moment for Mr. Obama and served as a key test of whether he would back up his words with military action.
In the end, the U.S., with the help of Russia, secured an international agreement requiring Syria to give up much of its chemical weapons stockpile. The U.S. never mounted military strikes, and the administration claimed it had used diplomacy rather than force to achieve its objective.
Full report at:
http://www.washingtontimes.com/news/2015/may/17/obama-red-line-erased-as-assad-chemical-weapons-us/#ixzz3aUH8IJKN
---------
Pentagon struggles to counter success of Islamic State social media, info war
May 18, 2015
The Pentagon is struggling to counter the information warfare efforts of the Islamic State terrorist group that are effectively exploiting U.S. social media and Western press freedoms to recruit jihadists and communicate among themselves.
Bureaucratic red tape within the military, specifically the U.S. Central Command and Pentagon, is preventing rapid responses to IS propaganda and activities, Inside the Ring has learned from knowledgeable sources.
One problem is the cumbersome approval process needed before U.S. information warriors can carry out counter-actions online. Prior to doing so, they're required to go through several layers of approvals along a lengthy chain of command.
As a result, in some cases U.S. information operations against IS propaganda were delayed for days or weeks, often making the responses ineffective or useless.
Additionally, U.S. information operations have been weakened and limited in conducting counter-information attacks because of concerns the American hand will be exposed. Another problem has been fear among U.S. higher-ups that IS will step up both information and kinetic attacks in response.
Full report at:
http://www.washingtontimes.com/news/2015/may/13/inside-the-ring-counter-jihad-information-war-stif/#ixzz3aUHIsgn4
------------
Mideast
Fresh coalition strikes on south Yemen as truce expires
May 18 2015
Saudi-led coalition air strikes resumed against rebel positions in Yemen's south after a five-day ceasefire expired late May 18, despite a UN envoy's calls for an extension of the truce.
The humanitarian ceasefire that began late on May 12 expired at 2000 GMT Sunday with no word from the coalition, which had repeatedly accused the rebels of "violations", on where the truce stands.
In hour after the deadline, air raids hit the rebel-held presidential palace in main southern city Aden as well as a base of the pro-rebel special forces in the same city, military officials and witnesses said.
The raids came despite calls by UN envoy to Yemen Ismail Ould Cheikh Ahmed to extend the ceasefire.
"I call on all parties to renew their commitment to this truce for five more days at least," Ould Cheikh Ahmed said earlier in Riyadh.
"This humanitarian truce should turn into a permanent ceasefire."
His appeal followed clashes between rebels and pro-government forces across south Yemen on May 16 despite the truce, which has largely held since starting on May 12 at 2000 GMT.
The official Saudi Press Agency reported that the UN envoy met Saudi chief of staff Lieutenant General Abdulrahman bin Saleh al-Bunyan and discussed "humanitarian aid efforts" in Yemen.
Full report at:
http://www.hurriyetdailynews.com/fresh-coalition-strikes-on-south-yemen-as-truce-expires-.aspx?pageID=238&nID=82571&NewsCatID=352
---------
Zarif: Iran's support for Syria prevents fall of Damascus to IS
18 May 2015
Iran's foreign minister Mohammad Javad Zarif said that without his country's support for Syria's Assad "legitimate" government, Islamic State (IS) group would have taken over Damascus.
Responding to claims of Iran's support for the Assad regime and how that had prolonged the Syrian crisis, Zarif said Iran still favours a political solution to the Syrian crisis.
"Our support has protected Damascus from Islamic State," Iran's Fars news agency quoted Zarif as telling German news magazine Der Spiegel on Sunday.
He further underlined that the stalemate in the Syrian crisis and the continuous massacres "come from the parties setting preconditions for dialogue".
Full report at:
http://english.ahram.org.eg/NewsContent/2/8/130526/World/Region/Zarif-Irans-support-for-Syria-prevents-fall-of-Dam.aspx
---------
Turkish government condemns bombing, HDP urges it to 'be silent'
May 18 2015
The May 18 bomb attacks on two local headquarters of the Kurdish problem-focused Peoples' Democratic Party (HDP) in the southern provinces of Adana and Mersin have drawn condemnation from the government and the HDP, with the latter accusing the ruling Justice and Development Party (AKP).
The HDP issued a press statement, saying six personnel had been injured in the attack on the Adana headquarters.
"It must be known that no power will be able to prevent the HDP from converging with the Turkish nation," read the statement, pointing the finger at the harsh language recently used by President Recep Tayyip Erdoğan, Prime Minister Ahmet Davutoğlu and other ruling Justice and Development Party (AKP) figures.
Full report at:
http://www.hurriyetdailynews.com/turkish-government-condemns-bombing-hdp-urges-it-to-be-silent.aspx?pageID=238&nID=82580&NewsCatID=509
---------
Hamas says Egypt verdict against its members a 'massacre'
18 May 2015
The Palestinian movement Hamas said on Sunday it rejected the death sentences handed to some of its members a day earlier by a Cairo court as "void," calling the verdict a "massacre."
Hamas, the de facto rulers of Gaza strip, said the verdict "gave legal cover to the Israeli crimes against the Palestinian people and established fascism".
On Saturday, Cairo Criminal Court handed a preliminary death sentence to Islamist former president Mohamed Morsi and 105 other defendants in a case related to a 2011 jail break.
The court also issued the same ruling to Muslim Brotherhood leaders Mohamed El-Beltagy and Khairat El-Shater, along with 14 others, in another case on charges of conspiring with foreign powers, including Hamas, to destabilise Egypt.
Full report at:
http://english.ahram.org.eg/NewsContent/1/64/130515/Egypt/Politics-/Hamas-says-Egypt-verdict-against-its-members-a-mas.aspx
---------
Houthi violations ended truce: Yemen foreign minister
May 18 2015
RIYADH: A Saudi-led coalition resumed airstrikes in Yemen on Monday after a five-day humanitarian ceasefire because the Houthi militia and its allies violated the truce, Yemen's Foreign Minister Reyad Yassin Abdulla said by telephone.
The coalition is now not considering any new ceasefire offer despite a United Nations plea to extend the truce, Abdulla said, but he added that the renewed strikes would avoid Sanaa airport and Aden and Hodaida seaports to let aid get in.
UN envoy to Yemen Ismail Ould Sheikh Ahmed called for an extension of a humanitarian ceasefire in Yemen on Sunday ─which expired the same day ─ as the Houthi rebels boycotted political talks in Riyadh.
Full report at:
http://www.dawn.com/news/1182717/houthi-violations-ended-truce-yemen-foreign-minister
---------
Turkey wants EU sanctions on Egypt after Morsi verdict
May 18 2015
Turkish President Recep Tayyip Erdoğan has called on the international community and the European Union to impose sanctions on Egypt after the death penalty given to former President Mohamed Morsi, blasting them for remaining silent toward Egyptian President Abdel Fattah el-Sisi.
"Hey, Europe! Hey, West! Wasn't the death penalty prohibited there? So why are you silent? Why do you side with Sisi? I call on the entire world, international institutions: Why don't you impose sanctions?" Erdoğan said on May 17 during a public rally in the Central Anatolian town of Kayseri.
Full report at:
http://www.hurriyetdailynews.com/turkey-wants-eu-sanctions-on-egypt-after-morsi-verdict.aspx?pageID=238&nID=82559&NewsCatID=510
---------
URL: https://www.newageislam.com/islamic-world-news/new-age-islam-news-bureau/500-killed,-8,000-fled,-over-the-past-few-days,-as-ramadi-fell-to-isis/d/103019