New Age Islam News Bureau
25 Jul 2013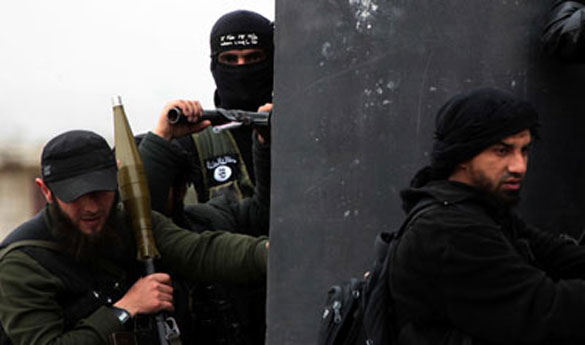 Fighters of the jihadist group Al-Nusra Front arrive to hold positions on April 4, 2013 in the Syrian village of Aziza, on the southern outskirts of Aleppo. (AFP Photo/Guillaume Briquet)
-----------
India
• 41 Per Cent of Respondents, Including Hindus, Feel Muslims Are 'Implicated' In Terror Cases
• Not Congress, regional parties our best bet: Muslim Clerics
• India alerts Bangladesh about Rohingya terror training camps in Chittagong Hill Tracts
• Delhi Batla House encounter: accused Shehzad held guilty of murdering cop
• Irked over gate timings at Indo-Pak border, farmers chalk out stir plan
• Calicut University withdraws al Qaeda leader's poem
Pakistan
• Pak militants storm ISI office, 8 dead
• MQM man among 5 gunned down in Karachi
• Muslim clerics work to dispel myths about polio vaccine
• Levies man among four gunned down in Khuzdar
• KP document warns of US withdrawal fallout
• Pakistanis summit Chinese peak for the first time
• Afghan Taliban's Doha office to reopen soon: FO
• JUI-F announces support for PML-N presidential candidate
Arab World
• S. Arabia will send imams to Pakistan
• Syria 'Turning into Global Headquarters of Jihad'
• Syrian regime forces kill 15 Palestinian refugees, activists say
• Three Egyptian militants killed by their own bomb, security source says
• 14 truck drivers shot dead in Iraq
• Rape, violence in Syrian refugee camps
• Al-Qa'ida holds family fun day in war torn Aleppo
• UAE embassy compound attacked in Libyan capital
• Racism scars many Syrian refugees in Egypt and Lebanon
• Blacklist makes EU complicit in any Israeli raid, Hezbollah chief says
Africa
• Ethiopia cancels 40,000 work visas for KSA-bound housemaids
• Somalia Calls for Independent Review of UN Monitoring Group Reports
• Libya Prepares Constitution amid Insecurity
• Not Just Islam - How Somalia's Union of Islamic Courts Used Local Customs
South Asia
• Tough times follow Afghan refugees fleeing Taliban to Delhi
• Azharul's war crimes charges accepted
• Trapped in the Maldives: foreign nationals stranded due to employers
• Maldives Parliament's Committee on Social Affairs submits social protection bill
North America
• US slammed for 'blank check' in Afghan justice program
• CAIR Submits Written Testimony for Senate Gitmo Hearing
• US denies reports of Aafia-Afridi prisoner swap agreement
• CIA closing down bases in Afghanistan: Report
• US suspends delivery of F-16s to Egypt: Pentagon
Europe
• More ultra-right groups banned in France
• UN Security Council to meet Syria opposition group
• UNHCR - 5000 Southern Sudanese Fled to Ethiopia
Southeast Asia
• Malaysian Islamic authorities investigate ousted beauty contestants
• Govt to Place Sampang Shiites' Future in Sunni Leaders' Hands
• East Java Terrorist Bombs of 'Military Origin'
Mideast
• Iranian scholar writing review of Encyclopaedia of Islam
• Mideast talks could resume July 30: Israeli minister
Compiled by New Age Islam News Bureau
URL: https://www.newageislam.com/islamic-world-news/new-age-islam-news-bureau/41-per-cent-of-respondents,-including-hindus,-feel-muslims-are-'implicated'-in-terror-cases/d/12758
----------
India
41 Per Cent of Respondents, Including Hindus, Feel Muslims Are 'Implicated' In Terror Cases
PRASHANT JHA
Jul 25 2013
41 per cent of respondents, including Hindus, either 'fully' or 'somewhat' agreed with the assertion
In a stinging rebuke to Indian's security establishment, a dominant section of the nation's voters feel that Muslims are "falsely implicated" and framed in terror cases.
This is a key finding of CNN IBN-The Hindu Election Tracker Survey, conducted by the Centre for the Study of Developing Societies (CSDS), across 18 states of the country.
When asked whether Muslim youth were being "falsely implicated in terror cases", 41 per cent of the voters either "fully" or "somewhat" agreed with the assertion. Among them, 40 per cent were Hindus, and 56 per cent Muslims. When the Muslim demographics was broken down further, 53 per cent rural Muslims and 62 per cent urban Muslims said that the young of their community were being wrongly framed.
One-fourth of the overall respondents, however, disagreed with the statement. Twenty-five per cent of the Hindus, and 24 per cent of the Muslim respondents, did not think Muslim youth were being implicated wrongly. Among Muslims, 26 per cent rural Muslims, and 21 per cent urban Muslims, disagreed, confirming a pattern where more urban Muslims appeared to feel that individuals from the community were framed wrongly.
Over one-third of the total respondents, 34 per cent, did not offer an opinion.
The findings add credibility to the claims of human rights organisations, who have alleged that in an increasing number of cases, right after an incident of terrorism, young Muslims are picked up, arrested without sufficient evidence, charged, and suffer long years of imprisonment as under-trials before an acquittal comes their way. Analysts have often flagged this as a factor contributing to alienation among a section of the community.
Responding to the findings, National Commission of Minorities chairperson, Wajahat Habibullah, told The Hindu, "The commission has been very concerned about this and taken up the matter on several occasions. It is good to have the figures in black and white and this will make our work in getting justice for those who have not got justice easier." Mr. Habibullah cited the Mecca-Masjid bombing case, where 22 persons were kept in prison on fabricated confessions, and Malegaon case, where 9 persons were imprisoned for six years, before being finally acquitted as proof of this trend.
http://www.thehindu.com/news/national/voters-feel-muslims-are-implicated-in-terror-cases/article4949104.ece
---------
Not Congress, regional parties our best bet: Muslim Clerics
July 25, 2013
NEW DELHI: Two influential Muslim religious voices have blasted the Congress party for treating the community as a vote bank and claimed the country's largest minority grouping was more inclined to casting its lot with regional parties in the next general elections.
The two leaders, Maulana Muhammad Wali Rahmani and Maulana Syed Kalbe Jawad Naqvi, based in the battleground states of Uttar Pradesh and Bihar, respectively, and part of the All India Muslim Personal Law Board, in separate interviews to ET accused Congress of paying lip service to Muslim concerns as they heaped criticism on BJP and its likely face for the next elections, Gujarat Chief Minister Narendra Modi.
While saying Congress could receive the Muslim community's votes in states where its candidates are in direct opposition to BJP, the two clerics said past experience showed that Muslim interests are ignored when a party with absolute majority is in power at the Centre.
"It is not in the interest of Muslims to have one party with absolute majority at the Centre because our experience with Congress has shown that minorities are then ignored. But a coalition government safeguards the rights of minorities better," said Maulana Kalbe Jawad, a Shia leader from Lucknow. The head priest of the country's largest Shia mosque - Lucknow's Shahi Asafi Mosque - Kalbe Jawad has led several agitations for Muslim causes. His arrest in 2010 by the Mayawati government had sparked protests and riots in the city.
Maulana Rahmani, a Sunni cleric from Munger in Bihar, was also critical of the Congress party.
Congress Plays on Fears
Maulana Rahmani said Congress had long sought to corner the Muslim vote by playing on their fears of opposition parties rather than earning the vote through promises fulfilled.
"Congress thinks Muslims are worried because of the Modi factor. But Muslims are not as worried as they think. They will see what promises Congress made to them since 2004 and how much has been implemented. We have got nothing," he said.
"Vaade ke baad iraade main kya hua (After promises there was no intention)," he added.
The Muslim vote is being wooed by all political parties barring BJP, especially because of the community's tendency to vote tactically in favour of parties that best protect its interests. With the Hindu vote traditionally splintered and divided across multiple political formations, the Muslim community could play a crucial role in determining the winner in the two battleground states and indeed who runs the country.
In Uttar Pradesh, which has 80 Lok Sabha seats, Muslims account for more than 18% of the electorate, while in Bihar, which has 40 seats, they form almost 17% of the voting population.
The two leaders, who, while not being the sole voices of the community have substantial pockets of individual influence and sit on the high table of Muslim decision-making, lashed out at BJP, particularly the head of its election committee and presumptive prime ministerial nominee Narendra Modi.
http://economictimes.indiatimes.com/news/politics-and-nation/not-congress-regional-parties-our-best-bet-muslim-clerics/articleshow/21288352.cms
----------
India alerts Bangladesh about Rohingya terror training camps in Chittagong Hill Tracts
Bharti Jain, TNN | Jul 25, 2013
NEW DELHI: India has alerted Bangladesh to the recent emergence of terror training camps for Rohingya Muslims in its Chittagong Hill Tracts (CHT) bordering Myanmar. Sharing intelligence inputs "from the ground", the Union home ministry recently told Dhaka how Pakistani terror outfits like Lashker-e-Taiba (LeT) were allegedly training Rohingya rebels in camps spread across the CHT for "launching revenge attacks" in Myanmar.
During the just-concluded Indo-Bangladesh home secretary-level talks, the two sides discussed the need to arrest attempts by LeT/Jamaat-ud-Dawah (JuD) to exploit the Rohingya Muslims issue to open a new front on the Bangladesh-Myanmar border, close to India's north-east region.
Home secretary Anil Goswami is said to have drawn his Bangladeshi counterpart's attention to terror camps that have sprung in CHT region over the past six to seven months. These camps were witnessing terror training sessions by LeT and Jaish commanders, with help from local outfits like Jamaat-ul-Mujahideen Bangladesh (JMB) that are linked to NGOs like Rohingya Solidarity Organisation (RSO). Rohingya Muslims, according to Indian intelligence reports, are being trained in use of firearms and bomb-making at these camps.
Bangladesh has assured India it will verify these camps on the ground.
Lashker/JuD had in mid-2012 created a new forum, Difa-e-Musalman Arakan (Burma) Conference (Defence of Muslims in Myanmar), to mobilize support for an anti-Myanmar government campaign. A two-member team — comprising JuD spokesperson Nadeem Awan and JuD Publications Wing member Shahid Mahmood Rehmatullah — was deputed last August to forge covert links with like-minded Islamic organizations in Bangladesh and Myanmar.
Other terror outfits such as Harkat-ul-Jihadi Islami, Jaish-e-Mohammed and JMB are also trying to exploit the Rohingyas' plight to establish new bases in Bangladesh. Jammat-ul-Arakan, a new outfit comprising elements of JMB and extremist-minded Rohingyan activists, is reportedly running militant camps in Bandarban district along the Bangladesh-Myanmar border.
Meanwhile, with the NIA suspecting the role of Indian Mujahideen (IM) or a local arm sympathetic to the Rohingya Muslims' cause, the involvement of an Assamese radical group in arranging the material for the bombs is being closely examined. Investigators believe that that not only were the timer clocks sourced from Guwahati, but even the cylinder may have been bought in Assam.
http://timesofindia.indiatimes.com/india/India-alerts-Bangladesh-about-Rohingya-terror-training-camps-in-Chittagong-Hill-Tracts/articleshow/21320102.cms
----------
Delhi Batla House encounter: accused Shehzad held guilty of murdering cop
July 25, 2013
A Delhi court on Thursday convicted suspected Indian Mujahideen (IM) operative Shehzad Ahmed of murder and other offences in the 2008 Batla House encounter case.
"The prosecution has succeeded in proving beyond reasonable doubt that it was Shehzad who fired at (inspector) MC Sharma to kill him," the court said.
The court will deliver the quantum of punishment on Monday.
The shootout between the special cell team and the alleged IM terrorists took place six days after serial blasts hit New Delhi on September 13, 2008, leaving 30 dead and over 100 injured.
Acting on a tip-off regarding some terrorists involved in the blasts, the police team led by Inspector Sharma went to Batla House on September 19.
Dressed in civils, Delhi police's special cell inpector Mohan Chand Sharma and his colleague went to flat number 108 in L-18 block where the alleged terrorists were living. According to the crime branch chargesheet, the team was caught off-guard after Shehzad and his accomplices shot at Sharma.
Two suspected IM operatives, Atif Amin (the alleged mastermind behind the blasts) and Mohd Sajid were killed as the police fired back.
http://www.hindustantimes.com/India-news/NewDelhi/Delhi-Batla-House-encounter-accused-Shehzad-held-guilty-of-murdering-cop/Article1-1098112.aspx
----------
Irked over gate timings at Indo-Pak border, farmers chalk out stir plan
TNN | Jul 25, 2013
AMRITSAR: Farmers living in villages along the Indo-Pak border in Punjab are up in arms against the BSF as the security personnel failed to open the border gates on time and allow the people to cross over and work on their farm fields beyond the fencing.
A group of 17 farmers' organization came together here on Wednesday and chalked out a massive agitation plan along the 553km border stretch of the state. Thousands of farmers living along the border have agriculture land beyond the border fencing and they have to cross the gates everyday to work in the fields.
Full report at:
http://timesofindia.indiatimes.com/india/Irked-over-gate-timings-at-Indo-Pak-border-farmers-chalk-out-stir-plan/articleshow/21320802.cms
----------
Calicut University withdraws al Qaeda leader's poem
July 25, 2013
Following a big uproar the Calicut University on Thursday decided to withdraw the controversial poem Ode to the Sea written by al Qaeda leader Ibrahim al-Rubaish.
The university board of studies has called an emergency meeting in the morning and decided to withdraw the poem from the anthology titled Literature and Contemporary Issue Studies for third-year degree students.
Full report at:
http://www.hindustantimes.com/India-news/thiruvananthapuram/Calicut-University-withdraws-al-Qaeda-leader-s-poem/Article1-1098039.aspx
----------
Pakistan
Pak militants storm ISI office, 8 dead
PTI | Jul 25, 2013
KARACHI: A group of suicide attackers stormed a compound in southern Pakistan housing an office of the ISI, blowing them up and killing at least five persons and injuring 38 others.
The attack was carried out shortly after 'iftar', the meal that ends the daily fast in the holy month of Ramzan. Geo News channel quoted intelligence sources as saying that at least four terrorists, wearing suicide vests and carrying automatic weapons, were involved in the attack.
One attacker rammed an explosives-laden vehicle into the wall of the Inter-Services Intelligence office at Barrage Colony in Sukkur, Sindh's third largest city located 500 km from the financial hub of Karachi. The others stormed into the regional headquarters of the ISI, lobbed grenades and exchanged fire with personnel inside. Two attackers blew themselves up inside the building while another was captured, Geo News reported.
Full report at:
http://timesofindia.indiatimes.com/world/pakistan/Pak-militants-storm-ISI-office-8-dead/articleshow/21320965.cms
----------
MQM man among 5 gunned down in Karachi
Jul 25 2013
KARACHI: Five people, including an MQM worker, were shot dead in separate incidents of targeted killing across the city on Wednesday.
An activist of MQM was shot dead at Mauripur road by armed assailants. Police said that unidentified riders intercepted and opened fire at Tanvir Ali, 32, resident of Federal B Area, on his way home, killing him on the spot.
Victim's body was taken to Civil Hospital Karachi (CHK) for autopsy and later handed over to heirs. Police said the deceased was an employee of Pakistan Telecommunication Authority (PTCL) and was killed over political bias.
Full report at:
http://www.dailytimes.com.pk/default.asp?page=2013\07\25\story_25-7-2013_pg7_11
----------
Muslim clerics work to dispel myths about polio vaccine
July 25, 2013
For nearly 20 years, Pakistan has been struggling to stamp out polio through oral immunisation drops. But its efforts are being hampered by extremists who have whipped up fear among parents, spreading unfounded rumours that the vaccines will cause sterility.
At the same time, radical Islamists opposed to Western influence have attacked and murdered health workers, often forcing them to abandon the campaign.
As a result of the misinformation and violence, Muslim children in Pakistan are contracting the deadly disease at a greater rate than in other parts of the world. Pakistan is currently one of the few countries, along with Afghanistan and Nigeria, where efforts to eradicate polio have not yet succeeded.
Full report at:
http://khabarsouthasia.com/en_GB/articles/apwi/articles/features/2013/07/20/feature-01
----------
Levies man among four gunned down in Khuzdar
SYED ALI SHAH
Jul 25 2013
QUETTA: Gunmen killed four people, including a Levies constable, in the Khuzdar district of Balochistan on Thursday.
Muhammad Ali, a Levies official, told Dawn.com that militants, who had already taken up positions on the roadside, opened fire at a vehicle near Gazgi Chowki area of Khuzdar district.
He said the targeted vehicle was carrying Levies officials who were bringing injured from an earlier firing incident to the district headquarters hospital Khuzdar.
Full report at:
http://dawn.com/news/1031815/levies-man-among-four-gunned-down-in-khuzdar
--------
KP document warns of US withdrawal fallout
ISMAIL KHAN
Jul 25 2013
PESHAWAR: An official strategy document on counter-terrorism by Khyber Pakhtunkhwa has warned that victory by the Afghan Taliban will further boost the morale of the Pakistani Taliban and it is erroneous to believe that militancy in Pakistan will end automatically with the withdrawal of foreign forces from neighbouring Afghanistan.
The assessment, contained in KP's Home and Tribal Affairs Department's 35-page 'Checkmating Terrorism: A Counter-Terrorism Strategy' document has gained currency in recent times. Participants in back-to-back meetings to mull formulation of a counter-terrorism policy last month pressed Prime Minister Nawaz Sharif to take civil-military control of the Afghan policy to pre-empt the fallout of post-US withdrawal from Afghanistan.
Full report at:
http://dawn.com/news/1031650/kp-document-warns-of-us-withdrawal-fallout
----------
Pakistanis summit Chinese peak for the first time
JAMAL SHAHID
Jul 25 2013
ISLAMABAD: Team leader Rehmat Ullah and Dr Naveed Iqbal, who are part of the Pak-China Friendship Expedition 2013 Climbs, became the first Pakistanis to summit the Muztagh Ata peak in Xinjiang Autonomous Region, China.
Text messages of congratulations were sent soon after the two climbers reached the top of the 7,546-metre peak at 7am on Wednesday morning.
"Rehmat Ullah and Dr Naveed Iqbal, along with five Chinese members, left Camp-III at midnight for a final push for the top," said member of executive council of Alpine Club Pakistan (ACP) Karrar Haidri.
Full report at:
http://dawn.com/news/1031704/pakistanis-summit-chinese-peak-for-the-first-time
----------
Afghan Taliban's Doha office to reopen soon: FO
Jul 25 2013
ISLAMABAD: Foreign Office spokesman Aizaz Ahmed Chaudhry on Thursday said the political office of the Afghan Taliban in Doha, which was shut to protest demands they remove a sign that identified the movement as the Islamic Emirate of Afghanistan, would soon reopen.
The Taliban's Doha office had also come under pressure for using the same white flag flown during their five-year rule of Afghanistan that ended with the 2001 invasion.
Addressing the weekly press briefing at the Foreign Office, the spokesman said the dates pertaining to the visit of Afghan President Hamid Karzai would also be decided shortly.
Chaudhry said during his recent Kabul visit, Adviser on Foreign Affairs and National Security, Sartaj Aziz, had formally invited the Afghan president on an official trip to Pakistan.
Full report at:
http://dawn.com/news/1031832/afghan-talibans-doha-office-to-reopen-soon-fo
----------
JUI-F announces support for PML-N presidential candidate
July 25, 2013
ISLAMABAD: Jamiat Ulema Islam-Fazal (JUI-F) group Chief Maulana Fazlur Rehman announced his support for Pakistan Muslim League- Nawaz (PML-N) presidential nominee Mamnoon Hussain, Express News reported on Thursday.
This announcement was made after a one-on-one meeting with Prime Minister Nawaz Sharif.
Mamnoon Hussain is a senior vice president of the PML-N and former governor of Sindh. If elected, Hussain would be the 11th president of Pakistan.
Full report at:
http://tribune.com.pk/story/581742/jui-f-announces-support-for-pml-n-presidential-candidate/
----------
Arab World
S. Arabia will send imams to Pakistan
SYED RASHID HUSAIN
Jul 25 2013
RIYADH: Saudi Arabia would send imams, one each from Masjid ul Haram in Makkah and Masjid-i-Nabawi in Madina, to Pakistan every year.
Talking to visiting Pakistan's Minister for Religious Affairs and Interfaith Harmony Sardar Mohammed Yousaf, President of the Affairs of the Two Holy Mosques Sheikh Abdulrahman Al-Sudais made the announcement.
He said this was being done to promote ties between the two countries. He said that King Abdullah attached great importance to Pakistan and its people.
Relations between Pakistan and Saudi Arabia are based on deep love and reverence, Sheikh Al-Sudais told the Pakistani minister and the accompanying delegation. He also prayed for the Muslim Ummah and progress and prosperity of Pakistan.
Full report at:
http://dawn.com/news/1031646/s-arabia-will-send-imams-to-pakistan
---------
Syria 'Turning into Global Headquarters of Jihad'
By VASUDEVAN SRIDHARAN
July 25, 2013
Syria is turning into the global headquarters of jihadist militants as thousands of Islamist radicals flock to join the country's ongoing civil war, according to Israel's military intelligence chief.
Major General Aviv Kochavi, the head of the Israeli Defence Forces' (IDF) military research arm, warned the unrest in Syria is attracting thousands of militants from across the world - and will threaten all the countries located in the region.
"Before our eyes, right in our backyard, a global centre for jihad is developing [in Syria], which can affect not only Syria and Israel but also Lebanon, Jordan, and the Sinai Peninsula, and can radiate to the entire region," Kochavi said during a graduation ceremony for intelligence officers.
Full report at:
http://www.ibtimes.co.uk/articles/494056/20130724/syria-israel-jihad-idf-shiite-sunni-assad.htm
----------
Syrian regime forces kill 15 Palestinian refugees, activists say
25 July 2013
Forces loyal to President Bashar al-Assad killed at least 15 Palestinians, mostly women and children, in a rocket attack on a rebel-held refugee camp on the southern edge of Damascus on Wednesday, opposition activists said.
Palestinian militia from the pro-Assad Popular Front for the Liberation of Palestine-General Command (PFLP-GC) as well as Syrian army and intelligence troops have been surrounding the camp for months.
Full report at:
http://english.alarabiya.net/en/News/middle-east/2013/07/25/Syrian-regime-forces-kill-15-Palestinian-refugees-activists-say.html
--------
Three Egyptian militants killed by their own bomb, security source says
24 July 2013
Three militants were killed on Wednesday in Egypt's Sinai peninsula when their car bomb went off before they arrived to their intended targets, a security official said.
The bomb detonated as the men entered the north Sinai town of al-Arish, where two troops were killed in a gunfire attack earlier in the day.
Full report at:
http://english.alarabiya.net/en/News/middle-east/2013/07/24/Three-militants-killed-by-their-own-bomb-security-source-says.html
--------
14 truck drivers shot dead in Iraq
Jul 25 2013
Gunmen have killed 14 truck drivers in an ambush north of the Iraqi capital Baghdad, said security officials on Thursday.
The gunmen stopped the drivers early on Thursday at a fake checkpoint on a major road linking Baghdad to the northern city of Kirkuk.
They fired at them and made off with their trucks.
The attack was the latest in a surge of violence that has killed nearly 300 people in Iraq since the month of Ramadan began on July 10, according to official figures.
http://www.thehindu.com/news/international/world/14-truck-drivers-shot-dead-in-iraq/article4952279.ece
----------
Rape, violence in Syrian refugee camps
PHOEBE GREENWOOD
Jul 25 2013
Children have witnessed massacres, mothers seen their sons killed, families watched their homes burned. But there is one act of violence that refugees from the Syrian crisis will not discuss.
The conflict has been distinguished by a brutal targeting of women. The United Nations has gathered evidence of systematic sexual assault of women and girls by combatants in Syria, and describes rape as "a weapon of war". Outside the conflict, in sprawling camps and overloaded host communities, aid workers report a soaring number of incidents of domestic violence and rampant sexual exploitation.
Full report at:
http://www.thehindu.com/news/international/world/rape-violence-in-syrian-refugee-camps/article4952265.ece
----------
Al-Qa'ida holds family fun day in war torn Aleppo
25 July 2013
In the battle to win hearts and minds in the war-torn Syrian city of Aleppo, al-Qa'ida has found a new weapon: ice-cream.
An event organised by al-Qa'ida's branch in Iraq and Syria produced the bizarre sight of an ice cream eating competition between two young boys, while the militant group's black flags hung in the background.
The event was part of a family fun day of sorts put on by the Islamic State of Iraq and the Levant (ISIS) during Ramadan, videos of which were posted online over the weekend.
The day's activities included a tug-of-war between ISIS and members of Jabhat al-Nusra, another Islamist rebel group based in Syria, and a Quran reciting competition for girls.
Full report at:
http://www.independent.co.uk/news/world/middle-east/video-alqaida-holds-family-fun-day-in-war-torn-aleppo-8730349.html
----------
UAE embassy compound attacked in Libyan capital
Jul 25 2013
TRIPOLI: Unidentified assailants fired a rocket-propelled grenade at the United Arab Emirates embassy compound in the Libyan capital Tripoli on Thursday, the latest in a series of attacks on foreign targets in the North African country.
Security sources said the attackers drove up to the compound, which houses both the embassy and ambassador's residence, in the Siahia neighbourhood in Western Tripoli before fleeing immediately.
Full report at:
http://dawn.com/news/1031814/uae-embassy-compound-attacked-in-libyan-capital
----------
Racism scars many Syrian refugees in Egypt and Lebanon
25 July 2013
A wave of xenophobia is blighting the lives of thousands of Syrian refugees in countries such as Egypt and Lebanon, where they are often blamed for anything that goes wrong.
In Egypt, Syrians are accused of taking sides and interfering in the country's political crisis, while in Lebanon they are accused of taking the jobs of Lebanese.
Egyptian media have played an instrumental role in spreading anti-Syrian sentiment, accusing them of joining protests in support of deposed Islamist president Mohammad Mursi.
Mursi, removed by the army on July 3 after huge protests, rose through the ranks of the Muslim Brotherhood -- a key component of the opposition in Syria.
Full report at:
http://english.alarabiya.net/en/News/middle-east/2013/07/25/Syrian-refugees-face-wave-of-racism-in-Egypt-Lebanon.html
--------
Blacklist makes EU complicit in any Israeli raid, Hezbollah chief says
25 July 2013
The European Union shares responsibility for any Israeli attack against Lebanon or Hezbollah, the Shiite group's chief said on Wednesday, two days after the EU decided to blacklist the party's military wing.
"These [European] states have made themselves fully responsible for any Israeli attack on Lebanon or Lebanon's resistance [Hezbollah] or any target of the resistance," Hassan Nasrallah said in a televised speech, adding that the decision was "worthless."
"These states need to know... that they are giving legal cover to Israel for any attack on Lebanon, because Israel can now claim to be fighting terrorism and to be bombing terrorist targets."
Full report at:
http://english.alarabiya.net/en/News/middle-east/2013/07/24/Blacklist-makes-EU-complicit-in-any-Israeli-raid-Hezbollah-chief-says.html
--------
Africa
Ethiopia cancels 40,000 work visas for KSA-bound housemaids
25 July 2013
The Ethiopian government has canceled 40,000 work visas for housemaids destined for the Kingdom and has permanently stopped sending any manpower, local media reported.
The decision apparently came in retaliation for the Saudi government's decision last week to impose a temporary ban on the recruitment of house workers from Ethiopia.
The decision, jointly announced by the Ministries of Interior and Labor, came as investigations were launched into the recent separate incidents involving the murder of children by the maids who were looked after them.
Salih Harnadah, a member of the Recruitment Committee at the Jeddah Chamber of Commerce and Industry (JCCI), said the Ethiopian government had halted transactions including visas issued before the Kingdom's latest recruitment ban.
Full report at:
http://www.arabnews.com/news/459114
---------
Somalia Calls for Independent Review of UN Monitoring Group Reports
25 July 2013
The Somali government Tuesday (July 23rd) raised concerns about the accuracy of the latest report of the UN Monitoring Group on Somalia and Eritrea and called for the establishment of an independent adjudication panel.
"We regret that the UN Monitoring Group failed to consult the government on the findings and conclusions of the report and permit our response in advance of publication," presidential spokesman Abdirahman Omar Osman said in a statement.
Full report at:
http://allafrica.com/stories/201307250443.html
----------
Libya Prepares Constitution Amid Insecurity
July 25, 2013
Tripoli and Asmaa Elourfi in Benghazi — Libya on Saturday (July 20th) took the first step towards drafting its new democratic constitution.
Interim Prime Minister Ali Zidan, former National Transitional Council President Mustafa Abdel Jalil and other dignitaries were on hand in al-Bayda as General National Congress (GNC) President Nouri Abu Sahmein formally authorised a panel to create the historic document.
The 60 seats on the new Libya constitutional commission will be equally distributed among the country's three main regions. Six seats will be reserved for women and six for ethnic minorities. The panel members will be decided through an election.
Full report at:
http://allafrica.com/stories/201307240480.html?viewall=1
----------
Not Just Islam - How Somalia's Union of Islamic Courts Used Local Customs
BY HANNO BRANKAMP
July 25, 2013
Perceptions of Somalia's Union of Islamic Courts have often exaggerated the role of Islam and its radicalisation.
In July 2006, Ethiopian armed forces crossed the border into western Somalia's Gedo region, seeking to curb an alleged terrorist threat posed by the Union of Islamic Courts (UIC). According to Ethiopian and US intelligence, the UIC was a uniform, militant Islamist movement posing an imminent risk to regional and international security.
The beginnings of influence: UIC's early years
The Union had developed from a judicial system that once concentrated on petty crime into a loosely Islam-based counter-administration to the pro-Western Transitional Federal Government (TFG) that was established in Somalia in September 2004.
Full report at:
http://allafrica.com/stories/201307231186.html?viewall=1
----------
South Asia
Tough times follow Afghan refugees fleeing Taliban to Delhi
Jul 25 2013
New Delhi : Sharifa Jan fled Afghanistan for India last year when the Taliban killed her husband and threatened her six children. New Delhi's chaos baffled her but the city also provided a safe haven. But like thousands of other Afghan refugees and asylum seekers in India her security comes at a price: Jan's family is trapped in limbo. The Afghans don't have work permits. Many have trouble enrolling their children in school. They can't even get a local phone. ``If today there is no education, no good food and drink, no good living conditions, then what will they become in the future?'' Jan, 40, said of her children. ``They won't become anything.''
With their blue United Nations refugee cards, the Afghans do little more than just survive. The Afghan refugees `'need help and more attention,'' said M. Ashraf Haidari, deputy chief of mission of the Afghan embassy in India. Sayeed Habib Hadat, who has degrees in English and information technology, survives by working informally as a translator at pharmacies for Afghan patients.
Full report at:
http://www.indianexpress.com/news/tough-times-follow-afghan-refugees-fleeing-taliban-to-delhi/1146123/
----------
Azharul's war crimes charges accepted
July 25th, 2013
A tribunal in Dhaka accepted charges of war crimes against Jamaat-e-Islami Acting Secretary General ATM Azharul Islam on Thursday.
The charge framing hearing will begin on August 18, Justice ATM Fazle Kabir, chairman of the three-member panel of International Crimes Tribunal-1, announced after taking the charges into cognisance.
Now 61, Azharul was a wartime student of Rangpur Carmichael College and president of Rangpur district unit Islami Chhatra Sangha.
He was involved in the massacre in Rangpur where some 1,225 people were killed in 1971, according to the probe report.
Full report at:
http://www.thedailystar.net/beta2/news/azharuls-charges-accepted/
----------
Trapped in the Maldives: foreign nationals stranded due to employers, state failing to resolve visa issues
By Neil Merrett | July 24th, 2013
A growing number of foreign nationals are finding themselves forbidden from leaving the Maldives by immigration staff, due to the failure of state and private employers to renew visa documentation.
The Indian High Commission in the Maldives told Minivan News it was now demanding government intervention after receiving complaints from expatriates claiming they have been blocked from boarding planes at Ibrahim Nasir International Airport (INIA), and stranded in the country indefinitely.
Full report at:
http://minivannews.com/society/trapped-in-the-maldives-foreign-nationals-stranded-due-to-employers-state-failing-to-resolve-visa-issues-61501
----------
Maldives Parliament's Committee on Social Affairs submits social protection bill
By Mariyath Mohamed | July 24th, 2013
Parliament's Committee on Social Affairs on Monday (July 22) submitted a social protection bill to parliament for review, after amending the bill to stipulate 11 instances in which the state must protect and assist under-privileged citizens.
According to the report submitted by the committee, the objectives of the bill are to provide as-yet unspecified support to citizens facing difficulties as a result of poverty and to increase equitability between the rich and poor. Support for citizens lacking the means to obtain basic necessities and the provision of state facilities to all citizens in the most equitable manner possible were also among the aims.
Full report at:
http://minivannews.com/politics/parliament%E2%80%99s-committee-on-social-affairs-submits-social-protection-bill-61502
----------
North America
US slammed for 'blank check' in Afghan justice program
July 25, 2013
US officials were Thursday facing stiff criticism for failing to ensure proper monitoring of a $47.7 million program to help train Afghan judges and lawyers. In a damning letter to secretary of state John Kerry, a special watchdog highlighted "serious deficiencies" in the oversight of the
Afghanistan Justice Training Transition Program aimed at helping to build a proper legal system in a country decimated by years of war.
The special inspector general for Afghanistan reconstruction, John Sopko, warned that the program lacked "basic provisions" to allow the State Department "to ensure proper monitoring and evaluation of a project expected to cost US taxpayers nearly 50 million."
The contract was awarded to the Rome-based International Development Law Organization (IDLO) and launched in March this year to provide "nationwide criminal justice training and mentoring for prosecutors, judges, defense attorneys and criminal investigators."
"It will transfer operations and management to the Afghan government in a sustainable manner by the end of the intervention in 2015," the IDLO said on its website.
Full report at:
http://www.hindustantimes.com/world-news/northamerica/US-slammed-for-blank-check-in-Afghan-justice-program/Article1-1098101.aspx
----------
CAIR Submits Written Testimony for Senate Gitmo Hearing
Anti-Muslim extremist Frank Gaffney to testify as Republican witness
July 25, 2013
(WASHINGTON, D.C., 7/24/2013) -- The Washington-based Council on American-Islamic Relations (CAIR), the nation's largest Muslim civil rights organization, today submitted written testimony for a Senate hearing on the implications of closing the detention center at Guantanamo Bay, Cuba.
Today's hearing by the U.S. Senate Judiciary Subcommittee on the Constitution, Civil Rights, and Human Rights, chaired by Senator Dick Durbin (D-IL), will focus on the national security, fiscal, and human rights implications of closing the detention center.
Full report at:
----------
US denies reports of Aafia-Afridi prisoner swap agreement
Jul 25 2013
ISLAMABAD: The US embassy in Islamabad on Wednesday denied reports of a prisoner swap deal with Pakistan involving Dr Aafia Siddiqui.
Earlier this month, Pakistani media reported that the US had offered Pakistan to sign a prisoner exchange agreement, calling for a release of Pakistani prisoner Dr Shakil Afridi in exchange for the release of Dr Aafia Siddiqui.
"No, the United States government is not in discussions with the Government of Pakistan on a prisoner exchange or transfer involving Dr. Aafia Siddiqi," said Meghan Gregonis, a spokesman for the US embassy.
Full report at:
http://dawn.com/news/1031640/us-denies-reports-of-aafia-afridi-prisoner-swap-agreement
----------
CIA closing down bases in Afghanistan: Report
July 25, 2013
The Central Intelligence Agency (CIA) has started closing down its bases in Afghanistan, in the wake of US withdrawal from Afghanistan in 2014, The Washington Post reported.
The war on terror has transformed CIA from an intelligence agency to a counter terrorism force with its own prison holding facilities, paramilitary teams and predator drones.
The withdrawal represents a turning point for the agency, as CIA would be able to shift its resources to other more troubled region. US plan to reduce the CIA installation in Afghanistan to as few as six over the period of next two years.
Full report at:
http://tribune.com.pk/story/581604/cia-closing-down-bases-in-afghanistan-report/
----------
US suspends delivery of F-16s to Egypt: Pentagon
AFP | Jul 25, 2013
WASHINGTON: The United States has delayed plans to supply Egypt with an additional four F-16 fighter jets due to unrest gripping the country, the Pentagon said Wednesday.
"Given the current situation in Egypt we do not believe it is appropriate to move forward at this time with the delivery of F-16s," spokesman George Little told reporters.
"We remain committed to the US-Egypt defense relationship as it remains a foundation of our broader strategic partnership with Egypt and serves as a pillar of regional stability," he said.
Defense secretary Chuck Hagel informed Egypt's army chief general Abdel Fattah al-Sisi of the decision in a phone call earlier Wednesday, Little said.
Full report at:
http://timesofindia.indiatimes.com/world/us/US-suspends-delivery-of-F-16s-to-Egypt-Pentagon/articleshow/21316414.cms
---------
Europe
More ultra-right groups banned in France
25 July 2013
PARIS: The French government said on Wednesday it would close down two more far-right militant groups after outlawing three others this month in response to the death of a militant left-wing student in June in a brawl between fringe groups.
The ban aims to smother extreme-right groups who were emboldened by street marches led by conservatives and Catholics earlier this year against the legalization of gay marriage.
"There is no place in our country for hate, xenophobia, anti-Semitism or anti-Muslim acts," Interior Minister Manuel Valls said following a Cabinet meeting that agreed to dissolve L'Oeuvre Francaise (The French Work) and the Jeunesses Nationalistes (Nationalist Youth).
Valls said L'Oeuvre Francaise, a neo-fascist anti-Semitic organization founded in the 1960s, was organized like a private militia with paramilitary training camps and that some of its members used the Nazi salute.
Full report at:
http://www.arabnews.com/news/459053
----------
UN Security Council to meet Syria opposition group
25 July 2013
UNITED NATIONS: Britain is organizing an informal meeting of the UN Security Council on Friday so members can exchange views with senior leaders of Syria's main opposition group.
Britain's UN Ambassador Mark Lyall Grant said Tuesday that the delegation from the Syrian National Coalition will be led by Ahmed Al-Jarba, president of the Western-backed umbrella group.
The council has been deeply divided over Syria since the conflict began 2 1/2 years ago. Russia and China, who support the Syrian government, have vetoed three Western-backed resolutions aimed at pressuring President Bashar Assad to end the violence which has killed over 93,000 people, according to the United Nations.
Full report at:
http://www.arabnews.com/news/459051
----------
UNHCR - 5000 Southern Sudanese Fled to Ethiopia
July 25, 2013
The UNHCR says around 5 thousand South Sudanese have fled to Ethiopia to escape fighting in eastern South Sudan.
The refugees are mostly from Jonglei State's Pibor County, are fleeing fighting between government troops and rebel fighters in the Boma area, near the Ethiopian border.
Since May, UNHCR says, thousands of refugees have sought refuge in Gambella Regional State. Most of the arrivals are said to be women and children.
Full report at:
http://allafrica.com/stories/201307231514.html
----------
Southeast Asia
Malaysian Islamic authorities investigate ousted beauty contestants
25 July 2013
KUALA LUMPUR (July 25, 2013): Four Muslim former contestants in a Malaysian beauty pageant were under investigation by the country's Islamic authorities for allegedly criticizing the religious edict that got them ejected from the contest, an official said Thursday.
The four women, aged between 19 and 23 years old, were to be among the finalists in the Miss Malaysia World in Kuala Lumpur next week.
But they were disqualified at the weekend after organizers learned of a 1996 religious edict or fatwa, which prohibits as sinful any participation by Muslims in a beauty pageant.
The women expressed disappointment and outrage in media interviews, with some describing the ban as discriminatory and "ridiculous."
Full report at:
http://www.thesundaily.my/news/780458
----------
Govt to Place Sampang Shiites' Future in Sunni Leaders' Hands
Jul 25 2013
A central government plan to allow Madura Island's persecuted Shiites to return home from exile in Sidoarjo, East Java, hinges on the proposal's acceptance by local religious leaders — including those accused of inciting violent anti-Shia sentiment among the island's Sunni majority.
The Ministry of Public Housing presented its reconstruction plan for affected communities in Madura before an assembled crowd of local government, police and religious officials at Surabaya's IAIN Sunan Ampel Islamic state college.
The plan, which includes the construction of new homes and an Islamic boarding school, aims to improve facilities across Madura, not just in Shiite-heavy villages, Public Housing Minister Djan Faridz said, according to the state-run Antara News Agency.
Full report at:
http://www.thejakartaglobe.com/news/govt-to-place-sampang-shiites-future-in-sunni-leaders-hands/
----------
East Java Terrorist Bombs of 'Military Origin'
Jul 25 2013
A police expert has revealed that explosives seized from four suspects during a counterterrorism raid in Tulungagung, East Java, on Monday were of military origin.
"The explosives were Belgian-made grenades. They were designed and built for use by the military, not homemade explosives," an explosives expert with the National Police's counterterrorism unit Densus 88, speaking on condition of anonymity, told the Jakarta Globe on Wednesday.
The police are still trying to determine how the suspects obtained the high-yield explosive devices.
"The weapons probably came from the black market that supplies weapons from Mindanao, in the southern Philippines. That's one possibility among many," the source said.
Full report at:
http://www.thejakartaglobe.com/news/east-java-terrorist-bombs-of-military-origin/
----------
Mideast
Iranian scholar writing review of Encyclopaedia of Islam
July 25, 2013
TEHRAN -- Iranian scholar Shahriar Shojaeipur is writing a review of the Encyclopaedia of Islam, the Persian service of FNA announced on Tuesday.
It is being published in four volumes plus a supplement from 1913 to 1938 in English, German, and French editions by Brill in the western Dutch city of Leiden. The second edition of the encyclopedia was begun in 1954 and completed in 2005 and the third edition has started in 2007.
Shojaeipur's review is mainly focused on the entries written on the Prophet Muhammad (AS) and his household.
"The sources of the encyclopedia are the books written by Western researchers and unfortunately the entries on Shia issues are either wrong or biased," he told FNA.
Full report at:
http://tehrantimes.com/arts-and-culture/109521-iranian-scholar-writing-review-of-encyclopaedia-of-islam
----------
Mideast talks could resume July 30: Israeli minister
25 July 2013
JERICHO, Palestinian Territories - Middle East peace talks could restart on July 30 in Washington, Israel's Regional Development Minister Silvan Shalom said on Thursday, but stressed he was not sure.
"We hope talks will begin next week, possibly on Tuesday, but this hasn't been decided 100 percent," he told a news conference in the West Bank city of Jericho at the inauguration of an industrial park.
Full report at:
http://www.saudigazette.com.sa/index.cfm?method=home.regcon&contentid=20130725174769
----------
URL: https://www.newageislam.com/islamic-world-news/new-age-islam-news-bureau/41-per-cent-of-respondents,-including-hindus,-feel-muslims-are-'implicated'-in-terror-cases/d/12758