New Age Islam News Bureau
27 Nov 2017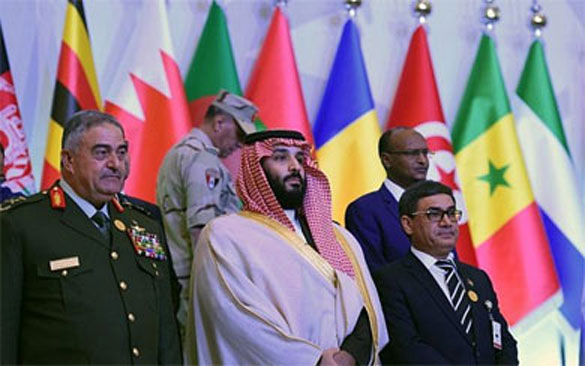 Saudi Crown Prince and Defense Minister Mohammed bin Salman (C) poses for a group picture with other defense ministers and officials of the 41-member Saudi-led Muslim counter-terrorism alliance in the capital Riyadh. (AFP PHOTO / Fayez Nureldine)
-----
• 41 Muslim Countries Vow To Combat Terrorism in First Meeting
• Hyderabad Global Entrepreneurship Summit Line-Up Raises Question: Where Are Muslim Entrepreneurs?
• Pakistani's Riot in the Thousands Accusing Gov of Not Being Muslim Enough
• Bangladeshi Religious Leaders Have High Hopes for Pope's Visit
• Shia Islam Bigger Threat Than IS In Asean, Say Scholars
• France, Italy Censure Libya 'Slave Markets' Reports, Blame EU
Arab World
• 41 Muslim Countries Vow To Combat Terrorism in First Meeting
• Egypt's Sufis Reeling but Defiant after Mosque Massacre
• Bahrain to Try Sheikh Salman on Espionage Charges: Report
• Saudi Crown Prince: 'Terrorism won't distort Islam's peaceful image'
• Annihilating extremism is my mission: Head of Saudi-based Muslim World League
• Islamic Military Alliance urges stronger media role in combating extremism
• Russian strikes, Syria regime bombing kill 57 civilians
• Syrian government push for Damascus rebel enclave kills at least 23
• Egypt upholds death sentences for 7 over beheadings, ISIS links
• Russian Army to Test Modern Electromagnetic Weapon in War on Terrorists in Syria
--------
India
• Hyderabad Global Entrepreneurship Summit Line-Up Raises Question: Where Are Muslim Entrepreneurs?
• This Madrasa in Agra Has Hindu Students, Teaches English, Mathematics, Science
• Kashmir Valley Abuzz With Debate on Possible IS Footprint
• World now realises the danger terror poses, united fight required: PM Narendra Modi
• Poison Food and Water at Sabarimala Temple, New Threat from ISIS States
• Pakistan freed Hafiz Saeed to boost terrorism in India: MoS Ahir
--------
Pakistan
• Pakistani's Riot in the Thousands Accusing Gov of Not Being Muslim Enough
• Pakistan Protests Have Exposed Longstanding Sectarian Fault Lines
• Pakistan Law Minister Zahid Hamid resigns amid violent clashes
• Saudi-led coalition to assist member countries in counter-terrorism operations: Gen Raheel
• Civil-military huddle decides to give peace another chance
--------
South Asia
• Bangladeshi Religious Leaders Have High Hopes for Pope's Visit
• Militants Suffer Casualties in Premature Zabul and Wardak Bombings
• US airstrike kills 13 IS militants in Afghanistan
• Keep mobile phones away from children, says Hefazat's Shafi
• 'Jamaat-BNP should be banned'
• Sheikh Al-Azhar extends work of relief convoy to Rohingya refugees in Bangladesh for week
• Thousands travel to Yangon for Pope's diplomatically fraught trip
• Afghan govt leader spotted in Fatemiyoun brigade gathering sparks concerns
--------
Southeast Asia
• Shia Islam Bigger Threat Than IS In Asean, Say Scholars
• PM's Aide: Marina Blames Arab Influence but Silent on Western Culture
• Indonesia Aims To Attract More Muslim Visitors in 'Halal' Tourism Push
• Muslims gather to boost stalled Philippine peace talks
• Use mass media to tackle extremism, academic tells ulama
• Expert warns of 'barricade-style' terror attacks in region
--------
Europe
• France, Italy Censure Libya 'Slave Markets' Reports, Blame EU
• UK Secretly Training Saudi Troops For Yemen War: Report
• Islam's Message of Peace Hits the Road in New Zealand
• Is Europe Pushing Kosovo Into the Arms of Erdoğan?
• Qatari head of UK charity also cofounded extremist website
• Theresa May vows Britain will help Egypt in 'any possible way' following terror attack
--------
Mideast
• Yemeni PM Says Houthis Refuse International Call to Release Detainees
• Iran, Turkey, Qatar move to bolster trade amid Saudi-led blockade
• Drone kills seven Qaeda suspects in Yemen
• IRGC Commander Warns Europe Not to Force Iran to Increase Range of Missiles
• Turkey involved in intense diplomatic traffic after Sochi summit
--------
Africa
• Boko Haram Pushed Out Of Town In Northern Nigeria
• US seeks to divide Sudan into 5 parts: President Bashir
• 31 refugees drown off Libya trying to reach Europe
• Nigeria: Boko Haram Kills Three Soldiers, Wounds Six in Borno
--------
North America
• Homeless People in US Surpass 47 Turkish Cities
• Terrorist travellers returning to Canada can be rehabilitated, leading researcher says
Compiled by New Age Islam News Bureau
URL: https://www.newageislam.com/islamic-world-news/41-muslim-countries-vow-combat/d/113368
--------
41 Muslim countries vow to combat terrorism in first meeting
November 26, 2017
The alliance was announced in 2015 under the auspices of Crown Prince Mohammed. The alliance excludes Iran
Saudi Arabia's Crown Prince vowed to "pursue terrorists until they are wiped from the face of the earth" as officials from 41 Muslim countries gathered on Sunday in the first meeting of an Islamic counter-terrorism alliance.
"In past years, terrorism has been functioning in all of our countries... with no coordination" among national authorities, Crown Prince Mohammed bin Salman, who is also the Saudi defence minister, said in his keynote speech at the gathering in Riyadh.
"This ends today, with this alliance."
The summit is the first meeting of defence ministers and other senior officials from the Islamic Military Counter Terrorism Coalition, which officially counts 41 countries and identifies as a pan-Islamic unified front against violent extremism.
The alliance was announced in 2015 under the auspices of Crown Prince Mohammed. The alliance excludes Iran, as well as Syria and Iraq, whose leaders have close ties to Tehran.
Sunday's meeting coincides with an escalation in tensions between Riyadh and Tehran, particularly over wars in Syria and Yemen and the political structure of multi-confessional Lebanon.
Saudi Arabia accuses Iran of supporting armed groups across the Middle East, including Lebanon's Hezbollah and Yemen's Houthi rebels.
The meeting also comes as several military coalitions, with backers including both Iran and key Saudi ally the United States, battle to push Daesh from its last remaining bastions in Iraq and Syria.
The alliance meeting in Riyadh brings together Muslim or Muslim-majority nations including Egypt, the UAE, Bahrain, Afghanistan, Uganda, Somalia, Mauritania, Lebanon, Libya, Yemen and Turkey.
Retired Pakistani General Raheel Sharif has been appointed commander-in-chief.
The alliance aims to "mobilise and coordinate the use of resources, facilitate the exchange of information and help member countries build their own counter-terrorism capacity", Sharif said.
Egypt, which sent a military official and not its defence minister to the Sunday meeting, is reeling from a Friday attack on a mosque that killed more than 300 people during prayer time.
While Daesh has not claimed responsibility, Egyptian authorities say the organisation is the main suspect.
Prince Mohammed said Friday's "painful event" was a reminder of the "danger of terrorism and extremism".
"Beyond the killing of innocent people and the spread of hatred, terrorism and extremism distort the image of our religion," he said.
https://www.khaleejtimes.com/region/mena/41-muslim-countries-vow-to-combat-terrorism-in-first-meeting
--------
Hyderabad Global Entrepreneurship Summit Line-Up Raises Question: Where Are Muslim Entrepreneurs?
27th November 2017
HYDERABAD: The line up of speakers for Global Entrepreneurship Summit (GES)-2017 includes a host of entrepreneurs and corporate leaders from India. However, there is a conspicuous absence of Muslim entrepreneurs or corporate leaders from the country in the list.
In fact, in the entire list of speakers uploaded on the GES website there is just one Muslim woman entrepreneur from Afghanistan, Roya Mahboob. In the tentative list of 'Breakout' and 'Master Class' sessions, the only Muslim name from India is that of Tennis player, Sania Mirza.
When contacted, Dr Shariq Nisar, an expert in development of financial products and services and Islamic Banking, said, "The level of entrepreneurship in Muslim community is low. For a community, majority of which is facing insecurity over employment and literacy, entrepreneurship does not come easily.
Moreover, the system of incubators, startups and entrepreneurship is such that it benefits privileged people the most. As can be seen, it is not just Muslims who are lagging but also in the Hindu community there are not many entrepreneurs from Scheduled Caste communities.
The exposure that disadvantaged groups get is limited. As a result, in hyped-up events like the GES, those who do not get a chance of representation are often those from the disadvantaged groups. Only some popular figure from a disadvantaged community is brought in as symbolic gesture."
Faisal Farooqui, Founder and CEO of Mouthshut.com, one of the successful Muslim entrepreneurs in India says, "There is a need for Muslim community to wake up and utilise available opportunities. If a person has a really good technology, develops a good product, it will be recognised.
It is true that the Muslim community is weighed down by the issues of poverty, low literacy and high drop out rates but the community should allow people to have a role model to emulate. Unfortunately, the community tries to find perfection in setting a role model and ends up finding faults with everyone. No one is perfect."
None expressed support for government's plans of separate IT SEZ for Muslims. Dr Nisar said, "Having a separate SEZ for Muslims is ghettoisation. Why cannot Muslims be given space in the existing system?"
http://www.newindianexpress.com/states/telangana/2017/nov/27/hyderabad-global-entrepreneurship-summit-line-up-raises-question-where-are-muslim-entrepreneurs-1711939.html
--------
Pakistani's Riot In The Thousands Accusing Gov Of Not Being Muslim Enough
11/26/2017
Pakistan's military deployed troops into its capital of Islamabad Sunday after thousands of protesters held the city hostage over accusations that the current government revised its commitment to Islam.
The protests center around a proposed change to the oath of office in Pakistan that requires any office holder in the country to declare their belief that Muhammad is the final prophet of God. Islamic Cleric Khadim Hussain Rizvi led the protests against the government, demanding the resignation of a senior Pakistani official.
Protests have left six dead and hundreds other injured in the streets as clashes continued between police and rioters. The Pakistani government has cut access to Twitter, Facebook, and YouTube in the country in order to deter organizing for the protesters. The country also ordered its TV stations to go off the air as it cracked down.
The Pakistani government disavowed the change to the oath of office, and the senior Pakistani official reportedly released a video of himself declaring his oath to the Islamic faith. He blamed a clerical error for the change in the declaration of faith during the oath of office.
http://dailycaller.com/2017/11/26/pakistanis-riot-in-the-thousands-accusing-gov-of-not-being-muslim-enough/
--------
Bangladeshi religious leaders have high hopes for pope's visit
Nov 26, 2017
DHAKA, Bangladesh - Bangladeshi religious leaders of different faiths hope Pope Francis's upcoming visit will promote harmony and tolerance in the Muslim-majority nation.
However, one hard-line Muslim group warned it would protest if the pontiff said or did anything "unexpected and unacceptable," ucanews.com reported.
The Nov. 30-Dec. 2 visit will be the third by a pope to the populous, impoverished country. Blessed Paul VI made a 1970 stopover lasting a few hours in what was then East Pakistan to express sympathy for victims of a devastating cyclone. St. John Paul II came to independent Bangladesh Nov. 19, 1986.
During his trip to Dhaka, the capital, Francis will meet Prime Minister Sheikh Hasina and President Abdul Hamid as well as members of the diplomatic corps and civil society. He planned to pay respects at two national memorials and celebrate Mass for more than 100,000 people in Dhaka, where he will ordain 16 deacons to the priesthood.
Interfaith and ecumenical gatherings and a visit to a home for destitute people run by the Missionaries of Charity, the congregation that St. Teresa of Kolkata founded, also are on the pontiff's itinerary.
Francis's visit will celebrate a 46-year Vatican-Bangladesh relationship, said Cardinal Patrick D'Rozario, archbishop of Dhaka.
The Holy See was among the first states to recognize Bangladesh after it gained independence from Pakistan in 1971 and established full diplomatic relations in 1973.
The relationship was based on universal values such as compassion and human dignity that transcend ethnicity and politics, D'Rozario said. Past international expressions of sympathy when Bangladesh suffered from natural disasters and the 2013 Rana Plaza collapse that claimed more than 1,100 lives cemented the relationship, he said.
"I have seen the joyful feeling in people, who are eager to have an encounter with the leader who is a symbol of unity of the church," the cardinal said.
On another front, a senior leader of the hard-line Hefazat-e-Islam group welcomed the pope's visit, but said he would closely monitor it.
"Pope Francis is the supreme leader of Christians and head of the Vatican state, so we welcome him in our country," Mufti Faizullah, a joint secretary of the group, told ucanews.com. "We will be closely watching what he says and does during the trip. If we find anything unexpected and unacceptable, we will protest and issue statements if necessary."
The group has pushed for rigorous implementation of an anti-blasphemy law, execution of atheists, Islamization of school textbooks and removal of idols and statues from public places and has attacked what it sees as Christian evangelization in some areas. Maolana Fariduuddin Masoud, president of the liberal Muslim group Bangladesh Jamiyat-ul-Ulema, said he expects love and hospitality will be highlighted during the pope's visit.
"Pope Francis is a saintly figure and a global leader, so people are honored to have him in Bangladesh and they will offer him overwhelming love," Masoud told ucanews.com.
Bangladesh's pluralistic and tolerant image has been tainted by a lethal rise of Islamic radicalism in recent years. Since 2013 Islamic militants have murdered some 50 people including atheist bloggers, writers and publishers, gay rights activists, liberal Muslims, religious minorities and foreigners. A government crackdown resulted in about 70 militant deaths and dozens of arrests.
Despite the government's actions little has been done to combat radical ideology fueling violence despite attempts to promote interfaith dialogue.
Rana Dasgupta, a lawyer and Hindu leader in Dhaka, said the pope might look at lapses in Bangladesh's battle against extremism.
"Extremists wanted to attack the heart of the nation, our pluralism and harmony, so they killed people who held liberal or critical views on religion or adhere to other faiths," Dasgupta said.
"This extremist ideology is not part of our culture, but little has been done on this front to present a counter-ideology. Pope Francis has been soft on Islam, refused to associate it with terrorism and called for dialogue between religions to combat violence and extremism," he said.
Dasgupta said the Bangladeshi government efforts to promote dialogue and harmony were insufficient.
"Maybe the pope can offer some guidance on how best dialogue can be used for harmony and peace," he said.
Ashoke Barua, a Buddhist leader, said the papal visit would be a boon for religious harmony.
"Pope Francis's trip will reinvigorate religious harmony and bring people of all faiths closer," he said. "It is also a great opportunity to present Bangladesh's goodness to the world."
Despite recent setbacks, D'Rozario said he expects that Pope Francis realizes the nation remained committed to harmony and peace.
"Our nation is like a river," the cardinal said. "Sometimes you see strong currents fueled by strong winds, but at the riverbed there is calmness. And this comes from the basic religiosity and pluralism of people."
Bangladesh is struggling to cope with a refugee influx triggered by violence against Rohingya Muslims in Myanmar. The pope is expected to take up the issue publicly or privately during his visit.
D'Rozario noted that Bangladesh had lived up to its "traditional values" by accepting fleeing Rohingya. "The pope is coming for harmony and peace, not for just Rohingya but for all," he said. "He is not coming to solve any problem, but he will surely have a message for them and for everyone."
The cardinal noted that the Rohingya crisis had similar elements to violence against marginalized communities around the globe, including where "big world powers" are involved.
"The pope will not just talk about Rohingya," he added, "but other persecuted people and maybe he will be critical of those who 'shed crocodile's tears' for Rohingya but not for others, like Christians in the Middle East."
https://cruxnow.com/papal-visit/2017/11/26/bangladeshi-religious-leaders-high-hopes-popes-visit/
--------
Shia Islam bigger threat than IS in Asean, say scholars
27 Nov 2017
SHIA Islam is a bigger threat than the Islamic State (IS) militant group to Sunni Muslims in the Asean region, said scholars in a conference in Kuala Lumpur yesterday.
Malaysian scholar Dr Hafiz Basir told The Malaysian Insight that he considered Shia Islam to be more dangerous because it was supported by Iran and the Hezbollah, a major Lebanese party.
"IS is just a collection of independent cells with little financial backing. And all the countries are fighting IS ," the Selangor International Islamic University College lecturer said on the sidelines of the Khayr Ummah Conference 2017.
"But no Muslim country is against the Shia. So to me, the Shia are a bigger threat."
Senior Umno leader Mohd Puad Zarkashi at the conference said Shia Islam and IS were equally dangerous to the region.
"The Shia are a threat to the sanctity of the faith itself. Their teachings are contradictory to Sunni Islam, while IS is dangerous because they take up arms and kill people," Puad who is director-general of the government's Special Affairs Department (Jasa).
"So the effect is the same, they divide the Muslim community. That's why this conference is important to bring Muslims in Asean together," he said
The conference was sponsored by Jasa, local NGOs Ilmu and Al-Khaadem, UiTM, and Saudi Arabia's Islamic Affairs Ministry.
Shia Muslims account for about 10% to 20% of the 1.8 billion Muslims worldwide.
At the conference, Prof Rahmat Mohamad said major terror attacks such as the bombings in Bali in 2002 and of the JW Marriot in Jakarta in 2009 were carried out by Sunni Muslim terrorists.
The recent two-month siege of Marawi city in the Philippines was also carried out by Sunni Muslim militants.
Meanwhile, Jordanian scholar Syaikh Abdullah al-Luhaidan claimed that Shia Muslims aimed to undermine Sunni Muslim countries the world over by utilising "soft power" and supporting home-grown militants.
"Shia followers want to destroy unity among the Sunnis. They claim they want to free Palestine, but it is all untrue," he told a panel discussing "Extremist groups that disunite the Muslim community".
"The Shia adopted ideology to deviate Muslims from the right way, hence they established cultural missions but in reality they's just ways to spread the Shia ideology."
Syaikh Abdullah accused Iran, where Shia Islam is the dominant sect, of funding terror groups such as IS and al-Qaeda.
Global affairs experts say Iran is locked in battle with a Saudi-led bloc of Gulf nations for domination of the Middle East.
The civil wars in Syria and Yemen, political instability in Lebanon and the Qatar diplomatic crisis are symptoms of this growing tussle for regional dominance.
Two days ago, Saudi Arabia and its allies Bahrain, the United Arab Emirates and Egypt declared a Qatari-based global association of prominent Muslim scholars a terrorist group.
The International Union of Muslim Scholars claims to be connected to 90,000 Muslim scholars worldwide and that it aims to bridge the divide between Sunnis and Shias. PAS president Abdul Hadi Awang is a vice-president in the organisation. – November 27, 2017.
https://www.themalaysianinsight.com/s/24685/
--------
France, Italy censure Libya 'slave markets' reports, blame EU
Nov 25, 2017
Appalled by reports of refugee "slave markets" in Libya, hundreds have staged protest rallies in France and Italy, pointing the finger of blame for the chaotic situation in the North African state at Europe, which supported a military intervention there back in 2011.
The protests were held in front of the Libyan embassies in Paris and Rome on Friday, days after US television network CNN aired footage of a live auction in Libya, where refugees were being sold as farmhands for as little as 400 dollars to North African buyers.
French demonstrators denounced their country's military role in the Libyan uprising in 2011, when the then-French president, Nicolas Sarkozy, pushed for military strikes there.
"They are able to resolve this problem, since they were the ones that created it. And legally, those who created the problem are responsible," said Nicolas Aweme, a protester at the rally.
"To destroy Libya, Nicolas Sarkozy even moved the Charles de Gaulle (aircraft carrier), the French military to go bomb a sovereign country," he added. "There, at the moment, if a small group is capturing people and reducing them to slavery, it's because the Charles de Gaulle or the soldiers, France's special units, cannot resolve it."
Clementine Autain, a far-right French politician attending the protest, also said, "We are appalled, along with millions of French people and people around the world who find it hard to believe - as CNN's footage showed us - that in the 21st century slavery exists in this way - human beings sold at auction, because it's just intolerable."
"So we're here to show solidarity and outrage against what's happening in Libya," she added.
'Slaves never again!'
In Rome, Italian demonstrators also denounced the reported slave auctions outside the Libyan Embassy, chanting "Slaves never again!"
he video footage by CNN triggered outrage from the African Union and international calls for inquiry.
In a statement posted on Facebook, Libyan Deputy Prime Minister Ahmed Metig vowed that his UN-backed Government of National Accord (GNA) would investigate the "slave market" allegations in the North African country and free the slaves if any.
Libya has faced a power vacuum since a NATO military intervention resulted in the downfall of its longtime dictator Muammar Gaddafi in 2011. Since then, the country has been grappling with chaos and the emergence of numerous militant groups, including the Takfiri Daesh terror group.
Libya currently has two governments, one based in the capital, Tripoli, and the other based in the eastern city of Tobruk. Libyan military commander General Khalifa Haftar in Tobruk does not recognize the authority of the Tripoli-based the GNA, which is recognized by the UN.
France and Italy have been the strongest backers, among Western allies, of the GNA, headed by Fayez al-Sarraj.
Since the NATO-led intervention, the country has also become a key departure point for refugees and asylum seekers, who risk their lives leaving Libyan ports on ill-equipped boats in the hope of reaching Europe. The boats are usually intercepted by European vessels once they enter international waters.
Citing estimates provided by embassies, the International Organization for Migration (IOM) says the total population of refugees in Libya is about 700,000 to 1 million people, mainly coming from Egypt, Niger, Sudan, Nigeria, Bangladesh, Syria and Mali.
The IOM also announced that nearly 5,000 refugees, or 16 people a day, have died this year amid ongoing exodus from conflict zones to Europe.
Many also blame major European powers for the mass displacement of Iraqis and Syrians, saying their policies have led to a surge in terrorism and war in the two Middle Eastern states.
http://www.presstv.com/Detail/2017/11/25/543406/France-Italy-Protest-Libya-Slave-Markets
--------
Arab World
Egypt's Sufis reeling but defiant after mosque massacre
November 27, 2017
CAIRO - Sufi Muslims in Egypt plan to proceed with a major annual celebration despite a Sinai mosque massacre that killed more than 300 people and appeared to have targeted them.
While no group has yet claimed Friday's horrific attack or said why the mosque was targeted, it is widely believed in Egypt that it happened because Sufis worshipped there. Despite mourning the jihadist attack thought to have been carried out by the Islamic State group, the Sufis say they will mark the birthday of the Prophet Mohammed as planned, a week to the day after the massacre .
The gun and bomb assault on the Rawda village mosque in restive North Sinai roughly 40 kilometres (25 miles) west of the provincial capital of El-Arish killed 305 people including 27 children.
Another 128 people were wounded. Authorities said up to 30 militants in camouflage flying the black banner of IS surrounded the mosque and massacred worshippers during weekly Friday prayers.
In a defiant statement late Saturday, the Egyptian Supreme Council for Sufi Orders said the annual commemoration would still take place at Cairo's Al-Hussein mosque , one of Islam's most prominent sites in Egypt , and also "across the country". However, a procession that normally takes place has been cancelled "in mourning for the souls of the martyrs of the terrorist incident at the Rawda mosque , and to ease the security burden".
The procession from Cairo's Salah al-Jaafari mosque to the Al-Hussein mosque , named after the prophet's grandson, covers a distance that would normally be just a 15-minute walk.
But "it takes hours for the procession to reach Al-Hussein because it is attended by thousands of people", council spokesman Ahmed Kandil told AFP. Egypt's North Sinai-based IS branch has killed hundreds of policemen and soldiers, as well as civilians accused of working with the authorities, since the July 2013 ouster of Islamist president Mohamed Morsi.
The jihadist group has also targeted Sufis and Christians since authorities cracked down on Morsi supporters, killing more than 700 in one August day in 2013 as they cleared a protest camp in the capital. IS is suspected of being behind Friday's attack because the mosque is associated with followers of the mystical Sufi branch of Sunni Islam whom it has branded heretics for seeking the intercession of saints.
But in a separate statement on Saturday, the Sufi supreme council said the sect has always been an integral part of Islam. "Sufism is not alien to Islam. It is Islam itself with the full worship and application of what is stated in the book (the Koran) and the Sunnah" or teachings attributed to the Prophet Mohammed, it said.
Sufism "represents excellence in worship, of which the prophet — peace be upon him — said that you worship god as if you see him, and if you do not see him, he sees you." In Rome, Pope Francis expressed sorrow in his St Peter's Square address Sunday. He had visited Egypt in April to support the embattled Christian community and encourage dialogue with Muslims.
"It caused us great pain, Friday's news of the slaughter," Francis said. "I continue to pray for the numerous victims, for the injured and for this whole community that has been hit so hard."
Egypt also received messages of support from the United States and France, which are among the North African country's main military backers. The Islamic State group claimed responsibility for an attack on Saturday that destroyed a military bulldozer and armoured personnel carrier close to the border with Gaza, but there has yet to be any such claim issued for the mosque attack.
IS usually claims an attack within a day or two, through its self-styled Amaq news agency or via the Telegram social media app. However, in Egypt such claims have been irregular, with attacks claimed late or not at all.
This is in part because of disrupted links between IS in Egypt and remnants of the embattled organisation in Syria and Iraq. There has also been a chorus of online condemnation of the attack by jihadists including by IS supporters.
Foreign ministry spokesman Ahmed Abu Zeid said late Saturday that since the attack many countries have expressed solidarity with Egypt , "but the issue goes beyond moral support". "What is needed is a clear political stance against all terrorist organisations," he told the private DMC television channel.
This should come from nations with the financial and political ability to counter states "which provide support for terrorist organisations", Abu Zeid said.
President Abdel Fattah al-Sisi declared three days of mourning and vowed to "respond with brutal force" to the attack, among the deadliest in the world since the September 11, 2001 attacks on the United States. The army said warplanes struck militant hideouts in the North Sinai in retaliation.
http://nation.com.pk/27-Nov-2017/egypt-s-sufis-reeling-but-defiant-after-mosque-massacre
--------
Bahrain to try Sheikh Salman on espionage charges: Report
Nov 26, 2017
Bahrain is set to try prominent Shia cleric and opposition figure Sheikh Ali Salman this week on a charge of "spying" for Qatar, a media report says.
Salman, the secretary-general of the country's now-dissolved al-Wefaq National Islamic Society, would be tried alongside two of his colleagues on November 27, Bahrain's Lulu TV channel reported on Sunday.
The trio in early November was charged with "spying on behalf of a foreign country ... with the aim of carrying out subversive acts against Bahrain and harming its national interests."
The 52-year-old Shia clergyman was also charged with "revealing defense secrets to a foreign country and disseminating information that would harm Bahrain's status and reputation."
The opposition chief has been in jail on a nine-year prison sentence since late 2014 for what the Manama regime has called "insulting" government officials, "inciting" unrest through his speeches targeting the authorities during the 2011 uprising, attempting to overthrow the regime and collaborating with foreign powers.
Sheikh Salman denies all the charges, saying he has merely been seeking reforms in the country through peaceful means.
Amnesty International and other human rights groups have already censured his arrest and called for his release.
On March 5, Bahrain's parliament approved the trial of civilians at military tribunals in a measure blasted by human rights campaigners as being tantamount to the imposition of an undeclared martial law countrywide. Bahraini monarch King Hamad bin Isa Al Khalifah ratified the constitutional amendment on April 3.
Amnesty recently denounced the recent prison sentence handed down to prominent human rights activist and pro-democracy campaigner Nabeel Rajab as "shameful and unfair."
Al-Wefaq was the largest group in Bahrain's parliament before its legislators resigned en masse to voice their strong dissent against the pervasive crushing of demonstrations in 2011 that called for an elected government.
Thousands of anti-regime protesters have held demonstrations in Bahrain on an almost daily basis ever since a popular uprising began in the country in mid-February 2011.
They are demanding that the Al Khalifah dynasty relinquish power and allow a just system representing all Bahrainis to be established.
Manama has gone to great lengths to clamp down on any sign of dissent. On March 14, 2011, troops from Saudi Arabia and the United Arab Emirates were deployed to assist Bahrain in its crackdown.
Full report at:
http://www.presstv.com/Detail/2017/11/26/543576/Bahrain-to-try-Sheikh-Salman-on-espionage-charges-Report-
--------
Saudi Crown Prince: 'Terrorism won't distort Islam's peaceful image'
26 November 2017
Saudi Crown Prince Mohammed bin Salman opened the inaugural meeting of the Islamic Military Coalition's ministers of defense held in Riyadh on Sunday.
In his speech, Prince Mohammed reaffirmed the 41-country coalition's firm commitment to battle terrorism.
"We will not allow them [terrorists] to distort our peaceful religion.Today we are sending a strong message that we are working together to fight terrorism."
The meeting is held under the slogan "allied against terrorism." This is the first time the coalition meets in Riyadh which established the coalition around two years ago.
"Today we affirm that we will pursue terrorism until it is eradicated completely," Prince Mohammed added.
It will be attended by the coalition's ministers of defense, envoys and delegations from supporting countries and experts in the field of the coalition's work, and it will discuss means to combat the financing of terrorism and specify future frameworks to unify efforts to eliminate terrorism and maintain international peace and security.
Dr. Mohammad al-Issa, Secretary General of the Muslim World League, introduces the domain of Ideology, and the necessity of promoting a message that counters the narrative of violent extremist ideology and reaffirms the Islamic principles of tolerance and compassion, through presenting the true nature of Islam and supporting ideological, psychological, and social reforms.
"Terrorism is an ideological problem, not just a security issue," said Issa. "Contemporary extremism is becoming widespread because of the absence of informed confrontation."
He added that terrorists from more than 100 countries joined ISIS, explaining, "the Europeans in ISIS make up 50 percent of the elements of the organization."
An Al Arabiya correspondent reported that the coalition's military commander Raheel Sharif will discuss military-related affairs, such as securing resources, exchanging military information and encouraging member states to build strengthen military capabilities to combat terrorism and deter violence.
Doctor Mohammad Al-Momani, Minister of State for Media Affairs, will address the meeting on behalf of the Jordanian ministry.
Full report at:
https://english.alarabiya.net/en/News/gulf/2017/11/26/Islamic-military-coalition-to-hold-first-meeting-in-Riyadh-on-terrorism-.html
--------
Annihilating extremism is my mission: Head of Saudi-based Muslim World League
26 November 2017
The head of a Saudi-based organization that for decades was building mosques around the world has said, in an interview with Reuters, that his focus now was aimed at annihilating extremist ideology.
Former justice minister Mohammed al-Issa, appointed secretary-general of the Mecca-based Muslim World League (MWL) just over a year ago, told Reuters during a European tour that his organization would no longer let Islam be taken hostage by extremists.
"We must wipe out this extremist thinking through the work we do. We need to annihilate religious severity and extremism which is the entry point to terrorism. That is the mission of the Muslim World League."
"What we are doing and want to do is purify Islam of this extremism and these wrong interpretations and give the right interpretations of Islam," he said. "Only the truth can defeat that and we represent the truth."
Issa said part of his work was to address the difficulties Muslims may have in adapting their religion to non-Muslim nations.
"We try to bring answers to face down these messages that change the reality of Islam. We want to offer the real interpretation of the sacred texts that have been taken hostage and interpreted in a wrong way," he said.
As part of those efforts, Issa said he was also working with other faiths. After the Lebanese Maronite patriarch made a historic visit to Riyadh last week, Issa visited religious officials at Paris' landmark Notre Dame Cathedral, but also Paris' Grand Synagogue.
Full report at:
https://english.alarabiya.net/en/features/2017/11/26/Annihilating-extremism-is-my-mission-Head-of-Saudi-based-Muslim-World-League.html
--------
Islamic Military Alliance urges stronger media role in combating extremism
27 November 2017
The Islamic Military Alliance to Fight Terrorism meeting in Riyadh on Sunday shed light on the importance of media in fighting terrorism and extremist thoughts.
The meeting brought together the defense ministers of around 41 Arab and Islamic countries.
The alliance introduced an extended and in-depth vision on ways and mechanisms to combat terrorism which surpass the military coordination between these countries.
The vision puts intellectual and media fields at the center of the alliance's joint missions.
According to the alliance, international efforts to fight terrorism include combating terrorist organizations' media discourse and their attempts to lure the minds of youth.
Other international efforts include developing content which fights extremist thought through media platforms such as social media, television and radio channels.
Tools that measure the impact of this strategy on mentalities and behaviors will be activated, the alliance added.
Full report at:
https://english.alarabiya.net/en/News/gulf/2017/11/27/Islamic-Military-Alliance-urges-media-to-combat-extremism-.html
--------
Russian strikes, Syria regime bombing kill 57 civilians
November 27, 2017
BEIRUT - Syrian regime airstrikes and artillery fire killed 23 civilians on Sunday across the rebel-held Eastern Ghouta region outside the capital Damascus, a monitor said. The deaths come despite the area falling within a so-called "de-escalation zone" put in place under a deal between government allies Russia and Iran and rebel backer Turkey.
Eastern Ghouta is already in the grip of a humanitarian crisis caused by a crushing regime siege of the area since 2013 that has caused severe food and medical shortages. Meanwhile, Russian airstrikes killed 34 civilians , among them 15 children, in a village held by the Islamic State group in Syria 's eastern Deir Ezzor province, a monitor said. The Britain-based Syrian Observatory for Human Rights said the strikes hit the village of Al-Shafah, on the eastern bank of the Euphrates River, in the early hours of Sunday morning.
On Sunday, government air strikes on the areas of Mesraba and Madira killed 21 civilians , while artillery fire on the town of Douma killed another two civilians , the Britain-based Syrian Observatory for Human Rights monitor said. "The toll could rise further because of the number of wounded people in a serious condition," said Observatory director Rami Abdel Rahman.
Among the dead were four children, the Observatory said. Regime bombardment of Eastern Ghouta in the last two weeks has killed more than 100 people, according to the Observatory. Rebels have also fired from the region into Damascus, killing several people.
Humanitarian access to Eastern Ghouta has remained limited despite the implementation of the truce zone, and a United Nations official referred to the region as the "epicentre of suffering" in Syria . More than 340,000 people have been killed in Syria since the conflict began in March 2011 with anti-government protests. The Observatory relies on a network of sources inside Syria , and says it determines whose planes carry out raids according to type, location, flight patterns and munitions used.
Russia is a close ally of Syria 's President Bashar al-Assad, and in September 2015 began a military intervention in support of his government that has gradually helped Damascus regain territory.
Syria 's Deir Ezzor is one of the last places IS jihadists hold territory in the country, after being driven from their major strongholds including their one-time de facto Syrian capital Raqa city.
The oil-rich eastern province that borders Iraq was once almost completely under IS control, but the jihadists now hold just nine percent of Deir Ezzor, according to the Observatory.
Full report at:
http://nation.com.pk/27-Nov-2017/russian-strikes-syria-regime-bombing-kill-57-civilians
--------
Syrian government push for Damascus rebel enclave kills at least 23
26 November 2017
An intensifying push by the Syrian government and allied forces to take the last major rebel stronghold near the capital Damascus killed at least 23 people on Sunday and injured many, the Syrian Observatory for Human Rights said.
The group said at least 127 people, including 30 children, have been killed by air strikes and shelling since the Syrian army backed by Russian jets began an offensive nearly two weeks ago to take the besieged rebel-held Eastern Ghouta area.
Eastern Ghouta is one of several "de-escalation" zones across western Syria, where Russia has brokered deals to ease the fighting between rebels and President Bashar al-Assad's government.
A Reuters witness said there had been drones in the sky since Sunday morning and warplanes had heavily bombarded the towns of Mesraba and Harasta. Heavy shelling also hit Eastern Ghouta and dozens had been injured.
Humanitarian crisis
Assad's forces have besieged Eastern Ghouta since 2012 and the area is suffering a humanitarian crisis.
Ghouta residents are so short of food that they are eating trash, fainting from hunger and forcing their children to eat on alternate days, the UN World Food Program said in a report this week.
The opposition Eastern Ghouta Damascus Countryside local council said this week the escalating bombardment was forcing people to seek shelter in unsuitable and unsanitary places which it feared could lead to disease outbreaks.
A number of shells from the rebel enclave have hit government-held Damascus in the past two weeks.
Syria's six-year-old civil war has killed hundreds of thousands of people and forced millions to flee in the worst refugee crisis since World War Two.
UN-backed peace negotiations are due to begin in Geneva on Nov. 28. Several previous rounds of Geneva talks have failed to agree a political transition for Syria or a way to stop the violence.
Full report at:
https://english.alarabiya.net/en/News/middle-east/2017/11/26/Syrian-government-push-for-Damascus-rebel-enclave-kills-at-least-23.html
--------
Egypt upholds death sentences for 7 over beheadings, ISIS links
26 November 2017
An Egyptian court has upheld death sentences for seven people over the beheadings in Libya of 21 Christians, all but one from Egypt, and for belonging to ISIS, a judicial official said Sunday.
In February 2015, Libya posted a video on the internet of the beheadings on a Libyan beach, sparking international condemnation and Egyptian air strikes against extremist targets in the neighboring country.
Saturday's court ruling came a day after an attack on a mosque in Egypt's Sinai Peninsula that killed more than 300 people and for which ISIS is the main suspect.
The court also sentenced 10 people to life in prison - 25 years in Egypt - and three others to 15 years in prison, the official said.
The ruling can still be appealed.
The court first condemned the seven to death in September. Three were condemned in absentia, and an unspecified number of those sentenced were accused of having taken part in the beheadings.
Prosecutors accused the seven suspects of belonging to an ISSI cell in Marsa Matruh, northwest Egypt, and of planning attacks after having received military training at extremist camps in Libya and Syria.
In May, Egypt again struck what it said were extremist targets in Libya after ISIS claimed a massacre of Coptic Christians on their way to a monastery south of Cairo.
President Abdel-Fattah al-Sisi said military reverses for ISISin war-torn Syria were driving its fighters to try to relocate to Libya and the Sinai Peninsula of eastern Egypt.
Egypt has been battling an insurgency by an ISIS affiliate based in North Sinai since the military's ouster in 2013 of Islamist president Mohamed Morsi.
Hundreds of members of Egypt's security forces have been killed, while more than 100 Copts have died in church bombings since December.
Full report at:
https://english.alarabiya.net/en/News/middle-east/2017/11/26/Egypt-upholds-death-sentences-for-7-over-beheadings-ISIS-links-.html
--------
Russian Army to Test Modern Electromagnetic Weapon in War on Terrorists in Syria
Nov 26, 2017
The Arabic-language website of Russia's state news agency, Sputnik, quoted manager of a drone- manufacturing company as saying that testing the modern electromagnetic weapon started a month ago, adding that the weapon has been designed to counter enemy drones.
The manager further said that the advanced weapon has not previously been utilized in real war situation.
Arabic Sputnik quoted the manager as saying that the terrorist groups' drones may inflict major losses on the Syrian Army positions as they did in an attack on the army's ammunition depot in Deir Ezzur, but, after equipping the army's important sites with the modern anti-drone weapon, the terrorists' flying objects will not be able to approach the sites.
Arabic Sputnik reported earlier this month that the Damascus army used the AGS-17 Plamya, a Soviet-designed automatic grenade launcher, in the battlefields across the country.
It further said that the AGS-17 is capable of destroying enemy targets from 1,700 meters in distance, adding that the grenade launcher has recently been mounted on armored and normal vehicles of the Syrian army.
Full report at:
http://en.farsnews.com/newstext.aspx?nn=13960905000682
--------
India
This Madrasa in Agra Has Hindu Students, Teaches English, Mathematics, Science
November 27, 2017
The general conception about madrasas in India is that they are centres of Islamic teaching and impart Islamic values to Muslims.
However, breaking myths, a madrasa in Agra has been setting an example of social and religious harmony for almost a decade and is imparting social values and education not only to Muslims, but also to kids belonging to Hinduism and other religions.
The Moinul Islam Madarsa Darautha, besides Urdu, Arabic and Farsi, also has English, Hindi, Mathematics, Science and Computer Science as subjects for the benefit and ease of students of other religions.
The madrasa has adopted the change for the past 10 years and presents a pleasant view of Hindu and Muslim students sitting under one roof and learning 'Dunyavi Taleem'.
Questions were raised on the education system of madrasas after the NCERT syllabus was implemented on them. Established in 1958, there are 450 students in Moinul Islam Madarsa Darautha at present. There was not a single Hindu student in the madrasa about 10 years ago, but now, there are 202 Hindu students along with 248 Muslim kids.
Besides Hindi, non-Muslim students are also gaining knowledge of Urdu and Arabic.
To teach regular subjects, there are 14 maulanas and for other subjects, there are four teachers in the madrasa, which has students from classes 1 to 10.
Priyanka, a student of Class 4, shares her experience. "I have a lot of Muslim friends and one day, I thought that besides Hindi, English and Computer Science, why not I study Urdu and Arabic?"
According to the maulanas, students are not forced to study any specific subject.
Deepti, another Class 4 student, says the madrasa is located near her house and since many of her friends study there, she asked her father to get her admitted there.
"Giving in to Deepti's choice, I got her admitted in the madrasa and now she enjoys studying there. For the past two years, she is also studying Urdu and Arabic besides general subjects," Deepti's father Mahendra Singh said.
"No religion teaches discrimination on the basis of caste and creed. It is a pleasant sight to see students of different religions sitting under one roof and sending a message of unity and prosperity. Indirectly, this is a small effort made by us to send a message to all educational institutions across India," principal Maulana Ujair Alam said.
http://indiatoday.intoday.in/story/agra-madrasa-hindu-muslim-english-maths-science-urdu/1/1097850.html
--------
Kashmir Valley abuzz with debate on possible IS footprint
Nov 27, 2017
Srinagar: Has the Islamic State of Iraq and Syria (ISIS) succeeded in making inroads into Jammu and Kashmir?
The authorities here say a categorical "no" when asked. "I don't think the IS has any footprint here," said Jammu and Kashmir's DGP Shesh Paul Vaid.
The Centre is also downplaying IS's claim that it was involved in an attack in which a police officer and a militant were killed in Srinagar on November. 18. A senior MHA official said, "There is no authoritative information about the presence of IS in J&K."
Union home minister Rajnath Singh, too, dismissed reports about the presence of the IS in J&K, let alone a base in India.
The statements came in the wake of Amaq, which is the official news agency of the IS, claiming the responsibility for the shootout in which police Sub-Inspector Imran Tak was also killed.
Speaking to reporters at Varanasi, Mr Singh rejected a possibility about the outcome of an inquiry launched into the November 18 display of IS flag at militant Mughees Ahmed Mir's funeral. "Any Indian Muslim who believes in Islam would never allow such outfits to have a base in the country," he said.
On that day, three men in a car had reportedly opened fire on a police party at Srinagar's Gulab Bagh area. The police retaliated, but the car sped away through a makeshift check-point laid by it following specific information about the movement of militants in the area.
The police wasn't sure if had hit any militant but a couple of hours after the incident militant Mir's bullet-riddled body was brought to his home in Parimpora locality. He was one of the three people in the car.
Reports stated Mir was an associate of Zakir Musa, the commander who revolted against J&K's frontline outfit Hizbul Mujahedeen early this year and was subsequently appointed as the head of Al Qaeda's cell in J&K — Ansar Ghazwat-Ul-Hind by Al Qaeda.
But Tehrik-ul-Mujahedin, another J&K outfit formed during the heydays of militancy was quick to claim Mir alias Umar Bin-e-Khatab was its district commander for Pulwama and was replaced by Adil Ahmed after his "martyrdom". Terming it ridiculous, its spokesperson Dr Abdul Haq, doubting the intention behind wrapping the IS flag on Mir's body, suspected that "our enemies want to give our just struggle for freedom a bad name".
The photographs of Mir's body, wrapped in the IS flag, went viral on social media. Apparently, this prompted the IS to claim responsibility for the Gulab Bagh attack.
In July, the IS flag was draped over the casket of a Hizbul Mujahedin militant Sajjad Ahmed Gilkar in Srinagar's Malaratta-Nowhatta area, raising eyebrows in the separatist camp. It also set alarming bells ringing among the security forces, which are combating a 28-year-old insurgency in J&K.
The draping of Mir's corpse with the IS flag and the terror group's claiming responsibility for his involvement in the act, have revived the debate around the crucial question "has IS succeeded in making inroads into J&K"?
Reacting to the IS claim, Muhammad Yusuf Shah alias Syed Salahuddin, the chief of United Jihad Council, an amalgam of militant outfits, including Tehrik-ul-Mujahedin, said that the "freedom movement" is indigenous and has no ''global agenda". Mr Salahuddin, who is also the ''supreme commander' of Hizbul Mujahideen was in June declared a ''specially designated global terrorist'' by the US State Department, the tagging which had led to shutdowns and protests in J&K.
The ISIS also known as IS and by its Arabic language acronym, Daesh, gained prominence in early 2014 when it drove Iraqi government forces out of key cities in its Western Iraq offensive. It has since been designated as a terrorist organisation by the United Nations and other member countries.
The flags of the IS and Al Qaeda had first appeared in J&K during protests and stone-pelting incidents in Srinagar outside Grand Mosque in 2014. Masked youth held these flags in the full glare of cameras and were surrounded by locals, mainly youth, to ensure no harm came to them.
During one such assembly, security personnel swung into action and gave chase to the masked youth, but no serious attempt was made to capture those carrying the IS flag. Then CM Omar Abdullah had shrugged these incidents off saying it was being done by some "stupid" youth and that IS or Al Qaeda as such has no presence in J&K.
Though waving of green Islamic and Pakistan's national flag is somewhat inseparable with street protests in Kashmir, these being replaced by IS flags at places continued for some time despite appeals from Syed Ali Shah Geelani, the octogenarian separatist leader, that such a pastime may only blemish "our just and indigenous struggle for freedom".
Full report at:
http://www.asianage.com/india/all-india/271117/kashmir-valley-abuzz-with-debate-on-possible-is-footprint.html
--------
World now realises the danger terror poses, united fight required: PM Narendra Modi
Nov 27, 2017
NEW DELHI: On the ninth anniversary of the 26/11 attacks in Mumbai, Prime Minister Narendra Modi paid homage to the victims and said nations across the world had realised that terrorism was knocking on their doors and was one of biggest challenges confronting governments today.
In his monthly radio address "Mann ki Baat", Modi recalled the 26/11 terror attack and said, "A few years ago, when India used to talk about severe threats of terrorism, many people in the world were not ready to take it seriously. Now that terrorism is knocking at their doors, every government in the world, those who believe in humanity, governments having faith in democracy are seeing this as one of the biggest challenges. We in India have for the last 40 years suffered a lot due to terrorism. Thousands of innocent citizens have died."
Modi used the occasion to iterate India's plea that the fight against terrorism required global cooperation. "It is bent upon destroying humanitarian forces. So, not only India but all humanitarian forces will have to keep fighting unitedly to defeat the menace of terrorism," he said.
Just a few days ago, addressing a global conference on cyberspace, the PM had stressed the need for security agencies to closely coordinate to ensure that "digital space does not become a playground for the dark forces of terrorism and radicalisation".
Referring to the Mumbai attacks that claimed the lives of 166 people, the PM said terrorism and extremism weakened India's social matrix. "It is an attempt to tear it apart. This is why humanitarian forces need to be more alert and this is the need of the hour," he said.
Modi also recalled the role of the Indian Navy in war and peace ahead of Navy Day, which will be celebrated on December 4. The PM said while most navies of the world allowed women on their warships only in later years, a large number of women played leading roles in the Chola navy about 800-900 years ago, referring to the great southern empire with a sea faring tradition.
Similarly, for Armed Forces Flag Day, which is observed on December 7, Modi said it was a day to take pride in, and to show respect to the country's armed forces. The PM said a campaign had been planned between December 1 and December 7 to spread information about the armed forces.
Full report at:
https://timesofindia.indiatimes.com/india/terrorism-knocking-at-worlds-doors-united-fight-required-pm-narendra-modi/articleshow/61812295.cms
--------
Poison food and water at Sabarimala temple, new threat from ISIS states
November 27, 2017
A high alert has been issued following an Islamic State threat to the Sabarimala temple in Kerala. The threat states that Jihadi groups in Kerala could poison the water in the temple.
The Government Railway Police has issued an alert to this effect. It has also handed over a letter to the authorities urging strict monitoring of the situation.
The threat perception is high and it states that the ISIS members could either poison the water or food at the pilgrimage site. An attack on the pilgrims also forms part of the threat perception.
It may be recalled an audio clip was recently released by the boss of the ISIS Kerala module. The clip running into 10 minutes was recorded by Rashid Abdullah, the head of the Kasargod module of the ISIS also suggests various ways to carry out attacks. Rashid is heard telling the recruits that they must poison food at the Thrissur Pooram and Kumbh Mela.
In the clip, apart from calling for attacks, it also advises Muslims to migrate from Darul Kufr to Darul Islam. Further, it says that if it not possible to do that, then people must offer financial assistance to Daulatul Islam and the Islamic State.
Further, the clip gives advise on how to carry out the attacks at Thrissur pooram and Kumbh Mela. First, go and poison the food, then use trucks to drive them over. Do it like the way, the ISIS fighters across the world are doing it, the clip also advises.
Full report at:
https://www.oneindia.com/india/poison-food-andwater-at-sabarimala-temple-new-threat-from-isis-states-2590772.html
--------
Pakistan freed Hafiz Saeed to boost terrorism in India: MoS Ahir
Nov 26, 2017
MUMBAI: Pakistan has released 2008 Mumbai attacks mastermind Hafiz Saeed from "house arrest" in a bid to increase terrorist activities in India, Union minister Hansraj Ahir said today.
Calling Pakistan the "enemy" of the Kashmiri people, the minister of state for home said Islamabad was uncomfortable with Indian security forces eliminating militants in Jammu and Kashmir.
"Pakistan is uncomfortable with the way Indian security forces were eliminating terrorists. Even Saeed's relative, a terrorist, has been killed by our security forces. To give a boost to terrorist activities, Saeed has been released (from detention) by the Pakistani government," Ahir said.
He was speaking at an event commemorating the bravery of security force personnel during the Mumbai terror attacks.
Saeed is the founder of the terrorist group Lashkar-e- Taiba (LeT). He has an American bounty of $10 million on his head for his terror activities.
Pakistan freed him from "house arrest" on Friday, two days ahead of the ninth anniversary of the horrifying attacks.
"Terrorism is not letting us live. I can say it clearly that Kashmir's enemy is Pakistan. Even the Kashmiris agree to this," Ahir said.
The minister said the Indian government has increased the amount it spends to purchase new equipment and modern weapons for security forces to improve the internal security.
He claimed the Union government has succeeded in curbing the Naxal activities and preventing terrorist attacks in the past three years.
Full report at:
https://timesofindia.indiatimes.com/india/pakistan-freed-hafiz-saeed-to-boost-terrorism-in-india-mos-ahir/articleshow/61807407.cms
--------
Pakistan
Pakistan protests have exposed longstanding sectarian fault lines
Imdad Hussain
November 26, 2017
After nearly three weeks of simmering tensions, a 20-day protest finally erupted in violence in the Pakistani capital of Islamabad. Led by Tehreek-e-Labaik Ya Rasool Allah (TLY), protesters blockaded the Faizabad Interchange and demanded the sacking of law minister Zaid Hamid amid accusations of blasphemy. In the ensuing clashes, at least six people have died, 200 have been injured and the government has called in for reinforcements from the army. It is yet another example of how Islamist groups in Pakistan are now bent on exploiting the sectarian fault lines that have existed in the country for a long time for their own political gain.
The TLY, who mostly consist of Barelvi Muslims – a Sunni sect with elements of Sharia and Sufism – were until recently considered a sect that largely believed in mysticism with no inclination for politics. Its members launched the protest after Mr Hamid was said to be behind a change in the wording of a government oath invoking the Prophet Mohammed. Government officials claimed the amendment was a clerical error and reversed the changes, but the damage was done.
The TLY, led by its chief, Maulana Khadim Hussain Rizvi, pledged to continue protesting until Mr Hamid resigned. Yet the purpose of the amendment to electoral law was to make it easy for non-Muslim minority sects like Ahmadis to register their votes and contest elections. Members of the anti-Ahmadi group Tehreek-e-Katm-i-Nabuwat and others joined the movement against the government, vowing not to bow to pressure. On Saturday, violence broke out as riot police waded in unsuccessfully.
This new phenomenon in Pakistan is disturbing the already fragile equilibrium between moderates and hardliners in society. The hardliners strictly interpret the Quran and consider modern democracy a flagration of Sharia. That has also exposed the fact that reviving all elements of Sharia, such as ijma (community consensus) and ijtihad (depending on a jurist's personal judgment or reasoning), is not yet possible. In Pakistan, most moderates believe in the revival of ijtihad, abandoned hundreds of years ago by Sunni jurists. Sunni scholars today mostly believe in taqleed (the unquestioned acceptance of the great predecessors as authoritative). Pakistan's national poet, Allama Iqbal, was a supporter of ijtihad as a means to modernise Islam and many intellectuals in Pakistan support the idea, which is opposed by traditional mullahs. Ijtihad cannot change basics of Islam like a belief in the last Prophet, but it can resolve modern issues, the intellectuals say.
Rizvi and his followers do not limit their demands to the resignation of the minister. His is a longstanding movement aiming at the implementation of taqleedi Islam, which is also supported by other Sunni groups, including the Deobandi revival movement, born as a reaction to colonialism. Rizvi believes in gradually transforming Pakistani laws into Sharia with the support of Sunnis. Otherwise, his call to re-instigate the oath in a country with an overwhelmingly Muslim population – and a strong consensus on beliefs founded in Islam – would make little sense.
Protesters led by Rizvi were also in the limelight last year, campaigning against the hanging of Mumtaz Qadri, a former policeman and personal bodyguard of Punjab governor Salaman Taseer. Qadri murdered Taseer for speaking in support of blasphemy convict Asia Bibi. Despite the protests, he was hanged in February last year.
Launched by Rizvi two years ago with a view to contesting the next general election, TLY has attracted attention in almost all parts of the country, with popular slogans including those taking an anti-Ahmadi stance. Rizvi has demanded the resignation of Punjab's provincial minister, Rana Sanaullah, for his pro-Ahmadi speeches.
It was only inevitable his influential voice, growing ever louder, would result in disharmony. Countrywide protests started this month as government forces sought to move about 3,000 people from the sit-in near Islamabad. As more people congregated, violence erupted across Pakistan, resulting in fatalities and burnt-out and damaged property. Swiftly losing control, the government had to call in the army to control the situation.
There is a fear of a much more dangerous situation if the current crisis is not tackled with prudence and care. It could undermine peace in Pakistan and open a vacuum to be exploited by terrorists. Any violent operation could encourage militancy in a country already badly hit by terrorism and violence. Taking a tough stance against TLY could invoke sympathy for the group. On the other hand, if the government gives in, it could encourage hardliners to expect regime changes in similar protests in the future. No doubt the government shares responsibility for the current mess in the country for several reasons. It failed to convince the protesters of its own stance or criticise TLY's demands. Secondly, it failed to sense any real danger and committed the mistake of amending the oath, claiming an oversight. Moreover, members of the centre-right Pakistan Muslim League Nawaz issued contradictory statements after the controversy surfaced. Some even blamed officials for the mishap. Thirdly, it delayed dispersing protesters at an earlier stage or even stopping them. Instead, it waited until the apex court took suo motu action, instructing the government to take steps for the removal of the protesters with some limitations.
A peaceful resolution can never be ruled out, yet Pakistan's challenges are made greater by the presence of religious forces with contradictory agendas. Extraordinary crises are not new to Pakistan, which has faced three wars in the region as well as waves of terrorism. Its issues are complex, ranging from the establishment of democracy to economic revival. It faces tension both on its western and eastern border but has survived both. It remains to be seen how the country tackles the crises of the future through the prism of modern democracy.
Imdad Hussain is an Islamabad-based journalist and a regular contributor to the Express Tribune
https://www.thenational.ae/opinion/pakistan-protests-have-exposed-longstanding-sectarian-fault-lines-1.678963
--------
Pakistan Law Minister Zahid Hamid resigns amid violent clashes
November 27, 2017
Pakistan's Law Minister Zahid Hamid on Monday voluntarily stepped down following the deadly clashes across the country that claimed the lives of six and injured hundreds of others. Hamid, tendered his resignation to Prime Minister Shahid Khaqan Abbasi to bring the country "out of a state of crisis", Radio Pakistan reported. The resignation will be accepted later in the day, according to Geo News.
The protesters had been laying siege to the capital for about three weeks, demanding the removal of Hamid for changes in a law related to the Khatm-i-Nabuwwat (finality of prophethood) oath in the Elections Act 2017. They alleged the action undermined Islamic beliefs and linked it to blasphemy. The government has already amended the law and restored the original oath but the hardline clerics refused to call off the protests until the minister is sacked.
Full report at:
http://indianexpress.com/article/pakistan/pakistan-law-minister-zahid-hamid-resigns-amid-violent-clashes-islamabad-4956410/
--------
Saudi-led coalition to assist member countries in counter-terrorism operations: Gen Raheel
Nov 27, 2017
Saudi Arabia Crown Prince Mohammed bin Salman on Sunday opened the first high-level meeting of a Saudi-led coalition of Muslim nations against terrorism in Riyadh, vowing that extremists will no longer "tarnish our beautiful religion."
Prince Mohammed's words come as the Islamic State group, which sparked the creation of the alliance, has been driven out of Iraq and lost its self-described capital in Syria.
However, the alliance doesn't include Iran, Iraq or Syria, while member nation Qatar sent no one to attend the one-day Riyadh gathering amid a diplomatic standoff between Doha and four Arab nations led by the kingdom.
"The biggest danger of this terrorism and extremism is the tarnishing of our beloved religion's reputation […] We will not allow this to happen," said the royal who has been the driving force behind this coalition. "Today, we start the pursuit of terrorism and we see its defeat in many facets around, the world especially in Muslim countries. We will continue to fight it until we see its defeat."
The crown prince also offered his condolences to Egypt, which suffered an attack on Friday by Islamic militants on a mosque in northern Sinai that killed 305 people.
"This is indeed a painful event and it is a recurrent and strong reminder the dangers of this terrorism," he said.
The inaugural meeting of the Islamic Military Counter Terrorism Coalition (IMCTC) Ministers of Defence Council is being held under the theme of 'Allied Against Terrorism'.
"A number of our member countries are under tremendous pressure while fighting well established terrorist organisations due to capacity shortages of their armed forces and law enforcement agencies," said Pakistan's former army chief and the coalition's military commander, Gen Raheel Sharif, at the event.
"The IMCTC will act as a platform to assist member countries in their counter terrorism operations through intelligence sharing and capacity building."
The alliance described as a "41-nation pan-Islamic coalition" was announced in December 2015.
Pakistan was part of the initial list of 34 countries that had agreed to become part of the coalition.
Gen Raheel Sharif joined the alliance as its top commander in April this year. According to IMCTC, the former chief "presents the Military Domain, which aims to assist in the coordination, of resourcing and planning of military CT operations, facilitate the secure sharing of information, and encourage military CT capacity and capability building."
Full report at:
https://www.pakistantoday.com.pk/2017/11/26/saudi-led-coalition-to-assist-member-countries-in-counter-terrorism-operations-gen-raheel/
--------
Civil-military huddle decides to give peace another chance
NOVEMBER 27, 2017
ISLAMABAD: Top civil and military officials on Sunday decided to engage the protesters in political negotiations, discarding any options relating to use of force to disperse them, sources privy to the development said.
The high-level meeting, chaired by Prime Minister Shahid Khaqan Abbasi and was attended by Chief of Army Staff (COAS) General Qamar Javed Bajwa, DG Inter-Services Intelligence (ISI) Lt Gen Naveed Mukhtar, Punjab Chief Minister Shehbaz Sharif and Interior Minister Ahsan Iqbal, decided that Pakistan Army will not participate in any crackdown on the Faizabad protesters but will only safeguard important government installations in the federal capital.
It was decided during the meeting that police and the civilian administration were responsible for dispersing the protesters and maintaining law and order situation and that they should fulfill the task in a peaceful manner and through negotiations.
The COAS reportedly told the prime minister that the state should not use force against its own people. "The people of Pakistan love and trust their army. Their confidence can't be dented for small benefits," he maintained.
The COAS further said those responsible for amendment to Khatm-e-Nabuwwat oath for election candidates should be identified and punished.
Similar considerations were made at a meeting between Punjab Chief Minister Shehbaz Sharif and Prime Minister Shahid Khaqan Abbasi earlier in the day.
Both dignitaries decided to engage religious parties and clerics to find an amicable solution to the sit-in and also take the military leadership into confidence over the decision.
Earlier on Saturday, the authorities had launched an operation to retrieve Faizabad intersection from Tehreek-e-Labbaik protesters after weeks of negotiations and nudging by the courts, but the police action only multiplied the government's problems amid a worsening law and order situation in Islamabad and other cities.
At the end of the day, at least six protesters had been confirmed dead, while more than 200 people – including protesters and law enforcers – were injured. All six fatalities took place in Rawalpindi.
Full report at:
https://dailytimes.com.pk/147997/civil-military-huddle-decides-give-peace-another-chance/
--------
South Asia
Militants suffer casualties in premature Zabul and Wardak bombings
Nov 26 2017
The anti-government armed militants have suffered casualties in three separate premature bombings in southern Zabul and central Maidan Wardak provinces of Afghanistan.
The Ministry of Defense of Afghanistan in its latest operational update has stated that the explosions took place in the past twenty four hours in different locations.
According to MoD, at least two militants were killed and two others were wounded in an explosion in Syedabad district of Wardak province.
The ministry further added that another militant was killed after his explosives went off prematurely in Arghandab district of Zabul province.
In another incident in Shamulz district of Zabul, at least three militants were killed and another militant was wounded, MoD added.
The Ministry of Defense says the three separate incidents took place while the militants were busy planting roadside bombs.
The anti-government armed militant groups frequently use explosives materials for the roadside bombings and car bombings to target the government staff and security personnel.
However, in majority of such incidents the ordinary civilians are targeted besides such bombings incur casualties to the security personnel and in some cases the Taliban militants themselves are killed or wounded.
http://www.khaama.com/militants-suffer-casualties-in-premature-zabul-and-wardak-bombings-03920
--------
US airstrike kills 13 IS militants in Afghanistan
November 26, 2017
At least 13 militants belonging to the Islamic State (IS) were killed in an airstrike by the United States forces in eastern Nangarhar province of Afghanistan.
According to the Khaama Press, the 201st Silab Corps in the East, confirming the attack, said the hideout of the terror group was wiped-out and at least 13 militants were killed.
No local or security personnel were harmed in the airstrike, the officials added.
The provincial government media office, in a statement, also confirmed that 13 militants were killed in the airstrike conducted in the Gagari area.
Earlier this week, at least eight persons were killed in an explosion that struck Jalalabad in the province.
Nangarhar is among the relatively calm provinces, however, the Taliban and IS militants have increased their insurgency activities in few its remote parts during the recent years.
Full report at:
http://www.business-standard.com/article/news-ani/us-airstrike-kills-13-is-militants-in-afghanistan-117112600192_1.html
--------
Keep mobile phones away from children, says Hefazat's Shafi
2017-11-26
The 95-year-old Islamist leader made the remark during a conference at a summit at the Jamaatul Falah National Mosque in Chittagong on Saturday.
"The Jews have spread this weapon of destruction, this mobilism, to annihilate us," he said. "It is ruining our social system."
"I implore you: keep mobile phones away from boys and girls."
The current state of society has led to the 'absolute degradation' of humanity and morality, according to the Hefazat chief. People are developing anti-Islamic views due to the spread of 'atheistic ideas', he said.
If harsh punishments are meted out for blaspheming Allah, there will be no atheists, he said.
"Anti-Islamic atheists will be punished by the law in Bangladesh," he said.
Qawmi madrassa-based organisation Hefazat-e-Islam first rose to prominence for its opposition to the Ganajagaran Mancha war crime trial protests in 2013.
On May 5 of that year, the organisation held a rally in Dhaka's Motijheel to demand punishment to 'atheist' bloggers, the removal of women's policy, and 11 other disputed demands. Violence broke out in parts of Dhaka, leading to several deaths.
Hefazat threatened to hold a similar rally in Motijheel in 2016 if the statue of 'Lady Justice' was not removed from in front of the Supreme Court.
Prime Minister Sheikh Hasina later spoke in support of the statue's removal. She also approved a decision to accept the highest degree given by Qawmi madrasas as equivalent to a postgraduate degree.
At the time the government had called Shafi the 'state's spiritual elder'.
On Sunday, Shafi called Hefazat a 'spiritual and self-sacrificing' organisation with a 'universal, non-political platform'.
"Hefazat has no political ambitions. We do not have any political friends or enemies. Hefazat will not nominate or support anyone in an election."
Full report at:
https://bdnews24.com/bangladesh/2017/11/26/keep-mobile-phones-away-from-children-says-hefazats-shafi
--------
'Jamaat-BNP should be banned'
November 26, 2017
Speakers, including historians and freedom fighters, demanded ban on Jamaat-BNP at a seminar titled '1971: Genocide, Torture and the Liberation War'
Historians and freedom fighters have demanded that the BNP and Jamaat-e-Islami be banned from Bangladesh because Jamaat committed war crimes during the Liberation War and the BNP repatriated Jamaat in politics.
Jamaat committed genocide in the name of Islam during the Liberation War and their atrocities are still continuing because of BNP's political support, the speakers said at an international seminar titled "1971: Genocide, Torture and the Liberation War."
The seminar was jointly organised by Centre for Genocide – Torture and Liberation War Studies and 1971 Genocide – Torture Archive Museum at Abdul Karim Shahitya Bisahrad Auditorium of Bangla Academy on Sunday.
Eminent historian Professor Muntassir Mamoon said BNP Chairperson Khaleda Zia should be brought to book for supporting Jamaat politically.
"The BNP politically supported Jamaat even after knowing that Jamaat committed genocide during the Liberation War. This is equivalent to genocide," he said.
Criticising the Awami League, he said: "Awami League always says it upholds the spirit of the Liberation War but in reality it does not."
The Supreme Court is delaying the trial of war criminals, he added.
The professor also claimed that more than three million people were killed during the Liberation War in 1971 and around 500,000 women were violated by the Pakistani Army and their collaborators.
Another eminent historian Professor Jayanta Kumar Ray said: "The perpetrators of 1971 are still stronger than pro-liberation forces as we could not root out the main culprits."
Shahriar Kabir, president of Ekattorer Ghatak Dalal Nirmul Committee, compared Myanmar army's act on Rohingya people with the genocide committed by Pakistani forces on Bangladeshis in 1971 and asked the authorities concerned to ensure justice.
"We should ensure justice for the sake of the genocide victims," he said.
Thomas A Dine, Man Sokkoeun, Julian Francis and others said Myanmar's de facto leader Aung San Suu Kyi along with all the other perpetrators who committed genocide in the world should be brought to book.
Indian war veteran Brigadier (retd) RP Singh said: "Bangladesh has brought the collaborators to book but we cannot sleep in peace until we bring the officials who committed genocide during Liberation War to book."
The organisers of the seminar came up with several proposals in the concluding session of the programme and said they will form an international committee and seek justice for the genocide victims. They also promised to lodge a case withthe International Criminal Court against Myanmar.
They also demanded that the United Nations recognise March 25 as Genocide Day, as the atrocities committed by the Pakistan army in 1971 were planned and intentional.
Full report at:
http://www.dhakatribune.com/bangladesh/2017/11/26/jamaat-bnp-banned/
--------
Sheikh Al-Azhar extends work of relief convoy to Rohingya refugees in Bangladesh for week
25 Nov 2017
CAIRO, 25th November, 2017 (WAM) -- The Grand Imam Dr. Ahmed Al Tayeb of Al Azhar Al Sharif and Chairman of the Muslim Council of Elders has deceived to extend the work of Al Azhar and the Council's Convoy to provide relief to the Rohingya refugees in Bangladesh for and additional week.
In a statement issued by Al Azhar Al Sharif on Saturday, said that the distribution of aid continued for the fourth day in a row and was covered by an Egyptian and Arab media delegation that had arrived today in the city of Cox's Bazar for this purpose.
Full report at:
https://reliefweb.int/report/bangladesh/sheikh-al-azhar-extends-work-relief-convoy-rohingya-refugees-bangladesh-week
--------
Thousands travel to Yangon for Pope's diplomatically fraught trip
November 27, 2017
Thousands of Catholics gathered in Yangon on Monday after journeys by train and bus, excited to get a glimpse of Pope Francis, who begins a trip to Myanmar fraught with diplomatic risk over its treatment of the minority Muslim Rohingya people.
"We come here to see the Holy Father. It happens once in hundreds of years," said Win Min Set, a community leader who brought a group of 1,800 Catholics from southern and western states of the country.
"He is very knowledgeable when it comes to political affairs. He will handle the issue smartly," he said, referring to the delicacy of the pope's discussions about the Rohingya.
The trip is so delicate that some papal advisers have warned him against even saying the word "Rohingya", lest he set off a diplomatic incident that could turn the Buddhist-majority country's military and government against minority Christians.
More than 600,000 Rohingya have fled from Rakhine state to southern Bangladesh since the end of August, when Rohingya militants attacked security posts and the Myanmar army launched a counter-offensive.
US Secretary of State Rex Tillerson last week called the military operation "ethnic cleansing" and threatened targeted sanctions for "horrendous atrocities".
Amnesty International said the Rohingya and Muslims generally in Rakhine state have been subjected to "systemic social and political exclusion" for decades and accused the military of "crimes against humanity" in the last two years, including murder, rape torture and forcible displacement.
Myanmar's government has denied most accusations, and the army says its own investigation found no evidence of wrongdoing by troops.
Myanmar does not recognise the Rohingya as citizens nor as members of a distinct ethnic group with their own identity, and it even rejects the term "Rohingya" and its use.
Many people in Myanmar instead refer to members of the Muslim minority in Rakhine state as illegal migrants from Bangladesh.
This poses a dilemma for Francis as he visits a country of 51 million people where only about 700,000 are Roman Catholics.
'SOMEONE SHOULD HAVE TALKED HIM OUT OF IT'
The most tense moments of his visit are likely to be private meetings with the army chief, Senior General Min Aung Hlaing and, separately, civilian leader Aung San Suu Kyi.
Francis will also visit Bangladesh during his November 26-December 2 trip, where he is expected to meet Rohingya refugees.
Large numbers of riot police were mobilised in Yangon, Myanmar's biggest city, ahead of thepope's arrival, which was expected at 1:15 pm (0645 GMT). But there were no signs of any protests along the pope's route from the airport to the archbishop's residence in the city centre.
More than 150,000 people have registered for a mass that Francis will say in Yangon on Wednesday, according to Catholic Myanmar Church spokesman Mariano Soe Naing.
"I hope he will bring a change in politics," said Tunan Lahtoi, 25, who travelled by train for two days and one night from Kachin state in the far north to see the pope.
Vatican sources say some in the Holy See believe the trip was decided too hastily after full diplomatic ties were established in May during a visit by Suu Kyi.
Suu Kyi's global esteem as a Nobel Peace Prize laureate has been tarnished because she has expressed doubts about the reports of rights abuses against the Rohingya and failed to condemn the military.
"I have great admiration for the pope and his abilities, but someone should have talked him out of making this trip," said Father Thomas Reese, a prominent American author and analyst at Religion News Service.
The pope has already used the word Rohingya in two appeals from the Vatican this year.
Full report at:
http://www.thedailystar.net/world/thousands-travel-yangon-popes-diplomatically-fraught-trip-1497097
--------
Afghan govt leader spotted in Fatemiyoun brigade gathering sparks concerns
Nov 26 2017
Amid growing concerns regarding the massive deployment of the Afghan youths in Syria war by Iran, the Afghan unity government deputy chief executive Haji Mohamamd Mohaqiq has been spotted in a gathering of the Fatemiyoun brigade operating under the Iranian Revutionary Guard to fight in Syria, a move which has further sparked concerns among the people regarding the fate of the Afghan youths who die and those returning to the country from the Syrian conflict.
Mohaqiq has reportedly attended the gathering in Tehran to praise the youths and Fatemiyoun brigade for the turing the conflict in Syria into the favor of the regime in power led by Bashar Al-Assad.
He has reportedly hailed the leader of Hezb-e-Ullah Hasan Nasrullha and the commander of the Fatemiyoun brigade for their recent victory in the war.
However, back in Afghanistan, the government officials and people are concerned that the participation of the Afghan youths will have a negative impact on the situation of the country.
An Afghan lawmaker Ghulam Farooq Majroh says the participation of the Afghan youths in Syria conflicts and government officials endorsing such moves will have a negative impact on the country, considering the ongoing situation in the country.
The former Afghan intelligence chief Rahmatullah Nabil had earlier warned that the deployment of the Afghan youths to Syria may shift the Iran-Saudi rivalry to Afghanistan.
Amid growing concerns regarding the massive recruitment of the Afghan youths by Iran for the Syrian conflict, Nabil has called the move by Iran as a quite dangerous move.
On the other hand, the the Human Rights Watch in its latest report revealed in September of this year that young Afghan boys as young as fourteen years old have been recruited by Iran to fight in Syria.
According to the Human Right Watch report, the children have been recruited y the Revolutionary Guard of Iran and several of them have been killed and buried in the Iranian soil.
Full report at:
http://www.khaama.com/afghan-govt-leader-spotted-in-fatemiyoun-brigade-gathering-sparks-concerns-03919
--------
Southeast Asia
PM's aide: Marina blames Arab influence but silent on Western culture
Khairil Ashraf
November 26, 2017
PETALING JAYA: A special advisory officer in the Prime Minister's Department has hit out at social activist Marina Mahathir for criticising the spread of Arab culture in Malaysia while remaining silent over Western influences that he says are eroding local values.
Fathul Bari Mat Jahaya said Marina talked about the disappearance of local cultural elements but the way she presented herself to the public did not reflect Malay elements or culture.
"The way she promotes herself is not very Malay in itself.
"If, for example, she dresses in a kebaya or wears batik attire, it would show Malay cultural elements," he said.
"There is no need for her to talk about Saudi Arabian culture entering (Malaysia). Nowadays Western culture has come in. Is she talking about that?" he told FMT today.
He asked why Marina kept quiet when the country was being inflicted by the "yellow culture", such as those found in "very bad" concerts and festivals.
"If she has spoken up, it'll be all right. But she has not," he said, questioning if she was bringing Western culture into the country to reject Islamic culture.
Marina, a founding member of Sisters in Islam, was reported by the Asia Times yesterday as pinning the deepening trend of Islamisation in Malaysia to the influence of Saudi Arabia.
"There's this idea that the more like Arabs you are, the better Muslim you are.
"That's the very real obliteration of our cultural heritage," she was quoted as saying.
"Arab culture is spreading, and I would lay the blame completely on Saudi Arabia," said Marina, the eldest daughter of PPBM chairman and former prime minister Dr Mahathir Mohamad.
Fathul, who is also an Umno Youth executive council member, said if Saudi Arabia brought violence or negative cultural traits to Malaysia, they should be rejected.
"But what if they bring Islam and try to highlight Islamic justice, peace, prosperity, such as in the King Salman Centre?"
The Asia Times report said there were indications that Prime Minister Najib Razak was leveraging his relationship with Saudi King Salman Abdulaziz Al Saud to boost his Islamic credentials in an attempt to appeal to religious hardliners, far-right Malay groups and conservative rural Muslim voters.
In July this year, Najib had announced the government's decision to earmark a 16ha piece of land in Putrajaya to build a new "centre for peace" named after the Saudi king.
The King Salman Centre for International Peace (KSCIP) followed a highly-publicised visit by the Saudi ruler to Malaysia last March as well as Najib's participation in a summit in Riyadh attended by US President Donald Trump.
It was reported that the Muslim World League (MWL), an organisation heavily funded by the Saudi government to prop up the kingdom's Islamic image worldwide, was also involved in the new centre.
MWL had for decades acted as Riyadh's chief mouthpiece through the publication of Islamic materials and the financing of mosques and Islamic centres from Asia to Europe.
http://www.freemalaysiatoday.com/category/nation/2017/11/26/pms-aide-marina-blames-arab-influence-but-silent-on-western-culture/
--------
Indonesia Aims To Attract More Muslim Visitors In 'Halal' Tourism Push
November 26, 2017
On Gili Trawangan, an islet off the coast of Indonesia's verdant Lombok island, tanned and pinkish Westerners in bathing suits mingle in the same restaurant as a group of hijab-wearing women from Malaysia on a corporate retreat. There is a large mosque just off the main road whose last call to prayer at night can be heard through the beat of live reggae bands.
Tourists flock to Indonesia from all over the world to enjoy its beaches, wildlife and heritage sites. But many are coming for religious reasons, too. In 2015, Lombok, whose population is 90 percent Muslim, was dubbed the "world's best halal tourism destination" at an annual Muslim travel industry event in Dubai. The island — which has long been overshadowed by glamorous, Hindu-majority Bali, just a 30-minute flight to the west — eagerly seized on the distinction as a unique touristic selling point.
"We don't have to be the 'Muslim Bali,'" Muhammad Adi Farchan, a halal tour operator, said in the coastal Lombok town of Senggigi. "We are just Muslim Lombok! Muslim paradise."
If the phrase "halal tourism" — which came into vogue about a decade ago — seems neologistic, it's nevertheless at the cusp of an emerging trend in the travel industry: holidays that don't merely accommodate religious Muslims, but actively cater to them. A term most commonly used to describe food provenance, "halal" more broadly means religiously permissible per Muslim law.
As the world's largest Muslim country, Indonesia has pinned hopes on the halal market to expand its $13 billion tourism industry, which lags behind those of neighbors like Thailand and Singapore. Lombok is in West Nusa Tenggara province, which is one of three government-designated "priority" halal destinations, along with West Sumatra and Aceh. Jakarta's deputy governor Sandiaga Uno has expressed interest in developing a "sharia tourism zone" in the nation's capital, and recently announced that the city would build "sharia-based" hotels.
About 2.7 million tourists visited halal destinations in Indonesia in 2016, according to a Tourism Ministry spokesperson, out of about 12 million foreign tourists in total. The greatest increase was seen in Lombok, which the ministry credits to halal tourism.
Lombok welcomed about 3 million foreign and domestic tourists last year. On this island, nearly all the food — fish satay, chicken smeared with eponymous Lombok chili sambal — is already halal, and you're never more than five minutes from a mosque. Nearly every hotel, restaurant and beach club has a musholla, or prayer room. And since the island's population is mostly Muslim, the odds are that a tour guide for any activity — from trekking the volcanic Mount Rinjani to diving with sea turtles — can accommodate religious considerations.
"Indonesia is great to visit because we don't have to explain why we want things like prayer rooms and certified halal food," said Omar, a 52-year-old tourist from Saudi Arabia who did not want to use his last name, at the flagship Islamic Center mosque complex in the provincial capital Mataram. "Everyone is Muslim, so they already understand."
Such travelers could significantly boost Indonesia's tourism revenue, officials hope. Visitors from the United Arab Emirates and Saudi Arabia spend more money on average — about $1,500 to $1,700 per person per trip — than other tourists to Indonesia, who spend around $1,200 per person, according to Arief Yahya, Indonesia's tourism minister.
But the number of Middle Eastern and Gulf tourists to all of Indonesia hovered around just 200,000 last year, compared to 600,000 who visited nearby Thailand. To attract more of these lucrative tourists, Indonesia has pushed for more direct flights from Gulf carriers like Emirates, Qatar Airways and Etihad Airways and reframed its promotion of destinations outside Bali.
That includes Aceh, a conservative province on Sumatra that's perhaps best known for being governed by sharia or Islamic law, which now has slick signs plastered in its airport advertising its appeal as a halal destination. Aceh has miles of unspoiled diving beaches, historic mosques and the Leuser Ecosystem rain forest. But facets of Acehnese life that might deter other visitors, such as the banning of alcohol, can work as selling points for devout Muslim travelers.
The campaign turns Aceh's longtime moniker "Mecca's veranda" into a tourism tagline.
Those in the travel industry describe Muslim travelers as the next "billion-person market," after India and China. Almost a quarter of the entire world's population is Muslim.
"There are 1.6 Muslims in the world, which means 1.6 billion potential halal travelers," said Fazal Bahardeen, the Sri Lankan-born founder of CrescentRating, a Singapore-based halal travel certification company.
For three years, Bahardeen's company has issued an annual report on global halal tourism in conjunction with MasterCard. The 2017 report, released in May in Jakarta, estimates the number of international Muslim travelers at 121 million, accounting for about 10 percent of the world's travel industry.
"Almost 60 percent of them travel to Asia, which makes the continent the key region of growth for halal tourism," said Bahardeen.
Bahardeen's estimate, based on various countries' raw tourism data, lines up with a 2015 report on the global Islamic economy by Thomson Reuters, which pegged the global Muslim travel market in 2014 at $142 billion – excluding pilgrimages for the Hajj and Umrah — accounting for about 11 percent of global travel expenditure. That was a 6.3 percent increase over the previous year.
CrescentRating also ranks countries on their suitability for religious Muslim travelers. For the last three years, Malaysia has ranked as the No. 1 country overall for halal holidays. Southeast Asia in general has a strong presence on CrescentRating's list, with Indonesia in third place. The United Arab Emirates ranks second.
The criteria include halal food availability, facilities for the five daily prayers, "water-friendly" bathrooms (some Muslims prefer using bidets or hand-showers to toilet paper) and accessibility of family-friendly areas away from nightclubs and casinos. But non-Muslim nations are getting on board, too. In March, Al Meroz, which bills itself as "Bangkok's leading halal hotel," opened its doors in the Thai capital. The luxury hotel, run by an observant Muslim, doesn't sell alcohol, offers a female-only floor for women traveling solo, maintains separate male and female hours for its gym and pool and makes sure even its detergents are free of animal fat (pig and pork products are forbidden for observant Muslims).
Japan, which offers visa-free entry to Indonesians and Malaysians, is home to several halal tourism outfits and has had halal restaurants and prayer rooms at Narita International Airport since 2014. One of those restaurants even supplies halal in-flight meals to carriers including Malaysia Airlines; Japan Airlines started serving its own such meals last year.
Food is one of the major sticking points for observant Muslims traveling in non-Muslim countries, said Mikhail Goh, the Singaporean founder of the website Have Halal, Will Travel, whose Facebook page has 157,000 followers.
"Oftentimes, you'll find Muslims, especially those from Asia, with their bags packed with food in the event that halal food is not easily available," he said.
Goh's website recently released an eponymous app with halal city guides for Seoul, Tokyo and Singapore. "Countries like Japan and Korea are increasingly Muslim-friendly," he said, "but there was a lack of rich information on where to find halal food options or prayer spaces."
The exact definition of halal differs from country to country – the UAE, for example, requires extensive documentation that products follow sharia and prohibits the sale of pork products to Muslims, whereas Indonesia still does not have a federal halal certification body – but apps like Goh's can help guide travelers in the right direction.
In Indonesia, authority for halal designation lies with the Indonesian Ulema Council, and there are analogous bodies in other Muslim countries. But in Muslim-minority countries it is ad hoc: In Japan alone, there are about 10 different halal certification bodies, says Ayang Utriza, an Islamic law expert at the Catholic University of Louvain in Belgium.
Back in Lombok, some tour operators have made a brisk business of arranging excursions for visiting ulema, or Muslim scholars.
"When ulema come to Indonesia as visiting preachers or for religious holidays, they frequently stop in Lombok," says Farchan, the halal tour operator. "I or one of the other halal tour guides will help arrange private visits for them to one of the halal gilis," the small islands that dot the Lombok coastline.
Farchan is a Salafi Muslim, meaning that he follows the Sunni fundamentalist school originating in the Gulf that seeks to return to the early Islam of Quranic times. He says he has helped vacationing Salafi preachers, both from Java and the Middle East, to relax in religiously acceptable surroundings in Lombok. They can decamp to single-sex beaches, for instance, after lecturing in Mataram, the mainland capital.
All this seems to raise a question of an inevitable culture clash between sybaritic beach bums and devout visitors. But so far, the spirit of halal tourism, at least in Indonesia, seems to be one of live and let live.
One place that's not likely to ride the wave of halal tourism? The United States.
Full report at:
https://www.npr.org/sections/parallels/2017/11/26/528010256/indonesia-aims-to-attract-more-muslim-visitors-in-halal-tourism-push
--------
Muslims gather to boost stalled Philippine peace talks
27 November 2017
SULTAN KUDARAT, Philippines: The Philippines' main Muslim guerrilla group staged a huge rally Monday at its southern headquarters that attracted Christians and rival rebels, in a joint effort with the government to reignite a stalled peace process.
President Rodrigo Duterte was scheduled to speak at the event at the main base of the 10,000-strong Moro Islamic Liberation Front on Monday afternoon, with both sides hoping peace will help quell the rising threat of the Daesh group.
Muslims have been waging a rebellion since the 1970s seeking autonomy or independence in the southern areas of the mainly Catholic Philippines that they regard as their ancestral homeland.
The conflict has claimed more than 120,000 lives.
The MILF, the biggest rebel group, signed a peace deal in 2014 that would give the nation's Muslim minority self-rule over parts of the southern region of Mindanao, but a proposed law to implement the pact has not been able to get through Congress.
The immediate objective of Monday's rally was to build support for the proposed law.
"There is no way that we can find peace forever if we do not give them back at least a part of their heritage," Duterte said in a speech last week, referencing Filipino Muslims who consider the south their homeland.
"If we do not give them that, there will be trouble because they will open really to (join a) cabal with the other terroristic activities or the terrorists there."
The MILF had said it wanted a million people to turn up on Monday at its sprawling Camp Darapanan base just outside of Cotabato city in Mindanao.
No firm crowd numbers were immediately available on Monday morning but an AFP journalist at Camp Darapanan reported seeing tens of thousands of people.
Full report at:
http://www.arabnews.com/node/1199811/world
--------
Use mass media to tackle extremism, academic tells ulama
November 26, 2017
KUALA LUMPUR: Ulama, or Islamic religious scholars, should use the mass media to counter extremism and prevent Muslims from being influenced by the ideology of terror groups.
Dr Muhammad Al Bashar Muhammad Al-Khar'an, a lecturer at the Faculty of Communications, Al-Imam Muhammad Ibn Saud Islamic University in Saudi Arabia, said ulama needed to play an important role in explaining true Islamic teachings, including to non-Muslims.
"Some ulama and other learned ones stay away from the mass media, while the mass media is among the most important channels to disseminate accurate information which can protect the image of Islam.
"They (ulama) will be able to explain about Islam through two important sources, namely the Quran and Sunnah (the Prophet's sayings and teachings)," he said.
Al Bashar had earlier presented his paper on Negative Media Impact on Understanding Wasatiyyah (Creating Disputes Between Muslims, Mislead From the Truth About Ulama and Islamic Society, and Spread of Ideology of Extremism) at the Khayr Ummah Conference 2017 (KUC 2017), here, today.
He said providing understanding about justice in Islam and its blessings could be the best way to prevent people from falling into extremism and terrorism.
Themed "The Manhaj of Ahlu As-Sunnah Unites Asean", the two-day conference from today sees the presentation of 30 working papers, with the participants coming from various countries, including Saudi Arabia, the Philippines, Thailand, Japan, Indonesia, Vietnam and Laos.
KUC 2017 is jointly organised by the communications and multimedia ministry, Special Affairs Department, Pertubuhan Al-Khadeem Malaysia and Pertubuhan Ilmuan Malaysia, while Universiti Teknologi Mara is the programme coordinator.
The conference also features an exhibition participated by various government agencies, departments and institutions, non-governmental organisations and the private sector.
Full report at:
http://www.freemalaysiatoday.com/category/nation/2017/11/26/use-mass-media-to-tackle-extremism-academic-tells-ulama/
--------
Expert warns of 'barricade-style' terror attacks in region
Zam Yusa
November 27, 2017
PETALING JAYA: A professor who specialises in regional politics and security has warned Southeast Asian nations to be prepared for "barricade-style" hostage-taking attacks on buildings.
This follows the failure of the Islamic State (IS) to create its so called Southeast Asian caliphate in the southern Philippine city of Marawi recently.
After the authorities retook Marawi last month, analysts had warned about IS going into insurgency or guerilla warfare tactics in the region, a mainstay even when they were still fighting as a proto-state in Iraq and Syria.
"Barricade-style attacks are when gunmen go in and take over a building," Zachary Abuza, a professor at the Washington-based National War College, told FMT.
"They would draw out the conflict to gain media coverage with hostages. They will be fighting to the bitter end, like the attack in Mumbai.
"After the incursion of militants from the so-called Sulu Sultanate in southern Philippines, Malaysian officials have put a lot of resources into Sabah's security.
"But they need to be prepared for these barricade-style attacks. Think Butig, not Marawi."
Butig town, in the Philippine province of Lanao del Sur, like Marawi, was the scene of a barricade-style attack carried out by the Maute militant group, which was also responsible for the five-month Marawi clash.
The pro-IS group first raided the patrol base of the 51st Infantry Battalion of the Philippine Army in the town in February 2016. Three troops and 20 members of the group were killed in the clashes.
In November that same year, the Mautes attacked the town again but the military retook it in five days, before the group laid siege on Marawi in May this year.
On Jan 14, 2016, nine militants staged a barricade-style attack at a Starbucks cafe in central Jakarta, in which, two civilians and five attackers were killed during the two-hour standoff.
"The attack in Jakarta should not have surprised anyone. This type of barricade-style attack has been seen from Mumbai to Paris," Abuza wrote in an article published by The Diplomat a day after the attack.
"With low technical requisites and a high probability of spreading fear and garnering media attention, it has been the weapon of choice, including in Southeast Asia."
There have been a number of barricade-style hostage-taking actions by IS-inspired terrorists in Europe, the most spectacular of which, was the November 2015 attacks that left 129 dead in Paris.
On June 30, 2015, a Malaysian court convicted a man and his son for fighting with IS and planning terrorist incidents at home.
"But it was not a wave of bombings they were plotting, but rather the kidnapping of politicians," wrote Abuza.
"While hostage taking, executions and barricade-style attacks garner less concern from security services than bombings, this is potentially an important development at both the tactical and strategic levels for Southeast Asian militants.
"If we are to understand the real impact of IS on Southeast Asian militancy, it is this."
Abuza also said that despite the concern caused by returning IS fighters from Iraq and Syria and revitalising of terror networks in Southeast Asia by the terror group, there has been very little use of barricade-style attacks as a tactic by Southeast Asian militant groups.
"That should be expected to change, with the success of IS, the proliferation of their ideology, and return of veterans from Syria (and Iraq) over the coming few years."
Meanwhile, Abuza told FMT that few places were "as permissive" for big-scale attacks as Marawi city.
"Marawi had an almost 90% Muslim population (in the Catholic-majority Philippines).
"It was also near territory previously controlled by the Moro Islamic Liberation Front (MILF) where authorities had no intelligence on," he said, referring to a former rebel group that has since laid down arms in a peace pact with the Philippine government.
Full report at:
http://www.freemalaysiatoday.com/category/nation/2017/11/27/expert-warns-of-barricade-style-terror-attacks-in-region/
--------
Europe
UK secretly training Saudi troops for Yemen war: Report
Nov 26, 2017
The British Army is secretly training Saudi Arabian soldiers to fight in Yemen, where more than 12,000 people have been killed since the onset of the Saudi war in March 2015, according to a report.
The training, codenamed Operation Crossways, was disclosed after the UK Army mistakenly released photos and a mission summary on 2 Scots' Facebook page earlier this month, The Mail on Sunday reported.
As part of the training, about 50 British military personnel from 2nd Battalion the Royal Regiment of Scotland (2 Scots) have been teaching battlefield skills to officers from the Royal Saudi Land Forces Infantry Institute.
The skills are known as the "Irregular Warfare" which is a collective name for specific tactics used by conventional armies to fight terrorists.
In one of the images released, a British instructor can be seen standing in front of a map showing Yemen and the surrounding area as he explains a possible attacking strategy.
The training mission is part of the UK's "shameful complicity" in the suffering of the Yemenis, said Tory MP and former Development Secretary Andrew Mitchell.
Mitchell demanded Friday that the government provide answers in the Commons about its role in Saudi military aggression.
"The UK has been shamefully complicit in Saudi's role in Yemen, which has clearly included breaches of the Geneva Conventions," he said.
"I have no doubt Parliament will require an explanation of this training mission in view of the high level of concern about the humanitarian catastrophe unfolding in Yemen," he added.
Also, former head of the Royal Navy, Lord West, called for transparency over Britain's role in training Saudi soldiers.
"Given the sensitivities surrounding Saudi Arabia and Yemen at the moment it would be better to be open about what we are doing. Our training will hopefully save lives," West said Friday.
Saudi Arabia has been incessantly pounding Yemen in an attempt to crush the Houthi Ansarullah movement and reinstate former President Abd Rabbuh Mansur Hadi, who is a staunch ally of the Riyadh regime.
Thousands of civilians have died in bombing raids and around one million children are facing starvation and serious illness as a result of the conflict.
Britain's sales of military equipment to Saudi Arabia hit £1.1 billion in the first six months of this year, according to the latest government data.
The UK sold £836 million worth of arms and military hardware to the Saudi kingdom between April and June, up from £280 million between January and March, according to statistics by the Department for International Trade (DIT).
http://www.presstv.com/Detail/2017/11/26/543508/UK-Saudi-Arabia-Yemen
--------
Islam's Message of Peace Hits the Road in New Zealand
November 27, 2017
The Ahmadiyya Muslim community is launching a unique campaign to reach out to the New Zealand public. Entitled Peace on Wheels, the campaign will see the communitys members take to the road, and covering thousands of kilometres, attempting to reach …Islam's Message of Peace Hits the Road in New Zealand
The Ahmadiyya Muslim community is launching a unique campaign to reach out to the New Zealand public. Entitled 'Peace on Wheels', the campaign will see the community's members take to the road, and covering thousands of kilometres, attempting to reach the far corners of the country. The first of these trips will set off to Northland on the 26th of November, headed by the community's central missionary, Imam Shafique ur Rehman.
"Ignorance breeds doubt, and opportunists will exploit it to create discord in the society, hoping to turn disagreements into conflicts. In today's world, fanatics exist in all forms, be it misguided Muslims, or their opponents – the actions of terrorists rightly invite condemnation, but people can sometimes forget to differentiate the action of the person from the teaching of the religion", explains Mr Bashir Khan, the President of the Ahmadiyya Muslim Community in new Zealand. "Our response is to proactively counter the negative image of Islam created by both these groups by showing what true Islam means. It is to this end that we are launching our latest effort to reach out to those communities where knowledge of Islam and Muslims is limited to what one may find on the news and media. Sadly it is the extremists that get the coverage in media, creating negative misconceptions about the religion of Islam. It is our sincere hope that campaigns such as this one will help us create an environment encouraging peaceful coexistence amongst all races and religions."
The Peace on Wheels initiative will see a group of volunteers travel across the country holding book stalls, distributing Peace message leaflets, and reaching out to everyone they come across in a hope to build bridges between communities, and answer any and all questions that anyone may have about Muslims and Islam. The first leg of the journey will cover the North of the country, passing through several cities including Warkworth, Whangarei, Keri Keri, Kaitaia, and Dargaville.
Full report at:
http://community.scoop.co.nz/2017/11/islams-message-of-peace-hits-the-road-in-new-zealand/
--------
Is Europe Pushing Kosovo Into the Arms of Erdoğan?
11/26/2017
In Kosovo, the speech came as a shock. At a party rally before local elections last October, the forceful leader of the opposition Vetëvendosje party, Albin Kurti, swore on the Koran that victory would be theirs. Once in power, he told supporters, the party would work to end Islamophobia.
At first glance, the speech makes sense – 90% of Kosovars are Muslim, who have historically practiced a very moderate, liberal form of Islam. But the ethnic Albanians of Kosovo, who comprise 92% of the population, have been fiercely pro-Western as thanks for the U.S.-led NATO bombing of Yugoslavia in 1999 that ended decades of Serbian repression and set Kosovo on the path towards independence. Bill Clinton Boulevard runs through the center of the capital, Prishtina.
Eighteen years after the war, Kosovars are increasingly taking other roads. They are frustrated by high unemployment, pervasive corruption, and Europe's continued efforts to keep them at bay. Focused on America First, the U.S. has disengaged.
As a result, Kosovo's next generation of leaders is marching into power with nationalist populist slogans and, most recently, have begun testing the Islamic card to expand their support base. Kurti's Vetëvendosje party (Self-Determination) won 27% of the vote in national elections in June, making it the most popular party in Kosovo.
Vetëvendosje is also getting help. As the EU and U.S. stall or retreat, Turkey, Qatar and others are eagerly filling the void. Under questionable conditions, in recent years Kosovo's government awarded Turkey billion-dollar contracts, from the construction of the airport to the sale of Kosovo's energy distribution service, at a fraction of their value. In return, Turkey has invested in the construction of mosques and the restoration of Turkish cultural sites, and heavily promoted Erdogan's Neo-Ottoman aspirations. Qatar, an early supporter of Erdogan's rise to power, is believed to be one of the major funders of the Kosovar political parties that tow Erdogan's Islamist-oriented political line.
Albin Kurti, a former non-violent student activist turned Kosova Liberation Army spokesperson during the war, launched Vetëvendosje in 2004 with verbal and physical attacks against both internationals and ethnic Albanian Kosovar authorities for the young country's social and political failures. His early campaign targeted the United Nations and European Union missions in Kosovo for failing to stop Kosovar leaders from plundering the state coffers. Although the EU mission had the exclusive power to investigate, prosecute and try people for war crimes, organized crime and corruption, it failed to net any "big fish."
Over time, Kosovars lost confidence in the international and local leadership while Vetëvendosje's popularity grew. Taking a page from Erdogan's rise to power, Kurti stepped up his campaign by portraying Europe as cruel, and anti-Kosovar.
The EU has hurt its case by refusing to grant Kosovars visa-free travel to Europe, making Kosovo the only country in the region not to enjoy this right. Young Kosovars see the rejection as Europe's push against accepting more Muslims and the West's declining interest in the Balkans.
To date, the EU has linked visa-free travel to Kosovo's efforts against corruption and, more directly, to settling an ongoing border dispute with Montenegro. The beneficiaries of this are anti-Western parties in Kosovo.
It's no surprise that Vetëvendosje has taken an aggressive stance to prevent a border solution. They have disrupted parliamentary discussions on the issue by launching attacks on parliament, firing tear gas in the assembly hall and accusing pro-agreement supporters of national betrayal. Just last week Kosovo sentenced four Vetëvendosje members, including a member parliament, for firing a rocket-propelled grenade at parliament last year to stop a vote on the border issue. And most recently Kurti along with two of his party members were arrested for failing to appear at hearings in their trials for throwing tear gas in parliament last year.
In the October local elections, Kosovo's citizens pushed back against Kurti's anti-Western and Koran references by denying Vetëvendosje a complete sweep. But unless Europe and the Kosovo ruling parties make changes, Vetëvendosje is likely one election away from a majority in parliament.
Full report at:
https://www.huffingtonpost.com/entry/is-europe-pushing-kosovo-into-the-arms-of-erdoğan_us_5a1abe30e4b0bf1467a84754
--------
Qatari head of UK charity also cofounded extremist website
November 26, 2017
The head of the UK arm of a charity which says it helps disadvantaged young people In Britain and Europe, previously cofounded a website which issued extremist fatwas and advised British Muslims that they should not swear an oath of citizenship to Britain.
Yousef bin Ahmed Al Kuwari oversaw the launch of Islamweb.net, which is sponsored by the Qatari Ministry of Endowments and Islamic Affairs, where Mr Kuwari was head of information technology, according to an official biography given when he spoke at a Corporate Social Responsibility summit in Qatar.
Islamweb says it is "a site designed to enrich the viewers' knowledge and appreciation of Islam", and is used by British citizens "seeking religious guidance on a range of issues." But it also espouses extreme views on such issues as integration into British society. In June, the website said of Jews and Christians: "It is incumbent to hate them for the sake of Allah."
In response to a query about whether Muslims should sign an oath of allegiance when becoming a UK citizen, it says: "There is no doubt that a person who accepts the naturalisation of disbelieving countries commits many religious infractions. Among these infractions is to utter what is not permissible to believe in or abide by, like accepting their regime which is totally different from Islam, and uttering an oath to be loyal and friendly with them."
Mr Kuwari is listed as the chief executive of Qatar Charity UK (QCUK) at Companies House and as chairman on the Qatar Charity website. Accounts filed to the Charity Commission — the body that regulates registered charities — show that 99 per cent of the charity's money comes from its parent organisation in Doha.
Mr Kuwari's biography describes him as "a Qatari leader who is keen to help poor people around the world."
In 2015 QCUK provided a grant of £400,000 (Dh1.96 million) for a "multipurpose centre in the UK", a project they worked on with the Emaan Trust in Sheffield, northern England. The Daily Telegraph reported that one of the trustees of the Emaan Trust, Essam Al Fulajii, has said Muslims and Christians should unite against the "monster" Jews, and claimed that he is "still convinced that the international Zionists and Mossad were behind the September 11 attacks."
According to he Daily Telegraph, neighbouring Gulf states have designated QCUK's parent body, Qatar Charity, as a proscribed organisation.
Another trustee, Dr Khalid Al-Mathkour, is "a member of the Kuwaiti Muslim Brotherhood's charitable arm, the Social Reform Society" and "follows the Brotherhood's ideology", the newspaper alleges.
QCUK also has links with preachers who have been banned in the UK. Accounts show that it donated £800,000 (Dh3.9 million) to the European Institute for Human Sciences (IESH) in France. The IESH publishes fatwas following the guidance of the European Council on Fatwa and Research. The president of the Council is Yousef Al Qaradawi, a Qatari hate preacher who has been banned from the UK.
The Qatari Ministry of Endowments and Islamic Affairs, which set up Islamweb, has been a source of controversy since Qatari royal Sheikh Abdullah bin Khalid Al Thani was appointed minister in September 1992.
During his time there, he encouraged Khaled Sheikh Mohammed — the mastermind of the September 11 attacks on the twin towers in New York and the Pentagon — to move to Qatar, according to documents leaked from the US department of defence.
Full report at:
https://www.thenational.ae/world/gcc/qatari-head-of-uk-charity-also-cofounded-extremist-website-1.678995
--------
Theresa May vows Britain will help Egypt in 'any possible way' following terror attack
Nov 26, 2017
Theresa May yesterday offered her condolences to Egyptian president Abdel Fattah el-Sisi following the atrocity at Bir al-Abd in the Sinai peninsula on Friday.
Downing Street said the leaders agreed international co-operation was needed to tackle terrorism.
A spokesman said: "The Prime Minister offered her personal condolences and the condolences of the British people for the barbaric attack that took place at al-Rawdah mosque in north Sinai yesterday."
The attack was a "terrible example of the threat Egypt faces" and "they agreed that terrorism was an international problem and that it was important for countries to work closely together and share expertise to counter the growing threat of terrorism around the world."
The spokesman added: "They welcomed continued bilateral co-operation in this area."
The massacre was carried out by between 25 and 30 militants who were believed to be carrying Islamic State flags, Egyptian authorities said.
The country's chief prosecutor, Nabil Sadeq, said the killers arrived at the mosque in five all-terrain vehicles and waited outside the main door and 12 windows before opening fire on worshippers attending Friday prayers.
At least 305 people, including 30 children, were murdered, with a further 128 injured in what is Egypt's worst ever terror attack.
The Egyptian military has responded by launching attacks on targets believed to be linked to the terrorists in the Sinai peninsula.
No group has yet claimed responsibility for Friday's atrocity.
It is believed the mosque was targeted because many of the people attending were followers of the Sufi branch of Islam.
Many Islamist militants, including the regional Islamic State – Sinai Province group, consider Sufism, which has a strong mystical element, to be heretical.
The terror group, formerly known as Ansar Bait al-Maqdis, claimed responsibility for the bombing of a Russian passenger jet in October 2015 which killed 224 people.
Full report at:
https://www.express.co.uk/news/world/884644/Egypt-terror-attack-Theresa-May-Britain-will-help-any-possible-way
--------
Mideast
Yemeni PM says Houthis refuse international call to release detainees
27 November 2017
The Yemeni Prime Minister Ahmed Obeid bin Daghr said on Sunday that the Houthi militia and fighters allied to ousted Yemeni President Ali Abdullah Saleh have rejected an initiative to release detainees from several parties without any conditions.
The initiative was put forward by the International Committee of the Red Cross' president. Daghr said that this rejection "is a clear challenge to society and international organizations."
The prime minister's statements were made during his meeting with president of the Association of Mothers of the Kidnapped Oumat al-Salam al-Haj.
During this meeting, Daghr called on the international community to increase pressure on the militias to stop the arbitrary arrests of civilians and all those who disagreed with them, and to begin releasing innocent people.
He also condemned the torture crimes against detainees in militia prisons which led to the death of many of them.
https://english.alarabiya.net/en/News/gulf/2017/11/27/Yemeni-PM-Houthis-refuse-international-initiative-to-release-detainees.html
--------
Iran, Turkey, Qatar move to bolster trade amid Saudi-led blockade
Nov 27, 2017
Iran, Turkey and Qatar have signed a trilateral agreement aimed at boosting trade with Doha amid a Saudi-led blockade on the Persian Gulf sheikhdom.
Iranian Minister of Industry, Mines and Business Mohammad Shariatmadari, Turkish Economy Minister Nihat Zeybekci and Qatari Economy Minister Ahmed bin Jassim Al Thani signed the deal in Tehran on Sunday.
The measure would facilitate the process of the transiting goods among the three countries, by tackling obstacles created to economically isolate Doha.
Earlier, Shariatmadari announced Qatar was eager to expand ties with the Islamic Republic in all areas as a result of the current conditions that the Saudi-led blockade against it had created.
Back in June, Saudi Arabia, Egypt, Bahrain, and the United Arab Emirates imposed a trade and diplomatic embargo on Qatar, accusing Doha of supporting terrorism, an allegation strongly denied by the emirate.
Full report at:
http://www.presstv.com/Detail/2017/11/27/543605/URL-iran-qatar-turkey-saudi-blockade-deal
--------
Drone kills seven Qaeda suspects in Yemen
November 27, 2017
ADEN - A drone strike has killed seven suspected members of Al-Qaeda in southern Yemen , a security official said on Sunday. The United States is the only force known to operate armed drones over Yemen . The official said an overnight drone attack, "likely American", targeted three vehicles on the road from the southern province of Shabwa to the central province of Bayda, killing the seven suspected jihadists.
In the southern province of Lahj, a suspected local leader of Al-Qaeda and a policeman were killed in a shootout as security forces raided the alleged jihadist's home to arrest him, a security official said. Another suspected jihadist was also arrested in the raid in the Al-Wahat area, Lahj security director Saleh Said said in a statement. Washington considers the Yemen-based Al-Qaeda in the Arabian Peninsula to be the radical group's most dangerous branch.
A long-running drone war against AQAP has intensified since US President Donald Trump took office in January.
AQAP has flourished in the chaos of the country's civil war, which pits the Saudi-backed government against the Huthi rebels.
Full report at:
http://nation.com.pk/27-Nov-2017/drone-kills-seven-qaeda-suspects-in-yemen
--------
IRGC Commander Warns Europe Not to Force Iran to Increase Range of Missiles
Nov 26, 2017
"We tell the European countries that if we have confined the range of our missiles to 2,000km until today and have not increased it any further, it is not because of a lack of technology because we have no limitations for the range of our missiles in technological terms. But as all our actions derive from a strategic logic, our missiles' range is limited to the regions of threat," General Salami said in an interview with the state TV on Saturday night.
He referred to certain European countries' demand from Iran to hold talks on its missile program, and said, "If the Europeans want to enter the sanctum of our missiles, we may drop this limitation to the range (of our missiles)."
General Salami stressed that Iran has so far considered Europe as no threat and has not increased the range of its missiles to reach the European territories, warning, "But if Europe wants to turn into a threat, the range of our missiles will increase. We respect them. They should respect us too."
France has called for dialogue with Iran about its ballistic missile program and negotiation over the issue separate from Tehran's 2015 nuclear deal with world powers.
Iran has repeatedly said its missile program is defensive and not negotiable.
In relevant remarks on Thursday, IRGC Commander Major General Mohammad Ali Jafari blasted French President Emmanuel Macron for his remarks against Iran, stressing that the western states are uselessly attempting to persuade Tehran to hold talks about its missile and defense power.
"We consider the new French president's words on talks about (Iran's) missile power as a result of his youngness and naivety. He will soon conclude that such an attempt is fruitless," General Jafari told reporters in a press conference in Tehran.
Stressing that Iran will never hold talks on its missile power, he said, "The government is not after such an issue at all and they (the westerners) will soon become aware of the fruitlessness of their attempts."
Full report at:
http://en.farsnews.com/newstext.aspx?nn=13960905000366
--------
Turkey involved in intense diplomatic traffic after Sochi summit
November 26 2017
Turkey has been involved in intense diplomatic traffic following a Nov. 22 summit in Sochi, in which President Recep Tayyip Erdoğan and his Russian and Iranian counterparts agreed to pursue a political solution to the war in Syria.
Erdoğan talked on the phone with his French counterpart Emmanuel Macron on Nov. 25 to discuss several issues, including the recent trilateral meeting in Russia's Black Sea resort of Sochi.
In the phone call, Erdoğan gave information about the summit to his French counterpart, while stressing that holding free and fair elections under U.N. supervision carries significance.
Erdoğan said "no other terrorist groups should be allowed" in areas of Syria cleared of the Islamic State of Iraq and the Levant (ISIL), in a reference to Kurdish militants linked to the outlawed Kurdistan Workers' Party (PKK).
According to presidential sources, the two leaders also agreed to strengthen bilateral relations in the areas of economy, energy and defense industry.
Later on the same day, Erdoğan spoke on the phone with Saudi King Salman bin Abdulaziz about the Sochi meeting and bilateral relations between Ankara and Riyadh.
The president informed the Saudi monarch about the Sochi summit and the Astana Process, which started in May when Iran, Russia and Turkey agreed on declaring de-conflict zones in Syria in regions where clashes between regime and opposition groups are intense.
A day earlier, U.S. President Donald Trump called Erdoğan to discuss the situation in Syria.
"President Erdoğan shared information with U.S. President Trump about the Sochi summit and the two leaders also discussed the fight against terror," a statement from the Turkish Presidency read, adding that Erdoğan and Trump agreed on joint fight against "all terrorist organizations," including ISIL, the PKK and the Fethullahist Terrorist Organization (FETÖ), widely believed to have been behind the July 15, 2016 coup attempt.
"The two leaders highlighted the importance of strengthening Turkey-U.S. relations and agreed on a joint fight against all terrorist organizations, including DEASH, PKK, FETÖ and similar groups," it said, using an Arabic acronym for ISIL.
Turkey has long demanded that the U.S. extradite the Pennsylvania-based Islamic preacher Fethullah Gülen, and the issue has been a subject of tension between the two countries ever since the coup attempt.
Earlier, Foreign Minister Mevlüt Çavuşoğlu said Trump promised not to send weapons to the People's Protection Units (YPG) any more.
Turkey has repeatedly protested the U.S. for providing around 4,000 truckloads of weapons to the YPG in the fight against ISIL.
Full report at:
http://www.hurriyetdailynews.com/turkey-involved-in-intense-diplomatic-traffic-after-sochi-summit-123090
--------
Africa
Boko Haram pushed out of town in northern Nigeria
Nov 26, 2017
Militants of the Takfiri terrorist group Boko Haram captured a town in northern Nigeria for several hours before being repelled by a massive army deployment.
A Nigerian military source said Sunday that Boko Haram militants had launched a "huge invasion" on the town of Magumeri, some 50 kilometers (30 miles) north of the Borno state capital, Maiduguri, on Saturday evening before being pushed out by reinforcements that were deployed to the region.
"Reinforcements were later deployed and they engaged the terrorists, pushing them out of the town, which is now under the full control of the Nigerian military," said the source on condition of anonymity.
He said the attack was allegedly a work of a faction of Boko Haram which is based in the Lake Chad region and led by Abu Mus'ab al-Barnawi, a figure supported by Daesh Takfiri group.
A vigilante force in Magumeri said residents who had fled the town to nearby bushes returned to their homes after troops took control.
"This is a classic Boko Haram attack: to loot supplies and assert their presence," said the vigilante fighter from Nigeria's Civilian Joint Task Force, adding, "Even if troops hadn't deployed they would have withdrawn after looting and destruction."
3 soldiers killed, six wounded
The military said in a Sunday statement that three soldiers were killed and another six others were wounded in the clashes in Magumeri.
Colonel Timothy Antigha, a spokesman for 8 Task Force Division Nigerian Army, said the casualties came during an initial confrontation between soldiers and militants in a forward operating base in Magumeri.
"The troops fought gallantly. Unfortunately, three soldiers lost their lives while six others sustained injuries," Antigha said.
Boko Haram has yet to claim the attack, the latest in a string of smash-and-grab raids by the group which experts say are meant to obtain food and supplies.
More than 20,000 have been killed and over 2.5 million have been displaced in almost eight years of insurgency by Boko Haram in northern Nigeria and neighboring countries of Chad, Niger and Cameroon. Nigerian authorities claim the group has "technically" been defeated as a result of a massive operation that began in early 2015. However, civilians and security forces in northern Nigeria are still targeted in sporadic attacks. At least 50 people were killed this week in the town of Mubi in Adamawa state when a teenage recruit of Boko Haram detonated his explosives inside a mosque crowded by the Muslims.
http://www.presstv.com/Detail/2017/11/26/543559/Nigeria-Boko-Haram-attack-Borno
--------
US seeks to divide Sudan into 5 parts: President Bashir
Nov 25, 2017
Sudanese President Omar al-Bashir says the US seeks to divide his country into five regions, more than a month after Washington announced that it had lifted its strict sanctions on the east African country.
"We have information that the US desire is to divide Sudan into five states if we don't find protection," said the Sudanese leader in an interview with the RIA Novosti agency. The transcript of the interview was published on Saturday.
Bashir added that his respective country faced "great pressure" from Washington, which he blames for "ravaging the Arab world," referring to the situations in Iraq, Syria and Yemen as examples.
Some 20 years ago, the White House imposed a tough trade embargo against Sudan, accusing Khartoum of serving as a safe haven for Osama bin Laden, who allegedly spent five years there before being expelled in 1996.
On October 6, the administration of US President Donald Trump announced that it was ending US sanctions against the poor country. Washington also dropped Sudan from a travel ban list in September after being in place for some eight months.
The original travel ban, which came right after Trump assumed office in January, targeted six Muslim-majority countries, including Sudan. The ban had faced growing opposition from rights campaigners and governments while courts in the US had also ordered its partial annulment. The new list targets North Korea, Chad, Venezuela, Iran, Libya, Somalia, Syria and Yemen.
Trump's removal of Sudan from the list and his potential decision to permanently lift the US sanctions imposed on the African country in 1997 comes after Khartoum clearly adopted a shift in its foreign policy.
Khartoum has sided with Saudi Arabia, a close ally of the US, in regional conflicts, a policy which seems to have appeased Washington.
However, President Bashir did not provide details on why he thought the US wanted to divide his country after it lifted the crippling sanctions on the African country. The Sudanese leader, instead, announced that Khartoum had requested Russian warplanes and that it could further ask for S-300 air defense systems.
"We requested Su-30 [fighters] because they cover the Sudanese airspace, as well as Su-35. We have no intentions to carry out aggression abroad, we want to protect our country," Bashir said
On Thursday, the Sudanese president met his Russian counterpart Vladimir Putin and Russia's Defense Minister Sergey Shoigu in the coastal Russian city of Sochi. After the meeting, Bashir said that they had discussed the creation of a military base on the Red Sea, expressing readiness to renew military-technical cooperation with Moscow.
Bashir added on Thursday that his country needed "protection from the aggressive actions of the US," as he believed that the division of Sudan into two parts in 2011 was a result of American policy. Since 2013, tens of thousands of people have lost their lives in South Sudan due to a civil war.
Full report at:
http://www.presstv.com/Detail/2017/11/25/543483/Sudan-US-sanctions-Bashir
--------
31 refugees drown off Libya trying to reach Europe
26 November 2017
At least 31 refugees who were trying to cross to Europe from Libya drowned on Saturday, a Libyan military spokesperson said.
Capt. Ayoub Qasim, Libyan Naval Forces spokesman, told Anadolu Agency that coast guard teams reached the bodies of 31 refugees east of the capital Tripoli.
A total of 35 others were rescued, Qasim added.
The boat carrying the refugees had left the Libyan coast on Friday night, but sunk while it was trying to reach Europe, he added.
Qasim said that there were children among the victims and all the refugees were African nationals.
According to the UN, nearly 151,000 refugees entered Europe by the Mediterranean so far in 2017, compared to some 335,000 by this point period last year.
Full report at:
http://www.worldbulletin.net/africa/196285/31-refugees-drown-off-libya-trying-to-reach-europe
--------
Nigeria: Boko Haram Kills Three Soldiers, Wounds Six in Borno
27 NOVEMBER 2017
By Terhemba Daka, Segun Olaniyi, Njadvara Musa and Abdulganiu Alabi
A Boko Haram raid on a military base in Magumeri of Borno State on Saturday has claimed three soldiers. The insurgents wounded six others.The Deputy Director Public Relations of 8 Task Force Division, Col Timothy Antigha disclosed this on Sunday in a statement in Maiduguri.He said the insurgents, were repelled by troops stationed at the various military posts around the council headquarters of Magumeri Local Government Area.Magumeri is a farming and herding community, about 40 kilometres north of Maiduguri, the state capital.
According to Antigha: "As a prelude to the intended attack on the town, the terrorists attempted to dislodge the Forward Operational
Base in Magumeri, Borno State."However, soldiers of 5 Brigade Garrison located in town repelled the attack. The troops fought gallantly. Unfortunately, three soldiers lost their lives; while six others sustained injuries."
He said the bodies and injured soldiers have been evacuated for deposition and treatment at a military hospital.He said further developments on the attacks and repulsion will be communicated accordingly.
Antigha also assured residents of Magumeri that everything was being done to ensure the security of lives and property.He said the residents should continue to pursue their legitimate businesses without any fear.
Meanwhile, President Muhammadu Buhari has renewed his commitment to bring back all the Chibok Girls held by terrorists operating in the Northeast using all possible means, just as he expressed appreciation of the progress made in the rehabilitation of the 106 freed and now back in school.
A statement signed by his Senior Special Assistant on media and publicity, Garba Shehu, yesterday said the president, who was reviewing the progress report submitted to him in line with his commitment to personally monitor the rehabilitation and reintegration into society of the freed Chibok girls also gave assurances that government will provide full support for their education.
According to the progress report received by the president, the decision to pursue avenues in addition to military action to free the abducted girls is in the resolve to protect the lives of all Nigerians, to end the insurgency in the northeast of the country, and to fulfill one of the campaign promises of the president.
In line with this, the Federal Government entered into negotiations with the Boko Haram Terrorist group for the release of the Chibok girls who were kidnapped from their school dormitory on the night of April 14, 2014.So far, two batches of 21 and 82 girls have been freed as a result of those negotiations. Three additional girls were rescued by the gallant efforts of our armed forces, bringing the total number of freed Chibok girls so far to 106.
The president has also approved N164.7 million for the payment of second semester school fees of the Chibok girls at the American University of Nigeria (AUN), Yola, Adamawa.
And following the recent renewed attacks by Boko Haram that led to bombings in place like Mubi, Maiduguri and Yobe states, Islamic clerics yesterday held a special prayer to address the menace.
At the Yahaya Road Mosque, the Chief Imam, Alhaji Alhassan Ibrahim led the congregation into a prayer session, saying, the faithful can no long fold their arms while lives are being destroyed on daily basis.
He said the Mubi attack is a blow on the Muslim community because over 100 people were killed while observing the early morning prayers. They prayed for Allah to forgive the departed souls and reward them with paradise.
Full report at:
http://allafrica.com/stories/201711270094.html
--------
North America
Homeless people in US surpass 47 Turkish cities
26 November 2017
The number of homeless people in the U.S. is more than the population of 47 cities in Turkey, according to data.
In the U.S., there were approximately 550,000 homeless people last year, according to the country's Department of Housing and Urban Development.
While this number is higher than the population of Turkey's eastern city of Agri in 2016, it is nearly seven-fold of eastern city of Tunceli's population, the Turkish Statistical Institute data shows.
Out of the 550,000 homeless in the U.S., 355,000 were individuals -- more than the population of Kirklareli -- and 195,000 were families with children, which is more than the population of Igdir or Bartin.
Poverty and unemployment are the major reasons for homelessness in the country with the world's biggest economy, according to the Salvation Army. Lack of affordable housing, poor physical or mental health, drug and alcohol abuse, gambling, family and relationship breakdown, as well as domestic violence are other reasons.
On the streets of New York, the U.S.' financial capital and biggest city, one can look at the signs people carry as a window to their lives, "Lost my job and home", "Homeless with kids and pregnant" and "U.S. veteran. Fought for my country. Where is the government?"
Around 11 percent, or more than 60,000, of the homeless are veterans, while 8.8 percent of those are between the ages of 18-30, according to the National Coalition of Homeless Veterans (NCHV).
While 1.4 million other veterans face the risk of homelessness, around 12,700 veterans who fought in Iraq from 2003 onwards became homeless in 2010, NCHV said.
New York and New Jersey metropolitan areas had the highest number of homeless people in the U.S. last year with 86,000. While Los Angeles came in second with 51,000, Seattle had 13,400 homeless people in 2016. Houston, Dallas and San Antonio in the state of Texas had a total of 14,000 homeless people last year, and Miami had 8,000.
http://www.worldbulletin.net/america-canada/196278/homeless-people-in-us-surpass-47-turkish-cities
--------
Terrorist travellers returning to Canada can be rehabilitated, leading researcher says
Nov 27, 2017
A leading researcher on terrorist travellers says returnees to Canada can be rehabilitated, since those who come back to their home countries are often disillusioned or traumatized.
Others feel they have done their duty to defend Muslim lands and want to lead a more normal life, says Lorne Dawson, a sociology professor at the University of Waterloo and project director for the Canadian Network for Research on Terrorism, Security and Society.
As forces of the Islamic State of Iraq and the Levant scatter, the Liberal government is under pressure to explain what it's doing to contain any threat from foreign fighters returning to Canada.
The Conservatives have peppered the government with questions in the House of Commons about ensuring the safety of Canadians – accusing the Liberals of welcoming returnees with open arms.
Dawson says simply locking up extremist travellers is not the answer.
"No credible expert in the world thinks you arrest your way out of jihadist radicalization – it's a social movement," he said Sunday in an interview. "You can't possibly arrest all the people who are engaged with this ideology."
The Canadian Security Intelligence Service has said it is aware of 180 individuals with a nexus to Canada who are suspected of terrorist activity abroad. This could involve front-line fighting, training, logistical support, fundraising or studying at extremist-influenced schools.
Half of these individuals are believed to have travelled to Syria or Iraq.
The intelligence service has also noted a further 60 extremist travellers who have returned to Canada.
But there appears to be scant information about who they are – and what threat they might pose.
Dawson says his researchers know of about a dozen jihadist returnees to Canada from the Syrian-Iraqi conflict.
"If there's 30, 40 more, we'd be really astounded that we haven't heard something," he said.
"I think there's some kind of confusion going on."
Public Safety Minister Ralph Goodale says the shifting dynamic in Syria and Iraq has the government watching for more extremist-inspired activity on the internet as well as working with allies to track the movements of foreign fighters.
"Where will they go? Will they migrate to Northern Africa? Will they try to get into Europe?" Goodale said during an interview with CTV Question Period broadcast on Sunday.
Prosecuting battlefield returnees to Canada is difficult because there must be evidence that will stand up in court, Goodale said. "And this is an issue that is bedevilling countries around the world in terms of how you actually move from intelligence to evidence, and make a case stick."
He said the chances of turning around someone who has actively engaged in terrorist activities in a war zone were "pretty remote".
Dawson disagrees.
"I think it is possible you could rehabilitate them," he said. "But only with a very careful effort, which we're not well-equipped for in Canada right now."
Dawson's network receives money for research on foreign fighters through a fund administered by the federal Centre for Community Engagement and Prevention of Violence, established by the federal Liberals.
But he believes Canada is playing catchup with other countries when it comes to counter-radicalization efforts.
He points a finger at the previous Conservative government, saying its contribution was limited to providing "minimal funding" for the RCMP's outreach program.
Full report at:
https://www.theglobeandmail.com/news/national/terrorist-travellers-returning-to-canada-can-be-rehabilitated-leading-researcher-says/article37090496/
--------
URL: https://www.newageislam.com/islamic-world-news/41-muslim-countries-vow-combat/d/113368
New Age Islam, Islam Online, Islamic Website, African Muslim News, Arab World News, South Asia News, Indian Muslim News, World Muslim News, Women in Islam, Islamic Feminism, Arab Women, Women In Arab, Islamophobia in America, Muslim Women in West, Islam Women and Feminism