New Age Islam News Bureau
6 May 2013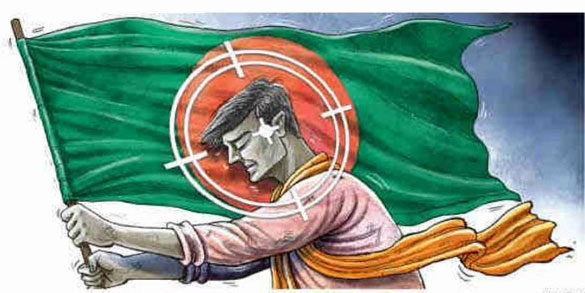 Police used sound grenades, water cannon, tear gas and rubber bullets to disperse at least 70,000 Islamists. (AFP)
---------
South Asia
• 32 Dead As Police Clash With Bangladesh Islamists Demanding Severe Anti-Blasphemy Law
• Myanmar Islamic clerics condemn "Jihad"
• 3 lawmen among 7 killed in Bangladesh
• Solution to Rohingyas lies within Myanmar, says Bangladesh FM
• Dhaka vows to punish Saudi diplomat's killers
------------
Pakistan
• Protests over Prophet's Companion's shrine destruction by Al Qaida groups in Syria
• Exploiting religion in politics, mostly by JUI (F)
• 15 killed in Balochistan gun battle
• Bomb at pro-Taliban party rally kills 14
• Christians vote for protection in Pakistan
• Two soldiers, 35 militants killed in Fata clashes
• Clash resumes on contested Afghan, Pakistan border area: officials
• Support for dialogue with Taliban: Army must follow govt policy: Nawaz
• Destroyers cannot be constructors, says Imran
• 90,000 fake ballot papers seized in Dir
• 3 dead in attack on Sibi poll rally
------------
Arab world
• Booze and Bikinis Are Welcome in Egypt
• 'Islamist' gunmen kill alcohol seller in Egypt's Sinai
• UN has testimony that Syrian rebels used Sarin gas
• Egyptian Premier's Motorcade Comes Under Attack
• Egypt Christians face uncertain future as kidnappings mount
• Syrian fighters shoot down regime helicopter in east, 'killing' troops
• Arab League condemn Israeli 'attacks' in Syria
• Palestinian leader Abbas meets China's Xi
------------
Mideast
• Four killed and six injured in ongoing tribal confrontations in Sana'a
• Airstrikes Tied to Israel May Be Message to Iranians
• Turkey, Israel to meet on raid compensation
• Iran: Quake rattles region near nuke reactor, no loss
------------
Africa
• Suicide attack on Qatari convoy in Somalia; 11 dead
• 'Terrorist' attack on Tanzanian church leaves two dead
• Libya parliament bans Gaddafi-era officials
------------
Southeast Asia
• Malaysia's Governing Coalition Keeps Hold on Power
• Indonesia a model of Islam and democratic compatibility
• Malaysian Indian Congress underperforms in polls
• Saudi King frees 141 jailed Indonesians
------------
India
• Islamic seminary Nadwatul Ulema blast accused to be arrested soon: U P CM
• Development eludes Muslims: MoMA
• Saudi Kingdom has highest number of Indians jailed abroad
• Pakistan High Commissioner visits Sanaullah in hospital
• Time-bound enquiry into attack on Pak prisoner in Jammu jail: CM
• 2008 Blast: Shahid Nagori sent to nine-day remand
------------------------
North America
• LA Muslims see hope for interfaith relations in the new Catholic Pope Francis
• McCain Says Airstrikes in Syria Put Pressure on Obama to Act
Compiled by New Age Islam News Bureau
URL: https://www.newageislam.com/islamic-world-news/new-age-islam-news-bureau/32-dead-as-police-clash-with-bangladesh-islamists-demanding-severe-anti-blasphemy-law/d/11442
------------
South Asia
32 Dead As Police Clash With Bangladesh Islamists Demanding Severe Anti-Blasphemy Law
May 06, 2013
Dhaka: Bangladeshi police broke up a protest by tens of thousands of religious hardliners and shut down an Islamist television station Monday after 32 people were killed in running battles on the streets of Dhaka.
In some of the fiercest violence to rock the capital since independence four decades ago, hundreds more people were reported to have been injured as riot police broke up the rally near a key commercial district in a pre-dawn raid.
Dozens of demonstrators were also arrested while the leader of the protests was put on a plane to the second city Chittagong.
Hundreds of bankers, insurance officials and stock traders had to sleep in their offices as the sound of gunfire echoed around the Motijheel Commercial Area through much of the night.
Shops were torched and thousands of rocks littered the ground, said witnesses.
Police said they used sound grenades, water cannon, tear gas and rubber bullets to disperse at least 70,000 Islamists who were camped at Motijheel as part of a push for a new blasphemy law.
"We were forced to act after they unlawfully continued their gathering at Motijheel. They attacked us with bricks, stones, rods and bamboo sticks," Dhaka police spokesman Masudur Rahman told AFP.
The protesters dispersed early Monday, he added.
Mozammel Haq, a police inspector at Dhaka Medical College Hospital, told AFP that 11 bodies were brought to the clinic, including a policeman who had been hacked in the head with machetes.
Eleven other bodies were taken to three other clinics. Hospital officials said hundreds of people were injured.
There was also deadly violence at Kanchpur on the southeastern outskirts of Dhaka. More than 5,000 Islamists clashed with police and border guards, prompting security forces to respond with live rounds, local police chief Abdul Matin told AFP.
At least six people were killed there including three policemen and a border guard, police official Rezaul Karim told AFP. The private Somoy TV put the toll in Kanchpur at 13.
A pro-Islamist television channel which broadcast live footage of the raid on Motijheel was meanwhile forced off the air in a dawn raid.
Diganta Television's chief reporter M. Kamruzzaman said that around 25 plain-clothed policemen and an official from the broadcast commission had entered their studios without warning.
The violence erupted Sunday afternoon after police tried to disperse tens of thousands of Islamists who had blocked major highways in Dhaka.
The protests had been instigated by Allama Shah Ahmad Shafi, the leader of Hefazat-e-Islam who is said to be around 90 years old.
Police managed to persuade Shafi on Monday to leave his madrasa in Dhaka, escorting him to the airport from where he was to be flown to Chittagong.
In a sign of their wish to avoid inflaming tensions, police insisted he had not been arrested but was leaving of his own volition.
Prime Minister Sheikh Hasina has ruled out a new blasphemy law, insisting she will not cave into the demands of hardliners who have been infuriated by bloggers whom they accuse of insulting the Prophet Mohammed.
Chanting "One point, One demand: Atheists must be hanged", activists from the hard-line Hefazat-e-Islam marched along at least six highways.
Police said the number of protesters reached around 200,000 people at one point although the numbers had dwindled by the early hours.
Social media networks were inundated with photos of bloodied Islamists lying on the streets after the crackdown.
Fearing further violence, Dhaka police Monday banned all protests as well as the carrying of firearms until midnight.
Bangladesh, an officially secular country with a 90 percent Muslim population, has seen a surge in violence between Islamists and government forces since the start of the year when a court began handing down war crimes verdicts related to the 1971 independence conflict.
Three leading Islamists have so far been convicted for their role in mass killings during the conflict, which saw what East Pakistan break from the regime in Islamabad was then.
The overall death toll in violence between religious hardliners and the police since January now stands at more than 140.
http://www.ndtv.com/article/world/32-dead-as-bangladesh-islamists-demand-blasphemy-law-363373
------------
Myanmar Islamic clerics condemn "Jihad"
06 May 2013
Islamic clerics in Myanmar differ on the religious incitement from foreign countries and terrorisms within the country under the title of "Jihad".
According to the Islamic religious leaders in Myanmar, "Jihad" means doing the good deeds, and so do Muslim people in Myanmar. They adopt themselves as the compatriots of Myanmar. They condemn any action of terrorism, ruining Myanmar and her public well-beings.
Vice President of the Islam Religious Affairs Council Myanmar, Aye Kyu said "All Islamists have to value the country's well-beings since we take the country's shelter. We all will cooperate with Myanmar people to protest against terrorists. We don't want such kinds of insult in the name of jihad."
There are five big organizations of Muslim in Myanmar – Myanmar Muslim Youths Organization, Islam Religious Affairs Council, Ulema El Islam (Myanmar), Myanmar Muslim National Affairs Organization and Mawlawee Organization.
The leader of Islamic militants Abu Bakar Bashir, currently in prison in his country threatened jihad against Myanmar. A few hours after he said, terrorist were arrested for attempting to bomb the Myanmar Embassy in Indonesia.
Myanmar Police Forces are informed that the country will be attacked unexpectedly by foreign terrorists. Security has tightened across the country.
http://elevenmyanmar.com/national/3356-myanmar-islam-leaders-condemn-jihad
------------
3 lawmen among 7 killed in Bangladesh
MAY 06, 2013
Seven including three law enforcers and two garments workers were killed and over 50 hurt when Hefazat-e Islam activists clashed with security forces at Kanchpur in Narayanganj Monday morning couple of hours after the group was driven off the capital.
While witnesses identified another dead victim as a transport worker, local Hefajat leaders claimed the other victim as their activist, reported our Narayanganj correspondent.
Of the lawmen, two were members of police and the other of Border Guard Bangladesh. Their details could not be known immediately.
The other four are Jasimuddin, 32, a transport worker, Jewel, 25, and Hannan, workers of Sinha Garment and Al Amin Sweater Factory, and Babu Gazi.
The Hefajat men fought pitched battle with the law enforcers when a joint team of police, Rab and BGB went to raid a madrasa at Sanarpara in Siddhirganj after Fazr prayers.
During the incident, the marauding Hefajat men also torched and vandalised around 10 vehicles including a van of Rapid Action Battalion.
Police fired several hundreds of gunshots, rubber bullets and teargas shells to disperse the unruly activists.
Transport movement on Dhaka-Chittagong highway remains suspended following the clashes till 11:00am when this report was filed.
The clashes erupted hours after Hefajat leaders and activists were flushed out from Shapla Chattar in the capital's commercial hub Motijheel where they took position since Sunday afternoon to press home their 13-point demand including stern punishment to "atheist leaders" of the Shahbagh movement.
Locals said a joint team of police, Rab and BGB (Border Guard Bangladesh) went to raid Madaninagar Madrasa at Sanarpara in Siddhirganj after the Fazr prayer but faced resistance from the madrasa authorities.
As the authorities made an announcement about the police action through a loudspeaker, hundreds of Hefajat men joined the madrasa staff and students and clashed with the law enforcers.
The clash soon spread to at least 10 spots at Sanarpara, leaving four people on the spot and over 50 people injured.
The injured, which included at least 10 law enforcers, were rushed to Khanpur 200-bed Hospital.
Two police and one BGB personnel were declared dead when they were taken to Dhaka Medical College Hospital, hospital sources said.
Deputy Commissioner of Narayanganj Monoj Kanti Boral and Civil Surgeon Dulal Chandra Chowdhury visited the 200-hospital.
http://www.thedailystar.net/beta2/news/hefajat-men-clash-with-cops-in-narayanganj-50-hurt/
------------
Solution to Rohingyas lies within Myanmar, says Bangladesh FM
IRFAN MOHAMMED
6 May 2013
JEDDAH: The solution to end the violence that has led to thousands of Rohingya Muslims fleeing Myanmar for Bangladesh rests with the Myanmar government, Bangladesh Foreign Minister Dipu Moni told Arab News in an exclusive interview yesterday.
She said her country has raised the plight of Myanmar refugees in the OIC and the UN, but the issue is an internal matter that only Myanmar is able to solve. "(The) solution lies where the problem exists, and the solution has to be found within Myanmar."
The Rakhine state of Myanmar has been wracked by sectarian violence. An estimated 500,000 Muslim refugees have crossed the border into Bangladesh, but only 29,000 are in the country legally. Rohingya Muslims have been the target of Buddhist-led attacks and their killings have been described by human rights organizations as ethnic cleansing.
Moni said the continuing attacks have taken a financial toll on Bangladesh since the influx of Burmese refugees has continued for the last three decades. She said her country is providing health care and education to all refugees.
She added that although her country is not a signatory to the convention relating to the status of refugees, Bangladesh has taken a humanitarian approach to the Burmese refugee problem.
"With our tragedy in 1970, where 10 million Bangla-speaking refugees took shelter in India, we have suffered enough and can understand the plight and pain (of the refugees)," Moni said.
At entry points where refugees have been denied entry, the Dhaka government provides fuel for boats and food while the government continues to negotiate with Myanmar.
Moni said Bangladesh is willing to handle the rehabilitation of refugees upon their return to the co untry.
http://www.arabnews.com/news/450608
------------
Dhaka vows to punish Saudi diplomat's killers
MD RASOOLDEEN
6 May 2013
RIYADH: Bangladesh Foreign Minister Dipu Moni, who wrapped up a two-day visit to the Kingdom yesterday, told Arab News that her government was closely following up on the murder case of a Saudi diplomat in Dhaka to ensure that the capital punishment was applied to all of the convicts involved in the killing.
A Bangladeshi court has sentenced five people to death for killing Saudi diplomat Khalaf bin Mohammed Salem Al-Ali in Dhaka in March last year.
The five killers were found guilty by a summary court in Dhaka last December. The convicts were Al-Amin, Khokun, Lalu, Mamoon and Seleem, the last named still on the run.
"Soon after the murder, my government launched a countrywide search for the criminals who were responsible for the death of Saudi diplomat Khalaf bin Mohammed Salem Al-Ali," the minister said, pointing out that the government was successful in bringing the culprits to book. "The fifth will be captured soon. The case is currently under appeal and we will see to it that all the killers get the punishment they deserve," she said.
"This was was the first time that such a heinous crime was committed against a foreign diplomat in the annals of Bangladesh," she regretted. Moni, who arrived in Jeddah Saturday, held talks with Crown Prince Salman, deputy premier and minister of defense, her counterpart Prince Saud Al-Faisal and Labor Minister Adel Fakeih.
During a meeting with the Crown Prince Salman, Moni handed a letter from Prime Minister Sheikh Hasina, appealing to Custodian of the Two Holy Mosques King Abdullah to lift a ban on the transfer of iqamas for Bangladeshi workers. She appreciated the grace period offered by the king but said Bangladeshis could not avail themselves of this facility in the face of the ban. Moni said that during her talks with the labor minister, she was assured of positive steps to help Bangladeshi workers to regularize their visa status in accordance with the Nitaqat program.
http://www.arabnews.com/news/450637
------------
Pakistan
Protests over Prophet's Companion's shrine destruction by Al Qaida groups in Syria
May 06, 2013
The Majlis-e-Wahdat-ul-Muslimeen Pakistan on Sunday held a demonstration outside the Press Club against destruction of shrine of Hujr Ibn Adi in Syria by Al-Qaida groups.
A large number of protesters including women and children participated in the protest. Addressing the protesters, the speakers said: "It is shocking to hear the news of attack on the holy shrine of Hujr ibn Adi in Syria. Al-Qaida terrorists in Damascus have desecrated the shrine of Hazrath Hujr ibn Adi, who was the pious companion of Prophet Muhammad (PBUH)."
"The Al-Qaida terrorists destroyed the shrine and exhumed the grave of Hujr Ibn Adi in the Damascus suburb of Adra and took his body to an unknown place. The shrine of the great companion, Hujr Ibn Adi, is one of the most important shrines for all the Muslims, and violating and digging his grave in this way reveals a terrorist and criminal mentality that neither respect Muslim nor any other religious sanctities," they added.
Hujr ibn Adi was executed along with his son in 660 CE during the Umayyad rule.
They said, "MWM draws attention to the current situation of Syria, which is in no way comparable with the situation of other Arab revolutions. The violence in Syria is being orchestrated from outside the country, and there are reports that a large number of the insurgents are foreign nationals. The West and its regional allies Qatar, Saudi Arabia, and Turkey are supporting the armed groups."
Full report at:
http://www.nation.com.pk/pakistan-news-newspaper-daily-english-online/lahore/06-May-2013/mwm-protests-hujr-ibn-adi-s-shrine-destruction
------------
Exploiting religion in politics, mostly by JUI (F)
May 06, 2013
RELIGION has widely been used during electioneering in the past and the present elections are no exception but this time round it is mostly confined to JUI(F), which is exploiting the religion to muster support for the party and create doubts about credentials of other political parties and personalities especially PTI.
In fact, Imran Khan too has been over-stepping moral bounds in attacking other leaders and he has repeatedly termed Maulana Fazl ur Rehman as 'Munafiq' (hypocrite). Responding in same coin, Maulana has described Imran as agent of Jewish lobby that is pumping huge money to fund his election campaign and also alleged that Imran is widely being supported by Ahmadis, a charge Imran has denied. But on the basis of these two notions, JUI (F) leader has issued a fatwa (religious decree though not formally) that it is forbidden (Haram) to vote for Imran Khan. This is clearly an attempt to use Islam for political advantage, which should have been avoided by all. JUI (F) is known for its exploitation of the religion to secure votes and that is why it fought for allotment of the symbol of 'book'. Imran too has been narrating verses of the Holy Quran and quoting the Holy Prophet (PBUH) and caliphs to establish his credentials amongst religious circles and appeal voters. We believe that instead of misusing religion, leaders should focus their attention to numerous other burning issues facing the country like terrorism, extremism, deteriorating security environment, falling economy, unemployment, poverty and neglected health and education sectors. They should come out with out-of-box solutions to crises like gas and power load-shedding and ways and means to forge national unity.
Full report at:
http://pakobserver.net/detailnews.asp?id=205855
------------
15 killed in Balochistan gun battle
May 06, 2013
Quetta - Thirteen alleged dacoits and two Frontier Corps (FC) personnel were killed in a gunfight in Kachhi district of Balochistan, on Sunday.
According to FC spokesman, they received information that some 'terrorists' at a house in Bagh area of Sibi were planning to sabotage the electoral process, and they carried out a raid early in the morning.
The accused opened fire on FC men, killing two of them and wounding another while 13 accused were killed, including a 'commander' namely Gulbar Mugari who had Rs6 million reward money on his head, he added.
"The injured FC soldier has been shifted to CMH Quetta for medical aid," the spokesman said, adding that the raiding team recovered arms and weapons, including one 7MM rifle and more than 2,000 rounds in the operation. After search, the demolished hideout of the accused was handed over to the local administration.
Kachhi Deputy Commissioner Abdul Waheed Shah said the place was a hideout of dacoits and Gulbar Mugari was wanted by Sindh govt. "Six alleged dacoits killed in firing belonged to Sindh and some were also from Shadadkot," he added. FC IG Maj-Gen Obaidullah lauded the performance of Sibi Scouts and paid tribute to the martyred FC personnel.
Full report at:
http://www.nation.com.pk/pakistan-news-newspaper-daily-english-online/national/06-May-2013/15-killed-in-balochistan-gunbattle
------------
Bomb at pro-Taliban party rally kills 14
May 6, 2013
A Pakistani official says a bomb blast has killed at least 14 people at an election campaign rally of a pro-Taliban party in the country's northwest. Javed Khan, a government administrator in the Kurram tribal region where the bombing took place, says Monday's attack also wounded 50
people.
He says the bomb was apparently planted near the main stage of the rally.
Khan says two party leaders escaped unhurt. No one immediately claimed responsibility for the blast.
Full report at:
http://www.hindustantimes.com/world-news/Pakistan/Pak-Bomb-at-pro-Taliban-party-rally-kills-14/Article1-1055697.aspx
--------
Christians vote for protection in Pakistan
May 6, 2013
LAHORE: Christians in a Lahore slum where angry people torched more than 100 homes say Pakistan's two largest parties offer the only hope of protection at this week's general election.
The Pakistan Muslim League-N of Nawaz Sharif, a man accused of being soft on the Taliban but tipped to win Saturday's polls, and the main outgoing Pakistan People's Party both gave affected families $5,000 each in compensation.
PML-N is the party in power in Punjab province, the home of the largest Christian community in Pakistan. PPP led the outgoing federal government.
While in the northwest, Christians feel religious parties offer them more protection, voters in Joseph Colony say they will opt for PML-N for the regional assembly and PPP for the national assembly, in gratitude for their support.
"They helped us cover our losses and gave 500,000 rupees ($5,000) to each family. So all of us have decided to vote for them," said factory worker Sohail Masih.
Pakistan's 86 million registered voters go to the polls on Saturday to elect four provincial assemblies and 272 lawmakers directly into the national assembly.
In the lower house of parliament, another 60 seats are allotted to women and 10 to religious minorities on a party ticket based on proportional representation.
Christians cannot directly elect Christian lawmakers. They vote like everyone else for different parties, which in turn choose their Christian candidates, in a process criticised as "selection" not election.
Only two per cent of Pakistan's overwhelmingly Muslim population of 180 million are Christian. The community is poor and complains of increasing discrimination.
Last week, the US Commission on International Religious Freedom warned that the risk to Pakistan's minorities has reached crisis level. It said blasphemy and other laws are used to "violate religious freedoms and foster a climate of impunity".
Campaigners argue that blasphemy legislation, for which the maximum penalty is death, is often abused to settle personal scores and should be reformed.
Punjab has seen some of the worst cases. A Christian mother was sentenced to death for blasphemy in 2010. In the town of Gojra in 2009, a mob burned 77 houses and killed seven people after rumours that a Quran had been desecrated.
Last year, a young Christian girl spent three weeks in jail after being accused of blasphemy before the case was thrown out, although she and her family have been in hiding ever since, fearing for their lives.
Salman Taseer a leading PPP politician, a Muslim and the governor of Punjab, who called for the blasphemy law to be reformed, was shot dead by his bodyguard in protest in January 2011.
At the Sacred Heart of Jesus Cathedral, established in downtown Lahore in 1907, Father Andrew Niasari said his congregation feared conservative political parties and favoured the PML-N and PPP.
"Christians are afraid of these parties, therefore Christians go to liberal parties, progressive parties," he told AFP.
Full report at:
http://dawn.com/2013/05/06/christians-vote-for-protection-in-pakistan/
------------
Two soldiers, 35 militants killed in Fata clashes
May 06, 2013
At least 35 militants were killed and two of their hideouts destroyed during army's ongoing operation in Orakzai and Khyber tribal regions on Sunday. Military officials said two soldiers were also martyred and three others injured in skirmishes with militant groups loyal to Taliban and al Qaeda.
In Sangak Kandao area of Orakzai Agency six militants were killed and five others wounded when security forces clashed with militants. An army captain Nasim and a sepoy Gulfal also got wounded in the pitched gunbattle which lasted more than two hours. The injured soldiers were ferried to a military hospital in Kalaya area.
Meanwhile, war planes pounded militant positions in Kismat Sangar area of Upper Orakzai Agency, killing 13 militants and wounding five others. Two terrorist hideouts were also destroyed. A military statement added 13 insurgents, a militant commander among them, were killed in security forces operation in Kismat Sangar area. Security forces also conducted an operation in Tirah Valley of Khyber Agency, eliminating 16 terrorists in the operation and recovering a huge cache of arms and ammunition. Scores of other militants fled from the area leaving behind a huge stash of weapons and ammunition, which was seized by security forces. Security forces also captured two militant strongholds in Tirah Valley after successful operations.
Full report at:
http://www.nation.com.pk/pakistan-news-newspaper-daily-english-online/national/06-May-2013/two-soldiers-35-militants-killed-in-fata-clashes
------------
Clash resumes on contested Afghan, Pakistan border area: officials
2013-05-06
JALALABAD: Afghan and Pakistan troops exchanged fire on Monday at a contested border area in eastern Afghanistan days after an Afghan border policeman was killed, Afghan officials said.
Two senior officials from Nangarhar province where the clash took place told Reuters that fighting resumed after Pakistani troops attempted to repair a gate damaged in the previous clash.
The clash on Thursday, in the border district of Goshta, drew nationwide condemnation in Afghanistan, and saw protests in the east and in the capital, Kabul.
Moreover, the Spokesperson of the Foreign Office said responding to a query regarding President Karzai's recent press conference in Kabul that Durand-line is a settled issue. Opening discussions on this issue is a distraction from the more pressing issues requiring the priority attention and cooperation of Pakistan and Afghanistan.
Full report at:
http://beta.dawn.com/news/812285/clash-resumes-on-contested-afghan-pakistan-border-area-officials
------------
Support for dialogue with Taliban: Army must follow govt policy: Nawaz
May 6, 2013
KARACHI, May 5: In remarks likely to raise eyebrows in the establishment, PML-N chief Nawaz Sharif expressed his intention on Sunday to change the current nature of relations between the civilian government and the army leadership if he became prime minister for a third time as a result of general elections to be held later this week.
In back-to-back interviews to CNN-IBN and Reuters, Mr Sharif touched several key issues, notably the war against terrorism, possibility of negotiations with the Pakistani Taliban, civilian supremacy over the army and economy.
When asked by CNN-IBN's Karan Thapar in the Devil's Advocate special programme from Lahore whether Nawaz Sharif as the prime minister would like the army to continue to exercise its role in controlling relations with the US and India and the security policy as happened under the PPP-led government, the PML-N leader said: "I don't know whether that's happening…in Islamabad, all I know is when I was the prime minister the policy was being formulated by the federal government, by the civilian head of state and then of course executed by the institutions…"
Thapar interrupted: "And you want that to continue?"
Sharif: "I want that to continue and I'm very clear on that and that everybody must remain in their respective domains and go by the…"
Thapar: "Which means the prime minister will be the army chief's boss?"
Sharif: "He is. He is…the army is an attached department of the federal government and of course the chief of army staff works under the federal government and implements the policies of the federal government. So I think, as I just mentioned, I don't know if that's happening in Islamabad but I believe it's not happening like that but if…"
Thapar: "But you will enforce it when you come to power."
Sharif: "That's what the constitution says, that's what our law says and that's what the mandate is of the federal government."
Thapar: "Imran Khan keeps saying he will quit the American war on terror."
Sharif: "He is jumping the gun."
Talking to Reuters, Mr Sharif said the country should reconsider its support for the US war on militancy and suggested that he was in favour of negotiations with the Taliban.
He said the military's US-backed campaign against the Taliban was not the best way to defeat the insurgency.
"I think guns and bullets are always not the answer to such problems," he said.
"I think other options need to be explored at the same time and see what is workable. And I think we're going to pursue all these other options."
The PML-N leader wants a review of the backing provided for the US war on militancy under the previous government's approach.
"Someone will have to take this problem seriously," said Mr Sharif. "All stakeholders will have to sit down together and understand the concerns of all parties and then take a decision, which is in the best interest of Pakistan and the international community."
Born into a family of wealthy industrialists, Mr Sharif reflected on Pakistan's turbulent history, especially the army's habit of mounting coups and meddling in politics.
He became sombre as he recalled how a former army chief and later president, Pervez Musharraf, toppled his government. "It was a very bad day for Pakistan," said Mr Sharif.
He said Gen Musharraf's plight should serve as an example to other top brass who may be planning a takeover.
Full report at:
http://dawn.com/2013/05/06/support-for-dialogue-with-taliban-army-must-follow-govt-policy-nawaz/
------------
Destroyers cannot be constructors, says Imran
May 06, 2013
Chiniot/Faisalabad/Jhang - Imran Khan has reiterated that if elected, his party would transform Pakistan into a self-sufficient country by salvaging it from alms and debts, besides charting an independent foreign policy to restore its dignity.
Addressing a string of public meeting in Chiniot, Toba Tek Singh, Faisalabad and Jhang on Sunday ' Pakistan Tehreek-i-Insaf chief said the revolution has already come, the youth have decided for change and they will not back down now. He said the nation is sagacious and intelligent, and nobody can fool anyone in this age of social media.
He promised to make a new Pakistan where justice, peace and prosperity will prevail. He said PTI would restore the Pakistan's dignity in international community, make it self-sufficient, end drone attacks and get the country out of West's war on terrorism. He said education, health and other public service sectors would be a focus of their policy.
Imran Khan said that the former rulers indulged in corruption, looting national exchequer and inflicting a colossal loss to the country and its people. He bitterly criticised President Asif Ali Zardari, Nawaz Sharif, JUI-F leader Fazlur Rehman and ANP president Asfandyar Wali Khan, calling them political actors and US stooges.
"They talk of building roads; we will rebuild the nation, which has been divided over time by the selfish politicians… The time has come to hold looters accountable. The nation will reject the plunderers of national wealth on May 11," Imran said. He said that PML-N and PPP had dominated the country's politics since 1988, but they had utterly failed to deliver. These two parties and their allies would taste a crushing defeat and PTI tsunami would sweep them away from power corridors.
"These practices are not acceptable to PTI and the youth of the country have been awakened. Those who ruined the country cannot rebuild it. The PTI will make a new Pakistan where justice, peace and prosperity will prevail." Imran promised that PTI would restore the dignity of Pakistan in international community, adopt an independent foreign policy and make the country self-sufficient.
"They always look to the Americans' nod and wink in all affairs," he said. "If we are voted to power on May 11, we will neither remain under American influence nor work according to their agenda. "We oppose US drone strikes. If we are voted to power, there will be no drone attacks in Pakistan. The PTI will formulate an independent foreign policy," he said.
"No corrupt leader or party would be able to face PTI's tsunami on the election day. The enthusiasm of youth would change the country and make a new Pakistan… We are poised to say goodbye to all former political actors on May 11 and those who labeled us as Jew and Qadiani will not be able to re-enter the parliament to devour public money," he said.
The PTI chairman, who has lately turned his guns towards JUI-F leader Fazlur Rehman too, accused the chief of religio-political party of exploiting the sacred name of Islam to reach the corridors of power. "The Maulana has always been misusing the name of Islam to serve his vested interests," he alleged.
Full report at:
http://www.nation.com.pk/pakistan-news-newspaper-daily-english-online/national/06-May-2013/destroyers-cannot-be-constructors-says-imran
------------
90,000 fake ballot papers seized in Dir
May 06, 2013
Lower Dir - Police claimed to have recovered 90,000 ballot papers from a vehicle in Chakdara area of Lower Dir District on Sunday.
DIG Malakand Range Obaidullah Khan told a private news channel that the police team recovered and confiscated the National Assembly ballot papers during the search of a vehicle and that the papers were not carrying the seal of the Election Commission of Pakistan and appeared to be fake.
Two persons were also taken into custody.
A probe was launched to ascertain the authenticity of the ballot papers which were apparently meant for NA-34 constituency of Lower Dir.
ECP Secretary Ishtiaq Ahmed confirmed that the police report was received by the commission. Lauding the police team, Ishtiaq said the preparation and transportation of the ballot papers was being carried out under the Army's supervision to minimise risk of ballots leakage and fake voting.
Full report at:
http://www.nation.com.pk/pakistan-news-newspaper-daily-english-online/national/06-May-2013/90-000-fake-ballot-papers-seized-in-dir
------------
3 dead in attack on Sibi poll rally
May 06, 2013 Bari Baloch
Quetta - Three people, including an attacker, were killed and another wounded in a bomb attack on convoy of an independent election candidate for PB-21 in Sibi district, some 160 kilometers southeast of Quetta, on Sunday.
A security official said one of the attackers was killed in trade of fire with guards of Sardar Sarfraz Dombki while another was arrested when they were trying to escape. It was unclear which tribe or group the attackers belonged to, since the injured attacker was unconscious and could not be investigated immediately.
Sardar Dombki along with his dozens of supporters and armed guards was returning from an election campaign meeting when one of his vehicles, carrying Levies guards, came under a bomb attack. The explosive device was detonated remotely by the attackers who were hiding in bushes, said Deputy Commissioner Aziz Jamali.
According to the official, besides two hand grenades were recovered from the attackers, a live remote-controlled bomb was also defused. Sources said the injured Levies guards died while being shifted to a hospital because they were fatally wounded.
When contacted, Mir Dostain Dombki, an independent candidate for NA-265 and the first-cousin of Sardar Sarfraz Dombki, said after the explosion took place, the guards spotted two suspects trying to escape on a motorcycle to nearby fields. He said they were chased down and one of them was killed in a trade of fire by the tribesmen of Dombki.
He said they had no idea who these attackers were. "We let police and other agencies ascertain their identities and the motive behind the attack on the Dombki tribe chieftain," added Dostain Dombki.
In another incident, unidentified gunmen opened indiscriminate firing at Circular Road in Quetta and fled. As a result of the shooting, a man namely Asad sustained serious wounds and later died while receiving treatment at a hospital. The motive behind the murder could not be ascertained till the filing of this report.
Separately, unidentified attackers hurled a hand grenade at the office of Jamiat Ulema-e-Islam-Ideological in Deba area of Quetta, wounding two people. Police and other law-enforcement agencies rushed and threw a cordon in the area. No group claimed the responsibility for the attack immediately.
Full report at:
http://www.nation.com.pk/pakistan-news-newspaper-daily-english-online/national/06-May-2013/3-dead-in-attack-on-sibi-poll-rally
------------
Arab world
Booze and Bikinis Are Welcome In Egypt
05/05/2013
DUBAI - Islamist-ruled Egypt is open to visitors who drink alcohol and wear bikinis as it sets out to boost numbers by at least a fifth this year, the tourism minister said on Sunday.
Tourism is a pillar of the Egyptian economy but has suffered since a popular uprising toppled President Hosni Mubarak in 2011 and set off two years of periodic rioting and instability.
The minister, Hisham Zaazou, said the government had "optimistic goals" for the sector, and played down comments from radical Salafi Muslim groups who have called for a ban on alcohol and women wearing swimsuits.
"Bikinis are welcome in Egypt and booze is still being served," Zaazou, speaking in English, told a news conference during a visit to the United Arab Emirates.
"We had talks with these Salafi groups and now they understand the importance of the tourism sector, but still you have some individuals that are not from the leadership saying these things," added the minister, an independent who is not a member of the ruling Muslim Brotherhood.
Islamist President Mohamed Mursi's government increased taxes on alcohol in December but backed down after the move was criticized by the tourism sector and by liberals.
DECLINE AND REBOUND
Before the uprising, tourism was worth more than a tenth of Egypt's economic output. In 2010, 14.7 million visitors came, generating $12.5 billion in earnings, but arrivals slowed to 9.8 million the following year and income to $8.8 billion.
According to Zaazou, 2012 saw a recovery as 11.5 million tourists came and revenues rebounded to about $10 billion. In the first quarter of 2013 about 3 million tourists visited, a 14.6 percent rise from the same period last year, he said.
Egypt's long term target was to reach 30 million tourists and revenues of $25 billion by 2022.
Zaazou said rebuilding tourism was a national priority. To help meet the goal of increasing visitor numbers by 20 percent this year, his ministry has installed cameras in major resorts which feed live video onto its website.
Full report at:
http://www.jpost.com/Middle-East/Egypt-Booze-and-bikinis-are-welcome-in-Egypt-312122
------------
'Islamist' gunmen kill alcohol seller in Egypt's Sinai
6 May 2013
Gunmen shot a man dead who was selling alcohol in Egypt's Sinai Peninsula on Sunday in an attack security officials said was likely carried out by Islamist militants.
The four gunmen killed Rami Ahmed, 28, at a bar on a main road near El-Arish, a town in the northern Sinai Peninsula. It is an area where Islamist militant influence has expanded since the uprising that toppled President Hosni Mubarak more than two years ago.
"We are still in the early stages of the investigation but it is likely that Islamic hardliners were behind the incident," one of the security officials said. He said the victim came from the Nile Delta, north of Cairo, suggesting the shooting was unlikely to be related to local tribal rivalries.
Full report at:
Last month, Islamist militants fired two rockets from Sinai into Israel.
http://english.alarabiya.net/en/News/middle-east/2013/05/06/-Islamist-gunmen-kill-alcohol-seller-in-Egypt-s-Sinai.html
------------
UN has testimony that Syrian rebels used sarin gas
May.06, 2013
United Nations human rights investigators have gathered testimony from casualties of Syria's civil war and medical staff indicating that rebel forces have used the nerve agent sarin, one of the lead investigators said on Sunday.
The United Nations independent commission of inquiry on Syria has not yet seen evidence of government forces having used chemical weapons, which are banned under international law, said commission member Carla Del Ponte.
"Our investigators have been in neighbouring countries interviewing victims, doctors and field hospitals and, according to their report of last week which I have seen, there are strong, concrete suspicions but not yet incontrovertible proof of the use of sarin gas, from the way the victims were treated," Del Ponte said in an interview with Swiss-Italian television.
"This was use on the part of the opposition, the rebels, not by the government authorities," she added, speaking in Italian.
Del Ponte, a former Swiss attorney-general who also served as prosecutor of the International Criminal Tribunal for the former Yugoslavia, gave no details as to when or where sarin may have been used.
The Geneva-based inquiry into war crimes and other human rights violations is separate from an investigation of the alleged use of chemical weapons in Syria instigated by UN.Secretary-General Ban Ki-moon, which has since stalled.
President Bashar Assad's government and the rebels accuse each another of carrying out three chemical weapon attacks, one near Aleppo and another near Damascus, both in March, and Full report at:
http://www.haaretz.com/news/middle-east/un-has-testimony-that-syrian-rebels-used-sarin-gas-1.519405
------------
Egyptian Premier's Motorcade Comes Under Attack
By KAREEM FAHIM
CAIRO — An armed man fired birdshot pellets at a motorcade escorting the Egyptian prime minister on Sunday, but officials characterized it as an accidental episode of road rage rather than an assassination attempt.
The prime minister, Hisham Qandil, was unharmed during the shooting, which highlighted the lawlessness and growing availability of weapons in Egypt since its uprising more than two years ago. In a statement, the Interior Ministry said that around 11 p.m., a red pickup truck carrying five men who were on their way to fight other, unidentified people happened upon Mr. Qandil's motorcade.
Full report at:
http://www.nytimes.com/2013/05/06/world/middleeast/egypt-premier-qandils-motorcade-comes-under-fire.html?gwh=998E768044595454036D89A7F27B6D55&_r=0
------------
Egypt Christians face uncertain future as kidnappings mount
Robert Gordon
May 05, 2013
CAIRO: Kidnapping of young Coptic Christian girls in Egypt have reportedly been on the rise in recent weeks and has left many in the country questioning the role of the government and police in protecting girls in the North African country.
In Southern Egypt, numerous reports have risen that girls are taken from the street while walking to and from school, forced to convert to Islam and become wives of older Muslim men. While Bikyanews.com has found it difficult to confirm these kidnappings, the sheer number of reports tend to give this backing.
The kidnappings are mostly blamed on criminal gangs, which operate more freely amid Egypt's collapse in security since the 2011 fall of autocrat Hosni Mubarak.
Crime has risen in general across Egypt, hitting Muslims as well. But the wave of kidnappings in Minya has specifically targeted Christians, and victims, church leaders and rights activists ultimately blame the atmosphere created by the rising power of hard-line Islamists.
They contend criminals are influenced by the rhetoric of radical clerics depicting Egypt's Christian minority as second-class citizens and see Christians as fair game, with authorities less likely to investigate such crimes.
Kidnappings in Egypt of women and girls have become a contentious issue, especially concerning young Coptic girls, who have reportedly been kidnapped in growing numbers, although experts disagree on the magnitude of some claims.
In recent years, Coptic Christian advocacy groups have lambasted the Egyptian authorities for allegedly not forcing the return of Coptic girls to their families after they have allegedly been kidnapped by Muslim men. Police and media have reported scores of missing women over the past few years and many quickly return to their families without much explanation.
Some Coptic families have alleged that the women were kidnapped by Muslim men and forced to undergo conversion to Islam.
But some women's rights advocates here argue that these are not kidnappings. More often, they see these cases as cries for help by young women in the socially conservative Coptic community, which traces its church to the first century when, by traditional belief, the apostle Mark founded it in Egypt as the first Christian church in history.
In particular, rights activists say the missing young women draw attention to customs among traditional Copts, particularly the lack of access to divorce and the practice of arranged marriages.
"A key reason for the so-called 'kidnappings' is that Coptic women have no right to divorce," Nehad Abul Komsan, head of the Cairo-based Egyptian Center for Women's Rights and now leading member of the newly re-established National Council of women, told Bikyanews.com in a previous interview on the subject.
"This means that if their parents tell them they are going to marry their cousin, they have to submit to this and have no choice . . . So they turn to Islam, not because of a spiritual belief in the religion but because it gives them more of an opportunity to choose their life's path," she said.
Once returned to their families the women's absences often remain unexplained and the ongoing controversy has served as flashpoints for long-simmering tensions between the Coptic and Muslim communities.
One of most reported cases is of Irene Hanna Labib, who was allegedly kidnapped from Sohag, some 500 kilometers south of Cairo, in 2009. According to AINA's reporter, Mary Abbelmassih, the Egyptian police in the area are refusing to go after her abductor. She argues that Labib's kidnapping is part of the "Islamization business" and part of the way Egypt's Muslim population are attempting to rid Egypt of Christians.
Full report at:
http://bikyanews.com/88180/egypt-christians-face-uncertain-future-as-kidnappings-mount/
------------
Syrian fighters shoot down regime helicopter in east, 'killing' troops
6 May 2013
Syrian opposition fighters have shot down a military helicopter in the country's east, killing eight government troops on board, activists said on Monday.
The Britain-based Syrian Observatory for Human Rights posted an online video showing several armed men standing in front of the wreckage. One of the fighters in the footage says it's a helicopter that the rebels shot down late Sunday in the eastern province of Deir el-Zour, along Syria's border with Iraq.
As the man speaks, the camera shifts to a pickup truck piled with bodies. The fighter is then heard saying that all of President Bashar al-Assad's troops who were aboard the helicopter were killed in the downing, according to the Associated Press.
The Observatory, which relies on a network of activists on the ground, says eight troops were killed.
The news came after violence in Syria reached new heights on Sunday
Syria's residents were startled by heavy blasts that shook Damascus early Sunday when Israeli warplanes targeted a military research center in the capital's suburbs, Syrian state television reported.
The TV reported the explosions that rocked Jamraya were caused by an Israeli missile strike on the research center that took place at 1:56 a.m. local time.
"Everything was quiet and suddenly we saw this bright orange light in the sky followed by a very loud explosion," said Tarek Hillnawi, a Damascus resident who was sitting on his balcony chatting with his friends when the blast occurred."I felt that it was over for us, that all of Damascus is set on fire."
Full report at:
http://english.alarabiya.net/en/News/middle-east/2013/05/06/Syrian-rebels-shoot-down-regime-helicopter-in-east-killing-troops.html
------------
Arab League condemn Israeli 'attacks' in Syria
5 May 2013
Egypt on Sunday condemned Israeli air strikes on Syria, with the Arab League also demanding that the UN Security Council act to stop what it called "Israeli attacks" against the war-torn country.
The Egyptian presidency said in a statement the air strikes "violated international law and principles that will further complicate the situation." The raids reportedly targeted rockets destined for Lebanon's Hezbollah.
The Arab League, which like Egypt sides with rebels against Syrian President Bashar al-Assad, demanded the Security Council "act immediately to end Israeli attacks on Syria," which it called a "dangerous violation of an Arab state's sovereignty."
Full report at:
http://english.ahram.org.eg/NewsContent/2/8/70755/World/Region/Arab-League-condemn-Israeli-attacks-in-Syria.aspx
------------
Palestinian leader Abbas meets China's Xi
May 06, 2013
BEIJING: Chinese President Xi Jinping met with Palestinian leader Mahmoud Abbas in Beijing on Monday, with Israeli Prime Minister Benjamin Netanyahu due to follow him later this week.
Abbas's three-day trip -- the first by a Middle Eastern leader since Xi took office in March -- ends Tuesday, overlapping with a five-day visit to China by Netanyahu that begins in Shanghai on Monday and ends in the capital.
Chinese state-run media have called Abbas' trip a state visit, while officials describe Netanyahu's as an "official visit".
Beijing has traditionally remained distant from Middle Eastern affairs, though in recent years it has begun to take a more active diplomatic role.
After a full military welcome ceremony outside the Great Hall of the People, Xi told Abbas he had "maintained the strategic choice of peace" and helped "building a country which has received the wide respect and support of the Palestinian people and international society".
Abbas said: "I appreciate China's high position in the world nowadays. In recent years all the Chinese governments have adopted wise policies that have effectively had benefits and avoided harm".
The two sides signed cooperation agreements on economic technical cooperation and cultural exchange, details of which were not immediately available.
Ahead of his visit, Abbas told China's state news agency Xinhua that he planned to discuss obstacles to Israeli-Palestinian talks and ask Beijing to urge Israel to end policies that obstructed the Palestinian economy.
Full report at:
http://www.dailystar.com.lb/News/Middle-East/2013/May-06/216107-palestinian-leader-abbas-meets-chinas-xi.ashx#axzz2SFVyHEbM
------------
Mideast
Four killed and six injured in ongoing tribal confrontations in Sana'a
6 May 2013
Ali Ibrahim Al-Moshki
SANA'A, May 5 — Tribal confrontations between the Bani Al-Harith tribe and the Bani Hushaish that broke out on Saturday in the northern area of Sana'a continue. Men began firing at each other after a member of the Bani Hushaish tribe was killed, breaking a truce called by sheikhs from both parties last week.
The two powerful tribes originally began attacking each other last week in a tribal dispute that claimed three lives and injured six injuries. All casualties were from the Bani Hushaish and details surrounding the original source of the dispute are unclear. Names of victims have not been released.
"Reconciliation needs a long time," said Sheikh Yahiya Jameel, who is currently mediating between the two sides.
Although the tribes are firing at each other using machine guns and state officials have dispatched five military vehicles, Colonel Abdulla Muharam, the security manager of Bani Al-Harith said the state will not directly interfere until they are sure tribal mediation has failed.
Last week the road connecting Sana'a to Marib was blocked due to the clashes, but has now opened up again.
Full report at:
http://www.yementimes.com/en/1674/news/2310/Four-killed-and-six-injured-in-ongoing-tribal-confrontations-in-Sana%E2%80%99a.htm
------------
Airstrikes Tied to Israel May Be Message to Iranians
By JODI RUDOREN
May 5, 2013
JERUSALEM — The twin airstrikes in Damascus on Friday and Sunday attributed to Israel appear to be more about Jerusalem's broad, mostly covert battle with Iran and Hezbollah than about the bloody civil war raging in Syria.
Despite intensifying concern over the future of Syria, Israeli political and military leaders steadfastly maintain that they have no interest in entangling themselves in their neighbour's conflict. But the airstrikes on military warehouses and other military installations underscore their determination to prevent advanced weapons from falling into the hands of Hezbollah, the Lebanese Shiite militia allied with Iran.
The increased frequency and intensity of the attacks also demonstrates Israel's desire to take advantage of the chaotic situation, security experts say, as well as its calculation that Syria, Hezbollah and Iran are too preoccupied and weakened by the raging conflict in Syria to retaliate strongly against even a brazen escalation.
But several warned there was a risk of Israeli overreach, particularly given the fiery rhetoric with which Damascus, Tehran and Hezbollah responded, a stark contrast to the silence that greeted some earlier attacks.
"The real question is how much humble pie can Assad eat and still keep his svelte figure," said Nathan Thrall, a Jerusalem-based analyst for the International Crisis Group, speaking of the Syrian president Bashar al-Assad. "The risks of action in Israel's perception are lower today than they have been in the past. Everybody's now testing each other and gauging what each one can get away with."
Analysts said they did not see the airstrikes as the opening of a new war front, or as an attempt to prop up the Syrian rebels against the Syrian government of Mr. Assad. Rather, they tended to see it more as an extension of the long-running "shadow war" against Iran and Hezbollah, a tit-for-tat of terror attacks and assassinations that has stretched over decades and around the world.
"This shouldn't be seen as Israel intervening on behalf of the rebels or against Bashar," said Jonathan Spyer, a senior research fellow at the Interdisciplinary Centre in Herzilya. "This is an escalation in a conflict we know about, and that is the conflict between Israel and Iran."
Israeli officials contacted in the prime minister's office, military command and defence and foreign ministries refused to discuss the strikes on Sunday, strictly following a protocol designed to give adversaries face-saving room to avoid a response. But wire services cited anonymous Israeli sources who confirmed Israel's responsibility.
Full report at:
http://www.nytimes.com/2013/05/06/world/middleeast/strikes-in-syria-linked-to-israel-may-be-a-signal-to-iran.html?pagewanted=all
------------
Turkey, Israel to meet on raid compensation
May 06, 2013
Turkish and Israeli officials will meet on Monday in Israel for another round of talks over compensation for a deadly 2010 raid on a Gaza-bound aid flotilla, a diplomatic source told AFP.
"The second round of negotiations will be held in Israel tomorrow," the source said on Sunday, without elaborating.
An initial meeting was held in Ankara on April 22 to discuss the amount and the terms of the payment for the compensation by Israel, which Turkey has named as a precondition for normalisation of diplomatic ties.
That meeting was the first stage of what Turkish officials have said would be a multi-step diplomatic process that could finally reinstate bilateral ties between the former allies.
Monday's talks will see Turkish diplomats officially visit Israel for the first time in three years since Israeli commandos staged a botched pre-dawn raid on a aid flotilla bound for the Gaza Strip, killing nine Turkish nationals.
Full report at:
http://www.nation.com.pk/pakistan-news-newspaper-daily-english-online/international/06-May-2013/turkey-israel-to-meet-on-raid-compensation
------------
Iran: Quake rattles region near nuke reactor, no loss
May 06, 2013
Iran says a moderate earthquake rattled a region near the country's main nuclear reactor, but there were no reports of damage or deaths in the surrounding area. The official Islamic Republic News Agency says Monday's quake had a preliminary magnitude of 5.1 and was centered near Kaki,
about 100 kilometers (60 miles) southeast of Bushehr on the Persian Gulf coast.
A more powerful 6.1 temblor struck the same area last month, killing at least 37 people and raising calls for greater international safety inspectors at the nuclear reactor in Bushehr.
Full report at:
http://www.hindustantimes.com/world-news/RestOfAsia/Iran-Quake-rattles-region-near-nuke-reactor-no-loss/Article1-1055557.aspx
------------
Africa
Suicide attack on Qatari convoy in Somalia; 11 dead
May 06, 2013
Around 11 people were killed in Somalia's capital Sunday when a suicide attacker from the Al-Qaeda linked Shebab insurgents rammed a car laden with explosives into a convoy carrying officials from Qatar, police said.
"Several people have been killed, the blast was big ... the number of those killed is around 11," police official Mohamed Adan said.
Four government officials visiting from Qatar were travelling in armoured vehicles belonging to the interior ministry when the convoy was attacked, but were unharmed.
"The convoy was escorting a delegation from Qatar, the police escorted them to a safe area after they survived the attack," General Garad Nur, a senior police commander, told reporters.
The blast is the latest in a string of bloody attacks in the seaside capital, where Al-Qaeda linked Shebab insurgents have vowed to topple the government and have set off several bombs and launched guerrilla-style strikes.
"The mujahedeen have today carried out the first of a series of attacks," the Shebab said in a message on Twitter.
The car exploded close to a police station at the central K4 roundabout, a busy part of Mogadishu where many people gather to drink tea at roadside stalls.
Other police officials said that at least 10 people had been killed.
"I saw eight bodies including a woman, some of them were burned very badly by the fire from the explosion," said eyewitness Ali Yusuf. "It was a terrible sight."
An AFP reporter on the scene said that the armoured car hit in the attack had been damaged with its back windows blasted out.
Body parts were strewn around the blast site, where fire trucks sprayed water on the smouldering wreckage of the vehicles while several wounded were taken to hospital.
A second bomb hidden by the roadside and remotely detonated was set off around the same time in the Daynille district of Mogadishu targeting passing security forces, but injured no one, police added.
The attacks come just ahead of a conference in London on Tuesday to draw up plans to boost security and increase development in conflict-torn Somalia.
More than 50 countries and organisations are due to take part in the talks, co-hosted by Somali President Hassan Sheikh Mohamud and British Prime Minister David Cameron.
The United Nations special representative to Somalia, Augustine Mahiga condemned the attack as "cowardly and senseless", but said that such "acts of violence will not undermine the remarkable progress Somalia has made in the past months."
The attack comes a day after senior Shebab commander Ahmed Abdi Godane released an audio message in which he urged "the mujahedeen to increase the number of martyrdom operations, so as to permanently cripple the weak apostate regime."
Last month, the Shebab launched a show of force in a complex coordinated attack, killing at least 34 as suicide commandos stormed the main courthouse while a car bomb was set off elsewhere in Mogadishu.
Full report at:
http://www.nation.com.pk/pakistan-news-newspaper-daily-english-online/international/06-May-2013/suicide-attack-on-qatari-convoy-in-somalia-11-dead
------------
'Terrorist' attack on Tanzanian church leaves two dead
May 06, 2013
ARUSHA, Tanzania: Two people were killed in Sunday's attack during a mass at a Tanzanian church, officials said Monday, as President Jakaya Kikwete called the explosion an "act of terrorism".
Six people have been arrested, including four from Saudi Arabia, officials said.
"This is an act of terrorism perpetrated by a cruel person or group who are enemies of the country," Kikwete said in a statement, condemning the bombing in the northern Tanzanian town of Arusha in which at least 30 people were also wounded.
Such a large scale attack targeting a church is one of the first such incidents in Tanzania.
Arusha's commissioner Magesa Mulongo confirmed that two people had died and that six people had been arrested, two from Tanzania and four from Saudi Arabia.
"Investigations are ongoing," Mulongo said, adding that the four Saudis had arrived at Arusha airport on Saturday.
The two Tanzanians arrested were Christian, he added, but gave no further details.
The blast took place outside a Roman Catholic church in Arusha, a town popular with tourists visiting the famous Serengeti national park and snowcapped Mount Kilimanjaro.
Officials have given no indication as to who might have carried out the attack, but tensions have been high between Tanzania's Christian and Muslim communities in recent months.
The newly built church, in the Olasti district on the outskirts of Arusha, was celebrating its first ever mass when the blast occurred, and people were squeezed into the church building as well as sitting on benches outside.
The Vatican's ambassador to Tanzania, Archbishop Francisco Montecillo Padilla, was attending mass at the church but was not harmed, officials said.
Kikwete, who said he was "shocked and deeply saddened" by the reports of the explosion, called on people to remain calm while police investigated the attacks.
Full report at:
http://www.dailystar.com.lb/News/International/2013/May-06/216121-terrorist-attack-on-tanzanian-church-leaves-two-dead.ashx#axzz2SFVyHEbM
------------
Libya parliament bans Gaddafi-era officials
5 May 2013
Libya's parliament has passed a law banning officials from the Gaddafi era from holding political office.
The vote in the General National Congress (GNC) came a week after militias backing the law began besieging the ministries of justice and foreign affairs.
They had said they would not leave until the bill was passed.
The law could affect senior members of the government, including Prime Minister Ali Zeidan.
Both Mr Zeidan and GNC speaker Mohamed Megaryef were diplomats before the revolution.
Human rights groups say the measure is too sweeping.
"This law is far too vague - potentially barring anyone who ever worked for the authorities during the four decades of Gaddafi's rule," Human Rights Watch's Sarah Leah Whitson said in a statement on Saturday.
Other interests
In a vote broadcast live on state TV, 164 MPs supported the measure in the 200-member chamber and just four voted against.
It required a two-thirds plus one majority to pass.
Under the law, anyone who held a key official post between 1969 and 2011 is supposed to be excluded from government.
But it is not clear how long the exclusion will last.
The BBC's Rana Jawad in Tripoli says that while officials and the public at large generally see the law as necessary, many believe other interests are being pursued on all sides under the guise of demands for its adoption.
Full report at:
http://www.bbc.co.uk/news/world-africa-22423238
------------
Southeast Asia
Malaysia's Governing Coalition Keeps Hold on Power
By JOE COCHRANE
May 5, 2013
KUALA LUMPUR, Malaysia — Malaysia's governing coalition won a majority of parliamentary seats in national elections on Sunday after the largest turnout in the country's history, but a bitter coalition of opposition parties claimed that the result was tainted by illegal voting and other irregularities.
The country's election committee announced early Monday that the governing coalition had secured the 112 seats needed for a simple majority, enabling the next Parliament to re-elect Prime Minister Najib Razak in the coming days.
But Mr. Najib and his National Front coalition, which has governed the country since it gained independence in 1957, could lose at least 10 seats in the 222-member federal Parliament.
While final results were not yet available, analysts said the government would ultimately win about 130 seats. The People's Alliance, a three-party opposition coalition led by Anwar Ibrahim, 65, a former deputy prime minister, will gain ground, but it still fell far short of its goal to unseat a government that has ruled unchallenged for 56 years.
"We have a big agenda for the people of Malaysia, and we intend to fulfill our commitment to the people of Malaysia," Mr. Najib said on national television minutes after the commission's announcement.
The 15-day election campaign was bitterly contested and marred by violence and opposition charges of vote-rigging. For many, the campaign began five years ago after the opposition posted its best showing by winning 82 seats to deny the governing coalition a two-thirds majority in Parliament for the first time since the 1960s.
Mr. Anwar's campaign accused the government of deploying tens of thousands of "phantom voters," including foreign laborers from Bangladesh, Indonesia and Myanmar who work in eastern Malaysia, to vote using illegal identity cards. The opposition threatened to organize protests if the final results pointed to fraud.
"There is specific evidence, of names of foreigners voting as military personnel," Mr. Anwar said shortly before the governing coalition was declared the winner. He said in a post on Twitter early Monday that there were "phantom voters witnessed in my own constituency as well as around the country."
The opposition also complained that the election commission was not independent, that irregularities were detected in early voting by 200,000 police officers and military personnel, and that the indelible ink applied to voters' fingers to prevent them from casting multiple ballots could be easily wiped off.
"There are still certain issues that bear further examination," said Ibrahim Suffian, the director of the Merdeka Center, an independent polling organization. "Although the evidence that had been presented by the opposition was very selective, there were questions about illegality related to today's vote, the advanced voting and the postal voting. Those issues all needed to be examined."
The government and the National Front denied charges of vote-rigging. Mr. Najib said Mr. Anwar could appeal the election results but warned against street demonstrations, calling on the opposition to respect the results.
"We have to show to the world that we are a mature democracy," Mr. Najib said. "Whatever the decision, we must respect the will of the people."
When polls opened across Malaysia on Sunday morning, the race was too close to call between the opposition and the 13-party governing coalition, which is dominated by Mr. Najib's United Malays National Organization. Mr. Anwar, the former deputy prime minister, is also former senior leader of the organization.
The electorate was divided along racial, geographic and generational lines and was presented with a stark choice: maintain a semiauthoritarian government responsible for economic growth or vote for a combative but untested opposition promising huge changes.
The race came down to about 20 of the 222 seats, Mr. Ibrahim said. He said the returns indicated that the majority of Malay voters, who account for about 60 percent of the country's 29 million people, had swung their support back to the governing coalition.
The biggest winner in the opposition alliance was the Democratic Action Party, according to preliminary results. While the Democratic Action Party has a multiracial membership that includes Malays and Indians, it is overwhelmingly Chinese.
Mr. Ibrahim said the election showed a "sharpening of the ethnic discussion with the strengthening of the Chinese vote."
Full report at:
http://www.nytimes.com/2013/05/06/world/asia/malaysias-governing-coalition-retains-power.html
------------
Indonesia a model of Islam and democratic compatibility
Bawono Kumoro
May 6, 2013
During his speech after receiving an honorary doctorate degree at Nanyang Technological University in Singapore, Indonesian President Susilo Bambang Yudhoyono tackled the global perception that Islam and democracy could not work together. The President said Indonesia was a good example of how democracy, modernisation and Islam worked hand-in-hand.
Furthermore, the President said Muslims in Indonesia got along well with democracy and modernity. Thus, the Indonesian democratic model could offer valuable lessons to Arab Spring countries, which are now facing similar challenges.
The debate over the relationship between Islam and democracy rests not only on Islamic doctrine but also on history.
Essentially, democracy is a system of governance where sovereignty lies in the hands of the people. But, many will say this contradicts the doctrine of Islam, which insists that sovereignty belongs to God. Advocates of this line of thinking put forward three arguments.
First, there is the fundamentally different view of the nation, or ummah. The view of the nation in modern democracy is tied to a physical space marked by territorial and geographical borders. On the other hand, Islam has its own understanding of a nation that is not bounded by borders, but aqidah (the basic tenets of Islam). Therefore, for many Muslims, nation is defined by faith, not geography.
Second, some Muslim scholars see democracy as a worldly value, when spiritual goals are of primary importance. Democracy, thus, becomes a secondary goal.
Third, a contradiction arises because the people's sovereignty that lies at the heart of democracy is absolute, meaning the people are the ultimate holders of power. Laws and regulations are decided by the people through their representatives and not by God. But for some scholars, the people's sovereignty is not absolute at all, since the laws of Islam bind it. In Islam, only God's sovereignty is absolute.
These three interpretations are used by some Muslims to reject democracy. However, there are many Muslims who take the opposite view, arguing that democracy is inherent in people and in line with Islamic teachings. They base their argument on Islamic doctrines - justice, freedom, deliberation and equality - which espouse the basic principles of democracy. At this level, Islam does not speak about a procedural system but more about the basic soul and spirit of democracy. If the interpretation of democracy is the existence of certain social and political ideals, like the freedom of thought, faith, opinion and equality before the law, there would seem to be no contradiction, as these are guaranteed by Islam.
There are several cultural factors, however, that have slowed the growth of democracy in the Islamic countries of the Middle East.
First, there is a strong monolithic paradigm of thought over Islam. Such a paradigm stems from Middle Eastern Muslims' limited understanding of Islam's nature and essence, both with regard to the Koran and Hadith and with regard to history.
Islam is often viewed as a divine instrument for understanding the world and such a perception has prompted some Muslims to believe that Islam offers a complete way of life (kaffah). According to this understanding, Islam is an all-encompassing system of belief that offers a solution to all problems.
This view of Islam as perfect and comprehensive has a number of implications. If Islam is transformed for use at the level of political ideology and political practice, this could lead to the political belief that Islam must become the state's basis of existence, Islamic jurisprudence must be accepted as the state's constitution and sovereignty would lie in the hands of God.
In short, in the context of such a perspective the modern political system of rule by the people is in direct conflict with Islam.
Second, the absence of democracy in the Middle East could also be explained by the weak political will of the regimes to accommodate democracy. Leadership has long been based on family ties and regimes would lose this prerogative.
Third, the most ironic thing about the absence of democracy in the Middle East is the often tacit support of the Western world - the US in particular - for the existence of the authoritarian regimes. The US has seemed to care less about whether Middle Eastern autocracies developed any democratic character than about how they were able to secure America's various economic, imperialistic interests. This has nothing to do with the nature of Islam, but it is obvious that the West, particularly the United States, is not always fully in step with its own exhortations to promote democracy globally.
Of special note, however, is the fact that the absence of democracy in countries of the Middle East is not a feature of the wider Muslim world. Indonesia, for example, has seen much success in the transition from an authoritarian regime to a democratic system of governance. While Indonesia still has a long way to go before democracy fully takes root, at the very least it has been quite successful in tearing down the walls of tyrannical power. The general elections in 1999, 2004 and 2009 were testament to the wave of democratisation here and the direct presidential elections indicated a new phase history in Indonesian politics.
However, the most substantial and revolutionary change has occurred at the level of civil society. Muslims in Indonesia, slowly but surely, have grown and developed into a rational, autonomous and progressive community. They have started to think rationally and critically especially when they are facing political and religious elite, which tend to be intrusive, manipulative and exploitative.
Full report at:
http://www.nationmultimedia.com/opinion/Indonesia-a-model-of-Islam-and-democratic-compatib-30205451.html
------------
Malaysian Indian Congress underperforms in polls
May 6, 2013
KUALA LUMPUR: The much anticipated increase in support for the Malaysian Indian Congress failed to materialise with the party winning four seats in the just- concluded polls as a major shift in support of the ethnic Chinese towards the opposition marred its performance.
The Election Commission chairman Tan Abdul Aziz Mohammad Yusof announced that ruling Barisan Nasional ( National Front) coalition led by Najib Razak has taken a simple majority with 133 seats, 21 more than the threshold required to form a government.
The opposition alliance led by Anwar Ibrahim Pakatan Rakyat won 89 seats in the polls yesterday.
Ethnic Indians in Malaysia have overwhelmingly backed the ruling Barisan Nasional which triumphed in the general elections.
MIC, the largest ethnic Indian political party and a major component of the ruling coalition, contested in nine parliamentary seats and has won four, one better than their performance in 2008 elections.
Leading the MIC winners were party president G Palanivel, who registered a 462-vote majority over opposition Democratic Action Party's M Manogaran for the Cameron Highlands seat and his deputy Dr S Subramaniam who defeated opposition Parti Keadilan Rakyat's Chua Jui Meng with a 1,217-vote majority in Segamat.
The other two victors were MIC vice-president M Saravanan, who retained his Tapah parliamentary seat over K Vasantha Kumar and youth MIC wing chief P Kamalanathan, who retained his Hulu Selangor seat over Khalid Jaafar of PKR with a 3,413 majority.
The five MIC candidates who failed to win were party vice- president S K Devamany, party secretary general S Murugessan, Information chief V S Moga, MIC division deputy chairman Prakash Rao and another MIC division leader A Sakthivel.
The party performed badly in the states, winning only five out of the 18 state seats which it contested.
The winners included incumbents M Asojan (Bukit Gambhir) and R Vidyananthan (Kahang) in Johor and newcomers K Ravin in Tenggaroh, Johor, and L Manikam in Jeram Padang, Negri Sembilan.
Ravin is the son of former Johor MIC deputy chairman S Krishnasamy who was shot dead in the MIC office in January 2008.
Full report at:
http://timesofindia.indiatimes.com/nri/other-news/Malaysian-Indian-Congress-underperforms-in-polls/articleshow/19909490.cms
------------
Saudi King frees 141 jailed Indonesians
IRFAN MOHAMMED
Monday 6 May 2013
JEDDAH: Custodian of Two Holy Mosques King Abdullah has pardoned 141 Indonesian nationals who are serving sentences in different prisons across the Kingdom for various offenses.
Some prisoners are being released and are in the process of being repatriated, said Rayyanul Muniah Sangadji, the diplomat responsible for consular and political affairs at the Indonesian Embassy in Riyadh. Speaking to Arab News by telephone, he said the Indonesian Embassy had received an official note on the release of its nationals from prison. He expressed gratitude to the Saudi government for granting royal clemency to Indonesian nationals serving time in Saudi jails.
Full report at:
http://www.arabnews.com/news/450602
------------
India
Islamic seminary Nadwatul Ulema blast accused to be arrested soon: U P CM
New Age Islam News Bureau, May 6, 2013
Lucknow: The issue of attack on the gate of Darul Uloom Nadwa with a handmade bomb is getting serious by the day. The Chief Minister of UP, Akhilesh Singh Yadav visited the madrasa on Sunday and met the head of the institution, Maulana Rabeh Hasani Nadvi. The chief minister said that the state government was with the minorities and would soon put the culprits behind bar. Mr Akhilesh Yadav condemned the incident.
The chief minister instructed his principal secretary Rakesh Garg to set up a Police Post on the side from where the bomb was hurled and install close circuit TV cameras at both the gates of Nadwah with sufficient lights and the control room of the CCTV cameras should be inside Nadwatul Ulema, he said.
------------
Development eludes Muslims: MoMA
May 6, 2013
HYDERABAD: "Despite marked improvement in the developmental indices of Muslims, the community lags behind the national average." This is the observation of the Parliament's standing committee on Social Justice and Empowerment on the Demands for Grants for the Ministry of Minority Affairs (MoMA) for 2013-14. The committee, in its 37th report tabled in Parliament on May 2, noted that Muslim community is lagging behind in education and job sector in comparison to other minority communities. The large drop-out rates in schools is stated to be the main reason for this. The committee quoted the MoMA's assertion that due to constant endeavour through various schemes dedicated to the minority community like the Prime Minister's new 15-Point Programme for the Welfare of Minorities, the situation has improved in the recent years and the all-round effect would be visible once the data of census 2011 pertaining to SRGs becomes available. Literacy rate among Muslims in rural and urban areas for the year 1999-2000 and 2007-08 has registered a marked improvement from 52.1% to 63.5% and from 69.8% to 75.1% respectively. The recruitment of minorities in Central government jobs has increased from 6.93% in 2006-07 to 11.55% in 2010-11. The committee observed that the results for the utilization of funds for the ministry, which constitute only 0.67 percent of the total budget of the Central government for the year 2013-14, are far from adequate as there are still a large number of Muslim inhabited areas in the country where the fruits of progress are yet to reach.
The committee recommended undertaking a special drive by forming monitoring committees in each of the minority concentration blocs, involving local MPs, MLAs and community leaders in collaboration with the state governments to accelerate the development of these blocks under various schemes. In its 70-page report, the standing committee noted that though the total budgetary allocation under plan was Rs 3,135 crore in the year 2012-13, the actual expenditure incurred by MoMA was only Rs 2,165.62 crore (69.08%). As such, Rs 969.38 crore, which could not be utilized, was ultimately surrendered by MoMA. The ministry of finance reduced the budgetary allocation from Rs 3,135 crore to Rs 2,200 crore in the revised estimate during 2012-13 under the Plan, keeping in view the trend of expenditure till September 2012.
The committee found three distinct reasons for 'surrender' of funds in respect of central sector schemes and centrally sponsored schemes. These included budgetary cut made by the finance ministry at the revised estimates stage, non-receipt of adequate and viable proposals leading to non-implementation of schemes and delay in completing the process of appraisal and approval of many of the new schemes during 2012-13.
Full report at:
http://timesofindia.indiatimes.com/city/hyderabad/Development-eludes-Muslims/articleshow/19904283.cms
------------
Saudi Kingdom has highest number of Indians jailed abroad
IRFAN MOHAMMED
6 May 2013
JEDDAH: Indian inmates serving their sentences in prisons in Saudi Arabia account for the largest number of inmates outside the country.
Around 1,691 Indian prisoners are lodged in prisons across the Kingdom, according to information obtained by Subash Chandra Agarwal under the Right to Information (RTI) act in India, as quoted by Indian media.
Over 6,500 Indians are jailed outside India, the majority of them in Gulf countries, according to the information. According to India's Ministry of External Affairs, there are 6,569 Indians held in jails in 112 countries.
According to RTI findings, Saudi Arabia has 1,691 Indian prisoners, Kuwait 1,161 and the United Arab Emirates 1,012.
"The major causes of imprisonment in Saudi Arabia and Kuwait were rape, robbery, drug trafficking, fake iqamas, illegal relationships, traffic accidents and liquor sale," the RTI
Full report at:
human trafficking, robbery and forgery; Nepal has about 377; and Bangladesh has 167.
http://www.arabnews.com/news/450601
------------
Pakistan High Commissioner visits Sanaullah in hospital
May 6, 2013
Pakistan High Commissioner Salman Bashir on Monday visited prisoner Sanaullah Ranjay, injured in a scuffle with another inmate in a Jammu jail, at PGIMER here and said his chances of survival seemed "bleak".
Advising both countries to maintain restraint and not create hype, he said the doctors at the hospital were trying their best to save him. "However, the prognosis is weak," he told reporters after meeting the Pakistani prisoner.
"The condition (of Sanaullah Ranjay) is critical...the outcome is bleak," he said.
A spokesperson of PGIMER said the condition of the patient remained the same as Sunday.
Demanding an impartial probe into the attack on Sanaullah, Mr. Bashir said, "We want him to be repatriated to Pakistan."
He said the government was working on facilitating Sanaullah's family to visit him at the PGIMER.
The High Commissioner, along with other officials, visited the patient and inquired about his health condition from the doctors attending on him.
"When the patient was brought here, he was in bad shape," he said.
Meanwhile, medical bulletin of the institute said, "His metabolic parameters are now settling. The arterial blood gases are satisfactorily maintained on moderate oxygen flow.
He continues to be on ventilator. His blood pressure continues to be maintained with three inotropic drugs."
A heavy deployment of police personnel is in place around and inside the PGIMER to prevent any eventuality.
Full report at:
http://www.thehindu.com/news/national/salman-bashir-visits-sanaullah-in-hospital/article4689371.ece
-----------
Time-bound enquiry into attack on Pak prisoner in Jammu jail: CM
May 6, 2013
SRINAGAR: The enquiry into attack on Pakistani prisoner Sanaullah Ranjay in a Jammu jail will be conducted in a time-bound manner, Jammu and Kashmir CM Omar Abdullah said today.
"It is going to be a time-bound enquiry," Abdullah told reporters on the opening of the Civil Secretariat here as part of the Darbar Move practice.
The chief minister was responding to a question on the steps taken after the attack on Sanaullah at Kot Bhalwal Jail in Jammu region on Saturday by an inmate during an argument over the death of Sarabjit Singh.
"Certain steps have already been initiated. The jail superintendent and some other jail officials have been suspended (and) an enquiry has been ordered to be conducted by Principal Secretary Home (Department)," Abdullah said.
The chief minister said the incident was "extremely unfortunate" and should not have happened in light of the advisory and instructions issued by the Minister of State for Home Affairs Sajad Ahmad Kitchloo to the Prisons Department.
"It should not have happened, more so in light of the advisory that had been put out and the instructions that had been issued by the MoS Home to the Prisons department of the state to ensure that care is taken where Indian and Pakistani prisoners are lodged together," he said.
Refusing to share the initial findings of the probe into the attack on Sanaulla, he said, "While I have information available to me as to the circumstances of this attack, I have learnt a valuable lesson of not sharing initial findings with you because I paid a very heavy price for sharing initial findings of the (2009) Shopian alleged rape case.
Full report at:
http://timesofindia.indiatimes.com/india/Time-bound-enquiry-into-attack-on-Pak-prisoner-in-Jammu-jail-CM-Omar-Abdullah/articleshow/19909954.cms
------------
2008 Blast: Shahid Nagori sent to nine-day remand
May 6, 2013
AHMEDABAD: Shahid Nagori alias Usman the alleged Indian Mujahideen operative arrested from Ujjain by a team of special operations group (SOG) was brought to the city on Sunday by a team of SOG. He was produced before a court which granted a nine-day remand for the accused. Nagori, 28, was a terror-recruiter and one of the masterminds of the 2008 serial blasts in the city.
The accused was arrested from Nagori Mohallah near Topkhana in Ujjain on the basis of specific intelligence inputs gathered by Gujarat's SOG. An arrest warrant was pending against him in the serial blast case. Nagori was handed over to the Gujarat SOG on transit remand by a court in Ujjain.
In the initial rounds of questioning, Shahid has told the cops that he used to be a recruiter for IM and often fooled naive youths by passing off photographs of bodies of earthquake victims as riot victims to incite communal passions. He is said to be an accomplice of main accused in 2008 blast accused Safdar Nagori. "His involvement was found in recruiting terror operatives for the serial blasts. In 2007, he had attended two terror training camps in Waghamon in Kerala. He used to be an arms trainer and a brain-washer of teens and youth. Nagori also was part of another camp held in Choral, Madhya Pradesh, and two in Halol near Pawagadh, Vadodara district. His father is a tailor in Ujjain and himself owns a fabrication unit. He had been hiding at various places in south India after his name figured in the list of accused in the serial blast case," said an SOG official.
"When we questioned him about how he brain washed the youth, he said that he told them stories of Gujarat's communal riots of 2002, and taught them vengeance. He also had photographs and video clippings concerning the riots. In several portions of the inflammatory video clippings he had also inserted clippings of earthquake victims' bodies. This exaggeration, he confessed, was done to influence the youth," said a SOG official.
Full report at:
http://timesofindia.indiatimes.com/city/ahmedabad/Shahid-Nagori-sent-to-nine-day-remand/articleshow/19904263.cms
------------
North America
LA Muslims see hope for interfaith relations in the new Catholic Pope Francis
May 5th, 2013
Mahmoud Adel-Baset was shocked when he found out Pope Francis washed two Muslim inmates' feet during Holy Thursday last month.
Chairman of the religious committee at the Islamic Center of Southern California, Adel-Baset saw the gesture as a "new kind of hope" and an opportunity for stronger relations between the Muslim and Catholic community.
"I thought, 'Wow,'" he recalls. "This is something Mother Teresa does, not the Pope."
He found himself speechless once more after the new pontiff urged the West to intensify dialogue with Islam.
He isn't alone. Many in Los Angeles' Muslim community view Francis' actions as a catalyst for bolstered relations — relations they hope will continue with a renewal of the Catholic-Muslim forum, a three-day interreligious summit that first took place in 2008. The first-ever conference opened "a new chapter in the long history" of dialogue between the two faiths.
"We anticipate a stronger, more cordial relationship," Adel-Baset says. 'Francis' actions so far are amazing."
While interfaith relations between Catholics and Muslims have come a long way since the Crusades, some Muslims say Pope Benedict XVI, who announced his resignation from the papacy in February, did little to engage with Islam.
Under Benedict, dialogue between the two religions took a turn toward the tumultuous. At the University of Regensburg in 2006, Benedict quoted a Byzantine Emperor, saying, "Show me just what Mohammed brought that was new, and there you will find things only evil and inhuman."
The Pope quickly responded to criticism and apologized for the reactions his remarks elicited from the Muslim community.
"I am deeply sorry for the reactions in some countries to a few passages of my address at the University of Regensburg, which were considered offensive to the sensibility of Muslims. These in fact were a quotation from a medieval text, which do not in any way express my personal thought."
But Yasmin Nouh, 22, believes that with Francis' leadership, there is potential for the world's 1.2 billion Catholics and 1.6 billion Muslims to come together and tackle universal concerns, such as poverty — something the pope has been outspoken about since his election one month ago, when he asked for "a poor Church and [a Church] for the poor."
American Muslims are confident
"American Muslims feel confident that Pope Francis will make significant strides in building upon the foundation of interfaith trust and respect," says Nouh, who works for the Greater Los Angeles branch of the Council on American-Islamic Relations.
Intensified dialogue between the two faiths began in 2007, when Muslim scholars released an open letter entitled "A Common Word Between Us and You" to the world's Christians, inviting religious leaders to seek common ground. Shortly after, the Catholic-Muslim forum was established.
After two of these interfaith summits — a second was held in 2011 — religious leaders have made various pacts, including an agreement that "human life should ... be preserved and honored in all its stages" and that "religious minorities are entitled ... to their own places of worship."
For many Muslims, the pope's namesake, St. Francis of Assisi, offers clues to his position on interfaith relations.
According to a 13th-century tale, the Franciscan monk crossed enemy lines and spoke with the sultan of Egypt, Malik al-Kamil, during the height of the Crusades. The meeting left an indelible mark on St. Francis and led him to ask members of his nascent order to be more understanding of Islam. Many believe the visit marked a pivotal moment in interfaith dialogue and provides the current pontiff with a model for Muslim engagement.
"There is a rich tradition of dialogue between Muslims and Catholics," Nouh says. "I expect Pope Francis will continue the [Catholic-Muslim] forum and create a space to come together for honest and sincere conversation."
Though church attendance is falling among U.S. Catholics — the share of Catholics who say they attend mass at least once a week has dropped from 47 percent in 1974 to 24 percent in 2012 — combined, Christians and Muslims make up nearly half of the global population.
More light and less heat
The Rev. James Heft, a religion professor at the University of Southern California, says the interfaith relationship is important for that reason: Better communication is required to reduce the possibility of needless conflict between religious titans.
"What we need most is more light and less heat," Heft says. "That is usually generated through careful conversation over time."
But some say Francis' power is limited to that of a figurehead: his outreach, which is symbolic at best.
Eric Hanson, an expert in Vatican politics at Santa Clara University, argues that conversation will be continued under the new pope, but that he alone cannot change the course of interfaith relations.
"Francis will be good at coverage at the top," Hanson says. "But dialogue takes place at a whole bunch of levels — religious leaders, theologians, practitioners — and those nuanced levels are what will lead to a better world."
Hanson says Catholic-Muslim dialogue is vital for the future of international relations, particularly in regions where a Catholic majority lives with a Muslim minority — as in the Philippines — or where a Muslim majority lives with a Christian minority — as in Indonesia.
"There's an awful lot of places where Christians and Muslims come into close contact," Hanson says. "The emphasis is going to shift to the Third World, and part of that is growth of Islam. I would expect Francis to be better for that sort of dialogue."
Hanson's argument resonates with many L.A. Muslims, such as Edina Lekovic. While her expectations of Francis were low when he was first elected, she now believes his actions have heralded a new era of cooperation. She says interfaith relationships are important because to be religious in the 21st century is to be interreligious.
"The message of interfaith dialogue is critical," says Lekovic, who works as director of public policy and planning at the Muslim Public Affairs Council in Los Angeles. "Francis is creating higher expectations because he started off on the right foot with goodwill gestures."
Adel-Baset echoes Lekovic's sentiments. He believes Francis has the ability to move the masses and propel interfaith relations. Reports from Argentina show Francis, as Cardinal Jorge Bergoglio, was a steadfast friend of the Islamic community.
Full report at:
http://www.scpr.org/news/2013/05/05/37083/la-muslims-see-hope-for-interfaith-relations-in-th/
------------
McCain Says Airstrikes in Syria Put Pressure on Obama to Act
May 5, 2013
By BRIAN KNOWLTON
Senator John McCain, who has long advocated for more forceful United States support of the Syrian rebels, said Sunday that the two airstrikes just outside of the Syrian capital in recent days — which the Syrian government said were carried out by Israel — were likely to increase pressure on President Obama to act.
Mr. McCain, Republican of Arizona, said on "Fox News Sunday" that the raids appear to have weakened the argument that Syria has a far more daunting air defense system than, for example, Libya had under Col. Muammar el-Qaddafi.
"The Israelis seem to be able to penetrate it fairly easily," he said, although the Lebanese Army said that in the first of the two attacks, on Friday, Israeli warplanes fired into Syrian territory from Lebanese airspace. A second airstrike was reported Sunday morning.
Mr. McCain referred to comments by Gen. Martin E. Dempsey, chairman of the Joint Chiefs of Staff, who has described the Syrian defenses as "a much denser and more sophisticated system" than Libya's.
Mr. McCain said the United States was capable of disabling the Syrian air defenses on the ground "with cruise missiles; cratering their runways, where all of these supplies, by the way, from Iran and Russia are coming in by air"; and by using Patriot missile batteries to defend a safe zone for rebels and refugees. He has repeatedly urged such action.
Several lawmakers appearing on the Sunday talk shows underscored the argument frequently heard from the Obama administration — that arming the rebels carries a serious risk that lethal weaponry will end up in the hands of Qaeda sympathizers, and could possibly help them seize control of Syria.
Representative Peter T. King, Republican of New York and a member and former chairman of the Homeland Security Committee, expressed such fears, though he said the administration had improved its understanding of the powers holding sway in the rebel movement.
"Hopefully, we've been looking at this very carefully and we have a better feel now, a better understanding of where the weapons would be going," Mr. King said on the CNN program "State of the Union." "Until then, I'm very concerned that we could just replace one terrible dictator with a terrible ideological movement which is aimed at our destruction."
Representative C.A. Dutch Ruppersberger, the ranking Democrat on the House Intelligence Committee, defended Mr. Obama's cautious response to the evidence that Syria might have used chemical weapons and crossed the "red line" for United States intervention that Mr. Obama defined last year.
"I think he understands that if we're going to be involved, that we have to make sure we have all the facts and all the information," Mr. Ruppersberger said on the CBS News program "Face the Nation." "We can't be the sheriff for the whole world." Any American action in Syria should be carried out as part of a regional coalition, he said.
But Representative Mike Rogers, Republican of Michigan who is chairman of the Intelligence Committee, argued that while the administration did not have a wealth of options, there was still much it could do short of putting "boots on the ground."
Full report at:
http://thecaucus.blogs.nytimes.com/2013/05/05/mccain-says-airstrikes-in-syria-put-pressure-on-obama-to-act/
------------
URL: https://www.newageislam.com/islamic-world-news/new-age-islam-news-bureau/32-dead-as-police-clash-with-bangladesh-islamists-demanding-severe-anti-blasphemy-law/d/11442