New Age Islam News Bureau
10 Jan 2015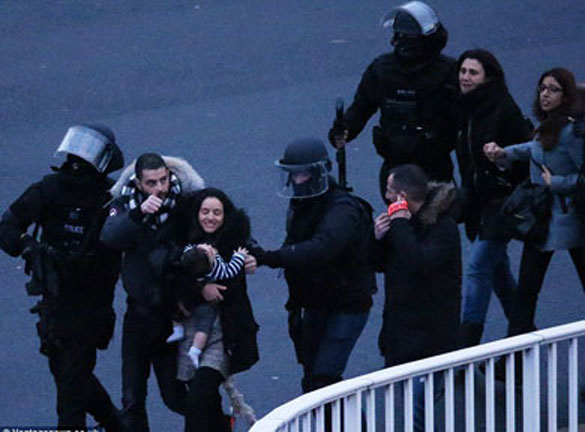 A mother can only express her relief as she clutches her young son as a partner puts up his thumb to signal that the young family are okay
-----------
Africa
• 2,000 Killed In Deadliest Massacre by Boko Haram in Nigeria
• Algerian Islamists Call to 'Strike Jews' In Celebration of Paris Attack
• Tunis Demo in Solidarity with Journalists 'Killed by ISIL'
• Intensifying Nigeria unrest sends 7,300 fleeing to Chad
• U.N. envoy meets with Libya's warring militias to pursue talks
Arab World
'• Takfiris' Offend Prophet More Than Cartoons: Hezbollah Chief
• Terrorists Aiming to Stall KSA's Progressive March
• Iraqi Bombers Pound ISIL Positions in Kirkuk, Several Terrorists Dead
• ISIL Terrorists Attack Iraq's Al-Muqdadiyah Schools
• Activists: ISIS brings fighters from Syria's Deir al-Zour to Iraq
• Convicted Saudi blogger Badawi flogged in public 50 times
• Saudi Students asked to avoid unlicensed Dawa activities
• Syria's Assad building facility for the production of nuclear weapons
Europe
• Teaching Islam's 'Forgotten' Side as Germany Change
• Danish Newspaper Says Won't Print Prophet Cartoons
• 2 Hostages Held In Jewellery Shop in Southern France
• Anonymous Declares 'Cyber War' Against Islamist Militants
• France's Hollande calls on national unity after Paris massacre
• French probe terror suspect links; new attacks may be ahead, says PM Valls
• Europe, US Must Confront Home-Grown Islamic Terror Threat Before More Die
• Terrified Hostages Run For Their Lives as 'At Least Four' Captives Die In Dramatic End to Siege
• Irish Muslims hear fierce denunciation of Islamic extremists
• 'Charlie Hebdo' shooter says financed by al-Qaida preacher in Yemen
• French TV cancels interview with 'Islamic France' novelist
Pakistan
• Clerics Demand Action against Terrorists without Discrimination
• 9 Military Courts Being Set Up Across Country in First Phase
• Four security men killed in Orakzai blast
• Wagah blast 'mastermind', two others killed in Lahore
• Pervez Musharraf attack case: Ex-PAF technician hanged
• Interfaith peace conference: Terrorism is a global problem, say speakers
• Marvi for creation of consultative body in fight against terrorism
• TTP Jamat ul Ahrar faction claims attack on Rawalpindi Imambargah
• Pakistanis are victims of terror, like people in Paris are this week: Pentagon
Mideast
• Al-Qaeda in Yemen Threatens France with New Attacks: SITE
• Turkish PM Calls on Turks to Stand Firm against 'Plots' To Create Rift in Europe
• Former Turkish president calls on Muslims to denounce Paris attack
• Israeli PM to French ambassador: First rule in fighting terror is not to be afraid
• Paris hostage crises hit home for Israel – 'Our hearts are with the Jews of France'
North America
• Will Egypt Show America How To Win The War On Radical Islamic Jihadism?
• An extremist in Pak wanted to sentence me to death: Zuckerberg, CEO Facebook
• Obama to France: 'The United States stands with you'
• US-Pakistan talks to focus on ties with India, Afghanistan
• Operation Zarb-e-Azb: US declines to commit aid for displaced persons
South Asia
• Two Taliban Commanders Join Peace Process in Badakhshan
• HRW: Arbitrary arrests, censorship to inflame tension
• Afghanistan, Pakistan facing time-consuming challenges: President Ghani
• Biswa Ijtema begins amid blockade: Bangladesh
India
• Muslim clerics, activists slam Yakub Qureshi's 'Rs 51cr reward' statement
• Pakistan Getting Isolated In Fight against Terror, Says Minister
• Homoeopath Is Picked Up For 'Supplying' IM with Explosives
• Frame tough law against religious conversions: Senior BJP leader
Southeast Asia
• French Gunman and Wife Holidayed In Malaysia, Says Report
• Catholic lawyers pray for profession, 'Allah' case at Red Mass
• Attacks In Paris Show Why We Need Sedition Act, Says Malaysian IGP
Australia
• Rupert Murdoch claims Muslims must 'recognise and destroy growing jihadist cancer' or 'be held responsible'
Compiled by New Age Islam News Bureau
URL: https://www.newageislam.com/islamic-world-news/new-age-islam-news-bureau/2,000-killed-in-deadliest-massacre-by-boko-haram-in-nigeria/d/100954
----------
Africa
2,000 Killed In Deadliest Massacre by Boko Haram in Nigeria
By: Associated Pres
January 10, 2015
Hundreds of bodies – too many to count – remain strewn in the bush in Nigeria from an Islamic extremist attack that Amnesty International suggested Friday is the "deadliest massacre" in the history of Boko Haram.
Mike Omeri, the government spokesman on the insurgency, said fighting continued Friday for Baga, a town on the border with Chad where insurgents seized a key military base on January 3 and attacked again on Wednesday.
"Security forces have responded rapidly, and have deployed significant military assets and conducted airstrikes against militant targets," Omeri said in a statement.
District head Baba Abba Hassan said most victims are children, women and elderly people who could not run fast enough when insurgents drove into Baga, firing rocket-propelled grenades and assault rifles on town residents.
"The human carnage perpetrated by Boko Haram terrorists in Baga was enormous," Muhammad Abba Gava, a spokesman for poorly armed civilians in a defence group that fights Boko Haram, told The Associated Press.
He said the civilian fighters gave up on trying to count all the bodies. "No one could attend to the corpses and even the seriously injured ones who may have died by now," Gava said.
An Amnesty International statement said there are reports the town was razed and as many as 2,000 people killed. If true, "this marks a disturbing and bloody escalation of Boko Haram's ongoing onslaught," said Daniel Eyre, Nigeria researcher for Amnesty International.
The previous bloodiest day in the uprising involved soldiers gunning down unarmed detainees freed in a March 14, 2014, attack on Giwa military barracks in Maiduguri city. Amnesty then said satellite imagery indicated more than 600 people were killed that day.
The 5-year insurgency killed more than 10,000 people last year alone, according to the Washington-based Council on Foreign Relations. More than a million people are displaced inside Nigeria and hundreds of thousands have fled across its borders into Chad, Cameroon and Nigeria.
Emergency workers said this week they are having a hard time coping with scores of children separated from their parents in the chaos of Boko Haram's increasingly frequent and deadly attacks.
Just seven children have been reunited with parents in Yola, capital of Adamawa state, where about 140 others have no idea if their families are alive or dead, said Sa'ad Bello, the coordinator of five refugee camps in Yola.
He said he was optimistic that more reunions will come as residents return to towns that the military has retaken from extremists in recent weeks.
Suleiman Dauda, 12, said he ran into the bushes with neighbors when extremists attacked his village, Askira Uba, near Yola last year. "I saw them kill my father, they slaughtered him like a ram. And up until now I don't know where my mother is," he told The Associated Press at Daware refugee camp in Yola.
http://indianexpress.com/article/world/middle-east-africa/2000-killed-in-deadliest-massacre-by-boko-haram-in-nigeria/99/#sthash.QKd1sON7.dpuf
---------
Algerian Islamists call to 'strike Jews' in celebration of Paris attack
January 10, 2015
Islamists in Algeria shouted anti-Semitic slogans at a rally celebrating the slaying of 12 people in Paris.
Several dozen men participated in the rally that took place Wednesday outside a mosque in the Belouizidad district of Algiers, the news site tamurt.info reported Thursday.
They shouted "strike France and the Jews," "Allah is the greatest" and "Charlie is dead." French authorities suspect the Jan. 7 attack on the offices of the Charlie Hebdo weekly was carried out by Islamists who targeted the publication for its satirical cartoons lampooning Islam.
Elsewhere in Algiers, Islamists celebrated the deadly attack with a dance party on the street near the Djamaa Lihoud mosque, tamurt.info reported.
http://www.jpost.com/Breaking-News/Algerian-Islamists-call-to-strike-Jews-in-celebration-of-Paris-attack-387259
----------
Tunis Demo in Solidarity with Journalists 'Killed by ISIL'
10 January 2015
Around 300 people demonstrated in Central Tunis in solidarity with two journalists the Libyan branch of the Islamic State of Iraq and the Levant (ISIL) terrorist group claims it has executed.
"We are all Sofiene, we are all Nadhir," read placards held by the demonstrators, many of them young journalists, in reference to Sofiene Chourabi and Nadhir Ktari, AFP reported Friday.
On Thursday, the ISIL branch in Libya issued a statement saying the pair, who went missing there in early September, had been executed because they had "sowed corruption in the land".
But echoing official statements, the head of the National Syndicate of Tunisian Journalists, Neji Bghouri, said the "news has still not been confirmed" and called on the government to uncover the truth.
"We chose to be journalists, and we know it is difficult. We have chosen freedom and we will carry on," he said.
Sami Ktari, father of one of the two, called on the authorities to "take the matter seriously".
Newly elected President Beji Caid Essebsi met the families of the two men Friday but has not made any public statement about the case.
But Foreign Minister Mongi Hamdi said the authorities are following the case "minute by minute".
Until such time as the claim of their deaths is confirmed, he said "we hope that they are false".
Hamdi expressed frustration Thursday over failed efforts to secure the two men's release, saying "we do not know who kidnapped them, why they kidnapped them or where they are."
Chourabi, an investigative journalist and blogger who was active during Tunisia's 2011 revolution, and Ktari, a photographer, went missing in the Ajdabiya district of Eastern Libya on September 8.
Libya has been engulfed by chaos since the 2011 NATO-backed uprising that toppled and killed veteran dictator Moamer Gaddafi, with two rival governments and a host of militias now vying for territory.
http://english.farsnews.com/newstext.aspx?nn=13931020000610
----------
Intensifying Nigeria unrest sends 7,300 fleeing to Chad
10 January 2015
GENEVA: A spike in Boko Haram attacks in northeastern Nigeria has sent some 7,300 people fleeing to neighboring Chad in a matter of days, the UN refugee agency said.
Members of the armed movement on Saturday captured the town of Baga in Borno state.
The town lies close to Lake Chad, where the borders of Nigeria, Chad, Niger and Cameroon converge, and the town has been attacked by the group before. Boko Haram went on to destroy at least 16 towns and villages on Wednesday in the remote north of Borno state.
"In western Chad, some 7,300 Nigerian refugees have arrived in the past 10 days, fleeing attacks by insurgents on Baga town and surrounding villages," Adrian Edwards, spokesman for the UN High Commissioner for Refugees (UNHCR), told reporters in Geneva.
"With the recent influxes, Chad is now hosting over 10,000 refugees," Edwards said, adding that the government has requested assistance from aid agencies.
Chadian authorities has asked UNHCR to help relocate more than 1,000 refugees reportedly stranded on an island in Lake Chad, he added.
Boko Haram, which has declared a "caliphate" in zones it controls in northeast Nigeria, has become increasingly active across the borders of Cameroon and Niger.
Edwards said the conflict in northeastern Nigeria has led to an exodus of about 135,000 people, including 35,000 who have sought refuge in Cameroon and 10,000 in Chad.
http://www.arabnews.com/world/news/687201
--------
U.N. envoy meets with Libya's warring militias to pursue talks
10 January 2015
The U.N.'s special envoy to Libya says he has met with stakeholders in Libya's ongoing violence, including powerful General Khalifa Haftar, in a bid to end the fighting and convene a national dialogue session.
Bernardino Leon is proposing a temporary freeze in hostilities in order to "create a conducive environment" for the talks; he said Friday in a statement that he had met with Haftar as well as with commanders of the Islamist-allied militias who control the capital, Tripoli.
Haftar responded positively, while the miltia commanders "will consider the proposal," Leon said.
Haftar has joined forces with the elected internationally recognized government. That government has been forced to convene in the eastern city of Tobruk due to the militia takeover of Tripoli.
http://english.alarabiya.net/en/News/middle-east/2015/01/09/U-N-envoy-meets-with-Libya-s-warring-militias-to-pursue-talks.html
---------
Arab World
'Takfiris' Offend Prophet More Than Cartoons: Hezbollah Chief
10 January 2015
BEIRUT: Extremist religious groups following a "Takfiri" ideology have offended the Prophet Mohammad more than the Western cartoons mocking him, Hezbollah chief Hasan Nasrallah said
"The behaviour of the Takfiri groups that claim to follow Islam have distorted Islam, the Quran and the Muslim nation more than Islam's enemies ... who insulted the prophet in films... or drew cartoons of the prophet," Nasrallah said in a televised speech in an event marking the prophet's birthday.
The remarks came two days after an Islamist attack on a French satirical magazine that had printed cartoons mocking the prophet.
Twelve people were killed in the attack, suspected to have been committed by jihadi-linked gunmen.
"Takfiris are the biggest threat to Islam, as a religion, [and] as a message," Nasrallah said.
Dialogue helps entire country
On the political situation in Lebanon, Nasrallah said Hezbollah's dialogue with the Future Movement launched last month is serious from both sides and serves the interests of the entire country.
He acknowledged that there has been much scepticism surrounding the effectiveness of the talks, but insisted that tangible results were being made.
"I assure you, according to the two sessions so far..., I can speak of the possibility of reaching results."
"Our interest as Lebanese as well as the interest of every people here in the region is to sit down for dialogue as a way of reaching solutions," he added.
But the talks were not an alternative to national dialogue, he added, urging all parties in conflict with another to pursue reconciliation.
Intra-Christian dialogue is key to paving the way to electing a president, he added, offering his backing to the anticipated talks between the Free Patriotic Movement and the Lebanese Forces.
He also rejected the notion that Lebanon needed a regional or international agreement to elect a president, insisting the country could solve the issue by itself.
Lebanon to defeat border jihadis
The Hezbollah chief also saluted the Lebanese Army and security forces for containing the militancy on its eastern and north-eastern border with Syria.
He cautioned citizens not to be victims of "psychological warfare" being used by jihadi fighters on the border, including ISIS and Nusra Front militants holding 25 Lebanese servicemen hostage.
The Army, police and resistance fighters have the border situation under control, he added, calling on Lebanese to have peace of mind, and accusing media of stirring rumours.
"The militants on the borders have failed to achieve any significant victories on the borders," he said.
"As we have defeated the Israelis, we will defeat the Takfiris, the terrorists, and anyone who attacks Lebanon."
Arrest of Bahraini opposition leader 'dangerous'
Nasrallah also denounced Bahrain's recent arrest of the leader of the country's main opposition group, calling the move "very dangerous."
Sheikh Ali Salman, head of the al-Wefaq Islamic Society, was arrested on Dec. 28 after leading a protest rally against elections in November which his party boycotted, and subsequently charged with inciting a change of government by force, inciting hatred, inciting others to break the law and publicly insulting the Interior Ministry.
"The [arrest of Salman] implies that the Bahraini authorities have reached a wall, and that all its attempts [to quell protests] have failed.
Bahrain has been in turmoil since 2011 when a popular pro-democracy movement was violently crushed.
Protests have continued to rock the small island kingdom since the outbreak of the uprising, with multiple attempts at dialogue between the regime and opposition failing to hold.
"The people of Bahrain are calling for rights, and legitimate rights that no one can deny," Nasrallah said.
"The most basic of the rights include an elected parliament that the people elect and not a parliament half of whose members are appointed."
He likened the situation in Bahrain to what happened in Palestine, with foreigners moving in and marginalizing native populations.
He noted that authorities are naturalizing Sunnis from across the region to change the country's majority-Shiite demographic, who form the bulk of the opposition.
"The son of the country who has been there for all his life is deprived of his basic rights and privileges," Nasrallah said.
Shiites are barred from holding an array of political and security positions in the country.
http://www.dailystar.com.lb/News/Lebanon-News/2015/Jan-09/283552-takfiri-groups-offended-prophet-mohammad-more-than-the-cartoons-mocking-him.ashx#sthash.qHrHgWH5.dpuf
----------
Terrorists aiming to stall KSA's progressive march
10 January 2015
The Ministry of Islamic Affairs, Endowments, Call and Guidance has urged the nation to stand together in fighting the menace of terrorism.
It said that Saudi Arabia is one of the most targeted countries in the world "because terrorists are seeking to thwart its progress in the economic, scientific and social fields."
The four suicide bombers, who attacked a border post close to Iraq on Monday, were motivated by a deviant ideology and wanted to destroy the Kingdom's peace and security, Salman Al-Omri, the ministry's spokesman, said in a statement carried by the Saudi Press Agency.
The Kingdom is the most targeted country in the world by terrorists, said the spokesman.
He said, "The terrorists do not want to see security, safety and stability prevailing in this country under the leadership of a strong government based on the book of Allah and the Sunnah of the Prophet ( peace be upon him)."
These terrorists are trying to hold back the advancement of the Kingdom as it "strives to join the ranks of the most advanced countries on the economic, education, social and medical fronts, said Al-Omri.
Full report at:
http://www.arabnews.com/news/687381
----------
Iraqi Bombers Pound ISIL Positions in Kirkuk, Several terrorists dead
10 January 2015
Iraqi warplanes hit the targets of the ISIL Takfiri group in the Northern Iraqi city of Kirkuk, leaving several terrorists dead.
The Iraqi fighter jets launched several strikes against the Takfiri group in West of Kirkuk, claiming the lives of at least 17 terrorists.
The security in Iraq has drastically deteriorated since June 10, when bloody clashes broke out between Iraqi security forces and the ISIL. The latter later took control of the country's Northern city of Mosul and seized swathes of territories in Nineveh and other predominantly Sunni provinces.
The country's army and popular forces have, in a series of operations, started massive attacks against terrorists to liberate occupied areas, mainly Tikrit and Mosul.
The ISIL Takfiri terrorists currently control shrinking swathes of Syria and Iraq. They have threatened all communities, including Shiites, Sunnis, Kurds, Christians, Ezadi Kurds and others, as they continue their atrocities in Iraq.
Senior Iraqi officials have blamed Saudi Arabia, Qatar, and some Persian Gulf Arab states for the growing terrorism in their country.
The ISIL has links with Saudi intelligence and is believed to be indirectly supported by the Israeli regime.
http://english.farsnews.com/newstext.aspx?nn=13931020000738
----------
ISIL Terrorists Attack Iraq's Al-Muqdadiyah Schools
10 January 2015
Local officials in Iraq's al-Muqdadiyah, a town East of Baghdad, announced the closure of educational institutions to protect students as the ISIL terrorists targeted schools with rockets.
"The council has decided to fully close 300 schools and to deprive some 50,000 students of education because of ISIL terrorists," City Council Chief Adnan al-Tamimi said, al-Shorfa reported.
The decision was made following an emergency meeting of the city council Thursday night, al-Tamimi added.
http://english.farsnews.com/newstext.aspx?nn=13931020000783
----------
Activists: ISIS brings fighters from Syria's Deir al-Zour to Iraq
10 January 2015
Islamist militants have brought dozens of fighters from the eastern Syrian city of Deir al-Zour to Iraq to join them in their fight against security forces, Al Sumaria News reported activists as saying on Saturday.
Without specifying an exact figure, the Syrian activists said that the Islamic State of Iraq and Syria (ISIS) group brought dozens of Deir al-Zour residents "to participate in battles on different fronts including the Iraqi forces and the [Kurdish] Peshmerga."
The news come after the Pentagon said on Friday that ISIS militants are having to spend more effort defending key supply lines in Iraq due to U.S.-led air strikes and pressure from local forces.
Full report at:
http://english.alarabiya.net/en/News/middle-east/2015/01/10/Activists-ISIS-brings-fighters-from-Syria-s-Deir-al-Zour-to-Iraq.html
----------
Convicted Saudi blogger Badawi flogged in public 50 times
10 January 2015
A Saudi blogger convicted of insulting Islam was brought after Friday prayers to a public square in the port city of Jiddah and flogged 50 times before hundreds of spectators, a witness to the lashing said.
The witness said Raif Badawi's feet and hands were shackled during the flogging but his face was visible. He remained silent and did not cry out, said the witness, who spoke to The Associated Press on condition of anonymity fearing government reprisal.
Mr. Badawi was sentenced last May to 10 years in prison and 1,000 lashes. He had criticized Saudi Arabia's powerful clerics on a liberal blog he founded. The blog has since been shut down. He was also ordered to pay a fine of 1 million riyals or about $266,600.
Rights activists say Saudi authorities are using Mr. Badawi's case as a warning to others who think to criticize the kingdom's powerful religious establishment from which the ruling family partly derives its authority.
Full report at:
http://www.thehindu.com/news/international/world/convicted-saudi-blogger-badawi-flogged-in-public-50-times-witness/article6774760.ece
--------
Saudi Students asked to avoid unlicensed dawa activities
10 January 2015
The Ministry of Higher Education called on Saudis who are preparing to study abroad to avoid illegal dawa (proselytization) activities outside the Kingdom, which are a clear violation of Saudi law.
This warning is part of an awareness program for Saudi students launched in Riyadh, with the participation of a number of government agencies. The program includes several lectures about the laws of countries which will host the Saudi students.
Dr. Ibrahim Al-Maiman, one of the lecturers, warned students about the dangers of being lured into illegal activities while abroad.
"Students must avoid involving in unlicensed dawa activities when they study abroad. It is necessary to adhere and to local laws, while focusing on their academic programs. Involvement in illegal activities can destroy their future and thwart their academic pursuits," he said.
Full report at:
http://www.arabnews.com/saudi-arabia/news/687281
----------
Syria's Assad building facility for the production of nuclear weapons
January 10, 2015
Syria's President Bashar Assad wants to have a nuclear bomb and has begun work on an underground plant in order to achieve his goal, German news magazine Der Spiegel Online reported on Friday.
Intelligence sources provided exclusive documents, satellite photographs and intercepted conversations to Der Spiegel that indicate that the plant is located near the city of Homs and is a built deep underground in an inaccessible mountain region only two kilometers from the Lebanese border.
Hezbollah, the Shi'te Lebanese militant group aligned with the Syrian President in the Civil War that has been raging in his country for almost four years, will be securing the facility. Iranian and North Korean experts are also reportedly involved in the project.
Western experts who evaluated the documents provided to Der Spiegel said they suspect that a reactor or an enrichment plant could be the aim of the project, whose codename is "Zamzam."
Assad has reportedly transferred 8,000 fuel rods to the facility that were originally planned for the Al Kibar nuclear reactor.
In September 2007, Israel bombed the Al Kibar site Assad was building covertly along the Euphrates River. Israel has never acknowledged the attack.
http://www.jpost.com/Middle-East/Report-Syrias-Assad-building-facility-for-the-production-of-nuclear-weapons-387280
----------
Europe
Teaching Islam's 'Forgotten' Side as Germany Change
10 Jan, 2015
MÜNSTER, Germany — AT a time of fear and loathing for Muslims and non-Muslims in Europe, Mouhanad Khorchide, professor of Islamic pedagogy at the venerable university in this town near the Dutch border, preaches and teaches a course of tolerance and understanding.
Even before the deadly terrorist attack this week in Paris, thousands of Germans were marching against what they fear is the "Islamisation" of Europe. Across the Continent, populists have seized on Islam, and on Muslim immigrants, as the embodiment of their fears of change and a world in turmoil.
Since being awarded a professorship at the University of Münster in 2010, Mr. Khorchide (pronounced kor-SHEED) has emerged as part of Germany's effort to offer an alternative both to those who criticize and fear Islam and to Muslims seeking to practice their religion without extremes.
His courses are intended to groom some of the thousands of teachers needed as Germany's 16 states gradually shift to teaching Islam in primary and eventually secondary schools, putting it on par with the Christian and Jewish faiths.
That role in creating what Mr. Khorchide calls multiplicators, the teachers and social workers of the future, initially stirred fierce opposition from powerful German Muslim associations that, he said, were suspicious both of his teachings and of his very public persona.
Full report at:
http://www.nytimes.com/2015/01/10/world/europe/teaching-islams-forgotten-side-in-a-changing-germany.html?_r=0
----------
Danish Newspaper Says Won't Print Prophet Cartoons
January 10, 2015
Danish newspaper Jyllands-Posten, which angered Muslims by publishing cartoons of the Prophet Mohammad 10 years ago, will not republish Charlie Hebdo's cartoons due to security concerns, the only major Danish newspaper not to do so.
"It shows that violence works," the newspaper stated in its editorial on Friday.
Denmark's other major newspapers have all republished cartoons from the French satirical weekly as part of the coverage of the attack which killed 12 people in Paris on Wednesday.
Many other European newspapers also republished Charlie Hebdo cartoons to protest against the killings.
Full report at:
http://indianexpress.com/article/world/world-others/danish-newspaper-says-wont-print-prophet-cartoons/#sthash.jrh8vk0m.dpuf
----------
2 hostages held in jewellery shop in southern France
January 10, 2015
A police officer says two hostages are being held by a gunman in a jewellery store in the southern French city of Montpellier.
The officer, who could not be named speaking about an ongoing situation, said the attacker has locked himself inside the downtown shop, with police ready to intervene outside.
He said it is unclear whether the hostage-taking is related to the massacre Wednesday in Paris at the satirical newspaper Charlie Hebdo that left 12 people dead.
http://indianexpress.com/article/world/europe/another-hostage-situation-2-hostages-held-in-jewelry-shop-in-southern-france/#sthash.hXnn1dzJ.dpuf
----------
Anonymous declares 'cyber war' against Islamist militants
10 January 2015
The Belgian offshoot of Hacktivist group Anonymous vowed to attack websites belonging to radical Islamists in revenge for the Paris killings of Charlie Hebdo cartoonists and journalists.
In a YouTube video, the group posted a message in French stating it had "declared war" against terrorist groups.
Directing its message to "al-Qaeda, Islamic State of Iraq and Syria (ISIS) and other terrorists," Anonymous said it would take down the websites and social media accounts of these militant groups.
Anonymous posted a message on Pastebin, a popular website for storing and sharing text, also in French, which was addressed to the "enemies of the freedom of expression."
It dubbed its operation as #OpCharlieHebdo.
http://english.alarabiya.net/en/media/digital/2015/01/10/Anonymous-declares-cyber-war-against-Islamist-militants.html
----------
France's Hollande calls on national unity after Paris massacre
10 January 2015
French President Francois Hollande confirmed reports on Friday that four hostages were killed at a siege of a kosher supermarket in eastern Paris.
Hollande called for national unity and said the country should remain "implacable" in the face of racism and anti-Semitism.
"It is indeed an appalling anti-Semitic act that was committed," he said of the hostage-taking by an Islamist gunman at the Hyper Cacher supermarket in the Vincennes district.
Some hostages were seen rushing from the market after heavily armed police broke the siege at the same time as they ended a separate stand-off in northern France involving the two Islamist suspects behind the killings at Charlie Hebdo magazine this week.
"I called for national unity," Hollande said during a meeting with the emergency committee in the capital Paris earlier today.
Full report at:
http://english.alarabiya.net/en/News/world/2015/01/09/France-s-Hollande-calls-on-national-unity-after-Paris-massacre-.html
----------
French probe terror suspect links; new attacks may be ahead, says PM Valls
By: Associated Press | Paris
January 10, 2015
What started as a hunt for two terror suspects grew into something worse – fears of a nest of terrorists that could strike again in the heart of Paris. The suspects in three attacks knew each other, had been linked to previous terrorist activities, and one had fought or trained with al-Qaida in Yemen, which claimed ownership Friday of this week's newspaper massacre.
Investigators are now trying to determine to what extent the attacks were coordinated. The Kouachi brothers had been the subject of a vast manhunt following the armed attack on the Charlie Hebdo weekly that claimed 12 lives on Wednesday.
The brothers died Friday when police attacked the building near Charles de Gaulle airport outside Paris where they had barricaded themselves. An acquaintance of at least one of the Kouachis, Amedy Coulibaly, 32, was identified as the suspected killer of a policewoman in suburban Paris the previous day- and as the man armed with a semi-automatic rifle who opened fire Friday in a kosher market near Paris' Porte de Vincennes and holed up with hostages there.
Full report at:
http://indianexpress.com/article/world/europe/french-probe-terror-suspect-links-new-attacks-may-be-ahead/99/
----------
Europe, US must confront homegrown Islamic terror threat before more die
10 Jan, 2015
France has a big problem. So does Great Britain. So does the rest of Europe. And so does America. The problem is the several thousand young, native-born Islamist extremists who travel abroad to fight for ISIS in Syria and Iraq, or Al Qaeda in Yemen and Pakistan, and come home to kill.
We see police identifying the suspects in the Paris massacre and think the good guys finally won because French forces tracked them down and have them surrounded.
Islamist extremists look at the Paris massacre and think they won. What they saw was fellow jihadists who could carry out a plan and execute an operation to kill journalists they deemed offensive.
This isn't the end of two terrorist attacks. It is the beginning of a war.
Friday morning a second group of Islamist extremists stormed a kosher market in Paris. They executed women and children.
Full report at:
http://www.foxnews.com/opinion/2015/01/09/europe-us-must-confront-homegrown-islamic-terror-threat-before-more-die/
----------
Terrified Hostages Run For Their Lives as 'At Least Four' Captives Die In Dramatic End to Siege
10 Jan, 2015
This is the dramatic moment terrified hostages ran for their lives after the siege at the Paris kosher deli ended with four other captives and the gunmen killed during the melee.
The Islamic militant had taken people, including women and children, captive and was threatening to kill them if police attempted to storm the Charlie Hebdo terrorists who, at the time, were engaged in a similar standoff with police on the eastern outskirts of the city.
An Israeli government official said 15 hostages were rescued while French president Francois Hollande confirmed that four people were killed.
Today's hostage taker Amedy Coulibaly - who was killed in the raid - was also responsible for the fatal shooting of a policewoman yesterday. It has now been suggested this attack may have been an aborted attempt to attack a Jewish school.
One woman who visited the Kosher shop described its manager Michel Emsalem as a 'kind' and 'patient' man.
Full report at:
http://www.dailymail.co.uk/news/article-2903380/Another-gunman-takes-hostage-kosher-grocery-Paris-police-fear-gunman-shot-dead-policewoman-yesterday.html#ixzz3OSLIXBMv
----------
Irish Muslims hear fierce denunciation of Islamic extremists
10 Jan, 2015
The al-Mustafa Islamic Educational and Cultural Centre is at the back of a garage in a large industrial estate. It is a peripheral location in west Dublin. If Irish Muslims are feeling isolated given what is happening in their name elsewhere, they were told at Friday prayers yesterday not to be afraid to speak out.
The congregation heard a fierce denunciation by their imam, Shaykh Dr Umar al-Qadri, of what was being done in the name of their religion. He described the perpetrators of violence in France, Pakistan and Nigeria as being the "biggest blasphemers of all" and anti-Islamic.
The Prophet Muhammad had condemned extremists in his own time and warned there were those who had the appearance of Muslims who often perpetuated the foulest deeds themselves. He had described extremists as the "gods of hell". The prophet had been mocked and insulted, but had never resorted to violence, he pointed out.
Full report at:
http://www.irishtimes.com/culture/heritage/irish-muslims-hear-fierce-denunciation-of-islamic-extremists-1.2060977
----------
'Charlie Hebdo' shooter says financed by al-Qaida preacher in Yemen
January 10, 2015
One of the two brothers who killed 12 in a massacre at French satirical magazine Charlie Hebdo this week has said he received financing by al-Qaida preacher Anwar al Awlaki in Yemen.
Cherif Kouachi, who was killed along with his older brother by police on Friday after a siege at a printing works in north France following a three-day manhunt, made the assertion to BFM-TV before his death while holed up inside the building.
"I was sent, me, Cherif Kouachi, by al-Qaida of Yemen. I went over there and it was Anwar al Awlaki who financed me," he told BFM-TV by telephone, according to a recording aired by the television channel after the siege was over.
Al Awlaki, an influential international recruiter for al-Qaida, was killed in September 2011 in a drone strike.
A senior Yemeni intelligence source earlier told Reuters that Kouachi's brother Said had also met al Awlaki during a stay in Yemen in 2011.
http://www.jpost.com/Breaking-News/Charlie-Hebdo-shooter-says-financed-by-al-Qaida-preacher-in-Yemen-387252
----------
French TV cancels interview with 'Islamic France' novelist
10 Jan, 2015
PARIS: French television network Canal Plus on Friday cancelled the broadcast of an interview with one of the country's top novelists about his new book imagining a France under Islamic rule.
The station said it had pulled the programme on author Michel Houellebecq because of the double "hostage-takings" by apparent jihadists in and to the north of Paris on Friday, it said.
Houellebecq suspended promotion of his book "Submission" late on Thursday and left Paris after learning one of his friends was among the 12 people murdered in an Islamist attack on Wednesday on the satirical newspaper Charlie Hebdo.
But he had pre-recorded an interview with Canal Plus, which was meant to have been aired late on Friday.
The television station was quick to say the broadcast was not cancelled "because of the content of the interview".
http://www.dawn.com/news/1156118/french-tv-cancels-interview-with-islamic-france-novelist
-------
Pakistan
Clerics Demand Action against Terrorists without Discrimination
10 Jan, 2015
ISLAMABAD: A grand debate competition amongst the students of renowned religious seminaries was held at Jinnah Convention Centre. The event was held under the umbrella of Majlis-e-Saut-ul-Islam, Pakistan.
The event was participated by thousands of religious scholars, administrators and students of religious seminaries across Pakistan. At the end of the ceremony a joint declaration was also signed and issued by the renowned religious scholars, administrators and students of different religious seminaries in the aftermath of prevailing circumstances. According to the joint declaration the religious scholars and administrators jointly supported the 21st amendment passed by the government and demanded its implementation without the discrimination of cast and creed to eradicate the terrorism and extremism from the country.
Minister for Religious Affairs and Interfaith Harmony, Sardar Muhammad Yousaf was the Chief Guest on this occasion. While Secretary General, Wafaq ul Madaris Arabia Pakistan Molana Hanif Jalandhari , Chairman Majlis-e-Saut-ul-Islam Pakistan, Mufti Abu Hurera Mohiuddin, Mohtamim Jamia-Ashrafia Lahore, Maulana Fazal-ur-Rehman, thousands of religious scholars and political and religious leaders have also attended the meeting.
Full report at:
http://www.dailytimes.com.pk/national/10-Jan-2015/clerics-demand-action-against-terrorists-without-discrimination
----------
9 military courts being set up across country in first phase
10 Jan, 2015
ISLAMABAD: Pakistan Army announced establishment of nine military courts in all the four provinces, initially.
Three military courts each would be set up in Punjab and Khyber Pakhtunkhwa, two in Sindh and one in Balochistan, Inter-Services Public Relations (ISPR) said in a statement. These courts would start functioning soon, the statement added. The army's statement on setting up the military courts follows parliament's nod earlier this week. The National Assembly and Senate on Tuesday adopted the 21st Constitutional Amendment Bill and the Pakistan Army (Amendment) Bill, 2015, unopposed, to allow the formation of the special trial courts for speedy and effective trial of the hardcore terrorists involved in heinous terrorist activities, for the very first time in the history of Pakistan's democratic dispensation.
On Wednesday, President Mamnoon Hussain signed into law both the bills to complete the legalities required to set up the military courts that would be in place for two years. Military sources said the General Headquarters (GHQ) has been assigning those army officers to the military courts who have an educational background in law studies or who have been involved in dealing with the army's legal affairs. Reportedly, the military courts would be headed mainly by brigadier ranked officers and comprise of the officers of lieutenant colonel and colonel ranks. The GHQ is set to engage the officers mainly from Pakistan Army's Adjutant General (AG) and Judge Advocate General (JAG) branches in the military courts, sources shared.
Full report at:
http://www.dailytimes.com.pk/national/10-Jan-2015/9-military-courts-being-set-up-across-country-in-first-phase
----------
Four security men killed in Orakzai blast
10 Jan, 2015
KALAYA: Four security personnel were killed and two others injured in a landmine explosion in Bashak area of lower Orakzai Agency on Friday, officials said.
The security personnel were performing routine patrolling duties in the area when their vehicle hit the landmine. Four troops died and two were wounded in the blast.
The injured were taken to the Combined Military Hospital in Kohat.
Security forces picked up several suspects during a search operation in the area conducted after the incident.
http://www.dawn.com/news/1156139/four-security-men-killed-in-orakzai-blast
----------
Wagah blast 'mastermind', two others killed in Lahore
10 Jan, 2015
LAHORE: The alleged Lahore chief of Tehreek-i-Taliban Pakistan (TTP) who was also said to be the mastermind of November 2014's Wagah bombing was killed along with two associates in the provincial capital's Burki Road area, sources in law enforcement and intelligence agencies said early Saturday.
Intelligence agencies had been on a hunt for Roohullah alias Asadullah, the alleged mastermind of the Wagah attack since the Nov 2 bombing that killed at least 60 people.
Law enforcement officials told Dawn that a joint raid was carried out at a house located on Burki road on Lahore's outskirts on a tip-off regarding the TTP commander's presence.
Police officials said their raiding party came under gunfire upon entering the neighbourhood. Asadullah and his two accomplices opened fire on the raiding party and police fired back in retaliation. The exchange lasted for at least half an hour.
Several blasts were also heard during the exchange of fire. After the firing subsided, policemen entered the premises and recovered bodies of the three alleged militants.
Police claimed that all three killed hailed from Bajaur and belonged to TTP's Mullah Fazlullah group and shifted the bodies to a morgue.
A huge quantity of arms, explosives, suicide vests, detonators, militant literature and other equipment was recovered during a search of the house.
http://www.dawn.com/news/1156151/wagah-blast-mastermind-two-others-killed-in-lahore
----------
Pervez Musharraf attack case: Ex-PAF technician hanged
10 Jan, 2015
RAWALPINDI: A former Pakistan Air Force (PAF) chief technician Khalid Mehmood, convicted in the Pervez Musharraf attack case, has been executed in the Central Jail Adiala, DawnNews reported Friday night.
Khalid Mehmood, along with four others, was awarded the death sentence on October 3, 2005 by the Field General Court Martial under the Army Act for his involvement in an assassination attempt on Gen (Retd) Pervez Musharraf on December 14, 2003 in Rawalpindi.
He belonged to Chak No 372 police station of Dunyapur in the Lodhran district with the present address of Lava, near high school Talagang, Chakwal.
Mehmood was shifted to Adiala Jail on October 27, 2010.
Strict security measures had been taken before his execution. Army and Rangers personnel were deployed in and outside the Adiala jail. Besides this, aerial surveillance of the area was also carried out.
Full report at:
http://www.dawn.com/news/1156119/pervez-musharraf-attack-case-ex-paf-technician-hanged
----------
Interfaith peace conference: Terrorism is a global problem, say speakers
anuary 10, 2015
KARACHI: The Paris attack is an eye-opener that terrorism is a global problem and that extremists want to rule the world.
This was said by Allama Abbas Kumaili, whose organisation, Forum Against Intolerance, Terrorism and Hatred (Faith), organised a 'Religious harmony and peace conference as per teachings of Holy Prophet (pbuh) and Jesus Christ' at Karachi Press Club (KPC) on Friday.
Muslim clerics wearing topis, a Sikh with a red turban, a Hindu woman with a tilak and a Christian bishop in purple robes, sat alongside each other to condemn terrorism and stress the need for respect and love among religious communities.
"Terrorism is not a problem of Pakistan alone," said Kumaili. "Terrorists are spreading chaos everywhere from Nigeria to Syria." He stressed the need to form a new Pakistan where everyone will be treated equally and people from all religions can live as brothers.
Bishop Ijaz Inayat was of the view that at a time when extremism is spreading not only in Pakistan but across the world, dialogues like these are the need of the hour. He said that the Peshawar attack has initiated a 'jihad against terrorism and brutality'.
"A holy war has now started as people have come together to wage war against terrorists," he said. He urged the people to stop giving their children to these extremists who train them to become suicide bombers.
Full report at:
http://tribune.com.pk/story/819328/interfaith-peace-conference-terrorism-is-a-global-problem-say-speakers/
----------
Marvi for creation of consultative body in fight against terrorism
10 Jan, 2015
ISLAMABAD – National Assembly Standing Committee on Information and Broadcasting Chairperson Marvi Memon has proposed creation of a consultative body of government and media representatives to help promote better cooperation in the fight against terrorism.
In an exclusive interview with Radio Pakistan, she said media has an important and effective role to complement efforts of the government and the law enforcing agencies to combat terror. She explained in detail the background, rationale and spirit of the special report of the Standing Committee on strengthening media's role in combating terrorism and said it contains nothing that could be construed as curbs on freedom of media.
The chairperson of the committee said that proposals contained in the report were shared with representatives of the media bodies and their concerns and differences, if any, were duly reflected. Pointing out that the report is available on Internet and is a public document Marvi invited media houses, representative bodies of media and working journalists for a positive criticism and feedback.
Full report at:
http://www.dailytimes.com.pk/national/09-Jan-2015/marvi-for-creation-of-consultative-body-in-fight-against-terrorism
---------
TTP Jamat ul Ahrar faction claims attack on Rawalpindi Imambargah
10 Jan, 2015
ISLAMABAD: The Jamatul Ahrar faction of banned Tehreek-i-Taliban Pakistan (TTP) on Saturday claimed responsibility for Friday's bomb attack on an imambargah in Rawalpindi, which killed eight people and wounded 16 others.
The powerful explosion on Friday night in the city triggered chaos as dozens of minority Shias gathered at the imambargah to distribute alms to mark the birthday of the Prophet Muhammad (Peace be Upon Him).
"We claim responsibility of the attack on the imambargah and vow to continue such attacks," spokesman of Jamatul Ahrar, Ehsanullah Ehsan, said in an email.
Pakistan has strengthened its own offensive against the Taliban since their attack on Peshawar's Army Public School on December 16 killed 150 people, 134 of them children.
The country ended its six-year-old moratorium on the death penalty in terror cases last month in the wake of the massacre.
Nine convicted militants have been hanged so far since the de facto ban on capital punishment ended.
To further boost its efforts, the government on Friday announced it was setting up nine military courts to hear terrorism-related cases.
http://www.dawn.com/news/1156163/ttp-jamatul-ahrar-faction-claims-attack-on-rawalpindi-imambargah
----------
Pakistanis are victims of terror, like people in Paris are this week: Pentagon
10 Jan, 2015
WASHINGTON: Pentagon spokesman Rear Admiral John Kirby on Friday said the sanctuary that some terrorist groups enjoy in Pakistan has long been an issue of concern for the United States, adding that the subject has long been a topic of discussion between the American and Pakistani leadership.
During a press briefing at the Pentagon on Friday, Kirby added that terrorists hiding in Pakistan and militancy in the region were common challenges facing the two countries.
He further said that it was imperative to keep in mind that the Pakistani people are victims of terrorism "just like the people in Paris are this week".
In response to a question regarding the US helping Pakistan as well as "putting pressure" on the government on the other hand, the press secretary interjected that terrorism was a shared threat and America would continue to maintain interest in helping Pakistan overcome this threat.
Full report at:
http://www.dawn.com/news/1156164/us-to-help-pakistan-overcome-terror-security-challenges-pentagon
----------
Mideast
Al-Qaeda in Yemen threatens France with new attacks: SITE
January 10, 2015
A top official from Al-Qaeda in the Arabian Peninsula (AQAP) threatened France with fresh attacks following those at the Charlie Hebdo magazine and at a Jewish supermarket, SITE monitoring group has said.
"If you refuse but to wage war, then wait for the glad tiding," Harith al-Nadhari was quoted saying in a video yesterday.
He stopped short of claiming responsibility for the three days of Islamist bloodshed in France that left 17 people dead.
But one of the suspects in the Charlie Hebdo attack studied in Yemen, where he attended Al-Qaeda training camps, Yemeni security sources and a classmate have said.
French elite forces stormed two hostage sites yesterday, killing the brothers behind the Charlie Hebdo massacre and an accomplice in a fiery end that also claimed the lives of four hostages at the city center supermarket.
http://indianexpress.com/article/world/europe/al-qaeda-in-yemen-threatens-france-with-new-attacks-site/#sthash.PdedPcEV.dpuf
-----------
Turkish PM calls on Turks to stand firm against 'plots' to create rift in Europe
January 10, 2015
Turkish Prime Minister Ahmet Davutoğlu has called on Muslim Turks to remain resolute against Islamophobia that is "spread using terrorist acts as an excuse" in the wake of the Charlie Hebdo attack, accusing certain groups of plotting to breed bad blood between cultures in Europe.
"I am saying this in the face of racist reactions that may erupt particularly in Europe: This is the time to keep the Muslim Turkish identity up without taking any offense," Davutoğlu said, addressing Turkish ambassadors stationed abroad during a dinner in Ankara on late Jan. 8.
In addition to condemning the Jan. 7 killing of 12 people at French satire magazine Charlie Hebdo as a terrorist act, Turkish leaders have also sought to draw attention to the potential consequences of the attack on the perception of Islam and the treatment of Muslims in Western countries.
Prime Minister Davutoğlu also put "the potential threats of Islamophobia" in focus during his speech on Jan. 8.
Full report at:
http://www.hurriyetdailynews.com/turkish-pm-calls-on-turks-to-stand-firm-against-plots-to-create-rift-in-europe-.aspx?pageID=238&nID=76706&NewsCatID=338
----------
Former Turkish president calls on Muslims to denounce Paris attack
January 10, 2015
Turkey's former President Abdullah Gül has joined the condemnations of the shooting in Paris that killed 12 people at the French satirical weekly Charlie Hebdo, calling on the Islamic world to denounce the incident.
"I condemn the brutal terrorist attack on magazine Charlie Hebdo in Paris in the strongest possible of terms," Gül, who handed over the presidency to Recep Tayyip Erdoğan in early September, said in a statement.
"It is clear that this kind of violence is totally immoral and against the fundamental precepts of any religion, and indeed of Islam," he added.
"The perpetrators of this barbaric act not only betrayed and tainted Islamic values and principles, but also targeted millions of European Muslims who have nowhere to live other than Europe," he said.
Gül also called on the Islamic world and all Muslims to denounce "the inhuman attack and demonstrate solidarity with the people of France against religious extremism."
http://www.hurriyetdailynews.com/former-turkish-president-calls-on-muslims-to-denounce-paris-attack-.aspx?pageID=238&nID=76720&NewsCatID=338
----------
Israeli PM to French ambassador: First rule in fighting terror is not to be afraid
January 10, 2015
The first law in fighting terrorism is to not be afraid, Prime Minister Benjamin Netanyahu said Friday, at the start of a meeting with French Ambassador Patrick Maisonnave.
"I know that there are many in France who are asking themselves, how can we fight this dreadful fear-imposing barbarism. Should we continue to publish our views? Should we express our opinions? Should we now cut back? " Netanyahu said.
"My message – in Paris, in Jerusalem, anywhere – is that the first rule in fighting terrorism is to refuse to knuckle down and knuckle under fear and pain of fear, to refuse to be afraid," he said. Another important point, he said, "is that we have to unite to roll back this tide of fear."
Netanyahu told the ambassador that Israel is mourning "with our French brothers and sisters" and is committed to joint action "to defeat the enemies of the democratic values ​​we all cherish."
Full report at:
http://www.jpost.com/Israel-News/PM-to-French-ambassador-First-rule-in-fighting-terror-is-not-to-be-afraid-387218
----------
Paris hostage crises hit home for Israel – 'Our hearts are with the Jews of France'
January 10, 2015
Israeli officials reacted with shock and concern on Friday over the double-hostage crisis in Paris, one of them targeting a kosher supermarket in a suburb of the capital.
"Our hearts and prayers are with our brothers and sisters in France," President Reuven Rivlin tweeted.
Foreign Minister Avigdor Liberman said that Israeli officials in Jerusalem were "monitoring the events in Paris with concern."
Liberman said that diplomats in Jerusalem were in contact with Israeli representatives in the embassy in Paris.
"The terror attack that has gone on for three days now is not just against the French nation, or against the Jews of France, but is aimed at the entire free world," the foreign minister said. "This is another attempt by the forces of darkness emanating from extreme Islam to sow fear and terror against the West, and the entire international community must stand like a wall and with determination against this terrorism."
Full report at:
http://www.jpost.com/Israel-News/Paris-hostage-crises-hit-home-for-Israel-Our-hearts-are-with-the-Jews-of-France-387234
----------
North America
Will Egypt Show America How To Win The War On Radical Islamic Jihadism?
10 Jan, 2015
NEW YORK — The biggest story not yet covered appropriately in mainstream media plays out now in Egypt, where President Abdel Fattah el-Sisi attacks the root causes of continuing conflict between certain adherents of Islam and freedom-loving secularists, in defiance of President Obama and of fierce critics.
Living in a nation of 87 million persons, where an estimated 90 percent are Muslim, and President el-Sisi is certain that the Muslim Brotherhood is not a secular organization or a force for good and so his government holds hundreds of members of that organization in prison, where many face death sentences, including former President Mohammed Morsi.
To see what President el-Sisi confronts now, peruse the still-operating English language website of the brotherhood.
President el-Sisi plays for his life against determined internal and external opposition while President Obama merely preens before friendly partisan crowds.
Recently this year, the fully engaged leader of Egypt began a drive to reform Islam from within.
His address to religious authorities at Al-Azhar University in Cairo on Jan. 1 is a stunning "must-read" and "must-share" development that only now is getting attention it so richly deserves.
Full report at:
http://www.washingtontimes.com/news/2015/jan/8/charles-ortel-will-egypt-show-america-how-win-war-/?page=2#ixzz3OSKej1vi
----------
An extremist in Pak wanted to sentence me to death: Zuckerberg, CEO Facebook
January 10, 2015
Facebook CEO Mark Zuckerberg has said an extremist in Pakistan had sought to sentence him to death as he refused to ban anti-Islam content on his social networking site that offended him.
"A few years ago, an extremist in Pakistan fought to have me sentenced to death because Facebook refused to ban the content," Zuckerberg wrote on his Facebook page following the terrorist attack on a French satirical magazine for publishing controversial cartoons.
Twelve people, including eight senior journalists, died in the attack.
Zuckerberg said despite threat that he stood by his decision.
"We stood up for this because different voices – even if they're sometimes offensive – can make the world a better and more interesting place," he said.
Facebook has always been a place where people across the world share their views and ideas, he said.
Full report at:
http://indianexpress.com/article/world/world-others/an-extremist-in-pak-wanted-to-sentence-me-to-death-zuckerberg-ceo-facebook/#sthash.zlFYkpOn.dpuf
----------
Obama to France: 'The United States stands with you'
10 January 2015
President Barack Obama rallied to the support of France after the bloody end to hostage sieges in Paris, vowing to offer all assistance to combat the threat of militant Islamists.
"I want the people of France to know that the United States stands with you today, stands with you tomorrow," Obama said at a speaking engagement in Tennessee, describing France as America's "oldest ally."
"The moment that the outrageous attack took place, we directed all of our law enforcement and counterintelligence operations to provide whatever support that our ally needs in confronting this challenge," Obama added.
Full report at:
http://english.ahram.org.eg/NewsContent/2/9/119918/World/International/Obama-to-France-The-United-States-stands-with-you.aspx
----------
US-Pakistan talks to focus on ties with India, Afghanistan
10 Jan, 2015
WASHINGTON: The two-day US-Pakistan Strategic Dialogue, which resumes in Islamabad early next week, will focus on two recent developments: a marked improvement in Pakistan's relations with Afghanistan and a rapid increase in tensions with India.
Talking to Dawn, Ambassador Jalil Abbas Jilani highlighted one of the two developments — improvement in relations with Afghanistan.
"Yes, there has been a steady progress in relations with Afghanistan since the election of a new government in Kabul," he said. He acknowledged that recent clashes on India-Pakistan border were "a cause of concern" in both Washington and Islamabad.
But he pointed out that the Strategic Dialogue was a forum for reviewing relations between Pakistan and the United States "so all discussions will have a bilateral context".
This would be the second ministerial-level meeting since the dialogue resumed in 2013. Three sessions were held in quick succession in 2010 but the dialogue was suspended after the May 2011 US operation in Abbottabad.
Full report at:
http://www.dawn.com/news/1156066/us-pakistan-talks-to-focus-on-ties-with-india-afghanistan
----------
Operation Zarb-e-Azb: US declines to commit aid for displaced persons
January 10, 2015
ISLAMABAD: In what appears to be the result of sustained diplomatic pressure from India, the United States on Friday declined to commit any funds to help refugees affected by Operation Zarb-e-Azb, resulting in the failure of the third Donors' Conference to raise the target $380 million needed to fund the government's return and rehabilitation program.
In the eyes of the finance ministry, the biggest setback came from the United States that did not commit any funds at the conference held at the PM House. US Ambassador to Pakistan Richard Olson was expected to announce $250 million for internally displaced persons (IDPs). That expected announcement was also one of the main reasons behind holding the third Donors Conference, said a senior finance ministry official.
After the launch of Operation Zarb-e-Azb, an action the US government had been persistently asking Islamabad to undertake, the government has held conferences with foreign governments and aid agencies to try to raise money to help the people of the tribal regions displaced by the military's actions against the Taliban.
Full report at:
http://tribune.com.pk/story/819538/operation-zarb-e-azb-us-declines-to-commit-aid-for-displaced-persons/
----------
South Asia
Two Taliban commanders join peace process in Badakhshan
10 Jan, 2015
Two Taliban commanders have joined peace process along with their fighters in northeastern Badakhshan province of Afghanistan.
According to the local government officials, the two Taliban commanders were leading eleven insurgents and were involved in anti-government insurgency activities.
Provincial police spokesman Lal Mohammad Ahmadzai said the two Taliban commanders were operating in Tagab and Tashkan districts.
The two Taliban commanders were identified as Nasir Ahmad and DAwlat Khan Zamani.
The Taliban militants group has not commented regarding the report so far.
Badakhshan is among the relatively volatile provinces in northeastern Afghanistan where anti-government armed militant groups are actively operating in a number of its districts and frequently carry out insurgency activities.
http://www.khaama.com/two-taliban-commanders-join-peace-process-in-badakhshan-8934
----------
HRW: Arbitrary arrests, censorship to inflame tension
10 Jan, 2015
Bangladesh government should immediately end its use of excessive force, stop arbitrary arrest of members of opposition parties and lift restrictions on media, Human Rights Watch (HRW) has said.
"The government's indiscriminate use of force, arbitrary arrests, and censorship will only inflame an already tense situation," said HRW Director Brad Adams in a statement.
"Authorities have an obligation to protect the public, but need to do it in a way that does not throw human rights and the rule of law out the window."
The HRW report claimed that hundreds of opposition activists, including from BNP and Jamaat, have been rounded up in recent days. The government crackdown has come in response to opposition protests on the anniversary of controversial national polls.
BNP chief Khaleda Zia has been effectively detained in her office in Dhaka since January 3, the report said.
Full report at:
http://www.dhakatribune.com/bangladesh/2015/jan/10/hrw-arbitrary-arrests-censorship-inflame-tension#sthash.gisGrHli.dpuf
----------
Afghanistan, Pakistan facing time-consuming challenges: President Ghani
January 10, 2015
ISLAMABAD: Afghan President Ashraf Ghani on Saturday told senior Pakistani political leaders that the two countries face time-consuming challenges but vowed to overcome all problems with joint efforts.
The political leaders are visiting Kabul on Ghani's invitation for a discussion on joint efforts to strengthen anti-terror cooperation and boost people-to-people contacts.
The Afghan president received the delegation comprised of Mehmood Khan Achakzai, Aftab Ahmad Khan Sherpao and Senator Afrasiab Khattak.
"During separate meetings held in Arg (Presidential Palace), the issues of enhancing bilateral relations between the two countries, improving security situation, joint efforts on fighting terrorism, and addressing the problems of Afghan migrants in Pakistan were discussed between the two sides," Ghani's office said.
Full report at:
http://tribune.com.pk/story/819613/afghanistan-pakistan-face-time-consuming-challenges-president-ghani/
----------
Biswa Ijtema begins amid blockade: Bangladesh
10 Jan, 2015
Braving all the odds on the roads during the BNP-led indefinite blockade, thousands of devotees from home and abroad thronged the bank of Turag River in Tongi yesterday as the first phase of the Biswa Ijtema commenced.
Meanwhile, in a tragic road accident, four devotees from Jessore were killed while coming to the Ijtema yesterday morning. The private car carrying them collided head on with a truck at Joypura area in Savar.
Biswa Ijtema, the second largest congregation of Muslims after Hajj, began right after the Fazr prayer with the devotees chanting 'Allahu Akbar'.
Moulana Mohammad Ehsan from Pakistan delivered Khutbah (religious sermon) in Urdu followed by a Bangla interpretation by Bangladeshi Moulana Mohammad Abdul Matin.
Later Moulana Ahmad Lat from India gave a speech about the norms and values of being a Muslim.
Full report at:
http://www.dhakatribune.com/bangladesh/2015/jan/10/biswa-ijtema-begins-amid-blockade#sthash.WY5wnG5w.dpuf
-------
India
Muslim clerics, activists slam Yakub Qureshi's 'Rs 51cr reward' statement
Maria Akram,TNN | Jan 10, 2015
NEW DELHI: Muslim clerics and activists have slammed ex-Uttar Pradesh minister Yakub Qureshi's statement saying he would reward Rs 51 crore to terrorists who attacked Charlie Hebdo office.
"We condemn Qureshi's statement and people like him should be put behind the bars," said cleric Maulana Mohammad Sajid Rashidi.
Community leaders say such remarks are made for publicity and defame Muslims. Some are planning to issue a memorandum against politicians who give such statements and do 'disservice' to the community.
Muslim clerics underlined Islam never allows anyone to kill and instead talks about peace.
"It's a very irresponsible statement and a crime in itself. There is no purpose for the said sensational statement except to gain publicity,'' said All India Muslim Majlis-e Mushawarat president Zafarul-Islam Khan.
Full report at:
http://timesofindia.indiatimes.com/india/Muslim-clerics-activists-slam-Yakub-Qureshis-Rs-51cr-reward-statement/articleshow/45830521.cms
----------
Pakistan Getting Isolated In Fight against Terror, Says Minister
Jan 10, 2015
Pakistan is getting isolated in the fight against terrorism, Minister of State for Minority and Parliamentary Affairs Mukhtar Abbas Naqvi said here on Friday.
Mr. Naqvi said the fight against terrorism was no longer the problem of one particular country.
"It is universal and a fight for all of humanity. Even post-Peshawar, if Pakistan continues to be casual in its approach to terrorists who were responsible for killing innocent people, it is unfortunate," he said.
He was fielding a question at an interaction with presspersons here on his first visit to the State after becoming Minister.
He was guarded when asked about the cover photo of the latest issue of Himalaya Dhwani , a magazine brought out by 'Durga Vahini', the women's wing of the Vishwa Hindu Parishad that went viral because it had the 'morphed' face of actress Kareena Kapoor half-covered with a 'Burqah.' "It s not correct to carry on hate 'jihad' in the name of love 'jihad'," was all he would say.
Full report at:
http://www.thehindu.com/news/national/andhra-pradesh/pakistan-getting-isolated-in-fight-against-terror-says-naqvi/article6773758.ece?ref=tpnews
--------
Homoeopath is picked up for 'supplying' IM with explosives
Jan 10, 2015
Security agencies have identified a 34-year-old homoeopathy doctor based in coastal Karnataka as the elusive supplier of explosives to Indian Mujahideen and the "missing link in some of the blasts carried out" by the terror outfit.
Syed Ismail Afaque was arrested by police in Bangalore on Thursday during the course of a terrorism probe, which also led to the seizure of a large cache of explosives during a raid in Bhatkal the same day.
Highly placed sources in Bangalore police and National Investigation Agency (NIA) said that investigations spanning over six months showed that Afaque supplied explosives to IM operative Asadullah Akhtar alias Haddi in Mangalore for the February 21, 2013 twin blasts in Hyderabad's Dilsukhnagar that killed 17 people, apart from other cases.
NIA sources added that the agency would seek custody of Afaque once the Bangalore police completes its probe into his activities and associations.
Security agencies have also tagged Afaque, who heads the Karwar unit of the pro-Muslim Popular Front of India, as a close associate of IM founders Riyaz and Iqbal Bhatkal. They believe he was Riyaz Bhatkal's point man in coastal Karnataka for the supply of explosives.
When contacted, Afaque's younger brother Yasin Lanka, a businessman, denied the charges and called his sibling "a regular family man" who would not get involved in terrorism-related activities.
Full report at:
http://indianexpress.com/article/india/india-others/homoeopath-is-picked-up-for-supplying-im-with-explosives/99/#sthash.pfx8HDoy.dpuf
----------
Frame tough law against religious conversions: Senior BJP leader
Jan 10, 2015
Senior BJP leader Kailash Vijaywargiya today said the government should frame a tough law against religious conversions especially in tribal and border areas where people are allegedly lured by vested interests to convert to other religions.
"The central government should frame a tough law on religious conversions, especially for tribal and border areas where people were allegedly lured by vested interests to convert to other religion," Vijaywargiya said here, adding, that 'Ghar Wapsi' should not be treated as religious conversion.
When asked if Hindu outfits are not creating problems for the BJP-led government at the centre by raising controversial issues like "Love Jihad," he said, "The agenda of BJP and that of Hindu organisations is different. The two should not be viewed as linked".
Referring to Congress, the Urban Administration and Development minister said, "It has become a leaderless party and has accepted defeat in the country. Though a strong opposition is needed in a democracy, we are pained that Congress is unable to play the role of a powerful opposition".
Talking about BJP leaders turning rebels to contest the forthcoming local body elections, Vijaywargiya said that he himself spoke to more than 25 such leaders and he is confident that they would take back their nominations on the last day of withdrawal of candidature.
http://indianexpress.com/article/india/politics/frame-tough-law-against-religious-conversions-vijaywargiya/#sthash.Tu9P4a8S.dpuf
----------
Southeast Asia
French gunman and wife holidayed in Malaysia, says report
10 Jan, 2015
Amedy Coulibaly, the gunman who was shot dead after taking hostages at a Paris kosher grocery store, once holidayed in Malaysia with his wife, CNN reported today.
Hayat Boumeddiene is now on the run and has become France's most wanted woman.
Coulibaly is one of three terrorists who brought France to a halt in 48 hours of bloodshed.
CNN reported that 26-year-old Boumeddiene was on the run and considered armed and dangerous.
Coulibaly died in a hail of bullets along with four hostages in the storming of the Jewish supermarket by French security forces.
According to judicial documents, a police search of Coulibaly's residence in 2010 turned up a crossbow, 240 rounds of 7.62mm ammunition, films and photos of him during a trip to Malaysia, as well as letters seeking false official documents.
However, Boumeddiene eluded capture during the confusion as the hostages were running away, CNN reported.
The Daily Mail reported that Coulibaly and Boumedienne had married in a religious ceremony, not in a civil ceremony – the only marriage legally accepted in France.
Full report at:
http://www.themalaysianinsider.com/malaysia/article/french-gunman-and-wife-holidayed-in-malaysia-says-report#sthash.vwWAq3Bl.dpuf
----------
Catholic lawyers pray for profession, 'Allah' case at Red Mass
10 Jan, 2015
Catholic lawyers gathered at the Red Mass presided by Archbishop of Kuala Lumpur Julian Leow today to pray for, among others, a just decision on the "Allah" case review hearing on January 21.
The Red Mass, which is celebrated annually in the Catholic Church for lawyers and judges, offered prayers for those facing persecution by militants in Nigeria and the Middle East as well as the attack on French satirical newspaper Charlie Hebdo where 12 people were shot dead.
They also prayed for victims and families of three air travel disasters, namely the still missing Malaysia Airlines MH370, MH17 which was shot down in July and the recent Air Asia QZ8501 crash.
Prayers were also offered for all Malaysians to be able to practise their religion peacefully.
The Red Mass is named after the garments of the celebrant and the mass is traditionally offered to those involved in the administration of justice, praying for guidance from the Holy Spirit.
Full report at:
http://www.themalaysianinsider.com/malaysia/article/catholic-lawyers-pray-for-profession-allah-case-at-red-mass#sthash.vzzBOc16.dpuf
----------
Attacks in Paris show why we need Sedition Act, says Malaysian IGP
10 Jan, 2015
The Inspector-General of Police today used the attacks in Paris to drum up support for the Sedition Act 1948 to be retained after Putrajaya had highlighted the need to step up security measures to prevent similar attacks in Malaysia.
Tan Sri Khalid Abu Bakar, in his tweet today asked Malaysians to take note and learn from the Paris incidents.
"Ambil lah ikhtibar kejadian di Paris. Itu lah sebab nya kita memerlukan Akta Hasutan dan @PDRMsia tidak akan membiarkan penghasut agama... (Draw a lesson from the Paris incident. That is why we need the Sedition Act and police will not let off those who insult religions...)," he said in a posting on online social networking service, Twitter, this morning.
Defence Minister Datuk Seri Hishammuddin Tun Hussein had warned yesterday that Malaysia should not take any terror incident lightly.
He said the Armed Forces and police were stepping up security at checkpoints and other vulnerable areas.
Full report at:
http://www.themalaysianinsider.com/malaysia/article/attacks-in-paris-show-why-we-need-sedition-act-says-igp#sthash.EasePesQ.dpuf
----------
Australia
Rupert Murdoch claims Muslims must 'recognise and destroy growing jihadist cancer' or 'be held responsible'
10 Jan, 2015
Rupert Murdoch has been heavily criticised for claiming Muslims must "recognise and destroy their growing jihadist cancer" or be "held responsible" after the Paris shootings at Charlie Hebdo and a Jewish supermarket.
The News Corp boss took to Twitter at 2am on Saturday morning to claim Muslims "must be held responsible" hours after French police killed three Islamist hostage-takers at a Jewish supermarket and printing warehouse.
Four hostages were killed by gunman Amedy Coulibaly in the kosher store, who was suspected of fatally shooting a policewoman the day before. Brothers Said and Cherif Kouachi, who stormed the offices of the Charlie Hebdo magazine and gunned down 12 people on Wednesday, were killed after holding a man hostage in the printing warehouse.
Maybe most Moslems peaceful, but until they recognize and destroy their growing jihadist cancer they must be held responsible.
; Rupert Murdoch (@rupertmurdoch) January 10, 2015
In a separate tweet, the 83-year-old appeared to defend his first post by writing: "Big jihadist danger looming everywhere from Philippines to Africa to Europe to US.
"Political correctness makes for denial and hypocrisy."
Big jihadist danger looming everywhere from Philippines to Africa to Europe to US. Political correctness makes for denial and hypocrisy.
; Rupert Murdoch (@rupertmurdoch) January 10, 2015
His "dangerous" comments sparked a furious reaction on Twitter, with some Muslims suggesting he had insulted their faith by associating them with extremists. Others asked exactly how Muslims were supposed to be held responsible while they themselves were also victims of terrorism at the hands of jihadists.
Some argued that his reasoning would see the West and Christians be held to account for terrorism committed by extremist individuals.
@rupertmurdoch Am I to be held responsible for the rantings of octogenarian media moguls because we're both Caucasian?
; Richard Robbins (@rich1) January 10, 2015
.@rupertmurdoch You should be ashamed of yourself.
; richard pierce (@tettig) January 10, 2015
I think all of Australia should be held responsible for Rupert Murdoch.
; Adil Ray (@adilray) January 10, 2015
Irresponsible: @RupertMurdoch wants Moslems to be held responsible for "their growing jihadist cancer" https://t.co/JO8xFFumcE
; Steffen Konrath (@StKonrath) January 10, 2015
Re PRT how are "moslems" supposed to destroy jihadis, when muslims are biggest victims of terrorism? @rupertmurdoch
; Akeela Ahmed (@AkeelaAhmed) January 10, 2015
I don't hold all Australians responsible for Rupert Murdoch! pic.twitter.com/FEakMO1Ntw"
; M Allen (@brockleyboyo) January 10, 2015
Rupert Murdoch holds all of Islam responsible for the madness of the few. This is the man who more or less controls 20m of our electorate.
; Clayton Ravine (@samuelclayton) January 10, 2015
Dangerous tweet by @rupertmurdoch, who believes 1.6b people "must be held responsible" for #CharlieHebdo massacre. pic.twitter.com/5VQogCA5I2
; Alessio Fratticcioli (@fratticcioli) January 10, 2015
Many mocked the media mogul by suggesting Australia be held responsible for Murdoch's comments.
Murdoch was also criticised for a tweet congratulating the Australian Daily Telegraph for being the first to report on the "bloody outcome" of the Sydney siege.
http://www.independent.co.uk/news/people/charlie-hebdo-attacks-rupert-murdoch-claims-muslims-must-recognise-and-destroy-growing-jihadist-cancer-or-be-held-responsible-9969714.html
--------
URL: https://www.newageislam.com/islamic-world-news/new-age-islam-news-bureau/2,000-killed-in-deadliest-massacre-by-boko-haram-in-nigeria/d/100954