New Age Islam News Bureau
9 Dec 2014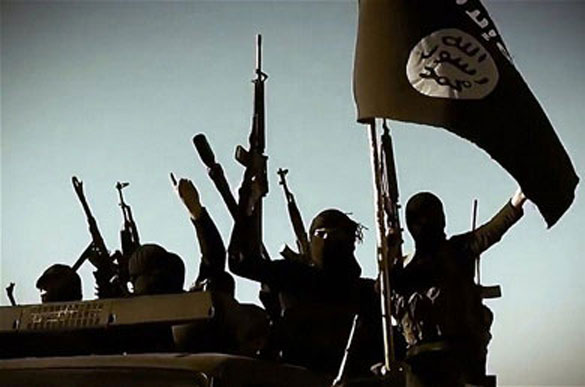 Dar Al-Ifta details ISIS' violations against women (AFP File Photo)
------------
Pakistan
• 1977 Could Be Repeated If Political Leadership Did Not Behave Prudently: JI
• Tribe Seeks Compensation For Seven Killed In US Raid
• Terrorism, extremism common threat to Afghan, Pakistan: VP Afghanistan
• TTP using drug money to fund activities
• PAT issues white paper: '3.6m street crimes take place in Punjab every year'
• Human Rights least priority of Government: Amna Masood
• Pakistan accuses India of 'mainstreaming' terrorism
• Faisalabad killing triggers mayhem
• SC dismisses all petitions seeking PM Nawaz's disqualification
Arab World
• Islamic State Beheads Syrian Man in Public for Blasphemy
• Dar Al-Ifta Details Isis' Violations against Women
• Rivalries Resurface in Iraqi Town Recaptured From Islamic State
• Iraqi Warplanes Bomb ISIL Positions in Tikrit Kill 43
• Syrian Airstrikes Kill Scores of Takfiri Militants in Qalamoun
• Iraqi Troops Repel 2 ISIL Attacks, Kill 31 Militants
• Syria strikes kill three in Lebanon border area
• British 'Vicar of Baghdad': ISIS beheaded four children for refusing to convert to Islam
• Bomb kills one in Shiite village in Bahrain: Ministry
• Leave or let live? Arabs move in to Jewish settlements
• Aged expats go without medical coverage in KSA
Southeast Asia
• Don't Want To Be Liberal? Tear Up Your Constitution, Says SA Muslim Scholar
• Second Malaysian Isis Suicide Bomber Identified, Says Report
• Only Malaysians can save the country from extremism, says DAP
• Stamped Bibles an act of bad faith, say angry Sarawak Christians
• Red Light Jihad: Thailand's new breed of Facebook jihadis
Africa
• Boko Haram Kill More Christians, Abduct 20 Female Children While Expanding Islamic State
• Rival Libyan govt included in U.N. peace talks
• Kenya's officers admit to illegal killing of suspects
Australia
• 20 Australian Jihadists Killed In Syria, Iraq
• Australia: ISIS Is Using Westerners as 'Cannon Fodder'
South Asia
• Bangladesh's 'Mystic Minstrels' More Popular Despite Attacks
• Taliban Storm Kandahar Police Station; Five Killed
• Unknown gunmen kill 4 civilians in Nangarhar
• 8 Al-Qaeda joined peace process in Kunduz
• Outlawed Hizb ut-Tahrir's leaflet invites the army
• Bangladesh Minister: Jamaat-Shibir enemy of nation
Mideast
• Iran Pilgrims Flock to Iraq with Message for Jihadists
• Erdogan's Move to Bring Back Arabic Script Angers Secularists
• Palestinians Secure Observer Status at ICC
• Car bombs kill 6 soldiers in southeast Yemen
• Police backed by riot squad raid communal house in Istanbul
• No agreement with US until settlement of Syria no-fly zone issue: President Erdoğan
• Iran to provide 500 scholarships to Afghan students each year
India
• 4 JeM Militants Held Guilty By Delhi HC of Waging War against India
• Religious Extremism Preached At Three Madrasas: Govt
• NIA Gathers 'Incriminating' Online Evidence Against IS Recruit
• RSS're-converts' 200 Agra Muslims, says more in line
• Saudi Arabia approves pact to hire Indian domestics
• 33 Pak espionage modules neutralized in last 4 years: Govt
• Plan to Get Madrasa Inaugurated By BJP MP Draws Irk From Muslims
Europe
• Islamic organisation Hizb ut-Tahrir's pro-Sharia rally met with protests
• Amnesty International accuses Israel of war crimes
• Ready to assist in resolving Kashmir dispute if requested: UN chief Ban Ki—moon
North America
• Online-Recruited Teens, Caught Trying To Join Islamic State
• Muslims Denounce Convert Who Threatened Canada
• In Baghdad, US defence chief says Iraqis must win anti-ISIL war
• Sexual threats, other CIA methods meted out to captured militants detailed in Senate report
• Bond for Arab activist who hid Israel bombing role
• US allies to send about 1,500 troops to Iraq
• U.S General says ISIS 'on defence'
Compiled by New Age Islam News Bureau
URL: https://www.newageislam.com/islamic-world-news/new-age-islam-news-bureau/1977-could-be-repeated-if-political-leadership-did-not-behave-prudently--ji/d/100401
-----------
Pakistan
1977 Could Be Repeated If Political Leadership Did Not Behave Prudently: JI
09 Dec, 2014
LAHORE – Jamaat-e-Islami Pakistan (JI) chief Siraj ul Haq has said that Pakistan had been facing a series of crises for the last four months and if the political leadership did not behave prudently, the history of 1977 could be repeated.
He appealed to the government as also the Pakistan Tehreek-e-Insaf to shun violence and sit on the negotiation table. He was speaking at a reception hosted at Mansoora for the organisers of the JI Ijtema at the Minar e Pakistan last month. The JI chief said that the government itself had claimed that Pakistan was incurring financial loss to the tune of more than Rs. 64 billion per day because of the sit-ins and protests. He said in such a situation, the government itself should be the first to shake their ego and show seriousness for talks.
He said that setting preconditions for talks was tantamount to blocking dialogue. He said that while he was trying hard to bring the two sides sit together, some people were trying to spoil the situation in order to politicise on dead bodies. The JI chief welcomed the statement of the Army chief Gen Raheel Sharif that the internally displaced person IDPs should get ready t for going back to their homes. However, he hoped that the process would be started soon.
Siraj ul Haq said that it was a pity that appointment of the Chief Election Commissioner had also been made on the pressure of the Supreme Court. However, he said, it was imperative that the Election Commission was made fully autonomous as in India. He said that a Berlin wall had been built among the masses on the basis of race, region and colour however, he said the JI would demolish this wall of hatred and unite the nation. He said that in order to build Pakistan as a model Islamic welfare state, the Shariah must be enforced in Pakistan. He said that the government had not reduced the POL prices proportionate to the fall in the POL prices in the world market. Moreover, the common man had not benefited from this decision.
http://www.dailytimes.com.pk/national/08-Dec-2014/history-of-1977-could-be-repeated-if-political-leadership-did-not-behave-prudently-siraj
-----------
Tribe seeks compensation for seven killed in US raid
09 Dec, 2014
ADEN: Seven civilians were killed in a US-Yemeni raid to rescue an American hostage at the weekend that also left him and a kidnapped South African dead, a tribal chief said on Monday.
Tarek Ferid al-Daghari, who heads the influential Al-Awlaki tribe in Shabwa province, said his tribe would press for compensation from the Yemeni government over Saturday's raid.
"We call on the government in Sanaa to consider the case of seven civilians killed and that of a woman and child who were wounded for reparations," Daghari said.
He said the government should form a commission to investigate as there was "evidence Yemeni soldiers were involved" in the operation at a remote village in the southeastern province.
The United States has said that during the raid Al Qaeda militants murdered 33-year-old American photojournalist Luke Somers and 57-year-old South African teacher Pierre Korkie.
Daghari said the raid targeted three houses owned by three brothers, including a member of Al Qaeda, and the home of their 70-year-old father located about 150 metres (yards) away.
http://www.dawn.com/news/1149649/tribe-seeks-compensation-for-seven-killed-in-us-raid
-----------
Terrorism, extremism common threat to Afghan, Pakistan: VP Afghanistan
09 Dec, 2014
KABUL - Pakistan ambassador to Kabul Sayed Ibrar Hussain met with Second Vice President of Afghanistan Sarwar Danish.
According to presidential press office, during the meeting second vice president, while considering terrorism and extremism as common threat for both Afghanistan and Pakistan said that considering to common historical, cultural and geographical relations and common destiny between the two countries, it is necessary to make efforts towards countering common challenges and make use of current opportunities for the interest of our countries and region.
Danish said, "Stability in Afghanistan and Pakistan is in the interest of stability in the region and foreign policy of national unity government is based on solution of regional problems and understanding with neighbouring countries." Hinting to recent visit of Afghan President Ashraf Ghani to Islamabad, second vice president considered the visit as sign of new government's determination for consolidation of relations with Pakistan, stressing on extension of bilateral cooperation between the two countries in various sectors.
He praised Pakistan for providing higher education scholarships to Afghan students and considered extension of cultural relations between Afghanistan and Pakistan as significant, saying that national unity government is interested in extension of mutual relations with Pakistan. At the meeting, ambassador Ibrar while expressing happiness over formation of national unity government in Afghanistan stressed on extension of relations and cooperation in various levels between the two countries.
http://www.dailytimes.com.pk/national/09-Dec-2014/terrorism-extremism-common-threat-to-afghan-pakistan-danish
-----------
TTP using drug money to fund activities
09 Dec, 2014
WASHINGTON: US officials believe that the Pakistani Taliban must also be using drug money to finance their activities.
"The logic is rather overwhelming. Drug traffickers have a substantial presence in the region where the Taliban also operate," said a senior US official while talking to Dawn.
"They cannot move through that area without support from the Taliban."
A US delegation is visiting Pakistan and other South Asian nations this week for talks focusing on policing, border security, and the region's criminal justice system.
Ambassador William R. Brownfield, Assistant Secretary of State for International Narcotics and Law Enforcement Affairs, is leading this delegation.
While US officials see logical evidence for TTP's involvement in the drug trade, they say that so far they have not seen any evidence to suggest that madressahs are also being used for this purpose.
"The truth is we cannot say if they do. We also cannot say if every single madressah is linked to them or is absolutely clean," said an official.
The official pointed out that while Khost, the Afghan province bordering North Waziristan, was poppy-free, "there is a tremendous amount of overlap of Taliban and opium poppy cultivation."
The official noted that the drug trade was the single biggest revenue maker for Taliban, which was a direct problem for Pakistan.
"Obviously, TTP is earning revenue, when an illicit drug moves through their areas. We are almost 100 per cent certain that they are," the official added.
He pointed out that about 85 per cent of the world's heroin was produced in Afghanistan and traffickers were using local routes for smuggling it out of the region.
The heroin produced there leaves Afghanistan through three routes: The western route, using Iran, the northern, five Central Asian Republics and Russia and the eastern, using Pakistan.
US officials say that about 40 per cent of the heroin produced in Afghanistan transits through Pakistan and about 10 per cent is sold inside Pakistan.
Although aware of the Pakistani police's negative image at home, US officials praise the force's efforts for dealing with crimes like drug trafficking and for maintaining law order in the country.
"The Pakistani police deserve certain amount of sympathy and understanding," said a US official. "They are operating in a difficult environment."
The official said that the challenges the Pakistani police face varied from place to place. "Fata, KPK, Karachi and Lahore are very different from each other.
The challenges vary, depending on where you are located. "FATA, KPK, Karachi and Lahore, all have different problems" and each needs a different approach to deal with, the official said.
A common problem, however, was the shortage of equipment and lack of access to modern technology.
"Their work is substantially impacted by lack of communication. They also have a serious shortage of transportation facilities and computers," the official said.
The United States is helping Pakistan overcome these problems and hopes that providing modern equipment and technology will improve policing as well.
"Many police officers have been killed in clashes with extremists and criminals. We should show them a tremendous amount of respect," said the US official while underlining the need to improve policing.
The United States is providing patrol cars, trucks, APCs, motorbikes, protective jackets, radio, night vision equipment and long-distance monitoring equipment to the Pakistani police.
Under a programme, which began in 2002, the United States also provides helicopters to Pakistan's Interior Ministry.
The programme began with five helicopters while some fixed wing support were also provided.
Now, the number of helicopters has increased to14.
The US State Department owns helicopters but the interior ministry determines the missions and Pakistani pilots fly the machines.
The United States also provides support to the Frontier Constabulary and has so far built 246 border outposts for them, besides making 336 KM of highway and 12 bridges in Fata.
http://www.dawn.com/news/1149674/ttp-using-drug-money-to-fund-activities
-----------
PAT issues white paper: '3.6m street crimes take place in Punjab every year'
09 Dec, 2014
LAHORE: The Pakistan Awami Tehreek (PAT) has issued a white paper on the one-year working of the Punjab government saying that more than 300,000 street crimes are committed in the province every month. The paper said that to show a decline in the number, only 25 percent of FIRs are registered.
The paper said that in the present a sharp rise has been seen in the kidnapping of young children and 12,245 children were kidnapped this year. Whereas on an average 11 to 12 thousand kidnapping and kidnapping for ransom cases were registered in the previous years. 22 per cent of kidnapping cases are never registered.
Killings in police encounters stand at 10 per cent and crime against women has seen a 19 per cent increase, 7,000 blind murders and 14,000 were killed in sectarian violence. The white paper said that Punjab dominates all the provinces in the crime graph. The CM who claimed to break the begging bowl has taken 850 million new loans and Punjab has a big load of 580 billion on its head. Every year the mark up increases and that badly affects the budgets for education, health and other social sectors. Even after remaining in power for seven years the Punjab government has failed to establish a financial management system.
The white paper was released by the Central Secretariat of PAT in Lahore. According to the fact-finding report the Model Town incident, Kot Radha Kishan incident, Wagah Border incident and police torture on blind people has bought a bad name to Pakistan and for all these incidents it was the Punjab government that was responsible and the incompetence of the government has badly been exposed. And the hitches the government has and is putting before the clean, free and fair investigation of the Model Town killing is a glaring example of its criminal involvement.
Full report at:
http://www.dailytimes.com.pk/punjab/08-Dec-2014/pat-issues-white-paper-3-6m-street-crimes-take-place-in-punjab-every-year
-----------
Human Rights least priority of Government: Amna Masood
09 Dec, 2014
ISLAMABAD- Chair Person Defence of Human Rights Amna Masood Janjua has said the governments change with tall claims but situation at the ground remain same.
Speaking to media persons at Islamabad Press Club, Amna Masood Janjua said the rights of human being are last in priority of the government. She announced that representatives of Defence of Human Rights and Civil Society will walk towards the parliament house to remind rulers of the country about rights of citizens and responsibilities of the government institutions.
Full report at:
http://nation.com.pk/national/08-Dec-2014/human-rights-least-priority-of-government-amna-masood
-----------
Pakistan accuses India of 'mainstreaming' terrorism
09 Dec, 2014
ISLAMABAD: Islamabad accused New Delhi of 'mainstreaming' terrorism and rejected as 'baseless' Indian allegations suggesting Pakistan's involvement in a recent attack in Indian-held Kashmir (IHK).
"...if any evidence of mainstreaming of terrorism in India was needed, one only had to look at the perpetrators of Samjohta Express terrorist attack and its masterminds," said a statement from Foreign Office Spokesperson Tasnim Aslam issued here. The development appears to shatter the prospects of an early resumption of bilateral dialogue between the two South Asian neighbours, just days after the premiers from two sides had come together to shake hands and exchange smiles at the 18th South Asian Association for Regional Cooperation (SAARC) Summit in Kathmandu, Nepal.
Full report at:
http://www.dailytimes.com.pk/national/09-Dec-2014/pakistan-accuses-india-of-mainstreaming-terrorism
-----------
Faisalabad killing triggers mayhem
09 Dec, 2014
FAISALABAD/LAHORE/ISLAMABAD/KARACHI/PESHAWAR: Faisalabad looked like a war zone on Monday as violent clashes erupted between supporters of the Pakistan Tehreek-i-Insaf (PTI) and Pakistan Muslim League-Nawaz (PML-N), as the city readied to observe the shut down on the call of PTI chief Imran Khan.
At least two people were killed, while several were injured in the violent clashes between the two parties workers during the lockdown in Faisalabad. There were clashes between the supporters of the ruling PML-N and PTI at Ghanta Ghar, Novelty Chowk and Chenab Chowk as baton carrying activists of both the parties clashed. They pelted stones, eggs and tomatoes at each other and there were scuffles at different places in Faisalabad. While the protests were going on, there was firing at the Novelty bridge in which one worker of PTI identified as Asghar Ali was killed.
Full report at:
http://www.dailytimes.com.pk/national/09-Dec-2014/faisalabad-killing-triggers-mayhem
-----------
SC dismisses all petitions seeking PM Nawaz's disqualification
09 Dec, 2014
ISLAMABAD: The Supreme Court on Tuesday dismissed all petitions seeking the disqualification of Prime Minister Nawaz Sharif.
Three identical petitions had been filed by Pakistan Muslim League - Quaid (PML-Q) chief Chaudhry Shujaat Hussain, Advocate Gauhar Nawaz and Pakistan Tehreek-i-Insaf (PTI) leader Ishaq Khakwani which stated that PM Nawaz had lied on the floor of the National Assembly on the issue of arbitration by the army.
Nawaz had told the parliament that it was Pakistan Awami Tehreek (PAT) chief Dr Tahirul Qadri and Pakistan Tehreek-i-Insaf (PTI) chairman Imran Khan who had requested a meeting with Army Chief General Raheel Sharif in order to broker a settlement with the government over the political crisis in the country.
Nawaz had said he gave permission for the army chief to engage the two leaders and play the role of a mediator.
Full report at:
http://www.dawn.com/news/1149778/sc-dismisses-all-petitions-seeking-pm-nawazs-disqualification
-----------
Arab World
Islamic State beheads Syrian man in public for blasphemy
09 Dec, 2014
The militant Islamic State group beheaded a man in northern Syria after accusing him of blasphemy, a militant website and a rights group said on Tuesday.
The man was killed in a public square in the town of Sulouk on Monday in front of a crowd that included children, the British-based Observatory for Human Rights said.
Rights groups say Islamic State has beheaded and stoned to death many people in areas it controls in Syria and Iraq for actions they see as violating their interpretation of Islamic law, such as adultery, stealing and blasphemy. They have also killed a smaller number of foreign captives.
A statement posted on a jihadist website said the man admitted to blasphemy before being killed in the countryside of Raqqa province, which the hardline group controls.
The website included images of crowds at the square. One photo showed a blindfolded man kneeling with his head on a wooden block as a masked man in black raised a sword over his neck.
Full report at:
http://indianexpress.com/article/world/middle-east-africa/islamic-state-beheads-syrian-man-in-public-for-blasphemy/#sthash.IOALw3Vd.dpuf
-----------
Dar Al-Ifta details ISIS' violations against women
09 Dec, 2014
Dar Al-Ifta said the Islamic State of Iraq and Syria (ISIS) has violated "all of the provisions and principles of Islam on the treatment of women during wars".
An observatory on takfiri and anomalous fatwas (religious edicts) in Dar Al-Ifta, the official institution responsible for issuing religious edicts in Egypt, detailed violations against women in ISIS in a report released Sunday.
The report stated that ISIS "has killed and enslaved women", turning women into "sex slaves that are sold to the highest bidder".
The report added however, that ISIS is "unusual" when it comes to the role of women in takfiri, terrorist organisations, since it has intentionally changed the image on the magnitude of violence committed against women within these organisations to that of violence committed by women, in a sharp contrast.
ISIS "has deliberately recruited women from the first moment of its appearance", the report said, adding that ISIS has created several battalions, in which women are exploited, either as fighters or as "electronic militias" that aim to attract more women into the organisation.
"The ISIS woman carries out arrests and torture against women who do not follow the rules of the organisation", the report added.
Full report at:
http://www.dailynewsegypt.com/2014/12/07/dar-al-ifta-details-isis-violations-women/
-----------
Rivalries resurface in Iraqi town recaptured from Islamic State
09 Dec, 2014
(Reuters) - The blood of two militants killed during Islamic State's rout in the Iraqi town of Jalawla has yet to be washed away, but a turf war is already brewing between Kurdish and Shi'ite forces that jointly drove the insurgents out.
The recapture of disputed territory and towns such as Jalawla is reopening rivalries over the boundary between areas of Kurdish control and those administered by the Shi'ite-led Baghdad government.
Local Sunni Arabs displaced in the fighting have little choice but to align themselves with one side or the other.
Not long after Islamic State began its offensive across Iraq this summer, Kurdish commanders in the eastern province of Diyala invited the head of the largest Sunni Arab tribe in Jalawla to discuss jointly resisting the insurgents.
"We sat with them here in this very building," said Brigadier General Barzan Ali Shawas, describing the meeting with Sheikh Faisal al-Karwi in a Kurdish peshmerga barracks on the banks of the Diyala river, lined with date palms.
"We said: What do you want? True, you are Arabs and we are Kurds, but the unity of Iraq is in our interest." The sheikh had replied he would consider the Kurds' offer to set up a unit for local Sunnis under peshmerga command, but he never came back with an answer.
Full report at:
http://www.reuters.com/article/2014/12/08/us-mideast-crisis-jalawla-idUSKBN0JM16E20141208
----------
Iraqi Warplanes Bomb ISIL Positions in Tikrit, Kill 43
09 Dec, 2014
At least 43 ISIL militants were killed and 38 others injured in airstrikes in South of Tikrit, as the Iraqi forces intensified their offensive on the Takfiri group.
The Iraqi warplanes hit the positions of the ISIL in Balad district, and managed to kill and injure dozens of Takfiri militants.
Also yesterday, the Iraqi fighter jets bombed the positions of the terrorist group in Albu Agel area in Yathrib, leaving 25 militants dead and a number of their vehicles destroyed.
The ISIL Takfiri terrorists currently control parts of Syria and Iraq. They have threatened all communities, including Shiites, Sunnis, Kurds, Christians, Ezadi Kurds and others, as they continue their atrocities in Iraq.
Senior Iraqi officials have blamed Saudi Arabia, Qatar, and some Persian Gulf Arab states for the growing terrorism in their country.
The ISIL has links with Saudi intelligence and is believed to be indirectly supported by the Israeli regime.
http://english.farsnews.com/newstext.aspx?nn=13930918000186
-----------
Syrian Airstrikes Kill Scores of Takfiri Militants in Qalamoun
09 Dec, 2014
Syrian military aircraft conducted a series of strikes into the strategic Qalamoun mountain region, leaving a large number of Takfiri militants dead and injured.
According to the latest report, the Syrian bombers pounded the strongholds of the foreign-backed rebels in the barrens of Assal al-Ward and claimed the lives of scores of them.
Also, the militants suffered major losses in the districts of Mortbaya and Mireh, as the army continued to make gains in its fight against the armed groups.
Syria has been experiencing unrest since March 2011 with organized attacks by well-armed gangs and terrorists against both the army and civilians.
The unrest, which took in terrorist groups from across Europe, the Middle-East and North Africa, has transpired as one of the bloodiest conflicts in recent history.
As the foreign-backed insurgency in Syria continues without an end in sight, the US government has boosted its political and military support to Takfiri extremists.
http://english.farsnews.com/newstext.aspx?nn=13930918000339
-----------
Iraqi Troops Repel 2 ISIL Attacks, Kill 31 Militants
09 Dec, 2014
Iraqi security forces pushed back two attacks by the ISIL Takfiri group in North and West of of the capital Baghdad, leaving a total of 31 people dead and 11 others injured, security sources said.
The security forces, backed by allied tribesmen and Iraqi aircraft, repelled a major attack from five directions carried out by the ISIL militants around on the government compound in central of the city of Ramadi, the capital of Anbar province, a provincial security source told Xinhua on condition of anonymity.
Ramadi, some 110 km West of Baghdad, has been partially seized by the ISIL militants for months, and the extremist militants repeatedly tried to expand their presence in the city to include the government compound, but they failed by the fierce resistance, the source said.
The seven-hour battle in the city led to the killing of 23 ISIL Takfiri militants and the capture of three others, the source added without giving further details about the casualties among the troops and the tribesmen.
Full report at:
http://english.farsnews.com/newstext.aspx?nn=13930918000834
-----------
Syria strikes kill three in Lebanon border area
9 December 2014
Syrian warplanes carried out air strikes in a border region of eastern Lebanon overnight, killing three people and injuring two others, Lebanon's official news agency said Tuesday.
The National News Agency said the strikes hit the outskirts of the border town of Arsal, which has regularly been targeted by Syrian government air raids and shelling.
Local residents said a house was among the targets of the raids.
The town of Arsal and the area around it are largely Sunni Muslim, and residents sympathise with the Sunni-led uprising against Syrian President Bashar al-Assad.
The nearby border is long and porous, and has proved an easy crossing point for smugglers, refugees and fighters.
Full report at:
http://english.alarabiya.net/en/News/middle-east/2014/12/09/Syria-strikes-kill-three-in-Lebanon-border-area-report-.html
-----------
British 'Vicar of Baghdad': ISIS beheaded four children for refusing to convert to Islam
The Independent | Dec 9, 2014
ISIS have beheaded four Christian children in Iraq for refusing to convert to Islam, a British vicar based in the country has claimed.
Canon Andrew White, who is known as the 'vicar of Baghdad', told Orthodox Christian Network that the killings happened in a Christian enclave close to Baghdad which has been taken over by ISIS (formerly known as Islamic State).
He spoke of how ISIS has "hounded" the Christians out of Iraq, and how "they killed in huge numbers, they chopped their children in half, they chopped their heads off, and they moved north and it was so terrible what happened".
He told the network that militants "came to one of our people the other day, one of the Christians".
"They said to one man, an adult, 'Either you say the words of conversion to Islam or we kill all your children'.
Full report at:
http://timesofindia.indiatimes.com/world/middle-east/British-Vicar-of-Baghdad-claims-ISIS-beheaded-four-children-for-refusing-to-convert-to-Islam/articleshow/45429107.cms
-----------
Bomb kills one in Shiite village in Bahrain: Ministry
09 Dec, 2014
A bomb blast Tuesday killed one person in a Shiite village in western Bahrain, according to the authorities, who have faced years of simmering unrest since crushing pro-democracy protests in 2011.
The explosion in Karzakan killed a Bahraini and slightly wounded an Asian national, the interior ministry said, describing it as a "terrorist" attack.
Late on Monday a policeman was killed in a separate attack in a nearby Shiite village, the authorities said
http://english.ahram.org.eg/NewsContent/2/8/117513/World/Region/Bomb-kills-one-in-Shiite-village-in-Bahrain-Minist.aspx
-----------
Leave or let live? Arabs move in to Jewish settlements
09 Dec, 2014
OCCUPIED JERUSALEM — Little noticed amid the furore over one of Israel's most contentious policies, a small but growing number of Arabs are moving into Jewish settlements on occupied land in East Jerusalem, drawn by cheaper rent and better services.
For decades, Israel has encouraged Jews to settle in East Jerusalem, changing the population balance, provoking Palestinian anger and drawing international condemnation.
But in one such settlement, around Mount Scopus where the Hebrew University is based and many Palestinians study, almost a fifth of residents are either Arab citizens of Israel or Palestinians, according to Israel's Central Bureau of Statistics.
"Really it's not a matter of ideology," said Rawya Mazal, an Israeli Arab realtor who sells or lets properties to Palestinian families in a nearby settlement at French Hill.
"It's about convenience, living close to campus or making an investment."
Cross-community relations aren't always harmonious. Few if any Arabs live on Jewish settlements in the occupied West Bank, and a surge of violence in recent months has persuaded some to leave those in East Jerusalem.
Full report at:
http://www.saudigazette.com.sa/index.cfm?method=home.regcon&contentid=20141209226908
----------
Aged expats go without medical coverage in KSA
09 Dec, 2014
Aged and retiring expats over 60 complain that insurance companies in the Kingdom reject their requests for medical insurance coverage.
The retiring expatriates are the first generation of migrants to the Kingdom that participated in the Kingdom's development starting with the infrastructure. Most of them have left their jobs in the private sector and now live with their sons who work in the Kingdom. However, their sons often don't earn enough to take out an insurance cover for their parents and are unable to pay the high fees of private hospitals.
Many aged expatriates have been working in private companies in the Kingdom for over 40 years but labor regulations such as the Saudization program has forced them to retire.
While most private companies provide medical insurance to their expatriate employees and their families, they refuse to extend this to the employees' parents. At the same time, several aged expats face health problems and need constant medical care.
Full report at:
http://www.arabnews.com/saudi-arabia/news/671816
-----------
Southeast Asia
Don't Want To Be Liberal? Tear Up Your Constitution, Says SA Muslim Scholar
09 Dec, 2014
Malaysia should perhaps tear up its constitution if it wants to escape from liberalism and pluralism, in which the country was based on in the first place, says a South African Muslim scholar.
Professor Ebrahim E. I. Moosa told a forum in Penang today this was because Malaysia was a pluralistic and liberal country.
"The very idea that Malaysia has accepted, constitutionally or otherwise, the plurality of religious and ethnic communities… it is already on the way to liberalism.
"You are already on a certain kind of liberalism. It might not be an optimal one, but it is already there.
"If you want to get away from liberalism, you need to tear up the Malaysian constitution and begin knocking down the foundation of what the society is about," he said at the forum "Developing a Philosophy of Pluralism" organised by think tank Penang Institute.
He was replying to a question from the audience on his thoughts on the Senate being told earlier today that "the teachings of liberalism and pluralism are seen as among the most prevalent forms of insult to Islam".
Full report at:
http://www.themalaysianinsider.com/malaysia/article/muslim-scholar-believes-malaysia-already-pluralistic-liberal#sthash.eFejmofK.dpuf
-----------
Second Malaysian Isis suicide bomber identified, says report
09 Dec, 2014
Ahmad Affendi, 27, has the dubious honour of being the second Malaysian suicide bomber linked to the Islamic State of Iraq and Syria (Isis), The Star reported today.
Ahmad was believed to have driven a bomb-laden truck into a military installation in Homs last month, killing about 50 of Syrian president Bashar Al-Assad's soldiers.
His death was confirmed by Bukit Aman's Special Branch principal assistant director (counter-terrorism) Datuk Ayob Khan Mydin Pitchay, The Star reported.
According to the daily, Ahmad, who hailed from Tumpat, Kelantan, had gone to Syria on April 23 to join Isis.
It was earlier reported that Ahmad Tarmimi Maliki, 26, had been the first Malaysian suicide bomber linked to Isis.
Ahmad Tarmimi was credited with blowing up 25 elite Iraqi soldiers at Iraq's SWAT headquarters in al-Anbar on May 26.
He had reportedly received militant training in Port Dickson at the end of last year.
Ahmad Tarmimi had driven a military SUV filled with explosives into Iraq's SWAT headquarters.
Full report at:
http://www.themalaysianinsider.com/malaysia/article/second-malaysian-isis-suicide-bomber-identified-says-report#sthash.Xuwwi4Yt.dpuf
-----------
Only Malaysians can save the country from extremism, says DAP
09 Dec, 2014
Only ordinary Malaysians can save the country from extremism and intolerance as Putrajaya appears incapable of doing so, said DAP's Lim Kit Siang.
The Gelang Patah MP and DAP adviser said this was evident after a group of 25 prominent Malay personalities yesterday wrote an open letter calling on moderate Malays, Muslims and Malaysians to stand up and speak out against extremism
He said the letter had struck a responsive national chord.
"It is like a breath of fresh air in a very polluted atmosphere," Lim said in a statement today.
In contrast, he said Prime Minister Datuk Seri Najib Razak had allowed himself to be a prisoner of the extremist, immoderate and intolerant voices representing a raucous minority.
"It is indeed the irony of ironies as he travels the world to preach moderation and even founded the Global Movement of Moderates (GMM).
Full report at:
http://www.themalaysianinsider.com/malaysia/article/only-malaysians-can-save-the-country-says-dap#sthash.luejG5lT.dpuf
-----------
Stamped Bibles an act of bad faith, say angry Sarawak Christians
09 Dec, 2014
Iban and Bahasa Malaysia-speaking Christians in Sarawak are seething over the stamping of Malay and Iban-language Bibles with a warning by the Selangor religious authorities, saying the act of desecration had marred any sincerity over the release of the holy books which were seized earlier this year.
Pastor Graman Ujang, the chairman of Gempuru Besai Sarawak, the largest Christian grouping representing 6,000 Iban-speaking congregations in the state, said the Selangor religious authorities had showed bad faith in the return of the Bibles.
"It showed they were not sincere in wanting to return them. They did so because they were pressured to.
Full report at:
http://www.themalaysianinsider.com/malaysia/article/stamped-bibles-an-act-of-bad-faith-say-angry-sarawak-christians#sthash.BITEG0UY.dpuf
-----------
Red Light Jihad: Thailand's new breed of Facebook jihadis
09 Dec, 2014
NARATHIWAT, Thailand — Toddler cuddling with an assault rifle: 522 likes.
Photo of jihadi holding a soldier's severed head by the hair: 403 shares.
Death threat against a Thai college student accused of insulting Islam: 150-plus comments, many of them clamoring for her beheading.
Thailand's jihadis are often compared to ghosts. They're notoriously mysterious — a network of underground cells that strike suddenly and vanish into the jungle. Unlike the braggarts of al-Qaeda or the Islamic State, these fighters operate under a strict code of silence.
Or at least they used to.
These days, the ghosts are chattering on Facebook. Their Timelines are terrifying, gorier than snuff films. They post photos taken in the aftermath of grisly roadside bomb strikes. They single out Thai soldiers by name and call for their heads.
"Now you're finished, you dickless pig in a skirt," writes one self-proclaimed jihadi in a death threat, written in Thai. "Siamese pig" is their go-to insult for Thai troops.
They show off buckets full of 5.56mm bullets. That's the caliber of ammo used by their weapon of choice: M-16s stolen from slain Thai troops. Under one close-up photo of assault rifle ammo, a jihadi asks, "Any pigs wanna suck on these?"
Full report at:
http://www.globalpost.com/dispatch/news/regions/asia-pacific/thailand/141204/southern-thailand-patani-islamic-insurgency-facebook
-----------
Africa
Boko Haram Kill More Christians, Abduct 20 Female Children While Expanding Islamic State
09 Dec, 2014
Boko Haram insurgents killed 11 people and kidnapped 20 females--mostly children-- in an effort to establish an Islamic caliphate in the predominantly Christian city of Lassa, Borno State.
The Boko Haram insurgents invaded Lassa on December 3, seeking to impose Sharia law throughout Nigeria, reports Morning Star News.
According to survivors, insurgents initially stormed the town on Nov. 29 but were repelled, then returned on Wednesday with tanks and explosives, destroying church buildings and homes.
"As it is now, Boko Haram is fully in charge in Lassa town and has declared the town a caliphate," one of the escapees said.
Church buildings destroyed in Lassa, in the Askira-Uba Local Government Area, include that of the Church of the Brethren in Nigeria (EYN), the largest denomination in Borno state.
Daniel Ibrahim, a citizen of Lassa who escaped the carnage, told SaharaReporters that many of those killed were elderly, and those abducted were young girls.
"They [Boko Haram] abducted more than 20 girls from our town and killed many people, mostly old men and women," said Mr. Ibrahim.
Full report at:
http://www.gospelherald.com/articles/53486/20141208/boko-haram-kill-11-more-christians-abduct-20-females-mostly-children-while-expanding-islamic-state-in-nigeria.htm#ixzz3LRjswEtu
-----------
Rival Libyan govt included in U.N. peace talks
9 December 2014
The United Nations will widen a new round of talks aimed at ending Libya's escalating political crisis by including a rival assembly challenging the recognized government, its special envoy said on Monday.
Libya has had two governments and parliaments competing for legitimacy since a group called Libya Dawn seized Tripoli in August, installing its cabinet and forcing the recognized Prime Minister Abdullah al-Thinni to the east.
World powers fear the conflict will lead to civil war as former rebel groups that helped oust Muammar Qaddafi in 2011 now fight for power and a share of the vast oil reserves.
The United Nations had launched a first round of talks in September bringing together the elected House of Representatives and members from the city of Misrata linked to Libya Dawn who had boycotted the assembly.
Full report at:
http://english.alarabiya.net/en/News/middle-east/2014/12/09/Rival-Libyan-parliament-included-in-U-N-peace-talks-.html
--------
Kenya's officers admit to to illegal killing of suspects
09 Dec, 2014
Kenya's counterterrorism officials have confessed to Al Jazeera English in an interview that they were ordered to assassinate or eliminate suspects extra-judicially (illegally).
Even though President Uhuru Kenyatta and national security council members previously denied these allegations, a counterterrorism police unit officer stated that the orders came from the national security council, made up of the president, deputy president, defence forces chief, inspector general of police, national security intelligence service director, interior cabinet secretary and the interior principal secretary.
One General Service Unit officer triumphantly admitted to personally killing hundreds every year "Since I have been employed, I have killed over 50. I am definitely proud because I have eliminated some problems."
Full report at:
http://english.ahram.org.eg/NewsContent/2/9/117443/World/International/Kenyas-officers-admit-to-to-illegal-killing-of-sus.aspx
-----------
Australia
20 Australian jihadists killed in Syria, Iraq
09 Dec, 2014
Australia on Tuesday accused Islamic militants of using foreign fighters as "cannon fodder" and "propaganda tools" as it revealed 20 nationals have now been killed in Syria and Iraq.
More than 70 Australians are currently fighting in the two nations, the government has said, with several more deaths reported as coalition fighter planes pound Islamic State group positions.
"The government is aware of around 20 Australians who have died in the conflict in Syria and Iraq," Attorney General George Brandis told The Australian newspaper.
"This number has risen in recent weeks, with several Australians understood to have died in fighting against government forces, including in Kobani."
The Australian government had previously confirmed 15 deaths, with the tally climbing higher as fighting rages around the strategic Syrian town of Kobani.
Full report at:
http://www.themalaysianinsider.com/world/article/20-australian-jihadists-killed-in-syria-iraq#sthash.cfhHKboy.dpuf
-----------
Australia: ISIS is using Westerners as 'cannon fodder'
9 December 2014
Australia's government has accused the Islamic State group of using foreign fighters as "cannon fodder."
Australian Attorney General George Brandis said in a report in The Australian newspaper on Tuesday that the number of Australians killed while fighting alongside militants in Syria and Iraq has risen in recent weeks to 20. Australia had previously put the death toll at 15.
Brandis says Islamic State of Iraq and Syria (ISIS) group members are using foreign fighters as "frontline cannon fodder, suicide bombers and propaganda tools."
Last week, Australia used tough new counterterrorism laws to make it a criminal offense for Australians to travel to the Syrian province of al-Raqqa because of the Islamic State movement's hold on the war-ravaged region.
The government estimates at least 70 Australians are fighting with terrorist groups in Iraq and Syria.
http://english.alarabiya.net/en/News/middle-east/2014/12/09/Australia-ISIS-is-using-Westerners-as-cannon-fodder-.html
-----------
South Asia
Bangladesh's 'mystic minstrels' more popular despite attacks
09 Dec, 2014
CHHEURIA: After giving up all worldly possessions, they wander the Bangladesh countryside dressed in white robes, singing of peace and love for all with their single-stringed ektaras.
Bangladesh's "mystic minstrels" have long been dismissed as hippies and even attacked and killed after being branded heretics in the Muslim-majority country.
According to their leaders, Bangladesh's minstrels, known as Bauls, are growing in popularity, even attracting members of the rising middle class with their ethos of inclusion and rejection of consumerism.
"More and more people are drawn to Baul philosophy and its humanism despite the attacks and daily humiliation," said Mohammad Aynuddin, 35, an English teacher at a state school who describes himself as a Baul enthusiast.
Originating in Bengal in the 17th century, the sect was popularised by musician and social reformer Lalon Shah whose moving songs of religious tolerance inspired poets and thinkers of the time.
Full report at:
http://www.dawn.com/news/1149764/bangladeshs-mystic-minstrels-more-popular-despite-attacks
-----------
Taliban storm Kandahar police station; five killed
09 Dec, 2014
KABUL: Taliban fighters backed by a suicide bomber attacked a police headquarters in southern Afghanistan on Monday, killing five people as the insurgents step up attacks.
A policeman and four civilians died in the attack that started when a suicide bomber dressed in a police uniform detonated a carload of explosives at the main gate of the compound in Kandahar's Maiwand district.
Four heavily armed gunmen then forced their way inside, government spokesman Sameem Khpalwak said. The fighting in Maiwand lasted for two hours, before security forces killed the attackers.
A Taliban spokesman in southern Afghanistan, Qadri Yusuf Ahmadi, claimed responsibility.
This has been the bloodiest year since 2001 in Afghanistan's 13-year-old war, with the Taliban engaging police and soldiers across the country. Dozens of Afghans die daily in the violence.
http://www.dawn.com/news/1149647/taliban-storm-kandahar-police-station-five-killed
-----------
Unknown gunmen kill 4 civilians in Nangarhar
Dec 09 2014
Local officials of the Haska Mina district of eastern Nangarhar province say 4 civilians who were kidnapped by unknown gunmen 3 days ago have been killed.
Ahamdzia Abdulzai, governor's spokesman for eastern Nangarhar province, says one person was killed at the same day they were abducted while the dead bodies of the 3 others were found in Gordare area of the same district.
Abdulzai reiterated that the victims did not have any connection with the government.
Local officials had said that these guys were killed on the charges of cooperation with the government.
An investigation has been initiated in regards to the brutally killing but no arrests have been made so far.
http://www.khaama.com/unknown-gunmen-kill-4-civilians-in-nangarhar
-----------
8 Al-Qaeda joined peace process in Kunduz
Dec 09 2014
Officials in northern Kunduz province say 8 Afghan members of Janduallah armed group, affiliated to Al-Qaeda, joined the peace process on Monday.
Provincial police chief Ghulam Mustafa Muhsini says the ex-members of Jandullah group have also handed over different types of weapons and ammunitions to the government and promised to live in peace.
Muhsini added that the men joined the peace process through the struggle of the members of the peace council in the province.
According to the officials these men were involved in terrorist activities in Imam Sahib district of the province since a year.
http://www.khaama.com/8-al-qaeda-joined-peace-process-in-kunduz
-----------
Outlawed Hizb ut-Tahrir's leaflet invites the army
09 Dec, 2014
No matter what the government's senior ministers have been claiming about their "success" in taming militancy, banned outfits such as Hizb ut-Tahrir are openly carrying on with their activities in Dhaka.
This Dhaka Tribune reporter yesterday saw three young men in their late teens and early twenties, standing in front of the Sukrabad Mosque near Dhanmondi, distributing leaflets among people coming out after the evening Maghrib prayers.
Although the group is banned, none of the recipients of the leaflets visibly objected.
Reportedly, such leaflets were being distributed among people after the Friday afternoon's Jummah prayers near the Uttara mosque as well.
Fazalul Haque, a resident of Sukrabad, told the Dhaka Tribune: "It is not a new thing in the area. They would come with such leaflets every two days. You will see them every now and then if you keep an eye on the mosque."
Full report at:
http://www.dhakatribune.com/crime/2014/dec/09/outlawed-hizb-ut-tahrir%E2%80%99s-leaflet-invites-army#sthash.mmxJoPeg.dpuf
-----------
Bangladesh Minister: Jamaat-Shibir enemy of nation
09 Dec, 2014
Railways Minister Mujibul Hoque has termed Jamaat-e-Islami and its student wing Islami Chhatra Shibir as enemies of the nation and independence.
The minister made the statement while inaugurating a commuter train on Tongi-Kamalapur route at Tongi railway station on Tuesday morning.
"Prime Minister Sheikh Hasina is making developments in the railways sector whereas the Jamaat-Shibir activists are destroying the nation's assets on Khaleda Zia's instigation," Mujibul said.
He said those who set fire to trains and attack on railway stations are the enemies of the country, its independence and the nation.
Speaking at the programme, Bangladesh Railway Director General M Tofazzal Hossain said: "Two more rail tracks will be set up from Tongi to Dhaka. Tongi railway will also be modernised."
http://www.dhakatribune.com/politics/2014/dec/09/mujibul-jamaat-shibir-enemies-nation#sthash.gGmiZPWs.dpuf
---------
Mideast
Iran pilgrims flock to Iraq with message for jihadists
09 Dec, 2014
ZURBATTIYAH: Iranian pilgrims are pouring across the border into Iraq in unprecedented numbers for a huge annual religious gathering but also to flex Shia muscle in the face of the Islamic State group.
Scrapped visa fees and an appeal by Ayatollah Ali Khamenei, Iran's supreme leader, unleashed a million-strong human tide that bemused Iraqi border guards have struggled to control.
General Ali Tamuz, the top Iraqi security official at Zurbattiyah border crossing, about 160 kilometres (100 miles) east of Baghdad, has many bruises and a couple of cracked ribs to show for it.
On Saturday, the handful of translators employed at the desert border had long been swallowed by the crowd and Tamuz only knew one word of Farsi to manage the flow: "beshin" (sit down).
"That achieved pretty good results until a colleague from the police came over to help," he said, laughing.
Full report at:
http://www.dawn.com/news/1149669/iran-pilgrims-flock-to-iraq-with-message-for-jihadists
-----------
Erdogan's move to bring back Arabic script angers secularists
09 Dec, 2014
ISTANBUL: Turkey's President Recep Tayyip Erdogan vowed on Monday to make lessons in the Arabic-alphabet Ottoman language compulsory in high schools — a highly symbolic move which enraged secularists who claim he is persuing an increasingly Islamist agenda.
Mustafa Kemal Ataturk, the founder of modern Turkey, abolished the Ottoman language in 1928, replacing its Arabic alphabet with a Latin one.
He also purged the language of many of its Arabic, Persian and Greek words to create a new "pure" Turkish closer to the language people spoke.
Critics claimed Erdogan's vow to reintroduce teaching of the language "no matter what they say" was another bid to roll back Ataturk's secular reforms, which were based on a strict separation between religion and state.
Turkey's National Education Council, largely made up of members backed by Erdogan's Islamic-rooted government, voted over the weekend to make classes compulsory at religious high schools and an option at regular high schools.
Full report at:
http://www.dawn.com/news/1149682/erdogans-move-to-bring-back-arabic-script-angers-secularists
-----------
Palestinians secure observer status at ICC
9 December 2014
The International Criminal Court has officially granted Palestinians observer status at the Court's summit of 122 member countries on Monday.
The move, which has repeatedly been promised by the Palestinians, is a step toward joining the world's permanent war crimes tribunal. The Hague-based ICC is an independent organization and is not part of the United Nations system.
U.N. ambassador to Palestine Riyad Mansour, said his government is moving in that direction "but that's another step in that process," and the timing will be decided by Palestinian President Mahmoud Abbas.
Previously, Abbas has vowed to seek membership in the ICC in order to press charges against Israel for alleged war crimes.
The Palestinians officially accepted their observer status at opening session of the Assembly of States Parties to the Rome Statute that established the ICC. The summit will last for two weeks.
Full report at:
http://english.alarabiya.net/en/News/middle-east/2014/12/09/Palestinians-gain-observer-status-at-ICC.html
-----------
Car bombs kill 6 soldiers in southeast Yemen
09 Dec, 2014
ADEN: Twin suicide car bombs on Tuesday killed at least six soldiers in an attack on an army headquarters in southeast Yemen, the military said.
Yemeni security forces are often the target of deadly attacks, which are usually blamed on Al-Qaeda militants who are active in the violence-wracked country.
The explosive-laden vehicles were detonated at the entrance of the base in the town of Seiyun in Hadramawt province, according to a military source.
"According to a preliminary toll, six soldiers were killed and eight others wounded," the source said.
The blasts came shortly after the arrival of a convoy carrying a military general who was unharmed, the source added.
A bomb also exploded in a square in Seiyun near a local government building, residents said.
Elsewhere in Hadramawt province, suspected Al-Qaeda militants late on Monday killed two soldiers and wounded a third in an ambush in the town of Shehr, a security source said.
Southeast Yemen is a stronghold of Al-Qaeda militants.
On Saturday an American and a South African hostage were killed during a failed attempt by US special forces to rescue them from Al-Qaeda in the region.
http://www.thenews.com.pk/article-168189-Car-bombs-kill-6-soldiers-in-southeast-Yemen
-----------
Police backed by riot squad raid communal house in Istanbul
09 Dec, 2014
Istanbul police staged a morning raid on the Caferağa Neighborhood House in the city's Kadıköy district on Dec. 9, emptying the communal facility's library and confiscating possessions.
The raid sparked anger among local residents, who staged a protest against the action outside the house, which was first occupied 18 months ago before being converted into a communal neighborhood space.
"They've removed our tea stand, scattered our library, and the sounds of electric saws were coming from our communal kitchen," the house's Twitter feed said. "We've established [the house] hand in hand, let's protect it shoulder to shoulder."
Authorities have demanded that the house, which was originally unoccupied, be evacuated because it officially belongs to the Treasury.
Full report at:
http://www.hurriyetdailynews.com/police-backed-by-riot-squad-raid-communal-house-in-istanbul.aspx?pageID=238&nID=75376&NewsCatID=341
-----------
No agreement with US until settlement of Syria no-fly zone issue: President Erdoğan
09 Dec, 2014
President Recep Tayyip Erdoğan has said Ankara and Washington are "on the same page" about equipping and training moderate Syrian rebels, but differences remain over the no-fly zone and safe zone issues, thwarting the striking of a deal.
"No commitment has yet been given by the coalition powers, particularly about a no-fly zone and safe zone," Erdoğan told reporters at a joint news conference with visiting Lithuanian President Dalia Grybauskaite late on Dec. 8.
"This is an issue being negotiated between our delegations. There seems to be a consensus in the equip-train [program planned for Syrian rebels], but unfortunately there has been no consensus over the two other issues yet," said Erdoğan.
Erdoğan also said all details of the train-equip program planned to be co-executed by Turkey and the U.S. have been determined, but added "it is impossible to take a healthy step" without reaching a full consensus.
Full report at:
http://www.hurriyetdailynews.com/no-agreement-with-us-until-settlement-of-syria-no-fly-zone-issue-president-erdogan.aspx?pageID=238&nID=75381&NewsCatID=338
-----------
Iran to provide 500 scholarships to Afghan students each year
Dec 09 2014,
The government of the Islamic Republic of Iran has promised to provide 500 scholarships each year to Afghans.
Iranian officials have made this commitment in a meeting with Haji Mohammad Mohaqiq, Deputy Chief Executive Officer, during his visit to Tehran.
Iranian officials also renewed their commitment to enhance its cooperation in development and security sectors of Afghanistan.
This is the 1st visit of a high ranking official of the new government of Afghanistan to Iran.
http://www.khaama.com/iran-to-provide-500-scholarships-to-afghans-each-year
-----------
India
4 JeM Militants Held Guilty By Delhi HC of Waging War against India
09 Dec, 2014
NEW DELHI: Four Jaish-e-Muhammed (JeM) militants were today convicted by the Delhi high court for conspiring to wage a war against the country.
Justice Pradeep Nandrajog and Justice Mukta Gupta held that Bashir Ahmed Ponnu, Fayaz Ahmed Lone, Abdul Majeed Baba and Shahid Gafoor "conspired knowingly to facilitate the commission of a terrorist act and have carried out an act preparatory to the commission of a terrorist act".
The court said Bashir, Fayaz and Abdul collected and brought the explosive substance and handed over the same to Shahid and held them guilty of various offences punishable under ant-terror law Unlawful Activities (Prevention) Act (UAPA).
"In the present case, the acts of Bashir, Fayaz, Abdul and Shahid were preparatory to the commission of the offence of waging war and abetting the same by entering into criminal conspiracy and concealing with the intent to facilitate waging of war. They were in possession of three kilograms of PETN (Pentaerythritol Tetranitrate), 6 hand grenades, 4 electronic detonators and 1 timer.
Full report at:
http://timesofindia.indiatimes.com/india/4-JeM-militants-held-guilty-by-Delhi-HC-of-waging-war-against-India/articleshow/45416973.cms
-----------
Religious Extremism Preached At Three Madrasas: Govt
09 Dec, 2014
During the investigations into the Bardhaman blast case, it has been disclosed that in three Madrassas controlled by illegal Bangladeshi migrants, religious extremism and indoctrination was being preached, the government on Tuesday said.
Minister of State for Home Haribhai Parathibhai Chaudhary said in Lok Sabha that there are no reports about madrassas in general, preaching religious extremism or helping terrorist organisations.
"However, during investigations into the Burdwan blast case, it has been disclosed that in three madrassas controlled by illegal Bangladeshi migrants, religious extremism and indoctrination was being preached," the Minister said in a written reply to a question by Dr. K Kamaraj of AIADMK.
The Government has put in place the necessary mechanism to closely monitor the situation and has directed the "intelligence and security agencies to identify such institutions" engaged in religious extremism, especially along the international borders and keep a watch on their activities, a government release has said.
http://www.thehindu.com/news/national/other-states/religious-extremism-preached-at-three-madrassas-govt/article6676130.ece
-----------
NIA gathers 'incriminating' online evidence against IS recruit
09 Dec, 2014
The National Investigation Agency (NIA), which informed a special court here on Monday that they have gathered "incriminating" online evidence against Arif Majeed, the alleged IS recruit, needs to act with zero loss of time to ensure that the digit foot prints of his alleged offence do not go offline.
According to experts the impending urgency is owing to the fact that Google and other social networking sites store their data for a period of six months.
The agency in the past too had a bad experience while trying to retrieve online information against alleged 26/11 master mind Zabiuddin Ansari alias Abu Jundal.
Earlier this year, NIA through the Ministry of External Affairs (MEA) had sought information on various accounts and social networking activities of Jundal under the Mutual Legal Assistance Treaty (MLAT) but didn't succeed to get anything concrete as the data sought was prior to 2008.
Full report at:
http://www.thehindu.com/news/cities/mumbai/nia-gathers-incriminating-online-evidence-against-is-recruit/article6675478.ece
----------
RSS 're-converts' 200 Agra Muslims, says more in line
Ishita Mishra,TNN | Dec 9, 2014
AGRA: Members of at least 57 Muslim families were converted to Hinduism at a ceremony called 'Purkhon ki ghar vapsi', a mass conversion jointly organized by Dharma Jagran Samanvay Vibhag, an offshoot of the Rashtriya Swayamsevak Sangh (RSS), and Bajrang Dal in Agra on Monday.
RSS regional head Rajeshwar Singh said more than 200 Muslims were "brought back to Hinduism" in the mass event held in Madhunagar area of the city.
According to organizers, the converts will soon be given new names.
Talking to TOI, Singh claimed that around 5,000 more Muslims and Christians will be "brought back into Hindu fold" in Aligarh on this Christmas. "The grand event will be held at Maheshwari College in Aligarh," he said, daring anyone to stop it.
With saffron flags hoisted on rooftops of makeshift houses in this slum cluster, and matras being recited by priests, members of as many as 57 Muslim families washed feet of Hindu idols to mark their return to the religion. Long vermillion marks were put on their foreheads and they were given Prasad to eat.
Full report at:
http://timesofindia.indiatimes.com/city/agra/RSS-re-converts-200-Agra-Muslims-says-more-in-line/articleshow/45419338.cms
-----------
Saudi Arabia approves pact to hire Indian domestics
IANS | Dec 9, 2014
RIYADH: The Saudi Arabia government has approved an agreement for recruitment of Indian domestic workers including maids, media reported.
The council of ministers, chaired by Crown Prince Salman, deputy premier and minister of defence, Monday approved the Saudi Arabia's agreement with Delhi, Arab News reported Tuesday.
"The agreement aims to protect the rights of domestic workers as well as their employers and regulate the contractual relationship between the two parties," said haj minister and acting information minister Bandar Hajjar.
The agreement also aims at organising the recruitment process and controlling the cost of recruitment in both countries.
"It stipulates that such domestic labour shall have no criminal records, be trained in specialized centres in household work and educated on the kingdom's customs and traditions as well as the terms and conditions of the employment contract," Hajjar said.
http://timesofindia.indiatimes.com/india/Saudi-Arabia-approves-pact-to-hire-Indian-domestics/articleshow/45432786.cms
-----------
33 Pak espionage modules neutralized in last 4 years: Govt
PTI | Dec 9, 2014
NEW DELHI: A total of 33 Pakistan-backed espionage modules were neutralized in the country resulting in the arrest of 50 espionage agents in last four years, Lok Sabha was informed on Monday.
The Pakistani spies, including some retired Indian government officials, were arrested during the period of January 2011 and November 2014, minister of state for home Haribhai Parathibhai Chaudhary said.
It has come to notice that Pakistani intelligence agencies, particularly the ISI, is conducting espionage activities in the country, he said in reply to a written question.
http://timesofindia.indiatimes.com/india/33-Pak-espionage-modules-neutralized-in-last-4-years-Govt/articleshow/45432486.cms
-----------
Plan to Get Madrasa Inaugurated By BJP MP Draws Irk From Muslims
09 Dec, 2014
The plan to get an upgraded madrasa inaugurated by BJP MP Murli Manohar Joshi has drawn irk from the Muslim community, who are demanding it to be cancelled.
"The Muslims are upset over the inauguration by Joshi. I will meet city's Qazi soon to find a way out but so far there is no change in the plan," madrasa principal Mohammad Mehraj said.
Al Jamiat-Ul-Nooria madrasa located in Shyam Nagar area of Joshi's constituency is being upgraded and the construction is scheduled to be completed by January next year.
"A group of Muslims approached me to raise objections on the plan of inauguration by Joshi who they alleged was responsible for Babri incident and leaders of his party have said in past that madrasas are imparting education of terror," Qazu Aalam Raza Noori said.
"I will meet the madrasa principal and ask him the reason for extending an invitation to Joshi. I believe a political person should not inaugurate it but I will take a decision after the meeting," he added.
Full report at:
http://indianexpress.com/article/india/india-others/plan-to-get-madrasa-inaugurated-by-bjp-mp-murli-manohar-joshi-draws-irk-from-muslims/#sthash.O82gATLM.dpuf
-----------
Europe
Islamic organisation Hizb ut-Tahrir's pro-Sharia rally met with protests
09 Dec, 2014
The Islamic organisation Hizb ut-Tahrir's pro-Sharia rally in Copenahgen's Nørrebro district was greeted by protestors who feel that Islamic law has no place in Denmark.
Hizb ut-Tahrir's 'Proud of Sharia' (Stolt over sharia) meeting in Nørrebrohallen gathered members and supporters of the international Islamic group, which openly supports the establishment of a caliphate and is listed as one of five Muslim extremist groups operating in Denmark.
The meeting addressed the City of Copenhagen's proposed integration plan, which has a stated goal of getting "the number of Copenhageners who support Sharia Law to fall".
Hizb ut-Tahrir has positioned the city's strategy as "an attack against Islam and Muslims" and held its meeting on Sunday to express their support for implementing Sharia Law.
"We in Hizb ut-Tahrir have a stated goal of protecting Islam and getting Muslims to adhere to their values. We have therefore repeatedly revealed Danish politicians' attacks against Islam and Muslims, and this time is no exception," the group wrote on its website.
Full report at:
http://www.thelocal.dk/20141208/islamic-groups-sharia-meeting-met-with-protests
-----------
Amnesty International accuses Israel of war crimes
09 Dec, 2014
LONDON: The Israeli military committed war crimes during its Gaza offensive this summer and must be investigated, human rights monitor Amnesty International said on Tuesday.
The destruction of four multi-story buildings during the last four days of the 50-day war were in breach of international humanitarian law, the group said in a report.
"All the evidence we have shows this large-scale destruction was carried out deliberately and with no military justification," said Philip Luther, director of Amnesty International's Middle East and North Africa programme.
"War crimes must be independently and impartially investigated and those responsible should be brought to justice in fair trials."
Evidence including statements by the Israeli military at the time indicate the attacks were "a collective punishment against the people of Gaza" designed to destroy their livelihoods, Luther added.
Full report at:
http://www.dawn.com/news/1149766/amnesty-international-accuses-israel-of-war-crimes
-----------
Ready to assist in resolving Kashmir dispute if requested: UN chief Ban Ki—moon
09 Dec, 2014
UN chief Ban Ki—moon has expressed readiness to engage with India and Pakistan in resolving the Kashmir issue if requested by both and asked them to resume talks to reach an agreement that would serve their security interests as well as that of the region.
"As I have stated in the past, if both countries request it, I am ready to engage further to assist in resolving this issue," the Secretary General said.
Reiterating that peace in Jammu and Kashmir can be achieved only through dialogue, Mr. Ban called on the two countries to resume discussions and said that an agreement on Kashmir would serve the security interests of both countries as well as that of the region.
"I once again encourage both governments to resume discussions and identify confidence—building measures that will allow them to come to an agreement on Kashmir, which will serve the security interests of both countries as well as of the region," Mr. Ban told PTI.
He said that Kashmiris need to be engaged in the process and their rights must also be respected at all times.
Full report at:
http://www.thehindu.com/news/national/ready-to-assist-in-resolving-kashmir-dispute-if-requested-ban/article6675678.ece
-----------
North America
Online-recruited teens, caught trying to join Islamic State
The Washington Post
December 09, 2014
CHICAGO: Mohammed Hamzah Khan, 19, rose before dawn on Oct. 4 to pray with his father and 16-year-old brother at their neighborhood mosque in a Chicago suburb.
When they returned home just before 6 a.m., the father went back to bed and the Khan teens secretly launched a plan they had been hatching for months: to abandon their family and country and travel to Syria to join the Islamic State.
While his parents slept, Khan gathered three newly issued U.S. passports and $2,600 worth of airline tickets to Turkey that he had gotten for himself, his brother and their 17-year-old sister. The three teens slipped out of the house, called a taxi and rode to O'Hare International Airport.
Khan was due at work at 6:30 a.m. at a local home-supply store, so he knew his parents wouldn't miss him when they woke up. The two younger siblings bunched up comforters under their sheets to make it look like they were asleep in their beds.
Their plan was to fly to Istanbul, then drive into Syria to live in the Islamic homeland, or caliphate, established by the Islamic State, the militant group that has massacred civilians in Iraq and Syria and beheaded Western journalists and aid workers.
Full report at:
http://www.washingtonpost.com/world/national-security/three-american-teens-recruited-online-are-caught-trying-to-join-the-islamic-state/2014/12/08/8022e6c4-7afb-11e4-84d4-7c896b90abdc_story.html
-----------
Muslims denounce convert who threatened Canada
09 Dec, 2014
Canadian Muslims denounced a convert's call for more lone-wolf attacks in this country Monday, just weeks after two soldiers were recently killed in the first jihadist attacks on Canadian soil.
The National Council of Canadian Muslims condemned a video message from Canadian jihadist fighter from the Islamic State of Iraq and Syria (ISIS) group as "abhorrent and un-Islamic."
"The attempt to justify attacks against innocent people is deeply misguided and unsupported by Islamic principles," echoed Imam Sikander Hashmi, spokesman for the Canadian Council of Imams.
In the video, John Maguire, originally from Ottawa, warns Canada it faces retaliation for participating in U.S.-led airstrikes against ISIS.
Full report at:
http://english.alarabiya.net/en/News/world/2014/12/08/Muslims-denounce-convert-who-threatened-Canada-.html
-----------
In Baghdad, US defence chief says Iraqis must win anti-ISIL war
09 Dec, 2014
US Defence Secretary Chuck Hagel visited Iraq Dec. 9 to review efforts against the Islamic State of Iraq and the Levant (ISIL) but insisted it was up to the Iraqis themselves to win the war against the jihadists.
Hagel, who is due to step down from office shortly, was to be briefed by US military commanders and hold talks with his Iraqi counterpart as well as Prime Minister Haider al-Abadi during the unannounced visit.
Washington has forged an alliance of Western and Arab countries that has launched air strikes against ISILafter the extremist group seized swathes of territory in Iraq and Syria and declared an Islamic "caliphate".
The United States will be doubling the number of its troops in Iraq helping government forces to 3,100, and on Monday the American commander of the war effort said allies were also ready to send roughly 1,500 security personnel.
Full report at:
http://www.hurriyetdailynews.com/in-baghdad-us-defence-chief-says-iraqis-must-win-anti-isil-war.aspx?pageID=238&nID=75374&NewsCatID=359
-----------
Sexual threats, other CIA methods meted out to captured militants detailed in Senate report
09 Dec, 2014
Graphic details about sexual threats and other harsh interrogation techniques the CIA meted out to captured militants will be detailed by a Senate Intelligence Committee report on the spy agency's anti-terror tactics, sources familiar with the document said.
The report, which the committee's majority Democrats are expected to release on Tuesday, describes how senior al Qaeda operative Abdel Rahman al Nashiri, suspected mastermind of the 2000 bombing of the USS Cole, was threatened by his interrogators with a buzzing power drill, the sources said. The drill was never actually used on Nashiri.
In another instance, the report documents how at least one detainee was sexually threatened with a broomstick, the sources said.
Full report at:
http://english.ahram.org.eg/NewsContent/2/9/117526/World/International/Sexual-threats,-other-CIA-methods-detailed-in-Sena.aspx
-----------
Bond for Arab activist who hid Israel bombing role
9 December 2014
An Arab-American activist convicted of failing to tell U.S. immigration officials about her conviction for a fatal bombing in Israel can be released from jail if she comes up with $50,000 cash, a federal judge in Detroit said Monday.
The judge reversed his earlier decision denying bond to Rasmieh Odeh of Chicago while she awaits her sentence in March.
Judge Gershwin Drain said he no longer believes the 67-year-old is likely to flee.
Drain cited her work in Chicago, where she runs the daily operations of the Arab American Action Network, in his decision to grant bond.
Odeh's "dedication to her community work and the people that such work assists, as well as the presence of relatives in Chicago, demonstrates by clear and convincing evidence that she is not as significant a flight risk as originally believed," he wrote.
Full report at:
http://english.alarabiya.net/en/News/middle-east/2014/12/09/Bond-for-Arab-activist-who-hid-Israel-bombing-role-.html
-----------
US allies to send about 1,500 troops to Iraq
09 Dec, 2014
KUWAIT CITY: US allies have committed to send about 1,500 forces to Iraq to help train and advise Iraqi and Kurdish soldiers battling the Islamic State, which increasingly appears on the defensive, the top US commander guiding the coalition effort said on Monday.
Lieutenant General James Terry, commander of Operation Inherent Resolve targetting the militants in Iraq and Syria, said the forces would come on top of the up to 3,100 troops US President Barack Obama has authorized to deploy to Iraq.
Full report at:
http://www.dawn.com/news/1149681/us-allies-to-send-about-1500-troops-to-iraq
-----------
U.S General says ISIS 'on defense'
By The Associated Press
09 Dec, 2014
KUWAIT CITY — Jihadists have lost the initiative in Iraq and are now "on defense" with far less ability to generate the kind of ground maneuvers that enabled the Islamic State of Iraq and Syria to capture large chunks of both countries this year, a senior U.S. general said Monday.
Army Lt. Gen. James Terry, the top commander of Operation Inherent Resolve, the campaign to defeat ISIS, said the nascent effort to rebuild Iraq's army will soon get a boost from coalition countries that plan to commit about 1,500 military trainers. Much of the Iraq army collapsed or proved ineffective in ISIS' onslaught.
In his first extensive interview since taking command of the counter-ISIS campaign in October, Terry told reporters that ISIS is "on defense, trying to hold what they have gained." He added that the group, which is armed with tanks and other U.S.-made war equipment captured from the Iraqi army, is "still able to conduct some limited attacks."
Terry said his first priority is to develop more fully an international military coalition against ISIS.
Full report at:
http://triblive.com/usworld/world/7335869-74/isis-army-iraq#axzz3LRke4k82
-----------
URL: https://www.newageislam.com/islamic-world-news/new-age-islam-news-bureau/1977-could-be-repeated-if-political-leadership-did-not-behave-prudently--ji/d/100401