New Age Islam News Bureau
16 Jun 2017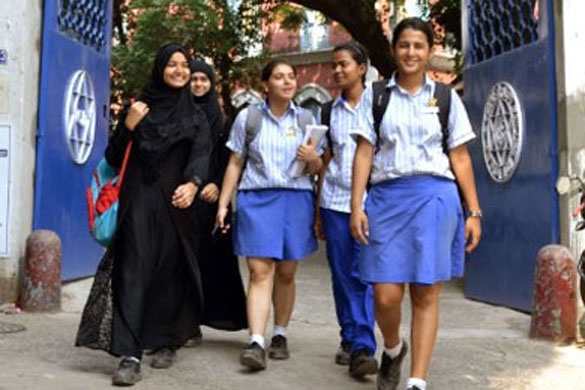 Muslim girls, some in the burqa and some in the regular uniforms, leave the Jewish Girls School in Calcutta.
-----
• 17 Mosques in Kerala's Malappuram to Have Single Azaan to Curb Sound Pollution
• Pakistani Militias Fighting Alongside ISIS Militants: Nangarhar NDS Chief
• Al-Qaeda Condemns Boycott against Qatar, Stands with the Muslim Brotherhood
• Isis Condemned By 300 Austrian Muslim Imams Who Sign Declaration against 'Extremism, Violence and Terror'
• Turkey Sentences UN War Crimes Judge
India
• 17 Mosques in Malappuram to Have Single Azaan to Curb Sound Pollution
• Muslims Keep Alive Calcutta's Jewish Schools, Stores and Traditions
• Yogi Government Announces Dissolution of Shia, Sunni Waqf Boards In UP
• US Declares Karnataka-Born Islamic State Recruiter Mohammed Shafi Armar Global Terrorist
• J&K: Two cops killed in separate attacks by terrorists
• Putin made no offer to Nawaz Sharif to play mediator: India, Russia
• Cross-border terrorism responsible for Kashmir disturbances: India at UNHRC
--------
South Asia
• Pakistani Militias Fighting Alongside ISIS Militants: Nangarhar NDS Chief
• ISIS Claims Taking OBL's Afghan Hideout in Tora Bora
• 4 killed, 8 wounded in suicide attack on Kabul mosque
• Myanmar told to protect held Rohingya children
• Taliban deny involvement in Kabul blast that killed six
• Dhaka, Stockholm to fight terror together
• Afghanistan unveils Kandahar bombing probe that killed UAE Ambassador
• Special air and ground campaign kicks off against ISIS in East of Afghanistan
--------
Arab World
• Al-Qaeda Condemns Boycott against Qatar, Stands with the Muslim Brotherhood
• Mosul Old City Residents Spend Hungry and Fearful Ramadan Under IS Rule
• Over 130 Gunmen Receive Gov't Amnesty; Reconciliation Plan Ends in Homs City
• Saudi Forces Intensify Attacks on Shia Town
• Syrian Army to Take Control of Border-Crossings with Jordan
• Syrian Army Utilizing Flying Tanks in War on Terrorism in Dara'a
• Syrian Army Captures Strategic Energy-Field in Homs, Advances toward ISIL's Vital Bastion en Route to Deir Ezzur
• Raqqa battle intensifies as militants shoot escapees
• UAE foreign minister says Qatar must take decisive action against extremism
• Iraqi forces liberate key west Mosul district from Daesh
--------
Europe
• Isis Condemned By 300 Austrian Muslim Imams Who Sign Declaration against 'Extremism, Violence and Terror'
• Germany Set To Open Its First Liberal Mosque in Berlin
• Facebook seeks to become 'hostile place' for extremists
• Facebook discloses new details on removing terrorism content
• Europol: Militant arrests in Europe nearly double in two years
• Putin: Russia plans to improve Syrian army capability
• Newly-deployed US rocket launchers may target Syrian army: Russia
• Putin announces plans to reinforce Syrian army
--------
Mideast
• Turkey Sentences UN War Crimes Judge
• 35 Saudi Forces Killed, Wounded at Borders with Yemen
• Iran slams West's double standards on Israeli nukes
• Turkey president slams US arrest warrants for security aides over DC brawl
• Turkish opposition party begins 400-km protest march from Ankara to Istanbul
--------
North America
• Tennessee Man Sentenced Over Plot to Attack Muslim Community
• US Visit By People from Six Muslim-Majority Countries Drops
• US Senate votes near unanimously for Russia, Iran sanctions
• US State Department: Washington has no intention to host Qatar crisis summit
• Pentagon denies claimed joint naval exercise with Qatar
• Trump visits U.S. Supreme Court as justices weigh travel ban
• Hawaii Governor says he is 'looking forward' to Trump's travel ban going to Supreme Court
--------
Southeast Asia
• As Homelands Devastated, Indonesian Tribe Turns To Islam
• From Myanmar to Malaysia, life's tough for the Rohingya
• Jokowi's Central Java trip turns religious with pesantren visits
• Defence Minister to Meet Regional Counterparts to Discuss Islamic State Threat
• Thailand Arrests Suspect in Connection With Bangkok Hospital Bomb
--------
Pakistan
• Pakistani Scholars Body Says Qatar Media's Attack on Saudi Scholars 'Absurd'
• Three policemen killed in Peshawar van attack
• Afghanistan asks Pakistan to hand over suspects of Kandahar attack
• China to facilitate talks between Pakistan, Afghanistan: Sartaj
--------
Africa
• Saudi Royal Adviser Reveals Qatar-Libya Plots To Assassinate Late King Abdullah
• 19 die in hotel attack in Somali capital
• UN details horrible torture, killing of opponents in Burundi
• Libya: Surrender Saif Al-Islam Gaddafi to ICC
• Somalia: Govt Convenes Conference to Reconcile People
Compiled by New Age Islam News Bureau
URL:https://www.newageislam.com/islamic-world-news/17-mosques-keralas-malappuram-single/d/111568
--------
17 Mosques in Kerala's Malappuram to Have Single Azaan to Curb Sound Pollution
June 16, 2017
Amid a seemingly endless debate over noise pollution from places of worship, 17 mosques in the Vazhakkad region of Kerala's Malappuram district are leading by example with an integrated azaan, the call for prayer made five times a day.
Since last Sunday, the Vazhakkad region has followed a single azaan through the loudspeaker – called from the biggest mosque in the mahal, the valya (big) Juma Masjid – which is repeated in the other mosques, run by various groups, without noise. T P Abdul Azeez, president of the mahal committee, the council which oversees administration of mosques in the region, said the decision was a response to "long-discussed" requests for curbs in the use of loudspeakers.
"There are six mosques in and around the Vazhakkad market area alone. The excessive use of loudspeakers has been causing trouble for many schools and colleges in the area. When a meeting of representatives of all mosques was called, there was consensus on integrating the time of prayer calls," Azeez told Deccan Herald on Thursday. A five-member committee has been formed in the council to discuss impact of the measure in detail and explore possibilities of extending the curbs on use of loudspeakers to other areas.
"The committee is a formality, there is consensus on what we've done. I was at a public gathering today in which many prominent leaders of the community came forward to laud the step," Azeez said. The council has also proposed curbs on use of loudspeakers in religious functions.
The committee members are hopeful that the integrated azaan, proposed as a socially progressive step, finds acceptance in its religious context as well. "We are awaiting response from the Chief Qazi of Kozhikode in this matter," Azeez said. He said the response from believers has been overwhelmingly positive. "Since the mosques were following varied timings for prayer calls, many public meetings were also getting affected," he said.
http://www.deccanherald.com/content/617536/17-mosques-malappuram-have-single.html
--------
Pakistani militias fighting alongside ISIS militants: Nangarhar NDS chief
Jun 16 2017
The provincial director of the National Directorate of Security (NDS) in Nangarhar General Abdul Saboor Sabit said the Pakistani militias are actively participating in the fight alongside the ISIS loyalists in this province.
Gen. Sabit was speaking during a press conference after the clearance of Chaparhar district, saying the fighters of the terror group are trained in the neighbor and the Pakistani militias are actively involved in the fight in Nangarahr along with the ISIS militants.
He said the number of the fighters of the terror group are on the rise despite the group loses fighters on a large scale during the operations of the Afghan security forces as they are recruited in the neighbor and sent to Afghanistan for the insurgency.
The Nangarhar NDS chief called on the provincial government to establish cooperation with the local residents so that the areas cleared of the insurgents are kept secure once they are cleared during he operations.
He also urged the local residents of Nangarhar to prevent the ISIS loyalists to establish foothold so that they cannot carry out destructive and terrorist activities.
The local officials had earlier also said that the majority of the ISIS militants fighting in this province are foreign nationals, mainly from the tribal regions of Pakistan.
Provincial governor's spokesman Ataullah Khogyani last year that the documents obtained from the dead bodies and those arrested during the operations in Achin, Kot, Haska Mina and other parts of Nangarhar, reveal that they are originally residents of Orakzai Agency.
Khogyani further added that the intelligence information gathered by the government also reveal that the ISIS loyalists are mostly comprised of Pakistani nationals.
According to Khogyani, the residents of Tajikistan are also fighting alongside the Pakistani nationals for ISIS terrorist group who are mainly deployed after completing training in Pakistan.
http://www.khaama.com/pakistani-militias-fighting-alongside-isis-militants-nangarhar-nds-chief-02950
--------
Al-Qaeda condemns boycott against Qatar, stands with the Muslim Brotherhood
16 June 2017
Al-Qaeda has released a new propaganda video condemning the current boycott of Qatar by neighboring Gulf and Arab countries.
In a new development that confirms the link between al-Qaeda, the Muslim Brotherhood and the Qatari role in supporting the two, the latest propaganda titled "the mask has fallen," broadcasted through its media subsidiary "Al-Sahab," condemned the decisions by Saudi Arabia, UAE, Bahrain and Egypt to cut ties with Qatar and rank individuals and designated as terrorists sponsored by Qatar.
Al-Qaeda in the Arabian Peninsula/Yemen (AQAP) leader Khalid Batarfi described the recently Qatar-linked terror list as a "war against Islam and Muslims" and called on all scholars, preachers and students of theology and various factions of Islamic movements and groups to "incite and encourage the jihad and dismiss nationalist patriotic sentiment".
"We advise all of those who flattered the tyrants and justified their crime to fear God and regret their actions. The tyrants don't believe in the channels of communications," Batarfi said.
The link between al-AQAP and the Islah Brotherhood Party was earlier confirmed by the leader Jalal Belaidi al-Marqashi in a statement in which he commented on the joint attacks carried out by al-Qaeda in cooperation with the Muslim Brotherhood on many fronts in Yemen, most notably in the city of Marib.
AQAP-Muslim Brotherhood links
Most of the leaders of AQAP were part of the Muslim Brotherhood and fought side by side in a number of fronts in Yemen.
Between 2011-2012 and at the beginning of the so-called Arab Spring, the Brotherhood showed hostile positions to Al-Qaeda, which was a step to lead the political scene in Yemen and access power, but the common relations returned again in 2014.
According to a specialist in the affairs of Yemeni Islamist groups and movements, who wished not to be named, the statement from AQAP comes mainly as a guide to Muslim Brotherhood members and to those who object to the inclusion of personalities such as Yusuf al-Qaradawi, Wagdy Ghoneim, Abdel hakim Belhadj and Muhammad al-Mohaisany (all were named in the recent Qatar-linked terror list), considering that "any form of dialogue with the tyrants is a waste of time and they should instead adopt the teaching of the jihad against these tyrants".
The latest issue of Al-Masra weekly issued from Al-Qaeda attacked the countries described as "launching an information campaign against Qatar and its Emir". They also reported more than one story in the same issue attacking Saudi Arabia and the UAE.
A lengthy report in Al-Qaeda newspaper published from the coast of Hadhramaut explained that the campaign on Qatar was the result of the annoyance of some parties with the Qatari role in Yemen and its support for the Muslim Brotherhood.
https://english.alarabiya.net/en/News/gulf/2017/06/16/Al-Qaeda-condemns-boycott-against-Qatar-stands-with-the-Muslim-Brotherhood.html
--------
Isis condemned by 300 Austrian Muslim imams who sign declaration against 'extremism, violence and terror'
June 16, 2017
Around 300 imams in Austria have signed a declaration calling Isis the "black sheep" of the Islamic faith and called for fellow Muslims to take a greater role in society.
The Islamic Religious Community of Austria (IGGÖ) signed the declaration against "extremism, violence and terror" in Vienna which "holds that atrocities of the IS terrorists are contrary to Islam and must be condemned most severely".
"These IS terrorists misuse our peaceful Islam religion to reach their political goals," it added.
Around 180 imams who signed gathered outside a mosque in the city to unfurl a banner saying "United against extremism and terror".
IGGÖ President Ibrahim Olgun said in a speech that "a religion that stands for peace can not have fundamentalist, terrorist or radical features" and that the Islamic faith was "polluted" by the actions of violent extremists.
The declaration said: "We, the Austrian imams, will continue to do everything they can to maintain peaceful coexistence here in Austria as part of this society.
"Nothing will stop us from using ourselves for peace, freedom, justice, equal opportunities for men and women, and social security based on reason and solidarity, and to make our active contribution to the preservation of society."
It quoted a passage from the Quran which said "when a man kills a man, it is as if he had killed all mankind, and whoever saved a man's life is like saving all mankind".
The move comes as the Austrian parliament passed a controversial law which banned burqas in public last month, which is due to come into force in October, despite the fact that only a tiny majority of women in the country wear the full-face veil.
The provision will not apply to the hijab, which only covers the head and neck.
The ban has been criticised as a knee-jerk reaction to the rise of the populist Freedom Party of Austria which narrowly lost the presidential election to Green candidate Alexander Van der Bellen after a rerun of the vote in December 2016.
The first result in spring of that year, which was annulled after it was found some absentee ballots had been counted too early, resulted in a victory of just 0.3 per cent for Mr Van der Bellen in the second round.
Freedom Party candidate Norbert Hofer won the first round with 35 per cent of the vote to Mr Van der Bellen's 21.3 per cent.
Austria has not suffered the same extremist attacks on its own soil as its European neighbours.
But some 300 people out of a population of 8.7m have travelled to Syria to fight since the civil war began – one of the highest per capita numbers in Europe, according to the Guardian.
http://www.independent.co.uk/news/world/europe/isis-austria-muslim-imams-300-declaration-vienna-extremism-violence-terror-is-islamic-state-iggo-a7790941.html
--------
Turkey sentences UN war crimes judge
June 16, 2017
THE HAGUE : Turkey has sentenced a UN war crimes judge to 7 years and six months in prison on charges of "membership in a terrorist organisation", an international court in the Hague said on Thursday.
Judge Aydin Sedaf Akay has been held in Turkey since September, one of tens of thousands of Turkish officials arrested in a crackdown on people and organisations after a foiled coup in which hundreds died.
The UN court said in a statement that Turkey's actions constituted a "further breach of Judge Akay's protected status", as UN judges have diplomatic immunity under international law.
Akay is a judge at the MICT, the Hague court set up to handle final appeals and other remaining cases from the Yugoslav and Rwanda war crimes tribunals, which are being wound down.
At the time of his arrest, Akay was part of a panel assembled to determine if new evidence showed Rwandan Augustin Ngirabatware had been wrongfully convicted of genocide and jailed for 35 years.
That proceeding has been delayed by Akay's absence.
According to a statement by the MICT, Akay was convicted on Tuesday on a single charge of membership in "FETO" - which Turkey says is a terrorist organisation that supports US-based cleric Fethullah Gülen whom Ankara accuses of backing the coup.
MICT President Theodor Meron said that Akay's arrest, "detention, and legal proceedings against him are inconsistent with the assertion of his diplomatic immunity by the United Nations, as well as the binding judicial order (to release him that the MICT) ... issued in January 2017."
In March Meron reported Turkey to the UN Security Council over the matter.
http://nation.com.pk/international/16-Jun-2017/turkey-sentences-un-war-crimes-judge
--------
India
Muslims keep alive Calcutta's Jewish schools, stores and traditions
June 16, 2017
By Anik Basu
Calcutta, India (CNN)When Mitana Alexander bid goodbye to Calcutta's Jewish Girls School in 1975, she was its last Jewish student. The bulk of the others were Muslims.
But it was not the steady influx of Muslim girls in the preceding two decades that moved Alexander's parents to take her out of the school, she says.
They were worried because she was last remaining occupant of a Jews-only dormitory, as most Jewish girls they had known had migrated to Israel, America or Europe "with their folks."
"They (school authorities) had to retain a matron just for me," recalls Alexander, now aged 50. "I would be alone in the dormitory at night and my parents started panicking. Muslims had nothing to do with my leaving."
Distinctly Calcutta
The swelling ranks of Muslim girls in the Jewish school offer a glimpse into the deep ties between Calcutta's Muslim and once-thriving Jewish community.
More than 1,200 of the nearly 1,400 students are Muslims, as is the school's vice principal and half the faculty.
The change began in the 1950s, when there were not enough Jewish families needing an institution set up specifically to instil Jewish values.
As Jewish enrollment petered out, the authorities decided to admit children of other faiths. The biggest response came from the Muslims of nearby areas.
Today, there is very little "Jewish" about the school, save for perhaps its name, the Star of David on the school gates, the school uniform and notebooks, and portraits of Jewish patrons on the walls.
Authorities have made available a "changing room" for Muslim girls whose parents frown upon their stepping out in public in school skirts.
These students leave home in the burqa, change into their uniforms once in school, and put on the burqa when leaving. "Our parents don't like it if we bare our legs," says senior student Zara Ahmed, 17.
"The school has come to symbolize Jewish-Muslim harmony in Calcutta," says managing trustee Aileen "Jo" Cohen.
The harmony is visible elsewhere too; the city's three synagogues -- the smallest of which boasts of more chairs in its prayer hall than there are Jews in Calcutta -- are looked after by Muslim caretakers.
Muslims also help with the dressing of bodies for Jewish burials and outside the Magen David Synagogue, Muslim bangle sellers wearing the topi (the Muslim prayer cap), have set up kiosks on the bustling footpath.
"The close ties and positive working relationships between Muslims and Jews are deeply rooted in the local context of Calcutta," says Jael Silliman, 62, a city-born Jewish scholar and author, and a former Associate Professor of Women's Studies at the University of Iowa.
Exiting Calcutta
The first Jew to arrive in Calcutta, on August 4, 1798, was Shalom Ha-Cohen. A native of Aleppo, Syria, Shalom was initially the court jeweler to a Muslim prince in northern India.
Shalom's prosperity attracted other Jews from West Asia. According to community records, the population of Jews "of Arabic disposition" expanded to 600 by the 1830s. That number stood at around 4,000 when India gained independence from British rule in 1947.
However, soon after the community started emigrating en mass, beginning the end of a 200-year association with the city.
"A combination of national and global events in the '40s and '50s led to a very rapid dissolution of the community," says Silliman, whose two daughters settled in the US.
With India's independence, British settlers began returning to England, Israel came into being in May 1948, and the fledgling Indian government's Socialist policies were perceived as not being conducive to business.
Today, the number of Jews in Calcutta stands at 22, the middle-aged Alexander being probably the youngest.
And it is left to the likes of the Jewish Girls School Vice-Principal Abeda Razeq to keep those ties alive.
Her father's best friend at college was a Jew, whose family runs the 115-year-old confectionary store Nahoum's, and their friendship, which continued beyond college, first exposed Razeq to Jewish culture.
The two families exchanged gift hampers during their respective festivals and Razeq learnt of the similarities and differences between kosher and halal cuisine.
She even helped out at Nahoum's at Easter and Christmas: a Muslim girl at a Jewish bakery wrapping cakes during Christian festivals in a predominantly Hindu city.
The Nahoum family has shrunk to just one member now, who spends much of his time abroad, and the workers -- many of them Muslims -- run the show.
Razeq did her dissertation on Calcutta's unique Jewish-Muslim relationship, and wishes she had the time to complete her doctorate on it.
"It's a rich subject," she says.
http://edition.cnn.com/2017/06/15/asia/calcutta-india-jewish-community/index.html
--------
Yogi government announces dissolution of Shia, Sunni waqf boards in UP
Jun 15, 2017
LUCKNOW: The Uttar Pradesh government on Thursday announced dissolving the Shia and Sunni waqf boards in the state in the wake of corruption charges against them.
Chief minister Yogi Adityanath has assented to the dissolution of the boards, minister of state for Waqf Mohsin Raza told PTI here.
The dissolution process has been started after taking into account all legal aspects, the minister said.
There have been serious allegations of corruption against the Shia and Sunni waqf boards related to their properties.
An inquiry conducted by the Waqf Council of India had also found many irregularities in this regard.
The role of the chairman of the Shia Waqf Board, Wasim Rizvi, as well as the minister for waqf in the previous Samajwadi Party government, Azam Khan, had come under scanner after the inquiry by the Waqf Council of India.
Barely a fortnight after the SP suffered a humiliating defeat+ in the Uttar Pradesh assembly polls+ , a report by the fact-finding committee of the Central Waqf Council (CWC) indicted Khan - one of the controversial ministers in the erstwhile Akhilesh Yadav government - of corruption, mismanagement and misuse of office.
The fact-finding committee, constituted after the CWC received several complaints from UP, was headed by Syed Ejaz Abbas Naqvi, who is also in charge of Uttar Pradesh and Jharkhand waqf boards.
Raza had recently handed over separate reports of the Waqf Council with regard to the two boards to the chief minister.
The committee in its report elaborated on how Khan as minister allegedly misused his position to grab properties under the boards.
It said Khan made a trust - Maulana Johar Ali Education Trust - and diverted funds from waqf properties to it.
Full report at:
http://timesofindia.indiatimes.com/india/yogi-government-announces-dissolution-of-shia-sunni-waqf-boards-in-up/articleshow/59163889.cms
--------
US declares Karnataka-born Islamic State recruiter Mohammed Shafi Armar global terrorist
Jun, 16 2017
Washington: The fugitive chief recruiter for the Islamic State in the Indian subcontinent Mohammed Shafi Armar was on Thursday named a 'Specially Designated Global Terrorist' by the US, becoming the first Indian leader of the dreaded terror outfit against whom America has slammed sanctions.
The US State Treasury Department, while updating its list of Specially Designated Global Terrorists (SDGT), has included in it Armar, a native of Bhatkal in Karnataka, clearing the way for sanctions against him.
An Interpol Red Corner notice is also pending against the 30-year-old Armar, who has many aliases like 'Chhote Maula','Anjan Bhai' and 'Yousuf al-Hindi'.
Armar's name has now been added to the Office of Foreign Assets Control of the US Treasury Department which enforces economic sanctions programmes, primarily against countries and groups of individuals, such as terrorists and narcotics traffickers.
The sanctions can be either comprehensive or selective, using the blocking of assets and trade restrictions to accomplish foreign policy and national security goals of the US.
This is for the first time that the US has slammed sanctions against an Islamic State leader in India.
"Mohammed Shafi Armar is a leader and head recruiter in India for the Foreign Terrorist Organisation (FTO) and Specially Designated Global Terrorist (SDGT) group, Islamic State," the State Department said.
"He has cultivated a group of dozens of Islamic State sympathisers who are involved in terrorist activities across India, such as plotting attacks, procuring weapons, and identifying locations for terrorist training camps," said the statement.
Armar was said to have left for Pakistan along with his elder brother after crackdown on Indian Mujahideen (IM) cadres.
After a fight with Bhatkal brothers, including Riyaz, the founder of IM, in Pakistan, Armar is believed to have created Ansar ul Tawhid, which later pledged its allegiance to the Islamic State.
There have been many reports of him having been dead in a drone attack or crackdown by the allied forces. However, every time intelligence agencies began giving credence to such reports, his name or voice cropped up in intercepts.
Tech savvy, Armar has been operating on Facebook and other personal messenger services to contact, brainwash and recruit youths from India, Bangladesh and Sri Lanka.
His links to the Islamic State were also the highlight of the interrogation of Yasin Bhatkal, who was arrested near the Nepal border in 2013.
Armar first came on the radar of investigation agencies when the NIA was probing suspected Islamic State cadres in Ratlam of Madhya Pradesh.
During the interrogation of alleged Islamic State operatives, it emerged that Armar was motivating and radicalising Muslim youths in India. He was said to have been recruiting youths for the Jund ul Khalifa-e-Hind through online radicalisation.
The NIA had charge-sheeted him along with five others for allegedly conspiring to carry out terror strikes in the national capital and also during ardh kumbh in Haridwar.
The National Investigation Agency had told a special court that these accused were planning to assemble Improvised Explosive Devices (IEDs) using extracts from "match sticks".
The United Arab Emirates had deported three Indians who were allegedly working for Armar.
It emerged during the interrogation of IM suspects that he was a self-proclaimed ally of Abu Bakr al-Baghdadi, chief of the Islamic State.
Two other Islamic State leaders in Europe and the Middle East, Oussama Ahmad Atar and Mohammed Isa Yousif Saqar Al Binali were also listed as Specially Designated Global Terrorists by the US.
Oussama is a senior leader of Islamic State' external operations efforts and has established a network to carry out attacks in Europe.
"He was a leading coordinator of the November 2015 Paris attacks and March 2016 attacks in Brussels," the State Department said.
The Belgian-Moroccan national was responsible for recruiting, training, and sending at least some of the individuals to Paris to launch the November 2015 attacks, which killed and injured hundreds, including Americans, it said.
He also recruited and mentored two of the bombers involved in the March 2016 Brussels attacks that killed 32 and left many more wounded.
Full report at:
http://www.firstpost.com/india/us-declares-karnataka-born-islamic-state-recruiter-mohammed-shafi-armar-global-terrorist-3665613.html
--------
J&K: Two cops killed in separate attacks by terrorists
Jun 15, 2017
NEW DELHI: Two policemen were martyred in two separate attacks by terrorists in Jammu and Kashmir on Thursday, Police said.
"Terrorists attacked a police patrolling party, at around 9.30 PM, near Jammu and Kashmir Bank in Hyderpora area of the city," a senior police official said.
"The two injured cops were taken to 92 Base Hospital of the Army for treatment. One of them, constable Sajad Ahmad, succumbed to his injuries there.," he added.
Pertinently, separatist leader Syed Ali Shah Geelani also resides in the area.
Earlier in the day, Jammu and Kashmir policeman Shabir Ahmad Dar was martyred by terrorists in Bogund village of south Kashmir's Kulgam district.
The attacks come day after Lashkar-e-Taiba (LeT) had warned policemen to leave their jobs and join them.
However, none of terror outfits operating in Kashmir has taken responsibility of the attacks till the time of filing this story.
On Wednesday, LeT terrorist Abu Ukasha had warned J&K cops to join them for the Kashmir cause.
Full report at:
http://timesofindia.indiatimes.com/india/jk-2-cops-injured-as-terrorists-attack-police-party-in-srinagar/articleshow/59165526.cms
--------
Putin made no offer to Nawaz Sharif to play mediator: India, Russia
Jun 16, 2017
NEW DELHI: India and Russia have together denied that Russian President Vladimir Putin had suggested to Pakistan PM Nawaz Sharif that he could mediate between India and Pakistan.
Responding to questions, ministry of external affairs spokesperson Gopal Baglay said, "No offer of mediation between India and Pakistan was made by Russia to India.
It is my understanding that Russia is very well aware of India's consistent position to address all outstanding issues with Pakistan bilaterally in an environment free of terrorism and violence."
It started with a report in the Pakistan media, which was followed by the Pakistan foreign office spokesperson Nafees Zakaria officially welcoming the Russian "offer" of mediation.
According to them, this was part of the conversation between Nawaz Sharif and Putin in Astana, on the sidelines of the SCO summit.
According to Russian officials here, "According to our information, this aspect was not discussed at the meeting in Astana and no statement in this regard was ever made by President Putin." Pakistan attempted to put this out as a sign that Russia was changing its stance vis-a-vis this region, particularly being more sensitive towards Pakistan.
It has not been an easy summer for Pakistan. First Nawaz Sharif travelled to Riyadh to be the first South Asian leader to meet US President Donald Trump. However, Trump refused to meet him. In Astana, Sharif suffered the ignominy of not getting a bilateral with Pakistan's chief benefactor, Chinese President Xi Jinping.
Full report at:
http://timesofindia.indiatimes.com/india/india-russia-reject-pakistan-claims-of-vladimir-putins-offer-to-mediate/articleshow/59164756.cms
--------
Cross-border terrorism responsible for Kashmir disturbances: India at UNHRC
June 16, 2017
Exercising its right of reply, India slammed Pakistan for bringing up Jammu and Kashmir at the United Nations Human Rights Council in Geneva. India said the issue was being raked up by Pakistan for propaganda purpose even as Islamabad did not fulfill its own obligation to first vacate the illegal occupation of Kashmir in the Pakistan-occupied Kashmir region.
"Islamabad has had territorial ambitions over the Indian state of Jammu and Kashmir since 1947 and it has been using this forum to rake up Jammu and Kashmir issue while it has a poor record in human rights in the Pakistan Occupied Kashmir, in other parts of Pakistan, including Balochistan which is adversely affecting the stability of the entire region. Pakistan's continued mistreatment of large parts of its own population has created a cauldron of tumult that has begun to jeopardise the safety and security of its neighbouring countries," India said at the UN Human Rights Council.
Raising the issue of Balochistan again, India urged the UNHRC to take a "clear-cut stance" against state-sponsored terrorism.
"The fundamental reason for disturbances in Kashmir is cross-border terrorism promoted by Pakistan. Active support since 1989 to separatist groups in Kashmir and terrorist elements from different parts of the world including from territory under Pakistan's control has become a central element of Pakistan's state policy," the statement added.
Additionally, India urged the Council to call upon Pakistan to end cross-border infiltration, dismantle the infrastructure of support to terrorism and to stop acting as an epicentre of international terrorism.
Full report at:
http://indianexpress.com/article/india/cross-border-terrorism-responsible-for-kashmir-disturbances-india-at-unhrc-4706591/
--------
South Asia
ISIS claims taking OBL's Afghan hideout in Tora Bora
June 16, 2017
KABUL: The Islamic State group said its fighters have captured Osama bin Laden's infamous Tora Bora mountain hideout in eastern Afghanistan but the Taliban on Thursday dismissed the claim, saying they were still in control of the cave complex that once housed the former al-Qaida leader.
Earlier, IS released an audio recording, saying its signature black flag was flying over the hulking mountain range. The message was broadcast on the militants' Radio Khilafat station in the Pashto language late on Wednesday.
It also said IS has taken over several districts and urged villagers who fled the fighting to return to their homes and stay indoors.
A Taliban spokesman denied IS was in control, claiming instead that the Taliban had pushed IS back from some territory the rival militants had taken in the area.
The Tora Bora mountains hide a warren of caves in which al-Qaeda militants led by bin Laden hid from U.S. coalition forces in 2001, after the Taliban fled Kabul and before he fled to neighboring Pakistan.
According to testimony from al-Qaeda captives in the U.S. prison at Guantamo Bay, Cuba, bin Laden fled from Tora Bora first to Afghanistan's northeastern Kunar province, before crossing the border into Pakistan. He was killed in a 2011 raid by U.S. Navy SEALs on his hideout in the Pakistani garrison town of Abbottabad.
Pakistan complained the raid violated its sovereignty while bin Laden's presence — barely a few miles from the Pakistani equivalent of Washington's West Point military academy — reinforced allegations by those who accused Pakistan of harboring the Taliban and al-Qaeda militants. Pakistan denies such charges, pointing to senior al-Qaida operatives it has turned over to the United States.
Meanwhile, Taliban spokesman Zabiullah Mujahid told The Associated Press in a telephone interview that Taliban fighters pushed back the Islamic State group from areas of Tora Bora that IS had earlier captured.
Mujahid claimed that more than 30 IS fighters were killed in battle. He also added that a U.S. airstrike on Taliban positions on Wednesday that killed 11 of its fighters had benefited the Islamic State group.
The remoteness of the area makes it impossible to independently verify the contradictory claims.
Afghan officials earlier said that fighting between IS and the Taliban, who had controlled Tora Bora, began on Tuesday but couldn't confirm its capture.
While the United States estimates there are about 800 IS fighters in Afghanistan, mostly restricted to the eastern Nangarhar province, other estimates say their ranks also include thousands of battle-hardened Uzbek militants.
Last week Russia announced it was reinforcing two of its bases in Central Asia, in Tajikistan and Kyrgyzstan, with its newest weapons because of fears of a "spill-over of terrorist activities from Afghanistan" by the Afghan IS affiliate.
"The (IS) group's strategy to establish an Islamic caliphate poses a threat not only to Afghanistan but also to the neighboring countries," Russian Defense Minister Sergei Shoigu said.
http://nation.com.pk/international/15-Jun-2017/isis-claims-taking-obl-s-afghan-hideout-in-tora-bora
--------
4 killed, 8 wounded in suicide attack on Kabul mosque
Jun 15 2017
A suicide bomber targeted a mosque in the vicinity of the 6th police district of Kabul city earlier tonight leaving at least four people dead and eight others wounded.
The incident took place around 9 pm local time after a suicide bomber attempted to target the prayer participants in Al-Zahra mosque.
The Ministry of Interior (MoI) spokesman Najib Danish confirmed the incident and said four people including a policeman and three civilians were killed and eight others including four policemen were wounded in the attack.
He said two suicide bombers who were attempting to enter the Al-Zahra mosque in the vicinity of Barchi area was identified and as a result the security forces opened fire on them.
No group or individual has so far claimed responsibility behind the incident so far.
However, reports indicate at least six people including a local leader and trader identified as Haji Ramazan were killed and around ten others were wounded after in the attack.
This comes as the security situation has deteriorated in the main cities of the country during the recent months as the militants attempt to carry out attacks as part of their spring offensive, which normally increases during the summer times across the country.
Full report at:
http://www.khaama.com/casualties-feared-as-suicide-attack-targets-mosque-in-kabul-city-02949
--------
Myanmar told to protect held Rohingya children
June 16, 2017
UNITED NATIONS : Myanmar should guarantee the rights and medical care of children from the Rohingya Muslim minority detained in an army crackdown launched in October, a UN human rights investigator said on Thursday.
Children as young as 10 were among hundreds of men detained on charges of consorting with Rohingya insurgents, Reuters revealed in March, citing a previously unreleased police document.
Thirteen juveniles were among more than 400 arrested since Oct. 9, when insurgents attacked police posts in northwestern Rakhine state, near the border with Bangladesh, according to the police document, dated March 7.
The insurgent attacks led to the biggest crisis of leader Aung San Suu Kyi's first year in power, prompting some 75,000 Rohingya to flee the subsequent army crackdown to Bangladesh.
Speaking at the UN Human Rights Council in Geneva, Yanghee Lee, the organisation's special rapporteur on human rights in Myanmar, said children should not be "arbitrarily deprived of their liberty" and the government should guarantee their right to timely proceedings.
"I remind the government that children should be detained strictly as a last resort, for the shortest appropriate period of time, and must be treated with humanity and respect in a manner which takes into account their age," said Lee.
She also urged the government to investigate the death of a child who, according to the government, died because of ill health in February. The government did not report the death until last week, she said.
In April, a deputy executive director of the UN children's fund (UNICEF), Justin Forsyth, sought the release of the children while on a visit to Myanmar.
The United Nations, in report based on interviews with Rohingya refugees in Bangladesh, said Myanmar's security forces had committed mass killings and gang rapes against Rohingya during their campaign, which could amount to crimes against humanity.
The military has denied the accusations, saying it was engaged in a legitimate counterinsurgency operation.
Myanmar's ambassador in Geneva, Htin Lynn, did not directly address the issue of the detained children, limiting his remarks to say that the Convention of the Rights of the Child applied "equally to all children in Myanmar".
Lee also called on Myanmar to "fully cooperate" with a recently established UN fact-finding mission to investigate the alleged human rights violations by the military.
Suu Kyi has opposed the mission, saying this week it would create "greater hostility between the different communities".
On Thursday, ambassador Htin Lynn echoed her comments:
Full report at:
http://nation.com.pk/international/16-Jun-2017/myanmar-told-to-protect-held-rohingya-children
--------
Taliban deny involvement in Kabul blast that killed six
June 16, 2017
Afghan officials say a suicide bomber struck outside a Shiite mosque in Kabul, killing at least six persons and wounding 10 others, the local TOLO news agency said.
Interior Ministry spokesman Najib Danish said casualties were expected to rise after Thursday's attack. Health ministry spokesman Wahid Majroo said one body was received at a local hospital, along with five wounded people.
Among those killed was prominent Kabul businessman Ramazan Husainzada. According to local media reports, he was badly wounded in the attack and died in hospital from his injuries.
The Taliban denied involvement in the attack, saying the group "never targets mosque". The rival Islamic State militant group was yet to issue a statement.
Full report at:
http://nation.com.pk/international/15-Jun-2017/explosion-hits-crowded-kabul-shiite-mosque
--------
Dhaka, Stockholm to fight terror together
June 16, 2017
Bangladesh and Sweden yesterday pledged to work together to combat terrorism and identified new areas of cooperation, like energy security, technological innovation, trade and development of smart cities.
The consensus came during the official talks between Bangladesh Prime Minister Sheikh Hasina and her Swedish counterpart Stefan Lovfen in Stockholm.
Hasina is in Stockholm on a three-day bilateral visit at the invitation of the Swedish prime minister.
Foreign Secretary Md Shahidul Haque and PM's Press Secretary Ihsanul Karim briefed reporters after the talks held at the Swedish Prime Minister's Office.
Bangladesh Ambassador to Sweden Golam Sarwar and PM's Deputy Press Secretary M Nazrul Islam were present at the briefing.
The foreign secretary said this is the first-ever bilateral official visit by any head of government or state of Bangladesh to Sweden.
The Swedish premier at the talks said the visit of Prime Minister Sheikh Hasina has opened up the "next phase of relations" between the two countries, Shahidul said.
"The visit has also unveiled the door of long-term relationship between Sweden and Bangladesh," the foreign secretary quoted Lofven as saying.
He said at the talks the two premiers pledged to work together to fight terrorism.
He said the two leaders discussed various issues and identified some new sectors like energy security, technological innovation, trade and smart city development for cooperation.
The Swedish prime minister discussed with Hasina how the Scandinavian country could help Bangladesh ensure energy security.
Lofven also expressed Swedish interest to assist Bangladesh in technology innovation and highlighted the role of the private sector in this regard.
The Swedish prime minister said there was a huge potentiality for expanding cooperation in trade and business between the two countries.
The foreign secretary pointed out that currently, the volume of trade was hugely in favour of Bangladesh.
Lofven said Sweden was collaborating with different developing countries about setting up of smart cities.
The Swedish premier discussed with Hasina how Sweden could contribute to developing smart cities in Bangladesh.
The foreign secretary said Prime Minister Sheikh Hasina extended her thanks to her counterpart as Sweden recognised independent Bangladesh on February 4, 1972, one of the first few European countries.
"Sweden had always helped Bangladesh," she said.
Elaborating the country's march towards development, she said Bangladesh has attained 7.24 percent GDP growth in the outgoing fiscal year and pointed out tremendous development in various sectors of Bangladesh, including RMG.
She mentioned the setting up of 100 special economic zones in Bangladesh to spur economic development.
Regarding the 2030 Development Agenda where Sweden is one of the major players, the foreign secretary said Sweden wants to implement the agenda teaming up with developing countries where they have identified Bangladesh as a potential country.
About the global deal where the Swedish prime minister at the UN in 2014 floated a new idea underscoring the need for improving industrial relations considering the changing nature and work of the industries, Lofven said that the concept was old fashioned and new industrial relationship would have to be developed.
"It would be important to ensure the right of workers," the Swedish prime minister said, adding that they want to make global experience in this regard with some pilot countries.
About Hasina's announcement to support the Readymade-Garment Tripartite Consultative Council, as a new commitment in the framework of Global Deal, Shahidul said the Swedish government wants to provide technical support to this end and the Bangladesh government accepted the offer.
"Now, one of the buyers has come up with some new innovative ideas as Bangladesh has been facing challenges at different times in the RMG sector," added the foreign secretary.
Full report at:
http://www.thedailystar.net/backpage/stockholm-dhaka-fight-terror-together-1420771
--------
Afghanistan unveils Kandahar bombing probe that killed UAE Ambassador
Jun 15 2017
The Afghan intelligence unveiled the probe findings report regarding the deadly attack in Kandahar province that claimed that life of the UAE Ambassador along with the diplomats of the country and several other senior Afghan officials.
The National Directorate of Security (NDS) chief, Masoom Stanikzai, unveiled the findings of the probe, during a press conference in Kabul later this evening.
Stanikzai further added that the investigation regarding the deadly bombing in Kandahar was conducted by the Afghan intelligence as well the UAE intelligence services and United States Federation Investigation Bureau.
He said the findings of the three institutions produced similar results, particularly regarding the type of the explosives used and the other circumstances surrounding the incident, including the methods used to carry out the explosion.
According to Stanikzai, Taliban's leadership council based in Quetta city of Pakistan had plotted and coordinated the attack in the guesthouse of Kandahar governor.
Stanikzai said the chef of the guesthouse was recruited for the attack against $30,000 cash reward and an apartment in Pakistan.
Full report at:
http://www.khaama.com/afghanistan-unveils-kandahar-bombing-probe-that-killed-uae-ambassador-02948
--------
Special air and ground campaign kicks off against ISIS in East of Afghanistan
Jun 15 2017
A special operation involving air and ground strikes has kicked off in eastern Nangarhar province of Afghanistan for the elimination of the militants affiliated with the Islamic State of Iraq and Syria (ISIS) terrorist group's offshoot in Afghanistan, ISIS Khurasan.
The provincial governor's spokesman Ataullah Khogyani said the campaign has kicked off in Chaparhar and Pacher Agam districts.
This comes as the Afghan security forces have been conducting operations against the terror group under name of Hamza operations, mainly covering the Kot and Achin districts.
The US forces based in Afghanistan are also occasionally contributing to the operations and mainly provide air support to the Afghan forces fighting the terror group.
The latest campaign has been launched amid concerns by the local officials who are saying that the loyalists of the terror group are attempting to expand their foothold in some strategic and key parts of the province, including Pacher Agam as they eye to seize control of Tora Bora.
Full report at:
http://www.khaama.com/special-air-and-ground-campaign-kicks-off-against-isis-in-east-of-afghanistan-02946
--------
Arab World
Mosul Old City residents spend hungry and fearful Ramadan under IS rule
June 16, 2017
For Salam, a resident in the Islamic State-held Old City of Mosul, the holy fasting month of Ramadan this year is the worst he's seen in a lifetime marked by wars and deprivations.
"We are slowly dying from hunger, boiling mouldy wheat as soup" to break the fast at sunset, the 47 year-old father of three said by phone from the district besieged by Iraqi forces, asking to withhold his name fearing the militants' retribution.
The only wish he makes in his prayers is for his family to survive the final days of the self-proclaimed caliphate declared three years ago by IS's leader Abu Bakr al-Baghdadi from a nearby mosque.
The eight-month old U.S.-backed campaign to capture Mosul, IS's de-facto capital in Iraq, reached its deadliest phase just as the holy Muslim month started at the end of May, when militants became squeezed in and around the densely populated Old City.
Up to 200,000 people are trapped behind their lines, half of them children, according to the United Nations.
Hundreds have been killed while trying to escape to government-held lines, caught in the cross-fire or gunned down by Islamic State snipers. The militants want civilians to remain in areas under their control to use them as human shields.
Many bodies of the dead remain in the street near the frontlines. Four of them are relatives of Khalil, a former civil servant who quit his job after IS took over Mosul.
"Daesh warned us not to bury them to make them an example for others who try to flee," he said, using an acronym for Islamic State.
Those who decide not to run the risk of fleeing are living in fear of getting killed or wounded in their homes, with little food and water and limited access to healthcare.
"Seeing my kids hungry is real torture," said Salam, who closed his home appliances shop shortly after the start of the offensive as sales came to a complete stop."I wish the security forces would eliminate all Daesh fighters in a flash; I want my family to have normal life again."
Where food can be found, the price has risen more than 20-fold. A kilo of rice is selling for more than $40. A kilo of flour or lentils is $20 or more.
The sellers are mainly households who stockpiled enough food and medicine to dare sell some, but only to trusted neighbors or relatives, or in return for items they need. If militants find food they take it.
Residents fill water from a few wells dug in the soil. The wait is long and dangerous as shelling is frequent.
"The well-water has a bitter taste and we can smell sewage sometimes, but we have to drink to stay alive," said Umm Saad, a widow and mother of four, complaining that the militants are often seen with bottled water and canned food.
"We have been under compulsory fasting even before the start of Ramadan," she said. "No real food to eat, just hardened old bread and mouldy grains."
About 800,000 people, more than a third of the pre-war city's population, have already fled, seeking refuge either with friends and relatives or in camps. But in areas still held by the militants escape has become harder than ever.
"Fleeing is like committing suicide," said Khalil, the ex-civil servant, who lives near the medieval Grand al-Nuri Mosque, the offensive's symbolic focus, where Baghdadi proclaimed himself caliph.
IS's black flag has been flying over its landmark leaning minaret since June 2014, when the Iraqi army fled in the face of the militants, giving them their biggest prize, a city at least four times bigger than any other they came to control in both Iraq and neighboring Syria.
http://nation.com.pk/international/15-Jun-2017/mosul-old-city-residents-spend-hungry-and-fearful-ramadan-under-is-rule-leftright-5-5leftright
--------
Over 130 Gunmen Receive Gov't Amnesty; Reconciliation Plan Ends in Homs City
Jun 15, 2017
136 gunmen that had handed over their weapons and applied for government pardoning received amnesty in al-Wa'er district, the sources said, adding, "The total number of the gunmen that received government amnesty in al-Wa'er stands at 1,111."
The sources said that the reconciliation plan in al-Wa'er has ended, but it is underway in the four towns of Foaa and Kafraya in Idlib and Madhaya and al-Zabadani in Western Damascus.
They added that one of the patients along with three accompanying people left Fuaa and Kafraya for the regions controlled by the army in line with implementation of the reconciliation plan in Idlib and Damascus, and instead the same number of gunmen left the Yarmouk Palestinian Refugees Camp in the Southeastern countryside of Damascus.
The Russian Defense Ministry said on Wednesday that more gunmen in almost 50 towns have laid down weapons and join peace agreement with the Syrian Army troops in the Northwestern province of Idlib.
The defense ministry announced that militants in 47 towns in Idlib province joined the reconciliation plan only on one single day, adding, "Total number of towns, villages and regions that have thus far endorsed the peace agreement with the Damascus government stands at 1,619 now."
Full report at:
http://en.farsnews.com/newstext.aspx?nn=13960325000722
--------
Saudi Forces Intensify Attacks on Shia Town
Jun 15, 2017
The casualties came after Saudi troops, equipped with heavy weapons, waged a new offensive against Awamiyah, Northeast of the capital, Riyadh, London-based and Arabic-language Nabaa television news network reported.
There are reportedly several women and children among those injured in the raids.
Meanwhile, Abdulmohsin Abdullah al-Faraj, a prominent Shia activist, who was critically injured during an attack by Saudi troops, succumbed to his wounds on Thursday.
Death toll is expected to rise as some of the injured are said to be in critical condition.
The developments come as a fierce crackdown on protesters there enters its sixth week.
At least a dozen people have lost their lives in the ongoing heavy-tactic crackdown by the Riyadh regime since then.
Residents have been forced to stay indoors as the regime has deployed snipers across the entire region.
Garbage has piled up as Saudi forces continue to prevent relevant authorities from collecting trash across several areas.
Security forces equipped with heavy weapons have been deployed in Eastern Province's Awamiyah since May 10, following fierce clashes between the regime forces and locals protesting against the destruction.
On May 24, UN experts criticized the ongoing attempts to demolish Mosara and accused the Saudi kingdom of erasing cultural heritage, violating human rights, and forcing residents to flee their homes.
According to a statement issued by the Office of the United Nations High Commissioner for Human Rights, Karima Bennoune, the UN Special Rapporteur accused Saudi security forces of "irreparably burning down" historic buildings and forcing residents to flee their homes.
Bulldozers escorted by heavily armored military vehicles have demolished several houses, business and historical sites across the Shia-majority region over the past few weeks.
A number of human rights groups and activists have expressed deep concern about the living conditions of people in Awamiyah who are suffering from a severe water shortage and are using private generators to produce electricity.
Also in late May, a Saudi court handed down death sentences to over a dozen young Shia activists from the restive Qatif region, which has been the scene of peaceful protest rallies against the ruling Al Saud regime in recent years.
Eastern Province has been the scene of anti-regime protests since early 2011. Riyadh has stepped up security measures in the Shia-majority region. Protesters want freedom of speech, the release of political prisoners, and an end to economic and religious discrimination exercise by authorities.
Full report at:
http://en.farsnews.com/newstext.aspx?nn=13960325000673
--------
Syrian Army to Take Control of Border-Crossings with Jordan
Jun 15, 2017
The Arabic-language Ray al-Youm daily quoted the Jordanian sources as saying that Amman, with Russia's mediating role, is reviewing the Syrian soldiers' return to the border-crossings between the two countries.
The sources told the paper that a Jordanian coordinating committee is in contact with Damascus through Russian mediation to see how the Syrian troops can return and take control of Nasib border-crossing.
"The Syrian army troops are faced with no hudle to take back the Nasib border-crossing, and Amman is also interested to see the Syrian army's control over the passageway," the sources told the paper.
Ray al-Youm went on to say that the opportunity to open Nasib border-crossing has been created after coordinated contacts between officials of the Russia-Jordan Joint Operation Room.
Jordan closed off unilaterally Nasib border-crossing two years ago when the Syrian army men pulled back from the region.
Well-informed sources reported on Saturday that the Syrian Army troops made significant advances against the terrorist groups and took control over a 105-km-long chunk of the borderline with Jordan regardless of the US-led coalition fighter jets' presence over the region.
The sources said that the army units managed to push the terrorists away from 105km of the borderline with Jordan.
Full report at:
http://en.farsnews.com/newstext.aspx?nn=13960325000573
--------
Syrian Army Utilizing Flying Tanks in War on Terrorism in Dara'a
Jun 15, 2017
Wistnik Moradfi website quoted the sources as saying that the air force has been utilizing Mi-24P military helicopters known as Flying Tanks in fighting terrorists in Dara'a.
The website quoted Yuri Liamin as explaining that Mi-25 choppers that are similar to Mi-24P model have recently been utilized in military operations against terrorists in Dara'a, adding that Mi-25 choppers had not earlier been used by the army in the battlefields.
Liamin further added that the Russian fighter jets have not operated in the region, so the Syrian military helicopters are active in Dara'a.
The army troops started a large-scale operation against terrorists in the Southern city of Dara'a last Thursday after dispatching a large volume of military equipment and forces to the city in the last days.
A source said that simultaneous with the dispatch of hundreds of fresh army soldiers and a large of volume of military equipment to Dara'a province, Hezbollah sent a large number of fighters to the Southern province.
Full report at:
http://en.farsnews.com/newstext.aspx?nn=13960325000430
--------
Syrian Army Captures Strategic Energy-Field in Homs, Advances toward ISIL's Vital Bastion en Route to Deir Ezzur
Jun 15, 2017
The army soldiers that had earlier taken full control over Arak triangle engaged in heavy fighting with ISIL and pushed them away from Arak oilfield East of the city of Palmyra.
A large number of ISIL terrorists, including non-Syrians, were killed and their military hardware were damaged in the attack.
ISIL set fire at the oil pump station and oil and gas field in Arak region before retreating.
In the meantime, the Syrian Air force carried out several combat flights over ISIL's movements and positions near the third station along the road to al-Sukhnah and near Mount al-Shoumeriyeh in the villages of Um Sahrij and al-Moshirefeh and their surrounding hills, destroying the entire targets and killing a number of terrorists.
A military source said that after taking control over Arak energy field the army soldiers are to move towards al-Sukhnah that is the last ISIL base in Homs province and a gate to Deir Ezzur province.
A military source disclosed on Wednesday that the Army dispatched hundreds of its special forces to Eastern Homs province to kick Takfiri terrorists out of the Syrian desert, and then, take part in an imminent operation against ISIL in Deir Ezzur.
The source said that Damascus sent hundreds of its elite forces to the Palmyra battlefront in Eastern Homs as Syrian soldiers were in the last stage of dislodging ISIL from the desert area.
The source went on to say that after completing the Syrian desert operation, the army soldiers would immediately move towards Deir Ezzur to launch an operation to remove the siege on the city and airbase.
Full report at:
http://en.farsnews.com/newstext.aspx?nn=13960325000465
--------
Raqqa battle intensifies as militants shoot escapees
15 June 2017
ISIS militants in Raqqa are passing themselves off as civilians to try to avoid intensifying air strikes and shooting anyone caught trying to escape their Syrian bastion as US-backed coalition forces close in, witnesses said.
At a camp for the displaced in the village of Ain Issa north of the city, people who arrived on Wednesday also said the air strikes supporting an assault by US-backed forces had inflicted widespread destruction as the battle intensified.
United Nations war crimes investigators said the air campaign had killed at least 300 civilians in the city, captured by ISIS in 2014 in the chaos of Syria's civil war.
The escapees said the air strikes had flattened rows of apartment blocks along a main road but many of them had already been abandoned by residents fleeing ISIS's reign of terror and the assault on the town, which began last week.
"The coalition strikes destroyed a four-story apartment building. I saw 10 people trapped underneath," said Abu Hamoud.
"They used phosphorus."
Human Rights Watch expressed concern on Wednesday about the use of incendiary white phosphorous weapons by the US-led coalition, saying it endangers civilians when used in populated areas.
The coalition is backing the Syrian Democratic Forces (SDF), a group of Kurdish and Arab militias who spent months moving to surround Raqqa in northern Syria in preparation for the assault to recapture the city.
Hassan Kirfou, said an airstrike hit the mosque where he works just a few hours after he closed it for the night, and two other mosques were hit.
"I saw three dead teenagers on top of each other outside the Nour mosque," he said.
"I don't know why they shot these areas. As far as I know there were only a few ISIS snipers left there."
Much of the damage from air strikes was inflicted on Seif al-Dawla street, one of the main arteries of the town."My uncle and two cousins were killed. Their house was destroyed," Kirfou said.
"They have started using microphones to tell people: 'Don't go to the infidels, stay with Islam'," said Abdul Razak Crais, standing near rows of white tents as people lined up for food.
"They poured gasoline on the cars of anyone who tried to escape then lit a match and burned the vehicles. I saw them haul people out of their cars and shoot them with AK-47s."
"They take over people's houses and create big holes in their walls so they can move back and forth during fighting," said Thaier Ibrahim.
Others at the camp said militants were hiding weapons and riding cars with civilians to avoid air strikes.
Paulo Pinheiro, chairman of a UN Commission of Inquiry, said civilians were now extremely vulnerable: "As the operation is gaining pace very rapidly, civilians are caught up in the city under the oppressive rule of ISIS, while facing extreme danger associated with movement due to excessive air strikes."
About 10,000 civilians have fled to the SDF-run Ain Issa camp about 60 km (40 miles) north of Raqqa with hundreds more arriving each day, Medecins Sans Frontieres has said.
Full report at:
https://english.alarabiya.net/en/News/middle-east/2017/06/15/Raqqa-battle-intensifies-as-militants-shoot-escapees-and-air-strikes-kill-civilians.html
--------
UAE foreign minister says Qatar must take decisive action against extremism
16 June 2017
During a meeting with his American counterpart in Washington, UAE Foreign Minister Sheikh Abdullah bin Zayed said on Thursday that Qatar must stop interfering in the internal affairs of its neighbors.
The Emirati foreign minister also spoke with US Secretary of Treasury Steven Mnuchin and discussed joint efforts to close terrorist financing networks that were designated under the recently released Qatar-linked terror list.
Saudi Arabia, the United Arab Emirates, Egypt and Bahrain collectively designated 59 individuals and 12 institutions last week that have financed terrorist organizations and received support from Qatar.
On the first day of his two-day visit to the United States, Sheikh Abdullah bin Zayed met with US Secretary of State Rex Tillerson on Thursday night and a number of officials in Donald Trump's administration.
Full report at:
https://english.alarabiya.net/en/News/gulf/2017/06/16/Al-Qaeda-condemns-boycott-against-Qatar-stands-with-the-Muslim-Brotherhood.html
--------
Iraqi forces liberate key west Mosul district from Daesh
Jun 15, 2017
Iraqi forces have managed to wrest control over a neighborhood in the western side of the flashpoint city of Mosul, in their latest push to liberate the whole city from the grip of Daesh terrorists.
The commander of Nineveh Liberation Operation, Lieutenant General Abdul Amir Yarallah, announced the recapture of Bab Sinjar district on Thursday, saying the Iraqi national flag was hoisted over buildings there.
Bab Sinjar is situated just north of the historic, densely-populated Mosul's Old City, whose narrow streets make it difficult for the Iraqi troops to fight back.
Elsewhere in his remarks, Yarallah announced the liberation of four villages in western Mosul as well as the Iraqi forces' plans to advance on the city's al-Faruq district.
Iraqi forces about to enclose Old City
Separately, Iraqi forces said they were about to complete the encirclement of the Mosul's Old City where only Medical City, a complex of hospitals in al-Shifa neighborhood, remains under the Takfiri group's control.
"Troops are advancing and, God willing, we will complete the recapture of al-Shifa district today or tomorrow. We opened safe corridors for the people to evacuate them to safe areas after providing them with food and medical aid and after that transporting them to places prepared for them," said Iraqi Brigadier Mustafa Sabah Younis.
The Iraqi army soldiers and allied volunteer fighters have been leading a major operation to recapture the city since October 2016. They took control of eastern Mosul in January and launched the battle in the west in February.
The Mosul liberation operation has taken longer than planned as Takfiri elements are scattered among civilians, using bombings, sniper fire, and mortar attacks to slow the advance of the Iraqi forces.
Full report at:
http://217.218.67.231/Detail/2017/06/15/525388/Iraq-Mosul-Daesh
--------
Europe
Germany set to open its first liberal mosque in Berlin
Jun 16, 2017
Seyran Ates' vision of a liberal mosque where all Muslims can pray together — women and men, Sunni and Shiite, straight and gay — is almost a reality, and the 54-year-old daughter of Turkish guest workers in Germany is ecstatic as she enters the light-flooded room undergoing its final touches.
"I couldn't be more euphoric, it's a dream come true," Ates said with a smile as she touched the white carpet that three Turkish workers were laying out in the freshly painted room.
Ates, a well-known women's rights activist and lawyer, has fought for eight years to establish a place of prayer for progressive Muslims in Germany where they can leave their religious conflicts behind and focus on their shared Islamic values. The mosque, which opens Friday, will be the first of its kind for liberal Muslims in Germany, Ates said.
"This project was long overdue," she said during an interview with The Associated Press this week. "There's so much Islamist terror and so much evilness happening in the name of my religion ... it's important that we, the modern and liberal Muslims, also show our faces in public."
The mosque is named Ibn-Rushd-Goethe-Mosque, combining the names of medieval Andalusian philosopher Ibn Rushd and German writer Johann Wolfgang Goethe. It is located on a busy shopping street in the immigrant neighborhood of Moabit, which is dotted with Indian and Vietnamese restaurants and Middle Eastern cafes.
Visitors looking for a minaret or trying to follow the call of the muezzin will be searching in vain. The mosque occupies a big room on the third floor of an old Lutheran church.
"To get started, we've rented this room for one year," Ates said.
More than 4 million Muslims live in Germany, the majority from Turkey but also from the Balkans, the Middle East and Northern Africa.
Most started coming to Germany in the 1960s as workers to help rebuild the economy after World War II. While it was Germany's intention to send them home after a few years, many stayed and brought over their families. More recently, Germany has taken in more than 1 million refugees since 2015, most of them Muslims from war-torn countries like Syria, Iraq and Afghanistan.
Relations between the country's majority Christian population and the Muslim minority traditionally have been complicated. They have been strained by several terror attacks in Germany by Muslims in the name of the extremist Islamic State group. Raids on, and bans of, radical Muslim associations and arrests of extremist suspects have become commonplace.
Ates said the new mosque will be a place of liberalism where everyone is welcome and equal. Women don't have to wear headscarves, can preach as imams and call the faithful to prayer just like men.
"There won't be any hate preaching against democracy here," Ates said. Instead, followers can express doubt about their beliefs and approach their religion with sense and reason instead of blind devotion, she said.
Ates, who was shot and almost died while working as a counselor for Turkish women in 1984 and was attacked by an enraged husband, waved aside any potential worries about threats or criticism from more conservative Muslims.
"I've received a few messages via social media, mostly full of expletives," she said. "But 95 percent of the feedback has been beautiful and positive."
Turks, Kurds and Arabs alike have donated money, businesspeople have called to offer help with creating signage and advertisements and several Middle Eastern restaurants will deliver free food for the iftar, the breaking of the Ramadan fast on Friday night, she said.
Ates' sister brought 30 green prayer rugs from Istanbul a few weeks ago, and an Indonesian interior architect has offered her services to refurbish the 90-square-meter (970-square-foot) room.
For the future, she and colleagues dream of building a real mosque with several prayer rooms for believers of all the different Islamic sects as well as an academy devoted to the education of liberal imams, male and female.
Ates herself will preach at the opening ceremony on Friday.
"I will start studying Islamic theology and Arabic in Berlin this fall," she said. "I want to become an imam myself."
http://abcnews.go.com/International/wireStory/germany-set-open-liberal-mosque-berlin-48077687
--------
Facebook seeks to become 'hostile place' for extremists
June 16, 2017
San Francisco : Facebook on Thursday said it is ramping up the use of artificial intelligence in a push to make the social network "a hostile place" for extremists to spread messages of hate.
Pressure has been building on Facebook, along with other internet giants, who stand accused of doing too little, too late to eradicate hate speech and jihadist recruiters from their platforms.
In a joint blog post, the social network's global policy management director Monika Bickert and counterterrorism policy manager Brian Fishman said Facebook was committed to tackling the issue "head-on."
"In the wake of recent terror attacks, people have questioned the role of tech companies in fighting terrorism online," Bickert and Fishman said in the post.
"We want Facebook to be a hostile place for terrorists," they said, adding: "We believe technology, and Facebook, can be part of the solution."
They described how the network is automating the process of identifying and removing jihadist content linked to the Islamic State group, Al-Qaeda and their affiliates, and intends to add other extremist organizations over time.
Artificial intelligence is being used, for instance, to recognize when a freshly posted image or video matches one known to have been previously removed from the social network - which counts nearly two billion users and involves more than 80 languages.
Facebook is also experimenting with machine smarts to understand language well enough to identify words or phrases praising or supporting terrorism, according to the post.
And the social network is using software to try to identify terrorism-focused "clusters" of posts, pages, or profiles.
Facebook said it has also gotten better at detecting fake accounts created by "repeat offenders" previously booted from the social network for extremist content.
The effort extends to other Facebook applications, including WhatsApp and Instagram, according to Bickert and Fishman.
Meanwhile, because AI can't catch everything and sometimes makes mistakes, Facebook is also beefing up its manpower: it previously announced it would hire an extra 3,000 staff to track and remove violent video content.
"We're constantly identifying new ways that terrorist actors try to circumvent our systems - and we update our tactics accordingly," Bickert and Fishman said.
Facebook, Twitter, Microsoft and Google-owned YouTube announced a drive last December to stop the proliferation of jihadist videos and messages showing beheadings, executions and other gruesome content.
Full report at:
http://nation.com.pk/international/16-Jun-2017/facebook-seeks-to-become-hostile-place-for-extremists
--------
Facebook discloses new details on removing terrorism content
June 16, 2017
Facebook Inc on Thursday offered new insight into its efforts to remove terrorism content, a response to political pressure in Europe to militant groups using the social network for propaganda and recruiting.
Facebook has ramped up use of artificial intelligence such as image matching and language understanding to identify and remove content quickly, Monika Bickert, Facebook's director of global policy management, and Brian Fishman, counterterrorism policy manager, explained in a blog post.
Facebook uses artificial intelligence for image matching that allows the company to see if a photo or video being uploaded matches a known photo or video from groups it has defined as terrorist, such as Islamic State, Al Qaeda and their affiliates, the company said in the blog post.
YouTube, Facebook, Twitter and Microsoft last year created a common database of digital fingerprints automatically assigned to videos or photos of militant content to help each other identify the same content on their platforms.
Similarly, Facebook now analyses text that has already been removed for praising or supporting militant organizations to develop text-based signals for such propaganda.
"More than half the accounts we remove for terrorism are accounts we find ourselves, that is something that we want to let our community know so they understand we are really committed to making Facebook a hostile environment for terrorists," Bickert said in a telephone interview.
Germany, France and Britain, countries where civilians have been killed and wounded in bombings and shootings by Islamist militants in recent years, have pressed Facebook and other social media sites such as Google and Twitter to do more to remove militant content and hate speech.
Government officials have threatened to fine the company and strip the broad legal protections it enjoys against liability for the content posted by its users.
Full report at:
http://nation.com.pk/international/15-Jun-2017/facebook-discloses-new-details-on-removing-terrorism-content
--------
Europol: Militant arrests in Europe nearly double in two years
16 June 2017
The numbers arrested in Europe on suspicion of militant activities nearly doubled over the last two years, Europe's policing agency said Thursday, with an alarming rise among women and young adults.
Some 718 suspects were arrested on offences relating to militant terror last year as opposed to 395 in 2014, Europol said in its annual EU Terrorism Situation and Trend Report.
But actual attacks dropped from 17 in 2014 to 13 last year - of which six were linked to ISIS.
The 62-page report also pointed out that women and children, as well as young adults played an increasingly important operational role.
"Female militant jihadists in the West perceive fewer obstacles to playing an operative role in a terrorist attack than men, and successful or prevented attacks carried out by women in western countries may act as an inspiration to others," it noted.
One in four of those arrested in Britain in 2016 were women, an 18 percent increase from 2015, Europol said.
In France - the EU country with the highest number of arrests at 456 last year - almost a third of the suspects were 25 years or younger, Europol said.
Overall there were 142 "failed, foiled or completed terrorist attacks" including those by jihadists -- with more than half in Britain.
Britain was rocked by a suicide bombing at a pop concert in Manchester on May 22 which killed 22 people, including children. Two weeks later, a knife and van attack in central London left eight dead.
Of the 142 victims of terror attacks last year, 135 died in militant attacks, said the report.
That reinforced the need for closer cooperation in intelligence sharing among member states, security officials urged.
"Terrorists do not respect or recognize borders," said EU safety chief Julian King.
"In our resolve to defeat them we must draw on a new-found determination to work together, sharing information and expertise," he said in the report.
But the report also noted that not all attacks were militant-inspired. Most of the other attacks were carried out by "ethno-nationalist" and separatists extremists.
For instance "dissident Republican groups in Northern Ireland were involved in 76 attacks," the report said, leading to a total of 123 arrests.
Full report at:
https://english.alarabiya.net/en/News/world/2017/06/16/Europol-Militant-arrests-in-Europe-nearly-double-in-two-years-.html
--------
Putin: Russia plans to improve Syrian army capability
15 June 2017
Russia's medium-term plans in Syria include improving capability of the Syrian armed forces which would allow to relocate Russian troops in the country to the existing Russian bases, President Vladimir Putin said on Thursday.
"We aim to establish a process a political settlement (in Syria) between all the sides involved," Putin also said during a question and answer session with citizens.
He said that after boosting the capability of the Syrian military, Russia's aviation will continue helping it where necessary.
Putin also said Russia's military industrial complex had benefited greatly from testing its latest weapons in Syria.
Combined with this, the experience acquired by the Russian army in Syria, is "priceless", he said.
Full report at:
https://english.alarabiya.net/en/News/world/2017/06/15/Putin-we-intend-to-establish-peace-in-Syria.html
--------
Newly-deployed US rocket launchers may target Syrian army: Russia
Jun 15, 2017
Russia says the US has deployed the M142 High Mobility Artillery Rocket System (HIMARS) launchers from Jordan to its base in southern Syria, warning that the equipment could be used against Syrian government forces.
"The United States has moved two HIMARS multiple rocket launchers from Jordan to the At-Tanf US special forces base," the Russian Defense Ministry said in a statement released on Thursday.
It also accused the US, which is purportedly fighting terrorists, of having "repeatedly issued strikes on Syrian government forces fighting Daesh near the Jordanian border."
Thus, the ministry said, "it's not hard to guess that similar strikes will be continued against contingents of the Syrian army in the future using HIMARS."
The deployment of any type of foreign weaponry on Syrian soil "must be approved by the government of the sovereign country," it pointed out.
The statement further said Moscow is closely monitoring the situation on the Syrian-Jordanian border.
On Wednesday, an intelligence source first reported the US relocation of the HIMARS from Jordan to Syria.
The town of At-Tanf, home to a US base, is located in Syria's Homs Province near a Syria-Iraq border crossing on the main Baghdad-Damascus highway.
On June 6, US warplanes attacked a Syrian military position on the road to At-Tanf, killing an unspecified number of people and causing some material damage.
The US claimed that the Syrian forces who came under the attack posed a threat to its forces and their terrorist allies in Syria.
On May 18, the US carried out a similar strike on a Syrian military convoy near At-Tanf.
The Syrian army has denounced the attacks, saying they demonstrate US support for terrorism, at a time when the Syrian army and its allies are making gains against Daesh militants.
Full report at:
http://217.218.67.231/Detail/2017/06/15/525400/Russia-Syria-US
--------
Putin announces plans to reinforce Syrian army
Jun 15, 2017
President Vladimir Putin has announced Russia's "medium-term" plans to beef up the Syrian army that is battling foreign-backed terrorist groups.
Speaking at a live question and answer session with citizens in Moscow on Thursday, Putin said the reinforcement of the Syrian army would allow Russian troops in the Arab country to return to their home bases.
Russia's air force, however, will continue helping Syria where necessary, Putin said, even though he expressed his keenness for a peaceful resolution of the crisis in Syria.
"We aim to establish a process a political settlement (in Syria) between all the sides involved," he said.
Invaluable experience
Putin said the Russian army had gained "priceless" experience in Syria, testing state-of-the art weapons in real combat, while the counter-terrorism campaign had allowed the country's experts to polish weapons designs.
Russia launched its campaign against Daesh and other terrorist groups in Syria at the Damascus government's request in September 2015. Russian airstrikes have helped Syrian forces advance against foreign-backed militants.
Cooperation with US
Putin further expressed Moscow's resolve to re-engage with the US on several pressing international issues, including arms control, nuclear non-proliferation, combating poverty and climate change.
He mentioned the 2015 landmark nuclear accord with Iran nuclear as "a positive example of our cooperation" with Washington.
"This means we can negotiate and work together. The Syrian issue, the Middle East issue – it's obvious to everyone that nothing will be achieved without our constructive dialogue," Putin said.
'Western sanctions benefited Russia'
Putin said Western sanctions had forced Russia to "switch on our brains and talents" to reduce dependence on energy exports, adding his country had climbed out of recession despite the restrictive measures.
The sanctions have only made Russia stronger, Putin said in his nationwide call-in which came on the same day the US Senate voted overwhelmingly to punish Russia for alleged meddling in the 2016 presidential election.
US senators on Wednesday approved a wide-ranging package of sanctions that targets key sectors of Russia's economy and individuals who allegedly carried out cyber attacks.
Putin said Russia has done nothing to warrant the US Senate's recent move which highlights the West's policy of containing Russia and "a continuing internal political struggle in the US."
The new measures followed up on several rounds of other sanctions imposed by the US and the EU over the Black Sea Crimean Peninsula's decision to rejoin Russia and Moscow's alleged support for separatists in eastern Ukraine.
Russia has responded to the sanctions by halting most food imports from the West.
Full report at:
http://217.218.67.231/Detail/2017/06/15/525384/Russia-Syria-Vladimir-Putin
--------
Mideast
35 Saudi Forces Killed, Wounded at Borders with Yemen
Jun 15, 2017
A military source was quoted by al-Masirah news channel as saying that the Yemeni forces launched offensive against al-Dafineh, Qaem Zobaid and al-Karas bases in the Southern region of Jazan, bordering Yemen, killing 15 Saudi military men.
The source added that in another attack against al-Khubeh base in Northern Jazan 20 Saudi forces were killed and wounded.
Also on Wednesday, Yemeni army and Popular Committees hit a Saudi-led warship in waters off the Southwestern province of Ta'iz.
Local military sources said that the warship was in the Yemeni territorial water, near the port city of Mocha in Taiz, when was targeted by the allied forces confronting the Saudi-led aggression on Yemen.
The source said that the warship was targeted with a qualitative and advanced weapon, noting that further details about this weapon will be announced later.
For his part, Head of Supreme Revolutionary Committee, Mohammad Ali al-Houthi announced the attack on his Facebook account, parsing maritime forces of the army and the committees as the defenders of the Yemeni people.
Yemen has been since March 2015 under a brutal aggression by Saudi-led coalition. Tens of thousands of Yemenis have been injured and killed in Saudi-led strikes, with the vast majority of them are civilians.
The coalition has been also imposing a blockade on the impoverished country's ports and airports as a part of his aggression which is aimed at restoring power to fugitive former president Abdrabbuh Mansour Hadi.
However, the allied forces of the army and the committees have been confronting the aggression with all means.
http://en.farsnews.com/newstext.aspx?nn=13960325000528
--------
Iran slams West's double standards on Israeli nukes
Jun 16, 2017
Iran asks the United Nations nuclear agency to take Israel's nuclear activities into "serious" consideration, lambasting the West's duplicitous policies concerning the regime's military nuclear capability.
Reza Najafi, Iran's ambassador to the International Atomic Energy Agency (IAEA), made the remarks to the quarterly meeting of the agency's Board of Governors on Thursday.
"Unfortunately, the Zionist regime [of Israel], has over the past years, continued to advance its military nuclear program in contravention of all international regulations by ignoring the international community's legitimate calls, and thanks to the blind support by some countries," he stated.
Israel is estimated to have 200 to 400 nuclear warheads in its arsenal. The regime, however, refuses to either accept or deny having the weapons.
It has also evaded signing the Nuclear Non-Proliferation Treaty (NPT) amid staunch endeavor by the United States and other Western states on international levels in favor of its non-commitment to the accord.
Najafi considered Israel's nuclear activities to be a source of concern for regional countries and the entire international community, accusing the West of double standards in its treatment of Tel Aviv's nuclear program.
The Iranian official further highlighted repeated international calls for Israel to join the NPT and put all its nuclear facilities under IAEA supervision, stressing that Israel's continued non-membership of the treaty sullies its reputation.
He added that Israeli scientists enjoy free access to the nuclear facilities of some nuclear-armed countries, while Tel Aviv-hired terrorists assassinate nuclear scientists of NPT members.
Addressing the Board's previous meeting, the Iranian official said the Israeli regime had hired hit men to assassinate nuclear scientists all over the Middle East.
Read more:
Israel killing nuclear scientists in Mideast: Iran
Four Iranian nuclear scientists were assassinated by the Israeli regime between 2010 and 2012. Iran has incriminated the IAEA for leaking information about the four scientists to the Israeli regime.
Full report at:
http://217.218.67.231/Detail/2017/06/16/525429/Iran-Israel-IAEA
--------
Turkey president slams US arrest warrants for security aides over DC brawl
Jun 16, 2017
Turkish President Recep Tayyip Erdogan has condemned arrest warrants issued by US authorities for his security staff accused of assaulting protesters during a street brawl in Washington last month.
During a Thursday speech at a Ramadan dinner feast in Ankara, Erdogan said the US has no right to arrest his guards, who he said were protecting him from "terrorists," and accused the US police of having allowed the "terrorists" to protest "50 meters from me" during his US visit.
"Why would I bring my guards with me to the United States, if not to protect me?" he said, noting that the US police "did nothing."
Erdogan's remarks came a few hours after the US authorities announced that arrest warrants had been issued for 12 members of the Turkish president's security entourage.
The Turkish Foreign Ministry also slammed the arrest warrants for lacking legal basis and "invited" the US ambassador for discussions on the issue.
"This decision taken by US authorities is wrong, biased and lacks legal basis," Turkey's Foreign Ministry said in a statement.
"The brawl in front of the Turkish ambassador's residence was caused by the failure of local security authorities to take necessary measures... Turkish citizens cannot be held responsible for the incident that took place," it added.
The US State Department, however, said that Erdogan's security detail had no justification to attack the protesters, adding that the charges against the 12, along with six other Turkish-Americans and Turkish-Canadians who joined the melee, "send a clear message that the United States does not tolerate individuals who use intimidation and violence to stifle freedom of speech and legitimate political expression."
The crackdown erupted on May 17, when protesters, mainly Kurds and Armenians, gathered outside the Turkish ambassador's residence, where Erdogan was staying after meeting with his US counterpart Donald Trump at the White House.
The peaceful protests turned into violent clashes when a group of Erdogan's supporters taunted the first group and attacked them. The tension escalated after Erdogan's guards and other Turkish security personnel interfered and violently beat the protesters.
Full report at:
http://217.218.67.231/Detail/2017/06/16/525421/Turkey-US-Erdogan-arrest-warrant-protest-Washington
--------
Turkish opposition party begins 400-km protest march from Ankara to Istanbul
Jun 15, 2017
Turkey's main opposition party has started a 400-km protest march from the capital Ankara to an Istanbul prison to protest the imprisonment of one of its lawmakers.
On Thursday, thousands of demonstrators set off on the protest march, which is being led by the leader of the Republican People's Party (CHP), Kemal Kilicdaroglu.
Turkish media reports said the march would take two weeks, covering approximately 15 to 20 kilometers each day.
Kilicdaroglu, who is reportedly being escorted by his security detail, stressed that he wants justice, democracy and freedom in Turkey.
"Let the whole world hear, we are facing a dictatorial regime in Turkey, in our own land," media outlets quoted the opposition leader as saying.
The angry demonstrators also held banners and shouted pro-democracy slogans.
Kilicdaroglu called the march after Enis Berberoglu, a deputy chairman for the CHP, was sentenced to 25 years in prison on Wednesday for revealing state secrets.
Berberoglu was convicted for his role in leaking secret documents to a newspaper showing the country's National Intelligence Organization (MIT) shipped weapons to foreign-backed Takfiri terrorists in Syria.
Istanbul's 14th Heavy Penal Court handed down the sentence to Berberoglu for releasing secret documents with the purpose of political or military espionage.
Berberoglu, a former journalist, was arrested in the courthouse after the hearing. He will remain under arrest while waiting for the appeal process to conclude.
Following the court verdict, Kilicdaroglu tweeted, "In this country, the punishment for covering the news of a truck filled with weapons heading to terror groups is 25 years in prison but illegal arm shipments are allowed!"
Back in May 2015, Cumhuriyet daily posted on its website footage showing Turkish security forces in early 2014 intercepting a convoy of trucks carrying arms for the militants in Syria.
The paper said the trucks were carrying some 1,000 mortar shells, hundreds of grenade launchers and more than 80,000 rounds of ammunition for light and heavy weapons.
Ankara denied the allegation and claimed that the trucks had been carrying humanitarian aid to Syria. However, Berberoglu defended the video, saying it was genuine.
The incident triggered a huge controversy in Turkey, with many bashing the government for explicitly supporting terrorism in neighboring Syria.
Cumhuriyet's former editor-in-chief Can Dundar and Ankara bureau chief Erdem Gul were among other defendants in the case.
Last year, Dundar and Gul were sentenced to at least five years in jail for revealing what was said to be state secrets. The prosecutor is now seeking an additional 10 years in prison for the two over the report on MIT trucks.
Separately, Berberoglu , Dundar and Gul are being tried for "aiding a terror organization without being members," referring to the network of US-based cleric Fethullah Gulen, Whom Turkey blames for a failed coup in July last year.
Gulen has denied the charges of having masterminded the coup.
The prosecutor believes Gulen's network to be the source of the leaked images.
Full report at:
http://217.218.67.231/Detail/2017/06/15/525376/Tuekey-CHP-Kemal-Kilicdaroglu-Enis-Berberoglu-Syria
--------
North America
Tennessee Man Sentenced Over Plot to Attack Muslim Community
Jun 15, 2017
A former Congressional candidate from Tennessee has been sentenced to nearly 20 years in prison for plotting to burn down a mosque, a school and a cafeteria in upstate New York, the U.S. Department of Justice said on Thursday.
Robert Doggart, 65, was sentenced on Wednesday in U.S. District Court in Chattanooga, where he was convicted in February of trying to recruit people to commit arson and violate civil rights.
Doggart was arrested by Federal Bureau of Investigation agents in April 2015 after saying in wiretapped telephone calls that he planned to recruit a militia and travel to Islamberg, a rural town that is home to a small Muslim community in Hancock, New York, about 130 miles (209 km) northwest of New York City.
While there, he intended to "carry out an armed attack" that included burning down a mosque or "blowing it up with a Molotov cocktail or other explosive device," the statement said.
"I don't want to have to kill children, but there's always collateral damage," Doggart said on one of the recorded calls, according to the statement.
U.S. Attorney General Jeff Sessions praised the sentence.
"People of all faiths have the fundamental right to worship freely, and this administration will not tolerate attempts to violate that right," he said in a statement.
Doggart's attorney, Leslie Cory, said on Thursday in a telephone interview that an appeal was likely.
Cory argued in court that her client would not have carried out the plot and liked to shock people because of a personality disorder and mental problems.
Islamberg, started by a group of African-American Muslims who moved from U.S. cities in the 1970s, is a gated community with dirt roads and several dozen small homes near the town of Hancock in New York's Catskills Mountains.
The 200 or so members of the community, in which children are home-schooled and residents worship at a mosque built on the 70-acre property, follow a Pakistani Sufi cleric.
http://www.reuters.com/article/us-tennessee-muslim-crime-idUSKBN1962R7
--------
US visit by people from six Muslim-majority countries drops
June 15, 2017
Slowdown comes as Trump order remains on hold in courts
There has been a steep decline in visits to the US in recent months by citizens of six Muslim-majority countries on President Donald Trump's travel ban list, although the order has been halted by courts, reports the Wall Street Journal.
According to latest Homeland Security data for March and April, people admitted from Iran, Libya, Somalia, Sudan, Syria and Yemen was "down by about half year-over-year.
Figures released by the State Department for the same period on the number of visas issued also showed decline.
It is however unclear whether less people were willing to travel to US or the administration was rejecting more visa applications.
The State Department has said it would not release data on visa rejection in recent months.
Homeland Security data showed the biggest drop was from Somalia – by more than two-thirds – to 655 this year from 2,233 in 2016.
The US, however, admitted the biggest number of people from Iran in both 2016 and 2017.
President Trump's order to suspend travel to US from six Muslim-majority countries citing terrorism threats has been halted by two appellate courts.
Full report at:
http://www.dhakatribune.com/world/north-america/2017/06/15/us-visit-people-six-muslim-majority-countries-drops/
--------
US Senate votes near unanimously for Russia, Iran sanctions
16 June 2017
The US Senate voted nearly unanimously on Thursday for legislation to impose new sanctions on Russia and force President Donald Trump to get Congress' approval before easing any existing sanctions on Russia.
In a move that could complicate US President Donald Trump's desire for warmer relations with Moscow, the Senate backed the measure by 98-2. Republican Senator Rand Paul and Bernie Sanders, an independent who caucuses with the Democrats, were the only two "no" votes.
The measure is intended to punish Russia for meddling in the 2016 US election, its annexation of Ukraine's Crimea region and support for Syria's government in the six-year-long civil war.
If passed in the House of Representatives and signed into law by Trump, it would put into law sanctions previously established via former President Barack Obama's executive orders, including some on Russian energy projects. The legislation also allows new sanctions on Russian mining, metals, shipping and railways and targets Russians guilty of conducting cyber attacks or supplying weapons to Syria's government.
"The legislation sends a very, very strong signal to Russia, the nefarious activities they've been involved in," Senator Bob Corker, the Republican chairman of the Senate Foreign Relations Committee, said as lawmakers debated the measure.
If the measure became law, it could complicate relations with some countries in Europe. Germany and Austria said the new punitive measures could expose European companies involved in projects in Russia to fines. The legislation sets up a review process that would require Trump to get Congress' approval before taking any action to ease, suspend or lift any sanctions on Russia.
Trump was especially effusive about Russian president Vladimir Putin during the 2016 US election campaign, though his openness to closer ties to Moscow has tempered somewhat, with his administration on the defensive over investigations into Russian meddling in the election.
Putin dismissed the proposed sanctions, saying they reflected an internal political struggle in the United States, and that Washington's policy of imposing sanctions on Moscow had always been to try to contain Russia.
The bill also includes new sanctions on Iran over its ballistic missile program and other activities not related to the international nuclear agreement reached with the United States and other world powers.
Uncertain path in house
To become law, the legislation must pass the House of Representatives and be signed by Trump. House aides said they expected the chamber would begin to debate the measure in coming weeks. However, they could not predict if it would come up for a final vote before lawmakers leave Washington at the end of July for their summer recess.
Senior aides told Reuters they expected some sanctions package would eventually pass, but they expected the measure would be changed in the House. The Trump administration has pushed back against the bill, and his fellow Republicans hold a commanding 238- to 193-seat majority in the chamber.
Secretary of State Rex Tillerson questioned the legislation on Wednesday, urging Congress to ensure that any sanctions package "allows the president to have the flexibility to adjust sanctions to meet the needs of what is always an evolving diplomatic situation."
Previously, US energy sanctions had only targeted Russia's future high-tech energy projects, such as drilling for oil in the Arctic, fracking and offshore drilling. They blocked US companies such as Exxon Mobil, where Tillerson was chairman, from investing in such projects.
The new bill would slap sanctions on companies in other countries looking to invest in those projects in the absence of US companies, a practice known as backfilling.
Full report at:
https://english.alarabiya.net/en/News/world/2017/06/16/US-Senate-votes-near-unanimously-for-Russia-Iran-sanctions.html
--------
US State Department: Washington has no intention to host Qatar crisis summit
16 June 2017
The United States Department of State has announced on Thursday that there was no intention to hold a summit in Washington to resolve the crisis between Qatar and its Gulf and Arab neighbors.
In a series of tweets earlier this week, US President Donald Trump criticized Qatar's support for terrorism. Referring to the need to stop financing terrorism, the US president said: "You see what is going on in Qatar".
Trump visited Saudi Arabia in May during his first foreign trip since his inauguration on January 20. Arab and Islamic leaders met in Riyadh where Trump stressed during the need to stop the financing of terrorism across the region.
Full report at:
https://english.alarabiya.net/en/News/gulf/2017/06/16/US-State-Department-No-intensions-for-Washington-host-summit-over-Qatar-crisis.html
--------
Pentagon denies claimed joint naval exercise with Qatar
15 June 2017
The USS Chinook, a coastal patrol ship, and US Coast Guard Cutter Baranof both were in Doha on Thursday, said Cmdr. Bill Urban of the US Navy's Bahrain-based 5th Fleet. He called the trip a "routine port visit."
Qatar's state-run news agency claimed the presence as being part of a "joint exercise" with the Qatari navy. Urban later told The Associated Press that the US Navy did "not have a scheduled exercise at this time."
"U.S. 5th Fleet ships conduct similar port visits throughout the region as part of our normal operations," Urban said.
Crisis
The crisis between Qatar and its Arab neighbors, all US allies, has put America in a delicate situation.
Full report at:
https://english.alarabiya.net/en/News/gulf/2017/06/15/Pentagon-denies-claimed-joint-naval-exercise-with-Qatar-.html
--------
Trump visits U.S. Supreme Court as justices weigh travel ban
Jun 15, 2017
President Donald Trump visited the Supreme Court on Thursday for the first time since taking office to attend a ceremony for Neil Gorsuch, the justice he appointed, as the court mulls what to do with his blocked ban on travelers from six Muslim-majority countries.
The president and first lady Melania Trump were present in the marble-clad courthouse for an investiture ceremony formally welcoming Gorsuch to the top U.S. court. Gorsuch was confirmed by the Senate and sworn in as a justice in April and authored his first ruling last week in a debt-collection case.
Trump sat near the front of the ornate, burgundy-draped courtroom as Chief Justice John Roberts offered him and the first lady a "warm welcome" in opening remarks. The president sat quietly as Roberts administered the judicial oath to Gorsuch and joined the crowd in applauding Gorsuch, smiling broadly.
In appointing Gorsuch, Trump restored the court's 5-4 conservative majority.
Trump did not speak at the event.
Other notable figures at the ceremony included several members of the Senate Judiciary Committee and attorneys general during George W. Bush's presidency, including John Ashcroft and Alberto Gonzales. Also attending was Kenneth Starr, the former independent counsel who investigated Bill Clinton during his presidency.
A special counsel examining whether Trump's presidential campaign team colluded with Russia in the 2016 election is now investigating Trump for possible obstruction of justice.
Trump's travel ban is now before the justices after being blocked by lower courts. In deciding whether to allow the travel ban to go into effect, the justices are set to weigh whether Trump's election campaign rhetoric can be used as evidence that the March 6 order was intended to discriminate against Muslims in violation of the Constitution.
Trump during the 2016 presidential campaign called for a "total and complete shutdown of Muslims entering the United States."
The court is currently considering an emergency request from Trump's administration seeking to put the travel ban into effect while litigation continues.
Federal judges in Maryland and Hawaii blocked Trump's 90-day ban on travelers from Libya, Iran, Somalia, Sudan, Syria and Yemen. The Hawaii judge also blocked a 120-day ban on refugees entering the United States. The injunctions blocking the ban were upheld on appeal.
Full report at:
https://www.reuters.com/article/us-usa-court-gorsuch-idUSKBN19612X
--------
Hawaii Governor says he is 'looking forward' to Trump's travel ban going to Supreme Court
June 16, 2017
The Governor of Hawaii is looking forward to the seemingly inevitable Supreme Court showdown between his state's Attorney General and Donald Trump's administration over the President's controversial travel ban.
That contest became a virtual certainty just this week when the 9th Circuit Court of Appeals upheld a freeze originating in Hawaii on Mr Trump's proposed ban. Governor David Ige says that the diversity in his state is something to be celebrated – not curtailed – and that his state government is willing to push back against the isolationist impulses coming out of the White House.
"Hawaii is a very special place. We are a community of minorities. Our legacy is that we have welcomed wave after wave of immigrants to our state, and they have all contributed greatly to the sense of community," Mr Ige told The Independent.
The court decisions over the travel ban have clearly upset the President, with his administration already on its second attempt to halt incoming travel from several predominantly Muslim countries. The executive order would prohibit incoming travellers from Yemen, Syria, Sudan, Somalia, Iran and Libya for 90 days and all refugees for 120 days while the US government reviews vetting procedure looking for possible improvements.
As for the Hawaiian islands, they have an extensive history of immigration that has contributed to the rich cultural diversity there. It is one of just four US states where residents of European ancestry don't add up to a majority, and many of the residents there descend from Asian settlers who came to work on sugarcane plantations starting in the late 19th and early 20th century. Even today, more than one in six residents in the state are immigrants, providing billions of dollars in tax revenue and more than $31bn (£24bn) in consumer purchasing power.
Located in the central Pacific, Hawaii is geographically distant from the US, but houses the military base that fell victim to the largest military attack on American soil in history. Even after those Pearl Harbour attacks by Japan – which served as a catalyst for the US to join the Second World War – the state refrained from joining American mainland countries in widespread detainment of Japanese immigrants there. Just 1 per cent of the island state's Japanese-origin population ended up in internment camps during that war.
It is with that backdrop that Mr Ige's administration decided to push back against the travel ban Mr Trump has championed as a means of boosting American security. Aspects of that ban that appear overtly aimed at specific nationalities and religions don't vibe with politicians in a state that is perhaps best known for its laid back surfing culture, colourful leis, and beautiful beaches.
"Certainly we felt compelled to take a stand against the executive order which, to us, is clearly focused on national origin and religious basis", Mr Ige said.
The 9th Circuit Court decision this week affirms the decision by a federal judge in Hawaii to temporarily block Mr Trump's travel ban just before it was to be implemented.
Mr Trump has said the ban is in the security interests of the US, but in their ruling the 9th Circuit Court went against the ban on statutory grounds, saying that the President had exceeded the authority Congress had granted his office to make national security judgements.
An earlier decision by the 4th Circuit Court of Appeals blocking the ban said that the executive order violated the First Amendment's religious protections. The judge in that case wrote that the federal government's argument for the travel ban "drops of religious intolerance, animus, and discrimination".
Mr Trump has also not seemingly helped himself with tweets about the proposed bans. One in particular, sent in response to the London Bridge terror attack earlier this month, said: "That's right, we need a TRAVEL BAN for certain DANGEROUS countries," Mr Trump wrote, "not some politically correct term that won't help us protect our people!".
The President has repeatedly called on the Supreme Court to reinstate his travel ban – and faced a awkward moment on Thursday in visiting the court to for the investiture of new Justice Neil Gorsuch, whose Senate confirmation in April was his first major accomplishment. Mr Trump was due to speak to the Supreme Court justices before the event, as former presidents have traditionally done.
The Trump administration has moved to amend the start date of the travel ban – which was introduced in March – with the 90-day limit having been set to expire on Wednesday. The White House have said that the start dates would not start until the court injunctions are lifted. The Supreme Court has also recently given the Trump administration more time to file papers responding to the 9th Circuit Court ruling, possibly delaying any decision.
As for Mr Ige, he said he wouldn't mind if the nation's highest court hear arguments from his state on the matter of the ban.
Full report at:
http://www.independent.co.uk/news/world/americas/us-politics/trump-travel-ban-muslim-countries-supreme-court-hawaii-governor-looking-forward-comments-a7789966.html
--------
Southeast Asia
As homelands devastated, Indonesian tribe turns to Islam
June 16, 2017
BATANG HARI: Indonesian tribesman Muhammad Yusuf believes his conversion from animism to Islam in a government-supported programme will eventually make his life easier.
"Thank God, the government now pays attention to us; before our conversion they didn't care," says Yusuf, the Islamic name he has adopted.
Yusuf is a member of the "Orang Rimba" tribe. His small community now gathers around a stilt-mounted wooden hut, while children inside wearing Islamic skullcaps and hijabs enthusiastically recite the Koran.
Not far away, other members of the tribe who remain faithful to the old ways stalk through palm oil trees in a desperate hunt for prey in an area that was once lush Sumatran rainforest.
Stick-thin and wearing only loincloths over their weather-beaten skin, they brandish homemade rifles as they search for their next meal.
Yusuf's group converted to Islam, the predominant faith in Indonesia, and gave up their nomadic ways in January in a bid to improve livelihoods that have been devastated by the expansion of palm oil plantations and coal mines into their forest homelands.
Authorities insist the move is positive but critics say it amounts to a last throw of the dice for indigenous groups driven to desperation by the government's failure to properly defend their rights against rapid commercial expansion.
Indonesia is home to an estimated 70 million tribespeople, more than a quarter of the total 255-million population, from the heavily tattooed Dayaks of Borneo island to the Mentawai who are famed for sharpening their teeth as they believe it makes them more beautiful.
But as a nomadic group, the Orang Rimba — whose name translates as "jungle people" — are a rarity.
Big changes
The 200 who recently converted in the Batang Hari district of Jambi province — a handful of the approximately 3,500 Orang Rimba — decided to turn to the Muslim faith after being approached by an Islamic NGO, and the social welfare ministry has helped with the process.
Community leader Yusuf conceded the reason they were converting was because food was increasingly hard to find and they were constantly locked in disputes with companies on whose lands they hunt, rather than due to any deeply-held beliefs.
The tribesman also said that he and his family — he has 10 children — wanted to get national identity cards, which would allow them access to public services including education and healthcare. Converting to Islam and settling in one location means they can get the cards.
The decision has meant big changes.
The converts now live in basic wooden huts on stilts and no longer move to a new location every few weeks. They are fully-clothed in items donated by the government and NGOs, having abandoned the simple loincloths and sarongs they wore in the past.
"It's nicer living in a village like this, our lives are better," said Yusuf, whose old Orang Rimba name was Nguyup.
They have not completely abandoned their animistic traditions however — the tribe believes spirits inhabit the trees and their wavy-bladed daggers — and view Islam as a religion that overlays their own, ancient beliefs.
Not all of the Orang Rimba are keen to convert however.
Just a couple of hours drive away, a group of about 300 Orang Rimba live under blue, plastic tarpaulins propped up on sticks and subsist by hunting the few animals they can find amid the palm oil trees.
They move on average three times a month in the hunt for new prey, and every time a member of the group passes away, as required under tribal customs.
Tough existence
Their existence is tough, and they appear skinny and malnourished — but remain steadfastly against conversion.
"According to our tradition, conversion is not allowed," leader of the group Mail, who goes by one name, told AFP.
It is also in part due to superstitious beliefs. "We're afraid if we break our oath, we will be captured by tigers," Mail added.
Conversion of tribespeople to Islam is not uncommon in Indonesia, the world's largest Muslim-majority country, and the government insisted the change would be positive for the Orang Rimba.
Hasbullah Al Banjary, director of indigenous communities at the social affairs ministry, said it was now easier for authorities to provide for the tribespeople as they were not moving around. He said their traditions would not be eroded.
"It's a creative culture which has local wisdom we need to preserve," he said.
But indigenous rights defenders insist some tribespeople feel they have no option but to convert.
"I view this as a result of the state failing to protect them," Rukka Sombolinggi, secretary general of leading Indonesia indigenous rights group AMAN, told AFP.
"They turn to clerics or the church in some areas, because they offer protection."
In recent decades, Indonesia has lost huge areas of rainforest — the habitat for many indigenous groups — to make way for plantations for palm oil, pulpwood and rubber, as well as coal mines.
Critics say local governments have prioritised making bumper profits by issuing permits for companies to set up operations rather than protecting tribes, who typically have no formal title to areas where they live.
Yusuf said he feels a sense of "tranquility" after converting — but admitted it had not been a quick fix and his group were yet to receive the coveted identity documents.
"It's now up to the government — if they care about us they will work on our ID cards," he said.
http://www.freemalaysiatoday.com/category/world/2017/06/16/as-homelands-devastated-indonesian-tribe-turns-to-islam/
--------
From Myanmar to Malaysia, life's tough for the Rohingya
June 16, 2017
PUCHONG: Members of the Rohingya community who fled Myanmar due to the hardship they suffered there are facing a similar fate here as well.
Many continue to struggle to make ends meet, besides enduring discrimination from the locals, some of whom allegedly extort money from them for entering "their land".
306 Rohingyas from 36 families in Bandar Puteri Puchong are among those who find that life continues to be an uphill battle even here.
Without fixed jobs, the estimated income of each Rohingya family is about RM900-RM1,500 per month. When pressured by the locals, members of the community pool together their earnings and pay up for sitting on land which they are told does not belong to them.
Mohd Ismail Mohd Khairul Bashar, who is chairman of the Rohingya Education Garden in Bandar Puteri Puchong, told FMT that many were financially unstable as they had to pay for rent, food and school supplies for their children.
They were also frequently harassed by some locals in their neighbourhood who force them to comply with whatever was demanded of them.
"We are accused of entering 'their land' while searching for any scrap metal that we can sell to nearby factories to get money.
"They only do that to Rohingyas staying in the neighbourhood. If we refuse to pay them, they beat us up," he said.
Ismail said it was a relief that the children were not harassed, only the adults, and that he felt a responsibility to stand up for them.
Muhammad Abdul Malik, another Rohingya in the neighbourhood, said he was forced to pay money whenever he sold things in areas where some locals claimed to have authority over.
"We will pay because we fear them," he said, adding that he had been harassed many times.
"We cannot do anything as we are not from here, so we will just pay them whatever they ask."
The Rohingya community in Bandar Puteri Puchong is often blamed for incidents that happen in the neighbourhood, but Malik said they were resigned to it as they wanted to avoid making a fuss or attracting unnecessary attention.
"If the neighbourhood is dirty, we are likely to be the main target even though it is not our fault.
"We found out that one of our motorcycles was burnt in a fire at night. Up till now, we still don't know who did it."
They have no fancy celebrations planned for this coming Hari Raya Aidilfitri.
Full report at:
http://www.freemalaysiatoday.com/category/nation/2017/06/16/from-myanmar-to-malaysia-lifes-tough-for-the-rohingya/
--------
Jokowi's Central Java trip turns religious with pesantren visits
June 16, 2017
President Joko "Jokowi" Widodo filled the first day of his Central Java working tour on Thursday with various religious activities by visiting several Islamic boarding schools in Cilacap regency.
His first stop was the Al Ihya Ulumudin Islamic boarding school in Cilacap to honor late Nahdlatul Ulama (NU) cleric Chasbullah Badawi, who passed away on June 5. The NU is the largest Islamic organizations in the country known for its campaign for tolerant Islam, Islam Nusantara, or Islam of the Archipelago.
The President is known for its close relationship with NU clerics, especially in Central Java and East Java, a majority of whom threw their support behind Jokowi during the 2014 presidential elections against former army general Prabowo Subianto.
"I apologize for not being able to come here when [Chasbullah] left us. I am here this afternoon to pay my condolences to his family and the local government," Jokowi told hundreds Al Ihya Ulumudin students as well as residents who came to the school to see the President.
In his speech, Jokowi also encouraged students and residents to respect the value of pluralism and Indonesia as a multicultural nation.
Jokowi then moved on to Miftahul Huda boarding school in Cilacap to greet hundreds of students and NU clerics. He also delivered messages of tolerance to the audience.
"Don't blame each other for our differences. We are all brothers as Muslims and we need to strengthen the bonds of brotherhood," he said.
On his way to the third Islamic boarding school, Jokowi asked his driver stop in the middle of the route to break the fast by drinking a bottle of water in the car with his son Kaesang Pangarep. He also ordered a five-minute stop for his motorcade, allowing his entourage to break their fast before moving on with their trip.
After arriving at Darussalam Islamic boarding school in Banyumas regency, Jokowi distributed 10 tons of rice, two tons of sugar and 50 kilograms of meat in aid from state-owned companies to students and residents.
Jokowi also pledged to clerics to build a three-story building to be used by students at the Islamic boarding school.
Full report at:
http://www.thejakartapost.com/news/2017/06/16/jokowis-central-java-trip-turns-religious-with-pesantren-visits.html
--------
Defense Minister to Meet Regional Counterparts to Discuss Islamic State Threat
June 16, 2017
Jakarta. Defense Minister Ryamizard Ryacudu said on Thursday (15/06) that he will meet with his counterparts from four other Southeast Asian nations on June 19 to to discuss the threat of Islamic State in the region.
"I will meet with the defense ministers of Malaysia, the Philippines, Singapore and Brunei in Tarakan [North Kalimantan] to discuss recent developments regarding ISIS. We're conducting this meeting as a precaution, if anything should happen we should be ready," Ryamizard said.
He added that the meeting is a step to prevent ISIS from moving into Indonesia from the Philippines.
Islamic militants have held parts of Marawi City on Mindanao Island for more than three weeks. The area can be reached by boat in five hours from Indonesia's Morotai Island in North Sulawesi province.
North Sulawesi has been on full alert because of its proximity to the conflict area, but Ryamizard said the alert does not apply to Riau province.
Full report at:
http://jakartaglobe.id/news/defense-minister-to-meet-regional-counterparts-to-discuss-islamic-state-threat/
--------
Thailand Arrests Suspect in Connection With Bangkok Hospital Bomb
June 16, 2017
Bangkok. Thai authorities have arrested a 62-year-old man in connection with a bomb attack at a military-owned hospital in Bangkok that wounded 24 people last month, the defense minister said on Thursday (15/06).
The May 22 attack at the Phramongkutklao Hospital, in central Bangkok, came on the third anniversary of the army's seizure of power, and the army initially blamed the bombing on groups opposed to military rule.
Defense Minister Prawit Wongsuwan told reporters a male suspect was being interrogated over the attack, but gave no indication of any motive or affiliation.
There was no claim of responsibility for the blast at the hospital, which is popular with soldiers and their families and retired military officers.
The bombing followed a small blast that wounded two people on May 15 at the National Theater in the Thai capital, and the junta promised to increase security to reassure foreigners in one of the world's most visited tourist destinations.
Thailand has been ruled by a junta since a coup in May 2014 and after the hospital attack, Prime Minister Prayuth Chan-ocha raised the possibility that violence could lead to a further delay to elections now scheduled for next year.
Bombings are frequent in the country's far south, home to a long-running Muslim separatist insurgency, but attacks by the rebels have largely been confined to their southern heartland.
Full report at:
http://jakartaglobe.id/international/thailand-arrests-suspect-connection-bangkok-hospital-bomb/
--------
Pakistan
Pakistani scholars body says Qatar media's attack on Saudi scholars 'absurd'
15 June 2017
Sheikh Tahir al-Ashrafi, head of the Council of Pakistani Scholars, said that the attack by the Qatari media on the Council of Senior Scholars in Saudi Arabia is "regrettable, absurd, illogical, and lacks reason and wisdom."
Ashrafi called upon Qatar's scholars and intellectuals to stop the Qatari media attacks on religious symbols. He added that if this was being said about Muslim scholars, what else could they say about others.
He said that "the difference is on the political level, but the attack on scholars is unacceptable and this is against the teachings of Islam," adding that what is happening is very strange.
"The Council of Pakistani Scholars is asking Qatar's scholars to stand against their media and reject what has been said. The senior scholars in Saudi Arabia are the pride of the Islamic nation," Ashrafi said.
He said that the Pakistani scholars refuse to countenance what is happening, and added "we want the Emir of Qatar to return to the Gulf Cooperation Council and reject the interference of any foreign party in Islam, which is full of tolerance and ambitions. He closed the doors in front of any foreign parties, especially those following the Safavid tide that they don't want to expand at the expenses of the current crisis."
"The words of the Qatari media against the Council of Senior Saudi Scholars are unacceptable and we do not expect any Muslim to address any of the Islamic scholars with such words," he added.
The head of the council said that they encourage dialogue and reject the low level of the Qatari media and those who support it. He hoped that all the media would adhere to professionalism and rationality and not be a means to fuel the chaos. He reiterated that they reject any insult against any Islamic religious body anywhere.
https://english.alarabiya.net/en/media/print/2017/06/15/Council-of-Pakistani-scholars-says-Qatar-media-s-attack-on-Saudi-scholars-absurd-.html
--------
Three policemen killed in Peshawar van attack
16-Jun-17
PESHAWAR: At least three police officials lost their lives when unidentified assailants opened fire on their vehicle in Peshawar's Chamkani area on Thursday evening, police said.
The police personnel were on a routine patrol after Iftar when three gunmen riding a motorcycle targeted the police van, Superintendent of Police (SP) Furqan Bilal said.
As result of the firing, constables Umer Hayat, Shahid and Intikhab Alam laid down their lives while head constable Sheraz sustained injuries.
The police party, which belonged to Waheedabad police post, retaliated to the firing, shooting dead one of the three militants. The other two gunmen managed to flee the scene, SP Bilal said.
Nobody immediately claimed responsibility for the attack.
For decades the city of Peshawar has faced the threat of militants, due to its status as a front line in the ongoing war on terror as well as its proximity to the restless tribal areas and the Pak-Afghan border.
The number of attacks in the country has fallen by around 70 per cent, due to a combination of the military offensive against Taliban bases along the Afghan border and government initiatives to tackle militancy but attacks on security and civilian targets continue to occur occasionally. Pakistan Army had launched Operation Raddul Fasaad earlier this year in the aftermath of a fresh resurgence in terror attacks in the country.
The operation seeks to eliminate the 'residual/latent threat of terrorism', consolidating the gains made in other military operations.
Full report at:
http://dailytimes.com.pk/pakistan/16-Jun-17/three-policemen-killed-in-peshawar-van-attack
--------
Afghanistan asks Pakistan to hand over suspects of Kandahar attack
16-Jun-17
by Tahir Khan
ISLAMABAD: Afghanistan has asked Pakistan to handover three people, who, it claims, are behind the deadly bomb attack in Kandahar in January that had killed the UAE ambassador and five other diplomats, the Afghan spy chief said in Kabul on Thursday.
The attack in the heavily-guarded governor guest house had killed 12 people and injured several others including Kandahar governor Humayun Azizi. The Taliban had denied involvement and had described the attack as the result of internal rift in the Kandahar administration.
Ambassador Juma Mohammed Abdullah al-Kaabi and the diplomats were on a mission to carry out humanitarian, educational and development projects in Kandahar, the Taliban birthplace.
Kandahar police chief Gen Abdul Raziq had blamed the Haqqani Network while the Afghan National Security Adviser Hanif Atmar had claimed that the attack was planned 'outside'. General Raziq had left the guest house just minutes before the bomb ripped through the guest house.
Dubai Police Deputy Chief Lt Gen Dahi Khalfan Tamim had, however, disputed the claims by the Afghan security officials and said the Afghan officials were responsible.
"The Afghan security official are directly responsible for the incident to the UAE ambassador and mission members, who died or were injured, because the explosives were planted inside the guesthouse where people can enter only through security clearance," General Tamim said on his official Twitter days after the attack.
The Afghan intelligence chief Masoom Stanikzai told a news conference in Kabul on Thursday that the guest house cook Syed Mehboob Agha had planted the explosives. He said the cook had traveled to the Pakistani border town of Chaman and had met three people there, claiming that $30,000 and a house in Pakistan had been offered to the cook.
Sanikzai declined to reveal nationality of the suspects but "we have formally asked Pakistan to handover the three men to the Afghan government". The NDS posted video of Stanikzai's presser on its official Facebook page.
"We have shared all evidence with Pakistan and are hopeful about the progress," the NDS chief said.
He said the Afghan and foreign investigators have reached the conclusion that Taliban had carried out the attack. He said the cook, who has been arrested, has admitted his action.
He said the cook had brought the explosives with the help of one of his assistants and had attached it to a sofa.
There had been hectic activities after the Kandahar bombing and President Ashraf Ghani had also visited the UAE along with National Security Adviser Hanif Atmar and Stanikzai to discuss the investigation into the blast.
Just days after the attack, the Taliban had also sent a group of their Qatar-based political representatives to Abu Dhabi to personally deny involvement in the attack and to assure they would help the investigation.
The UAE national security adviser had visited Islamabad and Kabul as part of discussion to find out the culprits.
Full report at:
http://dailytimes.com.pk/pakistan/16-Jun-17/afghanistan-asks-pakistan-to-hand-over-suspects-of-kandahar-attack
--------
China to facilitate talks between Pakistan, Afghanistan: Sartaj
June 15, 2017
Adviser to the Prime Minister on Foreign Affairs Sartaj Aziz Thursday said China has expressed its willingness to mediate between Pakistan and Afghanistan for improving their bilateral ties.
While talking to media he said, "China will facilitate the negotiations between the two neighbours."
Aziz said, "China is ready to mediate for rapprochement between Afghanistan and Pakistan and for this purpose China's foreign minister will undertake visits to Kabul and Islamabad in the current month."
"The meeting between Afghan President Ashraf Ghani and Prime Minister Nawaz Sharif in Astana took place in friendly environment," he mentioned.
"At the meeting, the two sides agreed that leveling allegations against each other will not work, therefore, they should work to do away with trust deficit," he said.
He said, "As China wants good relations between Afghanistan and Pakistan so it is good option to involve it."
"At the Astana meeting, it was agreed upon in principle that there is need for a mechanism for the redressal of each other's concerns," he added.
Full report at:
http://nation.com.pk/national/15-Jun-2017/chinese-fm-to-visit-kabul-islamabad-soon-for-mediation-sartaj
--------
Africa
Saudi royal adviser reveals Qatar-Libya plots to assassinate late King Abdullah
16 June 2017
An adviser to Saudi Arabia' royal court has revealed past plots from Qatar and Libya to assassinate the late King Abdullah bin Abdulaziz al-Saud.
In a series of tweets on Thursday night, Royal Court Adviser and Supervisor General of the Center for Media and Affairs Studies Saud Al-Qahtani said former Libyan leader Muammar Qaddafi and Qatar's Father Emir Hamad bin Khalifa Al-Thani plotted to assassinate the late King Abdullah a number of years ago.
Al-Qahtani said he was revealing a number of classified information on Qatar that that the Qatari-Libyan assassination plots against Saudi Arabia were the "first episode in a series of others".
According to Al-Qahtani, the story began in 2003 during the Arab summit held in Egypt's Sharm el-Sheikh, when Qaddafi attacked Saudi Arabia and King Fahd. Prince Abdullah, a crown prince at the time, responded strongly toward the former Libyan leader. He explained the harsh history of Qaddafi and the role of the West in bringing him to power. His famously told him at the time: "Who exactly brought you to power?"
"Qaddafi became madly furious and communicated with Saudi dissidents, especially those residing in London, who did not interact with him so he turned to Qatar's Emir Hamad bin Khalifa to work for him," Qahtani tweeted.
Qaddafi's revenge
Qaddafi asked him to help him in retaliation against Prince Abdullah and Hamad expressed his willingness to do so and agreed to hold a meeting between the intelligence apparatus of the two countries in Doha, Qahtani said.
Qaddafi's representative at the meeting was Col. Muhammad Ismail, who assured the Qataris that any cooperation not aimed at the assassination of Prince Abdullah was completely unacceptable.
"The Qataris tried to convince Qaddafi's representative that it was difficult because of the serious consequences in the event of assassination plot's failure, but the Libyans insisted on their position and left Doha angry. Hamad bin Khalifa then left for Libya on his airplane and went to Qaddafi immediately and told him he regretted any misunderstanding that happened from his men, and expressed his full readiness to implement all what Qaddafi wanted," the Saudi royal court adviser revealed.
Collusion with Saudi dissidents in London
Qatar's former Emir Hamad then issued orders to London Saudi dissidents to work on the implementation of all the orders received by the Libyan Colonel, "pointing out that the dissidents expressed their happiness to implement the plan. Saad al-Faqih assured them an assassination was executable and that once it occurred, the regime would collapse by the so-called jihadists".
Al-Faqih is a Saudi dissident living in London who heads the Movement for Islamic Reform in Arabia (MIRA). In December 2004, the US Treasury accused al-Faqih of being affiliated with Al Qaeda, and alleges he has maintained relations to the group since 1998.
Al-Qahtani said he would reveal "more information in the coming days and everything that has been tweeted has been documented by definitive evidences".
https://english.alarabiya.net/en/features/2017/06/16/Saudi-royal-adviser-reveals-Qatar-Libya-plots-to-assassinate-late-King-Abdullah.html
--------
19 die in hotel attack in Somali capital
June 16, 2017
MOGADISHU - At least 19 people were killed when militants launched a car bomb and gun attack on a busy hotel and adjacent restaurant in the Somali capital, a police officer said on Thursday.
In a separate incident later in the day, at least two soldiers were killed when a roadside bomb, planted by the militant group al Shabaab, struck a car carrying government troops in Central Shabelle outside of the capital, the military said.
In the Wednesday evening attack, a car driven by a suicide bomber rammed into the Posh Hotel in south Mogadishu before gunmen rushed into Pizza House, an adjacent restaurant, and took 20 people hostage. Posh Hotel is the only venue with a discotheque in the capital.
District police chief Abdi Bashir told Reuters Somali security forces took back control of the restaurant at midnight after the gunmen had held hostages inside for several hours. Five of the gunmen were killed, Bashir said.
"We are in control of the hotel but it was mostly destroyed by the suicide bomber," he told Reuters by phone.
Witnesses said there were bodies lying at the scene on Thursday morning as ambulances came to take them away.
Ahmed Mohamud Adow, the spokesman for the country's interior ministry, said the dead included a Syrian national who worked at the restaurant. He did not identify the dead Syrian who local residents said worked as a chef at the Pizza House.
Another 27 civilians were taken to hospital with various injuries, ambulance services said. Witnesses said the attack was launched after the Iftar dinner for customers who are fasting for Ramadan. Most of them were still inside relaxing.
The wreckage of three-wheeled scooters caught up in the blast at the hotel, which also housed a massage parlour, lay overturned around the scene.
Al Shabaab claimed responsibility for the attack. The group claimed on Thursday morning it killed more than 20 people including soldiers and government workers.
Al Shabaab usually provides a higher death toll from its attacks than the government's figures.
The group has carried out a campaign of suicide bombings in its bid to topple the Somali government and impose its own interpretation of Islam.
The Horn of Africa country has been racked by armed conflict since 1991, when clan-based warlords overthrew dictator Siad Barre and then turned on each other.
Full report at:
http://nation.com.pk/international/16-Jun-2017/19-die-in-hotel-attack-in-somali-capital
--------
UN details horrible torture, killing of opponents in Burundi
Jun 15, 2017
The United Nations says the government of the African country of Burundi is condoning the torture and killing of its opponents security forces and government-allied militia.
Investigators said state security agencies and the ruling party's youth wing the Imbonerakure are continuously engaged in torture, rape, disappearances and murder of opponents.
Those crimes are fueled by hate speech" from government officials, the UN Commission of Inquiry on Burundi said in a briefing to the Human Rights Council in Geneva on Thursday.
The investigators said they recorded a "feeling of deep and widespread fear" in the hundreds of testimonies gathered from people who had fled to neighboring countries.
"Today we can say that our initial fears concerning the scope and gravity of human rights violations and abuses in Burundi since April 2015 have been confirmed," they said.
The investigators said they were struck by the cruelty and brutality of the perpetrators.
"We most specifically gathered a number of testimonies alleging the use, during torture sessions, of clubs, riffle butts, bayonets, iron bars, metal chains or electric cables, resulting in some cases in the breaking of bones of the victim or making them lose consciousness.
"Long needles stuck into victims' bodies or unidentified products injected into them; nails ripped out with pliers; burns; and many abuses inflicted on male detainees' genital organs," they added.
Fatsah Ouguergouz, chairman of the UN commission, said a woman in her fifties was raped by four members allegedly belonging to the Imbonerakure and wearing police uniforms, as a punishment for her children belonging to an opposition party.
The government, which has denied entry to Burundi to the UN officials investigating the allegations, rejected the charges.
"We do not accept the content of this report," said the country's human rights minister Martin Nivyabandi, claiming the aim of the UN investigators was to discredit the country's officials.
Burundi was thrown into a political crisis in April 2015 when President Pierre Nkurunziza decided to run for a third term that his opponents said was unconstitutional.
Since then at least 500 people have been killed while over 400,000 have fled the country.
The UN's Commission of Inquiry on Burundi was established in September 2016 with the aim of investigating the alleged violations of international humanitarian law and crimes against humanity.
Full report at:
http://217.218.67.231/Detail/2017/06/15/525391/United-Nations-Africa-Burundi-Torture-Killing
--------
Libya: Surrender Saif Al-Islam Gaddafi to ICC
15 JUNE 2017
Beirut — The authorities vying for legitimacy as Libya's government should take all feasible steps to facilitate the surrender Saif al-Islam Gaddafi, a son of Muammar Gaddafi, to the International Criminal Court (ICC), Human Rights Watch said today. Independent international observers have not seen or heard from Gaddafi since June 2014, and do not know his current whereabouts.
The now disbanded Abu Baker al-Siddiq Brigade, which had been holding him in an unknown location in the western town of Zintan, said in an online statement on June 10, 2017, that it had released Saif al-Islam Gaddafi on June 9, citing an amnesty law passed by Libya's parliament. Gaddafi is subject to an ICC arrest warrant to answer allegations of crimes against humanity in an investigation authorized by United Nations Security Council Resolution 1970.
"The reported release of Gaddafi based on a flawed amnesty law does not change the fact that he is wanted by the ICC for crimes against humanity," said Richard Dicker, International Justice director at Human Rights Watch. "The Zintan brigade, which alleges that it released him, should urgently disclose his current whereabouts."
The unanimous Security Council resolution requires the cooperation of Libyan authorities with any ICC investigation, including the surrender of suspects. Gaddafi is wanted by the ICC for his alleged role in attacks on civilians, including peaceful demonstrators, during the country's 2011 uprising. On June 14, the ICC prosecutor, Fatou Bensouda, issued a statement calling for Gaddafi's immediate arrest and surrender.
The Abu Baker al-Siddiq Brigade had held Gaddafi in Zintan since capturing him during his attempted escape from the country in November 2011. The Brigade is allied with the Interim Government, one of three authorities vying for legitimacy in Libya, and the Libyan National Army forces in eastern Libya. In April 2016, the Interim Government ordered Gaddafi's release based on the amnesty law. Human Rights Watch was unable to reach either the Zintan brigade or representatives of the Interim Government for comment.
The Brigade held Gaddafi incommunicado and subjected him to solitary confinement for long periods, which amounts to torture. In January 2014, Human Rights Watch interviewed Gaddafi in an office at a base in Zintan. During the visit, Gaddafi said that he had not had access to a lawyer of his choosing and had been interrogated a number of times without legal counsel. The UN Working Group on Arbitrary Detention concluded in November 2013 that Gaddafi's detention was arbitrary.
An official from the UN-backed Government of National Accord (GNA), headed by the Tripoli-based Presidency Council, told Human Rights Watch that the Presidency Council had no information on Gaddafi's current whereabouts. A June 12 news report quoting the Interim Government's deputy justice minister, stated that the ministry did not have "accurate and official information about the release of Gaddafi's son or not." Separately, on June 11, the Zintan municipal and military councils condemned Gaddafi's release.
Although it never had custody of him, Tripoli's Court of Assize put Gaddafi on trial in Libya in March 2014, along with 36 other former Gaddafi officials and employees, on charges of serious crimes during the February 17 revolution that led to the overthrow of Muammar Gaddafi. The authorities established a closed-circuit video link to enable Gaddafi to participate from Zintan, but he was only able to join for 4 of the 25 trial sessions, according to the UN. The court convicted and sentenced him to death in absentia on July 28, 2015. Al-Siddiq al-Sur, the chief prosecutor in the case, said that Gaddafi would have the right to a retrial once he was in the custody of the authorities in Tripoli.
The trial, which convicted 32 other Gaddafi-era officials, was undermined by serious due process violations including lack of meaningful legal representation for defendants, repeated violations of defendants' right to communicate with their lawyers in confidence, and no opportunity for defendants to question prosecution witnesses in court. In February 2017, the UN issued a comprehensive report that concluded the criminal proceeding against Gaddafi and others failed to meet international fair trial standards. The UN Working Group on Arbitrary Detention also concluded in its November 2013 opinion that the gravity of the due process violations in Gaddafi's case made it impossible to guarantee him a fair trial in Libya.
Following Gaddafi's in absentia conviction in July 2015, Libya's parliament passed a general amnesty law. The law stipulates that those who commit crimes of terrorism, rape, torture, corruption, and murder by race or ethnicity may not receive an amnesty. However, it fails to rule out amnesty for other serious human rights crimes, such as forced displacement, forced disappearances, and unlawful killings.
On June 11, 2017, the Tripoli-based acting General Prosecutor, Ibrahim Massoud, asserted that Gaddafi was wanted for a retrial and did not qualify for the amnesty, and that in any event, only judicial authorities were authorized to determine who met the criteria outlined in the amnesty law. Massoud also reiterated that Gaddafi was wanted by the ICC. Libyan law stipulates that if a defendant is convicted in absentia, a retrial is to take place once the defendant is apprehended.
The internationally-recognized Government of National Accord is struggling to assert control over the country's institutions and territory. In western Libya, it competes for control and legitimacy with another self-proclaimed authority, the Government of National Salvation. Libya's parliament supports a third authority, the Interim Government in the eastern town of al-Bayda, as well as the Libyan National Army forces under Khalifa Hiftar. The parliament has failed to confirm the GNA cabinet.
In May 2014, an ICC appeals chamber upheld an earlier decision rejecting Libya's bid to prosecute Gaddafi domestically. The court held that Libya had not provided enough evidence to demonstrate that it was investigating the same case as the one before the ICC, a requirement under the ICC treaty for such challenges. The ICC also held that Libya was genuinely unable to carry out an investigation of Gaddafi.
Following Libya's failure to surrender Gaddafi to The Hague, ICC judges held in December 2014 that Libya had failed to cooperate with the court and forwarded their finding to the UN Security Council for follow-up. Though the Security Council has a range of options to encourage Libyan cooperation including resolutions, sanctions, and presidential statements, it has not formally acted. However, individual Security Council members have consistently stressed Libya's outstanding obligation to transfer Gaddafi to The Hague, including at the ICC prosecutor's last Libya briefing to the Council in May.
Al-Hadba Corrections Facility in Tripoli, where Gaddafi-era officials were being held pending an appeal of their conviction, was overrun on May 26 by the Tripoli Revolutionaries Brigade, an armed group under the command of Haitham al-Tajouri and allied with the GNA through the Interior Ministry. The Tripoli Revolutionaries Brigade moved the detainees - including Abdullah Sanussi, the Gaddafi era intelligence chief, former prime minister and former head of foreign intelligence Abuzeid Dorda, and al-Saadi Gaddafi, a brother of Saif al-Islam - to an undisclosed location, according to a family member of one of the detainees. But media reports said that Sanussi and other former Al-Hadba detainees were seen on June 12 in a Tripoli hotel controlled by al-Tajouri having a meal with family members and others.
In April 2017, the ICC unsealed a separate arrest warrant issued in 2013 for the former head of Muammar Gaddafi's Internal Security Agency, Mohamed Khaled Al-Tuhamy, for crimes against humanity and war crimes committed in Libya between February-August 2011. His whereabouts remain unknown.
While the ICC has a mandate over crimes against humanity, war crimes, and genocide committed in Libya since February 15, 2011, the ICC prosecutor's cases remain limited to officials from the former Gaddafi government. Human Rights Watch research in Libya since 2011 has shown rampant ongoing violations of international law, including mass long-term arbitrary detentions, torture, forced displacement, and unlawful killings. In the face of mounting atrocities, Human Rights Watch has called on the ICC prosecutor to urgently pursue an investigation into the ongoing crimes by all sides, some of which may amount to crimes against humanity.
Full report at:
http://allafrica.com/stories/201706151025.html
--------
Somalia: Govt Convenes Conference to Reconcile People
15 JUNE 2017
A five-day conference is underway in Mogadishu on Wednesday aimed at charting out the development of a reconciliation strategy to help unify the country.
A statement from the UN mission in Somalia said the delegates will map conflict zones, identify types, causes, and levels of conflict in the country, and will also hear the views of key stakeholders on conflict and dispute resolution mechanisms that will aid the formulation of a strategic reconciliation policy.
In his opening remarks, Deputy Prime Minister Mahdi Ahmed Guled reiterated the government's commitment to unify the country to achieve lasting peace and stability.
Guled said Somalia needs political and religious reconciliation, which has remained elusive because of conflict.
"With regard to religious reconciliation we are counting on you, the religious leaders, to engage in dialogue and give us a positive interpretation of what religion provides for. This will save us from the dangers of imported ideology which have been behind all this bloodshed," he added.
The meeting brought together representatives from the government, regional states, minority groups, civil society, academia, and traditional and religious leaders.
Somalia's Federal President Mohamed Abdullahi Farmaajo has promised that his administration would work to reconcile and unify communities to realize peace and security in the country.
Guled appealed to the delegates to engage in open and honest discussions to avoid a repeat of mistakes that led to the collapse of numerous reconciliation efforts in the past.
The conference covers topics such as conflict and peace, Somalia culture and reconciliation, Islam and reconciliation and traditional justice and reconciliation.
The chairperson of the Somali National Women's Association, Batulo Sheikh Ahmed Gaballe noted that Somali women have a crucial role to play in uniting the people of Somalia and fostering peace.
Full report at:
http://allafrica.com/stories/201706150826.html
--------
URL: https://www.newageislam.com/islamic-world-news/17-mosques-keralas-malappuram-single/d/111568
New Age Islam, Islam Online, Islamic Website, African Muslim News, Arab World News, South Asia News, Indian Muslim News, World Muslim News, Women in Islam, Islamic Feminism, Arab Women, Women In Arab, Islamophobia in America, Muslim Women in West, Islam Women and Feminism