New Age Islam News Bureau
11 Sept 2014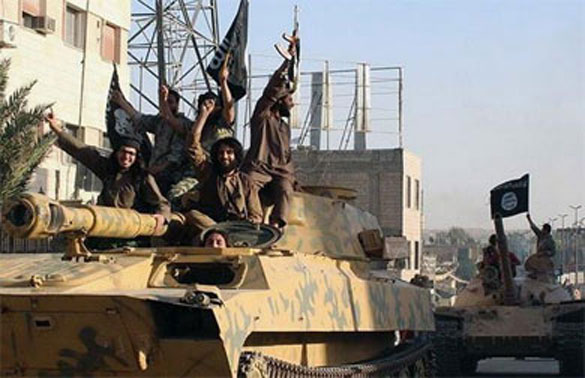 File - In this undated file image posted by the Raqqa Media Centre fighters from the Islamic State group sit on a tank during a parade in Raqqa, Syria. AP Photo/Raqqa Media Centre
-------------
India
• 15 Hyderabad Youngsters, Including a Girl, Wanted To Join ISIS Ranks
• Two School Students with Bollywood Dreams versus 'Love Jihad' Nightmare
• Follow Swami Vivekanada's message to avert acts like 9/11: Modi
Pakistan
• 65 terrorists killed in air strikes on Shawal, Dattakhel
• PPP urges army to take notice of 'exploiters'
• Army, air chiefs pledge joint fight against terror
• Imran vows to put up 'grand show' to mark a month of protests
• PTI, PAT sit-ins may lead to extra-constitutional steps, SC told
• Parliamentary parties reiterate unflinching support to PM
Africa
• Under Militia Power, Libya Fast Becoming A Failed State
• Young Libyans Head to Join IS
• Islamic Unity Convention joins SA Muslims in condemning ISIS
Arab World
• Iraqi Airstrike Kills 28 ISIL Terrorists in Northern Tikrit
• Jihadist-related arrests across Europe, Asia
• UAE ready to join anti-ISIL coalition
• IS 'Copycats' Behead Victim in Sinai, Claim He is 'Israeli Spy'
• IS Militants Retaliate After 'ISIS Flag Burning Challenge' Spreads Through Arab World
• Saudi Arabia agrees to host training camps for moderate Syrian rebels
• Syria opposition backs US anti-ISIL plan, urges action on Assad
• Fiji peacekeeper thanks Nusra for 'keeping us alive'
South Asia
• Afghan official says NATO air strike killed up to 14 civilians
• China gives cautious response to Obama's Islamic State call
• Maldives Journalists call to amend controversial regulations on publishing literature
• War Trial of Azharul: Prosecution's sloppiness gets on tribunal's nerves
• Ulema council calls on Afghan candidates to end election deadlock
North America
• Lashkar against improving ties between India and Pakistan: US official
• U.S. Muslim leaders denounce IS, pledge to dissuade youth from joining
• US Ambassador: Israel Helping US Tackle ISIS Threat
• September 11 Could Happen Again, Says New York Mayor
• Report: Obama to Ask for Billions to Fight Islamic State
• US presses Arabs for support as Obama vows to hit IS
• Turkey, US share view on ISIL: US official
• California school drops 'Arabs' for 'Mighty Arabs'
Europe
• UK Considering Setting Up Three New Bases to Fight ISIS in the Middle East
• Leading Terrorism Expert Calls for 'Counter-Jihadi Network'
• France says ready for air strikes in Iraq 'if necessary'
• Russian Archpriest: Future Belongs to Muslims, They are closer to Jesus
• Israel committed war crimes in Gaza, HRW investigation claims
• Watchdog confirms 'systematic' chlorine attacks in Syria
• UK Muslim students will be offered Sharia-friendly loans to get more pupils to go to university
Mideast
• Israel dismantles provocative new Al-Aqsa ramp
• Ankara faces difficult choices on ISIL
• Livni calls for diplomacy with 'moderates' to help counter IS
• Iran says emerging anti-Islamic State coalition 'shrouded in serious ambiguities'
• Turkey sends back 830 European jihadists
Southeast Asia
• Malaysian HM confirms former ISA detainees fighting in Syria
• Mideast Envoy Blair Meets SBY to Strengthen Ties between Islam and West
Compiled by New Age Islam News Bureau
URL: https://www.newageislam.com/islamic-world-news/new-age-islam-news-bureau/15-hyderabad-youngsters,-including-a-girl,-wanted-to-join-isis-ranks/d/99018
------------
India
15 Hyderabad Youngsters, Including a Girl, Wanted To Join ISIS Ranks
TNN | Sep 11, 2014
HYDERABAD: At least 15 engineering students, including a girl, from Hyderabad, attracted to the idea of fighting alongside ISIS in Iraq and Syria, were tracked down by the Telangana police in West Bengal this week after their parents complained they were missing. Police sources said their investigations have revealed the outreach of the Islamist jihadists in the country was greater than previously thought.
The police did not arrest or book any of them, who were brought from West Bengal. Instead, they kept talking to them. As a result, the students gave away more names including of the girl who had said she wanted to join ISIS in Iraq. They had plans to fly to Iraq from Bengal.
The ISIS, which has changed its name to Islamic State, wishes to establish a caliphate through jihad. To go global, it has been trying to attract Muslims from across the world to join its so-called jihad.
"The jihadist propaganda has been effective in luring youth who were told that the proposed Islamic State could become a reality if youth from different parts of the world joined the fight. They have a vague idea of the Islamic State and its objectives or the operation. They thought they would be fighting against tyrannical rulers and creating a new Islamic state," a police officer investigating the case said.
Cops have identified one student from Karimnagar who was the brains. He had floated the "jihad" idea to his friends through social networking sites. Among those he was able to influence was a relative of former SIMI operative from the city accused in a terror case.
The group was in regular touch through code language. As suggested by the Karimnagar boy, the other group members got passports. Some also received money from unidentified sources. The amount sent to them was in the range of about Rs 3.5 Lakh.
"We spoke to the boys and their parents and counselled them against getting involved with ISIS. But we won't leave things at that. They're being probed and we'd like to know who sent them money," said a cop.
http://timesofindia.indiatimes.com/india/15-Hyderabad-youngsters-including-a-girl-wanted-to-join-ISIS-ranks/articleshow/42202002.cms
------------
Two School Students with Bollywood Dreams versus 'Love Jihad' Nightmare
Sep 11 2014
Bhaiyya ho sake to mujhe maaf kar dena. Mere paas koi raasta nahin tha, main Mumbai ja raha hoon. Main ab ek kaamyaab singer bankar aap ko online nazar aaunga (Bhaiya, please forgive me. I had no other option, I am going to Mumbai. Now you will see me online as a successful singer)."
This is from the letter left behind by a 15-year-old Muslim boy from Meerut, who went missing along with a classmate on Teachers' Day, sparking off charges of 'love jihad', communal tension in Meerut district, and a desperate hunt by the police till they were tracked a day later in Jaipur.
Police say the two Class X students are nothing more than good friends. "There is no angle of love. The girl has recorded a statement before the police. She said she went with the boy of her own will and that the boy did not take any advantage of her," says Vinod Kumar Singh, SHO, Nauchandi Police Station.
With an FIR filed against him under Section 363 (kidnapping) of the IPC, the boy has been sent by a magisterial court to a correctional home in Surajkund, Meerut. The 14-year-old girl is expected to record her statement before the court.
A day after news of the two students going missing had spread, right-wing protesters had hit the streets in Meerut, holding a road blockade, vandalising and robbing two shops owned by Muslims and attacking the house of a Muslim, to put pressure on the police to arrest the boy.
The youngest of eight siblings, including three sisters, the 15-year-old boy apparently fled home only to become a singer. With their father away in Maharashtra working as a carpenter, it's the boy's eldest brother, 30, who takes care of the family. A carpenter, he barely manages to provide for the family.
Says a sister, "Our mother would scold him and tell him to be more religious and read the Namaaz. Uski baat humne kabhi suni nahin… uske gaane ka shauk poora nahin kiya. Aur ab aise din aa gaye ki usko ghar chodna padha (We never listened to him… didn't fulfill his passion for singing. Things came to such a state that he had to leave home)."
The sister adds she had gifted him a mike on Eid in July and earlier a keyboard. "But for a year he had been asking me to get him admitted into a music school. I couldn't."
The family has recovered a memory card, which has video recordings of him singing. "He used to record the songs on my mobile, and then transfer these to a memory card," says a brother.
At one point though, the boy wanted to join IIT. "He scored 91 per cent in Class IX. He said he wanted to take tuitions and join IIT so that he could earn Rs 1 Lakh a month. He always dreamt big," says his sister.
Police say the boy's friend too was good in academics, and the private school they studied in had no complaint against them.
In his letter to the family though, the boy mentions the "embarrassment" he faced at school over non-payment of fees once. "There were times when our brother could not pay his fees and once he was asked about it in front of the class," says the eldest sister, who is married but lives with her children at her parental home.
According to the police, the boy told the girl about his plan to leave for Mumbai to pursue a singing career, and she decided to join him. However, the two didn't have the money or the means, and the boy contacted a friend in Jaipur, who apparently assured help to get them to Mumbai.
"The boy did not have a mobile. But he had messaged this friend on Facebook," the police said.
The owner of one of the two shops to face right-wing ire over the elopement, Mohammed Gulfam is planning to shift his Sameer Beauty salon now. He is the only Muslim owner of a shop in Shastri Nagar's Sector 3 area, and he no longer feels safe, he says. "My shop was previously attacked during the Indo-Pak match. This time too my shop was attacked, luckily I had shut it down early," Gulfaam says.
A mob of an estimated 50 people attacked the salon, broke the door down and damaged property. Gulfam claims to have lost Rs 12,000 kept inside.
"We have registered a case of theft and damage to property," say the police.
The other shop damaged was Rangeela Hair Dresser in the same area. Owner Mohd Mobeen was winding up his business for the day at around 10 pm when the mob came. A fearful Mobeen fled to a neighbour's house. "They came with rods and attacked the mirrors first," says Mobeen, adding that the attackers were young and had their faces covered.
The police have also lodged a case in the attack on the residence of Mushir Zaidi, who lives in Sector 4, Shastri Nagar. Apart from an arson attempt and damage to property, the attackers have been slapped with rioting charges. The third case relates to a road blockade on Nayi Sadak in Meerut district by the same mob.
The girl and boy were found late in the evening of September 6. Relieved that the incident hadn't blown up any further, SHO Singh shakes his head in dismay. "They were kids," he says. "They did not know what they were doing. They had performed together before in school."
In his letter, the boy says: "Wherever I'm going, it's to find success. I'll never return home. If you try to find me, I'll kill myself."
http://indianexpress.com/article/india/uttar-pradesh/two-school-students-with-bollywood-dreams-versus-love-jihad-nightmare/99/
------------
Follow Swami Vivekanada's message to avert acts like 9/11: Modi
IANS | Sep 11, 2014
NEW DELHI: If Swami Vivekananda's message of universal brotherhood been followed by the world, history would not have witnessed "dastardly acts" like 9/11 in the US, said Prime Minister Narendra Modi on Thursday.
"Had we followed Swami ji's message, history would never have witnessed such dastardly acts as we saw on 11th September 2001 in USA. Let us remember the words of Swami Vivekananda and dedicate ourselves to furthering the cause of unity, brotherhood and world peace," Modi said in a tweet.
On Sep 11, 2001, the US had witnessed its worst terror attack when two hijacked aircraft crashed into the north and south towers of World Trade Center in New York City of America, killing thousands of people.
Also on this day in 1893, Swami Vivekananda had created history by his soul-stirring address at World Parliament of Religions in Chicago.
"There are two images of 11th September — one of the trail of destruction in 2001 and the other — the message of Swami Vivekananda in 1893. Through his address, Swami Vivekananda drew the entire world's attention to our nation's rich history and strong cultural roots.
"Sisters and brothers of America with these words of Swami Vivekananda, India's message of universal brotherhood reverberated across the world," he added.
11th September 1893 - the day Swami Vivekananda created history by his soul-stirring address at World Parliament of Religions in Chicago.
— Narendra Modi (@narendramodi) September 11, 2014
Through his address, Swami Vivekananda drew the entire world's attention to our Nation's rich history & strong cultural roots.
— Narendra Modi (@narendramodi) September 11, 2014
"Sisters & brothers of America"...with these words of Swami Vivekananda,India's message of universal brotherhood reverberated across the world
— Narendra Modi (@narendramodi) September 11, 2014
There are 2 images of 11th September- one of the trail of destruction in 2001 & the other- the message of Swami Vivekananda in 1893.
— Narendra Modi (@narendramodi) September 11, 2014
Had we followed Swami Ji's message, history would never have witnessed such dastardly acts as we saw on 11th September 2001 in USA.
— Narendra Modi (@narendramodi) September 11, 2014
Let us remember the words of Swami Vivekananda & dedicate ourselves to furthering the cause of unity, brotherhood and world peace.
— Narendra Modi (@narendramodi) September 11, 2014
http://timesofindia.indiatimes.com/india/Follow-Swami-Vivekanadas-message-to-avert-acts-like-9/11-Modi/articleshow/42247695.cms
-----------
Pakistan
65 terrorists killed in air strikes on Shawal, Dattakhel
September 11, 2014
ISLAMABAD: Sixty-five terrorists were killed and their five hideouts destroyed in air strikes by the Pakistan Air Force jets on Wednesday in the North Waziristan Agency, ISPR said.
The military first carried out air strikes early on Wednesday in the Dattakhel area of North Waziristan, killing 35 terrorists and later targeted a village in the Shawal Valley, killing another 30.
The PAF jets carried out precision strikes after getting credible intelligence about the presence of militants there.The conflict zone is off-limits to journalists, so there is no way to independently verify the number and identity of those killed.
Air strikes, artillery, mortars and ground troops have all been used to retake the territory in North Waziristan, which had become a haven for the fighters of the Tehreek-e-Taliban Pakistan (TTP) and other militant outfits.
Meanwhile, Chief of the Army Staff (COAS) General Raheel Sharif on Wednesday said that the Operation Zarb-e-Azb would continue till the elimination of last terrorist.He emphasised that terrorists would be pursued even in the remotest areas and all their sanctuaries would be taken out during the Operation Zarb-e-Azb.
He made these remarks in a meeting with the Chief of the Air Staff, Air Chief Marshal Tahir Rafique Butt, who called on him during his visit to the GHQ here on Wednesday. According to the ISPR, both thechiefs reviewed the progress of the ongoing Operation Zarb-e-Azb and discussed the conduct of future operations.
They vowed to employ all resources for a joint campaign plan and ensure the success of Operation Zarb-e-Azb. The military operation Zarb-e-Azb is completing its third month. The operation was launched by the Pakistan Army on June 15 following a brazen militant attack on the Jinnah International Airport and failure of peace talks between the government and TTP negotiators.
The military has said the major towns of Miranshah and Mir Ali had now been cleared of insurgents, along with a 90-kilometre road through North Waziristan.The army announced earlier this month it had killed more than 900 militants and lost 82 soldiers since the start of the operation. After one set of air strikes in Shawal Valley in July, multiple accounts by residents said 37 civilians were killed, including 20 women and 10 children.
http://www.thenews.com.pk/Todays-News-13-32805-65-terrorists-killed-in-air-strikes-on-Shawal-Dattakhel
------------
PPP urges army to take notice of 'exploiters'
11 September 2014
PESHAWAR - Leader of the Opposition in the National Assembly Syed Khursheed Shah has urged Army Chief General Raheel Sharif to take notice of dragging army into political matters.
Addressing a press conference in Peshawar, he said COAS would certainly fight any one challenging the mandate of public and attacking the institutions of parliament and judiciary.
Shah said there was a procedure for removal for prime minister in the constitution by bringing no-confidence motion in the assembly. He said the existing political crisis would be resolved in the Parliament.
The opposition parties, he said, were not fighting for Nawaz Sharif's government but they are struggling to protect supremacy of the parliament and democracy in the country. "We are not fighting a battle for prime minister, we are fighting for parliament," he said.
He maintained that Pakistan People's Party will not let democracy to derail and its leadership would always struggle to strengthen the democratic institutions. "We will safeguard the constitution till the last moment," he said, adding that no government can be ousted by playing songs and music.
Full report at:
http://www.nation.com.pk/national/11-Sep-2014/ppp-urges-army-to-take-notice-of-exploiters
------------
Army, air chiefs pledge joint fight against terror
11 September 2014
RAWALPINIDI: Chief of Air Staff Air Chief Marshal Tahir Rafique Butt and Chief of Army Staff General Raheel Sharif on Wednesday vowed joint fight against terror.
Butt visited GHQ on Wednesday and called on General Sharif. Both chiefs reviewed the progress of ongoing operation Zarb-e-Azb and discussed conduct of future operations. They vowed to employ all resources for a joint campaign plan and ensure success of operation Zarb-e-Azb. The COAS said the terrorists will be pursued even in the remotest areas and all their sanctuaries will be taken out. Meanwhile, at least 30 suspected terrorists have been killed as gunship helicopters and fighter jets pounded their hideouts.
Toll from the second assault in North Waziristan Agency has reached 65 on Wednesday, the army said in the latest update on Operation Zarb-e-Azb. The air blitz took place in Shawal area which was considered a stronghold of foreign militants, including Uzbeks. The military's media wing, the Inter-Services Public Relations (ISPR), stated that a precise strike on two hideouts destroyed an explosives dump.
Full report at:
http://www.dailytimes.com.pk/national/11-Sep-2014/army-air-chiefs-pledge-joint-fight-against-terror
------------
Imran vows to put up 'grand show' to mark a month of protests
11 September 2014
ISLAMABAD: Pakistan Tehreek-i-Insaf (PTI) Chairman Imran Khan said that his protest movement will complete one month on Saturday and vowed to put up a grand show to express national solidarity, DawnNews reported.
Speaking to participants of his Azadi sit-in at D-Chowk, he vowed to bring more evidence against the government to make his party's case even stronger. "On Saturday, we will unveil things which should have been brought in the parliament," he said.
The PTI chairman criticised the federal ministers for claiming a trillion rupees loss due to his and Dr Tahirul Qadri's sit-ins in the federal capital. He demanded an explanation into the allegation.
Brushing aside allegations of paying electricity bills and not following his own civil disobedience movement, Khan termed it false propaganda. He urged the masses not to pay power bills.
Despite paying IPPs billions of rupees, why circular debt of the power sector has increased, he questioned.
Full report at:
http://www.dawn.com/news/1131106/imran-vows-to-put-up-grand-show-to-mark-a-month-of-protests
------------
PTI, PAT sit-ins may lead to extra-constitutional steps, SC told
September 11, 2014
ISLAMABAD - The parliamentary parties Wednesday feared that present political crisis emerged in view of sit-ins of Pakistan Tehreek-e-Insaf and Pakistan Awami Tehreek may lead to extra-constitutional steps.
Senator Raza Rabbani representing Awami National Party and Balochistan National Party (Awami) before a five-member bench expressed apprehension that due to the lingering imbroglio the extra-constitutional steps may be on the cards. He in his reply to LHCBA petition put questions; "Whether any 'political party' or any other group, could at all seek 'constitutional office bearer' to disengage from office under 'threat of violence or use of force in violation of the Constitution? Whether any political leader can legitimately involve the Pakistan Army in his design to achieve his unconstitutional objectives by attempting to reassure his followers that army by a 'yes' or 'no' will determine the future course of his action? Whether political leaders can misrepresent the support of Pakistan Army to their cause in public or private communications, thereby compromising the image of a national institution?"
Full report at:
http://www.nation.com.pk/editors-picks/11-Sep-2014/pti-pat-sit-ins-may-lead-to-extra-constitutional-steps-sc-told
------------
Parliamentary parties reiterate unflinching support to PM
September 11, 2014
ISLAMABAD: The parliamentary parties' heads as well as the close aides in the ruling party in their separate meetings with Prime Minister Nawaz Sharif reiterated their unflinching support to the government against acceptance of any unconstitutional demand of Pakistan Tehreek-e-Insaf and Pakistan Awami Tehreek staging sit-ins for 28 days.
Prime Minister Nawaz Sharif discussed with the heads of parliamentary parties the progress so far made in the negotiations with both the protesting parties and sought their input on it.
The sources aware of the deliberations of the meeting informed The Nation that the option of the prime minister's resignation was rejected outright while some of the leaders also raised objections to some other demands of PAT and PTI, terming it sheer negation of the Constitution.
The ambit of probe into the allegations of rigging by the proposed judicial commission comprising judges of the Supreme Court of Pakistan also came under debate with the participants demanding clarity in the ambit and scope of investigations, the point Prime Minister Sharif agreed to.
Full report at:
http://www.nation.com.pk/editors-picks/11-Sep-2014/parliamentary-parties-reiterate-unflinching-support-to-pm
----------
Africa
Under militia power, Libya fast becoming a failed state
11 September 2014
CAIRO — After three years of chaos since Muammar Gaddafi's fall, Libya is further crumbling into a failed state after Islamist-allied militias took over the capital Tripoli and other cities and set up their own government, driving out a parliament that was elected over the summer.
The militia takeover last month has raised alarm in the West. Among the militias are extremists, including Ansar Al-Sharia, which now rules the country's second largest city, Benghazi. The group is blamed for the killing of the US ambassador and three other Americans in a 2012 attack on a US diplomatic facility in the city. France's defense minister in an interview published Tuesday warned that Libya is a "hub for terrorists" and called for international action, even talking of moving French troops to the borders.
Beyond fears of extremists, many Libyans worry their country is on the verge of complete fragmentation. Fighting the past month as the militias took over Tripoli and Benghazi drove more than 100,000 Libyans from their homes and some 150,000 foreign workers out of the country. Tripoli's international airport was virtually demolished as rival militias battled to control it. During the fighting, both sides wildly bombarded residential neighborhoods and kidnapped civilians suspected of supporting their opponents, acts that Human Rights Watch this week said amount to crimes against humanity.
"Libya has entered the condition of a failed state. We are very similar to Lebanon in the 1980s or Somalia," said Libyan analyst Ezz Eddin Ukail, speaking from neighboring Tunisia. "We are at the doorstep of a civil war."
Now the oil-rich North African nation has two rival, would-be governments. One, based in Tripoli, has been declared by Islamists backed by the might of an umbrella group of militias called Libya Dawn, which controls the capital.
Full report at:
http://www.saudigazette.com.sa/index.cfm?method=home.regcon&contentid=20140911217805
------------
Young Libyans head to join IS
11 September 2014
ISTANBUL — "I am heading to join my brothers of the Islamic Caliphate in Iraq."
These few words were the crux of a short phone conversation Muad had with his father before he hung up. The father, completely shocked at the announcement, tried to call back the number which his son used but found it switched off. The call came from Turkey.
Muad, 16 years old, normally lives with his family in Khoms, 125 km east of Tripoli.
His father claims that there is a local network there which helped get the boy to Syria and Iraq.
"On Thursday evening he said that he was going to a wedding of one of his friends," the father told the Libya Herald. "The next day he called me in the evening from Turkey telling that he was going to join IS."
Trying to work out how Muad could have got himself involved in such a deadly enterprise, and so quickly to Turkey, the father immediately suspected someone with whom Muad had recently spent a great deal of time, an individual who was deeply religious.
The father says that when contacted, the man happily admitted to having put Muad in touch with a group involved in arranging for Libyans to go to Syria and Iraq. Indeed, he said the man's brother, whom he called "Emir" Hamza, was currently moving back and forward between Syria or Iraq, his mission being to get young Libyans to go and join the IS.
Full report at:
http://www.saudigazette.com.sa/index.cfm?method=home.regcon&contentid=20140911217809
------------
Islamic Unity Convention joins SA Muslims in condemning ISIS
Sep 11 2014
Johannesburg - The Islamic Unity Convention (IUC) has joined several South African Muslim bodies in condemning the actions of the Islamic State in Iraq and Syria (Isis).
It said in a statement on Wednesday that core tenets of Islam included love, peace and unity and justice and that these values were not reserved only for Muslims.
"It is therefore with abhorrence that the Islamic Unity Convention witnesses the crimes of the so-called 'Islamic State' (Isis)," it said.
"How can a group claiming to act in the name of Islam... build a caliphate on mass murders and human rights abuses?"
Last week the Muslim Judicial Council urged the United Nations to put an end to atrocities in the region.
"The Muslim Judicial Council unequivocally condemns the group... for the mass murder and destruction committed against innocent civilians, religious minorities, scholars and places of worship," it said.
"We reject this murderous group which seeks legitimacy amongst Muslims by claiming the noble title of the caliphate while it violates Islamic sharia (law) and brings disrepute to the noble legacy of the house of Islam."
Full report at:
http://www.iol.co.za/news/politics/iuc-joins-sa-muslims-in-condemning-isis-1.1749052#.VBFPicJdU4U
---------
Arab World
Iraqi Airstrike Kills 28 ISIL Terrorists in Northern Tikrit
11 September 2014
The Iraqi air force fighter jets killed 28 terrorists of the Islamic State of Iraq and the Levant in Northern Tikrit.
"The air force conducted an airstrike against the ISIL terrorists in Siniya district of Beiji district, killing 28 of them in addition to burning seven of their vehicles," a security source said.
http://english.farsnews.com/newstext.aspx?nn=13930619001481
------------
Jihadist-related arrests across Europe, Asia
Sep 11 2014
CANBERRA/MANILA/VIENNA: Jihadist-related arrests and deportations took place Wednesday across Europe and Asia, highlighting the attention given to the possible threats posed by returning fighters.
In Australia, police arrested two men for allegedly preparing to fight in Syria, recruiting jihadists and raising money for the Nusra Front.
Australian Federal Police Assistant Commissioner Neil Gaughan said 180 police took part in the raids on nine properties in the east-coast cities of Brisbane and Logan.
The raids came hours after Australian Security Intelligence Organization Director-General David Irvine warned that the terrorist threat level could be lifted from "medium" to "high" this week because of the growing danger posed by ISIS supporters and others.
The two men, who have not been identified, are aged 21 and 31 and will appear in court Thursday charged with making preparations for incursions into Syria with intentions of engaging in hostile activity, Gaughan said.
In the Philippines, a top immigration official said authorities planned to deport a Canadian national this week after he was reported to be "inciting and recruiting locals to conduct terrorist activities."
Full report at:
http://www.dailystar.com.lb/News/Middle-East/2014/Sep-11/270294-jihadist-related-arrests-across-europe-asia.ashx#ixzz3CzXPJeVk
------------
UAE ready to join anti-ISIL coalition
Sep 11 2014
NEW YORK // The UAE is "ready to join a coordinated international response" to combat Islamist extremists in Iraq and Syria, the ambassador to Washington has said, signalling that Abu Dhabi is prepared to contribute to international military action against the militants.
Writing in the Wall Street Journal two days before the US secretary of state meets with foreign ministers from the GCC, Jordan and Egypt to convince them to take part in US-led efforts against ISIL, Yousef Al Otaiba also said that a strategy limited to only fighting that group and not Islamist militancy more broadly would ultimately fail.
"The Islamic State may be the most obvious and dominant threat at present, but it is far from the only one," Mr Al Otaiba wrote. "An international response must confront dangerous Islamist extremists of all stripes across the region", including Al Qaeda affiliates in Yemen, Libya and Tunisia, Egypt and Syria.
His comments were the UAE's most detailed public statement addressing Barack Obama's push for an international and regional coalition to, in the US president's words, "degrade and ultimately defeat" the insurgent group that has captured large parts of Syria and Iraq.
Mr Obama will deliver a rare prime time address to Americans on Wednesday night laying out a strategy that is the culmination of weeks of deliberations within his administration and with policy experts in Washington and members of Congress from both parties.
Full report at:
http://www.thenational.ae/world/middle-east/uae-ready-to-join-anti-isil-coalition#full#ixzz3CzPZtoce
------------
IS 'Copycats' Behead Victim in Sinai, Claim He is 'Israeli Spy'
Sep 11 2014
A beheaded corpse was found in the Sinai Peninsula Wednesday, residents said - bearing a note from a terror group linked to the Islamic State (IS) alleging the victim was an "Israeli spy."
"This is the fate of all who prove to be traitors in their homeland," the note said, claiming the victim "worked for the Mossad."
The body was found in a village south of the town of Sheikh Zuweid in northern Sinai, residents told Reuters.
This is the eighth victim in one month linked to the group - the Al-Qaeda-inspired Ansar Bayt al-Maqdis - which has now, allegedly, taken inspiration from IS and its copycats.
In a similar incident several weeks ago, four decapitated bodies were found in the same town, which is about 15 kilometers (9 miles) from the Gaza border. Egyptian police established that the men had been kidnapped from Cairo several days beforehand.
Full report at:
http://www.israelnationalnews.com/News/News.aspx/184975#.VBFRvsJdU4U
------------
IS Militants Retaliate After 'ISIS Flag Burning Challenge' Spreads Through Arab World
Sep 11 2014
As Islamic State (IS) militants continue to wage their bloody war across Iraq and Syria, brave civilians used social media to show they were not afraid.
But now, IS has violently retaliated after activists launched their own version of the ALS 'Ice Bucket Challenge' under the hashtag #BurnISISFlagChallenge or #BurnISIS.
Extremists have reportedly kidnapped dozens of residents of a northern Iraq village after villagers burned one of their black flags, along with one of their bases.
AFP reported that militants withdrew from Tal Ali in Kirkuk province last week, but returned in force a day later and abducted some 50 people.
The defiant flag-burning trend was reportedly instigated after three young men set fire to an Islamic State flag in a Beirut square following the presumed beheading of a Lebanese officer.
As others picked up on the idea, more images and videos were posted online. And, just like the Ice Bucket Challenge, in which people nominate others to also partake in the task, this user nominated "the whole world" to take part.
But following the mass kidnapping, IS have demonstrated that they will retaliate brutally to any act of defiance.
Full report at:
http://www.huffingtonpost.co.uk/2014/09/09/isis-flag-burning-challenge_n_5790074.html
------------
Saudi Arabia agrees to host training camps for moderate Syrian rebels
Sep 11 2014
REUTERS - Saudi Arabia has agreed to host training camps for moderate Syrian rebels as part of President Barack Obama's broad strategy to combat Islamic State militants who have taken over parts of Syria and Iraq, U.S. officials said on Wednesday.
The agreement, outlined by Obama's aides on the night of his speech to the American people laying out his expanded campaign against the Islamist group, appeared to reflect the depth of Saudi concern about Islamic State's threat to the region.
Obama announced he had authorized stepped-up U.S. airstrikes in Iraq and for the first time would extend the aerial assault into Syria, where he also vowed to beef up support for moderate rebels fighting to overthrow Syrian President Bashar al-Assad.
U.S. officials said a critical component of the plan to train and equip the Syrian insurgents, who have received only modest American backing so far and have failed to coalesce into a potent fighting force, was the Saudis' willingness to allow use of their territory for the U.S. training effort.
"Now what we have is a commitment from the kingdom of Saudi Arabia ... to be a full partner with us in that effort, including by hosting that training program," a senior U.S. official told reporters in a conference call.
The Saudi decision came to light after Obama spoke by phone earlier in the day with Saudi King Abdullah.
Full report at:
http://www.haaretz.com/news/middle-east/1.615252
------------
Syria opposition backs US anti-ISIL plan, urges action on Assad
Sep 11 2014
Syria's opposition National Coalition welcomed a US plan to tackle the Islamic State in Iraq and the Levant (ISIL) on Sept. 10, but also urged action against President Bashar al-Assad's regime.
In a statement, the group said it backed a US plan for air strikes in Syria and training of rebel forces, but that a "stable and extremist-free region" required "degrading and ultimately removing the Assad repressive regime."
Earlier, US President Barack Obama pledged a "relentless" war against the Islamic State, a jihadist group that has declared an Islamic "caliphate" in large tracts of territory in Syria and Iraq.
The group has carried out abuses including beheadings and crucifixions, and faced a backlash from Syrian rebel groups opposed to its violations and harsh interpretation of Islam.
Obama said he would "not hesitate to take action against ISIL in Syria," using a different acronym for the group, and pledged to strengthen Syria's opposition.
The Syrian Coalition said it had "long called for this action, and... warned time and again of the growing threat of this extremist group."
Full report at:
http://www.hurriyetdailynews.com/syria-opposition-backs-us-anti-isil-plan-urges-action-on-assad.aspx?pageID=238&nID=71575&NewsCatID=352
------------
Fiji peacekeeper thanks Nusra for 'keeping us alive'
11 September 2014
While al-Qaeda's Syrian affiliate Al-Nusra Front has said it will free 45 Fijian U.N. peacekeepers, it released a video late Wednesday showing a Fijian peacekeeper thanking the militant group for keeping him and his colleagues alive, Agence France-Presse reported.
In the video released through its media wing, Al-Nusra Front said it had consulted religious leaders and they had advised "that we should release these prisoners."
A Fijian peacekeeper, who did not identify himself, spoke in the footage, confirming that the group had pledged to free the soldiers.
"It is Tuesday, the ninth of September, I would like to mention to you that it is a very happy day," the peacekeeper says in English.
"We have been informed that we will be released soon and we are all very happy to be going home."
Full report at:
http://english.alarabiya.net/en/News/middle-east/2014/09/11/Nusra-Front-shows-video-of-kidnapped-U-N-peacekeepers.html
------------
South Asia
Afghan official says NATO air strike killed up to 14 civilians
11 September 2014
ASADABAD, Afghanistan — A NATO air strike in eastern Afghanistan killed 14 people, including civilians, and wounded at least 13 others, an Afghan official said, just months before most foreign forces pull out of the country.
President Hamid Karzai condemned the deaths. A statement from his office said US aircraft were responsible for the strike.
Civilian casualties have been a source of recurring tension between the US and the Afghan government.
The governor of Kunar province, Shuja ul-Mulk Jalala, said villagers brought the bodies of the 14, including two children, from their insurgent-dominated district of Narang to the provincial capital to complain that they were all civilians.
The US-led military coalition in Afghanistan said it was looking into the incident. Jalala said a group of Afghan police and US forces called in at least two air strikes when they came under attack late on Tuesday in a remote, mountainous area.
The area is barely under government control, the governor said, so it was difficult to confirm exactly what happened. A US military spokesman, Maj. Paul Greenberg, said a coalition precision strike killed one armed insurgent on Tuesday in Kunar's Dangam district.
"A second operation was conducted on the same night in Narang District, Kunar Province, and we are currently looking into the circumstances of that operation," Greenberg said.
http://www.saudigazette.com.sa/index.cfm?method=home.regcon&contentid=20140911217823
------------
China gives cautious response to Obama's Islamic State call
11 September 2014
BEIJING - China responded cautiously on Thursday to a call by US President Barack Obama for a broad coalition to root out Islamic State militants in Iraq and Syria, saying the world should fight terror but that the sovereignty of countries must be respected.
Obama also told Americans on Wednesday that he had authorized US air strikes for the first time in Syria and more attacks in Iraq in an escalation of a campaign against Islamic State.
Chinese Foreign Ministry spokeswoman Hua Chunying said the world was facing a terror threat that was a "new challenge" to international cooperation.
"China opposes all forms of terrorism, and upholds that the international community must jointly cooperate to strike against terrorism, including supporting efforts by relevant countries to maintain domestic security and stability," Hua told a daily news briefing when asked about Obama's comments.
"At the same time, we also uphold that in the international fight against terrorism, international law should be respected and the sovereignty, independence and territorial integrity of relevant nations should also be respected," she added.
http://www.jpost.com/Breaking-News/China-gives-cautious-response-to-Obamas-Islamic-State-call-375033
------------
Maldives Journalists association calls on government to amend controversial regulations on publishing literature
By Ahmed Naish | September 11th, 2014
The Maldives Journalist Association (MJA) has called on the government to amend controversial new regulations enacted this week that subjects prose and poetry published in the Maldives to government approval.
The MJA contended in a press release yesterday that the regulations were unconstitutional, noting that Article 27 guarantees "the right to freedom of thought and the freedom to communicate opinions and expression in a manner that is not contrary to any tenet of Islam."
"The Article does not state that free expression could be restricted by law. Only expressions or opinions contrary to a tenet of Islam are restricted," the MJA observed.
While the MJA urged a proper review of regulations before enforcement or publication in the government gazette, political groups, civil society, and the information commissioner have also criticised the new rules.
Full report at:
http://minivannews.com/politics/journalists-association-calls-on-government-to-amend-controversial-regulations-on-publishing-literature-90047
------------
War Trial of Azharul: Prosecution's sloppiness gets on tribunal's nerves
11 September 2014
The International Crimes Tribunal-1 yesterday reprimanded both the prosecution and the war crimes investigation agency for their sloppiness in handling the case against Jamaat-e-Islami leader ATM Azharul Islam.
"In our childhood, we believed in demonic possession. Now it is a digital era but from their report, it seems that the prosecution is under the possession. [On the same subject], report 'Ka' is different from report 'Kha'," said Tribunal-1 Chairman Justice M Enayetur Rahim.
The criticism came when the defence highlighted several inconsistencies in the documents submitted by the prosecution to prove Azhar's guilty of crimes against humanity and genocide during the liberation war.
The prosecution says Azharul was the president of Jamaat's then student wing Islami Chhatra Sangha of Rangpur unit in 1971, but defence counsel Abdus Subhan Tarafder yesterday pointed out that a prosecution document showed Azharul as president of Chhatra Front, a student body backed by left-leaning Bangladesher Samajtantrik Dal.
Full report at:
http://www.thedailystar.net/city/prosecutions-sloppiness-gets-on-tribunals-nerves-41190
------------
Ulema council calls on Afghan candidates to end election deadlock
Sep 11 2014
The Ulema Council of Afghanistan has called on presidential candidates Dr. Abdullah Abdullah and Dr. Ashraf Ghani Ahmadzai to end the deadlock over Afghanistan's presidential election.
Head of the Ulema Council of Afghanistan, Qeyamuddin Kashaf has said the only solution to the current situation was a speedy agreement on the formation of a national unity government in order to prevent a crisis and in the best interests of the Afghan people.
The issue was shared during a meeting beteween the UN Secretary General's Special Representative for AFghanistan Jan Kubis and Mr. Kashaf, the UN mission in Afghanistan said.
The Special Representative met the Ulema Council members, including its head, Qeyamuddin Kashaf, on Tuesday, to consult with them and seek their advice on the current situation between the two presidential candidates as part of his ongoing engagement with diverse stakeholders in support of the electoral process.
Full report at:
http://www.khaama.com/ulema-council-calls-on-afghan-candidates-to-end-election-deadlock-8627
------------
North America
Lashkar against improving ties between India and Pakistan: US official
PTI | Sep 11, 2014
WASHINGTON: Asserting that Pakistan and Afghanistan based militant groups continue to pose a direct threat to the US interests and its allies in the region, a top American counter-terrorism official has said that the LeT is against improving relations between India and Pakistan.
"Lashkar-e-Taiba (LeT) is against improving relations between India and Pakistan, and its leaders consistently speak out against (India) and the US, accusing both countries of trying to destabilise Pakistan," Nicholas Rasmussen, deputy director, National Counterterrorism Center, Office of the Director of National Intelligence, told lawmakers on Wednesday.
LeT has attacked western interests in South Asia in pursuit of its regional objectives, as demonstrated by the targeting of hotels frequented by westerners during the Mumbai attacks in 2008, Rasmussen said in his testimony before the Senate Homeland Security and Governmental Affairs Committee hearing on "Cybersecurity, Terrorism and Beyond: Addressing Evolving Threats to the Homeland."
LeT leaders almost certainly recognise that an attack on the US would result in intense international backlash against Pakistan and endanger the group's safe haven there, he said.
"However, LeT also provides training to Pakistani and western militants, some of whom could plot terrorist attacks in the west without direction from LeT leadership," he said.
Full report at:
http://www.thehindu.com/news/international/world/syrian-military-kills-32-rebels/article6399936.ece
-----------
U.S. Muslim leaders denounce Islamic State, pledge to dissuade youth from joining
Sep 11 2014
More than two dozen Muslim American clerics and community leaders condemned Islamic terrorism at a crowded news conference in the District on Wednesday, denouncing the atrocities committed by the Islamic State in Iraq and Syria and calling on young Muslim Americans to resist the appeal of jihadist ideology.
The leaders, who were joined by several officials from the Department of Homeland Security, stressed that the great majority of Muslim Americans are loyal and peaceful citizens. They vowed to cooperate with law enforcement officials and to work to dissuade Muslim youths from following violent jihadi paths.
"Young people, please do not listen to this ideology," said Mohammed Magid Dar, director of the All Dulles American Muslim Society in Sterling, the largest mosque in the Washington region. "If someone asks you to join this cult or this group, resist the slogans that promise justice but carry out injustice."
David Gersten, coordinator for countering terrorist extremism at the Department of Homeland Security, said Muslim American communities need to be the "front lines" against the blandishments of Islamist fighters trying to recruit youths to Islamic State's cause, especially via social media.
It was the first time a U.S. official had appeared publicly with Muslim American leaders here. Officials of the Muslim Public Affairs Council, a national nonprofit advocacy group, organized the news conference and asked Homeland Security officials to attend.
The group's declarations came hours before President Obama was scheduled to address the nation and lay out his strategy for combating the Islamic State. One speaker asked that the group be referred to as the "Anti-Islamic State" and noted that most of its victims are Muslims.
Full report at:
http://www.washingtonpost.com/local/us-muslim-leaders-denounce-islamic-state-pledge-to-dissuade-youth-from-joining/2014/09/10/e6a27f8e-38f9-11e4-bdfb-de4104544a37_story.html
------------
US Ambassador: Israel Helping US Tackle ISIS Threat
Sep 11 2014
In an interview Thursday, US Ambassador to Israel Dan Shapiro said that the US and Israel would continue to cooperate diplomatically and militarily in the wake of US President Barack Obama's speech Wednesday night laying out a strategy for fighting ISIS, the Islamist terror group that has conquered large parts of Iraq and Syria.
Speaking to Israel Radio, Shapiro said that the intelligence services of both countries were already in contact about the issue, and would cooperate in beating back the ISIS threat. Israel is an important American partner in the Middle East, Shapiro said, and would by extension be an important part of the fight against ISIS.
In his speech Wednesday, Obama said that the US would form a broad coalition to combat ISIS.
Full report at:
http://www.israelnationalnews.com/News/News.aspx/184989#.VBFRrcJdU4U
------------
September 11 Could Happen Again, Says New York Mayor
Sep 11 2014
New York mayor Bill de Blasio says his role is to be "vigilant against future terror".
On the 13th anniversary of the September 11, 2001 attacks, New York mayor Bill de Blasio said on Wednesday that such an attack could happen again.
"The responsibility I have today was generated by that horrible day," de Blasio told The Associated Press in an exclusive interview.
"My role now is to look out for the first responders who have fallen ill since then and to be ever vigilant against future terror," he added.
The anniversary, which will be marked Thursday in a solemn ground zero ceremony that de Blasio will attend, comes amid new terror worries for the nation's largest city.
While there is no specific threat against New York at the moment, air strikes in Iraq, unrest in Syria and the rise of the Islamic State (IS) present the most complex terror danger since 2001, NYPD officials said this week.
De Blasio, a Democrat who took office in January, said his administration views the rising threat of IS as a reminder that "you can never rest on your laurels."
"No matter what's in the news, we're in a perpetual state of readiness," the mayor told AP.
"I don't think it feels that different than a year ago. We were already the number one target a year ago and the year before that. I do not expect that to change in my mayoralty."
http://www.israelnationalnews.com/News/News.aspx/184985#.VBFR6cJdU4U
------------
Report: Obama to Ask for Billions to Fight Islamic State
Sep 11 2014
President Barack Obama is preparing to ask Congress to pay for a multibillion-dollar plan to expand the military campaign against Islamic State (IS, formerly ISIS) militants, an unnamed administration official told the Wall Street Journal / Live Mint website.
While the proposal hasn't been made final and the total amount is still being calculated, it will likely be "in the billions of dollars," reports the site, as Pentagon officials develop options for the president. Obama is scheduled to deliver a televised address to the nation at 9 p.m. Washington time on Wednesday to lay out his strategy to defeat the brutal group Islamic State, which has captured swaths of Syria and Iraq.
The administration has been under pressure from lawmakers to articulate a plan for dealing with IS, which has carried out a campaign of terror, including beheading two American journalists. The US has conducted more than 150 air strikes inside Iraq to help Iraqi and Kurdish forces roll back some of the Islamic State gains, according to the Pentagon.
In preparation for his speech, Obama met at the White House Wednesday afternoon with House speaker John Boehner, House democratic leader Nancy Pelosi, Senate majority leader Harry Reid and Senate republican leader Mitch McConnell. The discussion, which lasted more than an hour, gave Obama a chance to preview his thinking and gauge congressional reaction.
Obama has said that he has the "legal authority" to order US airstrikes on IS forces in Syria, according to sources present at a dinner with foreign policy experts at the White House on Monday.
Full report at:
http://www.israelnationalnews.com/News/News.aspx/184962#.VBFR78JdU4U
------------
US presses Arabs for support as Obama vows to hit IS
11 September 2014
Secretary of State John Kerry pressed key Arab states Thursday to support an expanded American military campaign against Islamic State jihadists including US air strikes in Syria.
The top US diplomat arrived in Saudi Arabia's Red Sea port city of Jeddah and said "I'm confident" as he was greeted by the kingdom's foreign minister, Prince Saud al-Faisal.
Kerry will hold talks with counterparts from 10 Arab nations and Turkey hours after US President Barack Obama outlined his new strategy to confront the jihadists in a prime-time television address.
Steeling his nation for another foreign conflict, Obama pledged to expand US military operations against IS, a radical Islamist group that has seized a swathe of Iraq and Syria and committed horrifying atrocities.
"Our objective is clear: we will degrade, and ultimately destroy, ISIL through a comprehensive and sustained counter-terrorism strategy," Obama said, using an alternative acronym for the group.
Full report at:
http://english.ahram.org.eg/NewsContent/2/8/110488/World/Region/US-presses-Arabs-for-support-as-Obama-vows-to-hit-.aspx
------------
Turkey, US share view on ISIL: US official
Sep 11 2014
The United States and Turkey have a shared perspective and see the same threats posed by extremist jihadists in the Middle East, a senior U.S. defense official has said.
"The U.S. and Turkey see very much the same threats in this region and have a shared perspective. I think it is much broader than the U.S. and Turkey, I'd say," Derek Chollet, the Assistant Secretary of Defense for International Security Affairs, told daily Hürriyet in an interview following Secretary of Defense Chuck Hagel's trip to Ankara.
Hagel instructed Chollet to stay one day longer in Ankara to follow up his Sept. 8 talks with Turkish officials that were focused on Washington's proposal to gather a coalition of willing countries against the Islamic State of Iraq and the Levant (ISIL) in Iraq and Syria.
"Secretary Hagel wanted to come to Turkey because Turkey is an indispensable ally of the United States on many challenges we face in the world, whether it be the threat from ISIL or broader regional issues happening in the Middle East," Chollet said.
He declined to comment on a question whether the Incirlik Base in southern Turkey would be used as part of the anti-ISIL campaign.
Full report at:
http://www.hurriyetdailynews.com/turkey-us-share-view-on-isil-us-official.aspx?pageID=238&nID=71569&NewsCatID=510
------------
California school drops 'Arabs' for 'Mighty Arabs'
11 September 2014
A California high school has changed its nickname from the Arabs to the Mighty Arabs and adopted a logo with a nobler image, school officials announced Wednesday.
The Coachella Valley Unified School District governing board unanimously adopted the changes in a closed-session meeting Tuesday night after months of pressure from Arab-American anti-discrimination groups.
"Dealing with the mascot issue has gone worldwide," Superintendent Daryl Adams said, according to the Desert-Sun. "I'm glad to see that coming to an end."
Officials at Coachella Valley High School consulted with Arab-American groups in getting rid of the scowling, hook-nosed image in the old logo and adopting the more stoic face in the new one.
Full report at:
http://english.alarabiya.net/en/News/middle-east/2014/09/11/California-school-drops-Arabs-for-Mighty-Arabs-.html
----------
Europe
UK considering setting up three new bases to fight ISIS in the Middle East
Sep 11 2014
British plans to set up new military bases in the Middle East as part of a strategy to tackle the threat posed by Islamic State extremists are currently being considered, it has been reported.
The United Arab Emirates (UAE), Oman and Bahrain are all being looked at as part of the Government's attempts to contain the terror threat from the wider region, according to The Times.
Officials have said the Ministry of Defence (MoD) is 'currently looking at its future engagement in the region', but no decisions have been made.
According to The Times report, Downing Street has been expected to make an announcement for some months.
The al-Minhad airbase near Dubai is already used by troops flying in and out of Afghanistan.
A defence source told the newspaper: 'You could see an infantry battalion based in al-Minhad, being able to train alongside the Emirates.'
It is understood that work began before the rise of Islamic State and is part of a review of the UK's presence in the Gulf following the withdrawal of troops from Afghanistan.
Michael Clarke, director of the Royal United Services Institute think-tank, said there had been a shift toward such a move over the last two years.
He told The Times: 'The effect is that we are making a strategic adjustment, which is in my view quite sensible.
Full report at:
http://www.dailymail.co.uk/news/article-2750666/UK-considering-setting-three-new-bases-fight-ISIS-Middle-East.html#ixzz3CzJnWbfI
------------
Leading Terrorism Expert Calls for 'Counter-Jihadi Network'
Sep 11 2014
Defeating global terrorist networks requires a "counter-network" of intelligence services and other parties to take the fight to them, according to Dr Boaz Ganor, the founder and Executive Director of the International Institute for Counter-Terrorism (ICT).
Speaking to Arutz Sheva at the 14th International Conference on Counter-Terrorism in Herzliya, Dr. Ganor emphasized that states and agencies combating terrorism needed to be "humble" and understand that they were on a constant "learning curve" against a "dynamic phenomenon... which evolves all the time."
He noted that terrorist groups themselves were constantly learning, developing new modus-operandi in a bid to discover and target "the soft underbellies of the societies they are fighting against."
But while criticizing global counter-terrorism agencies for not learning fast enough, Ganor acknowledged that there have been significant improvements in efforts in the fight against jihadi terrorism since 9/11.
Full report at:
http://www.israelnationalnews.com/News/News.aspx/184966#.VBFRxMJdU4U
------------
France says ready for air strikes in Iraq 'if necessary'
11 September 2014
French Foreign Minister Laurent Fabius said on Wednesday that France was prepared to take part in air strikes on Islamic extremists in Iraq "if necessary."
"In Iraq... we support the formation of an inclusive government. We will participate if necessary in an aerial military action," Fabius said in a speech in Paris.
Last week, French President Francois Hollande had raised the possibility of a "political, humanitarian and if necessary military response in accordance with international law" to fight against Islamic State.
Fabius urged an international alliance to fight the dangers posed by IS "which could reach our own soil," he said, adding: "Several hundred French jihadists are present in Iraq and Syria."
However, Fabius stressed that the "modalities" of French action in Iraq and Syria were not the same.
Full report at:
http://english.ahram.org.eg/NewsContent/2/8/110446/World/Region/France-says-ready-for-air-strikes-in-Iraq-if-neces.aspx
------------
Russian Archpriest: Future Belongs to Muslims, They are closer to Jesus
11 September 2014
Russia's Orthodox archpriest Dmitri Smirnov said the future belongs to the Muslims after comparing them to Christians.
"Muslims are closer to the teachings of Jesus than Christians," Dmitri Smirnov said in a sermon that reportedly took place in a church in Moscow that World Bulletin reported.
"The future will belong to the Muslims. The future is theirs. They will plough this land," he added.
Up to 15% of people in Russia are Muslim and Islam is the second largest religion in the country. In some parts of the Northern Caucasus and Central Asian regions, Islam is the main religion. Around two million Muslims also live in the capital Moscow.
http://english.farsnews.com/newstext.aspx?nn=13930619001517
------------
Israel committed war crimes in Gaza, Human Rights Watch investigation claims
Sep 11 2014
An international human rights group says Israel committed war crimes in the latest round of fighting against Hamas in Gaza.
New York-based Human Rights Watch made the conclusion following an investigation it carried out into attacks on or near three UN-run schools housing displaced Palestinians.
The group said Thursday that no military targets were apparent in the school area and that some of the attacks were "indiscriminate."
The Israeli military had no immediate comment. On Wednesday, it announced it launched its own probe into the war. Israel accuses Hamas of using civilians as human shields.
The attacks on the schools elicited widespread condemnation.
The UN, which has accused both Israel and Hamas militants of violating the rules of war, has appointed a commission of inquiry to look into the fighting.
http://www.haaretz.com/news/diplomacy-defense/1.615253
------------
Watchdog confirms 'systematic' chlorine attacks in Syria
Sep 11 2014
The world's chemical watchdog on Sept. 10 confirmed the "systematic" use of chlorine as a weapon in Syria, according to a report by its team investigating alleged attacks there.
The fact-finding mission established "compelling confirmation" that a toxic chemical was used "systematically and repeatedly" as a weapon in villages in northern Syria earlier this year, the Organisation for the Prohibition of Chemical Weapons (OPCW) said in a statement.
"The descriptions, physical properties, behaviour of the gas, and signs and symptoms resulting from exposure, as well as the response of patients to the treatment, leads the mission to conclude with a high degree of confidence that chlorine, either pure or in mixture, is the toxic chemical in question."
The OPCW said that reports of chlorine attacks in Syria dropped off after the fact-finding mission was established in April, "but there was a spate of new allegations in August." Spokesman Michael Luhan said the new claims would be investigated.
Full report at:
http://www.hurriyetdailynews.com/watchdog-confirms-systematic-chlorine-attacks-in-syria.aspx?pageID=238&nID=71561&NewsCatID=352
----------
UK Muslim students will be offered Sharia-friendly loans to get more pupils to go to university
Sep 11 2014
Muslim students are to be offered Sharia-compliant interest free loans by the government in an attempt to get more Islamic pupils to go to university.
Since tuition fees were increased in September 2012, many Muslim students have been put off continuing their education as it was expected the loans, which are paid back above the rate of inflation, would be used to cover the rising costs - contrary to their beliefs.
Following a four-month consultation, a new Sharia-friendly model which involves Muslim students paying a donation into a pool system instead of paying interest has been produced by the Department for Business Innovation & Skills (BIS).
The alternative scheme is expected to be introduced within the next three years, but BIS has denied it will pave the way for compliance with Sharia in a wider sense, saying: 'Sharia has no jurisdiction in England and Wales and the Government has no intention to change this position.'
It also confirmed that students taking out the loans will pay back exactly the same amount as those who use the traditional scheme, essentially making a charitable donation rather than paying back interest.
Full report at:
http://www.dailymail.co.uk/news/article-2750899/Muslim-students-offered-Sharia-law-friendly-student-loans-government-bid-Islamic-pupils-university.html#ixzz3CzJSF7Ul
------------
Mideast
Israel dismantles provocative new Al-Aqsa ramp
September 11, 2014
JERUSALEM: Israel on Wednesday dismantled a newly erected wooden access ramp to Jerusalem's Al-Aqsa mosque compound that would have increased access for non-Muslims but angered Jordan, an AFP correspondent said. The half-built structure was erected by Israel in the midst of the Gaza conflict in early August, triggering outrage from Jordan which overseas Muslim heritage sites in Jerusalem. It ran alongside a bigger wooden structure - the Mughrabi ramp - that leads from the Western Wall plaza up to the Al-Aqsa mosque compound in Jerusalem's Old City. The Mughrabi ramp is the only access to the plaza for non-Muslims. Anything that is viewed as changing the status quo in or around the flashpoint Al-Aqsa compound, which houses the third-holiest site in Islam, is highly sensitive and triggers a strong response from Jordan.
Last week, Israeli Prime Minister Benjamin Netanyahu ordered that the new structure be removed, saying its construction was "illegal" and had never received the proper authorisation, a government source said.
That move was hailed by Jordan and by Wednesday afternoon most of the new ramp had been taken down, the AFP correspondent said.
The ramp's construction is a politically charged issue because each side claims authority over it.
Full report at:
http://www.nation.com.pk/international/11-Sep-2014/israel-dismantles-provocative-new-al-aqsa-ramp
------------
Ankara faces difficult choices on ISIL
Sep 11 2014
United States President Barack Obama and British Prime Minister David Cameron want an international coalition that will fight the Islamic State of Iraq and the Levent (ISIL). The coalition they propose includes Turkey. The U.S. and Britain are willing to provide air power, weapons and military advice, and expect regional countries to help the Iraqi military fight ISIL effectively on the ground.
This is what was discussed during last week's NATO summit in Wales and what U.S. Defense Secretary Chuck Hagel discussed in Ankara the other day. It will also be the main item on the agenda at the two-day meeting in Saudi Arabia, which will include the six members of the Gulf Cooperation Council (GCC), Egypt, Jordan, Turkey, and of course the U.S. that are the driving force behind this meeting.
Saudi Arabia has been warning that ISIL poses a common threat to all and requires a unified stance, suggesting they will join any coalition against ISIL. Egypt, Jordan, and others in the region may do so too. There are serious problems for Turkey though.
President Recep Tayyip Erdogan has been arguing that Ankara has to tread cautiously because of the 49 Turkish hostages, including Turkey's Mosul Consul General, that are still being held by ISIL militants.
Past experience indicates, however, that Ankara would still be reluctant if there were no hostages involved.
Full report at:
http://www.hurriyetdailynews.com/ankara-faces-difficult-choices-on-isil.aspx?PageID=238&NID=71555&NewsCatID=416
------------
Iran says emerging anti-Islamic State coalition 'shrouded in serious ambiguities'
11 September 2014
ANKARA - Iran said on Thursday the emerging international coalition to battle Islamic State militants was "shrouded in serious ambiguities," Iranian state television reported.
"The so-called international coalition to fight the ISIL group... is shrouded in serious ambiguities and there are severe misgivings about its determination to sincerely fight the root causes of terrorism," Foreign Ministry Spokeswoman Marzieh Afkham said on Thursday.
She did not mention specifically a call by US President Barack Obama for a broad coalition to root out Islamic State in Iraq and Syria.
She also accused some members of the coalition as being "financial and military supporters of terrorists in Iraq and Syria."
http://www.jpost.com/Breaking-News/Iran-says-emerging-anti-Islamic-State-coalition-shrouded-in-serious-ambiguities-375038
------------
Livni calls for diplomacy with 'moderates' to help counter Islamic State
11 September 2014
Justice Minister Tzipi Livni spoke at a convening of her faction on Wednesday evening, warning that threats against Islamic State were not enough to tackle the ever-expanding militant group.
Echoing comments she made earlier this week at the annual conference at Herzliya's International Institute for Counter-Terrorism, Livni said the war against terrorism was the key to peace.
"We are the first to fight terrorism," she said, referring to Israel's 50 day long offensive in Gaza. "We do not want Hamas" in the coastal territory, but rather, to enter into dialogue "with moderates."
Those who do not wish to resolve the decades-old conflict diplomatically, will be the ones who ultimately lead us to a bloody conflict with the decapitators, she cautioned.
Full report at:
http://www.jpost.com/Israel-News/Livni-calls-for-diplomacy-to-avoid-bloody-conflict-with-Islamic-State-375008
------------
Turkey sends back 830 European jihadists
Sep 11 2014
Turkey has captured and deported 830 citizens of European countries attempting to cross into Syria to fight with the Islamist jihadists over the past two years.
Turkey has established specialist anti-terror teams focusing on the Islamic State of Iraq and the Levant (ISIL) militants, who have seized large swathes of territory across neighboring Syria and Iraq.
In the past two years, Turkey has captured 830 European citizens who attempted to enter Syria via Turkey to join ISIL. Turkey also filed search warrants for 2,000 people who are thought to have joined the jihadist ISIL militants.
European countries have recently started to share information with Turkey about jihadist militants suspected of entering Syria through Turkey. Several European states, including Germany, Britain, France, Holland and Belgium, have reportedly shared with Turkey information about 4,700 people via Interpol.
Turkey has shared this list with its intelligence and anti-terror units, as well as its security forces on the borders, in a bid to halt potential jihadists.
Anti-terror teams and intelligence units have focused on border-crossings, airports, and bus and train terminals, while new teams have been established at border-crossing points.
Teams were assigned to the Sabiha Gökçen Airport and Atatürk Airport, both of which are located in Istanbul, in May.
Full report at:
http://www.hurriyetdailynews.com/turkey-sends-back-830-european-jihadists-.aspx?pageID=238&nID=71565&NewsCatID=510
---------
Southeast Asia
Malaysian HM confirms former ISA detainees fighting in Syria
11 September 2014
Home Minister Datuk Seri Ahmad Zahid Hamidi today confirmed a report that five former Internal Security Act (ISA) detainees had joined militants in Syria.
The Star reported that Zainuri Kamaruddin, Rafi Udin, Zid Saharani Mohamad Esa, Samad Shukri and Mohd Lotfi Ariffin, who is former Kedah PAS Youth information chief, were fighting with militants in Syria.
"I have no information why they have joined up with the Islamic State of Iraq and Syria (Isis) forces in the Middle East," Zahid (pic) said in Putrajaya during his ministry's monthly assembly.
Citing himself as an example, he said although he had been detained under the ISA before, he was not inclined to fight in Syria.
"I was previously detained under the Internal Security Act in 1998, but I have no inclination to fight in Syria," he said, adding that Islam advocated peace and moderation.
Zahid, a former Umno Youth chief, was among several others arrested under the draconian act following the dismissal of Datuk Seri Anwar Ibrahim from Umno and the government in September 1998.
Full report at:
http://www.themalaysianinsider.com/malaysia/article/zahid-confirms-former-isa-detainees-fighting-in-syria#sthash.vVq7M4Lt.dpuf
------------
Mideast Envoy Blair Meets SBY to Strengthen Ties Between Islam and West
11 September 2014
Jakarta. Former British Prime Minister Tony Blair met with President Susilo Bambang Yudhoyono on Thursday to discuss recent developments in the Middle East and strengthen ties between the Islamic world and the West.
Blair, a special envoy of the Quartet on the Middle East (comprising the United Nations, the United States, the European Union and Russia), wants to continue the dialogue with Indonesia — the largest Muslim-majority nation in the world — that started during his days at 10 Downing Street.
"When Tony Blair was still prime minister there already was a special cooperation with regards to interfaith dialogue," Foreign Minister Marty Natalegawa said at the presidential office, adding that it is important for this dialogue to continue even after Yudhoyono is replaced by Joko Widodo, who will be inaugurated on Oct. 20.
US President Barack Obama on Wednesday night (US time) outlined his plans to defeat the Islamic State terrorist movement that is controlling large swaths of Iraq and Syria. The organization has been outlawed in Indonesia and police have been keeping a close eye on people suspected of supporting it.
Full report at:
http://www.thejakartaglobe.com/news/mideast-envoy-blair-meets-sby-strengthen-ties-islam-west/
------------
URL: https://www.newageislam.com/islamic-world-news/new-age-islam-news-bureau/15-hyderabad-youngsters,-including-a-girl,-wanted-to-join-isis-ranks/d/99018