New Age Islam News Bureau
9 Dec 2013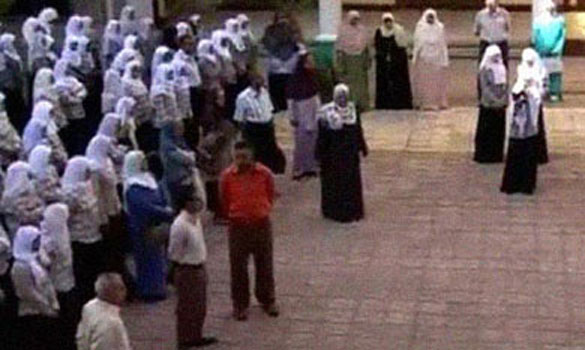 Egyptian students during school morning lines (Photo: Al-Ahram)
--------------
Arab World
• 147 Brotherhood Schools to Be Seized By Egypt's Education Ministry
• Syrian Shiites Resolved to Exercise Religious Rituals Despite Al-Qaeda Attacks
• Parliament speaker: Syria will vanquish Wahhabi terrorism
• Foreign Ministry: Saudi regime continues to support terrorist groups in Syria
• Terrorist Confesses to Receiving Funds, Orders from Saudi Intelligence Officer
• Syria's Moderate Rebel Groups Launch 'Soft Power' Plan To Beat Islamists
• Explosions around Iraq claim at least 18 lives
• Army detonates 2 bomb-laden cars in North Sinai, no causalities
• Nour Party claims Brotherhood urged violence under Morsi
• Military Experts: Prince Bandar's War in Syria Doomed to Fail
• Egypt recovers ancient stolen statue of Tutankhamun's sister
• Syria opposition leader says to visit Russia
South Asia
• Bangladesh Jamaat-e-Islami talks participatory polls with UN Asstt. Secretary General
• Bangladesh blockade: boy dies in police firing
• Fragile peace process: Officials claim progress in secret Afghan talks
Europe
• France vows to disarm CAR militias
• HRW: Halt Jamaat-e-Islami leader Abdul Qader Molla's execution
• UN, WHO launch polio vaccinations for Mideast children
• Westerners fighting in Syria emerge on social media
• Russian, Israeli foreign ministers conferring on world, Middle East affairs
• U.N. envoy for deferring Bangladesh poll date
Africa
• Aid agencies 'paid Somalia's al-Shabab' during famine
• Moroccan father takes his five sons — one just 13 — to join the fight in Syria
• In Nigeria, orphans are raised on streets
• Unfolding Tragedy in the Central African Republic
• Sudanese Ruling Party to Negotiate With Rebels on South Kordofan and Blue Nile
India
• Gulf 'important artery' for flow of goods and peoples: Salman Khurshid
Pakistan
• President Mamnoon Hussain urges clerics to promote sectarian tolerance
• Nostalgic memories lift spirits of Hindu pilgrims
• Pakistan drops plan to send Ibne Abbas as its envoy to India
• Court to announce Dr Shakil Afridi's retrial verdict on Dec 18
• Militants torch NATO tankers in Balochistan
• Blockage of NATO supplies victory of PTI: Khattak
• Jamaat-e-Islami to move court against new LG Act
Southeast Asia
• Shias have right to practise beliefs, says ex-Perlis mufti
• In redefining Islam, PAS-DAP reps take divergent paths
• Hamas leader meets Najib, Anwar to take a second crack at national reconciliation
• Philippines, Muslim rebels sign 'power-sharing' accord
• Manila bans its workers from Yemen after deadly attack
Mideast
• Netanyahu says recognition of Jewish state is 'minimal requirement for peace'
• Turkey returns to EU as foreign policy fails
• Kerry ideas will cause 'total failure' of talks: Palestinians
• We have improved accuracy of our missiles, Iran says
North America
• Hagel arrives in Pakistan to discuss Taliban, despite mass protests against US drones
• US knew Syrian extremists could make sarin, but covered it up – report
• 'US war with Pakistan would be too messy, too dangerous, too awful'
• US ambassador rejects talk of Iran-Palestinian 'linkage'
• Failures of CIA's undercover work after 09/11
Compiled by New Age Islam News Bureau
URL: https://www.newageislam.com/islamic-world-news/new-age-islam-news-bureau/147-brotherhood-schools-to-be-seized-by-egypt-s-education-ministry/d/34779
-----------
Arab World
147 Brotherhood schools to be seized by Egypt's Education Ministry
Dec 9, 2013
Egypt's Ministry of Education commenced procedures to seize the management of 147 schools belonging to the Muslim Brotherhood following a government decree to freeze the group's assets and activities.
The schools – which are located in a number of governorates including Cairo, Giza, Alexandria, Assiut and Gharbiya – will be placed under the financial and administrative supervision of the ministry, reported Al-Ahram's daily newspaper.
Another 85 schools under investigation were exempted from the move due to having multiple owners, many of whom are not Brotherhood members.
The ministry will nominate new headmasters for the 147 schools, as well as restructure their boards of directors, to replace existing members with members of parents' associations and teachers, who would receive extensive administrative training, sources told Al-Ahram.
A Cairo court ordered on 23 September the banning of all institutions belonging to the Brotherhood, those related to it or being funded by it, as well as freezing the group's capital and assets.
http://english.ahram.org.eg/NewsContent/1/64/88651/Egypt/Politics-/-Brotherhood-schools-to-be-seized-by-Egypts-Educat.aspx
-----------
Syrian Shiites Resolved To Exercise Religious Rituals Despite Al-Qaeda Attacks
Dec 09, 2013
EHRAN (FNA)- Syrian Shiite Muslims continue exercising their religious rituals despite being targeted by Al-Qaeda-affiliated Takfiri and Salafi terrorist groups, like the Al-Nusra Fron, the Islamic State of Iraq and the Levant (ISIL also known as ISIS) and Islamic Front. These photographs show Shiites mourning on Arbayeen - the 40th day after the martyrdom of Imam Hossein (AS) and all his 72 male companions back in 680 AD - in a bazaar near the holy shrine of Sayyedeh Zeinab (AS).
http://english.farsnews.com/imgrep.aspx?nn=13920914000215
----------
Parliament Speaker: Syria Will Vanquish Wahhabi Terrorism
Dec 09, 2013
Islamabad, (SANA)_ The 2nd Executive Council meeting of the Asian Parliamentary Assembly (APA) began in Islamabad on Sunday, with the participation of Syria.
Speaker of the People's Assembly, Mohammad Jihad al-Laham led Syria's delegation to the meeting. The Assembly hailed Syria's presidency of the Assembly over the past period despite the tough conditions it has been going through.
Al-Laham discussed, on the sidelines of the meeting, with Iranian Shura Council's Vice Speaker, Mohammad Hassan Abu Turabi brotherly relations binding the Syrian and Iranian peoples, the topics listed on the Assembly's agenda, the Middle East developments and means of confronting international terrorism.
The region has been witnessing political transformations since the Israeli aggression against Lebanon in 2006 and the victory of the Lebanese resistance backed by Syria and Iran, Abu Turabi said.
''Today, the steadfastness of the Syrian government, army and people in the face of the international terrorist aggression marks a turning point in re-forming the new multi-polar world order,'' he pointed out.
Abu Turabi reiterated Iran's support to Syria, indicating that the US-led anti-Syria front will lose miserably as the coming stage ''will see the victory of Syria.''
Al-Laham, for his part, hailed Iran's support to Syria at all political, economic and humanitarian levels at a time when some Arab regimes relinquished their Arab and Islamic role and forfeited the Palestinian cause.
Al-Laham pointed to a lack of a genuine international will to confront Takfiri terrorism that is targeting the Middle East "as the acts of repressive regimes, such as the Saudi, are overlooked,'' which is ''exporting Takfiri Wahhabi thought to Syria and the world and is arming and funding the bearers of Takfiri views and sending them to sabotage the unique social fabric and target the state in Syria.''
Al-Laham was upbeat about ''Syria's victory over the Wahhabi terrorism, based on its people's legacy of tolerance and coexistence, and their support to their army which is fighting terrorism on behalf of the whole world.''
http://213.178.225.235/eng/21/2013/12/09/516653.htm
----------
Foreign Ministry: Saudi regime continues to support terrorist groups in Syria
Dec 09, 2013
Damascus, (SANA) – The Foreign and Expatriates Ministry said in two identical letters sent to the UN Secretary-General and chairman of the Security Council on Monday that the Saudi regime continues to support armed terrorist groups in Syria.
The Ministry said that this support isn't limited to sending weapons to terrorists in Syria, as it also includes providing funding, logistic support and recruiting extremist terrorists.
http://213.178.225.235/eng/21/2013/12/09/516746.htm
----------
Terrorist Confesses to Receiving Funds, Orders from Saudi Intelligence Officer
Dec 9, 2013
TEHRAN (FNA)- Notorious terrorist Maher Jihad Teklos confessed that he has been committing crimes at the order of an officer in the Saudi intelligence body, including attacks on government establishments and abducting civilians for ransom money.
In confessions aired by the Syrian TV on Friday, Teklos said that he's originally from al-Tal in Damascus Countryside, and that during the six years he worked at Saudi Arabia he came to know Brig. Gen. Mohammad al-Hwaish from the Saudi intelligence, SANA reported.
The terrorist said that al-Hwaish recruited him in exchange for 3,500 Saudi Riyals per month and instructed him to meet the head of the "military council" in al-Tal Ahmad Shamo, and he did as instructed.
Teklos said Shamo referred him to another man who trained him in using firearms, and when a group of terrorists decided to attack the Political Security department in al-Tal, Teklos was instructed to set up a barricade to prevent reinforcements from arriving at the site of the terrorist attack.
He said that al-Hwaish paid the terrorists 10 million Saudi Riyals for the aforementioned attack, sending the money in installments which Shamo would take and tell the others that he's using them to buy weapons.
Teklos said that he and his cohorts abducted five people: Atef al-Lal. Omar Rajha, Ahmad al-Swadi, Omar al-Basha and Mohammad al-Arnous, then negotiated with their families for releasing them in exchange for ransom, with the families of three of the victims paying SYP 7 million each.
He said that after they retreated from al-Tal after the Syrian Army entered it and hid in a villa for two months near Talfita, and during this time Shamo and another terrorist brought three shipments of weapons from Lebanon, including AK-47 rifles, RPG rounds and mortar launchers.
After that, Teklos and his cohorts hid in a house in Deir al-Makran for two months, then they returned to al-Tal and started forming new armed groups, at which point Teklos was arrested.
http://english.farsnews.com/newstext.aspx?nn=13920916001205
------------
Syria's Moderate Rebel Groups Launch 'Soft Power' Plan To Beat Islamists
RICHARD HALL
08 DECEMBER 2013
In a bid to counter the growing influence in Syria of militant groups linked to al-Qa'ida, moderate rebels are launching a campaign to win the hearts and minds of civilians living in opposition-held areas.
Mimicking tactics used by the Islamic State of Iraq and as-Sham (Isis), an offshoot of al-Qa'ida, the Syrian opposition is to focus greater efforts on "soft power" by increasing the provision of badly needed humanitarian aid and services to areas in most need.
The move comes in response to an unprecedented campaign by Isis over the past year to win the support of Syrians living in the areas it controls and achieve its stated goal of creating an Islamic caliphate in Iraq, Syria and Lebanon. Used to working in the shadows, the radical Islamist group – the recipient of a steady flow of cash through an established, global funding network – has taken to holding "family fun days", in order to distribute food in areas where it is scarce, and setting up its own schools and courts. In doing so, Isis has been able to gain a foothold in areas in which it would normally have been shunned.
But this has been at the expense of more moderate groups which do not have the same funding and wherewithal to do the same. The opposition-in-exile, together with its military wing, the Supreme Military Council (SMC) – a coalition of rebel groups backed by the West – hopes to use this "soft power" to marginalise Isis and win back support from Syrians living in rebel-held areas. "We realised that in order to fight al-Qa'ida we need to counter them not just militarily but on the social side as well," a senior adviser to the SMC told The Independent. "We are doubling our effort on that front."
The plan is based on the opposition's belief that if Syrians have a choice of receiving support from radical groups such as Isis or their own members, they would choose the latter. It is also a way in which the moderate opposition hopes to counter the rise of Isis without having to confront it militarily and draw fighters away from the battle against President Bashar al-Assad's forces.
Despite the best efforts of its savvy social-media team, Isis is still viewed with suspicion by most Syrians. The group has gained a reputation for brutal sectarianism, which is rooted in its strict interpretation of strict Muslim Sharia law. It has carried out public executions and is said to be behind a spate of kidnappings. Its fighters – the majority of whom are thought to be foreigners – stand accused by Human Rights Watch of committing war crimes and crimes against humanity for targeting civilians, particularly those from the Alawite sect to which President Assad belongs.
"People do not like Isis; their extreme beliefs are alien to the Syrian people. But they are also very desperate and cannot afford to refuse aid," the SMC adviser said. "This is the only way to prevent al-Qa'ida from establishing themselves in Syria. They are a danger not only to Syria, but also to the West."
The SMC said it had established offices in Aleppo, Idlib and the suburbs of Damascus in order to increase its distribution of food and medical supplies to civilians in contested areas. It is also planning to create a police force and become more involved in education programmes.
The Syrian conflict has dragged on for more than two-and-a-half years and caused the deaths of more than 100,000 people. During that time, the opposition has struggled to win the support of a large portion of ordinary Syrians. The Syrian National Council, based in Istanbul, has faced criticism for not doing enough to alleviate the suffering of the people it represents. It is sometimes referred to by the derogatory nickname of "the Five Star hotel opposition" – because it holds many of its meetings in hotels in Turkey.
Mohammad, an activist who works in Yabroud, a town north of Damascus which is controlled by a number of local moderate rebel groups, said: "Most people have lost hope in the opposition. They talk and talk without helping us and they take orders from other countries."
Opinions of the opposition vary in different areas of the Syria, but the renewed focus on distributing services appears to have been prompted by the SNC's realisation that Mohammad's view is shared by many people on the ground in Syria. But with the war raging, the delivery of aid remains fraught with danger. Senior members of the opposition told The Independent their aid distribution efforts were often hijacked by Isis fighters, who then distribute it themselves. In order for the new campaign to work, the opposition will also seek to improve security for the aid routes.
The project faces further hurdles, however. The opposition's main body for the delivery of aid, the assistance co-ordination unit, has faced accusations of mismanagement and corruption. Anger at the organisation came to a head last week, when 25 of its employees went on strike, calling for reforms in order to address "the spread of corruption within the unit and [to] put an end to favouritism".
The new front in the battle for hearts and minds comes against the backdrop of months of growing tension between more moderate rebel groups and Isis. This tension has spilled out into open conflict in many areas of the rebel-held north. In September, a rebel group under the SMC umbrella fought fierce battles with Isis fighters in the city of Azaz, near the border with Turkey. Clashes between Syrian rebels and Isis have also taken place across northern Syria, in Aleppo, Idlib and Latakia.
http://www.independent.co.uk/news/world/middle-east/syrias-moderate-rebel-groups-launch-soft-power-plan-to-beat-islamists-8991749.html
-----------
Explosions around Iraq claim at least 18 lives
Dec 09 2013
Baghdad (Iraq) : A car bomb outside a cafe and other attacks in central Iraq killed at least 18 people on Monday, officials said.
The car bomb went off outside the cafe in the town of Buhriz, about 60 kilometers (35 miles) north of the capital, Baghdad, killing 12 people and wounding 24, police officials said.
In the southwestern suburbs of Baghdad, a roadside bomb hit a car with anti-al-Qaeda Sunni fighters, killing two and wounding three, police and hospital officials said.
The Sunni militia group, known as the Sahwa, had joined forces with U.S. troops at the height of the Iraq war to fight al-Qaida. Since then, it has been a target for Sunni insurgents, who call its members 'traitors'.
Also Monday, a roadside bomb targeted an army patrol just south of the capital, killing one Iraqi soldier and wounded two others.
In Baghdad's eastern district of Basmaya, three people were killed and seven were wounded when a bomb struck an outdoor market early in the afternoon, police said.
Hospital officials confirmed the casualty figures for all the attacks. All officials spoke on condition of anonymity because they were not authorized to talk to the media.
There was no immediate claim of responsibility for Monday's attacks, but insurgent groups frequently target civilians in cafes and public areas, as well as members of the security forces, in an attempt to undermine confidence in the Shiite-led government and stir up Iraq's already simmering sectarian tensions.
Monday's attacks came a day after a series of bombings in and around Baghdad killed at least 39 people.
At least 147 people have died in attacks in Iraq so far this month, according to an Associated Press count.
http://www.indianexpress.com/news/explosions-around-iraq-claim-at-least-18-lives/1205394/
-----------
Army detonates 2 bomb-laden cars in North Sinai, no causalities
Dec 9, 2013
A bomb-laden car exploded in North Sinai after security forces shot at it in suspicion, a security source told Ahram Arabic website.
The car, according to the source, was heading in the direction of Al-Zohour military camp near the city of Sheikh Zuwaid. The driver escaped before the car exploded. No injuries were reported.
This was the second car bomb incident in Sinai in less than a month. On 20 November, a bomb-laden car drove into an army convoy carrying off-duty soldiers killing 11 and injuring 37.
Full report at:
http://english.ahram.org.eg/NewsContent/1/64/88597/Egypt/Politics-/UPDATE-Army-detonates--bombladen-cars-in-North-Sin.aspx
-----------
Nour Party claims Brotherhood urged violence under Morsi
Dec 9, 2013
Egypt's second-largest Islamist group, the Nour Party, has claimed the Muslim Brotherhood urged it to attack opponents of Mohamed Morsi outside the presidential palace in December 2012.
The remarks are likely to further strain ties between the once close allies.
Nour deputy head Nader Bakkar claimed on Sunday that his party had rejected calls by Brotherhood deputy leader Khairat El-Shater to join the group's supporters in forcibly breaking up a sit-in by Morsi opponents.
At least ten were killed in clashes outside the presidential palace when thousands protested against a constitutional decree granting Morsi sweeping new powers.
Full report at:
http://english.ahram.org.eg/NewsContent/1/64/88633/Egypt/Politics-/Nour-Party-claims-Brotherhood-urged-violence-under.aspx
-----------
Military Experts: Prince Bandar's War in Syria Doomed to Fail
Dec 9, 2013
TEHRAN (FNA)- Military experts believe that Saudi Intelligence Chief Prince Bandar Bin Sultan has come to a deadlock with his plans on Syria after his army of militants sustained heavy defeats in different parts of the country, specially in Eastern Ghouta.
"Eastern Ghouta region has now completely fallen into the hand of the Syrian army and this is a heavy blow to Prince Bandar who has invested too much and recruited thousands of terrorists to bring about a power shift in the war in Syria," military analyst and strategist Mohammad Farid Issa told FNA on Monday.
Full report at:
http://english.farsnews.com/newstext.aspx?nn=13920918000684
------------
Egypt recovers ancient stolen statue of Tutankhamun's sister
Dec 9, 2013
Egyptian police say they have recovered an ancient statue of Tutankhamun's sister, stolen during unrest in August.
The limestone figurine believed to be of Ankhesamon was among hundreds of artefacts taken from the museum in Mallawi, amid the unrest following the overthrow of President Mohammed Morsi.
It was traced by police to a coffee shop owner in the Khan el-Khalili bazaar district of the capital, Cairo.
A senior official told the BBC the statue was largely in a good condition.
It needed some restoration work, but would go on display in a new museum devoted to the family of Tutankhamun's father, the Pharaoh Akhenaten, said Ahmed Sharaf, head of Egypt's museum department.
Full report at:
http://www.bbc.co.uk/news/world-africa-25292929
---------
Syria opposition leader says to visit Russia
Dec 9, 2013
Syrian opposition leader Ahmad Jarba said in Kuwait on Monday he would visit Russia at Moscow's invitation, but gave no date for the trip.
The announcement comes as Russia and the United States drum up support for their joint initiative to get all parties to the Syrian conflict to join peace talks slated for January 22 in Geneva.
"I have received an invitation from Russian Foreign Minister Sergei Lavrov to visit Moscow delivered by his deputy around 20 days ago," Ahmad Jarba, head of the opposition National Coalition umbrella body, told the official KUNA news agency.
Full report at:
http://www.hurriyetdailynews.com/syria-opposition-leader-says-to-visit-russia.aspx?pageID=238&nID=59251&NewsCatID=359
-----------
South Asia
Bangladesh Jamaat-e-Islami talks participatory polls with UN Asstt. Secretary General
Dec 9, 2013
United Nations' Assistant Secretary General Oscar Fernandez-Taranco met with Jamaat-e-Islami and said to have talked about the upcoming national elections. The meeting took place on Monday morning. Jamaat Assistant Secretary General Abdur Razzak briefed media after the meeting. "We discussed how a participatory, free, fair and acceptable election can be held," Abdur Razzak said. "If a level playing field is not restored, we think the crisis will continue." Jamaat is no more a legal political party with their registration scrapped recently. Among others present in the meeting were Jamaat leaders Jasimuddin Sarkar, Abdullah Mohammad Taher and Mir Ahmed Bin Kashem.
Full report at:
http://www.dhakatribune.com/bangladesh/2013/dec/09/uns-taranco-meets-jamaat-e-islami#sthash.UkVXQrtd.dpuf
-----------
Bangladesh blockade: boy dies in police firing
Dec 9, 2013
A 12-year-old boy died and 10 other people were injured in police firing in Bangladesh even as the Bangladesh National Party (BNP)-led opposition alliance extended a nationwide blockade over a "death warrant" issued for senior fundamentalist leader for genocide during the 1971 war.
The boy was killed when police opened fire to disperse activists of the right-wing Jamaat-e-Islami, who torched a truck, critically injuring the driver and his helper, in north-western Satkhira.
The Jamaat separately called a shutdown to be observed along with the ongoing blockade enforced by the 18-party opposition alliance led by Bangladesh Nationalist Party (BNP) to press its demands for rescheduling the January 5 polls, installing a non-party interim government and releasing its leaders.
Full report at:
http://www.thehindu.com/news/international/south-asia/bangladesh-blockade-boy-dies-in-police-firing/article5440312.ece
--------
Fragile peace process: Officials claim progress in secret Afghan talks
December 9, 2013
ISLAMABAD: While peace remains elusive in the strife-torn Afghanistan, behind-the-scene talks to strike a peace deal have covered 'considerable ground', The Express Tribune has learnt.
Officials familiar with secret negotiations among Washington, Kabul, Islam­abad and the Afghan Taliban disclosed that there has been considerable progress since Mullah Muhammad Omar authorised his former deputy Mullah Abdul Ghani Baradar to initiate dialogue on behalf of the militia.
Officials, all of whom spoke on condition of anonymity, said the recent meeting between Mullah Baradar and representatives of the Afghan High Peace Council at an undisclosed location in Pakistan could prove to be a 'turning point' in breaking the impasse in the fragile peace process.
Full report at:
http://tribune.com.pk/story/643026/fragile-peace-process-officials-claim-progress-in-secret-afghan-talks/
-----------
Europe
France vows to disarm CAR militias
Dec 9, 2013
French soldiers are to start removing weapons from fighters in the Central African Republic (CAR) from Monday, by force if they have to, France says.
A 1,600-strong French force has been sent into the CAR, deployed after days of communal fighting claimed 400 lives.
Rebel leader Michel Djotodia seized power in March and armed gangs, largely made up of former rebels, have taken control of the landlocked country.
French troops are now patrolling the streets of the capital, Bangui.
They were sent into the CAR on Friday after the UN Security Council backed a mandate to restore order "by all necessary measures" the previous evening.
France said on Saturday that the African Union would increase the size of its existing force of 2,500 peacekeepers to 6,000.
Full report at:
http://www.bbc.co.uk/news/world-africa-25295127
-----------
HRW: Halt Jamaat-e-Islami leader Abdul Qader Molla's execution
Dec 9, 2013
Human Rights Watch says Molla should be granted a right to appeal against the conviction and death sentence
Concerning over fair trial, Human Rights Watch asked the Bangladesh government to immediately halt the death sentence against war crime convict Jamaat-e-Islami leader Abdul Qader Molla.
The organisation expressed its concern over the fair trial of convicted war criminal Qader Molla in a statement published on its website on Monday.
According to the statement, Molla should be granted a right to appeal against the conviction and death sentence.
Full report at:
http://www.dhakatribune.com/bangladesh/2013/dec/09/hrw-halt-molla%E2%80%99s-execution#sthash.CUMmuhPE.dpuf
-----------
UN, WHO launch polio vaccinations for Mideast children
2013-12-09
BEIRUT: The World Health Organisation and UNICEF have launched a polio vaccination campaign for 23 million children in the Middle East after 17 cases were discovered in Syria, they announced Monday.
The campaign will be largest-ever immunisation response in the region, WHO and the UN children's fund said in a joint statement.
WHO has said the vaccinations would take place in Egypt, Iraq, Jordan, Lebanon, the West Bank and Gaza Strip, and Turkey.
Syrian refugees fleeing their country's conflict have taken shelter in surrounding states, particularly Lebanon, Jordan, Turkey and Iraq.
The vaccination campaign comes after the discovery of polio in Syria for the first time since 1999.
Full report at:
http://www.dawn.com/news/1061490/un-who-launch-polio-vaccinations-for-mideast-children
-----------
Westerners fighting in Syria emerge on social media
December 9, 2013
BIERUT: Westerners fighting in Syria are emerging from the shadows and using social media to share their experiences of the conflict and encourage others to join them.
On sites including Twitter, blogging platform Tumblr and the question-and-answer site Ask.fm, the young men are providing an unusual insight into one aspect of the brutal war.
They describe what they miss about home and what they ate for lunch, and extol the virtues of fighting with groups that Western governments deem "terrorist" organisations.
Britain, France and Holland each estimate that hundreds of their citizens are in Syria, and fear they could later launch attacks at home.
Full report at:
http://tribune.com.pk/story/643174/westerners-fighting-in-syria-emerge-on-social-media/
-----------
Russian, Israeli foreign ministers conferring on world, Middle East affairs
Dec 9, 2013
Israeli Foreign Minister Avigdor Lieberman, who is paying a visit to Moscow, hopes for a profound discussion concerning the Middle East and global affairs with his Russian counterpart Sergei Lavrov. Lieberman told Lavrov at the beginning of their meeting that he hoped to have a serious discussion. He said that there were lots of problems in the Middle East and the world at large and he expected their conversation during the lunch to be substantive.
Lavrov replied that he wished to discuss "current regional and global affairs during the lunch."
He said Lieberman had come to Moscow to participate in the activity of the intergovernmental trade and economic cooperation commission whose Russian co-chairman is Deputy Prime Minister Arkady Dvorkovich.
Full report at:
http://voiceofrussia.com/news/2013_12_09/Russian-Israeli-foreign-ministers-conferring-on-world-Middle-East-affairs-0348/
-----------
U.N. envoy for deferring Bangladesh poll date
HAROON HABIB
Dec 9, 2013
In Dhaka for the last three days, U.N. emissary Oscar Fernández Taranco has been shuttling between the government and opposition leaders in a frantic move to find a negotiated settlement to the Bangladesh crisis over the next general elections.
U.N. Secretary General Ban Ki-moon's Special Envoy meanwhile explored the possibility of deferment of the election date to Prime Minister Sheikh Hasina. However, she said that only the Election Commission could take any such decision.
Full report at:
http://www.thehindu.com/news/international/south-asia/un-envoy-for-deferring-bangladesh-poll-date/article5437292.ece
---------
Africa
Aid agencies 'paid Somalia's al-Shabab' during famine
Dec 9, 2013
Aid agencies paid Somalia's al-Shabab militants for access to areas under their control in the 2011 famine, according to a joint report by two think tanks.
In many cases al-Shabab insisted on distributing the aid and kept much of it for itself, the report says.
Some of the groups are still paying al-Shabab to operate in the large parts of Somalia it still holds, it adds.
More than 250,000 people died during the famine, caused by a drought.
The disaster affected more than 13 million people across the Horn of Africa and triggered a major refugee crisis, with hundreds of thousands of Somalis fleeing the rural areas controlled by al-Shabab.
Full report at:
http://www.bbc.co.uk/news/world-africa-25295821
-----------
Moroccan father takes his five sons — one just 13 — to join the fight in Syria
Dec 9, 2013
A Moroccan father has taken all five of his children — the youngest of them aged 13 — to fight for an Islamist faction in Syria, according to reports.
Ahmed al-Sha'ara took his sons across Europe and through Turkey before joining up with forces challenging President Bashar al-Assad, the Egyptian al-Aram website has reported.
Among them was Osama, 13, who had earlier accompanied his father on demonstrations in Tangiers, northern Morocco, against the jailing of Salafists — radical Sunni Muslims.
If confirmed, the family's journey would support claims that large family groups from across the Muslim world are travelling to Syria in greater numbers.
Shiraz Maher, a researcher at the International Centre for the Study of Radicalisation and Political Violence at King's College, London said: "We have seen a lot of families coming from the Caucuses and from central Asia, and many of them include infant children. We are seeing at least one family a month cross to Syria.
Full report at:
http://news.nationalpost.com/2013/12/07/family-jihad-father-takes-his-five-sons-one-just-13-to-join-the-fight-in-syria/
----------
In Nigeria, orphans are raised on streets
Dec 9, 2013
Ubong Anthony in this report X-rays the lifestyle of orphans in Nigeria.
The plight of street and orphaned children should be of utmost concern to any responsible and well-meaning government. But unfortunately, several efforts made by government and faith-based organisations in Nigeria to offer succour to orphaned and vulnerable children have not been very fruitful.
The number of street and orphaned children, especially in city centres across the country, has continued to grow in leaps and bounds and as their tales of woes are varied so are their faces. With ages ranging from 4-16, orphaned kids have undergone experiences which several adults in all of their days on earth would not undergo, even a tenth of it.
Full report at:
http://tribune.com.ng/news2013/index.php/en/politics/item/28102-in-nigeria,-orphans-are-raised-on-streets.html
-----------
Unfolding Tragedy in the Central African Republic
Dec 9, 2013
Since overthrowing the government in March, Seleka forces, an alliance of predominantly Muslim armed groups, have ruled through the gun and with terror, attacking and burning down Christian villages, killing and wounding untold numbers of people.
Hundreds of thousands have fled their homes in fear, creating a humanitarian crisis.
Future atrocities are in the making. On Friday morning, after anti-balaka militias had chased his forces from much of Bossangoa, Seleka commander Colonel Saleh took his regrouped fighters to the outskirts of the Catholic Church camp that housed some 35,000 displaced Christians.
Full report at:
http://allafrica.com/stories/201312080141.html?aa_source=mf-hdlns
-----------
Sudanese Ruling Party to Negotiate With Rebels On South Kordofan and Blue Nile
Dec 9, 2013
Khartoum — The Deputy Chairman of the ruling National Congress Party (NCP) and head of the government delegation for negotiations on South Kordofan and the Blue Nile states, Prof. Ibrahim Ghandour, has confirmed the government's readiness for dialogue concerning the two states.
Full report at:
http://allafrica.com/stories/201312090142.html?aa_source=sptlgt-grid
-----------
India
Gulf 'important artery' for flow of goods and peoples: Salman Khurshid
Dec 08 2013
Manama: Describing the Gulf as an "important artery" for the flow of goods, ideas and peoples from and to India, External Affairs Minister Salman Khurshid today said counter-terrorism, money laundering and anti-piracy were areas of growing importance in ties with the oil-rich region.
"The Gulf region is India's extended neighbourhood. It has historically been an important artery for the flow of goods and ideas and movement of peoples from and to India," Khurshid said, in his address at the International Institute for Strategic Studies (IISS) Manama Dialogue here.
Full report at:
http://www.indianexpress.com/news/gulf--important-artery--for-flow-of-goods-and-peoplessalman-khurshid/1205028/
----------
Pakistan
President Mamnoon Hussain urges clerics to promote sectarian tolerance
December 9, 2013
ISLAMABAD: Calling the promotion of interfaith harmony and tolerance vital for peaceful coexistence in society, President Mamnoon Hussain on Sunday urged religious scholars to guide their followers in accordance with the true spirit of Islam.
Addressing a conference on 'Interfaith Harmony' at a hotel in Islamabad, the president said practicing "Islamic teachings in their true spirit guarantee our betterment in this world and in the life hereafter". The conference was organised by the Nazaria Pakistan Council (NPC) Trust.
The president said that the whole nation was united on the issues of terrorism, sectarianism and extremism and the government was also striving to fulfill its responsibilities.
He hoped the government would take the issue of terrorism and extremism to its logical conclusion and purge the country of these menaces. He advised the Muslims of Pakistan and the world to promote love and harmony, respect the non-believers, and collectively work for the country's progress.
Full report at:
http://tribune.com.pk/story/643065/interfaith-harmony-president-urges-clerics-to-promote-sectarian-tolerance/
-----------
Nostalgic memories lift spirits of Hindu pilgrims
December 9, 2013
SUKKUR: For Sanwal Das, an Indian visitor, there is no difference between India and Pakistan when it comes to love, affection and hospitality.
Das used to live in Ghotki till 1962 when he migrated to India. His cousins still live in Jarwar therefore he sees Pakistan, in general, and Sindh, in particular, as his second home.
Das now lives in village Raj Nand near Raipur in Chhattisgarh, India, and runs a small confectionary shop. He has come to Pakistan to attend the birth anniversary of Sain Shadha Ram.
The people back in India used to scare him by saying that it was very dangerous to visit Pakistan because of the rising incidents of terrorism but during his visit he has seen no such thing. "I think misconceptions are the main reason behind the tense relations between the two countries."
Full report at:
http://tribune.com.pk/story/642946/nostalgic-memories-lift-spirits-of-hindu-pilgrims/
---------
Pakistan drops plan to send Ibne Abbas as its envoy to India
Dec 09 2013
Islamabad: Pakistan has dropped plans to send Syed Ibne Abbas as the new High Commissioner to India and instead replaced him with career diplomat Abdul Basit, a top Pakistani official said on Monday.
55-year-old Basit was earlier tipped to take over as the Foreign Secretary but the government had last week changed its mind.
Analysts said the move was possibly to accommodate Basit, the current Ambassador to Germany, in the crucial posting.
"Yes, Ibne Abbas is not being appointed to India. Basit will be the new High Commissioner to India," the official said.
Full report at:
http://www.indianexpress.com/news/pakistan-drops-plan-to-send-ibne-abbas-as-its-envoy-to-india/1205320/
-----------
Court to announce Dr Shakil Afridi's retrial verdict on Dec 18
2013-12-09
PESHAWAR: The Federally Administered Tribal Areas (Fata) Tribunal hearing the case of Dr Shakil Afridi said on Monday that it would announce the verdict on the case on December 18.
Both the sides, prosecution and defence, completed their arguments in front of the tribunal after which the court said that it would announce its verdict on December 18.
Talking to media persons later the brother of Dr Shakil Afridi, Jamil Afridi said that the political administration was trying to trap his brother and that they did not expect justice from these courts.
Full report at:
http://www.dawn.com/news/1061481/court-to-announce-dr-shakil-afridis-retrial-verdict-on-dec-18
-----------
Militants torch NATO tankers in Balochistan
SYED-ALI-SHAH
2013-12-08
QUETTA: Armed militants torched two tankers carrying fuel for US and NATO troops in Balochistan's insurgency-hit Bolan district on Sunday evening, officials said.
Muhammad Ayub, a levies official said four militants on two motorcycles opened fire at tankers in Haji Shehar area of Bolan district.
"The tankers caught fire after indiscriminate firing by the militants," he said.
Ayub said two drivers of the tankers sustained bullet-wounds and were shifted to hospital for medical treatment.
Full report at:
http://www.dawn.com/news/1061299/militants-torch-NATO -tankers-in-balochistan
-----------
Blockage of NATO supplies victory of PTI: Khattak
Dec 9, 2013
PESHAWAR: Khyber Pakhtunkhwa Chief Minister Pervez Khattak has said that drone attacks by the United States are a violation of Pakistan's independence and sovereignty, and they would not allow such attacks.
Talking to party workers and media persons at his residence on Sunday, the chief minister said the suspension of supplies by the US through the Torkham border after the protests by the PTI was their victory. He said it was a decision of the PTI and allied parties to block the supplies and a final decision on it would be taken by Imran Khan on his return from India.
He said the provincial government was preparing to hold local government elections in March after consultation with other parties.
Full report at:
http://www.dailytimes.com.pk/default.asp?page=2013\12\09\story_9-12-2013_pg7_11
-----------
Jamaat-e-Islami to move court against new LG Act
Dec 9, 2013
KARACHI: Jamaat-e-Islami (JI) is contemplating to move court against the newly introduced Local Government (LG) Act. JI Karachi Chief Hafiz Naeemur Rehman said this in a statement issued on Sunday. Expressing his deep concerns over the introduction of the new Act, Hafiz Naeem said that Pakistan People's Party (PPP) and Muttahida Qaumi Movement (MQM) with their mutual understanding were creating complications by introducing amendments in the LG Act.
"The amendments are not understandable for the constitutional and legal experts, political parties and the masses," he added. Hafiz Naeem said that the JI wants transferring of power to the grassroots and was willing to resolve the issues of the masses.
"The Sindh Government instead of resolving the problems, including rectification of voters' list and transparent delimitation, is involved in making illogical amendments in the said Act", he asserted.
Full report at:
http://www.dailytimes.com.pk/default.asp?page=2013\12\09\story_9-12-2013_pg7_19
-----------
Southeast Asia
Shias have right to practise beliefs, says ex-Perlis mufti
Dec 9, 2013
Shia Muslim followers have the right to practise their beliefs, says former Perlis mufti Datuk Dr Mohd Asri Zainul Abidin (pic) today.
He, however, qualified it by saying that he agreed with Putrajaya that its teaching could have adverse effects.
"It is true that countries which adopt Shia teachings, such as Pakistan and Iran, often descend into chaos and anarchy. We do not want to see that happening in Malaysia," he said.
Mohd Asri told The Malaysian Insider that Putrajaya had failed to explain the effect and impact of Shia teachings.
"Putrajaya is just saying Shia is dangerous and the movement should be blocked. But they have not said what is so dangerous about it.
"The Government's statements on Shia teachings are vague and confusing," Mohd Asri told The Malaysian Insider.
Referring to Home Minister Datuk Seri Dr Ahmad Zahid Hamidi's allegations against PAS deputy president Mohamad Sabu, Mohd Asri said it should be backed up by evidence.
"The allegations against Mohamad Sabu or Mat Sabu are vague. Ahmad Zahid should provide a detailed explanation.
Full report at:
http://www.themalaysianinsider.com/malaysia/article/shias-have-right-to-practise-beliefs-says-ex-perlis-mufti
-----------
In redefining Islam, PAS-DAP reps take divergent paths
Dec 9, 2013
KUALA LUMPUR, Dec 8 — A proposal by Putrajaya to specify "Sunni" as Malaysia's only legally recognised Islamic sect has drawn divergent views from two Muslim leaders in the multiracial Pakatan Rakyat (PR) pact, with Islamist PAS backing the move and secular DAP labelling it "un-Islamic".
DAP assistant national publicity secretary Zairil Khir Johari said there was "no need whatsoever" to legally define the sort of Islamic ideology that is practised in Malaysia, as it would only lead to discrimination against other Islamic groups, driving a stake deeper into Muslim unity here.
Full report at:
http://www.themalaymailonline.com/malaysia/article/in-redefining-islam-pas-dap-reps-take-divergent-paths#sthash.pA5dJzRW.dpuf
-----------
Hamas leader meets Najib, Anwar to take a second crack at national reconciliation
Dec 9, 2013
On the sidelines of last week's Umno general assembly, a senior Palestinian leader got Umno and Parti Keadilan Rakyat to meet secretly to revive reconciliation talks that started after the 13th General Election, The Malaysian Insider has learnt.
It was the second reconciliation talks after the May 5 polls since former Indonesian vice-president Jusuf Kalla, who are close to Prime Minister Datuk Seri Najib Razak and opposition leader Datuk Seri Anwar Ibrahim, acted as an intermediary between both leaders.
A senior PKR leader told The Malaysian Insider that this time, that role was taken over by leader of the Palestinian resistance group Hamas, Khaled Meshaal, who was in Kuala Lumpur to attend the 2013 Umno International Forum.
Full report at:
http://www.themalaysianinsider.com/malaysia/article/hamas-leader-meets-najib-anwar-to-take-a-second-crack-at-national-reconcili
-----------
Philippines, Muslim rebels sign 'power-sharing' accord
Dec 9, 2013
The Philippine government and the main Muslim rebel group on Sunday signed a crucial power-sharing accord, paving the way for a final peace agreement, government statements said.
The accord, signed by negotiators from the government and the Moro Islamic Liberation Front (MILF) in Kuala Lumpur, is another step towards finally ending a decades-long Muslim rebel insurgency in the south that claimed an estimated 150,000 lives.
"The signing of the Annex on Power Sharing ensures the achievement of a genuine and viable autonomy for the Bangsamoro (Filipino Muslims)," Teresita Deles, the head of the government peace panel, said in a statement.
Full report at:
http://english.ahram.org.eg/NewsContent/2/9/88585/World/International/Philippines,-Muslim-rebels-sign-powersharing-accor.aspx
-----------
Manila bans its workers from Yemen after deadly attack
Dec 9, 2013
MANILA: The Philippines has banned its workers from Yemen after an attack by militants there killed more than 50 people, including seven Filipinos.
Department of Foreign Affairs spokesman Raul Hernandez announced the decision on Monday.
According to government guidelines, Filipino nations are not allowed to seek employment in Yemen while 1,500 to 2,000 of those already working in the country can choose to return home at government expense.
Full report at:
http://www.arabnews.com/news/489911
----------
Mideast
Netanyahu says recognition of Jewish state is 'minimal requirement for peace'
Dec 9, 2013
The conflict between Israel and the Palestinians is not the source of the Middle East's problems, Prime Minister Binyamin Netanyahu told the Saban Forum of the Brookings Institution via video link on Sunday.
Offering a laundry list of problems facing the region, Netanyahu suggested putting the conflict in perspective – but said that peace was vital nevertheless, primarily for Israelis and Palestinians themselves, referring to a final-status agreement as a "strategic goal" of his office.
The prime minister spoke after US President Barack Obama and US Secretary of State John Kerry gave remarks to the forum on Saturday, both discussing the Middle East peace process and Iran's nuclear ambitions.
Full report at:
http://www.jpost.com/Diplomacy-and-Politics/Netanyahu-Tougher-sanctions-will-lead-to-a-better-deal-on-Iran-334339
-----------
Turkey returns to EU as foreign policy fails
Dec 9, 2013
Turkey's visible pragmatic return to its European Union agenda following a long-term breeze in ties with Brussels is aiming both to distract attention from poor foreign policy performance in the Middle East and to utilize the soon-to-be-signed visa deal with Brussels as part of the ruling party's pre-election campaign, according to foreign diplomats.
"You will hear good news on Dec. 16. Turkey is launching a new process with the EU. You will hear about it on Dec. 16, I am not disclosing it now. You will be informed about it when we put our signatures on Dec. 16," Prime Minister Recep Tayyip Erdoğan was quoted as saying by the Anadolu Agency during his Justice and Development Party's (AKP) rally in Kırıkkale, a town in Thrace, on Dec. 6.
Full report at:
http://www.hurriyetdailynews.com/turkey-returns-to-eu-as-foreign-policy-fails.aspx?pageID=238&nID=59244&NewsCatID=338
-----------
Kerry ideas will cause 'total failure' of talks: Palestinians
Dec 9, 2013
US proposals on security presented by Secretary of State John Kerry will lead to the "total failure" of peace talks with Israel, a senior Palestinian official told AFP on Monday.
"These ideas will drive Kerry's efforts to an impasse and to total failure," said Yasser Abed Rabbo, a top official with the Palestine Liberation Organisation, referring to the US diplomat's proposals on future security arrangements in the Jordan Valley.
http://english.ahram.org.eg/NewsContent/2/8/88657/World/Region/Kerry-ideas-will-cause-total-failure-of-talks-Pale.aspx
-----------
We have improved accuracy of our missiles, Iran says
AP | Dec 9, 2013
TEHRAN: Iran's defence minister says his country is now using laser systems to dramatically improve the accuracy of its ballistic missiles.
Hossein Dehghan said missiles can now hit to within two meters (yards) of their targets, compared to 200 meters (yards) previously. His comments were posted on the ministry's Full report at:
http://timesofindia.indiatimes.com/world/middle-east/We-have-improved-accuracy-of-our-missiles-Iran-says/articleshow/27135096.cms
-----------
North America
Hagel arrives in Pakistan to discuss Taliban, despite mass protests against US drones
Dec 9, 2013
Pentagon chief Chuck Hagel visits Pakistan on Monday for talks as Washington seeks to defuse tensions over controversial US drone strikes and Islamabad's role in Afghanistan. In the first visit by a US defence secretary in nearly four years, Hagel flew from Kabul to Islamabad to meet Prime Minister Nawaz Sharif and other top officials, including the country's new army chief.
Ties between Washington and Islamabad have been seriously strained over US drone strikes in Pakistan's tribal belt as well as Afghan Taliban sanctuaries inside Pakistan's borders.
Hagel visited "in recognition of the tremendous support that Pakistan has provided in the war on terror," a senior US defence official told reporters before his arrival.
The defence secretary wants "to deepen our defence partnership" and to affirm continued US military assistance, the official said.
Full report at:
http://voiceofrussia.com/news/2013_12_09/Pentagons-Hagel-arrives-in-Pakistan-to-discuss-Taliban-despite-mass-protests-against-US-dtones-4531/
-----------
US knew Syrian extremists could make sarin, but covered it up – report
Dec 9, 2013
Washington knew Syrian rebels could produce sarin gas but "cherry-picked" intel to blame President Assad for the Aug. 21 attack on Ghouta, Pulitzer Prize-winning investigative journalist Seymour Hersh has revealed, citing senior US security sources.
The report was published in the London Review of Books after two of Hersh's regular publishers, The New Yorker and The Washington Post, turned the article down.
Hersh, whose Pulitzers were for his exposes on American military misconduct in the Iraq and Vietnam wars, got his information on Syria from whistle-blowing acting and former intelligence and military officers, who for security reasons were not identified in the report.
According to Hersh's findings, months before the chemical weapons attack on the outskirts of Damascus, which almost prompted US air strikes on Syria, "the American intelligence agencies produced a series of highly classified reports… citing evidence that the Al-Nusra Front, a jihadi group affiliated with Al-Qaeda, had mastered the mechanics of creating sarin and was capable of manufacturing it in quantity."
Full report at:
http://rt.com/news/us-syria-sarin-report-932/
-----------
'US war with Pakistan would be too messy, too dangerous, too awful'
December 9, 2013
LOS ANGELES: "Both countries are marked by a sense of mutual vulnerability and are vulnerable to what the other does," said Daniel Markey, He added that the world now is too small to escape from the reality of a country on the other side of the world. He also mentioned that Pakistan was of great geo-strategic importance to the US.
There is a sense of frustration with regards to US-Pakistan relations, said Daniel Markey. Five years ago as President Obama came into office and Pakistan had a civilian leadership after General Pervez Musharraf had been swept out of power, there had been enthusiasm in Washington for future relations between the two countries.
Full report at:
http://tribune.com.pk/story/643012/bad-romance-us-war-with-pakistan-would-be-too-messy-too-dangerous-and-too-awful/
-----------
US ambassador rejects talk of Iran-Palestinian 'linkage'
Dec 9, 2013
The United States hasn't tied progress in Israeli-Palestinian peace talks to efforts to stop Iran's nuclear weapons program, the US ambassador to Israel said Monday morning, playing down recent chatter regarding a possible "linkage" between the two diplomatic processes.
"There is no connection between these two issues," Dan Shapiro told Army Radio. "These two issues are connected to Israel's security, our security, and the security of the entire Middle East, for a quieter and more stable region. But we do not see in this any connection in which we are required to give in one and receive in the other."
Shapiro's comments came after Prime Minister Benjamin Netanyahu directly linked the two subjects, something Israeli leaders have tried to steer clear of in the past.
Full report at:
http://www.timesofisrael.com/us-ambassador-rejects-talk-of-iran-palestinian-linkage/
-----------
Failures of CIA's undercover work after 09/11
Dec 9, 2013
September 11, 2001, changed the way of CIA's operations abroad. The agency had to put its eyes and ears in all corners of the world where al-Qaeda and other terrorist organizations operate. Besides official US diplomatic missions and their intelligence activities, the agency deployed numerous non-official cover agents (known as NOC's) to expand agents' network and find tracks of al-Qaeda. Unlike CIA officers in embassies, NOCs have no diplomatic immunity if caught, and could face imprisonment or worse.
The agents expressed their work as the ones where you have to deal with lots of business, troubles and hardships, but with little espionage.
This operation became a real disappointment for US political leaders as investments in Global Deployment Initiative didn't repay themselves.
As Los Angeles Times reports, the CIA spent more than $3 billion on this program and distributed around 5 000 people around the world. The human factor played the biggest role in the operation failure as only a few deep-cover officers recruited valuable intelligence sources.
Full report at:
http://voiceofrussia.com/2013_12_09/Failures-of-CIA-s-undercover-work-after-09-11-1300/
-----------
URL: https://www.newageislam.com/islamic-world-news/new-age-islam-news-bureau/147-brotherhood-schools-to-be-seized-by-egypt-s-education-ministry/d/34779