New Age Islam News Bureau
9 Aug 2017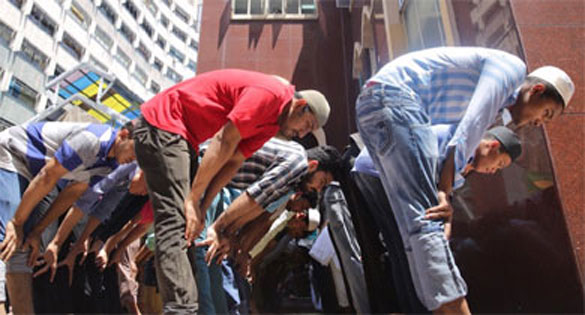 The punishment for the offence of apostasy under the controversial Islamic penal law of hudud is death. — Picture by Choo Choo May
----
• 1,000 Indian Muslim Clerics Urge UN to Act against Saeed
• Ansarullah Militant Abdullah Was Radicalised In Indian Madrasa: Bangladesh Police
• Malaysia Can't Enforce, but Penalty for Leaving Islam Is Death, Mufti Reminds Apostates
• Lal Masjid Cleric's Foundation Moves Court against Beauty Pageant, Says It's Against Islam
• Israel Stripping Palestinians of Jerusalem Residency 'War Crime': HRW
India
• 1,000 Indian Muslim Clerics Urge UN to Act against Saeed
• Build Mosque at Distance from Disputed Ayodhya Site: Shia Waqf Board to SC
• Policy on minority sops for J&K Muslims may be revised
• Faizan planned to recruit youths by offering martial arts training: ATS
• NIA chargesheets four members of self-styled IS Lucknow-Kanpur module
--------
South Asia
• Ansarullah Militant Abdullah Was Radicalised In Indian Madrasa: Bangladesh Police
• Two Suicide Bombers Shot Dead By Afghan Forces In Kapisa Province
• Taliban Release 235 Hostages in Afghanistan
• Taliban taking over Afghanistan's drug production line
• Bangladesh jails 14 Islamists over 2005 blasts
--------
Southeast Asia
• Malaysia Can't Enforce, but Penalty for Leaving Islam Is Death, Mufti Reminds Apostates
• Malaysia Protests over Suspected Militants Deported From Turkey Ahead of SE Games
• Hindraf: Explanations by ministers on unilateral conversion a charade
• Putrajaya's cold feet over 2/3 majority behind move to stop marriage reform bill
• In East Java, Statue of Chinese God Stirs Controversy
--------
Pakistan
• Lal Masjid Cleric's Foundation Moves Court against Beauty Pageant, Says It's Against Islam
• PPP Questions Jud's Transformation into Milli Muslim League
• Former Pakistan PM Risks Wrath of the Army As He Plans To Install His Wife in His Old Seat
• NAP's non-implementation paving way for more terror acts: Bilawal
• 4 Pakistan Army personnel including major martyred during operation in Lower Dir
• Nawaz Sharif ignores warnings, takes to GT Road today
• PM Abbasi hints at scrapping Article 62(1)(f) with help of political parties
• Qadri threatens another sit-in to seek justice in Model Town case
• JI says did not invite Ayesha Gulalai to party
--------
Mideast
• Israel Stripping Palestinians of Jerusalem Residency 'War Crime': HRW
• Kissinger: ISIS's eradication would create 'radical Iranian empire'
• Iran breaks up Daesh group planning attacks
• Four soldiers, six al Qaeda militants die in Yemen attack: official
• Suicide bomber kills four in Yemen
• Rouhani appoints another perpetrator of 1988 massacre as justice minister
• Houthi missile launched towards Saudi Arabia lands in Red Sea
--------
Arab World
• Tens of Terrorists Killed, Wounded in Dara'a Blast
• ISIL Preparing for Large-Scale Attack on Syrian Army Positions in Deir Ezzur
• Lebanese Army Standing Order to Raid ISIL in Mountainous Region at Border with Syria
• Syrian Soldiers Make Fresh Gains against Terrorists in Eastern Homs
• Lebanon's army prepares to clear border area of ISIS militants
• US urges UN force in Lebanon to prevent Hezbollah weapons
• US accountable for fatal raid on Hashd al-Sha'abi forces: Senior commander
--------
North America
• Arab Allies of US Welcome Push against Muslim Brotherhood
• Canada Opposition Demands End to Saudi Arms Sale
• Muslim kids lost in Michigan foster care system for lack of Muslim homes
• Bomb threat suspect in Israel offered services on dark web: US authorities
• Commentary: Why America's fear of Shariah is irrational
• U.S. And Iran Work Together Against Isis, This Time in Lebanon
--------
Europe
• Vandalized St. Louis Jewish Cemetery Rededicated With Help from Muslim Donors
• Turkey allows German MPs to visit troops: Berlin
• Writer arrested in Spain over Turkey's allegation
• Moscow Court Halts Journalist's Deportation To Uzbekistan
--------
Africa
• Boko Haram Kills 31 Fishermen in Nigeria
• Daesh Is A Creation Of America: Sudan's Former VP
• Tunisia Shifting Stance on Syria
• Nigeria seizes ex-oil minister's luxury apartments
• UN sees early warning signs of genocide in C. Africa
Compiled by New Age Islam News Bureau
URL: https://www.newageislam.com/islamic-world-news/1000-indian-muslim-clerics-urge/d/112148
--------
1,000 Indian Muslim Clerics Urge UN to Act against Saeed
Mohammed Wajihuddin
Aug 9, 2017
MUMBAI: Over 1,000 Muslim clerics and imams have passed a resolution against 26/11 mastermind and Jamaat-ud-Dawa (JuD) chief Hafiz Saeed, demanding that he be punished for his anti-India activities. The resolution, passed at a gathering at Madrassa Darul Uloom Ali Hasan Ahle Sunnat in Mumbai, also denounces JuD, along with several other Pakistan-based terror outfits.
It has been sent to Amr Abdellatif Aboulatta, chair of the UN Security Council's Counter-Terrorism Committee at the Security Council, with a copy marked to the Prime Minister's Office (PMO). "Hafiz Saeed and the terror outfits he heads are threats to global peace. He calls India enemy number one but he is the enemy of Islam and humanity," said the chief of Mumbai-based NGO Islamic Defence Cyber Cell, Dr Abdur Rahman Anjaria, who introduced the resolution.
Anjaria had also initiated the world's biggest fatwa against the terror outfit Islamic State in 2015, getting it signed by over 1,000 Indian Muslim clerics and imams. The fresh resolution says that around 60 terror outfits operate from Pakistan, and urges the UN to initiate action against them. Asked the reason behind passing the resolution, Maulana Mohammed Hashim Ashrafi, patron of Madrassa Darul Uloom Ali Hasan Ahle Sunnat, said Indian clerics were "morally bound to oppose those who kill or support the killing of innocents in the name of Islam". "It has been proved beyond doubt that Hafiz Saeed instigates youths to violence. We must oppose him and the ideology he propagates," he said. While Saeed's JuD remains banned in Pakistan, it launched a political party, 'Milli Muslim League (MML)', on Monday to contest elections in Pakistan. How is Saeed's party a threat to India, Muslims and the global community? The head of Mumbai's Saki Naka madrassa Abdul Manzar Khan Ashrafi explained, "Pakistan is a nuclear-armed country and if people like Saeed are voted to power, he will be a bigger threat to not just India, but the world. He will try to influence Muslim opinion globally and radicalise more youths." Mufti Mohammed Manzar Hasan Khan issued a fatwa against suicide bombing at the same meeting.
The 13-page resolution also asserts that Kashmir is an internal issue of India and no third party should interfere in it. The MML chief had said on Monday: "Kashmiri Muslims are not only fighting their war, but a war to complete the unfinished agenda of Pakistan."
http://timesofindia.indiatimes.com/city/mumbai/1000-muslim-clerics-urge-un-to-act-against-saeed/articleshow/59978925.cms
--------
Ansarullah Militant Abdullah Was Radicalised In Indian Madrasa: Bangladesh Police
2017-08-08
The Bangladesh national, who recently was arrested in India for his alleged involvement with banned outfit Ansarullah Bangla Team, was radicalised while pursuing education at a madrasa in India, Bangladesh Police say.
India's ATS (Anti-Terrorism Squad) captured Abdullah Al Mamun in Muzaffarnagar in northern India on Sunday.
The 25-year-old stands accused of signing up members for the militant outfit.
He is also accused of arranging fake passports and shelters for radicalised Bangladeshis who intruded into India.
Counter Terrorism and Transnational Crime Unit or CTTC of Dhaka Metropolitan Police has revealed that Abdullah took admission in the Muzaffarnagar madrasa eight years ago and eventually took to militancy.
"We believe he was radicalised there," said CTTC Chief Monirul Islam at a programme in Dhaka on Tuesday.
But Abdullah's mother Anwara Begum has blamed the Indian police for "showing Abdullah as a militant."
"Abdullah was caught while returning to Bangladesh illegally. He made the choice as he ran out of money to continue education," she has told bdnews24.com
Abdullah hails from Uttarapara village of Mymensingh's Tarakanda Upazila. He has two elder siblings.
He was sent to Darul Uloom Deoband, an Islamic school in India eight years ago, according to Anwara.
He had also worked as an Imam at a local mosque there, she said.
Two local residents of Uttarparha, Khaleque Khan and Mostafa Kamal, said they always found Abdullah to be a "simple boy who could never get into militancy".
"He went to study in a madrasa in India eight years ago. We are yet to know on what ground the Indian law enforcers brought charges of militancy against him," Mymensingh Superintendent of Police Syed Nurul Islam has said.
The two governments need to communicate with each other to get the facts, he said.
http://bdnews24.com/bangladesh/2017/08/08/ansarullah-militant-abdullah-was-radicalised-in-indian-madrasa-police
--------
Malaysia can't enforce, but penalty for leaving Islam is death, mufti reminds apostates
August 9, 2017
KUALA LUMPUR, Aug 9 — Islam prescribes death against Muslims who leave the religion for atheism, if they are "stubborn" and refuse to repent, according to Negri Sembilan mufti Datuk Mohd Yusof Ahmad.
However, he conceded that Shariah courts in the country cannot yet implement such punishments, and as such religious authorities must redouble their efforts to curb the spread of atheism, Malay daily Sinar Harian reported today.
"If they are still stubborn, then the individual must be punished by death. That is the consensus of Muslim scholars," he was quoted saying.
"Considering Islamic laws cannot be implemented 100 per cent in this country, authorities must do what they can to curb this. The jurisprudence has said that even if we cannot do everything, we cannot just leave it out."
The punishment for the offence of apostasy under the controversial Islamic penal law of hudud is death.
Negri Sembilan's Shariah laws do not criminalise apostasy. However Section 48 of its Shariah Offences Enactment punishes Muslims who claim himself not a Muslim to escape the jurisdiction of Shariah laws with fine not more than RM5,000 and not more than three years' jail or both.
Kelantan and Terengganu's hudud enactments prescribe death for apostates who fail to repent, but cannot yet implement it due to restriction in federal laws. PAS' president Datuk Seri Abdul Hadi Awang is seeking to remove this restriction with a private member's Bill in the Parliament.
A photo of the gathering by the Kuala Lumpur chapter, or "consulate", of the Atheist Republic has caused uproar from some in the Muslim community recently after it was highlighted by pro-Islamist blogs, leading to violent and death threats on social media.
Deputy minister in charge of Islamic affairs Datuk Dr Asyraf Wajdi Dusuki said yesterday Putrajaya will investigate the local group, even roping in the Malaysian Communications and Multimedia Commission, as it allegedly involved the faith of Muslims in the country.
Yesterday, Minister in the Prime Minister's Department Datuk Seri Shahidan Kassim had even said that atheists in Malaysia should be "hunted down" by authorities, allegedly since there is no place for groups like this under the Federal Constitution.
http://www.themalaymailonline.com/malaysia/article/malaysia-cant-enforce-but-penalty-for-leaving-islam-is-death-mufti-reminds#3lXfVcq4TOsYJpIk.97
--------
Lal Masjid cleric's foundation moves court against beauty pageant, says it's against Islam
by Hamza Rao
August 8, 2017
ISLAMABAD – Arguing that Miss Veet Pakistan goes against the values of Islam and the country, Shuhada Foundation, which is affiliated with Lal Masjid cleric Maulana Abdul Aziz has moved Islamabad High Court (IHC) to ban the beauty pageant.
The petition said the programme shouldn't be aired on TV as it would 'Indian-ise' the country's culture.
Tariq Asad, the president of the foundation, maintained in the petition that the pageant was against the values of Islam and Pakistan.
"This product [manufactured by the sponsor] aims at and advertises asking women to remove body hair to make themselves more sexually appealing to the opposite gender which is fundamentally shameful and against the injunction of Shariah," the petition stated.
Auditions for the 2017 edition of Miss Veet Pakistan are currently underway in Karachi, Multan, Lahore and Islamabad. The winner of the reality show is awarded a brand ambassador contract worth Rs 10 lakh and two tickets to Thailand.
"It [the pageant] would serve as a launching pad for beauty contests [that are] common in many western countries," the petitioner and president of the foundation Tariq Asad argued. "Family ties would break and the values of society would deteriorate. If it [the pageant] is allowed to continue, it would degenerate the roots of our society's culture."
"Almost all channels are bent on tarnishing the culture of the Islamic Republic of Pakistan. The electronic media has become a red light screen," he maintained.
https://en.dailypakistan.com.pk/pakistan/lal-masjid-clerics-foundation-moves-court-against-beauty-pageant-says-its-against-islam/
--------
Israel stripping Palestinians of Jerusalem residency 'war crime': HRW
August 9, 2017
JERUSALEM - Human Rights Watch said Tuesday Israel had stripped nearly 15,000 Palestinians from Jerusalem of their right to live in the city since 1967 and warned that it could be a "war crime."
"Israel claims to treat Jerusalem as a unified city, but the reality is effectively one set of rules for Jews and another for Palestinians," Sarah Leah Whitson, HRW's Middle East director, said in a report.
Israel occupied east Jerusalem during the 1967 Six Day War in a move never recognised by the international community. The more than 300,000 Palestinians there have permanent residency status but are not Israeli nationals. While east Jerusalem residents are allowed to apply for citizenship, most do not as they view it as recognition of Israeli sovereignty.
Since 1967, 14,595 Palestinians have had their residence status revoked, effectively barring them from remaining in the city of their birth, the HRW report said citing interior ministry figures.
The majority of these revocations were due to spending periods of time out of the city, with Israel arguing their "centre of life" was not in Jerusalem.
"Residency revocations often effectively force Palestinians from east Jerusalem, who are protected by virtue of Israel's occupation under the Fourth Geneva Convention, to leave the territory they live in," the Human Rights Watch report said. "Deportation or forced transfers of any part of the population of an occupied territory could amount to war crimes."
The Israeli interior ministry spokeswoman could not immediately be reached for comment. The report comes two days after an Israeli court decided to strip an Israeli Arab, Alla Zayud, of his citizenship after he carried out an attack.
Zayud was convicted on four counts of attempted murder after driving a car into Israeli soldiers and stabbing civilians in October 2015. He was sentenced to 25 years in jail. Israeli Arabs are full citizens of Israel and the Adalah rights group said it was the first ruling of its kind.
Omar Shakir, HRW's director for Israel and the Palestinian territories, told AFP the decision to revoke Zayud's nationality "would render him stateless, in violation of Israel's obligations under international human rights law."
Israel to permit Jerusalem
Palestinians to visit Gaza
Israel will allow Palestinian business executives from Jerusalem to visit the Gaza Strip for the first time in years, a defence ministry body said Tuesday.
COGAT, the Israeli agency that oversees civilian affairs in the occupied Palestinian territories, said it would allow in small numbers of businesspeople from annexed east Jerusalem looking to invest in the coastal territory.
Israel controls most access into and out of the Gaza Strip and has imposed a blockade on the Palestinian enclave for a decade. But in an Arabic-language Facebook post late Monday, COGAT said it would allow in "businessmen and others who want to improve and strengthen the economy, infrastructure and humanitarian conditions in the Gaza Strip". It said up to 150 people would be permitted to enter at a time.
Israel and Hamas, the Islamist movement that runs Gaza, have fought three wars since 2008.
Israel argues its blockade is necessary to control Hamas, but the United Nations and others warn the blockade amounts to collective punishment of the strip's two million residents. Egypt also has a border with Gaza which it has largely closed off in recent years.
Israeli manslaughter soldier
to go to jail today
An Israeli soldier who shot dead a prone Palestinian attacker will begin an 18-month prison sentence Wednesday, a military court ruled, after his request for a postponement was rejected.
Elor Azaria's appeal for a postponement "was rejected and he must report to the prison to serve his sentence", a military court ruling seen by AFP said.
Azaria had requested that the sentence be postponed until Chief of Staff General Gadi Eisenkot examined a request that his sentence be reduced or changed to community service. Azaria is expected to begin his sentence in the Tzrifin prison in central Israel early on Wednesday.
On July 30, a military court rejected Azaria's appeal against his conviction for manslaughter and upheld the prison term.
The March 2016 shooting in the occupied West Bank city of Hebron was caught on video by a rights group and spread widely online.
It showed Abdul Fatah al-Sharif, 21, lying wounded on the ground, shot along with another Palestinian after stabbing and wounding a soldier, according to the army.
Azaria then shot him in the head without any apparent provocation.
He said he feared Sharif was wearing an explosive belt and could blow himself up, a claim judges rejected.
A number of Israeli leaders, including Prime Minister Benjamin Netanyahu, have spoken out in favour of Azaria being pardoned.
http://nation.com.pk/international/09-Aug-2017/israel-stripping-palestinians-of-jerusalem-residency-war-crime-hrw
--------
India
Build mosque at distance from disputed Ayodhya site: Shia Waqf Board to SC
Amit Anand Choudhary
Aug 9, 2017
NEW DELHI: Days before the Supreme Court is to begin a crucial hearing on the Ram Janmabhoomi-Babri Masjid dispute, the Uttar Pradesh Shia central waqf board, one of the parties in the litigation, has favoured shifting of the demolished mosque to bring about a closure to the vexed dispute.
The Shia board has said that the mosque can be constructed away from the disputed land, a move that marks a dramatic shift in stand, and which it says can put to rest the 70-year legal battle.
The Shia board also suggested setting up of a high-power judicial-political panel headed by a retired Supreme Court judge to amicably settle the dispute. It pleaded the court appoint the committee also comprising two retired Allhabad high court judges, chief minister of Uttar Pradesh, nominee of the Prime Minister besides representatives of litigating parties.
The board, in its affidavit filed in the apex court, submitted that the mosque be relocated from the "most revered place of birth of Maryada Purushottam Sri Ram" to a nearby Muslim dominated area to conclude the dispute over the 2.77 acres of land which houses a makeshift temple of Ram Lalla.
The Shia stand is however likely to pit the board against the Sunni Waqf Board. While Sunnis comprise a majority of Muslims in India, the decision of a section of the community represented through the Shia waqf board, is significant. This is the first time that religious board has favoured shifting of the mosque.
Taking a potshot at Sunni Waqf board, Shia Board said in its affidavit that Sunni Central Waqf Board should not be involved in exploring peaceful settlement of the dispute as "it is under the dominant control of hardliners, fanatics and no-believer in peaceful coexistence, who have absolutely no stakes in the case".
The Shia board said, "It is of the view that closeness of place of worships— Masjid and Mandir— of the two litigating denominations, should be avoided in as much as both denominations using loudspeakers tend to disturb the religious performances of each other, often leading to conflicts, bringing acrimony between the two factions. The answering respondent is of the view that to bring quietus, Masjid can be located in a Muslim dominated area at a reasonable distance from the most revered place of birth of Maryada Purishottam Sri Ram." The affidavit was filed by advocate MC Dhingra.
Though Shia waqf board along with the Sunni waqf board have been fighting a legal battle since 1945 claiming ownership of Babri Masjid, the HC gave its verdict in favour of the Sunni Board when it divided the disputed plot three ways between the Board, Ram Lalla, Nirmohi Akhara.
The Allahabad High Court order came on September 30, 2010. The verdict was immediately challenged by different parties before the apex court but no progress has been made in the case so far and it is pending since 2010. Agreeing to grant an early hearing, the apex court has posted the case to August 11.
The Shia Waqf board in its affidavit said that out-of-court settlement should be explored to end the dispute. "Considering the Muslim tenets of living in peace and harmony and respecting the religious sentiments of other communities following different religions, in the instant case Hindu Community, it is ready and willing to conclude peaceful settlement of dispute, which it fondly hopes will be acceptable to all the stake holders," it said.
http://timesofindia.indiatimes.com/india/build-mosque-at-distance-from-disputed-ayodhya-site-shia-waqf-board-to-sc/articleshow/59973991.cms
--------
Policy on minority sops for J&K Muslims may be revised
Aug 9, 2017
NEW DELHI: The Centre informed the Supreme Court on Tuesday that consultations with the Jammu & Kashmir government were at an advanced stage for a possible revision of the policy on the distribution of benefits among minority communities that Muslims in the state were getting despite being in majority.
Appearing for the Centre, additional solicitor general Tushar Mehta said the consultations also had to involve others states — Meghalaya, Mizoram, Arunachal Pradesh, Nagaland, Punjab and Lakshadweep — which faced similar issues in the distribution of benefits meant solely for minority communities. Mehta sought time to take the consultation to its logical end. Though J&K too requested more time, its affidavit, citing irrelevant things to justify the request, irked a bench of Chief Justice J S Khehar and Justice Adarsh K Goel and Justice D Y Chandrachud.
The CJI said, "Are you making fun of the Supreme Court? It is a disastrous affidavit. You are in good hands (referring to senior advocate Rakesh Dwivedi, who represented the state). Otherwise, you would have been in deep trouble." Dwivedi promptly requested to withdraw the affidavit and the court accepted it.
The court recorded Mehta's submission that consultations were at an advanced stage and said, "Union of India, in consultation with states, may take a decision." Petitioner Ankur Sharma, who filed the PIL, said though the law governing the distribution of benefits to the minority community did not apply to J&K, the state continued to dole them out to Muslims despite them being in majority. The bench said it was giving more time to the Centre and J&K as the situation in the state posed difficulties in carrying out extensive consultations. The court granted three months to the Centre and states to take a decision after consultations.
On March 27, an SC bench headed by Justice Khehar had said, "J&K government and the Union government have agreed to sit together to consider the difficulties faced by minorities in the state and submit a proposal in four weeks. We appreciate the desire to jointly address the issue. We expect fruitful results."
Full report at:
http://timesofindia.indiatimes.com/india/policy-on-minority-sops-for-jk-muslims-may-be-revised/articleshow/59978172.cms
--------
Faizan planned to recruit youths by offering martial arts training: ATS
By Manish Sahu
August 9, 2017
THE UP ATS is probing whether Faizan, an alleged member of Bangladeshi terror group Ansarullah Bangla Team (ABT), planned to recruit youths by offering them training in martial arts at Deoband in Saharanpur.
Bangladeshi native Faizan, who allegedly holds a key post in ABT, is absconding. He is reportedly an associate of Abdullah, who was arrested from Muzaffarnagar by the ATS on Sunday. Abdullah was produced before a Lucknow court on Tuesday, which sent him to five-day police custody.
"ATS had requested for Abdullah's 10-day custody to question him at length," Inspector General (ATS) Asim Kumar Arun said. Officials said the Saharanpur SSP has been asked to probe how Abdullah managed to get a passport using a local address.
According to ATS, Abdullah was helping Faizan in preparing fake IDs, mostly for people from Bangladesh, to help them find safe hideouts in India. Officials have also allegedly recovered "jihadi literature" and books on assembling bombs at Faizan's rented accommodation in Deoband. "While scanning the seized documents, we found pamphlets carrying advertisements of a Kung Fu training centre being opened in Deoband. Several blank identity cards, printed for trainees of the martial art centre, too were recovered. The identity cards display the name 'Martial Arts New — Shoalin Tiger Kung Fu Club' at Deoband in Saharanpur," said an ATS official.
Full report at:
http://indianexpress.com/article/india/faizan-planned-to-recruit-youths-by-offering-martial-arts-training-ats-4788375/
--------
NIA chargesheets four members of self-styled IS Lucknow-Kanpur module
August 9, 2017
The National Investigation Agency (NIA) on Tuesday filed a chargesheet against four members of IS's self-professed Lucknow-Kanpur module. Atif Muzaffar, Danish, Syed Mir Hussain and Ghaus Khan, who were allegedly involved in a blast on a Bhopal-Ujjain passenger train in March, have been charged under the IPC and the Unlawful Activities (Prevention) Act. In the chargesheet filed before a special NIA court in Bhopal, the agency has alleged that Muzaffar formed a terrorist gang with several members. An NIA statement said the gang included Danish, Hussain, Khan and one Saifullah and owed allegiance to the IS. Saifullah was killed in an encounter in Lucknow on the day of the blast.
The chargesheet said the accused attended Ahl-e-Hadith (religious) programmes and were radicalised after reading online publications, including but not limited to Dabiq (IS) and Inspire (al Qaeda) magazines. "They took 'Bayath' (oath of allegiance) to the ISIS and also attempted to do 'Hijrat' (migration to ISIS territory) several times through Kashmir, Amritsar, Mumbai and other places," the NIA said. It alleged that they "conspired to cause subversive activities" threatening India's sovereignty and safety after failing to do so.
Full report at:
http://indianexpress.com/article/india/nia-chargesheets-four-members-of-self-styled-is-lucknow-kanpur-module-4788347/
--------
South Asia
Two suicide bombers shot dead by Afghan forces in Kapisa province
Aug 08 2017
The Afghan security forces shot dead two suicide bombers in northeastern Kapisa province of Afghanistan.
The 201st Silab Corps of the Afghan National Army (ANA) forces officials said the incident took place late on Monday in the vicinity of Tagab district.
The officials further added that the two suicide bombers were attempting to target the convoy of the Afghan security forces riding motorcycles when they were identified and shot dead.
According to the officials, the explosives of the two suicide bombers went off after they were shot dead but no casualties were incurred to the security forces and the ordinary civilians.
The anti-government armed militant groups including the Taliban insurgents have not commented regarding the report so far.
In the meantime, the officials of the 201st Silab Corps said at least four Taliban insurgents were killed during a separate clash with the security forces in the same district.
The officials are saying that the militants belonged to Mawlavi Mahmood and Mawlavi Murtaza local groups of the Taliban insurgents.
Kapisa has been among the relatively calm provinces in northeastern parts of the country but the security situation in some remote parts of the province has started to deteriorate during the recent years.
http://www.khaama.com/two-suicide-bombers-shot-dead-by-afghan-forces-in-kapisa-province-03314
--------
Taliban release 235 hostages in Afghanistan
Aug 9, 2017
MAZAR-I-SHARIF - The Taliban released 235 hostages from a village in a remote area of northern Afghanistan where it allegedly massacred around 50 civilians along with Islamic State insurgents, an official said Tuesday.
"This evening 235 people including women and children were released from Mirzawalang as a result of mediation by the local elders and provincial officials," Zabihullah Amani, a spokesman for the provincial governor, told AFP. "They have been safely evacuated to Sar-e Pul city, but there are still an unknown number of people being kept hostage there," he added.
Earlier, the Afghan government dispatched special forces to a remote village over fears that Taliban and Islamic State insurgents have taken several families hostage after massacring dozens of civilians, officials said Tuesday.
Fighters from the two groups killed around 50 men, women and children in Sayad district of northern Sar-e Pul province on Saturday after overrunning a government-backed militia in a 48-hour battle, according to local officials.
Spokesmen from both the central and provincial governments said they believed the insurgents were holding a number of residents of Mirzawalang village hostage.
"An unknown number of people have been taken hostage," defence ministry spokesman Dawlat Waziri told AFP.
"Commando forces have been deployed to the area, air strikes are being carried out as we speak, and commanders on the ground are busy planning the recapture of the valley.
"The operation to retake the valley will happen soon, and the terrorists will pay for their crimes," he added.
Waziri put the death toll from Saturday's atrocity at 34 but Zabihullah Amani, a spokesman for the provincial governor in Sar-e Pul, said 50 people had been killed. The majority of those killed were Shiites.
Verifying information from poor, mountainous areas of Afghanistan made inaccessible by fighting and with patchy communications is difficult, and AFP was not able to access the village.
"Since the villages is cut off, we can't confirm any new killings by the terrorists," Amani told AFP.
"But as many as 150 families are being kept hostage there," he added.
Amani has said that dozens of Taliban and IS group fighters, under the command of a local Taliban commander who he claimed pledged allegiance to IS, launched a co-ordinated attack on the area on Thursday.
They defeated the Afghan Local Police (ALP) on Saturday before massacring civilians, he claimed.
Sediq Sediqi, a spokesman for the Afghan government, told AFP it was difficult to know numbers of civilians being held but said "President Ashraf Ghani has instructed everyone to do everything to safeguard those people".
The Taliban have confirmed capturing Mirzawalang but said it did so alone. It has also denied allegations it had killed civilians.
Full report at:
http://nation.com.pk/international/09-Aug-2017/taliban-release-235-hostages-in-afghanistan
--------
Taliban taking over Afghanistan's drug production line
Aug 9, 2017
KABUL: The Taliban – which banned poppy cultivation when it ruled Afghanistan – now appears to wield significant control over the war-torn country's heroin production line, providing insurgents with billions of dollars, officials have told a foreign agency.
In 2016 Afghanistan, which produces 80 per cent of the world's opium, made around 4,800 tonnes of the drug bringing in revenues of three billion dollars, according to the United Nations.
The Taliban has long taxed poppy-growing farmers to fund their years-long insurgency, but Western officials are concerned it is now running its own factories, refining the lucrative crop into morphine and heroin for exporting abroad.
"I pretty firmly feel they are processing all the harvest," William Brownfield, US Assistant Secretary for Drugs and Law Enforcement told reporters in the Afghan capital Kabul recently. "Everything they harvest is duly processed inside the country. They receive more revenues if they process it before it has left the country.
"Obviously we are dealing with very loose figures, but drug trafficking amounts to billions of dollars every year from which the Taliban is taking a substantial percentage," he added.
Poppies, which are cheap and easy to grow, make up half of Afghanistan's entire agricultural output. Farmers are paid about $163 for a kilo of the black sap – the raw opium that oozes out of poppy seed pods when they are slit with a knife. Once it is refined into heroin, the Taliban sells it in regional markets for between $2,300 and $3,500 a kilo.
By the time it reaches Europe it wholesales for $45,000, according to a Western expert who is advising Afghan anti-narcotics forces and asked not to be named. He said an increase in seizures of chemicals required to turn opium into morphine, the first step before it becomes heroin, such as acid anhydride, points to an escalation in Taliban drug activity.
Sixty-six tonnes of the chemicals were seized in all of 2016, while 50 tonnes were impounded in just the first six months of this year, the expert said. In early July, he said, 15 tonnes were confiscated in the west of Afghanistan near the border with Iran, the start of a popular drug route to Europe through Turkey.
Seizures of morphine have also increased. Fifty-seven tonnes were discovered in the first half of 2017 compared to 43 tonnes for the whole of 2016, added the expert, who said that only about 10 percent of what is produced is actually discovered.
"It's easy to build a rudimentary laboratory – walls of cob, a thatched roof — and when the operation is finished it is evacuated," the source told a foreign agency.
Afghanistan's interior ministry said that between January and June, 46 clandestine drug factories were closed down by anti-narcotics officers compared with 16 in the first half of last year.
The US Drug Enforcement Administration predicts that the crackdown has deprived traffickers of about $300 million in income since the turn of the year.
A senior Western official who asked not to be named was adamant that the Taliban have their own laboratories, describing the southern province of Helmand, where an estimated 80 percent of Afghan poppies are grown, as a "big drug factory".
"Helmand is all about drugs, poppy and Taliban. The majority of their funding comes from the poppy, morphine labs, heroin labs. Of course they have their own labs," he told a foreign agency.
According to the United Nations Office on Drugs and Crime [UNODC] opium production provided about half of the Taliban's revenues in 2016.
David Dadge, a spokesperson for UNODC, says there is "anecdotal evidence" that Taliban commanders are involved in the manufacture of opiates, but says that stops short of proving that the Taliban as an organisation has a systematic programme of running factories.
For the Afghan interior ministry, however, there is little doubt.
"The Taliban need more money to run their war machine and buy guns, that is why they have taken control of drug factories," said Sayed Mehdi Kazemi, a spokesperson for its counter-narcotics department.
The United States has spent $8.6 billion since 2002 in the war against drugs in Afghanistan, but Afghan-sourced heroin is still reaching North America.
Full report at:
http://nation.com.pk/international/08-Aug-2017/taliban-taking-over-afghanistan-s-drug-production-line
--------
Bangladesh jails 14 Islamists over 2005 blasts
8 August 2017
DHAKA: A Bangladeshi court on Tuesday jailed 14 Islamist extremists for their roles in a deadly series of coordinated bomb attacks in 2005.
At least two people were killed and hundreds wounded in the blasts orchestrated by the Jamayetul Mujahideen Bangladesh (JMB), an outlawed Islamist group also blamed by authorities for last year's deadly attack on a Dhaka cafe.
The court in the central district of Tangail sentenced all 14 accused to 20 years in jail, although only 10 were present, court inspector Anwarul Islam told AFP.
The other four are still on the run.
The JMB set off over 400 bombs across the country in 2005 to press for the introduction of Sharia law in the Muslim-majority but officially secular country.
It later bombed a series of cultural and political venues, including courts, killing around 30 people including several judges.
That led to a massive crackdown by the security forces in which JMB leaders were arrested. Many have since been tried and executed for their crimes.
The Bangladesh government blames the JMB for a series of attacks in recent years on foreigners, atheist bloggers, rights activists and religious minorities.
In the deadliest of these attacks, five gunmen stormed an upscale Dhaka cafe in July 2016, killing 22 people including 18 foreigners.
Full report at:
http://www.thesundaily.my/news/2017/08/08/bangladesh-jails-14-islamists-over-2005-blasts
--------
Southeast Asia
Malaysia Protests Over Suspected Militants Deported From Turkey Ahead of SE Games
August 9, 2017
Kuala Lumpur. Malaysia has complained to Turkey for deporting several suspected militants to Kuala Lumpur without warning, a security official said on Tuesday (08/08), as police step up checks ahead of the Southeast Asian Games that start in the capital this month.
The suspects, all foreigners, were deported from Turkey after being caught trying to enter Syria to join up with Islamic State, the security source told Reuters.
"Turkey should have followed international protocol, first by deporting them to their last port of embarkation and secondly by informing the country where deportees are sent to," said the source who is aware of the discussions.
The source did not want to identified as the discussions were private.
It was not clear how many suspects were missing and when they entered Malaysia.
But Malaysian Deputy Prime Minister Ahmad Zahid Hamidi said last week that they were searching for at least 16 militants deported from Turkey.
According to police, the suspects were given an option by Turkish authorities to be deported to Malaysia rather than their last port of call. Many had chosen Malaysia due to its many visa-free agreements with other countries.
The Turkish embassy in Kuala Lumpur did not respond to an emailed request for comment.
The counter-terrorism police team conducted a six-hour raid around major roads in the Kuala Lumpur on Sunday, arresting more than 400 people, as it stepped up security for the Southeast Asia Games that begin on Aug 19.
Those arrested on Sunday were mostly undocumented migrants from various countries including Bangladesh, India, Nepal and Myanmar.
"Our operations are focused on finding and taking action against foreigners with connections to terrorism, especially those linked to activities in Syria," said Malaysian police counter-terrorism division chief Ayob Khan Mydin Pitchay.
"We are worried about these Syria-linked elements being in Malaysia." A Pakistani national was also detained for possible links to security offences, after police found him with 40,000 ringgit ($9,340), 62 passports from various countries and a machine for forging Immigration Department stickers.
http://jakartaglobe.id/international/malaysia-protests-suspected-militants-deported-turkey-ahead-se-games/
--------
Hindraf: Explanations by ministers on unilateral conversion a charade
August 9, 2017
KUALA LUMPUR: Explanations by cabinet members as to why the clause to prevent the unilateral conversion of a child has been dropped are nothing but a political charade, said Hindraf.
Hindraf chairman P. Waythamoorty said it was merely aimed at ensuring they continued in power.
He charged that, with all the delays and, now, the dropping of the clause in the Law Reform (Marriage and Divorce) (Amendment) Bill 2016, the government never had the intention of passing a bill to stop unilateral conversion.
He described as "utter rubbish" the statement by Health Minister Dr S Subramaniam that the attorney-general (AG) was of the opinion the new section 88A proviso in the bill would involve a constitutional argument, and that the constitutional concern should be addressed before including this section.
"Does the minister even know the process on how a bill comes by after passing through the parliamentary draftsperson in the AG's office, reviewed by the AG, then passed on to the cabinet for its approval before it becomes a bill to be tabled in parliament?
"It is obvious why the MCA chief hasn't said anything because we know majority Chinese votes are foregone, whereas the Indian community can be possibly duped with the Indian minister issuing such a vacuous statement to appear that everything is above board."
Waythamoorthy asked, in a statement issued today, why the constitutional question, if it was really an issue, had not been addressed since 2009 when the cabinet decision to end unilateral conversion was made.
The government withdrew an earlier bill and introduced a new bill, a day later, that does not include the proposed Clause 88A which states that the religion of the child "shall remain as the religion of the parties to the marriage prior to the conversion". The clause also states the child can, after turning 18 and with the consent of both parents, convert to Islam.
In explaining the need to drop clause 88A, Minister in the Prime Minister's Department Azalina Othman Said had said: "The amendments needed to be done so that it would not be in conflict with the provisions under the Federal Constitution."
She said the fresh amendments would be in line with court decisions on the interpretation of Article 12 (4) of the Federal Constitution.
To this, Waythamoorthy said: "The constitutional issue relating to Article 12(4) is just an eye wash. What constitutional issue is she talking about?
"In custody and guardianship, although the basic definition for defining custody and religion of the minor is governed under Article 12(4) of the Federal Constitution and Section 5 (of the) Guardianship of Infant Act 1961, whereby consent of both parents is required, this has been totally hijacked through the amendment to Article 121 of the Federal Constitution where (the) operation of (the) judiciary has become subservient to (the) legislature, and destroyed the independence of the judiciary."
This, he said, had led to the reluctance of the civil court to make a firm stand on the civil rights of the aggrieved non-Muslim party in cases involving a spouse who had converted to Islam.
If any amendment to the constitution was needed, he said, it was to Article 121, which should be reverted back to its pre-1988 position to re-establish the independence of the judiciary.
Waythamoorthy said: "The argument of 'parent' meaning singular does not hold any water as the Interpretation Act 1948 and 1967 clearly indicates otherwise, and further the term 'parent' in Article 12 (4) must necessarily mean both the father and mother.
"To construe otherwise would mean depriving, for example, a mother of her rights as a parent to choose the religion of the infant under Article 12 (4), if the father unilaterally decides on the religion to be followed by the infant."
This would invariably also mean depriving the other of the constitutional right under Article 8 of the Federal Constitution.
He noted that the Interpretation Acts of 1948 and 1967, which generally applied to all acts of parliament, stated that words in the singular "shall include the plural".
Full report at:
http://www.freemalaysiatoday.com/category/nation/2017/08/09/hindraf-explanations-by-ministers-on-unilateral-conversion-a-charade/
--------
Putrajaya's cold feet over 2/3 majority behind move to stop marriage reform bill
August 8, 2017
KUALA LUMPUR: The government today said it would be unconstitutional to go ahead with a law to stop unilateral conversion of minors without amending the Federal Constitution.
But it also feared that any attempt to amend the Constitution, which requires two-third support in the Dewan Rakyat, could be derailed if opposition MPs go back on their word despite their support for the Law Reform (Marriage and Divorce) (Amendment) Act 2016.
Nazri Aziz, who once served as de facto law minister, said the government was not convinced that the opposition MPs would deliver the two-third support needed, despite their support for the bill.
"It can happen that we sit down (with the opposition) and they promise they will do (vote for the bill).
"But on the day we vote, if we lose, that is a vote of no confidence. A government with a strong majority can pass through the bill anytime," said the outspoken tourism minister.
"But we need the two third votes, which we don't have. And if the bill is rejected, it can be construed that there's a vote of no confidence against us."
The ruling Barisan Nasional (BN) has failed to get two-third majority in the last two general elections, and that means it would have to depend on opposition MPs' support to pass any amendments to the Constitution.
Nazri said any failure by the government to get the two-third votes would be a vote of no-confidence against the government.
"You see, when you put a bill, if you can't pass the bill, then that can count as a vote of no confidence," he said.
"We are very careful about that."
Yesterday, the government decided to withdraw the bill, some four months after it said it wanted to consult with experts on how to resolve conflicts arising from custody battles between Muslim and non-Muslim parents.
Under the amendment, a parent who converts to Islam cannot change the religion of his or her children without getting the agreement of the former spouse.
Nazri said there was no other way this provision could be made a law without first amending the Federal Constitution, whose requirement on parent's consent has been vague and fraught with controversy.
The proposed law was drafted following several custodial battles involving Muslim and non-Muslim parents, including that involving kindergarten teacher M Indira Gandhi and her former husband, K Pathmanathan.
After he converted to Islam, Pathmanathan, or Muhammad Riduan Abdullah, converted all three of their children to Islam without consulting Indira. He was then awarded custody rights by the Shariah Court.
But another judgment by the Ipoh High Court granted Indira the custody of the children, highlighting Malaysia's conflicting jurisdictions of the civil and Shariah court.
Full report at:
http://www.freemalaysiatoday.com/category/nation/2017/08/08/putrajayas-cold-feet-over-23-majority-behind-move-to-stop-marriage-bill/
--------
In East Java, Statue of Chinese God Stirs Controversy
August 08, 2017
SURABAYA, INDONESIA —
Dozens of people from East Java community organizations rallied in Surabaya on Monday, demanding that a statue of a Chinese god be demolished.
Claiming the representation of a warrior god known variously as Kwan Sing Tee Koen, Kwan Kong, Kuan-Ti or Guan-Yu fails to reflect Indonesian culture, protesters gathered in front of the East Java Provincial Legislative Building to demand the statue's demolition.
The brightly colored, 30-meter-tall statue at the Kwan Seng Bio temple in Tuban, East Java, is now draped in cloth. Local Chinese Indonesians, a minority in the world's most populous Muslim nation, contend the protesters do not understand that the Confucian god marshals people against war. And a local official said the only problem with the statue is that it lacks a building permit, a snafu caused by an internal dispute at the temple.
Religious divides raise tension
The protest over the statue of the Chinese god comes during a time of religious tension in Indonesia.
In Jakarta, Islamist protests against the Chinese Christian governor, Basuki "Ahok" Purnama, turned violent during his recent re-election campaign. Purnama is now serving a two-year sentence for blasphemy after losing in April to Anies Baswedan, who was backed by hardline proponents of political Islam.
In July, President Joko "Jokowi" Widodo issued a decree banning the group Hizbut Tahrir, which advocates for a global Islamic caliphate. And while Indonesia is an officially secular country that recognizes six religions, Islamic sharia law has been on the rise.
Didik Muadi, who coordinated the Tuban protest, told local media that many consider the statue an insult to Indonesia. The enormous figure has dominated the local landscape since it was unveiled in July by Zulkifli Hasan, chairman of the People's Consultative Body, who told local media he hoped the statue would become a tourist attraction.
Statue's height seen as menacing
That didn't sit well with Didik Maudi. "If they want to make a memorial statue, it should not be that high," he said. "Maybe it should be a maximum of two meters, and inside the temple, if it is a memorial. This statue is so tall, it's as if the god of war has taken over Tuban, and we can't allow that!"
The chairman of the Regional Association of Chinese-Indonesians in East Java, Gatot Santosom, said the Tuban protest was based on a lack of understanding of the god depicted.
"They misunderstood and thought the statue is of a general, that we worship a war general, but that's not true," said Gatot Santosom. "What we worship and respect is what he symbolizes - loyalty, our loyalty to humanity - and he defends justice. That's what we worship, not the war, no."
Where's the building permit?
Abu Cholifah, a member of the Tuban Regency Legislative Body, said the debate about the Tuban temple statue was an effort by outsiders who wanted to turn a statue of a Chinese god into a political issue in a nation with a long history of persecuting the Chinese community.
"The people of Tuban, actually, have no problem with it, because the statue has been there for some time," said Abu Cholifah. "I think [outsiders] politicized the issue for their own interests. As far as the people of Tuban, no one is politicizing the statue."
If there is any issue with the statue, Abu Cholifah said, it is that the local government failed to issue a building permit before it was erected.
Full report at:
https://www.voanews.com/a/in-east-java-statue-of-chinese-god-stirs-controversy/3977124.html
--------
Pakistan
PPP questions JuD's transformation into Milli Muslim League
August 09, 2017
ISLAMABAD - Pakistan People's Party (PPP) on Tuesday questioned the transformation of Jamaatud Dawa into a political party – the Milli Muslim League.
Addressing a dialogue on "Peace possible: Parliamentary initiatives" organised by the Young Parliamentarians Forum at the Pakistan Institute of Parliamentary Services here, PPP leader Senator Farhatullah Babar said the law banning the resurrection of banned outfits was not being implemented and ambiguities continue over the status of some banned militant groups.
"The JuD, a reincarnation of the banned Lashkar Taiba transformed itself into political party Milli Muslim League, despite the law," he said.
Babar said that peace was indispensable for the youth to attain their true potential. "Peace is also indivisible and there can be no peace within borders if there is no peace on borders and beyond," he added.
Babar said that the parliament had not failed in passing anti-terror legislation but those who were supposed to implement it had failed.
"The cyber crime law is not being employed to curb hate speech," he said. Babar said the youth must therefore ask questions, challenge the conventional narratives of national security, present alternate narratives and refuse to be cowed down.
"In the name of patriotism you will be sternly advised not to ask too many questions. But question you must even if you draw no answers," he said. Babar added: "This is the way to develop and pursue alternate theories of national security."
Meanwhile, on Tuesday, PPP leader Saeed Ghani said that the famous poem "Ya Allah Ya Rasool, Benazir Bequsoor (O God, O Prophet, Benazir [Bhutto] is innocent)" was dedicated to Benazir Bhutto by renowned poet late Mohsin Naqvi at a time when Nawaz Sharif was victimising her in connivance with then President Ghulam Ishaq Khan.
He advised the Pakistan Muslim League-Nawaz (PML-N) not to steal this poem to be used for their leader Nawaz Sharif because "it is unethical and unscrupulous".
Saeed Ghani said that the late Mohsin Naqvi had paid tribute to Benazir Bhutto for her long and hard struggle for democracy and rule of law. "It was a cry for the innocence of Benazir Bhutto, which became a befitting slogan for her party workers and followers," he added.
Ghani asked the PML-N workers to advise their leader Nawaz Sharif to ask for pardon from people of Pakistan of his crimes committed against Benazir Bhutto.
http://nation.com.pk/national/09-Aug-2017/ppp-questions-jud-s-transformation-into-milli-muslim-league
--------
Former Pakistan PM risks wrath of the army as he plans to install his wife in his old seat
Memphis Barker
8 AUGUST 2017
The ex-Prime Minister of Pakistan has raised fears of instability in the country by planning to install his politically inexperienced wife in the parliamentary seat he was recently disqualified from.
Nawaz Sharif is set to nominate Kulsoom Nawaz, his spouse of 47 years, as the ruling party's candidate to fill the vacant NA-120 seat in Lahore, according to local media reports.
The provocative move comes as Mr Sharif plans to take to the streets to protest his ousting by the Supreme Court at the end of last month.
Mr Sharif's attempt to retain control of the country via his wife is unlikely to please Pakistan's military, which has long objected to his desire to improve relations with India.
"They," wrote columnist Cyril Almeida, using a common code-word for the army, "came all this way, shook up the system, only to see Nawaz quickly find a way to stay in control?... It doesn't look sustainable"
"Kulsoom's nomination is desperate," a spokesman for the opposition party, Pakistan Tehreek-e-Insaf, told The Telegraph. "It will be foiled by voters in the constituency," which Mr Sharif won with a hefty majority of 40,000 votes in 2013.
Kulsoom Nawaz has not previously held political office. Although she led a campaign against the imprisonment of Mr Sharif in 1999, following a military coup, as first lady she has largely kept silent.
Officials in the Pakistan Muslim League-Nawaz (PML-N) say that Mr Sharif is also considering his daughter as a candidate.
Previously seen as Mr Sharif's political heir, Maryam, 43, has gained exposure handling communications in the prime minister's office, and through bolshy use of her personal Twitter account, which has 3.4m followers.
However, she faces a forthcoming trial over allegations she assisted her father in laundering money to purchase four flats in Park Lane. Both she and her father deny the allegations.
Mr Sharif's reported plan would rip up a previous agreement designed to keep peace in the PML-N, whereby his brother would have shuffled into the vacant seat, and from there swiftly into the role of Prime Minister.
Shahbaz Sharif, a notorious workaholic who sleeps four hours-a-night, represented a popular choice within the party after transforming infrastructure in Punjab province during several stints as chief minister.
"Choosing his wife over his brother will deepen the crisis of credibility for Nawaz Sharif," said Mosharraf Zaidi, a columnist. "How many metros has Mrs Nawaz Sharif built?"
On Wednesday Mr Sharif is set to drive in a 'cavalcade' from Islamabad, the capital, to his home town of Lahore, where the 67-year-old will address a large rally of supporters.
The ex-PM is expected to develop his claim that a "conspiracy", led by the army, was behind his disqualification following a trial linked to revelations in the Panama Papers.
Full report at:
http://www.telegraph.co.uk/news/2017/08/08/former-pakistan-pm-risks-wrath-army-plans-install-wife/
--------
NAP's non-implementation paving way for more terror acts: Bilawal
Aug 9, 2017
Pakistan People's Party (PPP) Chairman Bilawal Bhutto Zardari said that terrorism was taking further roots in the country owing to no implementation of National Action Plan (NAP).
In his message on the occasion of first anniversary of Quetta massacre, he said those who had played with the lives of innocent lawyers had not been apprehended so far
"It is our promise with the bereaved families of Quetta massacre martyrs that PPP equally shares their grief. PPP stands with all the martyrs of the country. PPP is their real custodian. The attack on lawyers by the terrorists in fact is attack on the country and its constitution, Bilawal held.
'Terrorism in real is an attack on Quaid-e-Azam and its nation and we as a nation have to do mutual work to stop and face this bad act of terrorism', he added.
https://www.pakistantoday.com.pk/2017/08/09/naps-non-implementation-paving-way-for-more-terror-acts-bilawal/
--------
4 Pakistan Army personnel including major martyred during operation in Lower Dir
Ali Akbar | Naveed Siddiqui
August 09, 2017
Four personnel of the Pakistan Army, including a major, lost their lives while attempting to foil a terrorist attack in Khyber Pakhtunkhwa's Lower Dir district in the early hours of Wednesday, said an Inter-Services Public Relations (ISPR) press release.
Major Ali Salman, who belonged to an intelligence agency, along with his team carried out an intelligence-based operation (IBO) against a terrorist hideout in Sherotkai area of Timergara in Lower Dir.
When the security personnel raided the hideout, the suspected militants opened fire on the soldiers. One of the two suicide bombers present inside the hideout then blew himself up, while the other was killed in the exchange of fire with soldiers.
One suspected terrorist was apprehended during the operation, the ISPR statement said.
The martyred officer and soldiers were identified as Maj Ali Salman, Havaldar Ghulam Nazir, Havaldar Akhtar and Sepoy Abdul Karim.
The incident comes as Operation Khyber-4, launched under Operation Raddul Fasaad (RuF) by the Pakistan Army in the Rajgal Valley area of Khyber Agency, gains momentum.
Terrorism in Pakistan
Incidents of terrorism in Pakistan have shown a drop over the three-year period from 2014-2017, the ISPR had announced earlier.
Since the launch of Operation RuF, the army has launched 46 major operations in the country and over 9,000 IBOs.
Full report at:
https://www.dawn.com/news/1350539/4-pakistan-army-personnel-including-major-martyred-during-operation-in-lower-dir
--------
Nawaz Sharif ignores warnings, takes to GT Road today
Iftikhar A. Khan
August 09, 2017
ISLAMABAD: Despite concerns about his security, former prime minister Nawaz Sharif was adamant that he will leave for Lahore via the historic Grand Trunk (GT) Road on Wednesday morning.
"I will not wait for the situation to calm down because I have every right to go home," he told reporters at the Punjab House on Tuesday, referring to the recent bombing in Lahore and the heightened security threats there.
Reports suggested that his brother Punjab Chief Minister Shahbaz Sharif, Interior Minister Ahsan Iqbal and his predecessor Chaudhry Nisar Ali Khan were among several close figures who warned the ousted PM against proceeding to Lahore by road.
Mr Sharif is said to have ignored their advice, but sent his wife Kulsoom and daughter Maryam to Lahore a day before his own departure.
The former prime minister is expected to leave his Punjab House camp office around 10am on Wednes­day, and will enjoy the protocol accorded to a sitting prime minister as he travels through the twin cities to Rawat, the first stop on his decidedly political journey on the GT Road.
Speaking to journalists, he said he had never tried to create anarchy in the country — be it the days of the Pakistan Tehreek-i-Insaf sit-in outside parliament, attempts to lock down the capital or matters relating to the Panama Papers case.
He said a petition seeking a review of his disqualification would soon be filed before the Supreme Court with the plea that a larger bench hear the case.
Lamenting that none of the 18 prime ministers in the country's history had ever completed their constitutional term in office, he said that just three dictators had ruled the country for decades.
He said the Constitution was abrogated again and again, but the judiciary not only legitimised military rule every time, but even went to the extent of giving military dictators the right to amend the Constitution at their whim.
"Countries cannot be run like this," he remarked, saying this was a time for grand debate, both inside and outside parliament, to find a way forward.
He blamed lack of continuity as the major reason for the country lagging behind in terms of economic progress.
He regretted that he was once removed as prime minister under the now-defunct Article 58(2)(b) of the Constitution, termed a hijacker by General Muhaarraf and had now been disqualified by the judiciary on an allegation never mentioned in the petition.
"Why should I have disclosed a salary I never withdrew from my son's company?" he asked, adding that a prime minister elected with the votes of 200 million people should not have been treated in such a way.
Mr Sharif avoided answering questions on the chances of him returning as prime minister, but indicated that he would remain active in politics, saying confidently that his innings was not over.
"When I was sent into exile by Musharraf, many believed that was the end of my political career. But it did not happen then, and it will not happen now."
Talking about the case against him, he claimed that the Panamagate petition was first rejected by the registrar office as frivolous, but was admitted for hearing a few weeks later.
He said the composition of the Joint Investigation Team (JIT) was controversial, adding that the way they worked was known to everyone.
He told reporters he was advised not to appear before the JIT, but that he had decided to go since his hands and conscience were clean.
He also claimed that by filing references against him on matters that related to his family business, a new precedent was being set.
Another deviation from normal practice was that a judge was being appointed to supervise the cases, which meant that a sword would keep dangling over the National Accountability Bureau.
Drawing a comparison between the democratic dispensation and military rule, he said that all key issues facing the country were resolved by politicians — from the repatriation of prisoners of war from India to the nuclear programme — adding that wars were only fought under dictatorships.
He avoided pointing a finger at the military establishment when journalists asked him to disclose who was conspiring against him. When asked if the army was angry with him over foreign policy issues, he said: "It would be appropriate if we continued to focus on the matter at hand."
Asked if he would ask Prime Minister Shahid Khaqan Abbasi to start the process to issue red warrants for Gen Musharraf, Mr Sharif held the judiciary responsible for allowing the former military ruler to proceed abroad.
Full report at:
https://www.dawn.com/news/1350467/nawaz-sharif-ignores-warnings-takes-to-gt-road-today
--------
PM Abbasi hints at scrapping Article 62(1)(f) with help of political parties
August 08, 2017
Prime Minister Shahid Khaqan Abbasi on Tuesday said that Article 62(1)(f) of the Constitution may be scrapped with the consultation of all parties.
Article 62(1)(f), sets the precondition for the head of government to be "sadiq and ameen" (truthful and honest), had provided the grounds of the disqualification of Nawaz Sharif, Abbasi's predecessor, from holding public office in the July 28 judgement on the Panama Papers case handed down by the Supreme Court of Pakistan.
The Supreme Court had ruled that because Sharif failed to declare a salary accruing to him as an asset in his nomination papers for the 2013 election, he could not be considered 'truthful' and hence was unfit to continue in office.
While talking to Geo News on Tuesday, the prime minister hinted that his government would take the initiative of removing Article 62 (1)(f), which has been criticised heavily following the verdict, by contacting all political parties and politicians of all hues.
"The PML-N leadership has shown resilience despite all odds and continued the democratic process in the face of conspiracies," he continued, adding that "conspiracies were being hatched to derail the system."
He explained that whatever caused harm to a democratically elected government could be construed as a "conspiracy" against Pakistan.
"Elements, who do not want Pakistan to march on the path of progress are scheming against it," Abbasi added.
"Nawaz Sharif has left his office but his policies will continue," he said while expressing confidence that his government would achieve the PML-N's mega-development targets as conceived by the deposed prime minister.
Full report at:
https://www.dawn.com/news/1350368/pm-abbasi-hints-at-scrapping-article-621f-with-help-of-political-parties
--------
Qadri threatens another sit-in to seek justice in Model Town case
09-Aug-17
by Kashif Hussain
LAHORE: Addressing a gathering at Nasir Bagh following his return to the country on Tuesday, Pakistan Awami Tehreek (PAT) chairman Dr Tahirul Qadri came down hard on former Prime Minister Nawaz Sharif for his planned return to Lahore in the form of a rally via GT Road.
In what was a veiled threat to the former premier, the cleric-turned-politician said his workers were waiting for his orders to take action against the Sharifs.
Seeking justice for victims of the 2014 Model Town killings, Qadri said that the Joint Investigation Team that probed the Panama Papers leaks should be tasked with the responsibility of investigating Model Town killings as well. As many as 14 people, including PAT workers, had lost their lives in clashes with the police in Lahore's Model Town on June 17, 2014. The PAT later registered an FIR nominating 21 people, including then Prime Minister Nawaz Sharif and Punjab Chief Minister Shehbaz Sharif.
Addressing Nawaz Sharif, Qadri said that instead of pretending that he did not know why he was disqualified Sharif should answer questions put to him regarding the Model Town incident. "What was the mistake of the 14 people who were killed and the hundred others who were injured?" he said. "Shahbaz Sharif ordered the formation of a commission headed by Justice Baqir to probe the Model Town killings. The commission had held the provincial government responsible for the killings. Why have you not resigned Shehbaz Sharif," Qadri asked.
On the Panama Papers case, Qadri said Supreme Court gave Nawaz Sharif 273 days to prove himself innocent. Instead of doing that, "You gave speeches to the people and in the Parliament where you lied and fooled the people," he said, "then you lied in the SC by submitting fake documents and papers. If someone submits fake papers or lies to the court, they can be jailed for up to seven years," he said. "Today, you tell the people you were mistreated. The truth is, the SC was soft on you. They could have thrown you into the prison but they only declared you dishonest and removed you from power. Be thankful they did not send you to jail," he asserted.
He said if Sharif had any honour he would have bowed his head in shame and stayed home instead of coming out on the roads.
Qadri also challenged Sharif to "speak openly". "Who has shown heavy-handedness with you? Who are you protesting against? Name the person or else your efforts will be deemed at targeting Army and Supreme Court," he said.
Referring to the PML-N statements that democracy was in danger, Qadri said Shahid Khaqan Abbasi was the prime minister and other ministers in the cabinet were also nominated by Nawaz Sharif. "Even today, the government is yours, the PM is your PM. The ministers are yours, power is yours, and you say no one respects the mandate in this democracy?" he noted.
"The SC did not break your assemblies or steal your right to rule from you — the SC made a decision according to the Constitution and gave you permission to form a new government. Your reaction shows that it is you who doesn't believe in democracy," he said. "If you and your family are in power, only then it is democracy? But if your family is removed even if the party is yours you don't accept it as democracy. Rule over hearts all you want, but for the love of God, please leave Pakistan alone," Qadri added.
"When we held protests, they would say development and progress on the China-Pakistan Economic Corridor will be affected. But if they do the same, it is permitted," he said, "They have been reared by the army and now they go around spitting insults at those who raised them," he alleged.
Qadri said if his followers agreed to 'welcome' Nawaz Sharif he would have to "tell the administration that the matter was not in his hands anymore."
Threatening Sharif, he said if he would let loose his workers nothing will remain of him. "These people will be ready to act on any orders I give them," he said.
Speaking at the occasion, Awami Muslim League (AML) chief Sheikh Rashid alleged that Nawaz Sharif's GT Road procession was an attempt to seek a National Reconciliation Ordinance (NRO) from the Army.
Full report at:
http://dailytimes.com.pk/pakistan/09-Aug-17/qadri-threatens-another-sit-in-to-seek-justice-in-model-town-case
--------
JI says did not invite Ayesha Gulalai to party
August 09, 2017
PESHAWAR - Jamaat-e-Islami Khyber-Pakhtunkhwa on Tuesday distanced itself from commenting over the issue of Ayesha Gulalai's allegations against PTI Chairman Imran Khan, however; clarified that no invitation was given to her for joining the party.
Jamaat-e-Islami (JI) KP Deputy Secretary General Bahrullah said while speaking at a news conference at Peshawar Press Club that Ayesha Gulalai's allegations against Imran Khan was an internal matter of Pakistan Tehreek-e-Insaf (PTI), and they would not make any comment on the issue. He also said that the JI Secretary General Liaqat Baloch had already denied his statement on the issue, adding that the party's stance was clear in this regard.
In reply to a query about re-activation of defunct Muttahida Majlis-e-Amal (MMA), a former alliance of the religious political parties, he said that the matter was discussed in a meeting with leaders of Jamiat-e-Ulema-e-Islam-Fazl (JUI-F) at JI headquarter in Mansoora, Lahore. He said that a committee was also constituted under the leadership of JI Secretary General Liaqat Baloch in this regard.
He also said that all options were opened for the JI, whether it would make seat-to-seat adjustment, or would go for electoral alliance with other religious political parties or would opt for revival of the MMA before the upcoming general elections. However, he said that things would be cleared with the passage of time as election schedule was yet to be announced by the Election Commission.
Flanked by JI youth wing district president, Siddiqu Paracha, and Iqbal Khan, Bahrullah hoped that JI would get a thumping majority in general elections 2018 and would be able to form government in Khyber-Pakhtunkhwa. He said that the JI would continue its struggle for a corruption-free Pakistan.
Earlier, a former district president of All Pakistan Muslim League (APML) Muhammad Irfan along with his family members and friends announced joining the JI after quitting the APML. Irfan said that the APML had failed to play its role in politics and implement its manifesto in KP. He said that division within APML in KP was another reason of his departure from the party. He said that JI was a well organised political party, which had always remained steadfast on its manifesto. He added that the JI, led by Sirajul Haq, always raised voice against corrupt people and for the downtrodden segments of the society, therefore; he decided to join the JI.
The district youth president on the occasion explained about the Azadi night and other events in connection with celebrations of 70th Independence Day in Jinnah Park Peshawar on Aug 13.
Full report at:
http://nation.com.pk/national/09-Aug-2017/ji-says-did-not-invite-ayesha-gulalai-to-party
--------
Mideast
Kissinger: ISIS's eradication would create 'radical Iranian empire'
9 August 2017
Former US Foreign Minister Henry Kissinger has warned that the eradication of ISIS would create an "Iranian radical empire."
The former diplomat has suggested that once ISIS is defeated, and if Iran occupies the free territory, this could lead to the emergence of a new empire.
The 94-year-old, who was the Secretary of State under President Richard Nixon, also spoke about the complications of taking sides in Middle Eastern conflicts.
"In these circumstances, the traditional adage that the enemy of your enemy can be regarded as your friend no longer applies. In the contemporary Middle East, the enemy of your enemy may also be your enemy. The Middle East affects the world by the volatility of its ideologies as much as by its specific actions," he wrote in an article for CapX.
"The outside world's war with ISIS can serve as an illustration. Most non-ISIS powers — including Shiite Iran and the leading Sunni states — agree on the need to destroy it. But which entity is supposed to inherit its territory? A coalition of Sunnis? Or a sphere of influence dominated by Iran?
"The answer is elusive because Russia and the Nato countries support opposing factions. If the ISIS territory is occupied by Iran's Revolutionary Guards or Shiite forces trained and directed by it, the result could be a territorial belt reaching from Tehran to Beirut, which could mark the emergence of an Iranian radical empire," Kissinger added.
https://english.alarabiya.net/en/News/middle-east/2017/08/09/Kissinger-ISIS-eradication-would-create-Iranian-radical-empire-.html
--------
Iran breaks up Daesh group planning attacks
9 August 2017
DUBAI/ISTANBUL: Iranian security forces have broken up a group linked to Daesh which was planning attacks in religious centers in the country and trying to hide weapons in home appliances, state news agency IRNA reported on Monday,
The agency said the operation was conducted jointly with another country's agents and a total of 27 suspects were arrested. The agency did not name the other country.
Daesh claimed responsibility for an attack in June in which suicide bombers and gunmen attacked the Iranian Parliament and Ayatollah Ruhollah Khomeini's mausoleum in Tehran, killing 18 people.
It threatened more attacks against Iran's majority Shiite population, seen by the hard-line militants as heretics.
Intelligence Ministry agents "were able to arrest a terrorist group linked to Daesh that intended to carry out terror operations in religious cities," IRNA said.
"The terrorists were trying to bring (weapons and ammunition) into the country by concealing them in home appliances," the agency quoted a ministry statement as saying.
It said 10 people were arrested at the group's leadership center abroad and 17 people inside Iran. Five of the 17 were due to carry out the attacks in Iran and the other 12 were supporting them, the statement said.
The statement did not identify the religious centers it said were the targets.
On Sunday, Iranian media said Iran's Revolutionary Guards had killed two people in clashes with a group of militants in the northwest of the country, where shootouts with Iranian Kurdish militant groups based in Iraq are common.
Full report at:
http://www.arabnews.com/node/1141821/middle-east
--------
Four soldiers, six al Qaeda militants die in Yemen attack: official
August 9, 2017
Four soldiers and six suspected al Qaeda attackers were killed and 10 soldiers wounded on Tuesday when a suicide bomber and gunmen tried to storm an army camp in southern Yemen, a local security official said.
Al Qaeda has exploited more than two years of civil war between President Abd-Rabbu Mansour Hadi's internationally - backed government and the Iran-aligned Houthis to try to deepen its influence in Yemen, repeatedly launching bomb and gun attacks on security forces, government officials and compounds.
"This was a terrorist attack and it has been foiled," the official said of the attack in Juhayn, Abyan province.
The Yemeni army has been preparing to deploy across Abyan to try to drive al Qaeda militants out of the province, local officials have said.
Last week, Yemeni forces, backed by US and UAE soldiers, deployed in neighboring Shabwa province where al Qaeda also operates. Local residents and officials said the militants withdrew into the mountains without a fight.
Full report at:
http://nation.com.pk/international/08-Aug-2017/four-soldiers-six-al-qaeda-militants-die-in-yemen-attack-official
--------
Suicide bomber kills four in Yemen
8 August 2017
Four soldiers and six suspected al-Qaeda attackers were killed on Tuesday when a suicide bomber and gunmen tried to storm an army camp in southern Yemen, a local security official said.
"This was a terrorist attack and it has been foiled," the official said of the attack in Juhayn, Abyan province.
A further 10 soldiers were wounded in the attack Reuters reported.
The Yemeni army has been preparing to deploy across Abyan to try to drive al Qaeda militants out of the province, local officials have said.
A military source told Al Arabiya that a suicide bomber. believed to be an al-Qaeda operative, smashed in to a security check point on the main road which was located near the assembly point of the 103rd brigade of the Yemeni forces.
The 103rd brigade was relocated last week from Aden as part of the ongoing anti al-Qaeda operations in the Abyan and Shabwa provinces.
Full report at:
https://english.alarabiya.net/en/News/gulf/2017/08/08/Suicide-bomber-kills-two-in-Yemen.html
--------
Rouhani appoints another perpetrator of 1988 massacre as justice minister
8 August 2017
Iranian President Hassan Rouhani has appointed Alireza Avai to replace Mostafa Pourmohammadi as justice minister in his new cabinet. While Pourmohammadi was one of the three members of the 1988 massacre "Death Commission" in Tehran, Avai was directly involved in the massacre of political prisoners in Khuzestan Province during the same time period.
At a Paris press conference held on September 6, 2016, the Iranian Resistance exposed Avai's involvement in the 1988 massacre in Younesco Prison in the city of Dezful, southwest Iran.
Avai served as Dezful's public prosecutor from 1979 to 1988. During the 1988 massacre he was serving as the city's Revolutionary Court prosecutor. Following a fatwa issued by then Iranian Supreme Leader Ruhollah Khomeini, Avai was the main official in charge of executions in Younesco Prison.
Based on eyewitness reports provided by various former prisoners, Avai ordered "juvenile prisoners under the age of 18 to be executed in groups of two or three, carried out in an empty field near the prison."
From 2005 to 2014, Avai served as chief of the Tehran Province judiciary and then was appointed as deputy interior minister. In July 2016, Rouhani had him elevated to the head of the president's Special Inspections Office.
Avai was placed under sanctions by the European Union in October 2011 for his role in human rights violations and direct participation in torturing and massacring political prisoners.
Replacing Pourmohammadi with Avai, one executioner with another, proves that the entire establishment in Iran under the clerics, especially its so-called judiciary, is intertwined with executions, killings and the massacre of political prisoners.
Former justice ministers
Other justice ministers prior to Pourmohammadi, such as Morteza Bakhtiari and Ismaeel Shoushtari, were all involved in the 1988 massacre.
While most of the members of Rouhani's new cabinet are holdovers from his first term, he was forced to replace Pourmohammadi with another official in charge of 1988 massacre due to the extensive domestic and international disclosures of Pourmohammadi's former role as a member of Four-Person Death Committee, which contributed to the widespread public backlash against him.
The Iranian Resistance and its President-elect Maryam Rajavi have helped to build public awareness of Pourmohammadi's crimes and have called for him to be brought to justice, through hundreds of statements, disclosures, speeches and in correspondence with various international organizations.
Full report at:
https://english.alarabiya.net/en/News/gulf/2017/08/08/Rouhani-appoints-another-perpetrator-of-1988-massacre-as-justice-minister.html
--------
Houthi missile launched towards Saudi Arabia lands in Red Sea
8 August 2017
Houthi militias failed to launch a ballistic missile towards Saudi Arabia from Hajjah in Yemen, an Al Arabiya correspondent reported on Tuesday.
Sources said the missile most likelt fell in international waters in the Red Sea.
The Patriot Missile Defense System of the Arab coalition in Yemen also intercepted a ballistic missile in Ma'rib which Houthi militias and forces loyal to ousted president Ali Abdullah Saleh launched towards the city.
Local sources said the missile was destroyed above an empty area and did not cause any damage.
On Monday night, the coalition's warships shelled a camp that militias control in the district of Bajil in Hodeidah.
In the early hours of Tuesday, battles renewed in al-Maslub front, west of al-Jawf governorate after cautious calm prevailed for few days.
A Popular Resistance source said violent clashes erupted between national army forces and the resistance on one hand and Houthi militias and forces loyal to ousted president Saleh on another in the areas of Waqz and Gharafa in al-Maslub district and in the areas of Ham and Mazwya in the neighboring district of al-Matoun.
Full report at:
https://english.alarabiya.net/en/News/gulf/2017/08/08/Houthi-missile-launched-towards-Saudi-Arabia-lands-in-Red-Sea.html
--------
Arab World
Tens of Terrorists Killed, Wounded in Dara'a Blast
Aug 08, 2017
Websites affiliated to the terrorist groups reported that the blast occurred in a cache of mortars, ammunition and missiles in Katibeh al-Mahjoureh region in the Western parts of the Old Customs Office in Dara'a, killing 7 militants and injuring tens of others.
The blast came as a new wave of assassinations has started in recent months against commanders of the terrorist groups in Dara'a.
According to earlier reports, hundreds of militants have defected to the ISIL over the past year, increasing tensions among the Free Syrian Army (FSA) factions.
Local sources reported late last month that two military commanders of terrorist groups have been killed in two separate assaults in the Southern province of Dara'a.
The sources said that Commander of Syria's Thowar Front Bashir Mat'at al-Rahil al-Namiri was killed in a booby-trap bomb blast as he was moving on the road connecting Zamrin to Um al-Awsaj in Northern Dara'a.
In the meantime, one of the commanders of Hourdan Mujahedeen Brigade affiliated to the FSA was killed in a bomb explosion in the town of Kafr Shams in Northern Dara'a.
http://en.farsnews.com/newstext.aspx?nn=13960517001363
--------
ISIL Preparing for Large-Scale Attack on Syrian Army Positions in Deir Ezzur
Aug 08, 2017
The English-language AMN website quoted an unnamed army officer as saying that the ISIL is getting ready to attack the army's stronghold in the Eastern province of Deir Ezzur after its defeats in the town of al-Sukhnah in Eastern Homs, vast withdrawal from the Southeastern territories of Raqqa province and collapse of its front in Aqayrabat region in Southern Hama.
The AMN quoted another military source as saying that hundreds of ISIL terrorists have launched fresh attacks on government forces' positions in Deir Ezzur to pave the ground for their large-scale operation.
In the meantime, field reports said that ISIL has confiscated houses of civilians in the towns and villages in Eastern Deir Ezzur and relocated its fugitive members and their families to the seized houses and properties.
The fugitive members of ISIL and their families were previously living in the Eastern part of Raqqa province, the town of al-Sukhnah in Eastern Homs, the villages of Soula and Kabajeb in Southwestern Deir Ezzur but left their home following the army advances in the region.
Local sources reported early June that ISIL was planning to announce Deir Ezzur city as its new capital in Syria after the US-backed Kurdish-led SDF inked an agreement with the ISIL that allows militants' exit from Raqqa city without a battle.
The sources said that while the US and the Predominately Kurdish Syrian Democratic Forces (SDF) permitted ISIL terrorists to leave their capital city of Raqqa without clashes, the Takfiri terrorists movied towards Deir Ezzur in groups.
In the meantime, the Russian-language Izvestia daily reported at the time that the agreement between the SDF and ISIL on evacuation of terrorists from Raqqa caused intensified ISIL attacks on pro-government forces' positions in Deir Ezzur.
The paper further added that the ISIL was trying to drive the Syrian Army troops out of Deir Ezzur city to declare it as its new capital.
A Russian daily said mid-March that the ISIL power was declining in Raqqa and Mosul, adding that the terrorist group was very much likely to pick up Deir Ezzur as its new self-proclaimed capital.
Full report at:
http://en.farsnews.com/newstext.aspx?nn=13960517001211
--------
Lebanese Army Standing Order to Raid ISIL in Mountainous Region at Border with Syria
Aug 08, 2017
The sources said that the army has completed all the preliminary steps in the heights near the towns of al-Qa'a, Ra'as Ba'albak and al-Fakeha to launch a large-scale anti-ISIL operation in Northeastern Lebanon along the border with Syria.
The sources further said that the army soldiers, Hezbollah fighters and Syrian Army will partner in the operation in Arsal in three directions.
The raid will come after all Nusra-held territories in the same region were purged of terrorists in a massive assault by the Lebanese and Syrian armies as well as Hezbollah in recent weeks.
The Lebanese Army troops on Sunday stormed ISIL's defense lines in mountainous regions at border with Syria and drove them back from several hills and heights.
The army units, backed up by artillery and missile units' heavy fire, engaged in fierce clashes with ISIL in Lebanon's border heights with Syria and managed to impose control over the strategic hills of Abu Ali and al-Zalil al-Aqra'a in Ra'as Ba'albak heights.
Full report at:
The ISIL reportedly suffered heavy casualties in the operation.
http://en.farsnews.com/newstext.aspx?nn=13960517000963
--------
Syrian Soldiers Make Fresh Gains against Terrorists in Eastern Homs
Aug 08, 2017
The army soldiers stormed ISIL's defense lines North-East of Palmyra (Tadmur) in their push towards Deir Ezzur and managed to capture several positions near the villages of al-Koum and al-Tayebah.
In the meantime, the Syrian Air Force bombed ISIL's movements and strongholds in the villages of Um Sahrij, Um Tweinah, Tweinan and al-Shandakhiyeh in Eastern Homs and in Humeimeh region near the provincial border with Deir Ezzur, destroying their command center, vehicles and military equipment.
Also, the army men repelled ISIL's heavy attack on pro-government forces' positions around al-Sukhnah, killing a number of them and forcing the remaining pockets of them to retreat.
Relevant reports said on Monday that the army soldiers engaged in fierce clashes with ISIL South-East of Jubb al-Jarah region and pushed the terrorists back from the village of Manoukh Northeast of Jubab Hamd region.
Full report at:
http://en.farsnews.com/newstext.aspx?nn=13960517000545
--------
Lebanon's army prepares to clear border area of ISIS militants
8 August 2017
Lebanon's U.S.-backed military is gearing up for a long-awaited assault to dislodge hundreds of ISIS militants from a remote corner near Syrian border, seeking to end a years-long threat posed to neighboring towns and villages by the extremists.
The campaign will involve cooperation with the militant group Hezbollah and the Syrian army on the other side of the border - although Lebanese authorities insist they are not coordinating with Syrian President Bashar Assad's government.
But the assault could prove costly for the under-equipped military and risk activating ISIS sleeper cells in the country.
The tiny Mediterranean nation has been spared the wars and chaos that engulfed several countries in the region since the so-called Arab Spring uprisings erupted in 2011. But it has not been able to evade threats to its security, including sectarian infighting and random car bombings, particularly in 2014, when militants linked to al-Qaida and ISIS overran the border region, kidnapping Lebanese soldiers.
The years-long presence of extremists in the border area has brought suffering to neighboring towns and villages, from shelling, to kidnappings of villagers for ransom. Car bombs made in the area and sent to other parts of the country, including the Lebanese capital, Beirut, have killed scores of citizens.
Aided directly by the United States and Britain, the army has accumulated steady successes against the militants in the past year, slowly clawing back territory, including strategic hills retaken in the past week. Authorities say it's time for an all-out assault.
Hezbollah forces al-Qaida-linked fighters to flee Arsal
The planned operation follows a six-day military offensive by the Lebanese Shiite militant group Hezbollah that forced al-Qaida-linked fighters to flee the area on the outskirts of the town of Arsal, along with thousands of civilians.
In a clear distribution of roles, the army is now expected to launch the attack on ISIS. In the past few days, the army's artillery shells and multiple rocket launchers have been pounding the mountainous areas on the Lebanon-Syria border where ISIS held positions, in preparation for the offensive. Drones could be heard around the clock and residents of the eastern Bekaa Valley reported seeing army reinforcements arriving daily in the northeastern district of Hermel to join the battle.
The offensive from the Lebanese side of the border will be carried out by the Lebanese army, while Syrian troops and Hezbollah fighters will be working to clear the Syrian side of ISIS militants. Hezbollah has been fighting alongside Assad's forces since 2013.
Special forces take part in the offensive
Experts say more than 3,000 troops, including elite special forces, are in the northeastern corner of Lebanon to take part in the offensive. The army will likely use weapons it received from the United States, including Cessna aircraft that discharge Hellfire missiles.
Keen to support the army rather than the better equipped Iranian-backed Hezbollah, the U.S. and Britain have supplied the military with helicopters, anti-tank missiles, artillery and radars, as well as training.
The American Embassy says the U.S. has provided Lebanon with over $1.4 billion in security assistance since 2005.But the fight is not expected to be quick or easy.
According to Lebanon's Interior Minister Nouhad Machnouk, there are about 400 ISIS fighters in the Lebanese area, and hundreds more on the Syrian side of the border.
"It is not going to be a picnic," said Hisham Jaber, a retired army general who heads the Middle East Center for Studies and Political Research in Beirut. "The Lebanese army will try to carry out the mission with the least possible losses."
Jaber said the battle may last several weeks. "It is a rugged area and the organization (ISIS) is well armed and experienced."
There are also concerns the offensive may subject Lebanon to retaliatory attacks by militants, just as the country has started to enjoy a rebound in tourism.
A Lebanese security official said authorities are taking strict security measures to prevent any attack deep inside Lebanon by sleeper cells. The official, who spoke on condition of anonymity in line with regulations, said authorities have detained several ISIS militants over the past weeks.
Lebanese politicians say ISIS controls an area of about 296 square kilometers (114 square miles) between the two countries, of which 141 square kilometers (54.5 square miles) are in Lebanon.
The area stretches from the badlands of the Lebanese town of Arsal and Christian villages of
Ras Baalbek and Qaa, to the outskirts of Syria's Qalamoun region and parts of the western Syrian town of Qusair that Hezbollah captured in 2013.
Hasan Nasrallah speech on the battle between the Syrian and Lebanese armies
In a televised speech last Friday, Hezbollah leader Sheikh Hassan Nasrallah said that once the Lebanese army launches its offensive from the Lebanese side, Hezbollah and the Syrian army will begin their attack from the Syrian side. He added that there has to be coordination between the Syrian and Lebanese armies in the battle.
"Opening two fronts at the same time will speed up victory and reduce losses," Nasrallah said, adding that his fighters on the Lebanese side of the border are at the disposal of Lebanese troops if needed.
"I tell Daesh that the Lebanese and Syrians will attack you from all sides and you will not be able to resist and will be defeated," he said, using an Arabic acronym for the extremist group.
"If you decide to fight, you will end up either a prisoner or dead," Nasrallah added.
Some Lebanese politicians have been opposed to security coordination with the Syrian army. The Lebanese are sharply divided over Syria's civil war that has spilled to the tiny country of 4.5 million people. Lebanon is hosting some 1.2 million Syrian refugees.
Prime Minister Saad Hariri is opposed to Assad while his national unity Cabinet includes Hezbollah as well as other groups allied with the Syrian president.
Last week, Hariri told reporters that Lebanese authorities are ready to negotiate to discover the fate of nine Lebanese soldiers who were captured during the raid on Arsal by ISIS and al-Qaida fighters in August 2014. Unlike their rivals in al-Qaida, the ISIS group is not known to negotiate prisoner exchanges.
Full report at:
https://english.alarabiya.net/en/News/middle-east/2017/08/08/Lebanon-s-army-prepares-to-clear-border-area-of-ISIS-militants.html
--------
US urges UN force in Lebanon to prevent Hezbollah weapons
8 August 2017
U.S. Ambassador Nikki Haley urged the U.N. peacekeeping force in Lebanon on Monday to step up efforts to prevent the spread of illegal arms in the south, which she said "are almost entirely in the hands of Hezbollah terrorists."
Haley made clear in a statement that the United States is seeking "significant improvements" to the U.N. force, known as UNIFIL, when the U.N. Security Council renews a mandate that is due to expire Aug. 31.
Her statement was in response to a letter to the Security Council from Secretary-General Antonio Guterres saying he intends to look at ways in which UNIFIL could "enhance its efforts."
But the U.N. chief stressed that the Lebanese armed forces have primary responsibility for ensuring that "there are no unauthorized armed personnel, assets or weapons" in the southern area between the Litani River and the U.N.-drawn Blue Line separating Lebanon and Israel where UNIFIL operates.
"On its part, UNIFIL, in coordination with the Lebanese armed forces, remains determined to act with all means available within its mandate and capabilities on concrete information provided regarding the illegal presence of armed personnel, weapons or infrastructure inside its area of operations," Guterres said.
Israel has long complained that Hezbollah militants operate freely in the south.
What's to happen next
Haley said the United States, a strong ally of Israel, "will continue to raise the threat posed by Hezbollah as we seek significant improvements to UNIFIL when the Security Council renews its mandate this month."
The secretary-general said that despite the "long period of relative calm and stability in southern Lebanon and along the Blue Line," neither Israel nor Lebanon have fulfilled their obligations under the Security Council resolution that ended the Israeli-Hezbollah war in 2006.
"Israel must withdraw its forces from Lebanese territory and stop violations of Lebanese airspace," Guterres said.
"The government of Lebanon must exercise effective authority over all Lebanese territory, prevent hostile actions from its territory, ensure the safety and security of the civilian population, in addition to United Nations personnel, and also ensure the disarmament of all armed groups," he said.
Ensuring that there are no weapons or "authority" in the south except the Lebanese government and army is vital "in moving from the fragile cessation of hostilities to a permanent cease-fire," Guterres said.
Full report at:
https://english.alarabiya.net/en/News/middle-east/2017/08/08/US-urges-UN-force-in-Lebanon-to-prevent-Hezbollah-weapons.html
--------
US accountable for fatal raid on Hashd al-Sha'abi forces: Senior commander
Aug 9, 2017
A commander of Iraq's Popular Mobilization Units (PMU) has held the US-led coalition accountable for a recent deadly attack on its forces near the Syrian border, saying Daesh terrorists could not have been behind the assault as they are not in possession of smart weapons.
On August 7, the PMU's Sayyad al-Shuhada Brigades said its military base in the al-Tanf region came under a smart bomb and artillery attack by the US-led coalition, which purports to be fighting Daesh in Iraq and Syria.
More than 30 Iraqi volunteer forces, known as Hashd al-Sha'abi, were killed in the assault.
Daesh claimed responsibility for the incident. The US-led also rejected the allegations as "inaccurate" and denied conducting air attacks in that area at the time.
However, Karim al-Nouri, a PMU spokesman, told Lebanon's al-Mayadeen television channel that the attack could not have been conducted by Daesh terrorists since they are not in possession of any smart bombs as the ones that hit the Iraqi base.
He described the attack as intentional, saying it is impossible for the US military to have mistakenly targeted the Iraqi troops.
The US had, prior to the incident, threatened Hashd al-Sha'abi forces in the area, the commander said.
Speaking to Iran's Tasnim News Agency on Tuesday, Abu Ala al-Wella'ei, who commands the Brigades, said the attack was followed by a Daesh strike against the Hashd al-Sha'abi forces in the area.
The nature of the assault, he said, indicates a team-up between the US-led coalition and Daesh.
He rejected claims that the US attack could have been carried out by mistake, saying American drones perform ceaseless surveillance operations over the area giving the US forces perfect command over the situation there.
Al-Wella'ei called Operation Inherent Resolve, the codename for the US-led offensives, a sham, saying the mission was rather providing air cover for Takfiris on the Iraqi-Syrian border.
Iraq's Prime Minister Haider al-Abadi said Tuesday that shelling by US forces on the paramilitary fighters has not been proved, adding that the government has launched an investigation into the incident.
"The international coalition has no authority to carry out bombardment without the knowledge of Iraq," the premier said.
Hashd al-Sha'abi is a group of Shia and Sunni volunteer fighters that was formed after the emergence of Daesh in Iraq in 2014. Back then, it helped strengthen the government forces, which had suffered heavy setbacks in the face of sweeping Daesh advances. Hashd al-Sha'abi also played a significant part in the months-long operations, that culminated in the liberation of Mosul, the terror group's last urban stronghold in Iraq, earlier this year.
Full report at:
http://www.presstv.ir/Detail/2017/08/09/531176/Iraq-US-Daesh-Popular-Mobilization-Units-IRGC
--------
North America
Arab allies of US welcome push against Muslim Brotherhood
August 08, 2017
Arab allies of the U.S. are expressing support if the Trump administration declares the Muslim Brotherhood a terrorist organization, according to statements from foreign officials and a senior administration official who spoke to Fox News.
Speaking last week at the United Nations in response to a question from Fox News, the Egyptian Ambassador to the U.N., Amr Abdellatif Aboulatta, expressed support for such a move.
"It would be a positive step forward indeed," he said.
Salman Al-Ansari, president of the Saudi American Public Affairs Committee, told Fox News that the West is suffering from "laziness and must do its homework."
"The U.S. needs to confront the evils of the Brotherhood as soon as possible," he said. "If you have Saudi Arabia saying the Muslim Brotherhood is a terrorist group, if you have Egypt and the United Arab Emirates (UAE) saying it's a terrorist group, then what should stop the U.S. from designating the MB as a terrorist group as long there are hundreds of pieces of evidence that prove this fact?"
The Brotherhood is banned as a terrorist organization in Saudi Arabia, the UAE and Egypt.
Fox News previously reported on the internal debates and deliberations in the Trump White House on the move to designate the Muslim Brotherhood as a Foreign Terrorist Organization (FTO.)
"The fight is far from over," a senior administration official told Fox News.
"The commitment inside the West Wing to the question of designating the Brotherhood has not waned," the official told Fox News.
"The White House completely understands how the modern global jihadi threat, which the president has rightly described as radical Islamic terrorism, can be driven back at its roots to the Brotherhood."
"This president is unprepared to follow the disastrous policies of prior administrations, especially the Obama White House's empowering of the Brotherhood that led to the catastrophic consequences of the so-called Arab Spring and the deaths of hundreds of thousands of people from the Sinai to Sinjar," the official concluded.
Christopher Holton of the Center for Security Policy, a group that has been at the forefront of efforts to designate the Muslim Brotherhood as a foreign terrorist organization, told Fox News, "It is an absolutely essential step. As the Egyptian ambassador well knows, the goals of the Muslim Brotherhood are identical to those of all the jihadist organizations, such as ISIS, Al Qaeda and Hamas: the establishment of an Islamic state ruled by Sharia."
Holton blamed what he called "The Swamp in the State Department" for stopping the designation so far. He blamed some members of the Trump administration, including National Security Adviser H.R. McMaster.
"Combined with all the other distractions that have largely paralyzed so many initiatives on Capitol Hill, the effort to block the designation has thus far succeeded," he said.
Jonathan Schanzer, senior vice president at the Foundation for Defense of Democracies, told Fox News that during the early weeks of the Trump presidency a large number of analysts warned that the move was, "ill-advised," arguing that the move "would alienate the Muslim world and encumber diplomacy."
Schanzer, a former terrorism finance official at the Treasury Department, said he does not believe the administration has given up on designation of the Brotherhood but he suggested it would be easier to target certain Brotherhood groups through the U.S. Treasury's targeted sanctions program.
"The way forward is not to pursue the FTO approach at the State Department, primarily because the initiative is likely to fail," Schanzer said. "The State Department will remain opposed…the Muslim Brotherhood is not a homogeneous organization, rather, it is made up of disparate affiliates, some of which could likely be classified as terror groups, and some not."
"The right move is to pursue these designations in the less-politicized Treasury process in a way that is incremental and pragmatic. From there, additional affiliates can be added," Schanzer said.
David Reaboi, the senior vice-president for strategic operations at the Security Studies Group, added, "Designating the Muslim Brotherhood would be a tremendous step in the right direction. The Muslim Brotherhood has been identified, rightly, as a threat by the countries that know it best -- like Egypt, UAE, Saudi Arabia -- among others."
"These countries understand that the MB isn't just another political or religious movement," Reaboi added. "It's the main engine driving the terror radicalization process. Any effort to combat Islamist terrorism needs to take the MB's global network into account."
http://www.foxnews.com/politics/2017/08/08/u-s-arab-allies-welcome-push-against-muslim-brotherhood.html
--------
Canada opposition demands end to Saudi arms sale
August 9, 2017
Rights groups and opposition figures have called on Canada to suspend weapons sales to Saudi Arabia, following the kingdom's alleged use of Canadian-made arms in a crackdown against Shia Muslim civilians in an eastern province.
Images on social media showed armoured vehicles, which military experts say are almost certainly Canadian-made, being used by Saudi government forces in Qatif.
If confirmed, such sales could be in violation of Canada's defence export policies which say Canadian military equipment cannot be sold to countries where there is a risk it may be used in human rights abuses.
Saudi Arabia, which is often criticised by rights groups, is now the second largest buyer of Canadian arms, behind the US.
"Very few countries have so-called democracy or human rights criteria attached to their arms exports and even if they do, for example Sweden, that does not mean they're not going to sell weapons to Saudi Arabia," Srdjan Vucetic, an associate professor at the Graduate School of Public and International Affairs in Ottawa, told Al Jazeera.
The Canadian wing of the US-based General Dynamics company has a 10-year, $11bn contract that guarantees thousands of well-paid jobs in a city near Toronto which has lost much of its manufacturing base.
Rights activists and opposition parties have called for the deal be cancelled.
"It is pernicious to argue that Canadian jobs should depend on the export of equipment which is going to be used to perpetrate atrocious abuses of citizens. That cannot be the way that we build our economy," Peggy Mason, president of the Rideau Institute in Ottawa, told Al Jazeera.
Full report at:
http://www.aljazeera.com/video/news/2017/08/canada-opposition-rights-groups-call-government-halt-arms-sales-saudi-170808095618865.html
--------
Muslim kids lost in Michigan foster care system for lack of Muslim homes
Aug. 8, 2017
When Amal Mohamed was 14, she left her home of Alexandria, Egypt, and immigrated to the U.S. to live with her mother in metro Detroit.
Knowing little English, Mohamed arrived in Michigan in July 2009, set to live with a woman she had only seen four times — at ages 3, 6, 9 and 11.
"I remember just being in the airport eating French fries and drinking Coke. I was really out of it. It didn't really hit me until I was here. I went to sleep, and I woke up: 'Oh, this is not a dream. I'm really here,'" Mohamed said.
It was different. It looked different. It felt different.
Like any new arrival, Mohamed faced her fair share of adjustments, but the biggest one would come eight months later, when she was removed from her mother's home and placed in foster care. She would become one of an unknown number of Muslim children caught in the custody of the state with a dearth of Muslim families to foster them.
The State of Michigan does not formally track how many Muslim children are in the foster care system, but Muslim community leaders say there are dozens, at least 85 in southeast Michigan alone, and not enough families to keep up.
For a state that has one of the largest Muslim-American populations in the country at about 275,000, there are few Muslim foster families in Michigan.
Most Muslim children end up in the care of relatives, but those invisible few who are left have little options.
More: Judge halts deportation of Iraqis detained by ICE
The problem is exacerbated by religious debates surrounding Islamic law and rules that govern moral relations between foster and biological family members.
The need for more Muslim families has fueled efforts within the community to break down those barriers and raise awareness of the needs of these children.
Otherwise, cases like Mohamed's will remain common.
Afraid of losing identity
When Mohamed's mother asked her to come live with her in Michigan, Mohamed said she couldn't say no. She wanted to be a good daughter and to do the right thing.
"I had to give her a chance, in a way," Mohamed said. "And again, I loved her, and was looking forward to live with her."
But after suffering what Mohamed's lawyer, Jessica Martin, described as "severely extreme" abuse, Mohamed, 15 at the time, was removed from her mother's home in March 2010 and was placed in foster care. There was no criminal case against her mother, said Wayne County Prosecutor's Office spokeswoman Maria Miller.
A June 2010 fact-finding report filed in Wayne Circuit Court stated it was contrary to Mohamed's welfare for her to remain in the mother's home.
Mohamed, who is 22 now and lives in Kalamazoo, said the first option was to join a relative's home from her mother's side in the U.S., but Mohamed said she was not comfortable with that.
In Michigan, the state gives preference to the child's relatives after the Amer Act became law in 2010. The law is named after a Muslim couple, Rehab and Ahmed Amer, who lost custody of their three children due to the death of a child, and the children were then placed in a Pentecostal foster home and converted to Christianity.
The next option, Mohamed said, was to send her back to her family in Egypt. But there was one problem: Her father in Egypt wasn't her biological father. She said she learned this news during the foster care process.
Mohamed became ward of the state, and without a legal parent in Egypt, she could not be sent back there, said Martin, who was Mohamed's attorney until she aged out of the system in 2014.
Mohamed ended up spending about a year and a half between the Davenport shelter in Detroit and Guiding Harbor group home, then known as Girlstown Foundation, in Belleville. Two non-Muslim families were interested in adopting her, but she wanted to join a Muslim home and refused.
Court documents from August 2010 indicate that the Michigan Department of Human Services was "diligently trying to find a Muslim foster home" for Mohamed.
"I was just afraid of letting go of my identity as a Muslim, more than as an Egyptian, because I was open to any Muslim family," she said.
Muslim parents unite
Before Ranya Shbeib of Bloomfield Hills even received her foster care license in the mail in 2015, she was told by her licensing worker at Samaritas that there was a Muslim refugee girl from Somalia who had been in the system for one year and was adamant about joining a Muslim family.
Other than Shbeib, 37, and her husband, Anas Obeid, 38, there were no Muslim families licensed for refugee care through Samaritas at the time. So Shbeib and Obeid took her in.
And ever since, Samaritas has added 11 more Muslim homes — 10 were added in the past year alone— according to Amanda Blasius, who is Shbeib's refugee licensing specialist at the agency.
Blasius said the increase is due to the outreach efforts of Shbeib and Sameena Zahoor, a foster mother from Canton. The two met while seeking out a support system for Muslim foster families like their own, and eventually they formed the very thing they were looking for: the Muslim Foster Care Association.
The Bloomfied Hills-based group started in 2016 and spreads awareness and educates the Muslim community about foster care.
"These are sort of like invisible children in our community," Zahoor said. "There was really not an awareness that there even were Muslim children in the foster care system."
The lack of Muslim foster parents in Michigan is part of a larger problem in a system where children outnumber families by more than 2-1.
There are currently over 13,000 youth in foster care and 5,984 licensed foster families across the state, Michigan Department of Health and Human Services spokesman Bob Wheaton said.
Nationwide, there were 427,910 foster care children in 2015, according to the Child Welfare Information Gateway, a service of the U.S. government's Children's Bureau.
There is no clear figure for how many Muslim foster children and foster parents there are across the state. But that hasn't stopped Shbeib and Zahoor from trying to gain a better idea themselves.
During a Ramadan and Eid gift drive for foster children this year, they were able to estimate that there are at least 85 Muslim foster children in southeast Michigan alone.
Wheaton said in an e-mail that in some cases the state records religious preferences, but there is no reliable data because it is an optional field.
Wheaton said state foster care recruitment staff have "met with Muslim faith leaders and plan to continue to have conversations with them." He highlighted the MDHHS's Community and Faith-Based Initiative partnership with local faith-based groups to find foster families as an example.
Khalid Iqbal of Muslim Family Services in Detroit — a division of the Islamic Circle of North America Relief USA — said the need for families is across the board in the U.S. and Canada.
But he remains optimistic.
Muslims in America are the "new kid on the block" and slowly maturing, Iqbal said.
The 1960s-80s were mainly about building mosques. The '80s and '90s about building schools. And now, he said, Muslims are getting into other areas, and foster care is one of them.
Iqbal has introduced a proposal to his board to look into gaining accreditation as a licensed placement agency. But the idea is just a dream at this point, Iqbal said.
"I think we owe it to the society that if there is a child of other culture or religion, or whatnot, that's in need, we should be willing to take them and let them grow in their own religion," Iqbal said.
'Would you adopt Muhammad?'
The debate over foster care and adoption is critical in Islam, a religion whose prophet, Muhammad, was an orphan and an adopted son himself.
The prophet's father died before he was born, and his mother died when he was a child. He was raised in the care of his uncle, Abu Talib.
Most people don't make the connection between Muhammad being an orphan and the religious obligation to towards them, said Zahoor, who gave a panel presentation titled "Would you adopt Muhammad" at the 2014 Islamic Society of North America conference in Detroit.
"In a sense, they are orphans," Zahoor said of foster children. "A lot of times people think of orphans as children that both parents have died. Really, in reality, foster children are children without parents."
The Quran is rich in verses about the rights of orphans and society's obligations toward them, but there is a divergence of opinion on how they fit within familial relations.
The issue comes down to moral propriety, and it is one of the factors accounting for low foster care participation among Muslims.
For example, there's the question of whether a foster mother can remove her hijab in front of a foster son, or what the nature of the relationships should be between biological and foster siblings.
Imam Mohammad Ali Elahi of the Islamic House of Wisdom in Dearborn Heights said that a relationship between mahram — or kin off-limits to marriage — and non-mahram individuals cannot be considered like that of immediate family.
From the point of view of fiqh, or Islamic jurisprudence, Elahi said that according to the Quran, an adoptive parent becomes like a sponsor for the child, but the child doesn't become like a biological kid, but that they should still be treated equally.
The Quran, in Surah Al-Ahzab, says that God "has not made your adopted sons your (true) sons," and believers are to "call them by (the names of) their fathers."
At the same time, Elahi said, Islam wants the kids to "feel that they are treated the same way that the other biological kids are treated in the same family."
For Iqbal, a child's age when entering a foster home makes a difference and said the child should treated as mahram, if raised there since childhood.
This is mentioned specifically in the Quran with regard to infant males nursed by "milk mothers."
Lonely days
Because of the lack of Muslim foster families, Muslim children in the system often end up in non-Muslim homes.
In the case of Yuu, 18, a foster child from Afghanistan, anything was better than the short-term group home he lived in after arriving in Michigan in 2016.
Yuu, who requested an alias to protect himself and his family back home, came to Michigan by way of Indonesia and was placed by Samaritas for about three months in a group home in Charlotte, Mich., with other refugee children from South America, Mexico and Guatemala.
He left Afghanistan for Indonesia in 2014 and received refugee status from the UN High Commissioner for Refugees. His father died in 2013, and his mother and three sisters remain in Afghanistan. Yuu said he left Afghanistan because his life was in danger, and that he didn't have enough money to bring the rest of his family with him to Indonesia.
Far away in the U.S., those early days in Michigan could get lonely for Yuu.
"It was so hard to be, like alone, nobody talking at all with you, and you just stay on your own," Yuu said. "I was trying to go out for a walk, but there wasn't anybody to walk with me."
Yuu said he would have liked to live with a Muslim family, and that some of his Afghan friends who arrived in Michigan from Indonesia a month after he did were placed with a Muslim family.
By January, Yuu found someone to walk with.
He had just turned 18 and was placed with Judi Harris, 52, a foster mother in Okemos, who he said encouraged him to go to the mosque if he liked for Eid or Ramadan.
"She likes the way that you are," Yuu said about Harris. "She likes telling you to continue the way you are, the way you do believe."
Harris, who works in refugee resettlement, has two other Muslim children, a daughter and son from Afghanistan, and a daughter from the Democratic Republic of Congo, who was raised Pentecostal.
She's hosted nine refugee foster children since becoming a foster parent in 2008, including children of Hindu and Baptist and other Christian backgrounds.
Harris, a Presbyterian, said she sometimes finds she has more differences in faith with her Christian kids than her Muslim kids.
"But we do as much as possible to, you know, help people celebrate their faith and be part of their faith. And it just depends on what they want to do," Harris said.
The food accommodations, she said, are probably the most complicated part. Harris, a vegetarian, said she makes sure to buy halal meat for her Afghan Muslim daughter and certain kinds of breads she likes.
"There was a time I had Burmese kids and then my Afghan and Indian kids. You know, we had three different kinds of rice in my house. It was crazy."
A success story
After more than a year in the foster care system without a home, Amal Mohamed finally found a Muslim home in Canton in July 2011.
Before that, she was scheduled to move in with a non-Muslim family, but Jessica Martin, Mohamed's lawyer, said that the family decided they no longer wanted to plan for her because Mohamed wanted to stay in contact with her family. The foster family also expressed a desire to Americanize Mohamed and change her accent, Martin said via a text statement.
"I don't think I would still be a Muslim," Mohamed said about plans to place her with the non-Muslim family. "Not because I don't love Islam. Or not because Christianity is better, in my opinion. But because the sense of fitting in, or what is my environment."
Third Circuit referee judge Mona Youssef said that Mohamed's lawyer approached her and asked if there were any Muslim foster homes that would be willing to take in Mohamed.
Youssef called on about 50 people and finally one of her friends, Sumreen Ahmad, 42, agreed to take her in.
Ahmad said that Mohamed was craving religion, and that Mohamed would accompany her to halaqas, or religious study groups.
"What we did is we created an environment for her to flourish," Ahmad said. " And when I look at how far she's come and everything she's doing now, that is why it's a success story. Because all we have to do is give these kids a jumpstart on life."
Mohamed recently graduated from Western Michigan University with a degree in social work and is entering a master's program in the same field at WMU. She plans to use her degree to help other children who have been through hard times.
She said that during her time in the foster care system, she never had a Muslim foster care worker, and that her experience inspired her to go into social care.
Full report at:
http://www.freep.com/story/news/local/michigan/2017/08/08/muslim-kids-lost-mich-foster-care-system-lack-muslim-homes/473928001/
--------
Bomb threat suspect in Israel offered services on dark web: US authorities
August 9, 2017
NEW YORK: An Israeli teenager accused of a wave of bomb threats against dozens of Jewish community centers advertised his services on a now-shuttered online black market, offering to threaten any school for $30, according to U.S. authorities.
Recently unsealed court documents suggest that Michael Kadar, 18, may have had at least one satisfied customer after posting on AlphaBay, the illicit "dark web" marketplace that the U.S. Justice Department shut down in July.
Prosecutors said federal and local law enforcement in California have identified a co-conspirator after searching AlphaBay accounts and "intend to pursue criminal charges against that suspect."
Kadar, who is Jewish, was arrested in Israel in March and is awaiting trial there. U.S. and Israeli authorities have charged him with making thousands of threats, including to airports, schools and Jewish centers in the United States.
Israeli authorities previously accused him of earning about $240,000 worth of the digital currency Bitcoin after selling his threat services on the dark web.
The hoax threats to the Jewish community centers, which forced widespread evacuations earlier this year, prompted many centers to enhance security and raised fears of a resurgence in anti-Semitism.
Following Kadar's arrest, the FBI sought a warrant to search an AlphaBay account under the name "Darknet_Legend," which they connected to Kadar after examining his laptop, according to the unsealed court filings.
Kadar's advertisement indicated he would frame someone else for any bomb threat he made for an additional $15 surcharge and said he would offer a full refund for "non-successful threats."
One user posted feedback for Darknet_Legend on March 9, writing, "Amazing on time and on target. We got evacuated and got the day cut short."
Federal agents said in court papers that the message came a day after Rancho Cotate High School in Rohnert Park, California, was evacuated due to an emailed bomb threat that was identical in wording to other threats linked to Kadar.
U.S. law enforcement officials said in July they and international partners had closed down AlphaBay, a leading marketplace for drug and firearm trafficking, computer hacking tools and other illegal goods and services.
Kadar's parents have said he has a brain tumor that caused autism and other mental problems, making him unable to understand the nature of his actions.
Full report at:
http://nation.com.pk/international/09-Aug-2017/bomb-threat-suspect-in-israel-offered-services-on-dark-web-us-authorities
--------
Commentary: Why America's fear of Shariah is irrational
August 08, 2017
The promotion of Islamophobia is multimillion-dollar industry. Thirty-three Islamophobic groups had access to at least $205 million between 2008 and 2013, according to a report released by the Center for Race and Gender at the University of California-Berkeley.
Shariah, or Islamic law, is not a thing to be feared; rather, if it's understood correctly, people can just go about their daily lives without that second glance of fear at the lady with a head covering or the gentleman with a robe. The $205 million used for hate speech could have been spent on helping those in need or funding grants for students.
Shariah is the same as Islam and has been practiced by Muslims, who have abided with constitutions and state laws since the days of the slave trade. Just like any Christian, Jew, Buddhist, or Hindu who lives in the U.S. and complies with its laws, Muslims can practice Shariah while with being outstanding citizens of the U.S. The Shariah itself commands Muslims to follow the law of the land. Muslims are content because the U.S. Constitution is everything that the Shariah is, too.
One of the problems I have come across in my observation is what the word Shariah means to the average Muslim is radically different than how the Islamophobes perceive it. To the average Muslim living in the U.S., practicing the Shariah means praying five times a day; fasting during the month of Ramadan; giving to charity annually; trying to make the pilgrimage once in a lifetime; earning a livelihood; getting married and starting a family; and living a moral life.
On the other hand, the Islamophobes want you to believe that the Shariah is all about honor killings, female genital mutilation, terrorism and other crimes. This is just like me defining the Torah's Halakha law — practiced by many Jews in the U.S. — as condoning decapitation, burning, and strangulation for some crimes instead of listing the Ten Commandments and the law of "live and let live" and other ethical practices of the Judaism.
The well-known scholar of the Quran, Fakhr al-Din al-Razi, who died in 1210, states in his exegesis of the Quran: "It has always been unanimously agreed upon by the followers of Islam that the ordinary citizen cannot take the law into his hands and implement any type of penal laws." This is something that Muslims have always understood whether living in a Muslim country or otherwise.
That is why there is not one single documented incident of a Muslim in the U.S. implementing any of the penal laws of the Shariah. You may ask: "What about the incidents of honor killing?" To which I will answer that honor killings are cultural, not religious. There is not a single text in the sources of Shariah that instructs honor killings.
Full report at:
http://www.mystatesman.com/news/opinion/commentary-why-america-fear-shariah-irrational/xjoAqhkxC1QxjFcZPlzndI/
--------
U.S. And Iran Work Together Against Isis, This Time In Lebanon
BY TOM O'CONNOR
8/8/17
The U.S. and Iran, rival powers in Middle Eastern affairs, are once again working together to combat the Islamic State militant group (ISIS) via local allies, this time in the barrens of the Lebanese-Syrian border. Their cooperation follows a previous, reluctant understanding in Iraq.
In the latest grouping, the U.S.-backed Lebanese army is set to storm ISIS outposts tucked in the mountains of Ras Baalbek that separate Lebanon from Syria, where a civil war between the government and rebels has allowed jihadists and other militants to threaten regional security. Iran has been a major supporter of Syrian President Bashar al-Assad and his armed forces, bolstering their ranks with its Lebanese ally, Shiite Muslim militant movement Hezbollah. While considered a terrorist organization by the U.S., Hezbollah has proven an effective force against fighters with both ISIS and Al-Qaeda, and appears poised to join the fight. As a final showdown looms, Lebanon has prepared for a deadly confrontation.
"We are approaching a time that will see blood and martyrs," Lebanese Foreign Minister Gebran Bassil told families living in the town of Qaa, where ISIS recently shelled Lebanese army positions, according to The Daily Star.
The Lebanese army has repeatedly denied that Hezbollah would participate in the operation. The force reportedly received about $80 million in equipment and training from the U.S. last year, boosting the total in the past decade to nearly $1 billion. The U.S. has been extremely critical of Hezbollah's participation in the Lebanese government, where the group forms one of the largest political parties. President Donald Trump referred to Hezbollah as a "menace" during a press conference late last month with Lebanese Prime Minister Saad Hariri, another political opponent of Hezbollah.
Hezbollah, however, has already made a sizable contribution to the upcoming offensive against ISIS. Late last month, the Lebanese fighters teamed up with the Syrian military to launch a dual assault on militants loyal to Hayat Tahrir al-Sham, formerly known as the Nusra Front of Al-Qaeda, holed up near the border village of Arsal. The roughly week-long operation ended with a ceasefire and total expulsion of the jihadists into rebel-held territory in northwestern Syria. Following the victory, Hariri said Hezbollah "has accomplished something and what's important is the result," according to LBC News.
In a televised address to his supporters, Hezbollah Secretary General Hassan Nasrallah said Friday his group would hand over parts of Arsal its fighters were stationed in at the army's request and thanked allies Lebanese President Michel Aoun, Assad and Iran for their support in the battle. Contradicting statements from the Lebanese army and Hariri, Nasrallah said his forces would begin a parallel offensive against ISIS from the Syrian side of the border, using the Arabic-language acronym for the group, Daesh.
"The Lebanese army will be responsible for the operation against Daesh, but the request for American aid is an insult to the Lebanese army," Nasrallah said, according to Lebanon's El Nashra.
"We in Hezbollah are at the service of the Lebanese army while on Lebanese territory," he added. "Meanwhile, Hezbollah and the Syrian army will open a Syrian front against Daesh. Its timing is in the hands of the Lebanese army, and we are ready."
The alignment of U.S. and Iranian tactical interests in Lebanon mimics that in Iraq, where both countries devoted extensive resources to battling ISIS despite significant political differences. After evolving out of Al-Qaeda in Iraq's insurgency against the U.S. military and local Shiite Muslims, ISIS managed to take nearly half the country before spreading into neighboring Syria. The U.S. responded by forming an international coalition to launch airstrikes against the jihadists while at the same time supporting the Iraqi military and Kurdish forces on the ground. Iran stepped in by backing a number of majority-Shiite Muslim militias known collectively as the Popular Mobilization Forces.
Full report at:
http://www.newsweek.com/us-iran-work-together-against-isis-again-lebanon-648272
--------
Europe
Vandalized St. Louis Jewish cemetery rededicated with help from Muslim donors
August 8, 2017
A St. Louis-area Jewish cemetery was rededicated nearly six months after more than 150 headstones were toppled and damaged by vandals.
Dozens of members of the St. Louis Jewish community and its supporters gathered Sunday at the Chesed Shel Emeth Cemetery in University City, Missouri, to acknowledge the community support while honoring those who are buried there, the local media reported.
"While God could not guard this sacred place from harm, God did send so many to repair, reclaim and rededicate," Rabbi Roxane Shapiro of the St. Louis Rabbinical Association said at the ceremony. "Our help had no barriers and no hate, simply care, compassion and hope."
Among those in attendance at the rededication was Tarek El-Messidi, founder of the Muslim organization Celebrate Mercy. The group, with the support of other Muslim leaders, including pro-Palestinian activist Linda Sarsour, set up a crowdfunding campaign that raised $162,000 from nearly 5,000 donors, exceeding its $20,000 goal in the first few hours.
In the wake of the attack, hundreds of community volunteers came to the cemetery to help with the cleanup and repairs, including Vice President Mike Pence and Missouri Gov. Eric Greitens, who is Jewish and had invited Pence.
No suspects have been identified in the vandalism. The Anti-Defamation has offered a $10,000 reward for tips that lead to an arrest.
http://jewishstandard.timesofisrael.com/vandalized-st-louis-jewish-cemetery-rededicated-with-help-from-muslim-donors/
--------
Turkey allows German MPs to visit troops: Berlin
August 9, 2017
BERLIN - Turkey has agreed to let German lawmakers visit troops stationed at a Turkish base next month, the German foreign minister said in a letter seen Tuesday, after NATO stepped in to reduce tensions over the hot-button issue.
Up to seven MPs will be allowed to visit Konya airfield in central Turkey on September 8 as part of a NATO trip, Foreign Minister Sigmar Gabriel wrote in a letter to the German parliamentary defence committee Monday.
Ankara blocked a planned July visit by German MPs to Konya, where some 30 German soldiers are stationed, citing the deteriorating relationship with Berlin.
The long-simmering row over MPs' access to German troops on Turkish soil boiled over in June when Berlin pulled out 260 troops from Turkey's Incirlik base and relocated them to Jordan, after Ankara repeatedly thwarted lawmakers' efforts to visit.
Approval for the Konya visit came after NATO chief Jens Stoltenberg offered to arrange the trip for the German lawmakers within the defence alliance's framework, to which Ankara agreed, according to Gabriel. German Defence Minister Ursula von der Leyen told DPA news agency it was "a good solution".
"We should focus on fighting Islamist terrorism, which is also in Turkey's interest," she said.
Germany is part of a multinational coalition fighting the Islamic State militant group, flying surveillance missions and refuelling flights.
But German parliamentarian Alexander Neu of the far-left Die Linke party accused Berlin of "capitulating" to Ankara and said relying on NATO to arrange the Konya visit did not resolve the dispute.
Ties between Turkey and Germany have been badly strained since Berlin voiced deep concerns over a mass crackdown by Turkish President Recep Tayyip Erdogan in response to a failed coup attempt last year.
Full report at:
http://nation.com.pk/international/09-Aug-2017/turkey-allows-german-mps-to-visit-troops-berlin
--------
Writer arrested in Spain over Turkey's allegation
Aug 8, 2017
A writer of Turkish origin has been arrested in Spain over Turkey's allegations of involvement in terrorism.
Police said on Tuesday that Hamza Yalcin, a writer known for his critical essays written in exile, had been arrested on August 3 at Barcelona airport.
Barcelona National Police spokesman Jose Antonio Nin said Yalcin, who is also a Swedish national, was being held pending an extradition hearing as he was arrested on an international arrest order from Turkey for an alleged role in acts of terror.
Yalcin's detention met swift criticism from activists in Sweden who said the arrest was a sign of Turkish President Recep Tayyip Erdogan's increasing inclination to hunt anti-government dissidents, even if they are out of Turkey's reach.
"This is worrying that exiled journalists can be arrested," said Jonathan Lundqvist, the head of the Swedish branch of Reporters Without Borders, adding that it was now up to Madrid to prevent Yalcin's extradition to Turkey, where "over 100 other journalists have been charged by the Erdogan regime for similar crimes."
Since he fled to Sweden in 1984, Yalcin has been writing commentaries in Odak Dergisi, a magazine critical of the Turkish government.
Turkey's treatment of journalists following a failed coup last summer has sparked fierce concerns, especially in Europe, where governments have warned Ankara that its stifling measures against media staff could affect Turkey's bid to join the European Union.
Full report at:
http://www.presstv.ir/Detail/2017/08/08/531121/Spain-Turkey-journalist-arrest
--------
Moscow Court Halts Journalist's Deportation To Uzbekistan
August 9, 2017
A Russian appeals court has halted the deportation of journalist Ali Feruz to Uzbekistan, where rights groups fear he could face torture, imprisonment, or death at the hands of the authorities.
The Moscow City Court ruled on August 8 that Feruz, a reporter for the independent Russian newspaper Novaya Gazeta, cannot be deported until the European Court of Human Rights (ECHR) examines his appeal against the ruling.
Speaking in the courtroom ahead of the ruling, Feruz told the BBC that he faces a "long, slow death" if he is deported to Uzbekistan.
Feruz, whose real name is Hudoberdi Nurmatov, was ordered deported by a lower Moscow court on August 1 over alleged violations of immigration law. The ECHR issued an order on August 4 barring his transfer to Uzbekistan.
Feruz says he has the right to remain in Russia pending a decision on his application for asylum.
A Russian native whose mother and two siblings are Russian citizens, Feruz left Russia at the age of 17 and accepted Uzbek citizenship. He fled the Central Asian country in 2008 after allegedly being tortured for two days by the Uzbek security forces.
Under the Moscow City Court ruling, Feruz is to remain in a holding center for foreigners while awaiting the resolution of his case.
Feruz said earlier that while being transferred to the holding center he was beaten and subjected to electric shocks by a guard.
Numerous Russian and international organizations have issued statements in support of Feruz, including the Council of Europe, the Organization for Security and Cooperation in Europe, Amnesty International, Reporters Without Borders, the Russian Union of Journalists, the Russian presidential advisory council on human rights, and others.
A petition in support of Feruz on the website Change.org has picked up nearly 60,000 signatures.
His deportation would expose Russia to fierce criticism and set up a test for Uzbekistan's conduct under President Shavkat Mirziyoev, who has taken some steps to open the country up since he came to power after the death of autocratic longtime President Islam Karimov was announced in September.
In a statement on August 2, Human Rights Watch said that Mirziyoev "has promised reforms, but such endemic problems as torture and politically motivated detention have yet to be addressed."
Full report at:
https://www.rferl.org/a/russia-court-suspends-journalist-feruz-deportation-uzbekistan/28664849.html
--------
Africa
Boko Haram kills 31 fishermen in Nigeria
August 9, 2017
KANO - At least 31 fishermen have been killed by Boko Haram militants in two separate attacks on islands in Lake Chad in northeastern Nigeria, fishermen and vigilantes fighting the Islamists told AFP late Monday.
Armed militants stormed the fishing islands of Duguri and Dabar Wanzam in the freshwater lake Saturday, attacking fishermen working in the area and shooting and hacking their victims. "Boko Haram attacked Duguri and Dabar Wanzam islands and killed 31 people," a member of a local militia fighting the militants in Maiduguri, Babakura Kolo told AFP. "They (Boko Haram) killed 14 in Duguri and another 17 in Dabar Wanzam," Kolo said.
The fishermen had returned to the fishing hub of Baga on the lake's shores days earlier and had paddled out to the two islands in wooden canoes on Friday, looking for fish, said another militia Musa Ari, who gave similar account.
News of the attacks was slow to emerge with communication in the area difficult as Boko Haram has destroyed telecom masts in the region in attacks over the last few years.
The Boko Haram militants first attacked Duguri island where they killed 12 fishermen and injured two others who later died, said fisherman Sallau Inuwa.
"The attackers split into two groups. While the first attacked Duguri the second went to nearby Dabar Wanzam where they laid in wait for those who fled the attack in Duguri. They killed 17 in Dabar Wanzam," Inuwa told AFP.
The attackers spared one fisherman in Duguri and loaded the 12 bodies of the men they killed in a canoe and ordered him to take them to Baga as a warning that no one should fish in the lake, said another fisherman Dauda Tukur. "They told the man they spared to inform the troops in Baga that they were waiting for them on the islands," he said.
The military and Nigerian officials have not yet commented on the attacks.
The attacks happened a week after military authorities lifted a two-year ban on fishing in the freshwater lake that straddles Nigeria, Niger, Cameroon and Chad.
Nigerian military banned fishing on the Nigerian side of the lake following accusations that Boko Haram was using proceeds from fishing to fund its armed campaign.
The ban left thousands of displaced residents impoverished, forcing them to rely on food handouts from government and aid agencies. The lifting of the ban drew many fisherman back to the area.
Although the military reclaimed Baga from Boko Haram in February 2015 allowing some residents to move back, militants continued to launch sporadic attacks from their hideouts on several islands dotting the lake, where dense vegetation provides cover against military attacks.
In November 2014 Boko Haram killed 48 fishermen near Baga who were on their way to neighbouring Chad to buy fish, in one of the deadliest attacks against fishermen by the militants in the area.
http://nation.com.pk/international/09-Aug-2017/boko-haram-kills-31-fishermen-in-nigeria
--------
Daesh is a creation of America: Sudan's former VP
August 9, 2017
The former Sudanese First Vice President Ali Osman Taha recently said the terrorist organisation of the Islamic State known also by its acronym 'Daesh' is an American creation that successfully targeted the Sunni Islam in Iraq and Syria.
"Daesh is a scarecrow that has been raised in Iraq and Syria on the pretext of establishing an Islamic State to eliminate the Sunni Islam and that has been done," said Taha in a meeting held at his house in Khartoum with a number of the members of the Popular Defence Forces and the 'National Sa'ihoon'.
The former vice-president went further to say that Daesh was a battle of thought waged by the West to prevent the spread of Islam in its countries and impacting the components of its civilization.
"The West is sure of losing the intellectual and cultural battle, so it resorted to Daesh to confuse the image of Islam," he said in an audio recording obtained by Sudan Tribune.
He further said that the 'Khawajas' (Westerners) "are aware if it is left to debates, human rights and freedoms, and argument for argument, they will lose. So they need to confuse, closely control and stifle the matter and so do the Pharaohs and tyrants across the history".
Taha who negotiated the Comprehensive Peace Agreement that led to the separation of South Sudan was seen in the West as a moderate and pragmatic despite his key role in Darfur war crimes. He was even perceived as seen a potential successor to President Omer al-Bashir.
However, he was criticised by the hardliners in the ruling National Congress Party (NCP) and gradually marginalized until his sack on 8 December 2013.
But, he is not the only Islamist or former senior Islamic official to make such statements.
In April 2017, the former Afghan President Hamid Karzai said Daesh is a "tool" of the United States. He told the VOA there is plenty of evidence to back up his allegation, even though the U.S. has been fighting to wipe out the Islamic State in Syria, Iraq and elsewhere.
The former Sudanese official expressed doubts about the accuracy of the videos of mass slaughtering of prisoners by the terror group, explaining that it meant to break the Muslims and questioning that "Islam is the alternative and the saviour".
"Who can confirm that these scenes of executions are real pictures. (The victims are) bound and dressed in red with people carrying knives, and killing them in that (inhuman) way ... Images even the Muslim repudiate and disavow while it scares others and pushes them to distance themselves," he said.
Taha who was speaking after the fall of the capital of Islamic State Mosul last June said the sudden disappearance of Daesh fighters that Iraqi and American and coalition forces were fighting during eight months proves that this group is created by the United States.
"Where are the forces of Daesh? Are they bats of darkness that flew in the air, or evaporated? There is no Daesh," he said.
He pointed out that the outcome and the result is that the Sunnis in Iraq were wiped out completely, and those who remained are now displaced or refugees.
Full report at:
http://sudantribune.com/spip.php?article63202
--------
Tunisia Shifting Stance on Syria
Aug 08, 2017
"Tunisia still sends delegations from different parties to show solidarity with the Syrian government and nation after dispatching thousands of militants to the country in the past few years. Now the question is if we will soon witness reopening of Syria's embassy in Tunisia," al-Ray al-Youm newspaper wrote on Tuesday.
The daily reminded that Tunisia sent nearly 7,000 militants to Syria at the beginning of the war in Syria to overthrow President Bashar al-Assad government, but meantime, wrote that two days ago, a delegation of Tunisian parties were welcomed by Assad in Damascus.
After the meeting, Assad said that all the visiting Tunisian parties share support for him and his confrontation against the terrorist groups which have stirred insecurity and instability in Syria.
Also, the spokesman of the Tunisian delegation said that they have traveled to Damascus to declare the Tunisian nation's position in support of the Syrian nation which has survived despite the terrorist plots.
According to al-Ray al-Youm, reestablishment of official relations between Tunisia and Damascus is an imminent development as it is demanded by the Tunisian people.
The Tunisian delegation's visit was made after the country's security authorities warned of the return of thousands of militants fighting for terrorist groups in Iraq and neighboring Syria to the small Mediterranean state, demanding "exceptional measures" to combat the phenomenon.
"The return of terrorists from hotbeds of unrest to Tunisia is worrying, and could lead to the Somalization of the country," said a statement from the internal security forces' national union late in December.
Full report at:
http://en.farsnews.com/newstext.aspx?nn=13960517000932
--------
Nigeria seizes ex-oil minister's luxury apartments
August 9, 2017
LAGOS - A Nigerian court has confiscated the $37 million luxury apartment complex of a former oil minister accused of fraud and money laundering as well as rental proceeds from the properties.
Lagos high court judge Chuka Obiozor on Monday also ordered ex-minister Diezani Alison-Madueke to handover more than $2.7 million (2.3 million euros) that she made leasing the apartments.
Since leaving office in 2015, Alison-Madueke has been implicated in bribery, fraud, misuse of public funds, and money laundering cases in Nigeria, Britain, Italy and the United States.
The first female president of the global oil cartel OPEC - who was one of Africa's most prominent female politicians - has always denied the allegations, which involve billions of dollars syphoned from oil deals and state accounts.
The ruling followed an application by the Economic and Financial Crimes Commission that followed an uncontested temporary forfeiture order issued last month.
The anti-graft agency had accused Alison-Madueke of acquiring the apartment complex on Lagos' ultra-chic Banana Island with stolen government cash. Banana Island is a gated community which is home to business tycoons, top politicians and celebrities.
Alison-Madueke was appointed the country's first female oil minister by former president Goodluck Jonathan in 2010.
She is currently on police bail in London after being arrested in connection with a British probe into international corruption and money laundering.
Her name has also featured in a bribery complaint in the United States and a corruption investigation in Italy over a $1.3 billion oil deal between ENI and Shell.
President Muhammadu Buhari, elected in 2015 on an anti-corruption platform, is seeking to stamp-out Nigeria's widespread graft.
The 74-year-old retired general said after taking office that "mind-boggling" sums had been stolen from the public purse over the years.
Full report at:
http://nation.com.pk/international/09-Aug-2017/nigeria-seizes-ex-oil-minister-s-luxury-apartments
--------
UN sees early warning signs of genocide in C. Africa
August 8, 2017
United Nations, United States | AFP | Renewed clashes in the Central African Republic are early warning signs of genocide, the UN aid chief said Monday, calling for more troops and police to beef up the UN peacekeeping mission in the strife-torn country.
Some 180,000 people have been driven from their homes this year, bringing the total number of displaced in the Central African Republic to well over half a million, said Stephen O'Brien.
"The early warning signs of genocide are there," O'Brien told a UN meeting following his recent trip to the Central African Republic and the Democratic Republic of Congo.
"We must act now, not pare down the UN's effort, and pray we don't live to regret it."
O'Brien said it was time to authorize an increase in troops and police serving in the MINUSCA force to enable the mission to "deliver on its critical protection mandate."
UN peacekeeping chief Jean-Pierre Lacroix last week said he was considering sending a request to the UN Security Council for more troops for MINUSCA.
One of the world's poorest nations, CAR was pitched into a war between Muslim and Christian militias in 2013. It was unleashed when President Francois Bozize was overthrown by a coalition of Muslim-majority rebel groups called the Seleka.
They in turn were ousted by a military intervention led by former colonial ruler France. Those events sparked some of the bloodiest sectarian violence in the country's history as mainly Christian militias sought revenge.
Christians, who account for about 80 percent of the population, organized vigilante units dubbed "anti-balaka", a reference to the machetes used by the Muslim rebels.
The United Nations has 12,350 troops and police on the ground to help protect civilians and support the government of President Faustin-Archange Touadera, who was elected last year.
While Touadera's government remains in control in Bangui, its authority is weak outside of the capital where former Seleka groups and anti-balaka fighters have clashed.
Nine MINUSCA peacekeepers have been killed this year, raising alarm that the country is sliding back to the bloodletting that exploded in 2013 following the overthrow of Bozize.
O'Brien said he was horrified by a visit he made to a Catholic church in the southern town of Bangassou where 2,000 Muslims took refuge three months ago, surrounded by anti-Balaka Christian fighters who are threatening to kill them.
"The risks are extremely high and we must focus properly on whether to relocate them to another site or not," he said.
Half of the country's population, or 2.4 million people, are in need of food aid to survive, the largest population in need per capita, he said.
The country is also home to half a million refugees.
"The risk of a relapse into another large-scale humanitarian crisis is imminent," said O'Brien.
Full report at:
https://www.independent.co.ug/un-sees-early-warning-signs-genocide-c-africa/
--------
URL: https://www.newageislam.com/islamic-world-news/1000-indian-muslim-clerics-urge/d/112148
New Age Islam, Islam Online, Islamic Website, African Muslim News, Arab World News, South Asia News, Indian Muslim News, World Muslim News, Women in Islam, Islamic Feminism, Arab Women, Women In Arab, Islamophobia in America, Muslim Women in West, Islam Women and Feminism