New Age Islam News Bureau
5 Jan 2020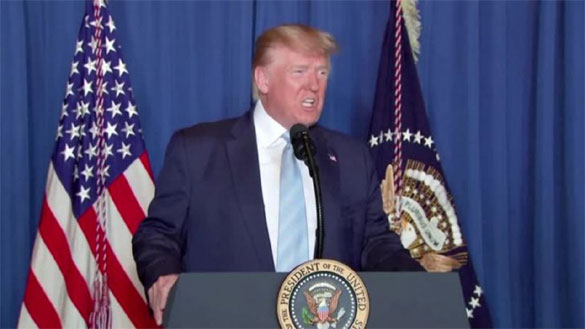 US President Donald Trump said he ordered the killing of Qassem Soleimani to stop a war, not start one, saying the Iranian military commander was planning imminent attacks on Americans.
---------
• 'Will Hit Iran Harder Than Ever Before If US Attacked': Donald Trump Issues Fresh Warning
• Bigger Than Bin Laden: Killing of Soleimani Radically Shifts The Rules
• Iran Unveils Red Flag of Revenge against America At Mosque
• Killing of Soleimani Escalates Tensions in Middle East, Rattles Tehran's Proxy Strategy
• A Mosque Has Opened Its Gates and Coffers for a Hindu Wedding at a Time Many Fear That India's Secular Fabric Is under Threat
• Shiv Sena Politician, Sanjay Raut, to Muslims: Citizenship Amendment Act Should Be Opposed Because It Is Against Hindus Too
• Ulema Visit Nankana to Express Solidarity With Sikhs
• Muslims Attend Community Memorial at Islamic Centre In London For The Death Of General Qassem Soleimani
• Egypt's Elections Could Herald Islamists' Demise
• Anwar Gathers 'Celeb Muslim Scholars' At Counter To Dr M's KL Summit
• Afghan Official Calls Gen. Soleimani Key Figure in Anti-Daesh Fight
North America
• Assassination of Genaral Soleimani not to serve US interests: Susan Rice
• Navy SEAL Who Shot Bin Laden Dares Iran To 'Attack One of Our Destroyers'
• Biden's account of his advice on the bin Laden raid has changed over time
• US stock markets fall in aftermath of Genaral Soleimani assassination
• US football team cancels camp in Qatar amid fears of Iran's retaliation
• 'Iranian hackers' claim breach of US govt website
-------
Mideast
• Haftar calls on his loyalists to engage in "jihad" against Turkey
• 'This is message from Islamic Republic of Iran:' U.S. agency site apparently hacked
• Tensions rise over Erdogan's gas designs in Mediterranean, Libya war
• The martyrdom that would lead to a real "Islamic Awakening"
• Turkish FM expresses condolences over martyrdom of General Soleimani
• Pres. Rouhani: Silence towards aggressor's acts makes them bolder
• Belarus people pay tribute to General Soleimani
• Iran proved vital to al Qaeda's safe passage, according to bin Laden records, 9/11 commission
• Iraqi Shiite Muslims united against US interference
• Assassination of Gen. Soleimani allows acting against US interests: Union of Islamic Society
• Syrian regime shelled a mosque in Ma'ar Shoreen village in Idlib, on January 3
• Hajj Qasem Soleimani had no fear of anyone or anything in performing his duty for cause of God
• Iran: Esmail Ghaani steps out of Suleimani's shadow to lead proxies
• Death toll from airstrike in Libya's Tripoli climbs to 30
• Ceremonies to honour general killed by US begin in Iran's Ahvaz
------
India
• The Protests Challenging CAA, NPR and NRC Have Drawn Massive Crowds across India
• Karnataka Couple Ties Knot Celebrating 'Secular' Rituals, Gets Preamble as Gift from Hindu, Muslim, Christian Heads
• We are proud Indian Muslims and will remain so: Owaisi slams Pak PM
• In India, Ahmadis are Muslims: Mukhtar Abbas Naqvi
• Delegation of Muslim clerics with Pro-Khalistani leader visit Nankana Sahib Gurdwara
• Shia Muslims protest in Lucknow against killing of Iranian General Soleimani
• Karnataka BJP MLA warns Muslims: 'We are 80%, you are 20%; don't oppose CAA'
• Uttar Pradesh first state to kickstart implementation of CAA
------
Pakistan
• Pakistan Jamaat-e-Islami Chief Urges Muslim Nations to Unite Against US Designs
• No Sikh threatened, fight was between 2 Muslim groups: Pakistan
• Pakistan ditches Iran, extends tacit support to US over airstrikes for resumption in military cooperation: Report
• Centuries-old mosque in Thall draws crowds of tourists
• Condemnable Nankana Sahib incident against my vision, says PM Imran
------
Europe
• Italy Expels Moroccan Imam, Cites His Support For IS
• International Islamic Trade Finance Corporation supports SMEs in Uzbekistan
• Man arrested outside Islamic centre ahead of memorial to Iranian general
• Czech mosque vandalised with death threats
------
Arab World
• Yemen Minister Warns Houthis against Turning Country into Theatre Of US-Iran War
• Reaper drone launched from Qatar fired missile that killed Soleimani
• Saudi Arabia condemns Turkey's military interference in Libya
• Adoption of orphans 'helps social integration' in Saudi Arabia
• As Yemen's bombs stop, disease and displacement haunt communities torn apart by war
• Credit granted to Islamic banking entities reach OMR3.9 billion
• Saudi development program in Yemen implements transportation project
• Yemen rebels urge 'swift reprisals' for Soleimani killing
• Custodian of the Two Holy Mosques Makes Phone Call to President of Iraq
• Sharjah Islamic Arts Festival offers viewers a transcendental experience
• Aisha Al-Miqrawi: The stutterer who captured Asir governor's attention
------
Southeast Asia
• Malaysia strongly condemns US targeted assassination of General Soleimani
• In sugar dating, two women in Kuala Lumpur find empowerment and self-respect
• Anwar, Nurul Izzah headline Islamic conference a month after KL Summit
• Shrimp in Malaysia safe for consumption, says Deputy Minister
• Twilight of Duterte presidency might also mean last days of Philippines' long entanglement with the US
------
South Asia
• IED claims one death in the northern Balkh Province
• Afghanistan fears violence in region after Soleimani's killing
• Afghanistan, Pakistan threat to success of polio eradication: Experts
• Qassem Soleimani killed: Afghanistan says territory will not be used against any third country
• Bangladesh blocks news website accusing minister of corruption
• Bangladesh economy to be 25th largest in 15 years
------
Africa
Several Killed In Ambush By Suspected Islamists In Mozambique
Islamist group al Shabaab attacks Kenya base used by Kenyan, U.S. forces
Uganda hosts Islamic medical students from 15 countries
Zimbabwe among 9 Countries Who Voted against UN's Resolution to Protect Rohingya Muslims from Myanmar Army's Atrocities, See How Others Voted
------
Australia
Australian Muslims Join Christians In A Public Prayer For Rain In Bushfire And Drought-Ravaged Areas
------
Compiled By New Age Islam News Bureau
URL: https://www.newageislam.com/islamic-world-news/will-hit-iran-harder-than/d/120709
------
'Will Hit Iran Harder Than Ever Before If US Attacked': Donald Trump Issues Fresh Warning
Jan 5, 2020
'Will hit Iran harder than ever before if US attacked': Donald Trump issues fresh warning
WASHINGTON: President Donald Trump warned on Saturday night that the United States would hit Iran harder than ever before if Tehran retaliates to the assassination of one of its top generals.
He tweeted: "If they attack again, which I would strongly advise them not to do, we will hit them harder than they have ever been hit before!"
https://timesofindia.indiatimes.com/world/us/will-hit-iran-harder-than-ever-before-if-us-attacked-donald-trump-issues-fresh-warning/articleshow/73105902.cms
------
Bigger than bin Laden: Killing of Soleimani radically shifts the rules
By Philip Citowicki
January 4, 2020
The commander of Iran's elite Quds Force, Qassem Soleimani, was indispensable to his country – now he is gone. The significance and potential ramifications of his death far exceed the 2011 assassination of Osama bin Laden. His assassination changes the geopolitical landscape in the Middle East on a scale unseen in generations.
Subject to several assassination attempts and operating in conflict zones, Soleimani has been thought to be dead before. However, an abrupt strategic air strike at Baghdad International Airport on Friday finally brought down the man Iranians called a "living martyr". A symbol of resilience against several decades of United States pressure, Soleimani was the embodiment of Iranian nationalist identity.
So who exactly is Qassem Soleimani, and why was he so revered in Iran and feared by his enemies?
The son of a small-time farmer in Kerman Province, south-east Iran, Soleimani's upbringing was modest. Kerman is close to the Afghan border and is dominated by tribal politics. Like many young Iranians, he found his calling with the Islamic Revolutionary Guard following the 1979 revolution.
Soleimani's participation in the Iran-Iraq war in the 1980s was his introduction to conflict and where he developed a fearsome reputation. He served at almost every critical front during Saddam Hussein's invasion of Iran including the pivotal liberation of Bostan from capture by Iraqi forces in December 1981.
In late 1997, he was appointed Commander of the Revolutionary Guard's Quds Force. The Quds Force is responsible for the Islamic Republic's foreign campaigns and have been described as a militarised version of the US's CIA. Its key ambition is to subvert Iran's enemies and extend its influence across the Middle East.
It is thought that Soleimani's upbringing in the Kerman region was critical to his appointment to the Quds force. His knowledge of the tribal structures that dominate much of the Middle East, especially Afghanistan, would be key to his future operational successes, as were his military experiences in the Kurdish region and success in quelling the drug cartels at the Iran/Afghanistan border.
Soleimani was not an internationally famous figure but his influence was long acknowledged by the US intelligence community. The US have held him and his forces accountable for deaths of hundreds of US soldiers. In the wake of his death, the Pentagon stated that "he had orchestrated attacks on coalition bases in Iraq over the last several months" and had many more planned.
Former Director of the CIA and Commander of US Forces in Iraq, General David Petraeus has frequently made public comment of his revulsion for his Iranian counterpart Soleimani, describing him as a "truly evil figure." Petraeus often recounts a text message he received from Soleimani in Iraq in 2008. Then Iraqi president, Jalal Talabani handed Petraeus the text which read "General Petraeus, you should know that I, Qassem Soleimani, control the policy for Iran with respect to Iraq,
Lebanon, Gaza and Afghanistan". Soleimani was the architect of Iran's proxy wars in the Middle East. He ignored calls to enter politics but became as powerful, if not more, than its civilian leadership.
Under the Trump Administration, the US-Iran relationship has significantly deteriorated. In May 2018, the US withdrew from the Joint Comprehensive Plan of Action, an agreement which sought to limit Iran's ability to develop nuclear weapons. The Trump Administration imposed sanctions that continue to cause immense damage to the Iranian economy.
Tensions recently escalated in the Strait of Hormuz where drones were shot down and shipping vessels attacked and boarded by military officials. Australia participated in an alliance to provide safe passage for vessels through the strategic trade route. While it was feared tensions in
the Strait would continue to worsen, few envisaged that it would culminate in an act
as monumental as this.
Iran has warned that the US should be ready for "harsh retaliation". Iranian Foreign Minister Javad Zarif called the assassination a "act of international terrorism" that is also a "dangerous and a foolish escalation". Pro-Hezbollah newspaper Al-Akhbar's headline simply reads "The martyrdom of Soleimani: It is war".
Iraq may well now play host to a proxy war between Iran and the US on its soil. Embassies and assets across the Middle East are bracing for retaliatory attacks. Subject to scale of the retaliation, Australian Prime Minister Scott Morrison might find himself on the end of a Trump request for military support. Since Federation, Australia has fought alongside the US in every major conflict.
Although any Australian involvement in the escalating US-Iranian conflict may fall afoul of public opinion, it is possible that Australia could be drawn into relocating naval assets given the recent strong posturing on protecting commercial shipping routes in the Strait of Hormuz.
This will be an unwelcome distraction for Canberra as the Morrison government continues its strategic realignment of foreign policy priorities towards the Pacific, a realignment that requires a clear-eyed US to tackle the growing creep of Chinese foreign influence.
In a statement on the death of Soleimani, Petraeus foreshadowed that it is unlikely to end here – Soleimani would agree. Retaliation from Iran and Iranian affiliate organisations is to be expected. The boldness of US actions has caught the world by surprise. The assassination of a senior public official has radically shifted the principles of engagement.
https://www.watoday.com.au/world/middle-east/bigger-than-bin-laden-killing-of-soleimani-radically-shifts-the-rules-20200104-p53ori.html
------
Iran unveils red flag of revenge against America at mosque
by Jon Brown
January 04, 2020
A blood-red flag symbolizing vengeance unfurled Saturday above the dome of Jamarkaran Mosque in Qom, Iran, a day after the United States killed Iranian Gen. Qassem Soleimani and Iraqi militia leader Abu Mahdi al Muhandis.
The flag, inscribed with the words "Those who want to avenge the blood of Hussein," was hoisted above the mosque's shrine for what local reports claimed was the first time in history, according to the Daily Mail.
The grandson of Muhammad, Hussein was decapitated in A.D. 680 during the Second Islamic Civil War, when Muslims were fighting over who was the proper successor to their prophet. The act was met with bloody retaliation from Muslims who considered Hussein's death unjust and sought to avenge him.
The symbolic act took place the same day that many took to the streets of Baghdad to shout "Death to America!" during the funeral processions of Soleimani and al Muhandis. Iran's President Hassan Rouhani comforted Soleimani's daughters Saturday, promising that "everyone will take revenge" on their father's blood. An Iranian general claimed that the country is ready to strike at least 35 American targets, including shipping channels in the Strait of Hormuz.
Jamarkaran Mosque is one of the holiest sites in Shiite Islam and one of the mosques associated with the Mahdi, also known as the 12th Imam. Some Muslims believe the Mahdi is alive but hidden and will emerge to rule the world shortly before the Day of Judgment. Referencing the Mahdi, the speaker called, "O Allah, hasten your custodian reappearance," as the flag was raised.
https://www.washingtonexaminer.com/news/watch-iran-unveils-red-flag-of-revenge-against-america-at-mosque
------
Killing of Soleimani escalates tensions in Middle East, rattles Tehran's proxy strategy
Sunday 05/01/2020
ISTANBUL - The death of Iran's top military strategist and, arguably, its second-most powerful man in a US drone attack raised tensions in the Middle East and rattled Tehran's proxy strategy as well as its approach towards Washington's policies in the region.
Iranian Major-General Qassem Soleimani, head of the elite al-Quds Force, was killed early January 3 in a US drone strike on his convoy near Baghdad International Airport. Top Iraqi militia commander Abu Mahdi al-Muhandis was also killed. Fears of a military confrontation between Iran and the United States drove oil prices up nearly $3 a barrel.
Soleimani, 62, was the brains behind an aggressive power drive by Iran that expanded Tehran's interventions in Iraq, Syria and Lebanon and sharpened conflicts with US allies, including Saudi Arabia and the United Arab Emirates but also Israel.
Al-Quds Force was instrumental in saving Syrian President Bashar Assad from defeat in the first years of the Syrian civil war and cementing Iran's influence in Iraq by taking part in the campaign to drive back the Islamic State but also directing attacks against US interests in the region.
US President Donald Trump said Soleimani was killed "to stop a war," not start one. The Iranian general had been plotting "imminent and sinister" attacks. At the Pentagon, US Army General Mark Milley, chairman of the Joint Chiefs of Staff, said the United States had "compelling, clear, unambiguous intelligence" of Soleimani plotting violent acts. The US military is sending nearly 3,000 additional troops to Kuwait to defend American interests against potential Iranian revenge attacks.
Trump also proposed negotiations with Tehran, writing on Twitter that the time was right for Iran to agree to talks with his administration. "Iran never won a war, but never lost a negotiation!" he said.
Tehran vowed retaliation, with Iranian Supreme Leader Ayatollah Ali Khamenei threatening "severe revenge." Khamenei called for three days of national mourning and appointed Soleimani's deputy, Brigadier-General Esmail Qaani, to replace him as al-Quds Force commander.
Analysts said the Iranian regime, whose political encroachment was rejected by demonstrators in Iraq and Lebanon, had its back to the wall.
"This is nothing short of a declaration of war to a cornered country that has increasingly less to lose," Ali Vaez, the director of the Iran Programme at the International Crisis Group, wrote on Twitter. "The risks of miscalculation are at an all-time high."
"The US might have to counterattack depending on what Iran does, which could trigger an escalatory cycle that could easily spiral out of control," he said.
Iraq's Popular Mobilisation Forces umbrella grouping of mostly Iran-backed paramilitary groups said January 3 that air strikes near Camp Taji had killed six people and critically wounded three but the US-led coalition fighting the Islamic State said it did not launch the attacks.
Soleimani's death is a serious setback for Iran's strategy to use proxies and the principle of "plausible deniability" in its confrontation with the United States over Tehran's nuclear programme and aggressive regional stance. That strategy has limited Iranian losses and allowed Tehran to keep negotiation channels open with Japan, Russia and Europe.
Deniability may no longer be an option for Iran, however. The death of a US military contractor in a missile attack by Iran-backed militiamen in northern Iraq triggered US air strikes, which led to violent protests at the US Embassy in Baghdad. The Pentagon said Soleimani "approved" the protests. Conventional warfare is likely to be more costly for Iran now that the deniability that comes with acts of sabotage and terrorism is no more an option.
Hassan Hassan, director of the Non-State Actors Programme, Centre for Global Policy in Washington, said Iran had become "too comfortable" in recent months because the United States did not respond decisively to Iranian provocations. As an example, Soleimani "moved around feeling invincible," he wrote on Twitter.
"Iran has overplayed its hand," Hassan added.
https://thearabweekly.com/killing-soleimani-escalates-tensions-middle-east-rattles-tehrans-proxy-strategy
------
A Mosque Has Opened Its Gates and Coffers for a Hindu Wedding at a Time Many Fear That India's Secular Fabric Is under Threat.
By K.M. Rakesh in Bangalore
5.01.20
A Kerala mosque has opened its gates and coffers for a Hindu wedding, complete with lamps and rituals, to help out a poor family and set an example at a time many fear that India's secular fabric is under threat.
Anju and Sharath Sasi will get married between 11.30am and 12.30pm on January 19 at the Cheruvally Muslim Jamaat Mosque in Kayamkulam, Alappuzha district.
The mosque compound will have a shamiana built for the wedding, and host a vegetarian sadya (meal) for 1,000 guests.
Since there's a tradition of wedding gifts in this area, we will sponsor Rs 2 lakh in cash for the groom and gold jewellery for the bride," mosque secretary Nujumuddin Alummoottil told The Telegraph.
He said he didn't want publicity. "I had shared the template for the invitation card with my family to check the spellings. Somehow it got shared online and went viral, attracting the Malayalam media," he said.
Alummoottil said this would be the first Hindu marriage at a mosque in Keralaalthough most mosques do help out the poor and, in principle, do so irrespective of religion.
So how did the idea of chipping in for the bride's impoverished mother, Bindu, come about?
"It's because a person associated with this mosque told the girl's mother to approach us since she had no money for the wedding," Alummoottil said.
Bindu, who lives in a rented house near the mosque, had struggled to bring up her three children since the death of her husband Ashokan in 2018.
"Her husband, a goldsmith, died of cardiac arrest after dropping their youngest son at his exam centre for his Class X boards. That tragedy shook the family, with the two elder girls including Anju giving up studies after Plus II," he said.
Alummoottil had not yet become mosque secretary but he helped the family educate the boy, who is now in Class XI. "The person who advised her (Bindu) to approach us remembered that," he said.
The matter was presented before the mosque committee and the faithful after prayers on the first Friday of November. "I should say all the 10,000 people who had come to pray agreed that we should help the family," Alummoottil said.
Anju's mother found a groom within the next two weeks and informed the mosque committee.
Alummoottil owns a "wedding centre", the local term for a one-stop wedding shop. "I have helped many people on many occasions. But I have never felt this kind of satisfaction," he said.
Alummoottil is now toying with the idea of launching "communal amity homes" with blocks of three houses, one each for a poor family from the Hindu, Muslim and Christian communities.
"I'm sure this (housing) project will get a lot of community support," he said.
https://www.telegraphindia.com/india/kerala-mosque-opens-door-and-purse-for-hindu-wedding/cid/1733118
------
Shiv Sena Politician, Sanjay Raut, to Muslims: Citizenship Amendment Act Should Be Opposed Because It Is Against Hindus Too
Jan 5, 2020
MUMBAI: Shiv Sena politician and Saamna editor Sanjay Raut said on Saturday that the Citizenship Amendment Act (CAA) should be opposed because it is against Hindus too and 30% Hindus will suffer when it is clubbed with the National Register of Citizens (NRC).
Speaking at a symposium held by Jamaat-e-Islami Hind (JIH) at Marathi Patrakar Sangh, Raut tried to allay fears among Muslims about the CAA, the NPR and the NRC. Using the popular Bollywood dialogue "Jo dar gaya so mar gaya", Raut told the predominantly Muslim audience to get out of the fear syndrome. "We in Maharashtra just showed that we don't fear anyone. We want you too to get out of fear," he said.
Referring to Shiv Sena founder Balasaheb Thackeray, Raut said he would often say that the country belonged to all. "We all are one and this country belongs to every Indian who is loyal to the country," he said.
Without naming Union home minister Amit Shah, who declared on Friday that he would not budge an inch on CAA, Raut said: "Aap kahte ho ek inch bhi nahin hathenge. Hum dhakka dekar hata denge (You say you will not budge an inch. We will push you out)." He said many in the media wondered if he would really attend a function held by the Jamaat-e-Islami. He said he had no problem attending the event as "we all are brothers and the programme is being held at Marathi Patrakar Sangh".
Opposing a call by Justice (retired) Kolse Patil to "25 crore Muslims" to come on the streets against the CAA, NPR and NRC, Raut said people must not get divided in numbers.
Senior counsel Mihir Desai and Yusuf Muchchala discussed how the CAA was against the spirit of the constitution as it "discriminated" among citizens in the name of religion and after it is followed by NPR and NRC, all Indians will suffer.
https://timesofindia.indiatimes.com/city/mumbai/sanjay-raut-to-muslims-well-push-amit-shah-out/articleshow/73104300.cms
------
Ulema visit Nankana to express solidarity with Sikhs
January 05, 2020
SHEIKHUPURA: The Muttahida Aman Council met with Nankana Sahib Deputy Commissioner (DC) Raja Mansoor in his office on Saturday a day after tension between two groups threatened to jeopardise peace in the town that houses one of the most sacred places for the Sikhs.
Ulema from various schools of thought participated in the meeting. The DC assured them that there was no law and order situation in and around the city due to Friday night's incident where two groups had got into a heated argument outside Gurdwara Janam Asthan in Nankana Sahib. The groups had gathered at the tea stall of Zaman whose nephew had married a Sikh girl after allegedly forcing her to convert.
The DC said that at least five people who tried to create a situation on the occasion were taken into custody by the city police, but released after a couple of hours following assurances from some local notables. At present, the situation was fully under control, he claimed.
Earlier, activists of the Aman Council also visited the gurdwara and expressed satisfaction with the security measures adopted by the law enforcers. They also expressed solidarity with the Sikh community.
Demonstration leader apologises for 'hurtful comments'
A delegation of the Mian Mir shrine, led by its caretaker, also visited the gurdwara in Nankana Sahib and expressed solidarity the Sikh community. They also emphasised on the teachings of Sufi saints.
Also on Saturday, in stark contrast to his charged sloganeering during the demonstration on Friday, the central character in the altercation, Imran Chishti, posted a video on social media where he could be seen apologising to the Sikh community for any hurtful comments he may have "inadvertently" made against the community or the gurdwara.
Late on Friday, the Foreign Office had issued a statement regarding the altercation in Nankana Sahib "between two Muslim groups". It claimed that the district administration had immediately intervened and arrested the suspects, who were in custody. "Attempts to paint this incident as a communal issue are patently motivated. Most importantly, the Gurdwara remains untouched and undamaged. All insinuations to the contrary, particularly the claims of acts of 'desecration and destruction' and desecration of the holy place, are not only false but also mischievous."
The statement further said that the Pakistan government remained committed to upholding law and order and providing security and protection to the people, especially the minorities. "The opening of the Kartarpur Sahib Corridor is a manifestation of Pakistan's special care extended to the minorities, in line with the vision of the Quaid-e-Azam Muhammad Ali Jinnah," it said.
The Human Rights Commission of Pakistan, on Friday evening, tweeted that it was alarmed by the situation in Nankana Sahib. It urged the Punjab government to ensure the safety and security of the Sikh community and their holy places.
https://www.dawn.com/news/1526303/ulema-visit-nankana-to-express-solidarity-with-sikhs
------
Muslims attend community memorial at Islamic Centre in London for the death of General Qassem Soleimani
By LUKE ANDREWS and PHOEBE ECKERSLEY
4 January 2020
Muslims have attended a memorial service for assassinated Iranian general Qassem Soleimani at the Islamic Centre in London.Crowds squeezed into the religious hub and sat beneath a painting of the Islamic Republic's second-in-command and Iraqi military commander Abu Mahdi Al-Muhandis, as they paid their respects to those massacred in the US airstrikes.
Thousands lined the streets of Baghdad and Tehran today in memory of the dead commanders, while protests against the attack took place across the US, Middle East and outside 10 Downing Street, London.
Soleimani, who died with five other men in the strike outside Baghdad airport, has been accused of helping Shia militias murder hundreds of American troops during the Invasion of Iraq.
US President Donald Trump said the strike was carried out to save the lives of hundreds in America and Europe.
A large group of men, with some young boys, was seen gathering at the Islamic Centre in Maida Vale, London, this afternoon following the assassination.
The memorial service was held 25 minutes after a man was arrested outside the centre to prevent the breach of peace and for obstructing officers.
The Islamic Centre's director has reportedly referred to Soleimani as an 'honourable Islamic commander' in a message of condolence.
As the service took place demonstrators took to the streets of New York, Washington DC and London to denounce the violence and call on Trump to de-escalate the conflict.
Outside Downing Street protesters chanted against the war while British-Iranians arrived holding placards that read 'Down with Khamenei' and others raised the pre-Islamic flag of Iran.
Palestinians also burned American flags in Gaza City, while an angry mob set fire to US flags in Pakistan, and around 150 pro-Iranian demonstrators held Iraqi militia flags and condemned the US as an aggressor.
However, the assassination was also met with celebrations by some groups in Iraq and in Canada, where people were pictured dancing in the street.
Three missiles from an MQ-9 Reaper drone hit the convoy Soleimani was travelling in outside Baghdad International Airport, killing the architect of the country's regional security strategy and five others.
Tehran has reacted angrily to the attack, saying the US's move is tantamount to a 'declaration of war' and promising a 'severe revenge'.
Iraq's prime minister has also threatened to expel all US troops from the country after the 'brazen violation of Iraq's sovereignty'.
The Islamic Republic was previously accused of masterminding a bomb attack on Pan Am Flight 103 as it flew over Lockerbie, Scotland, killing all 243 passengers.
The attack took place less than five months after a US battleship shot down an Iran Air passenger jet as it flew over the Persian Gulf, killing all 290 people on board.
Libya has also been blamed, although at the time Iran's allies and proxy forces promised to take revenge.
President Trump responded to the official's death in a celebratory fashion by suggesting Soleimani had 'made the death of innocent people his sick passion' and ordered his death to stop a war.
The US secretary of state Mike Pompeo has said regional allies including Israel and Saudi Arabia had been very helpful to American forces, while its traditional European allies had stood back.
He accused the firm NATO allies of not being as helpful as they could have been. The UK was reportedly not warned about the attack, despite having troops in the area.
https://www.dailymail.co.uk/news/article-7852027/Man-arrested-outside-Islamic-Centre-memorial-Iranian-General-Qassem-Soleimani.html
------
Egypt's elections could herald Islamists' demise
Sunday 05/01/2020
CAIRO - Egyptian political parties have started preparing for House of Representatives and Senate elections amid expectations the vote will herald the demise of the country's Islamist forces.
Political parties are preparing lists of potential candidates following parliamentary debates on election laws and working to build recognition on the streets to ensure constituents' support.
Some parties organised training for potential candidates, with a focus on political education, outreach to constituents and legislative priorities. Other parties formed coalitions to better compete with larger parties.
Officials of the Nation's Future Party, which controls 387 of the 596 seats in the House of Representatives, have coordinated with other political parties and formulated criteria for the selection of candidates.
"We have been doing this for some time now to ensure that we are fully prepared for the polls," said Ashraf Rashad, the party head. "The preparations are happening inside all party branches in all provinces."
More than 50 million Egyptians are registered to vote and the government will spend millions of dollars to set up voting centres.
Apart from the House elections, Egyptians will elect senators for the first time since 2012. The Senate was abolished in the 2014 constitution, which was drafted after the army-backed popular uprising against the Muslim Brotherhood in mid-2013. Amendments introduced to the constitution last April reinstituted the Senate.
The Senate is to include 180 members, 60 to be appointed by the president.
The House of Representatives is to debate election laws and the division of constituencies in the coming weeks.
The Senate elections are scheduled for April but there are calls for having the Senate and House elections, due in November, at the same time to reduce costs. This means that the date for the Senate elections could be changed if the Election Commission decides to combine the vote for the two chambers.
The elections will be of extreme importance for Egypt's political parties, especially those that could not win House seats in 2015. Egypt has more than 100 political parties but few are represented in the parliament.
"The elections will give a very good chance for the political parties to prove their worth among voters," said Tarek Fahmi, a political science professor at Cairo University. "The problem is that we have so many parties but very few of them have a real presence on the ground."
On December 17, Egyptian President Abdel Fattah al-Sisi reiterated his call for weak parties to merge into other parties to form stronger entities.
The elections are seen as an end to Egypt's political transition, which started following the downfall of the Muslim Brotherhood regime in 2013. That, analysts said, means that political forces successful in the elections will continue to be a presence for many years.
That raises questions about Egypt's Islamist forces, which received a nearly fatal blow with the exit of the Muslim Brotherhood, by far the largest Islamist force in Egypt before its collapse in 2013.
Egyptian authorities dissolved the Muslim Brotherhood's political party in 2014. Islamist parties affiliated to the group are considered inert but continue to exist on paper.
The Salafists are part of the Egyptian political scene, having escaped the fate of the Muslim Brotherhood by demonstrating support for post-Muslim Brotherhood authorities.
However, the Salafists did not make significant gains in the 2015 elections, winning only 12 seats. The Islamists, including the Salafists, have weak electoral prospects for several reasons, including growing public hostility, analysts said.
"The next elections will probably promulgate the total demise of political Islam in Egypt," said Muneer Adeeb, a specialist in Islamist affairs. "The Islamists have already lost credibility among the members of the public."
https://thearabweekly.com/egypts-elections-could-herald-islamists-demise
------
Anwar gathers 'celeb Muslim scholars' at counter to Dr M's KL Summit
January 5, 2020
KUALA LUMPUR: Anwar Ibrahim has gathered a group of Muslim scholars seen as more "theologically aligned" with Saudi Arabia for an international conference in Kuala Lumpur this month, viewed as the PKR chief's response to the KL Summit shunned by Riyadh and its allies.
The main organiser of the conference, called International Unity in Diversity Conference 2020, is the International Institute of Islamic Thought (IIIT).
IIIT is a US-based Muslim institute whose members include university academics long associated with Anwar, who now chairs the institute.
In 2002, it was forced to shut down temporarily after a post-9/11 FBI investigation into allegations of links with terrorism.
The institute is believed to be funded by Saudi donors and has long been linked to scholars sympathetic to Ikhwanul Muslimin (Muslim Brotherhood), the pan-Arabian Islamist movement seen as the more "progressive offshoot" of Wahhabism, the strand of Islam practised in Saudi Arabia.
"But the Ikhwan is theologically more tolerated by the Saudi-Wahhabi elite. They may not be friends politically, but both are philosophically opposed to any recognition of Shi'ite Iran as a key component of the Muslim world," said a former leader of Muslim Youth Movement of Malaysia (Abim), a once firebrand group led by Anwar before he was brought into Umno by Dr Mahathir Mohamad in the early 1980s.
Abim is a co-organiser of the Jan 8 conference, alongside the Muslim Professionals Forum (MPF), another Ikhwan-influenced network whose active members once included none other than former education minister Maszlee Malik.
The conference, like the KL Summit, also states "contemporary issues of the ummah" as its theme.
Four speakers are featured, including Anwar's eldest daughter Nurul Izzah Anwar, who has kept a low-profile since she stepped down from PKR posts in late 2018.
But beyond Nurul Izzah's emergence from political hibernation is the fact that the three other speakers are "people whom Anwar is more comfortable with" compared to those who attended the KL Summit, says a source in the know.
Omar Suleiman, a thirtysomething American Muslim who graduated from the International Islamic University Malaysia, and later founded an Islamic think tank based in Texas;
Nuruddin Lemu, the son of Nigerian grand mufti Ahmed Lemu, who conducts paid Islamic training courses; and
Yasir Qadhi, a Saudi-educated Pakistani American scholar who, like Omar, is part of a seminar-based Islamic education foundation, AlMaghrib Institute.
"These are celebrity Muslim trainers. But what's interesting is that all these three men have at one time or another been on the Saudi speaking circuit," the source said.
The conference comes even as the dust has barely settled from last month's Mahathir-backed KL Summit, which went ahead despite Saudi displeasure.
Riyadh was incensed that Mahathir had invited its three most vocal critics: Turkey, Qatar and Iran, all of whom sent their heads of state.
FMT had also reported that the conference appeared to have snubbed Anwar, who was not listed as a speaker despite his past Islamic credentials.
"Anwar would prefer to be in the company of so-called progressive salafists, especially in the wake of the fallout between the Saudis and Qatar," a former Abim official had told FMT.
Meanwhile, the source said the conference would not be the first time that Anwar has countered a gathering that featured Mahathir.
"Just two weeks after Mahathir graced the Malay Dignity Congress in October, Anwar had his own gathering but themed on diversity," he said, referring to an event titled "Seminar Pembinaan Bangsa Malaysia" on Oct 26 last year.
https://www.freemalaysiatoday.com/category/nation/2020/01/05/anwar-gathers-celeb-muslim-scholars-at-counter-to-dr-ms-kl-summit/
------
Afghan official calls Gen. Soleimani key figure in anti-Daesh fight
January 4, 2020
AhlulBayt News Agency (ABNA): Afghanistan's second vice president has hailed Iranian Major General Qassem Soleimani as a "prominent figure" in the battle against the Daesh Takfiri terrorist group, saying his assassination has complicated the situation in the region.
Muhammad Sarwar Danish made the remarks in Kabul on Saturday, one day after a US drone strike near Baghdad's airport targeted Soleimani, the commander of the Quds Force of Iran's Islamic Revolution Guards Corps (IRGC), and Abu Mahdi al-Muhandis, the second-in-command of Iraq's Popular Mobilization Units (PMU) Hashd al-Sha'abi.
The official also expressed hope that the latest developments would have no negative effects on Afghanistan's peace process, demanding all sides to exercise restraint in a bid to maintain calm in the region.
On Friday, the Afghan government voiced worries about an escalation of violence in the region.
"We call on the Islamic Republic of Iran, our big neighbor, with whom we have extensive common language, religious, historic and cultural [values], and we call on the US, who is Afghanistan's strategic and fundamental partner, to prevent conflict escalations, and we hope that both sides solve their differences through negotiations," read an Afghan presidential statement.
Separately, Afghanistan's chief executive of the National Unity Government lamented the US assassination of Soleimani.
"We express our condolence about this occurrence to Sardar Soleimani's family, the government and people of Iran," Abdullah Abdullah wrote on his Facebook page.
Iran, he emphasized, has stood with the people of Afghanistan during times of war and strife and been hosting millions of Afghan immigrants for many years.
Abdullah also said, "As a victim of terrorism and violence, Afghanistan calls for de-escalation of regional and international relations and hopes the latest incidents won't negatively affect the situation and cooperation of our friends and allies in Afghanistan."
Also on Friday, former Afghan president Hamid Karzai condemned the US strike and extended his condolences to the Iranian government and people, describing Soleimani as a "dignified man who sought peace and stability in Afghanistan."
Karzai stressed in a statement that the targeted attack violated international laws and risked regional peace and stability.
He warned that the US strike would escalate the conflict and harm efforts to bring peace and stability to the region.
https://en.abna24.com/news//afghan-official-calls-gen-soleimani-key-figure-in-anti-daesh-fight_999232.html
------
North America
Assassination of Genaral Soleimani not to serve US interests: Susan Rice
January 4, 2020
AhlulBayt News Agency (ABNA): Former US national security adviser Susan Rice says the assassination of Iran's senior commander Major General Qassem Soleimani does not serve the US interests and that the risks would likely outweigh the benefits.
"To my knowledge and certainly while I was national security adviser, the Obama administration was not presented with an opportunity by our intelligence community or by the US military to strike Qassem Soleimani. Had we been presented with such an opportunity, what we would have done is weighed very carefully and very deliberately the risks versus the potential rewards," Rice said in an interview with MSNBC on Saturday.
"We would have assessed all of the ways in which this could enhance our security and degrade our security and I think judging from what I know and from what we are likely to see, I think that there is real reason to believe that in all likelihood the benefits will be outweighed by the risks," she added.
The former US official further said that it was reasonable to assume that the risks of Soleimani's assassination could exceed the benefits as Iran has the capacity to retaliate in very significant ways.
"Frankly the fact we have taken Soleimani off the field doesn't mean that the Iranians have lost their capacity to attack us. In fact we can be certain they are motivated now to retaliate in far greater scale," she said.
Soleimani, the commander of the Quds Force of Iran's Islamic Revolution Guards Corps (IRGC), and Abu Mahdi al-Muhandis, the second-in-command of Iraq's Popular Mobilization Units (PMU), were targeted in US airstrikes in the Iraqi capital Baghdad early on Friday. The US strike which took place at the Baghdad International Airport killed eight other people.
The Pentagon said President Donald Trump had ordered Soleimani's assassination.
Following the incident, Leader of the Islamic Revolution Ayatollah Seyyed Ali Khamenei said those who assassinated the commander must await a harsh revenge.
Iran's Supreme National Security Council (SNSC) also said in a statement that a harsh vengeance "in due time and right place" awaited criminals behind the assassination.
General Soleimani cooperated side by side with the PMU in the face of the most deadly terrorist outfits to ever afflict the region, including the Daesh Takfiri group.
His assassination has drawn a wave of condemnation from officials and movements across the world, and triggered furious public protests in denunciation of the heinous act.
https://en.abna24.com/news//assassination-of-genaral-soleimani-not-to-serve-us-interests-susan-rice_999231.html
------
Navy SEAL who shot bin Laden dares Iran to 'attack one of our destroyers'
by Spencer Neale
January 04, 2020
Robert O'Neill, the Navy SEAL who claims to have shot and killed Osama bin Laden, dared Iran to attack one of the military branch's destroyers amid growing tensions between the United States and the country.
"Hey, Iran... please attack one of our Destroyers," O'Neill tweeted Saturday after President Trump threatened to hit 52 Iranian targets "very fast and very hard" if the nation seeks revenge for the Thursday death of top Iranian Gen. Qassem Soleimani via an American airstrike.
"We didn't name them 'Destroyers' because we ran out of f---ing names," O'Neill added.
The Navy SEAL's message followed a threat from Iran's Supreme Leader Ayatollah Ali Khamenei, who said "revenge awaits" after Trump ordered airstrikes that killed Soleimani and Iraqi militia leader Abu Mahdi al Muhandis in Baghdad this week.
O'Neill has a history of making controversial statements on Twitter, including saying Lt. Col. Alexander Vindman was "a disgrace to all who have served" after he testified against Trump during the House impeachment hearings. In November, he suggested former Vice President Joe Biden is "not fit to command" after the 2020 Democrat claimed Trump is "not fit" to be president.
https://www.washingtonexaminer.com/news/seal-who-shot-bin-laden-dares-iran-to-attack-one-of-our-destroyers
------
Biden's account of his advice on the bin Laden raid has changed over time
By Daniel Dale
Sat January 4, 2020
Washington (CNN)A Friday exchange between Democratic presidential candidate Joe Biden and a Fox News journalist has drawn attention to Biden's shifting accounts of what he advised President Barack Obama about the 2011 raid that killed Osama bin Laden.
Fox News journalist Peter Doocy challenged Biden about his criticism of President Donald Trump's decision to order the killing of Iranian military commander Qasem Soleimani.
Doocy asked Biden if he would be willing, as commander-in-chief, to thwart an "imminent attack on Americans" by using an airstrike to kill a "terrorist leader." (Trump claimed on Friday, without providing evidence, that Soleimani was planning a "very major attack.")
"Well, we did," said Biden, who served as vice president to Obama. "The guy's name was Osama bin Laden."
Doocy responded, "Didn't you tell President Obama not to go after bin Laden that day?"
To which Biden responded: "No, I didn't. I didn't."
Biden's description of his advice to Obama changed between 2012 and 2015; two of his accounts were contradictory. He said in 2012 that he had advised Obama "don't go" with the raid before obtaining more information. He then said in 2015 that he had not uttered this "don't go" opinion.
Former top officials in the Obama administration have written in their memoirs that Biden was "against the operation," that he was "firmly in favor of waiting for more information," and that he was concerned about the risks of a raid.
What Biden said initially
At a Democratic congressional retreat in 2012, Biden told party legislators that he had advised Obama at the April 2011 meeting not to proceed with the raid before they could be more certain that bin Laden was present at the compound in Abbottabad, Pakistan, where he would be found and killed.
Biden's apparent purpose in telling the story was to vouch for Obama's "backbone" in authorizing the May 2011 raid over the uncertainty of advisers, most of whom Biden said gave tentative answers when Obama went around the table asking for their opinions.
"(When he) got to me, he said, 'Joe, what do you think?' And I said, 'You know, I didn't know we had so many economists around the table.' I said, 'We owe the man a direct answer. Mr. President, my suggestion is don't go. We have to do two more things to see if he's there,'" Biden said.
Biden did not specify what the "two more things" were.
Jay Carney, then the White House press secretary, told CNN's Jake Tapper, then reporting for ABC, that Biden was "speaking accurately" at the retreat about what had happened at the 2011 meeting.
What Biden said later
On NBC's "Meet the Press" in May 2012, Biden added new detail to the story.
While not denying host David Gregory's assertion that Biden had advised Obama "don't do it, don't do it now," Biden said he had an additional conversation with Obama as they walked privately together after the meeting -- during which he said he told Obama, "Follow your instincts, Mr. President. Your instincts have been close to unerring. Follow your instincts." He added, "I wanted him to take one more day to do one more test to see if he [bin Laden] was there."
That version of the story was not incompatible with his initial account to the Democratic legislators. But a third version of the story, which he offered in October 2015, was incompatible with that initial account.
This time, Biden said that he did not give Obama a "don't go" opinion at the 2011 meeting. (He said he had said merely that they should make "one more pass" with a surveillance drone to make sure bin Laden was present.) Rather, he said, he withheld his opinion until he was alone with Obama after the meeting -- then made clear to Obama, "as we walked out of the room, and walked upstairs," that "I thought he should go."
"Imagine if I had said in front of everyone, 'Don't go' or 'Go,' and his decision was a different decision; it undercuts that relationship. So, I never, on a difficult issue, never say what I think, finally, until I go up in the Oval with him alone," Biden said at a George Washington University panel discussion with former vice president Walter Mondale.
In other words: Biden said in 2012 that he had believed he owed Obama a firm opinion at the group meeting, and had said "don't go" in that setting. Biden said in 2015 that "it would have been a mistake" to offer a firm opinion at the group meeting, so he had never said either "don't go" or "go" in that setting -- but, instead, had privately advised Obama to "go."
What others have said
As Trump's campaign pointed out on Friday, former Obama officials have written in their memoirs that Biden expressed skepticism or outright opposition to the raid when the security team met.
That does not itself contradict Biden's claim that he expressed support, or something less than opposition, in a one-on-one conversation with Obama. But it does at least raise questions.
Leon Panetta, who was as Obama's Central Intelligence Agency director at the time, wrote in his 2014 memoir, Worthy Fights, that Biden argued at the meeting "that we still did not have enough confidence that bin Laden was in the compound, and he came out firmly in favor of waiting for more information."
Robert Gates, who was secretary of defense at the time of the raid, wrote in his 2014 memoir, Duty, that "Biden was against the operation" when Obama went around the table. Gates, who was highly critical of Biden in the book, wrote that the two of them were the "two primary skeptics" of the raid; he wrote, "Biden's primary concern was the political consequences of failure."
Hillary Clinton, who was secretary of state at the time, wrote in her 2014 memoir, Hard Choices, that Biden "remained skeptical" and, like Gates, was concerned about "the risks of a raid."
CNN national security analyst Peter Bergen, author of the book Manhunt about the search for bin Laden, interviewed many of the attendees of the April 2011 meeting in the months after the raid. Bergen reported that Biden expressed concerns at the meeting about the possible Pakistani reaction to a raid in their country, arguing that they needed to become more sure bin Laden was present before risking a major breach in a critical bilateral relationship.
Bergen said in an email on Saturday: "Now is it possible that Biden spoke to Obama privately later and told him something different? Sure. But it's striking to me, that as far as I know, Obama has never come forward to say that Biden advised him to carry out the raid."
In a 2012 presidential debate with Republican Mitt Romney, Obama made reference to Biden's concerns about conducting a raid in Pakistan.
On Saturday, a Biden campaign official who spoke on condition of anonymity said Biden was never opposed to a raid but just thought more certainty was needed about bin Laden's presence before proceeding at that moment.
"At the outset, the Vice President advised that we first obtain additional confirmation that Bin Laden was indeed at the compound -- but he did not say that the operation shouldn't ultimately go forward. Later, in a one-on-one setting, the VP urged President Obama to 'follow [his] instincts," the official said.
https://us.cnn.com/2020/01/04/politics/biden-bin-laden-raid-fact-check/index.html
------
US stock markets fall in aftermath of Genaral Soleimani assassination
January 4, 2020
AhlulBayt News Agency (ABNA): Dow Jones and S&P 500 stock indexes posted their biggest losses in a month after a US assault assassinated Islamic Revolution Guards Corps (IRGC) Qods Force Commander Lieutenant General Qassem Soleimani, tempered only by the buoyant mood of defense and oil-related shares.
Wall Street stocks went down at the news of the assassination of General Soleimani in Iraq on Friday morning.
As markets closed on Friday, the Dow Jones Industrial Average shed 233.92 points or 0.8 percent, in what was its biggest single-day drop in a month. The S&P 500 did not fare much better, plummeting more than 0.7 percent to close the day at 3.234.85 as renewed fears over of a large-scale conflict potentially breaking out in the Middle East soured investor mood.
Defense and aerospace shares surged, however, with Northrop Grumman (NOC) stocks rising 5.45 percent. Lockheed Martin, the maker of the beleaguered F-35 jets, saw its stocks jump 3.63 percent, their best showing in half a year. Missile-maker Raytheon also rallied at the news, adding around 1.5 percent.
Oil and gold stocks were also jubilant. Brent crude leaped 3.5 percent to over $68 a barrel, while US crude climbed 3.1 percent to reach $63.05 a barrel. The US attack drove up gold prices, too. They rose to the highest level in four months.
Surging oil prices caused air carriers to slump as well, with American Airlines losing 4.81% of its value and Delta Air Lines 1.86%, and United losing 2%.
The top commander was martyred in a targeted assassination attack by US aircraft at Baghdad International Airport early Friday morning. The airstrike also martyred Abu Mahdi al-Muhandis, deputy commander of Iraq's Popular Mobilization Forces (PMF), or Hashad al-Shabi.
The Pentagon has announced that President Donald Trump authorized a US military strike near Baghdad's airport which resulted in the martyrdom of General Soleimani.
Supreme Leader of the Islamic Revolution Ayatollah Seyed Ali Khamenei has stated those who assassinated General Soleimani must await a tough revenge.
https://en.abna24.com/news//us-stock-markets-fall-in-aftermath-of-genaral-soleimani-assassination_999229.html
------
US football team cancels camp in Qatar amid fears of Iran's retaliation
January 4, 2020
AhlulBayt News Agency (ABNA): The US men's football team has cancelled its plans to go to Qatar for a winter training camp amid heightened tensions in the Middle East following the US assassination of Iran's top general.
"Due to the developing situation in the region, US Soccer has decided to postpone traveling to Qatar for the Men's National Team's scheduled January training camp," US Soccer said in a statement on Friday.
The 20-day camp was scheduled to begin on Sunday at Doha's Aspire Academy in the Qatari capital.
But the squad will now hold their annual training at the IMG Academy in Bradenton in the state of Florida instead.
US coach Gregg Berhalter had called up 25 players for the trip to Qatar, where they were to play closed-door games before heading home to face Costa Rica in Carson, California, on February 1.
That international friendly game will go ahead as planned, US Soccer said.
"We are working with the Qatar Football Association to find an opportunity in the near future for our team to experience Qatar's world-class facilities and hospitality," the federation added.
This comes as tensions between the US and Iran escalated on Friday after the targeted killing of General Qassem Soleimani, head of Iran's Quds Force, in an air strike at Baghdad airport on the orders of US President Donald Trump.
https://en.abna24.com/news//us-football-team-cancels-camp-in-qatar-amid-fears-of-iran%e2%80%99s-retaliation_999224.html
------
'Iranian hackers' claim breach of US govt website
Jan 5, 2020
WASHINGTON: A group claiming to be hackers from Iran breached the website of a little-known US government agency on Saturday and posted messages vowing revenge for Washington's killing of top military commander Qasem Soleimani.
The website of the Federal Depository Library Program was replaced with a page titled "Iranian Hackers!" that displayed images of Iran's supreme leader Ayatollah Ali Khamenei and the Iranian flag.
"Martyrdom was (Soleimani's)... reward for years of implacable efforts," read a graphic depicting US President Donald Trump being punched by a first emanating from Iran as missiles fly by.
"With his departure and with God's power, his work and path will not cease and severe revenge awaits those criminals who have tainted their filthy hands with his blood and blood of the other martyrs," it said.
"This is only small part of Iran's cyber ability !" another caption on the page read in white text on a black background.
The killing of Soleimani in a drone strike in Iraq early Friday brought a furious vow of revenge from Tehran.
Described as the second most powerful man in Iran, Soleimani oversaw wide-ranging interventions in regional power struggles.
Trump has said Soleimani was planning an "imminent" attack on US personnel in Baghdad.
The president has warned that Washington is targeting 52 sites in Iran and will hit them "very fast and very hard" if the Islamic republic attacks American personnel or assets.
https://timesofindia.indiatimes.com/world/us/iranian-hackers-claim-breach-of-us-govt-website/articleshow/73105053.cms
-------
Mideast
Haftar calls on his loyalists to engage in "jihad" against Turkey
January 04, 2020
Khalifa Haftar, whose forces are leading an offensive against Tripoli, announced in a televised speech on Friday mobilization of forces and jihad against what he described as the Turkish occupation of Libya.
He called for renouncing differences among all Libyans and urged them to take up arms - men and women -civilians and military fighters - to defend the land and honor of Libya.
Haftar touched upon some Arab nationalistic slogans and called on Arabs to help his forces to fight Turkey, which he said was trying to revive the Ottoman Empire and saw Libya as an inheritance.
He also called on the Turkish people to revolt against President Erdogan whom he called "adventurer and idiot pushing his army to certain death and trying to spark sedition among Muslims for his own desires".
On last Thursday, the Turkish Parliament approved a motion to deploy troops to Libya as per the military and security MoU signed between Libya and Turkey on November 27, 2019.
https://www.libyaobserver.ly/news/haftar-calls-his-loyalists-engage-jihad-against-turkey
------
'This is message from Islamic Republic of Iran:' U.S. agency site apparently hacked
BY MARYAM SHAH
January 4, 2020
The homepage for the U.S. Federal Depository Library Program appeared to intermittently go offline and display a message purporting to be from hackers in Iran Saturday evening.
Screenshots on the Wayback Machine — timestamped between 1:07 and 1:35 GMT Sunday, which is 8:07 to 8:35 p.m. ET Saturday — show the website's homepage www.fdlp.gov appearing with the Iranian flag on a black background.
"This is message from Islamic Republic of Iran," says one line in English.
"We will not stop supporting our friends in the region," continues a paragraph in English, referring to the "oppressed people of Palestine" and of Yemen.
A photo of a fist punching U.S. President Donald Trump is also visible in the screenshot.
"Martyrdom was his (Shahid Soleymani) reward for years of implacable effort," reads text below Trump's face, referring to Qassem Soleimani, the top Iranian general killed in a U.S. airstrike earlier this week.
"Hacked by Iran Cyber Security Group HackerS," reads another line in the screenshot of the homepage, which currently appears offline.
When Global News visited the homepage for the FDLP on Saturday just past 8:30 p.m. ET, it showed an error and appeared offline. Subsequent visits to the FDLP site either resulted in the same error message or the content of the screenshot appearing.
The FDLP is a program that collects, organizes, and preserves information produced by the U.S. federal government, according to the U.S. Department of the Interior.
It is unknown whether the hack originated from Iran as the screenshot states, or whether it originates from an entity claiming to represent the country.
Soleimani was killed by an airstrike ordered by Trump near Baghdad's airport on Friday, sparking worries that tension between the U.S. and Iran will only escalate further.
Earlier on Saturday, the U.S. Department of Homeland Security had sent out a national advisory warning of Iran's cyberattacks capabilities.
"Iran maintains a robust cyber program and can execute cyber attacks against the United States," the bulletin said. "Iran is capable, at a minimum, of carrying out attacks with temporary disruptive effects against critical infrastructure in the United States."
U.S. officials are aware of the messaging appearing on the FDLP site.
"We are aware the website of the Federal Depository Library Program (FDLP) was defaced with pro-Iranian, anti-US messaging," said an email late Saturday night from a U.S. Cybersecurity and Infrastructure Security Agency (CISA) spokesperson.
"At this time, there is no confirmation that this was the action of Iranian state-sponsored actors," the statement said.
The FDLP website has been taken offline and "is no longer accessible" while CISA monitors the situation with its partners in the U.S. federal government.
The CISA statement referred to the DHS bulletin from earlier Saturday, saying "all organizations should increase monitoring, back up your systems, implement multi factor authentication, and have an incident response plan at the ready."
https://globalnews.ca/news/6367834/iran-hackers-us-government-website/
------
Tensions rise over Erdogan's gas designs in Mediterranean, Libya war
Sunday 05/01/2020
ISTANBUL - Tensions in the Eastern Mediterranean are expected to rise sharply as Turkey's aggressive strategy in a scramble for natural gas resources triggers a united response by neighbouring countries determined to stop Ankara. Turkish parliament's approval to deploy troops in Libya only added to such tensions.
Turkey's actions sparked warnings by the United States and Russia, as well as by Egypt.
"Escalation is probable in the Eastern Med," Halil Karaveli, author of "Why Turkey is Authoritarian," said by e-mail. "Turkey may decide to formally annex northern Cyprus. Building a naval base there is also being considered."
Turkey's parliament voted January 2 to send troops to Libya after Libyan Prime Minister Fayez al-Sarraj's internationally recognised Government of National Accord (GNA) requested support. The GNA is fending off an offensive by Field-Marshal Khalifa Haftar's Libyan National Army (LNA), which is attempting to take over Tripoli.
The same day, leaders of Greece, Israel and Cyprus signed a deal for an undersea pipeline that would carry gas from new offshore deposits in the south-eastern Mediterranean to continental Europe, sidelining Turkey.
The 1,900km EastMed pipeline is intended to provide an alternative gas source for energy-hungry Europe, which is largely dependent on supplies from Russia and the Caucasus region.
Karaveli said Turkey's plan to get involved in the Libyan conflict militarily was designed to create pressure on its neighbours in the Eastern Mediterranean.
"It is precisely because all other regional powers and their great power backers have aligned against Turkey in their joint effort to exclude Turkey from the Eastern Mediterranean — its oil and gas resources — that Ankara is returning militarily to Libya" a century after the Ottoman Empire lost the region to Italy, Karaveli said.
"Turkey needs to keep the officially recognised Libyan government, with which it has reached the maritime border agreement that effectively
severs the Greek Cypriot-Greece maritime connection, in power to have leverage in the oil and gas game in the Eastern Mediterranean."
Turkish official, speaking on condition of anonymity, said the root of the problems between Turkey and its neighbours was the unsolved problem of Cyprus, which has been divided between a Turkish and a Greek part since 1974. "Everything is because of the problem of Cyprus," the official said.
he division of the island sparked Turkish claims that Greece and the Greek republic of Cyprus ignore the interests of Turkish Cypriots in exploiting gas resources nearby. Ankara is also irked that regional countries prefer to build the costly underwater pipeline to ship gas to Europe instead of using a pipeline network on the Turkish mainland.
Ankara has raised the stakes with recent moves to explore waters controlled by Cyprus and Greece. The two EU members are particularly disturbed Turkey sent warship-escorted drill ships into waters where Cyprus has exclusive economic rights.
Turkey's plan to send troops and fighters to Libya drives up tensions more. The Syrian Observatory for Human Rights said about 300 pro-Turkish Syrian fighters have been dispatched to Libya.
In its deployment of the fighters, Turkey seems to be borrowing the scripts of both international private mercenary contractors and those of global jihadist groups.
US President Donald Trump warned Turkish President Recep Tayyip Erdogan in a telephone call "that foreign interference is complicating the situation in Libya," White House spokesman Hogan Gidley said in a statement.
Russia is also concerned over Turkey's plan to send troops to Libya. Leonid Slutsky, chairman of the State Duma Committee on International Affairs, said military intervention is certainly not the best option to resolve the crisis in Libya. Egypt, which, like Russia, backs Haftar in Libya, condemned the vote in Turkey's parliament.
In a Tv address, January 3, Haftar called on Libyans to bear arms, "men and women, soldiers and civilians, to defend our land and our honour" against Turkish "colonisers".
https://thearabweekly.com/tensions-rise-over-erdogans-gas-designs-mediterranean-libya-war
------
The martyrdom that would lead to a real "Islamic Awakening"
TEHRAN, Jan. 04 (MNA) – There is a proverb in the middle east that says " your enemy's enemy is your friend" so when people see that the US assassinated their enemy`s enemy (Gen. Soleimani and Abu Mahdi Al-Mohandes) they could simply realize that the US is a friend of ISIL.
Less than a decade ago, people of Arab countries began to protest against their dictators to achieve justice and freedom also named "Arab Spring". This moral path took a detour and lost its right way. It was the US effort to mislead the people by creating some terrorist groups including ISIL, Al_NOSRAH and ETC.
Donald Trump, the current president of the US, condemned Barack Obama for the creation of ISIL. (Time; August 11, 2016). ISIL and other terrorist groups like Al-Nosrah and Al-Qaeda had committed many violent crimes against people in Iraq, Syria, Lybia, Lebanon and even Iran for five years (Independent 4 December 2019).
On the other hand, the Resistance Front, led by Gen. Soleimani was trying to fight with ISIL. After several years, the Resistance Front in cooperation with the Iraqi troops (Hashd-Alshaabi), Syrian military, and local people could defeat terrorist groups and bring peace to the region.
But Trump`s foolish command for attacking Gen. Soleimani and Abu Mahdi Al-Mohandes, could clear the real face of the US current governors and made the Middle East people rethink about this old question: What the hell the US is doing here in the Middle East? There is a proverb in the middle east that says " your enemy's enemy is your friend" so when people see that the US assassinated their enemy`s enemy (Gen. Soleimani and Abu Mahdi Al-Mohandes) they could simply realize that the US is a friend of ISIL.
This is the truth that mentioned by other countries like Russia as well. Russian Defense Ministry recently tweeted: Under the direct leadership of Gen. Qasem Soleimani resistance against ISIL # AL-Qaeda was organized in Syria & Iraq long before "Int`l coalition" led by US.
The important point that can be considered now is that can we expect another "Arab Spring" amid this chaos in the Middle East without the US troops?
https://en.mehrnews.com/news/154129/The-martyrdom-that-would-lead-to-a-real-Islamic-Awakening
------
Turkish FM expresses condolences over martyrdom of General Soleimani
January 4, 2020
AhlulBayt News Agency (ABNA): Turkey's Foreign Minister Mevlut Cavusoglu has expressed condolences over the martyrdom of the commander of IRGC Quds Force, Lieutenant General Qasem Soleimani.
In a phone conversation with his Iranian counterpart, Mohammad Javad Zarif, the Turkish diplomat extended commiseration with the nation and the bereaved family of the top general.
During the talks, the Iranian and Turkish counterparts also discussed a range of other issues, including the bilateral ties as well as other regional and international developments.
https://en.abna24.com/news//turkish-fm-expresses-condolences-over-martyrdom-of-general-soleimani_999274.html
------
Pres. Rouhani: Silence towards aggressor's acts makes them bolder
January 4, 2020
AhlulBayt News Agency (ABNA): Iran's President described the United States' killing of Lieutenant General Qasem Soleimani a grave mistake and stressed, "If we remain silent towards the aggressor's acts, it will make them bolder".
Speaking in a phone call with his Turkish counterpart Recep Tayyip Erdoğan on Saturday evening, President Hassan Rouhani said, "If we do not take unanimous stance against America's mistakes, a great danger will threat our region".
Appreciating the Turkish President's condolences with the Iranian government and nation, Dr Rouhani said, "Iran and Turkey have always negotiated in complicated issues".
"We must respond to foolish acts, and there is no doubt that silence towards aggressors will make them bolder," he said.
The President continued, "Martyr Soleimani had an undeniable role in the fight against terrorists in the region and you know well that he has carried out his great regional and Islamic duty".
Iranians are very angry about this US act, he said, adding, "What US did was a great, foolish mistake and America violated Iraq's national sovereignty and carried out terrorist acts in the Iraqi soil, which was against the country's independence".
Dr Rouhani added, "The United States also carried out a state-sponsored organised assassination against another government and martyred our beloved and great military commander. If we do not take a united stance against such acts by America, we will be in great danger".
The President appreciated the Turkish President's condolences and said, "America has committed a great crime against us today and if we remain silent today, such an action will be carried out against other countries tomorrow".
"We expect all our friends and neighbours to condemn this crime explicitly," Dr Rouhani said.
The president also referred to Syria and developments in the country, adding, "Efforts will continue in the framework of heads of state of Iran, Turkey and Russia to help solve the Syrian issue".
The president also referred to Iran's interest in developing bilateral relations and said, "I hope we meet in Tehran soon."
At the same phone call, the President of Turkey offered condolences over the martyrdom of Lieutenant General Qasem Soleimani to the Supreme Leader, the government and the people of Iran, and said that he was deeply sorry for the loss of General Soleimani and that he understood the Iranian people's anger.
Referring to the magnificent funeral of Martyr Soleimani that he saw on Iraqi television, Erdoğan added, "All these images clearly showed the Iraqi people's affection for Lieutenant General Soleimani".
Referring to the need for establishing stability and security in the region, he emphasised, "Foreign interventions and regional conflicts prevent the region from achieving peace and stability, and we must not allow such actions to pose a threat to the peace and stability of the region".
The Turkish President emphasised, "I am confident that the Iranian cultural and governmental structure, which is rooted in history, will manage this period of time by relying on its wisdom".
Referring to the talks between the two countries' foreign ministers, Erdoğan added, "We will discuss bilateral and regional issues during our visit to Tehran in the near future".
https://en.abna24.com/news//pres-rouhani-silence-towards-aggressor%e2%80%99s-acts-makes-them-bolder_999270.html
------
Belarus people pay tribute to General Soleimani
January 4, 2020
AhlulBayt News Agency (ABNA): A number of people in the capital city of Minsk in Belarus paid homage to Lieutenant General Qasem Soleimani who was assassinated by the US in Iraq on Friday, January 3.
The Belarus people commemorated the Iranian commander by laying wreaths and bouquets of flowers at the martyrdom memorial.
US President Donald Trump ordered the assassination of Iran's Lieutenant General Qasem Soleimani on Friday, January 3, 2020.
Lieutenant General Soleimani was the Islamic Revolution Guard Corps' (IRGC) Quds Force commander who was assassinated by the US alongside the acting Commander of the Iraqi Popular Mobilization Units (PMU), known as the Hash al-Shaabi, Abu Mahdi Al-Mohandes, and eight other military forces who were fighting the Daesh (ISIS) forces in Iraq.
https://en.abna24.com/news//belarus-people-pay-tribute-to-general-soleimani_999268.html
------
Iran proved vital to al Qaeda's safe passage, according to bin Laden records, 9/11 commission
Iran "facilitated" the movement of al Qaeda terrorists through its country, including September 11, 2001 attackers and for years was a critical channel for money and arms, according to the 9-11 commission report and internal Osama bin Laden documents.
Experts say the late Qassem Soleimani surely knew of and directed the terror partnership since he has headed since 1998 Iran's Quds Force. It is a U.S.-designated terrorist organization and an arm of the Islamic Revolutionary Guard Corps which dominates Iranian society. On Jan. 3, Maj. Gen. Soleimani was killed in Baghdad by a U.S. drone missile attack on his car on orders of President Trump.
"There is strong evidence that Iran facilitated the transit of al Qaeda members into and out of Afghanistan before 9/11, and that some of these were future 9/11 hijackers," said the commission, known formally as The National Commission on Terror Attacks Upon the United States.
Osama bin Laden called Iran "our main artery" for men and money.
Michael Rubin, a Middle East scholar at the American Enterprise Institute, said none of this would have happened without Gen. Soleimani's blessings.
"Qassem Soleimani was the second most powerful man in Iran after the Supreme Leader," Mr. Rubin told The Washington Times. "He didn't just run overseas operations and those involving Iranian relations with terror groups, he formulated and developed them. There was not a single operation of any significance which he did not approve if not oversee."
"This extends backwards not only into Iran's support for proxies in Lebanon, Iraq, Syria, and Yemen, but also to its ties to Al Qaeda," Mr. Rubin added.
"Simply put, the 9/11 hijackers never would have been able to train in Afghanistan had it not been for Soleimani's support and Iranian free-passage. The same holds true for Iran's subsequent safe-haven to senior Al Qaeda operatives in IRGC bases inside Iran."
Al Quds creates and aligns with other terror groups in the region, training, financing and directing them as it is today in Iraq.
The 9-11 Commission's 2004 report paid close attention to how bin Laden's terrorists moved in and out of Afghanistan, its headquarters in an alliance with the now-ousted Taliban regime.
Its report said Iranian border officials were under orders not to stamp the visas of al Qaeda travelers.
One commission source was Tawfiq bin Attash (known as Khallad), who bombed the destroyer USS Cole in 2000.
"Khallad and other detainees have described the willingness of Iranian officials to facilitate the travel of al Qaeda members through Iran, on their way to and from Afghanistan," the report said. "For example, Iranian border inspectors would be told not to place telltale stamps in the passports of these travelers. Such arrangements were particularly beneficial to Saudi members of al Qaeda."
Two other commission sources were the jailed Khalid Sheik Mohammed, the 9-11 master player, and an associate, Ramzi bin al-Shibh.
"KSM and Binalshibh have confirmed that several of the 9/11 hijackers (at least eight, according to Binalshibh) transited Iran on their way to or from Afghanistan, taking advantage of the Iranian practice of not stamping Saudi passports." the report says. "They deny any other reason for the hijackers' travel to Iran."
The report said that evidence didn't show that Iran knew of the pending attack on the World Trade Center and targets in Washington. But it also called for the government to investigate this link further.
The commission also said that al Qaeda terrorists received training from Hezbollah, the Iran-created terror army in southern Lebanon which works closely with Gen. Soleimani.
There is more evidence of an Iran-al Qaeda working relationship. It is found in millions of pages of documents seized by Navy SEALs when they raided bin Laden's Pakistan hideout and killed him in May 2011.
The papers show Iran was a vital safe passage for al Qaeda members to move in and out of the Pakistan-Afghanistan region, with many on their way to kill Americans in Iraq
Gen. Soleimani was particularly active in 2005-11, sending his Quds operatives into Iraq to train Shiite militia members, like the ones operating in Iraq today, on how to target and blow up U.S. troops. The U.S. says Gen. Soleimani was responsible for 603 American deaths and thousands wounded.
In a letter to Abu Ayyub al-Masri, leader of al Qaeda in Iraq in 2007, bin Laden warn him not to attack Iran for its assistance to Shia militia, some of whom fought Masri's terrorists.
"You did not consult with us on that serious issue that affects the general welfare of all of us," bin Laden wrote Masri, who had made public threats. "We expected you would consult with us for these important matters, for as you are aware, Iran is our main artery for funds, personnel, and communication, as well as the matter of hostages."
Masri was killed in 2010 by U.S. troops. He was succeeded by Abu Bakr al-Baghdadi, who fled to Syria and founded the brutal Islamic State terror army. Once U.S. troops left under orders of President Barack Obama, ISIS invaded Iraq, taking swaths of territory in northern and western Iraq.
Mr. Trump, who approved the strike on Gen. Soleimani, also OK'd the Army Delta Force raid in November that resulted in al-Baghdadi's death by suicide bomb.
Iran helped al Qaeda in other ways. It provided a home for one of bin Laden's sons, Saad and for Said al Adel, an al Qaeda military leader under indictment for the 1998 bombing of U.S. embassies in East Africa.
The U.S. killed Saad in a 2009 air strike.
The picture adds up to two organs of terror, Shia Iran and Sunni al Qaeda, cooperating in their shared hatred of the Untied States.
"That supports the conclusion that bin Laden's relations with Iran's dictatorship were convoluted, a mix of cooperation, competition, distrust and opportunistic collusion," James Phillips, a Heritage Foundation Middle East expert, said at the time bin Laden papers were released in 2016.
https://www.washingtontimes.com/news/2020/jan/4/iran-proved-vital-al-qaedas-safe-passage-lead-911-/
------
Iraqi Shiite Muslims united against US interference
Baghdad, Jan 4 (Prensa Latina) Iraq is experiencing unusual unity of Shiite Muslims, as they call for US troops to be expelled from the country, following the assassinations of Iranian General Qassem Soleimani and the Deputy Commander of the Popular Mobilization Forces, Abu Mahdi al-Muhandis.
Leaders of different Islamic factions that have been fighting each other for months now come together to request an immediate withdrawal of US troops from the country.
'We call on all national forces to unify their position to expel foreign troops, whose presence has become useless in Iraq,' indicated Hadi al-Amiri, leader of the militia in the Badr Organization.
Al-Amiri leads a bloc with the second largest number of seats in Parliament, only preceded by the Sairoon Alliance headed by Muqtada al-Sadr.
The latter has always rejected interference from the US and Iran, but with Soleimani's death has called on all sectors to act wisely.
https://www.plenglish.com/index.php?o=rn&id=50566&SEO=iraqi-shiite-muslims-united-against-us-interference
------
Assassination of Gen. Soleimani allows acting against US interests: Union of Islamic Society
Tehran (ISNA) - Secretary General of Union of Islamic Society, Mohammad Zadmehr in a statement said that the assassination of Islamic Revolutionary Guard Corps commander, Major General Qassem Soleimani allows members of Union of Islamic Society to act against US interests in the region.
Here is the full text of the statement:
In the name of Allah
By killing us, our nation will wake up. (Imam Khomeini)
US officials and statesmen; Matyrdom of Qasem Soleimani and Abu mahdi Almuhandes by you criminals, allows members of Union of Islamic Society to act against your interests in the region. This also includes US allied governments.
Mohammad Zadmehr
Secretary General of Union of Islamic Society
https://en.isna.ir/news/98101410884/Assassination-of-Gen-Soleimani-allows-acting-against-US-interests
------
Syrian regime shelled a mosque in Ma'ar Shoreen village in Idlib, on January 3
SNHR: Syrian regime missile launcher in parallel with their artillery shelled Khaled Bin al Walid Mosque in Ma'ar Shoreen village in the eastern suburbs of Idlib governorate, partially destroying its building and damaging furniture, on January 3, 2020.
http://sn4hr.org/sites/news/2020/01/04/syrian-regime-shelled-mosque-maar-shoreen-village-idlib-january-3/
------
Hajj Qasem Soleimani had no fear of anyone or anything in performing his duty for cause of God
January 4, 2020
AhlulBayt News Agency (ABNA): Imam Khamenei, the Supreme Leader of the Islamic Revolution, visited the home of the esteemed and eminent General of Islam, Major General Hajj Qasem Soleimani, on Friday.
Showing sympathy with the family of the martyr, his Eminence expressed congratulations and condolences for the martyrdom of the sincere and distinguished fighter in the way of God.
Referring to Martyr Soleimani's sincerity and self-sacrifice, Imam Khamenei stated, "Hajj Qasem had been exposed to martyrdom repeatedly, but in performing his duty and fighting for the cause of God, he had no fear of anyone or anything."
The Leader of the Revolution regarded the fact that General Soleimani was martyred by the most villainous individuals, the American officials, and their pride in this crime to be a distinguishing feature of this brave fighter in the way of God and reminded, "His struggle was a great struggle, and God made his martyrdom a great martyrdom. This was a significant blessing for Hajj Qasem, who was deserving (of such a glorious martyrdom). Hajj Qasem had to be martyred in such a manner."
While asking Allah to bestow patience and divine calm on the hearts of the martyr's family members and the hearts of all of the Iranian people, His Eminence added, "Today, you saw how the people in different cities of the country came to the streets in great numbers and with exceptional devotion. You will also see his funeral (with great numbers). These blessings are before our eyes, so we understand the value of martyrdom. What a blessing for Hajj Qasem who achieved his dream. He cherished martyrdom, shed tears for it, and mourned for his martyred friends."
Stressing that outward Jihad relies on 'the biggest Jihad', which is internal Jihad, Imam Khamenei addressed the daughter of the martyr saying, "All of the people are bereaved and grateful to your father. And this gratitude is due to the outstanding sincerity, which existed in him because the hearts are in the hands of God. Without sincerity, the people's hearts wouldn't have recognized him in this way. May God bestow His blessings on all of us and all the Iranian nation."
https://en.abna24.com/news//hajj-qasem-soleimani-had-no-fear-of-anyone-or-anything-in-performing-his-duty-for-cause-of-god_999200.html
------
Iran: Esmail Ghaani steps out of Suleimani's shadow to lead proxies
Jan 4, 2020
TEHRAN: A new Iranian general has stepped out of the shadows to lead the country's expeditionary Quds Force, becoming responsible for Tehran's proxies across the Mideast as the Islamic Republic threatens the US with "harsh revenge" for killing its previous head, Qassim Suleimani.
The Quds Force is part of the 125,000-strong Revolutionary Guard, a paramilitary organization that answers only to Iran's Supreme Leader Ayatollah Ali Khamenei.
The Guard oversees Iran's ballistic missile program, has its naval forces shadow the US Navy in the Persian Gulf and includes an all-volunteer Basij force.
Like his predecessor, a young Esmail Ghaani faced the carnage of Iran's eight-year war with Iraq in the 1980s and later joined the newly founded Quds, or Jerusalem, Force.
While much still remains unknown about Ghaani, 62, Western sanctions suggest he's long been in a position of power in the organisation. And likely one of his first duties will be to oversee whatever revenge Iran intends to seek for the US airstrike early Friday that killed his longtime friend Suleimani.
"We are children of war," Ghaani once said of his relationship with Suleimani, according to Iran's state-run IRNA news agency. "We are comrades on the battlefield and we have become friends in battle."
The Guard has seen its influence grow ever-stronger both militarily and politically in recent decades. Iran's conventional military was decimated by the execution of its old officer class during the 1979 Islamic Revolution and later by sanctions.
A key driver of that influence comes from the elite Quds Force, which works across the region with allied groups to offer an asymmetrical threat to counter the advanced weaponry wielded by the US and its regional allies. Those partners include Iraqi militiamen, Lebanon's Hezbollah and Yemen's Houthi rebels.
In announcing Ghaani as Suleimani's replacement, Ayatollah Ali Khamenei called the new leader "one of the most prominent commanders" in service to Iran.
The Quds Force "will be unchanged from the time of his predecessor", Khamenei said, according to IRNA.
Suleimani long has been the face of the Quds Force. His fame surged after American officials began blaming him for deadly roadside bombs targeting US troops in Iraq.
Images of him, long a feature of hard-line Instagram accounts and mobile phone lockscreens, now plaster billboards calling for Iran to avenge his death.
But while Suleimani's exploits in Iraq and Syria launched a thousand analyses, Ghaani has remained much more in the shadows of the organisation.
He has only occasionally come up in the Western or even Iranian media. But his personal story broadly mirrors that of Suleimani.
Born on August 8, 1957 in the northeastern Iranian city of Mashhad, Ghaani grew up during the last decade of monarchy.
He joined the Guard a year after the 1979 revolution. Like Suleimani, he first deployed to put down the Kurdish uprising in Iran that followed the shah's downfall.
Iraq then invaded Iran, launching an eight-year war that would see 1 million people killed. Many of the dead were lightly armed members of the Guard, some of whom were young boys killed in human-wave assaults on Iraqi positions.
Volunteers "were seeing that all of them are being killed, but when we ordered them to go, would not hesitate", Ghaani later recounted.
"The commander is looking to his soldiers as his children, and in the soldier's point of view, it seems that he received an order from God and he must to do that."
He survived the war to join the Quds Force shortly after its creation. He worked with Suleimani, as well as led counterintelligence efforts at the Guard. Western analysts believe while Soleimani focused on nations to Iran's west, Ghaani's remit was those to the east like Afghanistan and Pakistan. However, Iranian state media has not elaborated on his time in the Guard.
In 2012, the US Treasury sanctioned Ghaani, describing him as having authority over "financial disbursements" to proxies affiliated with the Quds Force.
Also in 2012, Ghaani drew criticism from the US State Department after reportedly saying that "if the Islamic Republic was not present in Syria, the massacre of people would have happened on a much larger scale".
That comment came just after gunmen backing Syrian President Bashar Assad killed over 100 people in Houla in the country's Homs province.
"Over the weekend we had the deputy head of the Quds Force saying publicly that they were proud of the role that they had played in training and assisting the Syrian forces — and look what this has wrought," then-State Department spokeswoman Victoria Nuland said at the time.
Now, Ghaani is firmly in control of the Quds Force. While Iran's leaders say they have a plan to avenge Suleimani's death, no plan has been announced as the country prepares for funerals for the general starting Sunday.
Whatever that plan is, Ghaani likely will be involved.
"If there were no Islamic Republic, the US would have burned the whole region," Ghaani once said.
https://timesofindia.indiatimes.com/world/middle-east/iran-general-steps-out-of-suleimanis-shadow-to-lead-proxies/articleshow/73101094.cms
------
Death toll from airstrike in Libya's Tripoli climbs to 30
Jan 5, 2020
CAIRO: The death toll from an airstrike that slammed into a military academy in Libya's capital climbed to at least 30 people, most of them students, health authorities said Sunday.
Tripoli has been the scene of fighting since April between the self-styled Libyan National Army led by General Khalifa Hifter and an array of militias loosely allied with the weak but U.N.-supported government that holds the capital.
The airstrike took place late Saturday in the capital's Hadaba area, just south of the city center where fighting has been raging for months.
The ambulance service in Tripoli said the airstrike also wounded at least 33 others. It posted images of dead bodies and wounded people being treated at a hospital.
The U.N. Support Mission in Libyan condemned in ``the strongest terms'' the attack.
The Tripoli-based government blamed the airstrike on the self-styled Libyan National Army. A spokesman for the LNA did not respond to phone calls seeking comment.
The fighting for Tripoli escalated in recent weeks after Hifter declared a ``final'' and decisive battle for the capital. That followed a military and maritime agreement Tripoli authorities signed with their ally Turkey calling for the deployment of Turkish troops to Libya.
The fighting has threatened to plunge Libya into violence and chaos rivaling the 2011 conflict that ousted and later killed its ruler Moammar Gadhafi.
The country is now divided between the U.N.-supported administration in the west, and a rival government in the east aligned with the LNA.
France, Russia, Jordan, the United Arab Emirates and other key Arab countries support Hifter and his allies in the east. The Tripoli-based government is backed by Qatar, Italy and Turkey.
https://timesofindia.indiatimes.com/world/rest-of-world/death-toll-from-airstrike-in-libyas-tripoli-climbs-to-30/articleshow/73106773.cms
------
Ceremonies to honour general killed by US begin in Iran's Ahvaz
Jan 5, 2020
TEHRAN: Ceremonies to honour top Iranian commander Qassem Soleimani, who was killed in a US air strike in Baghdad, began on Sunday in Ahvaz, where his remains arrived from Iraq.
State television started a live programme showing thousands of mourners dressed in black gathered in the southwestern Iranian city.
The footage showed crowds gathered in Mollavi Square with flags in green, white and red -- depicting the blood of "martyrs".
They held up portraits of the general, seen as a hero of the 1980-88 Iran-Iraq war and for spearheading Iran's Middle East operations as chief of the Revolutionary Guards' Quds Force.
Men and women wept as they beat their chests to the sound of Shiite Muslim chants.
Aerial footage showed a tide of mourners crammed into Mollavi Square and the surrounding streets of downtown Ahvaz, a city of 1.3 million people.
Semi-official news agency ISNA said Soleimani's remains had arrived at Ahvaz airport before dawn.
They are expected to be flown to the Iranian capital for more tributes on Sunday evening.
On Monday, supreme leader Ayatollah Ali Khamenei is expected to pray over his remains at Tehran University before a procession to Azadi Square.
His remains are then due to be taken to the holy city of Qom for a ceremony at Masumeh shrine, ahead of a funeral in his hometown Kerman on Tuesday.
https://timesofindia.indiatimes.com/world/middle-east/ceremonies-to-honour-general-killed-by-us-begin-in-irans-ahvaz/articleshow/73105866.cms
------
India
The Protests Challenging CAA, NPR and NRC Have Drawn Massive Crowds across India
Jan. 4, 2020
HYDERABAD, India — At least 100,000 people gathered Saturday in Hyderabad, India's technology hub, to protest Prime Minister Narendra Modi and a new law they say will strip the country of its secular foundations, maintaining steady pressure on the government as demonstrations entered their fourth week.
The protests have drawn massive crowds across India, with more than 200,000 people gathering in Kochi city, in the southern state of Kerala, on New Year's Day. And in Delhi, hundreds continued to camp out on a vital stretch of highway that links the capital to its suburbs, bristling against one of the city's coldest winters in decades.
While the protests are the biggest threat yet to Mr. Modi's tenure in office, they may also be the beginning of a deeper political and social shift in India. From the start the protests have attracted Indians across political stripes and creeds. But with India's Muslims spearheading the demonstrations this past week, the 200-million strong minority showed it can organize as a formidable force to check Mr. Modi's Hindu nationalist government.
The protests began in December when the government passed a law that uses religion as a criterion for determining whether illegal migrants in India can be fast-tracked for citizenship. The measure favours members of all South Asia's major religions except Islam, India's second largest faith. Muslims worry that the law will be coupled with a citizenship test and used to strip them of their Indian nationality.
Mr. Modi's government has said that the measure is misunderstood and aims only to help religious minorities that are persecuted in Bangladesh, Afghanistan and Pakistan.
Although the government has promised that Indian citizens, regardless of their religion, will not be affected by the measure, Muslim and secular Indians remain wary. Many worry that Mr. Modi's Bharatiya Janata Party, or B.J.P., plans to disenfranchise Muslims in its quest to remake India as a homeland for Hindus, who make up about 80 percent of the population.
On Friday, the government dug in its heels, with Home Minister Amit Shah vowing at a rally in Jodhpur that "we won't backtrack even an inch" on the divisive law, which he masterminded and which has yet to be enacted.
The governing party, Bharatiya Janata Party, was initially taken aback by the protests, but has recently mobilized its supporters in its own large rallies to express support for the citizenship law. The rally in Jodhpur was the first in that planned government counteroffensive, with other senior leaders preparing to fan out across India to marshal loyalists.
In Hyderabad on Saturday, protesters came out in large numbers despite police restrictions capping the gatherings at 1,000 participants. Organizers said the demonstrations drew 200,000 people, while the local authorities pegged the number at 100,000. The city's Muslim community organized the protests, and volunteers handed out water and Indian flags.
That Muslims continue to organize protests that turn out such large numbers nearly a month after demonstrations first began is remarkable, considering the fragmented nature of the community, among the nations poorest and most illiterate, and its limited political power. Indian Muslims hold slightly less than 5 percent of parliamentary seats, despite making up 14 percent of the population.
On Saturday, some protesters held placards reading, "I am an Indian by choice, not by chance," a reference to the millions of Muslims who chose to stay in a secular India during the country's bloody 1947 partition, when Pakistan was carved out of the subcontinent as a homeland for Muslims.
Since India gained its independence from Britain, the country's Muslims have never protested in such large numbers, said Farhan Nasir, 27, a doctor who attended the protest in Hyderabad, and is Muslim. "If you will break us, we will unite. For the first time, Muslims are protesting on the street in large numbers."
Dr. Nasir said Muslims felt compelled to address the governing party's divisive politics and sectarianism. He added that the community historically had been so focused on making ends meet that it was unorganized politically and socially. But that is changing, he said, as they feel increasingly threatened by Mr. Modi's government.
"This could be the beginning of a new politics for Muslims and for India as well," he said. "This will not fizzle out; the protest is in a secular direction."
Some protesters expressed impatience with Mr. Modi's sectarian politics, pointing to inflammatory statements he and other party leaders made ahead of national elections last year even as the country faced a weakening economy and unemployment at a 45-year high.
"Elections should be fought on the issues of economy, employment, inflation and not on religion issues," said Syed Salman Ahmad, 27, a civil engineer.
The atmosphere at Hyderabad's demonstration was festive, with hawkers selling lemonade and snacks, protesters sporting painted Indian flags on their cheeks and groups of women banding together in song until the sun set.
https://www.nytimes.com/2020/01/04/world/asia/india-protests-modi-citizenship.html?emc=rss&partner=rss
------
Karnataka Couple Ties Knot Celebrating 'Secular' Rituals, Gets Preamble as Gift from Hindu, Muslim, Christian Heads
05th January 2020
By Raghottam Koppar
GADAG: It was a unique marriage! There were no pundits, no mantras, and also no band-baaja, but only heads from the Hindu, Muslim and Christian faiths, who gave the preamble to the new couple, and a book was also released during the occasion.
Basavaraj Bieyali and Sangeeta Gudimani tied the nuptial knot here at Ambedkar Bhavan in Gadag on Friday. Shantalinga Swamiji of Bhairanahatti, Maulvi Shabbir Moulana and Father Ebinajor witnessed the occasion and blessed the couple. There were many surprises for those in attendance and the marriage ended with the felicitation of pourakarmikas.
When Basavaraj and Sangeeta were thinking of arranging their marriage function differently, they consulted senior writer Basavaraj Sulibhavi of Hubballi and others, and came to the conclusion that the marriage should be held in a simple way.
Both the bride and groom were given the preamble, which they read in front of the idols of Buddha and Basavanna. Then the marriage was followed by reciting of Vachanas and guests showered flowers instead of Akshate and blessed the couple.
https://www.newindianexpress.com/states/karnataka/2020/jan/05/karnataka-couple-ties-knot-celebrating-secular-rituals-gets-preamble-as-gift-from-hindu-muslim-christian-heads-2085337.html
------
We are proud Indian Muslims and will remain so: Owaisi slams Pak PM
Hyderabad, Jan 05 (ANI): All India Majlis-e-Ittehadul Muslimeen (AIMIM) president, Asaduddin Owaisi on Saturday said that Pakistan Prime Minister Imran Khan should not worry about Indian Muslims, Khan should worry about his own country, adding that "we are proud Indian Muslims and will remain so". Owais's statements come after Pakistan PM tweeted a fake video on Friday to "expose" India. He said, "Pakistan's Prime Minister posted video from Bangladesh falsely claiming it to be from India. Mr Khan you worry about your own country. We have rejected wrong theory of Jinnah, we are proud Indian Muslims and will remain so."
https://www.aninews.in/videos/national/we-are-proud-indian-muslims-and-will-remain-so-owaisi-slams-pak-pm/
------
In India, Ahmadis are Muslims: Mukhtar Abbas Naqvi
JAN 04, 2020
The Indian government has taken different steps at different times to give citizenship to persecuted people and the Ahmadis won't be ignored, says Minority Affairs Minister Mukhtar Abbas Naqvi in an interview with Prerna Katiyar. Edited excerpts:
There is a demand for the inclusion of Ahmadis on the list of persecuted minorities covered under the Citizenship (Amendment) Act or CAA. Why are they not included?
We have had the citizenship law since 1955. There has been no change in its provision. Anyone can directly apply for Indian citizenship. There are provisions for direct application. In fact, more than 500 people, including Muslims and Ahmadis, have got citizenships via this route. So to say that we have left them out would not be correct. The CAA is specifically about the harassed and persecuted minorities.
Ahmadis are persecuted minorities in some Islamic states. Then why are they excluded?
Ahmadis are no different from Muslims for us. And we will be considering their applications. Bringing in the CAA does not mean they have lost the right to apply.
But the government has fast-tracked the process for Hindu minorities from Pakistan, Bangladesh and Afghanistan.
At different times, different steps have been taken for the benefit of all. For example, when Tamils from Sri Lanka applied for citizenship during the strife in that country, the then Congress government had approved the applications. Later, when Hindus facing problems in Canada had applied, they were considered as well. We do not discriminate one from the other.
It does not matter whether that country considers them Muslims or not. They are Muslims as far as India is concerned.
https://economictimes.indiatimes.com/news/politics-and-nation/in-india-ahmadis-are-muslims-mukhtar-abbas-naqvi/articleshow/73101497.cms
------
Delegation of Muslim clerics with Pro-Khalistani leader visit Nankana Sahib Gurdwara
Nankana Sahib (Pakistan), Jan 04 (ANI): A delegation of Muslim leaders visited Nankana Sahib today and interacted with the members of Sikh community there, condemning yesterday's mob attack on Nankana Sahib. Pro-Khalistani leader Gopal Chawla was also seen with the delegation. India had strongly condemned vandalism at prominent Sikh shrine.
https://www.aninews.in/videos/national/delegation-muslim-clerics-pro-khalistani-leader-visit-nankana-sahib-gurdwara/
------
Shia Muslims protest in Lucknow against killing of Iranian General Soleimani
Lucknow (UP), Jan 05 (ANI): A group of Shia Muslims in Lucknow staged protest against the United States' drone attack on Iranian General Qasem Soleimani. Protesters raised slogans against America and held placards where they called Qasem a 'martyr'. Shia cleric Maulana Kalbe Jawad also present in the protest. Iran's top military commander General Qasem Soleimani was killed in a US drone strike in Baghdad. He was head of Iranian Revolutionary Guard Corps-Quds Force.
------
Karnataka BJP MLA warns Muslims: 'We are 80%, you are 20%; don't oppose CAA'
Jan 4, 2020
BENGALURU: G Somashekara Reddy, Ballari City BJP MLA and brother of tainted mining baron G Janardhana Reddy cautioned Muslims against participating in anti-Citizenship (Amendment) Act protests and warned them of dire consequences if they did. At a pro-CAA rally organised by the BJP and ABVP activists on Friday, he said: "We Hindus are 80% in India and if the 20% Muslim population damages our property, we cannot just stand by and watch."
A video of the speech was widely shared moments after the rally.
"Bewakoofs (idiots) from Congress are lying to you on CAA and you are believing what they say and are coming out onto the streets. Imagine what your situation will be if we turn against you," he said.
Reddy suggested minorities need to adapt to Indian culture if they wanted to live in India. "This is our country. You have to live in our country," he said.
Quoting from a fake video of Australian Prime Minister Julia Gillard, he said: "If you want to stay in this country, you have to live as per our customs. If you don't, we may send you back to your country. Make sure you don't let such a situation come to pass." In the fake video, Gillard is heard encouraging Muslims to leave the country.
The Congress, meanwhile, lashed out at him, saying he should be booked for making a provocative speech in public. "This shows the BJP's mentality. He should be tried under law," said a senior Congress functionary.
https://timesofindia.indiatimes.com/city/bengaluru/reddy-brother-warns-muslims-against-anti-caa-protests/articleshow/73090866.cms
------
Uttar Pradesh first state to kickstart implementation of CAA
Jan 5, 2020
LUCKNOW: The UP government has ordered identification of migrants — Hindus, Sikhs, Jains, Buddhists, Parsis and Christians — from the three neighbouring countries of Pakistan, Bangladesh and Afghanistan, making UP the state first in the country to begin the exercise of shortlisting eligible migrants for granting citizenship. Sources said, this will also help collate data on illegal migrants.
Additional chief secretary (home) Avanish Awasthi told TOI district magistrates have been asked to track down migrants from Pakistan, Bangladesh and Afghanistan who have settled here for decades, without citizenship. "Though the number of people from Afghanistan living in UP is low, estimates indicate there's a substantial number from Pakistan and Bangladesh, who settled here after being persecuted in their countries," said Awasthi. This is the first step towards implementation of the Citizenship Amendment Act.
The purpose of compilation of the list is to ensure the state government could intervene and ensure that "genuine migrants" become citizens of the country. The presence of migrants from the two countries has been found mainly in Lucknow, Hapur, Rampur, Shahjahanpur, Noida and Ghaziabad.
"This is the first time such a list is being prepared. Citizenship will be granted according to the new CAA provisions," said Awasthi.
The state government will update the Union home ministry on Muslim migrants in the state and they could be deported to their countries though no decision has been taken on this yet. The citizenship law had triggered off protests and demonstrations in the state recently, leading to violence in various parts that left 28 dead.
https://timesofindia.indiatimes.com/city/lucknow/up-first-state-to-kickstart-implementation-of-caa/articleshow/73105086.cms
------
Pakistan
Pakistan Jamaat-e-Islami Chief Urges Muslim Nations to Unite Against US Designs
January 05, 2020
LAHORE - Muslim countries should demonstrate unity to counter the US designs to impose war and create instability, said Jamaat-e-Islami chief, Senator Sirajul Haq, on Saturday.
In a statement issued from Mansoora, he said American President Donald Trump was bent upon imposing war on Muslim world without realizing the severity of the situation.
The US war against a Muslim state, warned Siraj, would not remain confined to a specific country or region but it would engulf the entire world, resulting in death of millions of people, starvation, destruction and catastrophe. He said the status quo parties become united when it came to matter of their self interest. It had been proved now that their sole agenda was not to serve the masses but to protect their own interests, he added. The JI, he said, was striving hard for the supremacy of the constitution and believed that law should be equal for all.
He appreciated the role of media in exposing the duality of some political parties, saying the national press was playing a vital role in creating awareness among the people despite government curbs and restrictions. He condemned the recent hike in petroleum prices, expressing concern that the prices of daily use items would go beyond the public reach. The people, he said, were desperate and unable to make their both ends meet in the prevailing situation. He said the IMF had virtually taken control of the state affairs and all policies were being made on the direction of the international lending agency. He warned the rulers against rising public anger on government policies, saying the masses could anytime take to the streets to oust the incapable regime if the issues of inflation and unemployment were not addressed immediately.
JI won't back amends to Army Act: BalochThe Jamaat-e-Islami has decided not to back the government proposed amendments to the Army Act in a view to keep intact the uncontroversial status of the country's armed forces, said JI Deputy Chief Liaqat Baloch on Saturday.
In a statement issued from Mansoora, he maintained that legislation became controversial and weak when it was made for the sake of individual.
Baloch said the government amendments in the Army Act would create ambiguity. He questioned the haste displayed by the ruling party in introducing changes in the act in a situation when it already filed a review petition in the apex court on the verdict about COAS extension. He regretted the government inability had already landed the national institution into an embarrassing situation and now the prime minister did not bother to consult the opposition parties on the amendment act.
https://nation.com.pk/05-Jan-2020/siraj-urges-muslim-nations-to-unite-against-us-designs
------
No Sikh threatened, fight was between 2 Muslim groups: Pakistan
Jan 5, 2020
NEW DELHI/ISLAMABAD: Facing flak for the vandalism at the Sikh holy shrine of Nankana Sahib, Pakistan on Saturday said the "altercation" involved two Muslim groups rather than intimidation of Sikhs inside the gurdwara — an astounding claim in the face of videos of Friday's incident.
Pakistan said what happened at the birthplace of Guru Nanak involved two Muslim groups and attempts to paint it as communal were "patently motivated". While India had not officially responded to the Pakistan foreign ministry's statement till late evening, officials here described it as a blatant lie.
India had on Friday strongly condemned the attack, which saw mobs pelting stones at the gurdwara, apparently in retaliation against Sikhs filing a police complaint over the abduction, forceful conversion and marriage in August last year of Jagjit Kaur, the daughter of a granthi. The mob was led by the brother of the man Kaur was forcibly married to, and who can be heard threatening to evict Sikhs from the shrine.
According to eyewitnesses, the situation turned so tense that the local Sikh population and visiting pilgrims were forced to seek shelter in the gurdwara. A viral video of the event showed the lead instigator demanding justice for his brother, Mohammad Hassan, accused of abducting Kaur. According to Hassan's family, Kaur "opted" to marry the accused of her own free will and is willing to testify in court.
Interestingly, religious affairs and interfaith harmony minister Noorul Haq Qadri supported the original account of the attack on the gurdwara. He told the media that the protest was organised by Hassan's family and neighbours, demanding his release from police custody. Qadri slammed India's attempts to transform an ordinary dispute into an example of communal strife, claiming New Delhi was trying to shift attention from its own domestic unrest.
On the other hand, the Pakistan interior ministry tried to pass off the incident as literally a "fly in a teacup". According to them, two men, Saqlain and Mumtaz Ali, visited a tea shop near the gurdwara and complained of a fly in their tea. In response, the owners — Zaman (Hassan's uncle), Iftikhar and Adnan (Hassan's brother) —attacked them, resulting in a scuffle.
Pakistan said the gurdwara remained "untouched and undamaged" and added, "All insinuations to the contrary, particularly the claims of acts of 'desecration and destruction' and desecration of the holy place, are not only false but also mischievous."
Official sources in Delhi said instead of taking firm action against miscreants, Pakistan was trying to give a new and absurd twist to the incident which had hurt Sikhs all over the world. "Can Pakistan also deny videos of people openly abusing Sikhs and threatening to drive them out of Nankana Sahib?" asked an Indian official.
The incident and the viral videos are a setback to Pakistan's bid to reach out to Sikhs, stir up the Khalistani cause and create trouble for India. The reports of Jagjit Kaur's abduction and the mob at Nankana Sahib sits poorly with Pakistan's efforts to turn Sikh groups against India and it seems to have chosen to pretend that Friday's incident never happened.
Professing commitment to protecting minorities, Pakistan went on to mention the opening of the Kartarpur Corridor, calling it a manifestation of Islamabad's special care extended to minorities.
Pakistan Prime Minister Imran Khan, meanwhile, tweeted an Indian media report in which he alleged police "brutality" had reached new lows and that its "pogrom of Muslims in India continues as part of fascist Modi Govt's ethnic cleansing agenda". The government sees this as another attempt by Khan in the past 24 hours to divert attention from the developments at Nankana Sahib. Khan had on Friday passed off an old video from Bangladesh as that of police brutality in UP.
On Friday, dozens of angry Muslim protesters converged on Nankana Sahib, pelting the Gurdwara Janam Asthan with stones and threatening to raze it to the ground.
Some media reports suggested that four customers having tea at a stall in front of the gurdwara started a conversation about Hassan, prompting Zaman, his uncle, to react with anger, which led to a confrontation between two groups.
https://timesofindia.indiatimes.com/world/pakistan/no-sikh-threatened-fight-was-between-2-muslim-groups-pakistan/articleshow/73104115.cms
------
Pakistan ditches Iran, extends tacit support to US over airstrikes for resumption in military cooperation: Report
Jan 5, 2020
ISLAMABAD: Pakistan has extended tacit support to the United States over its action against Iran earlier this week in exchange for the resumption of military cooperation with Washington, in a move that led to the latter authorising the reinstatement of a military training and educational program which had remained suspended for two years.
Citing Intelligence sources, Asian Lite reported that Islamabad, which blamed Iran's Revolutionary Guard Corps commander Major Gen Qassem Soleimani for Baloch militant attacks against its forces, found an opportunity to "kill two birds with one stone" when Washington sought its support after the airstrikes near the Baghdad international airport.
It may be noted that the Washington's announcement to authorise the resumption of International Military Education and Training (IMET) for strengthening "military to military cooperation on shared priorities and advance US national security" came hours after US secretary of state michael pompeo spoke to Pakistan chief of army staff (COAS) Qamar Javed Bajwa in the aftermath of the airstrike.
"Pakistan's Chief of Staff General Bajwa and I spoke today about US defensive action to kill Qassem Soleimani. The Iran regime's actions in the region are destabilising and our resolve in protecting American interests, personnel, facilities, and partners will not waver," Pompeo had tweeted.
Pakistan has remained conspicuous by its silence over the US airstrikes and subsequent escalation of tensions between Washington and Tehran.
Citing a leaked letter of Pakistan foreign ministry, The Asian Lite report further asserted that as many as 14 members of Pakistan armed forces were killed recently by "Baloch militants" based in Iran. It was one of the several attacks sponsored by Iranian intelligence chief Soleimani against Pakistan.
The IMET programme was frozen for Pakistan by the Trump Administration two years ago due to Islamabad's lack of action against terror groups.
It may be noted that the state department administers IMET, a programme which offers spaces to foreign military officers at US military education institutions, such as the US Army War College and the US Naval War College.
Pakistan-based The News International has reported a State Department spokeswoman as saying that the programme "provides an opportunity to increase bilateral cooperation between our countries on shared priorities... We want to continue to build on this foundation through concrete actions that advance regional security and stability."
https://timesofindia.indiatimes.com/world/pakistan/pakistan-ditches-iran-extends-tacit-support-to-us-over-airstrikes-for-resumption-in-military-cooperation-report/articleshow/73106141.cms
------
Centuries-old mosque in Thall draws crowds of tourists
M. Daud Jan
January 5, 2020
DIR: The centuries-old mosque in Thall, which is the gateway to the picturesque Kumrat valley in Upper Dir district, is a unique masterpiece of architecture that has been attracting droves of tourists.
The Jamia Masjid in Thall situated on the bank of River Kumrat was built of wood and stones and it still looks beautiful.
The local people say the mosque was built in the 19th century and was damaged by the fire in 1950.
Gul Akbar, a resident of Thall, said the mosque was rebuilt in 1953.
He said big wooden pillars carried by the local people on their shoulders were used in the construction of the mosque.
Beautifully decorated with different flowers and other hand-made art enhanced its grandeur.
The mosque has a two-storey building. The eye-catching scenery of lush green fields in the surroundings can be seen from the second floor of the mosque. One is also captivated by the crystal clear water flowing in the River Kumrat.The tourists said that the mosque was a masterpiece of architecture.
Aqib Khan, a resident of Karachi, said that he and his friends visited the Kumrat valley and also stayed for a few moments to watch the mosque.
"The beauty of this mosque has fascinated us," he remarked.
He said that he found Kumrat valley a beautiful place. "Kumrat is a piece of heaven on the earth," he said.
Another tourist said that he was wondering as to how the huge pillars had been brought on shoulders as it was almost an impossible task.
ArsalanBhatti, resident of Lahore, said that they visited Kumrat valley and enjoyed the snowfall. He said the people of Kumrat were cooperative and hospitable.
Meanwhile, tourists are coming in large numbers to enjoy the snowfall in Kumrat.
Tourists from various areas and cities of Pakistan now visit Kumrat valley in winter to enjoy the snowfall and the natural beauty.
They said that though Kumrat was known as a tourist destination for summer, it looked more beautiful in winter, adding that watching the snowflakes come down in dense forests was the real treat.
They said that people should also visit Kumrat valley in winter.
The hoteliers are also happy as a large number of tourists are visiting Kumrat in the winter. They said that they now also earned a handsome amount in winter season.
Shaukat Ali, a hotel owner, said that in the past no one visited Kumrat in winter, but now the situation had changed.
The visitors said that the Tourism department should focus on the development of Kumrat valley by building roads abs improving infrastructure to attract more tourists.
https://www.thenews.com.pk/print/593810-centuries-old-mosque-in-thall-draws-crowds-of-tourists
------
Condemnable Nankana Sahib incident against my vision, says PM Imran
January 05, 2020
Prime Minister Imran Khan said that the recent incident in Nankana Sahib goes against his "vision and will find zero tolerance and protection from the government including police and judiciary".
On Friday, police had to step in amid rising tensions in Nankana Sahib after a heated debate at a tea stall threatened to blow into a big law and order issue, an official source had said.
Reports said four customers while taking tea at Zaman's stall in front of Gurdwara Janam Asthan started a conversation about his nephew, Muhammad Ehsaan who, just a few months ago, came into the limelight for marrying a Sikh girl after allegedly forcing her to convert.
Zaman reportedly reacted with anger, which led to a confrontation between two groups. A small crowd gathered to raise slogans. A team of Nankana Sahib police had to intervene briskly to control the situation.
Taking to Twitter on Sunday, the prime minister highlighted that there is a distinct difference between the incident that occured in Nankana Sahib on Friday and the continued attacks on Muslims across India.
"Indian Prime Minister Narendra Modi's vision supports the oppression of minorities as well as targeted attacks against Muslims."
He added that the Indian police, supported by the government, are leading attacks against Muslims residing in the country.
"RSS (Rashtriya Swayamsevak Sangh) goons conducting public lynchings, Muslims being violated by mobs are all not only supported by Modi government but Indian police lead anti-Muslim attacks."
In a statement issued late on Friday, the Foreign Office had clarified that the incident in Nankana Sahib was the result of an "altercation between two Muslim groups" and that it should not be portrayed as a communal issue.
"The provincial authorities in the Punjab have informed that there was [a] scuffle in the city of Nankana Sahib, between two Muslim groups. The altercation happened on a minor incident at a tea stall," the FO spokesperson had said, adding that the district administration "immediately intervened" and arrested the accused, who are now in custody.
On Saturday, activists of the Aman Council visited the gurdwara and expressed satisfaction with the security measures adopted by the law enforcers. They also expressed solidarity with the Sikh community.
https://www.dawn.com/news/1526438/condemnable-nankana-sahib-incident-against-my-vision-says-pm-imran
-------
Europe
Italy expels Moroccan imam, cites his support for IS
4 January 2020
ROME -- Italy on Saturday expelled a Moroccan imam back to his home country because of what it said was his support for the Islamic State group.
Interior Minister Luciana Lamorgese cited reasons of state security in sending the 41-year-old imam, identified only as M.G., back to Casablanca.
In a statement, the interior ministry said the imam had expressed support for the late IS leader Abu Bakr al-Baghdadi, and shared jihadi propaganda on Facebook. The ministry said his Moroccan wife had also filed a formal complaint against him for abusing her because she refused to wear the covering niqab.
Italy has largely been spared Islamic-inspired attacks that have targeted France, Spain and other European countries in recent years. Italian officials point to its program of expelling suspected extremists. Since it began in 2015, the program has resulted in 462 people being sent home, including 98 last year.
https://abcnews.go.com/International/wireStory/italy-expels-moroccan-imam-cites-support-68068021
------
International Islamic Trade Finance Corporation supports SMEs in Uzbekistan
5 January 2020
Baku, Azerbaijan, Jan.5
By Fakhri Vakilov -Trend:
The provision of lines of financing from International Islamic Trade Finance Corporation (ITFC) to small and medium-sized enterprises (SMEs) in Uzbekistan enables business owners to grow by accessing finance where and when it is required, Hani Salem Sonbol, CEO of ITFC, told Trend in an interview.
Recently Trend reported that Uzbek JSCB Turonbank has signed $6 million agreement with ITFC to allow small businesses and private entrepreneurship of Uzbekistan to attract financing for up to one year to replenish working capital.
"Some SMEs are sensitive about shariah (Islamic law) compliance of the financial products. This financing provides an opportunity for those SMEs to finance their trade and working capital needs. It combines cash and non-cash financing, thus providing a comprehensive solution for foreign trade needs," CEO of ITFC stated.
In addition to boosting access to financing, ITFC's Uzbek strategy also focuses on capacity building initiatives, a strategy that includes working with the banking regulator and financial institutions on capacity building activities.
"We held two capacity building events in Uzbekistan since May 2018" Sonbol noted.
He added that ITFC intends to continue to onboard new banks to boost their ability to support SMEs in Uzbekistan. This will be done through signing Line of Finance Agreements. ITFC is already working with five local banks in meeting the financial needs of SMEs in the country and total financing approved within last 15 months is $38 million.
"The needs of SMEs in Uzbekistan are significant and ITFC will expand its activities in the country to serve them better by engaging with local partners to deliver not only financial solutions but strategic support services that enable SMEs to build their businesses," Sonbol stressed.
ITFC is a global leader in Islamic Trade Finance Solutions in member countries of the Organisation of Islamic Cooperation (OIC). It was created with the purpose of advancing trade to improve the economic condition and livelihood of people across the Islamic world, act as a catalyst for intra-regional trade between regions and strengthen trade and diplomatic ties between OIC member countries.
https://en.trend.az/business/economy/3173033.html
------
Man arrested outside Islamic centre ahead of memorial to Iranian general
By Luke Powell, PA
January 4 2020
A man has been arrested outside an Islamic centre in London shortly before it was due to hold a memorial for a top Iranian general killed in a US air strike.
The Metropolitan Police said the man was detained near the Islamic Centre of England at Maida Vale in Kilburn on Saturday afternoon to prevent a breach of peace and for obstructing officers.
The incident took place about 25 minutes before the centre was due to hold a memorial community meeting in memory of General Qassem Soleimani, who was the head of Iran's elite Quds Force.
It is understood at this stage that the incident is not connected to the memorial event.
Soleimani was killed along with five others outside Baghdad airport in Iraq in a drone strike authorised by US President Donald Trump.
On Friday, the centre's director posted a message of condolence in which he described Soleimani as an "honourable Islamic commander".
The centre invited people to attend the "memorial majlis", which was due to take place at 5.15pm on Saturday.
A Met Police spokesman said officers arrested a man at Maida Vale at about 4.50pm.
https://www.belfasttelegraph.co.uk/news/uk/man-arrested-outside-islamic-centre-ahead-of-memorial-to-iranian-general-38834022.html
------
Czech mosque vandalised with death threats
04/01/2020
A mosque in the Czech Republic's second city of Brno has been vandalised with graffiti threatening to kill Muslims, police said on Saturday.
"Don't spread Islam in the Czech Republic! Otherwise we'll kill you," reads the inscription sprayed on the mosque.
"We have been investigating the case since Friday afternoon as damage to property for now," local police spokesman Bohumil Malasek told AFP.
The perpetrator faces up to a year in prison if convicted.
"We take it seriously as a direct threat, it's not an anonymous call on the internet," Muneeb Hassan Alrawi, head of the Czech Muslim Communities Centre, told the CTK news agency.
"We must also see this in the light of attacks on mosques in the world and of the oppressive sentiment and atmosphere in the Czech Republic," he added.
The migrant wave that peaked in Europe in 2015 stoked anti-Muslim sentiment in the Czech Republic even though it is home to only a small number after most refugees headed for wealthier states such as Germany or Sweden.
The Muslim population in the Czech Republic, an EU member of 10.7 million people, tallied at 3,358 in a 2011 census but unofficial estimates suggest a community of 10,000-20,000.
https://www.france24.com/en/20200104-czech-mosque-vandalised-with-death-threats
------
Arab World
Yemen minister warns Houthis against turning country into theater of US-Iran war
January 04, 2020
JEDDAH: Yemen's Minister of Information Moammer Al-Eryani warned the Houthi militia on Saturday against turning the country into a theater for conflict between the US and Iran.
"We warn Tehran's mercenaries, the "Houthi militia," against the consequences of turning Yemen into a theater of Iranian - American conflict, and endangering the interests of Yemen and Yemenis."
The minister said in a series of tweets that statements made by Houthi leaders "since the moment Soleimani and Al-Muhandis' killing was announced confirms their willingness" to use Yemen as a base for revenge.
He also warned the Houthis against using Yemen and its people as "scapegoats serving the goals of the Iranian regime and and its destructive policies in the region."
Iranian military commander Qassem Soleimani was killed in a US air strike on Friday.
https://www.arabnews.com/node/1608306/middle-east
------
Reaper drone launched from Qatar fired missile that killed Soleimani
January 05, 2020
LONDON: A drone launched from Qatar fired the missile that killed Iranian warlord Qassem Soleimani, US military sources have revealed.
Soleimani, head of the overseas Quds Force of the Islamic Revolutionary Guard Corps, Abu Mahdi Al-Muhandis, deputy chief of Iraq's Popular Mobilization Forces, and five others were killed in the strike at Baghdad airport early on Friday.
They were hit by Hellfire R9X Ninja missiles launched by the MQ-9 Reaper drone sent from Al-Udeid military and air base in Qatar, UK media reported.
Two missiles were fired, one for each of the two vehicles carrying Soleimani and Al-Muhandis, and were controlled remotely by operators at the US Air Force base in Creech, Nevada. A second backup drone was also launched from US Central Command headquarters in Qatar, but was not needed.
The "near-silent" Reaper drone has a range of 1,850 km, can fly at a height of 15,000 meters, and is an "armed, multi-mission, medium-altitude, long-endurance" aircraft designed primarily for offensive strikes, according to the US Air Force. "It provides a unique capability to perform strike, coordination and reconnaissance against high-value, fleeting, and time-sensitive targets," it said.
US President Donald Trump is thought to have authorized the strike last Sunday, at the same time as approving F-15 fighter jet attacks on bases in Iraq operated by Iran-backed militias. The operation was planned by the US National Security Agency based on intelligence on Soleimani's movements supplied by informants, electronic intercepts, reconnaissance aircraft, and the security forces of America's regional allies. Soleimani arrived in Baghdad on a private jet from Damascus minutes before the missile strike.
As Qatar's role in Soleimani's death was revealed, Qatari Foreign Minister Sheikh Mohammed bin Abdulrahman Al-Thani flew to Tehran for talks with President Hassan Rouhani and Foreign Minister Mohammad Javad Zarif.
Sheikh Mohammed said the situation in the region was sensitive and concerning, and he called for a peaceful solution leading to de-escalation.
In Baghdad on Saturday, tens of thousands of people took part in a march to mourn Soleimani, as Iran ramped up threats of revenge for his death.
A rocket fell inside the heavily fortified Green Zone near the US Embassy, another hit the nearby Jadriya neighborhood, and two more were fired at the Balad air base north of the city. There were no casualties.
NATO and a separate US-led mission suspended their programs to train Iraqi security and armed forces.
Gholamali Abuhamzeh, a senior commander of the Revolutionary Guards, said Tehran would punish Americans "wherever they are in reach," and threatened attacks on ships in the Arabian Gulf.
https://www.arabnews.com/node/1608386/middle-east
------
Saudi Arabia condemns Turkey's military interference in Libya
January 05, 2020
DUBAI/JEDDAH: Saudi Arabia's government condemned the latest Turkish interference in Libya, state news agency SPA reported on Saturday.
The Kingdom denounced Turkey's parliament approving the military deployment in Libya, describing it is a violation of the United Nation's Security Council resolution on the conflict in the north African country, which aims to solve the crisis.
The resolution was adopted by the Arab League on Dec. 31, 2019.
Saudi officials believe the Turkish interference constitutes a threat to security and stability in Libya and threatens regional and Arab security. It is also an interference in the internal affairs, which it says violates international principles of sovereignty.
Other states have also opposed Turkish President's Recep plans to send troops to fight in Libya.
Members of the Libyan Parliament in Benghazi accused Ankara of "a return to colonialism," and the African Union said it was deeply concerned about "interference" in Libya.
Turkish politicians last week approved a law authorizing a military deployment in Libya to shore up the UN-backed government in Tripoli, which has been under sustained attack since April from the rival administration in the east.
At an emergency meeting of the Libyan Parliament in the eastern city of Benghazi, members accused the Tripoli government of "high treason" because of the maritime and military deals it signed with Ankara in November, clearing the way for a Turkish military intervention.
Parliament spokesman Abdallah Bleheq said MPs voted unanimously to scrap the accords, and to sever ties with Ankara.
In Addis Ababa, African Union chief Moussa Faki Mahamat said he was "deeply concerned at the deterioration of the situation in Libya and the continuing suffering of the Libyan people."
"The various threats of political and military interference in the internal affairs of the country increase the risk of a confrontation, whose motives have nothing to do with the fundamental interests of the Libyan people and their aspirations for freedom, peace, democracy and development," Faki said.
He urged the international community to join forces with Africa in seeking a peaceful resolution of the crisis, which he warned had "dangerous consequences" for the continent as a whole.
https://www.arabnews.com/node/1608391/middle-east
------
Adoption of orphans 'helps social integration' in Saudi Arabia
FATIMA MUHAMMAD
January 05, 2020
JEDAH: Dr. Majed Qanash, a behavior and psychological specialist, has told Arab News that adopting orphans can aid their integration into society and have positive benefits on their mental state. What matters, he said, is whether the new parents are capable of treating the orphaned child as if he or she is their biological child.
"Unfortunately, we discovered that some families do not treat orphaned children well while some treat an orphaned child nicely, but everything changes after having their first biological child," he said. "There is no doubt that such actions can have a negative impact on the mental and psychological state of any orphan."
It is important that orphaned children are treated equally without any form of discrimination, Qanash said.
Minister of Labor and Social Development Ahmed Al-Rajhi announced earlier that the ministry plans to increase the number of foster families who can take care of orphaned children in 2020 and to shut down all orphan care centers.
The ministry reported a rise in the number of orphan care applications submitted by foster families and set the number as 3,000 applications from all over the Kingdom. The ministry also said that 8,694 families have adopted children.
The ministry spokesman, Khalid Aba Al-Khail, said that the Family Foster Care Program aims to place orphans with families that can provide them with care and an environment conducive to sound mental and psychological development. Placing an orphan in a shelter house is a last option for the ministry.
The program also offers children a chance to live with a ministry-licensed family where he or she can learn the culture and acquire good values and morals and intermingle with their peers in society. The program supports orphaned children until they become independent. There are four requirements that foster families need to meet in respect to health, social, psychological and economic aspects, which ensure that the child will be raised in a good environment.
The government provides foster families with full support such as monthly allowances that help them take care of a child financially. The ministry launched the Family Foster Care Program within Vision 2030 because it believes it is the best option for the care of orphans, Al-Khail said.
The ministry requires that the wife of the foster family should be younger than 50 years old and the family should enjoy good economic conditions and be free from contagious diseases and psychological problems.
https://www.arabnews.com/node/1608466/saudi-arabia
------
As Yemen's bombs stop, disease and displacement haunt communities torn apart by war
Susan Schulman
2 JANUARY 2020
he newborn boy was crying. Despite the gentle words of the women huddled over him, his screams echoed around the makeshift clinic. The doctor leaned towards the boy, and then it was done.
The newborn baby was circumcised; his new life anointed into the ancient traditions and history of his family and community.
But as the baby boy was welcomed into life, a few streets away 18-month-old Sadir was fighting for his own. His eyes were bright and huge but his skin undulated in great ripples over his rib cage.
At a mere 5.9kg (13lbs), Sadir was starving, his life ebbing away. He was one of five children the doctor here expects will die of malnutrition soon – another had died the week before. His parents looked on helplessly.
Sadir's father, like pretty much everyone in Dhubab, a town on Yemen's west coast, is a fisherman. Before the war, which began in earnest in 2015, he made a good living and life was good for him and his neighbours: children went to school fed and clothed; people were treated when they got sick; homes were bright and cheerful; and the streets were full of restaurants and shops.
But today Dhubab is destroyed; disease is rife and earning enough to eat each day is a challenge few manage. The bombs may have stopped falling but as people try and resurrect lives, they struggle between determination and despair; hope and defeat.
As the new year begins there is optimism that peace is on the horizon and that one of the world's worst humanitarian crises may soon be coming to an end. The war has its origins in the Arab Spring of 2011 when President Ali Abed Allah Saleh – in power for 33 years – was ousted by protesters.
There were hopes that this was a new dawn but the Houthis, from the north of the country, had become increasingly marginalised and, supported by Iran, they captured vast swathes of the country. This precipitated the invasion by a UK and US-supported Saudi coalition and a devastating civil war.
The Houthis were driven out from many parts of the country by mid 2018 – including Dhubab in the south – and the bombing stopped.
The country has fractured into local power struggles, and proxy militias pose continuing and unpredictable threats – but at last there seems to be a glimmer of light at the end of the tunnel.
Dhubab is just one of many places in Yemen that is praying the peace will last. The town sits just above the Bab-Al Mandab Strait – known in English as the Gate of Tears – a chokepoint in the Red Sea that controls access to the Suez and Europe in the north and Asia in the south. It is critical for both shipping and military.
When the Houthis took control of Dhubab, the coalition and Saudis wasted little time trying to take the town back, raining bombs down on homes, schools and hospitals. In September 2011 a coalition air strike hit a wedding at nearby Al Wahijah, killing up to 131 people – one of the war's worst civilian atrocities.
Before long, virtually everyone in this town of 8,000 had fled, many to Djibouti, a mere 19 miles across the narrow waterway.
Aisha Abdul Kadir was among those who fled. She, her husband and sons found shelter in the United Nations-run refugee camp in Obock, Djibouti. It is a bleak place with little water and food and virtually no medical care.
When I met Aisha in February 2019 she was sitting in the shade of a translucent plastic tarpaulin, crocheting a small red and black purse, a goat tethered next to her. She could not stand another summer there, she said. Her husband and sons had returned to Dhubab a few weeks earlier and she was going to join them as soon as they gave word.
In 2018, people began to trickle back to Dhubab but were not prepared for what they found. The town had been levelled – once lively streets and homes were covered in rubble and with every layer removed, the bodies of dead Houthis were found. They were everywhere: in the streets, the shops and people's homes.
By the summer of 2019, roughly 5,000 of the town's 8,000 residents had returned and the bodies of the dead had been removed. But apart from that, little had changed.
Inflation has diminished the value of the currency – the rial – and made the basics, even food, unaffordable. The townsfolk once made a comfortable living from fishing but it can now at best provide a day's worth of food for a family - and often not even that. They must now pay for water, which was previously drawn for free from the well. But these have now dried out or been contaminated by salt leaching in from the sea which is rising due to climate change.
With days reduced to a struggle to get food, rebuilding is impossible. Most people live among the ruins or in tiny wooden shacks, the cheapest substitute for the sturdy concrete and stone homes that stood there before.
By July 2019 Aisha had returned to Dhubab and I found her sitting alongside husband Ibrahim Hassan on the thin narrow foam mattress they shared with their two adult sons - their tiny shelter made of scavenged tarps supported by pieces of driftwood stuck into the ground.
"Our house is damaged. But we don't even have wood to rebuild it," says Ibrahim.
There's no electricity and their shelter doesn't even keep out rain. Water is delivered once a week but they have nothing to store it in. "We are trying to find more bottles," says Aisha.
Ibrahim had always supported the family by fishing but inflation means the catch is worth a fraction of its previous value, while the war has reduced stock and ended trade.
"Before, fishing from the beach was enough - 1000 rials before the war would buy a lot of things; now it buys nothing," says Ibrahim. "There are also a lot fewer fish now because of the bombs in the sea. Before, we were also selling fish to Saudi but now we can't as the war has completely stopped that trade."
It is now a struggle to earn to earn even a day's food. Ibrahim holds up a makeshift oar — a stick of wood with squares of plastic sewn onto both ends. He is also making a boat out salvaged pieces of driftwood.
Ibrahim's two-year-old grandson Muhammed has been very sick but there is little hope of treatment.
"There is no money for medicine. There is a doctor but he doesn't have any equipment. There is no electricity. We don't even have money for food — how can we get medicine?," says Ibrahim.
The once substantial public hospital lies in ruins and only two doctors serve the population. Both rely on patient fees to make a living but as many people cannot afford treatment, they fail to seek help until too late. Before the war, one out of 10 women died in childbirth. Now, three to four out of 10 die.
Dr Abdul Wassa Abdul returned to the town in 2018 and is overwhelmed with patients. Malnutrition is common, he says.
"Some people are just eating bread. There are no salaries so people are not eating. A lot are dying from malnutrition. Three a month — mostly children."
Infectious diseases including dengue, cholera, meningitis, measles and malaria are all ravaging the community.
"Now, 30 per cent of my patients are dying," says Dr Abdul. "Before less than 10 per cent died."
A lack of medicine, beds, electricity, vaccines and equipment has crippled his ability to treat patients. He is also worried for his own three small children, all under the age of eight.
"If we are in a bad situation now it will be worse in the future," he says.
The constant struggle has also fractured the spirit which once united the community, says Ibrahim Hassan.
"Because of being so poor, people are angry and sad and a little problem can provoke a fight. So, people are fighting a lot."
The strain is taking its toll on people's mental health too, says midwife Hayam Mubarak Farhan. Suicide has sharply escalated.
"The women come to me - they are very sad. I try and encourage them to talk. I try and listen and convince them it will be a better day tomorrow," she says. "But some are just so frustrated and depressed, they are thinking of killing themselves."
"A lot here have killed themselves. Just a week ago, a woman killed herself. And a man just before her," Hayam sighs. "They wanted to be far from reality."
"Children too are depressed. They are not talking to others - not playing with others," she continues. "I am angry. People are angry."
This anger is also directed at international NGOs who the townsfolk accuse of doing little to help.
"There are organisations coming and photographing houses that have been destroyed - the organisations spend a lot of money on cars and a lot of money on people who work for them but not on people who need help," says Abdul Hamid Muhammed El Musliman, the chief of Dhubab.
"Emiratis keep telling us they will rebuild hospitals and schools but they haven't yet."
Hamid Hamid Al Laqafi, 35 works with the chief. "There is no real help. So, people here feel frustrated by these organisations . They don't help. They just photograph our faces."
What help has been given - a camp built by the UN Refugee Agency for example - isn't what the people want.
"Why aren't you helping us rebuild our houses?" says Hamid Hamid.
The townsfolk have had to remove the rubble themselves, to rebuild and to clear the landmines and ordnance which litter the area.
But this is claiming lives and limbs. In February 2019, 13-year-old Ahmed touched a landmine hanging from the roof of the family home. His father had hung it up to keep it away from curious children. It blew off a finger on his left hand, and blasted shrapnel into his eyes, body and other hand.
When the war stopped school, ending Ahmed's dream to be a doctor, he worked as a fisherman. But with his damaged hand, he can no longer do that and is reduced to selling the drug khat.
Now, often hungry and plagued by nightmares, the only joy he gets is from the 40 pigeons he keeps.
"Seeing my father with little money and no work, I am thinking it will not be a good future. I am not optimistic," he says.
"All of this happens because of the coalition," Ahmed's father Saleh muttered angrily. "In trying to improve us, they have destroyed us."
Looming over everyone here is the conviction that another war, worse than the last, is coming. They say it will be a battle among the proxy militias of Saudi Arabia and the Emirates. There is concern too, that the Houthis will return and exact revenge for the local support of the coalition.
Aisha and Ibrahim's son, Hamad, says: "I am 100 per cent sure there will be another war. We heard about the Saudi ships coming to Bab Al Mandab and I have seen them when I was out fishing."
Ahmed's father, Saleh Ahmed Al Damei, agrees.
"One hundred per cent there will be another war. This place is very important strategically. Of course, I am scared. We are all thinking too — we were all hungry in the last war — what will we do when the next war comes?"
But in the next war he thinks people will stay and accept their fate.
"We suffer just as much as displaced people as we would if we had stayed home. As displaced people, we have nowhere to live."
"Dying in your own home is better than dying somewhere else," Aisha's son Hamad affirms.
"Come what may, better to die at home," Aisha says, sitting next to fading graffiti on a wall which reads Bring Back Hope.
https://www.telegraph.co.uk/global-health/terror-and-security/yemens-bombs-stop-disease-displacement-haunt-communities-torn/
------
Credit granted to Islamic banking entities reach OMR3.9 billion
January 4, 2020
Muscat: Islamic banking entities provided financing to the extent of OMR3.9 billion at the end of October 2019 as compared to OMR3.5 billion a year ago, according to the bulletin released by the Central Bank of Oman (CBO).
Total deposits held with Islamic banks and windows also registered a significant increase to OMR3.4 billion in October 2019 from OMR3.2 billion outstanding at the end of October 2018.
The total assets of Islamic banks and windows combined, amounted to OMR4.8 billion at the end of October 2019 which constituted about 13.8 per cent of the banking system assets.
https://timesofoman.com/article/2506715/Business/Credit-granted-to-Islamic-banking-entities-reach-OMR39-billion
------
Saudi development program in Yemen implements transportation project
January 05, 2020
The Saudi Development and Reconstruction Program for Yemen (SDRPY) is carrying out several projects in different sectors across Yemen. One such project includes transportation of students and faculty members of the Vocational Institute in Yemen, the Saudi Press Agency reported on Saturday.
"The program provided support to the university so as to reduce the burden of transportation for students and faculty members," said Hasan Al-Attas, SDRPY's director general of projects and studies.
The director of the SDRPY office in Aden, Abdulhadi Al-Qahtani, said that the program's aim is to identify and prioritize urgent development needs.
The program is a strategic Saudi initiative launched on the directives from King Salman and Crown Prince Mohammed bin Salman to coordinate with the Yemeni authorities and help rebuild the war-torn country.
https://www.arabnews.com/node/1608416/saudi-arabia
------
Yemen rebels urge 'swift reprisals' for Soleimani killing
03/01/2020
Yemen's pro-Tehran rebels, who control the capital Sanaa, called Friday for "swift reprisals" for the killing of senior Iranian commander Major General Qasem Soleimani in a US strike in Baghdad.
"We condemn this killing and direct and swift reprisals are the answer," senior rebel political official Mohammed Ali al-Huthi tweeted.
The Saudi-led coalition, which has been fighting the rebels since March 2015, accuses Iran of providing them with sophisticated weapons to use against Saudi airports and oil facilities, something Tehran denies.
In September, the Yemeni rebels claimed responsibility for twin drone and missile strikes on Saudi oil facilities that briefly knocked out half the kingdom's output, sending world prices soaring.
The United States dismissed the rebel claim and alleged that it was Iran itself which orchestrated the attacks, something Tehran again denied.
https://www.france24.com/en/20200103-yemen-rebels-urge-swift-reprisals-for-soleimani-killing
------
Custodian of the Two Holy Mosques Makes Phone Call to President of Iraq
2020/01/04
Riyadh, Jan 4, 2020, SPA -- The Custodian of the Two Holy Mosques King Salman bin Abdulaziz Al Saud made today a phone call to President Dr. Barham Salih of the Republic of Iraq.
During the telephone conversation, the latest developments in the region were discussed between the Custodian of the Two Holy Mosques and the Iraqi President.
The Custodian of the Two Holy Mosques confirmed the Kingdom's keenness on the security and stability of Iraq and the importance of staying calm and defusing the crisis in the region, in addition to taking all measures to reduce tension.
For his part, the Iraqi President expressed his thanks to and appreciation of the Custodian of the Two Holy Mosques, commending the Kingdom's interest in Iraq's security and stability.
https://www.spa.gov.sa/viewfullstory.php?lang=en&newsid=2019219
------
Sharjah Islamic Arts Festival offers viewers a transcendental experience
Sunday 05/01/2020
CAIRO - The Muslim Brotherhood expressed disagreement with a Salafist campaign encouraging men to help their wives at home.
The drama between Egypt's two largest Islamist forces began when the Salafist al-Nour Party began an online campaign urging men to help their wives with household chores.
"Men will be demonstrating their love for their wives by helping them at home," campaign founder Abdurrahman Suleiman said.
Suleiman received positive feedback from fellow Salafists who said they liked the idea of challenging social taboos surrounding men taking on domestic responsibilities.
Some al-Nour members criticised the drive but many others began helping their wives at home. Some men posted photos of themselves washing dishes. Others were photographed cleaning floors and cooking.
Many women said they were grateful that the campaign encouraged their spouses and male relatives to lend a hand at home.
"I returned home today and could not believe it when I discovered that my father and my brother had cleaned the house for my mother for the first time," one woman wrote on Suleiman's Facebook page.
The Muslim Brotherhood responded to the campaign with ridicule and sarcasm, arguing it was a distraction from Egypt's more pressing issues and demeaning to men.
Haitham Abu Khalil, a Muslim Brotherhood member and TV host, said that, instead of addressing Egypt's deteriorating conditions, members of al-Nour were "washing dishes and chopping jute mallow leaves for their wives."
"There are 60,000 detainees in Egypt," Abu Khalil said. "Do not you care about their suffering?"
Another member of the Muslim Brotherhood mocked the Salafists for being "fossilised."
Driving the animosity between the two Islamist forces are deep political rifts that go back years.
Having united after Egypt's 2011 uprising, Salafists turned their back on former Egyptian President Muhammad Morsi, a Brotherhood leader, when popular protests broke out against him.
After Morsi's overthrow, Salafists curried favour with the Egyptian Army, further antagonising the Muslim Brotherhood.
While old political grudges are likely fuelling the rift, it is also revealing the groups' attitudes towards women, analysts said.
"Both groups harbour nothing but disdain for women," said Sameh Eid, an analyst specialising in Islamist affairs. "They have a strong belief that women are lacking at the intellectual level."
Egyptian Salafists have often faced criticism for denying women equal representation in state institutions and in the judiciary.
In 2012 parliamentary elections, Salafist parties that fielded female candidates did not include photos of the candidates in their campaign ads, using instead pictures of flowers.
The Muslim Brotherhood does not grant women equal status in the movement or allow them to vote in internal elections. "Equality between men and women as an idea is totally foreign to the Muslim Brotherhood," Eid said.
Salafists and the Muslim Brotherhood greatly influence how Egyptians view women, observers said. From the 1960s through the 1980s, the groups convinced many women attending university or employed at state institutions to cover up. The groups have been criticised for practising polygamy and marrying underage girls.
"The two groups have always marginalised women and psychologically suppressed them," said women's rights advocate and director of Egypt's Liberal Democracy Institute Dalia Ziada. "Tens of thousands of women paid dearly because of this practice and also because of the edicts issued by Islamist scholars and followed by the general public."
https://thearabweekly.com/sharjah-islamic-arts-festival-offers-viewers-transcendental-experience
------
Aisha Al-Miqrawi: The stutterer who captured Asir governor's attention
TAREQ AL-THAQAFI
January 05, 2020
ABHA: Aisha Al-Miqrawi, a computer science professor at King Khalid University in southern Saudi Arabia, is set to start her new job in Asir, after being appointed as a civil servant by Prince Turki bin Talal, governor of Asir, two days ago.
Al-Miqrawi's landed her job after she created an app that saves stutterers time and effort, allowing them to attend a virtual clinic to help overcome stuttering.
Al-Miqrawi, who also suffers from the issue, told Arab News that she was only looking to present a scientific solution for stutterers' problems around the world. While talking about the merits of her project, thinking she would not be able to deliver her message, she was surprised at the prince's decision to appoint her immediately to the civil service to hear her views and those of the people she represents.
Al-Miqrawi said she had never been shy, speaking with confidence about society's role promoting communication. She is a proven storyteller, and is a writer with Rabitat Katibat Al-Ghad (The Association of Tomorrow's Writers) with three published stories as part of the Bayn Arwiqat Al-Hayat book.
Al-Miqrawi said that patience and determination had empowered her to achieve her vision, deliver her message and make her voice heard. Stutterers, she said, must not be muted.
She added that she was getting ready for her new job, set to start on Sunday, which, she said, was the result of years of hard work, patience, and belief in the power of God to change everything. She promised to be the voice of stutterers that will be heard everywhere in the Kingdom.
Dr. Rana Al-Qadi, who introduced Al-Miqrawi to Prince Turki bin Talal, told Arab News that hers was a story of determination and holding onto hope.
Al-Qadi, who works for the General Development Authority of Asir, stated that when she accompanied a government team to learn about the needs of the region and its provinces, she found a message from Al-Miqrawi on Twitter asking to meet with her.
As soon as she heard her voice, she added, she was surprised to learn Al-Miqrawi suffered from the condition, so distinguished were her words. She insisted, moreover, that Al-Miqrawi's app would serve all stutterers.
https://www.arabnews.com/node/1608451/saudi-arabia
------
Southeast Asia
Malaysia strongly condemns US targeted assassination of General Soleimani
January 4, 2020
AhlulBayt News Agency (ABNA): Mohd Azmi Abdul Hamid, President Malaysian Consultative Council of Islamic Organization (MAPIM) in a statement vehemently deplored US act to assassinate Iranian Commander Lieutenant General Qasem Soleimani.
"Gen Qassem Soleimani, assassinated by the US in an airstrike, shows the world that US a rogue nation of the worst kind," the statement reads.
"It is barbarism of the US that authorizes itself as a nation with license to kill," it added.
"This uncivilized barbaric policy which acted above the law is embedded in its security policy that has made it to become a nation that self-mandate itself to execute anybody it wants."
"US has for so long carried out extrajudicial murders with impunity and the world is unable to do anything," Abdul Hamid said.
"Targeting an individual and launching an assassination in such manner is a crime that cannot be left unpunished, he noted.
"The US targeted strike in the way it was executed is extreme and it cannot be interpreted other than as a declaration of war."
"It cannot be condoned and any reciprocal action will be a natural outcome."
"We strongly condemn the US overt action and no reason can possibly be accepted."
The region now is already "on edge" of open war since the US strike on PMF forces near Iraq's border with Syria.
"The world must not keep silent, he said adding "The UN cannot but condemn the action of the US. An emergency sitting must immediately be called."
"This is a major a precarious situation that may erupt into full fledge military confrontation."
"America is now a murderous nation by all account. Worst it works with no congressional authorization, to launch a war on any country."
"US sets off a potential massive regional war, and US should be held fully responsible for the consequences."
Lieutenant General Soleimani and the acting commander of the Iraqi Popular Mobilization Units (PMU) - known as the Hash al-Shaabi - Abu Mahdi Al-Mohandes, who were separately leaving Baghdad airport in two cars were targeted and assassinated.
Iraqi media said the US helicopters targeted both cars.
https://en.abna24.com/news//malaysia-strongly-condemns-us-targeted-assassination-of-general-soleimani_999244.html
------
In sugar dating, two women in Kuala Lumpur find empowerment and self-respect
Sunday, 05 Jan 2020
KUALA LUMPUR, Jan 5 — Sugar dating — where adults enter into an unwritten agreement which spells out the type of benefits both can offer — may not be very romantic but is it "enslavement"?
Sure, women who choose to become sugar babies are often labelled as gold diggers because they accept cash or gifts in exchange for their company (which may or may not involve sex).
In fact, these women are even thought of as sex workers, with some calling them a blight to the women empowerment agenda for "enslaving" themselves to affluent men.
Two sugar babies that Malay Mail spoke to disagreed with this view of their life choices.
Natalie (not her real name), 30, and Cassie Tan, 28, say that sugar dating provides them with an empowering platform and even strengthens their self-worth.
Tan, a pharmacist and part-time business broker, chose this unconventional dating lifestyle, after giving up on "normal" relationships and foregoing the idea of marriage.
"In my past relationships there were always arguments about money... not about (buying) property... but more when we go out for a movie or dinner.
"My salary is higher due to my full-time job, and it started to spark arguments as to why I needed to pay for the guy and why is it that when it comes to birthday gifts, you can give me a cheaper one but I can't opt to give you a cheaper one as well.
"It made me realise that money plays an important role in a relationship. Sugar dating is just another way of dating for me where I actually find somebody who is more capable. It's not like I am aiming to be a 'bloodsucker' or anything," Tan said.
She added that she is merely looking out for herself now. Tan said her family is aware of her choice and does not object to it.
Tan also commented about the double standards between male and female sugar babies, saying that only females are judged for their choices.
"When it comes to women, they say it's degrading, but when it's the guys, nobody dares to even comment although they may be thinking the same thing about them. It's very hypocritical. Very," Tan said.
She said that she receives RM6,000 monthly from her sugar daddy, an amount which was agreed on beforehand.
Natalie, a former air stewardess, said her relationship ended when she found out that her boyfriend, and later fiancé of four years, was bisexual, just months before their wedding.
By then, she had spent all her savings on wedding preparations.
From a jet-setting air stewardess in Dubai, she returned penniless to Malaysia and had no luck getting back into an airline job, owing to a visible mark on her leg, left by her abusive partner.
Sugar dating, in her words, helped her salvage herself financially and taught her self-respect again, after a turbulent past.
"I think enslaving is a very strong word. In my own opinion, enslaving is a situation where a child is forced to marry someone who is five times older, without her knowing anything about it. I mean, it happens everywhere.
"My question is: getting a child married off for financial reasons is fine, but we adult women who make informed choices about whom we want to date is wrong? I think the former is more enslaving to me.
"In Sugarbook, we can just state what we want... we can just discuss our expectations and we can communicate and ask them what they want and they listen to us. We can speak out. We are more frank because we know our expectations," she said referring to the sugar dating smartphone application.
Natalie said that her sugar daddy has never degraded her.
Apart from regular holidays, she receives an allowance as and when she needs it; she is currently working as a freelance model and livestreamer.
Despite the negative publicity Sugarbook received recently because of advertisements on two digital billboards, chief executive Darren Chan said he aspires to "uplift women" by providing them a platform to choose freely, without any judgement.
Chan feels that the Malaysian dating scene is a patriarchal one and needs to be changed.
"Dating in Malaysia has always been patriarchal. Men always have a say, but rarely women.
"We want to change that. Our mission is to uplift women, by providing a platform for them to be able to choose freely without being judged. Sixty per cent of people working at Sugarbook are women. And we believe that women are entitled to the freedom of choice," Chan told Malay Mail via email, recently.
https://www.malaymail.com/news/malaysia/2020/01/05/in-sugar-dating-two-women-in-kuala-lumpur-find-empowerment-and-self-respect/1824753
------
Anwar, Nurul Izzah headline Islamic conference a month after KL Summit
Sunday, 05 Jan 2020
BY R. LOHESWAR
KUALA LUMPUR, Jan 5 — PKR president Datuk Seri Anwar Ibrahim and his daughter Nurul Izzah Anwar are among a prominent line-up of speakers for the upcoming International Unity in Diversity Conference (IUDC) here this Wednesday that aims to discuss contemporary issues affecting the Muslim world.
The event comes after last month's celebrated Kuala Lumpur Summit, a gathering of international leaders mooted by Prime Minister Dr Mahathir Mohamad that was attended by prominent delegates from Iran, Turkey and Qatar but snubbed by Saudi Arabia and its close ally Pakistan, and which is seen to have cast Malaysia into the forefront of the Islamic civilisational discourse.
The IUDC is jointly organised by three organisations, namely the US-based International Institute of Islamic Thought (IIIT), co-founded by Anwar, Muslims Professional Forum (MPF) and Malaysian Islamic Youth Movement, better known by its Malay acronym, Abim.
Anwar is listed as the keynote speaker in the upcoming conference that also includes three others seen favourably in the West.
The Port Dickson MP who is designated as the next Pakatan Harapan prime minister currently holds no government position and has been making the rounds to distinguish himself in other arenas, including in Islamic discourses.
Anwar's eldest daughter MP Nurul Izzah is listed as moderator for a panel discussion featuring three of the listed speakers.
The Permatang Pauh MP has largely withdrawn from the public eye after her abrupt resignation from all PKR and government posts in 2018.
Opening the IUDC will be Nuruddin Lemu, director of Research and Training at the Da'wah Institute of Nigeria (DIN), Islamic Education Trust (IET) in Minna, Nigeria.
According to a synopsis provided in the website promoting the event, Lemu whose first name is also spelt Nurudeen is an internationally sought-after Islamic trainer nicknamed "Nuru the Guru" and has been conducting workshops in Malaysia for the past 20 years. He is known for his talks advocating interfaith dialogue and intrafaith cooperation as well as responses to various forms of religious extremism among Muslims.
Lemu is scheduled to speak on "Islam in the 21st Century: Drawing Parallels between Muslim Experiences Worldwide."
The second speaker is Omar Suleiman, who founded and is president and CEO of Yaqeen Institute for Islamic Research, another US-based Islamic think-tank established in 2016. His topic for the one-day conference is on "Correcting the Narrative on Islam in the Fast-Changing World of Digital Media".
The third speaker is Pakistani-American Muslim scholar Yasir Qadhi whose topic is on "Islamic Discourse — Future Trends and Challenges for the Ummah."
Yasir is currently resident scholar of the East Plano Islamic Centre and also the Dean of The Islamic Seminary of America, an institution that serves to better the Muslim world through religious scholarship and ethical leadership.
The UIDC is scheduled to be held on January 8 at the Sime Darby Convention Centre in Bukit Kiara from 8.30am to 2pm.
https://www.malaymail.com/news/malaysia/2020/01/05/anwar-nurul-izzah-headline-islamic-conference-a-month-after-kl-summit/1824824
------
Shrimp in Malaysia safe for consumption, says Deputy Minister
Sunday, 05 Jan 2020
By IMRAN HILMY
GEORGE TOWN: The Government assures consumers that prawns sold locally are safe for consumption after a recent news report about antibiotic use in shrimp farms in Malaysia.
Deputy Agriculture and Agro-based Industries Minister Sim Tze Tzin said the Fisheries Department has a stringent monitoring system for all shrimp farms across the country.
"I wish to assure the public that locally-produced shrimp is safe to eat.
"Regular checks and enforcement are done to ensure Malaysia's food safety and export quality," he posted on his Facebook page on Sunday (Jan 5).
Sim, who visited a shrimp farm in Kuala Langat on Sunday morning, said he also had requested the Fisheries Department to carry out further checks on the listed companies so that the issue can be solved.
On Saturday (Jan 4) The Star reported that cultured shrimp tainted with antibiotics might still be found in wet markets.
The report also stated that many Malaysian shrimp exporters have been placed under watch by the US Food and Drug Administration between 2009 and 2018 following the detection of two antibiotics, nitrofurans and chloramphenicol, in 44 shrimp shipment samples.
Sim added that most farmers had stopped using antibiotics about 10 years ago and have turned to using probiotics with better farming practices as they want to ensure that their shrimp can be exported.
He further said that during his visit to the shrimp farm, farmers were using enzymes to treat the water to create a better pond environment.
"Therefore, the mortality rate is as low as 5-10%. They don't even use probiotic treatment.
"I am very proud that our shrimp industry has adopted new technologies and new farming methods to ensure food safety and quality," he said, adding that the shrimp from the farm was also tasty.
https://www.thestar.com.my/news/nation/2020/01/05/shrimp-in-malaysia-safe-for-consumption-says-deputy-minister
------
Twilight of Duterte presidency might also mean last days of Philippines' long entanglement with the US
Richard Heydarian
4 Jan, 2020
Reflecting on the "art of life", the British essayist Edward Verrall Lucas once observed that "there is no diplomacy like candour", since "nothing is so boring as having to keep up a deception."
Once in power, the populist leaders of two old allies, the Philippines and the United States, deployed a unique kind of candour to repair frayed ties. Now, a proposed travel ban against senior Philippine officials, however, threatens to torpedo their improving relations.
Critical of the human rights situation in the Philippines, other Western powers are likely to follow the US and impose sanctions on President Rodrigo Duterte's inner circle. The greatest beneficiary of this diplomatic meltdown is China – Duterte's de facto strategic patron.
For the past two years, there were great hopes that Duterte and US President Donald Trump would strike a bargain which would preserve the fundamentals of the alliance.
In exchange for toning down its criticism of the Philippines' scorched-earth war on drugs, the Trump administration would secure greater strategic cooperation with Manila.
And there were good reasons to be optimistic about a thaw in Philippine-US relations in the latter years of Duterte's presidency. To begin with, there was an ideological affinity between the two leaders.
Following months of tense relations with the Barack Obama administration, which criticised deteriorating human rights in the Philippines, Duterte quickly warmed to Trump.
Viewing the US president as a kindred spirit, Duterte welcomed a fellow right-wing populist in the White House. Here was someone who downplayed human rights issues, lashed out at liberals, blamed his predecessor for strained relations with Manila and enthusiastically embraced authoritarian leaders the world over.
Soon after Trump's election, the Philippine government openly "welcomed President Trump's [new] foreign policy direction" as a springboard for a "placid and mutually beneficial relationship".
As Duterte made clear: "[The] strained relations I will admit started with Obama. Trump is cleaning the mess."
During their first meeting in 2017, the leaders held a "very friendly conversation", with Trump praising Duterte's drug war as "[a] very hard [effort] to rid its country of drugs, a scourge that affects many countries around the world".
During their first phone conversation, Duterte said Trump "was quite sensitive also to our [concerns] about drugs", and "was wishing me success in my campaign against the drug problem".
Moreover, Duterte recognised the strategic leaning of his most critical constituency, the Armed Forces of the Philippines. Since the early 20th century, Washington has effectively trained and equipped the Philippine military.
Many of the Philippines' leading officials, including presidents and defence ministers, were either trained at the US' West Point military academy, maintained warm ties with the Pentagon, and/or held key diplomatic positions in Washington. Many have family members and relatives with American citizenship.
Under their 1951 defence treaty, the two allies are required, at least in principle, to go to each other's aid in the event of conflict with a hostile third party.
More importantly, the armed forces have played a key role in Philippine politics, effectively toppling two presidents in recent decades. For the Machiavellian Duterte, completely alienating the US-leaning defence establishment was out of question.
As he once said: "This is really their sentiment. Our soldiers are really pro-American, that I cannot deny."
Another reason is the inescapable convergence of strategic interests, especially in light of China's rising maritime assertiveness and, even more urgently, transnational terrorism.
The siege of the southern Philippine city of Marawi by so-called Islamic State sympathisers led to stronger defence ties with the US, which provided advanced weaponry, training and intelligence to its ally.
As former US Navy Admiral Harry Harris told me during the early days of the Marawi siege, "our bilateral military relations have never been better".
In fact, Trump's presidency has coincided with greater American access to Philippine bases, the return of joint war games in the South China Sea, and expansion of those exercises putting Manila among the US' leading Indo-Pacific partners.
But while Trump promised that America would no longer "seek to impose our way of life on anyone", his Democratic rivals in Washington moved in the opposite direction.
Under the Global Magnitsky Human Rights Accountability Act, named after a Russian whistle-blower, the US government can impose targeted measures against foreign officials accused of gross human rights violations.
At the behest of senior Democrats, congress passed a law, approved by Trump, which could be used to call for travel bans and financial sanctions against Duterte's inner circle, if not the president himself.
Former police chief and current senator Ronald dela Rosa, a staunch Duterte ally, is reportedly among the first targets of America's punitive measures.
In retaliation, Manila has taken the unprecedented decision of banning several senior US legislators, with Duterte officially boycotting the White House until the end of his term in office.
In 2017, while aboard a Chinese warship that called in at his hometown of Davao, Duterte balked at Trump's invitation to the White House, stating that he "cannot make any definite promise", as he was too busy.
Now, he seems determined to be the first Philippine leader, and among the few in the world, to completely boycott the US. The escalating diplomatic tensions with Washington will only drive Duterte further into the embrace of China, his ultimate "protector".
Richard Heydarian is a Manila-based academic
Sign up now for our 50% early bird offer from SCMP Research: China AI Report. The all new SCMP China AI Report gives you exclusive first-hand insights and analysis into the latest industry developments, and actionable and objective intelligence about China AI that you should be equipped with.
https://www.scmp.com/news/china/diplomacy/article/3044531/twilight-duterte-presidency-might-also-mean-last-days
------
South Asia
IED claims one death in the northern Balkh Province
Saturday, 04 Jan 2020
According to Munir Ahmad Farhad, Balkh Governer's spokesperson, the explosive device was placed in a vehicle, which caused the death of one Afghan civilian.
Mr. Farhad said three other people got minor wounds on Saturday moring's bomb blast. The explosion occurred in the 10th district (PD10) of Mazar-e-Sharif City.
As usual, the blast once more distracted the relatively peaceful situation of Mazar-e-Sharif city and its people.
Since last year, nearly 7,400 civilians were killed and wounded in suicide attacks and explosions across the country. Meanwhile, according to the finding of the Ministry of Interior of the Islamic Republic of Afghanistan, 2,219 people were killed, and 5,170 others were wounded in 2019.
IED blasts and explosions have become the most common strategy among terrorist groups targeting government organizations, donor agencies, and foreign nationals in the last couple of years.
https://www.khaama.com/ied-claims-one-death-in-the-northern-balkh-province-said-a-local-official-32145/
------
Afghanistan fears violence in region after Soleimani's killing
Afghanistan has expressed concern over a possible increase in violence in the region after the killing of an Iranian general in Iraq on Friday, the government said in a statement.
Afghanistan called on its neighbour Iran and the United States, its strategic partner, to prevent conflict escalations.
"Today, during talks with the US Secretary of State, I once again emphasized that Afghan soil must not be used against a third country or in regional conflicts," Afghan President Ashraf Ghani tweeted on Friday evening after a phone call with Mike Pompeo.
The statement on Friday comes after the attack earlier that day that killed Qassem Soleimani, head of Iran's elite Quds Force, and Abu Mahdi al-Muhandis, deputy commander of the Popular Mobilisation Forces (PMF, or Hashd al-Shaabi), an Iran-backed umbrella organisation comprising several militias, along with several other people.
Afghanistan's chief executive Abdullah Abdullah said he hoped that "the recent events will not have a negative effect on the cooperation between our friends and allies in Afghanistan".
Former Afghanistan president Hamid Karzai also took to Twitter to call for calm between the countries.
"Iran and Afghanistan, despite US military presence in Afghanistan, have maintained cordial and brotherly relations," Karzai wrote on Saturday. "In the face of the current challenges, we hope Iran will continue its wise and friendly approach towards Afghanistan."
Washington is Afghanistan's strategic ally, with the US having military presence in the country for nearly two decades.
Tehran has for years hosted millions of Afghan refugees.
https://www.aljazeera.com/news/2020/01/afghanistan-fears-violence-region-soleimani-killing-200104143932937.html
-----
Afghanistan, Pakistan threat to success of polio eradication: Experts
January 4, 2020
The representatives from India, Canada, Australia, United States, France, and New Zealand recently met at a conference on protection from polio in Agra, Uttar Pradesh.
Presenting their views on the subject, the representatives termed the polio eradication campaign as largely successful. However, they stated that Pakistan and Afghanistan are threats to the campaign's success.
India National PolioPlus of India told India Today that despite being polio free, polio cases are being seen in a large numbers in Pakistan and Afghanistan.
In 2019, 117 polio cases reportedly came to light in Pakistan and 26 cases in Afghanistan.
According to sources, the virus can easily travel to India.
The conference also issued an appeal to the people of India to ensure that every child till the age of five years is given polio drops regularly.
Speaking on the matter, social activist Amir Qureshi told India Today that some orthodox Muslims have created this misconception that polio drops cause infertility, which is completely incorrect.
"It is globally known that the polio drops are safe and if any religious leader or cleric forbids someone from giving his kid polio drop, he should be opposed," said Amir.
"There is no medical reason to not give polio drops to the kids as it saves lives," he added.
https://www.indiatoday.in/india/story/afghanistan-pakistan-threat-success-polio-eradication-experts-1634005-2020-01-04
------
Qassem Soleimani killed: Afghanistan says territory will not be used against any third country
January 4, 2020
Amid a flare up in tensions between the United States and Iran over the killing of Iranian general Qasem Soleimani in Iraq, Afghanistan - home to thousands of US troops - has said its soil will not be used against its neighbors.
The government of Kabul expressed concern over the escalation in violence in the region as a result of the US airstrike on Iraqi soil that killed one of Iran's top leaders, Efe news reported.
"The Islamic Republic of Afghanistan assures its people and all its neighboring countries that as per the Security Agreement with the United States, the Afghanistan soil under no circumstances will be used against any foreign country," the Afghan presidential palace said in a statement late on Friday.
The presidential palace said President Ashraf Ghani on Friday held a telephone conversation with US Secretary of State Mike Pompeo in which the president said Afghan soil would not be used against any third country.
Afghanistan, which shares a border with Iran, expressed its concern over the "possible escalation of violence in the region," and urged both the US and neighboring Iran to avoid an "escalation of violence."
It also called on the parties to resolve their differences through dialog.
The note said the government is carefully following the developments in the region and is committed to the preservation and expansion of its relations with all countries.
Despite the presence of thousands of US troops in Afghanistan for nearly 18 years, Afghanistan has been experiencing normal relations with its neighboring countries, including Iran.
Soleimani, who was the head of the Islamic Revolutionary Guard Corps' elite Quds Force and the architect of several powerful Shia militias across the Middles East region, was killed in a US strike near Baghdad International Airport.
The governments of Islamabad and New Delhi also expressed their concern over the events in the Middle East and consequences they could have for the region.
The Pakistani government urged the parties to exercise maximum moderation and solve their problems through diplomatic channels.
India's Foreign Ministry acknowledged the death of the Iranian leader and said in a statement that peace, stability and security were of utmost importance to the country.
https://www.indiatoday.in/world/story/qassem-soleimani-killed-afghanistan-says-territory-not-used-against-third-country-1633894-2020-01-04
------
Bangladesh blocks news website accusing minister of corruption
by Faisal Mahmud
3 Jan 2020
Bangladesh authorities have blocked access to a Sweden-based investigative journalism website after it published a report alleging corruption by an influential Bangladeshi minister.
Netra News was blocked in Bangladesh within 72 hours of publishing the story about Obaidul Quader, Bangladesh's minister of road transport and bridges.
The story, which was based on a tip from a whistle-blower and photos from Quader's verified Facebook page, raises questions about his collection of luxury watches from brands including Rolex, Louis Vuitton, and Ulysse Nardin.
Readers in Bangladesh contacted Netra News to complain that they could not access the website without using a VPN, an editor of the online publication told Al Jazeera.
Jahurul Haque, chairman of Bangladesh Telecommunication Regulatory Commission (BTRC) - the government agency that controls the web access of the country, told Al Jazeera that he did not receive "any official order from the government" to block the website.
However, he indicated that Directorate General of Forces Intelligence (DGFI) - the intelligence agency of the Bangladesh armed forces - also has the capacity to block a website.
DGFI declined to comment on the issue.
Netra News told Al Jazeera in a statement that they had been able to independently verify that their website is blocked by the defence agency.
A source close to the Department of Telecommunications (DOT) in Dhaka told a Netra News editor that "the agency was behind the block".
Investigation
The article, published on December 26 with the headline, A wrist of luxury, questioned how the minister could afford such expensive accessories.
Qauder is also the secretary-general of the ruling Awami League in Bangladesh and is considered the second most powerful man after party chairman and Bangladeshi Prime Minister Sheikh Hasina.
Tasneem Khalil, editor-in-chief of Netra News, told Al Jazeera that Quader has a declared annual income of about $36,000 while just one of his Rolex watches has a price tag of $34,000.
"We questioned if the minister bought these watches himself or received them as gifts in exchange for awarding lucrative contracts. And for this very basic act of journalism, our website has been blocked in Bangladesh," he said.
Al Jazeera tried contacting Quader several times. His secretary said he was not available for comment.
Mahbubul Alam Hanif, a spokesperson of Awami League who holds the rank of joint secretary-general, said: "I can't comment on Quader's watch collection. It's not my duty to look after his [Quader's] wrist."
In its recent election manifesto, Awami League said it would adopt a zero-tolerance approach against corruption.
"There is no definite proof that Quader was involved with any corruption," said Hanif, who refused to give a reason behind the news website's block.
Previous cases
Netra News also published a story about an influential Bangladeshi security official, the prime minister's security adviser, and his alleged role in the enforced disappearance and death in custody of a retired army captain.
Al Jazeera published a story on this development in March, after which Al Jazeera's website was blocked in Bangladesh.
"This affront to press freedom is unfortunately neither new nor surprising. With this brazen act of censorship, Netra News joins an increasingly long list of websites which include Al Jazeera English (Qatar) and The Wire (India) which were blocked in Bangladesh for reporting on topics that irked the upper echelons of power in the country," said Khalil.
He said Netra News was set up to tackle media censorship in Bangladesh.
"In seeking to block its website, the Bangladeshi authorities are confirming how important it is for independent journalism platforms like Netra News to exist," said Khalili.
https://www.aljazeera.com/news/2020/01/bangladesh-blocks-news-website-accusing-minister-corruption-200102172616456.html
------
Bangladesh economy to be 25th largest in 15 years
January 05, 2020
Bangladesh's economy will make one of the biggest jumps between 2020 and 2034 on the back of demographic dividend and rising per capita income, according to the World Economic League Table 2020.
Bangladesh ranks 40th among 193 countries this year and will rise to 25th in 2034, a spot currently held by Belgium, showed the latest edition of the WELT, produced by London-based Centre for Economics and Business Research (CEBR), an international economic forecaster.
In the long run, the report said, many Asian economies will rise through the ranks of the WELT as these countries cash in on their demographic dividends.
The two most prominent examples are the Philippines, which will enter the top 25 largest economies reaching 22nd place in 2034, and Bangladesh, it said.
With a purchasing power parity adjusted GDP per capita of $5,028 in 2019, Bangladesh is a lower middle-income country. The economy performed well in 2019, expanding by an impressive 7.8 percent. This is, however, below the 7.9 percent GDP growth rate recorded in 2018.
In Bangladesh, the population has risen at a rate of just 1 percent per year since 2014. This has meant that per capita incomes have grown considerably in recent years.
Government debt as a share of GDP rose to 34.6 percent last year, up from 34 percent in 2018. Despite the increase, the public sector finances remain in good shape. The relatively low debt burden has provided the government with the fiscal headroom to operate a budget deficit of 4.8 percent in 2019.
The annual rate of GDP growth is forecast to slow to an average of 7.3 percent between 2020 and 2025.
Over the subsequent nine years, the CEBR forecasts that the economy will remain at this impressive rate, which will see Bangladesh climb from 40th place in the WELT to 25th place by 2034.
Three rapidly growing Asian economies are the fastest risers in the table amongst the larger economies: the Philippines, Bangladesh, and Malaysia.
In South Asia, India has decisively overtaken both France and the UK to become the world's fifth largest economy in 2019. It is expected to overtake Germany to become fourth largest in 2026 and Japan to become the third largest in 2034.
Pakistan is forecast to move from 44th place to 50th place between 2020 and 2034. The Maldives will also fall from 149th to 145th.
Nepal will rise from 100th to 88th place in 2034, Sri Lanka from 67th to 62nd, Bhutan from 163rd to 160th, and Afghanistan from 117th to 107th.
The US is now expected to remain the world's largest economy throughout the 2020s and is to be overtaken by China only in 2033, CEBR's 11th annual world economic outlook report said.
The WELT tracks the size of different economies and projects changes over the next 15 years, up to 2034. The base data for 2019 is taken from the International Monetary Fund's World Economic Outlook and the GDP forecast draws on CEBR's Global Prospects model to forecast growth, inflation and exchange rates.
The report said 2019 was a bad year for the world economy with the weakest GDP growth since the recession year of 2009. But the clouds started to lift towards the end of the year and the CEBR predicts that expansionary fiscal and monetary policy around the world will cause growth to accelerate in 2020.
In 2019, any lingering "feel-good factor" from the upswing of the global economy in 2017 largely dispersed and was replaced by renewed volatility and uncertainty. Trade tensions came to the fore with the US and China imposing substantial tariffs on each other's export sectors.
Perhaps the most unexpected element in this report is the ongoing strength of the US economy, though the CEBR expects that 2019 will prove the high water mark as the problems of the trade war and the deficit impinge. But in 2011, the US economy was 21.2 percent of world GDP. In 2019 its share had risen to 24.8 percent, its highest share since 2007.
"The biggest surprise is how well the US economy has managed to do, reaching its highest share of world GDP for 12 years," CEBR Deputy Chairman Douglas McWilliams said in a statement.
"Though our view is that it has reached its high water mark and moving forward the deficit and its trade disputes will start to hold it back. Still, this is a remarkable performance for an old world economy. "
"The battle for the top spots in the WELT league table remains fiercely contested," Kay Daniel Neufeld, head of macroeconomics at the CEBR, said.
Despite the rapid ascent of countries such as India and Indonesia, it is striking how little an impact this will have on the US and China's dominant roles in the global economy, Pablo Shah, senior economist at the Cebr, said.
"Indeed, their share of world GDP is forecast to rise to 42 percent by 2034. The 2020s are set to be a decade marked by continued tensions between the US and China on multiple fronts ranging from trade to tech, which will cast a long shadow over the rest of the global economy."
According to the CEBR, the world in 2033 is likely to be very different from that in 2019. The emerging economies will have largely emerged; the biggest element of trade will be down phone lines; and many aspects of the physical trade between Asia and Europe will be transported by land rather than by sea.
"Technology will transform business and we run the risk that income inequality will be much higher than it is now. The environmental challenge will remain and one of the key determinants of growth will be how well we deal with this."
"The key to making the next 15 years successful and prosperous for as many as possible will be how we as a society cope with these challenges."
https://www.thedailystar.net/business/bangladesh-economy-be-25th-largest-in-15-years-1849591
------
Africa
Several killed in ambush by suspected Islamists in Mozambique
2020-01-05
Several people died after a minibus was ambushed along a main road in a northern Mozambique province beset by a jihadist insurgency, villagers said on Saturday.
A police officer in Macomia district, about 100km south of Antadora village, the scene the attack, confirmed the ambush which occurred on Friday, but gave no details of casualties.
"Police were called in to intervene but it was too late to help the victims," said the policeman who asked not to be named.
"This is the first confirmed attack this year," in restive Cabo Delgado province, he said.
Villagers spoke of between four and 10 people killed when the minibus carrying around 20 passengers travelling from Palma town to the provincial capital Pemba was torched.
"Two children were burned in the vehicle, another was decapitated," one villager told AFP, adding that a man "was decapitated in front of his wife and children".
He said some women were missing.
"Most of the people didn't survive. The number of those who survived is less than 10," said another villager.
Intensified conflict
For more than two years, a shadowy Islamist militancy has sown terror staging attacks in the mostly Muslim province.
Branded as "criminals" by authorities, the militants began attacks in 2017 mostly targeting the civilian population, causing several hundred deaths.
But in recent months the conflict has intensified.
On December 6, a military convoy was ambushed in the village of Narere. Between nine and 14 soldiers were killed and three vehicles destroyed, a villager told AFP.
The government has deployed significant reinforcements to the province to counter the attacks, which have delayed the development of vast gas reserves discovered in 2010.
The arrival in September of 200 contractors from the Russian private security company Wagner appears to have changed little.
The violence has been blamed on a jihadist organisation apparently intent on imposing Islamic Sharia law.
The group is usually referred to as Al-Shabaab, despite having no known link to the Somali jihadist group of the same name.
https://www.news24.com/Africa/News/several-killed-in-ambush-by-suspected-islamists-in-mozambique-20200104
------
Islamist group al Shabaab attacks Kenya base used by Kenyan, U.S. forces
JANUARY 5, 2020
NAIROBI (Reuters) - Somalia's Islamist group al Shabaab on Sunday attacked a military base in Lamu county in Kenya that is used by both U.S. and Kenyan forces, a source and al Shabaab said.
"They have attacked Manda airstrip in Lamu, which is just next to the military camp that hosts military personnel from many countries including Kenya and the U.S. We are informed that fighting is still ongoing," the military source told Reuters.
He said the fighters were trying to access the base from the airstrip.
Al Shabaab, an al Qaeda-linked Islamist insurgent group fighting to overthrow the weak, U.N.-backed Somali government, also put out a statement promising further updates.
"An elite group of soldiers from Harakat Al-Shabaab Al Mujahideen's 'Martyrdom Brigade' launched a daring dawn raid on a U.S. naval base known as 'Camp Simba' in Lamu County, Kenya.
"...the base is home to hundreds of U.S.military personnel and Kenyan soldiers and serves as one of the many launch pads for the American crusade against Islam in the region," the al Shabaab statement said.
https://www.reuters.com/article/us-kenya-security/islamist-group-al-shabaab-attacks-kenya-base-used-by-kenyan-u-s-forces-idUSKBN1Z404G?feedType=RSS&feedName=worldNews&utm_source=feedburner&utm_medium=feed&utm_campaign=Feed%3A+Reuters%2FworldNews+%28Reuters+World+News%29&&rpc=401
------
Uganda hosts Islamic medical students from 15 countries
By Violet Nabatanzi
4th January 2020
KAMPALA - The Islamic medical students from 15 countries are in Uganda to share knowledge and skills in the medical field.
The medical students are currently camping at the Islamic University in Uganda (IUIU) Female campus in Kabojja, in Kampala district.
Speaking during the 18th federation of Islamic medical camp at IUIU Female campus in Kabojja, the President of the Islamic Medical Association of Uganda (IMAU) Prof. Magid Kagimu urged the medical students to have Islamic spirit during service and work tirelessly in order to ensure that they improve the health of people.
Kagimu advised participants to prioritize the patients for God's sake such that He pays them in many ways.
Dr. Attallah Al- Ruhaily one of the delegates from Saudi Arabia is optimistic that the medical students will exchange experiences in the medical fields and learn from one another.
The camp has attracted both international and Ugandan Islamic medical students. Among the countries that have benefited from the camp include Saudi Arabia, Turkey, Malaysia, Burundi, Indonesia, Kenya, Malawi, and Bangladesh, among others
IUIU vice Rector Academic Affairs Dr. Ismail Gyagenda said hosting the international camp is a great opportunity for Ugandan medical students to network with students from other countries so that they share information and experiences in the medical field.
He added that IUIU has just graduated from the 1st set of medical students from Habib Medical School (HMS).
Dr. Ayse Kaplan from Turkey is also hopeful that they will learn about each country's health situation.
The President Islamic Medical Association of Uganda Students branch Jauhar Kisambira is optimistic that the camp will give them an opportunity to share knowledge.
https://www.newvision.co.ug/new_vision/news/1512908/uganda-hosts-islamic-medical-students-countries
------
Zimbabwe Among 9 Countries Who Voted Against UN's Resolution To Protect Rohingya Muslims From Myanmar Army's Atrocities, See How Others Voted
JANUARY 4, 2020
Zimbabwe is among nine countries who voted against the United Nations General Assembly's Resolution IV on the Situation of human rights of Rohingya Muslims and other minorities in Myanmar.
Belarus, Cambodia, China, Laos, Myanmar, Philippines, Russia and Vietnam, like Zimbabwe voted against.
134 voted in favour whilst 28 abstained.
The United Nations says that Rohingyas have been among the most persecuted groups under Myanmar's military regime, with the Kachin, who are predominantly U.S Baptists, a close second.
The UN states that Rohingyas are one of the most persecuted groups in the world.
https://news.pindula.co.zw/2020/01/04/zimbabwe-among-9-countries-who-voted-against-uns-resolution-to-protect-rohingya-muslims-from-myanmar-armys-atrocities-see-how-others-voted/
------
Australia
Australian Muslims join Christians in a public prayer for rain in bushfire and drought-ravaged areas
5 January 2020
By ALANA MAZZONI
A group of Muslim worshipers have come together in a park to pray for rain amid the worsening drought and bushfire crisis.
More than 50 men, women and children gathered at Bonython Park in Adelaide on Sunday to ask for rain to be sent to Australia's struggling farmers and victims of the bushfires.
Priest Patrick McInerney, from the centre for Christian and Muslim Relations, joined the worshipers for prayer.
'Today I joined with my Muslim sisters and brothers in Adelaide in prayer for rain,' he said.
'My friend, Professor Mohamad Abdalla, gave the khutbah (sermon) emphasising repentance and reliance on God who is Merciful Provider.'
The service comes a day after pilot Dick Lang, 78, and his 43-year-old son, Clayton, a surgeon, were killed in bushfires on Kangaroo Island, off the coast of South Australia.
The pair had been out fighting the blaze and were returning to a family property when they became trapped.
'We are devastated to have lost two beloved members of our family, Dick Lang and his youngest son Clayton Lang, in such terrible circumstances,' the family said in a statement.
South Australia Premier Steven Marshall said the deaths were tragic news.
'Our hearts go out to the families of those people who have been affected,' he said.
'It really does reiterate the very important message that people listen to the alerts. This a very dangerous situation on Kangaroo Island.'
Significant property losses are expected from the fire with many homes and other buildings believed lost along with tourism and other infrastructure.
About 500 firefighters will continue to battle the uncontrolled blaze over the weekend, with crews and other resources brought in from the SA mainland.
The fire had been burning since late in December but escalated dramatically on Friday when it jumped containment lines during hot and windy conditions.
At one stage the entire island was subject to either an emergency warning or a watch and act advice with only the towns of Kingscote and Penneshaw on the east coast considered safe places.
By Saturday morning the situation had eased with cooler conditions providing an opportunity for fire crews to work on establishing fresh defences.
However, CFS chief officer Mark Jones said it was expected the fire, which had blackened more than 155,000 hectares, would continue to burn for several days.
https://www.dailymail.co.uk/news/article-7852909/Muslims-pray-rain-Bonython-Park-Adelaide-amid-bushfire-drought-crisis.html
------
URL: https://www.newageislam.com/islamic-world-news/will-hit-iran-harder-than/d/120709
New Age Islam, Islam Online, Islamic Website, African Muslim News, Arab World News, South Asia News, Indian Muslim News, World Muslim News, Women in Islam, Islamic Feminism, Arab Women, Women In Arab, Islamophobia in America, Muslim Women in West, Islam Women and Feminism