New Age Islam News Bureau
4 Jun 2020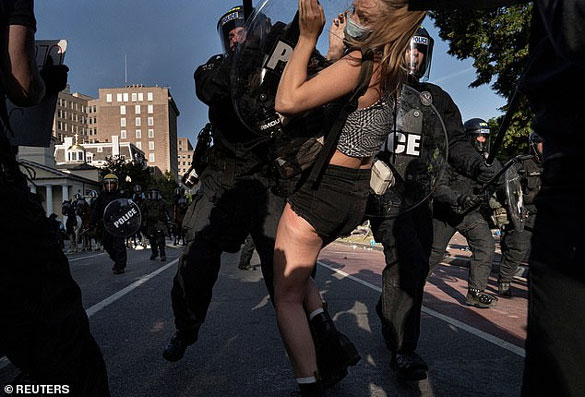 A fundamentalist Muslim preacher is predicting Islam will replace the United States as the world's dominant geopolitical force. Pictured are riot police clearing Lafayette Park in Washington DC on June 1, 2020
-----
• 'We Will Take Over': Australian Leader of Extremist Islamic Group Says US Riots Are An 'Opportunity' For Muslims To Seize Global Leadership and Impose Sharia Law
• Muslim Council of Britain Stands in Solidarity with the Black Lives Matter Protests
• 'We Gotta Call Out Racism': Milwaukee Muslim Students Lead March Against Police Violence
• Imam Khomeini's Revolution Was Like Those of Prophets: Sheikh Isa Qassim
• Taliban Will Pursue Both Peace Talks and Jihad: Deputy Chief
• Jokowi Visits Palace Mosque in Preparation of the New Normal
• Saudi Arabia Strongly Reacts to Kabul Mosque Bombing Which Left Many Dead or Wounded
• Four Leaders Record Statements in Babri Trial Case
• No Compromise on Security, Says Imran
• Food Insecurity Increases In Burkina Faso Amid Islamic Extremist Activity
---------
Australia
• 'We Will Take Over': Australian Leader of Extremist Islamic Group Says US Riots Are An 'Opportunity' For Muslims To Seize Global Leadership and Impose Sharia Law
-----
Europe
• Muslim Council of Britain Stands in Solidarity with the Black Lives Matter Protests
• 'No Justice, No Peace': Tens of Thousands In London Protest Death Of Floyd
• Protesters across Europe defy pandemic ban to condemn US racism
• We need to discuss anti-Blackness in Muslim and South Asian communities
• Mosques and churches to reopen in regions of Uzbekistan with improved COVID-19 situation
• CCTV to be installed outside vandalised mosque
------
North America
• 'We Gotta Call Out Racism': Milwaukee Muslim Students Lead March Against Police Violence
• Muslim Student Sues Scottsdale Community College and Professor Over Islam Quiz Questions
• Ex-Pentagon chief blasts Trump for dividing Americans amid anti-racism protests
• White House compares Trump's photo op to Churchill during Blitz
• My Challenge to White People This Week and Beyond
• Edo pupils recount experiences with WhatsApp, Zoom lessons
------
Mideast
• Imam Khomeini's Revolution Was Like Those of Prophets: Sheikh Isa Qassim
• Shabbir Hassanally: Independence Generous Legacy Iranians Have Received from Imam Khomeini
• Imam Khomeini refuted Imperialism, Marxism, Iran's envoy says
• Imam Khomeini shattered superpowers' aura of invincibility: Leader
• Imam Khomeini defines independence, Russian philosopher says
• Imam Khomeini's teachings bases of domestic, foreign policies of Iran
------
South Asia
• Taliban Will Pursue Both Peace Talks and Jihad: Deputy Chief
• Security Organs Called to Account for Kabul Mosque Attack
• Reactions to Imam's Death in Kabul Mosque Attack
• Afghanistan reports 758 new cases, 23 new deaths from coronavirus
• 14 civilians killed, wounded in a roadside bomb explosion in Kandahar
• Bangladesh urges trading partners for responsible business conduct
• BCB director Nadel recovers from coronavirus
------
Southeast Asia
• Jokowi Visits Palace Mosque in Preparation of the New Normal
• New Normal; Jakarta MUI Issues Fatwa on Friday Prayer
• Jakarta Disinfects Istiqlal Mosque, Cathedral Church
• Malaysian Youths Being Lured By Syndicates With High-Paying Overseas Jobs, Warns MCA
• Old gas cylinders seized from Islamic school in Songkhla
-------
Arab world
• Saudi Arabia Strongly Reacts to Kabul Mosque Bombing Which Left Many Dead or Wounded
• Dubai Imams, Muezzins Requested to Undergo Precautionary Covid-19 Tests
• UAE strongly condemns terror attack at mosque in Kabul
• OIC strongly condemns bombing of a mosque in Kabul
• Saudi's Qassim prepares over 200 mosques for Friday prayers
• Qatar condemns mosque bombing in Kabul
------
India
• Four Leaders Record Statements in Babri Trial Case
• Delhi Riots: Police to File Two More Chargesheets
• Migrants, Tablighis Form 60% Case Load In Uttar Pradesh
• 4 Dalits Killed in 4 Days in Tamil Nadu, Activists Say Upper Castes Using Lockdown as Opportunity for Assaults
------
Pakistan
• No Compromise on Security, Says Imran
• Virus kills two MPAs, infects over 4,770 in one day
• American femme fatale Cynthia creates tumult in Pakistan
• Judicial commission completes APS massacre probe
• Balochistan bans sharing information about Covid-19 patients
• Shopping centres sealed in Peshawar for SOP violation
• 10 doctors, MNA test positive for Covid-19
------
Africa
• Food Insecurity Increases In Burkina Faso Amid Islamic Extremist Activity
• Islamist Militants in Mozambique Intensify Attacks in Cabo Delgado Province
• COVID-19: Kwara gives conditions for reopening of worship centres
• COVID-19: Oyetola reopens Churches, Mosques for two weeks; states guidelines
• Covid-19: Benue Relaxes Lockdown, Reopens Churches, Mosques
• Boko Haram Terrorists Attack Travellers, Kidnap Soldier, Three Humanitarian Workers In Borno
• 73 Boko Haram militants killed in NE Nige
Compiled by New Age Islam News Bureau
URL: https://www.newageislam.com/islamic-world-news/we-take-australian-leader/d/122032
------
'We will take over': Australian leader of extremist Islamic group says US riots are an 'opportunity' for Muslims to seize global leadership and impose Sharia law
4 June 2020
A controversial Muslim preacher is predicting Islam will replace the United States as the world's dominant geopolitical force.
Ismail al-Wahwah, the Australian spiritual leader of hardline Islamist group Hizb ut-Tahrir, has suggested riots across the US would bring down the global superpower.
'Someone can say Europe, someone can say China, speak about Russia some, but for me the message is, the one who have more values, true values, and that's us Muslims.
Mr al-Wahwah described the violent mass demonstrations across the US as an opportunity for Muslims to exploit - following the alleged murder of black man George Floyd in Minneapolis by a white police officer.
'It's time to use this opportunity to stand up, and to come back and to take the leadership again,' Mr al-Wahwah said.
Hizb ut-Tahrir is global Islamist political party, active in 50 countries, that wants Islam imposed as a political system.
The Islamist group's 'Draft Constitution of the Khilafa State', a blueprint for how its caliphate would govern, advocates the killing of ex-Muslims, known as 'apostates'.
Despite its fundamentalist Islamic ideology that endorses slavery and only allows Muslim men to rule, Hizb ut-Tahrir is claiming to be the party of civil rights and is convinced riots against police brutality would hasten the downfall of the US.
* The Counter Extremism Project reports Hizb ut-Tahrir does not advocate violence directly but acts as a conveyor belt for terrorists, indoctrinating young members who go on to join jihadist groups
* ISIS fighter Mohammed Emwazi, a.k.a. "Jihadi John," reportedly attended Hizb ut-Tahrir events while in university in England
* Bangladeshi Islamist Farabi Shafiur Rahman, of Ansarullah Bangla Team, arrested for killing secular blogger Avijit Roy with a machete in 2015
'Absolutely, I believe what happened in America today, what will happen in the coming days and months and years, maybe, that will be a change in the position of America as a leader in this world.
'We have all elements of success if we do the right thing with help from Allah subhanahu wa ta'ala,' Mr al-Wahwah said in his Facebook video.
Nonetheless, Hizb ut-Tahrir is so extreme it is banned in Indonesia, the world's most populous Muslim-majority nation.
The group is also illegal in other Islamic nations, including Pakistan, Turkey and Jordan, along with Germany and Russia, but it remains legal in Australia.
In July 2018, Mr al-Wahwah was detained at Amman Airport while travelling in Jordan with his wife, and was kept in custody for several months.
Ismail al-Wahwah, also known as Abu Anas, was born in the West Bank city of Hebron which is now jointly controlled by the Palestinian Authority and Israel. He came to Australia as a refugee in 1997.
The former taxi driver, based in south-west Sydney, is a controversial figure who had previously been deported from Indonesia and travelled to Syria in 2013 in support of an Islamic caliphate.
A video from March 2016, translated and shared by the Middle East Research Institute, showed him urging Muslims to restore the Islamic caliphate at a conference held in Turkey.
He called on the attendees in Ankara to pledge 'before Allah to restore the caliphate, to raise the banner, to restore the Sharia, to unite the Islamic nation and to lead the armies of jihad that will conquer Europe and America so that the word of Allah will reign supreme'.
In 2014 Mr al-Wahwah delivered an anti-Semitic rant to a rally in the Sydney suburb of Lakemba that vilified Jewish people, calling them 'the most evil creatures of Allah'.
In 2017, Hizb ut-Tahrir spokesman Uthman Badar told a forum at Bankstown, in Sydney's south-west, that ex-Muslims, called 'apostates', should be killed.
'The ruling for apostates as such in Islam is clear, that apostates attract capital punishment and we don't shy away from that,' he said.
The extraordinary admission was caught on camera by Daily Mail Australia and the matter was referred to the Australian Federal Police by Justice Minister Michael Keenan.
In 2014, another Hizb ut-Tahrir spokesman, Wassim Doureihi, repeatedly refused to condemn Islamic State when interviewed by ABC journalist Emma Alberici on the Lateline program.
Last year, he told Hizb ut-Tahrir's 'Unapologetically Muslim' conference at Campsie in Sydney he refused to condemn ISIS and considered the Australian national anthem to be oppressive.
'Imagine someone comes into the room and looks at us both. Looks at us both and says these two are a bunch of paedophiles,' he said.
https://www.dailymail.co.uk/news/article-8385977/Hizb-ut-Tahrir-leader-Ismail-al-Wahwah-says-riots-cause-downfall-Islam-over.html
------
Muslim Council of Britain Stands in Solidarity with the Black Lives Matter Protests
2nd June 2020
Under the larger Black Lives Matter movement, thousands have marched in solidarity with black Americans, calling for an end to a corrupt police and state system that specifically targets people of color.
As Muslims, we must stand against injustice…we stand in solidarity with our Black brothers and sisters in the United States, UK, and beyond, wherever anti-Black racism manifests. Black. Lives. Matter."
O you who believed, be persistently standing firm in justice, witness of Allah, even if it be against yourselves or parents and relatives. Whether one is rich or poor, Allah is more worthy of both. So follow not personal inclination, lest you not be just. And if you distort [your testimony] or refuse [to give it], then indeed Allah is ever with what you do, Acquainted."
As MCB rightfully states, Muslims have an obligation and duty as believers to stand up to injustice and be with those who are oppressed – and if this means to protest, then Muslims must support and stand with those protesting for their lives.
When it becomes an everyday occurrence for innocent black Americans to be killed by the state, for simply being black, it means that we cannot remain silent. Silence is now deadly.
The Muslim Vibe is a non-profit media platform aiming to inspire, inform and empower Muslims like you. Our goal is to provide a space for young Muslims to learn about their faith as well as news stories affecting them, so we can reclaim the Muslim narrative from the mainstream.
Your support will help us achieve this goal, and enable us to produce more original content. Your support can help us in the fight against Islamophobia, by building a powerful platform for young Muslims who can share their ideas, experiences and opinions for a better future.
Please consider supporting The Muslim Vibe, from as little as £1 – it will only take a minute. Thank you and Jazakallah.
https://themuslimvibe.com/muslim-current-affairs-news/muslim-council-of-britain-stands-in-solidarity-with-the-black-lives-matter-protests?utm_source=Mailing+list+-+digest&utm_campaign=0995749b1f-TMV+Daily+Digest&utm_medium=email&utm_term=0_171fa92253-0995749b1f-333700246&goal=0_171fa92253-0995749b1f-333700246&mc_cid=0995749b1f&mc_eid=67e5408261
------
'We gotta call out racism': Milwaukee Muslim students lead march against police violence
June 3, 2020
Last spring, Milwaukee teenagers Dana Sharqawi and Sumaya Abdi organized protests after mass shootings at mosques in New Zealand.
On Wednesday, they brought people together again at the Islamic Society of Milwaukee — this time to remember George Floyd and to protest police violence. They said they were guided by their Muslim faith.
"Our religion tells us that if one part of your body's in pain, then the whole body's in pain," said Abdi, now 19 and a student at UW-Madison. "So if our black brothers and sisters are in pain, we're in pain, too."
"I just want to say I'm so proud of each and every person that has come here today on this hot, humid, sunny day," Abdi told the crowd. "That means you have a conscience and you know what's going on in our system."
Before the march, the group held silent for Floyd for 8 minutes and 46 seconds: the amount of time Minneapolis police officer Derek Chauvin had his knee on Floyd's neck.
"We're here to use our voice for people who couldn't use theirs," Sharqawi said. "Our religion centers around the belief that we are all created equal in the eyes of God. So today we're here to prove that: that we're all equal, we're one community."
Dana sharqawi, 18, and Sumaya Abdi, 19, explain why they organized a march today at @ismmke, which is about to begin pic.twitter.com/vJNynzRDcW
On their three-mile walk in 80-degree sunny heat, the crowd met some resistance. One person yelled from a lawn chair, "Because of you we have curfew." But most spectators showed support.
Workers from McDonald's gave out cups of water and held open trash bags. At KFC, employees came out and cheered ecstatically for the group. A UPS driver gave a long honk and rose his fist in the air. A bicyclist passed out water from his back rack.
"I came out here to support the voices of our black brothers and sisters here in America," she said. "They've been silenced, they haven't been heard, and really the murder of George Floyd was the tip of the iceberg. It's really important for us to come out and show them our unconditional support."
Another marcher, 18-year-old Wajahat Ali Shah, said he was scared to attend the march but an hour beforehand, he noticed some of his friends making racist comments and he decided to go.
"We gotta call out racism in our communities and do something about it," Ali Shah said. "This is why I came to this protest. This is why I scream my lungs out. This is why I support Black Lives Matter."
He invited his friend, Syed Shah, to come with him. Shah said he came because he wants to do as much as he can to help his black friends.
"Our whole entire judicial system is based off punishing people," Shah said. "It's literally based off slavery. When they were writing the Constitution saying all men are equal, they didn't include black men, they didn't include women, they said all white rich men were equal."
Lily Nikolic and Tenley Dugan, both 15, said they came because, as white students, they are learning how to use their privilege and bring awareness to racism in their communities.
"I know a lot of people from the suburbs who aren't really understanding what's going on and I feel like it's important for everybody to just get out there and try and do what they can," said Dugan, a student at Rufus King International High School.
The march began at 2 p.m. and ended at 4 p.m. after speeches by older leaders with the Islamic Society of Milwaukee and Interfaith Conference Of Greater Milwaukee.
Will Perry, director of the Dawah Islamic Center, recalled how he marched as a 10-year-old with Father James Groppi over the 16th Street Viaduct in 1967 as part of the Milwaukee Fair Housing Marches. Though he didn't know exactly what they were protesting at the time, he knew it was important to be there.
"May Allah bless you for having the courage to stand up for something," Perry said. "You may not realize the significance of it and how it's going to impact folks later."
"There is hope, when our young people stand up and say enough is enough," said Imam Noman Hussain of the Islamic Society of Milwaukee.
"As a Christian, I'm trained to always look, even in the darkest times of tragedy, for any evidence of hope. I see a lot of it right here. You are hope," said the Rev. Lisa Bates-Froiland of Redeemer Lutheran.
https://www.jsonline.com/story/news/2020/06/03/milwaukee-muslim-students-march-george-floyd-against-police-violence/3140082001/
-----
Imam Khomeini's revolution was like those of prophets: Sheikh Isa Qassim
Jun 3, 2020
TEHRAN, Jun. 03 (MNA) – Bahrain's leading Shia cleric Ayatollah Sheikh Isa Ahmed Qassim pointed to the characteristics of the Islamic Revolution founder Imam Khomeini.
In a speech delivered on Wednesday on the occasion of the 31st demise anniversary of Imam Khomeini, Bahrain's top cleric said that Imam Khomeini's revolution was like revolutions of prophets.
The Islamic Revolution has dealt with great plots hatched by enemies, however, it has managed to get through all difficulties, he said.
The only things that make a great revolution are its aims and ideals, he said. "If a revolution is not for God and His path, it will never turn into a major one."
Imam Khomeini was a great man and is a model for the Islamic Ummah and the humankind, he said, noting that his Revolution is not limited to a specific time.
Sheikh Isa Qassim noted that the Islamic Revolution is a source of pride and dignity for all the Islamic Ummah and safeguarding it is the duty of all the Islamic Ummah.
https://en.mehrnews.com/news/159404/Imam-Khomeini-s-revolution-was-like-those-of-prophets-Sheikh
------
Taliban Will Pursue Both Peace Talks and Jihad: Deputy Chief
By Sharif Amiri
YESTERDAY - 6:20 PM
According to the UN report, a new group named Hizb-e-Wilayat-e-Islami has been created outside Afghanistan.
Sirajuddin Haqqani, the deputy leader of the Taliban, said that despite the group's belief in the peace negotiation talks as one of the core components of the solution to the conflict in Afghanistan, the Taliban will still continue the path of jihad (holy war) and strengthen its military power.
In a message to mark the completion of training of a group of Taliban suicide bombers at an unknown location, Haqqani said that the peace process does not mean the Taliban will abandon the path of jihad.
Footage released on the group's social media platforms show a group of Taliban fighters wearing suicide vests who are passing in a parade in front of the Taliban's military commission.
Messages from other top Taliban officials, including Mullah Abdullah Ghani Baradar and Mullah Yaqoub, were read out in support of the suicide squad.
"We believe that the talks are the solution, the politics of sharia (Islamic) law is one of the paths of our jihad and struggle, but no one should miscalculate our politics and willingness for talks --- they shouldn't expect (the Taliban) to abandon jihad and their military capabilities," said Haqqani in a message to the Taliban fighters.
"We will use our ability to further develop the strength of the military and jihadi forces of the Islamic emirate (Term used for Afghanistan by the Taliban)," said Mullah Yaqoub.
Meanwhile, a UN report released on Friday stated that the Taliban has failed to fulfill one of the core parts of the US-Taliban agreement, namely that it would break ties with al-Qaeda. The agreement was signed in February in Doha, Qatar, after months of negotiations.
According to the UN report, a new group named Hizb-e-Wilayat-e-Islami has been created outside Afghanistan which encompasses the splinter members of the Taliban who are opposing the peace agreement between the US and the Taliban.
"Whenever one part of them (Taliban) show willingness for talks, the other part starts opposing them-- like the Haqqani who vowed to continue jihad," said Abdul Sattar Hussaini, a member of the Afghan parliament.
Al-Qaeda has 400 to 600 operatives active in 12 Afghan provinces and is running training camps in the east of the country, according to the report.
"The Taliban regularly consulted with Al-Qaeda during negotiations with the United States and offered guarantees that it would honor their historical ties," the report states.
Meanwhile, footage shows a large gathering of Taliban fighters in Khyber Pakhtunkhwa participating in the funeral ceremony of three Pakistani fighters who were killed in a battle last week with the Afghan border security forces.
"Three of our friends were martyred, one of them belonged to North Waziristan," said one local Taliban commander in Khyber Pakhtunkhwa.
According to the UN report, the senior leadership of al-Qaeda remains present in Afghanistan, as well as hundreds of armed operatives, al-Qaida in the Indian Subcontinent, and groups of foreign terrorist fighters aligned with the Taliban.
Relations between the Taliban, especially the Haqqani network and al-Qaeda "remain close, based on friendship, a history of shared struggle, ideological sympathy and intermarriage," said the report.
The report also highlights Daesh's subversive activities in the country, saying that the UN monitoring team now estimates that Daesh numbers are as low as 2,200 in Afghanistan.
https://tolonews.com/afghanistan/taliban-will-pursue-both-peace-talks-and-jihad-deputy-chief
-----
Jokowi Visits Palace Mosque in Preparation of the New Normal
Laila Afifa
4 June 2020
TEMPO.CO, Jakarta - President Joko "Jokowi" Widodo on Thursday, June 4, personally monitored the preparedness of the Baiturrahman Mosque located inside the Presidential Palace Complex to hold mass congregations ahead of the planned 'new normal' phase.
"We can soon use the mosque for mass prayers or individual prayers," said the president after the visit to the mosque ended.
He was accompanied by State Secretary Pratikno. Both wore face masks and frequently disinfect their hands that are placed in the mosque's entrance door.
The mosque is where the president conducts his Friday prayers prior to the COVID-19 pandemic hit Indonesia. Houses of worship were ordered to temporarily close its doors for the public to prevent spreading the virus even further.
The new normal phase often promoted by the central government will open the chance to reopen houses of worship to the public, such as the State Palace mosque.
"We hope that through several changes, clear signs, and frequent cleansing of the mosque, we will be able to conduct Friday mass prayers again. The Baiturrahman Mosque is ready to enter the new normal," said Jokowi.
https://en.tempo.co/read/1349586/jokowi-visits-palace-mosque-in-preparation-of-the-new-normal
-----
Saudi Arabia strongly reacts to Kabul mosque bombing which left many dead or wounded
04 Jun 2020
The Kingdom of Saudi Arabia strongly reacted to the recently mosque bombing in capital Kabul which left many dead or wounded including a prominent prayer leader.
The Ministry of Foreign Affairs of Saudi Arabia in a statement said it expresses the Kingdom of Saudi Arabia's utter condemnation and denunciation of the bomb blasts at a mosque in the Afghan capital of Kabul, which has resulted in deaths and injuries.
"The Ministry offers its condolences to the families of the victims and to the Government and people of the Islamic Republic of Afghanistan, wishing a speedy recovery to the wounded, and that security and stability prevail throughout Afghanistan, reaffirming the Kingdom's rejection to all forms of violence, extremism and terrorism," the statement added.
The explosion in Wazir Mohammad Akbar Khan area killed Mawlavi Ayaz Niazi, one of the prominent prayer leaders of the country and wounded several others.
Mawlavi Niazi died of the wounds from an explosion shortly after the blast ripped through the mosque in diplomatic area of Kabul city earlier on Tuesday evening.
Tariq Arian, a spokesperson for the Ministry of Interior, confirmed that Mawlavi Niazi succumbed to his injuries following the explosion.
According to Arian, the incident took place at around 7:45 pm local time in the vicinity of Wazir Mohammad Akbar Khan mosque.
Arian further added that the terrorists had planted explosives in the vicinity of the mosque which killed one person and wounded three others.
He also added that the security forces discovered some other explosives before the militants manage to detonate them.
https://www.khaama.com/saudi-arabia-strongly-reacts-to-kabul-mosque-bombing-which-left-many-dead-or-wounded-08890/
------
Four leaders record statements in Babri trial case
Lucknow, Jun 04, 2020 05:21 PM (IST)
Of the 32 accused in the Babri Masjid demolition trial, four appeared before a special CBI Court in Lucknow on Thursday.
Among the four who appeared on Thursday, were Dr Ram Vilas Vedanti, former BJP MP Vinay Katiyar, Santosh Dube and Vijay Bahadur Singh.
They recorded their statements under Section 313 of the Criminal Procedure Code.
The remaining accused have sought exemption and will appear at a later date.
The case involves high-profile accused, including top BJP leaders L.K. Advani, Dr M.M. Joshi and Uma Bharti, as well as VHP leader Champat Rai, and has reached a crucial stage.
The Supreme Court on May 8 had ordered that the special court trial be concluded and verdict pronounced by August 31. — IANS
https://www.tribuneindia.com/news/nation/four-leaders-record-statements-in-babri-trial-case-94468
-----
No compromise on security, says Imran
June 04, 2020
ISLAMABAD: Prime Minister Imran Khan on Wednesday vowed no compromise on national security as he received intelligence briefing amid escalating tensions with India.
Mr Khan visited the headquarters of the Inter-Services Intelligence (ISI) for a briefing, which was also attended by Chief of Army Staff Gen Qamar Javed Bajwa, Foreign Minister Shah Mahmood Qureshi, Planning Minister Asad Umar, Special Assistant to the Prime Minister Dr Moeed Yousuf and ISI Director General Lt Gen Faiz Hamid.
"A comprehensive briefing was given to the Prime Minister encompassing complex regional and domestic challenges with special focus on Pakistan efforts for restoration of peace and stability," the PM Office said in a statement.
Mr Khan was quoted as having said at the meeting that the government would go to any extent to safeguard country's sovereignty and national security.
This was prime minister's second visit to the spy agency's headquarters in as many months. He last visited the ISI offices on April 23.
His latest visit comes at a time when tensions with India have spiked sharply and Delhi has been regularly accusing Pakistan of Line of Control (LoC) infiltration and committing ceasefire violations.
On last Sunday, India expelled two Pakistani high commission officials accusing them of collecting data on the movement of troops and military cargo.
Army Chief Gen Qamar Bajwa in a visit to the Command and Staff College Quetta on Monday emphasised that peace in the region depended on resolution of longstanding disputes – a reference to Kashmir. He had also called for "meaningful international support" for dealing with the threats to peace.
Military Spokesman Maj Gen Babar Iftikhar, in a talk show on a private channel on Wednesday evening, said any military misadventure by India would be responded with full force.
He warned of dire consequences of any Indian military action against Pakistan and said that the situation could spiral out of control.
"India should stop playing with fire," the Inter-Services Public Relations director general said while describing the situation of LoC as alarming.
Rejecting Indian allegations, he said it has become a routine for Delhi to blame Pakistan for its failures.
https://www.dawn.com/news/1561130/no-compromise-on-security-says-imran
------
Food insecurity increases in Burkina Faso amid Islamic extremist activity
3 June 2020
Food insecurity is one of the byproducts of attacks by Islamic extremists in Burkina Faso.
Extremists chased Adama Drabo and his family from their land in western Burkina Faso, forcing them to abandon a year's worth of crops.
Now that food is rotting in storage in the village, too dangerous for him to retrieve, even as the family is forced to survive on meagre government rations.
Humanitarian groups are concerned that the coronavirus pandemic could exacerbate an already dire situation in Burkina Faso, one of the most impoverished countries in the world.
"If production goes down in this area and if movement restrictions due to the coronavirus drive up food prices in the markets, it could push numbers of severely vulnerable people to double or triple," said Julia Wanjiru, communications coordinator for the Sahel and West Africa Club, an intergovernmental economic group.
Food insecurity already affects two million people in Burkina Faso, according to the latest report from its government and aid groups.
While the government has lifted restrictions on movement between cities, its borders with Mali, Niger and Ivory Coast remain closed, making the importation of food more expensive.
The small town of Tougan is sheltering nearly 6,000 displaced people with new arrivals daily, according to Lassina Sougue, who directs the government's humanitarian response in Sourou province.
But on a recent trip to Boucle Du Mouhoun, at least a dozen people coming from three different provinces all said they were worried about food and access to their land.
Anticipating a food crisis, the United States has doubled this year's funding to World Food Programme for Burkina Faso, to 21 million US dollars and is set to announce an additional seven million US dollars in the coming weeks, according to an official with close knowledge of the situation.
https://www.lbcnews.co.uk/world-news/45608b1c349a4f82a59b51bbd8c830c7/
------
Europe
'No justice, no peace': Tens of thousands in London protest death of Floyd
June 03, 2020
By Michael Holden
LONDON (Reuters) - Tens of thousands of people chanting "no justice, no peace, no racist police" marched through central London on Wednesday to protest against racism after the death of George Floyd in Minneapolis.
Floyd, an unarmed black man, died after a white police officer knelt on his neck, an event that has set off the biggest anti-racism protests seen in the United States since the 1960s civil rights era.
Demonstrators have also come out in cities around the world in solidarity with Floyd and to express anger over racism. Protesters in London chanted "George Floyd" and "Black Lives Matter" as they marched through the city centre.
On Parliament Square, on Trafalgar Square and at other locations, thousands knelt on one knee, a form of protest known as "taking a knee" famously used by American footballer Colin Kaepernick to denounce police brutality against black people.
Some demonstrators urged police officers lining the route of the march to also take a knee, and a few of the officers did.
"This has been years in the coming, years and years and years of white supremacy," 30-year-old project manager Karen Koromah told Reuters.
"We've come here with our friends to sound the alarm, to make noise, to dismantle supremacist systems," Koromah said, cautioning that unless there was action the United Kingdom would face problems like those in the United States.
The demonstrators booed as they walked past 10 Downing Street, official residence of Prime Minister Boris Johnson, and some also booed and took a knee in front of New Scotland Yard, London's police headquarters.
Some protesters waved banners with slogans such as: "The UK is not innocent: less racist is still racist", "Racism is a global issue" and "If you aren't angry you aren't paying attention".
The event was almost entirely peaceful. There were brief scuffles between police officers and some protesters outside 10 Downing Street but they were over within minutes.
Johnson, who was inside at the time giving the government's daily briefing on the coronavirus outbreak, was asked what he would say to U.S. President Donald Trump about Floyd's death and the protests it has sparked.
"My message to President Trump, to everybody in the United States, from the UK is that - and it's an opinion I'm sure is shared by the overwhelming majority of people around the world - racism and racist violence has no place in our society."
Johnson has been criticised in the past for comments that many considered racist. In 2018, when he was foreign minister, he wrote in a newspaper column that Muslim women wearing burkas looked like bank robbers or letter boxes.
British police chiefs said they were appalled by the way Floyd lost his life and by the violence that followed in U.S. cities, but called on protesters in the United Kingdom to work with police as coronavirus restrictions remain in place.
"We can see feelings are running really high today. It's been a peaceful protest," said police commander Alex Murray.
"It's not like this is just about someone dying, we live our lives made awfully aware of our race. That's not right, that's not the natural order," said Roz Jones, who came to Britain as a child from South Africa.
https://wtvbam.com/news/articles/2020/jun/03/no-justice-no-peace-thousands-gather-in-london-after-death-of-floyd/1025169/?refer-section=world
------
Protesters across Europe defy pandemic ban to condemn US racism
03 June 2020
Thousands of people across Europe have held protest rallies to condemn racism and police brutality in the US, amid a chorus of growing global outrage at the police killing of African American citizen George Floyd on May 25.
Protests over Floyd's death, which began in the US city of Minneapolis, have spread to hundreds of cities across the US and the world.
On Wednesday, large protests erupted in several European cities, where people defied the coronavirus pandemic bans to express solidarity with anti-racism protests in the US.
In London, there have been a series of marches and demonstrations. Tens of thousands of people chanting "no justice, no peace, no racist police" marched through central London to express their protest.
In London's Parliament Square, thousands knelt on one knee, a form of protest known as "taking a knee" famously used by American footballer Colin Kaepernick to denounce police brutality against black people.
A protester and a police officer clash near Downing Street during a "Black Lives Matter" protest following the death of George Floyd who died in Minneapolis police custody, in London, Britain, June 3, 2020.
The London march started in Hyde Park before winding its way to Parliament Square. Many of the protesters chanted "George Floyd" and "Black lives matter".
More rallies are planned for the weekend. The Stand Up to Racism campaign has asked UK citizens to "take a knee for George Floyd" outside their front doors.
In Rotterdam, the Netherlands, thousands of anti-racism activists held a peaceful protest; however, the Dutch police told them to go home as the rally was too crowded and participants could not keep to social distancing rules.
In Stockholm, Sweden, thousands of people defied the ban on public gatherings of more than 50 people and poured into streets to protest the US police brutality against black people.
Bearing signs and placards with messages such as "I can't breathe" and "Black Lives Matter", the demonstrators gathered for several hours at a square in the heart of the city during the afternoon, television footage showed.
Reuters journalists saw demonstrators throwing several flaming objects which erupted into flames on the street towards the heavily-guarded embassy in central Athens and police responding with rounds of teargas.
Demonstrators were holding banners and placards reading "Black lives matter" and "I can't breathe". Police sources estimated the number of protesters at more than 3,000.
In Paris, nearly 15,000 demonstrators took to the streets to protest police violence on Tuesday night, defying police orders to stay home to prevent possible coronavirus infections.
People run from teargas as they attend a banned demonstration planned in memory of Adama Traore, a 24-year old black Frenchman who died in a 2016 police operation which some have likened to the death of George Floyd, in front of the courthouse in Paris, France June 2, 2020.
Videos of Floyd's death and subsequent protests and unrest in American cities have been featured prominently in news coverage in Europe and widely shared on social media, shocking many Europeans.
Nearly 20,000 protesters demonstrate in Paris against police brutality over the 2016 death of a black man in police custody, inspired by rallies in the US against racism and police violence.
Some protesters waved banners with slogans such as, "The UK is not innocent: less racist is still racist", "Racism is a global issue," and, "If you aren't angry you aren't paying attention".
https://www.presstv.com/Detail/2020/06/03/626696/George-Floyd-protests-racism-us-blacks-afro-americans
------
We need to discuss anti-Blackness in Muslim and South Asian communities
By Mariam Khan
4th June 2020
George Floyd was killed in Minneapolis on 25 May. In the days since we have seen US police officers fire tear gas and rubber bullets at peaceful protestors who simply want to understand why Black men and women keep being killed.
This is not a one-off killing, it's the effect of a structurally racist society that has brutalised Black people in America for hundreds of years. It is an undeniable truth that white people benefit from structural racism the most and need to check their privilege and learn how to use this to be more than performative allies.
Yes, we need to demand white people have these conversations, but many of us need to have these conversations within our own communities. The problem isn't just over there, it's here too; in the UK, in our communities and even in our families, friendship and professional circles. As a lighter-skinned Pakistani Muslim hijabi woman, I know there are issues within my community when it comes to anti-Blackness, racism, and prejudice against Black people and Black Muslims.
Anti-Blackness is rife in the Muslim and South Asian community and it's rarely discussed. I believe the perpetuation comes from the desire in many of us within the community to be closer to whiteness - because the closer we are to whiteness the closer we are to privilege. These are colonial mindsets and practices lingering.
Many of us have grown up in homes that have been fixated on having fair and lovely skin tones and even though the caste system isn't a part of being a Muslim, in our South Asian communities we have seen people divided based on skin colour. These are colonial mindsets and practices lingering.
How many stories have you heard where someone in the community wanted to marry a Black man and their parents weren't happy, and it wasn't because of his behaviour but because of his skin tone. How many Aunties in your community have told you not to tan because you won't be as pretty? How many people within the community perpetuate negative stereotypes around Black people without being questioned?
I believe it should be an obligation upon those of us who can read to educate others within our communities about racism against Black people and to challenge stereotypes that collectively this structurally racist society has built into our subconsciouses.
Many of us don't challenge the narratives built around Black people enough. In our communities and spaces, we have fallen into the trap of believing Black people are bad without questioning why this is the dominant narrative, who is telling it, or considering any disparities.
Research by the Sentencing Council found that Black and minority ethnic offenders are far more likely to be sent to prison for drug offences than other defendants. This research reinforced The Lammy Review, which was an independent review of BAME individuals facing bias in court. There is much unlearning to be done and as those who are educated in our communities, it should be an obligation on us to challenge where we see racism and anti-Blackness.
We ourselves, in the Muslim and South Asian community, benefit from our proximity to white supremacy. This is why we too are part of the problem if we choose to only use our privilege and proximity to continue to allow white structures to oppress. We, in turn, are the oppressors. Many Asians build their identities around the idea of being a "model minority" or even "the good immigrant". We need to stop playing into these homogeneous groups that are seen as "acceptable" because we have achieved a certain socio-economic status or education because this is a form of pitting minorities against one another. No single minority is better than another based on these factors because those in power don't really care to see any of us succeed.
Even within our community spaces and representation in the media, there is an absence of Black Muslims. I can't remember the last time I saw a Black Muslim person on TV but can fairly easily list Arab and South Asian actors. A study by the Black Muslim Forum, found that 84 per cent of Black Muslims felt they did not belong to their university's Islamic society and 79 per cent faced anti-black discrimination and colourism within secular settings. There is a problem because even within our own communities there isn't a safe space for Black Muslims to speak up and we are failing our brothers and sisters by not listening.
I know a lot of people deal with racism and Islamophobia and that there are a lot of things wrong with the world, but Black Lives Matter, and it is time we stop pushing these incredibly important conversations to the back. If you can recognise that the way society treats Black people is wrong and that you yourself wouldn't want to be treated in this way, you already know you have a privilege they don't and you are actively exercising your racism and anti-Blackness if you chose to do nothing.
https://inews.co.uk/opinion/comment/discuss-anti-blackness-muslim-south-asian-community-2874079
------
Mosques and churches to reopen in regions of Uzbekistan with improved COVID-19 situation
JUNE 4, 2020
Mosques, churches and other religious organizations will reopen in Uzbekistan since June 5, reports the nation-wide commission for coronavirus containment.
The work of religious organizations will be allowed in "yellow" and "green" areas of the country with improved epidemiological situation.
Workers have to use individual protection gear (masks and gloves). They also should keep social distance and mark safe distance for worshippers (the space between praying people should be at least 1.5 meters).
On May 8, the division into quarantine areas was introduced in Uzbekistan depending on COVID-19 situation. The areas are divided into "red" (with confirmed active cases), "yellow" (with no new confirmed cases but patients remaining in hospitals) and "green" (free of infection) zones.
https://akipress.com/news:642893:Mosques_and_churches_to_reopen_in_regions_of_Uzbekistan_with_improved_COVID-19_situation/
-----
CCTV to be installed outside vandalised mosque
June 3, 2020
By Jonathan Shkurko
Security cameras and improved lighting will be installed outside the Koprulu mosque in Limassol after it was vandalised with racist graffiti against Islam and immigrants on Sunday.
The decision was announced by Limassol mayor Nikos Nicolaides on Thursday after a meeting with Limassol CID chief Ioannis Sotiriades and with the property manager.
According to Sotiriades, it was also agreed that an increased number of police officers will patrol the area to avoid any further incidents.
He added that the police are monitoring other sensitive areas in Limassol which he believes might be potential targets for racist incidents.
Both Nicolaides and Sotiriades confirmed their intention of working together to effectively deal with all forms of violence, xenophobia and intolerance in town.
The incident gained plenty of traction in Turkey, with Turkish Foreign Minister claiming on Tuesday that "Islamophobic rhetoric and actions will not contribute to the efforts towards reaching a settlement of the Cyprus issue."
https://cyprus-mail.com/2020/06/03/cctv-to-be-installed-outside-vandalised-mosque/
-----
North America
Muslim student sues Scottsdale Community college and professor over Islam quiz questions
June 3, 2020
A local Islamic group filed a lawsuit Tuesday in U.S. District Court against Scottsdale Community College and one of its professors for teaching material that it says condemns Islam.
A student and the Arizona chapter of the Council for American-Islamic Relations (CAIR) filed the lawsuit, asking that SCC and professor Nicholas Damask stop teaching the materials in question until they "do not have the primary effect of disapproving of Islam."
The lawsuit comes after the student, Mohamed Sabra, posted three quiz questions from a world politics class to social media last month, igniting a firestorm of online criticism that caused the college's interim President Christina Haines to apologize for the "inaccurate" and "inappropriate" questions.
Haines also said Damask would apologize to the student and remove the questions from his curriculum. Damask pushed back, saying he had no intention of apologizing and that his academic freedom was being threatened.
The chancellor of Maricopa Community College District, of which SCC is a part, stepped in and said the questions posted on social media were taken out of context and fell within the scope of the course. Chancellor Steven Gonzales said he would launch a Committee on Academic Freedom and pursue an investigation into how the controversy was handled.
David Chami, an attorney representing CAIR, said the group filed the lawsuit to prevent Damask from "continuing to poison the minds of students."
"We have enough hate in this country. We have enough divide," he said. "We don't need our professors inflaming those seeds of hatred in students."
In May, Sabra posted screenshots from the quiz to social media, where they were quickly shared through social media by several influencers and Muslim community members.
The quiz included statements such as "Contemporary terrorism is Islamic" and "Terrorism is justified within the context of Jihad in Islam." The quiz also asserted that Islamic terrorists strive to emulate the Prophet Muhammed.
The lawsuit says that Sabra answered the questions based on how Muslims practice their religion, but the answers were marked as incorrect.
"Mr. Sabra was forced to make a decision; either disavow his religion or be punished by getting the answers wrong on the quiz," the lawsuit says.
The district-commissioned investigation details an email exchange between the professor and the student about the quiz questions.
Damask attempted to explain that the goal of the quiz was to discuss the motivation of terrorists, not whether something is right or wrong under Islamic doctrine, according to the report.
"The course may outline these beliefs but that doesn't make it acceptable to teach this misinformation to other student[s] who aren't fully educated," Sabra responded. "Please review the questions I've attached and get back to me ASAP."
By the time Damask responded the next morning, the student had posted the questions on social media, prompting backlash to the school.
The lawsuit says that Damask asserted in his course that peaceful interpretations of Islam were false, quoting Damask's course material as saying, "Contentions that Islam does not promote warfare or violence cannot be supported on either theological or historical grounds."
Damask also presented several statistics that did not contain citations to academic material, according to the lawsuit. One of those statistics cited in the lawsuit compares killings by Islamic terrorists to slayings by groups like the Ku Klux Klan, saying, "Islamic terrorists kill on average more people every 90 days than the number of blacks killed by the Ku Klux Klan in its entire 120+ year history."
Damask never included any discussion of the Ku Klux Klan, Nazis, militant fascism or neo-conservativism and their "scripture-based terrorism" against minorities in the United States, according to the lawsuit.
"It is an unquestionable fact that the Ku Klux Klan espoused Protestant Christian ideologies to wage terror in the United States in an attempt to create their own nation-state, and even believed that Jesus was the first Klansman," the lawsuit read. "However, none of this material is discussed in any of Defendant Damask's modules, despite its impact on national and international politics."
CAIR said the course's only reading material came from articles written by anti-Islam extremists, including an excerpt from the book "Future Jihad" by Walid Phares.
Phares has served as a commentator on terrorism for Fox News and as an adviser to Mitt Romney and Donald Trump during their presidential campaigns. Phares was a high-ranking official in a religious militia that was responsible for massacres during Lebanon's 15-year civil war, according to an investigation by Mother Jones.
In 2012, the New York Times reported that Phares "regularly warns that Muslims aim to take over American institutions and impose Shariah, a legal code based mainly on the Koran that can involve punishments like cutting off the hands of a thief."
"Don't you think you should have disclosed that to your students or put a disclaimer?" Raees Mohamed,an attorney representing CAIR, said. "What we see is an utter lack of true academic discussion."
After school officials sent the professor a prewritten apology letter to sign, Damask reached out to the Foundation for Individual Rights in Education (FIRE) saying his job and academic freedom were threatened.
FIRE wrote a letter to the college about its attempt to force Damask to change his course content and issue an apology. The organization seeks to defend academic freedom, whether for students or faculty.
"SCC's actions in response to Damask are irreconcilable with its constitutional and statutory obligations as a public institution of higher education," the letter read. "SCC cannot abandon its obligations under the First Amendment and Arizona law."
But Mohamed said attorneys aren't arguing against lively discussion and debate on college campuses, or even that the motivations of Islamic terrorists can't be discussed in classes.
Rather, academic freedom cannot be used to cloak anti-Muslim speech and make broad generalizations about the Muslim faith, Mohamed said.
Ahmed Soussi, CAIR's civil rights director, said that past court cases have determined that teachers must have discussions about religions in a secular way, which Damask did not do.
"This is basically Sunday school on SCC's campus," Soussi said. "This isn't just a rogue professor doing this one time. He's basically indoctrinating these people."
The district's recent investigation found that SCC administrators did not follow its procedures for responding to student academic complaints or discrimination complaints when responding to the controversy.
There are two processes school officials could have followed: one related to instructional grievances and another related to discrimination. Both would have required Sabra to file a complaint with school administrators, but he never filed a written grievance with any appropriate administrative officer at the college.
The district's report says there is no policy that permits disciplining faculty members over the contents of their course material, quizzes or exams, and that faculty members have the right to determine curriculum.
The lawsuit says that SCC knew that Damask's module was going to be taught, referencing district policies that require the course syllabus be submitted to the division/department office at the beginning of the semester.
"SCC not only condoned the material but approved of its use in the classroom," the lawsuit says. "Damask has been teaching this class for 24 years and upon information and belief will continue to teach and remain the Department Chair."
Chami said that once the quiz questions came to light, there was no investigation done into the course, or any indication given that the material would be reviewed for accuracy.
Paul Weser, the division chair, reviewed the course material and the quiz with Damask's permission, and he concluded the material and quiz were appropriate to test students' understanding of what certain terrorist groups believe, according to the district's investigation.
https://www.azcentral.com/story/news/local/scottsdale-education/2020/06/03/muslim-student-and-cair-sue-scottsdale-community-college-and-teacher/5311068002/
------
Ex-Pentagon chief blasts Trump for dividing Americans amid anti-racism protests
04 June 2020
Former Pentagon Chief Jim Mattis has denounced President Donald Trump's handling of nationwide anti-racism protests, saying the president is trying to turn Americans against one another.
Mattis said the president is trying to "divide" America and failing to provide "mature leadership" as anti-racism rallies have roiled the country.
The former Pentagon chief, who resigned in December 2018 over policy differences with Trump, broke his silence and condemned the US president in a fiery statement that was published by The Atlantic on Wednesday.
"Donald Trump is the first president in my lifetime who does not try to unite the American people—does not even pretend to try. Instead he tries to divide us," Mattis wrote.
"I have watched this week's unfolding events, angry and appalled," Mattis said, urging Americans to "unite without" the president, who earlier this week called protesters "thugs" and threatened to call in US troops to quell the protests.
Mattis said, "Militarizing our response, as we witnessed in Washington, DC, sets up a conflict — a false conflict — between the military and civilian society."
His forceful rebuke angered Trump, who took to Twitter and said, "I didn't like his 'leadership' style or much else about him, and many others agree. Glad he is gone!" Trump wrote.
Analysts say Mattis, the retired influential Marine general, could inspire others in uniform and veterans to finally speak out against the combative commander in chief.
Mattis mostly kept silence since he left Trump's administration, arguing that it would be inappropriate and counterproductive for the him and the military to criticize a sitting president.
Trump's Pentagon Chief Mark Esper also broke with his commander in chief over deploying troops to the streets, saying troops should not be sent to control the wave of protests, at least for now.
This has shed light on turmoil within the Trump administration, and set off concern among the Pentagon leaders, who fear to lose public support and that of their active-duty and reserve personnel, 40% of whom are people of color.
In a massage released to top military commanders on Wednesday, the chairman of the Joint Chiefs of Staff General Mark Milley said that every member of the armed forces swears an oath to defend the Constitution, which "gives Americans the right to freedom of speech and peaceful assembly."
Police fired tear gas against the mostly peaceful protesters in Los Angeles and New York City, and arrested nearly 5,000 people.
Reports said the Los Angeles Police Department (LAPD) turned the University of California Los Angeles' (UCLA) Jackie Robinson Stadium to a "field jail," for those who were arrested during the Floyd protests.
A group of UCLA professors said they have received "chilling testimony" from those protesters who said their detention processed at the stadium.
The baseball stadium is "named after Jackie Robinson, an icon of the long and unfinished struggle for Black freedom," the professors wrote in an open letter.
"UCLA did not receive or authorize a request to use that space for processing arrestees," the school said in a statement seen by Reuters.
It said that the police department "has vacated the property and we informed them that future use as an arrest processing center will not be granted by UCLA."
https://www.presstv.com/Detail/2020/06/04/626712/US-protests-George-Floyd-James-Mattis-Jackie-Robinson
------
White House compares Trump's photo op to Churchill during Blitz
03 June 2020
White House press secretary Kayleigh McEnany compares US President Dpnald Trump's photo op outside a church across from the White House after police cleared protesters to British Prime Minister Winston Churchill assessing the damage in London during the Blitz.
"We've seen presidents and leaders across the world who have had leadership moments and very powerful symbols that were important for a nation to see at any given time, to show a message of resilience and determination, like Churchill," McEnany says. "We saw him inspecting the bombing damage. It sent a powerful message of leadership to the British people."
https://www.presstv.com/Detail/2020/06/03/626699/White-House-compares-Trump-photo-op-to-Churchill-during-Blitz
------
My Challenge to White People This Week and Beyond
June 3, 2020
It's time to end this fallacy that if you aren't wearing hoods or Swastikas and using the "n-word with hard-R," it means you are absolved from the many layers of prejudice.
Unfortunately, it's much deeper and much more complex; and all of us have a role. Enough with sitting on the sidelines and staying silent for fear of making things uncomfortable.
We saw the extreme end of the racism spectrum in the brutal killings of George Floyd and Ahmaud Arbery. Thankfully, these kinds of overt, textbook racism is the exception and not the rule. But, even though these acts of bigoted violence rear their ugly heads infrequently, we oftentimes act as though everything is black and white … and we ignore the gray area.
Far too often, this ideology leads to silence and apathy. These are the paths of least resistance. The issues of race don't impact you directly so why bring that drama into your world and risk backlash or risk losing a friend on social media?
My social media timelines have been flooded with so many ill-informed rants on everything from Colin Kaepernick to Black Lives Matter.
It takes strength and courage to educate oneself on things outside of your comfort zone. However, for many in the white community, the subject of race relations is best handled by the talking heads on cable news. It becomes easier to ignore the cause.
I grew up in a predominantly white Southern town. For many, I represent the only person of color they knew growing up. Yet most didn't know I dealt with everyday aggressions:
having my background questioned by white friends for not being "black enough," or (my favorite) "you're only HALF black." As if that level of blackness doesn't count.
Look, I'm far from trying to be the torchbearer for suffering. My fellow minorities from all walks of life—LGBTQ, Muslim, women, etc.—have many additional experiences to share.
We are all angered. We are in pain. We are saddened and hopeless that this shit will never change, or that this cycle of oppression will continue, or perhaps even worsen.
I'm asking you to take a minute to ask some questions and conduct some introspection. Avoid missing out on another opportunity to learn and expand your mind. It's up to you to be just as outraged as we are today … and tomorrow … and the next day.
The Black community, the LGBTQ community, women, Muslims, minorities of all walks of life are all included in this struggle for justice. But, we can't win this fight unless we get reinforcements from those at the top. If you are just as outraged as we are, then show it with the same level of passion that we bring to the ongoing battle for equality and respect.
Understand that this is not simply black and white. There is a vast gray area in this fight, with apathy being the chief injustice in that middle ground. Going forward, your apathy can only be considered as complicity in the hatred that continues to plague our discourse. Make the change now to speak out:
And please, start asking some damn questions. Even if it means not liking some of the answers. And even if it means asking more questions tomorrow and the next day.
And if these words sound familiar to you, they should. I wrote the above text nearly three years ago after the events in Charlottesville and just swapped out a few things to update it.
I got a bunch of likes and a whole lot of "Great post, Pete." comments. And like most of the other racial flashpoints of the past, you went on with your life and went back to not caring that much anymore.
To be fair, this current week feels a bit different. I've been processing and taking things in and noticing more white people willing to be allies. To that, I say thank you.
But I'm also here to challenge you. Again. Hold on to that anger and that sadness and that passion beyond this week. When the collective attention moves on to the next Netflix documentary and we've forgotten about the suffering and the frustration that people of color are experiencing right now, that's when your work as an ally really begins. Keep making things uncomfortable. Keep standing up. Keep speaking out. And perhaps most importantly, keep listening to people of color.
We all have different stories to tell, experiences to share, pain that we've lived and felt. And if you are truly ready to be an ally, then it's up to you to be willing to listen even when you kind of don't feel like it or would rather talk about something else.
A $50 annual membership gives you an all-access pass. You can be a part of every call, group, class, and all our online communities.
------
Edo pupils recount experiences with WhatsApp, Zoom lessons
Jun 4, 2020
By Usman A Bello
Private schools in Edo State have resorted to social networking apps for online lessons during the lockdown restrictions. Pupils in Benin City, the capital of the state, are being taught through Zoom and WhatsApp, and a number of them have found the learning experience intresting. A Primary 5 pupil of Federation of Muslim Women's Associations in Nigeria (FOMWAN) Nursery and Primary School, Benin City, Rabi Abubakar, said she was enjoying WhatsApp lessons with her teacher. Miss Abubakar said, "I and my siblings are receiving the lessons through my mother's phone. A teacher will send video lessons and assignments by WhatsApp, and we also copy notes and answer questions." ADVERTISEMENT Dear valued readers, subscribe to the Daily Trust e-paper to continue enjoying our diet of authoritative news. Kindly subscribe here Another pupil from Sky Point International School, Benin, Abigail, said the online programme was "interesting" as pupils continued to learn at home during the lockdown. Abigail said, "We are using our parents' phones to listen to our teachers and then do assignments given to us. We are happy with the programme." Some of the parents who spoke to our reporter commended the schools for the development, but noted that pupils whose parents did not have smart phones were not participating. A member of the FOMWAN Parent-Teacher Association (PTA), Hassan Imuekeme, who spoke to Daily Trust, described the online lessons as a welcome development. Mr. Imuekeme said, "The lessons keep children busy at home. Teachers always engage them with assignments through WhatsApp. My children are happy with it, once they copy the questions; they solve them using their textbooks or google." Another parent, Mrs. Ibrahim, also applauded the schools for the initiative, and said, "It is better for the children than just sitting at home watching television. Now they are engaged through virtual learning. "The teachers started by sending videos by WhatsApp and the children will listen and do assignments and send the answers through the same channel. Three weeks after, they came up with Zoom, and the children are seeing their teachers in video conferencing and screen sharing." She said the major challenge was that some children did not have devices to take part in the online lessons, and added that, "We now spend more on data, but it is a good programme and they should keep it up." The Headmistress of FOMWAN Nursery and Primary School, Benin City, Mrs. Mariam Abdulhamid, said the online lessons which started in May, 2020, would last throughout the COVID-19 restrictions. Mrs. Abduhamid said, "It is beneficial to the pupils and parents, and we believe that this is better than doing nothing during this period."
https://www.dailytrust.com.ng/edo-pupils-recount-experiences-with-whatsapp-zoom-lessons.html
------
Mideast
Shabbir Hassanally: Independence Generous Legacy Iranians Have Received from Imam Khomeini
Jun 04, 2020
TEHRAN (FNA)- Shabbir Hassanally, Islamic scholar and analyst, says the independence brought about by Imam Khomeini to Iran through leading Islamic Revolution in 1979 has made the country immune to hegemonic superpowers' warfare and their sanctions.
Shabbir Hassanally told FNA in an exclusive interview that "[Imam Khomeini] ensured that the people of Iran were sovereign… [and] that Iran would never come under the occupation - psychological or physical - of any superpower", and added that the way Iran has been handling the Western sanctions indicates how the inherited independence plays a key role in exercising sovereignty.
He further added the comprehensiveness of Iran's independence inherited from Imam Khomeini is understood when Iran manages to defeat the US hegemony by supporting Damascus in the all-out war waged by the West and its regional allies, targeting US forces stationed in Iraq's Ain al-Assad airbase and sending tankers to Venezuela.
Shabbir Hassanally is an Islamic scholar and political commentator and analyst. His research area is the unity between the Muslim schools of thought. He lectures at various Islamic centres and appears on TV as a political analyst.
Q: The Islamic Republic of Iran has become one of the most important players in the West Asian region. How do you see Imam Khomeini's role in promoting the country to its position today?
A: One of the most important differences between Iran under the US-controlled Shah, and Iran following the victory of the Islamic Revolution was that of independence.
Under Shah, Iran was not in any way an independent country; everything about Iran was controlled in Washington, and the Shah was just a representative of Washington.
Sure, he had some ideas on how to keep the population he was "governing" in-line (for the benefit of the US regime) and so he seconded the services of other vassals of the US regime, such as so-called Israel and others, but in reality, he was little more than an employee of the Empire and did only their bidding.
In fact, during the time of Shah, the Arab Zionists who occupy so-called Saudi Arabia had no real issue with "the Persian" Iranians; such issues are primarily created by the Empire since it serves the Empire's interests to have people at each other's throats, so they do not focus on the grand scale of theft and criminality that the Empire is doing to them.
It should also be noted that during the time of the dead Shah, and may he rot in the lowest pits of hell, Iran was a very close ally of the European Zionists occupying Palestine. A part of the plan of the US hegemon was to have so-called Israel on one end, and the Shah's Iran on the other end, to completely close in the Arab and Muslim world, and ensure it is obedient to the US Empire. Of course, the victory of the Islamic Revolution destroyed that plan - and indeed all the other plans of the Empire.
Imam Khomeini's impact on both Iran, as well as on the world is vast, and cannot be summed up in just a few words; however, one key way that he ensured the independence of Iran, under the banner of the Islamic Republic, was to eject the influence and control of the US regime - using a tool that the US regime constantly claims to uphold and stand for.
That tool, of course, is the idea of democracy (but I should say a true democratic system, not the lies that are dressed as democracy in the Western world.)
He ensured that Iran would never come under the occupation - psychological or physical - of any superpower; and following the referendum in March/April of 1979, he ensured that the people of Iran were sovereign; and that the desires of the superpowers - western or eastern - would come to nothing.
Furthermore, when the Western superpowers, coerced their lackey, Saddam Tikriti, to engage in a war of aggression with the newly formed Islamic Republic, and when they ensured that this Tikriti criminal had every tool of violence and murder at his disposal, the Islamic Republic of Iran, under the wise leadership of the Wali al-Faqih (Guardian Jurist), and as a truly independent country, stood firm.
Even when the entire world stood against Islamic Iran, Iran did not waver; sure it hurt, it lost many beautiful and most beloved souls and heroes; but the Islamic Republic stood firm.
It is because of this Islamic mentality, that of true Islam (not the Takfiris spewed by DAESH or its controllers in Washington, London, Tel Aviv or Riyadh), that of reliance on God, and on being self-sufficient; and not being pawns of the Empire.
Iran has, since the start, been under extreme sanctions, and sure they hurt and make things difficult; that is a given; having to build your own tools, when you know others have already built them, but because of international bullies you are prohibited from buying those tools; sure it is painful; however, it is also a blessing in disguise.
Because of these sanctions; Islamic Iran, and its honourable people have become truly independent; they have developed their own military equipment, their own technology, and much more besides.
This is also from Islamic teachings, that sometimes something which you think is good for you, is actually bad, and something that you think is bad for you is actually good. In the Holy Quran, God, the Mighty, the Wise, in Chapter 2 (Al-Baqarah, The Cow), Verse 216, says:
"Warfare has been prescribed for you, though it is repulsive to you. Yet it may be that you dislike something, which is good for you, and it may be that you love something, which is bad for you, and Allah knows and you do not know."
We should also understand that the illegal and evil sanctions placed on the Islamic Republic of Iran by the US regime and indeed the rest of the so-called civilized world are indeed an act of war, and this has been said as much by both leaders in Iran, but also free and honest commentators and politicians the world over.
So yes, warfare (of multiple types) is a reality sadly, but the lesson is that sometimes something that you hate is good for you, and something that you love is bad for you.
Without the sanctions, the Islamic Republic of Iran would have become just another country, that while governed by Islam, would not have the impetus to develop itself, and would instead like a sheep be fully reliant on the technology of the Empire. The sanctions, God be praised, have ensured that this is not the case and that Islamic Iran continues to excel and make great progress in all areas, despite the sanctions and on the back of its own hard work and reliance on its own people.
Specifically, countries in the West Asia region, who profess to follow Islam, should reflect on this, and understand that while Islam is on their tongues, it has yet to reach their hearts, and as a result, their true allegiance is to the Empire, and not to God, the Most Sublime.
In the Holy Quran, God also speaks of this, specifically to the Desert Arabs (such as those who currently occupy places like "Saudi" Arabia, Bahrain, the so-called United Arab Emirates and such.) In Chapter 49 (Al-Hujuraat, The Chambers), Verse 14, God says:
"The Bedouins say, 'We have faith.' Say, 'You do not have faith yet; rather, say, ''We have embraced Islam,'' for faith has not yet entered into your hearts. Yet if you obey Allah and His Apostle, He will not stint anything of [the reward of] your works. Indeed Allah is all-forgiving, all-merciful.'"
Islamic Iran's handling of the COVID-19 pandemic, even under these sanctions on medical equipment and medicines by the US regime, was admirable and indeed exemplary.
The images and stories of the millions of people who came together, who worked as a unit, these are lessons for the people of the world who are under the yoke of occupation by the US and its masters and controllers.
These lessons, as was the case with the great lesson of the Islamic Revolution in 1979, under our beloved Imam Khomeini, prove that the time of Empires of coercion and evil is over; and that the rule of the divine upon the hearts of humanity is upon us.
To conclude, without the Islamic Revolution being victorious, without the presence of the Godly gift that was Imam Khomeini, you can be sure that Iran would have been another Saudi Arabia style entity, the people would have been greatly oppressed, the governance would be in the hands of a single-family (in Iran's case this would have been the criminal Pahlavi family, that now resides in Washington, Paris and London) and its actual influence would have been less than zero. Only doing the bidding and paying the bills of the Empire, without a care for its own people.
We should be greatly thankful to God, the Mighty, the Wise, that He gave us the great gift that was Imam Khomeini, who woke up both Iran and the world, and showed us what it means to truly be free.
Again, May God, rest his pure and blessed soul in the best of abodes, and close to Muhammad (PBUH) and the Family of Muhammad (PBUT), and to the that of the righteous Martyrs and Truthful ones, of the Prophets and the Lovers of God.
Q: Why do you think Iranians have remained loyal to the ultimate objectives of the Islamic Revolution 1979?
A: Imam Khomeini showed both Iran and the wider world what it means to be truly free; to not be enslaved by the created, but rather to work towards the teachings of the Creator.
A person will always aspire to a cause that is greater than him/herself, the cause of the Empire - be it Eastern or Western is temporal, and indeed far more inferior than any other cause. The Empires want hegemony, they want temporal control, but they fail to realise - and this pandemic has shown the world also that they do not have any control - and that only He, who is the most sublime and wonderful Creator, the most perfect Creator has control.
Imam Khomeini showed this to us, and once a person is shown even a tiny glimpse of the actual reality, of the actual Truth; then that person will never let go, and will always work to protect and move towards the Truth.
The powers of Global Arrogance, Imperialism, the US regime and its controllers, lackeys and allies have tried very hard to break the back of the Islamic Republic of Iran and to disappoint the people of Iran, and indeed the wider population of both believers and free people who are with the Islamic Republic and Islamic Revolution.
The Operation Martyr Qassem Soleimani (may God rest his pure soul), targeting US forces positions in Ayn al-Asad airbase located in Al Anbar Governorate of western Iraq, showed the US regime - and all other despots and tyrants - that they are not immune, and the perception of their great power, will not prevent a truly independent people from standing tall and being able to hit back (though of course as the Leader of the Muslim Ummah and the Islamic Revolution, Imam Khamenei, said, this operation against the US regime was but "a slap in the face.")
Irrespective of the lies of the Western media, the US regime and its lackeys, indicating that "all is well" following this response by Islamic Iran to the US regimes cowardly murder of Hajj Qassem Soleimani and Hajj Abu Mahdi al-Mohandes (may God rest their pure souls) the reality of this response was understood, and the US and its allies realised that their presence in the region was at an end.
This is historic. The US regime, that has been considered invincible since it dropped the two nuclear bombs on Hiroshima and Nagasaki in 1945, has had no country stand against it with firmness and the ability to hit and hurt it back since then.
We could go into the cold war, but that will extend this response to a point that will become unacceptable, and before anyone begins to suggest that al-Qaeda hit the US in 2001, let us be under no illusion that the events in 2001 were little more than a false flag event designed to let the more Machiavellian elements of the US Empire formally begin their attempt at the conquest of the West Asian region.
The same myth that was upheld for the Zionist regime occupying Palestine was dispelled in 2006 by the Islamic Resistance movement in Lebanon, and this Islamic Resistance movement was a direct result of Imam Khomeini's guidance and teachings, redirecting all towards the true Islam of Muhammad (Peace be Upon Him)
As another instance, the Iranian oil tankers arriving in Venezuela, carrying both spare parts and refined fuel for our brethren in Venezuela has shown that the myth regarding US dominance over the seas is finished.
This myth was perpetrated due to the US giving the illusion that since it spends the most on "defence" (in reality offence) and has "the most beautiful weapons", they are somehow the "kings" of the world, and cannot be defied.
Well, the Islamic Republic of Iran, has defied and broken this myth into tiny pieces and is currently in the process of just cleaning up the mess.
The same with Iran supporting and helping Syria when the Empire wanted to break the back of Syria, Iran did not falter, the same with Iraq, and Venezuela is the same; it is a friend, and in need, on account of the crimes of the US regime.
It will break the trade embargo both on itself and on Venezuela and will engage in open and free trade with Venezuela, and the US can make all the threats it wants to, but the US also knows the consequences of its threats.
The very fact that the US has done nothing except watch helplessly as the tankers arrive into Venezuela is testimony to the fact that the Empire is now dead. The US regime knows if it touches - and it has been told this clearly - if it touches even one flake of paint on the Iranian tankers, then what happened in Ain al-Assad will be a "pleasant memory".
We should remember, that one of the first times that the Empire tried to crush Islamic Iran, was the so-called "Operation Eagle Claw" (or the failed Tabas expedition.)
The US regime tried to break into Iran, and "liberate" its spies and criminals that had been arrested (but were being treated with great humanity and decency) in the liberated Den of Spies (formally the US embassy) in Tehran.
Many people got scared when they heard that the US was undertaking a military operation to "free" its spies. What was Imam Khomeini's answer to this event?
Did He not make their stratagems go awry, and send against them flocks of birds pelting them with stones of shale, thus making them like chewed-up straw?
This is the secret, the key to the victory of the Islamic Revolution, and the persona of Imam Khomeini, may the blessings and peace of God be upon his pure soul.
The people of Iran, and indeed the free people across the world, know that Imam Khomeini was like this, that he only worked for the pleasure of Allah, of God, and to help the people, and take them out of the darkness of occupation by the tyrants and despots, and into the light of being aware and being with God, the Most Sublime.
This is why, the people of Iran, and the free people of the world, as long as they remember this, will remain loyal to the Truth and will be following the path set by Imam Khomeini, which is the same as the path of Imam Husayn in Kerbala, standing against the tyrants, which is the same as the path of Prophet Muhammad (PBUH), standing against the occupation of humanity by the devils in human form.
Indeed, this is the same path as all the divine prophets of history, mentioned in the Torah, the Bible and the Holy Quran.
This core component of Imam Khomeini's personality, his reliance on God, was something that has permeated the entirety of society, not just in Islamic Iran, but across the entire globe, this rejection of tyranny, this understanding that the tyrants and despots, that the Emperor and Empires are little more than paper tigers, and cannot withstand the word of truth spoken against them.
We can see evidence of this through history, and in our time, such that the despots attempt to silence countless people who speak the Truth, be it the African American person standing up to the stormtroopers of the US regime, killing their brethren in cold blood, or the child in Palestine, in Kashmir or Yemen and elsewhere standing up to the troops armed to the teeth by the weapons of the Empire, who choose, and prefer to live free or accept the death of dignity, but who refuse to bend the knee to the despots and tyrants.
https://en.farsnews.ir/newstext.aspx?nn=13990314000668
------
Imam Khomeini refuted Imperialism, Marxism, Iran's envoy says
June 3,2020
IRNA – Iran's Ambassador to Russia Kazem Jalali said on Wednesday that Imam Khomeini refuted Imperialism and Capitalism in the west and Marxism in the east by founding Islamic Republic of Iran.
In a webinar on the Late Imam Khomeini's Thoughts on International Affairs attended by thinkers from Iran, Argentina, Russia, Belarus, Armenia and Kazakhstan, Jalali said that before the Islamic Revolution in Iran, the world was divided into two blocks: Capitalism in the west that considered religion as an individual matter that cannot participate in the society and government and Marxism in the east that believed religion was opium for the public.
Iranian diplomat went on to elaborate that with the Islamic Revolution in Iran, Imam Khomeini proved, firstly, that not only religion wasn't a tool for silencing the society, but also it can work as a motive for a revolution; and, secondly, by introducing a religious democracy, he showed that religion has a capacity for running the country.
Jalali also said that Imam Khomeini didn't oppose latest human achievements as he accepted the 'separation of powers' as useful for governing.
The webinar was held to commemorate Imam Khomeini on the anniversary of his demise on June 3, 1989.
https://en.irna.ir/news/83810045/Imam-Khomeini-refuted-Imperialism-Marxism-Iran-s-envoy-says
-------
Imam Khomeini shattered superpowers' aura of invincibility: Leader
June 3, 2020
AhlulBayt News Agency (ABNA): in a televised address to the nation, Ayatollah Khamenei paid homage to the late revolutionary leader and recounted his legacy.
The Leader recalled how Imam Khomeini (God's mercy upon him) also transformed the people's attitude towards the so-called superpowers and their presumed invincibility to the point that the then US rulers acknowledged that the Imam had "humiliated" them.
"At that time, no one assumed that anything could be done contrary to what the US willed. Imam Khomeini proved that superpowers are not invincible. We witnessed what happened to the Soviet Union. And today we are watching the US and see what is transpiring there," Ayatollah Khamenei said, adding Imam Khomeini (God's mercy upon him) taught the masses how these big powers can be overcome.
Commenting on the massive public protests that have swept the United States in recent days, the Leader said the "cold-blooded" murder of an African American by a white pole officer in Minneapolis exemplified the US's overall "behavior and essence" that has manifested itself in Washington's atrocities throughout West Asia and elsewhere in the world.
From a young age, Imam Khomeini would advise in favor of "rising up in the path of God," Ayatollah Khamenei noted, and reminisced how the late leader would invoke "spiritual revolution" among people through his speeches.
Imam Khomeini thus managed to eventually bring about "change across the whole Iranian nation," and prompted the people to abandon the spirit of lethargy and capitulation in the face of oppression, the Leader stated.
Imam Khomeini also caused the nation to abandon its feelings of self-deprecation and consider itself entitled to self-esteem, and extended the nation's attitude towards religion beyond a simply personal matter, Ayatollah Khamenei remarked.
The revolutionary attitude is still alive today, said the Leader, citing the country's scientific and defensive achievements and noting that Iran has attained the "deterrent status" thanks to its defense power.
The Leader then underlined the importance of continued pursuance of change as a means of betterment, and proceeded to name some instances of desired change in various arenas.
Across the social sphere, the Leader sternly warned against allowing the population's median age to rise.
https://en.abna24.com/news//imam-khomeini-shattered-superpowers-aura-of-invincibility-leader_1043018.html
------
Imam Khomeini defines independence, Russian philosopher says
Jun 3, 2020
IRNA – The head of Institute of Philosophy of Russian Academy of Sciences said that Imam Khomeini showed the world how to make a country and government independent of the big powers.
Speaking in the international webinar held by the Iranian Embassy in Russia, Andrey Smirnov said that Imam Khomeini stressed independence of countries from the West and the East.
Smirnov said that the West tries to expand its dominance over the world and remove any obstacle in their path, that's why they are trying to destroy the Islamic Revolution.
But Iran opens its way on its own. Of course it doesn't mean that Iran is alone; it has a lot of friends in the world, he added.
Iran doesn't follow other countries' economic methods; it has its own model, which infuriates some other countries, he added.
https://en.irna.ir/news/83810022/Imam-Khomeini-defines-independence-Russian-philosopher-says
-----
Imam Khomeini's teachings bases of domestic, foreign policies of Iran
Jun 3, 2020
Beijing, June 3, IRNA – Iran's ambassador to China said on Wednesday on the 31st anniversary of Imam Khomeini's demise that Imam Khomeini believed in mutual respect and equity in foreign policy, which is the base of Iran's diplomacy too.
Mohammad Keshavarzzadeh said in a ceremony in the presence of Chinese intellectuals that mutual respect is accepted by all countries, but a few countries suffer "delusions of grandeur", which is seen in their political literature and stances.
Keshavarzzadeh said that based on their economic development, they think that they are the superior race, while all their wealth comes from exploitation of other countries. And that's why they try their best to keep other countries away from advanced technologies.
You see how the White House is trying to throw a spanner in the works of Iran's peaceful nuclear program, while the US owns the biggest nuclear arsenal in the world, he said.
He added that Imam Khomeini believed that the US was interfering in Iran's domestic affairs under Shah's rule and didn't let the Iranians decide their own fate, an example of which was the toppling of the democratically-elected government of Iran in 1953.
He said Imam Khomeini's teachings involved "self-confidence", meaning that if a country becomes independent and struggles for its goals, it will definitely reach its goals.
Iran' advances in nano technology, nuclear science, biotechnology, and other fields, also Iran's sending tankers to Venezuela without being afraid of the US sanctions and hitting the invading US stealth drone wouldn't have been possible without Imam Khomeini's teachings.
https://en.irna.ir/news/83810002/Imam-Khomeini-s-teachings-bases-of-domestic-foreign-policies
-----
South Asia
Security Organs Called to Account for Kabul Mosque Attack
By Khalid Nikzad
YESTERDAY - 6:36 PM
The Ministry of Interior has pledged to share the outcome of its investigation into the attack as soon as possible.
Critics and citizens in Afghanistan on Wednesday voiced strong criticism about the security strategy of the Afghan security institutions hours after a bomb exploded inside Wazir Akbar Khan mosque, which is located in a highly fortified area of Kabul. At least two people were killed, including the mosque's imam Mohammad Ayaz Niazi, and eight others were wounded.
The explosion happened at Wazir Akbar Khan mosque in downtown Kabul on Tuesday evening, according to a statement by the Ministry of Interior Affairs.
"I saw the honorable Dr. (Ayazi) falling on the ground, I became despondent and lost my strength," said Faqir Mohammad, an eye witness.
"What kind of security is this? The security organs should feel shame, they must die," said Tahir Khan, a resident in Kabul.
"The Minister of Interior said that he will fire district police chiefs if a high profile resident is assassinated, but why has he not fired the PD10 police chief?" asked Noor Rahman, a resident in Kabul.
"This indicates the weakness of the security institutions and poor management of the Ministry of Interior and all the people are aware of it," said Zia Yaftali, a member of parliament.
"It is very shameful when an attack on such a scale happens only two kilometers away from the presidential palace. The minister of interior and the district police chief should step down," said Abdul Qader Farooqi, a resident in Kabul.
He graduated from Al-Azhar University in Cairo, Egypt, and specialized in the study of Islamic economy. He also earned a doctorate in international relations in Islamic jurisprudence.
After he returned from Egypt, he started as a professor at Kabul University and also was an imam at Wazir Akbar Khan mosque.
https://tolonews.com/afghanistan/security-organs-called-account-kabul-mosque-attack
-----
Reactions to Imam's Death in Kabul Mosque Attack
By Tamim Hamid
YESTERDAY - 5:31 PM
President Ghani has assigned a six-member delegation to investigate the incident.
President Ashraf Ghani on Wednesday at a ceremony in Kabul paid tribute to Wazir Akbar Khan Mosque's imam, Mohammad Ayaz Niazi.
On Tuesday evening an explosion at Wazir Akbar Khan Mosque in downtown Kabul left two dead including Niazi and eight others wounded, according to a statement by the Ministry of Interior Affairs.
Ghani at the ceremony said that the Ulema, the academic community--especially students of Kabul University who were students of Niazi--are "all mourning today."
President Ghani called on the Taliban to remain committed to the ceasefire and to help build concrete steps for intra-Afghan talks.
Let the ceasefire that brought hopes among the people during the Eid-ul-Fitr continue, and distance yourself from the violent extremism to help kickstart intra-Afghan talks as soon as possible," the palace said in a statement, quoting Afghan President Ashraf Ghani.
He also assigned a six-member delegation led by Abdul Hakim Munib, acting minister of hajj and religious affairs, to investigate the incident, says the Presidential Palace in statement.
He graduated from Al-Azhar University in Cairo, Egypt, focusing on Islamic economy and had a doctorate in international relations from the perspective of Islamic jurisprudence.
Former Afghan president Hamdi Karzai paid his respects to Niazi at Sardar Mohammad Daoud Khan hospital in Kabul and called him a "great" religious scholar and "patriot."
US Chargés d'Affaires Ross Wilson in a tweet condemned the "terrorist attack" against the Wazir Akbar Khan mosque, saying that "houses of worship are refuges of prayer and love, not violence and death."
"I strongly condemn the despicable attack on the Wazir Akbar Khan Mosque in Kabul. Attacks on sites of prayer and public gatherings are unacceptable. Afghans deserve to live in peace and safety. NATO stands with the Afghan people in the fight against terrorism."-NATO Senior Civilian Representative to Afghanistan Stefano Pontecorvo said.
No group has claimed responsibly for the attack. The Taliban condemned the explosion and the group called the attack a "big crime."
Abdullah Abdullah, head of the High Council for National Reconciliation in a tweet said: "criminal terrorists struck once again at a towering religious figure in our country. They view great religious scholars as a major threat against their extremist ideology."
"It is terrible to hear about the martyrdom of Dr Mohammad Ayaz Niazi in a terrorist bombing inside Wazir Akbar Khan Mosque. Terrorists killed him, but they can never wipe out his legacy of true religious scholarship and practice," said Abdullah.
Also, the ulema has gathered in northern Takhar province and condemned the attacked and called it "an organized attack," adding that the current situation is not "acceptable for the Ulema."
https://tolonews.com/afghanistan/reactions-imams-death-kabul-mosque-attack
------
Afghanistan reports 758 new cases, 23 new deaths from coronavirus
03 Jun 2020
Microscopic illustration of the spreading 2019 corona virus that was discovered in Wuhan, China. The image is an artisic but scientific interpretation, with all relevant surface details of this particular virus in place, including Spike Glycoproteins, Hemagglutinin-esterase, E- and M-Proteins and Envelope.
The public health authorities recorded 758 new positive cases of the novel coronavirus across the country, the Ministry of Public Health said.
According to Ministry of Public Health data, the addition of new cases inrease the tally to 17,267 since the outbreak of the virus in the country.
The authorities recorded 332 of the new cases in Kabul, 216 in Herat, 54 in Kandahar, 52 in Balkh, 48 Jawzjan, 19 in Logar, 11 in Kunar, 11 in Faryab, 5 in Nuristan, 5 in Badakhshan, 3 in Nangarahr and 2 in Samanagan province.
The ministry also added that 8 people died of the virus in Kabul, 4 in Herat, 3 in Panjshir, 2 in Ghazni, 2 in Parwan, one in Kandahar, one in Baghlan, one in Samangan and one in Khost province.
Meanwhile, the ministry said a total of 78 people recovered during the same period and a total of 1,522 people have fully recovered so far.
https://www.khaama.com/afghanistan-reports-758-new-cases-23-new-deaths-from-coronavirus-08889/
------
14 civilians killed, wounded in a roadside bomb explosion in Kandahar
03 Jun 2020
A roadside bomb explosion killed at least 9 civilians in southern Kandahar province of Afghanistan, the local security officials said.
Jamal Barekzai, a spokesperson for Kandahar Police Headquarters, said the incident took place earlier today in Khosh Rod Village of Arghistan district.
Barekzai further added that the explosion ripped through a civilian vehicle which also wounded at least 5 others.
No individual or group has so far claimed responsibility for the incident but the security officials blame Taliban for the explosion.
The anti-government armed militants frequently use improvised explosive device as the weapon of their choice to target the security forces.
However, majority of such attacks inflict casualties on ordinary civilians.
https://www.khaama.com/14-civilians-killed-wounded-in-a-roadside-bomb-explosion-in-kandahar-08888/
------
Bangladesh urges trading partners for responsible business conduct
June 04, 2020
Bangladesh has urged its trading partners to practice responsible business conduct during the coronavirus pandemic that is rattling the global economy, mostly the developing countries.
"It is no time for economic or trade protectionism. LDCs should be given their previously committed market access," said Ambassador Rabab Fatima, permanent representative of Bangladesh to the UN in New York.
Addressing a virtual meeting on "SDG Financing in the era of Covid-19 and beyond" yesterday, she highlighted the challenges of the disrupted global supply chain and its devastating impacts on exports in countries like Bangladesh where factory workers are losing jobs on a large scale.
Mentioning the pandemic as a global health as well as an economic and social crisis, she told participants that the consequences would be borne by the peoples and economies of the vulnerable countries for years to come.
The SDG implementation plans in many countries are on hold as they are diverting their limited resources to meet emergency health needs as well as to expand social protection system, she said.
Referring to the fall in remittance and the challenge of managing the return of migrant workers for countries like Bangladesh, Fatima said migrants are facing health, socio-economic and protection crisis.
She called upon the migrant destination countries to ensure the rights of migrants and to keep them in their respective response and recovery plans.
The PR informed the meeting that the Bangladesh government has announced a $12.1 billion stimulus package, which is 3.7 percent of its GDP, for various sectors of its economy as well as support measures for different groups.
She underscored the need for a stronger global solidarity and cooperation to overcome this unprecedented crisis and said equitable access to finance will also be a vital step to ensure resilient and sustainable recovery from Covid-19.
"Private creditors as well as the idle private capital should be incentivised for investment in the vulnerable developing countries."
Fatima also called for more vigorous efforts to finance climate actions, which will support the vulnerable countries in building better resilience against any future disaster.
https://www.thedailystar.net/country/bangladesh-urges-trading-partners-responsible-business-conduct-1908769
-----
BCB director Nadel recovers from coronavirus
June 04, 2020
Bangladesh Cricket Board (BCB) Director and Awami League's Organizing Secretary Shafiul Alam Chowdhury Nadel, who tested positive for coronavirus on May 21, has recovered after remaining in isolation for two weeks. Nadel, whose test on Wednesday came out negative, mentioned that he was never terrified and has always remained mentally strong while fighting the disease.
"Yesterday my test came out negative. I have recovered from coronavirus," said a delighted Nadel to The Daily Star.
Nadel also mentioned that he never had any severe symptoms.
"I actually never had any telling symptoms. I had slight fever and a sore throat. I did not face any more trouble during the isolation. But I do wonder how much antibody my body has created," said Nadel.
Nadel mentioned how important it is to stay strong mentally to recover from this virus.
"I was never petrified after being tested positive. I was strong mentally. Many people also called and asked me to stay strong. Starting from BCB president to almost everyone called and enquired about my health. Actually it is very important to stay mentally strong during this period," concluded Nadel.
https://www.thedailystar.net/sports/bangladesh-cricket/news/bcb-director-nadel-recovers-coronavirus-1908809
------
Southeast Asia
New Normal; Jakarta MUI Issues Fatwa on Friday Prayer
Laila Afifa
3 June 2020
TEMPO.CO, Jakarta - The Indonesian Ulema Council (MUI) of the Jakarta region has issued an edict or fatwa stating that Friday prayer can be carried out in two groups during the coronavirus or Covid-19 pandemic as the city will enter a new normal era.
The regional council head KH Munahar Muchtar said the fatwa is released to abide by the physical distancing order, in which a mosque's capacity must be at 40 percent from its normal capacity at maximum. Thus, the council fears people could not attend the mass weekly prayer.
"It is permissible to be applied in an emergency period (mosques can no longer accommodate congregations). But mosques in Jakarta have a large capacity, they also have vast fields," said Muchtar to Tempo on Wednesday, June 3.
In addition, Friday prayer can be offered in praying rooms or mushalla, halls, fields, and other appropriate places in order to divide congregations who normally flock in large mosques. "We refer to four mazhab (Islamic schools of thought)," said Muchtar.
Even though the location for the prayer is eased, Muchtar reminded the prayer's main requirements such as sermons and the number of congregations should be at least 40 people.
Muchtar added that MUI Jakarta has notified the fatwa to the city administration, hoping the upcoming Friday prayer can be held at mosques.
https://en.tempo.co/read/1349340/new-normal-jakarta-mui-issues-fatwa-on-friday-prayer
-----
Jakarta Disinfects Istiqlal Mosque, Cathedral Church
Laila Afifa
3 June 2020
TEMPO.CO, Jakarta - Jakarta's Fire and Rescue Department (Gulkarmat) disinfected the Istiqlal Mosque and the Jakarta Cathedral on Wednesday, June 3. The service was carried out as an effort to break the chain of Covid-19 transmission.
Gulkarmat head Satriadi Gunawan said they used 12 units of disinfection equipment. Thirty-two officers comprising the military, the police, Satpol PP and staff members of the Transportation Office conducted the disinfecting.
"We hope that the spraying of disinfectant will break the chain of Covid-19 spread," Satriadi said in a written statement, Wednesday.
The Jakarta Fire and Rescue Department routinely disinfects public areas as mandated by Governor Decree no.462/2020 on the Acceleration of Jakarta's Covid-19 Mitigation.
https://en.tempo.co/read/1349332/jakarta-disinfects-istiqlal-mosque-cathedral-church
-----
Malaysian youths being lured by syndicates with high-paying overseas jobs, warns MCA
03 Jun 2020
By MARTIN CARVALHO
KUALA LUMPUR: Young Malaysians are being lured on social media by offers of high-paying jobs abroad by illegal syndicates, warns Datuk Seri Michael Chong.
"We had 21 such cases last year and five so far this year, mainly involving young Malaysian women," said the MCA Public Services and Complaints Department head.
"They were recruited by syndicates who are now turning to social media to offer jobs with high-paying salaries in US currency with promises of holiday-like work conditions," he told reporters at a press conference at Wisma MCA here on Wednesday (June 3).
He said most of the cases involved young women in their early 20s who were duped into taking jobs in South Korea, China and several other Asian countries.
He added the victims end up being arrested for suspected illegal money laundering activities by the police after about three months.
"It is a double con job as agents of the syndicates will contact the families and 'introduce' a 'lawyer' to get their children out of jail.
"The families end up paying a lot of money to the so-called lawyer but get no help in the end," he said, adding that one family ended up paying about RM100,000 in bogus legal fees.
In the latest case, Chong said a 23-year-old man is currently being held for ransom by a syndicate in the Philippines who demanded RM10,000 from the victim's family for his release last week.
Chong advised victims and their families to contact the respective Malaysian embassies or consulates in the country where they are being detained.
MCA Youth chief Nicole Wong Siaw Ting reminded young Malaysians not to fall victim to such syndicates, especially those desperate to find employment in light of the current economic situation.
"My worry is that we will see an increase in such cases as this may be the new norm with syndicates turning to social media to dupe young Malaysians," she said.
She called on victims and their families not to remain silent but to reach out to MCA or the authorities here for help.
https://www.thestar.com.my/news/nation/2020/06/03/malaysian-youths-being-lured-by-syndicates-with-high-paying-overseas-jobs-warns-mca
-----
Old gas cylinders seized from Islamic school in Songkhla
4 JUN 2020
SONGKHLA: Authorities have seized 27 old cooking gas cylinders from a religious school in Saba Yoi district, after local residents expressed fears they could be used for making bombs.
Col Pramote Prom-in, spokesman of the Internal Security Operations Command (Isoc)'s Region 4 Forward Command, said the empty steel cylinders were seized from Darulfrugon School in tambon Than Khiri on Wednesday afternoon.
Abdul-ashi Waelamae, an ustaz (islamic scholar) at the school, allowed the officers to take the 27 cylinders to Saba Yoi police station. He said the school had no hidden agenda in keeping them. They could not be returned to the supplier.
Abdullor Salae, kamnan of tambon Than Khiri, was present and witnessed the removal of the cylinders, Col Pramote said.
The seizure followed a complaint by nearby residents that a large number of cooking gas containers were being stored at the religious school. They feared the cylinders could be used as containers for bombs.
Isoc's Region 4 Forward Command earlier asked people who have steel cooking gas cylinders to replace them with potentially less lethal containers made from composite materials and less likely to be used by insurgents for making bombs.
https://www.bangkokpost.com/thailand/general/1929364/
-----
Arab world
Dubai imams, muezzins requested to undergo precautionary Covid-19 tests
Saman Haziq
June 4, 2020
Imams and muezzins of mosques in Dubai have been asked to undergo tests for Covid-19 coronavirus, Khaleej Times can confirm.
"We received a call from the authorities saying we had to undergo the test on Wednesday, which, of course, is a precautionary measure to ensure that all the employees of the mosques are fit and free from the virus," one of the imams confirmed.
"We are fully prepared to reopen the mosque as soon as we get the go-ahead. We have placed multilingual signboards spelling out the guidelines that must be followed at all times by the worshippers. Although all worshippers must get their own prayer mats when they come to pray, we have made arrangements to offer disposable prayer mats for those who forget to bring it," the Imam said.
Bright floor markers for physical distancing have been placed to indicate the distance that needs to be maintained between the worshippers, he added.
According to fresh instructions received by Imams, the first row will be reserved for the Imam. Worshippers will offer prayers in alternate rows after that, with physical distancing floor stickers guiding them to remain at least 1.5 metres apart.
Last week, some mosques in Dubai displayed copies of notices of detailed guidelines that worshippers must adhere to once the authorities announce the opening up of mosques. The guidelines issued by the Islamic Affairs and Charitable Activities Department specified measures like wearing a mask and gloves while praying; worshippers having to bring their own prayer mats; and maintaining a 1.5m distance between individuals.
According to the guidelines, women's prayer halls will remain closed while people above 60 and children below 12 years will not be allowed in for their safety.
https://www.khaleejtimes.com/coronavirus-pandemic/dubai-imams-muezzins-requested-to-undergo-precautionary-covid-19-tests
-----
UAE strongly condemns terror attack at mosque in Kabul
04-06-2020
ABU DHABI, 4th June, 2020 (WAM) -- The UAE has strongly condemned the terror attack that targeted a mosque in the Afghan capital Kabul, resulting in numerous deaths and injuries.
In a statement on Thursday, the Ministry of Foreign Affairs and International Cooperation expressed its utter denunciation of these criminal acts and its rejection of all forms of violence, which aim to undermine security and stability and contravene all religious and human values and principles.
The ministry also expressed its sincere condolences to the families of the victims of this heinous crime, while wishing a speedy recovery to the injured.
http://wam.ae/en/details/1395302846221
-----
OIC strongly condemns bombing of a mosque in Kabul
04 Jun 2020
Jeddah, June 4 (BNA): The Organization of Islamic Cooperation (OIC) General Secretariat strongly condemned the bombing of a mosque in the Afghan capital, Kabul, which resulted in deaths and injuries.
The OIC offered its condolences to the families of the victims, government and people of the Republic of Afghanistan, expressing its wishes for the speedy recovery of the injured, Saudi Press Agency (SPA) reported.
The organization renewed its support for Afghanistan, and its firm position of rejecting extremism and terrorism in all forms.
https://www.bna.bh/en/OICstronglycondemnsbombingofamosqueinKabul.aspx?cms=q8FmFJgiscL2fwIzON1%2bDiUwxfi6zu8b9U7iBvPKimc%3d
-----
Saudi's Qassim prepares over 200 mosques for Friday prayers
June 04, 2020
DUBAI: Islamic authority in Qassim region have approved 205 mosques to perform Friday prayers according to new regulations, state news agency SPA reported.
The first call to prayer will be announced 20 minutes earlier, and khutbas – religious address delivered by the imam – to last at maximum for 15 minutes.
Mosques across the Kingdom, except for those in Makkah, have opened their doors to worshippers on Sunday, May 31, as coronavirus restrictions ease.
Last week, Saudi Arabia's Minister of Islamic Affairs Sheikh Abdullatif Al-Sheikh called on Muslims to respect ongoing safety measures inside mosques, such as bringing their own prayer mats, wearing masks and washing hands prior to entering the vicinities.
Al-Asheikh said preventative measures will remain in place to ensure a safe return of worshipers to mosques for Friday prayers from May 31 until June 20.
https://www.arabnews.com/node/1684571/saudi-arabia
-----
Qatar condemns mosque bombing in Kabul
June 03 2020
The State of Qatar voiced its strong condemnation and denunciation of the bombing which targeted a mosque in the Afghan capital of Kabul, leaving one dead and others injured.
In a statement on Wednesday, the Ministry of Foreign Affairs reiterated the firm position of Qatar on rejecting violence and terrorism, regardless of motives and reasons.
The statement expressed the Qatar's condolences to the family of the victim and to the government and the people of Afghanistan, wishing the injured a speedy recovery.
https://www.gulf-times.com/story/664739/Qatar-condemns-mosque-bombing-in-Kabul
------
India
Delhi riots: Police to file two more chargesheets
Written by Somya Lakhani | New Delhi | Published: June 4, 202
The Crime Branch of the Delhi Police is set to file two more chargesheets in cases pertaining to northeast Delhi riots that took place in February.
The police investigation in the murder of brothers Hashim Ali and Amir Ali on February 26 night in northeast Delhi's Johripur has found that "during the peak rioting, a WhastApp group was created on the intervening night of February 25 and 26, which has 125 members".
According to the Delhi Police statement shared by Additional PRO Anil Mittal Thursday morning, "two active members of the WhatsApp group were located and joined in the investigation. During the investigation, their mobile phones were scanned and the specific WhatsApp group created on February 25 was also identified".
The police claim that during the investigation, "it was revealed that while some members of these groups were only sending and receiving chats, few others were involved in active rioting".
In the statement, Delhi Police also claim that "around 9.40 am on February 27, three dead bodies were recovered" from the area, and "one body was found on the same day around 4 pm from Johripur nallah". On the basis of eyewitness accounts and technical evidences, nine people were arrested for the murder of Hashim, and 11 were arrested for the murder of Amir.
The statement further states: "Both the deceased were real brothers who were murdered on February 26 between 9 pm and 10 pm. All the accused persons are presently in judicial custody. Their several bail applications have been rejected."
On Thursday, the Crime Branch will also file a chargesheet in the murder of Dilbar Negi, who used to work at Anil Sweet shop in Shiv Vihar.
The brief statement shared by the Delhi Police Thursday morning added, "At about 3 pm, a mob of Muslim community came from Brijpuri Pulia side and started rioting. The rioting mob targeted the properties of Hindus i.e. Anil Sweets, Anil Dairy & Pastry shop, book shop, DRP school, and godown of Anil Sweet shop, by torching them till late night and the mob of the same rioters community remained dominant till late night."
The statement also mentions that, in the meantime, "one Rahul Solanki of Mahalaxmi Enclave was also shot dead late evening. In close proximity, as many as 12 cases of rioting, arson, and murder were registered."
The statement says that Negi "on the fateful day had gone to the godown of Anil Sweet shop for lunch and to rest. He could not be located till late night. The riots continued on February 25. On February 26 afternoon, local police of Gokalpuri police station came to know about the dead body of a male person at the godown of Anil Sweet shop."
Police claim that the body was charred and was later identified as Negi's. In the note, the police claim that "available CCTV footage was collected, as most of the CCTV cameras in close proximity had been destroyed by the rioters. The CDRs of the witnesses and suspects were analysed and on the basis of eye-witness accounts and technical evidences, 12 accused persons were arrested." Police said that accused persons had applied for bail several times "which were opposed on the merits, hence dismissed… all the accused persons are presently languishing in judicial custody."
https://indianexpress.com/article/cities/delhi/delhi-riots-police-to-file-two-more-chargesheets-6442483/
-----
Migrants, Tablighis form 60% case load in Uttar Pradesh
Jun 04, 2020
by Avaneesh Mishra
Nearly 60 per cent of the coronavirus case load in Uttar Pradesh is made up of migrant workers and Tablighi Jamaat members and their contacts, according to the data released by the state Health Department.
As per Wednesday's bulletin, 2,798 (31.5 per cent) of the total 8,870 positive cases are Tablighi Jamaat members and their contacts, while 2,466 (27.8 per cent) are the inter-state migrants who returned to the state amid the nationwide lockdown. They together constitute 59.34 per cent cases of the state. The remaining nearly 40 per cent, according to the state health officials, are made of foreign travellers who tested positive in the month of March and first week of April, and those who got infected through in hospitals in several parts of the state.
A quick look of the state government's released data shows that in the last one week, 490 new cases were linked to Tablighi Jamaat members. In the same period, 646 inter-state migrants tested positive.
Notably, the government had recently submitted to the Allahabad High Court that there is no Tablighi Jamaat member at any of its quarantine centres in the state at present, and all have been released and sent home. As per the government's submission, a total of 325 foreign Tablighi Jamaat members were quarantined in the state. Out of them, 46 were sent back to their countries, while 279 are lodged in jail, it said. "One Indian national Tablighi Jamaat member is still undergoing treatment for Covid at the district hospital in Mirzapur," the document that was submitted to the court on May 30 added.
The state recorded 141 fresh cases of coronavirus in the past 21 hours. Bulandhshahr reported the maximum – 19 cases – followed Hardoi 16 and Jaunpur 10.
Claiming that the state has been making all efforts to contain the pandemic, Chief Minister Yogi Adityanath earlier said that over 4 crore people have been screening in the state, and that more than 78.86 lakh houses have been surveyed by 1 lakh teams.
Principal Secretary (Health) Amit Mohan Prasad said that more than 3 lakh Covid tests have been conducted and the state capacity of testing has reached close to 10,000.
https://indianexpress.com/article/india/migrants-tablighis-form-60-case-load-in-uttar-pradesh-6441873/
-----
4 Dalits Killed in 4 Days in Tamil Nadu, Activists Say Upper Castes Using Lockdown as Opportunity for Assaults
May 12, 2020
TDN World Desk: Covid lockdown has manifolded the distress of the oppressed Dalits in Tamil Nadu. Since first phase of lokdown, which began on mrach 25, more than 30 major incidents of caste-based violence occured in the state, as claimed by Madurai-based NGO Evidence.
As reported by News 18, in last four days only four dalits were killed. Caste-based violence has also incresed and the culprits are roaming free as court has ruled that the accused need not to attend the hearing due to coronavirus lockdown.
Kathir, who is executive director of Evidence group, told media, "In a lot of incidents, there are 40-50 people attacking in groups. How is this possible in a lockdown?"
"In the last four days, four Dalits have been murdered. Honour killings, group attacks, murders, rape and harassment have all happened. They say domestic violence has increased in the society. Caste-based violence has also increased now, and the victims are not even able to complain properly due to the lockdown. Under SC/ST Prevention of Atrocities Act, if the accused moves for bail, they have to intimate the victim. The High Court has now said accused don't need to appear because of the virus. Now people are using this in their favour and moving for bail. Government should take a policy decision on this."
The evidence group claimed that four particular cases of murder took place against the Dalits and lower-castes in just four days.
M Sudhakar who hailed from Morappanthangal village in Arani, was murdered on March 29. Sudhakar belonged to the Oddar caste. His ofence was to love his love a girl who belonged to the Vanniyar caste. Two accused, including the woman's father have been arrested in the case.
On May 8, three dalits were murdered. Two in Udayakulam village in Tuticorin.On the same day in Salem, Vishnupriyan, a Dalit, was murdered by upper caste groups, Evidence says.
In Nilakottai the upper-caste people have boycotted the Dalits community saying they are not hygienic people. They people are in severe misery since most of them don't have bathrooms in their houses. Government latrines are not useable. They are forced to defecate in open space.
"They say TASMAC revenue hit Rs 175 crore on the first day it was opened. At least 80 per cent of that would have come through the poorest of poor people. They're people who struggle for food, so it's likely that the money is from loans. Two Dalits were murdered in Thoothukudi because of this. It's a cycle and it's all linked," says Kathir
http://www.tdnworld.com/news/india/4-dalits-killed-in-4-days-in-tamil-nadu-activists-say-upper-castes-using-lockdown-as-opportunity-for-assaults/
------
Pakistan
Virus kills two MPAs, infects over 4,770 in one day
June 04, 2020
Ikram Junaidi
ISLAMABAD: The novel coronavirus kept up its relentless surge on Wednesday, claiming the lives of one lawmaker each from the Punjab and Khyber Pakhtunkhwa assemblies and infecting a record 4,772 people in a single day. The total number of cases has now jumped to 83,247.
In yet another worrisome development, 16 employees of the Ministry of National Food Security and Research Development tested positive for Covid-19, leading to the closure of its offices for two days.
According to a document available with Dawn, the third and the fourth floors of Pak Secretariat's B block and the Shaheed-i-Millat secretariat shall remain closed on Thursday and Friday (today and tomorrow) for disinfection. The employees who tested positive have been told to quarantine themselves at their homes until they test negative.
But on a positive side, the highest number of tests — 17,310 — were conducted on Wednesday, lending credence to claims made by the National Command and Operation Centre (NCOC) about the country's improving testing capacity.
British High Commissio­ner Christian Turner met Dr Zafar Mirza, the Special Assistant to the Prime Minister (SAPM) on Health, on Wednesday to exchange views regarding the virtual Global Vaccines Summit being hosted by the United Kingdom on Thursday (today).
The summit is expected to raise seven billion pounds to ensure that when a vaccine for Covid-19 is developed, it is available to all countries,
The UK has pledged a record funding of £1.65 billion to GAVI, the Global Vaccine Alliance, which distributes vaccines in poor countries.
Dr Mirza said Pakistan would take part in the summit and thanked the High Commissioner for his country's help in fighting the novel coronavirus.
"I am pleased that the UK is co-hosting the Global Vaccines Summit to find a vaccine and to ensure that it is available to all. The UK and Pakistan are the best example of international friendship and it matters now more than ever.
"In Pakistan, we are repurposing our multi-million pound aid programme to help defeat this terrible virus and mitigate its impact," he said.
"We are looking forward to the development of a coronavirus vaccine and its equitable distribution to all countries. PM Khan has already given a call for 'people's vaccine' to be made available to all," Dr Mirza said.
Britain has so far pledged £764 million to end the coronavirus pandemic as quickly as possible. Prime Minister Boris Johnson committed a record funding of £250m at the Coronavirus Global Response Initiative the UK co-hosted last month to raise funds for vaccine research.
The deceased lawmakers were identified as Shaukat Manzoor Cheema, a PML-N MPA from Wazirabad in Punjab, and Mian Jamsheduddin Kakakhel, a PTI MPA from Nowshera.
Mr Cheema succumbed to the deadly coronavirus at the Pakistan Liver and Kidney Institute (PKLI), Lahore, whereas Mr Kakakhel in Islamabad.
The 68 year-old, three-time MPA from Wazirabad was a diehard PML-N worker and considered to be close to both Nawaz Sharif and Shahbaz Sharif.
Punjab Chief Minister Usman Buzdar expressed his deep sense of sorrow and grief over the death of Mr Cheema and expressed his heartfelt sympathy with the bereaved family.
Mr Jamsheduddin, who had also served as a provincial minister, was admitted to a private hospital in Islamabad after contracting coronavirus a few days ago. He was 66.
A family member of the deceased MPA said he tested positive for Covid-19 on May 28 after which he was admitted to the hospital and for three days he had remained on ventilator due to his precarious health condition.
Funeral of the deceased was held at Ziarat Kaka Sahib, which was attended by people in large number, including former federal minister Mian Muzaffar Shah, adviser to Chief Minister and MPA Khaliqur Rehman, other political figures and government officials. Mian Jamsheduddin was first elected to the KP Assembly in the 2013 general elections on a PTI ticket and had served as provincial minister for excise and taxation. He was again elected as MPA in the 2018 general elections.
Meanwhile, two more MPAs from the Khyber Pakhtunkhwa Assembly also tested positive for the coronavirus on Wednesday. Both the lawmakers belong to the Awami National Party (ANP).
https://www.dawn.com/news/1561127/virus-kills-two-mpas-infects-over-4770-in-one-day
------
American femme fatale Cynthia creates tumult in Pakistan
Jun 3 2020
Islamabad, June 3 (IANS): A new femme fatale has captured the imagination of Pakistani hoi polloi's consciousness.
American Cynthia D. Ritchie, claiming to be an adventurist, self-proclaimed filmmaker, journo and blogger, is front and centre of the new controversy.
Training with Pakistani female commandos in a black gear and shades (watch YouTube video), Ritchie, an American now living and reporting out of Pakistan, is reportedly close to the ruling establishment.
Reminiscent of David Coleman Headley, an American adopted by Pakistan's ISI, Ritchie is now caught in a violent political maelstrom.
Pakistani-American Headley, 59, is currently in an undisclosed US prison after pleading guilty in Chicago to a dozen terrorism counts and cooperating with authorities in the US and India. He is serving a 35-year sentence.
He admitted to numerous reconnaissance missions from Chicago to Mumbai for the purpose of surveying terrorist targets for the 26/11 Mumbai terror attacks. In the past, Headley broke down the role of Pakistan's ISI secret intelligence organisation and said the government agency was in cahoots with Lashkar-e-Taiba, a bloodthirsty Pakistani terror outfit which global most wanted Hafiz Saeed is said to have founded.
The Pakistan Peoples Party (PPP) has taken an antagonistic view of her utterances. The PPP filed an FIR against Ritchie for her alleged hateful comments against the late Benazir Bhutto.
PPP Peshawar district President Zulfiqar Afghani registered a case against the blogger from the US at the Gulbhar police station. It is obvious that the ruling establishment and the ISI in cahoots are using her as a stalking horse against the principal opposition party PPP.
Advocate Mehr Sultana, who is the Provincial Secretary Information of the PPP's women wing, has stepped into the cage match, asking the government to expel Ritchie for "hateful and slanderous comments" against former Prime Minister Benazir Bhutto.
In a statement on Tuesday, the PPP leader said that her review article against former PPP Chairperson and first female Muslim Prime Minister Benazir Bhutto was causing provocation and deep resentment among the leaders, workers and supporters of the party.
She said the conspiracies of Ritchie against PPP and pictures with Pakistani military representatives sent a negative message among the masses of the country.
Sultana said that Ritchie, who had introduced herself as a tourist, journalist and belly dancer, was interfering in the internal affairs by making such demeaning comments about Benazir Bhutto.
"Shaheed Benazir Bhutto is the name of an ideology as she had followed Bhutto footprints and rendered matchless sacrifice for the sake of people and democracy," Sultana added.
All hell broke loose last week when PPP filed a complaint with the Federal Investigation Agency's (FIA) cybercrime wing against Ritchie for "hateful comments and slander" against former Prime Minister Benazir Bhutto, reported Dawn.
Ritchie, in her tweet, had made some remarks which were "very derogatory and slanderous" about Bhutto and Asif Ali Zardari's marital life, according to the PPP lawyer.
Ritchie made the comment on a tweet discussing the recent violent confrontation between model Uzma Khan and a woman named Amna Usman, who accused the model of having a relationship with her husband of 13 years and used this allegation to justify her violent treatment of the model.
To buttress her point about the Bhuttos, Ritchie posted the front page of the book "Indecent Correspondence: Secret sex life of Benazir Bhutto". The book written by Roshan Mirza deals with the sexual adventures of some high-profile Pakistani women.
"These women engage/hire go-go boys for their sexual escapades... And strange enough that these women are not from a sexually-liberal country, but from a political dynasty of Pakistan," Mirza wrote.
http://www.daijiworld.com/news/newsDisplay.aspx?newsID=715521
------
Judicial commission completes APS massacre probe
June 04, 2020
PESHAWAR: A single-member judicial commission has completed probe into the 2014 Army Public School massacre and is likely to submit its report to the Supreme Court by the end of the current month.
"Peshawar High Court Justice Mohammad Ibrahim Khan of the judicial commission has recorded the statements of around 140 people, including injured students, parents of martyred students and the army and police officials, and examined the investigations conducted by the police and security agencies," focal person of the commission Imranullah Khan told reporters here on Wednesday.
During the in-camera proceedings here, some parents had also requested the commission to summon former prime minister Nawaz Sharif and former army chief General Raheel Sharif. However, the commission rejected the request declaring the appearance of the two before it is not necessary.
The commission was formed by the Peshawar High Court on Oct 12, 2018, on the Supreme Court's orders. It had become functional on Oct 19, 2018.
Among the key army officers, whose statements were recorded by the probe body, were former Peshawar corps commander Lt-General Hidayatur Rehman, then chairman of Army Public Educational Institutions (APEI) BoG Brigadier Mudassir Azam, officer of 102 Brigade, HQ-11 Corps, Brigadier Inayatullah, Major Dr Asim Shehzad of Army Medical Corps, and secretary of the BoG Colonel Hazrat Bilal.
The commission also recorded statements of some senior police officials, including former provincial police officers Salahuddin Mehsud and Nasir Durrani, former DIG of counterterrorism department Alam Shinwari, former home and tribal affairs secretary Syed Akhtar Ali Shah, former capital city police officer Ijaz Khan, former SP (cantonment) Faisal Shehzad and former SP (city) Mustafa Tanveer, and others.
The commission had sent a letter to the defence ministry on Feb 11, 2019, to ensure the appearance of eight army officers before it for recording statements in connection with the APS attacks, which killed 147 people, mostly students.
In Apr last year, it sent a reminder to the defence ministry seeking information about the dates on which those military officers will be available for the purpose.
The then Supreme Court chief justice, Mian Saqib Nisar, had taken notice of the matter in Apr 2018 during a visit to Peshawar when several parents of the APS students martyred by militants on campus had approached him with a request to address their grievances.
The parents questioned why proper security measures were not adopted after the National Counter Terrorism Authority had informed different provincial and federal authorities on Aug 28, 2014, that militants of the banned Tehreek-i-Taliban Pakistan would carry out attacks against the Army Public School and College and other educational institutions run by the Pakistan Army.
https://www.dawn.com/news/1561190/judicial-commission-completes-aps-massacre-probe
------
Shopping centres sealed in Peshawar for SOP violation
June 04, 2020
PESHAWAR: Several shopping centres were sealed in Peshawar on Wednesday for violating the standard operating procedures (SOPs) devised for checking the spread of coronavirus. In Upper Dir and Shangla, the administration sealed the general bus stands for not following SOPs set by the government.
According to a spokesman for Peshawar district administration, Sajid Khan, the action was taken as these shopping centres had been violating the rules while the restaurant was sealed for allowing customers in a large number in violation of the lockdown guidelines.
In addition, the district administration also took action against 138 people, including traders, for not wearing face masks in different bazaars.
Assistant commissioner Ubaidur Rahman Dogar visited Dir bazaars and general bus stand to examine if the shopkeepers and transporters were following the SOPs as they had promised with the government.
In Shangla, the district administration sealed two public transport stands at Bisham city for not adopting SOPs after easing the lockdown imposed after Covid-19 pandemic.
Deputy commissioner Imran Hussain Ranjha raided the bus stands and various shops to examine the situation. They sealed two of the bus stands for not taking precautionary measures against Covid-19 as after easing the lockdown the government had instructed owners of the bus stands and shopkeepers to adopt SOPs for tackling Covid-19.
Later, the deputy commissioner told mediapersons that they were going to further ease the lockdown, but for this the traders, fuel stations and all other private centres must follow the safety measures.
Also, assistant commissioners of all tehsils in Shangla distributed face masks among people to create awareness of the virus threat among them.
In Lakki Marwat, the administration officials called upon traders to wear masks and ensure implementation of Covid-19 precautionary measures. The instructions were issued during separate meetings chaired by assistant commissioner, Lakki, Nadir Shahzad and additional assistant commissioner, Naurang, Aminullah Khan here on Wednesday.
The administration officials sensitised the businessmen to the preventive steps and SOPs issued by the government to control spread of coronavirus.
Mr Shahzad said that the government had allowed traders to open their businesses by implementing the SOPs, therefore they should fulfil their responsibilities.
dawn.com/news/1561180/shopping-centres-sealed-in-peshawar-for-sop-violation
------
Balochistan bans sharing information about Covid-19 patients
June 04, 2020
QUETTA: The government of Baloc­histan on Wednesday decided to ban sharing personal information of Covid-19 positive patients.
"Unfortunately, the Covid-19 patients are facing discrimination because their names and other personal information are being shared on social, print and electronic media who along with dealing with the infection also have deal to with added mental stress," said Rubaba Buledi, Parlia­mentary Secr­etary for Health.
As a result, many people are avoiding testing for the virus despite showing symptoms, she added.
"Therefore, hospitals and testing laboratories have been directed to not share personal information of patients in Balochistan because we are receiving complaints especially from rural areas of leaking personal information of female patients," Buledi said.
Covid-19 causes mild or moderate symptoms for most people. For some, especially older adults and people with existing health problems, it can cause more severe illness or death.
https://www.dawn.com/news/1561135/balochistan-bans-sharing-information-about-covid-19-patients
-----
Shopping centres sealed in Peshawar for SOP violation
June 04, 2020
PESHAWAR: Several shopping centres were sealed in Peshawar on Wednesday for violating the standard operating procedures (SOPs) devised for checking the spread of coronavirus. In Upper Dir and Shangla, the administration sealed the general bus stands for not following SOPs set by the government.
According to a spokesman for Peshawar district administration, Sajid Khan, the action was taken as these shopping centres had been violating the rules while the restaurant was sealed for allowing customers in a large number in violation of the lockdown guidelines.
In addition, the district administration also took action against 138 people, including traders, for not wearing face masks in different bazaars.
Assistant commissioner Ubaidur Rahman Dogar visited Dir bazaars and general bus stand to examine if the shopkeepers and transporters were following the SOPs as they had promised with the government.
In Shangla, the district administration sealed two public transport stands at Bisham city for not adopting SOPs after easing the lockdown imposed after Covid-19 pandemic.
Deputy commissioner Imran Hussain Ranjha raided the bus stands and various shops to examine the situation. They sealed two of the bus stands for not taking precautionary measures against Covid-19 as after easing the lockdown the government had instructed owners of the bus stands and shopkeepers to adopt SOPs for tackling Covid-19.
Later, the deputy commissioner told mediapersons that they were going to further ease the lockdown, but for this the traders, fuel stations and all other private centres must follow the safety measures.
Also, assistant commissioners of all tehsils in Shangla distributed face masks among people to create awareness of the virus threat among them.
In Lakki Marwat, the administration officials called upon traders to wear masks and ensure implementation of Covid-19 precautionary measures. The instructions were issued during separate meetings chaired by assistant commissioner, Lakki, Nadir Shahzad and additional assistant commissioner, Naurang, Aminullah Khan here on Wednesday.
The administration officials sensitised the businessmen to the preventive steps and SOPs issued by the government to control spread of coronavirus.
Mr Shahzad said that the government had allowed traders to open their businesses by implementing the SOPs, therefore they should fulfil their responsibilities.
dawn.com/news/1561180/shopping-centres-sealed-in-peshawar-for-sop-violation
------
10 doctors, MNA test positive for Covid-19
June 04, 2020
TOBA TEK SINGH: Five more doctors of public hospitals in the district were detected as Covid-19 positive on Wednesday, of them two are women doctors.
Deputy District Officer Health Dr Kashif Bajwa told reporters that swabs of three doctors of Gojra THQ were sent to the public health laboratory which tested positive. They have been quarantined in their homes in Gojra.
He added that DHQ hospital's gynae ward's two female medical officers had also tested positive. Two more doctors on general duty in the hospital had come under Covid-19 spotlight. Also, a Pirmahal tehsil headquarters hospital medical officer who tested positive was already in quarantine in his home and toll of Covid-19 positive doctors had reached to six in the district.
Senior health department officials told reporters that the three doctors were deputed at the gynae ward of the hospital. These doctors have been quarantined in their houses for their treatment under the supervision of Sialkot health department, the officials added.
The hospital management said the corona tests of all the senior and junior doctors and paramedical staff were being conducted at the Allama Iqbal Memorial Teaching Hospital. Their test results were pending.
Also, a Sialkot-based senior physician, who is also Pakistan Medical Association's Sialkot Chapter-preisdnet, also became a coronavirus positive.
The medical superintendent (MS) of the Sahiwal DHQ Teaching Hospital and the local market committee chairman have tested positive in Sahiwal.
Also, a coronavirus patient, of Dadra Bala, in Noor Shah, died at the DHQ Teaching Hospital. Dr Zahid Kamal Siddiqui, principal of the Sahiwal Medical College, told reporters the district had 35 coronavirus cases and six coronovirus related deaths so far, which was the lowest number in Punjab districts.
Up to 35 Punjab Constabulary constables quarantined in a local women college hostel have protested against the non-provision of facilities to them.
They climbed the rooftop of the building and chanted slogans against the authorities. Their demands included healthy food, and respectful treatment to them.
They added their several colleagues had tested negative for the virus, but they had not been allowed to be out of the quarantine. Deputy Commissioner Sidra Younas has initiated an inquiry into their concerns.
DHQ Medical Superintendent Dr Mohammad Khan said one case (55) was from Rokhri village and the other (50) of Mitha Khan village of Isakhel tehsil.
Dr Khan added that due to relaxation in lockdown, positive Covid-19 cases were on the rise and nine people, out of 17, tested positive for the virus on Wednesday.
He said that so far 55 positive Covid-19 cases had been reported in the district, of them 16 had been discharged while 13 were under treatment at the DHQ Hospital and 16 in quarantine.
According to focal person Dr Zakir Hussain, 50 positive cases were reported in the district in the last 24 hours. With the increase in the positive cases here, the total number of positive cases rose to 311.
https://www.dawn.com/news/1561193/10-doctors-mna-test-positive-for-covid-19'
------
Africa
Islamist Militants in Mozambique Intensify Attacks in Cabo Delgado Province
June 3, 2020
Ahlu Sunnah Wal Jammah (ASWJ) was incorporated into Islamic State Central Africa Province (IS-CAP) in 2019 and includes militants from Kenya, Uganda, and Tanzania. The group has been responsible for attacks that have killed hundreds and displaced thousands from their homes since 2017 (CTGN Africa, January 31, 2019; The East African, August 11, 2018).
IS-CAP made its first claim of an attack in the region in June 2019. The organization issued a statement at that time claiming to be involved in a gunfight with Mozambican military forces in the region. It later boasted that its fighters had captured weapons, ammunition, and rockets in the clash. The group's claims of responsibility have increased significantly over the past several months (The East African, June 5, 2019). Although the group's exact agenda is still unclear, some reports suggest it wants to establish an Islamic caliphate in the natural gas-rich province.
In recent weeks, the militants have carried out some of their most daring assaults, seizing government buildings, blocking roads, and hoisting black and white Islamic State flags in Cabo Delgado's towns and villages. In the attacks, villages have been burnt down and people beheaded. The militants have also killed government soldiers before retreating into the bush. At least 1,000 people have died and nearly 150,000 have been displaced after two years of violence (Africa Diplomatic, April 1; ClubofMozambique, May 19).
The group launched a series of coordinated attacks throughout April and May in an attempt to control movement between the towns of Macimboa da Praia and Montepeuz and the route to neighboring Tanzania (AllAfrica , May 14).
On April 8, 52 youth were killed by the militants in the village of Xitaxi in Muidumbe district after they resisted forced conscription into the group. Reports from local residents described the youth being either shot dead or beheaded (Arabnews, April 21).
Another key attack occurred on May 12, when the militants targeted Koko and Nacate villages in the southern Macomia district of Cabo Delgado. They entered Koko village at 2 PM local time and began to burn down the surrounding buildings. When the attacks ended, 47 houses and several granaries had been razed (Club of Mozambique, May 14).
On the same date, the militants captured Auasse, a town center near the port of Macimboa da Praia. A major electricity power substation serving Macimboa and Palma was destroyed, disrupting electricity and telecommunications in the region. The militants also destroyed a police station and captured an armored vehicle believed to have been donated to Mozambique by China. The attackers later used the vehicle to destroy two small bridges linking key towns in the region.
Miengueleua, a large town in Muidumbe, was attacked twice on May 11 and 12. During this attack, the militants also took time to arm themselves with weapons hidden along the Messalo River. Later, the port of Macimboa da Praia came under attack on May 12 and 13. In attacks along the coast of Macomia, the militants held public meetings with the local people (Club of Mozambique, May 14).
Cabo Delgado covers 82,624 square kilometers and has an estimated population of 2.3 million people. Located 2,600 kilometers from the capital Maputo, the province is extremely poor and largely neglected. While it's rich in mineral resources such as rubies, oil, timber, and gold, the Cabo Delgado is also rife with illegal activities such as drug and ivory smuggling (ClubofMozambique, December 16, 2019).
In 2010, international oil and gas prospecting companies discovered huge deposits of natural gas in the province. The insurgency did not start until years later, with what was then ASWJ carrying out its first attack in October 2017.
With the recent spike in attacks, concerns have been growing that the assaults are threatening natural gas projects valued at $60 billion, which Exxon Mobil and Total SA are planning to spearhead in the region (Club of Mozambique, May 24).
The fighting in Cabo Delgado has so far involved less sophisticated tactics and weaponry. The militants are known to use mobile phones to communicate and motorcycles to move from one point to the next.
Despite the less sophisticated tactics, Mozambican forces have largely failed to make any notable gains. The Mozambican security forces have had a few recent successes, however. On May 1, these troops repelled militants who had burned down a tourist camp in Metuge district in the province. No casualties came from the attack as most people living in nearby villages had fled after learning of the planned assault.
In early May, the Mozambican police and army backed by South African private military companies (PMCs) halted the militants' aggressive two-month push south in Quissanga district. For a month, they had taken control of the district and were moving south towards the city of Pemba (AllAfrica , May 7). Similar short-lived military offensives have been common, but have failed to yield notable results.
Signaling a shift in strategy, Mozambique is reportedly in talks with South Africa for possible support in fighting the militant group. The country has been using PMCs to augment its forces to counter the group, but this week, President Filipe Nyeusi finally called for regional support to fight the insurgents.
Admitting to the severity of the situation and drawing in regional governments has widely been seen as the missing cog in the battle against the Mozambican insurgents. A united approach in extinguishing the violence is more urgent now than ever as the frequency and scale of attacks continues to increase and $60 billon in gas projects hang in the balance.
https://jamestown.org/program/islamist-militants-in-mozambique-intensify-attacks-in-cabo-delgado-province/
-----
COVID-19: Kwara gives conditions for reopening of worship centres
June 3, 2020
Adekunle Jimoh, Ilorin
Kwara State Government said worship centres may reopen from Friday on the condition that they satisfy certain criteria already agreed with various religious umbrella bodies in the state.
The government however warned the concession for churches and mosques to reopen does not mean that the state has flattened the curve of transmission of COVID-19 pandemic.
The decision came hours after the Kwara State Technical Committee on COVID-19 held a marathon meeting with the leadership of the Muslim and Christian communities, including the Jama'atu Nasrul Islam (JNI) and the Christian Association of Nigeria (CAN).
"We are definitely not out of the woods as cases continue to rise especially because of violation of travel restrictions," Kayode Alabi, Deputy Governor and Chairman of Kwara State Technical Committee on COVID-19, told reporters.
"Today, June 3rd, 2020, the Kwara State Government Technical Committee on COVID-19 held a meeting with various religious leaders and umbrella bodies, especially the Jama'atu Nasrul Islam (JNI) and the Christian Association of Nigeria (CAN).
"The meeting centred around whether or not to reopen the worship centres across the state, as suggested by the Federal Government. The below are the outcomes of the meeting:
"We are definitely not out of the woods as cases continue to rise especially because of violation of travel restrictions
"It is preferred that worship centres should remain shut until it is clear that the curve of transmission has been flattened.
"However, in line with the presidential advisory and the positions of our religious umbrella bodies in Kwara State, worship centres in Kwara State may reopen from June 5th (Friday) provided they satisfy the following conditions:
"Worship centres shall be organised (by the respective head of the congregation) in such a way that one attendant is at least one metre away from the next.
"Children remain restricted from worship centres. People above 65 or persons with underlying health conditions are urged to stay away from worship centres.
"Muslims should perform ablution from their own houses. Ablution spots are not allowed for now to avoid the spread of the virus.
"Muslim women are to stay away from mosques, as suggested by the leadership of the Muslim community in the state; each worship centre is to dedicate a few minutes before service or prayers to educate attendants about COVID-19 and its dangers; adequate ventilation is to be ensured at each worship centre.
"Government shall hold affected religious leaders responsible for non compliance with all COVID-19-related safety measures in their worship centres. This is as agreed by the religious umbrella bodies.
"The leadership of religious communities agreed that any worship centre that violates these provisions would be shut down and its leadership strictly held accountable."
https://thenationonlineng.net/covid-19-kwara-gives-conditions-for-reopening-of-worship-centres/
-------
COVID-19: Oyetola reopens Churches, Mosques for two weeks; states guidelines
June 3, 2020
Osun State Governor, Gboyega Oyetola, has directed Mosques and Churches in the State to open for two weeks, after separate meetings with religious leaders in the state.
Oyetola during the meetings on Wednesday, discussed with Christian and Muslim leaders in the state on guidelines for reopening of churches and mosques across the state for two weeks.
The governor disclosed that the decision to reopen worship centers partially was in response to the request by religious leaders and the resolve of the Federal Government to lift ban on religious activities.
He said the state government had prepared some guidelines that must be followed in order to forestall possible spread of coronavirus as a result of the reopening, adding that further actions by the government would be determined by the effect of compliance level to the guidelines by churches and mosques during the two-week period.
Reeling out some of the guidelines at the meeting held in his office at the Government Secretariat, Abere, and Government House respectively, Oyetola said only regular church services of not more than one hour, and maximum of two services would be allowed, and that Jumat service including khutbah (sermon) and prayers must not exceed 20 minutes.
He said vulnerable individuals such as those from age 65 and above and people with underlying ailments such as tuberculosis, diabetes, among others, are to continue worshipping at their respective homes. He also directed that all church and mosques premises be fumigated to ensure that the worship environments are free of virus and other infectious diseases.
Continuing, Oyetola said: "Worshipers are to keep reasonable space in churches and mosques and no worship centres must be filled to capacity during any service and solat, respectively. There should be provision of washing facilities or sanitisers for worshipers before entering the churches and mosques.
"Also, use of face mask is important, sharing of worship devices such as microphones and other musical gadgets should be discouraged. Water and food distribution during service should be discouraged.
"Worshippers must avoid exchange of banters and social distancing must be strictly observed. Windows in churches and mosques should be opened during worship for ventilation. Signage and notices should be placed at strategic locations to remind worshippers of best hygiene practices to be observed."
He also mandated churches and mosques to provide thermometers to check temperature of worshippers, adding that whoever is with high temperatures should not be allowed into the worship centres.
The governor added that vigils and children activities remain suspended, adding that worship centres with support of security operatives should set up taskforce to enforce compliance with measures put in place by the government.
https://dailypost.ng/2020/06/03/covid-19-oyetola-reopens-churches-mosques-for-two-weeks-states-guidelines/
-----
Covid-19: Benue Relaxes Lockdown, Reopens Churches, Mosques
June 3, 2020
The Benue State Governor, Samuel Ortom, Wednesday announced a review of the Covid-19 measures in line with the Presidential Task Force on the pandemic.
The state government announced the reopening of churches and mosques with effect from June 3, 2020, but with staggered worship sessions.
This, according to Ortom, implies that a church or mosque, which before now held two worship sessions, should henceforth conduct four or more sessions in a day to ensure physical distancing.
"Churches and mosques should endeavour to provide water, soap and alcohol-based hand sanitizers for worshippers, and should insist on wearing of masks," he said
Other measures announced are that public gatherings are permitted with a maximum of 30 persons who must comply with the protocol of Covid-19, inter-state movement remains banned, except those on essential services.
The prevailing curfew in the state has also been reviewed to now last between the hours of 10pm to 4am daily, until further notice.
He appreciated the people of the state for the cooperation and understanding they've shown throughout the period of the pandemic.
https://www.thisdaylive.com/index.php/2020/06/03/covid-19-benue-relaxes-lockdown-reopens-churches-mosques/
------
Boko Haram Terrorists Attack Travellers, Kidnap Soldier, Three Humanitarian Workers In Borno
JUN 03, 2020
At least four persons were abducted in an ambush suspected Boko Haram insurgents laid along Monguno Road in Borno State on Tuesday, SaharaReporters has gathered.
A camp manager at Monguno working with the Borno State Emergency Management Agency, two aid workers and a soldier were abducted by the attackers, who mounted a check point before Gasarwa Village, about 40 kilometers from Monguno Local Government Area of the state.
"The Boko Haram militants had gun trucks with anti-air craft gun. They were well kitted in military camouflage. They took away a soldier and three other people were taken along Monguno/Maiduguri highway around 11am on Tuesday," a source said.
Boko Haram insurgents have continued their attacks in the North-East despite the efforts of security operatives.
The attack is coming hours after Coordinator of Defence Media Operation, Maj-Gen. John Enenche, said troops of Operation Lafiya Dole killed three Boko Haram commanders and 67 other fighters during counter-attacks in Firgi/Banki axis of Borno State.
http://saharareporters.com/2020/06/03/boko-haram-terrorists-attack-travellers-kidnap-soldier-three-humanitarian-workers-borno
------
73 Boko Haram militants killed in NE Nige
2020-06-03
LAGOS, June 3(Xinhua) -- Nigerian troops have killed 73 Boko Haram militants including senior members of the sect in an operation in the restive northeastern state of Borno, a military spokesperson said Wednesday.
In a statement sent to Xinhua, defense spokesperson John Enenche said the operation carried out last week confirmed the death of some high ranking commanders of Boko Haram alongside other militants.
Many others wounded with narrow chances of survival during the operation, Enenche said, noting that a large number of equipment of the militants including gun trucks, motorcycles and bicycles were destroyed by the troops.
The military operation follows a failed attack by the militants on a military base at Banki Junction in Borno, said Enenche.
Boko Haram has been trying to establish an Islamist state in northeastern Nigeria since 2009, extending its attacks to countries in the Lake Chad Basin, posing enormous security, humanitarian and governance challenges to countries including Nigeria, Chad, Cameroon, Benin and Niger.
http://www.xinhuanet.com/english/2020-06/03/c_139111657.htm.
------
URL: https://www.newageislam.com/islamic-world-news/we-take-australian-leader/d/122032
New Age Islam, Islam Online, Islamic Website, African Muslim News, Arab World News, South Asia News, Indian Muslim News, World Muslim News, Women in Islam, Islamic Feminism, Arab Women, Women In Arab, Islamophobia in America, Muslim Women in West, Islam Women and Feminism