New Age Islam News Bureau
7 Apr 2017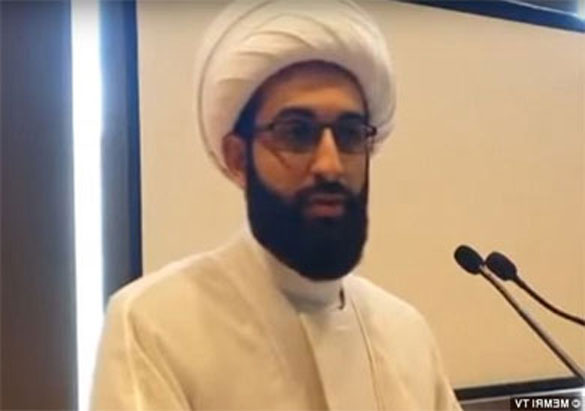 Controversial imam Shaikh Mohammad Tawhidi has called for a 'review' of Islam in Australia and demanded that Muslims respect freedom of speech and democracy
-----------
• 'We Don't Want Burqas and Mosques on Every Corner': Controversial Muslim Leader Says the 'Entire Religion of Islam Needs a Review'
• 100,000 Bangladesh Muslim Clerics Rally against Extremism Join hands to eliminate Terrorism
• Radical Groups Hold Indonesian Democracy Hostage – Islamic Scholar
• Terrorists Stockpile Chemical Weapons In Urban Areas: Muallem
• Dialogue Is Essential, Pope Francis Tells British Muslim Leaders
----
Australia
• 'We Don't Want Burqas and Mosques on Every Corner': Controversial Muslim Leader Says the 'Entire Religion of Islam Needs a Review'
• Controversial Anti-Islamic Activist Ayaan Hirsi Ali Makes Sensational Claim about Waleed Aly
• Australia, New Zealand Warn Of Possible Attack By Extremists In Turkey
-------
South Asia
• 100,000 Bangladesh Muslim Clerics Rally against Extremism Join hands to eliminate Terrorism
• 25 Militants Killed, Vehicle Packed With Explosives Destroyed In Uruzgan Airstrike
• Hasina lauds Saudi efforts to fight terrorism
• NATO pledges $2.7 million for Kabul military hospital reconstruction
• Trump and Merkel pledge close cooperation on Afghanistan and Ukraine
-------
Southeast Asia
• Radical Groups Hold Indonesian Democracy Hostage – Islamic Scholar
• Religious Panel Must Review Effects of Shariah Bill
• Hadi's Explanation on Shariah Bill Unconvincing, Says MCA
• Cop fails to recuse judge from hearing his terrorism cases
• Ahok Not Guilty of Blasphemy: Expert Witness
• Two suspected ISIS members arrested in Philippines
-------
Arab World
• Terrorists Stockpile Chemical Weapons In Urban Areas: Muallem
• Governor of Syria's Homs Says U.S. Strikes Serve 'Goals Of Terrorism'
• Assad has forced his secret police into the army to fight for Syria
• ISIL Hunters Protecting Palmyra, Nearby Oilfields in Homs
• Syrian Army on March in Eastern Ghouta of Damascus
• Syrian Army Advances in Deir Ezzur, Kills Nearly 50 ISIL Terrorists
• Al-Nusra Offensive in Dara'a Warded Off by Syrian Army
• Raqqa: ISIL Coming Under Complete Siege in Al-Tabaqa
• US strike killed four, nearly destroyed Syria base
• Saudi Arabia says fully supports US military strikes in Syria
• Daesh downs Iraqi chopper over Mosul, pilots dead: Army
-------
Europe
• Dialogue Is Essential, Pope Francis Tells British Muslim Leaders
• Bank of England Mulls Islamic Bank Liquidity Tool
• After Syrian gas attack, Pope Francis calls on world leaders: 'End this tragedy'
• US attack on Syria aggression against sovereign state: Putin
• Eight held over Saint Petersburg metro bombing
• US, France, Britain push for vote on UN Syria resolution
• EU Threatens Poland and Hungary Over Refusal To Accept Muslim Migrants
-------
Pakistan
• Pakistani Islamist Leader Calls on Taliban to Join His Political Party
• Changes in White House to Increase Pressure on Pakistan: Experts
• Pakistan ready for talks with India on terrorism: Foreign Office
• Musharraf's plea against confiscation of property dismissed
• Nawaz praises Chinese support in war on terror
• 'Terrorists coming from Afghanistan'
• RPO lauds public role in terror fight
-------
Mideast
• Turkey-Backed Militants Killed in Clashes with SDF Forces in Aleppo
• Iranian Speaker's Advisor: Terrorists Not Qualified to Take Part on Syria Talks
• Hamas hangs three Gaza 'collaborators' with Israel
• Israel PM supports 'strong message' sent by US Syria strike
• Iran strongly condemns 'dangerous' US strike on Syria airbase
• Turkey prepared to support possible US military action in Syria: Erdogan
• Turkey plans military incursion into Iraq: Report
-------
India
• Muslim Clerics in Bengal Demand Ban on RSS, Say Ram Navmi Processions with Weapons Illegal
• Israel Signs $2 Billion Missile Deal With India
-------
Africa
• Kenya: Imams Say Too Much Political Heat Could Lead to Chaos
• Tunisia sentences British DJ for Muslim prayer remix
• Somali landmine kills at least 14 in minibus
• 4 refugee smugglers killed in clashes off western Libya coast
-------
North America
• Canada Police Arrest US Man After 'Mock' Bomb Found On Chicago-Bound Plane
• US attack Syrian airbase with 59 cruise missiles in response to chemical attack
• US launches targeted military strike on Syria
• Trump orders military strikes against Assad airbase in Syria
• Accused bomber seeks different venue with media coverage in US
Compiled by New Age Islam News Bureau
URL: https://www.newageislam.com/islamic-world-news/we-don-t-want-burqas/d/110684
-------
'We Don't Want Burqas and Mosques on Every Corner': Controversial Muslim Leader Says the 'Entire Religion of Islam Needs a Review'
7 April 2017
A controversial imam has called for a 'review' of Islam in Australia and demanded that Muslims respect freedom of speech and democracy.
Shaikh Mohammad Tawhidi, who in recent weeks has clashed with other Muslim leaders, said he did not want 'Burqas running around' or 'mosques on every corner'.
Speaking at the Rotary Club of Adelaide, Imam Tawhidi said his father would not have moved from Iran to Australia had he known so many Muslim people would end up living here.
'My father made the choice ... to come to Australia because it is a non-Muslim country,' he said.
'Now, if we knew that after 30 years, we were going to have Burqas running around, mosques being erected in every corner, and people proposing Sharia law against democracy in this country, we would not have come.'
He added: 'I believe that the entire religion needs a review.'
The imam also said he was opposed to new mosques being built, claiming that they would all eventually be run by 'radical Muslim leaders'.
He called on the security services to monitor all imams and to check how they were being funded, in case they were supporting genital mutilation or forced marriages involving children.
He added that Muslims must follow Australian rules and customs if they want to live here.
'We need to come to one common understanding: it is either we follow the law of the land or we don't,' he said.
'If we do, then it is one wife. If we don't, then go back to where you came from, and have as many wives as you like.
'In Australia, where there is freedom of speech and where there is democracy, many Muslims do not find it safe to speak out against extremism in their country at all. And when I say that they are afraid – they are not afraid of isolation, they are afraid of death. And I have been very close to that, and God saved me many times.'
Imam Tawhidi added that those who do not want to obey Australia's laws can get on 'one of our kangaroos and you can hop back to where you came from'.
He also had advice for government ministers, urging women not to wear headscarves while visiting Muslim nations.
'I know it is good to respect other people, but if you are the foreign minister, you are a foreign minister with your uniform and your badge, and if they don't respect you as a woman, to come and dress in what you like to dress, then that's a country whose embassy we don't want.
'We don't want anything to do with them if they don't respect our foreign minister, regardless of what country that is.'
Imam Tawhidi is currently in hiding after backing Islam critic Ayaan Hirsi Ali, who said all Muslim schools in Australia needed to be shut down.
The imam was escorted by police into hiding after said Islamic schools were 'a problem', and he fears retribution from the Muslim community.
http://www.dailymail.co.uk/news/article-4389114/Muslim-imam-Shaikh-Mohammad-Tawhidi-Islam-needs-review.html
-------
100,000 Bangladesh Muslim Clerics Rally against Extremism Join hands to eliminate Terrorism
APR 6, 2017
DHAKA (AFP) - More than 100,000 clerics and preachers rallied in the Bangladeshi capital against Islamist extremism Thursday (April 6) after a resurgence of attacks by militant groups in the Muslim-majority nation.
Organisers said the rally was staged to protest a violent "power grab" in the name of Islam in Muslim majority Bangladesh, where a rise in Islamist extremism has sparked international concern.
The rally followed suicide attacks on Bangladeshi security forces that sparked a series of raids in which nearly two dozen suspected extremists were killed.
Police said Bangladesh Prime Minister Sheikh Hasina addressed more than 100,000 clerics in a park in central Dhaka where two top Saudi Arabian clerics delivered sermons against extremism.
"There is no place for terror and extremism in Islam," Shaikh Mohammed bin Naser Al Khujaim, a senior cleric from Mecca, told the rally.
"Muslims across the world must stand firm against this terror and extremism."
Dhaka police shut down major roads leading to the park and asked people to avoid busy shopping malls as they stepped up security for the rally.
Analysts say Islamist militants pose a growing danger in conservative Bangladesh, where a long-running political crisis has radicalised opponents of the government.
Hasina's government has blamed the Jamayetul Mujahideen Bangladesh (JMB), a banned Islamist group, for a wave of deadly attacks against religious minorities and foreigners.
Many, including last year's attack on an upmarket cafe in Dhaka in which 22 people including 18 foreign hostages were killed, have also been claimed by the Islamic State group.
The relative lull which followed that attack was broken recently by twin blasts in the northeastern city of Sylhet where army commandos had stormed a suspected militant hideout.
The explosions fatally injured the intelligence chief of the Rapid Action Battalion - the elite force at the forefront of the fight against Islamist militancy - dealing a major blow to the security forces.
http://www.straitstimes.com/asia/south-asia/100000-bangladesh-muslim-clerics-rally-against-extremism
-------
Radical groups hold Indonesian democracy hostage – Islamic scholar
By Max Walden
7th April 2017
AN Islamic legal scholar has argued hardline Muslim groups are holding Indonesia's democracy hostage, the very political system that allows them to operate freely.
In an opinion piece published by Indonesian media outlet Geotimes this week, Dr Nadirsyah Hosen says radical elements that have rallied against Jakarta's Chinese, Christian Governor Basuki "Ahok" Tjahaja Purnama are "no more than a noisy crowd."
Hosen, who is a legal academic from Indonesia based at Monash University in Melbourne, Australia, specialises in Syariah and Indonesian law. He is also the head of the Australia and New Zealand branch of Nahdlatul Ulama (NU), the largest Islamic organisation on the planet.
Rise of Indonesia's "un-civil society"
Indonesia is the most populous Muslim-majority nation on earth and the strongest democracy in Southeast Asia, which has historically practised a moderate form of Islam.
Since 1998, the country has undergone rapid transition from a military-dominated dictatorship under Suharto's New Order to one of the most decentralised democracies on the planet.
Indonesia's pluralism is encompassed by its state mantra of "unity in diversity", boasting more than 300 languages and a variety of faiths.
Ironically, the democratisation era has also allowed for the re-emergence of a raft of hardline, anti-democratic elements that political scientist Dr Verena Beittinger-Lee has termed "un-civil society" for their use of intimidation and violence, particularly against minorities.
A wave of mass protests by hardline Muslim groups against Ahok in Jakarta in the past year, however, has led to fears of rising religious conservatism and intolerance.
They allege Ahok insulted the Quran in comments he made last year regarding Islam's position on whether Muslims can be governed by a leader of a different faith.
In his opinion piece, Hosen notes groups like the notorious Islamic Defenders Front (FPI) were previously marginal, but that their perpetual demonstrations and violent acts have drawn significant media attention.
The FPI had previously focused on combating "social evils" like alcohol, gambling and prostitution in Jakarta and running protection rackets, often violently.
The campaign against Ahok, however, has allowed organisations like the FPI to galvanise large numbers of Muslims offended by the governor's comments, catapulting fringe groups into the mainstream political arena.
Islam of the archipelago
Mainstream Indonesian Muslim groups like the NU and Muhammadiyah have stood in opposition to the movement, including encouraging their members not to participate in street rallies.
Reflecting the agenda of the NU, Hosen argues Islam Nusantara or "Islam of the archipelago" should be re-established – that is, the traditional form of tolerant Islam practised in Indonesia for centuries.
n
"Moderate Islam is Islam itself," he said. "Whether in times of peace or war, being the majority or minority, powerful or not, Islam remains moderate."
NU has particularly emphasised Islam Nusantara in recent years, in direct contrast to the extremist ideologies of al-Qaeda and the Islamic State.
Without legal and democratic mechanisms to encourage political consensus, wrote Hosen, "we will continue to be held hostage by Islamic organisations with a small but loud voice."
https://asiancorrespondent.com/2017/04/radical-groups-hold-indonesian-democracy-hostage-islamic-scholar/
-------
Terrorists stockpile chemical weapons in urban areas: Muallem
Apr 6, 2017
Syria's Foreign Minister Walid al-Muallem says terrorist groups continue stockpiling chemical weapons in the country's urban and residential areas.
The Jabhat Fateh al-Sham terror group, formerly known as al-Nusra Front, Daesh "and other [terrorist] organizations continue to store chemical weapons in urban and residential areas," Muallem told a press conference in Damascus on Thursday.
He made the remarks two days after a suspected chemical attack targeted the town of Khan Shaykhun in Syria's northwestern Idlib Province. It was followed by alleged air raids that struck a hospital where victims of the assault were being treated.
The so-called Syrian Observatory for Human Rights put the death toll at 86, including 30 children and 20 women.
Western countries have pointed the finger at Damascus over the attack while Syria's opposition has accused the Syrian government of bombing Khan Shaykhun with chemical munitions.
Commenting on the incident, Muallem assured that Damascus did not and would not use chemical arms, even against terror outfits.
"I stress to you once again: the Syrian army has not, did not and will not use this kind of weapons -- not just against our own people, but even against the terrorists that attack our civilians with their mortar rounds," he said.
The top Syrian diplomat also noted that the Syrian military had carried out an airstrike on a depot, where terrorists stored chemical weapons.
"The first air raid conducted by the Syrian army was at 11:30 am (0830 GMT) on that day (Tuesday) and it attacked an arms depot belonging to al-Nusra Front that contained chemical weapons," he said.
The remarks echoed those by Russia's Defense Ministry that a Syrian strike had hit a "terrorist warehouse" used for making bombs containing "toxic substances."
The Organization for the Prohibition of Chemical Weapons (OPCW) and the Independent International Commission of Inquiry on the Syrian Arab Republic are both investigating the Idlib attack.
Muallem said Syria would provide the OPCW and the UN with "intelligence on the transfer of chemical substances from Iraq into Syria, or from Turkey into Syria."
He said Damascus needs assurances that any fact-finding mission into the Idlib attack would not be politicized, adding that his country's past experience with international inquiries had not been "encouraging."
Any investigative mission should be far from the sphere of Turkish influence, the Syrian foreign minister pointed out.
Washington has no objective data on Idlib incident: Kremlin
Separately on Thursday, Kremlin spokesman, Dmitry Peskov, said Washington's allegations that Syrian forces were behind the deadly Idlib attack were not based on "objective" information.
"No one could have any realistic, verified information. Any data that the American side or our colleagues in other countries could have cannot be based on objective materials or evidence," Peskov said.
He further denounced the incident as "a monstrous crime" and warned against rushing to blame Syrian President Bashar al-Assad for the assault.
"We consider a much more measured approach necessary and do not think it is possible to surrender oneself to hasty conclusions about what happened in Syria in the Idlib Province," the Russian official said.
Since March 2011, Syria has been gripped by militancy it blames on some Western states and their regional allies. Russia has been assisting the Syrian army in its counter-terrorism operations.
http://www.presstv.ir/Detail/2017/04/06/516962/Syria-Walid-Muallem-Idlib
-------
Dialogue is essential, Pope Francis tells British Muslim leaders
By Hannah Brockhaus
April 7, 2017
Vatican City, Apr 5, 2017 / 11:56 am (CNA/EWTN News).- Pope Francis met Wednesday with a delegation of Muslim leaders from Great Britain along with Cardinal Vincent Nichols of Westminster to promote dialogue and collaboration following the deadly attack in London last month.
During the private meeting at the Vatican's Paul VI Hall April 5, Pope Francis said the most important job everyone has in this moment is to listen to each other.
"I like to think that the most important work that we must do among us today, in humanity, is the work 'of the ear:' to listen to each other," he stated. "To listen to each other, without rushing to answer."
Following the audience with Francis, the group also met with Cardinal Jean-Louis Tauran, president of the Pontifical Council for Inter-religious Dialogue.
The meetings at the Vatican were organized following an attack on London's Palace of Westminster March 22.
According to the Guardian, four people were killed in the attack, including the police officer who was stabbed and one man believed to be the assailant. About 20 others were reported injured, some severely.
Wednesday's delegation consisted of Muhammad Shahid Raza, chairman of the British Muslim Forum; Ali Raza Rizvi, president of Majilis e Uluma Europe; Sayed Ali Abbas Razawi, director of the General Scottish Ahlul Bayt Society; and Ibrahim Mogra, co-chair of the Christian Muslim Forum.
"The ability to listen, this is so important," the Pope said during the meeting. "It's interesting: when people have this capacity to listen, they speak in a low tone, calmly... Instead, when they do not have this, they speak loudly and shout as well."
"Between brothers, all of us need to talk, to listen to each other and speak slowly, calmly, to search for the way together. And when you listen and speak, you are already on the way," he said.
According to a statement from the Catholic Church in England and Wales, Cardinal Nichols said they were all "deeply moved" to meet with the Pope.
"We draw great inspiration from his leadership and his encouragement to walk together on the road of profound spiritual dialogue."
"I also hope that this moment will help the voice of authentic Islam to be heard clearly. We look forward to our continuing promotion of collaboration at a local level at the service of all in society," he continued.
Moulana Muhammad Shahid Raza called the meeting "a historic moment," bringing together Christians and Muslims in "unity and solidarity for peace."
"I could see the sincerity and love in his eyes as he offered words of encouragement to all of us as we came together in unity," said Moulana Sayed Ali Abbas Razawi. "This is an important meeting offering hope for everyone, regardless of religion."
"There is a common humanity to all of us. Some seek to divide people, religions, east versus west, but there is no east or west; there is just our common humanity as we seek a peaceful future for all based on justice and compassion."
Pope Francis sent a letter the day following the London attack expressing his sorrow and solidarity for the victims and their families, and entrusting them and the nation to God's mercy.
"Deeply saddened to learn of the loss of life and of the injuries caused by the attack in central London, His Holiness Pope Francis expresses his prayerful solidarity with all those affected by this tragedy," a March 23 letter signed by Vatican Secretary of State Cardinal Pietro Parolin read.
The Pope commended the souls of those who died "to the loving mercy of Almighty God," and prayed for "divine strength and peace upon their grieving families," while assuring of his prayer for the entire nation.
http://www.catholicnewsagency.com/news/dialogue-is-essential-pope-francis-tells-british-muslim-leaders-38096/?utm_source=newsletter&utm_medium=email&utm_campaign=email
-------
Australia
Controversial Anti-Islamic Activist Ayaan Hirsi Ali Makes Sensational Claim about Waleed Aly
Staff writers, News Corp Australia Network
April 7, 2017
CONTROVERSIAL anti-Islamic activist Ayaan Hirsi Ali has urged Australians to elevate Adelaide Imam Shaikh Tawhidi to the same celebrity status as The Project host Waleed Aly if it wants to send a message to Islamic extremists.
Talking to Andrew Bolt on Sky News last night, the former Dutch politician said: "If I analysed that kind of language and those arguments I think that he (Waleed Aly) is someone who has some form of a stake in a Muslim brotherhood-type of organisation.
Disclaimer: News Corp Australia does not suggest Project host Waleed Aly is involved or part of a Muslim brotherhood.
"Waleed Aly has been elevated by Australian society and he's made into a celebrity and what really Australia needs to do is take someone like Tawhidi and elevate him and have him sit with the government, sit with the media and sit with members of the academic elite and that would send the message to the Islamists that they welcome people like Tawhidi more than Waleed Aly."
The outspoken critic of radical Islamists has sparked plenty of debate this week, despite not making it to Australia for a speaking tour as planned. The Somali-born activist argues Islam as a religion and ideology developed in the seventh century needs urgent reform by moderate Muslims, and governments in Western countries like Australia should devote as much effort to tackling the spread of radical Islam as they do to fighting terrorists.
Hirsi Ali is a fierce opponent of Islamists and their support for sharia law. She wants all Islamic schools closed and stricter screening processes introduced to identify Muslim immigrants holding radical views.
Her views have sparked death threats from hardline Islamists for many years, but also generated criticism from more moderate Muslims in Australia who say Hirsi Ali stirs up hatred towards them.
Nearly 400 Australians signed an online petition ahead of Hirsi Ali's "Hero of Heresy" speaking tour of Australia and New Zealand, which was cancelled at the last minute due to security and organisational issues.
A group of six Muslim women including Melbourne chef and author Hana Assafiri also released a video in which they accused her being a "star" of Islamophobia, and using the language of white supremacists to profit from "an industry that exists to dehumanise Muslim women".
Assafiri says Hirsi Ali's views should be contested, and a more "sophisticated" conversation about Islam is needed in Australia, particularly at a time when One Nation Senator Pauline Hanson has renewed her calls for a ban on Muslim immigrants.
"Her views lead to a spike in vitriol because there's no right of reply or engagement," Assafiri said, adding that Hirsi Ali had declined an invitation to meet with the Muslim women behind the petition and video.
Hirsi Ali hit back on radio station 2GB labelling the group of women "fake feminists".
"I'm afraid many of the white feminists believe only white men are capable of evil and refuse to see what is done in other cultures," The Australian reported.
"If you look at all the places in the world where Islam is the ­reality, life becomes a never-­ending series of suffering for men, for women, for homosexuals and religious minorities."
Source: heraldsun.com.au/entertainment/television/controversial-antiislamic-activist-ayaan-hirsi-ali-makes-sensational-claim-about-waleed-aly/news-story
-------
Australia, New Zealand warn of possible attack by extremists in Turkey
April 7, 2017
SYDNEY: Australia and New Zealand warned on Thursday that extremists may be planning an attack on the commemoration of a World War I campaign that is being held in Turkey this month.
Australian Veterans Affairs Minister Dan Tehan urged the nearly 500 Australians and New Zealanders registered to travel to Gallipoli, Turkey, to mark ANZAC Day on April 25 to exercise a high degree of caution amid the warning, but offered no specifics about the alleged threat. ANZAC Day is an annual holiday commemorating the April 25, 1915, landings in Gallipoli — the first major military action fought by the Australian and New Zealand Army Corps during World War I.
Australian Federal Police deputy commissioner Mike Phelan declined to release details of what prompted the warning, saying only that the government had received information that extremists may attack the services being held on the Gallipoli peninsula. Phelan said there was no specific plot linked to the alert.
"It is just that terrorists may indeed try to carry out a terrorist attack during the celebrations," Phelan told reporters in the nation's capital, Canberra. "That is all we have got at this stage."
Full report at:
http://nation.com.pk/international/06-Apr-2017/australia-new-zealand-warn-of-possible-attack-by-extremists-in-turkey
-------
South Asia
25 militants killed, vehicle packed with explosives destroyed in Uruzgan airstrike
Apr 06 2017
At least twenty insurgents were killed and a vehicle packed with explosives was destroyed in an airstrike conducted in southern Uruzgan province of Afghanistan.
The Ministry of Defense (MoD) said the airstrike was conducted in the vicinity of Tarinkot city, the provincial capital of Uruzgan province.
Uruzgan is among the relatively volatile provinces in southern Afghanistan where the Taliban insurgents and militants belonging to the other insurgent groups are actively operating in its various districts.
In the meantime, MoD said at least ten insurgents were killed and seven more were wounded during a separate operation conducted in the vicinity of Shindand district in Herat province.
MoD also added that six militants were killed during an operation conducted in Greshk district of Helmand province.
In another operation conducted in the vicinity of the central city of Paktika, at least six militants were killed and seven more were wounded.
According to MoD, at least one militant was killed and two more were wounded during an operation in Shajoi district of Zabul.
The anti-government armed militant groups including the Taliban insurgents have not commented regarding the reports so far.
http://www.khaama.com/25-militants-killed-vehicle-packed-with-explosives-destroyed-in-uruzgan-airstrike-02522
-------
Hasina lauds Saudi efforts to fight terrorism
April 06, 2017
Everybody who believes in peace should unite against terrorism, the prime minister tells a giant gathering of Islamic scholars and preachers
Prime Minster Sheikh Hasina has urged Muslim countries to join their hands to launch a concerted campaign to eliminate terrorism.
"Everybody who believes in peace should unite against terrorism," she told a mammoth rally of Islamic religious leaders and scholars on occasion of the 42nd founding anniversary of Islamic Foundation at Suhrawardi Udyan yesterday.
She thanked Saudi King Salman bin Abdulaziz for his efforts and role in curbing terrorism and militancy, adding that Bangladesh would remain beside Saudi Arabia in its initiative to fight against terrorism and violent extremism in the name of Islam.
She called on Imams, Alem, Ulema and Mashayekh to preach the real essence of Islam to the common people so that no one indulges in terrorism and militancy.
"You will have to remain alert so that no one can cause harm to the holy region," she said.
"Bangladesh is a Muslim majority nation, but people of other religions are living here in peace and harmony, which is the true spirit of the Islam," she said.
Hasina said there was a propaganda against Awami League that Islam would not exist in Bangladesh if it came to power and such propaganda intensified after the assassination of Father of the Nation Bangabandhu Sheikh Mujibur Rahman with most of his family members on August 15, 1975.
"However, it was those who grabbed power illegally after 1975 who made a business out of Islam," she said.
"They reintroduced liquor licences, although Bangabandhu had banned gambling, liquor and racing. They patronised terrorism and militancy," she said.
Murdering innocents a terrible sin
Vice President of two holy mosques in Mecca and Madina Dr Mohammad Bin Nasser Bin Mohammad Al Khuzaim, and Imam and Preacher of the Prophet's Mosque Abdulmehsin bin Mohammad Bin Abdul Rahman Al-Qasim also spoke at the rally.
Dr Khuzaim said the Saudi government is making constant effort to uphold the dignity of Muslims across the world. In view of this an institution has already been established to expand Islamic cultural education across the world and correction of the people.
"The killing of innocent people is a terrible sin in Islam," Dr Khuzam said.
"Islam never allows a Muslim to kill another Muslim, or an innocent person of any other religion. In Islam, it is the duty of a Muslim to protect the lives and property of the people of other religion in his country," he said.
"The killers of innocent people can never belong to Islam," the vice president of the holy mosques said adding all Muslims across the world must stand against terrorism and militancy.
Full report at:
http://www.dhakatribune.com/bangladesh/2017/04/06/hasina-lauds-saudi-efforts-fight-terrorism/
-------
NATO pledges $2.7 million for Kabul military hospital reconstruction
Apr 06 2017
The NATO-led Resolute Support Mission in Afghanistan has pledged $2.7 million for the main military hospital in Kabul which was witnessed a deadly attack last month.
A spokesman for the Resolute Mission Capt Bill Salvin told reporters in Kabul today that the repair work of Sardar Mohammad Daud Khan hospital has been completed by 90 per cent after the attack by the insurgents.
He said the NATO-led Resolute Support Mission is budget $2.7 million which will include $1.7 million for new medical equipment and $1 million for new furnishings.
Capt Salvin further added that the alliance is paying for restoration of 50 rooms, two X-ray machines, seven monitors with server, new imaging units, and lab equipment.
According to Capt Salvin, the hospital will be better with the upgrading work of the two operating units, improvement of ICU monitoring, and provision of hi-tech radiology equipment.
Full report at:
http://www.khaama.com/nato-pledges-2-7-million-for-kabul-military-hospital-reconstruction-02521
-------
Trump and Merkel pledge close cooperation on Afghanistan and Ukraine
Apr 06 2017
The US President Donald Trump and the German Chancellor Angela Merkel have pledged close cooperation on conflict in Ukraine and the situation in Afghanistan.
The White House in a statement said "President Donald J. Trump spoke today by telephone with Chancellor Angela Merkel of Germany.؛
The statement further added that the leaders discussed several issues of mutual concern and interest, including the conflict in eastern Ukraine and the situation in Afghanistan.
"The leaders pledged close cooperation and coordination on these and other issues," the statement said, adding that "They agreed to remain in close contact."
This comes as Merkel pledged last month that Germany will maintain presence in Afghanistan as part of the NATO-led Resolute Support Mission.
The Trump administration has not formally announced its policy on Afghanistan so far although Trump has spoken with the US forces based in Afghanistan and the Afghan officials in the past, pledging continued support to the US forces based in Afghanistan.
Full report at:
http://www.khaama.com/trump-and-merkel-pledge-close-cooperation-on-afghanistan-and-ukraine-02520
-------
Southeast Asia
Religious panel must review effects of shariah bill
April 6, 2017
By Tariq Ismail
The April 4 Bloomberg news article regarding Bank Indonesia deputy governor's unorthodox method to fight inflation struck me as something that all Malaysians, especially our MPs, should adopt.
It was reported that Ibu Rosmaya Hadi worked together with religious grassroots leaders with the message: "Don't shop excessively, don't buy things at any price, it is good to haggle".
Ibu Hadi admitted that the grassroots may not understand the technical jargon coming from the Central Bank but will listen to the local religious leaders who speak their language.
What is most important is that this article truly highlighted that moderation is truly an Islamic virtue.
There has been an increasing move to moderation, or wassatiyah, over the past few years, but in practice what the Malaysian people are accustomed to seeing is quite the opposite, oftentimes discarding responsibility by playing the race and religious cards to enslave the mindset of the people.
Wassatiyah is not a means to employ rule by fear.
Isn't wassatiyah a platform to hear all sides, using rationale and logic sans emotions? Isn't wassatiyah owning up to mistakes? Isn't wassatiyah a means to take responsibility, accept responsibility and be responsible enough so that the civil rights of all Malaysians are taken care of?
Let us look at RUU 355 — amendments to Act 355, or Syariah Courts (Criminal Jurisdiction) Act 1965 — in essence is a noble, yet ambitious bill to table.
On paper, there is nothing wrong with the law, but laws become a problem when men misinterpret the said laws and abuse it.
In essence, too, it addresses only the final outcome of the shariah spectrum – that of punishment for not conforming to an Islamic lifestyle.
But it does nothing to address the prerequisite of the law that society must be nurtured and developed so as to create an environment and lifestyle that is conducive for an Islamic society to flourish.
These are bread and butter issues, including of income and wealth, and social justice for women, children, orphans and the elderly.
And if such is the case, how can we ensure there will be fairness when this small piece of shariah law is applied to all Muslims? How can a Malaysian citizen ensure that a Muslim, who has no means of hiring a lawyer, has the same rights as someone who can afford a decent lawyer?
Party politics aside, I would like all Muslim MPs to consider RUU 355 and scrutinise it carefully. Ask yourselves: are the courts mentally, physically and financially prepared to enforce this law? I think not.
Salaries for the personnel in shariah courts are still below those in the civil courts. After all, if those in the civil courts can be tempted by corruption, what more those in the shariah courts, given the financial mistreatment?
And this leads us back to one of the preconditions of Islamic governance to rid society of wealth inequality such that it promotes corruption.
To Abdul Hadi Awang, PAS president, I am not opposed to the intent of your bill. But it is the repercussions of what the bill will bring on our polarised society is why I ask for more time.
Before this bill is tabled and voted, there needs to be a technical committee made up of Malaysians from both sides of the religious divide to review the intricacies of the bill and its effect on Malaysian society in general.
Non-Muslims, too, have a right to be heard and given clarity regarding your bill, seeing that we are not an exclusively Muslim nation.
I beseech Hadi, as a Muslim scholar and a man of principle, to reconsider this appeal, act as a leader and give Malaysians the clarity they deserve and not shut them out by calling them all sorts of insulting names.
Islam is about moderation. RUU355 may be a noble and ambitious law but it does not address the prerequisite of creating the necessary social environment for true Islam.
Wouldn't it be more worthwhile to provide solutions to the Malays in the hinterland so that their incomes are raised and lives improved first?
Let us follow Ibu Hadi to promote true wassatiyah by catering to the people's hopes rather than demoralising them.
http://www.freemalaysiatoday.com/category/opinion/2017/04/06/religious-panel-must-review-effects-of-shariah-bill/
-------
Hadi's Explanation on Shariah Bill Unconvincing, Says MCA
Mohamad Fadli | April 7, 2017
KUALA LUMPUR: The motion to amend the Syariah Courts (Criminal Jurisdiction) Act 355 was not fully tabled in the Dewan Rakyat because PAS merely described the resolutions proposed in the bill at today's Parliament sitting, says MCA.
PAS, through its president Abdul Hadi Awang (PAS-Marang), tabled a motion to amend the law to allow shariah courts in the country to mete out harsher punishments to shariah offences. The bill seeks a maximum 30 years' jail, 100 strokes of the cane and RM100,000 for fines.
The rationale for the bill, as explained by PAS secretary-general Takiyuddin Hassan (PAS-Kota Bharu), however has not convinced MCA to support the bill.
"The motion is incomplete as PAS only provided a description of the private member's bill to be tabled. That was it," said Dr Wee Ka Siong (BN-Ayer Hitam).
"A debate, even until tomorrow morning – as occurred yesterday – would not have solved anything because of the difference of opinions. MCA's stand remains the same."
The MCA deputy president said his party was adamant in its rejection of Act 355.
"Whatever it is, Hadi and Takiyuddin have been given the opportunity to explain the bill to Parliament."
MIC, meanwhile, said the MPs would have presented their arguments based on the Federal Constitution if the Dewan Rakyat speaker had allowed the debate to proceed.
"While we appreciate the views and explanations given today, there are some concerns.
"For example, when they wanted to amend Article 121A (of the Federal Constitution), they guaranteed that the rights of non-Muslims would not be affected, but then now, we have cases like that of Indira Gandhi," said MIC president Dr S Subramaniam (BN-Segamat).
During his presentation in Parliament, Hadi slammed Muslim and non-Muslim MPs opposed to the motion, calling such opposition contrary to the culture of "mature and united politics".
Full report at:
http://www.freemalaysiatoday.com/category/nation/2017/04/07/hadis-explanation-on-shariah-bill-unconvincing-says-mca/
-------
Cop fails to recuse judge from hearing his terrorism cases
Ho Kit Yen | April 6, 2017
KUALA LUMPUR: A policeman, currently standing trial on three counts of terrorism, failed in his bid today to recuse a High Court judge from hearing his case on the grounds of possible bias.
Justice Nordin Hassan, in his judgment, said the accused, Mustaza Abdul Rahman, had failed to prove there was real danger of bias for him to hear the case.
"As a judge, I cannot simply recuse myself because this would be seen as avoiding my responsibilities."
In his application filed to drop the judge in his case, Mustaza alleged Justice Nordin and deputy public prosecutor Mustafa P Kunyalam had held a "meeting" inside the chambers on Jan 25.
He suspected there was something amiss with the meeting.
Mustaza added the judge also did not ask the prosecution to explain why it had only handed the trial documents to his lawyer two days before the trial started.
During submission, his current lawyer, Farida Mohammad, argued that a judge "meeting" prosecution behind closed doors was seen as unfair to Mustaza and may prejudice the outcome of his case.
"There was a perception of 'pre-judgment' in his mind that he will be called to enter his defence," she said.
Mustafa refuted the "meeting" took place between him and the judge.
"He cannot provide facts that I really walked into the chambers.
"I used the staff passage to prepare for the protected witnesses to testify for the trial."
He added the recusal application was baseless as it was made by Mustaza doubting the court and prosecution team.
Full report at:
http://www.freemalaysiatoday.com/category/nation/2017/04/06/cop-fails-to-recuse-judge-from-hearing-his-terrorism-cases/
-------
Ahok Not Guilty of Blasphemy: Expert Witness
April 7, 2017
Jakarta. Ahmad Ishomuddin, the deputy chairman of the edict commission at the Indonesian Ulema Council, or MUI, said during his testimony in court on Tuesday (04/04) that Jakarta Governor Basuki "Ahok" Tjahaja Purnama was not guilty of blasphemy.
According to the cleric, Ahok never intended to insult the Koran or Islam when he referred to a verse in the Muslim holy book during a speech on Pramuka Island last year.
Ishomuddin pointed out that the governor made the comment as an aside while he was explaining a fish breeding program in the area.
"Ahok has no intention to insult Islam, the ulemas or their followers. He's a smart person and respects pluralism," he added.
MUI rushed into conclusion
Though Ishomuddin is a senior figure at MUI, he admitted that the institution might have rushed into conclusion when it issued an edict that accuses the governor of insulting Islam.
"[The edict] was issued in a rush. We did not watch the entire 1 hour and 48 minutes of video footage. We made our judgment after seeing the edited version," he said.
"In the full video, Ahok never mentioned the word 'ulema.' He said 'people' [who misuse the Koranic verse]," the cleric added.
Following his testimony at Ahok's trial, rumors swirled that MUI may expel Ishomuddin from the ulema council.
Full report at:
http://jakartaglobe.id/news/ahok-not-guilty-blasphemy-expert-witness/
-------
Two suspected ISIS members arrested in Philippines
6 April 2017
Philippine authorities said on Thursday they had foiled a possible terror attack after arresting a Kuwaiti man and his Syrian wife, both alleged members of ISIS.
Police nabbed Husayn Al-Dhafiri and Rahaf Zina at an upscale district of Manila following a tip-off from the Kuwaiti authorities late last month, but the arrests were kept secret while Filipino authorities investigated further, officials said.
The pair had entered the country repeatedly in recent months as part of plans for "a bombing operation" either in the Philippines or Kuwait, Justice Secretary Vitaliano Aguirre told reporters.
Aguirre said Al-Dhafiri was an active ISIS member in the Middle East and said the United States authorities believed he could "pose a threat to the national security of the Philippines".
"He is alleged to have been involved in explosives manufacturing and possibly operational planning against Kuwait," Aguirre added.
He said Zina and Al-Dhafiri married after her husband, a high-ranking ISIS commander, was killed in Syria.
The Filipino official said Al-Dhafiri would be deported to Kuwait while Zina would be sent back to Qatar from where she entered the Philippines.
"Both of them will be properly received by the security forces of those countries," he added.
Full report at:
https://english.alarabiya.net/en/News/world/2017/04/06/Two-suspected-ISIS-members-arrested-in-Philippines.html
-------
Arab World
Governor of Syria's Homs says U.S. strikes serve 'goals of terrorism'
April 7, 2017
U.S. missile strikes on Syrian military positions serve the goals of "armed terrorist groups" and Islamic State, the governor of Syria's Homs province said on Friday.
"Syrian leadership and Syrian policy will not change," Homs Governor Talal Barazi said in a phone interview with state television. "This targeting was not the first and I don't believe it will be the last," he added.
U.S. President Donald Trump said he ordered missile strikes against a Syrian airfield from which a deadly chemical weapons attack was launched this week, declaring he acted in America's "national security interest" against Syrian President Bashar al-Assad.
U.S. officials said the military fired dozens of cruise missiles against the airbase in response to the suspected gas attack in a rebel-held area that Washington has blamed on Assad's forces.
The Syrian government has strongly denied responsibility.
"The armed terrorist groups and Daesh failed to target the Syrian Arab Army and Russian military positions," Barazi said, using the Arabic acronym for Islamic State. The Syrian government describes all armed groups opposed to it as terrorists.
The U.S. strikes "targeted military positions in Syria and in Homs specifically" in order to publicly "serve the goals of terrorism in Syria and the goals of Israel in the long run," Barazi added.
A Syrian military source said earlier the attack on the Syrian air base had led to "losses."
http://nation.com.pk/international/07-Apr-2017/governor-of-syria-s-homs-says-us-strikes-serve-goals-of-terrorism
-------
Assad has forced his secret police into the army to fight for Syria
April 7, 2017
ROBERT FISK - "Silence means approval," the minister said to me. And the Syrian minister meant what he said. Rex Tillerson, Trump's Secretary of State, was silent.
And that was the message. Bashar al-Assad is no longer America's target. Donald Trump, or whoever runs Trump, has decided that Assad will stay on as President of Syria. Silence is approval. Is this to please Vladimir Putin? Or is this to accept reality: that Bashar al-Assad will remain president of Syria? Either way, it is a fact. Barring ill health or assassination, Assad will continue to hold office. He will continue to be the leader. He will remain.
What does that say to the UN, the EU, the "world community", as we like to call it? Well, not much. Boris Johnson said as much last month, with that shrug of the shoulders that he must have learned from Arthur Balfour.
But there are changes afoot in Syria which citizens of that sad and terrifying, magnificent, powerful country will realise. The first is that, despite the appalling losses (75,000 soldiers, it would seem) Syria's army is winning. It has taken back eastern Aleppo, it has engineered the departure of almost every armed man from Homs, and it has taken back most of Damascus. Barrel bombs will have to wait for war crimes trials.
Did it use gas in Idlib province? Previous claims have proved elusive. Did the infamous gas attack in Damascus come from Bashar's arsenal? Or from the rebels' arsenal (from Libya, via Turkey, of course)? A gas assault on one village in the north of Syria struck the families of soldiers, but there are no assurances.
There is, however, one directive that went out to the state intelligence services, the 'mukhabarat', the secret police. You, too, must fight for your country. This stunning order – and it could only be approved by the president – means that the men who safeguard the regime have been sent to the front. This has not been a sudden or immediate instruction. It has happened over a long period, almost since the Syrian War began. But it does mean that the men who have interrogated Syrian citizens must now fight for the lives of those same citizens, that they now have to prove their courage on the battlefield instead of the dungeon.
These are the momentous changes now taking place in Syria. The very embodiment of the regime is now on the front line. It may prove to be a transformative experience for them. I know one 'mukhabarat' officer who has taken to military life; he prefers to be a Syrian soldier than an intelligence man. It was his choice. Perhaps a wise choice.
So, what does this mean for the West, for America, for us? It will almost certainly mean closer relations between Assad and the Americans. For a long time now, America's intelligence men in Beirut have been trying to understand the future of the Assad government, realising – eventually – that it is likely to survive, and that, if it's not exactly what the Syrian minister said, silence gives acceptance. After all, the US now approves of el-Sissi's regime in Egypt, Trump likes Sissi and will go on (so it seems) pumping millions of dollars into Sissi's regime. And Sissi's 'mukhabarat' sent to Syria, earlier this year, a team of its own intelligence officers to talk to their Syrian opposite numbers.
Full report at:
http://nation.com.pk/international/07-Apr-2017/assad-has-forced-his-secret-police-into-the-army-to-fight-for-syria
-------
ISIL Hunters Protecting Palmyra, Nearby Oilfields in Homs
Apr 06, 2017
The ISIL Hunters were tasked with the mission after the liberation of Palmyra in a bid to protect the city as well as its oil and gas fields against terrorists' attacks.
A commander of the ISIL Hunters underlined his forces' important mission in safeguarding Palmyra's oil resources, and vowed that his forces will prevent terrorists from entering the region and the energy fields.
The Syrian army on Tuesday continued its military operations in areas surrounding the ancient city of Palmyra and came closer to the strategic Arak oilfield after capturing a nearby mountainous region.
The Syrian government troops seized back Jabal (Mountain) al-Taj near Arak oilfield in heavy clashes with the terrorists in an area located 23 kilometers from Palmyra city.
A large number of terrorists, including foreign and Arab militants, were killed in the battle with the Syrian army over Jabal al-Taj region.
The terrorists' military hardware, including their military vehicles, was also destroyed in the government troops' offensive.
Full report at:
http://en.farsnews.com/newstext.aspx?nn=13960117000799
-------
Syrian Army on March in Eastern Ghouta of Damascus
Apr 06, 2017
The army units started their offensive in Housh al-Zawahereh from three directions and won back control of three districts in the town after clashes with the terrorists.
Meantime, the army advanced in al-Zariqiyeh-Housh al-Salehiyeh front.
A field source said that the Syrian soldiers discovered several networks of terrorists' tunnels in the region, adding that the army will soon liberate Housh al-Zawahereh town.
Also, the Syrian army units advanced towards the town of al-Reihan after breaking the terrorists' defense lines and destroying their strongholds.
Relevant reports said on Wednesday that the army has expanded the range of its advances near the key city of Douma, the main stronghold of Jeish al-Islam.
The army troops engaged in fierce clashes with the terrorists East of al-Reihan farms and managed to take control over several strategic positions and tunnel networks near Bin Sina hospital, tightening the circle of forces around the city of Douma.
An informed source in Eastern Ghouta said that al-Reihan farms are the last defense line of Jeish al-Islam from the Douma direction, adding that the army's advances in these farms have tightened noose on the key city.
Full report at:
http://en.farsnews.com/newstext.aspx?nn=13960117000832
-------
Syrian Army Advances in Deir Ezzur, Kills Nearly 50 ISIL Terrorists
Apr 06, 2017
The army units regained control of Hilal, Dasham and Milad hills in Deir Ezzur after heavy clashes with the terrorists.
They also targeted the ISIL's positions near al-Maqaber (cemetery) and al-Ma'amel (plants) regions as well as the water treatment station with artillery and missile fire.
The attacks left 48 militants dead and destroyed one of their tanks and 6 military vehicles.
Relevant reports said on Tuesday that at least 28 ISIL terrorists were killed and 22 others were injured in the Syrian army's artillery and missile attacks on the terrorist group's military positions in al-Maqaber, al-Jabilieh and al-Rashidiyeh regions and also the surrounding areas of Regiment 137 base and East of Deir Ezzur military airport and Deir Ezzur power station.
The Syrian army also destroyed an anti-tank missile base and a machinegun-equipped military vehicle of the ISIL terrorists.
Full report at:
http://en.farsnews.com/newstext.aspx?nn=13960117000625
-------
Al-Nusra Offensive in Dara'a Warded Off by Syrian Army
Apr 06, 2017
The Syrian soldiers repulsed the al-Nusra Front's offensive from Jeddiyeh village in Dara'a against one of the army bases in the region.
Meantime, the Syrian army units targeted a convoy of the terrorists moving from al-Lajah region in the Eastern parts of Dara'a province towards the Northeastern parts of Sweida province, killing all militants.
Also, the Syrian army forces launched an assault on terrorists' moves in al-Karak districts on the left side of the old customs office road in Dara'a, killing 8 militants and destroying their military equipment and vehicles.
In a relevant development on Wednesday, the Syrian army soldiers engaged in fierce clashes with Al-Nusra Front in the neighborhoods of the Southern city of Dara'a and fended off their attack, killing a number of militants.
The army troop repelled Al-Nusra Front's offensive to break through government forces' positions in Dara'a neighborhoods, while artillery and missile units of the army targeted the movements of the terrorists in several flanks to cover their comrades in the city.
A well-informed source said that 15 militants of Al-Nusra were killed, two of their tanks were destroyed South of al-Masri square and a machinegun-equipped vehicle of the terrorists was also destroyed West of the city's old costumes in the failed attack.
Full report at:
http://en.farsnews.com/newstext.aspx?nn=13960117000781
-------
Raqqa: ISIL Coming Under Complete Siege in Al-Tabaqa
Apr 06, 2017
The SDF forces engaged in fierce clashes with the ISIL in al-Safsafeh village and adjacent farms, inflicting heavy damage and casualties on the terrorists.
They also cut off the road between al-Tabaqa and the village and put the ISIL on verge of complete siege in the strategic city of al-Tabaqa.
The SDF forces killed 16 ISIL terrorists and destroyed 4 of their bomb-laden vehicles before reaching the targets, smashing several other vehicles too.
A field source said that the terrorists have failed to drive back the SDF forces but heavy fighting still continues in al-Safsafeh village and the nearby farms.
He added that the SDF forces will start attack against al-Tabaqa once the clashes end and their forces are reinvigorated.
Once al-Tabaqa falls into SDF hands, the Kurdish fighters will seek to explore pincers en route to Raqqa, the self-proclaimed ISIL capital.
In a relevant development on Sunday, scores of ISIL militants have been killed in intense battle with the SDF in Northern Syria as the terrorist group attempted to storm several settlements, the SDF said in a statement.
Sputnik reported that ISIL attacked the village of Misharfa West of Tabaqa town, adding that the SDF fighters managed to repel their attack.
The SDF fended off a suicide car attack and seized two ISIL tanks.
Full report at:
http://en.farsnews.com/newstext.aspx?nn=13960117000308
-------
US strike killed four, nearly destroyed Syria base
7 April 2017
A US strike on a Syrian airbase ordered in retaliation for a suspected chemical weapons attack killed four soldiers on Friday and virtually destroyed its facilities, a monitoring group said.
"An air commodore was among the four soldiers killed," the Syrian Observatory for Human Rights said. "The airbase was almost completely destroyed – the runway, the fuel tanks and the air defenses were all blown to pieces," the Britain-based monitoring group said.
https://english.alarabiya.net/en/News/middle-east/2017/04/07/US-strike-killed-four-nearly-destroyed-Syria-base.html
-------
Saudi Arabia says fully supports US military strikes in Syria
7 April 2017
Saudi Arabia said on Friday it "fully supports" US strikes on military targets in Syria, saying it was a "courageous decision" by President Donald Trump in response to the use of chemical weapons against civilians.
"A responsible source at the foreign ministry expressed the Kingdom of Saudi Arabia's full support for the American military operations on military targets in Syria, which came as a response to the Syrian regime's use of chemical weapons against innocent civilians...," a statement carried by state news agency SPA said.
Full report at:
https://english.alarabiya.net/en/News/middle-east/2017/04/07/Saudi-Arabia-says-fully-supports-US-military-strikes-in-Syria.html
-------
Daesh downs Iraqi chopper over Mosul, pilots dead: Army
Apr 6, 2017
The Iraqi military says the terrorist ِDaesh group has shot down one of its helicopters over the northern city of Mosul, killing two pilots on board.
In a statement released on Thursday, Iraq's Joint Operations Command said the helicopter "was attacked by enemy fire and destroyed on the battlefield."
However, it was not specified whether the helicopter was hit by gunfire or a surface-to-air missile.
The aircraft was providing air support to Iraqi Federal Police forces fighting Daesh on the ground, the statement added.
The Daesh-affiliated Amaq news agency reported that the helicopter had crashed in al-Ghabat area, east of the Tigris River.
Furthermore, footage from an AP cameraman showed the chopper in a large ball of fire and a long trail of black smoke falling out of the sky.
It is the first aircraft downed by Daesh over Mosul since the start of the operation to liberate the city last October.
Mosul fell to Daesh in 2014, when the terror outfit began its campaign of death and destruction in the Arab country.
Iraqi army soldiers and allied fighters launched the offensive to retake Mosul, Daesh's last major city stronghold in the country, in October 2016.
Full report at:
http://www.presstv.ir/Detail/2017/04/06/516982/Iraq-Mosul-Daesh
-------
Europe
Bank Of England Mulls Islamic Bank Liquidity Tool
April 7, 2017
Law360, London (April 6, 2017, 3:06 PM BST) -- The Bank of England is developing a Sharia-compliant liquidity tool for Islamic banks as it seeks to tap into prime Muslim markets in the Middle East and South Asia, it said Thursday.
The central bank has issued a consultation paper on establishing a fund-based deposit facility that would allow Islamic banks to conform with regulatory requirements for liquid asset buffers.
Under Sharia law, banks are unable to become involved in what are considered to be socially detrimental activities and are forbidden from collecting interest, known as...
https://www.law360.com/articles/910550/bank-of-england-mulls-islamic-bank-liquidity-tool
-------
After Syrian gas attack, Pope Francis calls on world leaders: 'End this tragedy'
By Josephine McKenna
April 5, 2017
VATICAN CITY (RNS) Pope Francis condemned the suspected chemical weapons attack that killed over 100 people in Syria and renewed his call for an urgent political solution to end the war.
Speaking at his weekly audience at the Vatican on Wednesday (April 5), the pope said he was horrified by the "unacceptable" massacre of civilians, including at least 20 children, on Tuesday.
"I firmly deplore the unacceptable carnage that took place yesterday in Idlib province where scores of helpless people, including many children, were killed," the pope said.
Several countries, including the U.S., have blamed Syrian government forces for the attack in which scores of people appeared to choke to death in Khan Sheikhoun, a rebel-held area of northern Syria. The Syrian army has denied any involvement.
"We look on horrified by the recent events in Syria," the pope told tens of thousands of pilgrims gathered in St. Peter's Square.
"I pray for the victims and their families and appeal to the consciences of those with political responsibilities, both locally and internationally, to end this tragedy and bring relief to the dear people who for too long have been exhausted by war."
Three new Syrian families have been given shelter by the Vatican in a bid to aid those fleeing conflict and persecution.
A total of 13 people – from one Muslim and two Christian families – are being housed in three Vatican-owned apartments recently vacated by other refugees who have moved to more permanent accommodation in Rome.
The deadly attack occurred as 70 donor countries were meeting in Brussels at a conference hosted by the European Union to discuss humanitarian relief for Syria as the conflict enters its seventh year.
Monsignor Paul Gallagher, who is responsible for the Holy See's relations with other states, told the conference the Vatican was "deeply concerned about the tremendous human suffering" in Syria and the treatment of prisoners and detainees.
In 2016 the Catholic Church contributed $200 million in humanitarian aid to 4.6 million people in Syria and the surrounding region, Gallagher said.
(Josephine McKenna covers the Vatican for RNS)
http://religionnews.com/2017/04/05/after-syrian-gas-attack-pope-francis-calls-on-world-leaders-end-this-tragedy/
France backs West African cooperation against Islamists
France backs efforts by West African states to boost security in their Sahel region, including a plan for a 5,000-strong multinational force to combat Islamist fighters, its foreign minister said on Thursday.
Jean-Marc Ayrault said the G5 Sahel states - Mali, Mauritania, Chad, Burkina Faso and Niger - must improve their counter-terrorism capacity.
"The countries of the G5 have decided to enter a new phase ... with the creation of a common force to protect their borders," Ayrault said after meeting Mauritanian President Mohamed Ould Abdel Aziz.
"The second phase consists of training specialized troops, not to replace Barkhane, but to strengthen it in the fight against terrorist groups, but also all sorts of trafficking that is wreaking havoc on the region," he told Reuters.
Former colonial power France intervened in 2013 to drive out al Qaeda-linked militants who seized northern Mali the year before. It has since deployed some 4,000 soldiers, known as the Barkhane force, across the region to hunt down Islamists.
U.N. peacekeepers have also been deployed to Mali.
The Sahel region, whose desert expanses stretch from Mauritania to Sudan, is home to several jihadist groups.
Mali-based groups have continued to launch attacks across the region in the past 18 months. A spike of violence in central Mali has spilled over its southern border into Burkina Faso.
Full report at:
http://nation.com.pk/international/07-Apr-2017/france-backs-west-african-cooperation-against-islamists
-------
US attack on Syria aggression against sovereign state: Putin
April 7, 2017
According to Russia Today, President Putin "regards the strikes as aggression against a sovereign nation," his spokesman Dmitry Peskov said, noting that the president believes the strikes were carried out "in violation of international law, and also under an invented pretext."
Peskov also insisted that "the Syrian army doesn't have chemical weapons," saying this had been "observed and confirmed by the Organization for the Prohibition of Chemical Weapons, a special UN unit."
Putin sees the US missile strike on Syria as an attempt to distract attention from civilian casualties in Iraq, Peskov added.
Full report at:
http://nation.com.pk/international/07-Apr-2017/us-attack-on-syria-aggression-against-sovereign-state-putin
-------
Eight held over Saint Petersburg metro bombing
April 7, 2017
MOSCOW - Eight people suspected of involvement in the Saint Petersburg metro bombing were detained Thursday, Russia's Investigative Committee said.
"Six people were detained in Saint Petersburg and two in Moscow who are involved in the act of terror" following an investigation and search operation conducted with the FSB security service and interior ministry, the committee said in a statement.
Investigators said they discovered, in one of the suspects' residences, an explosive device "identical" to the one found at a Saint Petersburg metro station that was discovered shortly before another device exploded in a tunnel killing 13 people. They also recovered firearms and ammunition from the suspects' residences, the committee said.
The committee said a court will soon rule on detention measures for the eight suspects, who seem to bear Central Asian names.
Investigators said earlier Thursday that they had raided the flat of "several citizens of Central Asian republics, who had been in contact" with the suspected bomber, 22-year-old Akbarjon Djalilov.
They confiscated other objects "relevant to the investigation" at his acquaintances' flat but did not disclose their nature.
Investigators said Djalilov — believed to be a Russian citizen born in the Central Asian nation of Kyrgyzstan — had set off a bomb in a train carriage travelling between two busy Saint Petersburg metro stations on Monday afternoon.
His remains were found at the site of the blast and traces of his DNA were also discovered on a bag containing the bomb at another metro station that was successfully defused, investigators said.
No one has so far claimed responsibility for the attack.
The head of Russia's Investigative Committee Alexander Bastrykin has ordered officials to look into any potential "links" between the alleged attacker and the Islamic State group.
Full report at:
http://nation.com.pk/international/07-Apr-2017/eight-held-over-saint-petersburg-metro-bombing
-------
US, France, Britain push for vote on UN Syria resolution
April 7, 2017
UNITED NATIONS - Britain, France and the United States asked the UN Security Council to hold a vote later Thursday on a resolution demanding an investigation of the suspected chemical attack in Syria, diplomats said.
It remained unclear whether Russia would support the measure, which was slightly revised following negotiations over the past two days.
Britain, France and the United States circulated the draft resolution following the strike Tuesday on a rebel-held town in Idlib province that left 86 people dead, including 27 children.
Results from post-mortems performed on victims from the town of Khan Sheikhun point to possible exposure to sarin, according to Turkish health officials.
Russia has rejected the proposed resolution as "categorically unacceptable" and proposed a rival draft that did not include demands for the Syrian government to cooperate with an investigation.
France earlier warned Russia against resorting to its veto power to block the measure from adoption at the Security Council.
"That would be a terrible responsibility in front of history," French Ambassador Francois Delattre told reporters.
Asked whether he expected Russia to resort to a veto, Delattre said: "I would not say that. I think there is still a chance. I hope so."
Diplomats said the council could hold the vote around 7:00 pm (2300 GMT).
Russia has used its veto power seven times to block UN action that would put pressure on its ally Syria.
The draft resolution backs an investigation by the Organisation for the Prohibition of Chemical Weapons and demands the Syrian government provide information about its military operations on the day of the strike.
The text calls on Syria to provide flight plans, flight logs and other information on its military operations on April 4 and to hand over the names of commanders of helicopter squadrons.
Britain, France and the United States blame President Bashar al-Assad's forces for the attack, but the Syrian army has denied any involvement.
Full report at:
http://nation.com.pk/international/07-Apr-2017/us-france-britain-push-for-vote-on-un-syria-resolution
-------
Eu Threatens Poland And Hungary Over Refusal To Accept Muslim Migrants
April 6, 2017
BRUSSELS (ChurchMilitant.com) - European Union (EU) officials are threatening to boot Poland and Hungary from the EU because of their refusal to accept their quota of Muslim migrants.
The Eastern-European-majority-Christian nations are being threatened because they have consistently refused to accept quotas imposed on them by the EU.
On Tuesday, an EU representative told The Times, "They will have to make a choice: are they in the European system or not? You cannot blackmail the EU, unity has a price. ... We are going to be very tough on this."
The European Union has sought to relocate about 160,000 migrants from the Middle East since the crisis began in 2014. Many European countries, however, are facing dire financial deficits to feed, house and clothe migrants from Syria, Iraq, Afghanistan and Pakistan.
In countries like Sweden, Germany and France, where migrants have been accepted with open arms, there has been an explosion of sexual crimes against citizen women and children, along with riots, theft and destruction of property by Muslim migrants.
A 2016 public opinion poll from members of 10 European countries show that 60 percent believe refugees will increase terrorism in their countries and half believe migrants are a "burden to society" by taking jobs and social benefits from citizens.
Despite the crisis, German Chancellor Angela Merkel is leading the charge to have all members of the EU accept certain numbers of migrants into their own countries, Poland and Hungary have taken a few thousand each and refuse to take more.
Late this year the European Court of Justice will be looking into the legality of the quota system and is expected to issue a judgment.
In response, Polish Prime Minister Beata Szydło is declaring Poland "will resist blackmail and pressure." She asserts the Catholic nation will continue its "prudent and reasonable migrant policy."
She further notes, "The European Union made a fatal mistake under pressure from lobbyists but also under a lot of pressure from Germany – it accepted resolutions which turned out not only to be ineffective but also did not solve the migrant problem."
Hungary's reaction to the mass migration has been, perhaps, the strongest. Prime Minister Viktor Orbán has been especially outspoken in his resistance to EU quotas. In January, he wrote an editorial for the National Review where he commented, "The main threat to the future of Europe is not those who want to come here to live but our own political, economic and intellectual elites bent on transforming Europe against the clear will of the European people."
Full report at:
http://www.churchmilitant.com/news/article/eu-threatens-poland-and-hungary-over-refusal-to-accept-muslim-migrants
-------
Pakistan
Pakistani Islamist Leader Calls on Taliban to Join His Political Party
April 06, 2017
Noor Zahid
Madeeha Anwar
A Pakistani lawmaker and deputy leader of a conservative religious party, accused of links with militant groups, has invited the Pakistani Taliban to join his Islamist political party.
As a three-day gathering of religious devotees and political followers got under way Thursday, the secretary general of Pakistani's Jamiat Ulema-e-Islam-Fazl (JUI-F), Abdul Ghafoor Haidari, called on the Taliban in Pakistan to lay down arms and pursue its objectives through political means.
Speaking to reporters the previous day in the northwestern restive city of Peshawar, Haidari said, "We invite them [Pakistani Taliban] to join JUI-F and achieve their objectives with the help of a peaceful and political struggle."
Over a quarter million people, including foreign guests, were expected to attend the gathering in Naushera, near Peshawar, which began to celebrate the centenary of the conservative party.
"We have sent invitations to 52 countries and have also invited ambassadors from Muslim and European Union countries," Jalil Jan, a spokesperson for JUI-F, told VOA's Deewa service. "Guests from 20 countries have already arrived. More guests are arriving today and tomorrow morning."
The guest list also includes the deputy Imam of the Kaaba — the Muslim holy place in Mecca, Saudi Arabia.
Headed by Maulana Fazal-ur-Rahman, JUI-F is an offshoot of a Muslim Sunni clerics' political movement founded in British India by the Deobandi madrassa in 1919, which opposed the formation of a separate homeland for Indian Muslims — today's Pakistan.
Rahman's father, Mufti Mahmoud, was one of the leading members who parted ways with the party in 1945 and supported the creation of Pakistan.
The party has been a strong advocate of Sharia law in the country and has opposed liberal initiatives in the parliament.
According to Haidari, the gathering is being held to demonstrate to the world that there is no space for extremism in Islam, Pakistani media said.
"Islam's revered beliefs cannot be made controversial. It clearly states that the killing of one person means the murder of all humanity," said Haidari, who is also the vice chairman of Pakistan's senate.
Taliban agreement seen as unlikely
Analysts say the Islamist party's message is unlikely to appeal to Taliban members.
"This will not make TTP [Pakistani Taliban] surrender their arms or leave their movement and ideology," Amir Rana, a security and political analyst in Islamabad, told VOA. "Those who have joined the Taliban might not come back."
Peshawar-based political analyst Khadim Hussain said the Taliban does not believe in Pakistani government institutions or its constitution, nor do they accept democracy.
"How can Taliban join the political scenario of Pakistan while having such ideologies against the state?" Hussain told VOA.
Hussain added that unless the Islamist party condemns all forms of terrorist groups, including those that are fighting to topple the government in neighboring Afghanistan, its message would fall on deaf ears. JUI-F has historically supported the Taliban in Afghanistan.
"Fazal-ur-Rahman believes that Afghan Taliban are fighting for freedom or imposing Sharia in Afghanistan and it's justified," Hussain said. "But on the other hand, he has a completely different stance on Taliban active against the state in Pakistan. For JUI, if Taliban is used against Afghanistan, that's right, but if they fight against the state of Pakistan, it's wrong."
JUI-F has strongly opposed American drone strikes targeting militants in Pakistan's tribal areas, viewing it as a violation of Pakistan's sovereignty.
Following the 2011 U.S. raid in Abbottabad that killed al-Qaida's leader Osama bin Laden, the JUI-F condemned the drone strikes, calling on the government to stop the passage of supplies to U.S. and NATO forces in Afghanistan through Pakistan.
https://www.voanews.com/a/pakistani-islamist-leader-calls-taliban-join-political-party/3799595.html
-------
Changes in White House to increase pressure on Pakistan: experts
ANWAR IQBAL
April 7, 2017
WASHINGTON: This week's shake-up in the Trump White House could also lead to greater pressure on Pakistan to create a condition that allows the United States to win the war in Afghanistan, US experts say.
The experts, who spoke to Dawn, said that there's still no talk in the US capital of severing ties with this key nation. But the new South Asian desk in the White House National Security will now be headed by a person who wants Pakistan to align its policies on terrorism and Afghanistan with those of the United States.
Lisa Curtis, a South Asian affairs' expert from a Washington think-tank, will now be the senior director for South and Central Asia at the White House National Security Council.
"What this means for Pakistan at this early point is unclear, but ultimately, we can expect a Pakistan policy to emerge from the White House that emphasizes tough love but also cooperation along lines that directly serve US interests," said Michael Kugelman, a senior associate for South Asia at the Woodrow Wilson Centre, Washington.
Marvin Weinbaum, the scholar-in-residence at the Middle East Institute, Washington, said that the Trump administration's "general approach to Pakistan" will be decided by the new National Security Adviser Gen. H. R. McMaster because President Donald Trump "has no strong ideas of his own about the South Asian region."
And since it was Gen McMaster who roped-in Ms Curtis, – instead of Brig. Gen. Robin Fontes whose appointment had already been announced – she will have a strong influence on future US policies towards South Asia.
"Generally speaking, judging on the paper she authored with (Pakistan's former ambassador Husain Haqqani), she will expect more from Pakistan in dealing with terrorist groups seen as threatening US aims in Afghanistan," said Mr Weinbaum.
The paper proposed tough measures against Pakistan to persuade it to cooperate with the United States.
To bring Ms Curtis, Gen McMaster overturned a decision by the now-ousted national security adviser, Ret Gen Michael Flynn, who had hired Ms Fontes for this job.
Ms Curtis is also considered a Russia hawk, like Brookings scholar Fiona Hill, another McMaster appointee, who joined the council as senior director for Europe and Russia.
As The Washington Post pointed out, Ms Curtis will be the only senior official in the Trump administration who deals with the South Asia region, which includes "the strategically important countries of India, Pakistan and Afghanistan."
There's no permanent assistant secretary of state for South and Central Asian affairs, no Special Representative for Afghanistan and Pakistan at the State Department and no assistant secretary of defence for Asian and Pacific Affairs at the Pentagon.
"It's rather disheartening I'm sure for the people in the region," Shuja Nawaz, distinguished fellow at the Atlantic Council, Washington, told the Post. "They are still fumbling for some direction as to how the Trump administration will deal with this region."
Full report at:
https://www.dawn.com/news/1325413/changes-in-white-house-to-increase-pressure-on-pakistan-experts
-------
Pakistan ready for talks with India on terrorism: Foreign Office
BAQIR SAJJAD SYED
April 7, 2017
ISLAMABAD: The Foreign Office said on Thursday that Pakistan was ready for dialogue with India on terrorism and would like to discuss Indian role in subversive activities in Pakistani territory.
"India wants to speak of terrorism! We also insist on speaking of terrorism … We need to address Indian-sponsored terrorism in Pakistan," FO spokesman Nafees Zakaria said at the weekly media briefing. He was commenting on the Indian reaction to a statement by US Ambassador to UN Nikki Haley in which she had indicated US interest in mediating between India and Pakistan to prevent the tensions between the South Asian rivals from escalating.
The spokesman recalled that Kulbhushan Jadhav's activities and many other similar instances were irrefutable proof of Indian involvement in Pakistan.
New Delhi had sharply reacted to Amb Haley's statement, saying dialogue with Pakistan had to be bilateral and could take place in an "environment free of terror and violence". The strong response from New Delhi forced the State Department to revert to its traditional position that Pakistan and India needed to talk directly to each other.
Kabul's reservations over border fencing dismissed
"India as usual reacted negatively to the US offer," the spokesman said, adding that Amb Haley's remarks showed that the international community was taking note of the deteriorating situation in occupied Kashmir.
The spokesman said India would not be allowed to hide behind the bogey of terrorism. India by playing the terrorism mantra, he said, "tries to hide the atrocities in IOK and (is) afraid of being exposed on account of crimes against humanity committed by the Indian occupation forces in IOK".
Mr Zakaria also welcomed another mediation offer from Iran.
The spokesman dismissed Afghan reservations over fencing of border by Pakistan.
"All the work related to the border management is being done on our side of the border. Border management measures are being undertaken to tackle terrorists coming from across the border as well as to protect Pakistani citizens," Mr Zakaria said.
The army had recently announced that it had begun partial fencing of the border to prevent unauthorised cross-border movement.
Afghan Foreign Ministry spokesman Ahmed Shakib Mostaghani had warned Pakistan against what he described as "unilateral actions by the Pakistani side along the Durand Line" and hinted at a military response.
A similar feud over construction of a border gate at Torkham last year had led to military exchanges between the two in which both sides suffered casualties.
Afghanistan's opposition to border management is rooted in its refusal to accept the Durand Line as an international border between the two countries.
Assertion by an Afghan member of parliament last week that the Durand Line should be accepted as border kicked up a political storm in Afghanistan.
Commenting on recent contacts between Pakistan and Afghanistan in the aftermath of the understanding reached in London, Mr Zakaria said the bilateral contacts have been useful. "There is a growing understanding between both the countries to work together to tackle the common threat of terrorism," he maintained.
The FO continued its defence of the Saudi-led Islamic Military Alliance to Fight Terrorism (IMAFT) and Pakistan's participation in it.
"Pakistan's endeavour would be that IMAFT serves to bring Muslim countries together in the fight against terrorism. Both Iran and Saudi Arabia are brotherly Muslim countries," the spokesman said in response to a question about the concerns expressed by Iranian envoy about retired Gen Raheel Sharif being allowed to lead it.
"It is focused on combating terrorism by promoting solidarity and cooperation among the Muslim countries. It is neither for, nor against any country. The TORs of IMAFT are yet to be developed," he added.
Full report at:
https://www.dawn.com/news/1325394/pakistan-ready-for-talks-with-india-on-terrorism-foreign-office
-------
Musharraf's plea against confiscation of property dismissed
MALIK ASAD
April 7, 2017
ISLAMABAD: Justice Aamer Farooq of the Islamabad High Court (IHC) on Thursday dismissed a petition filed by former president Gen Pervez Musharraf to quash the trial proceedings as well as the process initiated to confiscate his property for absconding in the Lal Masjid cleric's murder case.
Separately, a trial court deferred the issuance of red warrants against the former military ruler in the same case.
Akhtar Shah, the counsel for Gen Musharraf, filed a petition with the IHC against the order of the trial court declaring him an absconder and issuing his perpetual warrants in the murder case of Abdul Rashid Ghazi.
The cleric was killed during the July 2007 operation when Gen Musharraf was the chief of army staff and the president of Pakistan.
Before Justice Farooq, Advocate Shah contended that since Ghazi was killed during a military operation on Lal Masjid in 2007, under Article 245 of the Constitution such matters cannot be heard in courts.
"The military acts in aid of civil power when called upon to do so." The counsel claimed that the prosecution did not obtain the mandatory approval from the government before filing a formal complaint against his client.
He requested the court to quash the proceedings against Gen Musharraf in the murder case.
The counsel, however, could not give a justification whether a fugitive of law could be represented through a counsel before surrendering.
As per the legal practice, a fugitive or an absconder could only be represented through an attorney after he surrenders to the trial court concerned.
Meanwhile, Additional District and Sessions Judge Pervezul Qadir Memon deferred the issuance of red warrants against Gen Musharraf in the murder case.
He directed the interior ministry to submit a comprehensive report along with the standing operating procedure (SOP) in this regard.
The application filed by the son of the deceased cleric requested the court to issue red warrants against the former military dictator.
Full report at:
https://www.dawn.com/news/1325441/musharrafs-plea-against-confiscation-of-property-dismissed
-------
Nawaz praises Chinese support in war on terror
07-Apr-17
ISLAMABAD: Prime Minister Nawaz Sharif on Thursday praised China's diplomatic and material support to Pakistan in the war on terror.
He was talking to a delegation led by Yu Zhengsheng, chairman of the National Committee of Chinese Peoples' Political Consultative Conference (CPPCC).
Nawaz said that the visit will establish institutional linkages between parliaments of Pakistan and China.
He stressed close cooperation between the two parliaments, which, he said would contribute towards further strengthening the warm and friendly relations between Pakistan and China.
Nawaz recalled that the relations between the two countries were raised to an even higher level of "all weather cooperative strategic partnership", during the visit of President Xi Jinping to Pakistan in 2015.
"I am looking forward to my visit to China in May 2017 to participate in the 'Belt and Road Forum', at the invitation of President Xi Jinping", he said.
He said the forum would provide an excellent opportunity for discussing important areas of connectivity, infrastructure, trade, finance, people-to-people exchanges and think-tanks cooperation, not only between Pakistan and China but with the wider world.
The PM emphasised that China-Pakistan Economic Corridor (CPEC) and its related projects symbolise the people-centric approach of the two countries and their resolve for regional connectivity.
"The project has immense potential to boost up regional trade and businesses as well as bring the people of the region closer. Millions of people in our region would reap the benefits of this project," he said.
Zhengsheng thanked Nawaz for the warm welcome. He hoped that parliamentary exchanges between China and Pakistan would further strengthen the brotherly ties between the two countries.
Full report at:
http://dailytimes.com.pk/pakistan/07-Apr-17/nawaz-praises-chinese-support-in-war-on-terror
-------
'Terrorists coming from Afghanistan'
April 06, 2017
LAHORE - Punjab Law Minister Rana Sanaullah Khan has said suicide bombers are coming from Afghanistan, where the terrorist have sanctuaries.
The minister told media that from the beginning of the national census reports of possible terror hits were noticed.
Full report at:
http://nation.com.pk/lahore/06-Apr-2017/terrorists-coming-from-afghanistan
-------
RPO lauds public role in terror fight
April 07, 2017
BAHAWALPUR - The public along with the law enforcement agencies is working to defeat terrorists, their facilitators as well as offenders and wanted criminals to ensure peace in the society, a police officer said. Bahawalpur Regional Police Officer Idrees Ahmad expressed was checking the performance report of Bahawalpur Police during the month of March with regard to the implementation of National Action Plan.
The RPO was told that during the month, the police throughout the region registered 125 cases of Sound System Act violation from which 166 accused were arrested, in the cases of wall chalking act violation 45 cases were registered from which 40 were arrested and challaned. In crackdown on illegal weapons holders throughout the region, 173 cases were registered and 173 accused were arrested. He said 48 cases were registered for dealing with negligence at sensitive and important installations in which 51 persons were arrested.
Full report at:
http://nation.com.pk/national/07-Apr-2017/rpo-lauds-public-role-in-terror-fight
-------
Mideast
Turkey-Backed Militants Killed in Clashes with SDF Forces in Aleppo
Apr 06, 2017
The SDF forces engaged in heavy clashes with the Turkish army and its affiliated militants who had started a massive offensive against Um al-Housh, Qoul Sarouj, Tal Maziq Samouqeh, Hasiyeh and Haliseh villages and al-Masha school in al-Shahba region from Tal Malid and Mare'e regions.
During the clashes, 7 Turkey-backed militants were killed and the Euphrates Shield Operation forces' attack was repelled.
Meantime, reports said that the Turkish army and affiliated militants' offensives against the villages still continue, using different weapons and tanks.
In a relevant development on Tuesday, the SDF repulsed an offensive of the Ankara-backed militants in the Northern part of Aleppo province, killing a number of militants.
The SDF's Jeish al-Thawar engaged in fierce clashes with the Turkey-backed militants of the Euphrates Shield Operation and fended off their massive attack on the villages of Tal Maziq, Qolsarouj, Samouqeh, Sheikh Issa, Harbal and Um al-Housh in Northern Aleppo, killing a number of militants and destroying their military vehicles.
SDF warned on Monday that it will soon launch an offensive on the Turkish army in Northern Aleppo province to push the foreign military troops out of the highly strategic region of Al-Bab.
The SDF, Turkish army and the Syrian government troops have been fighting ISIL terrorists in Aleppo province.
http://en.farsnews.com/newstext.aspx?nn=13960117000232
-------
Iranian Speaker's Advisor: Terrorists Not Qualified to Take Part on Syria Talks
Apr 06, 2017
"A clear redline should be drawn between the terrorist and dissident groups in Syria and the terrorists shouldn't be given a seat in negotiations with the (Syrian) government," Amir Abdollahian said in a meeting with Russian Ambassador to Tehran Levan Jagarian on Thursday.
He also lauded the Syrian government's efforts to fight against terrorism and focus on the political solution, and underlined the importance of cooperation between Tehran and Moscow in helping Damascus.
In relevant remarks in January, Iranian Supreme Leader's top aide Ali Akbar Velayati underlined the importance of talks between the Syrian government and its allies before the start of the peace talks, and said the terrorist groups are not allowed to take part in the negotiations on the future of Syria.
"The dissidents who have been admitted to the negotiations can participate in the talks with the Syrian government; of course, the ISIL and al-Nusra are still considered as terrorist groups and in no way entitled to take part in these negotiations," Velayati told reporters on the sidelines of his meeting with Syrian Foreign Minister Walid al-Muallem in Tehran.
Full report at:
http://en.farsnews.com/newstext.aspx?nn=13960117000665
-------
Hamas hangs three Gaza 'collaborators' with Israel
April 7, 2017
GAZA CITY - Gaza's Hamas rulers hanged three men they accused of collaborating with Israel Thursday, fulfilling vows of revenge for the mysterious killing of one of their commanders last month.
The men, dressed in red prison jumpsuits, were shackled hand and foot and hooded as they were put to death at an excercise ground inside a police facility, an AFP correspondent reported.
Senior Hamas officials, representatives of other Gaza-based groups and a few journalists observed the hangings.
Hamas says that the Israeli intelligence agency Mossad and its Palestinian "collaborators" killed Mazen Faqha in the Palestinian territory on March 24.
The men who were hanged on Thursday were not implicated in his killing but were accused of past acts of "treason and collaborating," a Hamas interior ministry statement said.
"The military court in Gaza sentenced them to death by hanging, and the decision was upheld by each military appeals court and the high military court," it said.
They were aged 55, 42 and 31, the ministry said but did not name them.
Human Rights Watch condemned the executions.
"The death penalty is a barbaric practice," it said in a statement.
"The abhorrent executions by Hamas authorities of three men in Gaza deemed to be collaborators project weakness, not strength.
Full report at:
http://nation.com.pk/international/07-Apr-2017/hamas-hangs-three-gaza-collaborators-with-israel
-------
Israel PM supports 'strong message' sent by US Syria strike
7 April 2017
Israeli Prime Minister Benjamin Netanyahu said Friday he supports the "strong and clear message" sent by a US strike in neighboring Syria in retaliation for a suspected chemical attack.
"In both word and action, President (Donald) Trump sent a strong and clear message today that the use and spread of chemical weapons will not be tolerated," a statement from Netanyahu's office said.
"Israel fully supports President Trump's decision and hopes that this message of resolve in the face of the Assad regime's horrific actions will resonate not only in Damascus, but in Tehran, Pyongyang and elsewhere."
Trump ordered the massive military strike on a Syrian airbase on Thursday in retaliation for the "barbaric" chemical attack he blamed on President Bashar al-Assad.
Full report at:
https://english.alarabiya.net/en/News/middle-east/2017/04/07/Israel-PM-supports-strong-message-sent-US-Syria-strike-.html
-------
Iran strongly condemns 'dangerous' US strike on Syria airbase
Apr 7, 2017
Iran has strongly condemned a US cruise missile attack on a Syrian army airbase near the west-central city of Homs, calling it "destructive and dangerous".
Foreign Ministry spokesman Bahram Qassemi said Friday US use of a chemical attack in Syria as a "pretext for unilateral action is dangerous, destructive and violation of peremptory principles of international laws."
Some 60 US Tomahawk missiles were fires from US warships deployed to the Mediterranean at the Shayrat airfield southeast of Homs earlier in the day, in an assault slammed by Syria as an "act of aggression."
Washington ordered the assault after accusing Syria of carrying out a chemical attack against the town of Khan Sheikhun in the northwestern province of Idlib on Tuesday.
Qassemi said, "The Islamic Republic, as the biggest victim of chemical weapons in modern history, condemns any application of such weapons, regardless of the perpetrators and victims."
However, "the timing, perpetrators, and benefactors of (the chemical attack) are still shrouded in mystery," he added.
The spokesman said the US airstrike will only "strengthen the dying terrorist groups and complicate the situation in Syria and the region."
At Damascus' request, Iran has been providing military advisory assistance to the Syrian government.
Tehran has also been playing an active role on the diplomatic front, where it has mediated, along with Russia and Turkey, three rounds of peace negotiations between Damascus and opposition groups in Astana, Kazakhstan, since the beginning of this year.
Full report at:
http://www.presstv.ir/Detail/2017/04/07/517040/Iran-US-Syria-Homs
-------
Turkey prepared to support possible US military action in Syria: Erdogan
Apr 7, 2017
Turkish President Recep Tayyip Erdogan says his country would welcome a possible US military campaign in Syria in the wake of a suspected chemical attack in the Arab country's northwestern province of Idlib.
Speaking in an interview broadcast live on nationwide Kanal 7 television network on Thursday, Erdogan said Turkey is ready to do its part if such onslaught takes place.
Addressing US President Donald Trump, who told some members of the US Congress Thursday that he is considering military intervention in Syria, Erdogan said, "Don't limit yourself to comments, we need action."
"If it truly is a matter of actions, then Turkey is ready to take its responsibilities. We will not back down," the Turkish president added.
The Turkish leader's comments come as the Syrian ambassador to Russia has accused Turkey of seeking to establish a city near the northern Syrian city of al-Bab, citing Turkish troops' presence and occupation of the area.
Turkey launched an incursion into Syria on August 24, 2016, in an alleged bid to push Daesh terrorists from the border with Syria and stop the advance of Kurdish forces. Damascus condemned the campaign as an act of aggression.
But on March 29, Turkish Prime Minister Binali Yildirim said the country's 'Operation Euphrates Shield' was complete, noting that any further military measures in Syria would by conducted under a different name.
This file photo taken on October 24, 2016 shows Turkish soldiers firing an upgraded M60 tank in the near the northern Syrian village of Beraan, north of Aleppo.
In his Thursday comments, Erdogan also criticized his Russian counterpart Vladimir Putin for refusing to accept allegations that the Damascus government was behind the April 4 chemical incident in the town of Khan Shaykhun.
Earlier, Putin condemned as unacceptable the "unfounded accusations" about the Idlib attack, and "pointed out that it was unacceptable to make groundless accusations against anyone without conducting a detailed and unbiased investigation," the Kremlin said in a statement.
Over 80 people were reportedly killed in the suspected chemical incident in the town of Khan Shaykhun in Idlib province on Tuesday.
Syria's Foreign Minister Walid al-Muallem has dismissed any accusations that the Syrian Army deployed chemical weapons in Idlib.
Full report at:
http://www.presstv.ir/Detail/2017/04/07/517022/Turkey-Erdogan-US-military-action-Syria-chemical-attack-Idlib-Khan-Shaykhun
-------
Turkey plans military incursion into Iraq: Report
Apr 6, 2017
Turkey is reportedly planning to launch a military incursion into northern Iraq in an alleged bid to target the Kurdistan Workers' Party (PKK), viewed by Ankara as a terrorist organization.
Turkey's pro-government Yeni Safak daily reported on Thursday that the campaign would begin in late April or May, after the April 16 referendum on expanding President Recep Tayyip Erdogan's powers.
Dubbed Tigris Shield, the mission would involve thousands of tanks, vehicles and artillery pieces used in Turkey's Operation Euphrates Shield in Syria, which ended in March after seven months, the report added.
The report further accused the PKK of having built up nine camps in the northern Iraqi Sinjar district since 2014, when the group moved in to fight Daesh terrorists.
The new operation in Iraq is aimed at cutting off any contact between Sinjar and the Qandil Mountains in Iraqi Kurdistan to the north as well as preventing cooperation between the PKK in Iraq and Kurdish forces in Syria, the report added.
Earlier this week, Erdogan stressed that the Operation Euphrates Shield was only the "first stage" of what he called Turkey's counter-terrorism battle.
He also warned that the next phases of the operation would be broader, and include the Iraqi areas of Sinjar and Tal Afar.
Since July 2015, Turkish air force has been carrying out operations against the PKK positions in the country's troubled southeastern border region as well as in northern Iraq and neighboring Syria.
A shaky ceasefire between Ankara and the PKK that had stood since 2013 was declared null and void by the militants following Turkish strikes against the group.
Turkey deployed its troops to Iraq in December 2015, claiming that it was part of a mission to train Iraqi Kurdish forces in the fight against Daesh. Some 500 Turkish forces are said to be present at the Bashiqa military camp on the outskirts of the Iraqi city of Mosul.
Baghdad has repeatedly asked Ankara to withdraw its forces from the region, describing Turkey's military presence in Iraq as an infringement on its sovereignty.
Full report at:
http://www.presstv.ir/Detail/2017/04/06/516998/Turkey-Iraq-PKK
-------
India
Muslim Clerics in Bengal Demand Ban on RSS, Say Ram Navmi Processions with Weapons Illegal
Apr 06, 2017
Even as Hindu groups observed Ram Navami across Bengal amid fanfare on Wednesday, compelling even Trinamool leaders to offer greetings to the people, top Muslim clerics demanded a ban the Rashtriya Swayamsevak Sangh (RSS), expulsion of Muslim intellectual Tarek Fatah from the country for "repeatedly insulting the Prophet" and clampdown on a prime television channel for airing Fatah's views.
Members of the West Bengal Minority United Council who claimed to have gathered "under the guidance" of the All India Majlis-e-Shoora, Tipu Sultan Masjid, demanded that chief minister Mamata Banerjee should ban the RSS in Bengal and persuade the BJP Government to expel Tarek Fatah. "Is it permissible in the book of law to raise swords and Lathis at RSS gatherings and create a sense of insecurity among other communities?" said Khalid Ebadullah, president of the council.
The council aired its demands before the media in the presence of Trinamool MP Idris Ali who attempted to distance himself from the sensitive topics. "I did not know what the issue was when I was invited today by the Shahi Imam of Tipu Sultan Masjid. I request the media not to twist the news. The Muslim community will organise a rally on April 21 to promote communal harmony. The Shahi Imam has also invited the chief minister to the rally," said the Trinamool leader even as he alleged that the RSS was involved in communal activities.
One of the most influential Muslim clerics in the state and Shahi Imam of Tipu Sultan Masjid, Syed Muhammad Nur-ur Rehman Barkati announced before the media that thousands of Muslims would gather in the heart of Kolkata on April 21 to voice their demands and promote communal harmony. "RSS has become a big threat to all Indians, not just Muslims. It should be banned for the same reasons the Taliban was banned by the US government. And, Tarek Fatah deserves no mercy for what he is doing," Barkati later told HT on the sidelines of the news conference.
He even alleged that carrying swords and other weapons in Ram Navami processions violated the law and culture of India. "Tipu Sultan's sword is still preserved in our mosque. Do we carry it on the streets? Display of weapons scare people. It goes against the law of the land," said Barkati.
Barkati, who had announced a Fatwa against controversial Bangladeshi writer Taslima Nasreen during the Left Front regime, forcing the Buddhadeb Bhattacharya government to refuse her shelter, said he had earlier announced a similar fatwa against Tarek Fatah. "If the government doesn't oust him immediately, protests will be carried out across the country and the government will be responsible for the consequences," he said, quoting a few lines from the Quran.
"Please remember that when a famous Muslim painter came under fire and was forced to leave India for insulting Hindu deities we did not interfere or offer support," Barkati told HT without naming Maqbool Fida Husain.
http://www.hindustantimes.com/kolkata/muslim-clerics-in-bengal-demand-ban-on-rss-say-ram-navami-processions-with-weapons-illegal/story-9HAk6tKT2ngPa9HvsULxtK.html
-------
Israel signs $2 billion missile deal with India
April 7, 2017
Israel has signed a $2 billion contract with India to supply it with missile defence systems, the state-owned Israel Aerospace Industries said today. Israel Aerospace Industries (IAI) in an announcement said that it has been awarded its largest defence contract of almost $2 billion for supplying advanced medium-range surface-to-air missile systems (MRSAM) to India.
IAI said it would also supply additional long-range air and missile defence systems (LRSAM) for the first locally produced Indian aircraft carrier. The contract is worth $1.6 billion for IAI, with the rest going to another state-owned defence company Rafael, that will be providing components for the systems.
"The current contracts represent an enormous expression of confidence by the government of India in IAI's capabilities and advanced technologies, which are being developed with our local partners as part of the Indian government's 'Make in India' policy," IAI Chief Executive Officer (CEO) Joseph Weiss said in a statement.
President Reuven Rivlin, who is said to have discussed the deal with Indian leaders during his trip to India early this year, called to congratulate Weiss on this "historic" deal terming it truly "exceptional".
"Please pass on my congratulations to all who contributed to this important achievement. You have come such a long way to arrive at this point, it is truly exceptional," Rivlin told IAI's CEO.
"Israel's willingness to share technology and form joint ventures with Indian companies to develop and manufacture military equipment supporting the 'Make in India' initiative is said to have been well received in New Delhi.
Full report at:
http://indianexpress.com/article/india/israel-signs-2-billion-missile-deal-with-india-4603159/
-------
Africa
Kenya: Imams Say Too Much Political Heat Could Lead to Chaos
6 APRIL 2017
By Galgalo Bocha
Religious leaders have warned that the rise in incidents of politicians using abusive language against their political opponents may lead to chaos, if not checked.
Sheikh Mohamed Khalifa, the organising secretary of the Council of Imams and Preachers of Kenya (CIPK) challenged State agencies mandated to vet aspirants to bar such politicians from seeking any elective posts.
Sheikh Khalifa was addressing journalists on the sidelines of a stakeholders' forum held by the Kenya Film Classification Board that was held at Travellers Beach Hotel, Mombasa, with the aim of collecting religious leaders' views on the review of the Film and Stage Plays Act Cap 222.
"Members of (the) public cannot tolerate any more leaders who are intolerant [and] disrespect and incite Kenyans along tribal lines," added Sheikh Khalifa.
PROFESSIONAL BODIES
Mombasa County Commissioner Evans Achoki who was present during the forum urged the media to conduct themselves professionally before, during and after the forthcoming elections.
Sheikh Khalifa challenged the Directorate of Criminal Investigations (DCI), the Ethics and Anti-Corruption Commission (EACC) and the National Cohesion and Integration Commission (NCIC) to prosecute politicians propagating hooliganism and violence that has been witnessed in the recent past across the country.
"The political violence witnessed in Migori County the other day should not be allowed to happen again since it is a threat to the security and stability of the country ahead of the polls," he said.
"These agencies are failing Kenyans because they are mandated to take legal action against some of these leaders. Kenyans should not be allowed to be used by politicians to fight their neighbours because of political differences," added the cleric.
APPROACHING ELECTIONS
Religious leaders are increasingly concerned with the state of the nation as the clock ticks towards the August 8 elections.
They repeatedly pleaded with politicians to save the country from a repeat of the 2007/2008 bloody chaos in which thousands of Kenyans lost their lives while others were displaced from their homes.
Recently, the Inter-Religious Council of Kenya (IRCK) chairman Adan Wachu and board member, Dr Nelson Makanda, said the posterity of the country is more important than the outcome of elections.
"We are urging all stakeholders in this country to honour the sanctity of the laws and the Constitution we have given ourselves so that we go to the election without acrimony," said Dr Makanda.
The Muslim, Christian and Hindu religious leaders' umbrella body said they are the voice of Kenyans, adding that they are committed to telling Kenyans, particularly the youth, not to be incited by politicians to cause violence and fight each other.
They observed that there is a similarity between this year's election and the disputed 2007 elections in which the country was plunged into political crisis.
http://allafrica.com/stories/201704060263.html
-------
Tunisia sentences British DJ for Muslim prayer remix
7 APRIL 2017
A Tunisian court has sentenced a British DJ to a year in jail after he played a dance remix of the Muslim call to prayer.
London-born Dax J, was charged with public indecency and offending public morality - but had already fled the country before the court case.
He had also issued an apology.
The nightclub was shut down after footage of the weekend's event was shared on social media and sparked outrage.
A court spokesperson told AFP news agency that the court dismissed charges against the nightclub owner and an event organiser, but the prosecution has appealed saying the two should have checked what the DJ would be playing.
The event was part of Orbit Festival in Nabeul in the country's north-east.
The footage showed clubbers dancing to music played by two European DJs.
The music included a dance version of the call to prayer, the religious act that Muslims perform five times a day.
Tunisia country profile
"We will not allow attacks against religious feelings and the sacred," the governor of Nabeul, Mnaouar Ouertani, said when the club was shut down.
Earlier in the week, the organisers of the Orbit Festival apologised in a post on the event's Facebook page, but said that they did not accept responsibility for the playing of any offensive music.
Full report at:
http://www.bbc.com/news/world-africa-39522342
-------
Somali landmine kills at least 14 in minibus
April 7, 2017
MOGADISHU - At least 14 people were killed and several others injured when the minibus they were travelling in hit a landmine in the southern Somali region of Lower Shebelle Thursday, police said.
"Fourteen civilians, seven of them women, were killed in the landmine explosion near Golweyn, the minibus was transporting 21 people when it ran over the landmine and most of them died in the blast," local police official Ibrahim Isack told AFP.
"The mine was planted by the violent terrorists," said Isack, referring to the Al-Qaeda linked Al-Shabaab group.
The bus was travelling from the town of Bulomarer to Marka when it hit the landmine near the village of Golweyn which lies some 120 kilometres (74 miles) from the capital in an area hotly contested between government and African Union troops and the Shabaab.
"I saw the dead bodies of more than ten people including three children and seven women, their bodies were shattered by the blast," Mohamed Abdulahi, a witness from a nearby village told AFP by telephone.
"This incident is horrible and everybody is shocked, innocent civilians blown up while travelling to their houses," said Abdulahi Moalim Abdi, an elder from Golweyn.
The blast came just hours after Somalia's new President Mohamed Abdullahi Mohamed declared fresh war against the Islamists who continue to launch strikes at will in the countryside and the capital Mogadishu.
"I am announcing a state of war in the country and call on the public to stand with the national army to help fight terrorists," the president, widely known by his nickname Farmajo, told a press conference.
Farmajo, who took office in February, on Thursday replaced the heads of the army, police and national intelligence.
"We are very sorry for those kids who have been misled and we are offering the Shabaab fighters an ultimatum of 60 days to surrender otherwise they will face the consequences," he said.
Full report at:
http://nation.com.pk/international/07-Apr-2017/somali-landmine-kills-at-least-14-in-minibus
-------
4 refugee smugglers killed in clashes off western Libya coast
Apr 6, 2017
Four suspected refugee smugglers have been killed in clashes with coastguards off Libya's western coast.
Coastguard spokesman Ayoub Qassem said Thursday that those killed earlier in the day close to the city of Zawiya, about 45 kilometers west of the capital Tripoli, had resisted arrest.
"The coastguard boat detected the gunmen's boat by radar during a patrol," Qassem said, adding, "The gunmen were asked to stop but they refused to follow the rules, which means most likely they were smugglers of illegal migrants. They opened fire at the patrol. The coastguards fired back too."
The official said the coastguard had managed to apprehend two of the suspected smugglers while search was underway to find one missing refugee. He added that a journalist from Germany, who was onboard the coastguard vessel, suffered minor injuries in the exchange of fire.
Refugees normally use the western coast of Libya to embark on a risky journey toward Europe to the north. Chaos in Libya, a country which has been gripped by militancy since the fall of former dictator Muammar Gaddafi six years ago, has enabled powerful smuggling networks to operate with impunity.
A deal between the European Union and Turkey last March forced many refugees to use the route in central Mediterranean toward Italy. Most of the refugees are packed into dinghies that normally carry them to international waters where European rescue craft or other vessels pick them up. The coastguard in Libya intercepts some of the boats and forces them to return the refugees.
Estimates say around 600 refugees have died since the start of this year while trying to cross the sea from Libya to Italy.
Full report at:
http://www.presstv.ir/Detail/2017/04/06/516993/Libya-refugee-smuggling-Italy
-------
North America
Canada police arrest US man after 'mock' bomb found on Chicago-bound plane
April 7, 2017
A 58-year-old American man was arrested after airport officials found a "mock improvised explosive device" in a suitcase on a United Airlines flight bound for Chicago, Canadian police said on Thursday.
The device was swabbed for explosives and found not to be a threat to safety, a Peel Regional police spokesman said. The Chicago O'Hare-bound flight was delayed for hours from its scheduled 7 am EDT (1100 GMT) departure from Toronto.
The suspect, who was not identified, was held for a bail hearing on Friday.
http://nation.com.pk/international/06-Apr-2017/canada-police-arrest-us-man-after-mock-bomb-found-on-chicago-bound-plane
-------
US attack Syrian airbase with 59 cruise missiles in response to chemical attack
Apr 07 2017
The United States has attacked a Syrian airbase with at least 59 cruise missiles in response to a deadly chemical attack on Khan Sheikhoun area of Idlib.
Pentagon spokesman Capt. Jeff Davis quoted in a statement said "At the direction of the president, U.S. forces conducted a cruise missile strike against a Syrian Air Force airfield today at about 8:40 p.m. EDT (4:40 a.m., April 7, in Syria). The strike targeted Shayrat Airfield in Homs governorate, and was in response to the Syrian government's chemical weapons attack April 4 in Khan Sheikhoun, which killed or injured hundreds of innocent Syrian people, including women and children."
Capt. Davis further added that the strike was conducted using Tomahawk Land Attack Missiles (TLAMs) launched from the destroyers USS Porter and USS Ross in the Eastern Mediterranean Sea.
According to Capt. Davis, a total of 59 TLAMs targeted aircraft, hardened aircraft shelters, petroleum and logistical storage, ammunition supply bunkers, air defense systems, and radars.
"As always, the U.S. took extraordinary measures to avoid civilian casualties and to comply with the Law of Armed Conflict. Every precaution was taken to execute this strike with minimal risk to personnel at the airfield," he added.
He said the strike was a proportional response to Assad's heinous act, insisting that the Shayrat Airfield was used to store chemical weapons and Syrian air forces.
According to Pentagon, the U.S. intelligence community assesses that aircraft from Shayrat conducted the chemical weapons attack on April 4. The strike was intended to deter the regime from using chemical weapons again.
Full report at:
http://www.khaama.com/us-attack-syrian-airbase-with-59-cruise-missiles-in-response-to-chemical-attack-02523
-------
US launches targeted military strike on Syria
April 7, 2017
US President Donald Trump said on Thursday he ordered a targeted military strike on the airfield in Syria from which a deadly chemical attack was launched and added there could be no dispute that Syria had used banned chemical weapons.
"It is in the vital national security interest of the United States to prevent and deter the spread and use of deadly chemical weapons," Trump said.
"There can be no dispute that Syria used banned chemical weapons, violated its obligations under the chemical weapons convention and ignored the urging of the UN Security Council."
A White House official said 59 precision-guided missiles hit Shayrat Airfield in Syria, where the US believes Tuesday's deadly attack was launched. The official had earlier given the number of missiles involved as 70.
The missiles were blasted from the USS Porter and the USS Ross, which belong to the US Navy's Sixth Fleet and are located in the eastern Mediterranean. A US official said the missiles targeted aircraft and runways at the base.
"This site was associated with the Syrian regime's chemical weapons program and directly linked to the horrific chemical weapons attack April 4th," the White House official said.
"We assess with a high degree of confidence that the chemical weapons attack earlier this week was launched from this site by air assets under the command of the Assad regime," the official added.
"We also assess, with a similar degree of confidence, that the Assad regime used a chemical nerve agent consistent with sarin in these attacks." Inhaled or absorbed through the skin, sarin gas kills by crippling the respiratory centre of the central nervous system and paralyses the muscles around the lungs.
Sarin was used by Iraqi dictator Saddam Hussein's regime to gas thousands of Kurds in the northern town of Halabja in 1988.
Full report at:
https://www.dawn.com/news/1325463/us-launches-targeted-military-strike-on-syria
-------
Trump orders military strikes against Assad airbase in Syria
April 7, 2017
U.S President Donald Trump said on Thursday he ordered missile strikes against a Syrian airfield from which a deadly chemical weapons attack was launched, declaring he acted in America's "national security interest" against Syrian President Bashar al-Assad.
U.S. officials said the military fired dozens of cruise missiles against the airbase controlled by Assad's forces in response to the poison gas attack on Tuesday in a rebel-held area.
The U.S. military launched 59 Tomahawk missiles from two U.S. Navy destroyers on Thursday at a Syrian airfield and targets included aircraft and air defense systems, a Pentagon spokesman said.
"These missiles targeted aircraft, hardened aircraft shelters, petroleum and logistical storage areas, ammunition supply bunkers, air defense systems, and radars," Pentagon Captain Jeff Davis spokesman told reporters.
Facing his biggest foreign policy crisis since taking office in January, Trump took the toughest direct U.S. action yet in Syria's six-year-old civil war, raising the risk of confrontation with Russia and Iran, Assad's two main military backers.
"Years of previous attempts at changing Assad's behavior have all failed and failed very dramatically," Trump said from his resort in Mar-a-Lago where he was attending a summit with Chinese President Xi Jinping.
Russia was warned: US
The U.S. military gave Russian forces advanced notice of its strikes on a Syrian airbase and did not hit sections of the base where the Russians were believed to be present, Pentagon spokesman Captain Jeff Davis said on Thursday.
Davis, briefing reporters on the operation, said the U.S. military had "multiple" conversations with Russian forces on Thursday before the strike, using a line of communication that had previously been established to prevent an accidental clash in Syria during the fight against Islamic State.
Hillary Clinton calls to bomb Syria
In an interview she was asked whether she now believes that failing to take a tougher stand against Syria was her worst foreign policy mistake as secretary of state under President Barack Obama, Clinton said she favored more aggressive action against Syrian President Bashar al-Assad.
"I think we should have been more willing to confront Assad," Clinton said in the interview, conducted by New York Times columnist Nicholas Kristof.
"I really believe we should have and still should take out his air fields and prevent him from being able to use them to bomb innocent people and drop sarin gas on them."
Clinton noted that she had advocated for a no-fly zone in Syria after leaving government, something that Obama opposed.
Some 50 Tomahawk missiles were launched from U.S. Navy warships, the USS Porter and USS Ross, in the eastern Mediterranean Sea, striking multiple targets - including the airstrip, aircraft and fuel stations - on the Shayrat Air Base, the officials said, speaking on condition of anonymity.
Damage estimates from the strikes, which were conducted at 8:45 p.m. EDT, were not immediately known.
Syrian state TV said that "American aggression" had targeted a Syrian military base with "a number of missiles and cited a Syrian military source as saying the strike had "led to losses."
Trump said: "Tonight I ordered a targeted military strike on the airfield in Syria from where the chemical attack was launched.
"It is in the vital national security interest of the United States to prevent and deter the spread and use of deadly chemical weapons," Trump said.
"There can be no dispute that Syria used banned chemical weapons, violated its obligations under the chemical weapons convention and ignored the urging of the U.N. Security Council," he added.
Trump ordered the strikes just a day after he pointed the finger at Assad for this week's chemical attack, which killed at least 70 people, many of them children, in the Syrian town of Khan Sheikhoun. The Syrian government has denied it was behind the attack.
Trump appeared to have opted for measured and targeted air attacks instead of a full-blown assault on Assad's forces and installations.
The relatively quick response to the chemical attack came as Trump faced a growing list of global problems, from North Korea to China to Iran and Islamic State, and may have been intended to send a message to friends and foes alike of his resolve to use military force if deemed necessary.
Losses in Syria
A Syrian military source said a U.S. missile strike on a Syrian air base had led to "losses."
"One of our air bases in the central region was exposed at dawn today to a missile strike by the United States, leading to losses," a Syrian state TV news flash cited the source as saying.
Full report at:
http://nation.com.pk/international/07-Apr-2017/trump-orders-military-strikes-against-assad-airbase-in-syria
-------
Accused bomber seeks different venue with media coverage in US
April 7, 2017
A man accused of setting off bombs in New Jersey and New York seven months ago, injuring dozens of people, asked a judge on Wednesday to move his trial to Vermont to avoid the possibility potential jurors have been influenced by prejudicial publicity about the case.
Lawyers for Ahmad Khan Rahimi, an Afghanistan-born US citizen, said in court papers he would get a fairer trial in Burlington, Vermont. They said an expert analysis shows that media coverage of his case in Manhattan newspapers was twice as heavy as occurred in Washington, D.C., and five times as much as in Burlington publications.
Rahimi, who lived with his family in Elizabeth, New Jersey, is charged with detonating a pipe bomb along a charity race in Seaside Park, New Jersey, and planting two pressure cooker bombs in Manhattan on Sept. 17.
One device did not explode. The other one detonated in the Chelsea neighborhood, injuring 30 people.
Rahimi, who has pleaded not guilty, is detained without bail.
Defense lawyers say their analysis shows that about 90 percent of respondents to their survey were aware of Rahimi's case and that those who answered questions had a "comparatively strong presumption of guilt."
They said a high number of the respondents said they were in the Chelsea neighborhood at the time of the attacks or knew someone who was.
The lawyers wrote that prejudicial information that reached some respondents included reports of a confession, a near singular focus on Rahimi, inflammatory information and demonization of Rahimi as a terrorist.
They also cited numerous statements by the government and tweets by former US Attorney Preet Bharara about Rahimi and other aspects of his prosecution.
Prosecutors declined to comment.
Rahimi was hospitalized for weeks for treatment of wounds suffered in a police shootout during his Sept. 19 capture outside a bar in Linden, New Jersey. In New Jersey, he is charged with attempted murder for the gunbattle with five officers.
His Manhattan federal trial is scheduled for October.
Full report at:
http://nation.com.pk/international/06-Apr-2017/accused-bomber-seeks-different-venue-with-media-coverage-in-us
-------
URL: https://www.newageislam.com/islamic-world-news/we-don-t-want-burqas/d/110684
New Age Islam, Islam Online, Islamic Website, African Muslim News, Arab World News, South Asia News, Indian Muslim News, World Muslim News, Women in Islam, Islamic Feminism, Arab Women, Women In Arab, Islamophobia in America, Muslim Women in West, Islam Women and Feminism