New Age Islam News Bureau
22 Sept 2018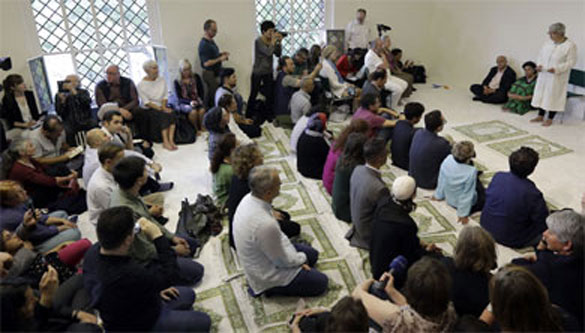 Human rights lawyer Seyran Ates at the opening of the Ibn Rushd-Goethe mosque. Source: DPA
------
• 'Phoolon Wala Taziya' Keeps Hindu-Muslim Harmony Alive
• The Berlin Muslims Reforming Islam, One Co-Ed Prayer Meeting At A Time
• One Million Uighur Muslims Held By Chinese Government
• Spain to Push For European Recognition of Palestine
• Faith Communities Must Take Action against Anti-Muslim Hate
• Islamabad Expresses 'Disappointment' After New Delhi Backtracks From Talks
India
• 'Phoolon Wala Taziya' Keeps Hindu-Muslim Harmony Alive
• Faizabad's Ganeshotsav Symbolises Hindu-Muslim Harmony
• Hindus Too Take Part In Muharram Rituals, Muharram 'Panjas' Were Seen Placed In Ganesh Mandals
• Educational Reservation: Should Muslims Get It In Place Of Other Well-Off Groups?
• India Third Largest Victim to Terror Attacks across World, Claims US Study
• J&K encounter: 5 Lashkar-e-Taiba terrorists killed in Bandipora
• India concerned over attempts to rig polls in Maldives
• Jammu and Kashmir policemen killed: Resolve of force remains unshaken, say senior officials
• Muharram procession: Curbs in Bihar town after one killed in firing
• Citing Pak terror, India calls off New York meet, says PM Imran Khan's 'true face' exposed
--------
Europe
• The Berlin Muslims Reforming Islam, One Co-Ed Prayer Meeting At A Time
• Pope Warns Against Upsurge in Racism and Intolerance
• Ukip Proposes Creation Of Muslim-Only Prisons In Interim Manifesto
• Muslim children victims of UK's counter-terror policy
--------
Southeast Asia
• One Million Uighur Muslims Held By Chinese Government
• Maldives Police Remove 'Anti-Islamic Idols' In Luxury Resort Raid
• Malaysia can't accept same-sex marriage or LGBT rights: PM Mahathir Mohammad
• Fuziah: Shariah laws on LGBT should be clarified, not compromised
• PKB reports Muslim preacher to police over alleged hate speech
--------
Mideast
• Spain to Push For European Recognition of Palestine
• Turkey Detains 85 Military Personnel over Gulen Ties
• Israel begins constructing 310 new settler units in occupied Old City
• Yemeni army kills prominent al-Qaeda leader
• Saudi Arabia Bans More Than 600,000 Palestinians from Hajj and Umrah Pilgrimages
• Turkish, Russian, Iranian ministers to discuss Syria in New York
• Rouhani Lashes Out: 'Iran Will Defeat Trump Just Like It Did Saddam'
• Unknown gunmen 'kill several' in attack on Iranian army parade
• Yemeni army seizes military air base north of Hodeidah
• Abbas denies Palestinians refused peace talks with Israel
--------
North America
• Faith Communities Must Take Action against Anti-Muslim Hate
• Islamabad Has Done Little to Curb Jaish, LeT: Washington
• Powder Scare at Islamic Centre Investigated as Hate Crime
• 'Awful abuses': US denounces China's treatment of Uighurs
--------
Pakistan
• Islamabad Expresses 'Disappointment' After New Delhi Backtracks From Talks
• 'Pakistan Has Nothing to Lose' — Analysts Weigh In On Modi Govt's U-Turn on Talks
• Hanif Abbasi shifted from Adiala jail to Attock prison after photo leak controversy
• China taken into confidence over Saudi Arabia joining CPEC: information minister
• Shireen Mazari calls out Trump's ignorance on US role in destabilising ME
• Citizenship for Afghans, Bengalis opposed
--------
Africa
• Muslim Clerics Condemn Terror Killings, Won't Watch As Innocents Are Murdered
• Libya Says Death Toll from Tripoli Clashes Climbs To 96
• Mozambique: Soldiers Reported Dead in Terrorist Attack
• 5 years after mall Kenya attack, al-Shabaab's threat grows
--------
Arab World
• Muslim World League to Organise an Islamic-Christian World Conference in Beirut
• Saudi Trying To Stop Yemen War Crimes Probe: HRW
• Brazilian police arrest fugitive linked to Hezbollah
• Houthi militants killed by coalition airstrike
• Qatari tribe continues campaign for justice at UN in Geneva
• Israel showed Russia proof Syria to blame for downed plane — Israeli military
--------
South Asia
• Roadside Bombing Kills 8 Children In Northern Afghanistan
• Russia, US pact could end armed conflict in Afghanistan
• Myanmar Lawmakers, Politicians React to British Foreign Secretary's Appeal
• Pentagon to procure additional M4 rifles for the Afghan armed forces
Compiled by New Age Islam News Bureau
URL: https://www.newageislam.com/islamic-world-news/phoolon-wala-taziya-keeps-hindu/d/116459
--------
'Phoolon wala Taziya' keeps Hindu-Muslim harmony alive
Siraj Qureshi
September 21, 2018
In the current political scenario, where communal harmony is at stake in the country, people are still keeping Hindu-Muslim harmony alive. Every year on the occasion of Moharram, thousands of Hindus and Muslims get together and pray at the Phoolonwala Taziya' in Agra.
Taziyas are miniature mausoleums made of wood, bamboo and paper, and are integral to the Moharram processions.
The six-foot-tall Phoolonwala Taziya, situated in Nai Basti area for four days is the biggest Taziya in Agra.
UP Sarvdaleey Action Committee (SAC) president Syed Irfan Saleem told IndiaToday.in that people come to this Taziya from all corners of Agra and the neighbouring districts, and it is difficult to differentiate between a Hindu and a Muslim for these four days. Such a harmonious atmosphere is what is keeping this country's spirit alive, he added.
Hindustani Biradari vice-chairman, Vishal Sharma said that till the time people stay away from politics, nobody can keep a Hindu apart from a Muslim, because all politicians see Hindus and Muslims as captive vote banks. He said that Moharram signifies the victory of justice over injustice where Hazrat Hassan and Hussain kept justice alive by sacrificing their lives. The Taziya signifies the battle that was fought in Karbala for honesty, justice and unity against the forces of Yazeed.
https://www.indiatoday.in/india/story/-phoolon-wala-Taziya-keeps-hindu-muslim-harmony-alive-1345835-2018-09-21
--------
The Berlin Muslims reforming Islam, one co-ed prayer meeting at a time
September 21, 2018
German security services were recently in touch with one of Berlin's best-known Muslim clerics. He should take their warnings seriously, they again told Abdul Adhim Kamouss. Death threats were being made against him by members of the Islamic State extremist group and they were real, the officers said.
Mr. Kamouss knows why he is being threatened but he will continue with his plans. The 41-year-old Berlin local wants to start his own mosque, where he will preach mainly in German; he also wants to establish an advisory service for Muslims, a center to combat radicalization and a Muslim scout group.
To do all this, Mr. Kamouss started a foundation called Islam in Germany. He sees himself as somebody who will bring his religion into the 21st century, encouraging his congregation to play a larger role in mainstream German culture and fighting what he calls "the rat catchers" – radicals who preach a hateful version of his religion to entice younger Muslims to do their bidding.
A popstar for religious extremists
Mr. Kamouss wasn't always this way. He used to preach in a radical mosque in Berlin's Neukölln district that was under observation by state security. Back then, he thought good, Muslim women should never leave the house and that bad Muslims would all go to hell. In fact, Mr. Kamouss was famous for strict adherence to the toughest of Koranic edicts.
Local media described him as "a brainwasher" and "a pop star on the Salafist scene" (Salafists being among the most extreme believers from the Sunni branch of Islam, from which the Islamic State also arose). One of Germany's most infamous terrorists, former rapper Denis Cuspert, who was later seen in Islamic State videos, used to come to Mr. Kamouss' tough-talking sermons.
Then his message changed. There was no need to wear the full-face-and-body veil known as the burqa or to avoid having men and women shaking hands. He encouraged Muslims to vote and to take part in the culture in which they live, as opposed to separating themselves from what he had previously seen as the "unholy" sphere.
In August, Mr. Kamouss, who has been described a traitor to his own religion, a German suck-up, released a book about his personal transformation: "Wem gehört der Islam?," or "To whom does Islam belong?" The message is clear: Islam needs a reformation. His book is also critical of local Muslim organizations: Why is it that they can't offer services in German? Why must they bring clerics from the Turkish, Egyptian and Moroccan countryside, who know nothing about life in contemporary Germany?
Conservative views only, please
There are some 98 prayer rooms and mosques throughout the city, but it is predominantly the larger mosques and associations who speak for the metropolis' 250,000 to 300,000 Muslims. They tend to be on the conservative end of the spectrum, both in religious and political terms.
A lack of alternatives means the German government and media often turn to these organizations for the Muslim point of view at interfaith events. This was one complaint about the new Institute for Islamic Theology, where potential clerics and preachers can study, that is scheduled to open at Berlin's Humboldt University next autumn. Three large Islamic associations were asked to advise on teachers and course content. Far-smaller, liberal organizations were not included.
One of the smaller organizations that complained, the Ibn Rushd-Goethe mosque, is headquartered three kilometers from Mr. Kamouss' currently-makeshift mosque.
On a Friday afternoon, just before services are to begin, about two dozen people crowd the small prayer room. Some participants are kneeling on prayer mats, others are seated on chairs around the walls, watching. The observers, not here to pray, include Christians, non-believers and local Muslims.
They're intrigued because the German mosque allows men and women to pray together. A female celebrant is leading the prayers today. That alone is a complete anathema to most Muslims, conservative or otherwise, and the mosque and its founder, human rights lawyer Seyran Ates, have been loudly criticized and threatened. In Ms. Ates' case, that includes being physically attacked and shot at.
Although Ms. Ates says she won't be discouraged, it seems a lot of Muslims are: There are usually only around 25 praying at the mosque. "That doesn't mean there is no interest," Ms. Ates explains. "It just means that people are intimidated."
A guest asks why prayers are held Friday afternoon when many people are still at work. It's a tradition from the Middle East, Mohammed replies. Given that the mosque is bucking a fair few stereotypes, they decided to keep that tradition. "A lot of Muslims are already accusing us of wanting to change too much," Mohammed adds. "They say we want to start a whole new religion."
https://global.handelsblatt.com/politics/berlin-muslim-reform-islam-964887
--------
One million Uighur Muslims held by Chinese government
by Mereana Hond
Sep 22, 2018
An investigation by the Associated Press news agency shows a systematic campaign by the Chinese government to strip young Uighur Muslims of their language and culture.
The UN has said around one million Muslims in the Xinjiang region have been rounded up and held in so-called "re-education" centres - camps the Uighurs claim are intended to replace the next generation's Uighur identity with a Chinese one.
The Chinese government has denied the allegations.
https://www.aljazeera.com/news/2018/09/million-uighur-muslim-children-detained-chinese-government-180921113712942.html
--------
Spain to push for European recognition of Palestine
Sep 21, 2018
Spain says it will try to bring about a "European recognition" of an independent Palestinian state, saying the country may itself go ahead and recognize Palestine if a consensus evades the continent.
On Thursday, Spain's Foreign Minister Josep Borrell said he would launch an "intensive" consultation process with his counterparts to set a timetable for achieving a common position on the subject, Ha'aretz reported.
If "the EU is not able to reach unanimous decision," the option of individual recognition of Palestine is "on the table," he added.
Riyad al-Maliki, the foreign minister of Palestinian Authority, welcomed the prospect of a Spanish recognition, the Palestinian Ma'an News Agency reported. He called the Spanish foreign minister's remarks a result of his trip to the European country earlier in September, during which he had proposed the recognition to his counterpart.
So far, 139 countries have recognized Palestine.
In Spain, some parties have reportedly been trying to convince the government to follow in their footsteps. Opponents say Tel Aviv might react by recognizing Catalonia, where an independence drive has been hassling Madrid.
Spain has urged Israel against recognizing the Spanish region.
Last year, Tel Aviv threw its support behind a controversial independence vote, which went underway in Iraq's Kurdistan region. The regime was alone in supporting the drive, while the international community was unanimously warning about its consequences. In January, the PA's President Mahmoud Abbas called on the European Union (EU) to recognize a Palestinian state within the 1967 borders.
The Israeli regime occupied the Palestinian territories of the Gaza Strip and the West Bank that year during a war. It withdrew from Gaza in 2005, but has been keeping the enclave under draconian pressures.
There are disagreements within the EU on whether the bloc should recognize Palestine.
https://www.presstv.com/Detail/2018/09/21/574768/Spain-Europe-recognition-Palestine-Israel
--------
Faith communities must take action against anti-Muslim hate
09/21/2018
The graffiti that was spray-painted last week on the sidewalk in front of the home of a Muslim family in Homer Glen ("Man charged with spray-painting anti-Muslim graffiti in Homer Glen," Sept. 20) was a cowardly act that should be condemned by all faith communities in the Chicago area. It's noteworthy that the graffiti included crosses and a denigration of the prophet of Islam, which is against Christianity's message of love. Jesus Christ called "loving your neighbor as yourself" the greatest commandment, after loving God with all your heart.
That Islamophobic, cowardly act proves that many Americans are still struggling to accept Muslims as part of the American social fabric, 17 years after the attacks of 9/11. Some Christian churches are not doing enough to welcome Muslim immigrants and refugees into our midst, and others are actually subscribing to the fear-mongering agenda of the far Christian Right.
At Salam Christian Fellowship in Lombard, we strive to welcome the stranger among us, help refugees and new immigrants, and provide social services to help them integrate into the American community.
Islamic centers in the Chicago area should help Americans understand that most Muslims are moderates who came here for the American dream, and do not subscribe to an extremist, terrorist agenda. Islamic centers need to launch a dialogue in the West about the Islamist ideology espoused by the Muslim Brotherhood, which borrows from fascism. Muslims in many instances have proven that they do not want to live under Islamic Sharia law that the Brotherhood and other Islamists adopt.
All faith communities need to work together in order to overcome xenophobia and keep our society safe.
Hesham Ali Shehab, Lombard
Carbon fees on fossil fuels
Thanks for publishing Jesse Jackson's op-ed, ("By enforcing climate change denial, Trump puts us all in peril", Sept. 17). I don't often agree with Jackson, but on this subject, he couldn't be more accurate. Science can now estimate how global warming from human activity contributes to additional rainfall and storm intensity during hurricanes. So, we can now measure impacts and attribute costs to Trump's "do nothing" plan for global warming.
As Jackson points out, Trump's singular focus on reducing regulatory costs for industry (by rolling back auto emission standards, scuttling the Clean Power plan, methane leak regulation rollbacks) worsens global warming and hurricane intensity. This narrow focus ignores the very real economic costs of climate damage. Taxpayers get stuck with significant additional FEMA, infrastructure and other storm impact costs, related to these industry-friendly regulatory giveaways.
It's time to recognize the huge social costs and future liabilities of allowing big oil, gas and coal to freely use our atmosphere as their garbage can. Since the administration hates regulation, it should support a steadily increasing carbon fee on greenhouse gas emissions from these energy providers. The "fee" would get returned to every household to offset increased fossil fuel costs. Within 10 years, green energy sources would become cheaper than fossil fuels.
In an orderly market transition, the markets would flip towards lower or non-emitting energy sources, with consumers pocketing the savings. This plan, unlike Trump's Affordable Clean Energy plan, grows jobs and GDP, and reduces future global warming impact.
Andy Panelli, Homer Glen
Cannabis in Coke?
I had to re-read the article in the newspaper the other day ("Coke is 'closely watching' the market for drinks infused with cannabis extract," Sept. 19) to make sure I hadn't misread it. Cannabis in Coke, really! Why would you put any medication in a soft drink that a child could inadvertently pick up and drink? Pain medication is just exactly that — pain medication. It should be treated as such and never camouflaged in a soft drink. Who would ever think this is a good idea?
Janet Lumm, Schaumburg
Toxic waste from Florence
Millions of factory- farmed animals have drowned as a result of Hurricane Florence. Their pathetic lives have been cut short. But the toxic waste from flooded "lagoons" of pig waste that now permeates our land and air remains a serious threat with unforeseen consequences. North Carolina alone creates 10 billion pounds of wet animal waste annually.
In the interests of all of us who breathe and eat, mainstream media must acknowledge this issue so it can be dealt with.
https://chicago.suntimes.com/opinion/hate-crimes-muslims-islamophobia-south-suburbs/
--------
Islamabad expresses 'disappointment' after New Delhi backtracks from talks
Naveed Siddiqui
September 21, 2018
The Pakistan government on Friday expressed "disappointment" after New Delhi announced to cancel the meeting of foreign ministers of India and Pakistan, to be held on the sidelines of UNGA in New York, and blamed India for "once again wasting an opportunity to change the dynamics of the bilateral relationship".
A statement issued by the Foreign Office said that the reasons cited by the Indian side for the decision to cancel the foreign ministers' meeting, within 24 hours of its public confirmation, are entirely unconvincing.
"The so-called 'disturbing developments' alluded to in the Indian statement predated the Indian agreement to hold the bilateral meeting in New York," Islamabad said.
Know more: India cancels New York meeting with Pakistan, says PM Khan's 'true face revealed'
Clarifying its position on the matter, the Foreign Office said that the alleged killing of BSF soldier took place two days prior to the Indian announcement of its agreement to hold the bilateral meeting.
"When the allegations of Pakistan's involvement first appeared, the Pakistan Rangers clearly conveyed to BSF through official channels that Pakistan had nothing to do with it. Pakistan Rangers also extended help in efforts to locate the soldier's body.
"These facts were known to the Indian authorities and a part of the Indian media also reported that Pakistan had refuted its involvement. Yet, this motivated and malicious propaganda continued.
"Pakistan takes this opportunity to categorically reject these allegations once again. Our authorities would be prepared to conduct a joint investigation to establish the truth," read the Foreign Office statement.
The other reason cited by the Indian ministry referred to the issuance of 20 special postage stamps by Pakistan Post on July 24, highlighting the gross violation of human rights by Indian forces in held Kashmir.
Islamabad clarified that the postage stamps mentioned in the Indian statement were issued before the July 25 elections, following which Prime Minister Imran Khan assumed office.
"The stamps highlight the gross and systematic human rights violations in Indian Occupied Kashmir, which were extensively documented also in a comprehensive report issued by the United Nations High Commissioner for Human Rights as late as June 2018.
"By falsely raising the canard of 'terrorism', India can neither hide its unspeakable crimes against the Kashmiri people nor can it delegitimise their indigenous struggle for their inalienable right to self-determination," the Foreign Office maintained.
Most unfortunate is the reference in the Indian MEA statement to the person of the Prime Minister of Pakistan.
The Foreign Office also expressed disappointment over the "reference in the Indian MEA statement to the person of the Prime Minister of Pakistan", and termed it "unfortunate".
"We choose not to further comment beyond saying that these comments are against all norms of civilised discourse and diplomatic communication," read the statement.
Putting the record straight, the Foreign Office mentioned that PM Imran Khan had, in his first public comments after his electoral success, outlined a forward-looking vision of Pakistan-India relations.
"He had clearly stated that if India took one step forward, Pakistan would take two. In the same spirit, PM Khan in his reply letter endorsed PM Modi's call for 'constructive engagement' and proposed the meeting of the two foreign ministers in New York to discuss a way forward on bilateral and Saarc-related matters," it clarified.
Terming it an "ill-considered cancellation of the meeting", the Foreign Office accused India of "once again wasting a serious opportunity to change the dynamics of the bilateral relationship and put the region on the path of peace and development".
"Pakistan has always desired peaceful and good-neighbourly relations with India, on the basis of sovereign equality, mutual respect and mutual benefit. In our view, dialogue and diplomacy are the only constructive way forward for the two countries to address mutual concerns, rebuild trust, resolve longstanding disputes, and establish durable peace in South Asia.
"For its part, Pakistan will persist with its quest for peace and development. But, as we have consistently emphasised, our approach will continue to be guided by the aforementioned principles and the dictates of national dignity," read the Foreign Office statement.
https://www.dawn.com/news/1434297/islamabad-expresses-disappointment-after-new-delhi-backtracks-from-talks
--------
India
Faizabad's Ganeshotsav symbolises Hindu-Muslim harmony
Sep 21, 2018
Members of the Hindu and Muslim communities in Faizabad's Mukeri Tola locality celebrate Ganeshotsav with fervour spreading the message of communal harmony.
The locals have even formed a Ganesh Puja committee in which people from both the communities hold positions and take charge to make arrangements for the festivities.
Committee chairperson Irshad Hussain says that it started in 2011 and since then, they have been celebrating Ganeshotsav every year.
During the event, Muslims even recite the Sundarkand chapter from the holy book Ramayana.
Hussain says that there are 11 Muslims and one Hindu families residing in the area and they are comfortable with each other.
Faizabad DM Dr Anil Kumar said that adequate security arrangements have been made for this year's Ganesh Vinayaka Shobhayatra Visarjan and zonal magistrates will be posted in the area for the smooth functioning of the event.
https://timesofindia.indiatimes.com/city/lucknow/faizabads-ganeshotsav-symbolises-hindu-muslim-harmony/articleshow/65899956.cms
--------
Hindus Too Take Part In Muharram Rituals, Muharram 'Panjas' Were Seen Placed In Ganesh Mandals
SEPTEMBER 21, 2018
In many places, Muharram 'panjas' were seen placed in Ganesh mandals
Members of the Muslim community in Dharwad, Haveri and Gadag observed Muharram on Friday and in many places, particularly in the rural areas, they were joined by Hindus too.
Muharram is observed by Shia Muslims to commemorate the martyrdom of Prophet Mohammed's grandson, Hazrat Imam Hussain, who was killed in the battle of Karbala in 680 AD. The prophet's son-in-law, Ali, and Ali's elder son, Hassan, are also remembered during this period as having suffered and died for a righteous cause.
This time, Muharram is being observed even as the 11-day festivities of Ganeshotsav are still on and in several places, "panjas" of Muharram and idols of Lord Ganesha were seen placed adjacent to each other and in a few places in the same pandals. In some of the villages of North Karnataka, where there are only one or two Muslim families, the members of the villages got together to observe the various rituals of Muharram.
It is a practice among members of the Hindu community to observe Muharram by getting themselves painted in tiger stripes, visiting households and performing "huli kunita" as part of their "harake" (vow).
In Dharwad, several Muslims of Iran origin, took out a procession.
In all the three districts, the ritual of carrying the "panja" took place in the morning and a procession was taken out in the evening, in which a large number of people belonging to both the communities took part. Meanwhile, members of the Muslims Rights Foundation distributed fruits to visually impaired children.
In Belagavi
A picture of Suresh Angadi, MP, wishing people 'Happy Muharram' raised eyebrows among cyber citizens in Belagavi on Friday. Several netizens asked if the martyrdom of religious leaders was a happy occasion to wish believers. Some wondered if the leader was trying to appease Muslims in an election year.
In Kalaburagi
Full report at:
https://www.thehindu.com/news/national/karnataka/hindus-too-take-part-in-muharram-rituals/article25010303.ece
--------
Educational reservation: Should Muslims get it in place of other well-off groups?
September 22, 2018
A recent study on inter-generational mobility in India by Sam Asher, Paul Novosad and Charlie Rafkin of the World Bank, Dartmouth College and MIT has created quite a stir since it argues that "intergenerational mobility for the population as a whole has remained constant since liberalisation, but cross-group changes have been substantial". While there has been an increase in mobility among Schedule Caste groups, the authors posit, this "is almost exactly offset by declining intergenerational mobility among Muslims". Naturally, this reinforces the view that Hindu-majority India discriminates against Muslims; the study uses data from the India Human Development Survey (IHDS) rounds in 2004-05 and 2011-12. Whether the study is right in its assertions or not, it points out that urban areas are significantly more mobile than rural areas and that "village assets like roads and schools are associated with more upward interval mobility"; also, "children are most successful at exiting the bottom of the distribution in places that are southern, urban, or have higher average education levels". In other words, a policy that focuses on building rural roads and schools, and at increasing urbanisation will help fix this anomaly and ensure successive generations are better educated and earn more, irrespective of their caste or religion.
It is, though, not immediately clear whether the problem relates to lack of education or lack of good job opportunities. For, while the study says intergenerational mobility has been constant, the data it reports shows considerable increase in educational mobility at an all-India level. So, if a father had just studied for two years, only 53% of sons born between 1950 and 1959 were likely to have studied for more than two years; the same figure rose to 74% between 1980 and 1989, suggesting large intergenerational educational mobility. For a father who had studied till secondary level, only 41% of the sons born between 1950 and 1959 had studied beyond this; this rose to 56% in 1980-89. In other words, there can be little doubt about educational mobility; occupational mobility, however, depends upon whether or not there were enough higher-paying jobs created.
Full report at:
https://www.financialexpress.com/opinion/educational-reservation-should-muslims-get-it-in-place-of-other-well-off-groups/1322281/
--------
India Third Largest Victim to Terror Attacks Across World, Claims US Study
September 22, 2018
New Delhi: India is the third worst hit by terror in the world, data released by US department of state said. This is the second time in a row that the country has featured in the list on the same position, which was held by Pakistan till 2015. Meanwhile, Iraq is the largest victim to terror attacks followed by Afghanistan. (ALSO READ – Jaish, Lashkar Continue to Pose Threat in Subcontinent, Pak Didn't Address Concerns in 2017, Says US)
Furthermore, the data claimed that India has witnessed 860 terror attacks in 2017 out of which 25 per cent were reported from Jammu and Kashmir alone. The state has reportedly witnessed a surge of about 24 per cent in the number of terror attacks in the same year.
In the most recent attack in J&K, three policemen were abducted and brutally killed in Shopian district by Hizbul Mujahideen terrorists on Friday. Hitting back strongly, India called off the foreign ministry-level talks with Pakistan. The development came within 24 hours of the confirmation that Sushma Swaraj would be meeting Pak Foreign Minister SM Qureshi on the sidelines of UNGA scheduled to happen later this month in New York.
Briefing the media, MEA spokesperson Raveesh Kumar said, "The latest brutal killings of our security personnel by Pakistan-based entities and the recent release of a series of 20 postage stamps by Pakistan glorifying a terrorist and terrorism confirmed that Pakistan will not mend its ways."
The US study also termed Maoists as the fourth deadliest terror group in the world, and claimed that the group was behind 53 per cent of attacks in India in 2017. As per the study, Maoists carried out 295 attacks out of the total 860 witnessed by the country last year.
Full report at:
http://www.india.com/news/india/india-third-largest-victim-to-terror-attacks-across-world-iran-first-us-study-3340004/
--------
J&K encounter: 5 Lashkar-e-Taiba terrorists killed in Bandipora
Sep 21, 2018
NEW DELHI: Five terrorists were killed in an encounter in Sunblar area of Bandipora district of Jammu and Kashmir on Friday, police said.
Police said the five Lashkar-e-Taiba terrorists had crossed the Line of Control (LoC) recently and were on their way to other parts of Kashmir.
Two terrorists were killed in the encounter on Thursday.
The security forces had launched a cordon and search operation in forests of Sumblar area on Thursday following information about the presence of terrorists.
The police official said the search operation turned into an encounter after militants opened fire on the security forces' positions.
Full report at:
https://timesofindia.indiatimes.com/india/jk-encounter-5-let-terrorists-killed-in-bandipora/articleshow/65902672.cms
--------
India concerned over attempts to rig polls in Maldives
Sep 21, 2018
NEW DELHI: As the Maldives' President Abdulla Yameen seeks re-election in the September 23 polls, India has been alarmed by what many see as blatant attempts to rig the voting process, notably by the Election Commission (EC) itself. Also, a major cause of concern is the presence of an international company operating out of China in matters related to election administration.
This company, which has experience of handling elections in countries like Zimbabwe and Malawi, has allegedly been provided access to Maldives' Department of National Registration which is responsible for issuing identity cards. Aware of China's influence on Yameen, the opposition has been suspicious of its activities and has said the company's presence was another attempt to influence voting in Yameen's favour.
The Wall Street Journal described the Sunday elections as a decisive battle for influence between China and world's largest democracies. Stating that India was closely monitoring the situation, MEA spokesperson Raveesh Kumar had on Thursday expressed hope elections would be free and fair.
At this stage though, things seem far from it.
TOI spoke to not just Indian but a host of EU diplomats based here and they all shared concerns about the functioning of EC president Ahmed Shareef. To begin with he was a member of the ruling alliance until his appointment in March. In February, he is said to have tweeted that the opposition didn't stand a chance against Yameen's "transformational economic agenda" which had freed the country from "decades of economic slavery of neighbours".
While the number of international observers for elections has been cut down drastically by EC, there're other glaring examples of attempts to tweak the election mechanism in Yameen's favour.
For example, discrepancies in the voter list format where EC hasn't included voter registration numbers and photo identification which was mandated by a Supreme Court order in 2013. This has made the list susceptible to voter fraud.
The re-registration process, meant to allow voters to register for voting at a location other than their permanent address, is also being apparently manipulated to suit the supporters of ruling Progressive Party of Maldives (PPM). Re-registration of voters on islands not in their vicinity and manning of a number of registration booths by PPM supporters has added to that perception.
In another controversial decision, employees of state-owned companies were asked to register for voting through their management. The international community was also shocked to notice reports from Male in July that voter data was being transferred to the President's office instead of the EC.
Audio recordings also surfaced last month suggesting that EC had handed over confidential opposition voter re-registration forms to Yameen's campaign office.
While a number of restrictions have been placed on foreign media looking to cover the elections, the civil society and NGOs for the first time have not been invited to observe the electoral process. The decision to keep Transparency Maldives, an experienced election observer, out of the national election advisory committee is an example.
This is a high-stakes election for India, possibly the most crucial in recent times in the neighbourhood, keeping in mind Yameen's efforts to effectively drive India out of the archipelago. His return is likely to see further consolidation of Chinese interests in the archipelago and the undermining consequentially of India's security in the Indian Ocean.
Yameen has been hit by fresh allegations of corruption and of having participated in sorcery, which is seen as against the tenets of Islam, in the run up to the elections. He remains though in complete control of all state institutions, particularly EC which is said to be considering a number of steps for the election contrary to past practices.
These include changes in the procedure for counting votes with the objective of making difficult ballot paper verification.
Full report at:
https://timesofindia.indiatimes.com/india/india-concerned-over-attempts-to-rig-polls-in-maldives/articleshow/65905611.cms
--------
Jammu and Kashmir policemen killed: Resolve of force remains unshaken, say senior officials
Rayan Naqash
Sep 22, 2018
"Until now, we have taken a soft policy against policemen," remarked Riyaz Naikoo, the chief of Kashmir's largest separatist militant outfit, the Hizbul Mujahideen, in a video circulated days before three Special Police Officers (SPOs) were abducted and killed in south Kashmir on 21 September. "But this soft policy has repeatedly given us negative results. Now, we have to take big steps."
In the nearly 11-minute-long video circulated on WhatsApp, Naikoo said the Indian government, following the 2016 unrest, has been offering various incentives to Kashmiri youth to induct them as SPOs. "We have no sympathies with them," he said, calling these young men, mostly from poor families, as "silent killers" of the separatist movement.
Faced with backlash from the State, the militants have turned to carrying out low-risk attacks on security personnel on leave at their homes, particularly the lower rung personnel of the Jammu and Kashmir Police, in a bid to destabilise the vital force. Only last month, nearly a dozen policemen and their relatives were abducted in retaliation to detention of militants' families. They were released unharmed but with a stern warning: We don't have jails to imprison you, only bullets.
Police at the forefront
The Jammu and Kashmir Police has consistently been the only working organ of the state government—for the most part—when State machinery is paralysed during times of turmoil. In a state marred with poor administration and unpopular legislators afraid of visiting their own homes, much less their constituencies, the police is also the only visible form of government and acts as a buffer between an angry people and an administration perceived as inaccessible if not ineffective, and corrupt.
The police continues to bear the brunt of the public anger and in recent years, has become the prime focus of the separatists' ire, both verbally and physically. Much of it is rooted in the handling of the 2016 unrest in the wake of Hizbul commander Burhan Wani's killing. The widespread use of pellet guns and the chaos that followed gave rise to exaggerated reports of the damage caused. Two years on, the plight of these pellet victims and the government's failure to rehabilitate them serves as a constant tool in the hands of separatists to highlight the State's "oppression".
Since 2016, public's perception of the police has drastically changed. It is being seen largely as a counterinsurgency force with a single motive: To crush the militancy. On its part, the state police has played a vital role in counterinsurgency. There is a consensus in the security establishment—and also the general public—that most intelligence inputs for counterinsurgency operations are generated by the police. This is also a recurring motif of the militant propaganda that is aimed at justifying these killings and subverting the police's writ. The separatists have achieved great success on this front.
Since the turmoil began in the late 1980s, its proponents have argued it to be a political conflict in nature. However, its religious currents—which were always visible—remained limited. Though the killing of policemen, targetted or otherwise, is not new to the Valley, today, militants have repeatedly termed serving in the police force as "un-Islamic". Corresponding with a growing acceptance of extreme interpretations of Islam, particularly among the youth, who now consider members of the police force as infidels serving a taghooti nizam (secular government), the killings have received a new social sanctity.
Militants under pressure
The security establishment stepped up the ante in late 2016. Within a year, many top militants had been eliminated. By mid-2018, the militancy had lost most of its known figures. The Pakistan-based Jaish-e-Mohammed's top leadership, too, was decimated early this year. Security officials are of the opinion that this led to a growing pressure on the militants to show their presence, just as it did in the wake of Wani's killing.
Consisting largely of local recruits, unable to receive proper arms training and faced with a weapons crunch, militants have found a low risk but maximum results strategy in targetting off-duty security personnel based in the Valley. "The militants also 'report to someone' and needed to show results," said a senior police official. "It is not easy to target an on duty army soldier. It is much easier to kill an unarmed local policeman. It spreads terror locally." Whether or not these men play a role in counterinsurgency, their killings receive similar media attention and the message is put across effectively.
In the aftermath of several bouts of attacks against the police, each time a few policemen have tendered their resignations. However, senior police officials said this may not be enough to shake the force. Besides, the Jammu and Kashmir Police, as per estimates of its officials, is about one lakh strong. In the past, sarpanches have resorted to symbolic resignations in the face of militant threats, only to resume political activities after the State achieved some success in pushing back the militancy.
However, even as the levels of violence remain lower than the late 1990s and early 2000s, police officials said "frustration" runs high among the militants. Moreover, such killings are a "routine matter", the senior police official said, albeit "on a much larger scale". The police official dismissed the spate of attacks as inconsequential in the long run.
In 1999, he added, within the span of one hour, six policemen were killed on a busy stretch of Srinagar, from Residency Road till Jahangir Chowk, where the Assembly and the civil secretariat are located. At some point in the early 2000s, perhaps 2002, he added, 40 policemen were killed in Srinagar district alone.
Full report at:
https://www.firstpost.com/india/jammu-and-kashmir-policemen-killed-militants-frustrated-resolve-of-force-remains-unshaken-say-senior-officials-5236001.html
--------
Muharram procession: Curbs in Bihar town after one killed in firing
September 22, 2018
The Vaishali district administration has imposed prohibitory orders in some areas of Hajipur town to prevent any law and order situation after one person was shot dead and two were injured in firing during a Muharram procession in the town Friday.
While police blamed the incident on a fight among Muslim groups over leading the Tazia procession, some Muslims linked the incident to public anger after the arrest of a Hindu Putra Sangathan leader for an objectionable social media post regarding Muharram procession routes.
Shahnawaz Qureshi (38), a plumber, was shot dead while Qaisar and Anjar are receiving treatment at Patna Medical College and Hospital, police said. While the assailants are yet to be arrested, police have arrested four people for pelting stones at police and damaging public property.
The incident took place around 3 am when several Tazia processions from different routes converged at M Chowk in Hajipur, which has a population of nearly 2 lakh, about 25,000 of which are Muslims. As each Tazia group wanted to lead from M Chowk, there was a clash between two groups, leading to firing.
After Qureshi succumbed at a hospital, a group of people damaged public property, vehicles parked near the hospital, and later some shops and houses, some of them belonging to another community. As crowd gathered, police resorted to lathi-charge after some people threw stones at the police. Prohibitory orders were later imposed in the town.
Town police station in-charge Om Prakash said, "Prima facie investigation suggests that there had been some tension between two groups of Muslims."
Full report at:
https://indianexpress.com/article/india/muharram-procession-curbs-bihar-vaishali-one-killed-firing-5369314/
--------
Citing Pak terror, India calls off New York meet, says PM Imran Khan's 'true face' exposed
September 22, 2018
A day after India accepted Pakistan's proposal for a meeting between their Foreign Ministers in New York on the sidelines of the United Nations General Assembly gathering next week, the government Friday cancelled the meeting and said "the evil agenda of Pakistan stands exposed" and the "true face" of Imran Khan, the new Prime Minister of Pakistan, has been "revealed to the world".
Responding to the Indian announcement, Pakistan Minister for Information and Broadcasting Chaudhary Fawad Hussain claimed that "internal politics" and "BJP ke andar jo tagda group hai (the dominant group within the BJP)" were behind the cancellation of the meeting between External Affairs Minister Sushma Swaraj and Pakistan Foreign Minister Shah Mahmood Qureshi in New York.
Announcing New Delhi's decision, Raveesh Kumar, official spokesperson for the Ministry of External Affairs, cited "two deeply disturbing developments" — the "brutal killings" of security personnel by Pakistan-based entities and the release of postage stamps glorifying Hizbul Mujahideen commander Burhan Wani who was killed by Indian securitymen in July 2016.
"Any conversation with Pakistan in such an environment would be meaningless. In view of the changed situation, there will be no meeting between the Foreign Ministers of India and Pakistan in New York," Kumar said.
Speaking to The Indian Express over phone, Chaudhary Fawad said: "What stamps, are we still using stamps? Those stamps were issued in July. It's absurd that this is being cited as a reason for calling off talks… Look, these are not reasons why India has cancelled (on BSF head constable's mutilated body)… Asli issue pata kya hai (Do you know what the real issue is)? It is internal politics. BJP is going into an election year, and they cannot do this. BJP ke andar jo tagda group hai, unhon ney isey rok diya (the dominant group within the BJP stopped this)… The Indian cabinet is divided."
Asked what Pakistan would do to rein in terror groups such Laskhar-e-Toiba, Hizbul Mujahideen and others including Hafiz Saeed, he said: "In Pakistan and in India, there are groups that are not in favour of talks. The leadership in the two countries has to decide kisko tagda karna hai (who to make strong). Do you want to make the groups against talks stronger, or do you want to make those in favour of peace stronger? That is what leadership is all about." He said Pakistan "cannot guarantee that terrorists will not strike within our own country, so how can we guarantee anything in India?"
"Our government and Army are so close that if the Army did not want us to talk, our Prime Minister would not have taken the initiative to write to your Prime Minister saying let's talk… Pakistan has been serious and open-hearted about holding talks with India from the day Imran Khan came to power, our seriousness is now before the whole world, what India has done is also before the world," Chaudhary Fawad said.
In New Delhi, sources said that the decision to call off the meeting was taken by the government after consultations with all stakeholders, including the ministries of External Affairs, Home and Defence, the armed forces and intelligence agencies.
"Since yesterday's announcement of a meeting between the Foreign Ministers of India and Pakistan in New York later this month, two deeply disturbing developments have taken place. The latest brutal killings of our security personnel by Pakistan-based entities and the recent release of a series of twenty postage stamps by Pakistan glorifying a terrorist and terrorism confirm that Pakistan will not mend its ways," Kumar said.
The MEA spokesperson said: "Now, it is obvious that behind Pakistan's proposal for talks to make a fresh beginning, the evil agenda of Pakistan stands exposed and the true face of the new Prime Minister of Pakistan Imran Khan has been revealed to the world in his first few months in office."
He said the decision to agree to Pakistan's proposal for a meeting between the Foreign Ministers was in response to the spirit reflected in the letters from Pakistan's new Prime Minister and Foreign Minister. The letter from Khan had spoken of bringing a positive change and mutual desire for peace and also readiness to discuss terrorism.
Also read | 'Militants could have warned, why kill': Mother of SPO killed in Shopian
Chaudhary Fawad, on his part, said: "The advantage now is that the Pakistan civilian government — usually it is said that the civilian government and military are not on the same page — at this time, Prime Minister Imran Khan's initiatives have the full backing of the military. We and the military are together, we are very close to each other — hum bahut qareeb hain eik doosrey key, the institutions are close. So whatever the government says has the endorsement of the Army of Pakistan and vice versa. So I think this is a good chance for India and Pakistan to explore normalisation," he said.
He said they were hoping that when the Foreign Ministers meet in New York, they would be able to finalise the visa-free corridor for devotees from Punjab to visit Kartarpur Sahib, 4.5 km inside Pakistan from the border at Dera Baba Nanak in Gurdaspur district.
He said Imran Khan, during his visit to Saudi Arabia earlier this week, had said that Pakistan will have to normalise relations with India.
"He said if we normalise, Pakistan's geographic positions is such that it will place us right in between the world's two biggest markers, that is China and India. And we have to normalise relations with India to make use of the full economic potential of the China Pakistan Economic Corridor in which, by the way, we have also invited Saudi Arabia to participate," Chaudhary Fawad said.
Saying that only an "economic revolution" could lift the poor in both India and Pakistan out of their condition, he said this would be possible only through normalisation of ties. "So we are trying our best, Pakistan is making the best effort… India-Pakistan relations are frosty at the moment for various reasons. What is necessary now is for the leaderships of Pakistan and India to decide how to move forward from here," he said.
He said Kashmir is the "nucleus" of all problems between the two countries, and will not go away just because India insists that it is not a problem.
Full report at:
https://indianexpress.com/article/india/citing-pak-terror-india-calls-off-new-york-meet-says-pm-imran-khans-true-face-exposed-5369277/
--------
Europe
Pope warns against upsurge in racism and intolerance
By Linda Bordoni
Sep 22, 2018
Pope Francis warned that attitudes that many thought were a thing of the past – such as racism – are on the rise again and can lead to intolerant and discriminating behavior and policies and he urged politicians to avoid exploiting fear against those seeking refuge and better lives in our countries.
He was addressing participants at a just-ended Rome-based conference "Xenophobia, Racism and Populist Nationalism in the Context of Global Migration" at the Vatican on Thursday.
Upsurge of racist sentiments
"We are living in times in which feelings that many thought had passed are taking new life and spreading" Pope Francis said to the over 200 participants of an international conference on "Xenophobia, Racism and Populist Nationalism in the Context of World Migrations."
In his message that marked the conclusion of the event promoted by the Vatican's Dicastery for Integral Human Development, by the World Council of Churches and by the Pontifical Council for the Promotion of Christian Unity, the Pope reflected on how, in our globalized world, there appears to be an upsurge of "feelings of suspicion, fear, contempt and even hatred towards individuals or groups judged for their ethnic, national or religious identity and, as such – he said - considered not sufficiently worthy of being fully part of society's life".
Such sentiments, he warned, "all too often inspire real acts of intolerance, discrimination or exclusion".
Warning to leaders and policymakers
In his speech Pope Francis also warned political leaders not to exploit fear saying "Unfortunately, it also happens that in the world of politics" some yield to the "temptation of exploiting the fears and objective difficulties of some groups, using illusory promises for short-sighted electoral interests".
He called on those responsible for the formation of young people and on the media to foster a culture of encounter and openness to others, in mutual respect for diversity, while inviting those "who take economic advantage of the climate of distrust in foreigners" to search into their own conscience, "knowing that one day they will have to respond to God for the choices they made".
Responsibility to promote respect for the dignity of every human person
The Pope said the seriousness of these phenomena cannot leave us indifferent, thus, "we are all called, in our respective roles, to cultivate and promote respect for the intrinsic dignity of every human person".
In particular, faced with the spread of new forms of xenophobia and racism, the Pope said, leaders of all religions have the important mission of spreading, among their faithful, the ethical principles and values inscribed by God in the heart of man.
It's a matter of making and inspiring gestures that contribute to building societies based on the principle of the sacredness of human life and respect for the dignity of every person, on charity, on brotherhood - which – he said - goes far beyond tolerance - and on solidarity.
May the Christian Churches, Francis concluded, become humble and active witnesses of Christ's love. For Christians, in fact, the moral responsibilities mentioned above assume an even deeper meaning in the light of faith.
https://www.vaticannews.va/en/pope/news/2018-09/pope-francis-racism-conference-human-rights.html
--------
Ukip Proposes Creation of Muslim-Only Prisons In Interim Manifesto
Sep 22, 2018
Ukip has proposed Muslim-only prisons and special security screening for would-be migrants "from Islamic countries" in a new policy document.
Published as the party's annual conference began in Birmingham, it calls for the creation of jails "exclusively for" Muslims who "promote extremism or try to convert non-Islamic prisoners".
Other ambitions outlined in the so-called "Interim Manifesto" include a ban on mosques receiving money from overseas and the abolition of the "hate crime" category.
Party leader Gerard Batten, who has previously described Islam as a "death cult", said the policies were intended to "make Ukip a populist party in the real meaning of the word".
The document claimed segregation in prisons was needed because non-Muslim inmates were frequently forced to convert to Islam "for their own protection" from Muslims gangs behind bars.
Maajid Nawaz, chairman of counter-extremism Quilliam Foundation, described the policy as "the first step to Muslim concentration camps".
"What next, deportation of all Muslims from these 'Muslim only jails'? The rest of us, civilised human beings, will resist you to the end," he tweeted.
Hope Not Hate said the policy demonstrated that "Ukip's march further and further right continues".
"Their conference features extreme figures, their manifesto proposes racism and Islamophobia as policies, and their leader spouts vile hate about Muslims," the anti-racism group added.
The Independent has contacted Ukip for comment.
Mr Batten has denied he is taking Ukip to the far right, after the party's former leader Nigel Farage warned it faces "total and utter marginalisation" if it moves to the extremes of politics.
But the Ukip children's spokesman received a standing ovation from party members after claiming Muslim sex gangs were responsible for a "holocaust of our children" that authorities had refused to tackle.
During a speech at the party conference, he suggested the practice of preying on "white English girls" could be traced right back "to Mohammed himself" and described the issue as "the biggest social crime and scandal in our country for 200 years".
Ukip's manifesto claimed decades of sexual abuse of children had been covered up due to "political correctness and the fear of identifying the vast majority of the perpetrators as Muslims".
It called for "an independent national enquiry into local authorities and police forces' historical failure to protect children from rape gangs".
Mr Batten, who took over the Ukip leadership from Henry Bolton in April, has repeatedly provoked anger with anti-Islam comments and has embraced far-right figurehead Tommy Robinson.
The party is considering offering membership to the English Defence League founder, something Mr Batten said he "would personally approve of".
Speaking ahead of the conference, Mr Farage said he was "really upset" at the prospect of Robinson, whose real name is Stephen Yaxley Lennon, being admitted to the party.
He said: "I'm completely opposed to it. I wrote very explicitly into the rules of the party when I first became leader: we did not want anybody in the party that had taints with organisations we deemed to be on the far-right of British politics."
He warned Ukip was "in danger now, unless it changes direction very, very quickly, of total and utter marginalisation".
Mr Batten denied taking his party to the far right, telling Sky News: "For the last 25 years, myself and everyone else in Ukip has worked to restore our country's former status as an independent democratic nation that is governed by our politicians, elected by us, sackable by us, in accordance with our traditional laws and customs and constitution.
"If that makes you far right, I think whoever thinks that has got a very strange idea about what constitutes far right."
Mr Batten said he wanted to use the two-day conference to present his Ukip as a populist alternative to the leading parties.
The Ukip manifesto also included proposals for an "NHS health card" entitling British citizens to free medical treatment. Non-Britons would require private medical insurance unless the UK had done a reciprocal deal with their government.
Other policies include turning the UK Border Force into a "Migration Control Department" with a remit to exclude "extremist" Muslims, and a five-year ban on property purchases by foreign nationals in designated areas.
Mr Batten said the package was "aimed at helping the people who form the backbone of Britain: ordinary workers and taxpayers, the unemployed who would like to work, and small and medium-sized business owners".
He added: "Its purpose is to make Ukip a populist party in the real meaning of the word – one whose policies are popular with voters."
Mr Batten addressed party members at Birmingham's International Convention Centre on Friday.
Full report at:
https://www.independent.co.uk/news/uk/politics/ukip-party-conference-muslim-prisons-islam-farage-gerard-batten-a8549426.html
--------
Muslim children victims of UK's counter-terror policy
21.09.2018
By Muhammad Mussa
LONDON
Muslim children are being falsely accused of radicalization by the British government as part of its counter-terrorism strategy Prevent, a report said Thursday.
The report released by the human rights advocacy group Cage details how Prevent has erroneously targeted Muslim communities throughout the U.K. on the pretext of tackling radicalization and extremism and has even separated Muslim children from their families.
"CAGE is offering documentation that the removal of children, and the attempted removal of children, is taking place in the family courts of the United Kingdom.
"It is being done using an unreliable and highly subjective method of measuring extremism and radicalization, themselves subjective terms that have not been adequately defined," it said.
Cage has been in contact with the families affected and has represented them on many occasions, concluding that in many cases, the judicial system employs a "flawed and inaccurate method" to separate Muslim children from their families and that these methods are often politicised and based "on the notions of ideology".
The advocacy group quoted current statistics from Mark Rowley, head of the counter-terrorism policing unit, who has said that around 100 children have been separated from their families and has called for a response from British society to confront the dangers of extremism even though, according to Cage, there is no agreed upon definition of extremism.
Victim accounts
Cage also included personal testimonies from four family members affected by Prevent.
One of these testimonies is from Mariam, whose house was raided by counter-terror police just after she had given birth to her son, based on the evidence that Mariam's ex-husband, who she hadn't seen for two years, was jailed for offences unrelated to terrorism.
Mariam then goes on to explain how social workers and officers would come and visit her and ask questions not regarding child neglect or abuse, but her religious beliefs, whether she was sending her children to religious schools and what aspects of the religion she was teaching to her children.
Furthermore, the social workers warned Mariam that if her daughter went to school with her headscarf, "we, the local authorities, will seek the removal of your children, and if you teach your children Arabic or the Quran we will remove them from you".
"I will never forget the mental abuse local authorities and police have put on me and my children. My children and I have witnessed such hatred from the police and local authorities for being a Muslim," Mariam said.
"They used my children as tools. At no point do I remember the counter terrorism officers mentioning any concerns for me as a mother or the children in terms of abuse. They just wanted information and they were ready to destroy my children's lives at any cost," she added.
Another victim, Yusra, had two of her children questioned by the police in school without the knowledge of their mother.
Yusra explained how she had a one-on-one meeting with social workers and that "they asked me what I thought of ISIS and what I thought about democracy, whether it was a viable system to live under. It was all about my belief."
"I felt like it was my religion and belief that was on trial. It was not about whether I was caring for the children properly. The whole thing was led by the police. I saw on the form, the referral was made by counter-terrorism police, SO15," she added.
Asim Qureshi, who wrote the report, stated: "We had to be completely transparent, in our research and in the way we interviewed and portrayed the stories of those families who have been, and are in the midst of being, subject to the attempted removal of their children."
Full report at:
https://www.aa.com.tr/en/europe/muslim-children-victims-of-uks-counter-terror-policy/1260722
--------
Southeast Asia
Maldives police remove 'anti-Islamic idols' in luxury resort raid
Sep 22, 2018
Male, Maldives - Guests on a five-star honeymoon resort in the Maldives caught a rare glimpse of the decades-long political and religious tensions rocking this island nation when policemen - armed with axes, concrete saws and ropes - stormed the Fairmont Maldives to destroy model human figures that had been deemed un-Islamic.
The unprecedented raid on Friday came as President Abdulla Yameen railed against what he said was a plot by the "Western-backed opposition" to undermine Islam in the Maldives ahead of a highly charged election on Sunday.
Standing in a tropical storm on the tarmac in a half-completed airport in northern Maldives, Yameen lambasted his opponents for promoting "Western standards" that "are intolerable to our society and values".
"I bring you development and prosperity," he declared as the rain and wind whipped coconut palms in the distance.
"What does the opposition offer? They talk of democracy ... What do they do in the name of Western-backed democracy? They protest to seek rights for homosexuals."
He made no mention of the police raid on the resort.
Yameen, who is seeking re-election after fives years of rule marred by allegations of human rights abuses and corruption, had ordered the removal of the nearly 30 statues from the Fairmont Maldives Sirru Fen Fushi in July, citing "significant public sentiment against" them.
That was after several clerics warned against "the sin of worshipping idols" when the Fairmont hotel opened the art gallery, called a coralarium, to the public.
The Candian hotelier called it the world's first semi-submerged gallery, and Jason deCaires Taylor, the British-Guyanese artist behind the installations, said his aim was "to raise awareness for the protection" of Maldives' coral reefs, which are under threat from warming oceans associated with climate change.
On Thursday, police said the civil court had issued a ruling ordering the resort to take down the sculptures, saying the installation "undermines Islamic faith, peace and order" in the country.
The judgment ordered the police and the army to remove the human models if the resort failed to do so within five hours, the police said in a statement.
A video posted on Twitter by the state-owned Public Service Media showed policemen cheering as one statue was pulled off its plinth into the lagoon. The broadcaster described the figures as "illegal".
The police, also in a post on Twitter, said all "human model sculptures" in the coralarium were cleared out by 5:45pm on Friday evening.
Shahindha Ismail, executive director of human rights group Maldivian Democracy Network, described the police's actions a "destructive and desperate" attempt by the president to court the religious vote.
She said Yameen, who is facing sanctions from the European Union over alleged rights violations, began his re-election bid by putting Islam at the centre of his campaign.
Indeed, after facing criticism from Western powers and neighbouring India over a wideranging crackdown on dissent, Yameen has sought to portray himself as defending sovereignty and religion in the Sunni Muslim nation. He quit the Commonwealth, and fostered close ties with China and Saudi Arabia, praising the two countries for funding his development agenda without interfering in the country's affairs.
As his running mate this year, he chose a cleric with close ties to the Saudis, Dr Mohamed Shaheem Ali Saeed.
His opponents, however, accuse him of politicising Islam in order to deflect criticism over rights abuses.
Over the past five years, Yameen has jailed or forced into exile nearly all of his political rivals, suspended parliament, shuttered critical and independent media, and declared two states of emergencies over alleged threats to national security.
He has presided over a crackdown on liberal voices even as scores of young men and women left the country to join armed groups in various conflicts in the Middle East, including fighting with Islamic State of Iraq and the Levant (ISIL).
Meanwhile, a journalist was disappeared, a blogger was killed, and several rights activists have received death threats for criticising street crime and religious violence.
Ibrahim Mohamed Solih, the opposition's joint candidate, has promised to investigate the attacks, restore democracy, release dissidents and investigate corruption allegations against Yameen.
Ismail, of the Maldivian Democracy Network, said those who seek to promote human rights and democracy in the country have been "branded anti-Islamic" ever since prison riots in 2003 led to a democratic uprising.
Successive governments have used religion to legitimise authoritarian actions since then, she said, which has empowered far-right religious actors in the country.
That is why the art installation at the Fairmont has become a flashpoint, she said.
The hotel did not respond to calls for comment.
Ibrahim Muaz Ali, Yameen's spokesman, denied any link between the taking down of the statues and the upcoming vote, but refused to answer additional questions.
Meanwhile, Ahmed Nihan, parliamentary group leader of the ruling Progressive Party of the Maldives, posted a tweet with police destroying the statues and the hashtag #YameenShaheem2018.
He had previously thanked Yameen for the removal order.
A similar outcry occurred in 2011 during a meeting of South Asian leaders in the Maldives' southern Addu City over the installation of statues gifted by the country's neighbours.
Several monuments, including a bust of Pakistan's founder, Muhammad Ali Jinnah, was torched, while the head of Sri Lanka's lion statue was decapitated.
The police eventually took down all the monuments.
Hamid Abdul Ghafoor, spokesman for the Maldivian Democratic Party, which leads the four-party alliance seeking to remove Yameen, declined to comment on the removal of the statues from the Fairmont hotel.
https://www.aljazeera.com/news/2018/09/maldives-police-raid-resort-remove-idols-heated-polls-180921193012618.html
--------
Malaysia can't accept same-sex marriage or LGBT rights: PM Mahathir Mohammad
Sep 21, 2018
Malaysia cannot accept same-sex marriage or lesbian, gay, bisexual and transgender (LGBT) rights, Prime Minister vsaid on Friday, amid growing instances of persecution of LGBT community in the Muslim-majority country."In Malaysia there are some things we cannot accept, even though it is seen as human rights in Western countries," Mahathir, 93, told reporters. "We cannot accept LGBT, marriage between men and men, women and women."
His comments are likely to spark further debate in the country where activists have voiced concern over the hostility towards LGBT groups both from within society and from the administration.
Two women were caned this month for "attempting lesbian sex" in Terengganu, a conservative state in the east.
Mahathir denounced the punishment, saying it "did not reflect the justice or compassion of Islam".
Last month, a gay bar in Kuala Lumpur was raided by police and religious enforcement officials, while a transgender woman was beaten up by a group of assailants in Seremban, near the capital.
The minister in charge of Islamic affairs also came under fire, from activists and other ruling party lawmakers, after he ordered the removal of portraits of two LGBT activists from an art exhibition.
Malaysia describes oral and anal sex as against the order of nature. Civil law stipulates jail for up to 20 years, caning and fines for offenders, although enforcement of the law is rare.
Full report at:
https://www.dnaindia.com/world/report-malaysia-can-t-accept-same-sex-marriage-or-lgbt-rights-pm-mahathir-mohammad-2665955
--------
Fuziah: Shariah laws on LGBT should be clarified, not compromised
21 September 2018
JOHOR BARU, Sept 21 ― The Federal government will urge state governments to amend their Shariah enactments for better clarity, especially those affecting the lesbian, gay, bisexual and transgender (LGBT) community, said Deputy Minister in the Prime Minister's Department Fuziah Salleh.
She said the move was not to change the current laws to suit the LGBT community, but to make clear the current Shariah laws.
"Make no mistake as the government is firm on our stand against LGBT culture and we will not compromise on Shariah laws," said Fuziah after a dialogue session with Johor PKR women members at Hotel Seri Malaysia in Larkin here today.
Fuziah said the proposal will involve amending the enactments to better reflect today's social environment.
"We have to be fair as the enactments may generalise on a particular issue that need to be proven before action can be carried out.
"For example, the current enactment that concerns transgenders states that any male person who, in any public place, wears woman's attire and poses as a woman for immoral purposes shall be guilty of an offence.
"We need to look into what is considered immoral as intent is important in such matters," said Fuziah.
On Prime Minister Tun Dr Mahathir Mohamad's stand against LGBT, Fuziah said she agreed with his stand that Malaysia does not accept LGBT culture and same-sex marriages.
The Kuantan MP said the Malaysian value system is different and what the government does is to prevent and also rehabilitate the LGBT community.
"In Islam, transgenders are considered as asnaf (destitute and eligible for tithes and assistance) under the Al-Riqab category.
"So, our approach is to guide them out by teaching them skills, through education and also dakwah (religious teaching)," said Fuziah, adding that assisting the transgenders change their lifestyle was important as 85 per cent are involved as sex workers.
Fuziah also criticised some social media users for painting the transgenders and LGBT community in a very negative light.
"We should be moderate in our outlook and at the same time look into how we can assist them and not just saying what they are doing is haram (prohibited) in Islam," added Fuziah.
Full report at:
https://www.malaymail.com/s/1675133/fuziah-shariah-laws-on-lgbt-should-be-clarified-not-compromised
--------
PKB reports Muslim preacher to police over alleged hate speech
September 22, 2018
National Awakening Party (PKB) secretary-general Abdul Kadir Karding has reported Muslim preacher Yahya Waloni to the police for alleged hate speech.
On Friday, Karding came to the Criminal Investigation Department (Bareskrim) in Jakarta to report the Muslim preacher over statements he made during his sermons on Youtube. Those statements, he said, allegedly violated the 2016 law on electronic information and transactions.
He said Yahya's sermons were provocative and insulting to vice presidential candidate Ma'ruf Amin, former West Nusa Tenggara governor TGH Zainul Majdi, also known as Tuan Guru Bajang (TGB), and Indonesian Democratic Party of Struggle (PDI-P) chairwoman Megawati Soekarno Putri.
"It is inappropriate for figures like Ma'ruf Amin, Pak TGB and our former president Ibu Megawati to be attacked with such derogatory and insulting statements," he said as quoted by kompas.com.
Full report at:
http://www.thejakartapost.com/news/2018/09/21/pkb-reports-muslim-preacher-to-police-over-alleged-hate-speech.html
--------
Mideast
Turkey detains 85 military personnel over Gulen ties
21 September 2018
Turkish police on Friday detained 85 military personnel in countrywide raids over alleged links to the group blamed for the 2016 failed coup, state media reported.
Prosecutors in Ankara issued arrest warrants for 110 active duty personnel in the air force, state-run news agency Anadolu said, as part of a probe into followers of US-based Muslim cleric Fethullah Gulen.
Police launched operations in 16 provinces including Ankara while those detained in other cities would be taken to the Turkish capital.
Five of those sought by police were pilots while three were colonels, the agency added.
Turkey claims Gulen ordered the attempted overthrow of President Recep Tayyip Erdogan on July 15, 2016 but he strongly denies the charges.
Over 77,000 people including military personnel, teachers and judges have been arrested over suspected links to Gulen under the two-year state of emergency imposed five days after the coup bid. The government ended the emergency this July.
Western allies have expressed concern over the scale of the crackdown, which saw over 140,000 people suspended or sacked from the public sector.
In the face of stringent criticism, Ankara has insisted the raids are necessary to remove the "virus" that is the Gulen movement's infiltration of key Turkish institutions.
Gulen, who has lived in self-imposed exile in Pennsylvania since 1999, denies this and insists his movement is peaceful, and promotes moderate Islam and secular education.
https://english.alarabiya.net/en/News/world/2018/09/21/Turkey-detains-85-military-personnel-over-Gulen-ties-.html
--------
Israel begins constructing 310 new settler units in occupied Old City
Sep 21, 2018
Israeli officials have started building hundreds of new settler units in the occupied Old City of Jerusalem al-Quds, despite the international outcry against the Israeli regime's land expropriation and settlement expansion policies in Palestinian territories.
The official Palestinian news agency WAFA, citing Hebrew-language media outlets, reported that the so-called Jerusalem Local Planning and Building Committee will hold discussions on constructing two settlements in the eastern sector of the occupied Jerusalem al-Quds, one of which will be erected in Sheikh Jarrah neighborhood, located 2 kilometers north of the Old City.
Israeli authorities allege that the construction projects will be carried out on two pieces of land owned by settlers living abroad.
The report added that 15 settler units will be built in Sheikh Jarrah neighborhood, while 75 others will be constructed in Beit Hanina neighborhood. The remaining 220 units will be built in the Yeshiva Neveh Zion district on the outskirts of Jerusalem al-Quds.
Less than a month before US President Donald Trump took office, the United Nations Security Council adopted Resolution 2334, calling on Israel to "immediately and completely cease all settlement activities in the occupied Palestinian territories, including East Jerusalem" al-Quds.
About 600,000 Israelis live in over 230 illegal settlements built since the 1967 Israeli occupation of the Palestinian territories of the West Bank and East Jerusalem al-Quds.
Palestinians want the West Bank as part of a future independent Palestinian state, with East Jerusalem al-Quds as its capital.
The last round of Israeli-Palestinian talks collapsed in 2014. Among the major sticking points in those negotiations was Israel's continued settlement expansion on Palestinian territories.
Trump backtracked on Washington's support for a "two-state solution" earlier this year, saying he would support any solution favored by both sides.
"Looking at two-state or one-state, I like the one that both parties like. I'm very happy with the one both parties like. I can live with either one," the US president said during a joint press conference with Israeli Prime Minister Benjamin Netanyahu in Washington on February 15.
Palestinian boy injured after being struck by settler car
Meanwhile, a Palestinian teenage boy has sustained injuries after an Israeli settler ran him over in the southern part of the occupied West Bank.
Local sources, requesting anonymity, told Arabic-language Ma'an news agency that the 16-year-old victim, identified as Munir Abdullah Gharib, was struck on a road in the Tel Rumeida neighborhood of al-Khalil (Hebron), located 30 kilometers (19 miles) south of Jerusalem al-Quds, on Friday afternoon.
The sources added that the settler fled the scene after the incident.
Gharib was quickly transferred to the Governmental Hospital in al-Khalil to receive medical treatment.
There have been scores of "hit and run" incidents targeting Palestinians in different parts of the occupied West Bank, with most of them largely going uninvestigated by Israeli authorities. Some of such events have resulted in fatalities.
Full report at:
https://www.presstv.com/Detail/2018/09/21/574799/Israel-begins-constructing-310-new-settler-units-in-occupied-Old-City
--------
Yemeni army kills prominent al-Qaeda leader
21 September 2018
The Yemeni national army backed by the Arab coalition launched a successful military operation against a hideout run by al-Qaeda terrorist organization in Khor district west of Ataq which is a major town in the governorate of Shabwah.
The operation which was launched in the early hours on Friday, resulted in the killing of Naif al-Sayari al-Daiyani, a prominent leader in al-Qaeda terrorist organization.
A military source said that three others from the terrorist group were captured.
The military operation comes as a continuation of the efforts of the Yemeni security forces supported by the coalition to support legitimacy in Yemen.
The move comes in accordance with security and military operations that are in line with the pursuit of terrorist organizations inside Yemen and to eliminate them and protect the Yemeni people from terrorist organizations and the Iranian-backed coup militias.
The Arab coalition supporting the Yemeni legitimacy, has been carrying out joint operations to combat terrorist organizations based in Yemen, such as al-Qaeda in the Arabian peninsula, ISIS and the pro-Iranian Houthi militias.
Full report at:
https://english.alarabiya.net/en/News/gulf/2018/09/21/Yemeni-army-kills-a-prominent-leader-in-al-Qaeda.html
--------
Saudi Arabia Bans More Than 600,000 Palestinians From Hajj And Umrah Pilgrimages
Sep 21, 2018
More than 600,000 Palestinians have effectively been banned from participating in the Hajj and Umrah pilgrimages in Saudi Arabia after the kingdom announced it will no longer provide visas to Palestinian holders of temporary Jordanian passports, according to local travel agencies.
Travel agencies in Jordan and the Israeli occupied East Jerusalem al-Quds were informed of the Saudi decision in early September without any further explanations on the reason of the ban.
"They will refuse to issue visas for any temporary passport that has no national [citizenship] number," Abu Khaled al-Jimzawi, an East al-Quds-based tourism office director, told the Middle East Eye.
The new Saudi policy will deny the Palestinians the chance to participate in the Hajj pilgrimage, a religious ritual that has to be completed by Muslims at least once in their lifetime.
Many Palestinians fled to Jordan between 1947 and 1967 as a result of Israeli occupation. Today, more than 600,000 Palestinians live in Jordan without any citizenship but are given temporary Jordanian passports for travel. Moreover, the Saudi decision will also affect most Palestinian residents of the Israeli occupied East Jerusalem as they also rely on the temporary Jordanian passports.
Observers believe the passport ban seeks to induce Palestinian refugees to apply for Jordanian citizenship. East Jerusalem residents will have to apply for Israeli citizenship or request travel documents from the Palestinian Authority, a move that is known to be used by Israel to revoke resident status from Palestinians on the basis of numerous pretexts, such as a newly passed "breach of loyalty" law.
Internal emails from US President Senior Adviser Jared Kushner disclosed by the Foreign Policy Magazine in August revealed plans that sought to neutralize Palestinian refugees in Jordan, effectively ending their Palestine related status.
Full report at:
https://www.presstv.com/Detail/2018/09/21/574753/Palestine-Refugee-Ban
--------
Turkish, Russian, Iranian ministers to discuss Syria in New York
September 21, 2018
The foreign ministers of Turkey, Russia and Iran will hold a meeting in New York to discuss Syria, Turkish Foreign Minister Mevlut Cavusoglu was quoted as saying by state-run Anadolu news agency on Friday.
Turkey and Russia announced an agreement on Monday under which Russian and Turkish troops will enforce a new demilitarized zone in Syria's Idlib region.
Cavusoglu is expected to join President Tayyip Erdogan in attending the United Nations General Assembly meeting in New York next week.
https://nation.com.pk/21-Sep-2018/turkish-russian-iranian-ministers-to-discuss-syria-in-new-york
--------
Rouhani lashes out: 'Iran will defeat Trump just like it did Saddam'
22 September 2018
Iranian President Hassan Rouhani lashed out at US President Donald Trump on Saturday, saying Trump would fail in his confrontation with Iran "just like Saddam Hussein did."
Rouhani was referring to the 1980s war between the two Middle Eastern powers, and vowing that Tehran will not abandon its missiles despite US pressure.
"The same will happen to Trump. America will suffer the same fate as Saddam Hussein," Rouhani said in a speech carried live by state television that marked the start of the 1980-88 Iran-Iraq war.
"We will never decrease our defensive capabilities... we will increase them day by day," Rouhani said at a military parade. "The fact that the missiles anger you shows they are our most effective weapons," he said, referring to the West.
Full report at:
https://english.alarabiya.net/en/News/middle-east/2018/09/22/Rouhani-lashes-out-Iran-will-defeat-Trump-just-like-it-did-Saddam-.html
--------
Unknown gunmen 'kill several' in attack on Iranian army parade
22 September 2018
Several people were killed after unknown gunmen opened fire during a military parade in the southwestern Iranian city of Ahwaz on Saturday, state television reported.
"Shooting began by several gunmen from behind the stand during the parade. There are several killed and injured," a correspondent told state television.
The report Saturday described the assailants as "Takifiri gunmen," a term previously used to describe ISIS.
State television showed images of the immediate aftermath. In it, paramedics could be seen helping someone in military fatigues laying on the ground. Other armed security personnel shouted at each other in front of what appeared to be a viewing stand for the parade.
The semi-official ISNA news agency published photographs of the attack's aftermath, with bloodied troops in dress uniforms helping each other walk away. The attack struck on Ahvaz's Quds, or Jerusalem, Boulevard.
There was no immediate claim of responsibility.
Full report at:
https://english.alarabiya.net/en/News/middle-east/2018/09/22/Casualties-as-army-parade-attacked-in-south-Iran.html
--------
Yemeni army seizes military air base north of Hodeidah
21 September 2018
The Yemeni army said on Friday that it seized control of a military air base east of Hodeidah.
The media office of the army's Giants Brigades said its units seized the air base and surrounding farms in the area of Kilo 16, east of Hodeidah.
It added that army and resistance forces secured the al-Nakheel farms in the Bayt al Faqih district following battles against the Houthis in the south of Hodeidah.
The Arab coalition's fighter jets also launched a series of strikes on Al-Jabana base, Al-Arj area and Al-Kutheib, north of Hodeidah.
Meanwhile, Al Arabiya's correspondent reported that coalition forces intensified their military operations in northern Yemeni governorates.
A military source told Al Arabiya that the coalition fighter jets and rocket launchers destroyed Houthi strategic posts in the Abs and Mustaba districts in the Hajjah Governorate, and also targeted gatherings of Houthi militiamen.
In Sanaa, the coalition carried out several strikes, and the Yemeni defense ministry said the coalition fighter jets launched military strikes on a base that the Houthi militias control north of Sanaa.
Full report at:
https://english.alarabiya.net/en/News/gulf/2018/09/21/Yemeni-army-seizes-military-air-base-north-of-Hodeidah.html
--------
Abbas denies Palestinians refused peace talks with Israel
September 21, 2018
PARIS: Palestinian leader Mahmoud Abbas has denied US claims the Palestinians have refused to enter peace talks with Israel.
Abbas' denial came after talks in Paris with French President Emmanuel Macron Friday. Abbas asked Macron to pass the message onto US President Donald Trump.
US National Security Adviser John Bolton said earlier this month that the Palestinian de facto embassy in Washington was being shut because the PLO hadn't taken steps toward negotiations.
Abbas said "we didn't reject negotiations as the Israelis claim," adding that the Palestinian side is "ready for any confidential or public talks."
Full report at:
http://www.arabnews.com/node/1375791/middle-east
--------
North America
Islamabad has done little to curb Jaish, LeT: Washington
Sep 22, 2018
NEW DELHI: Pakistan remains a safe haven for terror groups, the United States has said in its annual "country report on terrorism 2017", and claimed sufficient action has not been taken against Jaish-e-Mohammad and Lashkar-e-Taiba, which operate from its soil and carry out attacks in India.
The US report states that Pakistan detained LeT chief and mastermind of 26/11 Mumbai attacks Hafiz Saeed in January 2017 but he was released in November following a court order.
"The (Pakistan) government failed to significantly limit LeT and JeM from openly raising money, recruiting, and training in Pakistan — although Pakistan's Elections Commission refused to allow a LeT affiliated group register as a political party," the report says.
According to the report, Islamic State's Khorasan Province (ISIS-K) claimed several major attacks (43) in Pakistan last year, some of which may have been conducted in collaboration with other terrorist groups.
It adds that terrorist groups operating from Pakistani soil use various tactics, including stationary and vehicle-borne improvised explosive devices (VBIEDs), suicide bombings, targeted assassinations and rocket-propelled grenades to attack individuals, schools, markets, government institutions and places of worship.
Hinting that Pakistan's military is becoming more powerful, the report says the (Pakistan) government renewed for two more years a constitutional amendment allowing military courts to try civilians on terrorism charges. "Critics argued the military courts were not transparent and were being used to silence civil society activists," it said.
Talking about terror funding in Pakistan, the US report says the Financial Action Task Force continued to note with concern gaps in the implementation of the UN Security Council's ISIL (Da'esh) and al-Qaida sanctions regime and that UN-listed entities, including LeT and its affiliates, are not effectively prohibited from raising funds.
UN sanctions related to designated entities and individuals such as LeT and its affiliates have not been implemented and these groups continue to make use of economic resources and raise funds.
In November, the Lahore high court refused to extend detention of Hafiz Saeed for alleged lack of evidence nor had the government charged Saeed with a crime, the US report says.
https://timesofindia.indiatimes.com/india/islamabad-has-done-little-to-curb-jaish-let-washington/articleshow/65907326.cms
--------
Powder Scare at Islamic Centre Investigated as Hate Crime
Sept. 21, 2018
GROTON, Conn. (AP) — Police say they are investigating a white powder scare at the Islamic Center of New London as a hate crime.
The substance, which has been sent to the state crime lab for analysis, was found in an envelope at the mosque just before 9 a.m. Friday.
Police say a 43-year-old man was exposed to the powder, but was not injured. Police say experts at the scene determined there was no danger to the surrounding community.
Authorities had everyone in the building shelter in place and the street outside the center was closed for three hours while authorities, including the FBI, state and local police investigated.
The Connecticut chapter of the Council on American-Islamic Relations says the envelope contained a white substance and a letter that included derogatory comments about Islam.
Full report at:
https://www.usnews.com/news/best-states/connecticut/articles/2018-09-21/powder-scare-at-islamic-center-investigated-as-hate-crime
--------
'Awful abuses': US denounces China's treatment of Uighurs
22 Sep 2018
The United States has denounced China's treatment of its Uighur Muslims in unusually strong terms, adding to a growing list of disputes in increasingly turbulent relations between the two powers.
The secretary of state, Mike Pompeo, voiced alarm after a United Nations report described the mass internment of Uighurs under the pretext of preventing extremism in the western Xinjiang region where the minority group is concentrated.
"Hundreds of thousands and possibly millions of Uighurs are held against their will in so-called re-education camps where they're forced to endure severe political indoctrination and other awful abuses," Pompeo said in a speech on the state of religious freedom around the world.
"Their religious beliefs are decimated," Pompeo said.
In a letter to Pompeo and the treasury secretary, Steve Mnuchin, and both Republican and Democratic members of Congress late last month called for sanctions on Chinese officials implicated in the internment of Uighurs.
Pompeo did not say whether the United States would take punitive measures but his remarks were striking for their tone, with Donald Trump's administration putting human rights on the back seat in relations with allies such as Egypt and Saudi Arabia.
The Trump administration itself has faced criticism at home and abroad for its stance on Muslims, with the president as a candidate calling for a complete ban on Muslims entering the United States and, soon after taking office, barring entry to citizens of several Muslim-majority countries.
Pompeo also expressed concern about the fate of Christians in China, who he said had been targeted in a government crackdown.
The government, he said, has been "closing churches, burning Bibles and ordering followers to sign papers renouncing their faith".
In an interview earlier in the week, Pompeo had described China as a greater threat to the United States than Russia, saying that Beijing was a "non-transparent government".
"It treats our intellectual property horribly, it treats its religious minorities horribly," he told Fox News.
China has rejected the findings of the UN Committee on the Elimination of Racial Discrimination.
Full report at:
https://www.theguardian.com/us-news/2018/sep/22/awful-abuses-mike-pompeo-denounces-chinas-treatment-of-uighurs
--------
Pakistan
'Pakistan has nothing to lose' — analysts weigh in on Modi govt's U-turn on talks
September 21, 2018
The Indian government on Friday cancelled a meeting between the Pakistani and Indian foreign ministers, scheduled to be held on the sidelines of the United Nations General Assembly, just a day after confirming the development.
The spokesperson of India's Ministry of External Affairs (MEA), Raveesh Kumar, claimed that the meeting has been called off due to "unclean intentions" on Pakistan's side.
Analysts, however, argue that it is the upcoming Indian election that has Prime Minister Narendra Modi and the Bharti Janta Party (BJP) hesitant from engaging with Pakistan. Here's what they have to say:
'India's reply sounds like script of Bollywood movie'
Zarrar Khurho, DawnNewsTV anchor
"I am not going to fault the Pakistan government for reaching out to the Indian government that is fairly standard for any new government. However, the language used in the Indian cancellation is nothing short of a Bollywood script or a Star Plus drama.
It is an accurate assessment that with the election coming up the Indian government would not have reached out to Pakistan as they are catering to a local audience that they themselves have radicalised.
In general, I don't think the relationship between Pakistan and India would normalise anywhere in the near future. This cancellation just goes to show that sides have been picked in the region and the upcoming Indian election will only escalate this situation and there may even be some military adventures closer to that time."
'Modi will lose popularity if he engages with Pakistan'
Amjad Shuaib, defence analyst
"If Modi shows any flexibility towards Pakistan he will lose all the popularity he has gained through his anti-Pakistan narrative, and the election is just a few months away.
Pakistan should now give a counter-narrative and highlight India's tactics to the world or else we will be shouldering all the blame for the lack of dialogue once more.
We need to understand that India will not be ready for talks even in the next 10-12 years. They will be ready once they are done changing the proportion of the population in Kashmir — something that they have been actively trying to do.
Once that proportion is in their favour, then they will be ready to talk.
India does not want to engage in talks with Pakistan, this has always been their strategy. They first started to propagate the narrative that the civilian leaderships want peace but it is the army that is the creating hurdles for these talks.
Then we see all the examples of the way their civilian leadership speaks about Pakistan. They say things like 'burn all the products that are coming from Pakistan'.
The truth is, friendship cannot be thrust upon someone, it is a two-sided affair."
'Pakistan does not have anything to lose from this'
Zahid Hussain, political analyst
"I believe that this is not a major setback. We made an offer and India refused it, this does not mean we have anything to lose. We should not be too worried about this.
I also think that it is okay if the talks are not happening as yet. If the meeting had occurred, there would have been a rise in expectations [that various issues between the two countries would be resolved].
Pakistan is talked about a lot during the Indian election, so it is correct to think that that is part of the reason.
On the other hand, they may not have wanted to talk as yet because they know that nothing would come out of it and a meeting like this would create a false perception. India is not in the mood for that right now."
https://www.dawn.com/news/1434287/pakistan-has-nothing-to-lose-analysts-weigh-in-on-modi-govts-u-turn-on-talks
--------
Hanif Abbasi shifted from Adiala jail to Attock prison after photo leak controversy
Tahir Naseer
September 22, 2018
PML-N leader Mohammad Hanif Abbasi was on Saturday morning shifted from Adiala prison in Rawalpindi to Attock jail, sources told DawnNewsTV.
Abbasi, who is serving a life sentence after his conviction in the ephedrine quota case, was shifted to the prison in Attock in the early hours of Saturday on the recommendation of a two-member inquiry committee, a source in Adiala jail said.
The committee was formed to investigate how photographs were taken of former prime minister Nawaz Sharif, PML-N president Shahbaz Sharif and others in the office of the Central Jail Adiala superintendent prior to Sharif's release on Wednesday on orders of the Islamabad High Court. Abbasi was one of the leaders seen in the photo.
ANF had registered a case against Abbasi and his accomplices in June 2012 under sections 9-C, 14 and 15 of the Control of Narcotics Substances (CNS) Act for misuse of 500kg of ephedrine.
Full report at:
https://www.dawn.com/news/1434308/hanif-abbasi-shifted-from-adiala-jail-to-attock-prison-after-photo-leak-controversy
--------
China taken into confidence over Saudi Arabia joining CPEC: information minister
September 21, 2018
China has been taken into confidence over Saudi Arabia joining the China-Pakistan Economic Corridor (CPEC) project as a strategic partner, Minister for Information Fawad Chaudhry said on Friday.
The minister was responding to a tweet by former interior and planning minister, Ahsan Iqbal of PML-N, who asked whether Beijing had been taken on board before formally inviting Riyadh to join the mega venture.
"Has China been taken into confidence? CPEC is a bilateral project in which induction of any other country has to have [the] concurrence of both sides," Iqbal wrote.
In response, Chaudhry said Chinese assent had been sought and that the "expansion of CPEC is in China and Pakistan['s] interest."
"Pakistan will be a centre of economic activity of this region, era of darkness is over," he added.
The minister had announced on Thursday that Saudi Arabia is set to become a third strategic partner in CPEC and has reportedly agreed in principle to invest heavily in Pakistan after it was formally invited to join the project, Dawn reported.
The landmark announcement by Chaudhry came in the backdrop of Prime Minister Imran Khan's visit to Saudi Arabia and the United Arab Emirates apparently aimed at convincing Islamabad's allies in the Middle East to help the government deal with a looming financial crisis.
"A high-level coordination committee has been constituted and it has the complete backing of the Saudi King, His Highness Salman bin Abdul Aziz Al-Saud, as well as the Crown Prince [Mohammad bin Salman] and PM Khan," said the minister, who was part of the prime minister's entourage during the trip, at a press conference in Islamabad.
A high-level Saudi delegation comprising ministers for finance and energy as well as business heads would visit Pakistan in the first week of October to work out details of a grand economic partnership, Chaudhry said, adding that major investments from Saudi Arabia were expected.
Full report at:
https://www.dawn.com/news/1434278/china-taken-into-confidence-over-saudi-arabia-joining-cpec-information-minister
--------
Shireen Mazari calls out Trump's ignorance on US role in destabilising ME
September 21, 2018
Minister for Human Rights Dr Shireen Mazari on Friday hit back at United States (US) President Donald Trump's tweet in which he complained that despite the 'protection' afforded to Middle Eastern countries by the US, they continue to raise oil prices.
President Trump in a tweet on Thursday said: "We protect the countries of the Middle East, they would not be safe for very long without us, and yet they continue to push for higher and higher oil prices!" he said. "We will remember."
In 2016, major oil producers both within and outside OPEC agreed to slash production in an attempt to boost prices following the 2014 oil market crash.
The US withdrew from a 2015 nuclear deal with Iran earlier this year, after which it reimposed sanctions on the Islamic republic that had been suspended in return for controls on Tehran's nuclear programme.
India and China, Iran's top buyers, have also distanced themselves from Tehran ─ after Trump warned importers to stop buying oil from Iran or face US sanctions ─ leaving its crude output the lowest it's been since July 2016.
A new set of US sanctions is due to hit Iran's oil industry on November 4, while Venezuela, another OPEC founding member is also under sanctions from Washington.
Describing the oil cartel as a "monopoly", the US president in his tweet issued a fresh call on the OPEC members to lower their crude prices, reminding them that the US is providing certain Middle Eastern energy giants with security.
"The OPEC monopoly must get prices down now!" Trump wrote.
In a strongly worded response to the US president, Mazari wrote: "Surely there is someone in Washington DC who can teach him [President Donald Trump] history and how [the] US has historically destabilised the Middle East with its support for illegal Israeli expansionism and unbridled militarism!"
She added: "Also oil comes primarily from west Asia and Gulf, not Middle East! He should also be told about OPEC member states!"
Saudi Arabia, Kuwait, Qatar, United Arab Emirates, Nigeria, Iraq, Algeria, Libya and Ecuador are other countries that are part of OPEC, in addition to Iran and Venezuela.
Oil prices steadied on Thursday after Trump's call on OPEC to "get prices down now!", slowing after an upward surge that had pushed the market towards four-year highs.
Mazari responds to alleged gender discrimination in NUST smoking policy
Dr Mazari also took to Twitter on Wednesday to respond to a notification making the rounds on social media allegedly released by the National University of Science and Technology (NUST), which provided locations of designated on-campus smoking areas to be used by male students, and simultaneously restricted female students from smoking or appearing within the university's designated smoking area.
The notice warned that female students found in these designated smoking areas would be fined and their parents informed, although there is no similar rule applicable to male students ─ who, according to the notice, will be fined for smoking in areas other than the designated smoking areas.
"Girls are not allowed at these smoking areas. In case of violation, fine of Rs1,000 will be imposed, in addition to information to parents," the notice reads.
"The purpose of dedicated smoking area is to curb tendency of cheating, smoking at hidden places and save non-smokers from passive smoking hazards," the notification read.
Full report at:
https://www.dawn.com/news/1434270/shireen-mazari-calls-out-trumps-ignorance-on-us-role-in-destabilising-me
--------
Citizenship for Afghans, Bengalis opposed
September 21, 2018
PESHAWAR: Businessmen and traders on Thursday rejected the prime minister's announcement for the grant of Pakistani citizenship to Afghan nationals living in the country for decades and warned that if the government made such a move, they would stop paying taxes and utility bills.
In separate statements, All Pakistan Commercial Exporters Association chairman Abdul Jalil, Peshawar Chamber of Small Traders and Small Industries senior vice president Haji Mamoor Khan and Markaz Tanzeem-i-Tajiran Khyber Pakhtunkhwa president Malik Mehr Ilahi urged the premier to withdraw announcement on citizenship for Afghans, Bengalis saying it has caused serious unrest among businessmen and traders.
Mr Jalil said the country had around four million Afghans and most of them lived in Khyber Pakhtunkhwa, where they completely controlled different businesses.
"These Afghan nationals are not paying any kind of tax and are in the habit of fleeing to own country whenever the Federal Board of Revenue or other tax collecting agency cracks down on tax evaders," he said.
He said Pakistanis regularly paid taxes but didn't get incentives.
Mr Mamoor said the premier had issued the citizenship statement without knowing ground realities.
"We (businessmen and traders) have been left with no option but to stop paying utility bills and taxes as the foreigners doing different businesses don't pay taxes," he warned.
Mr Ilahi said the grant of Pakistani citizenship to Afghans would turn the local population into a minority as the Afghan nationals had a majority in many areas, especially in markets.
He said various trader bodies of the province would hold a joint meeting after Ashura to take a unified stand on the matter.
"The traders of Peshawar have unanimously rejected the premier's announcement on citizenship for Afghans," he said.
The trader leader said Khyber Pakhtunkhwa had already suffered heavily due to militancy but the successive governments had never considered it serious to support the people affected by it.
He said instead of awarding citizenship to foreigners, the government should focus on the resolution of the problems of own tax-paying citizens.
Mr Ilahi said Afghanis had controlled business in the country and if they were given citizenship, then the local traders won't be able to do business.
Full report at:
https://www.dawn.com/news/1434169/citizenship-for-afghans-bengalis-opposed
--------
Africa
Muslim Clerics Condemn Terror Killings, Won't Watch As Innocents Are Murdered
Sep. 22, 2018
Muslim clerics from Garissa on Friday condemned terrorism by al Shabaab, saying Islam does not support murder and holds human life to be precious.
The leaders, who included Supkem national organising secretary Sheikh Abdullahi Salat and Garissa branch treasury Sheikh Hassan Abdi, spoke at Garissa Primary School during International Peace Day.
They were referring to last week's attack in which al Shabaab militants separated Muslims from non-Muslim bus passengers at Sangailu en route to Garissa from Holugho.
Seven militants flagged down the bus and ordered everybody out. They demanded that everyone produce an ID, which they used to separate the Muslims from non-Muslims. Three passengers were non-Muslims. One of them, a teacher was spared after he recited Suratul Fatiha. The other two were tied to a tree and shot dead.
Sheikh Salat said they will rally the Muslims to reject the ideology of the terror group.
"As clerics who understand what Islam stands for, we feel so pained when misguided individuals misinterpret the Koran to advance their cause," Salat said.
"We cannot continue keeping quiet as innocent Kenyans are massacred in broad daylight."
Hassan urged leaders to work with security personnel and religious leaders to foster peace among different faiths. "Muslims are living in areas dominated by Christians and other religions and if we allow this to continue, it might create bad blood between Muslims and other religions," he said.
On Wednesday, Garissa leaders accused police officers of doing little to fight al Shabaab terrorists.
https://www.the-star.co.ke/news/2018/09/22/muslim-clerics-condemn-terror-killings-wont-watch-as-innocents-are_c1822577
--------
Libya says death toll from Tripoli clashes climbs to 96
September 21, 2018
BENGHAZI: Libyan authorities say the death toll from fighting between rival armed groups in the capital of Tripoli has climbed to at least 96 people, including civilians.
The Health Ministry said on Friday that clashes since Aug. 26 have also left 444 others wounded.
It says 11 people, including eight civilians, were killed and 33 others were wounded on Thursday when fighting flared up again, breaking a UN-brokered cease-fire from earlier this month.
The fighting between militias allied to the UN-backed government in Tripoli and an armed group from a nearby town underscores Libya's lingering lawlessness since the 2011 uprising that toppled and later killed longtime dictator Muammar Qaddafi.
Full report at:
http://www.arabnews.com/node/1375531/middle-east
--------
Mozambique: Soldiers Reported Dead in Terrorist Attack
21 SEPTEMBER 2018
Maputo — An unconfirmed number of Mozambican soldiers died on Thursday morning in an ambush by a terrorist group in Palma district, in the northern province of Cabo Delgado, according to a report in Friday's issue of the independent newssheet "Mediafax".
Citing unnamed local sources, the paper said the ambush took place in the administrative post of Pundanhar, where members of the armed forces were patrolling in an armed vehicle. The attackers fired two bazookas at the vehicle and killed some of the occupants. The "Mediafax" source gave no number for the dead, but said they included a Colonel.
Islamic fundamentalists have been waging an insurgency in parts of Cabo Delgado since October 2017. They are generally referred to as "Al Shabaab", but do not seem to have any direct connection with the Somali terrorist group of this name. All the orthodox Islamic organisations in Mozambique have denounced the terrorist group, and say that their actions have nothing to do with islam.
The number of armed incidents in Cabo Delgado seems to have fallen sharply in recent months, but Thursday's attack indicates that the insurgents have not disappeared. After suffering losses at the hands of the defence and security forces, the jihadists are now believed to be moving round in small groups.
Contacted by "Mediafax", the local authorities neither confirmed nor denied the attack. The Palma district administrator, David Machimbuko, said he was on holiday in the provincial capital, Pemba, and so was unaware of the attack. The district police commander did not answer his phone, when the paper tried to contact him, and nor did the spokesperson for the General Command of the police, Inacio Dina.
Full report at:
https://allafrica.com/stories/201809210767.html
--------
5 years after mall Kenya attack, al-Shabaab's threat grows
2018-09-21
Five years after al-Shabaab fighters burst into a luxury shopping mall in Kenya's capital, hurling grenades and starting a days-long siege that left 67 people dead, analysts say the Somalia-based extremist group has been pushed down Africa's east coast as far as Mozambique as its regional threat expands.
The assault on Westgate Mall on a sunny weekend afternoon horrified the world and exposed weaknesses in Kenya's security forces after it took them hours to respond. Kenyan President Uhuru Kenyatta promised reforms.
Now the government of east Africa's commercial hub is praising itself, saying security forces have effectively limited attacks to areas near the Somali border. "We learnt our mistakes and corrected them," police Inspector General Joseph Boinnet told reporters this week, pointing out real-time intelligence sharing among security agencies.
Analysts, however, say few sustainable lessons have been learned while al-Shabaab, the deadliest Islamic extremist group in sub-Saharan Africa, has changed its strategy with devastating effects.
The al-Qaeda-linked extremist group has vowed retribution on Kenya for sending troops to Somalia since 2011. The group has killed hundreds of people inside Kenya, which has been targeted more than any other of the six countries providing troops to an African Union force in Somalia.
"Al-Shabaab's goal in carrying out attacks outside Somalia is to pressure authorities within the region to pull their troops out of Somalia. That aim has not been achieved and all indications are that the movement continues to plot assaults in cities across East Africa to advance its objectives," said Murithi Mutiga, a senior analyst with the International Crisis Group.
A new report by the think tank says some al-Shabaab extremists previously based on the Kenyan coast have moved south into Tanzania and, in response to crackdowns there, relocated into northern Mozambique and forged ties with local fighters.
The Kenyan government's initial response to the Westgate attack, involving blanket arrests of Muslims and indiscriminate crackdowns aimed at ethnic Somalis, inflamed communities and made matters worse, Mutiga said.
The government later changed its approach and appointed local ethnic Somalis to lead security operations in the northeast near the Somali border.
That area, however, has seen growing attacks by al-Shabaab that have killed more than 100 police officers since May 2017.
"Kenyan security officials seem to have failed to contain that threat," Mutiga said. Other major attacks since Westgate in the region, often targeting Christians, have included massacres of bus passengers and the assault on Garissa University in 2015 that left 147 people dead.
The pressure on al-Shabaab since Westgate has included training and counterterrorism equipment provided by Western countries including the US and Britain.
'All life is precious and must be protected'
The attack also changed the way Kenyan institutions are protected. Shopping malls, office buildings, university campuses, government facilities and the main airport have invested substantial sums in additional security, including surveillance.
As al-Shabaab focuses its attacks largely on Christians in Kenya's Muslim-majority border communities, it has managed to stall economic activity and education, said Kenya-based security analyst and former US Marine Andrew Franklin.
Many children who drop out of school as teaching staff flee become targets for recruitment by the extremists.
Kenyans make up the majority of al-Shabaab's foreign fighters.
While economic activity in the borderlands weakens and corruption grows, the morale and effectiveness of security forces has eroded, Franklin said.
There is a "tremendous amount of complacency" among security agencies, he said, leading to the conclusion that senior officials have little interest in countering al-Shabaab's insurgency.
For Andrew Munya, who was injured in the Westgate attack when shrapnel hit his left shoulder, Kenya will not be safe until al-Shabaab is dealt with for good.
Full report at:
https://www.news24.com/Africa/News/5-years-after-mall-kenya-attack-al-shabaabs-threat-grows-20180921
--------
Arab World
Muslim World League to organise an Islamic-Christian world conference in Beirut
09/21/2018
Beirut (AsiaNews/Agencies) – The Muslim World League (MWL) has decided to organise a world Islamic-Christian conference next year in Beirut, the organisation's secretary general, Mohammad al-Issa, announced yesterday.
The MWL, the religious arm of Saudi Wahhabism, promotes pan-Islamism, the political unification of all Muslim peoples, and has as its mission the spread of Islamic teachings through Islamic schools and institutes.
Al-Issa, a former Saudi Justice minister, has led the organisation since 2016. Yesterday, he met with Lebanese President Michel Aoun, National Assembly Speaker Nabih Berry, Greek Orthodox Metropolitan Elias Audeh, and Shia (Jafari) Mufti Ahmad Kabalan. Afterwards, al-Issa gave a press conference at the Phoenicia Hotel.
For al-Issa, Lebanon is the "natural" location for the MWL initiative of reconciliation between Muslims and Christians and between Muslims. Addressing the mufti, he said that it was time to "turn the dark page of the past and start a new relationship based on tolerance, equality and cooperation ... and achieve brotherly Muslim reconciliation, developing in depth all that can lead to the purification of hearts and the dissipation of conflicts and differences, particularly between the kingdom of Saudi Arabia and the Islamic Republic of Iran, to block those who use the Ummah to pursue personal interests and act according to the principle of divide and rule."
However, al-Issa put a side for a moment such a conciliatory tone when he criticised the "extremist confessional politics of Iran in the region", albeit noting that this does not apply to Shias.
Responding to criticism that his country promotes the most rigid Islam in the world, he said that "Saudi Arabia was not like that before 1979. Saudi Arabia and the whole region were touched by the Sahwa movement (close to the Muslim brotherhood), which has tried to propagate extremist ideas. We want to go back to what we were: a moderate Islam open to the world, open to all religions."
"What we do and what we want to do is to purify Islam," he insisted, in order to "free ourselves from extremism, false interpretations, and pass on the correct readings of Islam".
http://www.asianews.it/news-en/Muslim-World-League-to-organise-an-Islamic-Christian-world-conference-in-Beirut-44997.html
--------
Saudi trying to stop Yemen war crimes probe: HRW
Sep 21, 2018
Human Rights Watch (HRW) has condemned attempts by the regime in Riyadh and its ally the United Arab Emirates (UAE) to stop an investigation into crimes committed in Yemen.
Saudi Arabia and the UAE are trying to shut down a UN-backed war crimes investigation in Yemen, HRW said on Friday.
The 47-member United Nations Human Rights Council in Geneva is divided into two distinct groups.
One group made up of European countries and Canada calls for a one-year extension after investigators issued a damning report saying the conflicting governments of Yemen, Saudi Arabia and the UAE could be responsible for war crimes in Yemen.
The second group, led by Arab state Tunisia on behalf of the Saudi-led coalition, makes no mention of extending the probe but calls for Yemen's almost defunct National Commission of Inquiry to continue investigating the conflict.
The two sides could bridge differences before the council session ends on September 28.
"By definition, there are differences," council spokesman Rolando Gomez said Friday. "One speaks to technical assistance. One is slightly more of a condemnatory nature. There are informal consultations that are under way. There are always efforts to meet in the middle."
Mona Sabella, an international advocacy officer at the Cairo Institute for Human Rights Studies, said independent investigations like those led by experts were important for the credibility of the council.
She said failure to renew or strengthen such mandates would "empower repressive governments that want to destroy the UN human rights system."
"The choice is clear for UN member states: Support the renewal of independent and international investigations into war crimes in Yemen, or bow to Saudi threats and allow these investigations to be quashed," she wrote in an e-mail. "Nothing would make Saudi Arabia and the UAE happier than to do away with independent investigations into war crimes in Yemen."
HRW described the Saudi attempt to kill the investigation as a "blatant attempt to avoid scrutiny."
"The Saudi-led coalition's campaign to discredit and undermine a UN investigation into abuses by all Yemen's warring parties is yet another blatant attempt to avoid scrutiny of the coalition's own actions in Yemen," John Fisher, HRW's Geneva director, said in a statement.
"The Human Rights Council cannot afford to fail Yemeni civilians. States should renew the mandate of the (probe) or risk the Council's credibility," he added.
Saudi-led forces are accused of numerous war crimes in Yemen including the bombing of civilian targets such as a school bus and hospitals.
The Saudi-led aggression on its southern neighbor Yemen has turned the impoverished Arab country into what the UN has described as "the world's worst humanitarian crisis."
Full report at:
https://www.presstv.com/Detail/2018/09/21/574819/HRW-Saudi-Yemen-War-Crimes-Probe
--------
Brazilian police arrest fugitive linked to Hezbollah
September 21, 2018
SAO PAULO: Brazilian police on Friday arrested a fugitive sought in Paraguay who is accused by US officials of belonging to Lebanon's Hezbollah militia and of being a key financier of terrorism.
Police took Assad Ahmad Barakat into custody in the border city of Foz do Iguacu, which is home to the famous Iguazu Falls and sits where Brazil, Argentina and Paraguay meet.
Authorities in Paraguay are seeking Barakat on allegations of false representation, police said, and Brazil's Supreme Court authorized his arrest earlier this month. The Brazilian federal prosecutor's office said in a statement that Barakat's case meets the requirements for an arrest with a view to extradition.
In Paraguay, Barakat is accused of presenting a declaration of incorrect nationality and omitting information about the loss of nationality, the prosecutors' statement said. Barakat was born in Lebanon but has lived in South America for years.
Prosecutors said they had information that Barakat applied for refugee status in Brazil when he learned of Paraguay's arrest warrant, but that only the recognition of refugee status would prevent his extradition, which was not the case here.
In 2004, the US Treasury Department accused Barakat of serving as a treasurer for Hezbollah, which it considers a terrorist organization, and ordered American banks to freeze any of his assets found in the United States. At the time, Barakat was serving time in a Paraguayan prison for tax evasion. Two years later it added several of his associates to its watchlist, on which Barakat remains.
Brazilian police said Argentine authorities have accused associates of Barakat of laundering $10 million in a scheme in casinos, and they have frozen the group's assets.
Barakat was extradited from Brazil to Paraguay in 2003 and was convicted of tax evasion. He returned to live in Brazil in 2008 after he was released from prison, police said.
SAO PAULO: Brazilian police on Friday arrested a fugitive whom US authorities have accused of serving as Hezbollah's financier and who has repeatedly been accused of illegal activity in a lawless border area where three South American nations meet.
Police took Assad Ahmad Barakat into custody in the Brazilian city of Foz do Iguacu, which is home to the famous Iguazu Falls and sits where Brazil, Argentina and Paraguay converge. The Tri-Border Area, as it is known, has long been a haven for smugglers, traffickers and counterfeiters, and US authorities and others have alleged it is also a redoubt for terrorism support and financing.
Authorities in Paraguay are seeking Barakat on allegations of false representation, police said, and Brazil's Supreme Court authorized his arrest earlier this month.
The Brazilian federal prosecutor's office said Barakat's case met the requirements for an arrest with a view to extradition — but it was not clear when or if that would happen.
In 2004, the US Treasury Department said Barakat was one of the most influential members of Lebanon's Hezbollah militia, which the US considers a terrorist organization. It accused him of using his businesses in the Tri-Border Area as a front for fundraising for Hezbollah as well as coercing local shopkeepers into giving money to the organization.
A Treasury official at the time said he had used "every financial crime in the book" to fund Hezbollah and "underwrite terror," and the department ordered his assets frozen in the United States. Barakat was then serving a prison sentence for tax evasion in Paraguay.
Two years later it added several of his associates to a list of people whose US assets can be frozen and whom Americans and U.S. companies are prohibited from dealing with. Barakat remains on that list.
In a 2001 interview with The Associated Press, Barakat acknowledged that he was a "sympathizer" of Hezbollah but said that did not mean that he supported terrorism.
Attempts to reach Barakat's lawyer were unsuccessful.
The Simon Wiesenthal Center, which researches and advocates against anti-Semitism, hate and terrorism, praised the arrest.
"We have monitored international terrorist activity in the lawless contiguous Triple Frontier region for some 20 years," Shimon Samuels, the center's director for international relations, said in a statement. He added that he hopes the arrest was "a sign that the three countries will begin to drive Hezbollah out of Latin America."
Beyond the longstanding accusations of his involvement with terrorism, Barakat has faced other legal troubles over the years and was even extradited from Brazil to Paraguay once before, according to police. They said he returned to Brazil in 2008 after serving his sentence.
In Paraguay, Barakat is currently accused of presenting a declaration of incorrect nationality and omitting information about the loss of nationality, Brazilian prosecutors said Friday. Barakat was born in Lebanon but has lived in South America for years. Prosecutors said they had information that Barakat applied for refugee status in Brazil when he learned of Paraguay's arrest warrant, but that only the recognition of refugee status would prevent his extradition, which was not the case here.
Full report at:
http://www.arabnews.com/node/1375736/world
--------
Houthi militants killed by coalition airstrike
September 21, 2018
JEDDAH: A number of Houthi militiamen were killed on Friday morning by an airstrike by the Arab coalition supporting Yemen's internationally recognized government, a field source said.
The airstrike targeted their vehicle in Al-Malgam district of Yemen's central Al-Bayda province, destroying the vehicle and killing all the militiamen inside it. Meanwhile, several coalition airstrikes hit a Houthi camp north of Yemen's capital Sanaa.
Since November, the Houthis have launched several ballistic missiles at Saudi Arabia that were intercepted by anti-aircraft defenses.
http://www.arabnews.com/node/1375801/saudi-arabia
--------
Qatari tribe continues campaign for justice at UN in Geneva
September 21, 2018
GENEVA: Members of a tribe persecuted for more than 20 years by authorities in Qatar appealed for help on Friday from the special rapporteur on the rights of indigenous peoples at the Office of the High Commissioner for Human Rights (OHCHR).
It was the latest stage in a campaign for justice by the Al-Ghufran tribe, whose members have been stripped of their nationality and suffered torture, forced displacement and deportation.
A delegation from the tribe has taken their case to the 39th session of the UN Human Rights Council in Geneva. They said they sought international assistance only after years of being ignored by the government of Qatar, and when they realized that the Qatari Human Rights Council was in league with the regime in Doha to deny them their rights as Qatari citizens.
A member of the tribe, Gaber Saleh Al-Ghufrani, also appealed to the people of Qatar for help. "We call on the elders of the honorable Al-Thani family and to the generous and righteous people of Qatar and to the Al Murrah tribe, known for their nobility and chivalry," he said.
"We call on you as your brothers, young and old, elders and children, men and women, inside and outside Qatar, and we appeal to your proud Arab origin because the Qatari government has let us down, made untrue claims about us and stripped us of our rights.
"We have been subjected to much injustice and humiliation in our homeland from those who, unfortunately, we thought to be virtuous. We have been discriminated against in the most painful of ways; they have stripped us of our dignity.
"We chose to go to the United Nations and to the international human rights organizations only after the government of our own country closed all ways of appeal, and did not engage or listen to our demands."
The tribe's ordeal began in 1996, when some of their members voiced support for Sheikh Khalifa Al-Thani, the Qatari emir deposed the previous year by his son Hamad, father of the current emir, Sheikh Tamim.
About 800 Al-Ghufran families, more than 6,000 people, were stripped of their citizenship and had their property confiscated. Many remain stateless, both in Qatar and in neighboring Gulf countries.
"They have taken away our social, political and economic rights," said
Jabir bin Saleh Al-Ghufrani, a tribal elder, at a press conference on Thursday. "The Al-Ghufran tribe has been subjected to unjust treatment.
"I left on a vacation in 1996, and now I can never go back to my country. I can go to any place on this earth, but not my home, not Qatar."
Members of the delegation produced passports, certificates and other documents to show that their right to Qatari citizenship was being denied.
"I ask for my rights. Our people have been asking for our rights for a very long time now and no one has even explained to us why this is happening to us," said Hamad Khaled Al-Araq.
Another member of the tribe, Hamad Khaled Al-Marri, said on Friday:
Full report at:
http://www.arabnews.com/node/1375721/middle-east
--------
Israel showed Russia proof Syria to blame for downed plane — Israeli military
September 21, 2018
JERUSALEM: Israel has provided Moscow with proof it bore no responsibility for bringing down a Russian plane in Syria, an Israeli military official said on Friday.
Fifteen Russian crew were killed when an IL-20 surveillance plane crashed near Latakia in northern Syria on Monday. Russia has said Syria shot the plane down shortly after Israeli jets hit a target in the area.
Initially the incident appeared likely to cause friction between Israel and Russia, with the Defense Ministry in Moscow accusing Israel of indirectly causing it. But President Vladimir Putin later called it "a chain of tragic, chance events."
An Israeli delegation led by its air force chief this week presented Moscow with its findings on the incident, "including recordings of the conversations between the Israeli air force and the Russian air force component in Syria," said the Israeli official, who briefed reporters on condition of anonymity.
"We proved how the Syrian reckless anti-air fire was the direct cause of hitting the Russian aircraft. They fired quite recklessly and irresponsibly and unprofessionally into the air long after our planes were no longer there," the official said.
More than 20 Syrian anti-aircraft missiles were fired during the incident, the official said.
"Our Russian counterparts had a few questions, those questions were answered," the official said. "Our impression is that the discussions were professional and that the information was well accepted."
Russia's Defense Ministry was initially critical of Israel, saying it had only given Moscow one minute's warning before its jets attacked, putting the Russian aircraft in danger of being caught in cross-fire.
But the Israeli official said: "We definitely gave a warning, a time much longer than one minute. We acted in accordance with the standard operating procedures that are in place with the Russian military."
Any dispute between Israel and Russia could lessen Israel's ability to carry out air strikes inside Syria against what it regards as the greatest threat to Israel's security from the country's civil war — build-ups of Iranian forces or those of Iran's ally, Hezbollah.
Since intervening in Syria in 2015, Russia has usually turned a blind eye to Israeli attacks. Israel has launched about 200 such raids in the last two years, Israeli officials say.
The Israeli official said the meeting in Moscow was an opportunity to improve the mechanism the countries have been using to avoid unintended confrontations.
Full report at:
http://www.arabnews.com/node/1375651/middle-east
--------
South Asia
Roadside bombing kills 8 children in northern Afghanistan
September 22, 2018
KABUL, Afghanistan: An Afghan official says at least eight children have been killed in a roadside bomb explosion in northern Faryab province.
Karim Yuresh, spokesman for the provincial police chief, says six other kids were wounded in the blast that took place late Friday afternoon in Shirin Tagab district.
Yuresh says that according to a hospital report, two of the wounded kids are in critical condition. All of the children are between 5 and 12 years of age and were playing when the bomb exploded, he added.
No one immediately claimed responsibility for the attack, but Yuresh blamed Taliban insurgents who usually plant roadside bombs to target Afghan security forces in different part of the province.
http://www.arabnews.com/node/1375976/world
--------
Russia, US pact could end armed conflict in Afghanistan
September 21, 2018
KABUL - An agreement between Russia and the United States on Afghanistan will be hard to achieve but it may put an end to the long-running armed conflict in the Asian country, Delawar Aimaq, a member of the security commission of the Afghan National Assembly, told Sputnik on Thursday.
On Tuesday, Russian Ambassador to the United Nations Vassily Nebenzia said that Moscow expected Washington to take part in the new consultations on the situation in Afghanistan. Taliban representatives would partake in the Moscow format meeting as well, according to the Russian Foreign Ministry.
"It will be very hard to achieve this, however, if the United States and Russia reach an agreement, peace will come to Afghanistan," Aimaq said.
He also said that Washington was not interested in putting an end to the conflict in Afghanistan because it would no longer have a reason to maintain a presence in the country.
"The Americans will never allow that, they always need a war in order to maintain a presence in our country. Their plan is, while remaining in Afghanistan, to spread their influence on other countries in Central Asia and extend the area of their operations," Aimaq added.
The lawmaker also stressed that Kabul had no evidence proving Moscow's alleged aid to the Taliban movement.
"That is what local residents have been saying, some claim to have witnessed it. However, the Afghan authorities have no proof [of Russia supporting the Taliban movement]," he said.
Washington has repeatedly accused Moscow of supplying weapons to the Taliban movement, while the Russian Foreign Ministry stated that such accusations were groundless and insisted that Russia was contacting the movement solely in an effort to encourage the settlement of the conflict and ensure the safety of Russian citizens in Afghanistan.
The Taliban movement has been one of the major forces fighting Kabul for control over the country. The movement managed to seize power in 1996 but was overthrown five years later by the United States, who deployed its troops in Afghanistan following the 9/11 attacks to fight Al Qaeda terrorist organization (banned in Russia).
Most of the US troops left Afghanistan by the end of 2014, however, Washington maintains part of its troops in the country under an agreement with the United Nations.
Use UN sanctions mechanisms to fight IS
Russia intends to more actively use the anti-terrorism sanctions mechanisms of the UN Security Council to combat the Islamic State (IS, ISIL, banned in Russia) terrorist group in Afghanistan, Russian Foreign Ministry spokeswoman Maria Zakharova said at a briefing Thursday.
"Taking into account ISIL's growing expansion in Afghanistan and, as a result, the creation of hotbeds of tension throughout the country, including directly at the borders of our Central Asian partners, we intend to use more actively the anti-terrorism sanctions mechanisms of the UN Security Council to counter ISIL militants in Afghanistan," Zakharova said.
She said Russia is preparing requests to the UN Security Council's sanctions committee to put specific individuals and organizations from the Afghan wing of the IS on sanctions lists.
Absence of serious disagreements between Kabul, Moscow
There are no fundamental disagreements in bilateral relations between Russia and Afghanistan, Mohammed Ibrahim Tamil, deputy presidential special envoy for the Commonwealth of Independent States (CIS), told Sputnik, welcoming Russia's efforts to resolve the conflict in Afghanistan.
"I do not think that there are disagreements, which could not be resolved ... There are technical nuances, which could be resolved quickly at the negotiating table," Tamil said.
The diplomat stressed that Kabul welcomed the efforts of the Russian authorities to end the conflict and establish peace in Afghanistan, referring to the consultations initiated by Moscow.
"We continue to support this process but we think that [these consultations] should be led by the Afghans themselves as it is the inter-Afghan problem. We not only support this process but are also grateful for any efforts made by other countries, especially Russia," Tamil underlined.
Russia attempted to arrange a meeting on Afghanistan in early September but decided to postpone the talks on request of Kabul.
The Russian Foreign Ministry's team headed by Director of the Second Asian Department Zamir Kabulov is expected to meet with the Afghan delegation later on Thursday to discuss the details of the Moscow-format talks.
India arrests IS suspect
The Indian National Investigation Agency has arrested Nashidul Hamzafar, suspected of plans to join the Islamic State terrorist group (IS, outlawed in Russia), after deporting him from Afghanistan, a source in the Indian Home Affairs Ministry confirmed to Sputnik.
Hamzafar, originally from Wayanad district in the southern Indian state of Kerala, was caught by the Afghan security agencies last year for illegally entering the country to join IS.
Full report at:
https://nation.com.pk/21-Sep-2018/russia-us-pact-could-end-armed-conflict-in-afghanistan
--------
Myanmar Lawmakers, Politicians React to British Foreign Secretary's Appeal
2018-09-21
Politicians in Myanmar on Friday rejected international pressure to hold the country's powerful military accountable for a brutal crackdown on the Rohingya Muslim minority group.
The government of Aung San Sui Kyi has faced mounting pressure over the 2017 campaign that pushed more than 700,000 members of the Muslim minority group to Bangladesh.
The Rohingya were also subjected to indiscriminate killings, rape, and torture, and their villages were burned during a campaign of violence that began in August 2017 in northern Rakhine state in response to deadly attacks on police outposts by a Muslim militant group.
The latest international figure to call for Myanmar leaders to take action against top military brass that ordered the crackdown was British Foreign Secretary Jeremy Hunt.
"What is essential now is that the perpetrators of any atrocities are brought to justice, because without that there can be no solution to the huge refugee problem," Hunt said in a printed statement issued Thursday. "We will use all the tools at our disposal to try and make sure there is accountability."
Hunt wrapped up a two-day visit to Myanmar on Thursday, during which he met State Counselor Aung San Suu Kyi and President Win Myint and toured northern Rakhine to meet with different groups who live in the multiethnic state.
Hunt's appeal was rebuffed by politicians across the spectrum in Myanmar.
Zaw Htay, spokesman for Aung San Suu Kyi, suggested that foreign delegates who visit Myanmar put trade above the Rakhine issue, because the country's political situation will become more stable if there is a strong economy.
"Now the government has to spend a lot of time and energy only on this Rakhine issue," he said. "For example, whenever we have an international delegation, they raise the Rakhine issue first followed by other important topics such as developing international ties and then trade."
Request is 'unacceptable'
Nandar Hla Myint, spokesman of the opposition, army-supported Union Solidarity and Development Party (USDP), said Hunt's request that the government prosecute top military leaders was unacceptable.
"Right now, the international community has pressured us to prosecute our military leaders," he said. "It is the international community that is flagrantly interfering in our domestic issues, and we can't accept it."
"It is important to resolve this problem without hurting the country, the people and the country's stability and development," he told RFA's Myanmar Service.
"The government shouldn't do something whenever it gets international pressure," he said.
Nandar Hla Myint dismissed the Rohingya as "people from the other country who cross the border illegally and live in our country," underlining the prevailing hardline view of the ethnic group as Bengali immigrants from Bangladesh.
Myo Nyunt, spokesman of the ruling National League for Democracy (NLD) party, said that although Hunt asked the government to prosecute top military leaders, Myanmar's constitution will not allow it.
"The constitution says the military can determine and act independently on military matters," he said about the charter drafted in 2008 by a former military junta that ruled the government at the time.
"It means that the military acted [in Rakhine] according to its constitutional rights, so that it is difficult for the government to take action against it," he said.
'It will take time'
Hunt's visit came just after a United Nations-mandated fact-finding mission that investigated atrocities committed against the Rohingya in Rakhine issued a comprehensive report on Tuesday, providing chilling details of violence by security forces and calling for the prosecution of top defense force commanders as well as the removal of the country's powerful military from politics.
The mission also called for Myanmar commander-in-chief Senior General Min Aung Hlaing and other top leaders to be prosecuted for genocide.
The same day, the chief prosecutor at the International Criminal Court (ICC) opened a preliminary probe into whether Myanmar's "forced deportations" of Rohingya to Bangladesh can constitute war crimes or crimes against humanity.
The ICC decided earlier this month that it has jurisdiction over the alleged crime of deportation because Bangladesh is a member of the international tribunal though Myanmar is not.
Tun Khin, chairman of Burmese Rohingya Organisation UK, suggested that the International, Impartial and Independent Mechanism (IIIM) be used as another way prosecute military commanders responsible for the atrocities.
The U.N. General Assembly set up the IIIM in December 2016 to assist in the investigation and prosecution of those responsible for committing the most serious crimes in Syria under international law.
"But it will take time," he said. "If we have international support, we can do it quickly."
Kachin group weighs in
Meanwhile, the World Kachin Congress on Friday welcomed both the ICC probe and the U.N. fact-finding mission's report on evidence of genocide against the Rohingya in Rakhine state as well as crimes against humanity committed against ethnic minorities in Shan and Kachin states.
Fighting between ethnic armed groups and the Myanmar military in the latter two states has forcibly displaced more than 100,000 civilians in Kachin state, many of whom have been unable to return to their homes as the conflicts continue. Rights groups have accused Myanmar authorities of denying humanitarian access to displaced people in the regions.
Moon Nay Li, general secretary of the Kachin Women's Association of Thailand, told RFA that Kachin civilians have suffered greatly at the hands of the military for decades.
Full report at:
https://www.rfa.org/english/news/myanmar/myanmar-lawmakers-politicians-react-09212018172607.html
--------
Pentagon to procure additional M4 rifles for the Afghan armed forces
Sep 21 2018
The U.S. Department of Defense or Pentagon has announced that a new contract has been awarded for the procurement of additional M4 Carbine rifles for the Afghan armed forces.
"Colt's Manufacturing Co. LLC, West Hartford, Connecticut, was awarded a $57,722,819 firm-fixed-price Foreign Military Sales (Jordan, Morocco, Afghanistan, Senegal, Tunisia and Pakistan) contract for procurement of up to 10,000 additional M4 and M4A1 5.56mm carbine rifles," Pentagon said in a statement.
According to Pentagon the contract has an estimated completion date of Sept. 20, 2019.
This comes as efforts are underway by the Afghan government and the international allies of Afghanistan to boost the capabilities of the Afghan national defense and security forces.
The U.S. Department of Defense or Pentagon last week announced that a contract has been awarded for the procurement of Hydra rockets for the Afghan Air Force.
Full report at:
https://www.khaama.com/pentagon-to-procure-additional-m4-rifles-for-the-afghan-armed-forces-06001/
--------
URL: https://www.newageislam.com/islamic-world-news/phoolon-wala-taziya-keeps-hindu/d/116459
New Age Islam, Islam Online, Islamic Website, African Muslim News, Arab World News, South Asia News, Indian Muslim News, World Muslim News, Women in Islam, Islamic Feminism, Arab Women, Women In Arab, Islamophobia in America, Muslim Women in West, Islam Women and Feminism